Sitting on the northwestern tip of magnificent Kauai Island, the Na Pali Coast encompasses 27 kilometers of jagged cliffs, turquoise waters, rolling hills, deep valleys and lush vegetation.
It's an incredible sight to behold and a must-see for anyone traveling to the Hawaiian Islands!
Take a day trip to the Na Pali Coast in Kauai and explore this remarkable slice of Mother Nature, where you'll find majestic waterfalls, hidden coves, native plants, secluded beaches, jaw-dropping photo-ops and plenty of fun activities along the way.
From hiking along the coast via the Kalalau Trail to gliding over the rocky cliffs in a helicopter to kayaking around the breathtaking shoreline, the possibilities are endless.
Discover the secrets of this enchanting region while soaking up its vibrant energy, learning about its fascinating history and capturing memories that will last a lifetime!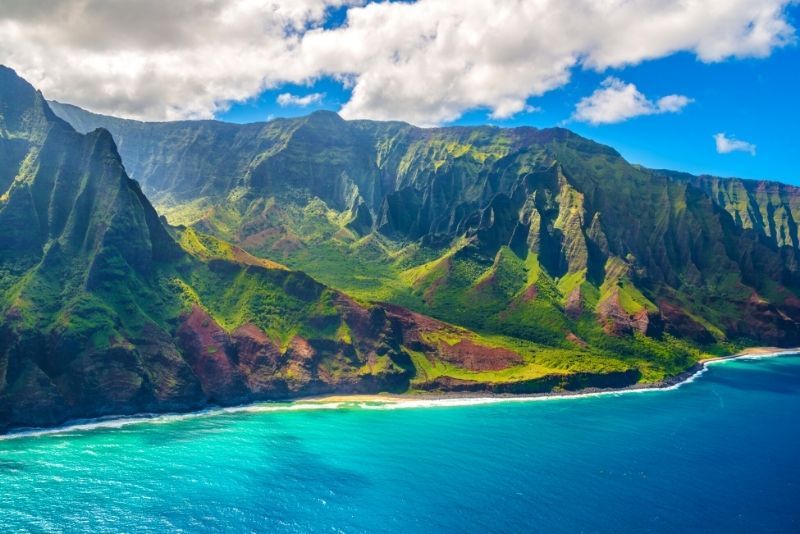 Here's all you need to know about Na Pali Coast, one of the most exciting day trips in Kauai.
Where is Na Pali Coast located in Kauai?
The Na Pali Coast is easily accessible from Kauai and can be reached by car, boat, or helicopter. It covers the area along Kauai's northern and western shore, about 90 minutes north of Lihue town.
To the Na Pali Coast in Kauai by car
The Na Pali Coast is about 65 kilometers from Lihue Airport and is accessible from all major towns on Kauai island, to some degree. The cliffs are very remote and require hiking the Kalalau Trail, a boat tour, or a helicopter ride.
However, you can reach sections of the Na Pali Coast State Wilderness Park as well as the nearby coastal town of Princeville (where many boat tours depart) by car.
If you're starting on the southern shore in towns such as Lihue, Koloa, Waimea, you can drive east to Waimea and then north through the heart of the island.
Along the way, you'll pass by parts of the Puu Ka Pele Forest Reserve, the Na Pali-Kona Forest Reserve, Waimea canyon and several lookout points.
From Waimea, the northern drive is approximately 45 minutes. From Lihue via Waimea, the drive takes closer to 1 hour and 25 minutes.
If you're staying on the northeastern side of the island in Wailua, Kapa'a or Anahola, the quickest drive is along the northern coast to Haena State Park near Princeville, where the Kalalau trailhead can be found.
To the Na Pali Coast in Kauai by public transport
Due to the remote nature of the Na Pali Coast, public transportation is limited. You can take the 400 or 500 Bus from Lihue to the Princeville area, which takes around 75 minutes.
From Princeville you can arrange for a tour operator that will take you out to the secluded beaches.
Guided tour to the Na Pali Coast in Kauai
Guided tours are easily the most popular option for day trips to the Na Pali Coast. Led by local experts, these tours will take you to the most incredible spots along Kauai's coastline.
You can choose from boat tours, helicopter excursions or guided hikes. Depending on your chosen tour, you'll get to explore the coastline from different vantage points, experience the thrill of water sports like snorkeling or rafting, hike through lush valleys, or simply relax on a secluded beach — or a combination of them all.
Generally, the tour company will pick you up from your hotel in the morning and drop you off after the day's activities are complete.
Guided day trip tours to Na Pali can last anywhere from 3 to 7 hours, which includes transit time.
What is the typical itinerary of a Na Pali day tour in Kauai?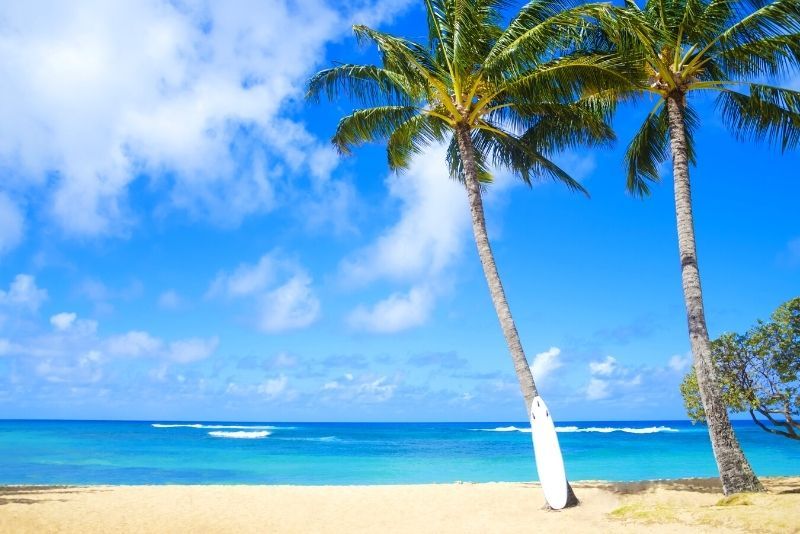 The typical itinerary of a Na Pali Coast day trip starts with convenient pickup from your hotel in the morning. Depending on your chosen tour provider, you'll then be taken to a boat or helicopter launch site, where you'll embark on an exciting journey along Kauai's rugged northern coastline.
Na Pali Coast boat trip day tour typical itinerary
On a Na Pali boat tour excursion, you can expect to sail around the cliffs and into sea caves for some breathtaking views. Depending on the boat tour operator, you may get to experience snorkeling or kayaking as well.
A buffet-style lunch and plenty of refreshing drinks are usually included. As you make your way around the area, your knowledgeable crew will point out interesting facts about the area, such as historic landmarks and unique wildlife.
Na Pali Coast Sightseeing flight typical itinerary
On a sightseeing flight departing from Lihue Airport, you'll first meet your guide at the airport for a briefing. Once airborne, you're treated to breathtaking aerial views of the Na Pali Coast.
From the comfort of your seat, you'll be able to take in all the beauty of Hanalei Bay and the Waimea Canyon too, passing over white crescent sand beaches and red valley walls.
After the flight, you'll land back in Lihue Airport, where you'll be dropped off to return to your hotel.
Na Pali Coast guided hike typical itinerary
After being picked up from your hotel, you'll be taken to the start of the trailhead in an air-conditioned vehicle. You'll enjoy a challenging hike tour through lush valleys and along Kauai's North Shore, with plenty of opportunities to take photos and admire the views from the 1,200-meter-high cliffs.
En route, you'll like pass through the historic agricultural towns of Hanapēpē and Waimea, get to admire the Waipo'o Falls and learn all about the natural history of the area. After a full day of exploring, your tour guide will drop you off back at your hotel in time for dinner.
What kinds of tours are available to go to Na Pali Coast in Kauai?
There are several tour types available for exploring the Na Pali Coast, each with its own distinct set of experiences. These tours range from small group day trip excursions on foot to private boat rides or flights.
Guided boat tours to Na Pali Coast in Kauai
Much of the 27-kilometer Na Pali Coast can only be reached by boat. This is a great way to explore the many sea caves and coves that are found along the coast while appreciating the vista — green valleys, tumbling waterfalls, towering cliffs and hidden beaches.
There are several Na Pali Coast day trip options for boat tours, including large catamarans, charming sailboats and high-speed rafts.
Small boat tours are ideal for those who want to get up close and personal with the Na Pali Coast, while larger sightseeing boats provide a more leisurely way to take in the scenery and learn about the history of this breathtaking area.
Private tour to Na Pali Coast in Kauai
There are generally two types of private tours to the Na Pali Coast in Kauai: hikes and flights.
Private hiking tour
Led by a knowledgeable guide, you can join an organized hiking tour to explore the Na Pali Coast. This is a great way to get up close and personal with nature as you trek through lush valleys along Kauai's North Shore.
Most tours will provide snacks and refreshments throughout the day, allowing plenty of time for breaks in between hikes. Bring a private tour, you are free to customize the itinerary to suit your needs.
Private flight
Taking off from Lihue Airport, you can board a private plane or helicopter for an aerial view of the Na Pali Coast. This is a great way to take in all the beauty from up high, and with experienced pilots at the helm you'll be sure to get some astonishing views.
On your flight, you'll soar above waterfalls, lush valleys and Kauai's North Shore. You'll also be able to spot unique formations like the Bali Hai cliffs, Makana Mountain and the area of the Maniniholo Dry Cave.
Private flights typically last between 30 minutes and an hour.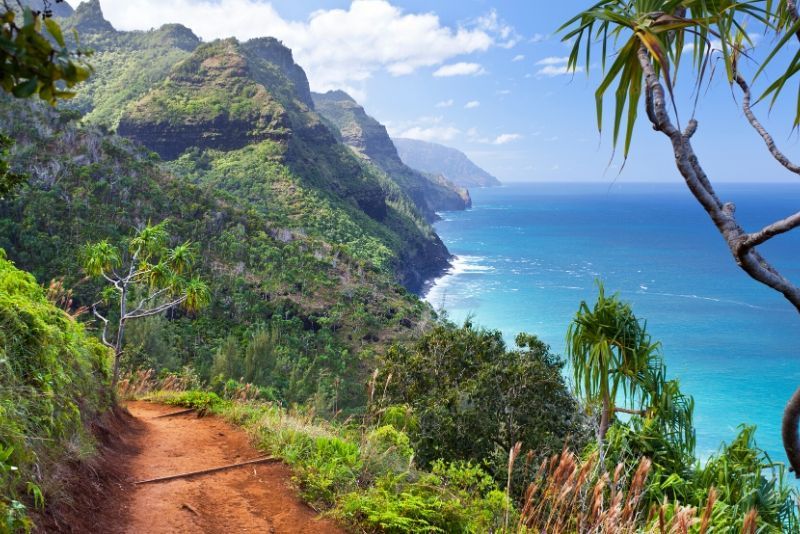 Day trip to the Na Pali Coast plus Niihau from Kauai
Dubbed "The Forbidden Island", Niihau is the private island located 27 kilometers southwest of Kauai. Considered one of the most mysterious islands in the archipelago, Niihau has no paved roads, no indoor plumbing and is generally off limits to the public.
These tours combine the Na Pali coast with a snorkeling trip on Niihau's coast. After your swim, your crew will tell you all about the unique history and culture of this off-beat island.
Day tour to the Na Pali Coast plus kayaking
Reserved for those with a respectable fitness level, this Na Pali day trip involves paddling all the way from Polihale to Milolii along the breathtaking Na Pali Coastline.
Your guide will provide you with a buffet lunch and snacks, teach you all about the island's geography and history, as well as a safety talk before setting out on your adventure. As you paddle along the fringe of the Pacific Ocean, you'll have time to snorkel and stop at shallow sea caves and secluded beaches.
How much does a tour to Na Pali Coast cost?
The price of a day trip to the Na Pali Coast from Kauai depends on the type of tour you choose, ranging typically from US$150 to US$350.
Boat tours such as sunset sails, raft adventures or catamaran excursions cost between US$120 and US$250. More expensive tours usually include snorkeling, buffets and more time on the water.
Tours that also include Niihau are more expensive, costing between US$250 and US$325. Sightseeing flights cost around US$170 per person, while private hikes tend to cost around US$580 per group up to 4 people.
What will you see and do on a Na Pali Coast day tour in Kauai?
The Na Pali Coast offers a variety of activities and sights to explore, including hiking, snorkeling, kayaking, sightseeing flights and boat tours. Every activity will give you a unique perspective of the coastline and its breathtaking scenery — enormous cliffs as high as 4,000 feet, tumbling waterfalls and pristine beaches.
Hiking is a great way to explore the Na Pali Coast on foot. With private or organized hikes, you'll be able to trek through lush valleys of Kauai's North Shore with knowledgeable guides pointing out hidden gems along the way.
On some hiking day tours, some hikes tackle trails of Kōkeʻe State Park. From different vantage points along the way, you can see the 800-foot waterfall at Waipo'o Falls and soak in stunning clifftop views of both the Waimea Canyon and the Napali Coast.
On boat tours, you'll see the coastline from a new perspective (and on kayaking tours too). You'll be offered breakfast, lunch and all-day drinks, so you can find the perfect mix of relaxation and partying while also enjoying some of the marine wildlife on display — keep a look-out for dolphins breaching the surface.
With time for snorkeling included, you also have the chance to swim with spinner dolphins, sea turtles, monk seals, manta rays, colorful fish and plenty more.
When is the best time to visit the Na Pali Coast in Kauai?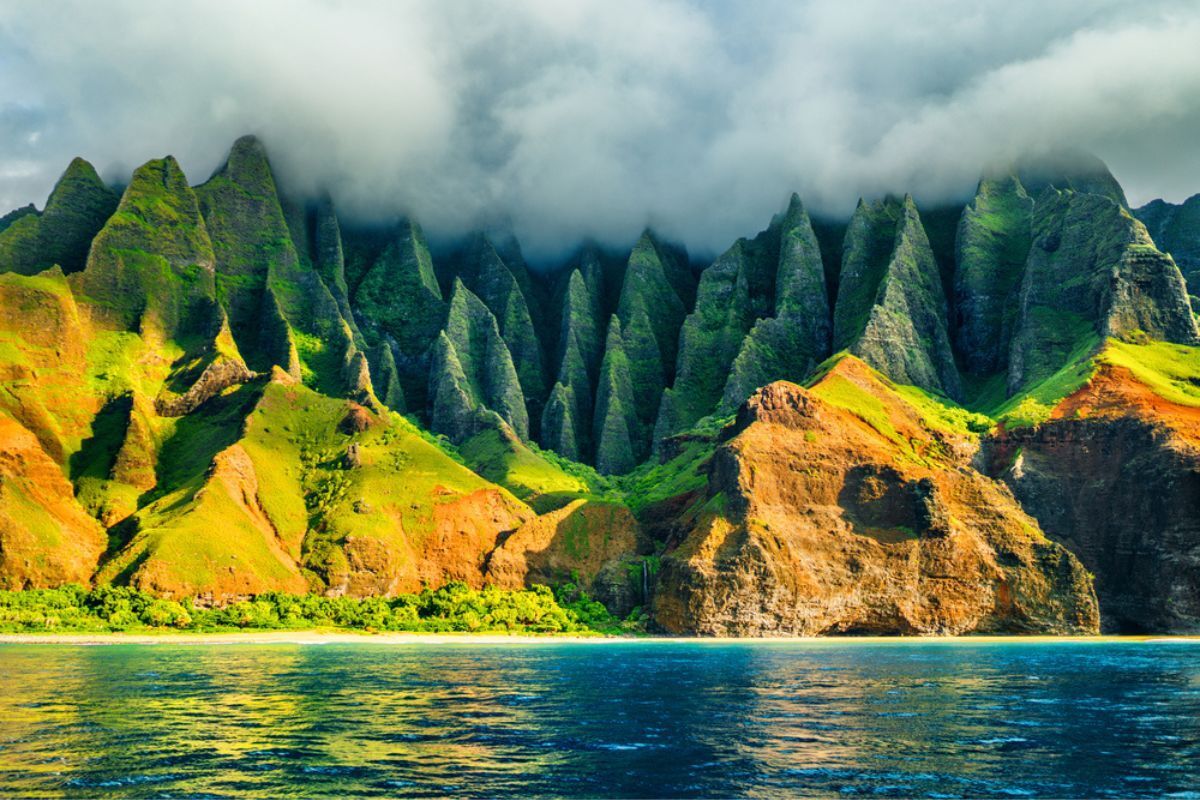 The best time to visit Na Pali Coast is the low season, from April until mid-June and from mid-September until early December.
During this time, there are fewer crowds, so you'll find it easier to book accommodation at competitive prices. Plus, these months tend to have lower rain rates than the peak season, so you're more likely to have an entirely sunny vacation.
That said, Kauai, as with Hawaii in general, is blessed with a warm climate year-round. So, an excursion to the Na Pali Coast is a great activity during any season.
Travel tips
Wear comfortable shoes.  If you're planning a hike, make sure you wear shoes that have good grip and ankle support.
Bring plenty of water and snacks. You'll be out in the sun for most of the day so it's important to stay hydrated and energized with light snacks.
Apply sunscreen regularly - Don't forget to protect yourself from UV rays!
Book your tour online and in advance. And, if possible, try to find a tour that includes pick-up and drop-off from your accommodation or the closest city center.