A verdant jewel in the Hawaiian islands, Kauai is aptly known as the "Garden Isle." Kauai is more than its famous North Shore, it's home to incredible cliffs, mountains, waterfalls and canyons.
Much of its delightfully diverse scenery is inaccessible by car, and aerial perspectives of the interior of the island make a helicopter tour in Kauai an ideal way to experience the island's beauty.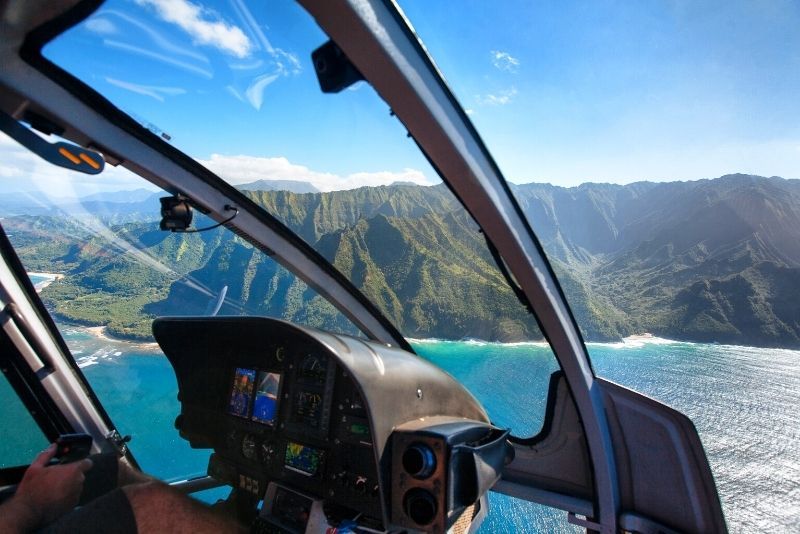 Here's all you need to know about helicopter flights, one of the most exhilarating outdoor activities in Kauai.
What will you see on a helicopter tour in Kauai?
See parts of Kauai that you can only witness from the air. Views from above allow you to peer into private and wilderness land that you'd otherwise not be able to see.
Kauai's landscape is surprisingly varied for its small size, and your tour will whisk you over canyons, a dormant volcano, sheer cliffs and a multitude of waterfalls.
Fly over Mt. Waialeale and spy cascades spilling into its forested crater. Soar over Manawaiopuna Falls, otherwise known as "Jurassic Park Falls" from its cameo in Spielberg's 1993 movie.
Enjoy a bird's-eye view of the North Shore and Hanalei Bay. The shore's highlights are cliffs that drop over 900 meters to the sands and boast waterfalls that tumble into the ocean.
Pass from the second-wettest place on earth to a desert landscape in a matter of minutes. Mt. Waialeale receives nearly 1,150 centimeters of rain per year while Waimea Canyon State Park is arid. See the "Grand Canyon of the Pacific" and other dramatic gorges in the park.
Make your cruise stop in Lihue so much more than a day of shopping and the beach with a helicopter tour.
See many of the sites of a sightseeing flight with the benefit of round-trip transfer from the harbor to the airport.
Choose a person or two and hop on a helicopter tour just for you. Benefit from the full attention of a guide, guaranteed window seats and matchless views of Kauai's varied terrain. Even create your own itinerary on a private photography tour.
How much do helicopter tours in Kauai cost?
Sightseeing tours in Kauai cost from around US$300 per person to US$400 per person for a 50- to 90-minute tour, depending on the duration, sites visited and the features of the helicopter.
Shore excursion helicopter tours cost US$350 per person and include transfer from the cruise port in Nawiliwili Harbor to Lihue Airport.
Private tours cost from US$360 per person to US$400 per person for a 60- to 75-minute tour, and a fully customizable private photography tour costs US$700 per person.
What is included?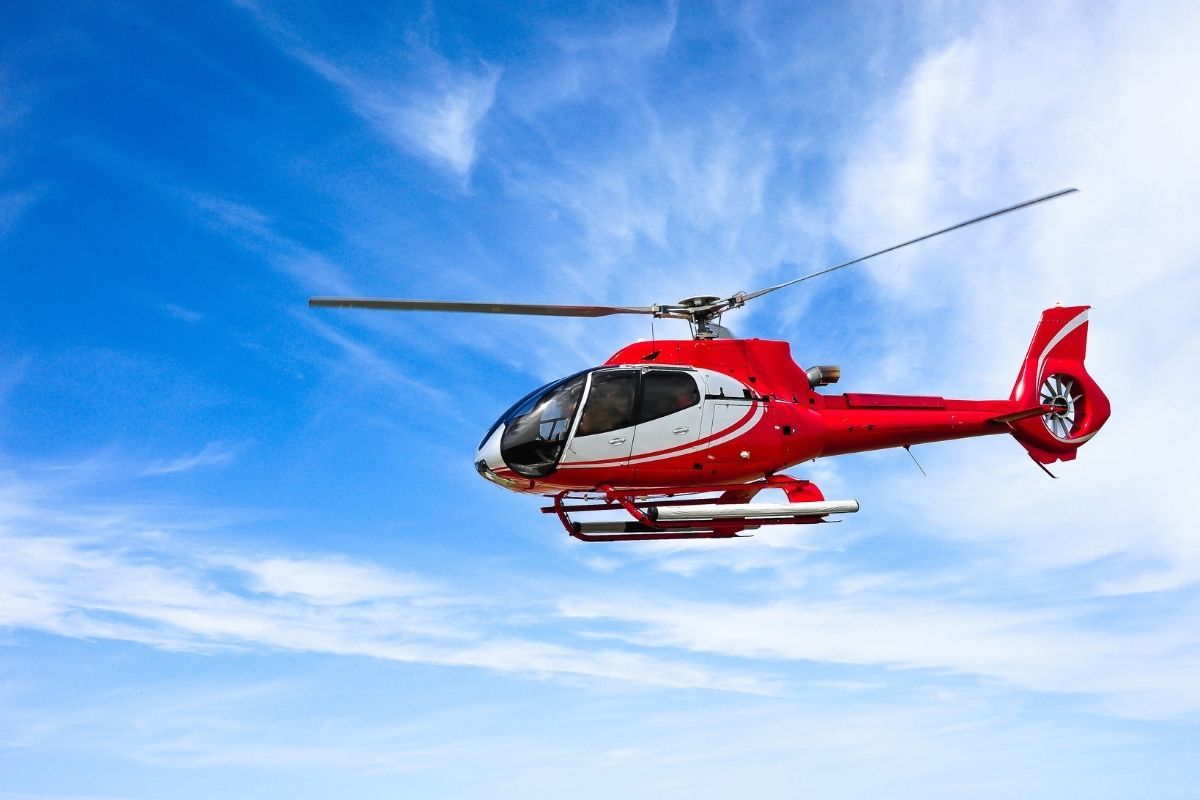 Helicopter tours in Kauai include commentary from an expert pilot guide. Hear all the details and ask questions through a two-way radio with noise-canceling headphones.
Higher-end tours boast helicopters with luxury seats, guaranteed window seating and the option of removing the doors at no cost. Some tours land at stunning sites for great photo ops.
Where does it start?
Helicopter tours in Kauai start at the Lihue Airport, conveniently located 2.5 kilometers from central Lihue. Rideshare is available to the airport. There is a US$15 fee per day for parking.
How long does it last?
Most helicopter tours in Kauai last from 50 to 90 minutes. Tour companies request that you arrive one hour before your tour in order to go through a safety briefing and a weight check.
When is the best time for a helicopter tour in Kauai?
Any time of year or day can be perfect for a helicopter tour in Kauai. However, rainy conditions may prevent you from seeing particular areas or require rescheduling or canceling your tour.
Is it safe?
Yes, helicopter tours in Kauai are safe, as they provide expert pilots and safety equipment. If in doubt about participating with a specific medical condition, check with the tour provider before booking.
Are children allowed?
Most helicopter tours in Kauai allow children aged 7 and above. On some tours, children of all ages are welcome, and infants under 2 years old can travel for free on an adult's lap.
What happens in case of bad weather?
Helicopter tours in Kauai will be canceled if weather conditions are unsuitable, and you can reschedule your trip or get a refund.
Which other air activities can be done in Kauai?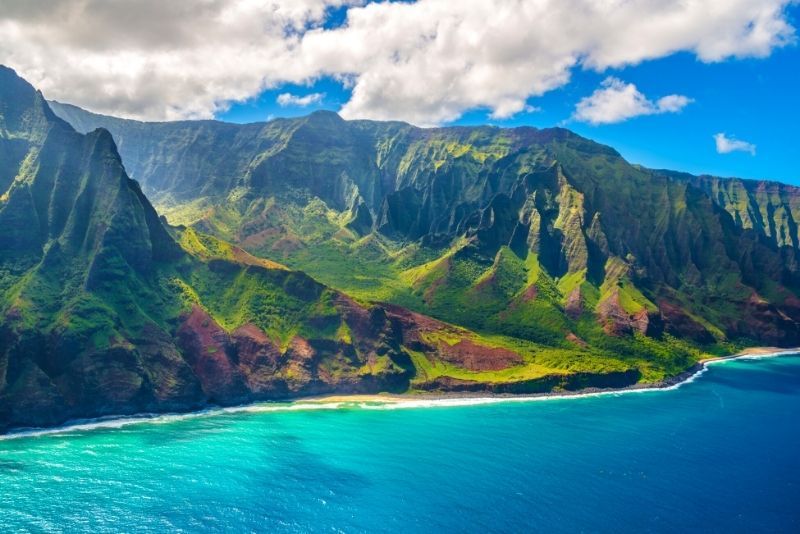 Airplane tours in Kauai offer a budget-friendly option to see the island from above.
Travel tips
If you suffer from motion sickness, take medication one hour before your flight.
Passenger weights are recorded in order to assure that the helicopter stays at a safe weight limit.
Bags and wide-brimmed hats are not allowed on helicopter tours.
Doors-off tours require that you wear closed-toe shoes and secure all loose items.