Those wanting to soak in the atmosphere of the artistic city of Florence should participate in a walking tour of the city.
Home to some of the most famous Renaissance masterpieces in the world, Florence is brimming with sculptures and paintings created by some of Italy's most celebrated artists. As well as art, walking tours in Florence discover the city's magnificent architecture, religious monuments and historic squares.
Whether it's the cuisine, statues or Medici family history you're interested in, you can find a walking tour to fit the bill.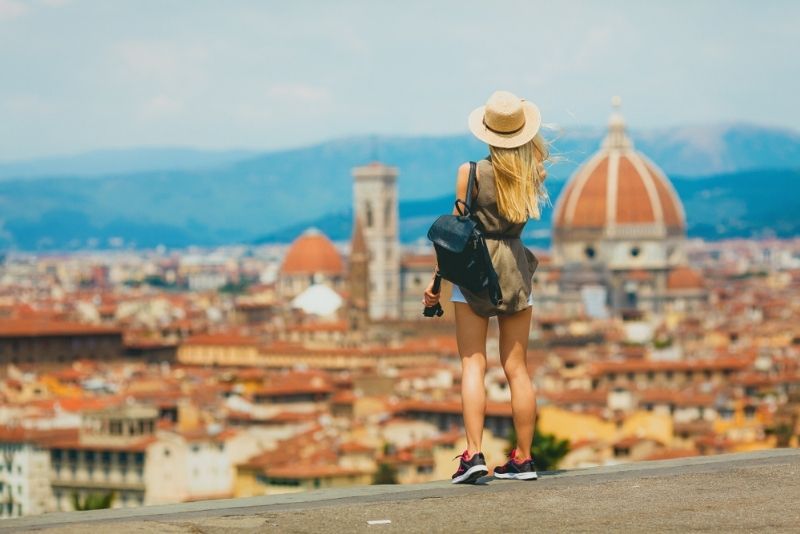 You will find below all you need to know about walking tours, one of the best options for sightseeing tours in Florence.
What are the best walking tours in Florence?
Florence guided walking tour
There is plenty to see in the ancient city of Florence on a guided walking tour. As you wander through the city streets, you'll learn about how the city was formed in ancient Roman times.
You'll see how a number of world-class artists, such as Michelangelo and Botticelli, shaped Florence's cultural scene into the artistic hub you can see today.
Your professional guide will fill you in on the former residents of the city, including the notorious Medici family, as you wander through a plethora of landmarks. These include Signoria Square, Ponte Vecchio and the spectacular Santa Maria del Fiore Cathedral.
Small group Florence food walking tour
Another way to experience the city is through its cuisine. As part of a group numbering no more than 12 participants, you'll saunter through Florence, stopping by the locals' favorite eateries. You'll taste authentic Florentine dishes away from the tourist hotspots and learn about Italian winemaking.
One of the delicacies you'll sample is a truffle pâté sandwich, which dates back to the 19th century. Your food tour includes a visit to the San Lorenzo Market, which is famous for its leather goods, as well as its fresh produce. You'll also sample local oils, bread and vinegar, finishing your tour off with a taste of creamy Italian gelato.
Medici family Florence walking tour
If you know anything about Florence, you'll likely have heard about the extreme wealth and power the Medici family held over the city throughout history. Between the 15th and 18th centuries, the family rose to power, and evidence of their rule can be seen today in Florence's architecture. Your knowledgeable guide will provide you with remarkable facts about the Medici's.
As you travel through the city, you'll visit impressive landmarks that were influenced or built by the family, including Piazza della Signoria and the Baptistery. Other points of interest on your tour include Palazzo Vecchio, the Baptistery, Brunelleschi's Dome and Santa Trinita Church.
Dan Brown's Inferno Florence walking tour
Dan Brown fans will be fascinated by this "Inferno"-inspired tour. You'll follow in Robert Langdon's footsteps as you retrace the mysterious route his character takes through Florence to untangle a web of deception.
You'll visit several of the most recognized locations featured in the book. These include the golden Gates of Paradise that serves as a door to the Baptistery and the Palazzo Della Signoria, which houses Palazzo Vecchio. You'll also discover the iconic Santa Maria del Fiore Cathedral, as well as learn the secrets of the Italian philosopher and poet, Dante.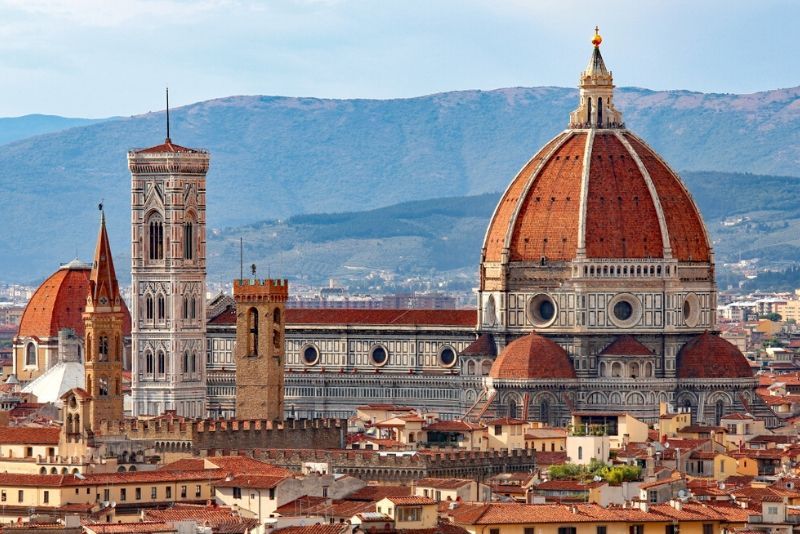 How much do walking tours in Florence cost?
For a deep dive into the history of Florence, you can take a tour tailored to the rule of the Medici family for between €20 and €40 per person.
You can expect to pay between €20 and €50 per person, for a guided walk in Florence that leads you around the most popular landmarks, and monuments.
If you wish to dive into Dan Brown's fictitious mysteries, you'll pay between €50 and €60 per person, for a tour inspired by his novel "Inferno."
Those who love to explore a city through its cuisine should consider a walking food tour. These excursions take place in a small group and cost approximately €80.
What is included in a walking tour in Florence?
Walking tours in Florence include a professional guide to lead you around the city and provide you with compelling tidbits on each point of interest.
Food tours also include several tastings of local products, such as wine, olive oil and bread.
Depending on the size of your group, you may be provided with a headset to enable you to hear your guide clearly.
Where do walking tours in Florence start?
Walking tours in Florence usually begin at the tour operator's office or at a central landmark in the city. Florence has an excellent network of trains and buses, which make it an accessible destination. You'll be informed of your meeting place before booking, which enables you to plan your route accordingly.
How long do walking tours in Florence last?
Florence walking excursions last between 1 and 3 hours, depending on the sites they visit. As many of the most remarkable landmarks are in close proximity to each other, you'll have plenty of time to explore a range of the city's highlights.
When is the best time for a walking tour in Florence?
While you can participate in a walking tour in Florence at any time of day, the best time is during the early and mid-morning. During these hours, the landmarks are open to the public but the hordes of tourists have not arrived in the center of the city yet.
If you wish to avoid the tourist wave as much as possible, travel to Florence during the shoulder months of May, June and September.
Are there any combos available with walking tours in Florence?
Cooking class and food walking tour in Florence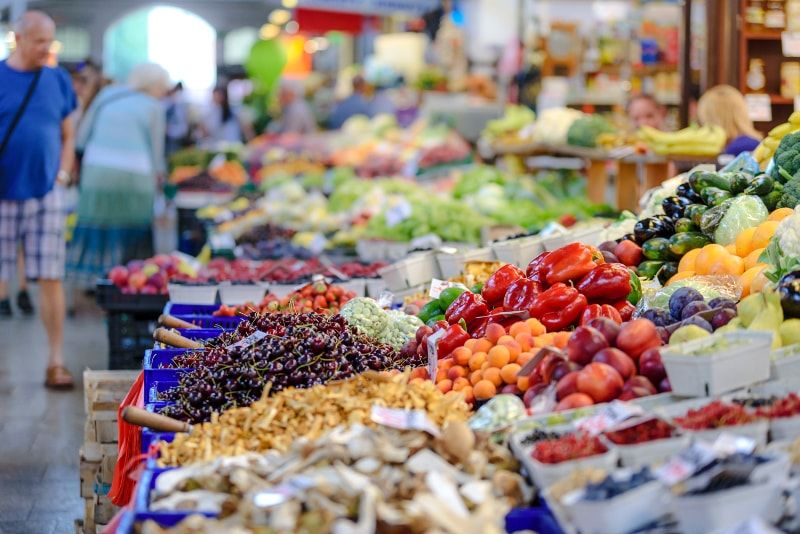 In order to experience the life of a true Italian, you must learn to cook like one. You'll take a cooking class exploring fresh produce to turn into a delectable feast for lunch.
Alongside your chef guide, you'll learn about the local dishes of Florence and where they stemmed from. You'll then whip up a traditional meal of dishes that include risotto, gnocchi and cannelloni.
Travel tips
If you are participating in a food tour, inform your tour operator of any dietary requirements beforehand.
Walking tours in Florence can last up to three hours. Wear comfortable shoes in order to get the most enjoyment out of your excursion.
If you wish to take a Dan Brown-inspired tour, pack a copy of "Inferno" in your hand luggage to read throughout your vacation.