Italian cuisine like pizza, pasta and gelato has touched almost every corner of the world. You can find an Italian restaurant almost anywhere, but why eat out when you could learn how to cook it yourself?
That's where cooking classes in Florence come in. Skilled chefs and instructors have put together countless cooking classes for you to enjoy on your next trip to Florence. You can learn how to make pizza, gelato, pasta and pasta sauce from the experts.
Learn how to make homemade meals in the comfort of someone's home or experience the thrills and challenges of cooking school. You are sure to have a unique, yet delicious experience during your next trip to Italy!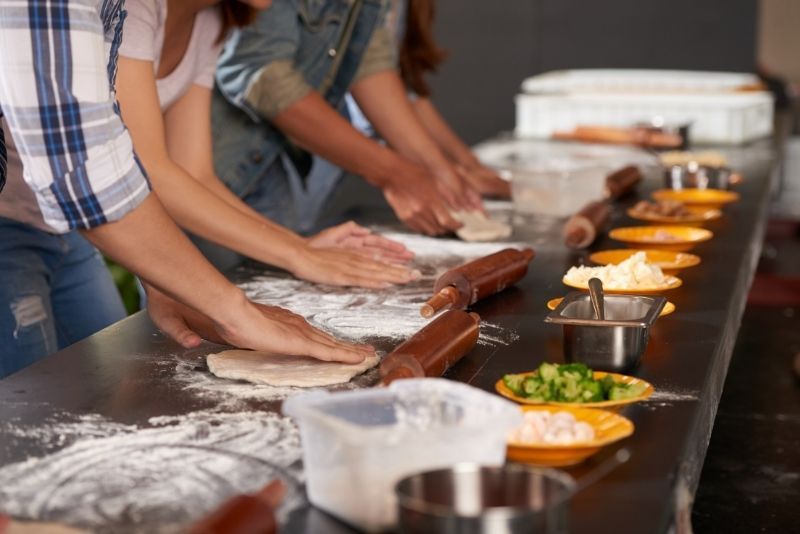 What are the best cooking classes tours in Florence?
Each cooking class offers a unique twist. Some include wine tastings, others teach you to cook vegan food. These instructors have created a wide variety of courses, so there is something for everyone!
Cooking class in a local's home
What better way to learn how to cook authentic Italian food than from the locals of Florence? Many people have opened up their homes to visitors from all over the world to share their knowledge of Italian delicacies.
These cooking classes give you the chance to connect with locals while enjoying delicious food! Spots are limited, so make sure to book ahead.
Gourmet cooking experience
You can also participate in a cooking class with a professional chef. You can make your way to a local cooking school where you will learn how to cook an Italian delicacy from an expert.
Virtual cooking class
If you don't want to leave the comfort of your own home, you can enjoy Florence cooking classes online! A variety of instructors offer virtual cooking classes so you can learn how to cook Italian delicacies on your own. You must provide your own ingredients and cooking utensils for the virtual cooking classes.
How much do cooking classes in Florence cost?
Cooking classes in Florence vary in cost depending on how long the class lasts, how many people can attend, what food you make, dietary restrictions and where the class is. The cooking classes typically cost anywhere from €26 to €500.
You can book virtual cooking classes for as little as €26. These tours typically last for two hours and you can participate from the comfort of your home. You can get the amazing flavors of Florence without leaving the country!
If you are in Florence, you can book an in-person cooking class for anywhere from €46 to €500. You can select which class you would like to book based on price, the food you learn how to cook, location, duration or whether or not it is a private class.
Instructors even offer a variety of classes at no extra cost that caters to dietary restrictions, including vegan, vegetarian and gluten-free diets.
You have many options to choose from! Make sure the class you book checks off all of your requirements. Decide what the most important factors of the class are for you and book accordingly.
What is included in a cooking class in Florence?
Each cooking class in Florence offers you a unique experience. The cost of the class will always cover the ingredients, beverages during the class, cooking tools and utensils and the food you learn how to cook.
The arguably best part of a cooking class is enjoying the delicious delicacies that you prepared once you are done cooking! Your instructors may even prepare additional food for you to enjoy a full meal after your cooking class. Other classes may provide you with a recipe book to take home or a certificate of completion.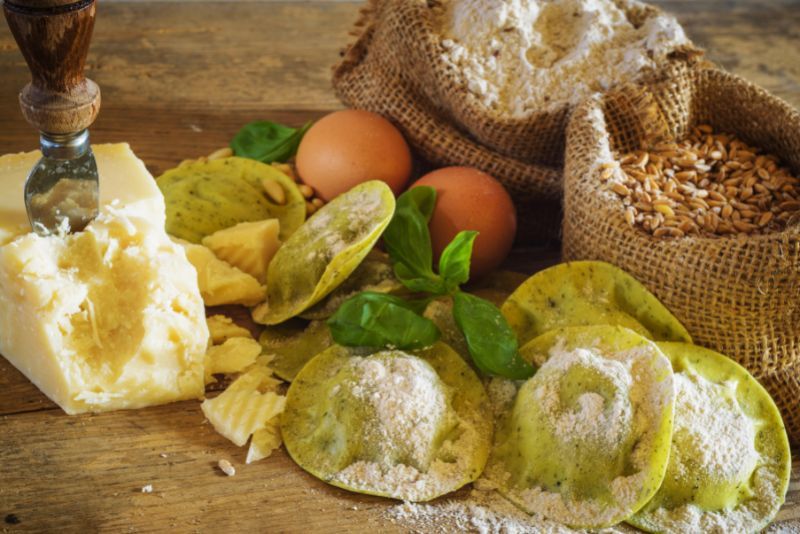 Most classes occur in the heart of Florence and do not provide transportation. If the class happens outside of the city, your tour operator may schedule private transportation for you. It is best to arrange this with the company ahead of time.
Where do cooking classes in Florence start?
Each cooking class has its own starting point. Some classes happen in a local's home, others occur at a winery outside of Florence.
The shorter tours in Florence typically require you to meet directly at the starting point and do not provide transportation. Your instructor will provide you with specific instructions to help you reach the class.
Some full-day tours outside of the city will pick you up at your accommodation for an extra fee. When in doubt, communicate with your instructor to plan ahead!
How long do cooking classes in Florence last?
Cooking classes in Florence can last anywhere from one to nine hours. The duration of each class varies based on what food you cook, where the class occurs and who teaches the class.
You can book a two-hour class that teaches you how to make an appetizer or dessert, or you can book one that lasts for nine hours and teaches you how to make three different kinds of pasta and sauces. Typically, most cooking classes last three to five hours. The choice is yours!
With so many classes to choose from, you can truly make this your own experience. You can dedicate just a few hours or a whole day to cooking!
When is the best time for a cooking class in Florence?
Most cooking classes occur around lunch or dinner time, so you can enjoy all of the food that you prepare! The time of day that you select is up to your personal preference, so you can't go wrong.
One to three-hour classes typically start in the late afternoon or evening, while full-day classes start in the morning and end in the evening.
Whether you are preparing lunch or dinner, you will get to enjoy delicious Italian cuisine!
Is there any combo available with cooking classes in Florence?
Market tour and pasta cooking class
If you want a class that provides more bang for your buck, check out the combination market tour and cooking classes. These courses take you to a local Italian market to purchase ingredients to use during your cooking class. You can explore the local market scene and create a delicious dish all in one tour!
Wine tasting and cooking class
Wine is the perfect complement to the food you prepare in your cooking class. These tours teach you how to prepare Italian dishes and then follow them with a delicious wine tasting. What could be better than enjoying homemade food, sipping wine and taking in the Italian scenery?
Are children allowed in cooking classes in Florence?
If you are traveling with children, you can book cooking classes that specifically cater to children! These classes teach more simple and kid-friendly recipes, and do not serve alcohol.
Other classes may be suitable for children even if they do not specifically target kids. These classes may serve alcohol and prepare complex recipes that can be challenging for children. It is best to chat with the class instructors ahead of time to see if their course is suitable for children.
Travel tips
Communicate any dietary restrictions or food allergies ahead of time!
Consider your schedule, budget and food preferences when booking a cooking class in Florence.
Come hungry! You get to enjoy all of the dishes that you make at the end of your class.