Visit Catalonia in Miniature to experience the entire Catalan region of Spain at scale. This impressive theme park features the most iconic landmarks of Catalan architecture in smaller versions as well as attractions and rides for the whole family to enjoy.
Marvel at over 150 miniature models reproduced at 1:25 scale to commemorate the mix of Romanesque and Gothic buildings that create the classic community.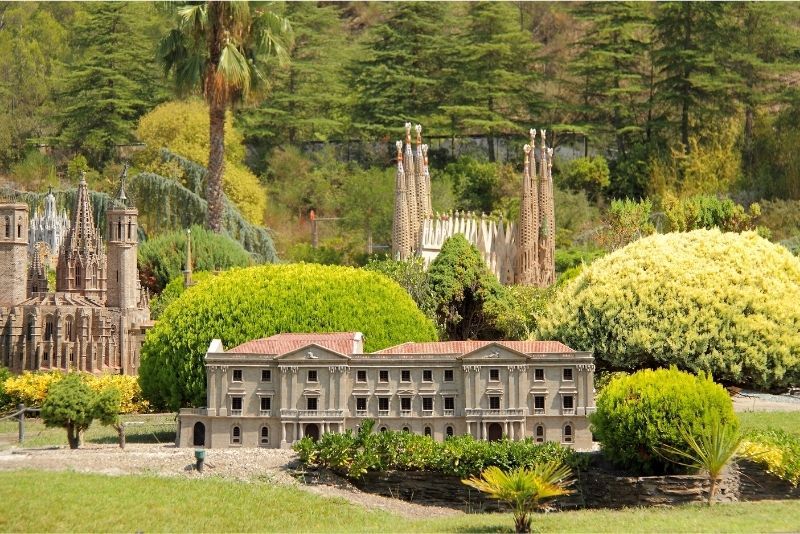 Here's all you need to know about Catalonia in Miniature, one of the most exciting options for theme parks in Barcelona.
How much do Catalonia in Miniature tickets cost?
Weekday entry
Adult (13-59): €14
Children (3-12): €10
Senior (60+): €10
Festive/weekend ticket
Models
Adult (13-59): €14
Child (3-12): €10
Senior (60+): €10
Adventure + models
Adult (13+): €22
Junior (7-12): €19
Child (4-7): €15
Who is eligible for discounts?
All guests are eligible for a 10% discount if tickets are booked online.
Both visitors who possess a youth card, as well as single-parent families, are eligible for a 20% discount on the overall ticket price.
Adults and children with disabilities who are able to present a diversity card are granted a flat entry fee of €8, not including any companions.
Should you book in advance?
Book your visit to Catalonia in Miniature ahead of your visit to benefit from any online discounts. Purchase tickets in advance to also ensure entry during the busy season, and to make sure the park is open on your preferred day of visit.
What are the best Catalonia in Miniature tours?
Catalonia in Miniature skip-the-line entry
Enjoy the luxury of skip-the-line access to Catalonia in Miniature by pre-purchasing your tickets to the exciting theme park.
Once you arrive at the property, you'll have the opportunity for a self-guided exploration of the scale model exhibition. Tour Catalonia's most fundamental architecture at eye level.
Get a closer look at iconic buildings like La Sagrada Familia, Montserrat and Antoni Gaudi's beloved creations as you journey through the amusement park.
You'll be amazed by over 48 models that together make up the beloved region of Catalonia in Spain, recreated on a 1:25 scale with wood and polyurethane.
Take a break from your Catalan expedition for a picnic lunch, a train ride, a show in the park amphitheater or frolic on the playground.
Weekend or festive tickets also include several extra attractions such as zip lines and adventure circuits.
What will you see inside?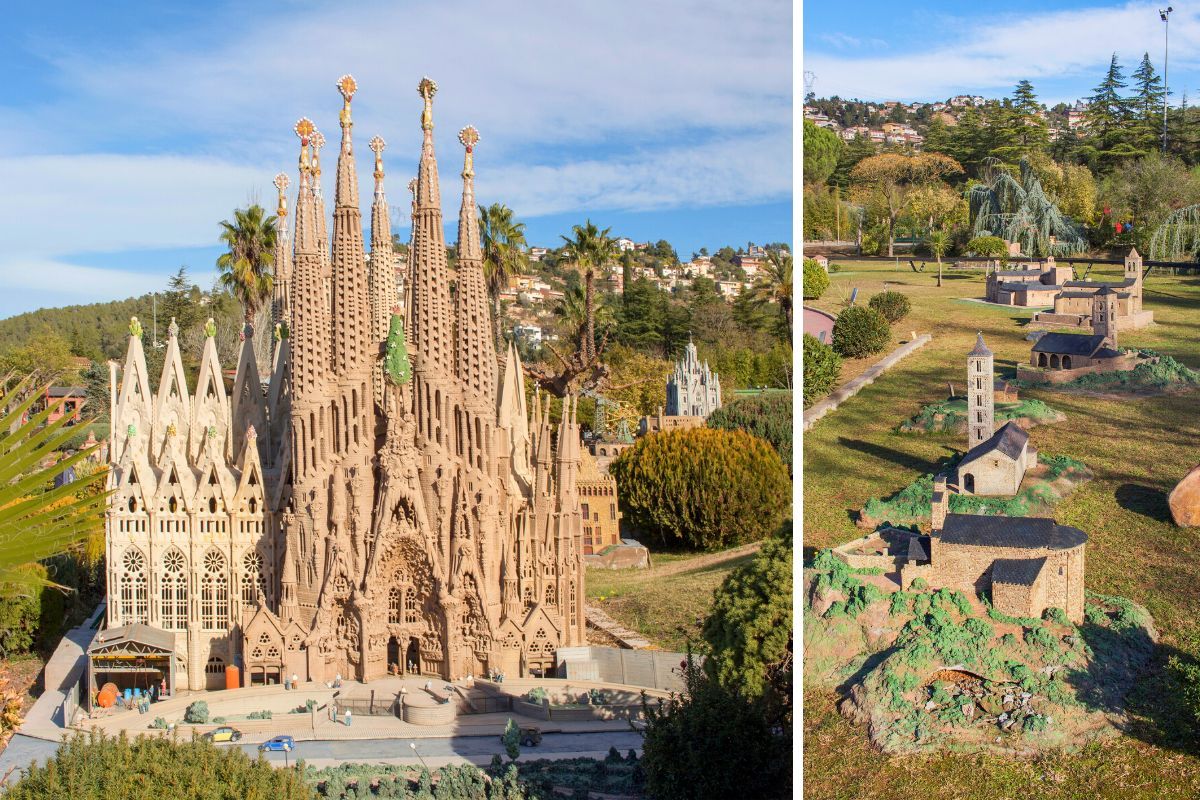 Inside 'Catalonia in Miniature' you will see a 25,000 square-meter map of the Catalan built at a 1:25 scale.
You'll have the chance to explore the entire Spanish region in just one day, as you walk around the most important monuments like a giant. Catch a look at iconic Catalan architecture from the Baroque, Romanesque, Gothic and even modern periods.
You'll marvel at Spanish staples such as La Sagrada Familia, the amazing works of Antonio Gaudí, Royal Monasteries, Cathedrals and more, all while at the park. After touring the miniature monuments, head to the adventure circuits to put your bravery to the test.
Zip-line between tall platforms and scale rope courses over a meter above the ground as you take in beautiful views just outside the city of Barcelona.
Enjoy a delicious outdoor picnic with drinks as you finish up your visit to Catalonia in Miniature.
How to get there?
Catalonia in Miniature is located less than 30 minutes from Barcelona. Drive southwest on the C-31 for about 10 minutes until you reach the A-2 highway.
Continue along for 15 minutes where you'll take exit 602 to BV-2005. Drive for 10 more minutes until you reach the theme park.
If you would prefer public transportation, take the N50 bus from the Pl. Catalunya (Rda. Universitat) stop in Barcelona for 30 minutes until you reach Av. València - Pg Pi i Margall.
From there, you'll transfer to the L62 bus for the final 25-minute ride before arriving at Catalonia in Miniature.
What are the opening times?
Catalonia in Miniature is open from January until March and October until December from 10 AM to 6 PM.
In August, the park is open from 10 AM until 8 PM. From April until September the park is open from 10 AM until 7 PM.
Catalonia in Miniature is closed on December 25 and January 1 for the holidays.
When is the best time to visit Catalonia in Miniature?
Spring is the most popular time to visit Catalonia in Miniature as the weather in Spain is most pleasant at that time of year. Visit the park in August for the warmest temperatures and smaller crowds.
Which other theme parks can be visited in Barcelona?
Travel tips
Arrive before 12:30 PM on weekends and holidays to see as much of the park as possible.
Pets are allowed at Catalonia in Miniature.
Parking is free at the park.