PortAventura World is a massive entertainment resort located on the Costa Daurada, ideally situated close to Barcelona. It features the PortAventura theme park along with a second park, Ferrari Land, as well as the PortAventura Caribe Aquatic Park and five hotels.
Grab your PortAventura tickets to discover first-hand why it is the most visited theme park in Spain and the sixth most in Europe. It is the ideal destination to spend a great time with your friends or family.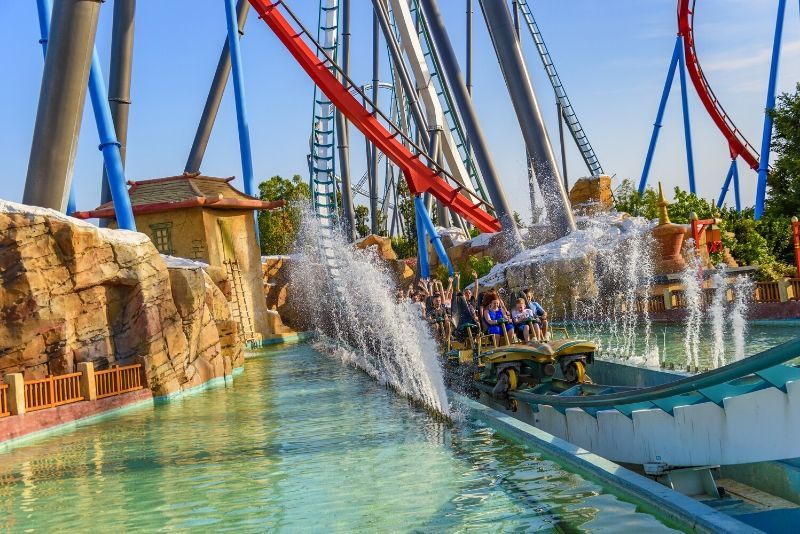 Here's all you need to know about PortAventura, one of the most exciting theme parks in Barcelona.
How much do PortAventura tickets cost?
PortAventura tickets are sold for one day general admission to the primary theme park, or in multiple day packages that include access to two different theme parks at PortAventura World:
1-Day ticket
The basic one-day ticket provides admission to all the rides and features of PortAventura theme park.
Adult (11-59): €50 (US$56)
Seniors (60+): €44 (US$49)
Children (4-10): €44 (US$49)
1-Day/2 Parks Pass
Admission to the PortAventura theme park, and your choice of Ferrari Land or PortAventura Caribe Aquatic Park.
Adult (11-59): €57 (US$64)
Seniors (60+): €50 (US$56)
Children (4-10): €50 (US$56)
2-Day/2 Parks Pass
The same rules as the 1 Day/2 Park Pass yet you get to space out the adventure in more than one day.
Adult (11-59): €70 (US$78)
Seniors (60+): €61 (US$68)
Children (4-10): €61 (US$68)
3-Day/2 Parks Pass
The choice of Ferrari Land and PortAventura Caribe Aquatic Park in addition to the main theme park over the course of three days.
Adult (11-59): €90 (US$101)
Seniors (60+): €79 (US$88)
Children (4-10): €79 (US$88)
1-Day Caribe Aquatic Park ticket
This 1-day ticket provides admission to Caribe Aquatic Park only.
Adult (11-59): €31 (US$35)
Seniors (60+): €27 (US$30)
Children (4-10): €27 (US$30)
Who is eligible for discounts?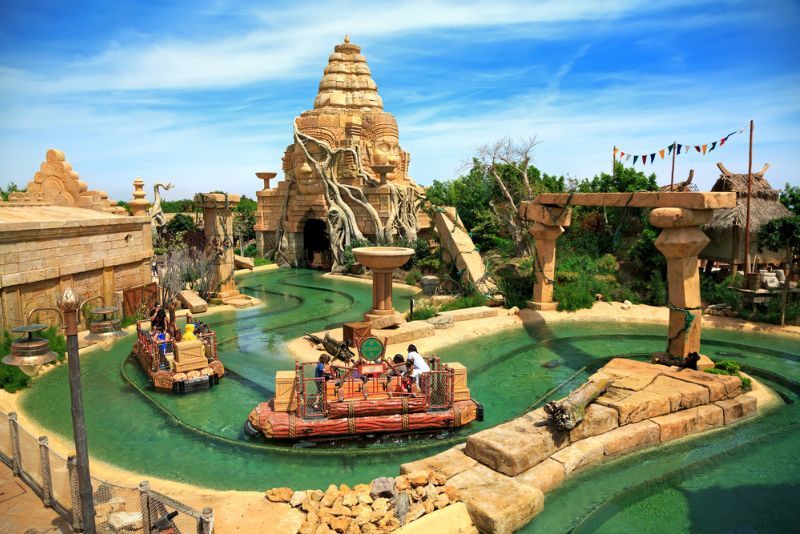 PortAventura World has several different discounts. First, people with disabilities receive discounted PortAventura tickets that start at €25 (US$28) for single day general admission and climb to €58 (US$65) for 7-day passes.
Secondly, PortAventura offers discounted rates to seniors (60 years or older) and children (10 years or younger). Children under the age of three get into PortAventura for free. Large families/groups and school groups are also entitled to special discounts.
Finally, you can also save money by purchasing PortAventura tickets online. There are many online travel agencies such as Viator, Headout or Getyourguide that offer discounted tickets. Use our search engine to compare all the deals available and book the cheapest tickets for your desired date.
Are there any tickets including PortAventura tickets and Barcelona round trip?
Absolutely. There are several agencies organizing day trips from Barcelona to PortAventura. Count around €70 for a PortAventura ticket with return transfer from/to Barcelona, or €50 for Caribe Aqua Park. Use our search engine to find the best deal.
This is a terrific way for visitors to not have to worry about transportation to and from the resort. Also, an excellent way to see the sights of Barcelona on your travels over to PortAventura.
What will I see?
PortAventura World is one of the most thrilling places in Europe. The heavily visited resort is home to three different theme parks: PortAventura, Ferrari Land, and PortAventura Caribe Aquatic Park. The resort also offers lodging and a convention center.
PortAventura attractions more than 3.5 million visitors each year. Like most theme parks, the rides are the primary attraction, though shows are also featured at the resort. Restaurants and shops also welcome visitors.
Multiple day passes present you with the opportunity to stay at one of the five hotels located directly on the grounds. It is a convenient way to stay directly at the resort and receive quick access to one or more of the theme parks.
Check here for hotels near PortAventura.
Is it worth visiting other theme parks at PortAventura during my stay?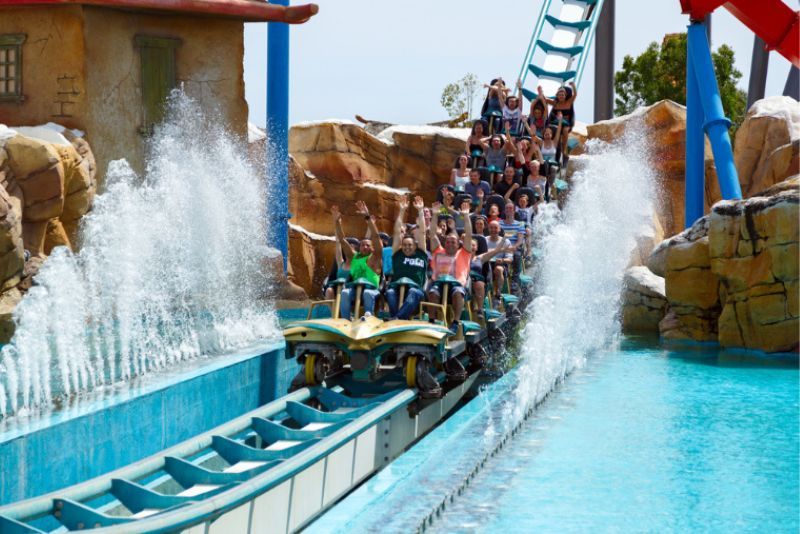 We do recommend considering a multi-day, multiple attraction pass when visiting PortAventura. The world-class resort is home to the principal theme park (PortAventura) along with a second theme park - Ferrari World. Additionally, a water park is offered (called PortAventura Caribe Aquatic Park) along with other top services. You can also save money by combining two attractions at the same time over a multiple day visit.
What is the best time to visit the PortAventura? How to avoid the crowd?
PortAventura World is the busiest theme park in Spain, and the sixth most visited in Europe. Therefore, it is difficult to find times where the park is not crowded. Your best opportunities for smaller lines are when the park first opens in the morning through the first few operating hours of the day. It is also better to visit on weekdays compared to weekends and holidays.
What are the PortAventura opening hours?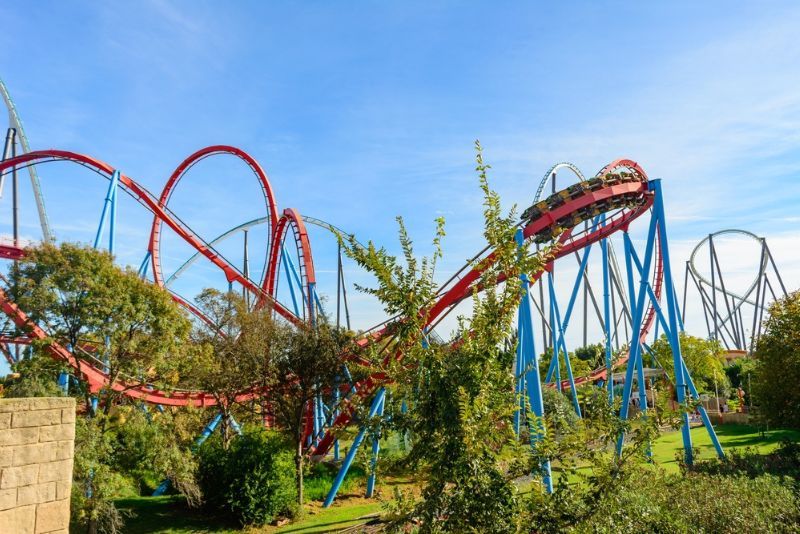 The operating hours of PortAventura do vary based on the time of the year. The standard hours of the park are from 10 am to 9 pm. However, make sure you check the calendar on the official website for the day you plan on visiting the park to avoid unexpected interruptions.
Which other theme parks can be visited in Barcelona?
Travel Tips
Book online: There are many different incentives to buying PortAventura tickets online. First, you can save money by booking discounted tickets. Secondly, it eliminates the hassle and saves time as you don't have to wait in line at the gate box office. Tickets will also secure you entry on busier days of the park like holidays and weekends.
Arrive when the gates open. There is so much to do at PortAventura that it is difficult to see even one theme park in a single day. We recommend considering a multi-day pass and arriving early. The lines to rides are also smaller during the first few hours the park opens.
Keep in mind height restrictions. Certain rides are not available to children under a certain height for safety reasons. Before you get into line for a ride, make sure your child meets the minimum height requirements.