The world reveres the philosophers and thinkers that Athens has produced, but the local cuisine is sometimes overlooked. Food plays a significant role in traditional Greek culture, and many local dishes are incredibly healthy — centered around staple Mediterranean ingredients, such as olive oil, fresh fish and vegetables.
Why not spend time taking a cooking class in Athens to discover more about the locals and traditional Greek culture? These classes are guaranteed to make your stay in Athens even more enjoyable!
You will find below everything you need to know about cooking classes, one of the best food and wine experiences in Athens.
What are the best cooking classes in Athens?
Athens boasts no shortage of cooking classes in the city. Each tour will provide a professional chef to guide you through the process of cooking various Greek dishes. Some of the best cooking classes include:
Cooking classes with food market visit
These classes start with a short visit to the central food market to get fresh ingredients. Back at the cooking studio, you'll be shown how to prepare a full Greek meal under the guidance of a regional chef.
Following your culinary lesson, you can enjoy the food you've made with a glass of wine while sitting down with the chef and your fellow group students. Your chef will also provide you access to the recipes via email so you can try your hand at recreating these dishes at home.
Private cooking classes
These cooking sessions are held in taverns or restaurants that are located in the city.
These private cooking classes are ideal for a more individualized culinary experience and for avoiding the crowds. You will learn how to prepare a typical, three-course Greek dinner with simple, easy-to-follow instructions. Enjoy your masterpiece afterward with a glass of wine and a beautiful view!
Cooking classes with rooftop dinner
These cooking classes start late in the day. They last for about three hours and are held on rooftops with spectacular views of Athens. You will receive instruction from the local chef on how to prepare at least five Greek delicacies. After class, take a seat and enjoy your meal while admiring the Acropolis and other illuminated structures across the city!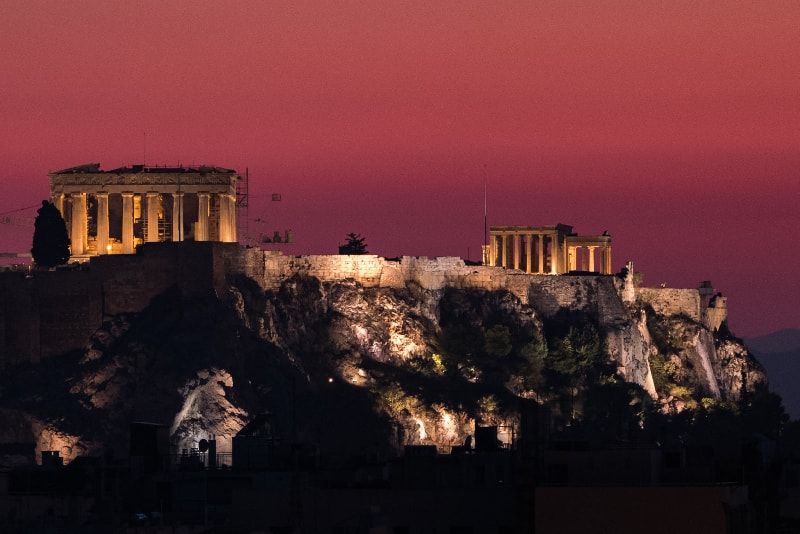 How much do cooking classes in Athens cost?
Most Athens cooking classes range in price from around €60 to €125 per person.
Cooking workshops held in the morning are less expensive and cost about €60 compared to those hosted in the late evenings. You can expect to pay between €90 and €125 per person to enjoy a rooftop dinner with a nighttime view of the city.
Cooking classes in Athens that involve a visit to a nearby food market cost roughly €60 per person, making it the most affordable option. The shortest cooking classes last about three hours and cost between €80 and €90 per person.
Private cooking classes cost around €200 per person in a group of 4 persons.
The most expensive culinary classes include morning coffee, a market visit, the serving of meze dishes and Greek wine tasting and snacks before the session even begins.
What is included in a cooking class in Athens?
Every cooking class in Athens provides visitors with a unique experience, but you can expect each tour to include the following:
A professional chef who leads the cooking demonstration
Fresh ingredients
Cooking equipment and utensils
Water and Greek wine
Recipes via email (afterward)
To enjoy the meal that you prepared
Some cooking classes will take you directly to a local market to purchase your ingredients, while others will pre-purchase everything you need for the course.
Where do cooking classes in Athens start?
Most cooking classes do not include round-trip transportation from your accommodation, so you must make your way to the predetermined culinary studio or designated meeting point. Some tours make a stop at a local market to purchase ingredients, so your chef and guide may advise you to meet directly there.
How long do cooking classes in Athens last?
The average duration of cooking classes in Athens is four hours. This includes traveling to the central market to get the fresh produce, preparing four to five Greek dishes and the final dishes with wine tastings. Other cooking classes that don't include a trip to the market last about three hours.
When is the best time for a cooking class in Athens?
Starting your vacation with this activity is a great way to learn about traditional Greek dishes that you may want to try throughout your stay in Athens. You will also learn about Greek history, which will be helpful while exploring the city.
Depending on your preferences, cooking classes may be best taken in the afternoon. You will spend a few hours preparing the meal and then have time to enjoy it with a beautiful nighttime view.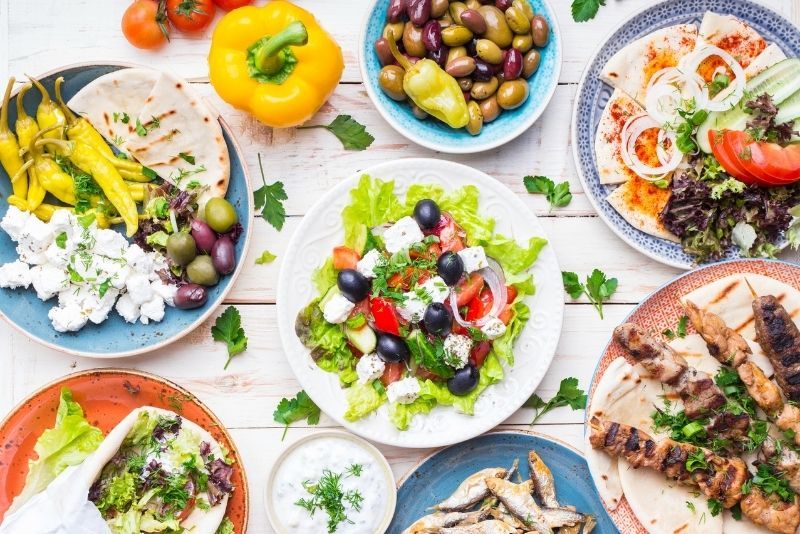 Are children allowed in cooking classes in Athens?
Some cooking classes in Athens allow children and infants on the tour. They may even offer access to baby car seats and strollers as well. Others, however, require adult supervision and are not suggested for kids under the age of nine. If you can't find a kid-friendly culinary experience in-person, consider booking one of the at-home cooking sessions.
Travel tips
Make a reservation for the cooking class online in advance to reserve your spot.
Communicate any dietary restrictions at the time of booking. Most instructors will try their best to make accommodations!
Bring a water bottle to refill at the culinary studio to stay hydrated.
Dress casually, so you're comfortable while preparing the food.
Take a camera with you to document your culinary experience.
Wear comfortable walking shoes! Most cooking classes in Athens begin with a 30-minute trip to the local market to buy fresh ingredients.
Visit local vendors to purchase ingredients used in the class.