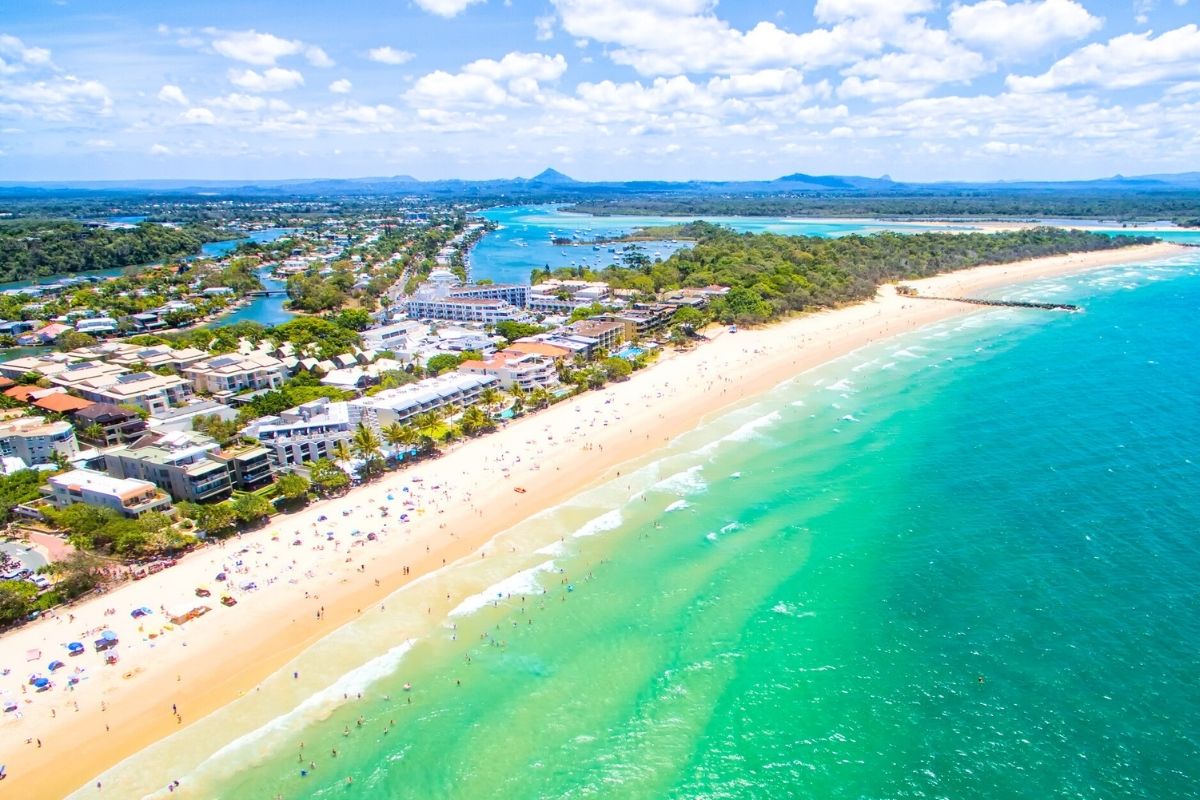 Where golden beaches meet lush hinterland and a vibrant coastal culture thrives beneath the warm Aussie sun, Queensland's aptly-named Sunshine Coast is an underrated slice of paradise. Stretch north of Brisbane, this bit-of-everything region dishes up a captivating blend of breathtaking landscapes, laid-back charm, and a fair dinkum horde of outdoor adventures to keep you entertained for weeks on end.
Picture yourself strolling barefoot along pristine shores, where powdery sand tickles your toes and warm, crystal-clear waters beckon you to take a dip. That's the 'Sunny Coast' in a nutshell — with over 60 kilometres of rugged shores, this east coast stretch boasts some of Australia's most iconic and idyllic beaches. From the lively surf breaks of Noosa Heads to the secluded coves of Coolum, each beach has its own distinct personality, enticing surfers, sunbathers, and backpackers alike.
But the Sunshine Coast isn't just about sandy shores. Venture inland, and you'll find a verdant wild slide that begs to be explored — think lush rainforests, cascading waterfalls, and meandering trails that provide a tranquil retreat for nature lovers escaping the hustle and bustle of Brisbane. Take a leisurely drive through the picturesque Glass House Mountains, hike through the enchanting Kondalilla National Park, or discover the ethereal beauty of the Mary Cairncross Scenic Reserve.
And when the sun sets, the Sunshine Coast comes alive with a vibrant dining and entertainment scene that tantalizes taste buds and showcases the region's culinary prowess. From bustling food markets to award-winning restaurants, you can savor the freshest local seafood and sample world-class wines while you're at it.
Throw in family-friendly theme parks, seaside excursions, comically large Aussie icons (the Big Pineapple, anyone?), bizarrely brilliant attractions like The Ginger Factory, and a slew of year-round festivals, and you're left with a smorgasbord of things to do on the Sunshine Coast.
So whether you seek thrilling adventures, tranquil escapes, or simply the warmth of the sun, this down-under destination promises to leave a mark. Without further ado, let's get stuck in — welcome to the Sunshine Coast, your gateway to paradise.
1 – Check out the SEA LIFE Sunshine Coast Aquarium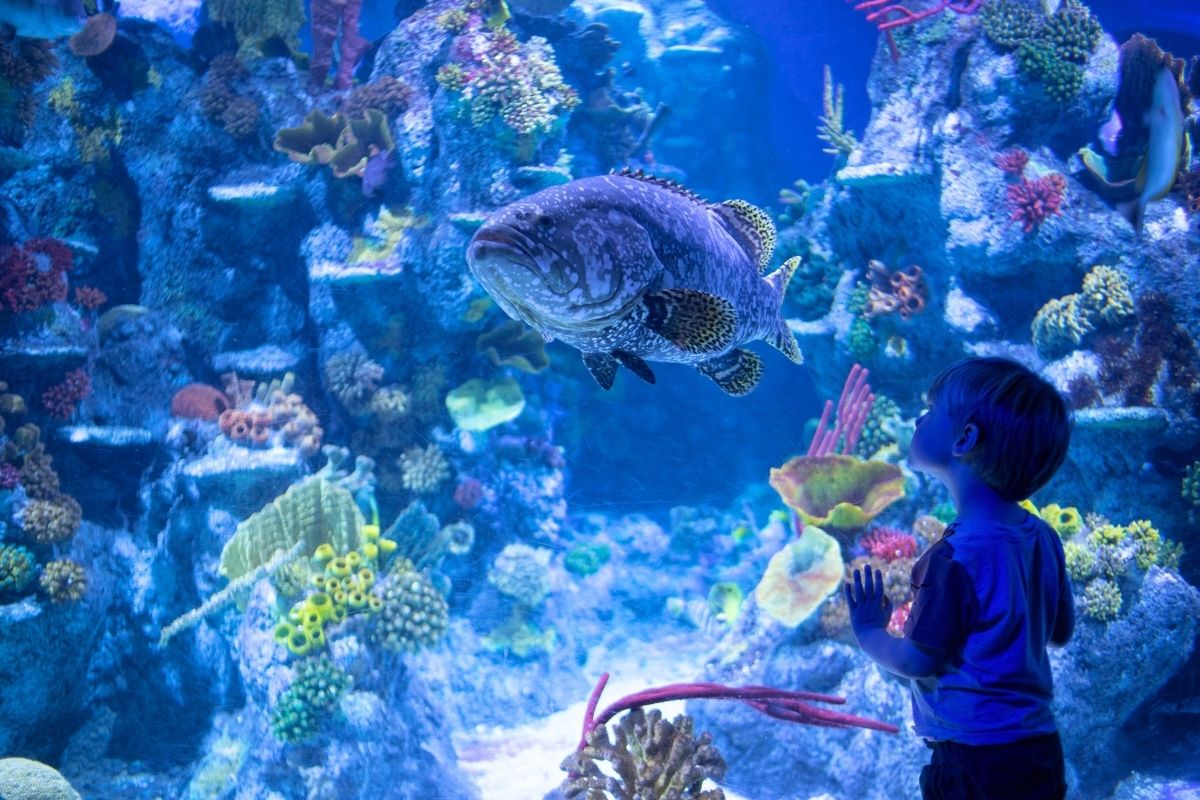 Home to over 5,000 marine animals of all shapes, sizes, colours and walks of life (including endemic Aussie species as well as rare and endangered breeds), the SEA LIFE Sunshine Coast Aquarium offers an immersive underwater adventure for the whole family.
All up, you've got 11 different themed zones to explore, from the underwater tunnel to Seal Island, the Little Penguin corner, and the Coral Play area (a hit with the youngsters) to name a few.
As you wander around the Mooloolaba venue (conveniently located near Mooloolaba Beach), you'll discover vibrant coral reefs, intimidating sharks, majestic rays, playful seals, and adorable penguins. Don't miss the daily feeding sessions and educational presentations that provide insight into the incredible world of marine life.
Highlights include the Shark Shipwreck Adventure Exhibit, the Ray Lagoon, the touch tanks, where you can feel the unique textures of starfish and sea cucumbers, and the Turtle Temple – an interactive exhibit where you can get up close and personal with one of Australia's most iconic creatures.
Looking for something extra special? Join the Seal Encounter experience for a chance to interact with these intelligent creatures up close, take a Behind the Scenes Tour, or if you're brave enough, sign up for the Shark Dive Xtreme session!
The aquarium also regularly hosts special events, such as sleepovers, birthday parties, and behind-the-scenes tours for a more immersive experience – so keep an eye out on the website to see what's coming up.
With wheelchair-friendly paths, a café serving delicious treats to keep you fuelled throughout the day, and an onsite gift shop where you can pick up souvenirs of your visit, SEA LIFE Sunshine Coast Aquarium promises to be one of the most memorable activities during your stay in beautiful Sunshine Coast!
2 – Take the kids to Aussie World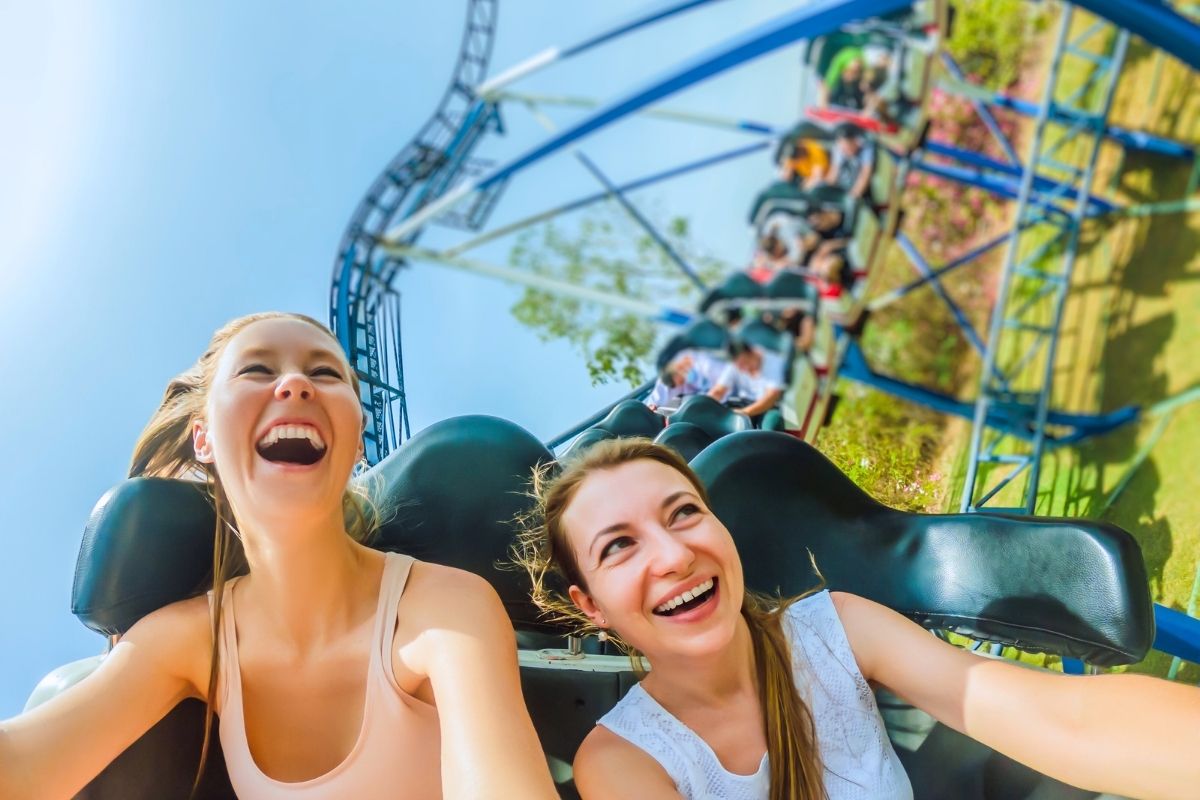 If you're on the hunt for things to do on the Sunshine Coast that the entire family is sure to love, look no further than Aussie World. This family-friendly amusement park is packed with more than 30 exciting rides, side-splitting entertainment, and a variety of unique games to occupy all ages.
With its charming Australian-themed atmosphere (think: koalas, kangaroos, and Outback decorations all over), Aussie World guarantees a day of excitement for locals and internationals alike – without the massive crowds of the Gold Coast theme parks or Australia Zoo (which you'll also find on the Sunnie Coast).
Highlights include the classic Ferris wheel, which serves up panoramic views of the surrounding countryside; the heart-racing Dingo Racer rollercoaster, and the spine-tingling Mayhem Maze, bringing together horror-themed special effects, live actors, and intense sound and lighting to create a truly terrifying experience. For the ultimate thrill, make a beeline for SX360 – Australia's tallest and fastest 360-degree pendulum that has you hanging every which way!
Little ones will love the Sideshow Alley area, which has a slew of carnie-style midway games, likewise Professor Bogglesworth's Illusionarium, a state-of-the-art optical illusion experience fit for all ages.
Travelling with tiny tots? The theme park hosts occasional special events designed for younger minds – think book weeks, Halloween spectaculars, and Christmas shows. Simply check out the Aussie World website to see what's on the cards.
3 – Admire the view from the Point Cartwright Lighthouse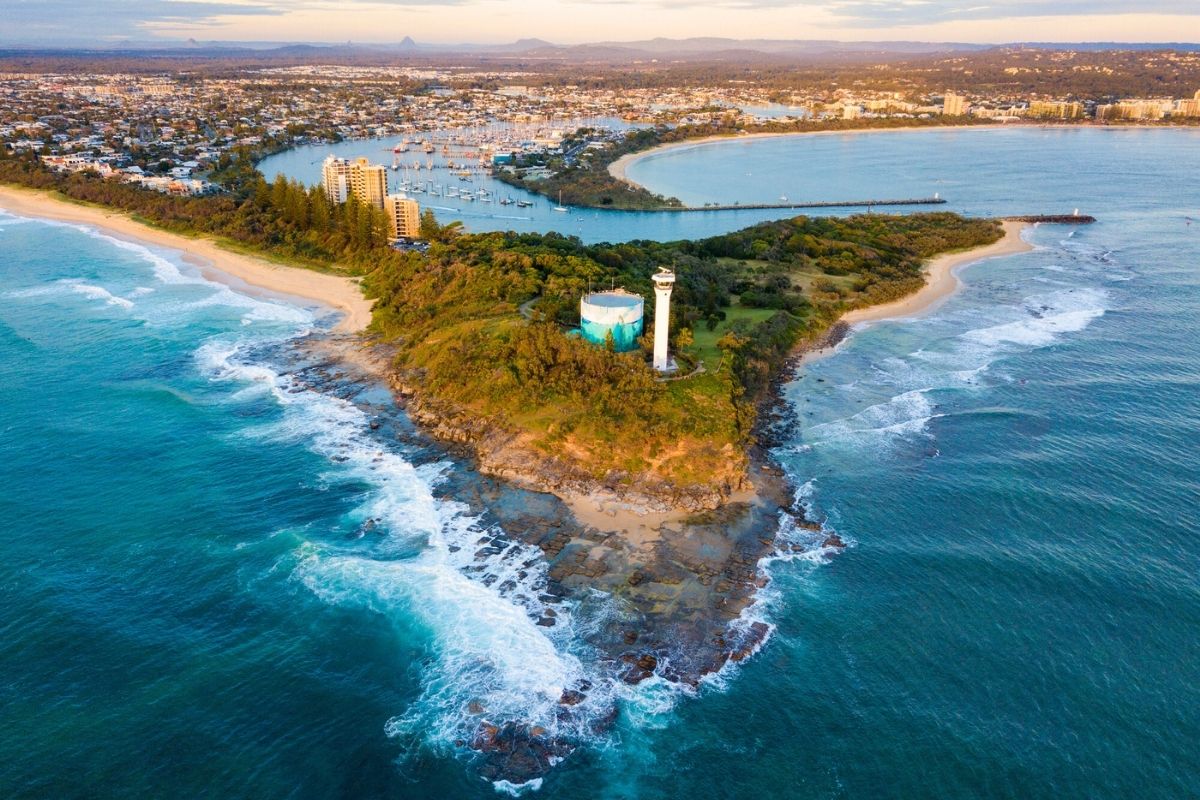 Perched on a headland overlooking the sparkling Pacific Ocean, Point Cartwright Lighthouse is renowned for its stunning panoramic views – as well as being a gateway to a handful of notable coastal walks. Tucked away over in Buddina, this iconic lighthouse has been standing tall (at a height of 33 meters, to be exact) since 1978 and remains a symbol of the region's strong maritime history.
Take a leisurely stroll along the coastal boardwalk (wheelchair and pram accessible), breathe in the fresh sea air, and keep your eyes peeled for breaching dolphins or migrating whales during the season (typically from June to November).
Impressive landmark aside, Point Cartwright is also known for its excellent fishing opportunities, with anglers often casting their lines from the rocks or the nearby beach.
Hot tip: grab some takeaway fish and chips (chicken salt included, obviously) and set yourself up for a picnic in Point Cartwright's headland, which has playgrounds, tables, and BBQ areas at your disposal.
4 – Sign up for a Sunshine Coast boat tour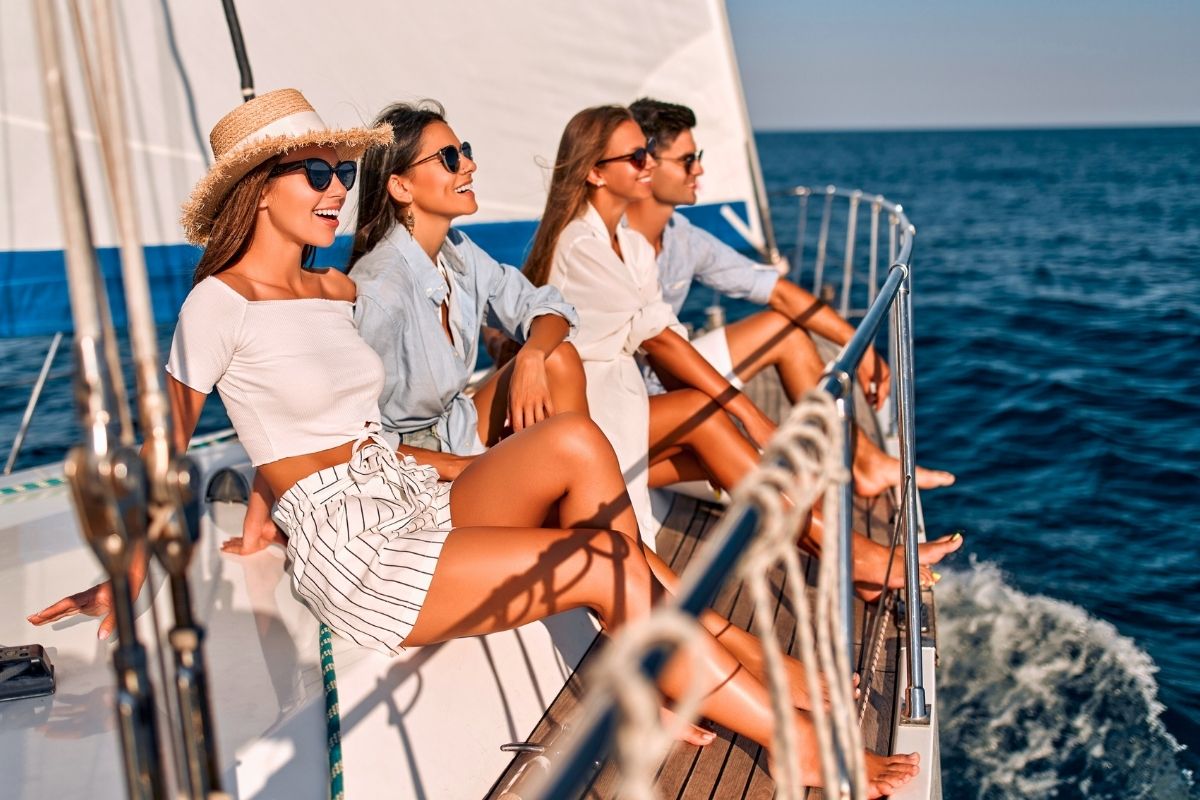 With over 60 kilometres of coast to explore, there's no better way to see the Sunshine Coast than from sea level. Fortunately, boat tours run regularly from Mooloolaba Harbour, bringing beachgoers on a variety of aquatic adventures year-round (because, even in the wintertime, Queensland reminds nice and sunny).
Choose between day tours, sunset cruises, whale-watching adventures, romantic dinner cruises, and even glass-bottom boat tours. No matter which boat tour tickles your fancy, you'll get to enjoy spectacular views of places like Mount Coolum, Bribie Island, the Glass House Mountains, and so much more.
For a more laidback experience, book yourself onto a fishing charter for an afternoon of fun (not to mention a good chance at bagging the perfect catch), take a leisurely cruise up the Maroochy River to discover hidden spots off the beaten track, or take a kayak through the Noosa Everglades (where nothing but the calming sounds of nature awaits)
Craving something more adventurous? Some boat tours also offer activities like snorkeling, paddleboarding, or kayaking, adding an extra element of adventure to your experience.
5 – Explore beautiful Mount Coolum National Park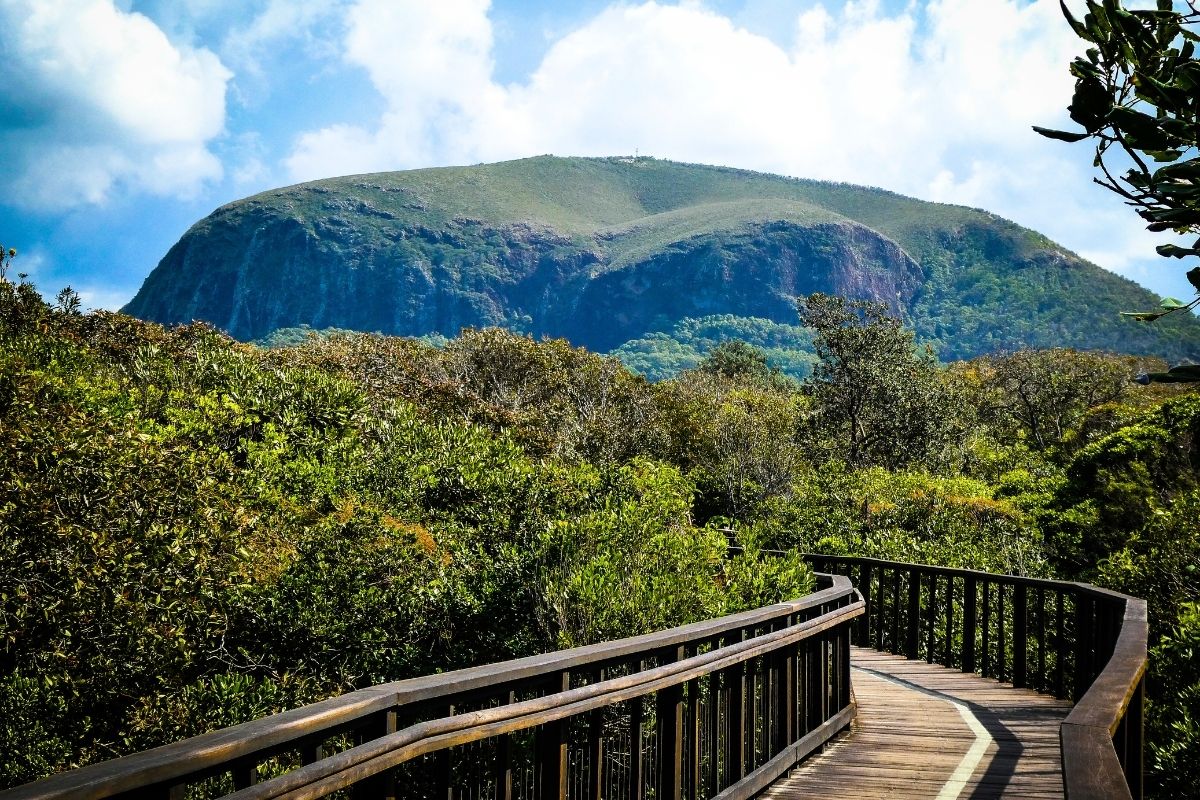 Rising majestically from the coastal plains, just north of the Sunshine Coast Airport, the Mount Coolum National Park is an outdoor adventure playground that breathtaking views, rewarding hikes and wildlife aplenty.
The main draw of Mount Coolum National Park, as you'd expect, is the mountain itself — this ancient volcanic dome rises to an impressive height of 208 meters (682 feet) above sea level, sporting panoramic views of the golden coast and beyond.
To get to the top, you'll need to tackle the 1.5 km (one-way) return Mount Coolum track, but don't be fooled by its relatively short length; this is a bit of an ankle-twister with plenty of challenging climbs and descents — definitely not recommended for children or inexperienced hikers.
Animal lovers, along the way, keep an eye out for wallabies, koalas, and various bird species, including wedge-tailed eagles and rainbow lorikeets — as an untouched oasis of nature, the park has become the habitat of countless native species.
Want to witness the mountain from afar, rather than to take on the climb? Not a problem; a handful of lookout points are available, arguably none better than that of the Boardwalk View Of Mount Coolum. Located just back from the beach, this scenic spot showcases the contrast between stunning coastal landscapes and dramatic mountains.
6 – Go kayaking!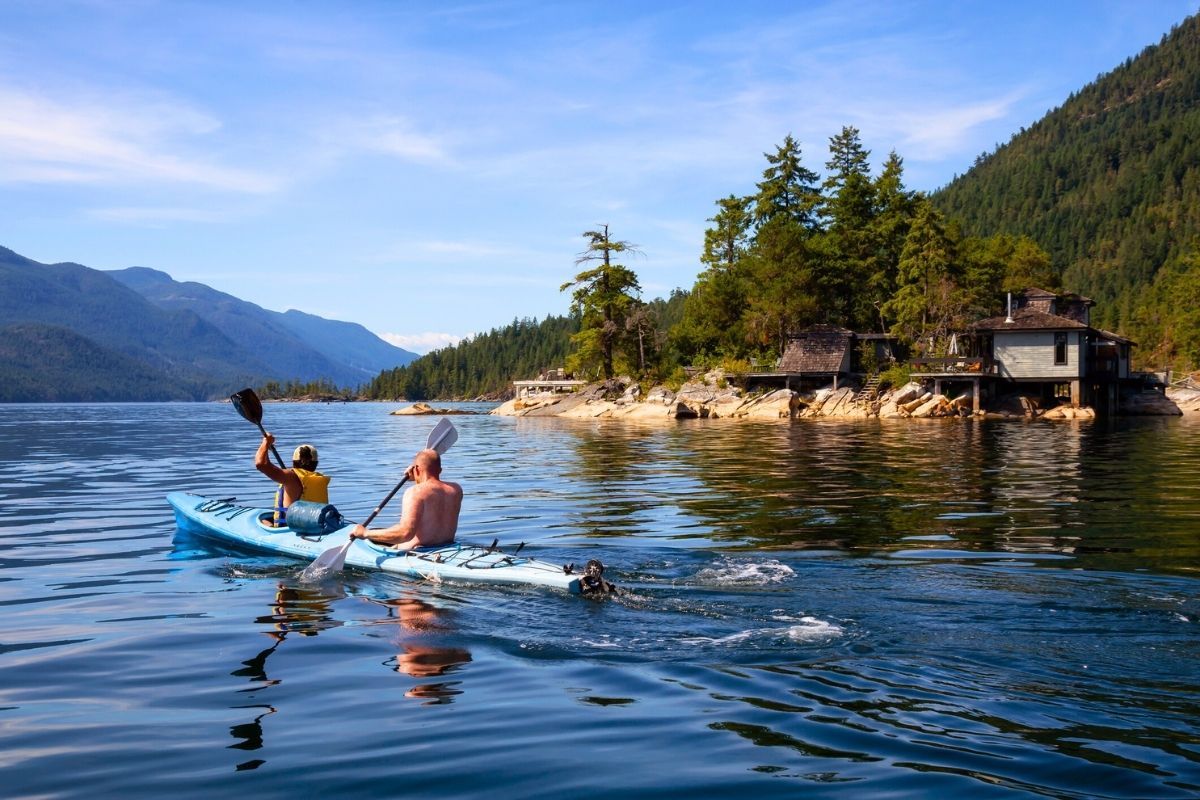 For that perfect blend of relaxation and exercise, why not take a kayak out onto the water? You've got a truckload of spots along the Sunshine Coast that offer both rental services and guided tours, so good old Aussie adventure is never too hard to come by.
Mooloolaba Beach is a hot spot for water sports, likewise North Bribie Island, where the waters glow in brilliant turquoise. For something a little quieter, the Pumicestone Passage at Caloundra (rent from Golden Beach) or the flatwater Noosa Everglades combines tranquil waterways with mangroves that teem with wildlife. Some tours also include dolphin watching, allowing you to witness the stunning creatures up close (in a much more intimate way compared to a busy boat tour).
Hot tip: for a more educational experience, consider signing up for a guided tour. Expert-led excursion tours cater to all experience levels, from beginners to advanced paddlers. The guides will wax insights into the local ecosystem, sharing fascinating tidbits about the flora, fauna, and cultural heritage of the region.
7 – Spend the arvo at the Maleny Botanic Gardens & Bird World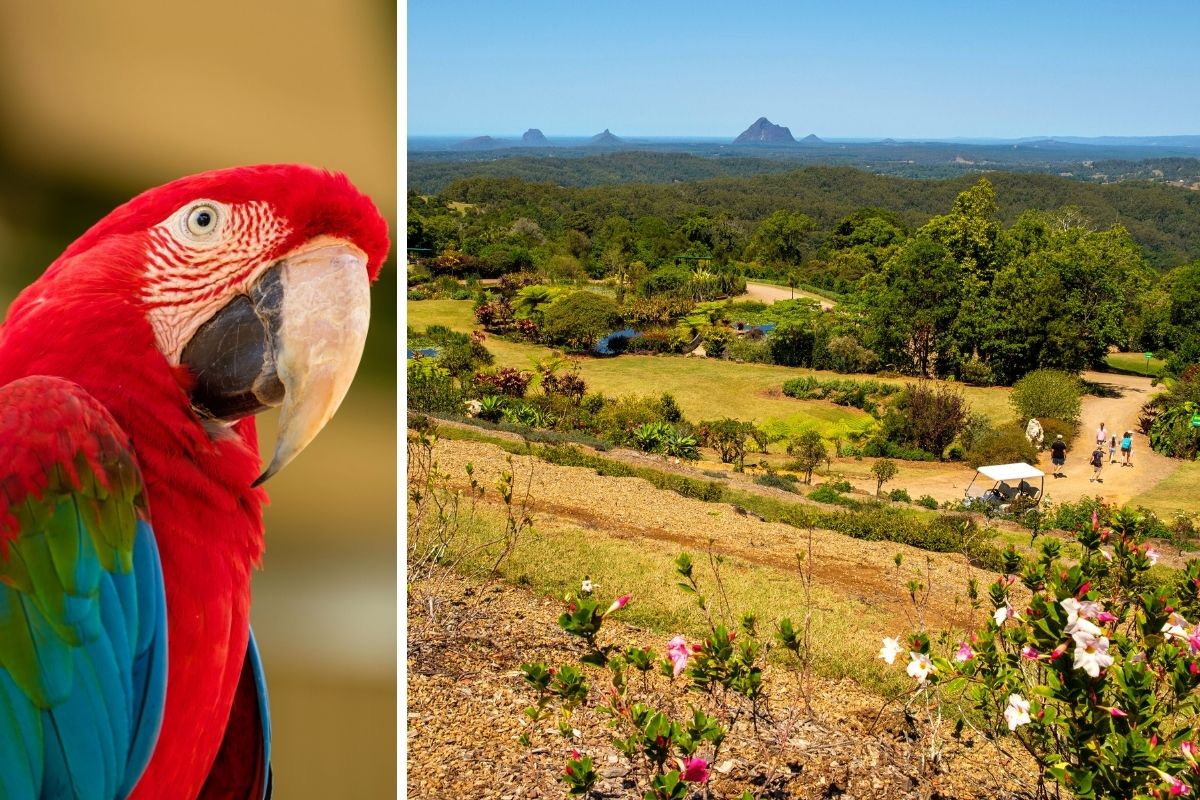 Sitting just 40 minutes away from the Sunshine Coast, the Maleny Botanic Gardens & Bird World is an oasis of calm; an off-the-beaten-track attraction that delights nature lovers and bird enthusiasts alike.
Home to over 700 native and exotic bird species from around the globe, Maleny's fluttery residents are spread across nearly 18 hectares of beautifully landscaped grounds, where a diverse range of plant species and water features provide a serene atmosphere.
As you meander around the 6 kilometres worth of paths that criss-cross the gardens (or drive around in one of the buggies), you'll pass by intricately-decorated zones like the Oriental Garden, the Rainforest Walk, the Rose Garden, the Fairy Garden (beloved by the kids), the treehouse, and the Water Garden — have a go at bird-feeding or take part in one of the many guided tours. The knowledgeable staff will enlighten you with fascinating facts about the birds and answer any burning questions you may have.
Finally, for that well-earned rest, the on-site café serves delicious refreshments and homemade treats — a delightful dining experience amidst the stunning garden setting.
While you're in the area, make sure to check out McCarthy's Lookout and Gardners Falls, two of Maleny's top natural (and free) locales.
8 – Learn how to surf on golden beaches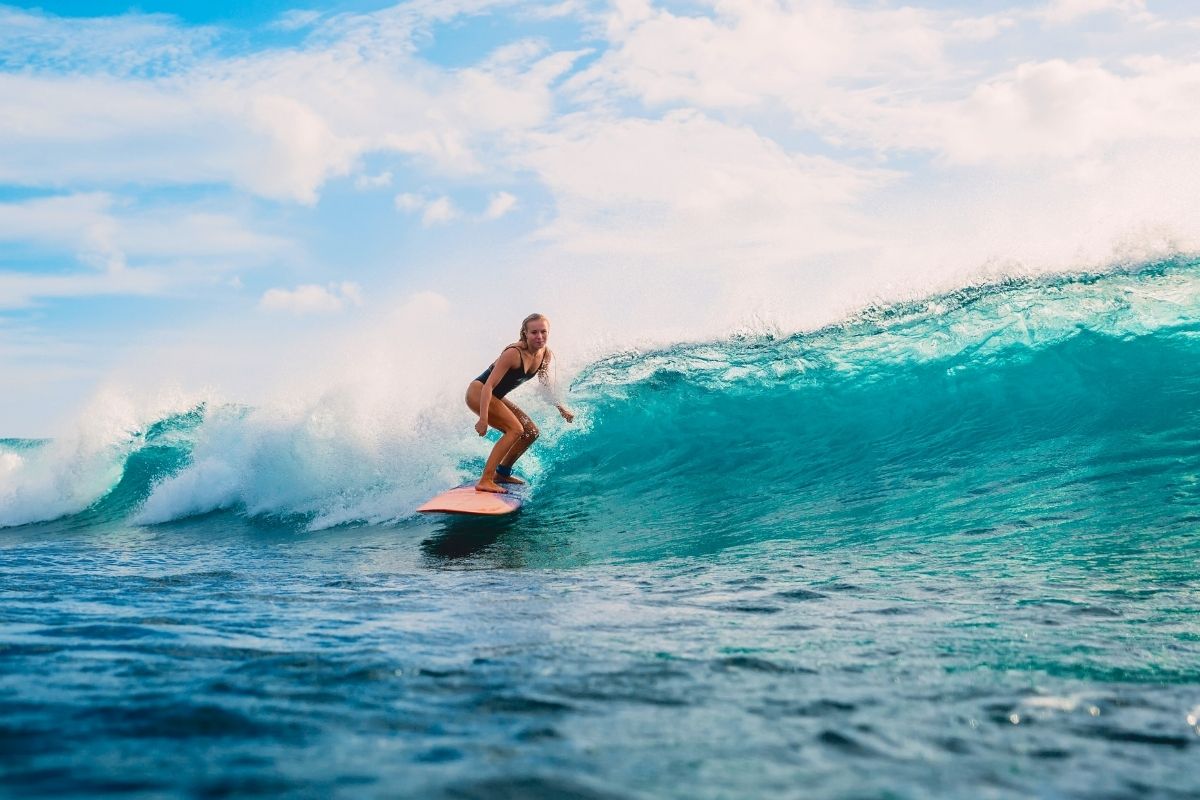 Consider yourself the next Kelly Slater? Then you'll be stoked to hear that Sunshine Coast is home to some of the best surfing in Australia. For total beginners and seasoned pros alike, there is no shortage of options when it comes to catching waves or perfecting your technique — from private one-on-one surf lessons on the golden sands of Mooloolaba Beach, to epic full-day combination tours that also include 4×4 rides, lunch, and photo ops.
Over at Noosa Heads, you'll find Double Island Point, an iconic surfing spot with multiple breakpoints that's home to, allegedly, Australia's longest wave. Meanwhile, down at Caloundra, you've got a quiet paradise backed by rainforest and the perfect conditions for learning — with a range of surf schools offering beginner packages (some of which are reserved just for the gals!).
If you're already a seasoned expert, then you can simply rent your own board from any of the local surf shops — rates go by the hour or by the way, so you can pick the best option for your budget.
9 – Step back in time at the Sunshine Castle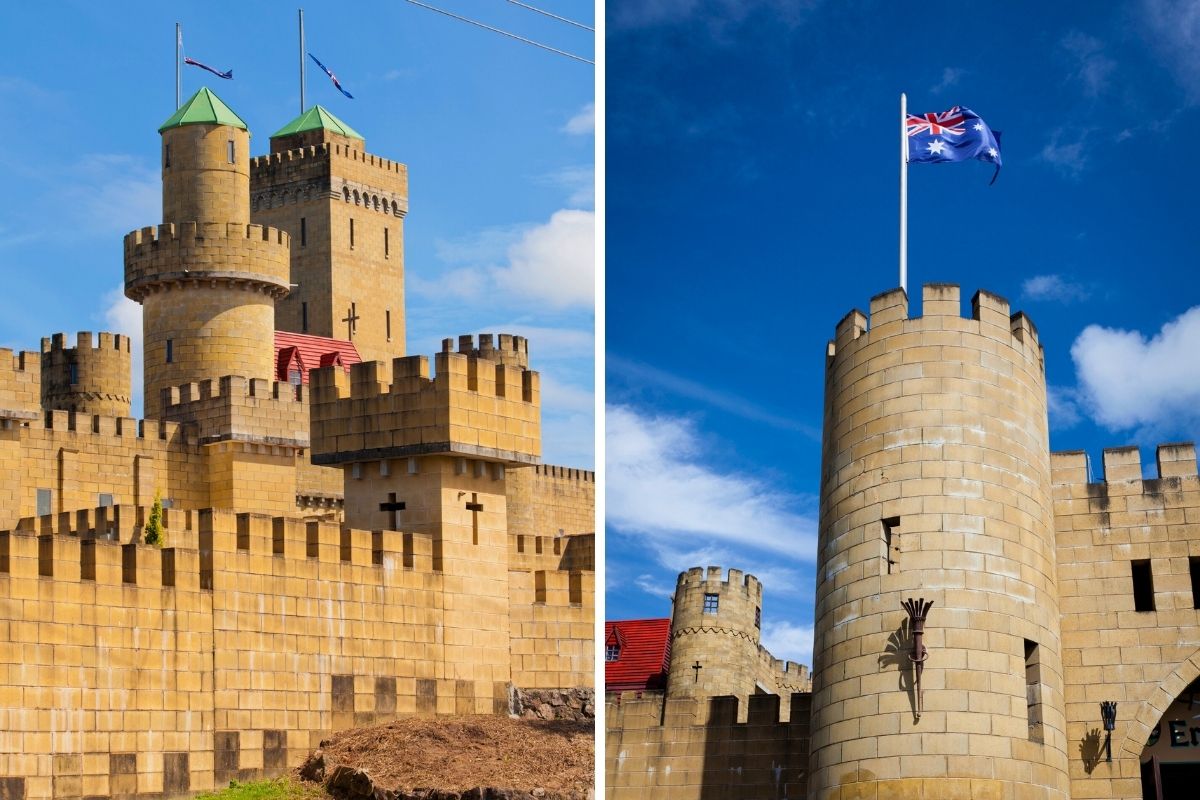 A slice of fairytale, medieval imagination in the heart of Bli Bli, the Sunshine Castle is an adventure playground that's perfect for the whole family – especially when you're looking for something different from the sand and sea.
Towering over the Moorochy River and its picturesque surroundings, this majestic sandstone castle is an authentic Norman-style replica, complete with all the bells and whistles you'd expect of the 1400s — turrets, towers, and a working drawbridge to boot!
As you explore the castle's interior, easter eggs lay around every corner — discover displays of medieval artifacts, suits of armor, weaponry, and art collections that showcase the rich history and culture of the Middle Ages; hear about tales of knights and noble families on the excellent guided tour, or admire the hilltop views from the stone walls.
Grandeur and history aside, the castle is also (surprisingly) home to a fascinating collection of dolls, dollhouses, and miniatures, made with only the most intricate craftsmanship and the finest attention to detail.
Always dishing up something new, the castle hosts special events and themed activities throughout the year, from medieval banquets to jousting tournaments, and interactive role-playing experiences, letting you experience the magic of the medieval era firsthand. So check the website before you visit for details of the latest events!
At just $8 per person, it's one of the more affordable fun things to do on the Sunshine Coast, so why don the armor and give it a crack?
10 – Soak up the sun at Mooloolaba Beach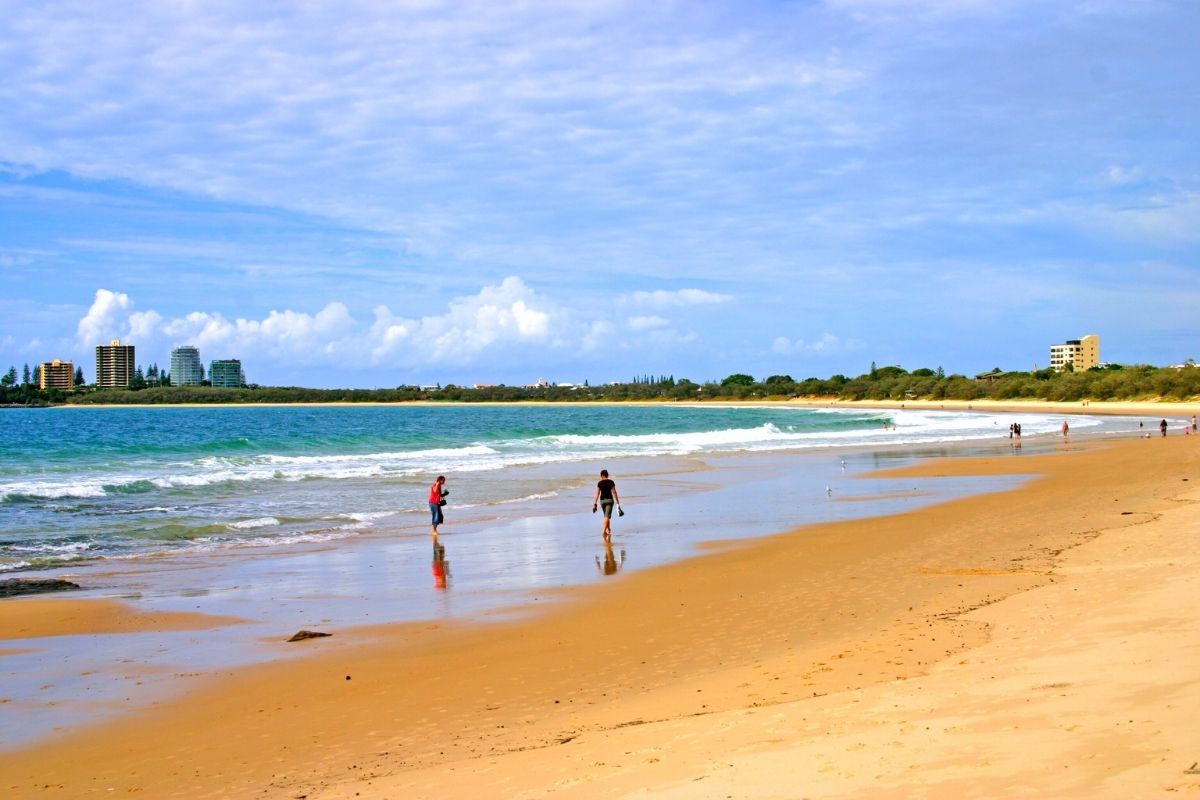 Forget about Bondi and St Kilda; both have their own charm but Mooloolaba has them both beat when it comes to sheer beauty. This is one of those beaches that just doesn't go out of style — with a long stretch of white sand flanked by vibrant restaurants and cafes, plus plenty of fun activities on offer from jet boating to snorkeling, kayaking to sailing, you can easily while away the day (or longer!) at Mooloolaba.
Stretching for close to 2 kilometers, Mooloolaba Beach is also patrolled by lifeguards year-round, so you can trust that you're in go hands when going for a dip – just remember to swim between the flags.
For when you get peckish after a swim, look no further than Mooloolaba's lively Esplanade, lined with plenty of eateries that will cater to every palate.
The Beach Bar & Grill plates up classic pub fare, Pavilion Mooloolaba serves steaks and parmas with a side of ocean views, and 4 Pines has one of Australia's favourite bevvys on tap — whether you're craving some local seafood or just a quick snack or drink in between activities, the diverse range of restaurants is sure to satisfy.
11 – Rev the engine on a quad tour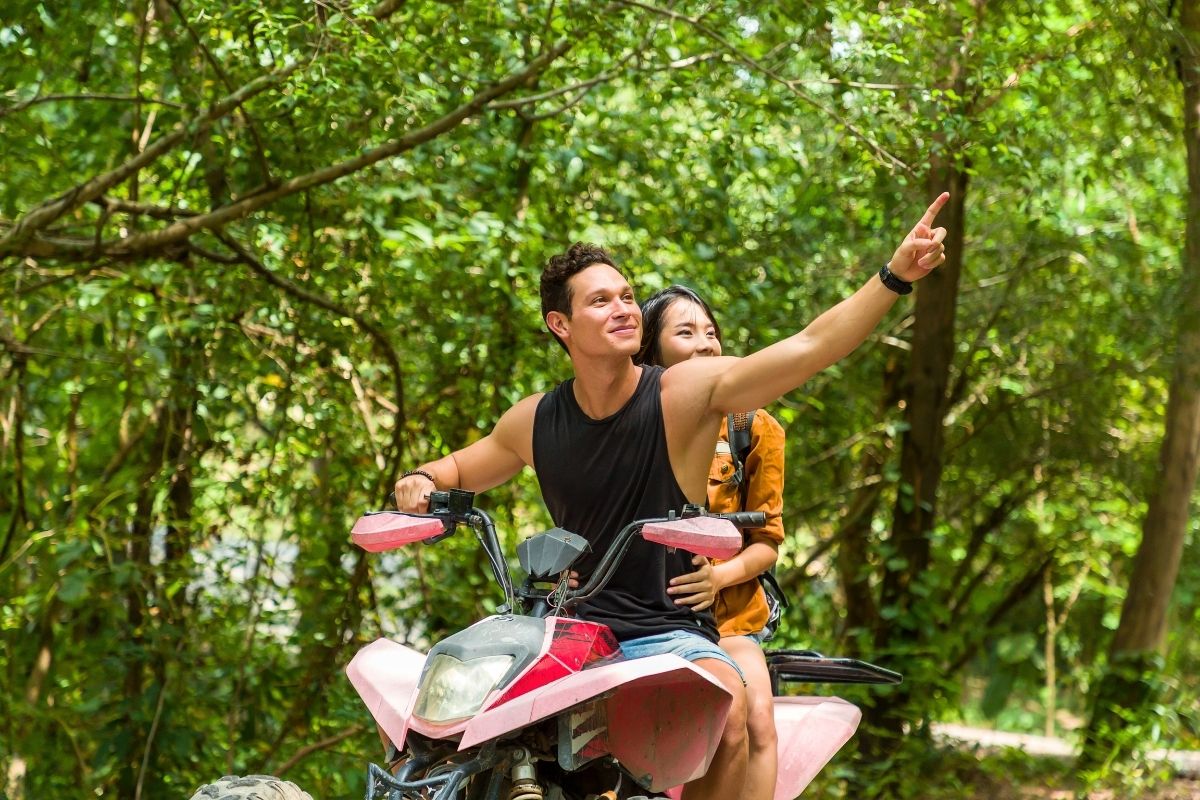 One for the adrenaline junkies, quad tours let you navigate your way around the forests and trails of the Sunshine Coast, venturing well and truly off the beaten path.
The tours – which come in a handful of variations – offer a unique way to experience and explore the region's rugged terrain. It's all about getting back to nature, but with a bit more horsepower than usual
You'll get full instructions on how to handle the quads as well as safety information before you get started. Beginners are welcome, and you can make your way through the trails at a pace that suits you best.
From bubbling creeks to hidden waterfalls, these quad tours will take you through some of Australia's oldest – and most picturesque – landscapes, so why not give it a go?
12 – Go canoeing along the Maroochy River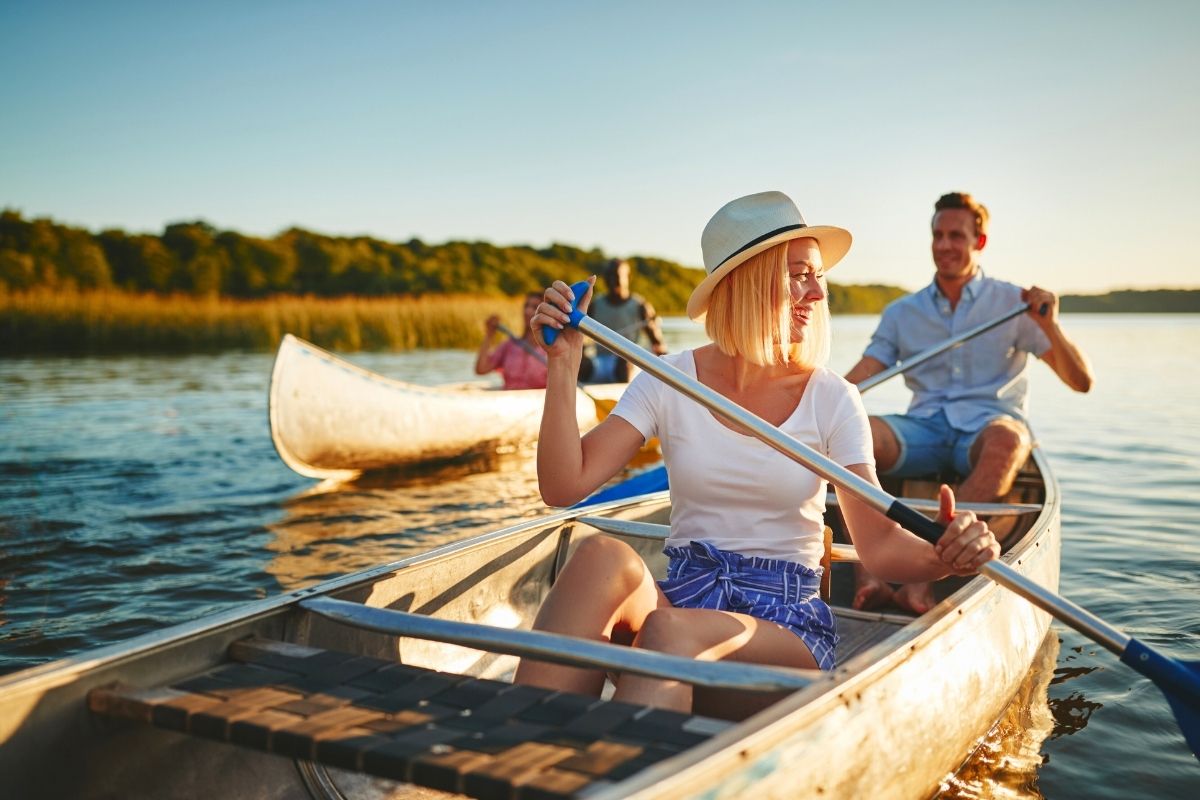 A slow-paced outdoor activity perfect for a sunny day (and up here on the Sunny Coast, there are many), canoeing lets you escape from the hustle and bustle of everyday life and unwind with nature.
Canoe (or kayak) along the gorgeous Maroochy River, admiring the hinterland on one side and the built-up beach settlements on the other; or join a guided tour in the Noosa Everglades, where birds, turtles, wallabies and all kinds of other wildlife make their home. There's also the Pumicestone Passage, Chambers Island and Lake Cootharaba, if you're still searching.
Hot tip: Pack a picnic lunch and find a secluded spot along the water's edge to enjoy a peaceful break surrounded by nature.
13 – Wander down Noosa's Hastings Street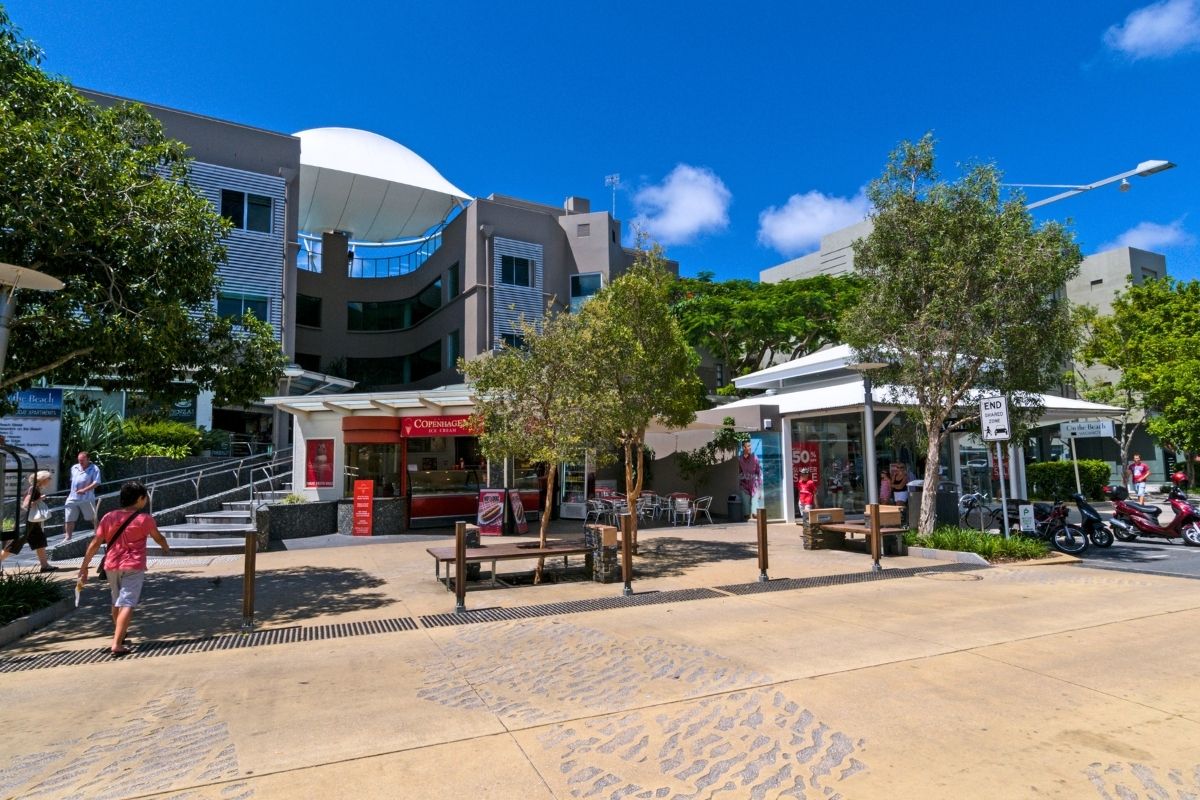 Overflowing with chic designer boutiques, popular cafés and bustling restaurants, Hastings Street is one of the Sunshine Coast's most popular retail precincts, welcoming locals and visitors alike like moths to a flame.
A cosmopolitan hub filled with world-class dining and boutique shopping, and complemented by a laid-back coastal atmosphere, Hastings Street has a splash of everything; it's the ideal place to spend an afternoon exploring and indulging in all the shopping opportunities that the renowned seaside town of Noosa Heads (note: to locals, it's just 'Noosa') has to offer.
By day, take a stroll along the promenade and take your pick from luxury five-star resorts, stylish alfresco eateries serving tantalising cuisine from all corners of the globe (check out Miss Moneypenny's, Bistro C, and Bang Bang) and a myriad of unique boutique stores that offer everything from designer denim to handmade homewares.
By night, Hastings Street comes alive with live music, comedy and cabaret shows; grab a seat at one of the many alfresco bars or hit up one of the nightclubs (don't miss The Rolling Rock) along the strip for a lively evening out on the town.
If you're looking for gifts or souvenirs, there are plenty of unique stores selling everything from handmade jewellery to Indigenous artworks – so why not pick up a memento of your time in Queensland's most iconic beachside destination?
And for all you nature lovers, not only is Noosa Main Beach just around the corner, but the street is also a gateway to Noosa National Park, where you can embark on scenic coastal walks, spot native wildlife, and admire breathtaking ocean views. Pop it in your GPS and figure the rest out when you get there!
14 – Join a whale-watching excursion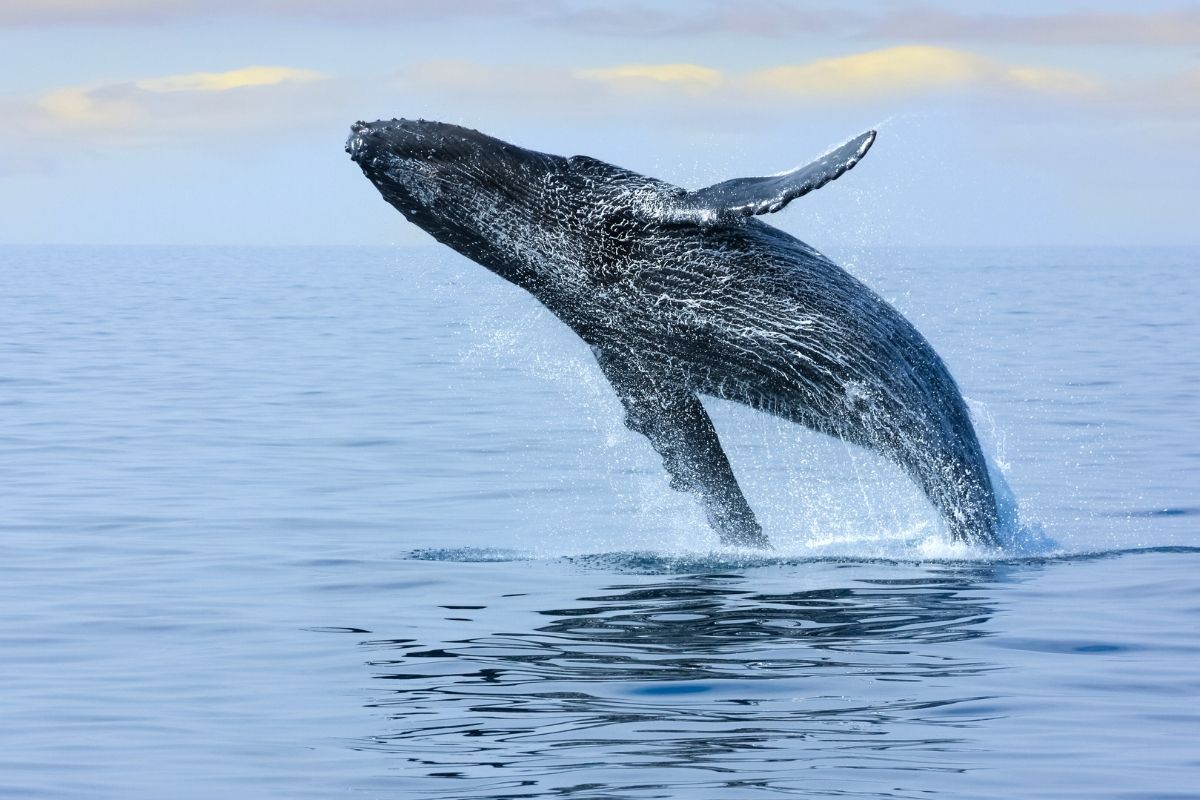 Every year from around June to October, the peak whale migration season, thousands of people flock to the Sunshine Coast to witness humpback whales frolicking in the waters off Mooloolaba and Caloundra. These gentle giants make their annual trip up the coast each year in search of warmer waters, which blesses Aussie whale watchers the chance to spot them from a variety of vantage points – including cruises, coastal lookouts and beaches.
So if your visit lines up and you're keen to experience a mighty natural spectacle, be sure to check out one of the many local tour operators for a day out at sea. Not only do guided tours escort you to the spots most likely to feature a whale sighting, but you'll also get the chance to learn more about these beautiful creatures from a crew of experienced and passionate guides.
Prefer to do it solo? No worries. Just make your way to Dolphin Point in Noosa National Park, Point Perry or Point Arkwright in Coolum, Point Cartwright in Kawana or the Moffat Beach Headland – all known for their top-tier whale-watching opportunities from shore.
Ready for a real adventure? Take a whale-watching cruise that lets you jump in the water alongside the humpbacks. At around 15 metres in size, swimming with these giants promises to be an eye-opening and truly unforgettable experience.
15 – See what's happening at The Wharf Mooloolaba
Always buzzing with energy, The Wharf Mooloolaba on the Sunshine Coast is a beloved place to soak up some local culture, sample some sweet treats, and knock back a beer at an upscale watering hole.
The waterfront precinct is home to a bustling hive of activity, from restaurants (Il Vento, Prawn Star, Riceboi) and cafes to boutique clothing shops (Moobaba, Get Kitted) and street performers. It's also an excellent place to take in the local scenery, with the picturesque Mooloolah River providing a stunning backdrop for your leisurely stroll along the boardwalk.
Particularly lively on the weekends, the precinct hosts all kinds of regular events – markets, festivals, art exhibitions, you name it, ensuring there is always something exciting to keep you entertained.
If you prefer to get onto the water rather than admire it from afar, there's a stack of relaxing river cruises to take, boats to casually hire, or fishing charters to join, not to mention the fast-paced Adventure Rafting experience.
The Wharf Mooloolaba is also home to the renowned SEA LIFE Aquarium (scroll up to #1), where you can immerse yourself in the wonders of the underwater world, encounter fascinating marine creatures, and participate in a whole range of interactive experiences.
16 – Take a jeep tour off the beaten path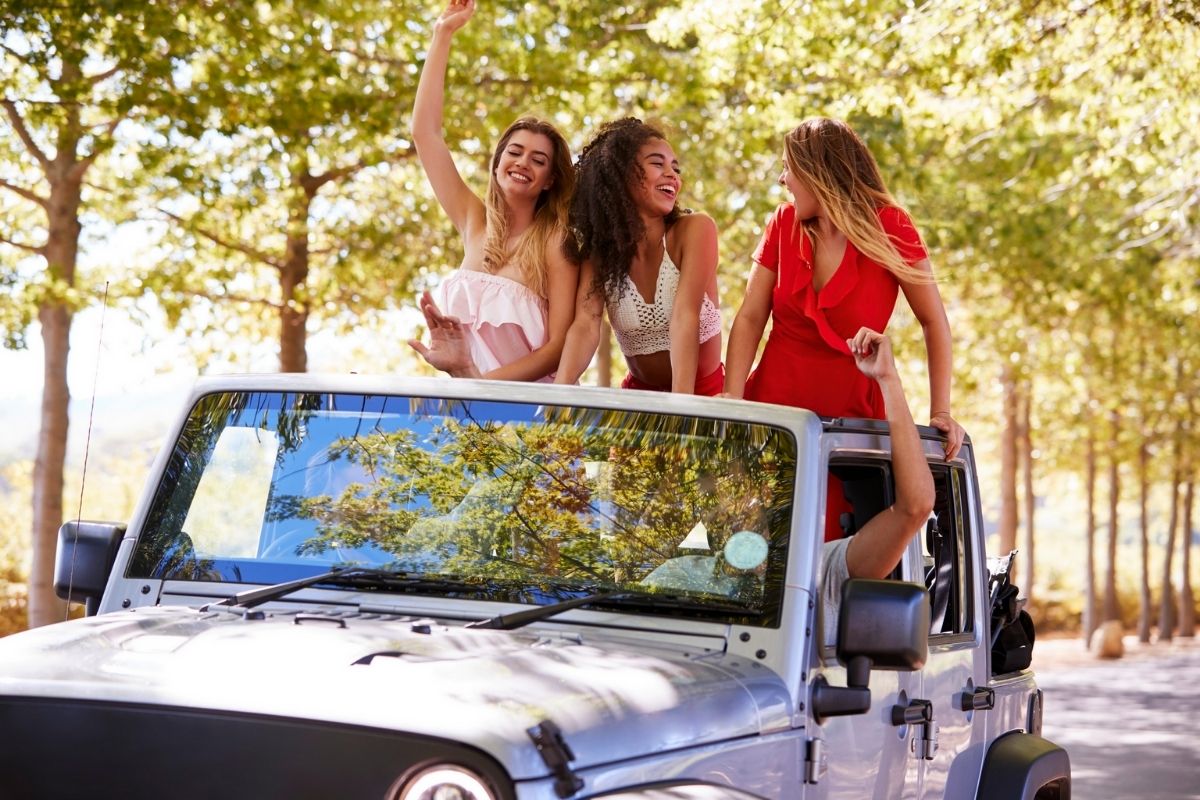 Hunting for things to do on the Sunshine Coast that are a little bit out of the ordinary? Then ditch the floaties and the beach towel and head inland, where adrenaline-filled Jeep adventures await.
A slew of jeep tours run throughout some of the stunning National Parks in the area – Noosa National Park, Kondalilla National Park, the Great Sandy National Park (home of the breathtaking Rainbow Beach. Throw in beautiful spots like The Glass House Mountains and Fraser Island, and you've you an abundance of thrilling off-roading expeditions to choose from.
Killer views and landscapes aside, professional guides lead the way and share their extensive knowledge about the area's history, flora, fauna, and Indigenous culture – so not only is a Jeep tour thrilling, it's also highly educational.
Hot tip: for the best bang for your dollarydoos, consider booking one of the several Jeep tours that also include surf lessons, stand-up paddleboarding, kayaking, dolphin spotting, or all of the above!
17 – Hike through Noosa National Park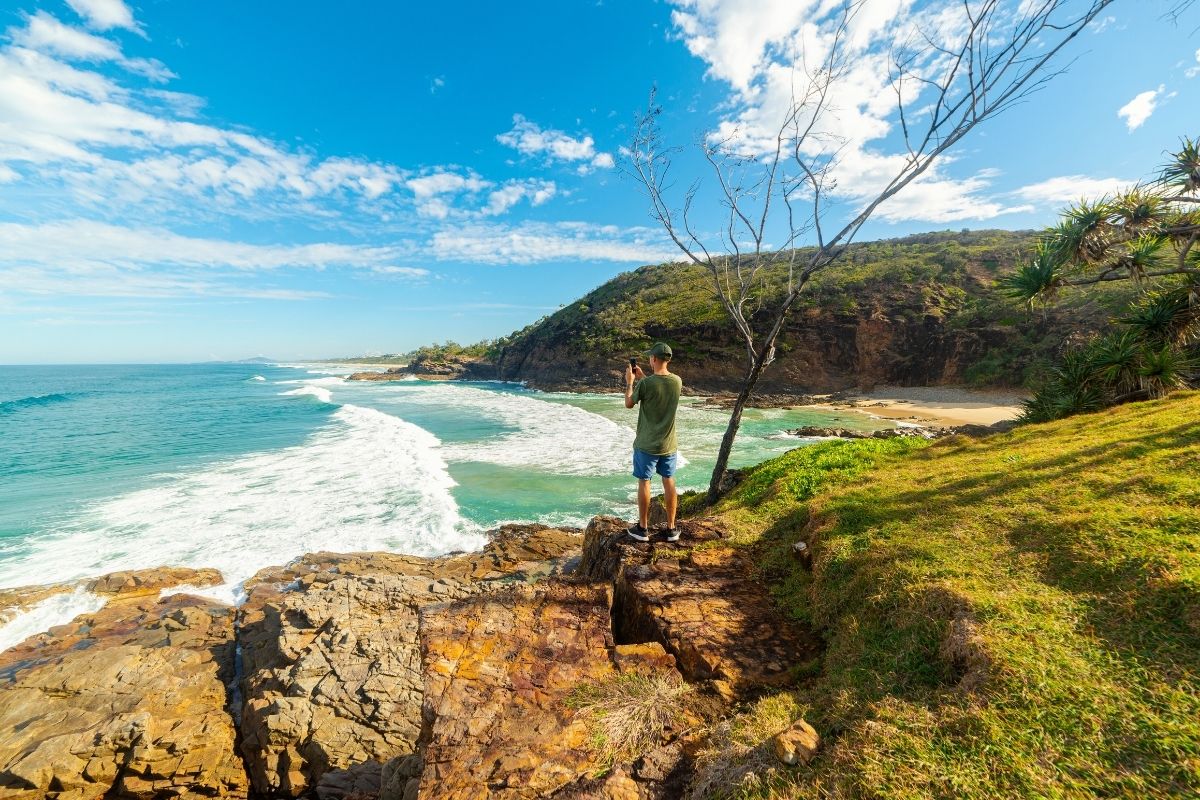 Renowned for its stunning coastal scenery, featuring rocky headlands, pristine beaches, and crystal-clear waters that attract visitors from around the world, postcard-perfect Noosa National Park encompasses over 4,000 hectares of unspoiled natural beauty.
Sitting just minutes away from the bustling town of Noosa Heads (more on that later), this iconic national park is a haven for nature lovers, offering a range of outdoor activities and breathtaking scenery.
Hikers, rejoice. This slice of paradise is home to almost 30 different walking tracks along the coast and through the hinterland, ranging from easy strolls (like the Boiling Pot path or Palm Grove Walk) to more challenging hikes (like the Alexandria Bay walk via the Tanglewood Track). For a serious challenge, the 14-kilometre-long Lake Weyba Bush Trail awaits.
Along the picturesque Coastal Walk, you'll encounter stunning lookout points, including Boiling Pot, Dolphin Point, and Hell's Gates, where you can spot dolphins, turtles, and even whales during the migration season (from July to November).
Trekking aside, it's also the perfect spot for spotting wildlife like koalas, water dragons, kangaroos, and over 300 species of birds.
And, if you're up for it, Noosa National Park is a haven for water sports as well – you can swim at the picturesque beaches, snorkel around the rocky outcrops, or get up close with the marine life with a refreshing snorkel. What's not to love?
18 – See incredible animals at the Wildlife HQ Zoo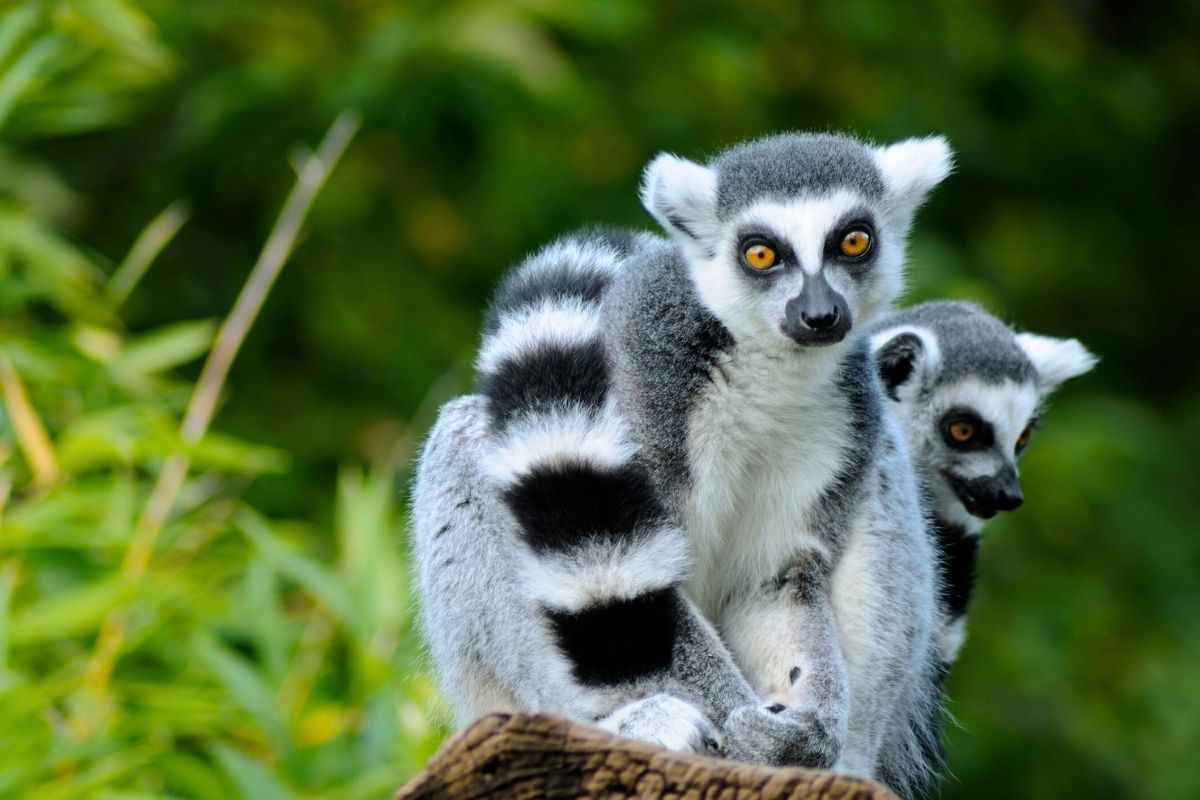 Few activities are more quintessentially Aussie than hand-feeding a kangaroo — you can do that and so much more at Wildlife HQ Zoo, where 200 animal species from around the world come together under the shadow of the Big Pineapple.
Here you'll find everything from meerkats to pythons, African wild dogs to red pandas, and squirrel monkeys to ruffed lemurs. But where this venue really shines is its showcase of native Australian wildlife; the variety of endemic species, spanning koalas, wombats, emus, kangaroos, Tassie devils, and ever-cheerful quokkas is bloody brilliant.
A highly educational institution, the zoo also offers daily wildlife presentations, keeper talks, behind-the-scenes tours, and animal encounters (such as cuddling a koala, holding a python, or petting a dingo), blessing us with the opportunity to get up close and personal with some of our favourite critters.
While wandering around solo promises to be highly entertaining, the more engaging experience comes by joining the guided tours led by the knowledgeable zookeepers. These in-depth walkarounds provide insights into the lives and habits of the animals, as well as interesting facts about conservation and environmental sustainability.
Open from 9am to 4pm (last entry at 3pm), it serves as an excellent daytime activity for the whole family.
19 – Feel the thrill of a jet ski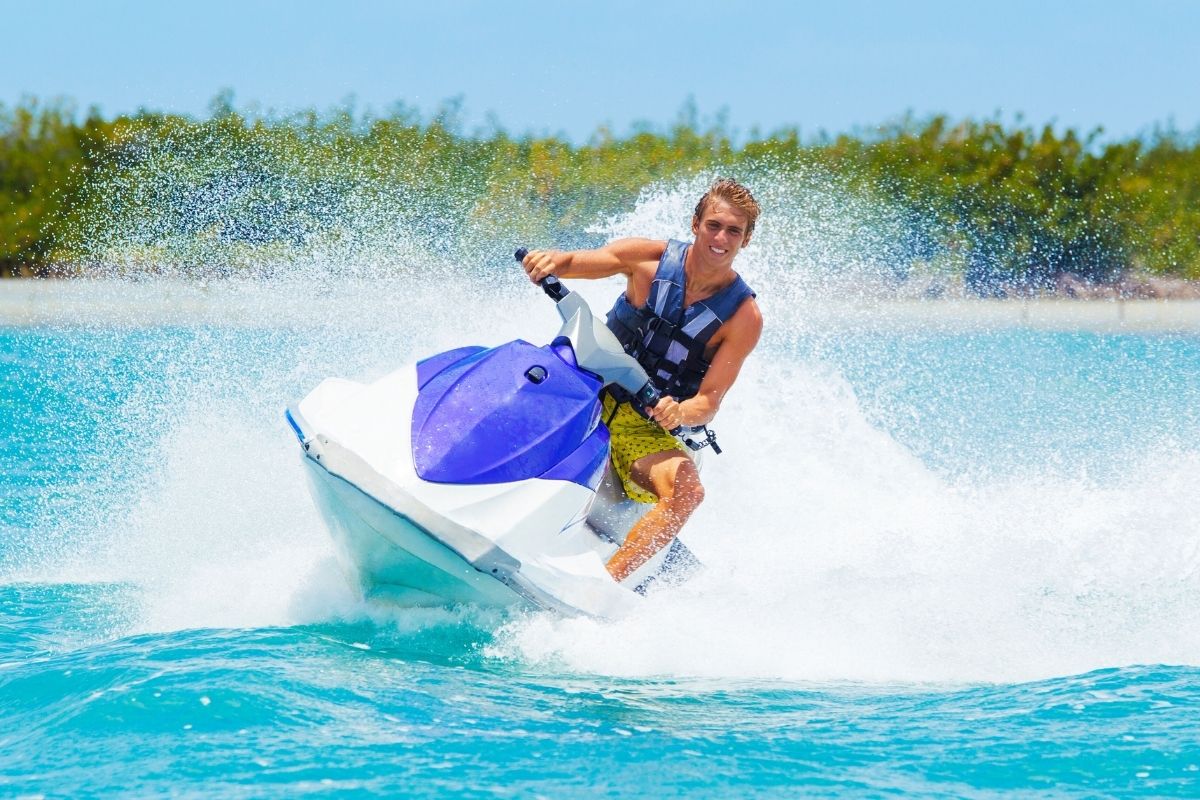 Craving a dose of adrenaline? Jet skiing is a great way to get your pulse racing – and with a seemingly endless sun-kissed coastline, the Sunshine Coast – which provides the perfect playground for water sports with its clear waters, hidden coves, and scenic landscapes — is a prime location for jet skiing adventures.
You have two choices when it comes to high-horsepower adventure: either rent a jet ski and embark on a self-guided trip in whichever area you prefer (Noosa, Caloundra, Maroochy, or Mooloolaba) or join a guided tour led by experienced instructors who will look after the navigation and safety stuff, leaving you free to just enjoy the ride.
Either way, you can expect to enjoy breathtaking views of the coastline, its stunning beaches in the foreground and rugged cliffs in the background, and the region's picturesque islands, all from a unique vantage point.
Hot tip: For the ultimate experience (because 15-minute jet ski rides are way too short, right?), consider joining one of the half-day jet ski epics – a 4-hour jet ski excursion that whisks you around Caloundra, the open ocean, and the mangrove forests of the Moreton Bay Marine Park (with lunch included, if you don't mind).
20 – Try not to get lost at Amaze World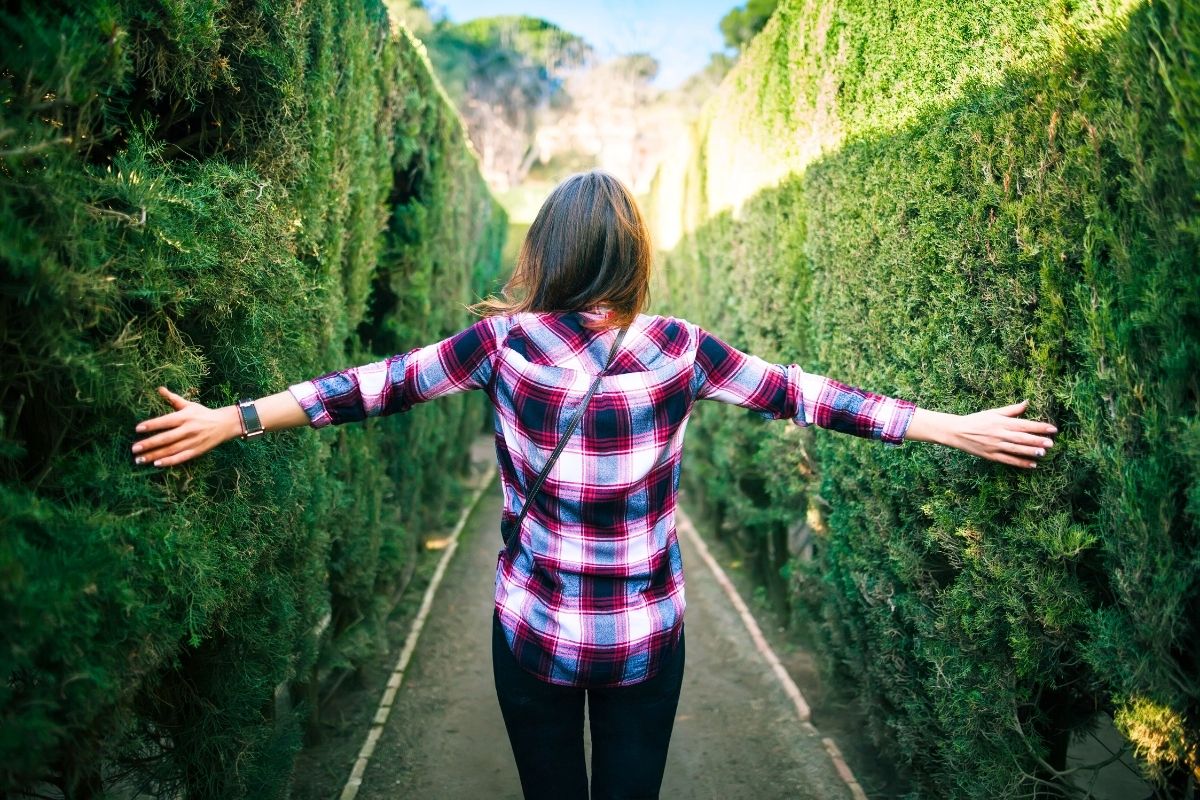 Prepare to be…well, amazed! Amaze World is a family-oriented theme park that sports an eclectic mix of rides and attractions — from classic amusement park thrills to more gentle activities suitable for younger kids.
Located in Tanawha, about 15 minutes inland from Mooloolaba (not too far from the Big Pineapple and Wildlife HQ, actually), this world of wonder and excitement has a puzzle shop, a timber maze, a mini-golf course, outdoor playgrounds, and plenty more, ensuring a fun-filled adventure for visitors of all ages.
The crème de la crème attraction, however, is undoubtedly the star-shaped Bellingham Hedge Maze, a sprawling network of pathways and dead-ends that will leave you scratching your head.
Modern addition: taking old-school play to the 21st century, Amaze World has recently added an augmented reality twist. Download the app when you arrive and you can blur the lines between fantasy and reality, spotting unicorns, trolls, dragons and fairies throughout the grounds!
21 – Head inland to the Buderim Forest Park and Falls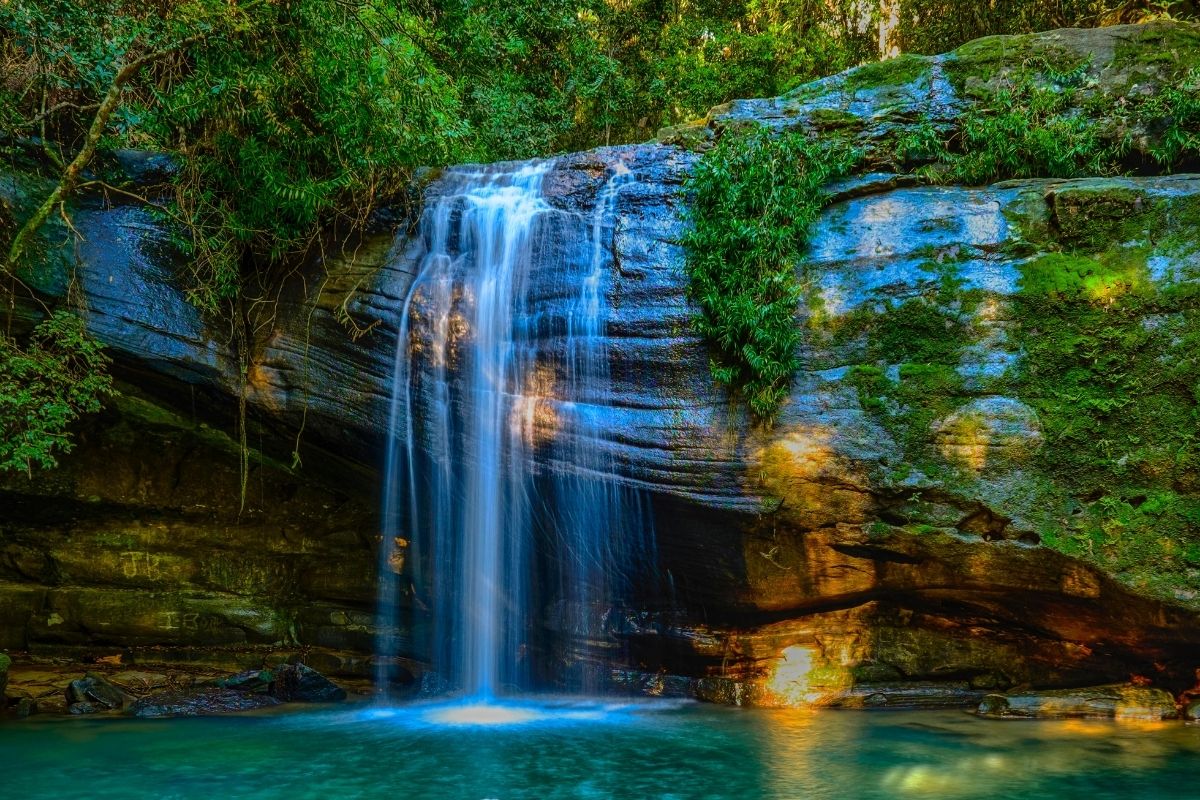 A peaceful, nature-filled escape awaits at Buderim Forest Park and Falls. Not too far from the hustle and bustle of Mooloolaba (about 15 minutes by car) lies this idyllic oasis, a collection of rainforest trails that lead to spectacular waterfalls.
The main trail features a combination of boardwalk, cobblestones, bush track and rock scramble, and while the 2.4-km out-and-back track is suitable for the whole family you'll have to leave the four-legged friends at home, unfortunately.
The highlight of Buderim Forest Park is, of course, the iconic Buderim Falls, or Serenity Falls, as the locals call it. Marvel at the cascading waters as they flow over the rock formations, or don the togs and take a dip in the popular swimming spot yourself!
The 45-hectare park is easily accessible from Buderim Village too, where you can find a handful of cafes (Feeka Espresso is a great shout), restaurants (the Buderim Tavern and Honeysuckle are both popular) and shops, making it a half-day destination with the lot.
22 – Sample the region's best blends with a wine tour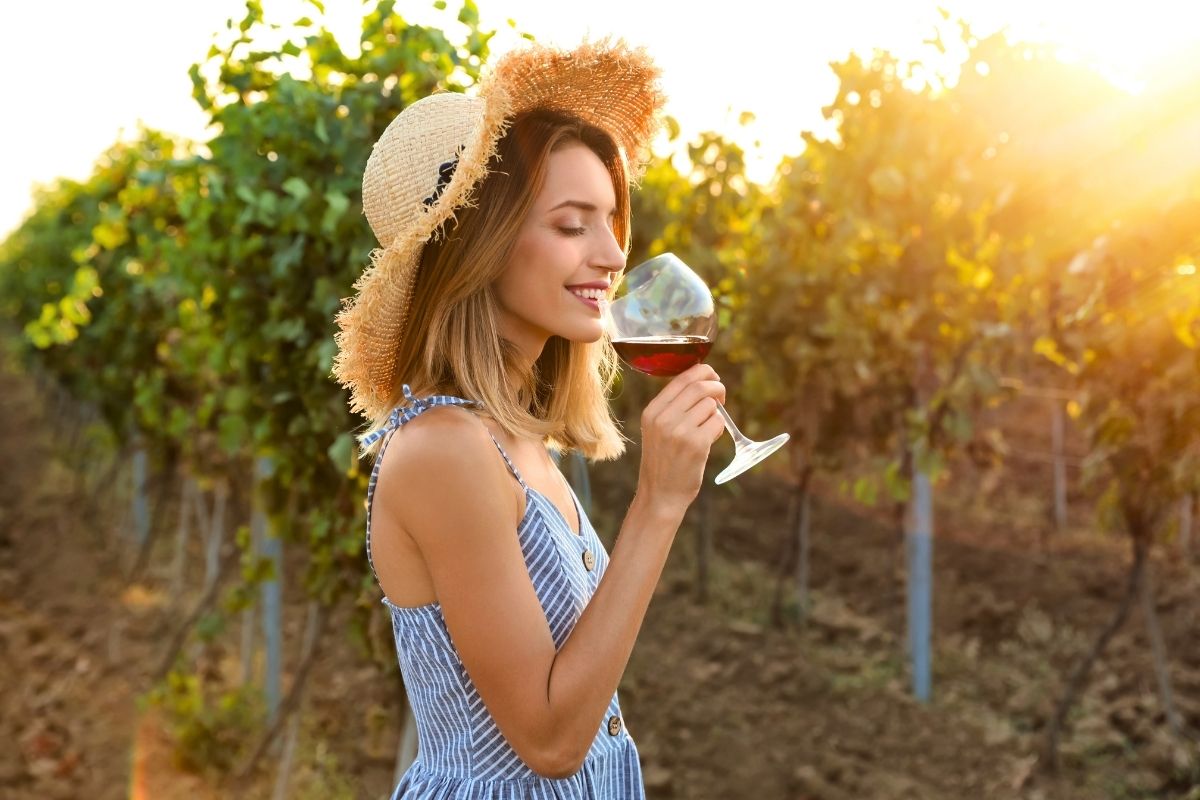 Despite its reputation for nothing but sun, surf and sand, the Sunshine Coast also has its fair share of wine producers. Immerse yourself in the vibrant local viticulture scene with a visit to one (or more!) of the region's wineries spread throughout the hinterland — some of which have been around for generations!
Generally speaking, The Sunshine Coast Hinterland is renowned for its boutique (rather than mass-market) vineyards, producing a diverse range of blends to satisfy all kinds of palates – we're talkin' Chardonnay, Shiraz, Cabernet Sauvignon, and more.
One option is Montville's Flame Hill Vineyard – it's located 420 metres above sea level at the highest point in Montville, surrounded by rolling hills and towering trees. There's also a restaurant and café onsite too, if you plan on making it an all-day affair! Then there's the Dingo Creek Vineyard and Maleny Mountain Wines, two other popular haunts worth popping into if you're in the area.
Maleny is also where you'll find the Clouds Vineyard, where locally-made craft beers complement the selection of quality wines. And, after you've tasted your way through some of the best drops in the region, why not pick up some snacks at the Maleny Cheese? Or better yet, sign up for a fully-fledged cheese tasting.
And while you can easily pop into these enchanting vineyards solo, if you plan on tasting as many different grapes as possible, consider joining a wine tour. Led by a local oenophile, you'll be able to explore the vineyards, learn about the winemaking process, and sample no shortage of award-winning wines in a beautiful setting – without having to worry about a deso driver.
Alongside the wine, the Sunshine Coast Hinterland is also renowned for its gourmet food offerings. Many food tours and wine tours pop into local artisanal producers, where you can indulge in chocolate tasting, sample delicious farm-to-table meals, and savor other delectable treats. Hungry yet?
23 – Wander around the oh-so-quirky Ginger Factory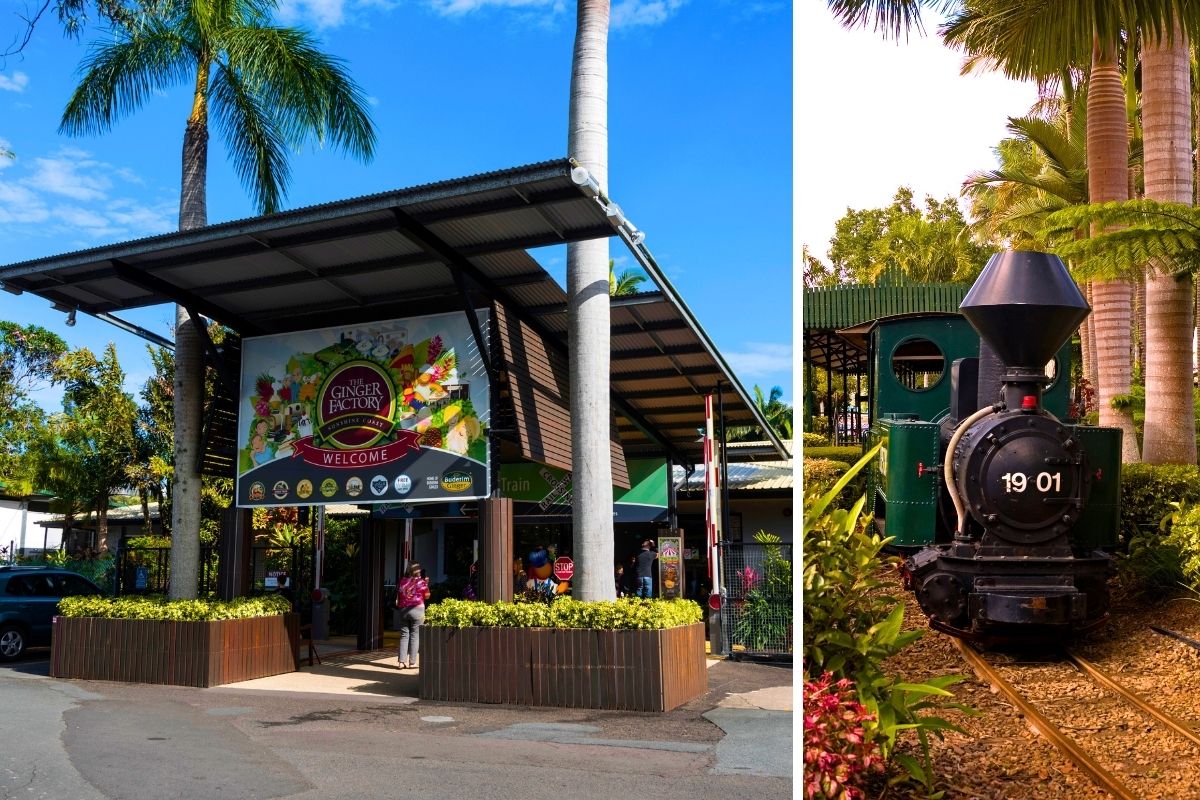 You won't find this one in any international guidebook; the Ginger Factory is a Sunshine Coast institution known only to – and kept secret by – the locals. Tucked away over in Yandina, which is about 20 minutes from the Sunshine Coast, it's the perfect day-trip destination for lovers of all things ginger — it's all about paying homage to the versatility and deliciousness of this unique spice.
Once a factory, now more of a theme park, this quirky attraction has grown to now host train rides, boat rides (alongside the one and only Gingerbread Man), interactive displays, live music, puppet performances, and sub-tropical gardens that you can explore.
And, of course, you won't walk away without a nibble or two; Indulge your taste buds with a visit to the on-site Ginger Shop, where you'll find a wide array of ginger-infused products. From ginger candies and cookies to ginger beer (yum) and even liqueurs, you'll be blown away by the diversity of this underestimated root. Don't forget to try their famous ginger ice cream, a refreshing treat that combines the spice's unique flavor with creamy indulgence.
From gingerbread decorating workshops to live entertainment and special tastings, there's always something happening here, so add it to the list quick-snap!
24 – Witness fighter jets up close at the Queensland Air Museum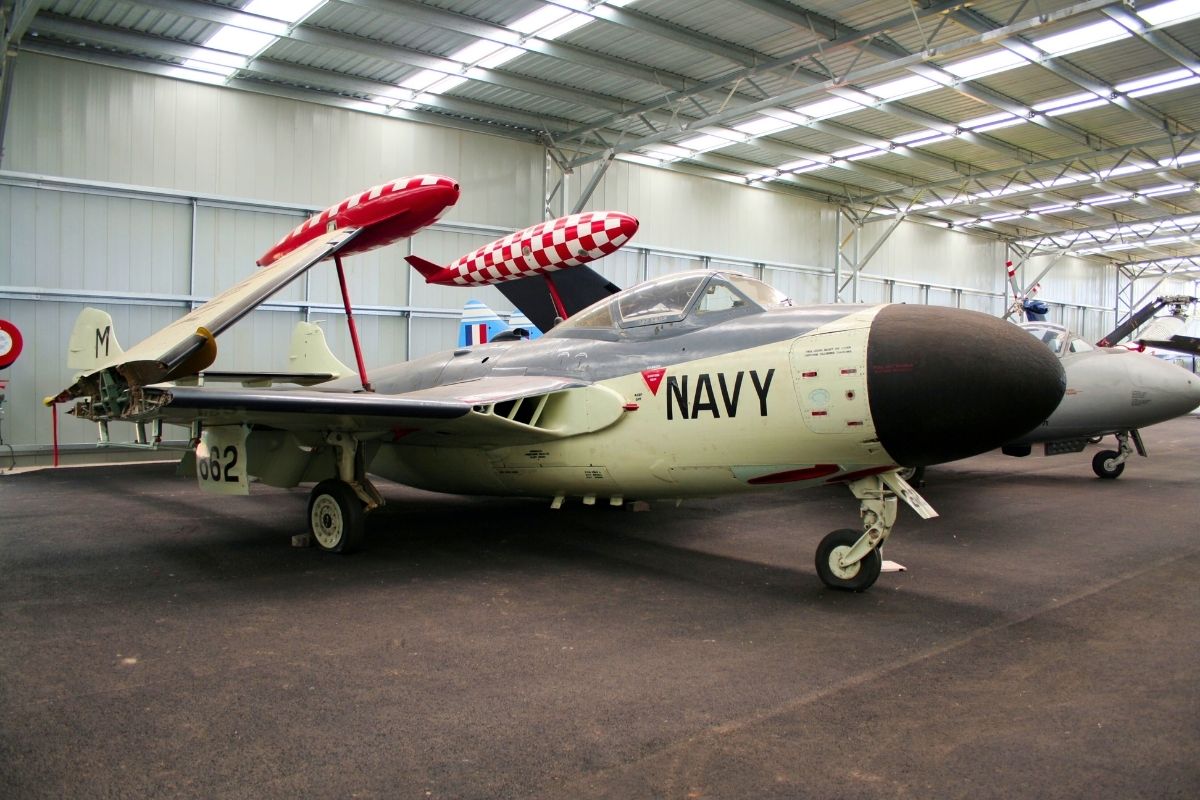 F-111s, Winton Grasshoppers, Spitfires, DC-3s – that's the kind of calibre of high-tech planes you'll find in the Queensland Air Museum, a must-visit destination for aviation enthusiasts and history buffs making their way through the Sunshine Coast
This aviation museum, which is situated just across the highway from Caloundra Aerodrome in Buderim, is one of Australia's premier air institutions, home to a massive collection of fully restored military, passenger and transport aircraft – from WWI through to the Vietnam War and modern era jets to boot.
Through informative displays, exhibits, and interactive presentations, you'll walk away with a deeper understanding of how these big metal birds have evolved throughout the ages, as well as the significant moments in aviation history that have shaped national – Australia and otherwise.
As you walk about the hangers and grounds, make a point of engaging with the passionate volunteers – they're often former pilots, aviation enthusiasts, or industry experts and are always eager to share their knowledge and personal experiences.
The Queensland Air Museum also hosts special events and activities throughout the year, such as open cockpit days, helicopter open days, women in aviation panels, and more, so check the site to see what's on during your visit.
25 – Unwind at the Maroochy Bushland Botanic Garden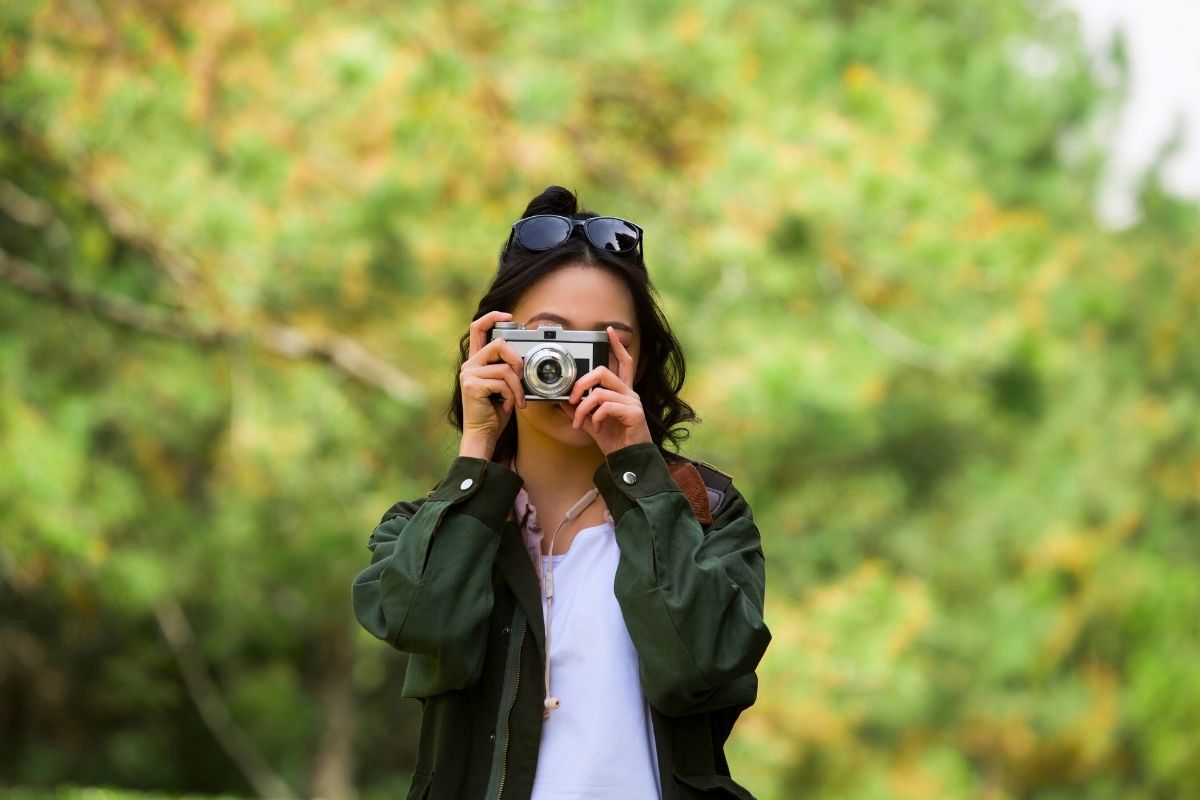 Spanning over 82 hectares, the Maroochy Bushland Botanic Garden showcases a diverse range of native Australian plants, with a bunch of rare species that you won't find in too many places in Australia (let alone the world).
The garden, which you'll find over in Tanawha in Kabi Kabi Country, features themed areas that represent different ecosystems around every corner, allowing you to come to grips with the kinds of plants that thrive in rainforests, wetlands, eucalypt forests, and coastal dunes, to name a few. Each area provides a distinct ambiance, with plenty of informative signs along the way that let you in on the details.
After wandering around the tracks, past tranquil lakes, sculpture gardens, and wetlands, and through the picturesque Friendship Colonnade, you can roll out the picnic rug and enjoy a bite among the beauty of nature.
Keep an eye out for different birds and butterflies throughout the grounds; and consider signing up for one of the workshops, guided tours, yoga classes, or educational programs if you prefer something a little more substantial than a casual walk in the park.
26 – Traverse land and sea on the Aquaduck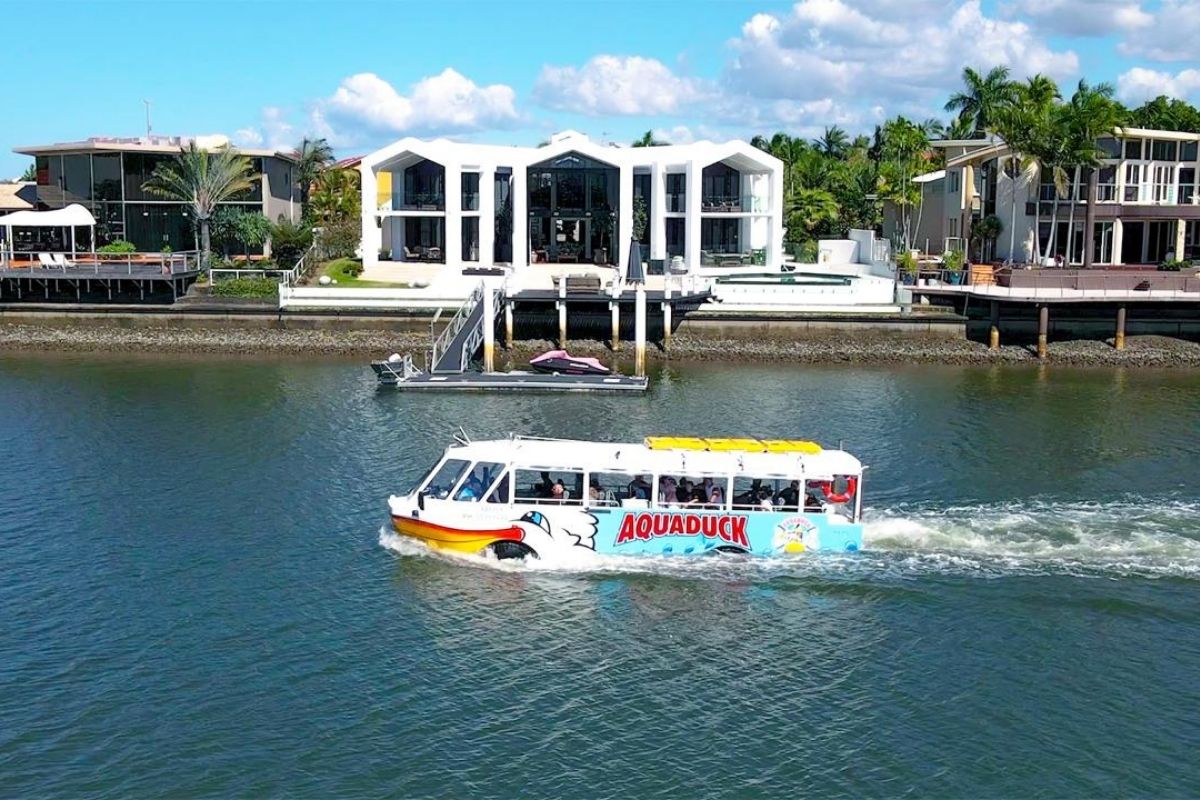 It's a bus… it's a boat… no, it's the Aquaduck! This one-of-a-kind amphibious vehicle – meaning it can traverse both land and water – takes passengers on a tour of some of Sunshine Coast's best beaches, inner-city attractions, and hidden gems. On the 1-hour Mooloolaba and River Cruise package, expect to pass by landmarks like Point Cartwright, the Fish Market, the Mooloolah River, and the Minyama area
As you embark on your 1-hour tour, departing six times daily from the front of SEA LIFE aquarium, the knowledgeable and entertaining guides will share fascinating facts about the region's history, landmarks, and natural wonders, as well as the mega-mansions that line the canals.
Aquaduck Sunshine Coast offers different tour options, including sightseeing tours, sunset tours, the Aquaduck Tour and Morning Tea package (which includes a bite at the Booking Box Cafe) and private charters. Choose the tour that suits your preferences and embark on a memorable adventure that showcases the best of the Sunshine Coast.
Travelling with kids in tow? The youngsters will each receive an Aquaduck captain's certificate, a wonderful memento that they're sure to cherish.
27 – Snap a selfie with The Big Pineapple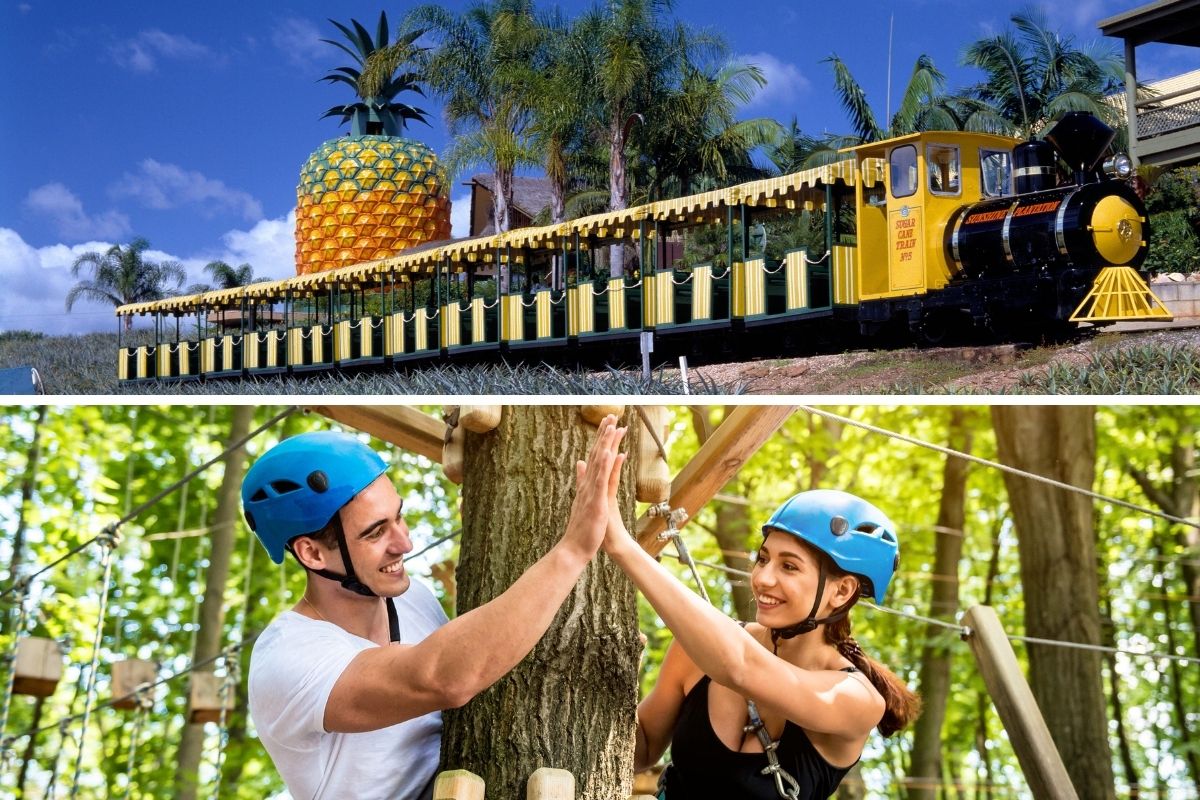 Once upon a time, some Aussie bloke decided that bigger was better, starting a chain reaction of building oversized attractions across the country. There's the Big Banana in Coffs Harbour, the Big Merino in Goulburn and, of course, The Big Pineapple on Queensland's Sunshine Coast.
Standing at 16 metres high (that's about 6 busses stacked on top of each other), this iconic symbol of the region is located in Woombye, about 15 kilometres inland from Maroochydore. Built from fibreglass, this heritage-listed pineapple-shaped structure has been welcoming curious visitors since 1971; over the years, it's developed into far more than just a landmark, it's now the gateway to a whimsical world of animal encounters, fruit tastings, thrill rides and souvenir shopping.
Take a ride on the educational Pineapple Train around the plantation for an insight into the tropical fruit industry with rows upon rows of pineapples and macadamias growing right on-site.
Then, climb to the top of the infamous landmark for breathtaking panoramic views of the lush pineapple plantations and scenic countryside. And then sample some pineapple ice cream or freshly squeezed pineapple juice from the on-site cafe.
For thrill-seekers, the Big Pineapple also offers the TreeTop Challenge, an exhilarating high ropes course set within the rainforest canopy. Test your agility, balance, and bravery as you navigate the challenging obstacles and zip lines, surrounded by the beauty of the countryside — a surefire hit for adventure lovers of all ages.
While you're there: Around the corner is the Wildlife HQ Zoo that showcases a slew of native Aussie critters, making for an ideal back-to-back itinerary.
28 – Test your balance on a stand-up paddleboard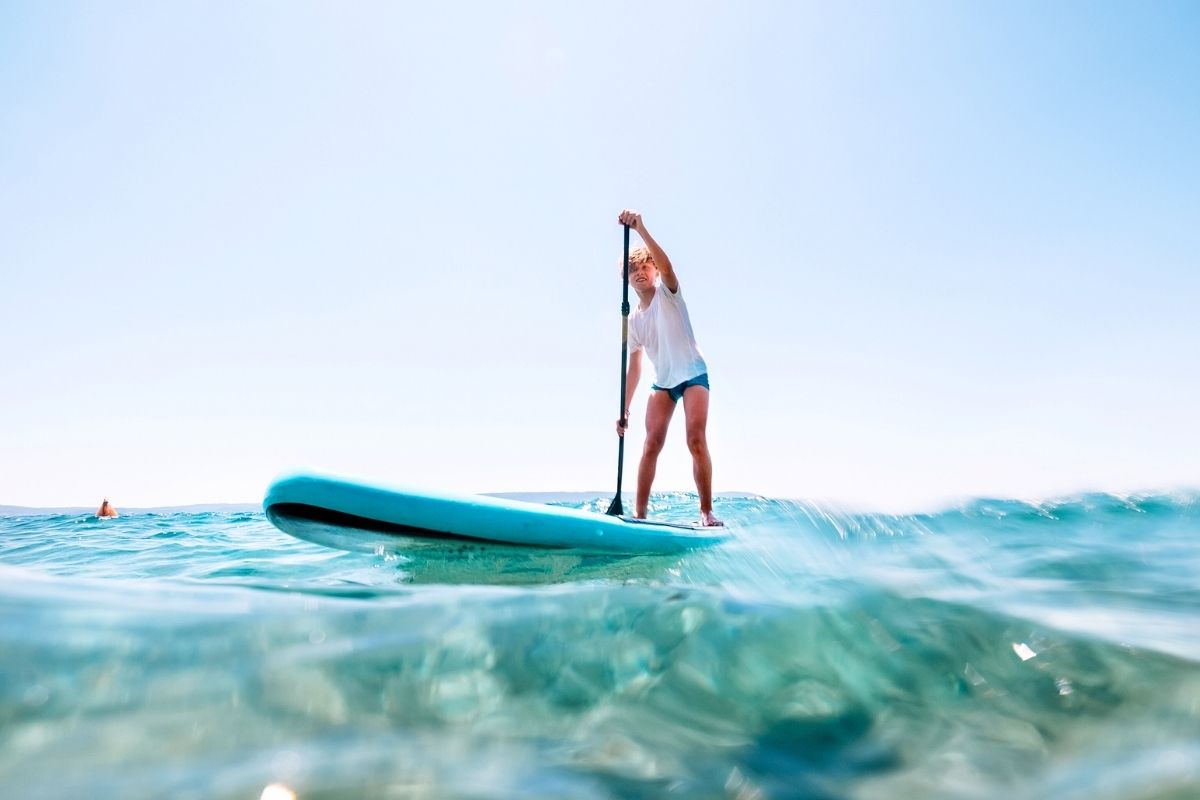 Despite being around for centuries, stand-up paddle boarding (SUP) has only recently become popular in Australia (from a tourist perspective) over the last decade or so. With calm waters, sheltered bays, and scenic backdrops, the Sunshine Coast provides the ideal setting to learn and practice this fun (and surprisingly difficult) activity.
You can either rent a paddleboard from one of the many beachside vendors in Noosa, Caloundra, or Double Island Point (known for its sea turtles) or join a guided tour that offers instruction for those new to SUP. This way, you can learn the proper paddling and balancing techniques and make a few friends along the way!
Despite its relaxing appearance, stand-up paddleboarding isn't just about recreation; it's also a seriously good workout. Engage your core muscles, improve balance and coordination, and enjoy the benefits of being out in the fresh air and sunshine – all in all, a great way to start the day.
29 – Ride a horse along Rainbow Beach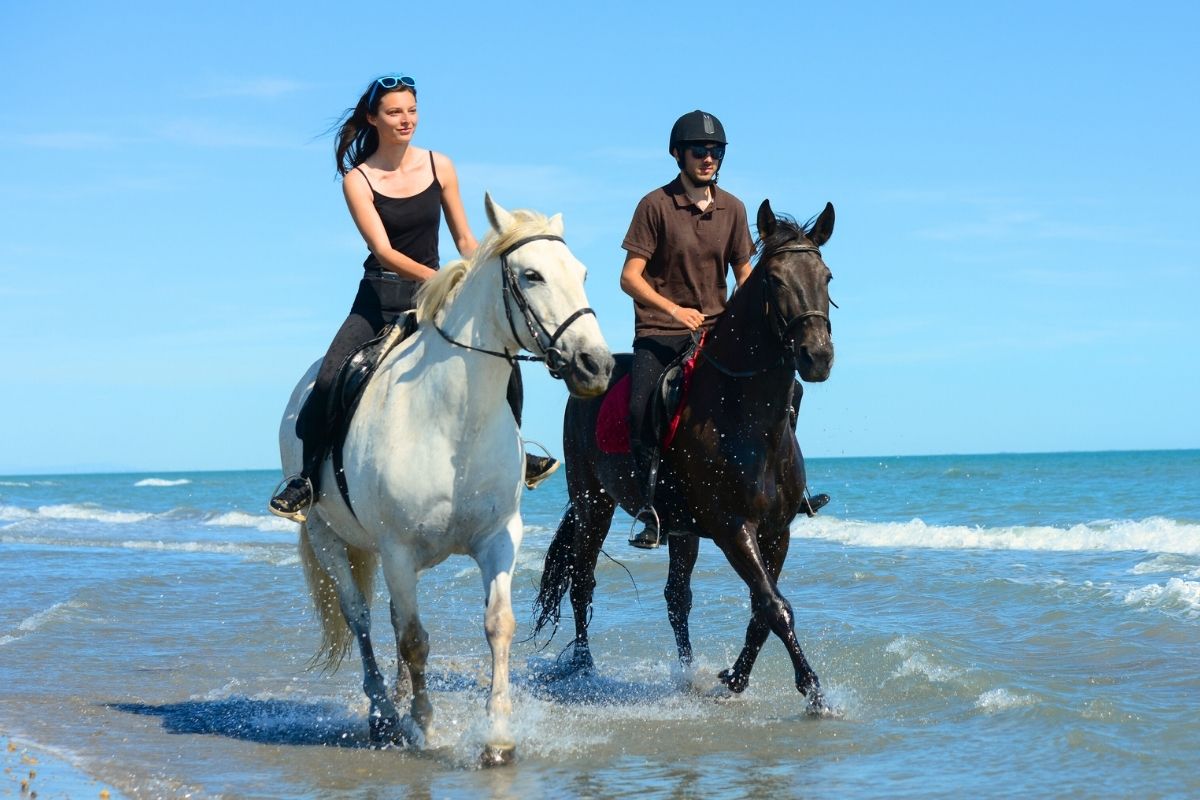 Located approximately 75 kilometers north of Noosa, Rainbow Beach is a stunning beachside town that sits well and truly off the beaten track. As the gateway to both Fraser Island and the Great Sandy National Park, it's an especially popular spot for outdoor activities — surfing, fishing, hiking, and off-roading. But one of the most unique things to do in Rainbow Beach is horseback riding.
There are several companies that offer Rainbow Beach horse rides, providing guided trots along the sand for all levels (from beginner to experienced riders). Not only can you observe the incredible beauty of the area, but you can also pause to take photos and stop for swimming breaks along the way (even while riding your horse).
Take your pick from full moon beach rides, half-day countryside excursions, swimming rides, overnight camping trips, and even combo tours that include riding to the top of Mount Goomboorian for a hearty pub meal. Whichever you choose, horse riding in Rainbow Beach promises to be an experience you won't forget.
Hot tip: While you're in the area, don't miss The Carlo Sand Blow – an impressive sand mass that stretches over 15 hectares. Climb to the top and you'll be treated to panoramic views of the coastline (a killer spot for watching the sunset).
30 – Throw down a picnic rug at Tickle Park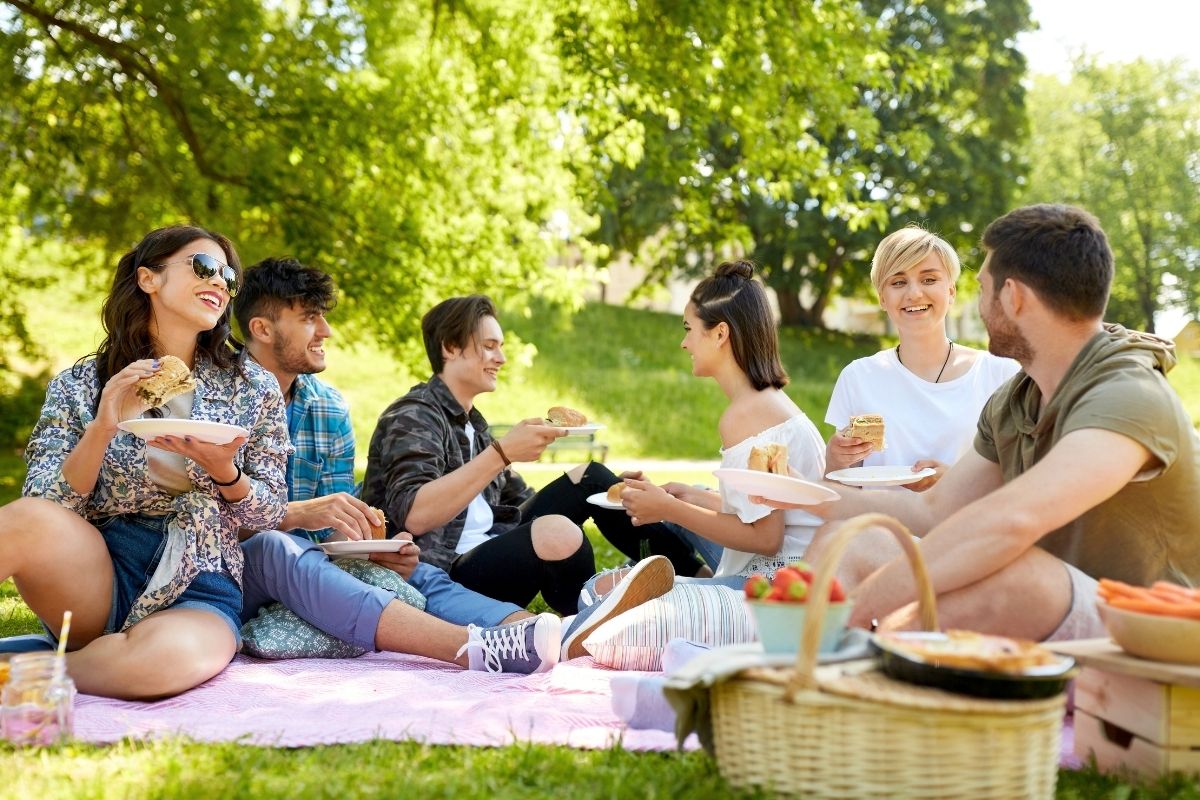 Comical name aside, Tickle Park, located in the Coolum area of the Sunshine Coast (right on the beach), is a popular destination for travelers seeking a relaxing beachside experience. This charming slice of greenery hosts all kinds of community events, live music performances, and markets throughout the year, so expect a lively ambiance whenever you make a stop here.
But even when the calender's empty, the park still offers a perfect blend of natural beauty, recreational activities, and a vibrant atmosphere ideal for an afternoon picnic. There's plenty of grassy space, shady trees, barbecues, and play equipment for the little ones. And when you're in need of something sweet, be sure to grab an ice cream from the kiosk – it'll hit the spot!
Make sure to take a stroll along the boardwalk that winds through the park, and consider popping into one of the many nearby cafes and restaurants for a bite to eat – an ice cream from one of the stalls on David Low Way is sure to hit the spot.
31 – Go skydiving!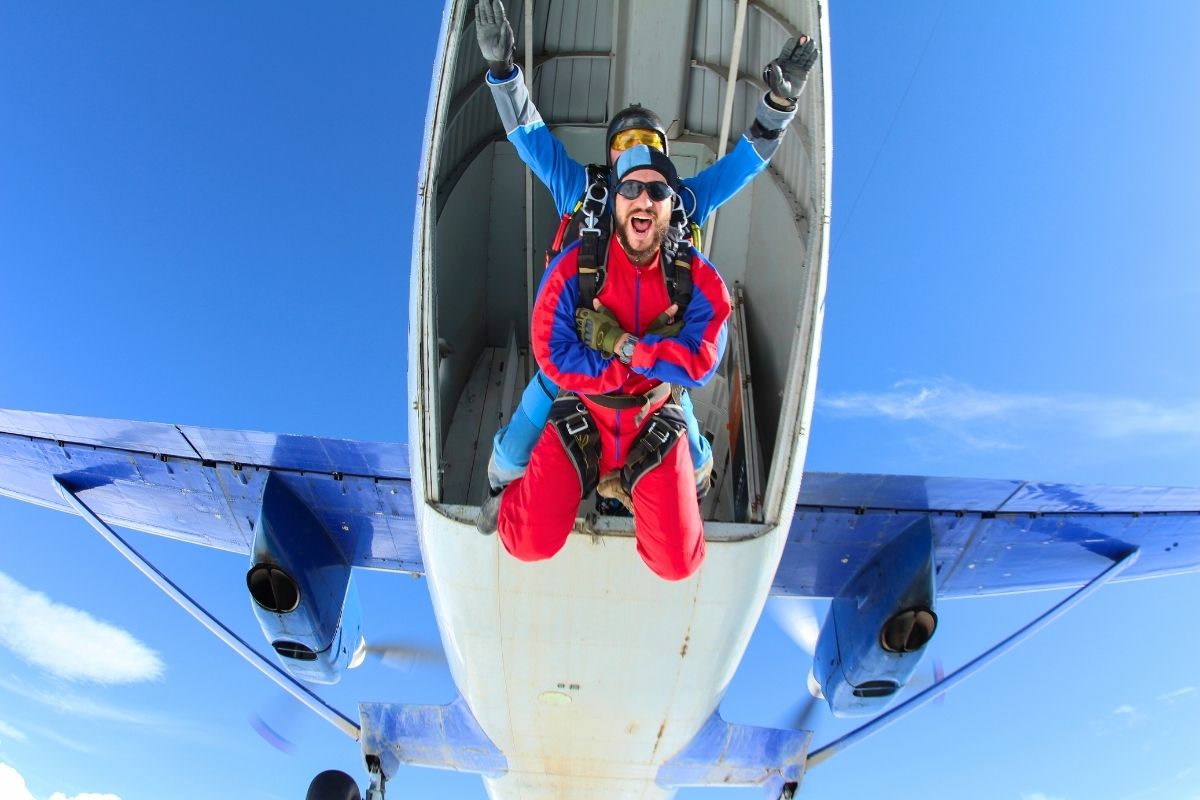 While horse riding or Jeep tours certainly will lift the heart rate, nothing can ever compare to the ultimate adrenalin rush of skydiving over the Sunshine Coast — as you leap out of a little Cessna at 14,000 feet, freefalling over the stunning Pacific Ocean coastline at terminal velocity, the excitement is unmatched.
Take your pick from several reputable skydiving centers in the area (like Skydive Noosa or Sunshine Coast Skydivers) that cater to both first-time jumpers and experienced thrill addicts. Choose from different jump heights and packages based on your comfort level and desired adrenaline rush, then take to the skies for an experience you won't soon forget, with panoramic views of the coastline, hinterland, and iconic landmarks like the Glass House Mountains all the way down.
Before your jump, you'll receive thorough training and safety instructions from certified instructors who prioritize your well-being and ensure a safe and enjoyable experience.
While it's one of the more expensive things to do on the Sunshine Coast, as adrenaline junkies will attest, it's worth every dollar.
32 – Cool off at the Sunshine Coast's water parks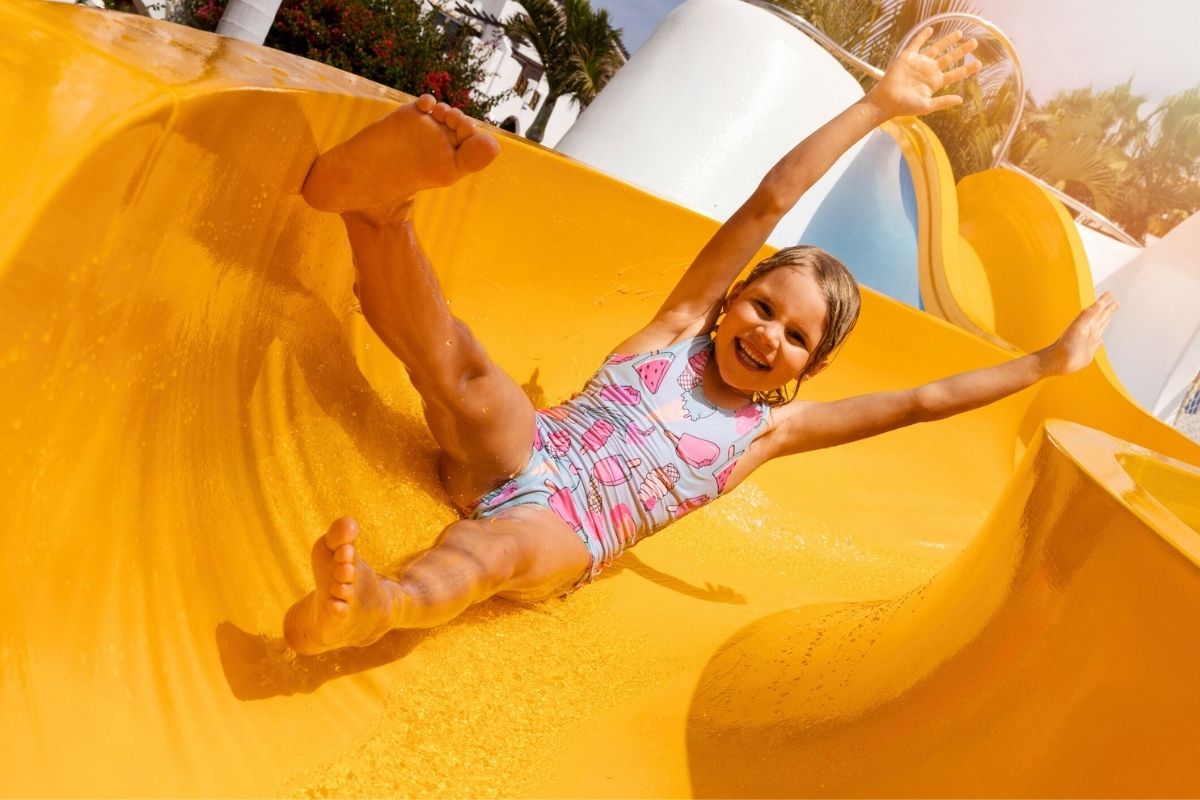 In a place like the Sunshine Coast, bet your bottom dollar that there's plenty of water-based fun to be had. Not just surfing, swimming, and snorkeling either—you can take the excitement up a notch or two by visiting one of Sunshine Coast's fantastic water parks.
Case in point: the Bli Bli Watersports Complex, a popular destination for water park enthusiasts looking to cool off. Enjoy a day of fun and adventure as you tackle inflatable water obstacles, ride down exhilarating slides, and test your balance at the 37-obstacle, 3-lake wakeboarding park.
Blast Aqua Park Coolum is another fantastic option. Like a Wipeout or Ninja Warrior course on the Quanda Recreation Lake, Blast comes jam-packed with inflatable obstacles, trampolines and slides.
Depending on where you're staying, you might be closer to Thrill Hill Waterslides or the Tewantin Splash Park – while not as big or as action-packed, they're still a great option for families looking for some budget-friendly water fun.
33 – Trek through the Glass House Mountains National Park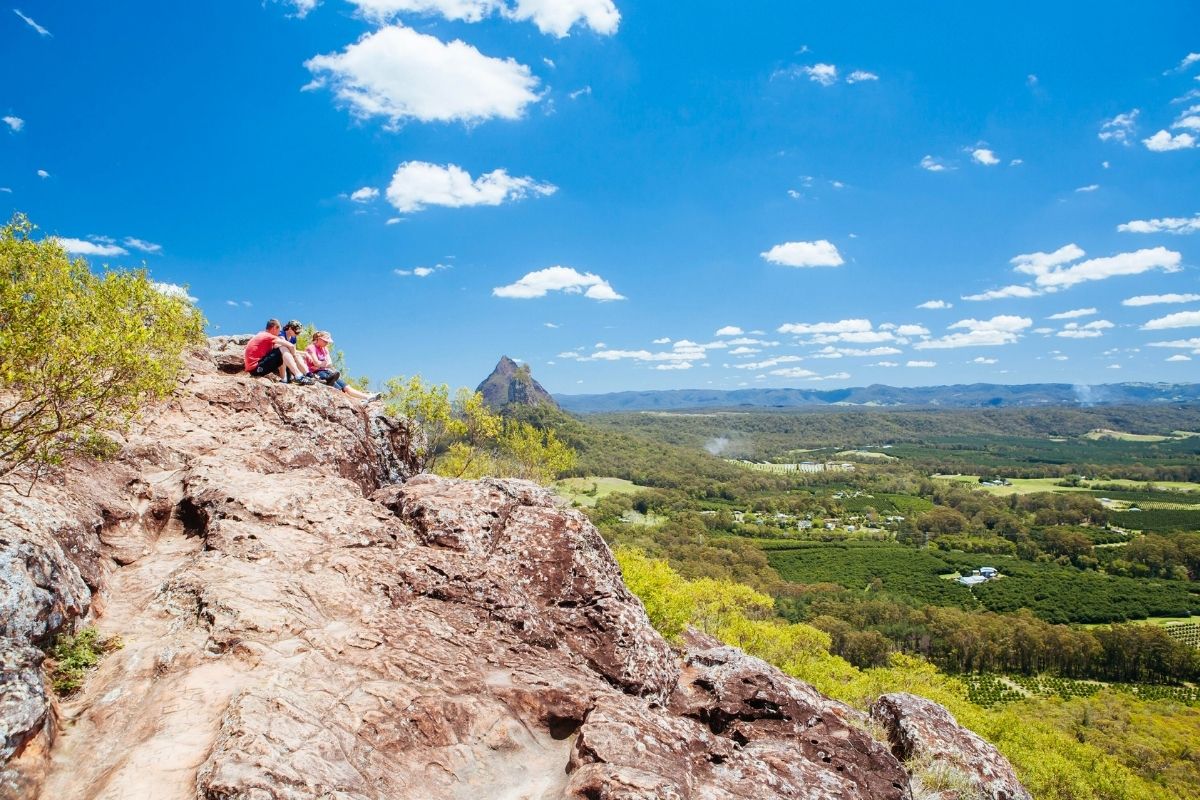 Where rolling hills meet spectacular views, the Glass House Mountains National Park is home to 11 striking volcanic peaks, with Mount Beerwah and Mount Tibrogargan being the most prominent, rising dramatically from the landscape.
Take a gentle stroll around one of the many trails, or strap on your hiking boots and take on some of the more challenging ones, like the Mount Ngungun Summit Track. If you're lucky, you might even spot some wildlife along the way.
For the extra adventurous, rock climbing and abseiling are popular activities within the park. Experienced climbers can tackle the challenging cliffs of Mount Ngungun or test their skills on the vertical faces of Mount Tibrogargan.
Prefer not to walk? No worries – The Glass House Mountains are also great for a scenic drive. Take the Glass House Mountains Lookout Road for incredible views of the peaks, or explore the surrounding countryside and charming towns (Conondale, Maleny, Coochin and Beerburrum to name a few) that serve up plenty of dining and shopping experiences.
Hot tip: To fully appreciate the natural wonders of the Glass House Mountains, plan a sunrise or sunset hike. Watching the colors change over the landscape from one of the peaks is a truly magical experience.
34 – Wet your whilst with a little beer tasting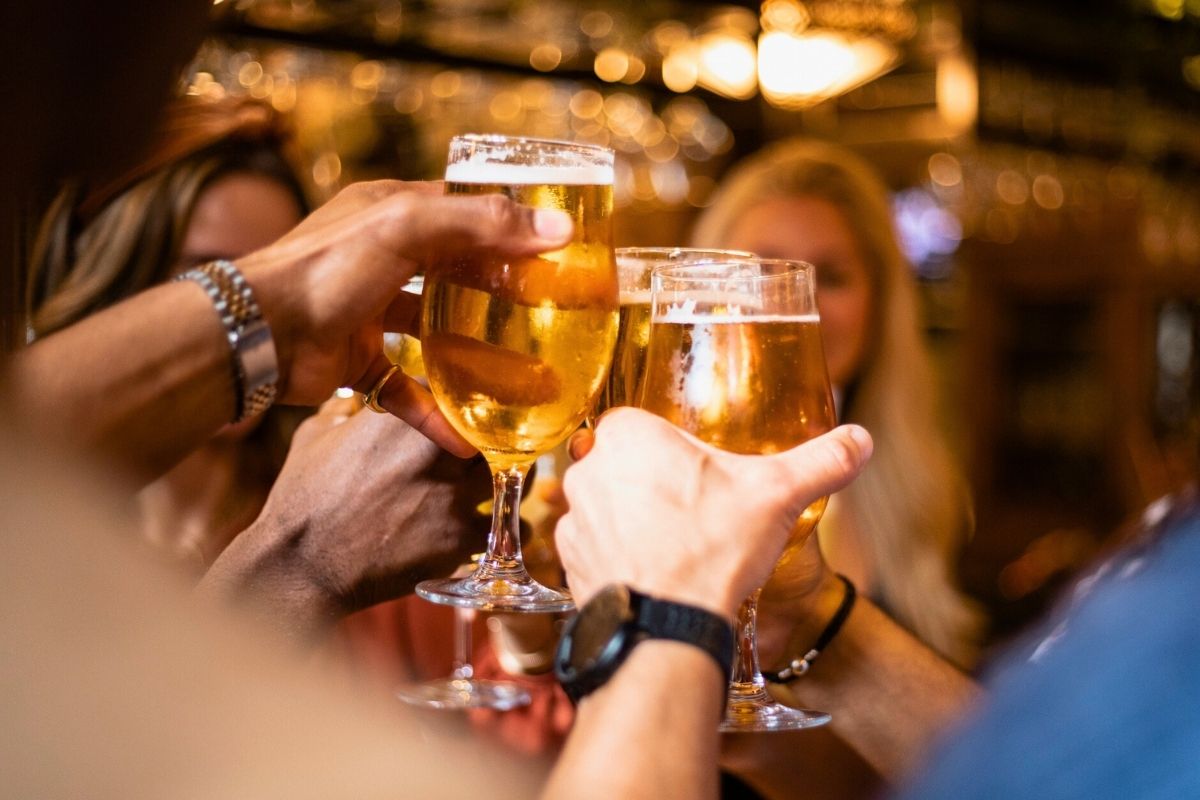 Craving a cold one? No trip to the Sunshine Coast is complete without exploring its craft beer scene. Head over to Your Mates Brewing Co. in Moffat Beach for a taste of their unique creations, or hit up the husband and wife-run 10 Toes Brewery in Alexandra Headland for some of their locally-made lagers and ales.
Still thirsty? Down in Maroochydore, you've got the Sunshine Brewery, where food trucks make regular appearances to pair with your brews. Not too far down the road is the Sunshine Coast Brewery as well – creating hoppy goodness since 1998, this is the area's longest-running craft brewery.
Staying up near Noosa? Then look no further than Land & Sea Brewery. A favorite among locals, this brewery serves up a selection of session beers and IPAs that are perfect for drinking on the beach. Then there's Heads Of Noosa, home to a multi-award-winning Japanese lager.
If you'd rather explore with fellow travellers, make sure to join one of the many beer tours in the area. With experts sharing insights into the brewing process, you can sample different types of craft beers while learning about their origins and culture.
And if you'd prefer a wine-tasting experience, wineries like Flame Hill Vineyard, Sirromet Wines or the Ocean View Estate are just a short drive away, rounding out the list of things to do on the Sunshine Coast for thirsty travellers.
35 – Tackle the high ropes course at the Next Level Adventure Park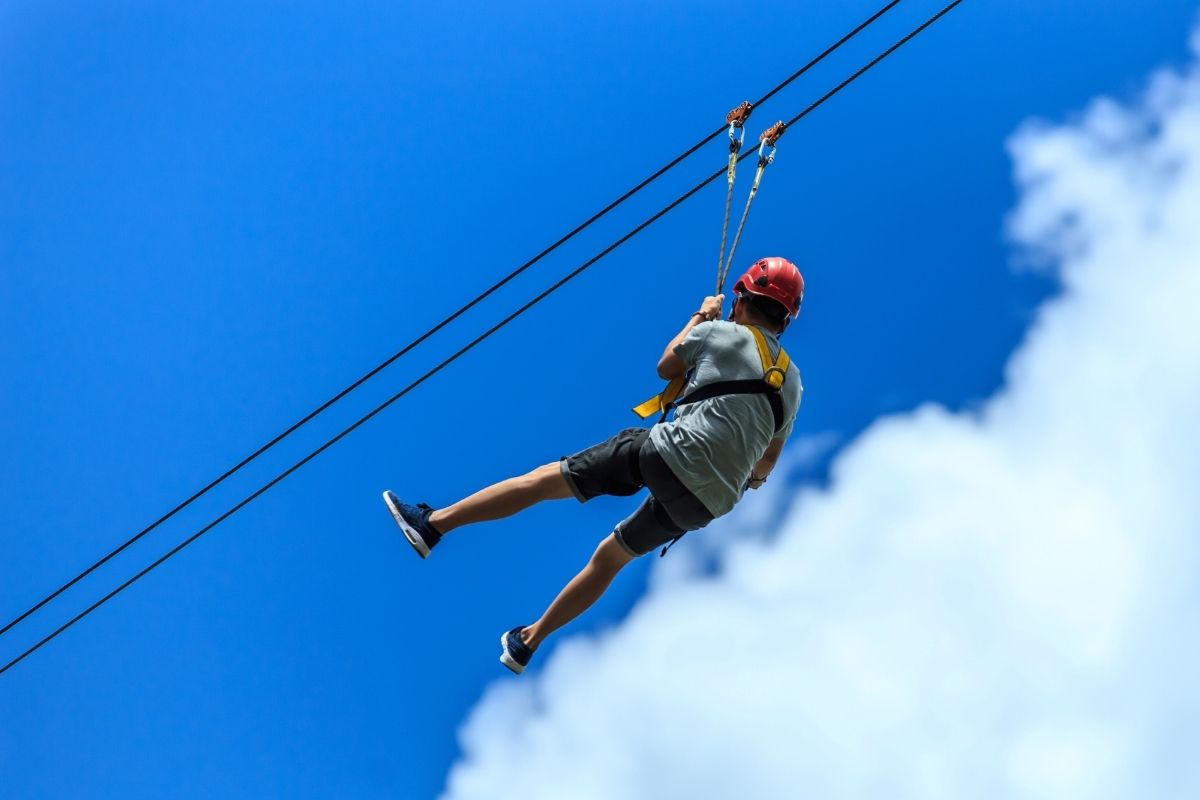 Sure to satisfy any lust for adventure, the Next Level High Ropes Adventure Park in Beerwah is a state-of-the-art obstacle course packed with adrenaline-filled challenges – all wrapped up in a picturesque natural setting.
Test your skills and push your limits as you navigate through a series of challenging obstacles (145 aerial challenges, to be exact), from suspended bridges and swinging logs to high-wire crossings and 16 ziplines that serve up 360-degree views over the Maroochydore River
With 7 different levels to choose from (as well as the dedicated KidZip zone for the tiny tots), the park is suitable for all ages, with everyone from 6-year-old adventurers to extreme sports enthusiasts catered for.
Despite the height, don't fret; safety is a top priority at Next Level, with rigorous protocols in place. You'll get a harness, safety gear, and an official staff training before tackling the course.
36 – Mix putting with pints at Holey Moley Mini Golf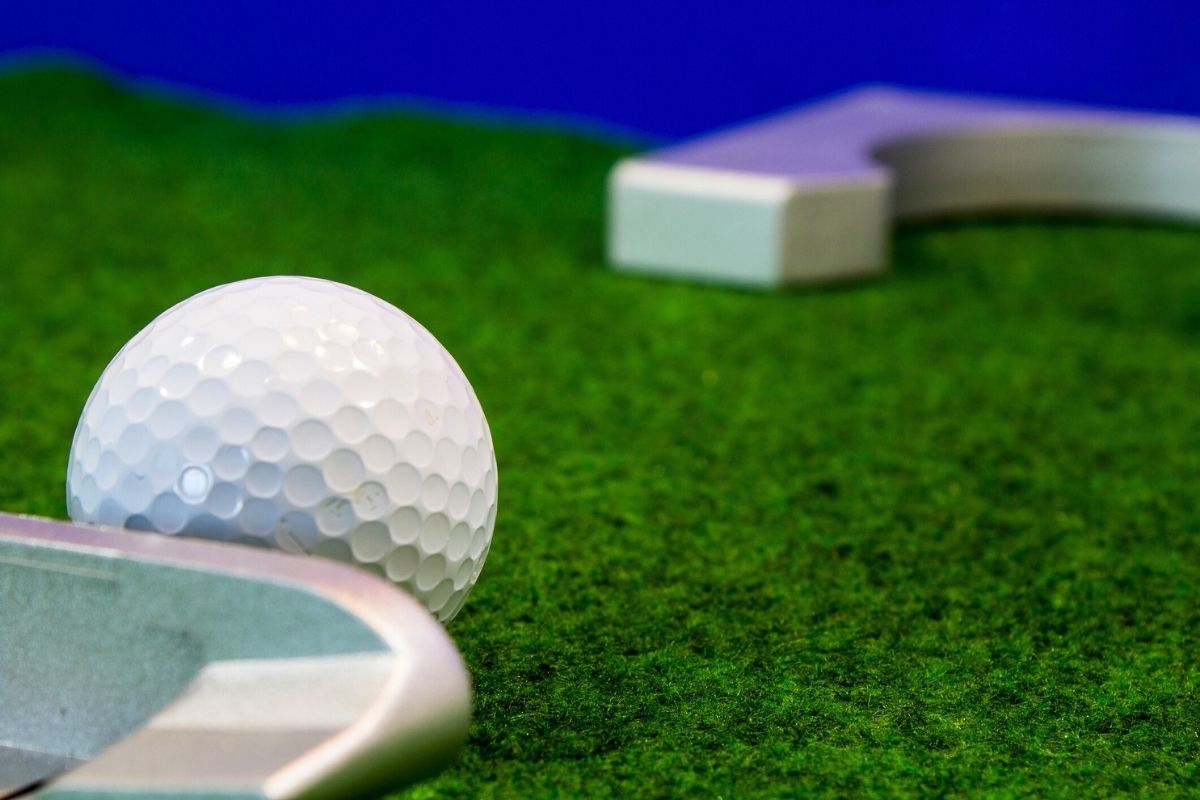 Who's up for a dose of friendly competition? An indoor mini golf centre located in the heart of Maroochydore's Big Top Shopping Centre, Holey Moley Mini Golf is a fun and affordable way to putt away an hour or two with your travel buddies.
After taking the country by storm (with locations in Melbourne, Sydney, Brisbane, Adelaide and Perth), Holey Moley made its way to the Sunshine Coast. Bright, bold, cheerful, and oh-so quirky, the centre is decked out with vibrant décor, fun props and interactive elements across dozens of holes that require plenty of skill and focus (and maybe a little bit of luck) to beat.
If you're up for some extra action after golfing your way through the course, the on-site bar dishes up delicious burgers and drinks, and Strike Bowling and Archie Brothers are right around the corner.
Because of Holey Moley Golf Club Sunshine Coast's popularity, advanced booking is recommended, especially on the weekends.
37 – Get a bird's-eye view on an airplane tour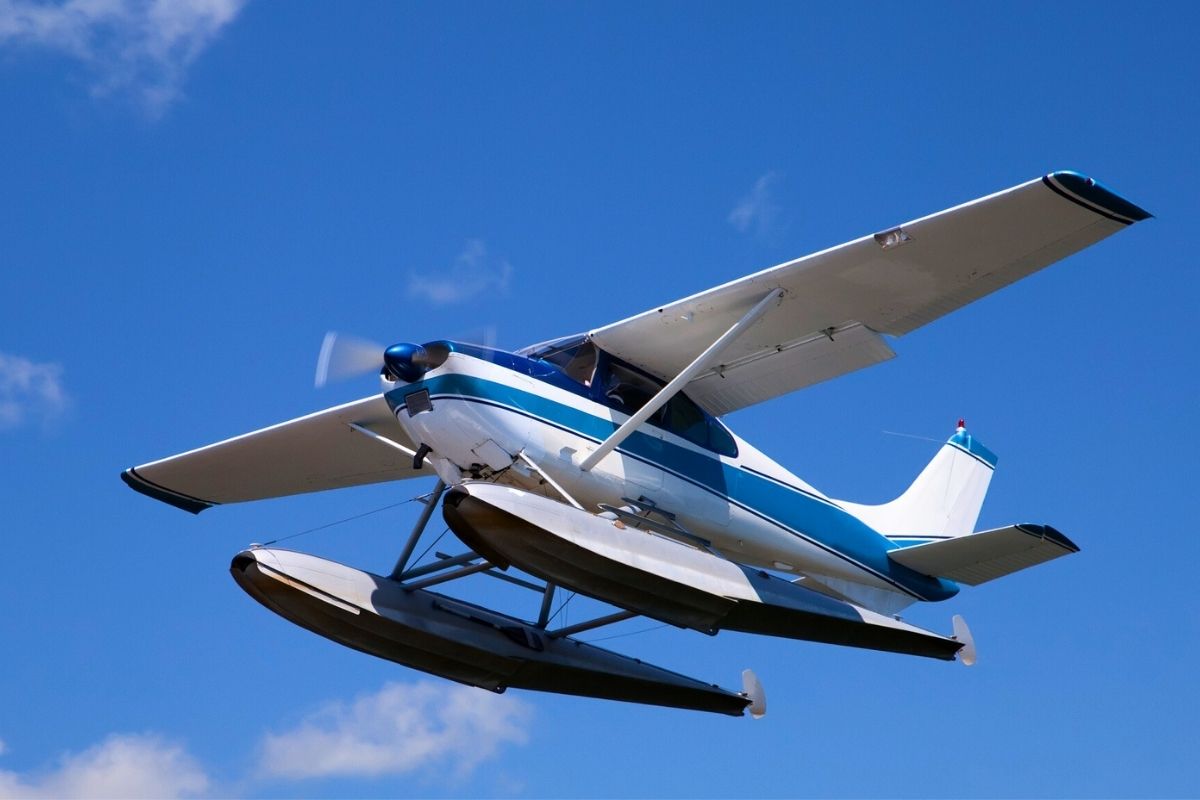 From ground level, the Sunshine Coast looks pretty dazzling. But from high up in the sky, when you can appreciate the contrast between the hinterland's lush rainforests and the shimmering beaches – it's pure magic.
So why not take in all this stunning scenery from a safe distance with an airplane tour? Experienced pilots will whisk you away on a journey full of awe-inspiring sights, allowing you to get a better sense of the magnitude and beauty of the Sunshine Coast.
You can choose from several different tour packages – ranging from short trips over Mudjimba in a seaplane to epic flight lessons that take you the Glasshouse Mountains, Fraser Island, Caloundra and more!
As you glide over the coast, you can exact your knowledgeable pilots to share all kinds of interesting stories about the area, learning about the region's geography, landmarks, and points of interest as you soar above them.
38 – Experience a few of the region's best markets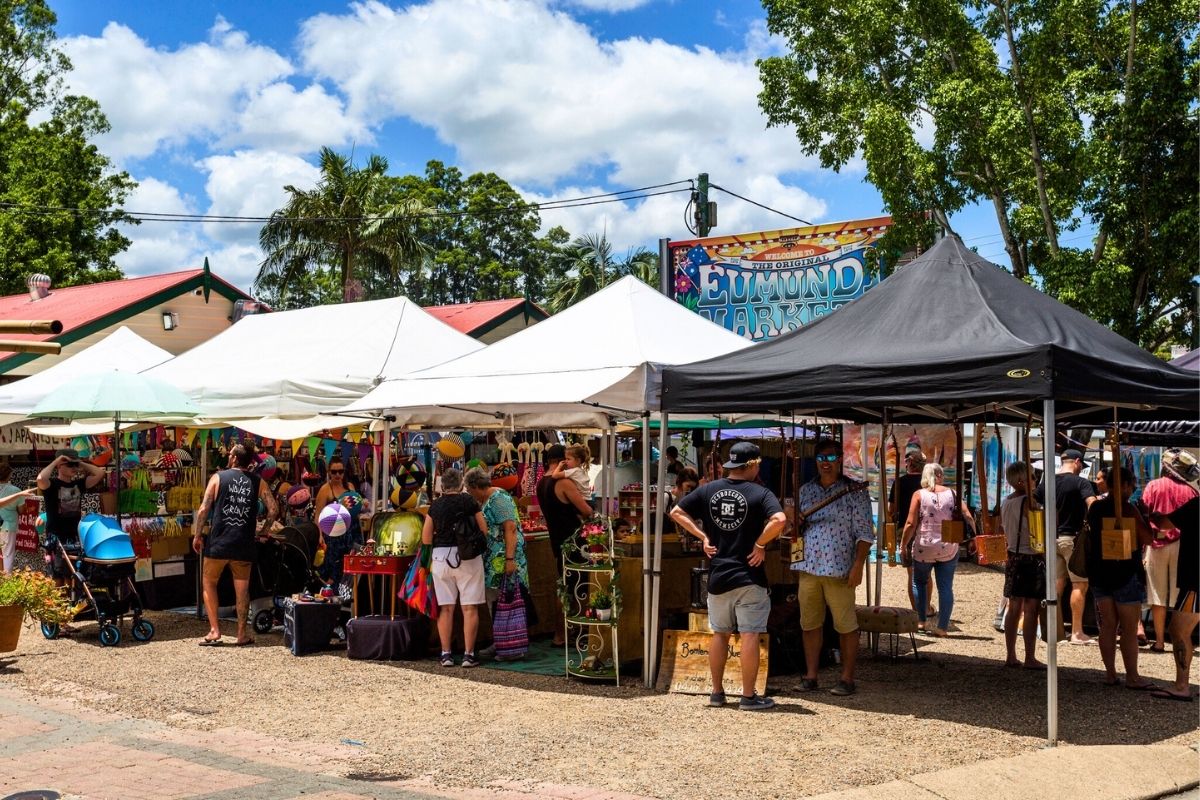 In a region full of small, personality-driven towns, markets are one of the best ways to get a sense of the genuine culture and meet some friendly locals. And, thanks to year-round warm weather, the Sunshine Coast always has plenty of these great events going on – from arts & crafts fairs to farmers' markets full of fresh produce, you can be sure to find an event that will pique your interest!
The Eumundi Markets, to start with, are one of the Land Down Under's most iconic gatherings. They're held every Saturday and Wednesday and attract over 1.6 million visitors each year, so be sure to check them out if you're looking for some local artwork, handmade crafts, fresh produce, or even something as simple as a snack or souvenir!
With 12 unique food stalls, the Currimundi Lake Twilight Markets are a great option for an early Friday dinner, likewise the Marcoola Market. On Saturday mornings, the Kawana Waters Farmers' Markets is the go-to for all things fresh food, while the Yandina Markets is a treasure trove of second-hand goods and plants, if that's more your cup of tea.
On Sundays, you've got the Noosa Farmers Market, the Maleny Sunday Markets, and the Caloundra Street Fair, each with a special assortment of handmade arts, tasty treats, and live music to boot.
39 – Cuddle a koala at Australia Zoo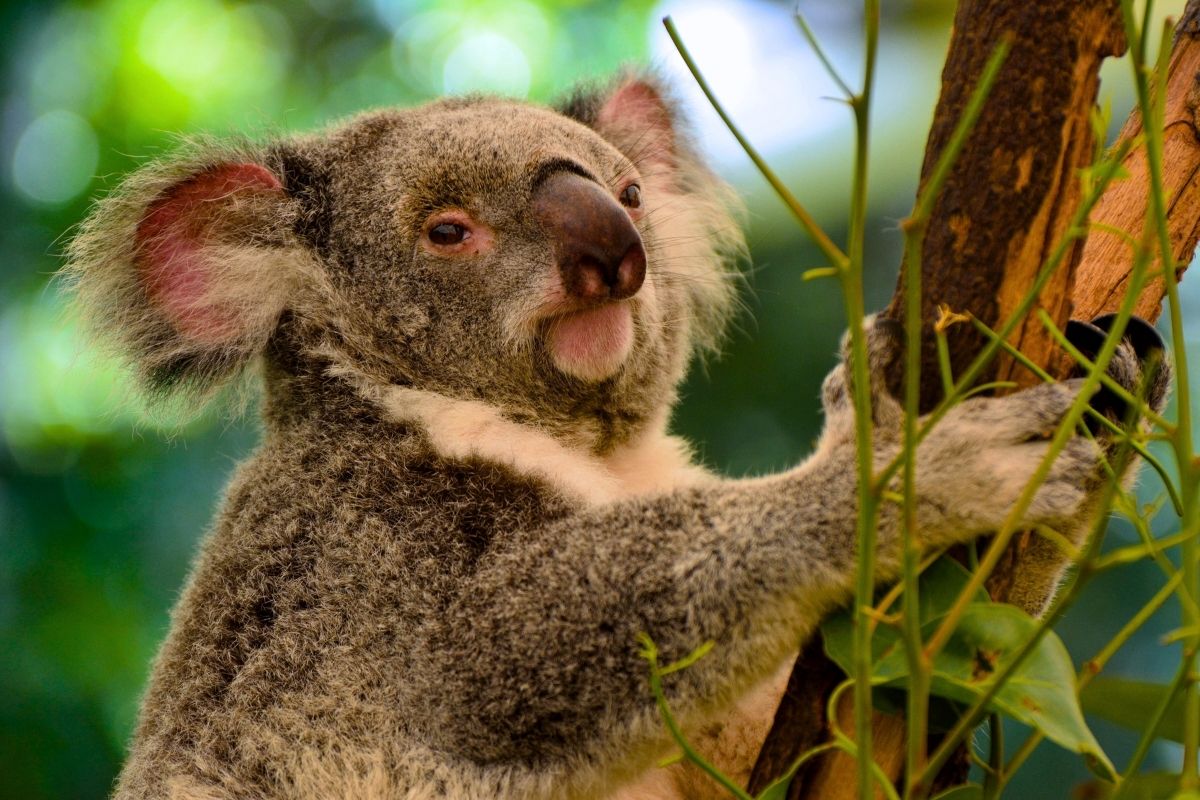 When it comes to things to do on the Sunshine Coast, nothing is more iconic than Australia Zoo. Started by the late Steve Irwin, this internationally acclaimed zoo (just 30 minutes from the coast) is home to over 1,200 animals and acts as an educational, entertaining wonderland for both adults and children alike.
And while Steve's no longer around, the Irwin family continues to be actively involved in the operations of the zoo, carrying on the legacy of the beloved and adventurous wildlife warrior.
Cuddle koalas or feed the kangaroos, or sit back and watch the world-famous crocodile show at the Crocoseum, where the world's biggest crocs show off their strength and skills – you'll be yelling CRIKEY before you know it.
Aside from all the animal action, Australia Zoo also hosts a variety of special events throughout the year and educational programs that are perfect for budding wildlife enthusiasts.
For the ultimate experience, consider joining one of the official Australia Zoo tours. Alongside your guide, you'll get access to exclusive behind-the-scenes areas (like the Wildlife Hospital) and feedings, plus a chance to learn from the experts about the daily lives of wombats, echidnas, and more.
40 – Wander through the Kondalilla National Park rainforest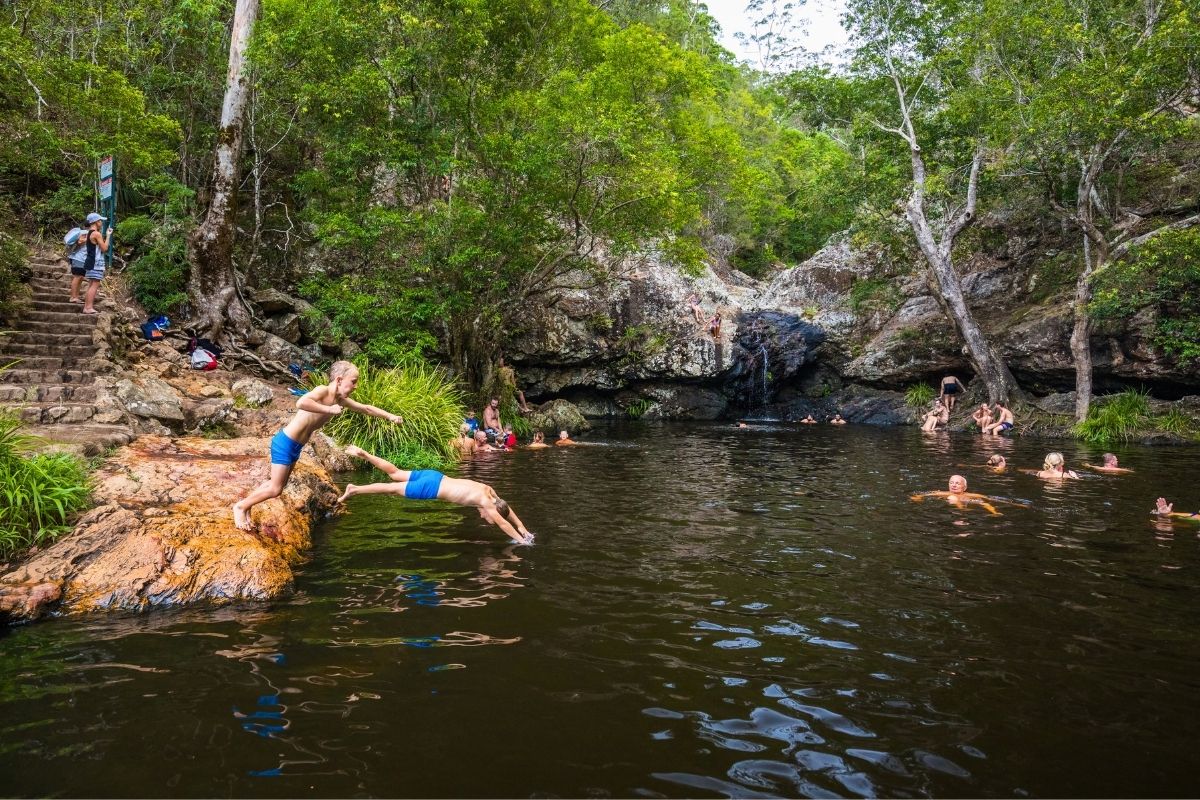 Spanning (hold onto your Akubras) a whopping 327 hectares of lush rainforest and wide open spaces, Kondalilla National Park is an absolute gem of Mother Nature, tucked away just 40 minutes from the main Sunshine Coast beaches.
This vast green expanse is home to some of the most picturesque hiking trails in Queensland. None are more popular than the epic Kondalilla Falls Circuit, a 4.7-kilometer (2.9-mile) track that takes you through the verdant rainforest to the base of the falls, where you can take a well-earned dip to cool off after your trek.
If you're more of a leisurely explorer, however, there are plenty of shorter walks to enjoy in the park, including the 1.7-kilometre Picnic Creek circuit – the perfect precursor to an afternoon snack.
In the area: the Park is a stone's throw from the Flame Hill Vineyard, a perfect spot for wine tastings and stunning views of the Sunshine Coast Hinterland.
41 – Hit up some of the other amazing beaches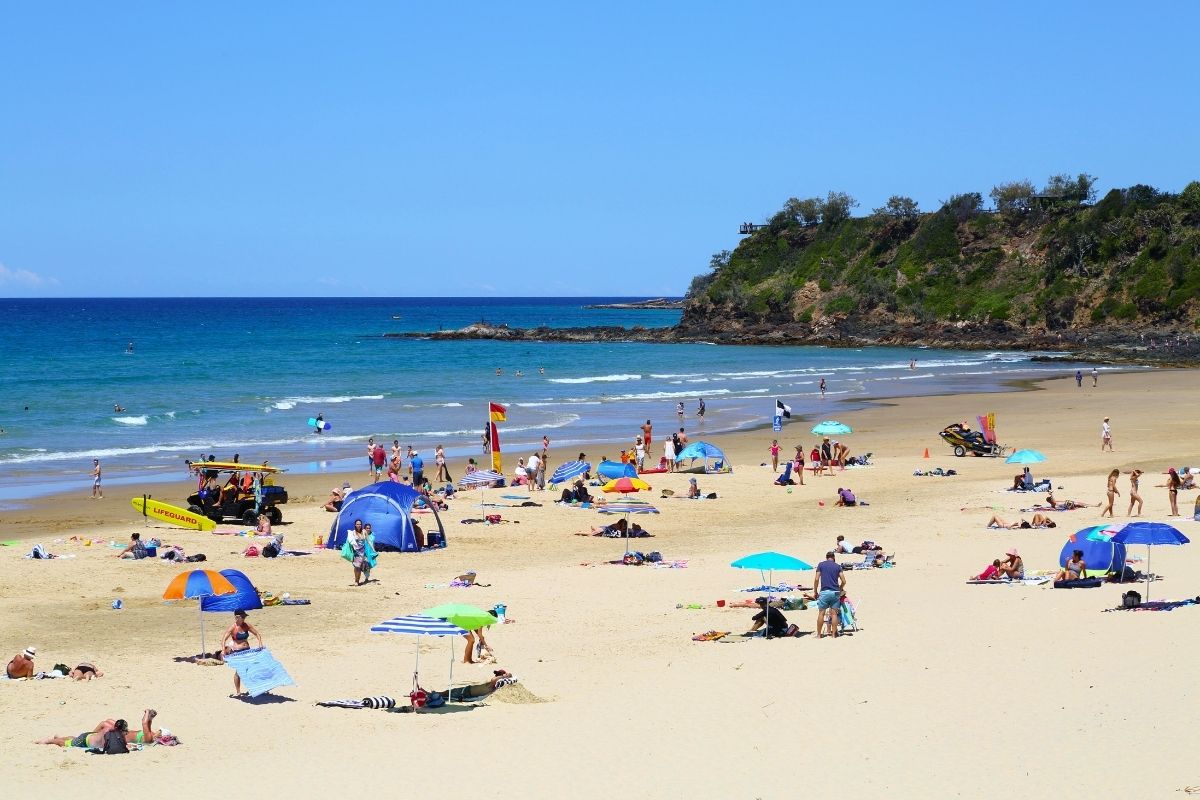 When we think of Sunshine Coast beaches, it's almost exclusively Mooloolaba Beach, Rainbow Beach and Noosa Beach that come to find. But to overlook the plethora of other stunning stretches of sand in the area is a real shame – from Caloundra to Coolum, each and every beach has its own unique charm.
A few that you really should make time for include Alexandra Headland, Shelly Beach and Moffat Beach; while Peregian Beach and Dicky Beach are popular with locals looking to escape the tourist hordes.
Situated in Caloundra, Kings Beach is a family-friendly beach with the Sunshine Coast's only ocean pool, and picnic areas. Then there's Coolum Beach – with its picturesque headland and consistent waves, it's a favorite among surfers.
If it's tranquility you're after, Wurtulla Beach, Mudjimba Beach, and Alexandria Bay (which can only be accessed by foot) are all hidden gems.
As you can see, there are plenty of beaches to explore in the Sunshine Coast – you just have to know where to look.
42 – Ride on a "water bike"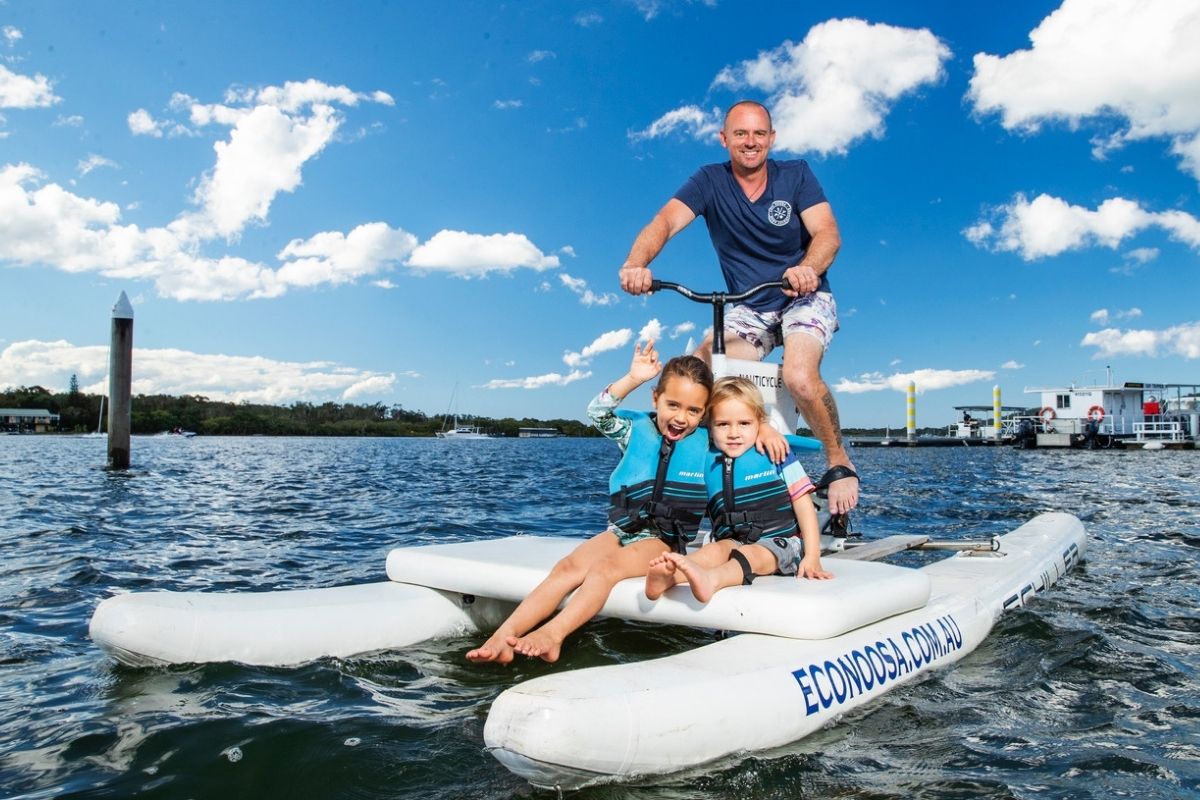 If you've never heard of a water bike before, you're not alone! Especially popular up in the Noosa River region, water biking is part boat, part bike, and 100% fun. It's a great way to explore the river, take in the stunning scenery of the area, and burn a few calories along the way.
The bikes are surprisingly easy to maneuver, so you don't need to be an experienced biker or boater to have a good time. They're also kid-friendly, so it's a great activity for families – you can do all the hard work while the youngsters sit on the platform and enjoy the ride!
Most self-guided tours will pass by the Noosaville Jetty strip, the North Shore, and the Noosa River Mouth, where you can hop off the bike for a quick dip.
43 – Muster up the courage for an abseiling adventure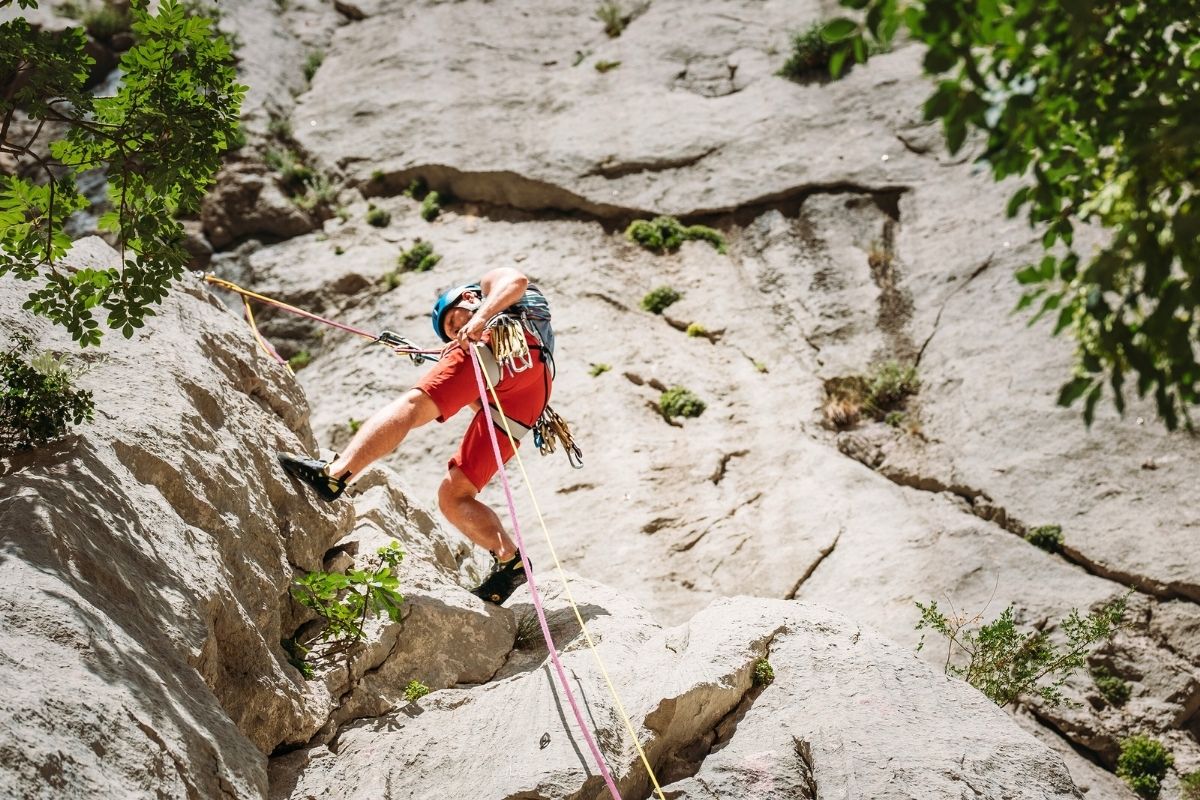 Sure to get your heart racing, abseiling on the Sunshine Coast offers up the perfect opportunity to test your limits. Whether you're a beginner or an experienced veteran, there's an abseiling option to suit everyone – from coastal cliff tops to deep rainforest canyons and waterfalls.
Abseiling tours on the Sunshine Coast usually take around 2-3 hours, and most of them take place at Mt Timbeerwah in the Tewantin National Park. Here, you can rappel down up to 50 meters down into the valleys below, taking in stunning views of the hinterland on your way down.
Not quite ready for the big cliffs? No dramas. You can hone your craft at indoor rock climbing centres like Bould Move or Rockit to get your bearings first.
44 – Perfect your drive on the region's best golf courses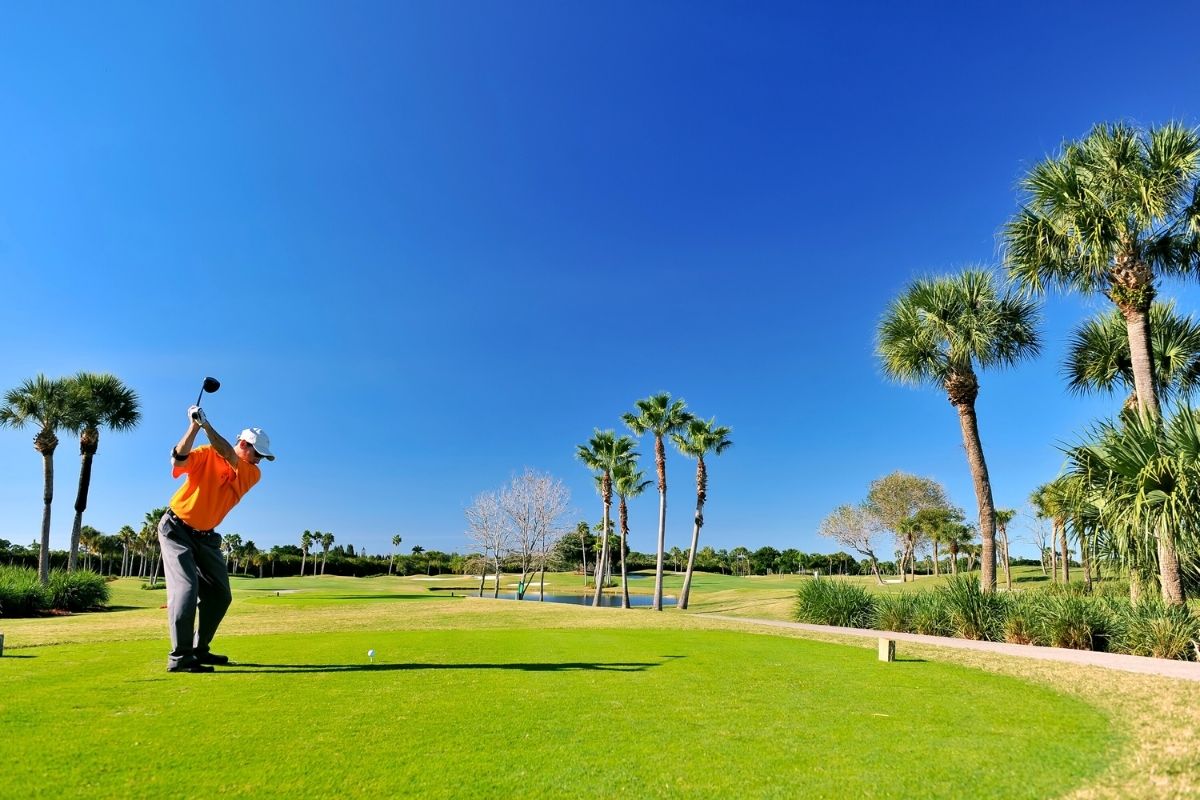 Not too hot and not too crowded, the Sunshine Coast is a golfer's paradise, offering a range of world-class fairways that combine stunning natural landscapes with challenging greens. But with literally dozens to choose from, where do we begin?
How about the Noosa Springs Golf & Spa Resort? This prestigious resort boasts an 18-hole championship golf course with sweeping views of the hinterland. Or how about the waterfront Pelican Waters Golf Club? With views of the Glass House Mountains, this fairway is the first Greg Norman-designed course to hit the Sunshine Coast.
The 18-hole Twin Waters Golf Club and the picturesque Peregian Golf Course both provide challenging courses for the avid golfer, while the Maroochy River Golf Club, which sits in the shadow of Mount Coolum, is a great pick for beginners.
45 – Drift around corners at the Big Kart Track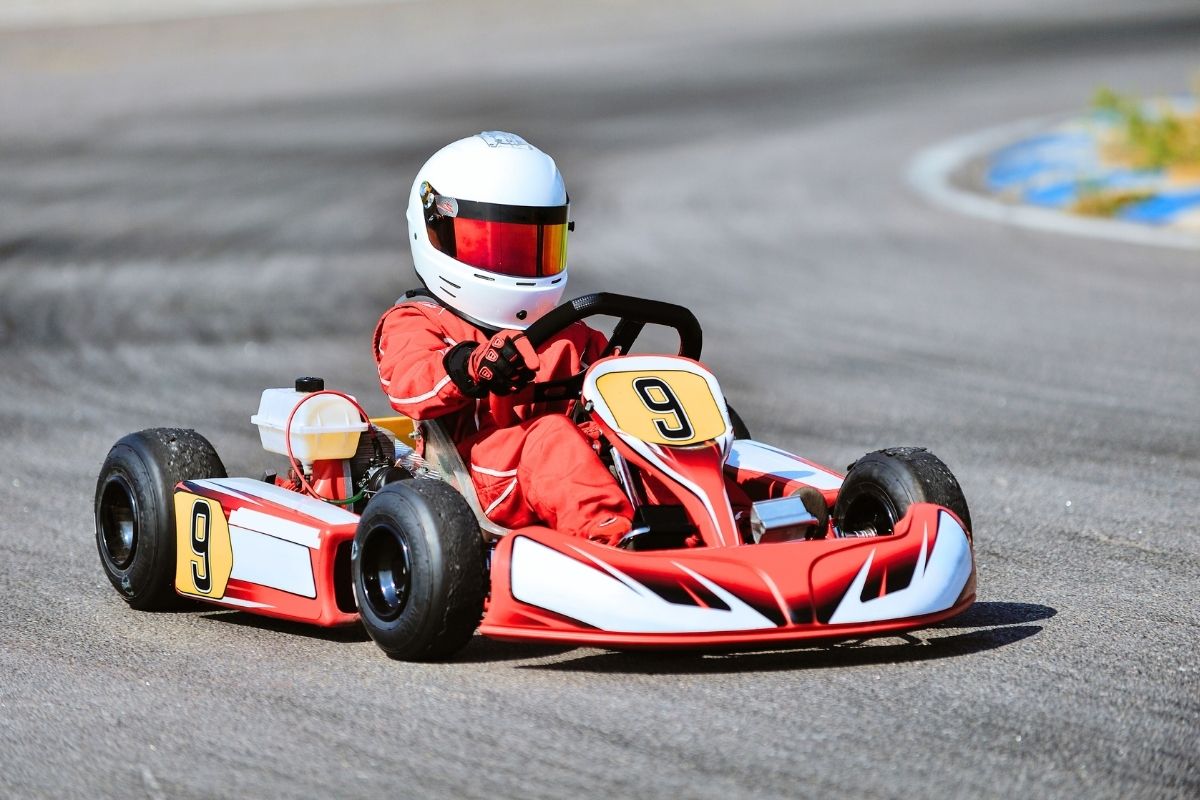 Make no mistake; as what is officially the largest commercial go-kart track in Australia, the Big Kart Track in Landsborough is a serious thrill ride.
The 1,200-meter track features long straights, tight corners, S-blends, hairpins, chicanes and more – a track you'll twist around in karts built to reach speeds of up to 70km/h!
After tearing up the track, along driving south along Steve Irwin Way to reach Australia Zoo – or head 10 minutes north instead to find Aussie World; either way, you can guarantee a full day's worth of fun around Landsborough.
46 – Cool off in a lovely waterfall or two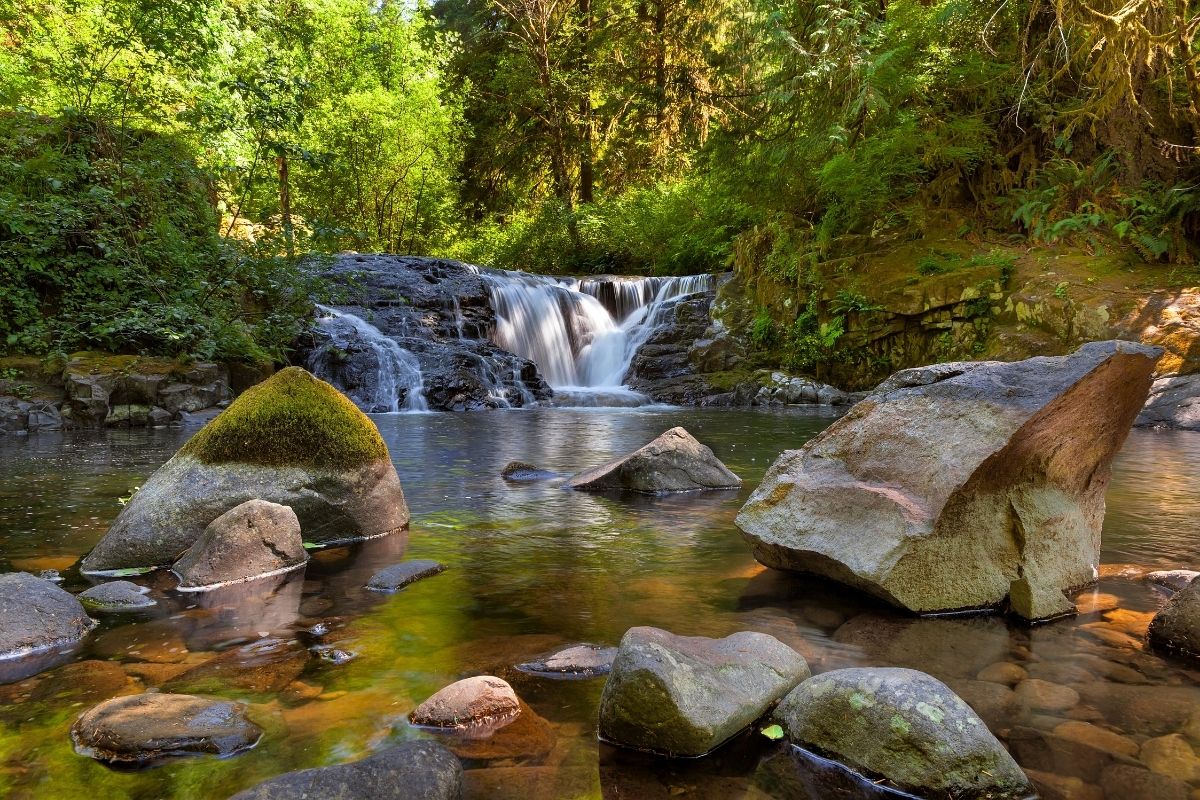 They say don't go chasing them – in the Sunshine Coast, scrap that logic entirely.
Take a drive up into the Blackall Range past Montville and Mapleton to find Kondalilla Falls cascading down 90 meters over lava rock (and you can swim at the top of it). Or explore Mapleton Falls National Park, where you'll come across several spectacular waterfalls – Kureelpa Falls, Mapleton Falls and Gheerulla Falls, and you can even walk between the latter two.
If you don't mind a hike, the 2-hour journey to Baxter Falls winds through eucalypt forest and across suspension bridges is well worth the time. And last but not least, Gardners Falls in Maleny has a swimming hole with a rope swing for that Insta-worthy content.
47 – Ride around town with a bike tour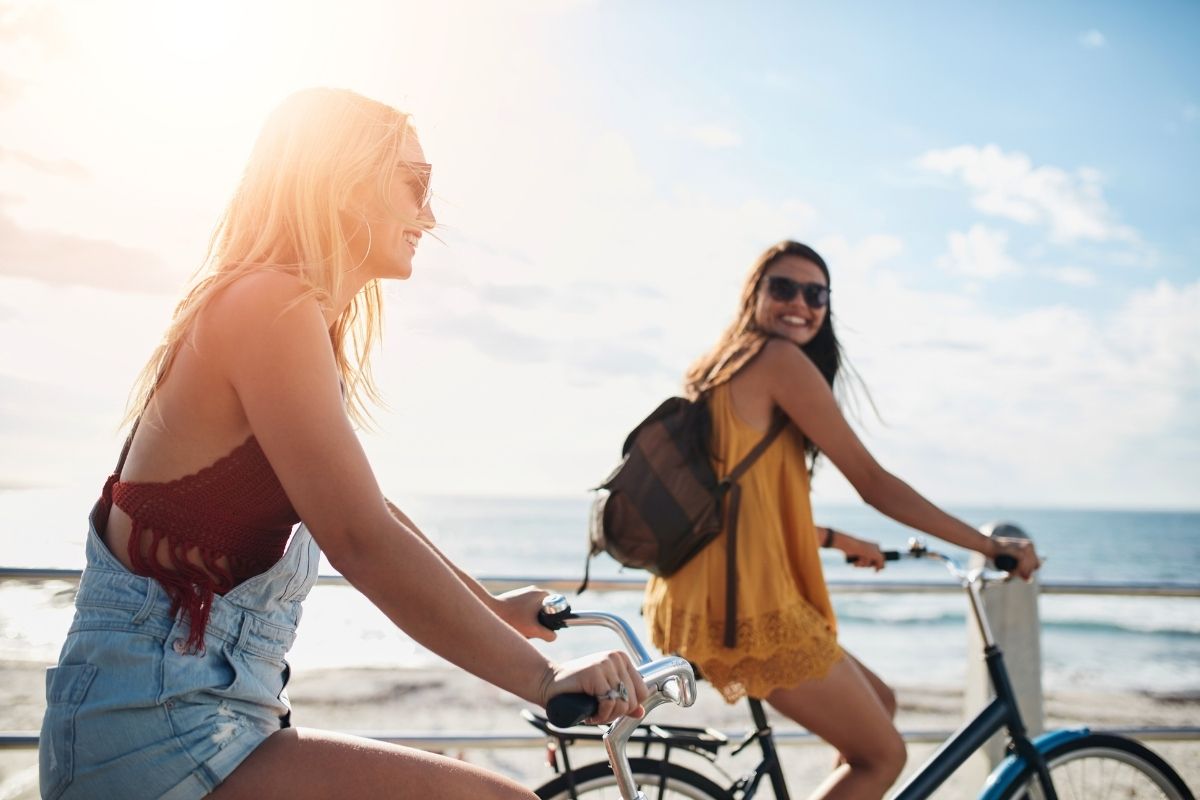 Whether you tackle Noos's beaches and bushland on an e-bike, journey from Twin Waters to Point Cartwright, or even try water bikes for the first time, you've not no shortage of two-wheeled possibilities.
While 4WDs can cover more ground, bikes allow you to get away from the tourist hotspots and explore more remote areas that can only be reached by going off-road. You'll get to experience parts of the coast you wouldn't normally have access to; uncover hidden gems, visit stunning beaches, pass by iconic landmarks and picturesque towns, and possibly even pop into one of the vibrant local markets (see #38).
And with friendly guides to show you around, you'll get back home with plenty of stories to tell.
48 – Spot diverse wildlife at the Mary Cairncross Scenic Reserve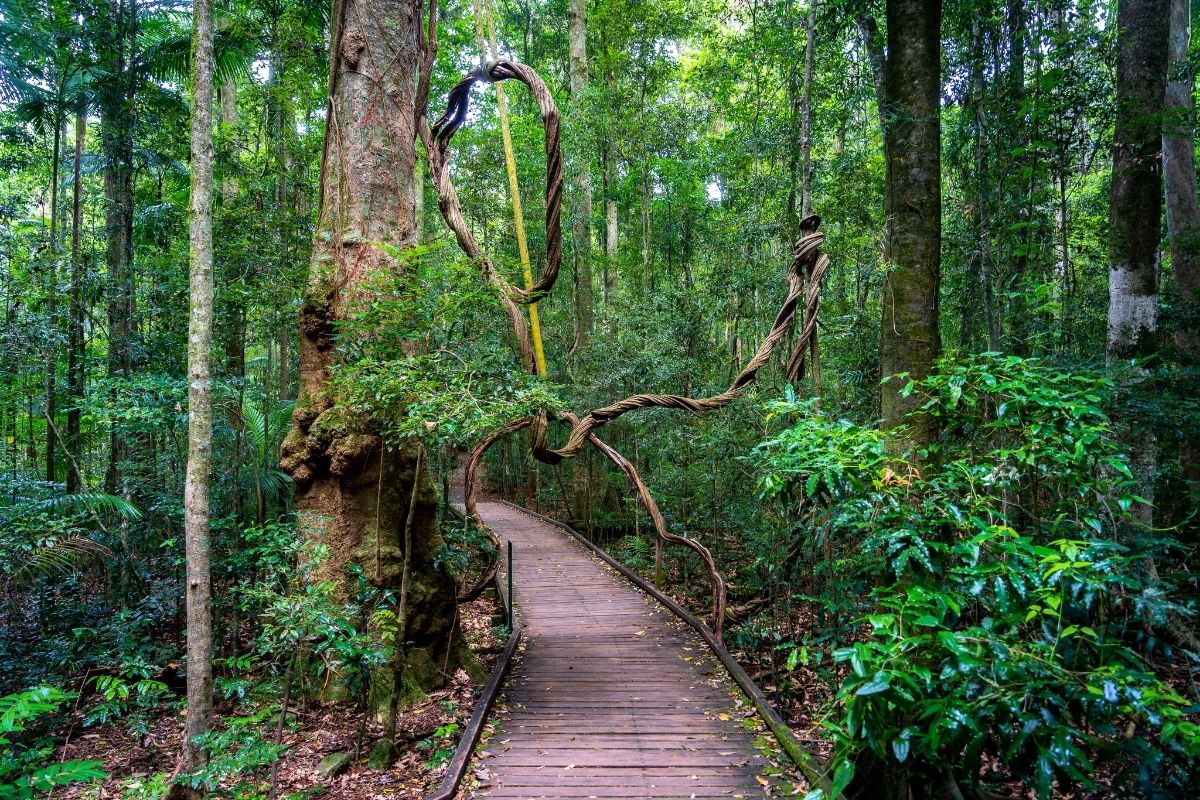 An enchanting sanctuary hidden away within the verdant rainforest of the Blackall Range, Mary Cairncross Scenic Reserve has been a nature-lovers haven since it opened in 2017.
From the Rainforest Discovery Centre, wander through the lush surroundings (don't miss the 150-metre-high Glider Gallery Boardwalk) and learn more about the diverse flora and fauna from the informative displays en route. Keep an eye out for some of the more than 140 species of birds that make their home here, as well as curious critters like wallabies, possums and bandicoots!
When the legs start to tire, you can either see what's playing at the Cairncross theatrette (environmental films and photography exhibitions) or grab a cappuccino at the Mountain View Café.
What's nearby? The reserve is a short distance from the charming town of Maleny, where you can explore art galleries and boutique shops, and sample some of the local cuisine. It's also close to other natural attractions like Kondalilla National Park and Maleny Botanic Gardens, so why not make a day of it?
49 – Race against the clock with a Sunshine Coast scavenger game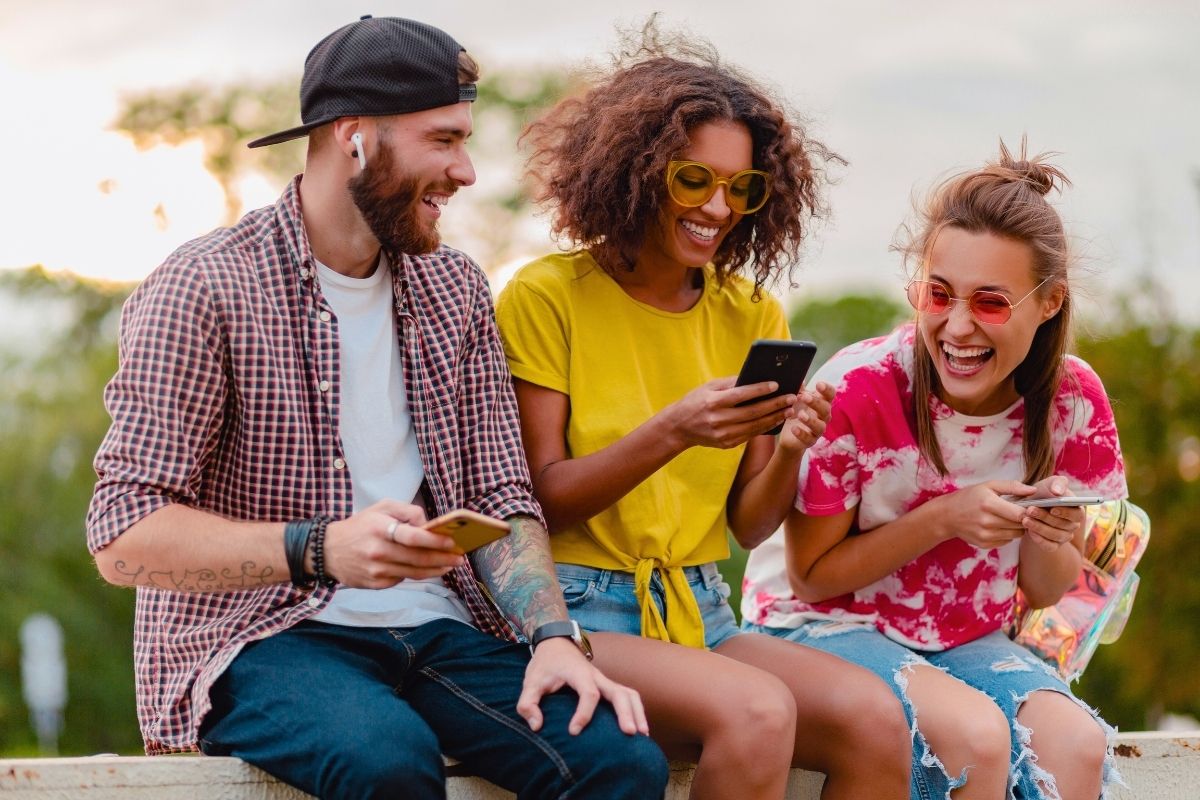 Reckon you've got what it takes to be a modern-day explorer? Then why not try some scavenger games on the Sunshine Coast? Using GPS coordinates and creative clues, you'll have to find your way around the area as you uncover hidden gems, solve puzzles and complete challenges.
Games are available in various locations across the Sunshine Coast, with the Caloundra On The Coast adventure being one of the most popular. The highly interactive activity typically takes about 2 hours, combining high-traffic must-sees with hidden gems and little-known sites.
Compared to your typical walking tour, these code-cracking, clue-solving adventures promise a fun, unique way to explore the area!
50 – Go rural – visit a working farm!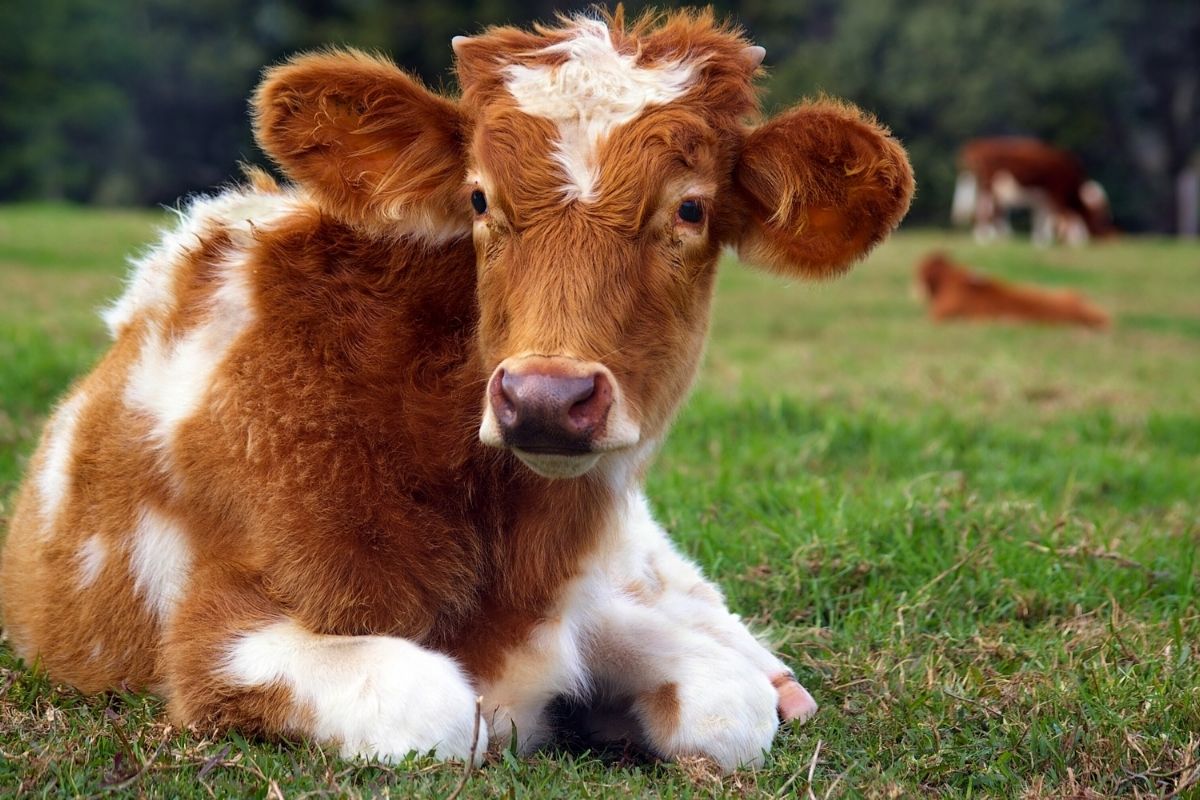 Sure, you could spend your entire Sunshine Coast getaway lapping up the sun and sand, but why not take a break from the beach and explore some of the region's charming farms?
Across the Sunshine Coast, you'll find working hobby farms offering everything from fruit-picking experiences to animal encounters. On a farm visit, you can ride on tractors, feed farm animals or pick up seasonal fruits and veggies directly from the source (did someone say apple picking?)
For all you cheese lovers, add Maleny Dairies to the bucket list. Here, about 35 minutes inland, you'll have the chance to witness the milking process, interact with the friendly, furry residents, and take a ride on a tractor (yee-haw!), spotting cows, calves, goats, and more along the way.
Then there's the White Ridge Farm in Elimbah, a family-friendly locale about 40 minutes south of the Coast. With tractor rides, animal feedings, an adventure playground, a dedicated bunny and guinea pig area, and even a mini-golf course, the fun never stops!
Whichever one you pop into, these quaint, oft family-run farms let you connect with nature, experience rural life, and gain insight into a different perspective (and vital part) of Queensland life.
51 – Practice your backflips at Rush Adventureland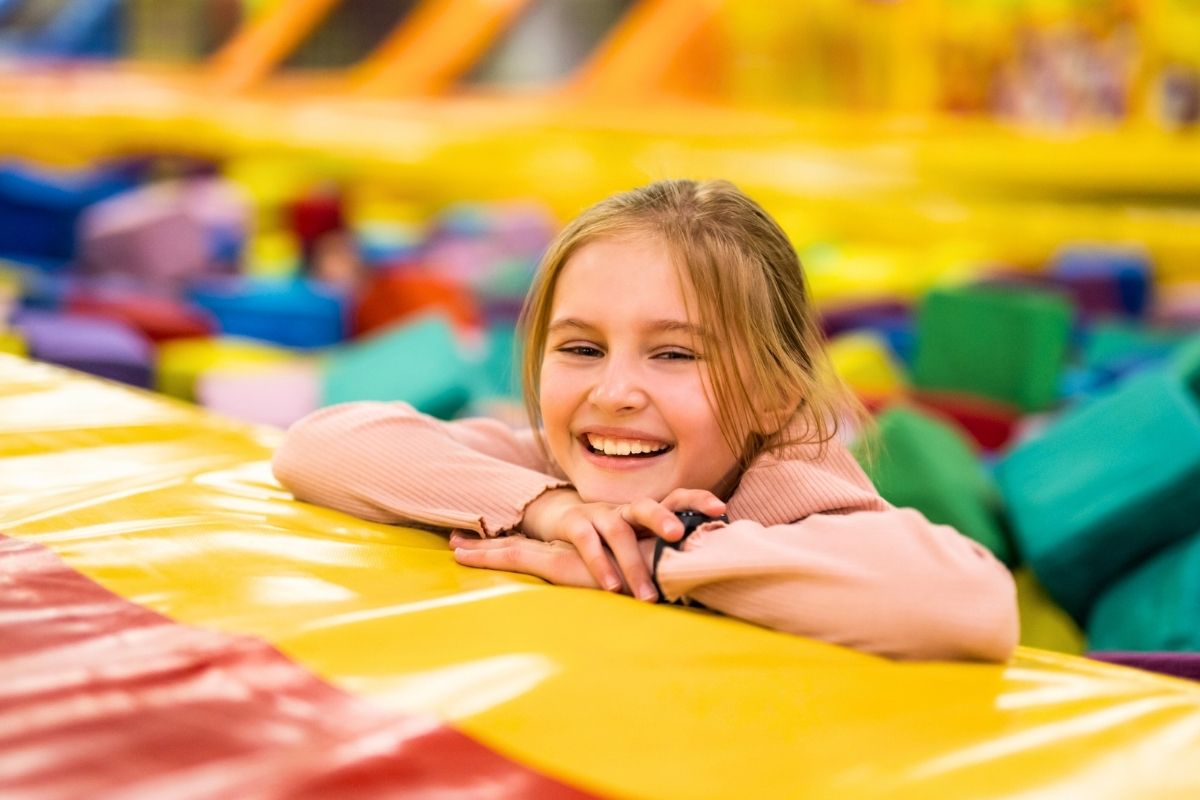 Boasting an indoor trampoline park, a ninja warrior course, climbing walls, multi-level play areas, bumper cars, indoor air coasters, a virtual reality zone, and so much more, Rush Adventureland is all about thrills and excitement for kids of all ages.
Located at Maroochydore, right across the river from the Next Level high ropes park (see #35), this epic playground is guaranteed to keep the little one (and the teenagers) entertained for a good couple of hours.
And for the parents, simply kick back and relax at The RUSH Cafe, where coffees, milkshakes, pizzas, sliders, and nachos await.
52 – Head underwater with a scuba diving trip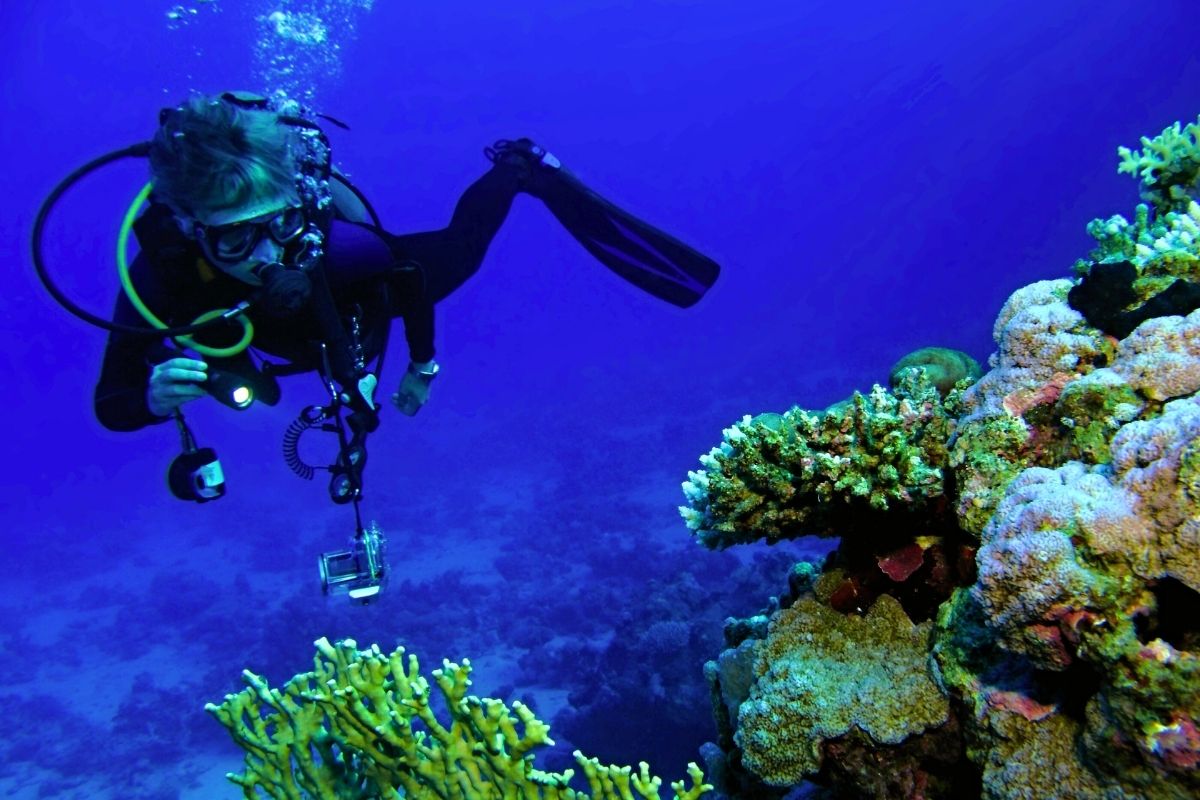 Whether you're a certified diver or a beginner eager to take the plunge, you can expect several fantastic diving sites in this sun-kissed, clear-water region — the Inner Gneering Reef, Outer Gneering Reef, and Murphy's Reef make up the main three.
However, when it comes to dive sites, none and more famous than the ex-HMAS Brisbane wreck, which sunk – and now sits – about 3 nautical miles off the coast of Mooloolaba.
Dive operators like Sunreef Mooloolaba and Pro Dive Sunshine Coast can provide for both individual divers and families; offering PADI courses, gear hire, and trips to renowned spots around the area. Just remember, when taking into account the transport, gearing up, and actual time underwater, dives can last around 4 or 5 hours, so make sure to leave enough time.
53 – Tantalise the tastebuds at the coast's best restaurants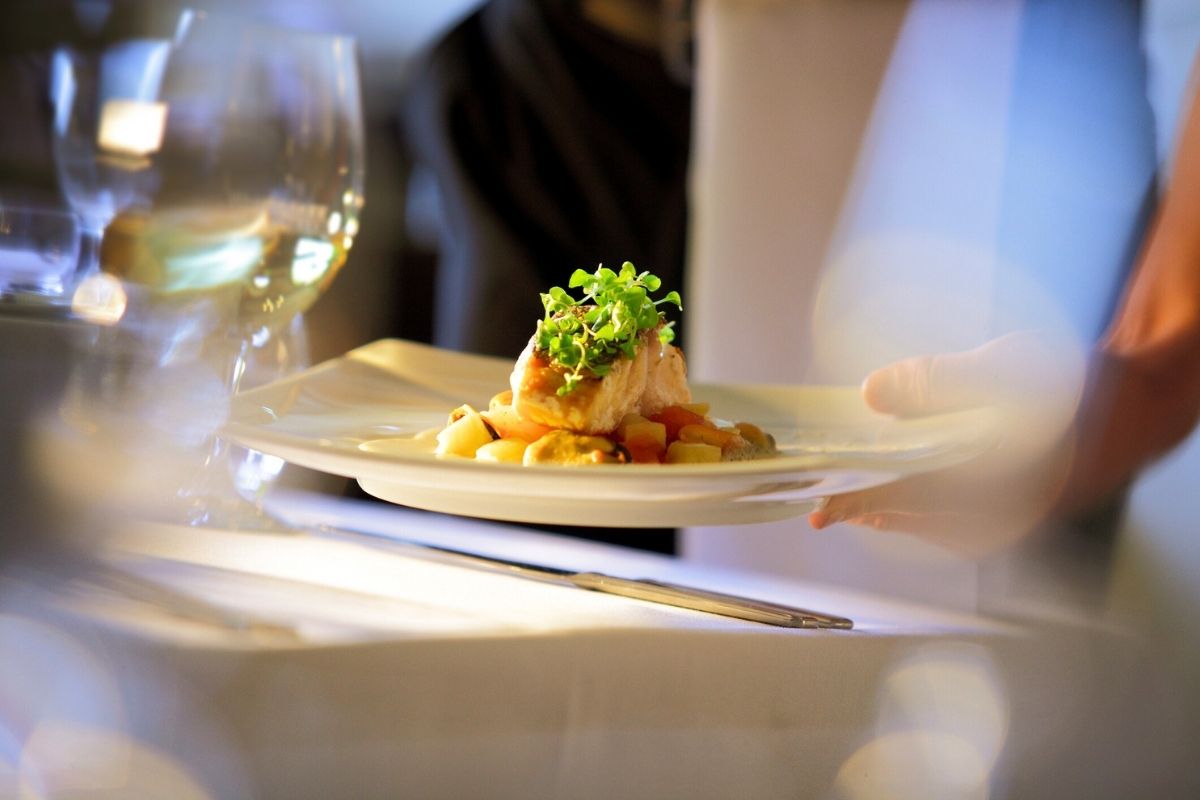 When all that exploring gets the stomach rumbling, it's time to head out and sample the delights of some of Sunshine Coast's best restaurants – and with an array of exceptional restaurants that cater to every palate, you'll find something up your alley.
For seafood lovers, you can't go wrong with Rickys River Bar & Restaurant in Noosa or The Surf Club Mooloolaba, where the fresh catches are served alongside stunning views over the ocean.
Speaking of views, Pier 33 is a Mooloolaba institution; while Gusto Riverfront Restaurant in Noosaville has been serving happy locals since 1999.
For something more low-key, head inland to Harrys on Buderim (located inside a nearly 150-year-old home) or the Spirit House in Yandina, whose tropical-garden setting is nothing short of enchanting.
For modern Asian, Sum Yung Guys is renowned, while The Tamarind in Maleny mixes the oriental flair with contemporary Australian dishes. And that's just the tip of the iceberg!
54 – Spend an afternoon fishing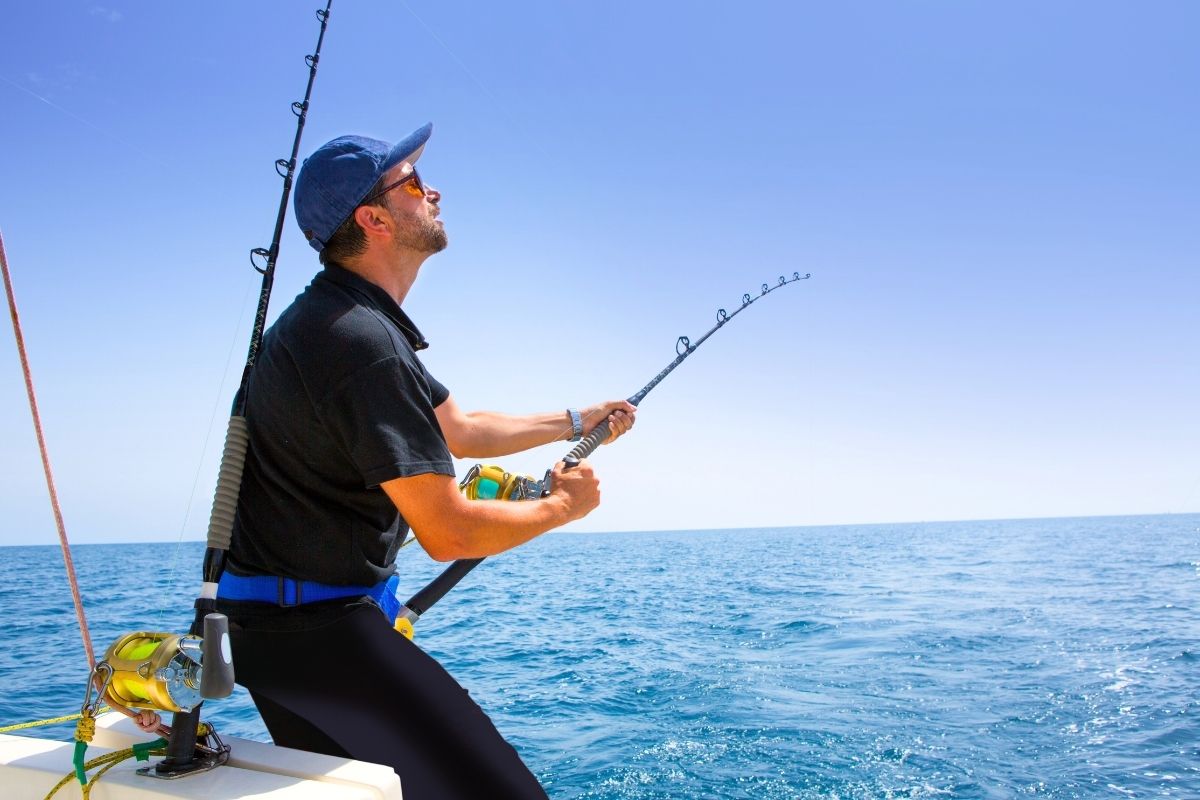 Ready to reel in a big one?
The Sunshine Coast is one of Australia's premier fishing destinations, home to an abundance of species – tuna, sailfish, mackerel, snapper, coral trout, and cobia, to name just a few.
Several fishing charters depart from hot spots like Noosa, Caloundra and Mooloolaba daily, usually making their way to a deep-sea spot between Cape Moreton and Fraser Island – so all you have to do is choose your style of charter (whether that's half-day or full-day) and get out on the open ocean. With experienced skippers and all the necessary equipment included (including bait), you won't have to do any of the heavy lifting.
If you're visiting between July and September, keep an eye out for dolphins and humpback whales too – they're known to migrate along the east coast of Australia during this period.
55 – Let your hair down at the Sunshine Coast's best bars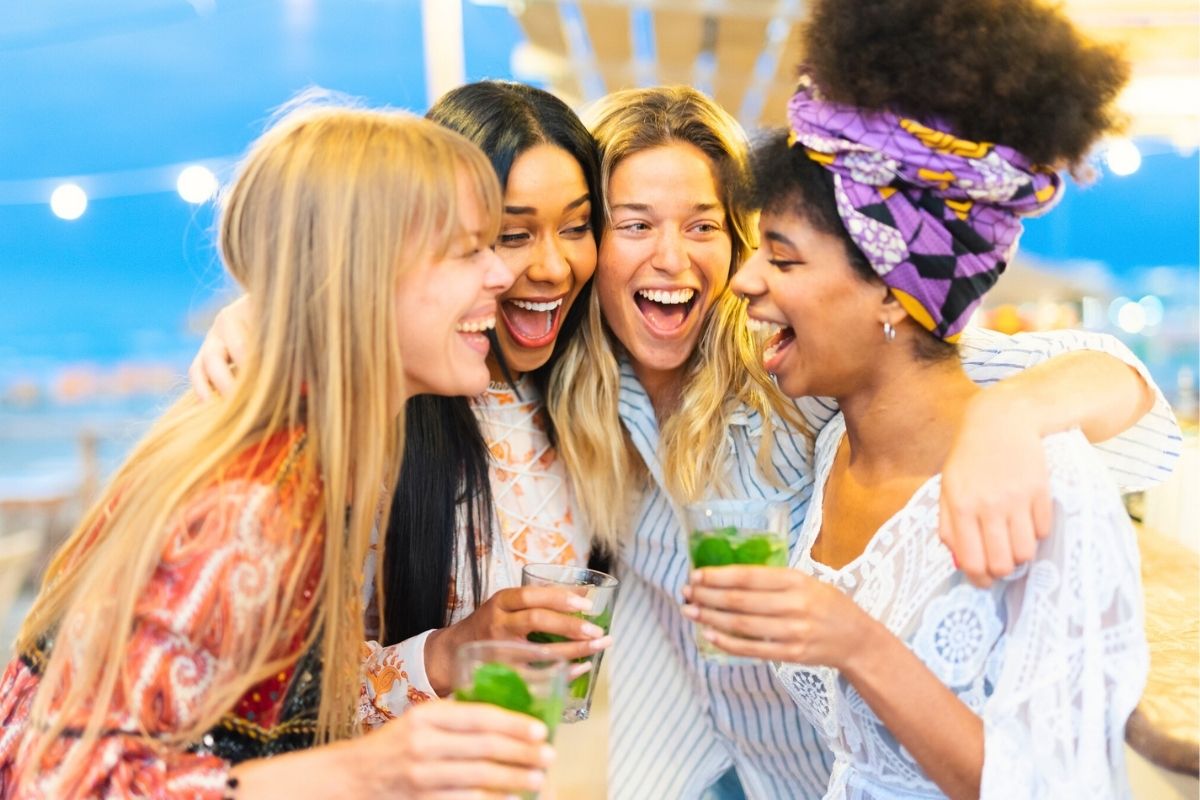 You're on vacation, after all, so why not have a drink or two?
The Sunshine Coast is full of great bars where you can sip on craft beer, wine, and cocktails in laid-back beachside settings. But with so many watering holes on offer, where do we begin?
For a classic Aussie pub vibe, head to the Montville Pub, the Yandina Hotel (the oldest hotel on the coast) or the heritage-listed Imperial Hotel in Eumundi.
If it's sophistication you're after, the Apéro Wine Bar in Noosa or the Circa Rooftop in Maroochydore are the places to be.
For something quirky, The Nautical in Maroochydore is nautical themed; Rick's Garage in Palmwoods is an old-school American diner with live music to boot, and Rice Boi 'Upstairs' is decked out with Japanese decorations and live DJs.
And if you're in the mood for a dance, you'll want to make a beeline for Ocean Street in Maroochydore. This happening locale is home to some of the best nightclubs on the Sunshine Coast – including Elixiba, Old Soul, and Solbar.
56 – Check out the best annual festivals
The Sunshine Coast calendar is littered with festivals throughout the year; from music extravaganzas to jungle doofs, body art festivals, garden expos, and cider gatherings, there's something to entice every niche.
Running since 1992, Noosa Jazz Festival in August is a must-see for jazz fans. With both local and international artists performing, the festival puts on dozens of indoor and outdoor shows that are sure to have you tapping away.
For more upbeat music, the Caloundra Music Festival (held at the beachside Kings Beach Amphitheatre and Lions Park) and the Big Pineapple Music Festival welcome some of the biggest names in music to their stages.
For something a bit quirkier, you won't want to miss the 3-day Queensland Garden Expo in July which celebrates all things horticulture, or the Goomeri Pumpkin Festival which turns the fruit (yes, really) into an all-day party with parades, rolling competitions, and homemade scones.
Fitting with the stereotype, the Noosa Festival of Surfing in March celebrates the art of surfing with a week-long competition that sees some of the world's best surfers take to Australia's waves, flanked by beach bars, live music, and art shows.
Not to be forgotten is the Sunshine Coast Craft Beer Festival (BrewFest) in August, the Australian Body Art Festival in April and the Mitchell Creek Rock N Blues Festival in September.
No matter what time of year you visit, there's sure to be a festival somewhere on the Sunshine Coast that will suit your taste.
57 – Escape civilisation at Fraser Island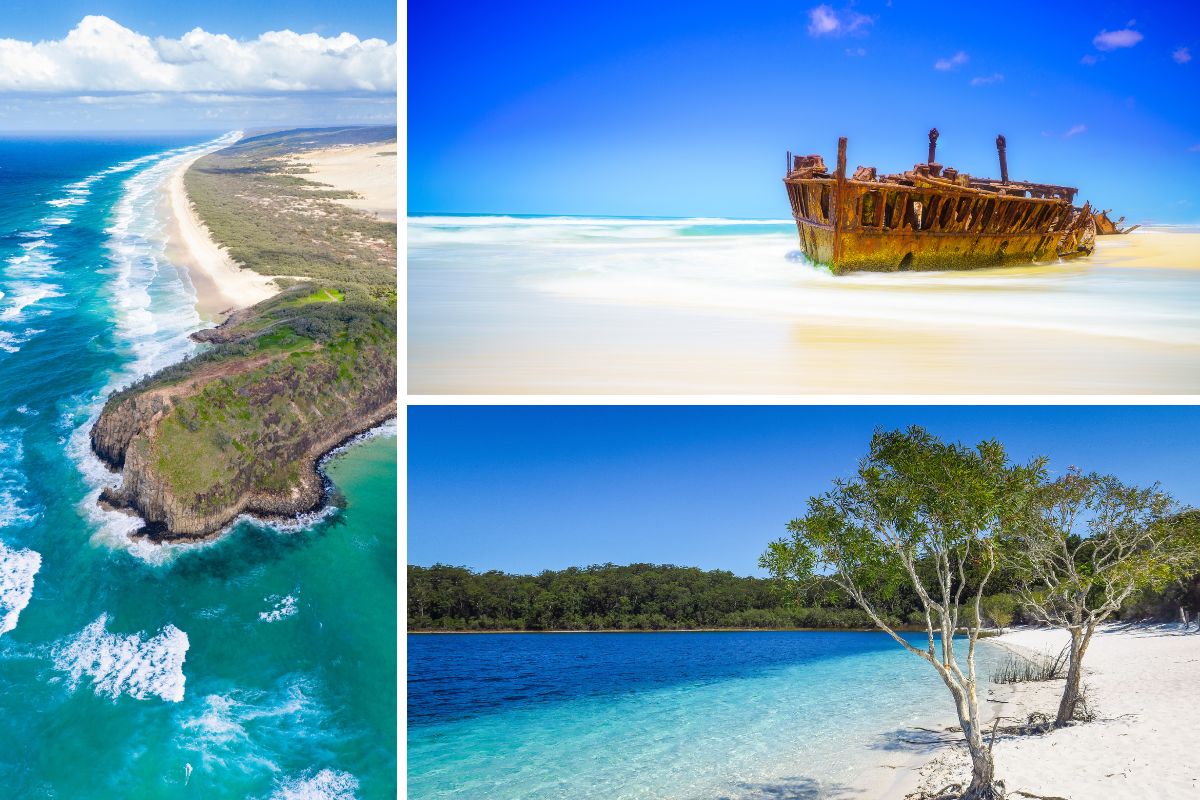 Untouched beaches, crystal-clear lakes, and lush rainforests – that's what you can expect to find at this off-beat nature wonderland. Stretching over 123 kilometers (76 miles) in length, this UNESCO World Heritage-listed site is officially the world's largest sand island (not to mention the only place on Earth where rainforest grows atop sand dunes).
Here, just off the coast of Queensland's mainland and within easy reach of the Sunshine Coast, activities are aplenty. You can explore the famous Maheno Shipwreck, a rusted vessel that washed ashore in 1935. Or head over to Lake McKenzie or Lake Wabby, where the crystal-clear freshwater is a delight for swimming on hot days.
Throw in stunning locations like bubbly Champagne Pools (located along Seventy-Five Mile Beach) the colourful Pinnacles, and the 240-metre-high Mount Bowarrady sand dune, and it becomes clear that Fraser Island is a quintessential destination for nature enthusiasts and adventure seekers alike.
Be sure to keep your eyes peeled for local wildlife– if you're lucky, you might spot one of the island's resident dingoes (as well as kangaroos, wallabies, echidnas, and a variety of birds)!
Hot tip: If you're keen on exploring Fraser Island, book a guided tour. Due to its size, it quite difficult to navigate on your own. Plus, you'll also benefit from knowledgeable guides who can provide valuable information about the island's history and local wildlife.
58 – Take some photos at one of The Sunshine Coast's many lighthouses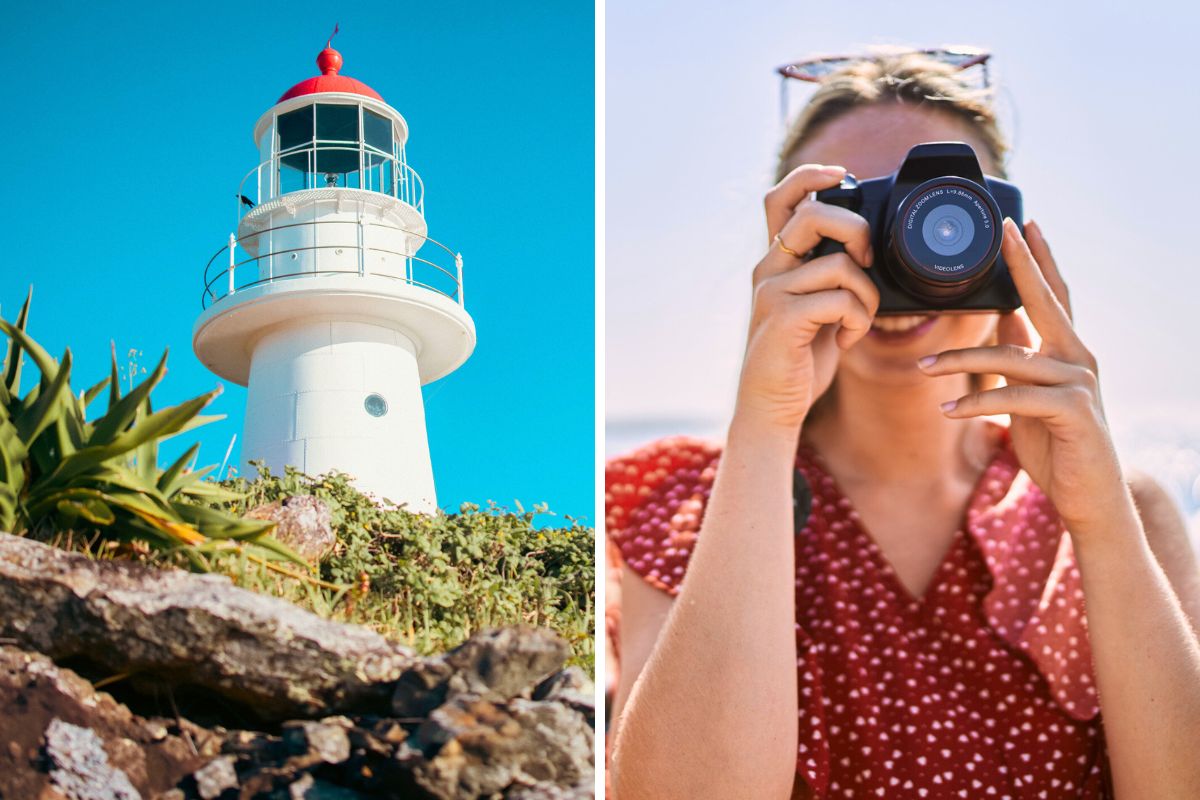 The Sunshine Coast has no shortage of stunning locales to visit – but few are as picturesque as its lighthouses. Whether you're looking for a romantic sunset stroll or a top-notch photo opportunity, the area's lighthouses are sure to provide a breathtaking backdrop (especially at sunset).
For a unique stop, make your way over to Caloundra Lighthouses which, oddly enough, are actually located a few streets inland. If you've got a bit more time on your hands, take the drive north to the Point Cartwright Lighthouse (#3), a landmark dishing up excellent ocean views since the '70s.
Then there's the Double Island Point lighthouse walk, where the 15-minute hike from the beach pays serious dividends.
How to get to Sunshine Coast?
The Sunshine Coast covers an expansive area, stretching from Caloundra in the south all the way up to Noosa Heads in the north. The easiest way to get there is by flying into the Sunshine Coast Airport (formerly Maroochydore Airport) (MCY) and arranging one of the airport transfers on the Sunshine Coast to take you to your accommodation.
Alternatively, you can fly into Brisbane International Airport (BNE) and then make your own way up the coast. The easiest way is to hire a car, however, you can also take the
Greyhound bus from Brisbane to Mooloolaba which takes about 90 minutes, or jump on the train to Landsborough and then connect via one of several busses.
Where to stay on the Sunshine Coast?
Being such a diverse region, finding the right place to stay on the Sunshine Coast all depends on what you're after. If you want to be close to the beach, then a hotel or Airbnb in Mooloolaba might suit you best — Oceans Mooloolaba Beach, the Mantra Zanzibar Resort or the Sea Pearl Resort are just some of the high-end options.
If you'd prefer something more secluded, then check out accommodation further inland around Buderim or Montville – the Buderim Rainforest Cabins and Spicers Clovelly Estate are both hard to pass up.
Fancy staying in Noosa? This is where you'll find something for every budget; from top-of-the-line resorts like the Sofitel, the Sebel, or the Tingirana, to more budget-friendly options such as Nomads Noosa or Dolphins Beach House.
Finally, if you're looking for an escape from the hustle and bustle then why not stay in one of the many campgrounds or caravan parks that pepper the region – there are plenty to choose from!
Where to go next?
The Sunshine Coast is merely one of the best places to visit in Australia; you've still got so many more amazing places to explore!
Why not start by heading south and making your way down the coast? As you pass through Brisbane, which blends nightlife with cultural attractions, take some time to explore the city's vibrant and colourful art and music scene.
Keep driving and you'll then reach the Gold Coast, a party capital with vibrant beach culture, thumping nightclubs (looking at you, Surfers Paradise) an array of theme parks and iconic surf spots to enjoy.
Further south is the Byron Bay region, where breathtaking landscapes and marine life await. Unwind in some of Australia's best beaches or explore the nightlife of hippie-style towns like Nimbin.
Alternatively, if you head north from the Sunshine Coast, you'll find yourself with a choice between Hervey Bay, Cairns, Airlie Beach, and Port Douglas.
Hervey Bay is a nature lover's paradise with secluded beaches and close proximity to Fraser Island, Cairns is the gateway to the Great Barrier Reef, and the Daintree Rainforest while Airlie Beach is the stepping stone to the Whitsunday Islands. And finally, all the way at the tippy-top of the country, Port Douglas offers tropical rainforests, secluded beaches, and charming Australian towns.
For an unforgettable experience in spectacular natural beauty, head to the gateway or the Fraser Island; both offering a unique look at Australia's unique wildlife.
Are major cities more your vibe? Hop on a short plane ride to Sydney, home to the Opera House and Harbour Bridge. Or make your way to Melbourne for its amazing coffee culture, where street art, shopping and entertainment come in spades.
Final thoughts
Bloody oath, that's a comprehensive rundown of the best things to do on the Sunshine Coast if we've ever seen one. From the snapping crocs at Australia Zoo to the laid-back lifestyle of Noosa, it's clear that the Sunshine Coast has something for everyone.
So what are you waiting for? Get packing and start planning your trip to Australia's best-kept secret today!
Are there any other things you do that you can think of? Let us know in the comments below. And, as always, happy travels mate!