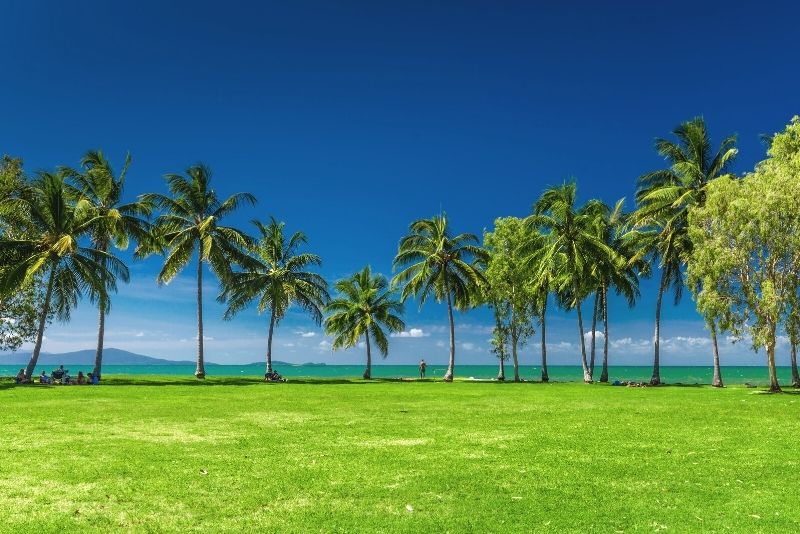 Facing the Coral Sea in the Far North of Queensland, Port Douglas is your gateway to two UNESCO World Heritage sites – the Great Barrier Reef and Daintree Rainforest. This town is a popular seaside destination for those who enjoy exploring nature, both above and under the sea.
Traverse the canopies in the world's oldest jungle, spend the afternoon snorkeling in the crystal waters at Four Mile Beach or take a jeep tour to Cape Tribulation.
These are just some of the fun and exciting things to do in Port Douglas — not to mention the historic sites and architecture that make this small Australian town a charming and fantastic place to visit.
1 – Spot the endemic bird species at Wildlife Habitat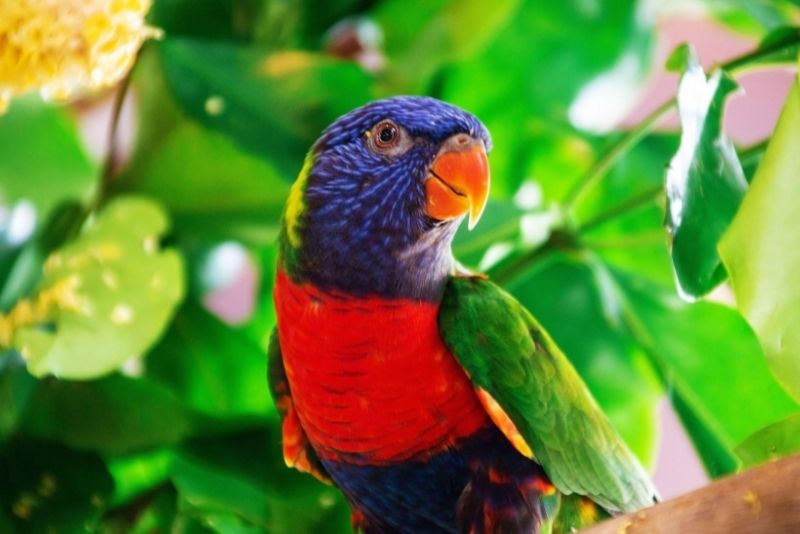 An award-winning wildlife reserve where you can get up close to native Australian animals, Wildlife Habitat has wetlands, rainforest, woodland and savannah — each containing unique Australian creatures in their natural state.
You can upgrade your visit and have breakfast with the birds!
2 – Walk along Four Mile Beach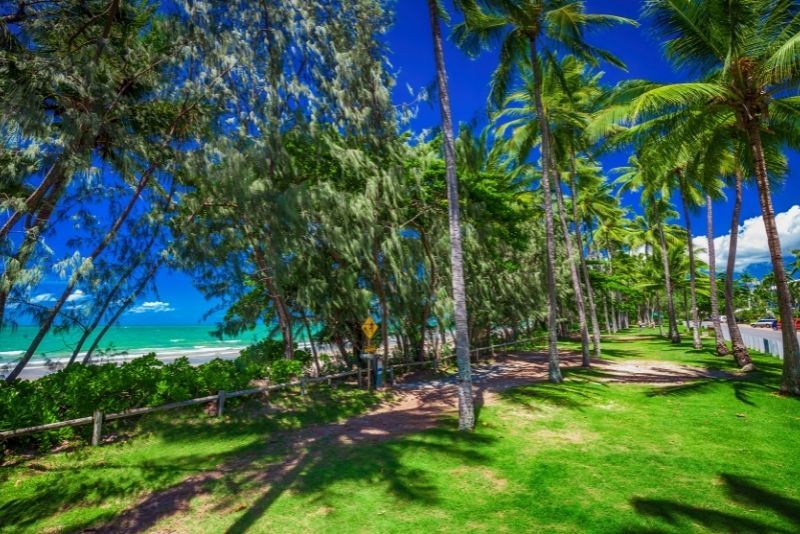 An easy spot to visit just a five-minute walk from the main part of the town, this beach is widely regarded as premier in Port Douglas, as the four-mile stretch of shoreline seems not to have any sign of development.
All nearby accommodation and buildings are hidden by the rows of trees lining the shore, allowing visitors to really unplug from the bustle of the city.
3 – Go snorkeling at Low Isles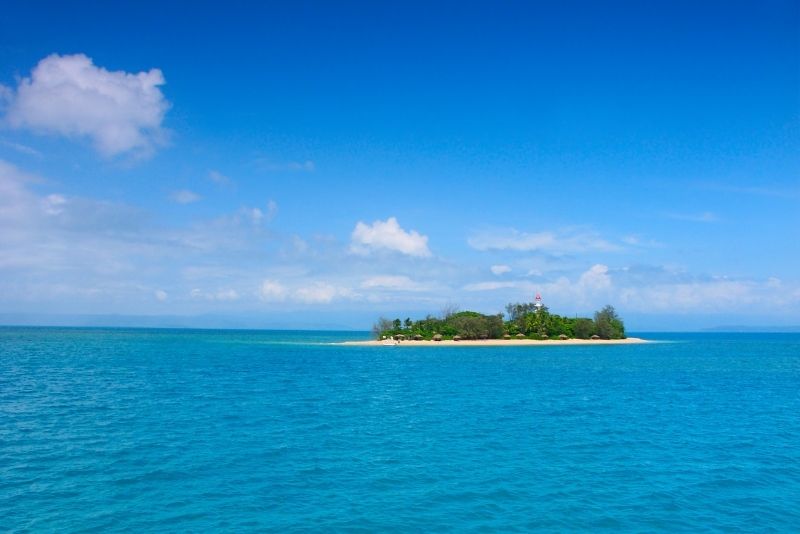 Just 15 kilometers off the coast of Port Douglas is Low Isles Lagoon, a protected, sandy coral cay, teeming with marine life.
You can sail out to the lagoon on a boat tour before being allowed to explore the surroundings by either snorkeling or aboard a glass-bottom boat. The tour goes for half a day and you can choose between early morning and mid-afternoon.
4 – Pick up some local goods at Port Douglas Markets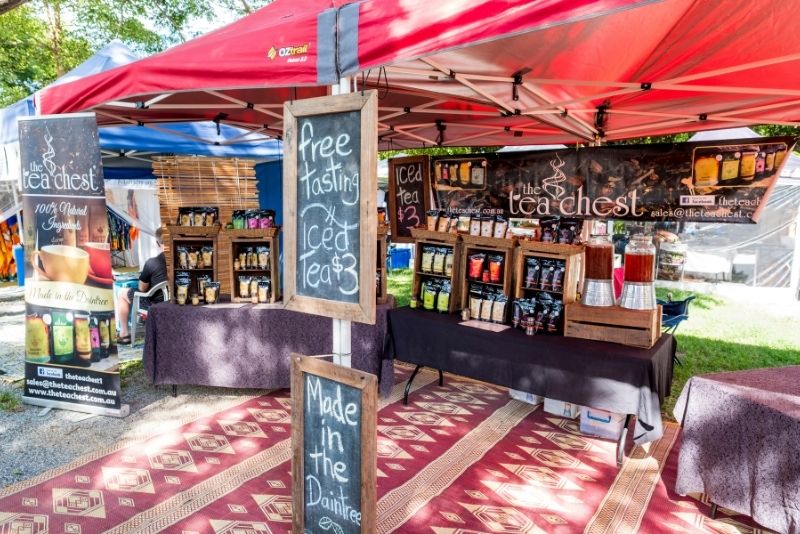 The best places to find handicrafts and goods made by local artisans are Port Douglas Markets. The Cotter's Market has very strict stall holder eligibility rules to maintain their tradition, while Mossman Market has local farmers selling their own harvests and produce.
You can spend your morning weekends at these markets, as the Cotter's opens every Sunday from 8 a.m. to 1:30 p.m, while Mossman every Saturday from 7 a.m. to 1 p.m.
5 – Go scuba diving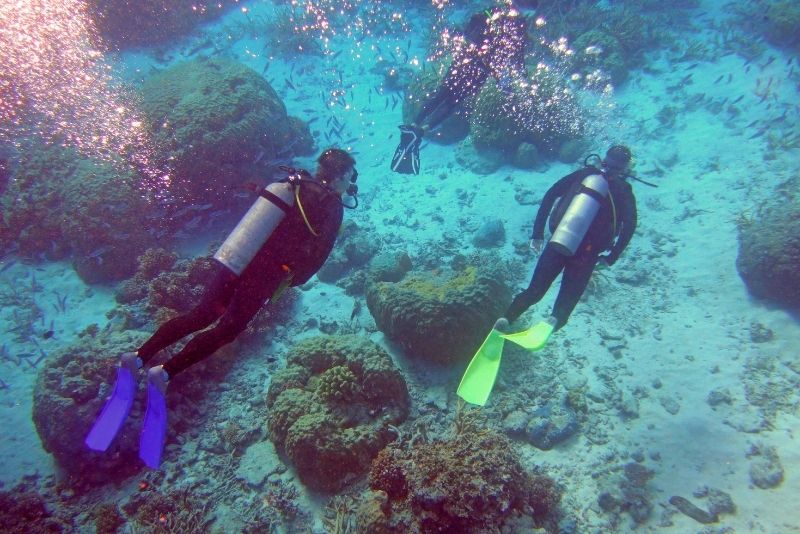 What is a better way to admire the beautiful underwater world than diving? Scuba diving tours will take you to the Great Barrier Reef, as well as the vibrant Agincourt Reef, where you can snorkel and get your scuba lesson if it's your first time.
6 – Explore Mossman Gorge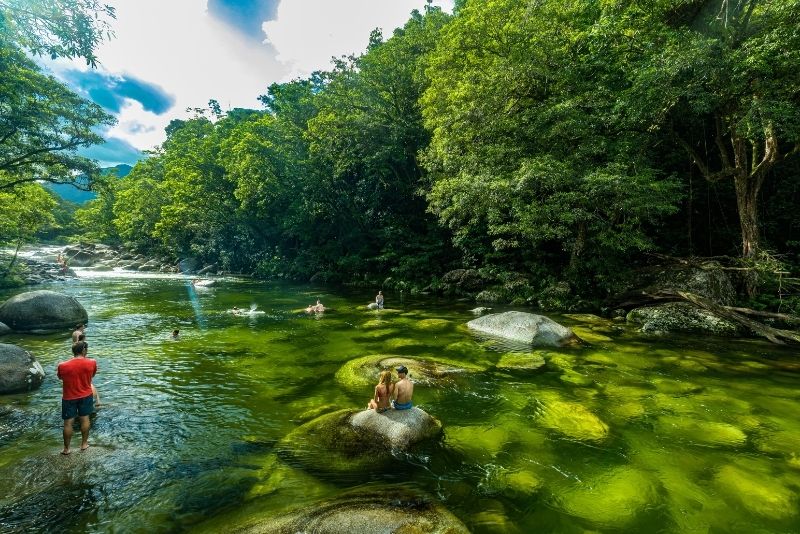 Travel out to Mossman Gorge, an ancient rainforest 20 kilometers inland from Port Douglas in a modern 11-seater bus that gives you uninterrupted views along the way.
Once there, you can explore the gorge and see the crystal clear water of the Mossman River flowing over boulders and cliffs. On a guided walk, you'll see a diverse range of animals and plants, as the rainforest is kept from human interventions.
7 – Head to the Flagstaff Hill Lighthouse Lookout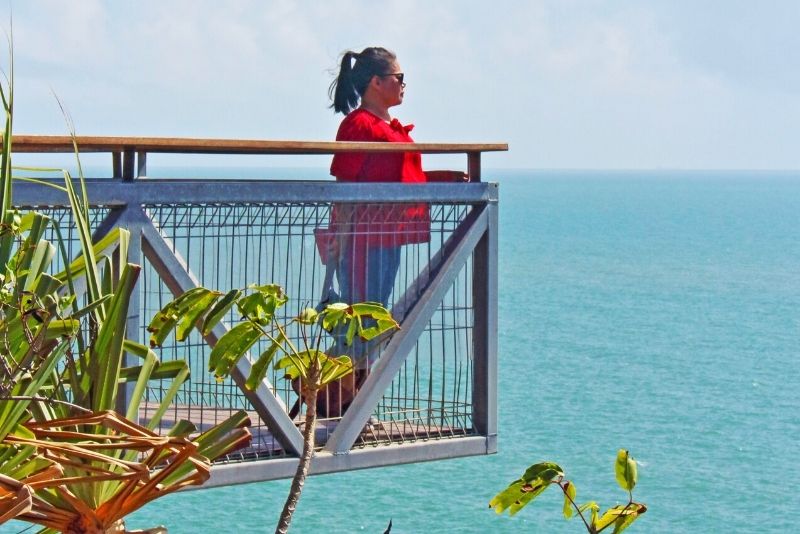 This active small lighthouse is a historical landmark situated just 1.5 kilometers from the center of Port Douglas and you can reach it on a scenic walk from Four Mile Beach.
From the lookout, you'll have a 180-degree view out to the Coral Sea and find out why it's one of the most famous landscape photo locations in town.
8 – Hike the Flagstaff Hill Walking Trail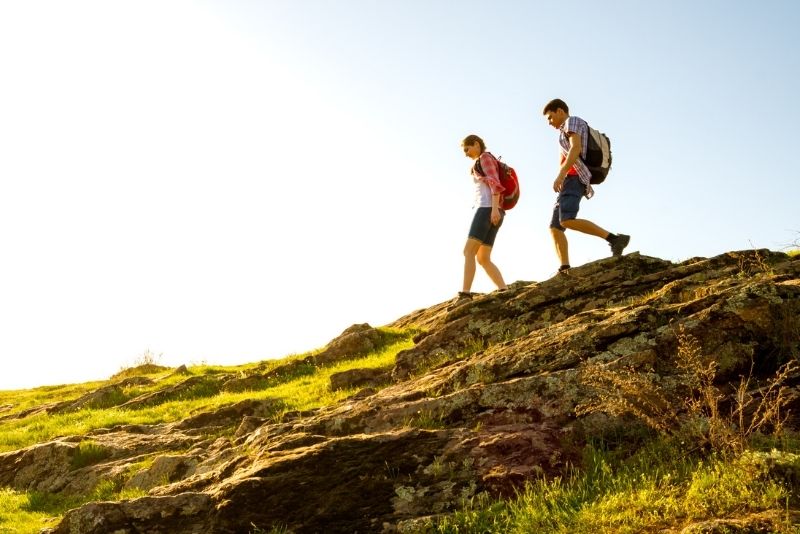 This 1.5-kilometer trail runs between Rex Smeal Park and Four Mile Beach. You'll be walking along the waterline while enjoying the scenery of the Coral Sea, Low Isles and the Daintree Forest.
The trail is designed to be accessible to most people's walking abilities so nearly anyone can come along and relish the breeze from the sea and the trees.
9 –  Sail out to the Great Barrier Reef on a boat tour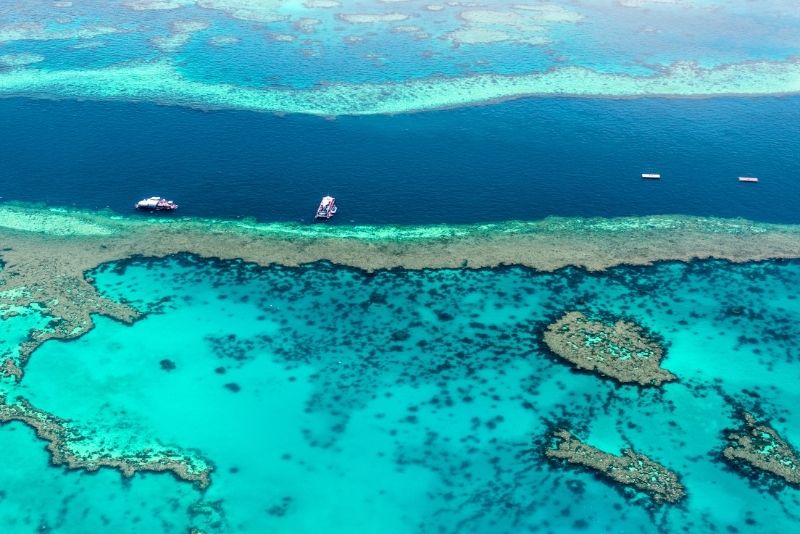 Explore one of the seven natural wonders of the world (and without a doubt, one of the best places to visit in Australia), the Great Barrier Reef, on a boat tour from Port Douglas. As the world's largest coral reef system, it has more than enough shallow areas for snorkeling in a day.
The tour also offers introductory scuba dive, while certified divers can choose from many different diving sites.
10 – Gaze out from Trinity Bay Lookout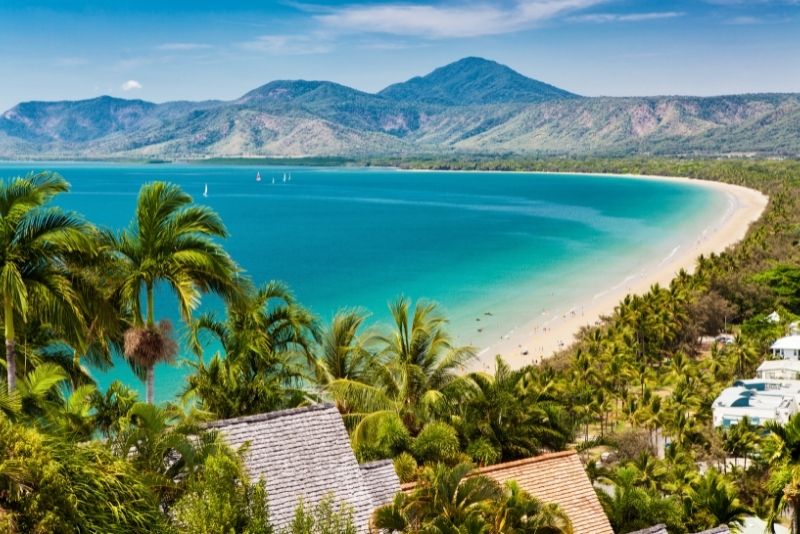 Trinity Bay Lookout provides an expansive view of the Queensland coastline. You can reach the tower on a short walk from the northern end of Four Mile Beach or by driving up Wharf Street in Port Douglas. It's one of the only places where you can see the entire stretch of Four Mile Beach.
11 – Explore the Daintree Forest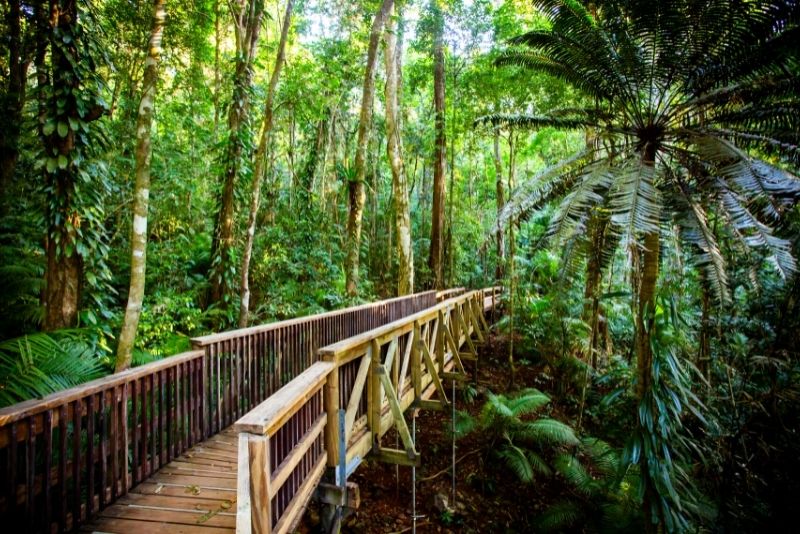 UNESCO-listed Daintree Rainforest is 1,200 square kilometers in size and forms part of the oldest continually surviving tropical rainforest in the world. You can head out there on a small group 4WD tour that takes you deep into the heart of the forest.
Similarly, join a river cruise to see the native animals in their natural state and habitat, and learn a lot about the region from a knowledgeable guide.
12 – Stop by St. Mary's By the Sea church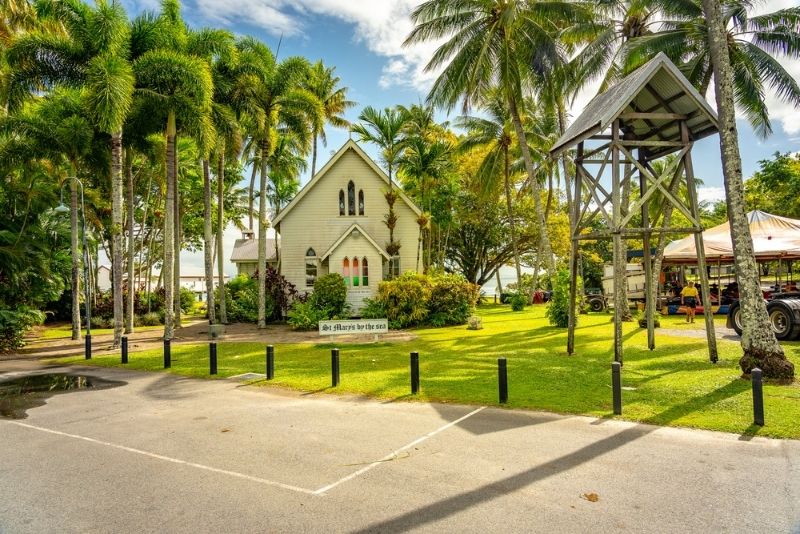 This historic church built in 1880 right on the hill of Port Douglas is now a non-denominational chapel famous for hosting weddings with a magnificent view of the sea and the nearby mountains.
You can visit this picturesque site any day of the week and check out its stained glass window looking out over the ocean.
13 – Hop on a jeep tour over to Cape Tribulation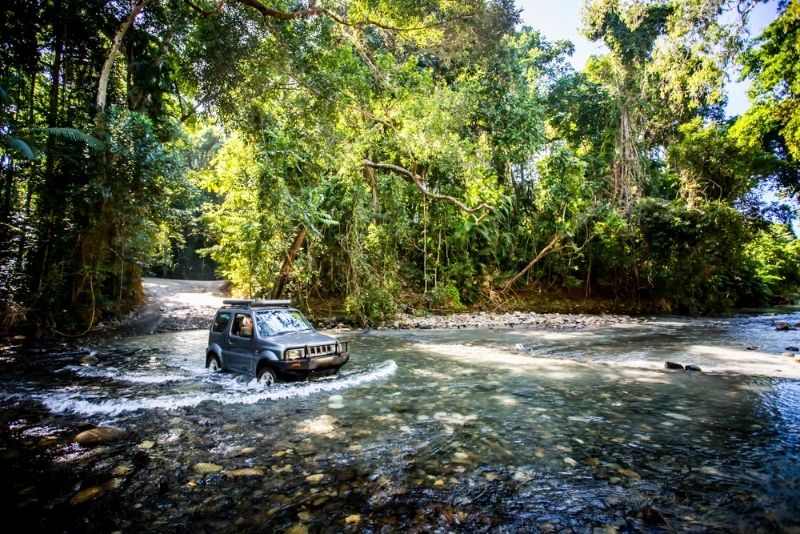 Take a scenic drive from Port Douglas to Cape Tribulation, a headland in Far North Queensland which forms a section of the Daintree Rainforest.
On a jeep tour, you'll enjoy the views of rainforests and coasts all the way, and you may be lucky to spot some crocodiles, before cooling off in Emmagen Creek.
14 – Get up close to the crocodiles at Hartley's Crocodile Adventures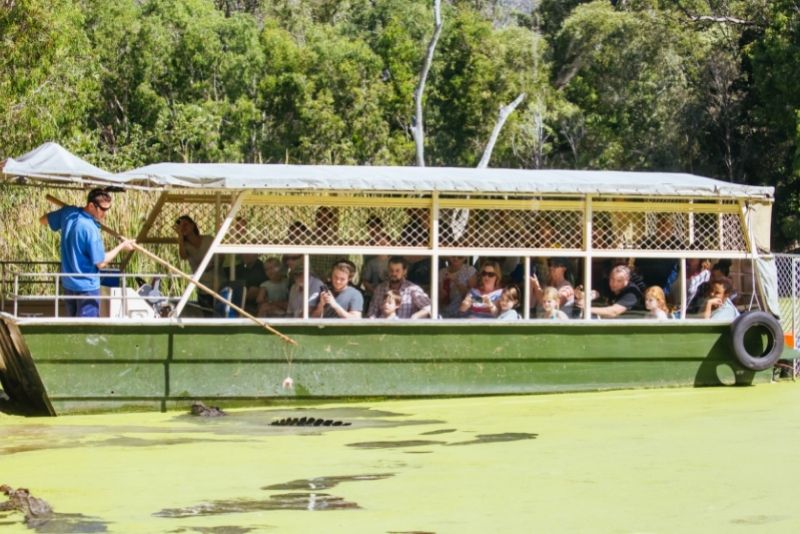 Hartley's Crocodile Adventures has a collection of native Australian wildlife, most notably a large number of crocodiles. You can watch them spring into action during feeding time, as well as take a 20-minute boat cruise through the surrounding wetlands.
They also offer shuttles from main towns — including Port Douglas — making it very easy to get there.
15 – Sample local delicacies on a food tour of Atherton Tablelands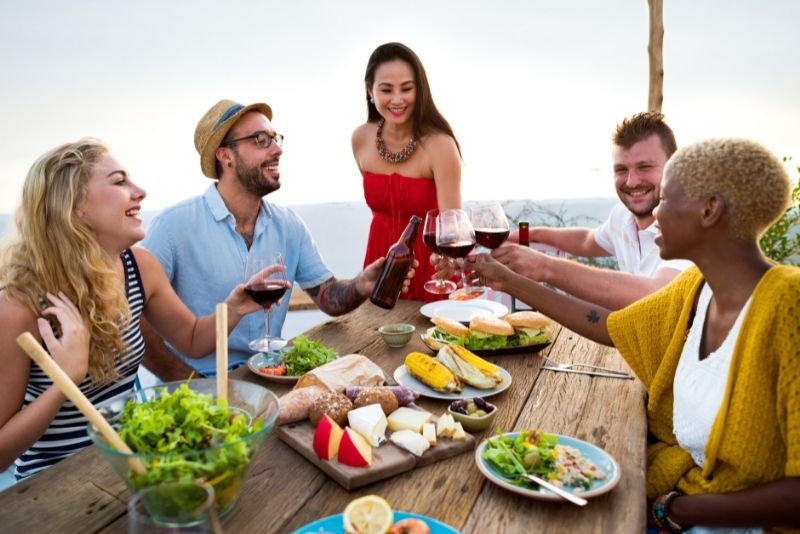 A stretch of very fertile land in Northern Queensland, Atherton Tablelands is home to many plantations and vineyards.
On a food tour out of Port Douglas, you can be taken to wineries, coffee and banana plantations, and distilleries. You'll be able to sample local wine, chocolate and mango sorbet, and even spot a few platypuses in their native environment.
16 – Traverse the Bloomfield Track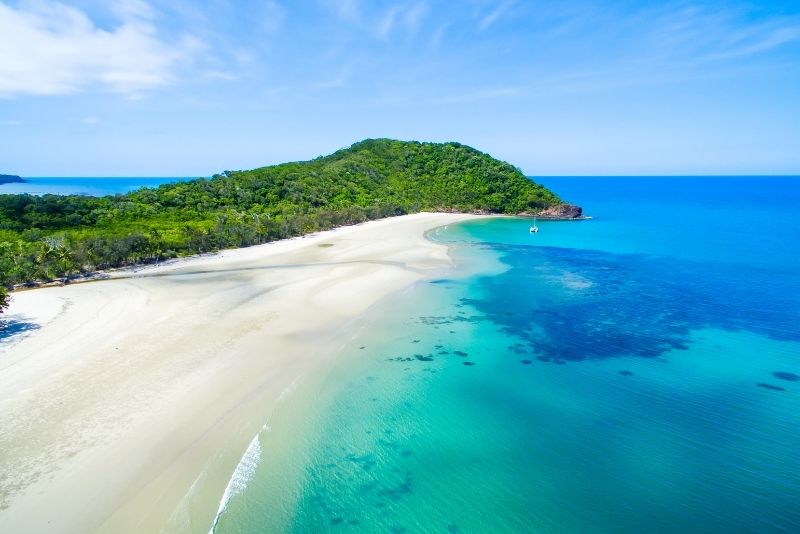 If you're looking for a more challenging route, head out to the Bloomfield Track passing through the world's oldest rainforests, wetlands and waterfalls.
The track runs between Cape Tribulation and Bloomfield, and its safety is subject to weather conditions so be sure to check if it's rained recently!

17 – Soar above Port Douglas on a helicopter tour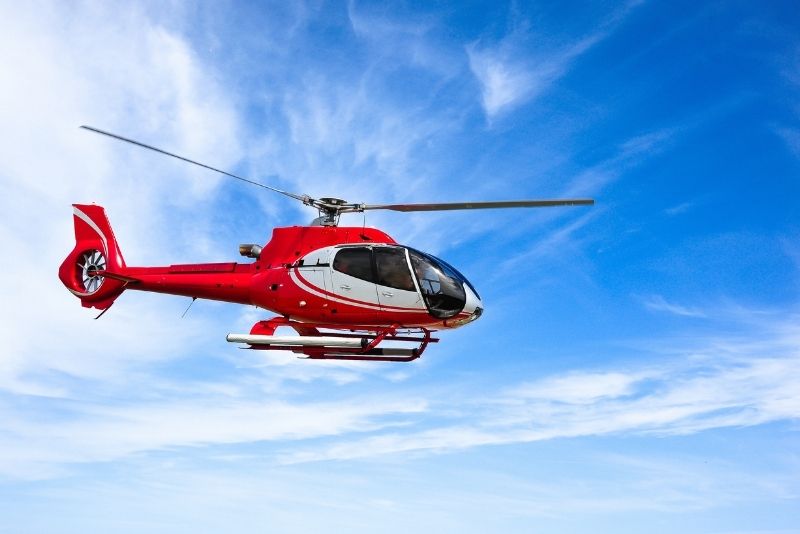 Get a bird's-eye view of the Great Barrier Reef on a helicopter tour, which will fly you over to see the coral formations, sea turtles, manta rays, dugongs and whales. The tour includes transfers to and from the helicopter platform.
18 – Cruise past Macalister Range National Park
This 5,563-hectare parkland is home to the native Cassowary and it does not have public access — but you can go for a scenic drive along the Captain Cook Highway that runs between Cairns and Port Douglas that can show you most of the park.
As you drive past Macalister, you'll be able to see the 880 meters high Mount Charlie on one side and the waters of the Great Barrier Reef on the other.
19 – Indulge yourself at Crystalbrook Superyacht Marina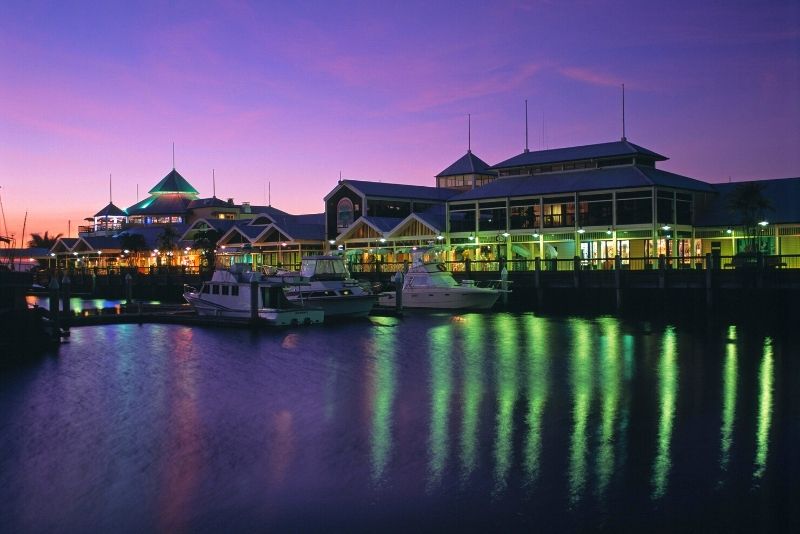 At Crystalbrook Superyacht Marina, there is a good selection of fine dining restaurants, as well as a micro-brewery where you're able to sample some local craft beer.
Many sailors and travelers park their vessels here when visiting Port Douglas, so it's the right place for fresh seafood and local cuisine.
20 – Escape to Mowbray National Park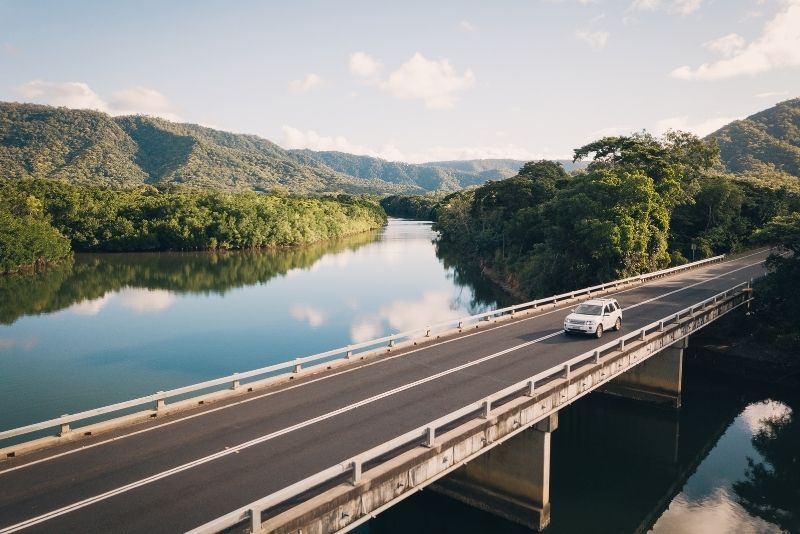 Part of the Wooroonooran Important Bird Area, this tropical reserve is home to several bird species that can only be found in the area. Mowbray is just a 20-minute drive from Port Douglas, so it is an easy getaway while you are in town.
At the park, you can hike the historic Bump Track, which is an old trail originally used by local Aboriginal people to make their way through the dense wetlands.
21 – Step back in time at the Port Douglas Court House Museum and Douglas Shire Historical Society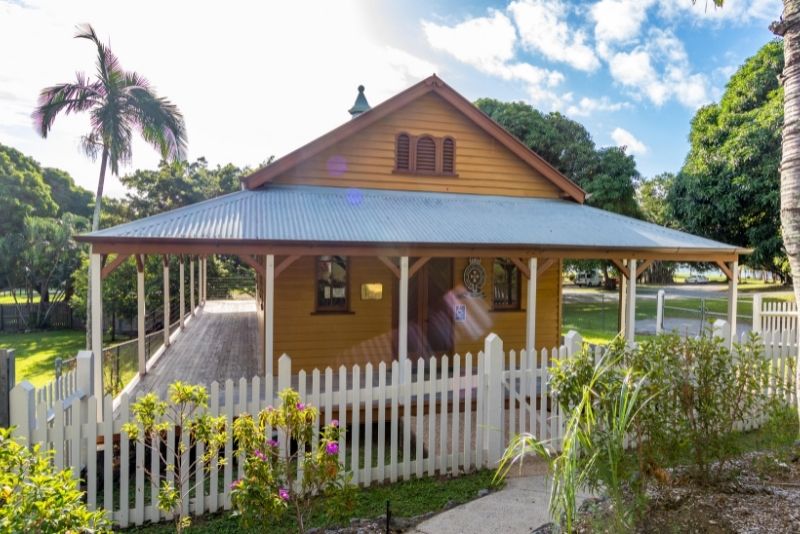 This former courthouse, built in 1879, is the second oldest courthouse in Queensland and was handed over to the Douglas Shire Historical Society in 1997 to use as a museum.
It tells the history of Port Douglas, with exhibits including a recreation of the trial of Ellen Thompson, the only woman sentenced to hang in Queensland for the murder of her husband in 1887.
22 – Cruise through ancient rainforests on the Kuranda Rainforest Skyrail and Scenic Railway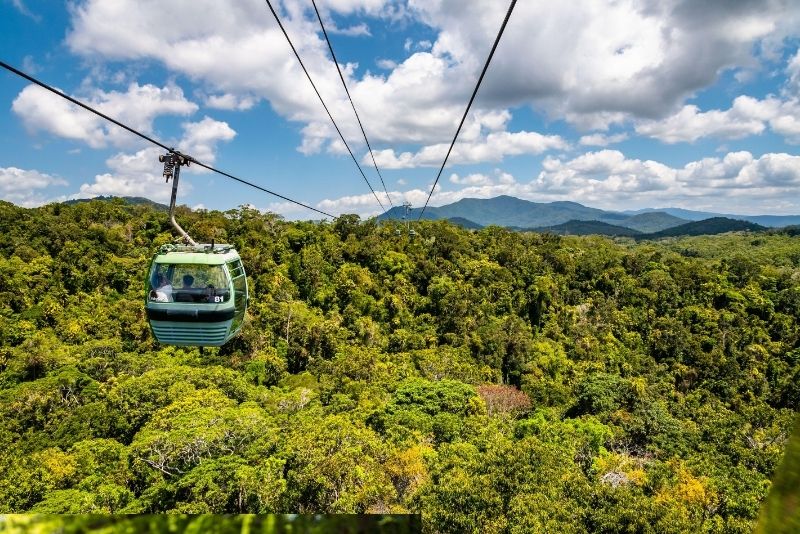 From Port Douglas, take a day trip to the Kuranda Rainforest, one of Australia's World Heritage sites. You'll pass through some of the world's oldest rainforests before exploring the local town.
While you're out in the forests, you have the option to book tickets aboard the Kuranda Rainforest Skyrail which takes you over the forest for panoramic views. There's also the Scenic Railway which rolls through the rainforest with views of the trees and rolling hills.
23 – Have a picnic at Bruno Reidwig Park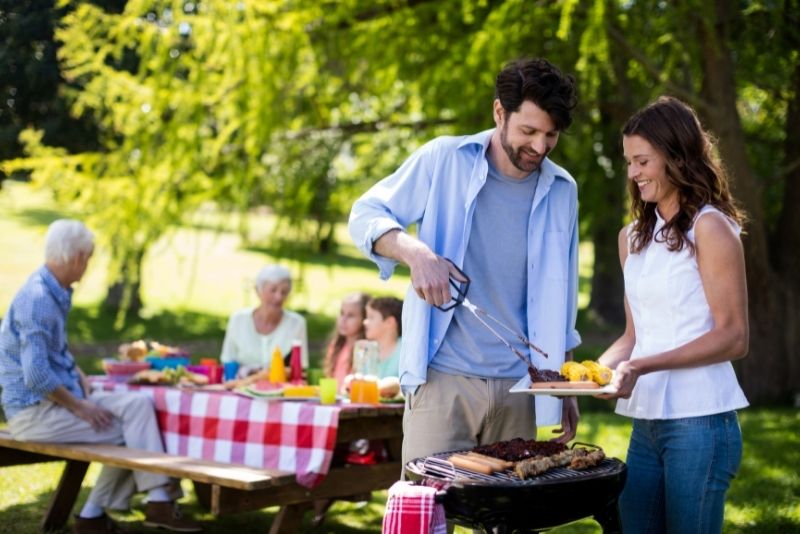 Having a picnic at this park located right on the waterfront is one of the quintessential things to do in Port Douglas. With barbecue and toilet facilities, this is a perfect spot to spend a day with your family or relax and unwind for an afternoon on your own.
24 – Hop on a scenic airplane tour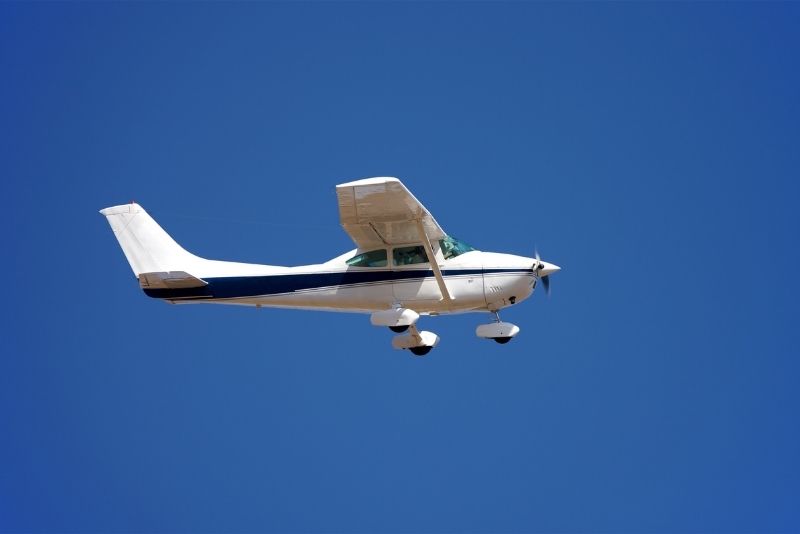 An airplane tour takes you on an hour-long flight over Port Douglas and neighboring places. You are guaranteed a window seat to spot the Great Barrier Reef, Palm Cove, Arlington Island and much more.
The tour includes bus transfers to and from Cairns airport where the trip begins and ends.
25 – Play a round of golf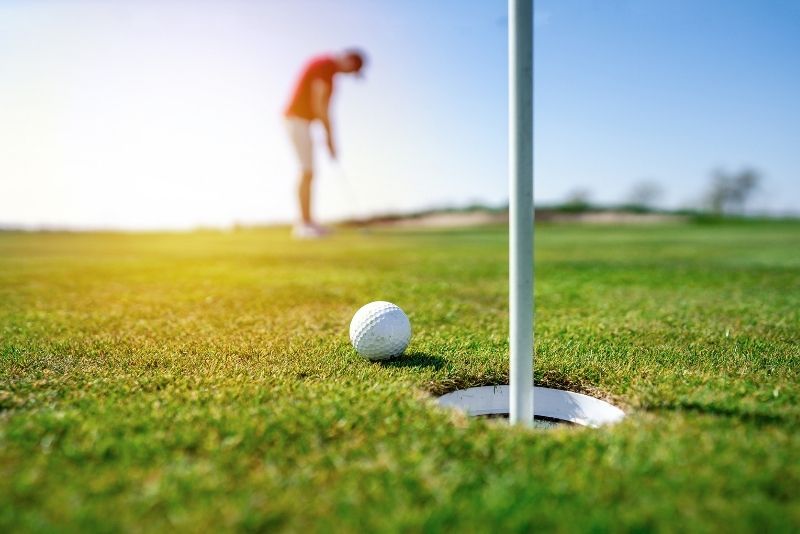 There are several high-standard golf courses around Port Douglas that make the most of the area's wide-open spaces and rolling hills. The highlight is the Palmer Sea Reef Golf and Country Club which is inspired by one of the world's most prestigious golf courses, St. Andrews in Scotland.
There are plenty of options for everyone regardless of experience and skill level.
26 – Take a ride on the Bally Hooley Steam Railway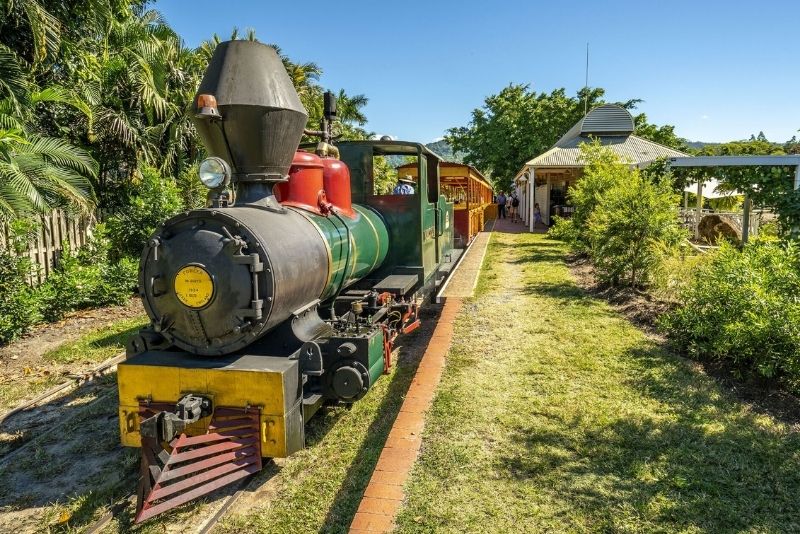 This historic train takes you for a rail tour through Port Douglas, running between St. Crispins and Crystalbrook Superyacht Marina and passing the Mirage Country Club and many other key locations.
Taking a ride on these vintage diesel and steam engine trains is one of the essential things to do in Port Douglas!

27 – Head out on a fishing trip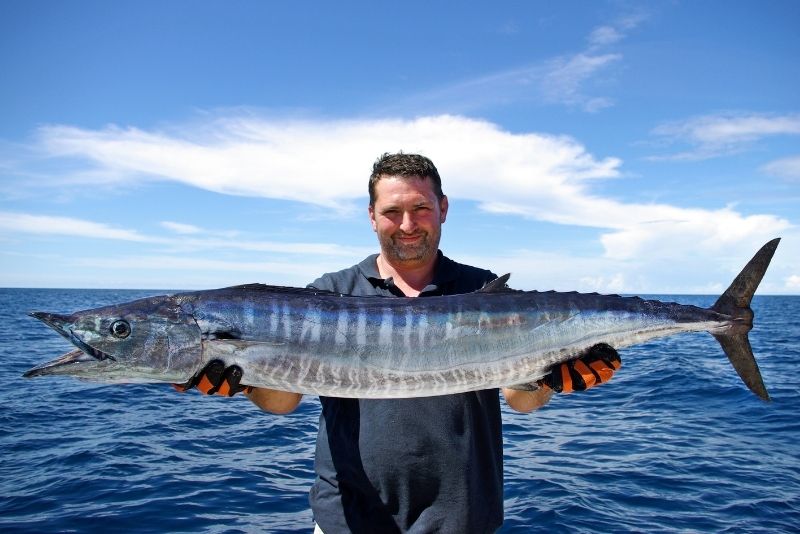 The waters around Port Douglas are home to many different species of fish such as mangrove jack, coral trout and barracuda.
You can hop on a fishing boat out to the Great Barrier Reef or fish on the shore in the calm waters of the Daintree River. For the thrill-seekers, there's a helicopter fishing that takes you to fishing spots no one else can get to!
28 – Hop on a white water raft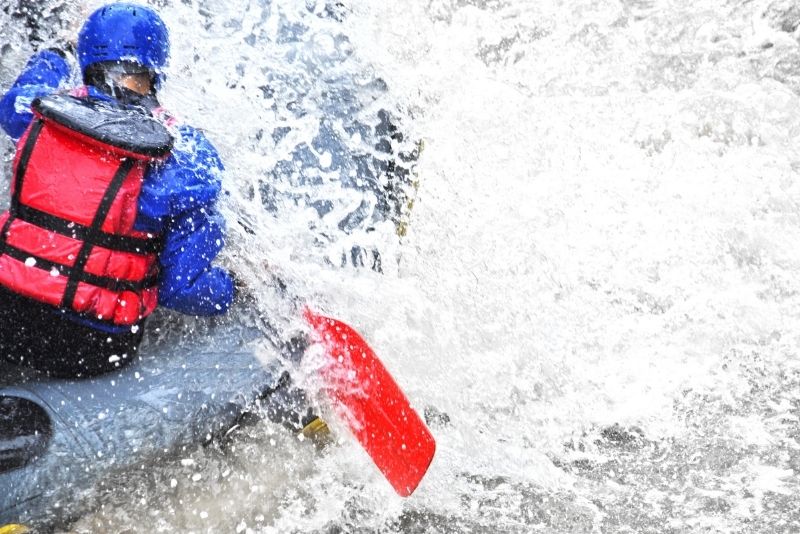 The Barron River offers a great white water rafting experience for visitors in Port Douglas. There are rafting tours that go for five hours and give you plenty of rough water to navigate, mixed with a lot of serene surroundings.
All safety equipment, transport to and from the accommodation, and park entry are included in the cost, so you can get straight on the water!
29 – Take a plunge on a skydiving tour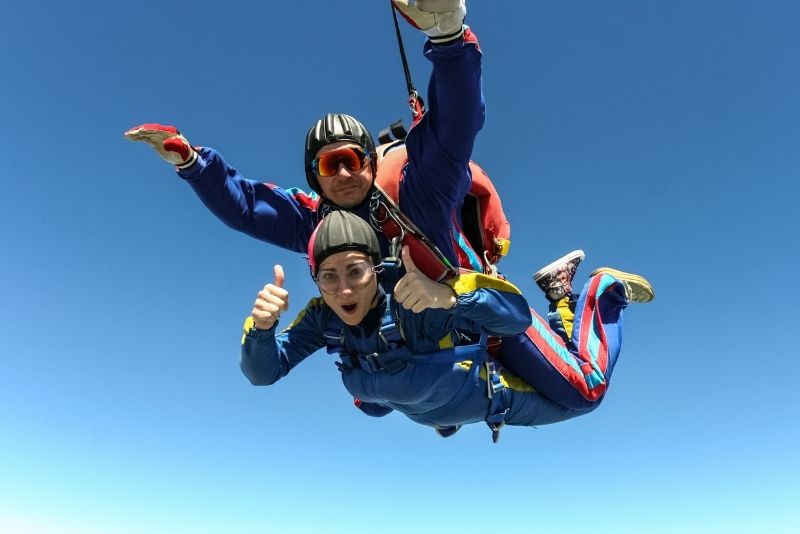 Skydiving is a perfect option for adventurous travelers who also want a panoramic view of the coast of Northern Queensland.
If you go on the one-hour drive south to Cairns, you can hop on a half-day skydiving tour. Free transfers to and from the skydiving site and Cairns are included, so you can focus on your 15,000-foot dive, with up to 60 seconds of free fall!
30 – Unwind at the Port Douglas Yacht Club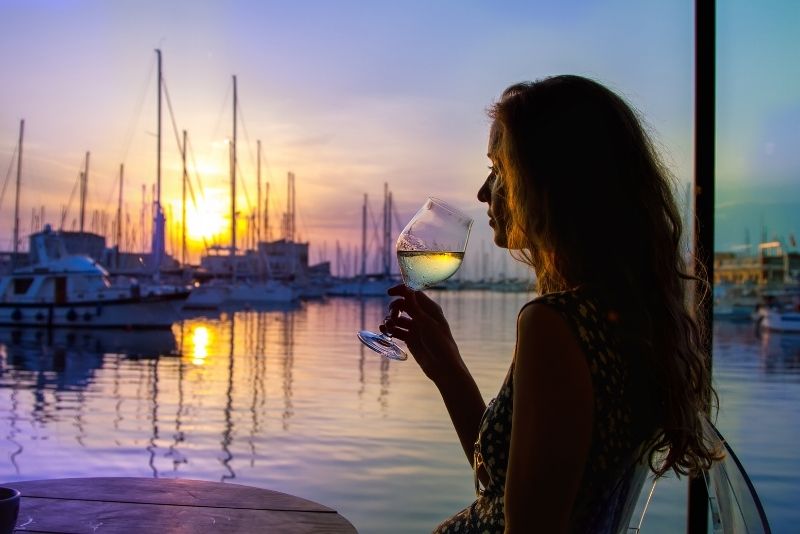 One of the best places to go out in the town, the Port Douglas Yacht Club has a restaurant on-site and live music most nights of the week. It serves up lunch and dinner every day, with a focus on fresh local seafood.
The restaurant sits right on the waters of the Dickson Inlet, with views of reefs and mangroves from your dinner table. On Wednesdays, the staff volunteer to take customers out for a yacht ride from 5 p.m. to 7 p.m. so you can go for a cruise before sitting down for dinner!
31 – Stand up paddle your way along Mossman River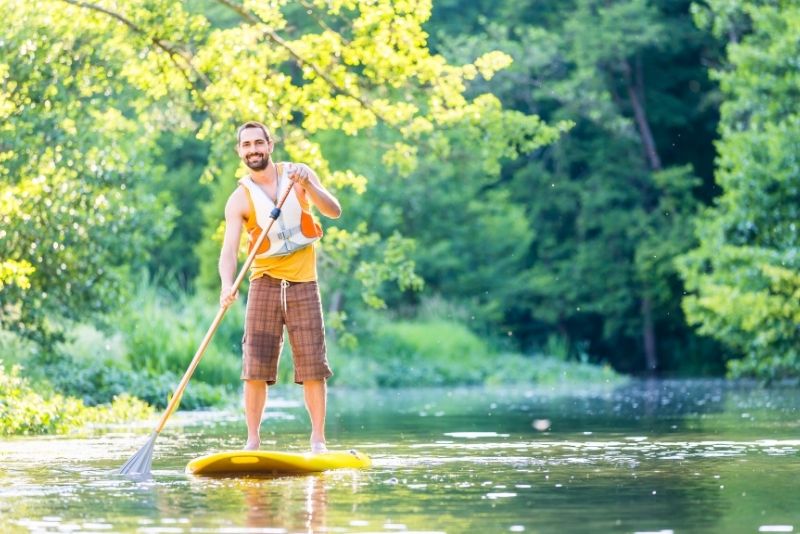 An excellent way to explore the quiet water of the Mossman River is by stand-up paddleboarding. You can hop on a tour with Wind Swell, which has been running tours since 1999.
In this 2.5 hours tour, you will pass through the heritage-listed Daintree Rainforest and you can choose to depart between 9 a.m. and 2 p.m.
32 – Glide over the city on a hot air balloon ride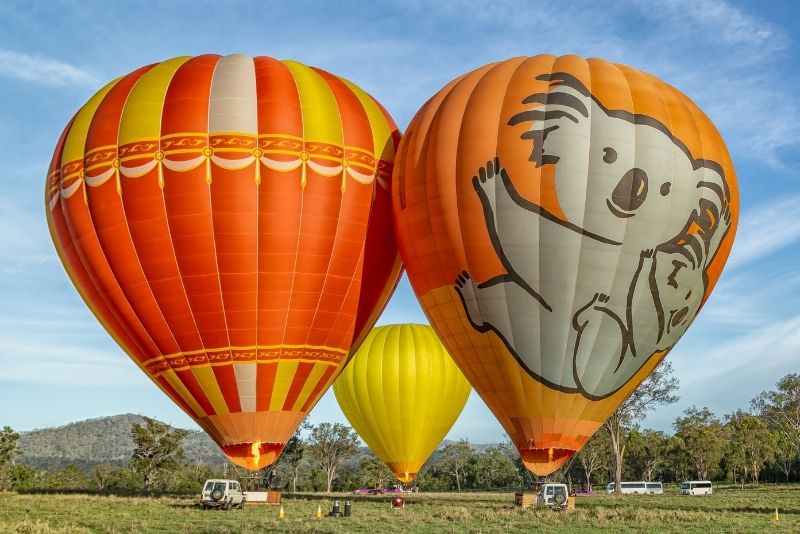 Hot air balloon rides run during the morning in Port Douglas, offering a great way to watch the sun come up over town. The flight goes for about 50 minutes and takes place just as the sun is peeking over the horizon.
You'll also get a great view of the sunset, as well as a unique perspective of the Atherton Tablelands and rural Port Douglas!
33 – See the butterflies at Daintree Entomological Museum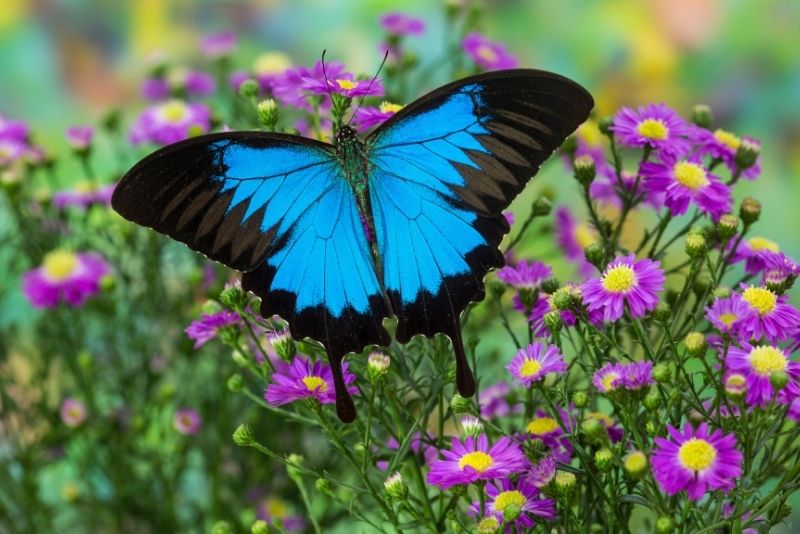 Founded in 2003, this museum has a bizarre collection of local insects and butterflies. It was hand-built by the founder and is also considered one of the most beautiful buildings in the Daintree.
There are interactive live insect displays, as well as guided and self-guided tours, allowing the museum to be explored in a great number of ways.
34 – Discover local art at Ngarru Gallery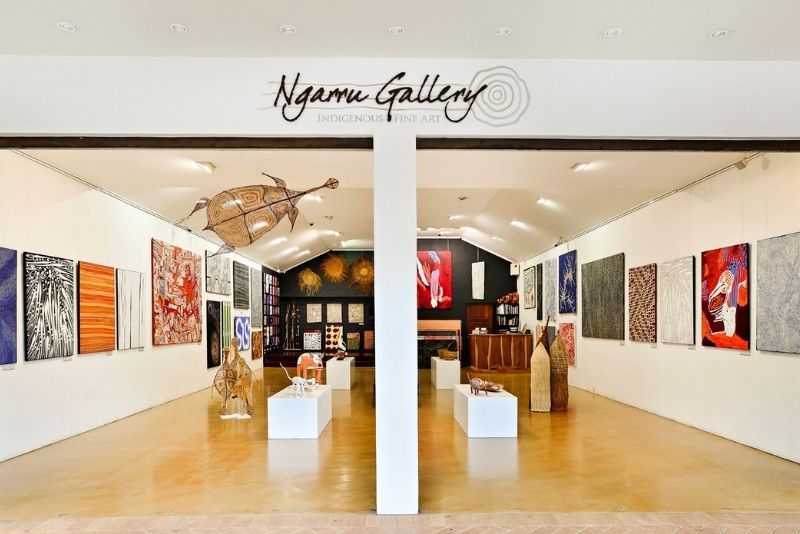 Ngarru Gallery is regarded as the premier supplier of indigenous Australian art in Northern Queensland. Through its collection, you see the many styles and artistic creations of one of the oldest surviving cultures on earth.
Every item is for sale, so you can take a slice of native Australian culture back with you after your trip.
35 – Visit the historic Cooktown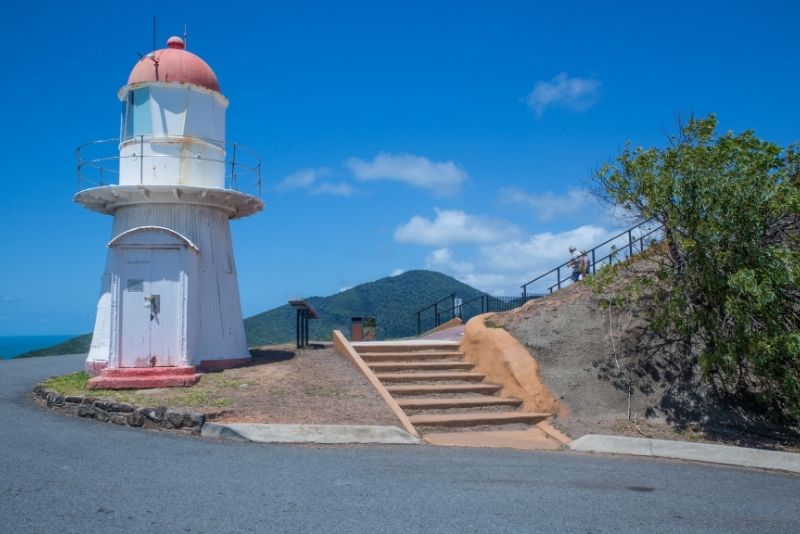 A small town that's a three-hour drive north of Port Douglas, Cooktown initially flourished during the gold rush in the 1800s, attracting populations from all over the world before almost becoming a ghost town in the 1950s.
Its isolated position, spectacular views of Cape York and historic architecture gradually have made it a popular tourist location in the 1980s for those looking for a getaway.
36 – Try a tropical fruit wine on a wine tasting tour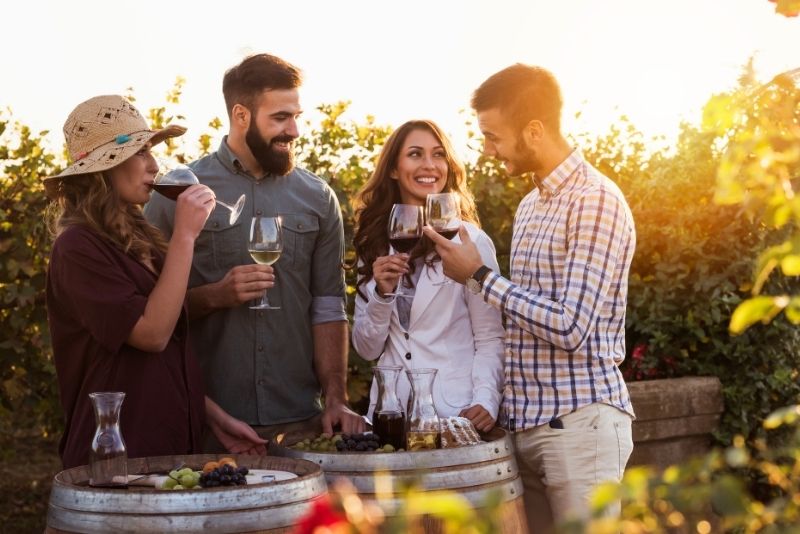 Taste the wine from Atherton Tablelands, a popular place for growing grapes and coffee, and making cheese.
There are several winemakers in the area, so you can go on a wine tasting tour to sample some tropical fruit wine, handmade chocolate and fresh local fruit.
37 – Go shopping at the Marina Markets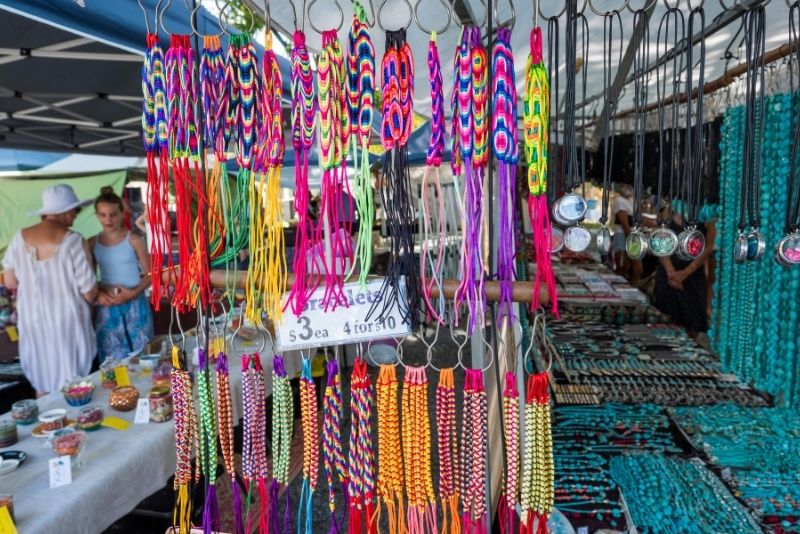 This boutique market opens every Wednesday at Port Douglas Crystalbrook Marina. It's one of the best places to get local, handmade goods such as jewelry, clothing and homewares.
Surrounding the market are plenty of bars and restaurants, making the Crystalbrook Marina a great place to spend most of your Wednesday whilst you're in Port Douglas.
38 – Catch the sunset at Rex Smeal Park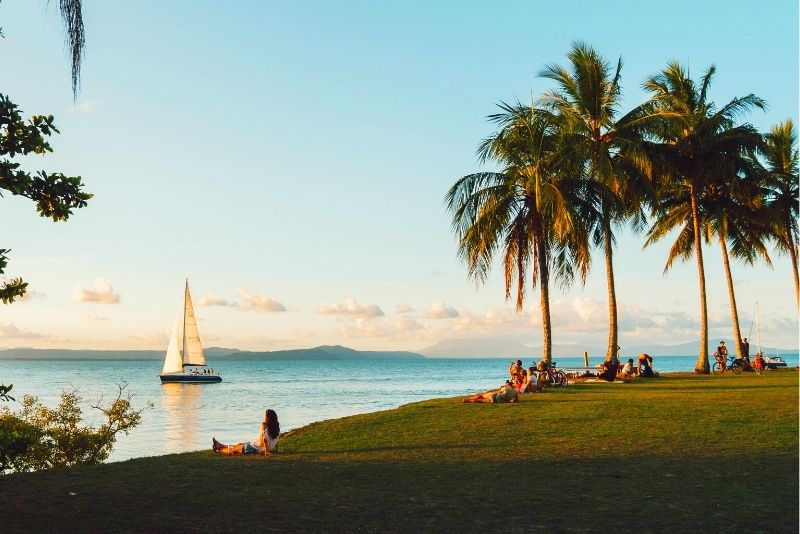 A favorite location for locals to soak up the sunset every night, Rex Smeal Park, nestled in the peninsula of Port Douglas, has a wide-open space to set up a picnic with some fresh seafood and local drinks.
You'll also get views of boats heading out to the Great Barrier Reef, while resting in the shade of tropical coconut trees.
39 – Go for a swim at Oak Beach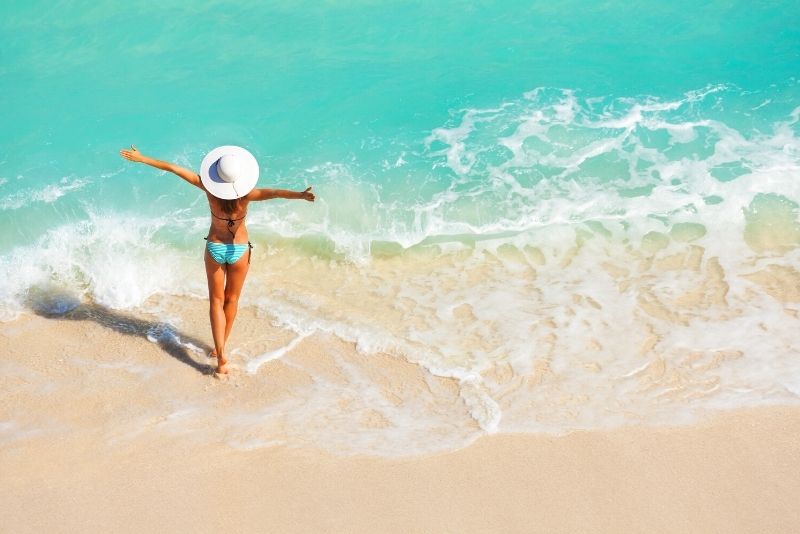 This secluded, tree-lined beach, just 10 minutes from Port Douglas, stretches out for 1.5 kilometers and has a coral reef at one end. You can spend a night here in one of the luxury beachfront villas and wake up rejuvenated for another day of adventure.
40 – Have dinner and a show at Flames of the Forest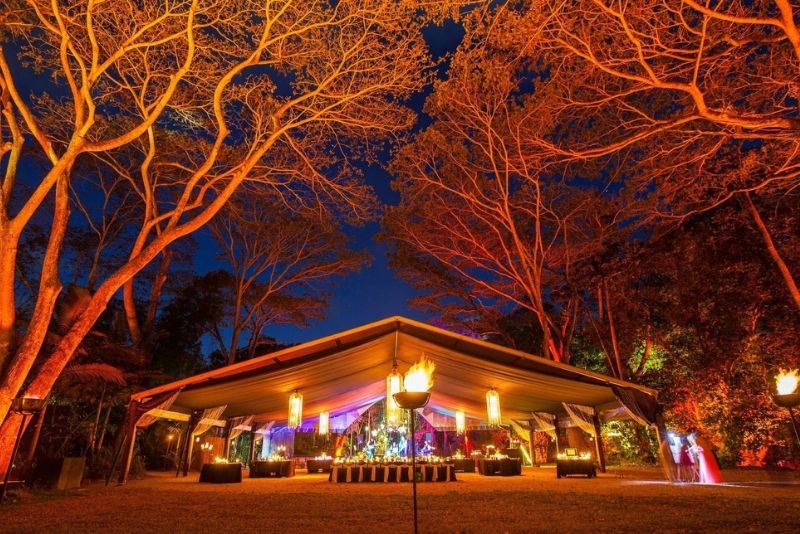 Flames of the Forest is an outdoor restaurant that also puts on entertainment for the diners, including live music and flame-throwing shows. There's also the opportunity to learn about the local aboriginal culture, as there's a storytelling and didgeridoo performance.
41 – Shop at Macrossan Street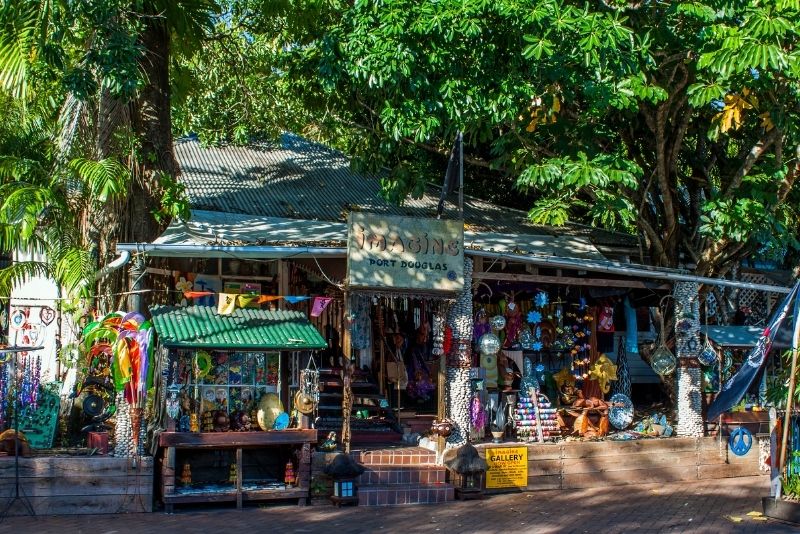 The retail hub of Port Douglas, Macrossan Street host several cafes, high-end boutiques and everything in between. The street has Four Mile Beach on one side and Market Place on the other.
After shopping for the day, the African Mahogany trees that line Macrossan Street light up as the bars and nightlife locations open for the evening.
42 – Head on a Quicksilver Cruise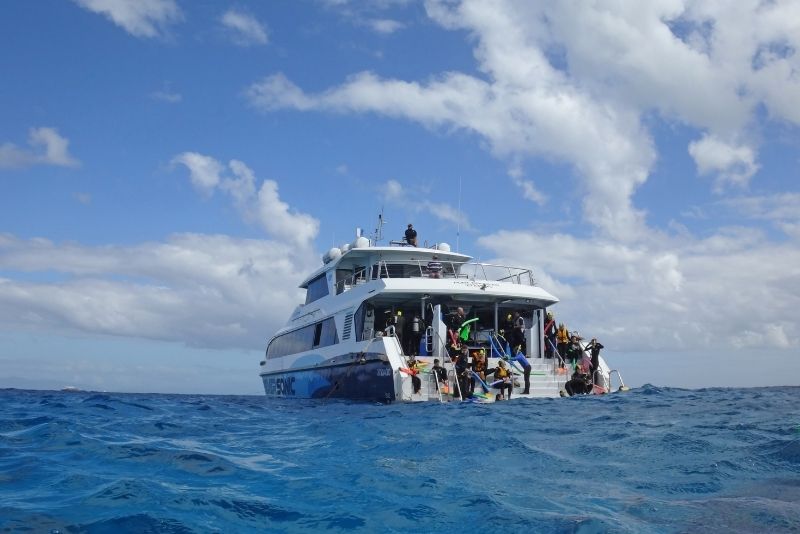 Quicksilver Cruises takes travelers out to the famous Great Barrier Reef and it has an activity platform where you can view the coral structures, as well as options to go snorkeling and scuba diving.
For those who aren't fond of swimming, there's an underwater viewing platform beneath the cruise ship for you to get a view of the reef without diving under yourself!
43 – Catch a show at Clink Theatre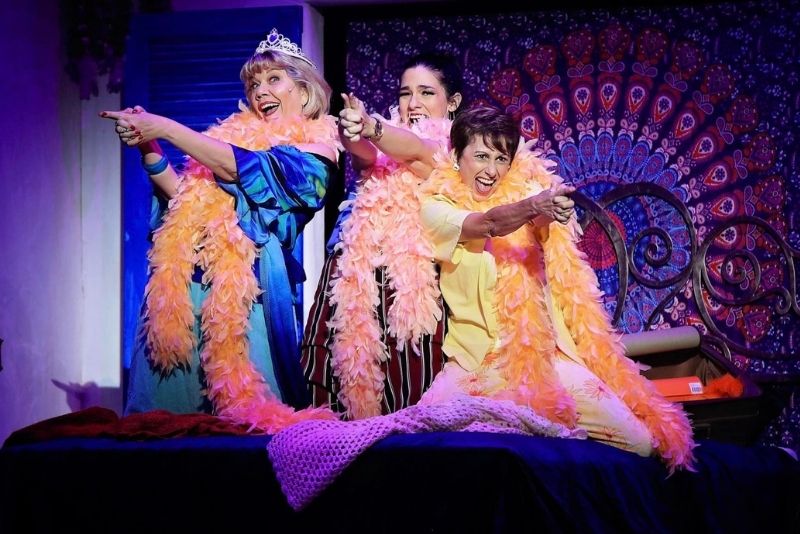 Twenty years ago, a small group of locals decided they wanted a place to be able to put on shows in Port Douglas and so they found the building that later became the Clink Theatre.
Home to the Douglas Theatre Arts Group, the theater can host some 120 guests and is the best place in the area to see some local plays!
44 – Learn about the aboriginal culture at Janbal Gallery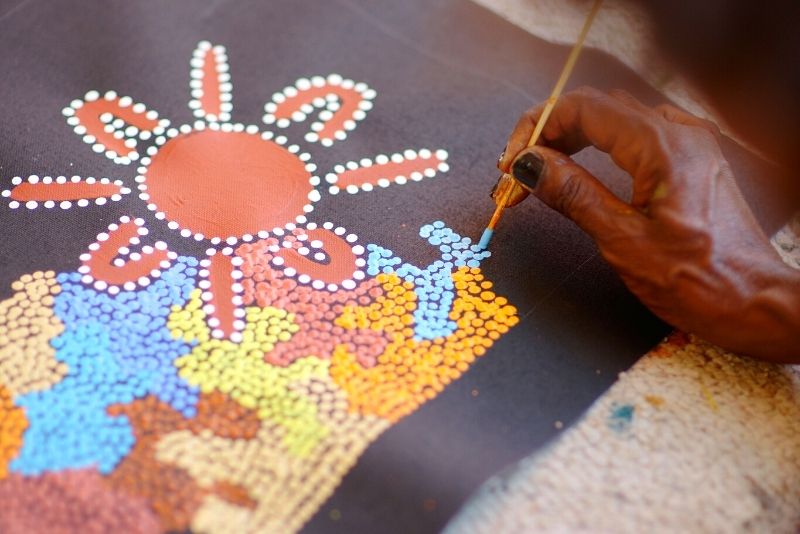 Get the opportunity to see the art of indigenous people, learn about their culture and even learn to paint in the style of the local artists in this art gallery.
Painting your own souvenir here is definitely one of the most unique things to do in Port Douglas.
45 – Visit the old Port Douglas Sugar Wharf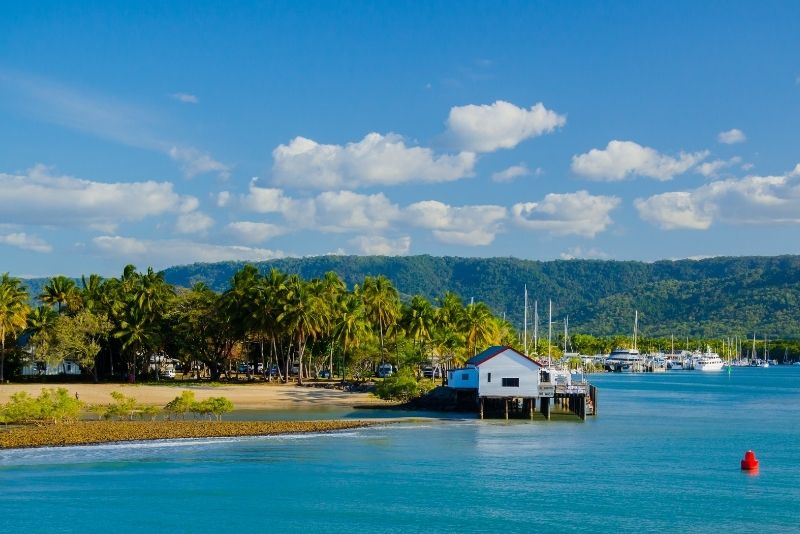 Port Douglas Sugar Wharf sits on the water of Port Dickson's inlet and is used to be a privately owned shipwreck museum but is now open to the public.
It's been a popular event venue with sunset views and a large pier that can accommodate some 120 people.
46 – End the day with a sunset cruise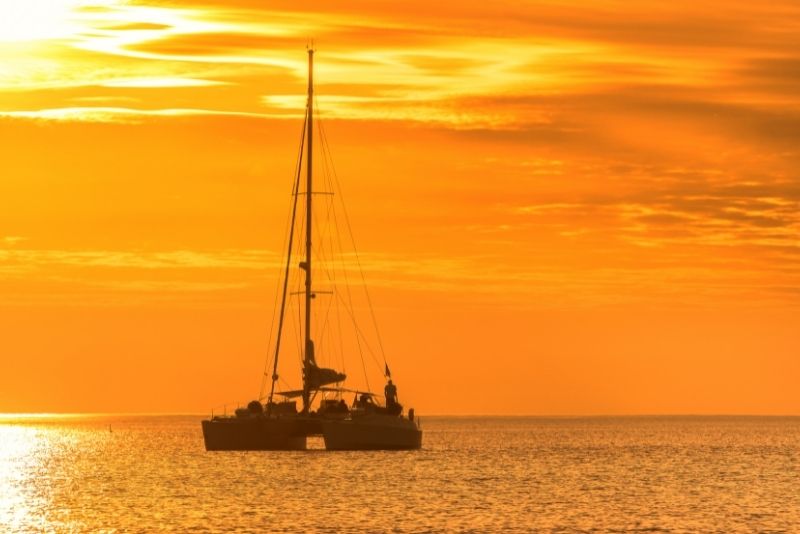 Port Douglas has many great sunset spots and watching the sun go down aboard a boat is one of the best. You can book a yacht cruise from Port Douglas or even paddle along the Daintree River.
Either way, you'll get to see a lot of wildlife, as herons and crocodiles are often active at sunset.
47 – Drop by Rattle N' Hum Port Douglas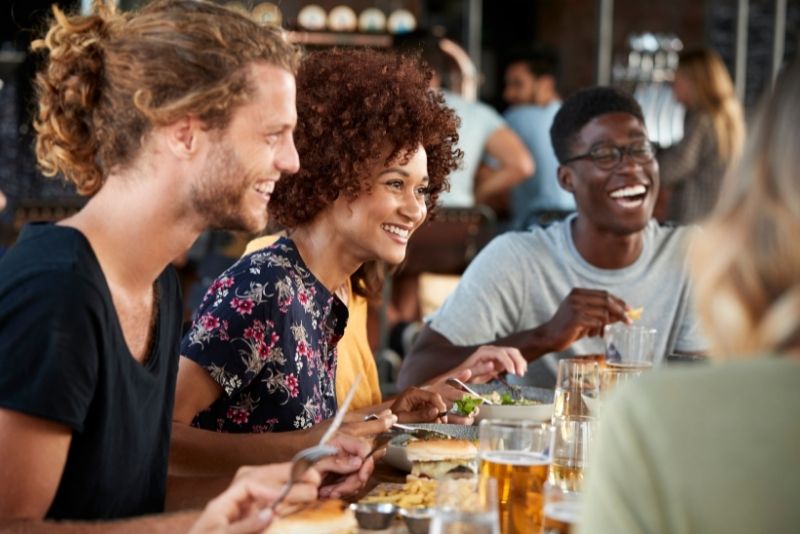 Rattle N' Hum Port Douglas is a classic Australian pub where you can get lunch, dinner or some local beer.
It's known as a favorite hangout for locals so for those traveling from afar, you'll get a good insight into the life of the town people.
48 – Have dinner by the water at Salsa Bar & Grill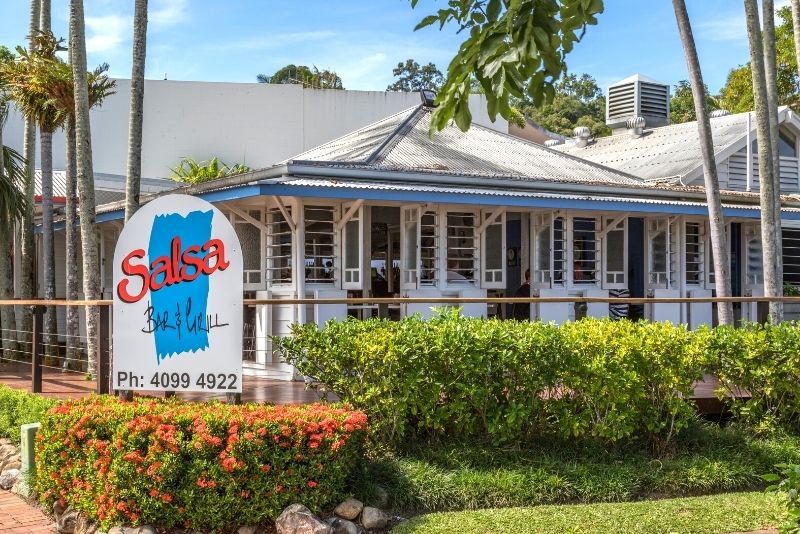 This restaurant perched right next to St. Mary's by the Sea offers views of the Coral Sea from the dining room. It has been operating for 26 years, a long time creating food and drinks from local produce.
Its menu has an emphasis on fresh, so you can expect dragonfruit mojitos and prawns to be heavily featured.
49 – Sample craft beer at Hemingway's Brewery FNQ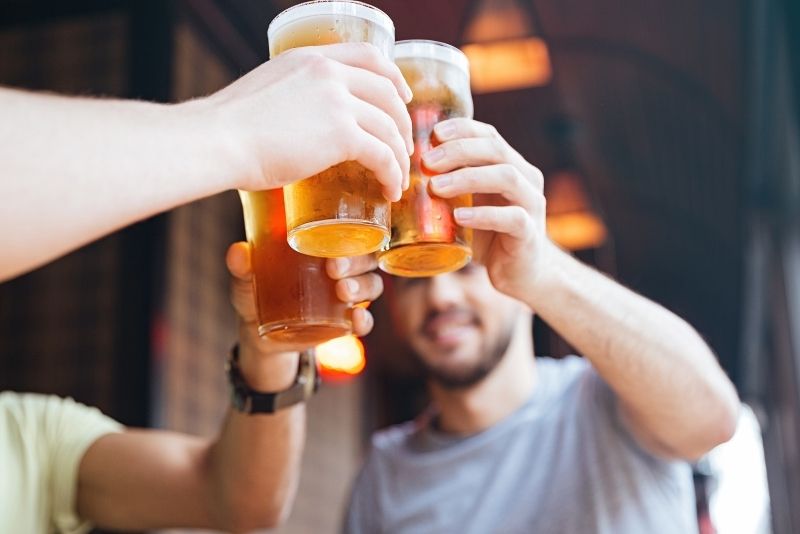 Hemingway's Brewery creates award-winning fresh local beer in Far North Queensland. It has locations in both Cairns and Port Douglas, with the latter venue being located right on the water with views of moored yachts all around.
You can book functions or simply arrive with your friends to sample some local craft beer and delicious food.
50 – Head out to the Tin Shed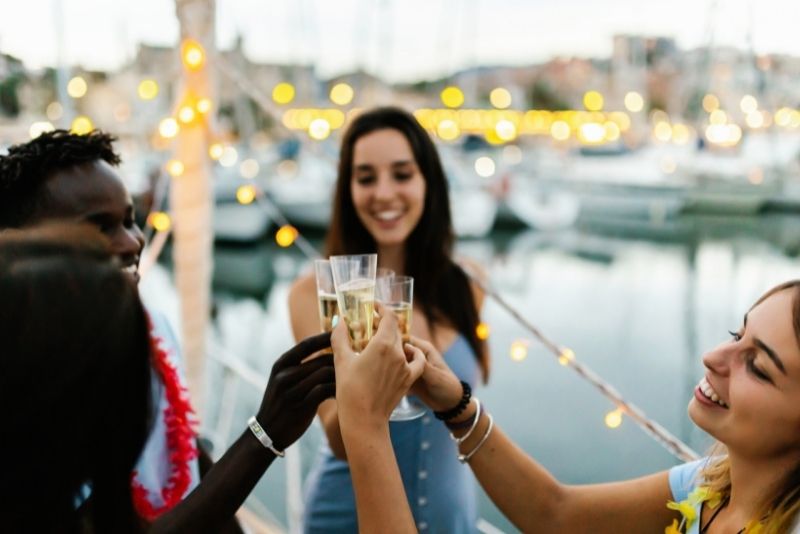 The Tin Shed is a long-running social club that was formed in 1877 to provide a place for the Port Douglas and District Boat Club to meet. Today, it is a hub of social activity in the town with a restaurant open 10 a.m. to 10 p.m. every day and live music most weekends.
Spend some time hanging out in this spot perched right in the heart of town, on the water, looking out onto reefs and mangroves.
Hopefully, this list has given you a lot of ideas and helped in finding things to do on your next trip to Port Douglas. If there are any others, feel free to leave them in the comments!
Be sure to check out all the best hotels in Port Douglas, so you have a great place to stay at the best deal. Also, airport transfers take the hard work out of getting to and from the airport, and your accommodation so they're very worth having a look at too.
Where next? Make sure to check out the list of fun things to do in Cairns next door!
Happy travels!