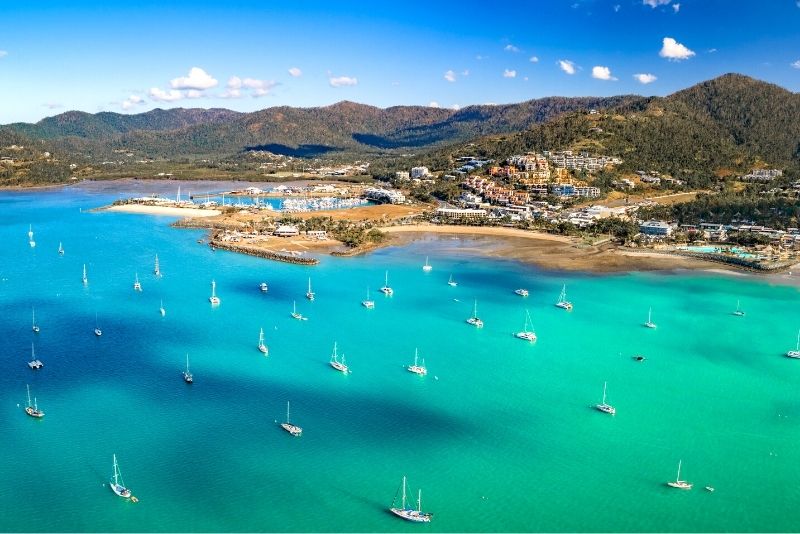 Heaven does exist, and it's located on the northeastern coast of the Land Down Under.
Airlie Beach might be small, but what it lacks in size it makes up for in beautiful nature, amazing restaurants, paradise-like islands, and ever-welcoming locals.
With the Great Barrier Reef and the Whitsunday Islands within striking distance, plus plenty of fun waiting in the town itself, you'll never feel short of things to do in Airlie Beach, Queensland.
1 – Go sailing through the 74 Whitsunday Islands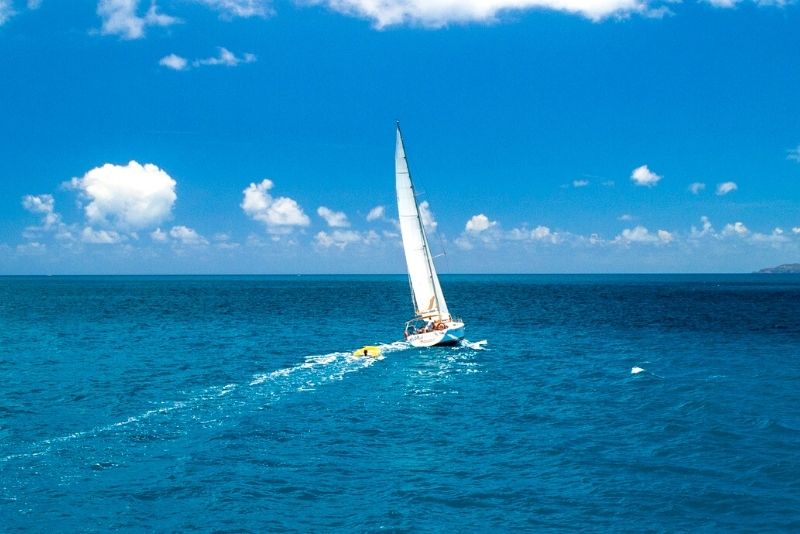 Once you've seen a glowing sunset bounce off the Whitsunday waters, you'll never want to leave Queensland's tropical coast. A true heaven on Earth, this stunning archipelago offers white-sand beaches, warm waters, wonderful biodiversity, and borders the famous Great Barrier Reef.
With tour options including yachts, catamarans, or private sailboats (romantics, take note), plus durations spanning a few hours to a few days, there's something for every budget.
2 – Take a powerful ocean raft to Whitehaven Beach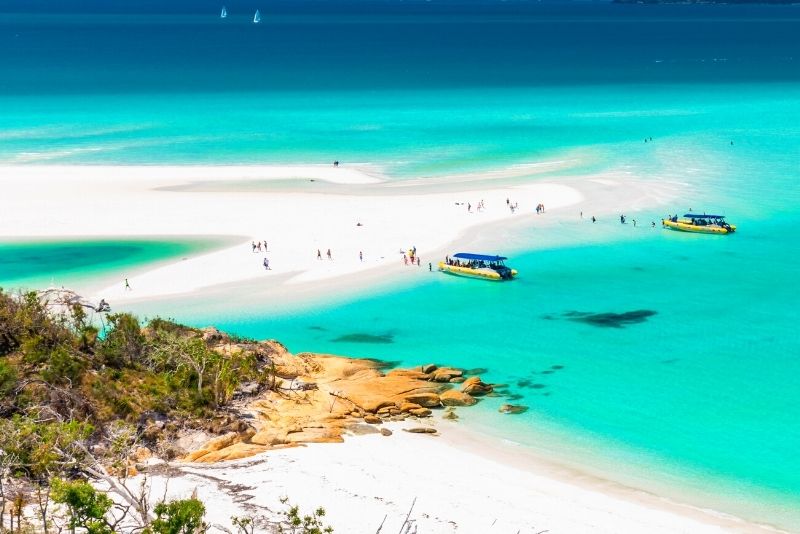 Perhaps Australia's most picturesque sands, the winding, colorful Whitehaven Beach is one of the essential things to do in Airlie Beach, without a shadow of a doubt! But just because it's beautiful that doesn't mean it's non-stop relaxation — reaching speeds of over 50 km with the ocean breeze and sea spray in your hair, the journey is just as exciting as the destination.
Bring your walking shoes too; to reach the famous Hill Inlet Lookout, a moderate hike awaits.
3 – Snorkel the Great Barrier Reef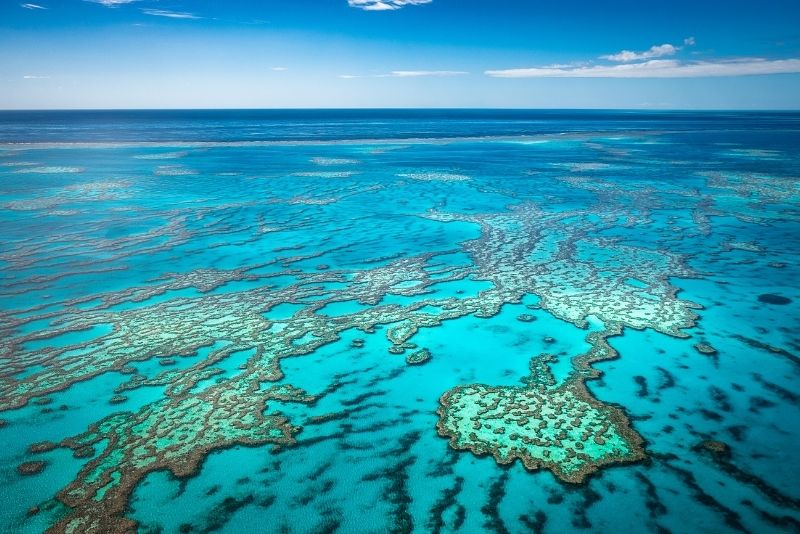 An undisputed Aussie icon, the marine paradise that is the Great Barrier Reef should be high atop any visitor's Airlie Beach bucket list.
While thousands of travelers opt to cruise and snorkel (or dive) on a day trip, for those looking to take the journey to the next level, why not try an overnight sailing adventure or a scenic flight?
4 – Greet the wildlife on Hamilton Island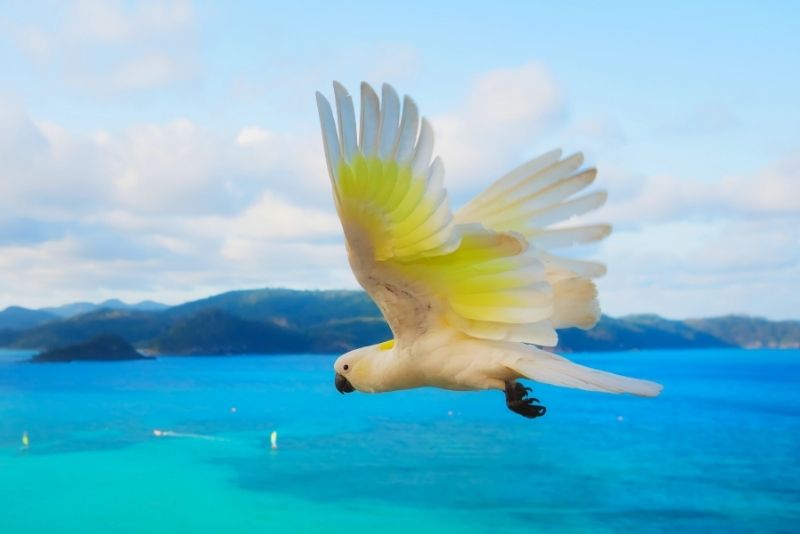 One of the Whitsundays' most popular getaways, Hamilton Island is adored by locals and tourists alike — not just because it boasts incredible snorkeling opportunities, but also because the leafy, beachy paradise plays host to some of Australia's most beloved creatures.
Camera at the ready, folks — wallabies, goannas, sea eagles, cockatoos, and kookaburras are known to hang out on Hamilton!
5 – Join a rainforest or boardwalk Segway tour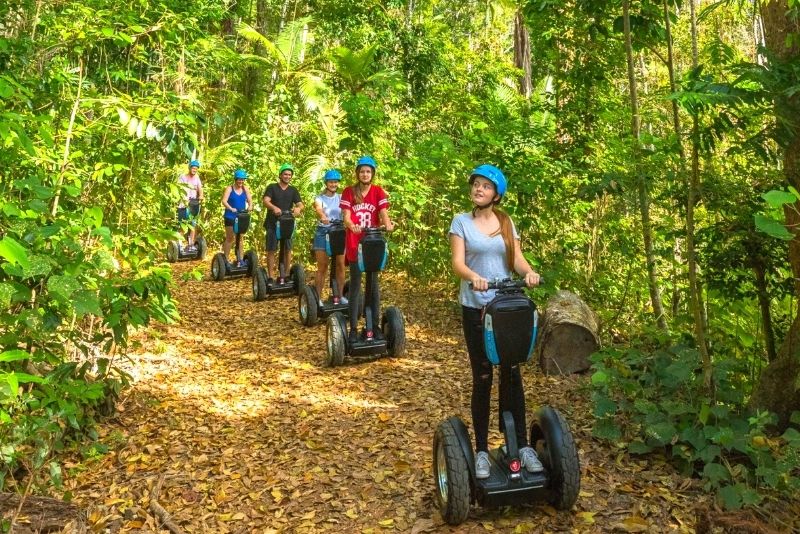 Walking is so overrated, right? Whether you're planning on exploring the quaint Airlie Beach boardwalk or the immersive rainforests of Conway National Park (or both!), a Segway tour is the perfect plan of attack.
Looking for something a little more thrilling? Combine the Segway tour with a jet ski adventure (and save a few bucks thanks to the package deals)!
6 – Embark on a crocodile safari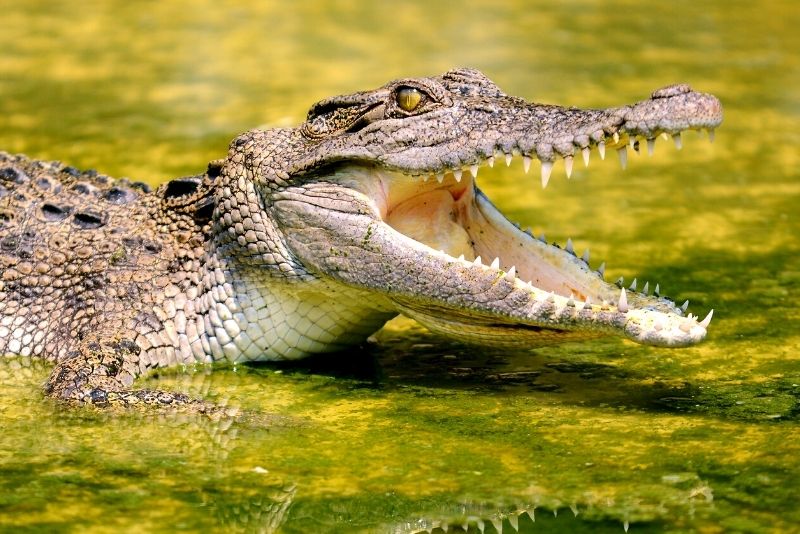 As you cruise calmly down the Proserpine River waters and the Goorganga Plains wetlands, keep your eyes peeled: these locales are home to the infamous Aussie saltwater crocodile — the world's largest reptile.
Besides the chance to see these intimidating creatures in the flesh, safari tours also typically include a barbecue lunch during which travelers can try traditional indigenous billy tea and damper (similar to bread).
7 – Take a scenic airplane flight over the Whitsunday Islands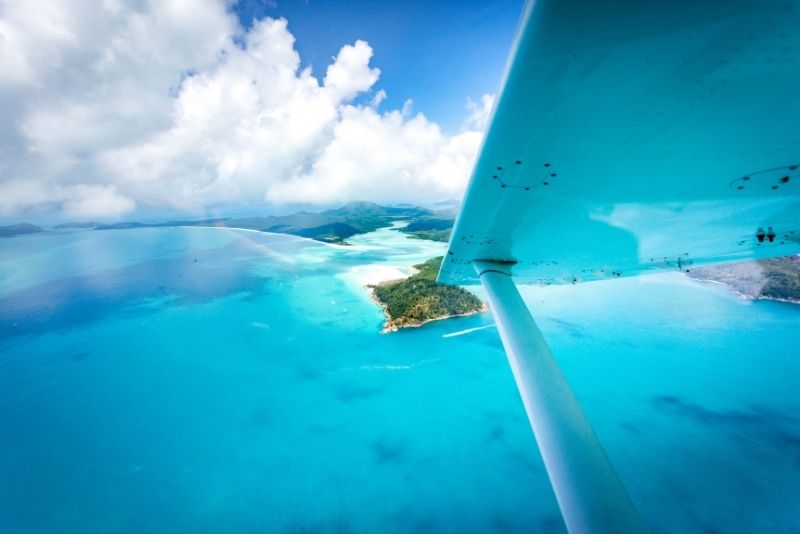 While the views from Whitsundays' beaches are second to none — likewise from the hills of Airlie Beach — there's nothing that quite compares to soaring over the Aussie east coast in a private propeller plane.
Have the camera at the ready; there's no more impressive social media photo than a bird's eye of the stunning Heart Reef.
8 – Try Skydiving!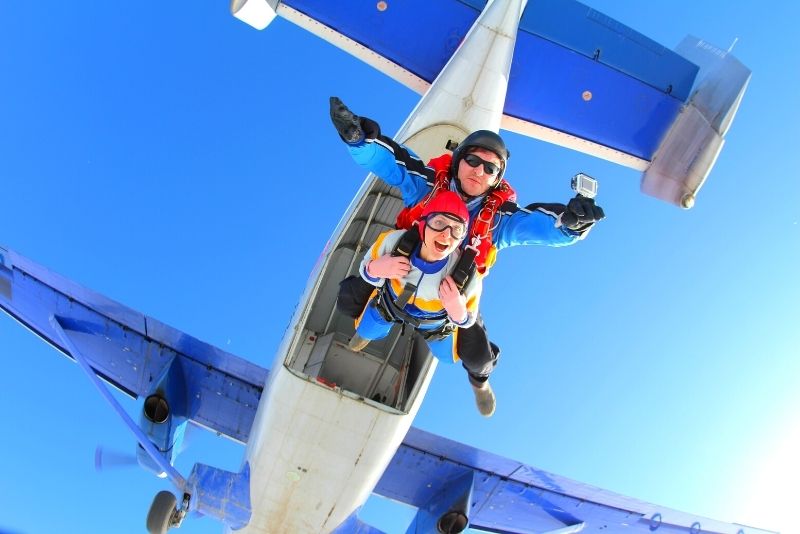 Attention, adrenaline junkies: if you're looking for heart-pumping things to do in Airlie Beach, look no further!
Rocketing down from the clouds at terminal velocity from heights of 15,000 feet is an unforgettable experience in and of itself, but gliding toward brilliant blue waters, with views of untouched islands and white-sand beaches — well that's just unbeatable.
9 – Zoom across the waters on a jet boat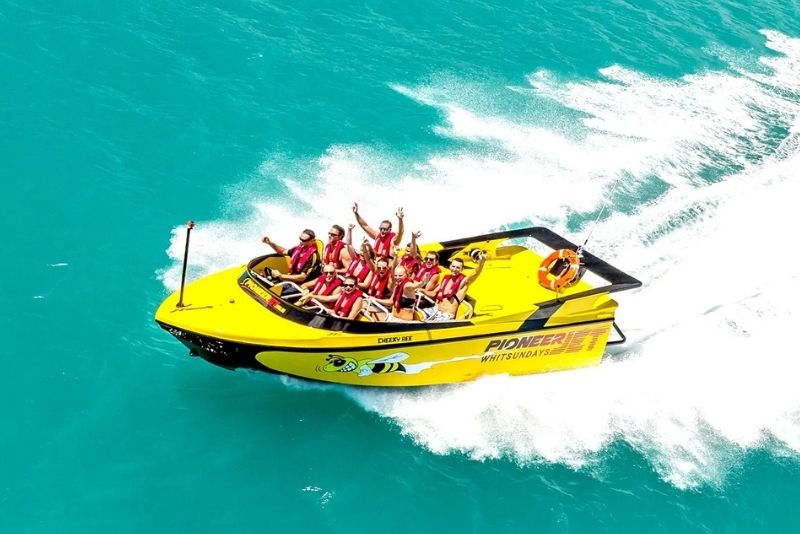 Hold on to your hats and prepare to get soaked! If it's adrenaline and thrills you're after, then a high-speed Airlie Beach jet boat ride is exactly what the doctor ordered.
With drifts, power stops, nosedives, and spins on the menu — not to mention the sublime views from departure to docking — this high-octane adventure is a must for the Airlie Beach bucket list.
10 – Consider a unique helicopter tour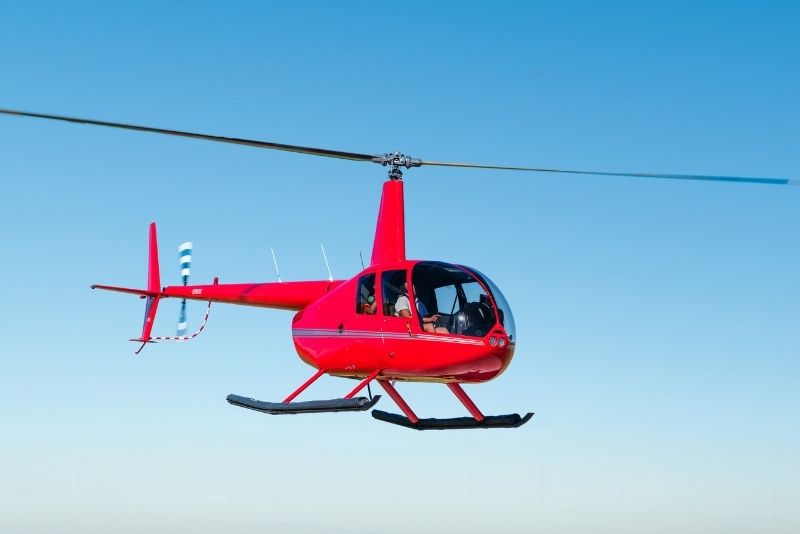 Most touristy helicopter tours soar above concrete jungles, landing at a quiet airport on the city's outskirt — not in the Whitsundays.
Here, visitors are blessed not only with the opportunity to soar above some of Australia's most pristine islands, including Daydream Island, Hill Inlet, and Long Island; but land on the untouched white sands of Whitehaven Beach as well!
11 – Go scuba diving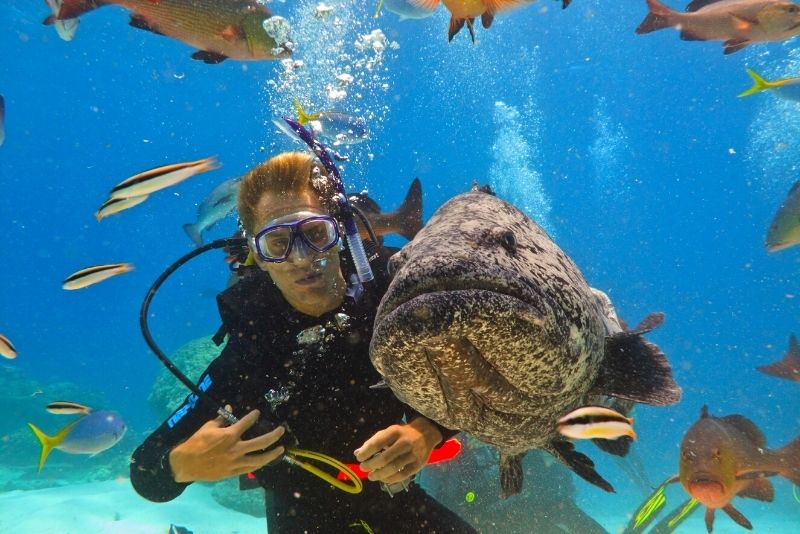 Thanks to Airline Beach's location being a mere stone's throw from the world's largest and most diverse ocean reef, it goes without saying that Queensland's scuba diving opportunities are some of the world's best.
Whether you're a seasoned diver or a newbie looking to get your PADI certificate, there's a dive suitable for every kind of traveler.
12 –  Join a whale watching tour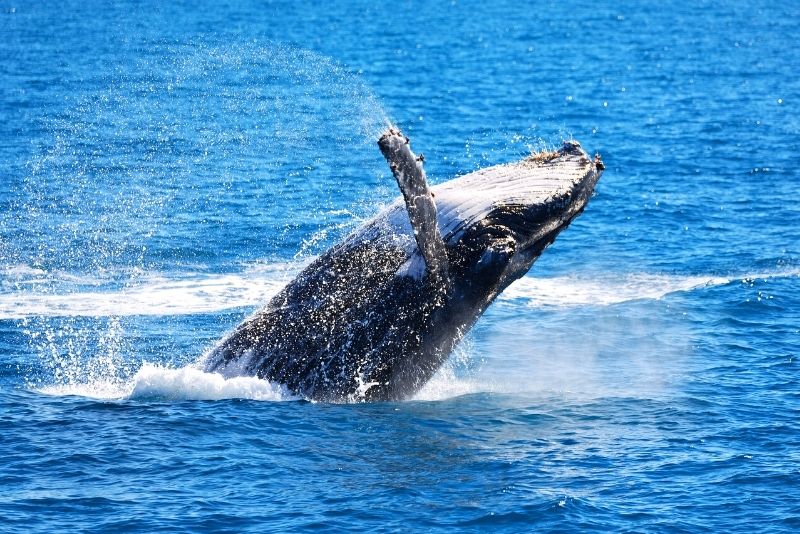 It's near impossible not to picture wildlife when you hear the word Australia, and despite the furry kangaroos and koalas getting the bulk of the attention, the ocean's gentle giants frequent Airlie Beach on cue, year after year.
The most common sightings are humpback whales, who migrate down to Queensland's warm waters annually between June and August.
13 – Sip some wine on a sunset cruise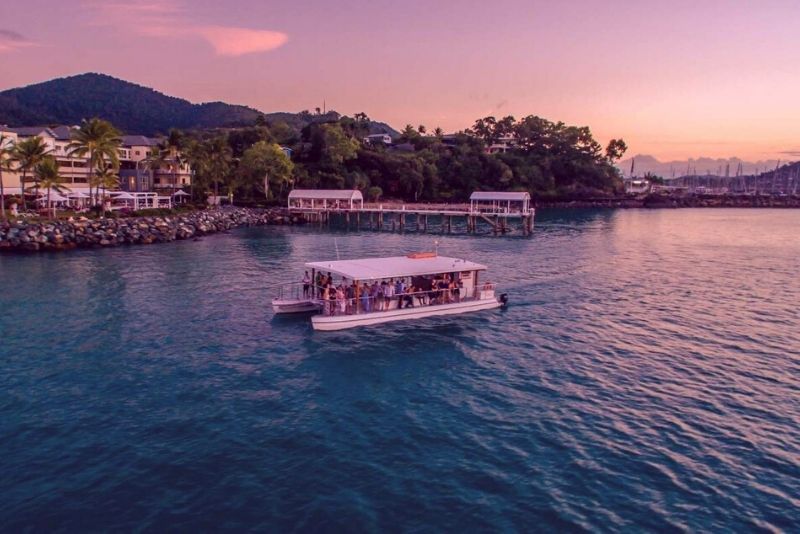 For any lovebirds looking for romantic things to do in Airlie Beach, take note. With a glass of bubbly in hand, sparkling views of the town in one direction and glowing blue waters in every other one, a sunset cruise around Pioneer Bay is nothing short of magical.
Keep your eyes peeled for turtles and (in the Australian winter) humpback whales too.
14 – Create lifelong memories on an overnight sailing adventure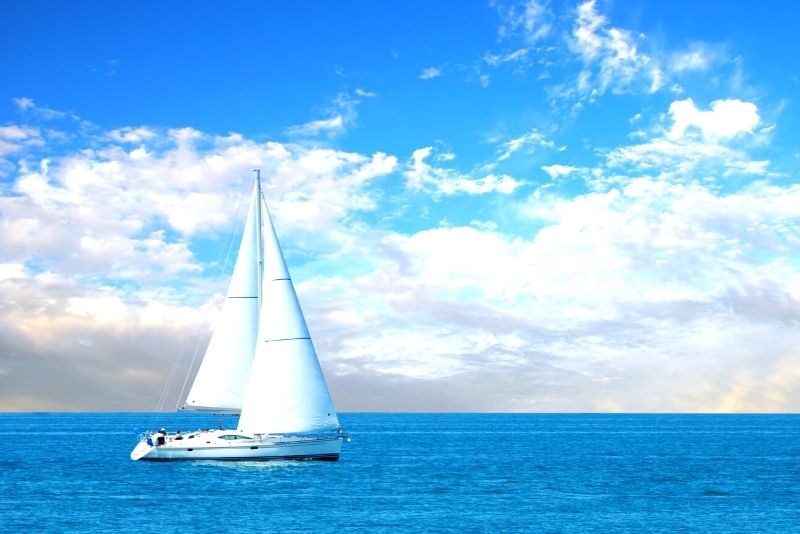 An experience unlike any other, a multi-day, overnight sailing adventure is truly unforgettable.
Why choose an overnight tour? So many reasons! You can tick off BOTH the Great Barrier Reef and Whitsunday Islands in one package; you can learn the ins and outs of working a sailboat; you can see the unobstructed night sky; and, perhaps most impressively, you can wake up to the ultimate tranquillity of the ocean air.
15 – Explore Airlie Beach in a tuk-tuk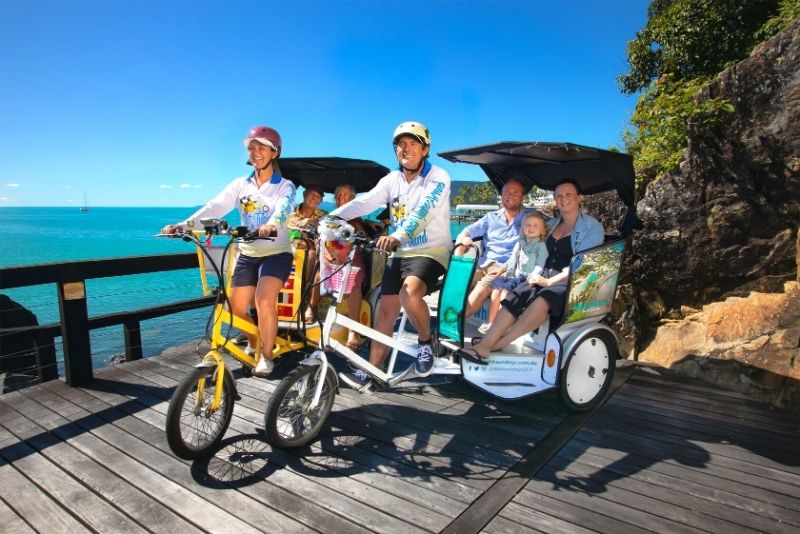 A unique spin on the traditional sightseeing itinerary, a tuk-tuk tour allows guests to sit back and relax while friendly, informative locals skirt between the main Airlie Beach hot spots — exploring the Port of Airlie, Coral Sea Marina, and everything in between.
No time for lunch? Opt for a food-themed tuk-tuk tour to sample all of the area's delicacies.
16 – Head out on a glass-bottom boat tour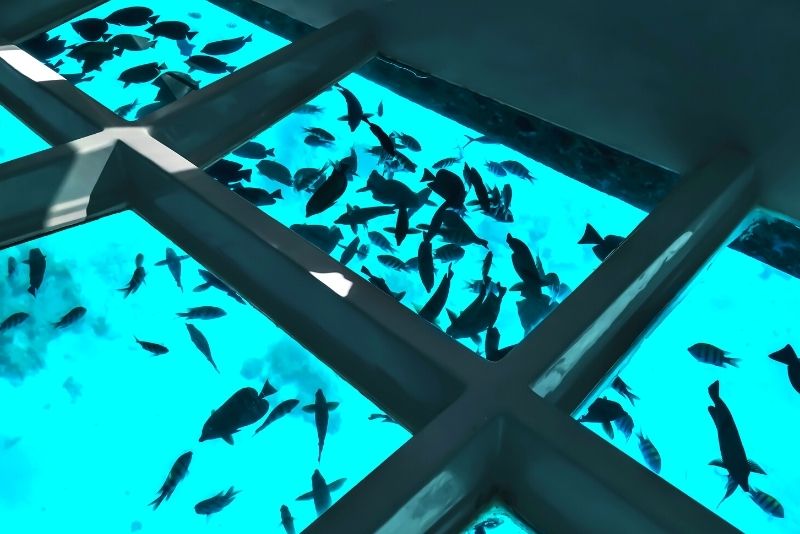 Experience the amazing underwater life without getting wet! How? On a glass-bottom boat tour from Shute Harbour — an ever-popular Airlie Beach tourist activity suitable for all ages.
Kids (and adults alike) love feeding the fish; the ship's crew are experts in marine biology, and it's also a great way to meet fellow like-minded travelers.
17 – Feel the G-force on an aerobatic flight experience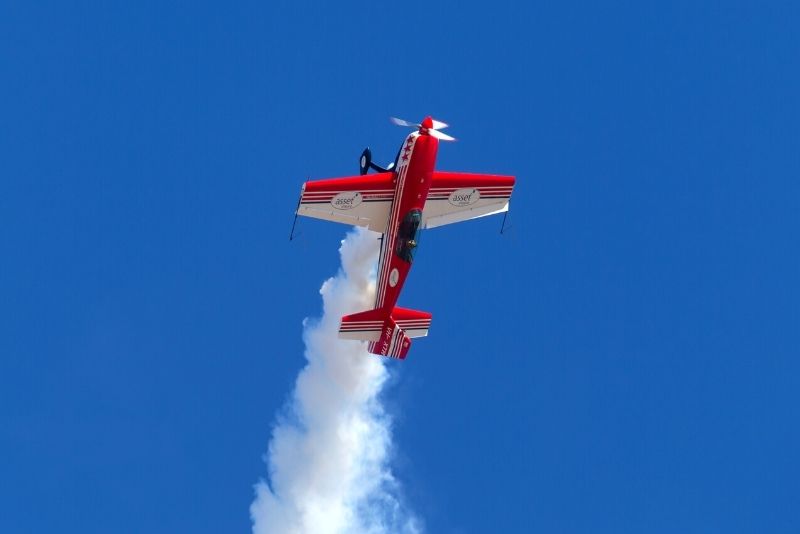 Harness your inner fighter pilot in this one-of-a-kind opportunity to take to the skies! Strapped into WW2-style planes like the YAK-52, make no mistake: this is no scenic flight. This is a high-octane, wild, unforgettable aerial experience!
Thrillseeking visitors will hit more than 3 G-force, fly upside down, and experience crazy maneuvers only possible is these unique planes. Of course, we can't forget the top-notch views either.
18 – Explore the area with a jet ski safari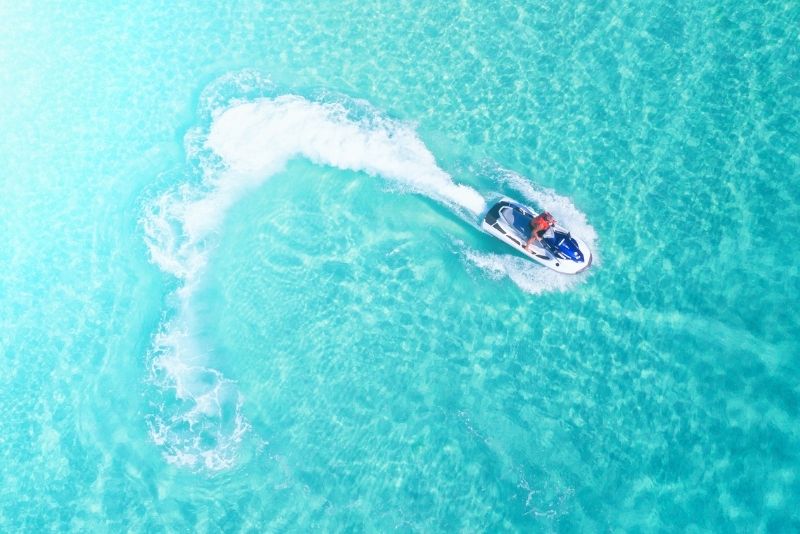 An activity that promises both excitement and beauty in spades, a jet ski tour through the Whitsunday Islands is one of the best things to do in Airlie Beach.
Once you've glided across the scenic waterways to the Palm Bay resort, you'll be greeted by woodfire pizzas, endemic wildlife, and friendly, informative locals who love to point out all of the region's icons.
19 – Hike in the rainforest!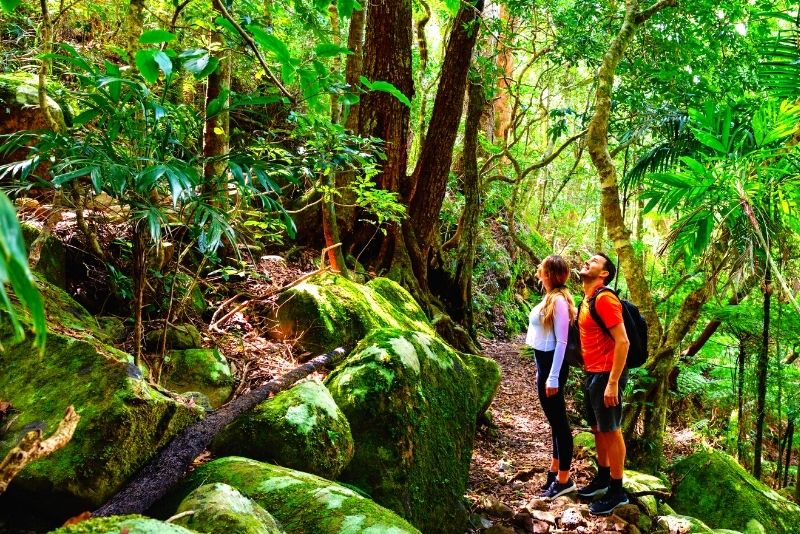 While Airlie Beach is synonymous with its serene islands and beaches, the area isn't short of lush rainforest either. Those looking to stretch their legs often make a beeline for the Conway National Park, home to the Mt Rooper Circuit and Swamp Bay Track, among others, and located conveniently close to Airlie Beach's main draws.
Not too far away is the 8km Honeyeater Lookout Trail too — a hike that promises unmatched ocean views
20 – Go fishing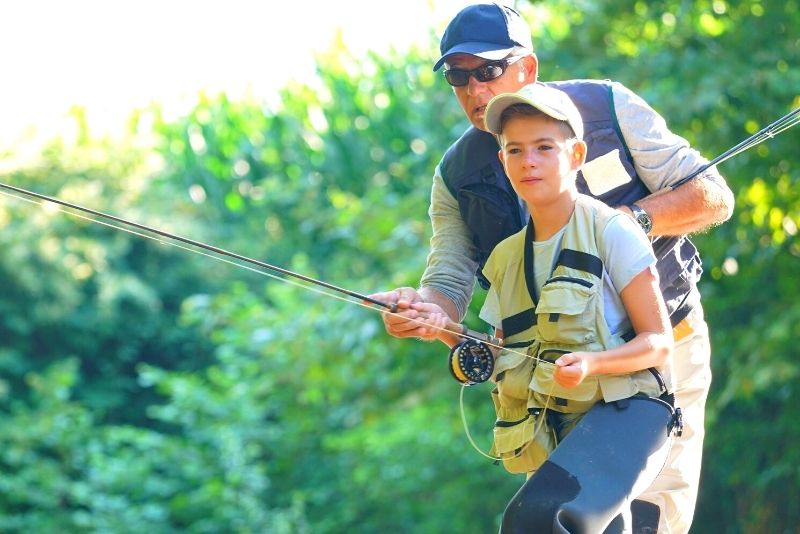 With such a broad marine ecosystem, Airlie Beach's range of fishing opportunities is some of the best in the country.
For experienced folk looking to reel in a Mangrove jack or Coral trout from land, head to the rock walls; for newbies or seasoned vets wanting to head out to sea and catch something bigger, a number of companies offer half or full-day chartered fishing tours.
21 – Watch the sunrise… on a beach… with kangaroos!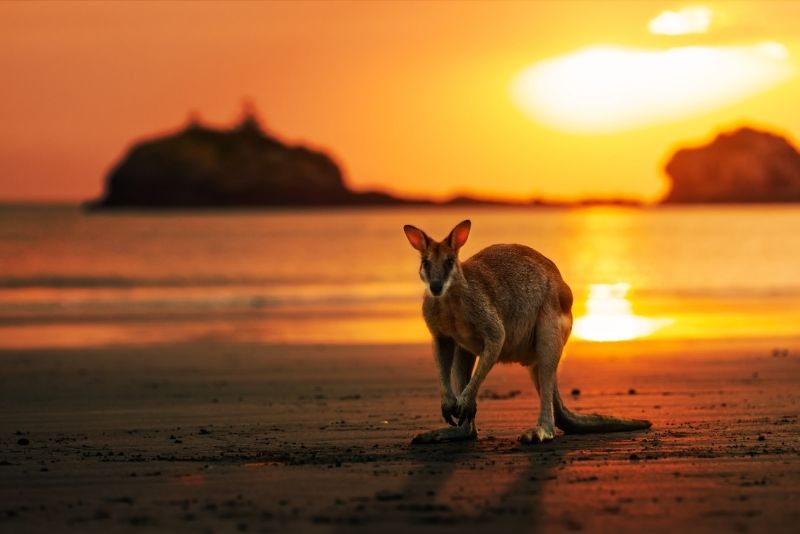 If there's anything more quintessentially Aussie than a pair of kangaroos hopping down the sandy beaches at sunrise, we're yet to find it.
For an experience guaranteed to foster lifelong memories, a sunrise beach tour at Cape Hillsborough National Park takes visitors off the beaten track into areas seldom visited by the general public.
With breakfast and a light morning tea included, it's the perfect start to any day.
22 – Sign up for a Survivor-style camping experience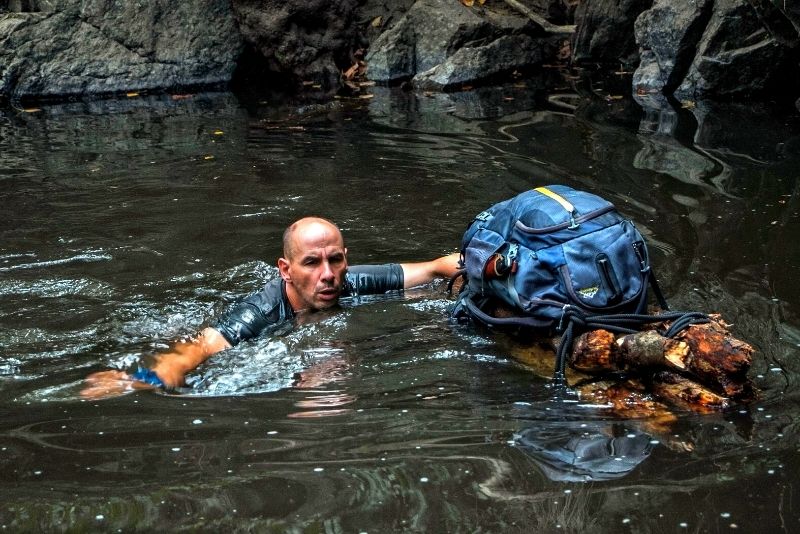 Any reality TV fans in the house? If you've always wanted to try your hand at the remote Survivor lifestyle, now's your chance!
During the multi-night camping experience, there's no shortage of thrilling activities; spend a few hours fishing, explore caves, or try sandboarding for the first time, all while learning the tricks of the survival trade.
Don't worry, there's plenty of dedicated relaxation time too.
23 – Tackle the town's streets on a roaring trike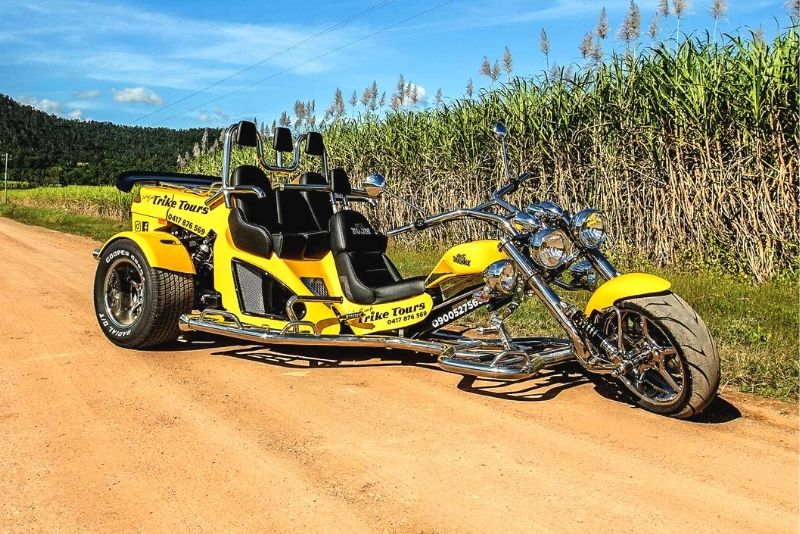 A surprisingly exhilarating twist on the traditional bike or bus tour, the Airlie Beach trike tours are always popular for solo travelers, couples, or simply visitors looking to rest their legs a little.
Depending on how much time's available, choose from trips to Hydeaway Bay Beach, Conway National Park, or just cruise around the main Airlie Beach hotspots.
24 – Grab a souvenir at the Airlie Beach markets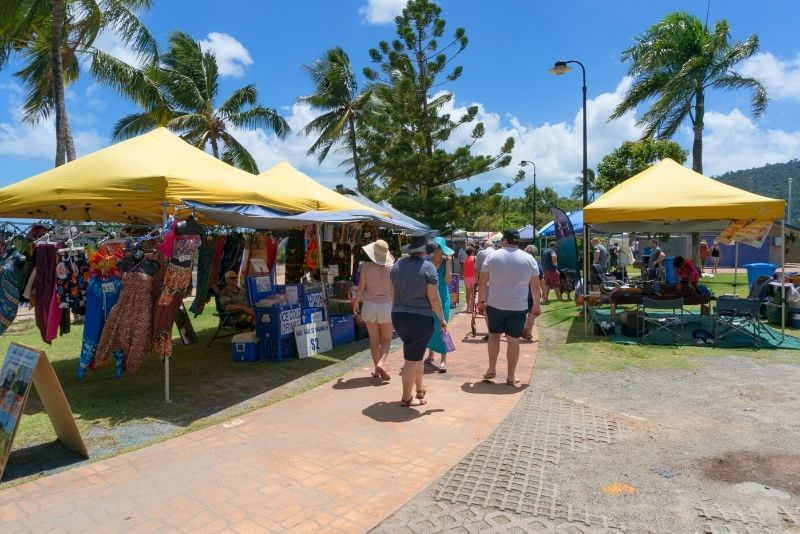 A quaint collection of pop-ups straddling the shoreline, these local markets are always a pleasant time.
Whether you're after souvenirs, a quick bite to eat, something refreshing to drink, or just a chance to meet the locals, a morning stroll through either the Whitsunday Market or Airlie Beach Market (within walking distance of one another) is more than worthwhile.
25 – Rent a stand-up paddleboard or kayak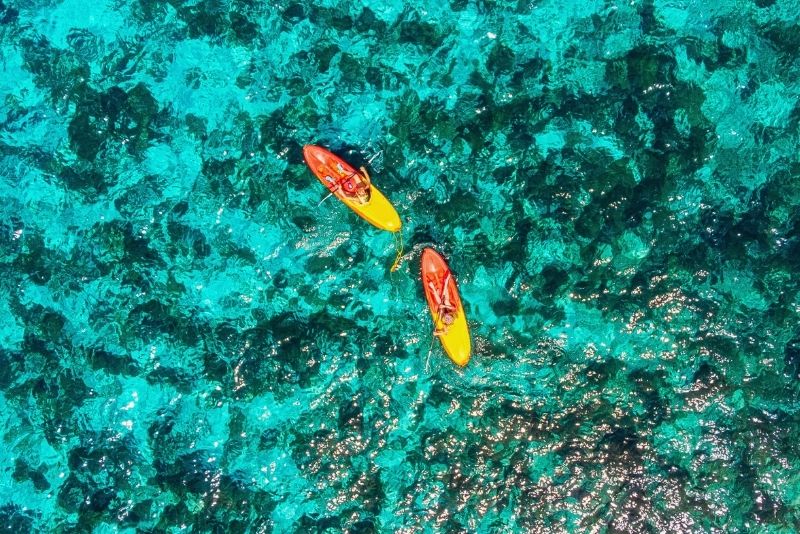 The perfect balance of relaxation and adventure, a stand-up paddleboarding experience (which is certainly more tricky than it looks!), or a quiet kayak ride alongside the sparkling Whitsundays waters is a treat for the whole family.
Whether you're looking for a guided tour/lesson or just a standard rental, the vendors at Shingley Beach and Lagoon Beach have got you covered.
26 – Cuddle a koala at Bredl's Wild Farm!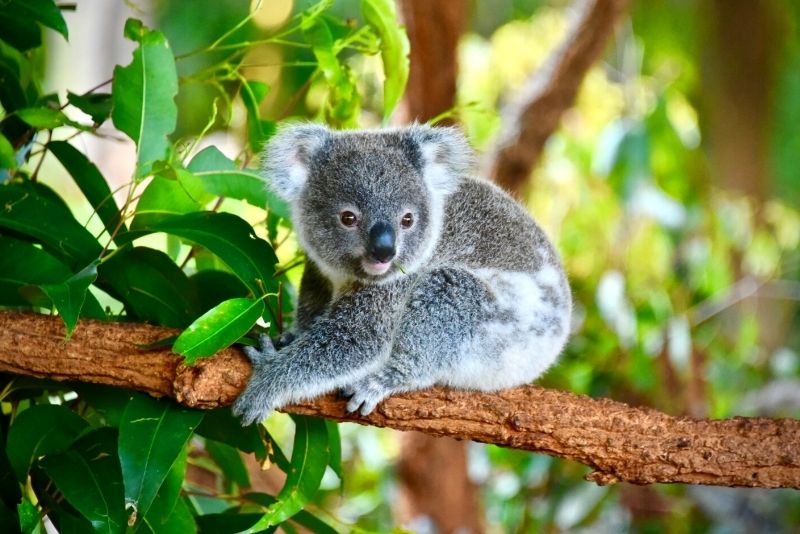 Always dreamed of cuddling a koala? What about holding a baby crocodile, petting a wombat, or feeding a kangaroo? All these incredible hands-on experiences (plus so much more) are the norm at this adored, yet wildly underrated family-run attraction.
Animal lovers, do yourselves a favor and add Bredl's Wild Farm to the top of your list of things to do in Airlie Beach!
27 – Hike, swim, and snack at Cedar Creek Falls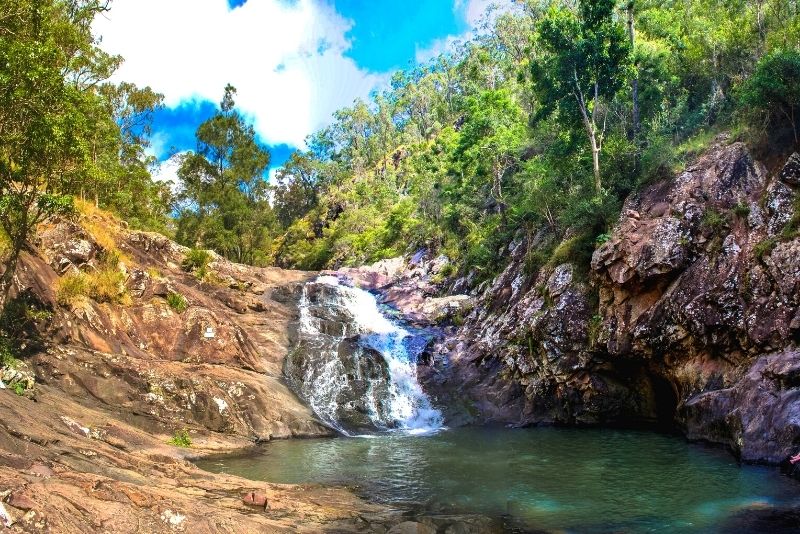 Once the bushwalk works up a bit of a sweat, the stunning Cedar Creek waterfall presents as the perfect opportunity to cool off — that, plus wonderful picnic locations and plenty of friendly wildlife make this slice of Mother Nature one of Airlie Beach's must-visit destinations.
Best of all, it's just a quick 15-minute drive from the main haunts.
28 – Play a round at the Hamilton Island Golf Club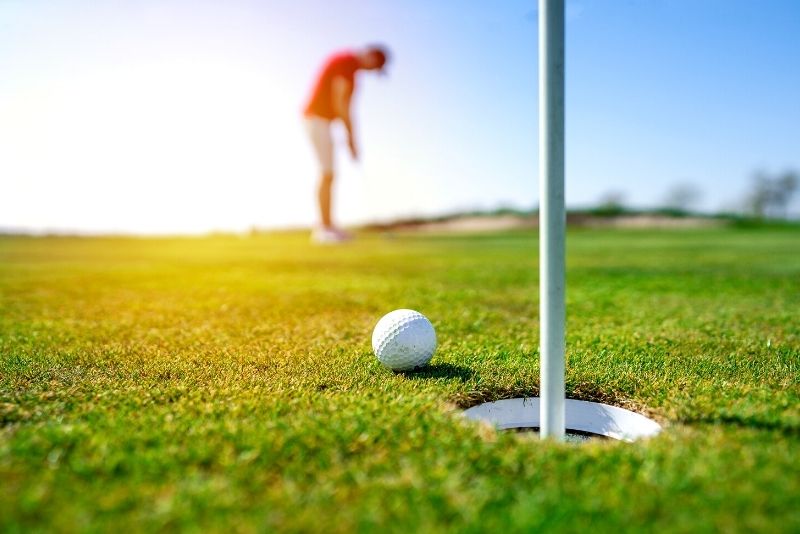 Nothing quite says 'vacation' like a day on the fairways, and there's no better place to do exactly that on the postcard-worthy Hamilton Island.
The sought-after 18 hole championship golf course claims to have "the most spectacular views and settings of any golf course in the world" — but we'll let you be the judge of that one.
29 – Tantalise the tastebuds at one of many seafood restaurants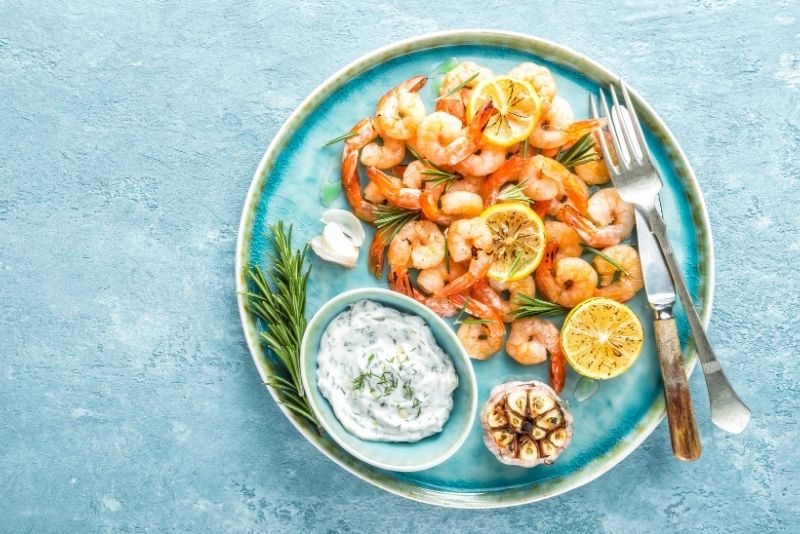 Check out Fish D'vine & The Rum Bar for any dinner and drinks combo; if you're feeling fancy, book a table at either Shuckz Oyster & Champagne Bar or Clipper; soak in the impressive waterside view at Boathouse Fishbar; or for a good old fashioned affordable plate of battered fish and chips, head straight to the Whitsunday Seafood Bar.
No matter where you end up, rarely does a meal disappoint.
30 – Spend a night on the ultra-luxurious Hayman Island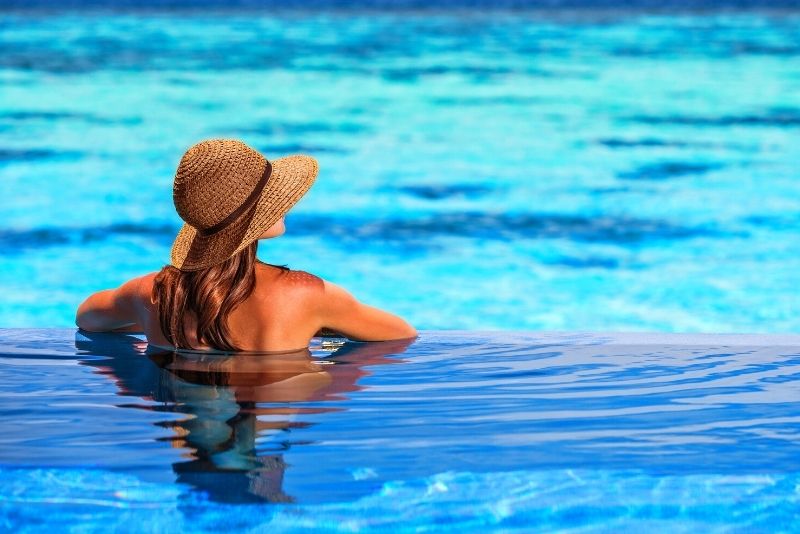 If, after hiking, diving, swimming, or partying (perhaps a little too hard) you need nothing more than a good old-fashioned pampering, then Hayman Island is the place.
Known for its unmatched luxury, the island's resort offer private villas, exclusive bungalows, and opulent touches in every room. 5-star travelers often find themselves at the beloved Intercontinental.