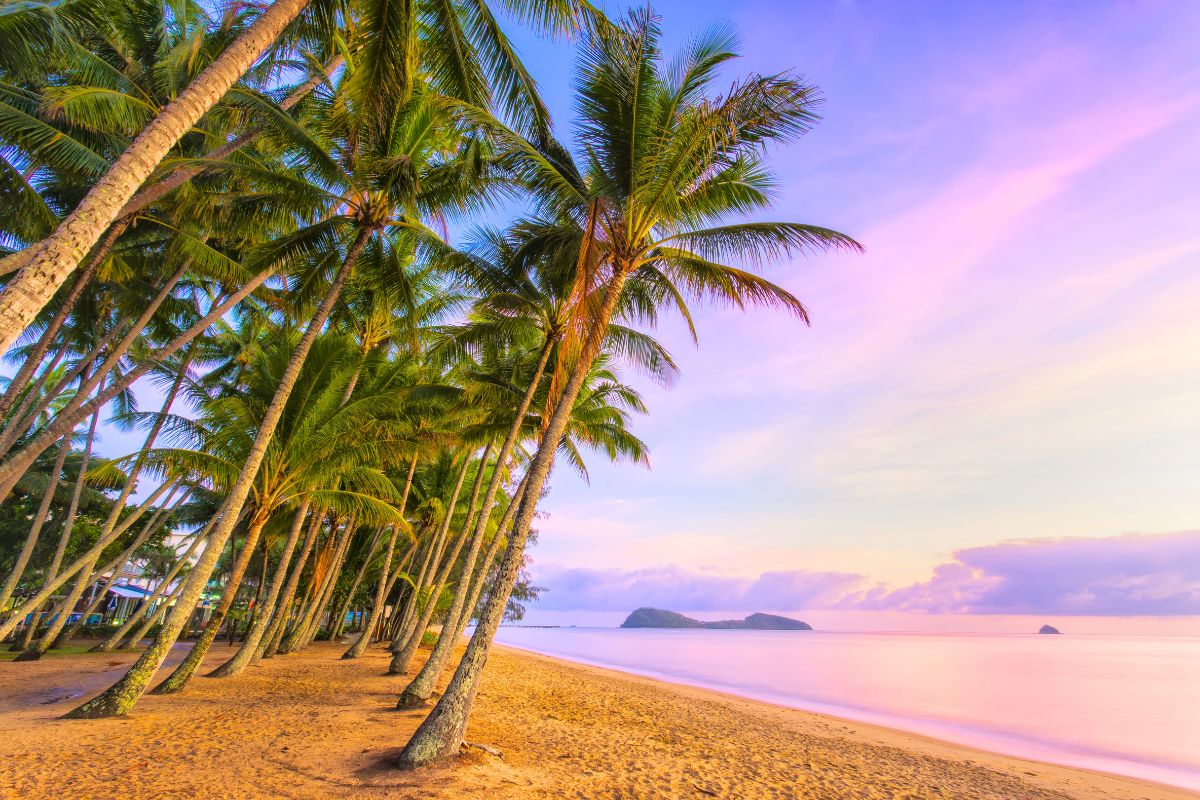 Export yourself to the tropical bliss of golden sands and the palm fringed beach of Palm Cove. Embrace the ocean breeze and warm sunshine in this idyllic coastal village.
Palm Cove can be found in the Australian region of North Queensland, north of the city of Cairns. Palm Cove itself is very small (with around 2,000 inhabitants) but it provides a charming oasis for visitors who come to disconnect from city life and get close to nature.
There are many things to do in Palm Cove for example exploring the nearby lush rainforests, seeking out some natural wildlife or venturing out onto the Great Barrier Reef to discover a whole underwater kingdom.
Palm Cove offers opportunities for deep relaxation as well as adventure packed day trips. Spend a day unwinding in a luxury spa followed by an exciting mountain bike trek through some ancient rainforests!
Palm Cove has something to offer for all tastes whether you are looking for high-flying outdoor escapades or simply soaking up the sun from the pool side.
1 – Surround yourself with wildlife at Hartley's Crocodile Adventures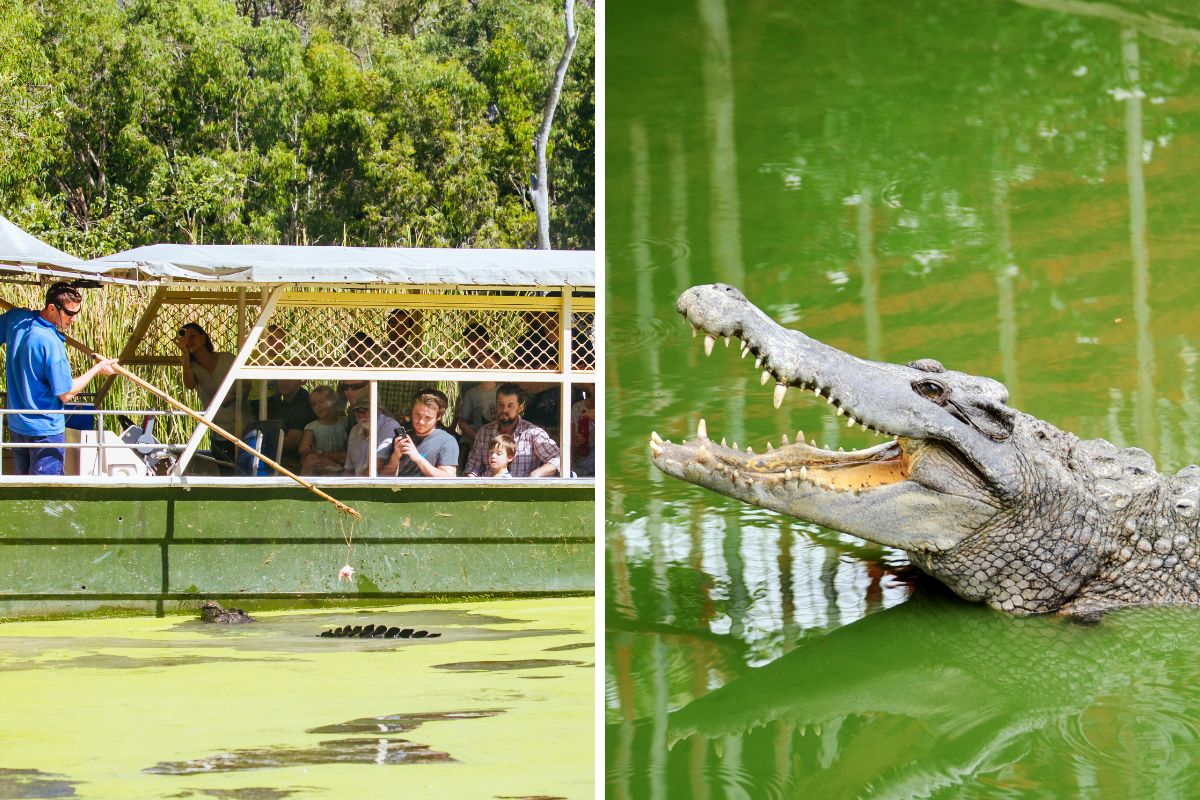 Have you ever come across a wildlife sanctuary where you can eat breakfast in the company of a koala? Koalas can consume several pounds of eucalyptus leaves daily and can sleep up to 20 hours a day!
At Hartley's Crocodile Adventures, you can make friends with these cute and fluffy animals and listen to some facts from the expert wildlife keeper.
Visitors have the opportunity to see lizards, kangaroos, and wallabies and listen to talks to learn more about crocodiles. Hartley's Crocodile Adventures are both exciting and educational for all the family!
There is also time available for visitors to explore the park area at their own leisure and enjoy the lovely views of the lagoon.
2 – Watch the sunset at the Palm Cove Jetty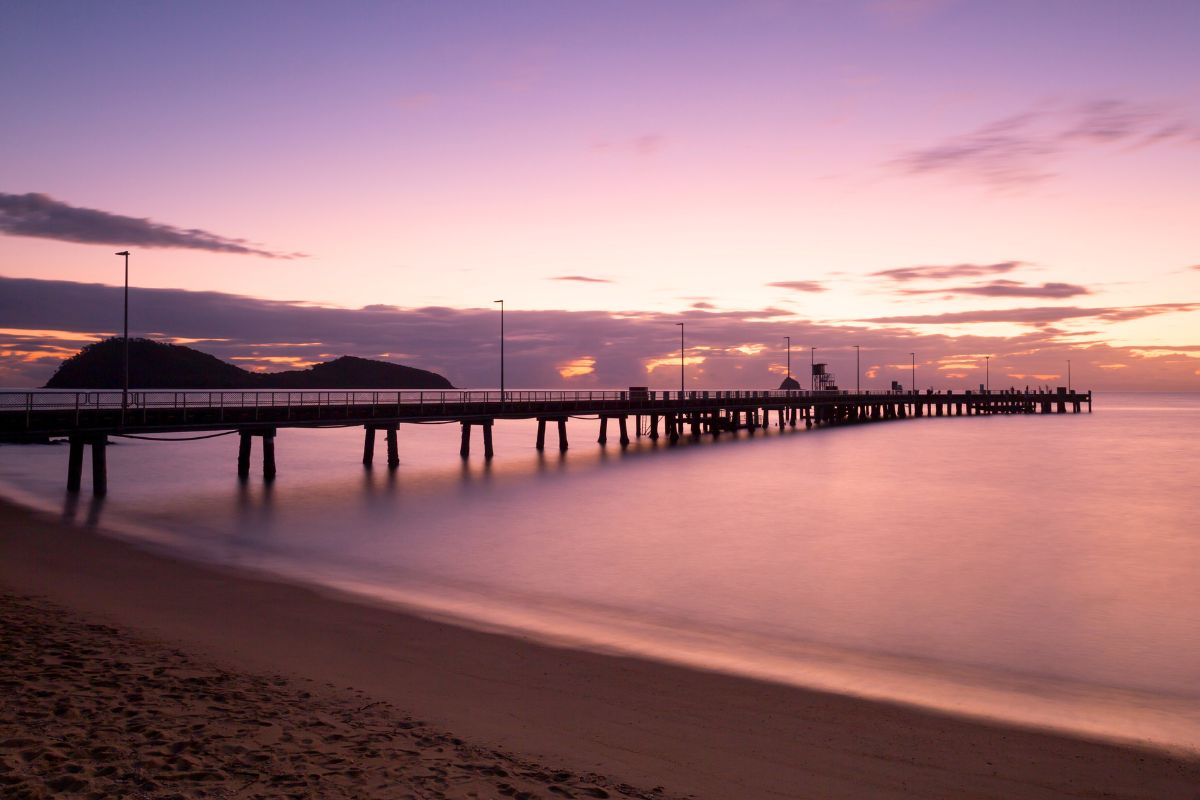 The jetty was originally built as a docking place for cruise vessels heading to the Barrier Reef during the 1980s but nowadays it is very popular among fishermen. Strolling along the jetty you can see what daily catches the locals have made!
The jetty has become a hub for fishing aficionados, where they exchange stories, techniques, and tips, creating a vibrant and friendly atmosphere.
The most common fish is a tasty mackerel! Fishermen have been known to catch some seriously large fish and in 2016 a boy even managed to catch a 3m long shark!
The jetty is 40 meters long and so very pleasant for a short walk and to take in the sea views.
3 – Immerse yourself in the rainforest with the Atherton Tablelands Waterfalls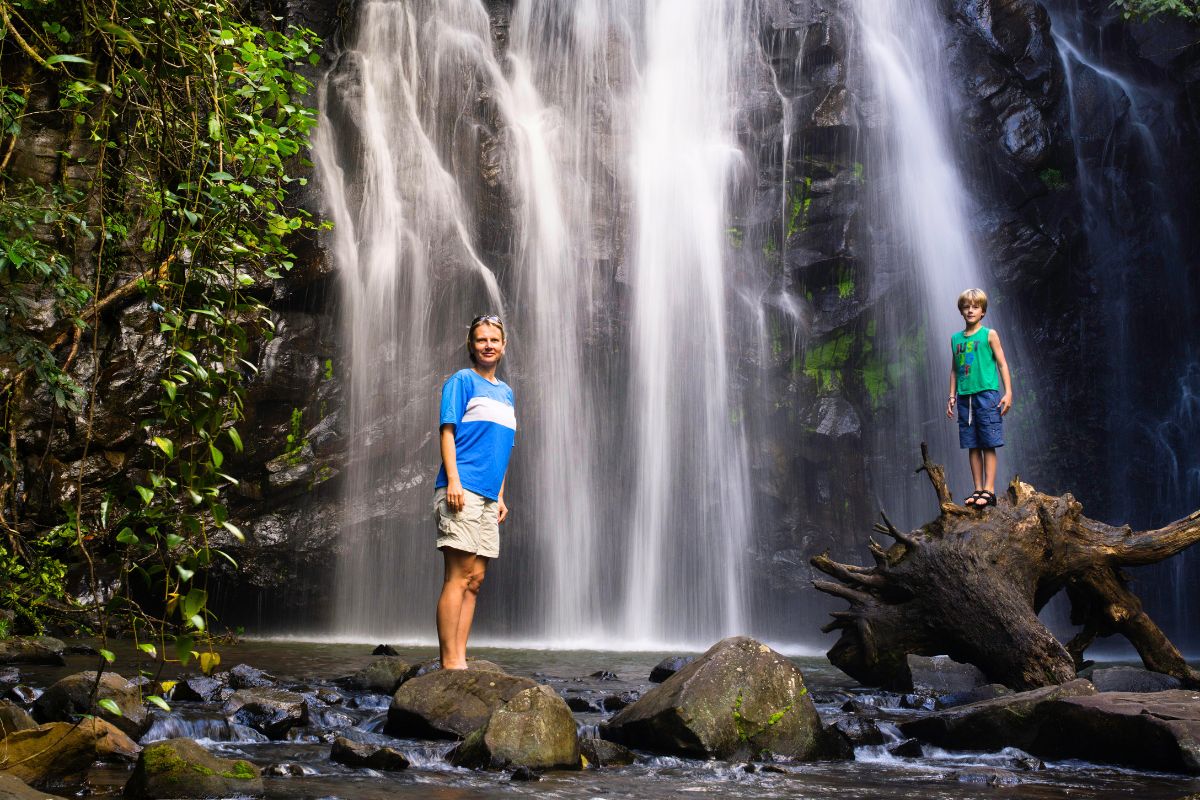 North Queensland has many natural wonders such as lush tropical rainforests waiting to be explored. Inside the exotic rainforests, visitors can sometimes see a great selection of wildlife for example cassowary, platypus, and tree-kangaroos!
For those who have never heard of a cassowary, it is a type of flightless bird native to North Queensland. Cassowaries are one of the largest bird species in the world, reaching up to 1.8 meters in height! They are considered a vulnerable species so spotting one is a remarkable experience!
The Atherton Tablelands has five stunning waterfalls and there is a Waterfall circuit visitors can follow around.
One of the famous waterfalls is the stunning Millaa Millaa Falls which flows into a large refreshing pool which is a popular swimming spot great. Cool down in the natural waters and take in the impressive rocks and the greenery of the ferns and twisting vine trees.
Elinjaa Falls is another top waterfall to look out for with water plunging over its lava column rock formations. The water divides into multiple streams as it cascades down providing some breathtaking photos!
4 – Bask in the sun and sand at Palm Cove Beach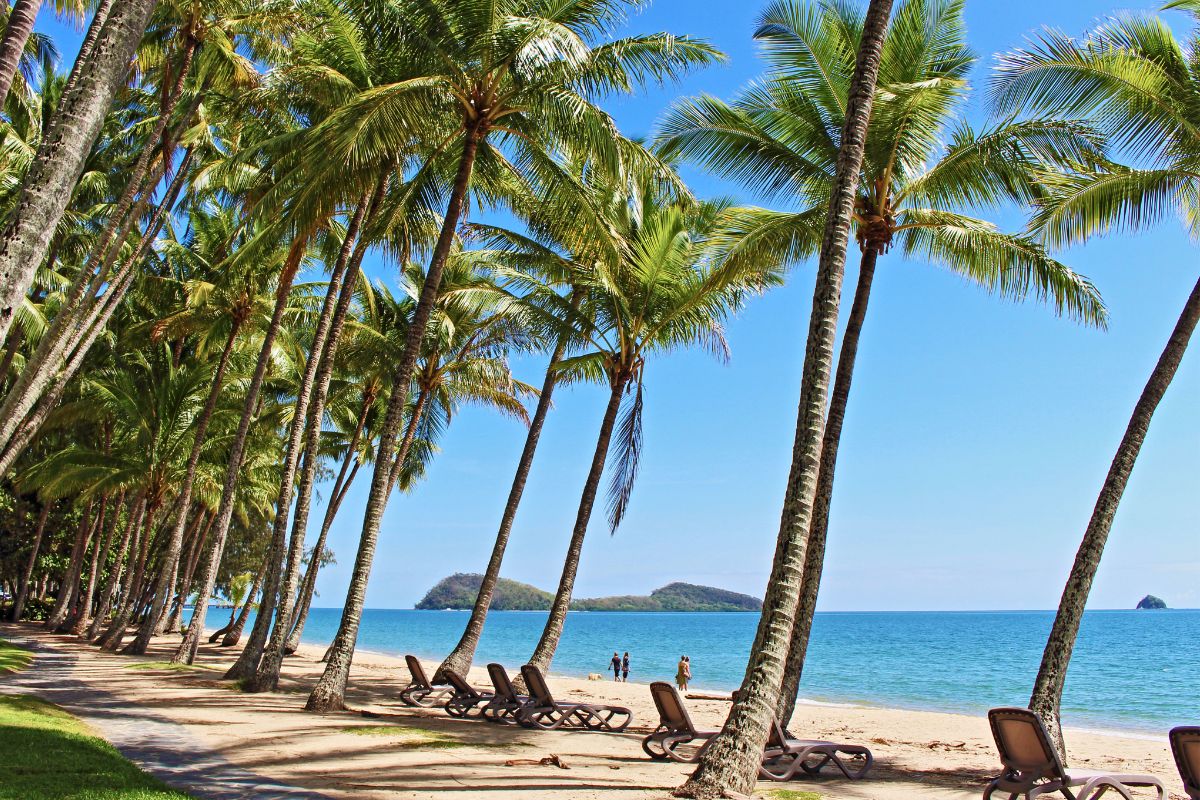 As the name suggests, Palm Cove is lined with lots of gentle swaying palms and 5 00-year-old melaleuca trees and the crystal clear waters make the beach a popular spot for weddings and ceremonies. Palm Cove is often described as a tropical paradise with its calm waves softly lapping on the shore.
The beach itself is 1.5 kilometers in length with lots of lifeguards on patrol to ensure swimmers' safety. It should be mentioned that visitors should keep an eye open to avoid jellyfish which can sometimes be a nuisance.
Next to the beach, there is a pleasant esplanade with some boutique shops, restaurants, and art galleries.
Water sports enthusiasts will love trying out parasailing or renting a jet ski on the beach. Stand-up paddle boarding has become a very trendy past-time on Palm Cove Beach. Early in the morning and at sunset it is possible to see many paddle boarders gliding across the serene waters.
5 – Browse the handicrafts of the Palm Cove Markets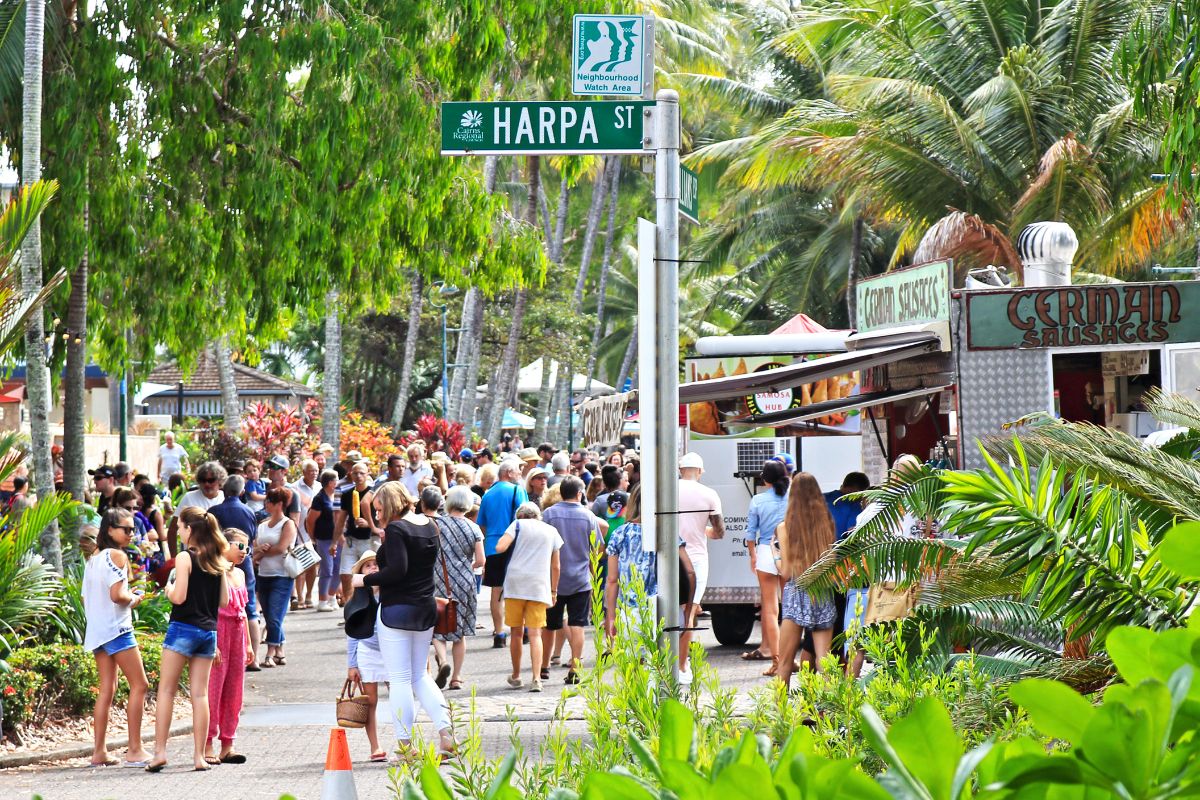 Several times during the year it is possible to come across the amazing Palm Cove Markets! The markets are full of handmade quality arts and crafts for example bespoke jewelry, clothing and home accessories.
There are stalls also showcasing local produce, including colorful fresh fruits, vegetables, gourmet foods, and regional delicacies.
The markets take place along Williams Esplanade, the main beachfront street so market goers can enjoy the gentle sea breeze and the picturesque sea views in the background.
A festive ambiance is created with the addition of lively street performers and the occasional live music band. The markets often offer family-friendly activities such as face painting or bouncy castles.
The markets attract both tourists and locals who come to sample some tasty local foods and browse for gifts. The markets provide a great platform for local businesses and artisans to showcase their products to the public.
6 – Explore the exotic haven of Double Island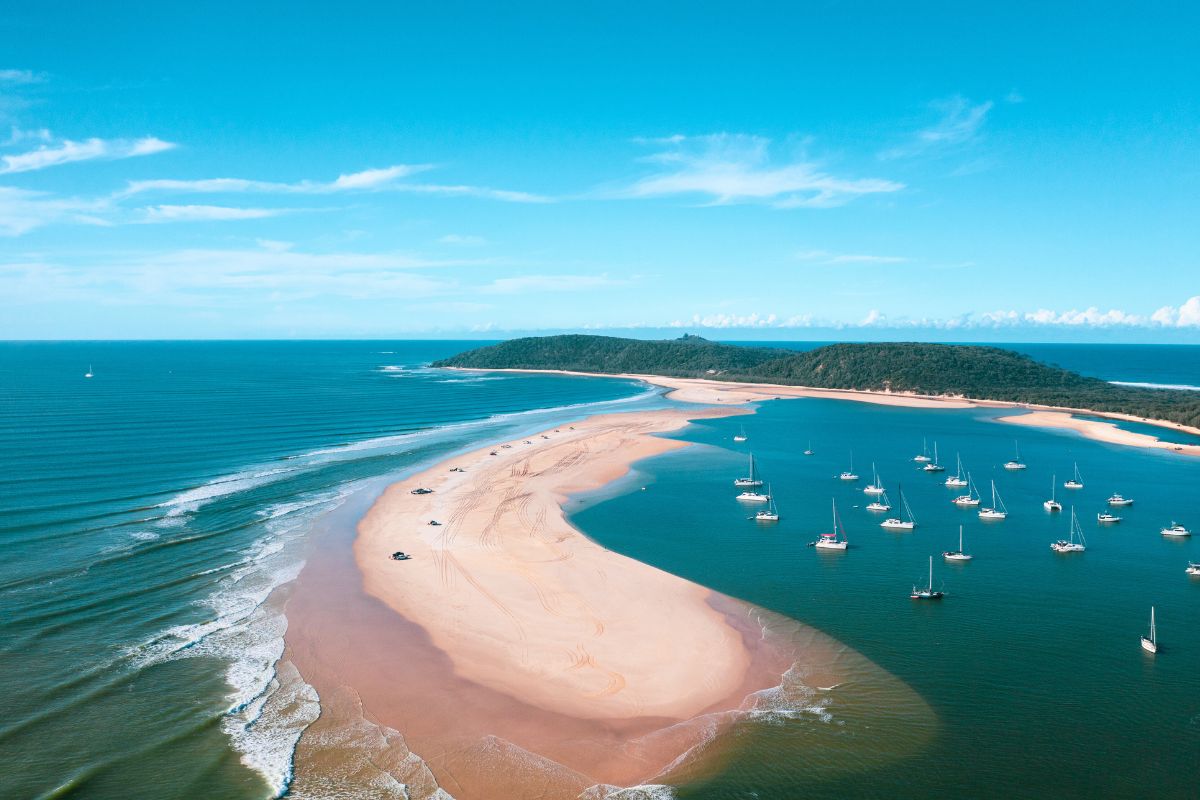 From Palm Cove beach it is possible to take a kayaking tour across the waters to Double Island. Double Island is situated approximately 1.5 kilometers off the coast so its a perfect distance to cover in a kayak. Admire the secluded coves and natural rocky outcrops of the island.
Experience some coral reefs from the kayak and look out for turtles and small rays. An experienced guide will know the best secret spots for turtle spotting and can point out some interesting fish.
It has been known even to encounter dolphins and whales whilst kayaking! The most common types of whales that frequent the waters of Palm Code include humpback whales and dwarf minke whales.
Kayaking tours are suitable for both adults and children so a great excursion for some family bonding.
7 – Luxuriate and unwind in some of Palm Cove's best spas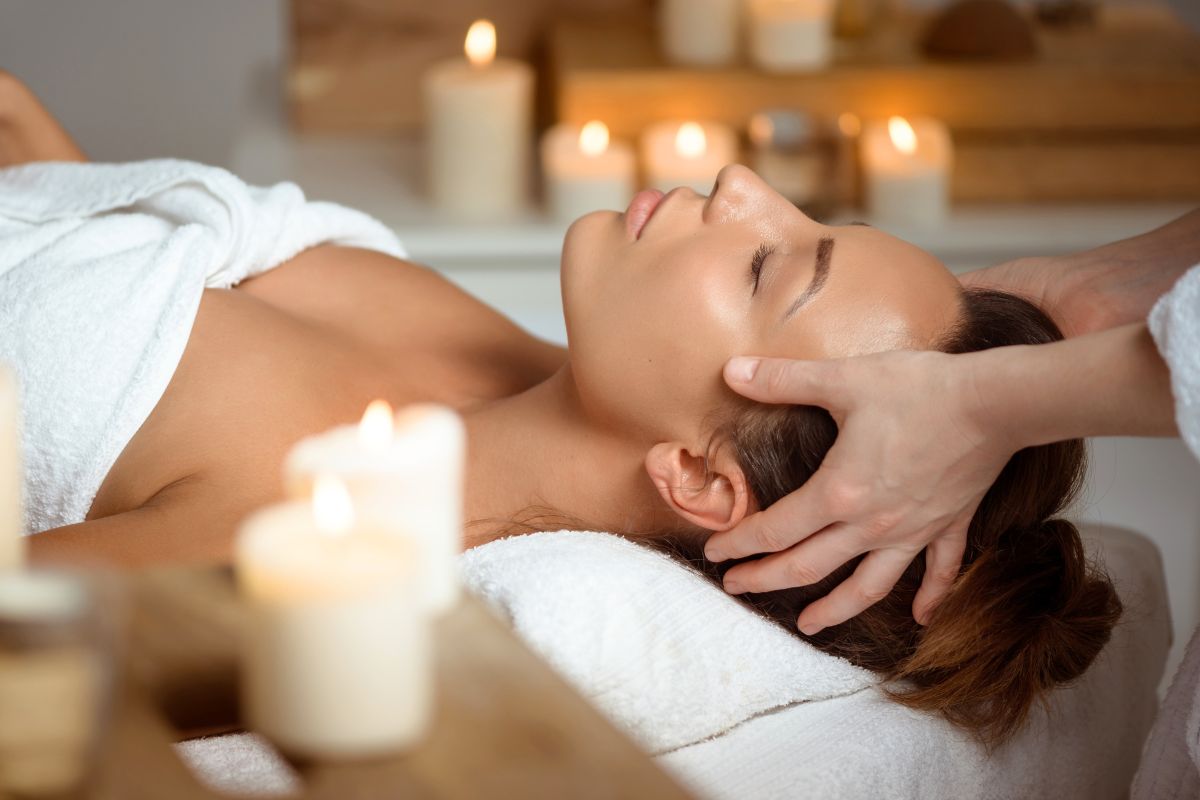 Taking some time out for a spa treatment to focus on your inner well being is a great choice when on holiday in Palm Cove. Prioritize your well-being and help to revitalize your body to feel like new!
The Soul Escapes Wellness Sanctuary is an award winning boutique sanctuary with views overlooking the coral reef. They offer various couple packages if you are looking to spend quality time with your other half or lots of individual treatments such as healing or deep tissue massages.
Vie Spa Palm Cove is located on the beachfront and offers visitors luxurious treatments with experienced professional spa therapists. They provide different healing facials to really cleanse and rejuvenate your skin for example deep cell hydrations and organic probiotic facials. Luxuriate yourself with their nourishing polish, buff and scrub therapies or let go and unwind with a waterlily, green tree and camomile full body wrap.
Situated right next to the sea, the Alamanda Day Spa by Lancemore is the perfect spot to pamper your body, mind and spirit. They offer elaborate detoxifying treatments such as a Blueberry body peel or a creamy Mando body enzyme wrap. Allow yourself to let go whether you are looking for a soothing massage or a skin cleansing exfoliation. They also provide many special 'Mother to be' treatments for those who are expecting.
The Reef House Spa is another award winning and celebrated wellness centre located on the beachfront. They pride themselves on offering special marine skin care treatments. Treat yourself to one of their incredible Ocean Spa rituals consisting of salt crystal exfoliation, full body hydration and a sea breeze marine facial. A visit to the Reef House Spa will definitely leave you feeling radiant, fresh and restored.
8 – Take to the golf course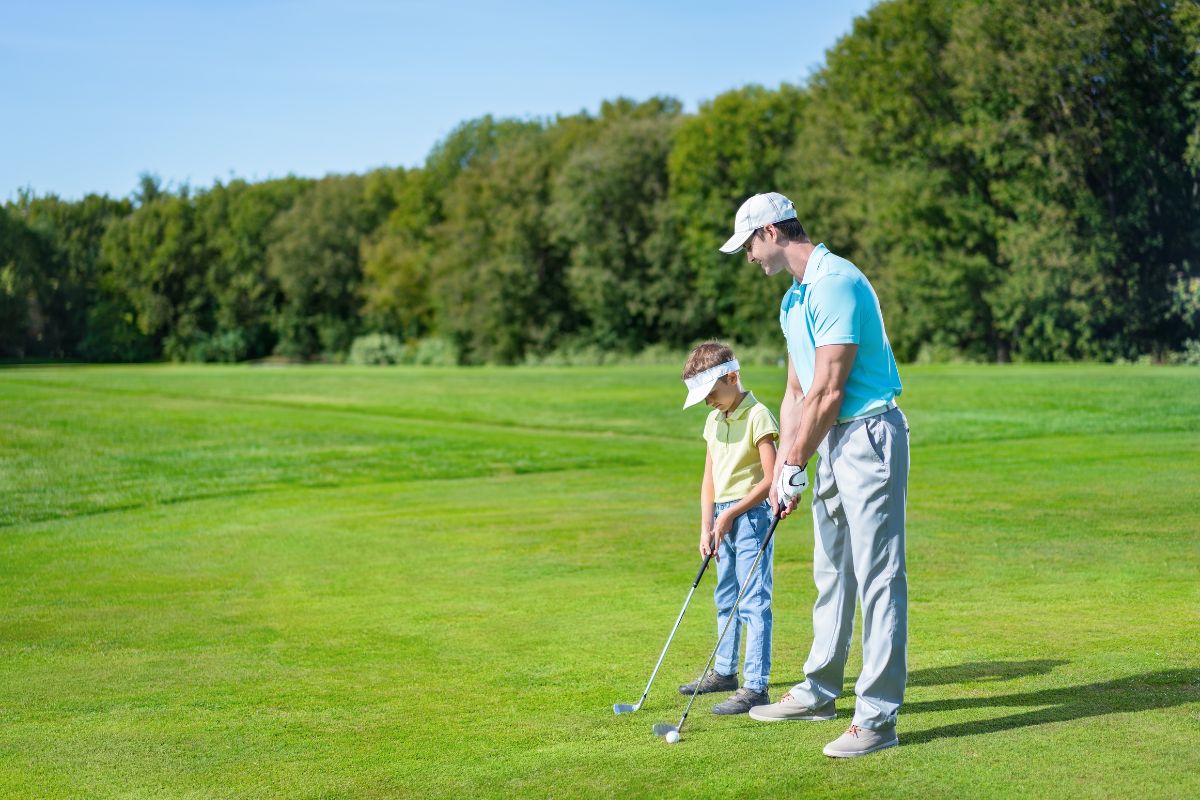 Palm Cove enjoys a fantastic 18 hole golf course which is very picturesque combining some sea and distant mountains. The championship course spans over 6,020 meters providing ample space for keen golfers.
The Palm Cove Golf Course can be enjoyed by golf players of all skill levels. The course also offers a good challenge for experienced golf players with some large sand bunkers and water hazards that require skilled navigation.
In addition, the club has a practice area with a driving range and some putting greens. Golf players can relax and socialize after a game at the Club house bar and restaurant.
9 – Broaden your knowledge of marine life at the Cairns Aquarium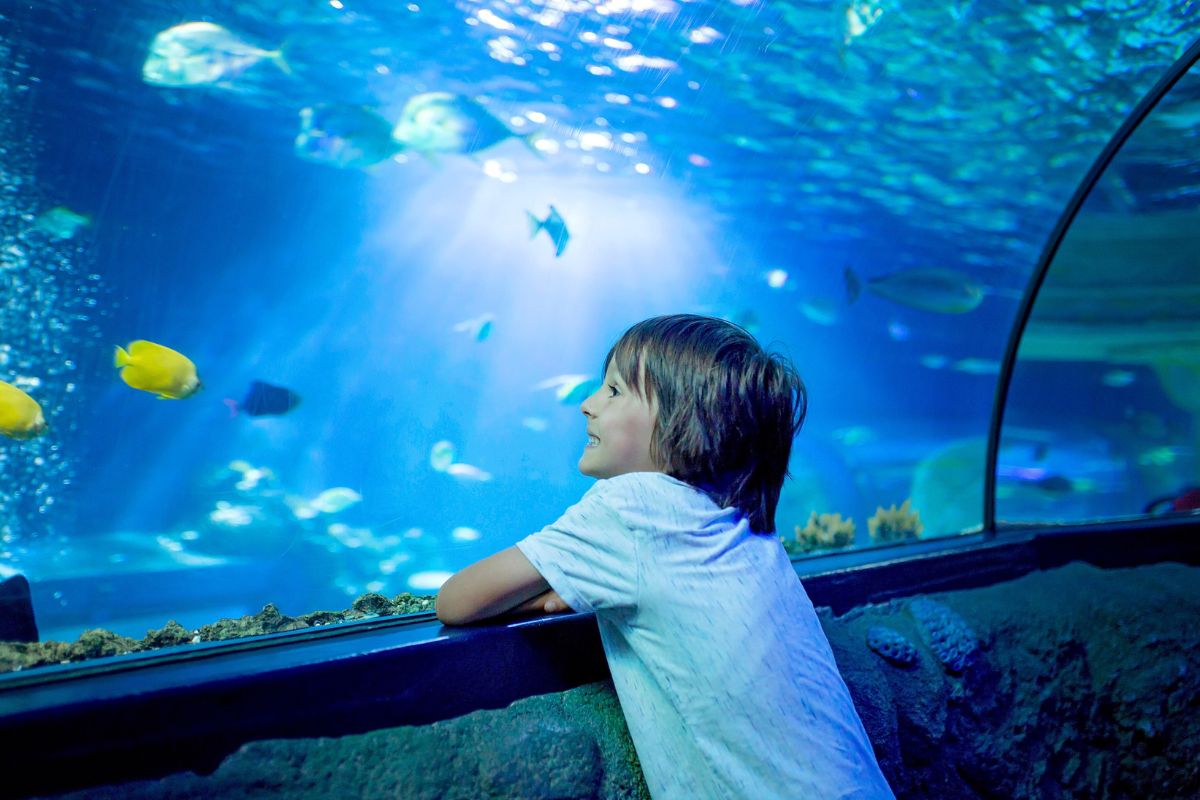 Wander around the different exhibits which include sections on the Great Barrier Reef, River Monsters, Reptiles, and the Tropical Rainforest.
The highlight of the Cairns Aquarium is its Great Barrier Reef exhibit where visitors can learn more about colorful coral formations, tropical fish, rays, sharks, and turtles.
The perfect place to swat up and learn about what the Barrier Reef has to offer before embarking on a diving or snorkeling excursion!
Assist one of the daily fish feedings or listen to one of the talks conducted by knowledgeable staff members. A visit to the Cairns Aquarium is both educational and entertaining with over 16,000 animals to observe you definitely will learn something new.
The experience is also truly immersive and engaging with a 360-degree Oceanarium and the 20m underwater tunnel providing some epic photos and memories.
10 – Try out a yoga class on the beach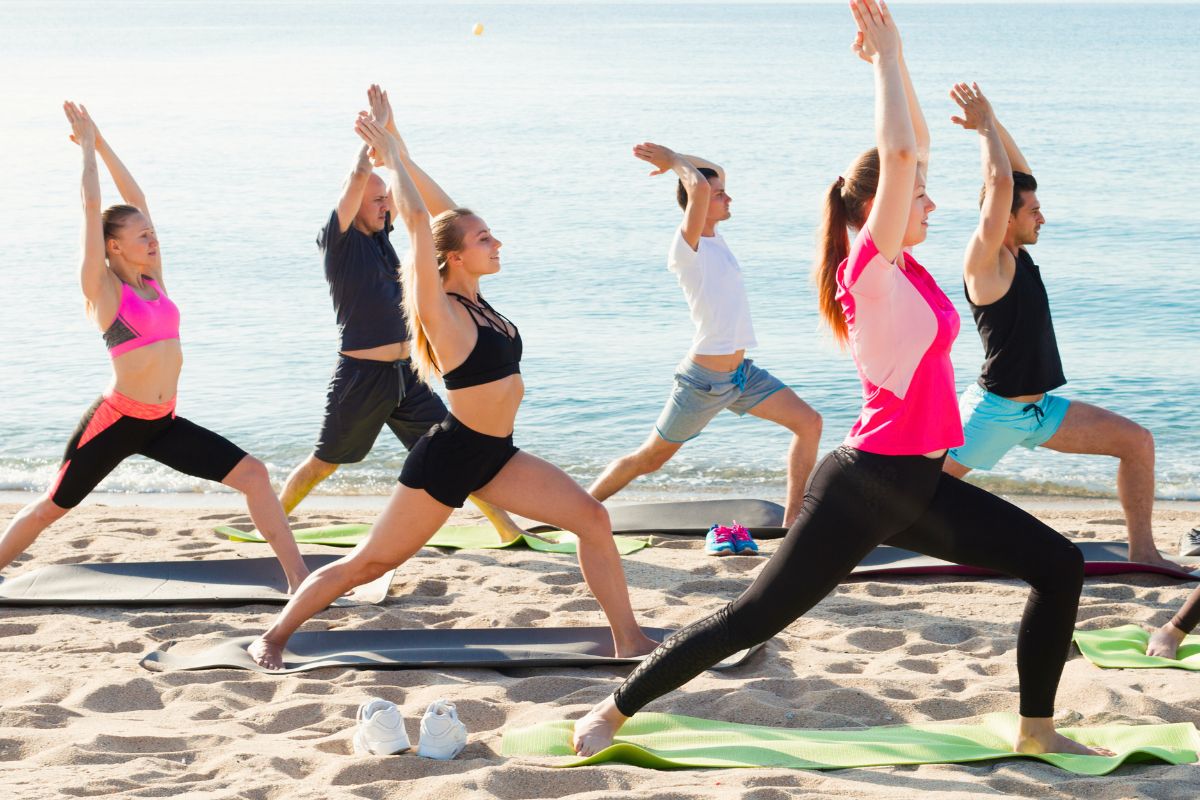 The laid-back vibes of Palm Cove give the perfect ambiance to reconnect with the body through some yoga asanas.
At the southern end of the esplanade in Palm Cove you can find Hartig Yoga, offering classes or retreat packages outdoors under the shaded palms of Palm Cove. Appreciate your own movement and breathe as you listen to the sound of the waves and the tropical birds singing.
Another option for yoga practice is Palm Cove Yoga, a small intimate studio within close walking distance from Palm Cove beachfront, offering both private and group classes. Get on the mat and improve your strength and flexibility.
11 – Race through rainforest trails on a mountain bike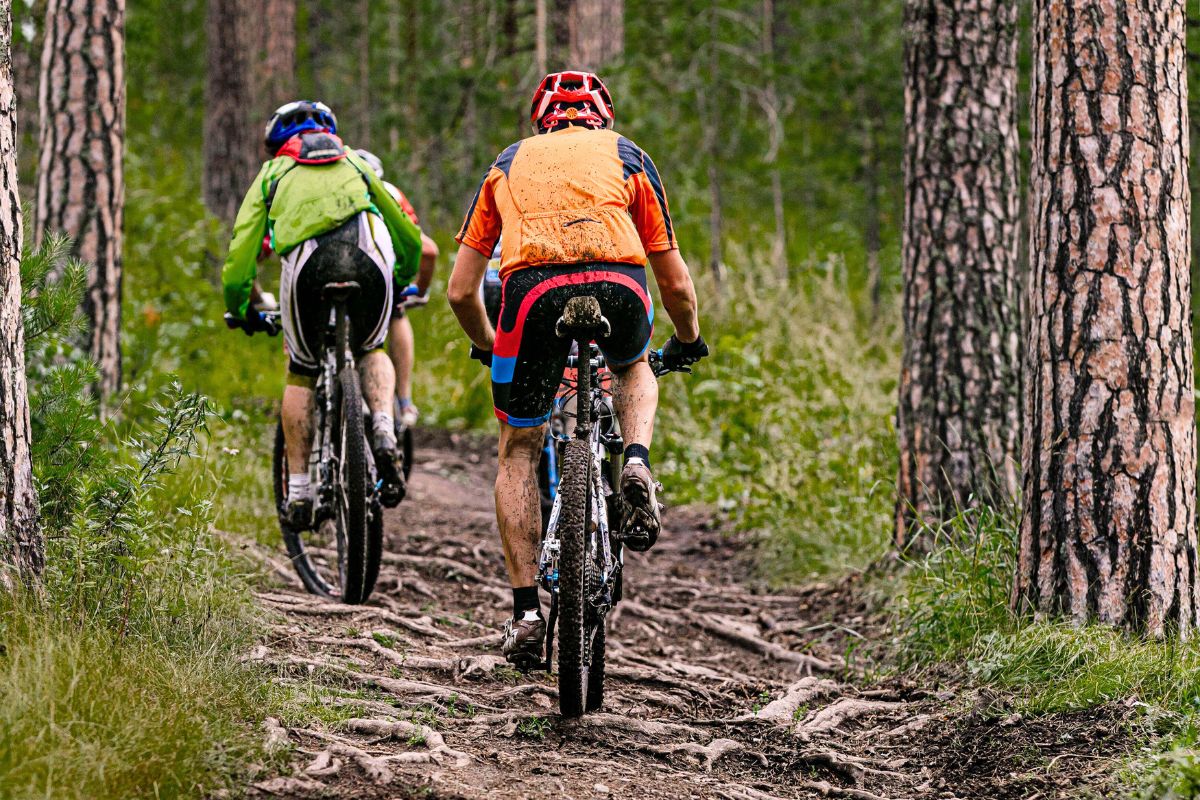 Mountain bikers won't want to miss out on racing through the legendary Smithfield bike trail that crosses through the rainforest. The trails pass through open woodlands and rocky terrains providing an intense and exciting biking experience.
Smithfield is Australia's oldest mountain-bike park and over the years it has played host to many top world biking tours and championships. The trails are categorized into different difficulty levels, including green (easy), blue (intermediate), black (difficult), and double black (expert)!
Whilst hurtling through kilometers of bike tracks make sure to take a moment to look out for beautiful wild birds such as parrots and lorikeets and butterflies fluttering in and out of the vegetation. You may also encounter some lizards or geckos during your snack breaks.
12 – Feed the birds at Kuranda Birdworld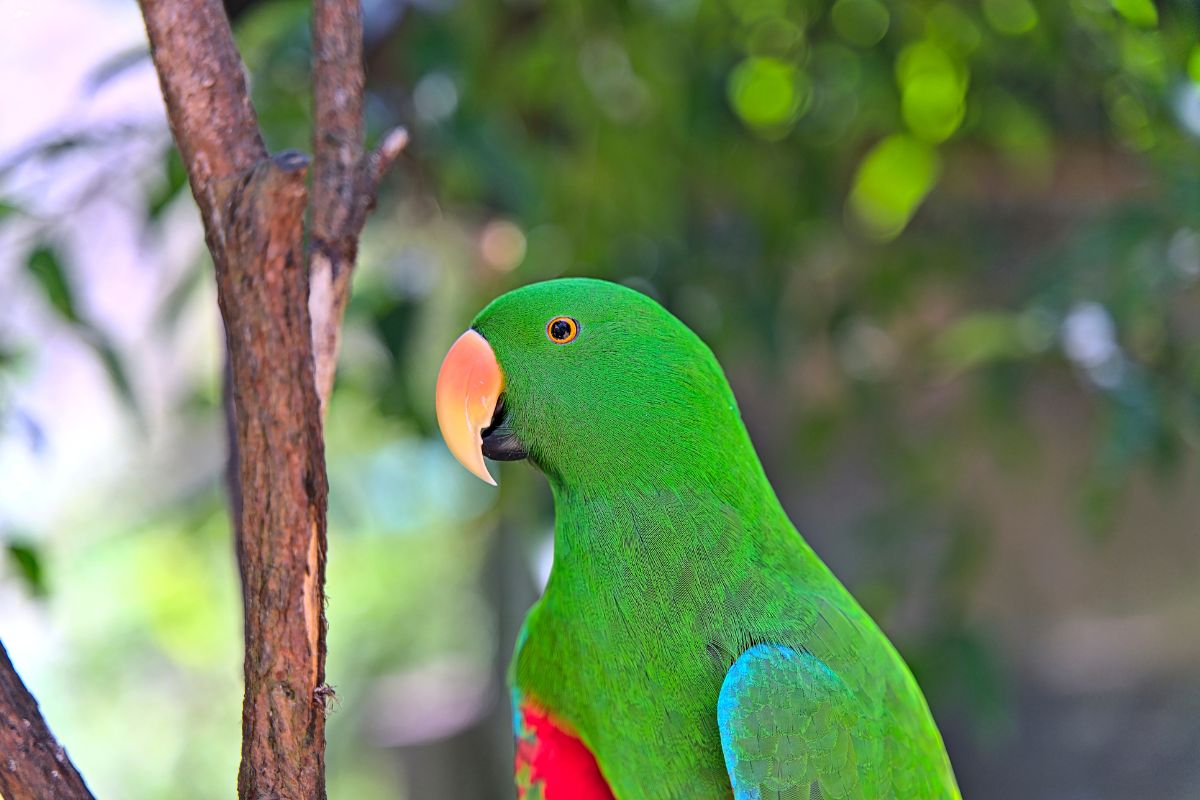 Kuranda Birdworld is a unique opportunity to get to see up to 60 different bird species including some rare and endangered species. The birds live and fly around freely in their natural rainforest habitat with pretty water features.
You may even get the chance to hand feed the birds and get up real close for some outstanding photos. The birds are friendly and curious and have been known to perch on visitors shoulders!
Take a visit to the Kuranda Koala Gardens to see more adorable koalas. The place is also home to a lot of other wildlife species so visitors will also get to see kangaroos, wallabies, crocodiles, wombats and monitor lizards.
It is difficult to see wombats in the wild, so a trip to Kuranda Koala Gardens can bring you closer to these shy marsupials. Wombats are mainly nocturnal and enjoy burrowing into the earth.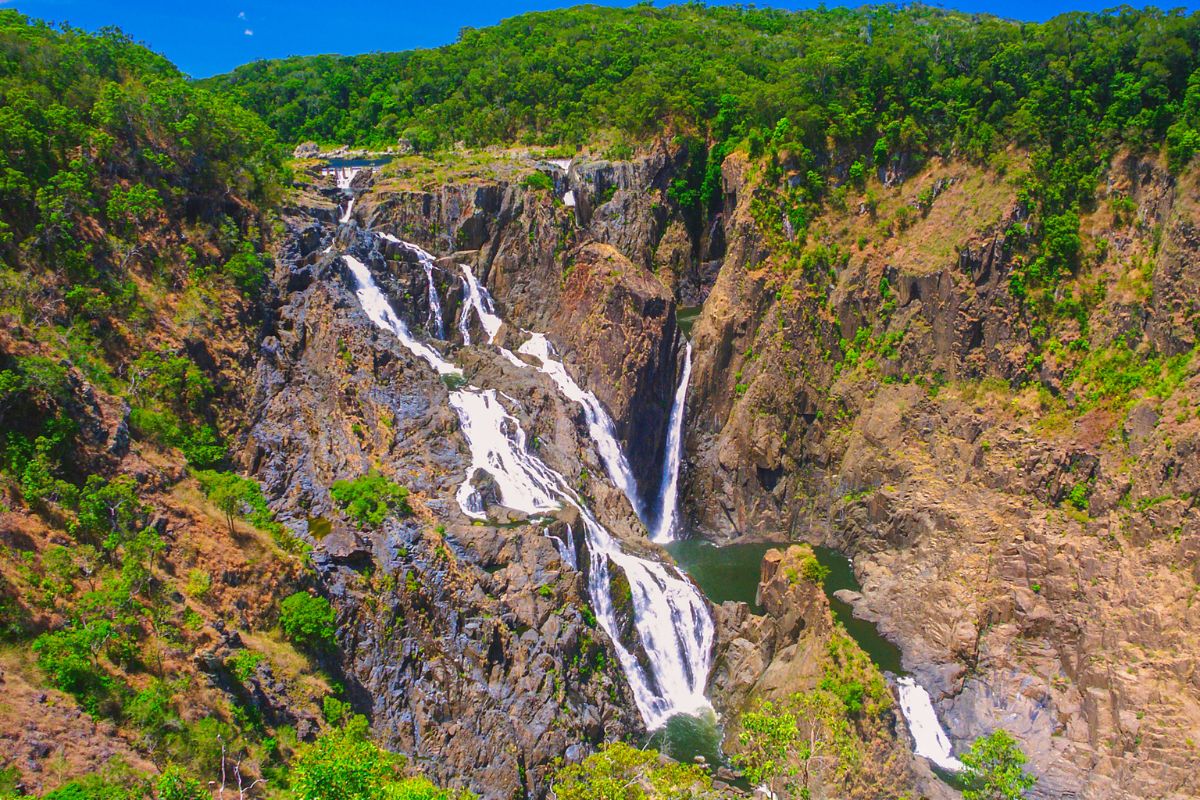 Located in Kuranda we can also find the Barron Falls, a steep and picturesque waterfall. The traditional ancestral name for the Barron Falls is 'Din Din' deriving from the indigenous Djabugandji Bama people who originally inhabited the area.
During the wet season the waters of the cascade flow in full force which makes the spectacle even more awe-inspiring.
A Skyrail Rainforest Cableway offers a good vista of the Barron Falls and the rainforest canopy below. Additionally, the Kuranda Scenic Railway permits visitors to observe the falls from inside a train.
For those who want to admire the natural force of the waterfall on foot, there are also some walking trails such as the Barron Falls Lookout Track which allow visitors to get a good viewpoint.
13 – Cruise around the Great Barrier Reef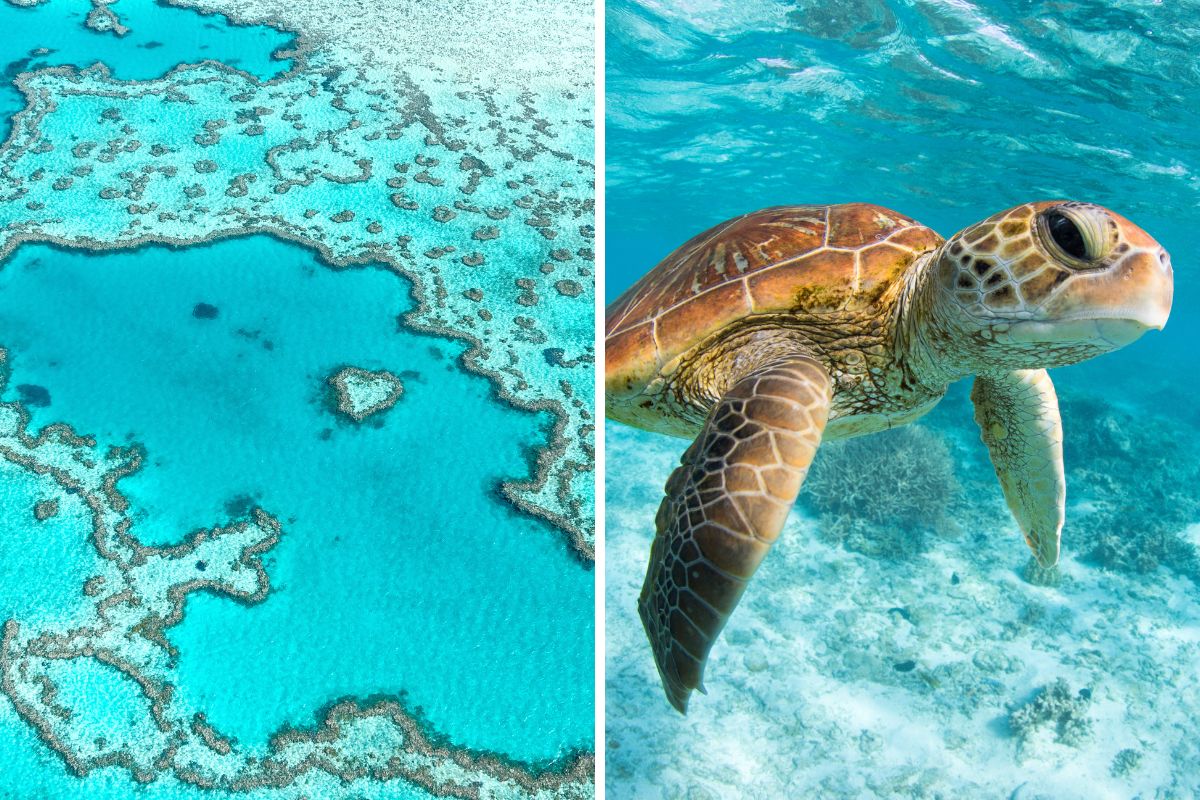 Take a day-trip cruise to experience the epic Great Barrier Reef! The Great Barrier Reef is a UNESCO World Heritage site and it is estimated that there are around 1,500 species of fish and 600 different coral types.
The Great Barrier Reef is the largest coral reef system on Earth and covers an area of approximately 344,400 square kilometers which is roughly the same size of Italy or Japan! When you think about it, it can be quite hard to get your head around its sheer size!
The cruise boats will take you to some of the top snorkeling and diving locations for example the Saxon or the Norman Reef. With an average depth of around 10 to 15 meters, Saxon Reef is suitable for both beginners and experienced snorkelers and divers. The Norman Reef offers some hidden caves and swim throughs for divers.
Get to know the crew and ask questions about the marine life and the Barrier ecosystems. Enjoy a plentiful lunch onboard surrounded by the beauty of the ocean before diving back into the waters to continue exploring the sea life diversity.
14 – Hop on a boat to take you the tropical dreamland Green Island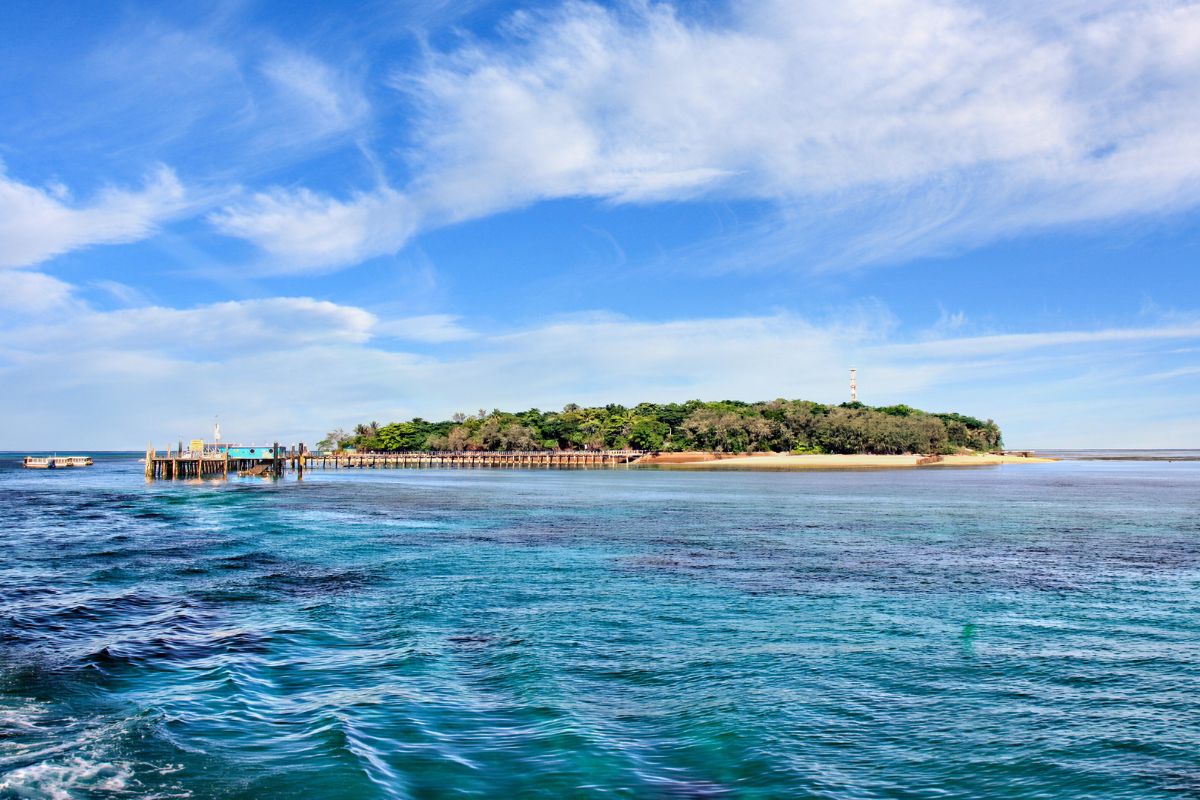 Green island is called a 'coral cay' which is a term used to describe an island formed by the accumulation of calcium carbonate skeletons of corals over a long period of time!
A short 1 hour boat ride away from Cairns, The Green Island is part of the Great Barrier Reef Heritage area. It was classified as a National Park in 1937 and is home to some precious wildlife and marine life.
There are many glass-bottom boat tours operating that take visitors to the island to admire the vibrant corals. Many visitors head to Green Island for the great snorkeling and scuba diving opportunities with the goal of seeing some hard and soft coral, green turtles or even some blue spotted sting rays.
In the interior of Green Island, visitors can find a small tropical rainforest with some walking trails for those who are keen to stretch out their legs on dry land.
15 – Stay overnight in the Thala Beach Nature Reserve
Located on the headland between Cairns and Port Douglas, Thala Beach Nature Reserve is a family owned wildlife park. The reserve offers accommodation for guests consisting of 83 eco designed timber bungalows within the forest canopy.
The place has its own private beach and a 650 tree coconut plantation. Guests can spend time taking a dip in the exotic freeform rock swimming pools with waterfall features.
Guests can opt to spend their stay doing bird watching or wildlife trails as well as relaxing in the heart of such a natural harmonious setting. The Reserve is a romantic setting for doing some stargazing. The Reserve is a member of the 'National Geographic Unique Lodges of the World.'
16 – Select a boat tour from Cairns or Port Douglas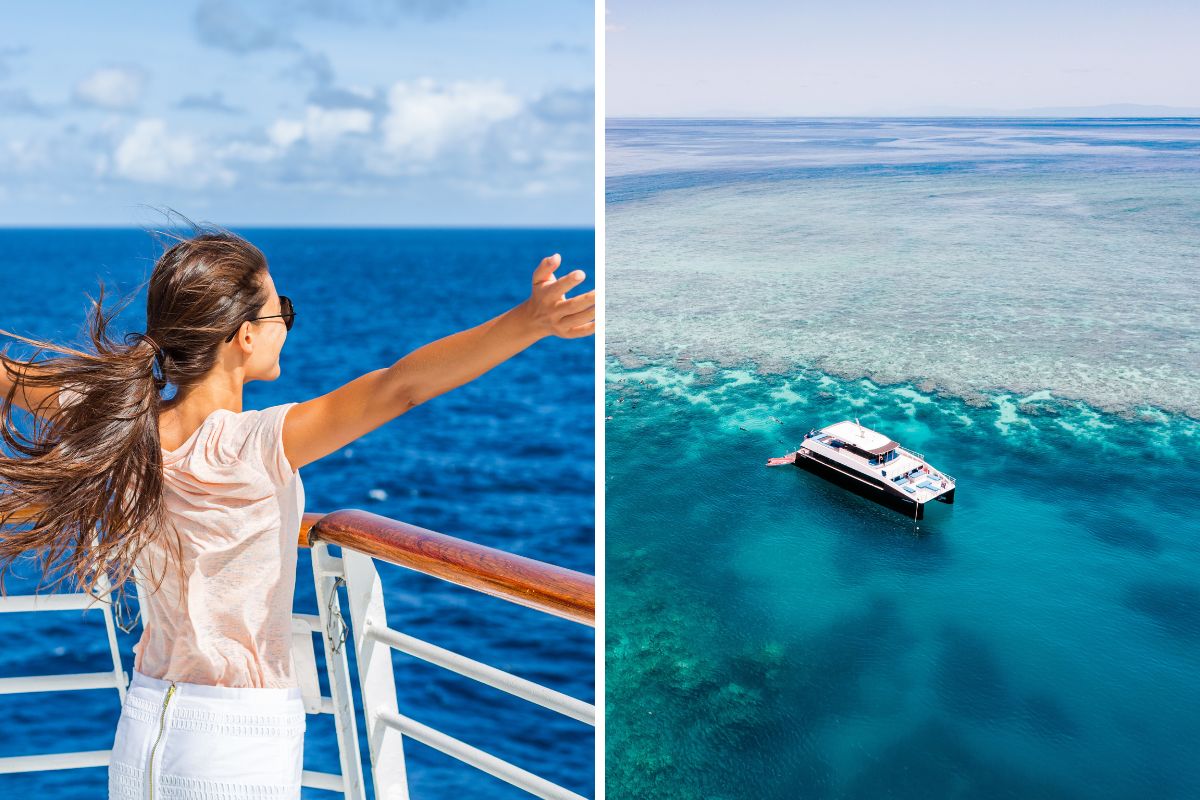 A boat tour exploring the Great barrier reef often features in many travelers' top bucket list experiences. There are many day trips that set sail from Cairns in different types of boats ranging from 35 meter super yachts, to premium catamarans to elegant 16 meter sailing boats.
There are also boat trips setting off from Port Douglas, a 40 minute car drive away to the north of Palm Cove. Boats from Port Douglas will take visitors out to experience the Outer Great Barrier Reef for example sites like the Agincourt Reef which has spectacular visibility.
There are other tours available setting sail from Port Douglas that visit the Low Island of the Barrier Reef. On Low island there is a historical lighthouse dating that has been in operation since 1878 and was used to guide ships traveling across the Barrier Reef.
Low Island also has a local weather data collection centre and is often a site used for conservation projects.
17 – Snap incredible photographs of mushrooms at the Cairns Botanical Gardens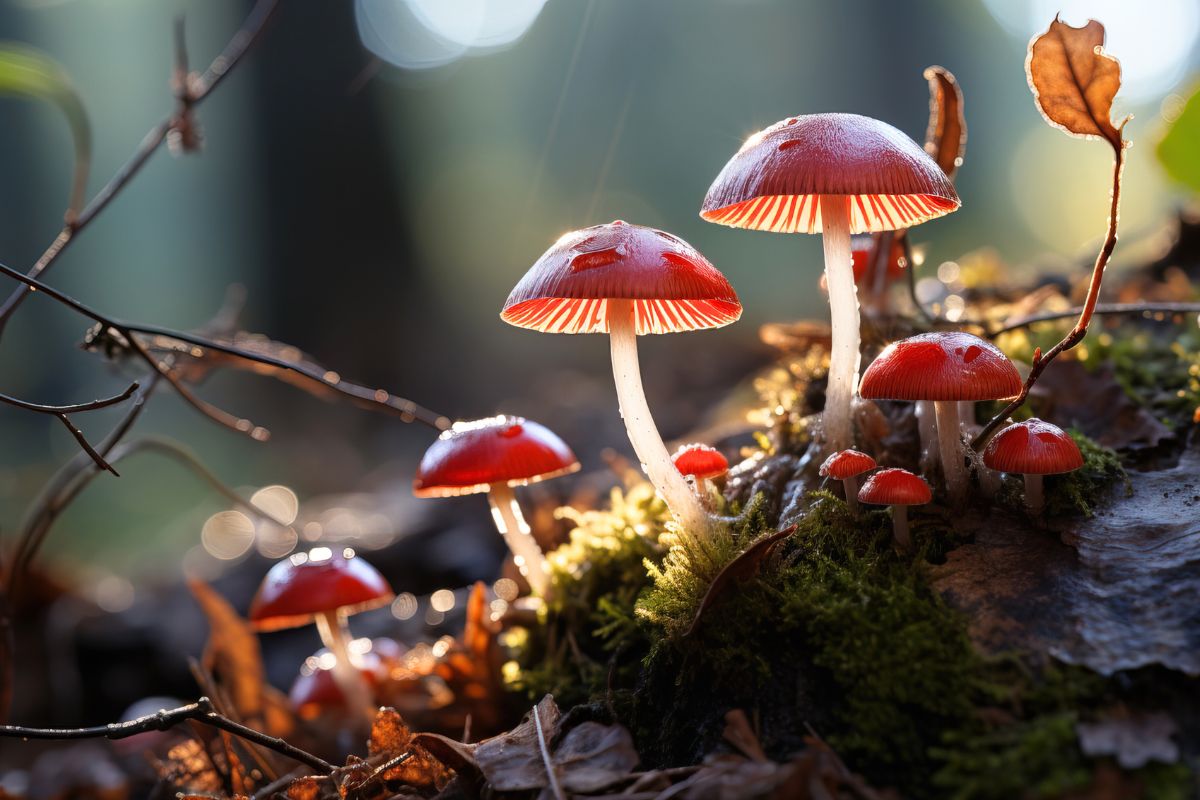 Take a tour through Cairns botanic gardens in the company of a knowledgeable mushroom guide who will explain fascinating facts about fungi and help you to take some mind-blowing close up photographs.
Check out some unusual and colorful mushroom species and get more intimate with the natural plant world.
The wet season (November to April) in Cairns is an optimal time for mushroom exploration because they thrive with high humidity and increasing temperatures. Mushrooms play an important role in nutrient recycling and the natural decomposition processes of the ecosystem.
18 – Fly along the Skyrail Rainforest Cableway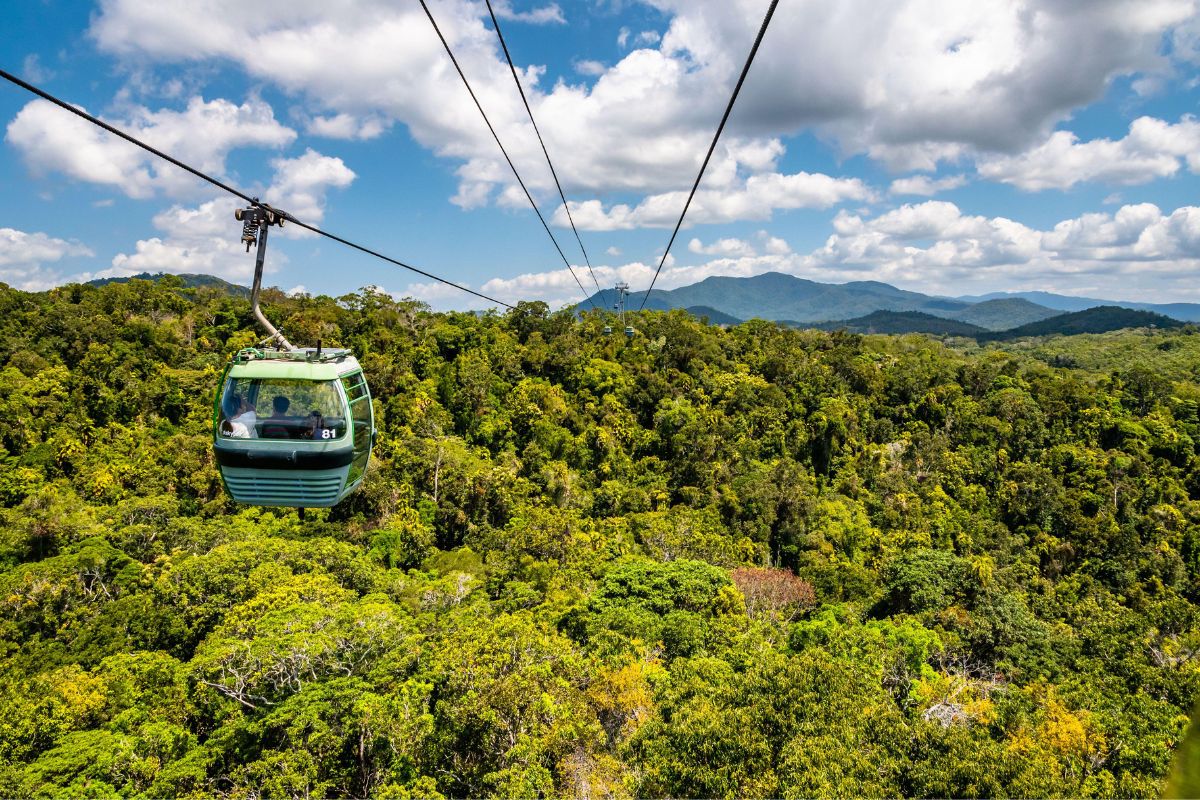 The Skyrail cableways allows you to soar above the rainforest canopy in a gondola and has been up and running since 1995. Many Skyrail cableway tours offer a skyrail journey there and then a scenic railway ride to return.
The gondola glides above waterfalls and over the Barron Gorge so you can get a bird's eye view of some natural gems. The gondola system is a really sustainable way for visitors to engage with the rainforest without disturbing the wildlife on the forest floor.
The Skyrail Cableway spans approximately 7.5 kilometers and takes around 1.5 to 2 hours to cross the rainforest. The gondola bubbles are spacious and are designed to provide unobstructed views of the surrounding rainforest.
Along the Skyrail route, there are two main stops (Red Peak Station and Barron Gorge Station) where visitors can disembark to explore the rainforest and take some incredible photos.
19 – Hike around the trails of Fitzroy Island
Fitzroy Island can be found within the Great Barrier Reef Marine Park approximately 29 kilometers southeast of Cairns. It takes on average 45 minutes to arrive at Fitzroy island from Cairns by ferry boat.
For those who love hiking, Fitzroy Island has some great wilderness trails for example the Lighthouse and Summit Trails are particularly popular among visitors.
The island is also celebrated for its gorgeous beaches for example Nudey Beach was voted Australia's best beach in 2018! Relax on the sandy shorelines or venture into the pristine waters for some snorkeling.
20 – Take a morning walk along the sandy Clifton Beach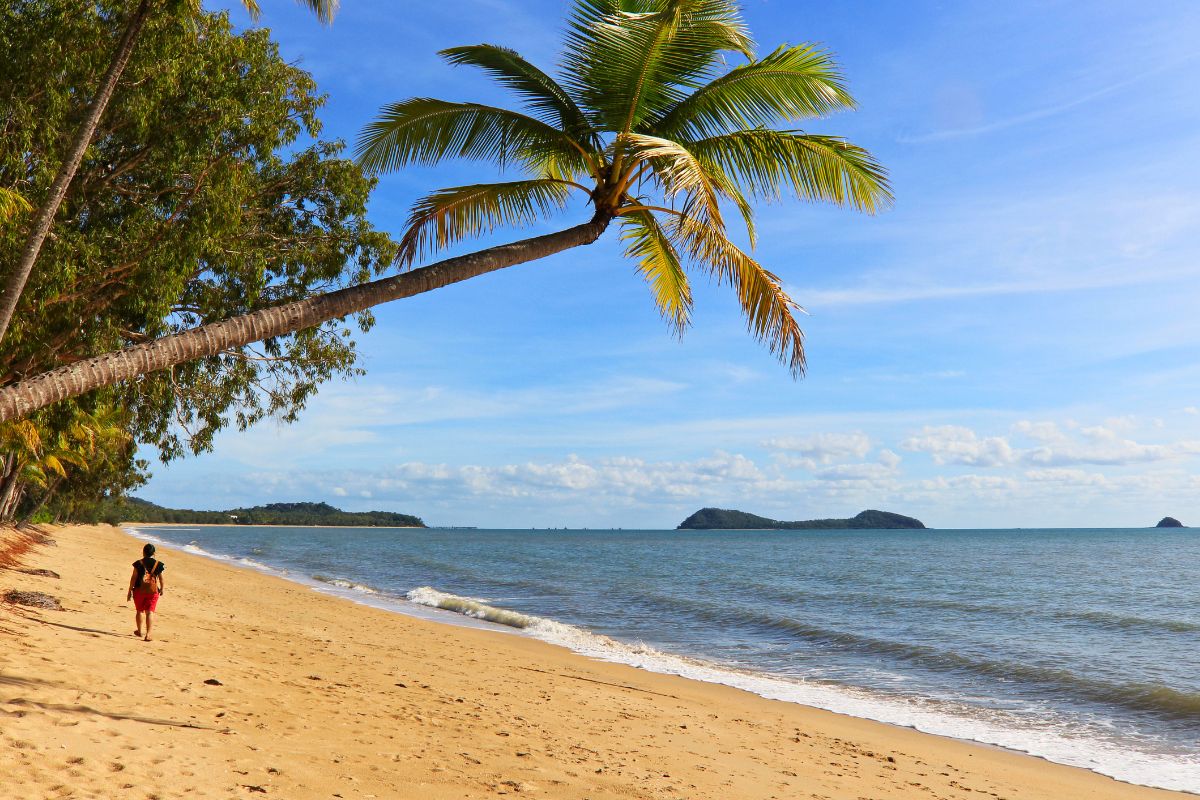 Clifton Beach is South of Palm Cove and takes just 5 minutes by car. There is a cycling track connecting Palm Cove and Clifton Beach so it is easy to access the two places on bike or even by walking.
The beach has a swimming net so is a safe place for cooling off in the crystal turquoise waters. Nearby visitors can also take a walk in Silver Crescent Park.
This park has a well maintained green lawn and play areas for kids. Lots of locals come to walk their dogs in this park area, do some work out exercises or have a family picnic.
Clifton beach is the ideal setting to take an early morning jog before the heat of the day kicks in and the beachgoers set up their sun beds for a day of tanning.
21 – Cruise along the river to immerse yourself in the Daintree Rainforest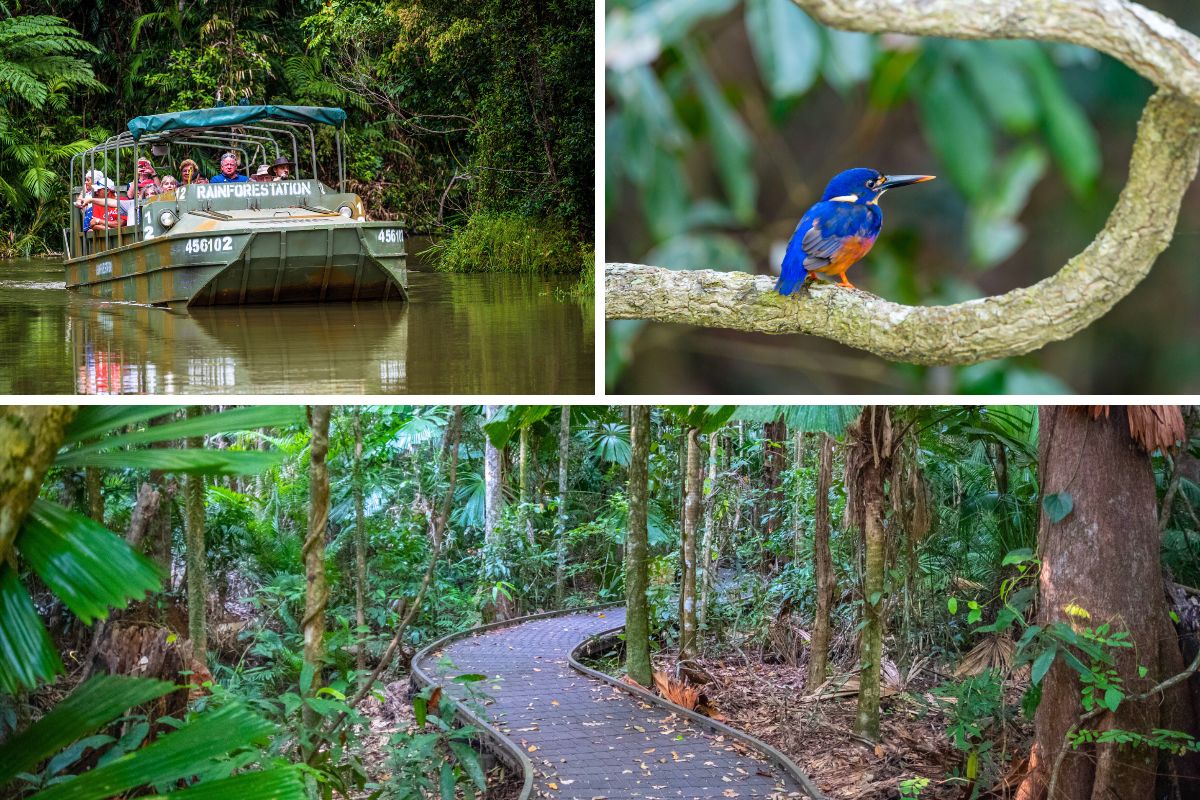 The Daintree Rainforest is classified as a UNESCO World Heritage site because it is one of the oldest rainforests in the world, dating back to over 180 million years. Due to its extensive history, the Daintree rainforest is often referred to as 'the living fossil'. The forest itself has very dense vegetation with lots of ancient ferns, orchids, strangler fig trees and fan palms.
One of the most exciting ways to experience the Daintree Rainforest is by hopping on a Daintree River Wildlife Cruise! During the cruise along the river a wildlife expert who will help you to spot some crocodiles, kingfisher birds and tree snakes.
Some tours offered by Viator for example 'Bruce Belcher's Daintree River Cruises' take guests along the river in eco-friendly solar panel run boat which provides a really peaceful environment to get close to nature without polluting! These types of tour run in the morning, lunch time or afternoon so can easily be fitted into your schedule.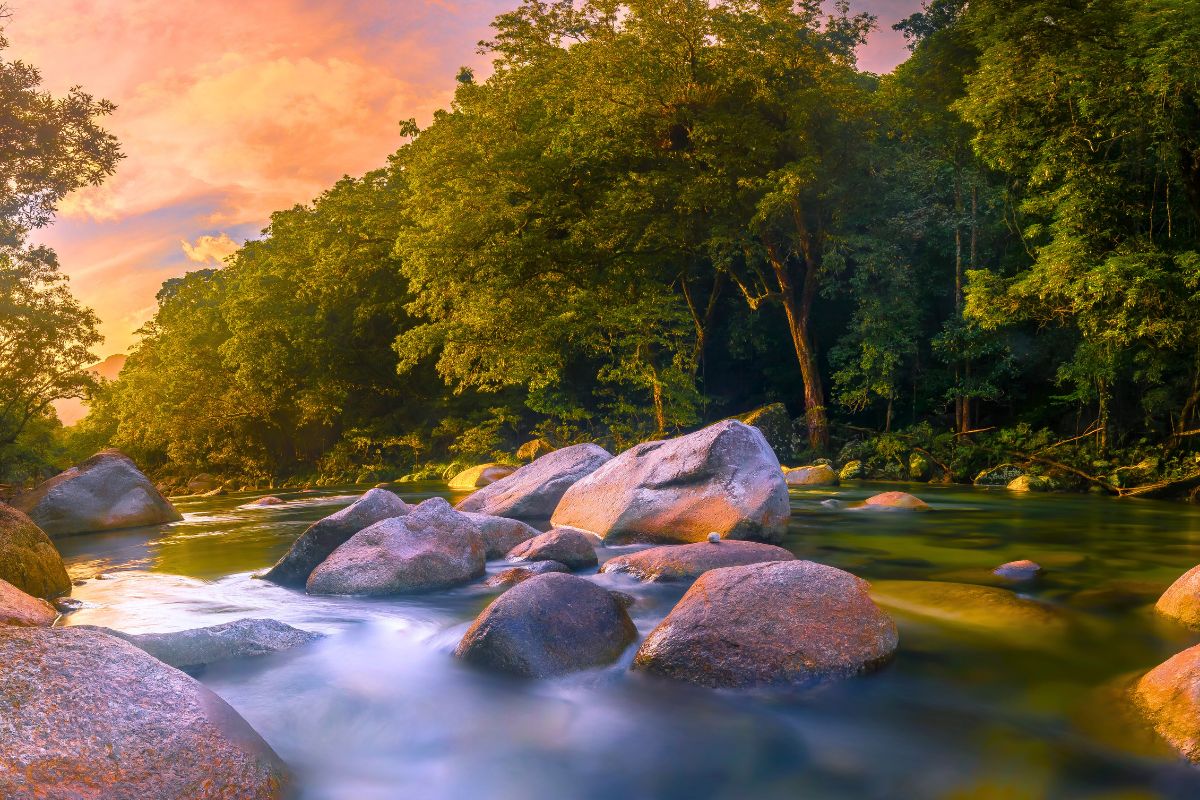 The Mossman River flows through the Daintree rainforest and one of the most adventurous activities on offer involves drifting along and snorkeling in the river itself! Look out for turtles or platypus as you float down the river with the support of a river sled.
There are also full day trips available for those who want to spend the maximum time outside in the natural wonder of the rainforest. A day trip in the Daintree forest includes a cruise along the river, a visit to the Mossman Gorge and the Jindalba boardwalk.
The Jindalba boardwalk is a 700 meter long wooden walking circuit that offers views of the rainforest below. Surrounded by towering trees and diffused light breaking through the leaves, this boardwalk provides an immersive rainforest experience.
The boardwalk helps minimize human impact on the fragile forest floor and therefore promotes the preservation of this ancient and spectacular rainforest
Many of the day tours also take visitors to admire Cape Tribulation, where the Daintree rainforest meets the Reef. It is unusual to encounter a place where two UNESCO World Heritage sites (Daintree and the Barrier Reef) emerge together into one!
22 – Take a look at some paintings at Ian Stephens Art Gallery in Palm Cove
A visit to Ian Stephens Art Gallery is one of the great things to do in Palm Cove for art enthusiasts. At the gallery, visitors can browse many acrylics inspired by the tropical local landscape and wildlife of North Queensland.
In additional to original canvases it is also possible to purchase a print to decorate your home and remind you of your trip.
Ian Stephen is considered one of Australia's most established artists with one of his paintings receiving a high commendation by the Royal Academy of Arts during the Commonwealth Exhibition.
23 – Try out the culinary delights of Palm Cove at some of the best restaurants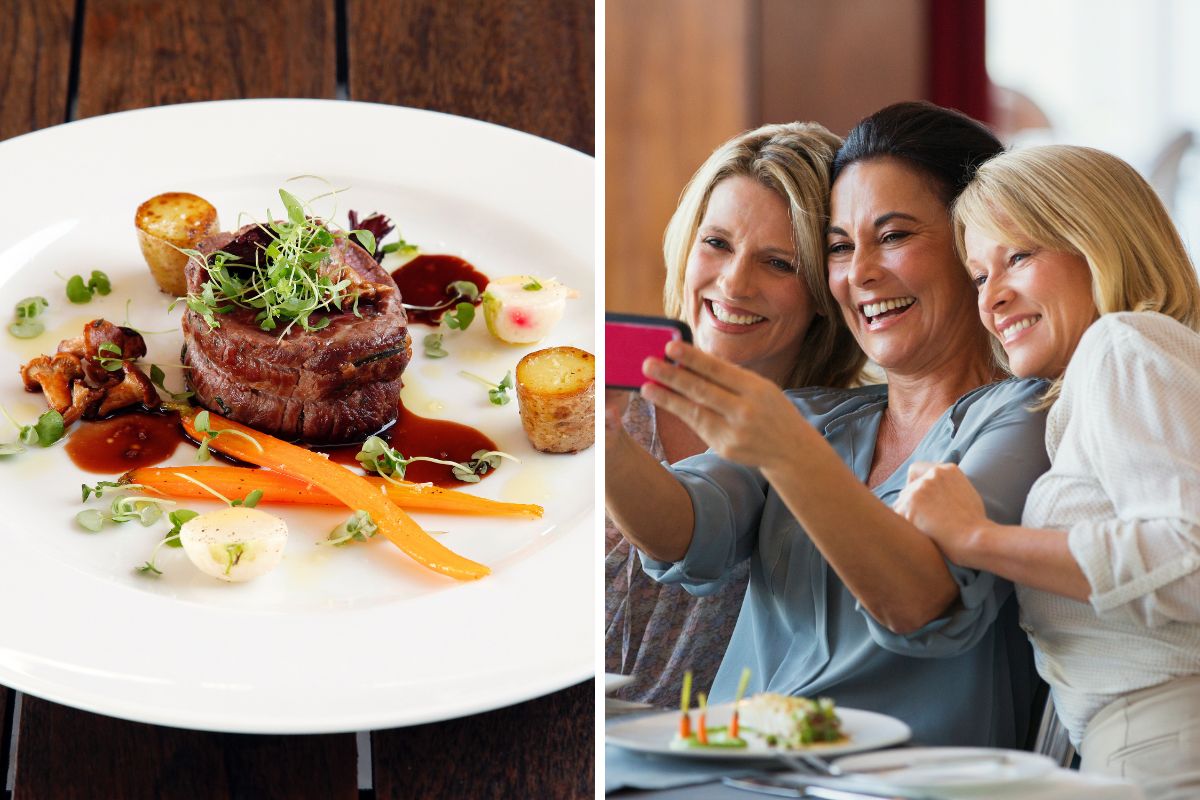 Palm Cove has a lot of culinary delights to offer. Here is a short list of some of the top restaurants to visit during your stay.
The Temple of Tastes Restaurant serves Australian style cuisine and produces beautifully presented high quality dishes. They boast a great wine list and a beautiful outdoor setting for dining al fresco.
The Beach Almond Beach House is located at the North of Palm Cove and is a relaxed restaurant specializing in seafood with a healthy asian twist. Enjoy some tasty prawns, mussels or calamari.
At Vivo Palm Cove it is possible to dine in the garden area looking onto the beach. Alternatively enjoy your meal on the veranda of this classic Queensland colonial timber style building. The menu is varied offering seafood, pasta dishes and meats. They also have good gluten free options.
Other options include Chill at Portofino where diners can enjoy a fantastic sea view. The Chill at Portofino pub offers generous portions of excellent comfort food. They serve great coffee and a family-friendly atmosphere.
For visitors who enjoy Italian cooking, Palm Cove has some excellent pizza options such as Il Forno. If you are looking for some sushi and Japanese vibes try the Kushi Yakitori Bar & Japanese Restaurant for some fresh sashimi. There is even an excellent Greek restaurant in Palm Cove, El Greko Greek Taverna.
24 – Dance the night away at some of the best nightlife suggestions in Palm Cove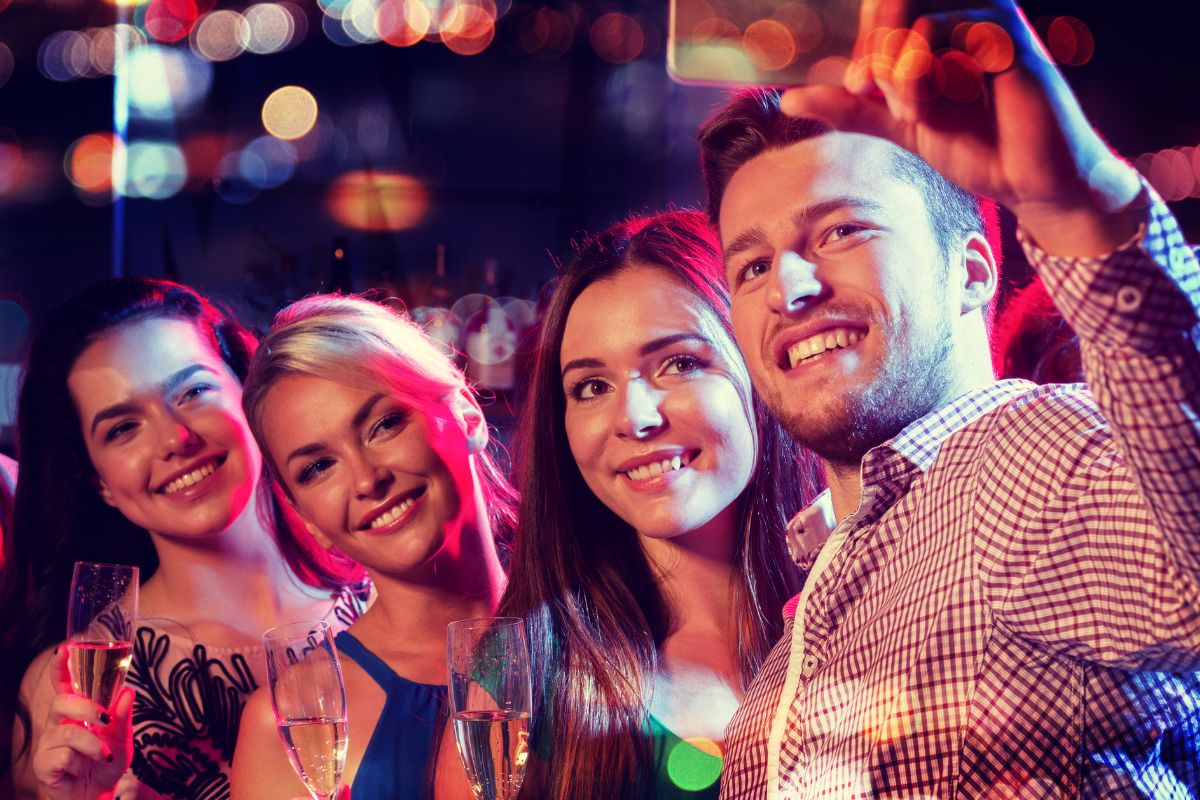 For live music and karaoke head to the beachfront bar Rattle n Hum Palm Cove. The place has a great atmosphere for having some drinks and they also have a solid Australian-inspired menu for those who also want to grab a bite to eat.
For a sophisticated night out try the wine bar Third on the Left. Located on the Williams Esplanade in the heart of Palm Cove, this cosy and elegant wine bar offers a fantastic wine selection along with some cheese or cured meat platters.
The Cabana Bar is a fun place to try some premium spirits and tropical cocktails. They even offer group masterclasses in mixology which could be great activity for bachelor parties or larger holiday groups.
On a Saturday try the Palm Cove Tavern to listen to some DJs and on Sundays, they bring in local talent to offer live entertainment. The place also has a gaming room open until 2 am on Fridays and Saturdays. Major sports are also broadcast live on screen and visitors can sit out in the friendly beer garden area.
How to get to Palm Cove?
Most tourists who come to visit Palm Cove will fly into Cairns airports. It is possible to organize a private airport transfer in a minibus or sedan depending on the size of your group.
If you are hiring a car from Cairns Airport it takes just a 25 minute drive to arrive at Palm Cove. Uber also operates in Cairns so it can be used as an option for getting around.
Where to stay in Palm Cove?
There are many fabulous hotels to choose from when organizing your tip to Palm Cove. Check out the list below for more information about some of the top selections.
Mango Lagoon Resort and Wellness Spa: a 5 minute walk from Palm Cove beach, the 4 star resort has four different swimming pools and 2.5 acres of surrounding land. The exuberant green gardens provide a laid-back and tranquil atmosphere for a quiet nights rest. The spa offers many therapeutic treatments. Visitors can choose from hotel rooms to self-catered apartments.
Blue Lagoon Resort: 5 kilometers away from Palm Cove, this 4 star resort offer rooms with balconies overlooking the mountains of the rainforest. They have two open air pools, a tennis court and a fitness centre.
Pullman Palm Cove Sea Temple Resort and Spa: This 5 star resort has three outdoor pools, an exceptional spa and instant access to the beachfront. The resort has a stunning rooftop terrace and good gym facilities.
Alamanda Palm Cove by Lancemore: This 4 star hotel provides an ultimate luxury tropical get-away. Located on the beachfront full of swaying coconut palms, the place has extraordinary ocean views, a trendy restaurant and a state-of-the-art spa.
In Palm Cove there aren't many hostel options for backpackers but in nearby Cairns there are some good alternatives. The Travellers Oasis in Cairns offers dormitory rooms as well as private rooms. There are lots of hammocks to hang out in, a pool and a quirky but tasteful vibe.
Where to go next?
Less than half and hours drive away from Palm Cove, visitors can spend time exploring the scenic coastal city of Cairns. Cairns Art Gallery is a great place to learn more about local arts and Cairns Botanical Garden is an awesome trip for those wanting to expand their knowledge about plants and bird species. Many visitors also visit Cairns in the evening to experience the Cairns Night Markets which have become a popular attraction.
Spend a day or so browsing the boutique shops and cafés of Port Douglas. The tree lined streets and the colonial-era architecture make this coastal town a very pleasant place to take a stroll. Port Douglas beach, known as 'The Four Mile Beach' is a magnificent sandy paradise for sunbathing and paddling in the waves.
Further down the coast from Palm Cove (around 9 hours by car) visitors can experience the delightful Airlie Beach. Airlie Beach is a gateway to discover the 74 Whitsunday tropical islands on the Great Barrier Reef. There are many activities to try in Airlie Beach including ocean rafting, skydiving and jet ski tours.
A visit to Palm Cove can also be just the starting point for exploring even more wonders of Australia. When in Australia why not take some extra time to visit the Uluru-Kata Tjuta National Park, the sacred sandstone monolith which is 350 million years old!
Drive along the panoramic Great Ocean Road in Victoria and marvel at the limestone stacks known as the Twelve Apostles emerging up from the ocean! Or why not head to Sydney to visit the iconic Opera House or climb the Harbor Bridge for some breathtaking views.
Other iconic destinations within Australia include the breathtaking Blue Mountains in New South Wales where visitors can have the chance to see the unique Three Sisters rock formations. Other visitors may perhaps choose to head to major cities such as Melbourne to enjoy the lively urban cultural scene and explore its different neighborhoods.
There are so many great places to visit in Australia so make sure you pack in as many as possible during your visit!
Final thoughts
In conclusion, there are many things to do in Palm Cove from trekking through the lush and dense tropical rainforests, exploring the vibrant corals of the Great Barrier Reef to getting up close to some koalas and crocodiles.
Take a gondola ride above epic waterfalls, play golf, or take a scenic sea kayaking tour. Palm Cove definitely provides visitors with stunning beaches and warm waters for snorkeling. Embrace the tropical palm fronds and the laid-back way of life.
Before visiting, it is best to remember that the peak tourist season is usually between May to October) because the weather during these months is generally warm and dry.
The beaches of Palm Cove can be enjoyed all year round with average day time temperatures usually around 17 degrees during the winter!
Happy travels!