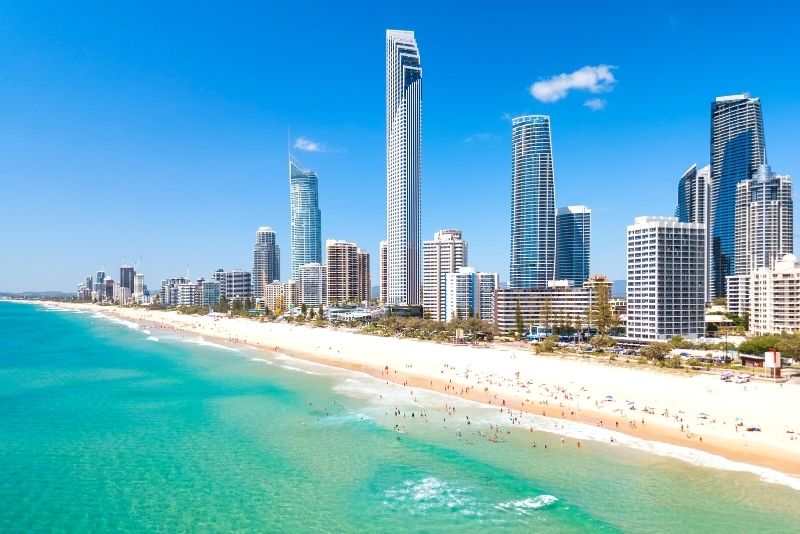 Where sun-kissed beaches meet lively nightclubs, endless nature, and more bars and restaurants to count, the Gold Coast is one of Australia's most popular tourists destination — and for good reason.
Home to approximately more than 1,700 different plant species and over 500 different animal species, nature seekers will be in for a treat exploring all the natural abundance of Springbrook National Park and its time-honored rainforest and waterfalls, or the blissful hikes at Lamington National Park.
From thrilling fun on the water kayaking, jet-skiing, and scuba diving, to fun in the air, with skydiving, paragliding, and even zip-lining through Mt. Tamborin's green paradise – the fun truly goes on and on!
One of the must things to do in Gold Coast is to head to the best beaches for unreal surfing opportunities, so whether you're a pro or newbie, head to Surfer's Paradise and Broadbeach or Coolangatta for the ultimate ride.
With so many fun things to do in Gold Coast (or, fun things to do on the Gold Coast, as the locals say), you'll truly be spoiled for choice.
1 – Take your binoculars to SkyPoint Observation Deck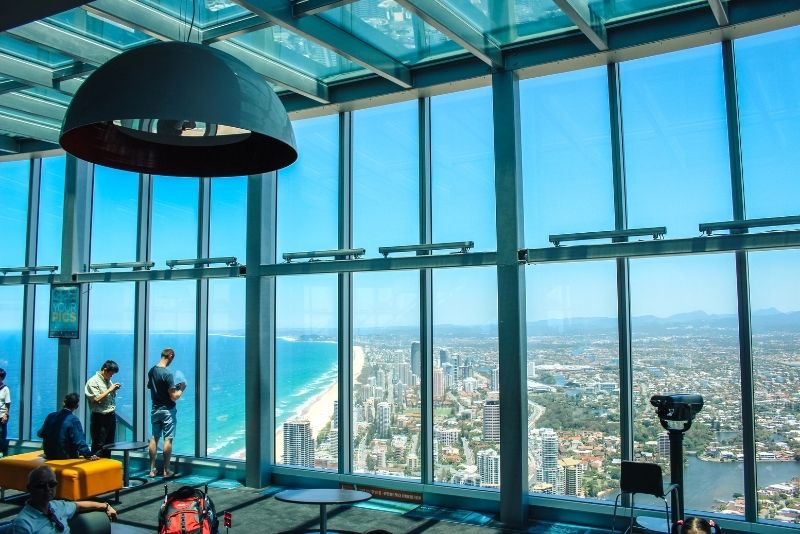 Sure, you can take a comfy air-conditioned elevator to the 77th-floor Observation Deck, but for the full experience, fasten your harness for the 90-minute SkyPoint climb to the breathtaking eagles' nest where 360-degree views await — of the Pacific Ocean kissing the Gold Coast beaches nonetheless!
You can climb by sunlight or moonlight — both equally impressive, whether you decide to go for a meal or just the views!
2 – Experience The Claw at Dreamworld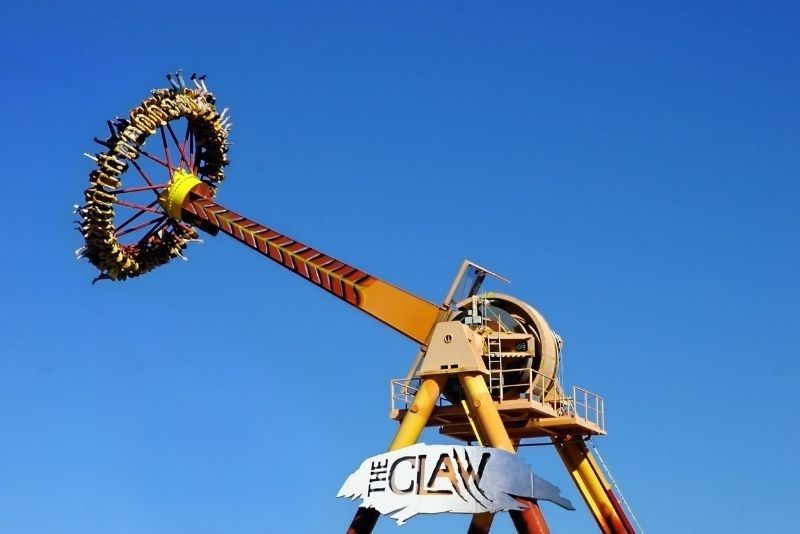 Dreamworld is a smorgasbord of delightful attractions!
Keep an eye out for Shrek and Donkey on the way to watch the tiger-feeding or to cuddle a koala, then hit up the Shockwave to feel total weightlessness.
For the thrill-seekers, the Claw will swing you 360 degrees and reaches the height of an eight-storey building, while the Buzzsaw turns you upside-down and sends you off at 65mph.
3 – Get a picture cuddling a koala at Currumbin Wildlife Sanctuary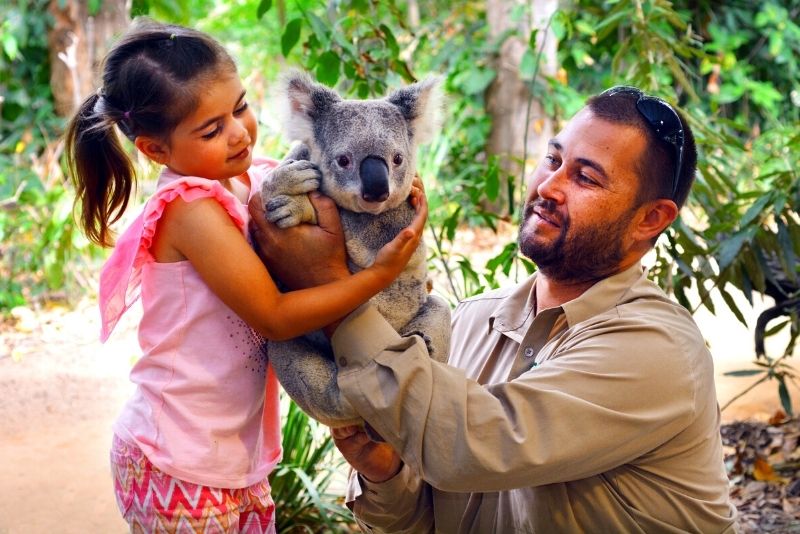 This is your chance to meet all of Australia's most beautiful and bemusing creatures!
See the huge salt-water crocodiles, the furry Tasmanian devils, the spiny echidnas, and plenty more.
For something extra immersive, help feed the colorful lorikeets and adorable kangaroos, then for the full experience meet the cute koalas and their keepers before getting to hold one (a koala that is!).
4 – Hold on to your hat on a jet boat ride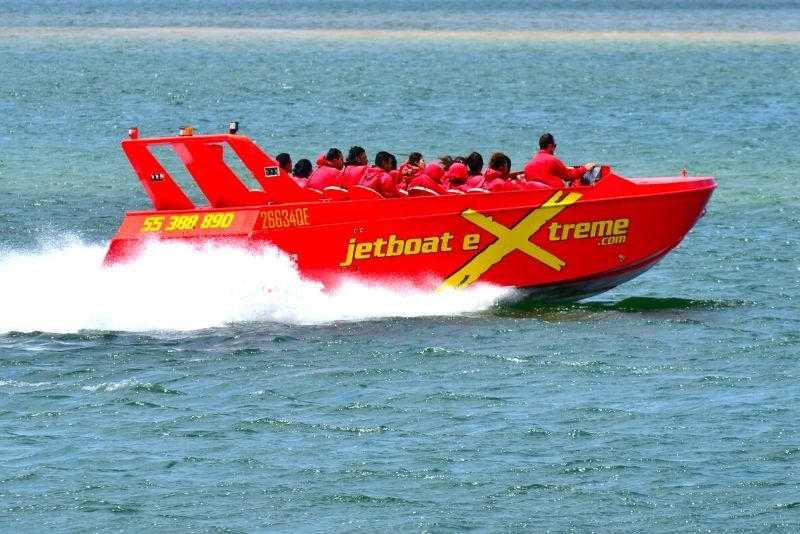 Let the adrenaline surge as the captain performs power slides, donuts and drifts through the Broadwater at almost 50mph.
In between tricks, take a gander at the incredible beachfront estates and golden beaches as well as landmarks like the Versace Hotel and Seaworld.
You may even catch a glimpse of dolphins and other sea critters, so look closely!
On a sunny day, the water splashing on the jet boat will be a welcomed cooldown.
5 – Eat lunch on a rainforest cruise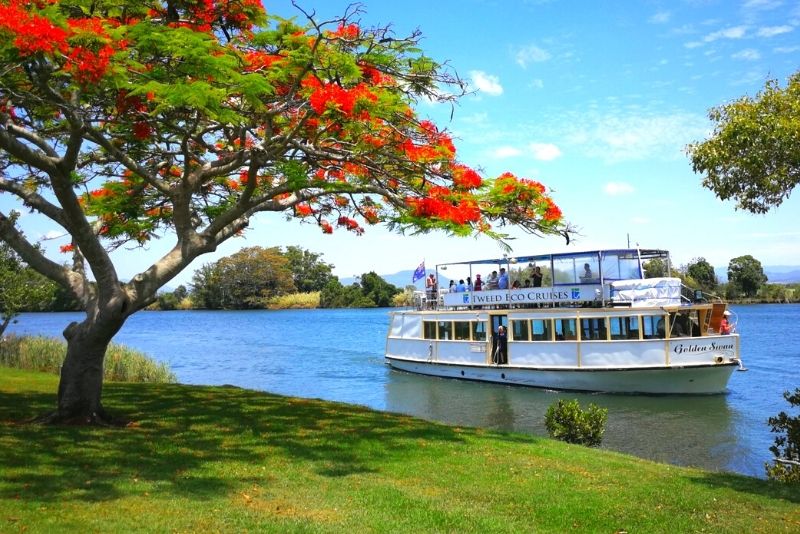 Sail down Tweed River flanked by rainforests and mangrove trees and not only will you receive a delectable picnic lunch, but you'll get to feed the pelicans and birds of prey!
The on-board guide is always happy to chat about the delicate and lively ecosystem too.
Here on New Year's Eve? Bring in the New Year at Tweed Heads before crossing into neighboring Coolangatta (an hour behind) to bring in the New year again.
6 – Explore the Gold Coast's land and sea on a unique ferry and bus tour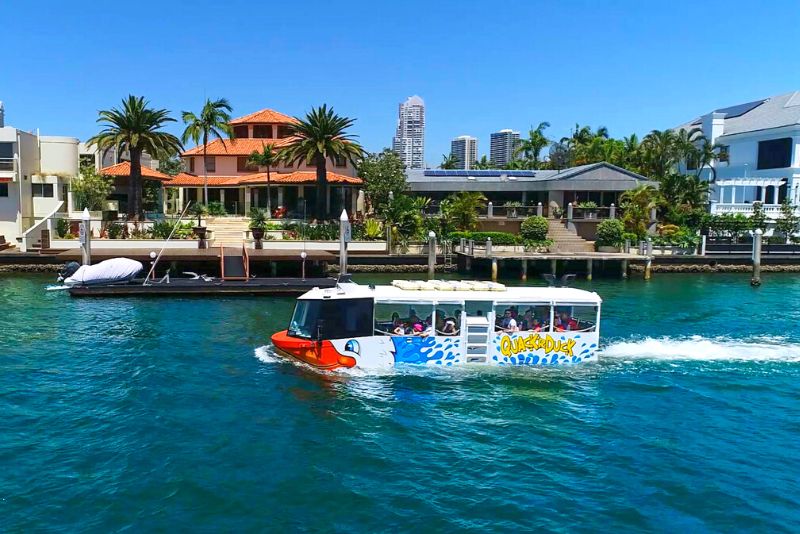 Choose from a variety of boats and ferries to explore the immense beauty of the Gold Coast, starting with the cute and effective Aquaduck River Cruise and City Tour, as well as the Quack'rDuck Bus Tour.
Both of these tours are fulfilled with vehicles that traverse both land and sea for optimal views of the city and nature!
Hopo Gold Coast Ferry is a Hop on Hop off bus tour to easily get around the Gold Coast's many districts, from Surfer's Paradise to Marina Mirage and more.
See also; Fun things to do in Surfer's Paradise
7 – Hang ten at Surfers' Paradise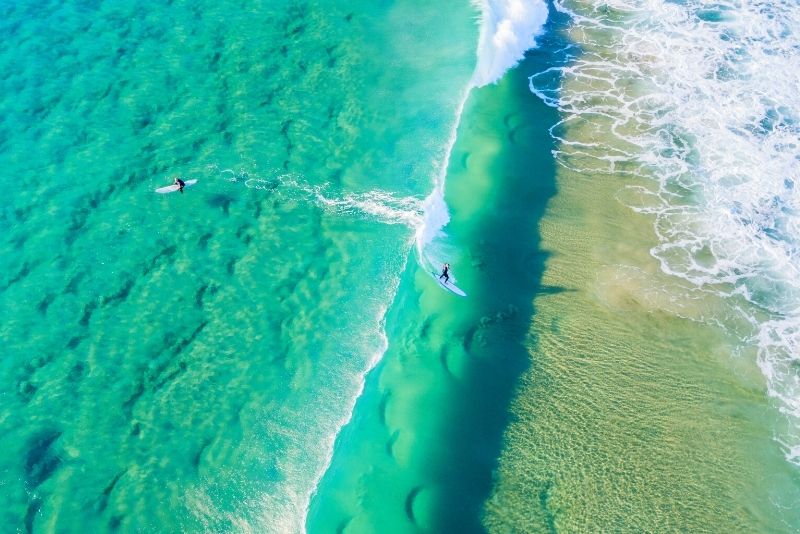 They don't call it Surfers' Paradise for anything.
Surfing is a quintessential thing to do in Gold Coast (technically one of the things to do **on the Gold Coast** — as the locals would say)  and seasoned surfers will have no hesitation hitting the waves, but for the less-experienced there are plenty of gentle waves to get started with.
For something a little harder, try Cylinder Beach on North Stradbroke Island.
Looking to take up surfing? Head to Broadbeach or Coolangatta for incredible beaches and lessons for beginners!
8 – Go parasailing over the Gold Coast!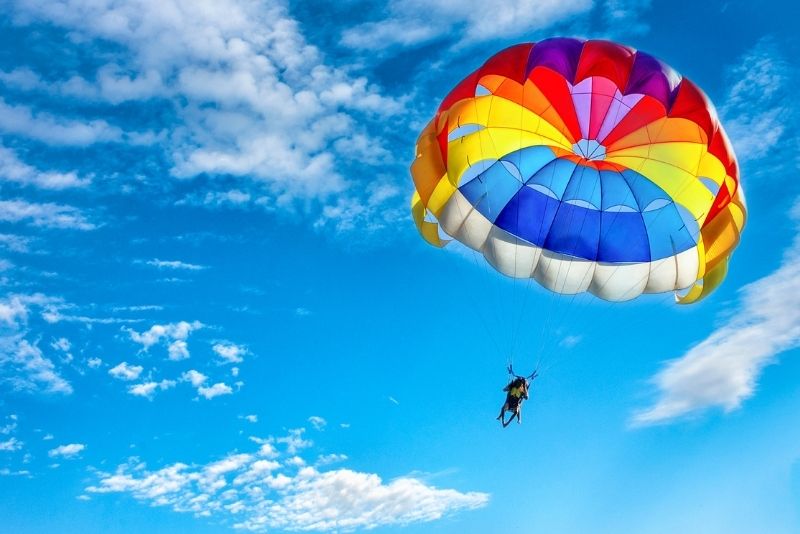 Get your parachute, strap yourself in and feel the Gs!
When you're in the fly-zone, you'll be released from the boat and soar like an eagle over the golden beaches, looking over 360-degree views stretching out to Mount Tamborine and the Stradbroke Islands.
The experience is equal parts serene and exhilarating as you see the world from a totally new perspective.
Solo travelers or groups of up to 3 are welcome to experience this journey together.
9 – Go on a whale-watching cruise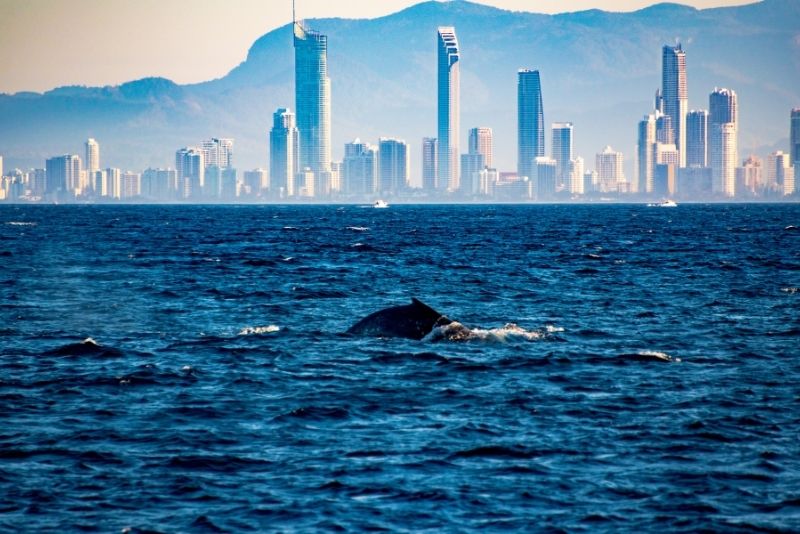 Board a ship with three observation decks and unobstructed views as you sail out to the protected Australian Whale Sanctuary where the humpbacks migrate around the Australian winter to give birth.
Nothing can prepare you for the size and grace of the whale; if you're lucky the whale might jump and splash, or be accompanied by orcas and dolphins.
To see the migrating whales, make sure to book your experience between June-November.
Sponsored placement
Experience a live concert by candlelight in Gold Coast
Catch live performances of the soundtracks to Game of Thrones and Rings of Power, or the iconic work of Joe Hisaishi, all set to the ambiance of lit candles. Candlelight concerts take place in scenic venues across the city that don't typically host concerts and events for an unforgettable backdrop to live renditions of your favorite tunes.
10 – Learn to wakeboard at Gold Coast Wake Park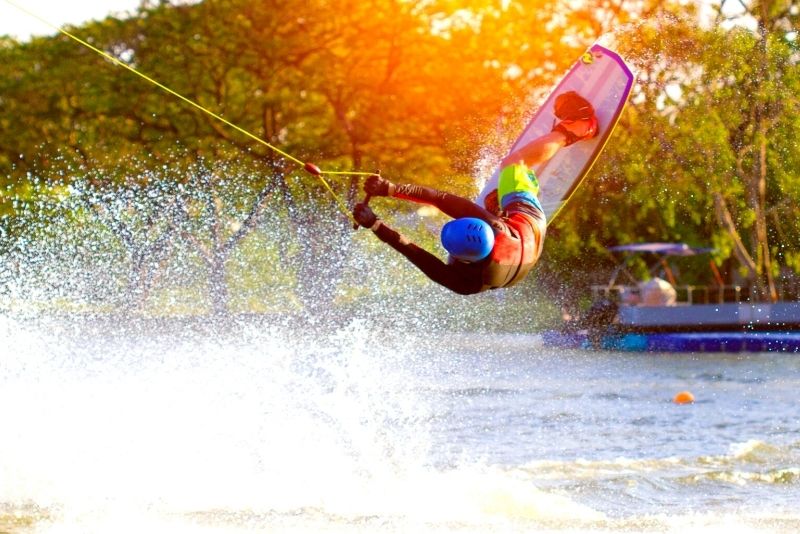 The exhilarating lovechild of surfing and water skiing will leave you screaming for more as you glide on the water with the wind on your hair on a board being pulled behind a boat.
If you've got the hang of it, take it up a notch and unleash your inner Shaun White or Kelly Slater doing tricks on the ramps and platforms.
Gold Coast Wake Park also offers lessons and kneeboarding for the less-experienced.
11 – Waddle with the penguins at Sea World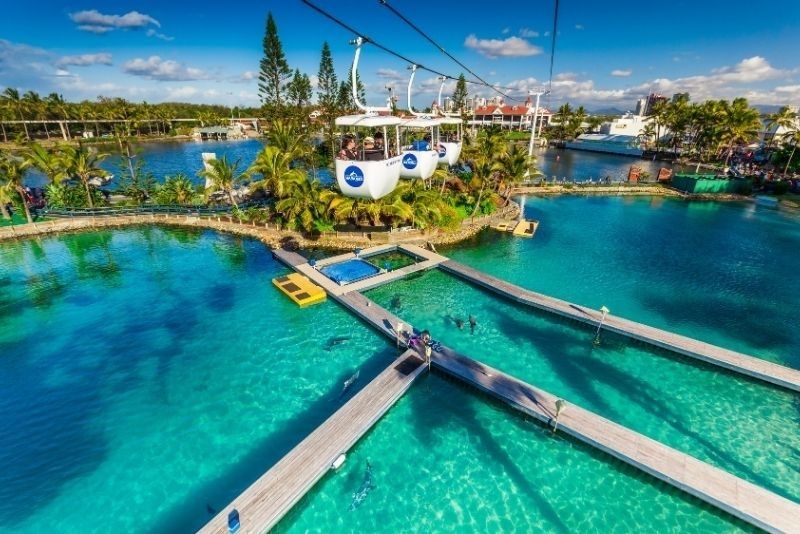 Sea World theme park has plenty of rides and areas to splash around for families and thrill-seekers alike.
But no trip to Sea World is complete without seeing the animals.
Fluffy polar bears and sharp-toothed sharks roam behind glass — although for a more interactive experience, walk on the ice with the penguins or dive into the water with dolphins!
Have time for more? Check out the combo passes that give access to Movie World, Sea World, and Wet 'n' Wild parks!
12 – Watch the sunrise in a hot air balloon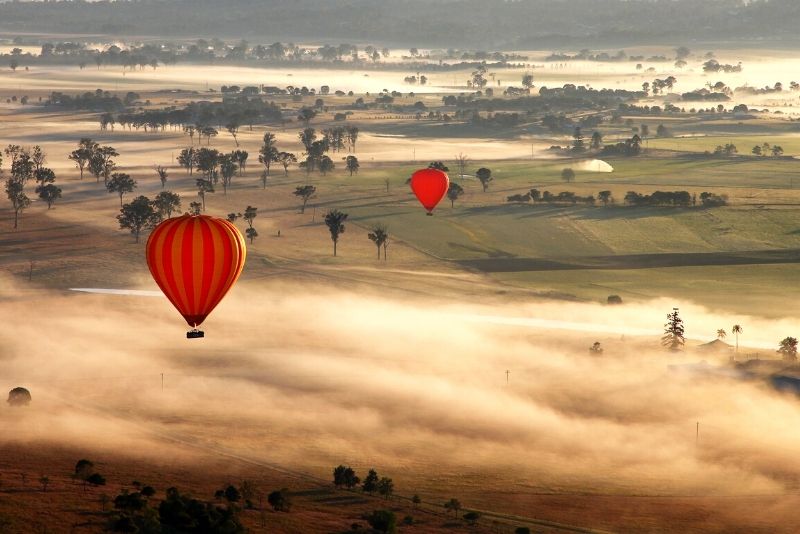 Seeing the Gold Coast hinterlands basking in the golden sunrise is an image that will never leave your mind, so it's worth setting your alarm clock; the sun coming over Mount Tamborine and Lamington National Park from 2,000 feet in the air is mesmerizing.
Then, as a reward for the early wake-up, the operator will whisk you away to a champagne breakfast when you land.
13 – Make a splash Scuba Diving with the sea critters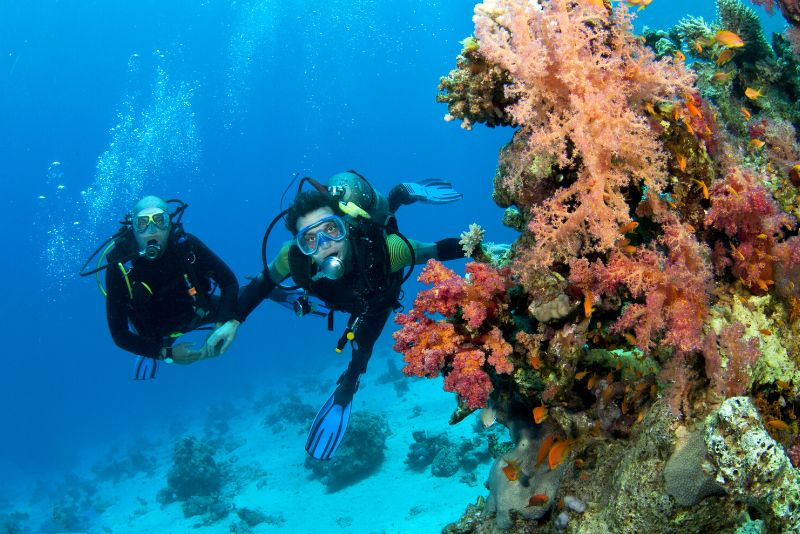 Swim amongst the colorful school of fish in the crystal blue waters of the Gold Coast, on a fearless scuba dive session.
After hopping on a short cruise to Water Break Island, you'll get your gear on ready to jump into the water to come face to face with Australian Bass and Sea Mullet fish!
With multiple scuba dive stops along the way meant for different levels, your instructor guides each visitor to jump safely based on their level.
14 – Walk the tree-tops at Mount Tamborine Rainforest Skywalk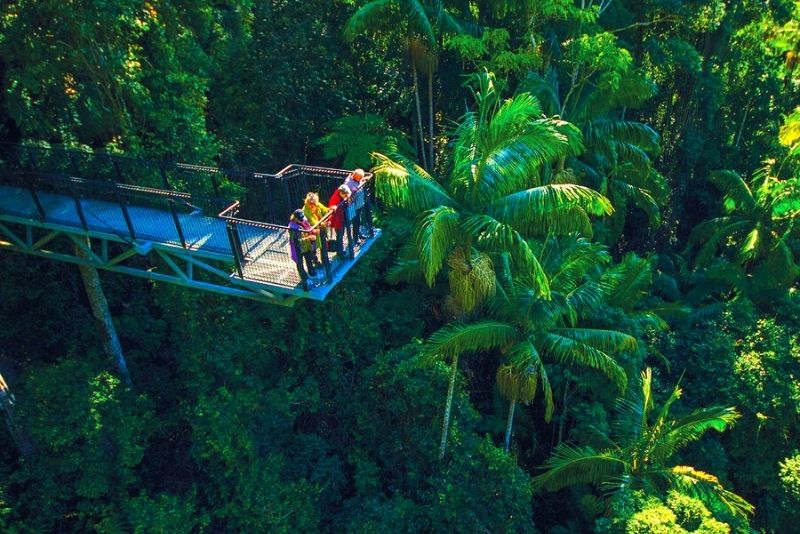 Instead of squinting at the sun through lively canopies of 30 acres of gorgeous rainforest, the Skywalk elevates you up into the treetops, where below sit crystal clear creeks and rock pools, all brimming with life.
Keep walking through the Rainforest Eco Gallery to check out the water life aquarium, and meet butterflies and exotic insects.
Depending on your availability, wine tasting and lunch are offered on select tours!
15 – Putt with glow-in-the-dark balls at Putt Putt Mermaid Beach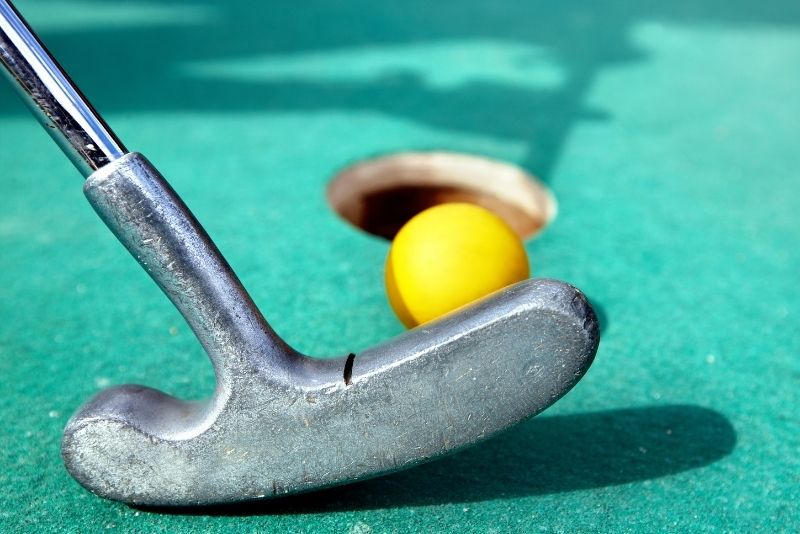 Channel your inner Shooter McGavin as you putt through different obstacles and spectacles on the courses.
With different themed courses to choose from, a video games arcade and the option to play mini-golf after dark with glow-in-the-dark balls, Putt Putt Mermaid Beach is the ultimate Putt-Putt experience for people of all ages.
Travelers love the Waterways course after dark with the lit-up water features and fairy lights illuminating the course.
16 – Learn to fly a helicopter over Gold Coast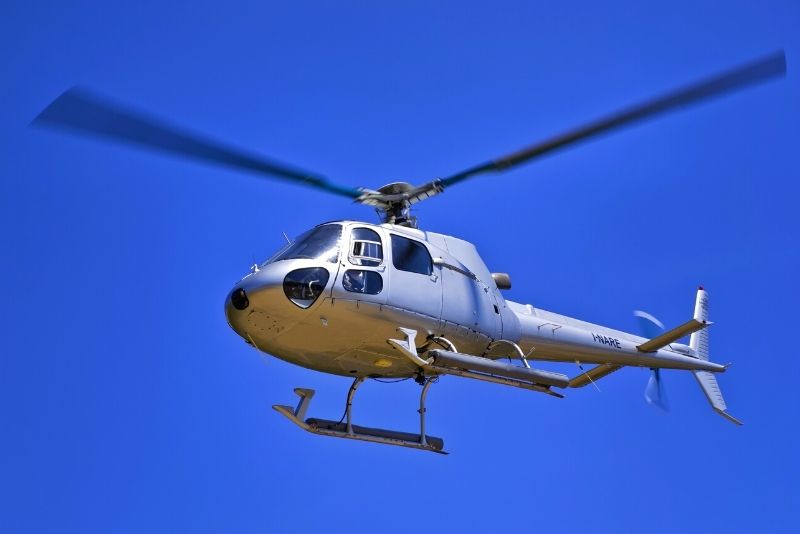 Forget just sitting back and being shown the remarkable Gold Coast views, go back to school and get acquainted with the helicopter controls in your briefing before taking to the sky for your very own debut!
A professional will be seated next to you, guiding your experience.
Within five minutes, your hand is on the helicopter controls and slowly it'll be up to you to fly steady, change direction, climb and descend.
17 – Take a day trip to Springbrook National Park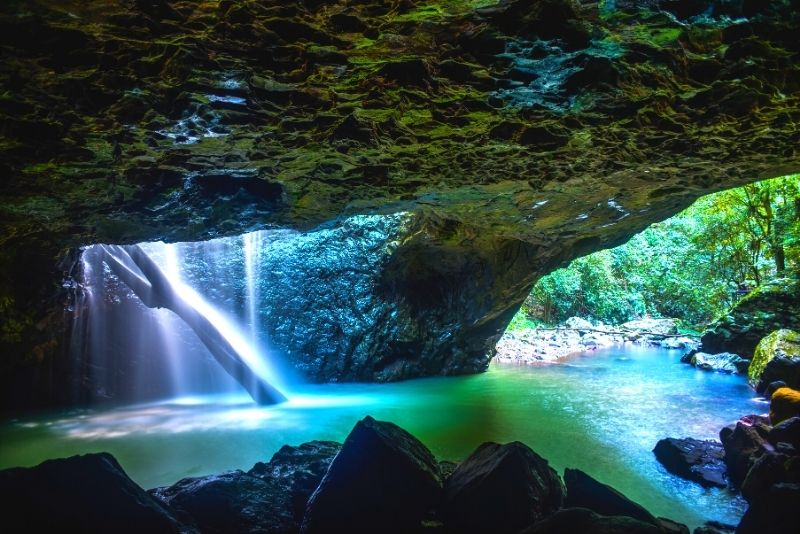 A perfect day trip option, the beautiful, sprawling Springbrook National Park offers heritage-listed rainforest and the pristine Natural Arch waterfall coursing through a basalt cave.
Bring your best hiking shoes to traverse the vibrant green Numinbah Valley, with its towering cliffs!
No tour is complete without checking out the nearby Natural Bridge and the famous Glow Worm caves, before finding the extraordinary Best Of All Lookout over a dormant volcano.
18 – Conquer the Mt Tamborine Treetop Challenge
With over 120 challenges varying in difficulty, there are plenty of ways to walk, climb and fly through the treetops.
There are suspension bridges, skyfall jumps, ziplines, high ropes and wires to guide adventurers through the 9 acres of stunning natural beauty — but nothing quite compares to the Canyon Flyer Zipline 230 feet in the air over dingoes, kangaroos, and crocodiles!
19 – Tandem skydive over Byron Bay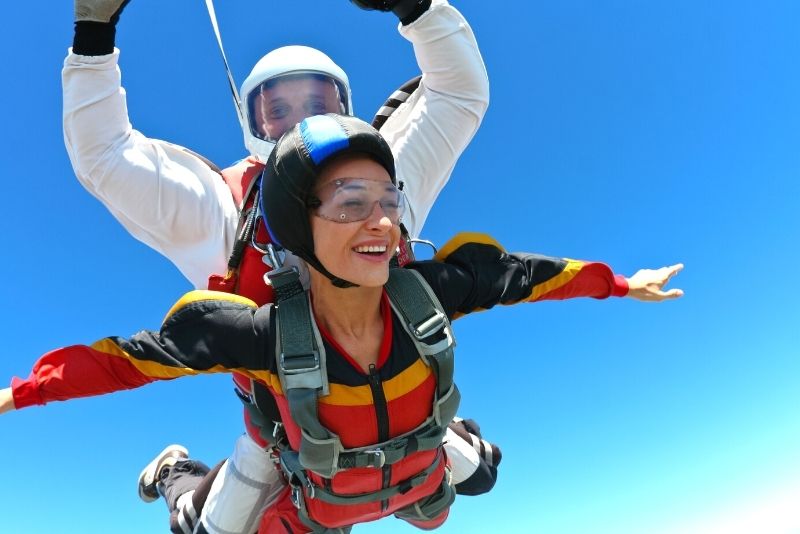 If you're after the ultimate thrill, jump from 15,000 feet in the air and take in birds-eye views of the Gold Coast and nearby Brisbane!
Nothing can match the excitement as you freefall at almost 125mph for almost a minute before gliding for 5-7 minutes more.
To prepare best for this experience, head to their website to check the dress code and other tips on what is and isn't allowed.
20 – Shop till you drop at the Pacific Fair Shopping Centre's 400 stores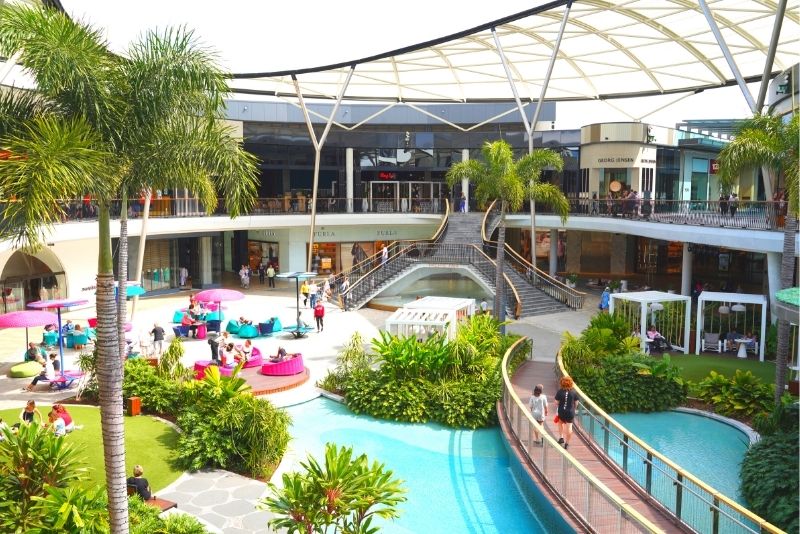 Whilst Gold Coast offers an array of natural wonders, travelers cannot go past the many stores and markets harboring some of the finest clothing, accessories, decor and knick-knacks available.
If you're looking for larger retail outlets, Harbour Town Gold Coast has you covered. However, nothing beats Surfers' Paradise Beachfront Markets with its stalls right alongside the water, open every Wednesday, Friday, and Saturday from 4:00 PM – 9:00 PM.
21 – Be tricked at ArtVo Gold Coast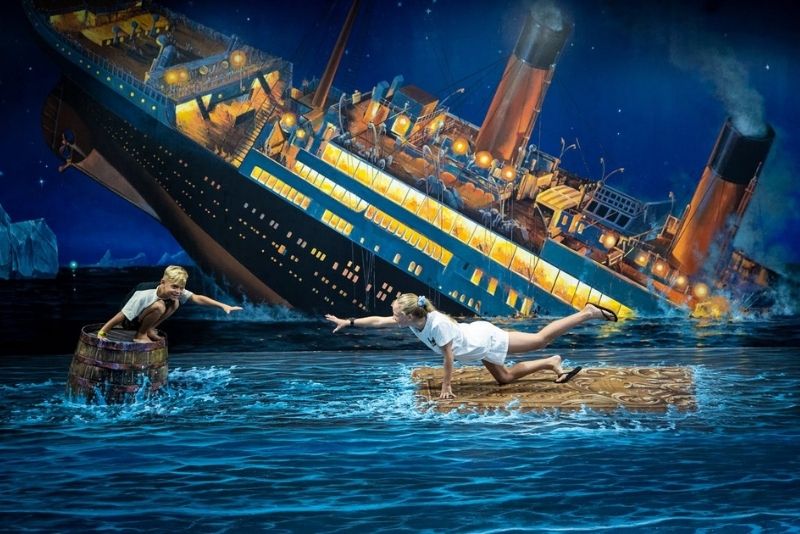 Lose yourself in a world of optical illusions as Queensland's first immersive 'trick-art' gallery spans over 14,000 square meters of purely jaw-dropping photo opportunities and unbelievable scenarios.
Unlike traditional museums, ArtVo encourages visitors to touch the art and to truly experience it unlike anywhere else!
Get your cameras out and strike a pose as you become the art and make memorable moments guaranteed to make you smile and amaze others for years to come.
22 – Ride a jet ski on a safari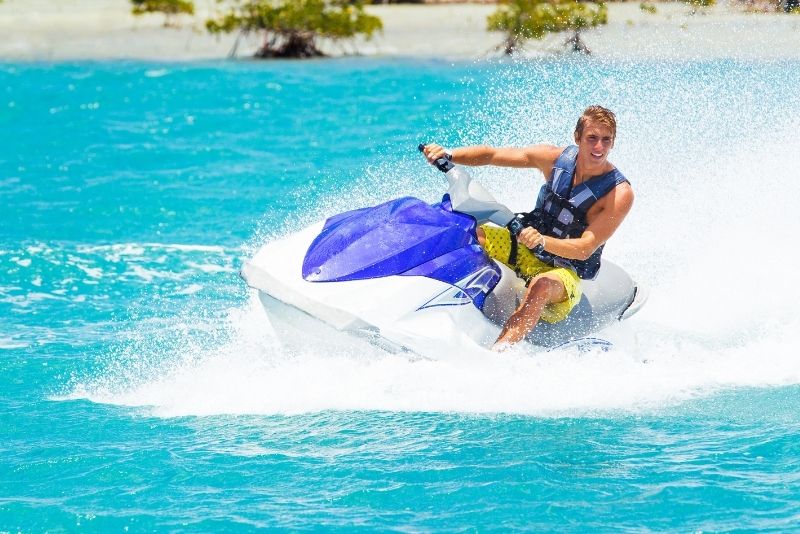 Rent a jet-ski and go at your own pace to South Stradbroke Island, keeping an eye out for wildlife and stunning Gold Coast views as you get the hang of piloting the vehicle.
At the island, nothing but good times await — cruise through beaches, sandbars, and mangroves with turtles, exotic birds, dolphins, and wallabies.
Worried you've never jet-skied before? This experience is completely beginner friendly, so don't hold back!
23 – Enjoy a wine tasting tour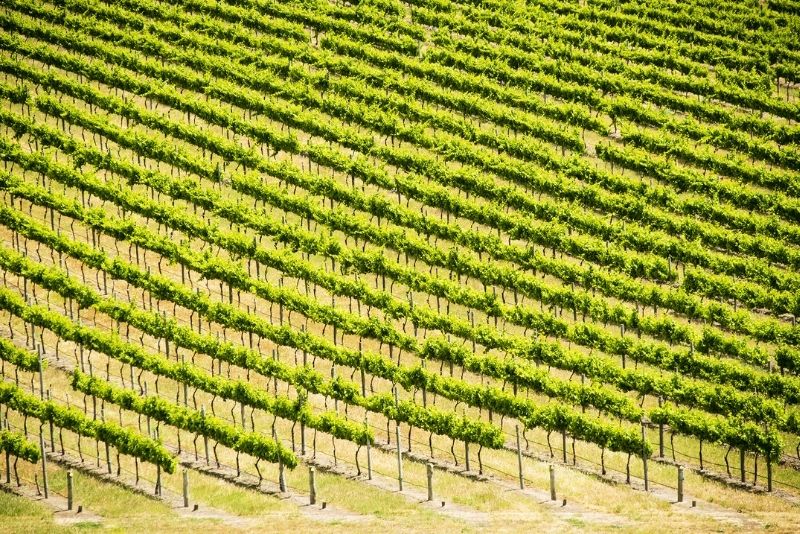 Whether you are a white, red or rosé lover, there is a wine tour and tasting out there for you. Explore the vineyards and discover the rich flavor and history in each glass along with the stunning natural beauty Australia has to offer.
For as low as $25 USD, you can be sipping some of the Gold Coast's best wines.
Be sure to bring back a bottle to friends and family so they don't feel left out!
24 – Stand-up paddleboard on the Nerang River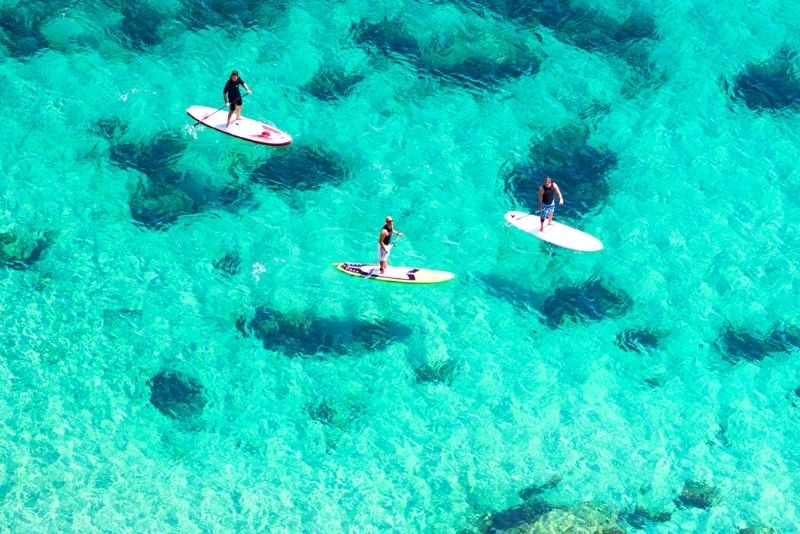 The Nerang flows through the popular Surfers' Paradise, so trade your walking shoes for a paddleboard and get a real feel for the area.
Go in between the monolithic skyscrapers, through the parks, and past the beachside mansions of Gold Coast (all helpfully and happily pointed out by your tour guide) with plenty of interesting rest stops on the way.
Select tours include a professional photographer to snap photos of you, so smile!
25 – Put your bike pedals to the metal at Boomerang Farm Bike Park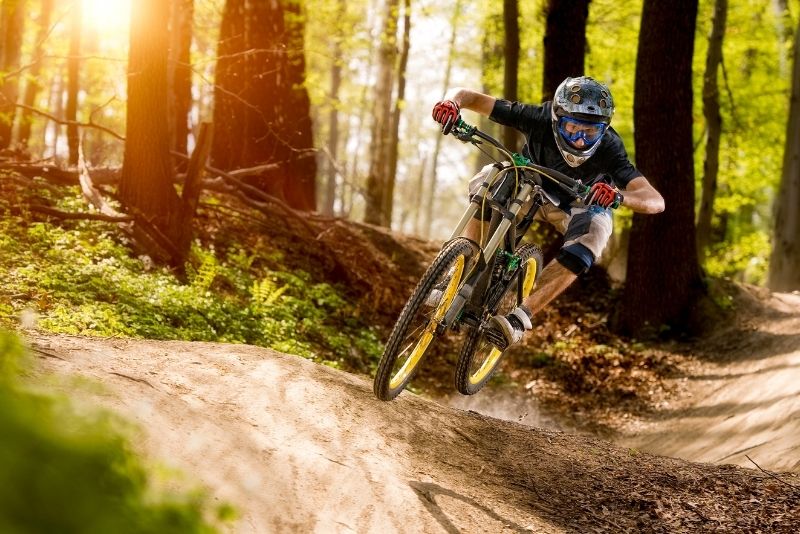 Like throwing a boomerang, riding a bike will come back to you.
Mountain biking is a great way to feel the wind in your hair with trails available for all skill and difficulty levels.
When you've mastered the tracks and seen the sights, or if like a bike you're just too tired, ride back to the cafe and bar for a well-deserved drink.
26 – Ride the SkyCoaster at Wet'n'Wild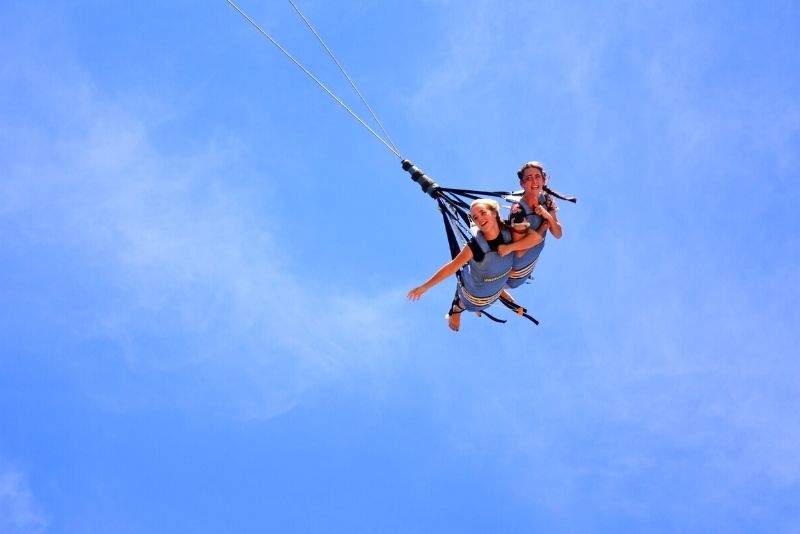 Wet'n'Wild is full of unhinged waterslides that twist and turn and drop, including the Black Hole — a thrilling ride that hurls you around in complete darkness.
But before you tackle that or relax in the wave pool, make sure to try the Skycoaster: strapped into this wild ride, you'll ascend 160-feet in the air — take a deep breath, pull the ripcord, and if a split second you'll be catapulted through the air over the Giant Wave Pool at almost 40mph!
27 – Find Nemo and his friends at Wave Break Island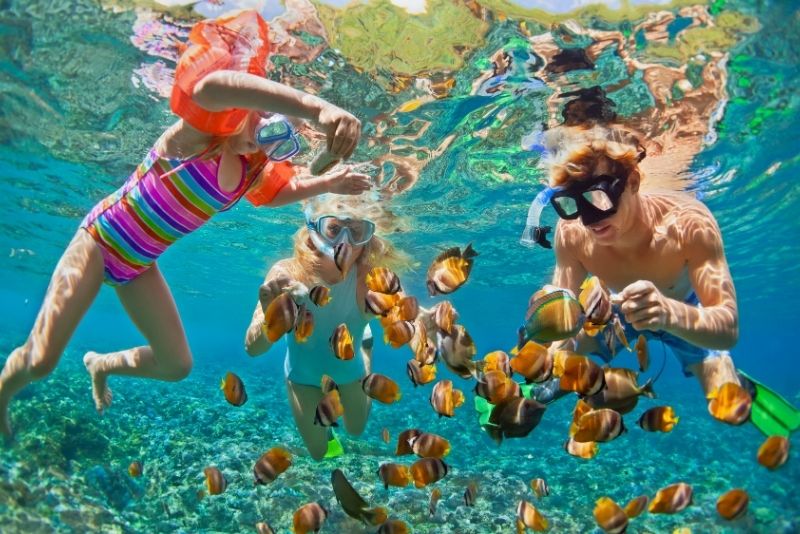 Kayak through the golden sandbanks and shining waters of Wave Break Island where you'll find an elite snorkeling spot home to over 50 species, including, of course, colorful clownfish and anemone!
Divers love the beautiful angelfish and the slightly-dopey looking sea perch.
You may even catch a glimpse of dolphins in between the colorful school of fish, whether you kayak or snorkel so take your pick!
28 – Take a nocturnal Glow Worm tour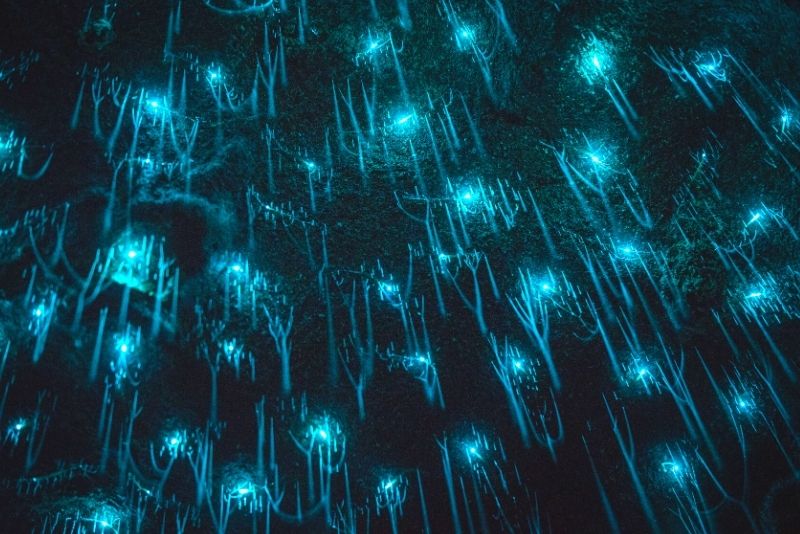 With a warm cup of tea in hand, a four-wheel drive will take you into the heart of the rainforest as it comes alive like you've never experienced before.
The rainforest's undisputed highlight is the Glow Worm cave, where thousands of worms entrance visitors as they illuminate the cave like the night sky.
Pro tip: Pack accordingly with proper hiking shoes and rainjacket as this tour will take place rain or shine!
29 – Enjoy a beer or three on a brewery/distillery tour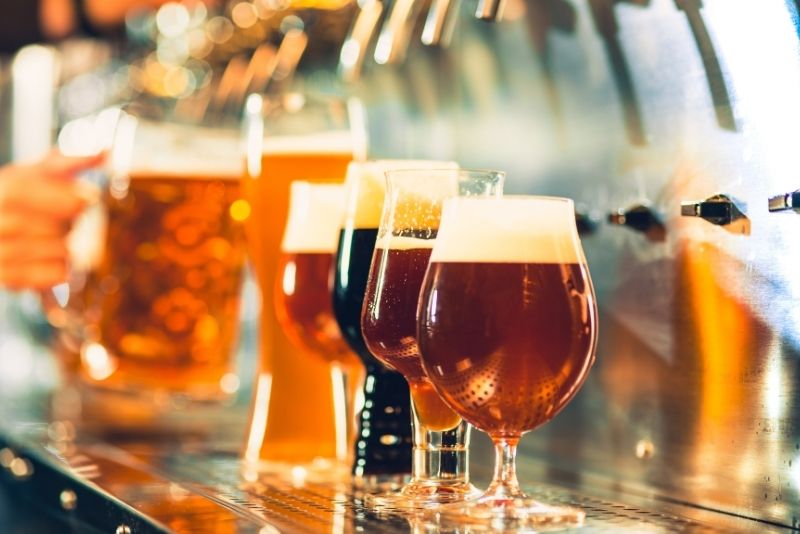 Beer is the drink of choice for plenty of Aussies, so why not take an afternoon to explore the full spectrum of brews on offer?
From wild berry IPAs to black coffee lagers, there's something for everyone — some brewhouses will also offer a hearty, rustic lunch, and plenty of insights into the brewing process (which may include some extra free samples!).
30 – Feed a hungry dinosaur at Holoverse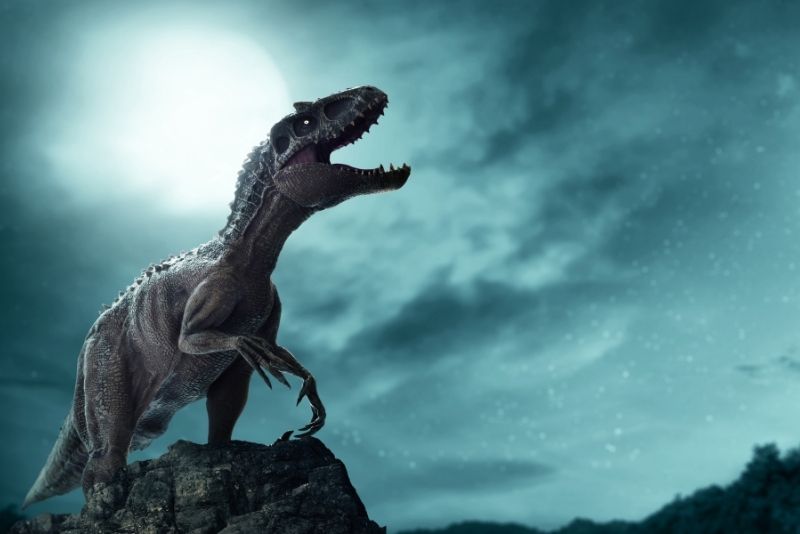 Lose yourself in a myriad of holographic experiences at Holoverse.
As you move between rooms, the setting will deceive your eye into believing you're actually there – either feeding dinosaurs, diving underwater, flying through the sky or walking on the moon just to name a few!
Book your tickets ahead of time online, and you'll receive 3 bonus tokens to use at different themed rooms.
The settings contain games mostly geared toward younger travelers.
31 – Chase waterfalls at Lamington National Park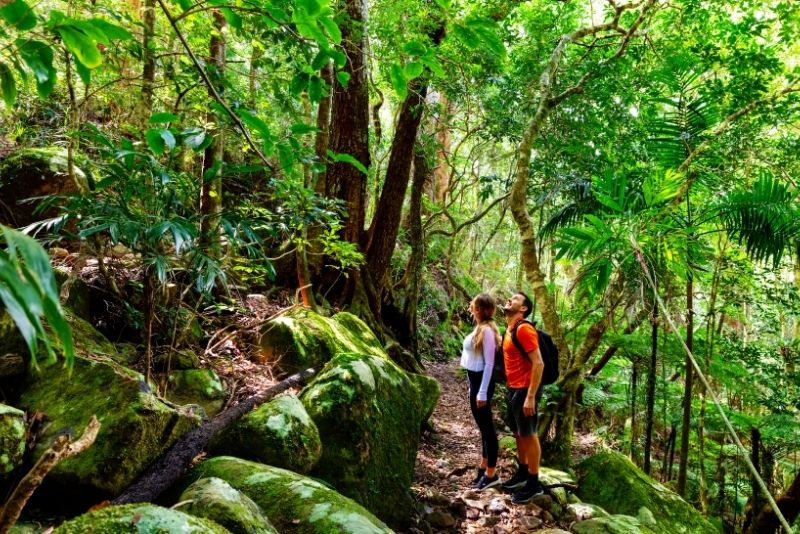 Lamington Park has over 500 waterfalls but the pick of them is Chalahn Falls — but this is no walk in the park; it's a 10-mile hike along the Toolona Creek Circuit complete with occasional mud (so bring your gumboots).
It'll be worth the muddy shoes though for the eight crystal cascading waterfalls alone — otherwise, there are plenty of tracks for hikers of all abilities.
32 – Watch the stockmen at Paradise Country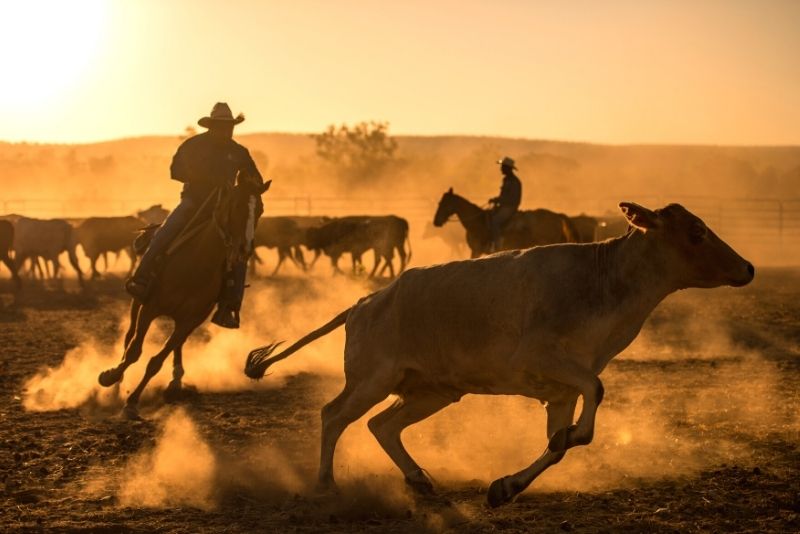 Paradise Country is a fascinating, interactive homage to country Australia that captures the Aussie essence beautifully.
Hop on a tractor yourself before watching the stockmen of old perform on horseback, round up sheep with their loyal sheepdogs, and shear some sheep too.
Feed baby koalas, and see the kangaroos up close, as you learn about their proper care.
Make sure to try the billy tea and damper (rustic tea and dough cooked over an open fire).
33 – Feel like Aquaman on a flyboard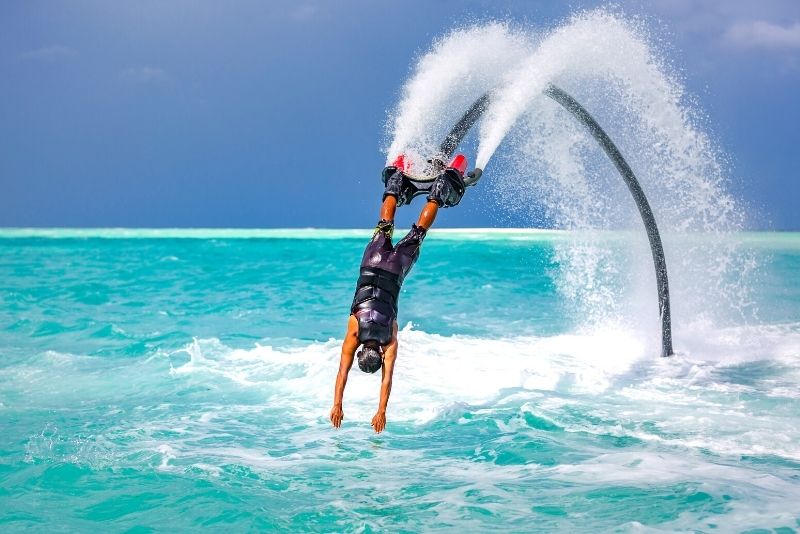 This hot new trend has hit the Gold Coast.
Standing on a secure board being pulled by a boat, you give the magic word and your boots become a jetpack, propelling a stream of water straight downward and launching you into the sky!
Just keeping balance and flying will put your heart in your mouth, but after a while you can try tricks like weaving and jumping.
34 – Ride the Batwing Spaceshot at Warner Bros Movie World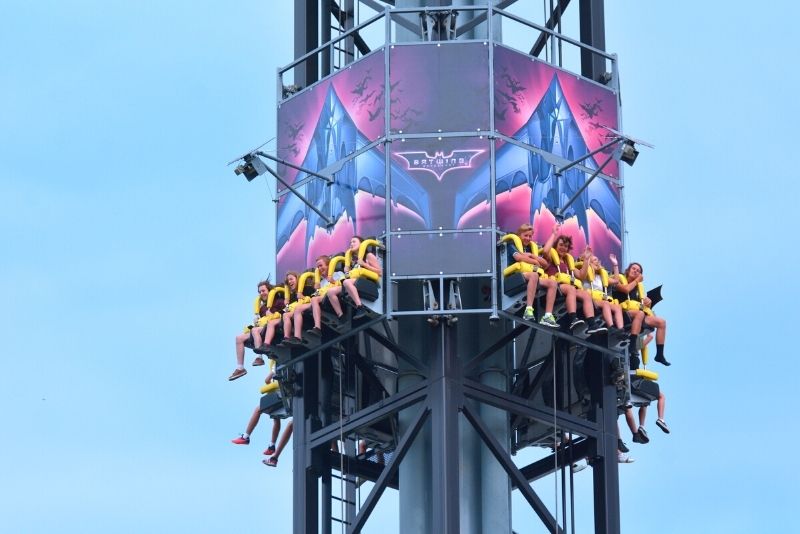 Movie World boasts plenty of thrills, including, of course, the DC Rivals — the tallest, longest, fastest HyperCoaster in the southern hemisphere — and the Batwing Spaceshot, which shoots you 200 feet straight up at almost 45mph with bungee-like bounces.
If thrill rides aren't your thing, there are plenty of more chill options like watching the Stunt Driver show or riding a Ghost Train.
35 – Dance the night away on a Party Pontoon boat
Take your party to the water on a party boat!
Hire and ride your own boat out to the Broadwater (no licence required) equipped with a barbecue, bluetooth speakers and a large esky to keep the water – or any other drink you bring onboard – cool.
From The Deluxe to the Slip 'n' Slide boats, and more, choose a boat according to your group.
For the full experience, take the boat out at sunset and party into the night.
36 – Swim with the turtles and rays at Cook Island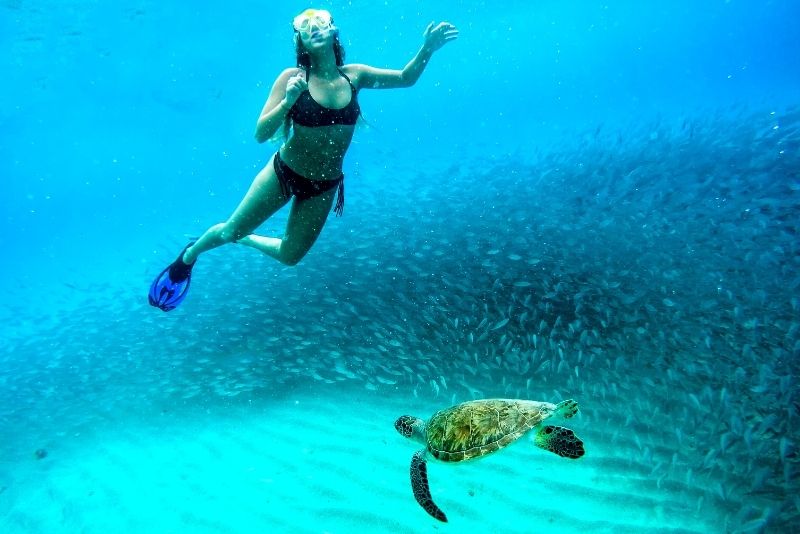 When you're making your list of things to do on the Gold Coast, you can't go past the vibrant marine life.
The best way to see it is by strapping on your scuba gear and diving into the sapphire waters full of brightly-colored fish, friendly turtles and rays.
When you're feeling weightless in the water and eye-to-eye with the sealife, you'll see the water like you never have before.
37 – Be grossed out at the Chamber of Horrors at Wax Museum Gold Coast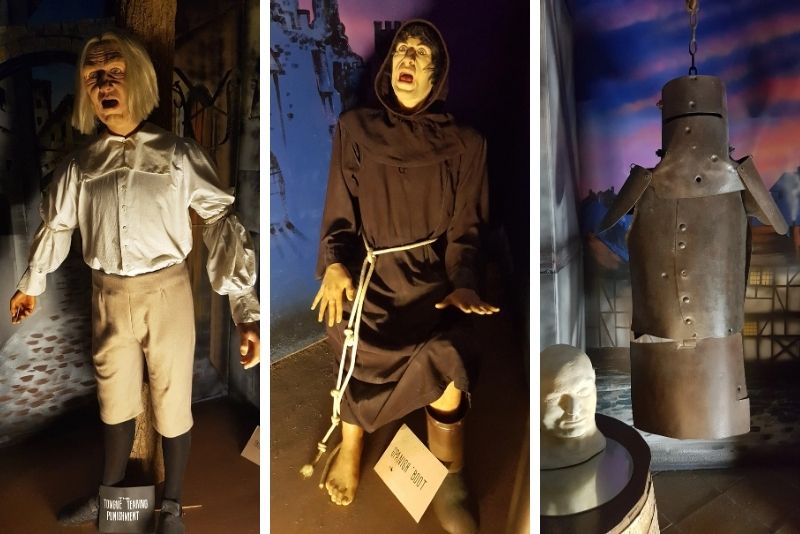 Like all good wax museums, you can get your selfie with Captain Jack Sparrow, Gandhi or Abraham Lincoln here.
But to fully dive into the museum, make sure to tour the Chamber of Horrors too; a section featuring wax figures being subjugated to some really fascinating (and sometimes gruesome) torture devices used throughout history.
Locate in Surfer's Paradise, and make sure to make your booking online for your experience. You'll find it impossible to look away!
38 – Race around in a Ferrari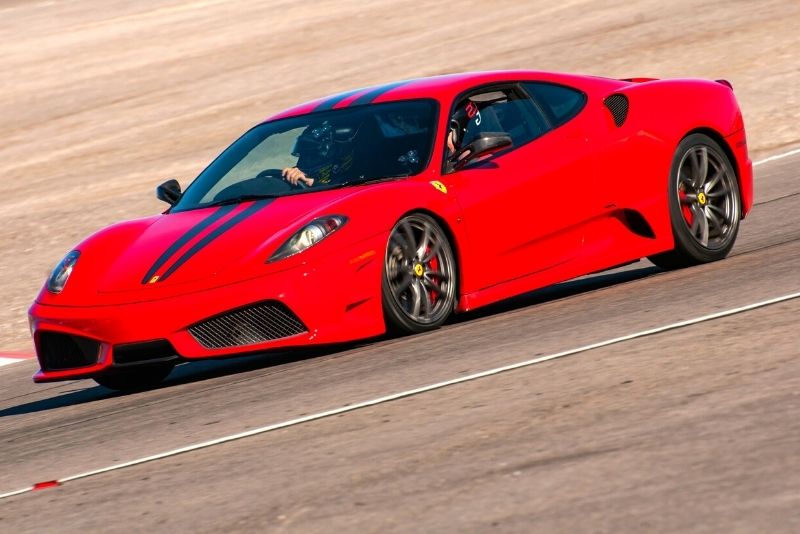 The Ferrari captures Italian glamour, top-performance and sleek design in one vehicle. For half an hour, the roads and the car are yours as you take it for a spin.
The power will surge through you as you speed along the roads and try all the car's features until your time is up, then make sure you get a photo with the car to post online!
39 – Experience the thrill of indoor skydiving at iFLY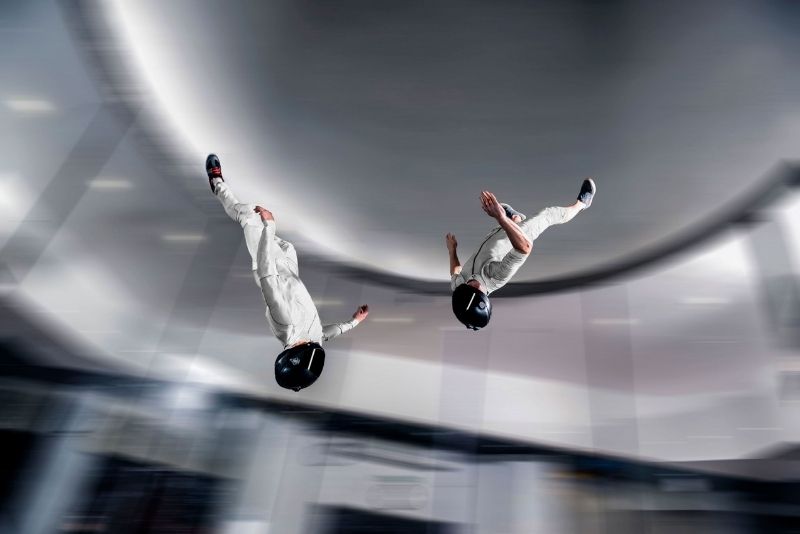 At iFly, feel the adrenaline surge through your veins as you experience the thrills of skydiving without jumping out of a plane — instead, lean into the jacked wind tunnel and undergo the equivalent of a 14,000-foot freefall with almost a minute of flying!
No bad weather, no plane flights, and a big clear cylinder so your friends can watch you and grab an unflattering mid-air picture.
40 – Drift around corners at Sideways Go Karting Gold Coast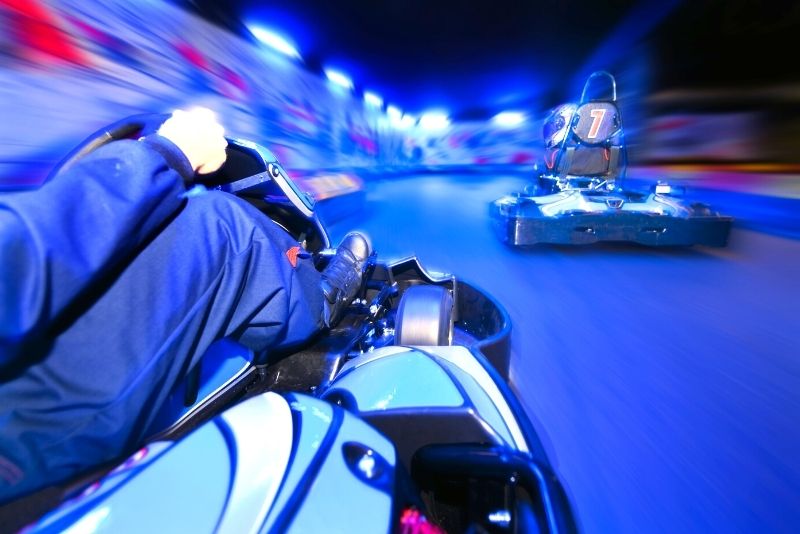 Indoor go-karting doesn't get cooler than this.
Put the pedal to the floor over three levels of track including a ramp into the Cave of Darkness before speeding into the outdoor section.
The track is designed for drifting so take corners like the old Mario Kart games (without fear of slipping on bananas).
The karts themselves are elite and European-designed for a maximized driving experience including timers so you know if you beat your mates!
41 – Go on safari at the Stradbroke Islands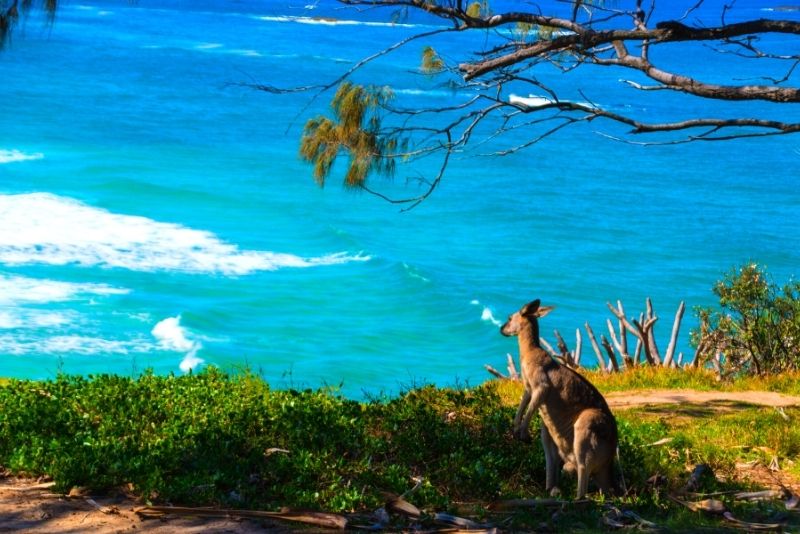 North and South Stradbroke Island are teeming with wildlife of all sorts.
At South Stradbroke, take a jet-ski safari around hairpin turns to discover dolphins, turtles, wallabies, and (if you're very lucky) whales!
Then hop on a 4×4 at North Stradbroke to explore the remarkable scenery before hiking to North Gorge to get another look at that sealife and spot that whale again.
42 – Rev your engine in an off-road V8 buggy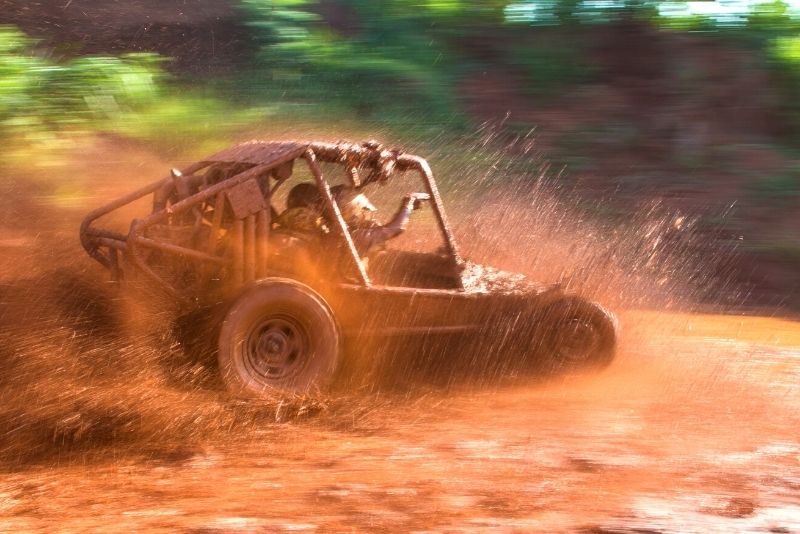 A powerful car on a custom-built track is like a playground for grown-ups.
After some coaching on the car's controls and the off-road track, put the pedal to the floor for a thrilling six-lap joyride in a buggy equipped with a V8 Lexus engine!
Don't worry, your experience comes with protective gear, and safety briefing.
These aren't just hobby vehicles either, they've competed across Australia including in the infamous Finke Desert Race.
43 – Do a barrel roll in the sky over Gold Coast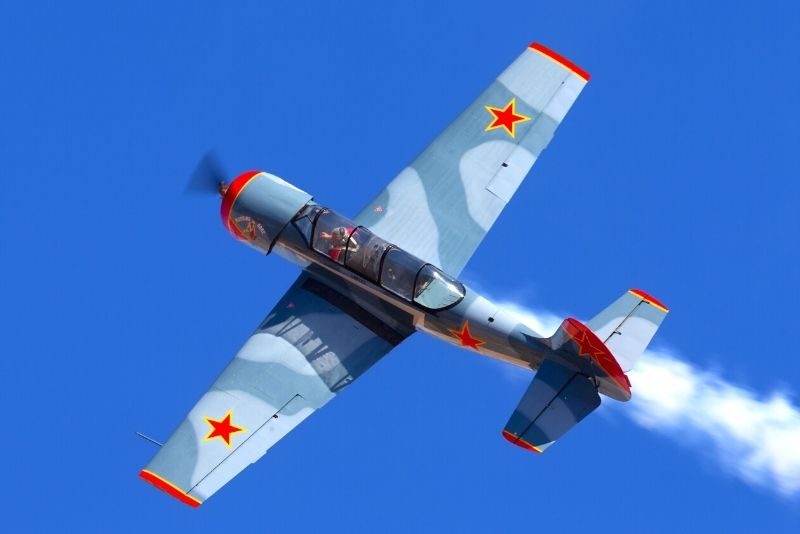 Jump in a vintage World War 2-esque plane and fly at 1500 feet over the Gold Coast for unparalleled views out of the cockpit of the city and the Pacific Ocean.
If you're up for it, your pilot will flex some aerial aerobic muscle by performing loops and barrel rolls!
Pro tip: The tour facilitators recommend having a light meal 1-hour before your experience to avoid any motion sickness.
44 – Get wild at the Australia Zoo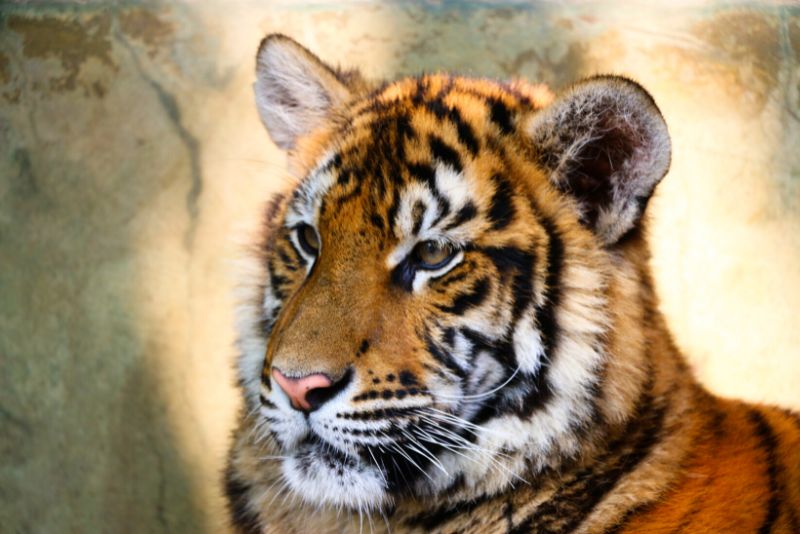 Tasmanian devils, dingoes, and wombats oh my!
Head to the Australia Zoo (with transportation included) to visit a number of various local animals, from cute and furry to wild and dangerous, many of which the animal lover, Steve Irwin, would wrestle with on his hit shows.
Learn about the museum's dedication to wildlife conservation, research conducted to save endangered animals, and much more.
With ample free time, catch a few live shows featuring Steve's favorite animals in fun ways!
45 – Do the inflatable obstacle courses at GC Aqua Park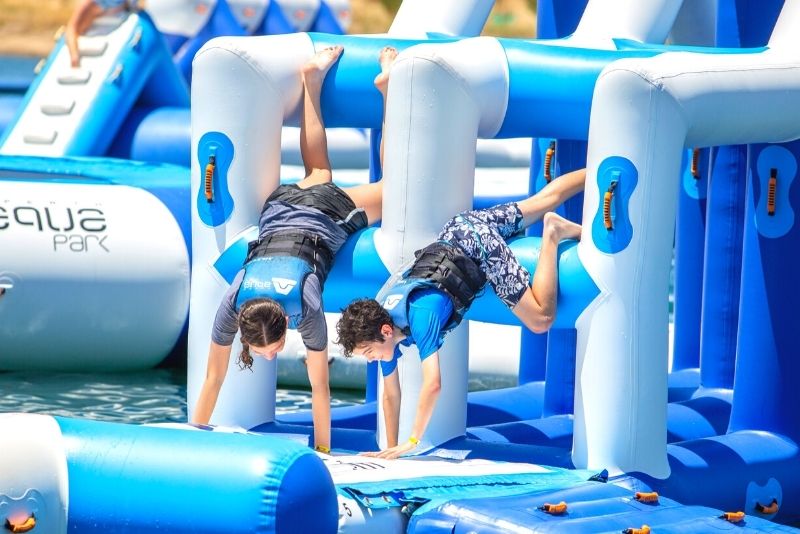 GC Aqua Park has a collection of the tallest and most challenging inflatable water obstacle courses in the country, making it one of many great things to do in Gold Coast for travelers with kids (or for grown-up tourists with a lively inner-child).
Conquer the slides, leaps, swings, and balancing beams and if you wipe out, just start again!
This is a popular activity, so make sure to book your tickets well in advance!
 46 – Hit your drives from the comfort of a bay at Topgolf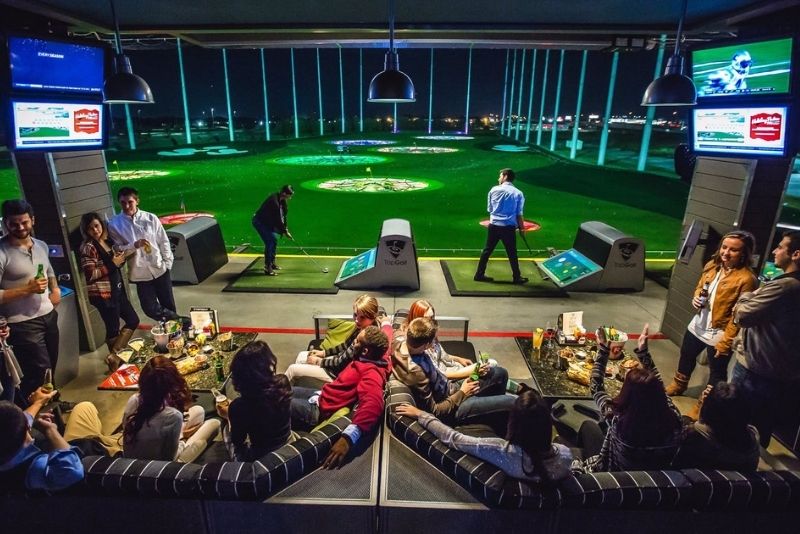 Can't decide whether to go out to eat or head to the driving range?
Visit Topgolf, hire a bay with friends or family and dine from a chef-inspired menu, or find the rooftop terrace with live music and drinks for a memorable night.
Then make it better with Topgolf — where you can step up to the tee and hit microchipped golf balls into giant targets!
47 – Visit Byron Bay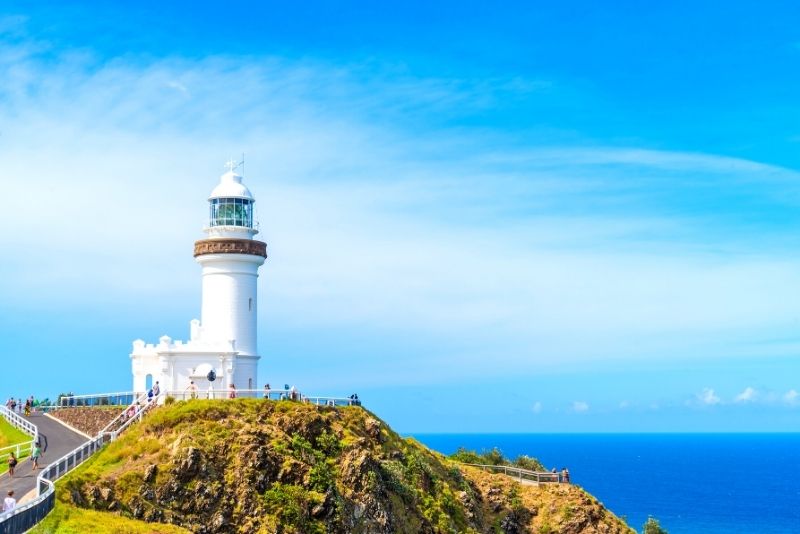 Australians love to visit Byron Bay and you'll quickly see why!
Explore the super-artsy coastal town with great shopping and cafes, then find Tweed Valley and the Cape Byron Lighthouse for some great sightseeing.
For some serious tranquility, vist the glittering Crystal Castle and Shambhala Gardens, an ancient amethyst cave and World Peace Stava blessed by the Dalai Lama himself.
Explore all this and more when you book yourself for a day tour from the Gold Coast!
48 – Have a flutter on the horses at Gold Coast Turf Club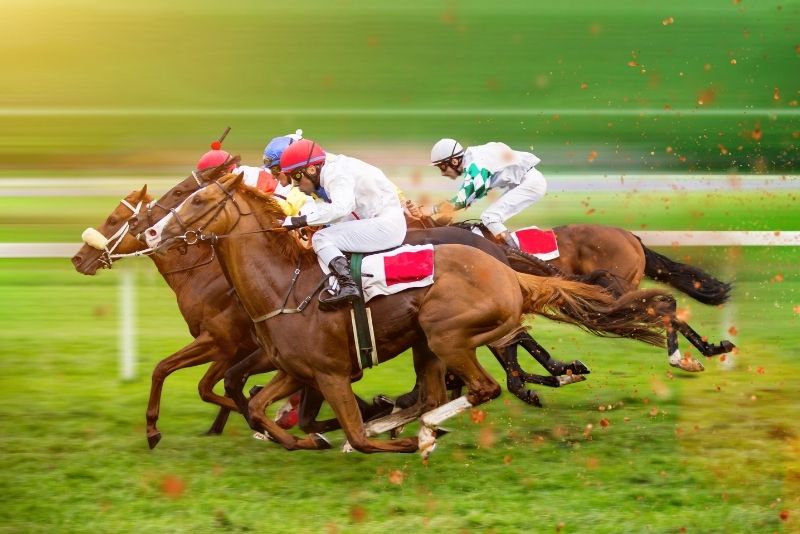 Australia has more horse racecourses per capita than any other nation.
The locals love to dress up in their swankiest outfits, perch on the grass with a glass of fine champagne and have a 'flutter' – or bet – on the horses.
If you are around in January there's a good chance you'll be able to catch the 10-day-long Magic Millions Carnival & Yearling Sale.
49 – Ride a Segway to the iconic Surfers Paradise sign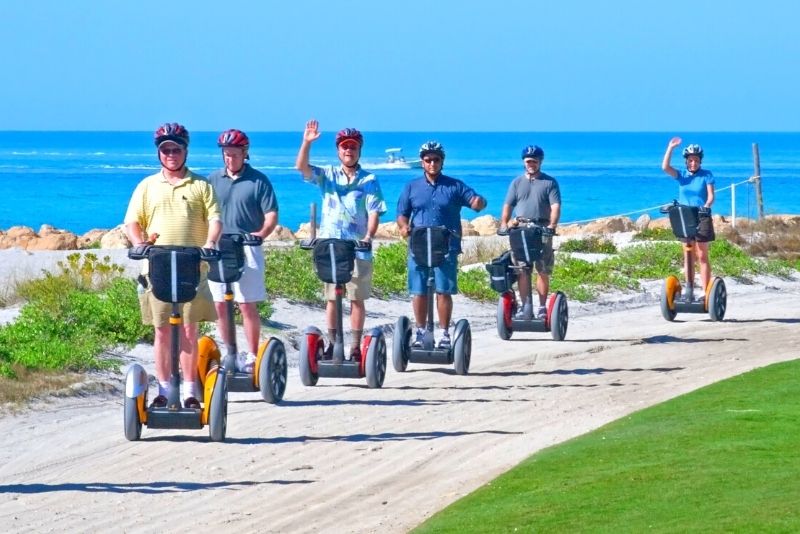 Don't worry, Segways are surprisingly easy to ride, and one of the most convenient things to do in Gold Coast.
Ask your tour guide for a photo under the sign before zipping down sunny Main Beach towards McIntosh Island where you can test out your all-terrain Segway over bridges and around water — keep an eye out for beautiful peacocks and lyrebirds along the way too!
50 – Get thrown off a tall building at Stunt Park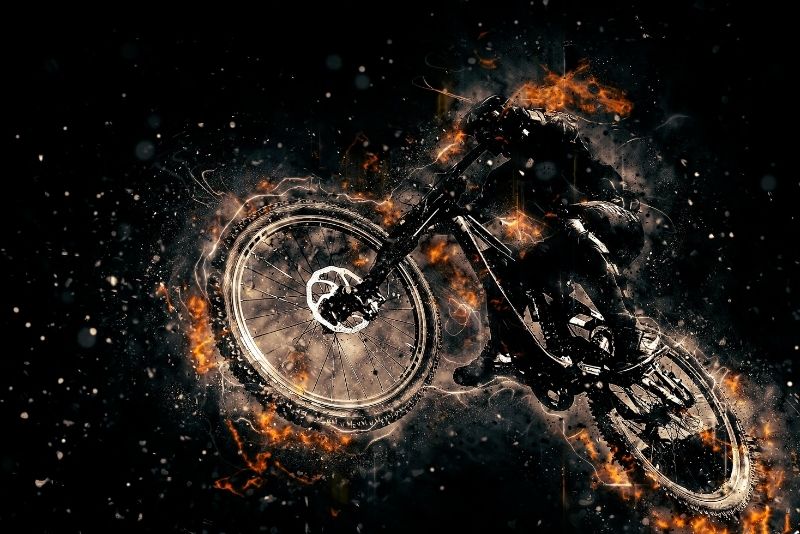 Tourists love this stunt academy; a venue that trains professional stuntmen how to be human torches and first-timers how to choreograph some basic movie stunts such as fight choreography, sword-fights, wire work, tumbles and falling out of high buildings.
Explore the different stunt activities either geared towards adults or children and book online ahead of time!
No visit to Stunt Park is complete, however, without channeling your inner Ninja Warrior on their Ninja Obstacle course.
51 – Board a sunset cruise out to the Broadwater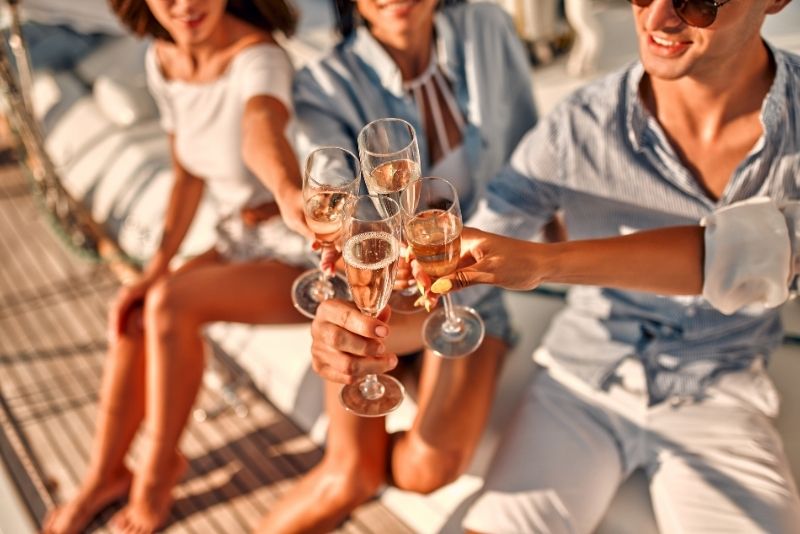 Queensland is the sunshine state so a sunset is essential viewing.
Sail through canals and waterways from Surfers' Paradise, past Chevron Island and aptly-named Paradise Waters to the Broadwater as your tour guide gives you the lowdown on the history, swanky properties and things to do in Gold Coast.
Sit back, relax and take in all of the beautiful sights on a luxury boat; with the option of wine, cocktails and food platters, it'll be an unforgettable sunset perfect for a classy night with a close friend or a romantic evening with a partner.
52 – Lift your fishing game at Deep Sea Reef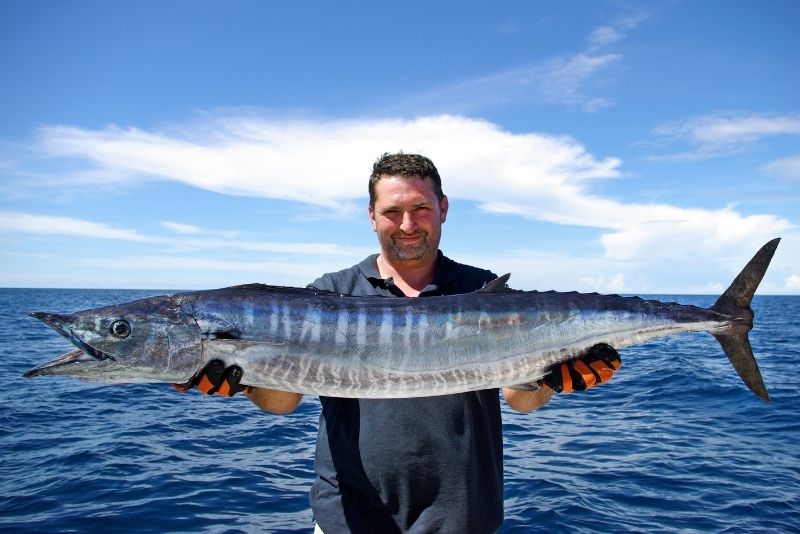 A complete fishing adventure is jam-packed in a 5-hour charter experience.
Whether you are a pro or novice fisher, you can explore the most scenic deep-sea reef spots with all the best catches waiting for you including mackerel, marlin, snapper and tuna. With only 12-16 per boat, you are guaranteed advice and direction from the experienced skipper to improve your fishing game and guarantee a catch.
53 – Get sucked into the Triple Vortex at WhiteWater World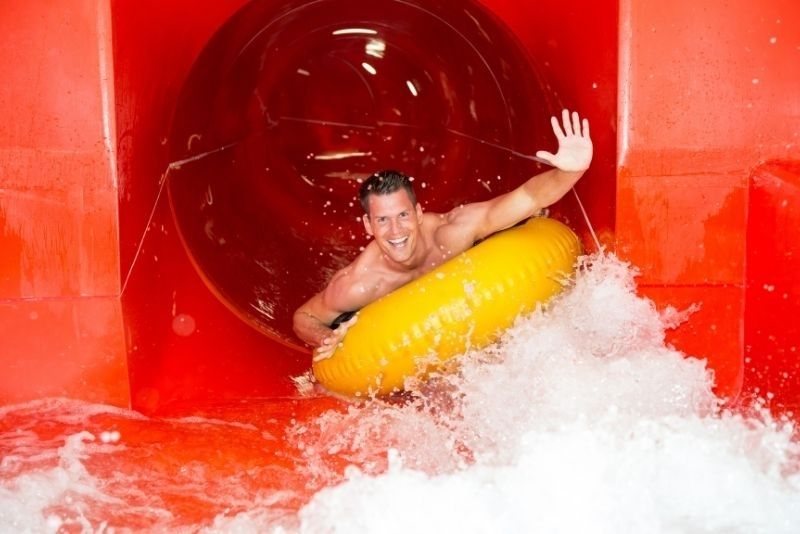 The aqua-subset of Dreamworld theme park has plenty to offer in its own right.
To relax, rent a cabana complete with televisions and refrigerators for your convenience.
Otherwise, travelers seeking something a little more adventurous love the thrilling rides like the Triple Vortex which drops riders in rafts from one slide to another, often in pitch darkness.
Explore more with access to WhiteWater World, DreamWorld, and SkyPoint offering maximum fun for a sweet deal!
54 – Don't let time run out in an Escape Room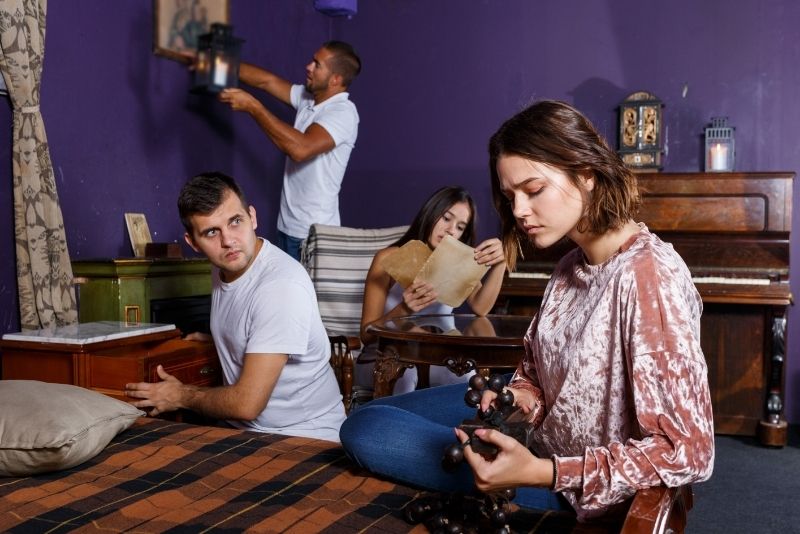 Put on your detective hat and hear the ominous sound of the door bolting behind you!
You and your mates have 60 minutes to scour the area and look for clues so you can solve the puzzles and escape the room.
It'll be sure to make your heart race, your head scratch and your eyes dart for a truly unique and immersive experience.
55 – Get a golf lesson with a PGA professional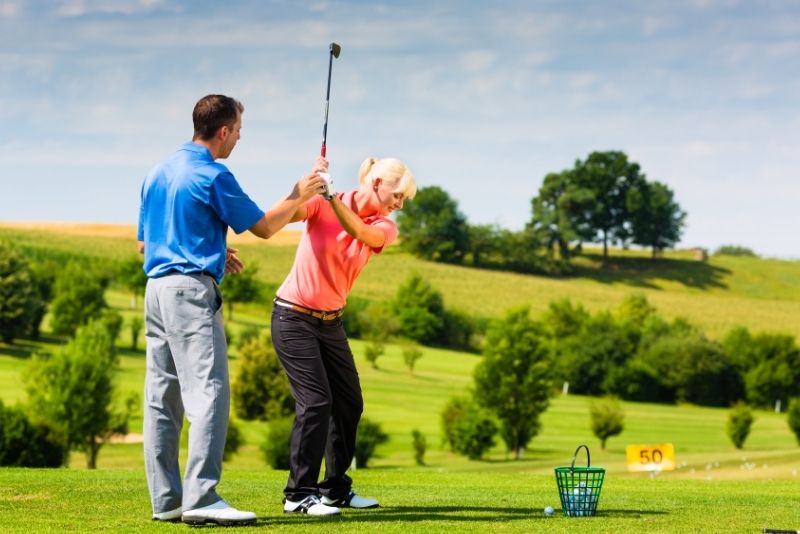 It's no surprise that the nation that produced Greg Norman, Jason Day and Geoff Ogilvy is fond of their golf.
While we can't promise your professional will be either of these three champions, there is an extremely rare opportunity to take some strokes off your golf game with one-on-one lessons with a PGA master before testing your skills on a nearby course!
56 – Row a kayak into the sunset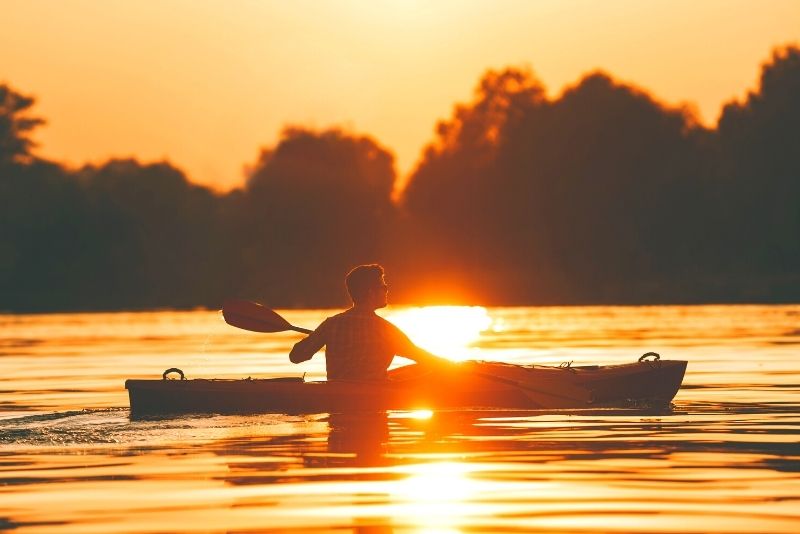 Where the stunning waters of the Gold Coast meet the glistening sun of the sunshine state, take a kayak out to Surfers' Paradise and ride into the sunset.
With views of the Gold Coast's twinkling skyline lit up by the colors of the sunset, it's the perfect place to relax and reflect on the trip so far.
Are you more of an early riser? Join a morning kayak session with dolphin spotting and even snorkeling!
57 – Have your senses challenged and ignited at INFINITY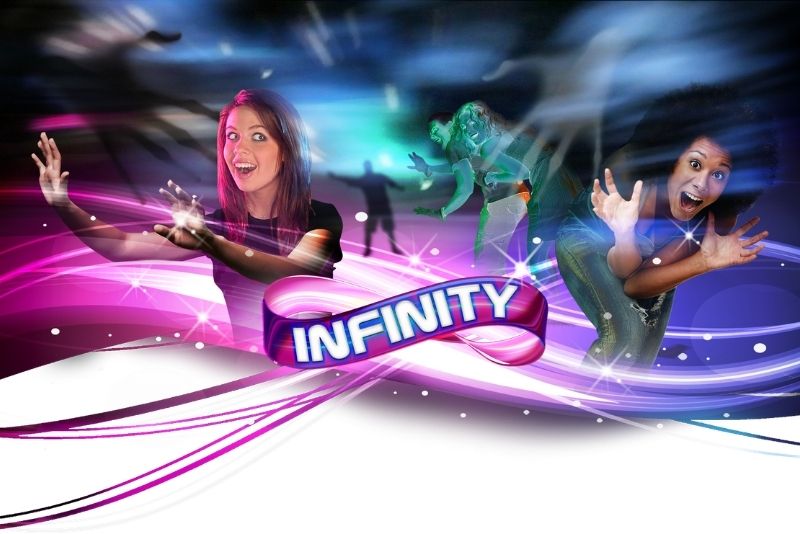 In a short half-hour, you'll feel like Doctor Strange travelling the multiverses without leaving Surfers' Paradise.
The sensations are indescribable as you wade through 20 trippy labyrinths packed with special effects and illusions that will take you from laughing to screaming to dancing to plain confused.
INFINITY is a truly odd but unforgettable thing to do on the Gold Coast that you won't find elsewhere.
58 – Ride the Sling Shot at Surfers' Paradise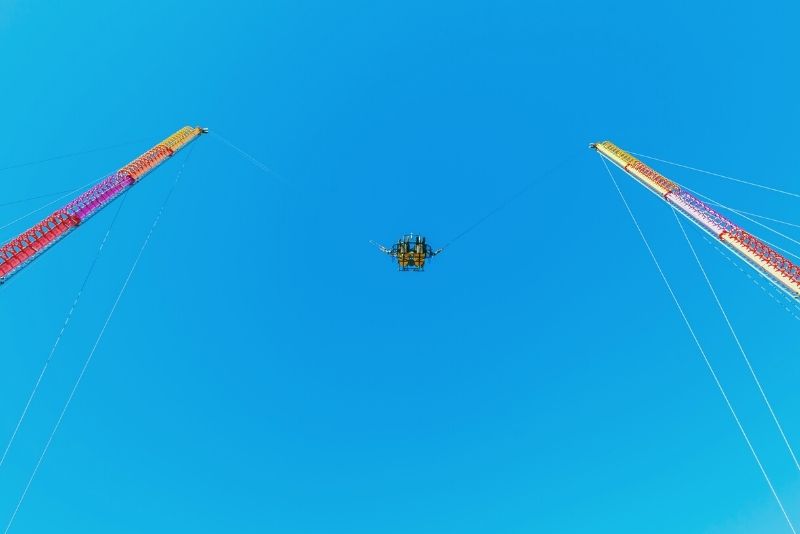 Okay, the Sling Shot isn't for the faint-hearted.
Riders sit in a chair that reclines as the spring loads. Facing the sky, the anticipation sends a chill through the spine until… TWANG!
The chair launches vertically at 100mph to a height of over 250 feet in the air! All this isn't in any theme park, it's simply nestled in the streets of Surfers' Paradise.
59 – Experience Indigenous culture at Spirits of the Red Sand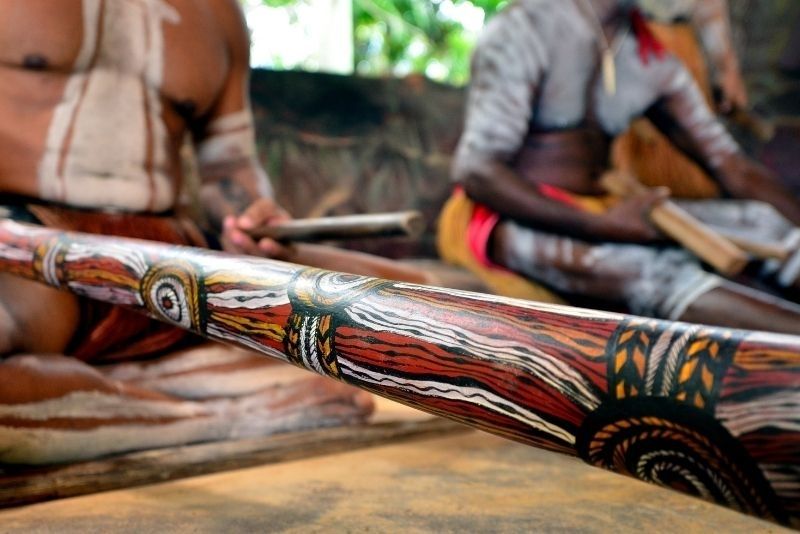 The native Australians have 60,000 years of history around the Gold Coast, which has been encapsulated into a one-of-a-kind roving theatre.
The Spirits of the Red Sand performance includes traditional song and dance, displaying the rich history, but the stunning visuals take a sharp turn with the arrival of the British settlers to Australia.
Dinner with the show includes samples of crocodile, kangaroo, and emu modernized to today's tastes!
60 – Drive a 70-tonne dump truck and feel like a kid again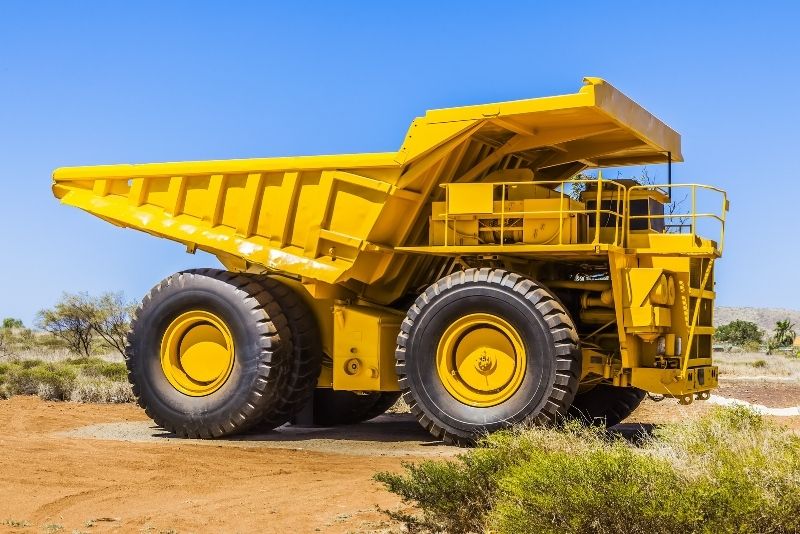 For all the kids who played with trucks in their sandbox and dreamt about driving them around construction sites, this is one of the best things to do on the Gold Coast!
Get behind the wheel of this mammoth machine and after driving it a little, learn the controls behind scooping, digging and dumping dirt. There'll be a smile on your face the whole time.
61 – Pick a card, any card, at Illusions Magic Show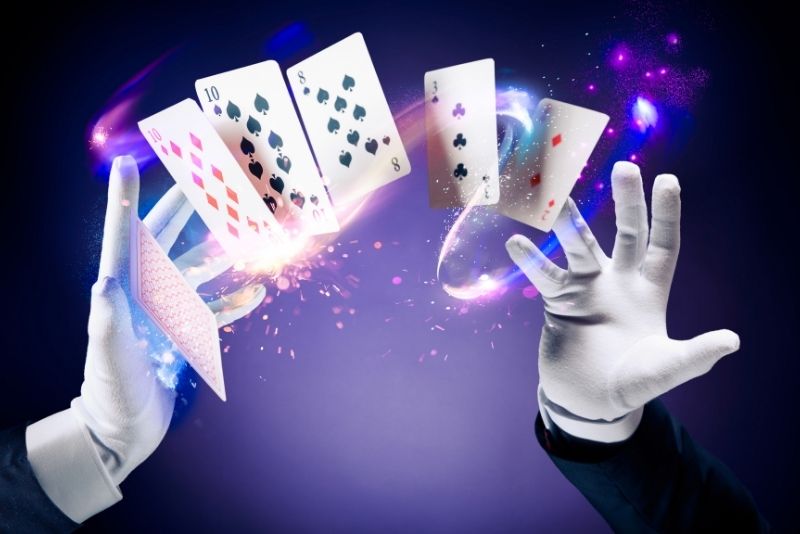 Let the award-winning illusionist Matt Hollywood entertain you for a night of classic and contemporary illusions that will leave you bewildered.
Hollywood has a flair for the dramatic and involves the audience which makes the show so much more captivating for the audience.
Make a night of the show with a VIP ticket for front row seats and delicious dinner; due to high demand, these seats can disappear quickly!
62 – Channel your inner driver in a Ford or Holden V8 Supercar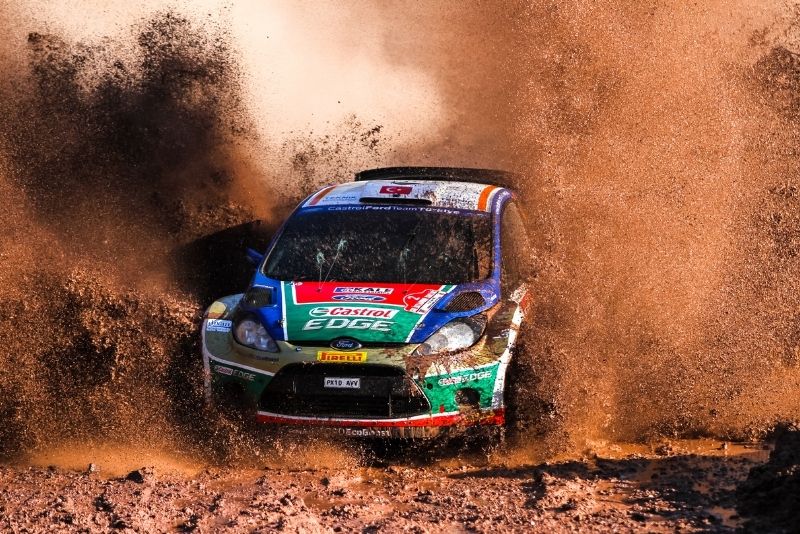 V8 supercars are popular around Australia and tear up the track in every state.
The most important choice is Ford or Holden, then get ready to take the wheel for seven-laps of Norwell in a car that clocks over 110mph!
After you've mastered the hairpin turns and speedy straights, move into the passenger's seat as the instructor driver puts the pedal to the metal for two hot laps!
63 – Enjoy the show at Dracula's Cabaret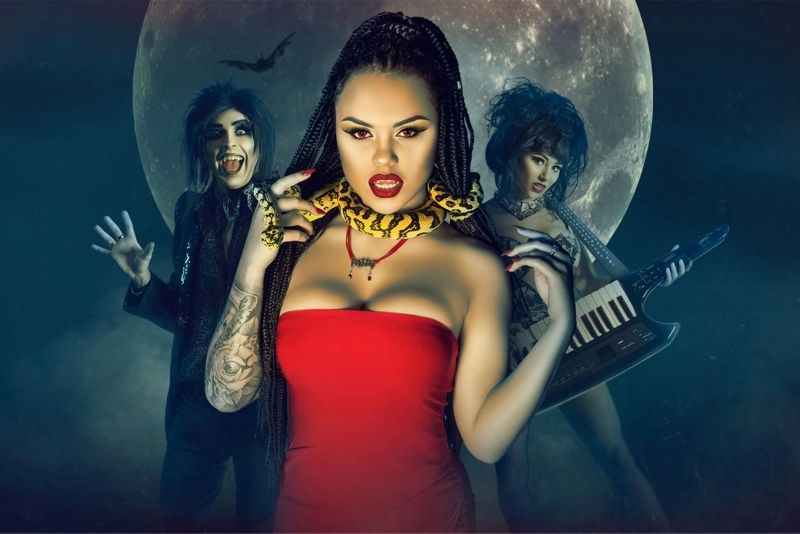 Australia's longest-running dinner and show experience is a surefire hit!
When you enter, browse the Graveyard Cocktail Lounge for the Ghost Train which takes you to your dinner and cabaret in the Theatre of the Vampyre.
Your three-course dinner will be accompanied by side-splitting comedy, astonishing illusions, circus tricks, puppetry, and live music.
As one of the quintessential things to do on the Gold Coast, this is not to be missed.
64 – Watch the cabaret at the Pink Flamingo Spiegelclub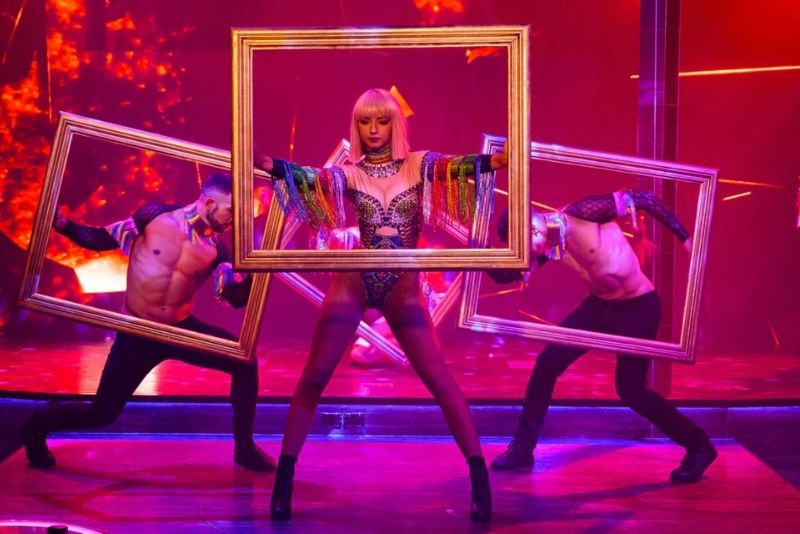 Here's a cheekier thing to do in Gold Coast with the burlesque performers, circus acts, acrobats and comedians competing to tantalise and stimulate the senses.
As guests enter, Art Deco architecture as well as the pink and gold detailed interiors catch their attention, exuding a sense of playfulness.
Travellers will feel a tinge of Las Vegas on the shores of Queensland in a classy, flamboyant display of artistry from across the world for your entertainment.
65 – Watch an Australian Football match at Metricon Stadium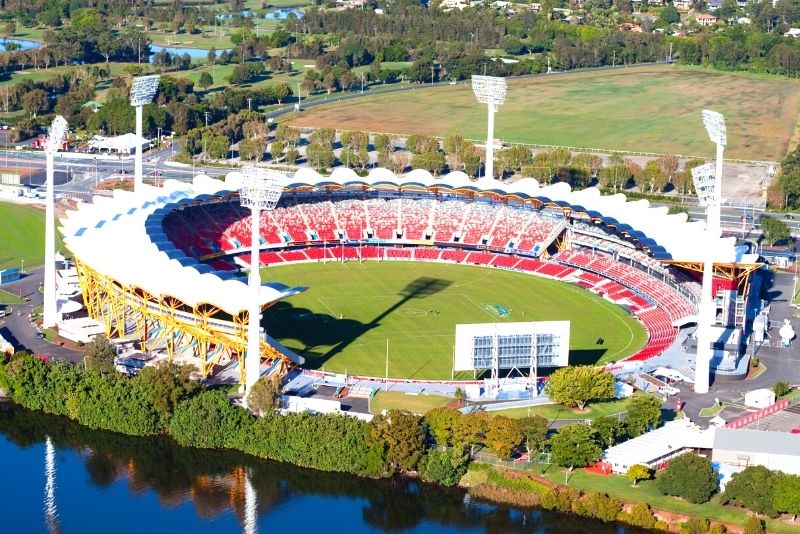 Australians are sport mad, with the Australian Football League (AFL) one of the country's most popular, enigmatic, and brutal sports.
Metricon's 25,000-seat stadium hosts the Gold Coast Suns, one of the new kids on the block brimming with optimism and young talent.
Supporting the home side and watching an AFL match is essential for any visit to Australia.
The schedule can be viewed ahead of time, and tickets can be purchased via the AFL's website.
66 – Experience the Australia Outback Spectacular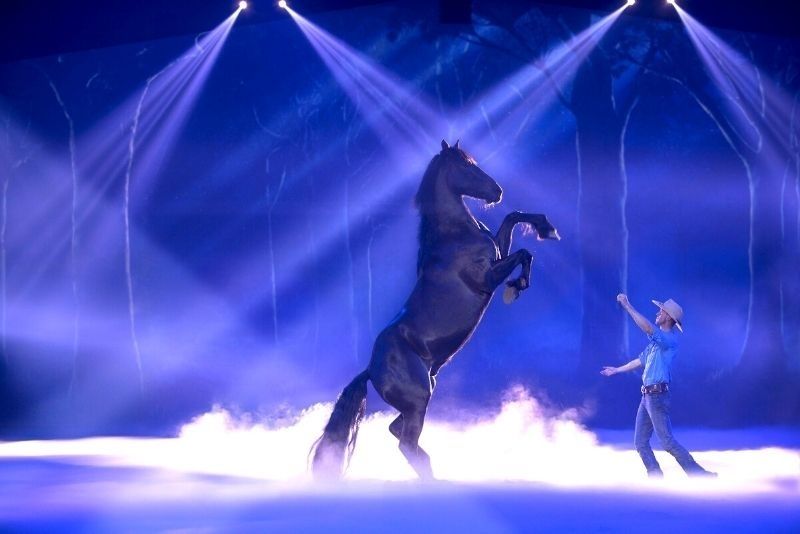 The focal point of Australia is the mighty red Outback, so let this show transport you there!
Hear the myths and legends of Australia's red center featuring a three-course dinner, live animals, and the tale of two Aussie farmers trying to find a way through.
At the end of the mesmerizing show, you'll get a traditional stockman's as a souvenir.
Tickets can be purchased ahead of time, and at a discount so hurry and snag your seats!
67 – Spend the night at O'Reilly's Green Mountain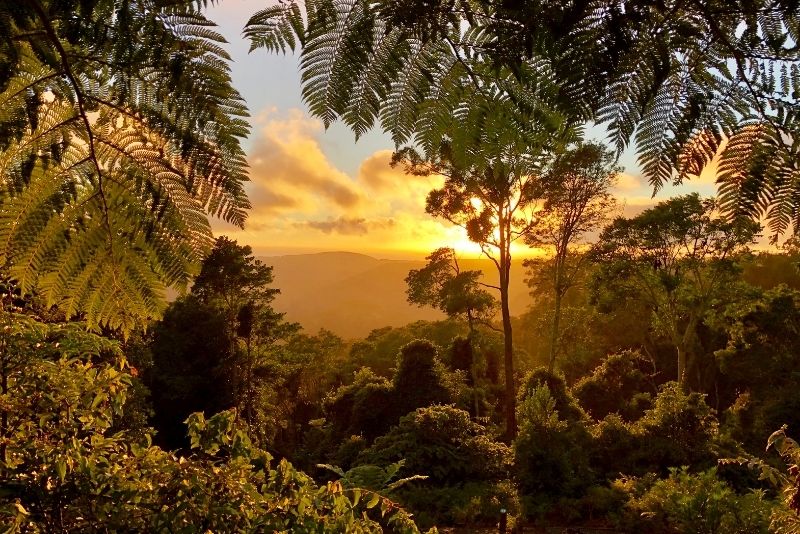 Book to experience an encounter with wildlife unlike anywhere else in the Gold Coast at O'Reilely's Green Mountain inside Lamington National Park.
Experience a unique wine-tasting session followed by a visit to a local alpaca farm, as you walk amongst the sprawling green forest with chirping exotic birds all around.
Vacation rentals are available to continue the wildlife magic overnight, as you settle into bed with the sound of nocturnal animals.
68 – Get romantic on a gondola cruise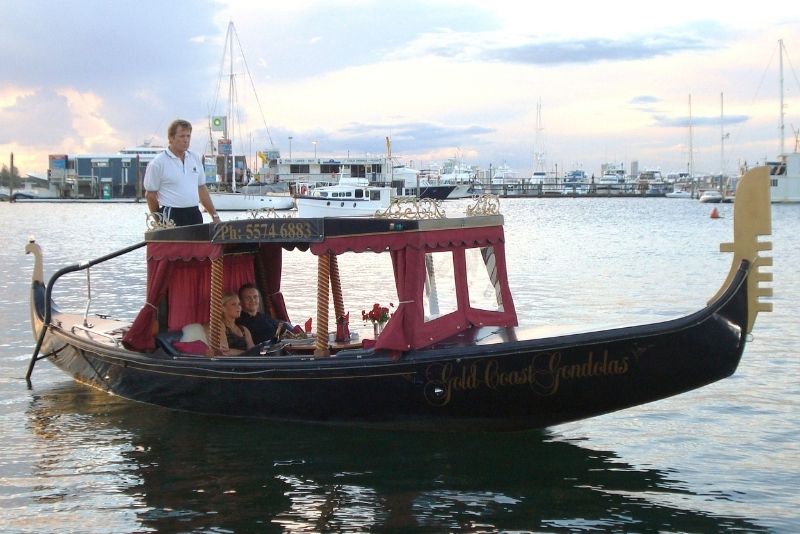 A taste of Venice in the Gold Coast canals along with the taste of a complimentary cheese platter and sparkling wine is a perfect date night waiting to happen.
Sail in the twilight for the kaleidoscopic lights of Gold Coast at night to reflect in the water and into each other's eyes for a magical evening.
Just to help set the mood, your gondola ride will include live music.
How to get to Gold Coast?
Remove any confusion when it comes to figuring out how to get to your hotel in Gold Coast from the main airport, Gold Coast Airport (OOL) when you pre-book an airport transfer.
When you pre-arrange an airport transfer, you'll have a driver awaiting you before you land, ready to transport you to your hotel, in 40 minutes or less.
Where to stay in Gold Coast?
Rest your bones after a day of scuba diving and sightseeing at the Meriton Suites Broadbeach, only a 5-minute walk from the beach, as well as The Star Casino and the Gold Coast Convention Center. Enjoy a number of restaurants and cafes nearby, or tuck inside for a little TLC at the sauna.
Enjoy pristine views of Surfer's Paradise when you stay at Q1 Resort & Spa, featuring a 360º view that extends to Byron Bay, the Pacific Ocean, and of course, the beautiful coast. Guests can also enjoy laundry services, free parking for those driving, and a number of relaxing pools to unwind in.
Meriton Suites Surfers Paradise is situated on the beach, giving way to uninterrupted access to the beach, as well as views from a number of rooms. Every morning head to the in-house coffee bar and every night head to dinner at one of the restaurants inside the hotel conveniently.
Where to go next?
After you've explored all there is to do at the Gold Coast, head over to the rest of the country to see the best places to visit in Australia.
Head to Brisbane where you'll be able to learn more about indigenous art at the Gallery of Modern Art, view a cultural performance at the Brisbane Powerhouse and get a taste of the local craft beers on a brewery tour.
For the ones looking for outdoor adventures, extend your trip and explore the Sunshine Coast, the perfect laid-back coastal escape.
Be sure to visit Hervey Bay, a natural treasure trove, considered the whale-watching capital of Australia. The calm, crystal-clear waters are a paradise for marine life and the perfect place for water adventures.
Lastly, don't forget about the multi-day tours from Brisbane, whether it's a thrilling escape to WhiteWater Park, or an open water diving experience to get your certification. The multi-day trips include transportation and a few extra bonuses that make the trip-planning experience, easier!
Final thoughts
So which item on our list of the best things to do in Gold Coast is first on your itinerary? From catching a spectacular sunset on a yacht to learning about indigenous culture at Spirits of the Red Sands, or doing it all on land and sea on a Quack'rDuck duck bus tour – the Gold Coast doesn't disappoint, that's for sure!
Happy travels!