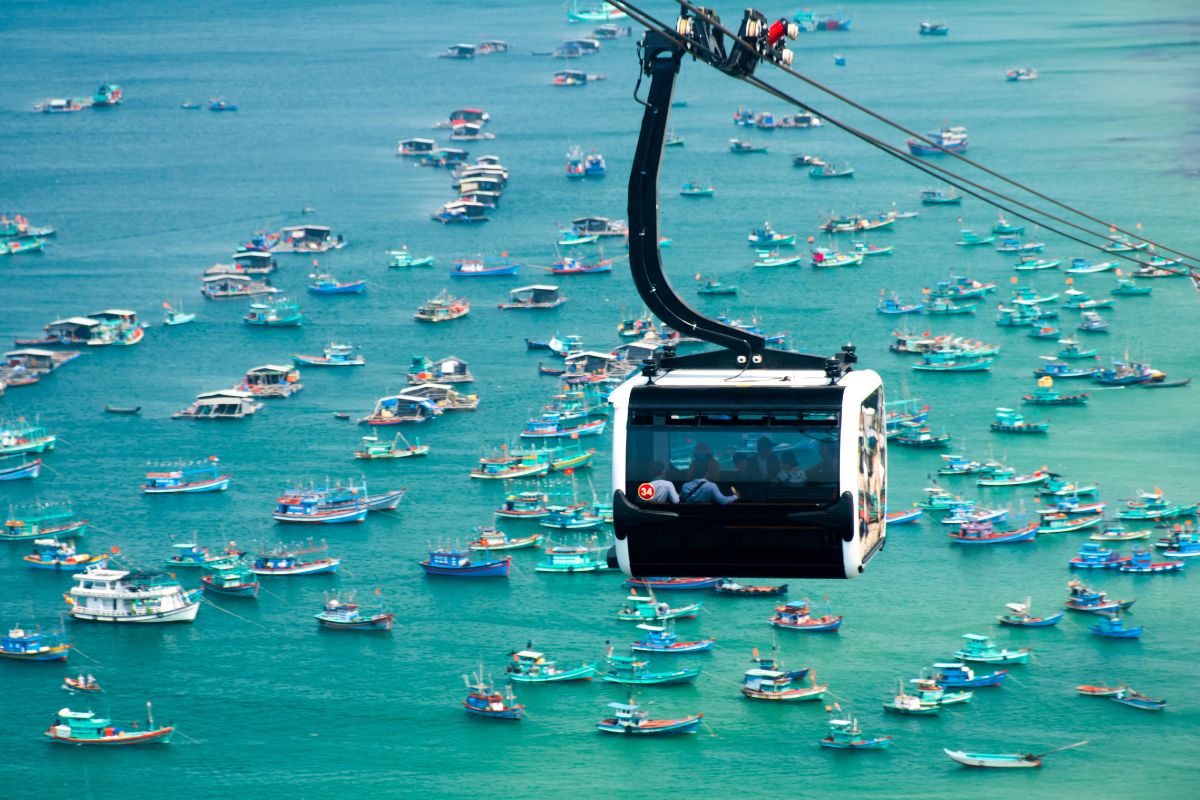 What's not to love in this piece of tropical Vietnamese paradise, utterly different from any other destination in the country, yet retaining traditions and local customs that the world has become enthralled with?
Bordering the Gulf of Thailand, there aren't many islands in Vietnam like Pearl Island; its underwater world incomparable.
Centered around all things oceanic, it's a fabulous destination to relax, lap up the TLSea and the good vibes, and get lost in its aquatic wonders. Speaking of, its snorkeling and diving exploits are some of the best, a mecca of marine species.
Go island hopping, sail the seas during boat tours, sing "if you like piña coladas" (or sim wine) at the beach bars with your toes tickling the sands and experience something new, like sea walking.
Continually be mind-blown by the things to do in Phu Quoc … Chase waterfalls, embrace hikes in nature, sample local cuisine at the markets or during a cooking class, visit traditional museums and join one of the unique tours around the north or south side of the island.
Warm weather, friendly faces and inviting smiles; greet locals with a xin chào and stay golden.

Want to dive straight in? Browse our catalog now!
1 – Explore Phu Quoc National Park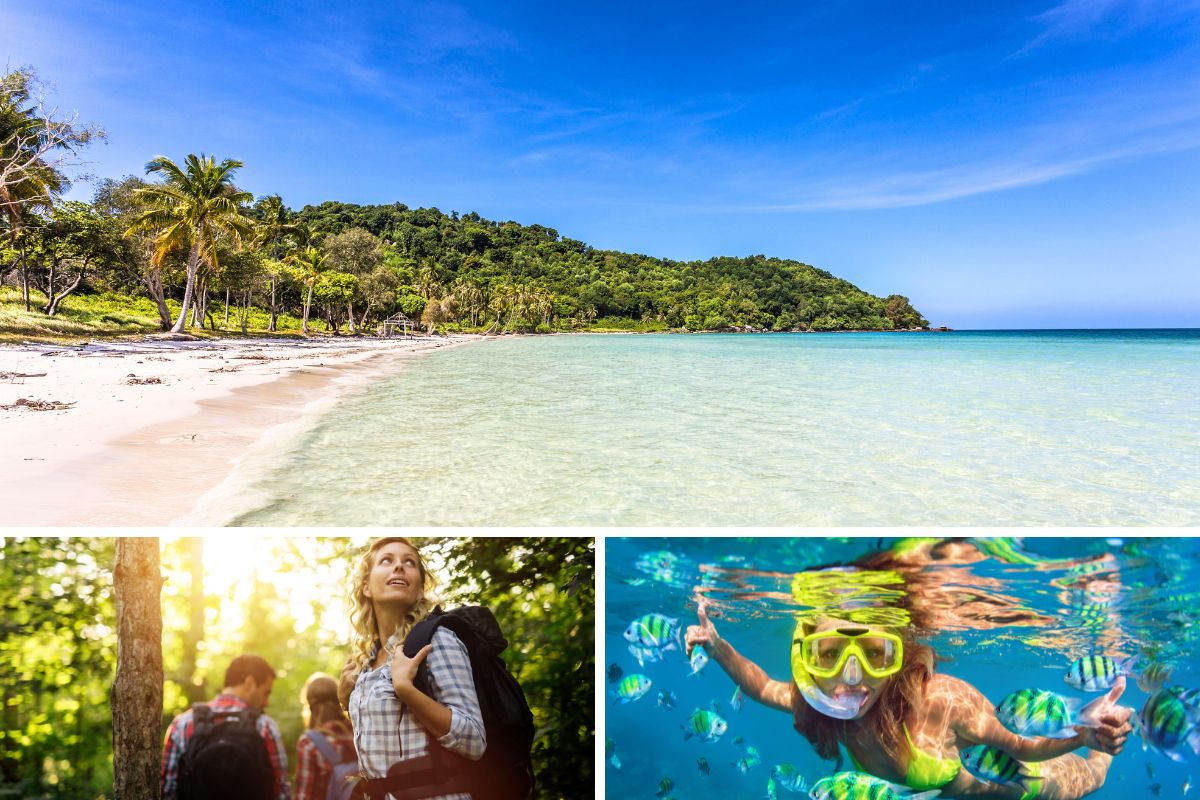 Verdant jungles on one hand, peaceful beaches on the other end, an abundance of wildlife and a destination where you do want to go chasing waterfalls; Phu Quoc National Park combines the best beauty of the island within its 32,000 hectares of land.
Located on the north-end, the typography and landscapes guarantee a plethora of outdoor activities, from nature walks to hiking trails (the two main paths are Ganh Dau Trail and the Phu Quoc National Park Trail) to snorkeling to birdwatching.
Boasting some of the most pristine ecosystems in all of Vietnam, spot rare animal species and unusual plants as you navigate your way into its evergreen forest, with the Rach Cua Can River flowing through the park.
Emptying into the Gulf of Thailand, lap up the best of both worlds, discovering its offshore coral reefs.
2 – Join boat tours and go Island hopping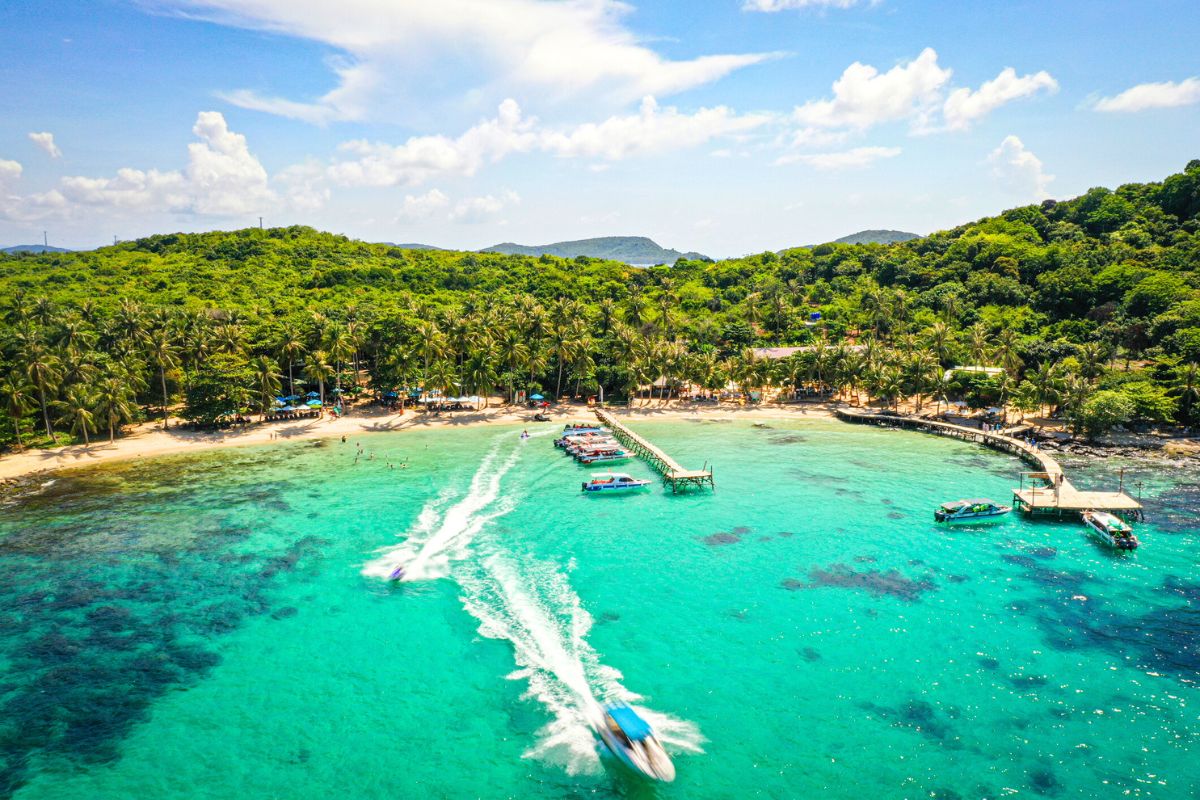 The Phu Quoc Archipelago is made up of over 20 islands, many of which have easy access directly from Phu Quoc itself. Take advantage of tropical paradise and spend the day on a boat tour, island hopping to the most idyllic during snorkeling tours.
Choose to explore the waters around the northern part of the isle during North Island day trips, for example, Doi Moi Island, however, the southern half of Phu Quoc is where the majority of the island hotspots lay.
Forming part of the An Thoi archipelago, Fingernail Island, i.e., Dam Ngang Island, feels worlds away from everything and is like your very own Eden. Palm trees tower around its small turquoise bay, and it's a popular snorkeling destination during Dam Ngang Island day trips.
One of the busiest southern isles is Hon Thom Island, conveniently accessible by cable car or via speedboat tours.
May Rut Island day trips present the opportunity to explore one of the most pristine coral reefs, and both Gam Ghi Island and Buom Island are equally impressive. Together the tripod is visited during Three Islands day trips.
Along with Mong Tay Island, these locales comprise the rest of the Phu Quoc South Island day trips you cannot leave off your bucket list.
3 – Have fun at VinWonders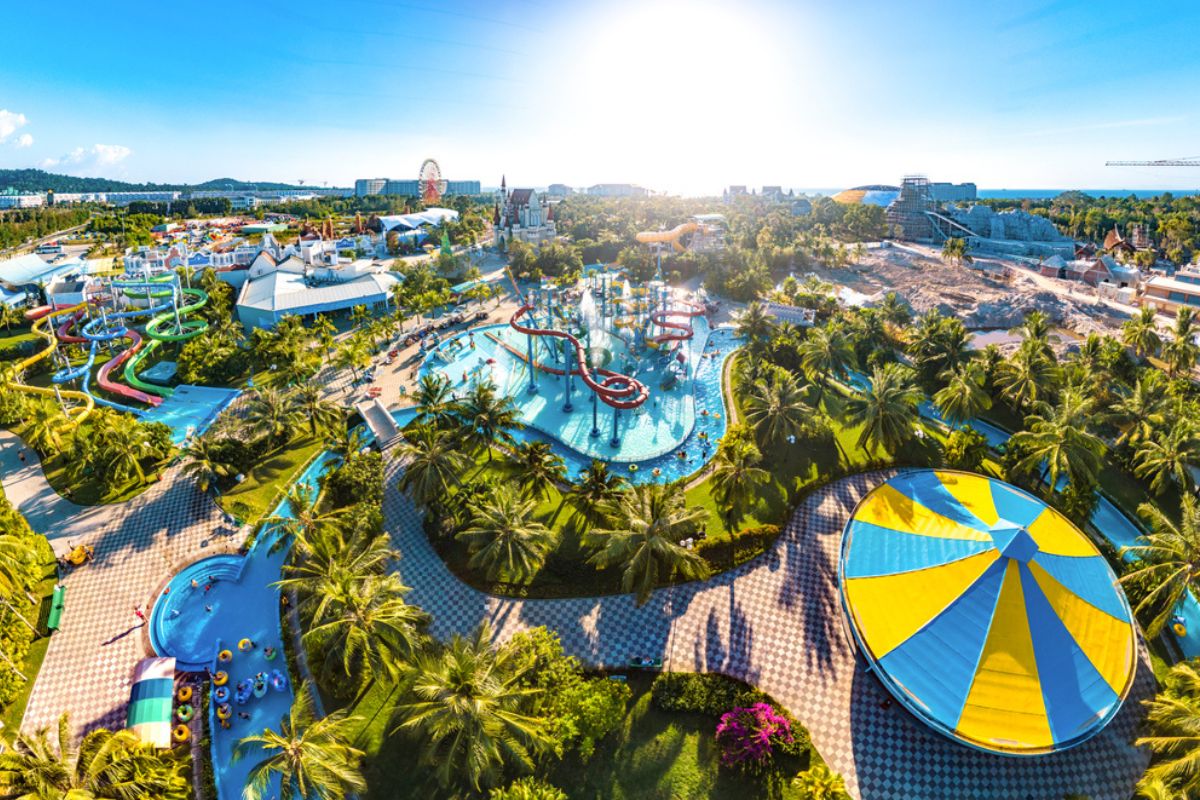 Adrenaline-inducing rides, recreated cultural villages and exciting daily themed shows to suit a measuring of all ages; welcome to VinWonders — the country's largest theme park!
Divided into a waterpark, attractions on land split into six zones and 12 human replica civilizations from the start of time up to the 21st century.
Stop by a traditional Warrior Village and ride a Viking boat, pretend to be a knight battling a beast at the Dragon's Spell and try your hand at famous games originating from Vietnam.
There's a turtle-shaped aquarium and five worlds to explore, including Wandering Sea, Ocean Treasure, Ice Palace, Giant Kingdom and Shark Realm.
Sit back and enjoy one of the shows, for example, the Mermaid Show, Fish Feeding Show, Musical Water Fountain Show and the Maya Victory Song, or interact with dressed-up characters along the European Avenue.
4 – Visit Dinh Cau temple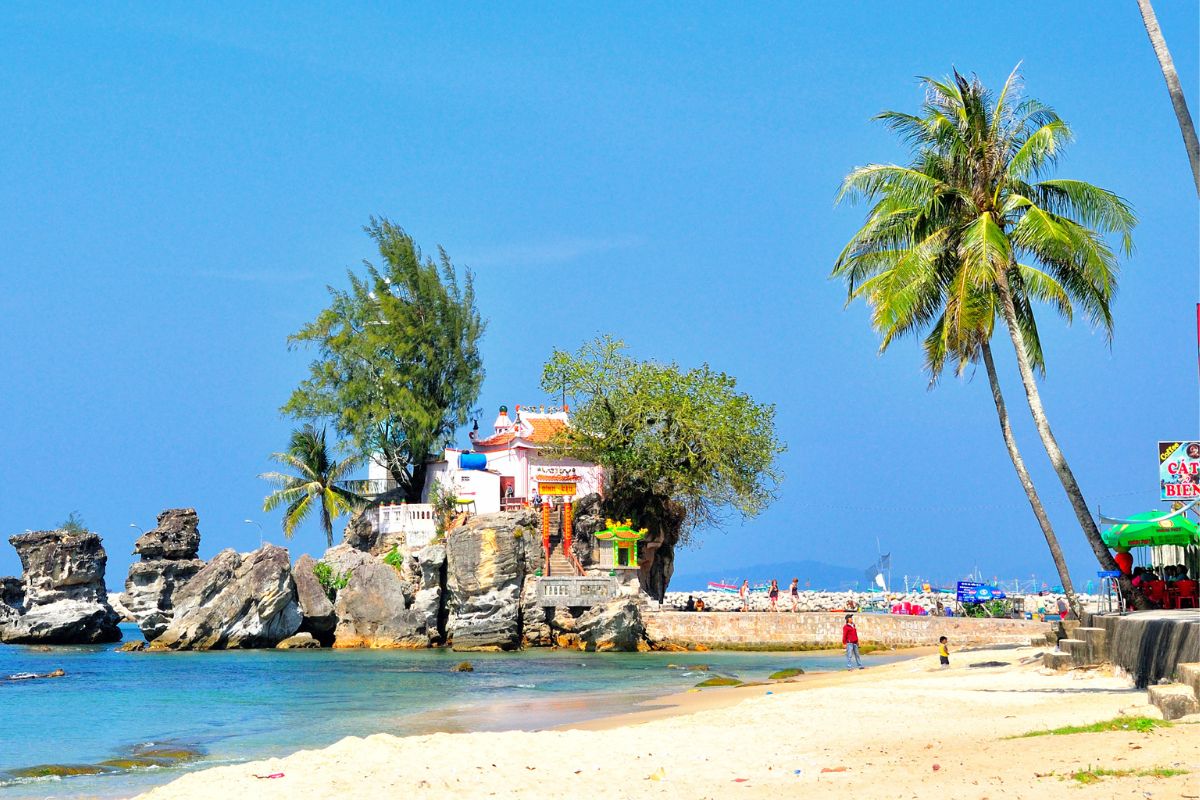 If you're planning a fishing trip during your vacay, you might want to consider first heading to Dinh Cau Temple (Dinh Cậu Phú Quốc) to pray for safe passage and luck before venturing out to sea. It is, after all, dedicated to the sea goddess, Thien Hau.
Erected on the lips of an oceanic rock formation down at Dinh Cau Beach (in Dong Duong town), the Buddhist temple was constructed in 1937 but predates to the 17th century.
Climbing nearly 30 stoned steps brings you to the shrine, where vistas of resplendent soft blue colors greet you. Peering out on either side, the beach sits on one end, with the harbor on the other.
Admire its ornate and colorful design; its curved red roof with towering golden dragons is eye-catching.
Next to the temple is a sweet blue and white striped lighthouse, and it's a brisk and mellow walk from Duong Dong Town's center.
5 – Check out Phu Quoc Prison (Nhà tù Phú Quốc), i.e., Coconut Tree Prison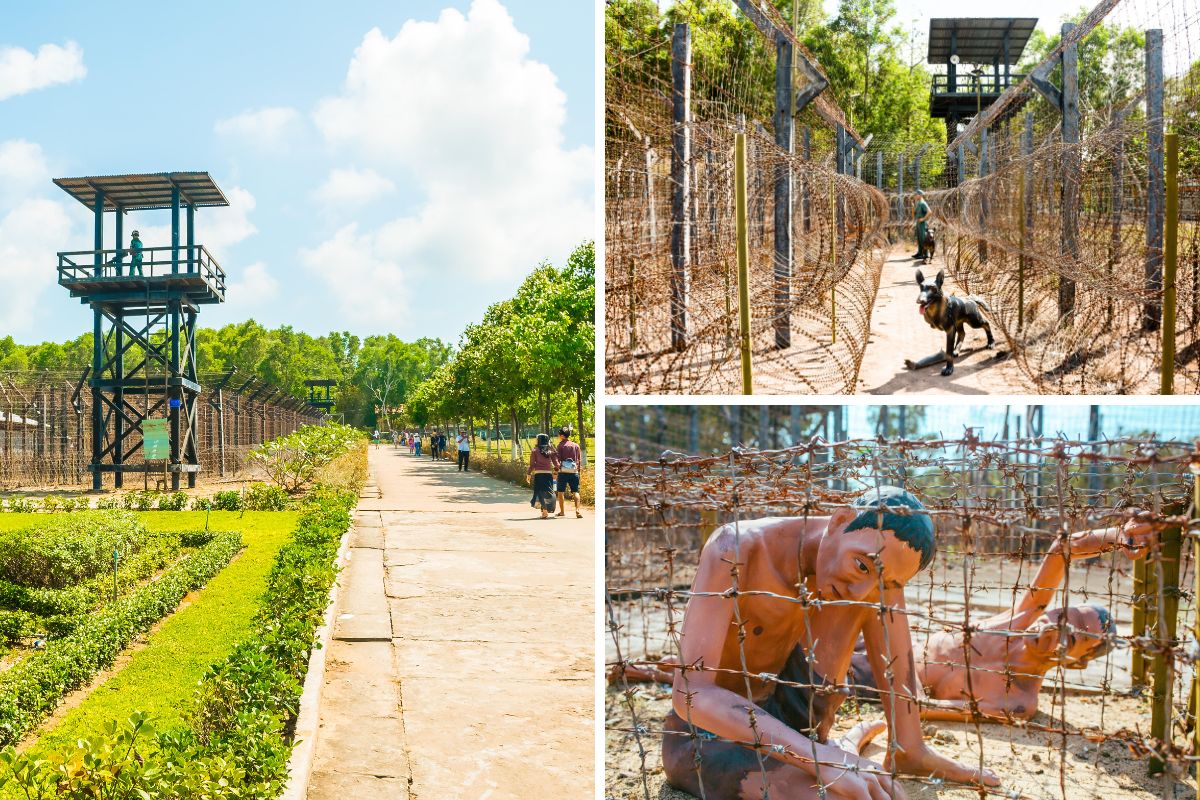 Take a minute as you enter Nhà tù Phú Quốc, a former colonial French detention center turned prison for communists; it's a bone-chilling experience walking around Phu Quoc Prison.
Also known as Coconut Tree Prison, making your way through the encampment can sometimes become intense, and trigger-warning, is not for the faint-hearted.
Investigate the penitentiary areas, from the spaces locked in by barbed wire fencing to guard towers to the prison's interiors. There are 12 primary areas to evaluate, which have seen the stories of over 30,000 prisoners of war.
Refabricated scenes show you how detainees were treated, some hard to imagine, such as captees inside tiger cages or struggling to break out of containers, plus more gruesome torture techniques that were employed.
A museum display highlights these behind glass displays, like nails hammered into feet, ropes that formed nooses, and needles and injections utilized by staff members on the imprisoned victims.
Phu Quoc Prison tours offer an insightful way to learn about the country's fight for independence and the history of the Vietnam War.
6 – Embark on a safari at Vinpearl Safari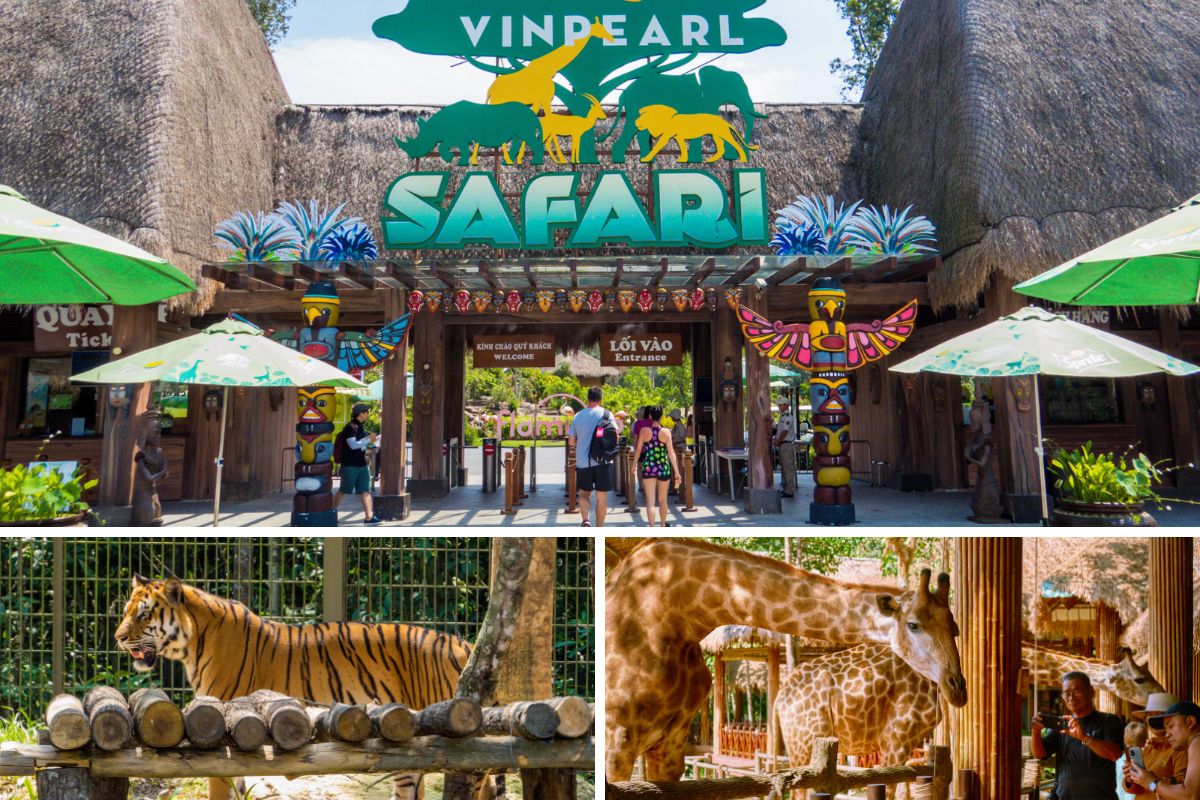 Forget about seeing animals held in captivity within caged walls. Instead, at VinPearl Safari, the only ones enclosed are you!
Designed as a semi-wild animal conservation park, the grounds represent a typical safari-setting straight out of the plains of Africa — you'll even get to cruise around in a safari truck (secured out of direct contact with the majestic animals).
Adding extra authenticity is the park's fabulous Zulu Show, steering you straight to Zululand or places like the Drakensberg in South Africa.
It's spaced into various areas: the primate, bird, reptile and open zoo (where you can spot creatures like scimitar oryx and Bongo antelope). Also within the open zoo are two animal-themed dining locales, the Giraffe Restaurant and the Flamingo and Rhino Restaurant.
Don't miss a morning or afternoon animal show either, and moms and dads, there's a Kid Zoo where the little ones can act like a zookeeper for the day.
7 – Snorkel Phu Quoc Coral Mountain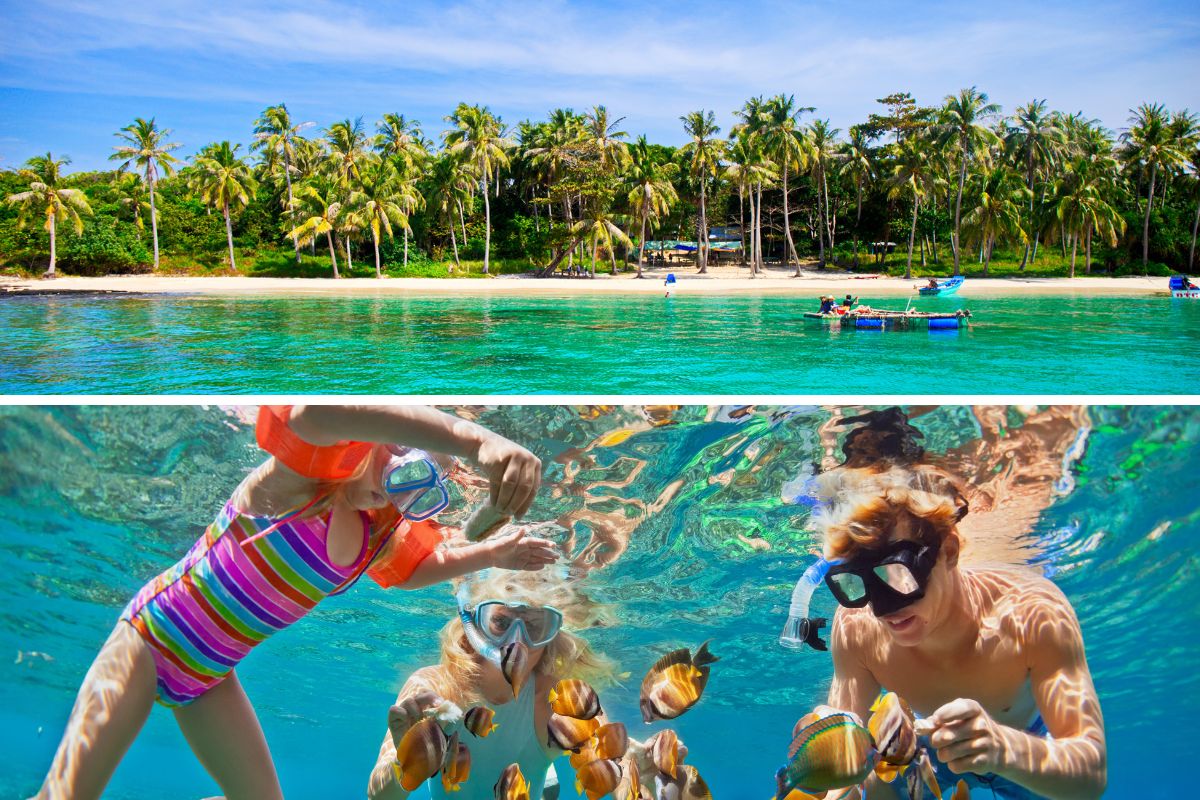 Fun fact: Phu Quoc is one of Vietnam's top three snorkel destinations, flaunting a breathtaking underwater paradise of exciting fish species and reefs, just like the marine habitats around Phu Quoc Coral Mountain.
Aptly named, from a bird's eye view, it appears as if it's a rocky green mountain range, just swapped upside down for the bottom of the sea. Alas, these beds are a type of coral from the Pavona family, also known as cactus coral.
It is favored and frequented by beginner snorkelers thanks to its shallow depth, with certain parts of its coral bed less than half a meter from the surface, reaching its deepest at three meters.
A second snorkel haven with a low sunken depth is the Phu Quoc Half-moon Reef. Swim simply one meter down before you reach the reef, its furthest point surging down nine meters.
Marvel at over 20 coral species, such as giant barrel sponge, Fiji Leather coral, octopus Coral, cauliflower coral (Pocillopora meandrina) and others.
8 – Swim at Suoi Tranh Waterfall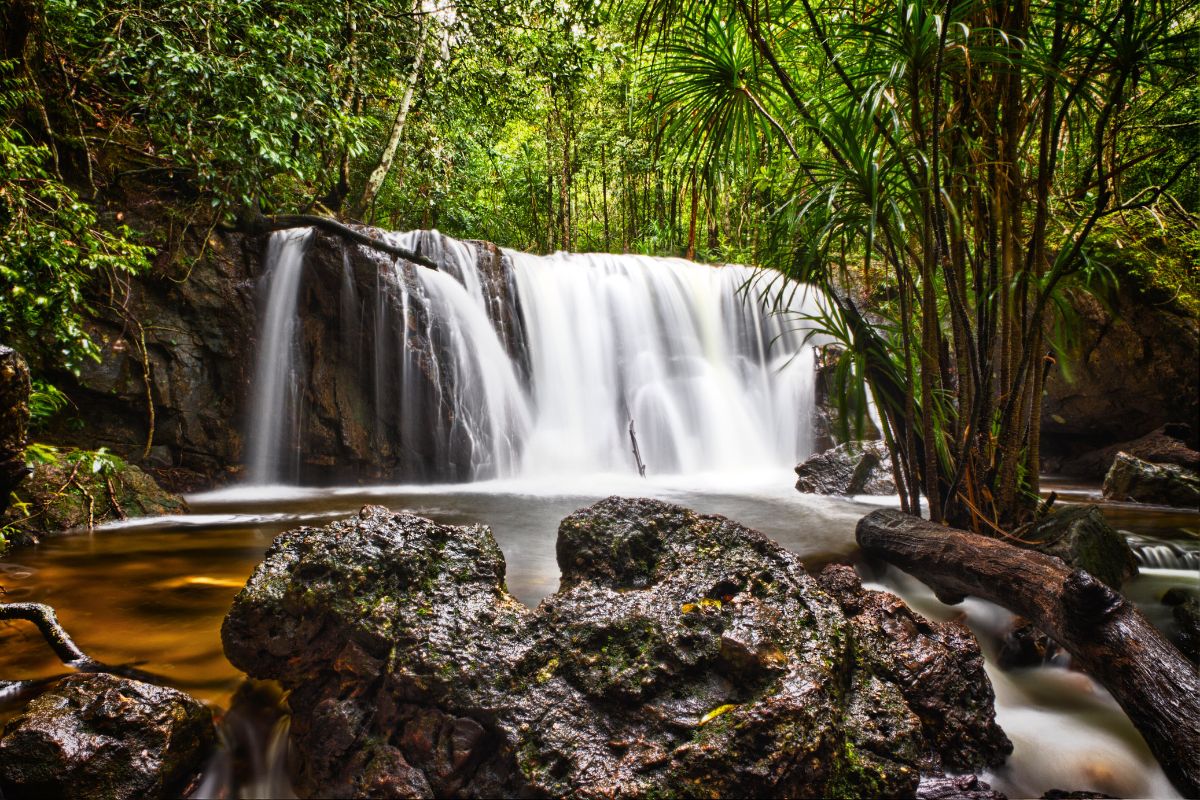 A short (and pretty) 10-minute drive from the island's main town (Duong Dong), and get ready for the scenery you've spent so long imagining — if ever envisioning what the jungles of Asia looked like.
Walking 20 minutes from the waterfall site's entrance, arrive at the four-meter cascade, streaming into the rock pools below it.
En route, listen out for birdsongs, stop to smell wild orchids and photograph cute mushrooms along the path. Multiple streams lead the way to the fall, where tiny freshwater shrimp are seen whizzing by.
The jungle-y landscape presents a lovely picnic spot option, or if you're keen on exercising your feet further, make your way onward to Hang Doi (the Grotto of Bats). Prepare to trek, though, as this total trail path is 15 kilometers.
9 – Go kayaking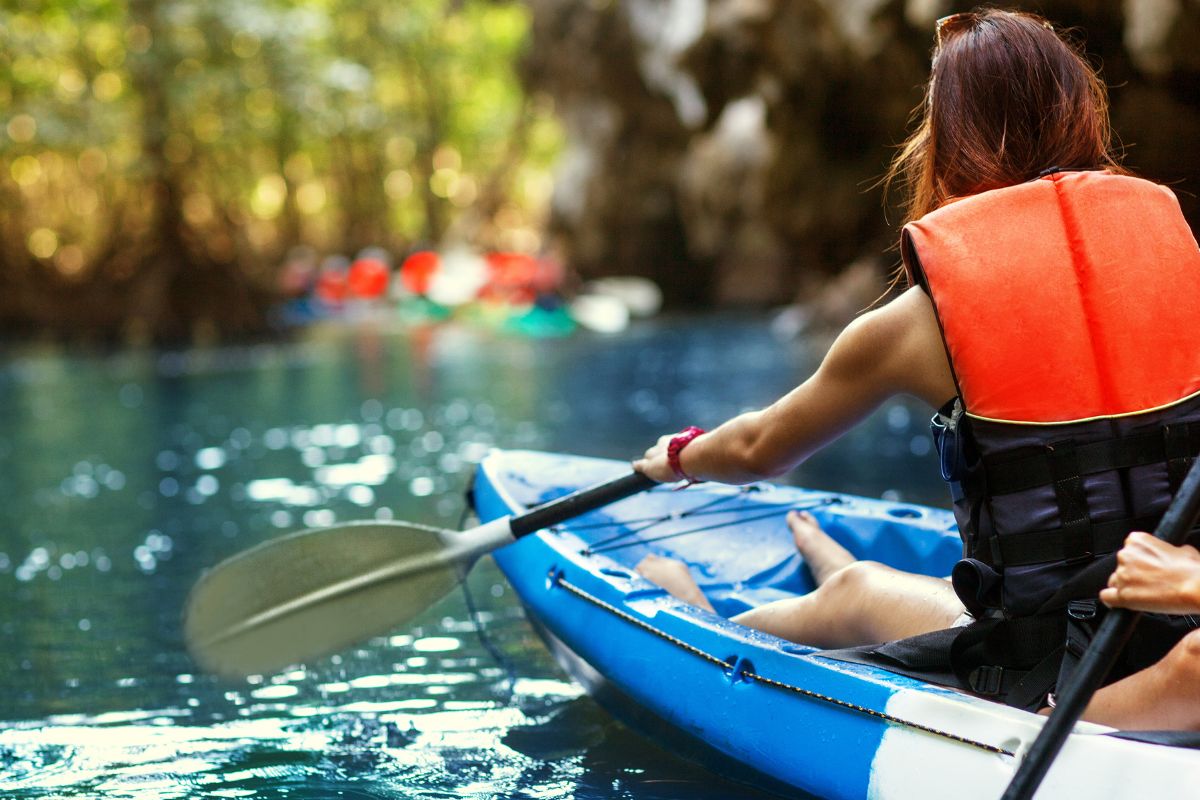 One of the most remarkable things to do in Phu Quoc for a truly authentic way of experiencing the local landscapes, culture, fauna and flora is during kayaking expeditions, with nothing but you, the fresh air and open waters.
Take up paddle and boat along the 15-kilometer-long Cua Can River (Sông Cửa Cạn), where the kayaking adventure begins — but not before a safety briefing and instructions. Drink in the local scenery, passing by fishermen, villages and an overflow of nature.
Alternatively, swap the river vibes for the ocean during romantic kayaking tours around Half-Moon Bay coupled with dinner by candlelight on the beach and under the stars.
10 – Chill at the best beaches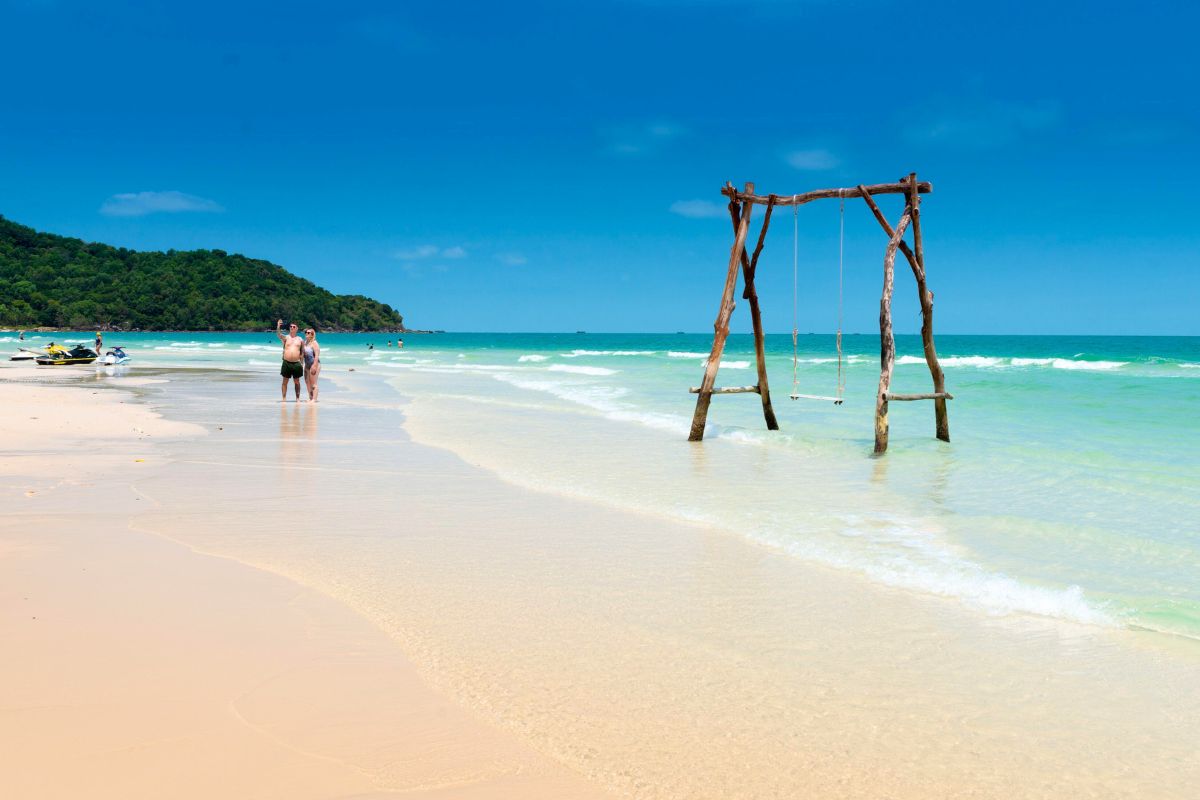 You're on an island … You can best believe that days are going to be laden with beach explorations — or hangs. Here are a handful of some of the prettiest and most popular around the isle.
Powdery white soft sands stretching on for seven kilometers and transparent waters lure in hundreds of visitors to its Sao Beach — nicknamed Starfish Beach and called Bai Sao in Vietnamese. Translating to 'star,' it gets the name because dozens of starfish line its shoreline — but don't take them out of the water; it's their home, after all.
Ong Lang Beach's coastline, lined with palms and wispy trees, and an ever-calm bay attract families that prefer off-the-beaten-path places, or travelers seeking a reprieve from bustling crowds.
Curving into a crescent-moon bay and six kilometers of pillowy sands, picturesque Vung Bau Beach is a popular kayaking destination, as well as for ocean activities like snorkeling and diving.
Other hidden gems to explore are Dai Beach (Long Beach) and Cua Can Beach.
11 – Ride the longest cable car in the world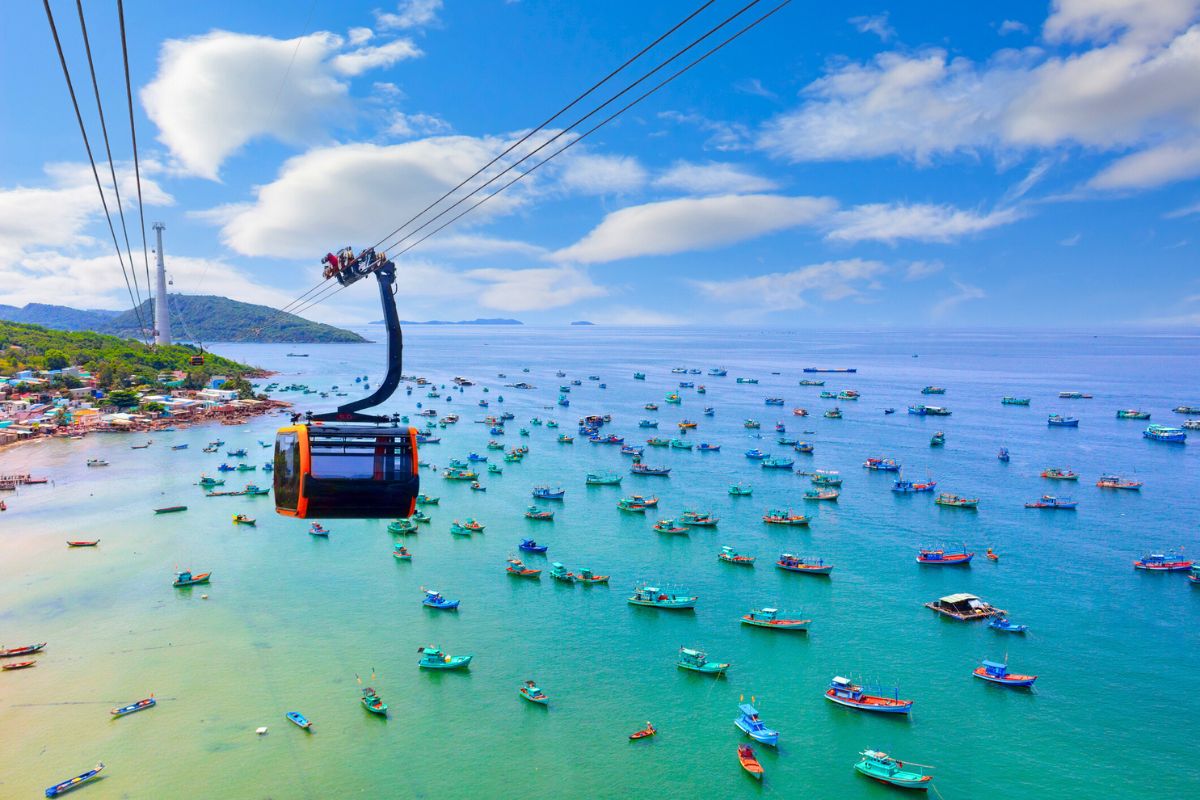 There's a good chance you've ridden a cable car before; however, have you ever journeyed in one from one island to the next? Onboard the Guinness World Record-winning Phu Quoc cable car, transport yourselves (with impending vistas) from the mainland Phu Quoc to Thom Island.
The line runs approximately eight kilometers, with unbeatable panoramic views traversing the Pacific Ocean.
From Phu Quoc, the An Thoi cable car station is situated in the south of the island and ends inside the Sun World Hon Thom Nature Park. Once here, there are free shuttles to Hon Thom's beach, and are included in the cable car ticket price.
Traveling at 30 kilometers per hour, the ride each way is roughly 15 minutes, but you hardly notice the minutes passing with the oceanic scenery.
12 – Splish and splash about at Sun World Hon Thom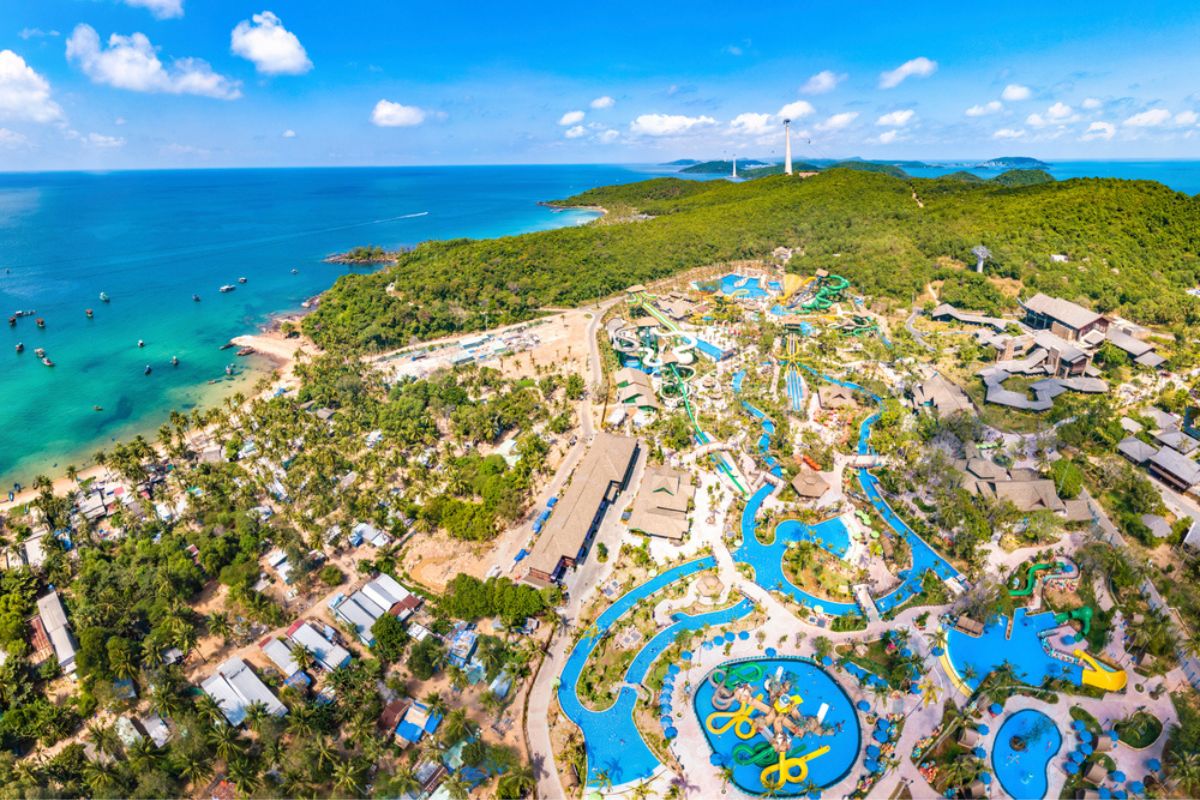 Zoot down slides with the ocean staring at you, then skip to the next ride as octopus tentacles wrap around towers and pirate skulls, treasure chests and other underwater-themed characters pop up here and there at Sun World Hon Thom's Aquatopia Water Park.
Make a splash at 20 ocean-centric attractions — and don't be surprised if you see Titan peeking out as you whizz through rides.
Opening in 2019 on Thom Island, Phu Quoc's cable car lands up here too, traveling across the two islands.
This park matches international standards, with features like the Lost Lagoon lazy river, children's Monkey Beach, Tropical Twister slides and more.
Considering you're already on Thom Island, make the most of your time and delve into the rest of your surroundings. Nicknamed Pineapple Island, explore its beaches, snorkel, go scuba diving, try squid fishing and kayaking.
13 – Buy the spice from Pepper Farm Phu Quoc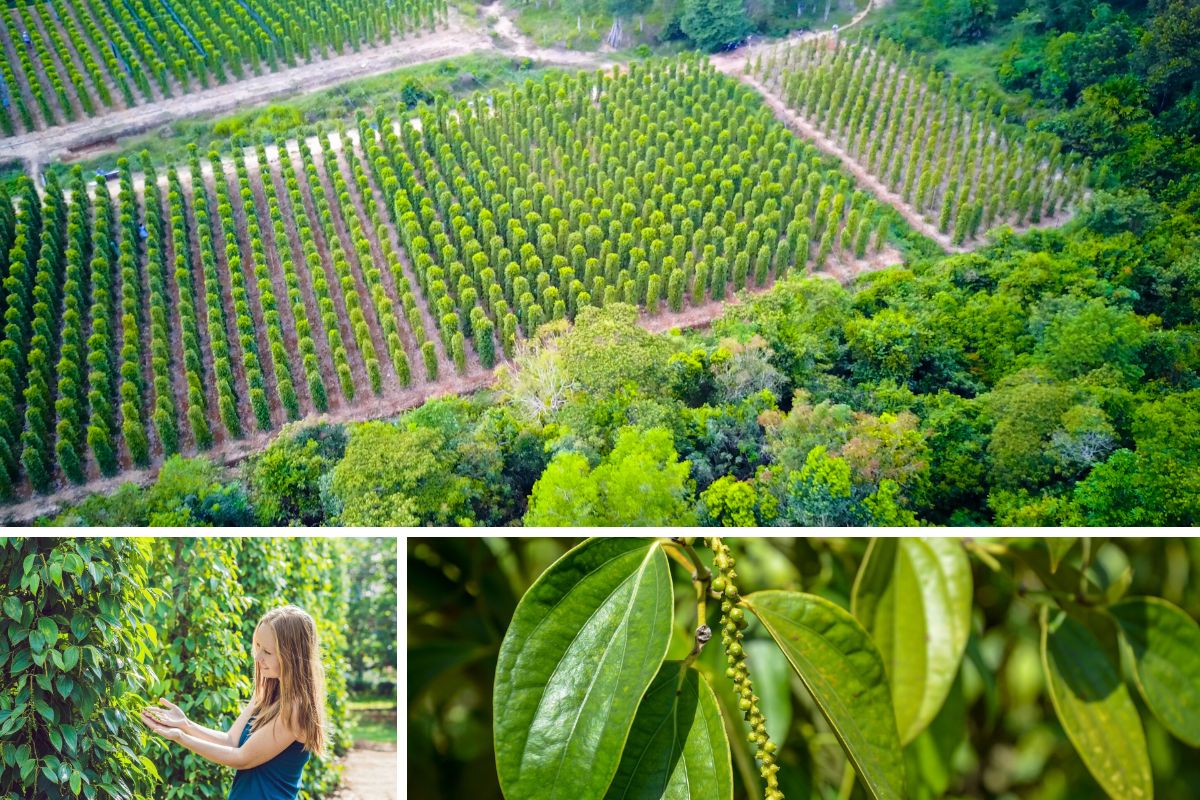 Here's a fun food-related fact: Phu Quoc is famous for its pepper, spicing up the tropical countryside. In fact, Vietnam has become renowned for its pepper production, now contributing to nearly one-third of the spice globally.
Native to Asia, visit the Pepper Farm Phu Quoc for an insightful inquisition into what goes into growing the seasoning. You'll learn that pepper is actually a fruit, developing as a vine, and about the different types you get.
Phu Quoc is revered for its spicy and fragrant hard peppercorns.
Tour the plantation, and Pepper Farm Phu Quoc offers amazing Vietnamese cooking classes, as well as farm-to-table experiences. For example, pick your own pepper to take back with you or to be used as an ingredient during lessons.
14 – Travel under the sea when scuba diving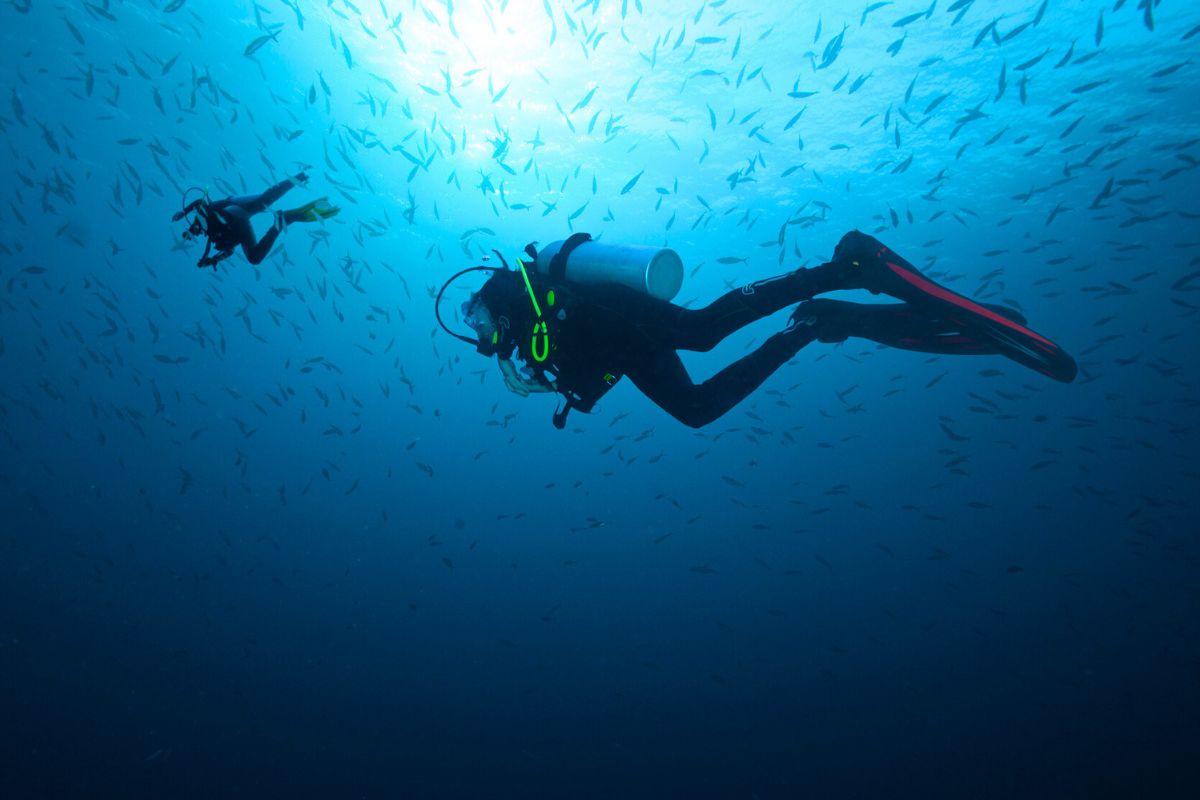 Part of the reason why travelers, expats and locals swarm Phu Quoc is just for its scuba diving opportunities, and some of the country's top diving spots are around these waters. It makes total sense with the Gulf of Thailand on its doorstep.
From both the north and south parts of the island are plenty of underwater locations, whether you're a beginner or a novice pro.
If you aren't PADI qualified, you can still enjoy the absolute thrills of swimming with Phu Quoc's marine life with expeditions designed for non-certified divers.
Discover the treasures of the sea encompassing both the north and south parts of the island, and you'll find that most scuba diving tours choose either/or to boat around. Mong Tay, Gam Ghi, May Rut, Doi Moi and Thom Island are some examples.
15 – Ask for luck at Su Muon Pagoda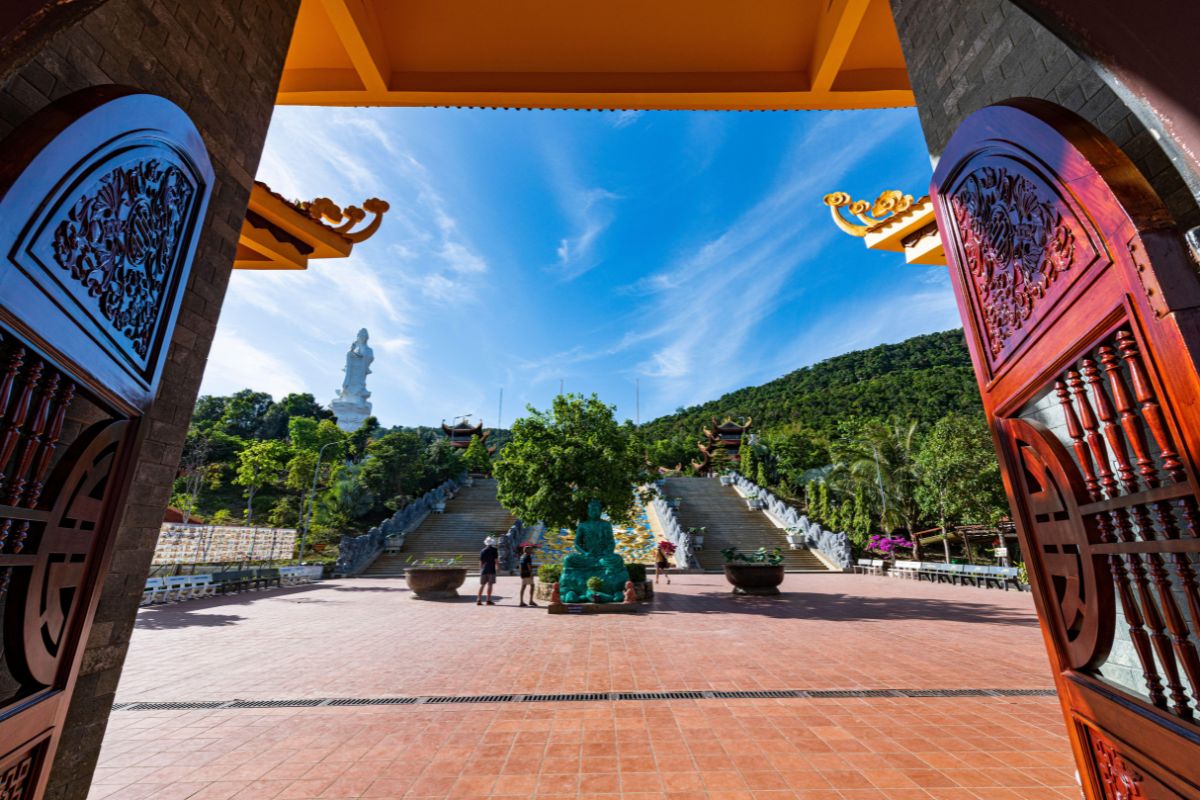 Nestled in the midst of a forest, Su Muon is considered one of the island's most venerated, locals arriving to pray for luck and good health.
Boasting a lush mountainous backdrop and then the Big Blue up front, its spiritual energy is contagious.
Greeting visitors and worshippers is a giant colorful Buddha statue; next to it a stoned staircase where 60 steps bring you to the main sanctuary.
Inside the sanctum are many statues of Buddha in altering forms and positions; notable is the three-meter Big Buddha inside.
The temple was established in 1930, and the pagoda was built by a monk, originally a simple structure made of wood and leaves. During the 1980s, Su Muon received a refurbishment, and it's the current site we see today.
A standout feature that has stood the test of time is a 200-year-old Konia tree!
16 – Sightsee Phu Quoc with a bus tour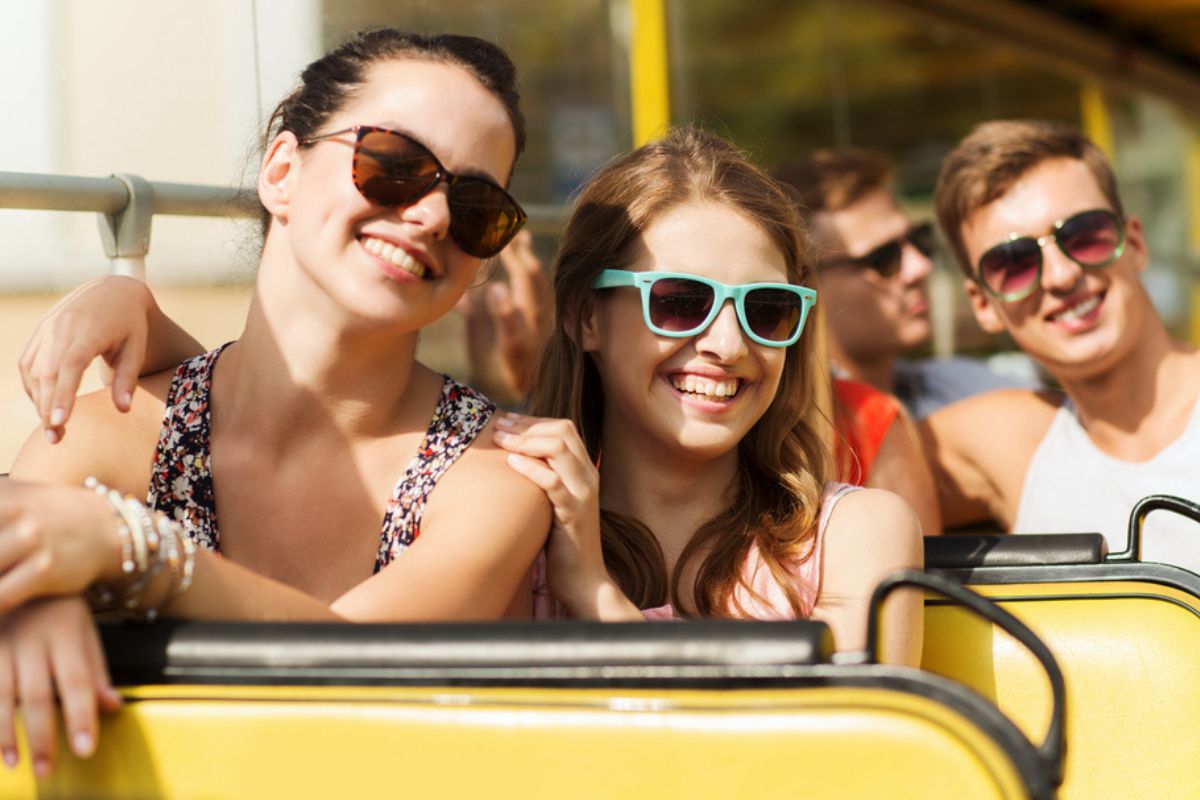 After you're all beached out, dedicate a couple of hours or the day to sweeping up the sights, landmarks and parts of the island with a convenient hop-on hop-off bus tour.
This means you have the freedom to roam without the pressures of tour group time limits as you jump on and off at the designated city bus at specific hop-on hop-off bus stops.
It follows a specific route, cruising all of Phu Quoc's land, and there are morning and afternoon departure times.
Vinpearl Safari, Tran Hung Dao Street, Ngoc Hien Pearl Farm, Bai Truong Phu Quoc Night Market, Cable Car Station and the Phu Quoc Prison are some of the stops on the line.
17 – Try out sea walking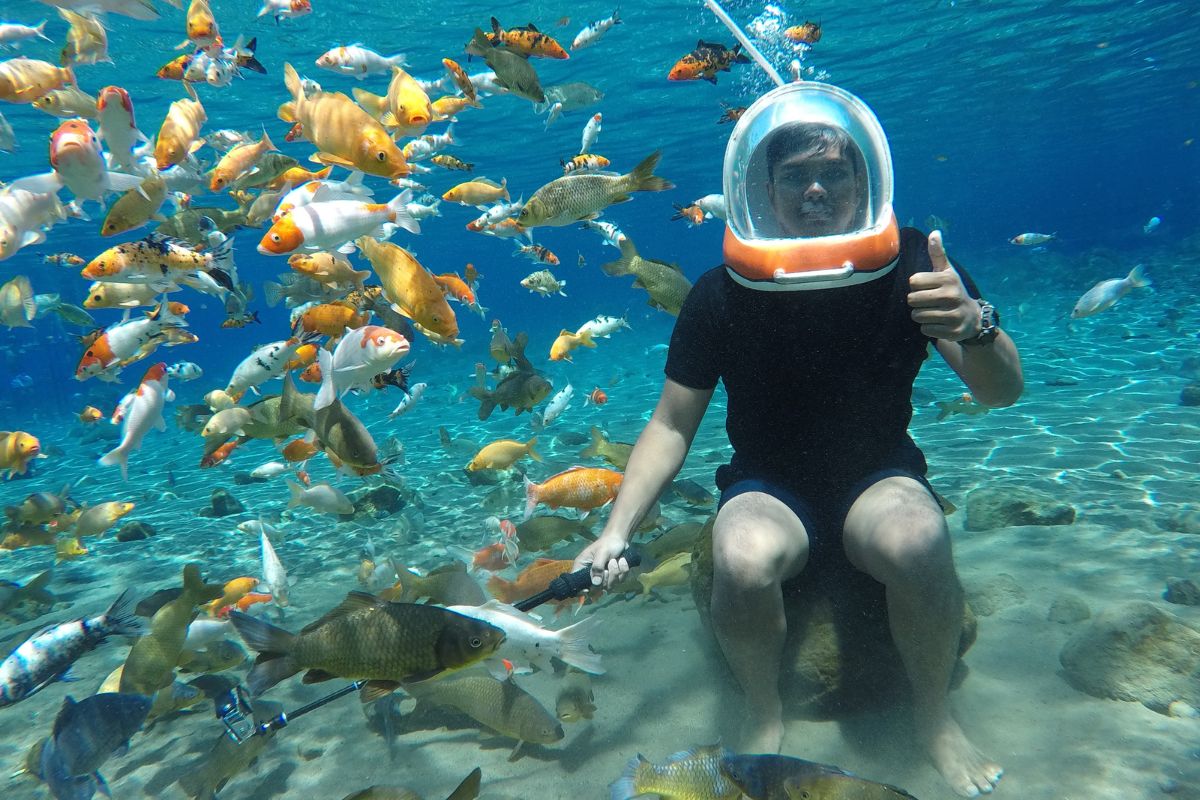 Ever wondered what life for Ariel was like? Discover your underwater legs with a spectacular sea walking experience — also a fantastic option if you're hesitant about the whole scuba diving thing.
What exactly is sea walking? Suited up with a special helmet that allows you to breathe underwater, forget about carrying heavy tanks on your back, or learning how to equalize.
Head down to the ocean floor where you'll be able to walk under the sea with the schools of fish and corals. There are two locations for the activity around Phu Quoc, both led by professional instructors.
Dive into a world of 255 species of coral around the Three Islands, i.e., Gam Ghi, Mong Tay and May Rut Trong.
A second option is sea walking around Roi Island, lasting between 15 to 20 minutes, where you'll see starfish, coral reefs and other magnificent marine animals.
18 – See 500 teddies at the Teddy Bear Museum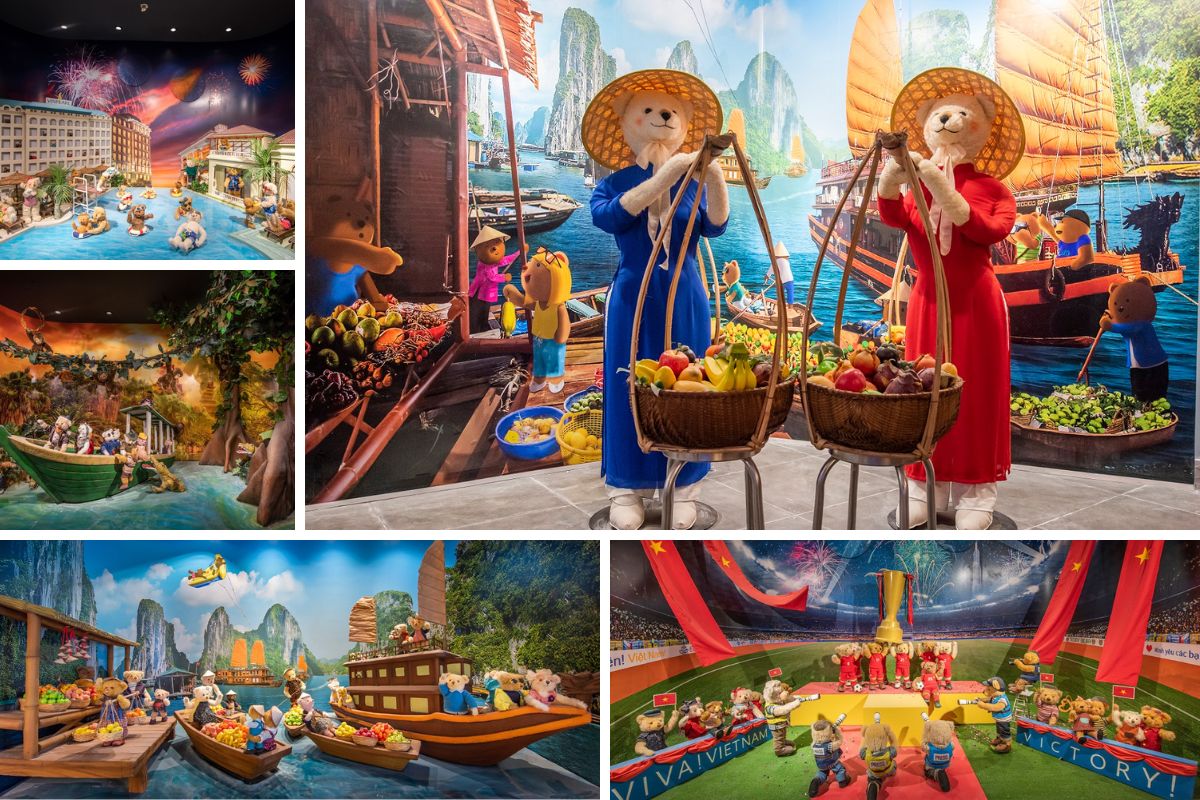 In search of fun things to do in Phu Quoc with the little ones? Super cute and as captivating as ever for children, the Teddy Bear Museum is a unique center where the fluffy toys are the stars of the show.
Five exhibition spaces have been designed, each culturally themed and designed to recreate iconic Vietnamese scenes, but instead of people, teddy bears do the posing.
Tall bears are dressed in traditional áo dài (the national Vietnamese dress) carrying bamboo shoulder fruit baskets; cruise ships from Ha Long Bay pass by local bears selling goods from the water; and families of bears splash about a VinPearl complex with fireworks lighting up the sky.
Join a DIY workshop, watch live sketch shows and admire the creativity of this space.
The museum is located at the Phu Quoc United Center within a 1,500 square-meter space and is based on the South Korean franchise (Jeju Teddy Bear Museum).
19 – Cruise around the island with jeep tours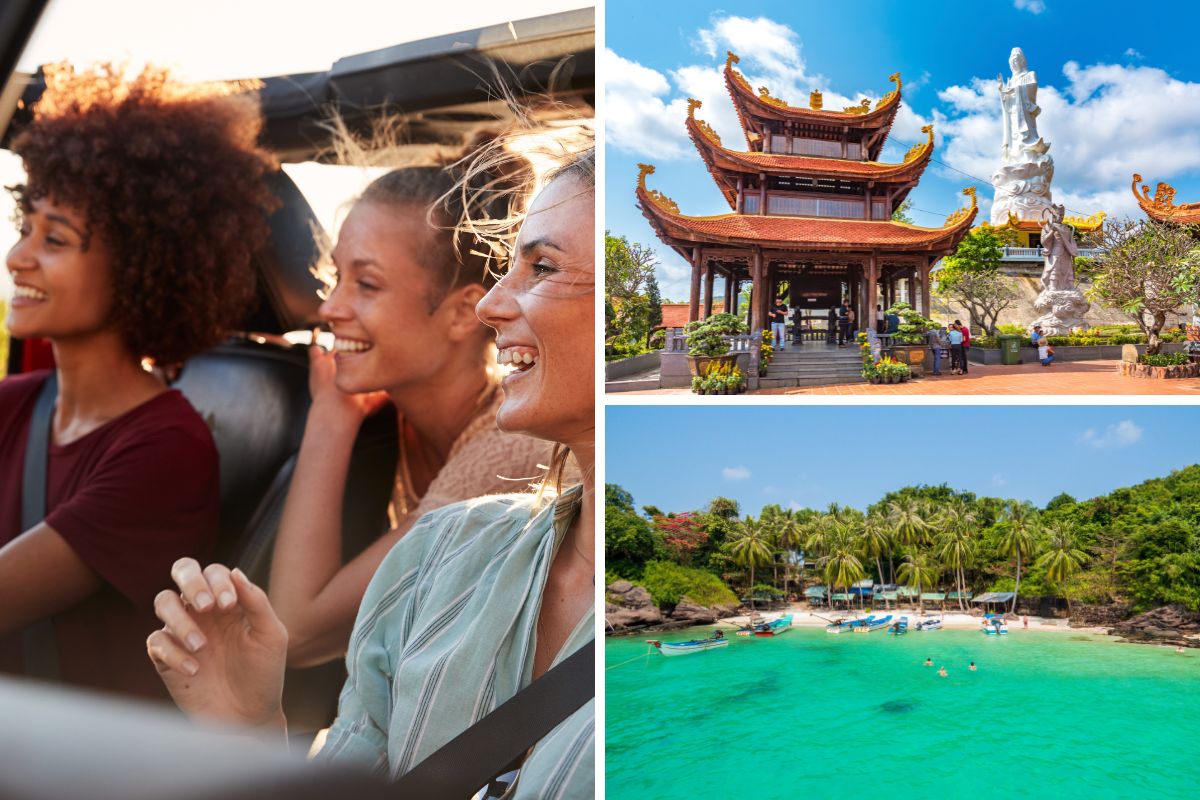 Tear up the sands along Starfish Beach or rip up the tracks through the Sun World Hon Thom Nature Park during epic jeep tours around the island.
Decide if you're more keen on venturing through northern Phu Quoc or its southern side, with options for both.
Hop into an open-top army jeep and let the full-day adventure begin!
On the north side, the usual route includes stopping by Starfish Beach, Phu Quoc National Park, Dinh Nguyễn Trung Trực Pagoda, Pepper Farm Phu Quoc and Mui Ganh Dau Beach.
If you've chosen the south side of the island, the itinerary cruises to Ngoc Hien Pearl Farm, Phu Quoc Prison, Huynh Khoa Fish Sauce Factory, Hon Thom Departure Terminal – Sun World Hon Thom Nature Park, Sao Beach and Ho Quoc Temple.
A little different from the regular jeep tours; settle on a three-hour night-time craft beer Jeep tour, or if you're not much of a drinker, there are evening Jeep food-centric tours.
20 – Spend the day at the best beach clubs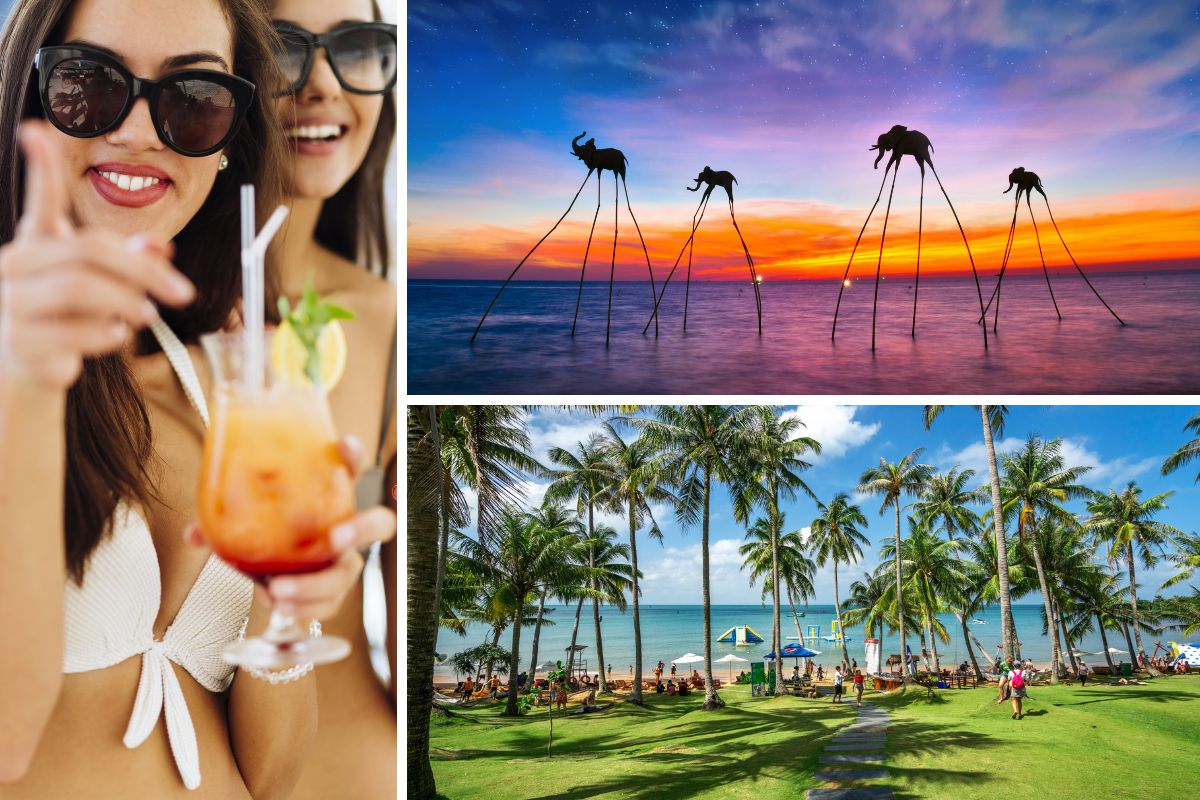 Chill out with a cocktail in hand and your feet in the sand from the comfort of a sun lounger at the best beach clubs.
Take up a seat on a hanging net over the ocean, above up on the rooftop onlooking to the ocean or beneath colorful umbrellas right on the beach at Ocvan Kitchen & Beach Bar.
Winning over crowds with its unique miniature statues, like elephants on stilts on the shoreline, Sunset Sanato Beach Club brightens up plenty of social media feeds.
Flit between the ocean and the Sailing Club Phu Quoc's private pool, and when the sun disappears and the stars come out to play, the club converts into a nightlife destination.
There are a few beach clubs that are a touch more private, each located within fancy hotels but open to public guests to spend the day. These include Istanbul Beach Club, Amber Sands Beach Club, Ocean Club Regent and Aura Beach Club.
21 – Purchase a treasure from Ngoc Hien Pearl Farm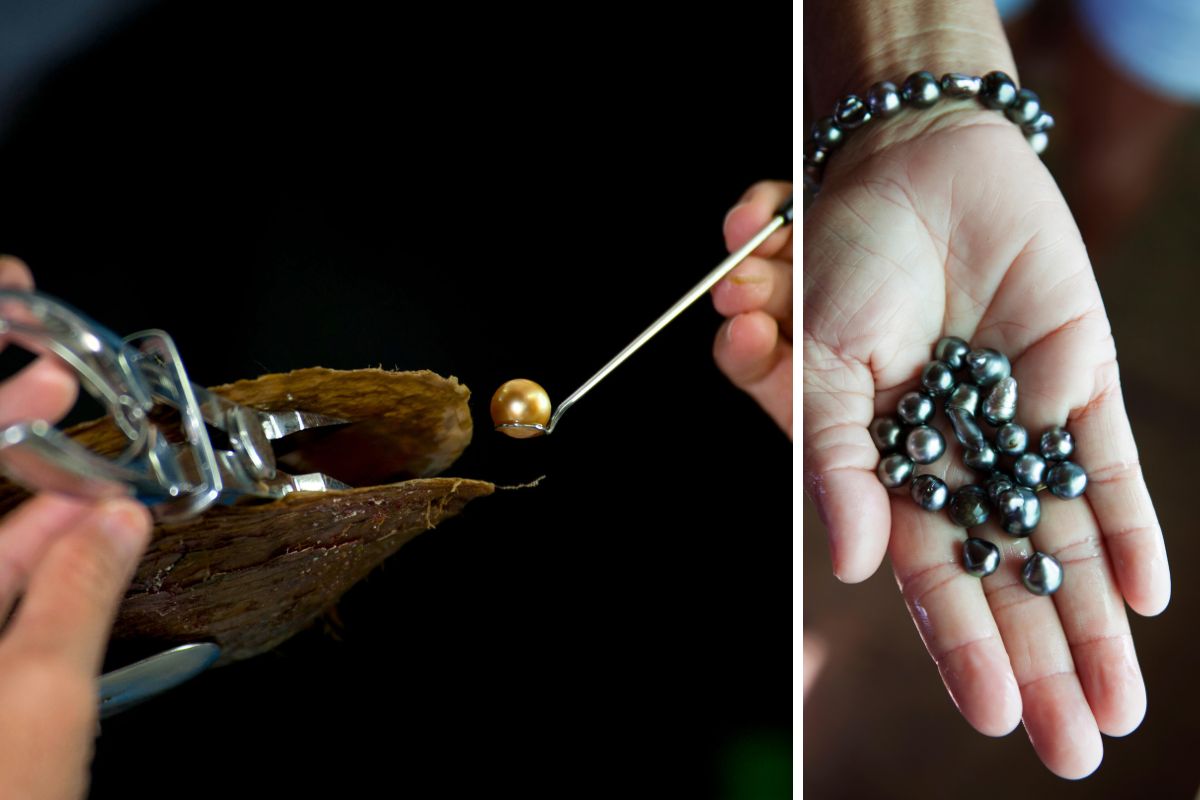 There's a reason why Phu Quoc is dubbed Pearl Island, famed as the country's largest producer of pearls.
As one of our ocean's most sought-after treasures, the Ngoc Hien Pearl Farm gives you the chance to investigate first-hand how the precious organic mineral deposits are harvested, as well as buy your own (at reasonable prices).
Established in 1994, the farm has close to 20 years of experience in the business.
Arriving here, the building's main floor is the shopping area selling different types of pearls in all shapes and sizes, jewelry made from pearls, and other products manufactured from these shiny gems like face creams.
Downstairs is a museum displaying oversized oyster shells (pearls grow inside the mollusks), some repurposed into sculptures.
22 – Have fun at Grand World Phú Quốc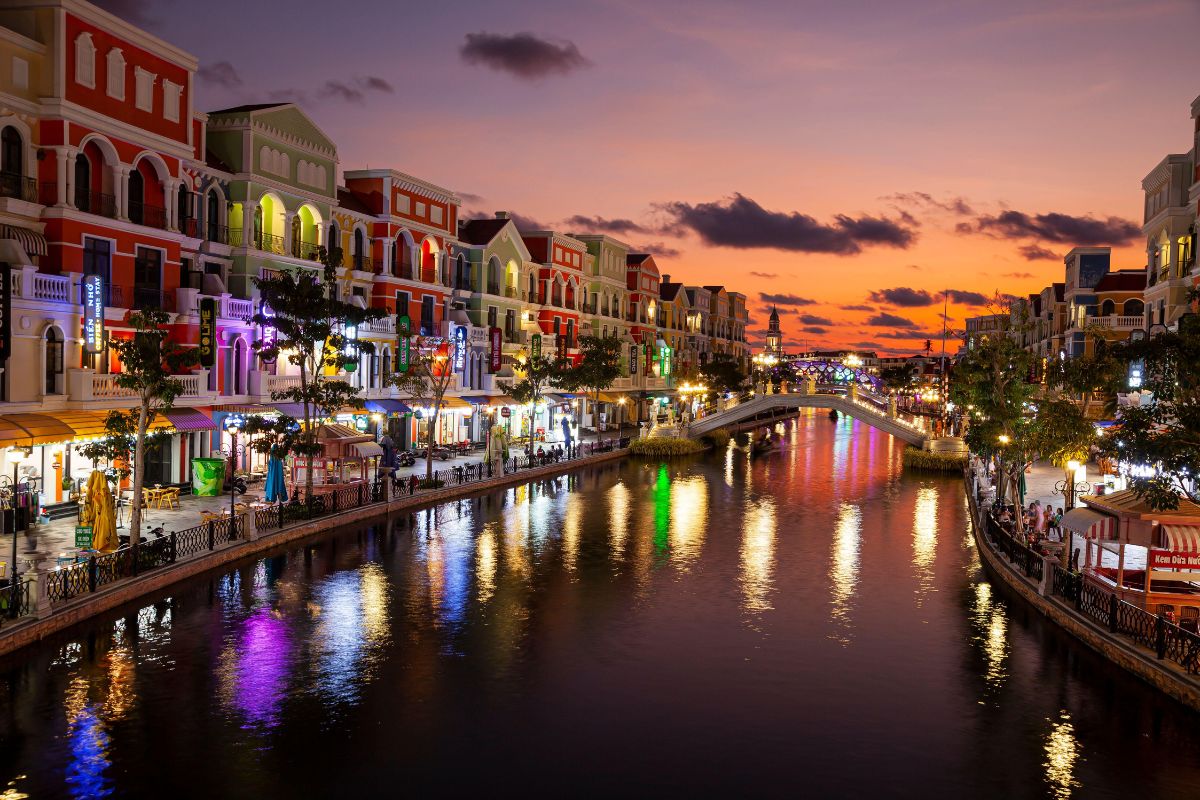 World records come to fruition at Grand World Phú Quốc, where many country-firsts are broken and achievements mastered with its attractions and features.
Spot Vietnam's most extraordinary bamboo architectural work at the Bamboo Legend area; discover Vietnam's first-ever Teddy Bear Museum; watch the Quintessence of Vietnam Show employing 3D mapping projection technology; and marvel over the country's largest water-based multimedia scenography show: The Charm of Venice Show.
More of its imaginative zones are the Italian-inspired Lake of Love (ride a traditional gondola down a 400-meter canal), The Quintessence Of Vietnam Space and the Contemporary Art Urban Park dazzling with artworks.
Plenty of shows on-go at the entertainment center, such as the Laser Show, Street Martial Arts Show, Changing of The Guard Ceremony, Doctoral Degree Award Ceremony, the Bridal Palanquin Procession and the Familiar Taste Of Home Show where you'll see street vendors live in action cooking up a storm.
23 – Grab a seafood lunch at Ham Ninh Village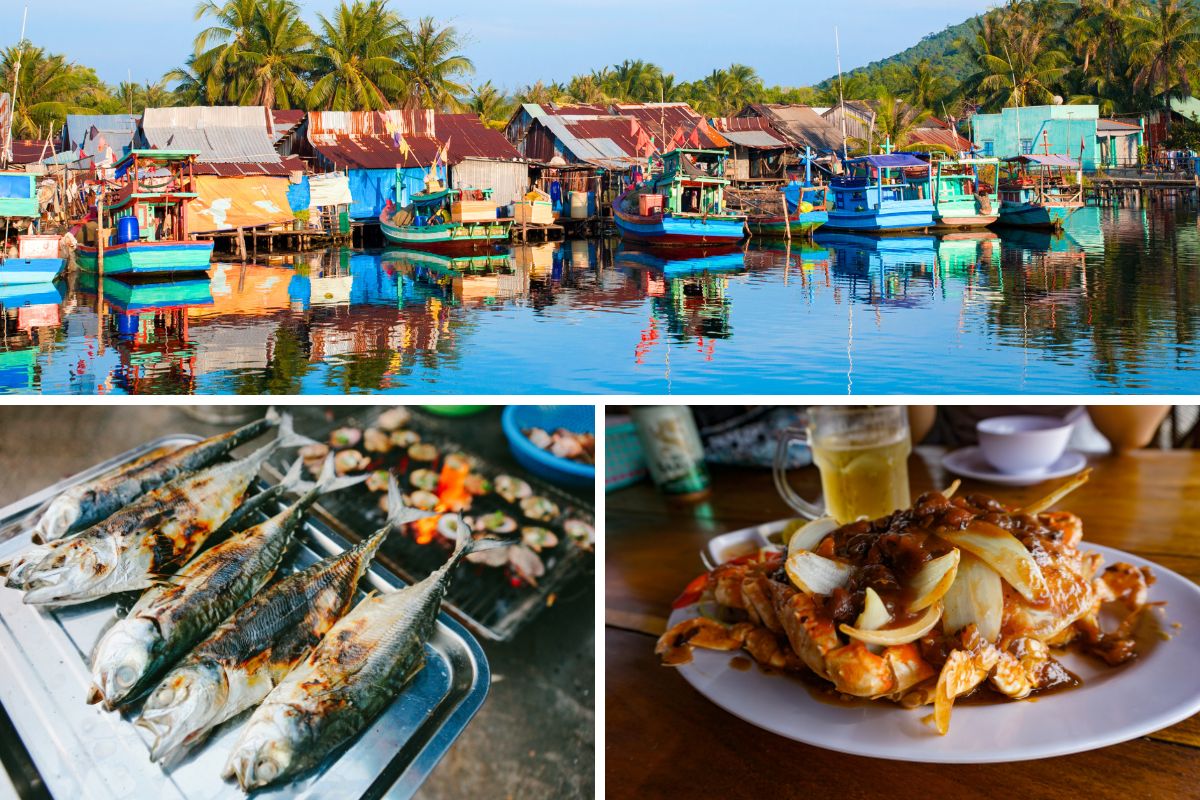 Be swept away by local customs and traditions, appreciating life in the slow lane at Ham Ninh Village.
Running from the ocean with houses built in the water, get to see how villagers go about their daily activities around the Ham Ninh fishing town.
Not only the oldest in Phu Quoc but the locale is one of the most antiquated fishing villages in all of Vietnam, situated on the island's east coast.
Indulge in a seafood lunch at a hyper localized waterfront locale, or pop by the fresh market and stock up on tropical fruits and unusual Vietnamese ingredients.
Travel tip: Use the phrase "bao nhiêu tiền?" to ask how much something costs. The chis will be mightily impressed!
Chill out at Ham Ninh Beach, staying in time for sunset hour. The village is a short 20-minute drive from Duong Dong Town.
24 – Join cooking classes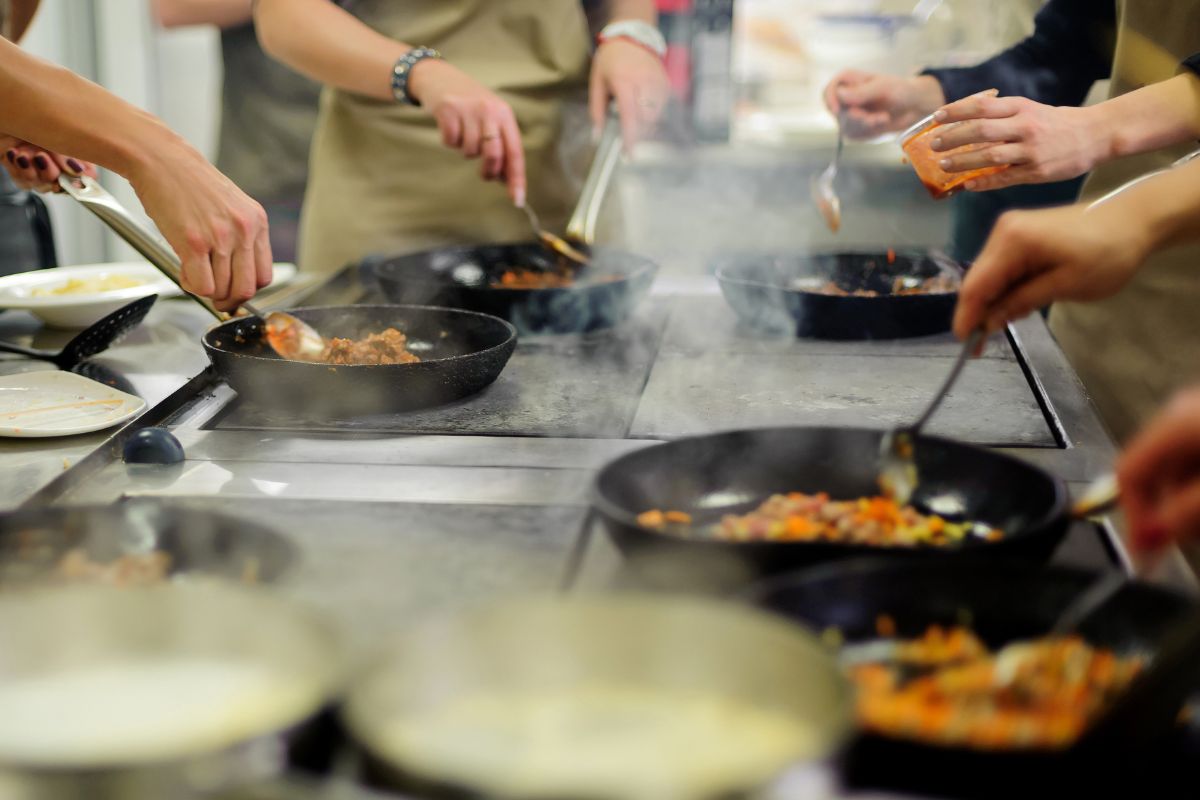 Vietnam has become a culinary hotspot in the last ten years, chefs traveling around the world to sample its cuisine. During cooking classes, become acquainted like a pro with the local flavors, ingredients and dishes.
Out in Mother Nature at a local farm, enjoy three hours learning how to cook local delicacies, but not before becoming acquainted with the land. Veer over to the pepper garden, harvesting your own herbs, spices and vegetables to be used in the class.
Recreating four dishes, there are two menu options.
Try your hand at rolling deep-fried spring rolls (cha gio), whizz up a seafood papaya salad (gỏi đu đủ), fish prepared and cooked in passion fruit and banana pancakes for a sweet ending. If you're not a fan of seafood, pick the menu with caramelized pork instead.
25 – Learn something new at Phu Quoc Bee Farm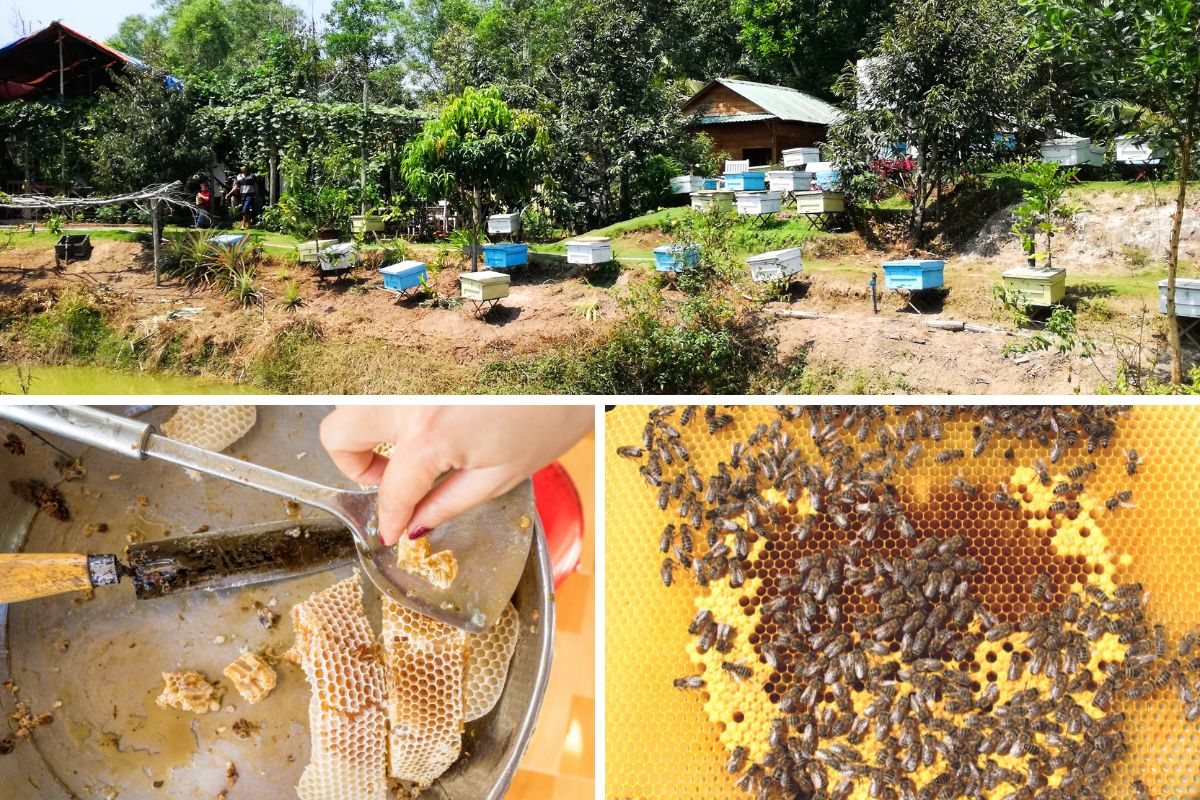 Did you know that if bees become extinct, so eventually would our planet? Ponder on that one the next time you go to swat one! Uncover info such as this (and more) at the Phu Quoc Bee Farm.
Stop to smell the fruit trees — but you might want to run past the durian plants (unless you can handle the putrid smell) — and admire lovely wildlife and insects like butterflies — and of course, the bees.
Dedicated to the honey bee, the grounds are designed as an ecological farm. Guides explain honey bee life cycles, why they are so crucial to our ecosystem, and the reason for their protection.
Gander at bee hives, where you'll spot honey made by the winged Apis (the scientific name for the honey bee).
Apart from the insects, the flowers in bloom are as captivating, like myrtle, Kudzu and acacia fleurs, and trees producing fruit such as longans and rambutan. Everything planted within the garden aids the bees, providing fantastic pollen and nectar sources.
26 – Get in some exercise and go hiking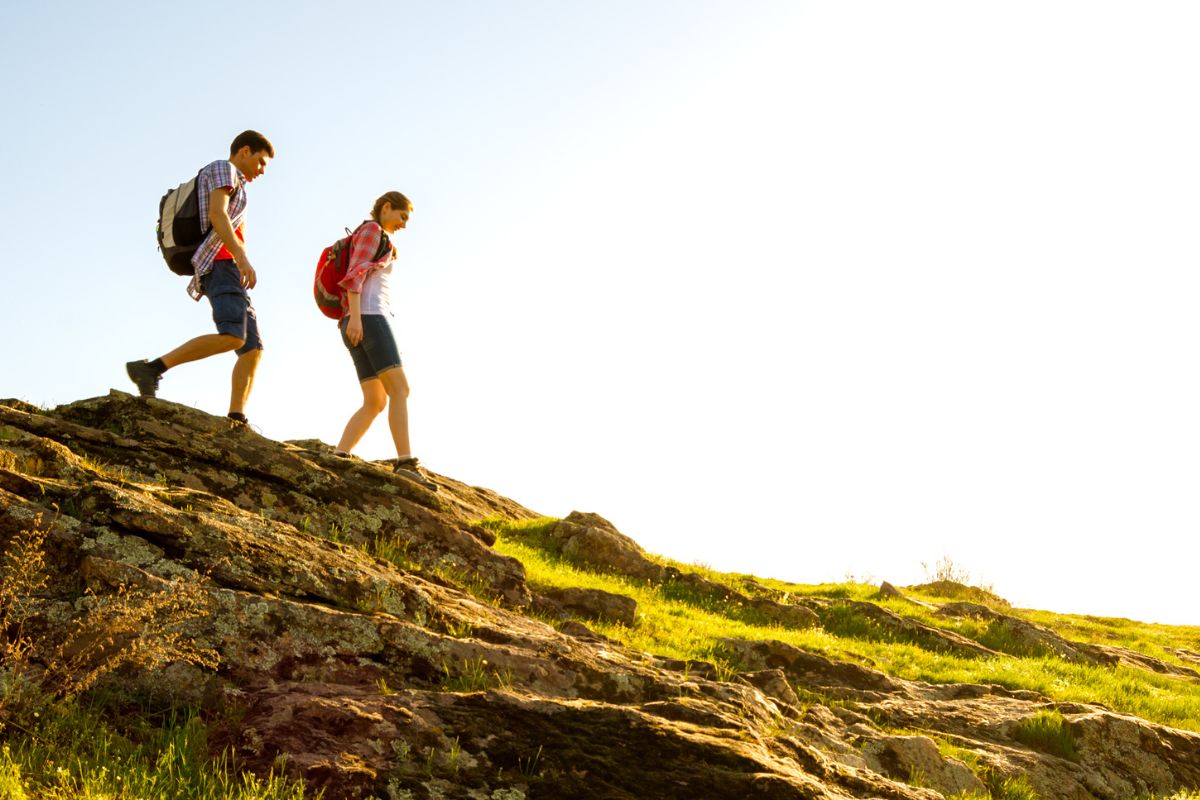 From mountain ranges to local villages to farms to the coastline; lace up your boots and navigate Phu Quoc's pathways during a hiking expedition.
Spoiled for choice, you can either trek inland or trails along the ocean shoreline.
Set aside four to five hours (depending on your pace) and veer through the Phu Quoc National Park where there are three designated foresty paths designed for hiking exploits.
The Gang Dau trail is relatively easy, following a flat route.
Hike to the top of Tien Son mountain, hunting down Tranh Waterfall (Suoi Tranh) for a much needed cool down. The trail is also pretty mellow.
The most strenuous of the three is the Ham Ninh mountain trail, which is suitable for experienced hikes.
27 – Stop by the Fish Sauce Factory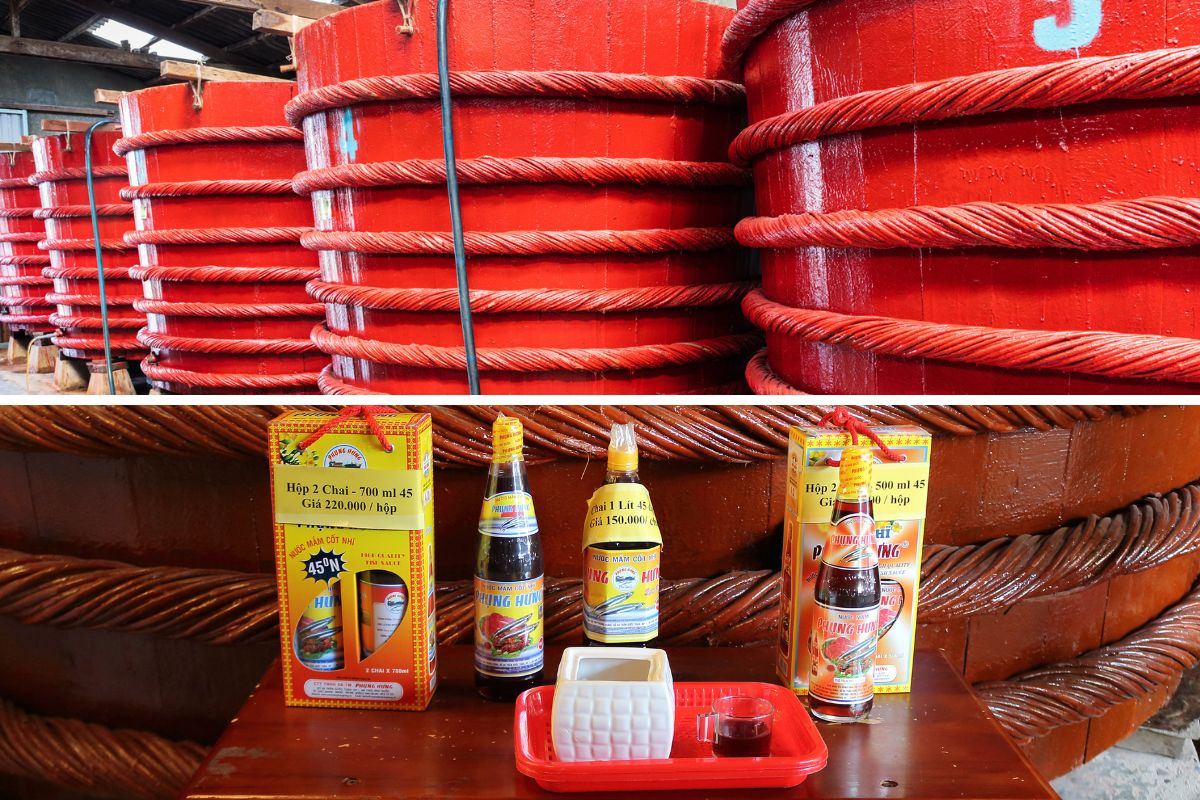 Many Vietnamese dishes don't quite taste the same without its secret ingredient: nuoc mam, i.e., Vietnamese fish sauce.
Prized globally, visit a Fish Sauce Factory to witness where the bottles are manufactured — Pearl Island is renowned for producing some of the country's finest.
Established in 1976, Khai Hoan Fish Sauce Factory has got things down to a fine art. Take a guided tour around the factory, becoming knowledgeable about how nuoc mam is made using anchovies and then fermented inside giant wooden barrels.
Don't leave without picking up a genuine bottle, selling rare collections on their shelves.
Holding a firm hand in the fish sauce game even longer, Nuoc Mam Hung Thanh has been in operation since 1895!
See how the sauce is bottled before being exported around the world. It's one of the most unique things to do in Phu Quoc.
28 – Watch the Kiss The Stars show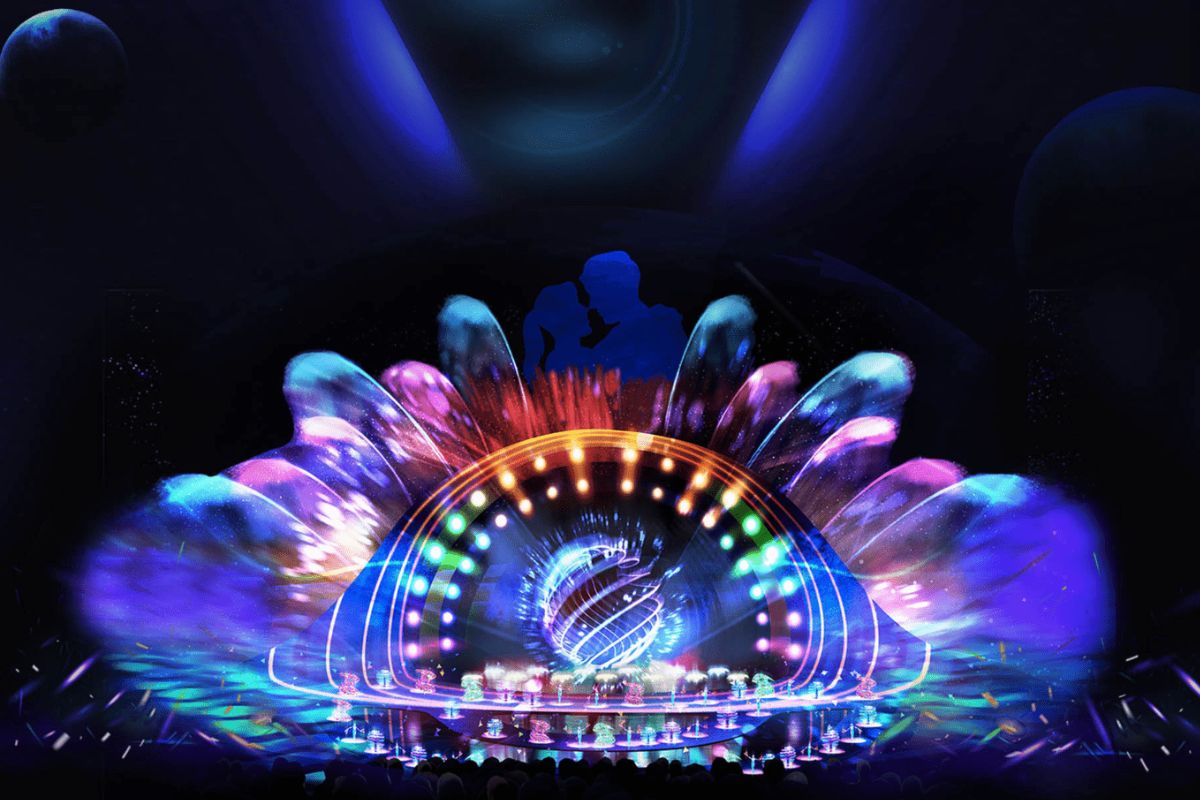 One thing you need to know about Vietnamese culture, they love their shows! Kids start practicing from as early as Grade 1 — and it's a big thing — entering tons of competitions too, which is taken very seriously.
Practicing basically since walking and talking, you can expect Kiss The Stars show to be out of this world, delighting all senses.
The stage is illuminated not only by insanely talented performers but also with elements like water features, fireworks displays and laser projections.
Designed as a multimedia extravaganza, the storyline centers around celebrating local traditions, customs and culture.
Catch the Kiss The Stars show happening every day of the week except for Tuesdays.
29 – Investigate the Coi Nguon Museum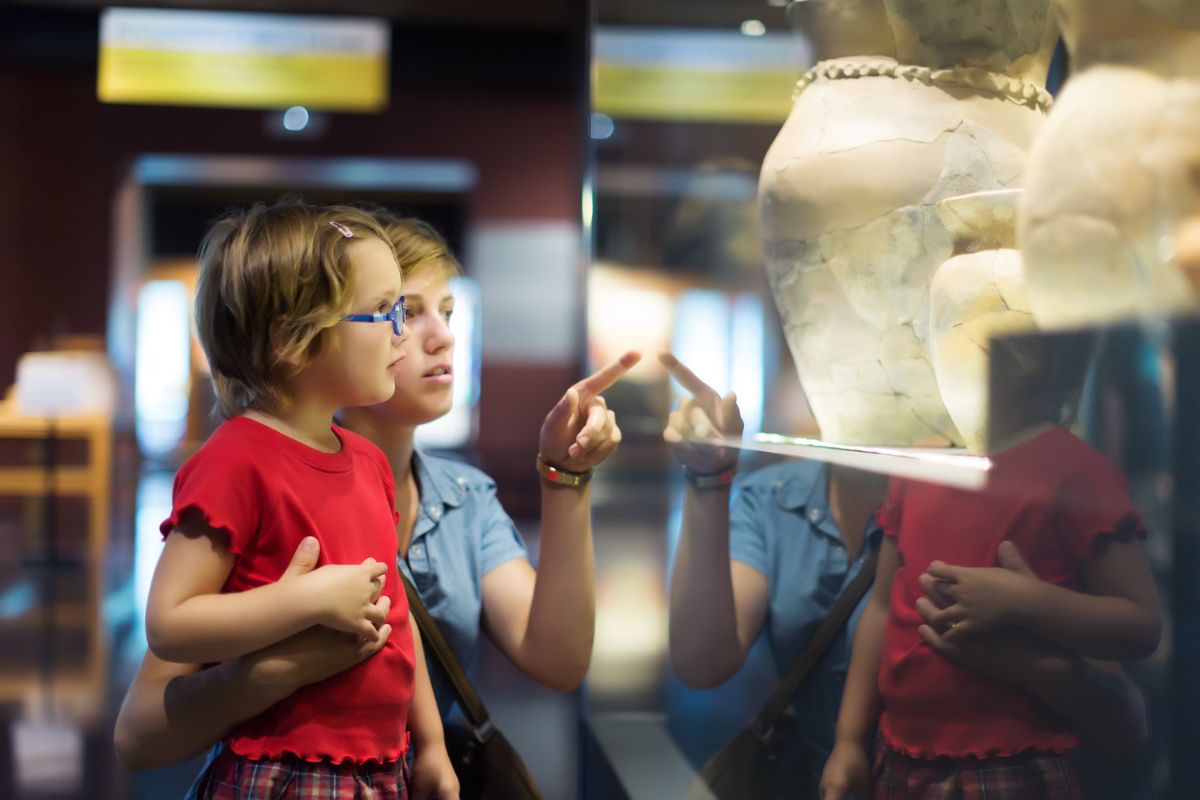 The best way to describe the Coi Nguon Museum is as a museum space brimming with Vietnamese antiquities.
Chronicle the earliest civilizations and life on the island, the development of its cultural heritage and for an inquisition circling the various Vietnamese ethnic groups.
Founded in 2009, Phu Quoc's first-ever private museum is less than ten minutes from the airport, and is designed over five floors.
Explore the museum's contents through a collection of more than 2,600 artifacts; positioned around rooms on shelves, behind glass cabinets, spread across floors and angled within the museum just like you'd find certain pieces in a local home or temple.
What to see inside? The main collections highlight the following:
15th-century ceramic, stone, porcelain, bronze, and wooden relics; ecological artifacts such as whale skeletons, wild boar fangs, snail shells and other items relating to Phu Quoc's ecosystem; fossilized wood predating to the Jurassic period (inside the fossil wood gallery) from the island's forest; and over 100 collectibles showcasing traditional trade goods (located on the fifth floor).
30 – Enjoy a food tour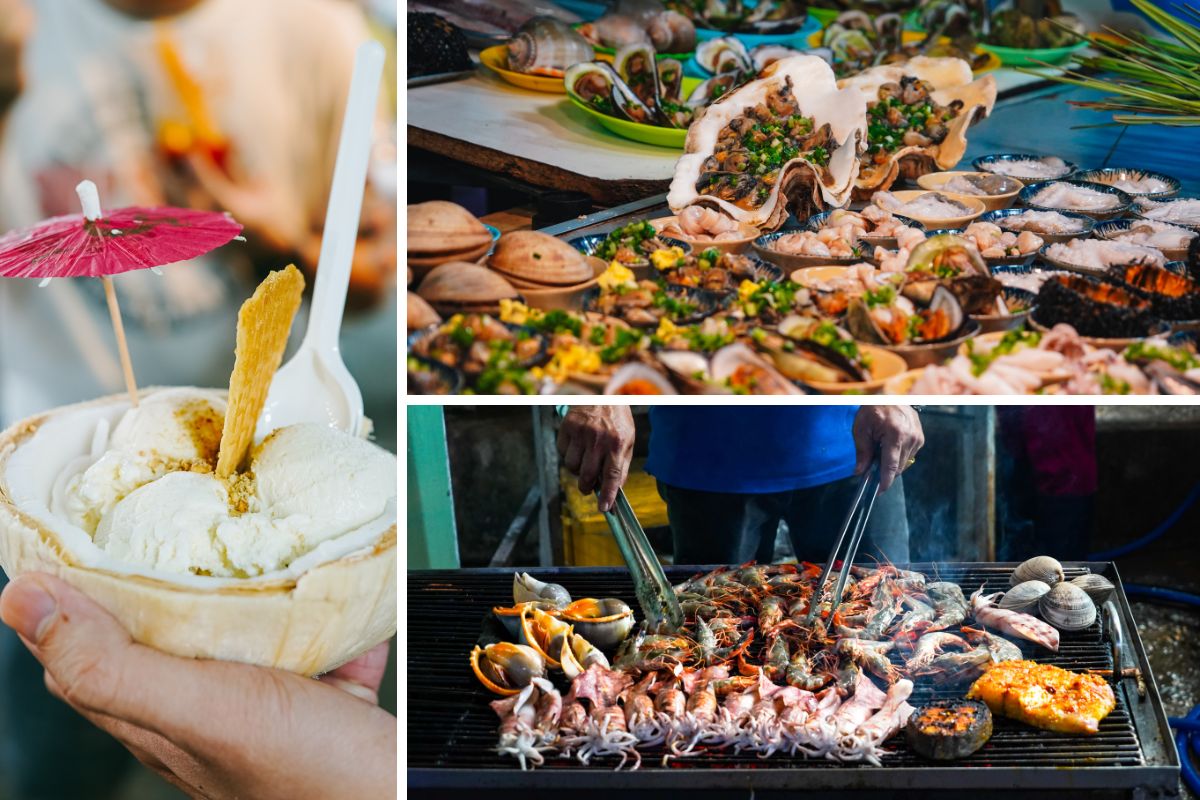 Every region in Vietnam has its own special dishes, specifically originating from this part of the country. In Phu Quoc, must-try foods include the likes of bún quậy (stirring rice noodles), ham ninh Blue Crab, and bánh canh chả cá thu (thick rice noodle soup served with fish cakes and mackerel).
Taste foods like these and more with a food tour.
Get to know the food scene during a night tour in Duong Dong. Stop by Vietnamese restaurants for your starters, mains and desserts.
Or ditch the seated dining vibes and cruise around to street food vendors hiding down alleyways, sampling bites best loved by locals.
The evening ends off with visiting the night market, presenting the chance to mingle with local sellers and farmers.
If you aren't up for a walking expedition, there are food tours by tuk-tuk or Jeep.
31 – Visit a Sim Wine Factory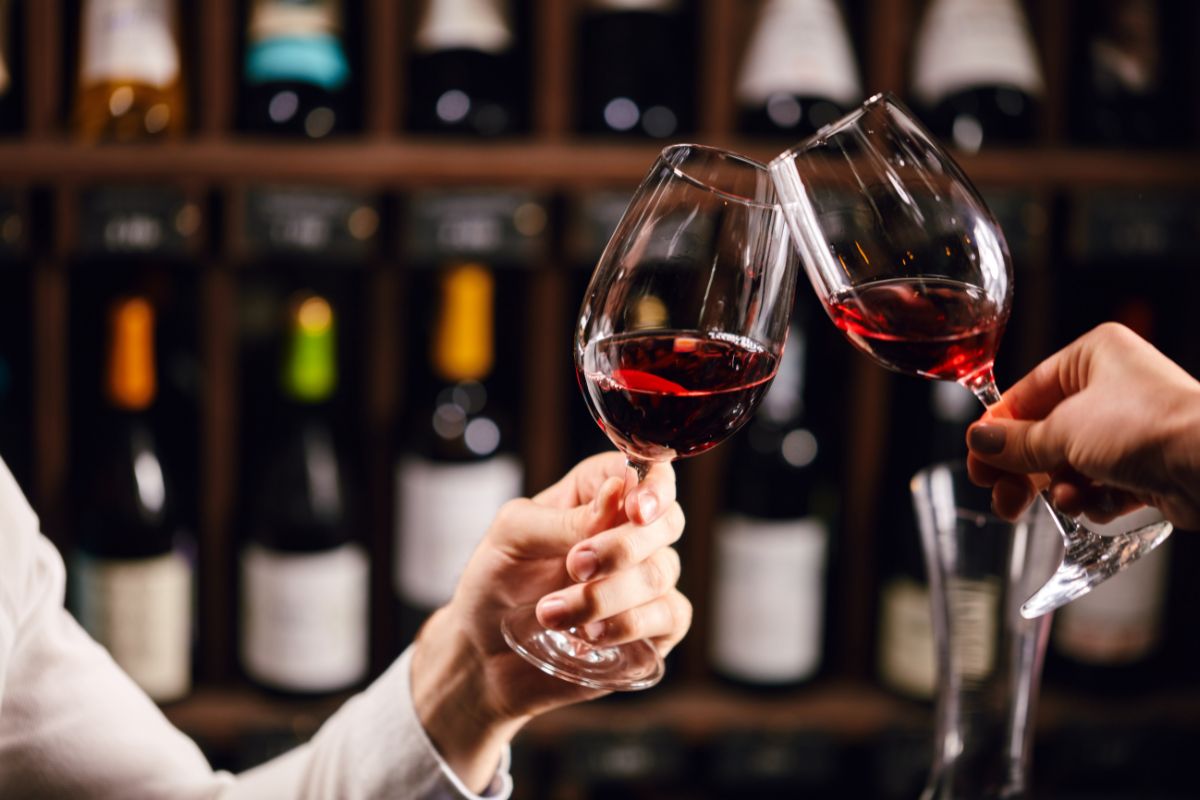 You might be familiar with rice wine; have you ever encountered or tasted sim wine before? Produced using the sim fruit (Rhodomyrtus tomentosa, also commonly known as rose myrtle), its appearance is similar to a small blueberry but with a more oval shape than rounded.
Converted into a variety of goods other than just the deep red fragrant wine, it's also utilized in traditional medicines.
At the Sim Sơn Phú Quốc factory (established in 2000), become educated on the manufacturing process from fermentation stages to bottling its Simson brand, incorporating modern technologies.
Bay Gao Sim Wine Factory dabbles in other sim products other than wine, including sim honey. Tour the garden where the fruit grows and hear about the history of sim wine in Phu Quoc.
Founded in 1995, get to sample the authentic drink, also learning of its recipe and the steps involved in creating various types of the sweet and sour alcoholic beverage.
32 – Go fishing
You're surrounded by the ocean … of course there's plenty of fishing — there are even fishing villages around the island.
Straddling the Gulf of Thailand, marine life thrives in these parts, and there are different types of fishing expeditions to embark on, some unique to Vietnam.
Have you ever tried squid fishing before? Or how about an evening stint with the moonlight leading the way? Combining both, head out to sea around sunset, then the hunting begins. Be shown how to use a rod, attach your bait and reel in a catch. Whatever squid you pull in is used later on for dinner on-deck.
If you're an avid fisherman, opt for a deep sea adventure, luring in the big boys like grouper, barracuda, trevally, cobia, queen fish and spadefish. Learn specific techniques, for example, trolling and bottom fishing.
Keen on a fun excursion with some casting involved? Join a private fishing and snorkeling venture onboard a catamaran speedboat, cruising around islands like Hon Buom, Gam Ghi and May Rut.
33 – Dine at the best restaurants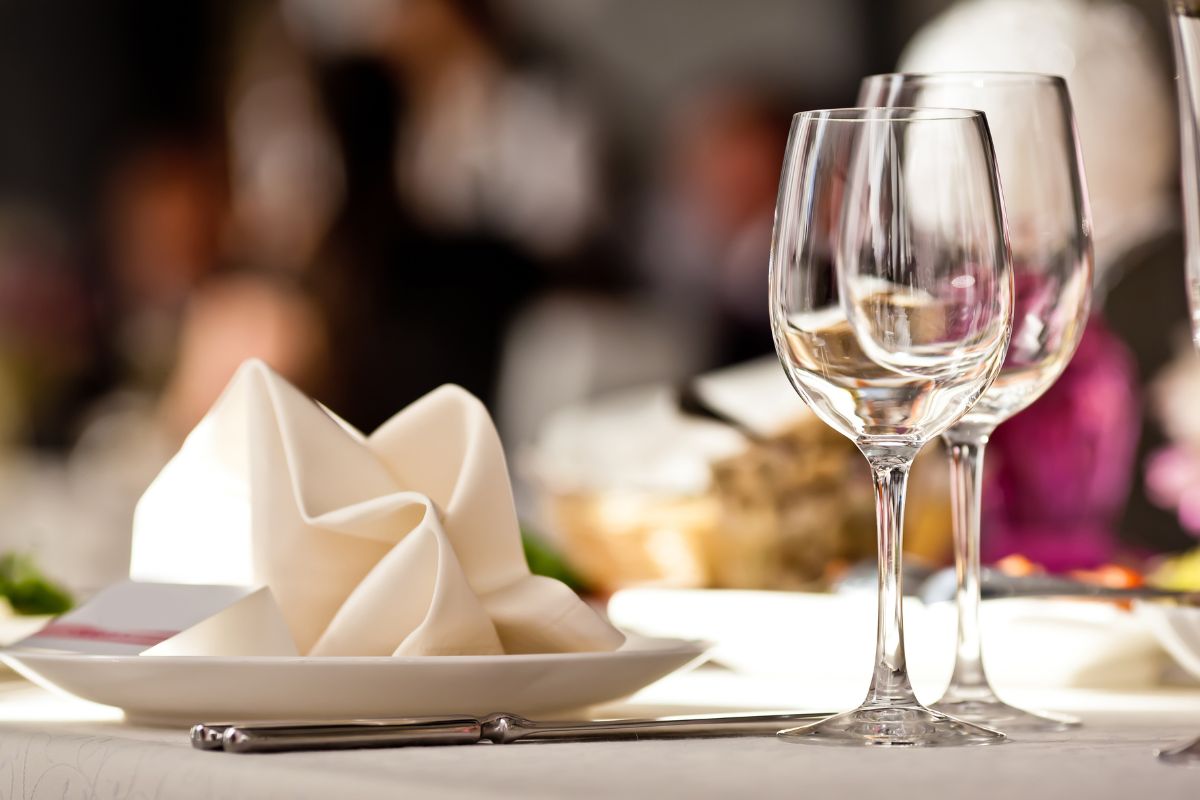 Throughout Vietnam, local food reigns supreme. Ten years ago, it would be pretty hard to find a Western restaurant, but today, you'll discover a good ratio of both.
Dine right on the water's edge at On The Rocks Restaurant, situated at Mango Bay Resort. Direct ocean views make the spot utterly romantic, indulging in fresh seafood or a tabletop barbeque.
A firm favorite amongst travelers, The Pepper Tree Restaurant is an upmarket locale cherished by couples.
For a serving of fancy schmancy vibes, book a table at Oku at the 5-star Regent Hotel.
The plates served out of Nage Eatery are really beautiful and pop with vibrancy, paying attention to presentation.
For a taste of the South, hit up Saigonese Eatery, and don't miss Bun Cha Ha Noi for flavors of the North and to slurp up one of Hanoi's most famous dishes (bun cha).
34 – Lie in your darling's arms during a sunset cruise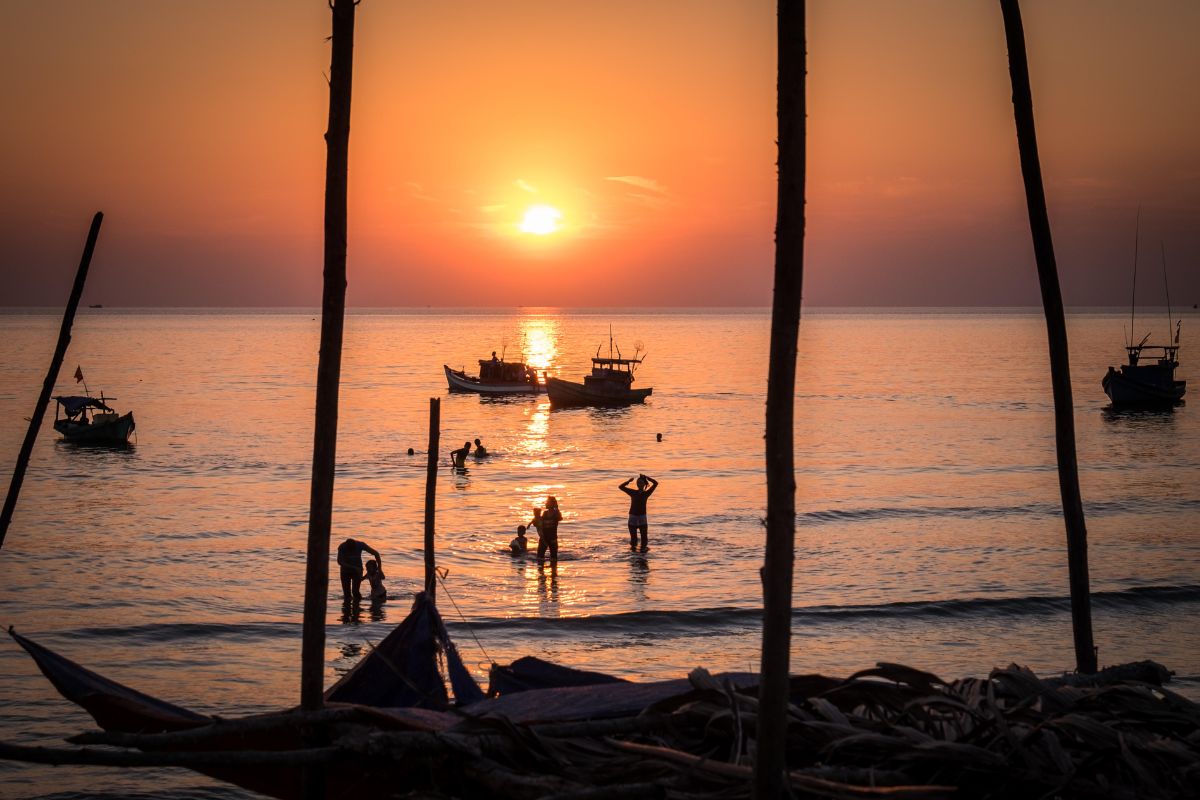 Calling all couples! If you're after dreamy things to do in Phu Quoc for the two of you, you can't go wrong with a sunset cruise where it's just you, the Deep Blue and the sky changing all shades of red, orange and pink.
Sailing around in a private chartered catamaran, your captain speeds around nearby isles and past local fishing villages, sharing personal anecdotes, stories and history along the way.
Snacks constantly flow, and so does the booze (included in the price), and you can also attempt onboard activities, for example, night squid fishing.
Sunset boating tours include round-trip transfers, so there's nothing left for you to worry about except for the pair of you having the best, most romantic time ever!
35 – Win at the Casino Phu Quoc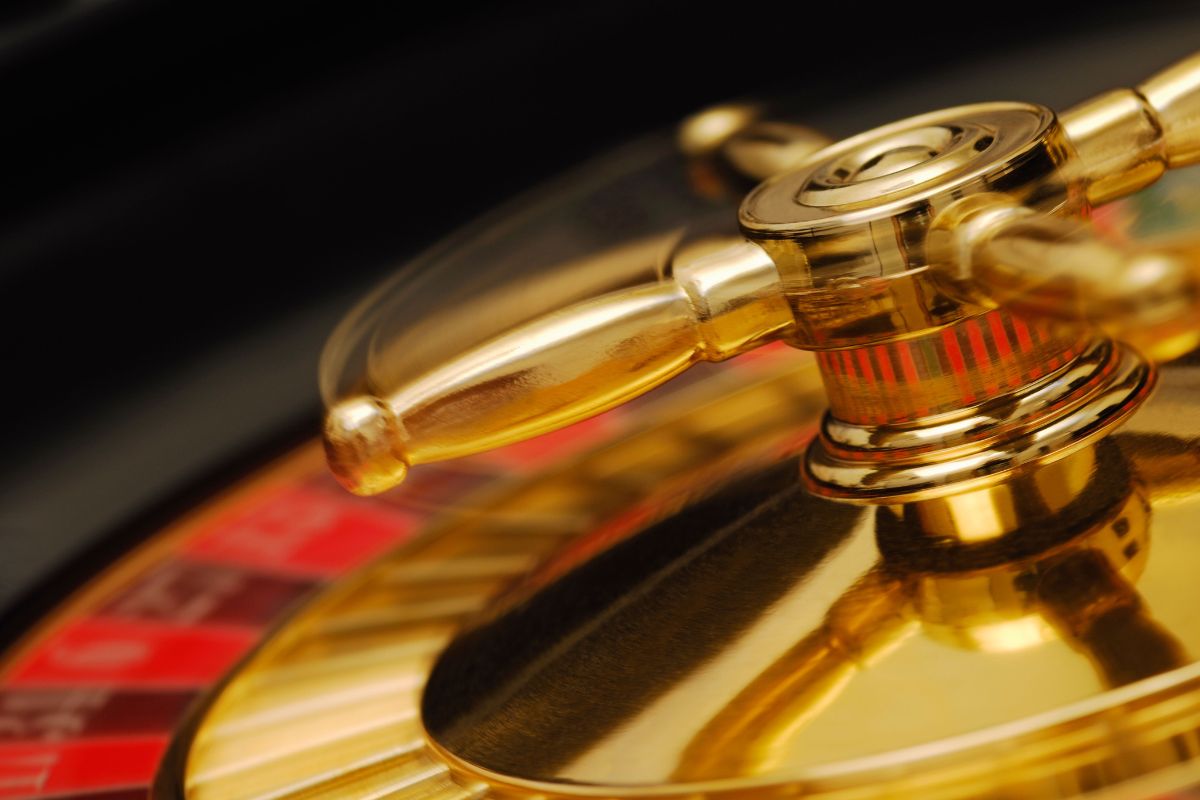 Play your lucky hand at the Casino Phu Quoc, located inside the Corona Resort (which has its own golf course, spa and amusement park too).
Unlike dimly lit casinos where time escapes you, this one feels upmarket, dazzling in bright lights, gold and ornate finishes.
Discover all the classics from table games to slot machines, such as Baccarat, Roulette,
Black Jack, Texas Hold'em Poker (as well as Three Card Poker and Russian Poker), Sic Bo and more.
Refuel at the casino bars (there are two, the Red Light Bar and the Ellipse Bar) or grab a bite to eat from the on-site casino Bamboo Restaurant.
36 – Eat your way through the night markets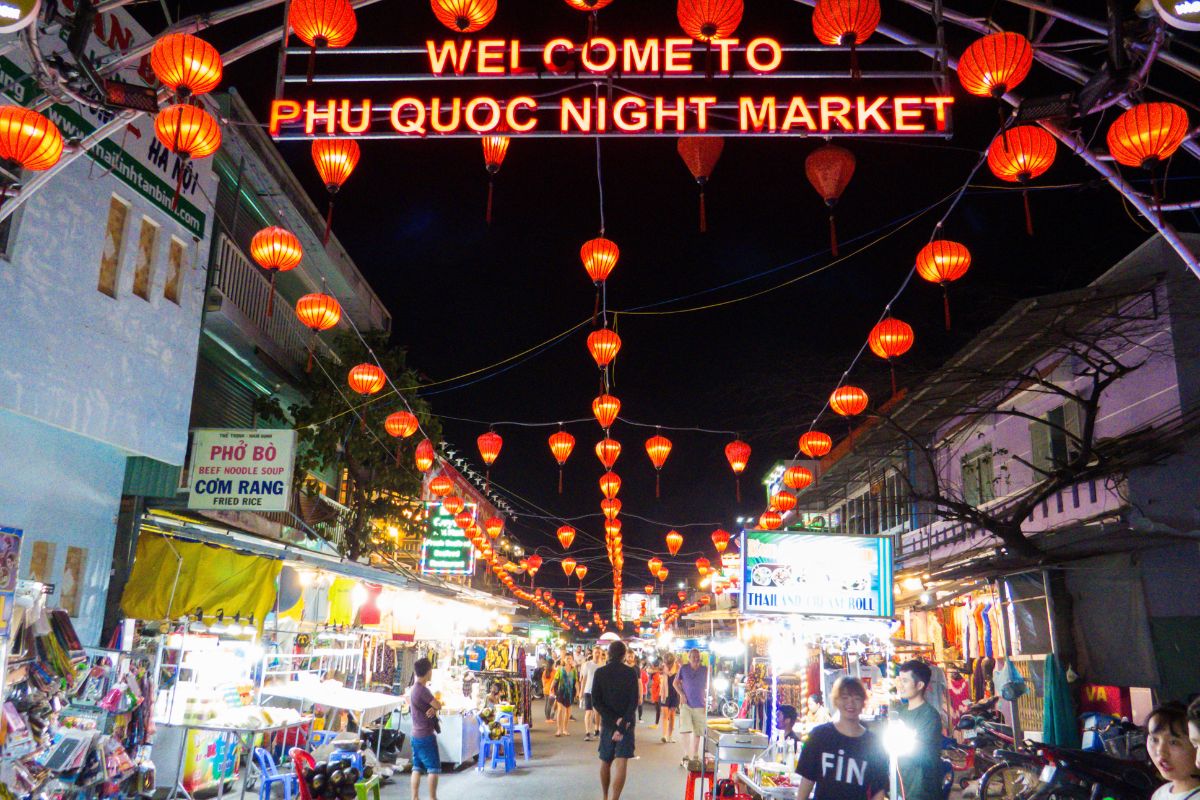 Get ready to eat and shop til you drop at the night markets.
The daily Duong Dong Market is Phu Quoc's most impressive outdoor night market, an amalgamation of fresh produce and traditional souvenirs.
It actually opens up in the early morning, running into the evenings — perhaps because a bulk of vendors sell freshly caught seafood. The best time to shop for such goods is in the morning (when fish and shellfish are the freshest).
Its wet market section has all sorts of delicacies, procurements (like dried fish) and fresh produce, from fruit to herbs to Vietnamese vegetables, and is a delicious spot to try out the street food game.
The Phu Quoc Night Market (Chợ đêm Phú Quốc) is also known as the Bach Dang Night Market, It's filled with rows of stores selling all sorts until 11.30 PM and is divided into two zones. Pick up traditional souvenirs and trinkets, but it's the food that the masses really arrive for.
Must-try snacks and dishes include sticks of barbecued seafood, Nutella crepes, coconut ice-cream (kem dua), Vietnamese pizza, rolled Thai ice-cream and more!
37 – Rejuvenate at a mud bath spa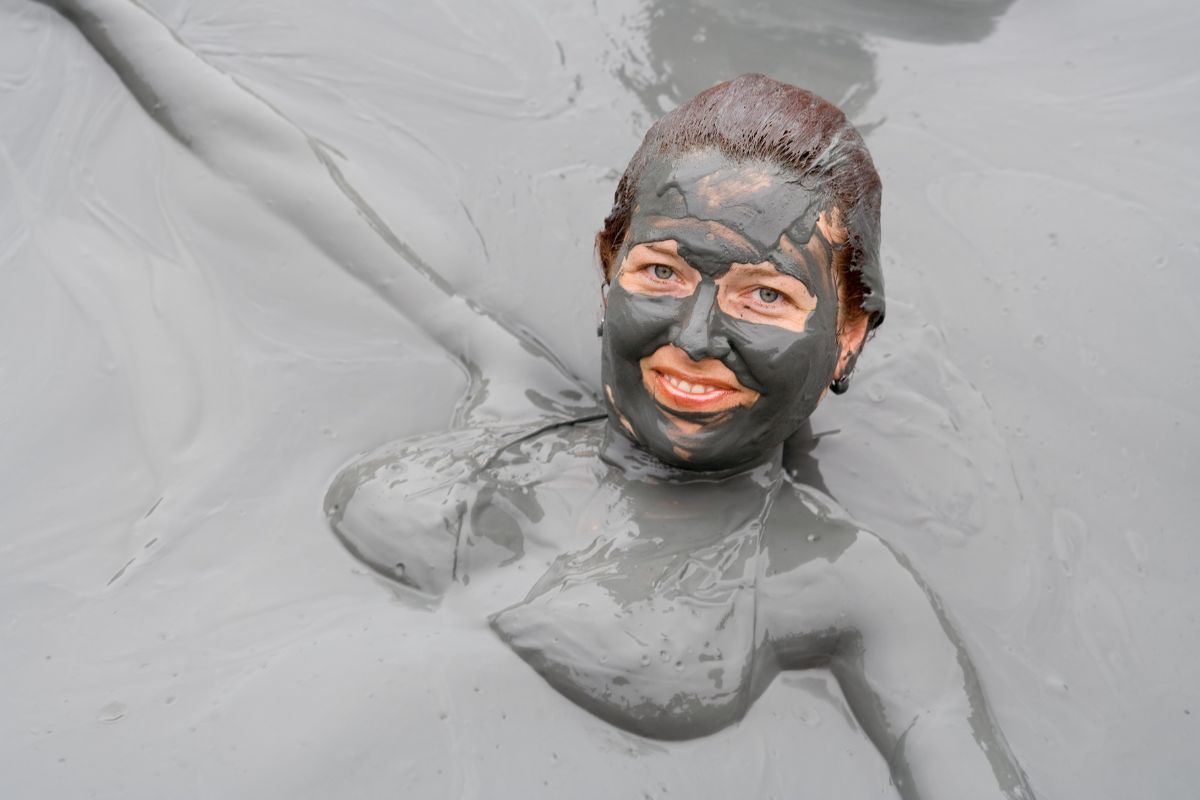 Comprising essential and revitalizing minerals like magnesium, zinc, bromine and sulfur, a mud bath spa is the perfect way to relax, unwind and leave your treatment refreshed and with the softest skin!
Its healing properties aid in skin exfoliation, improving skin conditions such as eczema, removing skin impurities and elevating sore and aching muscles. If this sounds like your type of activity, soak your worries away at Versailles.
Offering mud bath experiences, a beach bar and typical spa facilities, the nature-inspired center is equipped with jacuzzis, saunas and massage rooms.
Other treatments available are herbal bathing with dao leaves, herbal hair-dressing, and a massage and acupressure for two.
38 – Enjoy the nightlife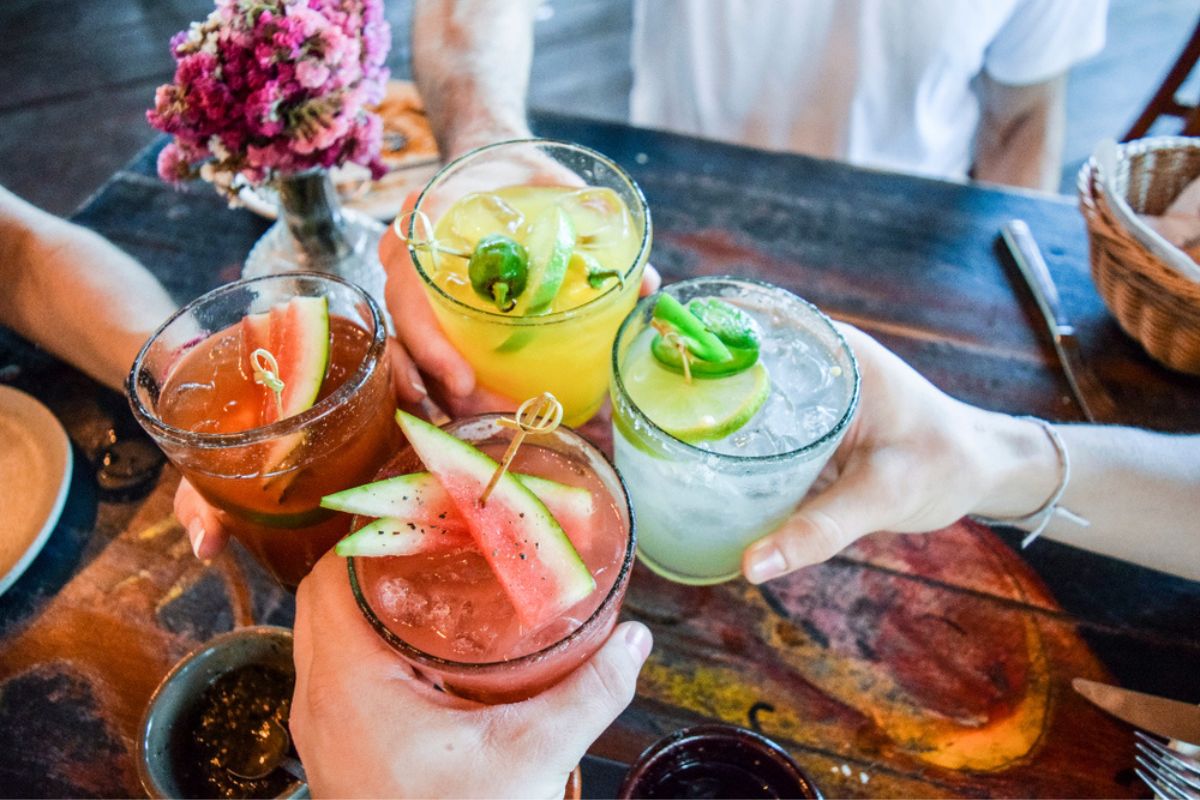 Let down your hair and lap up the good (island) vibes as the stars come out to play with Phu Quoc's nightlife scene.
Creative cocktails, a sophisticated setting and oozing all the upmarket feels with views to boot, flit up to the 19th floor to reach INK 360. Lap up the vistas from either inside or out on the balcony, and DJs come out to play certain nights of the week.
Located right on the water's edge, Rock Sunset Island Bar is a total vibe! Enjoy drinks with the sound of the waves crashing beneath you! It's another spot that transforms with the moon, and is favored by tourists and expats.
Drinks aflame, Aperol Spritz on the menu and international mixologists … Bittersweet Hidden Cocktail Bar is a super trendy little spot.
Happy Buddha Club is a hilltop bar doubling as an electronic music club for you to dance the night away.
Opening in season (after monsoon), Rory's Beach Bar is a laid-back beach bar with a surfer's theme.
Whether talking cocktails, music or even the food menu, Coco Bar never disappoints — but it also shuts down during monsoon.
How to get to Phu Quoc?
Great news! The island has an airport, so it's possible to fly directly here, landing at Phu Quoc International Airport.
Before you land, you might want to consider pre-booking airport transfers in Phu Quoc. Once you've touched down and are ready to exit the airport, a private driver will be waiting for you, holding a placard with your name on it.
This eliminates the stress of booking transport when language barriers can become tricky or if you're traveling as a family with little kids.
Consider organizing shore excursions in Phu Quoc if you've booked a stay on one of its nearby islands.
Where to stay in Phu Quoc?
There are plenty of stunning accommodation options in Phu Quoc, rising with the ocean in front of you.
The 5-star New World Phu Quoc Resort is an amazing choice for families, boasting a private beach. The contemporary garden pool villa is everything!
Sporting not one but two swimming pools and all the modern facilities, including its own spa, Dusit Princess Moonrise Beach Resort is a beautiful beachfront stay.
Swarmed by palm trees and with an infinity pool in the most stunning setting, you'll never want to leave your private pool villa at the Sailing Club Signature Resort Phu Quoc.
Expect world-class service, facilities and room options from 5-star Regent Phu Quoc. An exceptional choice for couples, enjoy the likes of a romantic private dinner on the beach.
Staying at Meliá Vinpearl Phu Quoc feels like you're on your very own private island. Right on the beach, check into one of its gorgeous villas, equipped with everything you need.
Incorporating loads of natural elements and fusing traditional and modern design, book a night or three at Chen Sea Resort & Spa, right on a (private) beach.
The 5-star Salinda Resort Phu Quoc Island rooms exude a naturally warm ambiance and are super comfortable. On the beachfront, appreciate the stunning sunsets — and breakfast is included.
Visiting Phu Quoc on a budget?
Suppose you intend on vacationing in Vietnam for an extended period of time or still have other Southeast Asian countries to tour around. In that case, there are ways to save a few extra đồng (the local currency), for example, with combo tickets in Phu Quoc.
It integrates three of the island's top attractions: VinWonders, Sun World Hon Thom Nature Park and Vinpearl Safari, including all the attractions and activities at each locale.
Ride the cable car, go on a safari or spend the day at the waterpark.
Another added bonus when purchasing this ticket is it gives you 'skip-the-line' access to all three destinations! There is the option to buy a combo for all three or just two.
Where to go next?
Vietnam is a ridiculously affordable country, making it convenient to travel across the country. There are many other great places to visit in Vietnam.
Veer off to the south and explore Saigon, with plenty of amazing things to do in Ho Chi Minh City. Sample southern Vietnamese cuisine, visit the famous Chu Chi tunnels, deep dive into the country's wartime past and enjoy a world of shopping.
A piece of French paradise; Hoi An is like no other place in Vietnam. Stroll the old town cobbled streets lined with terra cotta buildings and flitting lanterns overhead, grab lunch on the riverside, get a suit tailor-made and shop for insanely cheap leather goods! The beach is right here too, making it the best of both worlds.
Roughly 30 minutes from Hoi An is Da Nang, with more of a modern city feel. Learn to surf, visit Big Buddha, drive one of the most beautiful roads in the world, explore the mountain or day-trip to imperial Hue.
Experience a completely different side in the north in the country's capital city Hanoi. Taste famous foods from the region, check out the Old Quarter, meander around Hoan Kiem Lake, visit night markets and learn how to ride a motorbike in the madness.
Traveling around SEA? There are many fantastic places to visit in Southeast Asia, such as Phnom Penh and Siem Reap — both in Cambodia and very near to Vietnam.
Final thoughts
It's impossible not to have a fabulous time when blessed with island living and all of the beach-inspired things to do in Phu Quoc.
Have you stayed on the Vietnamese island before or a neighboring one? What was it that captured your heart about this part of Vietnam? Share with us in the comments; we love to hear from our readers!
As always, happy travels.