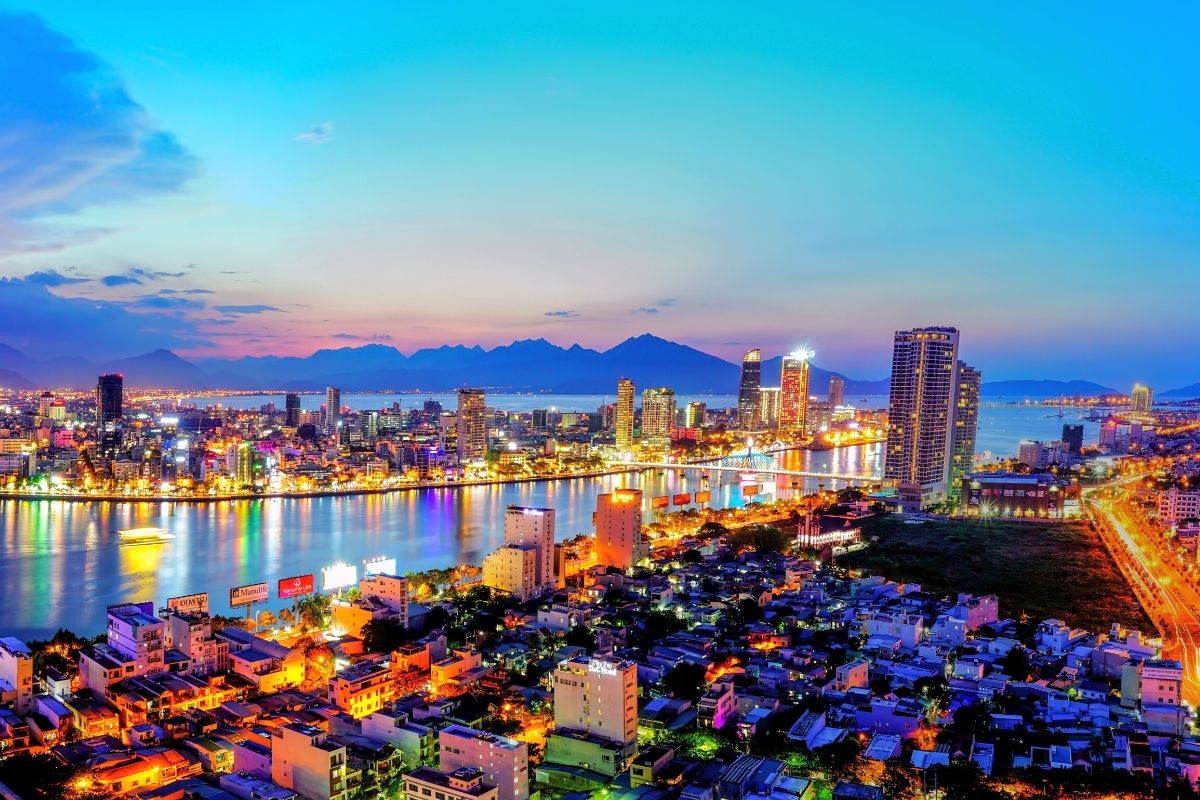 When you're traveling around Vietnam, one of the best booming places for an epic beach holiday is Da Nang (also spelled as Danang).
Located in central Vietnam, it's an ideal location filled with long sunny days, oceanic activities and an abundance of outdoor attractions to adventure to, and there are many things to do in Da Nang to suit all types of travelers.
During the day, explore the city, and when night falls cruise on the Han River. One of the best ways to discover the surrounding areas is via motorbike. Hit the road traveling one of the most beautiful passes in the world! Visit ancient cities, and investigate temples that date back over 1,000 years.
Spend a couple of nights at an affordable beachfront stay, or check into a luxurious villa with your own private beach instead. Good vibes only, this coastal town is modernized yet still retains an air of tradition and with the sea never far away, it's the perfect vacay.
1 – Stand in awe on the Golden Bridge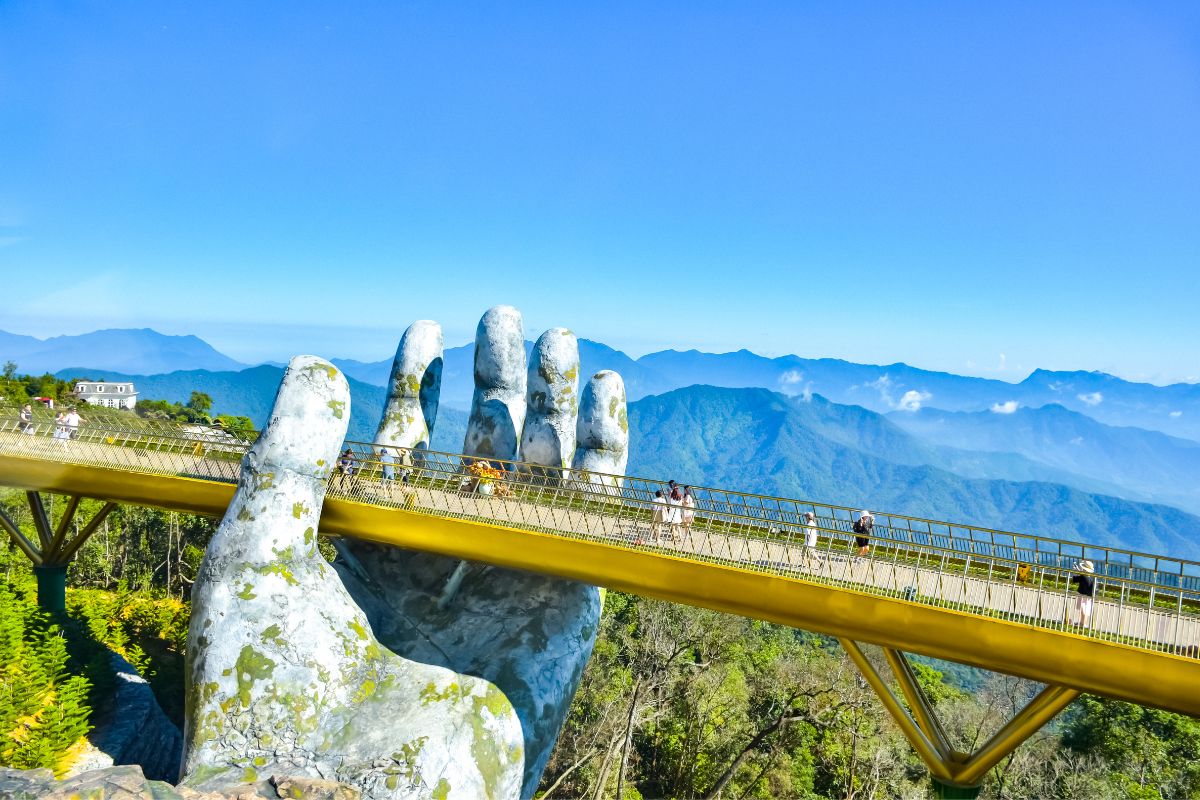 Splashed all over Instagram feeds, the Golden Bridge is one of the most jaw-dropping walking bridges thanks to its unique construction.
Picture this; two gigantic stone hands holding up a 150-meter-long bridge atop the surrounding mountains. This is exactly the scene that greets you at Cầu Vàng (its official name).
Sitting 1,414 meters above sea level, the walkway is supported by a railing on both sides, with one of the massive stone sculptures on either side.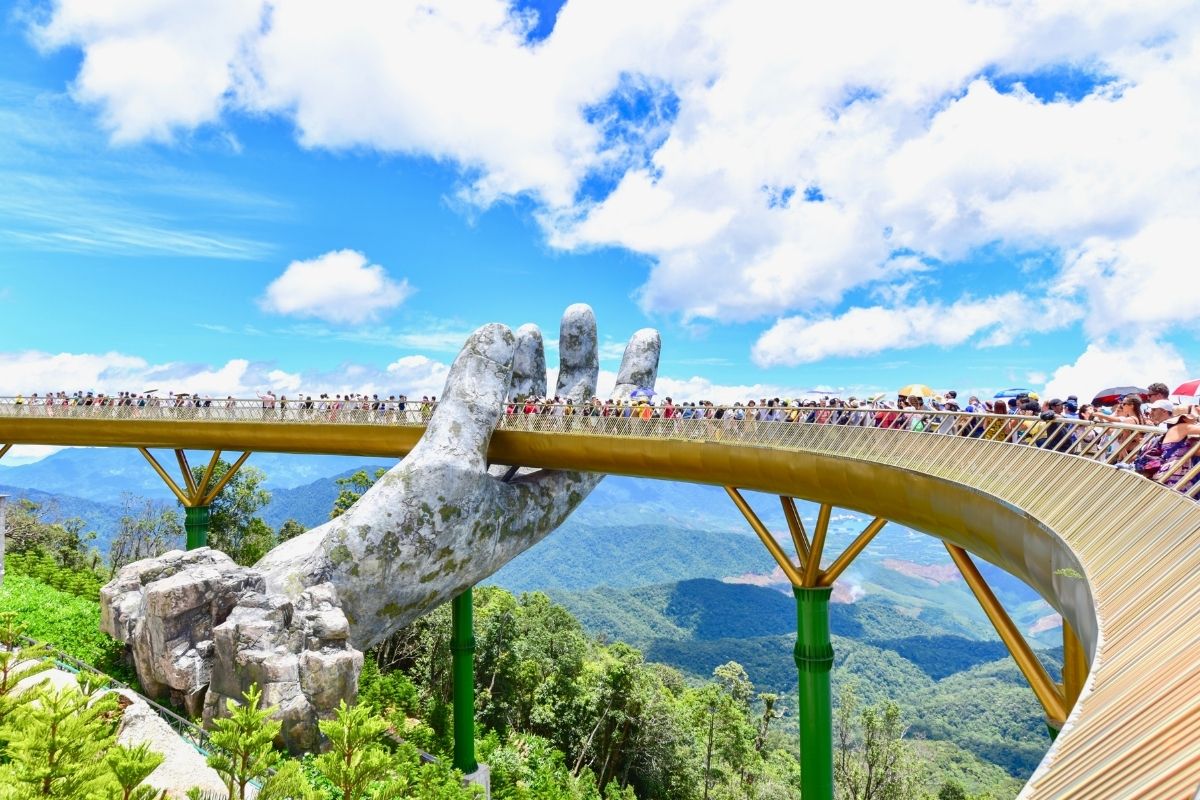 To reach the spectacular viewpoint (and a photographer's dream), you will need to catch a cable car ride up, which is accessible through the Ba Na Cable Car (located inside Sun World Ba Na Hills theme park). If you've arrived only to visit the Golden Bridge, book a ticket for the Toc Tien Station to L'Indochine Station line.
The cable car runs throughout Sun World and transports guests to its various attractions. A ticket to the bridge only is available, without having to pay for park entry if you don't plan on visiting the theme park.
Golden Bridge truly is an architectural delight!
2 – Spend the day visiting the best beaches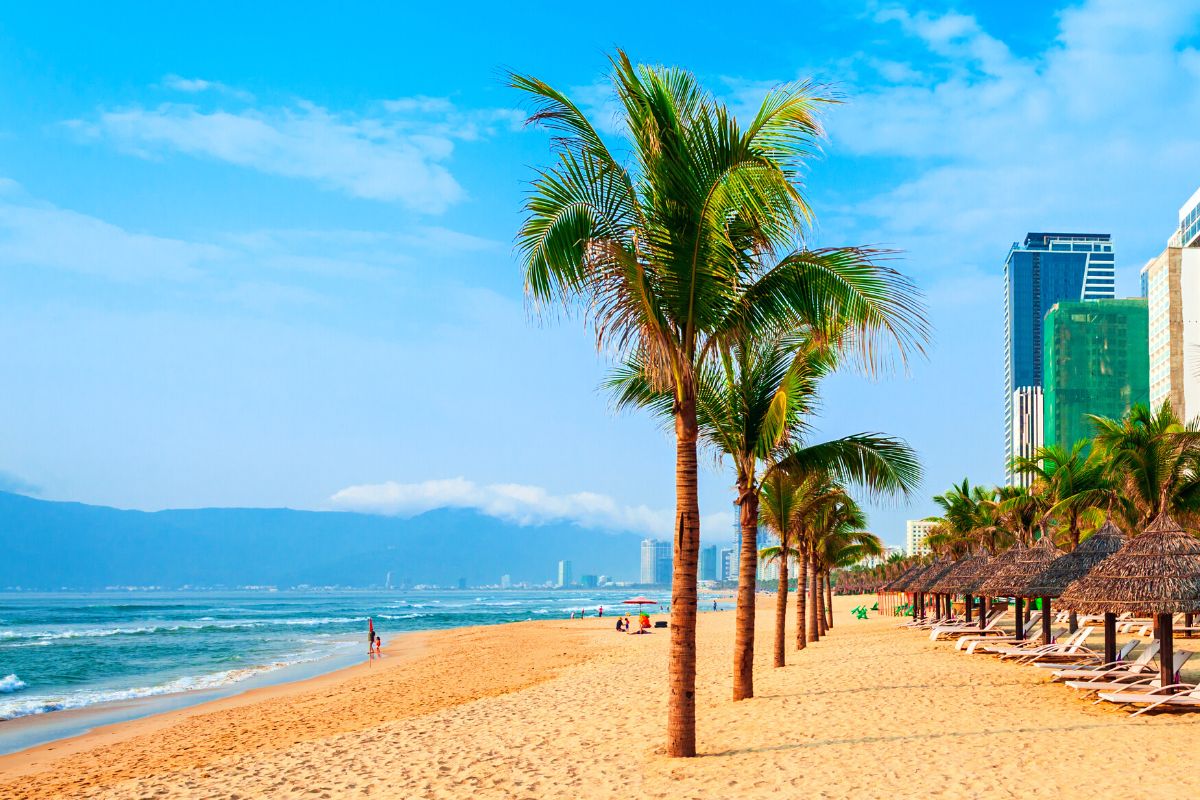 If you're hunting time in Vietnam spent lapping up some TLSea, you've arrived in the right place. This part of the country is a renowned beach destination and one of the few main cities in Vietnam that boasts as many beaches as Da Nang does.
Arriving in the coastal city, the main beachfront that greets tourists is known as My Khe Beach. It is seemingly never-ending and stretches for nearly 10 kilometers along the main road between Son Tra Peninsula and Ngu Hanh Son (Marble Mountain).
Expect soft white sands and a calm ocean that does see a few waves now and then, but nothing daunting. Enjoy a plethora of water activities like learning to surf, SUPing, kayaking or beach volleyball. Plus, there are many beachfront stays as well as cafes and restaurants opposite My Khe.
Located on the same coastline as My Khe, but past Marble Mountain and en route to (or from) Hoi An, Non Nuoc Beach is fronted by coconut palms with five kilometers of powdery sands to enjoy. Swim, snorkel or surf here followed by a delicious, fresh seafood lunch.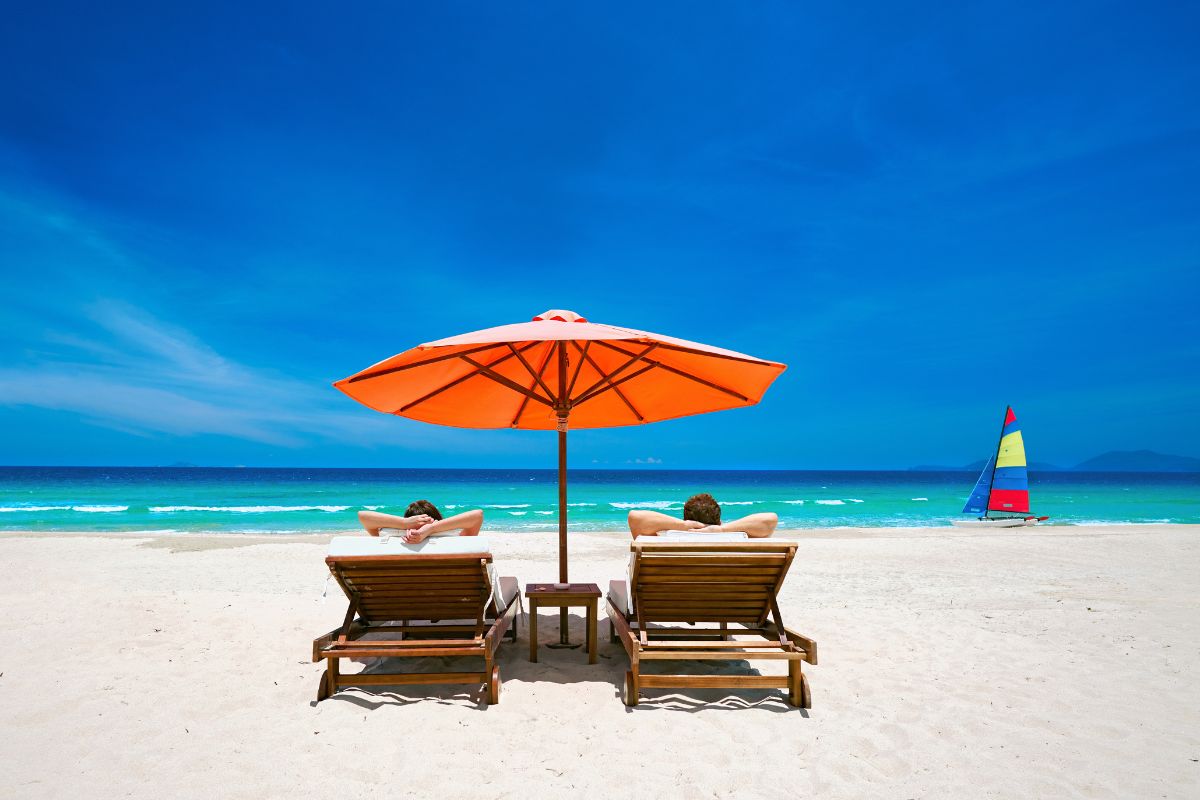 15 minutes from the city center is Bãi Nồm Beach (Bai Nam Beach) in south Danang. This lesser-known beach is still kind of a hidden gem but is loved for its see-through, crystal-blue waters.
A small reef where you can snorkel and spot some coral is not far from the shoreline.
With a distinctively 'wild and rugged' look and feel, escape the hustle and bustle at Ghềnh Bàng beach by the Son Tra Peninsula. Beach boulders dot the sands and tall cliffs and caves cover the beach's small cove.
There are a few natural rock pools that have formed to take a dip in, but take caution around here as conditions can get choppy. It's not the most suitable swimming beach but makes for an epic beach-hunting adventure.
Bãi Đá Đen is also known as Black Rock Beach because its landscape is littered with black beach boulders. Enjoy a BBQ or picnic on the grassy area above the sands, or a bonfire in the evening on the beach (but clean up afterward).
3 – Snap a pic in front of Đà Nẵng Cathedral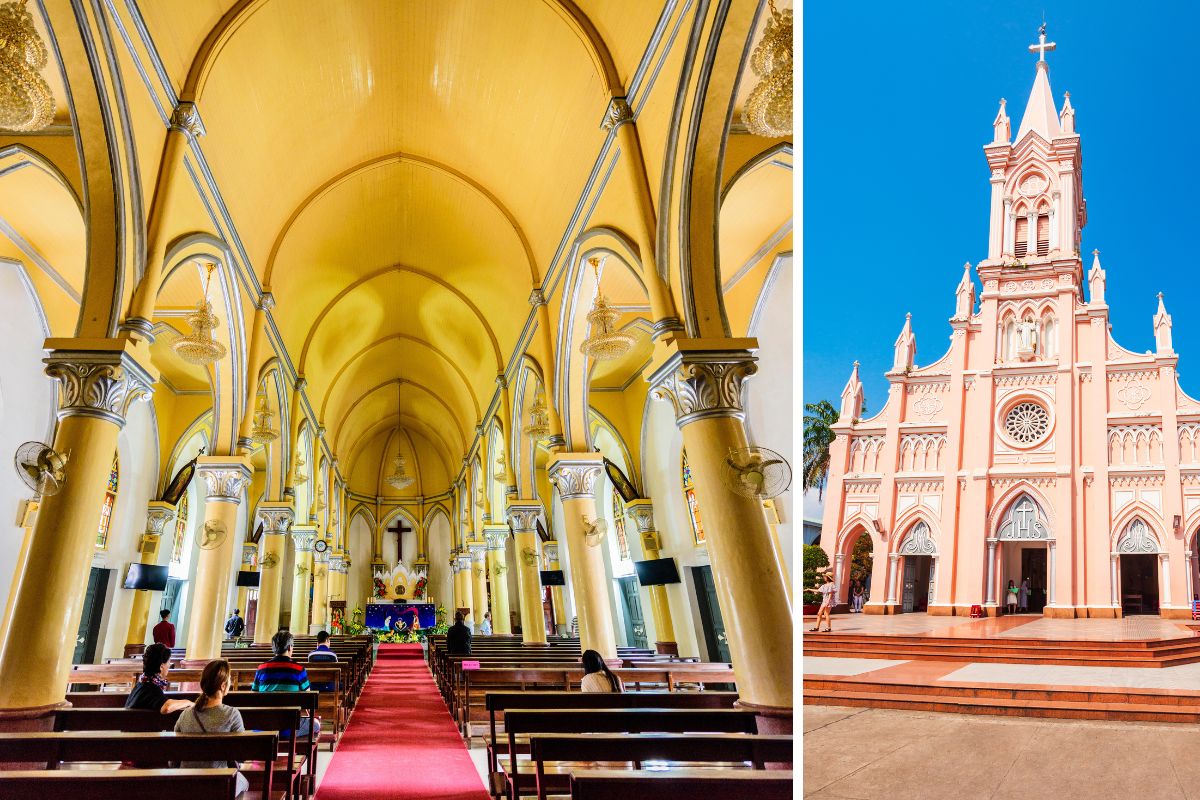 The pastel pink-colored Đà Nẵng Cathedral is hard to miss, standing out against the mix of modern buildings and shopfronts in typical Vietnamese design.
Its cotton candy appearance isn't its only unique feature — but it certainly is one of the main reasons why tourists flock here, posing for a photo outside.
Sporting French-colonial design, this catholic church was the only one of its kind built in the early 20th century in Da Nang.
It hints at the gothic architecture style with prominent features like pointed archways, stained glass windows (inside) and a striking entrance, and the church's steeple reaches 70 meters high.
Inside the building is a typical catholic church setting with pews for parishioners and the main altar up front. Mass service is also offered in English on Sunday mornings for travelers who wish to partake.
4 – Feel the thrills at Asia Park – Sun World Da Nang Wonders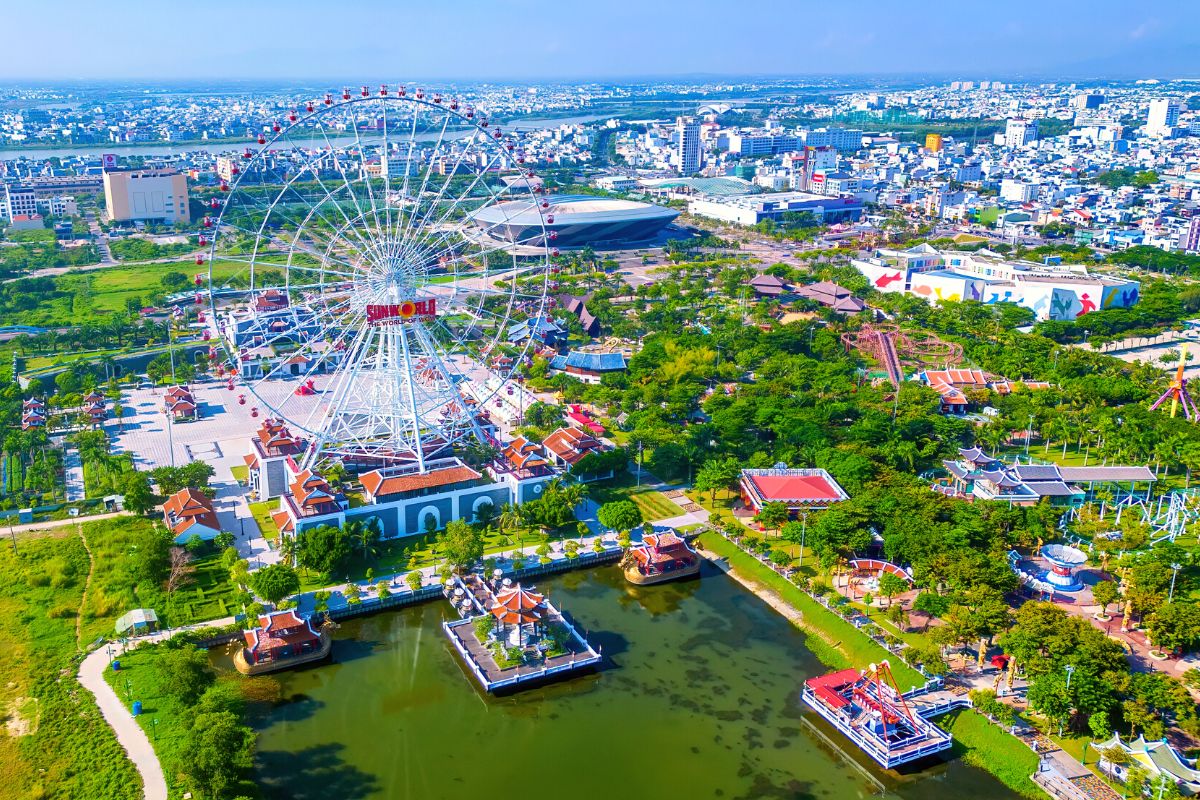 Travel all around the east in one day during an expedition to Asia Park (forming part of Sun World Da Nang Wonders). So much more than just a theme park, come here to enjoy a cultural experience like none other around.
The park is divided into different zones, categorized by various countries throughout Asia. These include the Singapore zone, Nepal zone, Cambodia zone, and Thailand zone, as well as zones dedicated to India, Korea, China and obviously, Vietnam.
Each zone features structures and elements from its respective country to transport you and feels super authentic.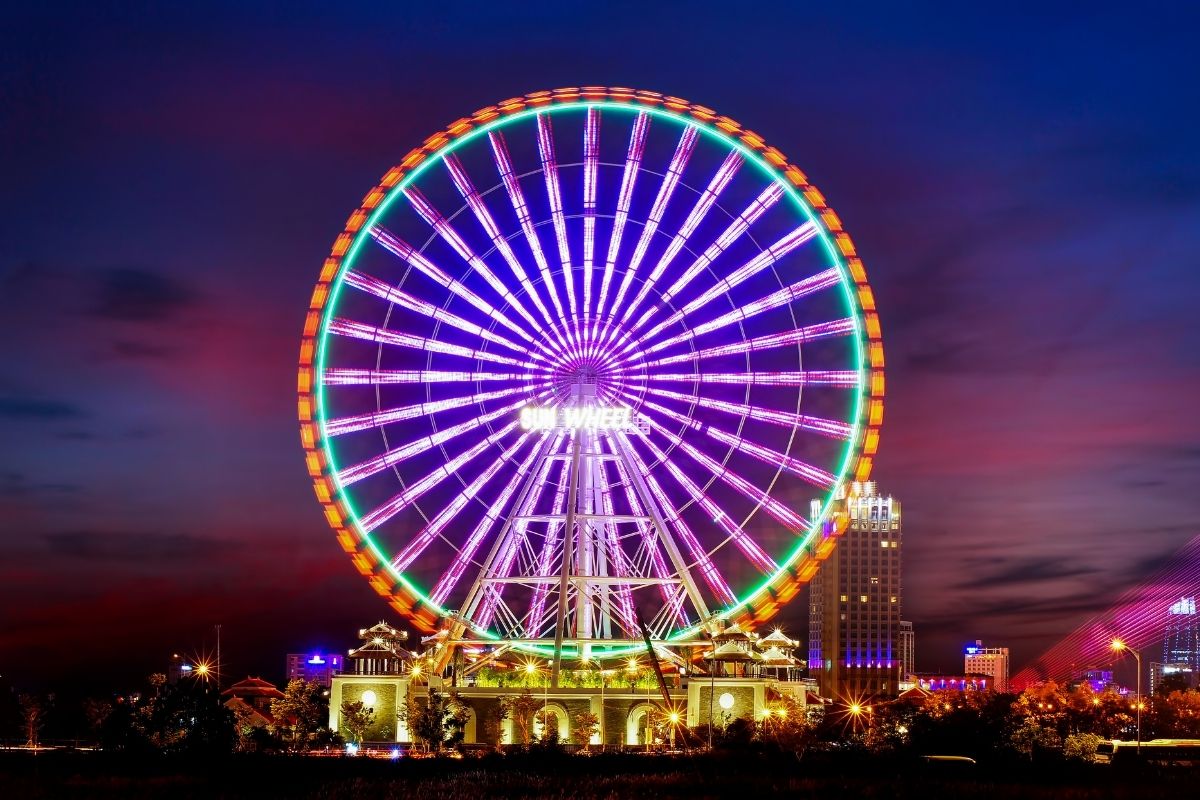 Apart from the cultural explorations, discover a plethora of classic attractions and rides like a carousel,  freefall tower, flying tea cups, bumper cars and rollercoasters, and each is themed accordingly.
Fly on swinging chairs on the Journey to the West, hop into the Kabuki Trucks, try the Ninja Flyer or scream on the Singapore Sling. Another standout feature (which you can see from parts of Danang) is the 115-meter-high Sun Wheel ferris wheel — especially in the evenings when it's all lit up.
Experience flavors from around Asia too that are renowned for their cuisine, including Indonesia, Thailand, Cambodia, India, Nepal, Japan, Korea, China and Vietnam at the on-site restaurants.
5 – Discover worlds from hundreds of years ago at the Museum of Cham Sculpture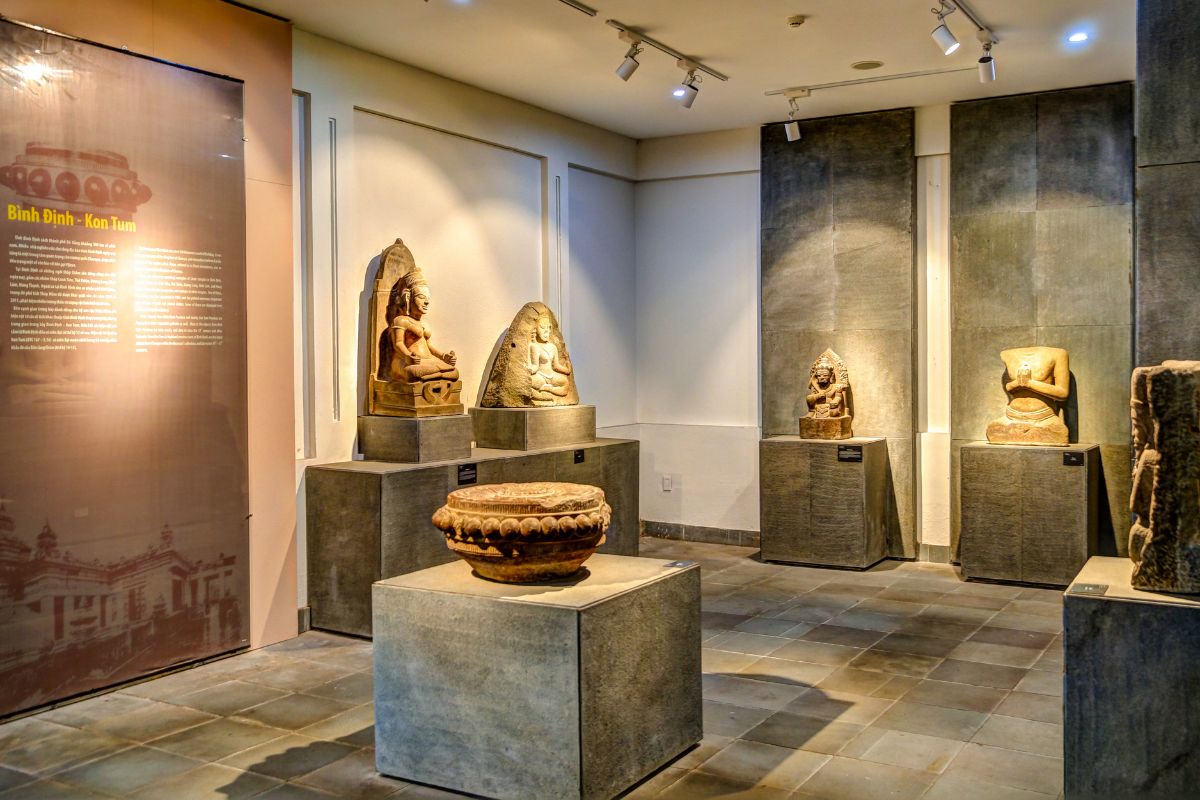 Did you know that the Champa reign ruled Southeast Asia for centuries? Cham art refers to the Champa art from this period, lasting close to 1,000 years. The earliest sculptures were made from sandstone and the Museum of Cham Sculpture is one of the only places to see such a vast historical collection.
A whopping 10 galleries make up the museum's permanent collections and each one is named according to the part of Vietnam where the sculptures were uncovered.
For example, find Buddhist sculptures from Dong Duong, large stone relics from Thap Ma, structural pieces from temples in Hue and fragments of towers from My Son.
Opening in 1915, it's not just the artifacts that reflect the Kingdom of Champa, but the building was also constructed using typical Champa architecture.
Interestingly, all of the artifacts that are housed here were only discovered in the last 100 years and excavations only began in the early 20th century! Comprising two levels, the museum has seen some renovations to the original building and is considered one of Vietnam's top museums.
6 – Rejuvenate at Nui Than Tai Hot Springs Park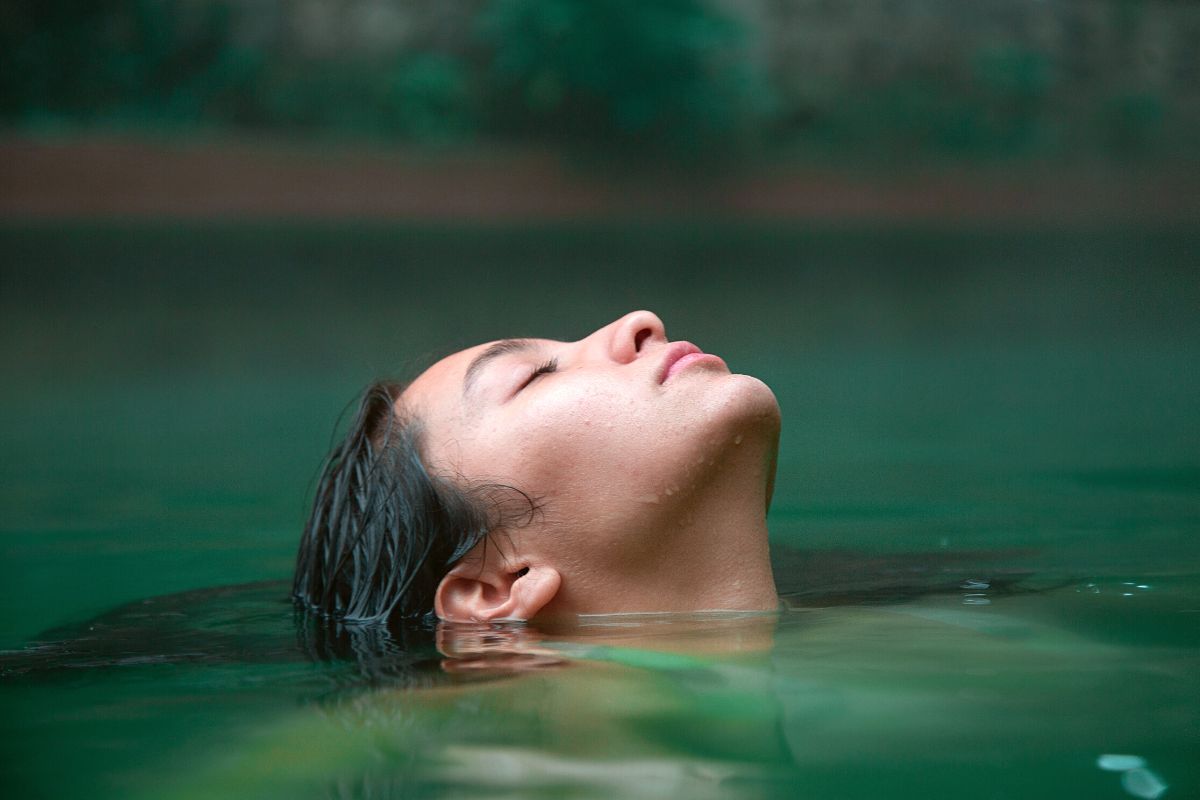 Nui Than Tai Hot Springs Park is one of the best ways to relax and revitalize your body with the help of natural elements and Mother Nature surrounding you. Situated within the Ba Na-Nui Chua Nature Reserve, there are your typical hot spring services, and then some.
Book a private mineral hot spring bungalow and enjoy a glass of wine while soaking, or explore some of their other unique natural spa baths.
Try a mineral mud bath, coffee bath (containing antioxidants great for skin), fresh milk bath leaving you feeling super soft, green tea bath (for the body, mind and soul), a lemongrass bath containing tons of vitamins, or a wine bath — believed to help keep you eternally young.
There is also an indoor Japanese onsen inside the Onsen Tower, or, just like many natural hot springs around Southeast Asia, such as Thailand, there are longevity eggs to boil in the spring and eat for the vitality of life.
Other than the hot spring and bathing action, there is also a water park, mud arena, a dinosaur park, VR (virtual reality) games, Orchid Street and a cave to check out at Nui Than Tai Hot Springs Park.
Travelers can stay the night at the park's Ebisu Onsen Resort, and there are two on-site restaurants.
7 – Trek Marble Mountains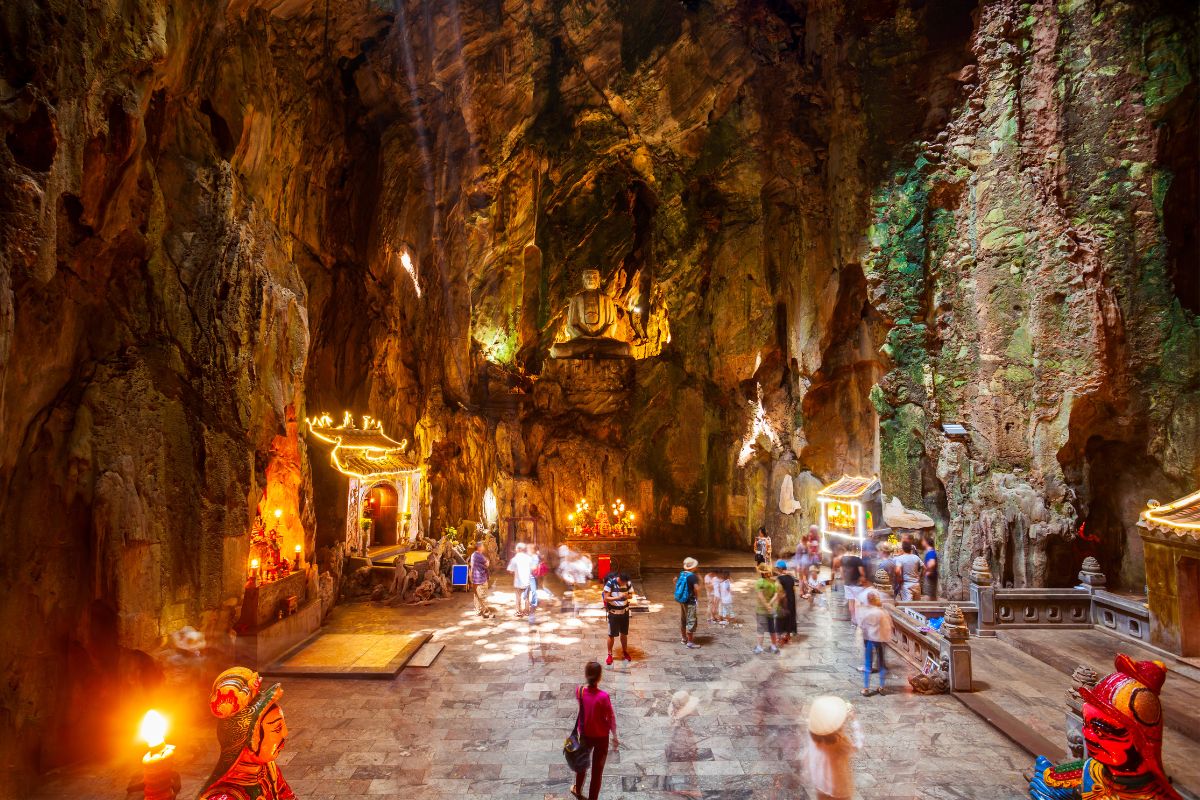 Heading just outside of Da Nang on the way to Hoi An, the striking Marble Mountains compel travelers with caves, temples, beaches, local villages and expansive views.
Constituting five limestone peaks that make up the mountain range, they gain their name because of their color, and each one is named after a natural element (in Vietnamese).
These are: earth, wind, fire, water and metal and its local name (Ngu Hanh Son) translates to 'Five Elements Mountain.'
Thuy Son means 'Water Mountain', for example, or Moc Son is 'Wood Mountain'. The other three include Tho Son (Earth Mountain), Hoa Son (Fire Mountain) and Kim Son (Metal Mountain).
In order to investigate Marble Mountains, you will have to do a bit of walking, however, it lends as the best way to sightsee as you pass by the mountains' monuments and historical sites.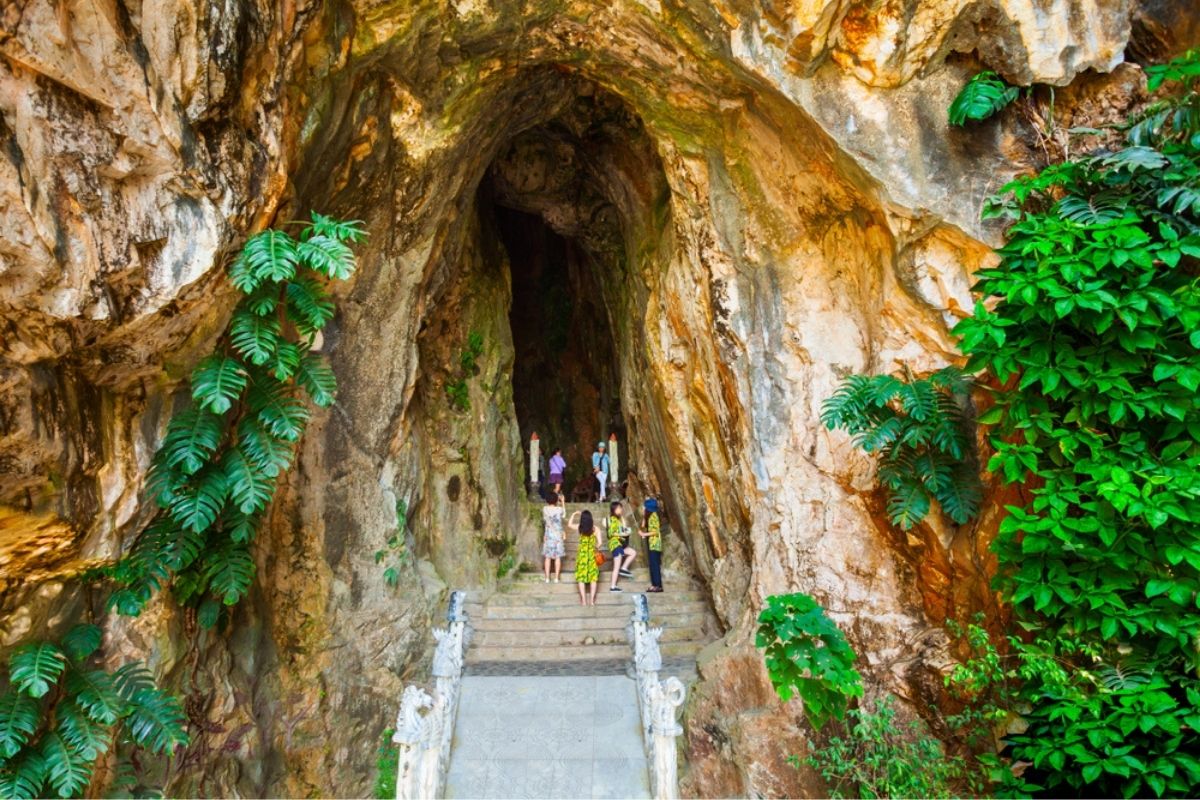 Non Nước Village scattered in white-stone carved statues (located on Thuy Son) is also home to the five-story Non Nuoc Pagoda. Other temples located on this peak are Tam Thai Pagoda and Linh Ung Pagoda.
Hoa Nghiem Cave — known as Hell's Cave because of its carved depictions of the underworld inside — and Huyen Khong Cave (the biggest cave) are also on Thuy Son and it's the most popular peak out of the five.
Tang Chon Cave is located at Kim Son Mountain, and inside stands the large figurine of a Bodhisattva rumored to contain "magical powers."
Fire Mountain comprises two small mountains (connected by a rocky trail), and it's also filled with many temples, pagodas and caves to unravel. Situated in the Ngũ Hành Sơn District, it's a great way to spend the day outdoors in Danang.
8 – Go snorkeling at Cham Island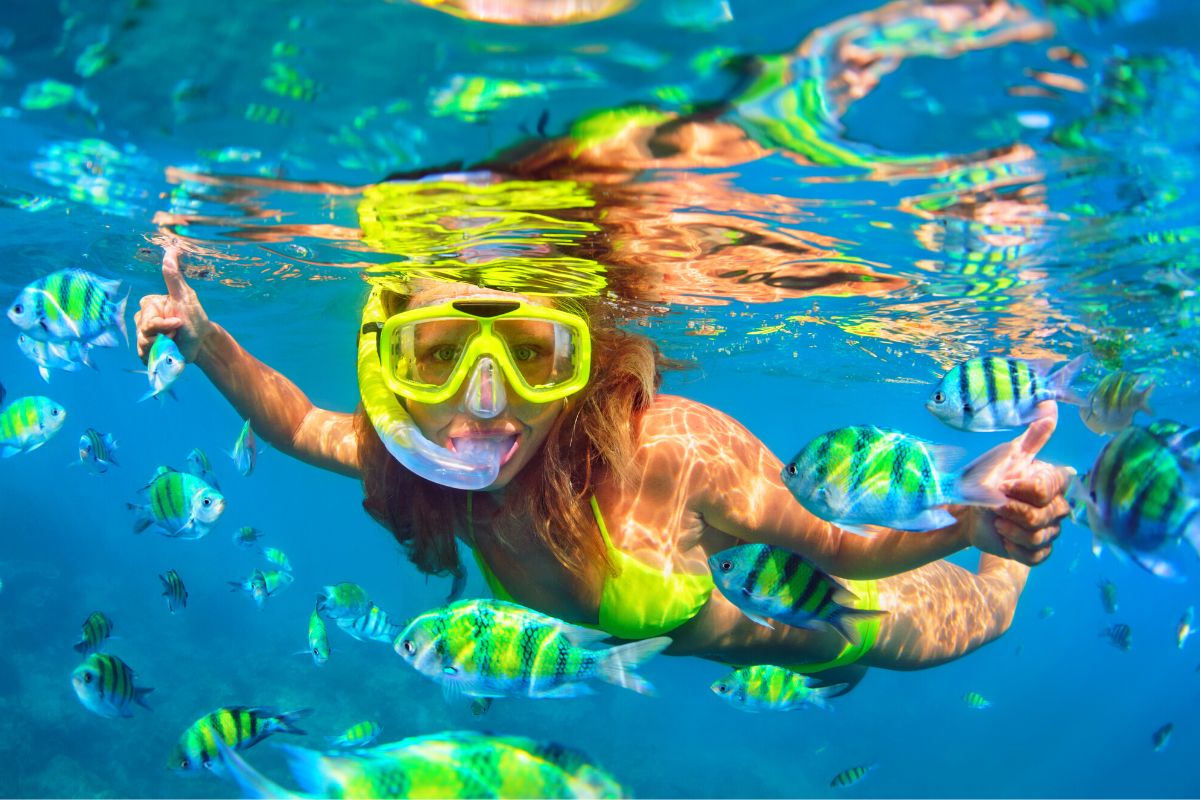 Fun fact: Surrounding Da Nang is a number of little islands and the color of the ocean out here gets better the further from the shoreline you travel. Cham Island is one of the most popular islands to visit, especially for a day trip filled with snorkeling, swimming and sun.
Useful to know; the Cham Islands are made up of an archipelago of several small isles. The largest is Cù Lao Chàm (also known as just Cham Island or Hon Lao).
Arriving here via boat only, be treated to a crystal clear turquoise ocean which provides perfect clarity for snorkel enthusiasts. Cham Island is also part of a protected biosphere reserve (Cu Lao Cham Marine Park) boasting rich marine life. For these reasons, it's Da Nang's prime snorkeling day excursion destination.
Off-board, there are over five beaches on the island and Bai Xep Beach is the most-loved snorkel choice of them all. Two other idyllic white sand beaches to snorkel and chill at are Bai Ong Beach and Bai Bim Beach.
Make a day trip out of your visit to Cham Island or you can even spend the night, and there are a few accommodation options.
For interest, some of the other islands that complete the Cham Islands are Hon Tai, Hon La, Hon Dai, Hon Kho Me, Hon Kho Con, Hon Mo and Hon Ong. The best way to reach Cham Island is via speedboat and the ride across takes around 20 minutes.
9 – Bring the kids to Helio Center, then go shopping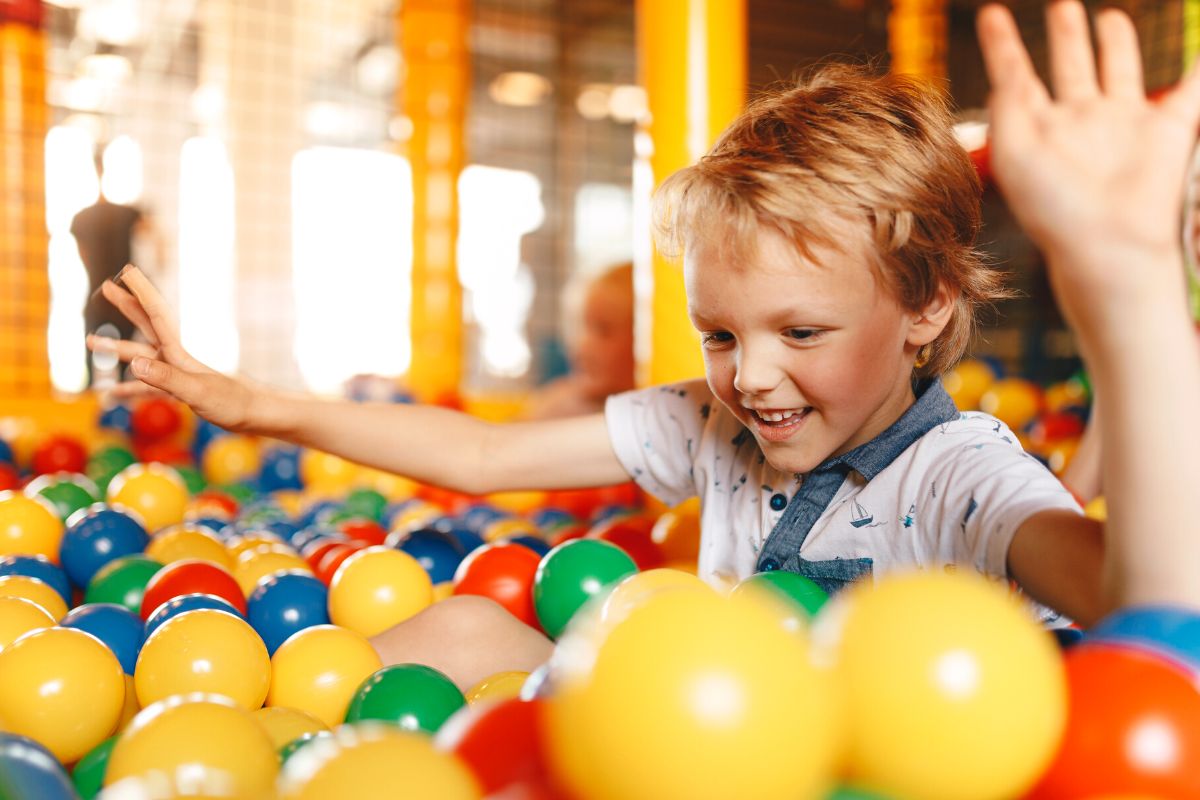 The perfect playground for kids in the daytime, and adults (or the entire family) in the evenings, Helio Center is a dedicated space in Danang designed to serve as an entertainment complex.
Helio Kids is for children under 12 years old and encourages hands-on playtime in both indoor and outdoor spaces, including a natural garden. The Helio Play zone is suitable for all ages and contains motion games, thrilling games and a game room.
Then, from 5 PM until 10:30 PM every day the Helio Night Market takes place and the massive shopping destination is set across four spaces. Pretty iconic in Danang (and loved by the hip crowds), there are over 70 stalls selling fashionable clothes, accessories and other cool gifts and gadgets.
You should also arrive hungry — very hungry — as the market is a renowned street food hotspot, especially if you're searching for affordable, fresh seafood. There's also a Beer Corner and live music, so things get pretty festive!
10 – Have a blast at Ba Na Hills SunWorld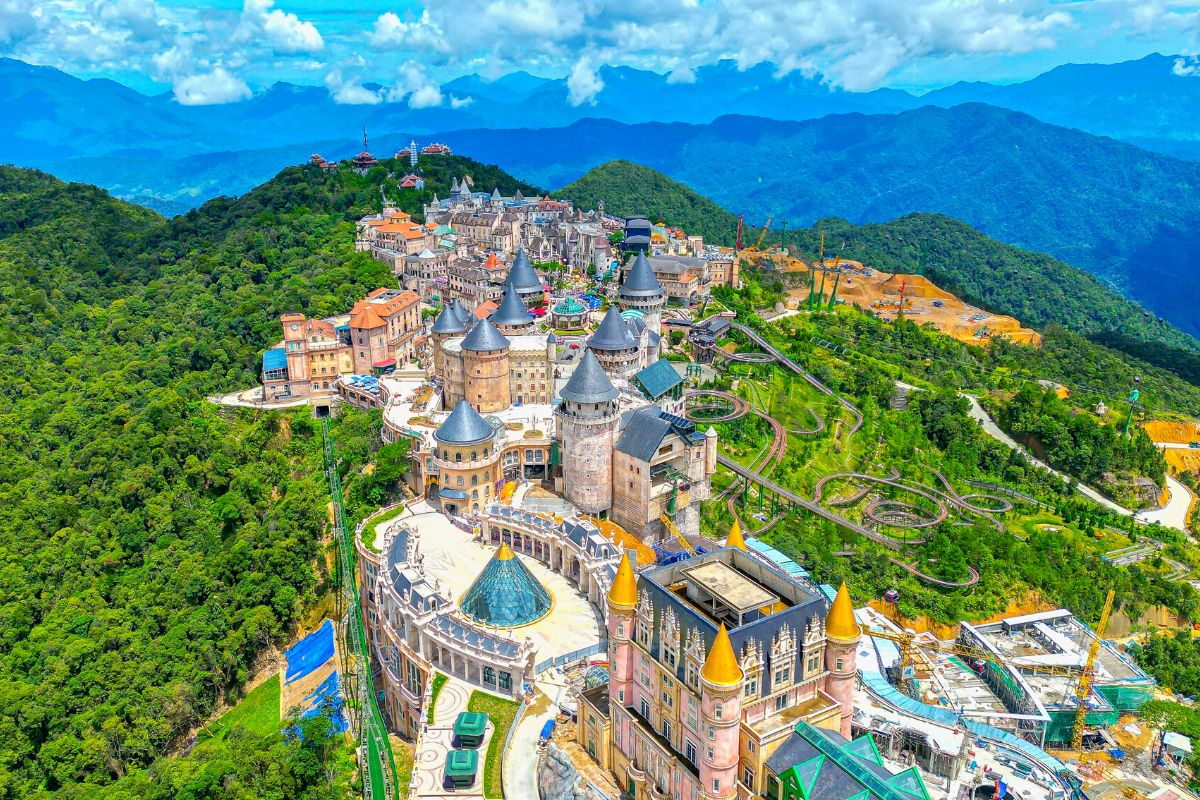 Get ready for hours of fun, entertainment and cultural experiences at Ba Na Hills SunWorld — a theme park, resort and sightseeing destination located 1,487 meters high in the sky, and one of the most popular things to do in Da Nang.
If you're here with the kids, head to Fantasy Park and enjoy all the thrills on fun rides and games, plus there's a 5D cinema here too.
Take a stroll through an authentic French-inspired village and stop by the Fleuriste Flower Shop or enter the three-meter tall quartz crystal cave at Crystal World (also inside the French Village).
Wander through Luna Castle to see the Dragon Den or stop by Vietnam's first-ever Wax Museum and say hello to Queen Lizzie or Mr. Bean — plus many other loved celebrities, political heads and sports heroes.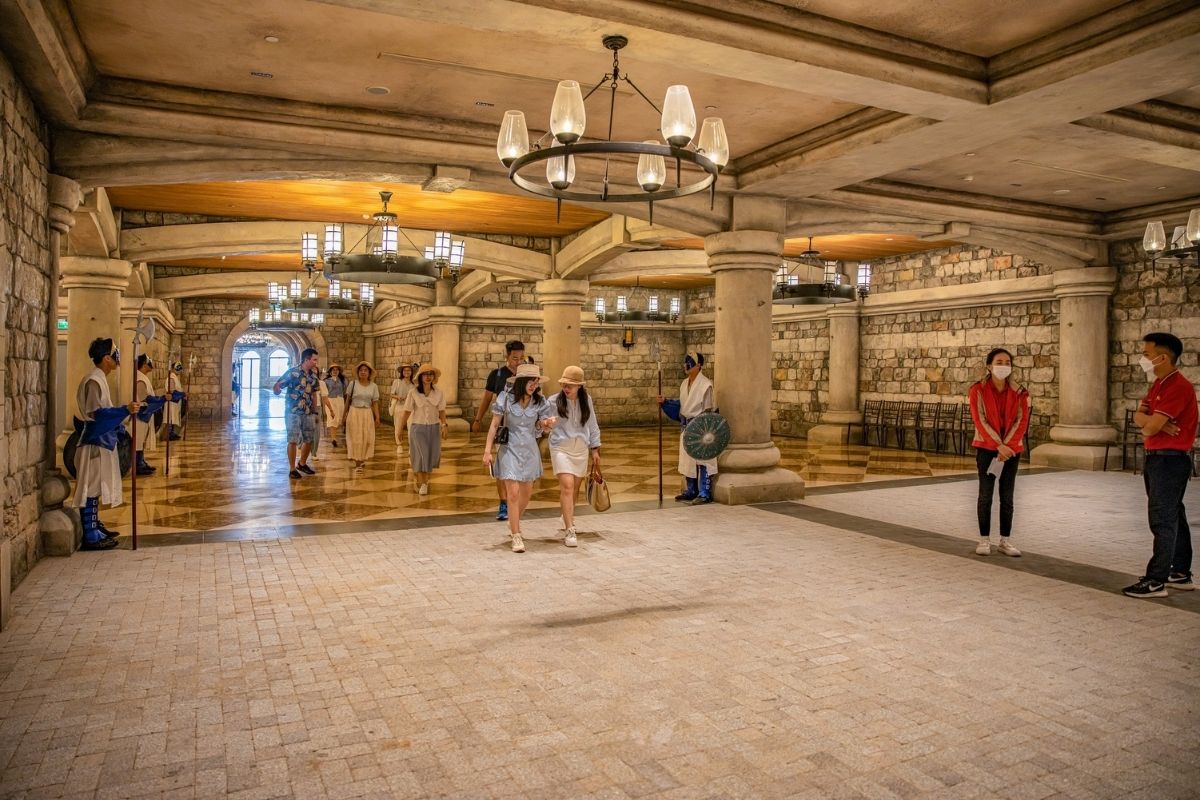 As there is so much to do and see here, the park offers an alternative way to get from one place to the next via its Ba Na Hills Cable Car. Not only a mode of transport, but the ride also provides excellent views below.
For the spiritually inclined, zen out at the pagodas and temples, or partake in the art of tea at the Rain Sheltering Teahouse. End off the day with a trip to the Debay Wine Cellar for a glass of vino, or knock back a cold one at the Beer Plaza.
Note: The iconic Golden Hands bridge is inside Sun World Da Nang. Visitors can pay to visit the bridge only, or it's included in the entrance ticket to the theme park and leads the way to the French Village.
11 – Trick the eyes at Art in Paradise 3D Museum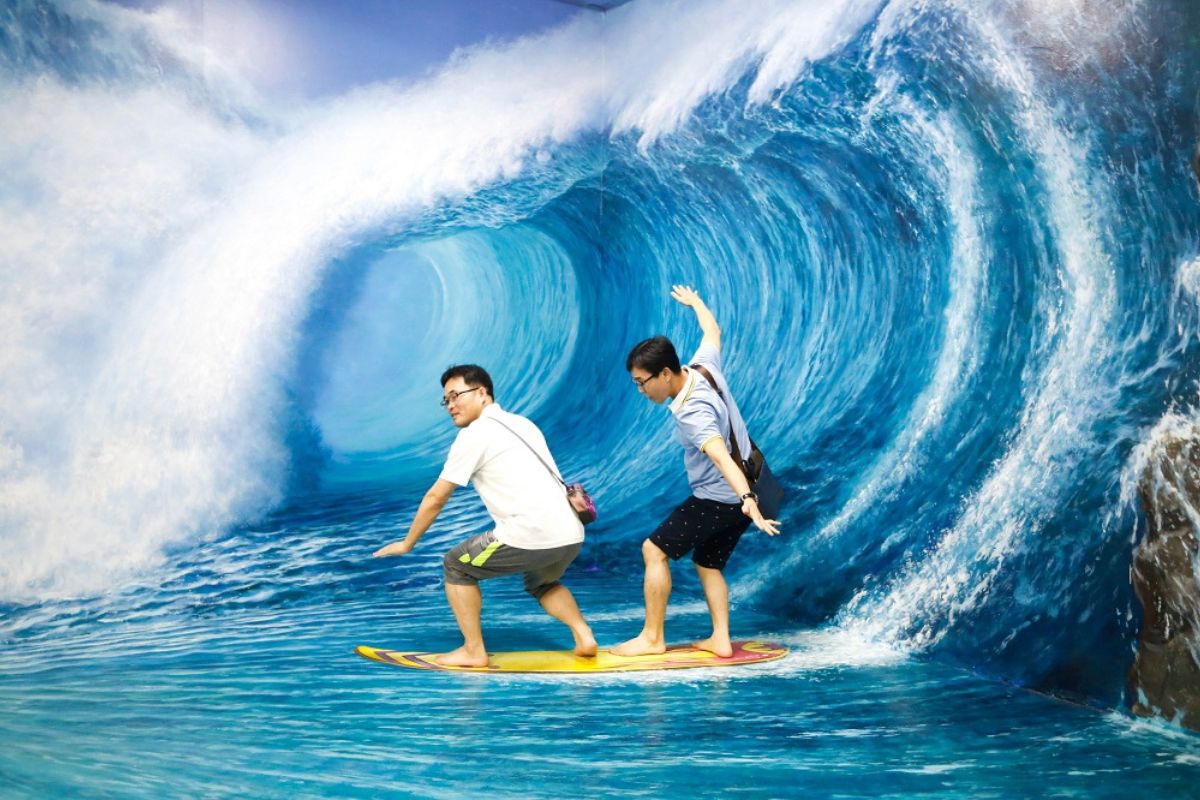 Come get lost in a world of illusions at the Art in Paradise 3D Museum. Traveling families with young kids will especially love this interactive museum, but even adults find themselves enthralled.
Designed by skillful Korean artists, the 3D museum is divided into nine varying themed zones, set across two floors, encouraging visitors to become a part of the artwork.
As the largest museum of its kind in Vietnam, get to travel to different eras and countries, without even leaving the building, and you can easily spend a good two hours here, taking photographs.
Exploring the zones, the 'Imagine Zone' is all about modern art, or snap pics alongside creatures big and small at the 'Safari Zone.'
At the 'Ancient Egypt' zone pose next to pyramids, or play make-believe and find fairies in the 'Fantasy Zone.' Other zones to check out are the world, aqua, classic and optical zones or the Central Hall zone holds the biggest painting in the whole museum.
For those that have never visited a 3D museum before, the life-sized artworks are created across an entire room, or large space in such a way that it appears life-like. If you stand with the artwork, the scene looks super real.
12 – Seal in your love at the Love Lock Bridge (Cầu Tình Yêu)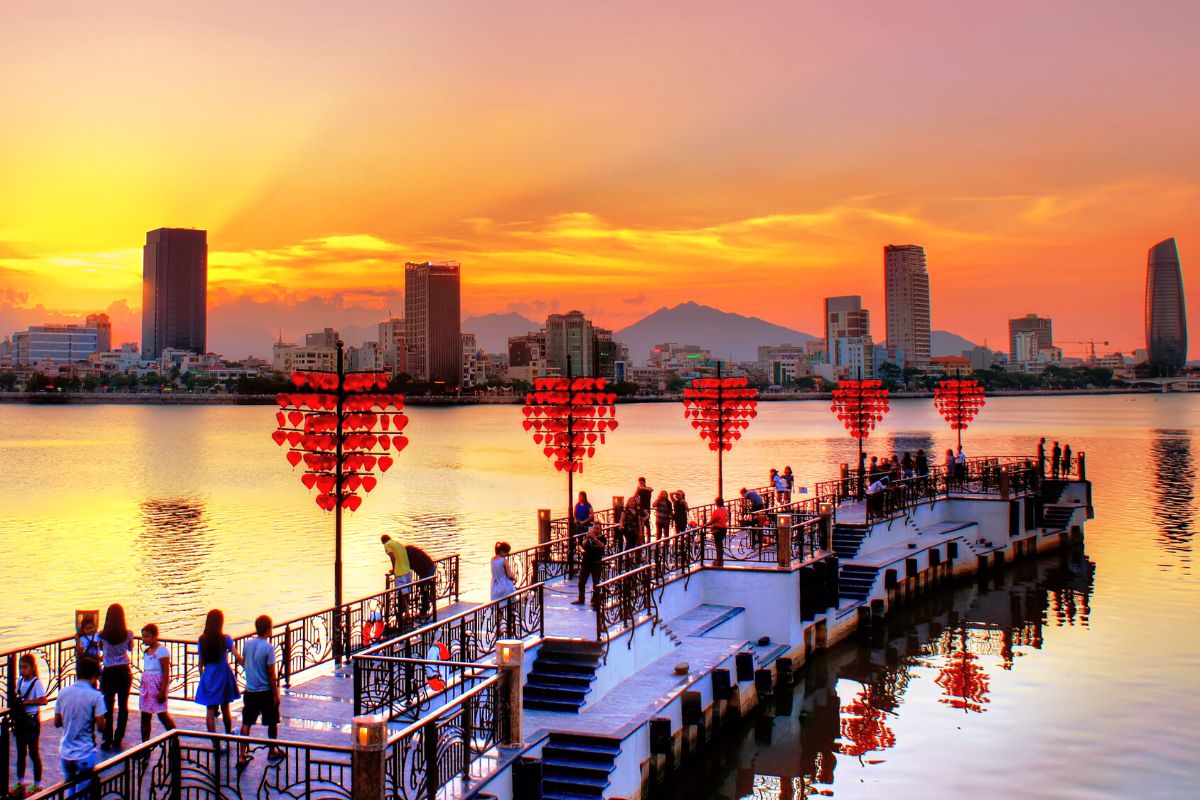 Are we in Paris or Danang? Yup, this is still Vietnam, but the Love Lock Bridge in this coastal city takes inspiration from the famous love lock bridge in Paris.
Locally known as Cầu Tình Yêu, it's been given its English nickname because the concept is the same as its Parisian counterpart. If you've always wanted to have your very own lovelock moment, but haven't traveled to France (yet), now is the chance to seal in your love for eternity.
Located on the water between the Dragon Bridge and Han River Bridge in Danang, you can't miss the bridge as it stands out with rows of red heart-shaped lanterns on the lamp poles lining the walkway.
Grab a lock, write your names on it and clip it onto the side of the bridge forever. Bring your own lock, or there are vendors and small shops selling locks for tourists near the bridge.
Idyllic for couples, the setting here is truly romantic, and at night Love Lock Bridge (and the other bridges surrounding it) all light up, with colors dancing on the water.
13 – Learn something new at Đà Nẵng Museum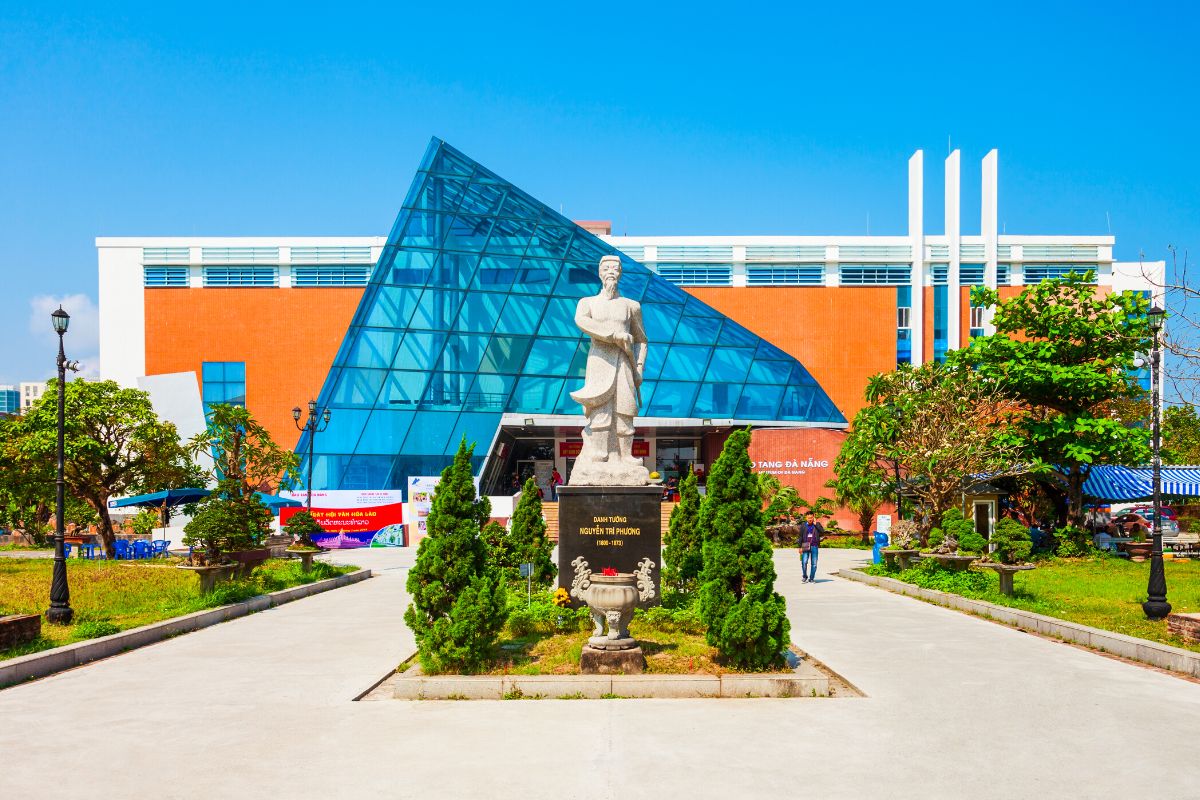 This next stop will grab your attention from the get-go, before even entering the Đà Nẵng Museum — with its unique and modern building front that stands in contrast to the rest. Undergoing relocating and reopenings (the last one in 2011), its contemporary features make sense.
When Da Nang was a part of Quang Nam Province, the museum was in a different location, however, when it became Danang City, the museum was moved to its current address.
Discover artifacts from Da Nang in prehistoric times, antiques such as aromatherapy jars, war remnants, and items that relate to the 'history of revolutionary struggle' in Vietnam, as well as general artifacts from Vietnamese culture.
Moseying through you will begin to notice that there are two prominent general themes running throughout the space.
The first one is 'War remnants of the US army in the battlefields of Quang Nam – Da Nang and South Vietnam' with a focus on the Vietnam War. Uncover historical documents, artifacts and war relics.
'Community culture of ethnic groups in Da Nang City and Quang Nam province' is the museum's second theme. It takes a deep dive into the many local ethnicities that live in this part of the country.
The collections feature production and hunting tools, costumes and jewelry, knitting artifacts and musical instruments, as well as curios related to Vietnamese beliefs and customs. A few hours here is a great eye-opener and a way to learn about central Vietnam's rich history.
14 – See Lady Buddha at Linh Ung Pagoda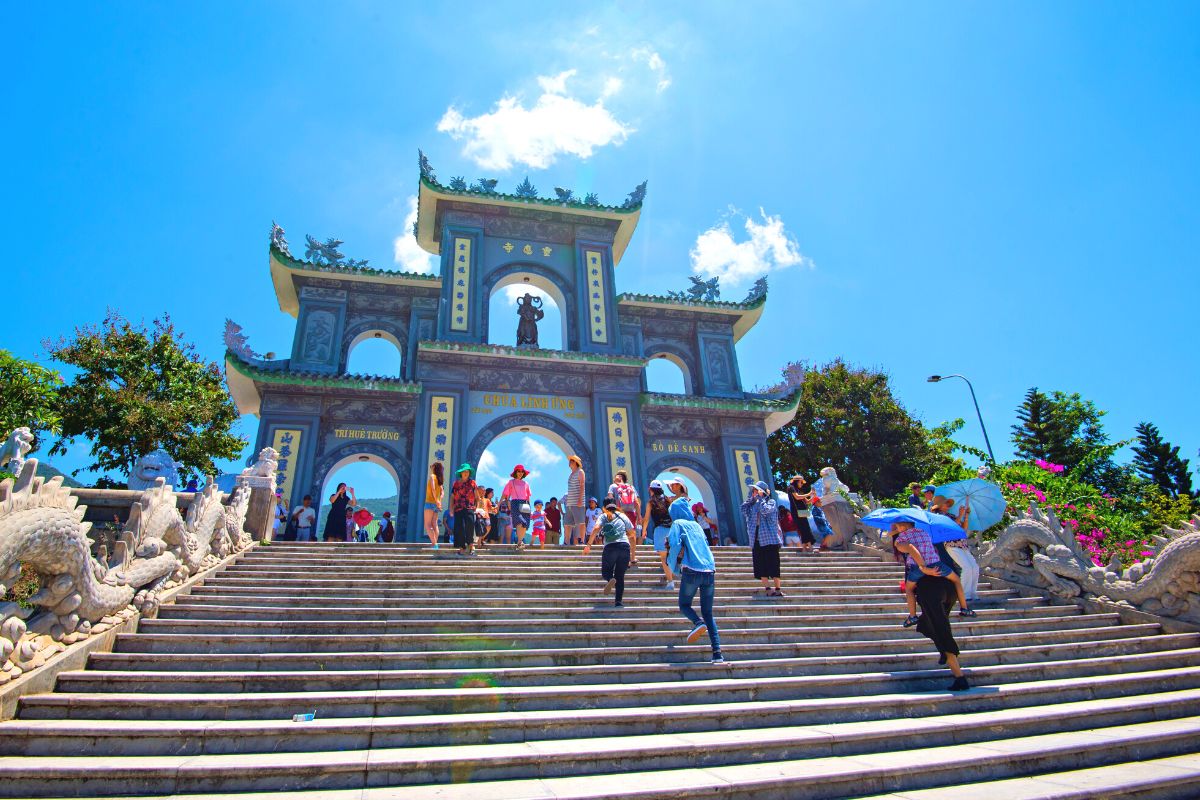 From various angles around the city, and even as you leave for Hoi An in the opposite direction, you can't help but notice the flecks of white or features of the regal Lady Buddha statue (located at Linh Ung Pagoda) standing tall on the hillside.
But to get an up close and personal view of the 67-meter tall statue, head out of Danang on the way to Hue along the Hai Van Pass to reach it.
Linh Ung Pagoda is located in the Son Tra Peninsula, and the towering standing Buddha is built in the courtyard of the pagoda — so it's worth killing two birds with one stone as you're already here.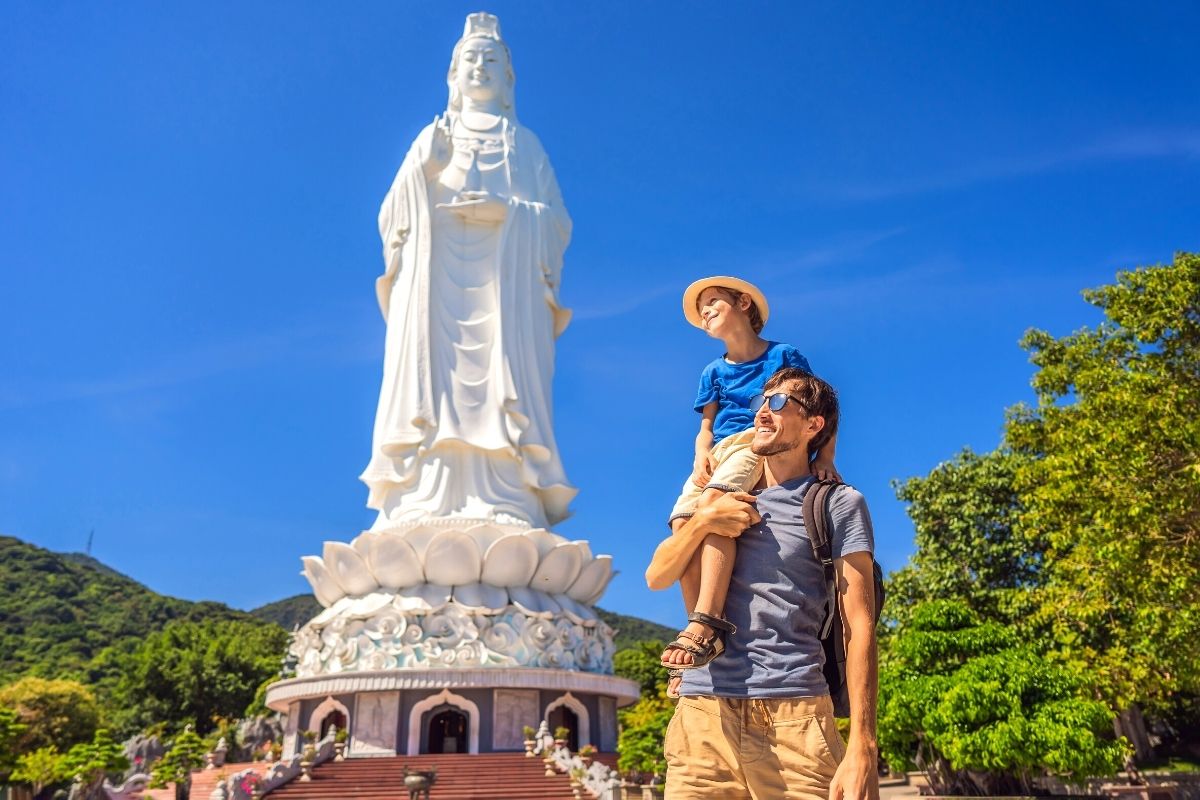 While Lady Buddha takes the top for the largest Buddha in Vietnam, Linh Ung pagoda is the biggest in Danang. Both were built at the same time in 2004.
But there's more; the statue comprises 17 floors and each level is dedicated to a different Buddha. Reaching the 17th floor, treat your eyes to the most awe-inspiring views of the surrounding areas, including oceans, islands and mountain ranges.
Out of the many things to do in Danang, Lady Buddha is one that shouldn't be missed. If you're renting a motorbike/scooter, the drive here is as picturesque as they come.
15 – Work on your backswing with a round of golf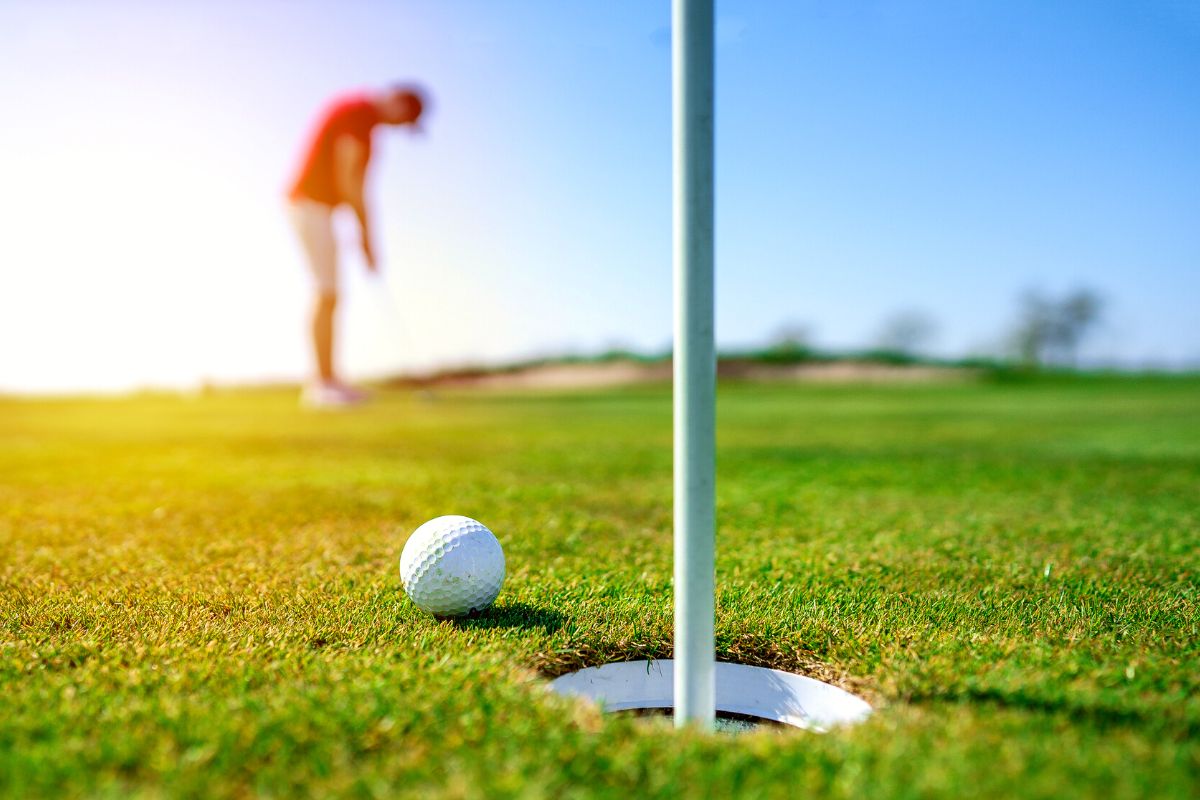 Are you in need of your golfing fix whilst traveling to Danang? This part of the country is filled with lush coastal landscapes, and the golf courses around offer amazing views and plenty of epic playtime. With a variety to choose from, here are some of the best…
Named after its Scottish designer and pro golfer, Colin Montgomerie, Montgomerie Links Golf Club is a world-class course suitable for beginners or pros, and was Danang's first official professional golf range.
The multiple-award-winning 18-hole course sports waterways and a mixture of hilly and flat landscapes. There's a driving range here if you're feeling rusty, or book a private lesson at the Golf Academy if you're only just learning how to play.
If you've had a busy day exploring Danang and want to get in some golfing later on in the day, Ba Na Hills Golf Club stays open for play late and floodlights assist in lighting the 18-hole course.
Winning awards for Vietnam and Asia's best golf course, the setting here is sublime, adding all the ambiance you need — and in golfing, this can make all the difference. With a par 72, the first nine holes are played in forested landscapes, and the other nine holes become trickier along the hillsides with angled greens to tee off from.
Overlooking the ocean, the BRG Danang Golf Resort exudes all the coastal vibes, and the course integrates its surroundings, for example, holes have been built over sand dunes.
There are two courses to choose from, the Norman Course (designed by Greg Norman and nicknamed the Dune Course because of its positioning) and the Nicklaus Course (designed by Jack Nicklaus) built alongside the Coco River.
There is a driving range here too for practice sessions.
16 – Sample unique flavors during a food tour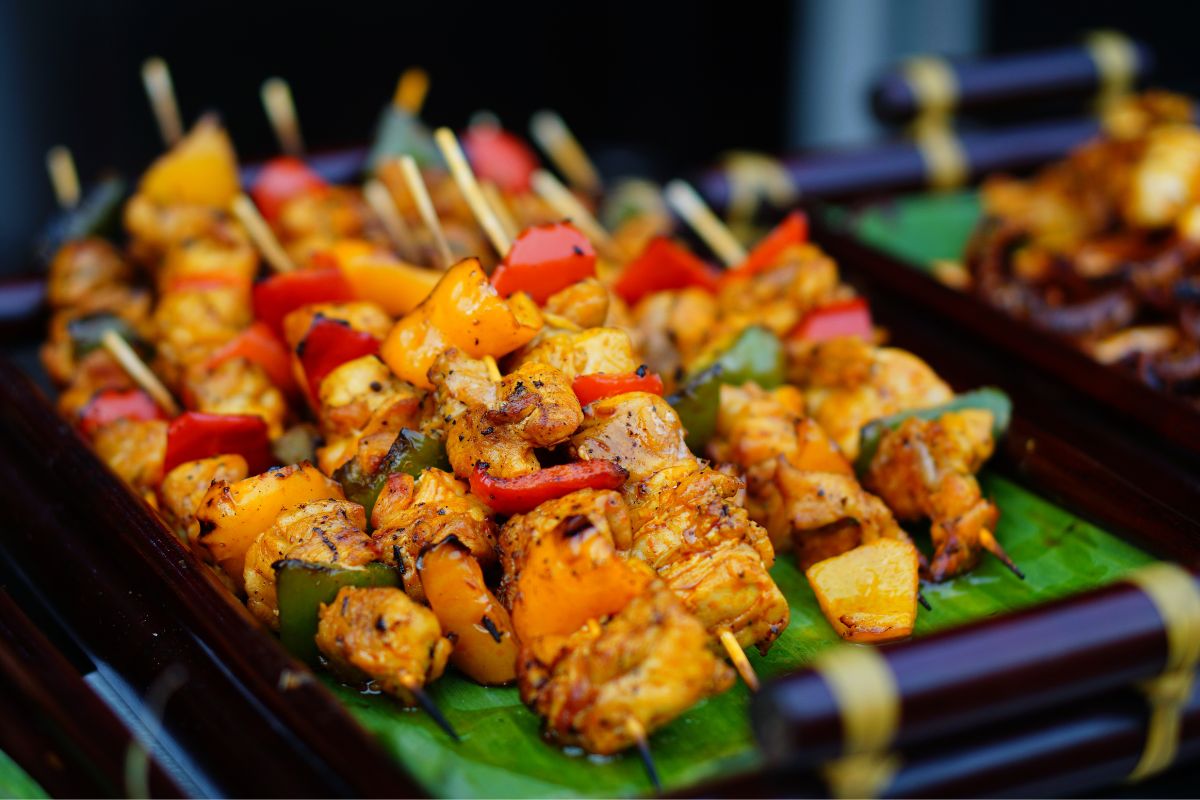 Vietnamese cuisine is known for its distinct flavors (featuring tons of cilantro, aniseed, chili and mint), the different regions in the country each have their own unique dishes and street snacks.
The best way to learn about the local cuisine is to opt for an insightful, delicious and fun food tour around Danang.
With chefs and foodies alike traveling from around the world to Vietnam for a food experience, there are boundless food adventures to choose from in the central city. Start off by picking the time of day you wish to explore with both morning and night food tours available.
Adventure on foot, or for something extra special (and a way to cover more ground and foodie spots) is to take a food tour by motorbike with private drivers to lead the way.
Venture to local markets, sample fresh ingredients, and depending on the hour, taste typical breakfast, lunch and dinner-time meals and snacks. Try out Vietnamese BBQ or indulge in some fresh seafood delights.
Guided by locals, be shown hidden gems, the backstreets filled with the best food hotspots, and engage with shop owners and cooks.
17 – Day trip the stunning Hai Van Pass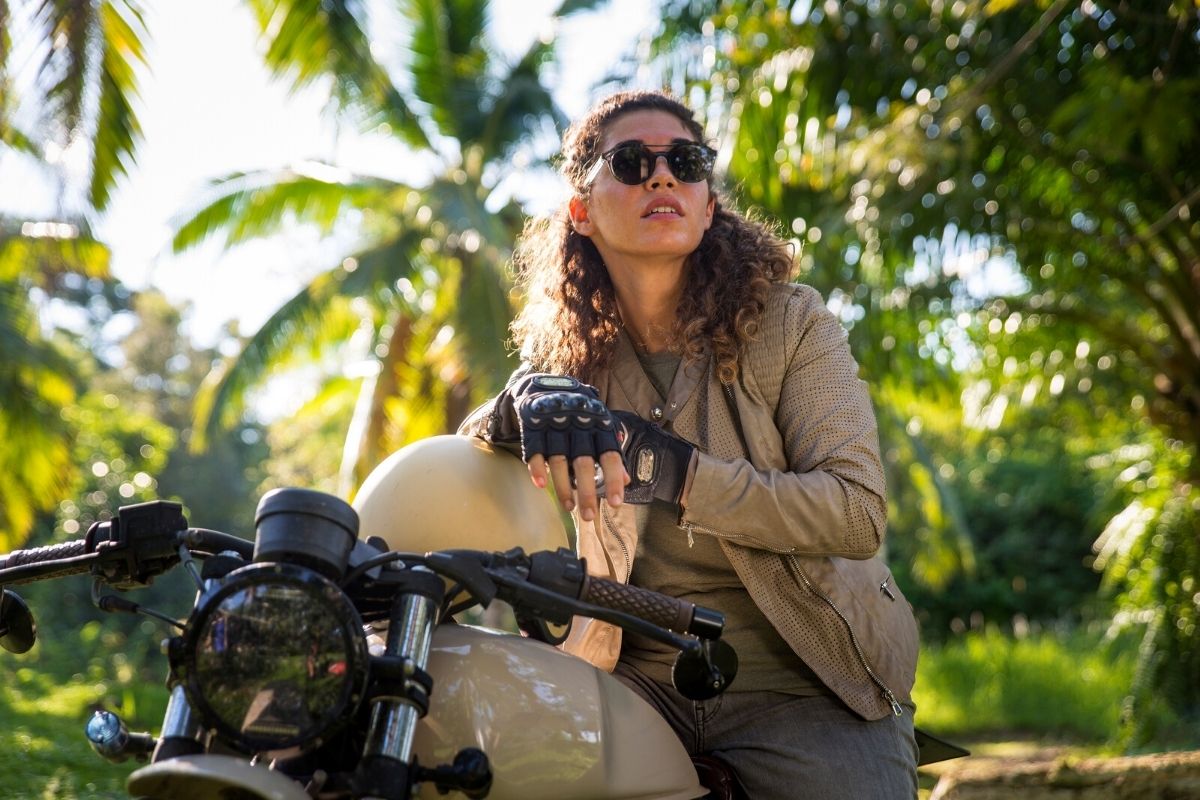 The gorgeous Hai Van Pass soared to global recognition when TopGear's Jeremy Clarkson proclaimed it as one of the most beautiful roads to drive … in the entire world!!!
With the blue ocean on one side and the rolling mountains on the other, you'll agree with the claim. One of the best ways to experience the pass is via motorbike — there's nothing quite like it.
As the most popular mode of transport in Vietnam, there are tons of scooter tours up the pass where a professional driver takes the wheel, and you just sit back and enjoy the views. If you're licensed and experienced, rent your own and drive it yourself.
Running in between Danang and Hue, there are plenty of historical sights, cultural monuments, points of significance, viewpoints, villages, beaches and local cafes for adventuring en route.
Starting with Van Village (locally known as Làng Vân), there are three beaches to hunt down here: Leper Beach (Bãi Xoan), Chinh Beach (Bãi Chính) is the main beach in the village and Dua Beach (Bãi Dừa) is the third and has the biggest bay.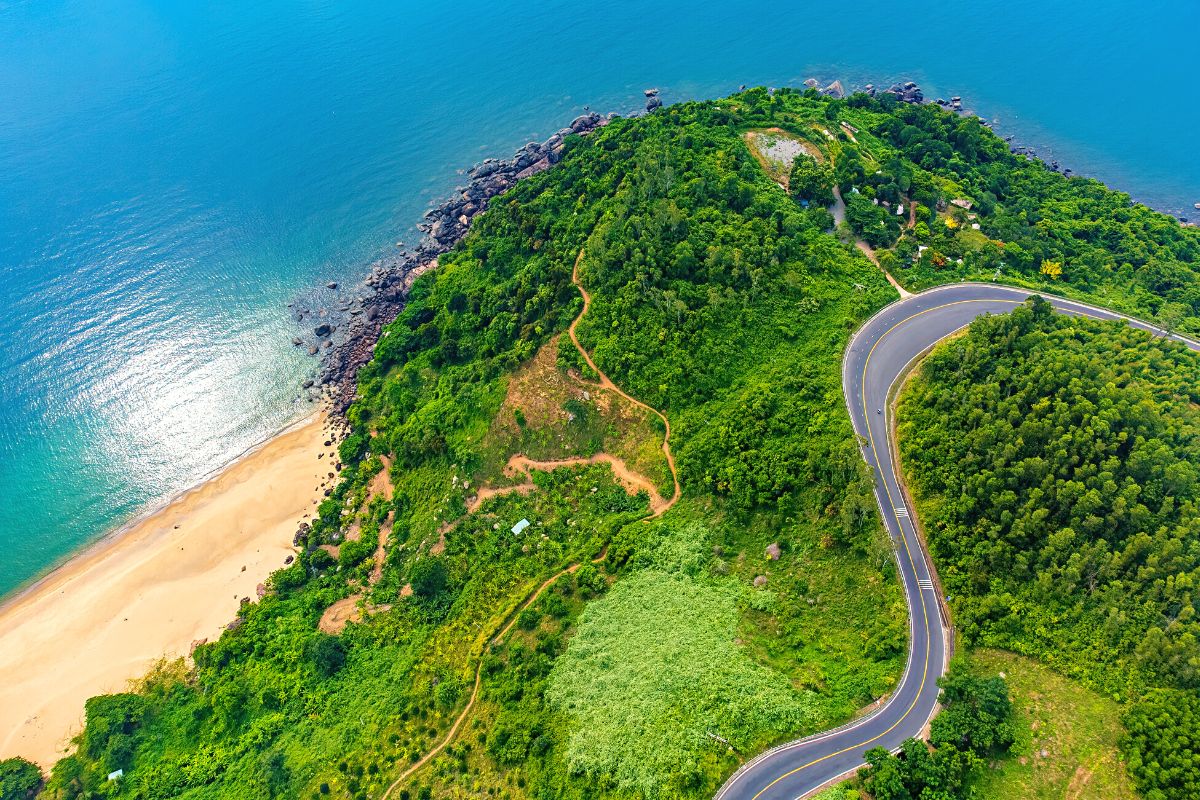 Take note: it's quite an adventure to reach the village, but this makes it part of the fun. (Alternatively, you can also catch a boat ride straight from Danang here.)
Other beaches to visit from the Hai Van Pass are Canh Duong Beach and An Bằng Beach. At the top of the mountain, visit a former military bunker, or stop by Cafe Hòn Đá Cụ Rùa (Turtle's Stone) for coffee with a view.
Venture into Bạch Mã National Park filled with waterfalls and walking trails or for some insane photos, head to Don Ca Arch Bridge (locally known as Cầu Vòm Đồn Cả), or Minh Mang Tomb. As you begin your journey up the pass, or on the way back, stop off at Suối Lương – Hai Van Park.
Designed as an eco-tourist area (popular in Vietnam), take time out to relax in the picturesque setting, grab something to eat, take photographs and enjoy the sounds of Mother Nature.
18 – Find tranquility at Phap Lam Pagoda (Chùa Pháp Lâm)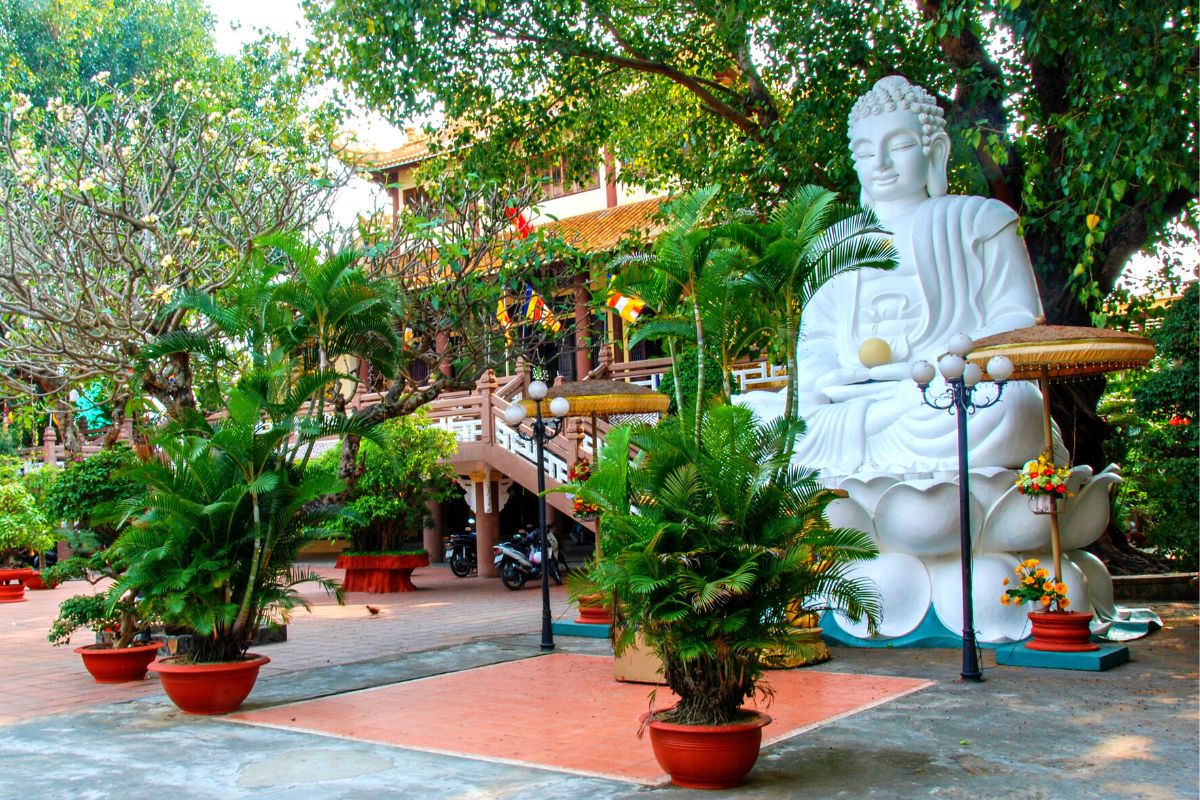 Danang can at times feel a bit overcrowded — especially in the summertime. Escape the bustle and take a moment to zen out at the peaceful Phap Lam Pagoda (or Chùa Pháp Lâm in Vietnamese).
Nestled in front of a hill, the ornately decorated Buddhist temple boasts a courtyard filled with bonsai trees and big Buddha statues, and from the moment you enter, you can sense the peaceful atmosphere in an instant.
The main pagoda is two levels and was constructed in 1934. With its swooping pointed roof tips and dark wooden windows, it's not only a spiritual experience, but you can't help but appreciate the architecture here too.
Entering the temple, the first floor is where the 1,000-seater auditorium is based (Buddhist monks live at the temple). Heading upstairs, be greeted to a shiny gold Buddha statue.
There are two more Buddha statues outside, and the largest one of sitting Buddha is 1.1 meters tall.
Entrance into Chùa Pháp Lâm is free!
19 – Celebrate Danang from above during a Helicopter tour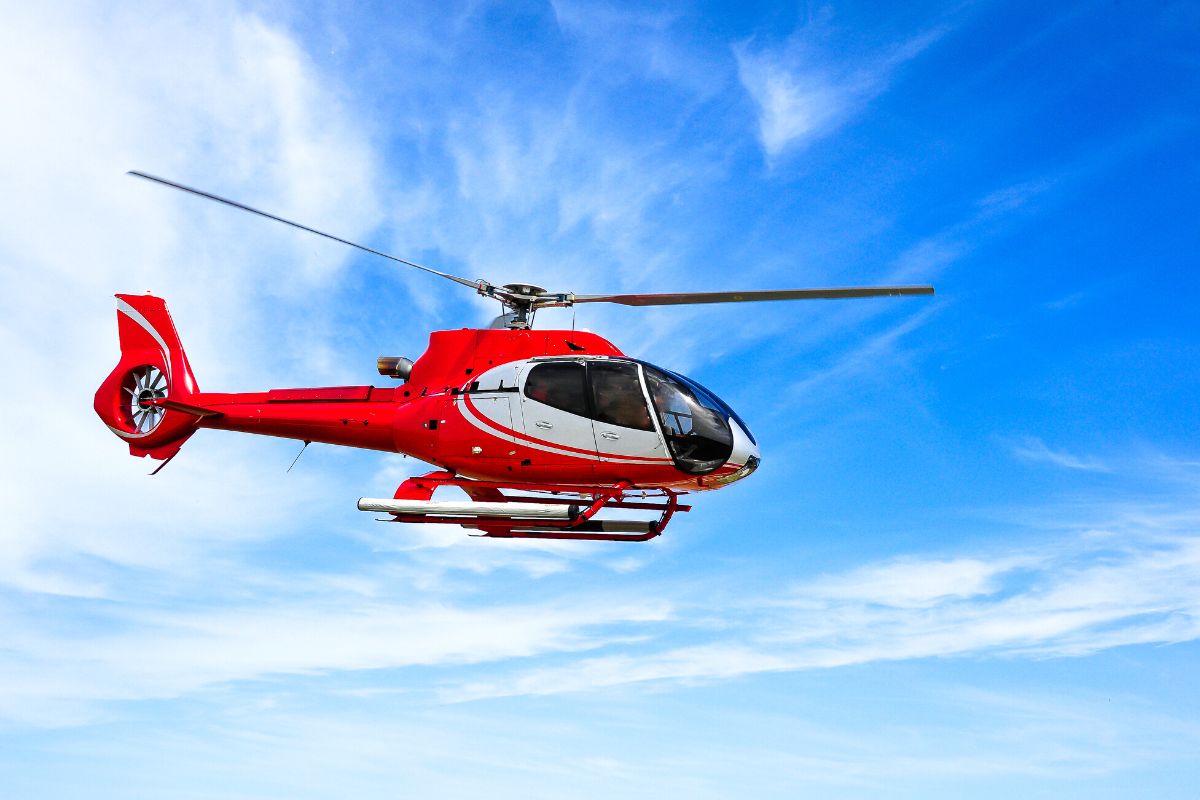 Oceans, mountains, waterfalls and rice paddies comprise a few of Danang's incredible natural landscapes. What better way to take in sweeping views of its diverse mappings than from above during a helicopter tour?
Feel real fancy as you soar over the city buildings and coastline, taking in the sights below you. If you're a photographer, this adventure lends itself to providing bird's eye views and unique angle shots.
Helicopter flights vary in duration, lasting 12 or 30 minutes long, and depending on your tour, the monuments you see, areas you fly to and natural attractions differ slightly.
Cruise over Marble Mountains, the Han River, Son Tra Peninsula or Hoi An for example. Shorter rides tend to stay closer to the Danang area, whereas longer flights explore the surrounding areas.
All helicopter flights take off from Nuoc Man Helicopter Base and include hotel transfers to and from the activity.
20 – Go shopping at the best markets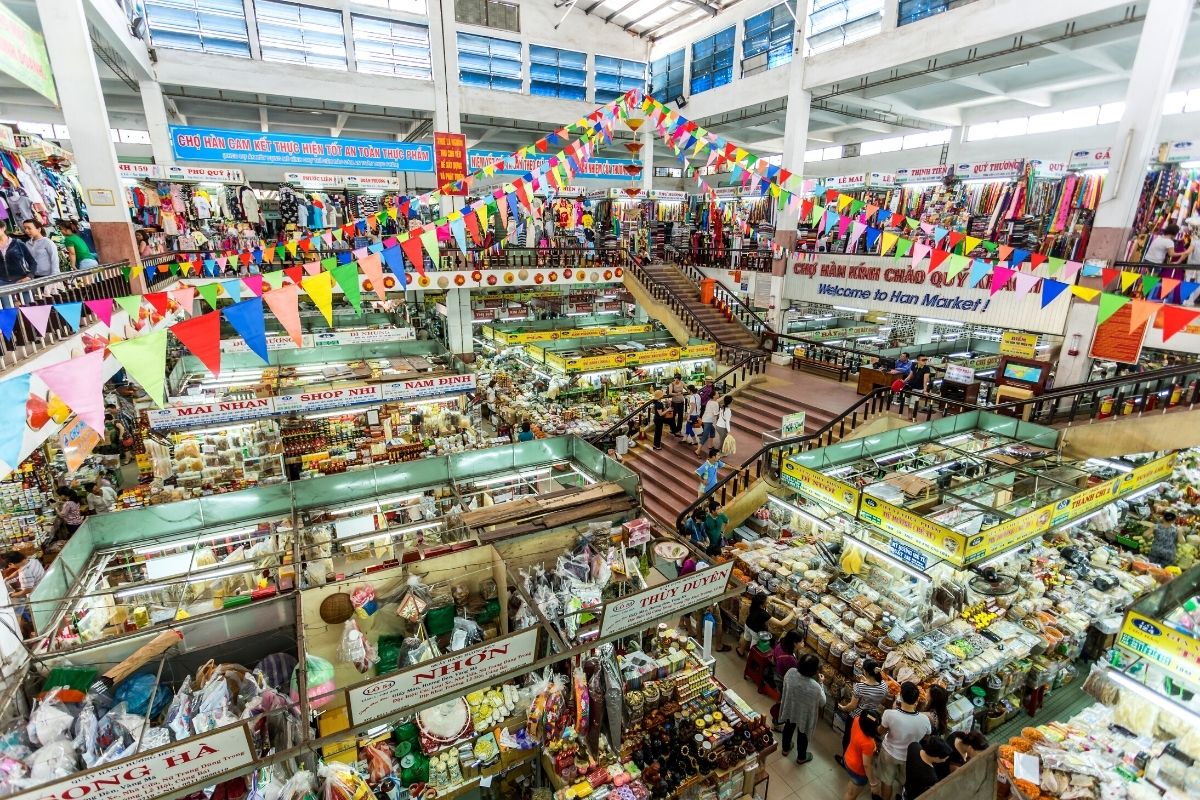 Daytime markets are popular in Danang and there are a few to pick from depending on your shopping preferences.
Operating since the 1940s, Han Market is open daily from 6 AM to 8 PM and vendors sell fresh produce, snacks, souvenirs, clothing and handicrafts across two indoor levels, all under one massive roof.
Con Market has a super local feel and the stalls also sell really affordable goods, whether it's fruit or a t-shirt that you're buying. Considered a wet and dry market, stock up on local Vietnamese coffee, tea, cashew nuts or dried mango.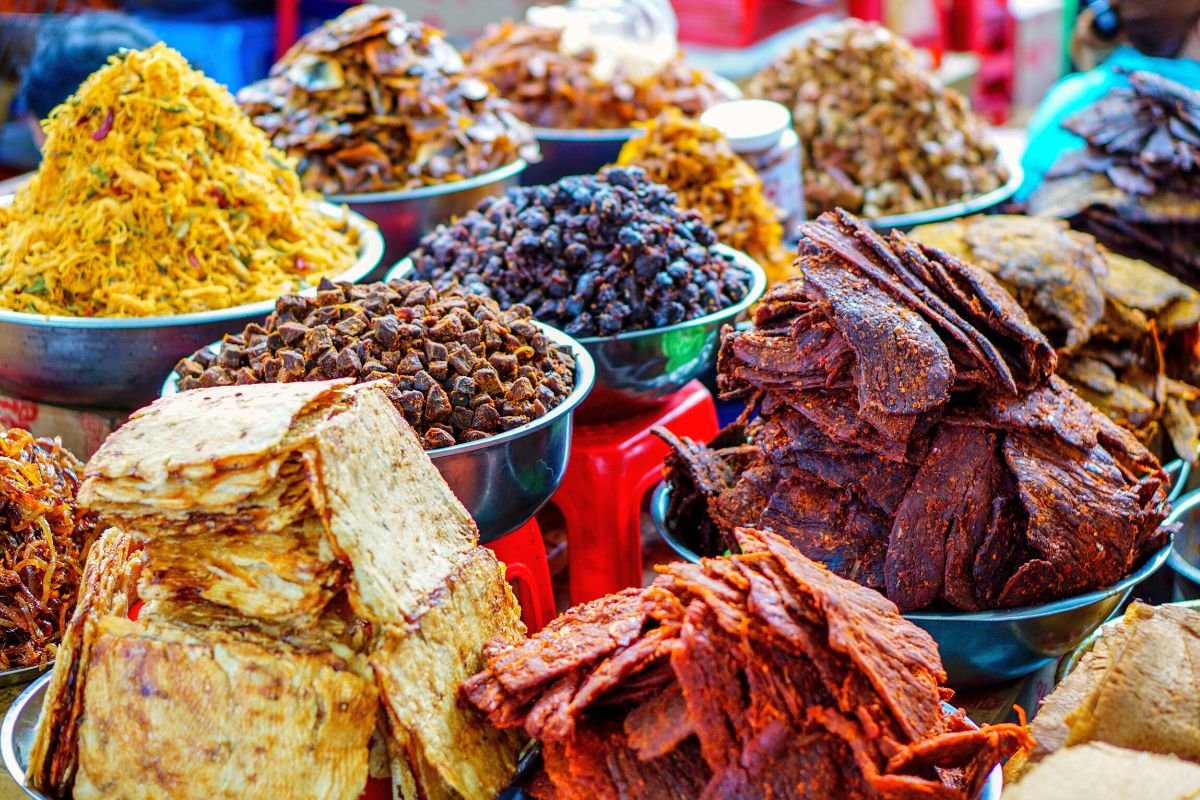 Calling all foodies, Bac My An Market is quite the culinary delight and the market is famous for its street food to taste, whether it's sweet or savory that you're after.
Try snails (oc hut), rice flour pancakes with shrimp, jackfruit salad, Vietnamese avocado ice cream (kem bo) and so many other yummy and unusual delights.
21 – Visit both the Ho Chi Minh Museum and Fifth Military Division Museum in one go
The Vietnam War is pretty infamous across the globe, and the Fifth Military Division Museum in Danang shines a light on the tragic events. (For those not so clued up, the majority of the war took place in Ho Chi Minh City, now named Saigon.)
This museum is divided into two parts; the Fifth Military Division Museum and the Ho Chi Minh Museum and is set across 12 showrooms.
Starting with the war-themed space, there are four galleries to investigate. In the outdoor areas see real-time warplanes, army tanks and military weapons from the French and American Wars.
The museum also contains artifacts like photographs, documents and other relics from the battlefield. Then, the Ho Chi Minh Museum is the next part to explore and is located within the Fifth Military Division Museum.
Designed to replicate the Hanoi home of the former president of Vietnam from 1945 to 1969, Ho Chi Minh, it's a celebration of the life of the man who, still to this day, is much loved and revered.
Paying an ode to Ho Chi Minh, walk around the model home and wander through the garden filled with koi ponds.
22 – Navigate your way through the Son Tra Peninsula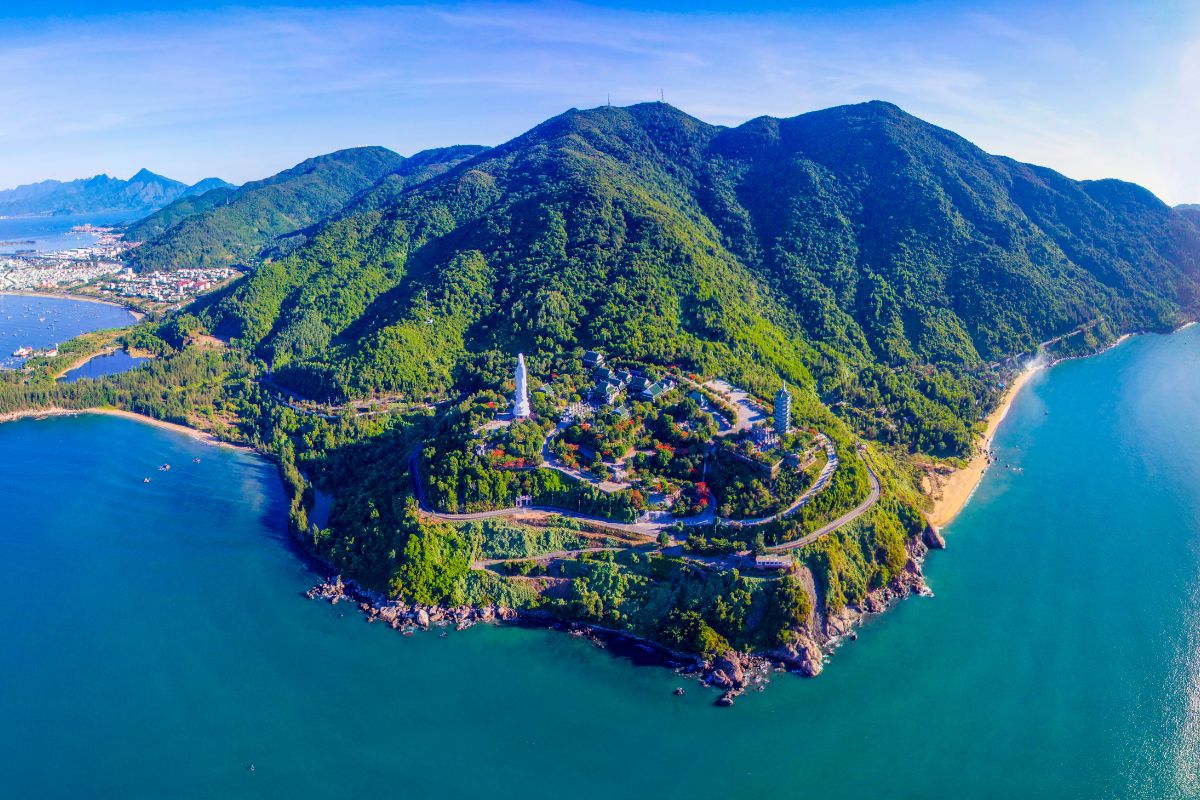 Son Tra Peninsula, aka, Monkey Mountain as it's also known, is an amazing day trip option! Even though it's just a short 20-minute drive from Danang's beachfront, there is so much to do, see and discover among the mountain's hills and peaks you'll need at least half the day.
Get ready for scenic hiking trails, panoramic views and even some small secluded beaches if you're craving a relaxing beach day away from the crowds.
One of Monkey Mountain's most famed monuments is Đỉnh Bàn Cờ, or the Chess Board Top. Climbing to the top of the Son Tra Peninsula, find the bamboozling statue of the chess player and his unfinished chess game — which is impossible to end!
(To reach the famed site, head 700 meters above sea level to Ban Co Peak where the statue sits.)
Visit the sleepy Man Thai Fishing Village for a glimpse of traditional coastal life, stop by the 1,000-year-old Giant Banyan Tree and the iconic Lady Buddha statue is situated in the Son Tra Peninsula.
One of the best ways to visit the peninsula is via motorbike or scooter with the wind blowing through your hair on the open back roads. Plus, it's mega convenient for narrower roads around the hidden hills the more you're willing to adventure.
During scooter tours to Son Tra Peninsula, be driven around the area for five hours, breaking at all the hotspots or photos, exploring and lunch.
In case you were wondering about the nickname, parts of the forests here are home to many monkeys.
23 – Check out the Da Nang Fine Arts Museum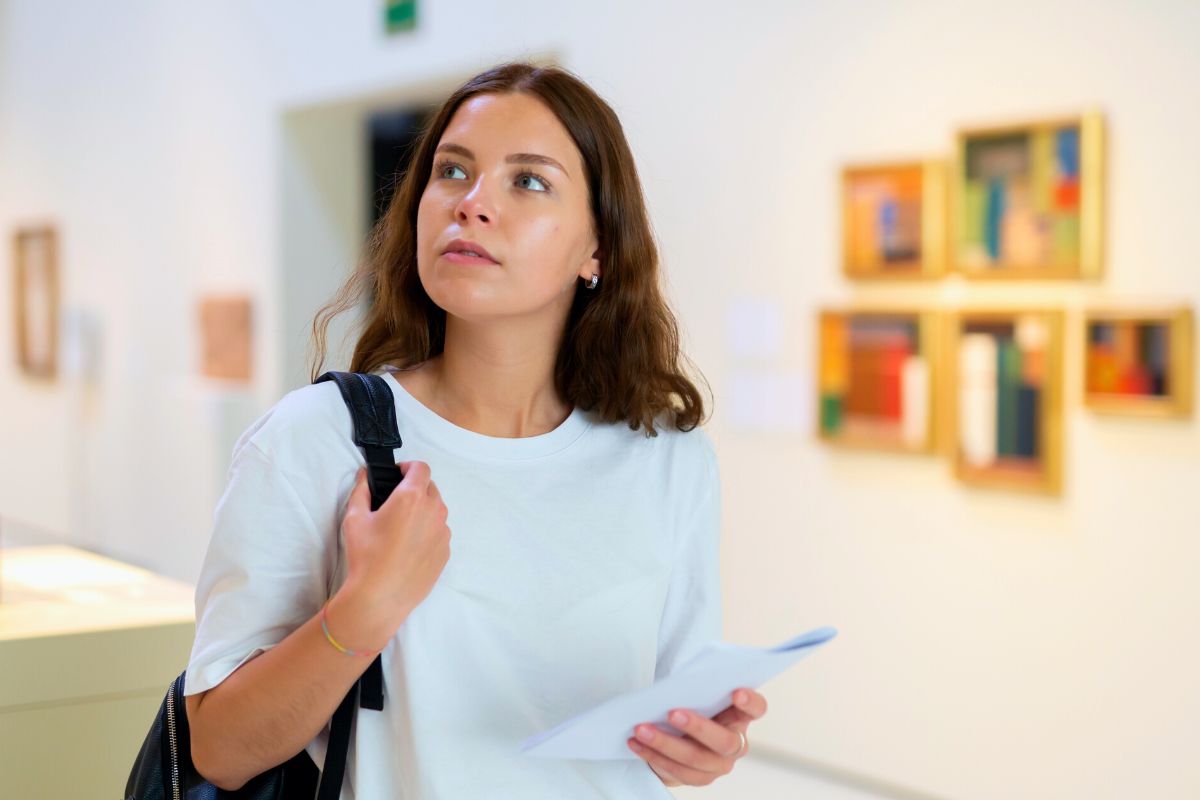 Get your cultural fix at the Danang Fine Arts Museum exploring gallery spaces that highlight fine art from Danang and the surrounding region. (Fine art includes artworks done using classical mediums such as oil paint, watercolor, and lacquer.)
Founded in 2014 but officially opening its doors to visitors with an interest in the art world in 2016, today the museum houses over 1,000 pieces and crosses categories honing in on modern art, as well as some traditional handicraft artifacts.
Divided by three floors, investigate themed spaces and permanent exhibitions, and there are dedicated art experience areas for the little ones to enjoy (located on level one.) There's also a themed exhibition space on the first floor.
Level two is where the main bulk of the artworks are displayed. These exhibits include oil painting, sculptural works, lacquer art, silk works and graphic works. Source of Life by Nguyen Vinh Phoi, Han River by  Bui Xuan Phai and The Girl and the Sea by artist Ho Huu Thu are a few of the beloved artworks to get lost in here.
The museum's top level, floor three, is dedicated to the traditional and displays folk art as well as handicrafts used in the Danang region throughout the years.
24 – See the fire-breathing Dragon Bridge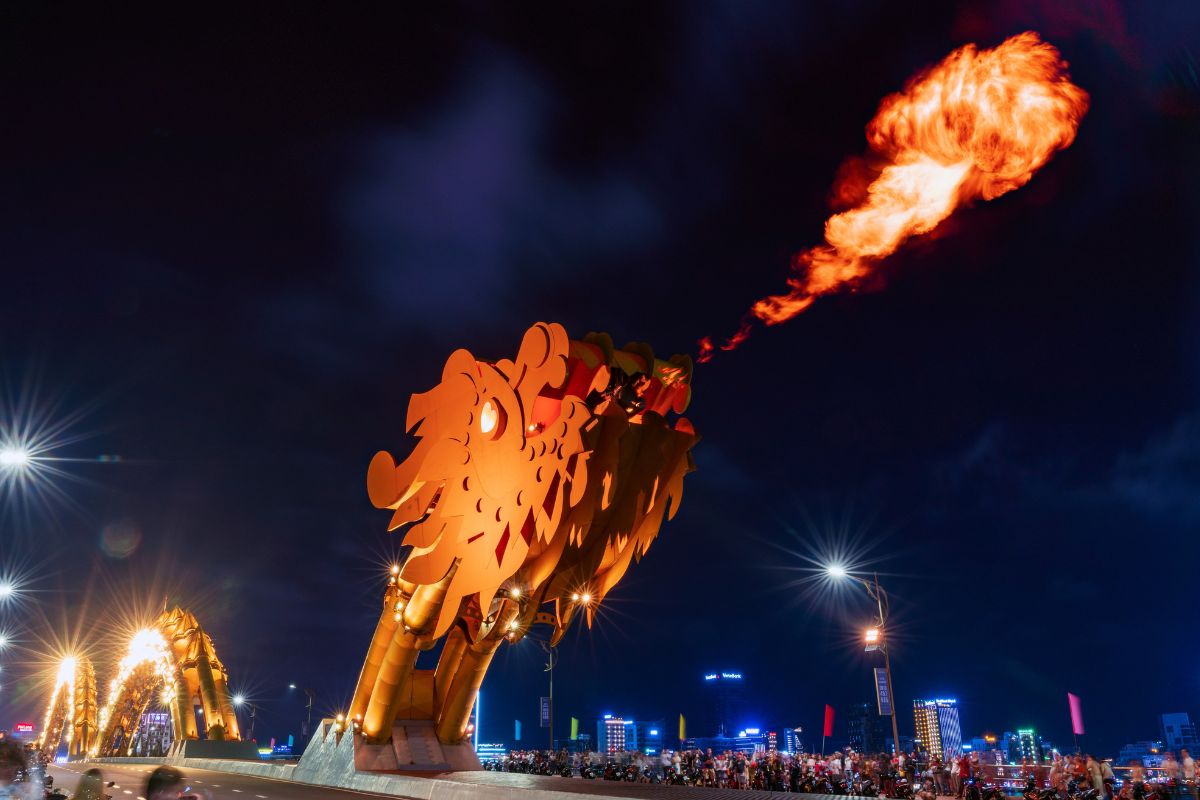 Have you ever seen a bridge that breathes fire?! Nicknamed the "City of Bridges," there are plenty littered around Danang, but undoubtedly Dragon Bridge is the most recognized — as well as extravagant!
You can't help but notice this bridge for a multitude of reasons! Bright yellow in color, the structure is shaped like a winding dragon (or from far away, it kind of looks like a Transformer too).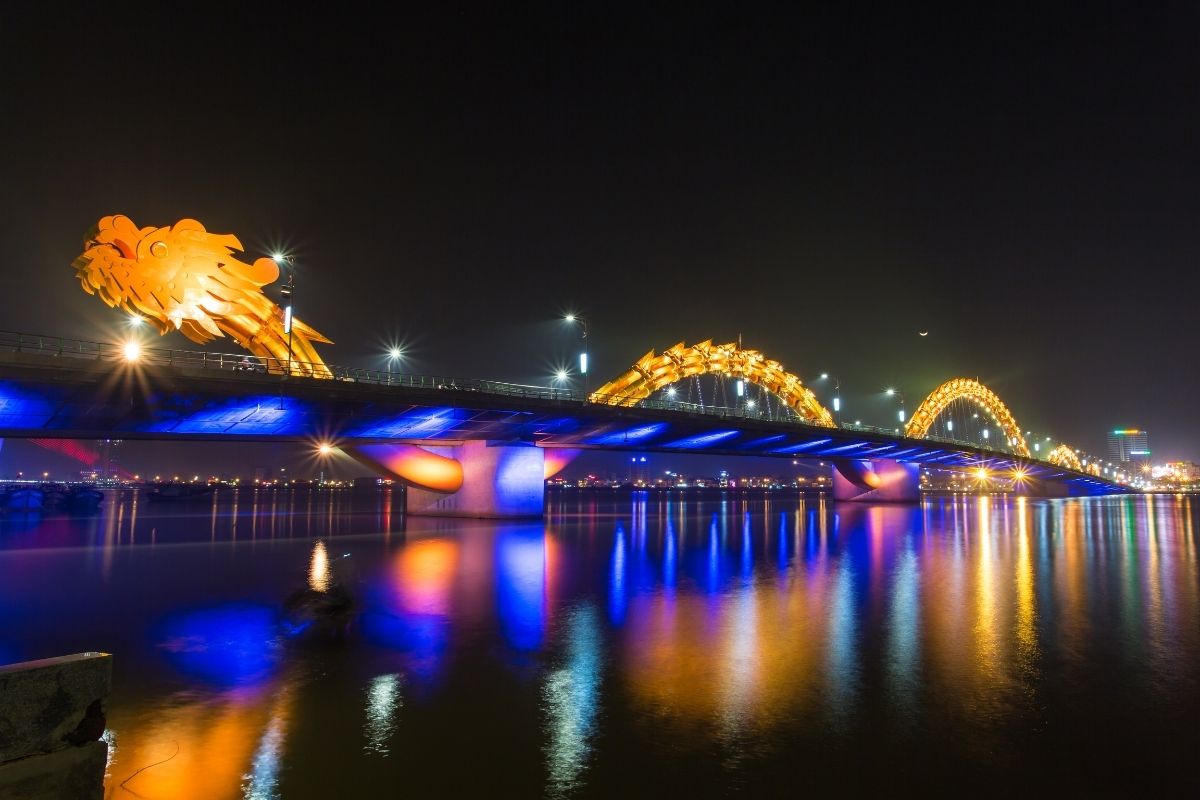 At the end of the bridge is a ginormous dragon's head that not only lights up at night with over 15,000 LEDs, but every weekend he puts on a show, breathing and spitting out real fire flames and water!!!
Built across the Han River, thanks to its curvy, flowing architecture, the dragon appears to be moving, as if flying toward the direction of the ocean.
Stretching on for 666 meters, most travelers get to cross Dragon Bridge soon after arriving in Danang as it's one of the quickest routes to take from the airport to the city.
25 – Stroll around APEC Park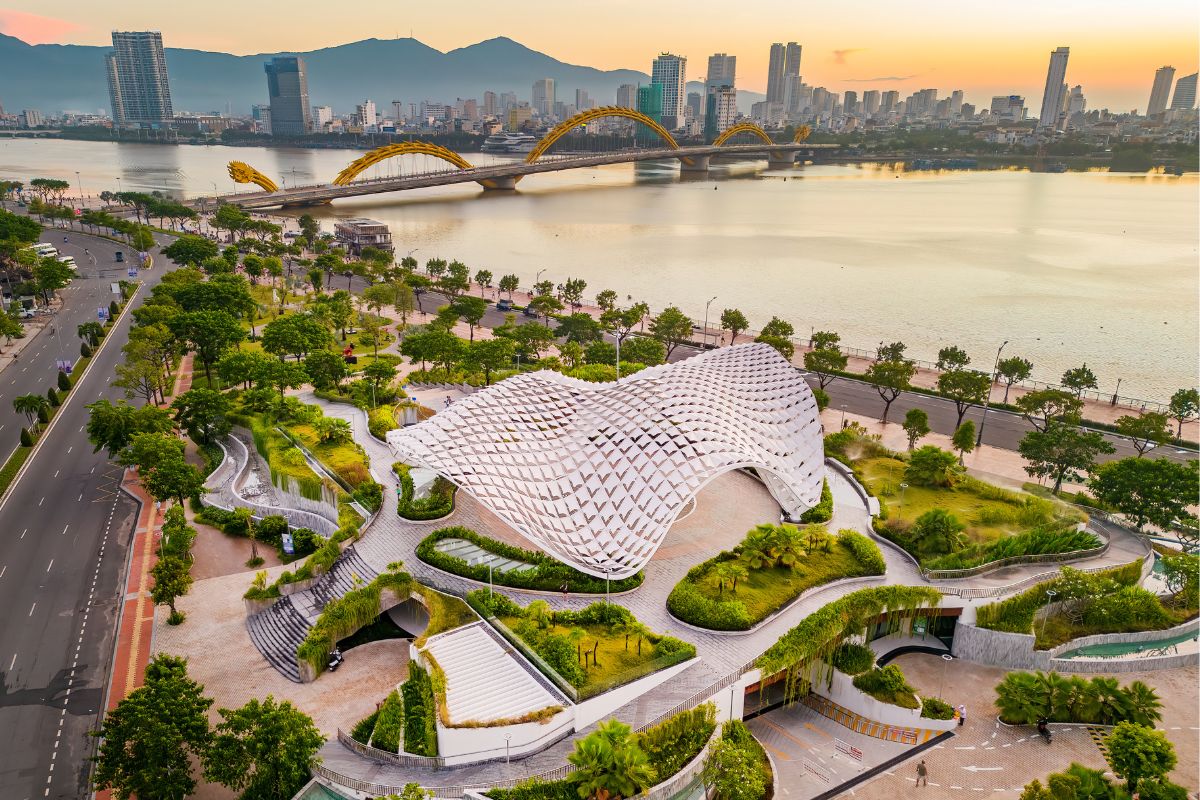 Situated on the Han River, if you're hunting down a place to spend some time relaxing outdoors, this unique park offers travelers a great little space in (urban) nature.
Officially opening in 2017, the park is filled with over 20 statues made from different materials like bronze and steel, representing 21 different global economies. There are outlined pathways for you to walk among and trees provide some shade from Danang's hot sunshine.
At the start of 2022, extensions to the park were made. A flying-kite-inspired shaped steel arch was built and the space plays host to free outdoor exhibitions. It's quite a romantic setting and is conveniently located next to the Museum of Cham Sculpture.
26 – Hike to Non Nuoc Pagoda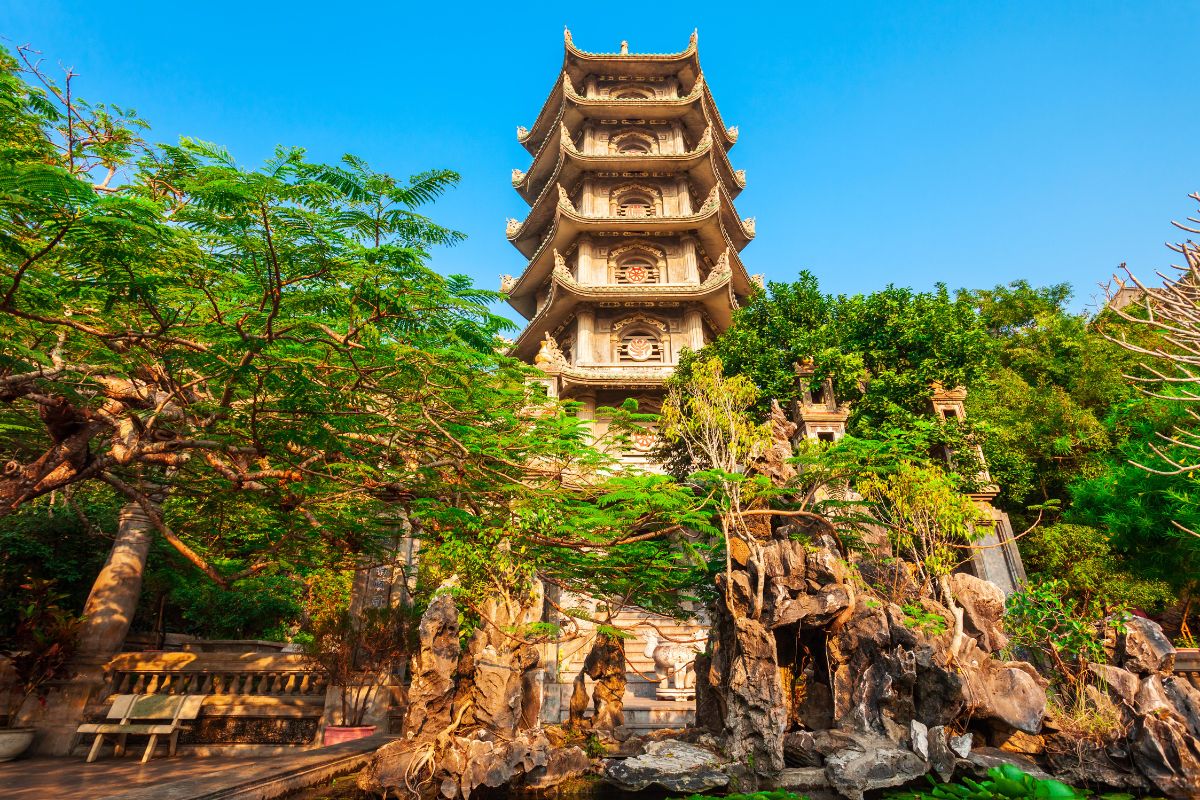 Nestled in the Marble Mountain range is the 18th-century Buddhist Non Nuoc Pagoda. It's often visited during a day trip to the mountains or for travelers arriving to capture some incredible imagery.
Reaching the five-story pagoda, explore the architecture of the temple and its features typical of Vietnamese Buddhist design
Spy stone swirling dragon statues with tree branches overgrowing them, ancient entrances with arched entry points and close by to Non Nuoc Pagoda are caves which you can walk to, as well as many other religious and spiritual sites to see within Marble Mountains.
To reach the pagoda you will need to travel from Danang to Marble Mountains. From here, trek the biggest mountain out of the five Marble Mountains, known as Thuy Son, or Water Mountain, to reach the sacred grounds.
27 – Step back in time at Dong Dinh Art Museum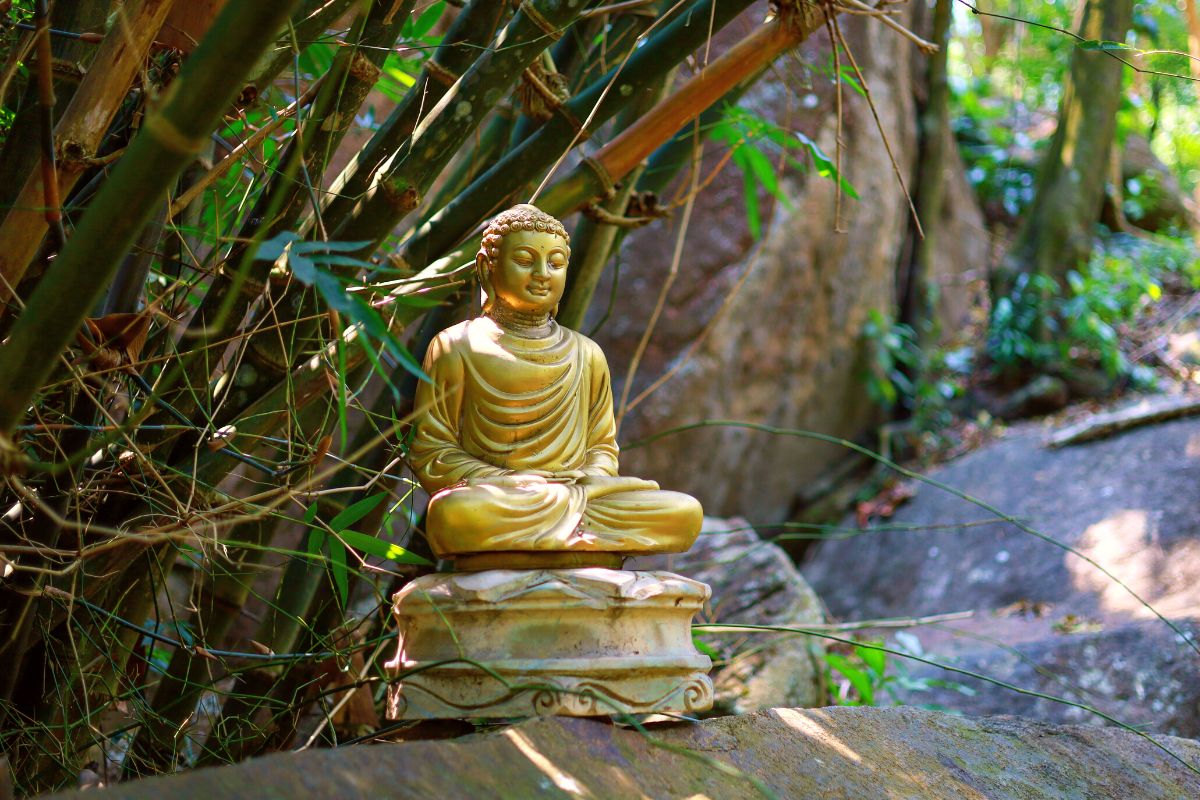 A trip to the hidden Dong Dinh Art Museum is so much more than just an ordinary museum visit and you'll return to the city feeling rejuvenated and relaxed thanks to this extremely tranquil setting.
This rustic museum area is set among a forest in the Son Tra Peninsula, and if you didn't know better, you may mistake the grounds for an ancient local village.
The aim of Dong Dinh Art Museum is for visitors to get an authentic taste of the daily lifestyle and traditional customs of the Cham people, and the space is set to recreate such feels. Discover wooden houses, ancient fishing tools and boats made from bamboo by the small replicated fishing village area.
At the antique display, unravel artifacts and collectibles from Vietnam's 54 ethnic groups (like Champa jewelry and ceramics), or the ethnographic gallery specifically focuses on minority groups from Central Vietnam through to the Central Highlands.
Covering all cultural aspects in its open-air setup, there is also a fine art exhibition displaying paintings and other artworks from these time periods. Dong Dinh Art Museum is just short of 10 kilometers from Lady Buddha (both situated on Monkey Mountain), so consider making a day trip out of it.
28 – Go hiking around Bach Ma National Park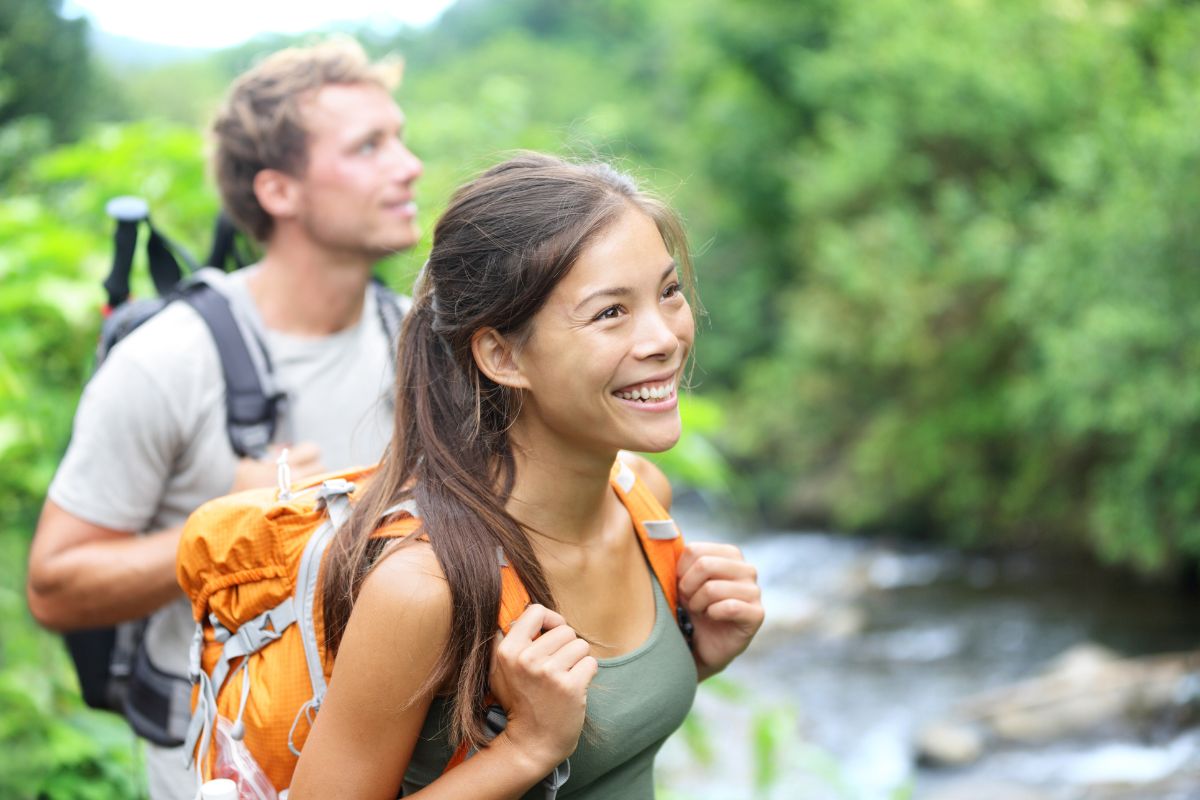 We say do go chasing waterfalls inside the lush Bach Na National Park along the gorgeous Hải Vân Pass. Heading a little inland, you're spoiled for choice here when it comes to views… for days!
Sitting 1,200 meters above sea level, enjoy a day filled with picturesque walking trails, rare flora and fauna-spotting, wildlife and waterfalls to cool down in. (There are some mountain peaks in the park that soar higher than this.)
A paradise for hiking enthusiasts, one of the most popular activities to do at Bach Ma National Park is the walking trails, and there are a few to choose from. Hai Vong Dai trail is suitable for all levels, and the 800-meter-long walk ascends 1,430 meters above sea level, passing by oceanic and forestry terrains.
As its name gives away, the Ngu Ho – Do Quyen Waterfall trail leads you to a set of lakes that you can swim in, and eventually to Do Quyen Waterfall. This trail is 3.3 kilometers.
Sing Stone Park trail is popular for spotting rare animals — like leopards, the adorable Phayre's leaf monkey, the Himalayan whiskered bat and plenty more precious species — and treasured flora.
Other trails to tackle include the Five Lakes trail, Pheasant Fall trail, White Seraya trail and  Cho Den Forest trail (to Tri Sao Waterfall).
Take a half-day or full-day trip to Bach Ma National Park. A popular way of adventuring through the park is via a jeep excursion that'll take you up the rocky terrain if you're not amped up on driving through yourselves.
Take note, the temperatures are cooler here than in the city, and in the early mornings, even misty!  Other on-site facilities include restaurants, accommodation and a pagoda.
29 – Choose to day trip My Son Sanctuary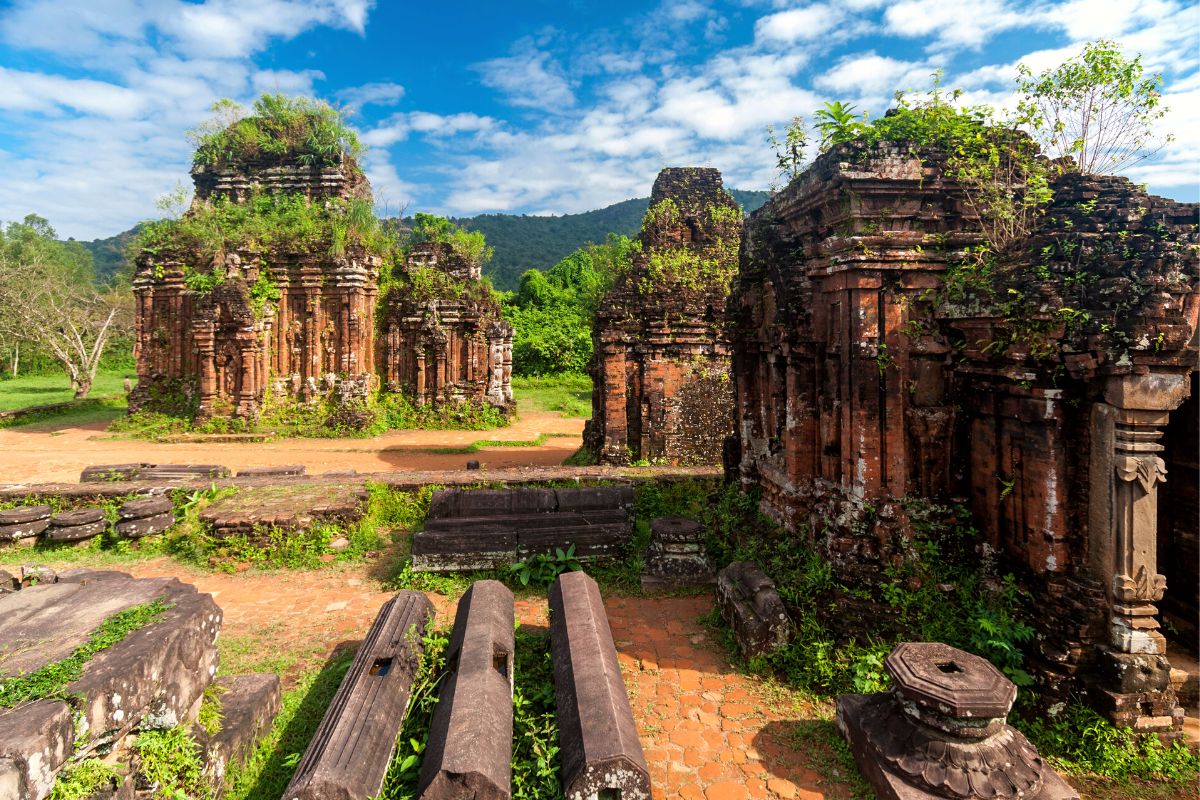 Considered the "Angkor Wat" of Vietnam, journey from Danang to My Son Sanctuary (a one-drive drive) for the day and return feeling enlightened.
Consisting of a group of ancient Hindu temples dating back to the Kingdom of Champa, the sacred grounds have been listed as a UNESCO World Heritage Site since 1999. Although Mahayana Buddhism was affluent at the time in this part of the world, during the Champa reign, the principal religion was Hinduism.
Built between the 4th and 13th centuries CE, walk among the ancient complex's tower temples constructed to honor Hindu divinities, including Shiva, Krishna and Vishnu. Out of all of the religious structures that were once here, today 70 temples remain.
When the Dai Viet group from Northern Vietnam took over the region after years of fighting the Champa Kingdom, the massive temple complex was left abandoned and the jungle began to, quite literally, swallow it up.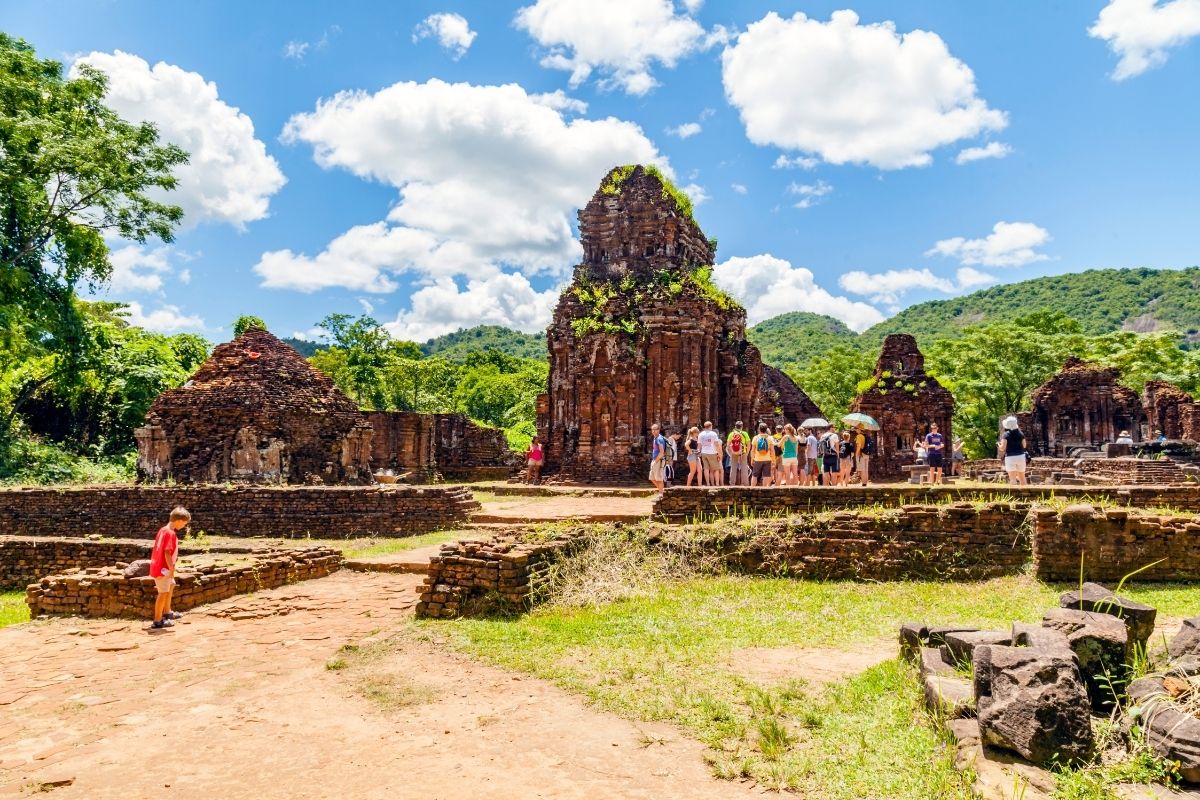 A French adventurer rediscovered the site, but sadly the complex took a beating during the Vietnam War and most of the temples were bombed.
Today, it's a surreal setting to see and pretty wild to witness in person such ancient architecture. Surrounded by unending greens and lush mountains, spend hours here exploring temples engulfed by mossy growths and creepers — it's magic!
Two kilometers from the My Son relic site is the My Son Museum. It aims to educate and provide insight for visitors to the historical attraction and investigate ancient relics and pieces from temples that once stood tall at My Son up close.
30 – Watch a sports game at Hòa Xuân Stadium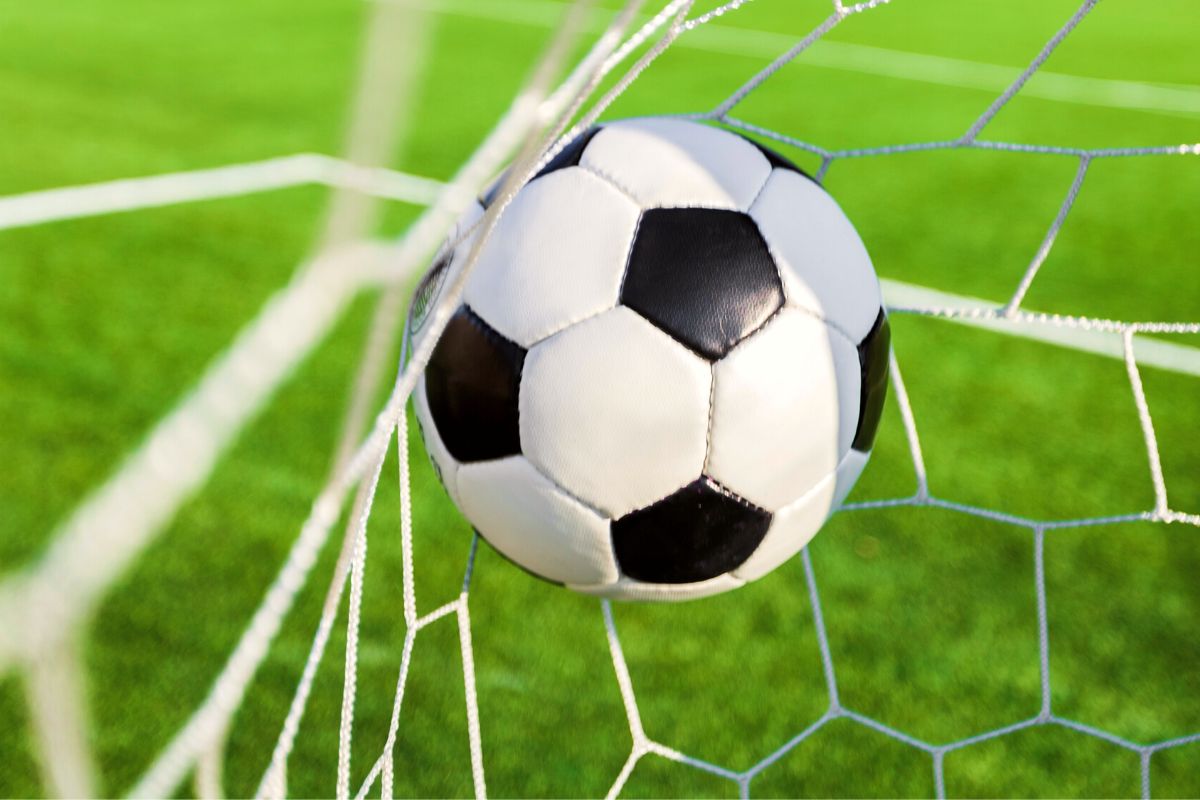 Fitness and outdoor activities are a huge part of daily Vietnamese life, whether it's a dance class or Tai Chi in the park for the elders, rounds of badminton between mates, or a friendly game of football.
In fact, football is one of Vietnam's most-loved sports and when there's a football match in town (especially an international game), the city comes alive and the streets become extremely festive!
Be a part of the crowds and get to watch a live football match at Hòa Xuân Stadium and it's the country's second official football (soccer) stadium.
Boasting four stands and a seating capacity of up to 20,500 spectators, it's the home turf of the SHB Đà Nẵng F.C. and when the team is playing, make sure you don't miss out on the action!
However, it's not only limited to the professionals and ordinary teams/players can organize private friendly games here.
31 – Grab sundowners at the best beach bars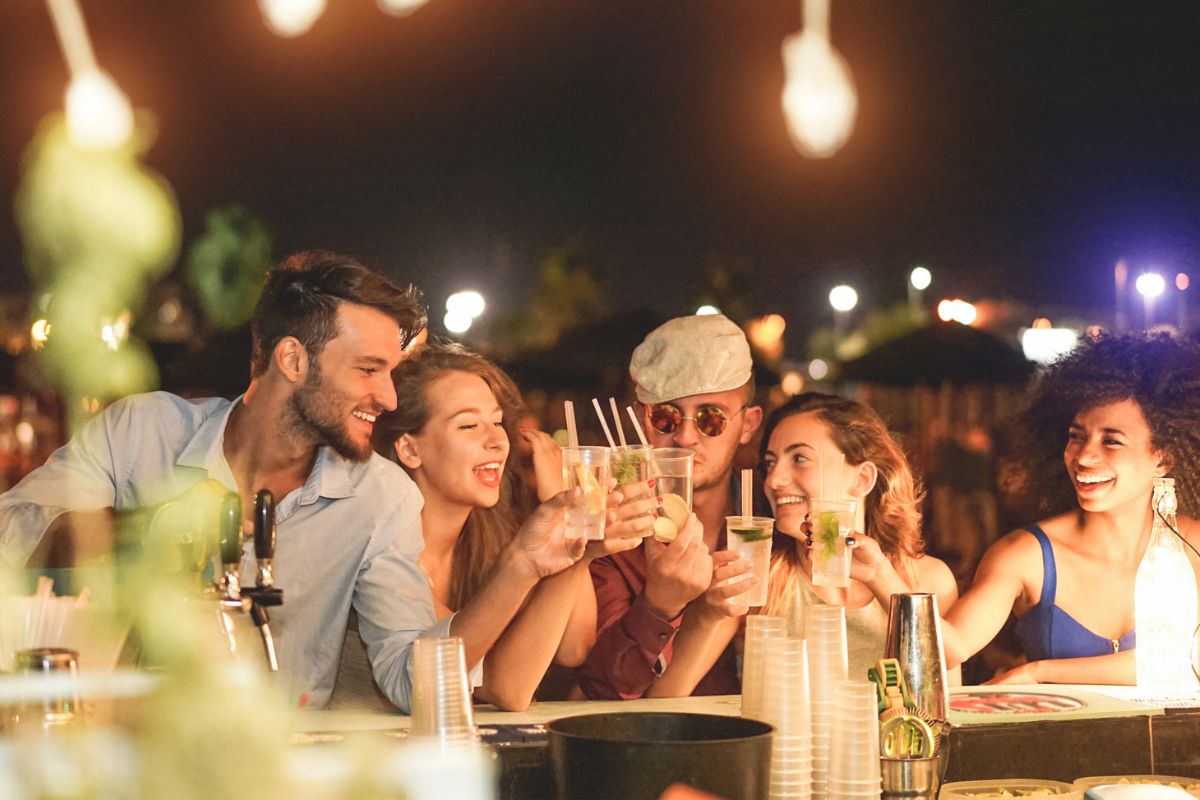 Whenever close to the ocean, it's so easy to slip into the laid-back vibrations that many coastal destinations exude. Sit back and relax with a cocktail in hand and your feet in the sand at one of Danang's best beach bars.
From Esco Beach Bar Lounge & Restaurant just a couple of meters stand between you and the ocean, and the views of the mountains and the coastline add the finishing touches.
Contemporary cool interiors, a guest swimming pool on the beach, incredible food (from baos to wood-fired pizza) and great cocktails deem it an ideal choice for sundowners or beach day. DJs play sweet tunes and on some evenings there are even fire shows.
Find yourself asking if you're in Bali or Danang at DanaBeach (a beach bar and bungalow stay set-up) with its strew of colorful beanbags littering the beachfront. Rainbow-colored umbrellas and a bar area match and the vibe is instantly festive. Play in the waves, munch down on a cheeseburger or tapas and enjoy the good times.
If your favorite thing is live music, The Dawn bar and beach club has something going on every night, and if it's not a local guitarist during the week, bands play every weekend here too. Favored by locals, the setup is super spacious with plenty of seating. Enjoy a cocktail or draft beer under the palm trees and shimmering stars.
32 – Recreate local dishes during cooking classes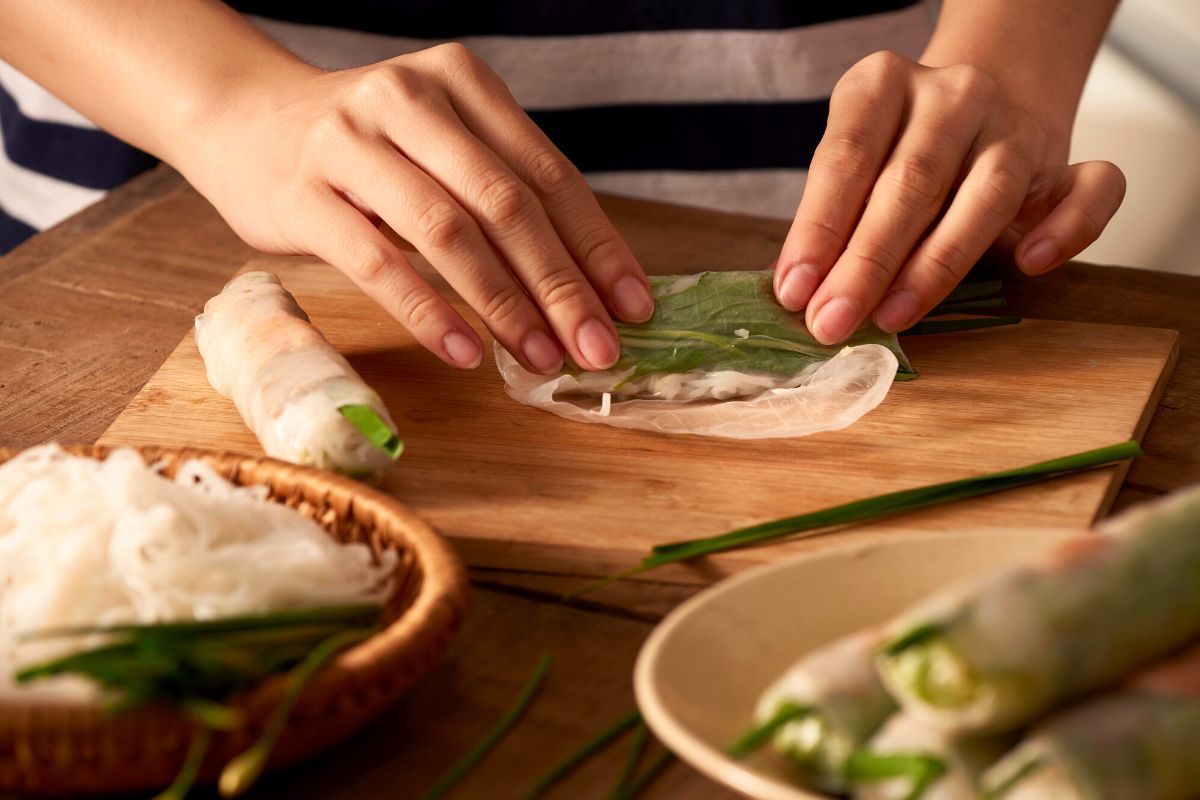 Put your skills to the test, or learn something new during an exciting cooking class where you'll uncover a whole new set of flavors and dishes unique to Vietnamese cuisine.
As a foodie hotspot, there are a few types of cooking classes on offer in Danang, and at different times of day, like morning or afternoon lessons, for example.
Led by a local family, visit a fresh produce market and then head to their home where the culinary action begins. Learn how to create a typical family-style meal (usually around four varying dishes).
Other cooking classes first make a stop at a local village, for example, a fishing village or vegetable village. Lessons usually last between three to four hours, during which you'll be introduced to spices, produce and techniques, and guided throughout.
Enjoy making your own fresh Vietnamese spring rolls or canh chua ca (sweet and sour fish soup), fresh papaya salad and crispy tofu, to name just a few. Now that you've got the knowledge, recreate the dishes for your friends and family back home!
33 – Take in something new at Cao Dai Temple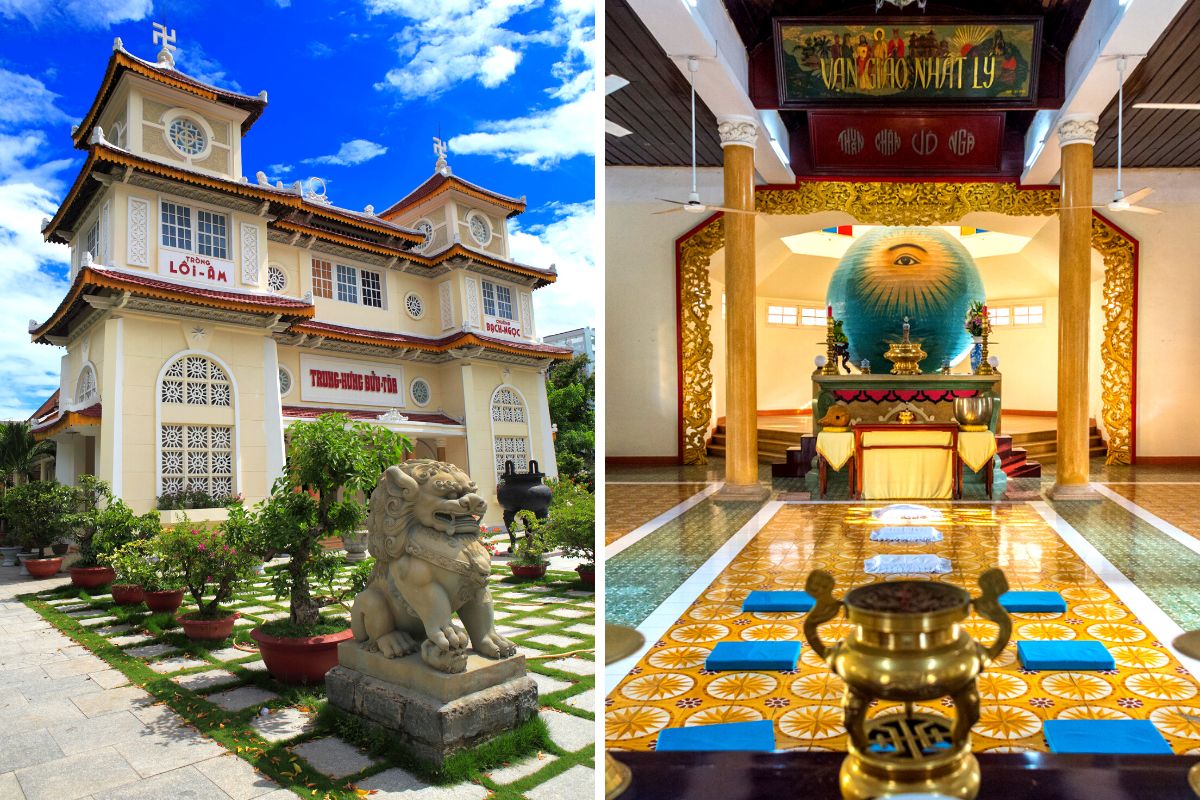 Have you ever heard of the Cao Dai faith before? Forming just over 100 years ago in Vietnam, it's a combination of four different religious beliefs in one. The Cao Dai Temple is a good place to visit in Danang if you're intrigued to learn more.
Interestingly, the faith is an amalgamation of Confucianism, Buddhism, Taoism (another  Chinese religion that formed after Confucianism) and Catholicism.
The religion was founded in southern Vietnam in 1926, and a few years later between 1933 and 1955, the Cao Dai Temple in Danang was built, making it the biggest Cao Dao temple in Central Vietnam. (It's the second-largest Cao Dao temple in the country.)
From the outside, don't confuse this worship site for a museum as the exteriors aren't your usual temple features. Merging four religions, there are elements from each practice used in the design.
It's quite a special feeling stepping inside a spiritual place that celebrates all types of different religions. It's a good indicator of how we are all one.
34 – Take a boat tour on the Han River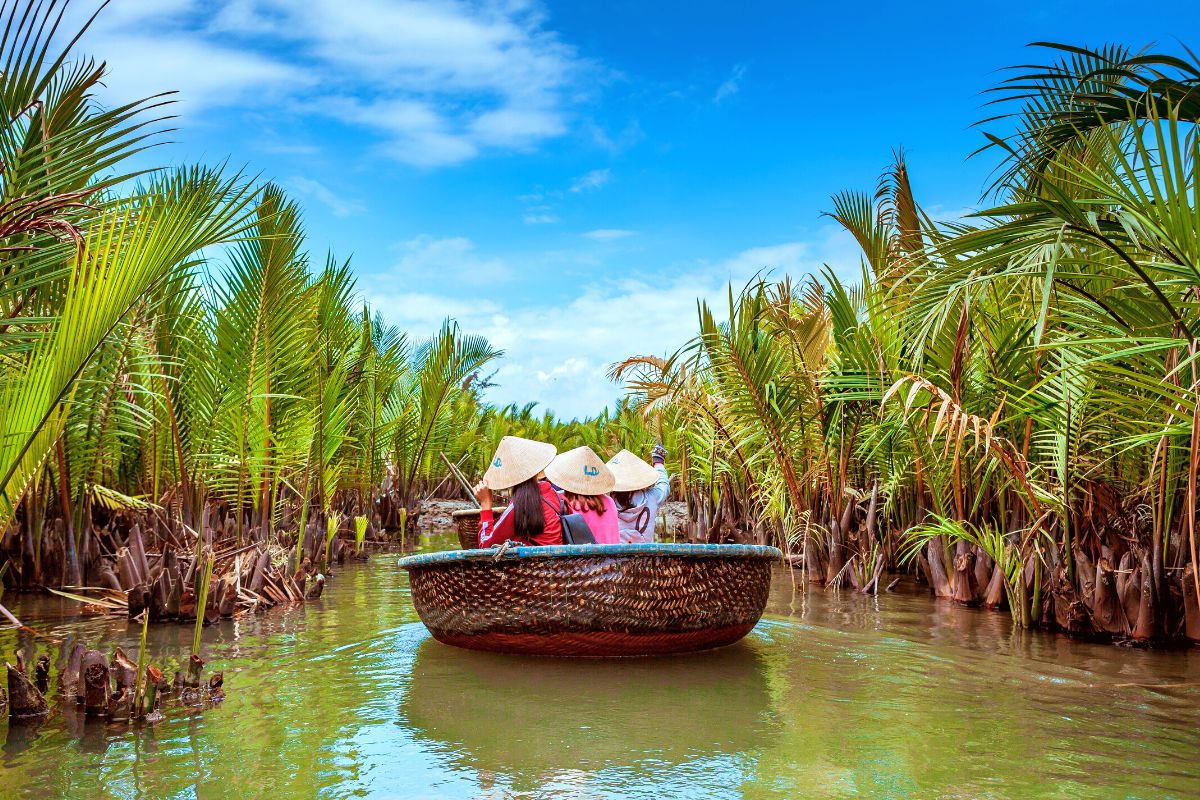 With its headwaters flowing from Quang Nam down to the South China Sea in Danang, the Han River runs through the city and connects parts through a multitude of bridges, like the Dragon Bridge, Han River Bridge and the Tran Thi Ly Bridge.
One of the best ways to experience the Han River is during a boat tour!
Whether you're after a relaxing cruise, a dinner on the water under the stars or even an adventure on a unique coconut basket boat tour, your afternoon will be filled with memorable sightseeing from a different perspective, and there are boating expeditions to suit all travelers' needs.
Some rides are just short of an hour, while other tours are around three to four, and most boating adventures sail into the evening. This is because all the bridges light up at night and so the scenes from out on the river are pretty magical.
There are boat tours that include other activities in the mix on land if you want to make a half-day adventure of it all, which run for six hours and end off with a nighttime cruise.
35 – Unwind at Hoa Trung Lake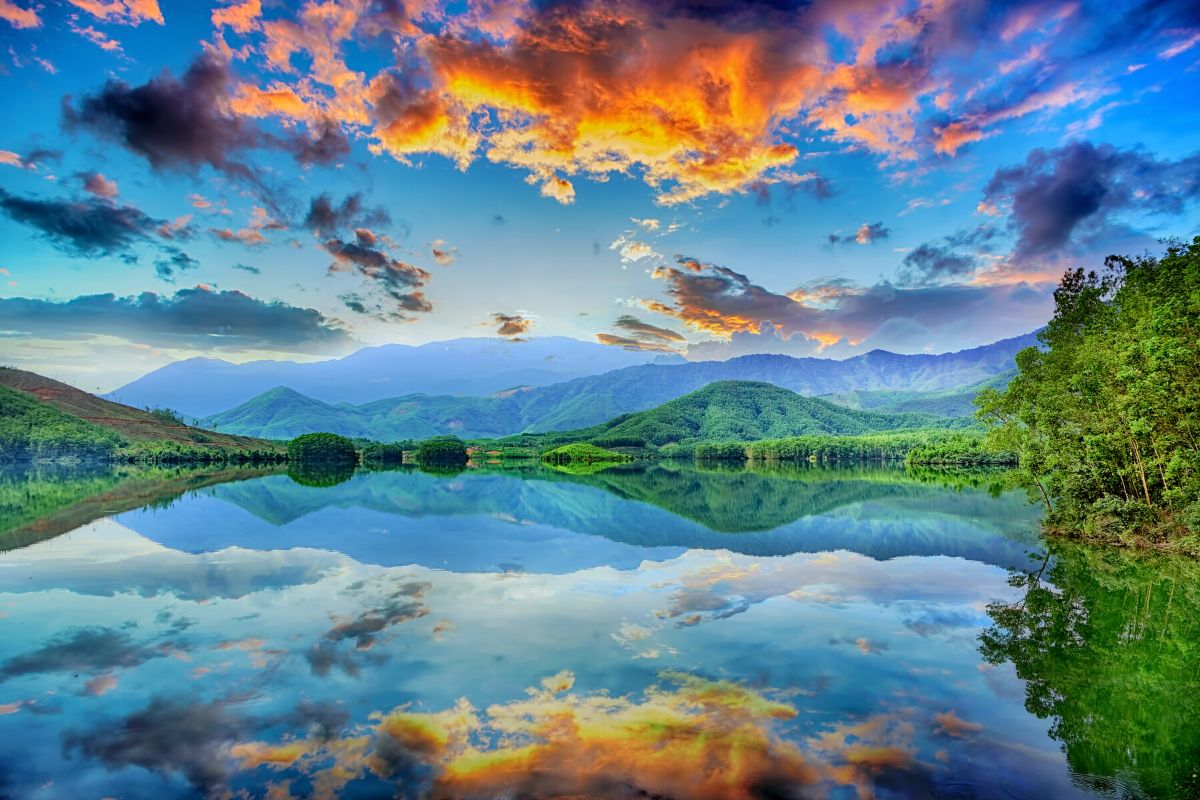 The peaceful setting of Hoa Trung Lake has made this destination somewhat of a hotspot in recent years — especially among the younger crowds who often arrive here to take photographs, as well as families.
Near a local village, the artificial lake serves as a water supply for local communities in the area, and the natural scenes surrounding it provide a fantastic break from Danang's coastline.
Located 20 kilometers from the city center (travel time is just over 30 minutes), there are a few activities to do once you arrive. Choose to have a romantic picnic around the lake followed by a kayaking session on the water.
Around Hoa Trung Lake is a large grassy area and this space is popular for camping overnight. If you plan on spending the evening, make sure to bring all supplies as there is nothing around you.
36 – Go on a day trip to Hue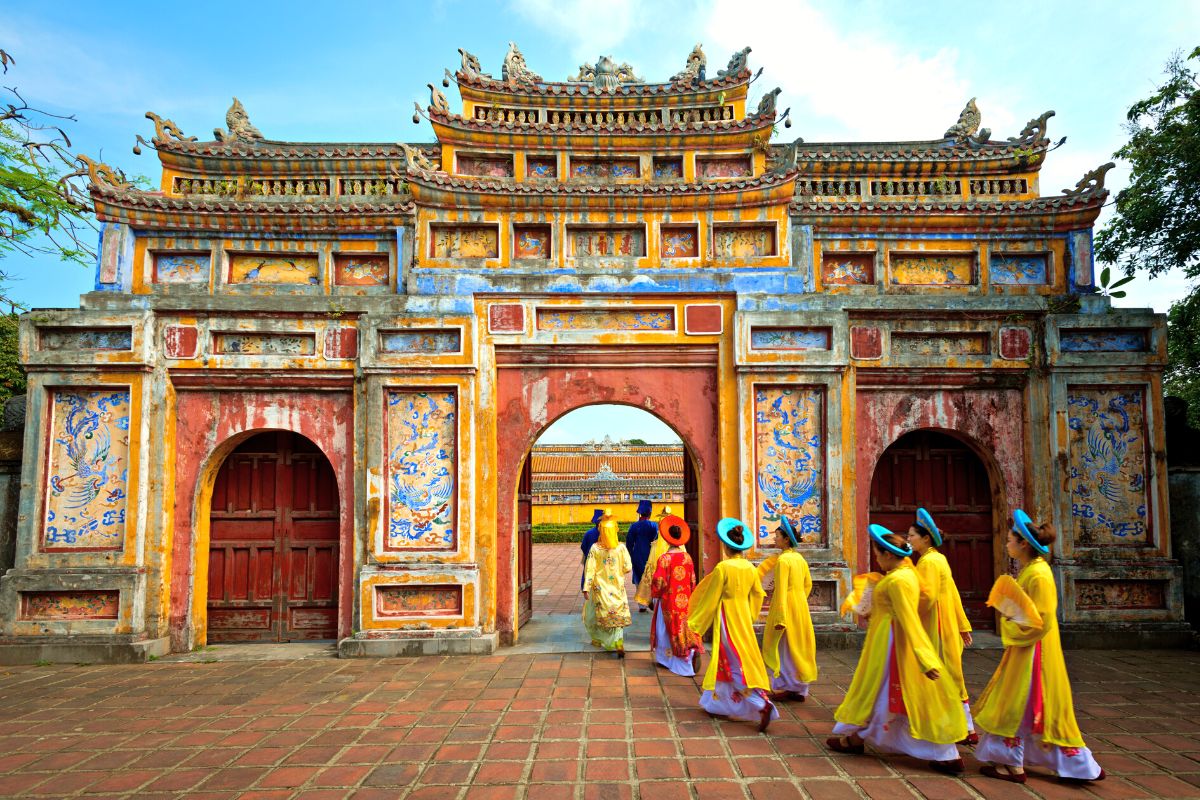 Known as the ancient Imperial City, don't miss out on a day trip to Hue when traveling to this part of Vietnam. The former capital city is steeped rich in history, monumental sites and stories as it was once home to the country's royal families back in the day.
(Although Hue is often referred to as the "Imperial City", this is the name for a part of Hue that is now the old town.)
From tombs to temples, palaces and pagodas on the riverside and monasteries in the mountains … There is just so much to explore. Traveling into Hue, pass through the Hai Van Gate, a national city relic dating back to 1470.
One of the biggest reasons why people visit Hue is to see the Imperial City itself (known as the Old City), which is located within the Citadel — a wall built around the old city to protect the royal families.
Inside the Citadel there are tons of ancient sites, and you will pay an entry fee at one of the citadel's entrances for access to these historical attractions. But, there aren't just outdoor attractions to see, and Hue is home to a buzzing creative side, epic cafes as well as some trendy accommodation!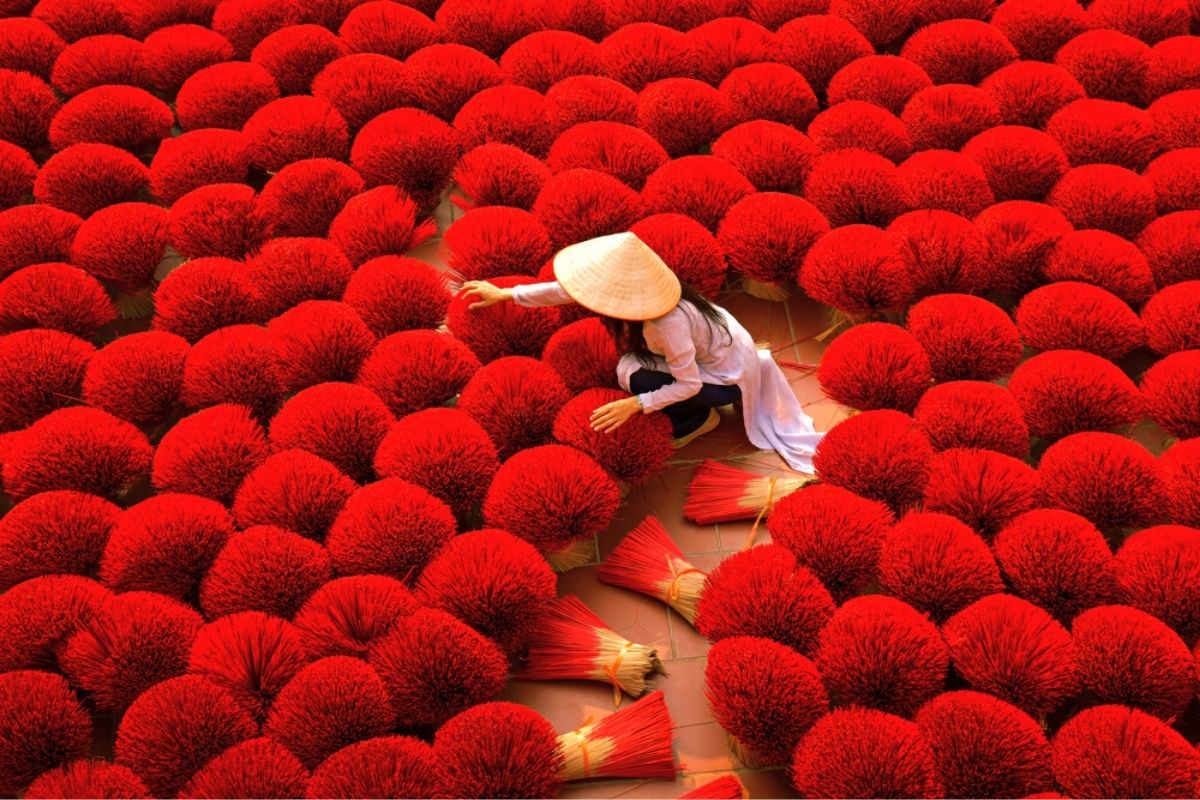 Visit an abandoned waterpark (Hồ Thuỷ Tiên) and snap some of the most epic (and eerie) photographs, wander around An Dinh Palace or visit the Thuy Xuan Incense Village.
To get to Hue, you can catch a train ride from Da Nang, take a taxi or motorbike here driving via the picturesque Hai Van Pass. It's one of the most popular day trips from Danang and many opt to spend the night as one day simply isn't enough time to explore everything.
37 – Eat and shop at the night markets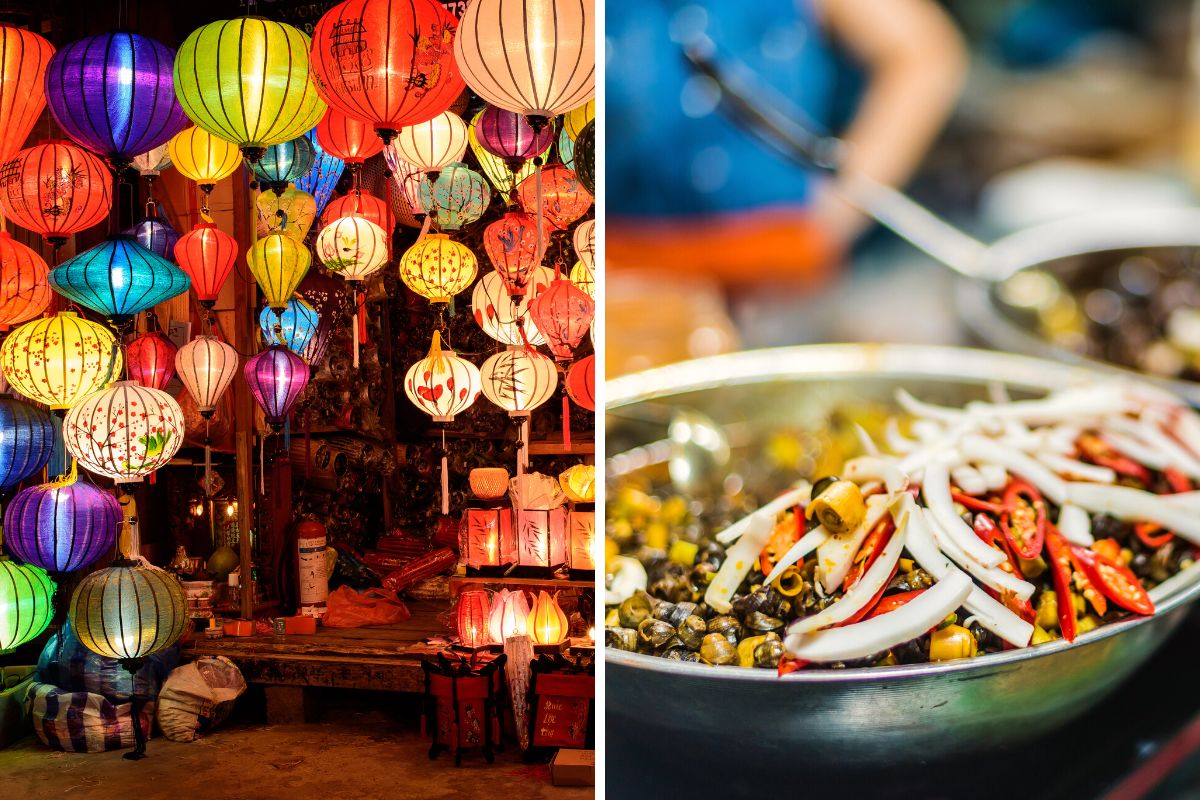 Shop til you drop at Danang's night markets without breaking the bank, and whether it's food or fashion you're after, get ready for an affordable shopping round.
After a day adventuring around the city, or a lazy afternoon on the beach, take the time to check out the coastal city's night market scene.
Helio Night Market is by far the biggest and best and is especially favored by tourists because you can find anything and everything here.
Pick up retro tye-dye sports tees, anime keychains, trendy trinkets or traditional goods like lanterns. Rows and rows of stalls showcase authentic snacks (with plenty of seafood options), meals and sweet treats to try.
Conveniently located near two famous bridges, the Dragon Bridge and Love Bridge, at Son Tra Night Market there are endless souvenirs to shop, for example, traditional paintings.
Apart from the handicrafts, it's a renowned foodie hotspot among the locals, especially if you're a seafood lover. The market is famous for selling the freshest, and most affordable lobster, or try tasting snails.
Le Duan Night Market definitely oozes the most local-feel and customers always leave happy thanks to vendors' extremely cheap prices. Stock up on clothing, shoes and accessories for men and women, snag a new bottle of perfume, or browse purses, bags and cute jewelry.
Food-wise munch down on BBQ clams and scallops, or sip on sweet bamboo juice.
38 – Grab your board and go surf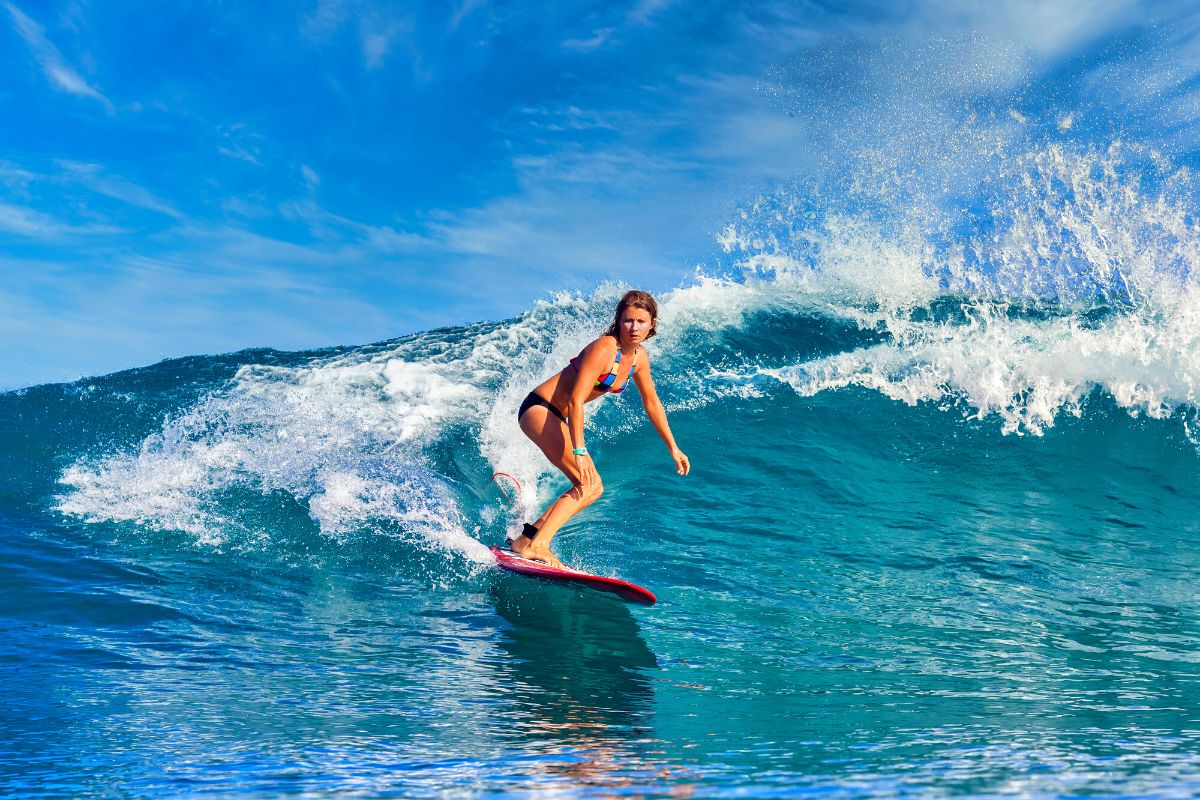 Believe it or not, there is some surf along Danang's coastline, and although the waves aren't as big as say, Bali, there are some great spots to ride the ocean.
If you've never tried surfing before, its conditions are also ideal for beginners, or those traveling with younger children and an ideal place to start if you're wanting to learn how to surf.
My Khe Beach is the best place for surfing with the nicest break, and you will find a few surf schools in the area too.
Two popular surfing schools are Da Nang Outdoor Adventures and Surf Shack. With the help of the experts, you'll be shown the very basics of surfing 101 from how to paddle, to positioning your body correctly on the board, to how to jump up and ride that wave.
Lessons are between 1.5 hours to two hours and include practice time on the beach sands as well as in the water with your instructor. This beach isn't the only place to hunt down waves, and other epic surfing locations include Nam O Point and Nuoc Beach.
Although it may be the cooler months, the ultimate surfing conditions are from the months of September through to March once the monsoon season is over.
39 – Make your tummies smile at the best restaurants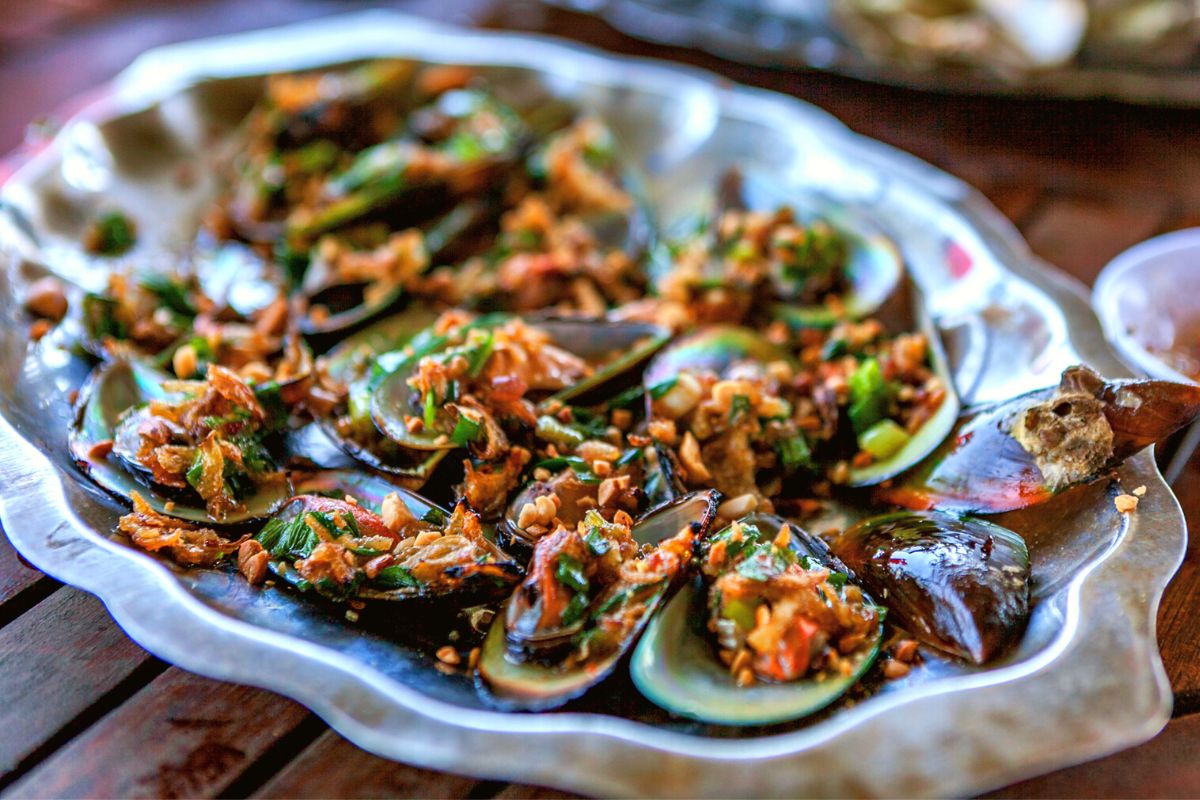 What's a true holiday without some fabulous wining and dining? Taste some of the yummiest cuisine that Danang has to offer at one of its best restaurants.
Overlooking the ocean and serving food set to international standards (featuring in CNN's Top 10 of the World's Best Restaurants in 2016), La Maison 1888 is the perfect option for date night.
Headed up by a Michelin-star chef, it's a french affair. Expect a seasonal set menu full of fancy dishes and ingredients, and there are no a la carte options.
The Grill (at the Sheraton Hotel) is super classy, serving prime cuts, the freshest seafood and offering an excellent wine selection. Try their seafood tower layered with cold seafood dishes from oysters to tiger prawns, lobster and giant clams.
For your fix of Japanese and Korean delights, head on over to Bushido Restaurant, or indulge in local flavors at Hải Sản Phố, a seafood restaurant boasting a beachfront setting and with lobster on the menu!
40 – Whizz around Da Nang during a jeep tour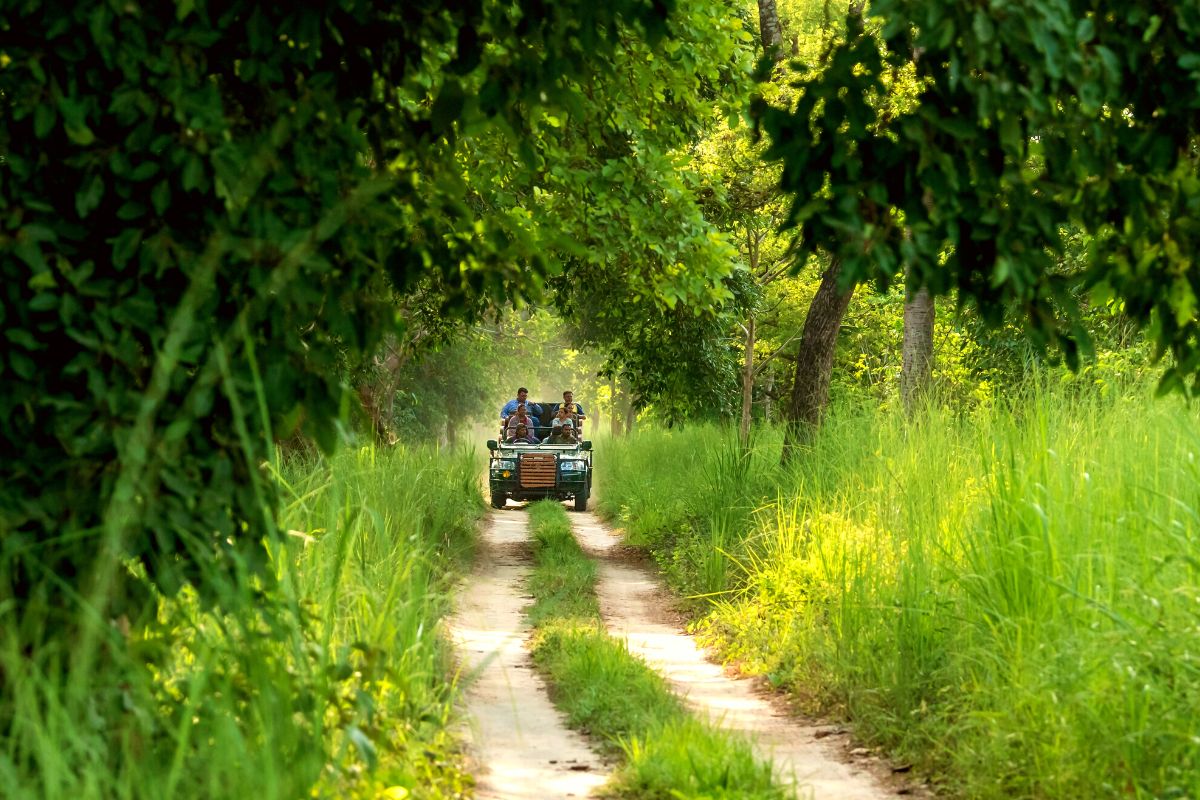 A fun way to sightsee Danang and the nearby areas is during an exciting jeep tour.
Driving with the open roads and air around you, this is a great alternative if you're not keen on a motorbike trip, but still are after a bit of adventure, and is suitable for families too!
From one hour to an entire day trip (lasting eight hours), there are many types of jeep tours available, and each one takes passengers on a different journey.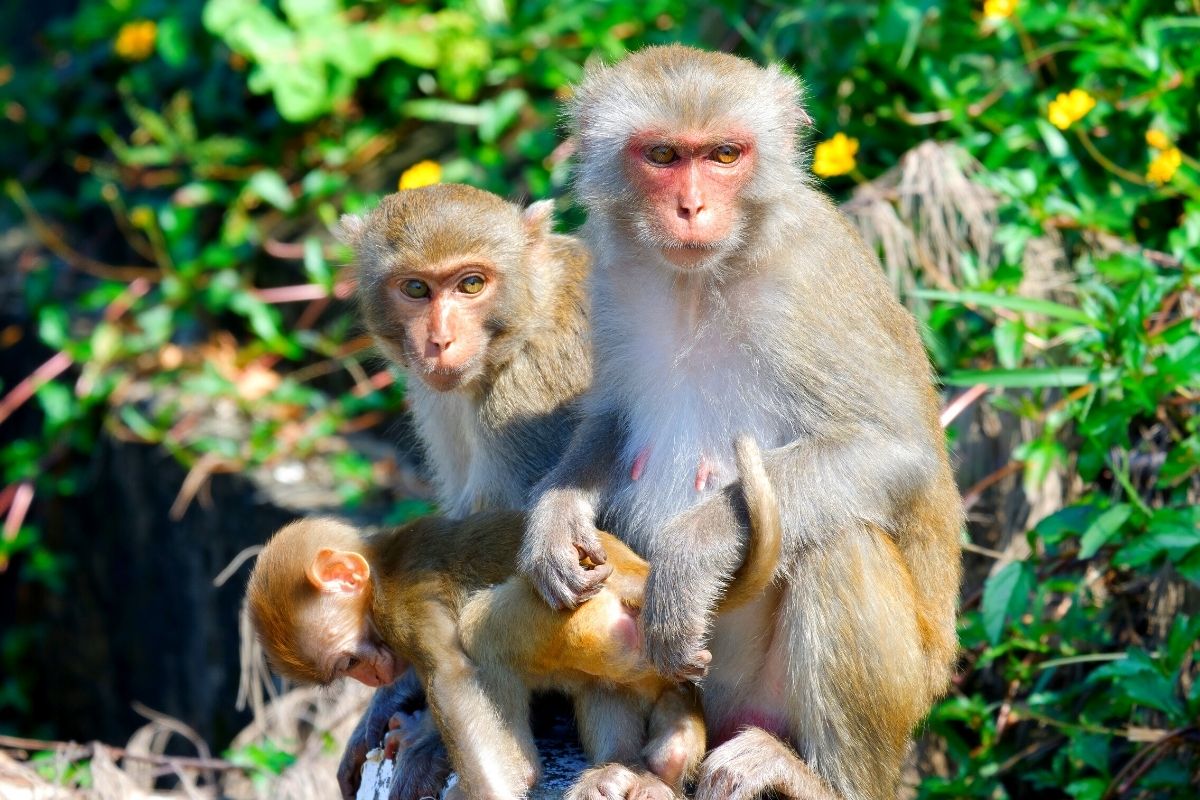 Join a group tour or decide on a private excursion instead, hopping into a vintage army jeep. Some trips travel to Marble Mountains or the Son Tra Peninsula or venture along the Hai Van Pass to Bach Ma National Park.
Here, whizz and zoot through the forest, crossing streams and muddy terrains, exploring waterfalls and abandoned French structures. Jeep tours range from three hours to five to eight hours on the road.
41 – Grab cocktails at a rooftop bar with views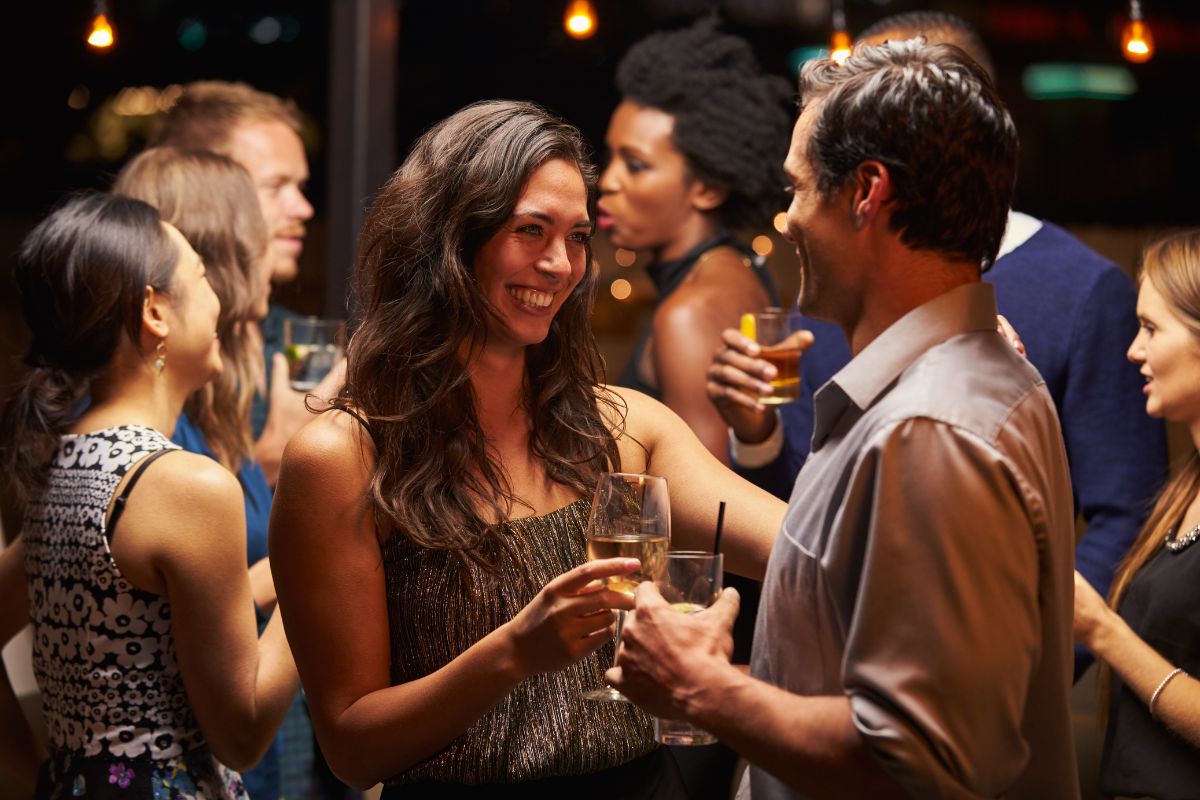 As the sun begins to drop over the ocean, head on over to a rooftop bar for sundowners and take in the views from up above.
Directly overseeing the ocean, the views from the elegant Vivid Rooftop Bar & Pool are a winner. Located on the 21st floor of the Radisson Hotel, drink in the coastal scenery with mountains as a backdrop to one side, and the city on the other.
Seating is outdoors and parts of the bar are partially covered. Open from early until midnight, grab one of their signature cocktails and enjoy the mood.
Also located up on the 21st floor (at the Belle Maison Hotel), Sky 21 Bar & Bistro has sweeping viewpoints no matter where your table is, and is always filled with a trendy crowd. Live bands or DJs set the tone, cocktails here are fab, and they also serve food like prawns or ribeye steak.
Dotted with hanging plants and set on the Han River, the warm ambiance of the Brilliant Top Bar is super inviting. Sip back on classic cocktails, or try one of their specials from way above the city buzz on the 17th floor.
You're gonna wanna dress up for drinks at Nyx Lounge (inside the Haian Riverfront Hotel Da Nang). The setup has a European flare and the interiors are elegantly designed. Looking over the Han River, on the weekends, DJs hit the decks too. It's also on the 21st floor of the hotel.
42 – Book a relaxing dinner cruise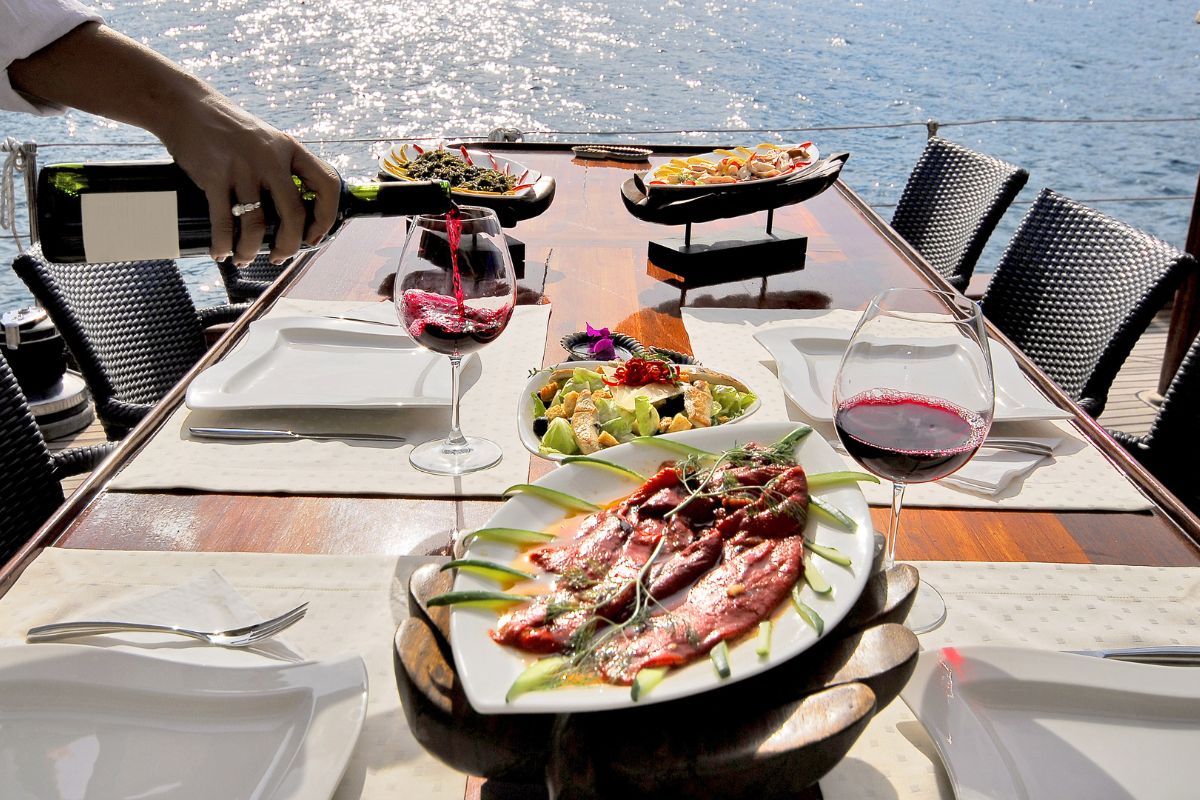 Calling all romantics; if you're here on a couple's getaway a dinner cruise is the perfect way to set the scene. Riding along the Han River, sit back under the stars with a glass of wine and set sail through the city while you enjoy a five course meal.
Menu items to expect include the likes of seafood soup, fried butter prawns and Vietnamese grilled chicken. Choose a dinner cruise on a luxurious private yacht — an option preferred by couples, especially anyone here on honeymoon — or board a two or three level boat.
Setting sail, you'll veer to the various bridges that connect the Han River and parts of Danang, for example, Dragon Bridge, Thuan Phuoc Bridge, Nguyen Van Troi Bridge, Tran Thi Ly Bridge and the Love Lock Bridge.
The different bridges light up at night and these reflections look magnificent on the water.
43 – Watch the traditional arts at Nguyen Hien Dinh Tuong Theater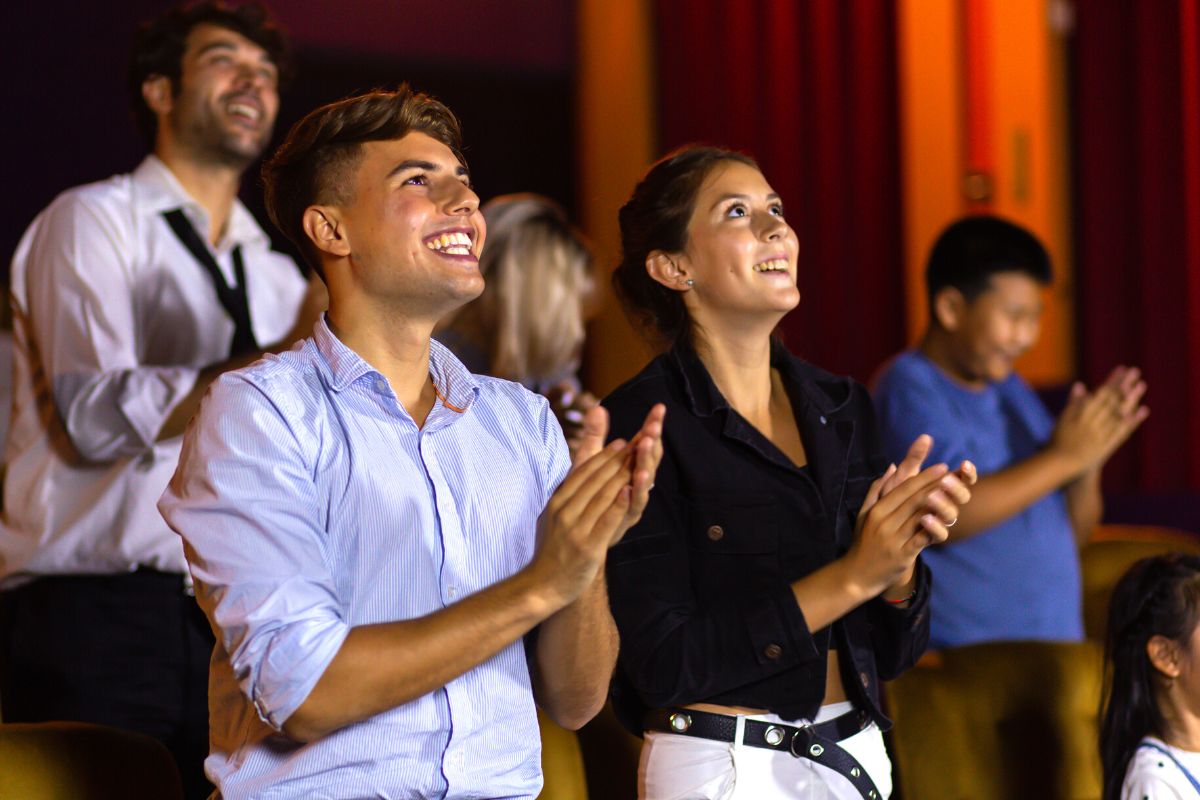 Why not enjoy a cultural night out at Nguyen Hien Dinh Tuong Theater where you'll have the chance to witness live acts of traditional Vietnamese performance art?
Consisting of songs, dance and stories, artists are dressed in costume and the different shows each have their own narrative. Watch plays about past leaders and dynasties, or a drama like 'Tuong Against the Waves'.
In Vietnam, the word 'tuong' refers to classical theater dramas which usually comprise folk songs, dancing and acting. Everything is overdramatized, from the costumes to extravagant makeup.
This type of performance art is quite special to see as its earliest days originate to 12th-century Vietnam, and it has been passed and carried through the centuries.
44 – Put on your dancing shoes and check out the nightlife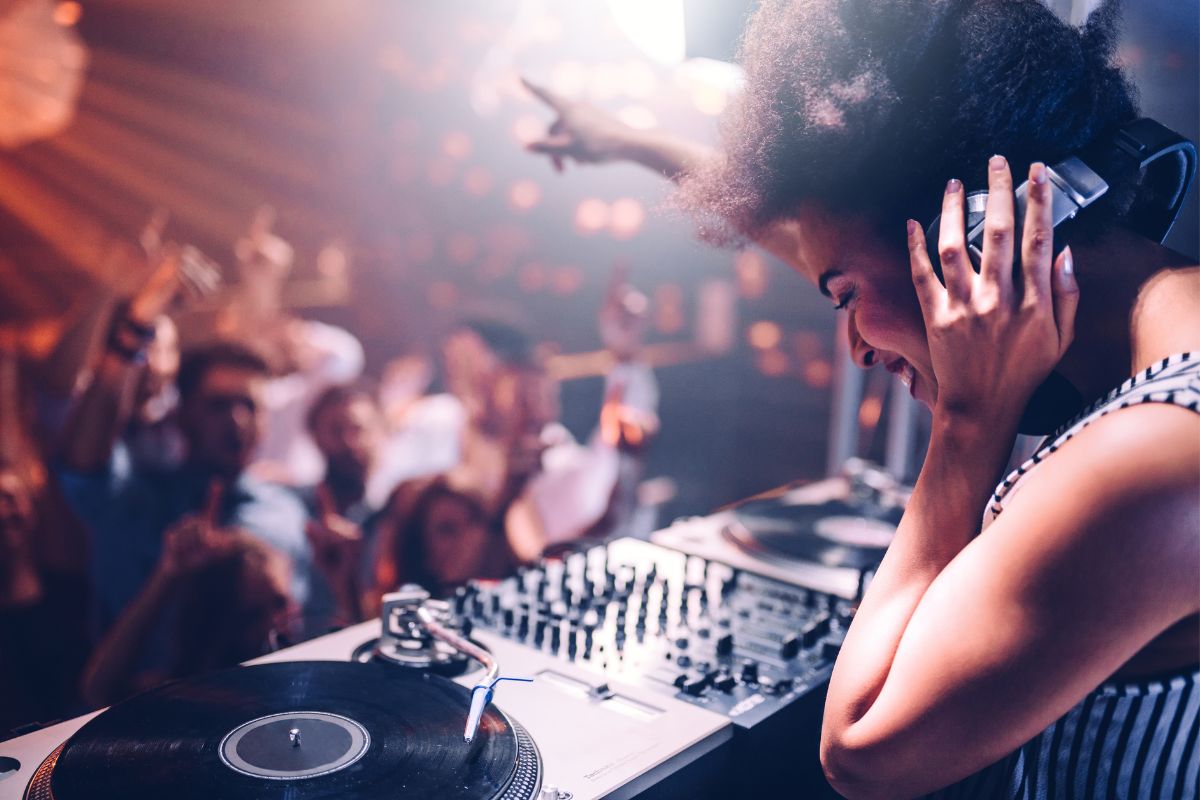 Being close to the ocean always brings on the good vibrations, and what better way to end your day than hitting the town? Let your hair down at some of Danang's finest and most happening nightclubs.
Don't let its name fool you, New Phương Đông Club (also called the New Oriental Nightclub) is in no way a newbie. In fact, they've been around for so long that they're one of Vietnam's oldest clubs. Boasting three levels of fun, dance the night away at Sky36 — quickly becoming Danang's crowd-pleaser among locals, expats and travelers.
Sitting on the rooftop of the Novotel Premier Danang Han River, the country's highest skybar is a classy affair and also has incredible views. It's a real vibe. From Hanoi to Danang, an evening partying at Hair of the Dog is always a winner, especially if you love to dance to the latest chart toppers.
Swapping your typical club-setup, New Golden Pine Pub offers nights filled with burlesque, ravers, live DJs and good times only. There's a pool and a great drinks menu and the intimate setting is great for a summer night.
For a taste of vinahouse, make your way to OQ Lounge Pub. Oftentimes after a pub crawl, travelers end up at this club-come-bar.
45 – Unwind at the spa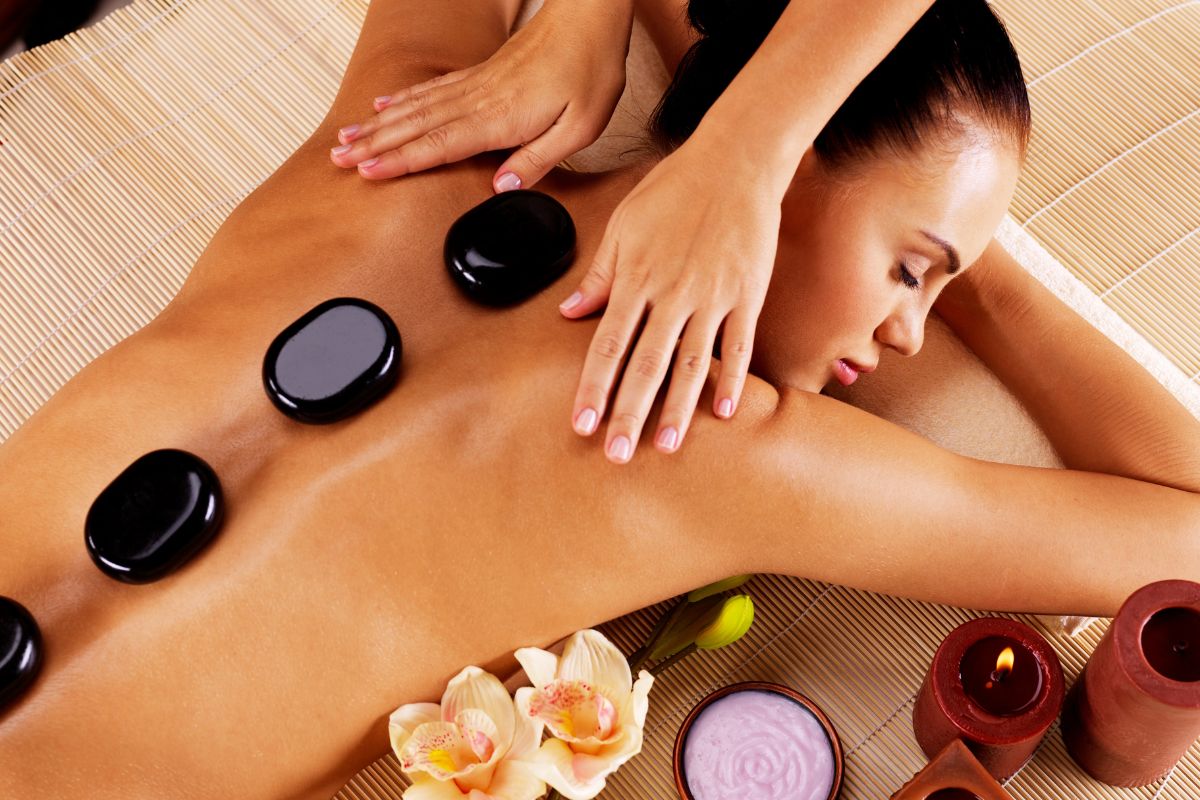 After all your exploring and adventuring, treat yourself to a day at the spa.
Min Luxury Spa has a wide list of therapeutic and beauty services from massages to full body scrubs, and even teeth whitening. Done up in natural tones and materials, you will feel instantly relaxed.
Warm and inviting and surrounded by greenery, Charm Spa Grand is set in a beautiful building and offers extensive treatments. Relax into a traditional Vietnamese massage, or try other interesting therapies like a massage with bamboo cane or Nopal (a type of cacti).
Loved by locals and expats, book an affordable treatment at Herbal Spa and their therapists have over 15 years of experience — so you know you're in good hands. Try the herbal spa signature massage, traditional Thai Massage or a pregnancy massage if you're expecting.
The Lagoon Spa at the InterContinental Danang Sun Peninsula Resort is spectacular, from its positioning to interiors to the luxe treatments if you feel like spoiling yourself.
How to get to Da Nang?
Arriving at Da Nang International Airport, take the hassle out of trying to organize taxis and transport upon landing with a pre-booked airport transfer.
Feel extra important as your driver waits for you at arrivals and then be privately driven to your chosen accommodation.
Where to stay in Da Nang?
This coastal city has something for all types of travelers when it comes to accommodation, whether you're after a beachfront stay or a luxurious city hotel with amazing views.
For all your private island feels, check into the tropicana and super stylish Hyatt Regency Danang Resort and Spa. The private beachfront resort offers both room and suite options, all beautiful, clean and super modern, or opt for one of their oceanfront villas instead.
A stay at the InterContinental Danang Sun Peninsula Resort is simply sublime, not just because of its location, but the hotel and its amenities are world-class. Spend the night in a private pool villa, all built on the cliffside and overlooking the ocean.
Fresh, modern and well equipped for all types of travelers, including families with dedicated children's play rooms, the TMS Hotel Da Nang Beach is really pretty. Make your way to their rooftop with an infinity pool that stares into the sea for some of the best views.
If you prefer a more spacious setup than just a single room, choose a night at Mangala Zen Garden & Luxury Apartments. Using a mix of traditional Vietnamese design (with a touch of other Southeast Asian influences), the stays still retain a contemporary feel. Follow the secret garden pathway that leads straight to your private beach.
Feel transported to Greece — or somewhere else in the Mediterranean area — at Risemount Premier Resort Da Nang. Spend the day around the pool in a private cabana and then enjoy a relaxing bubble bath in your freestanding tub.
Marble finishes, checkered bathroom counters and classic color palettes deem the Four Points by Sheraton Danang hotel an excellent choice set to international standards.
With secluded villas built on the hills, Son Tra Resort could be a scene out of Thailand. Built on the way to Monkey Mountain, it's in a really peaceful location making this resort feel worlds away. The villas are equipped with ocean views, stunning bathrooms and bedrooms, and even a few options with your own private pool right next to the sea.
Where to go next?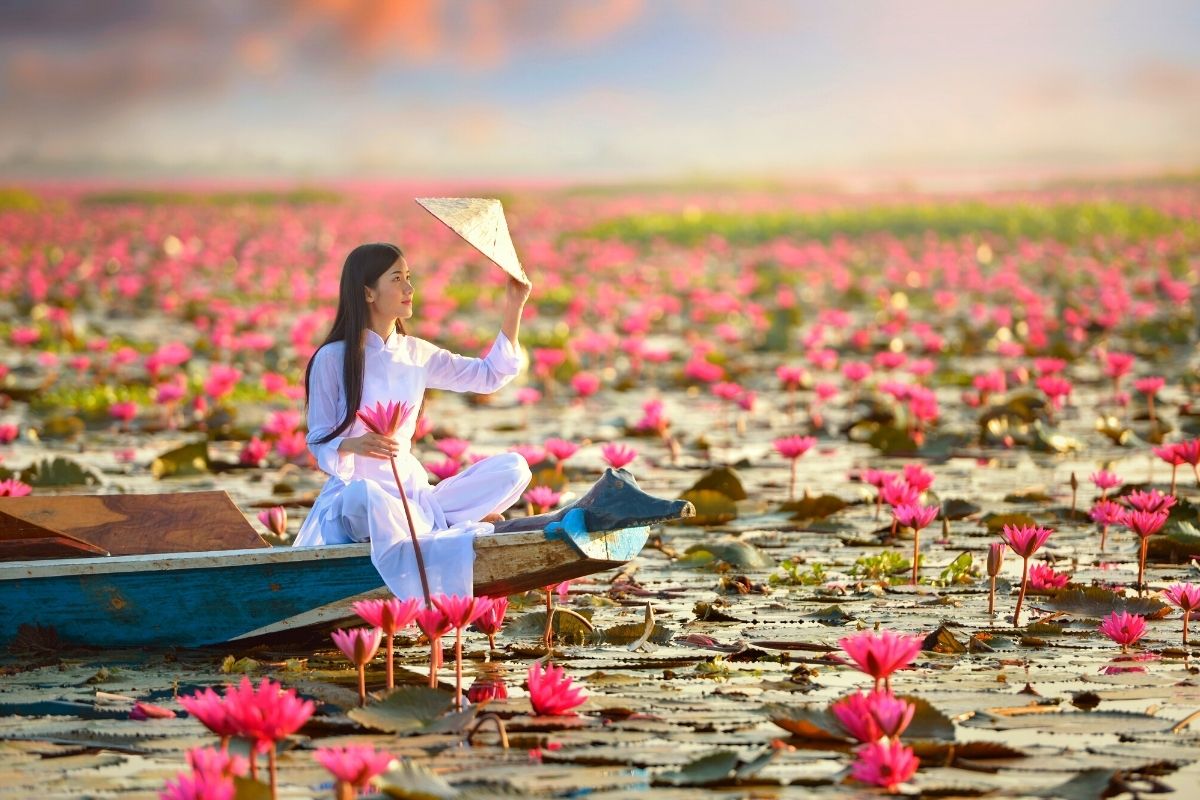 While you're traveling to Central Vietnam, don't pass up the opportunity to visit the picturesque and unique Hoi An and its famous Ancient Town.
This quaint, French-inspired town isn't just a fantastic shopping and cultural destination, but there are many other fun things to do in Hoi An. Plus, it's only a one-hour drive from Da Nang.
Situated in the middle of the country, decide whether you want to head north of south next. Continue on with your trip to Hanoi for a taste of Northern Vietnam, and Sapa and destinations like Mai Chau are easy to reach from here.
Or travel to Southern Vietnam and explore Ho Chi Minh City, where many iconic monuments and historical attractions are located, especially pertaining to the Vietnam War.
If you've fallen in love with this part of Vietnam, consider a multi-day trip where you'll spend four days, for example, traveling around Danang, Hue, My Son and Hoi An and this is a great option if your time is limited.
Final thoughts
From coastal settings to cityscapes to outdoor activities, there are boundless fun things to do in Da Nang where the sun never stops shining.
As the gateway to other spectacular destinations close by, it's a convenient location to start with, or travel en route to crossing the country.
If you've traveled to Danang before, share with us in the comments your favorite activities or places to visit.
Happy and safe travels!