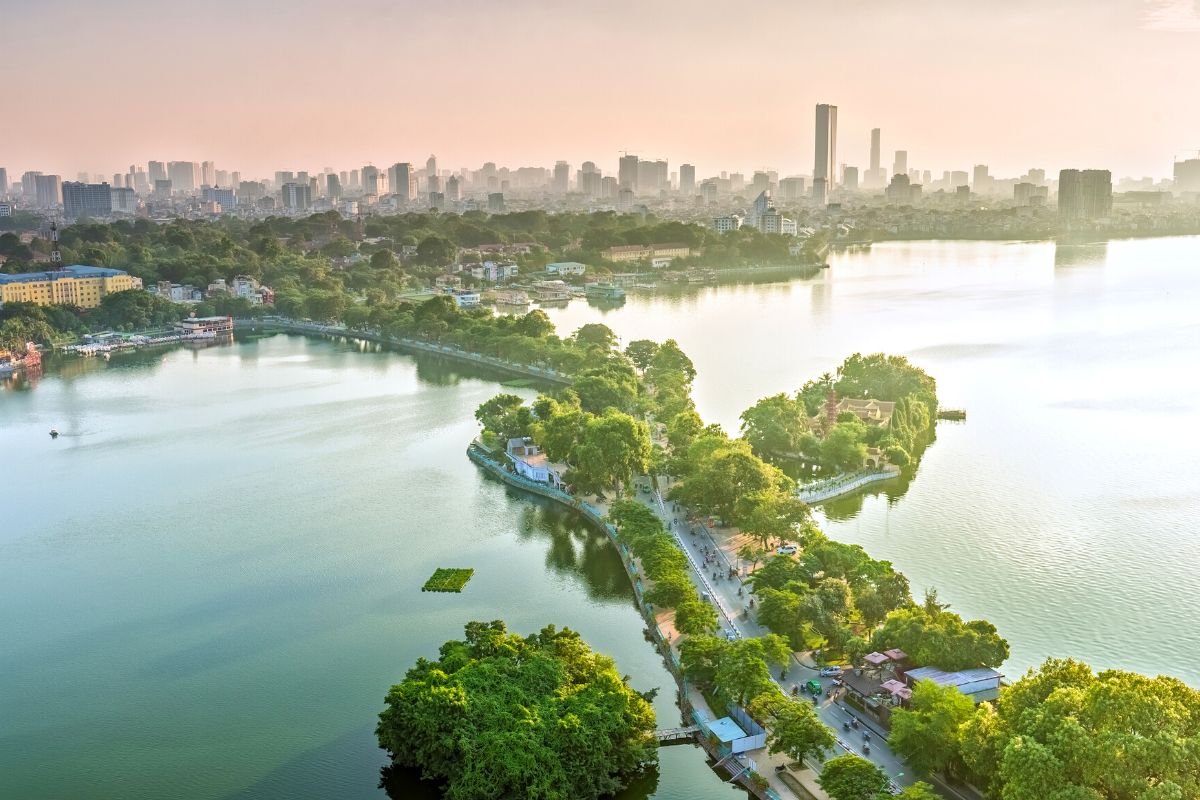 Say "xin chào" (hello) to the capital city of Vietnam!
Located in northern Vietnam, Hanoi is the perfect starting point when first arriving in the Land of The Ascending Dragon.
Not only is there a plethora of historically-enriching things to do in Hanoi, but there are many beautiful surrounding areas to visit, easily reachable on a day trip, like the famous Ha Long Bay or breathtaking Ninh Binh Province.
Completely different from the south of Vietnam, Hanoi town feels ultra magical, even among all the craziness of tooting cars, and motorbikes whizzing by.
Locally, it's known as the city of love and you can feel the romanticism in the air, from the French-influenced buildings with hanging flower baskets, to the old town and its cobbled alleyways.
Feel culturally enriched, with over 12 different museums to investigate and learn from, and endless temples and pagodas to explore.
Grab a cà phê đá (Vietnamese coffee) around the picturesque lakes, or sip on craft cocktails at a fancy rooftop bar.
Hop on the back of a motorbike, or learn to drive your own and head to a park either in the city, or just outside and chill out amongst the greenery.
The street food game is strong in Hanoi, and your tastebuds will be spoilt with its culinary experiences.
Dedicate at least two days to exploring Hanoi, you won't regret it later.
What are you waiting for? Here are 64 fun and unique things to do in Hanoi!
1 – Visit Hoàn Kiếm Lake in the heart of the city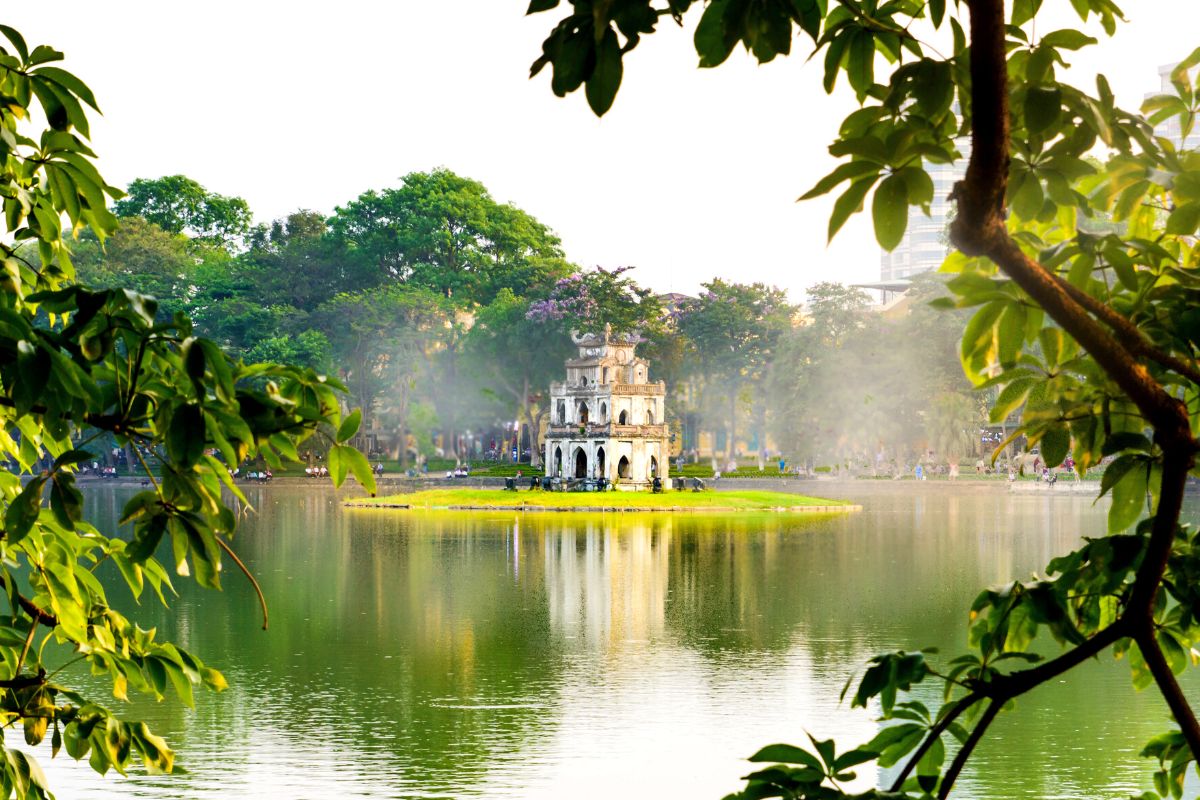 Hoan Kiem Lake is steeped in ancient myths and magical tales.
Not only is it one of the most beautiful areas in Hanoi, but the lake has many historical stories to tell.
The legend goes that there was a man Lê Lợi who was one day mysteriously presented with a golden sword from the heavens. During a battle with the Ming dynasty, he defeated the army with the magic sword.
After being named emperor, Lê Lợi took a ride out on a lake, when a giant golden turtle swooped the sword from his hand, returning into the waters.
That is why Hoan Kiem Lake is known as the 'Lake of the Returned Sword.'
Crossing over the bright red Cau The Huc bridge to a tiny island, reach the famous Ngoc Son temple, also known as the 'Temple of the Jade Mountain'.
It's dedicated to Tran Hung Dao, commander of the Vietnamese army during the Trần Dynasty in the 13th century.
Grab a coffee at the lakeside cafe, or soft-serve ice cream instead. Get your portraits drawn, take a million photographs, and explore the pagoda.
Come night time, the lake is lit up by lights and lively activities, and during weekends, the roads around the lake are closed off to cars and bikes and become walking streets only.
2 – Built in 1886, revel in the architecture at St. Joseph's Cathedral of Hanoi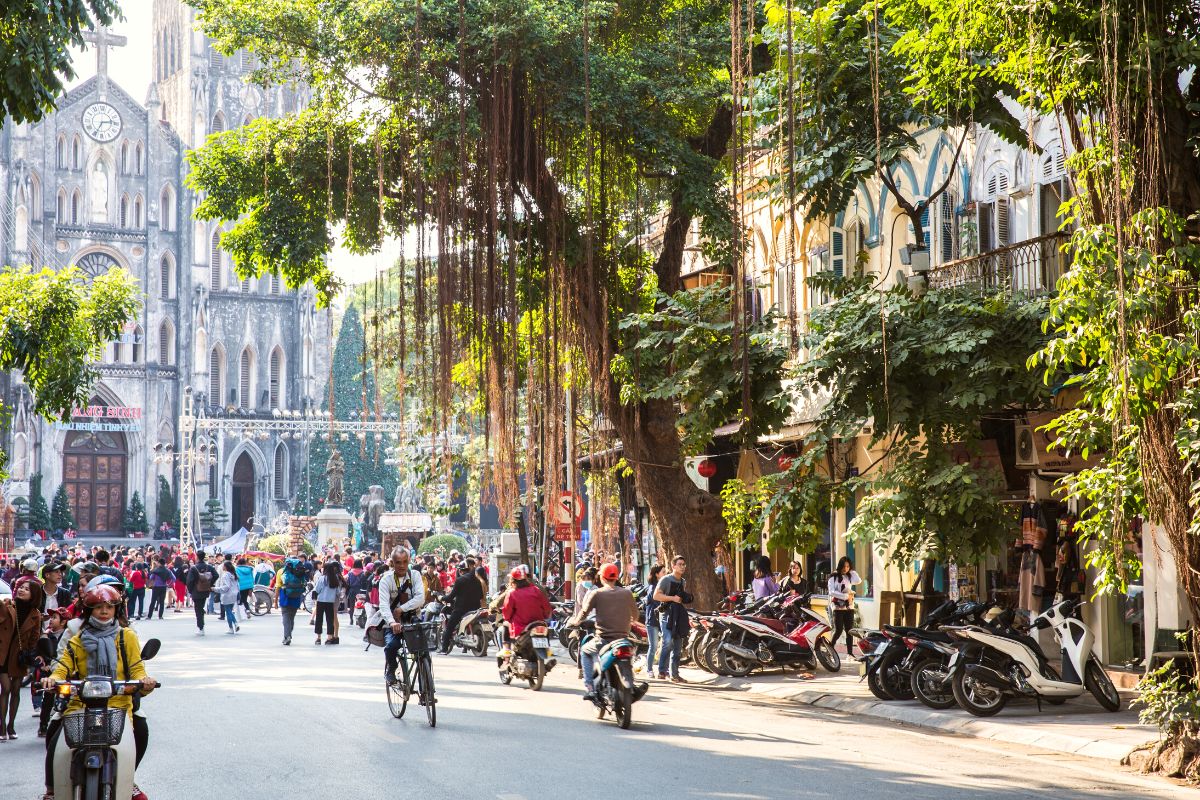 Did you know that Vietnam was colonized by the French in the 1880s?
As a result, Catholicism became a prominent religion within the country.
St Joseph's Cathedral of Hanoi took its design inspiration from Paris' famous Notre Dame; the entrance front is nearly identically designed with its Gothic-style square structure.
The city's oldest church is still open for weekly mass, and it's especially popular around Christmas time — service is in Vietnamese only.
Beautiful and tall, the cathedral stands out against the typical buildings around it.
Whether day or night, the church square in front is a super popular spot amongst locals and tourists for photo-taking!
The entire area that surrounds it is utterly romantic lined with cute cafes, restaurants, hotels, and boutique shops selling fresh coffee beans, clothing, artwork, polaroid film and so much more!
Grab handheld waffle ice-cream desserts from Take Eat Easy Ice-cream, a coconut coffee at Cong Caphe or an insane fusion of Japanese and Italian Cuisine at 4P's.
3 – Explore and photograph Hanoi Train Street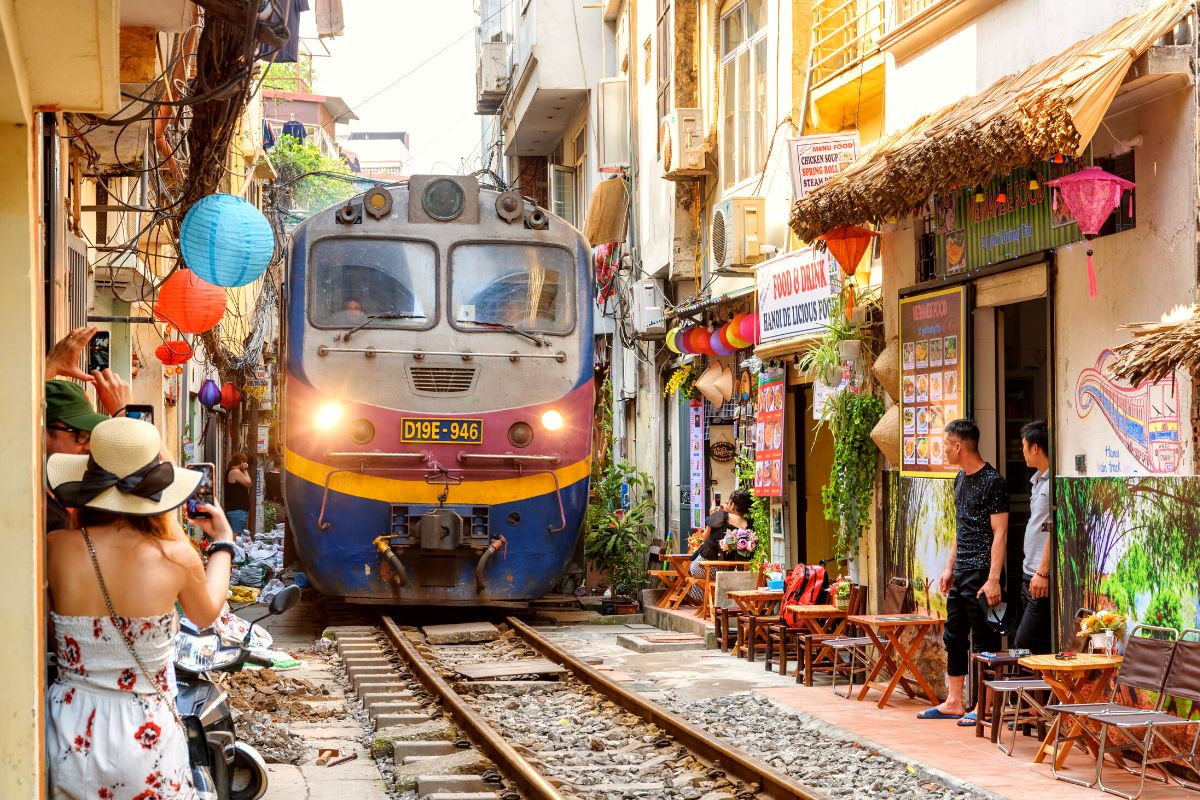 Train tracks running through this part of the city are lined with local homes, balconies overflowing with flowers, shophouses selling handicrafts, cute cafes and art along the walls.
The best part though is the fact that the train still runs on this line. The road is then closed off for crossing as the train flies by.
But when it's not passing through, you can walk the tracks, take a million photos or grab a ca phe (coffee) or bia (beer) at a local cafe or shophouse on either side of the line.
You can also spot the train line running past other streets in the city, but Hanoi Train Street is the only one as a tourist hotspot.
4 – Feel on top of the world at Lotte's Observation Deck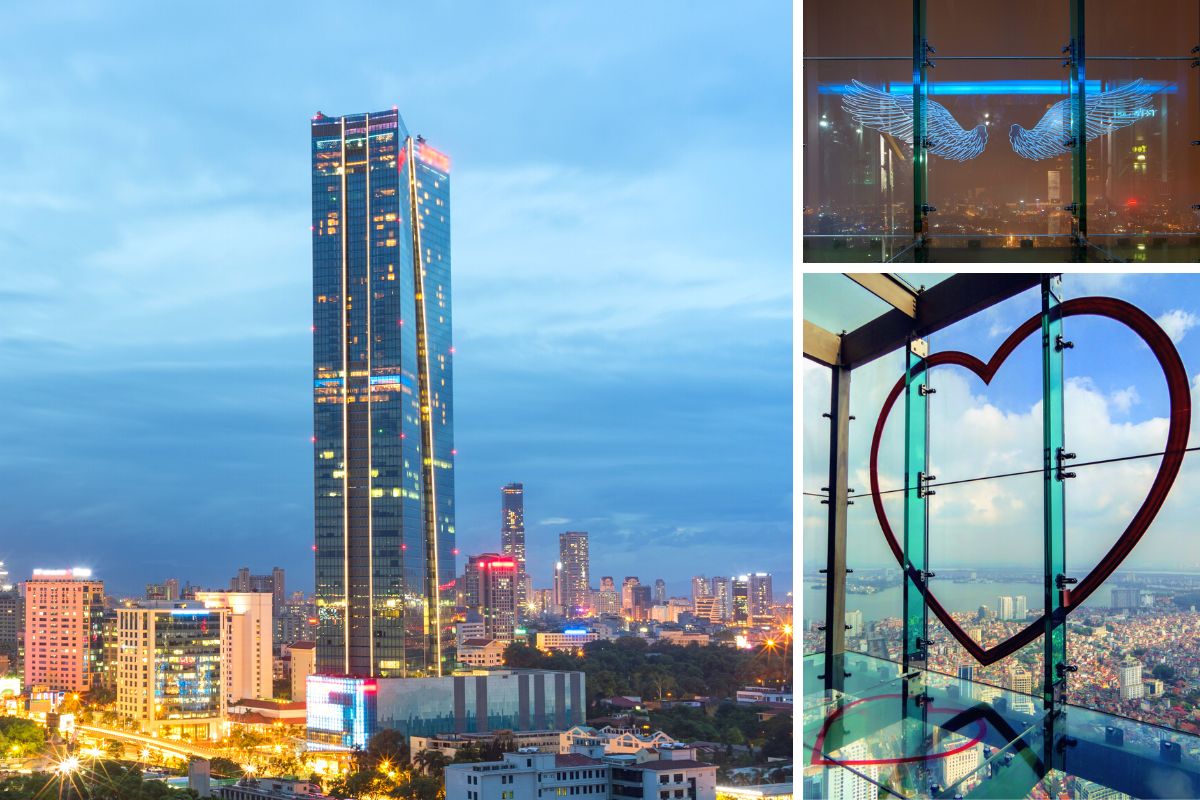 Hanoi is made up of a monopoly of colorful houses and buildings, but there are only a few skyscrapers around.
Heading up to the 65th floor of the Lotte Centre, take in the incredible city views from above at the Observation Deck.
There are different zones to visit, each with unique features.
Enter the Welcome Zone with an introduction theatre and photo zone.
The Experience Zone is where the most action happens with its Observatory, View Terrace and Sky Walk made with glass, transparent floors.
There are photo props set up, like giant heart structures, and standing on the glass floors, witness the city zooting past below your feet!
Walk the Bamboo Road at the Attraction Zone and couples don't miss the Love Story Zone.
5 – Find limestone caves, islands and water activities at the famous Ha Long Bay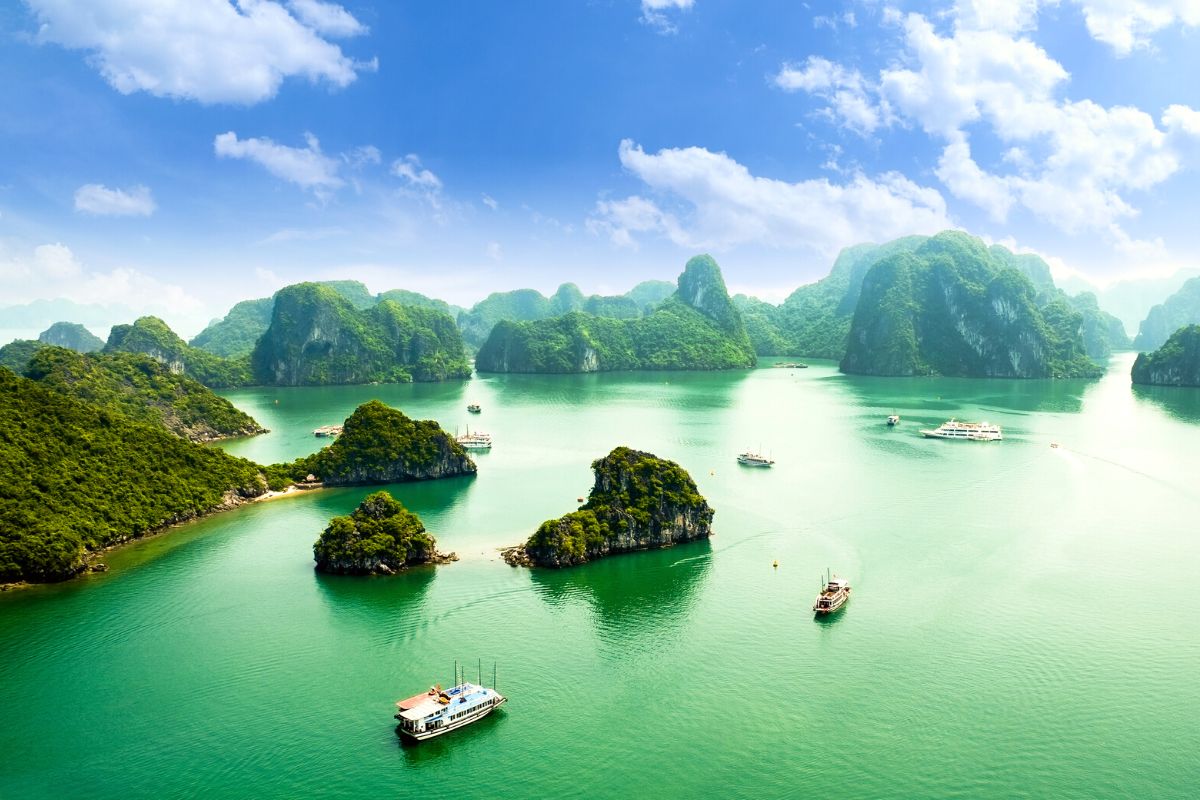 Listed as a UNESCO World Heritage Site and as one of the seven new natural wonders of the world in 2011, make sure to schedule in time for a day trip to Ha Long Bay.
2.5-hours from Hanoi, enjoy a day out on the waters exploring the world-famous bay with its limestone cliffs that protrude into the sky.
You will need to book a boat tour to explore Halong Bay, visiting protected areas with a guide.
Hop on board and spend hours navigating through grottos, stopping off to swim and kayak, and anchoring off at beachy locations.
Trek caves filled with magical stalactites and visit a local fish farm.
Many cruises also sail past Bai Tu Long Bay in the east of Halong Bay, stopping for water activities in this part of the protected reserve.
Enjoy a seafood BBQ and some boat trips including cooking classes where you'll learn to make specialties like fresh Vietnamese spring rolls.
Instead of a day trip, it's very popular to book an overnight boat stay in Ha Long Bay.
Hot tip: Check the best luxury Halong Bay cruises
6 – Choose a stay in Hanoi's Old Quarter, i.e. the old town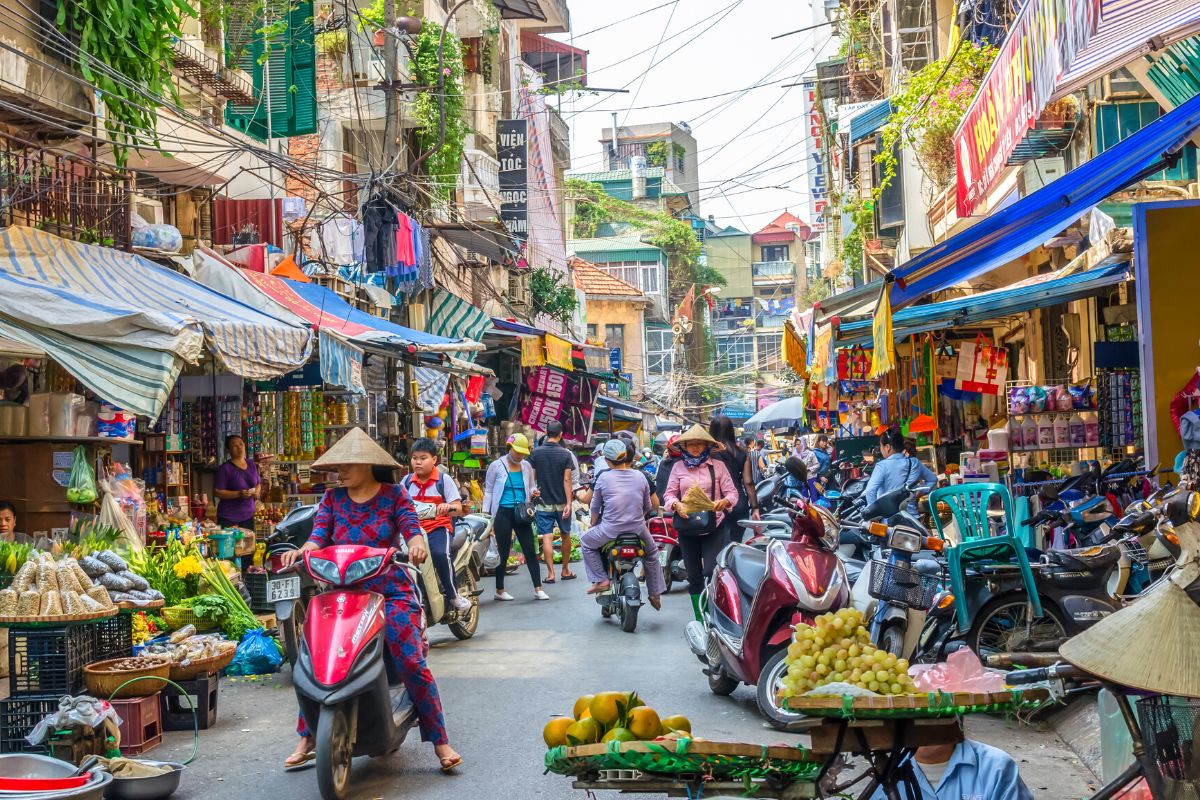 As one of the most popular locations for travelers to stay in, as you arrive in Hanoi, the Old Quarter is an epic greeting.
Once the trading hub centuries ago, this part of the city is still a thriving and bustling area and summarises the magic of Hanoi beautifully.
Houses are lined with balconies dripping in plants, tourists are everywhere navigating the streets, and local ladies ride past on bicycles selling all sorts from donuts to hair clips.
Find local and international restaurants, cute cafes and a plethora of bars and nightclubs around.
Its roads are easy to walk on foot, and it's the perfect chance to put your bargaining skills to the test – get ready to shop til you drop!
Hoan Kiem Lake and many other must-see attractions are close by, making it an ideal accommodation location.
A popular area for backpackers, the streets come alive at night, where street karaoke is one of the norms.
7 – Feel super cultured at Hanoi Opera House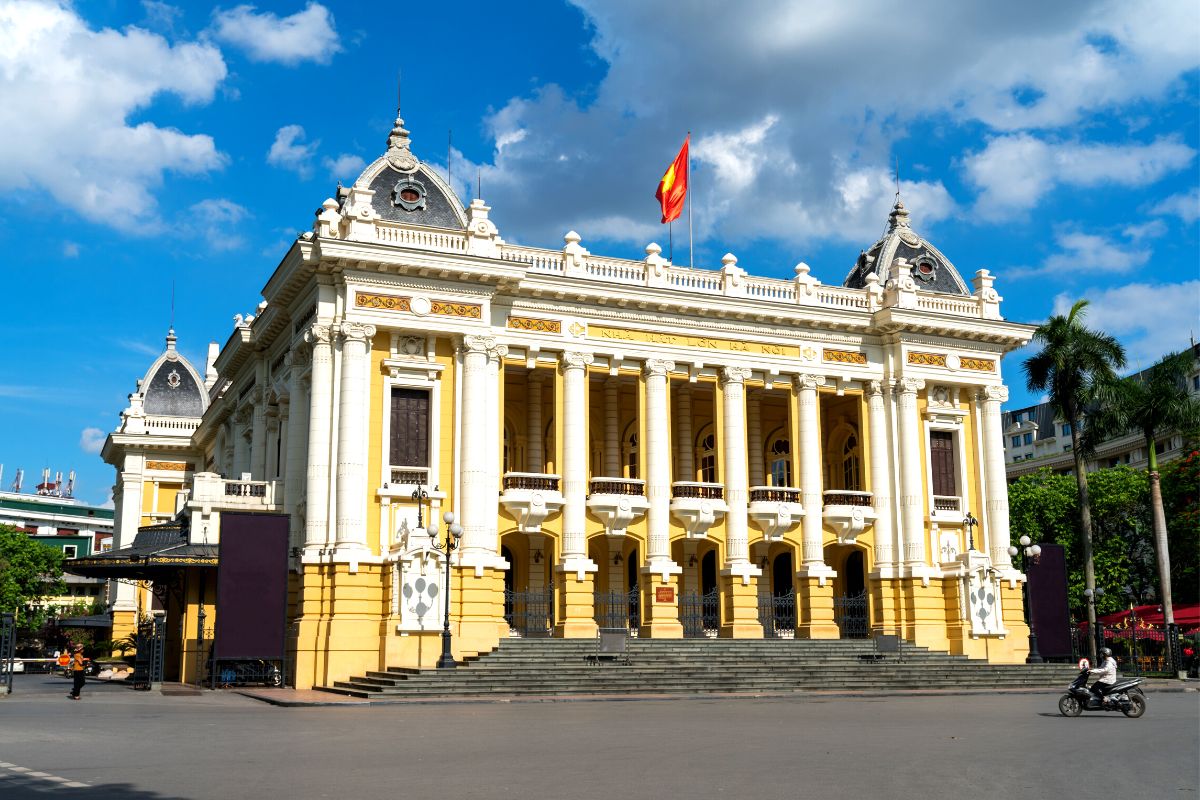 A space where arts and culture have thrived since its opening back in 1901, the Hanoi Opera House is rather grand!
Sitting above the top of Hanoi's Old Quarter district, you can't miss the large yellow terracotta building and its fancy setting, including the theatre square in front.
The area around the Hanoi Opera House is rather fancy, and it adds to the ambiance when visiting.
First built at the beginning of the 19th century, the opera house was renovated from 1995 to 1997 and there are still live shows that take place today.
However, there are not only opera shows that they host.
In passing, you may even catch a live singing performance outside which happens on the odd occasion.
8 – Explore the Temple Of Literature, founded in 1070 to honor the philosopher Confucius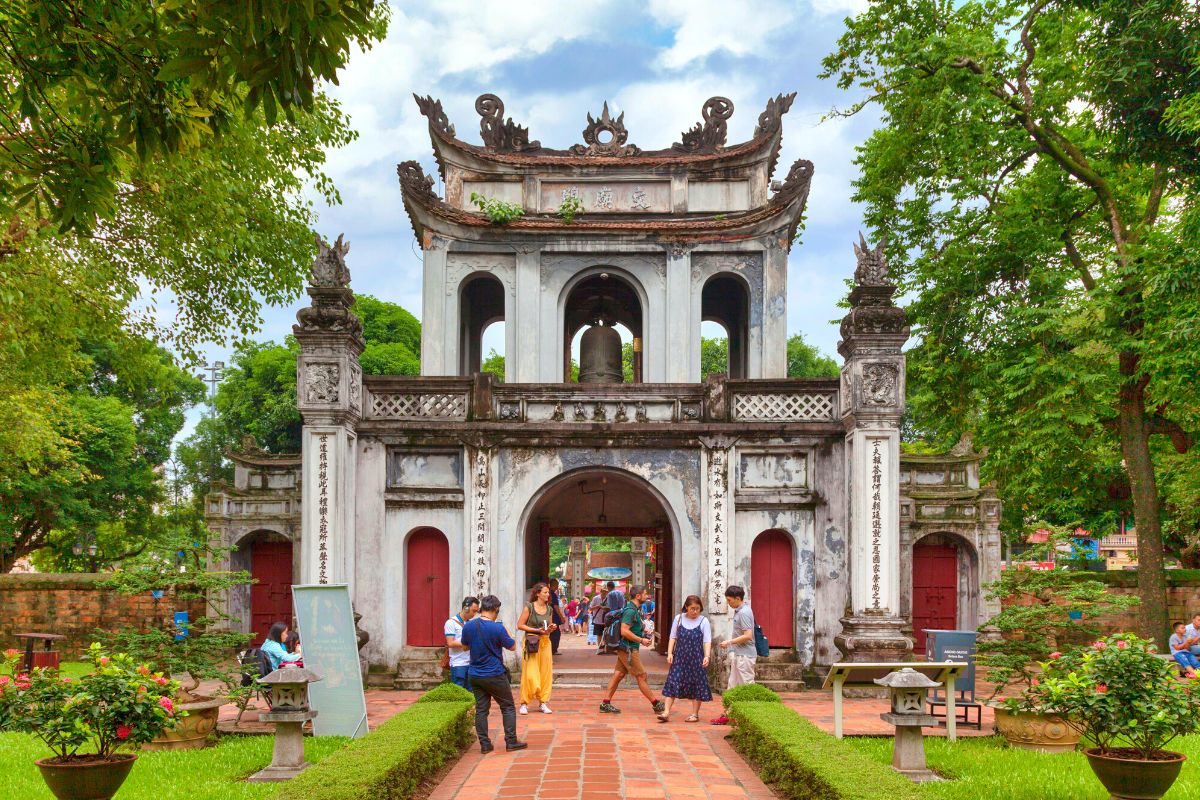 The moment you walk into the Temple of Literature, you feel its importance from years passed.
Originally the grounds were home to the country's Imperial Academy, a school for members of the reigning dynasty and the elite.
Years and years later it became a school for the country's top-achieving scholars, hence its name today.
Whilst no academies remain, walk the pathways and gardens where some of the most intellectual have walked before you.
There are five separate courtyards to explore, each filled with beautiful architectural structures and mythical statues.
Find your reflection in the Well of Heavenly Clarity inside the third courtyard, and ring the 1,000-year-old bell inside courtyard two.
Out of the many things to do in Hanoi, this is a must-see, and city tours never skip the historical attraction.
9 – Similar to Sapa, day trip to Tam Đảo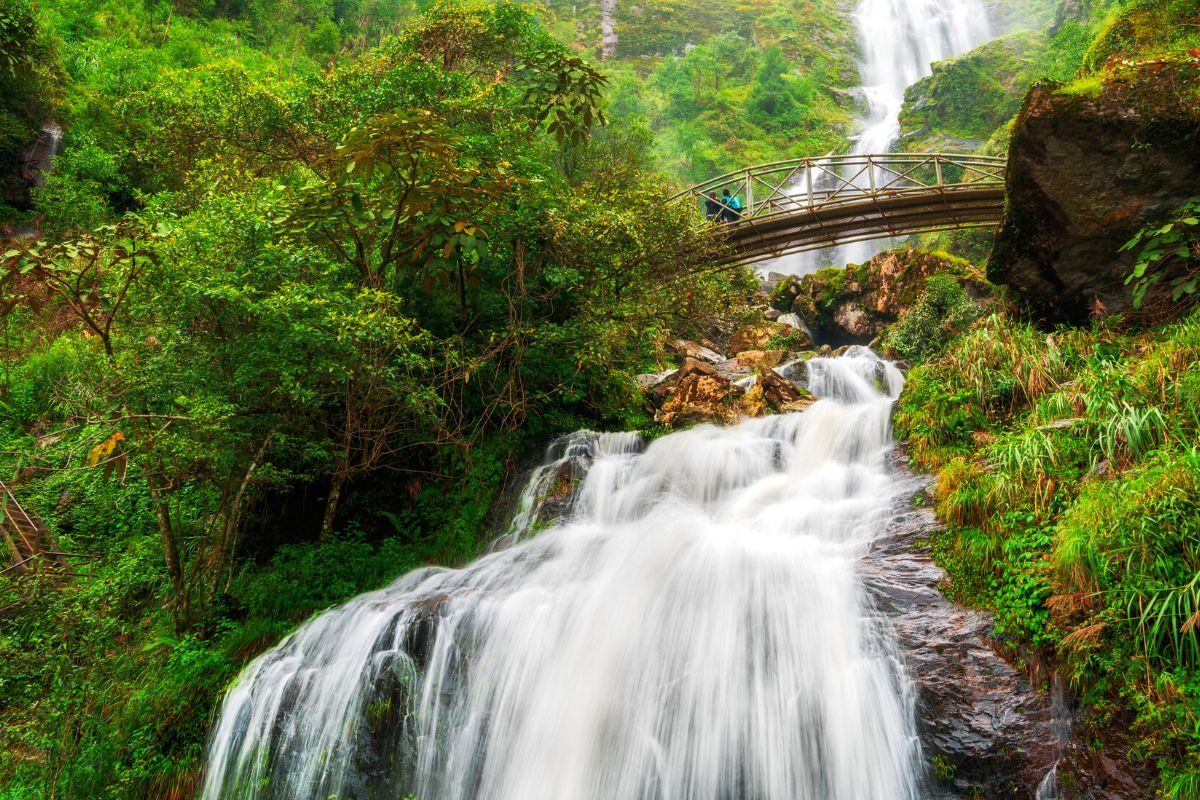 A hotspot among trendy locals, drive 1.5-hours from Hanoi and discover a cute town filled with quaint coffee shops, trendy accommodation and all the European-esque feels.
The weather is instantly cooler, and you're surrounded by tons of nature as the Tam Đảo National Park is here.
Go chasing the Silver Waterfall, and for something cultural to do, take a walk around the town's attractions.
Visit the stone church, the Sky Gate viewpoint and don't miss the night market.
10 – Pay tribute at Ho Chi Minh Mausoleum and Ba Dinh Square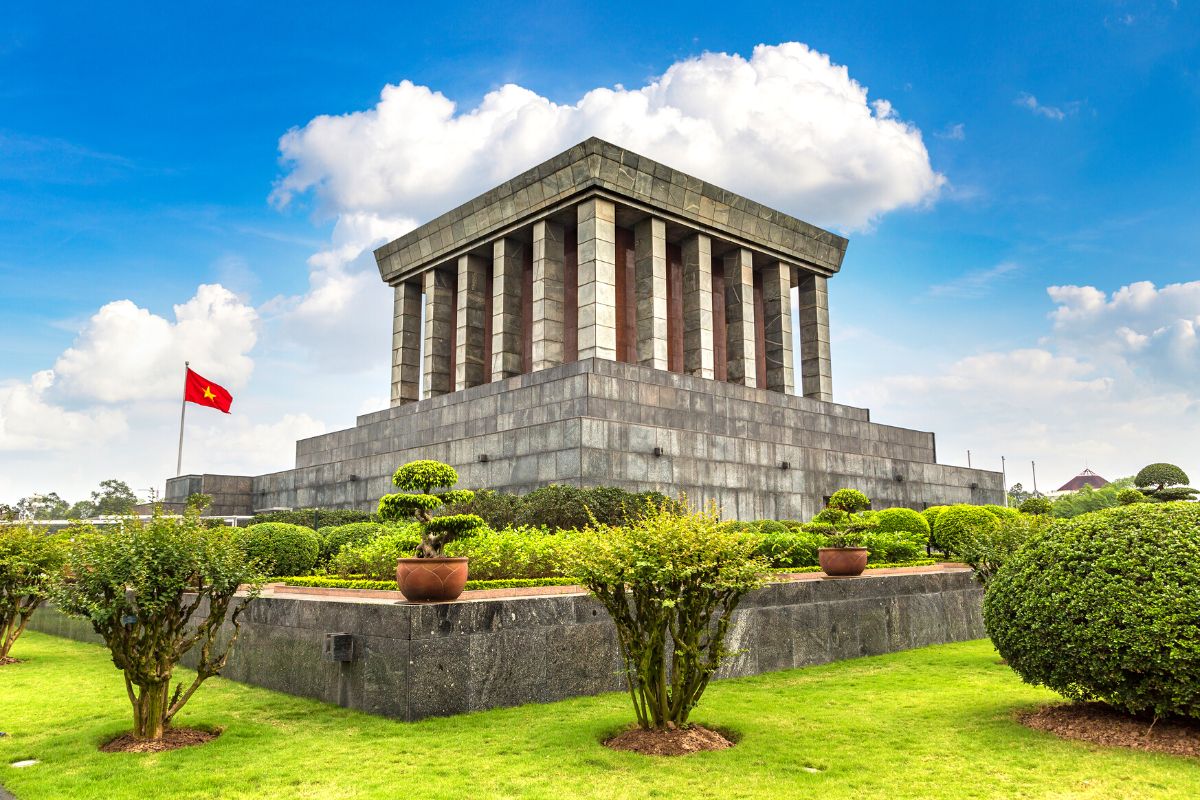 Surrounded by a large green square park known as Ba Dinh Square, the Ho Chi Minh Mausoleum is one of the city's most iconic attractions.
Travel tip; arrive early as part of a guided city tour as the crowds wind around corners from the start of the morning.
The famous mausoleum is home to the final resting place of Ho Chi Minh's body, or as the former president is affectionately called, Uncle Ho.
As you drive or walk past, spot the guards standing proudly at the entranceways.
Built by government and parliament buildings, and next to the French Quarter, the area around the Mausoleum is so worth exploring!
In the late afternoons, and early mornings, Ba Dinh Square in the front is very popular among locals for exercising, dance classes and taking the kids to play.
11 – Escape the Hanoi hustle in Ninh Binh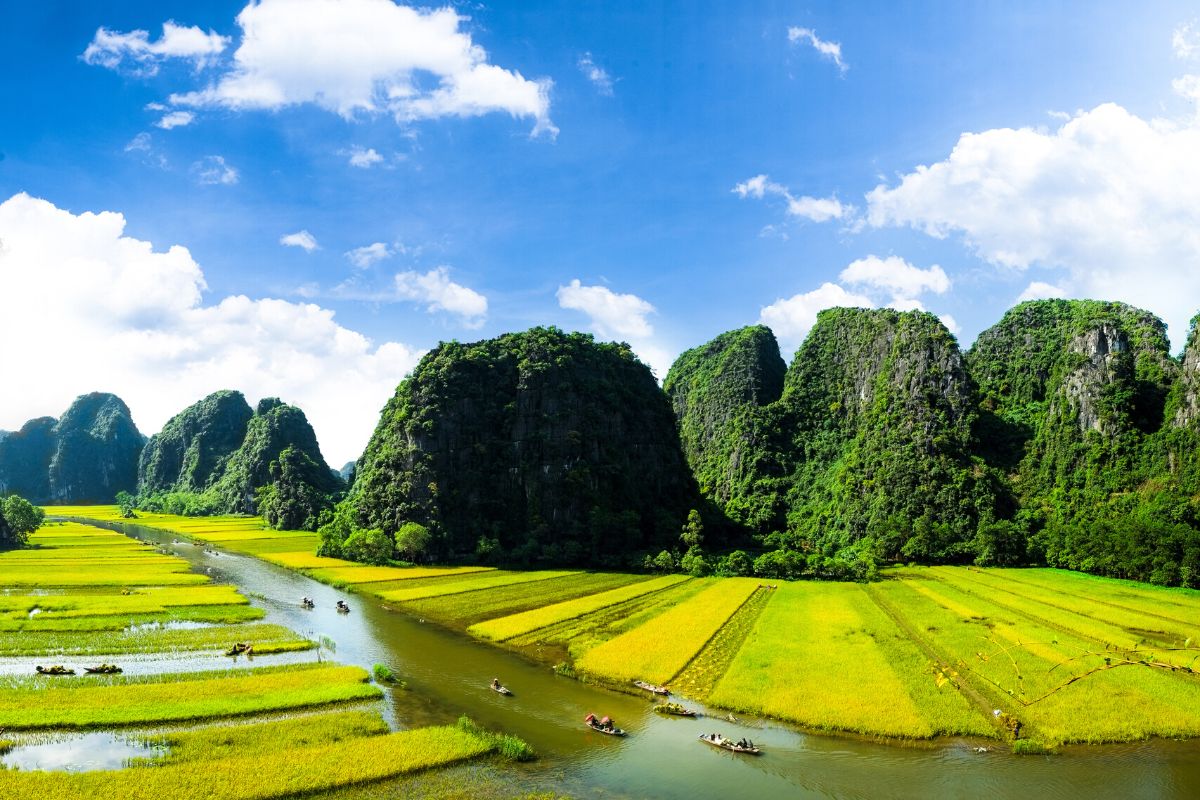 Drive only two hours outside of Hanoi and find the most tranquil scenes filled with lush landscapes, limestone mountains, temples and lakes in Ninh Binh.
This area kind of has a Ha Long Bay feel to it, but more mountainous than ocean vibes.
Within Ninh Binh Province, there are other smaller villages and towns to explore, and if a day trip isn't enough, book an overnight stay instead, for example, stay in Tam Cốc.
Visit one of the many historical and cultural attractions such as the Bích Động temple nestled in the hills, or the famous Buddhist Bái Đính Pagoda complex.
Take photos among pineapple fields at Đồi Dứa Tam Điệp and hike the surrounding mountainous areas like Hoa Lư and Tràng An.
12 – Not only interesting but educational, discover the Vietnam Museum of Ethnology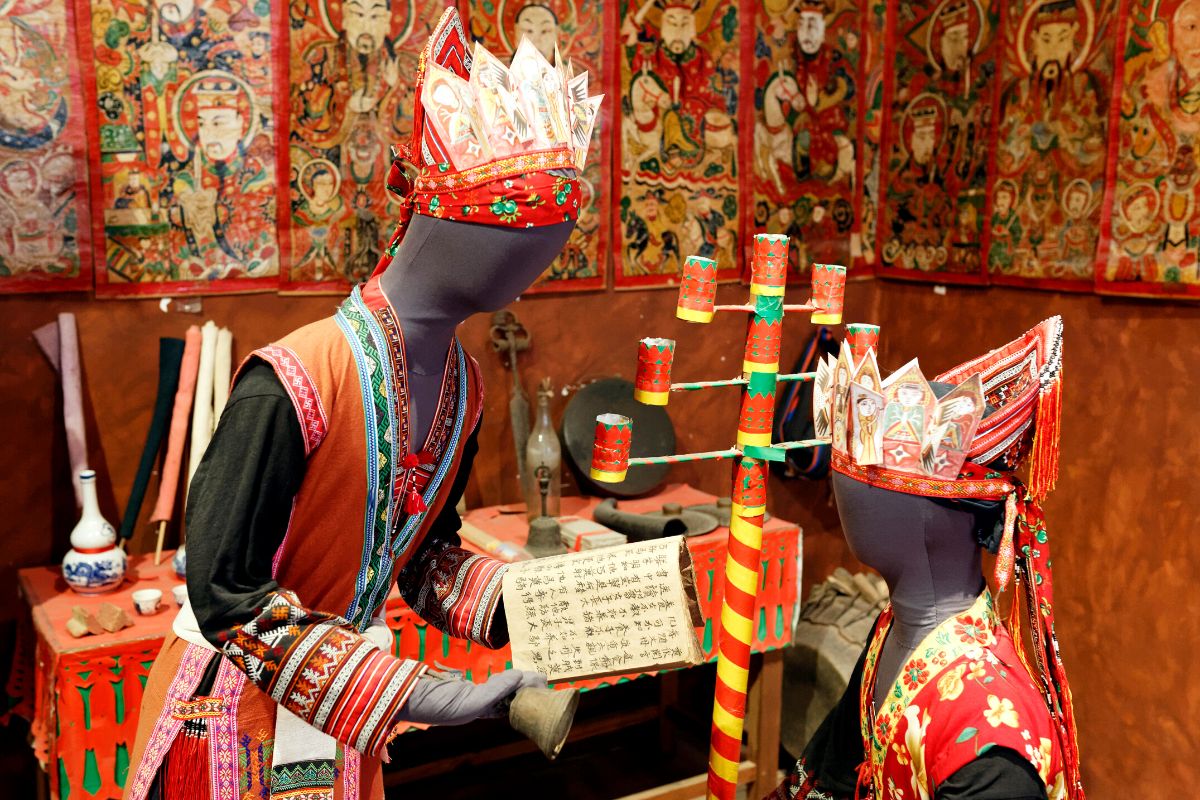 Heading out of the main tourist areas, the Vietnam Museum of Ethnology is located in Cau Giay.
You get a sense of real city life and local buzz in this part of Hanoi, and it's a massive district (it's recommended to catch a taxi here so you don't get lost).
Arriving at the museum, there are indoor and outdoor features to discover and learn about dedicated to the different ethnic groups found in Vietnam.
Starting outside, see a replica of a traditional homestay-type house like you'd spot in local countryside villages.
Inside wander the exhibition halls where garments, clothing, artwork and everyday-life objects are on display.
If you're unsure of the best way to travel to the busy local neighborhood, opt for a city tour to the Vietnam Museum of Ethnology.
Not only will you spend time here, but visit other must-see museums and attractions around Hanoi in one day, including all transport.
13 – Taste things you've never heard of before during food tours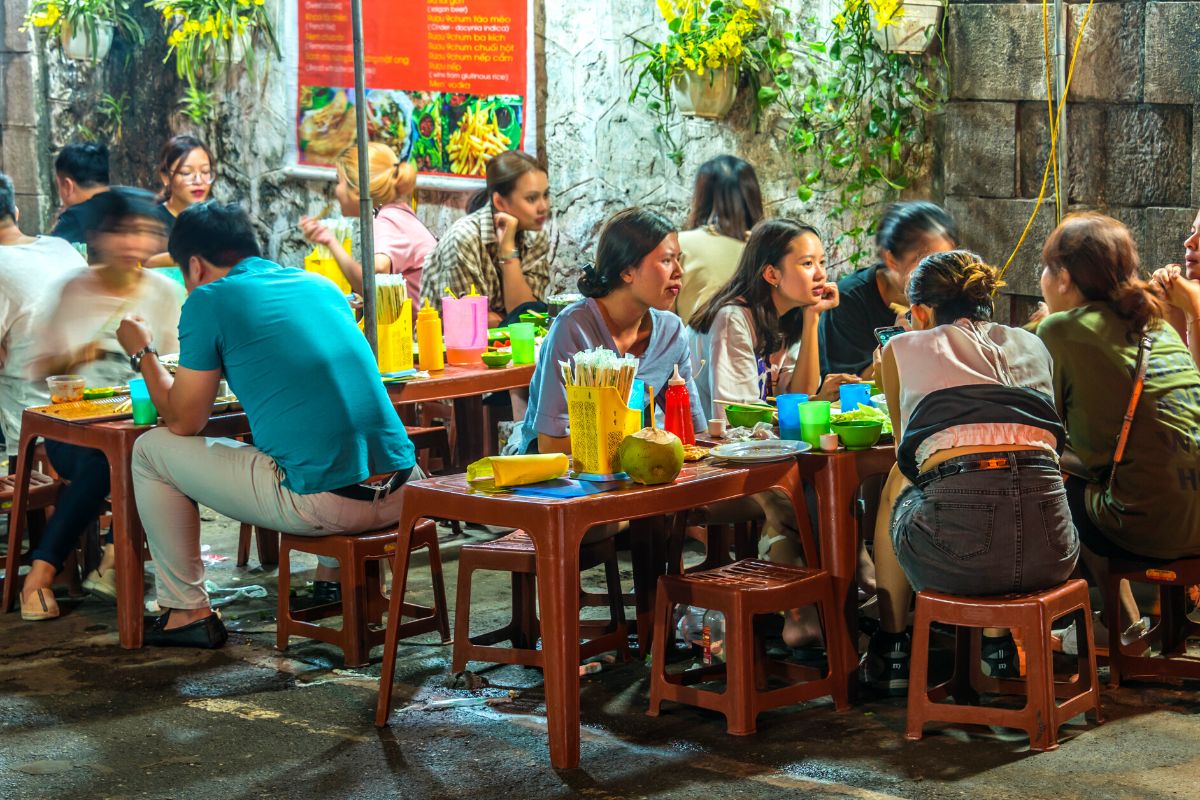 Did you know that the food you find in Northern Vietnam vastly differs from the south?
This is just one of the few things you'll learn when joining a food tour around the capital city.
In general, Vietnam is a foodie hotspot, and chefs from around the world travel here to check out its interesting food scene and street-food culture.
Spot ingredients you've never heard of, and learn about the spices and produce that typically make up Hanoian flavor profiles.
The city is a very sociable one and restaurants and street vendors pour out onto the streets. The best way to experience a food tour is in the action of it all, so for a truly authentic time, a walking food tour is a fantastic option.
Along the way, taste different street foods, sample local ingredients and enjoy some iconic dishes.
Don't forget to take notes of the names of foods which is very helpful in Hanoi as many menus and shop advertisements are written in Vietnamese.
14 – Look into the past at the Vietnam Military History Museum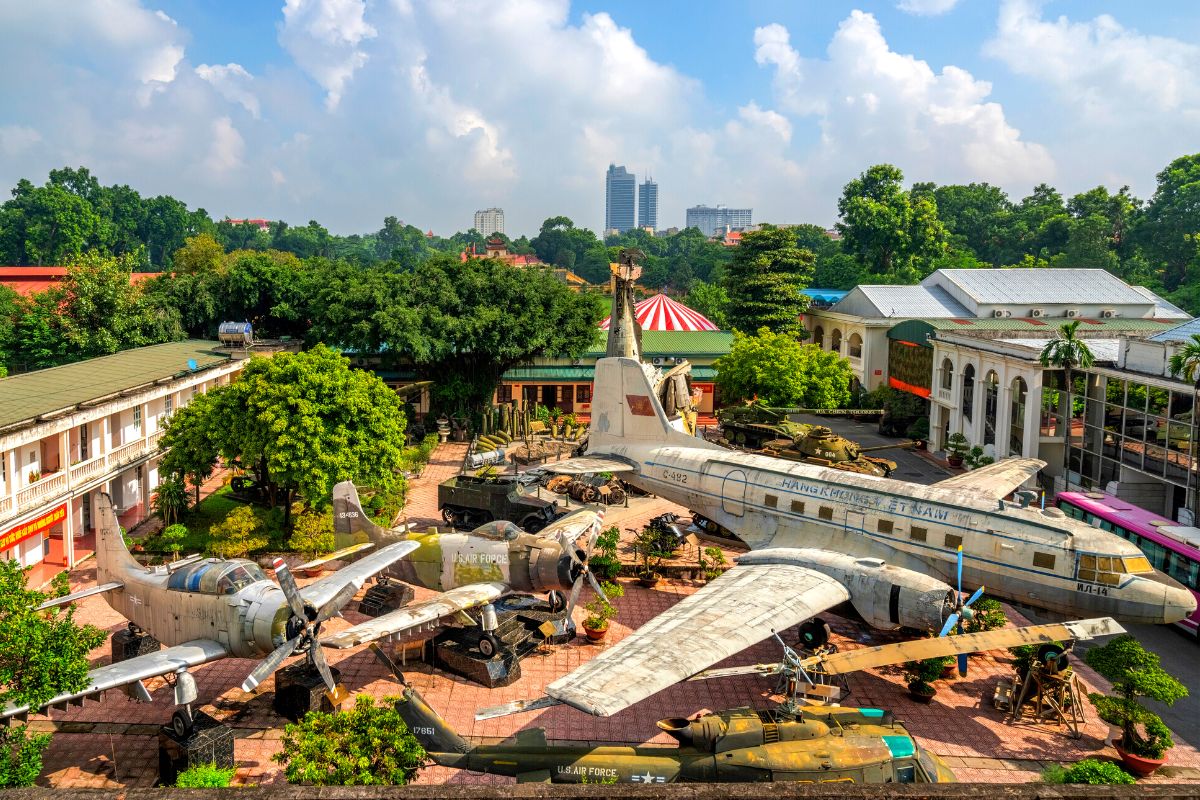 You don't have to be a history buff to appreciate the Vietnam Military History Museum, and the area around the attraction is one of the prettiest in the city.
Inside the open-air museum feels like you're stepping back in time with the real-life weaponry and artillery pieces lining the courtyard.
Investigate warplanes and tanks, rockets, bombs and mortars (a portable hand-operated weapon that fires off bombs).
It's surreal to see the war pieces in person, and the museum is a chance to learn about the Vietnam military and the wars they've fought throughout its history.
Surrounded by a terra cotta building wall, the road parallel to the museum is gorgeous, lined with big trees that arch over the roads from either side.
It's located by the French Quarter and the bottom of the Old Quarter.
15 – Visit the famous Mua Cave
When arriving at Mua Cave, if the scenes look familiar it's because this site regularly makes Instagram appearances.
Climbing up 500 mountain steps, once you reach the top of the mountain peak, the views of Vietnam country are unparalleled over anything else.
There are dragon statues in the air to pose with, remains of ancient buildings once built on top of the mountain, and take in the scenes of unending hills and lakes outstretching in front of you.
Also known as Hang Mua, Mua Cave is located in Ninh Binh province and it's 2.5-hours from Hanoi.
Easy to reach, it's a popular day excursion from Hanoi.
16 – Meander through Hanoi's biggest flower market, Quảng Bá Flower Market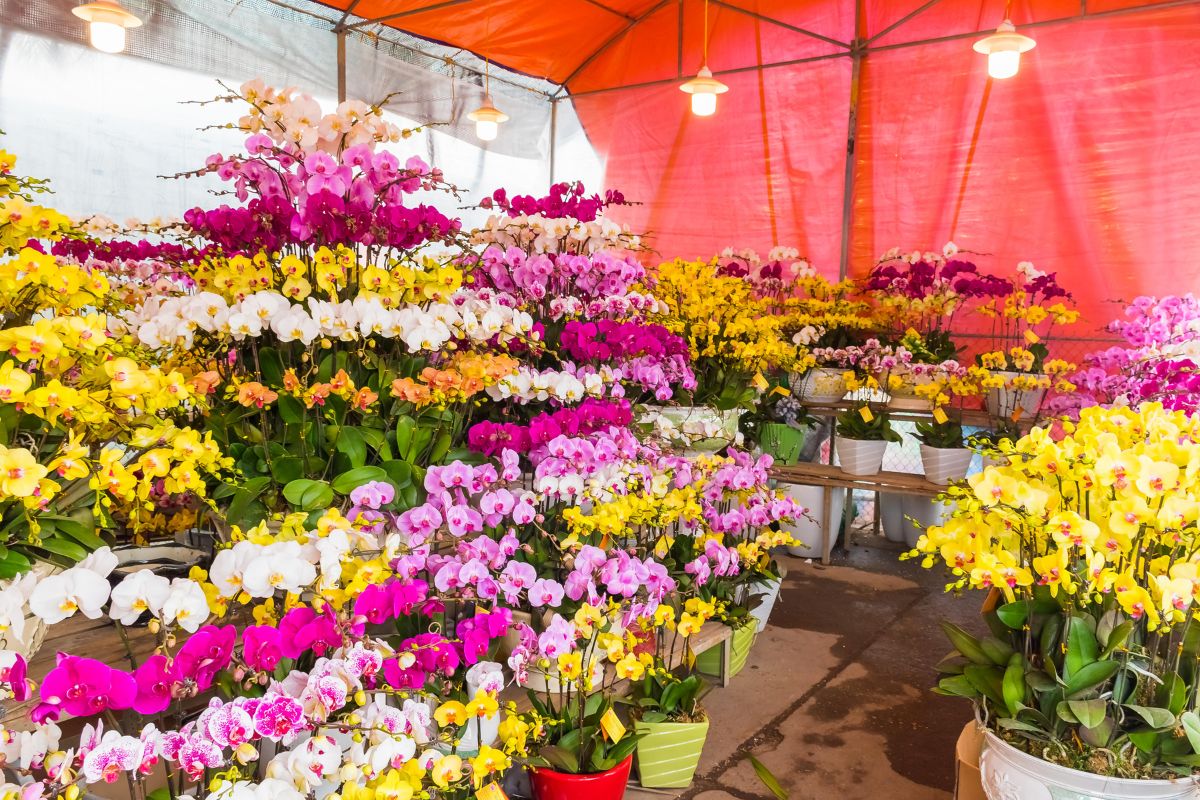 Not only is Quang Ba Flower Market the biggest in the city, but it's also a nighttime market. This makes total sense for Hanoi as it's scorching in summer, and the flowers are freshest at this time of the day.
Only opening up and properly functioning from around 10 PM, there's a wonderland filled with all kinds of florals — and for ridiculously cheap prices.
Plus, it's not just a flower market that you get to witness but the whole setup is an experience.
Watch as locals drive by carrying the biggest bunches of flowers you've seen on motorbikes, weaving in between people and the madness.
Tables and chairs are on one side serving Pho and Banh Mi's till the early hours of the morning, people yelling flower orders and prices, the smell of a million flowers in the air …
It's crazy and beautiful at the same time!
17 – Leave the tourist area and head to West Lake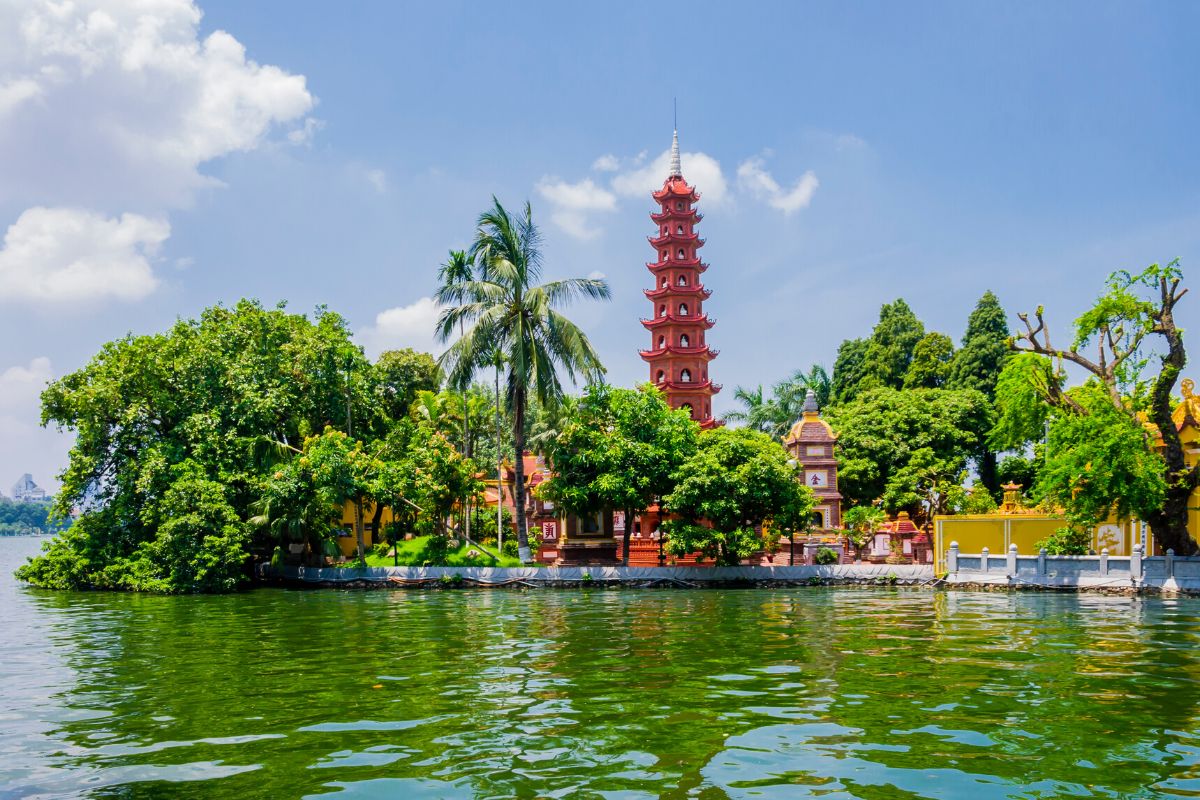 Smack bang in the middle of the Tây Hồ area is the gorgeous West Lake – where some of the best sunset views happen in Hanoi.
Considered the home to the expat community in Hanoi, Tay Ho is full of incredible restaurants, epic bars, boutique shops, parks, temples, yoga studios and lakeside cafes.
Grab a bicycle or your walking shoes and adventure around West Lake. You can start at the beginning of Tay Ho and venture all the way around to the Ba Dinh area on the other side.
(On the other side of West Lake, many popular tourist attractions are close by like the Moseuleum.)
En route take photos at the famous dragon statue, stop by Chùa Vạn Niên Temple with its zen crystal garden and enjoy a ca phe sua da (iced Vietnamese coffee) at a balcony cafe.
Two famous pagodas are on West Lake, Quan Thanh Temple and Trấn Quốc Pagoda which floats on the water.
Both are walking distance from each other, and whilst you're on this side of the waters, grab a soft-serve at the famous kem (ice cream in Vietnamese) shop across the road.
Sit on bamboo mats around the lake in the evening, snacking on sunflower seeds and sipping on tra da (iced tea).
18 – Find peace in nature at Hanoi's Parks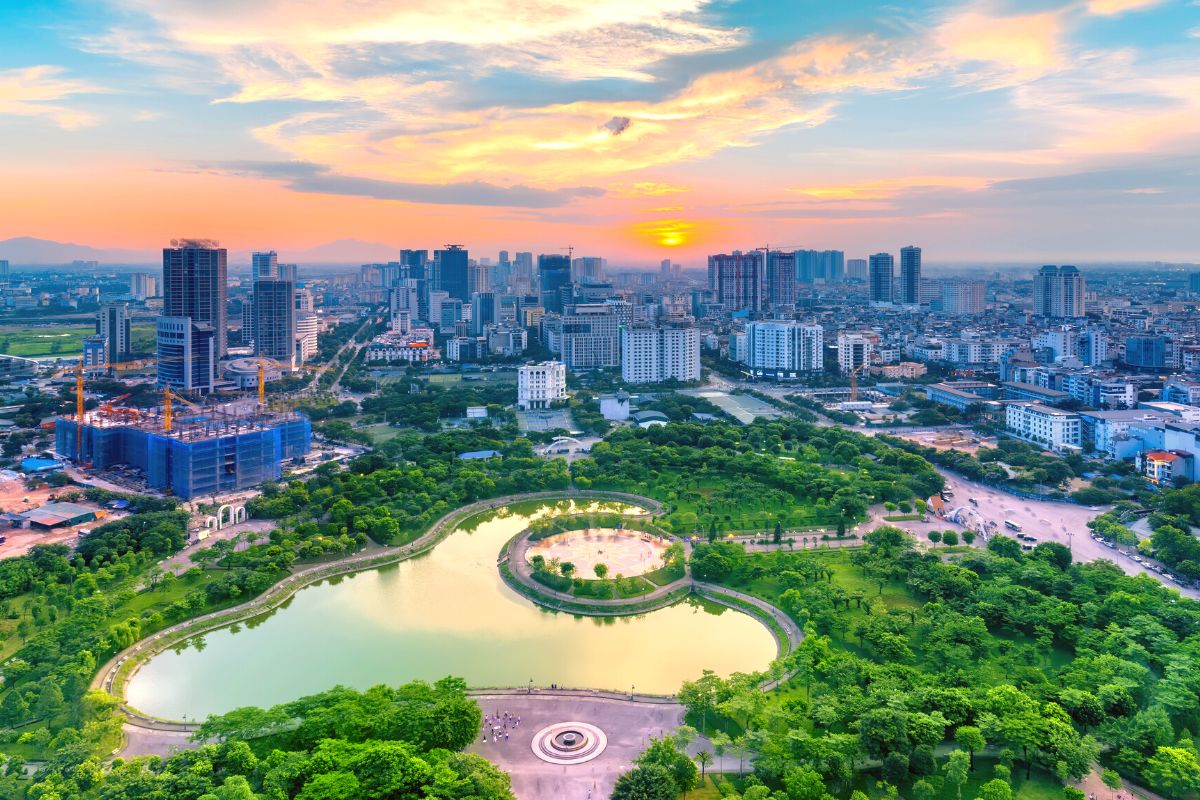 Hanoi is famous for its bustling city, so if you require a break surrounded by greenery, here are some of the best parks to chill at.
Conveniently located near famous city sites and right near the Old Quarter, Hanoi Botanical Garden (also known as Bach Thao Park) is lined with green pathways and statues.
Cau Giay Park is one of Hanoi's more modern parks and has a great kid's playground and a lovely atmosphere to exercise or go jogging.
The massive Thong Nhat Park (also known as Công Viên Thống Nhất) is built around Bay Mau Lake, with many walking pathways connected around it.
Bring along a picnic and hang out under the tall trees, or check out the different rows of ornamental flowers, or the wild Orchids growing.
Visit Peace Park (Hoa Binh Park) and explore its intriguing setup and park structures, or check out Hanoi's largest urban park, Yen So Park.
Slightly out of the city, make your way to Eco Park and spend the afternoon at Thien Nga Park, also known as Swan Lake Park. Home to black swans, there are restaurants, cafes, and other activities to check out too, such as kayaking on the lake.
19 – Discover the ancient city, Hoa Lu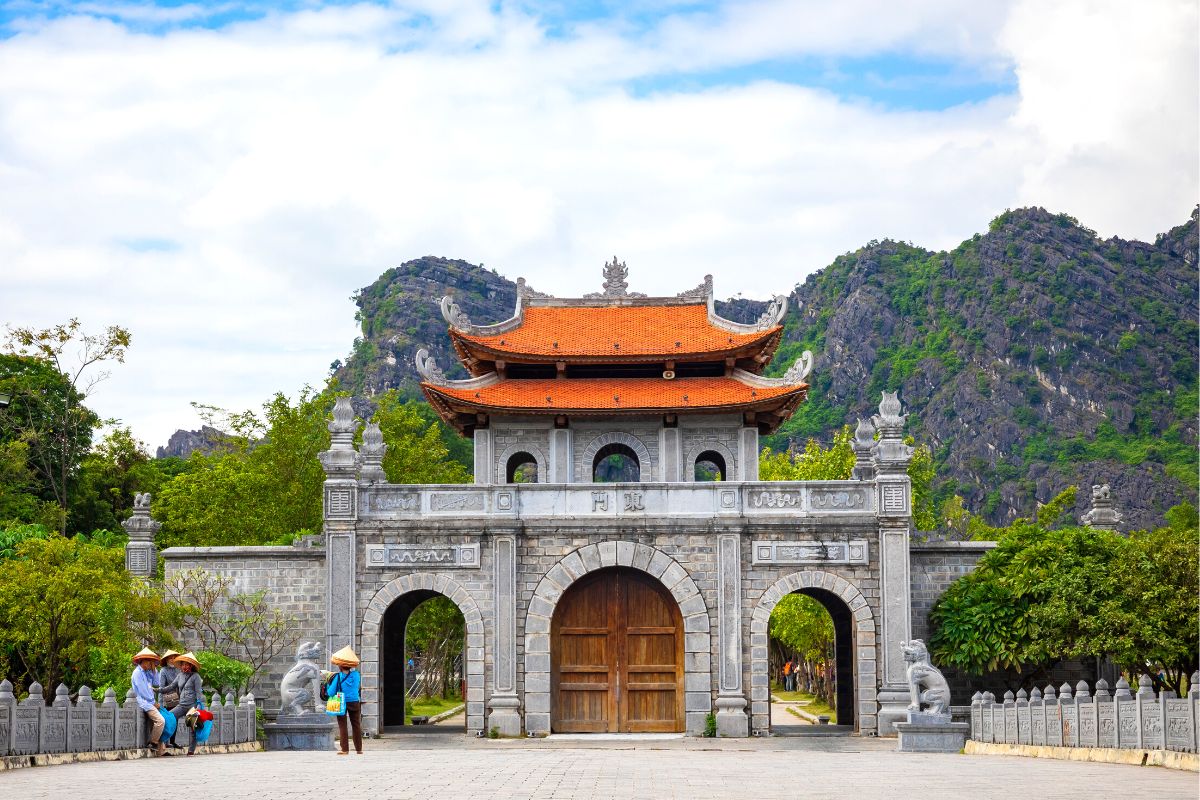 Once the capital of Vietnam during the 10th century to early 11th century, visit Hoa Lu, now known as the Ancient Capital.
Heading 90 kilometers outside of Hanoi, it's located in Ninh Binh Province and a day trip here is the perfect amount of time needed to explore the ancient grounds.
Multiple dynasties reigned during Hoa Lu's time as the capital, including the Dinh, Le and Ly Dynasties.
Explore multiple palaces, such as Bao Thien Tue Palace, and temples dedicated to the different head dynasts.
Climbing a flight of stairs, compare Dinh Tien Hoang Temple (Dinh Dynasty) and Le Hoan Temple (Le Dynasty), both only built in the 17th century.
Spot the famous One Pillar Pagoda, i.e. Nhat Tru Pagoda inside the complex, and if you're up for a challenge, trek to the top of Ma Yen Mountain from here.
Hoa Lu is utterly picturesque with boats riding past on the emerald lake and the rolling green hillsides surrounding you.
20 – Empowering women, check out the Vietnamese Women's Museum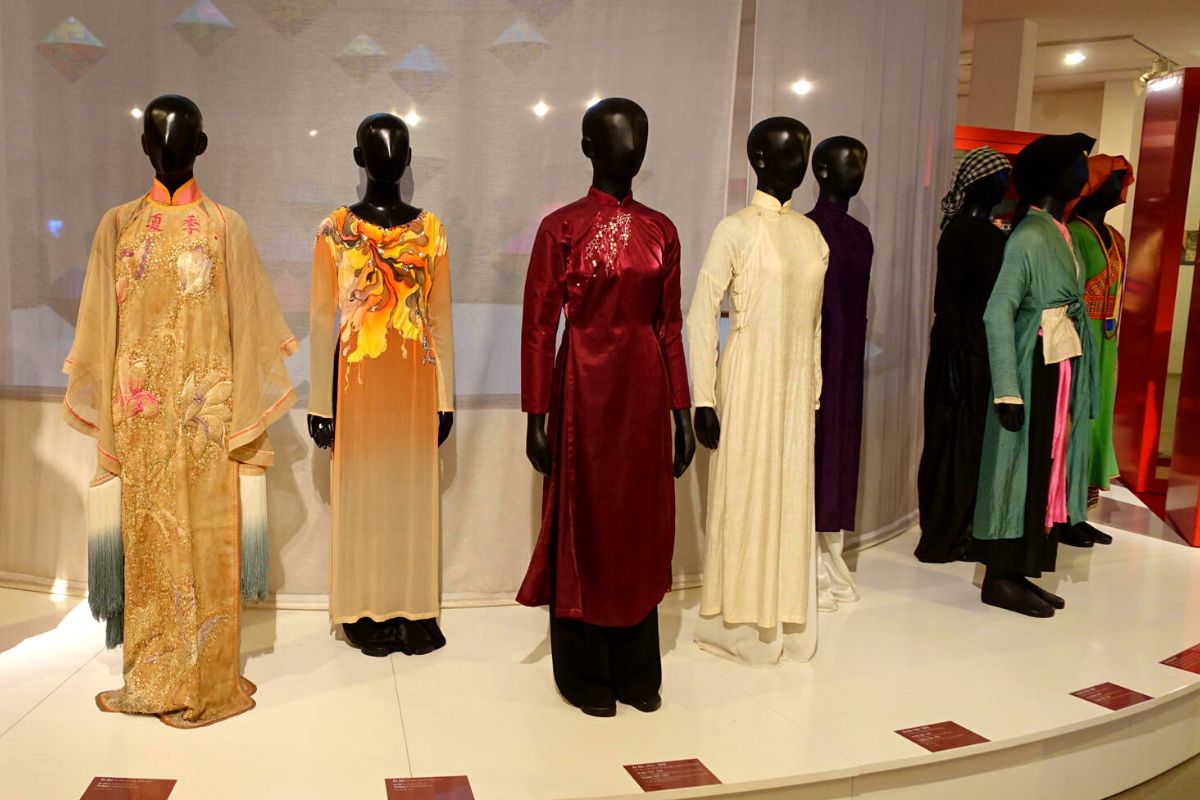 Dedicated to the hard-working females of Vietnam throughout the ages, the Vietnamese Women's Museum highlights their influence in society.
There are permanent and temporary exhibitions to learn from, showcasing topics like Women in History, Women in Family and Women's Fashion. Read personal stories from real women, and some even talk about war times.
You'll find around 10 different temporary exhibitions on display with artworks in various forms.
Home to more than 30,000 artifacts, wander through the museum's different collections, including propaganda posters targeting female soldiers, traditional jewelry, letters and books.
21 – Picture jungle-y Hanoi hundreds of years ago at Trang An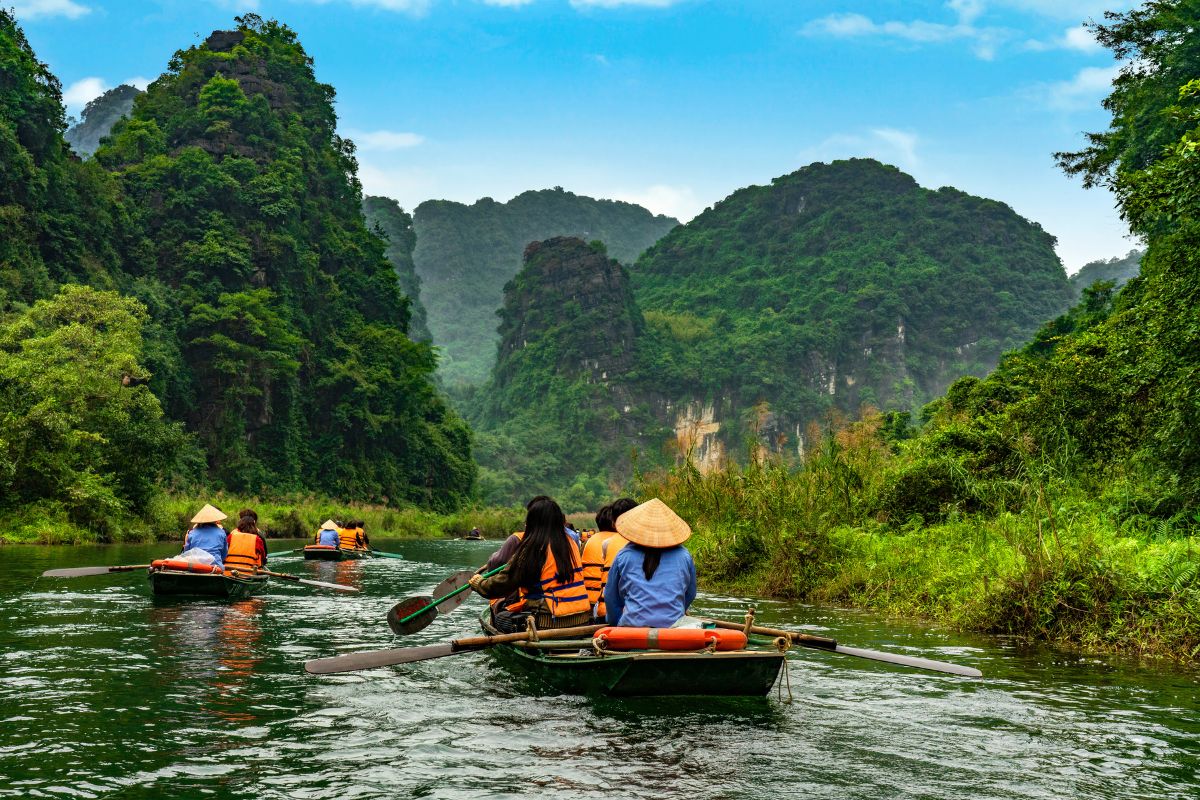 It sort of feels like a scene out of Jurassic Park when you first glimpse Trang An …
Located on the Red River Delta, take a boat ride across deep green waters, bordered by thick limestone mountains stemming from the waters.
Cruise through grottos, explore historical caves with examples of prehistoric life and spend some time kayaking.
Officially, the area is called Tràng An Scenic Landscape Complex, and it includes not just the river cruise, but other sites nearby.
Tam Cốc – Bích Động and Hoa Lu Ancient Capital form part of this UNESCO World Heritage site.
22 – Get educated at Ho Chi Minh Museum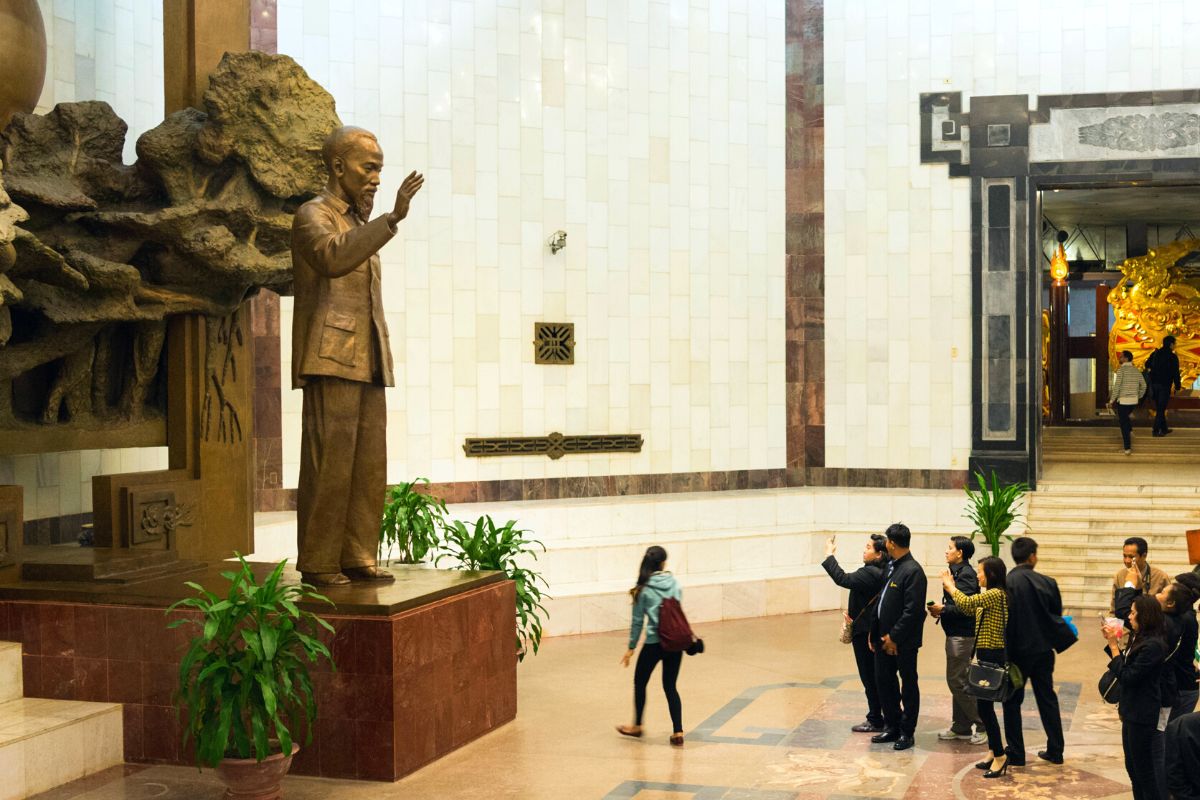 Around the corner from the Mausoleum is the Ho Chi Minh Museum and it's dedicated to the life and work of Ho Chi Minh.
Made up of a collection of artifacts, displays and exhibitions divided into eight timeframe periods, learn about his early life from 1890 through to his last in 1969.
Starting with his younger days, explore his upbringing through to his time as a young man abroad. Investigate the years spent studying and forming the Vietnamese Communist Party from the 1920s to 1945.
Fighting for the country's independence, Uncle Ho served as Vietnam's president from 1945 until he passed away in 1969.
To this day he is highly respected, revered and missed by the locals, and is seen as a father figure in modern-day Vietnam.
23 – Visit a local village dedicated to ceramics at Bat Trang Pottery Village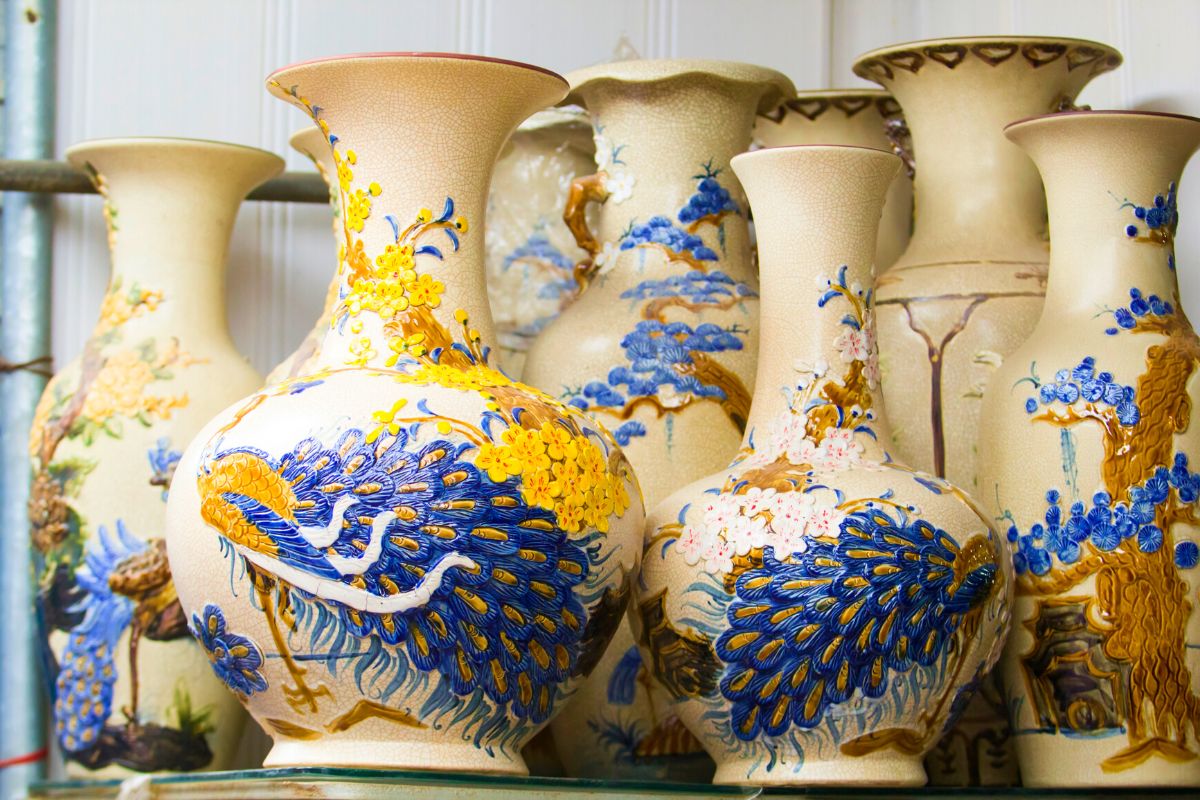 Hop into a taxi, catch a local bus, or if you've rented a scooter, head to Bat Trang Pottery Village, 30 minutes from the city center.
This pottery village isn't overly large and as soon as you enter, you'll see pots and others ceramics lying everywhere, from home entrances to the roadsides.
Veering into the center, there's a daily covered pottery market where you can shop for all sorts of vases, plates, bowls, ashtrays, mugs, keyrings, sculptures and other souvenirs.
The prices are affordable, and outside the market are a few local shops where you can grab snacks and refreshments.
Feeling inspired? Put your hand to the potter's wheel and give ceramic-making a spin. There are pottery workshops available here too.
24 – Have fun in the sun at Hồ Tây Water Park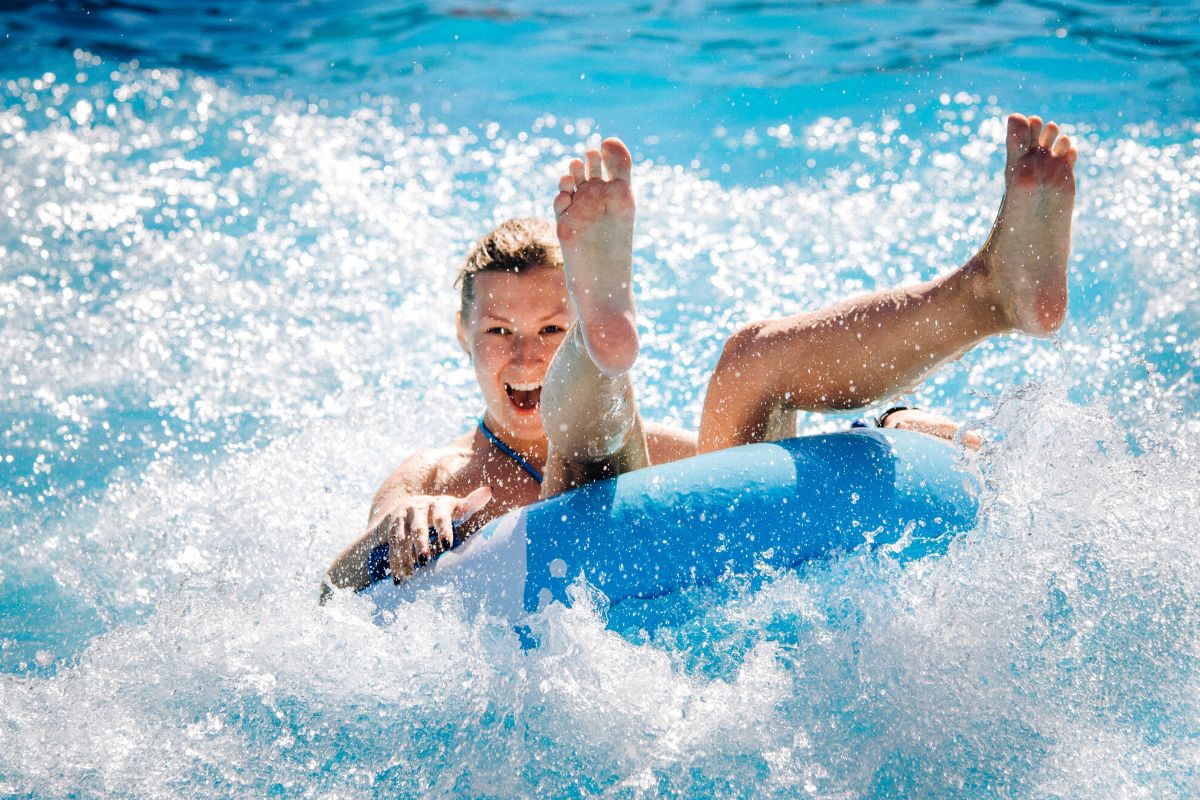 Right on the corner of West Lake in the Tay Ho district is Hồ Tây Water Park, the city's only true outdoor water theme park.
Escape the Hanoi heat and spend the day racing down water rides, sliding through dark tunnels or crossing obstacles where one hand slip lands you back in the pool.
Grab a tube and cruise down the park's lazy river, or you can chill on land at picnic benches shaded by trees.
Ho Tay Water Park gets very busy, especially in summer. It's also very crowded from 4 PM onwards when schools end for the day. Arrive early and take advantage of shorter waiting lines for rides and tickets.
It's great for families, and it's a popular attraction in Hanoi with the locals.
25 – Shop til you drop at the Shopping Streets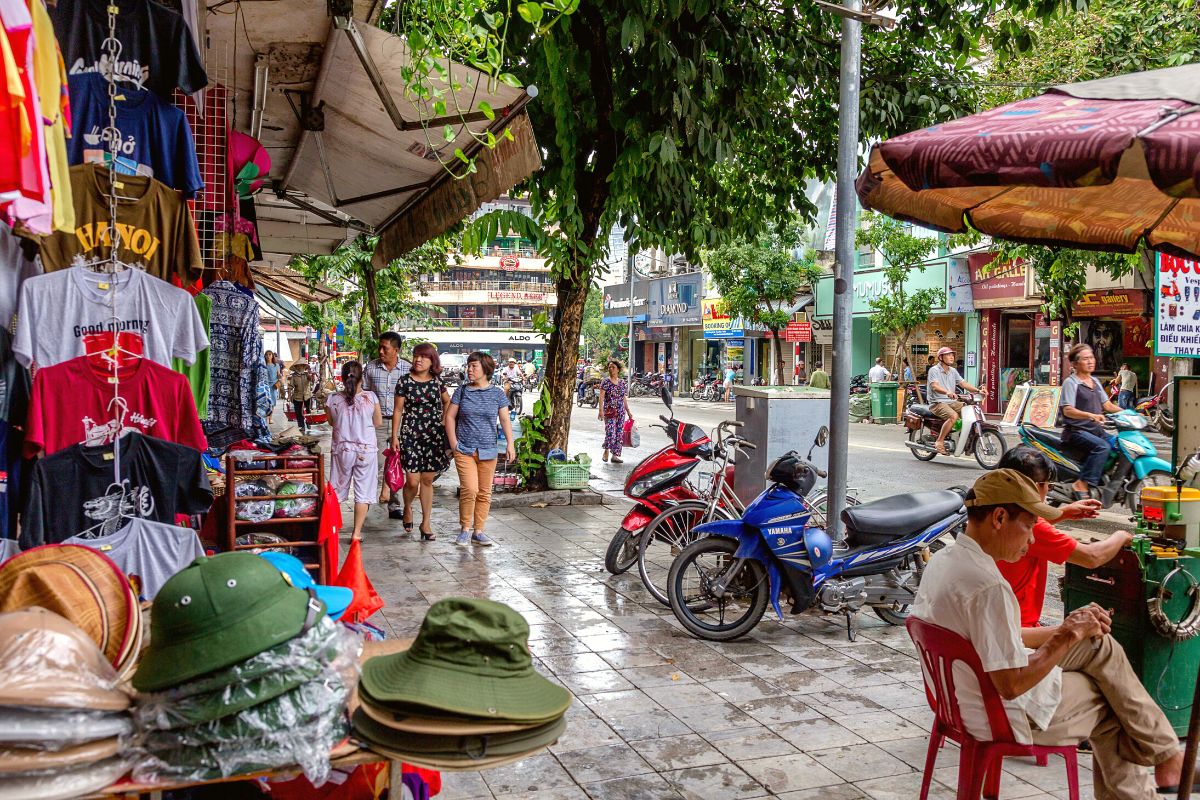 Fun Fact: Hanoi's Old Quarter comprises 36 streets and each street name is derived from back in the day when trading and selling took place within the relevant areas.
Today, find some of the original streets still offering the same goods and others that have changed with the times.
The rest of the city has followed suit and different streets in various areas are categorized just the same!
For fast fashion from brand names like Zara and TopShop for affordable prices, hit Made in Vietnam Street (officially Tạ Hiện Street). Look out for the 'Made in Vietnam' shops along here.
Looking for a new pair of kicks? Shoe Street (Hàng Dầu Street) is lined with little shopfronts selling all sorts of knock-offs.
Stock up on trendy sunglasses or reading glasses at Sunglass Street (Lương Văn Can Street). Some sunglass shops can turn your purchase, or existing pair, into prescription glasses.
Traveling with kids? Head to Toy Street on the corner of Chả Cá and Hang Ma Street, and Party Stationery Street is just further down Hang Ma Street.
Known as Hipster Shopping Street i.e. Cầu Giấy Street, shop the latest affordable local fashion trends and leave space in your suitcase for scarves from Silk Street (Hàng Gai Street).
For all your sewing, knitting and crafting needs visit Sewing Street on the corner of Hàng Bồ and Lương Văn Can Street.
Pretend like you're in Paris in the 1920s at Hanoi Book Street, locally called Phố sách Hà Nội.
Finally, for local delicacies, stop by Hanoi Specialities Street (Hàng Đường Street) and taste all sorts of pickled and dried foods.
26 – Road trip to Ba Vi National Park for a day in nature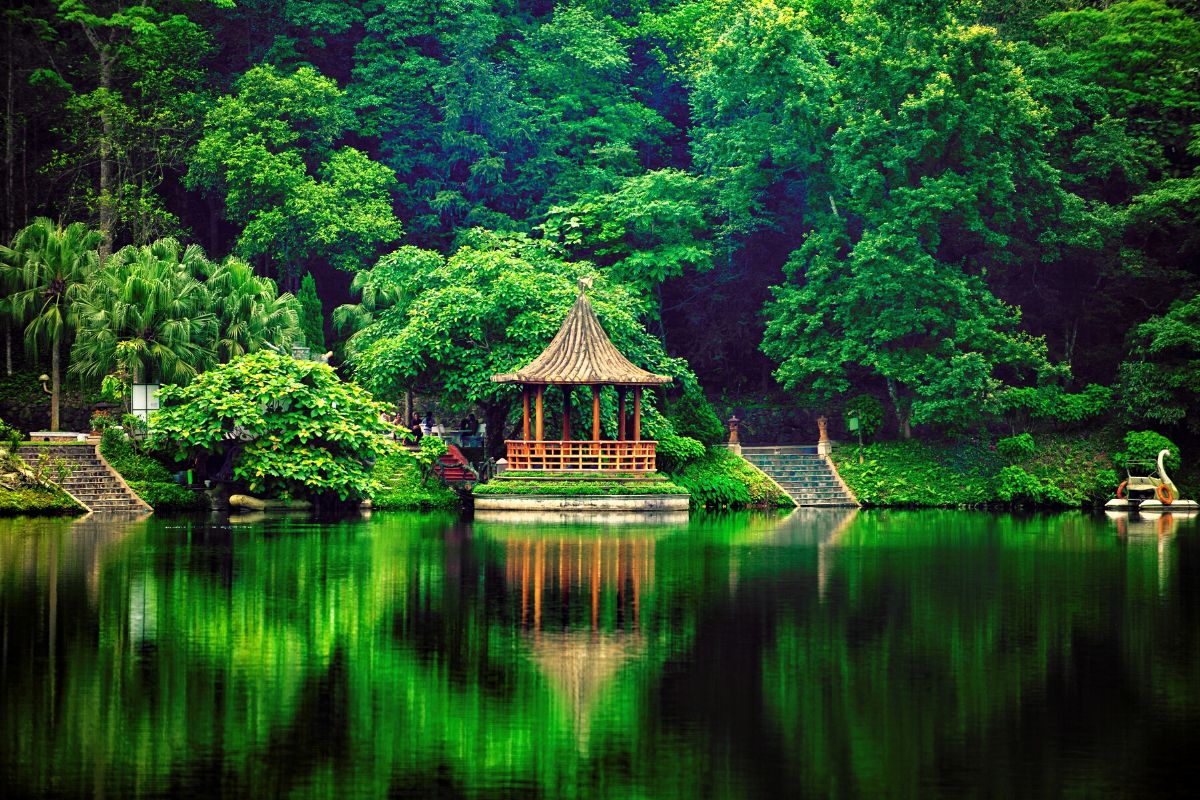 A beloved favorite amongst locals and expats, this National Park is far enough away from city crowds, but still within distance if you feel like returning after a day trip to Ba Vi.
Driving 1.5 hours from Hanoi, take a scenic taxi drive to the park, or if you're comfortable, rent a scooter and drive yourself. It's a great distance for a short self-driven bike trip.
Wander through a magical cactus and succulent greenhouse (Vườn Xương Rồng), as well as flower fields.
As you drive up the park's main road, you'll start to ascend the mountain and there are many pit stops along the way, from viewpoints to Vietnamese restaurants.
Explore a run-down Catholic church overgrown with greens, then head further up through misty clouds to one of the highest points. From here, trek to the Uncle Ho Temple on Emporer's Peak mountain.
Ba Vi provides camping facilities inside the park and accommodation spots around the lake area of Phuong Dong Island.
27 – Step back in time at the Imperial Citadel of Thăng Long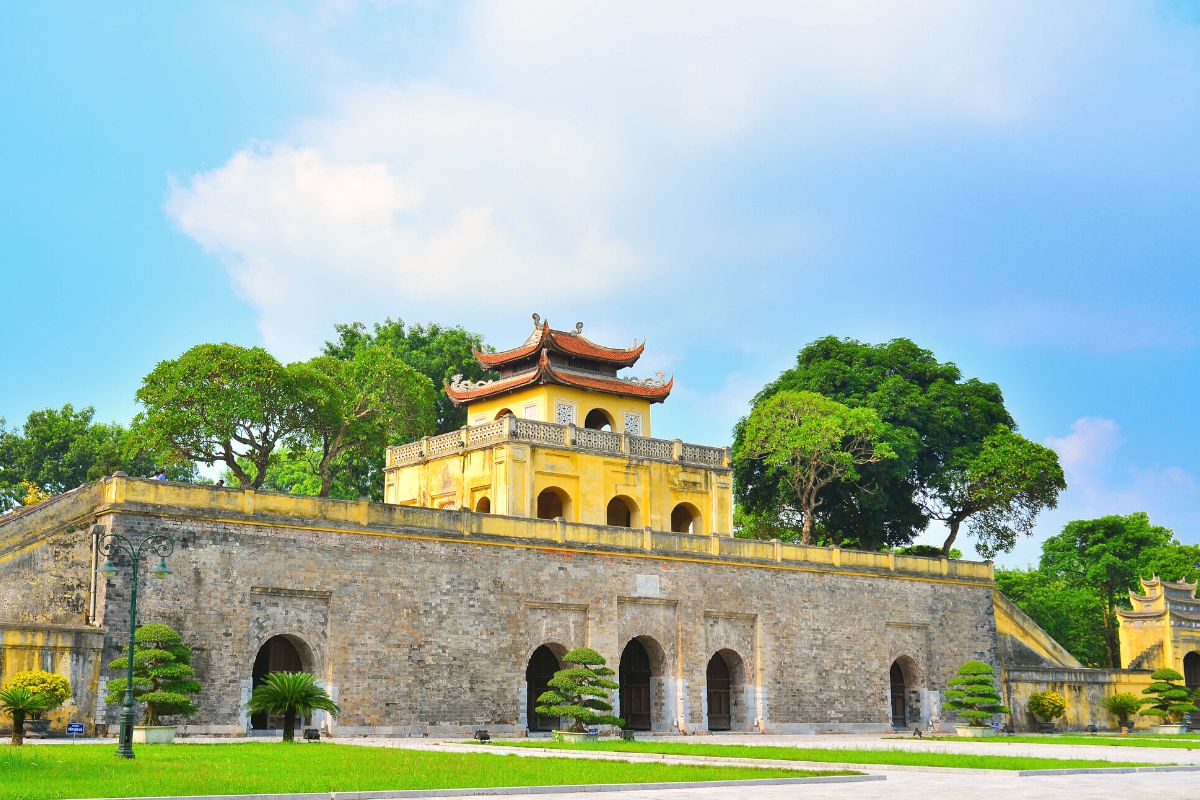 Even from its exterior, the Imperial Citadel of Thang Long is striking, and the building with its tall walls naturally intrigues visitors inside.
Constructed in the 11th century on top of a 7th-century Chinese fortress, for hundreds of years, the Imperial Citadel was the grounds where political and royal matters of the court took place.
Listed as a World UNESCO Heritage Site, it's the only remaining building of the citadel. Find the original Flag Tower inside the building, a revered city symbol.
Explore the manicured garden and the ancient structures inside, however, even from the outside, it's a sight worth seeing.
It's conveniently located around the corner from the Vietnam Military History Museum.
28 – Celebrate the country's ancient past as far back as the third century B.C. at the Vietnam National Museum of History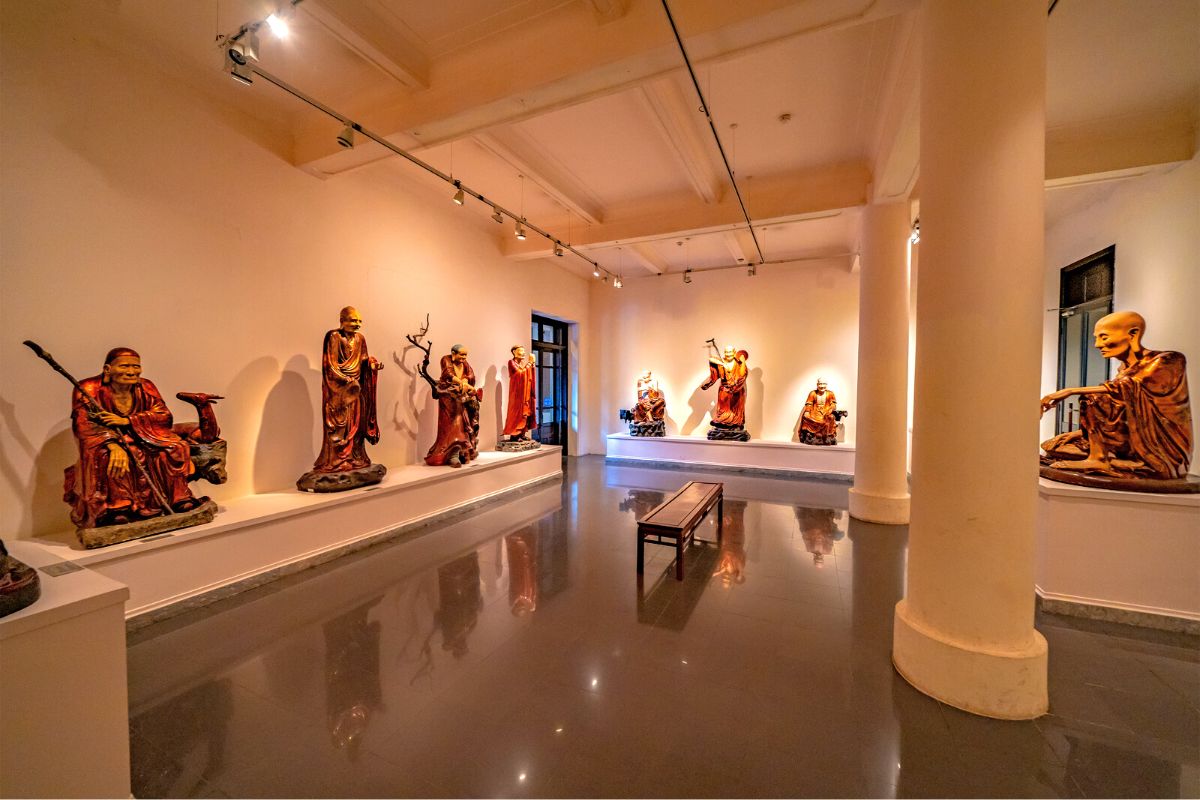 Down the road from the Hanoi Opera House find the Vietnam National Museum of History.
Housing over 40,000 different artifacts, there are two levels within the museum and rooms are divided into various categories or periods throughout history.
Marvel in statues from the Champa Art collections, discover utensils and tools used by locals in ancient times and explore some of the country's earliest ceramics and the different traditional designs.
On the second level, a darkened room displays exquisite jewelry pieces, and each exhibit is lit up, shining the light on individual jewels and designs.
Artworks and miniature displays of recreated historical scenes provide educational visual insight.
29 – Visit Hoa Lo Prison, a former prison turned museum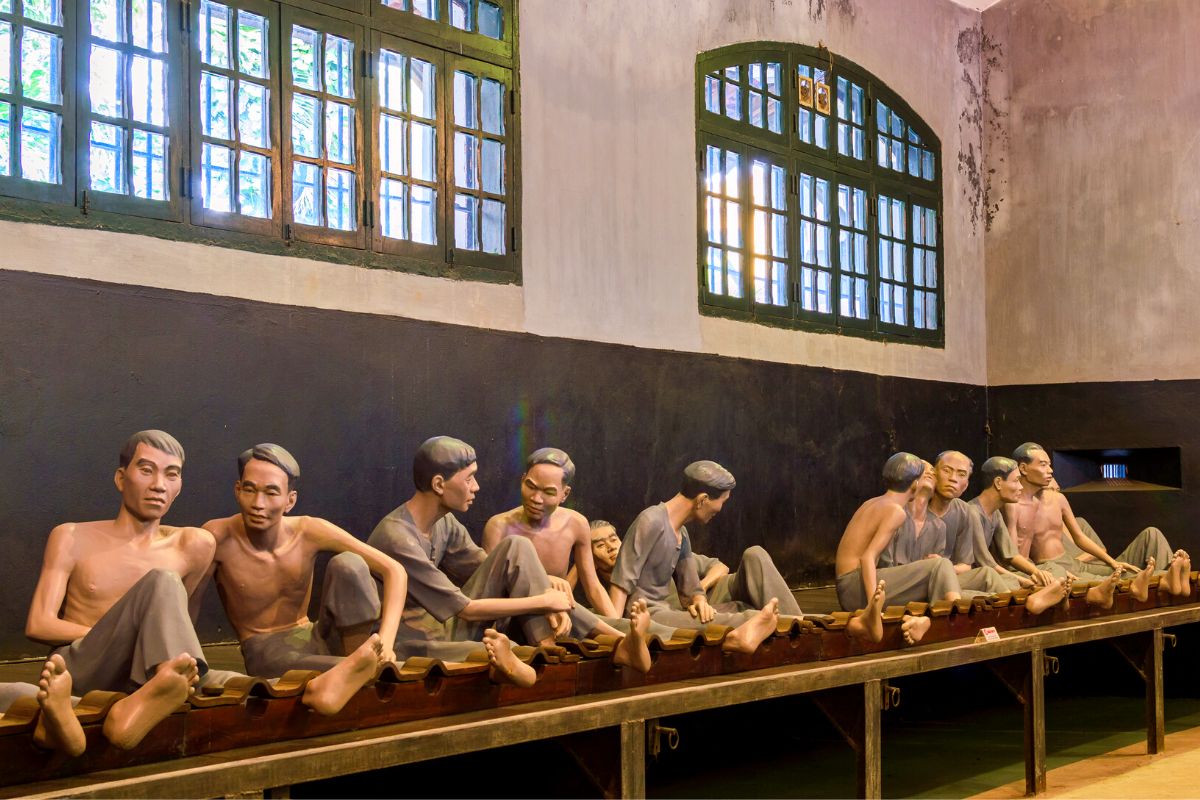 When France colonized Vietnam in the 1800s, in 1857 to be exact, they stopped many movements that at the time fought for Vietnam's independence as a country.
Anyone who rebelled was put into the Hoa Lo Prison. Before it was a prison, one of Vietnam's most famed pottery villages called the area home.
Once the country gained independence, during the Vietnam war, American soldiers were then held at Hoa Lo.
To commiserate these times, later on, the prison was transformed into a museum.
The museum is dedicated to those that stayed at the Hoa Lo Prison and houses artifacts pertaining to the time, as well as exhibitions illustrating the past.
There are both permanent and temporary expos, including artifacts like prisoners' uniforms and personal belongings, as well as a selection of photographs.
30 – Go to Truc Bach Lake and buy banh xeo or visit the oldest ice-cream shop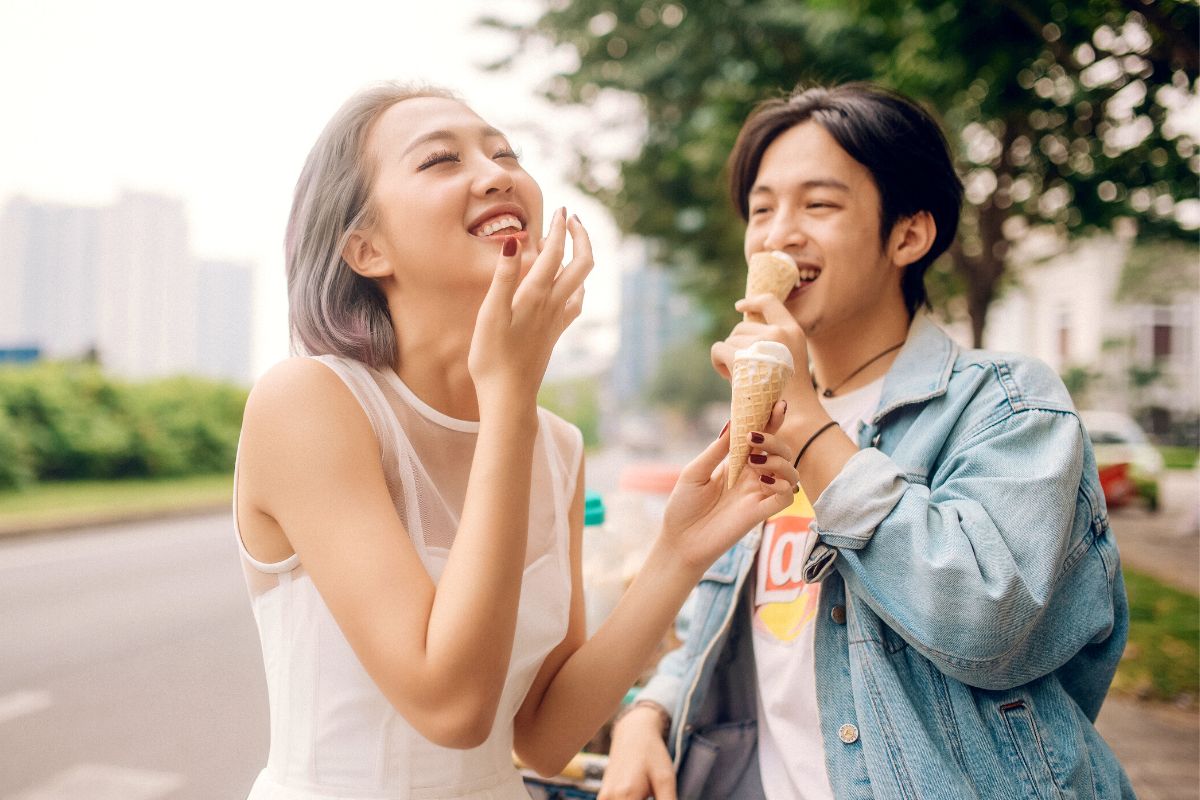 Want to truly live as the locals do? Just 10-minutes away from the Old Quarter is the idyllic Truc Bach Lake area.
Stroll the lake, taking in the local neighborhood scenes.
Cross cute bridge ways, and meander past buildings that are very European-inspired, taking hundreds of photos of entrances, cool doors and balconies lined with flowers.
Spot the oldest ice-cream shop — just look out for the bajillion motorbikes parked outside — and there are vendors all around selling a traditional sweet snack, banh xeo (a crispy thin rice wafer filled with sliced, sweet hard coconut inside), popcorn, candyfloss and spinning windmills.
This area is great for couples and for something extra romantic, take a ride in a peddling swan boat around the lake.
From 4 PM onwards Truc Bach becomes super congested during rush hour, but at nighttime, it's especially vibey.
31 – Take in the Hanoi scenes via bicycle tours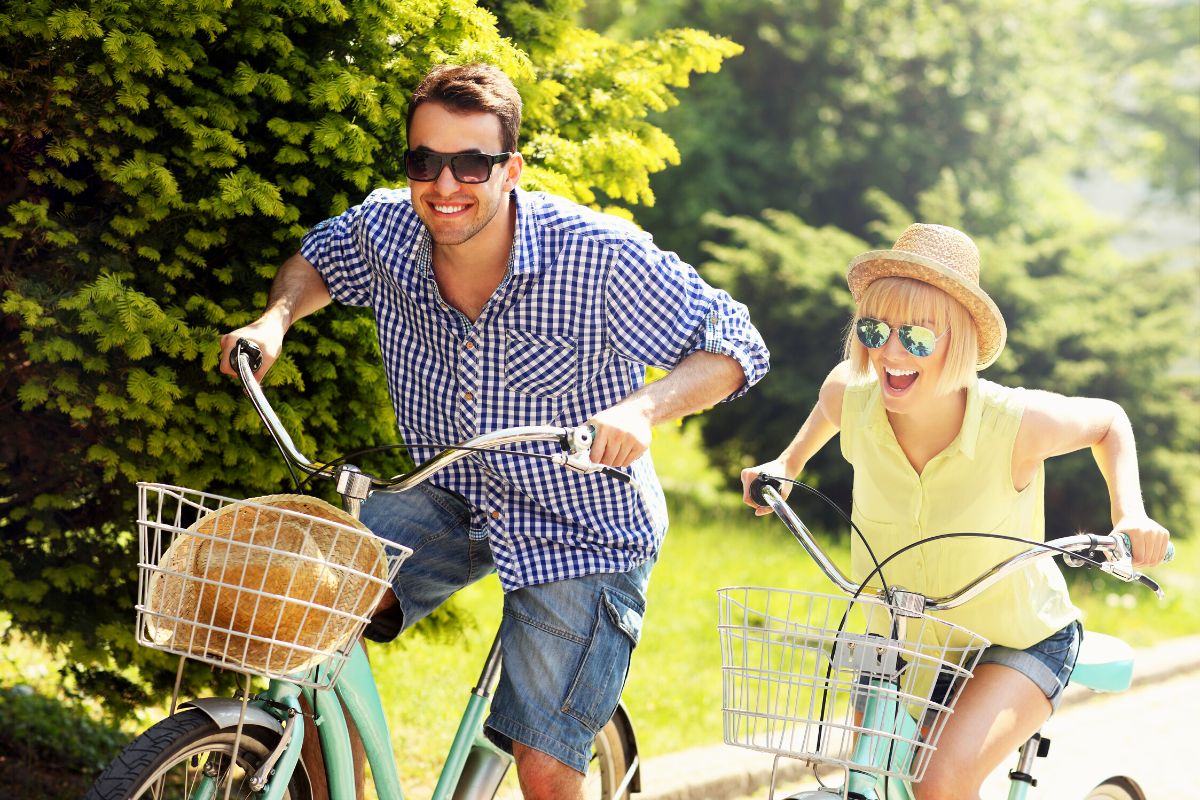 Bicycles are a super popular mode of transport in Vietnam and everyone from young to old is seen riding bikes in the streets.
Don't be surprised if you spot someone riding a bicycle on the highway or neighborhood main roads either, and there are many motorized bicycles driven by students around the city.
Pretend to be a local, and navigate the ins and outs of Hanoi by bicycle tour.
It's a perfect way to see many must-see attractions in one day, moving faster than by foot.
Apart from inner-city tours, there are bike tours that start in the city and then cross the Long Bien bridge over the Red River and into the countryside districts of Hanoi.
32 – Take photos of the unique One Pillar Pagoda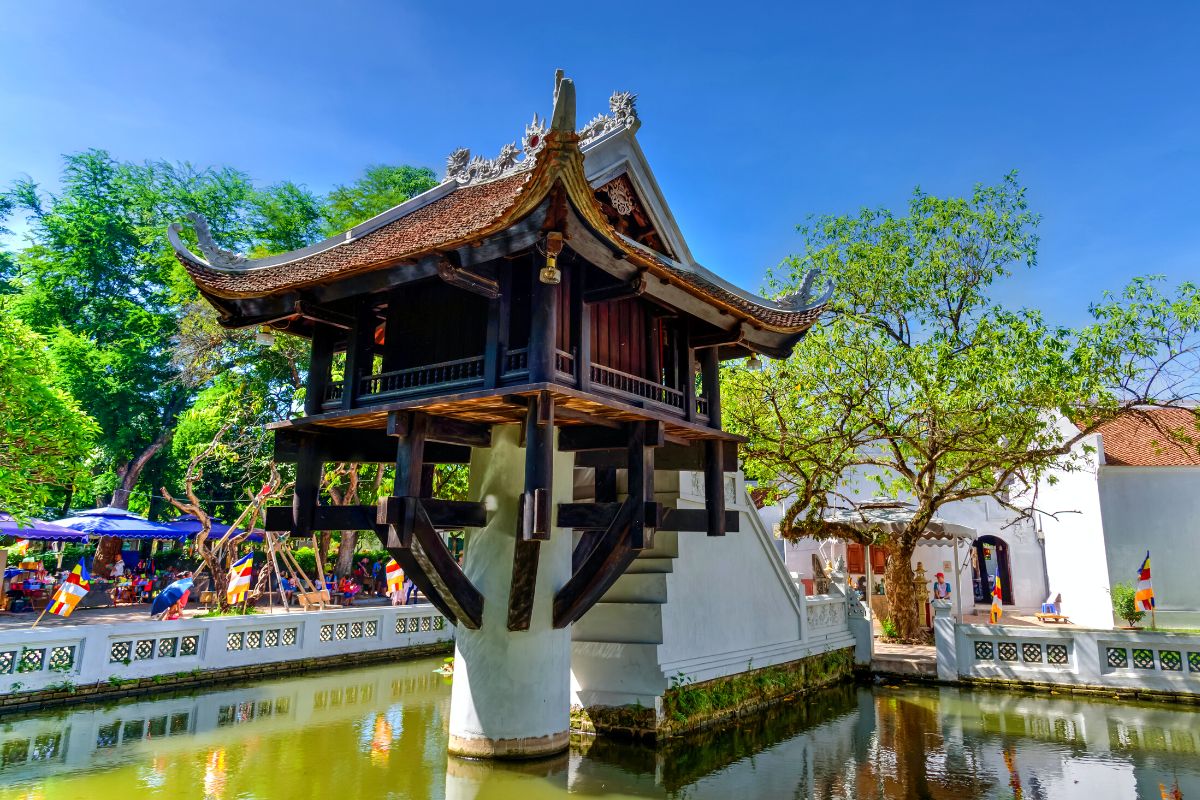 Looking at One Pillar Pagoda from a bird's eye view, the structure of this ancient temple represents the same shape as Vietnam's national flower, the Lotus.
Back in the 10th century, the emperor Ly Thai Tong of the Ly Dynasty erected a wooden temple on a single piece of stone.
During the French rule, the pagoda was destroyed, however, the one stone on which it was built remained.
In 1955, One Pillar Pagoda was rebuilt in the mirror image of the original.
Considered one of the most sacred temples in all of Vietnam, it's one of those must-see attractions that city tours never miss out on!
Visit the inside of the pagoda, climbing a few steps to reach it. Built in the middle of a lotus pond, it gives the illusion that you're floating.
33 – Take a Hop on Hop off bus tour around Hanoi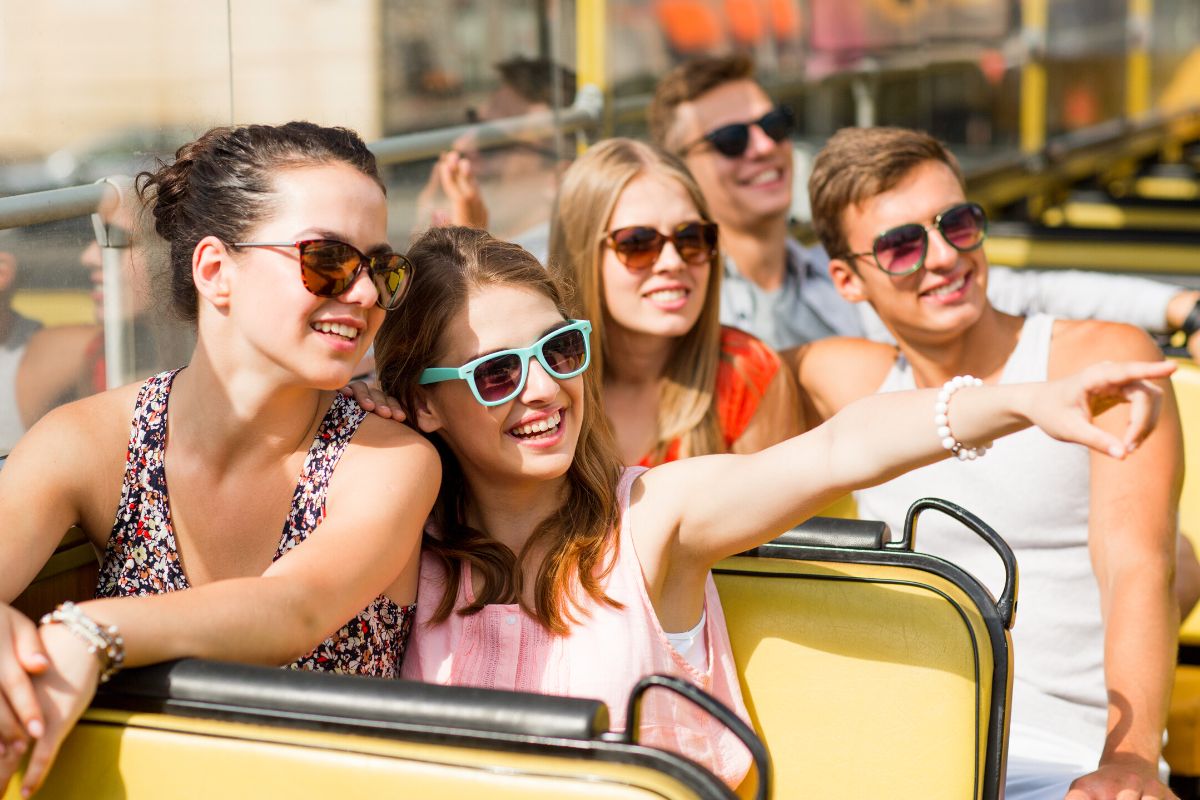 Out of the things to do in Hanoi, a hop-on hop-off bus tour is a great way to see all of the most famous city attractions whilst learning facts about each from a local guide along the way.
Choose between riding a retro bus, or opt for a bus tour on a double-decker bus and get to see Hanoi from a different view. As the traffic and madness pass by below you, get a proper look at the city and its architecture from above.
Buses tour through popular districts and areas, like the Old Quarter, French Quarter, and Hoan Kiem.
There are designated bus stops allocated in these areas, and you have the freedom to jump on and off the bus, explore and then hop back on when you're ready.
34 – If you're craving the ocean, head to Cat Ba Island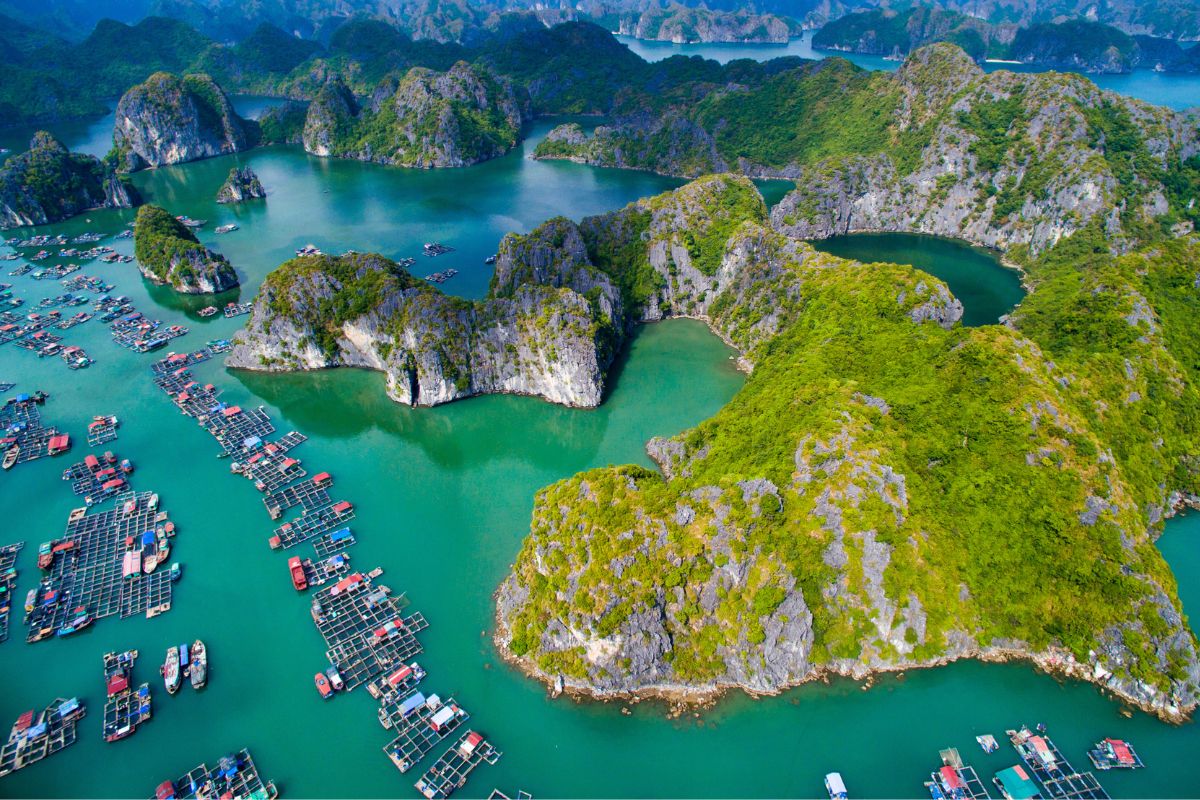 En route to Ha Long Bay is Cat Ba Island in Hai Phong, and many day trips from Hanoi stop by both Cat Ba and Ha Long Bay – or you can choose to do them separately.
This small beachside town is super ambient. Visit beaches with soft sands and flat waters, and rent a bike and drive around the small island.
For outdoor enthusiasts, there are plenty of water activities to enjoy from kayaking to snorkeling.
Explore the green hillsides, or hire out a private boat for the day for a tour of the neighboring islands.
A popular boat tour takes guests to Lan Ha Bay which is the bay and waters that surround Cat Bar. Sail past limestone cliffs and through oceanic caves.
To reach Cat Ba Island, first travel two hours from Hanoi to Hai Phong. From here, catch a ferry and head for the island.
35 – Picture what Hanoi looked like way back at Hanoi Ancient House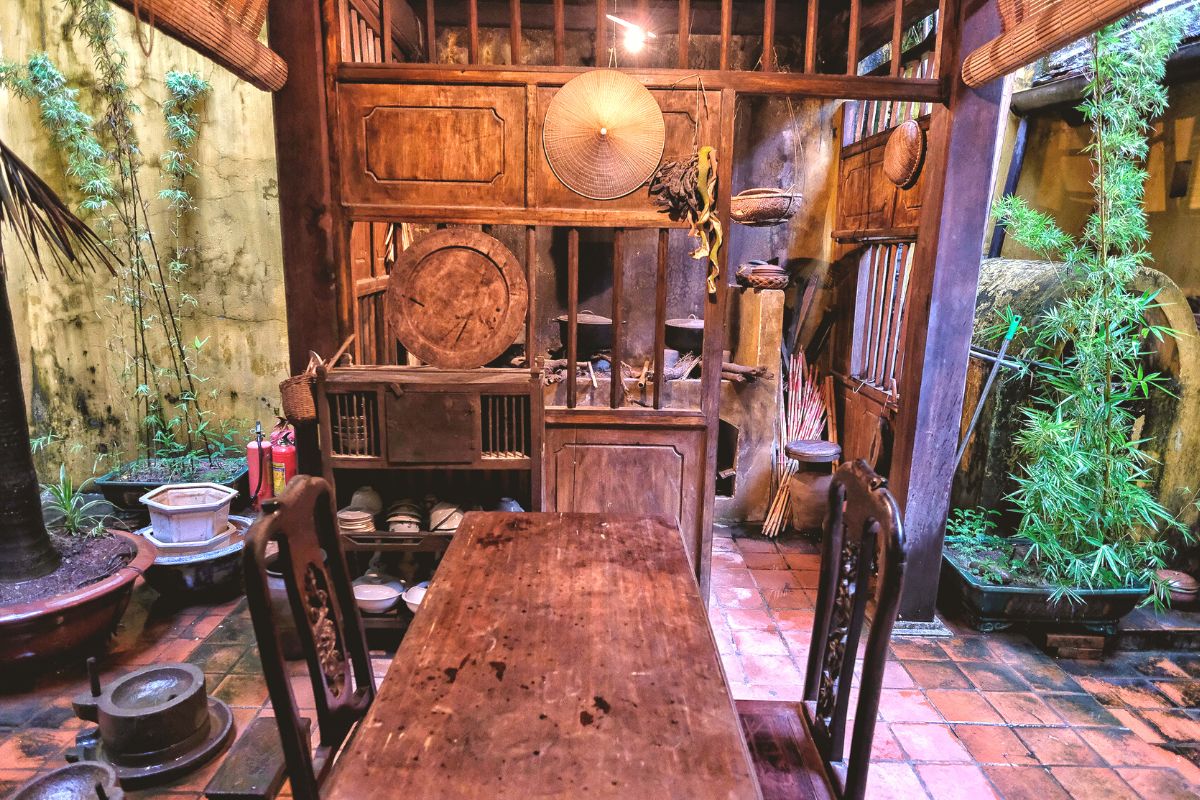 Originally the city's trading hub, the Old Quarter has always been a bustling area throughout Hanoi's history.
One of its most popular streets is Ma May where a plethora of restaurants, hostels and nightclubs line the roadsides.
One of the most special features is Ma May's Ancient House, which sits inconspicuously on the corner.
Constructed in the 19th century, the two-story home is decorated in traditional Vietnamese design with its original architecture still in place.
From the furniture to the decor, and even the authentic setup of each room, built around a courtyard entrance it's typical of what a household resembled 100 years ago.
36 – Walk among the terraced rice fields at Mù Cang Chải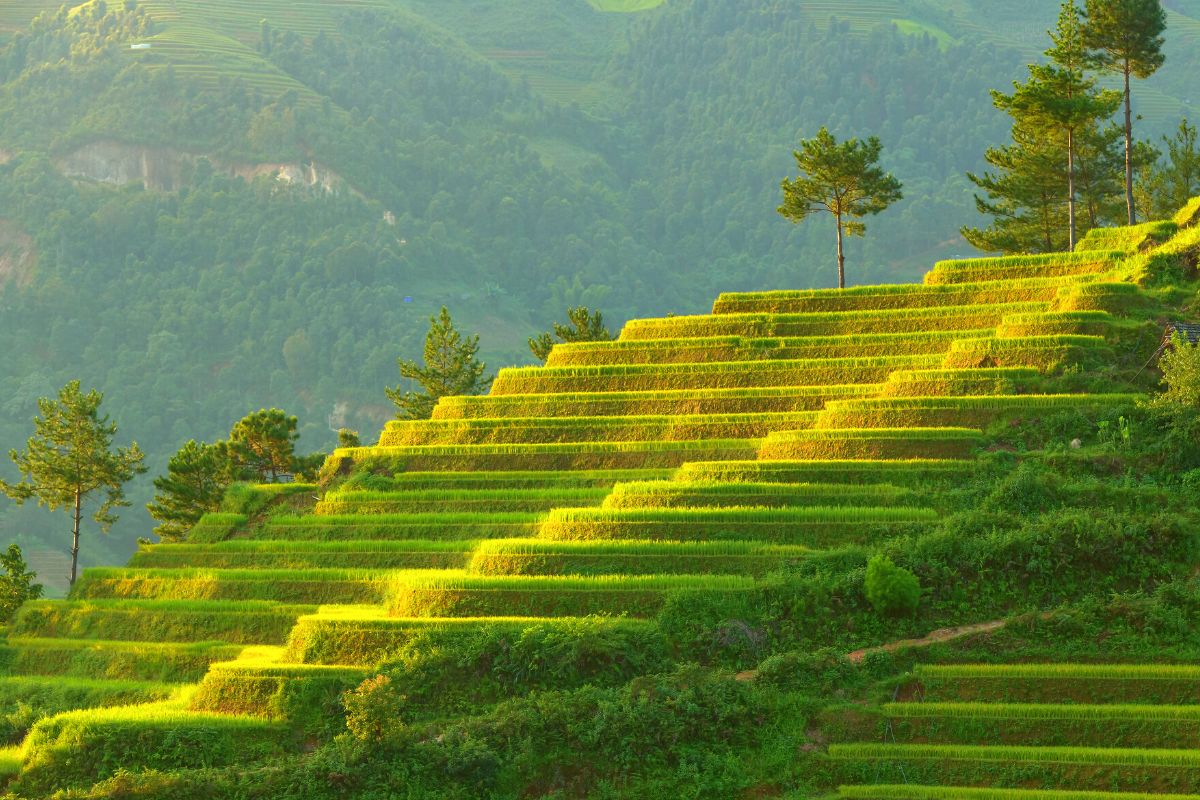 Vietnam is renowned for its gorgeous terraced rice fields, and it's the image you always see on travel brochures.
Whilst you may not spot any rice paddies in Hanoi, 2.5-hours from the city make your way further north and visit the famous Mù Cang Chải.
The town is overlooked by unending greens, and go walking through the terraces where you'll see locals at work. The photographs you'll snap offer priceless views.
There are many beautiful spots around Yen Bai. Visit Thac Ba Lake or Tram Tau which is home to a massive natural hot spring bath.
The area is a super popular motorbike-trip destination as it's not too far from Hanoi, and there are many local homestays here too.
37 – Buy silk for really cheap at Van Phuc Silk Village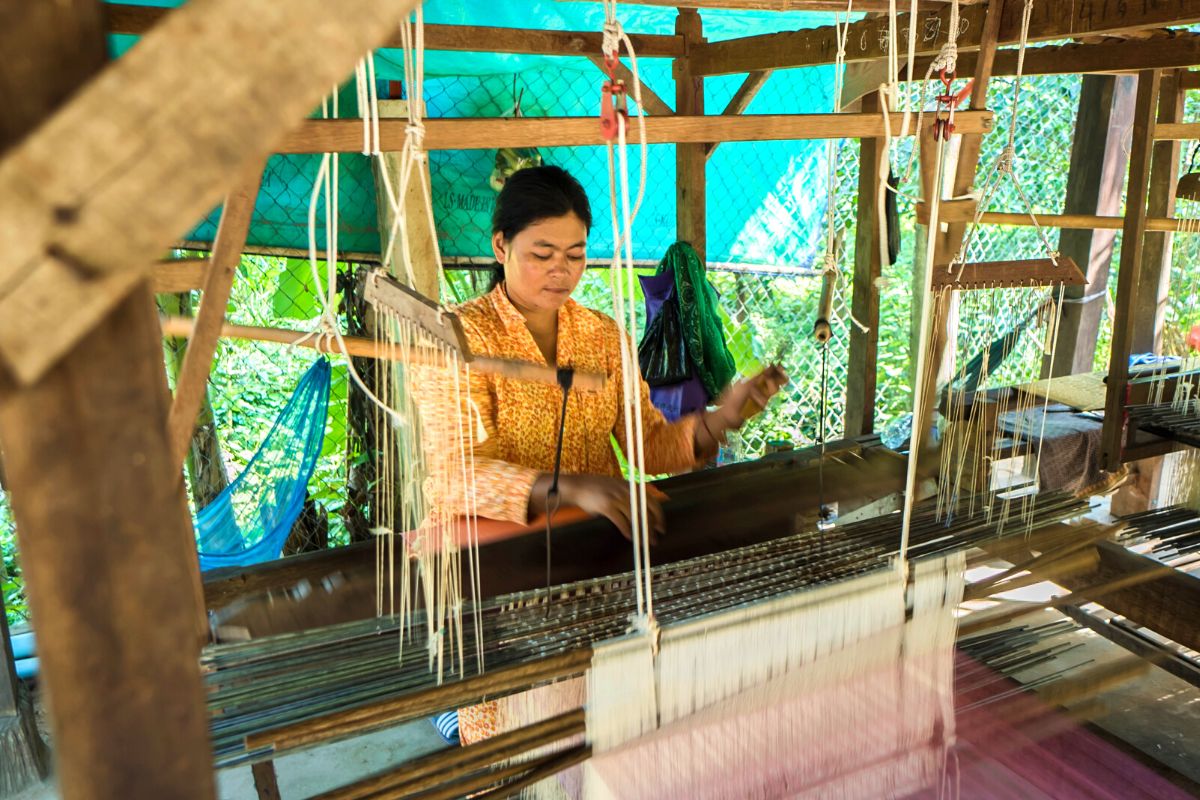 Unlike many countries, you can buy silk materials and goods in Vietnam for very cheap prices. Shopping around Hanoi, there are many stalls and shops selling by-products.
Much of the silk comes directly from the Van Phuc Silk Village, located 30 minutes outside of Hanoi. Considered a luxury fiber, take a day trip out to the traditional village perched next to the Nhue River.
Arriving at the local silk village, learn about the process of silk manufacturing, turning raw silk into textiles. They only use traditional looms to weave the silk threads, which has been the original practice of silk-making in Vietnam for decades.
It's one of the most popular day trips from Hanoi thanks to its proximity to the city center.
You can shop for many silk products in the village from scarves to dresses, pillowcases, ties and much more!
38 – Take to the streets like a local with a scooter or motorbike tour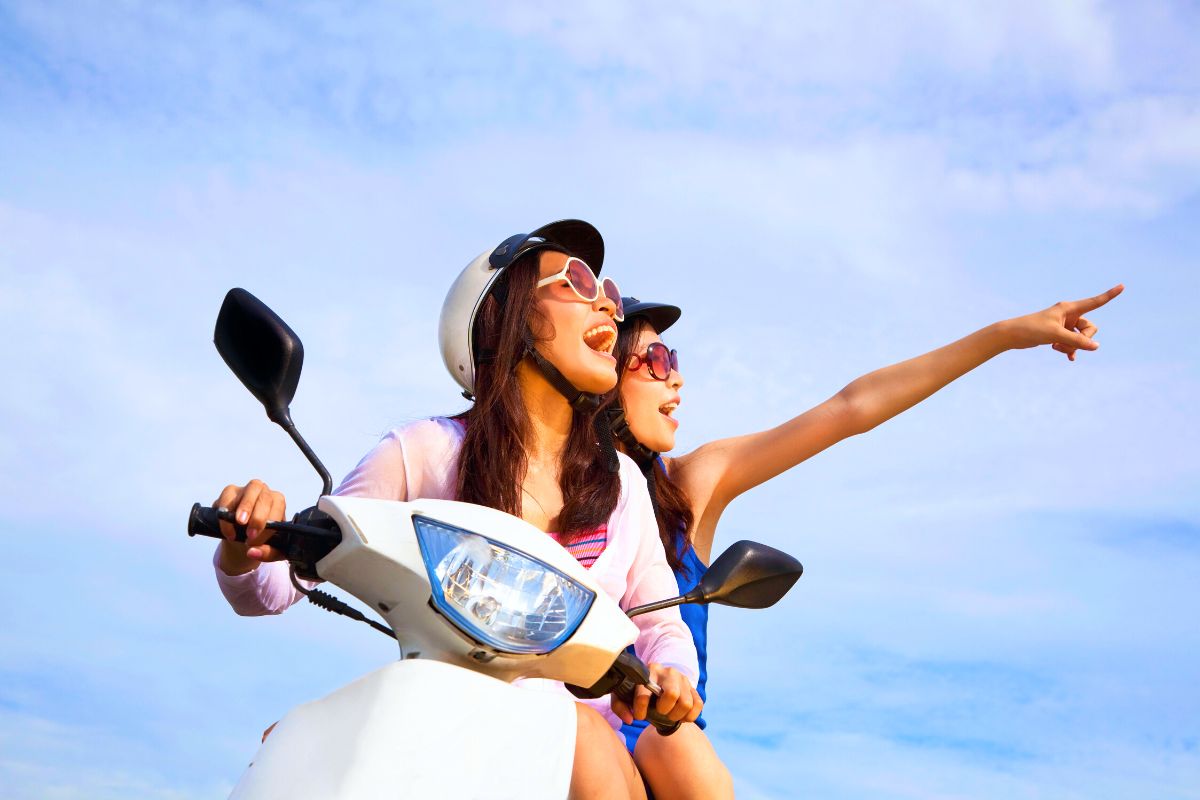 As the city's biggest mode of transport, renting a motorbike or scooter whilst in Hanoi is not uncommon.
The question is … are you brave enough to drive Hanoi's famous streets?
Instead of going in blind-sighted, opt for an organized bike or scooter tour, where you have the option of riding the motorbike yourself, or you can hop on the back of one of the designated tour drivers.
If you're a first-time driver, choose a scooter tour on a Vespa, as scooters are easier than a motorbike to drive.
If you're a seasoned rider, choose a motorbike tour driving a manual Minsk. There is also the option of driving a semi-automatic motorbike instead (where you won't have to worry about using a clutch).
Scooter and motorbike tours guide you through the mind-boggling streets of Hanoi, driving the group to must-see attractions, different districts and things to do in Hanoi.
39 – Take in the local scenes at Ly Thai To Park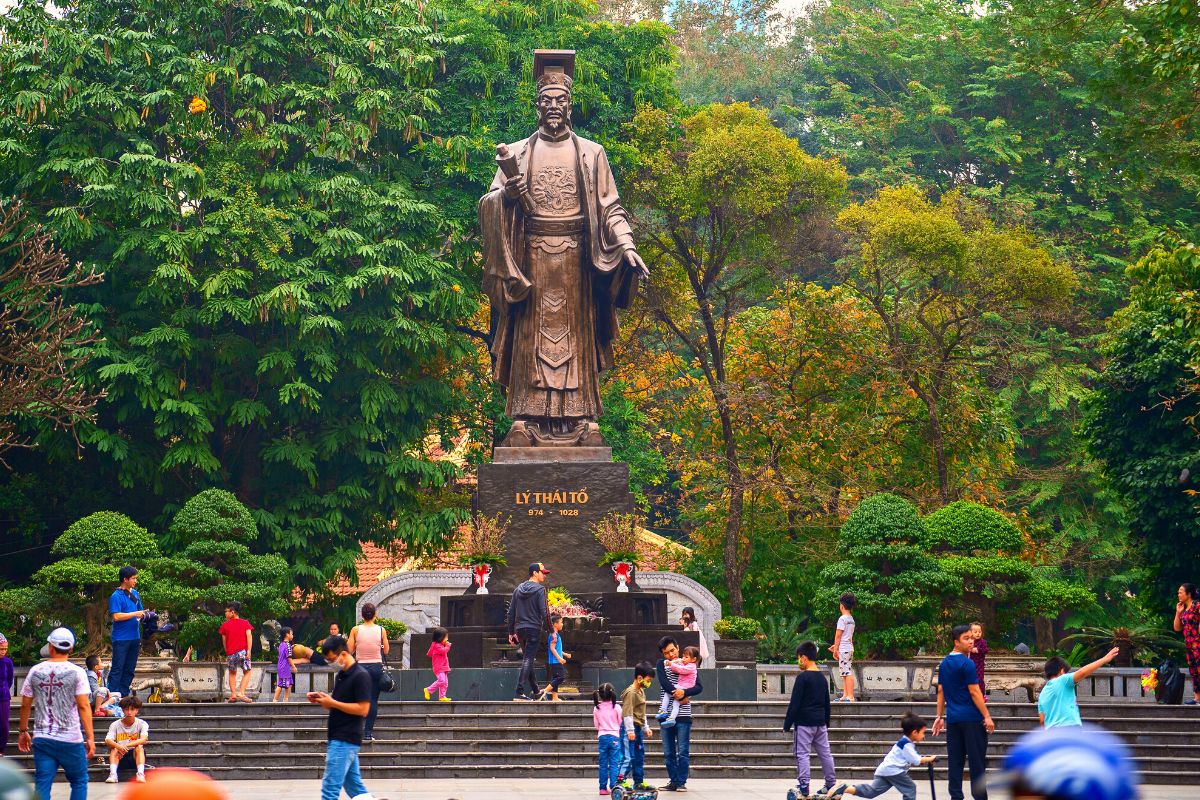 Directly opposite Hoan Kiem Lake is Ly Thai To Park, an outdoor urban concrete park popular among families and home to the famous Lý Thái Tổ monument.
The activity area happens around a giant 10-meter tall bronze statue of Lý Thái Tổ. He was the founder of the Lý Dynasty and he ruled from the years 1009 to 1028.
Kiddies ride bicycles and miniature cars, teens skate the smooth floors, and Pokemon players are seen lurking nearby trying to catch 'em all.
40 – Relax and unwind at the spas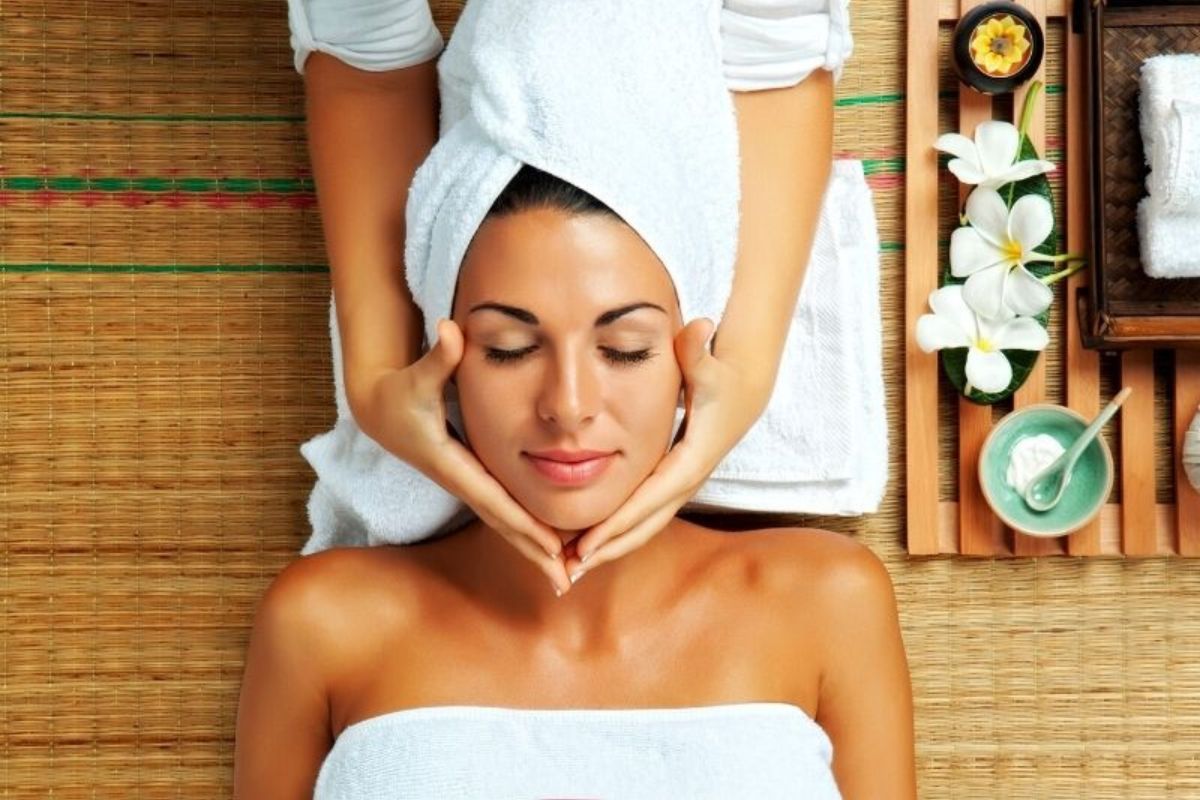 After all the city exploring and walking, your bodies will love you for treating them to an afternoon at the spa.
There are tons of spas and wellness centers around the city, and you can find a fantastic massage for really affordable prices, even at luxe spas.
Choose between different treatments, like a traditional Vietnamese massage, enjoy a facial and get your nails done.
Soak in a traditional wooden bath followed by a herbal steam at Alisa Bella Spa, or enjoy a facial at Mf Boutique Spa.
Try Vietnamese Cupping at Serene Spa or La Belle Vie Spa's signature Bamboo stick massage.
Enjoy a traditional tea bath spa experience at Hương Sen Massage Spa, and for all your mani and pedi woes, book a visit to one of the many salons … Nail art is a thing in Hanoi!
41 – Shop Dong Xuan Market, a  trading center since 1980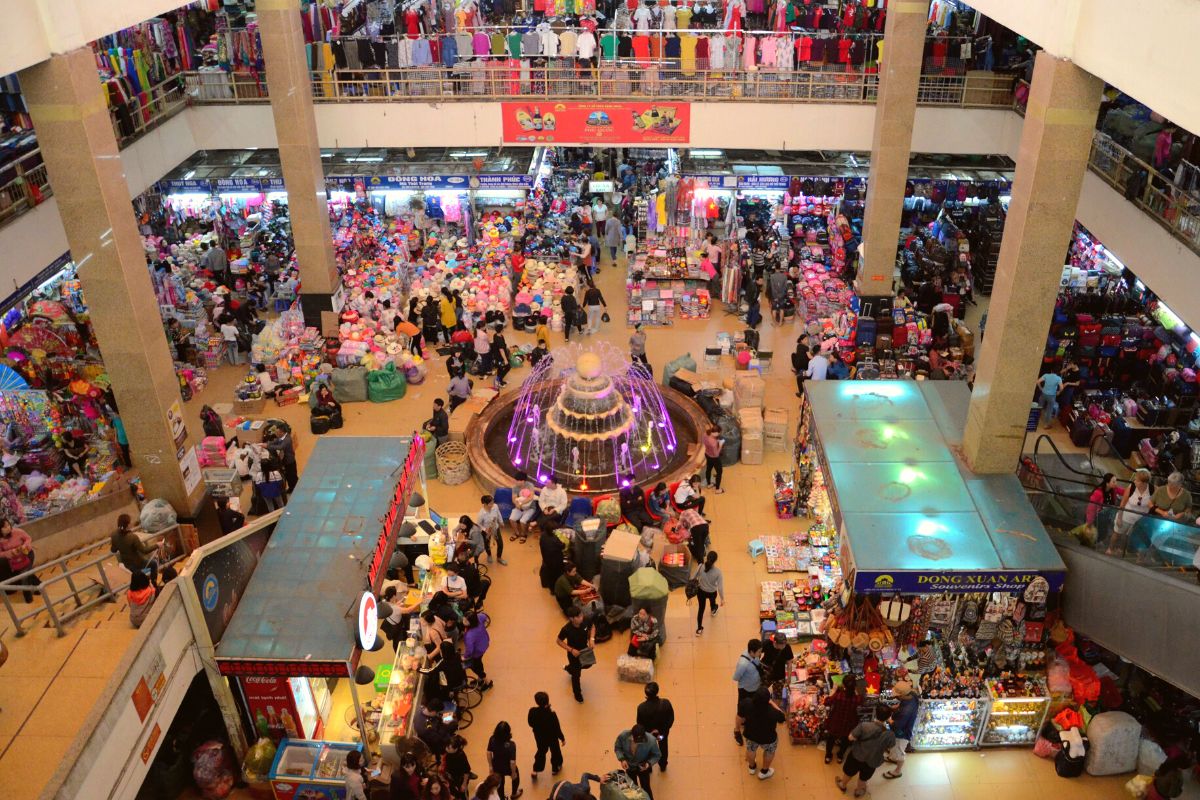 Hanoi's largest indoor market is made up of three levels and you'll find everything and anything from snacks to nicknack goods like sunglasses, purses, toys and all sorts.
A special one for fashion designers and dress-makers, the second and third levels solely comprises stalls selling fabric … for very, very good prices per meter!
Travel tip: Get clothes tailor-made in Vietnam, especially in Hanoi or Hoi An. It's super affordable, you'll be shocked.
Even if you don't sew, or aren't interested in buying fabric, walk among the colorful madness of it all.
Surrounding the market on the ground floor on the backside, there are roadside stalls selling other random goods, especially household items like tin kettles and spoons, among others.
42 – Feel as if you're frolicking among the flower fields in Holland at Ho Tay Flower Garden, i.e. Thung lũng hoa hồ Tây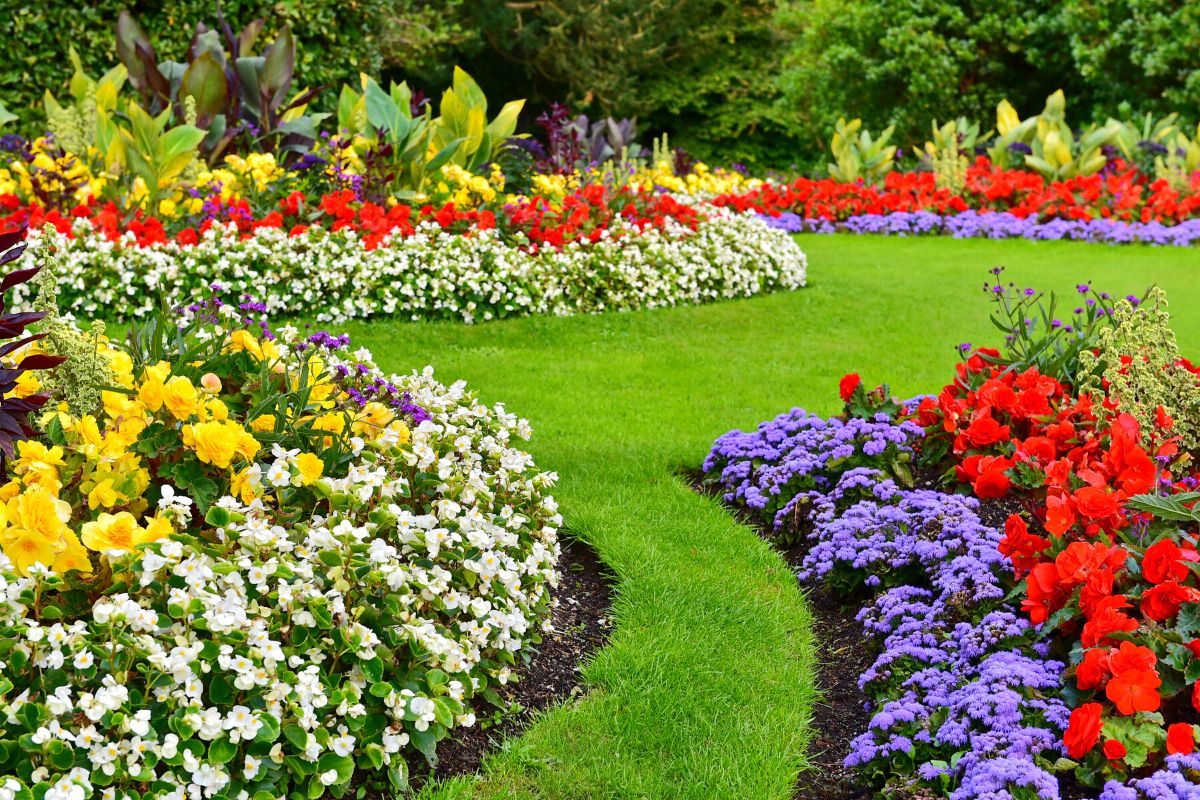 What is it about fields of flowers that feel so magical?
As a big city, there's no need to head into the countryside and mountains to find floral fields in Hanoi, just visit the Ho Tay Flower Garden.
Set up right next to West Lake, the garden is overflowing with all kinds of different flowers, growing on banks, or in perfectly manicured shapes and displays.
There's a mini windmill inside the gardens and other cute photo opportunities. When the Tulips are planted, it feels like a mini-Holland!
The flowers and displays change every few months, so you'll always find new scenery to explore.
There's a Vietnamese restaurant here too and you will need to pay an entrance fee to enter the picturesque flower gardens.
43 – Catch a boat ride to the Perfume Pagoda
Only accessible by boat traveling down the Day River, the Perfume Pagoda is one of the most sacred Buddhist sites in Vietnam.
Not just one, the historical site is a complex made up of different temples and pagodas, and there are also caves to visit via boat on the water.
Check out the Den Trinh shine, then Thien Tru Pagoda (also known as Heaven Kitchen) which is one of the main pagodas. During Tet (Chinese New Year and Vietnam's New Year too), major festivities happen at this pagoda.
Moving on to Giai On Pagoda, the temple is famous for its blue pond inside, the Thien Nhien Thanh Tri Pond.
The main temple, Huong Tich, is the largest and it's located inside of a cave which makes it extra special.
There are other caves to explore, including Phat Tich Cave and Tuyet Kinh Cave where you can spot Buddhist shrines and stalagmites.
Located in the Huong Son Mountains, the perfume pagoda is also called the Huong Pagoda, or in Vietnamese, Chùa Hương.
To reach the pagoda you'll need to ascend the mountain, or instead of trekking, catch a cable car ride up instead! It's an epic way to take in the views!
44 – Learn the local secrets with cooking classes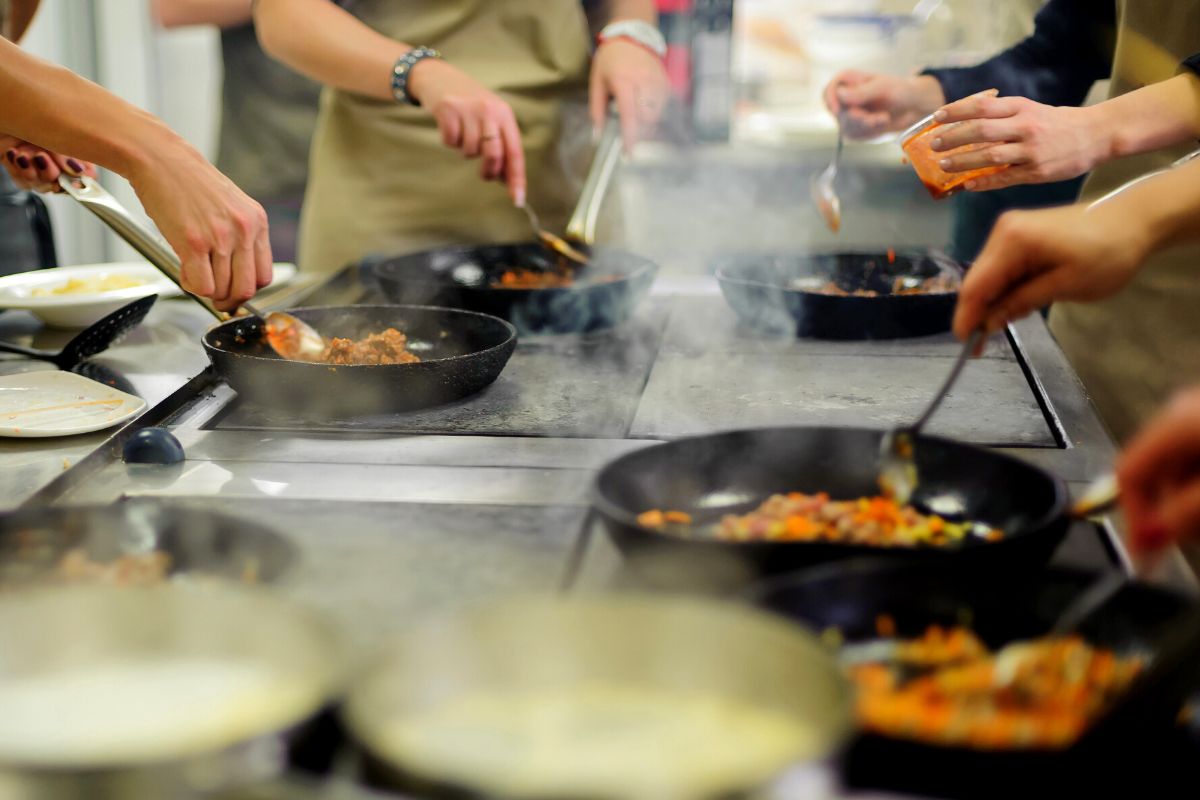 One of the glorious things about traveling to Vietnam is discovering its food scene and there are so many dishes that use interesting ingredients you might not know, from spices to vegetables.
If you're an avid cook or want to try something new, a cooking class is an awesome activity to try in Hanoi.
Choose what time you'd like to take your class, for example, in the morning or evening, and these tours are guided by an English-speaking local.
Visit a local fresh market, learn about and pick your ingredients, and head to a local's home for your private cooking extravaganza.
45 – Get lost in a world of art at the Vietnam National Fine Arts Museum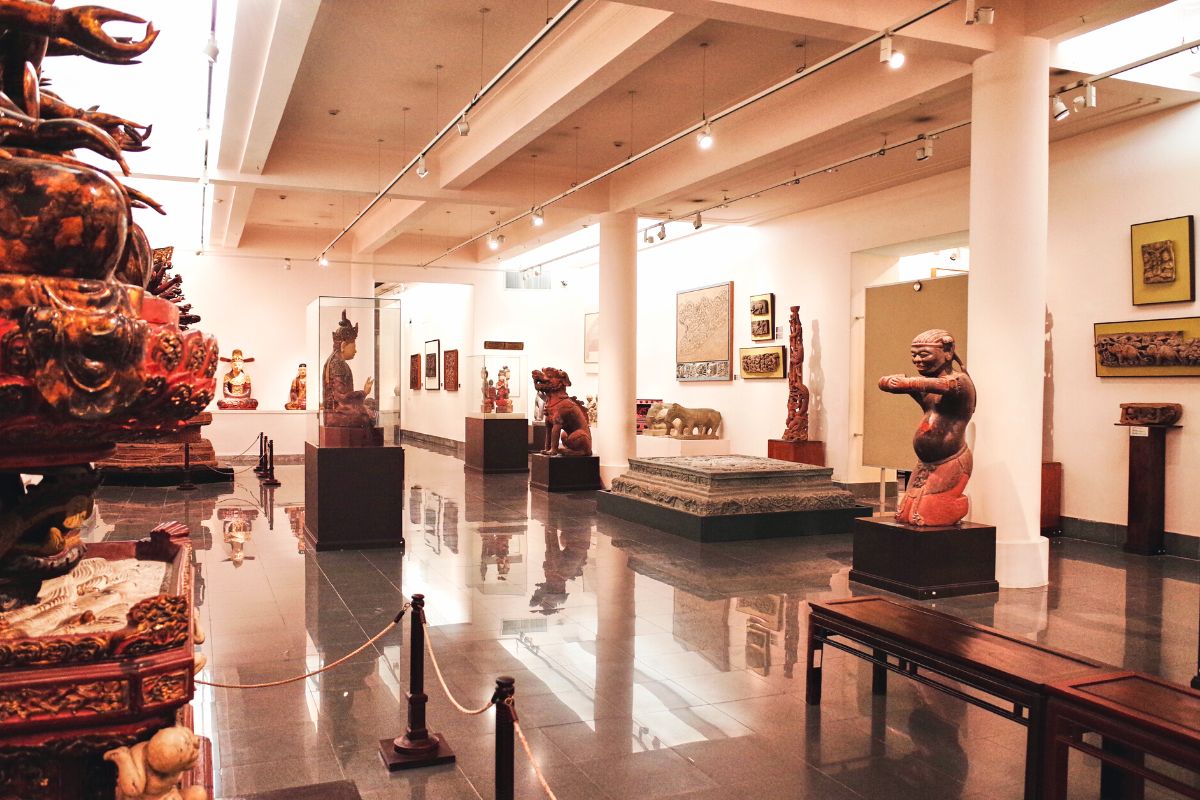 Not only are the artworks inside eye-catching but the Vietnam National Fine Arts Museum building is super pretty as well.
You'll catch yourself wanting to take photos of the architecture and exhibitions on display.
Art fanatics, explore the different art in Vietnam throughout the ages dating back to early history some 3,000 years ago to modern times with contemporary art on show.
The museum hosts all different art mediums, which naturally have changed and developed with evolution.
Find oil paintings and ones done in silk, explore folk paintings, sculptures and a collection of Vietnamese ceramics from the 11th century until today.
There are ancient daggers, doors with dragon motif carvings and copper buckets, to name some of the artifacts to see.
46 – Ride around Hanoi in an old-school military jeep and enjoy Jeep tours
Hop into the back of an open, roof-less jeep and enjoy cruising the streets of Hanoi in style as you get to see some of the city's most famous attractions.
If you've got only a few days in the city, a jeep tour is an excellent choice to navigate between historical and cultural sights in one day.
All the planning and map routing is taken care of – this can be tricky in Hanoi as road names are all in Vietnamese and many alleyways and areas look similar. You can get easily lost.
Choose between a half-day or a full-day excursion, and different tours visit varying attractions.
Some jeep tours are fully customizable, and you can determine exactly where you'll be driven to.
If you've done all your sightseeing in Hanoi already, there are jeep tours that head out of the city center.
47 – Watch a traditional water puppet show at Thang Long Water Puppet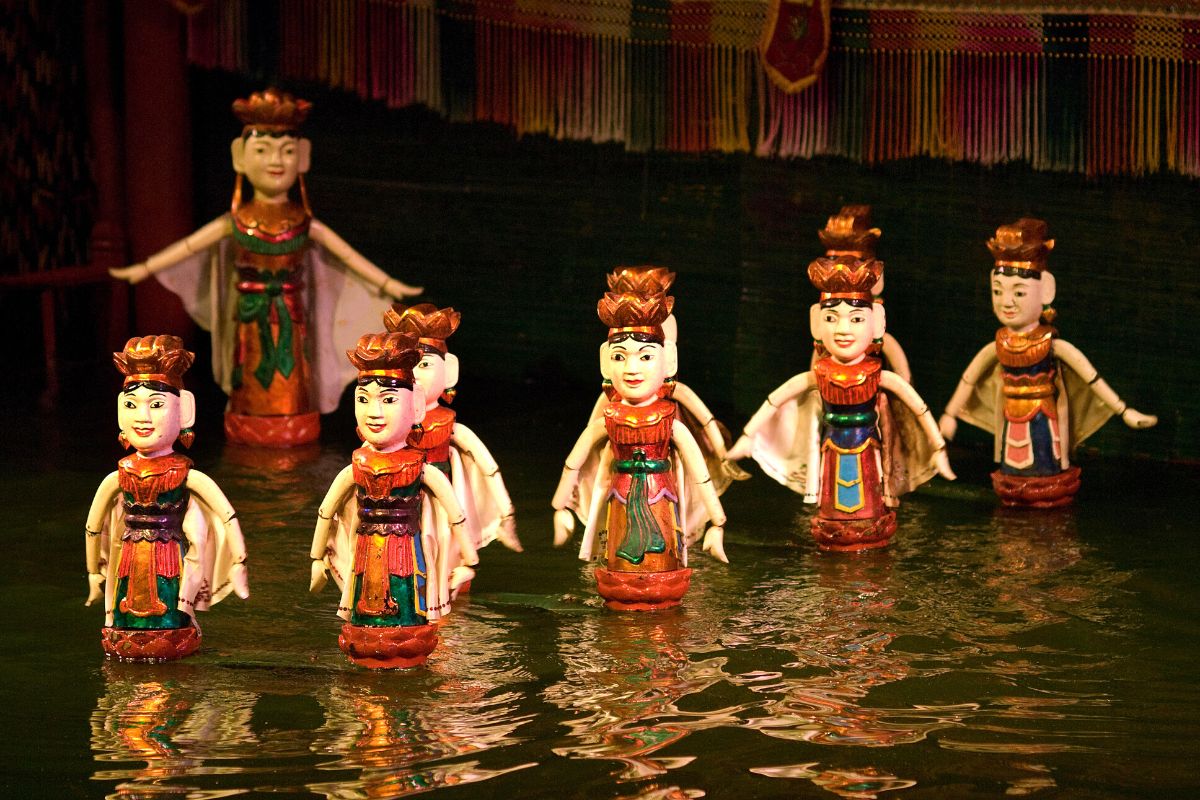 Forget about an ordinary puppet show … experience the traditional performing art in a whole new way at Thang Long Water Puppet.
Unlike most puppet shows where puppets act on strings or the puppeteer's hands, the entire show takes place in water using wooden puppets.  This is why it's called a water puppet show.
The performances are themed around Vietnamese folklore and historical stories, and the shows are accompanied by live musical acts.
Thang Long theatre is in the Old Quarter, right near Hoan Kiem Lake. Thanks to its location, masses of tourists flock to the water puppet show, including many Hanoi city tours (usually ending off here).
It's an important part of local culture and is one of activity you shouldn't miss.
Children will especially love this theatrical show and locals have been putting on puppet shows in Vietnam since the beginning of the 11th century.
48 – Imagine being a pilot at the Air Force and Air Defence Museum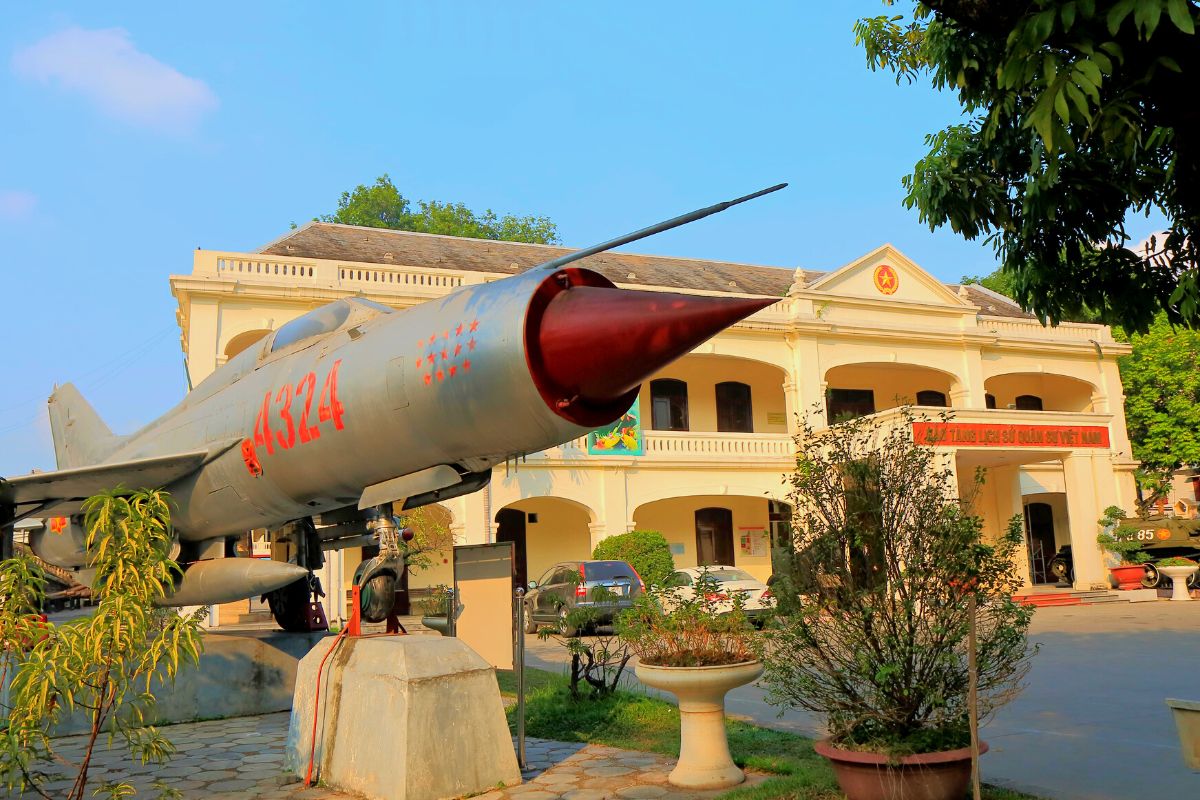 Home to 73 military artifacts, the Air Force and Air Defence Museum displays life-sized air defense and air force machines, from aircraft to missiles.
Built in 2004, there are indoor and outdoor exhibits to visit. History geeks, check out fighter planes and military helicopters used during the US-Vietnam War.
The outside of the museum hosts the real XX, whilst the inside exhibition is filled with smaller artifacts, photographs, and other printed materials.
Interesting and educational, the building was chosen as the air defense museum as its the original air force home base when first established in 1958.
49 – Walk one of the longest artworks you may ever see, the Hanoi Ceramic Mosaic Mural (Con đường Gốm sứ)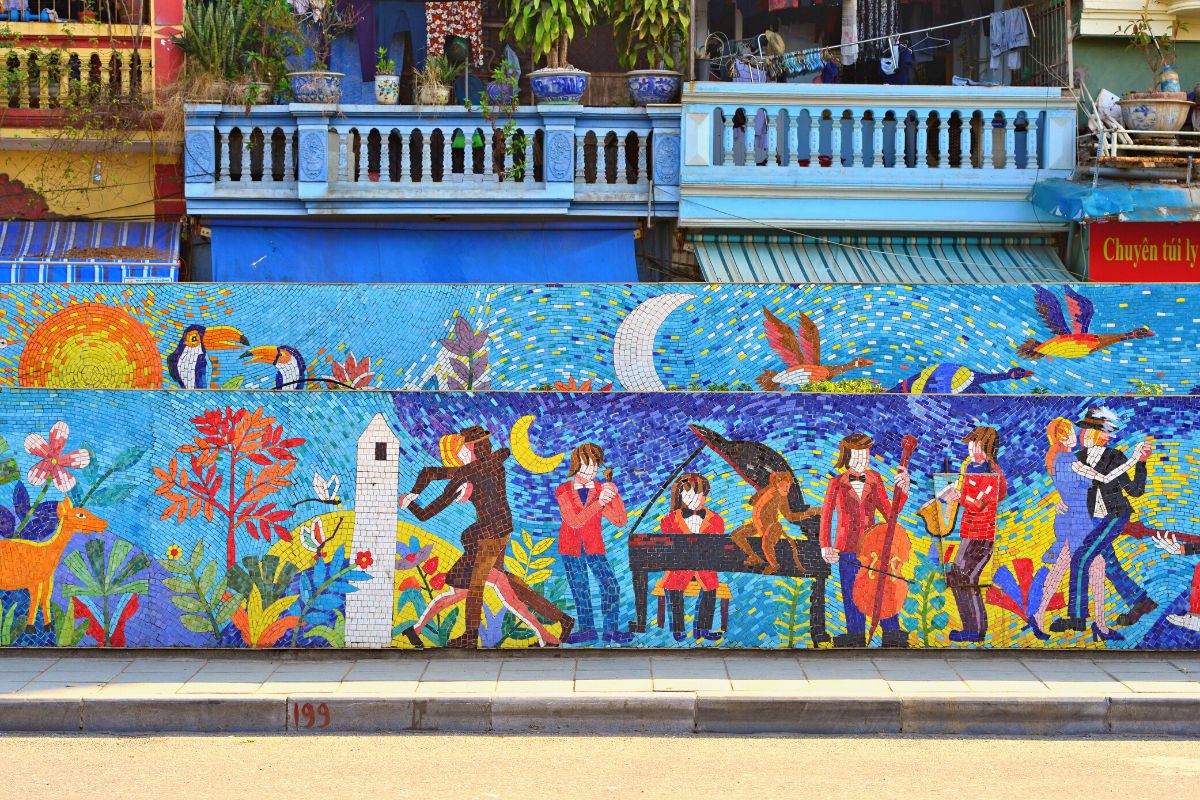 The Hanoi Ceramic Mosiac Mural is a standout feature of the city and is completely free!
Running four kilometers long along the streetside walls, the art piece is made completely from mosaic artworks created and provided by different artists, schools and organizations.
The wall starts in the Old Quarter, running along the Au Co highway and eventually ending after the Flower Market in the Tay Ho area.
Dedicate an hour or two and walk the entirety of the wall, taking many photographs along the way.
Find the beginning of the four-kilometer-long mosaic wall at the top of the Old Quarter, near the Long Bien bridge.
50 – Eat till you can't anymore at Hanoi's best restaurants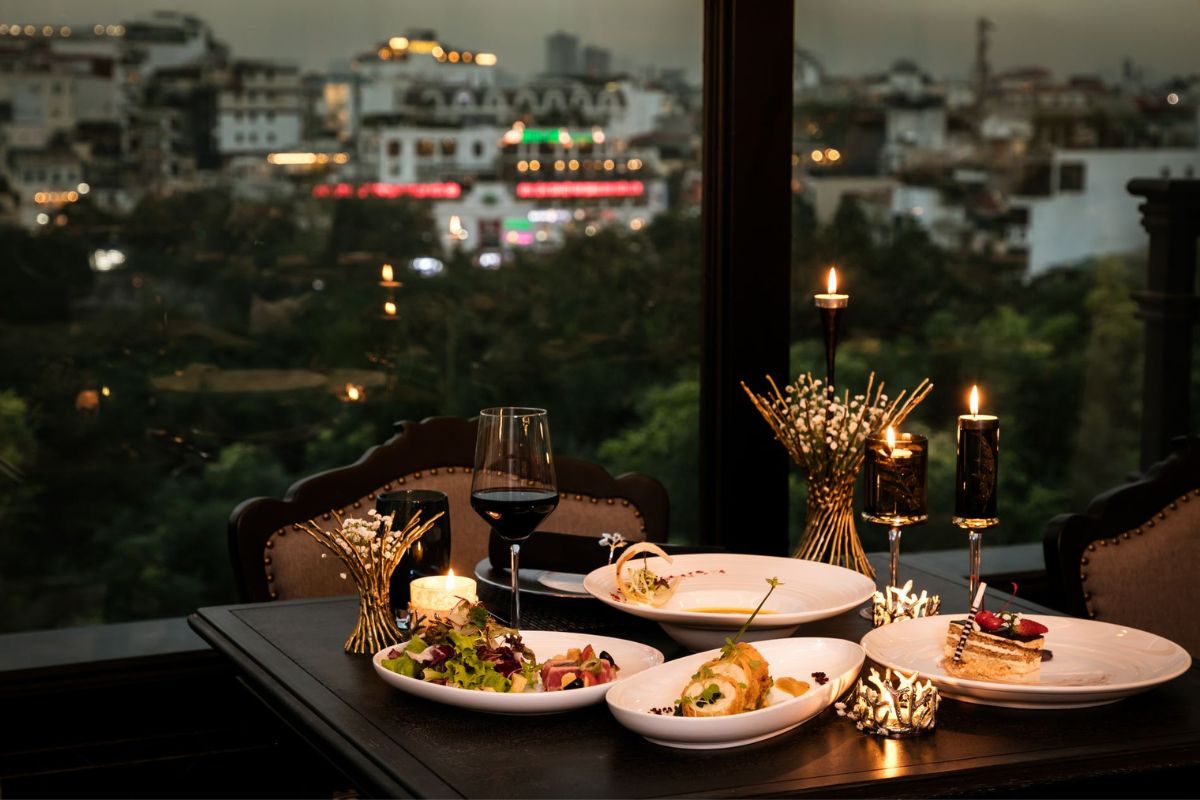 Apart from the incredible street food to find around Hanoi, there are some amazing restaurants serving both local and international cuisines.
Foodies, fine-dining is affordable in Hanoi, so do take advantage.
Speaking of, for an extraordinary 20-course meal, book a table at T.U.N.G Dining for a world-class gastronomic experience.
In the mood for tapas? Grab a table at El Loco Tapas Bar on West Lake in Tay Ho for an evening of Spanish food and sangria.
Also located in Tay Ho, head to Cousins for exquisite French food, and it's one of Hanoi's longstanding restaurants.
Take advantage of Buffet Sen's incredible buffet-style restaurant. As an all-you-can-eat, the large restaurant has various food zones where you can eat as much sushi, prawns, spring rolls, pasta, local delicacies and so much more.
During the daytime, grab a hearty meal at Hanoi Social Club, with many veggie and vegan options on the menu.
Feeling fusion? PIZZA 4P's is a mix of Italian and Japanese, and don't forget to order their burrata pizza.
For all things salmon, you'll love Salmonoid and one of the city's other best French restaurants is Maison Vie.
Lastly, the Metropole's La Terrasse is ideal for a Sunday vibe, and once a year, the metropole hosts an entire food week where Michelin-star chefs come to cook!
51 – Pay your respects at the Chùa Quán Sứ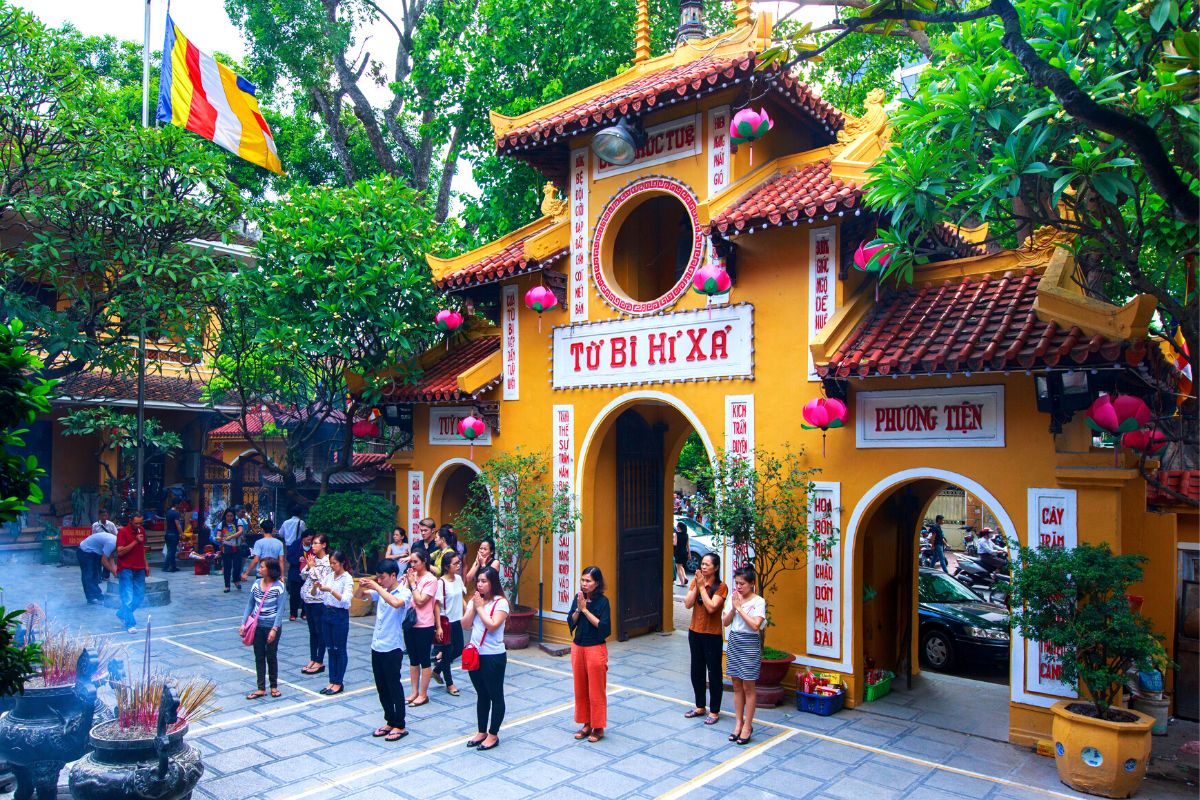 This Buddhist temple is one of the most important in all of Hanoi, and unlike many other major temples, Chua Quan Su is right in the middle of Hanoi.
Dating back to the 14th century, in 1858 it became the headquarters for Buddhism in Vietnam.
Today, many events, seminars and conferences will happen at Quan Su Pagoda (as it's called in English).
The temple is open every day, and admission is free.
52 – Try something new like SUPing (stand-up paddleboarding)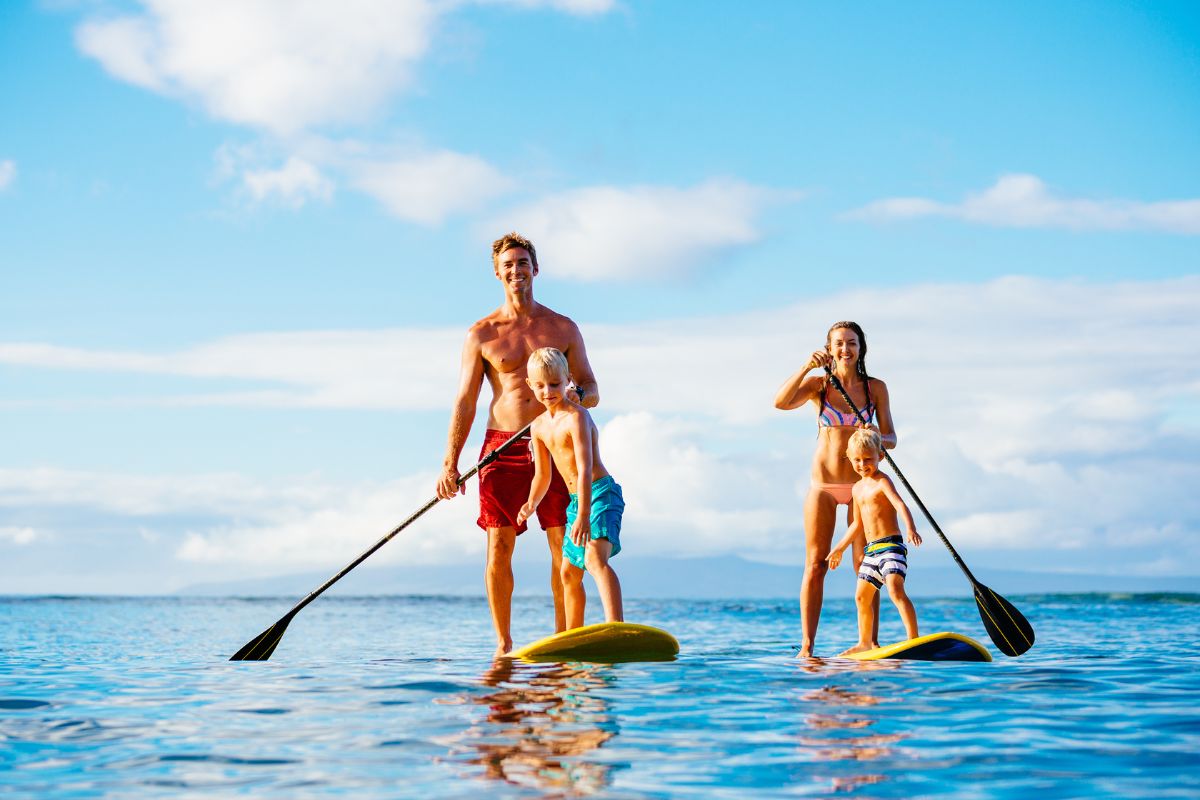 With no ocean in sight, lake water activities are super popular in Hanoi, and that includes stand-up paddleboarding or SUPing as it's also known.
It's not only fun but great exercise too.
In Hanoi city, you can enjoy SUPing around West Lake, or if you travel 1.5-hours from Hanoi, enjoy unreal scenery as you try SUPing on Hoa Binh Lake.
Ba Khan Bay forms part of the lake and is a popular spot for the activity.
If you're traveling to Ninh Binh Province (located two hours away), Tam Coc and Mua Cave are both popular destinations for the watersport, cruising on the emerald-colored waters in this region.
For something extra special, Ba Be Lake inside the Ba Be National Park is exquisite, however, the park is located 4.5-hours away and is suitable for an overnight stay.
53 – Shop for crazy cheap prices at Hanoi Weekend Night Market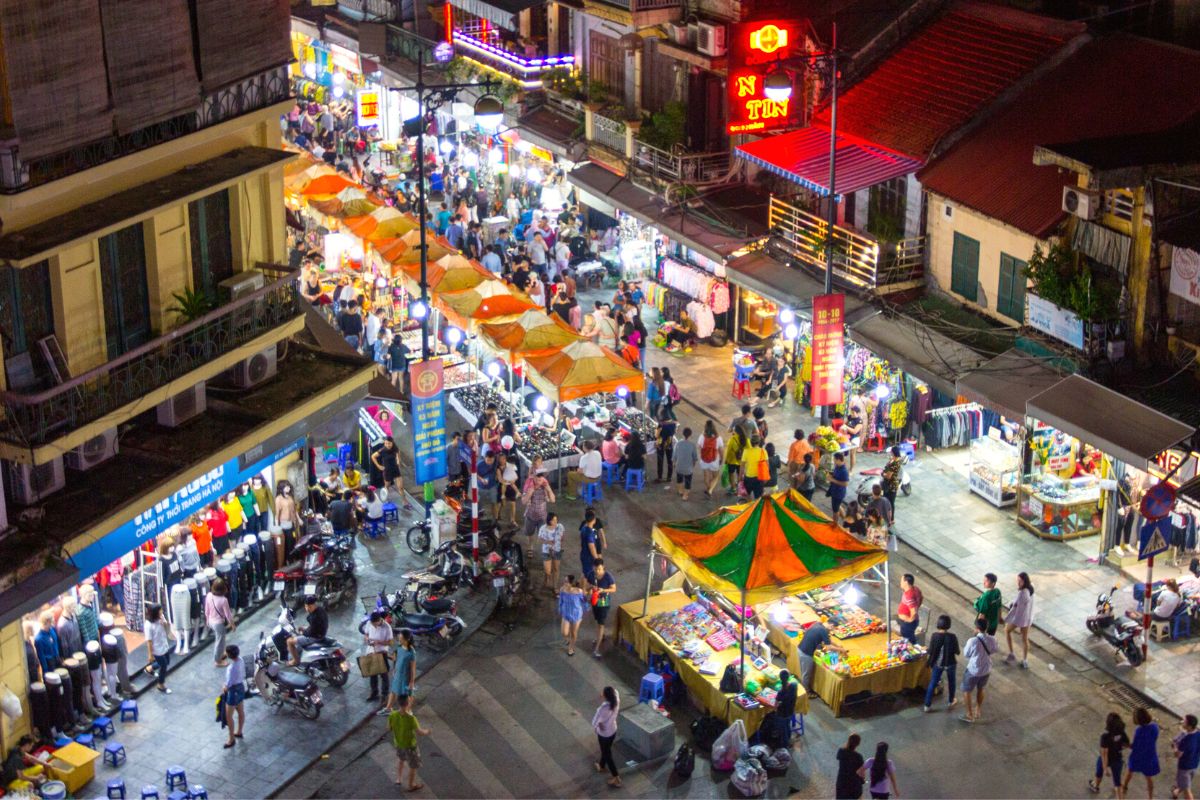 Held every weekend, a few streets are closed down to vehicles at the bottom of the Old Quarter and rows and rows of market stalls open for the Hanoi Weekend Night Market.
Find all sorts of typical market goods, from clothing to accessories, souvenirs, toys, bags, socks … you name it.
The market sells very cheap goods and is a great spot for trying street food and bite-sized sweet treats.
The weekend market is open from Friday to Sunday, from 7 PM until around midnight.
54 – Discover another flower field, Vườn Hoa Bãi Đá Sông Hồng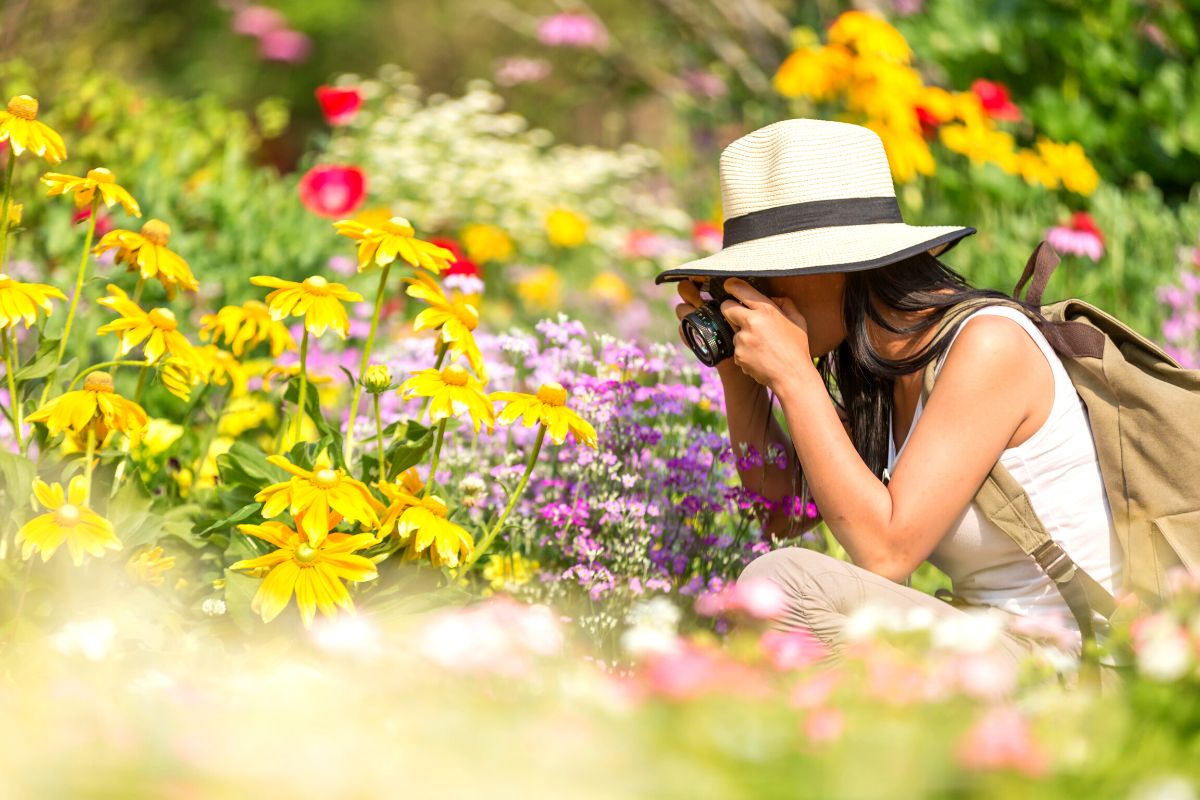 Right next to the banks of the Red River, Vườn Hoa Bãi Đá Sông Hồng is extra popular among the locals for coming to take photographs.
Find rows of gigantic Sunflowers, pink and purple Cosmos, and bunches of other colorful florals depending on what's in bloom that season.
There are cute structures that have been built for photo ops like bamboo water wheels, red wooden bridges and view-point huts.
The flower garden is especially popular for having a picnic and feels extra romantic among all the rainbow fields.
There's a designated outdoor chill area with beanbags littered everywhere, and you can buy food and drinks here too.
55 – Walk around Dong Kinh Nghia Thuc Square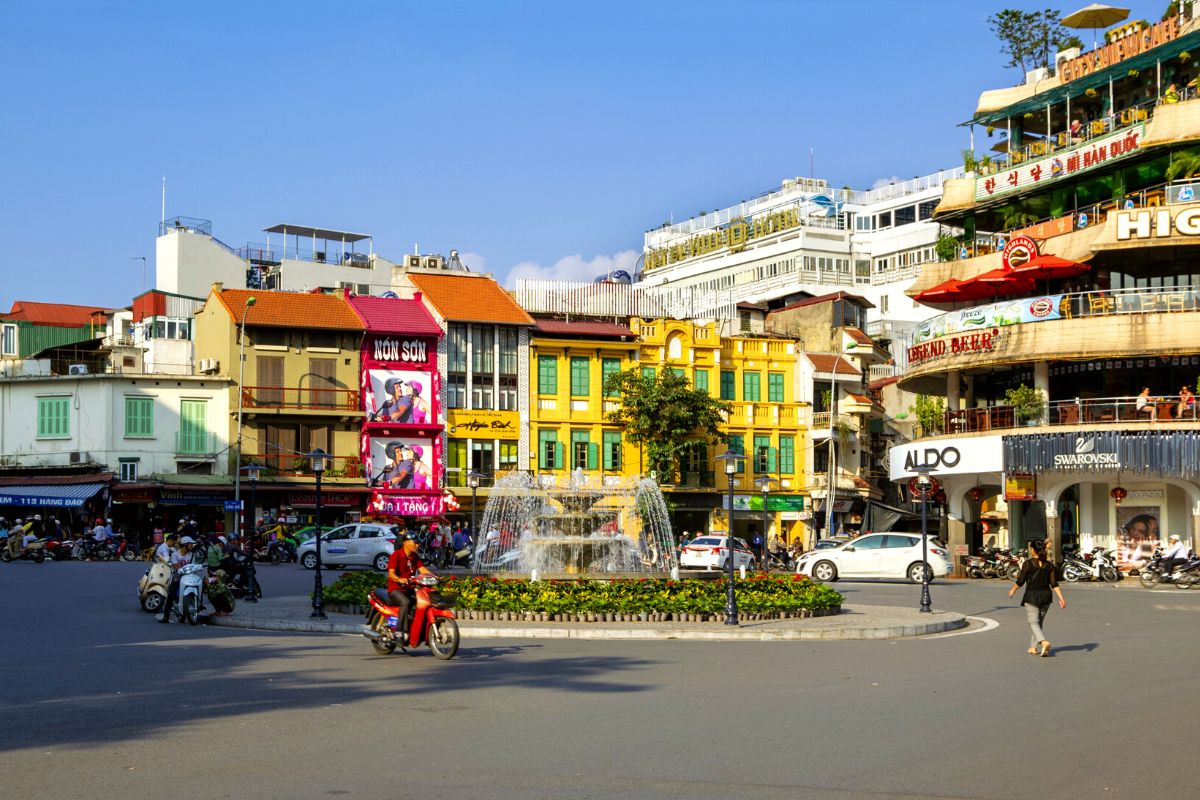 In between the main hub of the Old Quarter and Hoan Kiem Lake is Dong Kinh Nghia Thuc Square.
Look out for the roundabout by Hoan Kiem Lake and you're in the right spot.
The famous Tòa Nhà Hàm Cá Mập building is home to Highlands Coffee and amazing bird's eye views.
Around the square, there's a plethora of cafes, boutique shops and local stalls, and during the weekends this entire area is closed off and transformed into a walking street.
Look out for the giant Aldo shop sign and you know you're in the right place.
56 – Take a fun beer tasting tour around the city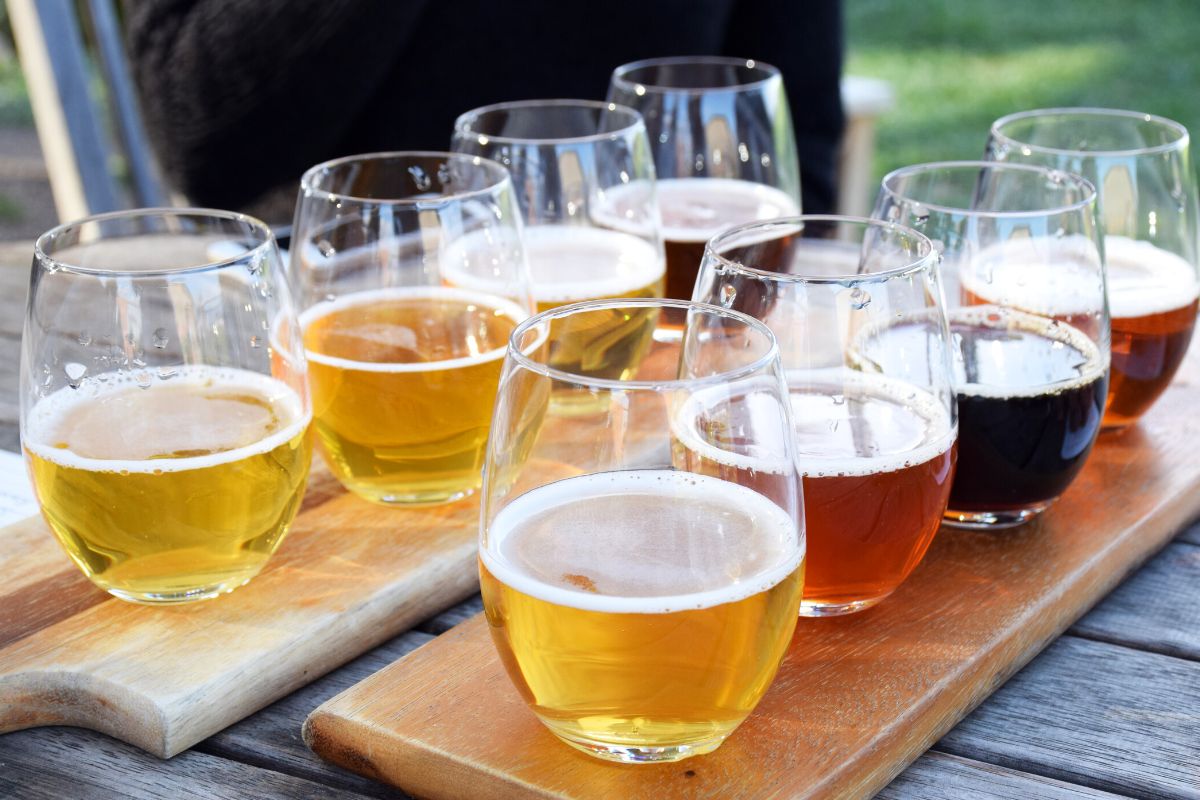 Believe it or not, beer is dirt cheap in Hanoi, even cheaper than a bottle of water!
Don't be surprised if your beer order arrives with a cup of ice as this is common practice in the city. During summertime, you'll be thankful.
Travel to local drinking holes and different bia hois (these are everywhere and refer to local beer drinking halls famous for their blue tables and low chairs).
In recent years, craft beers have become popular in the city and there are beer tours that solely focus on the craft drafts. Learn about the brewing processes, and get merry whilst doing so.
Bia Corner in the Old Quarter is a very popular spot for travelers to go drinking cheap beers, and it's always vibey.
57 – Hang out for the evening on the side of Nhật Tân Bridge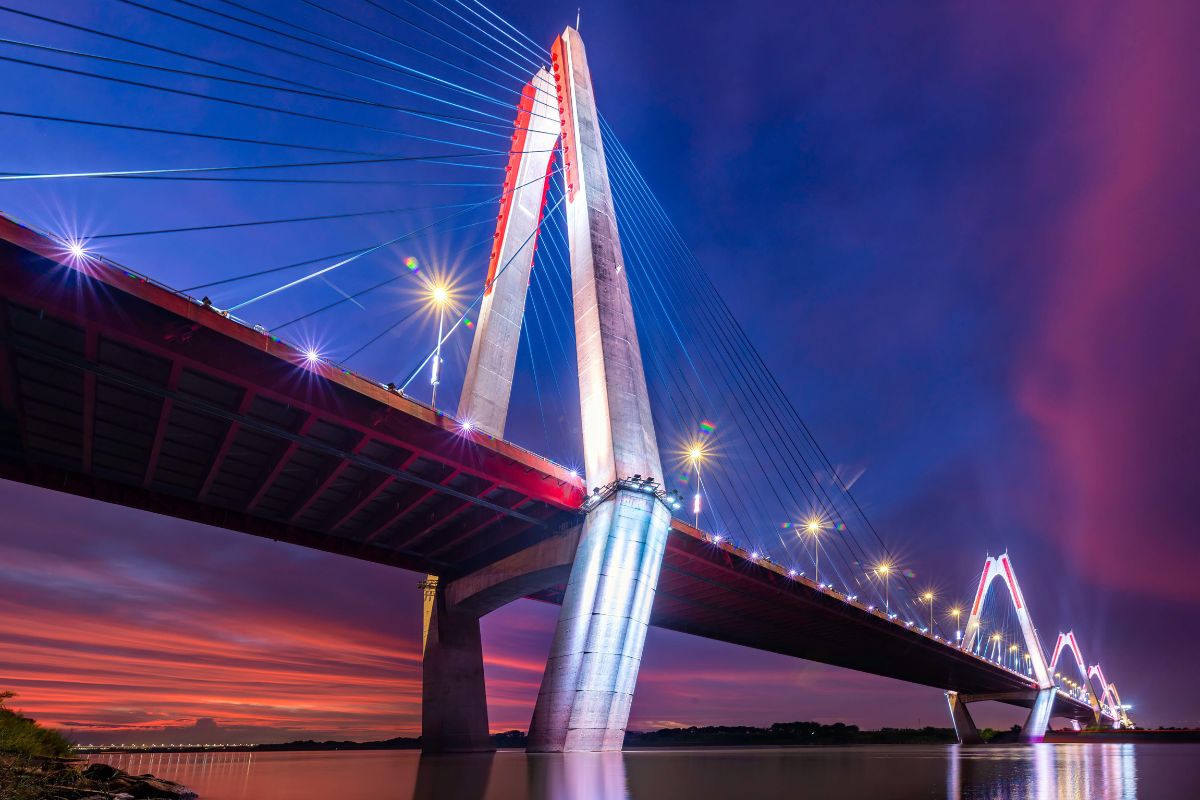 Nhật Tân Bridge is known as the "friendship bridge" and at night time many young couples and friends drive to the bridge, park their motorbikes on the side, and hang out.
In the evenings, the entire bridge is lit up by colorful neon light sequences, dancing off the Red River below.
The friendship bridge is en route to Hanoi's Noi Bai Airport and everyone arriving in Hanoi by plane will have to cross the bridge via car or motorbike to enter the city.
If you notice the five points along the sides of the bridge, these represent the five ancient gates found within Hanoi.
58 – Find yourself chilling at Trill Rooftop Cafe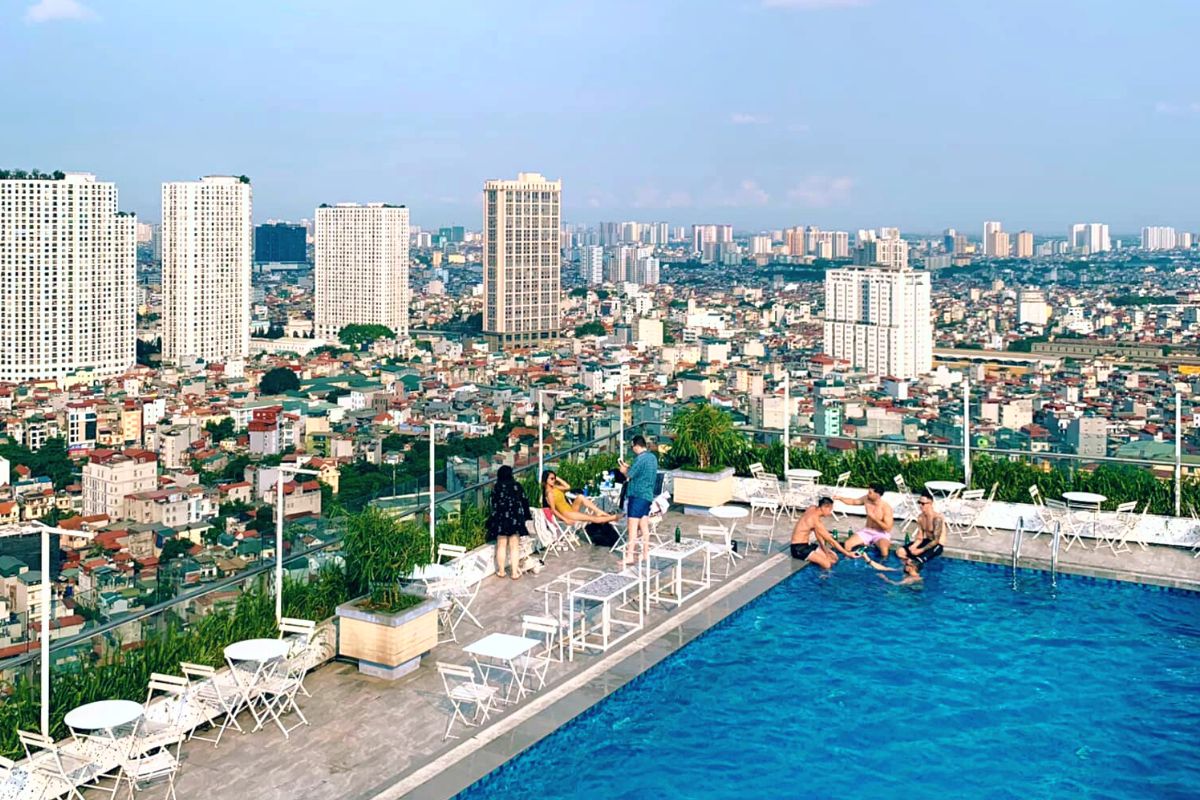 If you've ever experienced Hanoi's heat, a rooftop pool is all you need in the peak of summer.
With no ocean around, there are only pools to cool off in, and what better way to do so than at Trill Rooftop Cafe's pool.
The rooftop pool/cafe is vibey and many young locals and expats come here to hang out.
You will need to pay an entrance fee to use the pool.
59 – Walk through the 18th-century city gate, Ô Quan Chưởng (The Old Gate)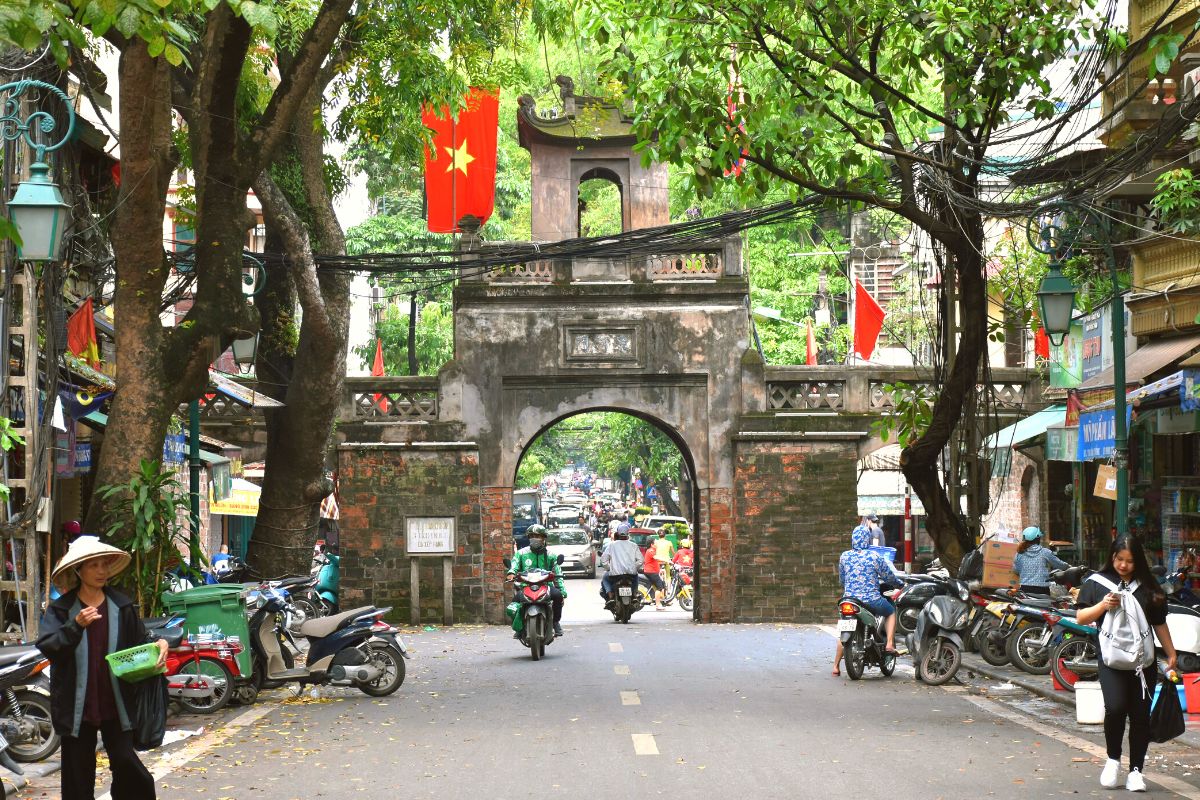 Touch a part of history, or more accurately, walk or drive through it as you enter through Ô Quan Chưởng, also known as the Old Gate.
Back in the day, this was Hanoi's original entry bridge-way where a watch tower once stood, built to observe unknown visitors entering the city.
The Old Gate can be found in the Old Quarter, right near the start.
60 – Go cafe hopping!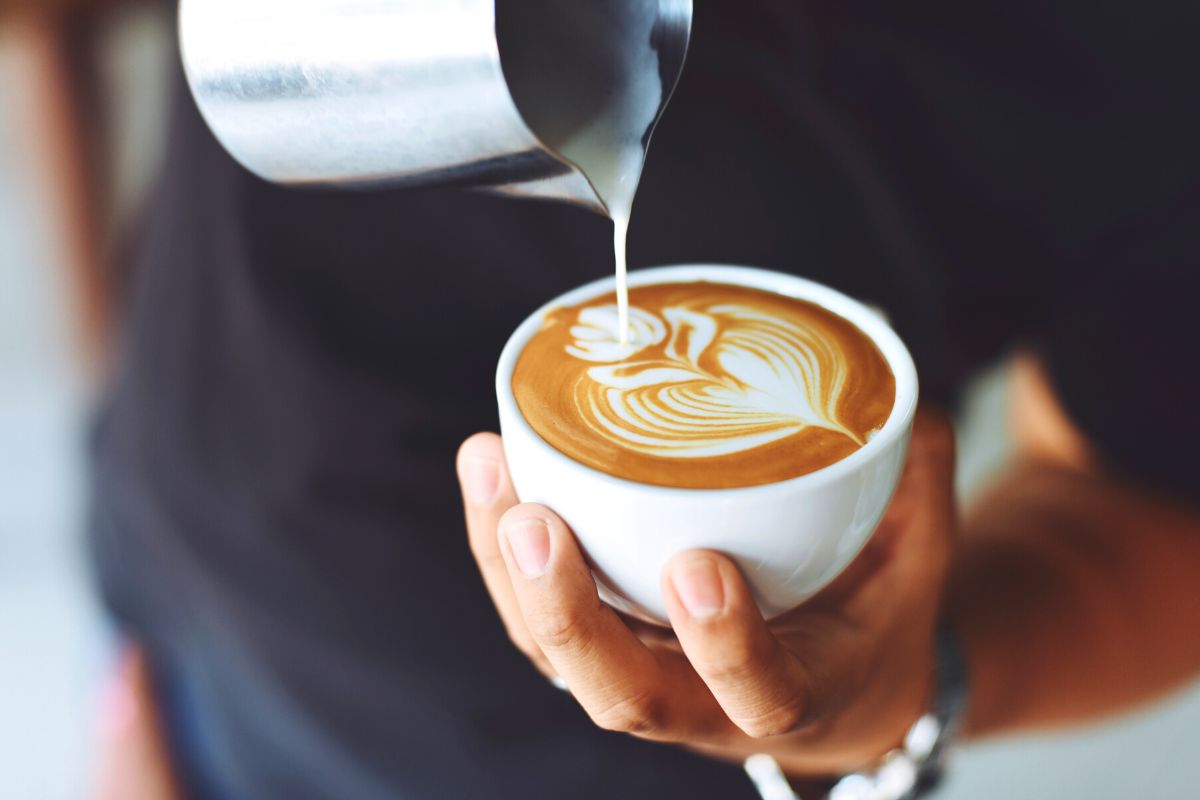 Coffee culture is huge in Vietnam, and you've probably seen the famous Vietnamese coffee, ca phe da (iced coffee) on many artisanal coffee houses' menus in other countries.
More of a lifestyle, there are tons of cafes scattered throughout the city, some of them so pretty they belong straight on Instagram.
Feel like you're on the streets of Paris at G-Cafe @ Gather Vietnam. Grab a buddha bowl and kombucha and chill in the dramatic courtyard.
If you're a fan of Korean dramas or grew up watching Gossip Girl … recreate your own scenes and moments at De Ville Cafe.
Enter through an intriguing garden courtyard and discover old-time magic at Cafe Cuối Ngõ, or add a splash of color to your life and chill at the indoor pool cafe, HOVI de Bali.
There's just something so appealing and alluring about an all-white cafe and the interiors of Đốm Café & Kitchen are no different.
For a taste of Cuba in the 70s, head to The Pink House, and undoubtedly, Cong Caphe has one of the best coconut coffees in town.
61 – If you're in Hanoi during May and June, don't miss Đầm sen Hồ Tây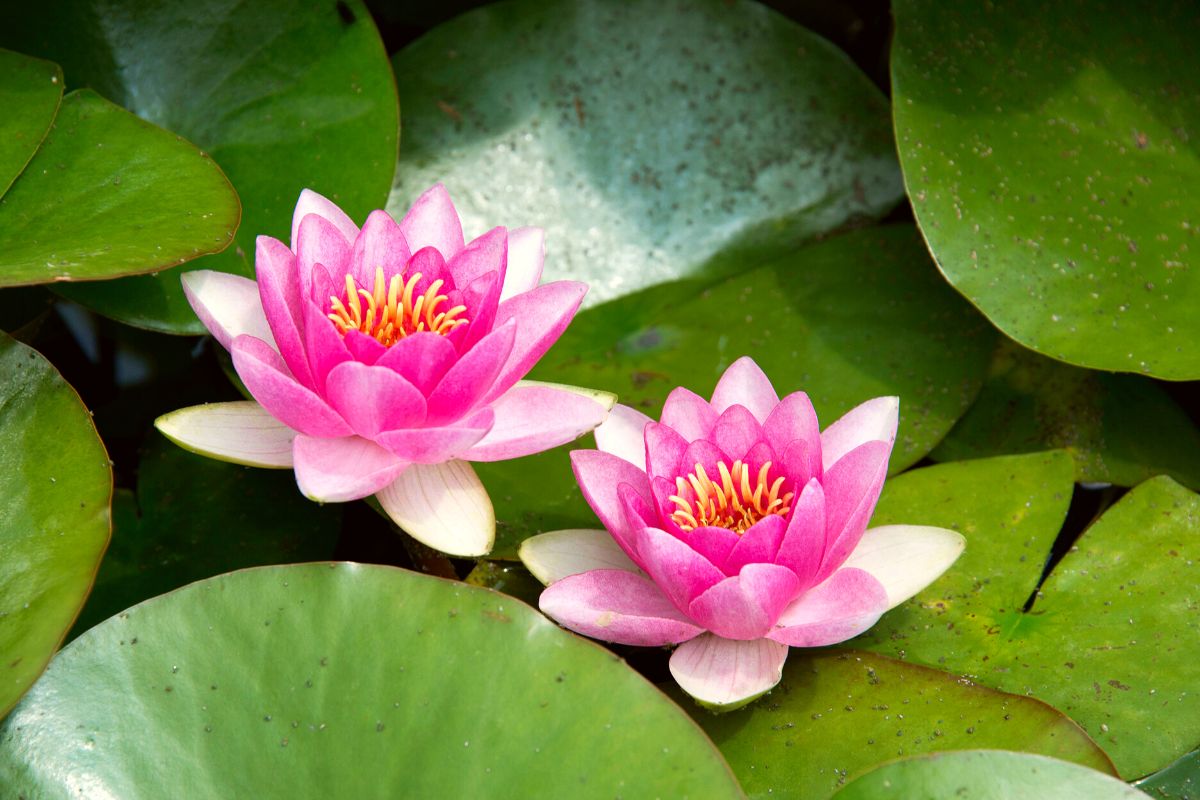 Đầm sen Hồ Tây is right next to the Water Park and Buffet Sen in the Tay Ho district and the secret spot is home to ponds of blooming Lotus flowers with a giant ferris wheel in the background.
As the country's national flower, it's amazing to catch the flowers in bloom, and during Lotus season, the area around here bustles.
Buy bunches of fresh pink or white Lotus flowers, or come and take photos. A highlight of Dam Sen is dressing up in traditional Vietnamese clothes, known as an áo dài, putting on a nón lá (conical bamboo hat) and hopping onto a rowing boat.
Here, they rent out the traditional clothing.
Have your photograph taken among the lotus ponds which looks like a scene from the countryside.
62 – Let your hair down and enjoy the nightlife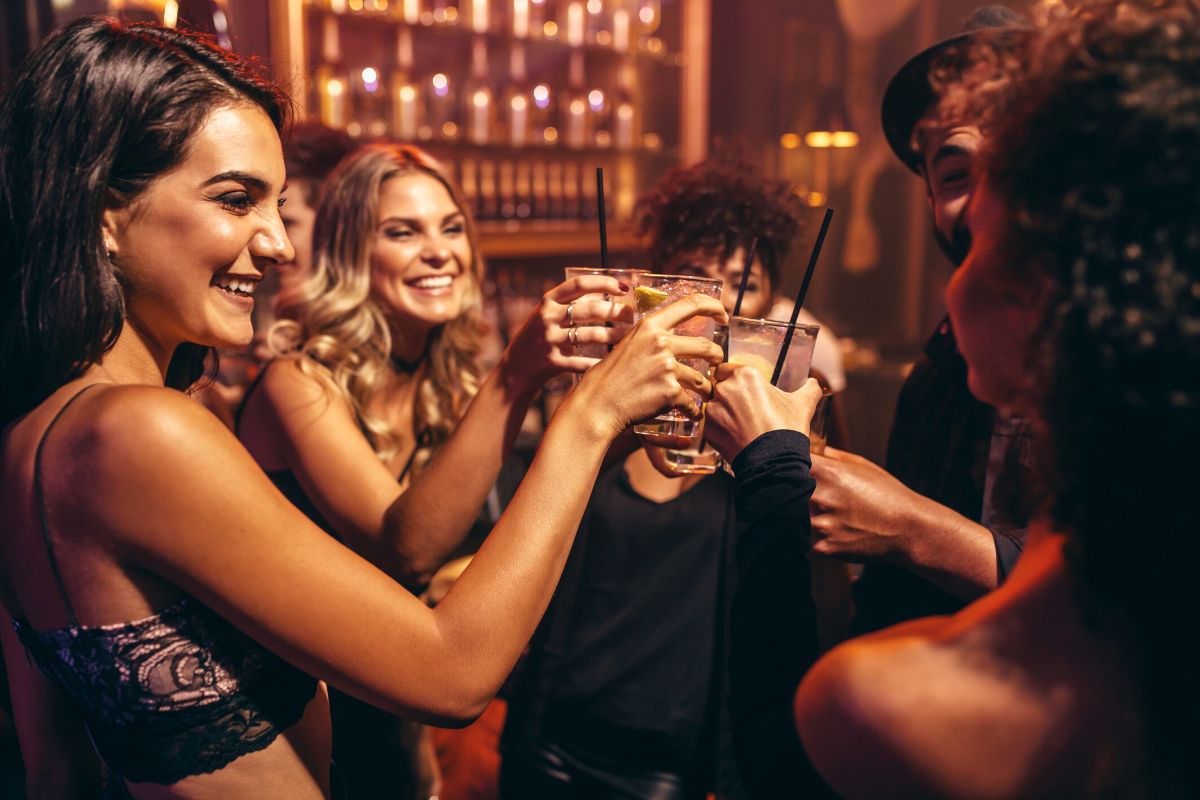 Discover some of the best nightlife that Vietnam has to offer right in the capital city of Hanoi.
From pubs to bia hois, bars and nightclubs, there's something to tickle everyone's fancy if you're in the festive or social mood.
Grab a beer at bia corner, or a bia hoi, or if you feel like getting fancy, visit Polite & Co, a super ambient jazz and cigar lounge.
If you're keen on a different crowd and drinks that aren't just beer and cheap alcohol, head towards West Lake and enjoy a more sophisticated evening of drinks around the lake or a glass of wine.
Turtle Lake Brewery in Tay Ho is great for craft beers and delicious cocktails.
In the mood to boogie? Around the Old Quarter, there are tons of bars and clubs spilling out onto the road. Go on a club or bar hopping expedition starting at one of the hostels.
63 – Snap a pic in the middle of a historical bridge, the Long Bien Bridge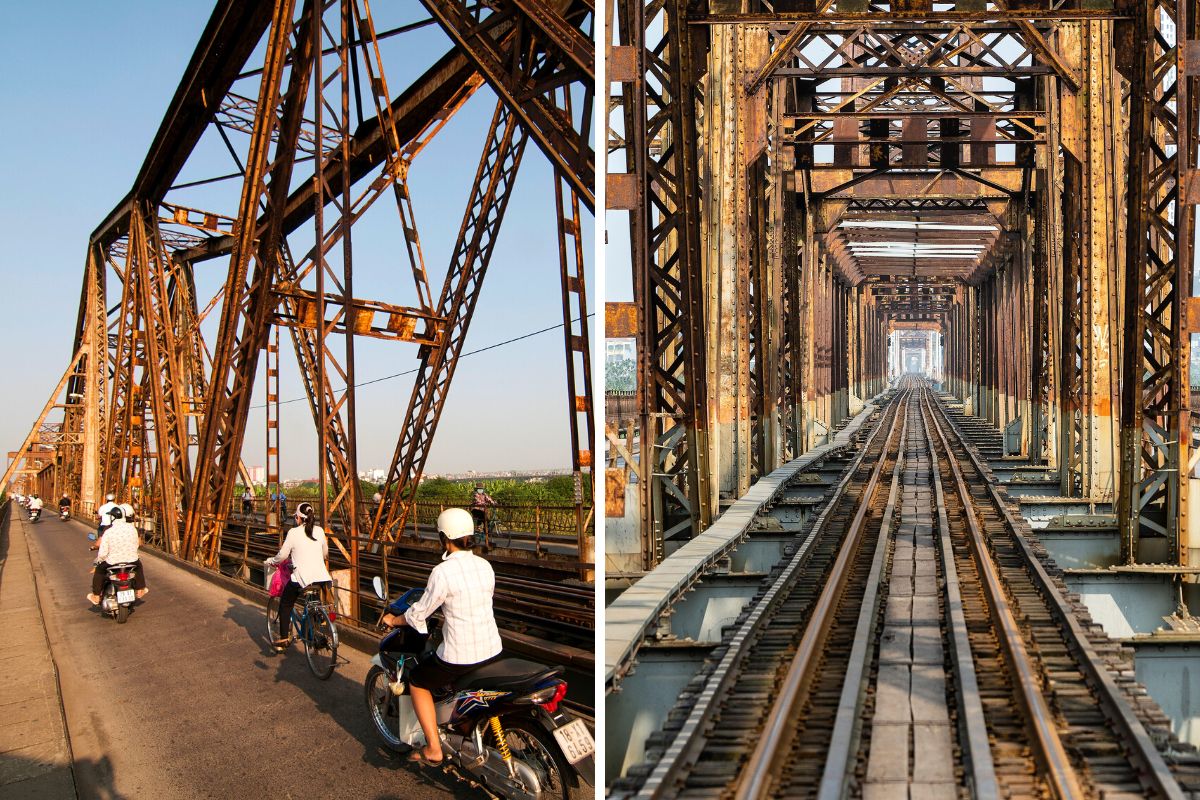 Long Bien Bridge connects Hoan Kiem district and Long Bien (just outside of central Hanoi).
It feels quite strange crossing the bridge with the Red River below you and the bridge is still used by motor vehicles.
Apart from connecting areas, it's a popular spot among locals for taking photographs.
Sporting French architecture and unique positioning, the middle of the bridge doesn't allow motor vehicles to drive here and this is where photos are taken.
64 – Take in the red Hanoian sunsets at its best rooftop bars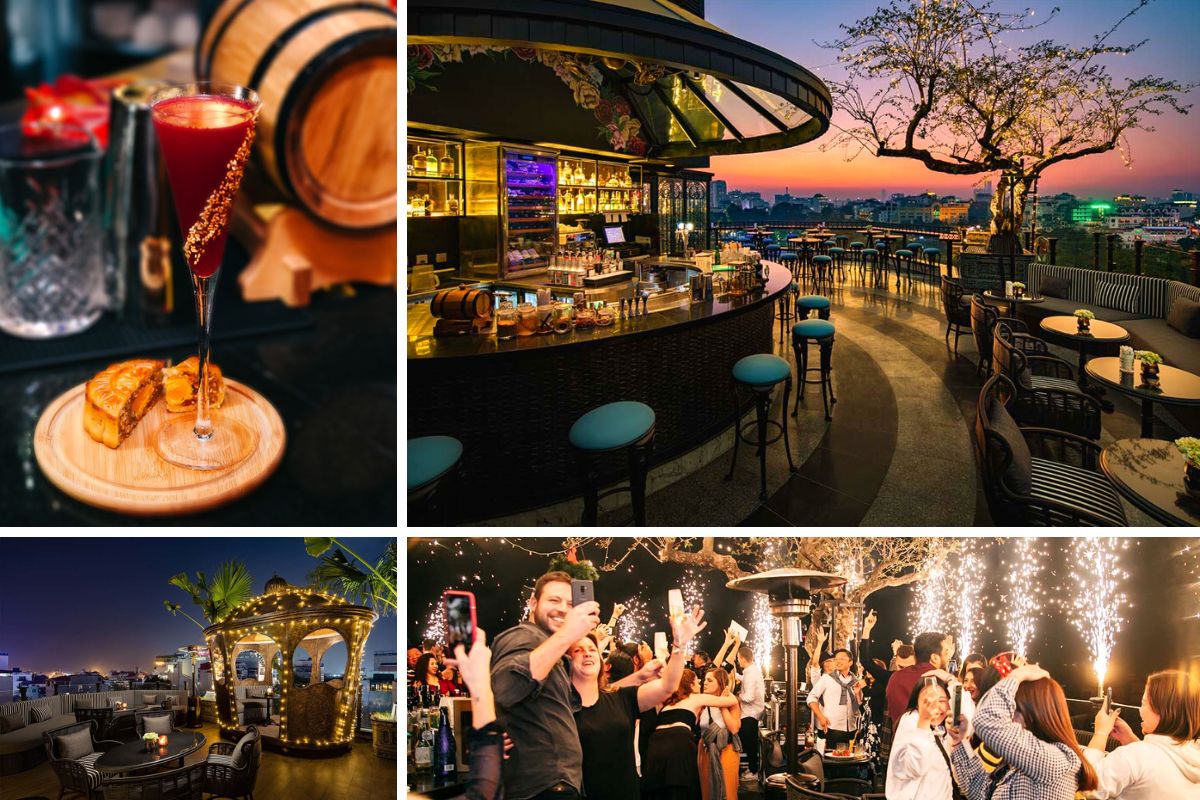 In a city made up of buildings erected upwards, there are many rooftop spots to visit for drinks and views.
Located on the 65th floor, Top of Hanoi is an iconic spot for sunset hour.
SKYLINE overlooks the Old Quarter and it's especially romantic in the evenings when the city lights twinkle below.
Try one of Terraço Sky Bar's signature cocktails, inspired by Hanoi, and they offer cocktail and tapas pairings too!
Located on the 20th floor, The Summit Bar sits right on West Lake and is another fantastic choice as the sun starts to set over the water.
Listen to smooth jazz while enjoying a glass of vino at Lighthouse Sky Bar and try one of their signature cocktails.
Where to stay in Hanoi?
You're spoilt for choice when it comes to accommodation in Hanoi.
The iconic Sofitel Legend Metropole is one of the best hotels in Hanoi, and the interiors, architecture, service and experiences are 5-star.
Perched right on West Lake and with its unending sunset views, the luxurious InterContinental Hanoi Westlake offers guests a beautiful stay.
If you prefer to stay out of the touristy areas, check into the stylish JW Marriott Hotel. It's an awesome choice for traveling families with large gardens, loads of green spaces and kid-friendly activities.
Mia Casa by Satori looks like it belongs on a Pinterest board, and the interiors are trendy and contemporary-cool.
Sporting plush interiors and touches of traditional design, the regal Hanoi Center Silk Hotel is conveniently located in the heart of the Old Quarter and close to must-see attractions.
Enjoy staying at Fraser Suites Hanoi in Tay Ho, and the luxury apartments and studios are perfect for either couples or families. Plus, there's a load to do in this neighborhood, including bars, places to eat, cafes and parks.
Peridot Grand Luxury Boutique Hotel offers everything you expect in a boutique stay and the rooftop pool is next-level!
A long-standing city hotel with excellent service and all the bells and whistles, the Melia Hanoi has it all ….
When you first arrive in Hanoi, opt for an airport transfer directly to your stay and avoid trying to navigate the busy city yourself. Noi Bai International Airport is a minimum 30-minute drive from the city center.
Final thoughts
There's so much to do and see in Hanoi, you'll realize why it's recommended to spend at least two or three days in the capital city.
From sightseeing to eating, you'll feel Hanoi's magical allure without even realizing it!
Found yourself falling in love with Northern Vietnam? There are tons of day trips to do from Hanoi and can easily be reached within a few hours.
Visit famous Halong Bay, or head into Ninh Binh Province instead. If wanting to stay overnight, consider a 2-Day or 3-Day trip to Sapa, way up north.
To get acquainted with Hanoi, and its tiny alleyways and street signs all written locally, take a FREE walking tour around, visit must-see places in Hanoi, learn about the city and familiarize yourself and get your bearings.
We hope you've loved our diverse list of things to do in Hanoi, Vietnam! What's your favorite thing about the city? Let us know in the comments below, or if there are any other magical must-see places to add.
Where go next? If you are heading South, make sure to check our lists of fun things to do in Da Nang, Hoi An, Ho Chi Min City and Phu Quoc.
Safe and happy traveling.