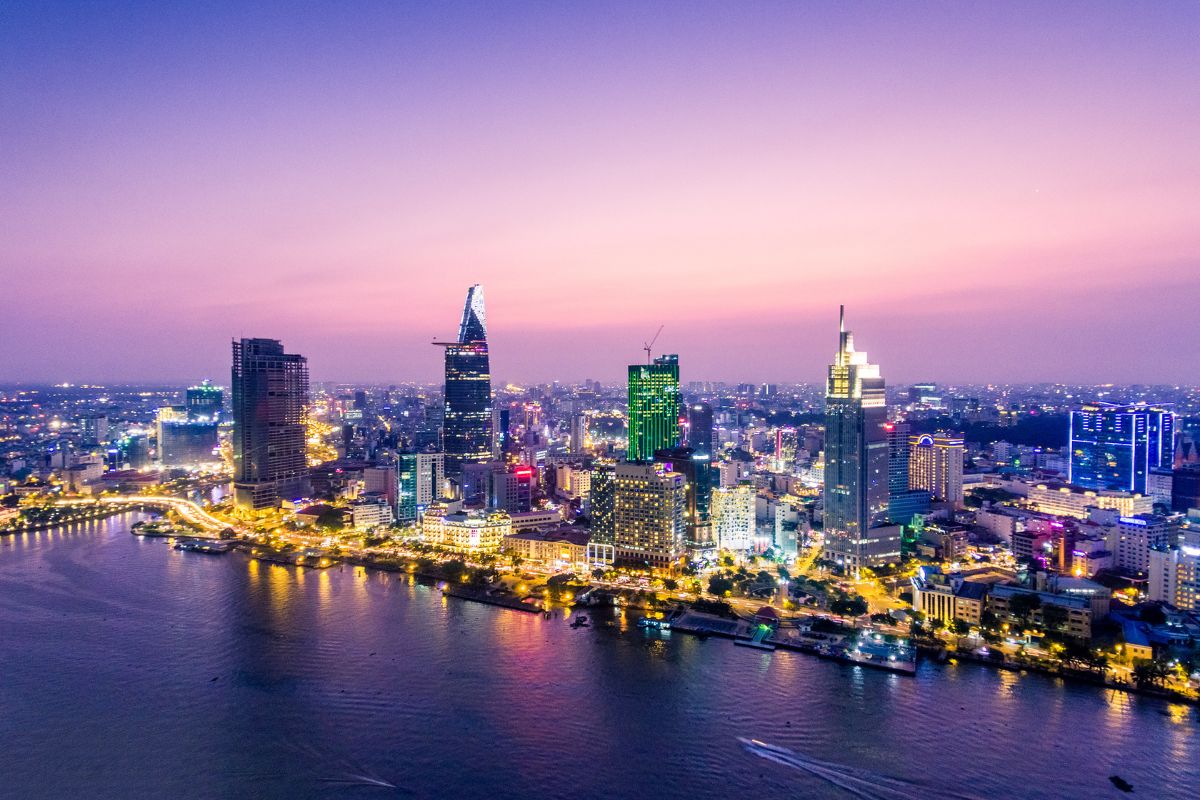 Once known as Saigon, today Ho Chi Minh City is renowned as the country's metropolitan city, filled with skyscrapers, rooftop views, and urban-cool activities.
However, a trip to the south of Vietnam isn't without its plethora of cultural things to do in Ho Chi Minh City (HCMC), and an entire day can fly past spent exploring its many churches, temples, pagodas and other worship grounds.
Not to mention, there are many museums to visit to suit everyone's tastes, from the War Remnants Museum to more traditional museums exploring the arts and culture.
Take a street food tour, read a book and unwind at a trendy cafe or enjoy a picnic in one of the city's parks.
If you've shopped all the day (and night) markets, and explored the various Walking Streets and city districts, there are dozens are fabulous day trips to enjoy just an hour or two from HCMC.
The most famous is a visit to the Mekong Delta or the Cu Chi Tunnels.
End your evenings off with a fine-dining experience, or grab a craft cocktail at a rooftop bar.
1 – Head up to Saigon Skydeck inside the 124th tallest building in the world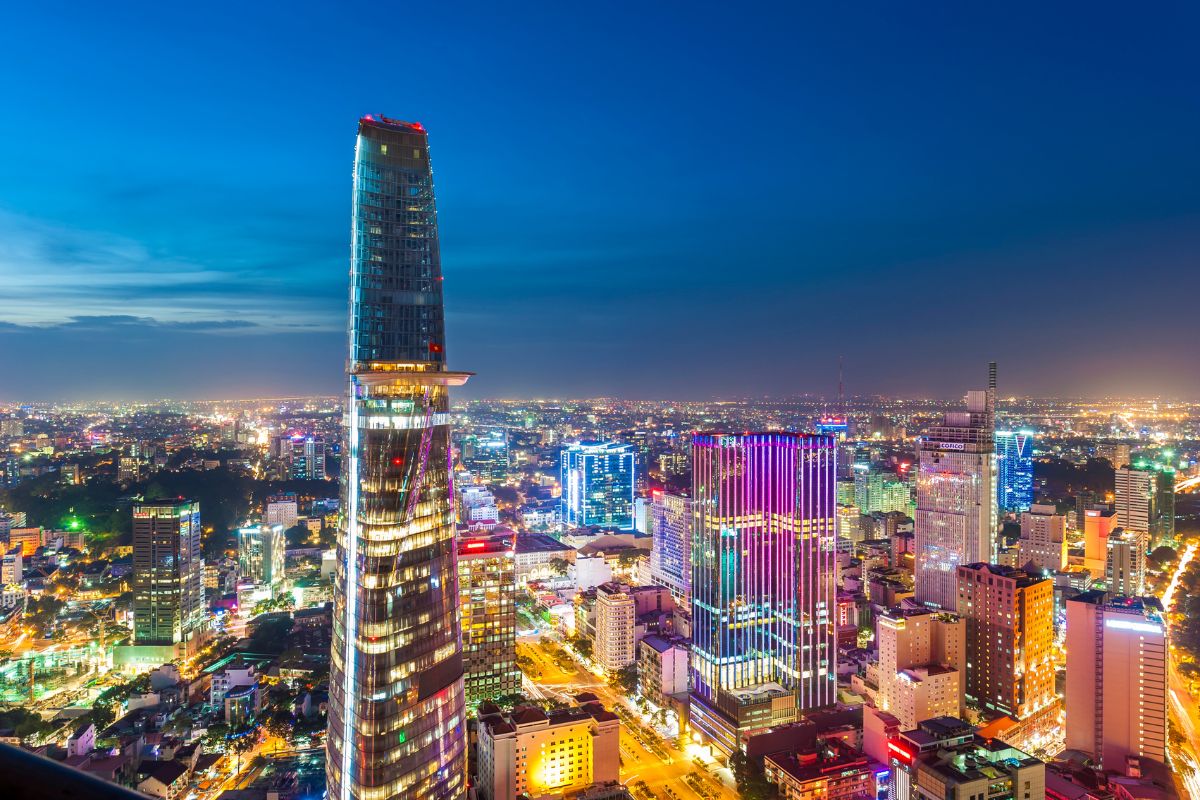 Designed in the shape of a blooming Lotus bud (Vietnam's national flower), the Bitexco Financial Tower is the city's highest skyscraper.
Located on the 49th floor is the tower's observation station, the Saigon Skydeck, offering visitors unparalleled 360-degree views of Ho Chi Minh City below.
Boasting 68 floors in total, the 262-meter high building has become a hotspot for both tourists and locals who frequent the mall inside, Icon 68.
The shops sell high-end goods, there's a cinema in the shopping center, as well as many food and dining options.
Found in the financial district, this skyrise also has its own helipad, the EON Helibar. Rides and transport via helicopter are available for booking.
2 – Explore 20,000 documents, artifacts, photos and films at the War Remnants Museum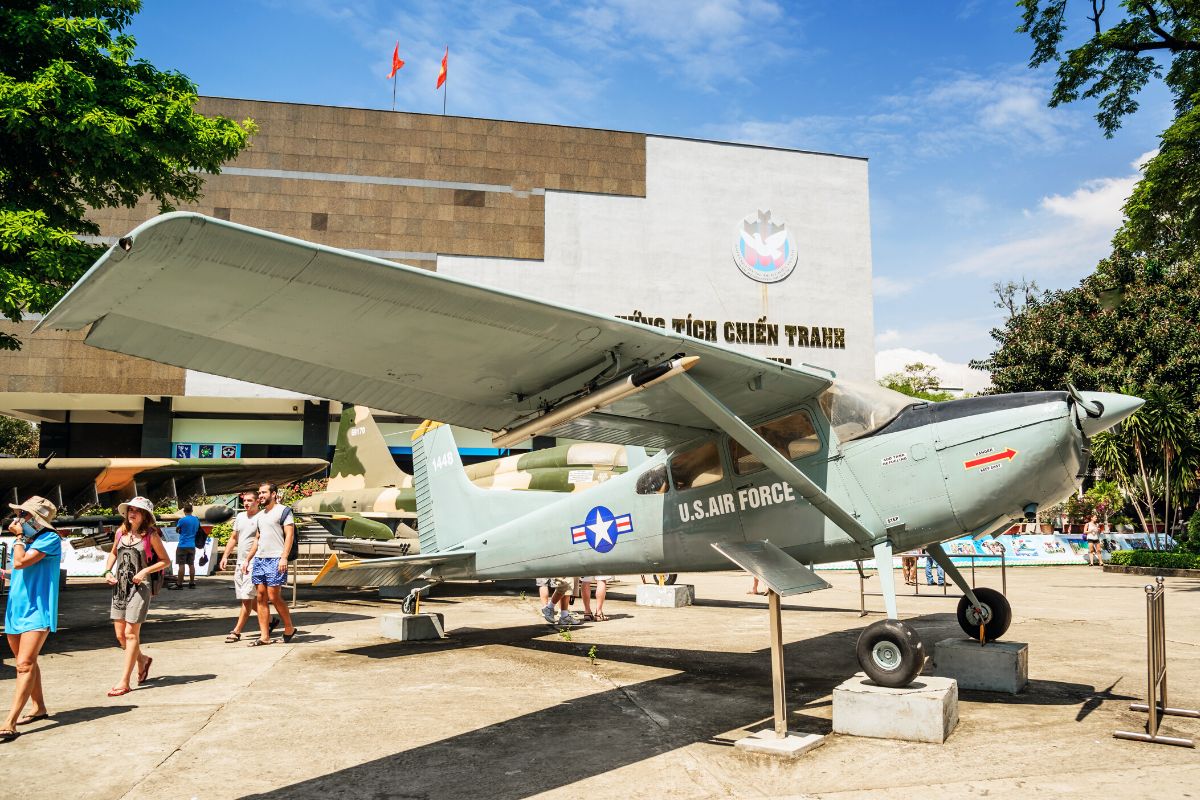 Whether you're a history fiend or are simply interested to learn a bit about the past war in Vietnam, check out real artifacts from the wartime at the War Remnants Museum.
The war between Vietnam and the USA took place 47 years ago, and inside the museum see pieces from the past, as well as powerful photographic images throughout eight permanent exhibitions.
The Requiem Exhibition is especially compelling where famous war photographs are framed on display, including Nick Ut's 'Phan Thi Kim Phuc'.
The outside grounds host heavy military weapons like artillery tanks and fighter planes, and infantry weapons including missile launchers and bombs.
Weapons once considered "experimental secrets" are kept here, like a flechette (a bomb casing filled with thousands of minuscule darts).
However, it's not only the war between the US and Vietnam that's highlighted, but you can find artifacts from the time of the French colonization of the country and various Chinese invasions.
A section of the museum focuses on the Phu Quoc and Con Son islands prisons that were utilized by the French colonial empire.
3 – Visit Nguyen Hue Walking Street on foot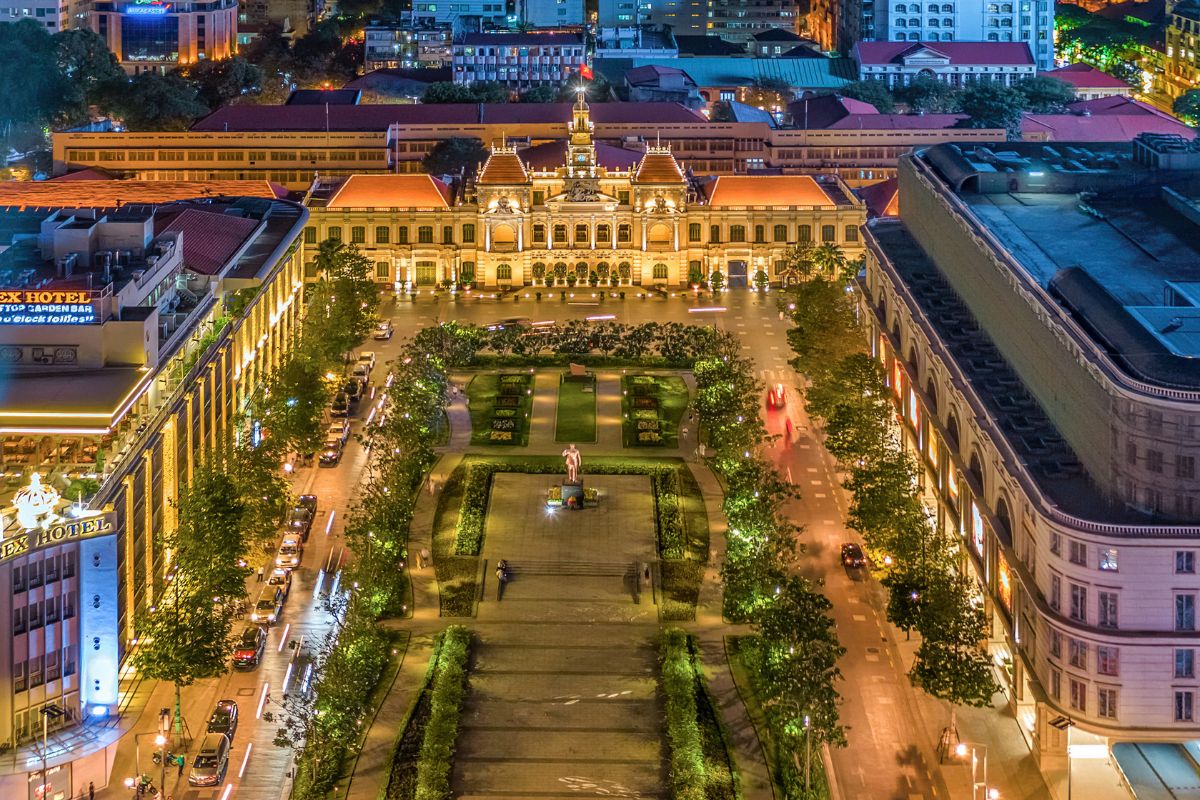 Ho Chi Minh City is divided into different districts widespread from one another, and Nguyen Hue Street forms part of District 1.
This part of the city is considered the tourist hub and is filled with many things to do in Saigon and a buzzing nightlife scene.
The 670-meter-long road is very pretty, and boutique shops, restaurants, bars and tall buildings surround the street on either side.
In the evenings, there's a water fountain that puts on a light show and many live street performances and festivals take place here.
The city's beloved Ho Chi Minh statue is located within the road square, and the tallest statue of Uncle Ho in all of Vietnam has the spotlights placed on him — literally.
Find the famous Apartment 42 on Nguyen Hue Street dripping in mossy greens and filled with cool cafes.
During Tet time (Lunar New Year celebrations, also known as Chinese New Year) between January and February, the road turns into 'Flower Street'.
Tons of blossoms line the pavements waiting to be sold, especially Sakura trees, also known as Cherry Blossoms.
Feeling peckish? Whilst you'll find many dining options, check out the street food game along this road for all sorts of local delights.
4 – Admire Notre Dame Cathedral of Saigon's European-inspired architecture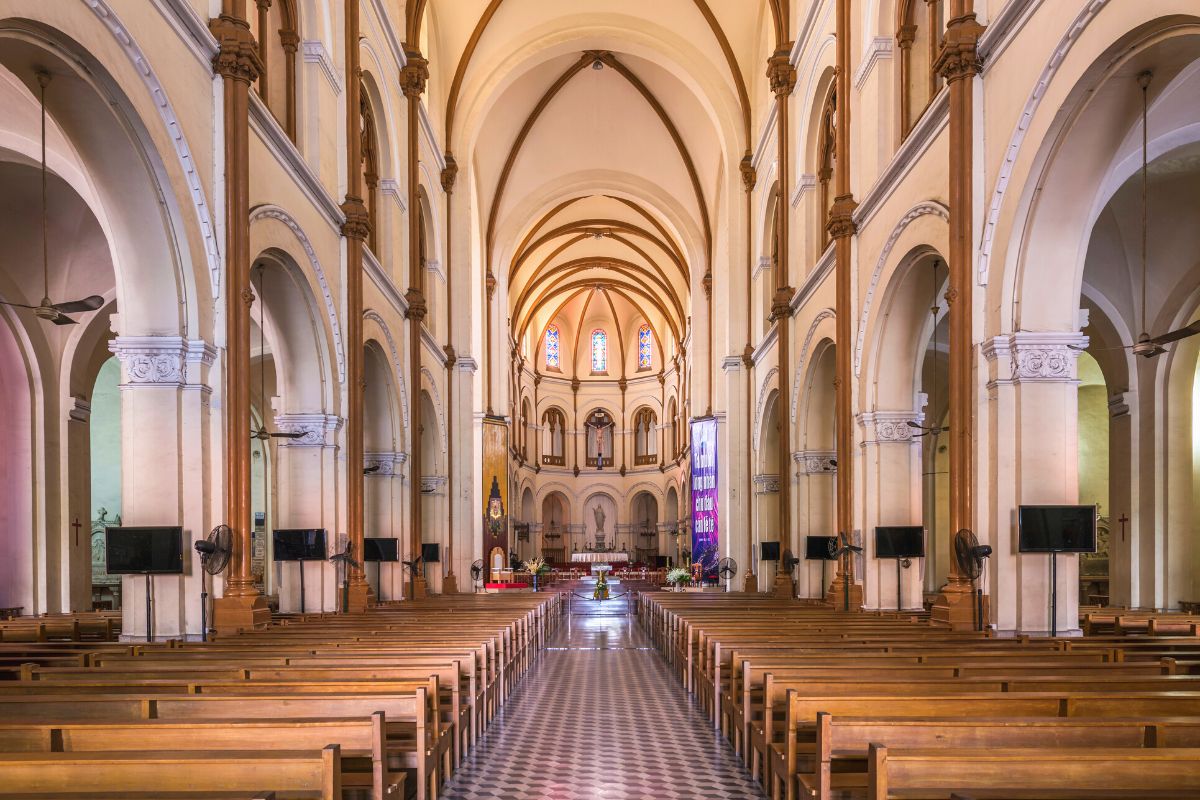 Built by the French from 1877 to 1883, the Notre Dame Cathedral of Saigon has a similar name to its Parisian counterpart, as well as design features.
Sporting Neo-Romanesque architecture, a typical style of the time period, the church's box front frame has two tall bell towers on either side of the entrance, and all of the red bricks used to build the cathedral were imported directly from France.
Not only is the building a feast on the eyes, but there's an immaculate garden that is home to the statue of the Virgin Mary.
Sculpted by an Italian artist, G. Ciocchetti in 1959, the 4.6-meter high statue is made completely from white marble.
Notre Dame Cathedral of Saigon is considered the mother church of the Catholic Archdiocese in Ho Chi Minh City.
5 – Imagine Vietnam 200 years ago along the Mekong Delta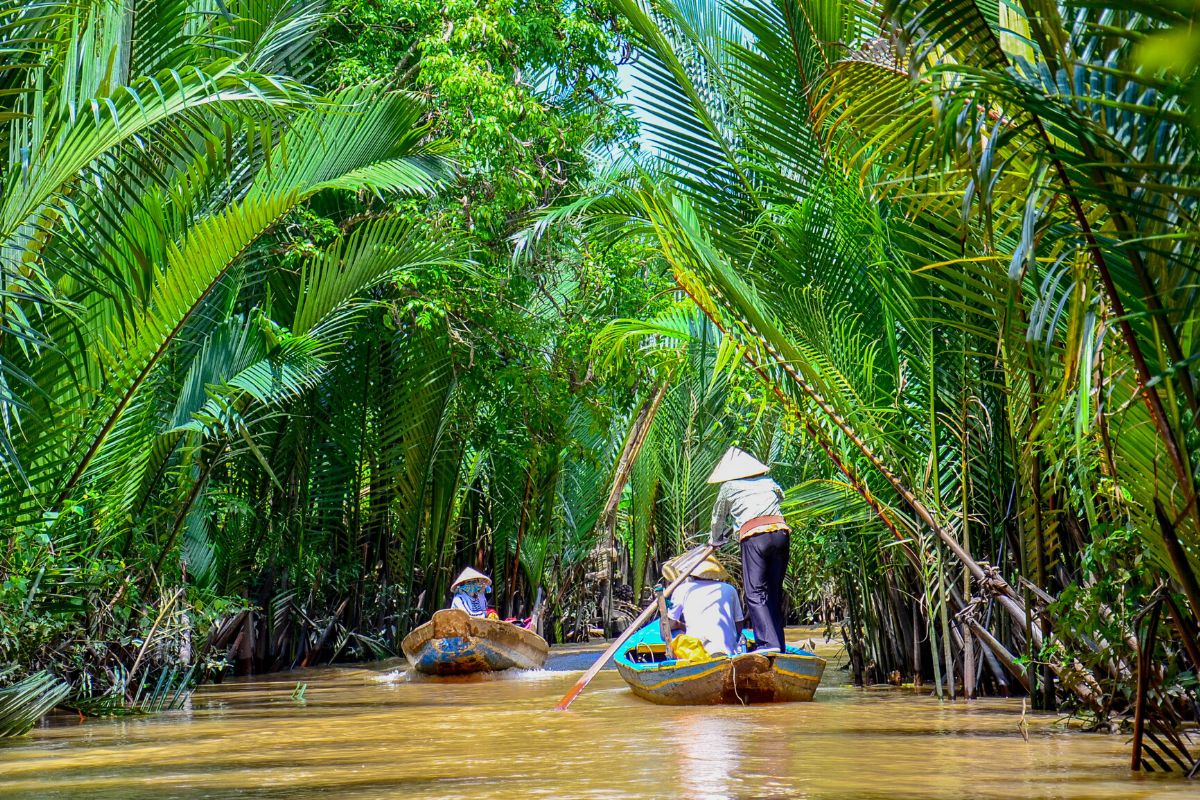 The famous Mekong Delta River runs through both Vietnam and Cambodia, and it's found in the history books because of its importance during the Vietnam War.
From Saigon, choose to visit different parts of the Mekong on a day trip, and depending on how much time you have to spare, travel from one hour up to 3.5-hours to reach the famed river.
To experience the Mekong Delta, you will need to organize a riverboat cruise, or you can opt for a kayaking expedition through the mangroves instead.
Hop onto a traditional wooden river canoe, put on your nón lá (a traditional Vietnamese cone-shaped bamboo hat used for sun protection), and float your way through the Delta's tropical jungle.
During boat tours, stop off along the way to visit local villages, floating river markets and fruit orchards, and enjoy trying foods that are special to the Mekong Delta region.
6 – Don't miss visiting Cu Chi Tunnels, one of the most famous sites in the south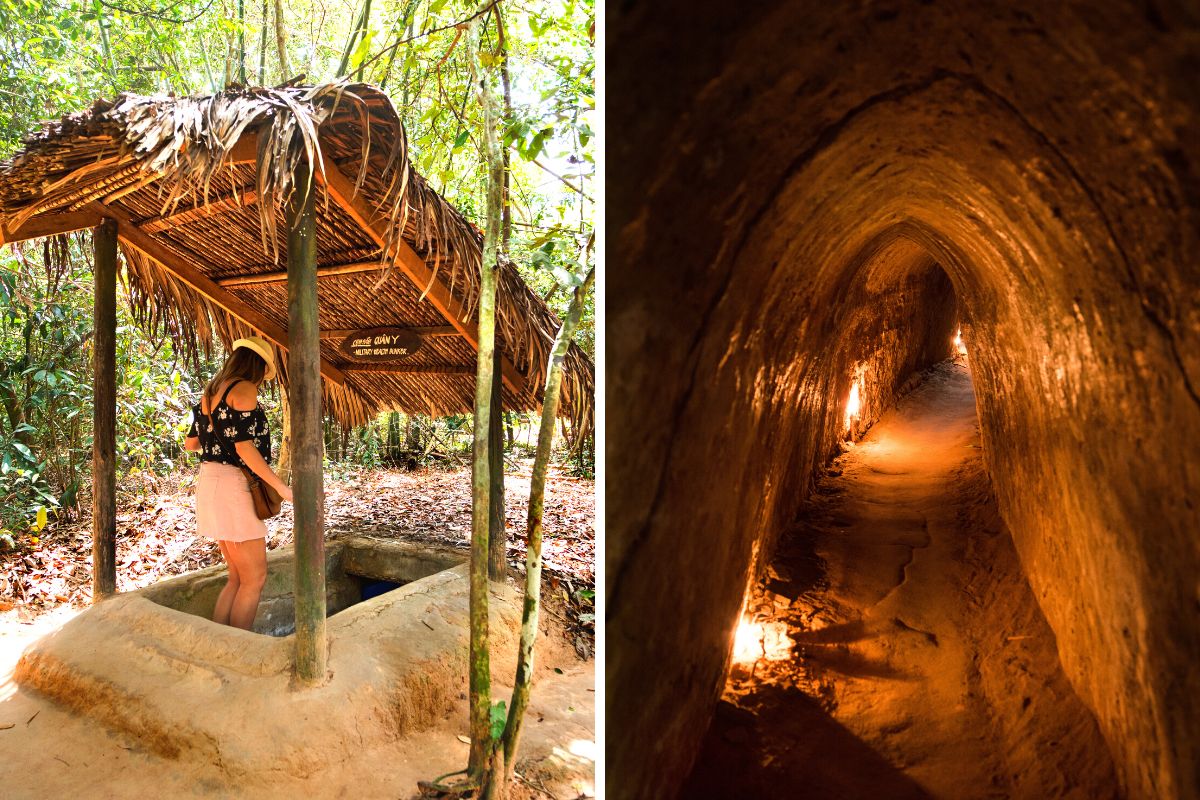 The Cu Chi Tunnels dug out and constructed during the Vietnam War, are probably the most famous war tunnels throughout history – one of your non-negotiable things to do in Ho Chi Minh City.
During the war, southern Vietnam's army, known as the Viet Cong, strategically started to add more underground tunnels to a few prior-existing tunnels in the Cu Chi region.
By the end of it all, there were more than 250 kilometers of tunnels that intersected all around the undergrounds of Cu Chi and its surrounding areas.
This is how the army operated during the Vietnam War and today you can step inside the hideouts and dugout trenches.
There are also various traps to discover, but you cannot enter these holes unassisted.
Try something exhilarating and take a 1.5-hour speedboat tour to the Cu Chi tunnels instead of driving there.
Leaving the city directly, cruise along the Saigon River, passing lush riverside landscapes and local villages along the way.
Some jet boat tours even pass through the Mekong and into the mangroves.
7 – Get cultured at the Ho Chi Minh City Museum of Fine Arts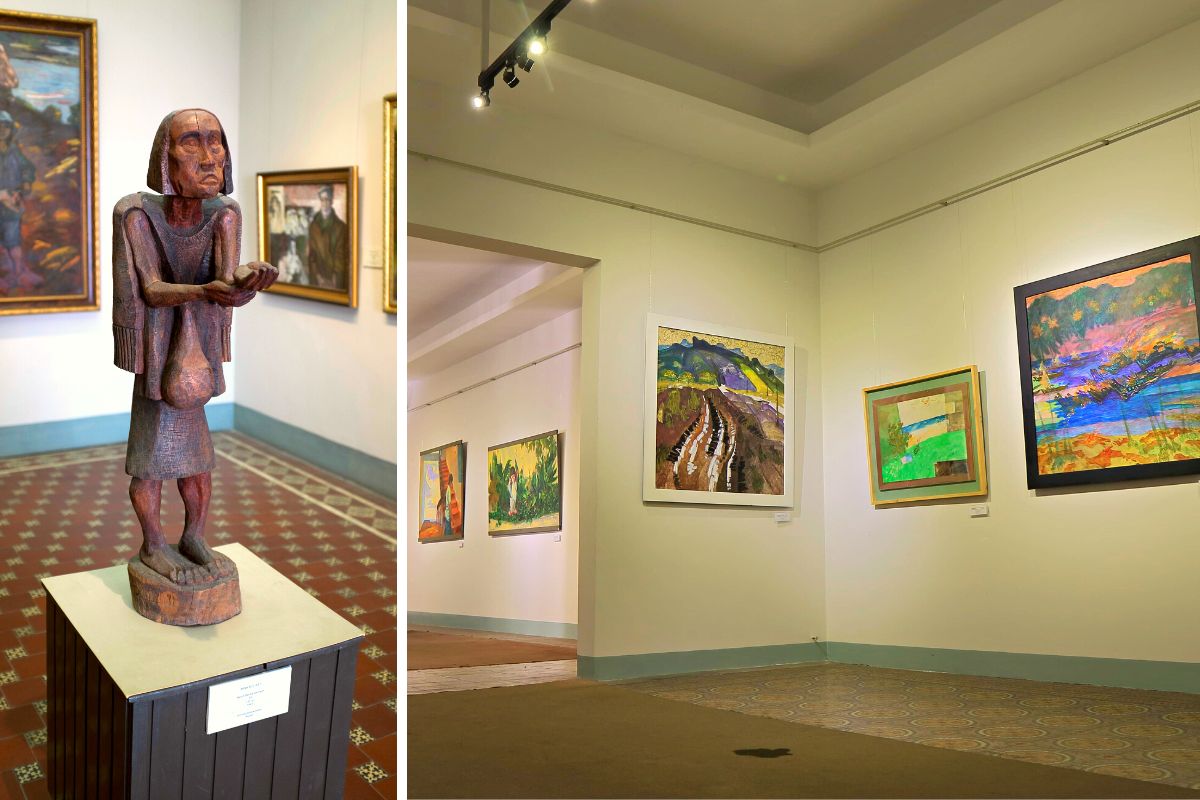 Not only is the Ho Chi Minh City Museum of Fine Arts one of Saigon's biggest museums, but it's another historical building that makes the list of must-visit attractions.
Unlike some of the older buildings, the museum was complete in 1929 and it celebrates an obvious fusion of Asian and Europe design aesthetics.
The building is super pretty both inside and out, sporting a light cream exterior, high ceilings, stain-glassed windows and spiral staircases.
(There are tons of photo opportunities around to fill your social media pages.)
Discover collections that host more than 22,000 pieces of art, from both ancient and modern periods.
It feels like you're wandering the art galleries in Paris or London.
8 – Visit Cai Be Floating Market in Cái Bè District
Check out Vietnam's floating town, Cái Bè, and explore the river-land town located along the banksides of the Mekong Delta River.
It's one of the most authentic day trips to experience.
Get this … half of the town operates on water, where half the locals live, and the other half lives on land.
Take a guided boat tour around Cai Be, including its iconic market. Visit the Cai Be Floating Market and shop for souvenirs, snacks, fresh flowers, and delicacies all from floating boat stalls.
Hop on board floating restaurant boats and enjoy a local dining experience.
A cool way to experience the market is to go kayaking through. There are guided tours from Saigon that offer the option.
Visit the Cao Dai Temple, and stop by street sides to pick up a souvenir or two from the craft village!
9 – Take photos of Vinh Nghiem Pagoda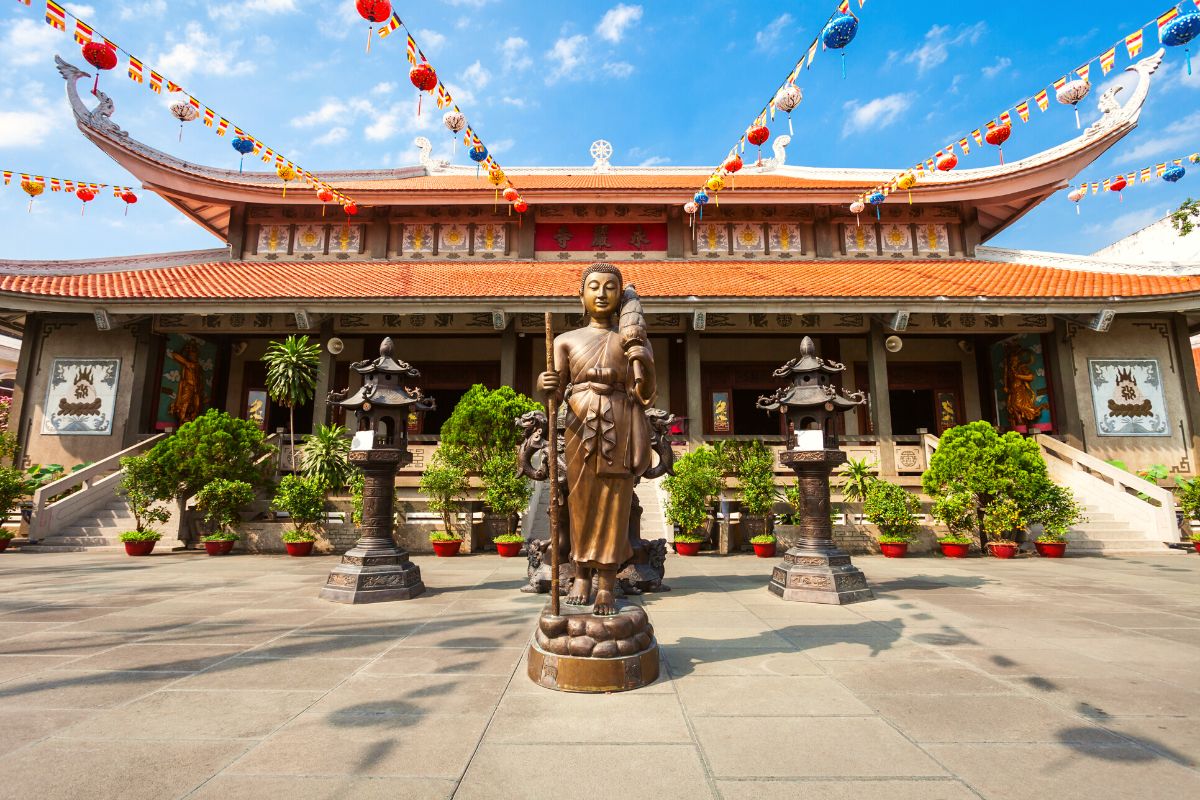 The striking Buddhist Vinh Nghiem Pagoda is a well-photographed city attraction thanks to its seven-tiered stupa made from stone.
The architectural delight was built between 1964 and 1971 and Saigon's tallest pagoda celebrates Vietnamese Buddhism.
As you arrive at the main hall, a statue of Guanyin greets you. In Chinese Buddhism, Guanyin is a Bodhisattva and is known for compassion and mercy.
Entering the main hall, find a gleaming statue of Buddha Gautama and two golden Bodhisattva on either side.
Visit the library on the ground level and check out the huge temple bell outside.
10 – Strike a pose at the pink Tan Dinh Church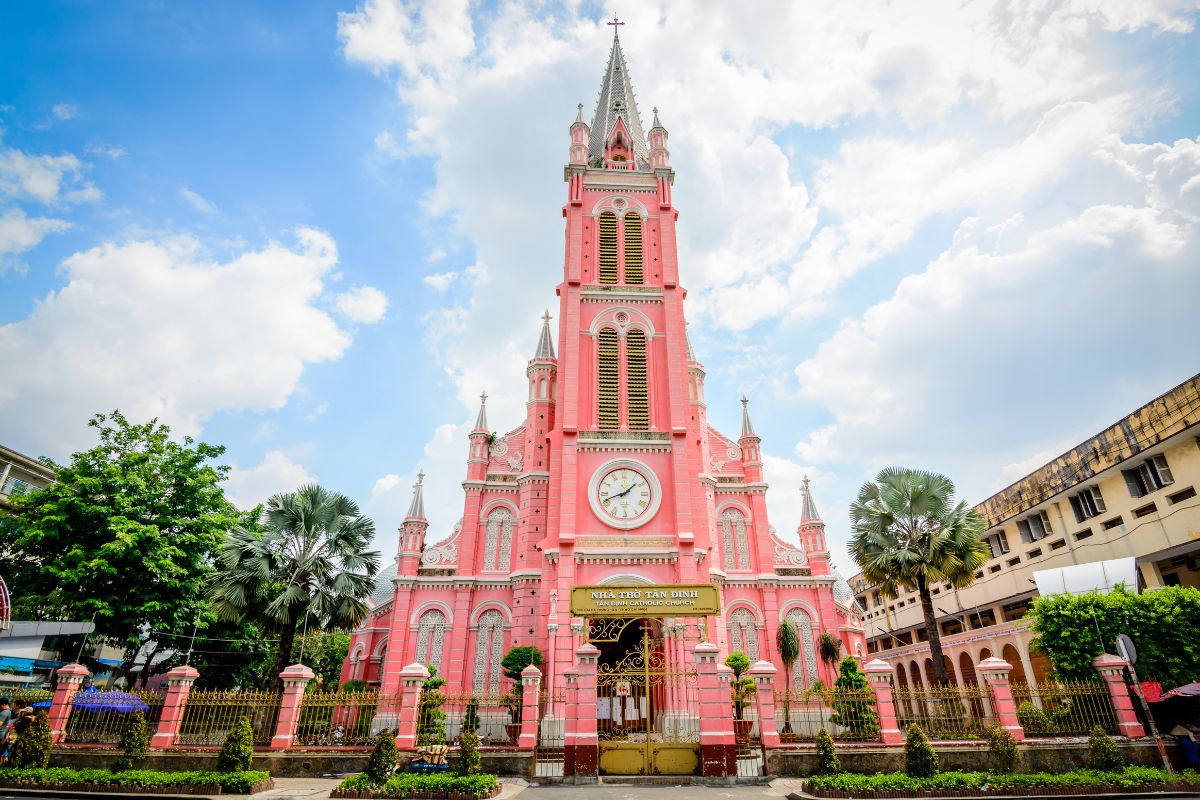 Is it a Castle or church? Tan Dinh Catholic Church has got to be one of the most Instagram-worthy churches out there with its pink-colored exterior.
Boasting seriously eye-catching architecture, the bright pastel church isn't the only interesting feature and Tan Dinh has an impressive tall bell tower.
One of the oldest churches in Ho Chi Minh City, the worship ground was built in 1870 when France colonized Vietnam, and you can see the French influences in its design.
It's referred to as 'The Pink Church' for obvious reasons …
11 – For a bird's eye view of the streets take a Hop-on Hop-off Bus Tour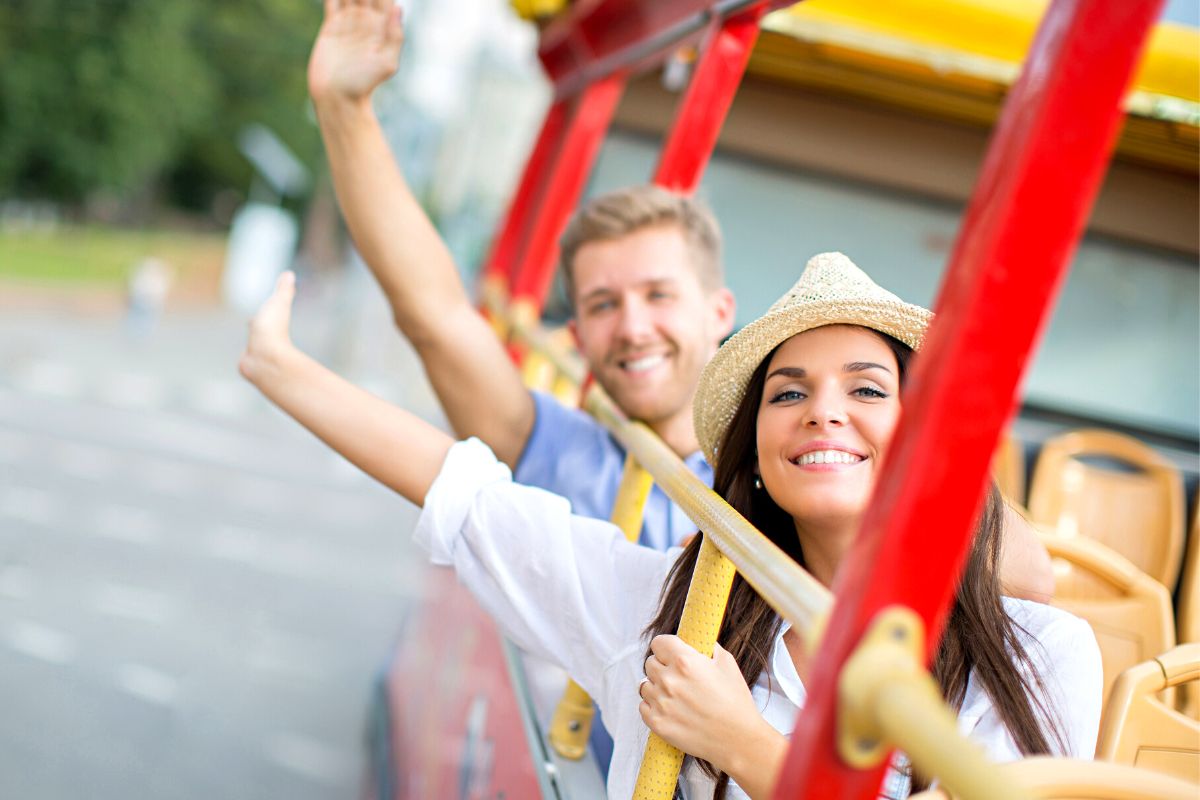 Did you know that Ho Chi Minh City consists of 24 districts in total? There are 19 inner-city districts, and five districts on the city outskirts.
All spread wide apart, the large city can be confusing to navigate, and involves a lot of taxi rides.
Opt for a hop-on hop-off bus tour around Saigon on a double-decker sightseeing bus!
The bus ticket is for the entire day, and you have the leisure of jumping off the bus at famous attractions, including Ben Thanh Market, the Central Post Office and Notre Dame Cathedral of Saigon.
Bus tickets last 24 hours.
12 – Take an hour or two to check out (and photograph) Independence Palace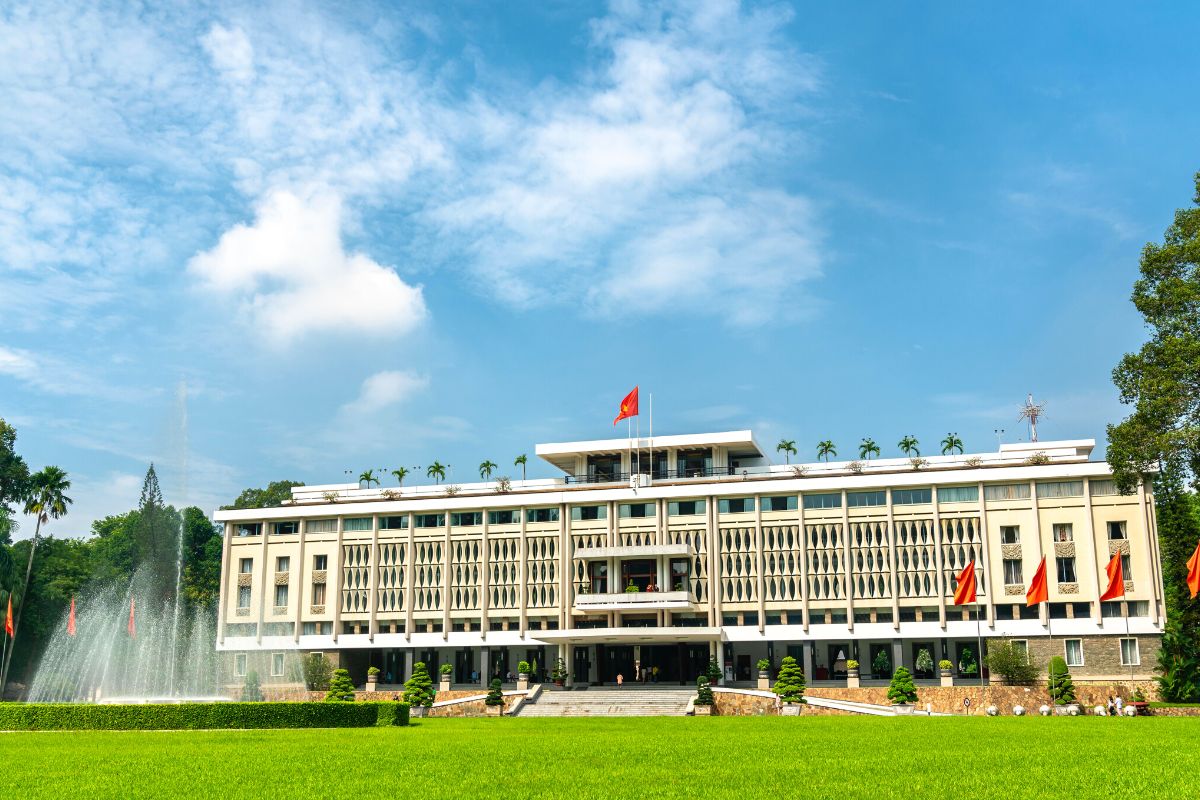 Once home to a French governor, then Japanese officials and finally the president of Southern Vietnam during the Vietnam War, the Independence Palace site now acts as an iconic city museum.
Also known as the Reunification Palace, wander through its grand halls and rooms, including the banquet hall and once-government offices.
An exciting feature is the underground tunnels used during the war, and you can navigate your way through the basement bunkers as well.
Take a stroll around the manicured gardens surrounding Independence Palace, and spot the water fountain as well as army tankers parked outside.
13 – Explore an entire street dedicated to books at Nguyen Van Binh Book Street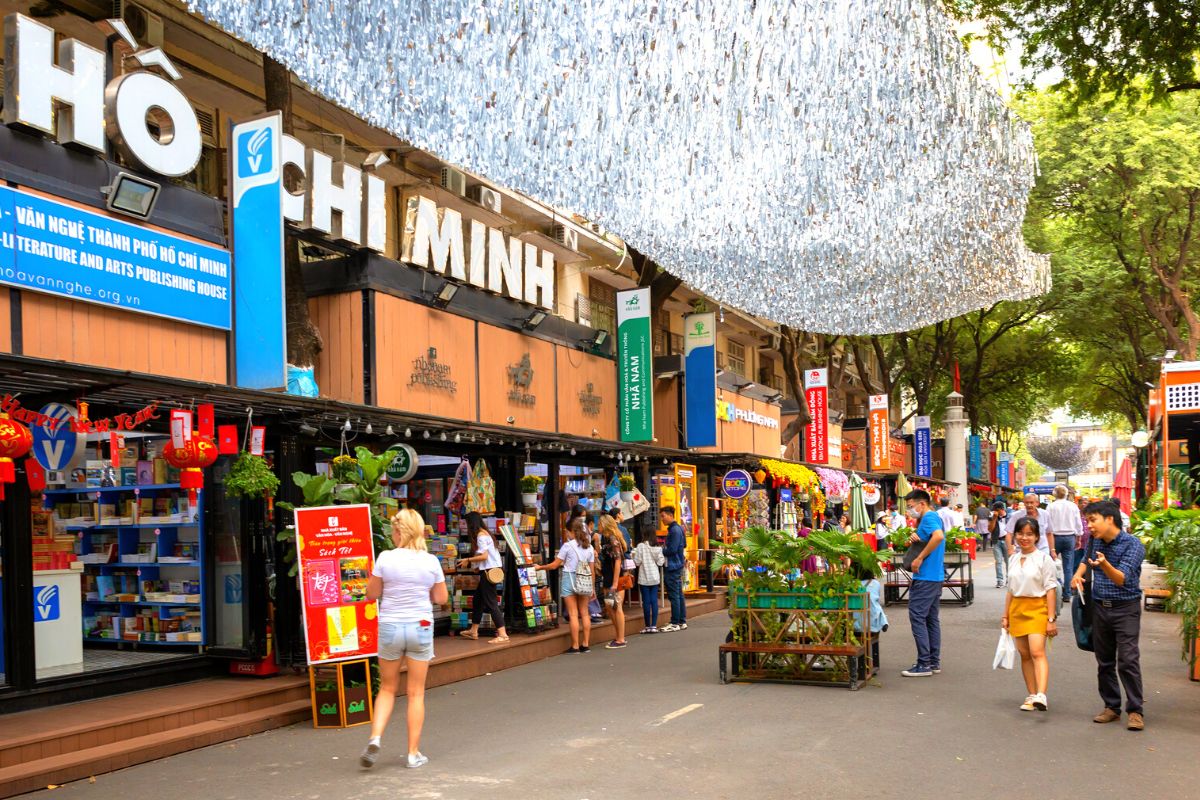 Nguyen Van Binh Book Street is also known as Ho Chi Minh City's Book Street and the entire road is filled with tiny book stores.
It feels as if you're walking down the streets of Camden in London.
Stop to browse through open bookshelves, and sift through piles of books.
Find both new and second-hand books and there's a Book Bus initiative where you can borrow books to read instead of buying them.
Acting as a cultural hub too, there are often outside exhibitions put up displaying artworks, or hosting live musical performances.
You'll also find a little market of other cool treasures to browse through, not only books.
14 – Snap a million photos inside Cao Dai Temple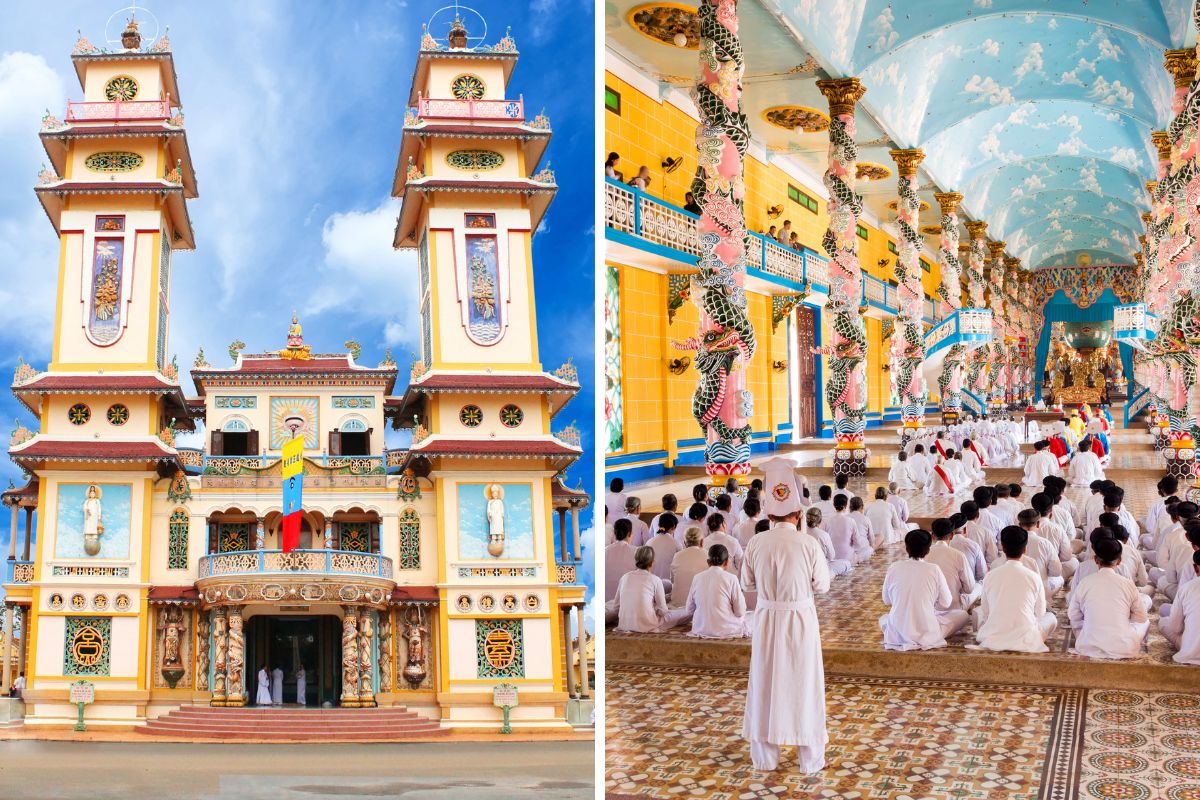 The colorful Cao Dai Temple is stunning, and with an overflow of intricate artworks, statues and shrines, it makes it a feast for the eyes!
As soon as you enter the temple, look up! The curved high ceilings are painted with wispy clouds and giant pillars with swirling dragon statues descending to the floor.
Interestingly, the Cao Dai faith is a religion that comprises parts from different religions including Buddhism, Christianity, Islam, Confucianism and Taoism.
This amalgamation of religions is evident throughout the temple's architecture and large worship hall.
Cao Dai Temple isn't located inside the city center, and it takes 2.5 hours to reach via road only. It's a great destination for a day trip outside of HCMC in southeastern Vietnam.
15 – Visit one of the most colorful temples, the Jade Emperor Pagoda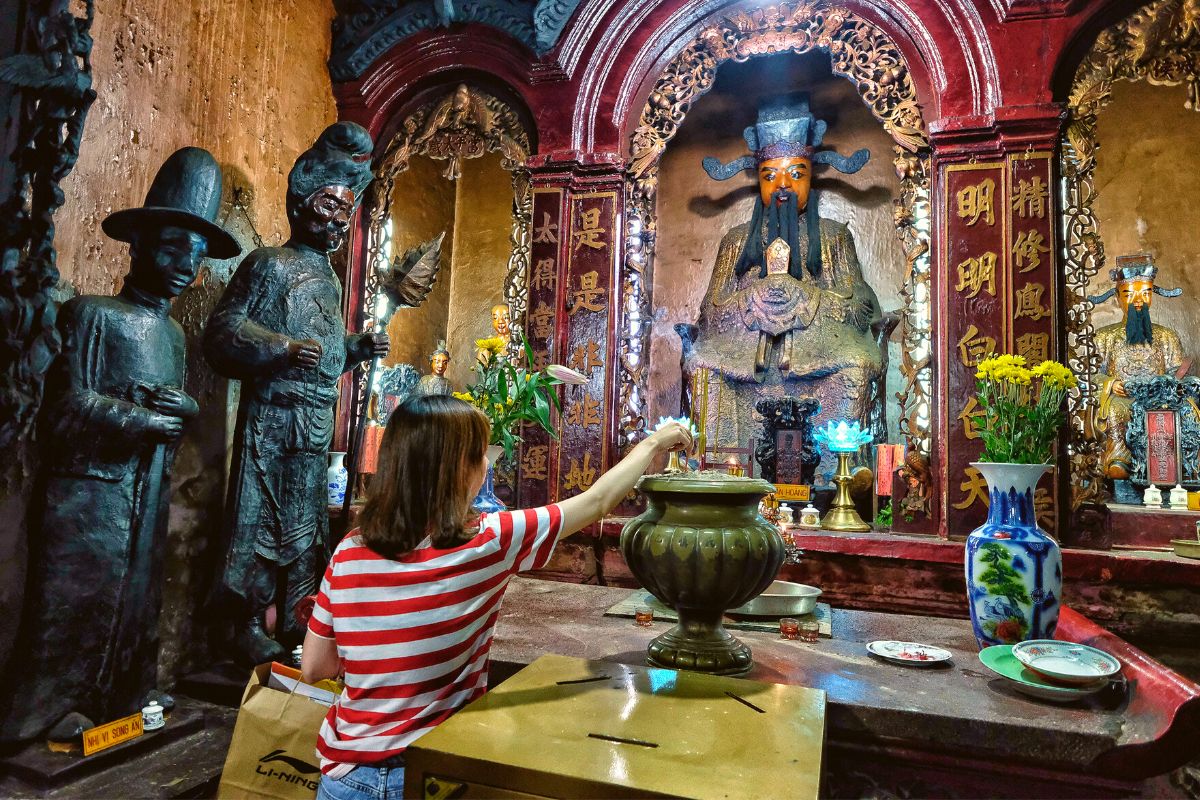 Taoism forms one of Vietnam's top three religions, and if you're unfamiliar, the Jade Emperor Pagoda is a gorgeous example to explore.
Taoism believes in spiritual immortality as well as that humans and animals should live in harmony.
The pagoda is over 100 years old, and although it's not massive, the building is filled with interesting statues that all have mythical stories behind them.
There are different rooms that all explore and depict scenes from the Taoist god, the Jade Emporer. The temple is dedicated to him, and he is considered one of the first gods in Taoism.
Look out for a four-meter-high figure of a general who battled and bested the Green Dragon, or enter the Court of Ten Hells where wood carvings, paintings and figurines depict tales of evil.
16 – Feel like a local with a scooter or motorbike tour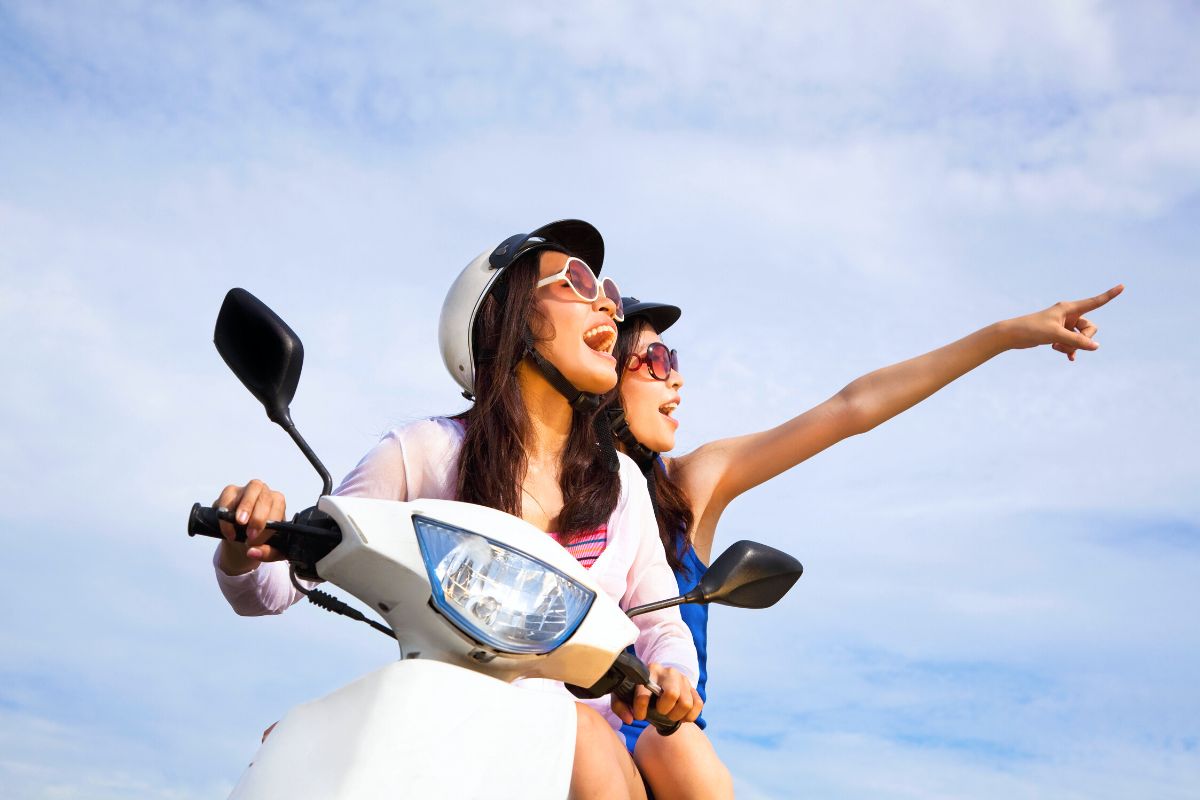 Want to join in the madness? One of the most popular activities to do in Ho Chi Minh City, make that the whole of Vietnam is taking a motorbike tour.
Choose to drive yourself if you're experienced and try to maneuver the city streets, but for first-timers in Saigon, consider a guided scooter or motorbike tour.
Put your feet to the peddle and drive to must-see attractions, and choose if you'd prefer to drive a semi-automatic motorbike, or a scooter, including an old-school Vespa!
To feel more comfortable, sit back and relax on the back of a bike with an experienced tour driver as you take a city drive around Ho Chi Minh.
Opt for a morning drive, afternoon or evening tour and each offers a unique experience.
17 – Nearly 300 years old, visit Giác Lâm Pagoda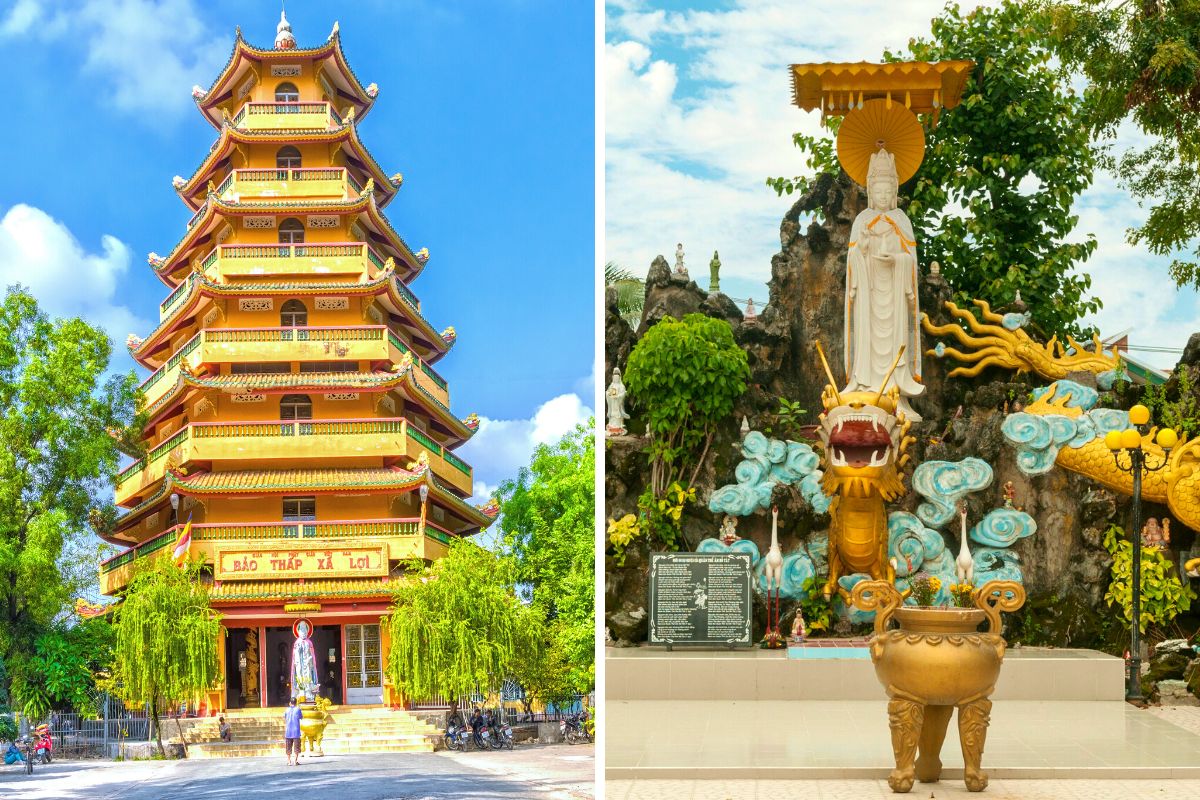 Also known as the Giac Lam Buddhist Temple, visit one of the most historical religious sites within the city.
It's said that this pagoda is the oldest temple in Ho Chi Minh City, first erected in 1744!
Not to be confused with Vinh Nghiem Pagoda, Giác Lâm Pagoda is also seven tiers tall but it's not the same. (Vinh Nghiem is located 20-minutes from here.)
It is believed that ringing the pagoda's bronze bell can help the elderly and those suffering from illness.
Although a Theravāda Buddhist temple (one of the oldest forms of Buddhism) find statues and design elements that pay respects to Taoism too. This is not uncommon in Vietnam.
You can climb to the seventh floor of the stupa as well where ancient relics are held.
18 – You simply can't miss out on trying a food tour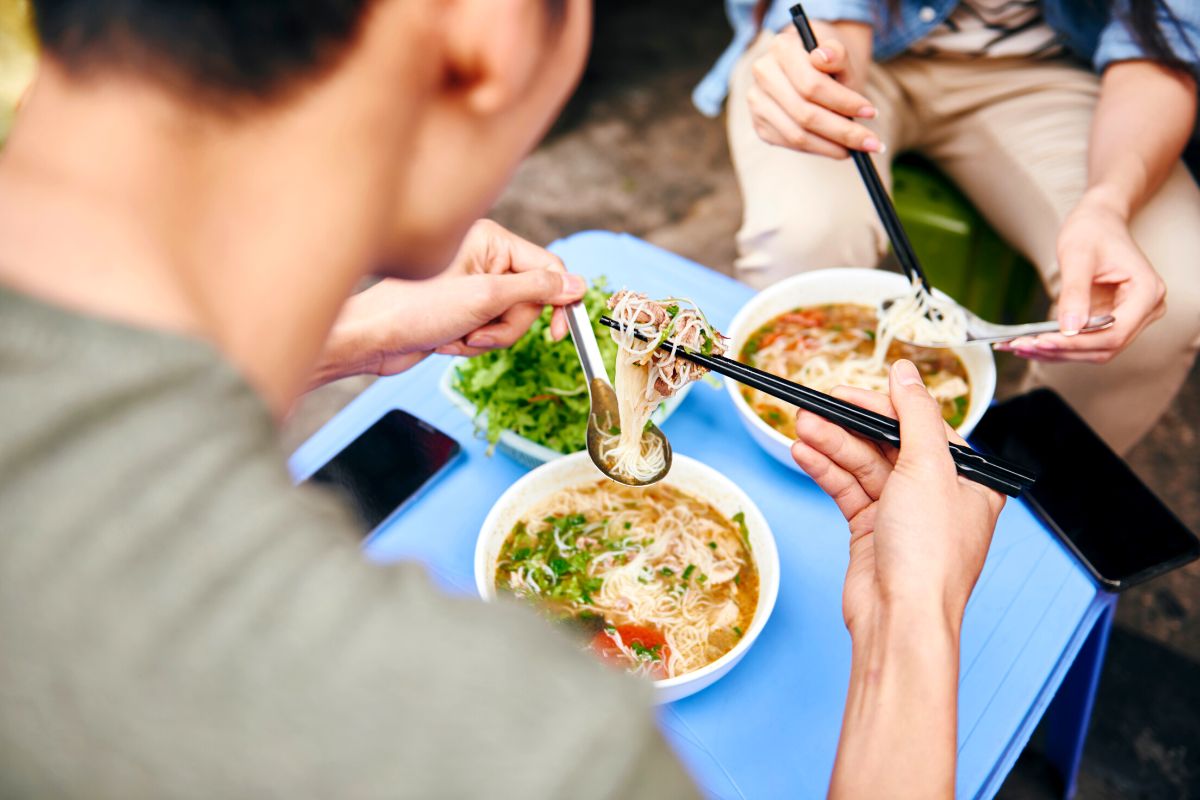 The cool thing about Vietnam is that depending on the region you're in, the food starts to vary. Often find dishes in one part of the country that you can't in another.
You'll notice Southern Vietnamese food is bold, strong in flavor, and naturally contains a lot of seafood.
Don't just read about it to imagine it, a street food tour is such an epic way to experience Ho Chi Minh's booming street food scene.
There are so many alleyways littered with tiny local vendors, side stalls and local restaurants, it can be overwhelming to make way of it all.
Opt for a foodie walking tour or take a food tour by motorbike and get to understand what you're eating as dishes and ingredients are translated by your local guide.
Take a street food tour during the day or night, and evening time is very popular as the streets come alive with smells and sounds.
Some must-try iconic Saigon dishes and foods include Bánh canh cua (Vietnam's version of a seafood Udon noodle soup), Bò kho (Vietnamese beef bourguignon served with a baguette), and Bánh xèo (a seafood omelet).
19 – Splash around Dam Sen Water Park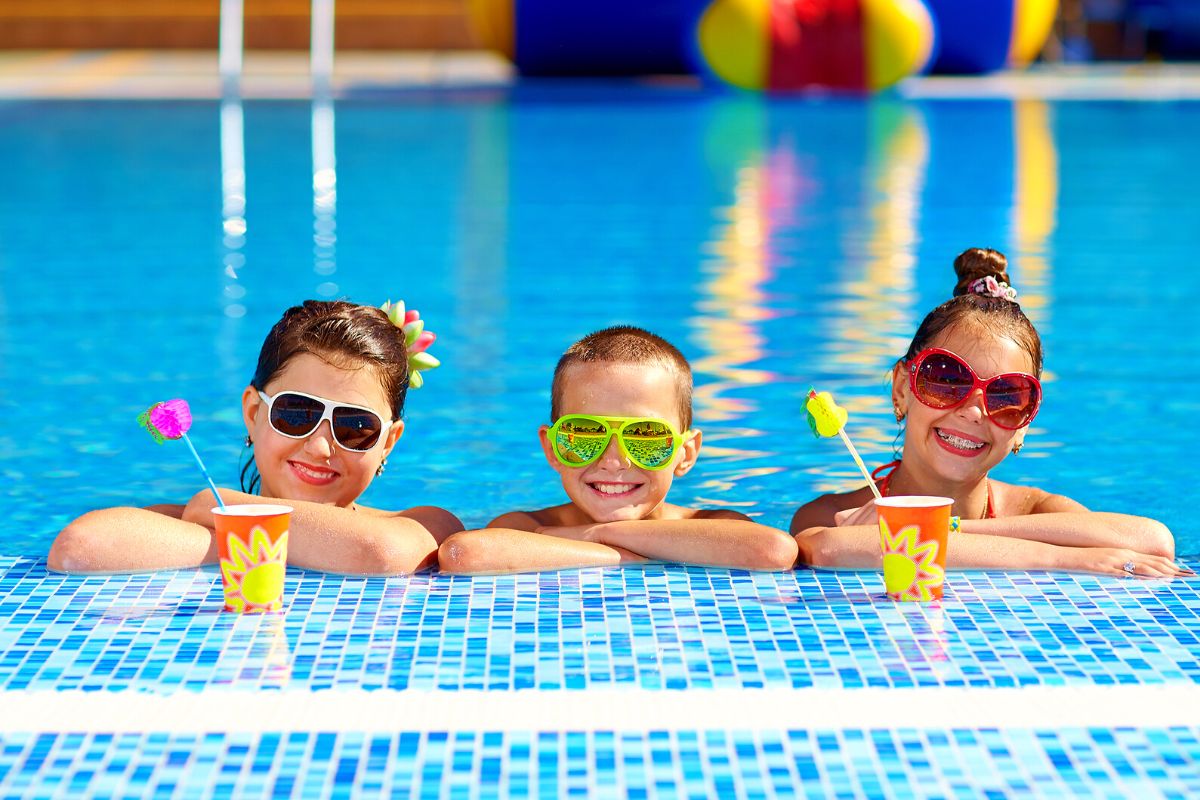 Looking for things to do in Ho Chi Minh City with kids? Dam Sen is a tropical theme park with many photo ops and offers the perfect opportunity to beat the southern heat.
The water park is great for all ages, and spend the day whizzing down water rides or try peddling a water boat.
There's also a little village area with tons of cute backdrops, from hanging colorful umbrellas crossing over walkways, to perfectly manicured flower gardens.
Take a spin around the massive ferris wheel, and in the evening times, bridges light up and there's a fireworks show! It's quite romantic actually.
20 – Take a boat ride to the Phu Chau Floating Temple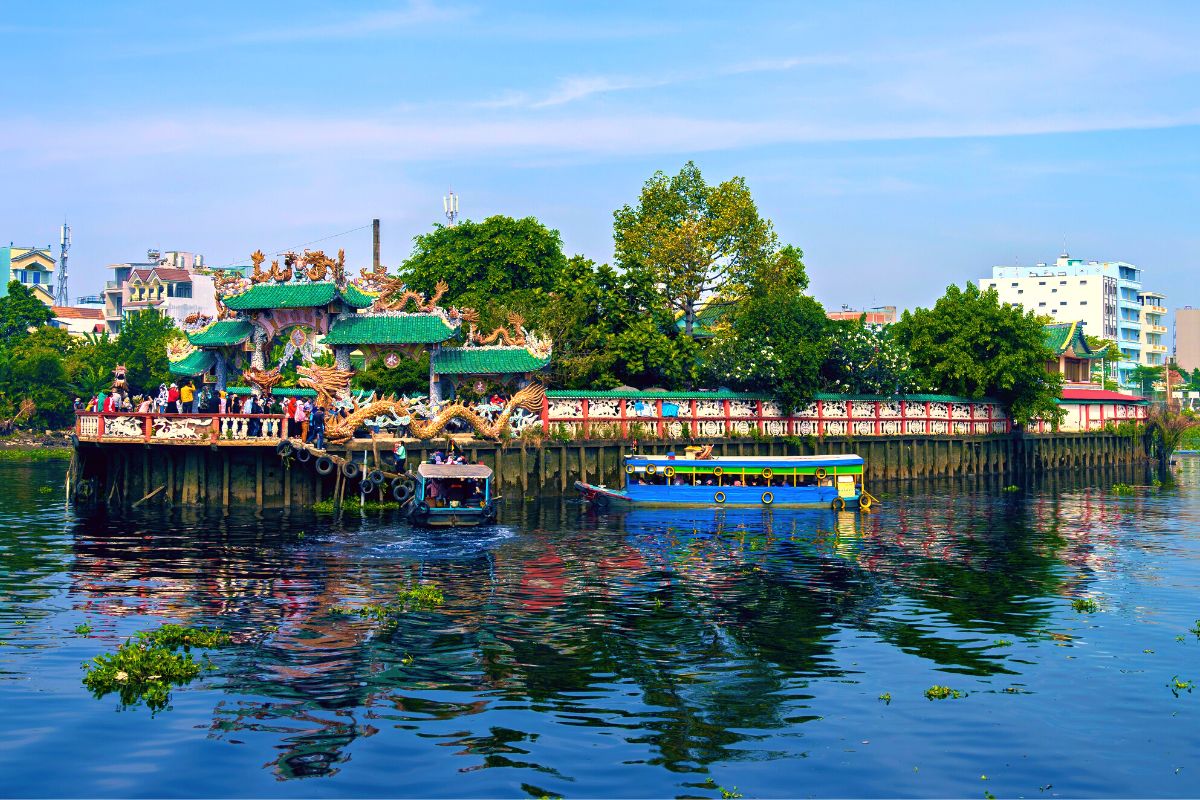 Accessible by boat only, visit Phu Chau Floating Temple situated on a small island on the Vam Thuat River inside Ho Chi Minh's District 5 neighborhood.
It's also known as the Dragon Floating Temple because its arched temple rooftops are covered in dragon statues varying in size.
The story behind the temple is that a local fisherman found the body of a woman in the river, and so he built the temple in her honor on the waters.
From then onwards, his life changed for the better.
Throughout the years, locals kept the temple going, and it was later dedicated to the five natural elements: wood, water, fire, earth and metal.
This forms part of the Five Elements Theory which believes that the basis of all universal interactions involves the elements.
To reach Ph Chau Floating Temple, take a fast speedboat ride along the Saigon River, and take in the sights from the waters at the same time!
You can choose a jet boat tour at different times in the day, and a day trip is especially pretty in the afternoon as dusk starts to settle in on the ride back.
21 – Feel like you're in Europe in the early 1900s inside the Saigon Central Post Office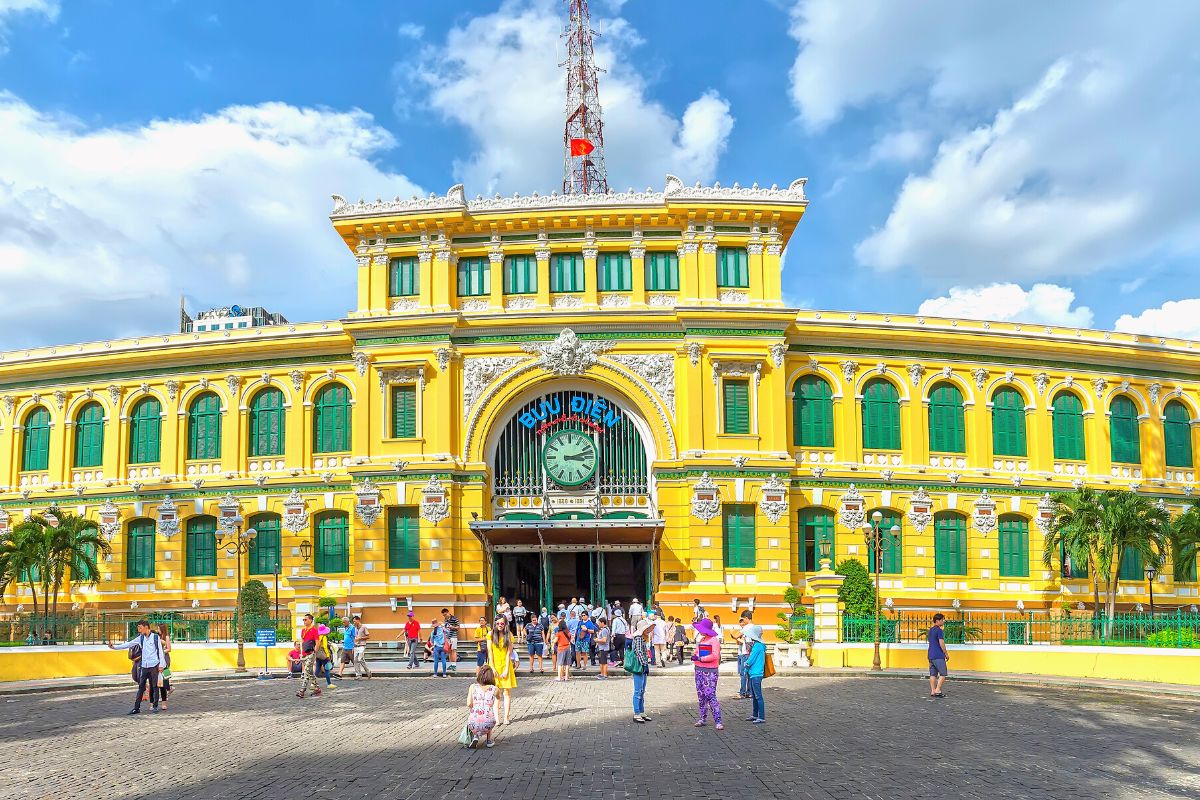 There's no need to travel to New York City to have your own "Grand Central" photograph taken.
Albeit a post office, the Saigon Central Post Office leaves the same awe-inspiring impact.
The building is a mix of French, Renaissance and Gothic architecture and it makes for an ideal picture-perfect moment!
Built between 1886 and 1891, it's one of Ho Chi Minh City's oldest buildings and is conveniently located close to the Notre Dame Cathedral of Saigon.
Take photos outside the grand yellow building lined with green shutters, and inside wander through the halls with its curved rooftop.
There are also vintage telephone booths to take photos alongside.
22 – Get ready for a round of shopping at An Dong Market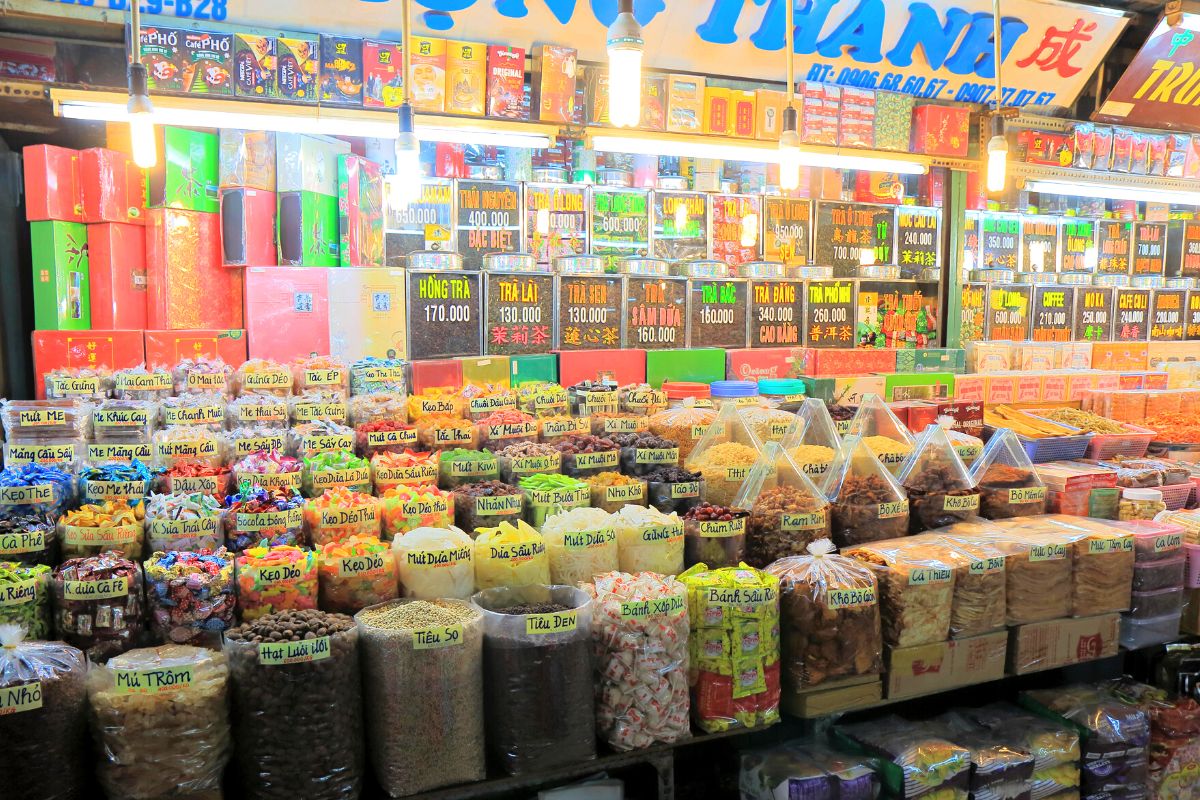 Opening daily from 6 AM to 6 PM, visit one of the city's largest indoor markets, the An Dong Market.
It's a market that's especially close to the locals' hearts and has been in operation since 1951.
After it was destroyed, it was reconstructed in 1991 by the Vietnamese Chinese community in Saigon.
The building is a mix of local Vietnamese design, as well as being reminiscent of the architecture in Hong Kong during the 1980s to early 1990s.
Consisting of four levels, shop for anything and everything at An Dong for really affordable prices.
Find knock-off brands, accessories, make-up, phone jewels, nail art, fake flowers … you name it!
Considered a "wholesale" market, the shops each have their individual stalls house-in, just like Bangkok's famous Chatuchak Market.
There are escalators to transport visitors between levels.
23 – Catch a fast boat to the mangroves in Cần Giờ Biosphere Reserve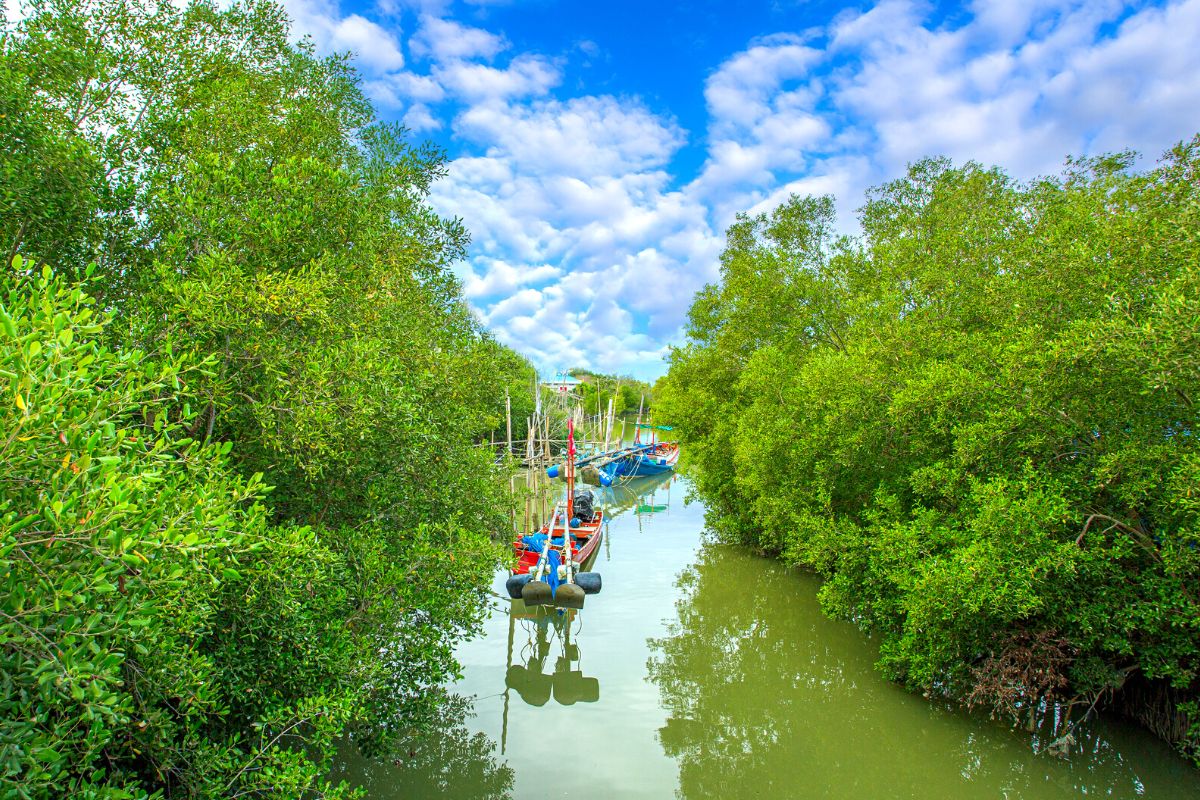 Traveling 90 minutes from HCMC, enjoy a refreshing day trip to Can Gio Biosphere Reserve and take a jet boat cruise through the mangrove forests!
Take some lovely photos among the trees, wildlife and wetlands, stopping off at the small, local Cần Giờ Market. Taste and try some delicious fresh seafood while here.
As you make your way through the dense mangroves, try spotting various plant species, fish, shellfish and invertebrates that live in the mangroves of this region only.
Located inside the Can Gio Reserve is the famous Monkey Island which gained its name because of the local inhabitants, monkeys, that call the island their home.
Go and say hello to the crocs at the Hoa Ca Crocodile Farm which is also inside this epic UNESCO-listed Biosphere Reserve.
Forming part of a coastal district, you can smell the ocean in the air.
24 – Cruise the Saigon River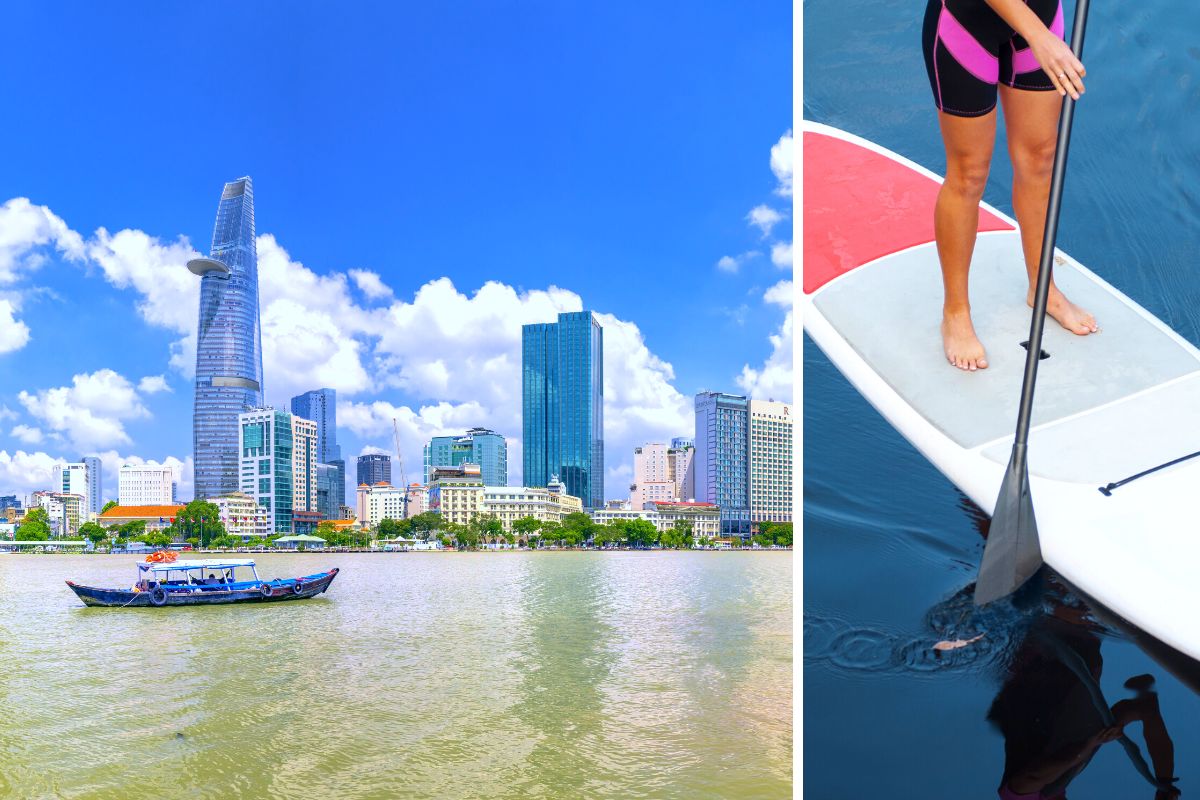 Flowing for a total of 256 kilometers, 80 kilometers of the Saigon River runs directly through Ho Chi Minh City.
You can access the river from different parts of the city. The river in these districts is surrounded by buildings, restaurants and parks.
Take a stroll along the riverbanks in District 2 for example.
Apart from activities on land, try something on the water, such as stand-up paddleboarding, also known as SUPing.
Stand on a longboard on the Saigon River and paddle your way past famous city attractions. It's an epic way to sightsee the city — and a way to cool off from the heat.
Cruises along the Saigon River, especially at sunset are extremely popular.
25 – Built in 1862, stop by Nha Rong Port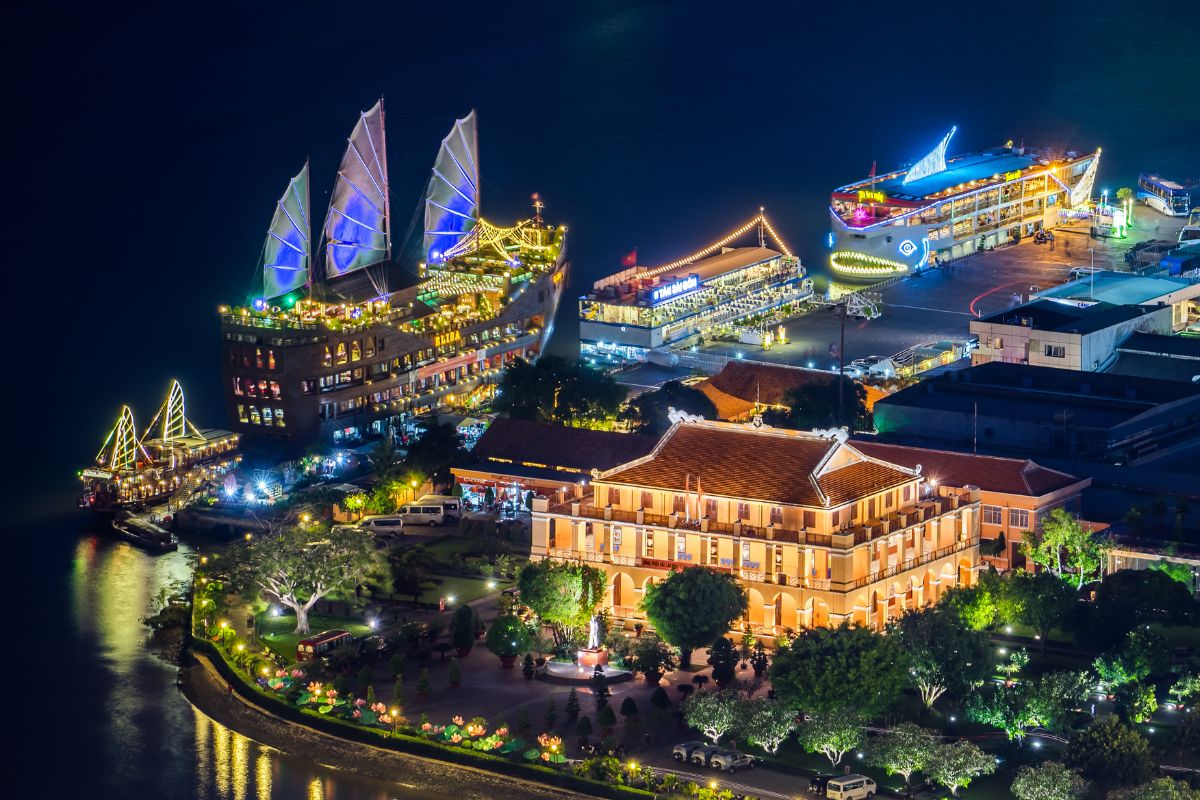 Thanks to its geographic positioning, Ho Chi Minh City is also a trading port city and although it's now the Ho Chi Minh Museum, Nha Rong Port was Saigon's original commercial trading port.
The harbor was constructed during France's rule over Vietnam, but Vietnam turned it into a museum in 1979.
The historical building is an interesting site to check out, and a fusion of French and Vietnam designs can be seen.
The original building is very French-inspired, whilst traditional elements like its curved dragon statue rooftop have been added on.
Today, its nickname is 'Dragon Wharf'.
If you look at a photograph from 100 years ago, not much has changed from the outside except for the roof.
26 – Feel like you're in a mini Japan at Little Tokyo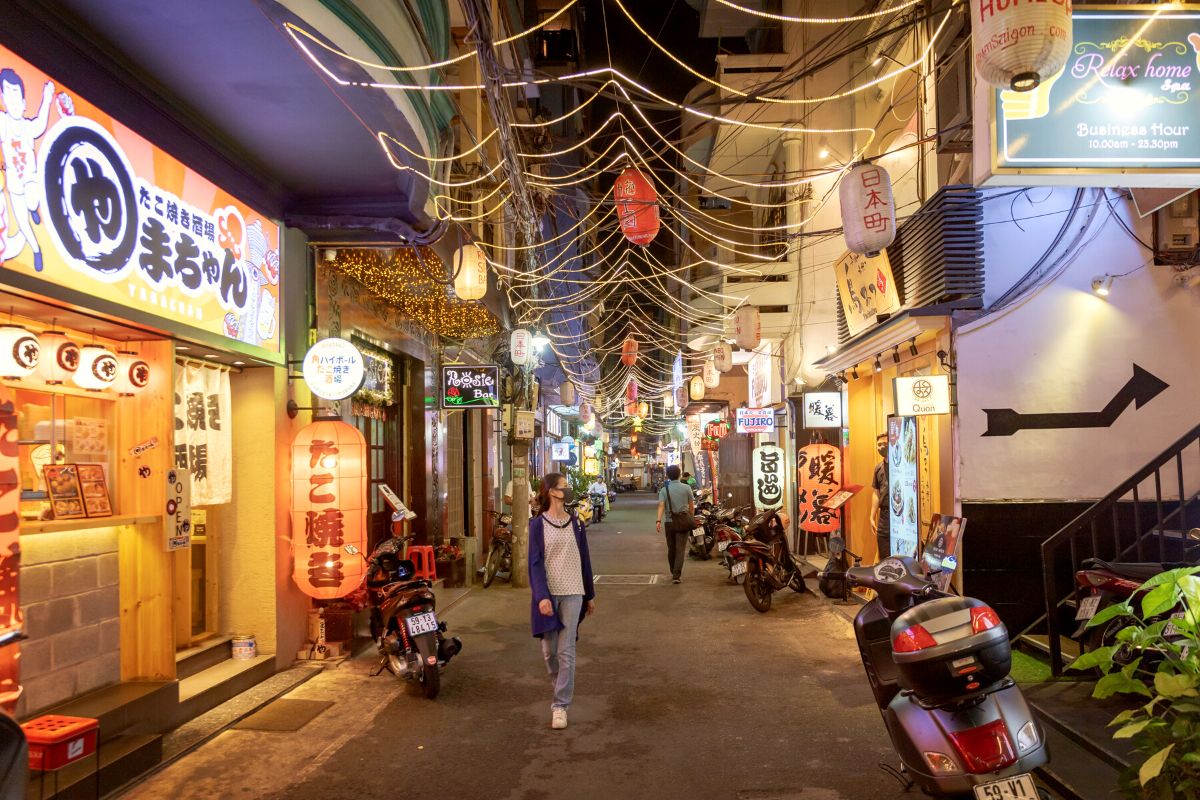 Did you know that among the hustle and bustle of District 1, there's an entire area known as Little Tokyo?
Find a bunch of Japanese restaurants, including Japanese BBQ, pubs and shops around here, and the streets are aptly lined with lanterns and signs in Japanese too.
In the early 1990s, there was an influx of Japanese expats into Vietnam, and a large Japanese community still lives in this area.
Find amazing sushi, hit a whisky bar, or snap some epic street photos alongside artworks of graffiti or in front of Japanese shophouses.
The Japanese Quarter, as it's sometimes called too, is near the corner of Thai Van Lung Street and Le Thanh Ton Street.
27 –  Go chasing waterfalls at Giang Dien Waterfall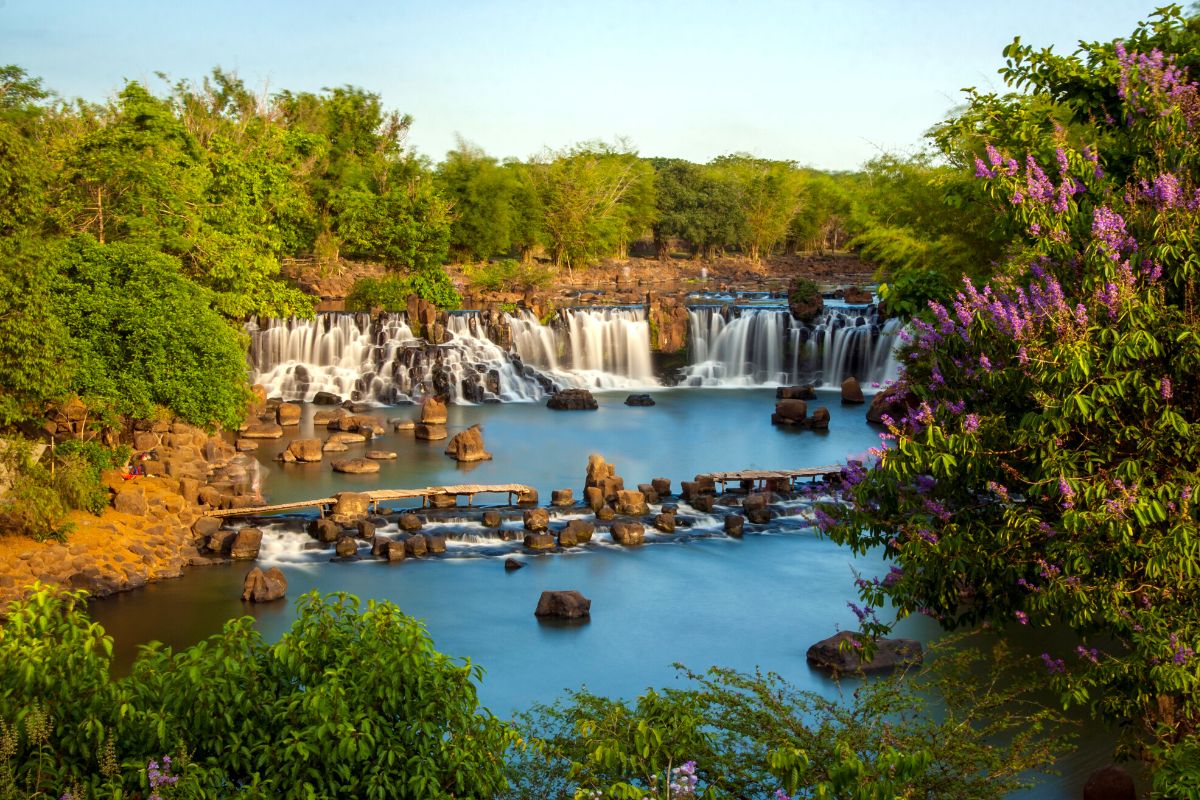 Looking for an epic day adventure? Travel by taxi, private car, or rented bike and head to the massive Giang Dien Waterfall.
The waterfall has multiple falls, but they all run down from the same level, so Giang Dien is impressive in size.
It creates a massive natural pool, which is then separated by rocks to create a second large swimming area.
Around the waterfall's lakes, there are shaded huts, and structures built for photo-ops, like a bird's nest chair!
There are also some hiking trails around the area, as well as local restaurants to stop by.
It takes around one to 1.5 hours to reach Giang Dien Waterfall from Ho Chi Minh City.
28 – Chill out at the city's best parks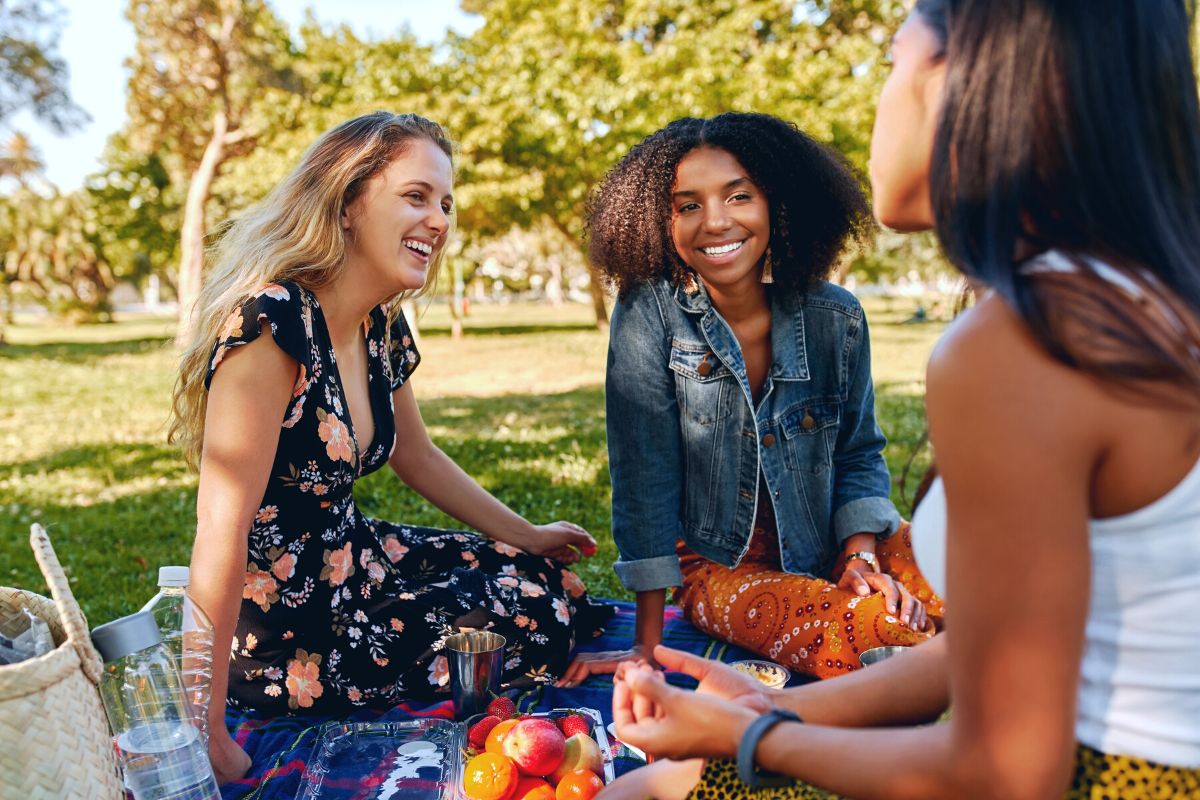 One of the beauties of Ho Chi Minh City is that it's filled with many great parks, from landscapes covered in trees, to more urban-suited green areas.
Home to over 1,000 trees Tao Dan Park is one of the city's oldest parks and is conveniently located in District 1.
Gia Dinh Park has a great play area for children and different play zones are divided to suit varying ages, from 3 years old to 15 years old.
Made up of designated green patches, and with benches and tall trees lining pathways, September 23rd Park is an ideal picnic location.
Hoang Van Thu Park is a gorgeous urban park filled with colorful florals and is popular for exercise, as well as for those wanting to chill in nature for the day.
There are designated huts at this park providing shade from the sun.
29 – Get in your exercise and sightseeing at the same time with a bike tour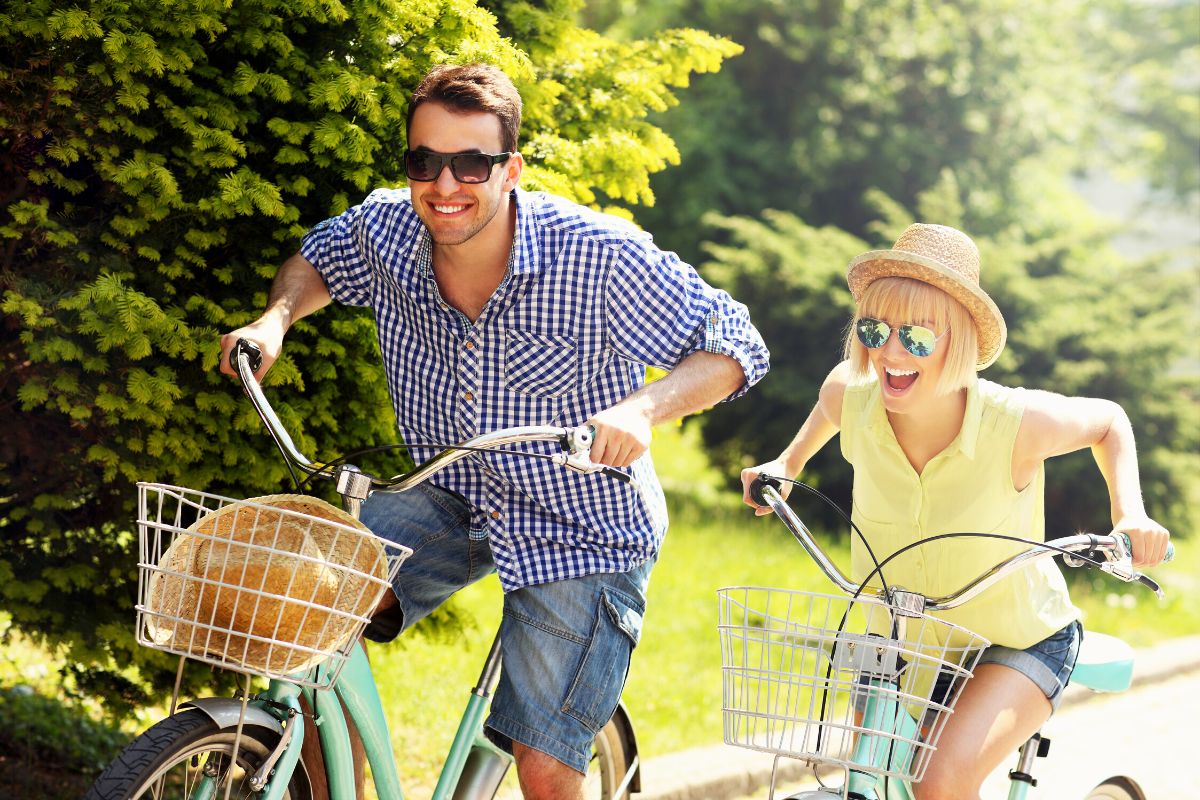 Biking is a popular mode of transport in Vietnam, and joining the locals, it's a fantastic opportunity to see ho Chi Minh city like never before.
Taking to the streets and alleyways, explore the city by bicycle tour, stopping at iconic temples, famed museums, epic markets, boutique shops, as well as multiple dining, snacking and street food stops along the journey.
Enjoy learning about the Vietnamese culture and all the facts that come along with the ride from an English-speaking guide.
Cyclists or those looking for fun exercise, bicycle tour from Ho Chi Minh City to the Mekong Delta where you'll bike to the closest point of the river from the city.
30 – Step back into time at the History Museum of Ho Chi Minh City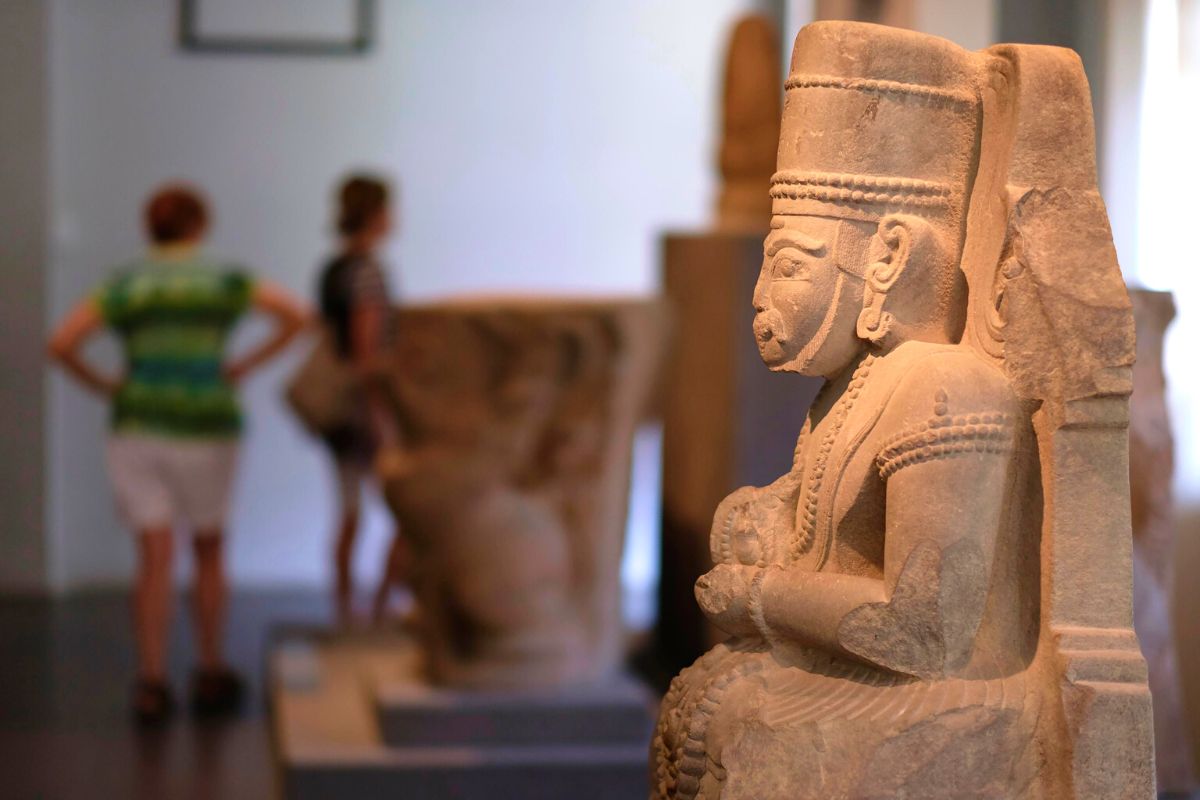 Dating as far back as prehistoric times, visit the History Museum of Ho Chi Minh City and learn about its culture, traditions, stories, events and ethnic groups that have shaped Vietnam as we know it today.
History buffs, enjoy at least two hours wandering through exhibitions of artifacts that are equipped with English-translated descriptions.
Find national treasures like ancient Buddha statues, as well as ones of Indian deities from the Funan period (this was the first largest recorded Southeast Asian civilization dating back between the 1st century and 7th century A.D).
Marvel in gorgeous brass, bronze and metal items from the first Nguyen dynasties including antiques like vases and even an ancient kettle.
31 – Let the little ones' imaginations run wild at Vietopia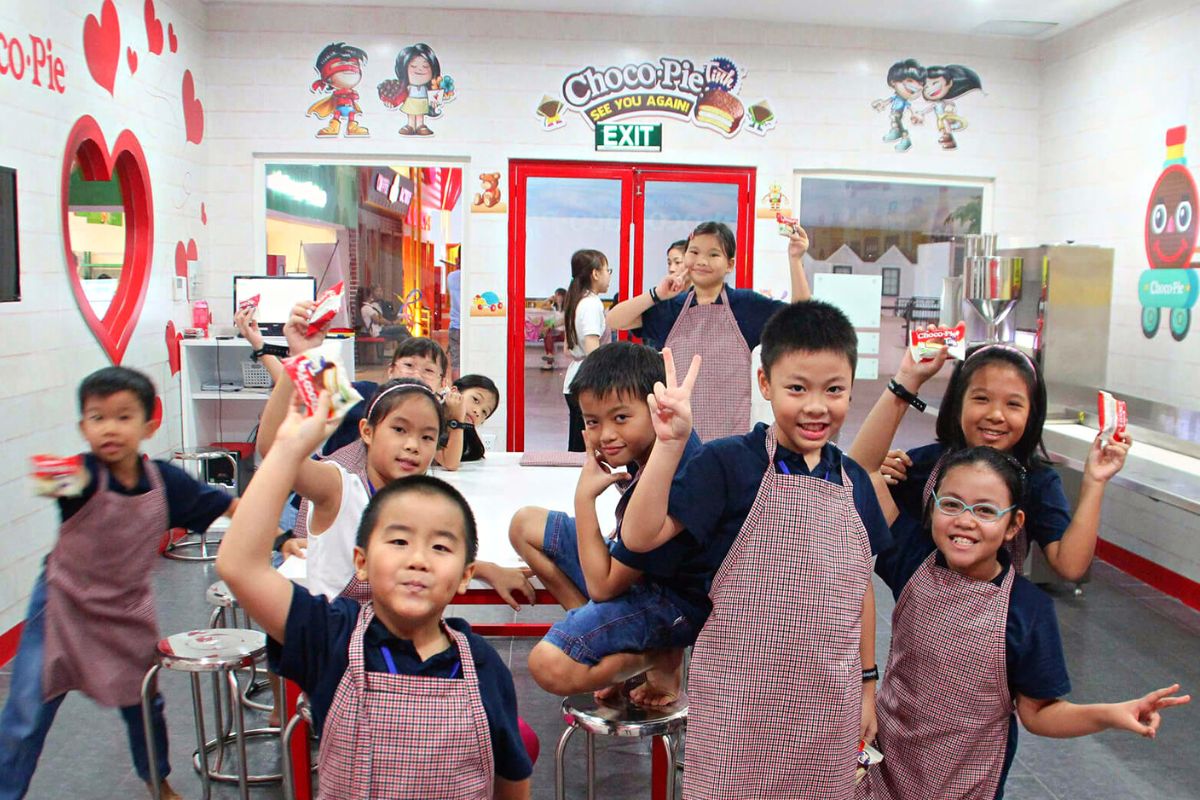 Vietopia is an indoor play and learning center that's not only fun but stimulating for the minds of both young children and teens.
Inside is set up to replicate a mini modern-day society, and a small town has been recreated with factories, buildings and an airport.
Kids can explore the different roles and jobs that adults have, dressing up in characters themselves and trying out various occupations.
Pretend to be a firefighter, banker or teacher for the day … It's exciting and educational.
You also have the chance to build your very own city, and Vietopia is suitable for children aged 4 to 15 years old.
32 – Go hopping around the best coffee shops and cafes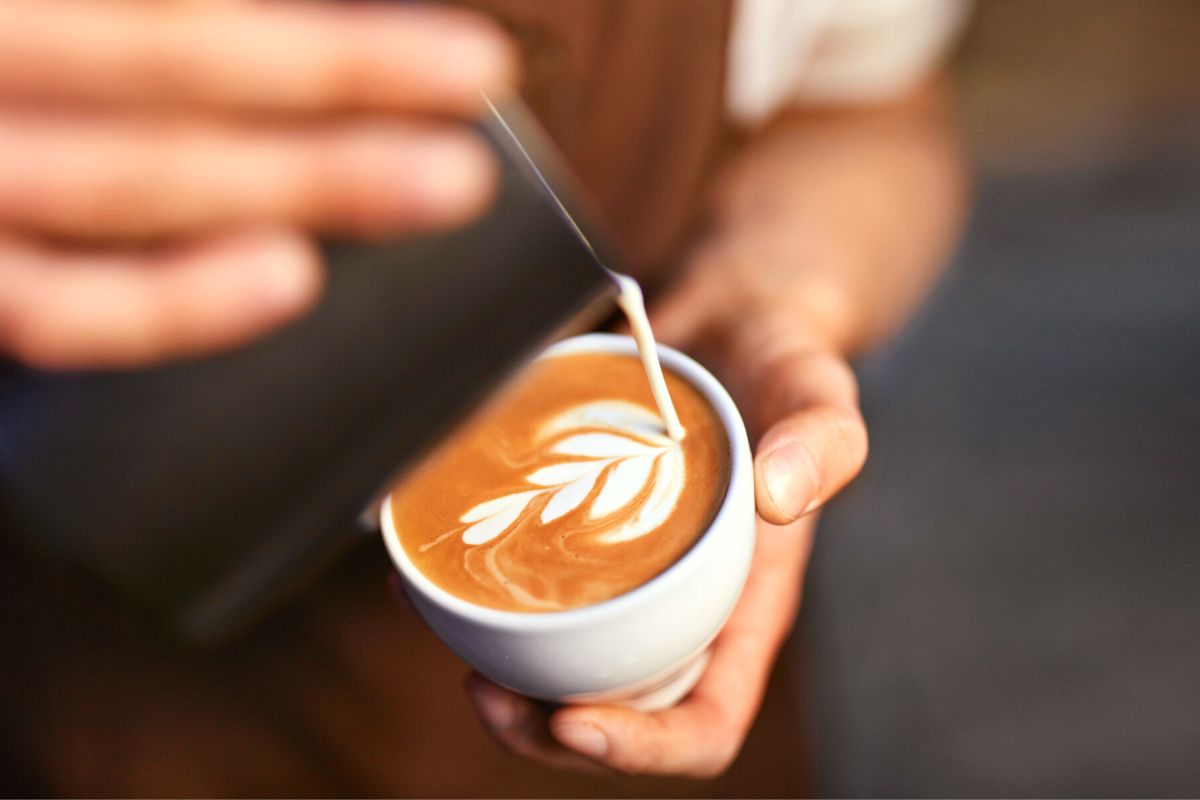 Ho Chi Minh City is renowned for its hip and trendy cafes … seriously, there are hundreds!
Just like the rest of the country, coffee culture reigns in HCMC (some say it's due to the country's European influence in the past).
Dripping in flowers and greens from the outside, Bonjour cafe the art is two levels with great balcony views. (Don't miss their dessert menu.)
Padma de Fleur is not only a florist but a cafe inside too. As you can imagine, the entire setup is just dreamy surrounded by florals and fresh table bouquets.
Nestled at the end of the road, Oromia Coffee & Lounge has a Japanese feel and huge glass windows overlook their Koi pond.
Although in HCMC, visit Little Hanoi Egg Coffee cafe for the best cà phê trung (i.e. egg coffee), it's delicious!
For a unique setting, visit DU MIÊN Garden Coffee built around a treehouse set-up with a sparkling aqua pool within the center of it all.
Offering one of the best cold brews in the city, coffee snobs visit The Hummingbird Café & Roastery.
Lastly, a visit to Teaspoon Coffee & Tearoom will transport you to England, or even Alice in Wonderland, tea cups and all.
33 – Make a full day trip visiting Tre Viet Tourist Village (Làng du lịch Tre Việt)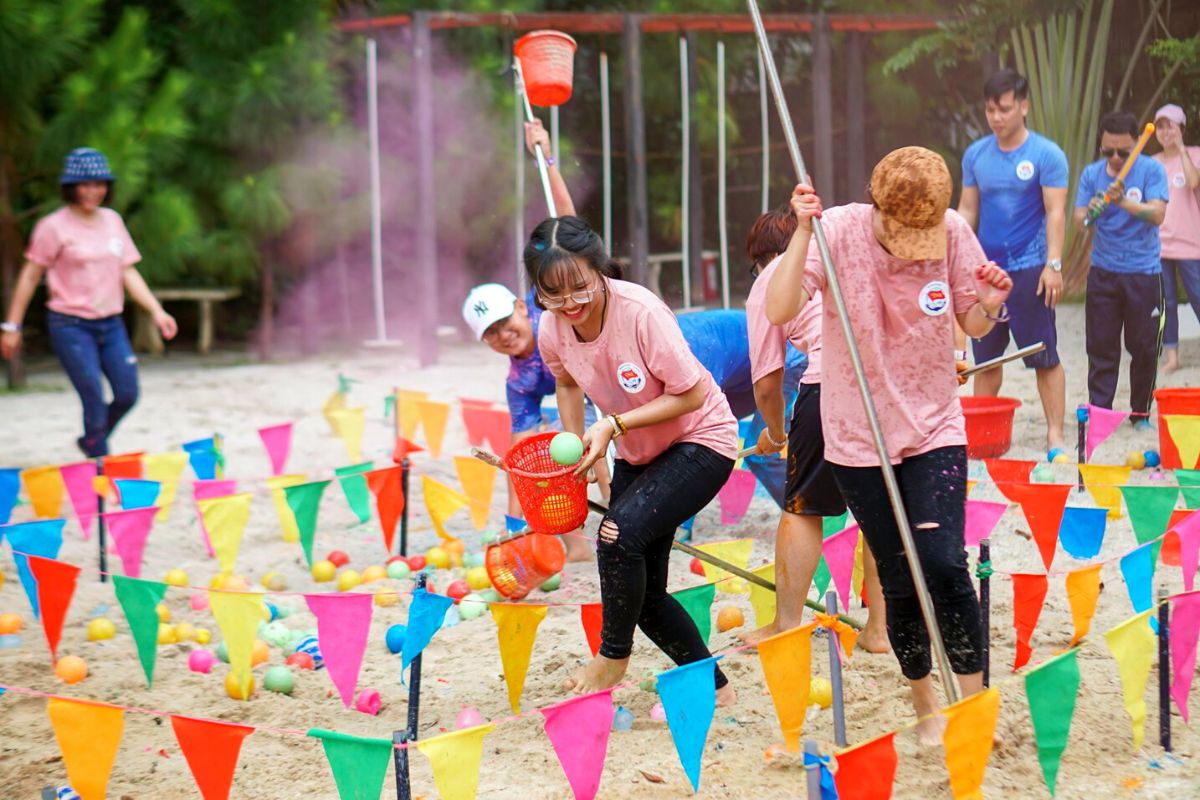 Also known as the Bamboo Village, the Tre Tiet Tourist Village is a great family outing.
15 kilometers out of the city center, this eco-tourism area has been designed to showcase the south's countryside feels.
Located next to the river, there's a lake area dotted with coconut trees where water activities take place, such as water biking, kayaking and SUPing.
Or, try your hand rowing a traditional rounded woven coracle boat.
After all the activity, grab something to eat at the Bamboo Country Market Buffet offering over 60 local and traditional dishes to try.
34 – Show the animals some love at Saigon Zoo and Botanical Garden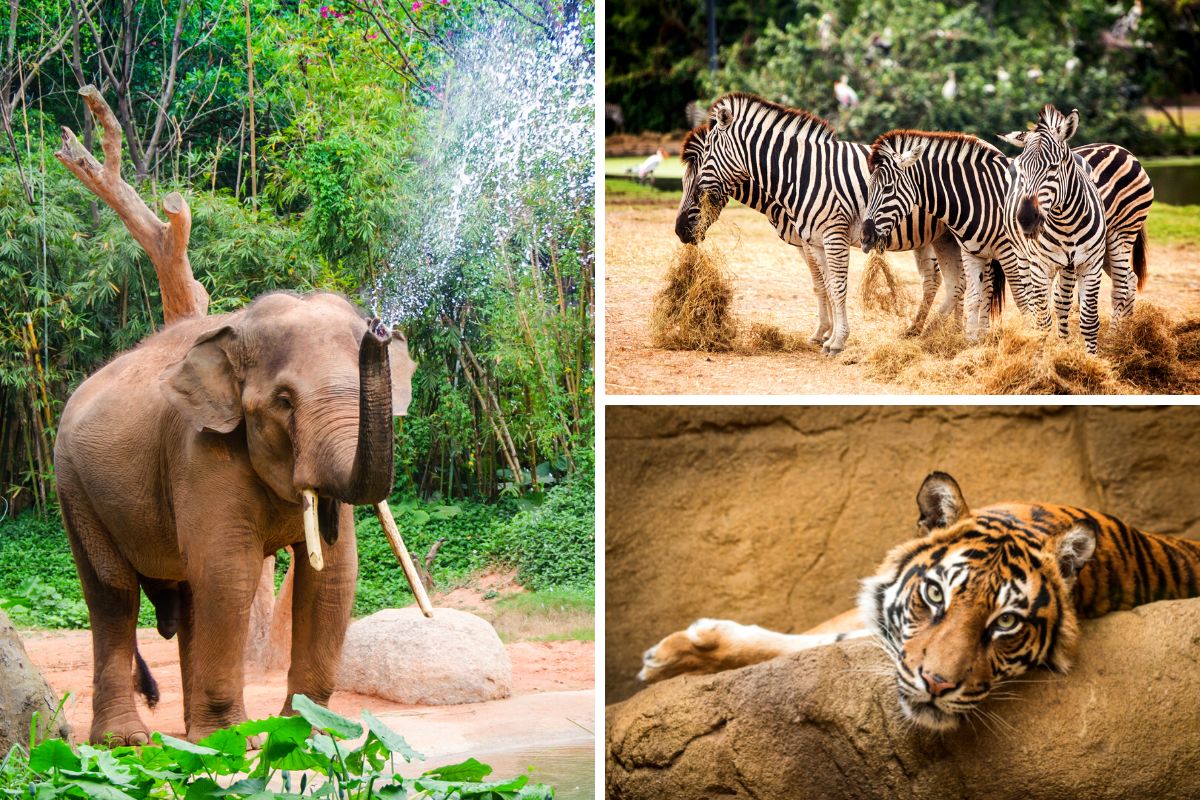 If you're traveling with family, especially younger kids, have a blast interacting with animals and exploring stunning green areas at the Saigon Zoo and Botanical Zoo.
In operation for more than 150 years, the zoo has been open since 1869 and it's a gorgeous mix of not only wildlife but architecture too.
Walking through the tall green gates, enter one of the oldest standing buildings in all of Saigon.
The zoo was built to 'enhance culture and conservation activities' and with its botanical setting, it provides a great balanced environment.
Visit the Butterfly and Flamingo Garden, spot some rare animals, and there's a petting zoo for little ones, the Children's Garden.
Speaking of, there are craft workshops for kids and a water playground. Also inside the Botanical Garden are a bunch of fun rides for all ages including a ferris wheel.
Wander through an Orchid greenhouse, a cactus garden and a park filled with ancient and new trees and plant species.
Stop by the Animal and Plant Museum for an educational walk-through, and children will love to see life-size animal replicas on exhibit.
35 – Experience a live show performance unlike any before during an AO Show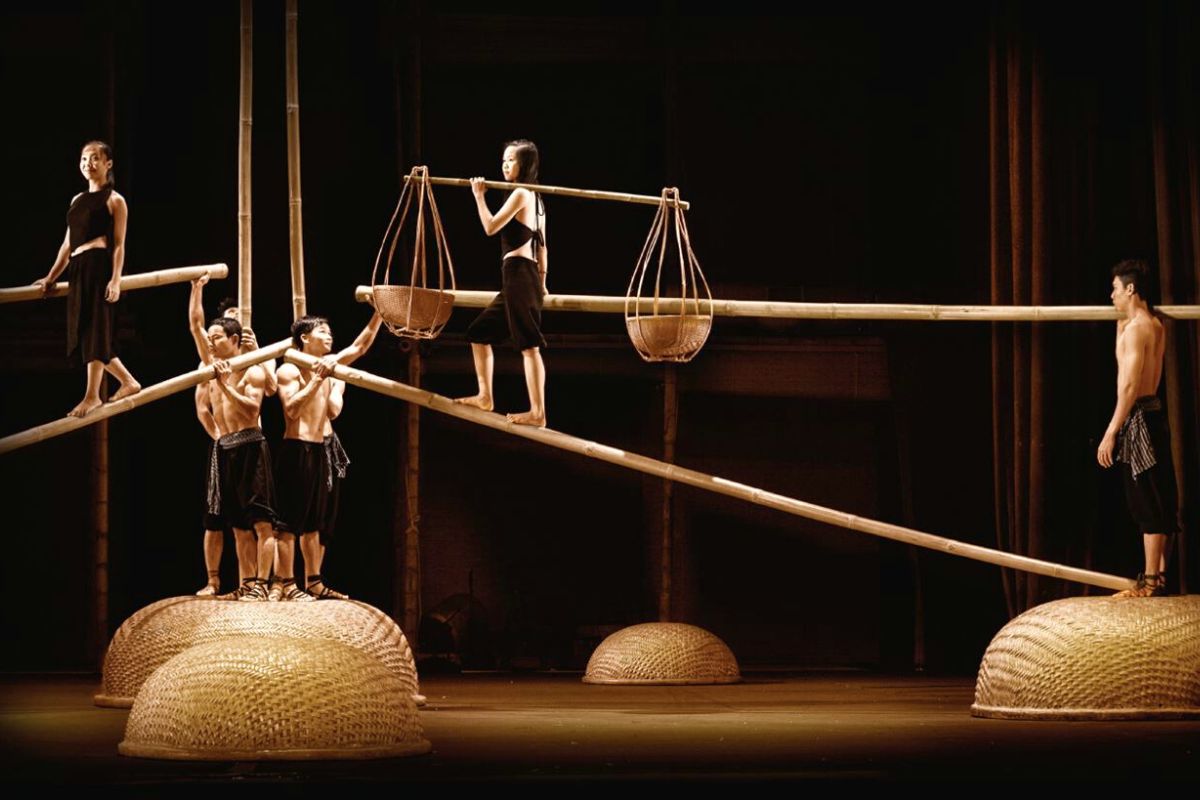 How many times in your life can you say that you've watched a bamboo circus, let alone heard of one?
Get to witness (and experience) the local spectacle known as the AO Show, put on by Lune Productions – one of the best things to do in Ho Chi Minh City at night.
It's sort of similar to a Circus Soleil show where performers use their bodies to perform tricks.
Here, the immersive performers create some insane artworks with their bodies and bamboo at the same time.
Fun fact: Bamboo is one of Vietnam's most-used materials and there are over 300 different species of Bamboo growing in the country.
36 – Try a different kind of museum at the Ao Dai Museum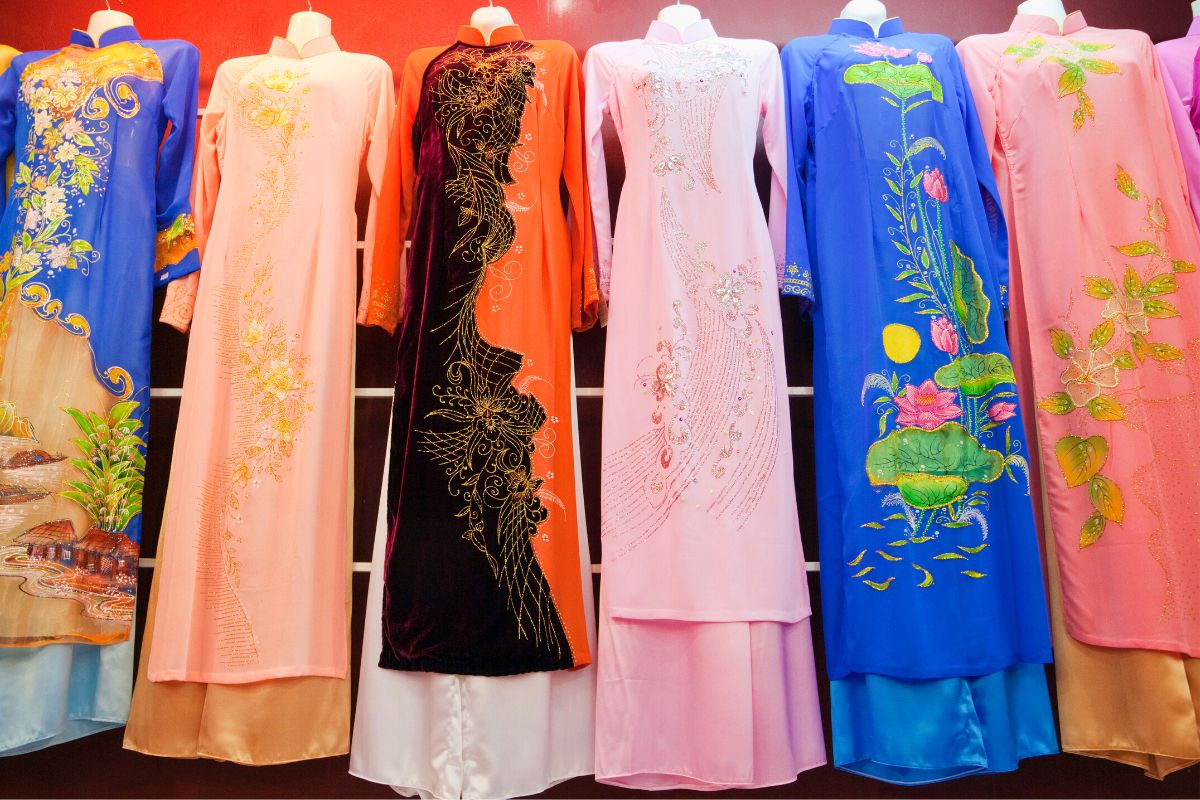 If ever there's an important event happening in Vietnam, from school concerts to weddings, the traditional áo dài is worn and has been for hundreds of years.
Heading to District 9 (a 1-hour drive via local public bus from District 1), visit the enthralling Ao Dai Museum.
Paying an ode to the traditional dress, discover hallways filled with 1,000 different kinds of áo dài once worn by royalty and celebrities.
The grounds around the small museum are really pretty, surrounded by tropical trees, a lotus pond and an herb garden.
Visiting this part of town, while it is still inside Ho Chi Minh City, has a 'greener' touch and a more rural sort of feel.
37 – Take a break at Turtle Lake (Hồ Con Rù)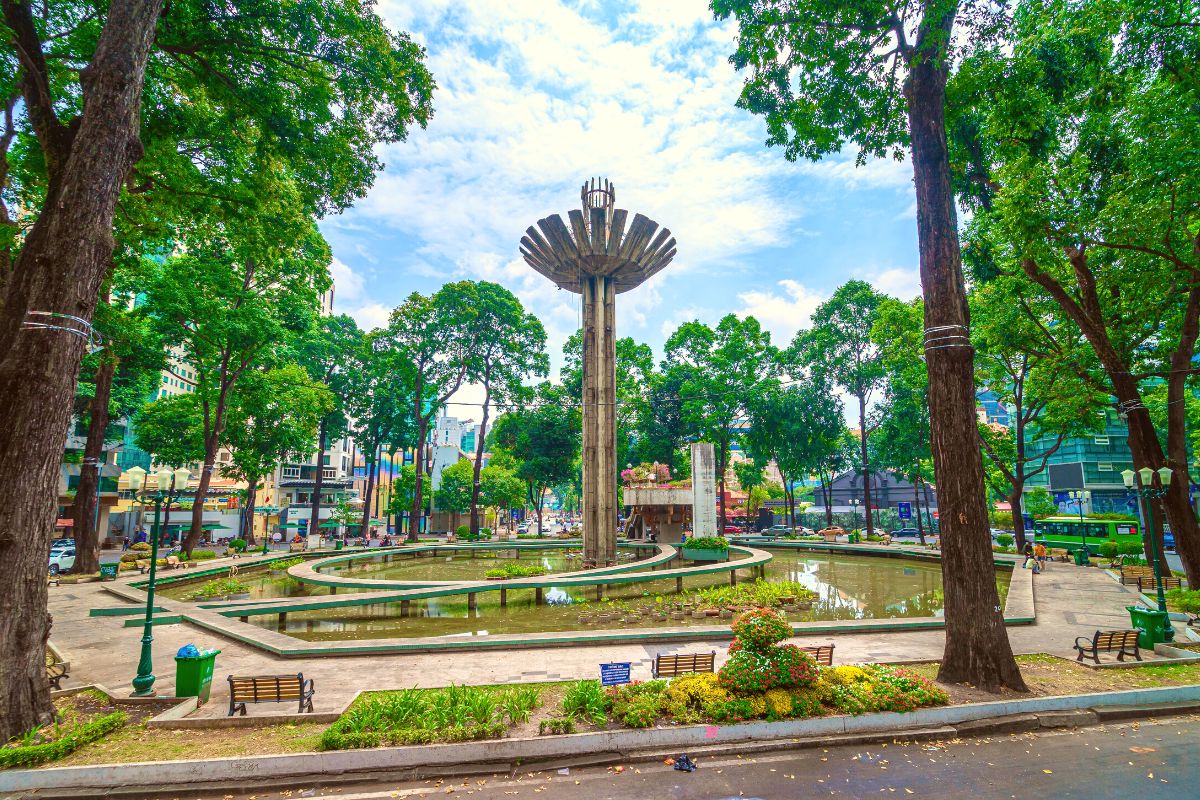 Although Hồ Con Rùa is known as Turtle Lake, there is no lake nor turtle here.
Instead, at the intersection of three roads, an octagon-shaped water feature has been built, with a square of trees surrounding it.
Located across the way from the Independence Palace, it's also called the Independence Square and is a popular spot to enjoy local street food, as well as relax in the peaceful setting.
There is a spiral pathway that crosses the man-made pond, and a tall water fountain feature protrudes upwards and lights up in the evenings.
Must-try street snacks include fried corn, baked rice paper rolls and fried squid!
38 – Treat yo' self to one of Saigon's spas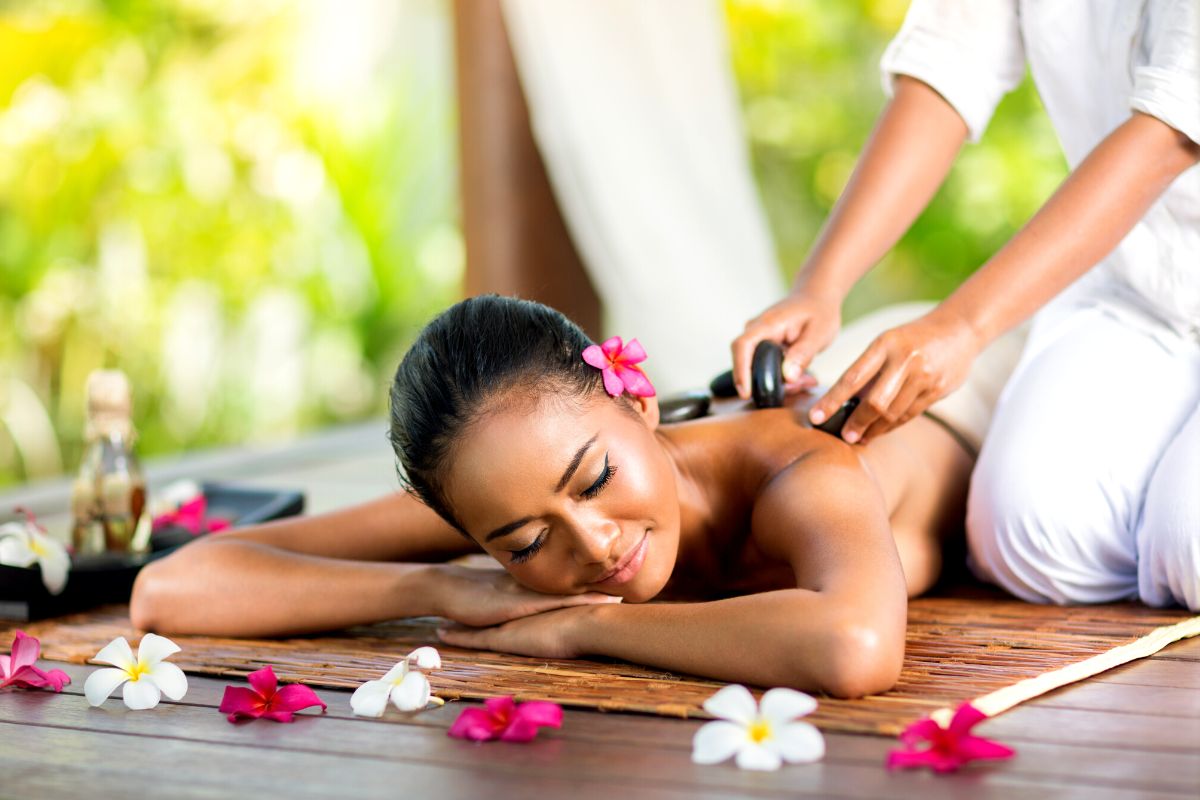 There's no denying the fact that Saigon is a big city, and between the different districts, attractions and the surrounding areas outside of Ho Chi Minh City, there's loads of exploring to be done.
Spend an afternoon, or the day, relaxing, unwinding and pampering yourself at a lush spa. Treat yourself to a massage, body treatment or a nail day.
Check into the artisanal boutique L'Apothiquaire Spa set in the most gorgeous French-inspired villa. They offer everything from wellness treatments to pilates classes.
Looking to spoil yourself? The award-winning Le Spa des Artistes Saigon is one of the city's most luxurious spas.
Conveniently located in the heart of District 1, Temple Leaf Spa is award-winning and well known in Saigon. Choose between a range of different traditional treatments, from Vietnamese to Thai massages.
Select from an array of different techniques from countries like Sweden, India, Japan, Indonesia, and Thailand which are then combined with traditional medicinal Vietnamese therapies at Moc Huong Spa.
Conveniently, Golden Lotus spa has numerous branches around HCMC, and they focus on Korean treatments, and beauty and wellness packages.
If you've been missing your weekly practice, there are yoga classes in Ho Chi Minh City, as well as meditation sessions if you feel like you need to recenter in the busy city.
39 – Visit the most famous architectural Buddhist temple in the South of Vietnam, Chùa Vĩnh Tràng
Thanks to the sheer size of the grounds at Chùa Vĩnh Tràng, or Vinh Trang Pagoda, it's a striking feature and a must-visit.
While it's not situated directly in Ho Chi Minh City, it's a 1.5-hour drive from HCMC and en route to the Mekong River.
This makes it a convenient location if traveling here, or a great day trip option.
Discover multiple different Buddha statues around, including a ginormous laughing Buddha and a lying down Buddha.
Other than the larger-than-life-sized statues, the gardens are magical to walk through, and the unique temple architecture will grab your attention, screaming for a photo.
40 – Prepare yourself for a spectacle at the Saigon Opera House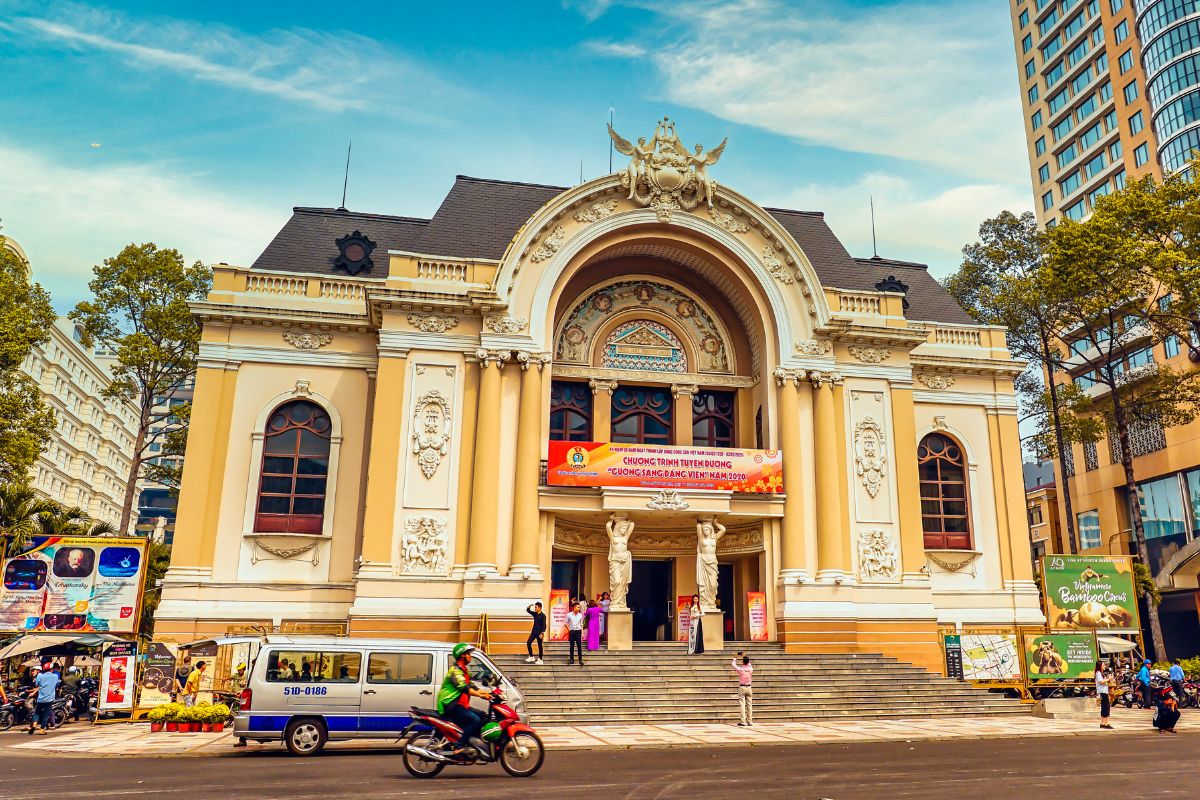 Standing regal, the Saigon Opera House is an amazing excuse to put on your fancy clothes and spend an evening enjoying the arts and cultural side of things.
That is, when there is a live show happening! Today, it's also known as the 'Municipal Theatre'.
Some amazing shows include the Vietnamese Bamboo Circus and Contemporary Dance performances.
When there aren't performances, or you're not up for watching one, don't miss exploring the beautiful building that is the opera house.
It was first constructed by a French architect in 1989, and the building's architecture and interior design are evident of the times.
Walk across marbled floors and the grand staircase with its red carpet, while dripping chandeliers glisten from the rooftops.
41 – Create your own fantastical illusions at Artinus 3D Art Museum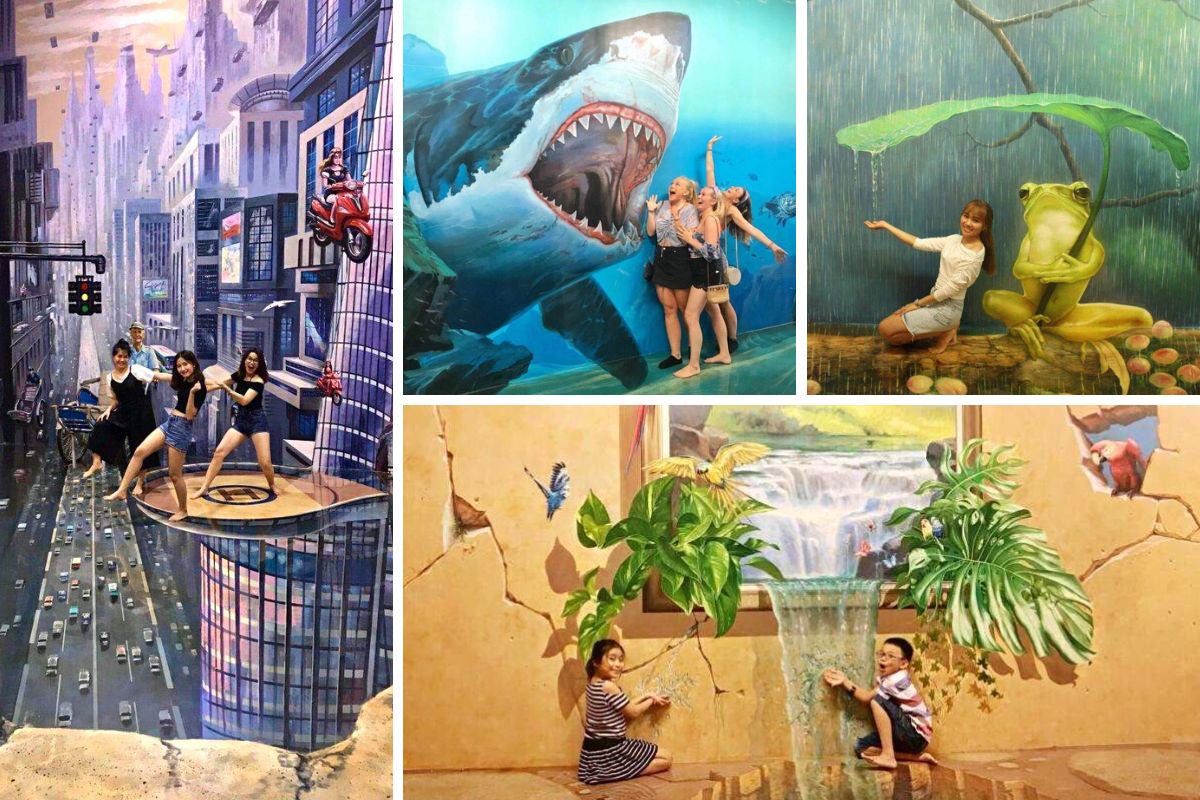 One of the most whimsical and enchanting 3D museums around, Artinus 3D Art Museum has over 300 different 3D picture walls to discover!
Have endless fun recreating your own magical moments inside the museum, where it takes on the illusion that you are part of the artworks and scenes.
The museum is divided into nine zones.
Pretend to be part of the deep sea inside the Aqua Zone or play with wildlife inside the Animal Zone.
The Master Piece Zone is epic and you feel as if you're part of famous paintings.
The Vietnam Zone and Egypt Zone explore different time periods and regions, while the Fantasy Zone transports you to unknown worlds.
Pretend like you're a genie flying above a magic carpet at the Strange House Zone and lastly, the Love Zone will leave you with all the cutesy feels and photo ops.
42 – After walking around in 50°c heat, take a dip in one of the Rooftop Pools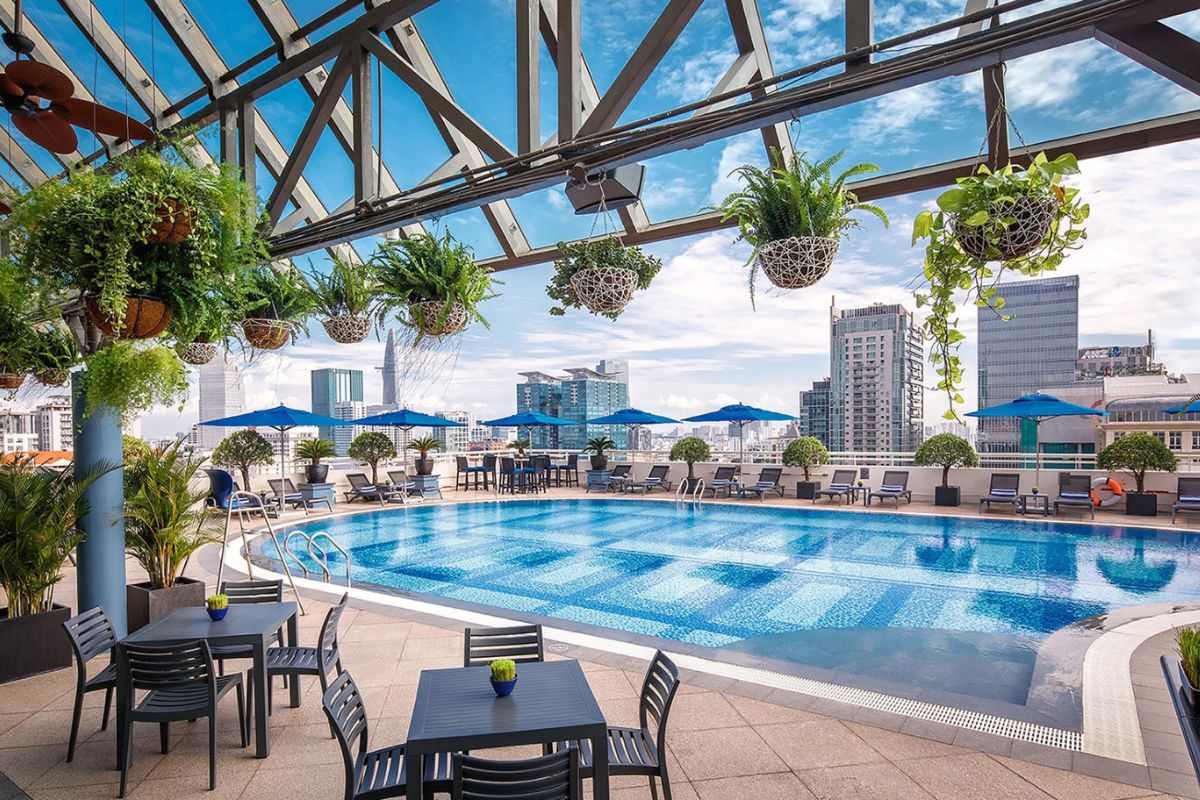 There may be no beaches found in Ho Chi Minh City, but a popular way to beat the heat is chilling at one of the city's rooftop pools.
It's not uncommon for hotels to open up their rooftop pools to outside visitors, and you will need to pay a daily entrance fee to use the pool.
Located on the 27th floor, enjoy a glass of champagne next to the infinity pool at LA VELA, followed by a dip with sweeping views.
There's also a breathtaking infinity pool at Hôtel des Arts Saigon.
The spacious pool at Equatorial has a kiddies pool and features a sunken pool bar, or S Pool Bar on the 18th floor of the Sofitel is awesome for a group of friends or families.
43 – From instruments to ancient remedy books, discover the Museum of Traditional Vietnamese Medicine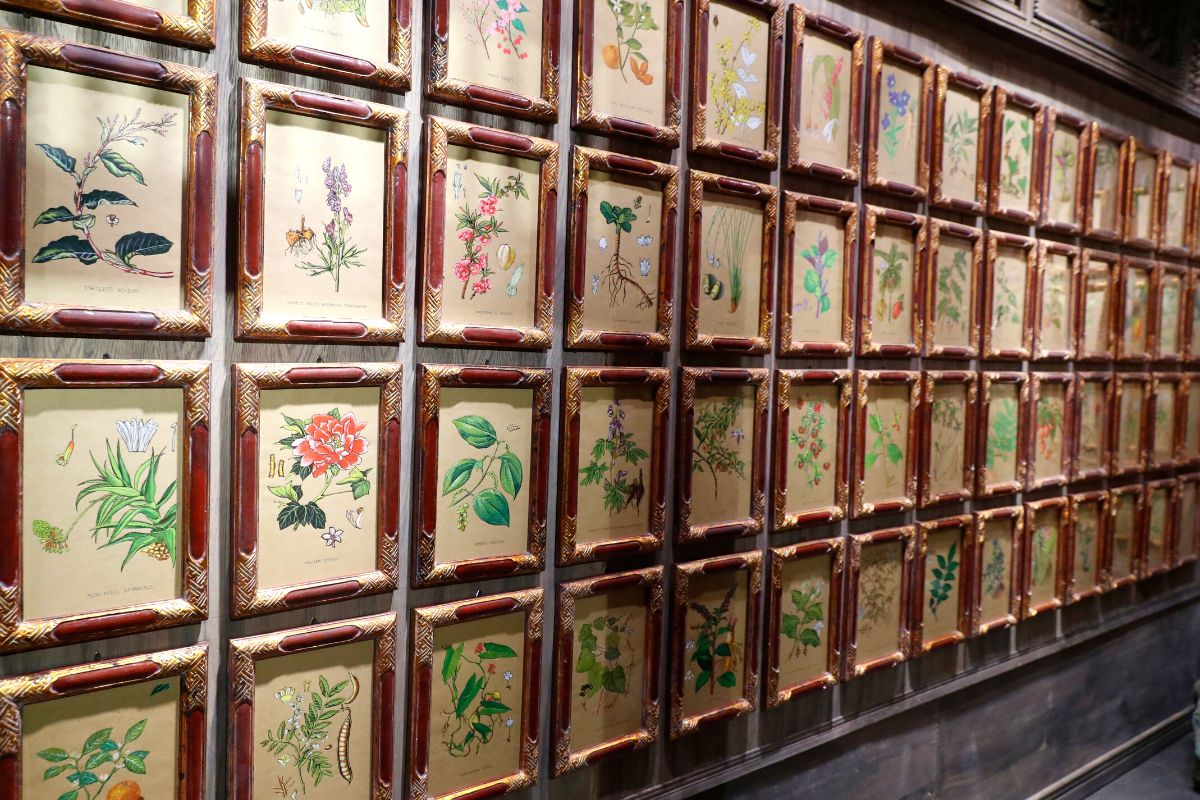 Did you know that most of the country's natural medicine practices have been influenced by Chinese philosophies and practices?
At the Museum of Traditional Vietnamese Medicine, check out 3,000 different items relating to traditional medicine used in Vietnam, some dating back to the Stone Ages!
Discover tools and instruments used in the preparation of ancient remedies such as pestle and mortars, pots and knives.
As it highlights the evolution of traditional medicine, the museum showcases objects from pharmacies throughout the years, including scales and paper advertisements.
There are 14 different rooms to visit, like the Medicinal Plants Shop, a room for Herbal Elixirs, the Fitô Pharmacy and more.
44 – Add something new to your cooking repertoire with cooking classes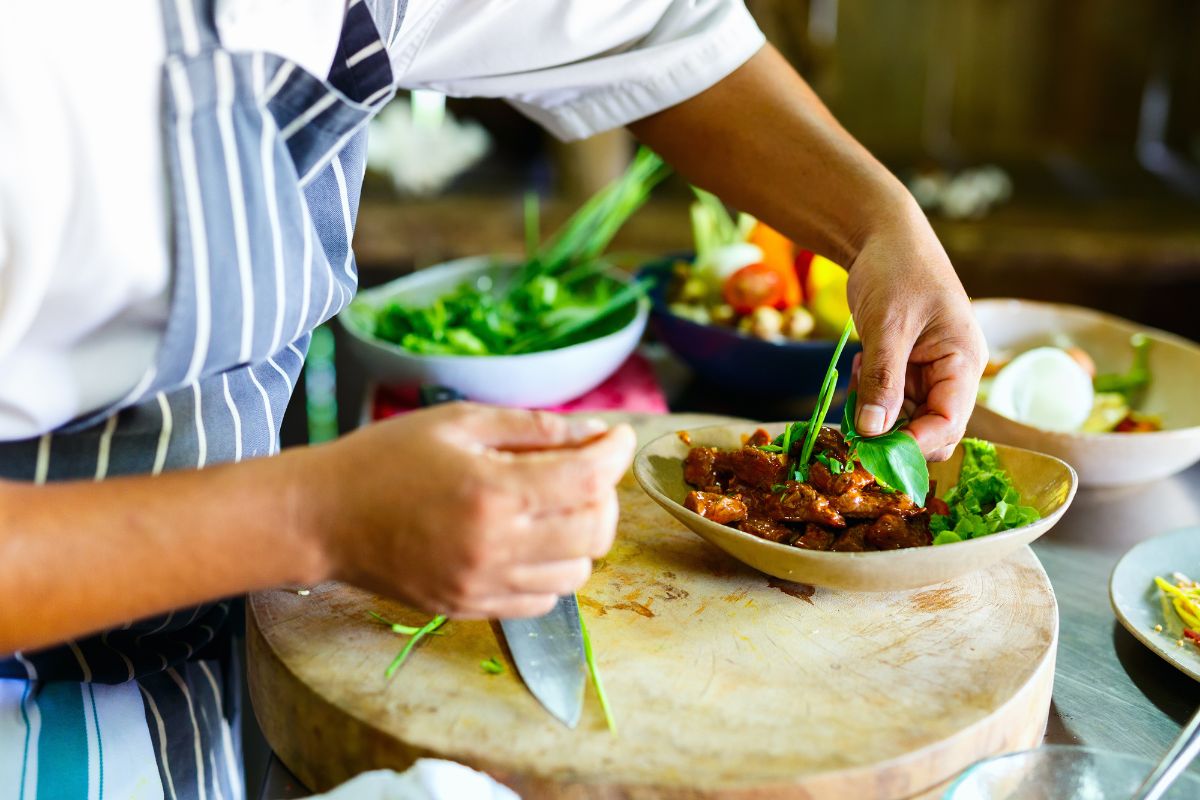 The flavors in Southern Vietnam are herbaceous, bold and super fresh. Learn how to cook like a local pro and take a cooking class whilst you're visiting Saigon.
Enjoy a farm-to-table cooking experience. Visit a local farm, including a medicine farm, and pick fresh ingredients to use in your meal.
Learn about different herbs and produce, as well as insightful information such as how to cultivate rice.
For something extra authentic, head into the jungle-y mangroves along the Mekong Delta and try a cooking class at a local village.
Here, visit a small floating market to buy your ingredients and cook up a storm using preparation techniques and flavors from these local parts of the south.
45 – Learn about Chinese religion at Ba Thien Hau Pagoda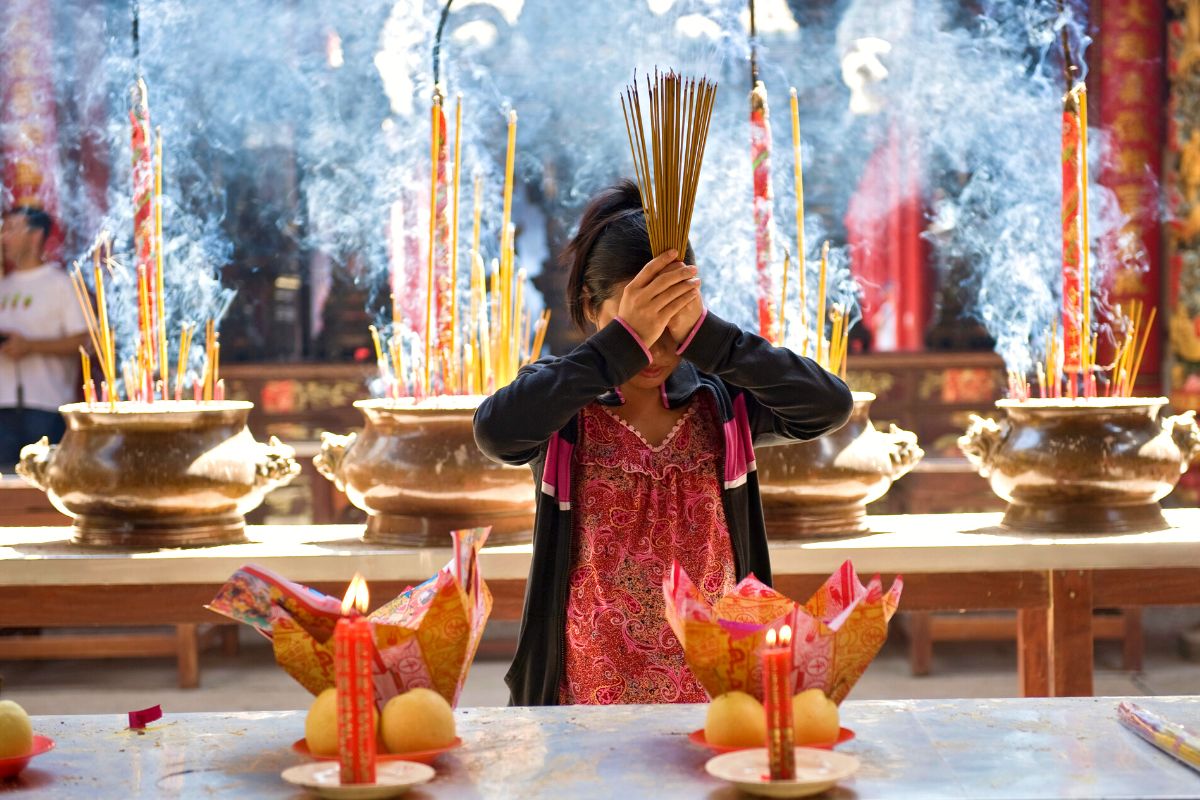 There are many temples, churches and worship grounds to visit around Ho Chi Minh City, and Ba Thien Hau Pagoda is an interesting one to check out.
Many temples and sanctuaries are Buddhist in Saigon, but Ba Thien Hau is a Chinese pagoda and has been since it was first built around 1760.
The sacred ancient ground was constructed by Chinese immigrants in Vietnam, and today it's found right in the heart of Saigon's Chinatown neighborhood.
The temple is dedicated to the Chinese goddess of the Sea, Mazu, or Thien Hau as she is known in Vietnamese.
There is a courtyard that connects four small houses, and inside the main hall is the altar dedicated to Thien Hau.
Discover some beautiful antiques inside the temple grounds too, including stone statues and embossed artworks.
46 – Shop at Ben Thanh Market, the most popular city market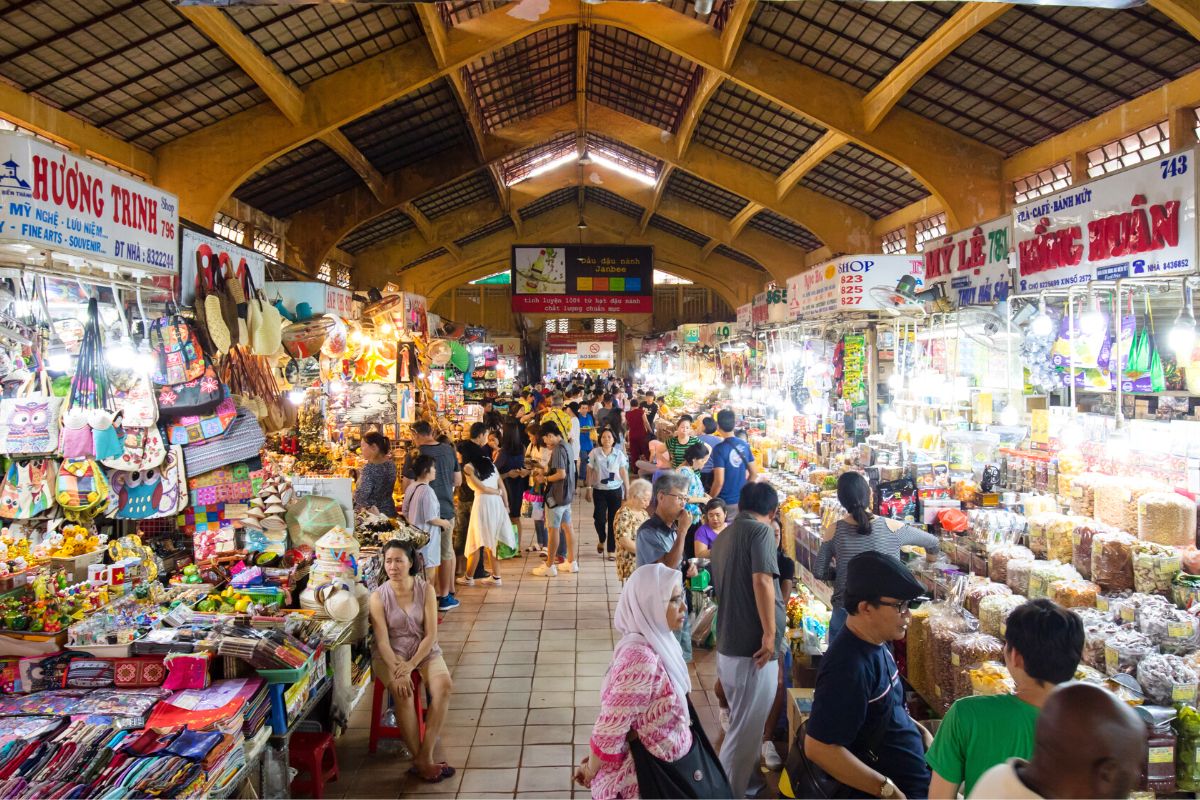 Close to most of the major must-see attractions and things to do in Ho Chi Minh City like Independence Palace, Saigon Opera House and the Notre Dame Cathedral, Ben Thanh Market is always busy.
Opening daily from 7 AM to 8 PM, shop for all sorts of typical market buys from as cheap as VND10,000!
The indoor market is housed inside a historical building and visitors work their way through the rows and stalls.
Shop across categories, from affordable clothing to local handicrafts and other accessories like backpacks to souvenirs.
Find some stores selling labels like NorthFace and Zara for cheap prices.
Ben Thanh is a famous street food hotspot, so make sure you arrive hungry and get involved in the tastes of the south!
47 – Put on your boots and go hiking right outside Ho Chi Minh City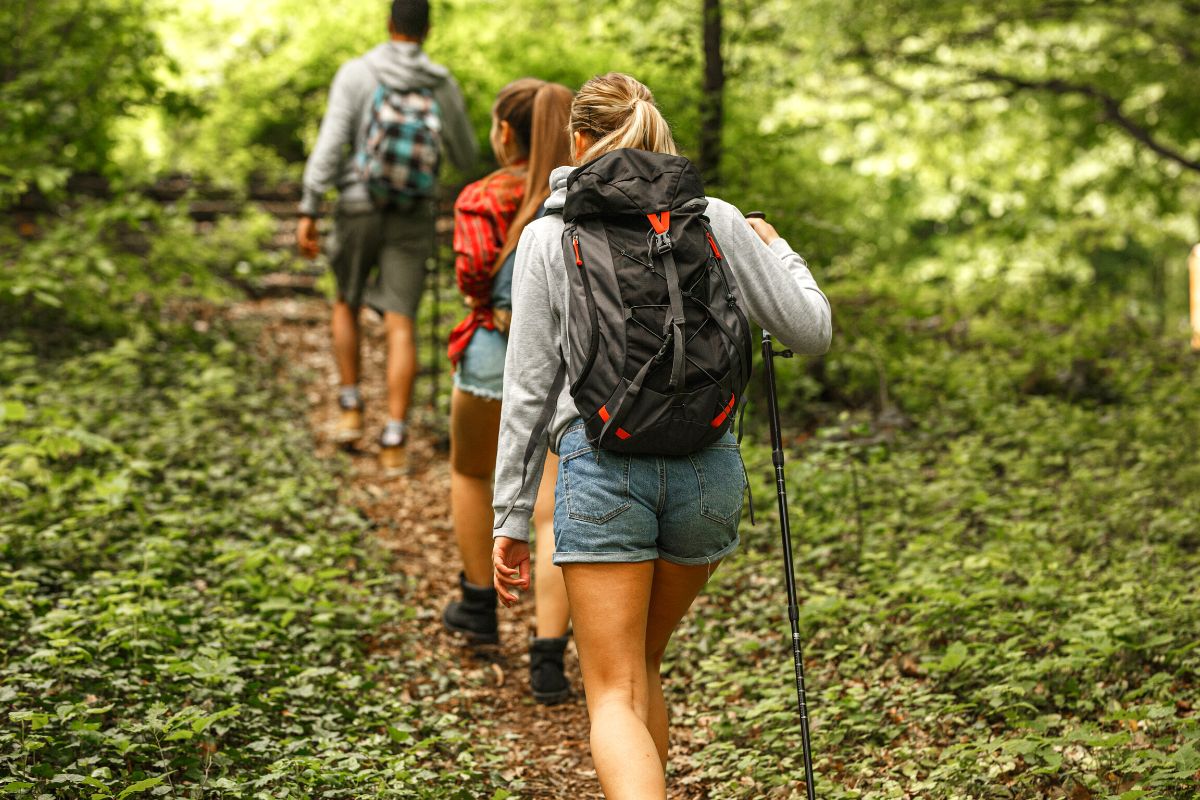 Just outside of Saigon you will find unending green landscapes which make for incredible hiking adventures.
Head to a local favorite, Lady Black Mountain (officially called Núi Bà Đen), and the sacred mountain offers numerous hiking trails and temples to check out along the way.
(There's also a gondola service that takes you to the peak of Ba Den and if you're lucky grab views from above the floating clouds!)
Two hours outside of HCMC discover Chua Chan Mountain. Hike the 800-meter high trail and once you reach the top, locals are selling delicious snacks like bánh xèo (filled rice pancakes).
Go hunting waterfalls inside the Dinh Mountain range and this hike is a colorful one. Pass by pagodas, temples, streams, and Vũng Tàu beach is close by.
If looking for an overnight summit stay, travel to Lang Biang Mountain in Da Lat Province (a five-hour drive from HCMC).
Another great hiking day trip is to the Cat Tien National Park, and unlike some mountain ranges, the park is made up of tropical forestry.
48 – Arrive in HCMC ready to feast at the best restaurants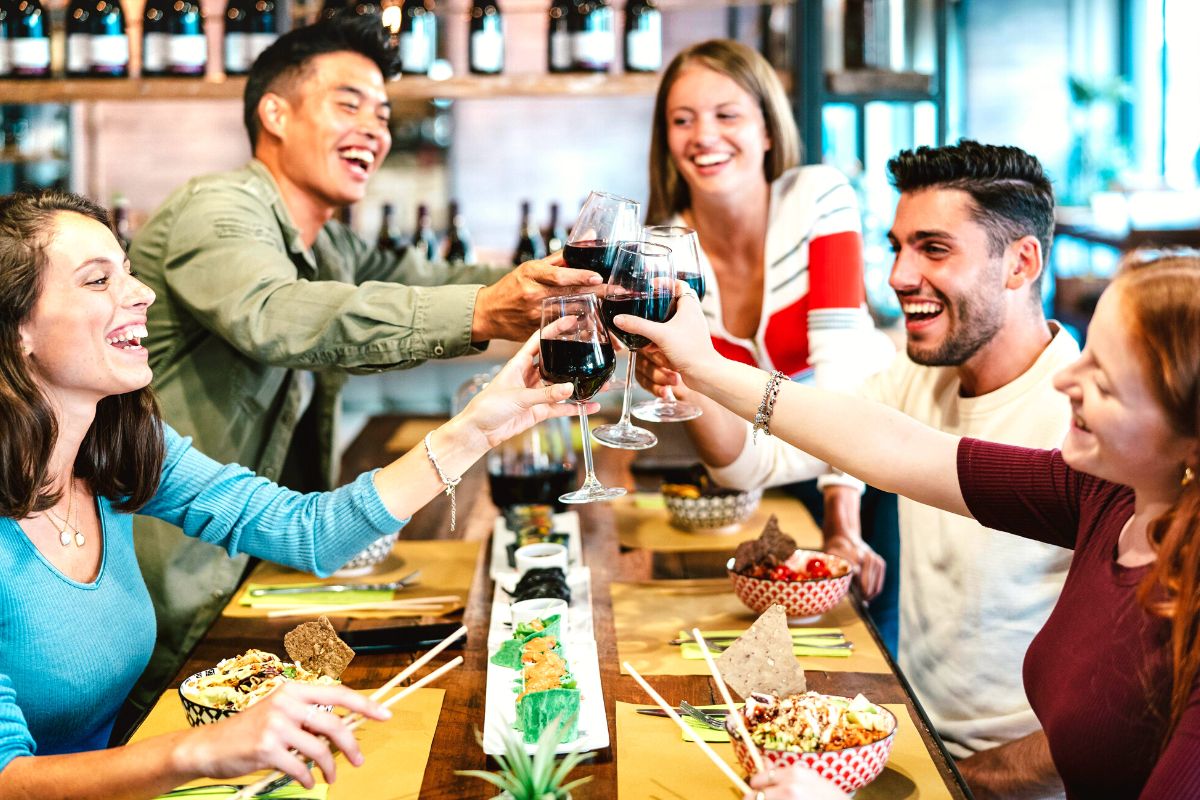 Saigon has a great dining scene, whether you're hunting down local flavors, a night of fine dining or plates of food from other countries.
Built in a French-colonial building, Cục Gạch Quán celebrates local countryside dishes in the most ambient setting.
Dress up for the night at Xu Restaurant Lounge which highlights modern and traditional Vietnamese cuisine. Plates of food are plated beautifully.
Dine with a (skyline) view at Shri Restaurant & Lounge and enjoy a menu that fuses international and local ingredients and dishes.
Craving authentic Italian? Ciao Bella is renowned for offering some of Italy's best dishes in Ho Chi Minh City.
Both locals and tourists love Secret Garden. It's set in a traditional house and covered by lanterns, like a scene from Hoi An. Indulge in local Vietnamese dishes and flavors and the restaurant and teahouse has a fantastic all-round atmosphere.
For the freshest poke bowls in town, you can't go wrong at Poke Saigon … Never an unsatisfied customer, they have great service too!
49 – Explore adventurously via jeep tours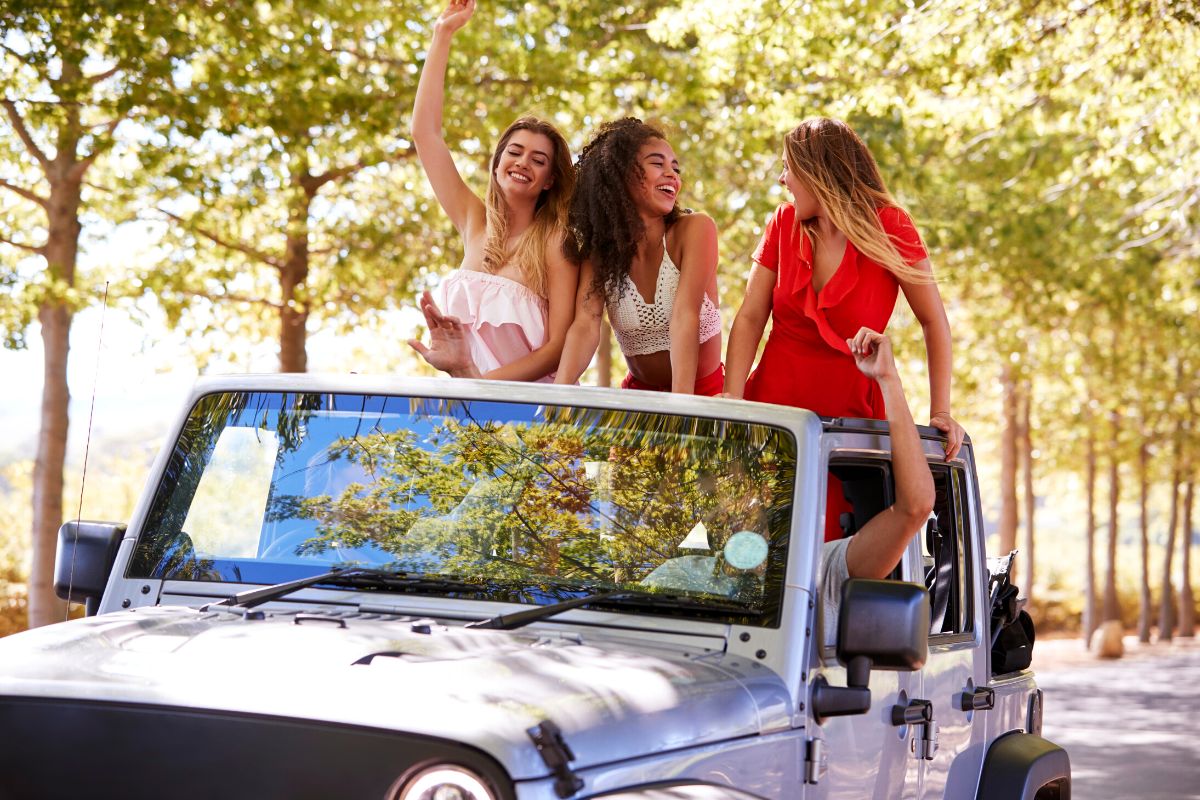 Hop inside a cool retro army jeep and explore Ho Chi Minh City in a way that's not mundane.
It's not only epic to join the masses of motorbikes and cars on the roads, but riding the jeeps with an open roof adds a welcomed breeze.
Spend a full, or half-day venturing around the city and stopping at must-see attractions such as Ben Thanh Market, Notre Dame Cathedral, Independence Palace, and the War Remnants Museum, among many others.
There are different jeep tour options, and you can choose the best type of vehicle model that suits you, for example, some jeeps are more suitable for families.
If you've already discovered all there is to do in HCMC, then opt for a jeep tour to the Cu Chi Tunnels instead!
50 – Celebrate Hanoi's cultural and spiritual history at Suoi Tien Theme Park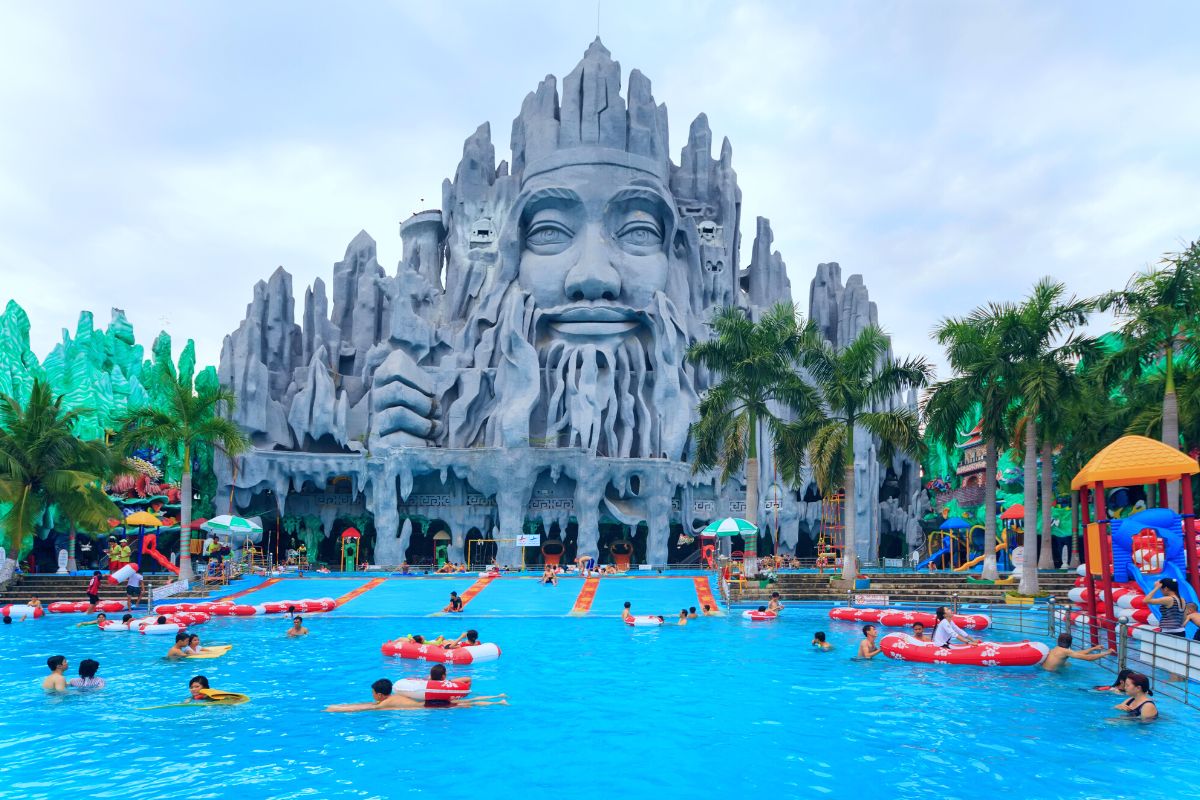 Aimed at being a cultural, spiritual and entertaining paradise for all ages, Suoi Tien Theme Park is filled with water features, slides and rides!
Themed around Vietnam's myths and legends, as you wander around the amusement park spot larger-than-life statues of mythical gods and figurines all around.
Even the rides have magical names such as the Fairy Stream, Snow Castle and the Great Palace which features a gigantic Phoenix rooftop.
Not only rides, visit the Twelve-zodiac Spiritual Temple, the Three-fortune Imperial Palace and the Nine Streams Waterfall.
Check out its replica of Danang's Marble Mountains, and there's a forest to walk through too.
51 – Explore fruit orchards, coconut groves and rural riverside life at Ben Tre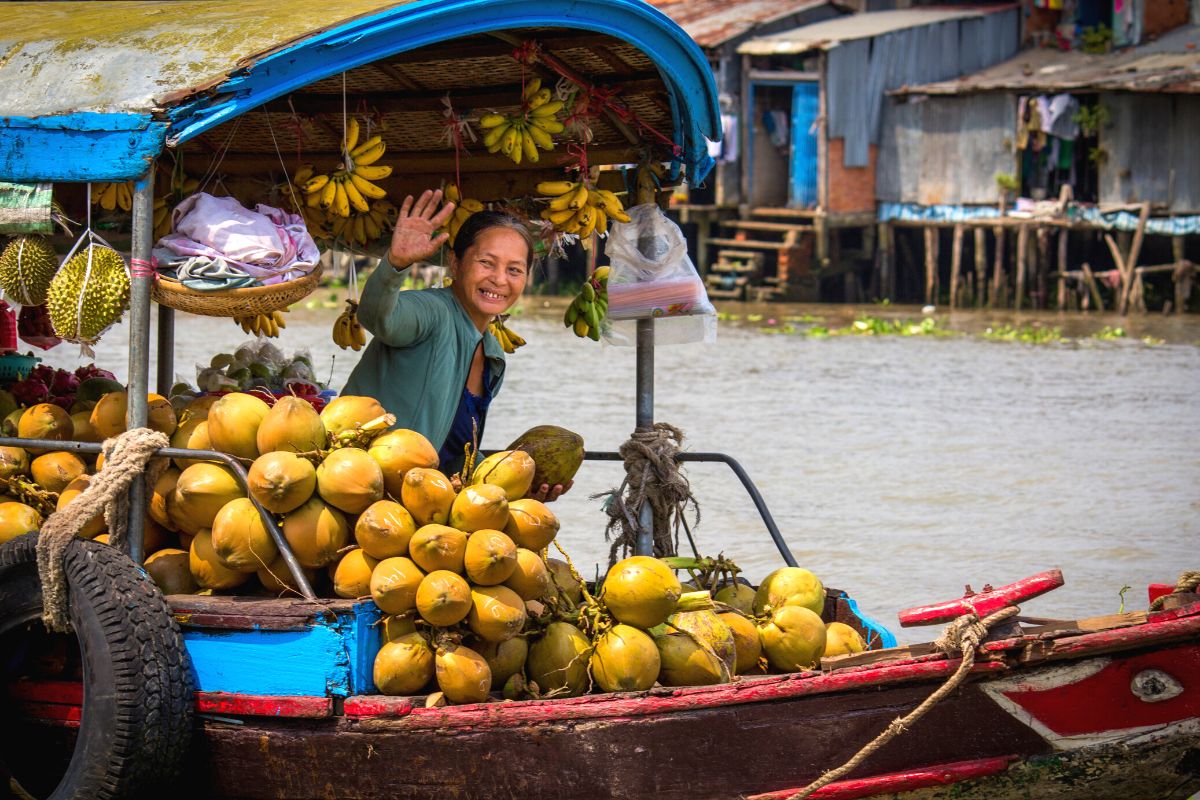 Take in the pretty sights and learn something at the same time when you visit the "Coconut Capital of Vietnam", Ben Tre Province located along the Mekong Delta.
Apart from the dozens and dozens of coconut trees around, they also make everything coco from wooden souvenirs and sculptures to yummy coconut candy!
Other than buying goods and watching the crafters in action,  the area itself is super pretty as it's located along the Mekong Delta River.
Take a boat tour to Ben Tre village, and there are many temples and pagodas in the area too.
52 – Revel in the magnificence of Chua Van Phat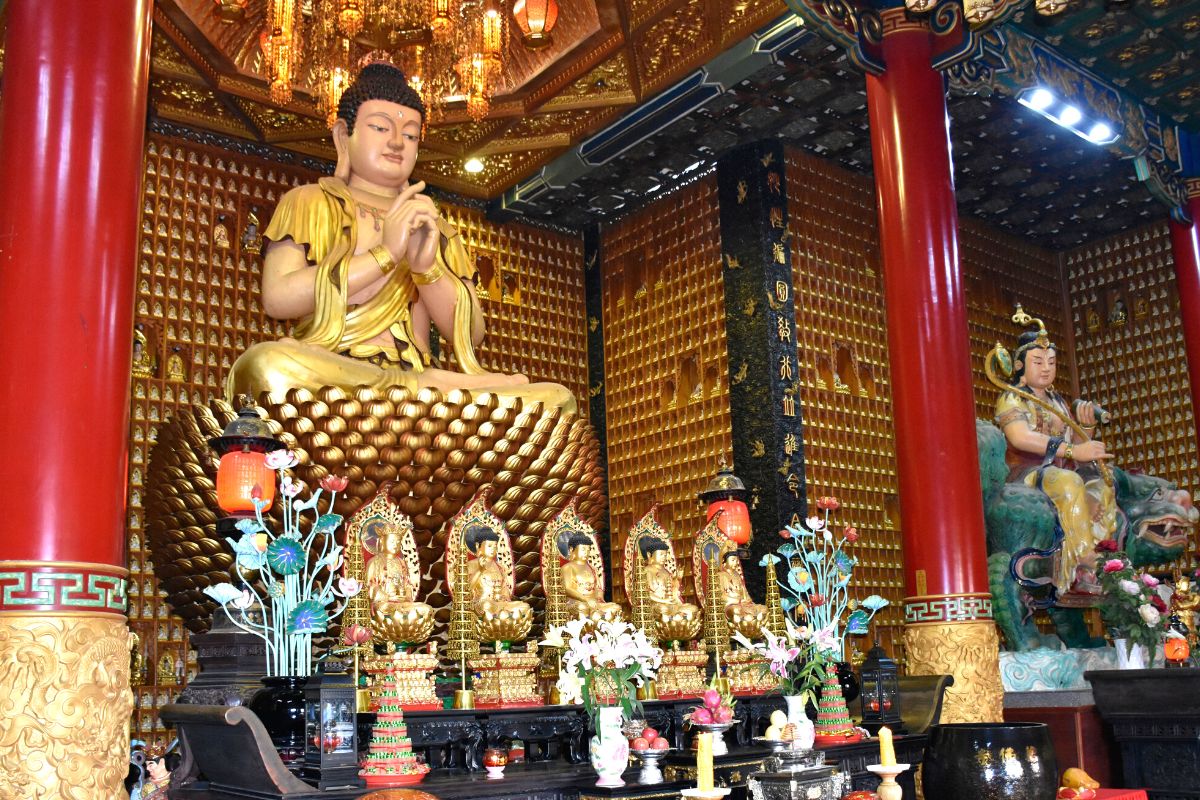 Whilst looks may be deceiving, this Buddhist temple gets its nickname 'Ten Thousand Buddhas Monastery' for a reason, and just wait until you step inside Chua Van Phat …
Marvel at literally 10,000 Buddha statues that you will find inside the glistening hallways of the four-story Buddhist temple.
On the top level sits the main Buddha, a six-meter tall statue of Buddha and behind that, thousands of intricately designed smaller Buddha statues line the walls in individually boxed rows.
Located in Cholon (also locally known as Chinatown), it's hidden down a small street, but this helps lend the grounds a super peaceful atmosphere.
53 – Adults and kids have fun exploring these sites, including an artificial sea at Đại Nam Văn Hiến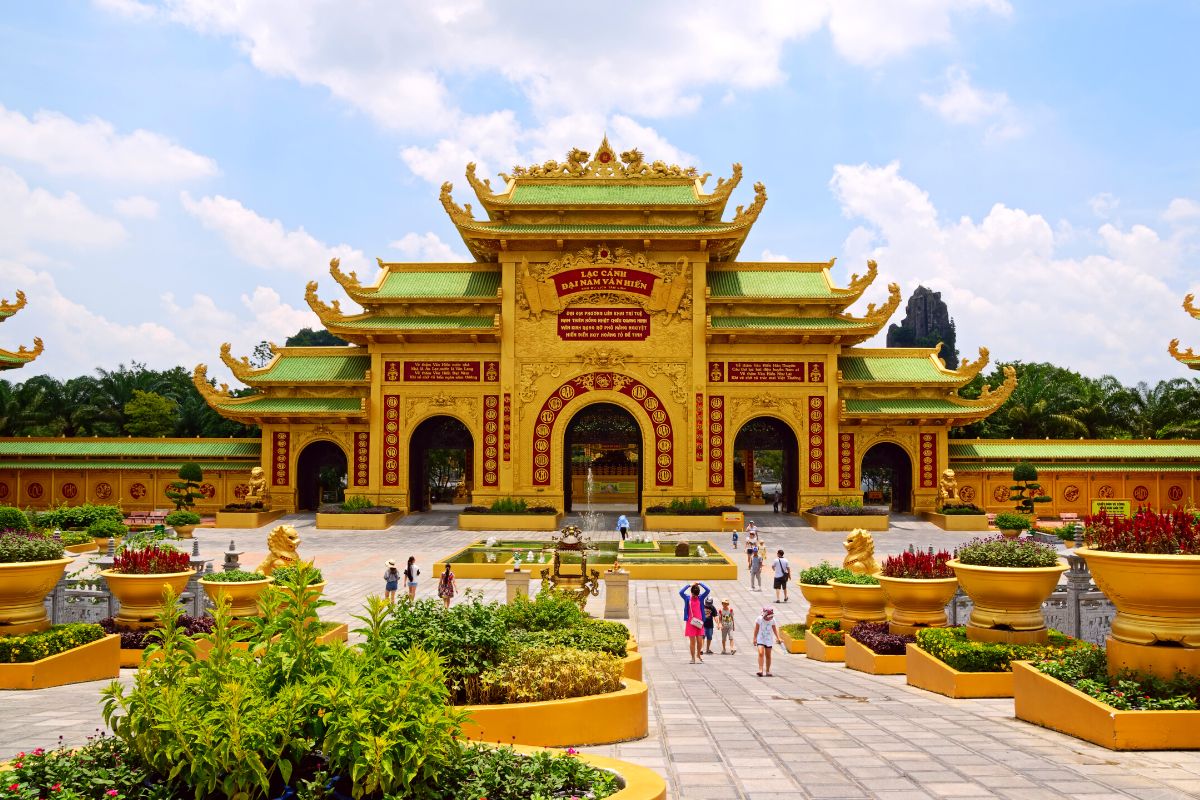 Filled with breathtaking cultural and historical sites, plus other fun activities, Dai Nam Van Hien is a tourism complex one hour outside of HCMC.
There are seven areas to explore, and you will want to dedicate a few hours here, making it an ideal half-day excursion.
There's a farm, race track and an adventure park, but one standout feature is the Dai Nam Temple.
It was erected in 2003, and surrounding the grand temple grounds are mountains, rivers, waterways and a golden nine-story pagoda, Bao Thap.
Another thrilling attraction is the Dai Nam Amusement Park and the kids will have a blast running among the life-size dinosaur statues, or oversized cartoon characters!
There are adrenaline-inducing rides, as well as those suited for children.
Couples, enjoy a ride on the carousel for your own old-school romantic moment.
54 – Hit the streets of Chinatown, i.e. Cholon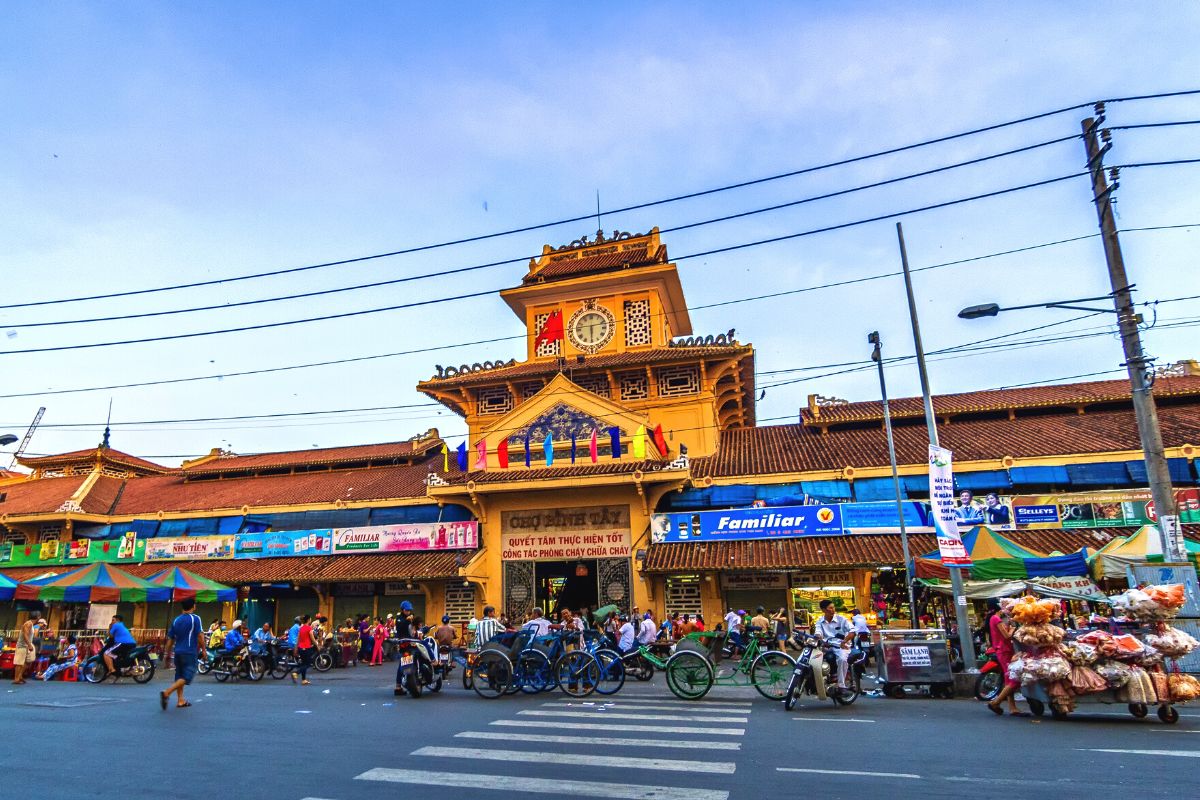 Saigon's Cholon district is also known as Ho Chi Minh Chinatown, home to a strong Chinese-Vietnamese local community since the end of the 1700s!
There's so much to do and see in the area, you can easily spend two or three hours discovering what's around.
Arrive with an empty stomach and try some of the most delicious foods in HCMC.
The dim sum game is strong, and try special dishes like Hu Tieu Sa Te Bo (beef satay noodle soup), or Mi Vit Tiem (a duck egg-noodle soup).
Shop for traditional medicines, produce, herbs and spices, as well as souvenirs and local handicrafts. Binh Tay Market is in Chinatown too.
The area has many pagodas, temples and worship grounds like Thien Hau Pagoda and Cholon Mosque.
Take photos of the unique architecture in this part of Saigon, that mixes Vietnamese and Chinese design.
55 – Take a dinner cruise on the river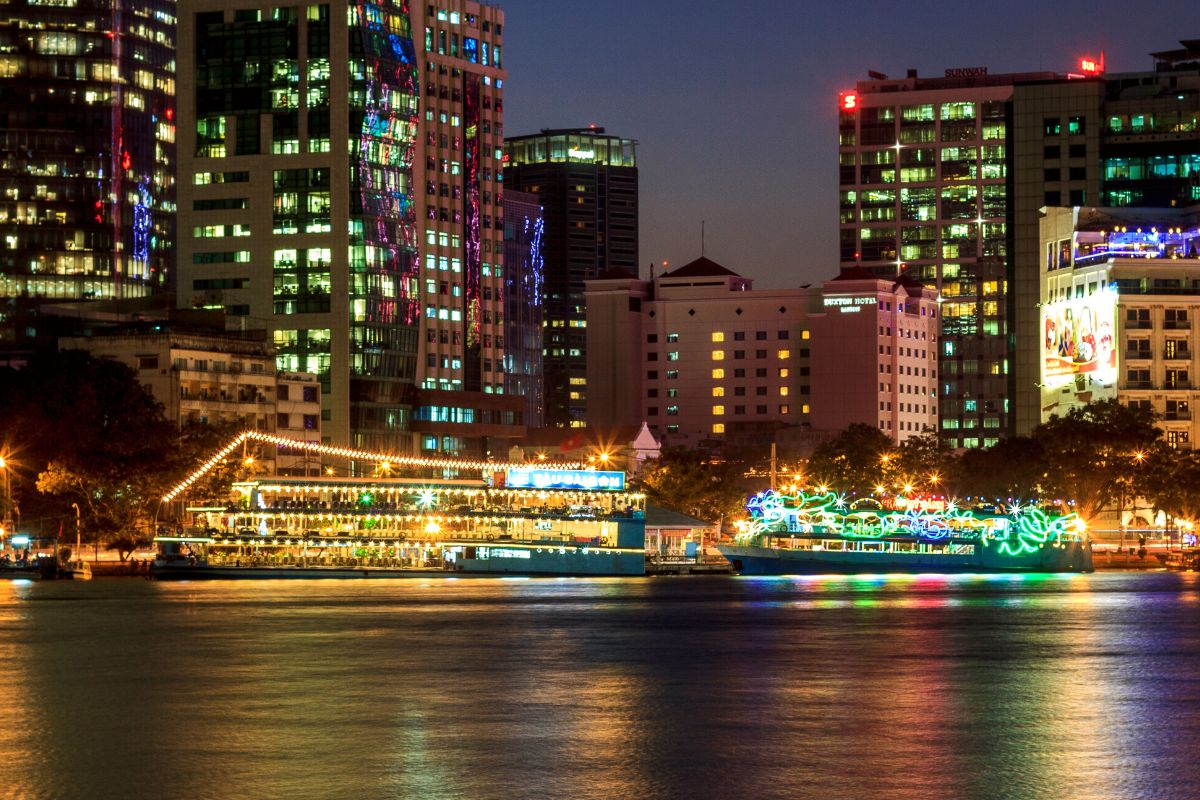 Are you on the hunt for something extra romantic to do while in Saigon? Consider a dinner cruise on the Saigon River.
Dine under the stars, or opt for a sunset cruise with an earlier dinner and departure time instead.
Cruise along the river on a private wooden yacht, or luxury boat and watch the city's lights dance on the waters.
During the evening, enjoy live performances on board which adds to the ambiance.
Some dinner cruises include sightseeing before you board the boat, or others have the option to end off the evening with a classic water puppet show – a favorite Saigon activity
Although it's a lovely option for couples, dinner cruises are open to all ages.
56 – Get ready for a night out on Bui Vien Walking Street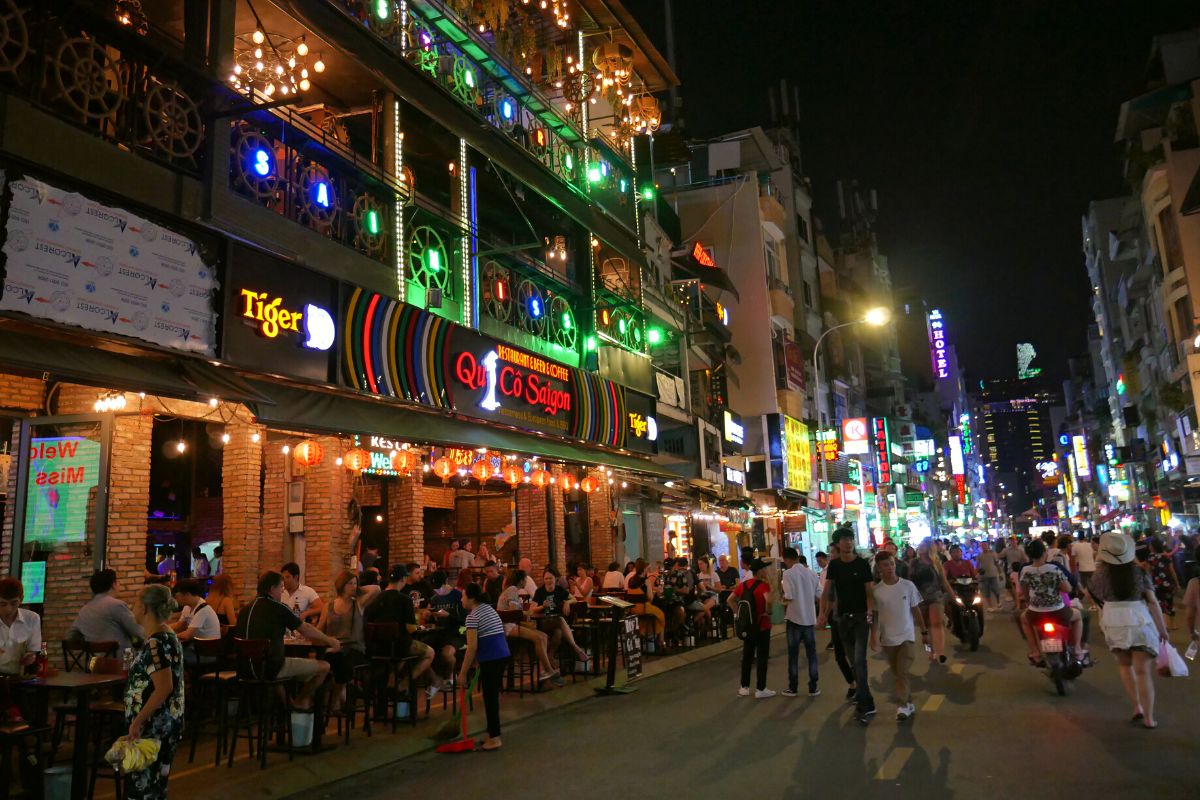 Also nicknamed "Western Street", Bui Vien Walking Street is in District 1 and it's known for its pumping nightlife scene.
Many backpacker-type travelers particularly love this part of the city, and its streets come alive with chats among travelers and locals, beer drinking and live street performances.
Join a pub crawl, go bar hopping or dance the night away at a nightclub along the popular walking street.
Apart from the nightlife, Bui Vien Street has many cute and interesting coffee shops and cafes to stop by.
You can also find an array of street food, with international classics like doner kebab, or bánh mì (Vietnamese baguette sandwich).
57 – Save room in your suitcase for shopping at the best night markets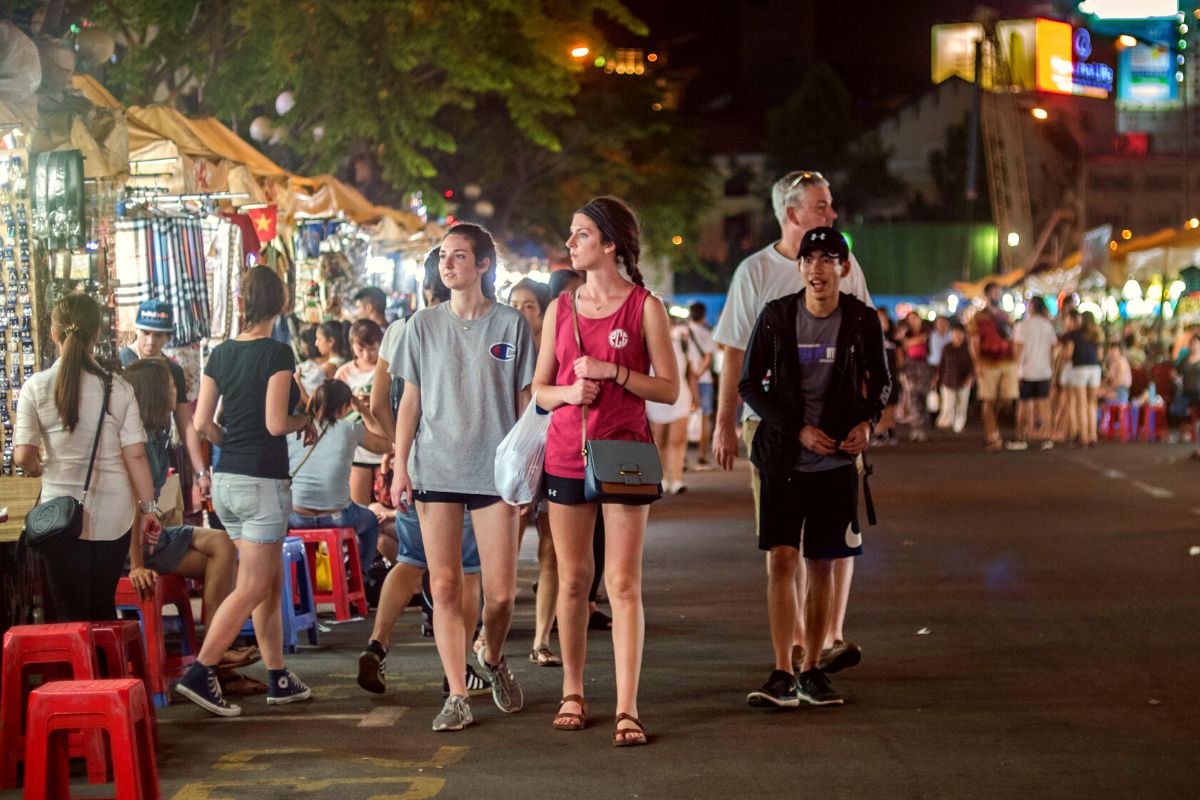 Apart from the daytime markets in HCMC, there are some great night markets to check out that are extra vibey when evening arrives.
Stock up on the latest trends at Hạnh Thông Tây Market and there's a delightful mix of local and international street foods, from nem cuốn (Vietnamese spring rolls) to NYC-style Pizza slices to kimbap (Korean seaweed rice rolls).
Put your bargaining skills to the test at Chợ Minh Phụng (locally known as Chợ Cây Gõ) and shop for clothing and cosmetics sold at wholesale prices — legit!
Around since 1942, make your way through the plethora of stalls spilling out onto the streets with vendors selling everything from local food to fashion at Ba Chieu Market.
Flowers are always a good idea, and even if not to buy any, as you meander through Ho Thi Ky Flower Market, take in the scents and different colors.
58 – Ever watched a puppet show in water? Don't miss the Golden Dragon Water Puppet Theater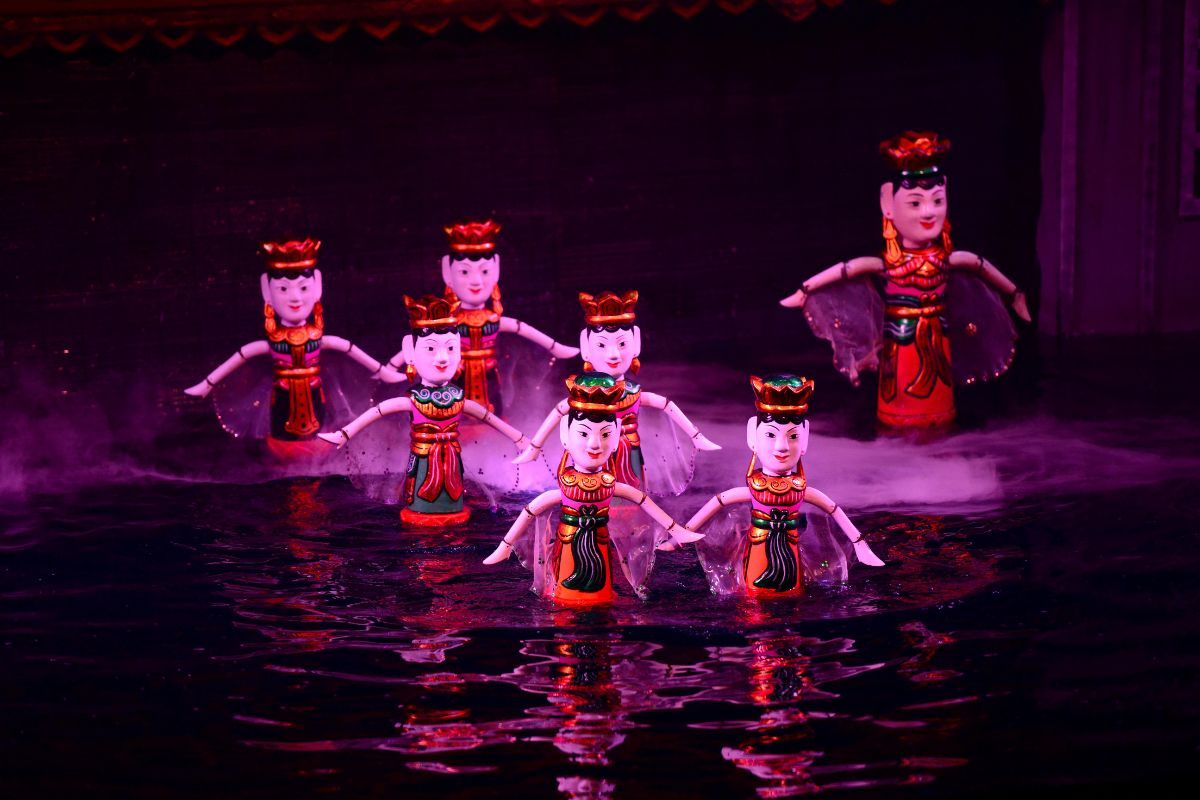 Water puppet shows are famous in Vietnam and it's a fantastic way to learn about the local culture.
To witness the traditional art form in live-action, visit the Golden Dragon Water Puppet Theater in Ho Chi Minh City.
Using wooden handcrafted puppets, the entire puppet show happens in the water on a stage in front of a small auditorium of chairs.
Using different characters, hear of mythical stories and legends as they're re-enacted out in front of you.
For example, watch traditional boat races, witness the Fairy Dance or learn about the legendary Le Loi and the "Restored Sword" of Hoan Kiem Lake in Hanoi.
To top off the experience, some artists play traditional instruments and music to accompany the act. Expect to hear melodies created from rice drums or the Vietnamese two-chord fiddle.
59 – Get festive with a beer tasting tour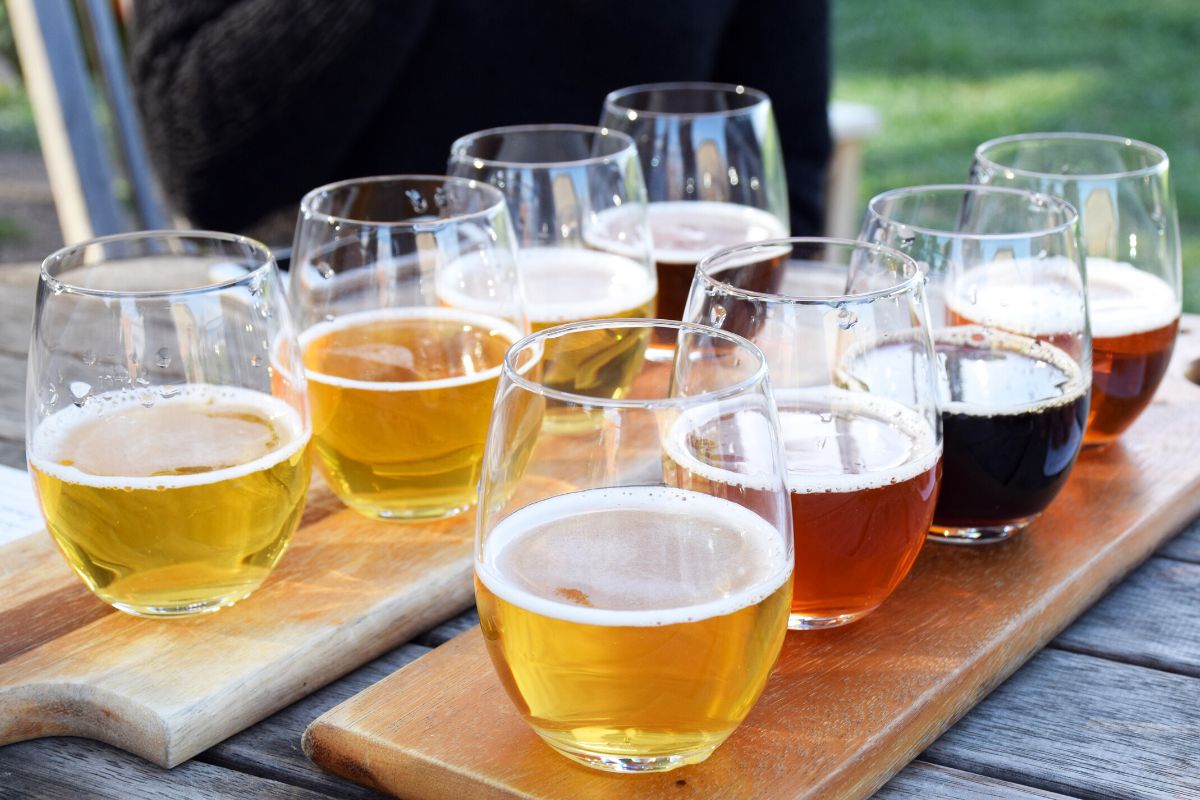 Just as coffee is a culture in Vietnam, so is beer drinking. A great way to get to know the local brewing scene is to take a beer tasting tour.
There are many local Vietnamese beers to try out, as well as a ton of pubs and restaurants that brew their own.
Craft connoisseurs will be happy to know there's a major craft beer movement in HCMC.
Enjoy a beer tasting tour and find many bars and local drinking holes that sell some incredible craft beers — local and international.
When booking a beer tasting tour in Saigon, you can opt specifically for a craft beer tasting tour, or enjoy a regular beer tasting tour in HCMC, stopping by local bia hois (a large drinking hall that only sells beer and local snacks).
60 – Head on up to the best rooftop bars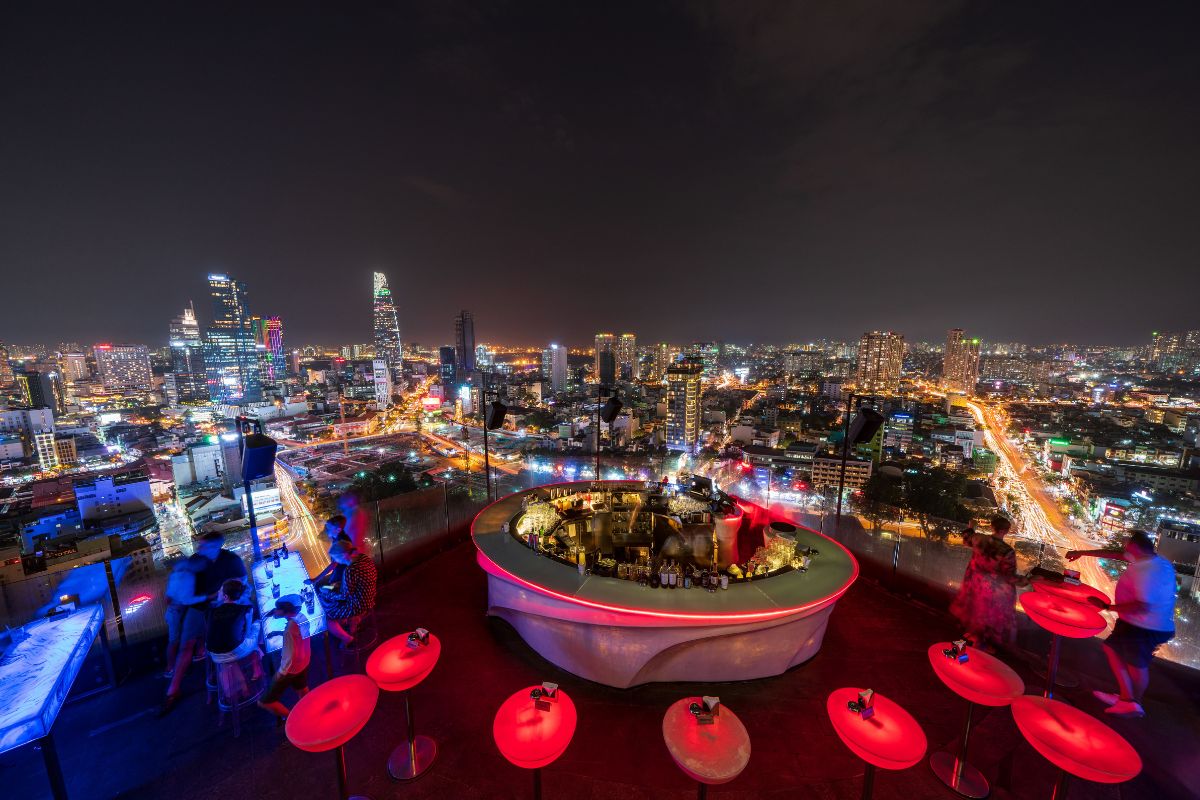 Ho Chi Minh City is without a doubt, Vietnam's metropolitan city, and with the number of tall buildings and skyscrapers around, take advantage and check out the best rooftop bars.
Find the highest infinity rooftop pool at the Social Club Saigon located inside the stunning Hôtel des Arts. Enjoy happy hour by the pool and you can drink in the city views until midnight.
Take in the 360-degree skyline views at super stylish AIR Saigon.
Check out trendy Glow SkyBar for signature cocktails and a vibey nightlife where fashionistas come to play.
Paying an ode to the past, step inside the elegant Gin on 8 rooftop speakeasy bar located on the riverside. The boutique bar transports you to classical time periods, and as the name suggests, their mixologists specialize in gin.
The vibes are more relaxed at Banana Mama, and with its mix of boho Southeast Asian meets European design, it's the perfect spot for a group of friends.
Grab craft beers and burgers at Rogue Saigon and enjoy funky tunes playing in the background and live DJs to get you into the mood.
Where to stay?
Feel as if you're on the edge of the world at the gorgeous LA VELA Saigon Hotel. Sporting lavish interiors, with hints of Middle Eastern influences, the guest infinity pool is the cherry on the cake.
Find yourself feeling so relaxed you'll never want to leave your stay at Fusion Suites. Enjoy suites with big open windows surrounded by trees and soft light, and the floating bathtubs are everything!
You'll feel as if you've stepped into the English countryside at the Au Lac Charner Hotel, including a rooftop garden.
Thanks to its clever design and architectural set-up you will feel all the zen vibes at the Japanese-inspired Cochin Zen Hotel.
For an artsy-inspired hotel, check into The Myst Dong Khoi, or the luxurious Hôtel des Arts Saigon – MGallery for a taste of the arts throughout the ages.
Arriving at Tan Son Nhat Airport, organize a private pick-up and transfer from the airport to your hotel in the city.
Final thoughts
From temples to night markets, cruises along the famous Mekong Delta River and visits to historical sites that remain pivotal parts of history … There are so many things to do in Ho Chi Minh City that tickle everyone's fancy.
Once you're done with all of your city explorings, consider an epic weekend or 3-day trip to the surrounding southern areas and book a multi-day tour.
One of the most memorable is an overnight stay along the iconic Mekong Delta. Spend the night in a local traditional homestay and experience the most authentic Vietnamese vibes.
Without leaving the city, there are free walking tours in Saigon to take part in. Visit top city attractions on foot and learn from the local pros fun facts and tidbits about the city.
What's your favorite thing to do in Ho Chi Minh City? Let us know in the comments below!
Looking to plan a longer trip in Vietnam? Check out the best things to do in Hanoi, Da Nang and Hoi An. For the ones looking for an island vacation, don't miss Phu Quoc. Cambodia is also a fun destination; don't miss a visit to Phnom Penh and Siem Reap.
Happy, safe and fun travels in Saigon!