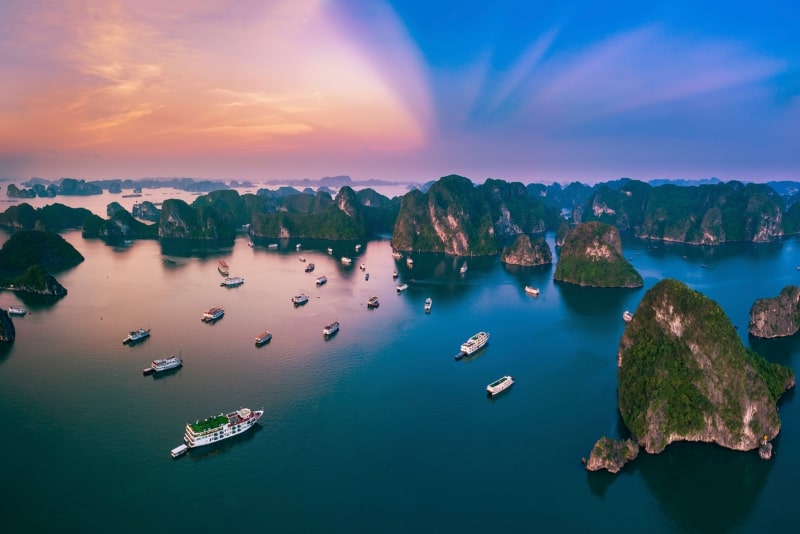 Planning a cruise to Halong Bay? In this post, you will discover the best Halong Bay luxury cruises to make your Vietnam vacation truly unforgettable.
Whether it be for 1 day or 2, look no further! We've done the leg work for you by investigating the most luxury Halong Bay cruises available.
Read on and pick the cruise that fits best your needs.
1 – Stellar of the Seas Cruise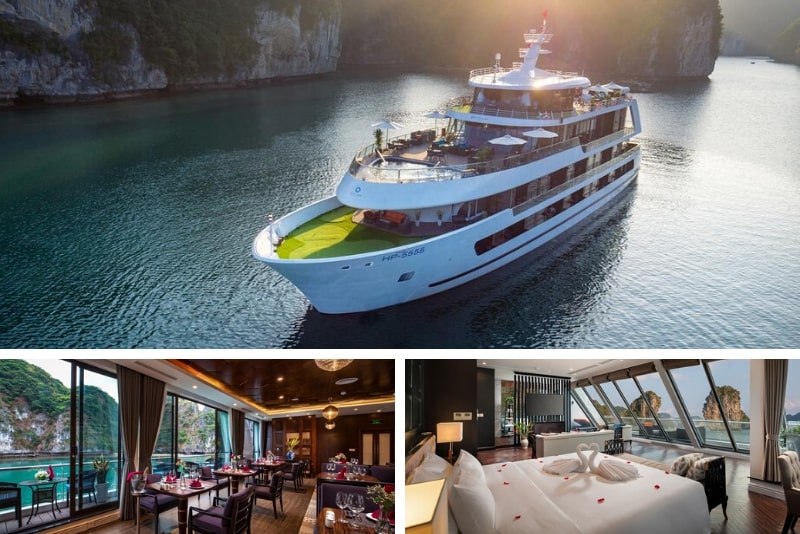 This truly opulent cruise offers stunning accommodation with glorious views.
The Stellar of the Seas ship is equipped with an outdoor, climatized pool surrounded by a fabulous sun deck. All rooms provide a flat-screen TV and WiFi access.
The on-board bar offers a popular happy hour and travelers can access the spa and fitness center at any time, or make an appointment for a stress-reducing massage.
With mini golf on-board and many organized activities, this is the ideal cruise for families.
Famous for:
Super friendly and helpful staff
Beautiful deck space and pool to relax
Clean and spacious rooms
2 – Azalea Cruise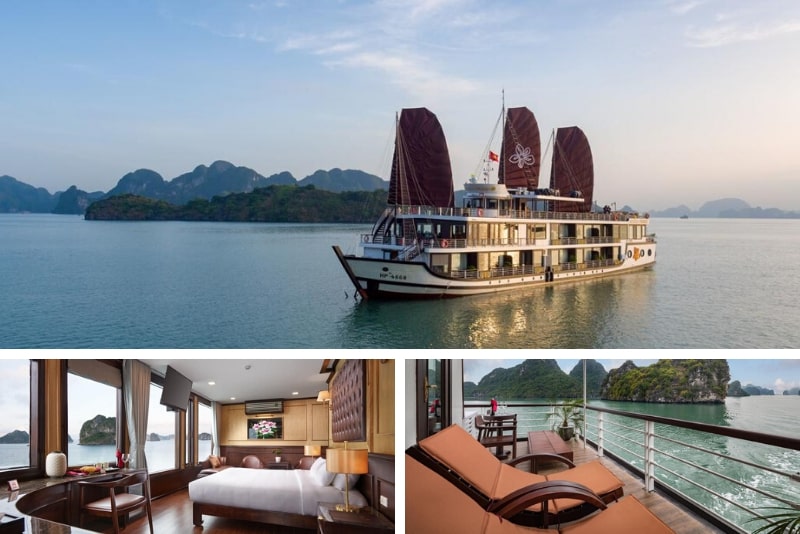 On board the Azalea Cruise, the decor has a rich, classic style and each room offers WiFi access, flat-screen TV, and fully-equipped mini bar.
Some rooms have the use of a private balcony to witness the incredible views in an intimate manner, and all rooms have access to a private bathroom, with complimentary bathrobes and slippers to make you feel at home.
The on-site bar and restaurant offer delicious food and drink throughout the voyage.
Famous for:
Excellent cuisine
Well-planned activities and excursions
Exceptionally comfortable beds
3 – Mon Chéri Cruises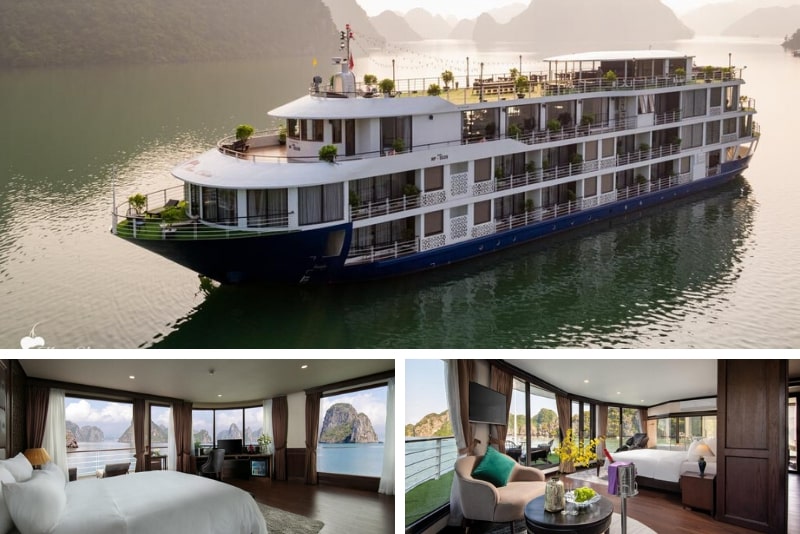 One of the highlights of this Halong Bay luxury cruise is the amazing activities arranged by the staff on board.
There is a water sports facility on-site as well as themed dinners, fishing, varied evening entertainment, and organized walking tours; truly something for everyone!
A breakfast buffet is served with options for all types of tastes and dietary requirements.
The rooms are all equipped with a flat-screen TV, air-con, and a private bathroom.
Famous for:
Great on-board organization
Attentive crew
Spectacular rooms
4 – Signature Halong Cruise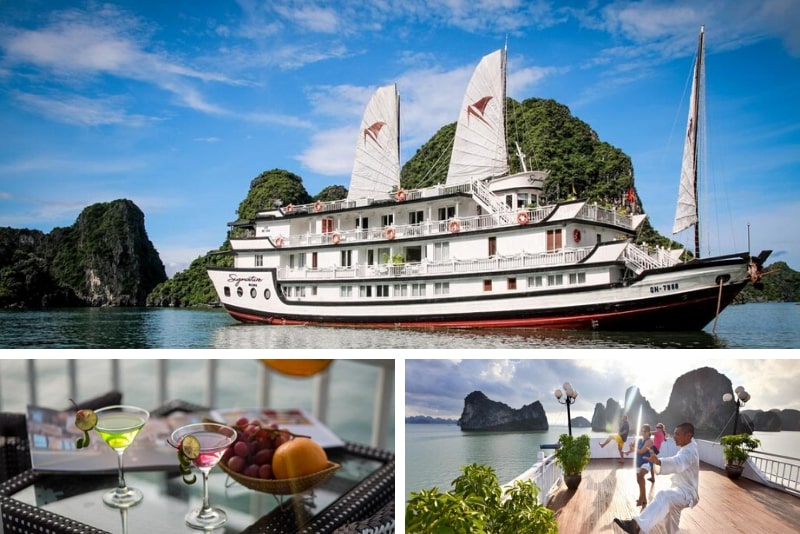 Traditional on the outside and lavishly decorated on the inside, the Signature Halong cruise provides a unique experience as one of the best Halong Bay luxury cruises available.
The accommodation is comprised of deluxe suites, offering air-con, private bathrooms, cable TV, and complimentary items to make your stay more pleasant.
Massages and outdoor activities can be arranged at the 24-hour reception. The restaurant and bar both serve delicious meals and snacks throughout the day.
Famous for:
Very popular happy hour
Diligent and amicable staff
Fun-filled activities
5 – Orchid Ha Long Cruise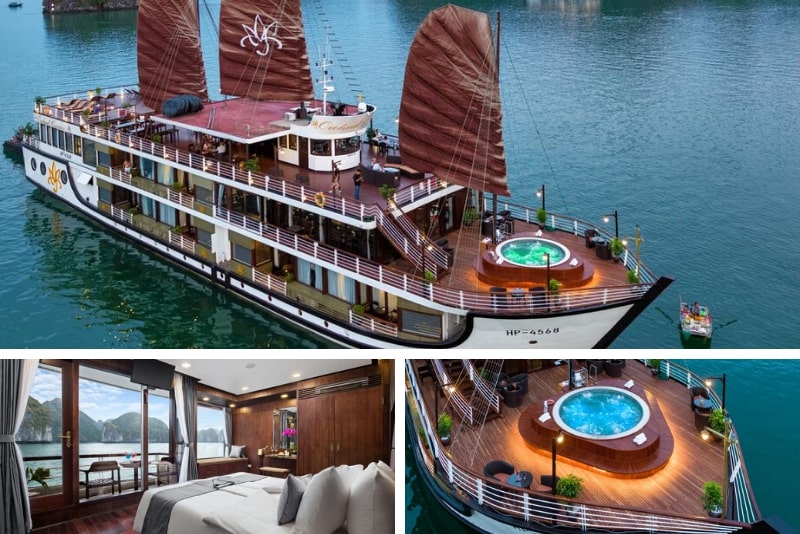 The Orchid Ha Long Cruise is a dream-come-true for many vacationers in Vietnam.
The ship is decked out with all modern conveniences to make your stay as stress-free as possible.
Air-conditioned rooms have their own private balcony and en-suite bathroom including complimentary items for your convenience.
There is a fitness center, spa facilities, and a hot tub with stunning views on the front of the boat.
Famous for:
Stunning decoration
First-class facilities
Delicious on-board cooking
6 – Era Cruises Halong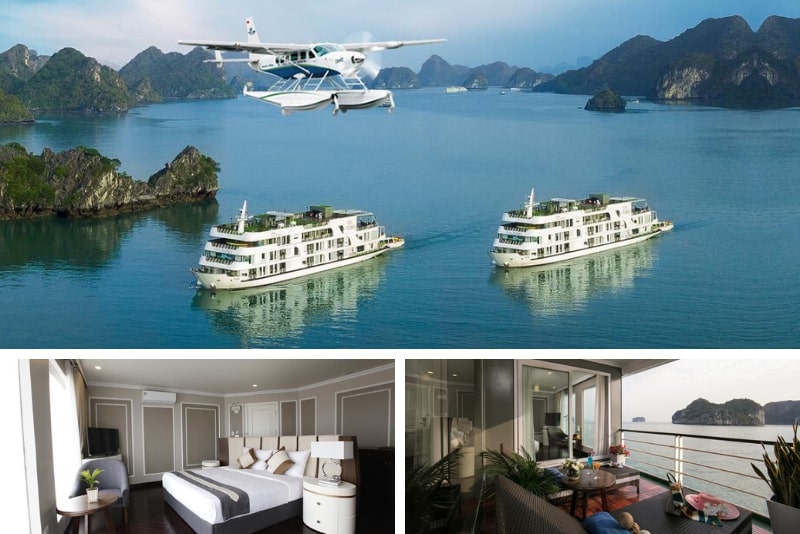 Elegantly decorated, the Era Cruises Halong offers visitors with a chance to get to know this beautiful corner of the world in the comfort of 5-star surroundings.
The on-board facilities include a spa and wellness center; tours and excursions; snorkelling, cycling, and watersports; and also live entertainment.
Air-conditioned rooms have private bathrooms and a flat-screen TV for guests' comfort.
Famous for:
Accommodating staff
Wide range of activities
Picturesque views
7 – Genesis Luxury Regal Cruises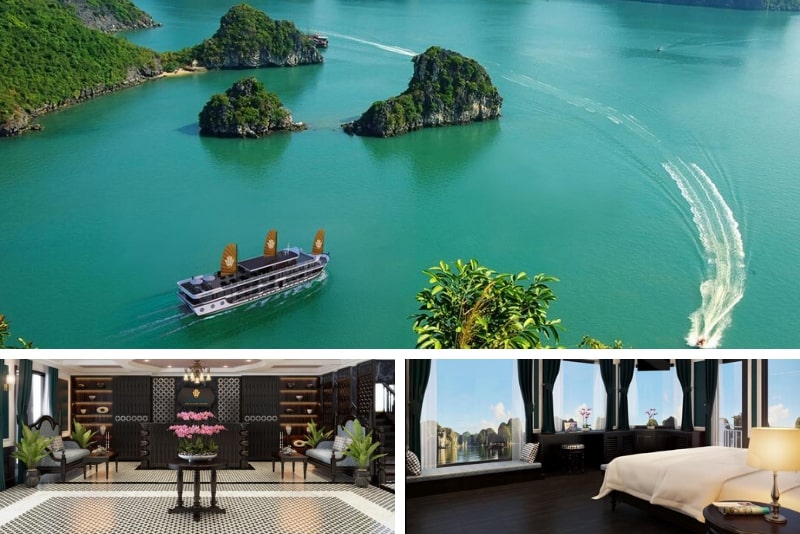 With a marvelous decor, the Genesis Luxury Regal cruise is another top choice for a vacation in Halong Bay, Vietnam.
The on-board restaurant is particularly engaged in offering a wide range of superb choices of Asian and Vietnamese cuisines.
An on-site hot-tub and terrace provide the best places to take in the impressive views. F
or those who wish to explore a little further, diving is a first-rate activity organized by the cruise for their guests.
Famous for:
Luxurious rooms
5-star accommodation
Wide range of activities to engage in
8 – Halong Serenity Cruises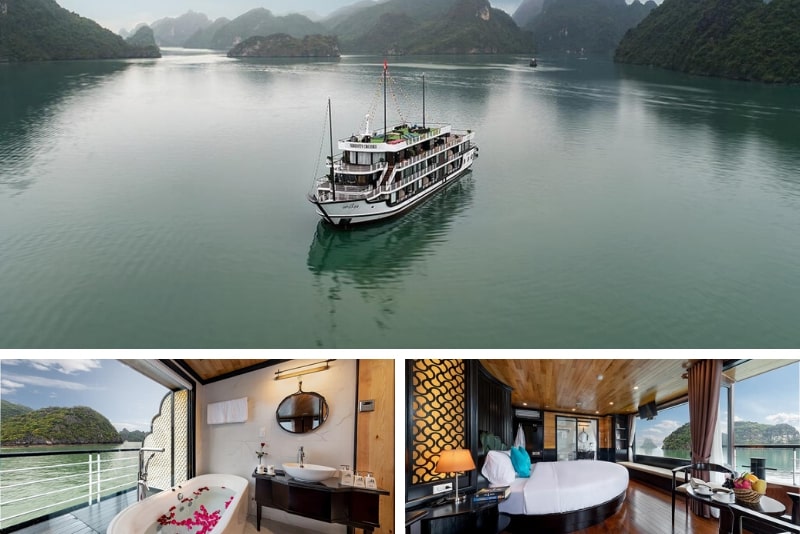 Another of the best Halong Bay luxury cruises is the Halong Serenity cruise ship, which provides their guests with the ideal setting to enjoy this stunning part of the world.
All rooms have a private bathroom and a river view, as well as cable TV and WiFi access.
The cruise organizes evening entertainment, on- and off-site activities, including snorkelling, hiking, and canoeing.
Famous for:
Fun and engaging tours
Great for secluded getaways
Breathtaking scenery
9 – Le Theatre Cruises – Wonder on Lan Ha Bay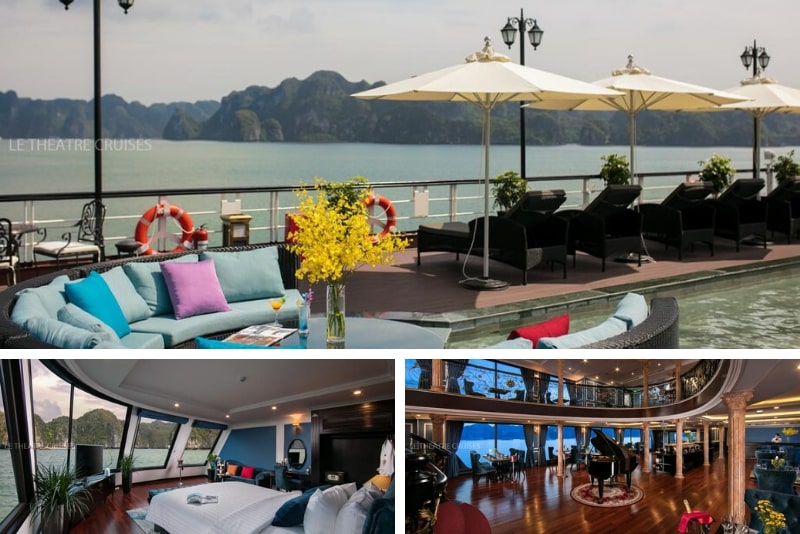 With a fabulous sun terrace, guests can enjoy the day lazing around on-board or try out one of the fun activities available such as swimming, kayaking, and fishing.
The Le Theatre cruise – Wonder on Lan Ha Bay – also offers excellent evening entertainment for vacationers and on-board spa facilities. The decor is modern and accommodating.
Famous for:
Quick and attentive service
Charmingly decorated ship
Rooftop bar to unwind
10 – Paradise Elegance Cruise Halong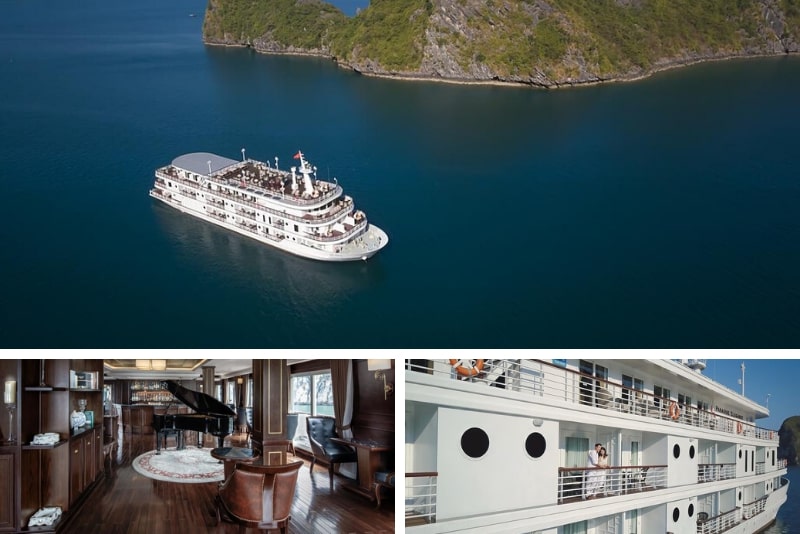 The Paradise Elegance Cruise Halong includes a spa with relaxing massages, cool cocktails at the bar, a selection of entertainment activities and Vietnamese decor throughout the ship.
As one of the finest Halong Bay luxury cruises, this voyage offers cabins with private bathrooms and individual balconies and a first-class restaurant serving fusion cuisine.
Famous for:
Great evening entertainment
Exceptional à la carte menu
Welcoming and kind staff
11 – Athena Royal Cruise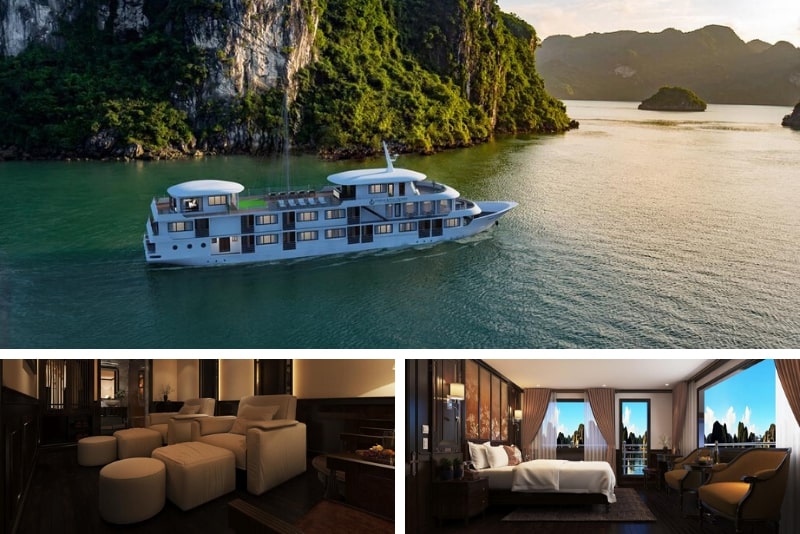 The Athena Royal Cruise takes vacationers around the Halong Bay offering spectacular views and entertaining accommodation.
The rooms are fitted with a flat-screen TV and private bathroom, and all guests can access the sauna, spa facilities, and various activities organized on and off-site including cooking classes, canoeing, and fishing.
Famous for:
Recommended massages
Modern, updated facilities
Private balcony for each room
12 – Alisa Premier Cruise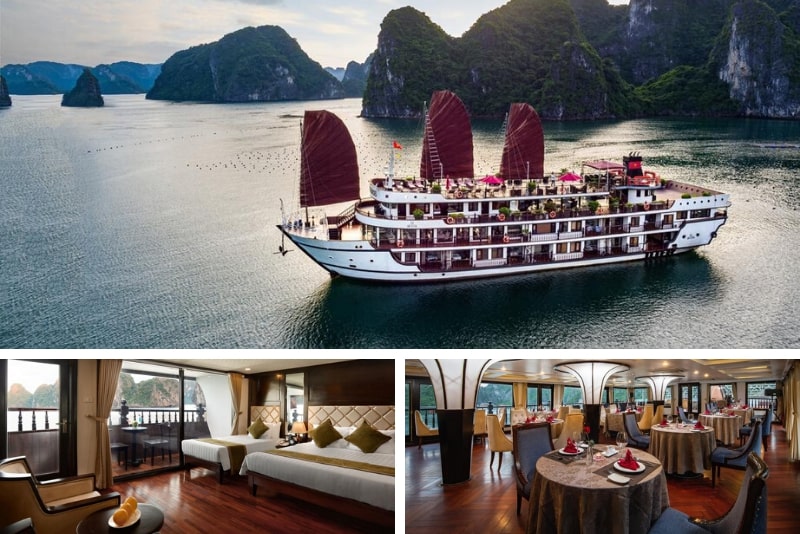 Traditionally-designed, the Alisa Premier cruise ship offers visitors to Vietnam the possibility to experience full-board vacations with access to the restaurant, bar, and lounge.
The cabins on this Halong Bay luxury cruise are equipped with air-conditioning, flat-screen TV, room safes, and en-suite bathrooms with hot-tubs in addition to extra complimentary items.
Famous for:
World-class comfort
Enjoyable activities available
Outstanding staff and tour guides
13 – The Au Co Cruise – by Bhaya Cruise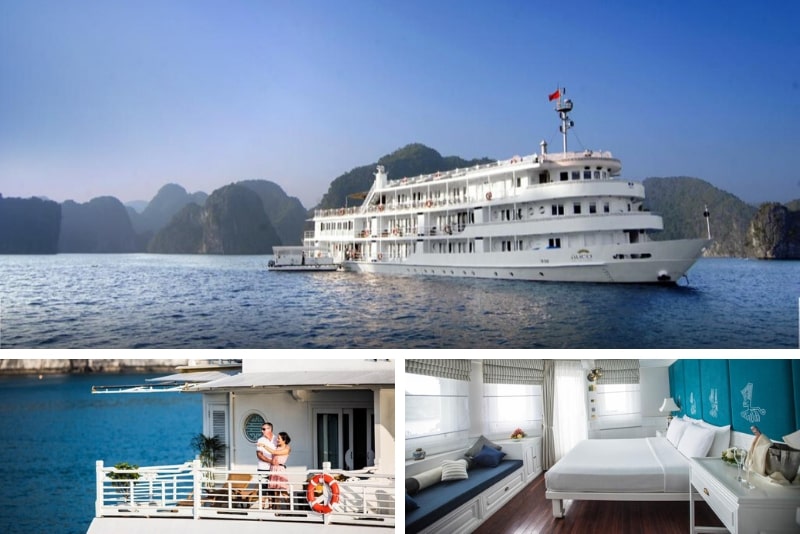 With a fantastic sundeck available, the Au Co Cruise – Managed by Bhaya Cruise – is one of the most spectacular Halong Bay luxury cruises offering tourists the chance to explore the river with on-site Vietnamese cooking classes, fully-equipped premium class cabins, elegant spa facilities, and daily Tai-chi sessions.
Tours and varied activities are available for guest entertainment.
Famous for:
Cheerful service
Great food
Knowledgeable guides on excursions
14 – Emperor Cruises Ha Long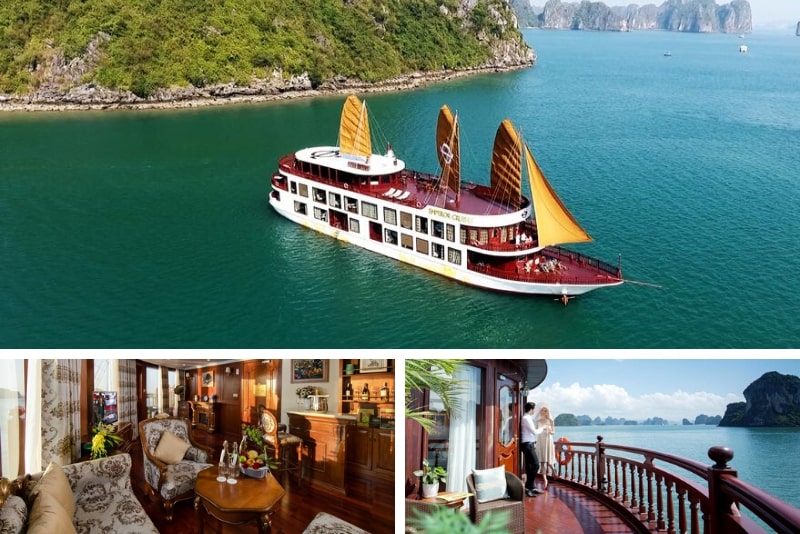 A 5-star voyage, the Emperor Cruises Ha Long aims to treat vacationers like royalty.
One of the principal Halong Bay luxury cruises, this experience allows visitors to enjoy rooms with air-conditioning, private bathrooms, and a flat-screen TV.
Additionally, the ship provides a continental, buffet-style breakfast as well as a business center, kid's playground and hot tub for all your vacation needs.
Famous for:
Excellent facilities
Luxurious accommodation
Charming and friendly staff
15 – Dragon Legend Cruise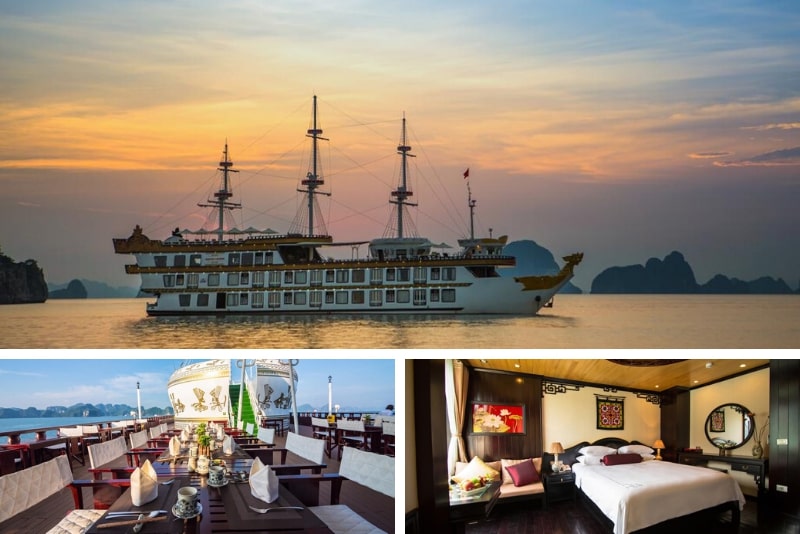 The Dragon Legend Cruise has an original design with cabins styled in a traditional wooden decor, offering Tai-chi lessons and free Water Puppet show.
Rooms are equipped with flat-screen TVs, safe, seating area, and private bathrooms, including complimentary toiletries.
The ship also provides a spa and wellness center as well as organized activities, swimming pool, and live performances.
Famous for:
Salt-water pool on-board
Professional, accommodating staff
Peaceful, tranquil atmosphere
16 – La Regina Legend Cruise
The particularly elegant La Regina Legend Cruise is available for tourists to experience the stunning views from Halong Bay luxury cruises, with a touch of modernity and convenience. The ship includes saunas, a gym, family rooms, and evening entertainment.
Guests can also enjoy a continental breakfast and lounge on the sun terrace at any time.
Famous for:
Superior comfort
Private tours with expert guides
Excellent quality facilities
17 – Lapinta Cruise Lan Ha Bay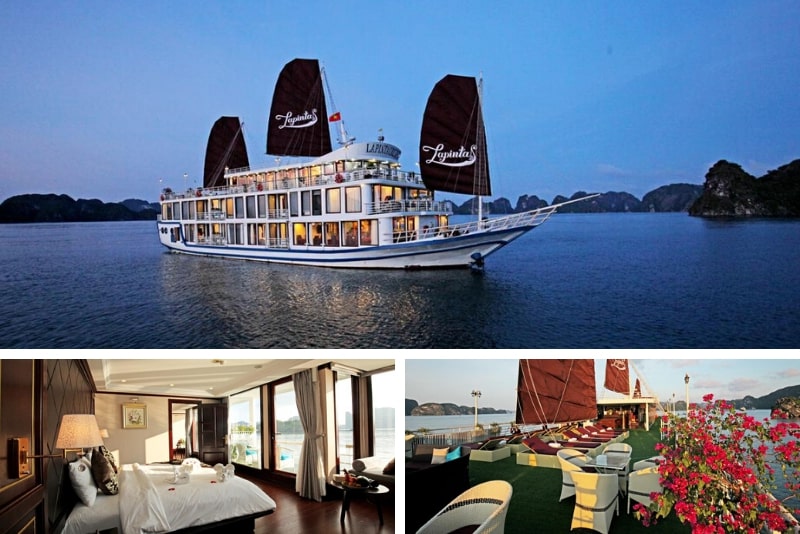 Air-conditioned, elegant rooms await guests on the Lapinta Cruise Lan Ha Bay ship, with family-friendly facilities and a restaurant serving a buffet or American-style breakfast as well as room service.
The boat offers bike hire, fishing, and walking tours, as well as canoeing and snorkeling, so there is never a dull moment onboard one of the best Halong Bay luxury cruises.
Famous for:
Spacious, clean rooms
Staff exceeding expectations
Delicious on-board food
18 – O'Gallery Lotus Cruise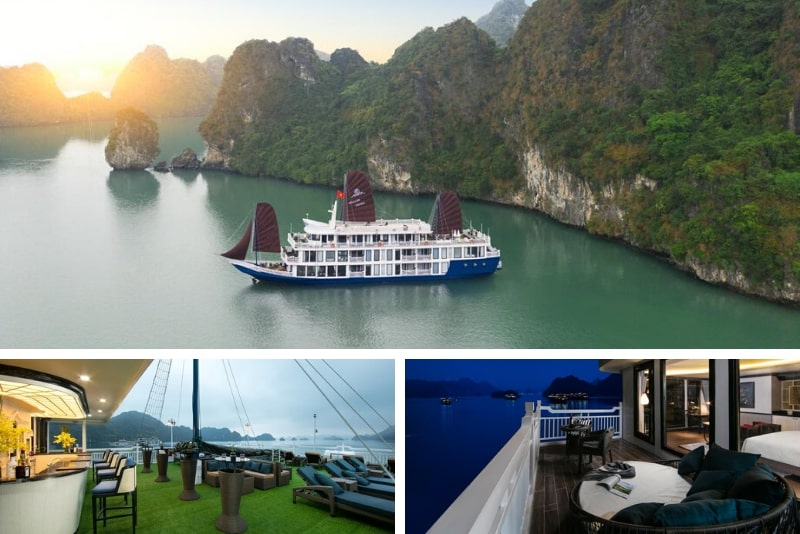 Modernly-designed cabins with stunning views, balconies, WiFi access, and private bathrooms, are available for all vacationers on the O'Gallery Lotus Cruise ship.
Breakfast is served as a buffet or à la carte menu and the ship also includes a sun terrace with bar where visitors can relax after a day of enjoying custom tours and activities.
Famous for:
Well-planned, tailored activities
Happy, welcoming staff
Peaceful and superbly comfortable
19 – President Cruises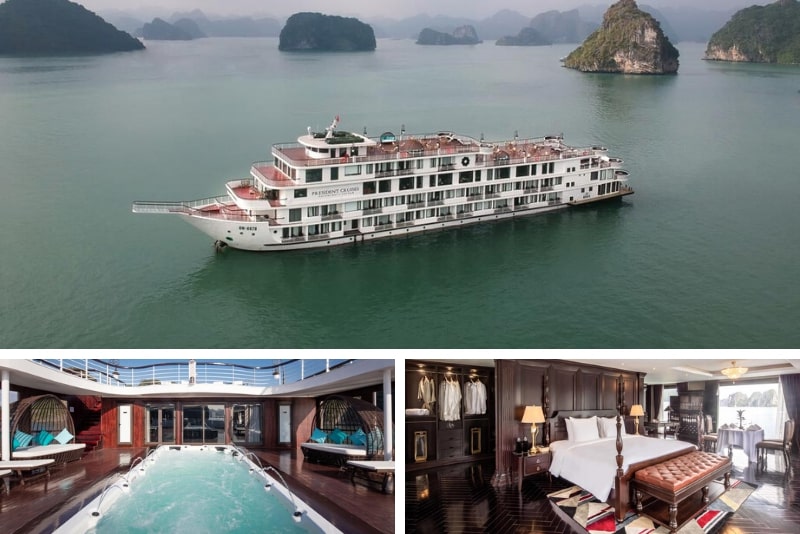 With a 3-tier sundeck and outdoor pool, the President Cruises ship offers visitors the experience of a lifetime for relaxing or fun-filled adventure on one of the most outstanding Halong Bay luxury cruises.
There is a wellness center on-board and hot tubs available as well as massages of all kinds upon demand. In addition, the staff organize live performances for entertainment and a range of activities on- and off-site.
Famous for:
Outdoor pool
Great excursions
Highly-recommended restaurant
20 – Paradise Peak Cruise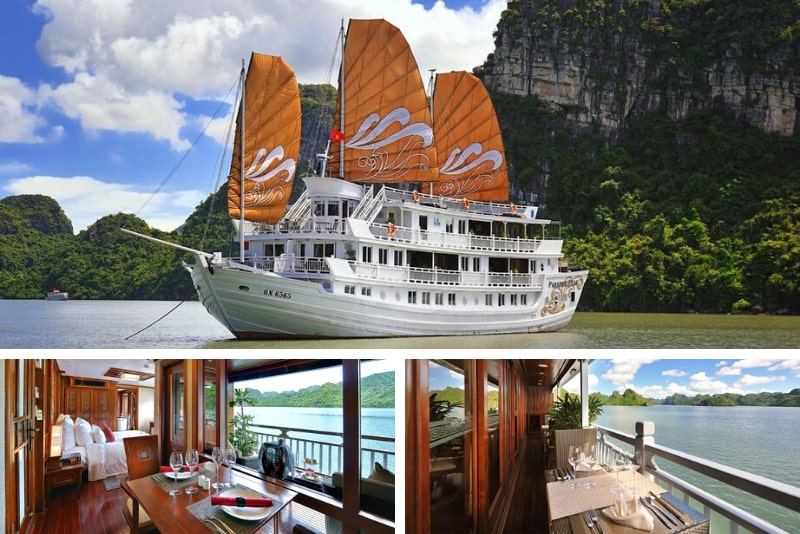 With onboard gym and fitness center, as well as fully-equipped spa facilities and Tai-chi sessions, the Paradise Peak cruise offers a truly relaxing experience for body and mind.
Surrounded by the glorious vistas that these Halong Bay luxury cruises provide, travelers can enjoy access to a sundeck, bars, and exquisite dining.
Suites include spa-style bathtubs and private balconies for a true intimate get-away.
Famous for:
Beautiful wooden decor
Individual attention
Elegant à la carte dining
21 – Ultralux Hera Cruise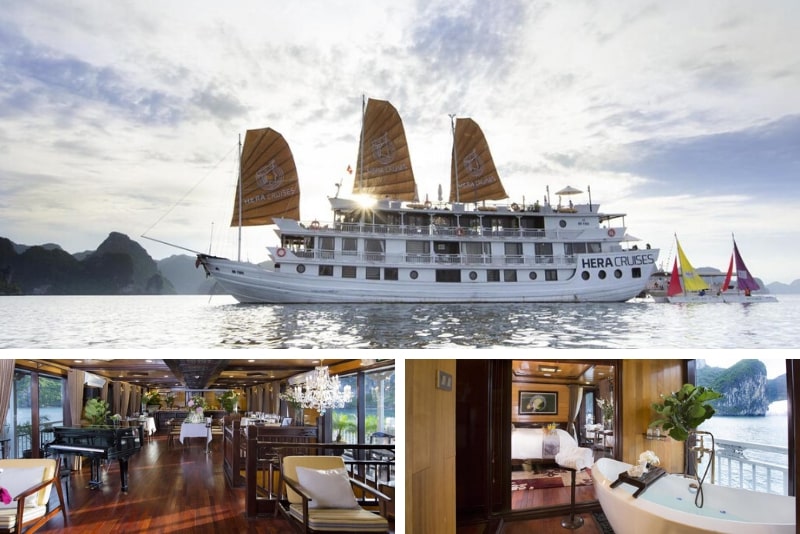 The Ultralux Hera cruise invites visitors to partake of the 5-star Vietnamese cuisine offered on-board by two restaurants and also offers the possibility of enjoying an afternoon tea from the Lotus Lounge.
This luxury Halong bay cruise also provides a bar, sun terrace, and hot tub. Beauty and spa treatments can be organized, in addition to a selection of evening entertainment choices.
Famous for:
Various dining options on-board
Romantic atmosphere
Friendly and attentive staff
22 – Heritage Line – Violet Cruise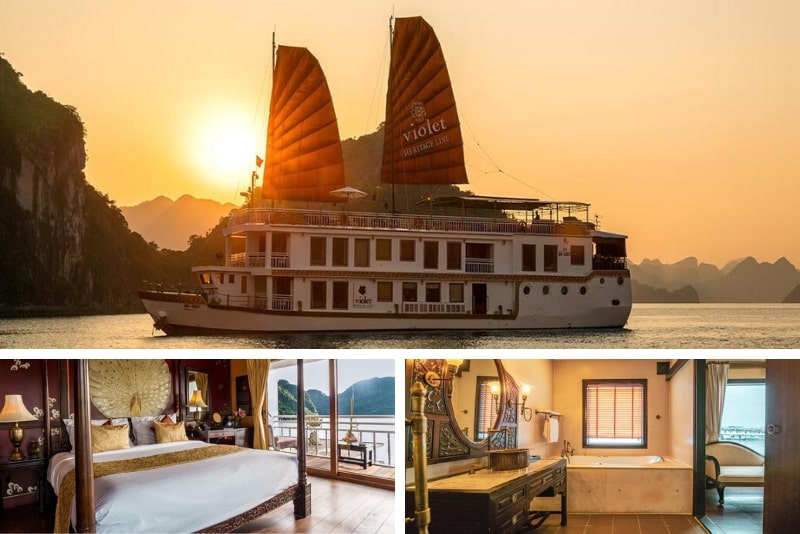 Welcoming guests to the Heritage Line – Violet Cruise, the traditionally-decorated cabins provide for an especially detailed visit to Halong Bay with spectacular views of the surrounding beauty and exceptional facilities on-board.
Rooms are equipped with air-conditioning, private balconies, and spa-style bathtubs. The kitchen is open 24 hours with meals and snacks being served from the restaurant and bar.
Famous for:
Cosy, tailored experience
Superior comfort
Amicable crew
Looking for more options? Check out our full catalogue of Halong Bay cruises.