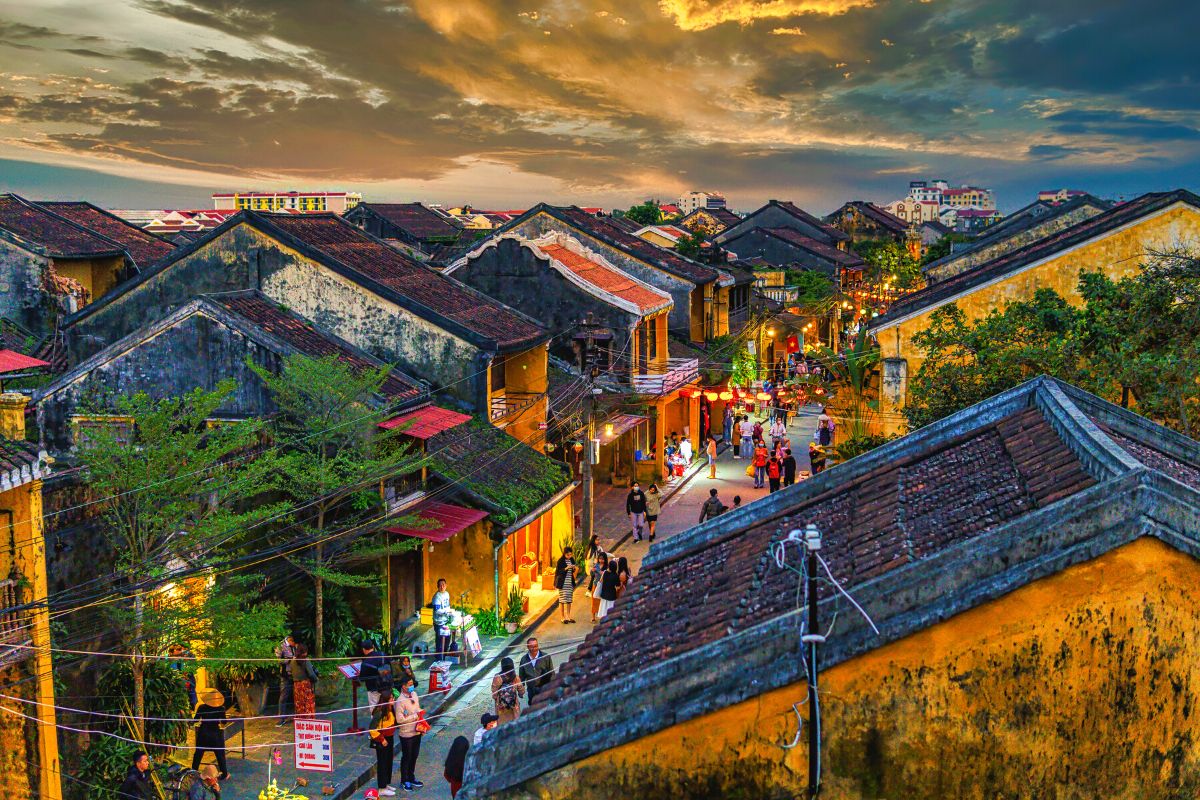 It's no surprise that Hoi An is listed as a UNESCO World Heritage Site, and the magical Vietnamese town will transport you to bygone eras and worlds away in an instant.
Once a bustling trading port from the 16th century, the coastal town saw many sailors and tradesmen landing at its harbor.
Some of these foreign travelers and merchants stayed in Hoi An, creating an amalgamation of varying cultures, which are still prevalent in Hoi An today.
There are some attractions to see and things to do in Hoi An that celebrate Vietnamese, Japanese, French and Chinese heritage.
The famous Ancient Town has remained untouched over the years, with little modernization done to the old town … This is perhaps one of the reasons why this part of Hoi An is so magnificent.
It feels like you're wandering the streets of a French-cross-Vietnamese cross-Japanese village.
The ocean is conveniently around the corner from the center of Hoi An, and not even five minutes from the Ancient Town, come across countryside scenes.
From rice paddies to coconut forests along riverbeds, local craft or fishing villages, there's much to be discovered.
Plus, Hoi An probably has the best shopping experiences in all of Vietnam and the cuisine in these parts is next-level yum.
Spend the day cycling around town, take a day trip, and Da Nang and its many famous attractions are 45-minutes away.
Plan to spend at least two days in Hoi An and don't regret it later. Even though the town appears small, there's so much to check out and experience.
1 – Spend most of your time exploring Hoi An Ancient Town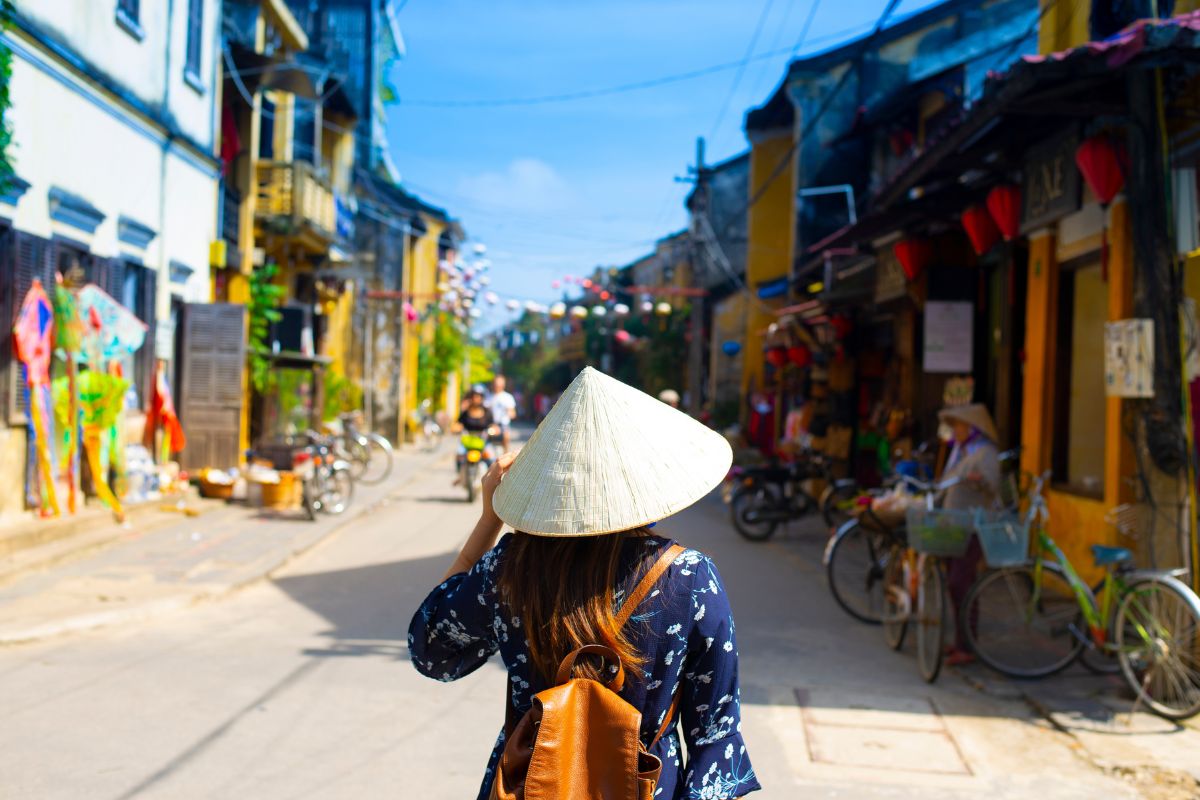 Without question, Hoi An Ancient Town is one of the most magical things about Hoi An, and there's no place quite like it in Vietnam.
The old town is made up of cobbled streets covered in lanterns, terracotta buildings and wooden balconies with overgrown florals …
The streets all connect and intersect and are filled with shops and stalls selling unique, handcrafted items, from leather backpacks to tailor-made suits.
There are also local markets set up in this part of town, as well as many of Hoi An's must-try restaurants and cafes.
Apart from all the shopping and eating, there are some must-see attractions to check out.
The historical town dates back to the 15th century and is famous for remaining its originality throughout the years. Explore its wonderful mix of Japanese, French and Chinese influences.
Touring Ancient Town, discover temples, pagodas and even museums.
Visit the mythical Japanese Covered Bridge, also known as Chua Cau, or Cau Pagoda.
It was built in 1593 by the Japanese community living here at the time, and its wooden rooftop is also a temple top.
Take a tour inside Hoi An's oldest house, the Tan Ky Old House constructed in 1741.
Today, it's considered a 'living museum' and shows off a fusion of Japanese, Vietnamese and Chinese design.
Don't miss the Phung Hung Ancient House either, dating back to 1780. Just look out for the dark wooden exterior reminiscent of Japanese structures.
2 – Act like the locals and try a basket boat ride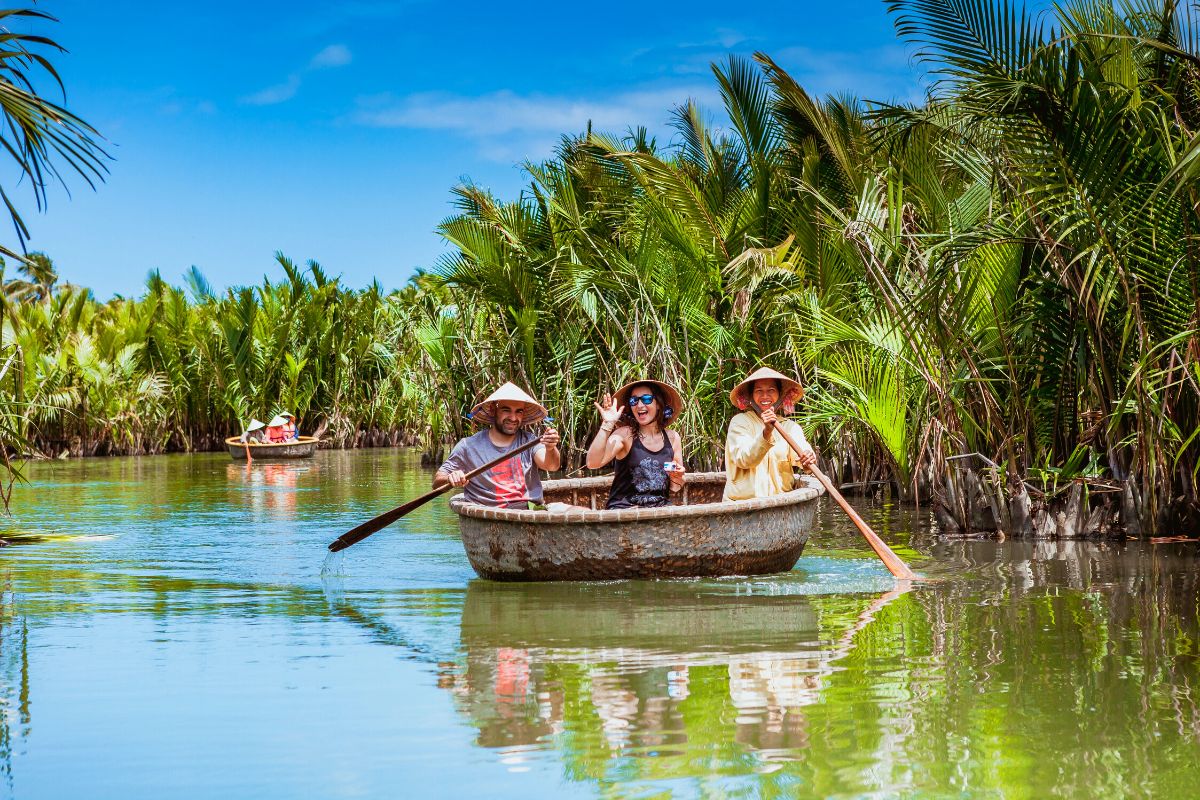 When venturing through Hoi An, you'll spot many round woven basket-shaped boats floating on the rivers, sometimes even on beach shorelines.
Used by locals for fishing, and transport, enjoy an authentic basket boat ride in Hoi An.
Many basket boat rides happen along the waters of the Bay Mau Coconut Forest.
The wetlands area is home to forestry of coconut trees, fanning the banks of the river as you row by.
There are also local villages that live here and some tours stop by for a visit, or even a cooking class.
Have fun rowing your coracle boat (as they're officially known), and you can even try a trick or two like spinning wars.
3 – Spend the day chilling at An Bang Beach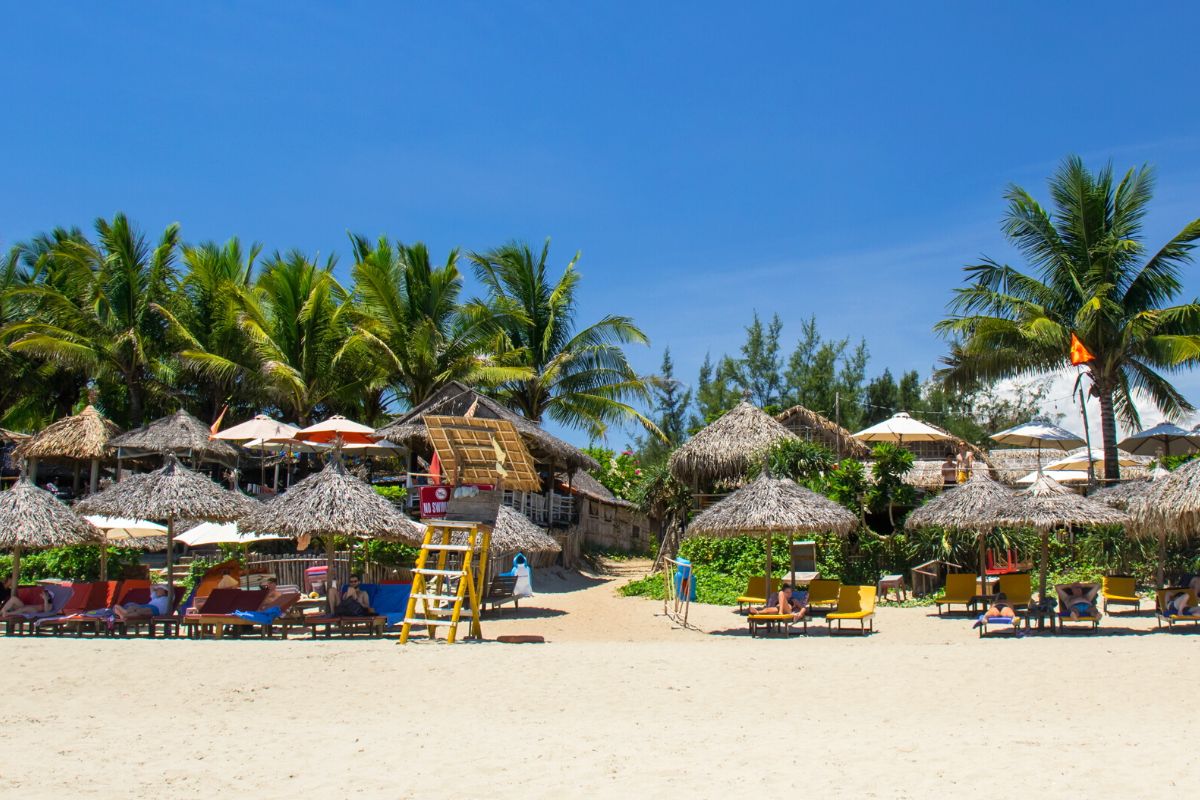 Hoi An's most popular beach is the place to be in the peak of summer and has everything you need around it for the ultimate beach day.
Made up of soft white sands and light blue-colored waters, it's a great spot for families, groups of friends and couples.
Down here you'll find a plethora of seafood restaurants, as well as some local Vietnamese spots and others that are western-inspired.
Soul Kitchen is always a good idea, with a diverse menu, and patrons can use the beach loungers for free. Live music happens here too.
Grab a cocktail and hang out on beanbags and under private bamboo umbrellas at Shore Club, and Kahuna's Hoi An Beach Club is always lively and sports a private pool.
There are many accommodation options along An Bang beach, from villas to boutique stays.
Work on your tan, catch up on some reading, enjoy lunch with your feet in the sand, or a round of beach badminton among friends.
Try out water activities too, from jet skiing to parasailing, surfing, snorkeling, and more!
4 – Visit 300-year-old Tra Que Vegetable Village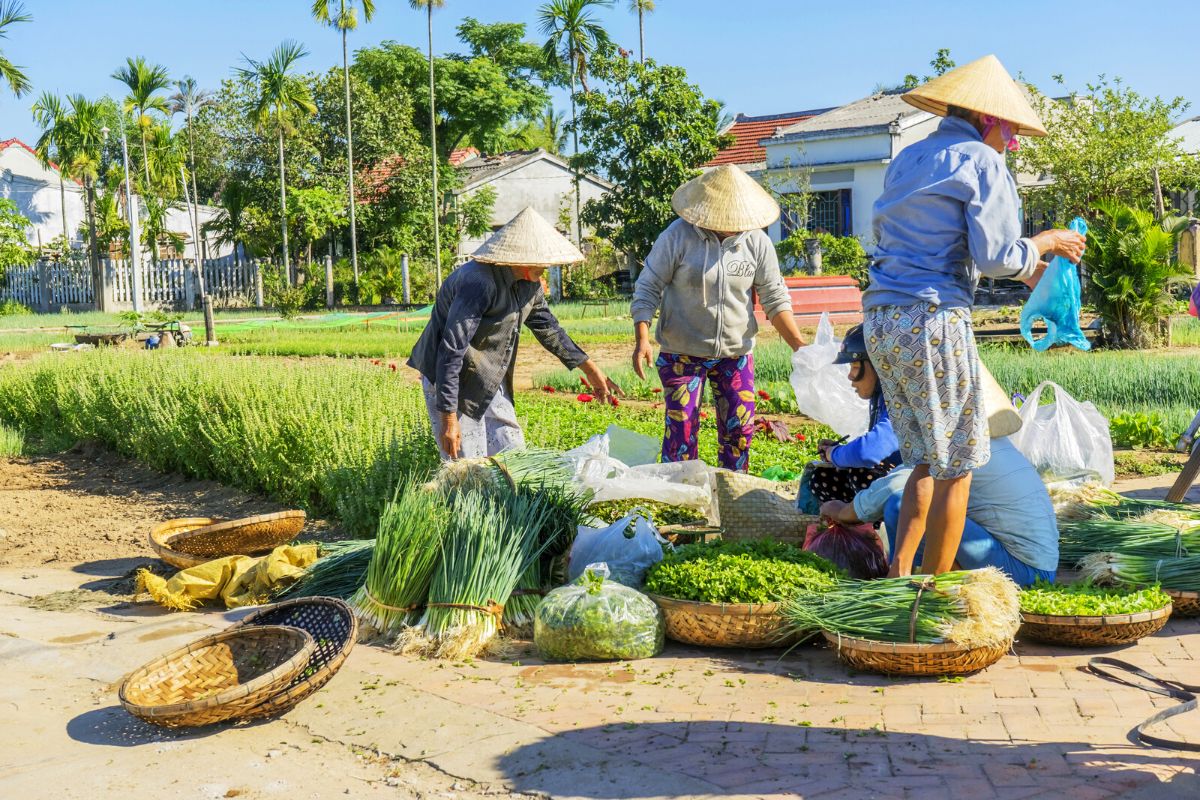 Just a 20-minute walk, or a 10-minute bicycle ride away from An Bang Beach, leave behind the oceanic vibes and enter the countryside to find Tra Que Vegetable Village.
(A popular thing to do in Hoi An is a bike ride from the ancient town to Tra Que Vegetable Village. It's located three kilometers apart.)
The vegetable village is super scenic offering passer-bys an abundance of greenery to take in.
The gardens are divided into rows of fresh, organic produce and herbs and you can learn about the cultivation of vegetables in this part of the country.
Tra Que supplies much of Hoi An with its produce, and they are renowned for growing organic goods only, completely free from chemicals.
Instead, the farm used a special kind of algae that grows in the Tra Que lagoon close by as fertilizer.
Try your hand at watering the fields just like the locals do, skillfully balancing a scale of two watering buckets on your shoulders.
It's said by locals you can taste when a dish uses traditional Hoi An herbs that come from Tra Que Vegetable Village, and if you're keen to find out more, there's a cooking school here, as well as an on-site restaurant.
5 – Cruise around Hoi An by bike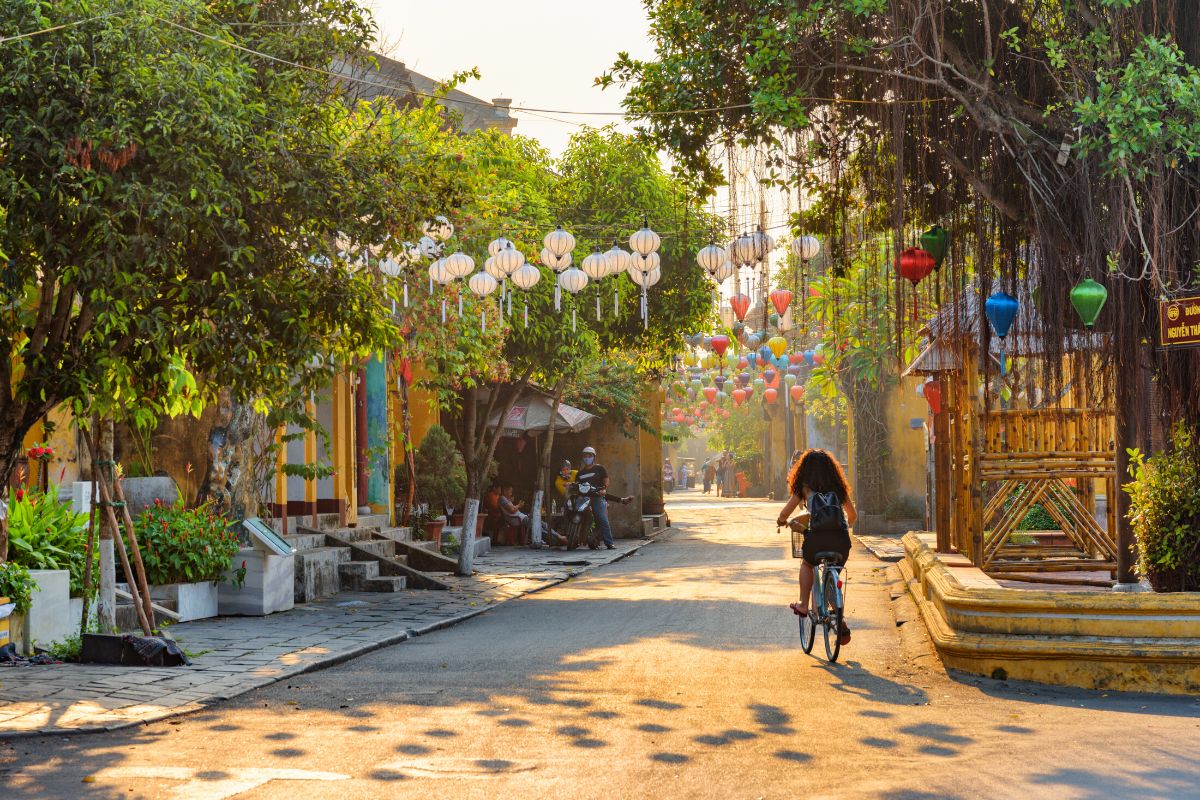 One of the best ways to discover Hoi An is via bicycle. The town itself is not overly large and it's a great way to get from place to place easily.
The small roads and alleys are perfect for bikes, so spend the day in the sunshine touring around Hoi An and the surrounding areas.
Opt to visit the town's must-see attractions via bike tour, or you can head a little further out and venture into the countryside and rice paddies.
Take a tour to a farm, like Tra Que Vegetable Village, or head to the Thu Bon River where you will stop off at traditional Vietnamese villages.
Bicycle through lush landscapes and rice fields, and stop for a chat with the locals.
Note, these types of bike tours include transport via vehicle or boat, and then the bicycle adventure begins afterward.
If you're up for a challenge, enjoy a 25-kilometer-peddle and discover the famous My Son Sanctuary by bike.
As everything is within close proximity, it's a fun way to explore this part of the country and many accommodations offer bike rentals.
6 – Take a day trip to My Son Sanctuary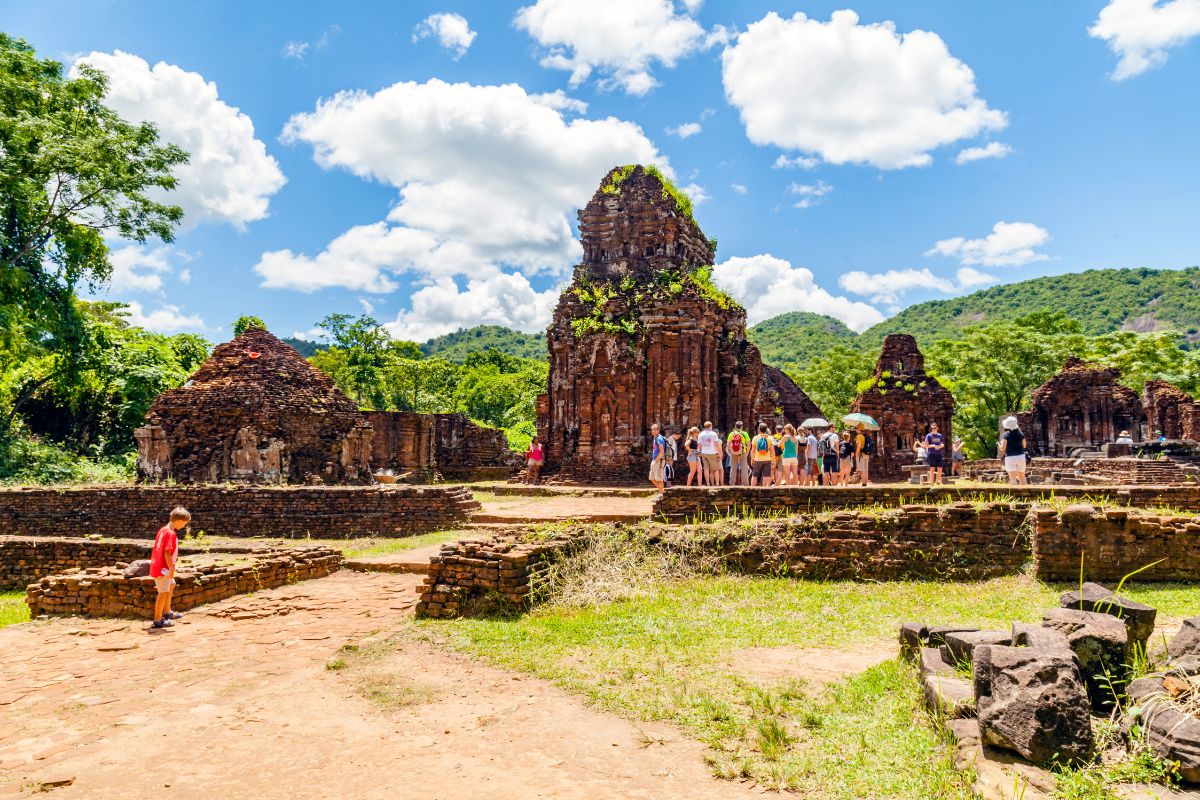 Considered the "Angkor Wat" of Vietnam, head one hour from Hoi An to My Son Sanctuary.
Consisting of a group of ancient Hindu temples dating back to the Kingdom of Champa, the sacred grounds have been listed as a UNESCO World Heritage Site since 1999.
Out of all of the religious structures, today 70 temples remain.
Built between the 4th and 13th centuries CE, walk among the ancient complex's tower temples constructed to honor Hindu divinities including Shiva, Krishna and Vishnu.
Although Mahayana Buddhism was affluent at the time in this part of the world, during the Champa reign, the principal religion was Hinduism.
After years of fighting against the Champa, the Dai Viet people of Northern Vietnam eventually excavated the ruling kingdom.
The grounds were left wild and the jungle swallowed up My Son, however, it was later rediscovered by a French adventurer.
Forming a base for the Viet Cong Army during the Vietnam War, the temples were then sadly bombed during wartime.
Surrounded by a mountainous backdrop, spend a good few hours wandering from one ancient temple to the next one engulfed by moss and overgrowth. It's magical.
7 – Get involved in a local cooking class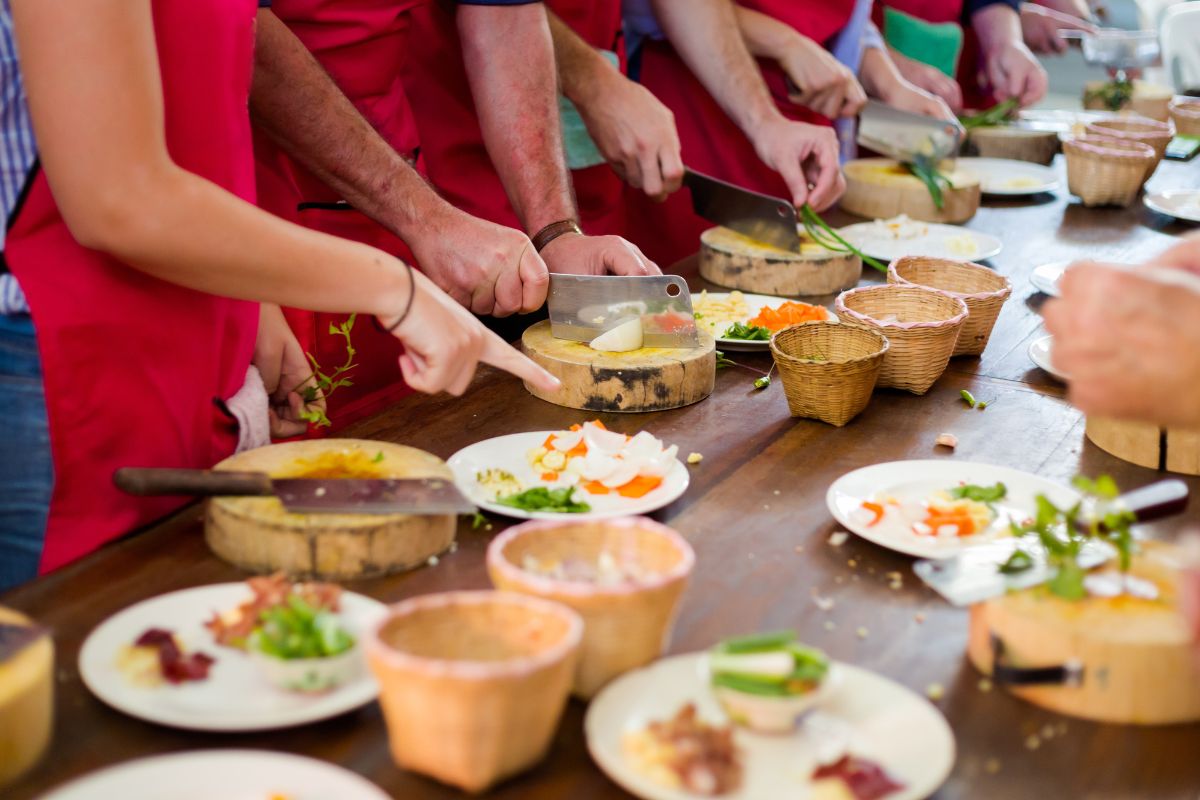 Near the ocean but surrounded by thriving countryside, you'll find the best of both worlds when it comes to eating in Hoi An.
Learn how to cook a scrumptious Hoi An dish just like a local professional with a cooking class.
Located in central Vietnam, this part of the country mixes flavors from the northern and southern parts.
Cooking classes begin with a trip to a local market to shop for ingredients, or some cooking classes take place on local farms where you will pick your fresh produce to be used.
With the guidance of a professional chef or local expert cook, recreate your own dish and take home the recipe to cook up for friends and family.
During the class, master how to make a Vietnamese specialty, the fresh rice paper spring roll, as well as main dishes.
For something extra special, take a cooking class at a local village along the Thu Bon River.
8 – Enjoy a scooter tour through the Hoi An countryside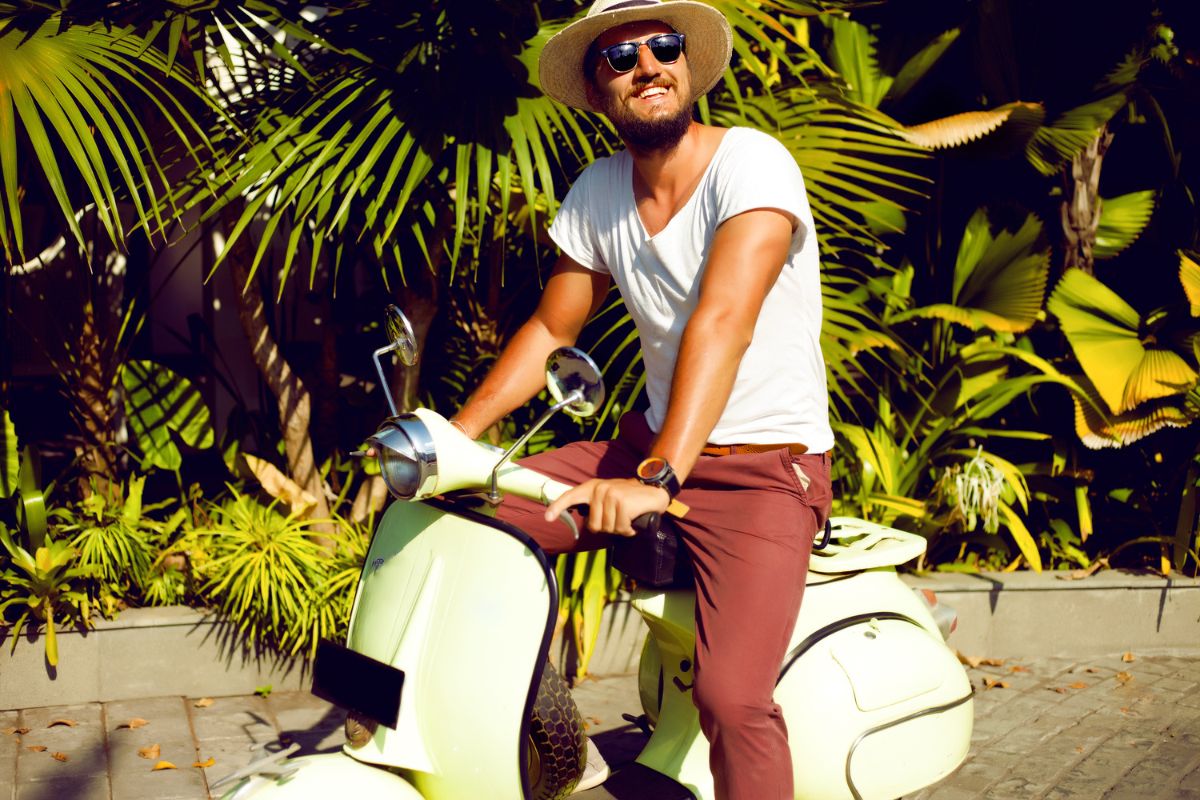 If you've never ridden a motorized bike before, Hoi An and a scooter are excellent starting points. Take advantage and try an epic scooter tour.
The roads around Hoi An are very chilled in comparison to some parts of the country, like Hanoi for example, and are lined with countryside scenes.
Scooters are also very easy to drive … Hop on the bike, lift the kick-stand, engine on and accelerate.
If you don't feel comfortable enough, no problemo. Choose a scooter tour in Hoi An where you ride as a passenger with a guided driver.
With multiple types of scooter tours, choose an option that bests suits you.
You can tour around Hoi An, the ancient town and must-see attractions around the area, or drive out of town and into the countryside and through rice paddies and hillsides.
Instead of a day tour, choose a night ride instead. Take an evening scooter foodie tour, stopping by numerous restaurants and bars along the way.
9 – Shop for souvenirs at the Hoi An Night Market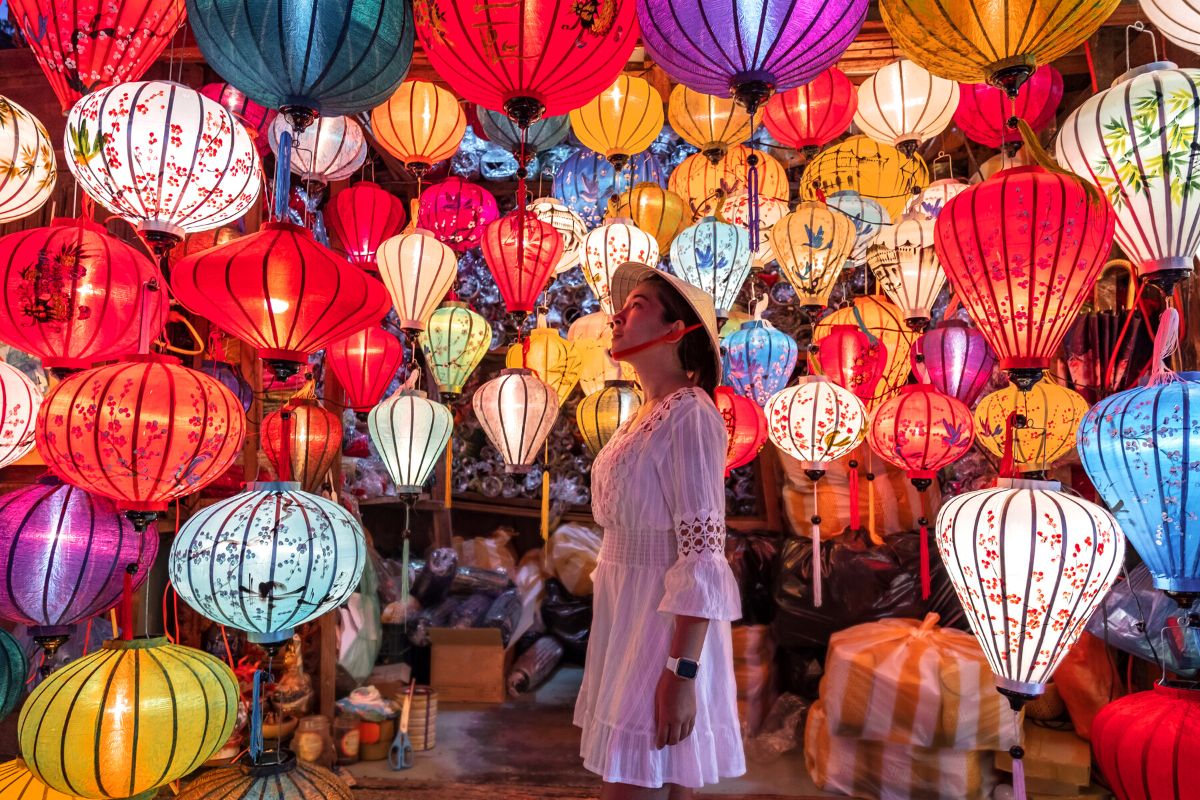 The Old Town is split in two by the Thu Bon River, and connecting both sides is also the An Hoi Bridge.
Walking across the waterway from one side, find the Hoi An Night Market running down Nguyen Hoang Street on the islet considered the Japanese and entertainment district of the old town.
Just look out for the road filled with street vendors and colorful lanterns and you're in the right spot.
There are over 50 local market stalls offering all the usual night market finds, like bags, jewelry, affordable clothing, and other nicknacks and native handicrafts.
There's also street food galore to try at the Hoi An Night Market.
When you're done shopping, take a stroll around this part of the old town.
There's a handful of restaurants and bars here, and you can find the most delicious rolled ice cream alongside the riverfront.
10 – Treat your tastebuds during food tours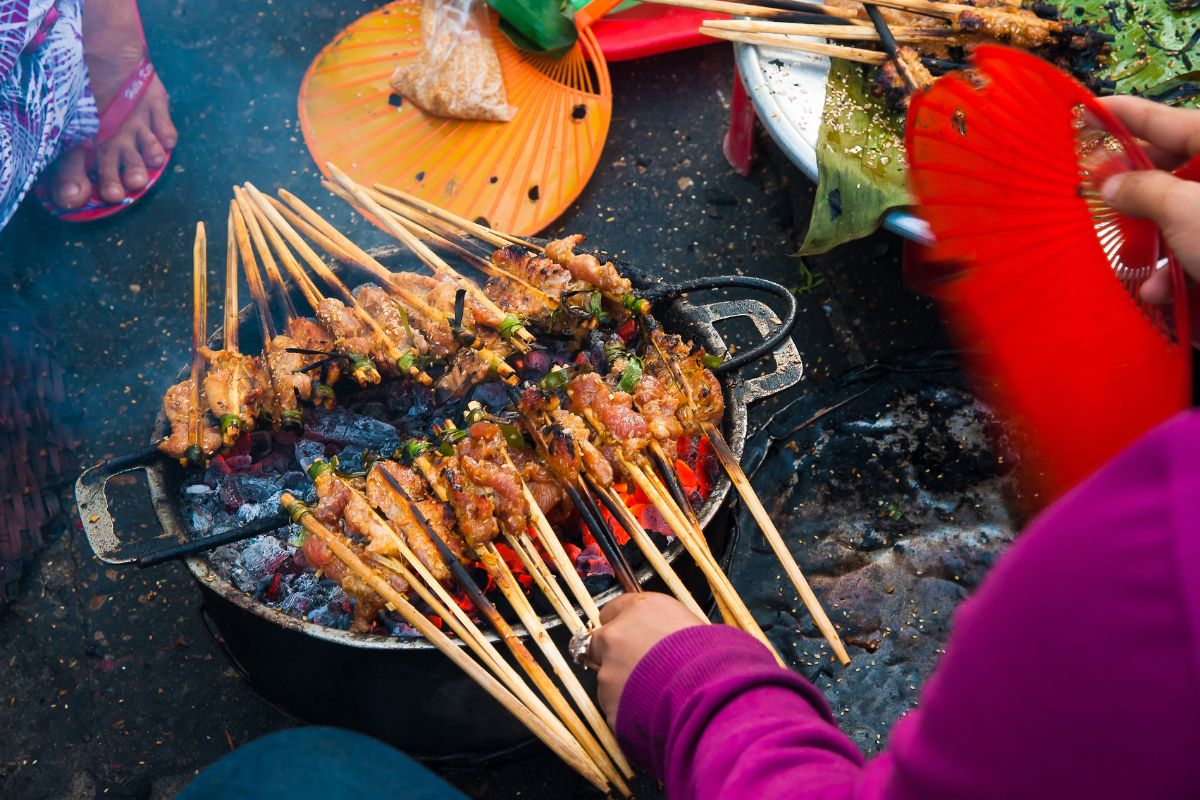 Home to local fishing villages, as well as the ocean, expect to find a lot of seafood, as well as many Hoi An specialties during a food tour.
Although the cuisine has many influences from the south and north, many dishes originate in Hoi An and have become famous in their own right.
(If traveling to Saigon or Hanoi, you will often find Hoi An restaurants that specifically serve these dishes only.)
During a food tour, travel around the city and get to try the iconic foods yourself.
There are various foodie expeditions to choose from … Enjoy a 2.5-hour evening walking food tour around Ancient Town, or opt for a half-day food tour via motorbike.
Stop by fresh markets, famous street stalls, a local bakery and favorite neighborhood restaurants.
Some private tours head outside the city streets and into the local countryside and river villages.
11 – Venture through to Marble Mountains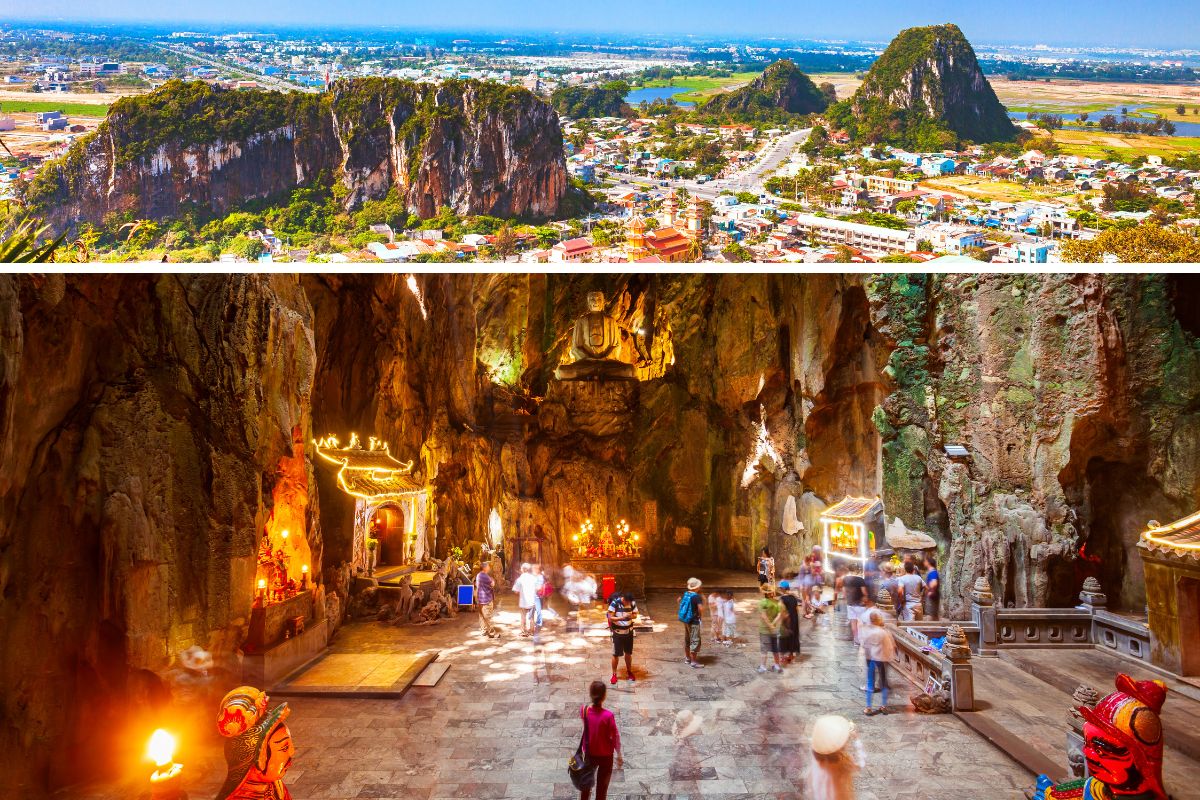 Gaining its name from the striking white color of these marble and limestone mountains, Marble Mountains consists of temples, caves and sweeping views.
Five limestone peaks make up the mountain range, and each one is named in Vietnamese after the five natural elements; earth, fire, water, wood and metal.
Tackling the Marble Mountains requires some trekking, and as you ascend the hills, pass by its must-see attractions.
Entering the range, visit the Marble Village, Non Nước Village, filled with white-stone carved statues.
Climbing the stone steps from one peak to the next, visit Huyen Khong (the largest of all the caves) and the Am Phu Cave.
Inside this cave find statue depictions of Naraka (what Buddhists refer to as 'hell').
Other epic caves to check out are Hoa Nghiem Cave on the Water Mountain (Thuỷ Mountain) and Tang Chon Cave is located inside the Kim Mountain, also known as Metal Mountain.
Head to Tam Thai Pagoda for a tranquil setting, and Xa Loi Tower is home to 200 Buddhas.
12 – See the famous 'Madame Xong' portrait in person at Precious Heritage Art Gallery Museum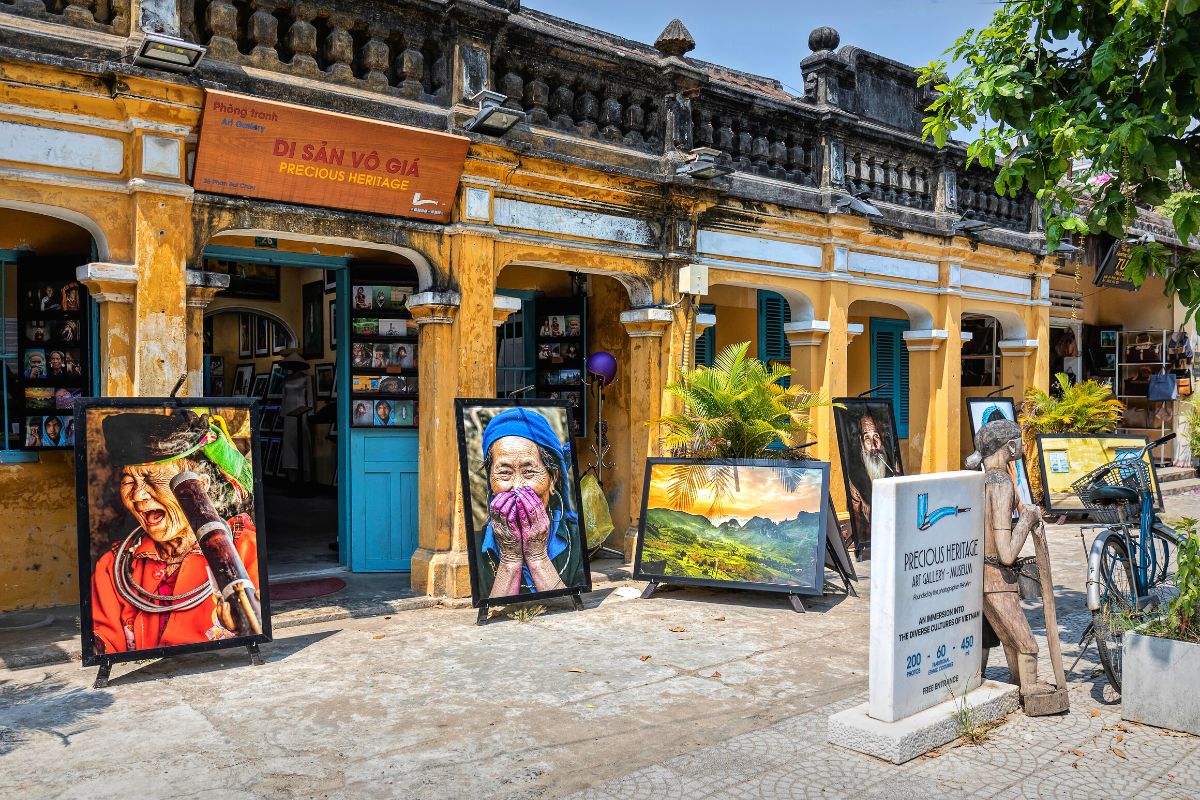 What better way to glimpse into Vietnam's heritage than through a visual exhibition, just like the set-up of the Precious Heritage Art Gallery Museum?
The museum boasts five rooms to explore, each one filled with photographic images shot by famous French photographer, Réhahn who is based in Hoi An but travels the world photographing his travels.
Housed in a  French-colonial building, his moments captured on film explore Vietnam's varying ethnic groups from all around.
The country has a total of 54 local tribes, and you can learn about 49 of these ethnic groups at the gallery museum.
Divided into different rooms, take your time wandering through each one.
The Fine Arts Room is where the majority of the photographic works are on exhibition, and take a journey "Into the Land of Indigo" inside the Indigo Room.
Fun fact, many fabrics in Vietnam are dyed using the indigo plant, found in regions like Sapa.
The Northern Vietnam Room and the Central and Southern Vietnam Room both highlight the culture and history of these regions.
13 – Range over Hoi An with a fun countryside jeep tour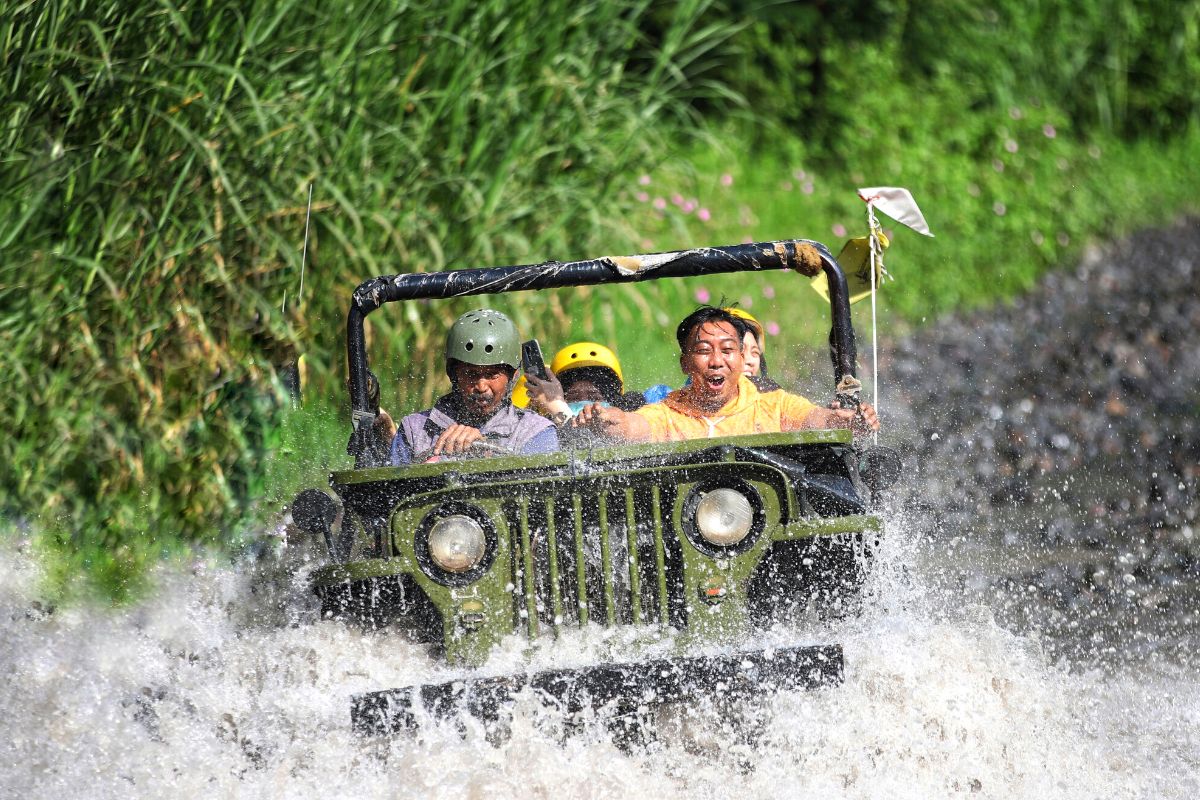 Leave behind the shopping and eating in Ancient Town for the day and adventure around the coastal city via jeep tour.
Out of the many things to do in Hoi An, this is a perfect way to discover the natural landscapes other than the oceanic scenes.
In an army jeep, zip through rice fields, cruise alongside the riverbanks, and pitstop at traditional villages for something to eat and activities, like basket boat rides and food-tastings.
Cruise past local farms where your guide enlightens you along the way with knowledgeable information.
If My Son Sanctuary is on your Hoi An bucket list, opt for a fun jeep tour here instead.
Adding to the jungle feels, whizz around with an open roof and take in the sights en route to the sacred grounds
Some tours even head through Da Nang to Marble Mountains, Monkey Island and even the Hai Van Pass.
If you plan on sightseeing in these spots, consider a jeep tour here!
14 – Photography enthusiasts, join a photo tour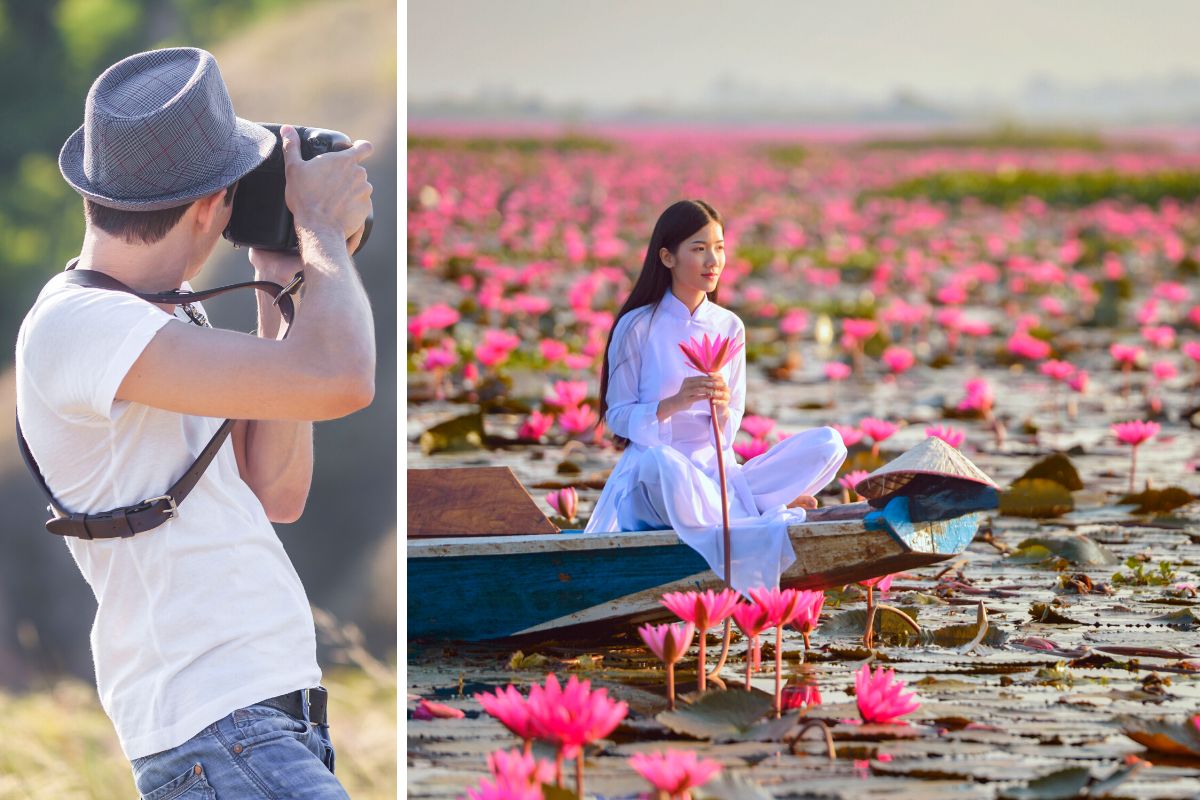 Once you're in Hoi An, you won't want to leave your camera far away for a second!
Ancient Town alone is made up of endless photo opportunities, phenomenal backdrops and tons of architectural delights to snap away at.
Get the inside scoop from a local professional and discover Hoi An's hotspots with a photo tour!
As one of the most photogenic cities, there are many types of photo tours to choose from.
Enjoy a half-day tour around Hoi An and discover the most mesmeric spots, alleyways, and cultural sites to photograph.
For serious enthusiasts, book a sunrise photo tour where you'll capture moments in Hoi An before the daily bustle begins, or record Hoi An's golden hour with a sunset tour.
If you're not keen on doing the filming, there's the option to book a private photoshoot.
Heading to picturesque settings around Hoi An, your private photographer will capture all those holiday moments with you, your family, friends or partner in the pics!
15 – Create your own Hoi An souvenir during a lantern-making class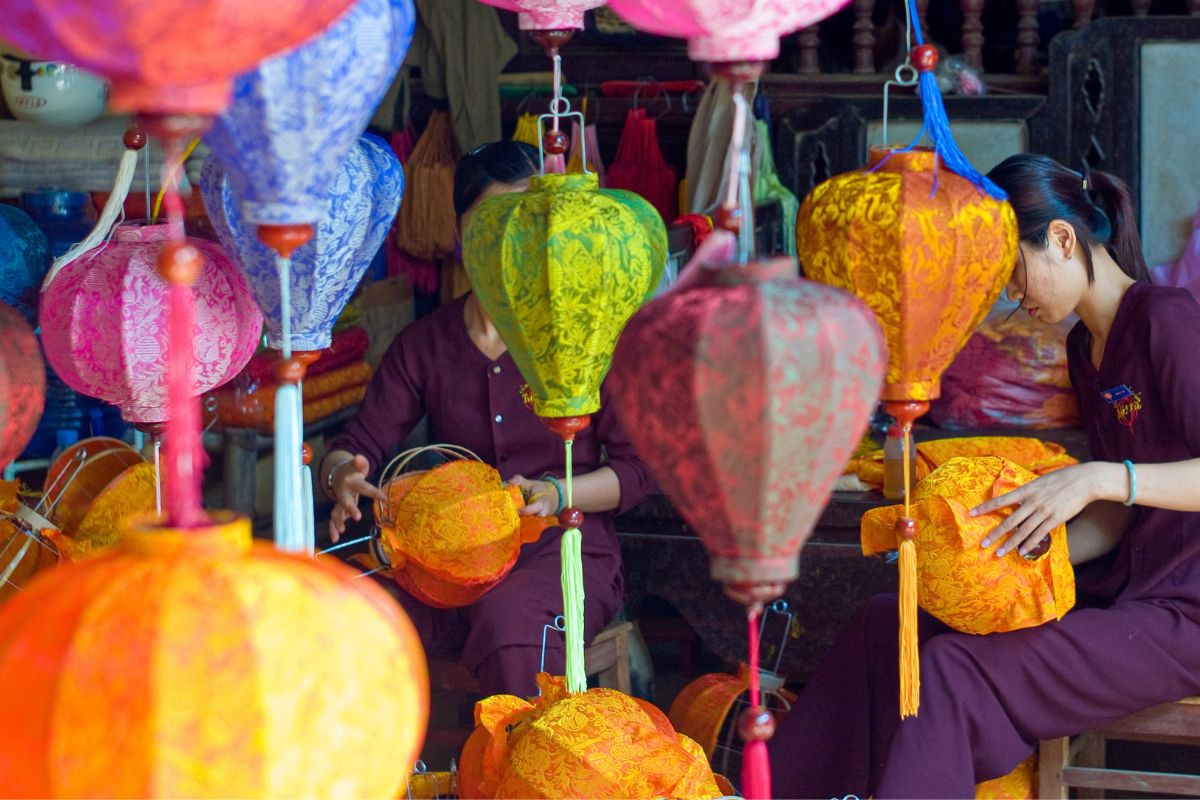 Lanterns are synonymous with Hoi An and once you arrive, you'll totally understand why.
If you look up, many streets are lined with colorful lanterns in all shapes and sizes, and plentiful shopfronts are dripping in them, or selling the iconic Hoi An lanterns.
Remember your trip to Hoi An forever and take a lantern-making class where you make your own lantern to take home with you.
If you're traveling to Hoi An with kids, this is an especially great activity to try.
Enjoy a 2.5-hour workshop where you'll learn to construct your lantern souvenir, and creatives, book a lantern-making and painting class in one.
During the class, learn to make a lantern step by step using a bamboo frame and silk fabric of your choosing.
As this is a traditional art form, make the experience extra authentic and take the class at a nearby local village.
16 – Go snorkeling at Cham Island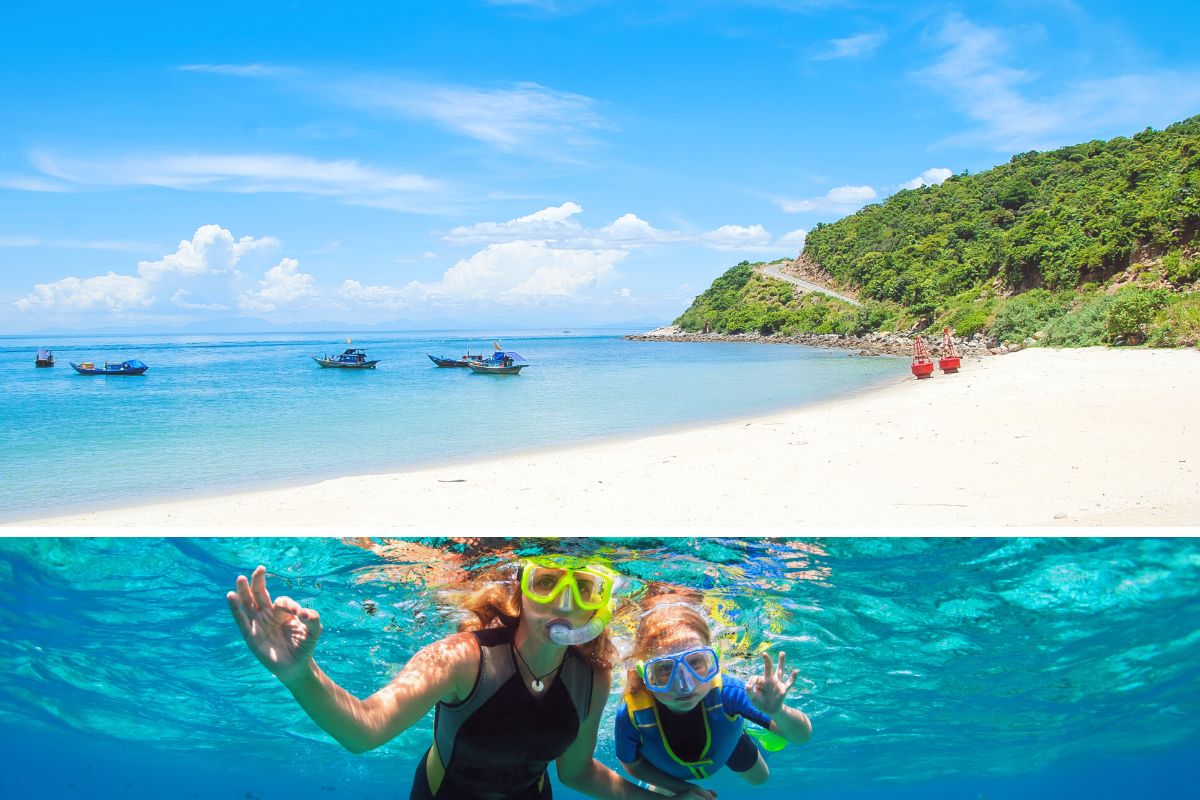 Did you know that surrounding the central city Da Nang (a 45-minute drive from Hoi An), are many neighboring islands?
Spend a day having fun in the sun and take part in oceanic activities with a trip to Cham Island, also known as Cù Lao Chàm.
Located inside the Cu Lao Cham Marine Park, it forms part of a protected biosphere reserve known for its marine and wildlife.
The Cham Islands are made up of an archipelago of several small islands, the biggest of them is Cham Island (Cù Lao Chàm), which is also called Hon Lao.
It's a famed snorkeling destination known for its crystal blue waters and beaches filled with soft white sands.
There are more than five beaches to explore on Cham Island, making it popular for snorkeling tours.
The waters at Bai Xep beach are particularly great to snorkel around, and Bai Bim beach and Bai Ong beach are two other favorites for travelers.
Choose a half-day snorkel expedition out at sea traveling to Cham Island by speedboat, or you can stay overnight on the island and there are multiple accommodation options.
The group of Cham Islands holds particular importance in this part of Vietnam as it's believed that this is where the Champa people first landed in the country.
Around the multiple islands, scout temples, shrines, pagodas and hidden forests.
Apart from Hon Lao, the other islets include Hon Tai, Hon La, Hon Dai, Hon Kho Me, Hon Kho Con, Hon Mo and Hon Ong.
17 – Divulge into over 800 artifacts inside the Hoi An Museum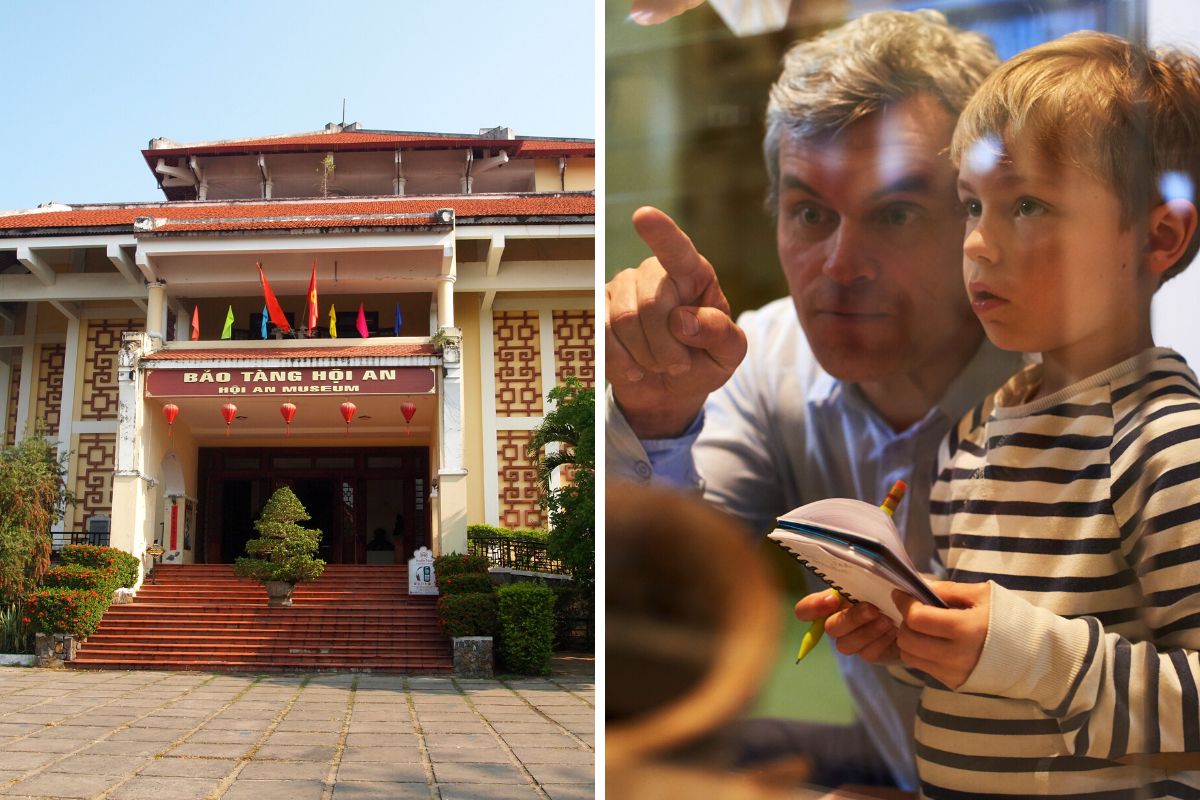 During a visit to the Hoi An Museum, learn about the town's historical and cultural past through the 800-odd artifacts that it holds.
To understand the collection, the museum is divided into four rooms that each hone in on different topics.
Starting with the History and Culture exhibition, learn about Hoi An's three major time periods; the protohistory period, the Champa period, and the Đại Việt period through to the Đại Nam period.
Changing with the times, the Revolutionary History exhibit hosts 337 artifacts and documents pertaining to resistance wars in Vietnam, mainly during the French colonization period and the US-Vietnam War.
Following on from these times, the Hoi An Ascent from hardship exhibition space explores some of the problems locals have had to face since Vietnam's liberation in 1975.
Finally, the Art Gallery celebrates the beauty of Hoi An through a collection of paintings by local artists.
18 – Delight all your senses during a visit to the Hoi An Central Market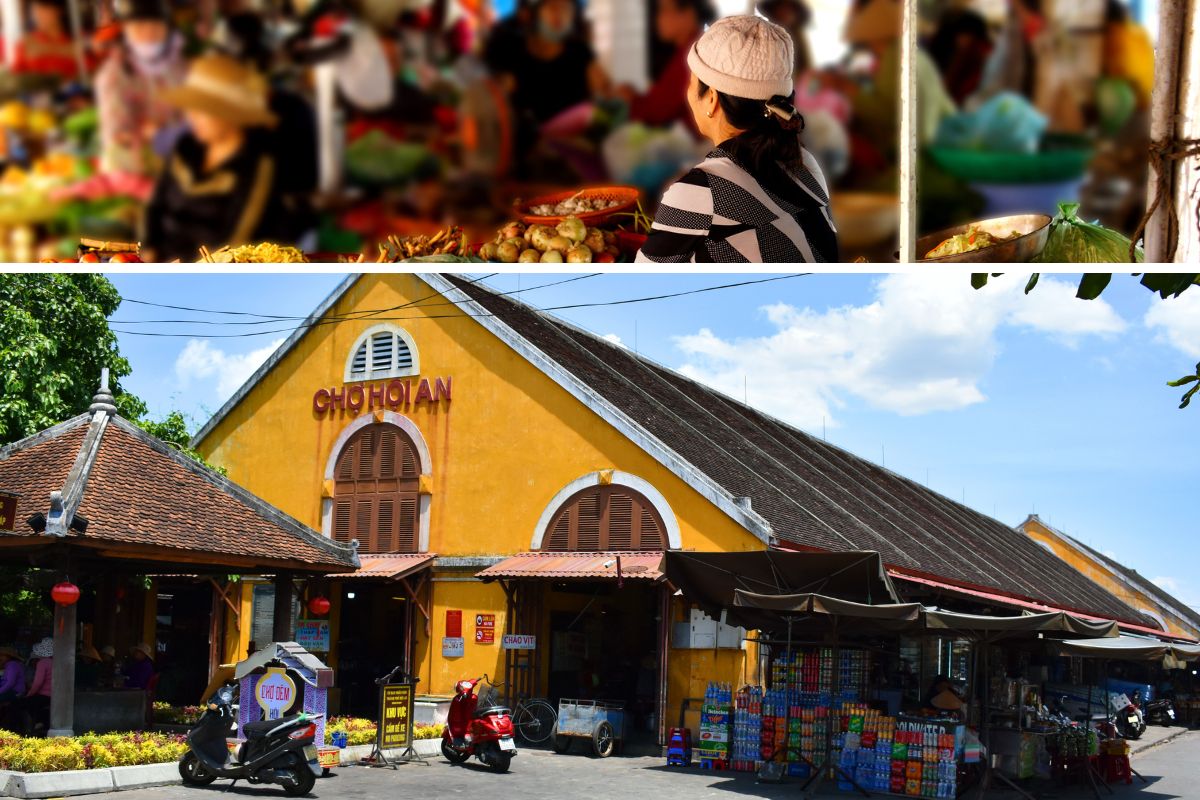 Running along the riverside, the best time of day to hit the Hoi An Central Market is in the early morning.
It's a sensory overload in the best way possible, from the colorful scenes of unique fruits and vegetables for sale, to the smells of fresh seafood or street snacks cooking up.
Not only is the produce for sale the freshest at this time of day, but it's a fantastic place to try out a super local breakfast (for ridiculously cheap prices too).
Apart from the usual Banh Mis (Vietnamese baguette sandwich), try other morning dishes such as Banh Xeo (a pancake filled with shrimp, pork and spring onions), Bun Bo (beef breakfast noodle soup), and Cau Lau (a dry noodle dish with pork and local greens).
Don't miss tasting Vietnamese spring rolls or White Rose dumplings (steamed prawns wrapped in rice dough).
Located inside the Ancient Town, the market is conveniently situated and links the bottom road.
Some of the streets running up from the market sell handicrafts and interesting kitchen utensils and homeware items.
19 – Visit a traditional fishing village, Tra Nhieu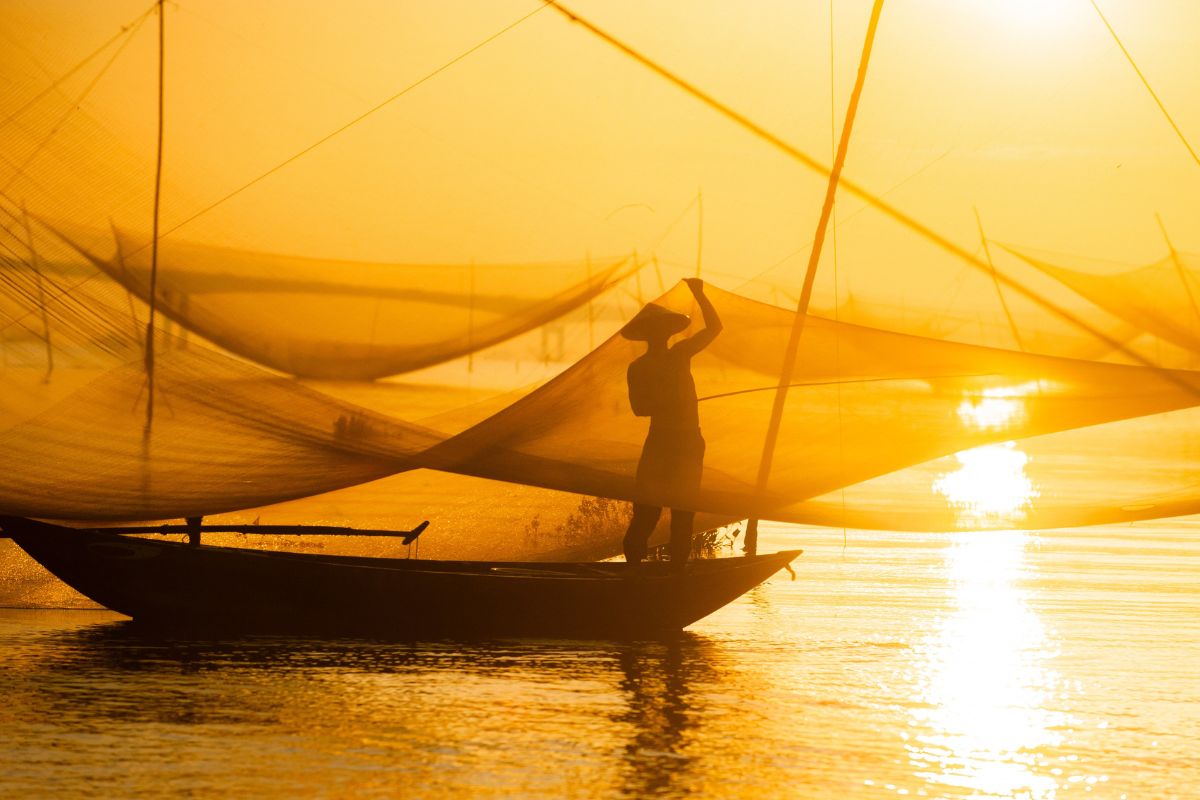 Driving 30 minutes from the old town, the peaceful Tra Nhieu fishing village is located inside the Tra Nhieu Nepa Palm Forest.
Thanks to its location, it's a popular day trip in Hoi An, whether you choose to drive, bicycle ride, scooter tour or catch a boat ride cruise here.
Upon arrival, explore local life and get the chance to see the fishermen in action, and you can also try your hand at traditional fishing techniques.
Speaking of, learn how bamboo coracle basket boats are made, and then paddle your own through a lush coconut forest!
Apart from the activities that revolve around aquatic life, spend time with local families and get involved in traditions learning how to weave colorful mats or make rice paper.
20 – Cross the famous Golden Bridge at Sun World Ba Na Hills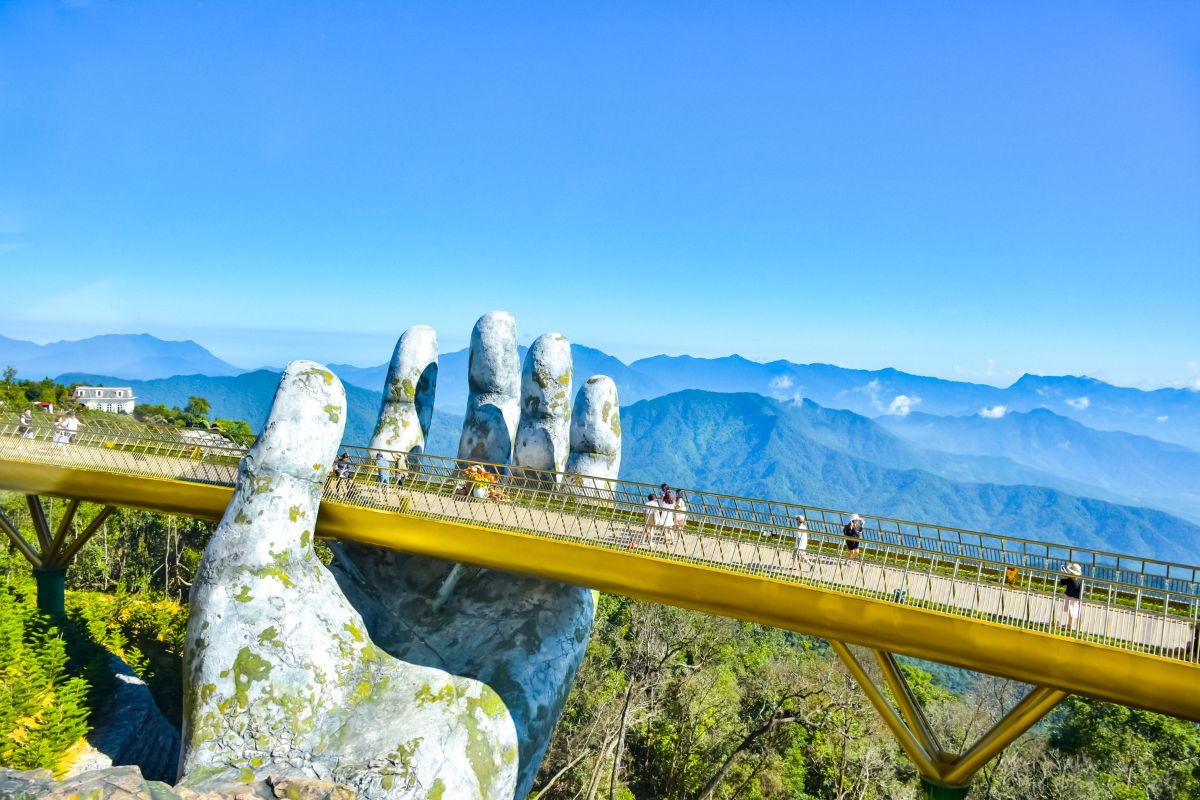 You'll want to spend at least half the day at this one-of-a-kind theme park with countless things to see, activities to do and attractions to choose from at Sun World Ba Na Hills.
Where to begin? … Stroll through a French-inspired village, or wander through Luna Castle.
Catch all the thrills inside Fantasy Park where you'll discover fun rides, games and a 5D cinema.
Check out Vietnam's first-ever Wax Museum for life-like figurines of famous musicians, actors, sports heroes and political figureheads throughout history.
Another first for the country and special feature is a 3-meter high Quartz crystal cave which you can step inside.
One of the most photographed spots in Vietnam in its later years, the Golden Bridge i.e. Cầu Vàng, is also located inside the park.
Seen all over social media feeds, finally get the opportunity to check out the famous Vietnamese walking bridge.
The walkway is held up by two giant stone hands on either side, stretching onwards for 150 meters and with the most breathtaking views below!
The bridge was opened in 2018 and is reachable by cable car only. Speaking of, for some of the best views of the park and Danang, take a ride in the Ba Na Hills Cable Car.
The cable car ride runs throughout the park, dropping passengers at different locations around the area.
To travel around the park, take the Dream Spring Station to Ba Na Station cable car ride line, or if you just want to ride the cable car and not visit any park attractions, book a ticket on the Toc Tien Station to L'Indochine Station line.
But there's more … Not just fun and games, Ba Na Hills is home to pagodas, temples, stupas, and a monastery.
You can also find your inner zen at the Rain Sheltering Teahouse during an ancient tea ceremony, or sit back and relax with a glass of vino at the Debay Wine Cellar's bar.
21 – Explore the ancient craft at Thanh Hà Terracotta Park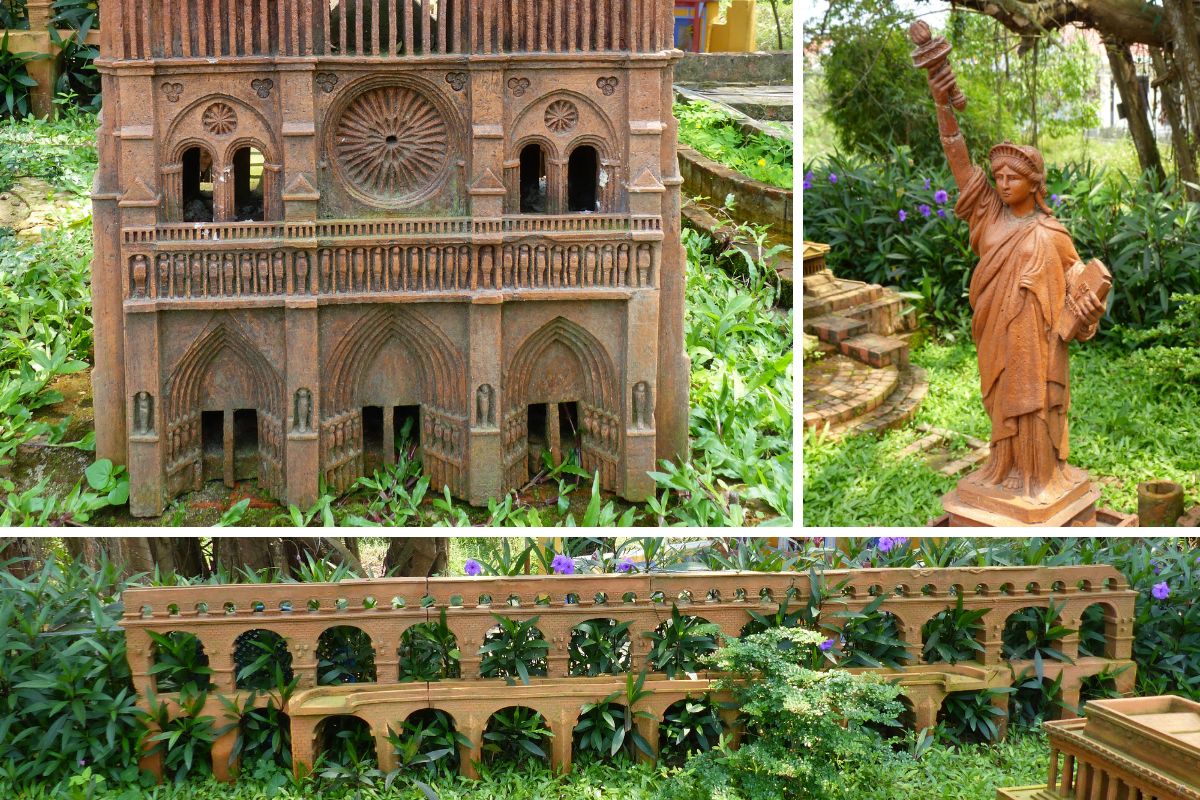 This entire park is dedicated to ceramics, and Thanh Ha Terracotta Park is right near the 500-year-old Thanh Ha Pottery Village.
The open-air park acts as a museum that explores the history of the Thanh Ha Pottery Village next door, but it draws in the crowds because of the impressive grounds filled with terracotta statues.
There is a building besides the gardens where you can look at ancient tools, techniques and pottery items made throughout the years, including sketches of ceramics.
Check out the traditional potter's wheel and some porcelain items.
Outside there are mini replicas made from clay of famous sites around Vietnam, showing off intricate details.
Some of these miniature reconstructions include My Son Sanctuary and Notre Dame Cathedral of Saigon.
Not just limited to Vietnam, spot replicas of other world-famous attractions like the Taj Mahal, Sydney Opera House, Statue of Liberty and the Leaning Tower of Pisa.
22 – Go Kayaking through Hoi An's riversides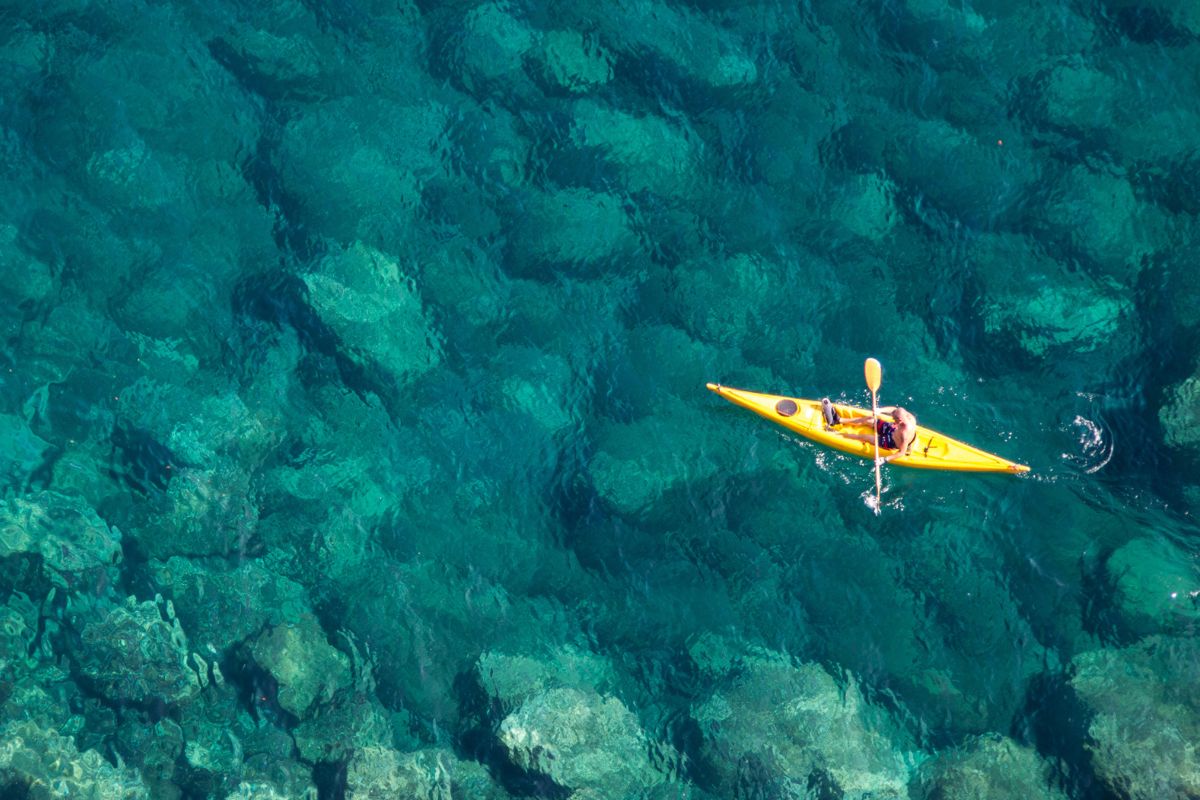 Running through Hoi An is the Thu Bon River and it extends to other areas around the main town.
One popular way to discover the surrounding locations near the river is by kayaking along the waters, passing by coconut groves and tropical wetland scenes … It truly feels like you're deep in the jungle.
You can book a kayaking expedition where private drivers transport you to the Cam Thanh area and you start your kayak ride.
For something extraordinary, a sunset kayak tour is unparallel.
As you cruise down the river, the sun dances off the water and creates magnificent silhouettes as it drops low between the coconut trees.
23 – Learn how to work with this traditional material at Taboo Bamboo Workshop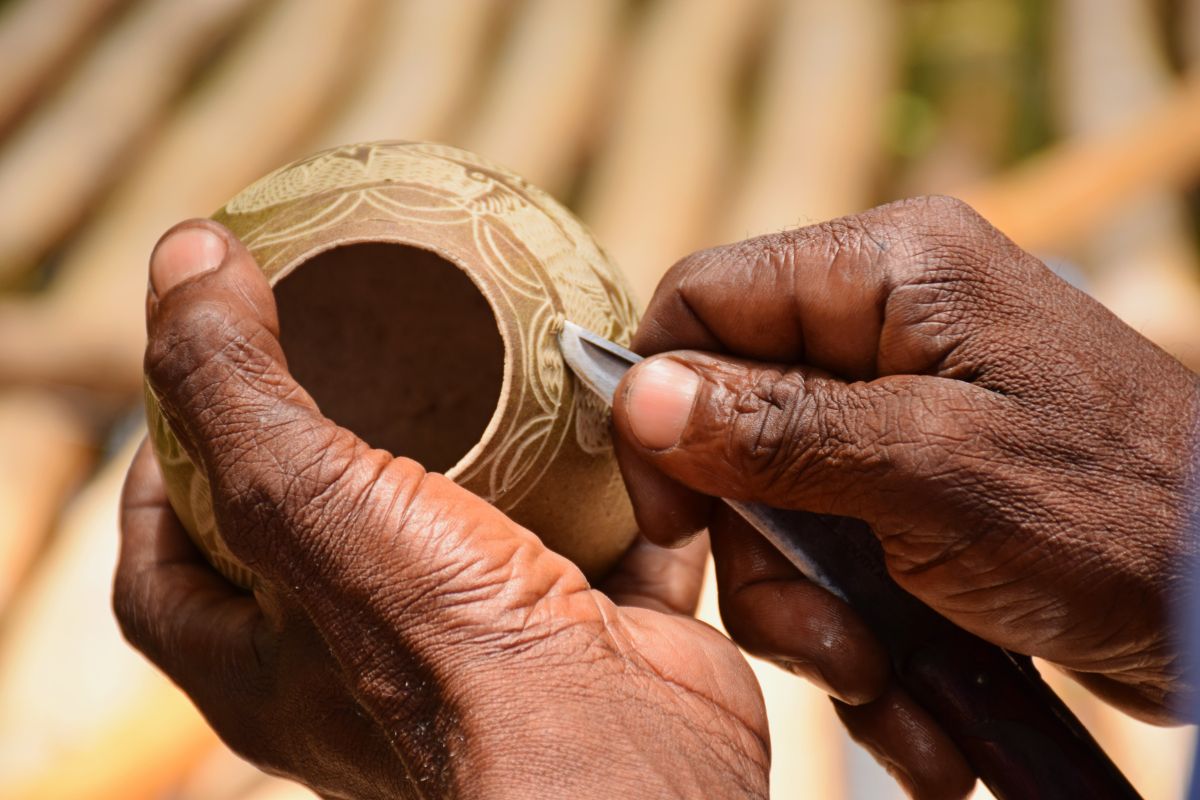 The Taboo Bamboo Workshop is an amazing activity for all ages.
Bamboo is one of the most widely used materials in Vietnam, known for its strength and stability, as well as for being easy enough to manipulate for carving and crafting.
A family-run business operating for more than three generations, get involved and join a workshop.
Learn about how some of the traditional bamboo handicrafts are created and get the chance to make your own with the help, knowledge and expertise of the family.
If there's something in particular you'd love to construct, just let them know and you will also learn how to treat the bamboo material afterward so that it keeps.
Making houses and structures from bamboo is one of Taboo Bamboo's main sources of income, and you can explore a bamboo house on-site too.
24 – Relax away from the crowds at Cua Dai Beach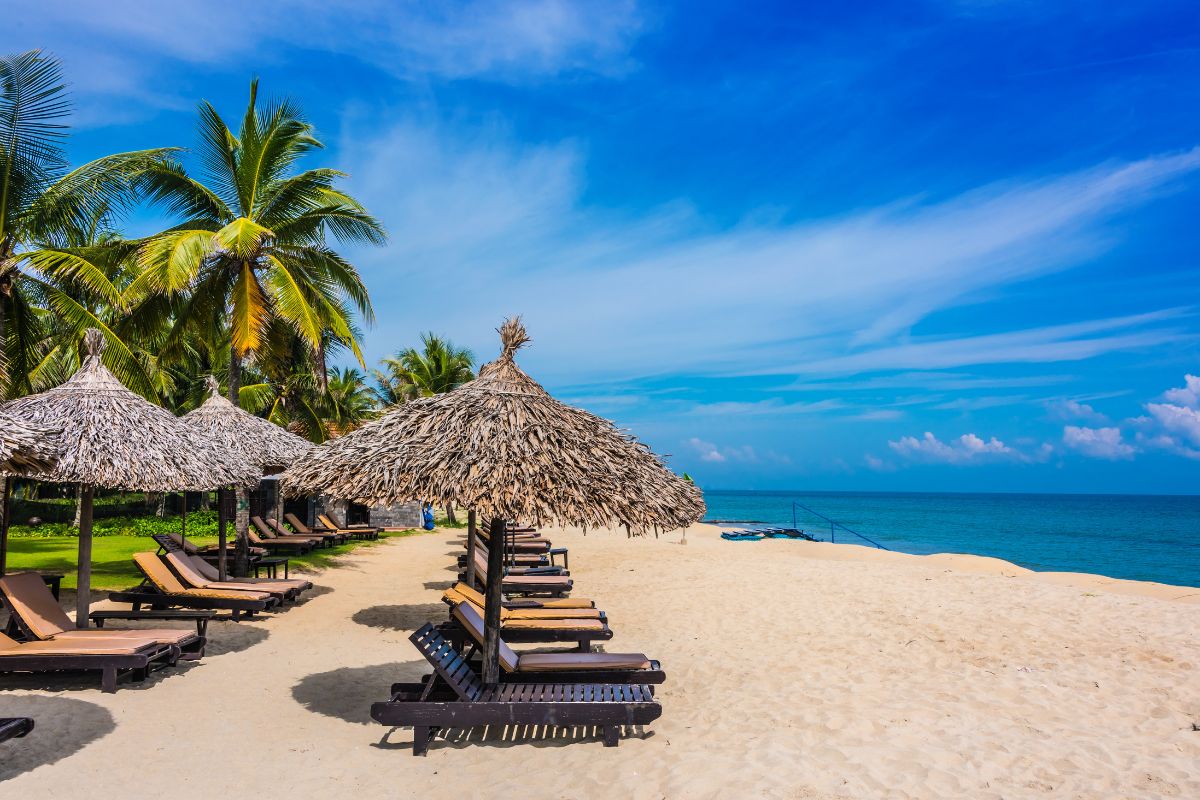 Just outside of Hoi An town, if you're scouting a beach to spend the day in peace and quiet, Cua Dai beach is the ideal location.
Unlike An Bang beach, the main tourist beach, there are no restaurants or beach bars down here and the landscape feels wilder.
Enjoy a beach picnic, spend the afternoon journaling, and for surfers, the waves at Cua Dai Beach can reach a few meters high in October creating epic surf conditions.
There are a few luxury resorts located along the shores, or you can find some cute beach villas and homestays down the roads leading to Cua Dai Beach.
Unfortunately, in the last few years, the beach has undergone some erosion, so you will notice sandbags allocated along the banks to help restore the natural landscape.
25 – Enjoy an adventurous motorbike tour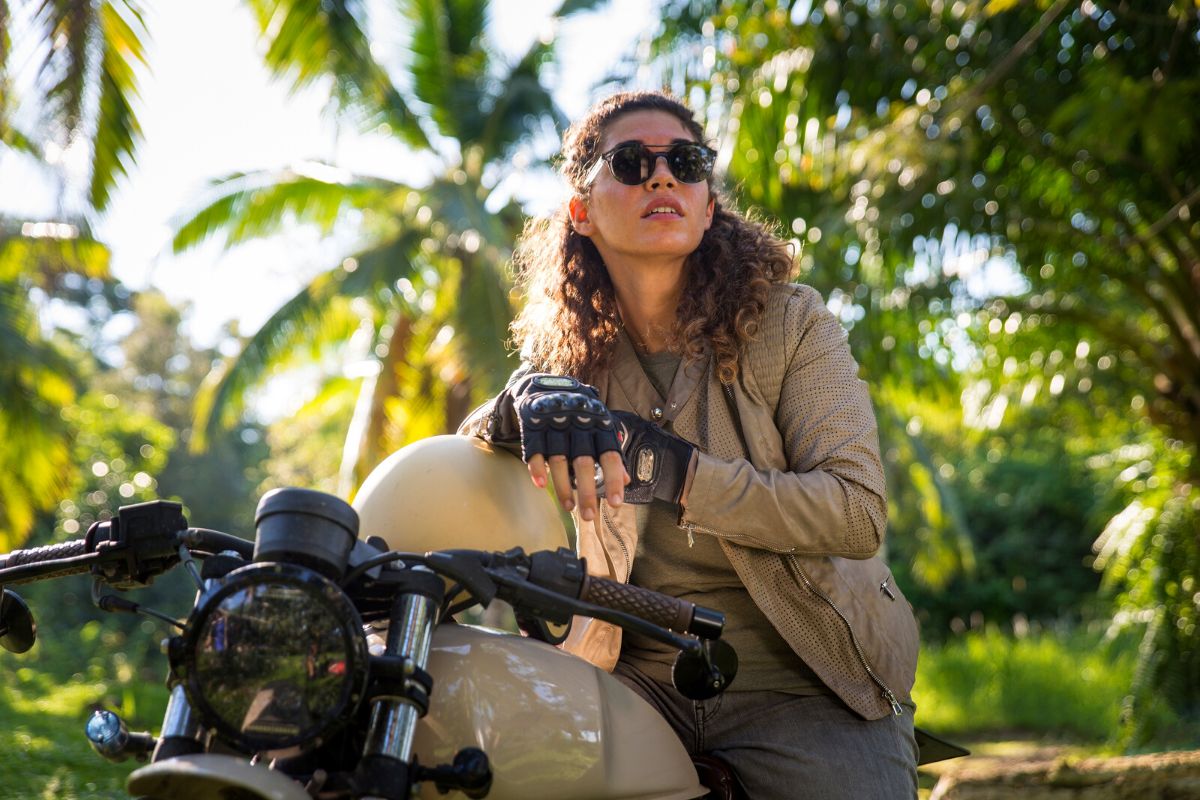 For something more adventurous than a scooter tour, opt for a motorbike tour around Hoi An and the surrounding areas.
Take a bike trip to local villages and communities in Hoi An, where you will have the chance to venture a bit off-road and cross through rice paddies and countryside roads.
If a few hours around Hoi An isn't enough, take a motorbike tour through Danang, traveling 1.5-hours to the famous Hai Van Pass — it's known as one of the most beautiful roads to drive.
Extend your motorbike trip even further and cross the Hai Van Pass all the way into Hue.
A Street Food Tour by motorbike inside Hoi An's ancient town ticks off two tours in one. Stop by street stalls, vendors and local dining hotspots and try famous delicacies and Hoi An dishes.
There's no need to worry about falling into a food coma, as you're driven from one spot to the next.
26 – Shop for leather goods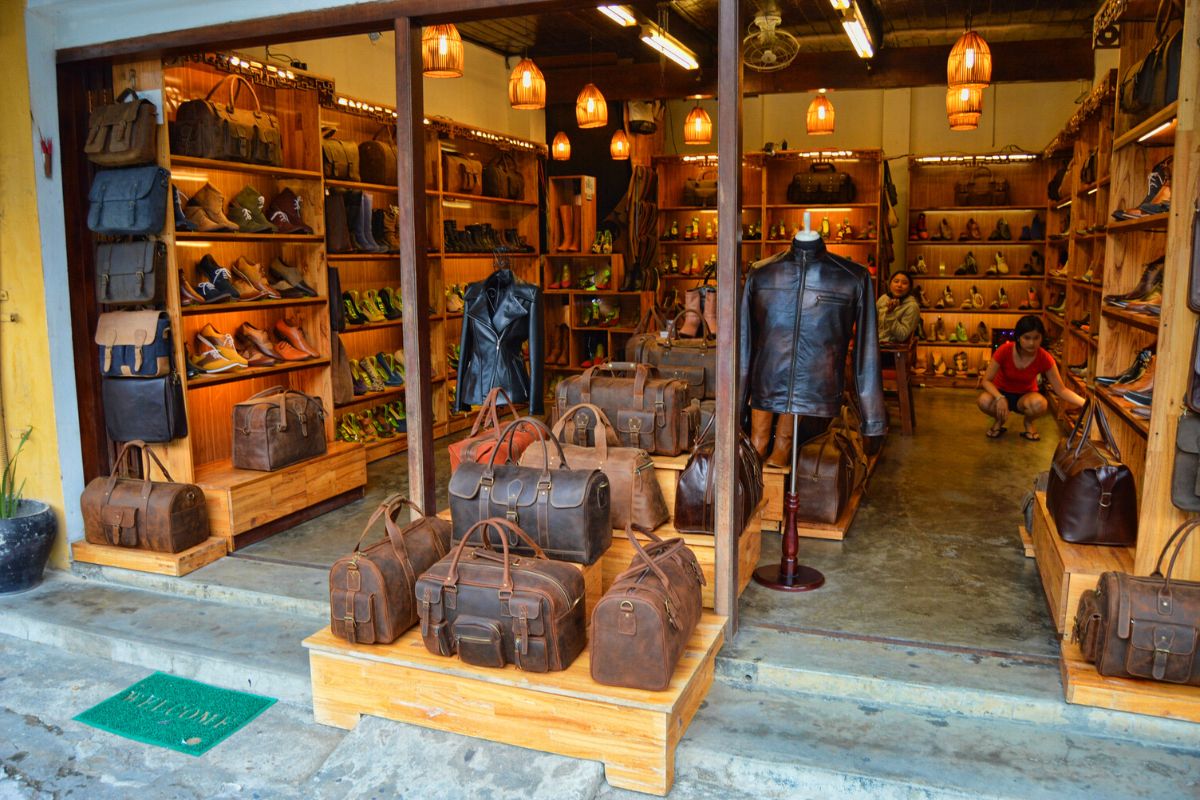 When it comes to getting anything leather-made, Hoi An is where it's at, and you'll be shocked to find how affordable custom-made leather goods are in this part of Vietnam … So take advantage!
If there's something you can imagine made from leather, chances are you'll find it in one of the leather shops, or one of the craftsmen can create your dream design for you, whether it's a pair of shoes or a guitar bag.
The predominant leather used in Vietnam is made from buffalo, and you can choose from an entire range of different colors and textures.
Blue Lotus Leather offers both already-made and custom-ordered leather items sporting quality modern designs. They host leather workshops too.
Frequented by many travelers, find a beautiful selection of leather goods for very affordable prices at Buffalo Leather Shop, from Birkenstock-type sandals to leather jackets, belts, purses, and much more.
Find your perfect leather travel bag at Da Bao Real Leather and their excellency lies in their fine details and craftsmanship of bags, from backpacks to wallets.
27 – Calling all yogis, take a yoga class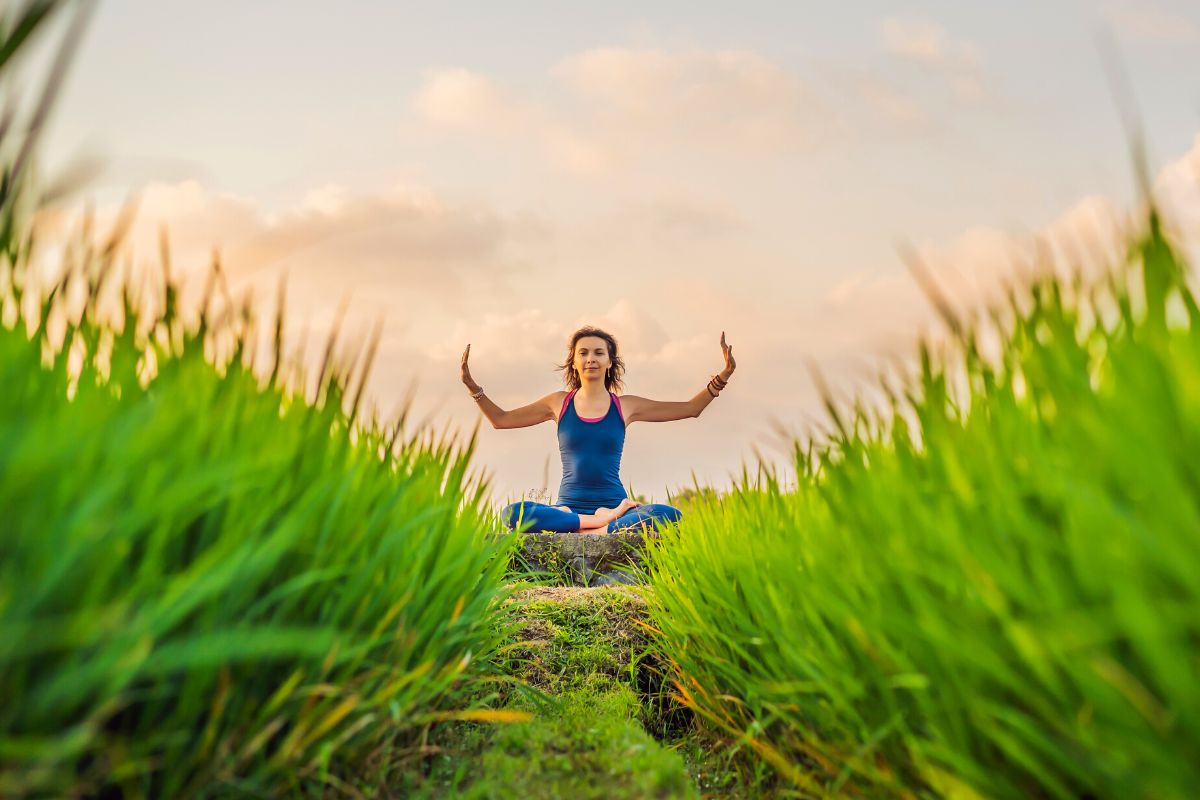 Unlike some of Vietnam's bustling cities and towns, there's a real serene feeling in Hoi An and you can't help but feel instantly relaxed … Perhaps it's because it's right near the ocean which makes everything feel calmer? …
Hoi An is a lovely place to practice yoga, especially if you've been missing out on your daily/weekly classes whilst traveling.
There are yoga classes to join conveniently located near Hoi An's ancient town, or for a really special experience, enjoy a yoga session in the middle of unending green rice fields!
As you unwind and re-center, feel invigorated by the natural landscapes around you and there are classes available to suit all levels and styles.
Choose a beginners class, or a Yin, Vinyasa or Hatha yoga class.
It's a beautiful setting to enjoy your sun salutation series.
28 – Look into the past at the Assembly Hall Of Fujian Chinese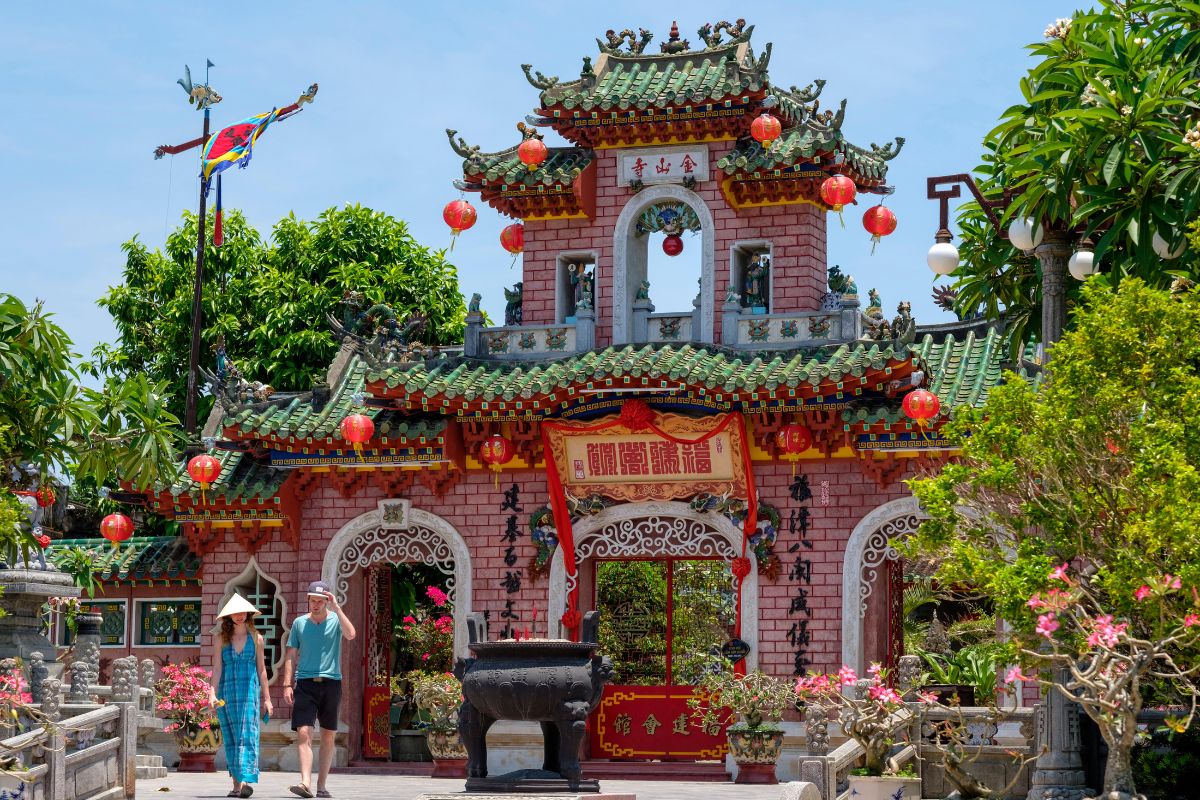 As one of the oldest historical sites in Hoi An Ancient Town, walk around the Assembly Hall of Fujian Chinese and explore the temple grounds dating back to 1690.
During the 15th to 18th centuries, the port town saw many merchants from different countries enter through its waters, and although now a temple, originally the building served as an assembly hall for Chinese traders arriving in Hoi An from Fujian, China.
Then in 1697, according to the stories, a statue of the Chinese goddess of the sea, Mazu, also known as Thien Hau in Vietnamese, washed up onto the shore on Hoi An's beach.
It was then decided by the locals to turn the assembly hall into a temple dedicated to the Chinese deity.
Today, travelers can explore three halls that celebrate distinctive architecture.
Visit the Main Hall, Front Hall and Back Hall and the courtyard is home to mythical statues, shrines and bonsais.
Inside the Main Hall, spot two golden figures on the altar feature. One is of Avalokiteshvara, a  Bodhisattva of compassion, and the other is of the goddess, Mazu.
29 –  Understand the importance of pottery at the Museum of Trade Ceramics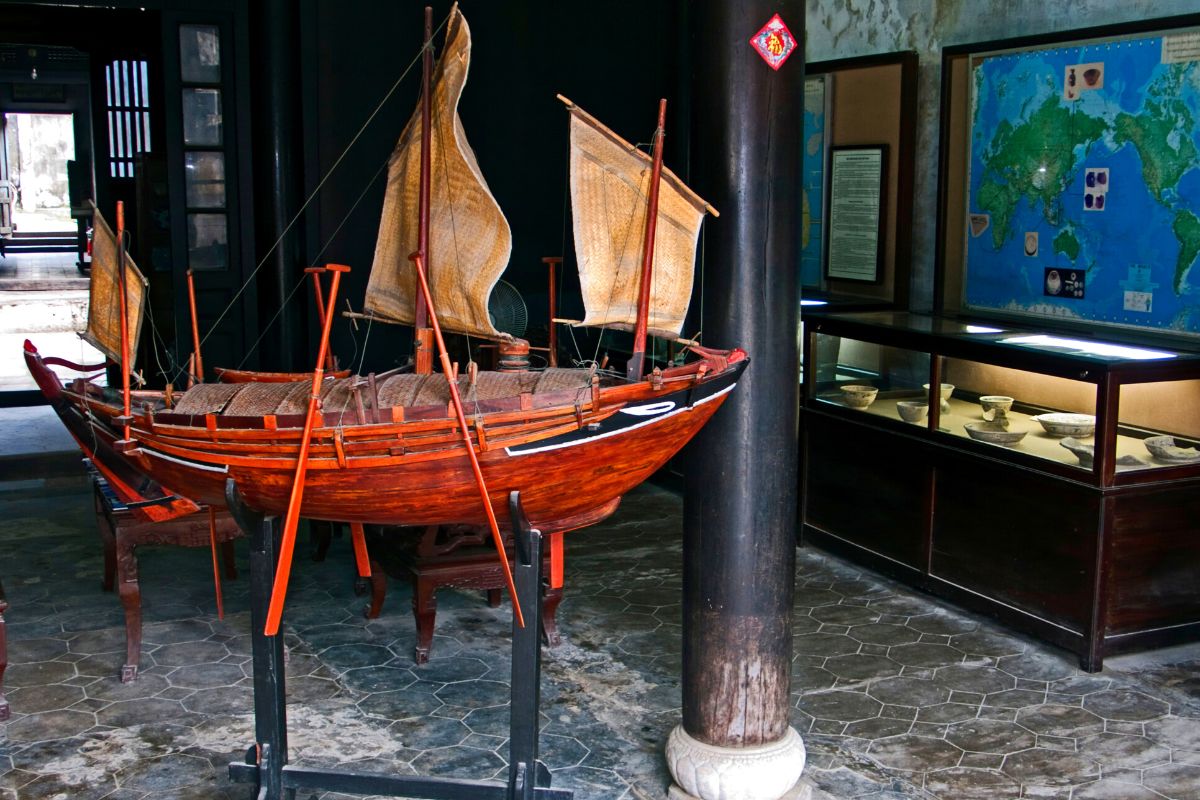 The Museum of Trade Ceramics is another one of Hoi An's museums that displays the town's history.
Storing and exhibiting a collection of real-life items and artifacts that can be traced as far back as the 9th century, many of the objects are made from pottery.
It's pretty cool to investigate the progression of ceramics throughout Hoi An's past, and the museum also showcases works up to the 19th century, including some sketches and drawings.
Throughout the years, these artifacts have been discovered all around Hoi An, including fragments found washed ashore after a shipwreck, as well as during archaeological excavations.
Founded in 1995, the museum was specifically chosen to be housed inside an ancient two-story dark wooden building — these buildings were typically erected by Japanese communities in the late 1500s.
30 – Learn all about the delicate fiber at the Hoi An Silk Village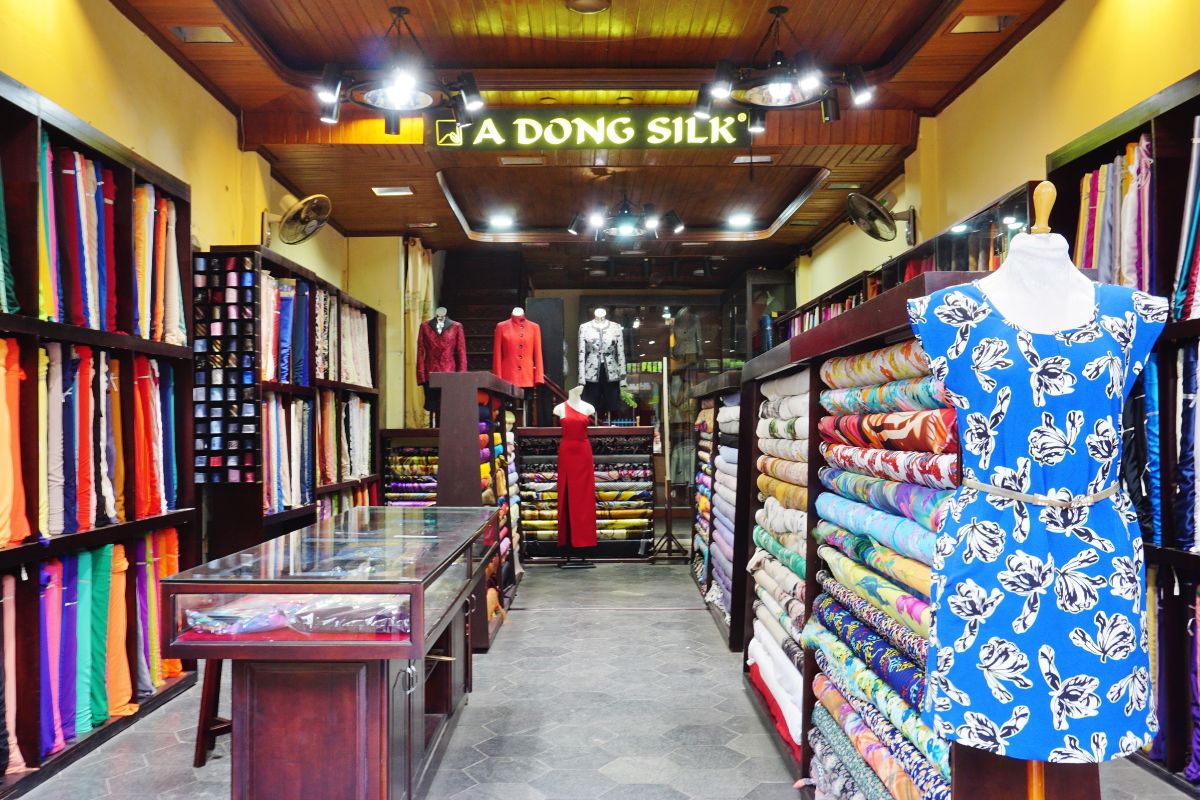 Don't be fooled, the Hoi An Silk Village is not only a silk village, it's also a spa and offers accommodation options too.
However, it did in fact form part of the famous Maritime Silk Road in Vietnam some 300 years ago, and locals have been creating beautifully handcrafted silk fabrics ever since.
Back in the day, this was Quang Nam Province's main silk producer, and the textile was shipped straight from the village to Europe and other parts of the western world.
The original Silk Village closed down, but it was later reopened to aid in reviving the traditional handicraft in Hoi An.
Today there are still artists who skillfully manufacture and weave silk in the village, creating beautiful tapestries, fabrics and garments of clothing.
Learn about the silk manufacturing process here, as well as watch the weavers in action.
There is also a gallery, the Tailor Showroom, where you can discover the most beautiful pieces of silk work and garments on display.
Situated just outside of the main town, staying at the Hoi An Silk Village guests can enjoy a peaceful and authentic location.
There's an on-site restaurant, and a wellness center including a spa, gym and sauna.
31 – Explore Cam Kim Island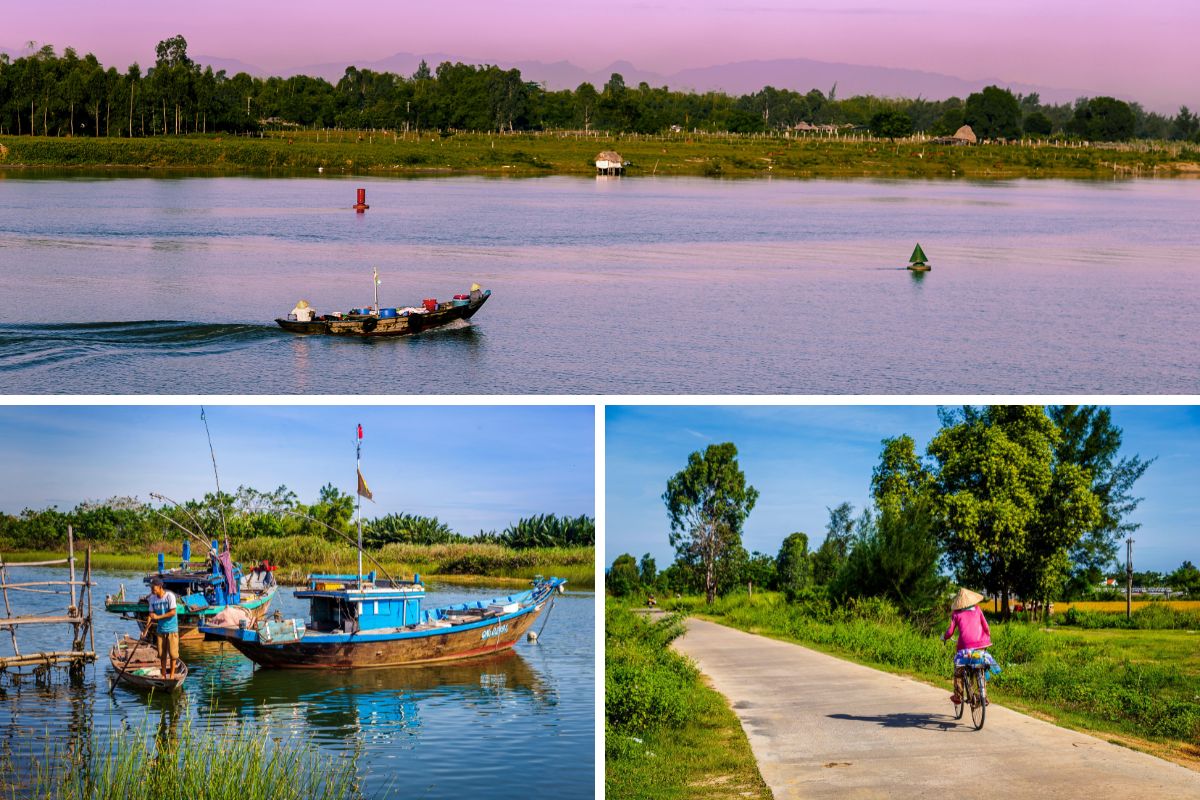 Traveling just 15 minutes by bicycle, reach the rural Cam Kim Island nestled in Hoi An's countryside and beside the Thu Bon River.
To reach Cam Kim, cross the New Bridge, which also links the island to Thanh Ha Village.
It's famous for its endless rice paddies which you can weave in between, stopping to take photos in the fields or scenic shots with locals cultivating rice for the day in the background.
Thanks to its makeup, a popular activity to try at Cam Kim Island is learning how to make rice paper which is used across a variety of Vietnamese food dishes.
There are a few local villages to stop by other than Thanh Ha Village, including Triem Tay Village and the Kim Bong Carpentry Village.
You can also reach Cam Kim Island by boat and right by the ferry dock is the Boat Building Yard where traditional round-weaved basket boats are made.
There's a small market nearby selling handicrafts and souvenirs.
32 – Don't miss out on visiting the Imperial City of Hue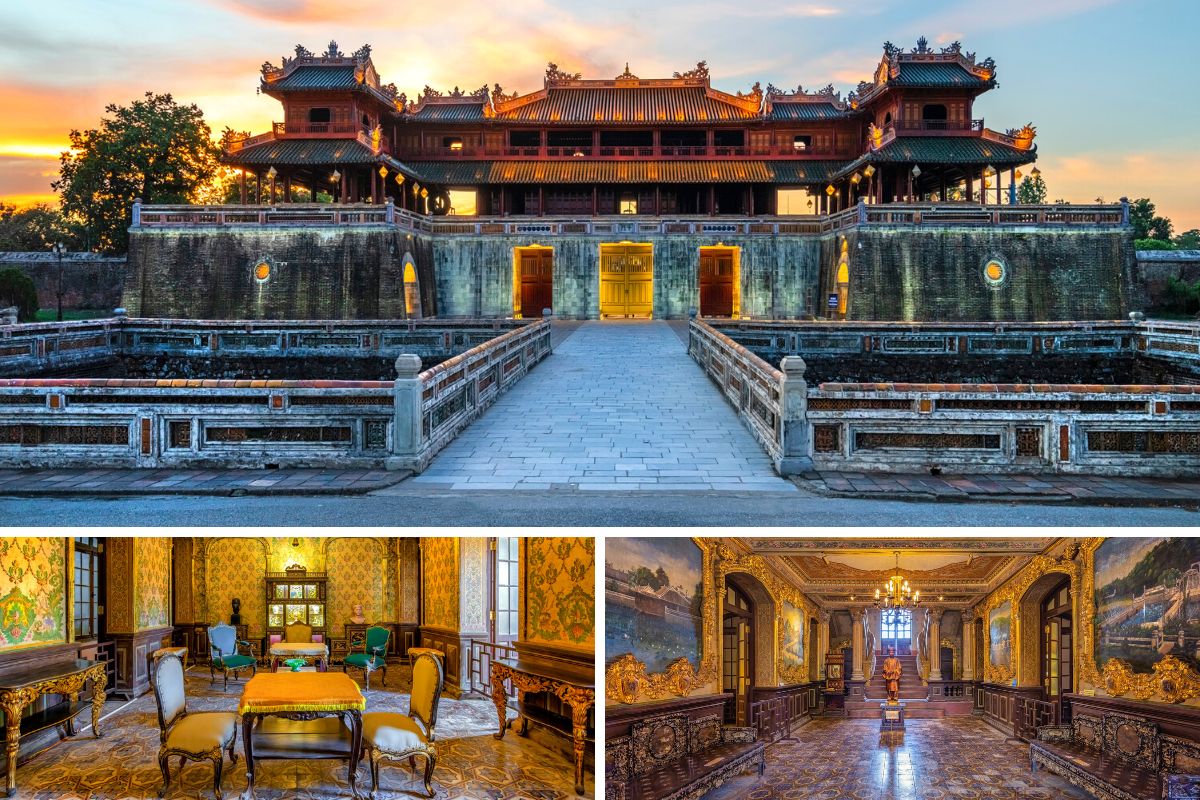 Known as the Imperial City, it would be silly to miss a day trip to Hue when you're in this part of Vietnam.
One of the biggest reasons why many make the journey here is for its amazing plethora of historical and cultural sites, rich in history, stories and of course, it was the land of the royals way back when.
From tombs to temples, palaces and pagodas on the riverside and monasteries in the mountains … there is just so much to explore in the regal ancient city.
One of the biggest attractions is the Imperial City itself, or the Old City, which is located within the Citadel (a wall built around the city in later years to protect the royal families).
Inside there are tons of ancient sites, and you will pay an entry fee at one of the citadel's entrances for access to the historical attractions.
Traveling into Hue, pass through the Hai Van Gate, a national city relic dating back to 1470.
There aren't just outdoor attractions to see, and Hue is home to a buzzing creative side!
To get to Hue, you can catch a train ride from Da Nang. Join a private tour from Hoi An or motorbike ride here driving via the picturesque Hai Van Pass.
33 – Discover 484 artifacts divided into four themes at the Museum of Folklore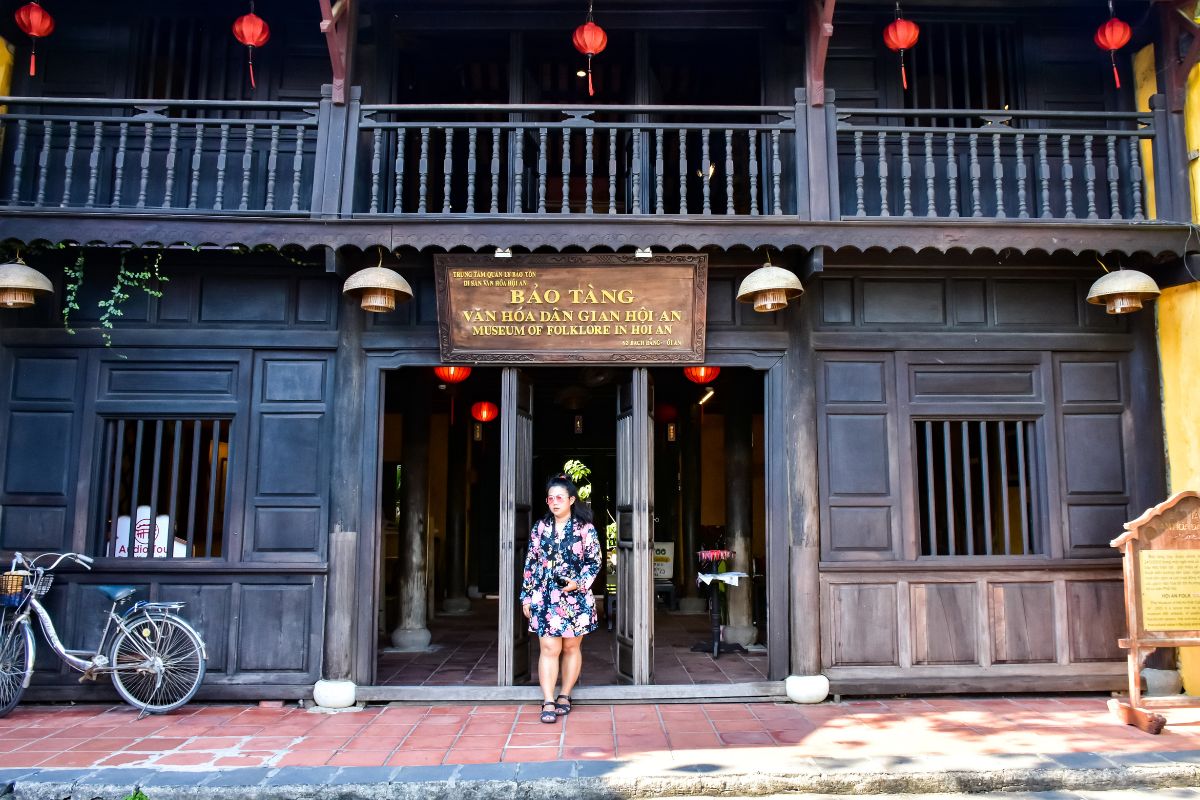 Whilst many of the museums explore the city's historical past, the Museum of Folklore focuses on highlighting Hoi An's productive cultural side.
Stepping inside the museum, there are four main categories to delve into, divided into different exhibitions inside a 150-year-old two-story building.
Apart from the artifacts and photos it hosts, the museum utilizes some of these items to recreate scenes illustrating cultural activities and local traditions.
The four topics that the Museum of Folklore covers include Picture art, Performing arts, Traditional craft villages and Folk activities.
Explore varying art forms used throughout Hoi An's history like sculptures, bronze relics, wood carvings and paintings inside the Picture art space.
The Performing arts exhibit on the other hand explores traditional folk songs and dance through displays and statues.
Learn about the local Tengu Dance, the game Bai Choi, and Ba Trao songs used during fishing ceremonies.
Get acquainted with silk production when wandering around the 'Traditional craft villages space', and the 'Folk activities' exhibit focuses on topics such as wedding customs and traditional costumes.
Right next to the river, take in the views from the balcony on the second floor.
There is a small souvenir shop selling local handicrafts, like embroidered shopping bags and tins of tea leaves.
34 – There are so many things to do and see at the Son Tra Peninsula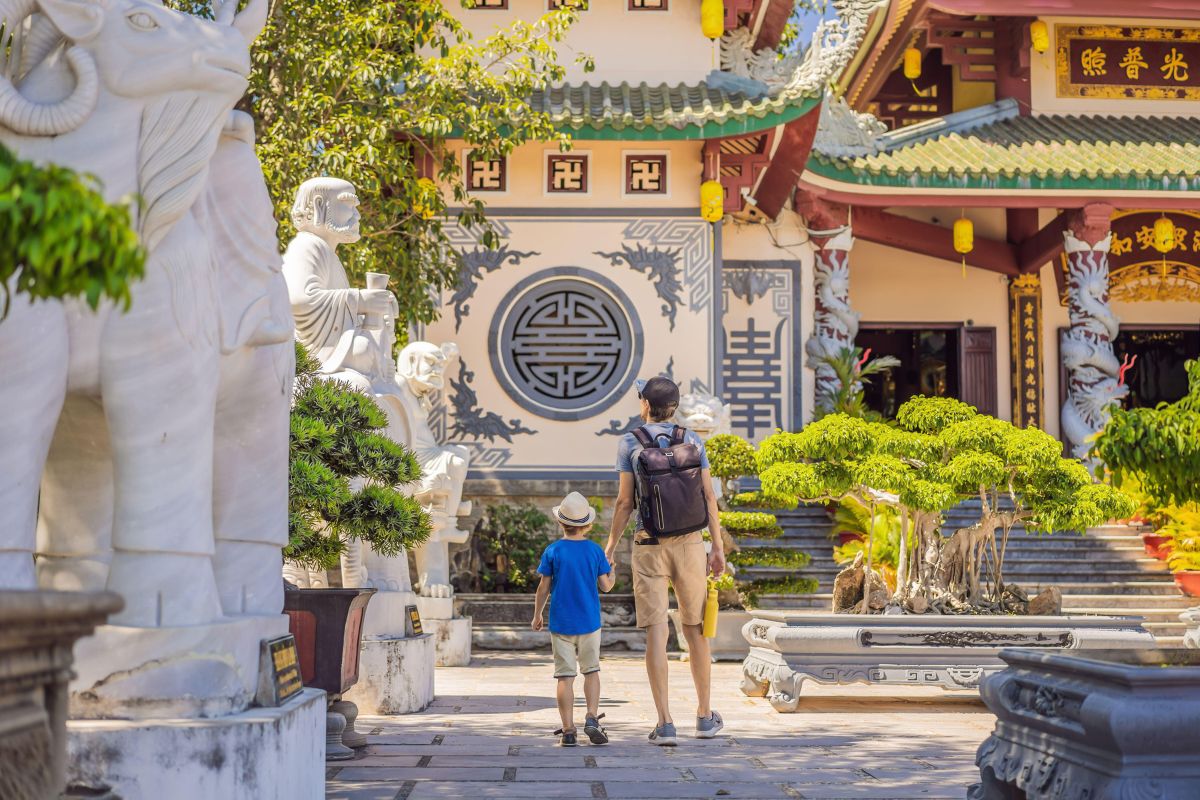 The Son Tra Peninsula, or Monkey Mountain as it's also known, is a fantastic day trip option and is located only one hour from Hoi An.
Apart from the numerous hiking trails, nature walks and phenomenal panoramic views, there are many private and secluded beaches along the way (but they require some trekking to reach).
One of Monkey Mountain's most iconic sites is Đỉnh bàn cờ i.e. Chess Board Top.
Climbing to the top of the Son Tra Peninsula, find the statue of the chess player and his unfinished chess game — which is impossible to end!
Many day tours travel to the Son Tra Peninsula, stopping off at its most famed sites.
Jeep tours travel here too, and if even just to take in the scenery from the open road, it's pretty spectacular.
Stop by Man Thai Fishing Village and visit the 1,000-year-old Giant Banyan Tree.
Drink in the scenery from the mountain, and the views are unending.
Some of the best can be seen from the regal Lady Buddha, also located in the Son Tra Peninsula.
35 – Put your skills to the test and go golfing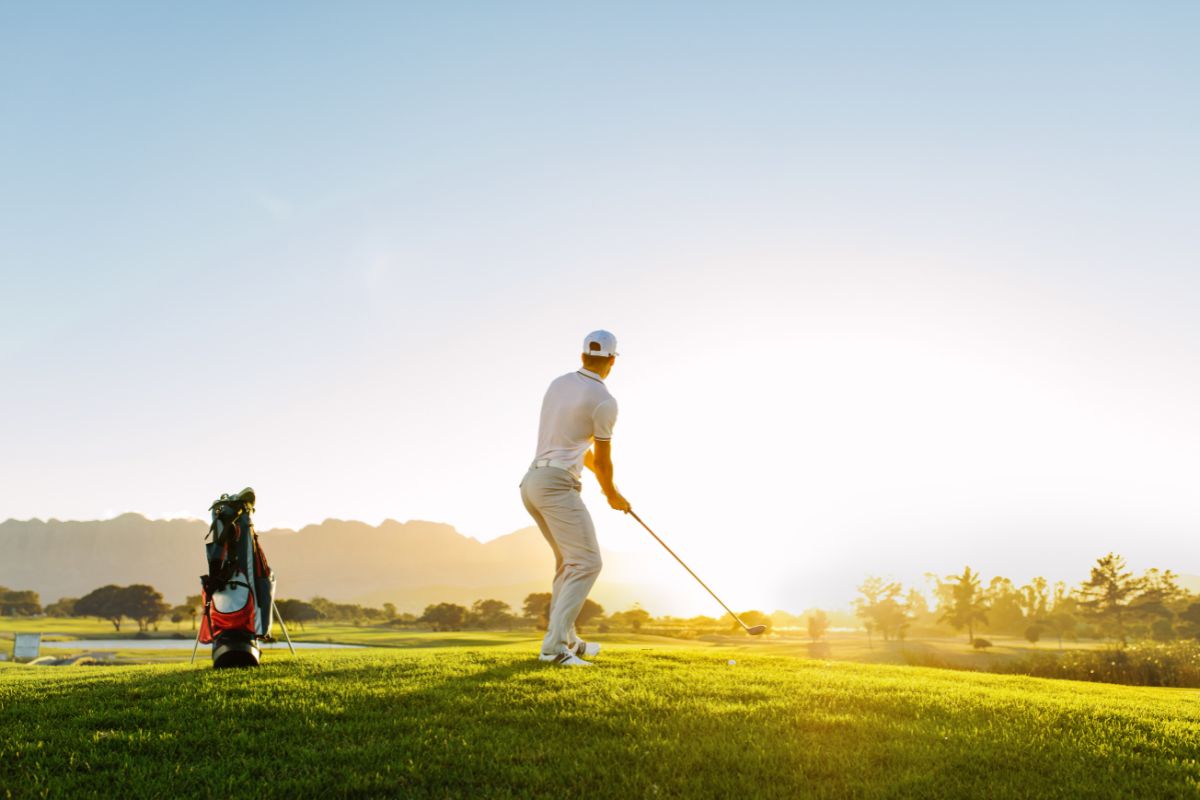 Surrounded by nature, the ocean, and offering a relatively flat terrain overall, Hoi An is the perfect location for a golf range.
There are a few in Hoi An to spend the day at or travel 45-minutes and go golfing closer to Da Nang side.
The nearest course is the opulent Hoiana Shores Golf Club providing players and guests with the most gorgeous views, from the beach to Cham Islands.
Designed by Robert Trent Jones Jr., it offers golfers "challenging-yet-rewarding" holes.
Heading 30 minutes outside the center of Hoi An, perfect your backswing at the 18-hole Vinpearl Golf Nam Hoi An.
The Montgomerie Links is named after its founder, Colin Montgomerie, and the course is suitable for all-level golfers.
Set to international standards, the course is surrounded by forestry and throughout the 18 holes, find well-positioned bunkers and impressive fairways.
At the BRG Da Nang Golf Resort (also known as the Danang Golf Club), choose between not one but two courses.
The main course is the Nicklaus Course (of Jack Nicklaus designs) and offers a Par 73 over an 18-hole range.
The Dunes Course, also known as the Norman Course as it was designed by Greg Norman, offers a links-style layout.
The furthest from Hoi An, if you're visiting Sunworld at Ba Na Hills, golfing enthusiasts take advantage and visit Ba Na Hills Golf Club.
Surrounded by gorgeous mountainscapes, its received multiple awards including Vietnam's Best and Asia's Best Golf Course five years in a row!
36 – Find an explosion of flavors at Hoi An's best restaurants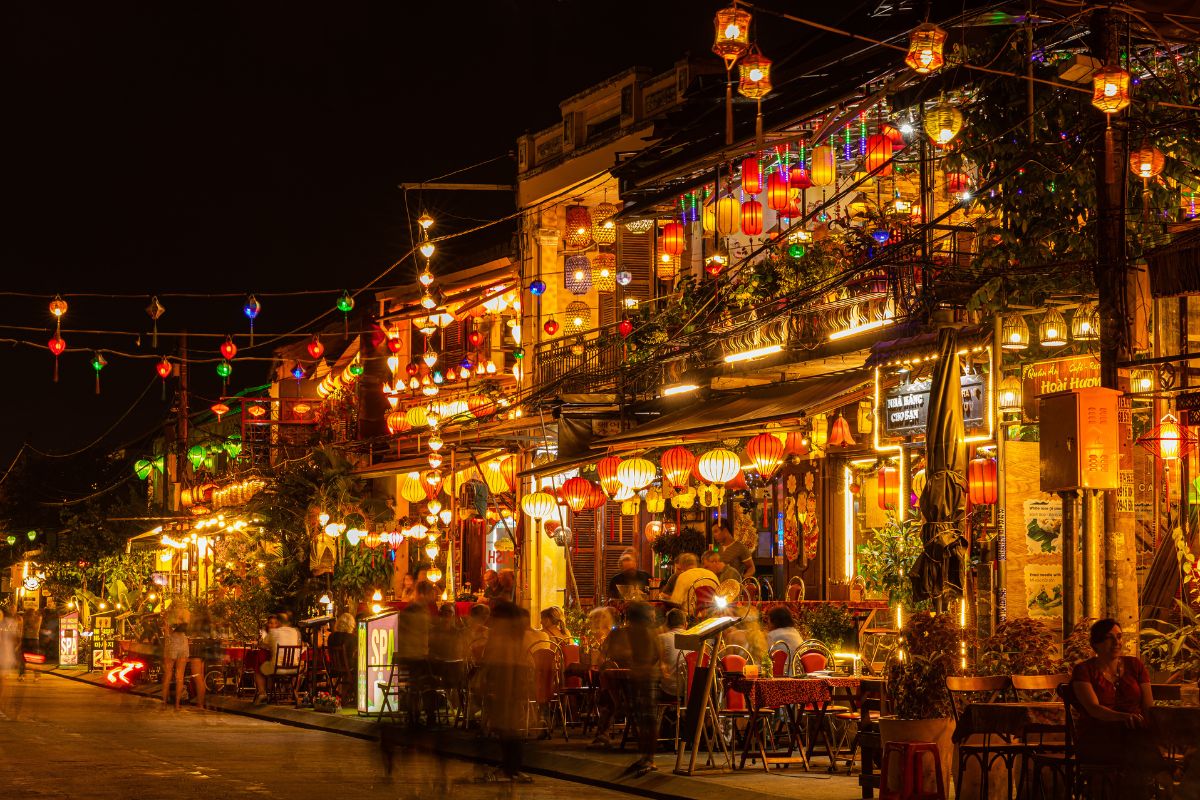 Food is a major part of the culture in Hoi An, and because the port city has seen a multitude of nationalities cross its waters through the decades, there's a blend of assorted cuisines.
For incredible French food, views and all the ambiance, head to The Cargo Club.
It's located right next to the riverfront and there are French and international dishes on the menu, as well as an in-house pâtisserie.
Put on your fancy clothes and visit Aubergine49 Restaurant for a fine-dining experience. Foodies, the head chef here, Thinh, has worked under some mega chefs, including Rick Stein!
For incredible Vietnamese with a modern twist, visit Spice Viet Restaurant which only uses recently harvested, local produce from organic farms in the area.
Treat yourself to an evening of champagne and cheese at Le 20 Hoi An which focuses on serving fresh and simple produce in French techniques.
If you're in the mood for seafood, have an authentic experience with your feet in the sand at Phuong's Beach Restaurant down at An Bang Beach.
Whilst this side, stop by The DeckHouse which serves Vietnamese fusion, including seafood, and has fantastic cocktails, a private pool, and is a serious vibe.
Or if you're craving prawns or oysters in the Ancient Town, visit Madame Lân. The menu is filled with local dishes and many seafood options, including hotpots.
With a stunning riverside location, feast on French flavors at bistro-style Le Cabanon, or book a table at MÙA which highlights seasonal local ingredients presented in fun and contemporary ways.
Fill your sushi craving at Hoshigami Sushi Japanese Restaurant, or grab healthy and hearty grub from Nourish Eatery.
37 – Visit one of Vietnam's oldest pottery villages, Thanh Ha Pottery Village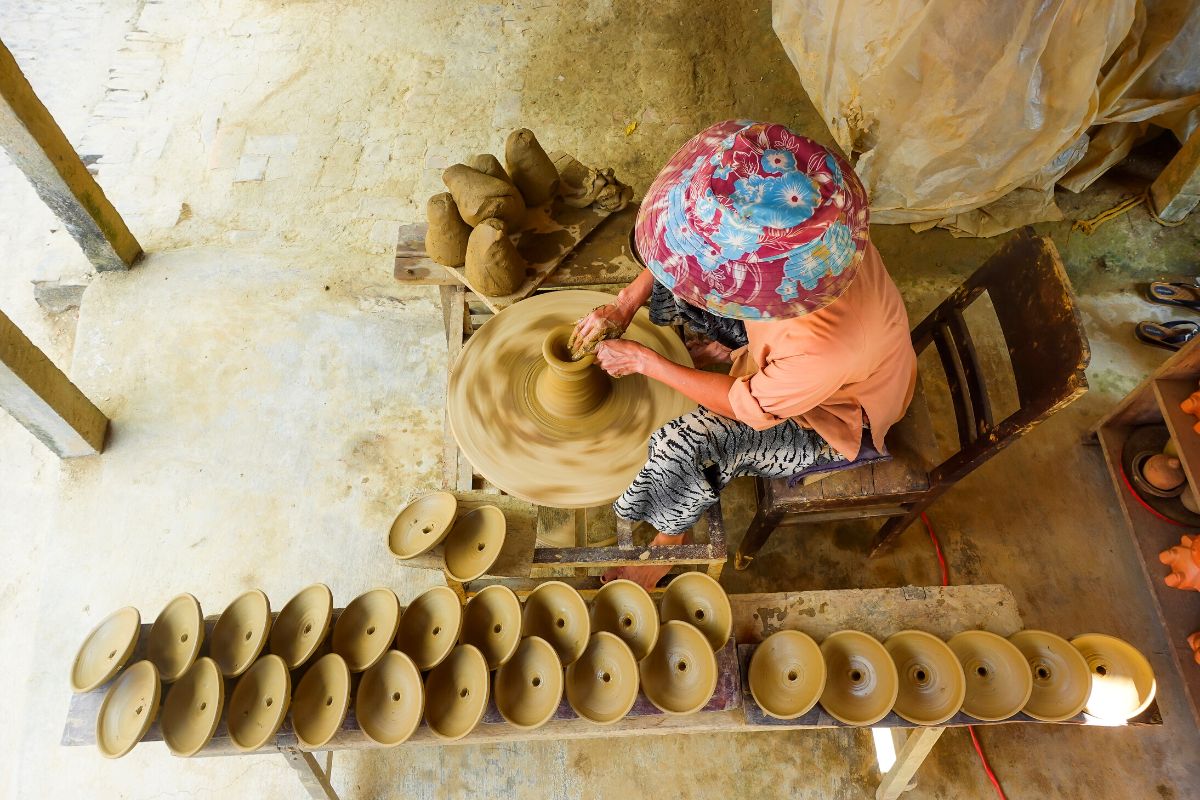 With its origins dating back to the 16th century, Thanh Ha Pottery Village is one of the first pottery villages to arise in the country, and it's remained to this day.
The entire village is filled with local homes where the families work to create the ceramics made from red clay found on the banks of the Thu Bon River.
When first forming the pottery village, the locals at the time specifically chose this location as it's next to a river. This made it very convenient to transport products along the water via boats.
Today, mainly ceramics are manufactured as household items and decorative pieces, and the village also produces bricks and tiles.
Whilst visiting Thanh Ha, get the opportunity to see the skilled potters in action, and the village still uses a traditional two-man pottery wheel and a red-brick kiln.
If you want to give potting a go, there are workshops to take part in where you can create your own terracotta ceramic.
The Thanh Ha Pottery Village is right beside Thanh Ha Terracotta Park.
38 – Get a tailor-made suit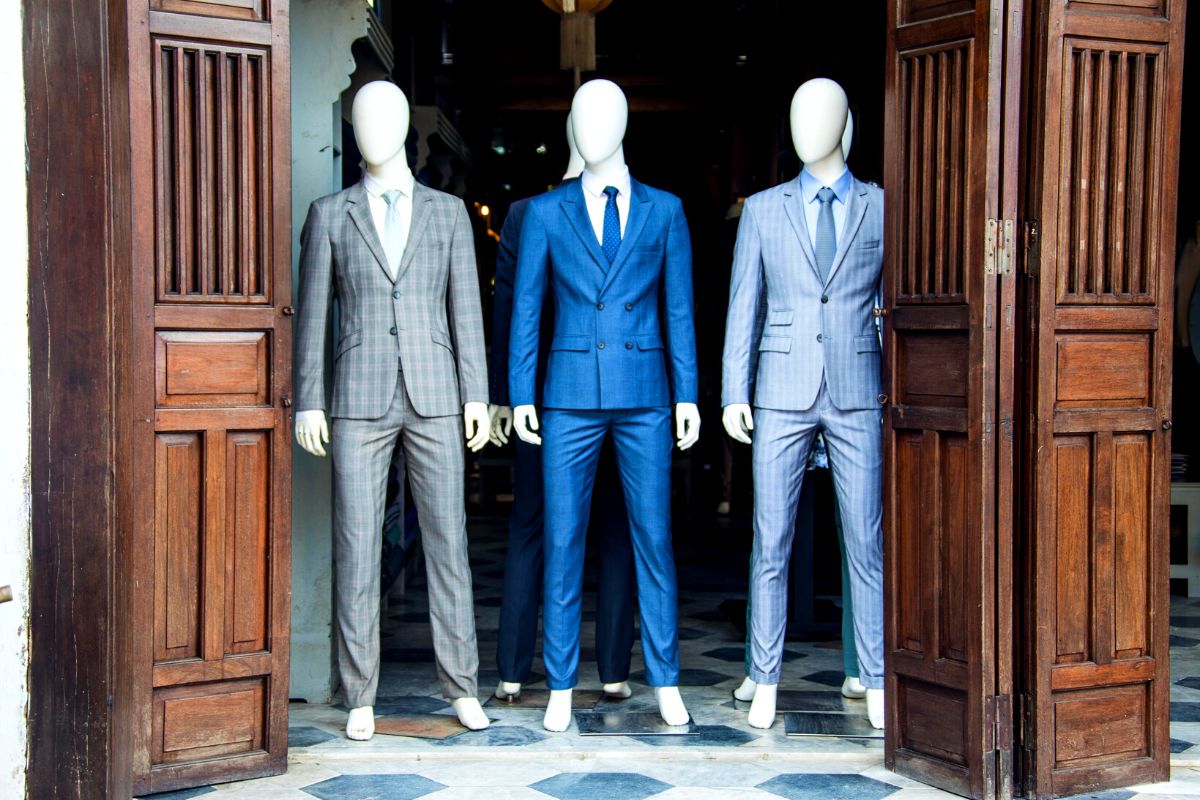 Did you know many international travelers fly into Hoi An to get suits, tuxedos, and even wedding dresses made here, as the town is famous for its impeccable tailoring … And at ridiculously affordable prices!
With an abundance of options, find a tailor to suit your budget from high-end ones specializing in formalwear to designers making suits for everyday occasions.
Visiting a tailor, decide on a design and style, then color and your fabric. Next, your personalized measurements are taken and the process begins.
You will usually be called in for one final fitting, before leaving as a happy customer with a brand new suit!
As one of the first tailor shops in Hoi An, you won't be disappointed with Mr Xe's work.
Still run by the original tailor himself, he's known for his incredible quality and designs of men's suits, especially wedding attire.
Find him at  71 Nguyễn Thái Học, Phường Minh An, Hội An, Quảng Nam, Vietnam.
Looking for a modern, high-end tailor? Bebe Tailor is owned by a young couple, one half of the duo is a local and the other a foreigner, and you see the fusion of design in their work.
P.s. The tailor shops around Hoi An aren't limited to just suits, and you can get pretty much anything tailor-made in Hoi An.
Stop by Two Ladies Tailor Shop, a family-run biz that pumps out fast fashion — literally and figuratively.
Choose from their pre-designed patterns, or bring your specific design in and the ladies will whip up a playsuit, dress or pajama set in a jiff.
39 – Lap up 17 kilometers of ocean and mountain views along the Hải Vân Pass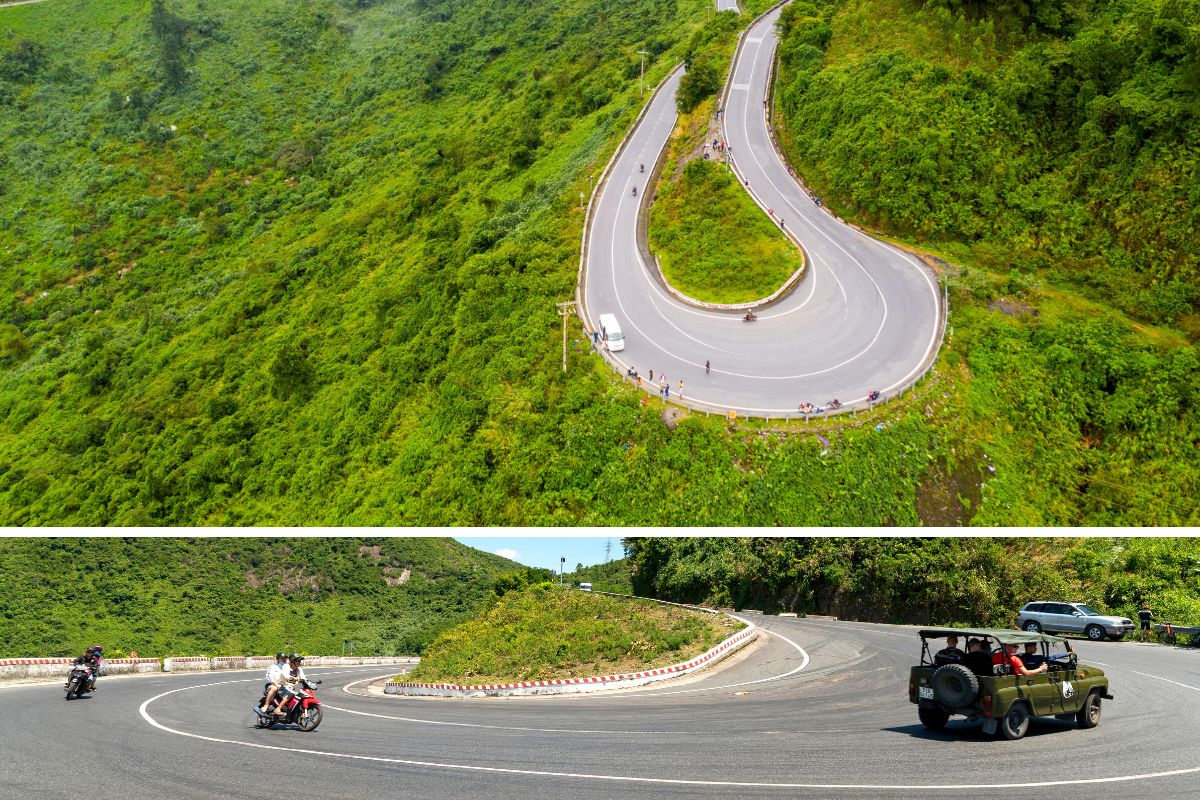 Firstly, one of the best ways to experience the iconic Hải Vân Pass is to rent a scooter or motorbike (or take an organized motorbike/scooter tour) and drive the open mountain road that runs between Da Nang and Hue.
Take in the sights and scenery of one of the most beautiful roads in Vietnam with the ocean on one side and hillsides on the other … the wind blowing in your hair …
As you drive along the pass, there are many stops along the way and attractions to visit.
At the top of the mountain, visit a former military bunker, or stop by Cafe Hòn Đá Cụ Rùa i.e. Turtles Stone for coffee with a view.
Venture into Bạch Mã National Park filled with waterfalls and walking trails or for some insane photos, head to Don Ca Arch Bridge (locally known as Cầu Vòm Đồn Cả), or Minh Mang Tomb.
Dubbed as one of the most beautiful roads to drive in the world by TopGear presenter, Jeremy Clarkson, don't miss the chance to witness it for yourself.
40 – If you're fascinated by wood-work, head to Kim Bong Carpentry Village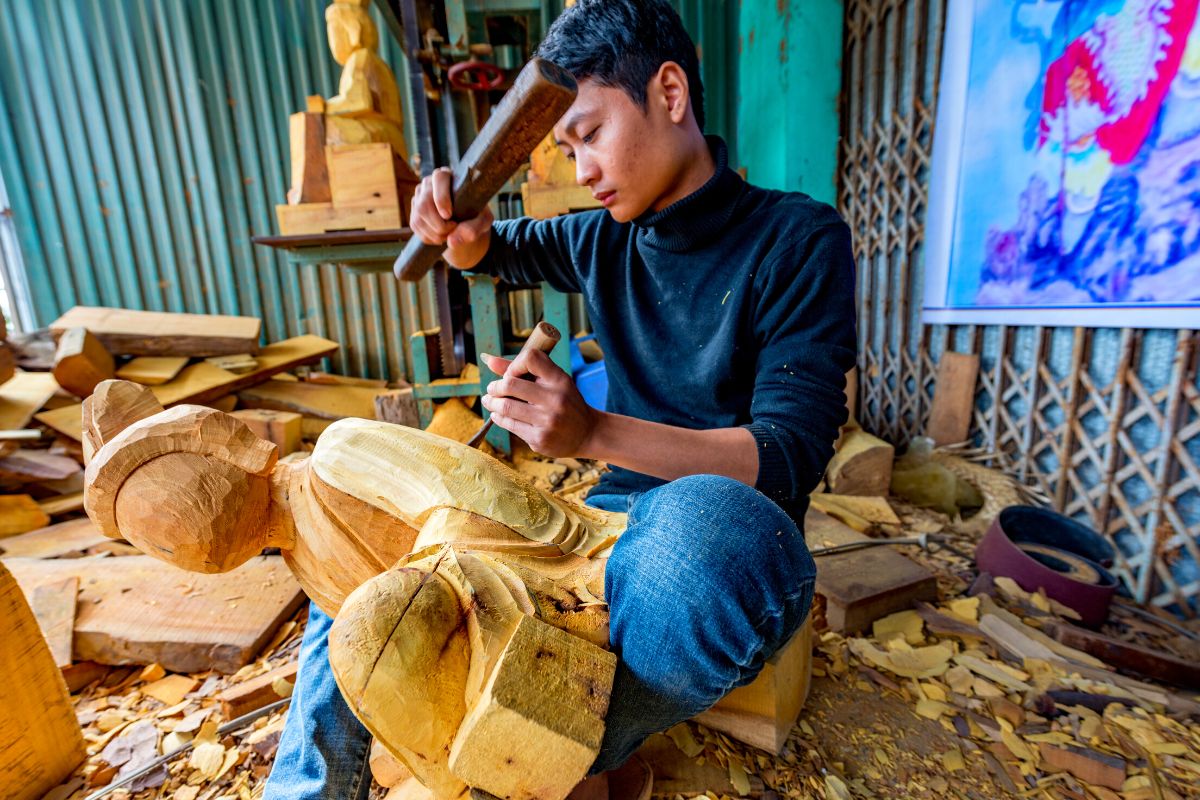 Throughout its time, Kim Bong Chau as it's locally known has been a part of Hoi An's evolution, helping to manufacture building structures, furniture and even boats.
Today, the woodworkers at Kim Bong Carpentry Village specialize in crafting sculptures, but you will find an array of other wooden products made here too.
Like many of Hoi An's traditional villages, the carpentry village has been around for centuries, and it's situated on the banks of the Thu Bon River.
Apart from investigating wooden works of art, learn about the village's ancient history.
In the 15th century, woodworkers from the northern regions landed in this part of Vietnam and continued doing what they did best as an occupation.
Originally, the carpenters worked on building bamboo homes and wooden huts and later began constructing ships and boats when Hoi An's trading port hit a massive boom.
From here, they moved on to crafting household items and appliances until the modern era hit.
When visiting Kim Bong Carpentry Village in the 21st century, wooden sculptures are now the main focus.
41 – Get your fix at the best coffee shops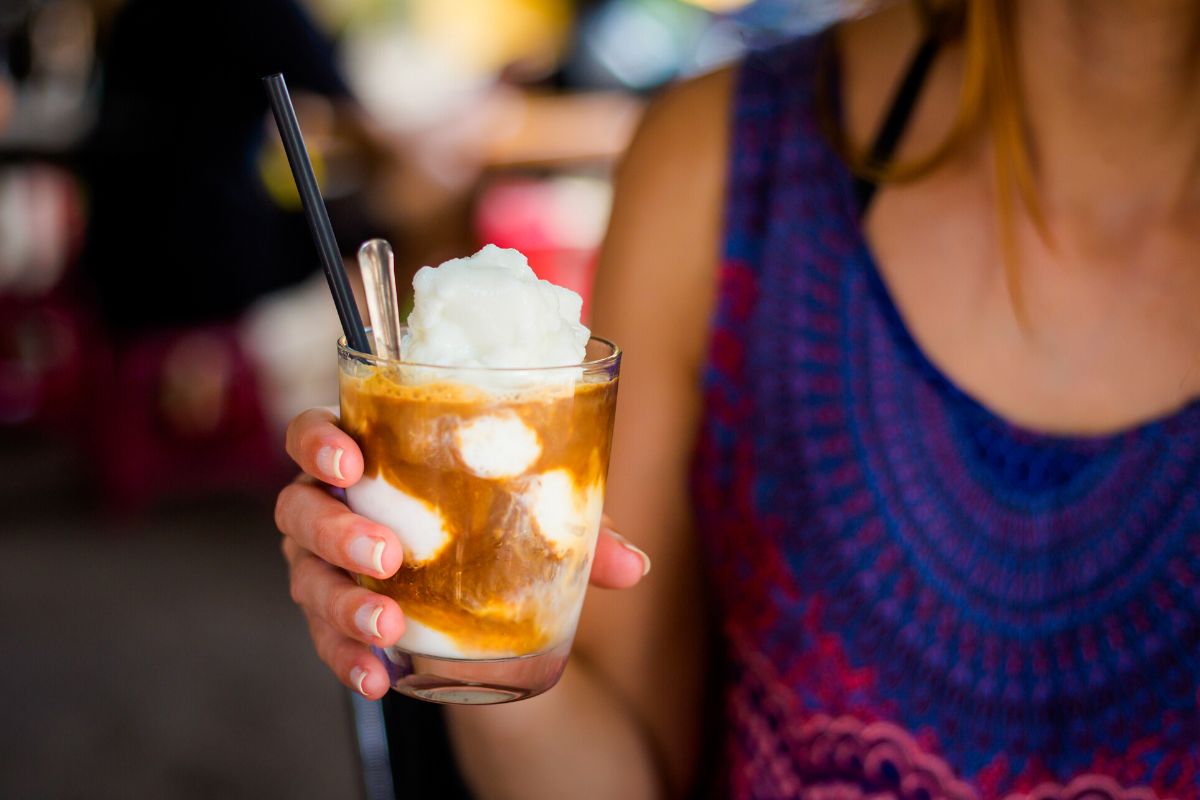 Caffeine addicts, you've come to the right country!
Vietnam's famous cà phê đá (Vietnamese iced coffee made using a phin that drips coffee into a glass of ice), is now found on many specialty coffee shop menus worldwide.
All around Vietnam, the coffee game is on point, and it's no different in Hoi An.
Known as one of the best coffee shops in town, Phin Coffee roasts its own coffee beans and the specialty store serves an amazing drip coffee.
For those that like it strong, grab a cup at The Espresso Station supplying creative concoctions. Try their Black Latte, or order Coffee Ice Cubes.
Their courtyard setting is extra cute, and they also have a barista training school.
Set in a traditional house, Bill Coffee & Tea has a great selection of specialty coffees and techniques and is a super ambient coffee shop.
It feels like you're somewhere in Bali at Nourish Eatery and they offer a fantastic French press.
Designed as a farm-to-table experience, Cocobox only used fair-trade certified and organic coffee beans that are locally sourced from around Vietnam. They have a great pour-over coffee.
For super-local vibes, 11 Coffee House serves a mean coconut coffee (cà phê cốt dừa) and a cà phê sữa đá (Vietnamese iced coffee, but instead of having it black, condensed milk is added for a milky consistency — and buzz!).
42 – Ride the tallest free-falling tower in Vietnam at Asia Park – Sun World Da Nang Wonders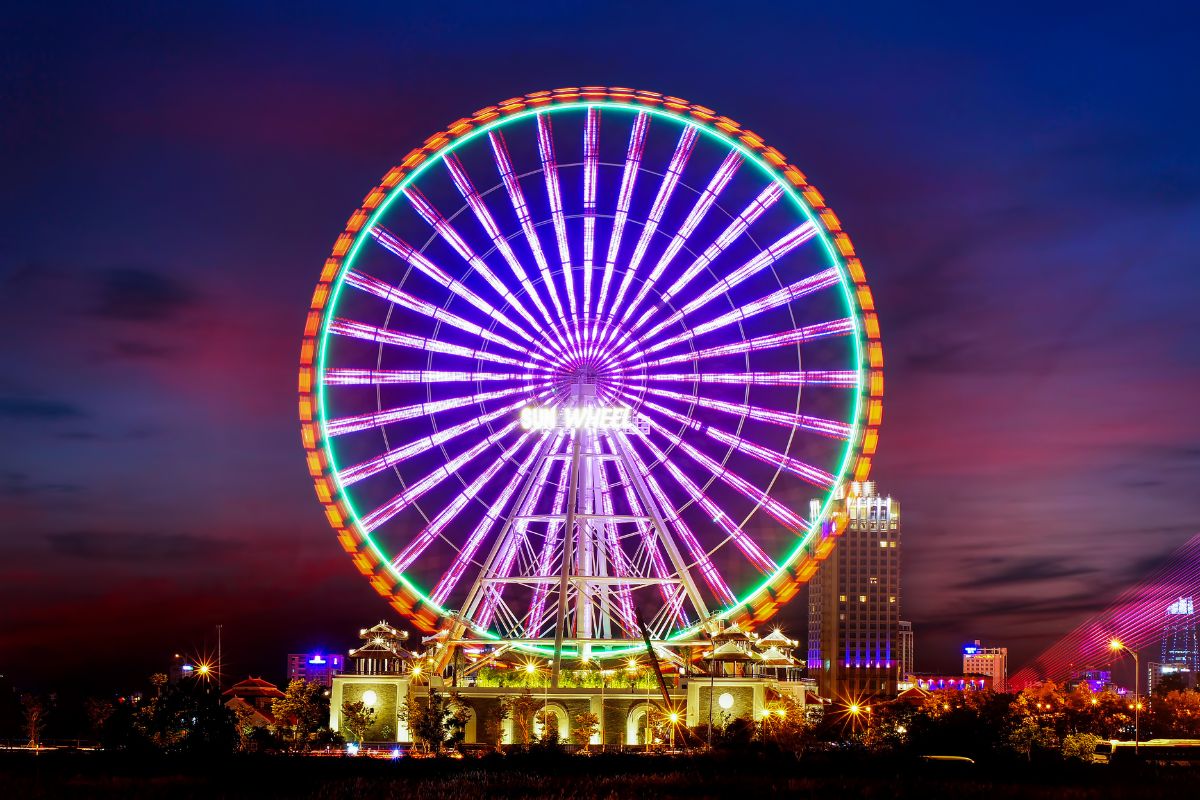 Kids and adults enjoy a fun day at Asia Park, an amusement and cultural theme park.
The park is built along the Han River which adds all the ambiance, and from certain rides like the ginormous ferris wheel, the views across the river are breathtaking!
The setup of the park represents local and traditional Vietnamese designs, as well as its culture.
There are rides and attractions for all ages … Kiddies enjoy duck-boat rides on the lake or spinning in teacups at the Fairy Tea House.
Adrenaline junkies hit the Singapore Sling, Queen Cobra or the Paradise Fall rollercoaster!
One of the major park features is the Cultural Section which focuses on varying countries in Asia.
Within the different zones, it highlights India, China, Korea, Japan, and of course, Vietnam.
Inside the Vietnam Zone explore a traditional dragon boat and wander past replicas of famous country attractions or landmarks.
Taste flavors from around Asia that are renowned for their cuisine, including Indonesia, Thailand, Cambodia, India, Nepal, Japan, Korea, China and Vietnam at the on-site restaurant.
43 – Book yourself a relaxing spa day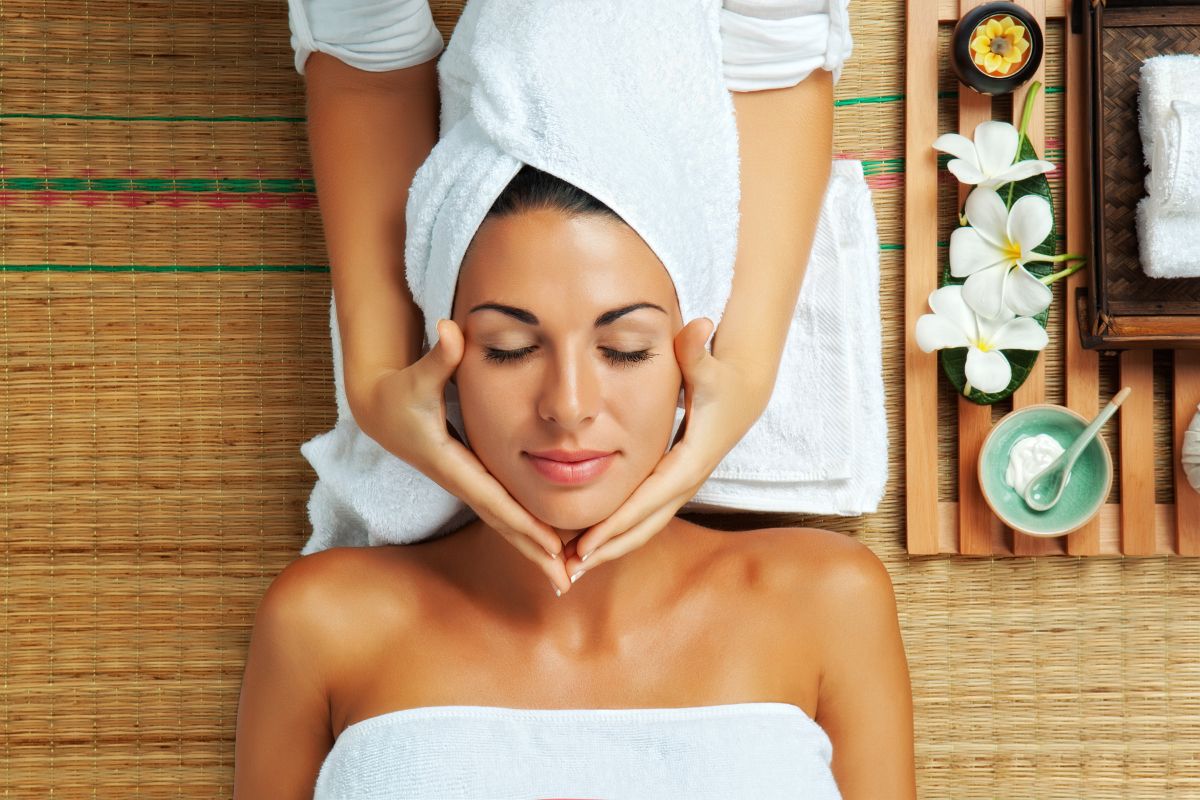 The moment you enter Hoi An you get all the holiday feels, and it's the perfect vacation destination for unwinding, dining and shopping.
A luxe getaway just isn't complete without a day at the spa, or at least an afternoon massage.
Try one of La Spa by La Siesta's signature treatments like a 90-minute Cloud 9 Package which includes a hot stone massage, and the spa is set inside a gorgeous garden villa.
Relax at the multiple award-winning Aira Hoi An Spa where they offer all types of treatments from facials to massages to body wraps and rituals.
For traditional Vietnamese wellness treatments, White Rose Spa utilizes herbs, plants and minerals used in ancient healing throughout the centuries.
While enjoying a rejuvenating massage in the gardens of La Soie Spa, take a visit afterward to Hoi An's Silk Village, which is in the same location. (Some spa treatments even include using silk extracts.)
For an incredible Thai massage, stop by Ozone Spa and you can get a mani/pedi or a facial here too.
Something more casual than the rest but with a great central location, book a massage at Blue Gift Spa.
44 – Watch a live show at Hoi An Memories Land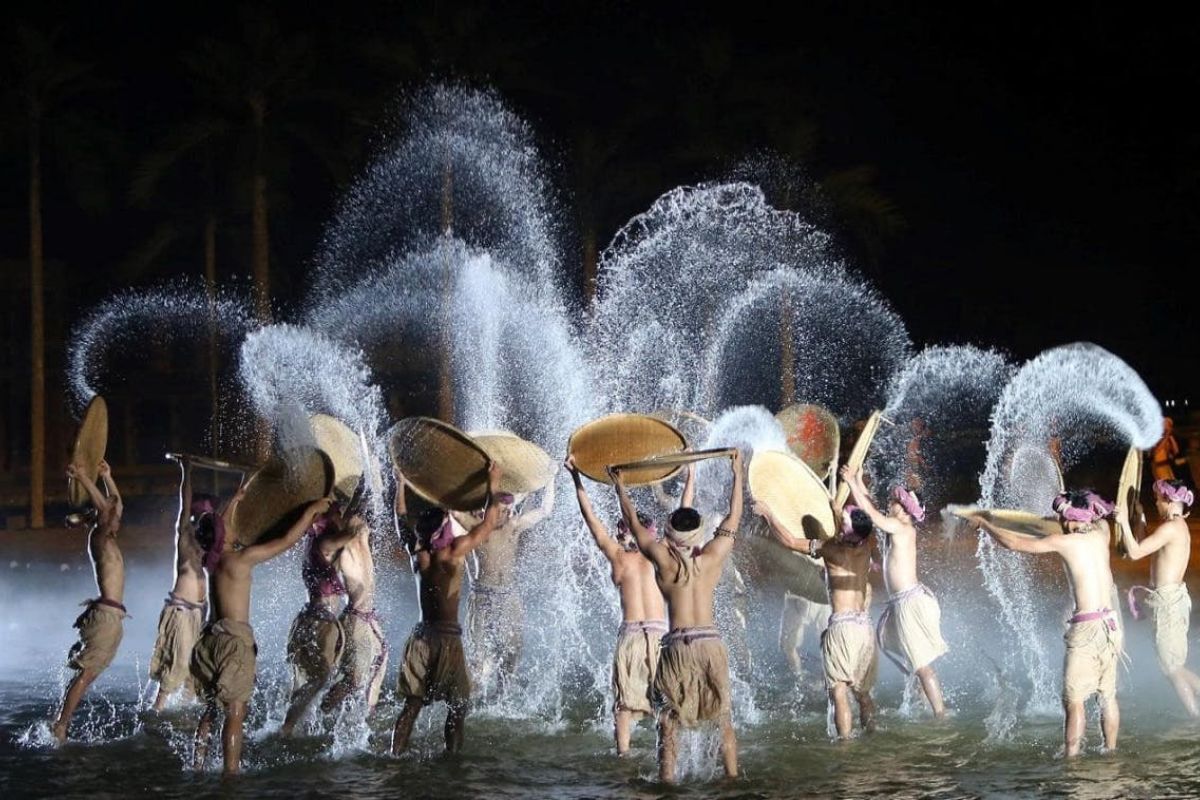 Yes, technically Hoi An Memories Land is a resort, however, it's open for daytime visitors who want to have some fun at Hoi An Memories Land cultural theme park.
Situated on a private islet on the Hoai River, the resort and park have been designed to recreate the feeling of Hoi An's Ancient Town, but without the overload of tourists walking its streets.
If you stay the night at Hoi An Memories Land, the villa options are replicas of the famed terracotta buildings.
Visiting the park for the day, watch the Hoi An Impression Show.
It's a live art performance where you can get a glimpse of what life was like in the town during the 16th century.
Explore a recreation of a Japanese Village during the 17th century in Hoi An and the Love Bridge is located inside this section.
Investigate architectural features in the Spirituality section, such as traditional pagodas and temples that have been erected over the last centuries in central Vietnam.
The main part of the cultural village highlights the fusion of different nationalities that once lived in Hoi An when it was a major trading port, like France and the Nederlands.
The unique setting is a great place for families to stay, and the resort has an outdoor guest pool, restaurant, bar, spa and fitness center.
45 –  Adults and kids will both be enthralled at the Hoi An Lune Center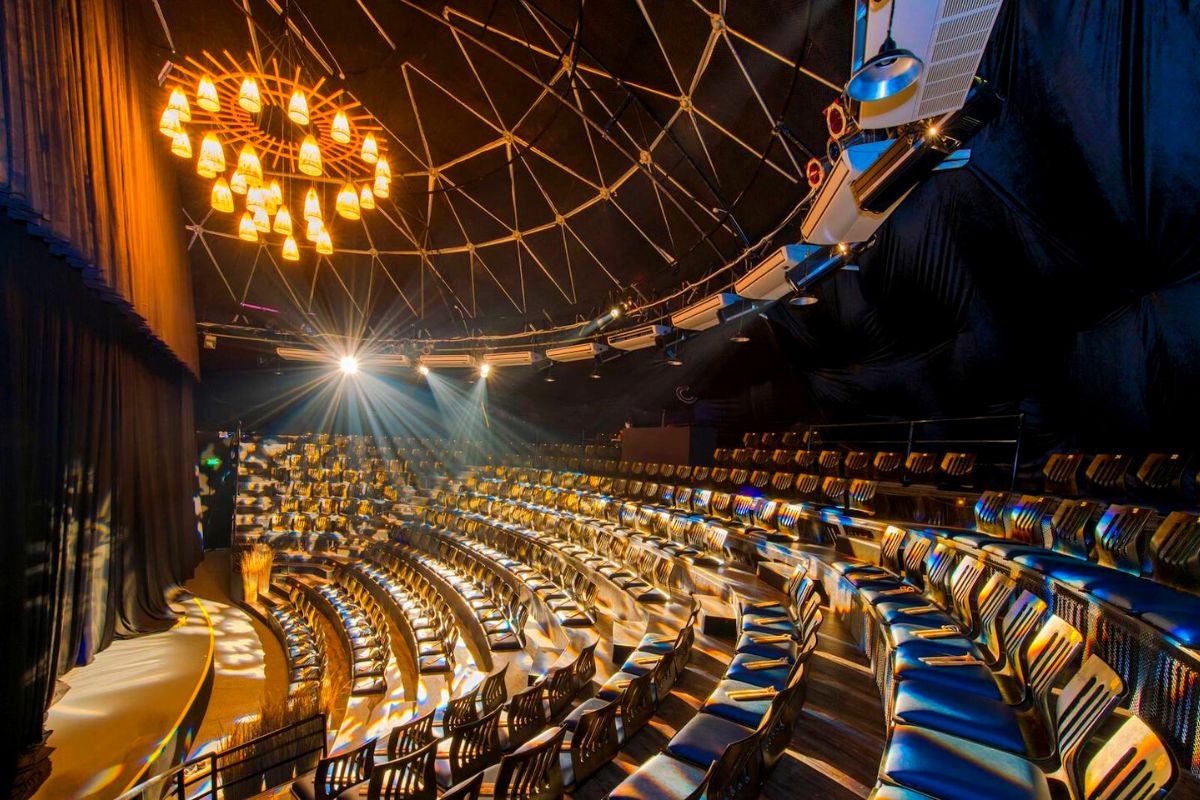 Conveniently located in the middle of Ancient Town, watch a local live performance that celebrates one of the country's oldest cultural activities at the Hoi An Lune Center.
While bamboo is one of Vietnam's most popular building and crafting materials, for hundreds of years bamboo has been utilized by artists and performers.
If you've ever visited a local homestay, chances are you've tried traditional Bamboo Dancing, a folk game that's considered a dancing art in the country.
Building from this, watch the Vietnamese Bamboo Circus in action at the Hoi An Lune Center.
During the show, learn about mythical stories and folklore, as well as ancient history through the performance art, accompanied by live musical acts.
The theatre itself is very special, and the 13-meter tall dome is constructed entirely from bamboo.
The walls inside are made from terracotta clay to resemble the traditional houses of Ancient Town.
46 – Update your social media pages during a visit to Bich Hoa Village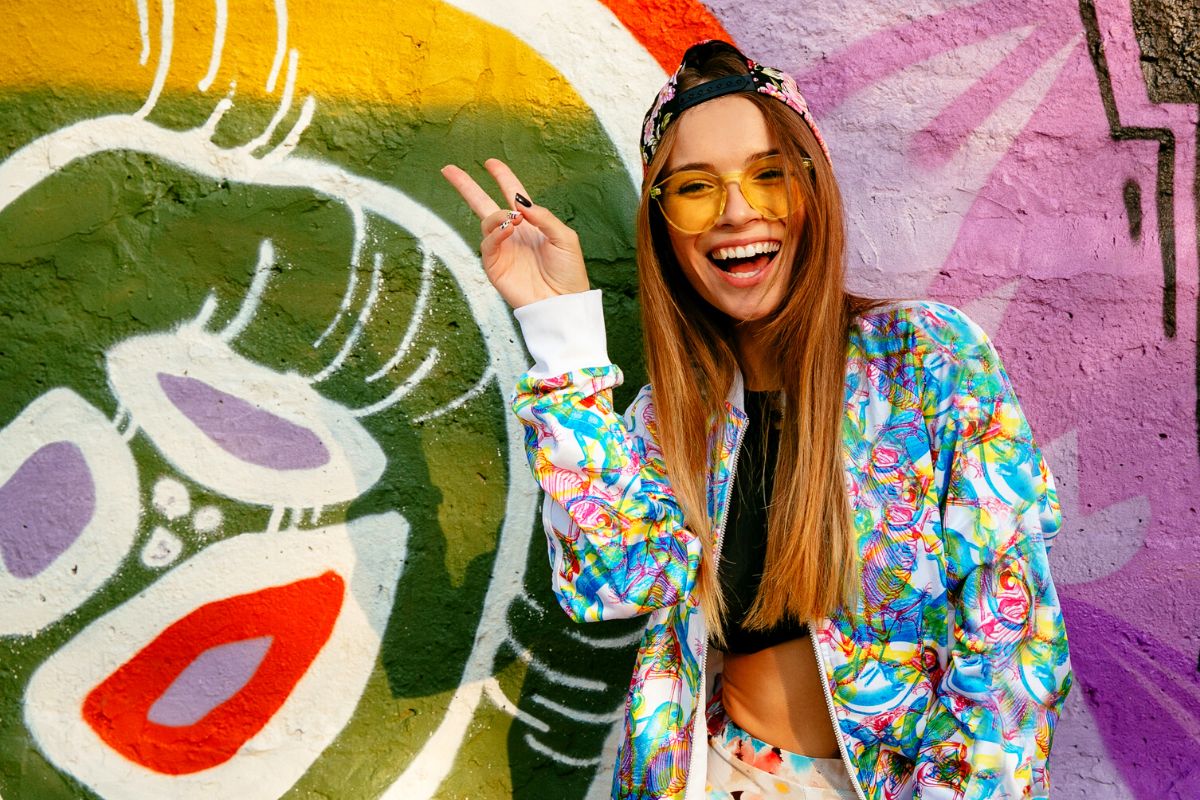 Check out the little beachside village, Bich Hoa Village, also known locally as Làng Bích Họa Tam Thanh (add this version to your maps).
Over recent years the sleepy coastal town has become a tourist attraction because the buildings and street walls are covered with gorgeous artworks and murals.
Artists regularly repaint the walls and so you'll often spot new works of art popping up, and it's an awesome destination filled with many photo opportunities around every corner.
Heading one hour from Hoi An in the opposite direction from Da Nang, the village is located in the Tam Ky area.
After you're done snapping all the street art, spend some time at the secluded and picturesque Tam Thanh beach, and grab lunch at a local restaurant before trekking back to Hoi An.
47 – Visit the country's tallest Buddha, Lady Buddha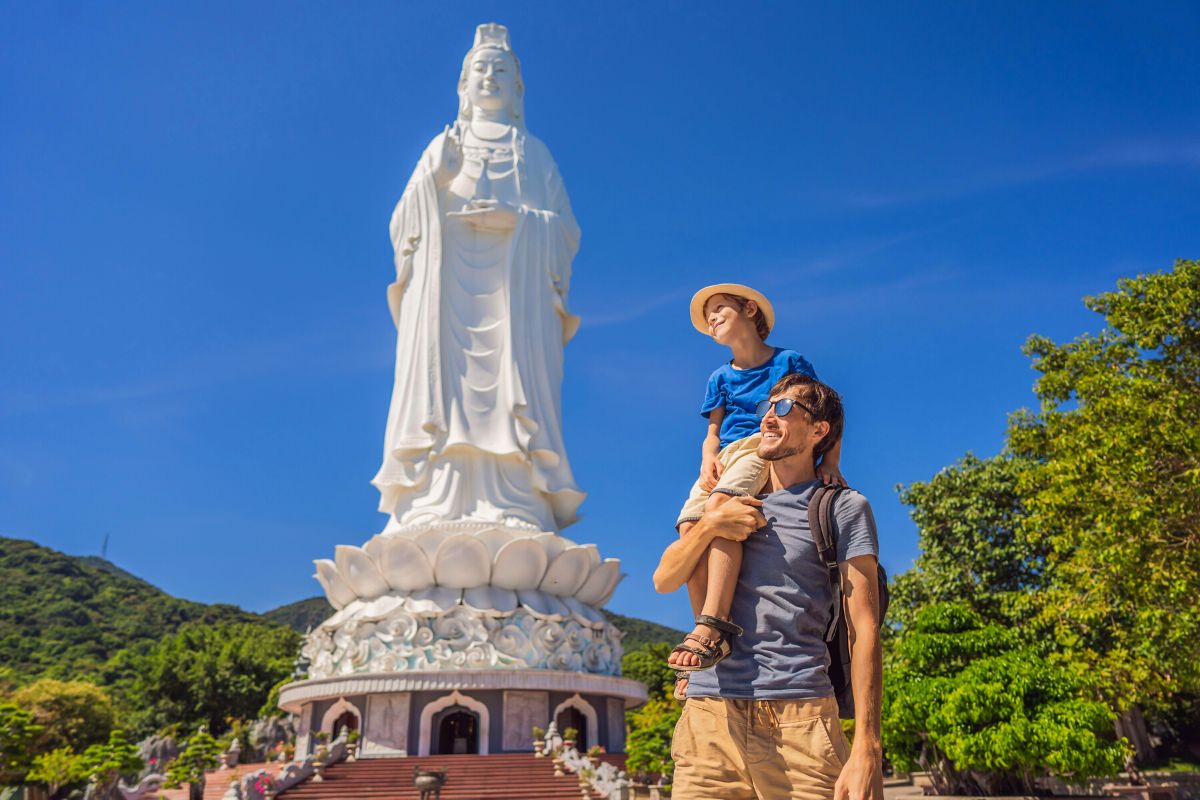 Whilst driving through Da Nang and the Hai Van Pass, you can't help but notice the regal statue of Lady Buddha that stands proudly overlooking the mountains.
Drive along the ocean roads to reach Lady Buddha found within the Son Tra Peninsula.
The biggest Buddha statue in all of Vietnam is made up of 17 floors and each level is dedicated to a different Buddha.
Reaching the 17th floor, treat your eyes to the most awe-inspiring views of the surrounding areas, including oceans, islands and mountain ranges.
Although many travel to see the 67-meter tall statue, Lady Buddha is located inside the courtyard at Linh Ung Pagoda, which is worth exploring whilst you are here.
Today, Linh Ung Pagoda is Da Nang's largest pagoda, but interestingly it was only constructed, along with Lady Buddha, in 2004.
You cannot miss the iconic attraction on a day trip via Da Nang or Hue.
48 – Take a romantic sunset dinner cruise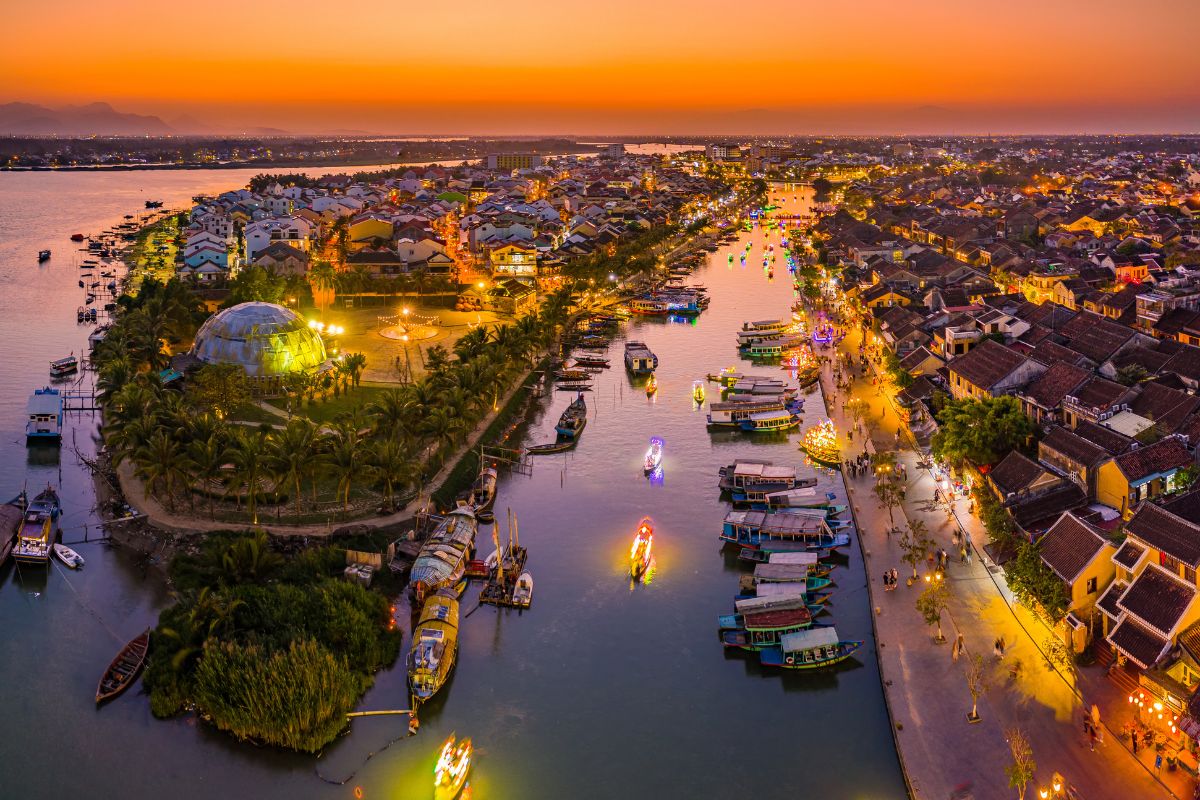 As an old port city, Hoi An is revered today for its naturally romantic riverside location, and so a sunset dinner cruise only seems apt for the occasion.
Leaving Ancient Town, cruise along the Hoai River and enter the Thu Bon River where you'll sail past local villages and through lush tropical trees.
This time of day is especially romantic on the Thu Bon River.
Feast on a seafood extravaganza or some dinner cruises offers onboard BBQ options.
Sip on cocktails, and on the way back to the old town, let off lanterns filled with tealight candles. Make a wish before releasing it along the river.
How to get to Hoi An?
Hoi An doesn't have an airport, and the closest one is Da Nang International Airport, a 45-minute drive from Hoi An's Ancient Town.
Forget about organizing a taxi only once you land, pre-book an airport transfer which will collect you as you touch ground in Da Nang and privately transport you to Hoi An, hassle-free.
Book an airport transfer for the journey back when you fly out of Da Nang.
Where to stay?
Choose to stay in the heart of the Ancient Town, along the riverfront, or slightly out of the main town bustle and down near An Bang Beach.
There are many hotels, boutique stays, and private villas for incredible rates!
Offering the most romantic riverside location, check into Little Riverside Hoi An which is perfect for couples.
With its own private beach, Four Seasons The Nam Hai is the epitome of luxury, and their private villas are super stylish, mixing classic and contemporary design.
The Mulberry Collection Silk Marina celebrates Hoi An's heritage, evident in its traditional style and decor and it offers all the extras you expect in a large resort.
All room and suite options at Ann Retreat Resort include private balconies with views, and it's a great family option offering connecting rooms.
Millennials fall in love with the tropical G Boutique Resort Hoi An, or An Nhien Boutique Villa is another trendy and colorful option.
Situated away from the crowds, stay at the five-star The Five Villas & Resort.
It's slightly out of town, and Ancient Town is a 20-minute drive away and features a private beach.
La Siesta Hoi An Resort & Spa is suitable for all types of travelers, from families to couples, and all room options are spacious.
Right near Cua Dai Beach and built next to the De Vong River, stay in bungalows perched in between the lagoon set-up, and the little ones will especially love Koi Resort & Spa.
Where go next?
To reach Hoi An, you will travel from Da Nang, and as most travelers land in Da Nang, it makes sense to book at least one night in the major seaside city.
There are tons of oceanfront resorts in Da Nang, beaches and restaurants to choose from, and Hue is just two hours from the city.
Hoi An is located in the center of Vietnam, but the northern and southern parts of the country offer totally different feelings, and experiences to try.
Leaving Da Nang International Airport, take a 1.5-hour flight to Hanoi, or you can travel 15 hours by public transport or private car.
From Hanoi, visit iconic Vietnamese destinations like Sapa, or tour the Northern Loop in Ha Giang.
To reach the south, catch a 1.5-hour flight from Da Nang to Ho Chi Minh City, or opt for the driving route which is an 18-hour journey.
Visit the famous Cu Chi tunnels, take a cruise along the Mekong Delta, and spend a few days in Vietnam's thriving urban Saigon.
Final thoughts
From the cultural to historical, there are many things to do in Hoi An other than just shopping and eating.
Dedicate at least three days to Hoi An … You will need one whole day just to explore the Ancient Town, and that's before you discover the surrounding countryside!
If you've visited Hoi An before, what are some of your favorite things to do and see?
Let us know and share your thoughts in the comments below.
Happy travels and enjoy the magic that is Hoi An.