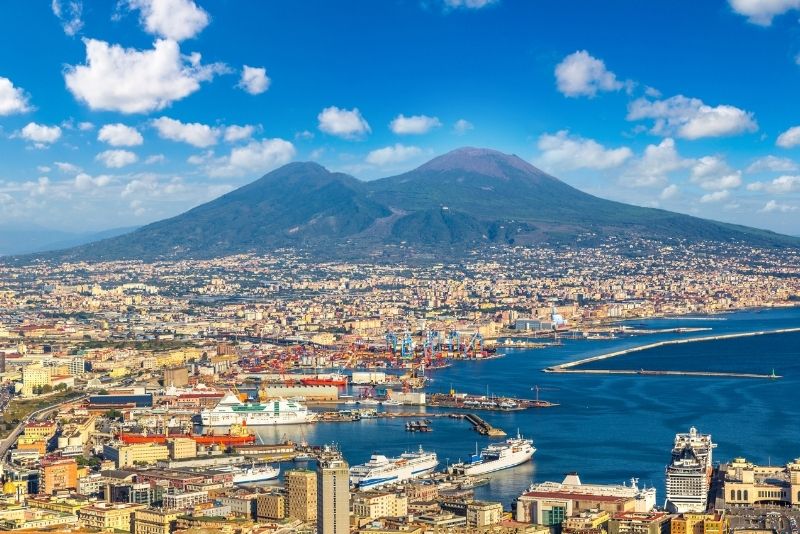 As a sun-kissed city rich in history, culture, and mouth-watering meals (read: prepare for the best pizza of your life), Naples — or Napoli — should sit high atop any European bucket list.
Coming from the word "New City" in Greek, Napoli overflows with incredible experiences to learn about local culture through its creative contemporary art galleries, spectacular street art, and buzzing food scene not to miss.
Get lost in the 3rd largest city in Italy behind Milan and Rome, exploring the largest Italian historic center located in Naples reaching around 4,200 acres, or quicker, rent a Vespa on a fun tour and zip through the various districts to get a semblance for the ways of the locals.
With oodles of natural beauty stemming from the Gulf of Naples and the neighboring Amalfi Coast, not to mention the intimidating Mount Vesuvius overshadowing the city, the choices of things to do in Naples are endless.
With these ideas and more, let's dive deeper into the best things to do in Naples, to add more inspiration to your growing Napoli itinerary.
1 – Travel back in time at Pompeii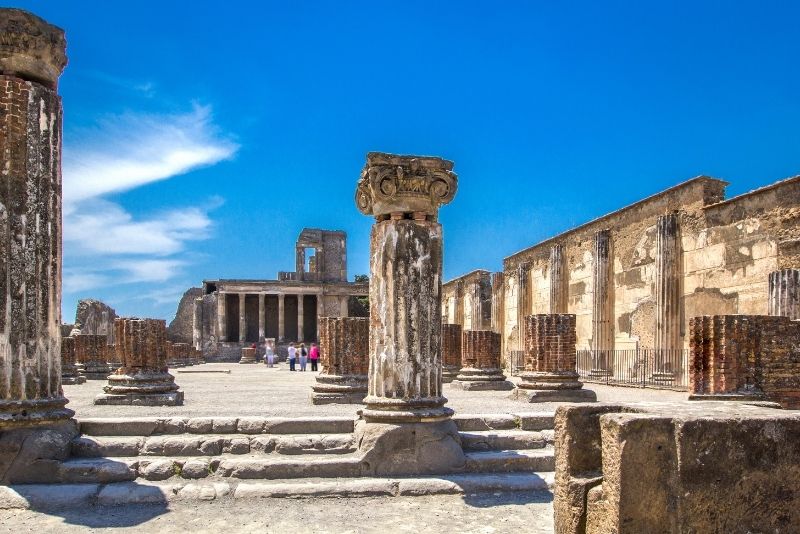 A once-thriving ancient civilization decimated by the violent Mount Vesuvius eruption of 79 AD; today, the excavated ruins, streets, and houses of Pompeii manage to attract over 2.5 million annual tourists.
With its structures preserved perfectly by molten ash, a visit to this UNESCO world heritage site is like stepping back in time 2000 years.
Consider the best Pompeii tours, ready to take you through the historic site. Short on time? Skip-the-line tickets are available.
2 – Climb Mount Vesuvius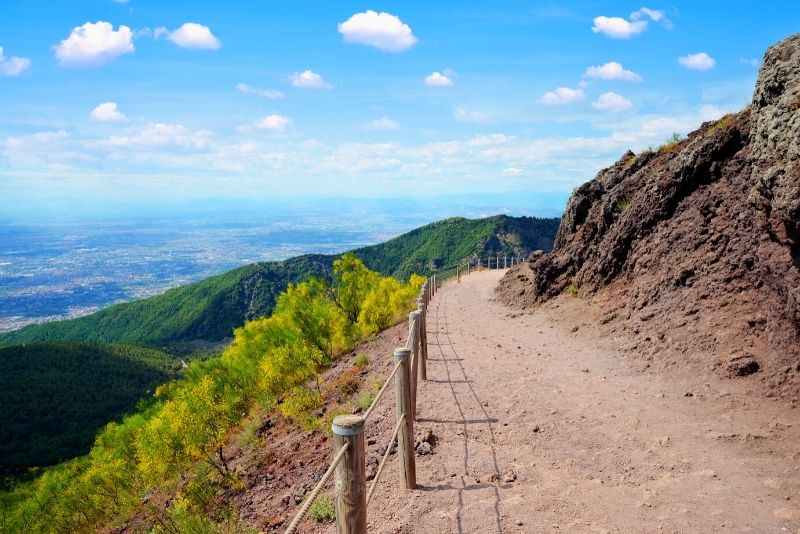 A hike up to the summit of the foreboding Mount Vesuvius is challenging, rewarding, and an indisputable addition to the Naples bucket list must. If hiking isn't up your alley, ascend the volcano on horseback instead!
Combine Vesuvius with an archeological tour of Pompeii (the civilization it so effortlessly destroyed) and Herculaneum, or for a change of pace, a wine tasting experience!
3 – Take a day trip to stunning Sorrento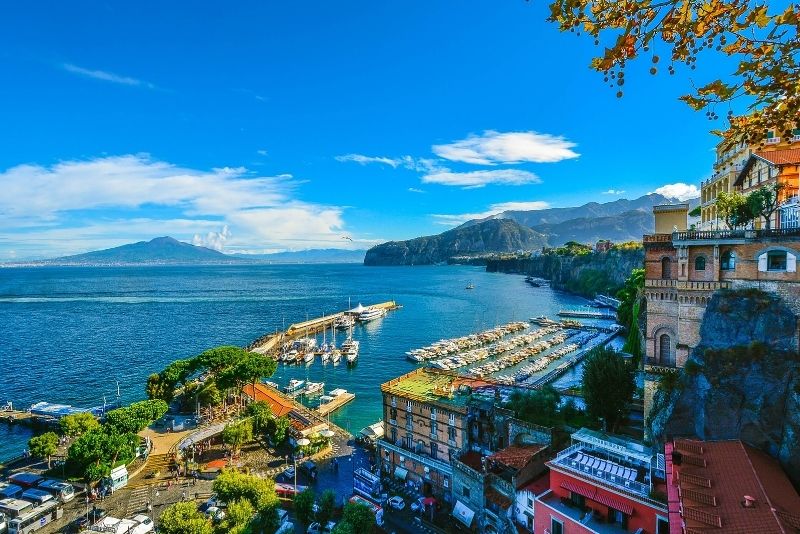 While many visitors in search of Amalfi sunshine make a beeline for the island of Capri, others prefer the laidback vibes of Sorrento — a colorful, coastal town that offers sweeping ocean views and limoncello by the bucketful.
Sorrento is just a zippy one-hour ferry ride from the Port of Naples, making it a hassle-free day trip.
See also: Fun things to do in Sorrento
4 – Make pizza, Napoli style!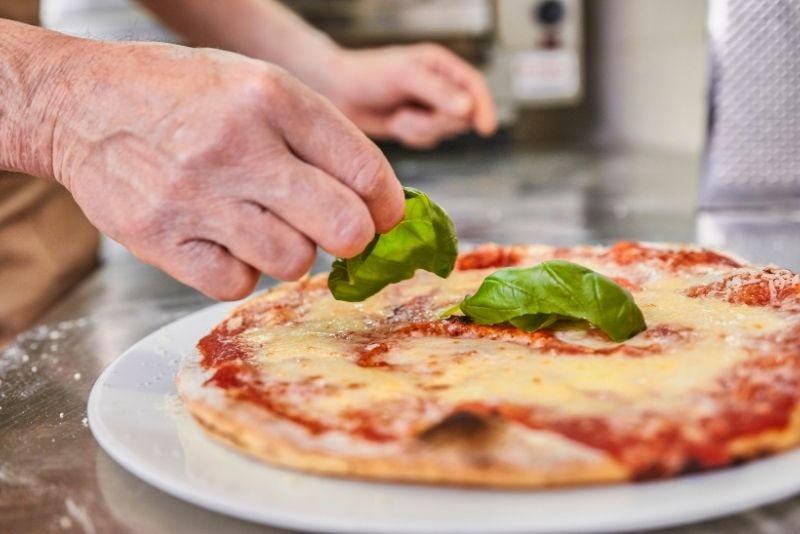 If Italy is known for one thing above all else, it's Italian cuisine — scrumptious, mouth-watering, fresh food… and lots of it. Ask any Naples local where the country's best pizza comes from, and they'll proudly boast their hometown, the birthplace of the pizza pie.
With that in mind, there's no destination more fitting to learn how to whip together an authentic Italian pizza than here, with plenty of pizza-flavored tours to choose from.
5 – Visit the 2nd oldest cemetery in Naples at the Catacombs of San Genaro and San Gaudioso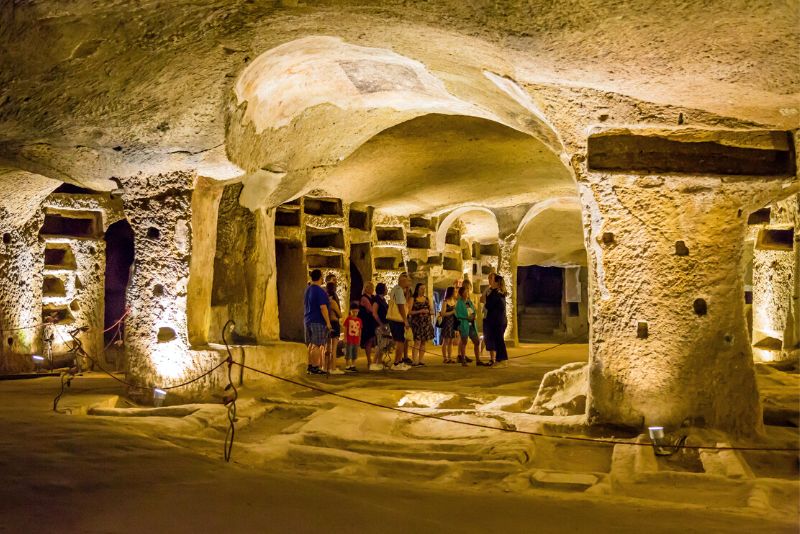 Lower below the hustle and bustle of Naples, onto the Catacombs of San Gennaro and San Gaudioso, a spectacular sight of worship and crypts dating to the 2nd century AD that houses a few notable figures buried there, from the first patron saint of Naples to the martyr, San Gennaro.
Expanding over 60,000 square meters, book a guided tour of the catacombs where you'll tour the cemetery and the Basilica of Santa Maria della Sanità.
6 – Visit the iconic Caserta Royal Palace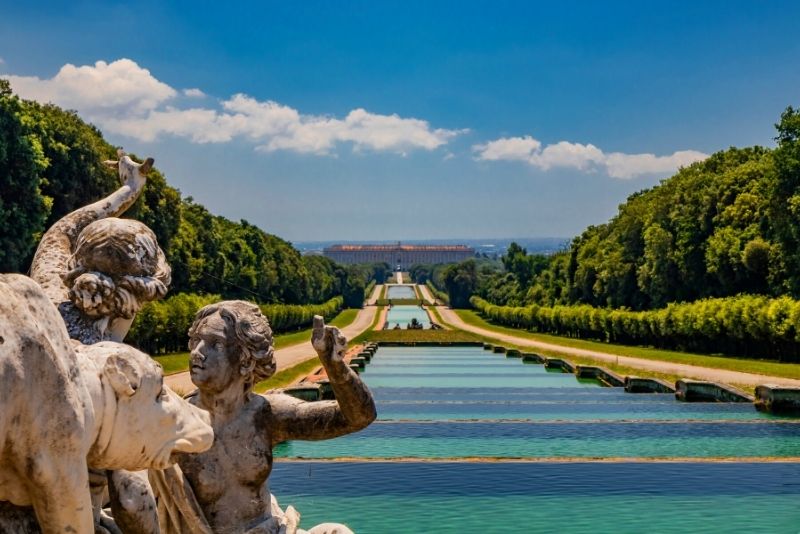 See how royals lived, bask in the unmatched opulence of 1,200 rooms, and witness hundreds of years of history at the 18th-century Royal Palace of Caserta.
While the palace's interior is something to behold, its sprawling gardens, lush with manicured greenery and artwork, are an attraction in their own right.
Read our latest post about Caserta Royal Palace tickets price.
7 – Drive down the Amalfi Coast with the roof down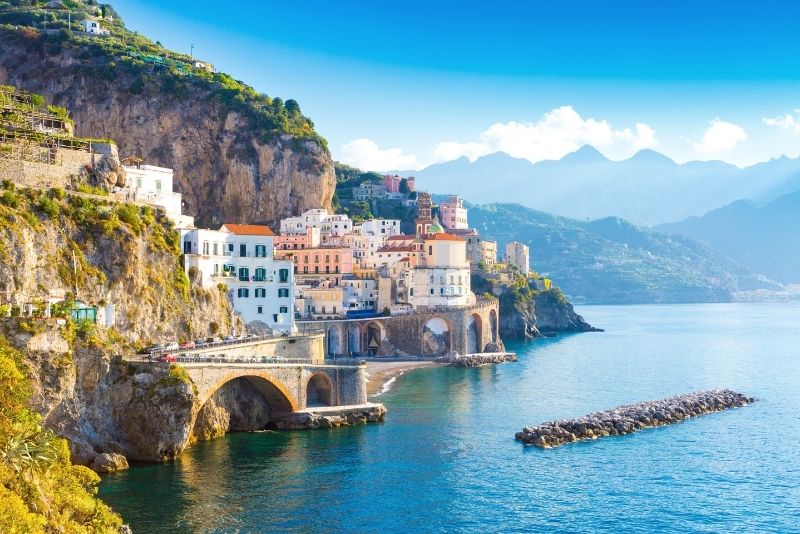 With dreamy cliffside towns of Amalfi, Positano, Ravello and plenty more straddling the ocean, the sun-kissed Amalfi Coast falls nothing short of stunning.
Whether you plan on renting your own car and turning the picturesque experience into a multi-day adventure, or joining a day tour for the hassle-free highlights, the dreamy Amalfi Coast road trip simply can't be missed.
See also: Best Amalfi Coast boat tours
8 – Go beneath the city's streets in a Naples Underground tour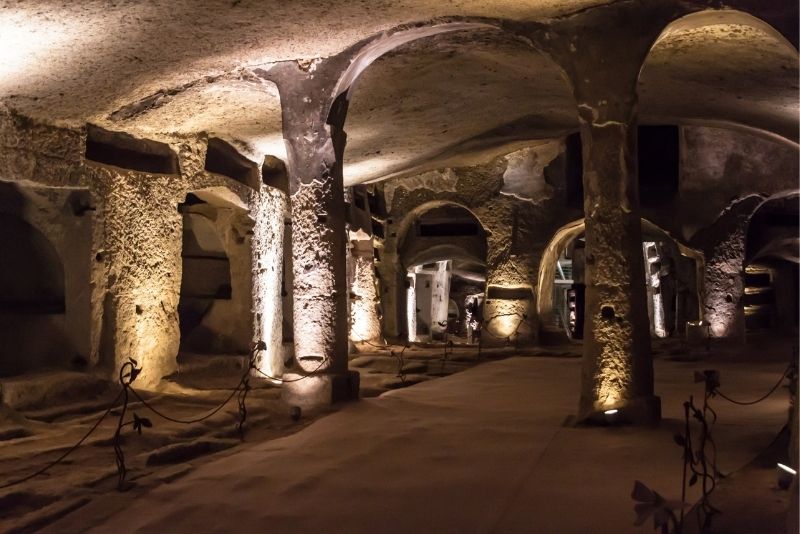 Above the surface, Naples is abundant with shops, restaurants, and historic attractions. But buried 40 meters underground, another world — a marvelous, eerie, oft-overlooked world — awaits.
Hidden beneath the city's streets are air-raid shelters, aqueducts, caves, a garden, and a Roman theater, all of which can be explored in a fascinating underground tour.
9 – Experience a feast in your mouth on a food tour of Naples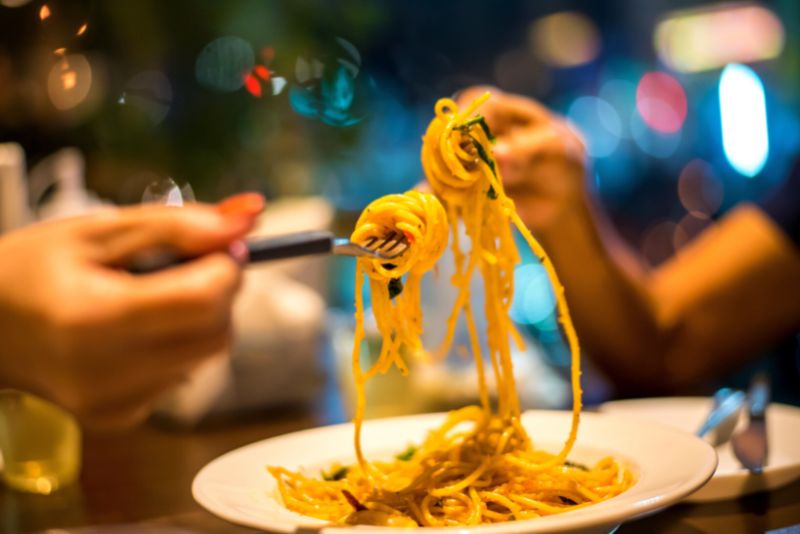 From the famed pizza that is an absolute must to try to incredible other Neapolitan dishes like sfogliatelle and Napolitan Ragu, there is truly no end to the incredible delicacies waiting for you to try in Naples.
Book a food tour with a local guide, and walk through the incredible street-filled food stands selling the best of local eats. On the food tour, you'll also be taken to some of the best markets not to miss, like the Poggioreale market.
Sponsored placement
Step into your favorite Van Gogh painting
Van Gogh: The Immersive Experience has finally arrived to Naples!
With updated 4K technology and a brand-new virtual reality room, you can step inside your favorite Van Gogh paintings and walk through the landscapes in Arles, France, that once inspired the Dutch artist. Immerse yourself in Van Gogh's masterpieces like never before!
10 – Admire intricate designs at the Chiostro di Santa Chiara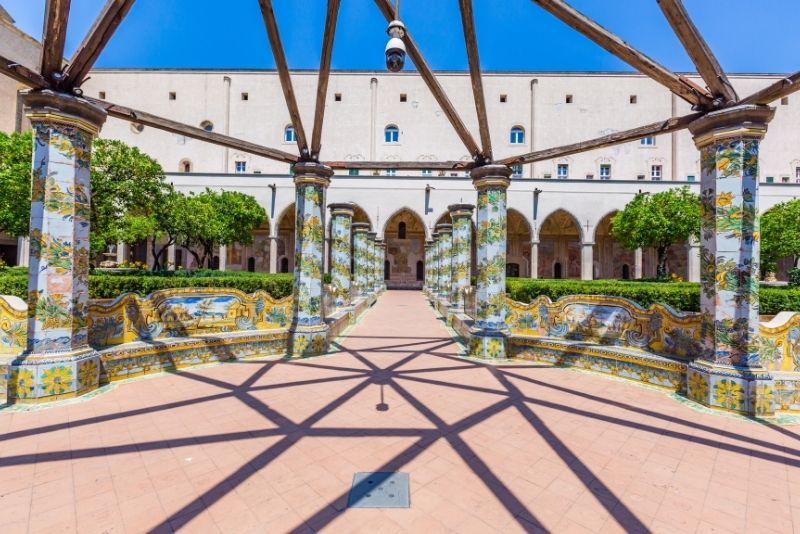 Hosting a church, monastery, and museum, all dating back to the 13th century, the Chiostro di Santa Chiara complex invites visitors to explore the religion and architecture of eras gone by.
Its Rococo-style Majorca tiles are beautiful, likewise the intricately-decorated cloisters. For history buffs and art admirers, it's one of the essential things to do in Naples.
11 – Stroll down Spaccanapoli in Old Town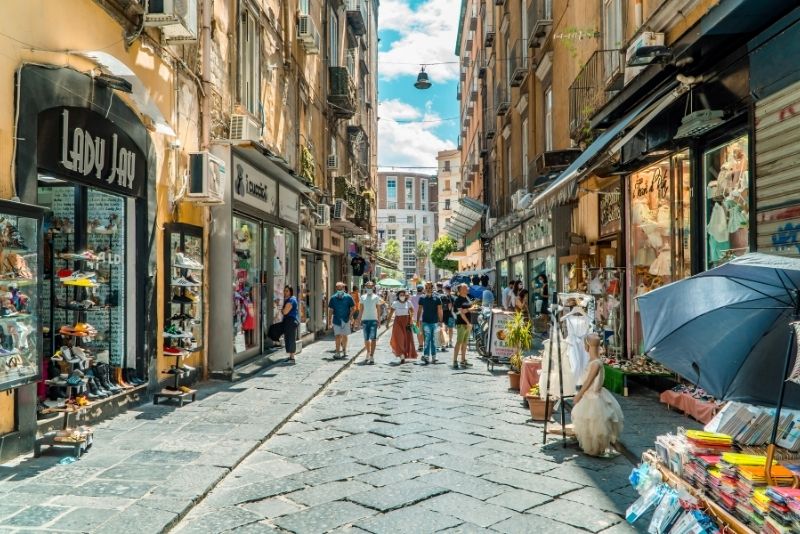 No visit to Naples is complete without a walking tour through its charming and vibrant Old Town. Its main, narrow street — Spaccanapoli — is the heartbeat of the city, cutting through the region's historic center.
Chat to shop owners to experience the authentic culture and grab un cornetto along the way, just like the locals!
Traveling on budget? Make sure to check out the free walking tours in Naples.
12 – Bask in luxury at the Royal Palace of Naples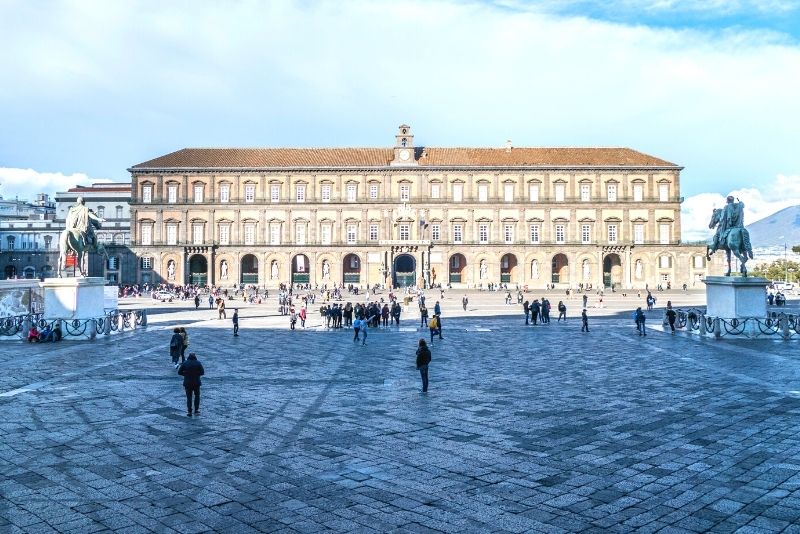 Dishing up postcard-worthy views of Mount Vesuvius and the Gulf of Naples, the city's Royal Palace (Palazzo Reale di Napoli) is one of Naples' most impressive vantage points.
But it's also so much more than that: it's historically significant, extremely luxurious, and home to beautiful outdoor areas like the 'Courtyard of Honor' and the 'Hanging Gardens'.
Book a city tour to explore the Royal Palace of Naples and other emblematic sites of the city.
13 – Live the high life on the island of Capri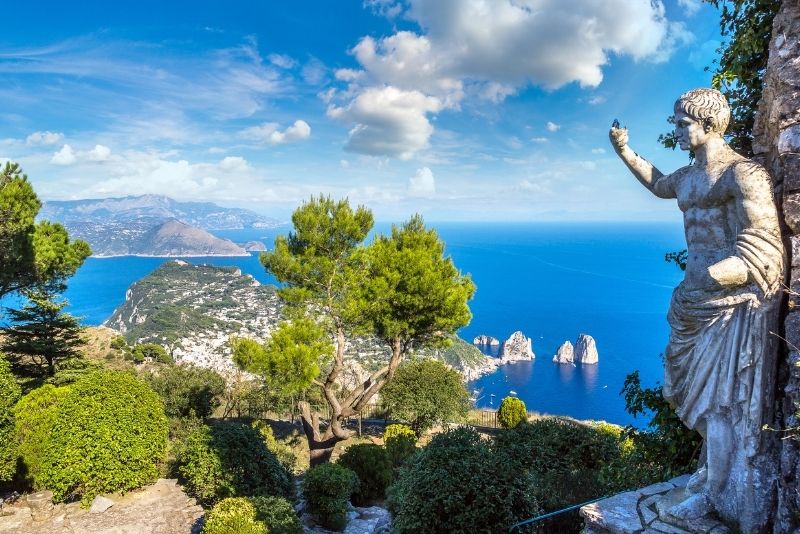 It's Hollywood-famous, it's aesthetically beautiful, it's a paradise for yacht owners, and it's popular for a darn good reason.
The charming island of Capri, known for its upscale shopping, rugged landscape, fine dining, and glowing Blue Grotto, is hands-down one of the best Naples day trips. Take a boat trip around the island for unbeatable views before burning some calories with a walk to the Monte Solaro summit.
Book a hiking tour on the island or enjoy a fun jet boat tour on the waters of Capri.
See also: Best boat tours in Capri
14 – Taste test the fabulous wines of Naples on a wine tour and tasting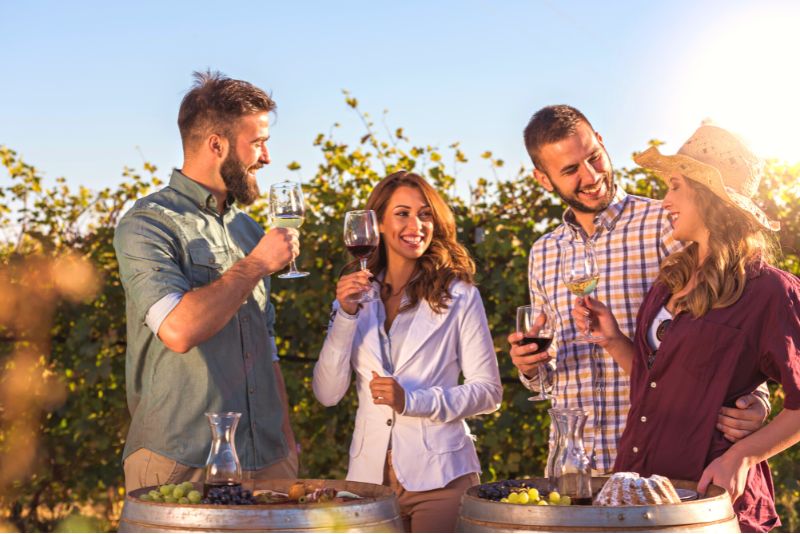 Make the perfect food and wine pairing as you stroll through the picture-perfect vineyards that sit in the historical setting of Pompeii, or the equally stunning Phlegrean Fields.
Join a local guide on a wine and tasting tour to learn the thousand-year-old tradition of wine-making, as well as explore the wine cellars. Walk amongst the historical setting of the vineyard, as you make your way to try the most heavenly food and wine pairings.
15 – Check out the Naples Archeological Museum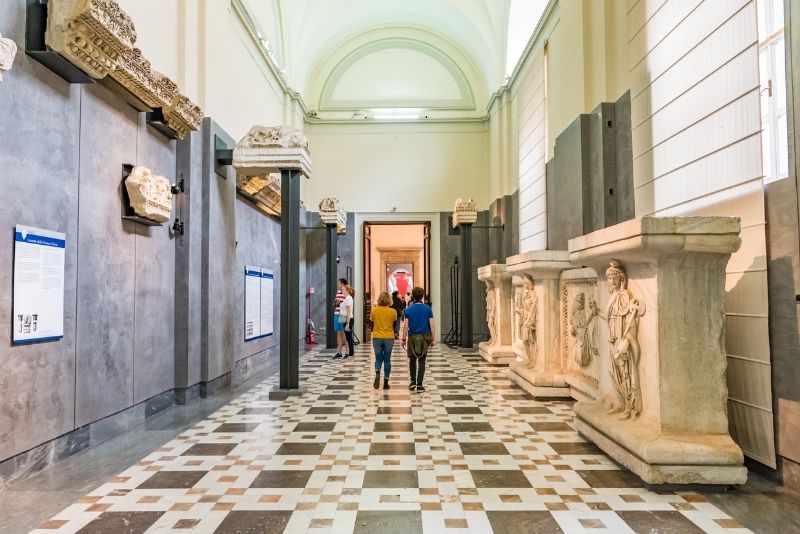 Displaying thousands of artifacts spanning Greek, Roman, and Renaissance times, including fascinating samples collected from Pompeii and Herculaneum, the Naples Archeological Museum is a perfect rainy day destination.
As one of the world's largest archaeological museums, it's a surefire hit for history aficionados.
Guided Heraculaeum tour tickets start at 13 euros, but may elevate based on age.
16 – Spend a day on Ischia island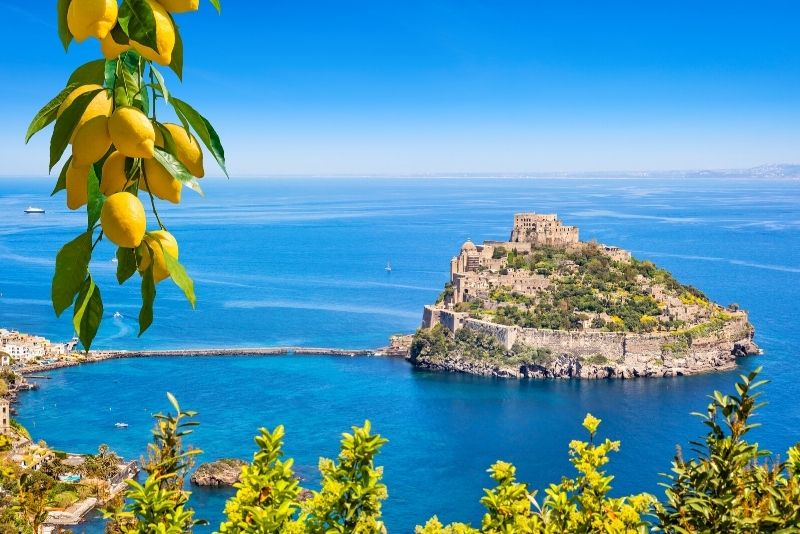 While run-of-the-mill tourists tend to zoom straight to the famed island of Capri, Napoli residents have been flocking to the shores of neighboring Ischia for decades.
As one of the area's best-kept secrets, Ischia remains less touristified, more affordable, and an underrated slice of nature worthy of any visitor's time.
17 – Explore the Herculaneum ruins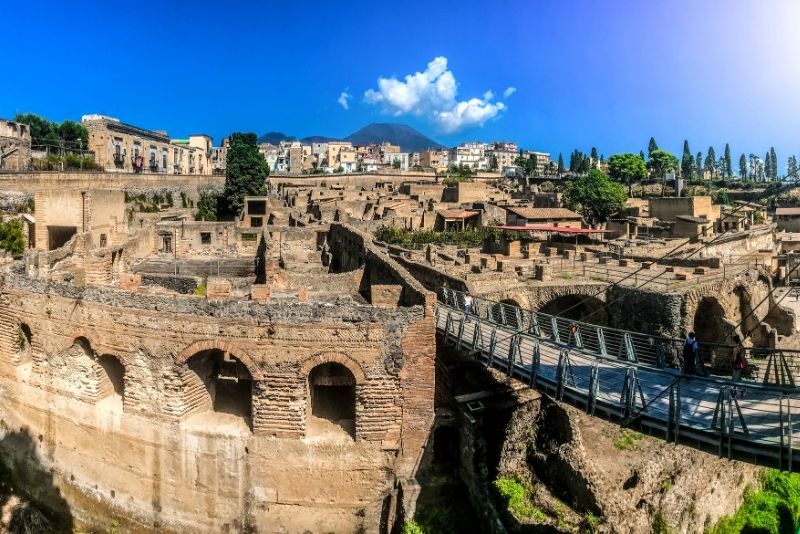 Abandoned after Vesuvius erupted in 79 AD, Herculaneum stands today in the shadow of the volcano as a sprawling ancient relic, one which often is overlooked in favor of nearby Pompeii.
With that in mind, why not kill two birds with one stone by combining both city ruins into the same day (or three birds, with a Vesuvius hike as well)?
18 – Wind your way through Naples' charm on a segway tour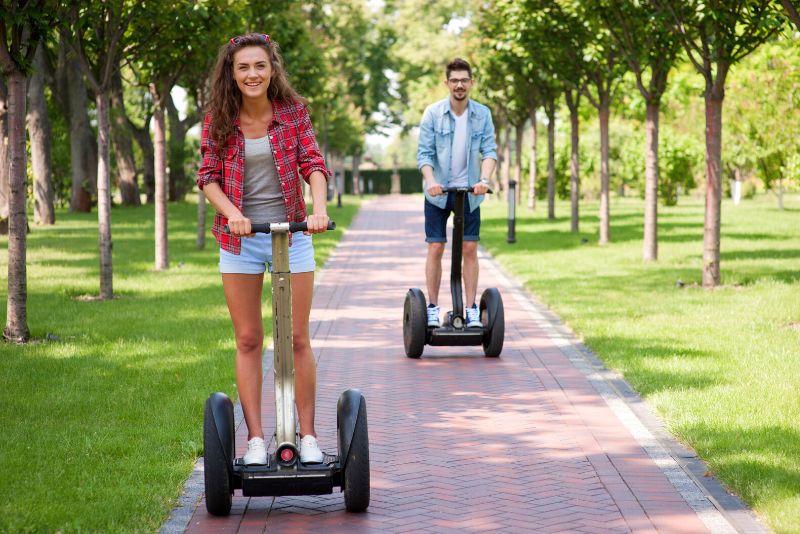 Take the scenic way around the city of Naples on a segway tour, exploring the local neighborhoods, busy main streets and avenues, the magical squares, and the dreamy marina.
Gain local insight with drops of historical facts, as well as a whole lot of fun adventure like nowhere else.
With your segway tour, you'll also get an audio guide, safety equipment, and the segway and guide, as well as stop by for a delectable Sfogliatella pastry.
19 – Sail around the Campanian Archipelago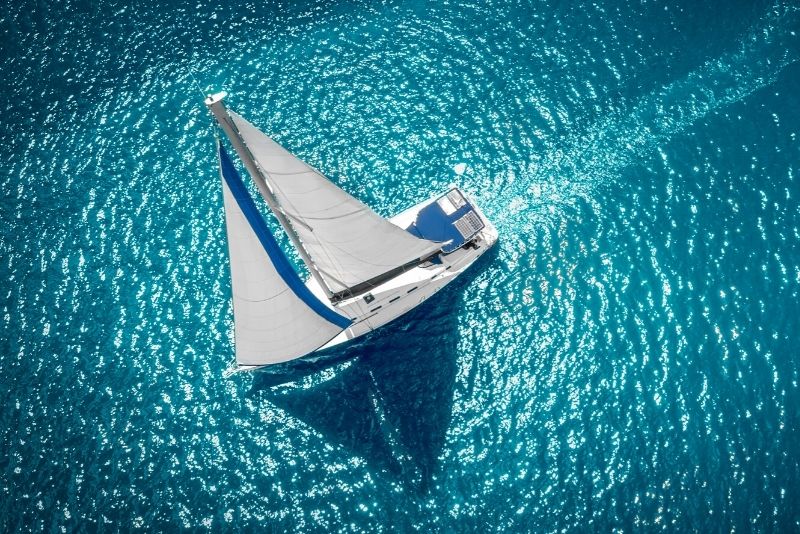 Comprising of five diverse islands, each with its own flair, the Companion Archipelago is full of eccentric party spots, relaxing beaches, snorkeling havens, and picturesque landscapes.
Choose from large, small, or private boat tour options — either way, whether you stop at Capri, Ischia, Nisida, Procida, or Vivara, or a combination, fun in the sun is guaranteed.
Consider an exciting stand-up paddleboarding or fun kayaking tour for a moment of relaxation.
20 – Discover the animal kingdom that lives in Naples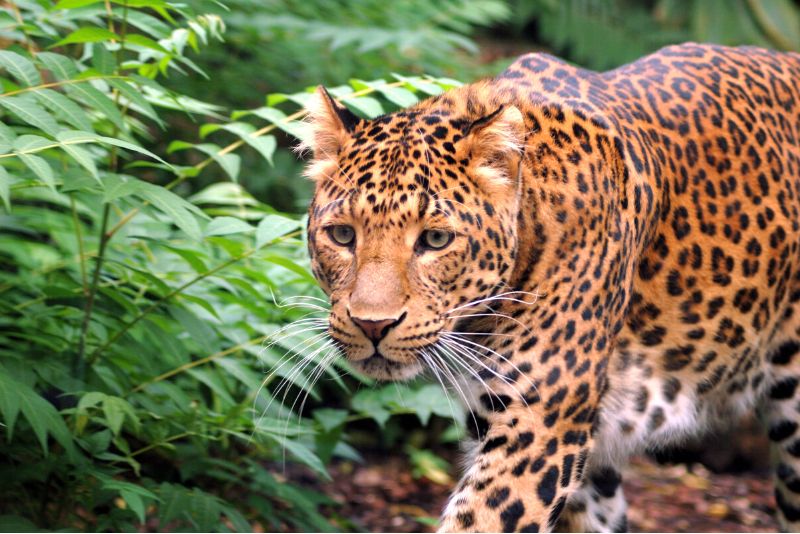 Located 5 miles outside of the city center of Naples is the Naples Zoo (Lo Zoo di Napoli), covering approximately 100,000 square feet where you and your family can enjoy everything from vultures, black rhinoceros, giraffes, in a new and improved zoo facility.
Walk through and check out over 200 different plant species and over 90 different animal species, for the entrance of 15 euros per adult and 10 euros per child.
21 – See the wilder side of Capri on a kayak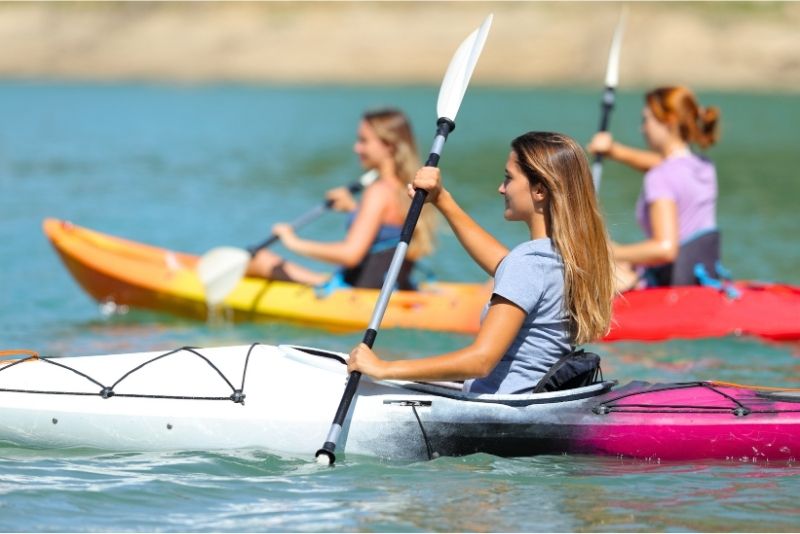 There's no better way to discover the real Capri than by Kayak. Stray from the beaten path and see the island's wilder side with a local tour guide. Visit lesser-known beaches and sea caves and swim straight from the rocks. See the villages along the Posillipo hills and enjoy a traditional lunch on the beach with your guide.
This excursion is for serious adventurers and requires a good level of physical fitness.
22 – Gaze at the Paestum temples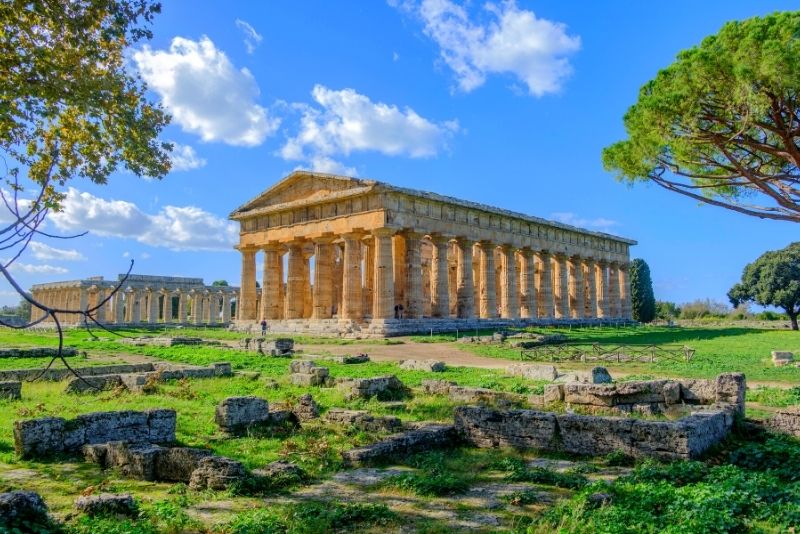 Renowned for its three excellently-preserved ancient Greek temples reminiscent of Athens' famous Acropolis, the ancient city of Paestum should be a high priority for history buffs visiting Southern Italy.
Thanks to its glistening location on the Amalfi cliffs, the World Heritage Site blends history with beauty like few other places on the planet.
23 – Zoom through the city on a panoramic Vespa tour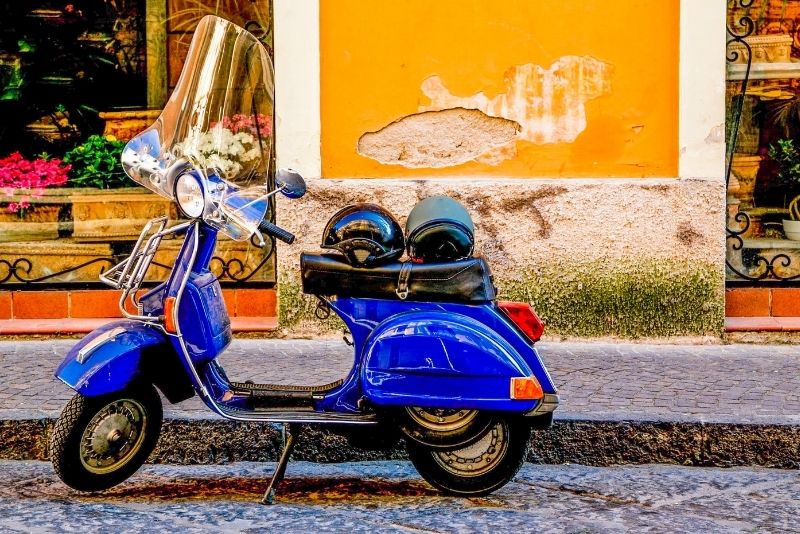 For one of the most stereotypical, fun things to do in Naples, hop on board the back of a Vespa (or drive your own, of course) and follow the local guides as they zip down alleyways, backstreets, and showcase the real Naples — not the tourist-trodden version.
If a private tour is out of budget grab a map, rent a shiny set of wheels, and see the city at your own pace.
24 – See the opera at Teatro di San Carlo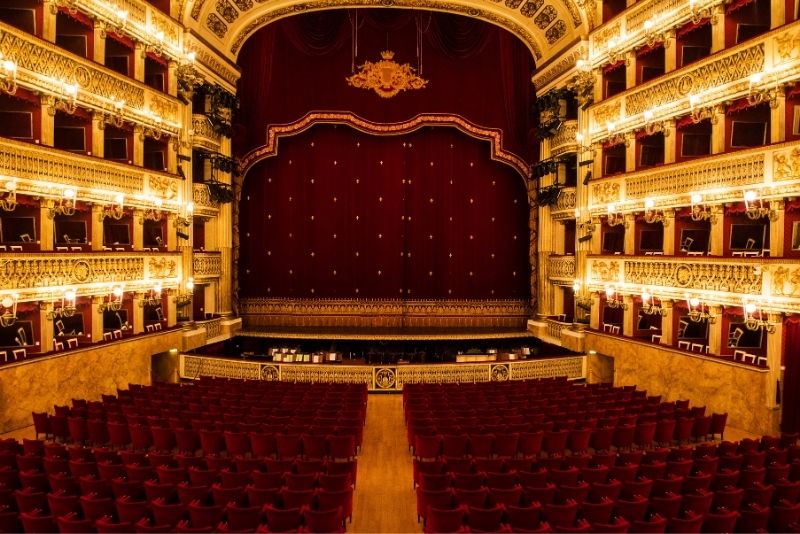 After exploring castles and demolishing a lip-licking pizza or two, top off the night with a delightful opera show at the Teatro di San Carlo (San Carlo Theater).
If the shows themselves weren't enough to draw you in, the building alone is a formidable attraction — built in 1737, beautiful San Carlo holds the coveted title of the oldest opera house in Europe.
25 –  Visit Castel dell'Ovo (Ovo Castle)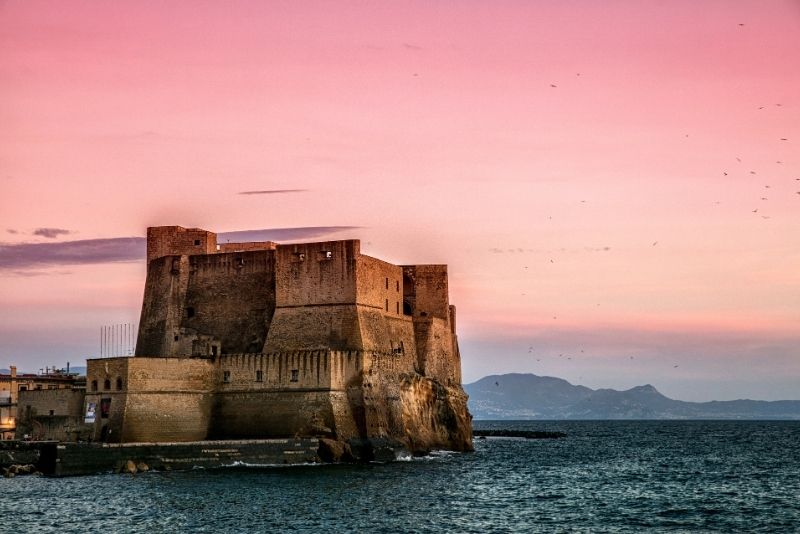 Located on the seafront island-turned-peninsula of Megaride, the Norman-built Ovo Castle holds the formidable title of Naples' oldest castle, dating back to the 12th century.
After ticking off the main attraction, the area offers a stack of restaurants and bars to recharge the batteries, offering sublime views of the Gulf of Naples from their terraces.
26 – Test your smarts on a fun scavenger hunt through the city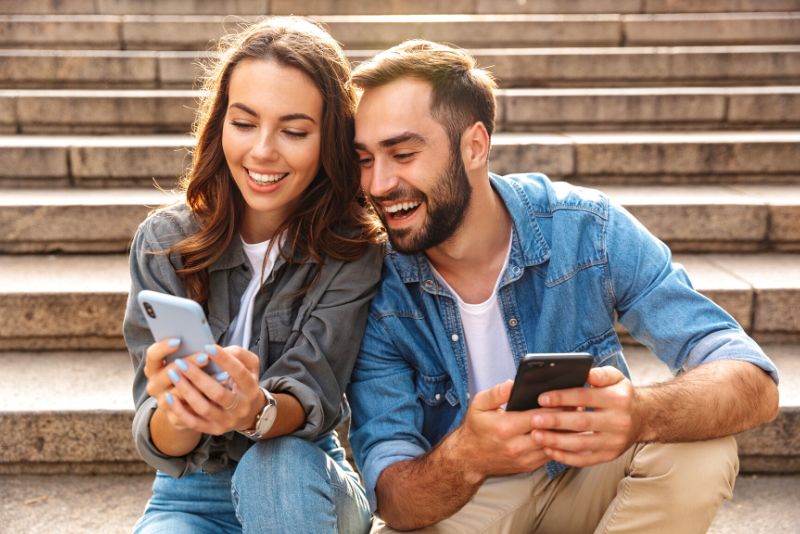 Feel like a child in the big city by playing a riveting scavenger hunt game, where you and your friends will receive a series of riddles and puzzles straight to your phone, and then you'll have to go around the city to find all the clues.
From the most famous sights in the city to some secretive spots that only you will discover in this game, a scavenger hunt will make learning and exploring the city adventurous.
27 – Start the day at the Piazza del Plebiscito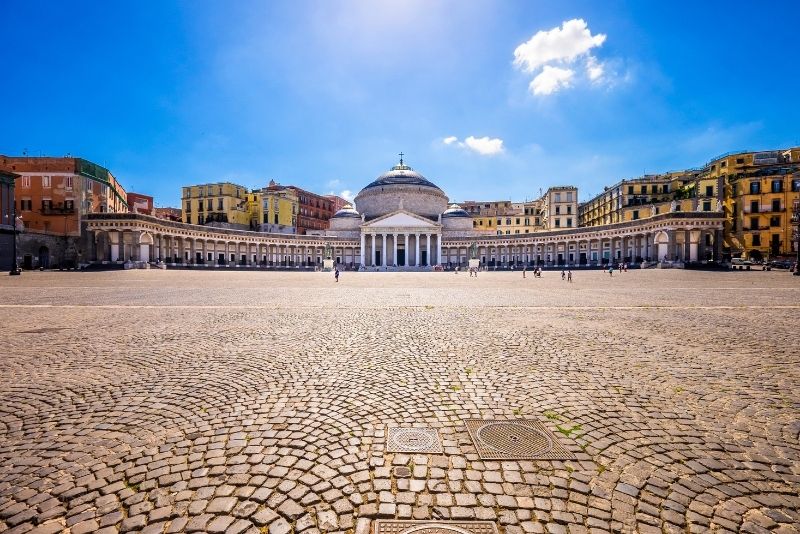 Within walking distance of Ovo Castle, the Piazza del Plebiscito is an enormous public square — one of the largest in Italy, in fact — that serves as the central point for a stack of the city's most iconic landmarks.
Whichever way you look, you'll be met with historic buildings and stunning facades, making it the perfect starting point for any stroll through the city.
28 – Save time with a Hop-On Hop-Off bus tour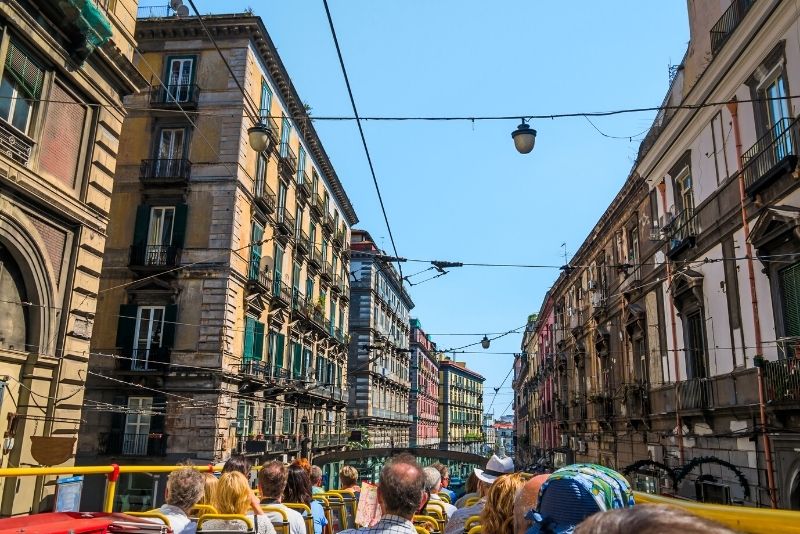 If you've got a long list of things to do in Naples but are strapped for time (or need a break from walking) a Hop-On Hop-Off bus tour is the answer. These convenient busses track two routes throughout the city, stopping at 25 different points of interest, including Largo Costello and Capodimonte.
On those beautiful summer days, grab a seat on the open-air second level.
29 – Visit ancient submerged ruins on a Naples scuba diving tour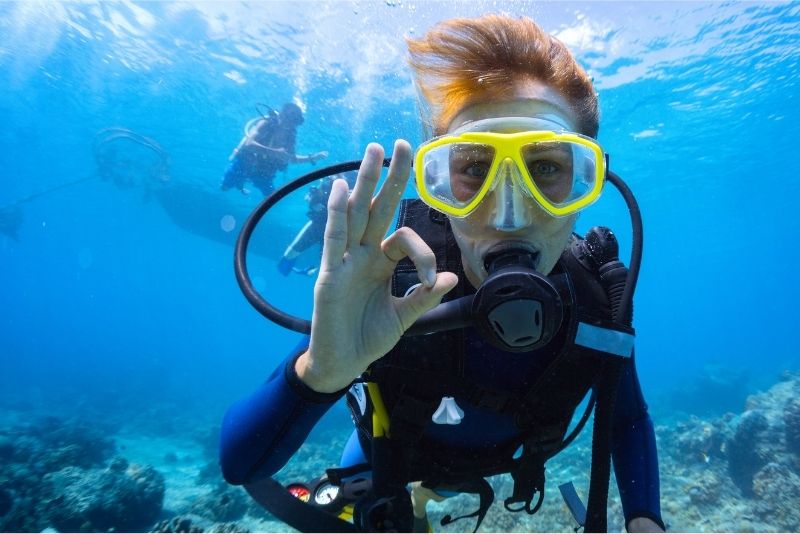 The ancient historic sites of Naples are not only found on land! Try a scuba diving experience and see underwater Roman ruins in the Baia Marine Archeological Park. These trips are ideal for those who enjoy a mixture of history, nature and adventure. A Naples scuba diving tour offers a fun diving experience for both beginner and certified divers.
30 – Make dinner plans at the best restaurants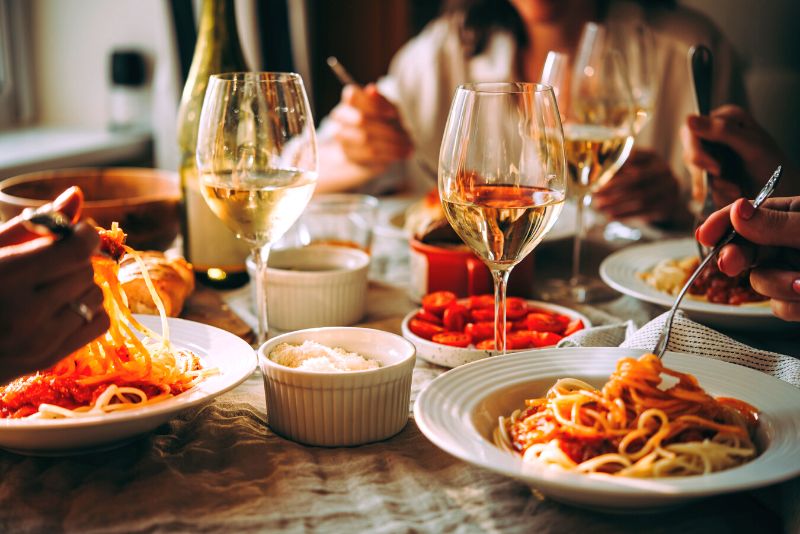 Known as one of the best Italian restaurants in the city, you won't want to miss La Taverna dell'arte Napoli, where you'll be dining under romantic string lights, and vine-covered buildings, boosting your romanticization of Naples. Enjoy a plate of Mussels and Tomatoes Confit Spaghetti.
Looking to enchant your palette with fresh seafood? Check out Ristorante ll Garum, offering the best seafood in the historic center. Enjoy the rich seafood specialties from chef Gennaro, creative pizzas, and exquisite desserts.
31 – Discover the San Martino monastery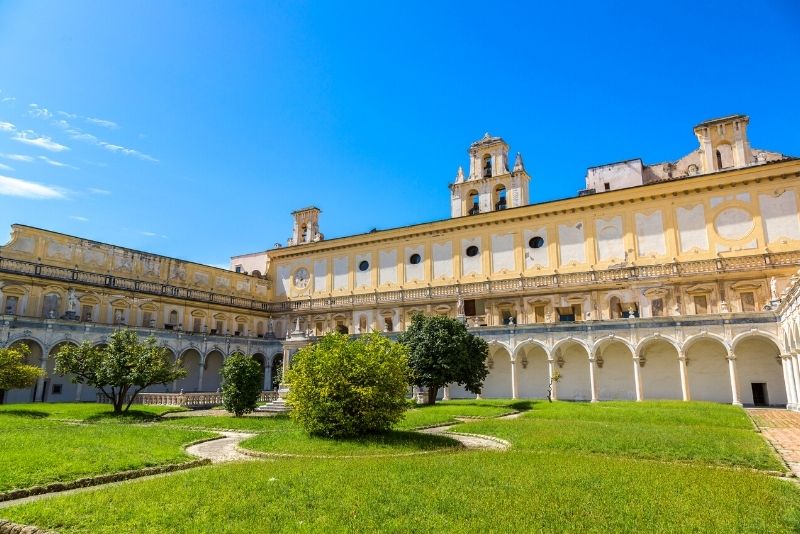 A gorgeous monastery dating back to the 1300s, the Certosa e Museo di San Martino is a must-see for anyone visiting Naples.
Besides the beautiful courtyard, vast art collection, and stunning architecture, the historic monastery also serves up spectacular views of the Bay of Naples and the hills of Vomero from its balconies and gardens.
32 – Shop in style at Galleria Umberto I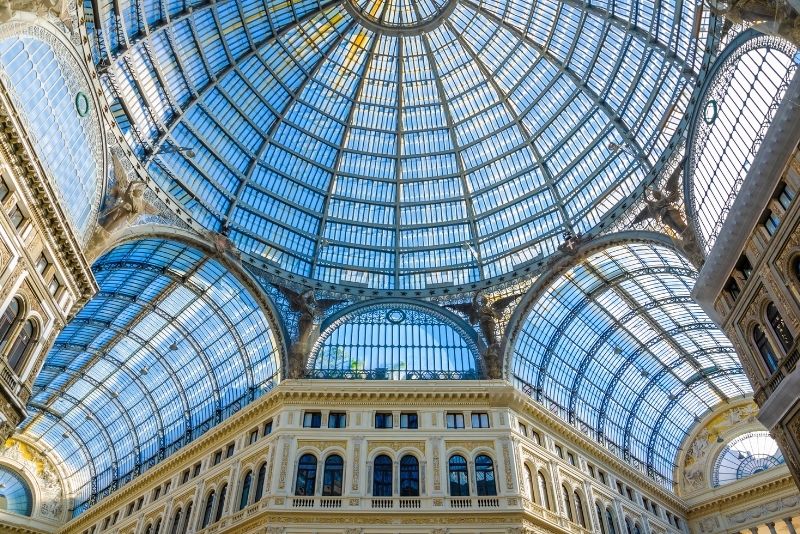 Arguably the nation's most gorgeous shopping arcade, the 19th-century Galleria Umberto I isn't solely a shopper's paradise: it's an architectural marvel.
Under its enormous domed glass roof, visitors can uncover a cluster of coffee shops, souvenir distributors, and exclusive brands.
33 – Enjoy the view at the Castel Sant'Elmo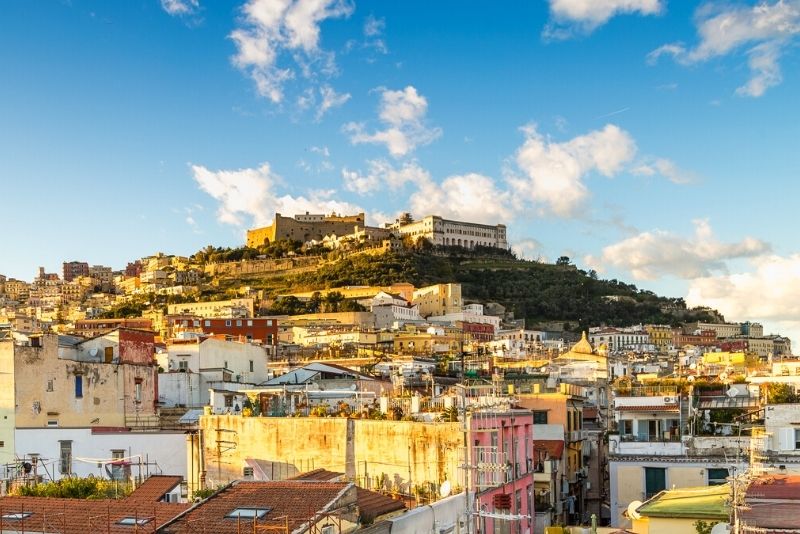 Sporting remarkable panoramic views from above Naples, this star-shaped hilltop fortress is a crowd favorite offering historically educational tours with friendly and knowledgable local guides.
Sant'Elmo is conveniently located right next to the Certosa di San Martino on Vomero Hill, making for perfect back-to-back afternoon activities.
34 – Explore the city on electric bikes!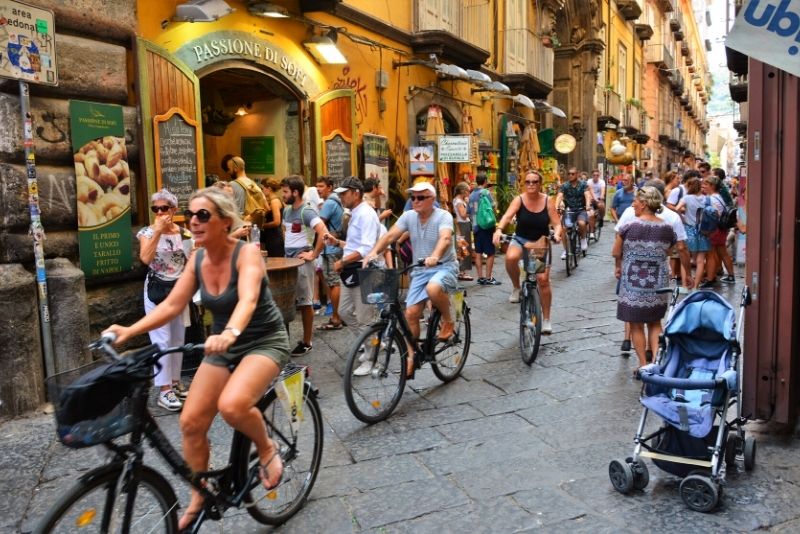 Who knows Naples better than Neapolitans? The answer: no one! That's why a locally-led e-bike tour of the city's most popular attractions and hidden gems is always a surefire hit for visitors of all ages.
If you're on the hunt for awesome things to do in Naples that don't involve too much walking, an e-bike tour is a perfect solution. For a touch of extra celebration, stop at a winery along the way!
35 – Browse through thought-provoking art galleries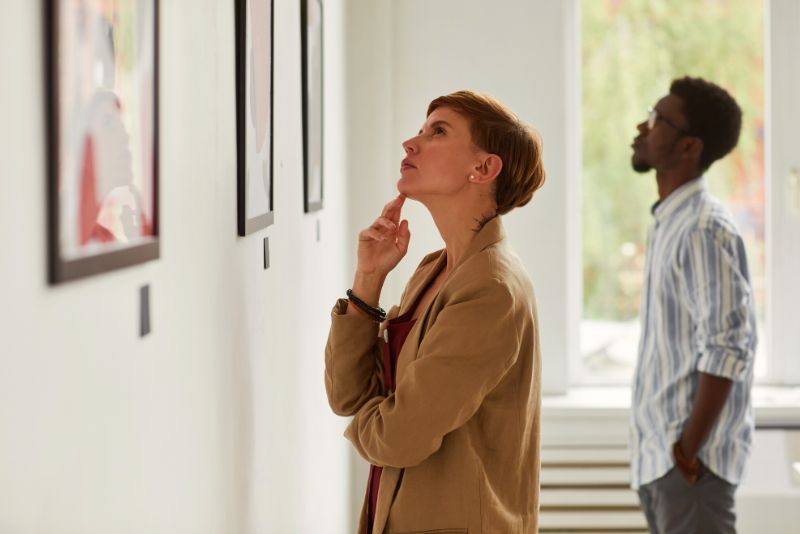 You cannot leave Naples without strolling through the art galleries of the city, such as the Madre Museum, where contemporary art comes alive through its 3 story building. Browse through permanent galleries and unique exhibits detailing a different perspective of life in Naples without the language barrier.
How about checking out Plart – a gallery exhibiting art made out of plastic, where you'll see examples of accessories like bags, hats, and toys, to electronics made and designed out of 100% plastic.
36 – Visit the Museo Cappella Sansevero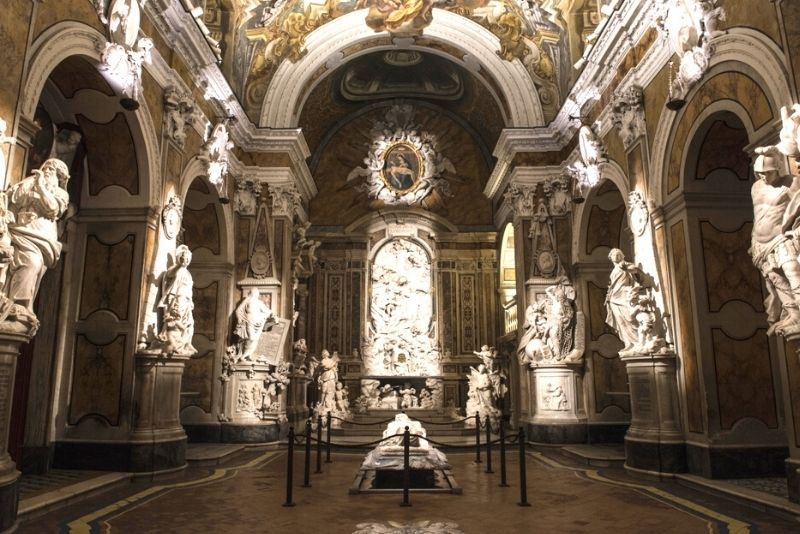 Housing a number of eerily realistic sculptures sure to give any onlooker goosebumps, the 15th-century Museo Cappella Sansevero is regarded as a gem of Italian artistic heritage. Complementing the famous pieces on display, the building itself is a work of art.
Thanks to its location in Naples' historic center, it's an easy addition to any day out.
37 – Walk in Spartacus' footsteps at the Ancient Capua Amphitheater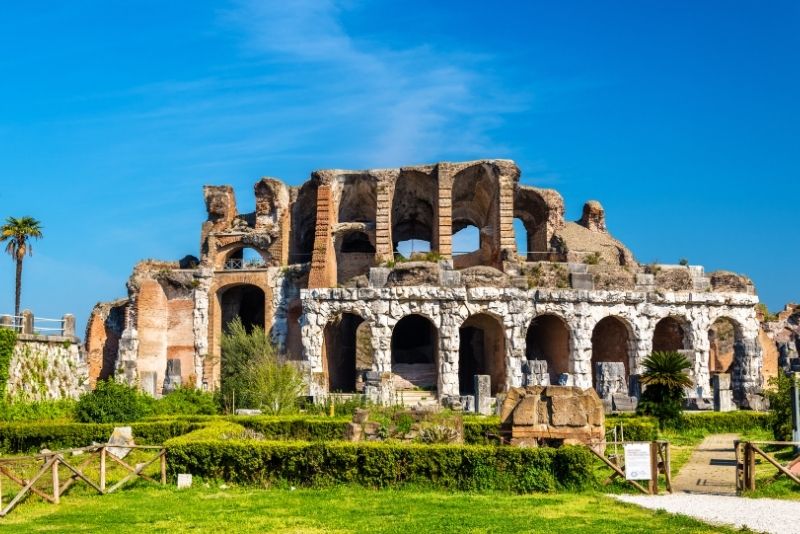 With the claims to fame of being the second-largest of its kind in Italy (behind the  Colosseum in Rome) and the location where Spartacus ignited his revolt, the Amphitheater of Ancient Capua is overflowing with historical significance.
Having once served as a crucial meeting point during the Roman ages, this attraction, just outside the city, is a worthy stop on any day trip north.
38 – Go horseback riding on Vesuvius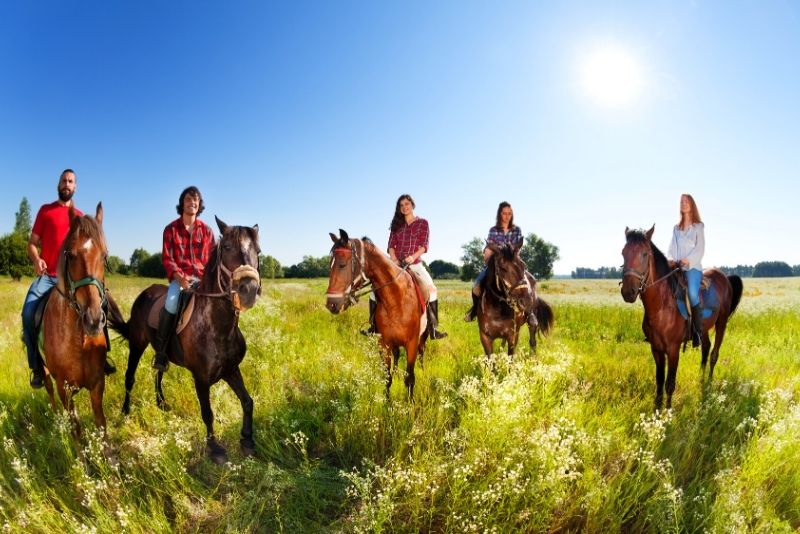 While hiking up an active volcano is an adventure in and of itself, travelers with an extra desire for excitement can take the experience to the next level with an afternoon on horseback.
The experience promises a day packed with fresh air, nature, educational tidbits, and if you're up for it, a glass of wine (or three).
39 – Enjoy a day trip to Procida Island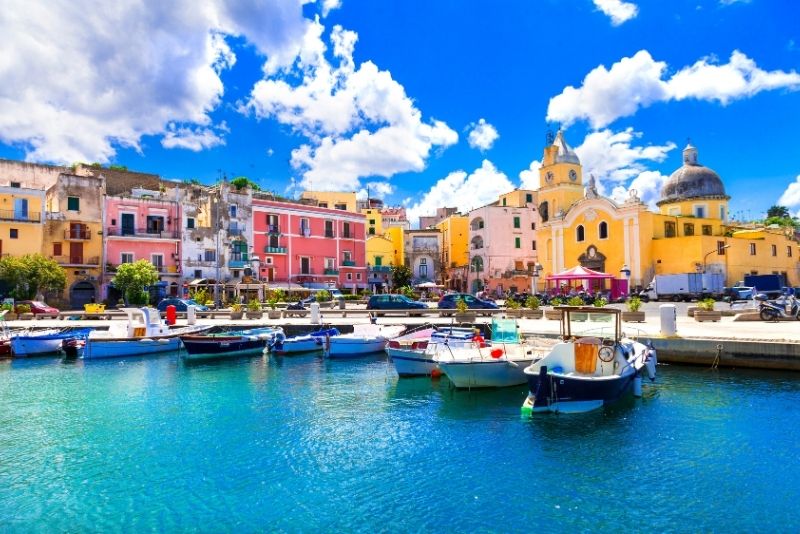 On looks alone, with a cliffside cityscape bursting with vibrant color, the slow-paced island of Procida is a worthwhile day trip; taking into account its lemon groves, cobbled alleys, warm hospitality, and relaxing atmosphere, it transforms from worthwhile to unmissable — a crucial addition to any Naples vacation!
Hot top: For exceptional views, hike up Terra Murata, the island's highest point.
40 – Sample the city's best pizzas on Via Dei Tribunali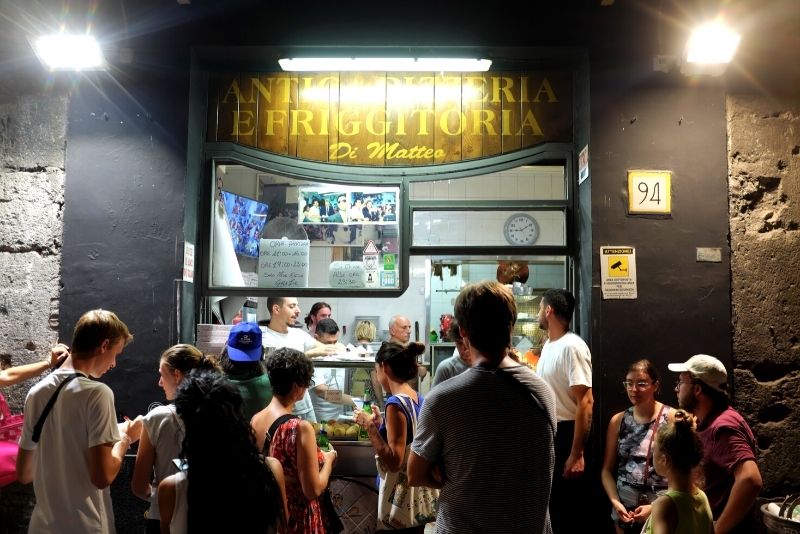 Forget the oily slices often associated with American pizza — in Naples, it's all about fresh ingredients, succulent flavors, and the perfect balance of toppings.
For unbeatable Italian creations, head straight to the old street of Via Dei Tribunali. Pizzeria Di Matteo has dished up perfection since 1936 and Pizzeria "I Decumani" is a deserved crowd favorite; however, cheese, tomatoes, and basil have never tasted as good as they do on a Sorbillo margarita, arguably the best pizzeria of the bunch.
41 – See Maradona murals on a street art tour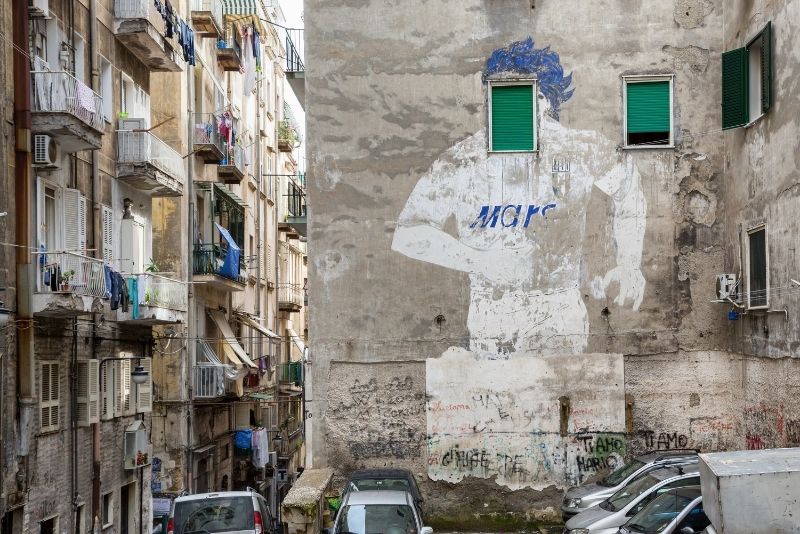 A gone but not forgotten icon of Naples thanks to his seven seasons of stardom playing for the Serie A club, Diego Maradona's legendary name lives on through street art dedications.
The best way to see all of the city's hidden artistic gems is on a walking street art tour, during which guides happily share cultural insights and folklore.
42 – Stroll along the Lungomare Caracciolo promenade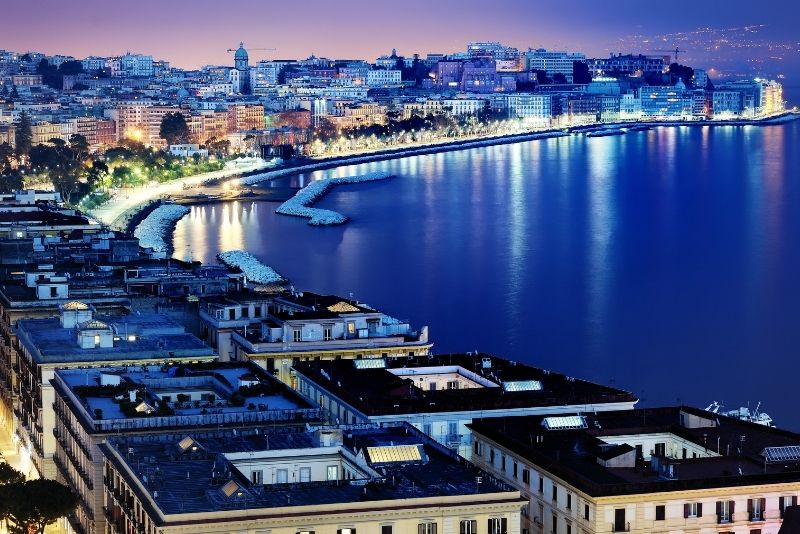 Stretch those legs on the long seafront walkway that is Lungomare Caracciolo, a blissful pedestrian area lined with luxury hotels, award-winning restaurants, and boutique shops.
By day, the promenade serves up marvelous views of the bay at the feet of Mount Vesuvius; by night, its restaurants and bars come alight with energy — a fairytale setting for a romantic evening.
43 – Browse the Capodimonte Museum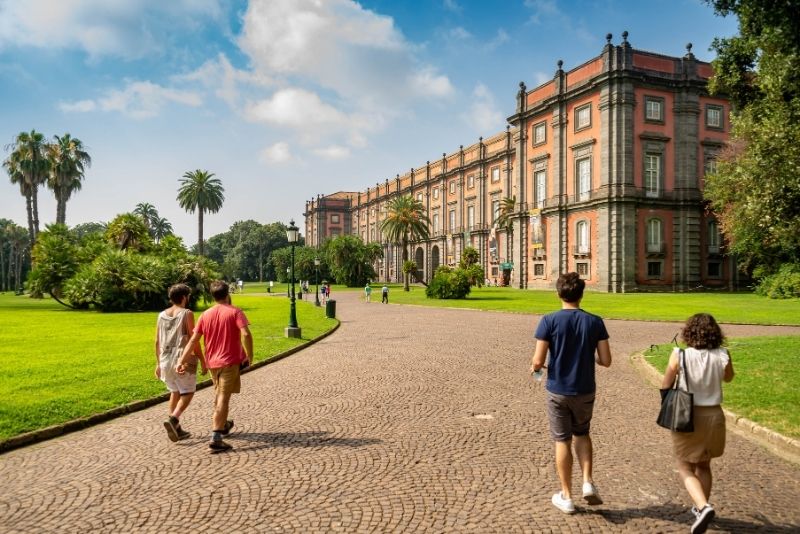 Situated within the grounds of a royal palace, the Capodimonte Museum plays host to the National Gallery, one of the nation's finest art collections. Stroll through its decadent rooms, admiring some of the 47,000 famous works by the likes of Titian, Raphael, Caravaggio, and more.
With art spanning from the Middle Ages to the 21st Century, it's an unmissable Naples attraction.
44 – Explore the Galleria Borbonica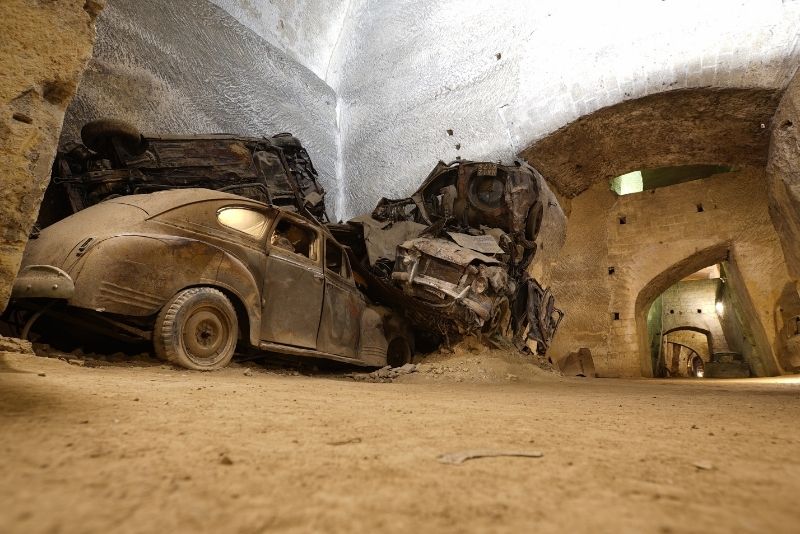 For when you've already conquered everything above the surface, head underground and experience the unique atmosphere of the Bourbon Tunnel — an ancient underground passage with a fascinating history and a unique collection of abandoned cars and motorbikes.
On those sizzling summer days, the cool underground environment is a blessing.
45 – Grab a souvenir on Via S. Gregorio Armeno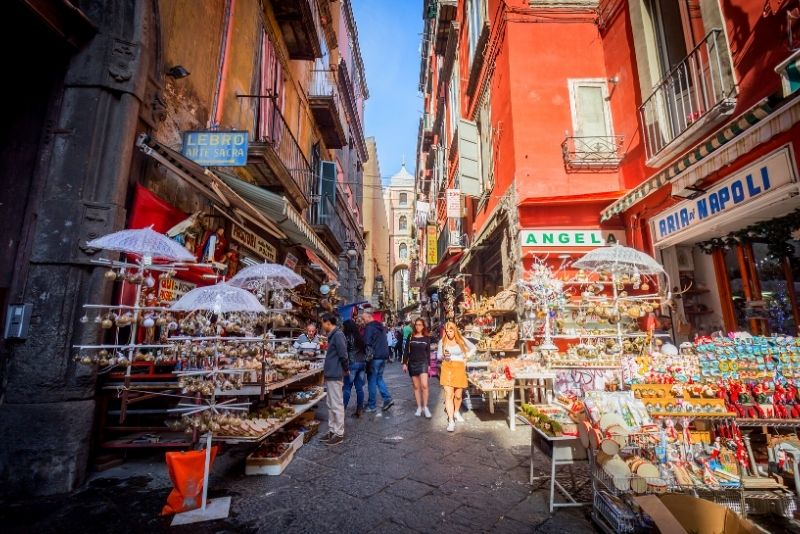 With endless shops dedicated to Christmas nativity scenes, every day on this street feels like December 25th — it's no wonder Via S. Gregorio Armeno is regarded as the most characteristic street in the city. A leisurely walk down its narrow path is one of the most unique things to do in Naples, and a must for anyone hunting for souvenirs.
46 – Hear the crowd roar at Diego Armando Maradona Stadium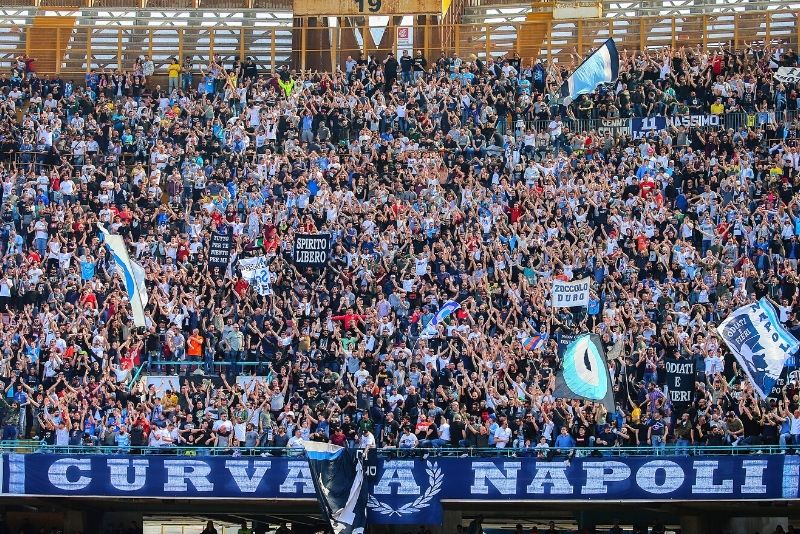 Recently renamed in honor of the late football legend, the Maradona Stadium is the stomping ground of the S.S.C. Napoli soccer team.
To say that the locals take their soccer seriously (locally called 'football', and yes, they will correct you) is an understatement; the atmosphere at a Serie A match is eccentric, hostile, and amazing simultaneously, unlike any other sports venue in the world.
47 – Stare at skulls at the Cimitero Delle Fontanelle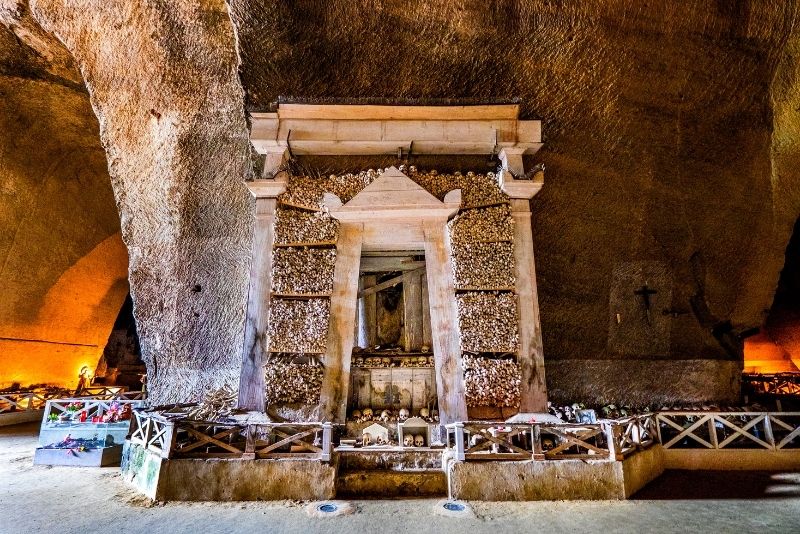 An eerie attraction full of mystery and intrigue, the Fontanelle Cemetery of Naples sits, strangely enough, inside a cave. One glance and you'll quickly realize that this is no ordinary cemetery; Fontanelle is an ossuary, with thousands of physical skulls on display (similar to the Paris Catacombs).
It's spooky, off the beaten track, and not to be missed.
48 – Stop into the Naples Duomo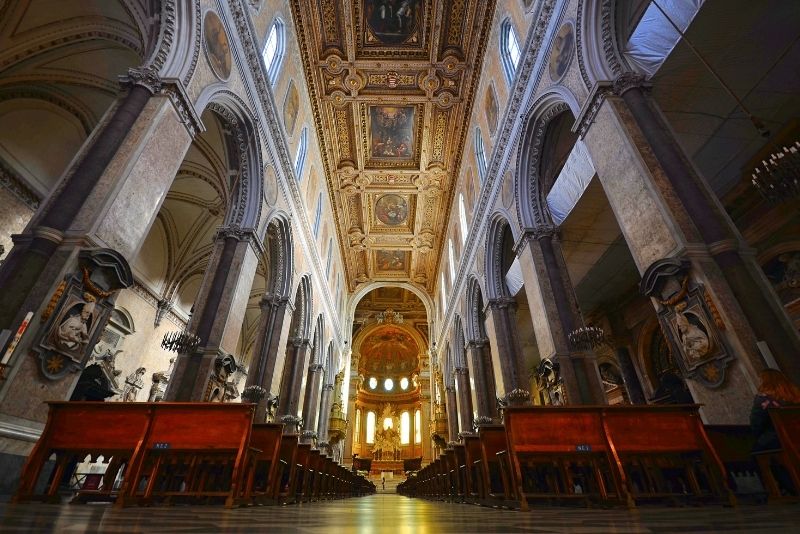 It's big, it's foreboding, and it's an essential landmark to tick off the Naples bucket list.
The Gothic-style cathedral was built in 1313, with many of its displayed artworks created even long before then. For a hidden surprise, inside the Cathedral lies a museum dedicated to the Treasure of San Gennaro — an outstanding collection of jewelry dating back to the 13th century.
49 – Catch a train at Toledo Metro Station, an artistic masterpiece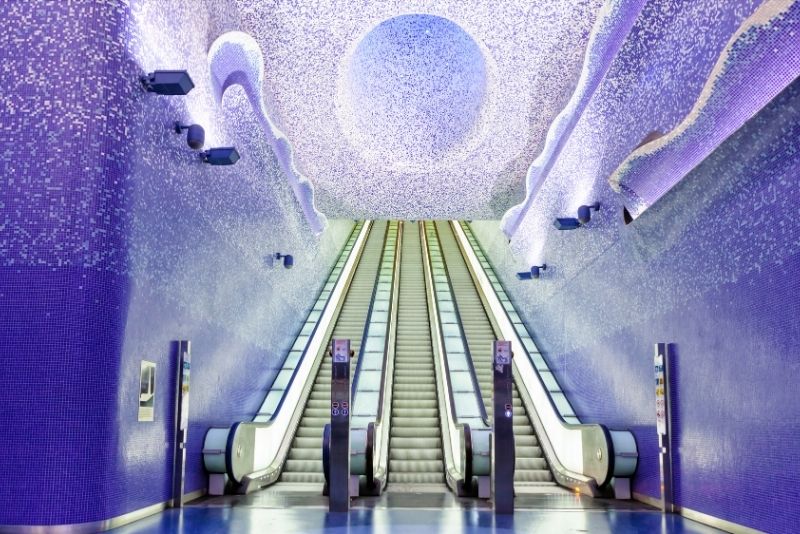 As one of the continent's most aesthetic train stations (behind only those in the Moscow subway), the Toledo Metro Station pops with beautiful murals and vibrant colors.
It's not just tourists' opinions though: the eccentric station underneath the city's Spanish quarter is a former winner of Europe's "Public building of the year" award.
50 – Tour the iconic Castel Nuovo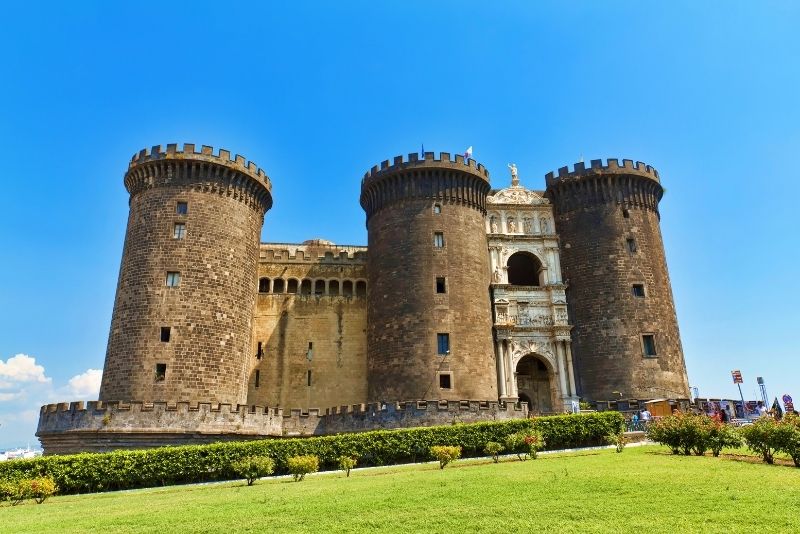 Standing tall since 1279, Castel Nuovo (known locally as Maschio Angioino) resembles your typical storybook medieval castle, with towering turrets, imposing stone walls, and centuries worth of fascinating stories to tell.
Not only is the castle a must-see landmark for its architecture and beauty, but it also houses the city's Civic Museum — a collection of paintings and sculptures dating back to the 14th century.
How to get to Naples?
You can reach Naples fairly easily by train or airplane.
If you're traveling via train, you'll be arriving at the main train station in Naples called Napoli Centrale, and if you're arriving via air, you'll be arriving via Naples Capodichino International Airport.
Though Naples is a very well-connected city, the best way to get to the city center with more comfort and reliability is an airport transfer for the cost of only 16 euros one way.
Where to stay in Naples?
Feel like a local at 4heavens Naples, where you'll be able to live in a fully-furnished apartment, right in the heart of the historic center. Enjoy at arm's length the incredible sights in the city during the day, and relax and rejuvenate inside the newly renovated, modern, and clean Neapolitan apartment every night.
Enjoy beautiful evenings of rest at the Hotel Piazza Bellini, where you'll enjoy the 16th-century charm and architecture of the buildings, with modern amenities and interior design in each room. Wake up every day to the smell of freshly cooked breakfast, available to guests at the hotel, before heading out to the city's sites.
Book your stay at the beautiful The Grey Naples, a stunning, modern, full-furnished guest home centered close to the National Archeological Museum and Molo Beverello, as well as other sought-out sights in the city. The hotel price also includes a filling continental price.
Visiting Naples on a budget?
Consider booking a free walking tour through the city, where along with a guide and a small group of travelers, you'll be shown not only the city's main attractions, but you'll also walk through local neighborhoods and other corners of the city that you won't often see in the guidebooks.
While on your walking tour, ask your guide for local restaurant recommendations.
Where to go next?
If you are looking for the absolute best places to visit in Italy, consider visiting the instagrammable and stunning Amalfi Coast. Here, you can climb up to Castello di Arechi to get privileged views of the coast, or indulge in the traditional food scene in the sleepy town of Cetara.
Sorrento is another must-visit sight not far from Naples, where you'll be able to stroll through the stunning streets of Piazza Tasso & Old Town or escape into the natural abyss of Il Vallone dei Mulino.
Rome is undoubtedly a city that speaks for itself, and it's the only city in Italy where you can make a day trip to another country in one day by visiting Vatican City to walk St. Peter's Square and make it back in time for dinner to try fried artichoke in the Jewish quarter.
Explore more while visiting Naples, and consider checking out the many multi-day trips offered to surrounding cities and towns worth seeing while you're visiting.
Final thoughts
From the natural views of the water to the sight of Mt. Vesuvius on the horizon to exploring the thousand-year-old history of the city's catacombs, the Greek-style Paestum temples, and more, Naples will surely captivate just about all travelers visiting.
We hope that you enjoyed our list of the 40 best things to do in Naples, Italy.
Happy travels!