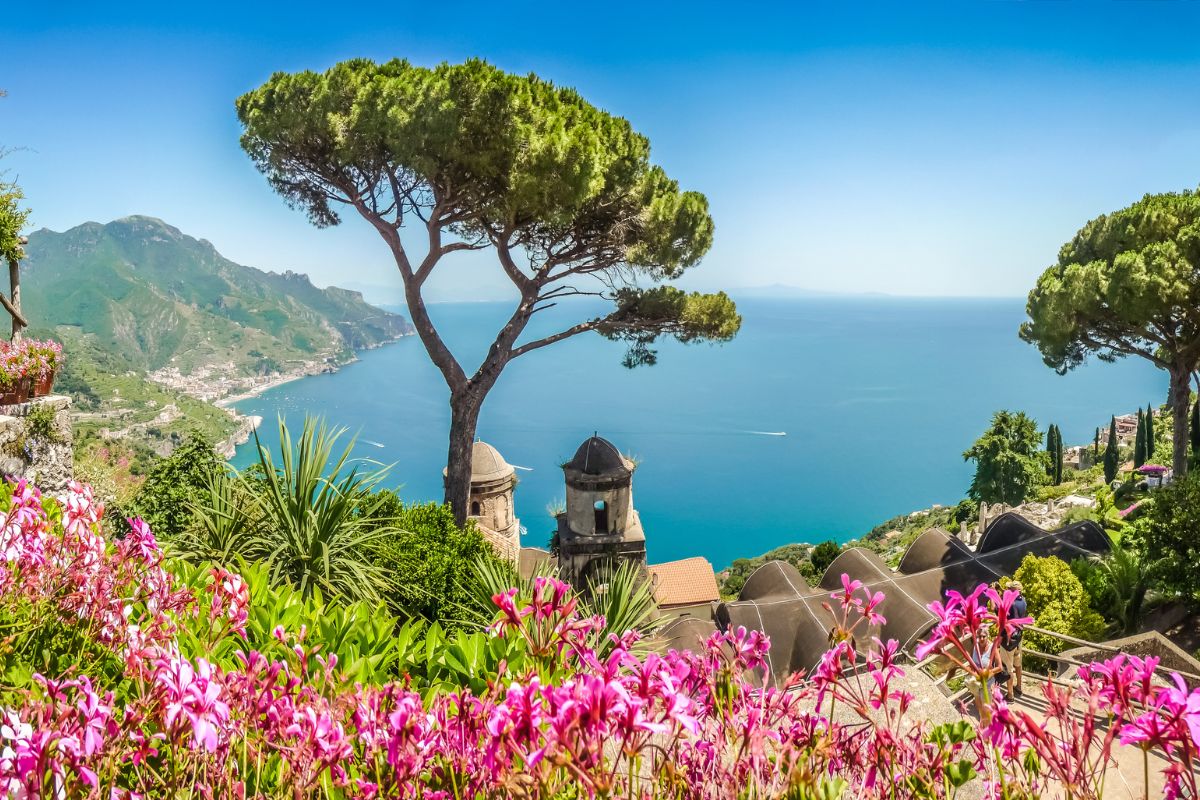 Peering out over the sparkling Tyrrhenian Sea along Italy's ritzy Sorrentine Peninsula, the Amalfi Coast is arguably the most beautiful 50-kilometer stretch of land-meets-sea north of the equator.
Winding through charming and historic vineyards, mysterious grottos, colorful seaside villages (14 villages in total, in fact), and along towering cliffs worthy of being on a postcard, this seaside oasis is one of the most popular and envied travel destinations not just in Italy, but across all of Mediterranean Europe.
A UNESCO World Heritage Site that stretches the entire length of the Coast, with some 100 beaches scattered along the way, the Amalfi dazzles with beauty and diversity — far more than just sand and sunshine, the list of things to do on the Amalfi Coast from a cultural, historical, and foodie standpoint never disappoints.
So, what are you waiting for? Starting from Salerno in the east and working our way to Positano in the west, let's dive into it!
SALERNO
A busy and beautiful port city straddling the Gulf of Salerno, the eponymous village blends modern life (the city was largely rebuilt after being the landing point for the Allies in WWII) with a fascinating history and absolutely no shortage of color or charm.
Loved for its pumping nightlife and entertainment scene, and with direct transport to Naples, Rome and Paestum, it's become a popular stopover city in recent years for those hunting sun-kissed shores.
1 – Wander through Piazza della Libertà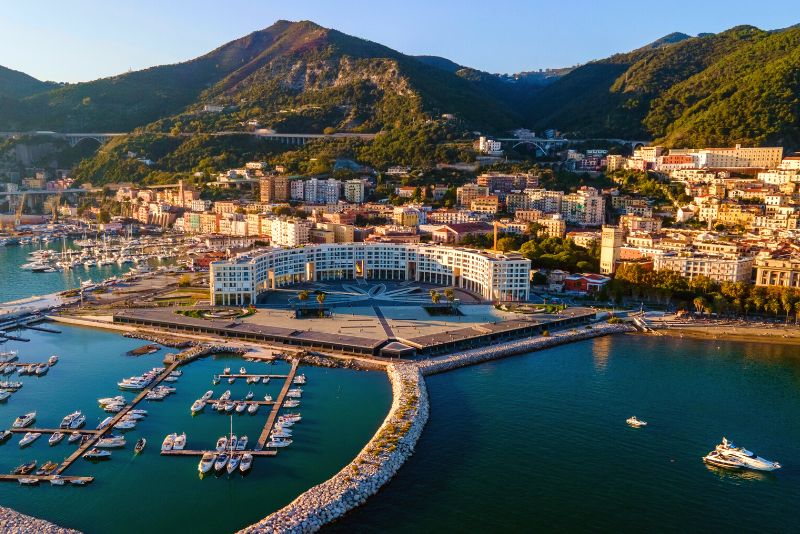 A striking, spacious public arena, Piazza della Libertà is a beautiful space with a powerful past.
This gorgeous area, which is also the biggest seafront square in all of Europe, offers plenty of spots to sit and chat, people-watch, or enjoy the coastal ambience.
The ambitious project was designed to help connect the city to the water, and serves as both a significant piece of public art and a gathering place for the community.
You can savor its beauty, along with that of many other iconic spots in town, by booking some of the many excellent walking tours!
2 – Uncover the medieval heritage of the Salerno Cathedral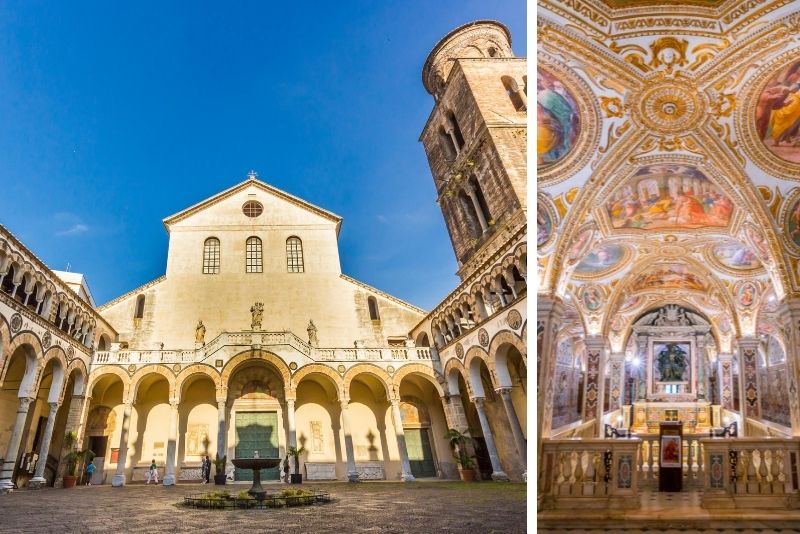 Dating back nearly an entire millennium – originally opening back in the year 1085 – this iconic cathedral is one of the oldest in all of Italy and stands tall as the one of, if not the city's most famous landmark.
The Salerno Cathedral, also known as St Matthew's Cathedral after the patron saint, has been destroyed and restored numerous times over throughout history – including an earthquake in the 1600s and the Allied bombings of WWII- which has given it a wondrous blend of Medieval, Baroque, and 20th-century architectural torches.
Today, visitors are welcomed to this majestic cathedral with a host of frescoes, mosaics, paintings, and sculptures that are worth seeing.
3 – Immerse yourself in nature at Minerva's Garden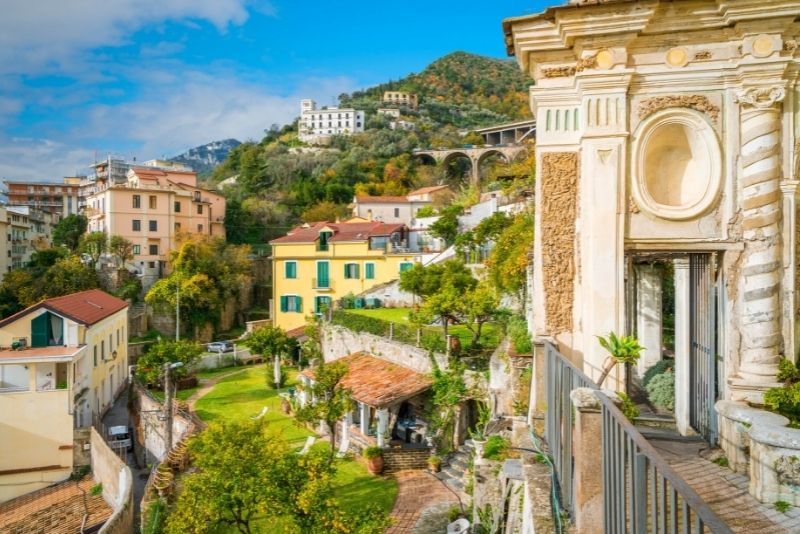 If you're looking for an escape within the city, look no further than Minerva's Garden.
This urban oasis – located in the Old Town of Salerno – is a tranquil public park that lets visitors explore history and art all at once with its stupendous green arrangements, intriguing educational museums and displays, and sculptural elements that date back to the 17th and 18th centuries.
Far from your typical botanical garden, Minerva's is split up into various themed zones: start your stroll through the Capasso Palace, check out the Pharmacy Museum, and don't forget to stop to smell the roses (as well as the medicinal plants which date back to the middle ages)!
4 – Climb to the top of Castello di Arechi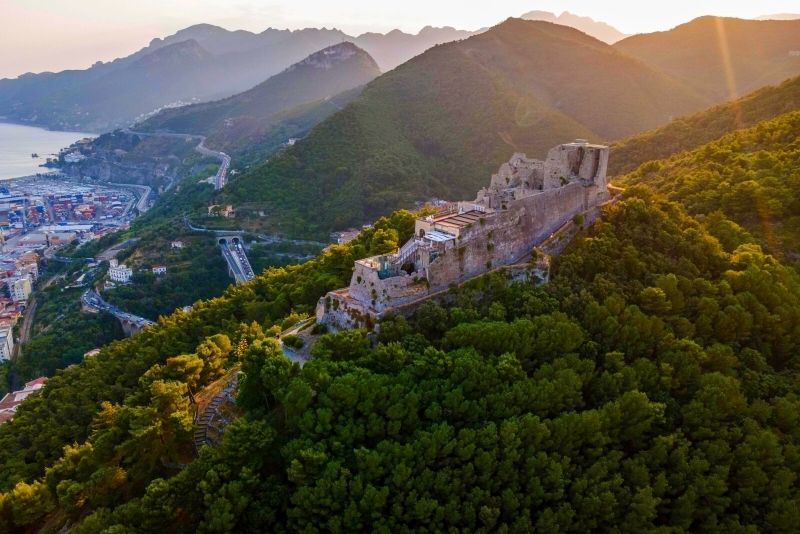 Soaring nearly 270 meters above the sparkling Gulf of Salerno and colorful city streets below, this postcard-worthy Medieval castle sits atop one of the city's highest hills, offering up views that can only be described as unforgettable.
Originally build as a Byzantine fort back in the 6th century (with some of its sections still standing from its original era), the famous landmark now acts as a romantic and tourist-favorite lookout as well as a museum with an on-site cafe and restaurant.
After soaking in the view, step inside the museum to discover all kinds of ancient weapons, ceramics, coins and objects of yesteryear.
Hot tip: while there's nothing wrong with a calorie-burning hike up the hill, if you're looking to save some time, hop on Bus 19 from Downtown.
5 – Admire the art at the Diocesan Museum San Matteo
Sitting in the heart of historic Salerno city center, this small yet superb specialty museum dishes up an equal dose of art and history, known for its fine Sabatini paintings, Caravaggio's famous Judith piece, and a host of more religious art and artifacts – some of which date back centuries.
While you're there, don't miss the crypt of San Matteo, a crowd favorite section that is decorated in colorful baroque marble designs; likewise the room of ivory tablets, some of which are the largest in the world.
At just a couple Euros to enter, the Church of San Matteo (or St Matthew) is a steal.
6 – Explore the Amalfi Coast on a boat tour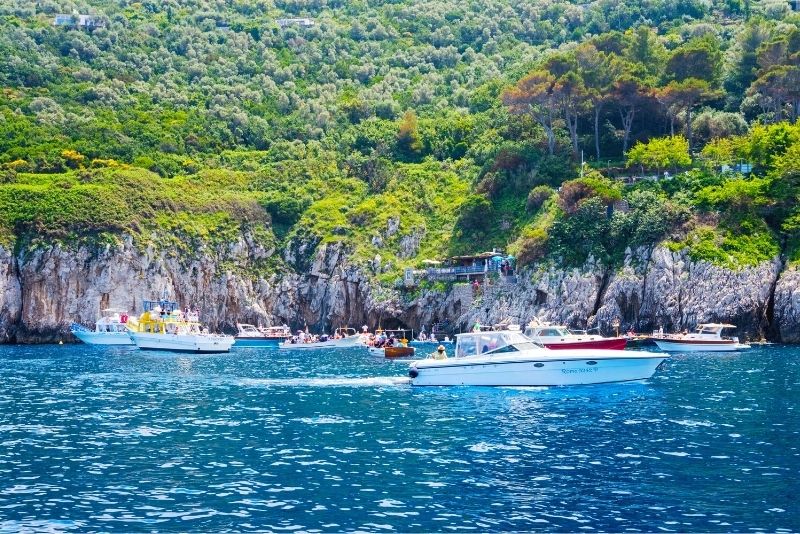 If peering from the clifftops down into the Bay is magical, the inverse is nothing short of extraordinary.
Compare the best Amalfi Coast boat tours and pick the one that fits best your needs.
Whether you charter your own yacht for a romantic adventure, join a group tour to soak up the sun, socialize and swim; or take a speedboat to fly across the glistening water and get the heart racing, there's nothing quite like cruising down the coastline and taking in all of its beauty from sea level.
For something truly bucket-list worthy, why not venture out to the elusive and famous island of Capri?
7 – People-watch at Villa Comunale di Salerno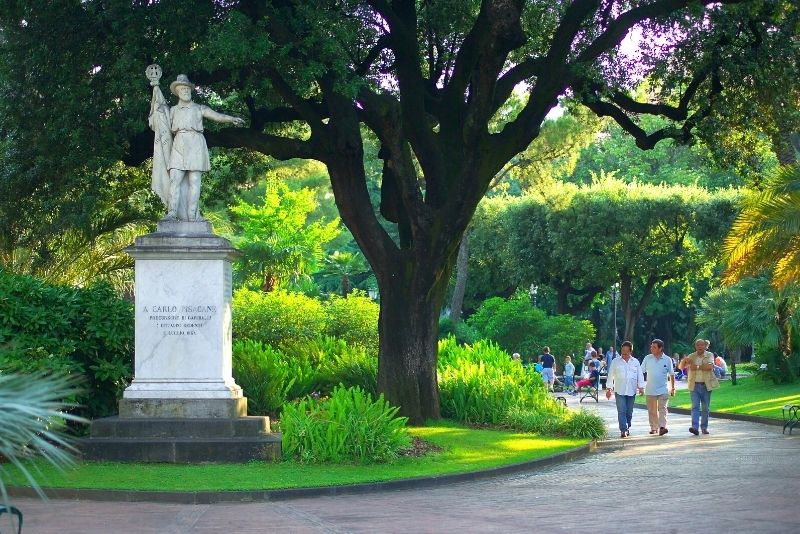 Save this one for the afternoon! Offering up some of Salerno's most tranquil grassy areas, Villa Comunale is a local for an hour or two of people-watching or a quick picnic under the sun.
This sprawling public garden is located within walking distance of all major attractions in the historic center, with dozens upon dozens of native plants and flowers, and winding tree-lined pathways dotted with a range of works of art and historic statues.
Little known to many, the park's pond is a breeding ground for turtles, so keep your eyes peeled!
8 – Paraglide over the region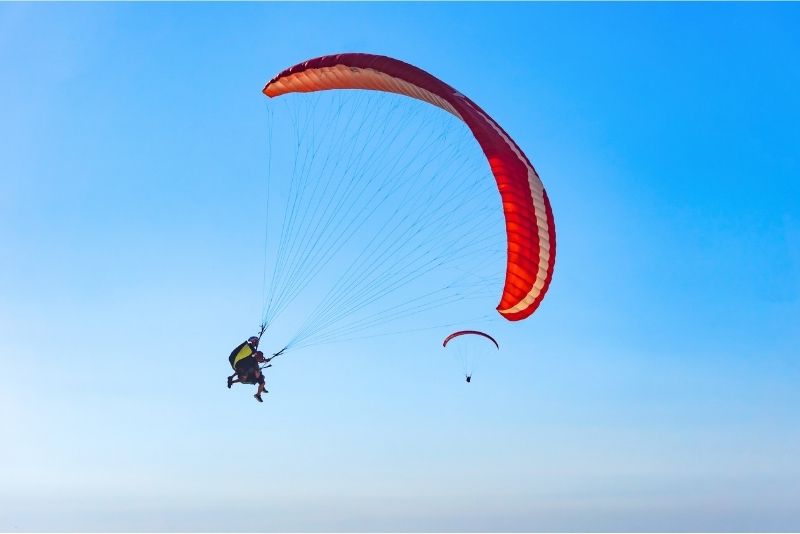 If you've ever envied the birds passing by, now's your chance to join them!
Join your instructor/pilot for a memorable paragliding flight that shows off all the finest parts of the coast, with a perspective seldom attainable from the ground.
With the wind as your guide, there's no telling what you'll see!
VIETRI SUL MARE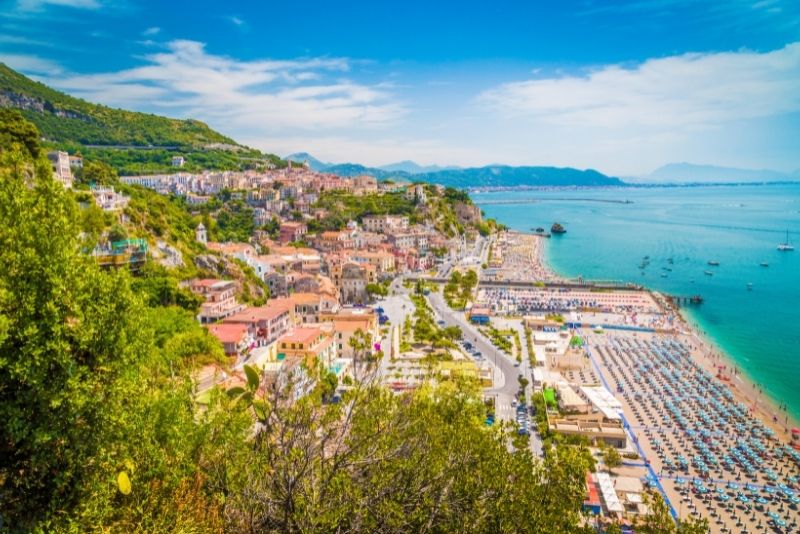 Looking for a traditional day trip from Salerno? Look no further than the charming seaside village of Vietri Sulmare.
This quaint and art-filled town is known as one of Italy's most popular ceramics destinations, with plenty to admire along its winding streets including several churches, a stunning monastery and the famous Cathedral of Santa Maria Assunta.
While you're there, be sure to check out Museo del Vetro e Cristallo or Glass Museum for an insight into how Mediterranean glassmaking has evolved over time, and make sure to try some limoncello while you're here!
9 – Admire the iconic Church of Saint John Baptist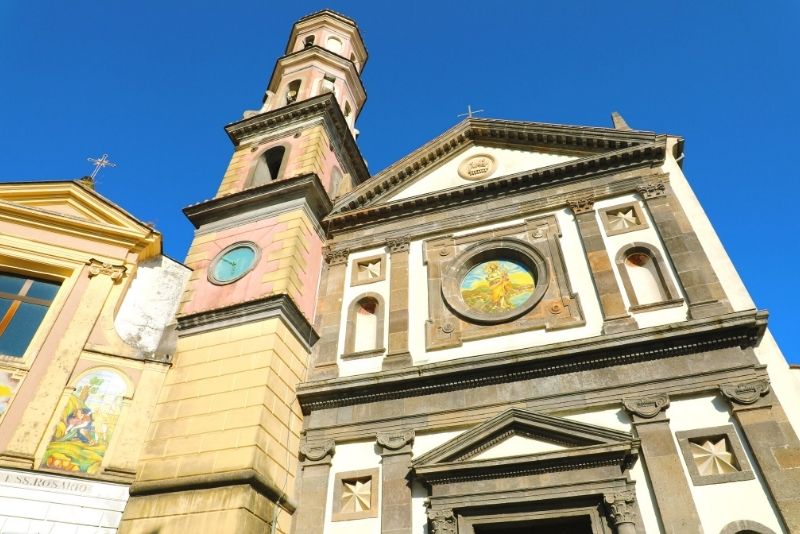 With most of its current structure dating back to the 17th century (although a history which spans some 7 centuries earlier still), this unique church, famed for its distinctly-colored tiled dome, is one of the Amalfi Coast's most photogenic.
Located near the city center, this iconic Neapolitan Renaissance landmark of worship has become the symbol of Vietri; its high bell tower and gorgeous interior (featuring bright majolica tiles and decorated marble altar) provides a step back in time.
10 – Soak in the sun at Crestarella Beach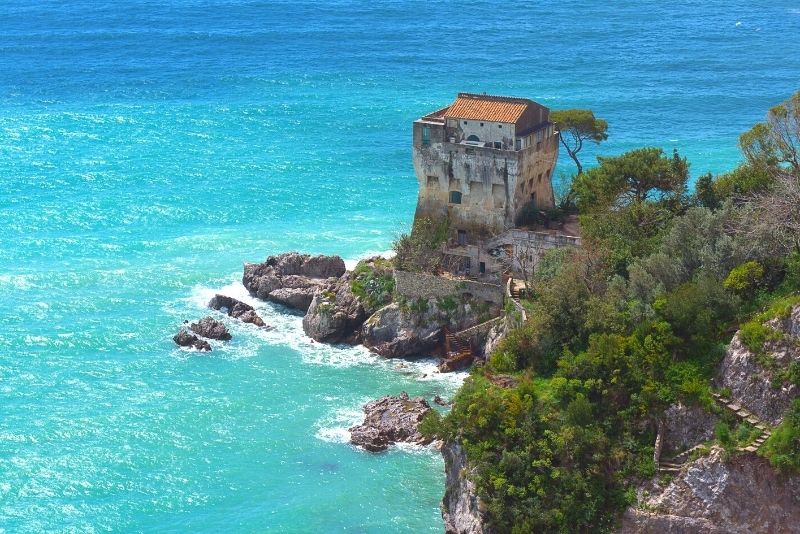 Rarely welcoming a drop of rain, it's no surprise that this stunning stretch of coastline is a sun-seeker's paradise. One of its hidden gems, however, Crestarella not only dishes up some idyllic lounging spots but also boat tours and diving excursions, all in the shadow of the picturesque defensive seaside tower.
Wildly popular with locals thanks to its clear and warm waters (ideal for snorkeling) rocky cliffs and quaint beach bars, this family-friendly beach is a must-visit.
Be mindful that, since this is a private beach, booking your lounge in advance is worth considering during peak season.
CETARA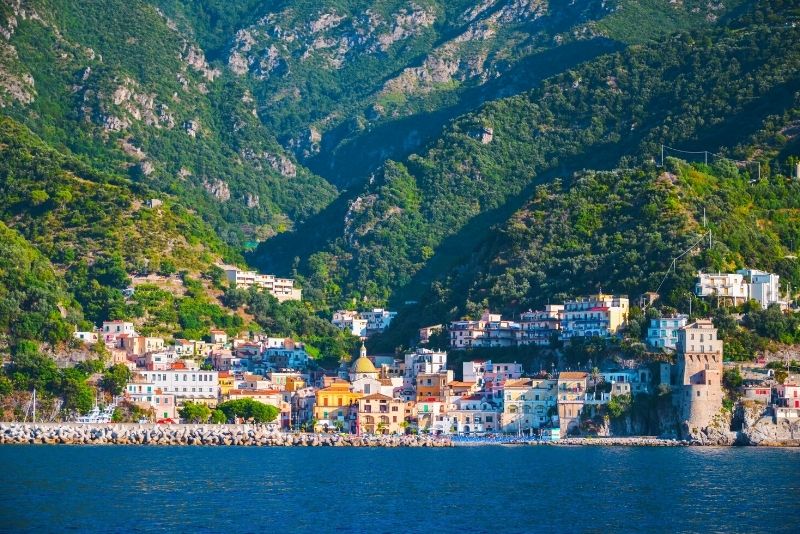 Traditional is nature but world-leading when it comes to food, Cetara is a tiny fishing village about 15 minutes drive from Vietri Sul Mare that's renowned for its fresh-as-can-be seafood cuisine and unwavering traditional atmosphere. Rest assured, the drive from Salerno or Sorrento will take you through some spectacular scenery and offer up an array of Instagram-worthy snaps along the way.
The town itself centers around the harbor, which plays host to not one but three world-famous eateries: Il Convento, Il San Pietro and L'Acqua Pazza — so even if you're just passing through, be sure to stop by for a delicious dinner with a view.
11 – Marvel at the settings of the Tower of Cetara & Tower of Cerniola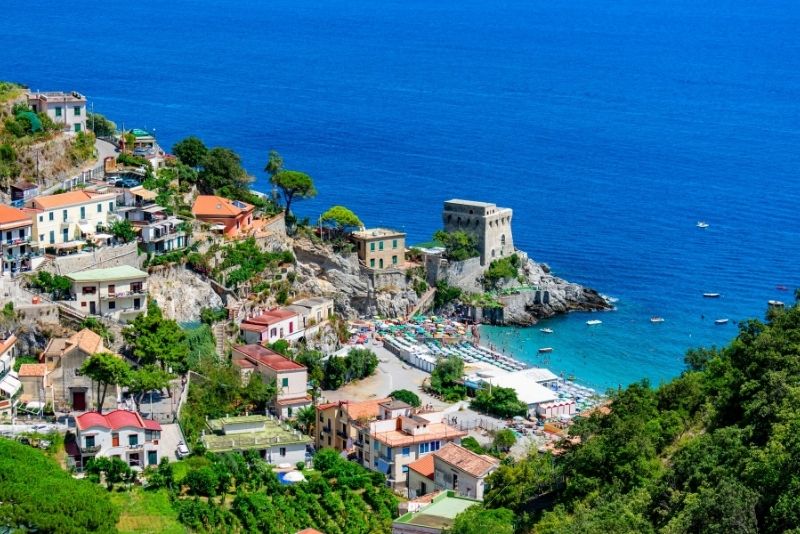 A pair of towers guarding the coastal town of Cetara and offering up some of Italy's most jealousy-evoking vistas, their history is as rich and fascinating as they are.
The Tower of Cetara dates back to the 15th century, acting as the gatekeeper to the small yet stunning Cetara beach, while its neighbor, the tower of Cerniola in nearby Erchie (somewhat off the beaten track) provides a wonderful backdrop for a spot far more quiet and serene than most.
As you'll no doubt discover, both towers are perfect for taking in the sunset!
MAIORI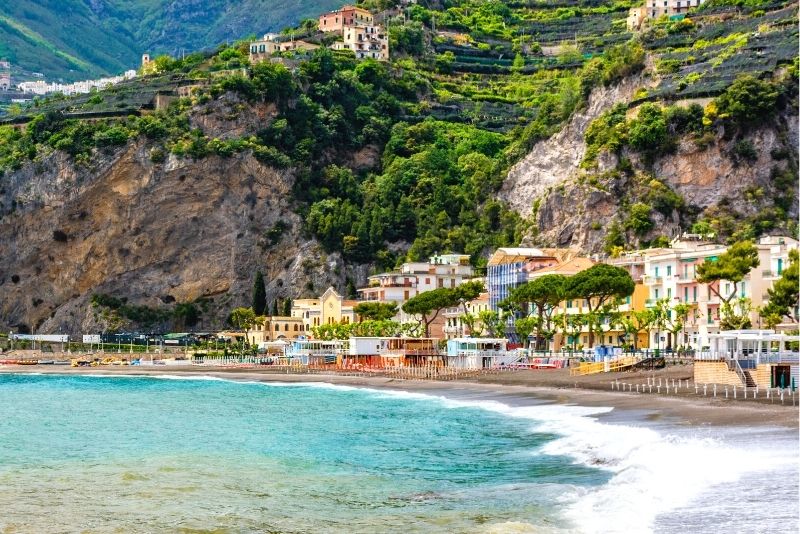 Taking in the Amalfi Coast's charming village atmosphere, Maiori is definitely not to be missed! With a centuries-old fishing tradition (you'll notice a bit of a pattern as we work our way through the towns) and what is officially the longest unbroken stretch of sand on the Amalfi coastline, it's a perfect place to soak up some local culture, eat your heart out at the restaurants and enjoy an ice cream or two under the sun.
And with a more modern feel and fewer hills than most towns in the area, it adds a little diversity to the region.
12 – Step inside the Collegiata di Santa Maria a Mare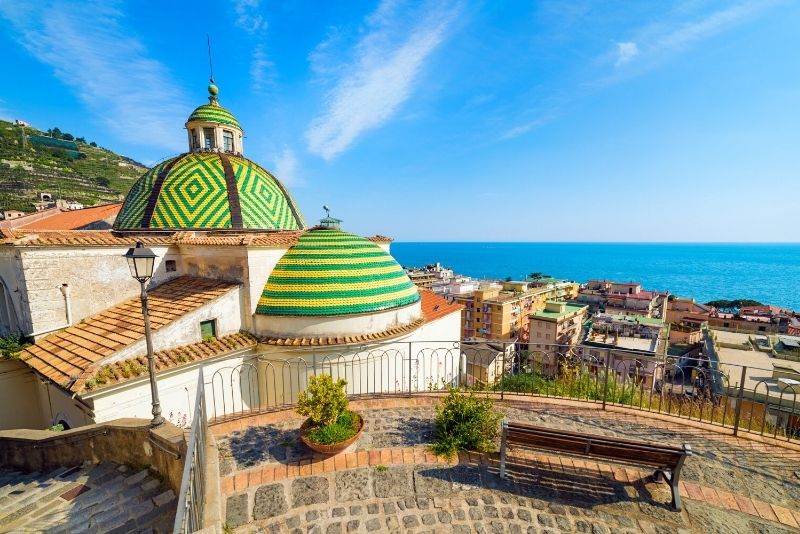 A gorgeous little church sitting atop Mount Torina, dishing up stellar panoramic views of both the water and town below, this renowned landmark boasts a majestic bell tower and neo-classical facade – with elements dating back to the 1500s – and a fine display of majolica tiles and what is said to be the oldest alabaster altarpiece in the county.
Beneath the church itself lies a former crypt now dubbed the Don Clemente Falcone museum, with history curious guests can browse a host of religious works of art and learn about bygone centuries.
13 – Snap a photo from atop the Castle of San Nicola de Thoro Plano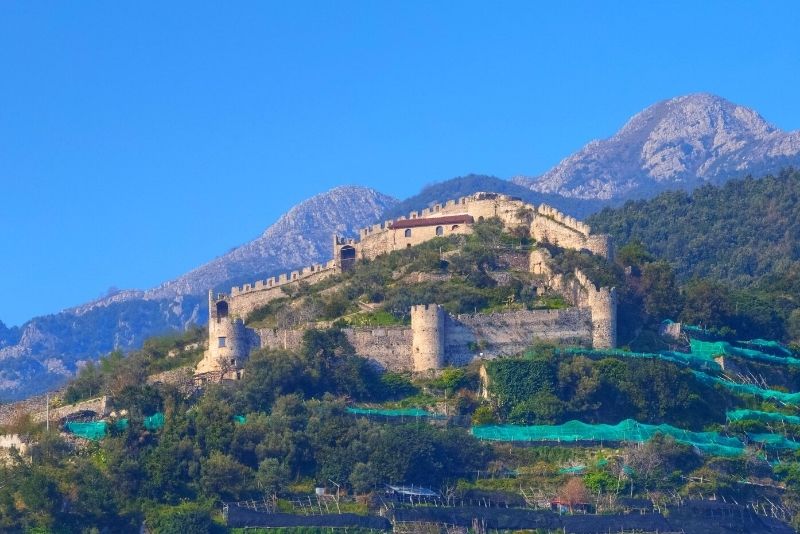 A typical example of a Medieval castle, the Castle of San Nicola de Thoro Plano is located on top of Monte Taro and affords visitors some truly breathtaking panoramic views over the Gulf Of Salerno and the vibrant districts of Accola and Carpineto.
Famed as one of Italy's most impressive castles from its time period, its records date as far back as the ninth century, with nine towers, a terrace overflowing with vines, and a host of artifacts reminiscent of decades and centuries gone by.
What makes this place truly special – besides the jealousy-inducing views – is the charming man who calls this place home, a lovely local who escorts visitors on tours, tells the history of the castle, and occasionally shares a fresh glass or two of limoncello.
14 – Spend a night at the Santa Maria de Olearia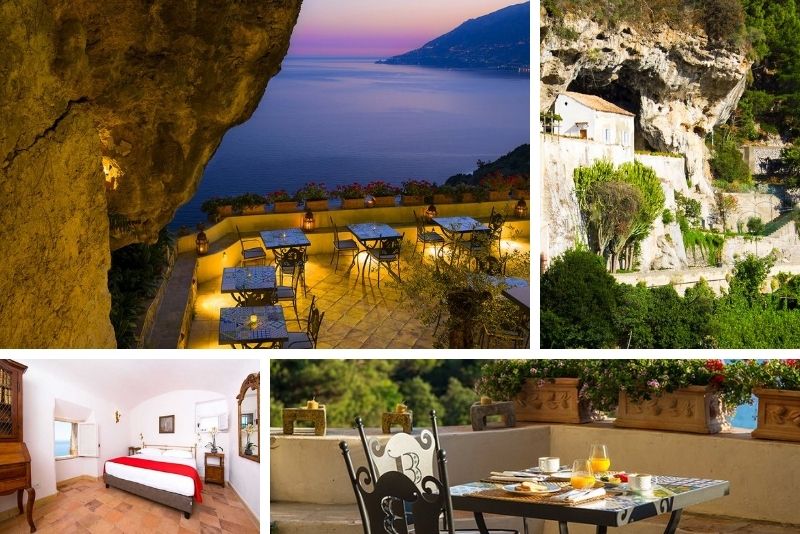 A one of a kind Medieval-era monastery that sits half-cut into the cliff face, overlooking the main road that connects Salerno to Amalfi, Badia Santa Maria de Olearia is far more than just a historic building — it's also a hotel!
Made to feel like you've stepped back in time thanks to the array of original furniture, centuries-old frescoes, historic décor and intricate terracotta tiles, after just one night you'll never want to leave!
Hot tip: book online in advance to score 15% discount on the entire stay, and don't forget to check out the terrace — the vistas are second to none!
TRAMONTI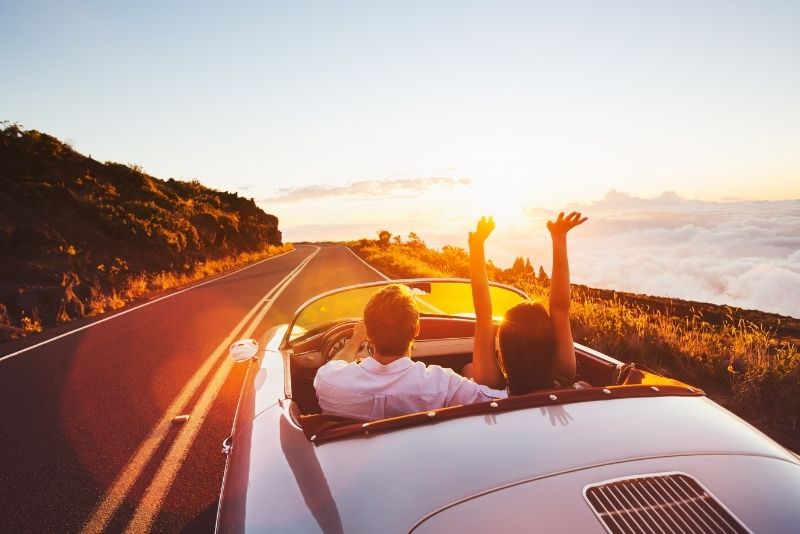 Translating loosely to "a land between the mountains" thanks to its inland location atop the peaks of Monti Lattari, Tramonti is full to bursting with an abundance of natural beauty – including some seriously gorgeous wineries!
The town itself offers up a great deal too however, boasting artisanal shops and incredible restaurants that are worth every penny — it is, after all, famous for helping develop mozzarella and pizza.
15 – Spend some time eating, drinking and exploring around the Tramonti old town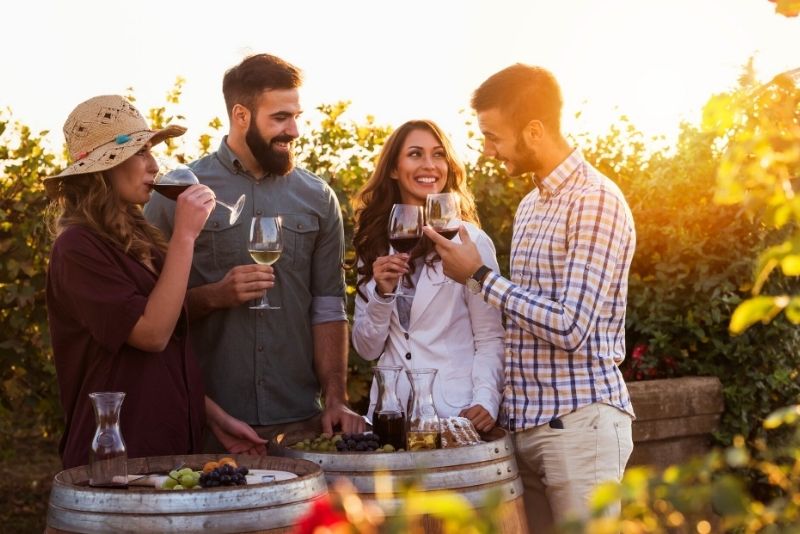 A historical village with a story to tell, Tramonti's old town is one of the best-preserved in all of Italy.
Start your day with a visit to the Chapel of San Michele Arcangelo in the Gete district, which dates back to as early as the 8th century and is surrounded by tombs of hermit monks; then make your way to either the Church of Sant'Elia or Church of San Giovanni for another dose of history before soaking in the views from one of the two popular castles in the area: the 12th-century Castle of Montalto and Hermitage of St. Catherine, and the slightly newer Castle of Santa Maria La Nova.
If it's winery tours you're after, it's hard to go past Tenuta San Francesco; while if you consider yourself more of a foodie on the hunt for pizza, look no further than Pizzeria Vaccaro, Agriturismo da Regina or Nino's Pizza. In all honestly, though, it's near impossible to find anything less than extraordinary in this gastronomic haven.
MINORI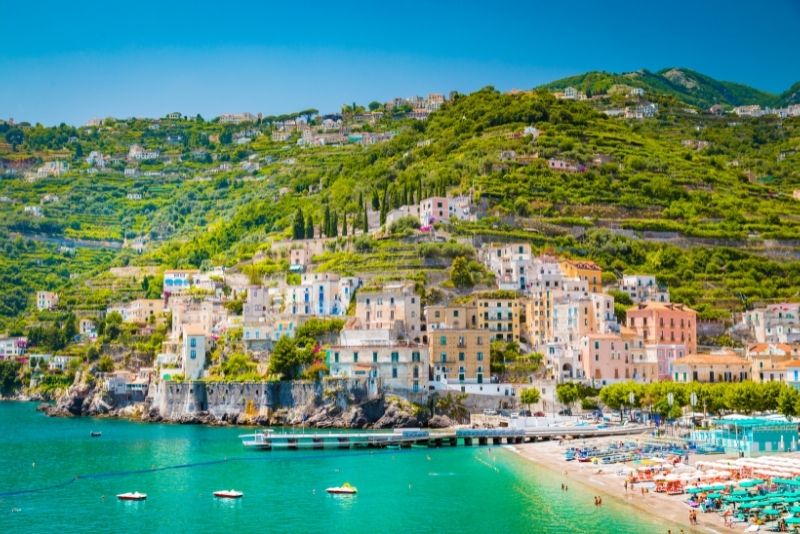 A quick and easy jaunt from Amalfi (or even by ferry), Minori is a quaint and laid-back fishing village with all the trimmings of an authentic Italian getaway.
Famous for its wide cove, picture-perfect setting, brightly painted houses and pasta factories (which still operate and welcomes tourists to this day), the town's old center is a maze of cobblestoned streets filled with boutique shops and classic eateries that serve up some lip-smacking plates that will have you begging for seconds.
16 – Take a moment to reflect at the Church of Santa Trofimena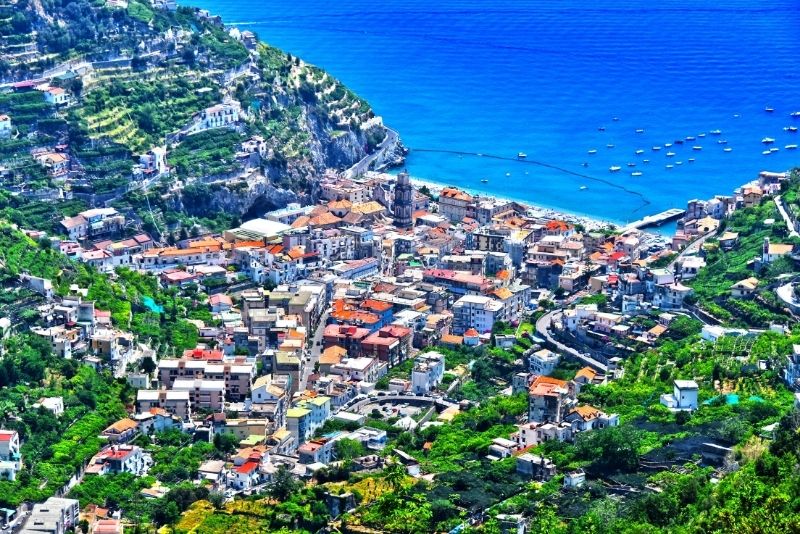 Making Minori even more of a must-see destination, this stunning Romanesque church dates back to the 18th century and boasts some seriously impressive architecture.
Tucked off the main streets, providing a quiet reprieve from the main streets, the Church features an intricately decorated facade adorned with sculptural stonework; while inside its frescoes date back centuries and make for a short but sweet visit.
Unlike some other tourist-favorite churches along the coast, this one's free to enter.
17 – Relax at the Otium Spa
With all of the luxuries available to you on your vacation, Otium Spa might get overlooked at first; but it's well worth a visit!
Between its stunning beachside setting and marvelous services, it offers the kind of relaxing atmosphere that will make you feel like a million bucks!
Modeled after the renowned baths of Ancient Rome, the venue offers everything from steam rooms and massages to a series of pools at different temperatures, designed to reinvigorate the body.
Switch from frigid to heated and back again, then relax on some sunbeds and plan your next adventure.
18 – Explore ancient ruins at Villa Romana e Antiquarium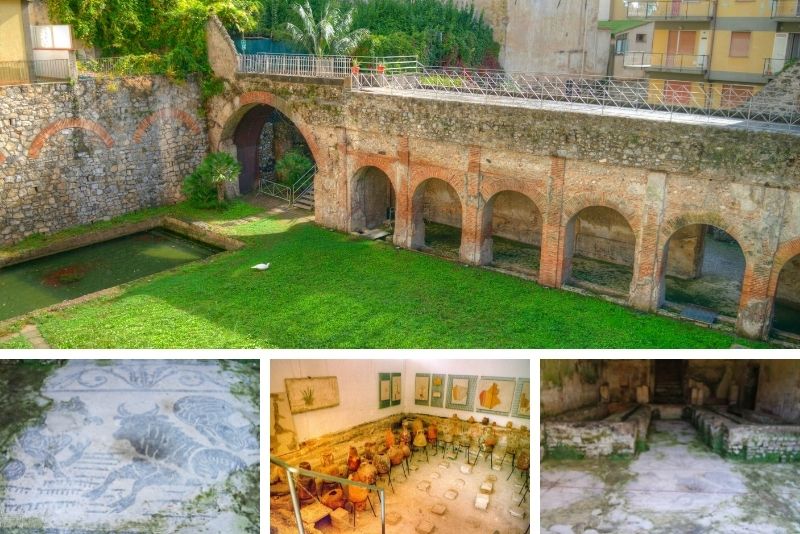 Like a fine wine, this archaeological site only seems to get better with age.
Just 300 meters from the beach in Minori's old town, Villa Romana e Antiquarium is one of Italy's best-preserved examples of Roman architecture and has been declared a national monument for its historic significance.
Thought to be built around the second century AD, the ruins leave a significant historic footprint of settlements, spas, staircases and bathhouses — all up, combined with the small museum, providing a throughout the journey back in time.
19 – Satisfy your sweet tooth at Pasticceria Sal De Riso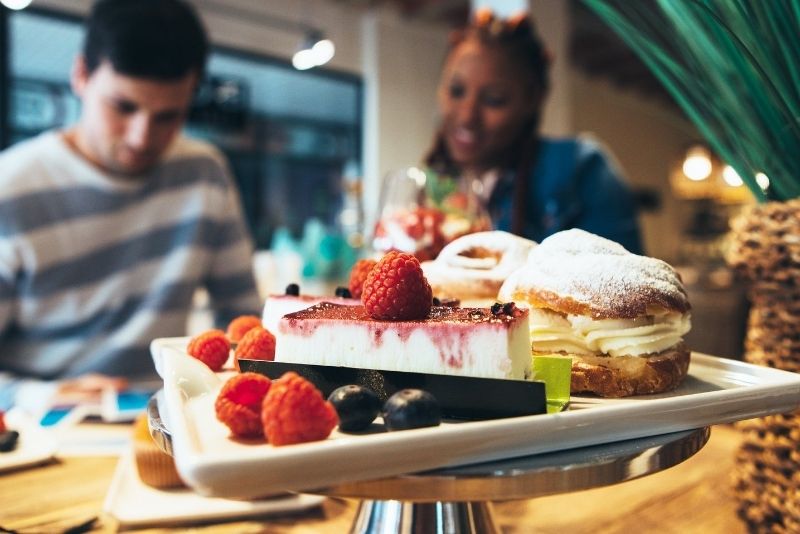 One of the highest recommended authentic restaurants in Minori, you'll find this unassuming pastry shop right under your nose on the village's main street, and you'll be glad you did.
A local favorite and a must-visit for any sweet tooth exploring the area, Pasticceria Sal De Riso is home to some of Italy's best pastries — including biscuits, cakes and croissants — all of which are baked to perfection in methods perfected over decades by world-famous pastry chef, Sal De Riso.
Of course, it'd be rude not to pair a mouthwatering pastry with a drink, right? By all accounts of visitors who've sampled the handcrafted cocktail, the Negroni here is absolutely to die for.
20 – Walk along the Path of Lemons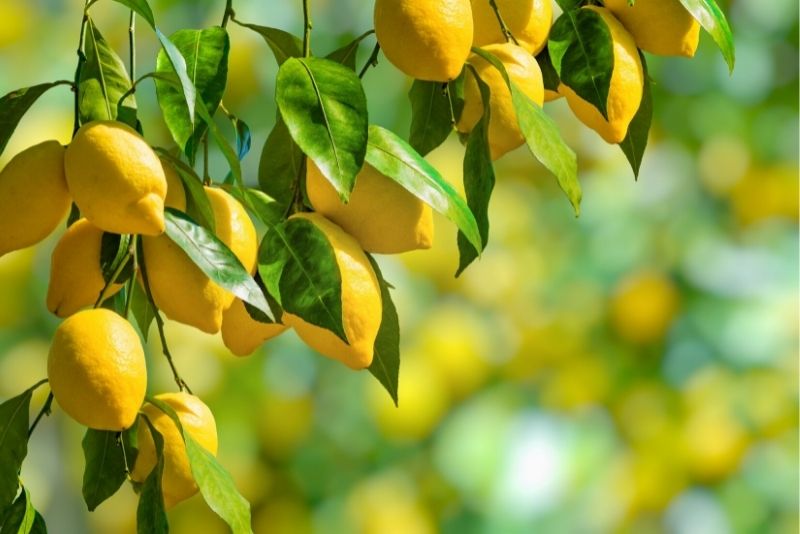 An awe-inspiring walk that serves as the link between the towns of Minori and Maiori, the Path of Lemons, true to its name, is decorated by an enchanting lemon grove that hangs overhead, complementing the postcard-worthy views of the village of Torre and wider Amalfi Coast on your way to the next town.
Known as a fairly easy, family-friendly hike, the path takes about 1 hour and features a total of about 400 steps (making it not wheelchair accessible, unfortunately), and dishes up no shortage of Instagram-worthy backdrops.
RAVELLO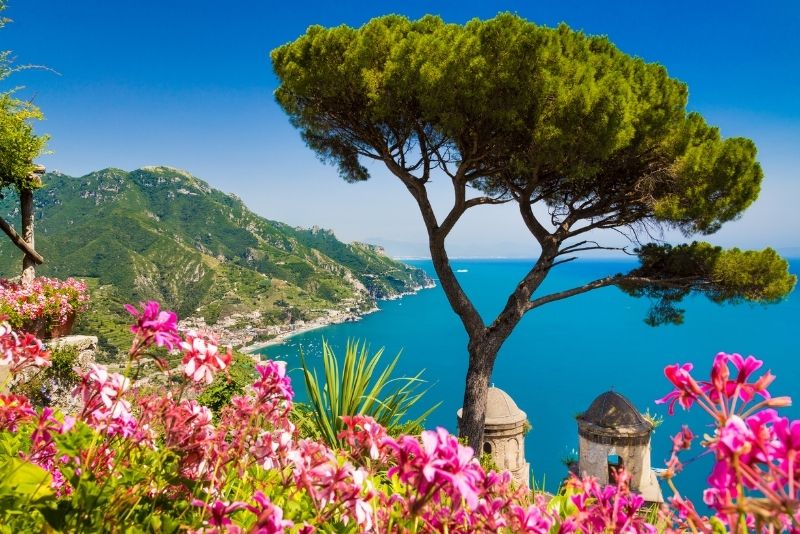 Sure to please even the most well-traveled of tourists, Ravello is one of Italy's best-kept secrets, jutting up some 365 meters above the shimmering Tyrrhenian Sea.
Tucked away (though not too far away) from the busy beaches, Ravello is known for its world-class cuisine and distinctive charm in equal measure — this ancient town makes for an excellent pit stop on any Amalfi Coast road trip, especially if you're looking for a little peace and quiet.
See also: day trips from Positano.
21 – Admire the view from Terrazza dell'Infinito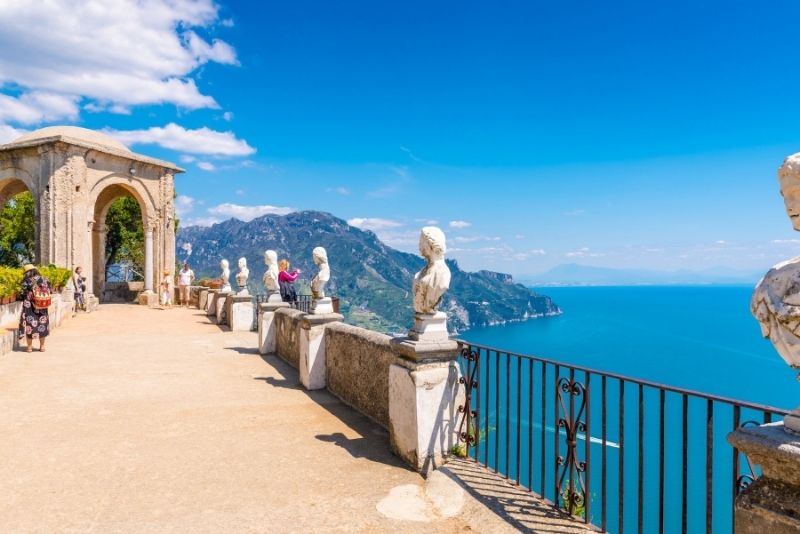 A must-see for those looking to soak in the views as the sun sets on another gorgeous day on Italy's most famous coastline, the Terrazza dell'Infinito — an Italian term meaning Infinite Terrace — is one of the Amalfi Coast's more recent attractions, having shot to international fame after featuring in the Wonder Woman Hollywood blockbuster (where Diana getting in trouble with her mother, overlooking the ocean).
Found nearby the Villa Cimbrone Hotel, the Terrazza dell'Infinito, adorned with sculptures, is a lovely spot to enjoy the sunset and offers visitors sweeping views of the coast as it stretches out toward Positano.
22 – Enjoy the view from the San Giovanni del Toro church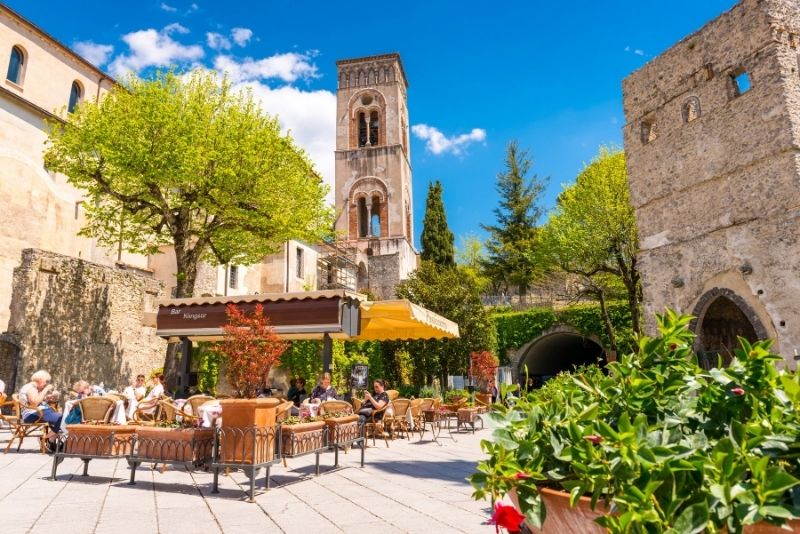 A historical 11th-century treasure that, like many buildings in the region, was largely restored following a huge earthquake, the  San Giovanni del Toro church is a hidden gem that presents splendid views from its open-air terrace and a range of winding paths to get lost in (in the best way possible).
Inside the church itself, you'll find a range of centuries-old artifacts and paintings, which, while some might say need a little love and restoration, others will say are as authentic as they come.
23 – Enjoy the classy offerings of the Belmond Hotel Caruso Rooftop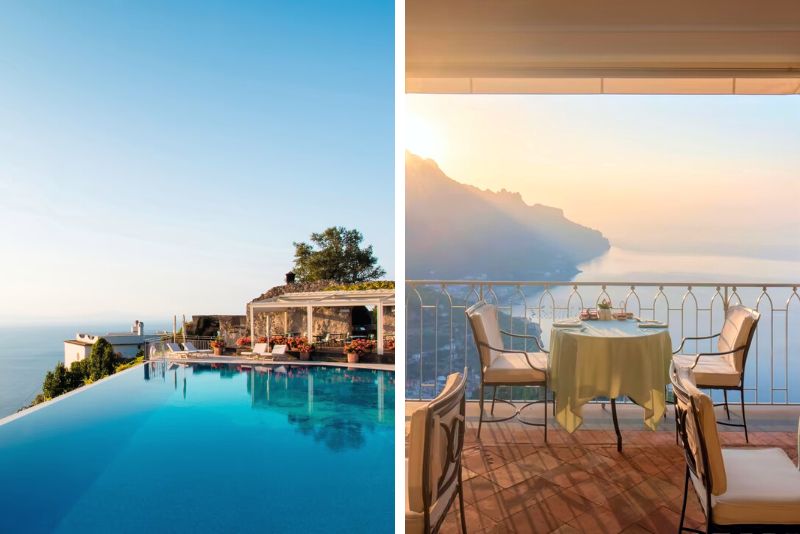 While the Belmond Hotel Caruso is a notably glamorous spot, its rooftop is an incredible destination in its own right!
Whether you're looking for classy cocktails or a full-course meal, this spacious environment offers plenty of opportunities to unwind – and all with breathtaking views!
Bar Caruso keeps the party going with fresh prosecco and live music, while the Pool Grill is the ideal spot to pair a delicious beverage with hearty dishes like pasta and Neapolitan pizza.
Ristorante Caruso is perfect for sophisticated dining, while Ristorante Belvedere's sunset views and carefully cultivated menu are ideal for a beautiful evening with that special someone.
24 – Step inside the restored Duomo (Cathedral)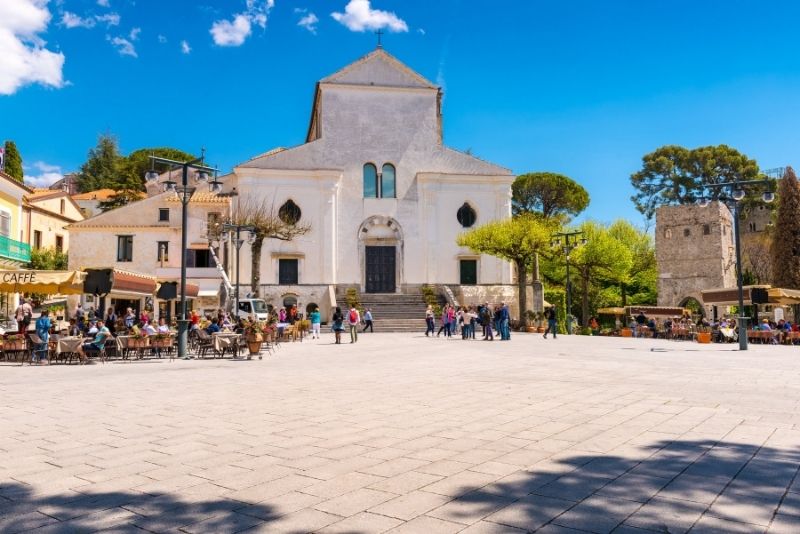 Sitting on the eastern side of Piazza Duomo and sporting a story that dates to the 11th century, Ravello's Duomo is the kind of architectural beauty that'll have you pausing for a moment to snap some photos, not least because it looks like something out of an art museum.
The cathedral itself is adored with an array of mosaics and sculptures, with its old bronze doors immaculately preserved and its small museum offering visitors the chance to browse a handful of significant religious artifacts.
25 – Stroll Villa Rufolo gardens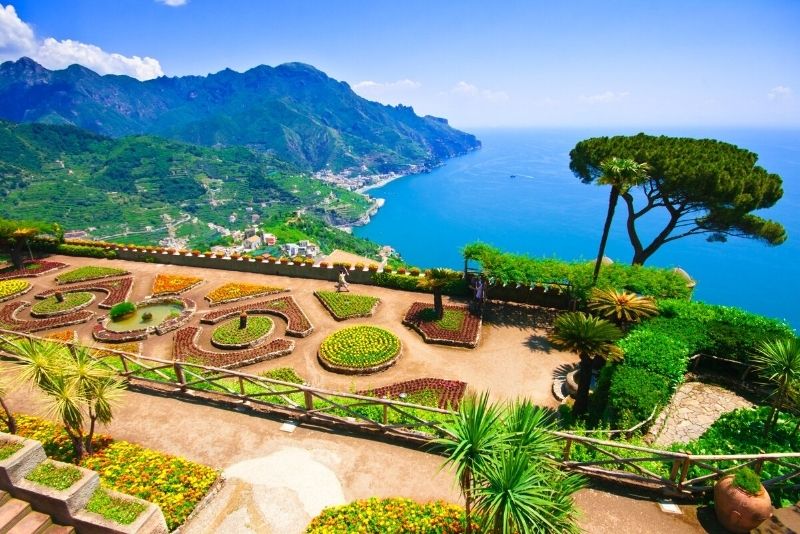 Another one of the most esteemed villas on the Amalfi Coast, and what was once one of the largest and most expensive too, Villa Rufolo sits perched high up in the hills overlooking the Piazza Vescovado and the waters below.
Its gardens, spanning two levels and featuring colorful flowers, ancient statues, and bubbling fountains are reason enough for a visit — but even better is the stunning atmosphere when the Ravello Festival's outdoor concert stage — an annual summer series that welcomes piano recitals and orchestra performances — is set up!
26 – Spend an evening in luxury at Villa Cimbrone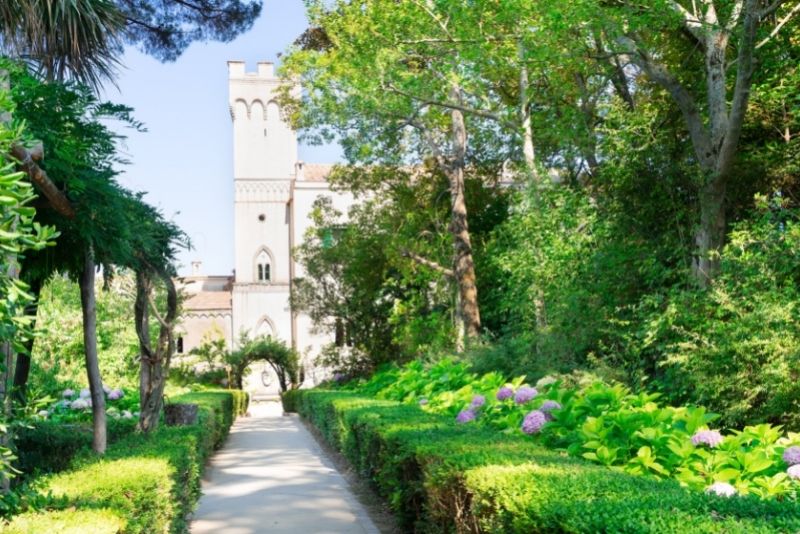 A lavish baroque palace that commands an ultra-exclusive setting right on top of the town, Villa Cimbrone isn't just a historic hilltop castle dating back to the 11th century, it's also an envied 5-star hotel famed for its all-out-luxury, expansive gardens, and original stonework.
The centuries-old villa-turned-hotel offers an outdoor pool with a hydromassage corner (talk about lux!), sprawling terraces that offer dramatic ocean views, and fantastic food and drinks — all the makings of a luxury holiday (for those who can afford it).
27 – Enjoy some live music at the Oscar Niemeyer Auditorium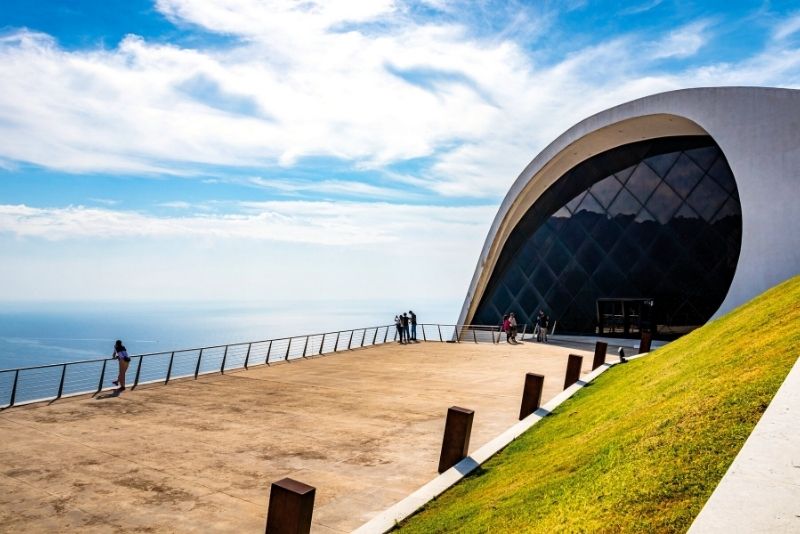 A stunning piece of sculptural architecture that pays homage to both art and nature alike, this eye-catching concave-shaped auditorium is nestled into a rockface toward the top of Ravello, offering visitors a chance to see stunning views of the coast from its open-air amphitheater 365 meters above sea level.
With an intimate capacity of no more than 100 people, a memorable show is guaranteed here, though you'll need to be a quick-thinker if you want the chance to snag a ticket — this little marvel is often booked solid.
SCALA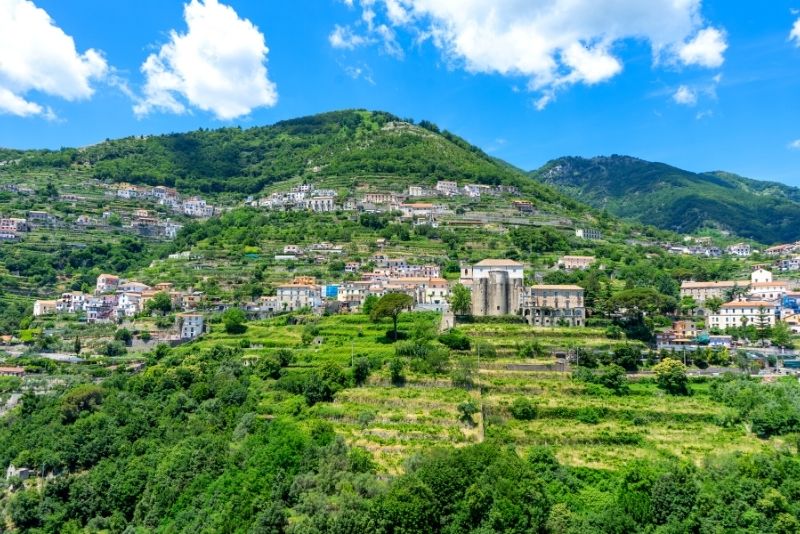 Perched about 400 meters above the sparkling shore below and just across the valley from Ravello, Scala is widely known as the oldest town on the Amalfi Coast, with its roots dating back the Middle Ages when it thrived as a key defensive post for what was once the Republic of Amalfi.
This quaint little village is filled with medieval-style architecture, centuries-old churches, and comes with an annual chestnut festival, bountiful hiking opportunities, and a whole lot of atmospheric charm.
28 – Visit the huge Scala Cathedral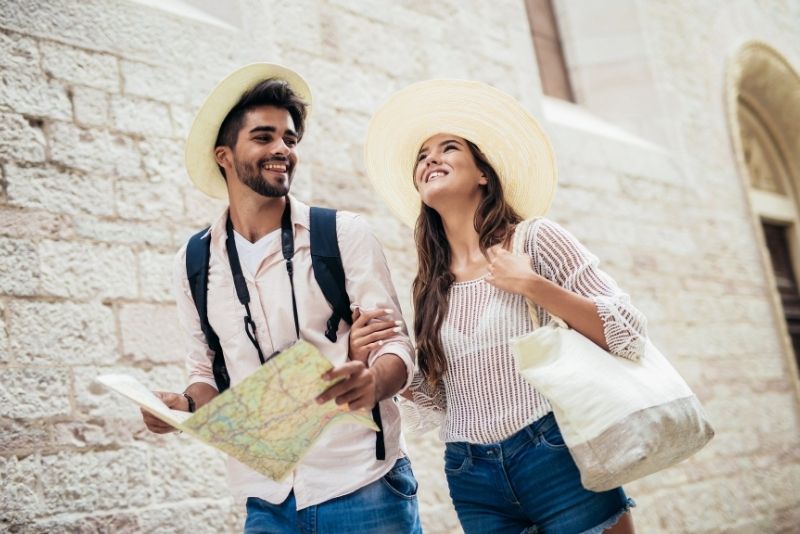 A foreboding structure with ties to the 12th century, this grand church fuses Romanesque history with medieval sculptural decorations, making it one of the most significant religious sights on the Amalfi Coast.
Its bell tower dominates the skyline while the interior of the church offers a wealth of history to visitors, with its crypt regularly intriguing those who venture down inside it.
And, since the Cathedral sits within the bound of the town's main square, you'll be able to check out a range of independent shops as well as the city hall and the town's school while you're roaming around.
ATRANI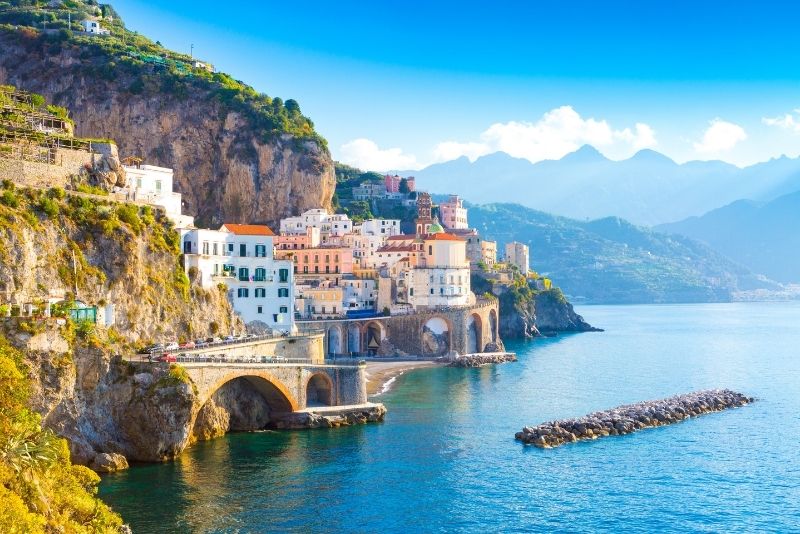 Sandwiched in between a pair of dramatic, overhanging cliffs, with its colorful box houses and iconic aqueduct flanked by the crystalline sea, Atrani is arguably the most photogenic of all the Amalfi Coast towns.
A great place to take a wander and snap some photos, Atrani offers visitors a chance to wander around its narrow lanes and historic buildings, while also enjoying some quality food in one of the town's atmospheric restaurants.
29 – Enjoy gorgeous views of the Mediterranean on the Ravello – Atrani Walk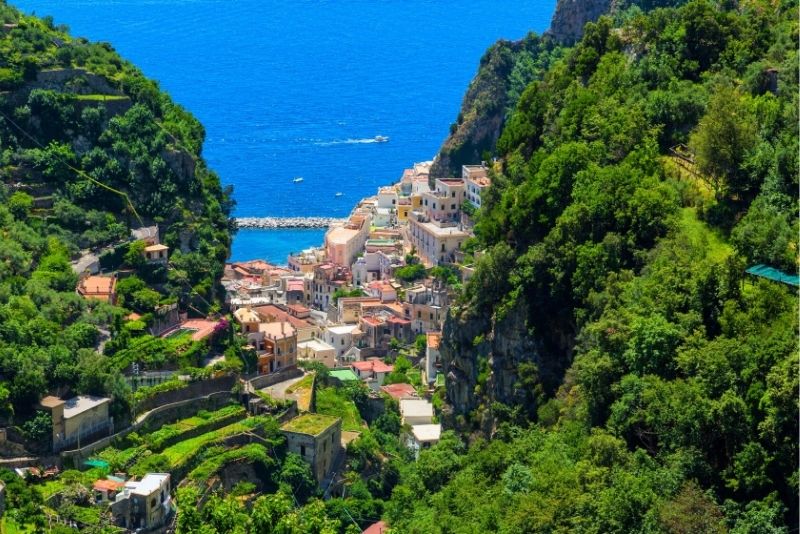 Ready to stretch the legs after all that driving? This enchanting coastal path between Atrani and Ravello — otherwise known as the Valley of the Ancient Mills —runs along the Amalfi Coast cliffs, allowing for some wonderful views of the sea along the staircase-like trek.
With a length of about 3 kilometers one-way (about 2 miles), the walk is full of steep steps — but if you can bear the workout, the panoramic coastal views and opportunity to experience different villages with distinctive characters is well worth a few sore muscles.
30 – Churches of San Salvatore del Birecto and Santa Maria Maddalena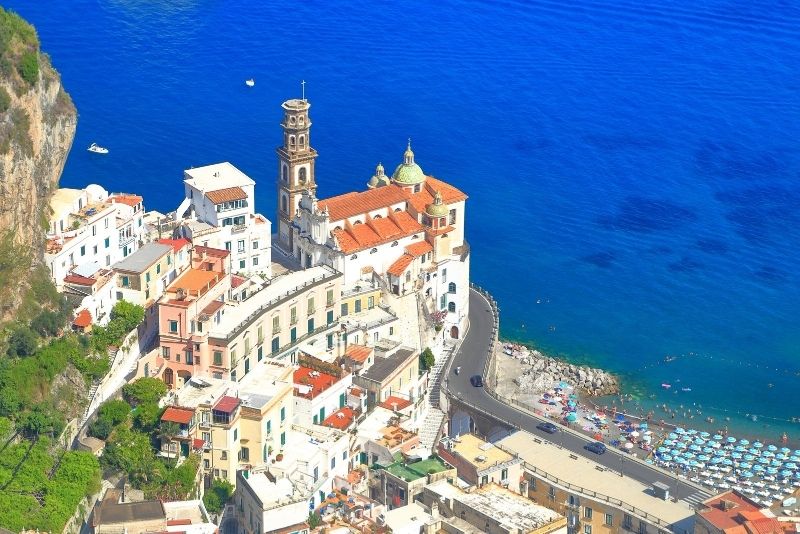 If you can't get enough of the historical and religious things to do on the Amalfi Coast, this pair of churches makes for a welcomed addition to the list.
Dating back to the 10th century, the Church of San Salvatore del Birecto surprises visitors; behind its subtle exterior (less subtle is its brilliant clock, however) lies a pleasing interior featuring some notable frescoes. Meanwhile, the Church of Santa Maria Maddalena, one of the few examples of Rococo architecture on the entire coast, offers a fascinating visit for those who like to brose art and religious artifacts.
AMALFI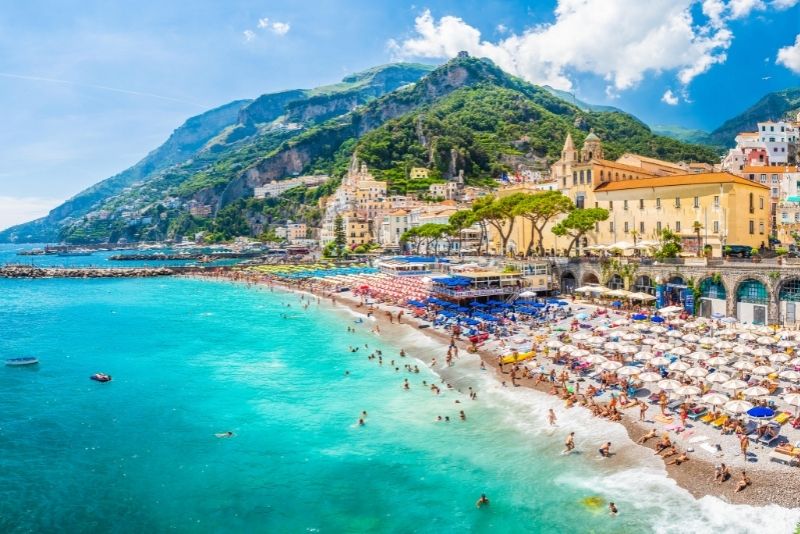 The Coast's most famous and most popular town, Amalfi is often full to the brim with tourists, and for good reason. The energy-filled streets are packed with historic buildings and stunning architecture, the beachfront promenade plays host to a range of shops and eateries, and the heavily postcarded landmarks are second to none.
See also: day trips from Salerno and Positano.
31 – Wander around the Amalfi Cathedral and its beautiful cloister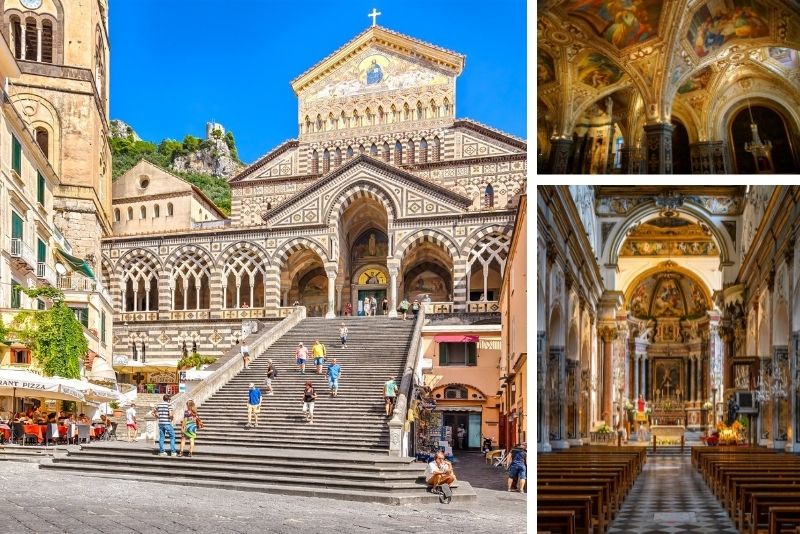 A grandiose structure with ties to the early 1200s, this awe-inspiring cathedral towers over the town's main square, Piazza del Duomo, and earns its reputation as one of Italy's most important religious sights.
Its ornate bell tower dominates the skyline while its interior offers a wealth of history for visitors; it also houses a collection of relics dedicated to Apostle Saint Andrew as well as several notable paintings.
Topping it all off is the stunningly beautiful cloister, or Chiostro del Paradiso —a peaceful haven with a gorgeous garden and some impressive works of art to boot! More than 120 marble columns grace the tranquil gardens, which also act as the gateway to the Basilica of the Crucifix.
32 – Learn on the go with local walking tours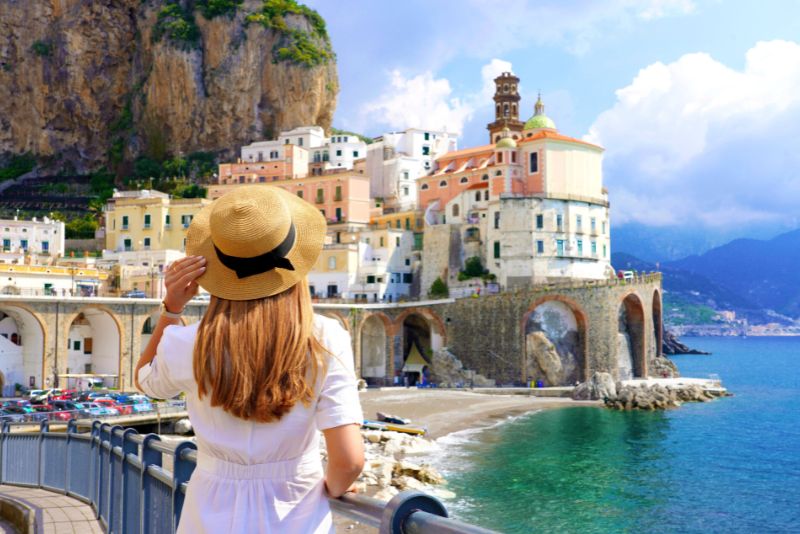 From charming villages to lush natural reserves, the walking tours of Amalfi are one-of-a-kind adventures!
Wander through the forested realms of Valle delle Ferriere Natural Reserve, where gorgeous ferns line the pathways, and breathtaking waterfalls highlight the wild splendor of the region.
Or brave the archaic pathways of the smaller villages in the area, exploring the towns' various nooks and crannies, and getting a taste of the tranquil rhythms of daily life.
These excursions are also a great way to see some of the classic local attractions in a new way, from the picturesque coast to the lovely vineyards where some of the region's best wines get their start.
33 – Learn about naval history at the Antico Arsenale della Repubblica di Amalfi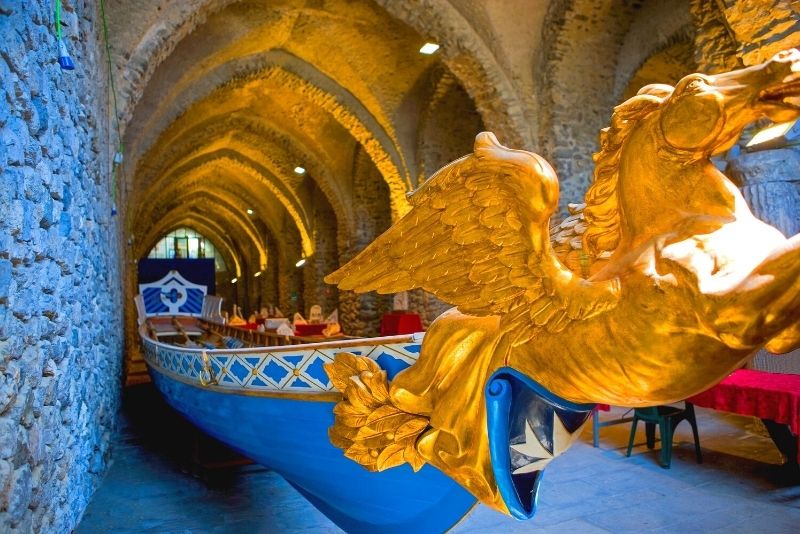 One for the water warriors, the Antico Arsenale della Repubblica di Amalfi served as an ancient shipyard in bygone centuries, now acting as the town's coveted maritime museum where a fascinating collection of nautical navigational instruments sit on display for all to enjoy.
The main attraction, besides the physical beauty of the shipyard itself, is the displays dedicated to the compass, which is said to have been invented on this very Coast back in 1302.
Hot tip: to get the most out of your visit, make sure to snag a ticket for the Amalfi Musical, a toe-tapping show that blends entertainment with education with a mighty extra dollop of local history.
34 – Try the great selection at Lo Smeraldino restaurant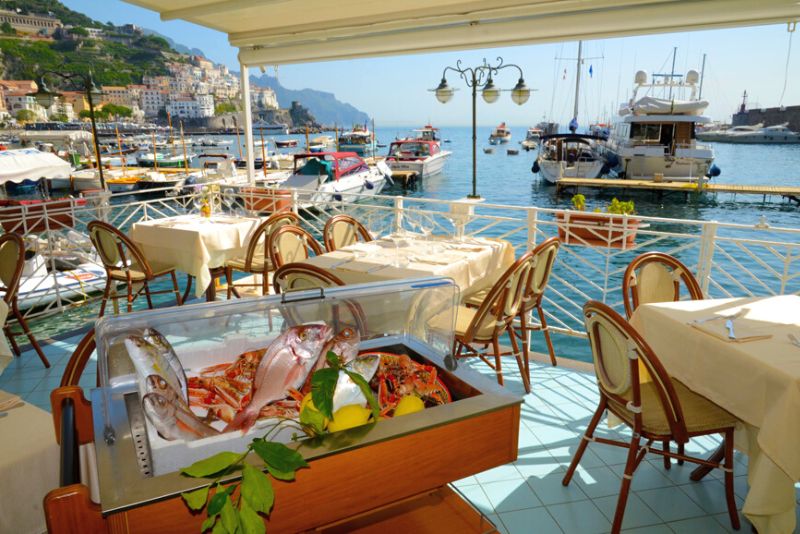 There's nothing quite like a meal with a view… especially when that meal consists of some of the best seafood around!
Unsurprisingly, Lo Smeraldino – an acclaimed restaurant that sits right on the water – specializes in aquatic offerings, with shellfish and a whole host of other local species expertly prepared and presented by the chefs.
But they also offer plenty of other delectable dishes to try, from savory meats and tantalizing vegetable-based meals to that beloved regional classic… pizza!
And with its perfect portside location, this gorgeous eatery is ideal for enjoying the coastal breezes and stunning scenery.
35 – Sample some skydiving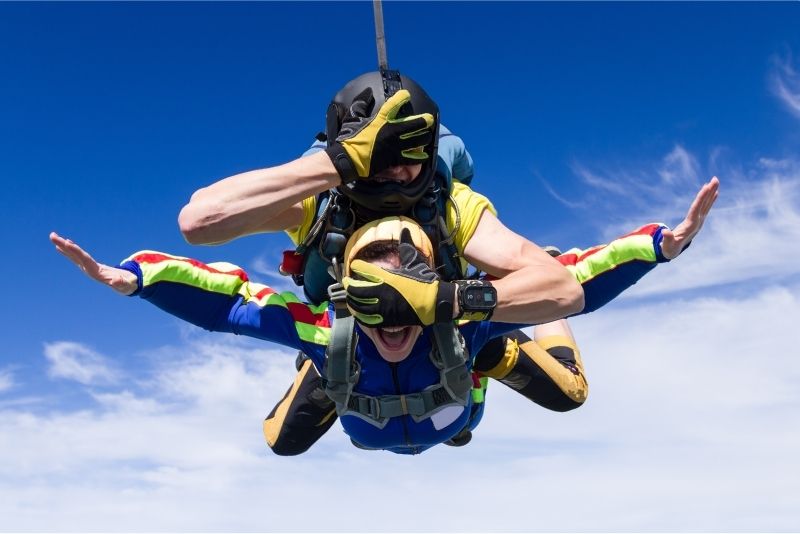 It may seem daunting to jump from a plane into the open air – but trust us, the skydiving view is worth it!
Strapped to your instructor, you can enjoy the amazing sensation of soaring through the sky, over the Amalfi Coast and towards the ground (safely, of course).
And the panorama below you will surely take your breath away!
36 – Grab a snorkel and start adventuring
After all of that time spent looking at the water, it's time to get in it and explore!
The snorkeling around here is top-notch, with remarkable visibility levels and a lively aquatic world that puts National Geographic to shame.
Whether you're admiring the vivid blue waters in sheltered grottoes or swimming past underwater stalactites, you'll be amazed at the splendid geology of the region!
And if you want to take things to the next level – and catch a glimpse of some wildlife -, book a memorable trip with a marine biologist.
Keep an eye out for barracudas, dolphins, and even sea turtles!
37 – Head up to the Tower of Ziro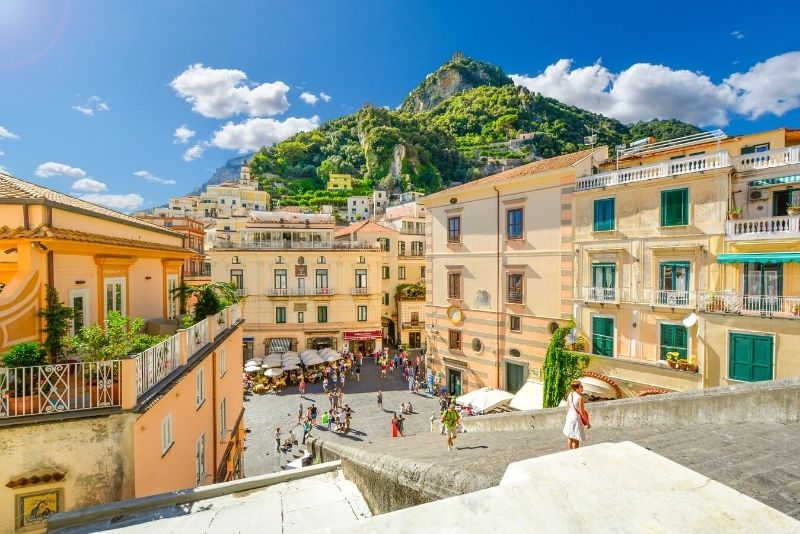 One of the most dramatic – yet surprisingly easy to reach with a moderate hike – attractions on the Amalfi Coast is this ancient 15th-century watchtower, famed for its spellbounding views out over the Mediterranean, and a wonderful place to enjoy some time in quiet contemplation.
Located on a clifftop perch about halfway between Amalfi and Atrani, this mighty little fortress is one of the area's most distinctive sights. So, in order to appreciate it even further, some travels opt to continue higher up in the mountains to a small overlook that fuses the Tower itself into the beautiful landscape, with Maiori and Salerno visible in the distance!
38 – Explore the Amalfi Coast by boat or kayak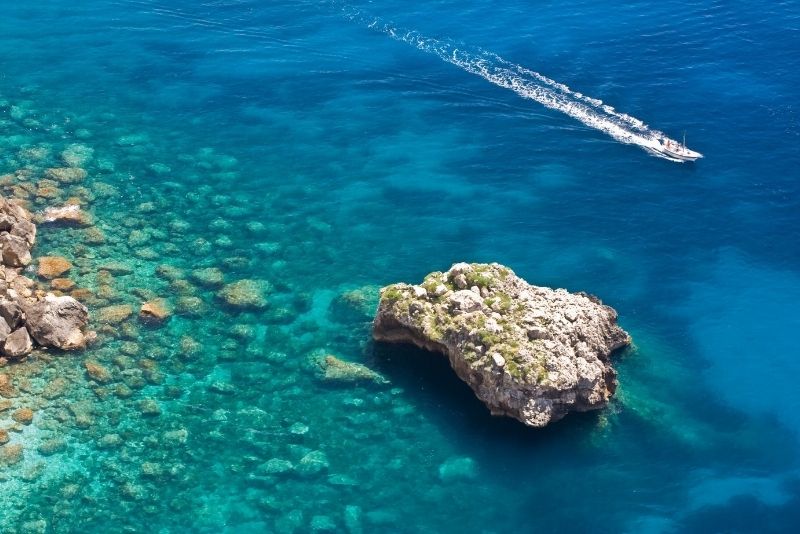 Famous for its picturesque sea grottos, not to mention the hidden coves most tourists haven't heard of, the real Amalfi Coast experience is two-fold: on land AND on water.
When it comes to the latter, there are a number of companies offering everything from basic kayak tours along the coastlines and into some smaller caves, through to multi-day boat excursions complete with overnight stays in charming seaside villages.
39 – Pedal through the beauty with a few bike tours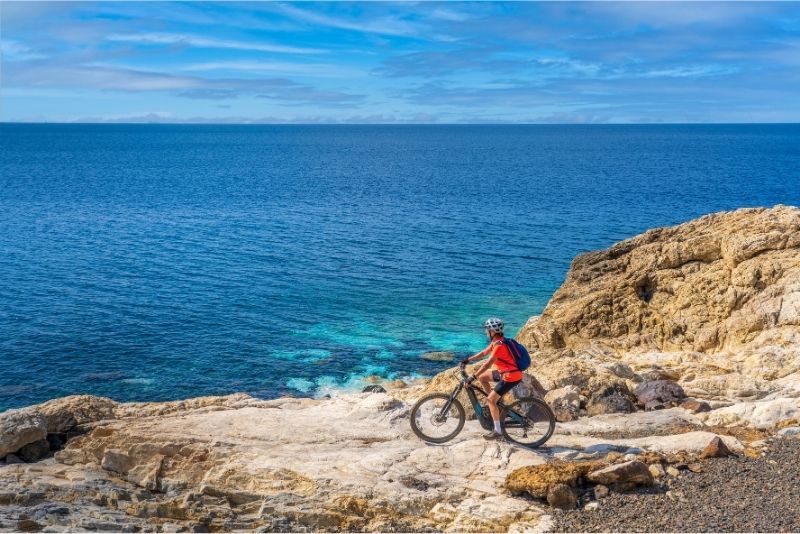 The legendary beauty of the area is all the better when enjoyed at a leisurely pace, and there are few more enjoyable ways to indulge that than a bike tour!
With the warm sea breeze in your face, you can peacefully pedal past coastal overlooks, through little villages, and along hilly passes.
There are few things more freeing!
40 – Get a little buzzed on a wine tour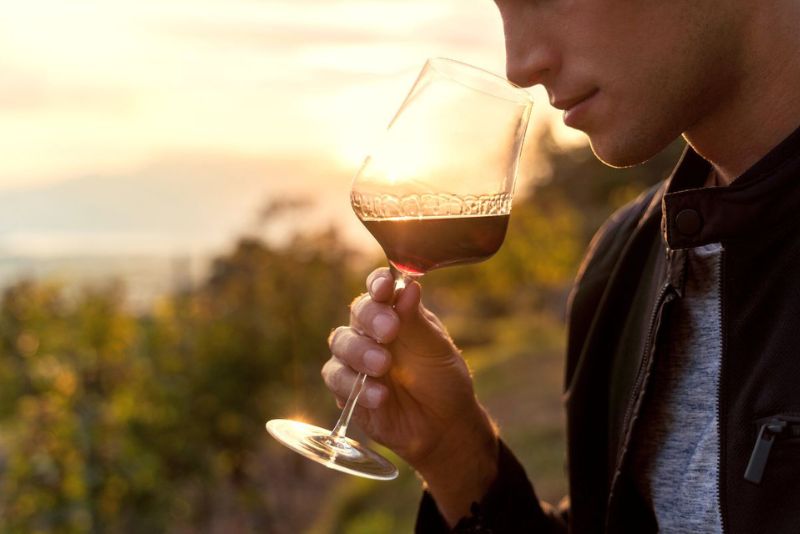 While its villages and beaches bear the brunt of the attention, this UNESCO-listed coastline is teeming with vineyards big and small too!
Head to individual wineries like Tenuta San Francesco or Cantine Apicella; join a half or full-day winery-hopping tour that includes a driver and a look behind the scenes at how the region's best blends are curated; or combine your tasting with a pizza-making or authentic Italian cooking class!
Either way, with vineyards scattered all across this region – many with centuries-old family histories behind them – it's an intoxicating experience that'll leave your tastebuds tingling!
41 – Take a hike in Valle Delle Ferriere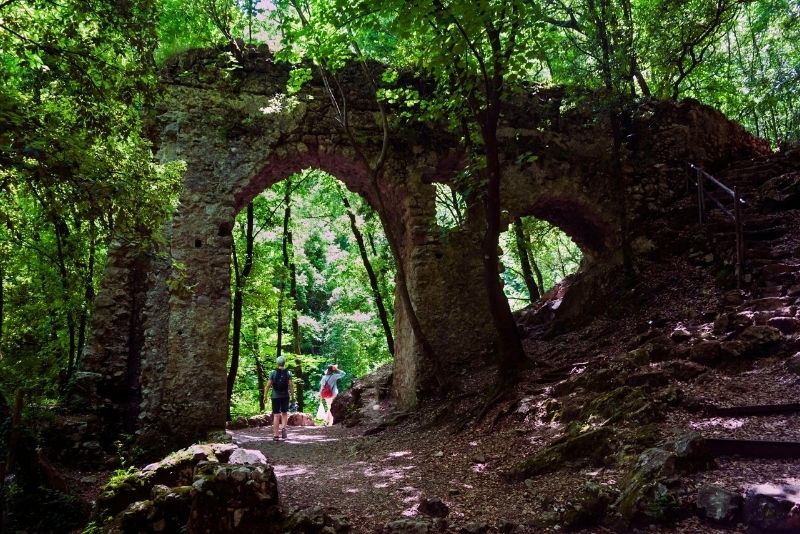 One of the area's gorgeous national parks, Valle Delle Ferriere provides winding, rugged trails that curl through gorgeous coastal scenery and lush greenery — completely different and just as magical side of the Amalfi Coast.
For those up for a challenge, both private and small group tours operate through the wilderness along the myriad of hiking and cycling trails— led by in-the-know locals, you'll be escorted to cascading waterfalls, through enchanting woodlands and to areas rich in biodiversity where you can stop for lunch and rest before heading back out.
42 – Don the apron for a cooking class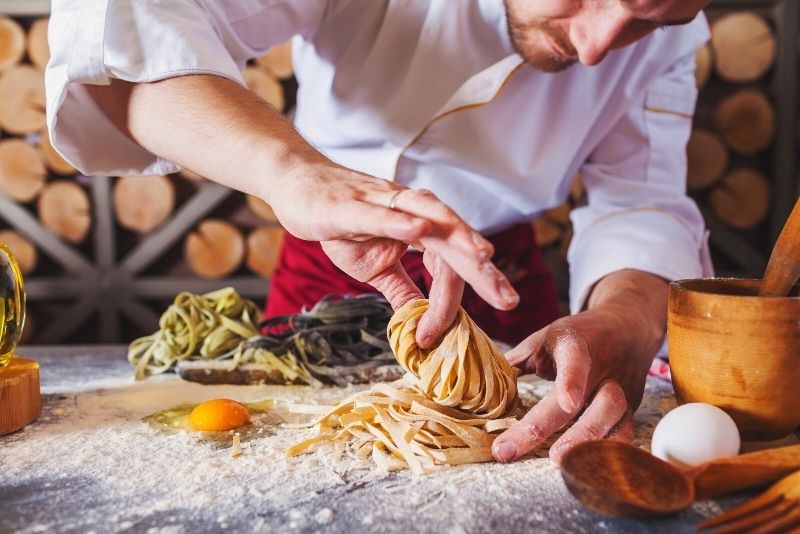 Fancy yourself somewhat of a masterchef in the making? Prove it! Italy is internationally renowned for its love of food and so, for those looking to truly immerse themselves in the local culture, a cooking class is an absolute must.
With everything from street-food classics to traditional family recipes handed down through generations; to cutting edge molecular gastronomy techniques that'll test your taste buds like never before, the list of food-centric things to do on the Amalfi Coast is second to none.
Not sure where to start? A cooking class at a local's house or a pasta-making workshop at an organic farm are both crowd favorite options.
43 – Learn about medieval mechanics at the Museum of Paper
Far from your typical art museum, Amalfi's Museum of Paper is a hands-on experience that allows visitors not just to browse centuries-old artifacts and traditions, but step inside an medieval paper-mill that's been operating since the 14th century.
Besides the chance to wander around on a short and sweet group tour of the mill, learning the ins and outs of the ancient process and admiring the ancient wooden mauls, you can also pop into the gift shop for a lovely range of handmade paper souvenirs!
CONCA DEI MARINI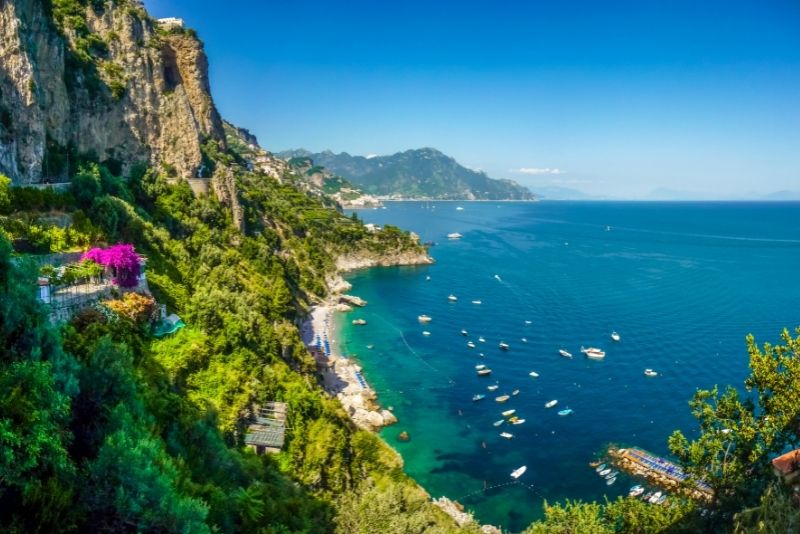 Nestled between Amalfi and Furore with a backdrop full of vibrant plant life and lemon orchards, Conca dei Marini is the gateway to some of the area's magical waterside caves and grottos, as well as being a popular hangout spot for those looking to soak up the sun and gaze out at the horizon.
44 – Be engulfed by the magic of the Emerald Grotto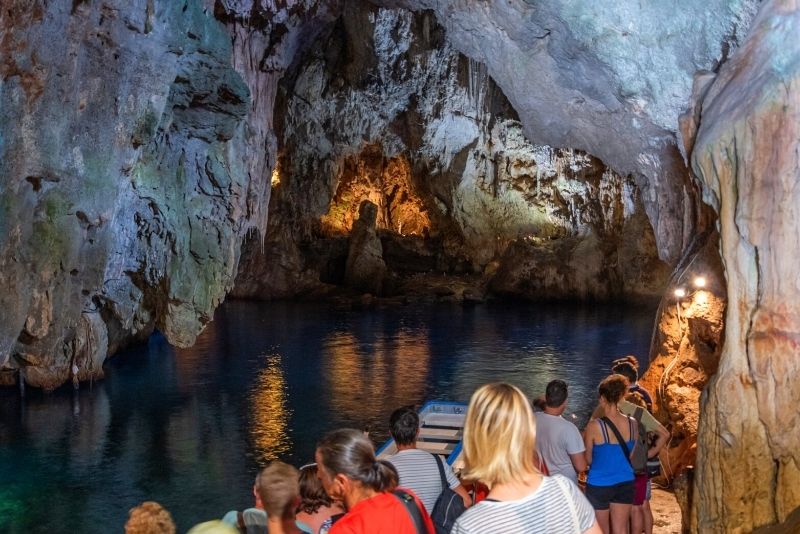 One of the area's most iconic natural wonders, "Giardino dell'Emerald" (The Emerald Garden) is a lushly forested grotto that sits partially below sea level and features an enchanting green-blue hue caused by sunlight passing through slits and crystals.
A popular spot for divers; snorkelers; and kayakers, there are a few ways to explore the grotto depending on your level of adventure — but for the most hassle-free experience, consider booking online and ahead of time for an official guided tour that includes hotel pickup and dropoff.
Need more convincing? The water is so clear that it is possible to stare to the cavern floor, and it's occasionally dubbed the eighth wonder of the world!
45 – Visit the San Pancrazio Martire church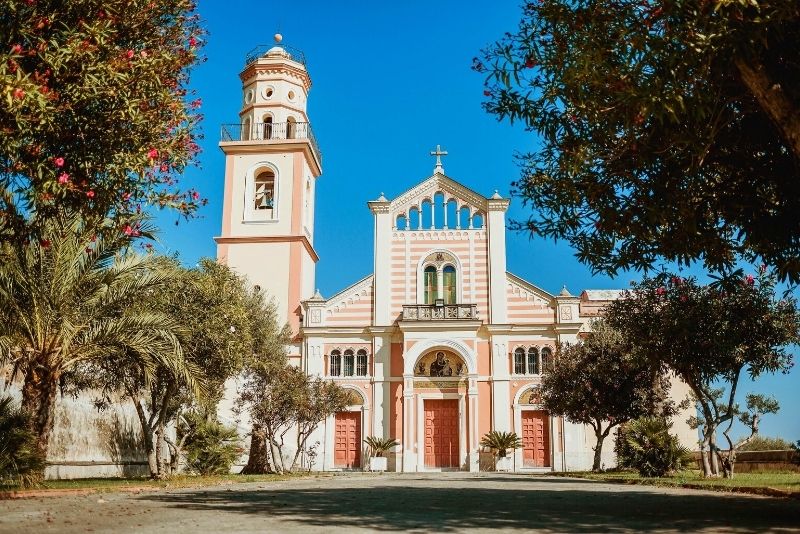 Located just a short drive up the cliffs, this stunning church is like something out of a fairytale: with sprawling green lawns and a beautiful courtyard, not to mention the once-in-a-lifetime vistas, this hilltop church is undoubtedly one of the area's hidden gems.
Seldom crowded because of its location tucked off the beaten track, the gorgeously facaded buildings is typically accessed by car, however, if you're looking to burn a few calories, a demanding yet doable walk awaits!
To squeeze the most out of your visit, walk along the path that connects Pancazio Martire to two other noteworthy churches: San Antonio and San Michele.
46 – Check out Lauritano Castle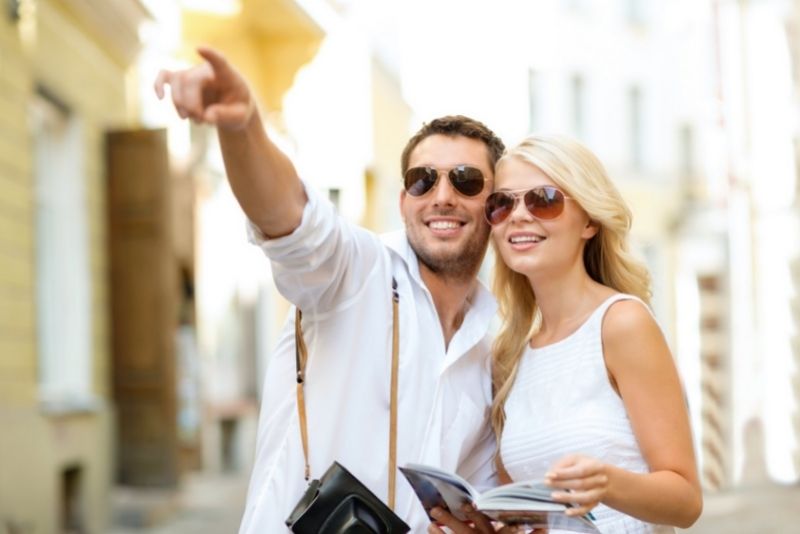 This imposing castle might be somewhat of a misnomer for those expecting something along the lines of Hogwarts – but don't let that stop you from visiting. The building sits engulfed by lush greenery, towering over the village and the blue waters of the bay.
Dating back to the era of when Amalfi was a Maritime Republic, this stone structure weilds the title of being one of the region's oldest castles, still remaining very much intact.
As one of the essential things to do on the Amalfi Coast, here, visitors can wander freely around the castle grounds and soak in the panoramic views.
FURORE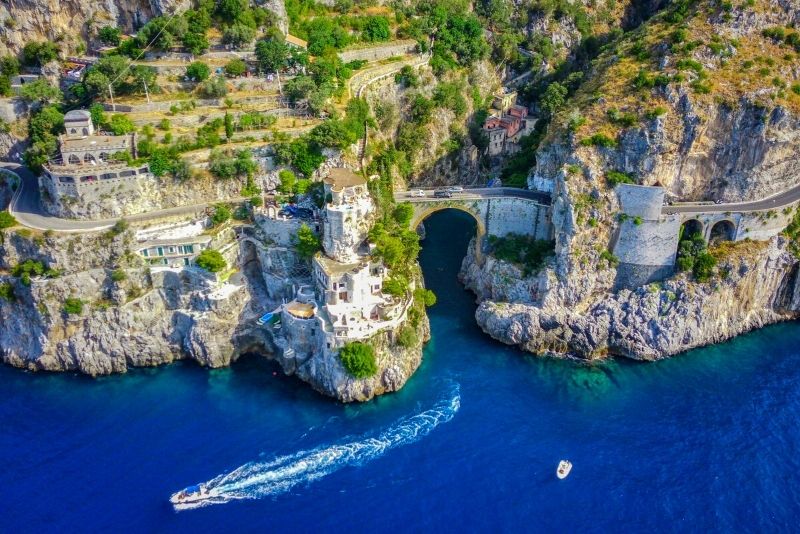 One of the peninsula's most undderated seaside towns, Furore sits tucked in between Amalfi and Positano in a narrow opening between the mountains — while small and easy to miss, the wondrous seaside town is spread across multiple levels and houses a loyal and traditional population of just 800 or so residents!
47 – Add the Fjord of Furore to the bucket list
A spectacular sight that regularly leaves onlookers in awe, Furore's main attraction is undoubtedly its fiord: here, down at the base of the cliffs (otherwise known as the Borgo), a cluster of old fishermen's houses just out from the rockface, appears to be glued to the cliffs themselves in spectacular fashion.
At sea level, a thin slice of sand provides a beach that can only be described as intimate, while two sides of the high gorge provide the perfect backdrop. Pictures simply don't do it justice.
Far more than just a pretty face, however, the area also hoses a bar and gift shop in an old lime kiln, as well as a museum that dives into the area's industrial heritage and natural diversity.
48 – Take a flying tour on a Zip line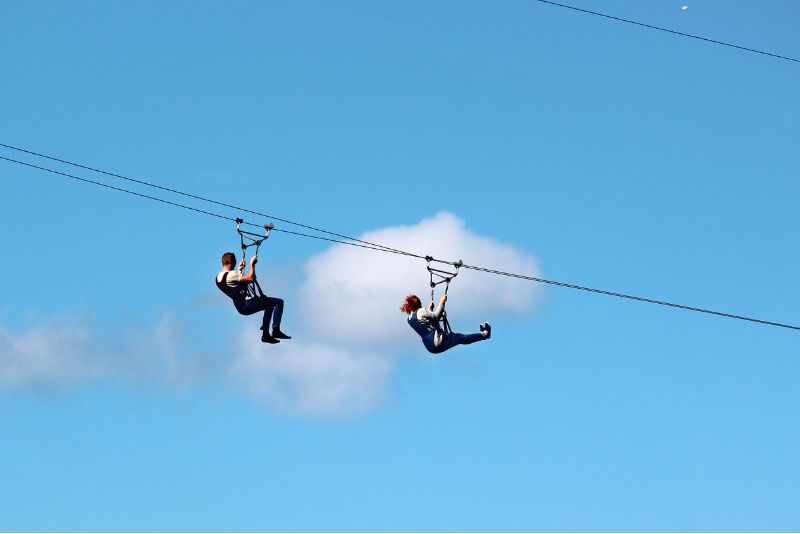 Looking to add a little adrenaline to your trip? Then take to the skies in style with some ziplining!
Zipline Italia is one of the premier spots in the region for this adventure, offering an unforgettable flight between Furore and Conca dei Marini.
As you soar past the cliffs and coastline, you'll be able to enjoy a unique view of the natural beauty around you; and combined with the thrill of the zip itself, it makes for an unforgettable experience!
Whether it's your first trip or your hundredth, this spectacular experience will keep you coming back for more!
PRAIANO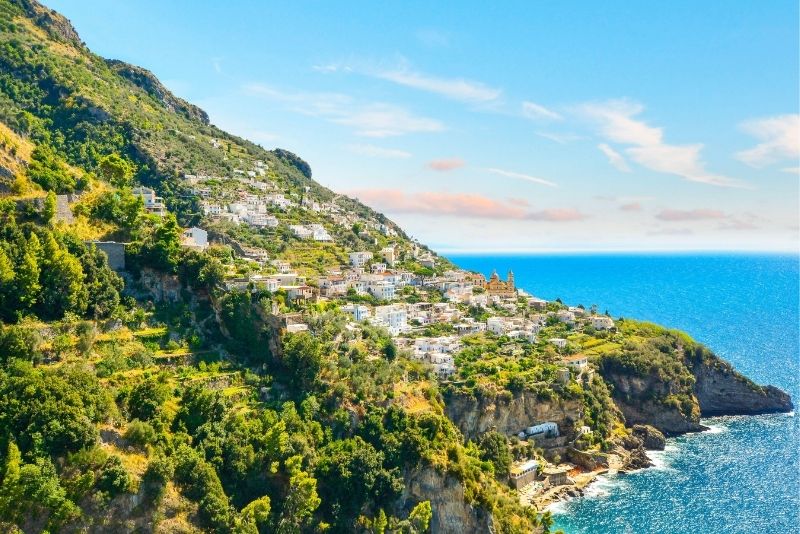 Another seaside town that features regularly on any list of the best places to visit in Italy, Praiano is one of the Amalfi Coast's oldest towns and home to a wide array of eateries, shops and experiences — with magnificent islands, magical grottoes and soft white-sand beaches, it's a surefire hit for nature lovers and culture vultures alike.
49 – Check out the Churches of San Luca and San Gennaro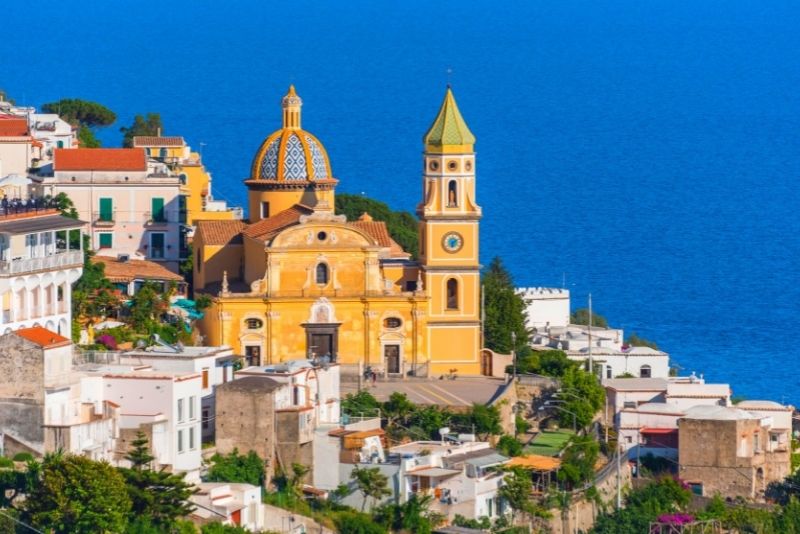 More churches? Absolutely! While it may seem like the Amalfi Coast is overflowing with old, religious buildings, each one is uniquely spectacular — by no means is this a "when you've seen one, you've seen them all" situation.
Renowned for its colorful, patterned tiled dome, the Parrocchia Di San Gennaro boasts a palatial interior full of floral paintings and a grand chandelier; meanwhile, the San Luca Evangelista, over on Via Oratorio is known for its ornate architectural touches and lively festivities during the annual San Luca holiday.
50 – Hit the beach at Marina di Praia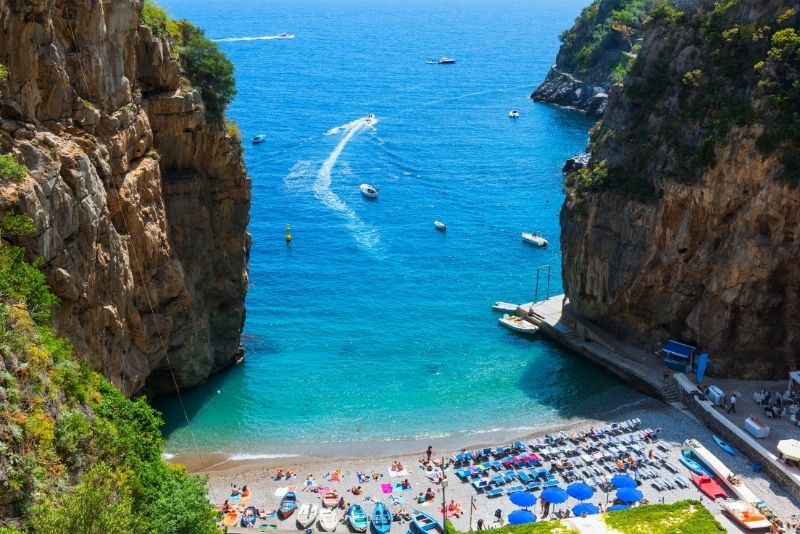 Small is stature but big on charm, the enchanting Marina di Praia, sitting at the end of the wild Praia valley is flanked by jagged rockfaces and bobbing boats.
Some beachgoers like to start their day with a quick swim in the warm waters, while others opt for the relaxing quiet of a kayak paddle around the bay to admire the Torre a Mare watchtower — either way, after working up an appetite, there's plenty of nearby spots to grab a bite or an espresso.
POSITANO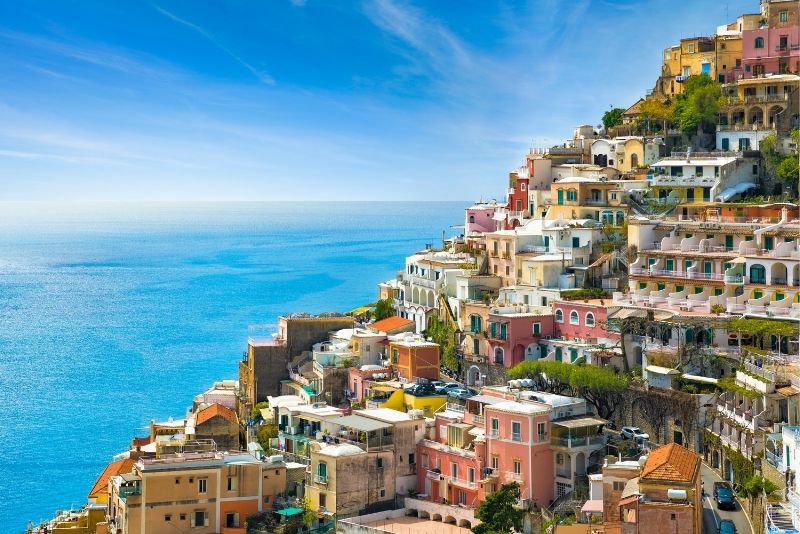 The westernmost town along the Amalfi Coast and arguably the most famous of the bunch due to its pebbled beaches and position as the gateway to the Amalfi Coast (well, if you don't count Sorrento, which many don't), Positano — a sophisticated resort town where the majority of hospitality staff speak in English thanks to the regular tourist droves — is an absolute dream for anyone looking to escape the rat-race and relax.
Facing out into sparkling turquoise waters, it's not hard to see why this colorful area is regularly voted as one of the most beautiful villages in Europe.
See also: day trips from Salerno and Amalfi.
51 – Embark on some exciting walking tours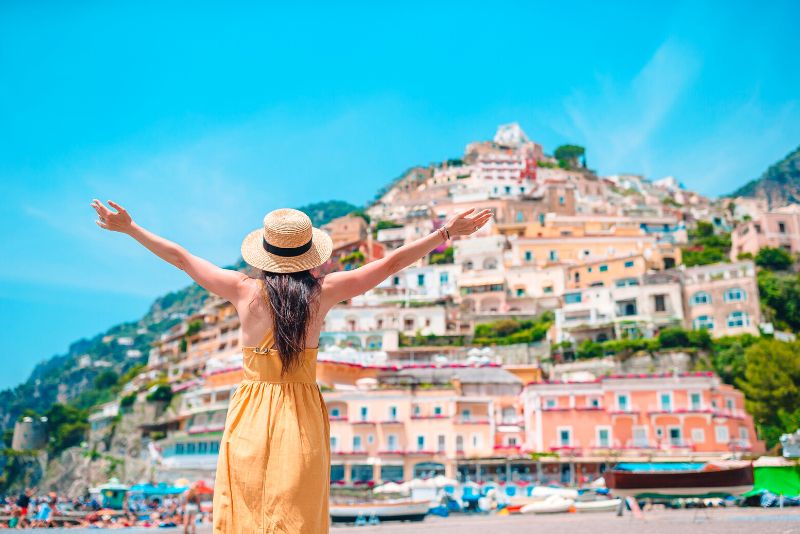 With its terrific mix of history, beautiful structures, and dynamic culture, Positano is an ideal destination for some walking tours!
Visit some of the famous ceramics shops, and watch masters in the craft go about their daily work.
Or take a trip underground to explore an impressive home from the days of Ancient Rome, complete with wonderfully preserved frescoes.
And be sure to save some time for the Old Town area itself, where charming classic buildings and charming sidewalks mingle with popular shops and dining areas to create an atmosphere that blends the old and the new.
52 – Hike along the famous Path of the Gods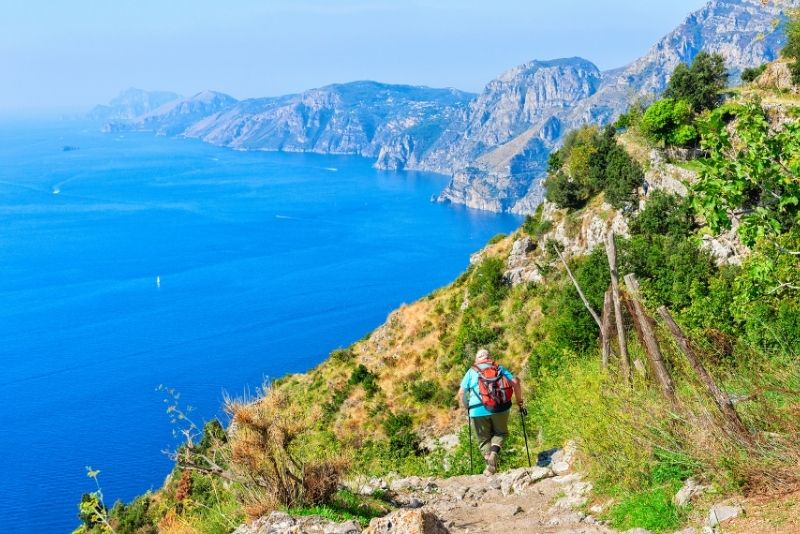 A brilliant way to escape the crowds and take in some of the most picturesque views along this stretch of coastline is to follow one (or all) of the paths that scale up, over and across dramatic cliffs.
Dubbed the Path of the Gods, the main 4-mile trail takes between three and five hours to complete and stretches from the small village of Bomerano (in Agerola) to Nocelle (above Positano).
Either explore solo or join a pre-arranged guided tour that includes pick-up, drop-off, and lunch — just make sure (especially if you crave a good hike) to add this half-day trek to the top of your list of outdoor things to do on the Amalfi Coast!
53 – Walk down the Spiaggia Grande to Fornillo Beach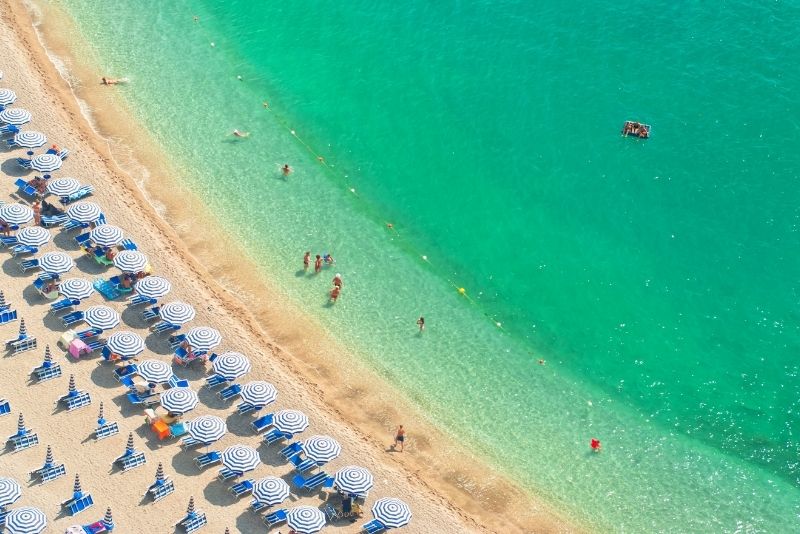 The second largest beach in Positano, Fornillo Beach is a quick stumble down from Spiaggia Grande, where the waters are always crystal clear and just right for a quick swim or snorkel under the ever-warm Mediterranean sun.
Like its neighbor, Fornillo also provides plenty of spots to relax in the sun with an ice cream or sip on something cold while you chat to friendly locals — well-known for its delicious pizzas, wine and ice cream, there's plenty of options for the food and drink aficionados nearby.
Hot tip: while you're there, make sure to check out the Arienzo Beach Club Positano, a hot spot for local seafood and strong drinks — while a little pricy, it's known across the Coast as one of the best on-sand venues.
54 – Hop on board a Positano boat tour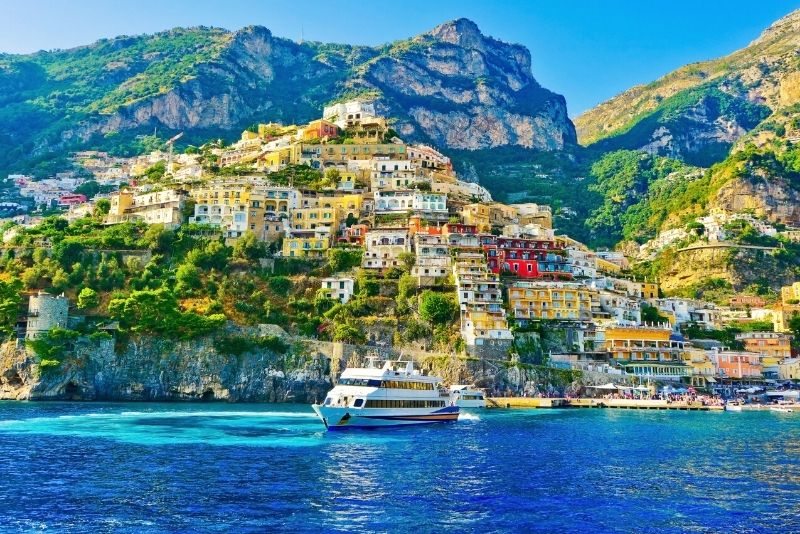 Another absolute must for any traveler to the area is a boat tour of the coast, whether you're looking to explore further out into the infamous Capri or learn more about some of the famous villages that dot this part of Italy.
Scheduled daily through a host of different providers (luxury yachts, budget-friendly group tours, relaxing catamarans and everything in between), the selection of boat tours from Positano is extensive and impressive — all you have to do is choose which one to do first!
55 – Sip reds, whites, and more on wine tasting tours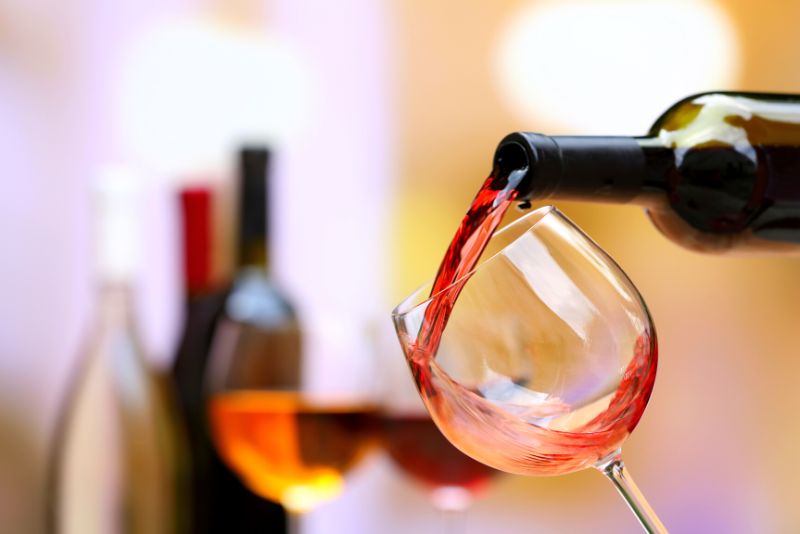 Let's be real: it's not a proper trip to Italy without some good vino!
There are some terrific wine tasting tours in the area, offering a blend of gorgeous scenery, unique cultural insights, and, of course, phenomenal drinks to sample!
As you roll from one estate to the next (guided by a sober driver, of course), you can compare and contrast some of the finest flavors in the region, all while learning more about the production process along the way.
Raise a glass (or several) with your travel companions, and enjoy the best that the area has to offer!
56 – Step inside the Church of Santa Maria Assunta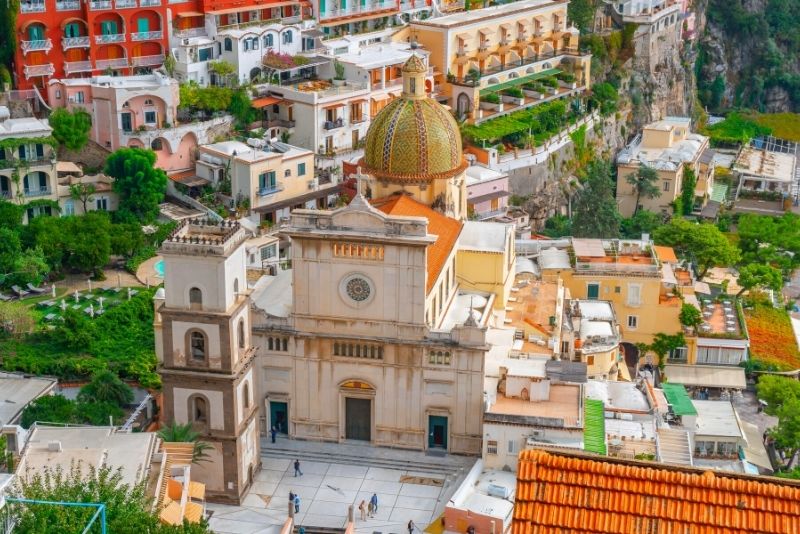 A gorgeous, catholic church just around the corner from the beach, the Church of Santa Maria (or Chiesa di Santa Maria Assunta) boasts a rich history to complement its romantic allure, dating back to the 12th century, with a Medieval Crypt hidden just below the altar and no shortage of notable frescoes.
Open daily between 8am and 12pm and then from 4pm to 8pm, the church is free to enter and therefore a non-negotiable stop on your journey through Positano.
57 – Channel your inner sailor and go rafting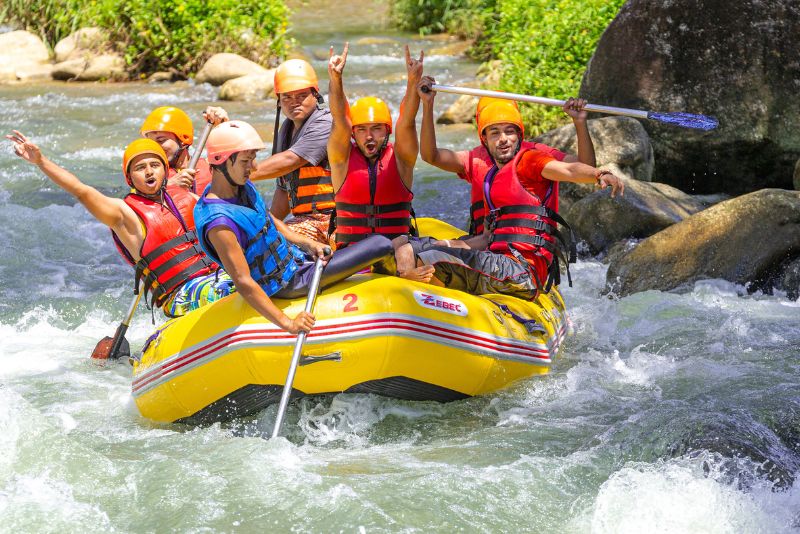 While guided tours are always great, there's something about a self-propelled adventure that really spices up a vacation.
And if you're of a nautical mind, there's no better method than rafting!
Rent an inflatable vessel and head out on the water, enjoying the views and warm ocean winds at your own pace.
As you zoom along the coast, you can admire the quaint towns on the shore and the wide-open spaces beyond, all while captaining your own boat in proper action hero style.
It's a great adventure and sightseeing opportunity, all rolled into one!
58 – Enjoy the hidden worlds on the local rooftops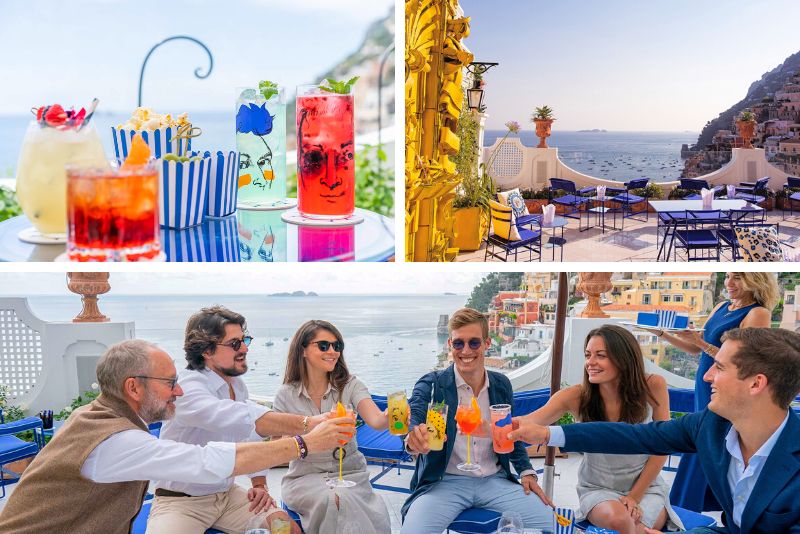 The only thing that can make a meal or a drink better is some great scenery to admire; so why not head to some of the best rooftops in town?
Villa Fiorentino Positano will have you feeling like you've stumbled into the Garden of Eden, with its abundant fruit trees, shimmering infinity pools, and candle-light dinner options.
Or head over to Franco's Bar for some marvelous cocktails and low-key surroundings, with unforgettable glimpses of the sunset.
And at Il Tridente Cocktail Bar & Restaurant, you can indulge in some classic regional dishes, enjoy a nightcap, or just relax and enjoy live music and the striking skyline.
59 – Party it up at Music On the Rocks
With its welcoming atmosphere and top-notch lineup, Music on the Rocks is one of the best spots to enjoy the club scene in style!
Offering everything from live music and dancing to phenomenal DJs and atmospheric dining, it's the perfect place to celebrate a special event – or create some new memories.
And with its unique aesthetic – the whole thing is housed in a natural cave! -, it creates a fantastical realm all its own, where the party never stops, and the talent is always world-class!
How to get to Amalfi Coast?
If you're flying straight to the region, airport transfers are a great way to get to your lodging safely and efficiently – and back again when it's time to go home!
But the region is also a popular day trip destination, with plenty of options departing from Naples, Rome, Sorrento, and Salerno.
Where to stay on the Amalfi Coast?
Perched on a hill overlooking the sea, Hotel Raito Wellness & Spa is the perfect place for a relaxing vacation, from its pools and fantastic seafood restaurant to its Turkish baths and massage options.
And Hotel Margherita will get you started with a delicious buffet breakfast, then make sure that your sightseeing is hassle-free, thanks to their city and beach shuttles.
Minori Palace is nicely situated between many of the local hotspots, such as Positano and Ravello; and thanks to its onsite tour desk, you can enjoy all of their charms with ease!
Meanwhile, Hotel Villa Bellavista offers a quaint charm all its own, with its gorgeous olive groves and scenic location in a historic fishing village.
And at Hotel Fontana, you can enjoy fantastic views, a convenient location in the heart of Amalfi, and trips to iconic destinations like Mount Vesuvius and Pompeii.
Where to go next?
If you're staying along the Amalfi Coast (which you absolutely should, of course), you'll be spoiled for choice when it comes to day-trip options.
Capri is the unrivaled spot for a go-slow island lifestyle — and, of course, near unmatched in reputation for upper-class style and status thanks to its Hollywood fame. You can check this awesome area out on a day trip from Salerno, Amalfi and Positano.
Meanwhile, Sorrento to the west of the Coast, and historic Pompeii and Mount Vesuvius to the north are all within a couple of hours drive — giving you the chance to learn more about some of Italy's most fascinating historical sites as well as indulge in everything else this brilliant part of the world has on offer.
Day trips to Sorrento run from Salerno, Amalfi and Positano. And Pompeii tours also depart from Salerno, Amalfi and Positano.
You can also take in some more metropolitan charms in Naples, where the architecture and art are matched only by the fantastic history and amazing food.
From the beachy to the urbane and everything in between, this area is well worth exploring at length!
Final thoughts
When you want a trip that maximizes relaxation while still offering plenty of opportunities for adventure, this is the area to visit!
From beaches and bars to spas and scenic strolls, there's a new discovery around every corner.
And with so many unique towns filled with character and charm, there is no end to the amazing things to do in Amalfi Coast… so book those tickets and get ready for fun!
Happy travels!