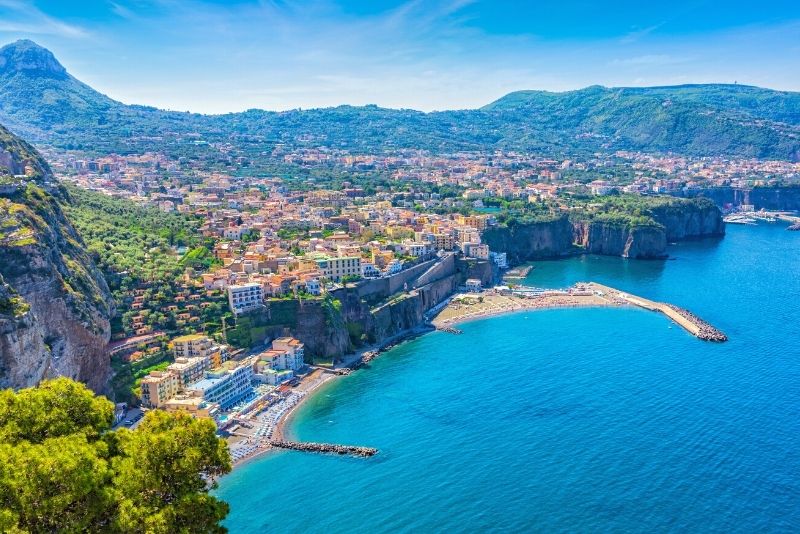 Sorrento, Italy sits on the southwestern coast of the country. With its stunning sea views, delicious cuisine, and charming architecture, it's among the best places to visit in Italy.
And thanks to its proximity to such popular attractions as Pompeii and the city of Naples – not to mention tons of lovely little towns and islands – it's a great place to launch into other adventures.
With so many things to do in Sorrento and the surrounding area, your biggest issue will be deciding where to start!
1 – Take a walking tour through Piazza Tasso & Old Town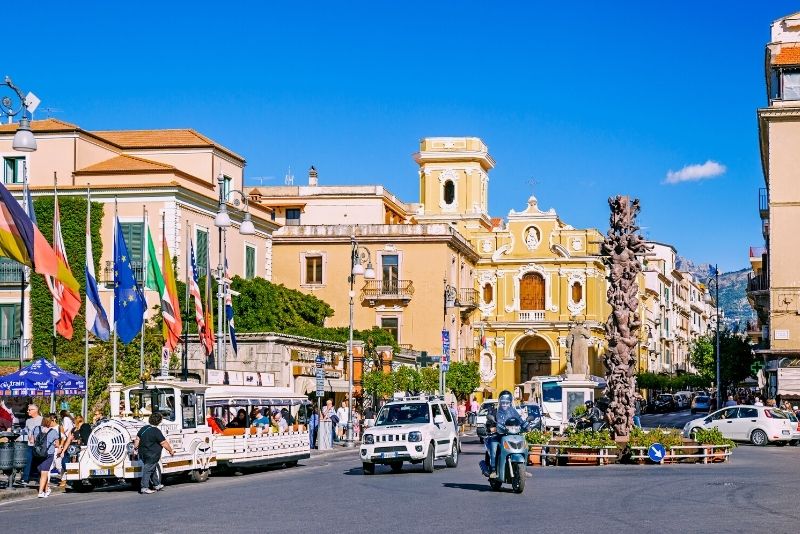 Walking tours are a great way to orient yourself to a new place, and Sorrento offers plenty of great sights to see on foot.
Piazza Tasso, with its central location and beautiful churches, is a wonderful place to start introducing yourself to your surroundings.
As you stroll through the square – named for famous local writer Torquato Tasso – you'll start to feel the distinct atmosphere of the place almost instantly.
You can also enjoy the Old Town area, which offers glimpses of the famous historic architecture, as well as some nice neighborhood spots.
You might even get to see the area where famed actress Sophia Loren got her start!
2 – See the stunning views of Il Vallone dei Mulini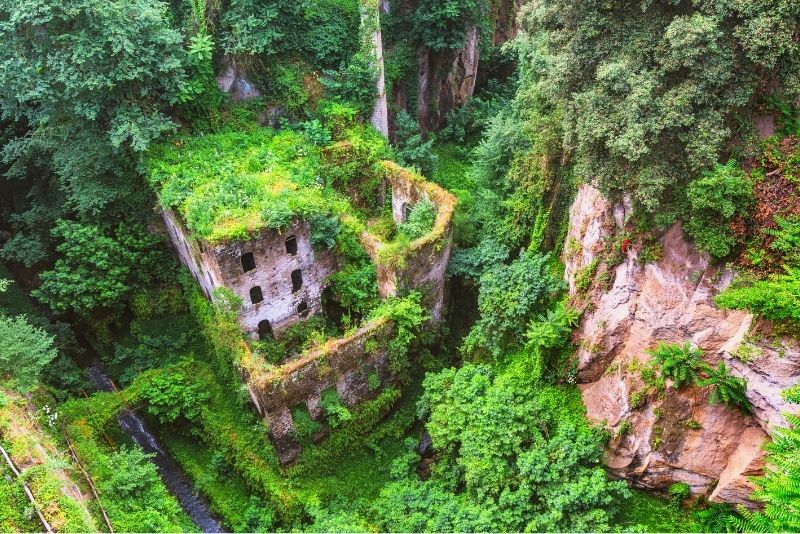 Sorrento was once surrounded by gorges, but today, there is only one: Il Vallone dei Mulino.
Formed after a volcanic explosion 35,000 years ago, this striking area is a great place to hike, with excellent views of the plants and rocks below.
The visual centerpiece is an ancient wheat mill on the valley floor. With its stone structure covered in weeds and plants, it offers a glimpse into life as it was centuries ago.
3 – Hike along the Path of the Gods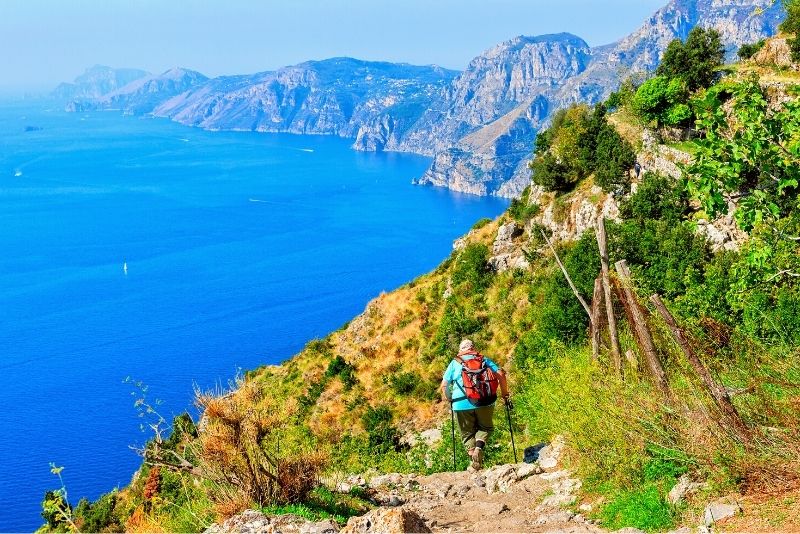 With meandering mountain trails and stunning views of the Amalfi Coast, a hike in the Sorrento area is a must for any traveler.
The most famous route, Path of the Gods, is considered among the most beautiful trails in the world. The entire route stretches for six miles and can be traversed on a half-day trip.
Group trips offer the benefit of an experienced guide, as well as the chance to experience these phenomenal sights with like-minded travelers.
Your journey will take you past old villages, beautiful forests, and the homesteads of farmers and shepherds. For a trek with beautiful views and great insights into the local culture, don't miss this hike.
4 – Take a stroll through Villa Comunale di Sorrento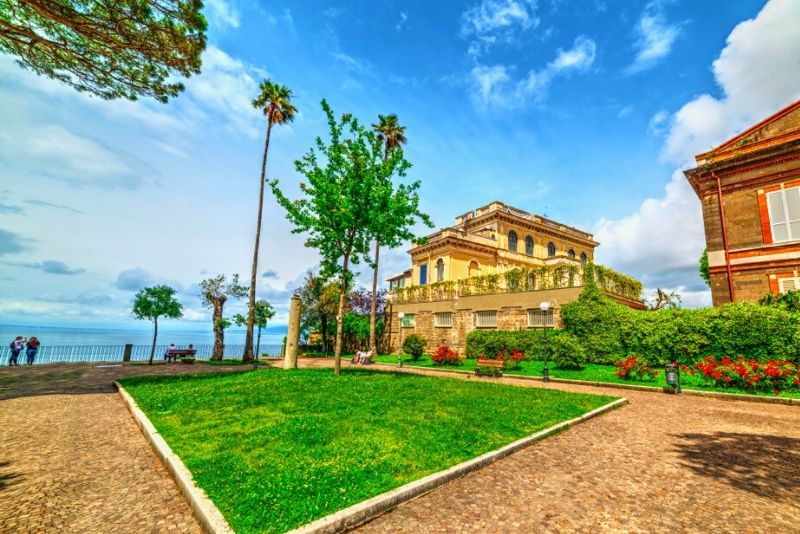 This gorgeous public park combines breathtaking scenery with a variety of historic buildings and makes for a great place to spend the afternoon.
Sitting next to the vegetable gardens of the local monks, its grounds offer shade and a nice walking area, as well as plenty of visual treats. Enjoy palm trees, flowers, and spectacular views of Vesuvius and the Gulf of Naples.
And don't miss the historical attractions, including mosaics and an archaeological museum. There are also frequent concerts and theatrical performances on the villa's terrace.
If you're in town during the holidays, be sure to check out the Christmas light display!
5 – Take a day trip along the Amalfi Coast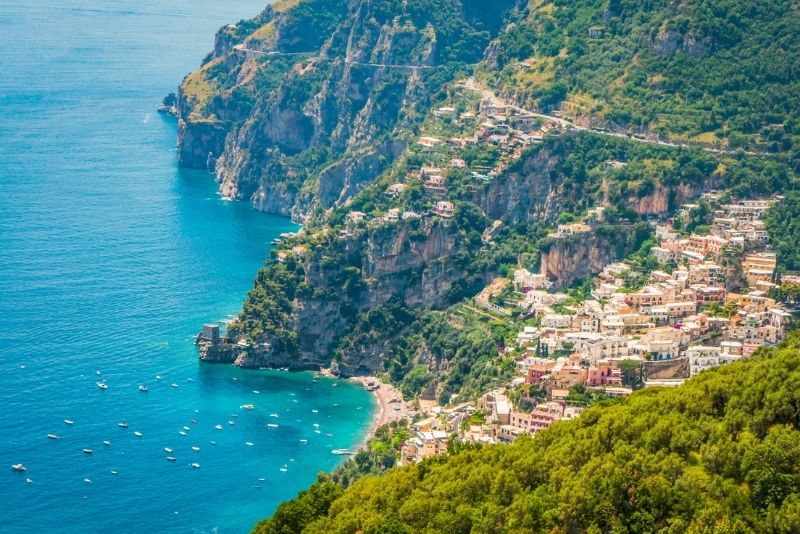 While there are plenty of things to do in Sorrento, it's also well worth checking out some of the beautiful areas nearby.
The Amalfi Coast is renowned for its beauty, and what better way to experience the scenery than aboard a classic Italian scooter tour?
Hop on a zippy newer model or a vintage Vespa, and spend the day traversing the coast, stopping at a number of charming little towns along the way.
For the ones looking for a swim, check out the best Amalfi Coast boat tours.
One of those villages, Ravello, is well worth a trip in and of itself. This hilltop village features a beautiful 11th-century church, and was also the inspiration for Wagner's famous opera, Parsifal.
If you're in the area in the summer, you may be able to catch the Ravello Music Festival, inspired by the famous composer. With world-renowned artistic and musical performances across genres, it is not to be missed.
Take some time to enjoy the scenery and wonderful things to do on the Amalfi Coast.
6 – Enjoy the seaside life at Marina Grande and Marina Piccola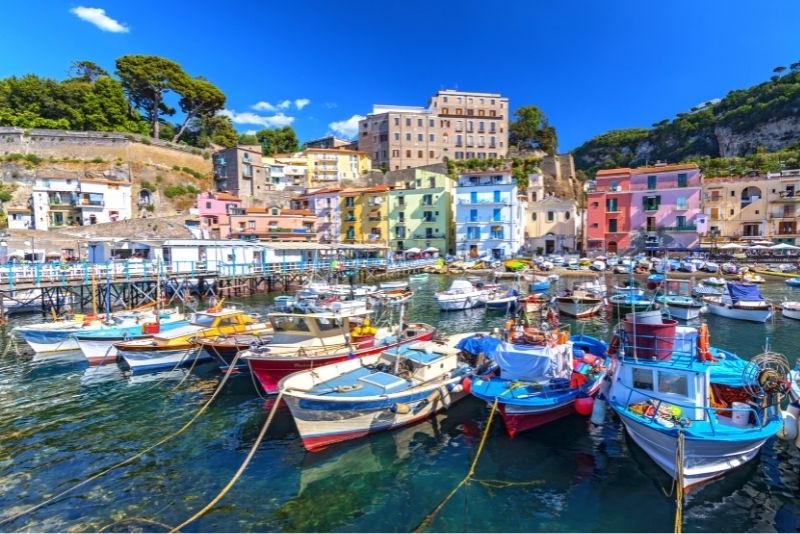 Fittingly for a coastal town, Sorrento has two lovely marinas that are great for sightseeing, people-watching, and embarking to other exciting locales.
Marina Grande, located near the city center, features a beautiful beach that's free to the public, wonderful seafood restaurants, and a variety of shops.
Meanwhile, Marina Piccola serves as the town's transportation hub, with ferries running to and from other destinations such as Naples, Capri, and the Amalfi Coast.
But you can also stop by one of the many beach clubs nearby to relax and enjoy the water. And of course, both marinas offer great views and a relaxed atmosphere.
With their fleets of brightly colored boats (and buildings to match), they're community fixtures that are great for visitors as well.
7 – Admire the designs in Duomo di Sorrento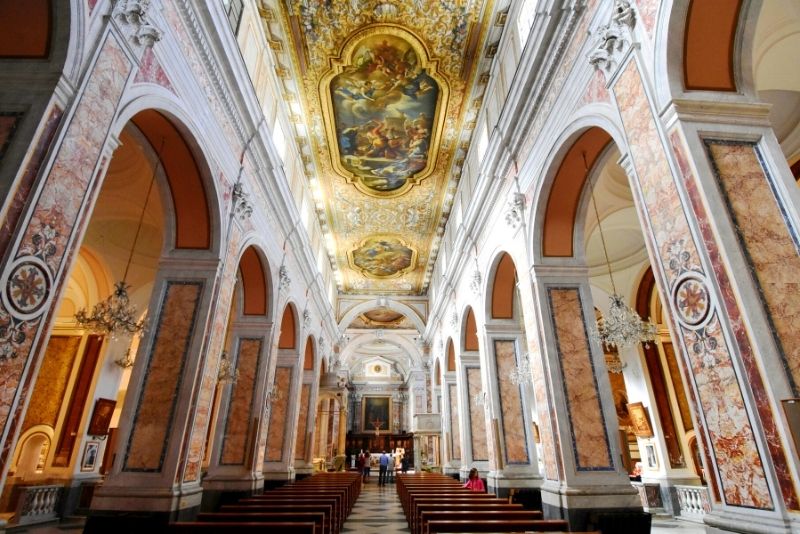 The Sorrento Cathedral (Duomo di Sorrento) is dedicated to two saints: Saint James the Just, and Saint Phillip the Apostle.
Built in the 11th century (and refurbished in the 15th century), it has served for centuries as the seat of Sorrento's bishops and archbishops.
Visitors that enter the impressive building will be able to see some of the amazing architecture on display, including a marble altar and pulpit and several paintings by Nicola Malinconico.
But there's also plenty to admire about the exterior, with its striking 11th-century doors and Roman Empire-era, three-story bell tower. For the religion or history enthusiast, this beautiful house of worship is well worth a visit.
8 – See Punta Campanella Natural Reserve by kayak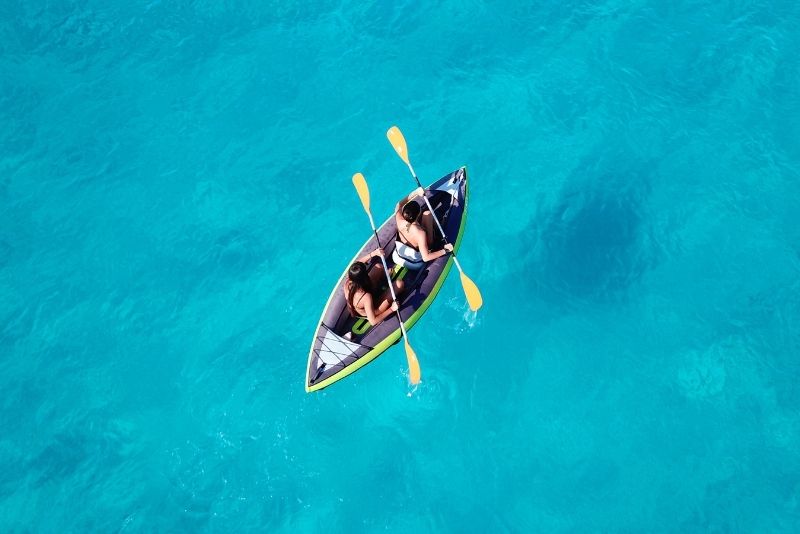 Whether you're out for a couple of hours or take an all-day excursion, a kayak tour is one of the best things to do in Sorrento if you want to enjoy the spectacular landscapes from a different angle.
It's especially good for exploring Punta Campanella Natural Reserve, which boasts stellar views and a history rooted in classical literature.
Located at the very edge of the Sorrento Peninsula, the area is most famous for its depiction as the spot where Ulysses (aka Odysseus) met the Sirens in The Odyssey.
Today, the windswept land offers some excellent hiking opportunities, as well as chances to see the ruins of old buildings in the area.
But for a properly literary adventure, paddle up to cliff by kayak, following the path of the Ancient Greek hero. It will truly make literature come alive!
Along the way, you'll also get to see caves, scenic islands, gorgeous marine life, and many more of the features that make the coast so appealing.
You're sure to get plenty of ideas for other things to do in Sorrento as you float around the bays. And to top it all off, you'll get plenty of exercise while immersing yourself in the region's mythology.
9 – Go for a swim at Bagni Regina Giovanna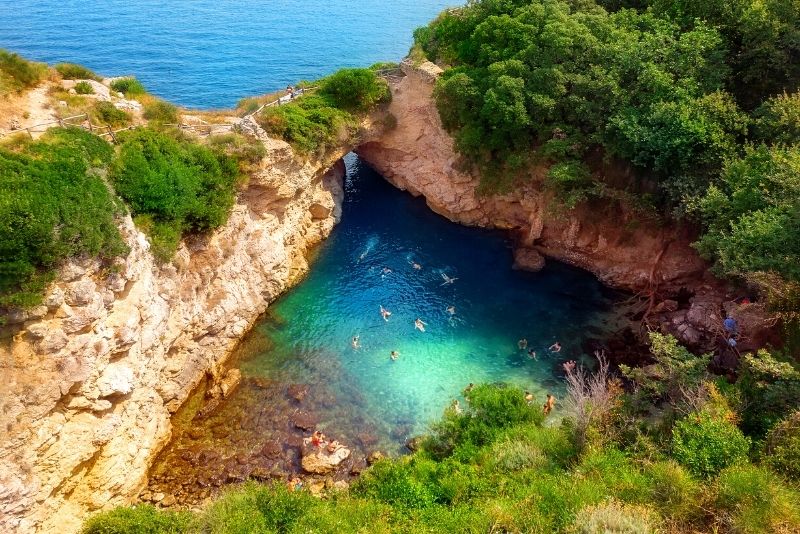 For some truly incredible views while you take a dip, venture out to Bagni Regina Giovanna.
The area has a wonderful Roman villa from the 1st century B.C., whose ruins can be easily explored by travelers. But its greatest attraction is certainly the nearby swimming hole.
With stunning turquoise-green waters and a sheltered rocky outcropping, this free, natural pool is easily accessible on foot or by bus.
For a really delightful experience, try paddling over by boat to get at the pool from a completely different angle. If you're visiting in the summer, this secluded area is an especially great place to cool off and enjoy the afternoon.
10 – Enjoy the arts at Museo Correale di Terranova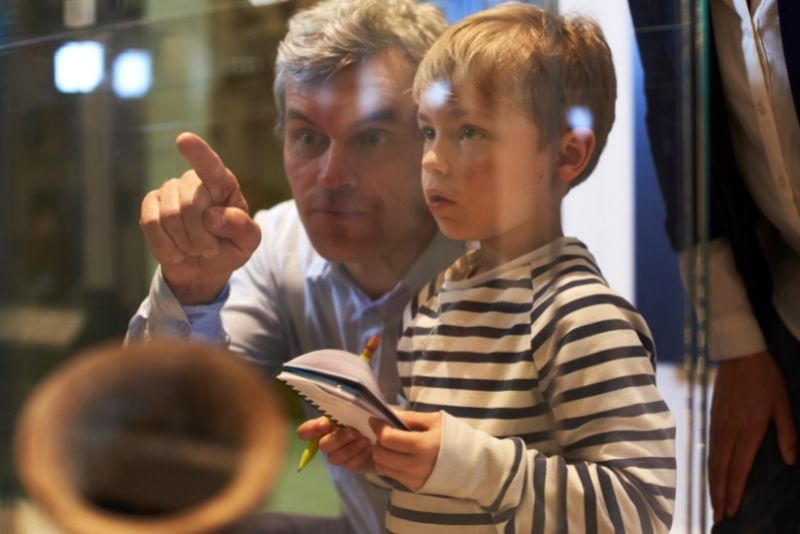 Back in town, you can get your fill of art and culture at the splendid Correale di Terranova museum. Since 1924, the summer residence of the Correale family has been open for the public to enjoy four centuries' worth of works.
Take a leisurely stroll through the estate's 24 rooms and enjoy a fine selection of paintings, porcelain works, antique furniture, and more.
When you're done exploring the exhibits, you can also stop by the impressive library to browse through an impressive collection of volumes covering the history of the region. And be sure to save some time for a walk through the beautiful gardens outside.
With cultured offerings and elegance galore, this is one of the best things to do in Sorrento for art lovers and history fans alike.
11 – Take a cruise to Capri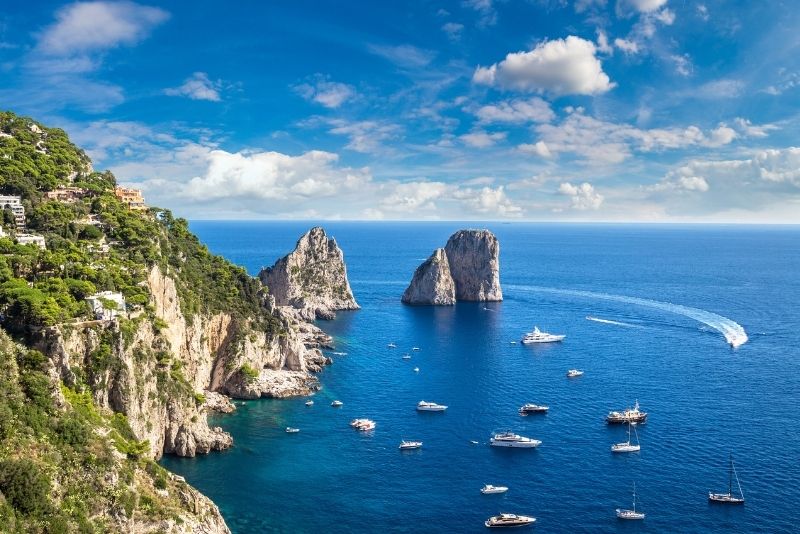 Among the many excellent day trips available from Sorrento, a cruise to the famous island of Capri is one of the best.
With its luxury pedigree, striking rock formations, and ample swimming and shopping opportunities, it's a wonderful place to soak up some coastal charm.
Hop aboard a sailboat or small cruising vessel, and admire the scenery as you cross the water before disembarking to explore the island's charms in greater depth.
In addition to its more upscale offerings, there are plenty of spots on the island to people-watch, try some delicious seafood or snorkel.
And be sure to stop by the iconic Piazzetta – the town square – to sightsee and enjoy the ambiance of this famous town. As an added bonus, many tours stop off at the renowned Blue Grotto.
As your boat glides into the vast cave and makes its way through shockingly blue waters, you'll feel that you've entered a new world. Don't miss the opportunity to explore this gorgeous grotto on your way to the island!
See also: Best Capri boat tours
12 – Absorb the history of the Sedile Dominova Building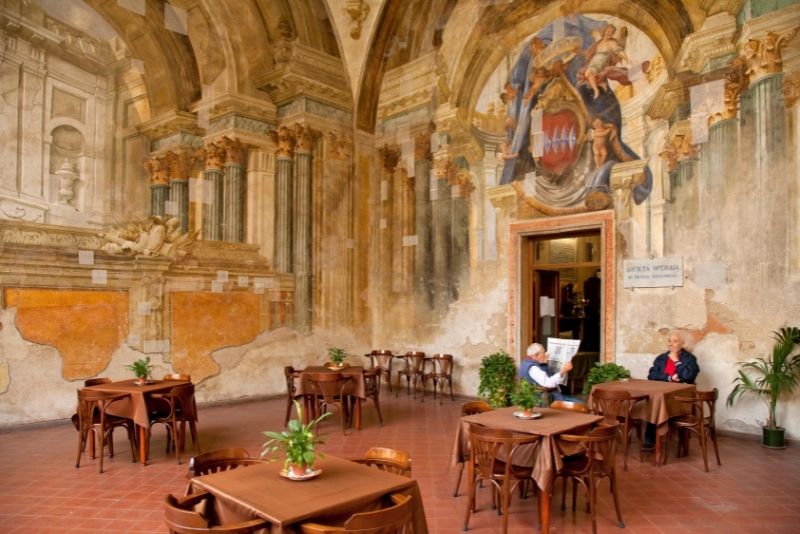 Another fantastic piece of architecture in town, Sedile Dominova is a 14th-century gem with a wonderful combination of striking beauty and political significance.
For many years, the building played a valuable role in the town's political life; it was the gathering place for Sorrento's aristocracy to discuss civic issues.
Today, it is best known for its stunning historic frescos, which paint a literal portrait of the town's aristocratic background.
Featured images include the heraldry of the noble families that once frequented the space, as well as Sorrento's coat of arms. This beautiful space is a master class in art history, and offers some context into the background of the town as well.
13 – Go beach-hopping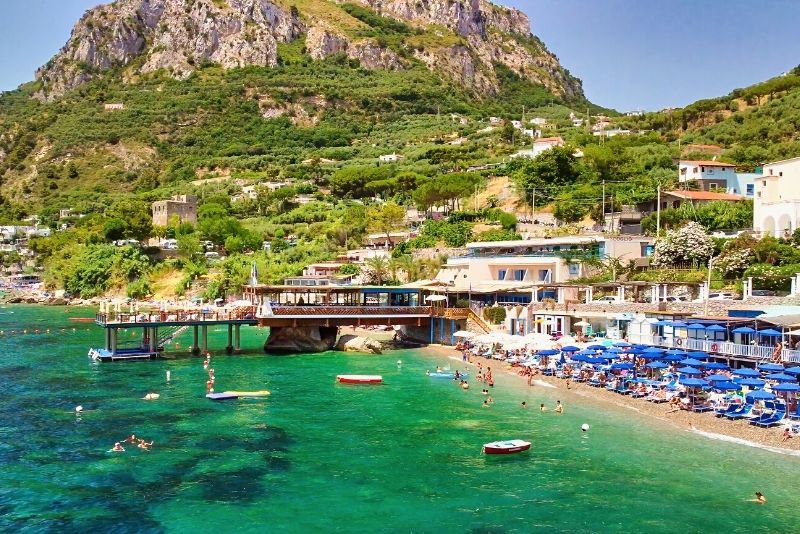 With so many excellent beaches in the area, your biggest challenge will be figuring out which order to visit them in.
Closer to town, you can visit the marinas or Regina Giovanna, but there are many other beaches nearby that are beloved by vacationers and locals alike. For a family-friendly option with plenty of cafes and restaurants nearby, stop by Puolo Beach.
Check out Nerano Beach if you like plenty of space on the shore and lots of nearby restaurants. Make sure to try some of the region's famous spaghetti dishes!
And if you'd like a little more of an adventure, head towards the little town of Nerano and visit the sheltered bay of Baia di leranto. No matter which beach you set up shop at, you're guaranteed sun, fun, and some excellent swimming.
14 – Take to the air with some parasailing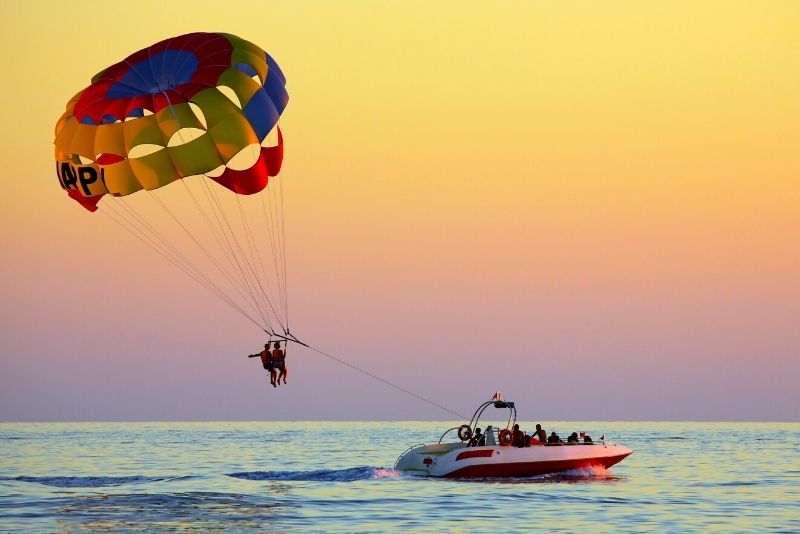 The only thing better than getting in or around the water is soaring above it! Parasailing is the ultimate sightseeing adventure: strap into a harness attached to a large parachute, get clipped to a large rope being pulled by a boat, and prepare to fly.
As the boat increases speed, you'll be lifted into the air for some excellent views of the sea, as well as the many nearby islands and towns that make the area so visually distinctive.
By the time you touch gently back down on the water, you may feel a closer kinship with the birds flying overhead.
You can try this activity solo, but it's much more fun with company. Luckily, parasailing can accommodate up to three people per flight, so grab friends, family, or loved ones, and take to the sky.
15 – Stretch your legs with some excellent hiking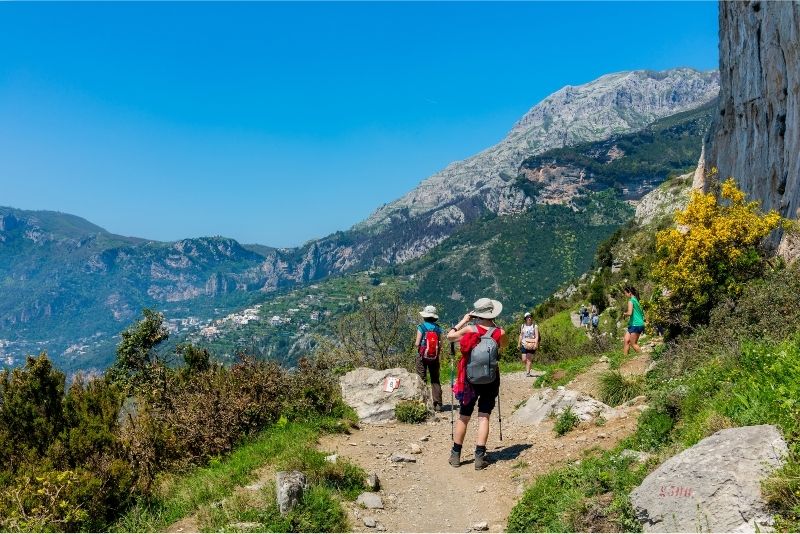 When a trail is known as "Path of the Gods," you know that it will be pretty spectacular!
And this route certainly doesn't disappoint, leading you between many of the Amalfi Coast's most charming traditional towns.
From shepherd's huts to lofty ocean views, you'll get a full dose of culture and nature every step of the way!
16 – Get meditative at the Cloister of San Francesco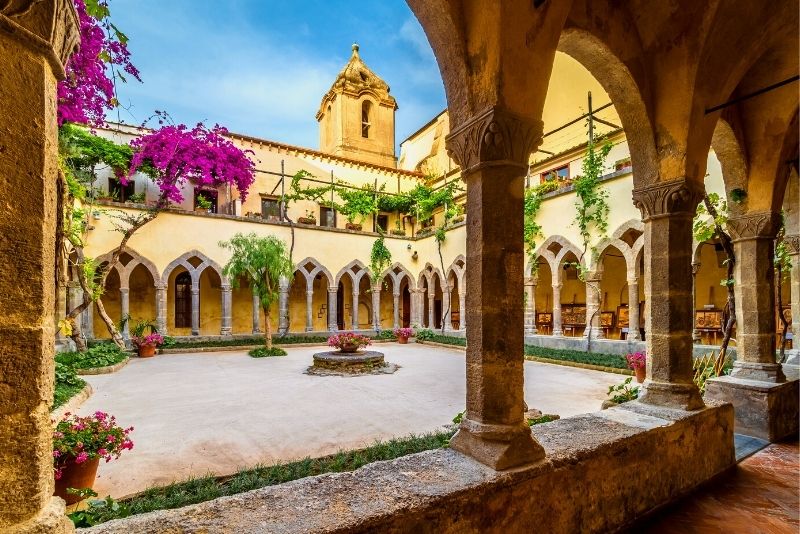 Sitting right near the center of town, this historic and peaceful cloister is actually part of a complex of religious buildings. It is perhaps best known for its distinctive mix of architectural styles, representing the different eras in which its various sections were built.
From the baroque 14th-century church to the 7th-century monastery, the property showcases a range of nicely blended aesthetics.
Go on a leisurely walk through the courtyards and between the classical arches, and take some time to enjoy the flowers growing there. If you're lucky, you might catch one of the performances that occasionally takes place in the courtyard.
This is one of the many things to do in Sorrento that combines historical tourism with some opportunities for contemplation, and it makes for a wonderful interlude on a busy day.
17 – Try some Limoncello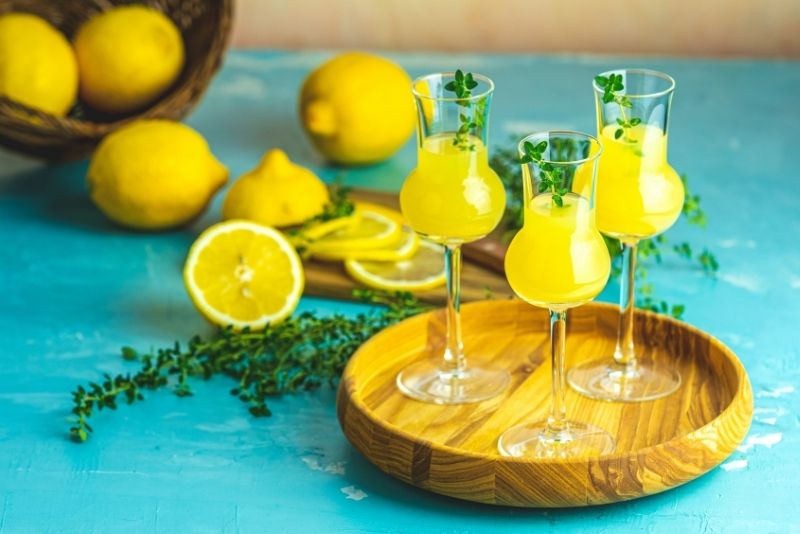 You can't go to Italy without loading up on delicious treats and drinks. And in Sorrento, you especially can't miss out on the limoncello.
This tasty liqueur – made from lemon peels, alcohol, and sugar – is an iconic regional beverage, and you'll find plenty of opportunities to sample it while in town.
At Limoncello Limonoro Di Sorrento production facility run by the Nino & Friends company, you can sample spirits made with lemons picked that same morning.
And to see where it all starts, take a tour through the Sorrento Lemon Farm. Walk through the beautiful groves and learn how the fruits are turned into the beloved beverage, as well as desserts, marmalade, and more.
You'll also be able to glimpse the olive trees that help produce the famous cooking oils.
18 – Explore the ruins of Pompeii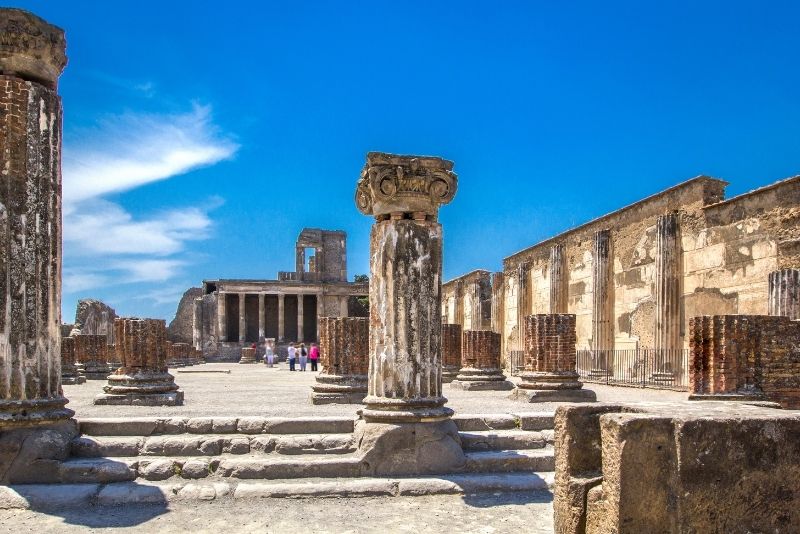 Pompeii's tragic story – the town completely encased in ash from a massive volcanic eruption – is one of the most well-known in ancient history. Today, you can visit this wildly popular historic site for yourself – and it's an easy day trip from Sorrento.
Some of the best Pompeii tours offer the chance to learn about this fascinating area in great depth, from the daily function of the town to the archaeological record left behind.
Take a private or semi-private tour with a licensed archaeologist to learn more about this crucial piece of the Ancient Roman empire.
There are some options geared specifically towards children, so that younger travelers can dive into history as well.
You can also combine visits to the town with excursions to nearby areas of interest. To get a fuller context of the explosion and its effects, pair your Pompeii tour with a Mount Vesuvius day trip itself, and see what the volcano looks like today.
Or stop by Herculaneum, another historic site and former fishing village best known for its beautiful paintings and marble floors. If you want to spend the day lost in ancient history, there is no shortage of options in this area.
See also: Pompeii Skip the Line Tickets
19 – Stop by the Basilica of Sant'Antonino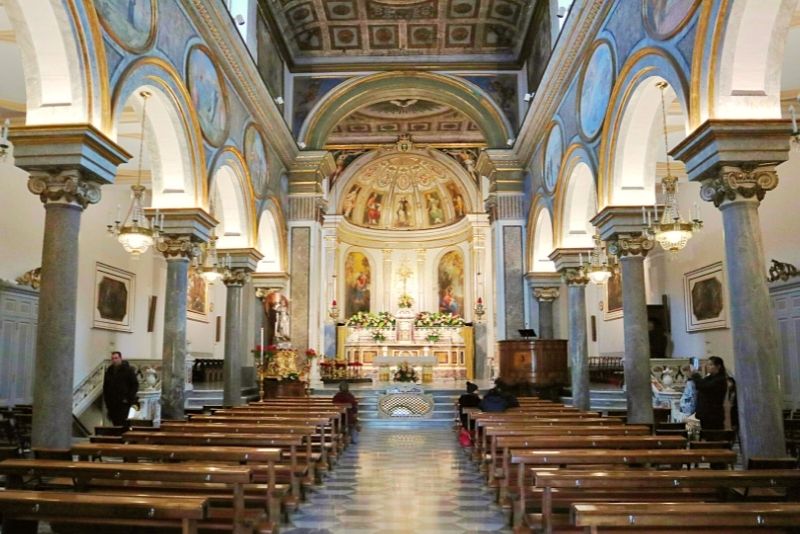 Not far from the town square, this 11th-century structure is notable for its mixture of Romanesque and Baroque styles. It's also the oldest church in town – no easy achievement in such a historic place!
Check out the striking exterior, then head inside to see some truly fascinating artifacts. Perhaps the most unique are the two whale ribs positioned right by the door.
Supposedly, they pay tribute to one of the miracles of Saint Antonino (Sorrento's patron saint and the church's namesake), who once saved a child from the belly of a whale.
You can also see a crypt full of silver medallions, medieval paintings, and a variety of Roman items. With its close ties to some of the earliest religious history of the town, this splendid church is a great place to stop by.
20 – Take a cooking class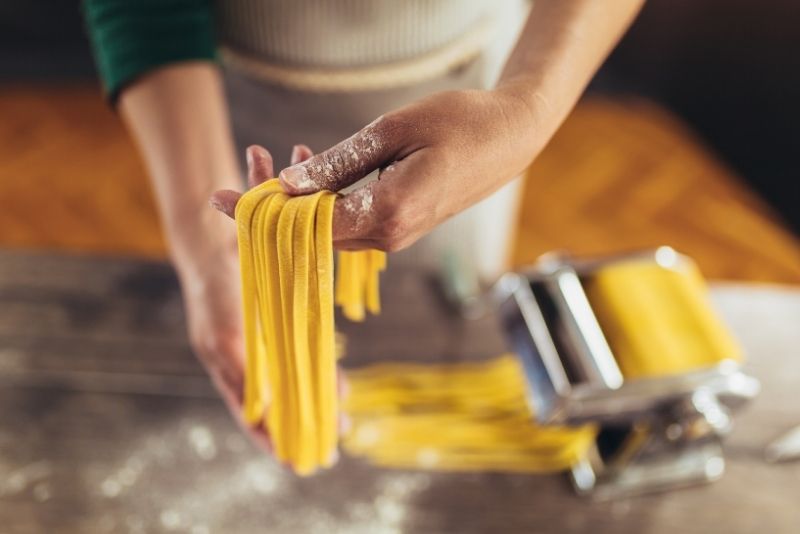 After tasting all of the regional delicacies, you may want to try your hand at making some yourself. Luckily, there are plenty of cooking classes available in town for those hoping to enjoy the ultimate delicious souvenir.
Unsurprisingly, pizza-making is a popular option. Try your hand at the classic Neapolitan style, selecting the right cheeses and toppings for a perfect dish.
But there are plenty of other meals to learn about. Take a private cooking class to learn the best methods for preparing meat dishes, pasta, gnocchi, and more.
Or pair a group cooking class with a wine-tasting session to experience the full Italian palate. And of course, the best part of these classes is not just what you learn, but that you get to eat the results at the end!
Whether you're a master chef or an avid fan of the microwave, a cooking lesson is one of the best things to do in Sorrento if you'd like to learn more about the local cuisine.
21 – Get a bit of everything on a bike tour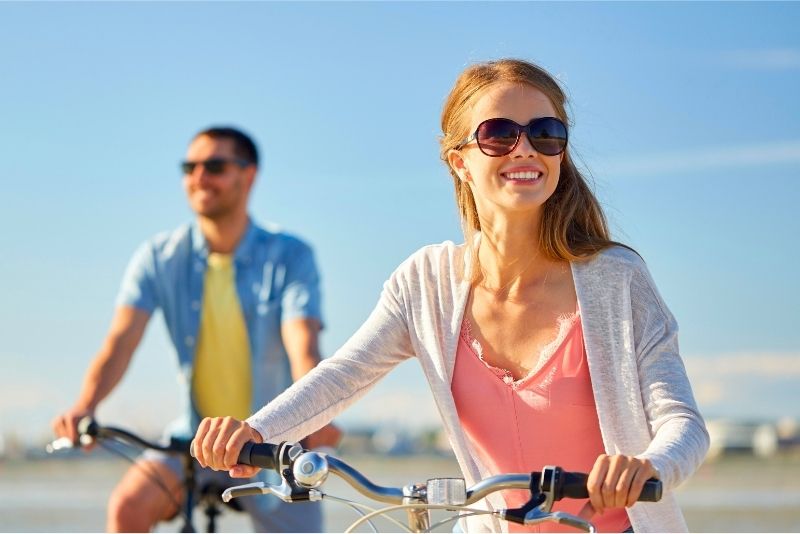 From the slopes of Mount Vesuvius to the beautiful bays of Positano, this is definitely an area that makes cyclists salivate!
And while you're enjoying all of the scenery, you can also stop to taste local wines, small snacks, and maybe even some limoncello – the perfect rewards for all of that biking!
22 – Relax at the best beach clubs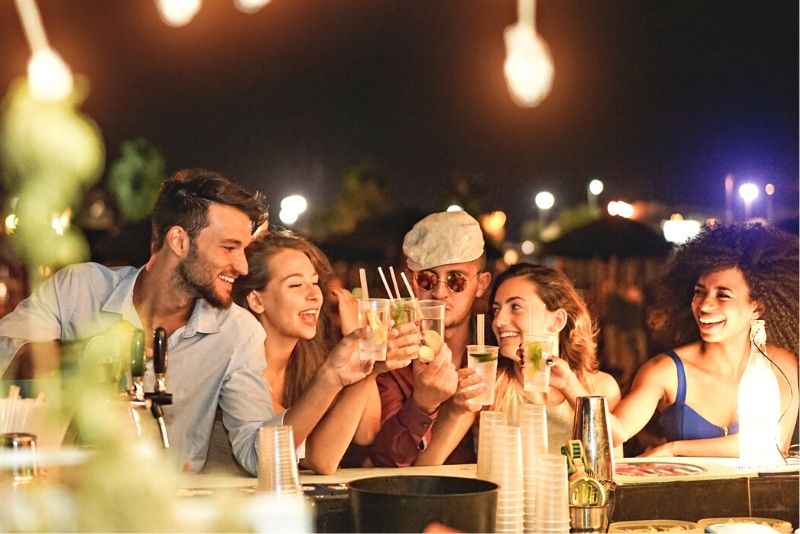 With its mellow, sunny atmosphere, it's little wonder that Sorrento has a great beach club scene.
At Marameo Beach, you can relax on the sundeck, then try out some delicious food at the onsite restaurant. Wind down for the evening with one of the bar's fine cocktails, and enjoy the temperate Mediterranean climate.
Peter's Beach Club offers excellent ocean views, an upscale menu, and frequent live music. Enjoy some tapas or a drink while you listen to the performances, and celebrate a day spent in the sun and surfing.
And at Leonelli's Beach Club, the whole family can enjoy the gentle waters and mellow shoreline. There are also plenty of watersports available – including canoe rentals and a water polo field – and, of course, lots of sunbeds and deckchairs for those looking to unwind.
Whether you're seeking an upscale experience or a family-friendly outing, the town's beach clubs have you covered.
23 – Sample different flavors of gelato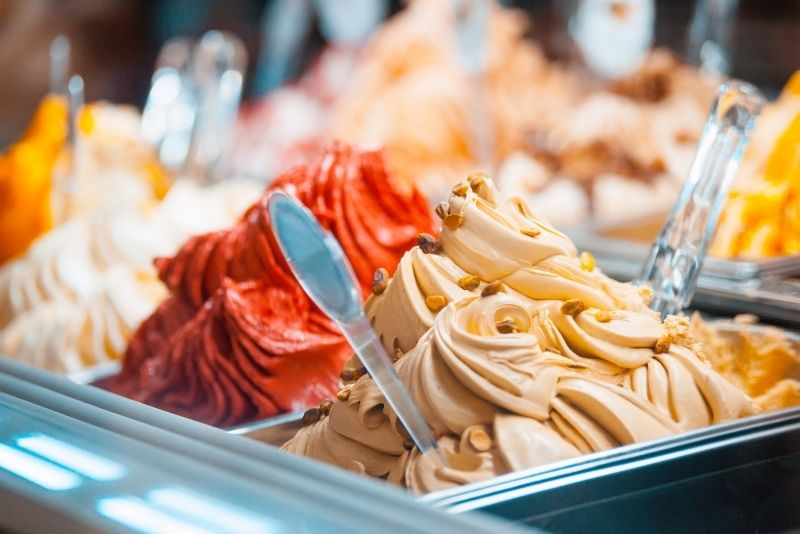 Another iconic Italian treat, this sweet, non-dairy cousin of ice cream is best enjoyed on the beach, at a cafe, walking through the town square… anywhere at all, really. Fortunately, there are excellent gelato shops all over Sorrento for travelers to visit.
Try the Monthly Special at Fresco, or the Salty Gelato – made with savory ingredients such as vegetables and cheeses – at Gelateria David.
Taste the local ingredients in the offerings from Raki, or the lemon-infused creations of Gelateria Primavera. If you really want to experience this local delicacy fully, visit them all and sample their specialties.
There can be few better ways to enjoy a lazy afternoon in town than by getting your fill of sweets!
24 – Enjoy the art and local history at Museo Bottega della Tarsia Lignea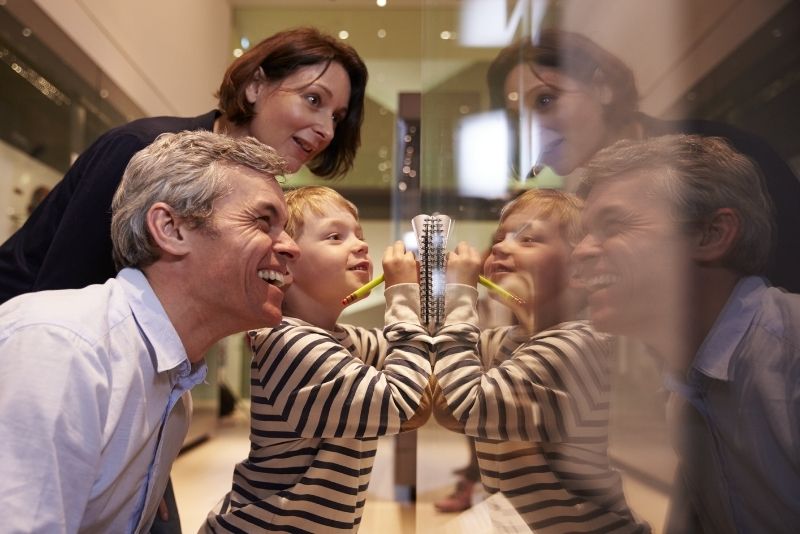 Step inside this 18th-century palace to see an incredible collection of art and artifacts from Sorrento's past. Once again, the frescoes throughout the building command attention, with their striking colors and beautiful details.
But there are also plenty of other incredible artworks at Museo Bottega della Tarsia Lignea, including prints and paintings from the era. This is also a great place to view some prime examples of intarsio furniture, which features inlaid wood with intricate designs.
Sorrento is famous for producing this style, and you can admire some of the town's finest works up close.
If you're interested in Sorrento's general history, be sure to check out the collection of photographs that showcase daily life in the community in the 19th century.
25 – Taste your way through some food tours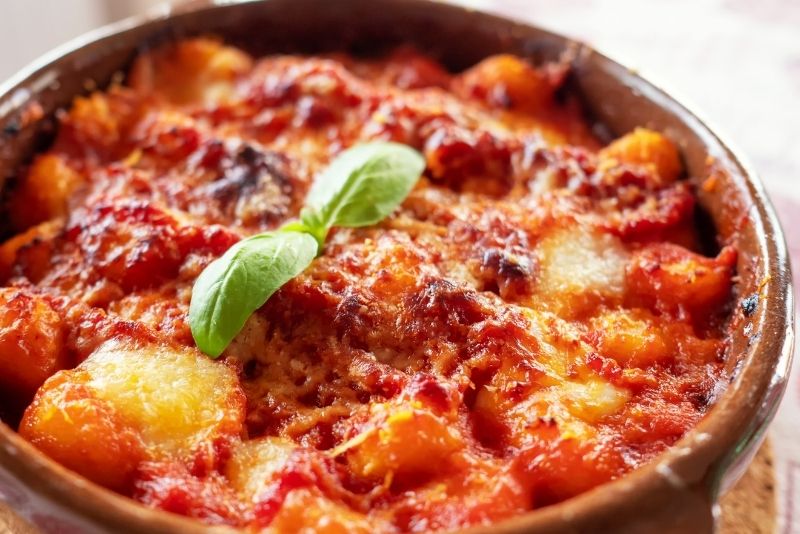 Sure, cooking your own dish is a wonderful thing. But if you want to taste the local cuisine as cooked by the residents, there are plenty of food-based tours to try.
Stop by some of the area's many farms and orchards to taste some specialties, including cheeses, wines, olive oils, and pizza.
You can pair your visit with a walking tour of the town, or take an E-Bike tour to visit some delicious spots along the coast. And if you still want to try your hand at making something yourself, visit an organic farm to learn about their fresh ingredients.
You'll be able to pick your own vegetables and herbs from the garden, then turn them into a scrumptious dish. With so many options, you'll never get your fill of the local food scene.
26 – Enjoy the citruses at I Giardini di Cataldo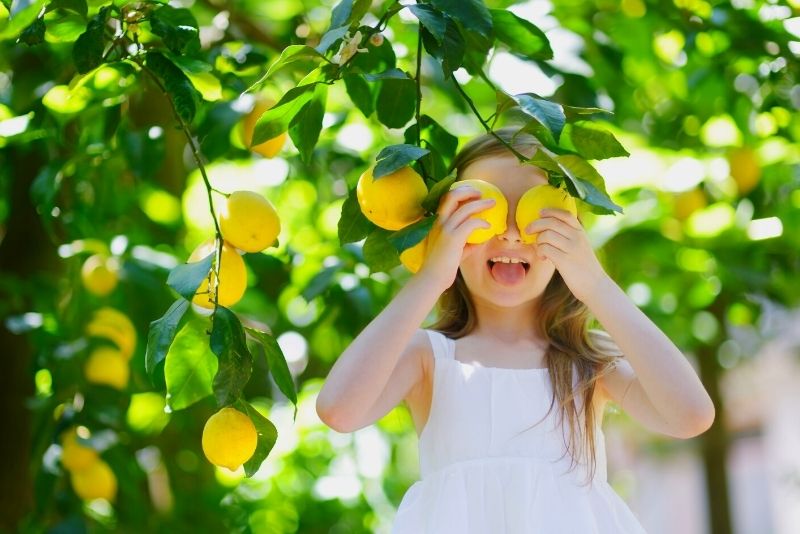 An oasis within the larger refuge of the town, Giardini di Cataldo offers the chance to sample excellent drinks and desserts in an idyllic garden setting.
Since the 19th century, the Esposito family has meticulously cared for the orchards, and the resulting products – including jams, liqueurs, and desserts- reflect the quality and precision of the farming process.
You can sample some of their delicious offerings while relaxing in their beautiful, vine-covered courtyard, and learn more about how the famous lemon grove is maintained.
And if you like what you taste, you can always pick up some goodies to take home!
27 – Take a boat tour of Ischia & Procida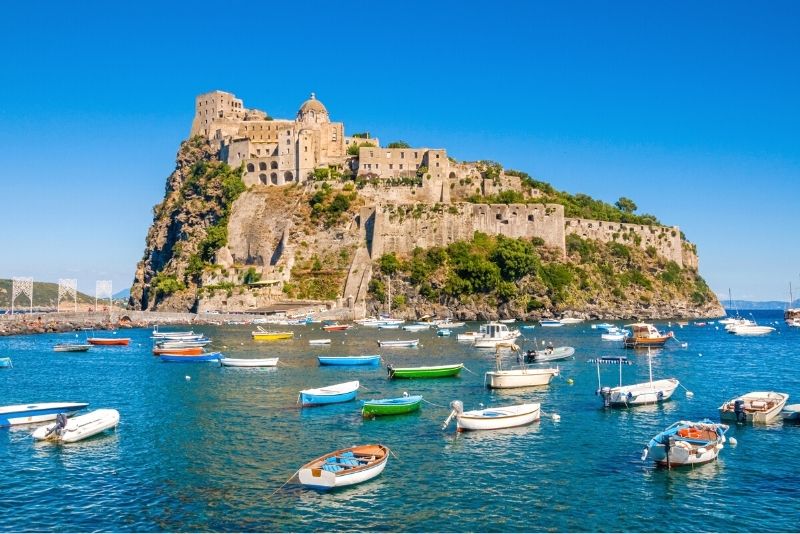 Another charming pair of islands easily accessible from Sorrento, Ischia and Procida offer plenty of beautiful scenery and entertaining activities for those seeking a nice outing for the day.
Boat tours will bring you along the coast before dropping you off at these striking volcanic islands, with plenty of chances for swimming and snorkeling along the way.
Ischia, known as the "Green Island" because of its abundant vegetation, is perhaps most famous for its natural hot springs and wellness industry.
During your visit, be sure to stop by Mortella Gardens, with its charming fountains and rare and gorgeous collection of plants. This wonderfully landscaped space is a feast for the senses.
On Procida, you can roam the streets of the traditional fishing villages and admire the brightly-colored buildings that form a beautiful mosaic.
There are also more specific options available, such as tasting excursions and private tours. Take some time to make the rounds of these charming little islands!
28 – Catch a show at Theater Armida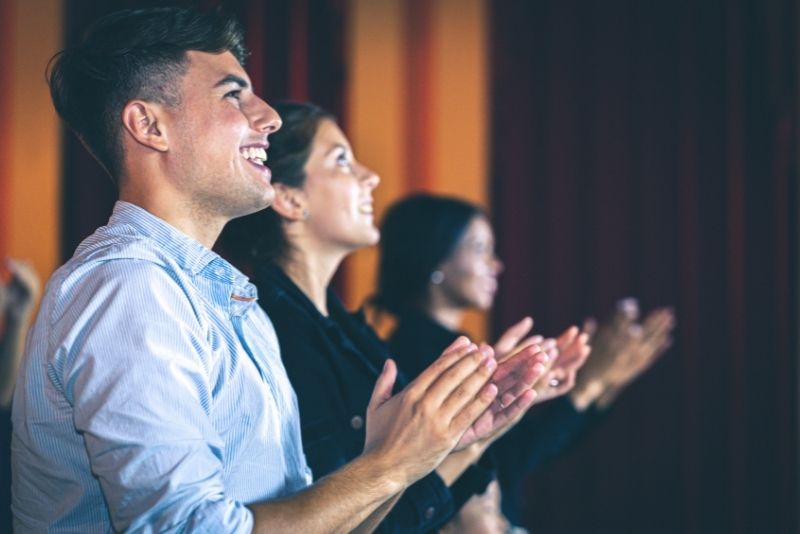 While there are plenty of unique things to do in Sorrento and the surrounding areas, sometimes you just need to kick back and catch a show. And for a great movie-going experience, you can't beat Cinema Teatro Armida.
This spacious theater offers a continually rotating roster of new and classic films, with both Italian and foreign works available.
Stop by their elegant building – easy walking distance from the town center – and check out what's playing.
29 – Cast a line and go fishing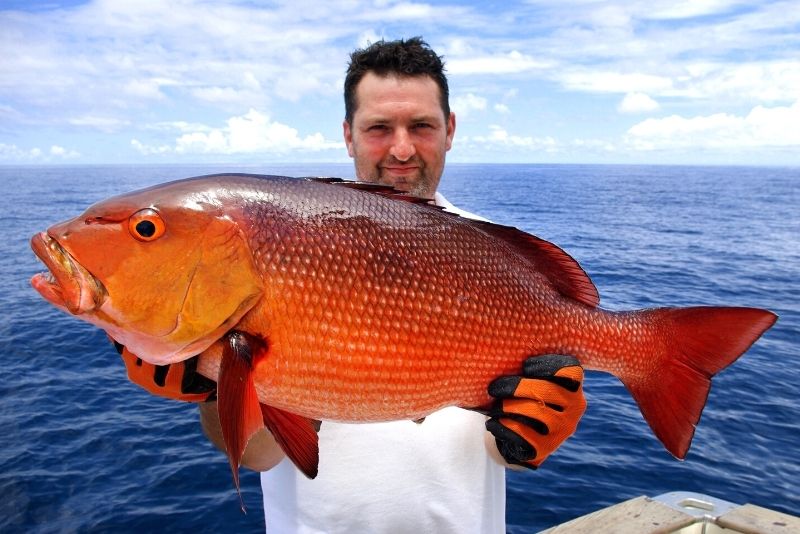 After tasting all the fresh seafood on shore, you may want to catch some yourself. And there are plenty of fishing tours that operate in and around Sorrento to help you with this goal.
Spend the day out at sea searching for some of the area's many species, and learn about all the different techniques that you can utilize to catch them.
Along the way, you'll be treated to stunning views of some of the region's best sites, including the Marina di Puolo, the Palace of Queen Joan, and the Palazzo della Regina Giovanna.
Several tours also include excursions to Capri, so after enjoying some of your freshly cooked catch onboard, you can disembark and explore the island for a while. Live like a local and enjoy the fresh fish as you cast a line!
30 – Go shopping along Corso Italia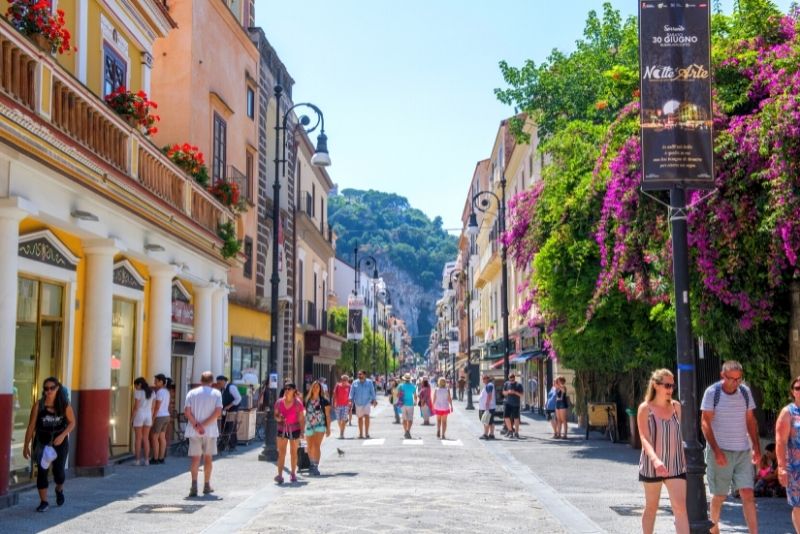 For those seeking retail therapy or hoping to score some great souvenirs, be sure to stop by Corso Italia. One of the main thoroughfares in Sorrento, this street offers a whole variety of stores to browse, as well as easy access to the Sorrento Cathedral and other attractions.
It's well worth visiting in the evening when locals join the tourists in strolling along the street. People-watch and see what items catch your eye as dusk infuses the neighborhood with a new burst of energy.
Whatever sort of fun or fashionable items you're looking for, you're likely to find them on Corso Italia.
31 – Try some of the best restaurants in town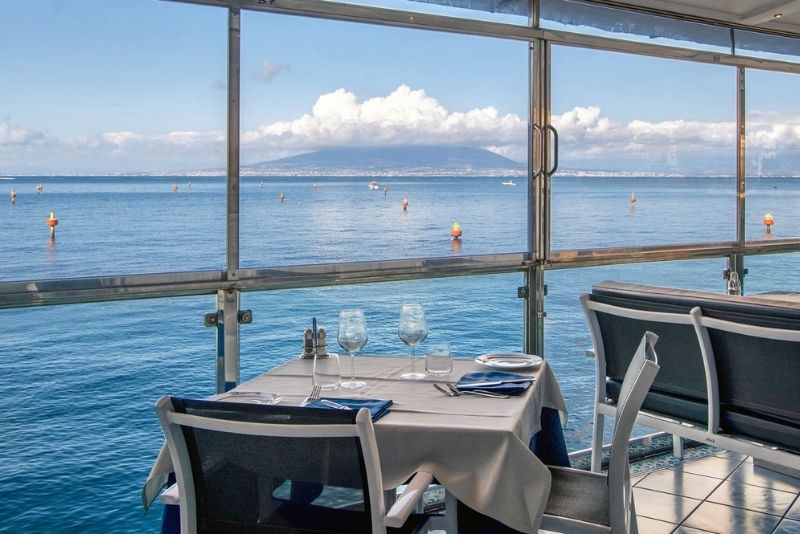 While the town is generally known for its excellent food, there are some restaurants that truly stand out, and whiling away the hours sampling their specialties is one of the best things to do in Sorrento.
Bagni Delfino is renowned for its hyperlocal cuisine and its stunning views of the Gulf of Naples and the surrounding area. With its romantic, elegant ambiance, it's little wonder that this establishment has been featured in numerous films. Be sure to try some of their fresh seafood and select a wine from their extensive list.
Other great eateries include Trattoria Da Emilia, which specializes in seafood risotto; the Inn Buafalita, which offers fresh mozzarella dishes; and La Lanterna, a low-key spot beloved by locals that offers wonderful pasta.
With so many restaurants, and such a broad, delicious cuisine, eating in Sorrento is an activity unto itself.
32 – Wind down for the evening with a sunset cruise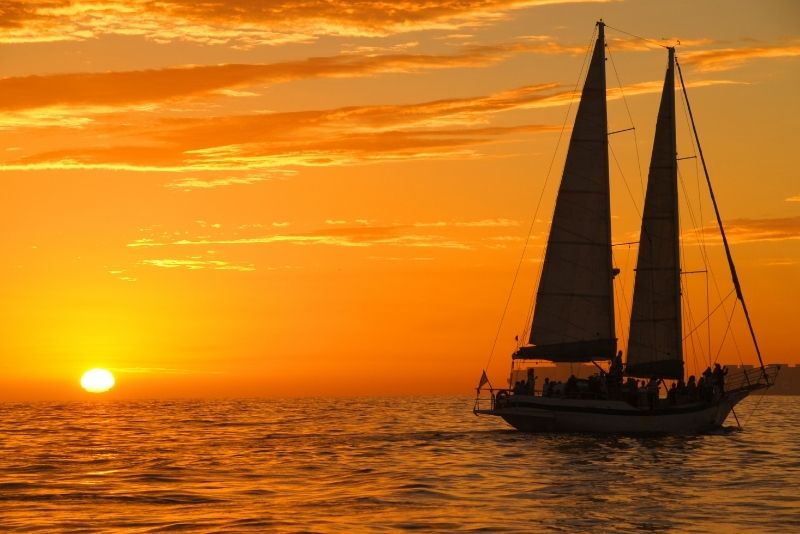 After a full day of shopping, eating, swimming, or sightseeing, there are few better ways to end the day than with a sunset cruise around the Gulf.
Whether you prefer a private experience or a group tour, you're guaranteed a wonderful time as your boat glides through the water, catching the best views of the setting sun. Watch the beautiful scenery come alive in a totally different way as day slips into night.
To add to the experience, some tours offer dinner and/or drinks to go with the cruise, or offer stops at the island of Capri for you to stroll the streets as evening falls. For a beautiful and memorable finale to your day, you can't beat a boat trip in paradise.
With its idyllic streets, artistic offerings, beautiful beaches, and ample access to other areas of interest, Sorrento is ideal for those seeking an iconic vacation in small-town Italy.
Try new foods, swim in gorgeous waters, and spend some time relaxing and visiting the local hangouts. The hardest part of booking a vacation here will be convincing yourself to leave!
Where to stay?
For places to stay while you explore, try the Hotel Michelangelo, Hotel Belair, Hotel Cristina, or Hotel Rivage.
And to streamline your visit from the start, consider booking an airport transfer service.
Where to next?
Naples, located just across the Gulf by boat (or an hour's drive), offers splendid architecture, beautiful scenery, world-class museums, and, of course, delicious pizza.
Check out the many tours and historical buildings – not to mention some world-class opera, lively sporting events, and more – and fall in love with this delightful city.
Or head a few hours north to Rome to immerse yourself in the history of one of human civilization's greatest empires.
While there is more than enough classical art and amazing cultural amenities to keep you occupied in this city, you can also try more unique experiences, such as a Vespa tour or a scavenger hunt.
Italy is waiting for you, so start planning.
Happy travels!