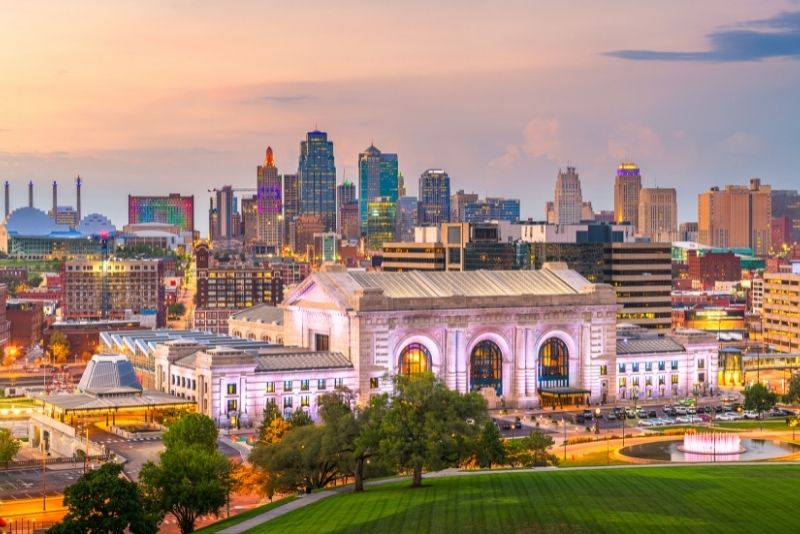 Straddling the Missouri River and the Missouri-Kansas border, this eclectic slice of the Midwest offers something for every kind of traveler.
From exciting theme parks to honky-tonk bars, award-winning museums, and drool-worthy BBQ joints, Kansas City is surprisingly diverse. Fly-over state? Not anymore!
Before we jump into the nitty-gritty of all the exciting things to do in Kansas City, be aware that, technically, there are actually two places named Kansas City next to each other — one in Missouri (KCMO) and one in Kansas (KCK).
Fret not, because we'll be diving into both, covering the entire Kansas City Metropolitan Area!
1 – Spend a day at Union Station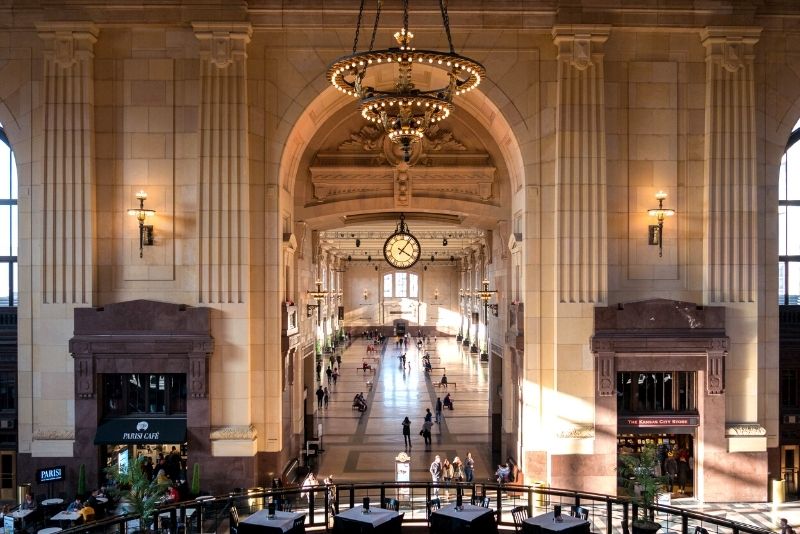 More than a 100-year-old transit hub, Kansas City's historic Union Station has been restored to its original 1920s grandeur. It has morphed into a beacon of entertainment, dining and culture, with approximately 2 million people walking its historic floor every year.
Within the impressive Downtown building, you'll find the internationally-awarded Science City, a full-sized planetarium, the family-friendly Model Railroad Experience, two theaters (one for movies and one for concerts/plays), a range of rotating art and history exhibits, and an abundance of unique shops and eateries!
2 – Meet the leopards at the Kansas City Zoo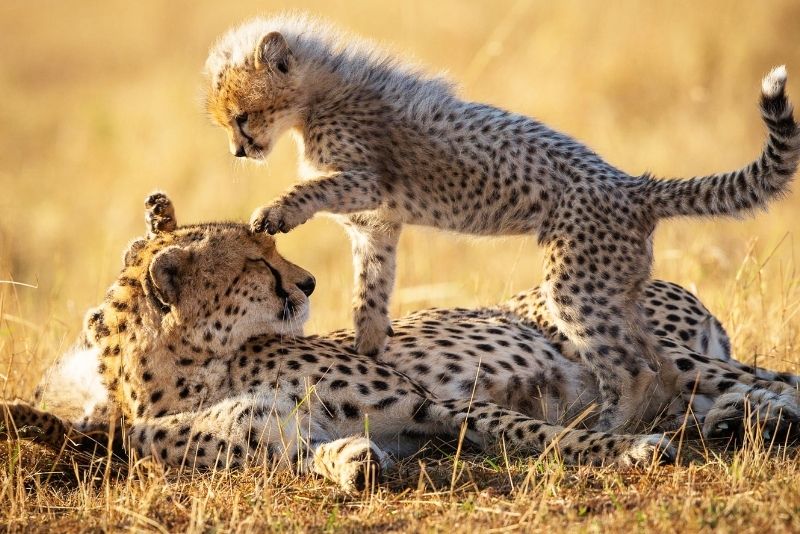 A surefire hit for kids and adults alike, the locally adored Kansas City Zoo houses more than 1700 animals of all shapes, sizes and origins, spread across some 200 acres of diverse exhibits.
You'll find impressive replica ecosystems of the tropical rainforest, African Savanna, Aussie Outback and Asian mountainside, but it's arguably the Helzberg Penguin Plaza that steals the show.
At just $16 for adults, it's one of the most affordable things to do in Kansas City!
3 – Wet your whistle at the Boulevard Brewing Company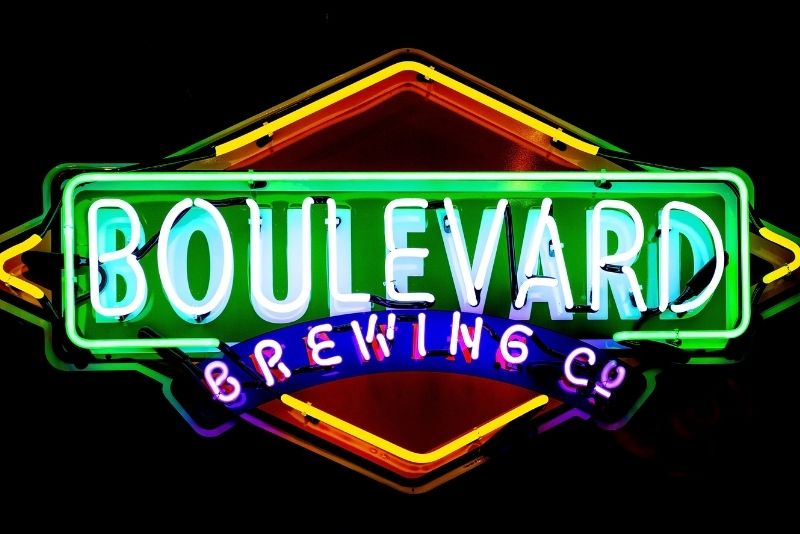 Kansas City's largest independent brewery has been pumping out fresh beverages for over 30 years, famous in the area for its delicious yet affordable Pale Ale.
It's located on the beautiful banks of the Missouri River just south of Downtown KCMO. You'll find a cool-yet-inviting taproom decked out in wooden accents with an impressive view of the city skyline.
4 – Get cultured at the Nelson-Atkins Museum of Art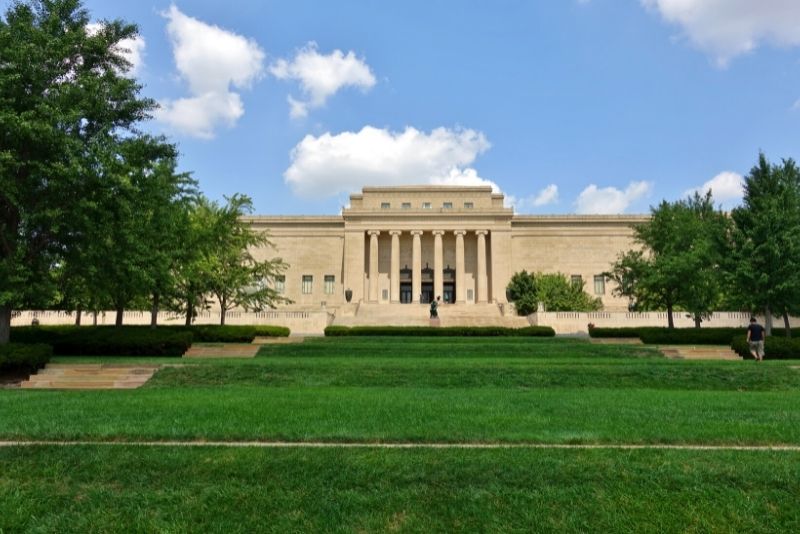 A world-renowned art museum, the Nelson-Atkins Museum of Art is a stunning tribute to both Kansas City and American culture.
The first stop for many on a tour through KC's cultural district, the museum is within easy reach by foot or public transportation from the common tourist areas. This massive complex houses nearly 50 acres of awe-inspiring masterpieces from across time periods and continents.
5 – Get your drink on at Tom's Town Distillery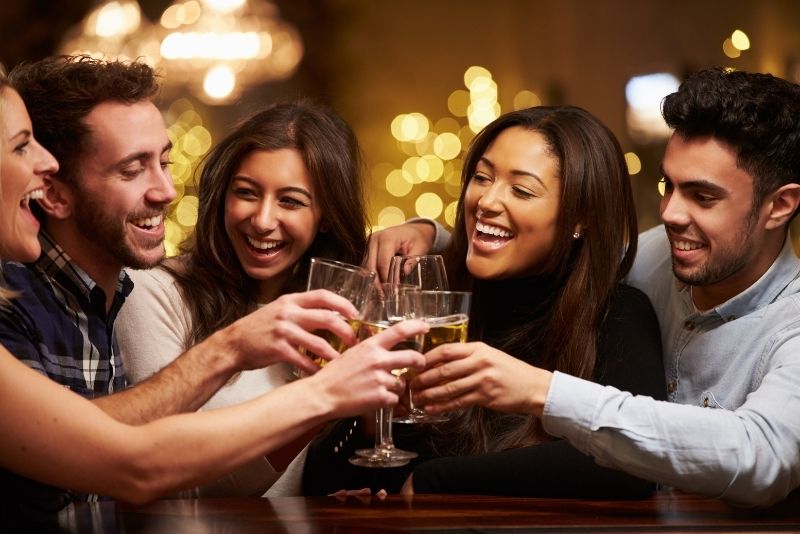 Featuring an impressive beer garden and event spaces fit for up to 200 people, this Crossroads district watering hole has become one of Kansas City's most popular attractions for gin, vodka and bourbon lovers.
Boasting a full-service restaurant full of hearty fare to soak up the alcohol, plus offering daily distillery tours, Tom's Town is the perfect spot for a weekend afternoon gathering.
6 – Ride the Detonator at Worlds of Fun!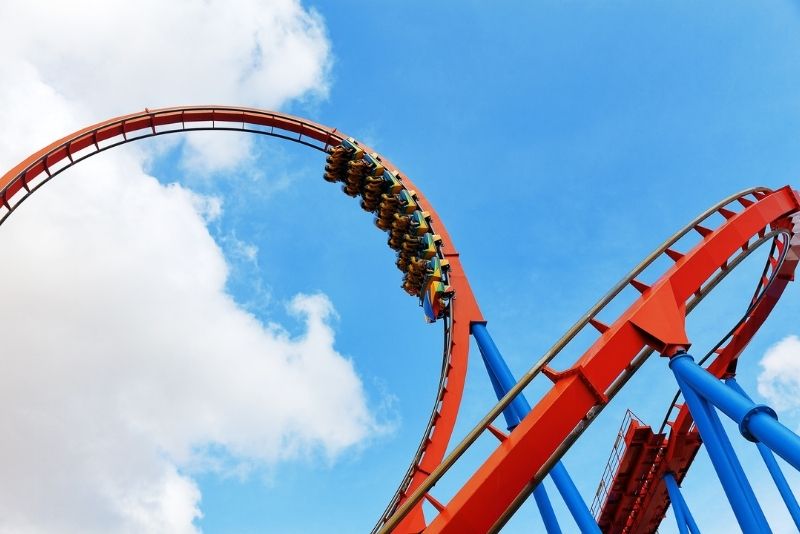 With the combined attractions of Worlds Of Fun and Oceans of Fun, this is one Kansas City classic you don't want to miss.
Be it thrill rides (get in line for the heart-stopping Detonator) or water slides, arcade games or live shows, there's no shortage of family-friendly entertainment on offer!
In addition to two world-class amusement parks, the Worlds of Fun Resort also features a luxurious resort hotel with expansive pools and several on-site dining options.
7 – Explore the city on a segway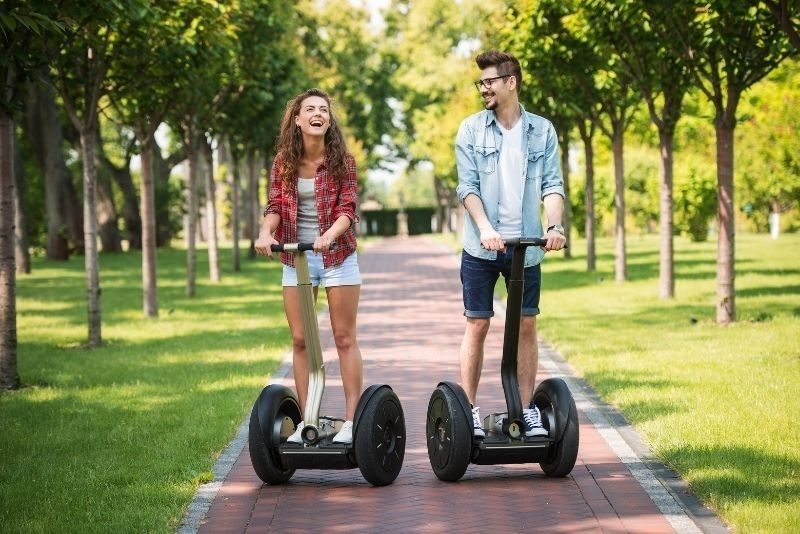 A wonderfully unique way to see the area (and give those weary legs a rest), a segway tour zips visitors through the Kansas City's main haunts. Led by knowledgeable and friendly locals, you'll be ticking off must-see landmarks like the Country Club Plaza, Westport and the Nelson Atkins Museum.
If organized tours don't quite fit your vibe, you can always rent your own set of wheels and explore the area at your own pace.
8 – Put the pedal to the metal at the Kansas City Speedway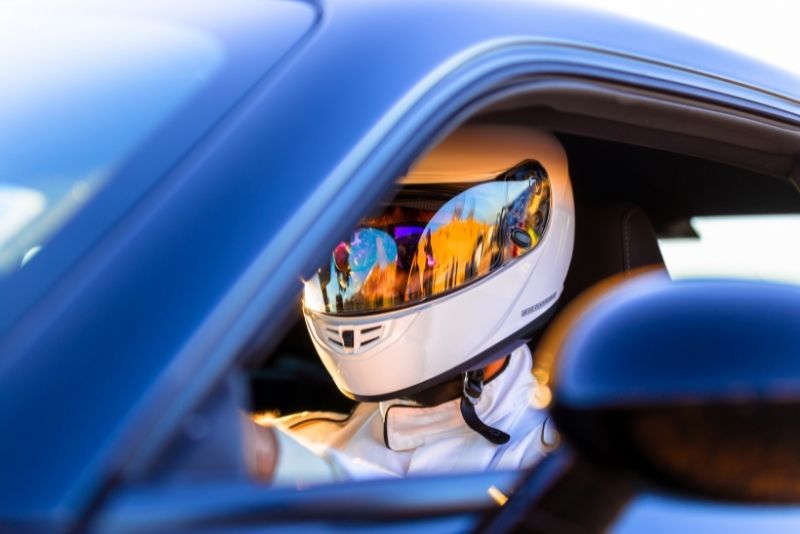 Petrolheads, listen up! For an adrenaline-pumping afternoon unlike any other, look no further than the NASCAR Driving Experience.
This high-octane activity throws you behind the wheel (or you can stay in the passenger seat if you prefer) for a handful of hot laps around a real NASCAR track, with an experienced instructor at your side the whole way through.
Hot tip: Book online, in advance, to save over 50% on the asking price!
9 – Play detective in an escape room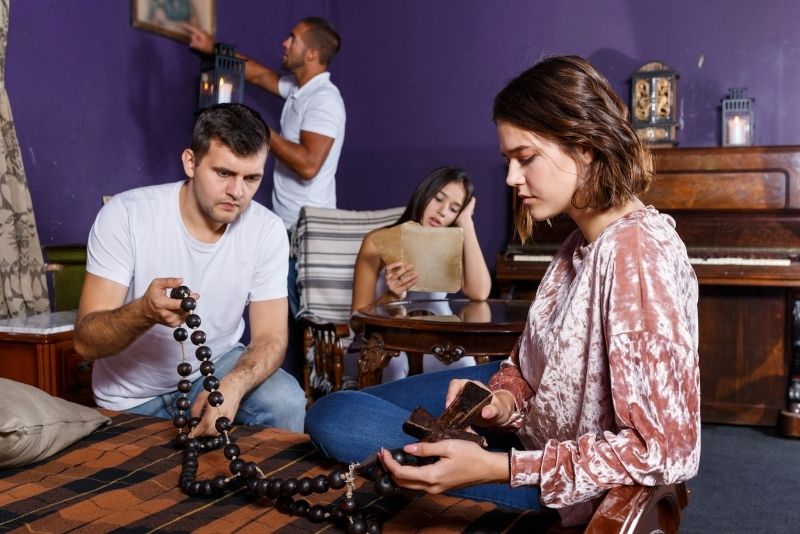 Consider yourself somewhat of a detective in the making. The next Sherlock Holmes, perhaps? Well, now's your chance to prove it!
Choose from a range of interactive themes revolving around magic, heists, pandemics (how fitting) and time travel, just to name a few. There's a problem-solving, clue-cracking challenge suitable for every age and interest.
10 – Take the youngsters to Deanna Rose Children's Farmstead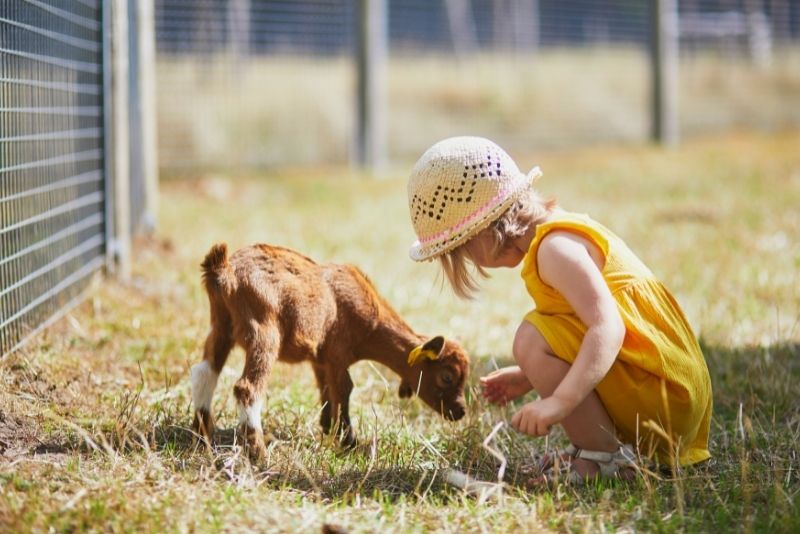 Founded in 1887, the Deanna Rose Children's Farmstead is a Overland Park treasure and one of Kansas's oldest continuously operating children's farms.
Visitors can take guided tours through the farm where they'll be introduced to all sorts of animals from pigs and cows to donkeys and goats — not to mention plenty of chickens roaming free around the property!
Beyond farm life, there's also a hayride and plenty of other activities for little ones to enjoy.
11 – Visit the eye-opening Negro Leagues Baseball Museum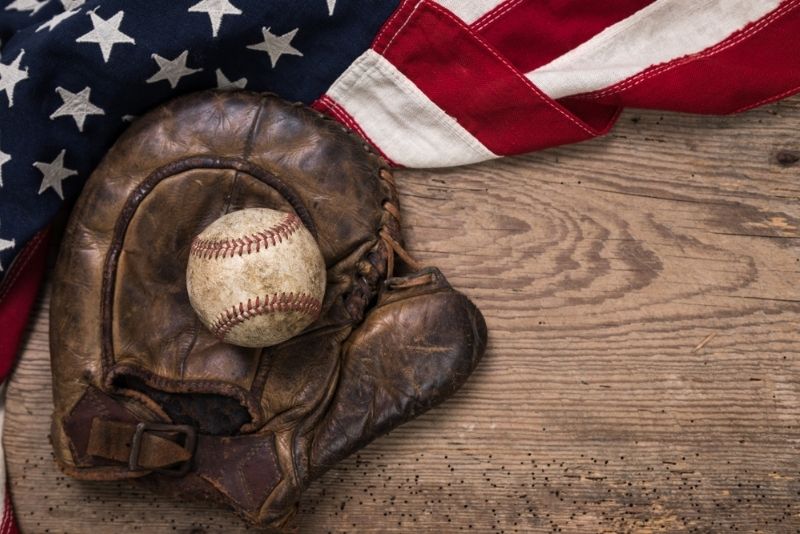 Shining light on a regrettable part of sporting history, this museum chronicles over 75 years' worth of baseball from the point-of-view of African American players who weren't allowed to play in the Major Leagues.
The museum is also home to more than 20,000 baseball cards and a wide array of memorabilia highlighting the careers of Negro League players.
Kansas City is the birthplace of Negro League Baseball and with that, it's only fitting to pay homage to one of its most in-depth attractions.
12 – Shoot some hoops at the College Basketball Experience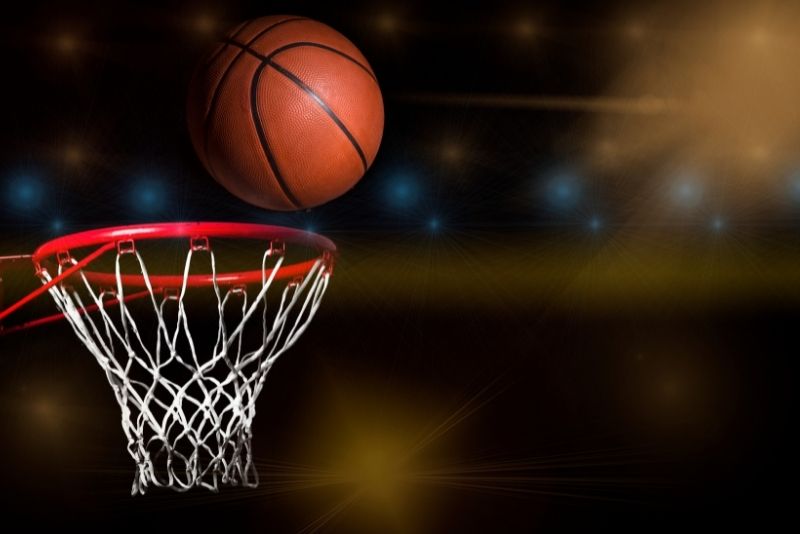 If you're a college hoops fan looking to experience the game in all its glory, look no further than this interactive museum.
It features more than just exhibits and memorabilia from your favorite collegiate programs. Visitors can walk through life-size recreations of basketball games (including an NCAA Final), take three-point shots on a variety of different courts and much more.
Keep in mind this attraction is temporarily closed, so be sure to check the website before you visit to avoid disappointment.
13 – Spend the afternoon at Penguin Park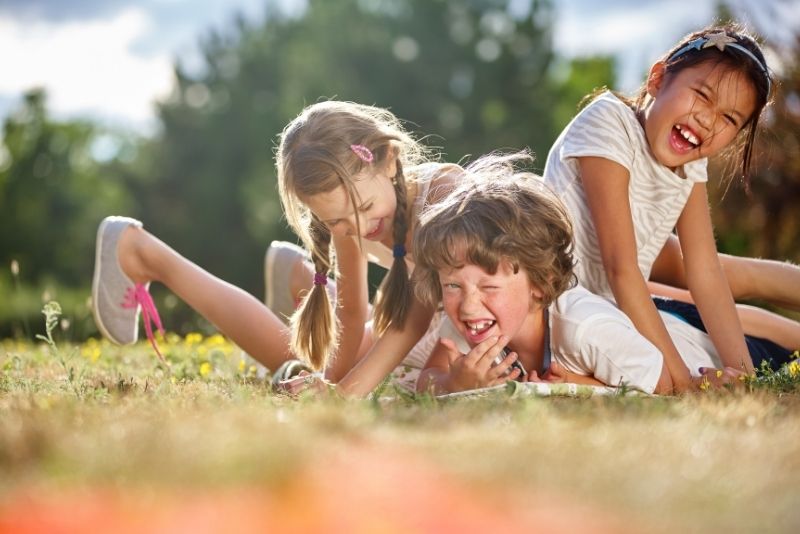 Located right in the middle of the city, Penguin Park provides a refreshing slice of greenery — the ideal spot for a picnic, BBQ or nap under the sun.
What makes this park so iconic (and a hit for kids) is its unique decorations. You'll find a giant giraffe, elephant, kangaroo and penguin statues on the playground and beside picnic tables.
14 – Soar over the state border with a helicopter tour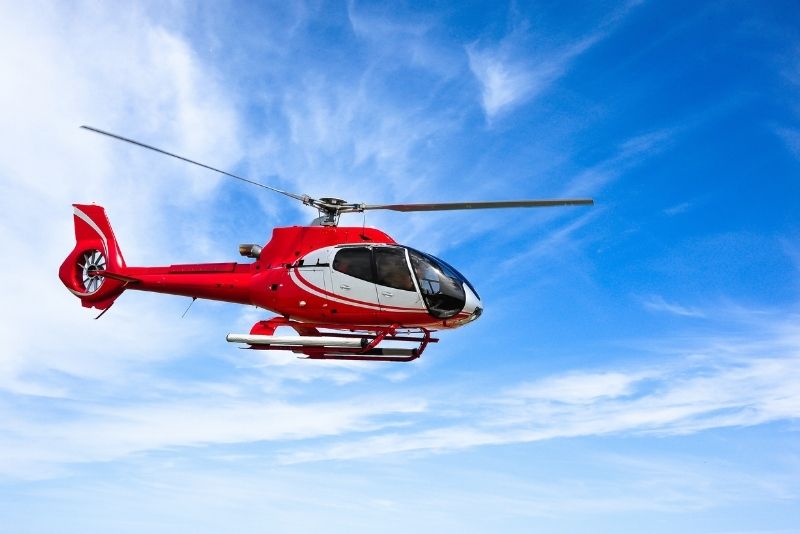 While the city boasts plenty of prime viewpoints, nothing beats the visual of Kansas City from 1,000 plus feet in the air!
Depending on your preferred budget and itinerary, helicopter tours typically soar over JOCO (Johnson County), historic Downtown and the Missouri River. And, if you're game, they even offer the chance to take an introductory helicopter flight lesson!
With the friendly pilot providing plenty of fascinating insights about the landmarks below, it's one of the best things to do in Kansas City.
15 – Check out the charming Powell Gardens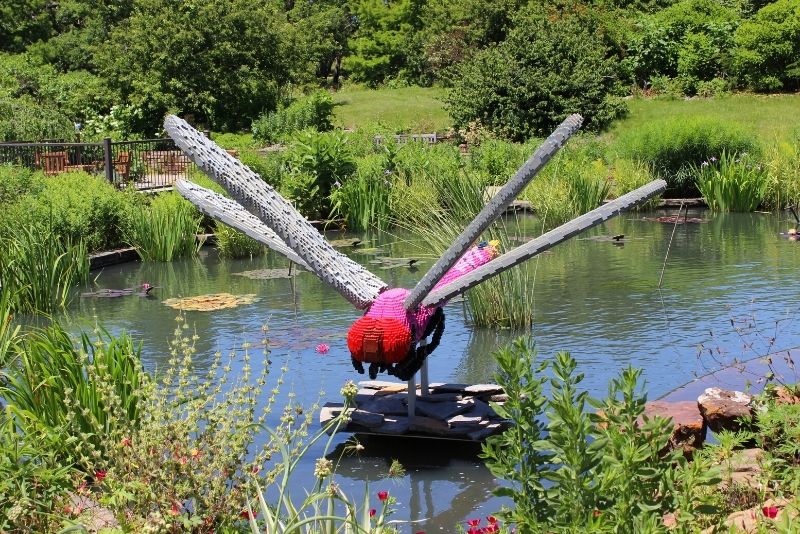 Spread across Powell Gardens' 970 acres of beautiful gardens and prairies, a stunning variety of plants (6,000 varieties, to be precise) from all around the globe, as well as an expansive Fountain Garden and Perennial Garden.
Complementing all of these lush green spaces, the garden also has a wide variety of events on offer, including seasonal festivals and gardening courses for all you green thumbs out there!
16 – Learn about outdated health practices at the Glore Psychiatric Museum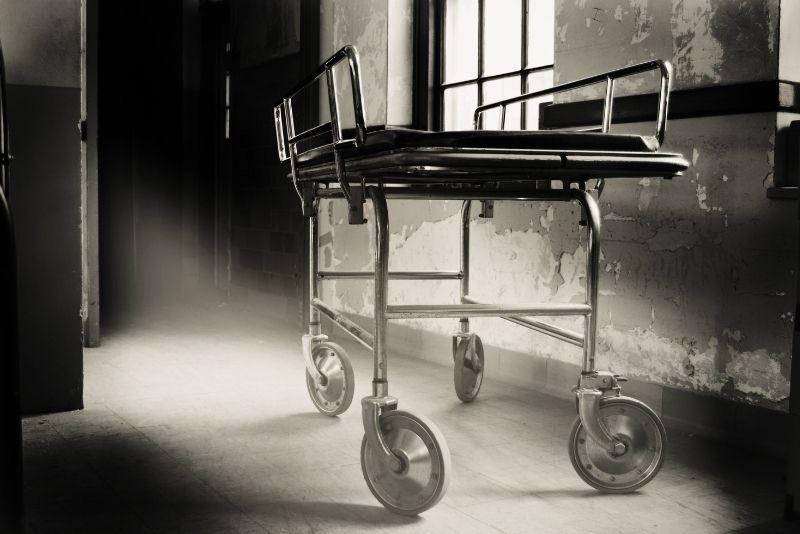 Located an hour drive north of Kansas City in St. Joseph (the perfect excuse for a day trip), this award-winning museum is a must-see for any history buff.
As one of the most unusual exhibits in the country, the Glore Psychiatric Museum provides audiences with an informative and eye-opening experience into America's past with mental health care. It's home to thousands of psychiatric artifacts from hospitals across the country, including electroshock therapy machines and lobotomy tools.
Guests rave about the museum's tours, but beware, they're not for the faint of heart.
17 – Give horse riding a go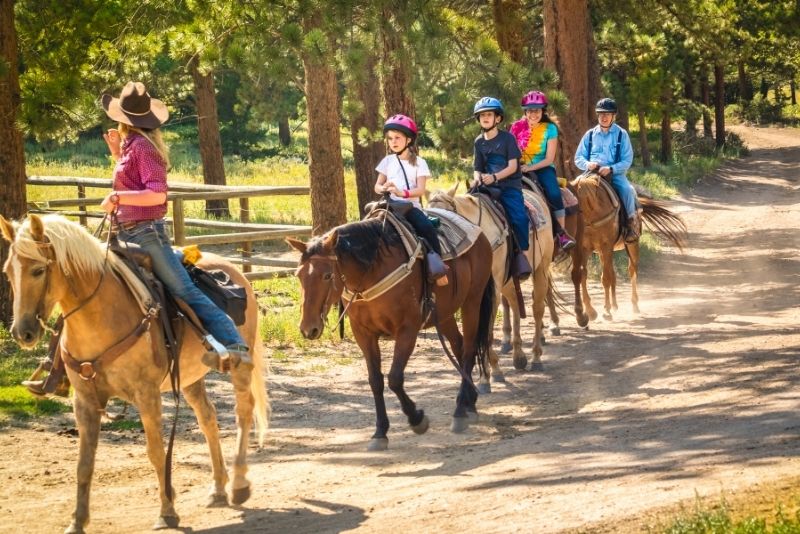 If you're on the hunt for a more relaxing way to explore the area (without the city traffic), horseback riding is just what the doctor ordered.
With lessons available for beginner riders all the way up to seasoned veterans, a range of local ranches and trainers (like beloved Lisa D. Mullen, for example) provide everything needed for an enjoyable day in the saddle.
18 – Pamper yourself with a spa day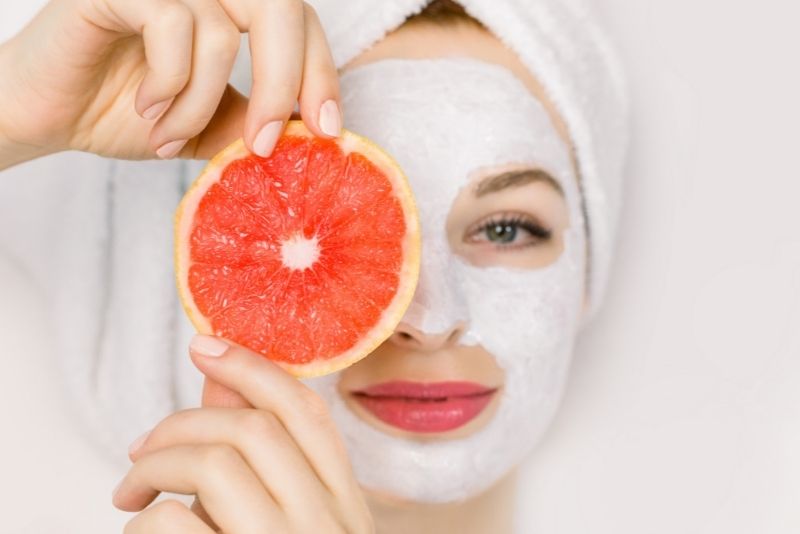 After a few days of exploring, horseback riding or getting a little wild in the Power & Light District, a day of relaxation and rejuvenation is never a bad idea.
Whether you're after a Swedish or deep-tissue massage, a facial, infrared sauna session, flotation or cryotherapy experience, the city has no shortage of pampering opportunities.
Hot tip: Book online, using sites like Groupon (see below) for enormous discounts.
19 – Stop into the Evel Knievel Museum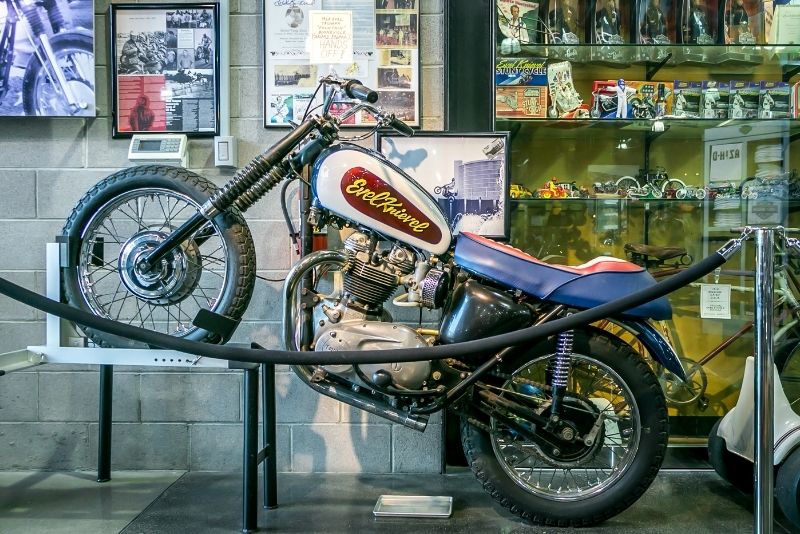 For those who love a good thrill, the Evel Knievel Museum is an absolute must.
It features everything from original jumpsuits and motorcycles to personal letters and other unique memorabilia of America's most iconic daredevil (who famously jumped his motorcycle over 13 buses on live TV).
This museum provides onlookers with a memorable experience that satisfies even the most die-hard fans.
20 – Step back in time at Missouri Town 1855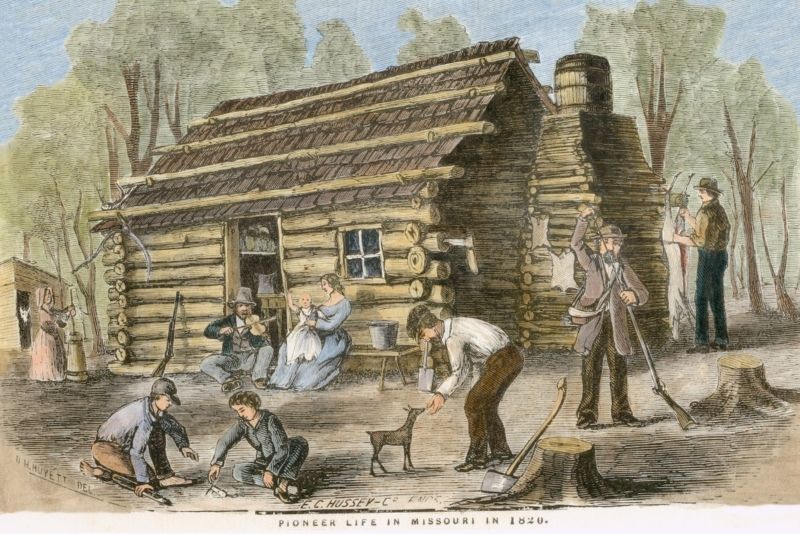 A living history museum that transports you back to the 19th century, Missouri Town 1855 educates visitors on the fascinating early days of Kansas City.
Inside this meticulously restored pioneer village, you'll find five historic structures with exhibits ranging from a country store to an old-fashioned schoolhouse, as well as living history demonstrations (such as blacksmithing and candle dipping).
21 – Get a new vantage point with an airplane tour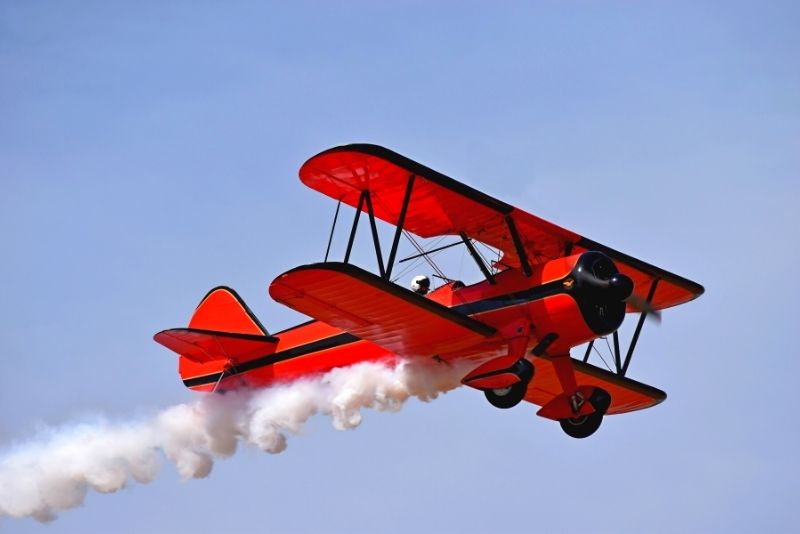 While on the ground, it can be hard for visitors to get an idea of just how vast and sprawling Kansas City is. Thankfully, there's a solution: airplane tours!
These exciting excursions will not only allow you to take in views that are impossible from street level (including that of iconic landmarks like the Liberty Memorial and Kemper Arena) but also include a chance to see the bordering state line from above.
With no shortage of companies to choose from, you're sure to find the perfect adventure at prices that fit your budget.
22 – Visit the National WWI Museum and Memorial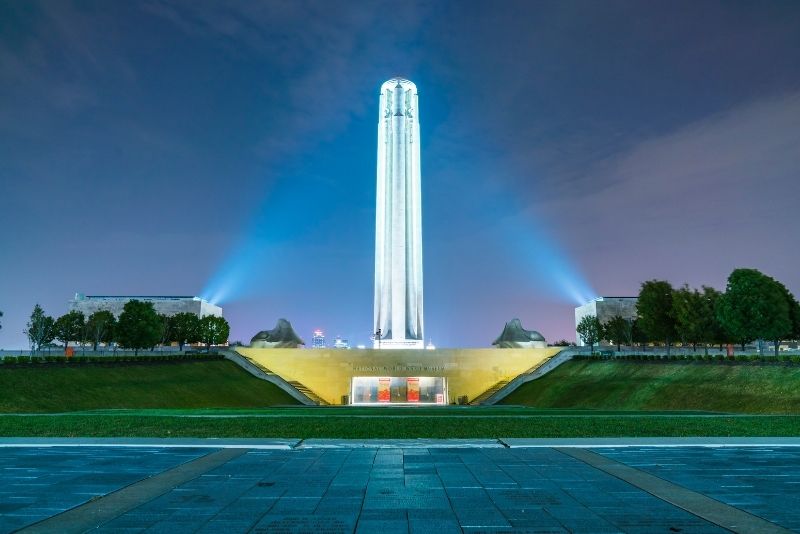 Making our way back to the ground (and all of its activities), there are few places more interesting for history aficionados than the National WWI Museum and Memorial.
This historical landmark features a memorial plaza, interactive exhibits, multimedia presentations, a bookstore and more — paying homage to soldiers who lost their lives during World War I.
23 – Spend a couple hours at the Museum at Prairiefire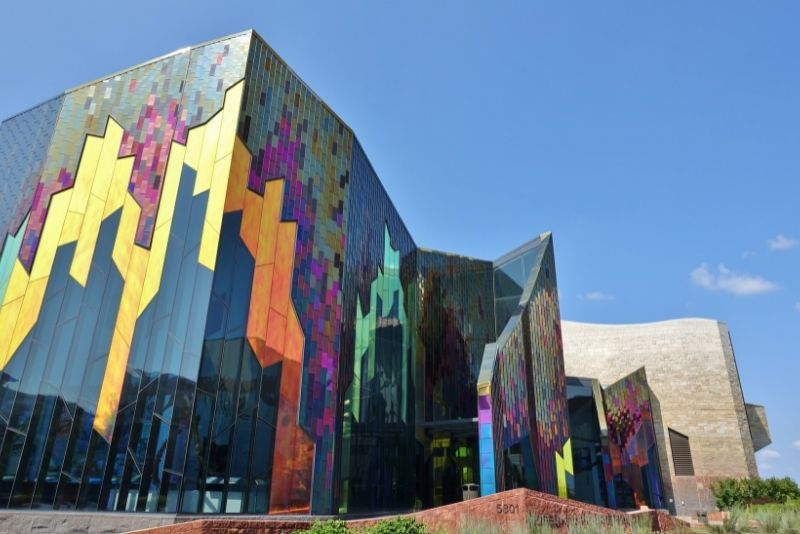 Just outside the city in Overland Park, the kid-friendly Museum at Prairiefire offers the perfect mix of education and entertainment, showcasing two core traveling exhibits from the American Museum of Natural History every year (plus plenty more ranging from anthropology to zoology and dinosaurs).
Sitting smack-bang in the middle of the Prairiefire Entertainment District, the museum is a stone's throw from restaurants and shops, a movie theater, and a bowling alley.
24 – Explore the city Amazing Race-style!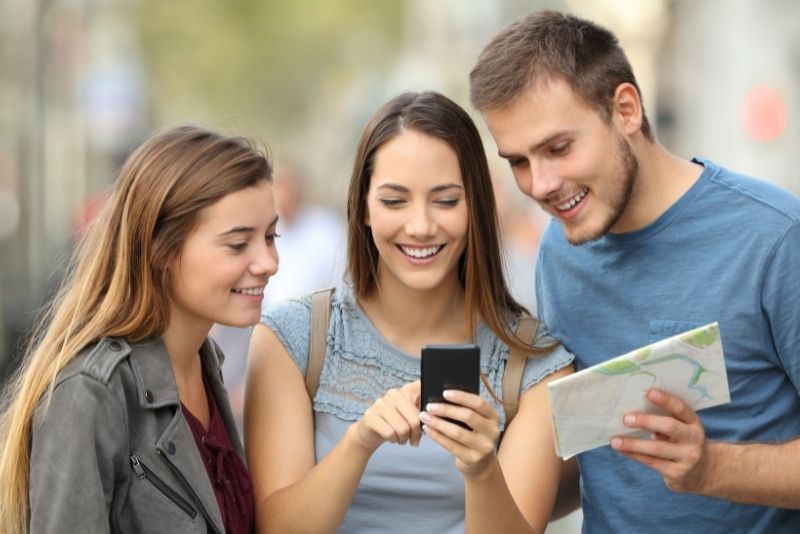 If wandering around the streets in the shadows of an over-talkative walking tour guide makes you want to pull your hair out, we've got the perfect solution: an interactive, self-guided, fast-paced and problem-solving scavenger hunt!
With an array of app-run tours available that skirt around town to hidden gems and famous landmarks alike, it's a wonderful way to see the vibrant city.
25 – Throw some axes at Bury The Hatchet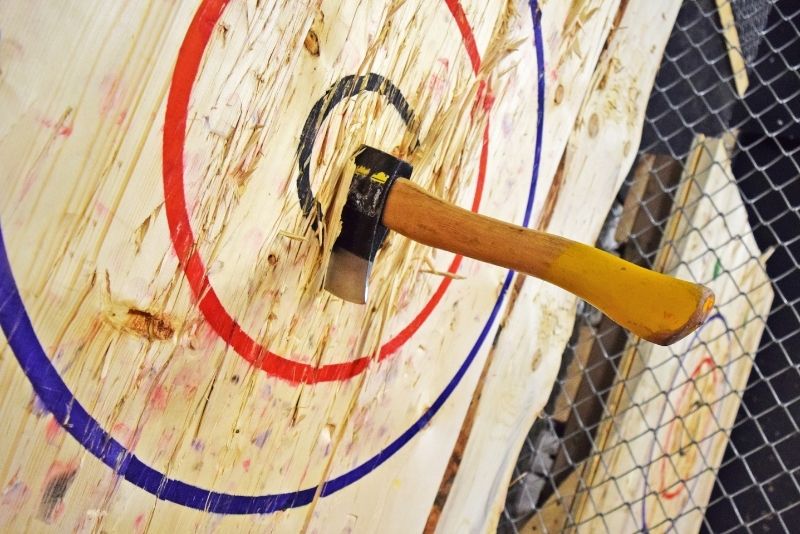 Seemingly out of nowhere, the ancient tradition of ax throwing has taken the recreation world by storm — so why not get in on the action and try it for yourself when visiting the City of Fountains?
At Bury The Hatchet, you'll not only get an introduction to the sport, but also participate in a handful of games and challenges. While harder than it looks, with safety-focused instructors on hand, you'll be hitting the bullseye in no time.
26 – Take the kids to LEGOLAND® Discovery Center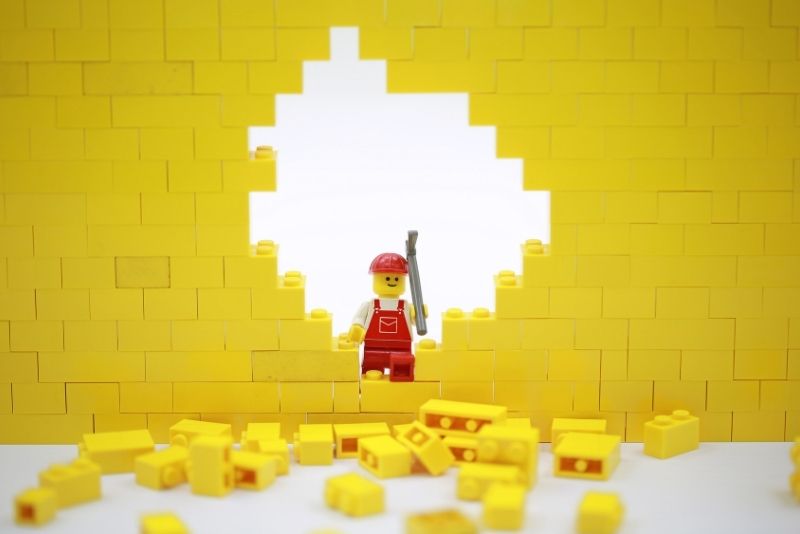 For those just looking for a fun-filled day, what could be better than LEGOLAND®?
Visitors can enjoy attractions like MINILAND (a scaled-down version of iconic Kansas City landmarks) and build their own cars in Build 'N Test, then race them on the Driving School track.
Meanwhile, kids of all ages will love the interactive experiences that feature more than 3 million Lego bricks.
27 – Stroll through the Overland Park Arboretum & Botanical Gardens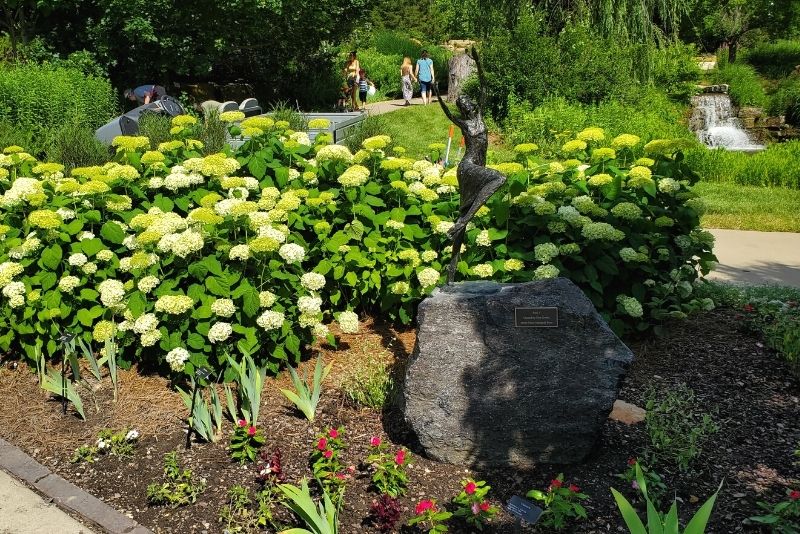 An easy 30-minute drive from downtown Kansas City, the Overland Park Arboretum & Botanical Gardens is the perfect place to take in all of Mother Nature's beauty.
More than 800 plant species on display and a range of sculptures, lakes and walking paths are spread across the 300-acre park. It provides fresh air that we all need once in a while on vacation.
28 – Hum along at the American Jazz Museum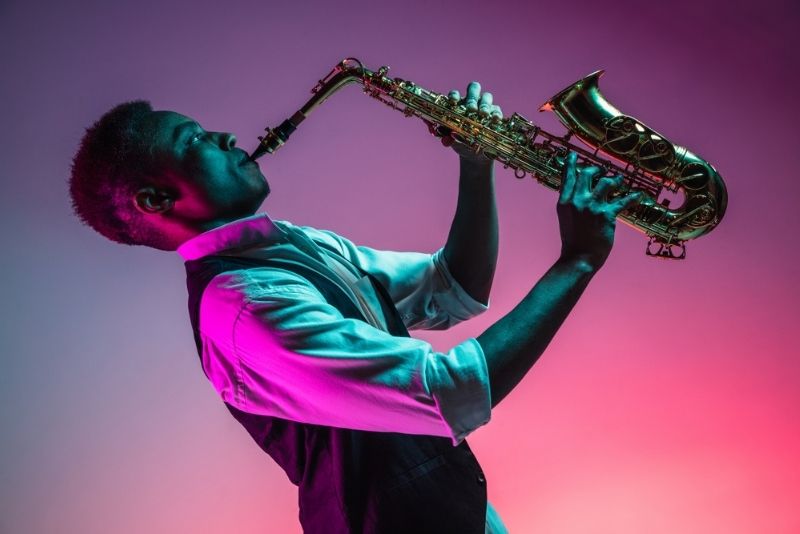 Easily one of the unmissable things to do in Kansas City for music lovers and history buffs, the American Jazz Museum tells the story of jazz from its roots to the present day. It also portrays the intriguing story of how it influenced modern Midwest culture.
The museum features interactive exhibits, performances, and films — not to mention an impressive permanent collection that includes instruments like Duke Ellington's grand piano.
Hot tip: Visit on a Friday or Saturday so that you can catch some live evening music in the world-famous Blue Room.
29 – Catch a game at Kauffman Stadium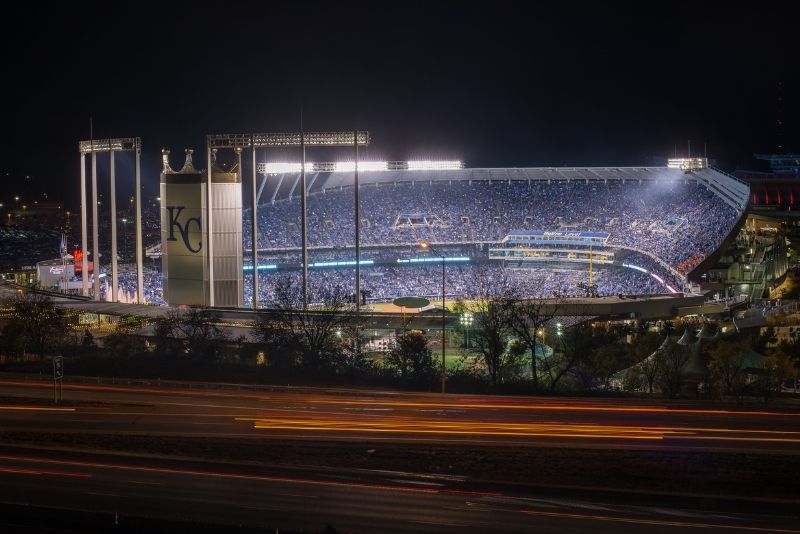 Home to Major League Baseball's Kansas City Royals, Kauffman Stadium is the only stadium in North America flanked by a giant crown!
Rising majestically from the grass on its beautiful downtown site, it has been called one of the finest sports cathedrals in our country — and for good reason! It offers an unmatched atmosphere for any sporting event, while also providing exclusive behind-the-scenes tours of the locker rooms, memorabilia halls, and dugout.
30 – Wander around the Lakeside Nature Center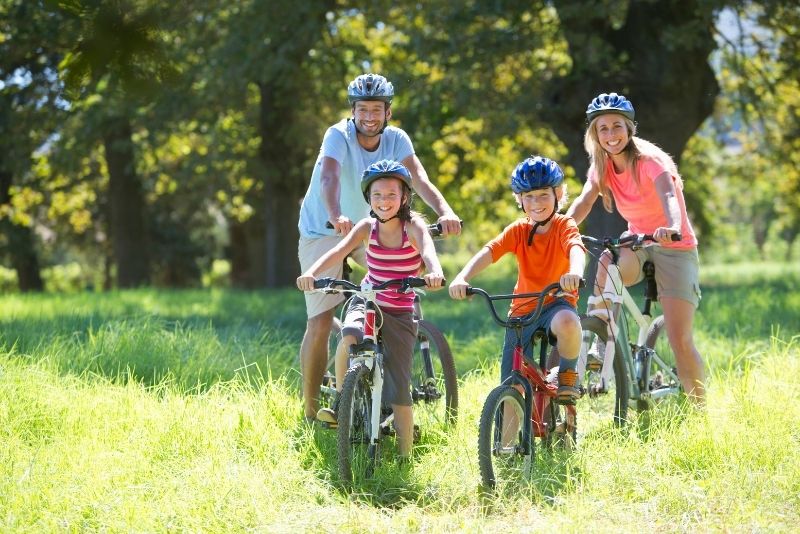 Nestled within the sprawling Swope Park, the Lakeside Nature Center is a wonderful destination for animal lovers and anyone after a couple of hours of zen.
The center features a variety of educational displays, with an emphasis on the ecosystems and habitats found right in the KC backyard.
After learning a thing or two about the rescued animals, wildflowers or birds of prey, take a stroll around the area. With more than 5 miles of hiking trails, it'll never feel crowded.
31 – Explore the Country Club Plaza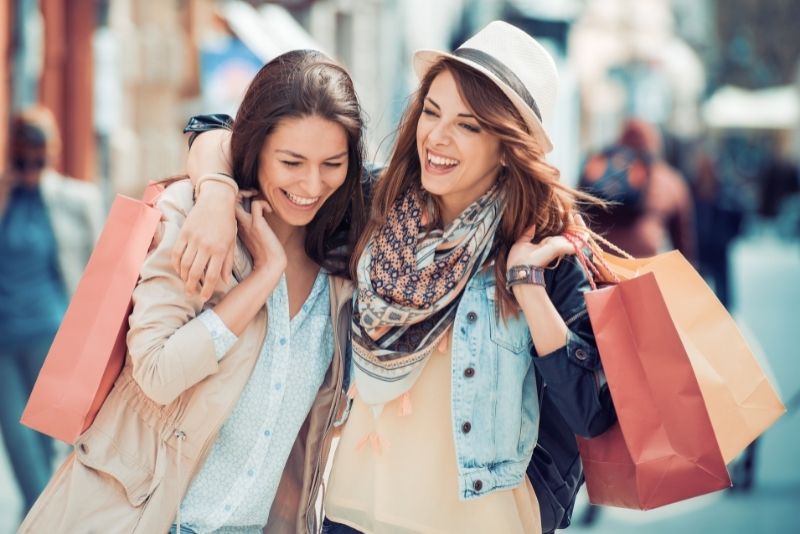 The Country Club Plaza is a shopping mecca for over a century with more than 125 of your favorite stores plus two world-class museums. This beautifully preserved district is one of Kansas City's most iconic destinations. It's no wonder it's been given the title of a National Historic Landmark District.
Home to the historic Folly Theater and Kauffman House (not to mention dozens of restaurants on the side streets and live music on Saturdays during the summer months), it's a crowd favorite for locals and tourists alike.
32 – Step inside the Albrecht-Kemper Museum of Art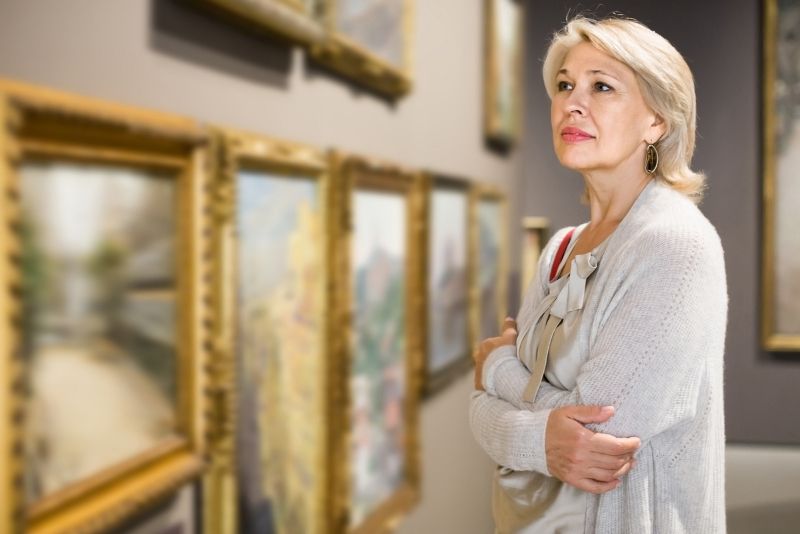 An absolute must for art lovers, this near-century-old museum (the city's first art museum, in fact) is renowned for its fine collection of American Art, spanning the Colonial period to the modern era.
To top it off, the high-trafficked museum also runs puppet-making workshops, painting classes, and showcases over 12 temporary exhibitions year after year.
33 – Check out the National Museum of Toys and Miniatures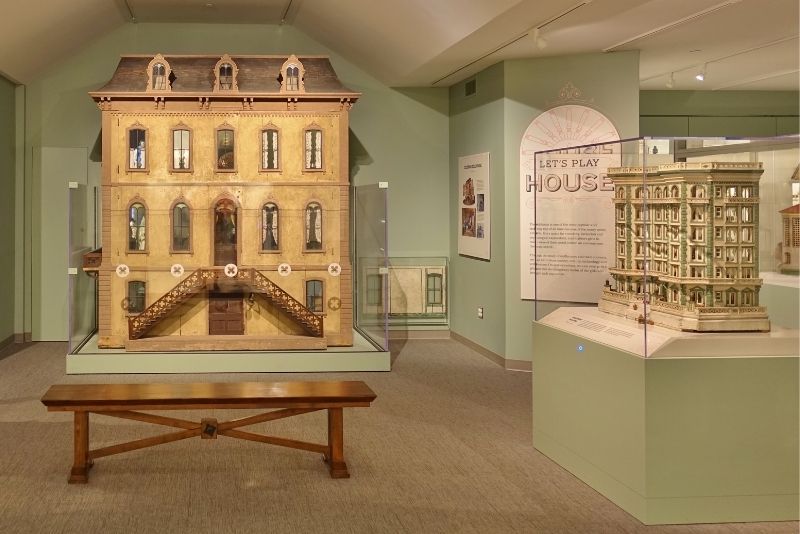 Whether you're an actual kid or just a big ole kid at heart, this museum is nothing short of a delight.
It is housed in the beautiful 1923 neo-classical building that once served as the headquarters for Hallmark Cards. This sprawling space houses one of America's most comprehensive collections of toys and miniatures — with more than 15,000 items from around the world!
Take a peek at the dollhouses, trains, and toy soldiers to see why it's been called one of the top five displays in America!
34 – Enjoy the serenity at the Ewing and Muriel Kauffman Memorial Garden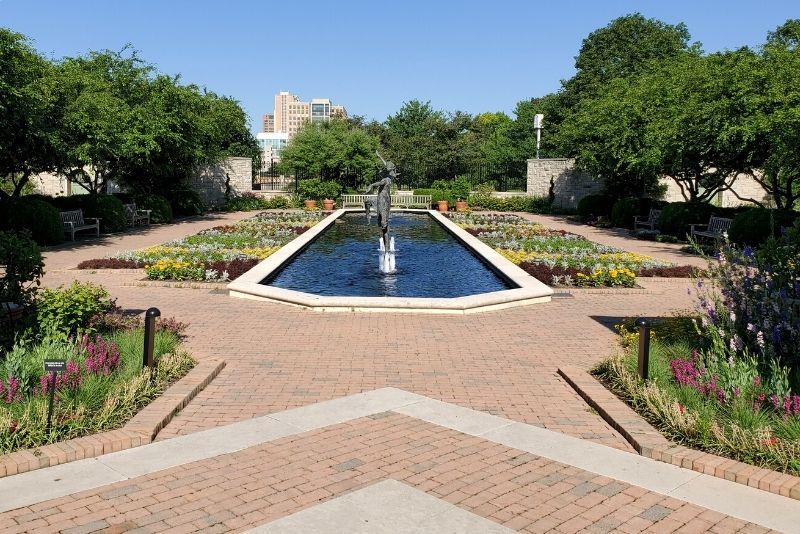 The Kauffman Memorial Garden is as serene as it come with ponds, fountains, blooming flowers and plenty of gardens to stroll through — yet still, it remains a hidden gem (not for much longer, we imagine).
Maintained beautifully and especially magnificent in the fall, this downtown slice of greenery is sure to have you leave feeling refreshed and calm.
35 – Say hello to the lions at Topeka Zoo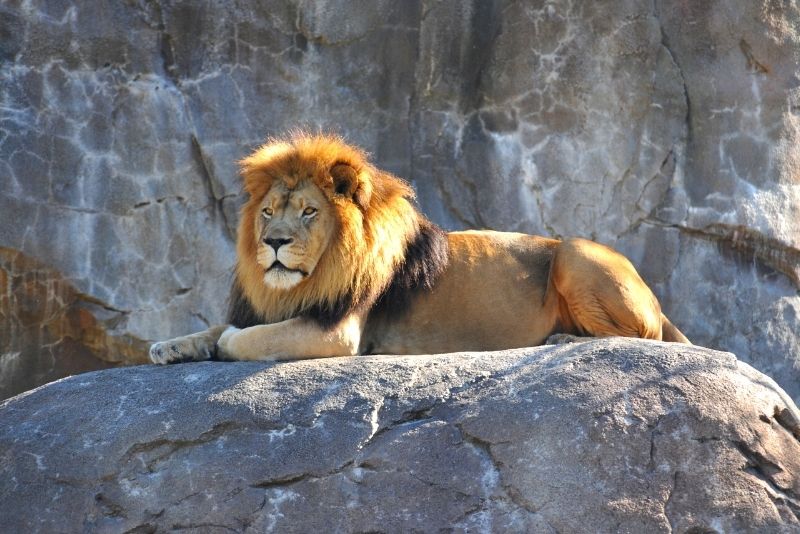 Playing host to more than 800 furry, friendly, and frisky creatures from all corners of the world, this zoo is one of the Midwest's top destinations for animal lovers.
From bears and bison to lions and lemurs, it's a home away from home for all sorts of wild creatures — not to mention the adorable tiger cubs (residents born in 2018).
Don't miss the beloved tropical rain forest, and parents, let the kids burn off some energy at Animaland!
36 – Stop into the Arabia Steamboat Museum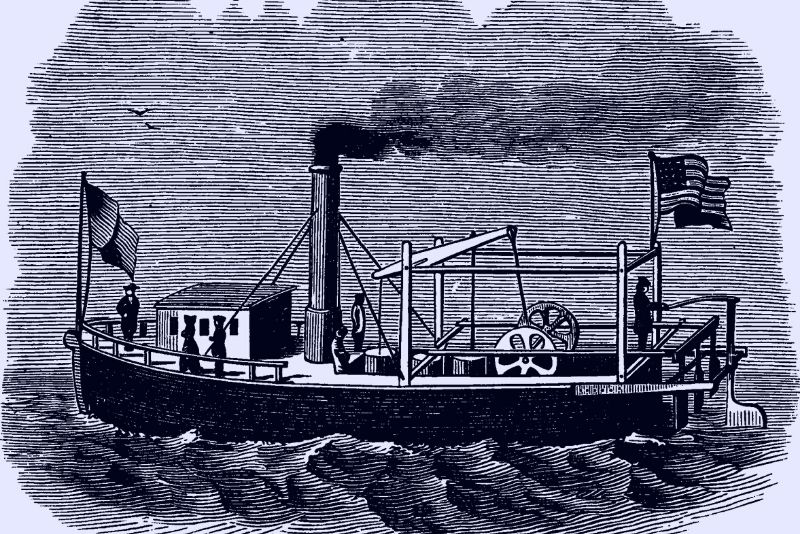 Visit this museum for a glimpse of Kansas City's turn-of-the-century river culture — complete with original steamboats, paddle wheelers and plenty more!
Located just south of the American Jazz Museum in Downtown KCMO, it tells the story of  the city's early days along the Missouri River (which was once the bustling center of trade and commerce in the Midwest). It also shows how steamboats facilitated and influenced Kansas City's growth.
If the museum inspires you, there's plenty of dinner cruises on the nearby Missouri River.
37 – Go skydiving … indoors!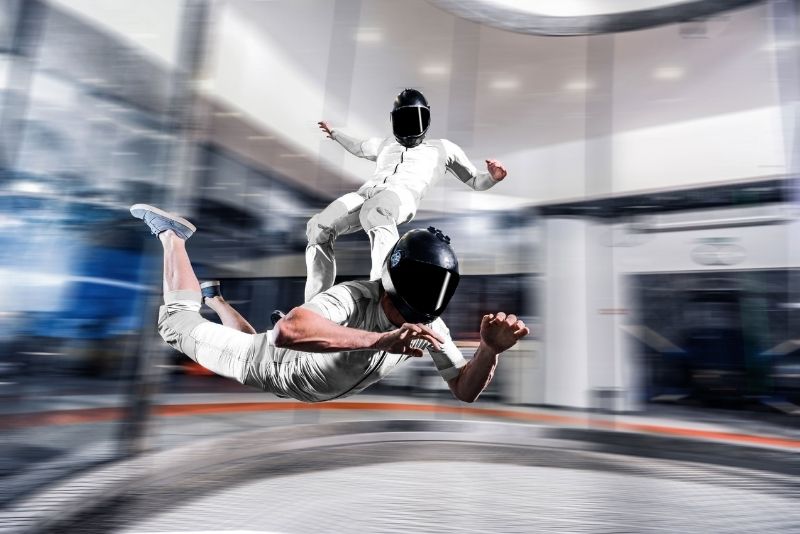 Possibly the coolest thing to ever happen indoors, this indoor skydiving simulator lets you experience all of the thrills and adrenaline that come with free-falling without any of the risks.
With a range of packages available for different skill levels or group sizes, it's an awesome way to spend some time whether you're flying solo or with friends.
38 – Meet the locals at City Market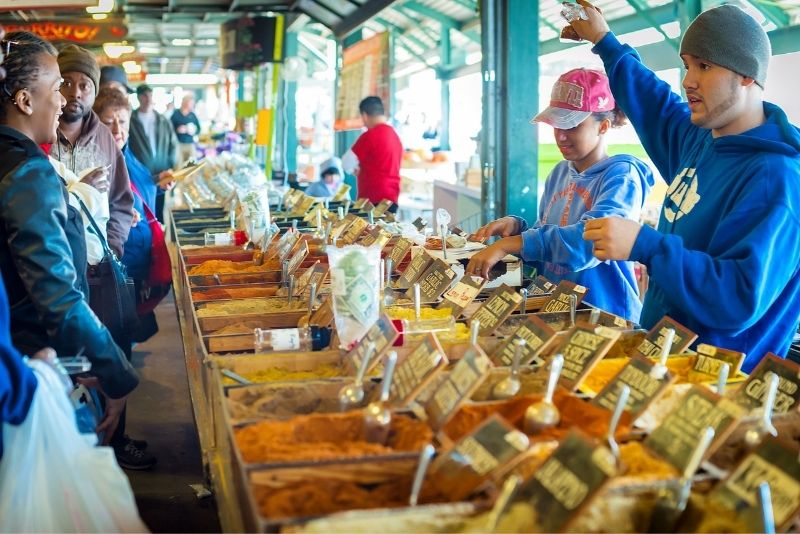 An absolute must-see for anyone in Kansas City (including tourists), this historic outdoor market has been a city landmark for over 100 years.
If you're in Downtown KCMO on Saturday morning, stop by for some farm-fresh produce or handmade jewelry. Try some locally-made jams (seriously!), award-winning salsas or grass-fed beef from one of the many vendors.
39 – Cheer on the Chiefs at Arrowhead Stadium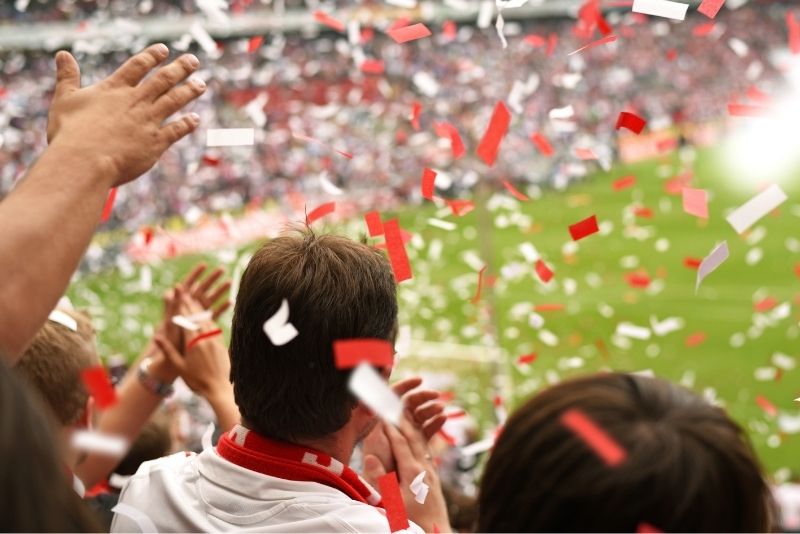 Known as one of the loudest and most intimidating atmospheres in all of American sport, Arrowhead Stadium is an electrifying place to watch football — especially if you're cheering for the home team!
Not only does Kansas City's pro squad play their games here (including preseason), but it also hosts soccer matches and concerts, as well as VIP tailgate parties, 90-minute guided stadium tours, and 60-minute gameday tours.
40 – Throw down the picnic rug at Jacob L. Loose Park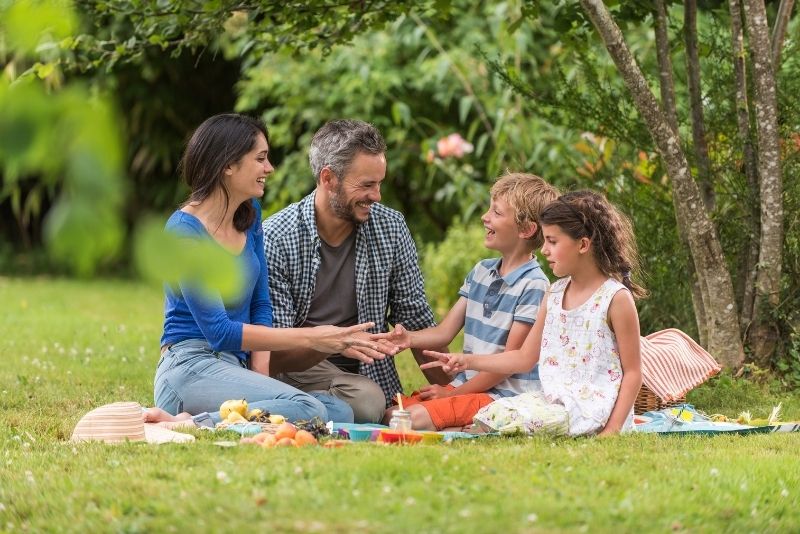 Far more than just a quaint slice of greenery, this park also offers the chance to learn a thing or two about the history of Kansas City — thanks to the horticultural library at the Garden Center and the beautiful Rose Garden.
Why not make a day of it? Within walking distance from the park sits the buzzing Country Club Plaza, home to a range of boutiques, bars, and restaurants worth checking out.
41 – Confuse yourself at the Museum of Illusions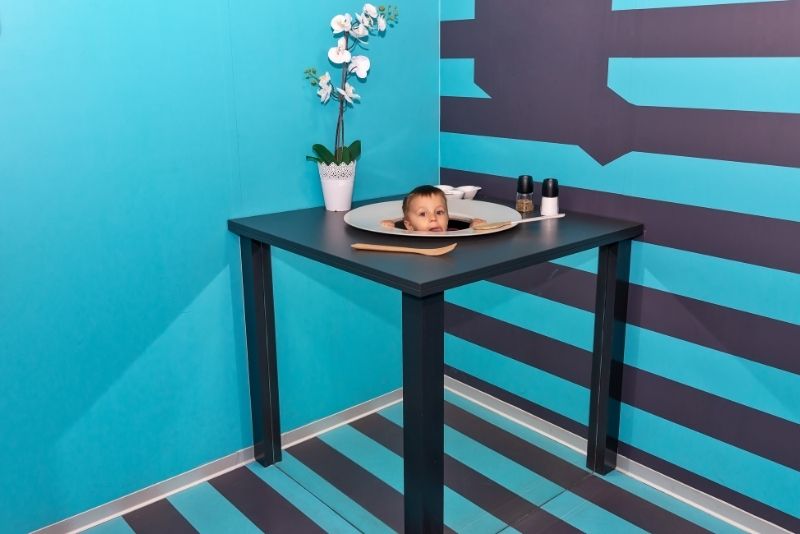 A great place for kids and adults alike, this fun museum is packed with interactive exhibits that will make you think twice about what's really there — or not.
The Museum of Illusions can be found nestled inside the popular Union Station, which offers a range of restaurants and shops to explore after the museum.
42 – Practice your drive on the golf course!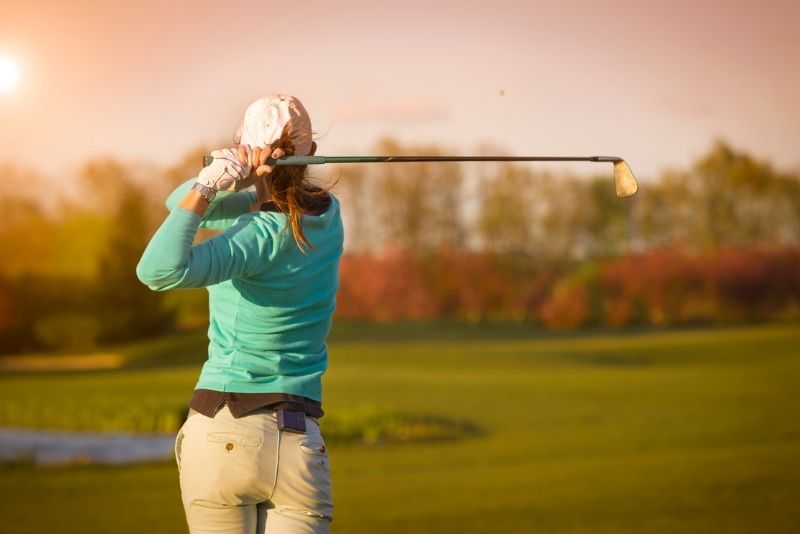 If you fancy yourself the next Tiger Woods, KC boasts no shortage of noteworthy fairways.
So, no matter if you choose the greens of the Ironhorse Golf Club, Fred Arbanas Golf Course, Falcon Valley Golf Course or stunning Teereting Rocks course, a blissful day out is all but guaranteed.
Not quite ready for the 9-irons? The city boasts a few neon-centric mini-golf centers too!
43 – See what's on at the T-Mobile Center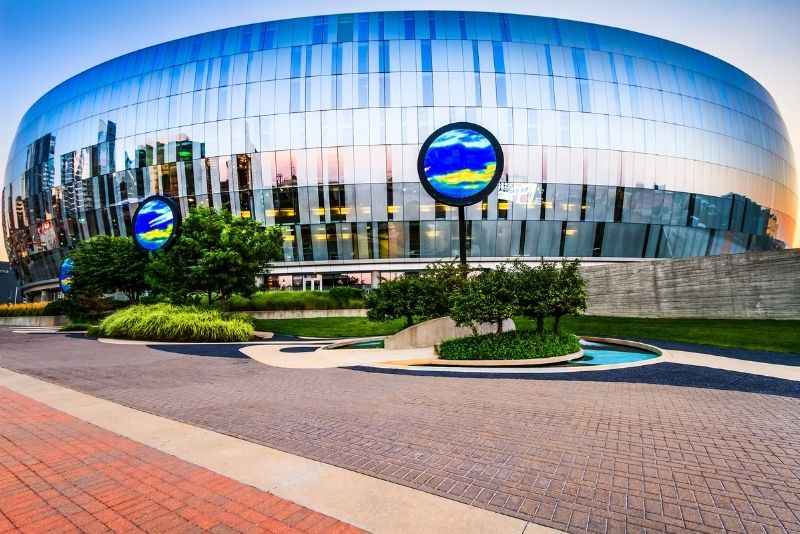 This 19,000-seat revitalized Downtown arena (formerly Sprint Center) presents something enticing no matter what your tastes are. It's hosted big events like Justin Bieber and A Day to Remember to local favorites of Kansas City, Symphony Orchestra and Sporting KC (the soccer team).
Your best bet is to plan ahead and check out its website for a list of upcoming events and tickets.
44 – Spare some change at the Money Museum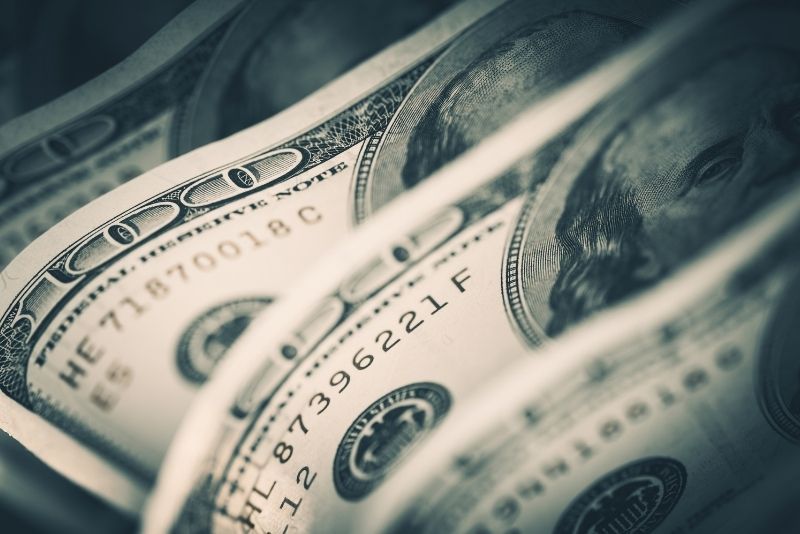 Undoubtedly one of the best free attractions in Kansas City (ironic, isn't it?), this museum offers a fascinating look into the history and creation of — yep, you guessed it — money!
The exhibits include gold coins from ancient Egypt, banknotes from around the world and even provide an up-close view of what it takes to make new bills!
45 – Grab dinner at Joe's Kansas City Bar-B-Que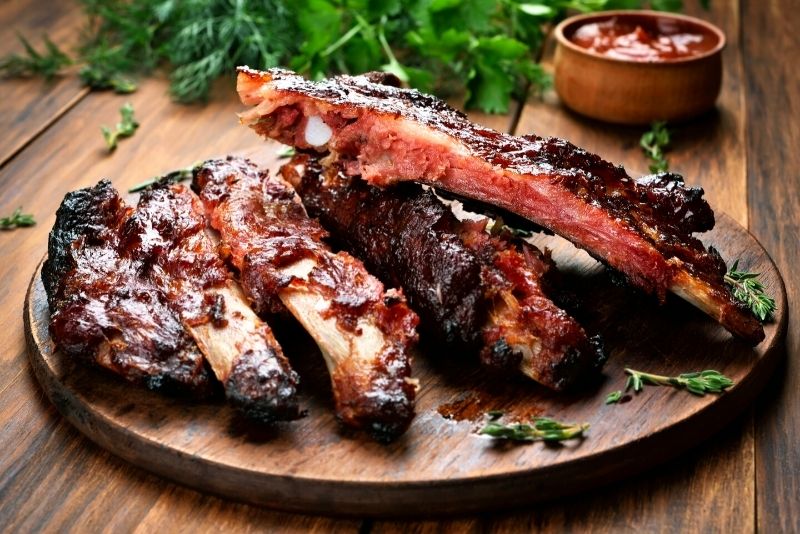 An adored Kansas City staple since the early 90s, Joe's (formerly known as Oklahoma Joe's) is a fantastic eatery to grab a hearty lunch or dinner with friends.
Enjoy favorites like pulled pork sandwiches, sample the brisket or dig into chicken dinners by the pound alongside an order of fries (or onion rings). Whatever your finger-lickin' order, you won't regret it!
46 – Tick off the Kansas City fountains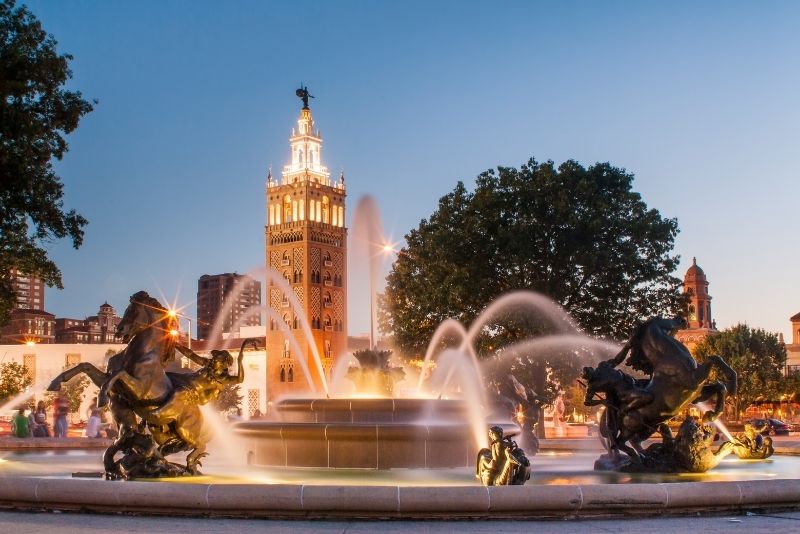 As you'll quickly realize, they don't call this metropolitan hub the City of Fountains for no reason!
It has dozens of fountains within walking distance of Downtown's main haunts — from Swan Lake Fountain with its exquisite red-coated columns in Swope Park to the recently constructed World War I Memorial Fountain. You're never too far away from the calming sound of flowing water.
Hot tip: Join a free walking tour and stroll past at least a couple of fountains.
47 – Turn the page at Kansas City Public Library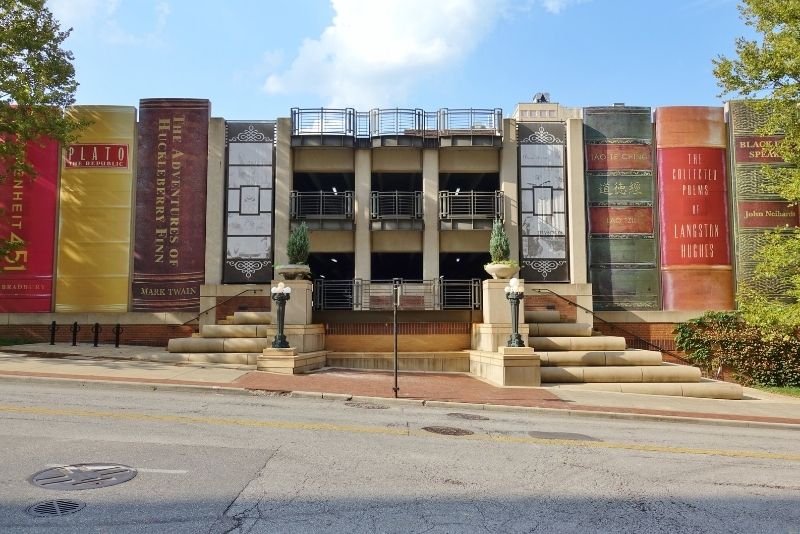 Bookworms and literature enthusiasts, take note!
Calling West 10th Street home, the KC Public Library offers a wide variety of titles for visitors of all ages to get stuck into. Whether you're after children's books or the latest bestseller, you'll find it all within this charming library.
Be sure to snap a selfie in front of the unique facade (made to look like giant bookends) and grab a coffee on the airy patio.
48 – Taste the best burger at the Westport Flea Market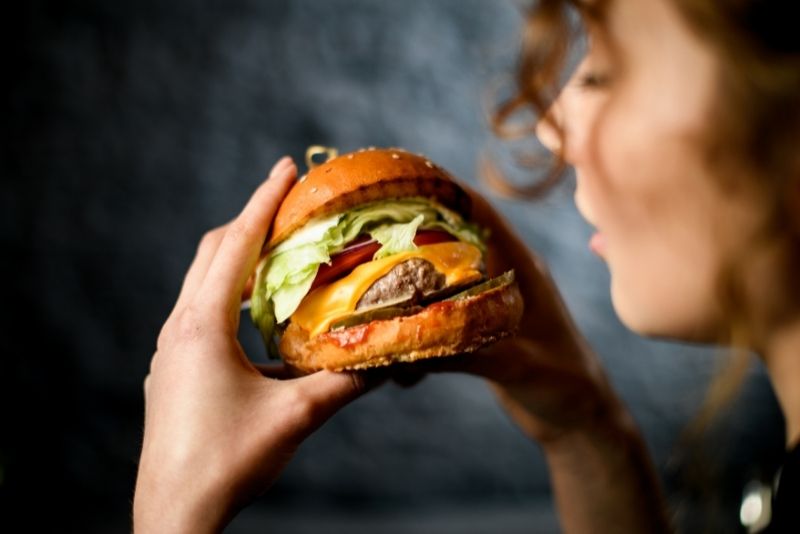 You'd think we'd be calling all bargain hunters, but actually, the Westport Flea Market Bar & Grill is the go-to for BURGER lovers!
As the home of "The Best Burger in Kansas City," according to the Food Network (and plenty more online review sites), this bar and grill routinely dazzles foodies with its enormous buns and patties.
Besides the mouthwatering meats, Westport also hosts trivia contests and live music.
49 – Catch a show at the Kauffman Center for the Performing Arts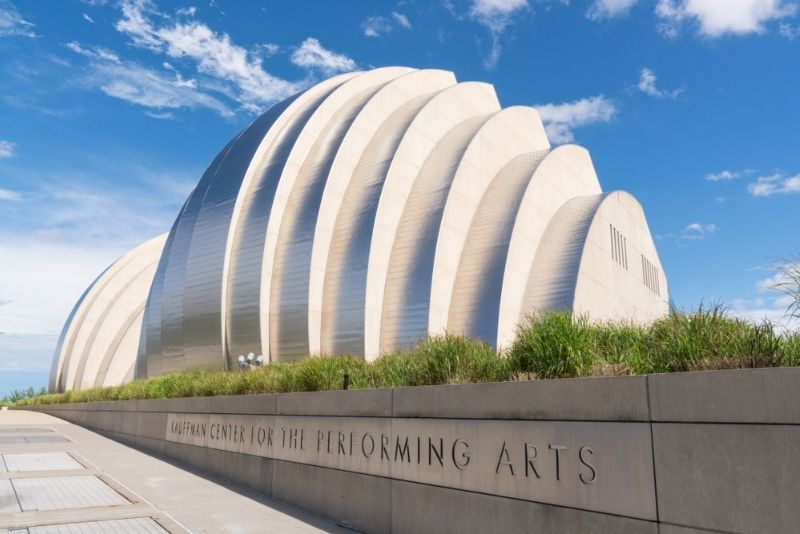 The jewel of Kansas City's cultural district, the Kauffman Center for Performing Arts is a must-visit for theater geeks.
In addition to hosting major touring productions from world-renowned companies like the Royal Opera House and Metropolitan Opera, this center also produces its own original performances year-round!
50 – Check out the National Airline History Museum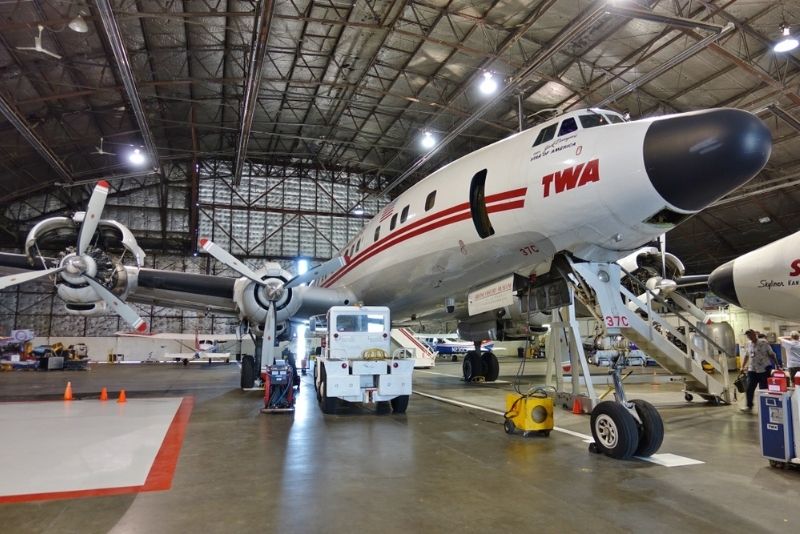 For a peek into the past of aviation, there's no better place than National Airline History Museum.
This museum offers interactive exhibits, as well as operational (and retired) aircraft and flight simulators — not to mention loads of information about how this industry shaped Kansas City!
51 – Grab lunch at Town Topic Hamburgers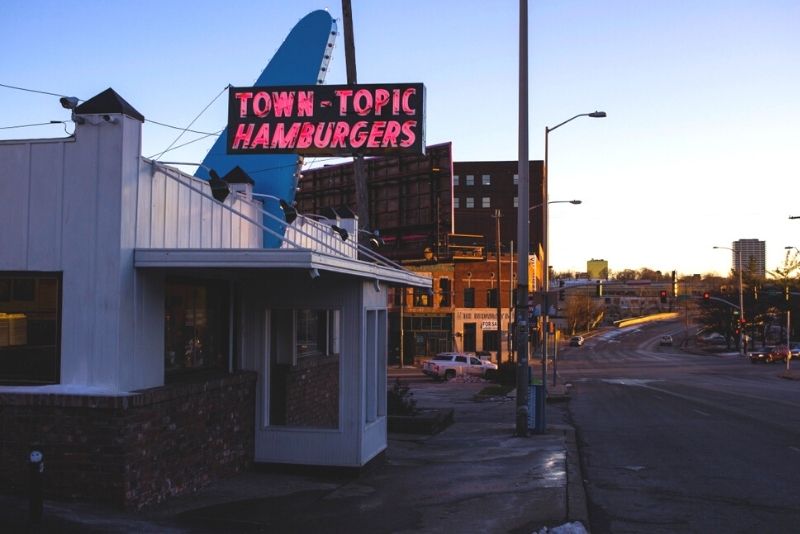 Most locals have their favorite burger joint — and if it's not the Westport Flea Market, we're betting that this unassuming spot on Broadway is top of mind for some.
Serving up a heap of nostalgia with each juicy patty, Town Topic may not be the flashiest eatery in town, but it's one-of-a-kind with its 1950s-style decor.
52 – Do as the locals do at Kansas City First Fridays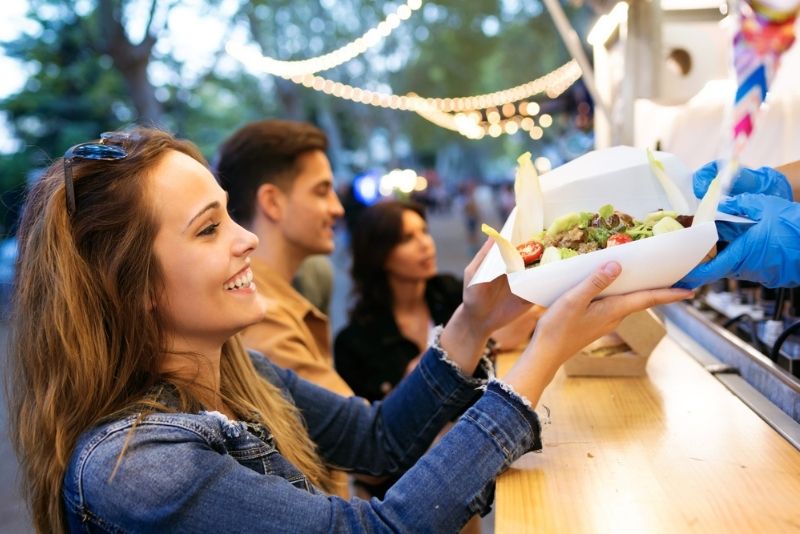 A non-negotiable for the to-do list, every month in the Crossroads Arts District, the city comes alive with a different theme for its ever-popular First Fridays event.
With galleries and shops staying open late to showcase their newest collections alongside live music, dance performances and food trucks galore, it's always an entertaining evening out!
53 – Get artsy at the Nerman Museum of Contemporary Art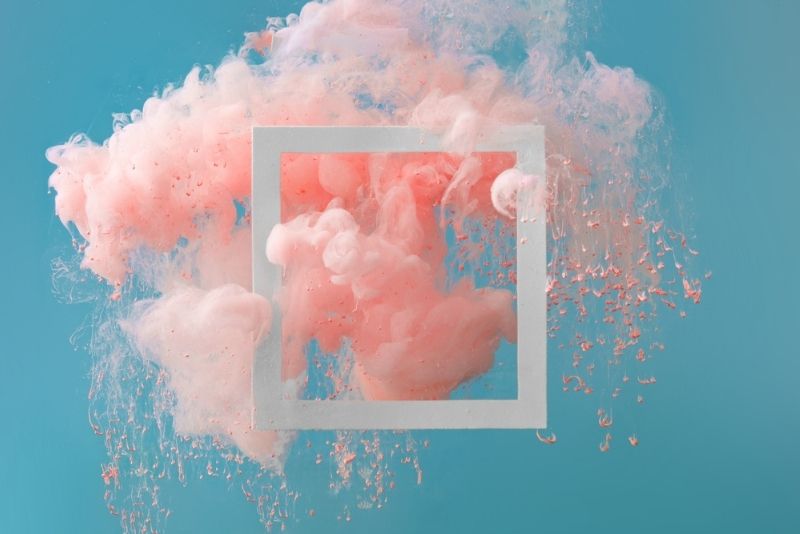 Hosting a range of exhibitions that span modern and contemporary art, this museum tucked away down in Overland Park is definitely worth the trip.
With samples of local and international work to suit all tastes — from German Expressionism to Chicano Art — seldom does an art lover leave disappointed!
54 – Shop till you drop at the Legends Outlets Kansas City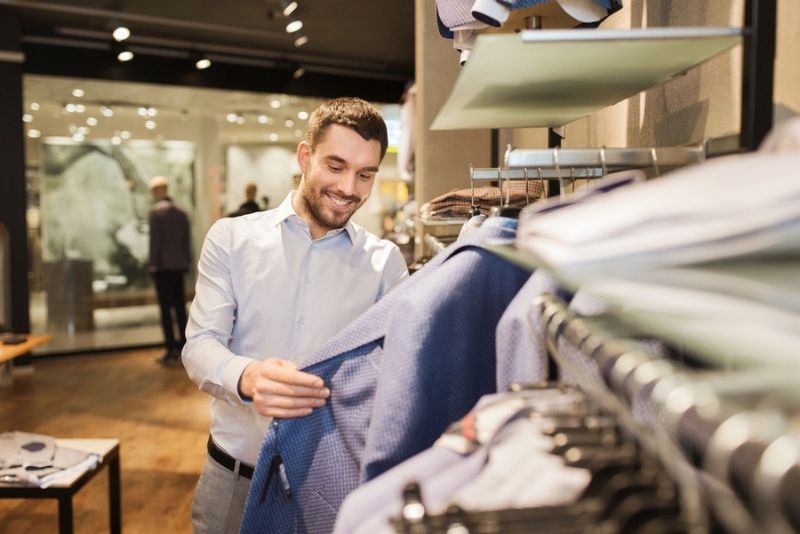 Known for its wide collection of designer and luxury outlet stores, Legends should be No. 1 on the list when you're craving a little retail therapy.
Besides more than 120 top names like Michael Kors and Nike, this outdoor shopping mall also features live music, summer workouts and a range of one-off events.
55 – Dig in at Arthur Bryant's Barbeque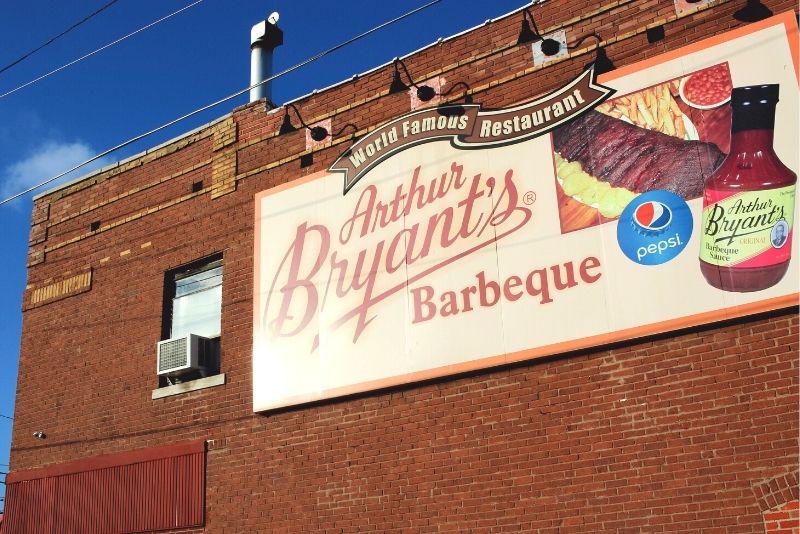 A Kansas City staple for over 113, the family-owned Arthur Bryant's Barbeque is renowned for its lip-smacking pulled pork and beef brisket.
Visit on a weeknight to avoid the crowds or take your feast down the street to nearby Blues Park — either way you can't lose with Arthur Bryant!
56 – Roll the dice at the Ameristar Casino Hotel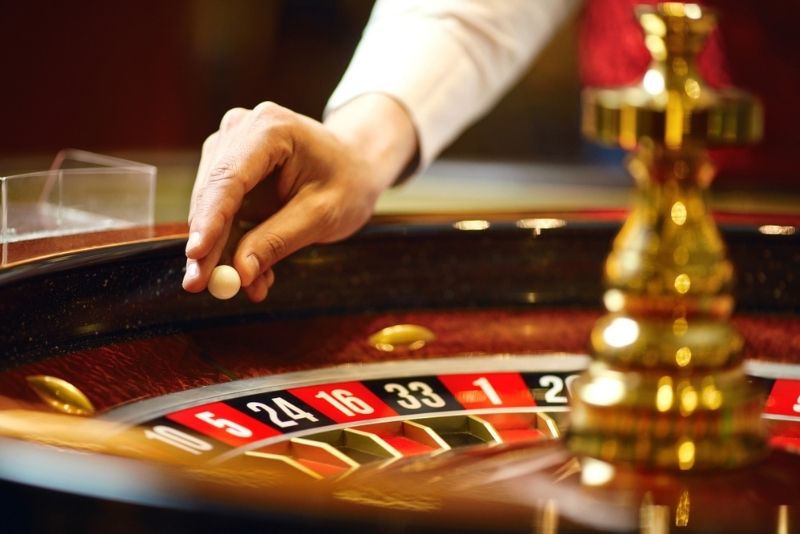 Straddling the Missouri River, Ameristar is home to all things entertaining.
In addition to a plethora of gaming tables and slot machines, this hotel offers everything from luxury suites with breathtaking views of Kansas City's skyline to award-winning American cuisine — so no matter what you're looking for, it can be found here.
57 – Sit in the nosebleed section at Knuckleheads Saloon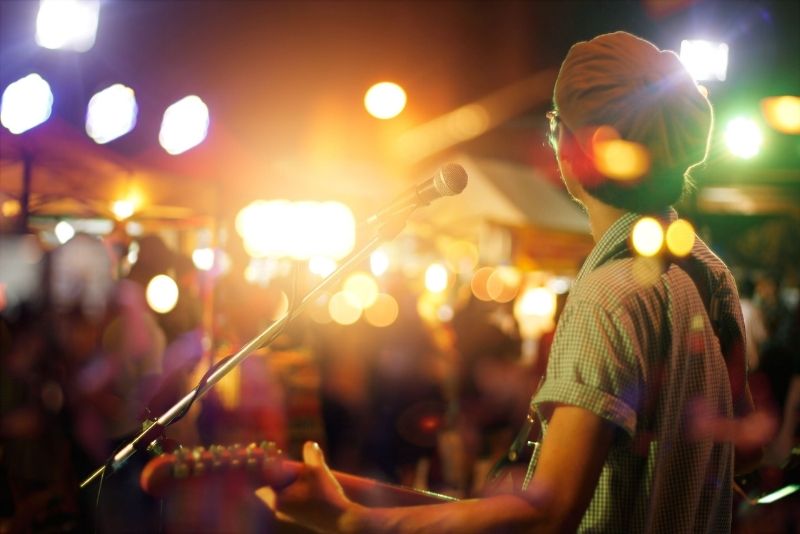 An awesome spot to let the hair down, this unassuming joint in the West Bottoms has been around since the 80s. It plays host to some of the best underground bands and well-known artists in the Midwest.
Check the website to see who's rostered to perform during your stay!
58 – Get your drink on in the Power & Light District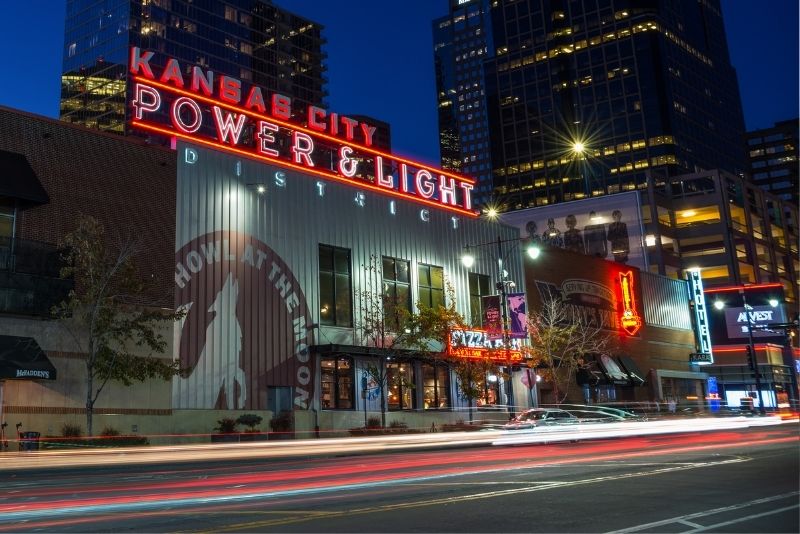 A behemoth of a destination, this entertainment district is home to more than 100 shops and restaurants — including the city's only IMAX theater — as well as an array of lively nightlife venues.
Start the evening at the Zoo Bar dive bar, enjoy the live music at Howl at the Moon and then grab a cocktail or two at SoT!
59 – Get buzzed on Dunkel, Helles, or Hefeweizen at KC Bier Co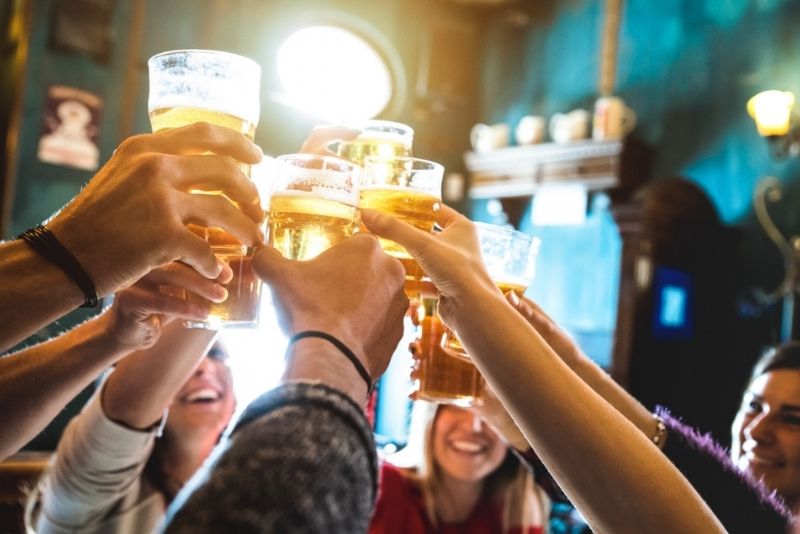 While Kansas City has a thriving craft beer scene with plenty of choices for watering holes, if you're after a classic German lager, Bier Co is the only place worth visiting.
Down near Overland Park, this Bierehall is the only one in the city that offers German-style beer made using malt and hops imported directly from Germany.
Where to next?
If you've ticked Kansas City off the bucket list, it might be time to start planning the next leg of the trip. If you're driving, consider heading about 4 hours east to St. Louis — from there, head south to Memphis or Nashville — both incredible cities for music lovers. Don't miss Oklahoma too, or head North and make sure to try some of the fun things to do in Minneapolis.
Looking for a nice place to stay? Check out the best hotels in Kansas City. If you're flying, you may wish to book an airport transfer to arrive in style.
We hope you've enjoyed our selection of things to do in Kansas City! If you have any other must-see suggestions, feel free to let us know in the comments!
As always, happy travels.