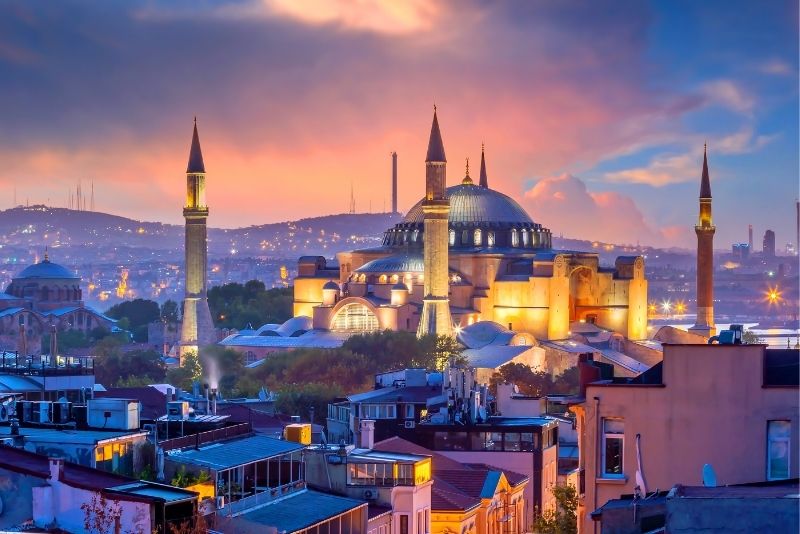 Known as the bridge between Europe and Asia, Istanbul is a majestic combination of both ancient and modern life. These worlds collide with the rich history and vibrant, bustling streets, and the endless array of hidden gems waiting around every corner.
A buzzing metropolis with a population of 13 million people, get to know the city's history through its architecture, mix of religions, and relics left behind from some of the world's greatest empires.
A culinary adventure for the eyes, as well as the palette, enjoy Turkey's delicate and bold flavors in its cuisine from some of the most modern and panoramic restaurants in the city to sweet Baklava and Turkish delight from some of the oldest, traditional candy shops.
Get ready to be wowed by the stunning views of ancient architecture and the glistening Bosphorus; take to the skies of Cappadocia; find a handful of one-of-a-kind souvenirs at the Grand Bazaar, take a day trip to the coveted Black Sea, and so much more.
From boat tours to museums, peaceful parks, and busy local streets, you can always find exciting things to do in Istanbul.
Want to dive straight in? Browse our catalog now!
1 – Admire the postcard-worthy Hagia Sophia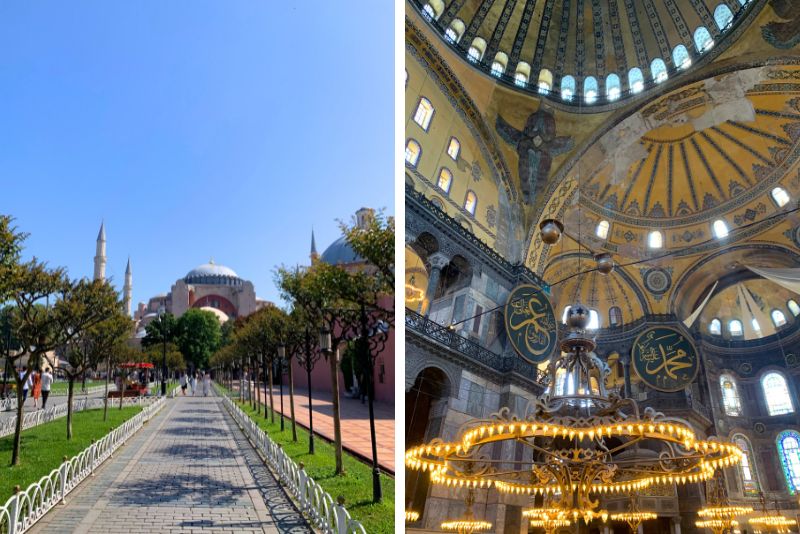 An antique place of worship and a classic example of Byzantine architecture, the Hagia Sophia is an undisputed architectural masterpiece — and with its glittering mosaics of biblical scenes, this museum is hands-down one of the more iconic sites Istanbul has to offer.
Constructed in the 6th century, the landmark is right in the heart of the old town (in Sultanahmet). As such, it's one of the attractions never missed during city tours in Istanbul.
Travel tip – If you're interested in seeing as many museums as possible in this historic city, including the Hagia Sophia, consider purchasing an Istanbul Museum Pass. With reduced admission fees and shorter lines, these multi-day passes allow visitors to fully experience Turkish history and culture.
Read more about Hagia Sophia tickets price.
2 – Explore the Topkapi Palace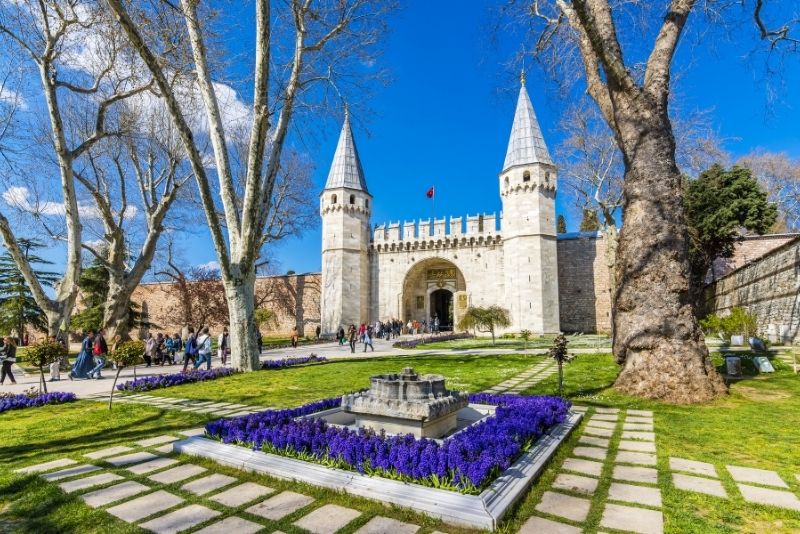 Once the main residences as well as the administrative headquarters to the powerful sultans of the Ottoman Empire, the Topkapi Palace is a top attraction in every Istanbul guidebook.
This huge, 15th-century palace is notable for both its awe-inspiring architecture and the collections of Ottoman treasures it holds. Take a few hours to explore the palace, harem, and courtyards to see how the most powerful lived!
Read more about Topkapi Palace tickets price.
3 – Go underground at the Basilica Cistern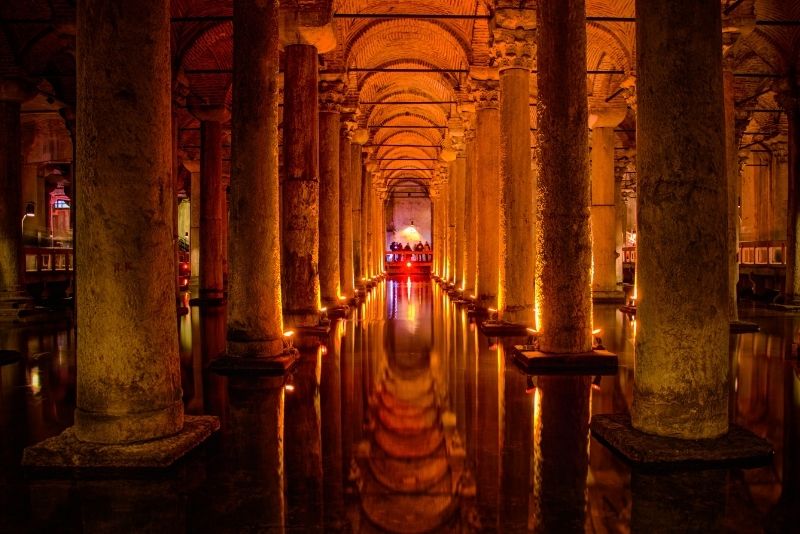 The Basilica Cistern is an ancient underground chamber that provided a water filtration system for Istanbul early on in its development. Capable of holding 80,000 cubic meters of water and roughly the size of 2 football fields, this cistern is a unique historic site to see, that's for sure.
For the most educational experience, take a tour to learn more about the history, especially regarding the iconic Medusa heads at the base of one of the 336 marble columns that provide support.
4 – See the lavish history of the Dolmabahçe Palace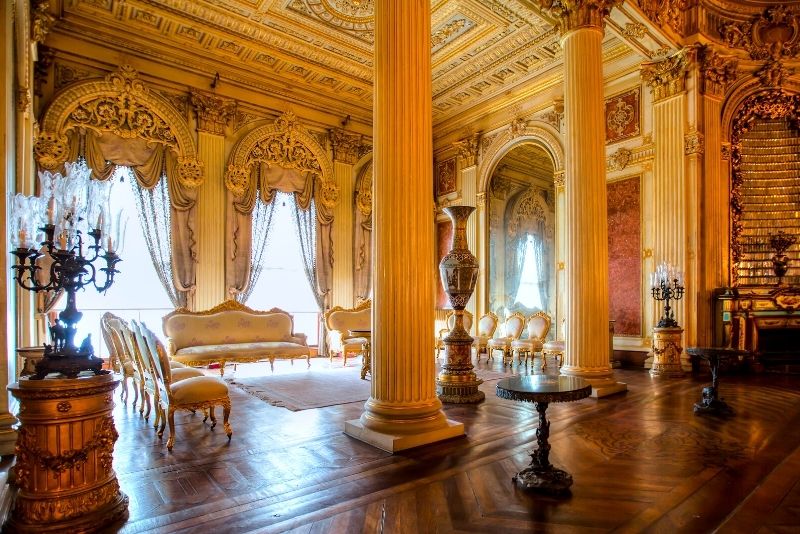 The Dolmabahçe Palace is a top tour to schedule when visiting Istanbul — just be aware that it is required to plan a tour, as you can't simply step inside and wander around without a specific ticket.
Built with the intention to rival luxury European palaces, this opulent building was used as an administrative headquarters during the Ottoman Empire; is lavishly decorated with gold, crystals, and handmade silk carpets; and is a regular people pleaser thanks to its conspicuous design!
5 – Check out the 'Little Hagia Sophia'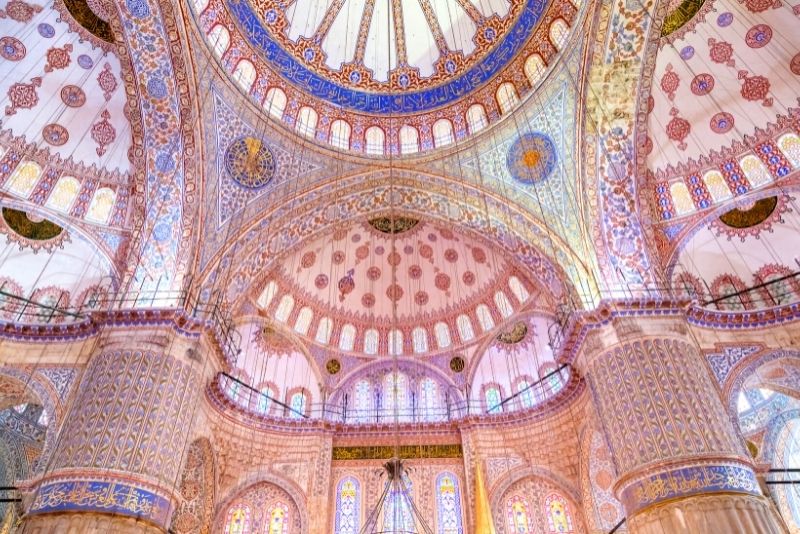 Don't be fooled by its diminutive size in comparison to the nearby Hagia Sophia; this is the Church of the Saints Sergius and Bacchus — one of Istanbul's most important Byzantine monuments.
Constructed back in the year 536, it's since been dubbed Little Hagia Sophia thanks to its architectural similarities to Istanbul's more famous namesake. Fortunately for us, it doesn't draw anywhere near as many tourists.
6 – Chug along the Bosphorus on a boat tour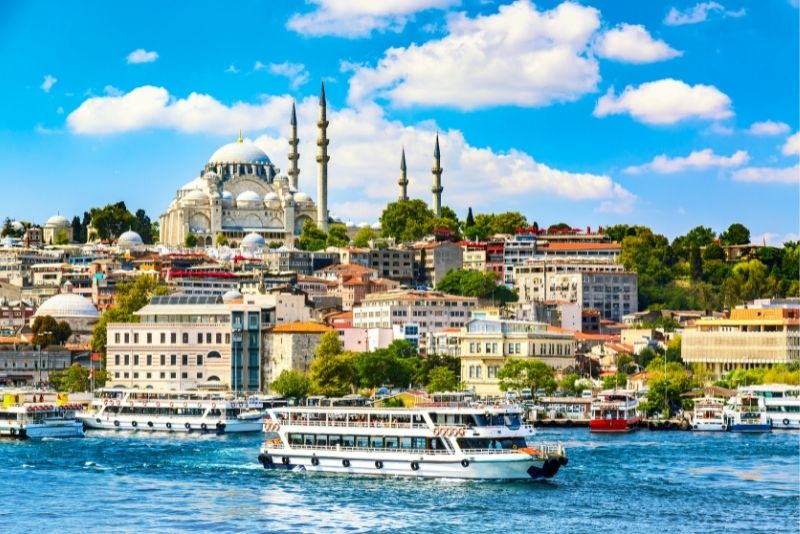 If you're in Istanbul and not sure where to start your sightseeing, consider trying a boat tour. From the shimmering Bosphorus rive, you can view majestic minarets, mosques, basilicas, and glamorous palaces. Be sure to keep a lookout for the iconic Bosphorus Bridge, the main connection between Europe and Asia.
With many options for boat tours, you're sure to find something that fits your needs. From a nighttime cruise with dinner and a show to a luxury private yacht tour, a couple of hours on the water promises to be an excellent way to enjoy any warm afternoon.
7 – Take a look at the Süleymaniye Mosque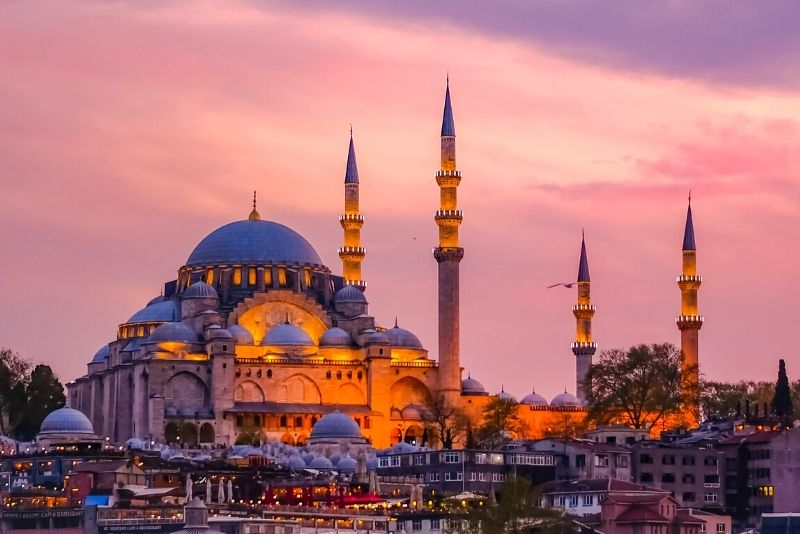 Despite Istanbul having a multitude of beautiful and historic mosques, this is one you don't want to miss. With its open and airy interior, the Suleymaniye Mosque on the Third Hill is by far one of the grandest.
The elegant architecture not only houses a place of prayer, but was also built to hold a soup kitchen, seminary, hospital, inn, library, bazaar, tombs, and restaurants, and some of these are still in use today.
While there's no formal ticket price, donations are welcome to maintain this magnificent space.
8 – Eat your way through the city with a food tour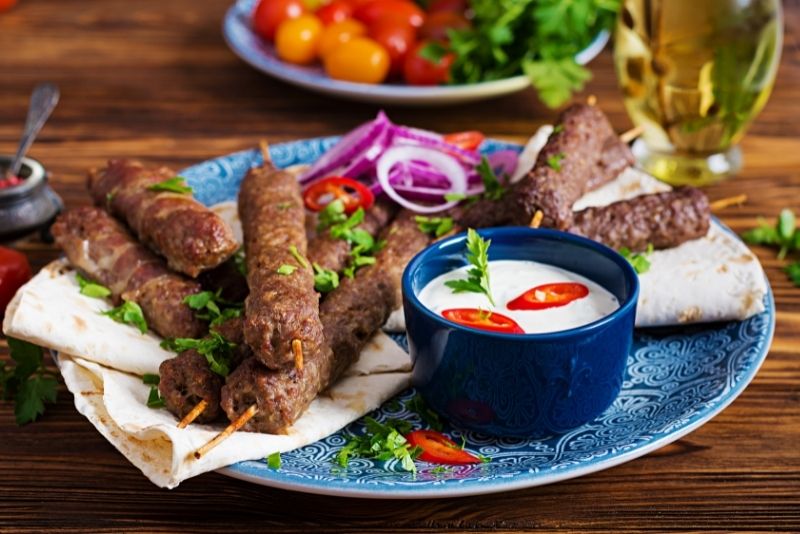 Foodies, welcome to your Mecca! Get a truly local experience by eating authentic street food from multiple restaurants and cafes. Istanbul, due to its location, has heavy European and Asian influences, creating a unique atmosphere for both art and food.
With a walking tour, you're able to visit places off the beaten path, many starting with a cup of invigorating Turkish coffee. Let your senses be delighted by the sights and smells as you wander through spice markets and find hidden gems along the way!
9 – Admire the Blue Mosque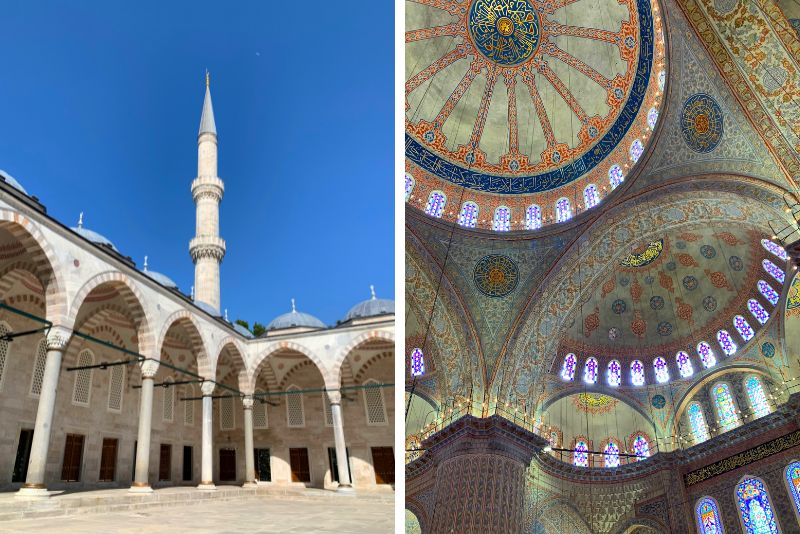 Appropriately named, the Blue Mosque, built in the 1600s, is an iconic tourist attraction. With intricate blue tiles surrounding the walls, this magnificent building has drawn millions of people from all over the world, year after year.
Prior to visiting, be aware that this is still an active mosque and is closed to non-worshippers for half an hour during the 5 daily prayers.
Keep in mind: Free bags for shoes and head coverings are available at the entrance so visitors can remain respectful while visiting.
10 – Visit the Museum of Turkish and Islamic Arts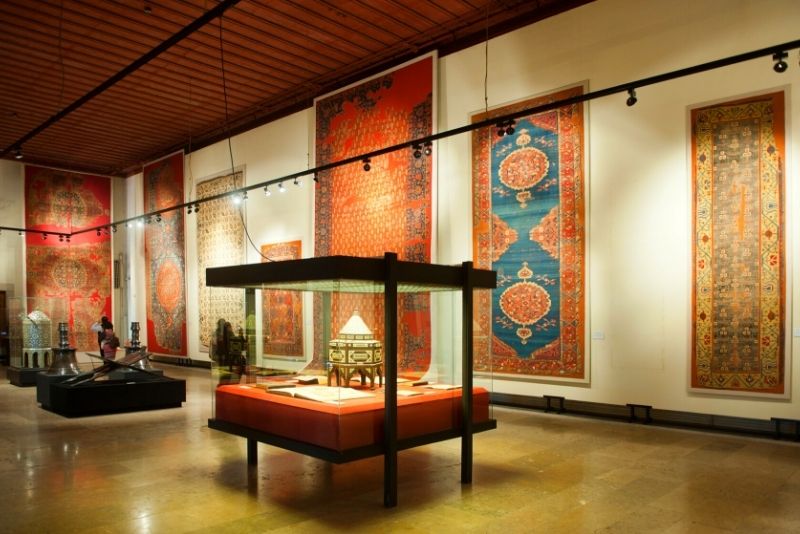 Boasting extraordinary pieces that have been collected from different areas and time periods throughout the world, including rare 13th-century carpets not found anywhere else, any art or history buff will swoon at the collection of the Museum of Turkish and Islamic Arts!
As one of the earliest surviving palace buildings, dating all the way back to the late 15th century, even the structure itself is a piece of art.
Hot tip: Make sure to check out the terrace that overlooks Sultanahmet Square to see the swarms of people below!
11 – Shop till you drop at the Grand Bazaar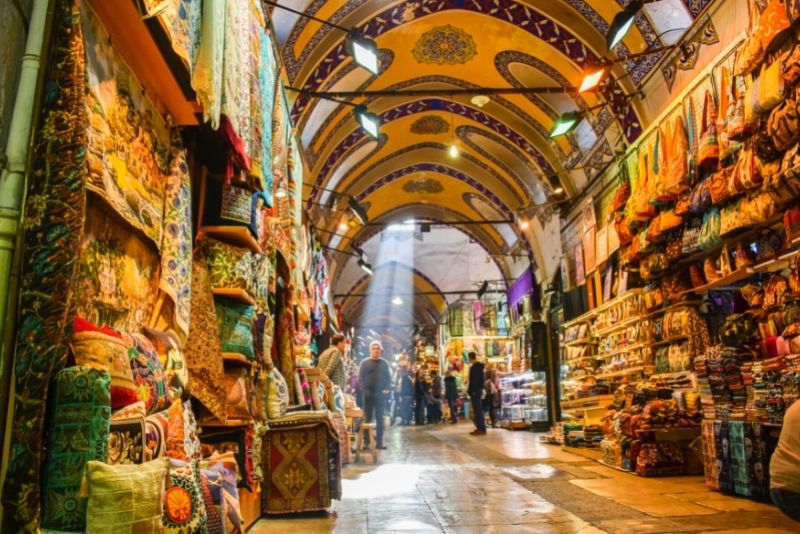 As one of the largest and oldest covered markets in the world, the Grand Bazaar is sure to fill all your shopping needs. With food, antiques, fabrics, carpets, and traditional Ottoman and Islamic arts, and everything else in between, you'll no doubt be able to pick up something to remember your stay.
The Grand Bazaar covers over 60 streets and holds over 4,000 shops, so you may not be able to cover it in one day.
Hot tip: with so much to see and a habit of tourists getting lost, scheduling a walking tour isn't the worst of ideas.
12 – Admire the view from Maiden's Tower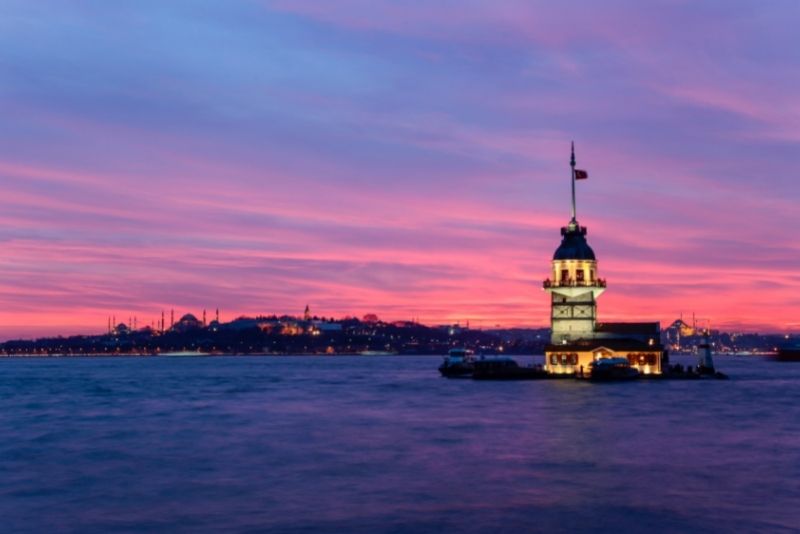 On a tiny islet off the Asian side of Istanbul, the Maiden's Tower has had many uses, is rich in history and fascinating legends, and has become a world-famous iconic skyline landmark.
From a tax collection center to a defense tower, lighthouse, hospital, radio station, and now a tourist attraction, the history is long.
If you visit, be sure to stop by the restaurant and museum on the ground floor for traditional Turkish food.
13 – Step back in time at the Hippodrome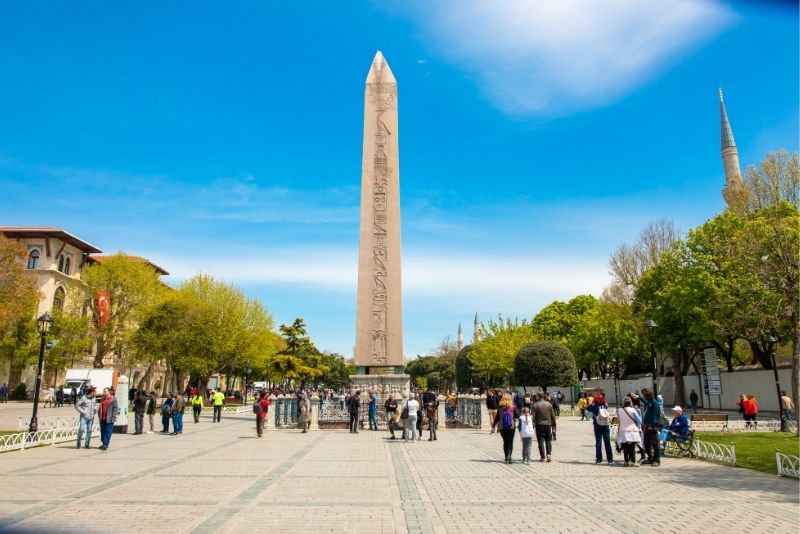 If you've ever been fascinated by the history of gladiators and chariot races, you've come to the right place: The Hippodrome was home to gladiator games, ceremonies, celebrations, and even… torture.
As a symbol of power, this grand arena is located near the Blue Mosque which makes it an easy stop on your way to check out other sites. With decorated monuments from all over the world, this is a piece of history that is truly unique.
14 – Tour the Galata District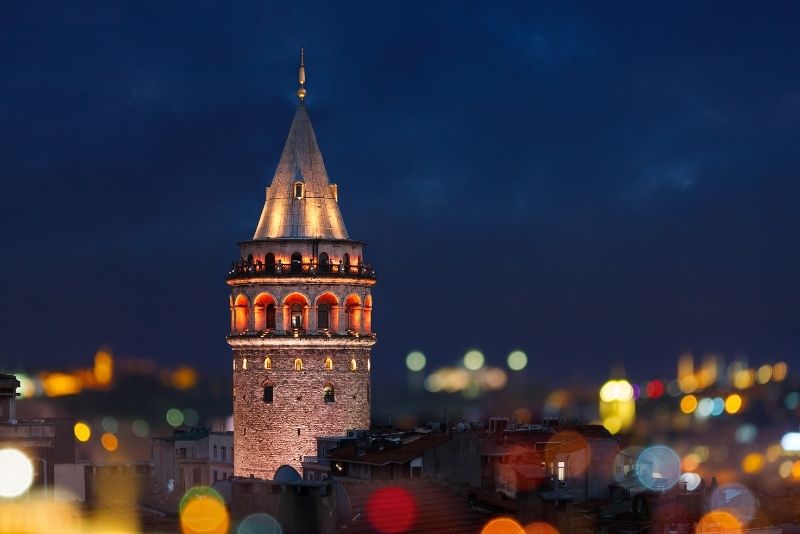 See the city from above by touring the Galata Tower! At 63 meters tall and built in 1348, this medieval tower provides some of the most breathtaking views of the City of the World's Desire.
After enjoying the panoramic vistas, tour the vibrant neighborhood of the Galata District and ride on one of the oldest subways in the world. As a cultural hub, this is a great place to check out some of the best restaurants, clubs, and bars in the area.
15 – Get some fresh air at Emirgan Park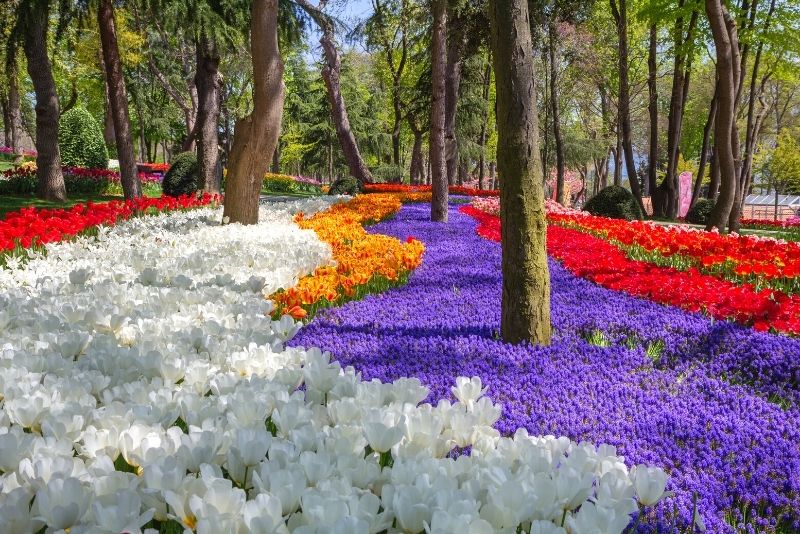 To escape the bustling city life, take an hour or two to check out the best parks. If you're looking for a leafy oasis, head to Emirgan Park on the European coast of the Bosphorus. With no shortage of easy walking trails and playgrounds for the kids, take a stroll and bring a picnic basket to relax on a sunny day.
Offering plenty of space for picnics, sports, or jogging, as well as fountains and picturesque bridges, Gulhane Park is a great spot to visit before heading to the nearby Topkapi Palace.
Nestled on the shores of the Bosphorus River, Yıldız Park is the biggest of its kind in the city, dishing up an array of vegetation, from lush green lawns to blooming Judas trees. It's also home to the Yıldız porcelain factory.
16 – Take a walk with the Byzantine tour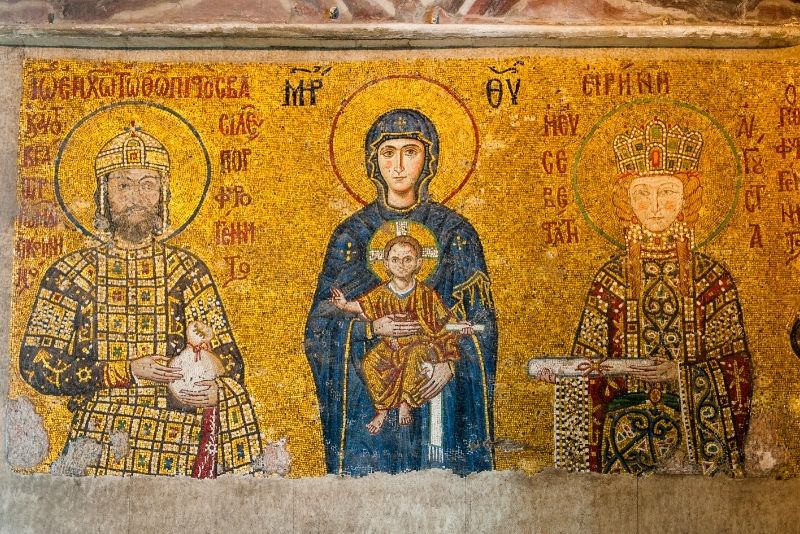 If you're interested in seeing striking architecture and getting some light exercise, a Byzantine tour might just fit the bill perfectly.
Byzantine refers back to when Istanbul was Constantinople, which was the peak of Christian history in this area — with that in mind, many monasteries and churches were built during this time and bucketloads of that history remain intact to this day.
So, why not grab some hearty lunch and learn about this time period from a knowledgeable guide?
17 – Take a photo at the Golden Horn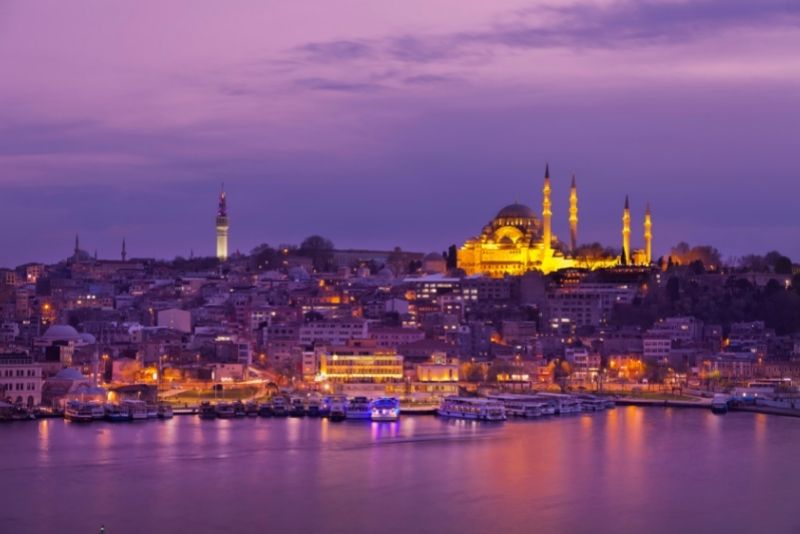 The Golden Horn is the freshwater estuary that separates the old and new parts of the city. A major urban waterway built from an old trading harbor, this is the world's largest natural harbor that separates the European shore in two.
The Golden Horn was named appropriately by the color of the water at sunset — the glimmering gold shores are perfect for a photo op on a romantic evening!
18 – Check out paradise at the Istanbul Aquarium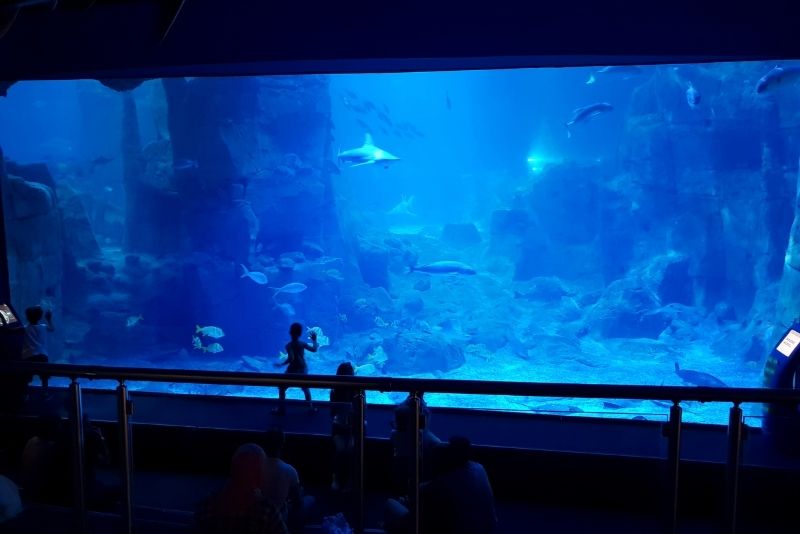 If you're in need of something fun for the whole family, youngsters and adults alike are bound to appreciate the Istanbul Aquarium.
As the world's biggest thematic aquarium (!) with interactive exhibits around every turn and more animals from the rainforest to the Black Sea than you could possibly count, this is well worth nearly an entire day of exploring!
Take a moment to check out the 5D films going on as well to immerse yourself in fog, wind, and waters of the world.
19 – Bike around the Sultanahmet Square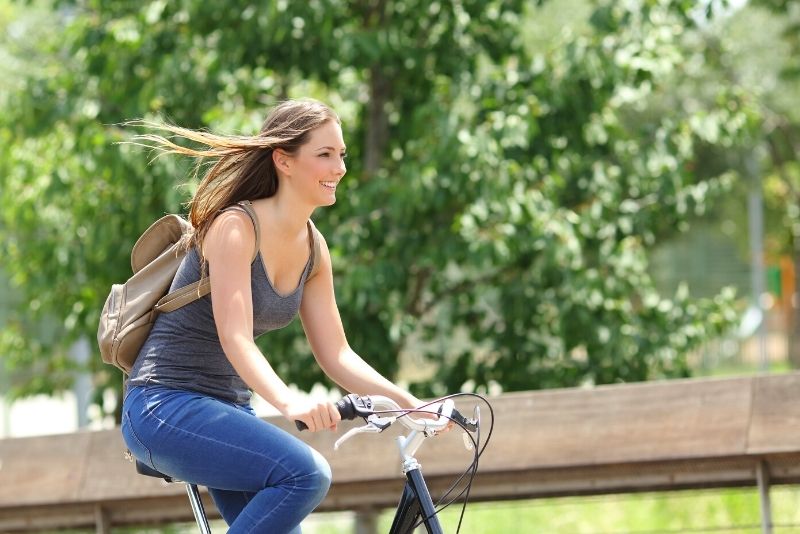 A wickedly popular tourist destination, the always-bustling Sultanahmet Square is home to many all-star attractions: the Hippodrome acts as the center point and the Blue Mosque, Hagia Sophia, and Topkapi Palace are all within view.
With majestic views of the Bosphorus and plenty of restaurants, there is something for everyone in this small section of the city. If you're looking to cover some extra ground, take a bike tour to make the most of your time!
20 – Take a stroll around Bebek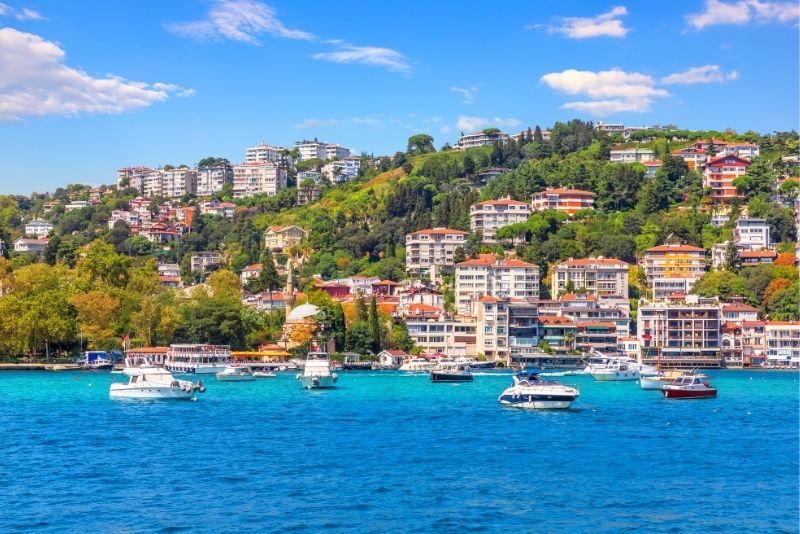 Fancy burning a few calories on a luxurious and historic stroll? Then Check out Bebek, a neighborhood in Istanbul located along the picturesque Bebe Bay.
With beautiful views from walking paths and lovely cafes dotted throughout the entire area, grab a Turkish coffee and enjoy a leisurely afternoon to explore away from crowds.
Love the area and want to experience it even further? Then rent a bike or stop into one of the many breweries.
21 – Dive into the culture of the Asian Side of Istanbul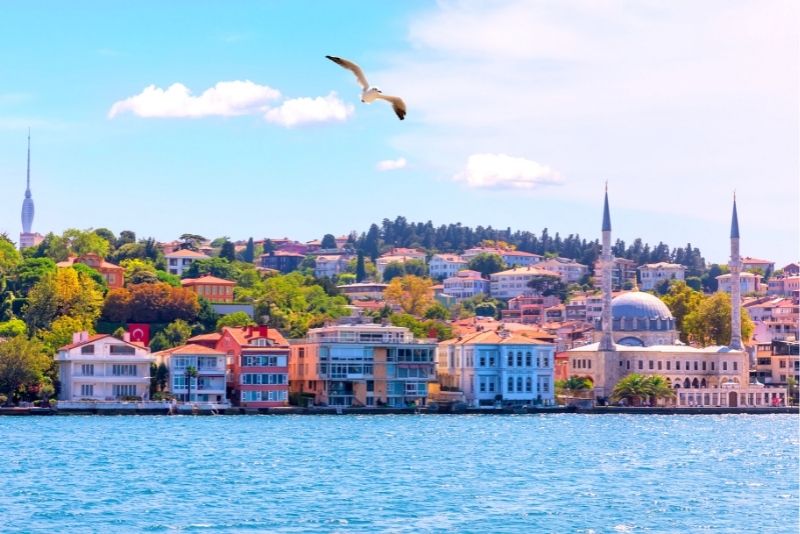 From lively fish markets to Ottoman-era architecture, the Asian side of Istanbul isn't a place you want to miss out on. Take a tour off the beaten track and discover some of the up-and-coming neighborhoods in the area, like Kadıköy and Moda.
Spend hours checking out the street art, other markets and cool cafes!
Commonly known as the Anatolian Side, a ferry ride on the Bosphorus Strait brings you over to this part of the city. Another cool part? You can ride a Marmaray train under the Bosphorus to get there!
22 – Walk along the famous İstiklal Street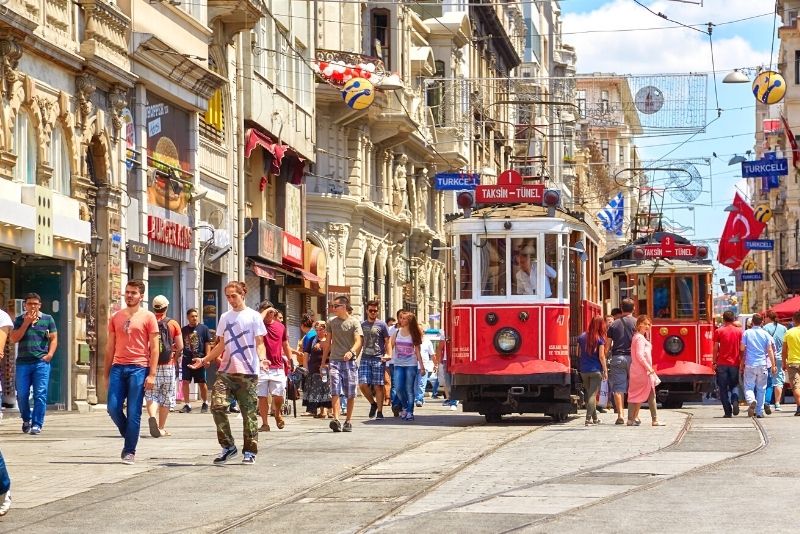 To find the most popular things to do in Istanbul, start by taking a walk down Istiklal Street! As one of the busiest streets in the city and a center of arts and culture, you'll have the chance to explore art galleries, do some shopping, grab a coffee or some lahmacun (Turkish style pizza), and if you're lucky, stumble across a street show.
While walking around willy-nilly promises wonderful surprises, to truly uncover the hidden gems and learn a thing or two along the way, consider a walking tour in Istanbul (many of which are free, just leave a tip).
23 – Check out the Kariye Museum at the Chora Church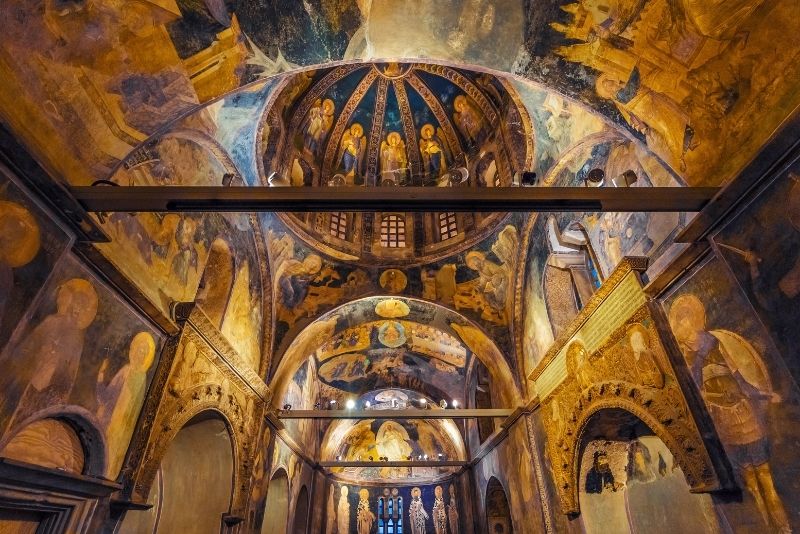 The Kariye Museum (also known as the Chora Church) contains some of the best surviving art in the world, providing the chance for curious visitors to see stunning mosaics and frescoes that date back to the 1300s.
Originally built as a Byzantine church and later converted to a mosque, this beautiful treasure was turned into a museum in 1945 and should sit high atop the bucket list.
24 – Admire the historic Hagia Irene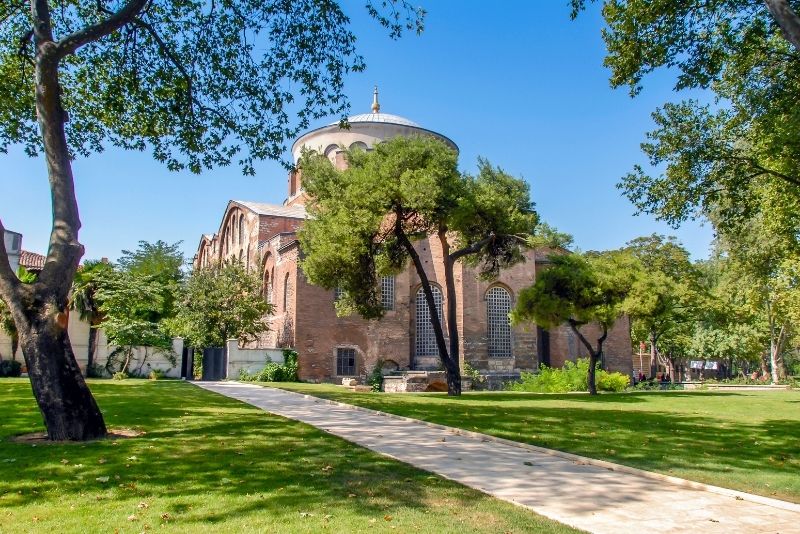 If you take a walking tour of Istanbul, many will lead you through various old churches and mosques. The Hagia Irene is often on the list, and for good reason — as the second largest church in Istanbul, its rich history makes it stand out from the rest.
Hagia Irene is the oldest church of the Eastern Roman Empire and was built on the site of an old temple in 330! Used as a place to store loot and weapons until the 19th century, it also became the country's first official museum.
25 – Photograph stunning mosaics from the other centuries-old mosques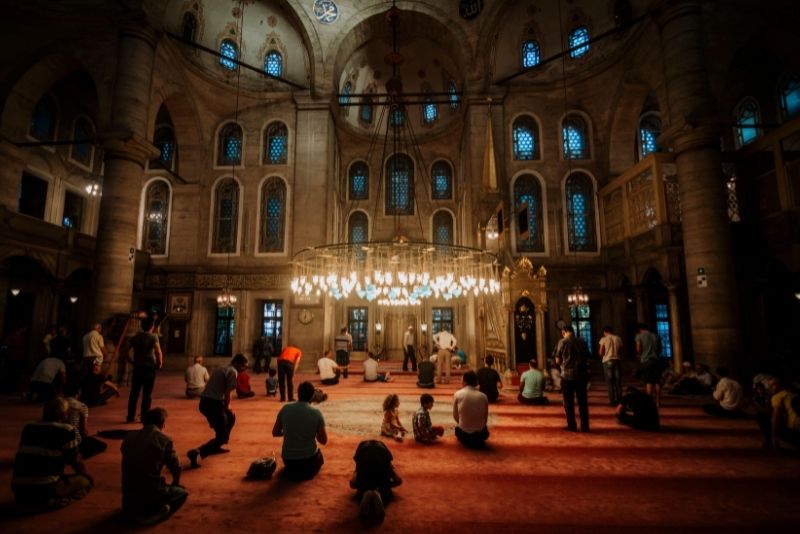 Did you know there are about 3,000 mosques just in Istanbul? As the site of the tomb of Abu Ayyub al-Ansari — a friend of the Prophet Mohammed — the Eyüp Sultan Mosque is one of the holiest and most important mosques in all of Turkey.
With its elegant domes, graceful minarets, beautiful hanging chandeliers and majestic entrance, the Ortaköy Mosque is one of Istanbul's most striking sights.
Fatih Mosque forms part of a complex, and its construction chronicles the 15th century. Every Wednesday, a large outdoor market is set up around the mosque.
Nicknamed "the New Mosque," Yeni Cami Mosque was the last mosque the Ottoman dynasty constructed. With three architects working on the site for 66 years, its architecture is super interesting, and the courtyard fountain is considered Turkish art.
26 – Soar over Cappadocia's fairy chimneys in a hot air balloon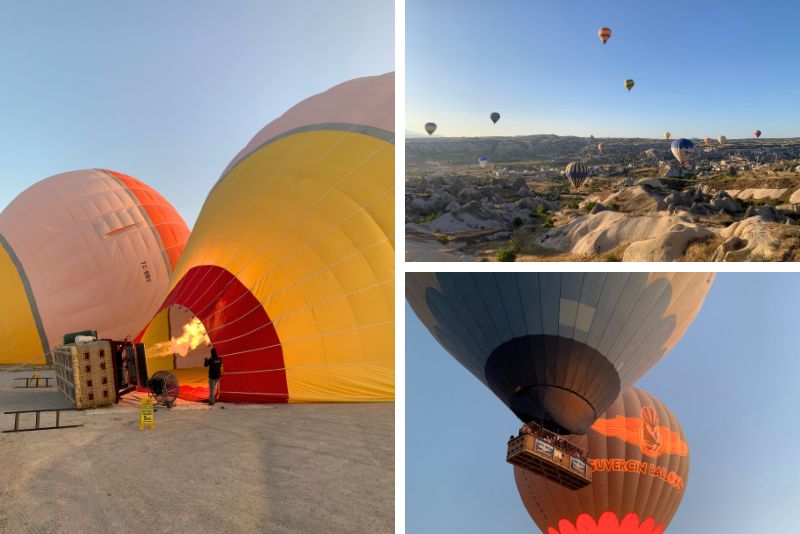 Looking for a romantic day trip outside Istanbul? Just an hour flight (or an overnight bus trip), you'll find a place where people have been living since the late Bronze Age: Cappadocia.
This expansive region is home to an abundance of natural wonders that many visitors don't get to see unless they take one of the tours (or visit with friends who live in Turkey). There are a variety of tours to choose from, but the hot air balloon ride is one of the most fun things to do in Cappadocia.
Tours involve visiting some local markets and perhaps getting dressed up in traditional Cappadocian clothing for photos before you board your balloon, soar over these ancient mountain valleys and their cone-shaped rock formations and enjoy views that no other Istanbul tourist can see!
Bask in the local charm of Cappadocia by exploring it via a camel ride or on horseback, or for a dose of adrenaline, rent a quad tour. Or, if you'd prefer, there are airplane tours in Istanbul flying over the IG-worthy landscape.
Read more about Cappadocia hot air balloon price.
27 – Visit the Ural Ataman Klasik Otomobil Museum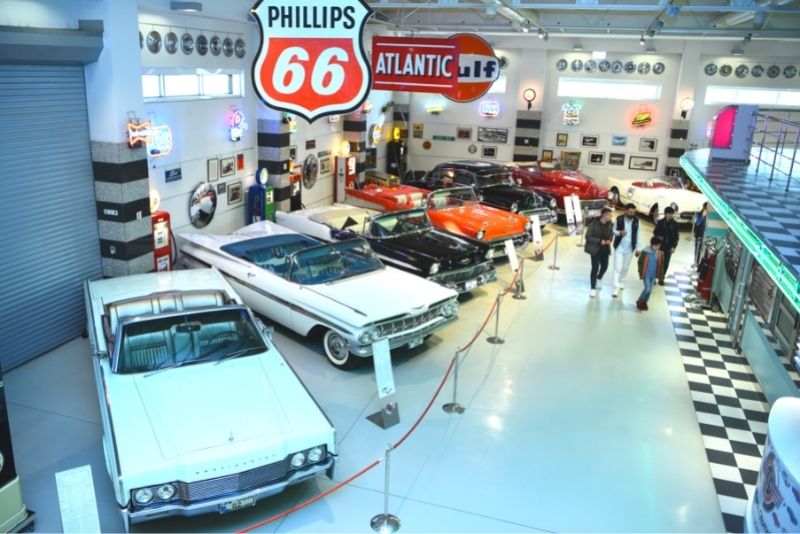 The Ural Ataman Klasik Otomobil Museum, in English commonly just called the Classic Car Museum, dishes up an excellent collection of close to 50 famous and historic cars, with some models dating back to the early 1900s!
The exhibit features everything from the Ford Model T Touring Car (1926) to the James Bond-esque 1955 Mercedes-Benz 300 SL Gullwing and old-school Harley Davidson motorcycles.
After admiring the range of meticulously maintained vehicles, grab a bite to eat at the 50s-style diner in the museum's center!
28 – Experience the peculiar Museum of Innocence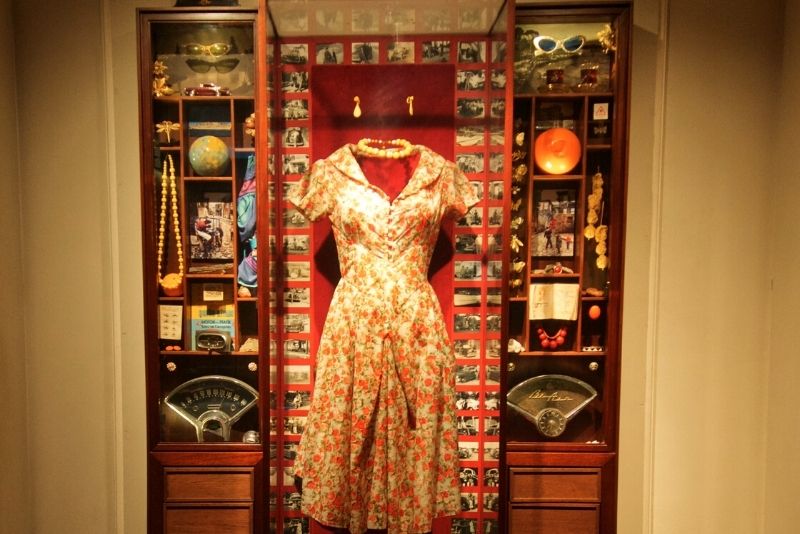 The Museum of Innocence is a museum dedicated to Turkish Nobel laureate author Orhan Pamuk, and it's also a recreation of the book, 'The Museum of Innocence'.
Using items from his home and life in the 1960s and 70s — including furniture, books, clothes, and household appliances — this museum tells an intimate story about one man's life, and his obsessive love with his young cousin, Füsun, in what feels like a home instead of a museum.
29 – From workshops to tastings to drinking, delve into the world of Turkish Coffee
Treasured and highly sought-after around the world, while you're in Turkey, you should definitely slip your fingers (and tastebuds) into the Turkish coffee-centric tours and activities!
Firstly, what makes Turkish coffee special from others? Super finely ground coffee beans are brewed (unfiltered) in a copper pot (a cezve). Thicker and extremely aromatic, some of the top places for a classic Turkish coffee in Istanbul are Pierre Loti Cafe and Cumbalı Kahve.
Then there are also guided tours to show you the best spots that locals frequent in the big city. Or different coffee-focused tours and activities like a coffee-making course, tastings and walking tours dripped in the history of coffee in Istanbul.
30 – Immserve yourself in nature at Kartepe's Ormanya Wildlife Park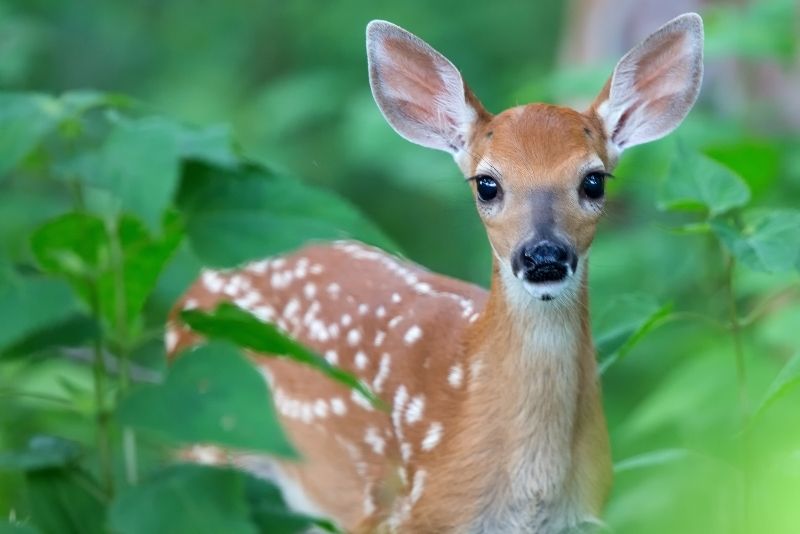 Home to more than 75 species of animals, plus a bird-watching area, charming botanical pathway, Children's Zoo, and nearly 100 camping sites, the Ormanya Wildlife Park promises a wonderful change of pace from the high energy of Istanbul.
Located about an hour and a half east of Istanbul, just past Kartepe, it makes for the perfect excuse to take a day trip.
31 – Ride roller coaster at VIALAND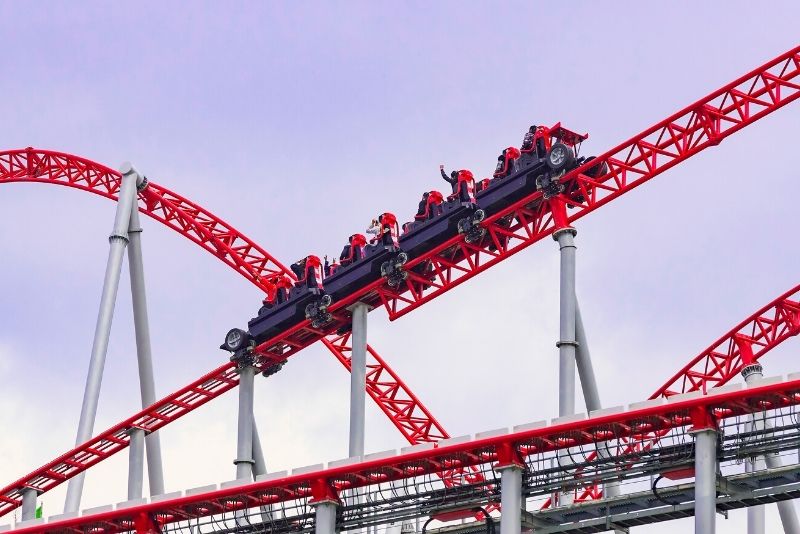 About 20 minutes south of the city center, you'll find the family-friendly Istanbul theme park. The diverse rides and attractions range from cute bumper cars to dramatic roller coasters and heart-stopping giant swings; however, the real highlight is the 4th biggest rollercoaster in the world, the all-powerful Nefeskese!
Besides all the adventures on offer, there's also an impressive range of themed restaurants to choose from and plenty of live entertainment on the outdoor concert stage.
32 – Ride around Istanbul on a segway tour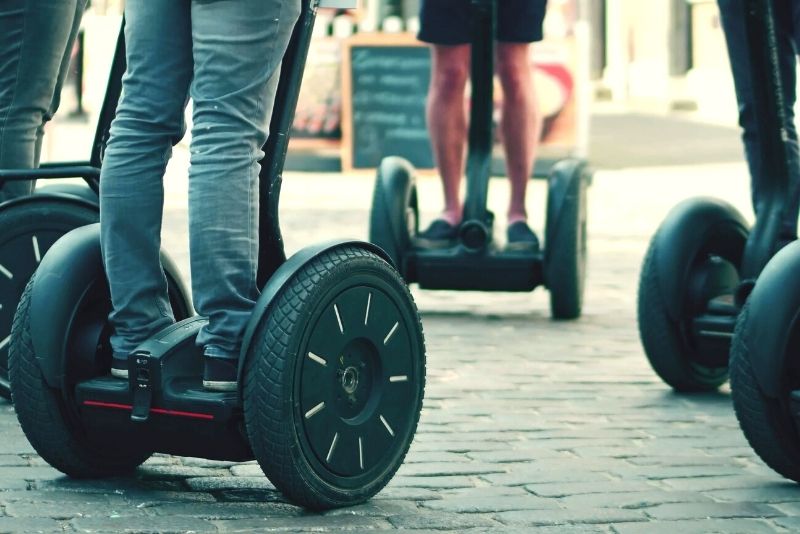 If you've always wanted to try one of those futuristic-looking segways but never had the chance, there are now several companies offering fascinating and fun guided tours of Turkish metropolis by Segway!
By day or by night, locally-led excursions embark on a journey that covers both east to west, ticking off must-see landmarks such as the Hagia Sophia, Galata Tower, and Grand Bazaar along the way.
33 – Shape your own lanterns during a Turkish Mosaic Lamp Workshop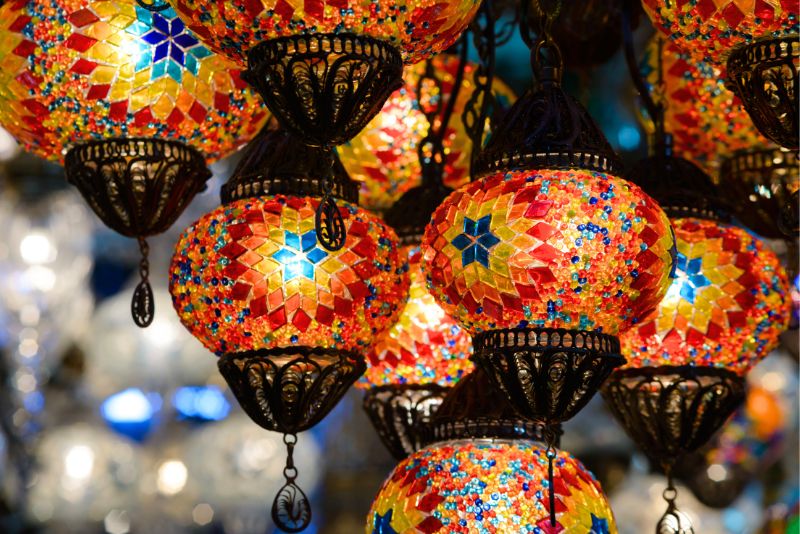 Turkish lamps are world-renowned and admired for their intricate and colorful mosaic patterns made from shimmering glass.
If you're already thinking about packing an extra suitcase just for shopping for these lamps (no one is judging you), why not join a Turkish mosaic lamp workshop where you get to create your own treasure?
During a three-hour workshop with a mosaic lamp artist, you'll learn the art, how to pattern a glass sphere and pick your own stones and glass beads. Plus, hear the meaning behind the lamps and its centuries-old history.
34 – Explore the dazzling Beylerbeyi Palace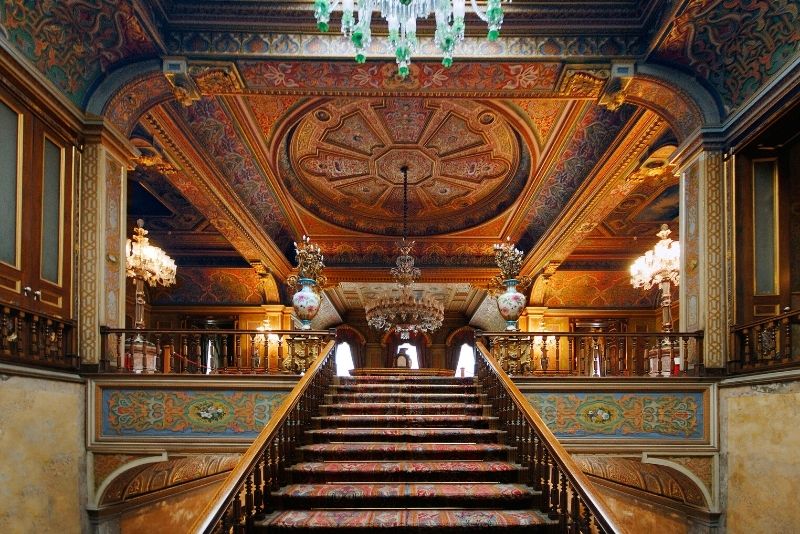 An impressive former Ottoman summer palace located on the Asian shore of the Bosphorus, the Beylerbeyi Palace is one of Istanbul's top, yet underrated riverside attractions.
Built back in the mid 19th century for Sultan Abdülaziz, the palace offers an intimate glimpse into the opulent life of years gone by with its lavish interior decoration and furnishings — displaying marble floors, crystal chandeliers, elegant linens, and furniture from around Europe.
35 – Watch a football game!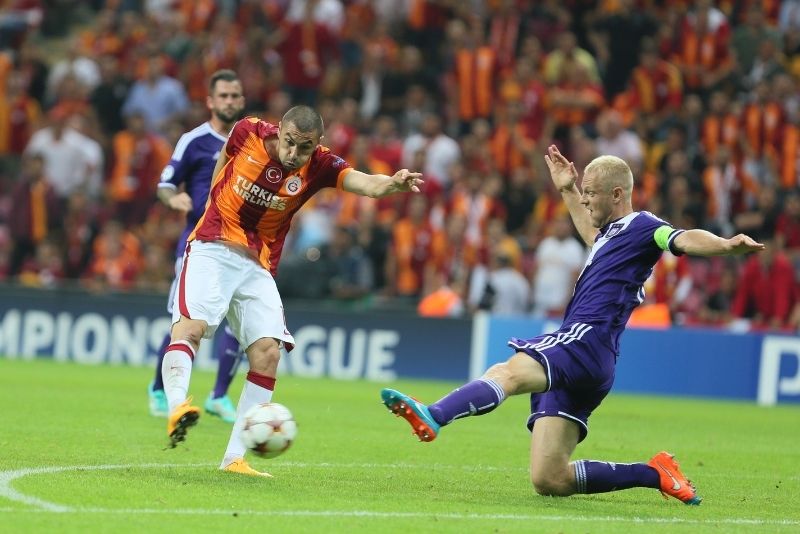 Istanbul is a city that never sleeps, with an endless list of things to do and see. But for sports fans, Istanbul is especially exciting because it hosts three major football teams: Fenerbahçe SK (Yellow), Beşiktaş JK (Black), and Galatasaray SK (Red).
At Vodafone Park, which has hosted numerous UEFA Champions League finals so far, you'll find the Besiktas fans roaring like no tomorrow; at Ülker Stadium, meanwhile, you'll be immersed in the Galatasaray atmosphere. You can also watch Fenerbahçe SK play at Şükrü Saracoğlu Stadium in the Kadıköy district.
36 – Wander through the Greco-Roman Ephesus ancient site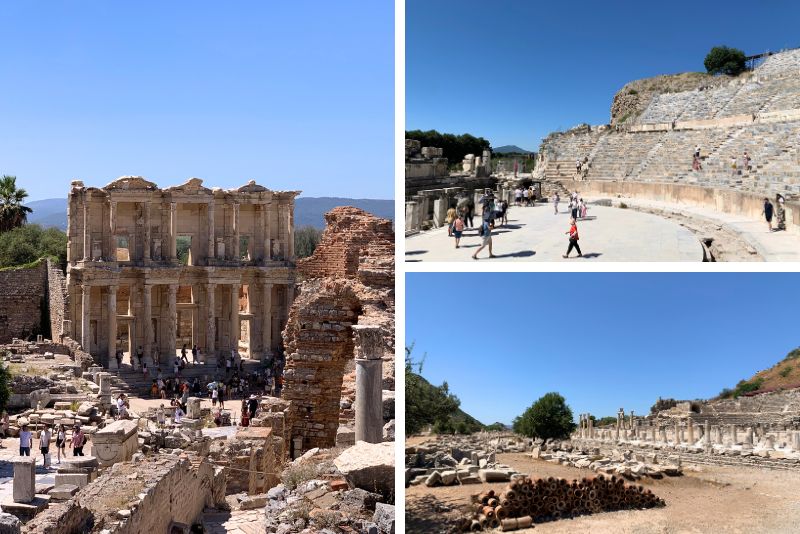 See for yourself the ancient fusion of Greek and Roman history and influence at the site of Ephesus, located in central Turkey. Dating back to the 10th century, Ephesus offers visitors a recount of the historic influence of this Mediterranean commercial capital.
The easiest way to visit the ruins is with airplane tours in Istanbul, as you need to fly from Istanbul to reach here on a day trip.
Walk through the perfectly conserved ruins where you can still see the foundations of the squares, houses, and even streets, including the impeccable Temple of Hadrian.
When you book an Ephesus tour, some trips may include a stop at the Virgin Mary House, another incredible site. The area is also home to many vineyards, so wine tastings are popular too.
Complete Ephesus tours are available, including flight, some meals, entrances, and a tour guide.
37 – Check out Miniaturk: a fascinating miniature of Istanbul!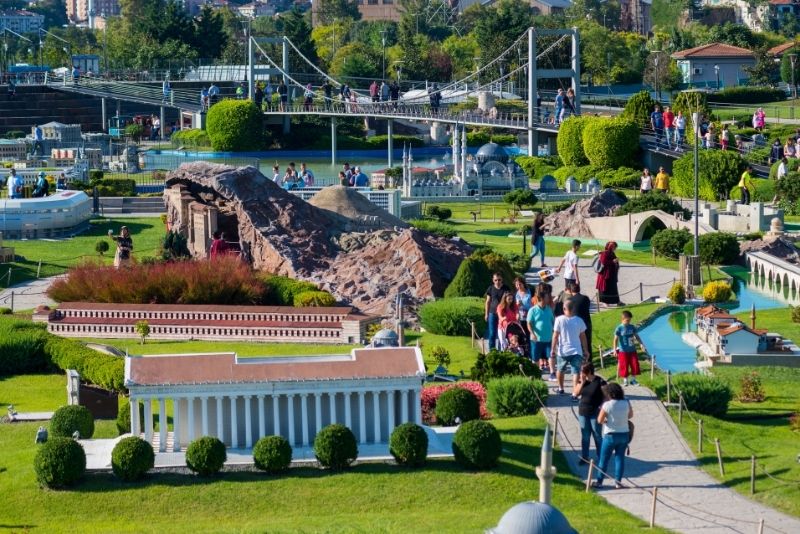 Miniaturk is almost too adorable for words. For over two decades, this painstakingly detailed replica of the city's landmarks has been capturing the hearts and imaginations of both locals and tourists alike with its enchanting mix of life-size reproductions in authentic detail.
The attention to detail is just stunning – from the windswept Bosphorus Strait down to even the tiniest of minarets, this is a one-of-a-kind attraction that simply has to be seen.
38 – Be shown the most IG-worthy places in Istanbul during a photo session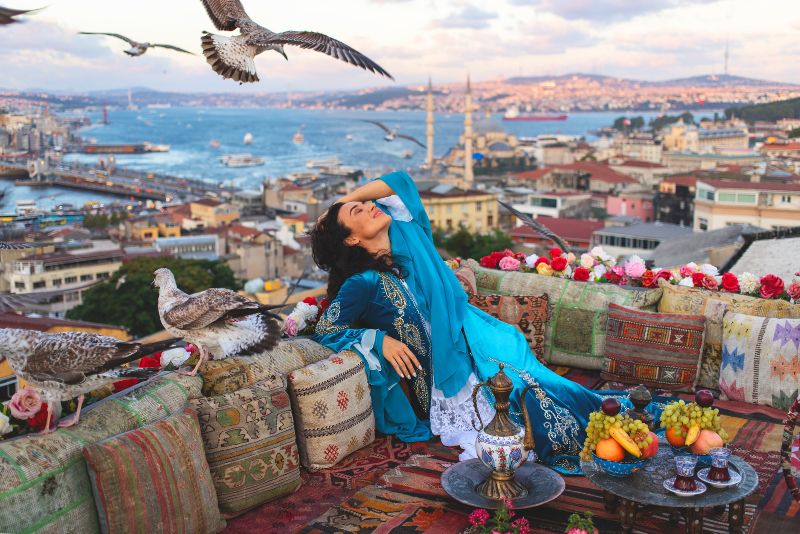 If you're traveling to Istanbul on honeymoon, a family vacation or finally crossing the destination off of your Bucket List, consider a private photo session! A professional photographer leads the activity, showing you the most beautiful places and spaces across the city made famous on social feeds — and then some more hidden gems!
While this is happening, get candid snaps photographed of you!
There are plenty of options: walking tours, private shoots, and even a rooftop flying dress photoshoot (influencers).
39 – Take a day trip to Gallipoli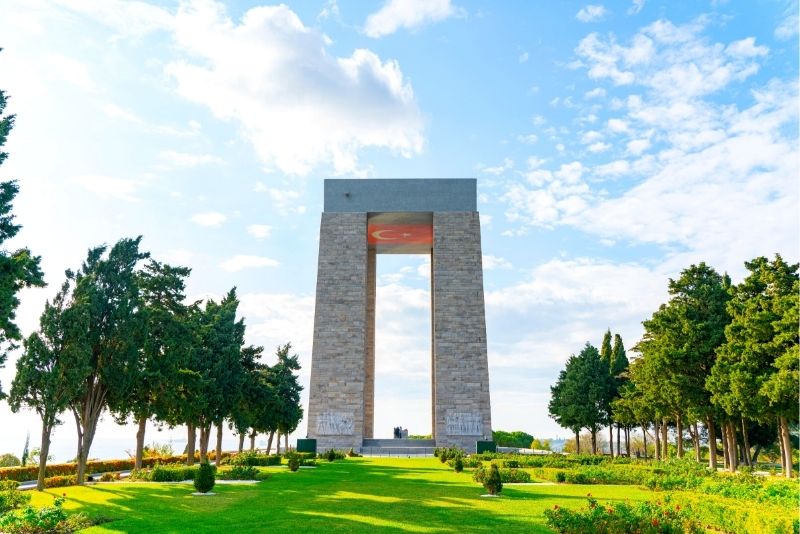 As one of the most fascinating WWI sites in Europe, a visit to Gallipoli is an unforgettable and unique way to learn about this pivotal point in Turkish, European, and worldwide history.
For historians, travelers, and descendants of veterans from near and far, the Anzac Battlefields tell a powerful story; meanwhile, the historic city of Troy (around 440km from Istanbul), dives into the history of the famed Trojan War.
Read more about the best day trips from Istanbul.
40 – Check out vintage cars at the Rahmi M. Koç Museum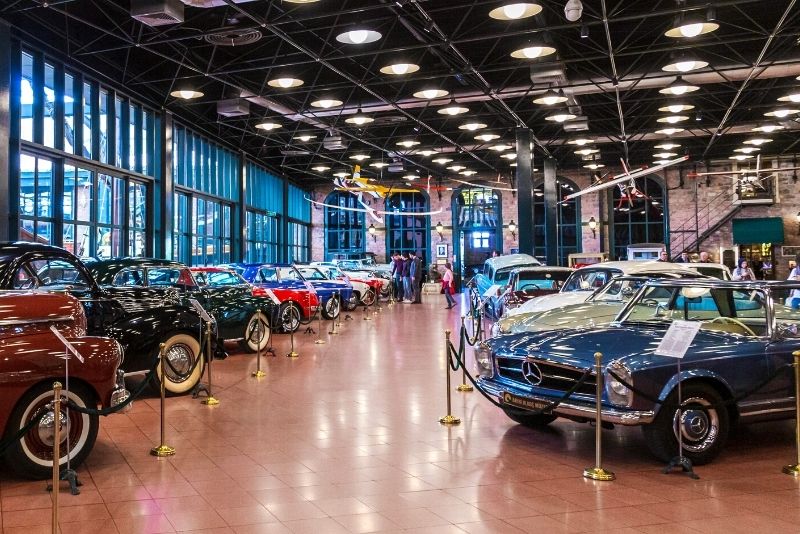 Located not too far from the Haliç Bridge (a great spot for watching the sunset), this unique museum honors one of Turkey's most prominent industrialists.
Through an array of exhibits including classic cars, the museum explores the history of local and international transport, plus a wide range of innovations in machinery and communications.
A large number of the displays are hands-on, making this far more fun than your typical museum (if you ask us!).
41 – Take in the smells at Mısır Çarşısı, the spice market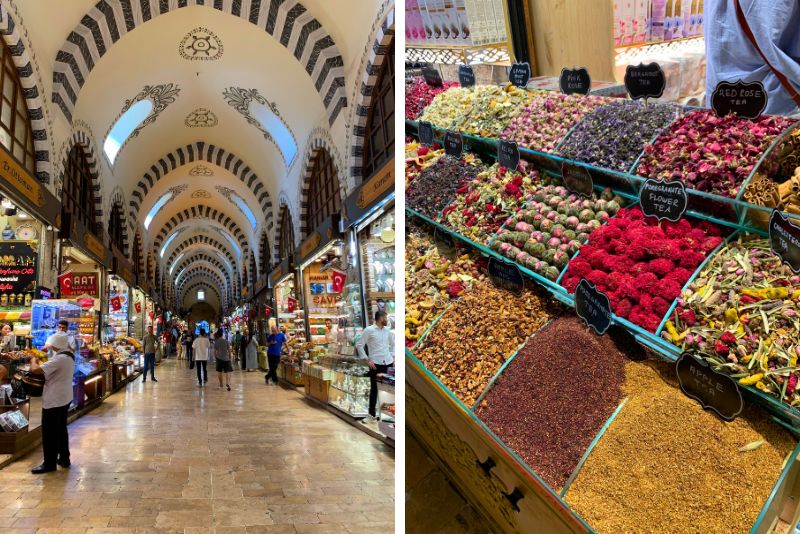 An incredible cross-cultural experience, a delight for the senses, and a must-visit for any avid cook or foodie, Mısır Çarşısı, otherwise known as the Spice Bazar, is the market to visit in Istanbul if you're looking for fresh spices, nibblies, or mouth-watering Turkish delight.
The place where people of all walks of life come together to buy and sell items from around Turkey, including everything from nuts to perfumes, dried fruits, desserts, and the freshest of produce.
42 – Enjoy the view from Camlica Hill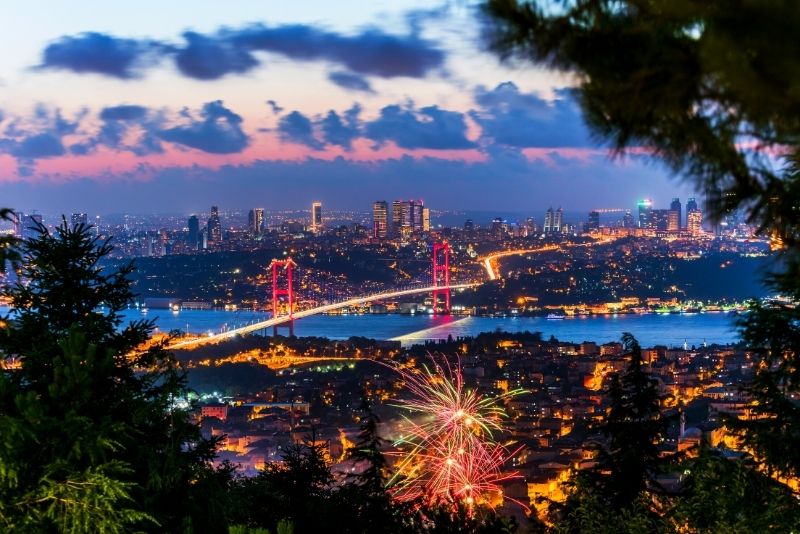 Quite literally the best view in town, Camlica Hill on the Asian side towers some 280 feet above the city to offer one of Istanbul's most iconic panoramas.
A stroll up this steep incline rewards you with magnificent views over both sides of the Bosporus, while at its summit there is a beautiful mosque.
For the best bang for your buck and a more comprehensive insight into the area, many prefer to sign up for a guided tour of Uskudar.
43 – Head to the Black Sea for a mini-vacation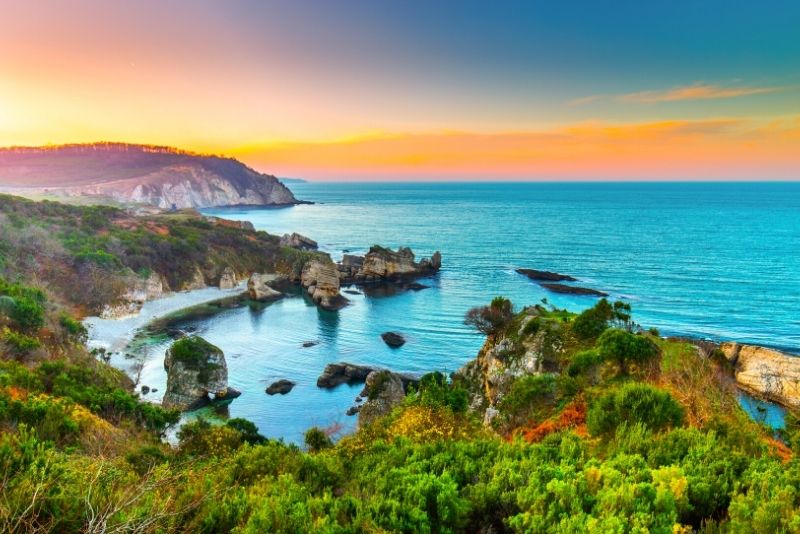 A day trip to the Black Sea Coast offers a pleasant escape from the congested center of cosmopolitan Istanbul and its surrounding suburbs.
The richly forested hills provide an idyllic backdrop to Turkey's answer to Cannes; there's no shortage of beaches to work on the tan; while nearby fishing towns like Sile or Agva offer great opportunities for swimming or diving in crystal clear waters with some seriously impressive underwater vistas.
44 – Join a Jewish Heritage tour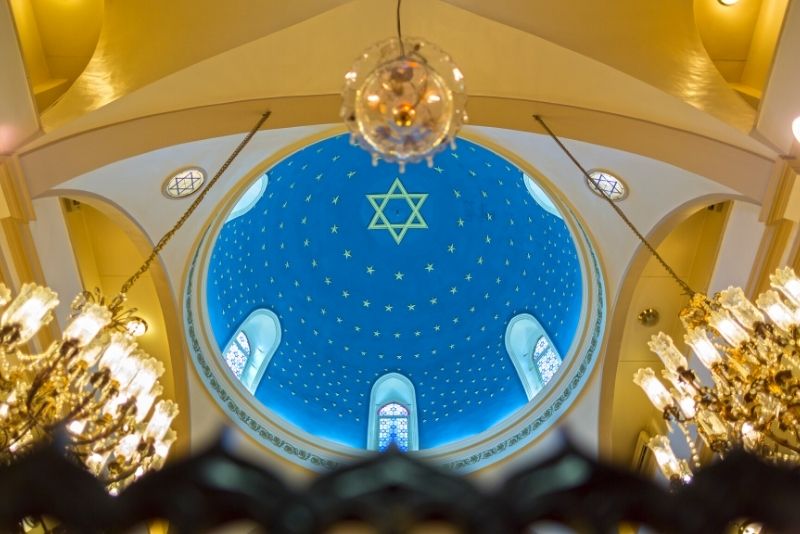 While predominantly Islam, Istanbul remains an undisputed melting pot of culture and religion, and this sentiment is nowhere more prominent than in the city's vibrant and historic Jewish areas.
The half-day tours of what was once one of Europe's largest Jewish communities offer a fascinating insight into local history and culture, with highlights including historic synagogues (like the Neve Shalon Synagogue and the Ari Ashkenazi Synagogue), the Camondo Buildings, and the colorful houses, small businesses, and stylish cafes in Balat.
45 – Learn about maritime history at the Naval Museum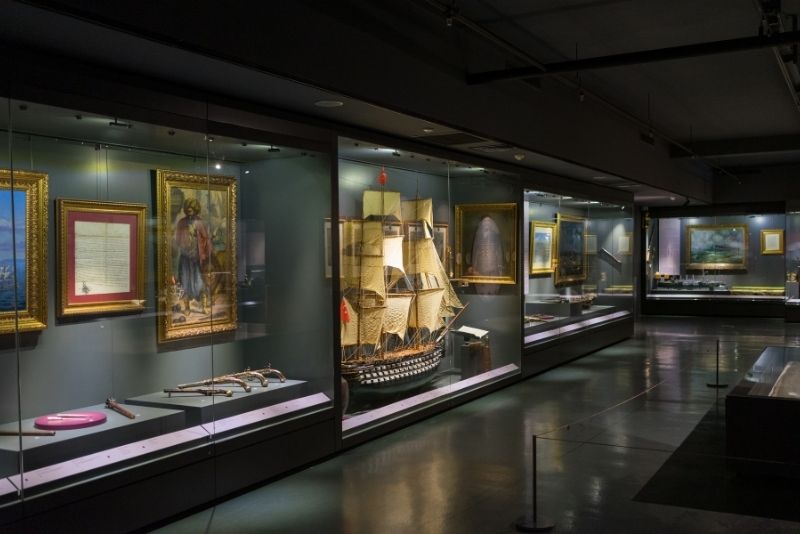 True to its name, this fascinating museum offers a unique overview of the history and importance of sea travel in Istanbul — from elaborate Ottoman-era trading vessels to an insightful look into ancient seafaring techniques.
Fun for the whole family, it's packed with interactive exhibits and informative panels to keep you engaged throughout your visit.
46 – Ride the hop-on-hop-off bus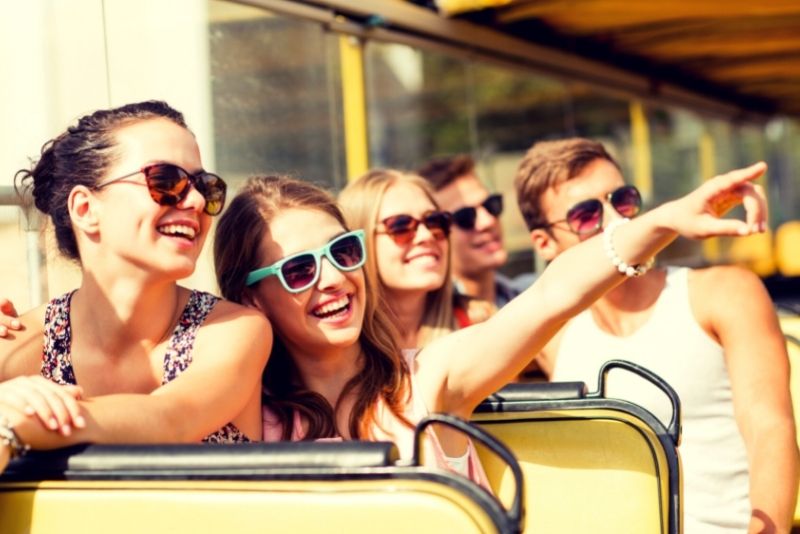 It's no secret that Istanbul is absolutely MASSIVE, so getting around on foot isn't exactly an option. Thankfully, there's a convenient and affordable solution in the form of Istanbul's Hop-on-hop-off bus, which offers visitors an easy way to explore both sides of the city with unlimited access across multiple days.
Perhaps start at Sultanahmet Square (also known as Blue Mosque square) for the most iconic sites before exploring historic Beyoğlu or Asia.
Unlike most cities, Istanbul provides hop-on-hop-off boats as well.
47 – Meet your favorite celebrities at Madame Tussauds Istanbul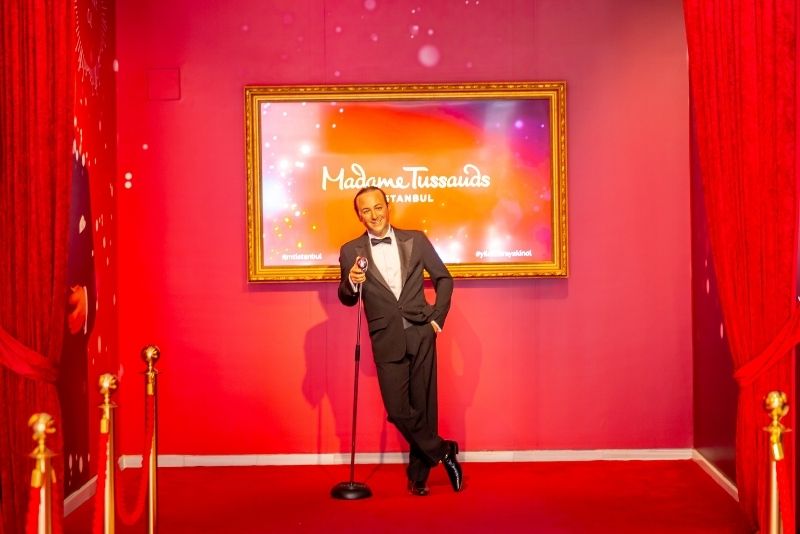 While a little cliché, Madame Tussauds Istanbul does offer a good way to get up close and personal with some of the world's most well-known A-listers, past and present (well, pretty incredible replicas, at least).
The interactive wax figure museum displays hundreds of recreations of both local stars and international icons, with names like Mustafa Kemal Atatürk, Suleiman the Magnificent, Audrey Hepburn, Beyonce, Lionel Messi, and Albert Einstein, just to name a few.
48 – Ski or snowboard at Bursa Uludag
One for the snow bunnies (or avid hikers during summertime), Turkey's 2,500m-high Uludag Mountain offers some of the most sensational ski slopes in all of Europe outside of the alps.
Less than 3 hours from Istanbul, the ski town makes for a wonderful one or two-day trip, or more if you want to explore the Bursa town in the foothills.
49 – Walk beneath sharks at SEA LIFE Istanbul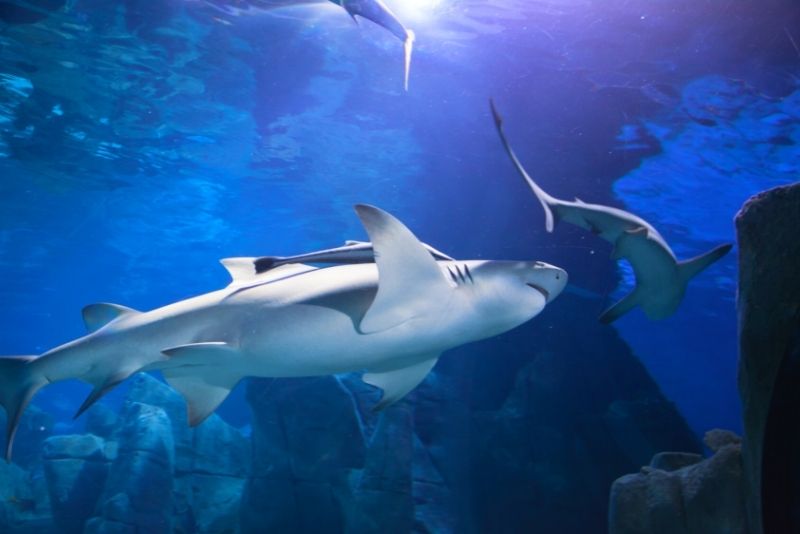 It would be almost impossible not to find yourself on the shores of Istanbul's iconic Bosphorus when you visit Turkey, and if you're a fan of marine life then this gives you another excellent reason to make your way here.
SEA LIFE Istanbul is one of Europe's largest aquariums and with more than 15,000 creatures across over 20 themed zones, plus an 83-meter-long underwater Ocean Tunnel, making it a must-visit attraction for animal lovers.
In addition to interactive exhibits, touch tanks, and live feeding shows there are also daily guided tours available in English if you want to learn more about these underwater critters.
50 – Make sweet memories trying traditional candy at Altan Şekerleme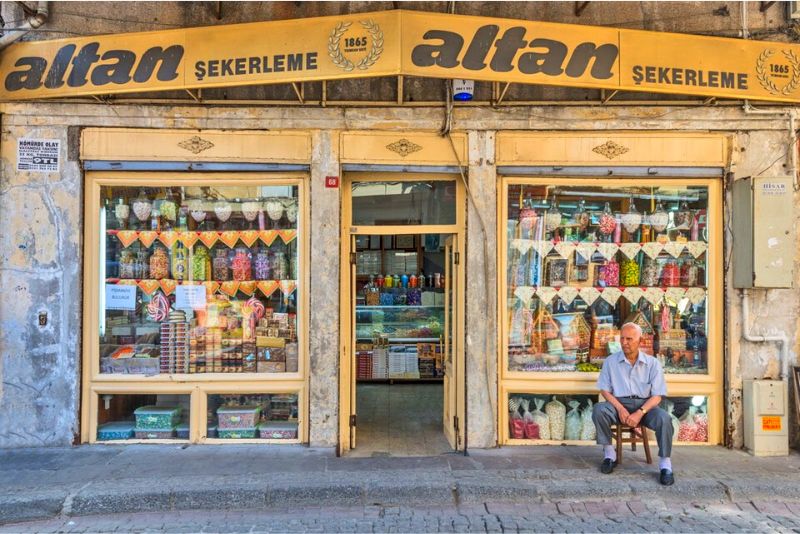 Those with a major sweet tooth cannot resist visiting Altan Şekerleme, a locally beloved candy store that has served over 3 generations of Turkish children and continues to put a smile on the local's faces, plus tourists who know of this special candy store.
Step inside the traditional Turkish candy shop, and let your eyes bounce between all the colors, sugar scents, and shop details as you choose your candy and see it get packed up in a cute box.
The locals recommend trying anything with rose, as well as Akide Şekeri (rock candy), and Lokum (Turkish delight).
51 – Get building at the Legoland Discovery Center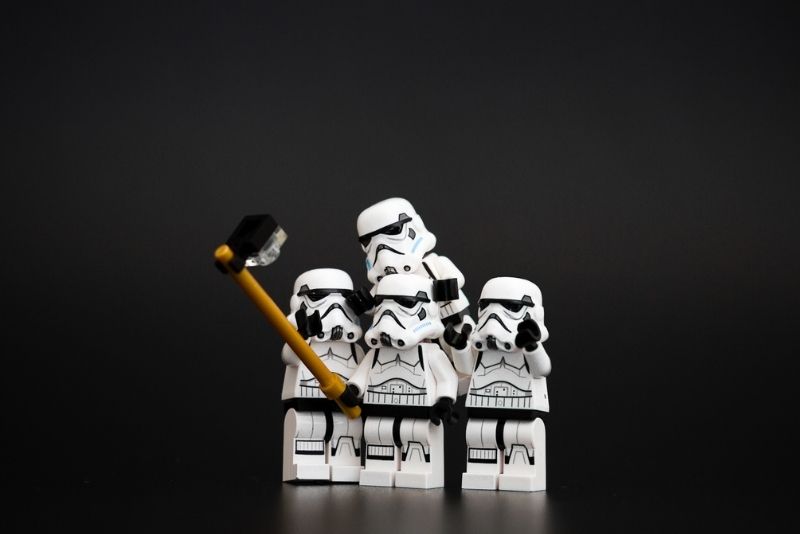 Family fun with a Lego twist, the Legoland Turkey is unlike anything else you'll find in the region. Perfect for tots and parents alike, there are vast LEGO cityscapes, mini models of well-known landmarks like Hagia Sophia or Istanbul Blue Mosque, and a sprawling Lego store, of course.
If you're pinching pennies, consider buying a combo ticket that also includes SEA LIFE or Madame Tussauds access.
52 – Get artsy at the Pera Museum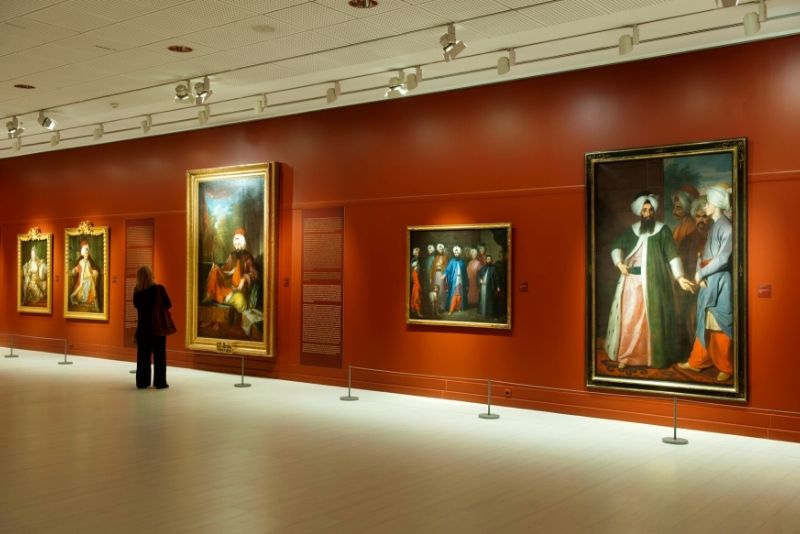 Found in the heart of Istanbul's historic Beyoğlu district, this beautifully restored wooden mansion now houses one of Europe's largest collections of Orientalist paintings, particularly those from the 19th-century.
Alongside a vast array of Turkish art (including pieces by celebrated local painter Osman Hamdi Bey), it offers one-of-a-kind views into how Western artists romanticized the East.
The lush grounds and serene gardens are also worth a visit!
53 – Set sail on a dinner cruise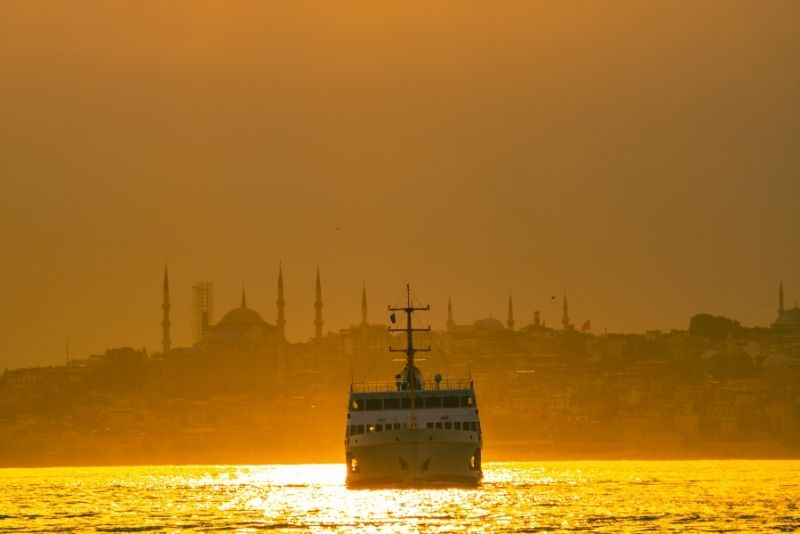 A lovely night for couples and romantics, dinner cruises in Istanbul are a great way to experience the sights of this beautiful city by water, with the sparkling city lights reflecting magically off the Bosporus.
While three-course dinner cruises with live music and sensual belly dancing typically follow a set route, you can also book private boat tours with personalized routes and catering options to suit any occasion or budget.
54 – Unwind at a Turkish bath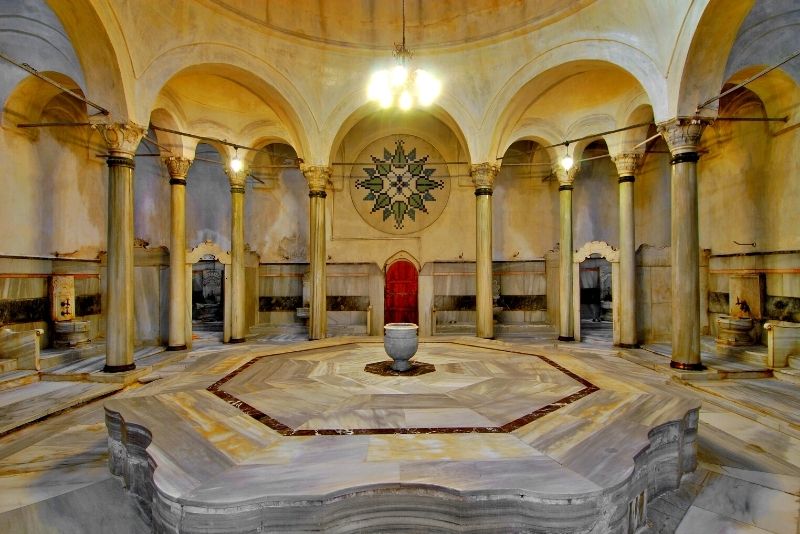 After a few days of tiring exploring and back-to-back sightseeing, you deserve some good old-fashioned R&R! And where better than in a rejuvenating Turkish bath?
This centuries-old tradition, steeped in ritual, also happens to be one of the best ways to experience Istanbul's rich culture and recharge the batteries.
Head over to Çemberlitaş Hamam, situated close to the Hagia Sophia and home of arguably the most authentic hamams in town, visit Cagaloglu Hamam, the last hamam to be built during the Ottoman period, or check out Aga Hamami, the oldest of its kind in the city.
55 – Visit one of the largest churches in Istanbul, St. Antoine Church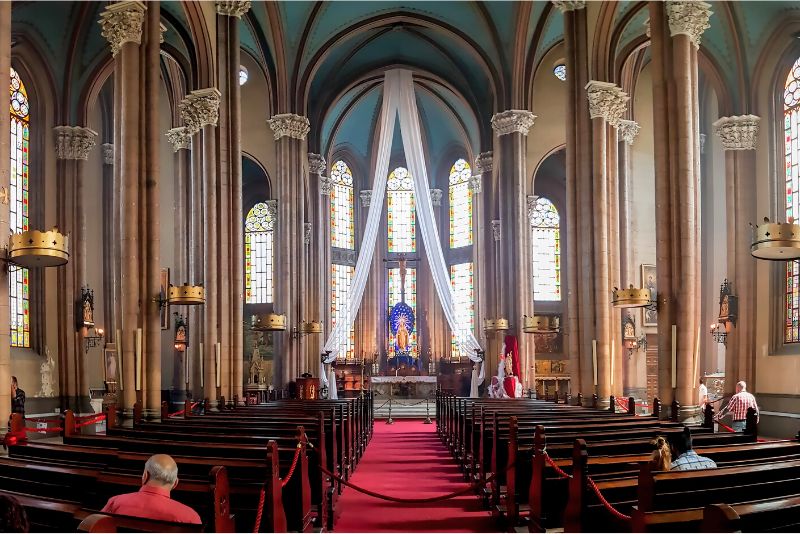 Known as the largest Catholic Church in Turkey, devout Catholics and those interested in Catholicism in Turkey must check out St. Antoine Church, located only a 14-minute drive from Istanbul.
Consider booking a tour of the church to learn about the Italians living in the area, how this church was built to serve them, and its reconstruction in 1912 while taking in a slice of Italian Neo-Gothic architecture right in the middle of Turkey.
Learn other fascinating facts about the church during its visiting hours every day between 9 am – 7 pm.
56 – Spend a day exploring Uskudar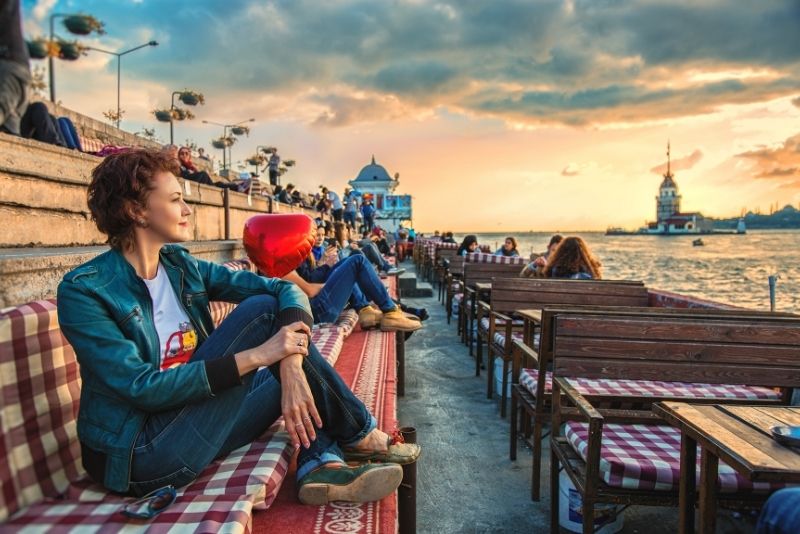 A must-visit for any history buff, densely-populated Uskudar is one of Istanbul's oldest districts and the location of some stunning 16th-century Ottoman mosques that are well worth checking out on a walking (or driven) tour, plus popular spots like the Maiden's Tower and Fethi Pasha Grove.
In addition to beautiful architecture, there are also plenty of cafes, restaurants, and shops in this bustling town across the Bosphorus from Sultanahmet.
For those who prefer to avoid the hassle of organizing transport, if you opt for a day-long excursion, hotel pickup and dropoff are often included.
57 – Explore the other side of Balat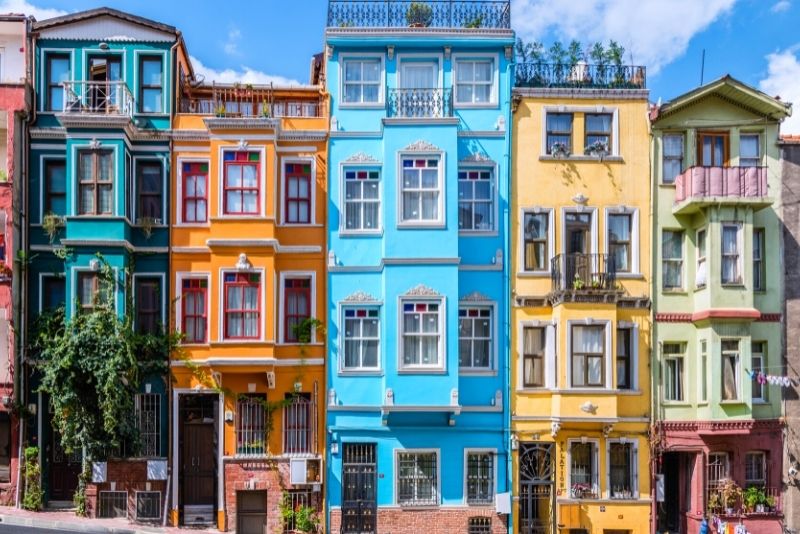 We already touched on the reasons why a Jewish Heritage Tour is worthwhile — many of which wander through Balat.
However, besides its deep Jewish roots, this neighborhood still has plenty to be proud about:
the houses are painted in a myriad of vibrant colors, not unlike Cinque Terre in Italy; the Rezan Has Museum displays a plethora of rare Urartian artifacts, and the Ferruh Kethuda Mosque is said to be the masterpiece of legendary architect, Mimar Sinan.
58 – Relax on the waters of Sapanca Lake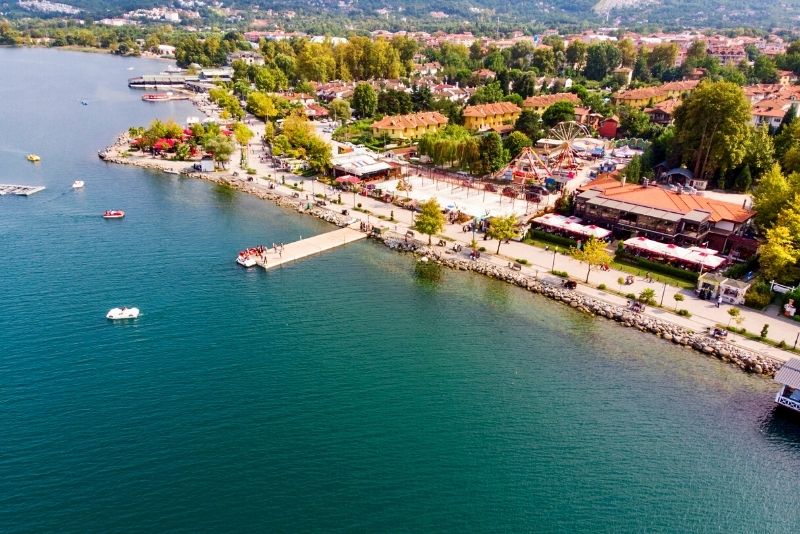 A mere 90 minutes hours away from Istanbul, Sapanca Lake — the jewel of the Maşukiye region — is one of the country's most visited and most beautiful freshwater lakes.
The water here provides a major attraction in the summertime when locals flock to enjoy boat rides on the surface of its deep blue waters or kayak excursions among its tree-covered banks.
59 – Explore the regional food at the best restaurants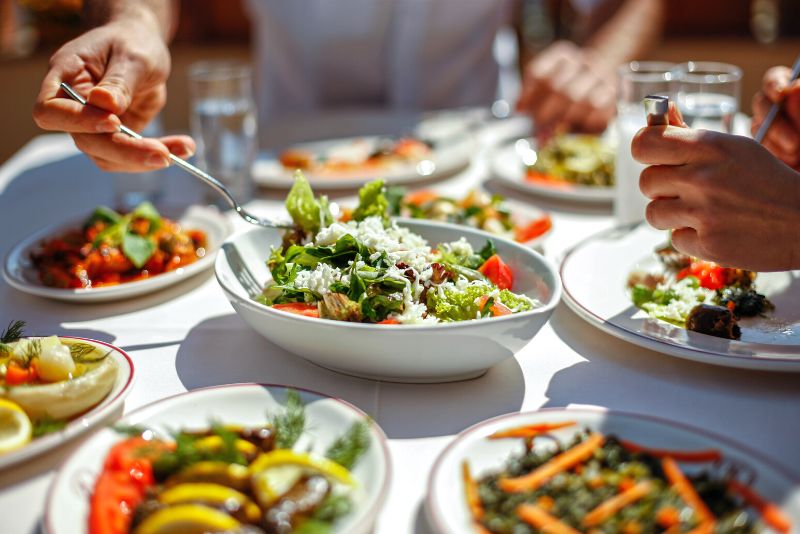 Çiya serves a fusion quite comparable to a few of the historical influences that the city of Istanbul has experienced throughout the years. A mix of Asian ingredients highlights the flavors of the already flavorful Balkan dishes, from their kebabs to their soups, and more.
Drink up the panoramic views with your meal at 360 Istanbul, offering some of the best modern Turkish food in Istanbul, infused with international flavors and cuisines. Open every day for lunch and dinner, visiting during the weekend when it turns into 360club.
Get a sample of the "New Anatolian Cuisine" at Mikla, with traditional Anatolian dishes infused with a decadent Scandinavian influence. Go in for the rich 3-course meal or stop by for the honey and cheese platter.
Make reservations to visit Ulus 29, and enjoy the fresh Mediterranean cuisine, European classic dishes, and even a great selection of vegan options. Feel the luxurious vibes as you observe the Bosphorus while sipping your wine inside the opulent restaurant.
60 – Wander the halls of the Küçüksu Pavilion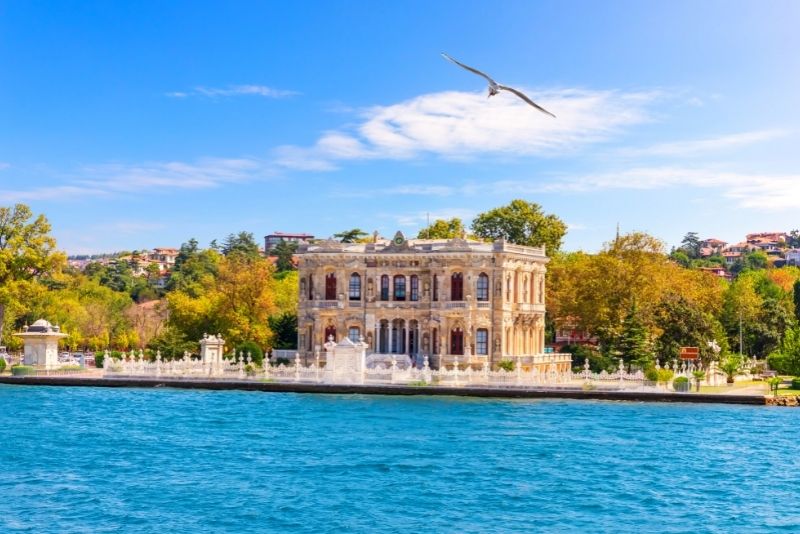 Marvelously built back in the 1860s, Küçüksu Pavilion sells itself as one of Istanbul's most ornate and desirable spots to spend an afternoon, combining both opulence (throughout its interior) with wonderful views overlooking the river from its ground.
The mansion is yet another wonderful example of the Ottoman Empire at its most elegant, with lush gardens and fountains to boot.
61 – Climb the walls of the Rumeli Fortress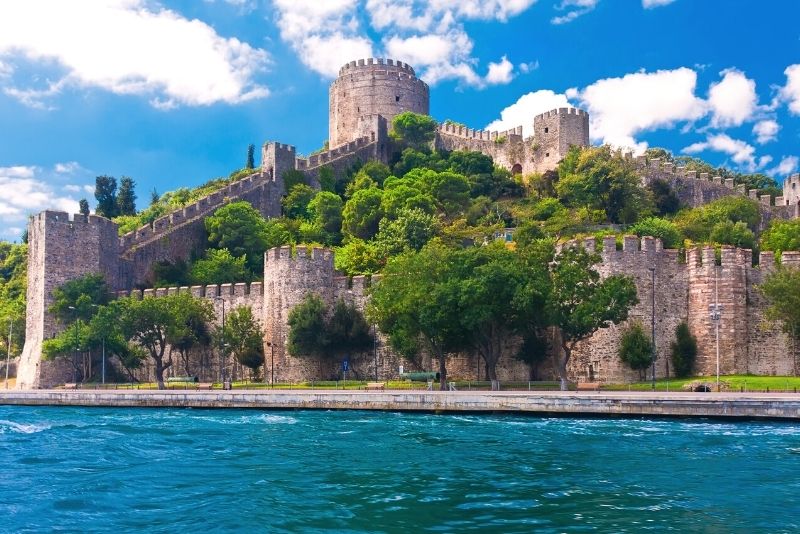 One of Istanbul's most important historic sites, Rumeli Fortress was built by Mehmed the Conqueror in 1452 to protect former Constantinople against a possible invasion.
It's located on the European side of Istanbul and is now one of the city's leading tourist attractions thanks to its excellent views over both Asia and Europe.
While the castle's origins date back to the tail end of Byzantine-era but its current incarnation is Ottoman in design, with high walls that overlook the sparkling river below.
62 – Explore the former capital of the Ottoman Empire, Edirne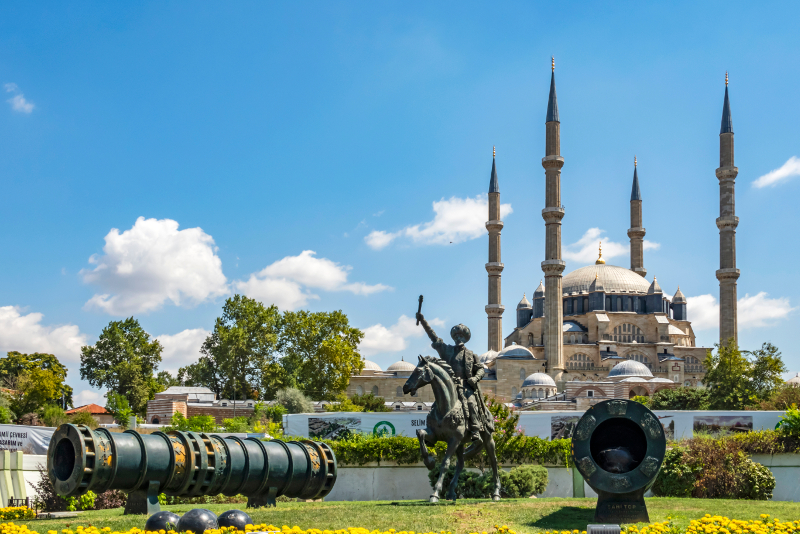 Bordering both Greece and Bulgaria, the ancient city named after a Roman Emperor, Edirne is a fantastic day trip for architecture lovers, delighting with UNESCO Heritage Sites, grand designs and important religious institutions.
As you arrive, you can't help but notice the mammoth skinny pillars of the 16th-century Ottoman Selimiye Mosque towering into the sky.
(Within this complex is the Turkish and Islamic Art Museum — well worth visiting.)
More not-to-miss attractions include the Üç Şerefeli Mosque. Dubbed the "City of Festivals," there are plenty to join, such as the annual Turkish Oil Wrestling Festival.
63 – Discover over 4,000 vintage treasures inside the Istanbul Toy Museum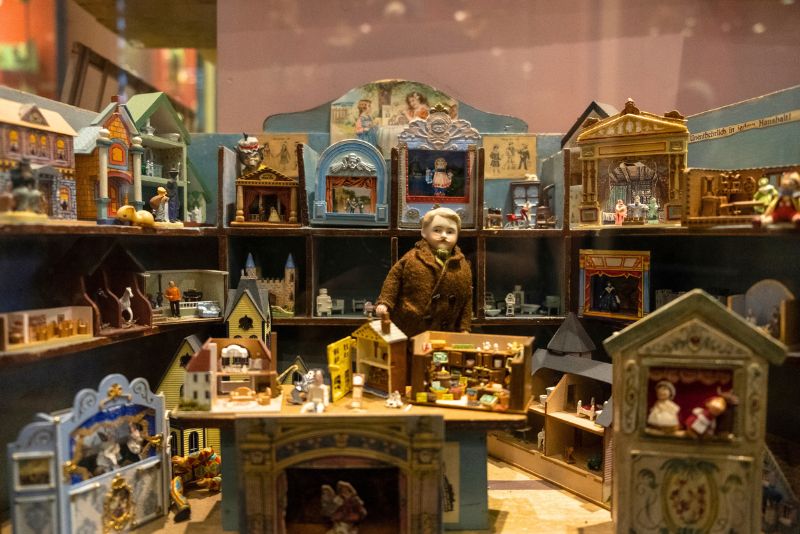 From the imagination of Turkish author and poet Sunay Akın, the Istanbul Toy Museum was born — an ode to childhood toys over the last decades, with a number of pieces in his collections even dating back centuries!
Your inner child will revel in glee as you see the vintage toys you grew up with and then the antiques your grandparents told you about! There's an 1820s doll from the US, tin German toys, a miniature toy horse, train set and more!
The four-level museum is divided into rooms, each designed as a theater stage.
64 – Fly 80km/h mid-air next to the Bosphorus on the Zippline Nakkaştepe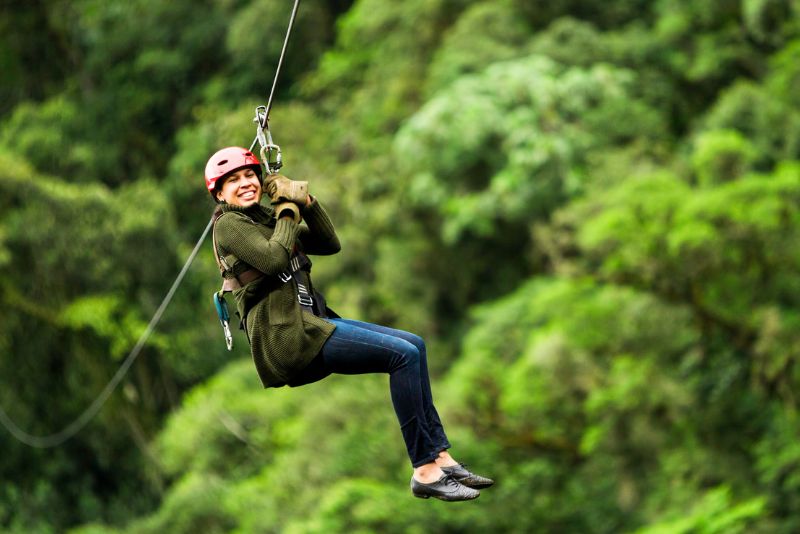 Talk about an impressive backdrop to fly over … Zippline Nakkaştepe has you zooming parallel to the Bosphorus — so you truly feel like a seabird! With you suspended in the air, the one-time zipline runs for 250 meters from start to finish and is built to have you harnessed up 24 meters high.
After lift-off, the adrenaline fuels as you pick up speed, the fastest point of the ride hitting 80 kilometers per hour.
This attraction is located in the Nakkaştepe district.
65 – Looking for terrace dining with incredible sunset views? Eat at Seven Hills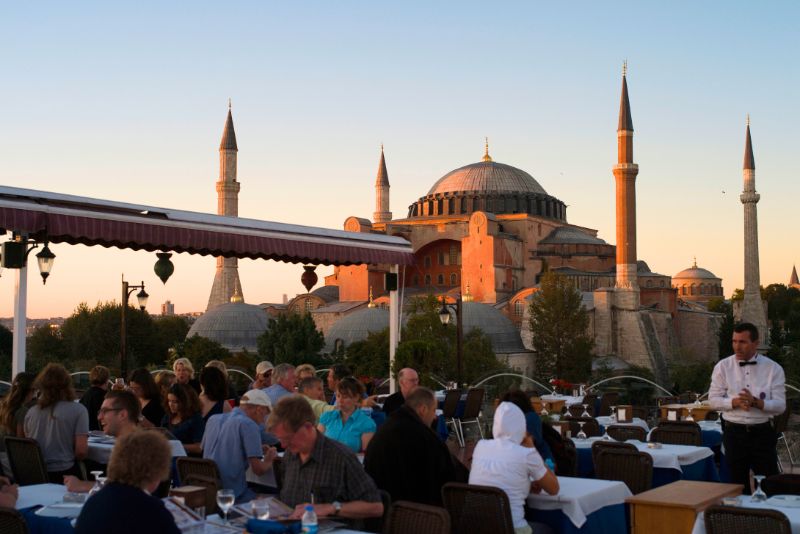 If you simply wanted to book a table at the famous Seven Hills seafood restaurant just for the photos, we wouldn't blame you.
One look at the backdrop of the Blue Mosque (which appears so close you could reach out and touch it), and it's easy to understand — and see — why!
Also treating guests are the vistas of the Hagia Sophia as well as the Sea of Marmara in the distance, all enjoyed from this rooftop terrace restaurant.
66 – Shop till you drop at Istinye Park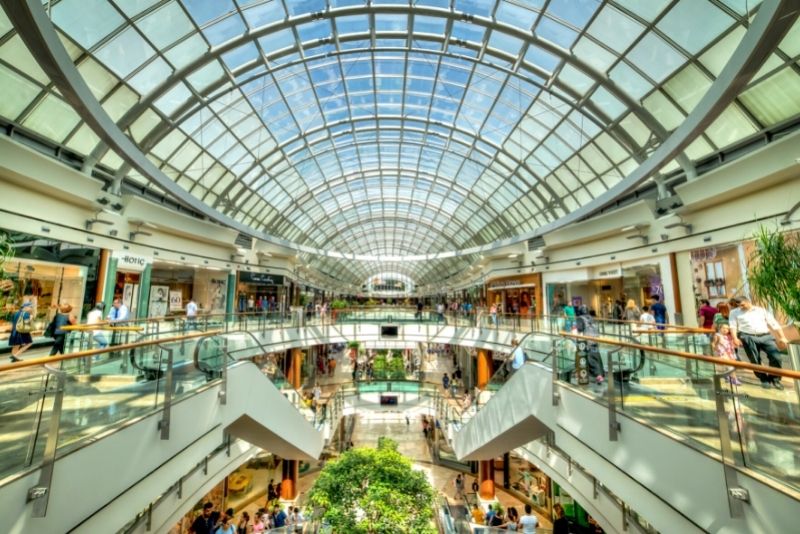 Boasting an exception range of nearly 300 stores, Istinye Park is no park at all; as one of the largest shopping malls in the city, it should be on any shopaholic's itinerary.
With everything from luxury boutiques like Rolex, Fendi, and Chanel, to international sports stores like Adidas and Nike, there's something for every shopper.
Oh, and for all of you Americans craving some home staples, the mall even houses a Shake Shack in the food court.
67 – Soak in the view from the Pierre Loti Tepesi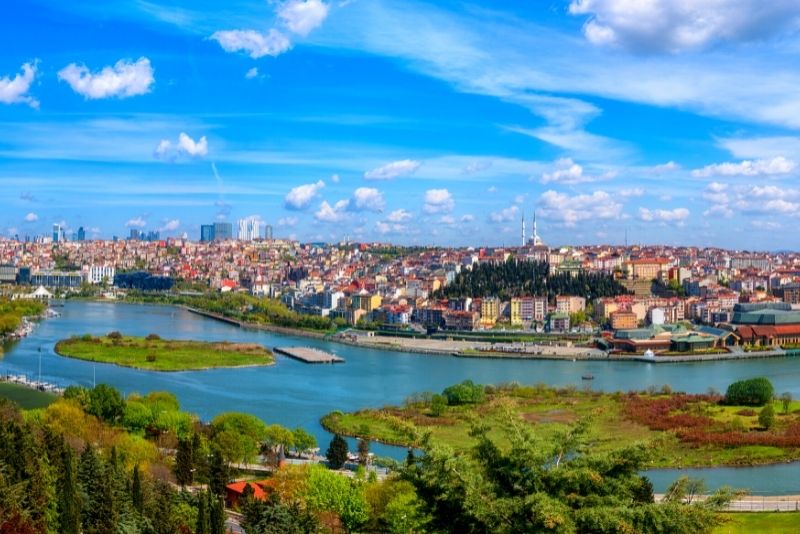 We're talking Istanbul from above, folks! In the heart of Istanbul, Pierre Loti Tepesi is a small hill overlooking the modern cityscape, accessible by a joyful cable car ride and dishing up some truly sublime views!
For our feline fanatics, you'll be pleased to hear that there are usually hoards of friendly cats roaming around the area too.
68 – Be enchanted by the Whirling Dervishes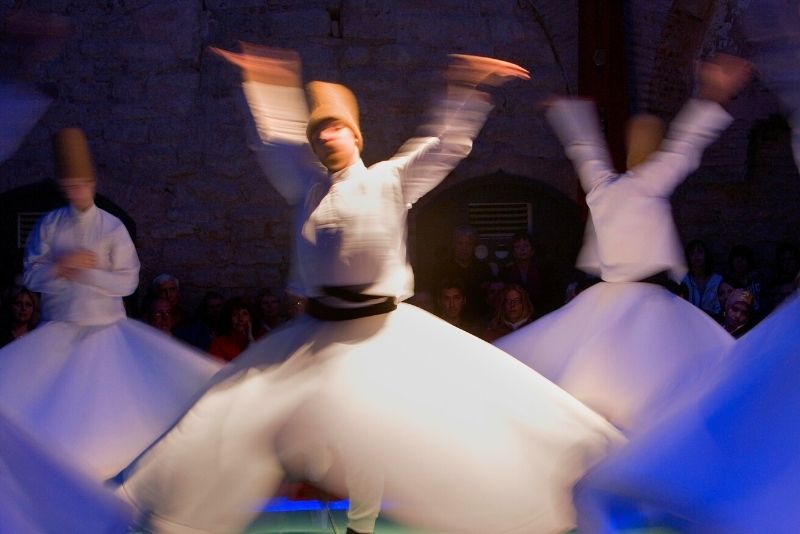 The Whirling Dervishes refers to a practice of Sufism and the Mevlevi Order. Sufi whirling is an active meditation that occurs during a worship ceremony and dates back over 700 years.
This spiritual journey is full of music and motion, creating a unique experience. People come from all over the world to witness this mystical ritual!
If you're after the most famous Whirling Dervishes, you'll find them at the Galata Mevlevi Museum — that said, they're found all over the city and all are exceptional for first-time viewers.
Showcasing the traditional and beautiful whirling dervishes performances, plus a regular roster of exotic Oriental dances and choreographed Ottoman Palace dances, the Hodjapasha theater provides a wonderfully unique insight into local culture.
Adding to the magic of the dancing is the venue itself, an ancient spa house complete with an on-site bar.
69 – Forget the restaurants. Dine with a local and learn about Turkish cuisine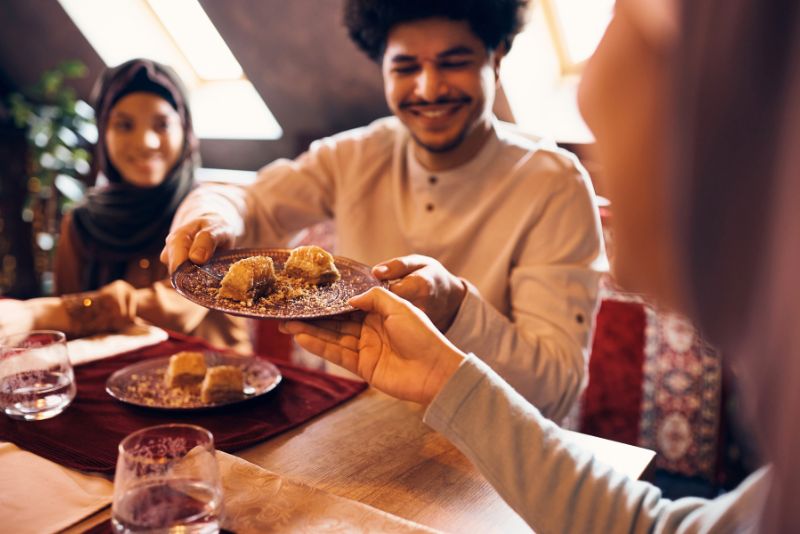 One of the most authentic ways to experience any cuisine is in the home of a local, savoring typical dishes a family eats on an ordinary night. This is how you taste the real food of a country! So, what better way than to dine at a local's in Istanbul?
Treating you to a traditional meze feast accompanied by raki (served with cold meze, the liquor is made from grapes/raisins with a distinct aniseed flavor), your host Esra cooks up a storm!
See her in action, swap stories and learn more about the cuisine you're indulging in!
70 – Sleep in a palace on the shores of the Bosphorus
Beautiful Istanbul is a city of many palaces, but it's the ones along Bosphorus that really stand out.
And with their waterfront location and commanding views over both European and Asian shores, it's no wonder that some of them double as luxe hotels.
The Shangri-La Bosphorus Istanbul is stunning inside and out; the Ciragan Palace Kempinski boasts a resort ambiance in an Ottoman shell; and the Four Seasons Hotel Istanbul At The Bosphorus, while pricey, dishes up views and luxury that are second to none.
71 – Get social at a Pub Crawl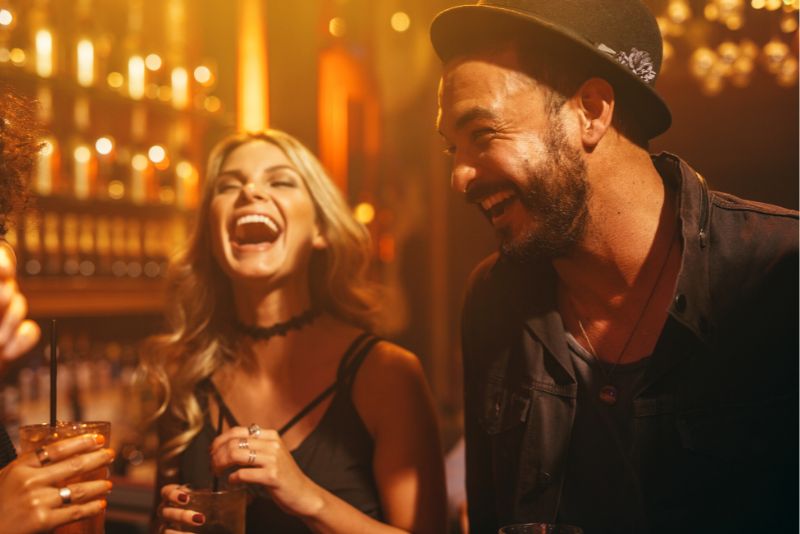 Learn how to say "cheers" in Turkish (it's şerefe!) on a fun pub crawl, where you'll be guided by a local, visiting the hottest pubs and bars that Instabul has to offer.
Complete with a party bus, fun drinking games to play in between locations, and VIP entrances into the best bars, you'll feel like you own the night as you explore the extremely fun and lively nightlife in Istanbul.
There are woman-only as well as mixed-gender pub crawls, so no matter your interest, there's a pub tour for you that is equally guaranteeing you a great time!
72 – Experience the wild Istanbul nightlife!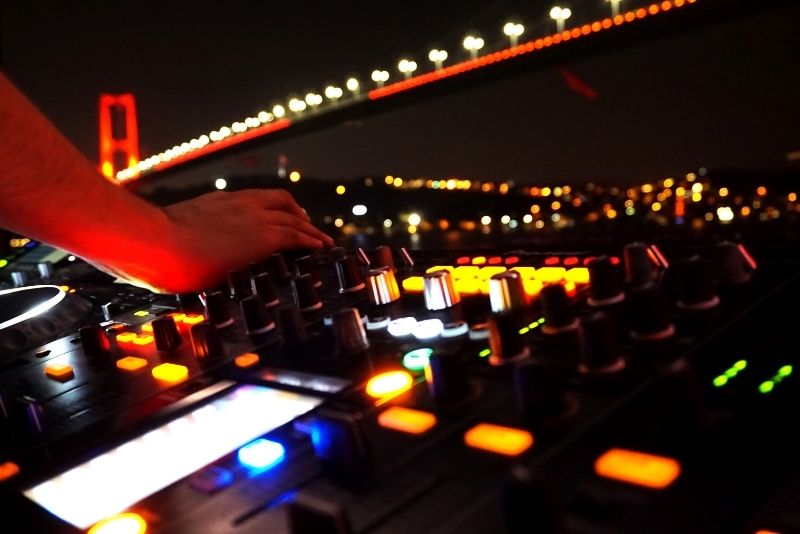 Forget about the history for a moment! It's time to party! Istanbul is known as one of the most vibrant destinations on earth, and with that, it's no surprise that its nights are just as exciting.
Whether you're looking for a rooftop bar to enjoy some cocktails and take in the view or fancy something more intimate at an Ottoman-era mansion with a cocktail in hand, not to mention the endless list of Meyhanes (Turkish taverns), Istanbul's nightlife is hard to beat.
Need a few suggestions?
360Istanbul on Istiklal Street is the go-to for great sunset views and lavish cocktails; Club XLarge in Maslak is a celebrated clubbing spot with renowned DJs and 'go-go models'; the Nardis Jazz Club in Galata offers soothing late-night jazz for a more low-key night; and, finally, on the Asian side, Arkaoda is a little-known gem adored by hipsters and locals alike.
How to get to Istanbul?
With two main airports in Istanbul, international fliers will most likely land at Istanbul Airport (IST) on the European side.
If you're arriving late in the evening, very early, or with small children and lots of luggage, consider pre-booking airport transfers in Istanbul so that you'll have your ride waiting for you at arrivals instead of figuring out the transport system.
If you're arriving by cruise liner or private boat, there are shore excursions in Istanbul to make the most of your day in the city.
Where to stay in Istanbul?
Stay in a historic hotel equipped for the modern traveler at the Pera Palace, located centrally in the heart of Istanbul, dating back to 1892. Enjoy afternoon tea, surrounded by Neoclassical and Art Nouveau decor, and greet the morning every day with sights of the Golden Horn and the lively ambiance of the Beyoğlu district.
Sherry Suites Karaköy is a wonderful lodging option for families, as it's very close to some of the main sites in the city from the Spice Bazaar, to the Galata Tower and different metro stops. Enjoy the fully-stocked rooms with wifi, TV, and air conditioning, as well as a fabulous terrace with equally impressive city views.
Seatanbul Hotel is the perfect option for those traveling on a budget and would like a wonderful hotel and equally amazing hospitality. The Seatanbul Hotel is located only minutes away from the Blue Mosque, Hagia Sophia, and Topkapi Palace, perfect for sightseeing.
Visiting Istanbul on a budget?
Get the best of the City of the World's Desire and all its districts during free walking tours in Istanbul! Understand the layout of the city to help you learn your way faster.
Consider purchasing the Welcome Card, Istanbul Museum Pass, or the Istanbul Tourist Pass, all created to help you see more of the city, at almost half the cost of booking each activity on your own.
Where to go next?
Embark on a captivating journey to Cappadocia, not far from Istanbul, and experience a hot air balloon ride over its surreal landscape. Discover the underground cities and the Open Air Museums in Göreme, key highlights among the things to do in Cappadocia.
A short flight from Istanbul, Cyprus beckons with its azure waters and cultural riches. Swimming in its clear seas, exploring ancient Paphos, and savoring local cheese and wine are top things to do in Cyprus!
Nearby in Sofia, Bulgaria, indulge in the city's mineral hot springs, marvel at the Alexander Nevsky Cathedral, and delve into its intriguing communist history – all essential things to do in Sofia.
A few hours away, Thessaloniki, Greece, offers a blend of ancient ruins and vibrant modern life. Exploring historical sites, enjoying the waterfront, and experiencing the local culture are among the best things to do in Thessaloniki.
Explore more beyond the city center and check many other great places to visit in Turkey with different multi-day trips from Istambul available, especially to destinations like Pamukkale, Pergamum, and Antalya worth exploring.
Final thoughts
With its long history of varying influences shaping the future of this magnificent city, travelers near and far cannot help but return time and time again to rediscover and uncover for the first time many of the things to do in Istanbul.
Don't wait another moment longer to "bridge" your visit to the world's only pan-continental city.
Happy travels!