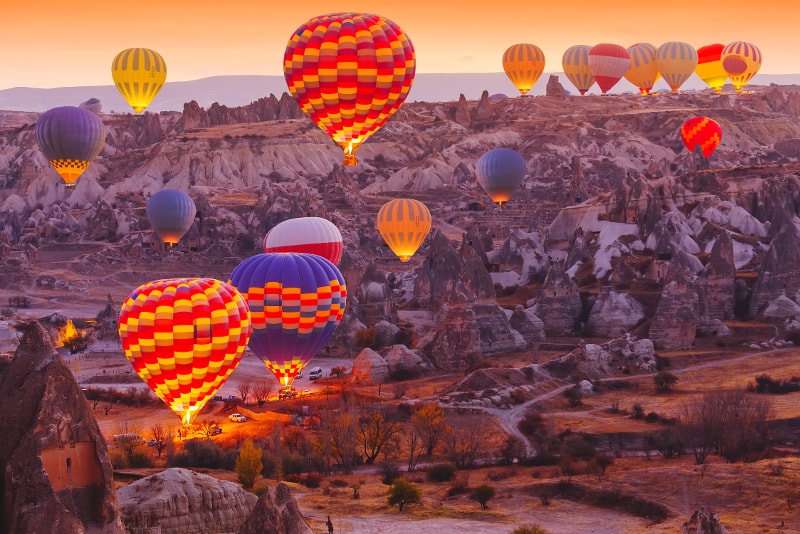 Would you like to experience one of the most memorable moments of your life? Hop on to a hot air balloon in Cappadocia and engross yourself in the mesmerizing landscape. Here is a comprehensive guide of everything you should know if you're planning a Cappadocia hot air balloon experience.
How to get to Cappadocia?
Due to Cappadocia's location, trying to get there can be tiring via bus or expensive by plane. What more, the low population density leads to limited public transportation so this doesn't exactly help either. But nothing is impossible! The region of Cappadocia is worthy to explore, so one may want to consider hiring a car or booking a tour.
However, if you're wondering how to get to Cappadocia by bus, note that most of the bus companies have connections to Nevsehir and Göreme. Travelling from Istanbul or Izmir would take the longest (12 hours) or if you're in Ankara it would take 5 hours.
The fastest and most expensive way of travelling to Cappadocia is by plane. There are two main airports to which you can fly to: Kaysei Erkilet Airport (ASR), one hour drive to the centre of Cappadocia region (it's easy to arrange a shuttle bus from Kayseri Airport to Cappadocia). The other airport is Nevsehir Kapadokya Airport (NAV), which is located in Gülsehir town of Nevsehir Province. Turkish Airlines operates a direct flight from Istanbul to Nevsehir twice a day.
If you are visiting Istanbul and traveling to Cappadocia from there, you might consider buying an all-inclusive package, which include transportation by bus or plane, overnight staying in Cappadocia and a hot air balloon ride. It might end up cheaper than booking everything separately.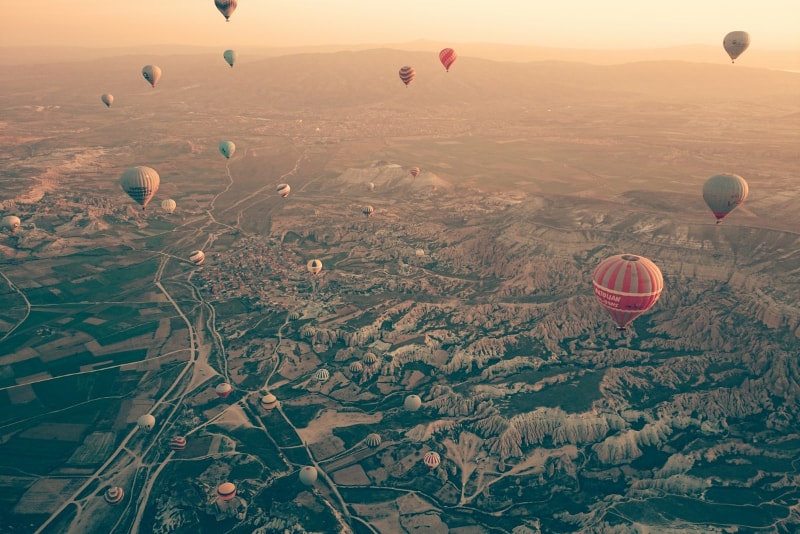 How much do Cappadocia hot air balloons cost?
Trust me – boarding on a hot air balloon over Cappadocia will be worth every penny. Everybody that comes here talks positively about their experience on a hot air balloon, especially if you get the reward of such breathtaking views!
Cappadocia hot air balloon can be pricey but it all comes down to what you may want to be included in the price.
The price to ride a hot air balloon is in the range between $140 and $250 (€125 – €220) per person. The cost depends on the duration of the flight, the moment of the day and whether is peak season or not. Usually, the minimum duration is a 1-hour flight and it can go up to 3 hours. Very often, the price is lower if you are in a group and you want to book a private flight.
Due to the COVID-19 situation, the number of tourists in Cappadocia has dropped a lot. Therefore, many operators of hot air balloon tours have reduced the price consistently. Now, there are deals for as low as €60 (US$ 70).
The price can be higher if there are additional services included. For example, some hot air balloon rides include other sightseeing tours in the region of Cappadocia, or you can experience the traditional Turkish food cooked by locals, walk through the vineyards and pistachio trees, hiking and many other traditional things to do.
How to book a hot air balloon ticket?
There are many providers offering Cappadocia hot air balloon flights. They offer many tours with different features and prices according to the seasons, inclusions and discount campaigns. Therefore, we recommend comparing all of them using a specialized search engine, such as TourScanner.
You can book hot air balloon rides with local agencies, at your hotel in Cappadocia and offline, but remember that the number of flights allowed per day is limited by law. Therefore, if you do not book in advance, it is very likely that you will not have the chance to ride an hot air balloon in Cappadocia. The price depends on the availability as well (booking earlier = cheaper). Therefore, we don't recommend to wait the last minute to try to book a ride, cause you will end up paying a lot of money or missing the opportunity.
As introduced above, if you are visiting Cappadocia for few days from Istanbul or other Turkish touristic cities, such as Antalya or Alanya, there are several tours departing from those cities. These tours may include flights from Istanbul which can save up on a lot of time or transport by bus, plus overnight staying in a hotel, lunches/dinners and hot air balloon rides.
Check the offers for the tours departing from cities in other regions:
Tours to Cappadocia from Istanbul
Tours to Cappadocia from Antalya
Tours to Cappadocia from Alanya
Tours to Cappadocia from Belek
Tours to Cappadocia from Ankara
Is it safe to go on a hot air balloon?
Some people can find going on a hot air balloon a bit spine-tingling, which is understandable.
No needs to worry – you always get a brief explanation of the basic rules and safety measures. Apart from that, the take-off is gentle you won't even notice and you'll soon want to take pictures from up there!
Anyhow, it's advised not to go on a hot air balloon when there is strong wind, this can be dangerous and anyways the companies will advise you when it's safe or not.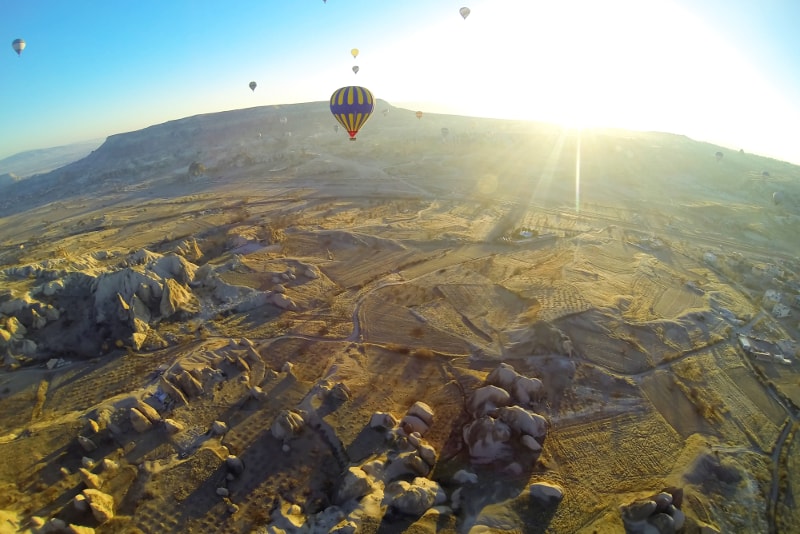 What is the best time to fly?
Make sure you choose the correct moment to visit Cappadocia in order to avoid the crowds. Spring and autumn are the best times to visit, the temperatures are generally moderate and there are fewer crowds. From July to September, the weather can be very hot and the tours can get expensive.
The best time of the day to go on the hot air balloon is either sunrise or sunset – you will never forget how mesmerizing the views are from up there!
Travel tips
Don't pass up the opportunity to stay at a cave hotel. They are a range of options, of varying quality and price, to stay at. If you're a budget backpacker you can find some simple accommodations. If you're looking for a high-end experience there are also plenty of options. You can sleep in a cave with all of the amenities of home and the comforts of a traditional hotel.
Because the Cappadocia area is very spread out and not densely populated, transportation is somewhat limited. There are minibusses that take you to nearby towns, but they often run only once or twice a day. Definitely make sure you have the schedule ahead of time and you've planned out your route.