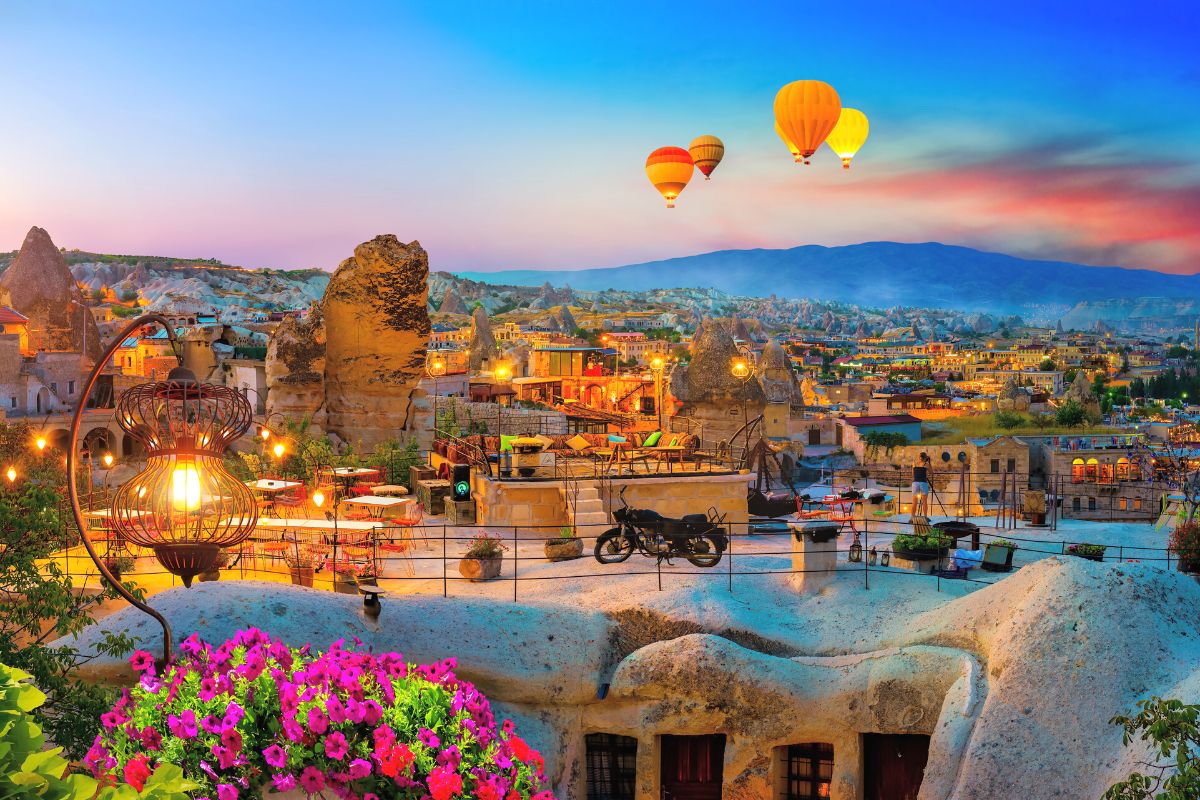 From its conical stone structures and towering mountains to its beautiful religious buildings and famous fleets of hot air balloons dotting the sky, Cappadocia packs quite a punch for tourists.
Explore intricate underground worlds, absorb the stories in the walls of old castles and monasteries, and take in some awe-inspiring vistas by Jeep or on horseback.
Add in museums, winery trips, and some great opportunities for relaxation, and you have all the makings of a great trip.
So get ready for a world-class adventure, and check out some great things to do in Cappadocia.
1 – Discover the rock houses of Göreme Open-Air Museum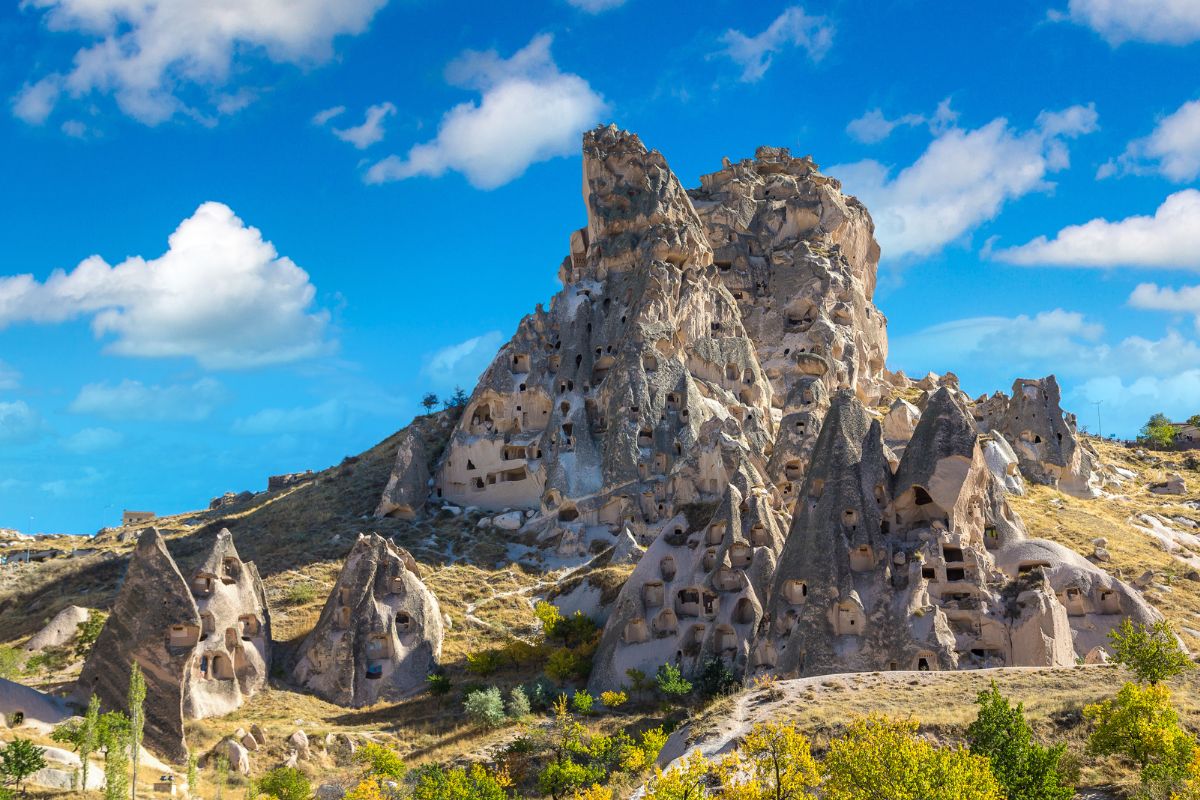 For a trip that combines the beauty of the natural scenery with a glimpse into the area's unique history, stop by the Goreme Open-Air Museum.
Located in Goreme National Park, which is famous for its surreal rock formations, this unique space is filled with the remains of paintings and churches that flourished during the Byzantine era.
As you roam around, you'll be able to see the incredible resilience of these ancient sites, and see how their occupants used the region's volcanic stones to craft their homes and places of worship.
Each of these magnificent buildings showcases a different era of art and religion, with colorful frescoes demonstrating the evolving creative styles in the region.
It's also worth checking out the rest of the park as well; its dsitinctive rock formations are filled with ancient homes carved directly into the cliff walls.
Combined with the spiraling hoodoos and abstractly shaped rocks (courtesy of erosion), the whole landscpae looks like something out of a science fiction movie.
You can also include your trip to the museum in many city tours, where you will also be able to visit such fascinating attractions as the Underground City, which was built in the caverns below the park.
It's a great introduction to the unique blend of geology and culture that defines this rugged area.
2 – Explore in style on a classic car tour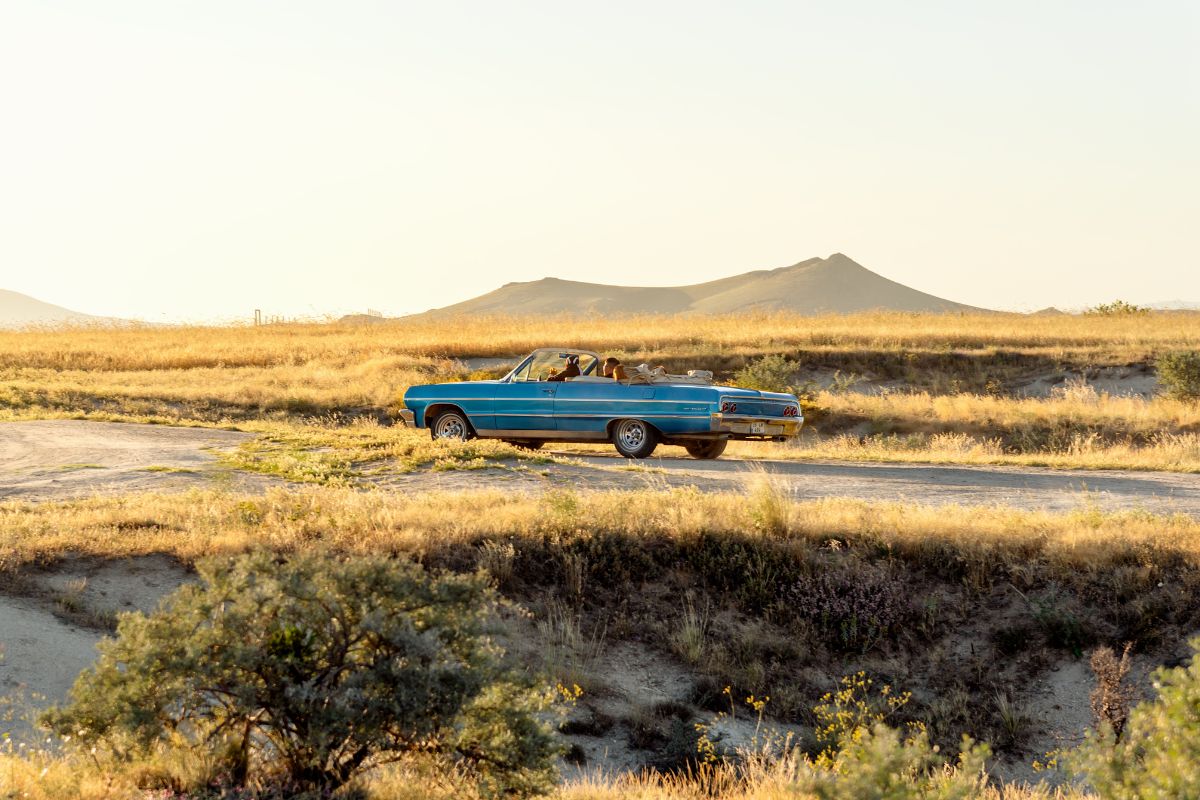 There's nothing like a vintage automobile to add some flair to an occasion.
And if it can be used for an epic drive through beautiful scenery, all the better!
With Classic Car Tours in Cappadocia, you can spend two hours on a combined sightseeing tour and photoshoot, with the stunning landscapes of the area as a backdrop.
Choose from their impressive selection of old-school vehicles, from Chevys and Dodges to Mustangs and Buicks.
Then head out with your guide for a leisurely trip around the valley, stopping at various beautiful vistas to stage some Instagram-worthy photos.
Your adventure will end back at your hotel, but the memories of your time cruising in these gorgeous cars – plus the great pictures you took along the way – will last a lifetime!
3 – Take to the skies with a hot air balloon ride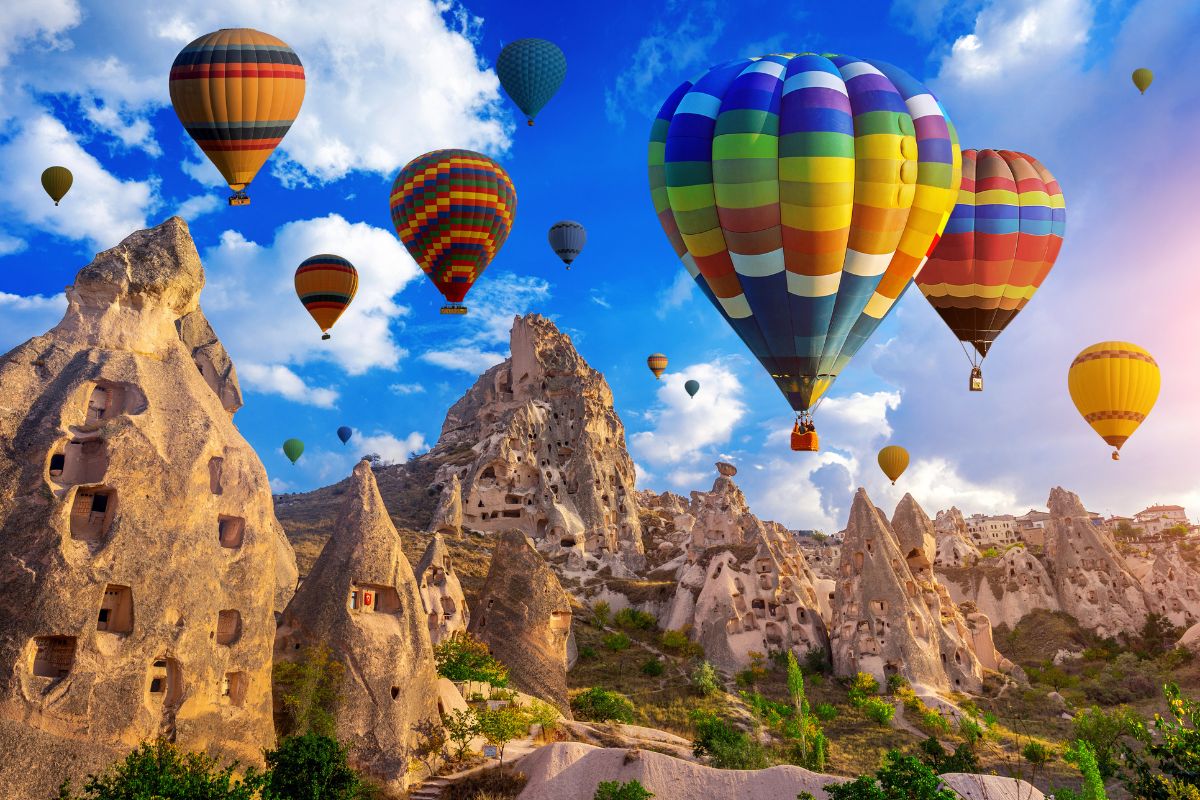 Hot air balloon rides are among the most famous things to do in Cappadocia, and for good reason!
With its stunning landscapes and never-ending display of unique vistas, the region makes the perfect setting for a tranquil flight.
Whether you like early mornings, unbeatable views of rock formations from above, or panoramic views of city skylines, there's a perfect balloon ride waiting for you!
Fairy Chimneys is among the most beloved places for this type of voyage; its vast assortment of spiraling rock towers makes a beautiful and surreal scene that is magnified tenfold when you're flying overhead.
For some really incredible views coupled with unbelievable displays of color, book a sunrise tour, and watch the world unfold below you as the sky dramatically transitions into morning.
There are plenty of other fantastic amenities included in your trip, from buffet breakfasts to celebratory glasses of champagne.
Don't miss the chance to indulge in some airborne adventures!
Read more: Cappadocia Hot Air Balloon Price – How much does it cost?
4 – Roam through the streets of Kaymakli Underground City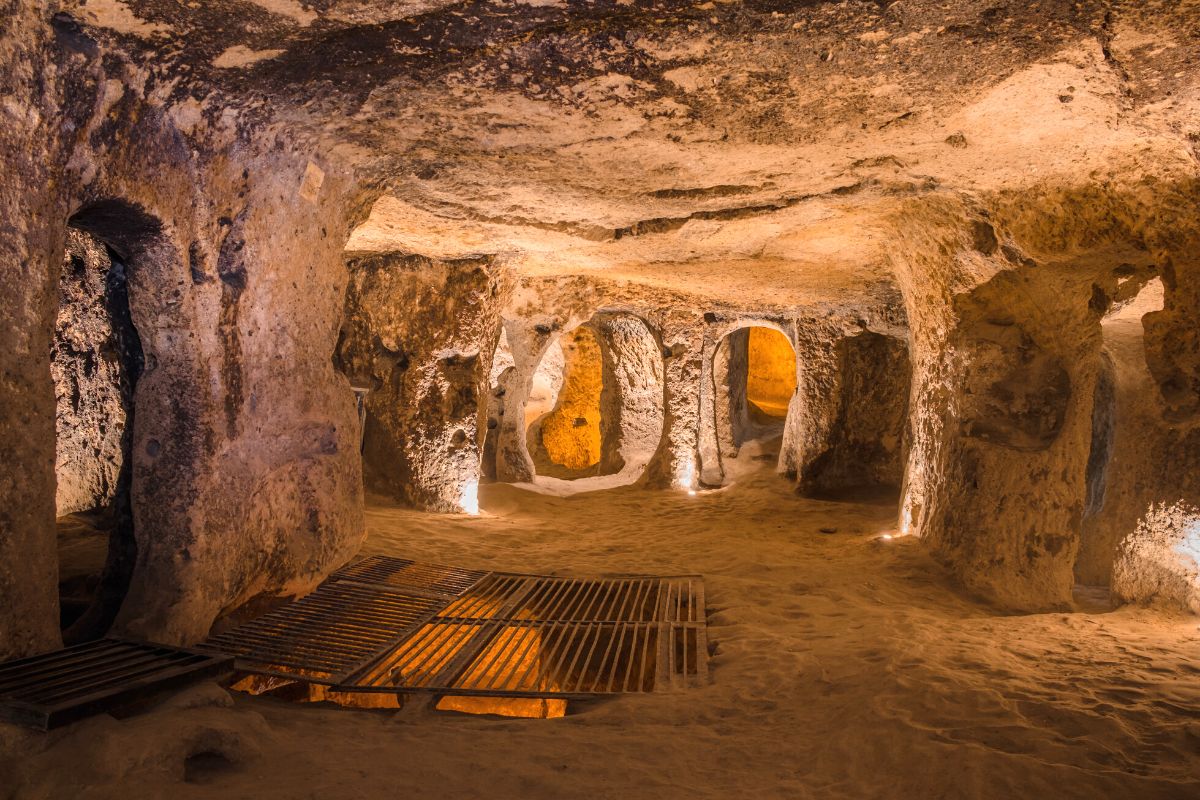 With its winding passageways and intricate network of houses, cooking areas, and even a church , Kaymakli Underground City feels like a secret world unto itself.
And to some extent, it once was.
This makeshift village was mostly developed in the 8th century by Christians hiding from persecution by invading forces, and its many interconnected sections demonstrate the length and complexity of this project.
As you explore its vast network of tunnels, you'll be able to see just how the refugees developed the caves into a livable hiding place, living, cooking, and worshipping completely underground, sometimes for years at a time.
While the monument is impressive in and of itself, many tours will also include a visit to some of several fascinating attractions nearby.
Rose Valley is another great place to see the stunning use of natural materials, with churches and homes expertly carved into ancient rock formations whose gorgeous pinkish hues shift throughout the day.
Meanwhile, Cavusin offers a more intimate glimpse of the daily lives of historical villagers, with up-close views of the homes built into the cliff-sides and the Church of Saint John the Baptist perched on a high ledge overhead.
Ortahisar Castle will take your breath away, with its towering spires and lofty lookout towers. It was once an observation post for the town, and at 59 feet tall, the rocky outcrop remains an impressive sight to this day.
Book some of the city tours to combine your adventure through the caverns with these other wonderful excursions; it's a wonderful way to get to know the area more thoroughly.
And from the tops of the hills to the bottom of the caves, you'll find no shortage of treasures!
5 – See the spires of Love Valley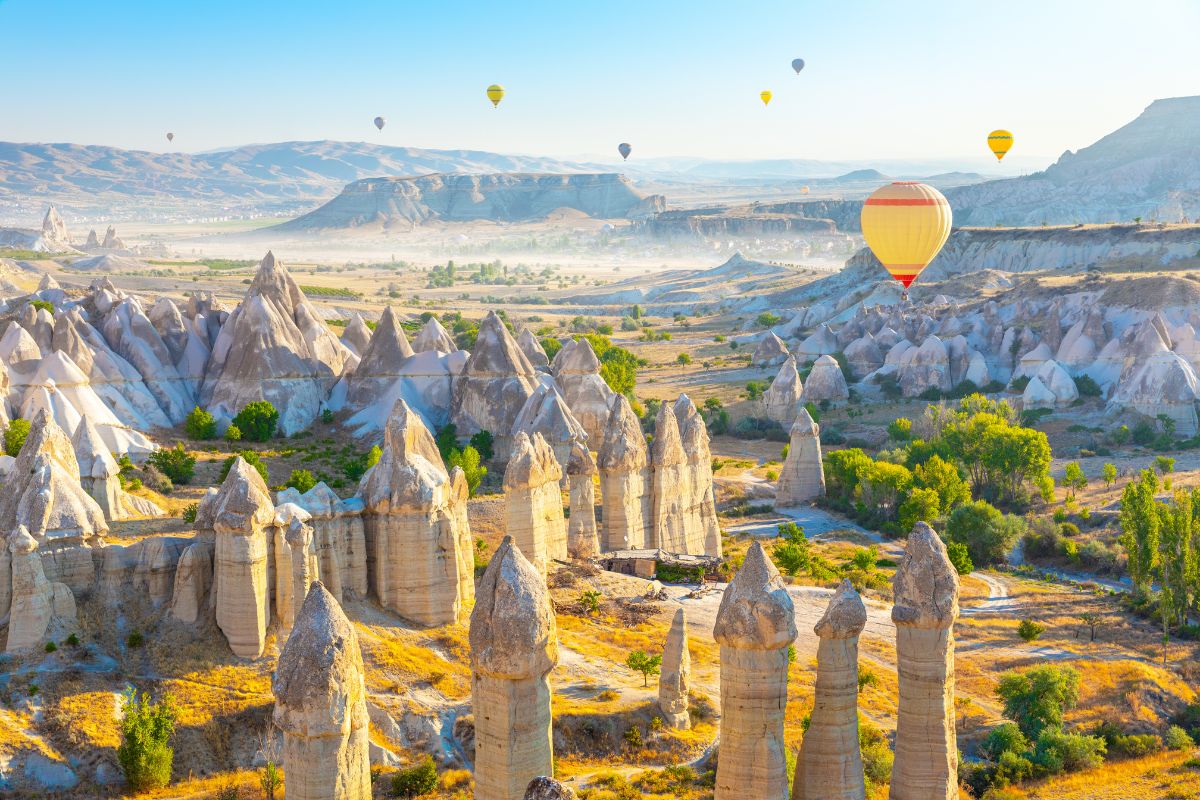 If you're looking for a romantic place for a walk, head over to Love Valley to enjoy the beautiful assortment of rock spires that dot the landscape.
Some of the formations can reach heights of almost 100 feet, and it's well worth heading down to the valley floor to truly get a sense of their impressive scale, while also enjoying the vibrant landscape all around them.
You can also join up with some walking tours to gain some deeper context on your stroll, enjoying the fresh air and learning all about the geologic forces that shaped these distinctive stones.
If you'd like to explore this magnificent area even further, hop aboard a quad bike and venture out across the valley, taking in the rocks and plant life from a whole new vantage point.
And if you really want a panoramic view, you can even soar over the valley with a sunrise hot air balloon tour.
With its fantastical setting and hauntingly beautiful towers, it's little wonder that this is a popular area for marriage proposals!
6 – Lose yourself in a world of color at Galerie Ikman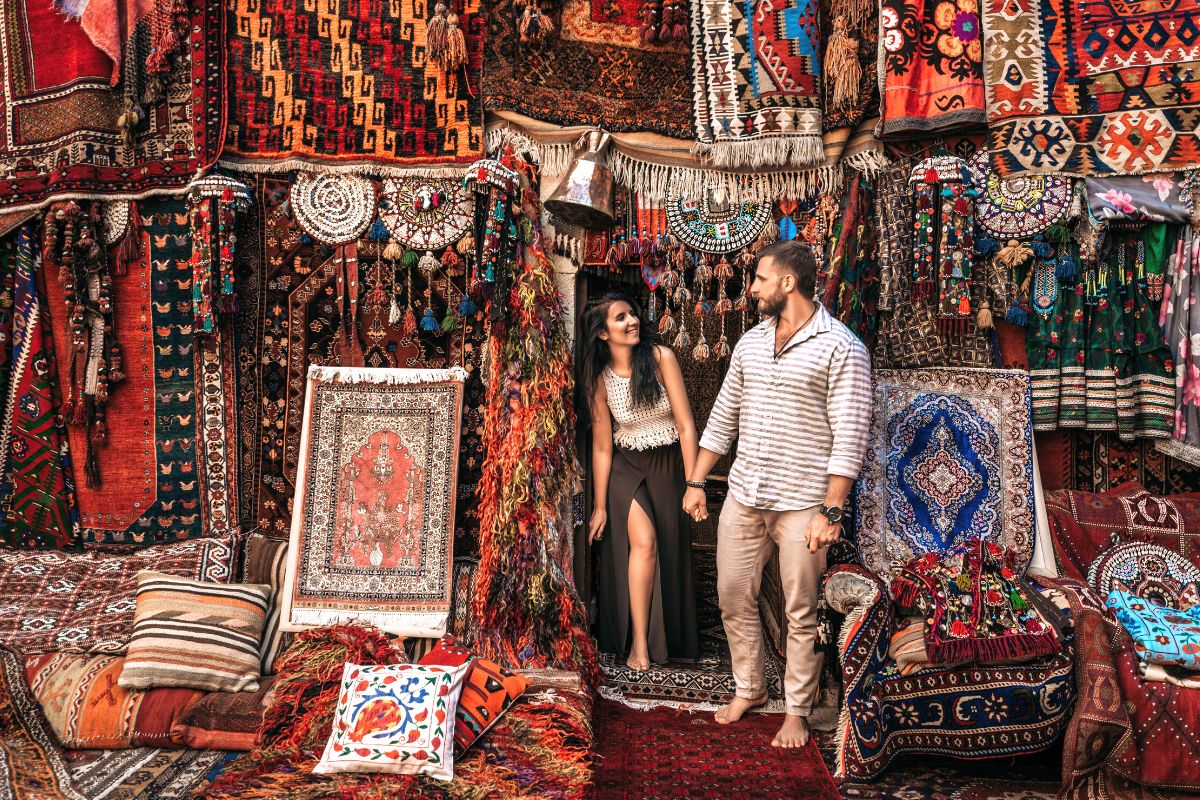 Get lost in aisles of dense, perfectly woven carpets.
Admire the subtle handiwork and elegant patterns of each piece, then take a few pictures to capture the magic.
You're in Galerie Ikman, one of the most beautiful stores in the region.
If, like many people, carpet shopping is high on your list of things to do in Cappadocia, then this iconic gallery should be one of your first stops.
Roam through stall after stall of fine Turkish rugs, each sporting the unique blend of creativity and craftsmanship that has made them popular souvenirs for years.
For a small fee, you can even take some photos amongst these beautiful rugs, cultivating some of that Instagram-worthy look that has helped make the region so famous.
When you're done, be sure to check out the Lamp Store by Ikman Hediyelik, which is right next door.
Its magnificent collection of Turkish lamps, each boasting their own unique mosaic-style design, also create a great environment to snap some pictures.
But it's equally wonderful just to spend some time enjoying their soothing glow, and admiring the way that the colors burst forth – particularly at night.
While souvenirs from these shops may be expensive, their beauty and uniqueness make them well worth it – and photoshoot or not, visiting the market itself is all part of the experience!
7 – Venture into Ihlara Valley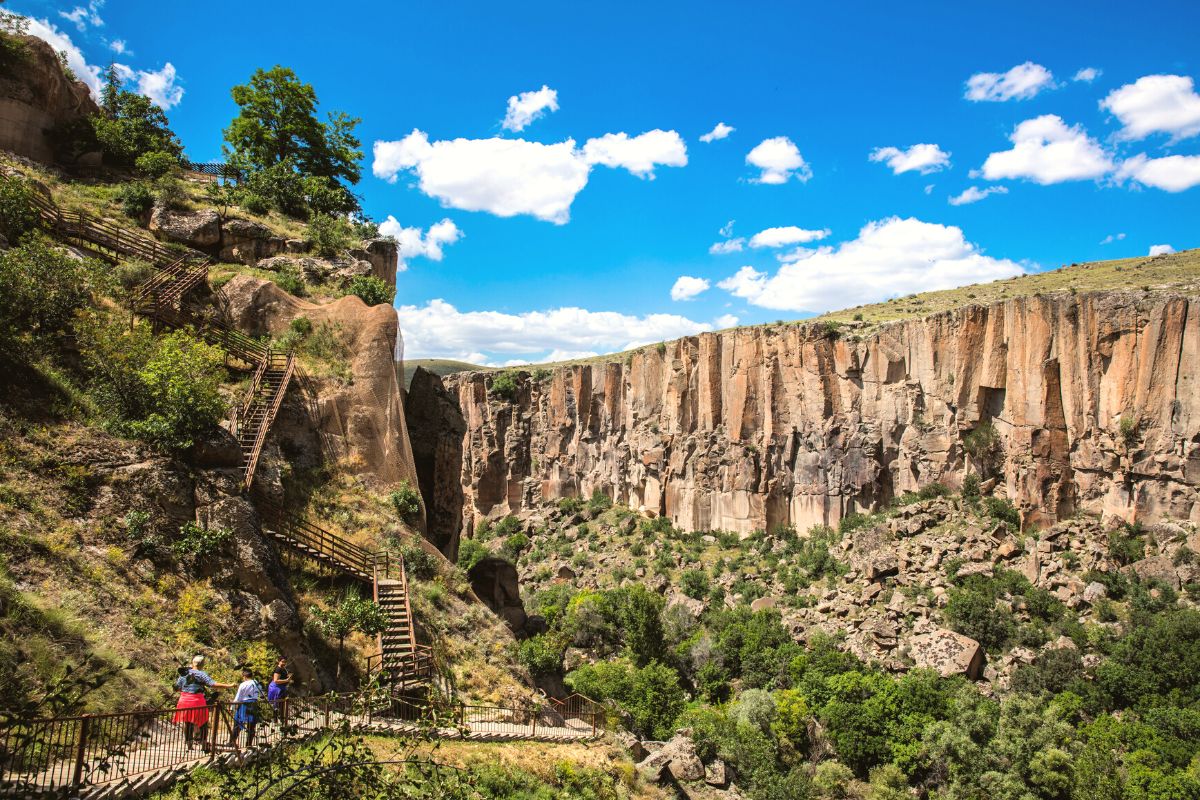 Swap out the desert vistas for some splashes of green  with a trip through Ihlara Valley, which thrums with energy and beauty.
This magnificent area is part of the famed Green Route, which winds its way through some of the best natural treasures of southern Cappadocia.
Roam through the well-preserved remains of ancient settlements, learn how onyx is produced, and explore the lush paths that lead to scenic riverside hideaways.
Take a hiking tour to fully immerse yourself in the secluded woodland areas, or a city tour to learn more about the cultures that have called this area home over the years.
Some of these trips also include a visit to Derinkuyu Underground City, a massive underground complex (the largest in all of Turkey!) that was built to house up to 20,000 people.
Its massive chambers hold everything from oil presses and stables to a fully fledged religious school, all contained within a vast network of caves.
This dynamic area offers something new whether it's your first visit or your tenth!
8 – Check out the churches at the Zelve Open-Air Museum (Zelve Valley)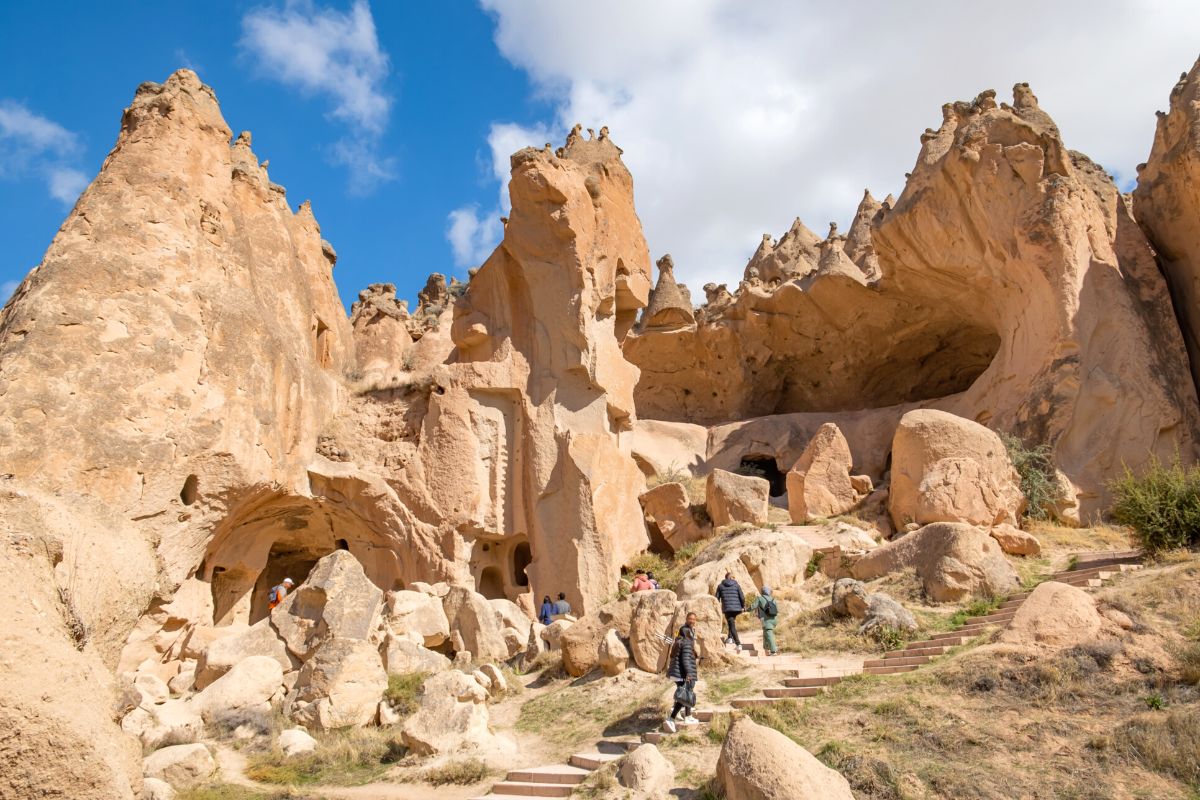 Head towards Aktepe, and you'll find yourself amongst the ancient chapels and powerful stone walls of the Zelve Open-Air Museum, located in Zelve Valley.
This splendid network of three valleys has been inhabited since prehistoric times, but it got most popular between the 9th and 13th centuries, when Christian settlers began establishing a religious system in the area.
Unsurprisingly, churches are some of the main attractions here; check out the elegant facade and well-hewn crosses of Direkli Church, or the remains of the Geyiki, Baliki, and Uzumlu Churches – dedicated to deer, fish, and grapes, respectively.
But there are tons of other fascinating attractions as well, including a historic wheat mill and a beautiful chapel devoted to St. Simeon.
If you want more freedom to scramble around the rocky terrain, and a closer glimpse at one of the longest-running monastic sites in the region, this is the perfect place for you!
9 – Climb up to Uchisar Castle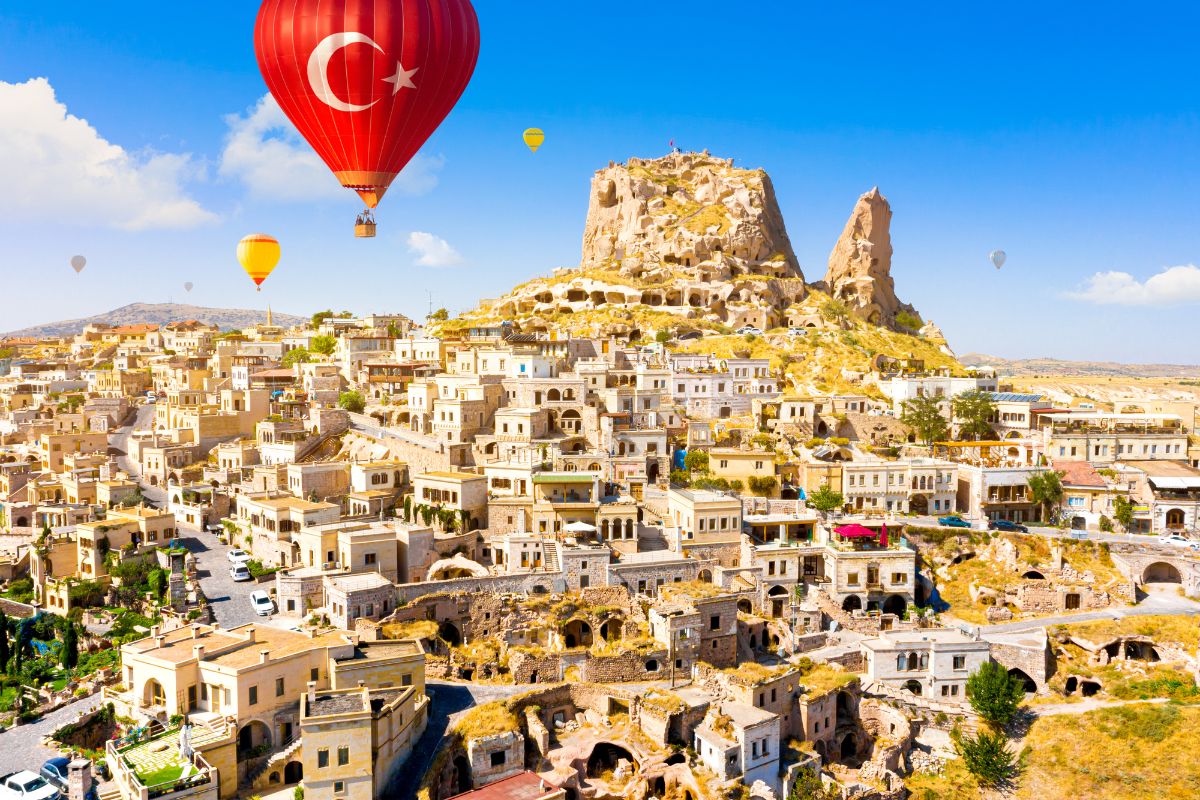 In an area known for its magnificent rocks, Uchisar Castle is truly a standout.
Much like neighboring Ortahisar, this remarkable citadel is perched high atop a massive rock formation.
But its height is even more commanding; at almost 200 feet tall, it is an unmistakable landmark throughout the area.
Be sure to stretch and bring some good walking shoes, because it's well worth making the steep climb to the top to explore the castle's fascinating labyrinth of rooms, including sections that are still used for housing pigeons.
And, of course, you'll get amazing views of the valley below, and the other stonework and settlements that make the region so unique.
It's also another great stop on several of the city tours, where you can more fully appreciate this spectacular structure as part of the larger architectural history of the region.
10 – Pay a visit to Gumusler Monastery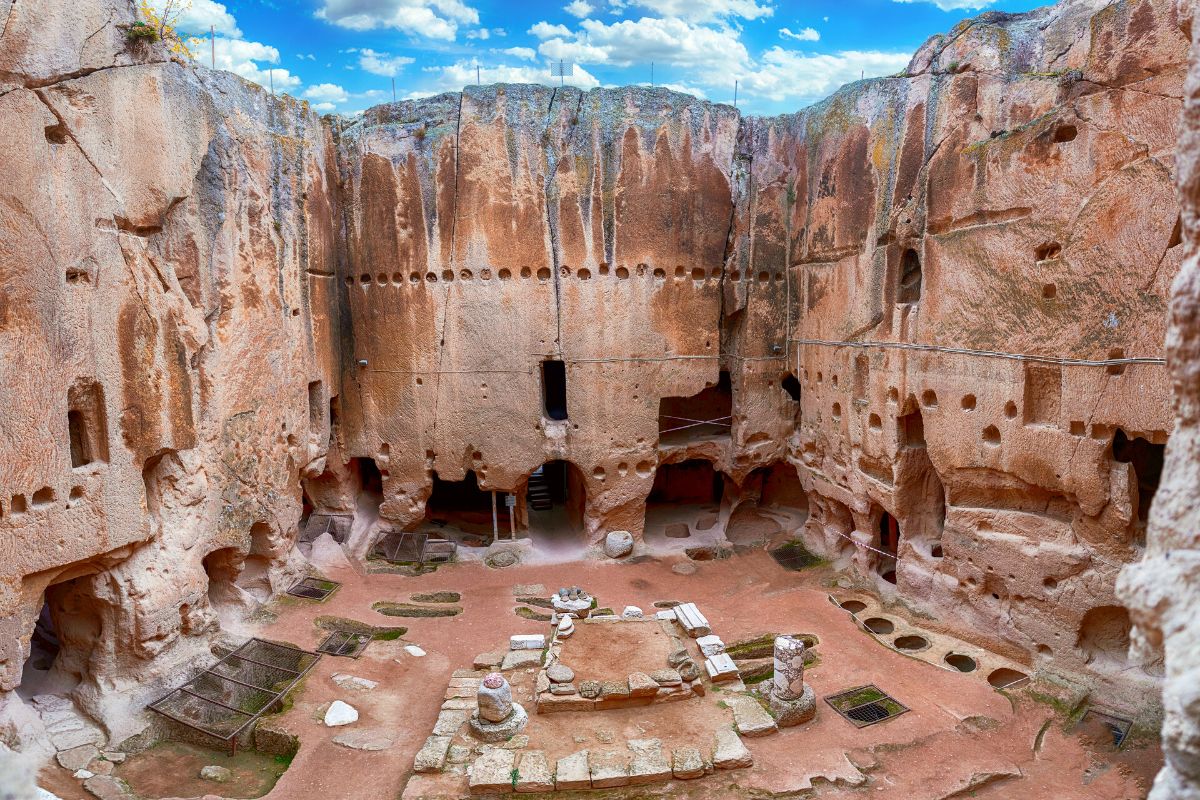 This massive monastery dates back to somewhere around the Middle Ages, and, like so many of its contemporaries, it is built into solid rock.
It is also notable for its collection of religious artworks depicting various saints, as well as several fascinating details that provide a glimpse into how the whole place operated.
On your visit, you'll see a whole host of innovations used to make life in the monastery more functional and manageable, including entrances to underground passages that could easily be sealed in case of attack.
Keep an eye out for the ancient megaphone system, used to relay messages to those on the ground level.
The whole space is a testament to creativity and resilience, and as an added bonus, you'll feel like a bona fide explorer as you roam through its beautiful halls.
11 – See the innovations of Mazi Underground City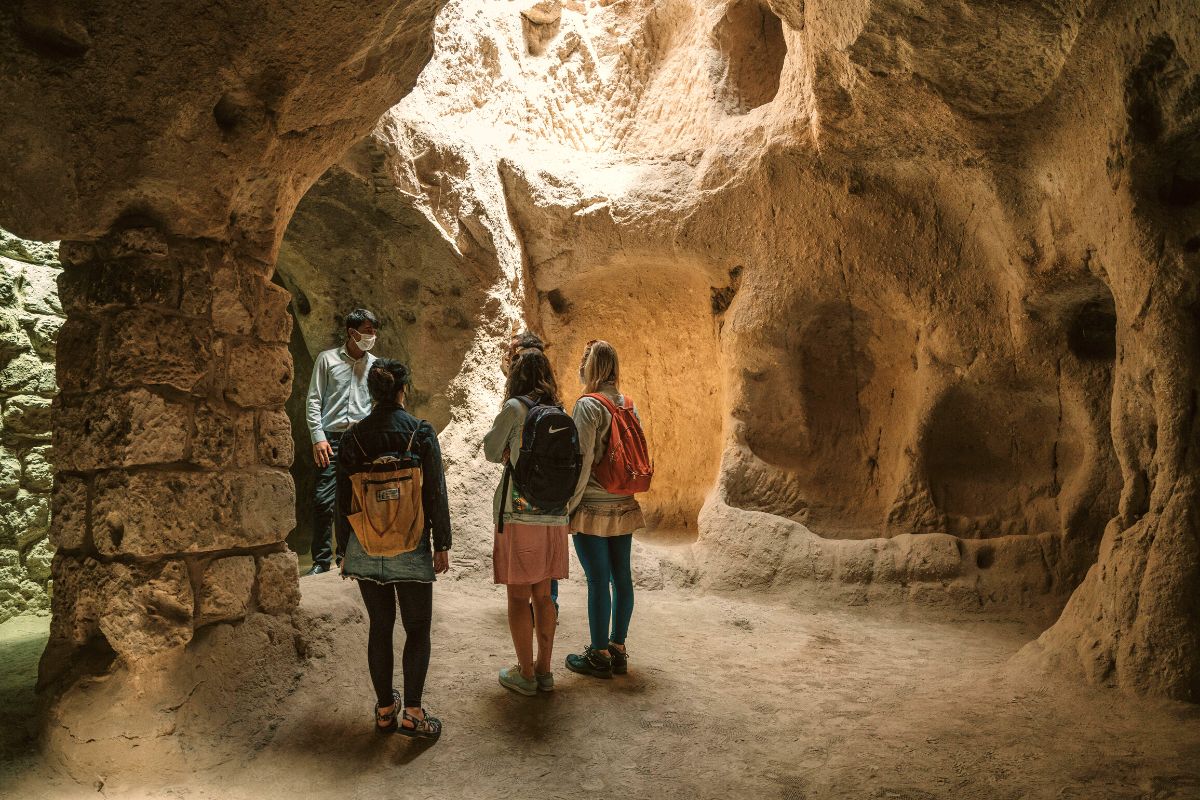 While it may not be quite as famous as some of its neighbors, Mazi Underground City offers another fascinating perspective on a unique historical trend.
With a winding series of homes, barns, and civic areas, the complex offered long-term housing for Christian refugees, and like all of these settlements, it features some remarkable creativity.
Check out the beautiful winery for a perfect example of this trend; the residents got their supplies courtesy of grapes dropping down a chimney!
There are plenty of other unique areas to explore, including a large agricultural section with a highly sophisticated system of barns.
The whole area serves as a fascinating example of how the underground city's inhabitants built and sustained their intricate communities.
12 – Spot some fun shapes in Devrent Valley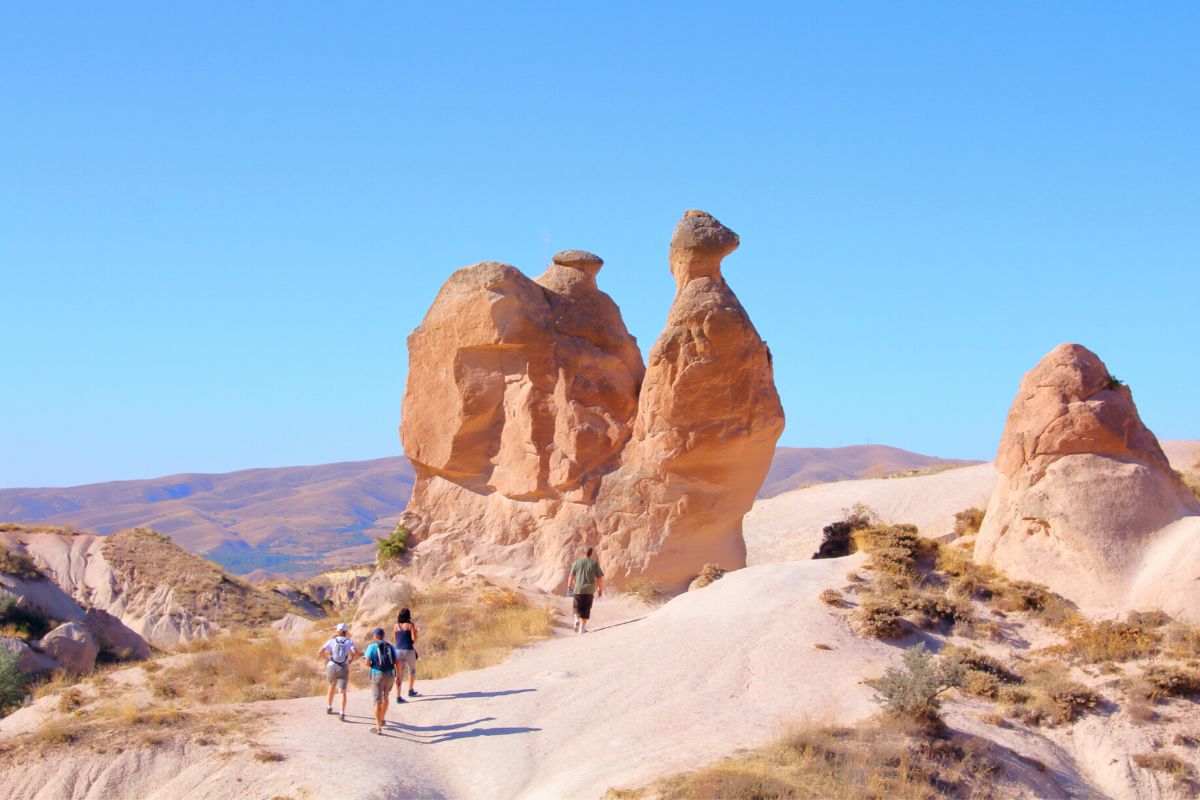 It's hard not to fall in love with a place whose nickname is "Imagination Valley."
And Devrent Valley lives up to this delightful nickname, with its whimsical rock formations that resemble everything from the Virgin Mary to a pair of seals.
Millions of years of erosion have formed these unique shapes, and as you wander among them, you'll get plenty of exposure to local geology.
This is one of the best things to do in Cappadocia if you want to indulge your creative and scientific sides at the same time!
13 – Hike to the Selime Cathedral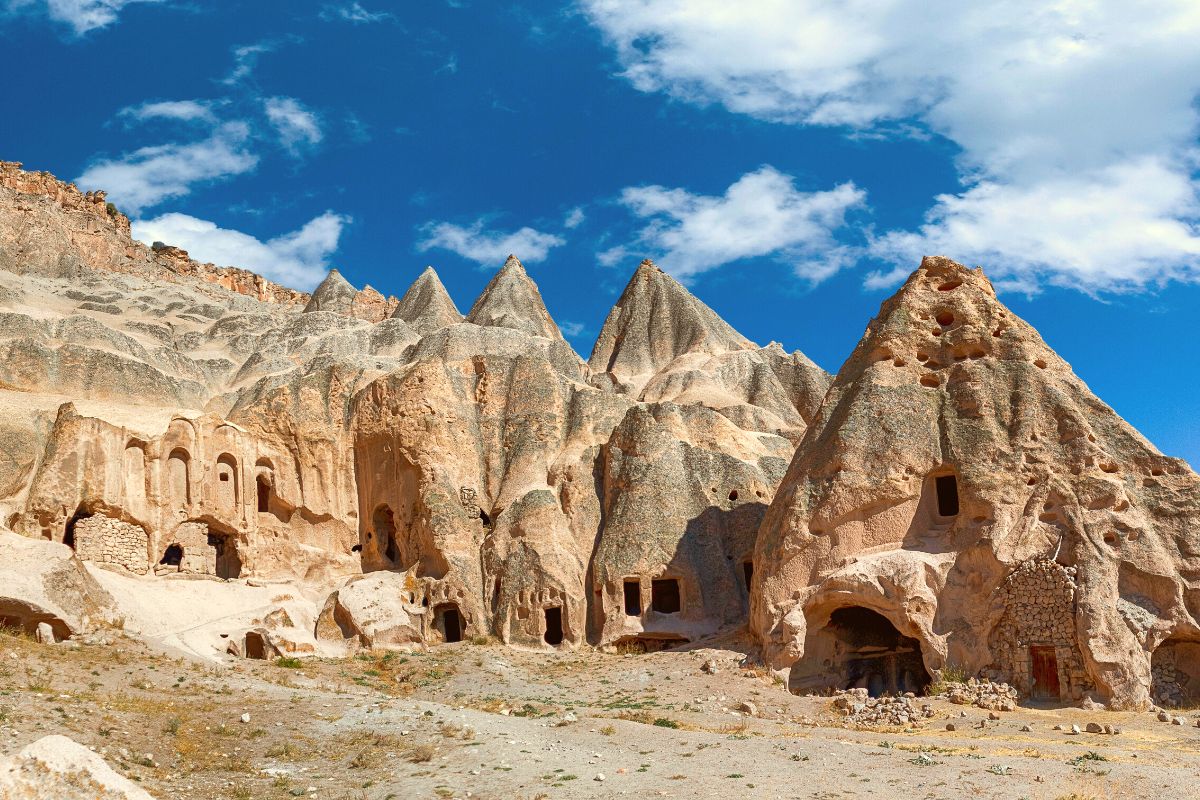 As the biggest religious building in Cappadocia, Selime Cathedral makes quite the visual impression.
Cut into volcanic stone, this massive church was once a shelter for Silk Road travelers.
Unsurprisingly, it was also a melting pot of different cultural influences, from Byzantines and Ottomans to Romans and Persians.
Hike your way through the Ilhara Valley to explore the miraculous space for yourself, and learn all about its prominence as a place of worship until its abandonment in the 16th century.
If the size of the cathedral doesn't impress you, the amazing stories it contains certainly will!
14 – Admire the unique Three Beauties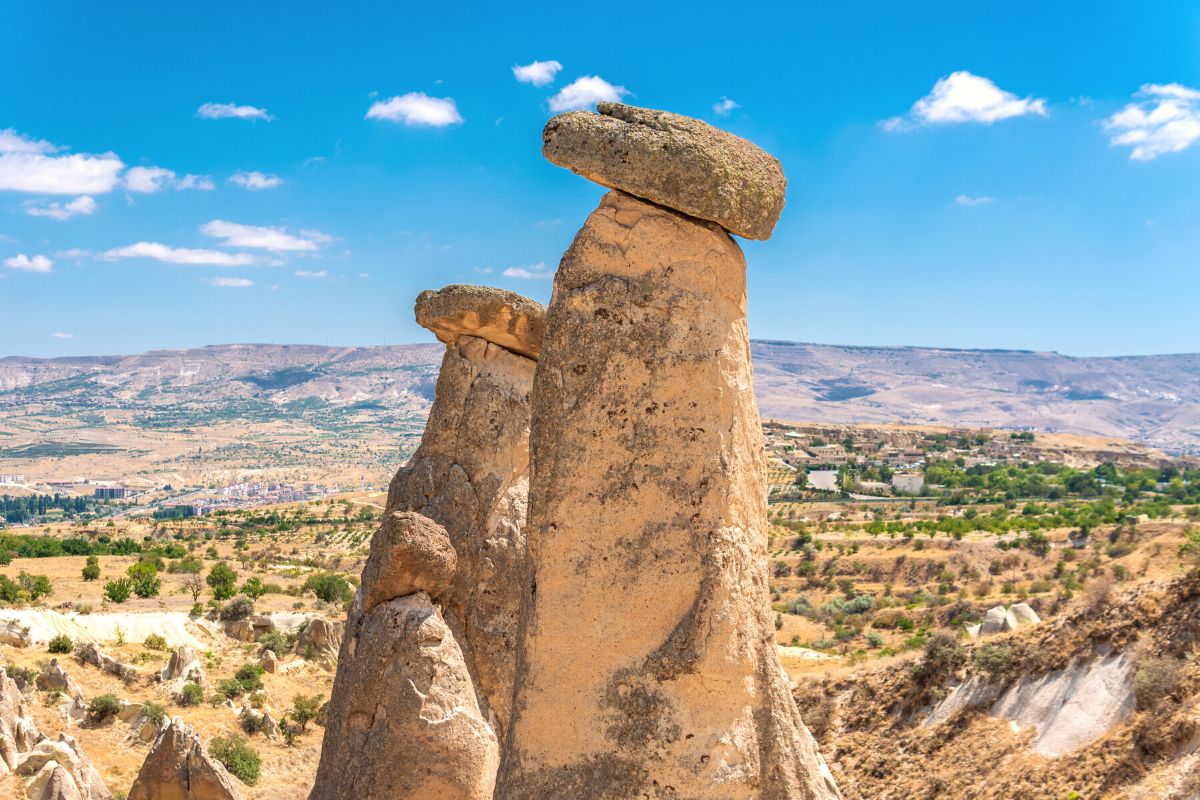 As their name suggests, the Three Beauties are utterly stunning pieces of geology.
According to legend, these gorgeous fairy chimneys were once three humans – a princess, her husband, and their child – who were turned to stone to escape the wrath of her disapproving father.
The fascinating mythology is only matched by their physical beauty, with lanky spires ending in rounded stone tops that create striking silhouettes against a mountainous backdrop.
Be sure to pay these striking stones a visit as you explore the area!
15 – Pay a visit to Kayseri Castle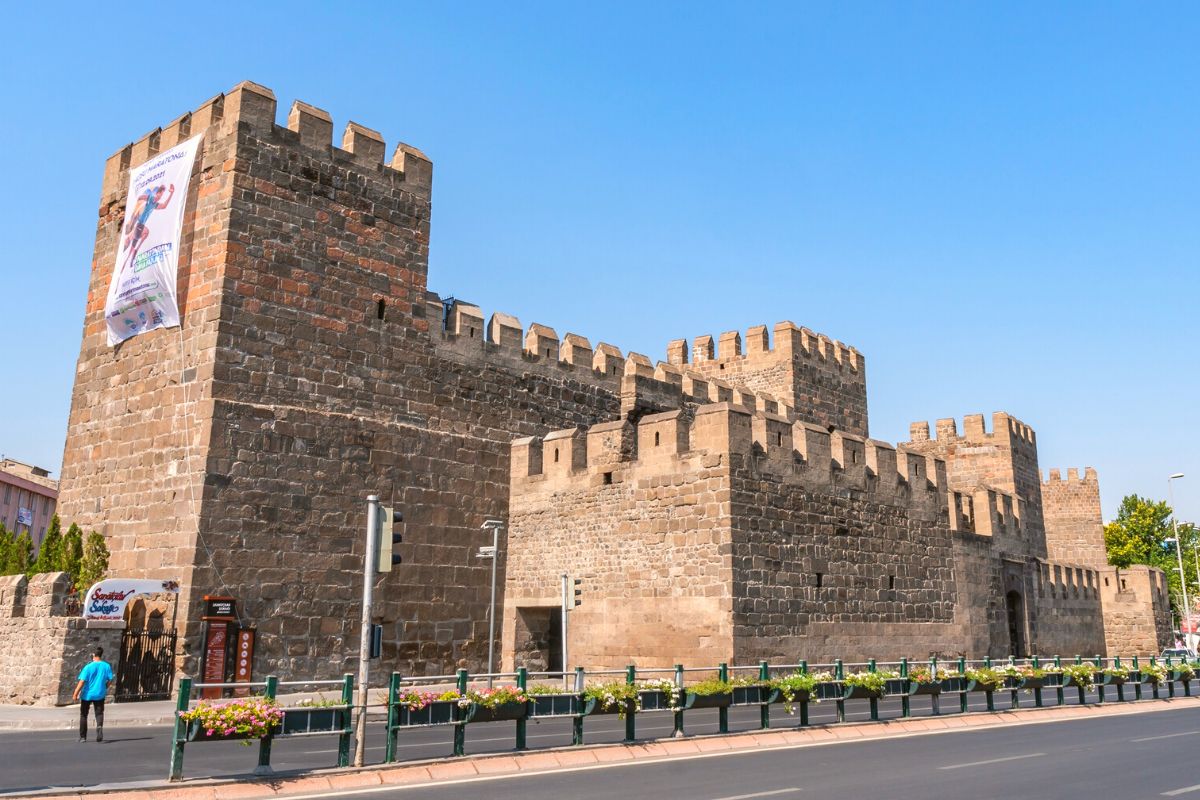 The impressive Kayseri Castle is an ideal destination for history buffs, with roots dating back to the 3rd century.
The building is another testament to the multicultural history of Cappadocia; it was originally built by the Roman emperor Gordian III, and also features many Seljuk and Byzantine influences.
Explore both the Inner and Outer Castles, which combine to form a powerful protective fortress.
Then check out some of the other spaces that were built into the structure over the decades, including a mosque and living quarters.
With its blend of styles and functions, this is not only a striking castle, but also a great showcase of the big, beautiful story of the Anatolian region.
16 – Walk on water at Salt Lake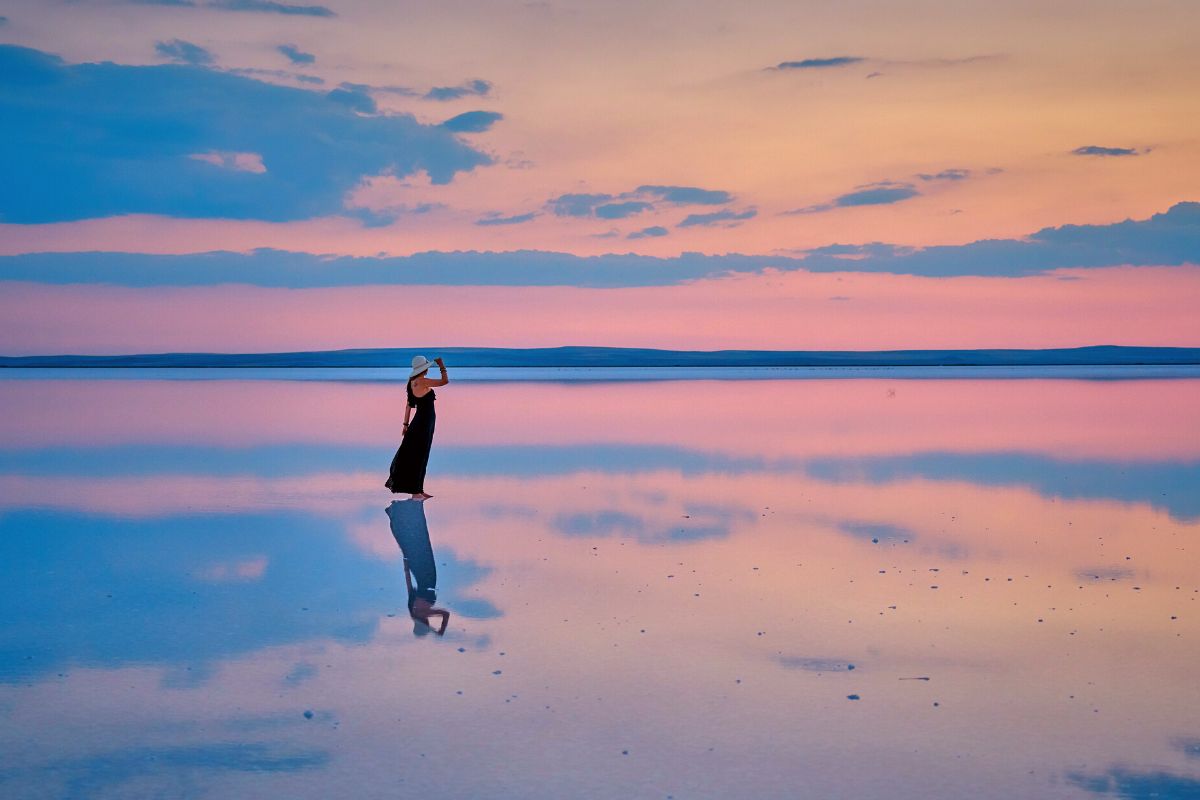 You've probably heard of Utah's famous Salt Lake, but you may not know that it has a twin in Turkey!
Stretching out across a vast horizon near the town of Aksaray, this beautiful body of water, which is also known as Lake Tuz, is a feast for the eyes and a balm for the soul.
As you enjoy its calm waters and splendid pink hue, you'll get to learn all about the lake's unique chemical composition, as well as how its salts continue to be harvested for commercial use.
It actually produces 60% of all of the salt for the country!
Then it's time to shirk your shoes and go walking across the flats – or, depending on the time of day, hop into the water for a swim.
Some tours will also include visits to Saratli Underground City and Tepesi Delik Han Caravanserai, two renowned nieghboring attractions.
Saratli is a striking 7-story underground shelter complete with tunnels and its own barn and wine cellar, while Tepesi is a lovely stone building with Seljuk and Ottoman roots and remarkable designs throughout.
It all makes for an enchanting day of sightseeing that will remind you why this region is so special.
17 – Take a camel riding tour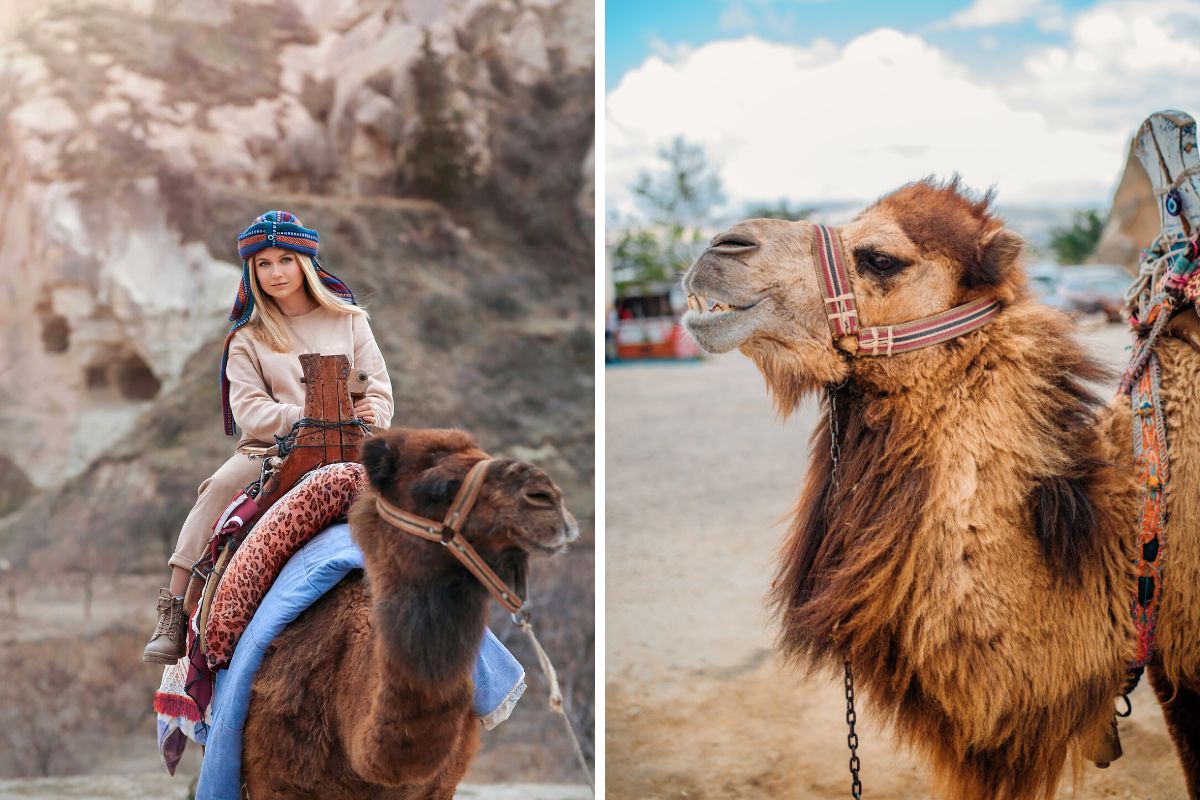 If you're looking for fun things to do in Cappadocia that also include some great sightseeing opportunities, be sure to book a camel ride during your visit.
These sure-footed creatures are the perfect means of transportation for the spacious deserts, and whether you're an early riser or prefer a later start, your journey with them will be unforgettable.
Explore the nooks and crannies of the Rose and Red Valleys, and take in stunning views of the iconic hot air balloons in flight.
You can even don traditional clothing during your trip for a little bit of whimsy.
Even if you've never been aboard a camel before, this will be the perfect place to try it out.
Don't miss the chance to go adventuring with these iconic animals!
18 – Hang out with the birds at Pigeon Valley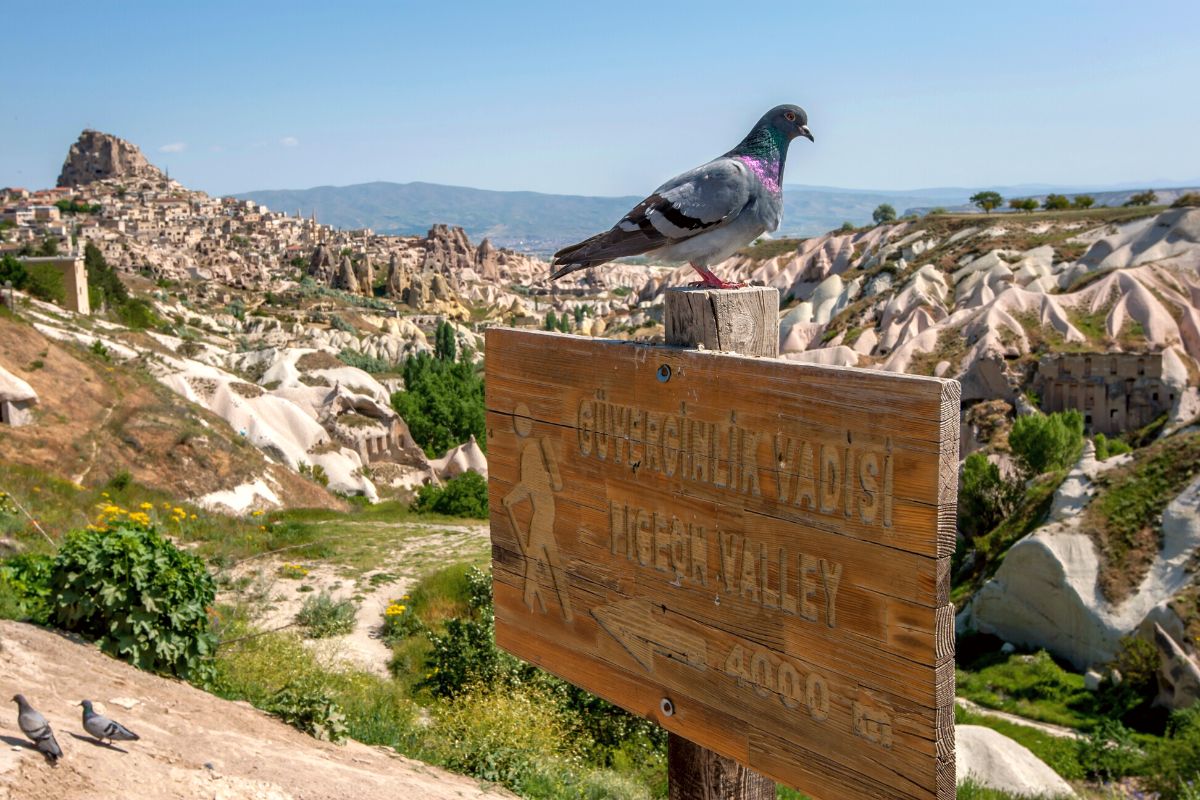 If you're looking towards the skies during your visit, you won't just see hot-air balloons flying overhead.
You're also liable to spot quite a few pigeons darting across the skies.
And if you go to the aptly named Pigeon Valley, you'll see them out in full force.
As the name suggests, this area is home to large flocks of the birds, which reside in houses carved into the stone walls that line the valley floor.
Take a leisurely stroll around the valley floor, admiring the beautiful scenery and unique craftwork of the roosts.
This is a popular destination on many city tours, where you can also check out the surrounding castles, underground cities, and other relics of the area's bustling past.
This place may be "for the birds," but trust us, it's worth it!
19 – Search for birds at Sultansazligi National Park
From migratory birds to wind-tossed wheatfields, there's no shortage of surprisises in Sultansazligi National Park.
Its 60,187 acres showcase some of the greatest natural spaces of the region, and even if you only visit a small portion of it, you'll come away invigorated by the pristine landscapes and abundant wildlife.
The feathered residents are certainly a centerpiece here, with over 250 species of birds living in and around the park.
Even casual birdwatchers will enjoy watching the flocks come and go, especially the migratory species whose movements mark the change of the seasons.
Keep an eye out for flamingos while you're there!
The area is also great for a stroll, with a beautiful boardwalk that lets you see the dynamic marshes up close.
Take some time to savor the mellow paths and lush wilderness of this magnificent area, a true Cappadocian gem!
20 – Hike up Mount Hasan (Hasandağı)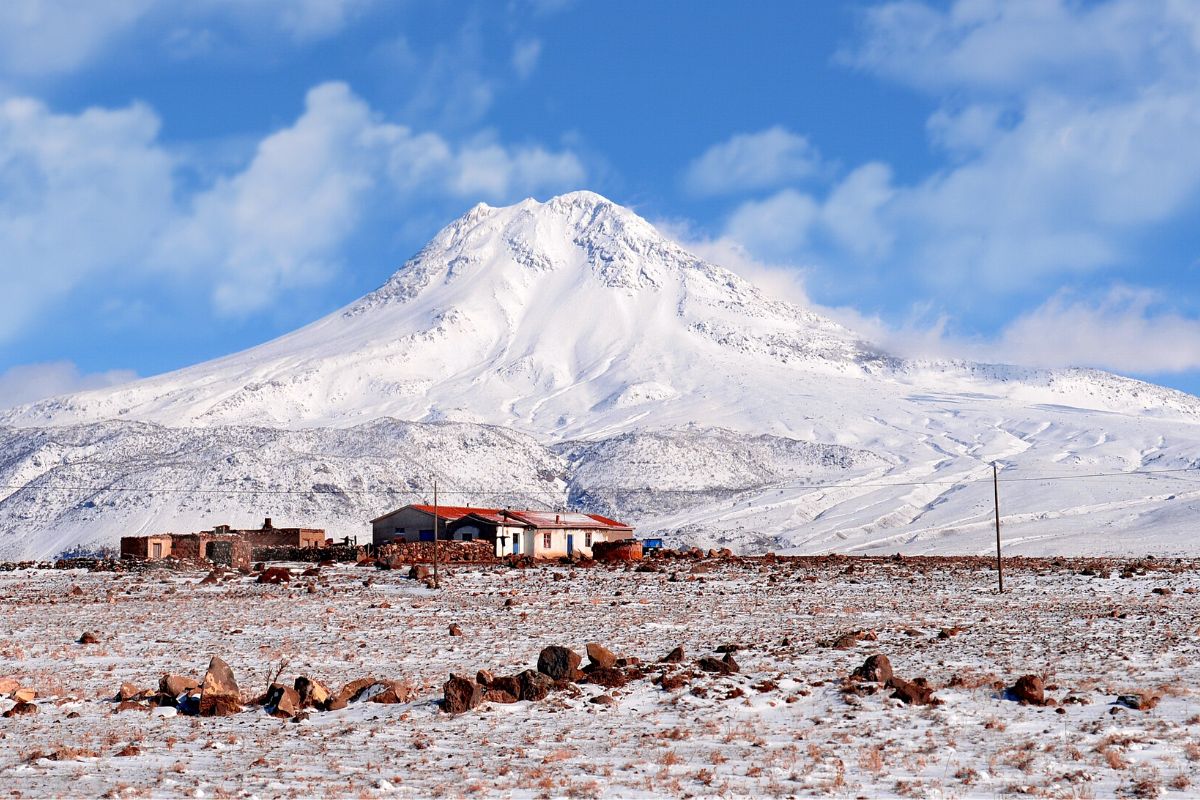 As if all of the gorgeous rocks and stunning valleys weren't amazing enough, Cappadocia also boasts quite a few volcanoes.
Mount Hasan, one of the largest, features two peaks, a wild labyrinth of lava tubes, and an unbeatable visual profile.
If you want to do something more than just admire the mountain from afar, take the six-hour hike up its slope, enjoying spectacular views and a good challenge along the way.
When you reach the summit (a whopping 10,069 feet!), you'll be treated to panoramic views and the satisfaction of a hike well-completed.
And don't worry about surprise explosions… the volcano is inactive!
This magnificent mountain has been a major part of local society since ancient times, and whether you explore it from the ground or from the top, you'll soon understand why.
21 – Go exploring with some quad tours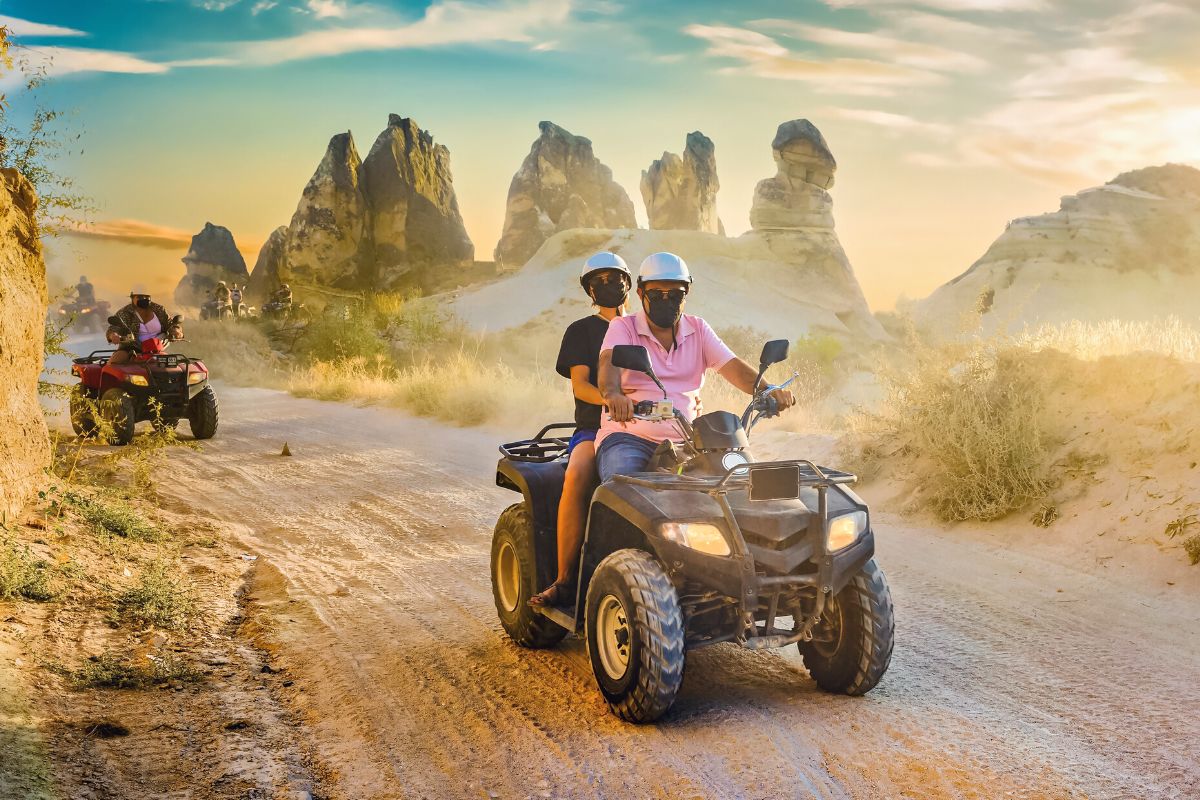 If you want to see some of these fantastic attractions from new angles, hop aboard a quad ATV and explore the hidden angles of these beautiful spaces.
Check out iconic spots such as the fairy chimneys, Rose Valley, and Cavusin Village, with plenty of time in between stops to enjoy some off-roading through the gorgeous local landscapes.
With an expert guide on-hand to provide interesting facts and driving tips, you can focus on soaking up the scenery – and the thrill of piloting your vehicle, of course!
While there are plenty of great daytime tours, it's also well worth heading out in the evening to catch some of the region's famed sunsets.
Red Valley (also known as Kizilcukur Valley) is a particularly popular destination, with the aptly named Panoramic Viewpoint offering a perfect spot to see the show.
Watching the evening colors bathe the valley in bright hues is one of the coolest things to do in Cappadocia, and an experience you won't soon forget!
22 – Enjoy the views from the best rooftops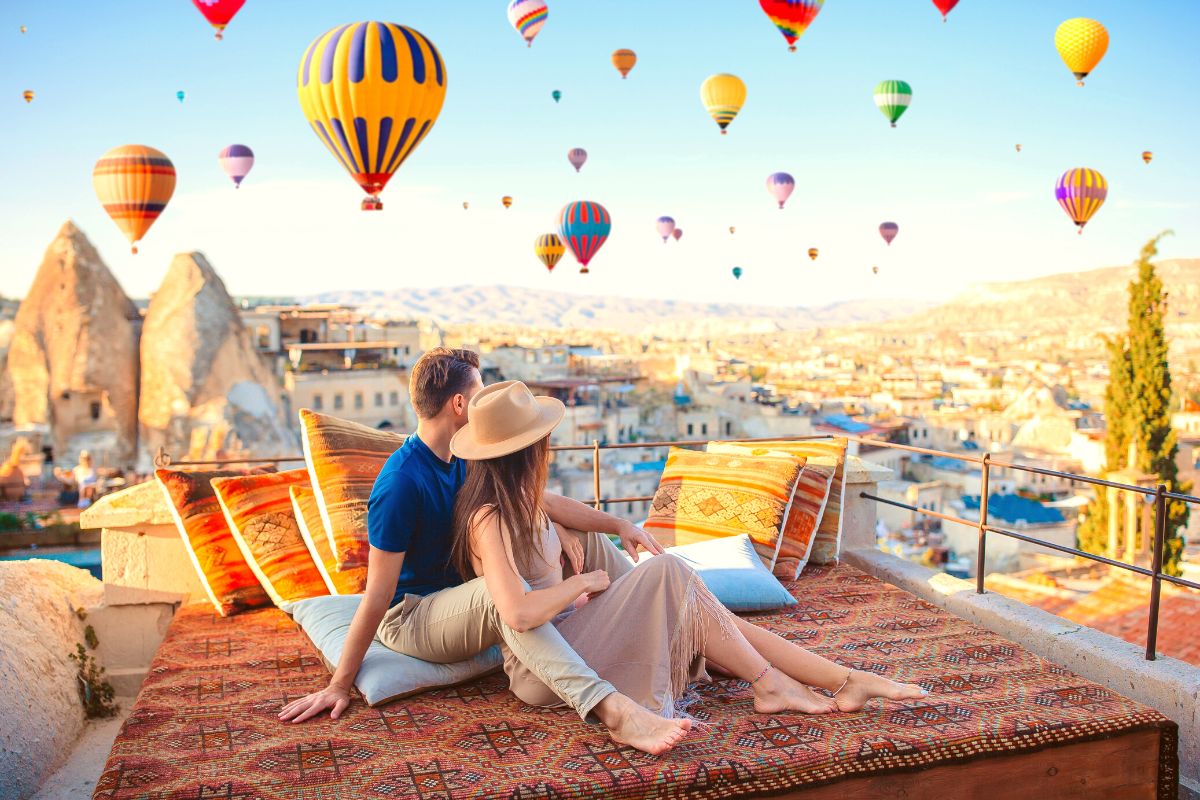 Another great place to take in the sunset – and anything else, for that matter – is from a rooftop, and there are plenty of great options to choose from during your visit to the Cappadocia area.
Whether you prefer your surroundings to be luxurious or lowkey, you'll have a great time hanging out in these little pieces of paradise.
Lounge by the pool and enjoy a traditional Turkish meal at Doors of Cappadocia, or enjoy a cocktail and views of the city lights at Lil'a.
Relax amongst the bubble domes and gorgeous lanterns at Haruna Restaurant, or get great views of the balloons soaring overhead at Mithra Terrace.
Take in some phenomenal valley views at Rox Cappadocia, or let your eyes linger on striking volcanoes and quaint villages whilst sampling the wines at Seten Restaurant.
At these hangouts, the only thing you'll enjoy more than the scenery is the fabulous atmosphere!
23 – Delve into religious history at Haji Bektash Veli Complex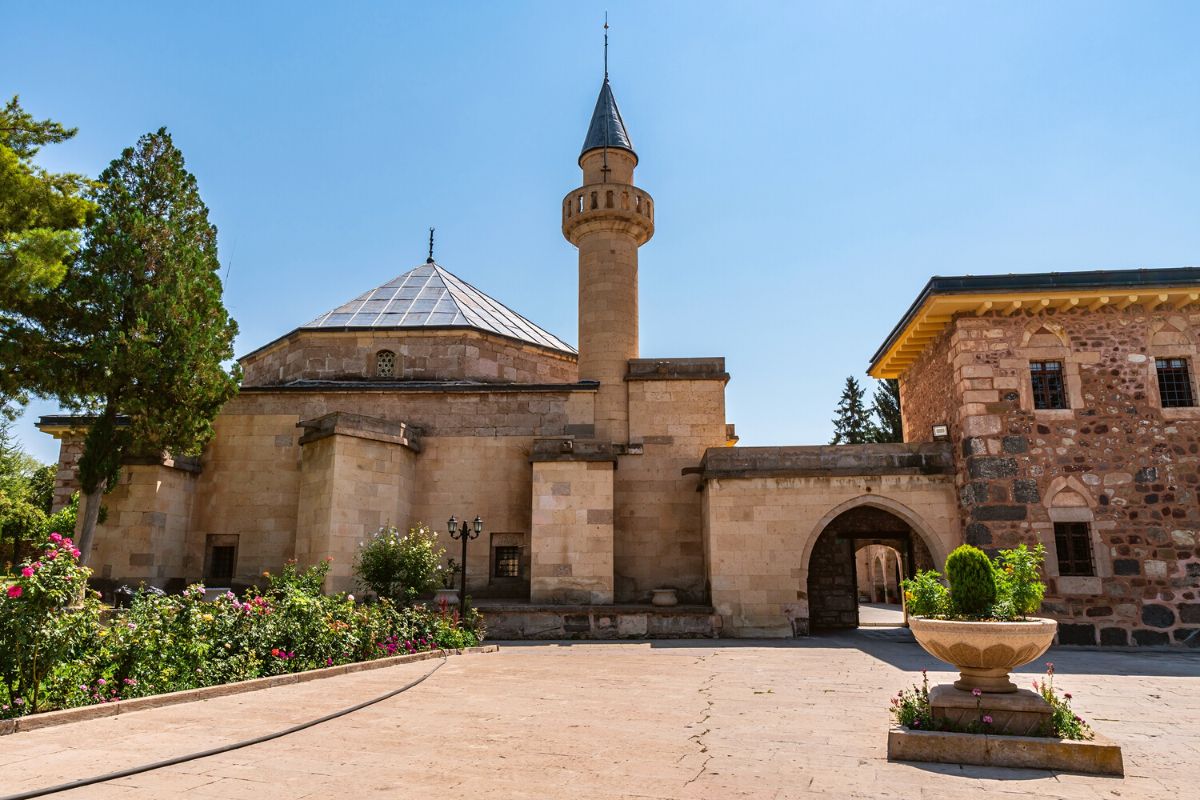 From its origins as a religious building and final resting place for a Sufi saint, the Haji Bektash Veil Complex has blossomed into a world-class cultural site.
This UNESCO World Heritage Site, which is also home to several prominent festivals, is best known for its intricate stonework and distinguished history as a spiritual destination.
In addition to the mausoleum that houses the late Haji Bektash Veli, the compound also once served as the home base for the Bektashi Order, which was established in his name.
Today, it remains a hugely popular pilgrimage site for many religious groups, including Bektas, Sunni Muslims, and Alevis.
Take some time to visit this auspicious piece of national history, and learn all about an oft-overlooked branch of Sufism.
24 – Get your fill of thrills at Mazakaland Entertainment Center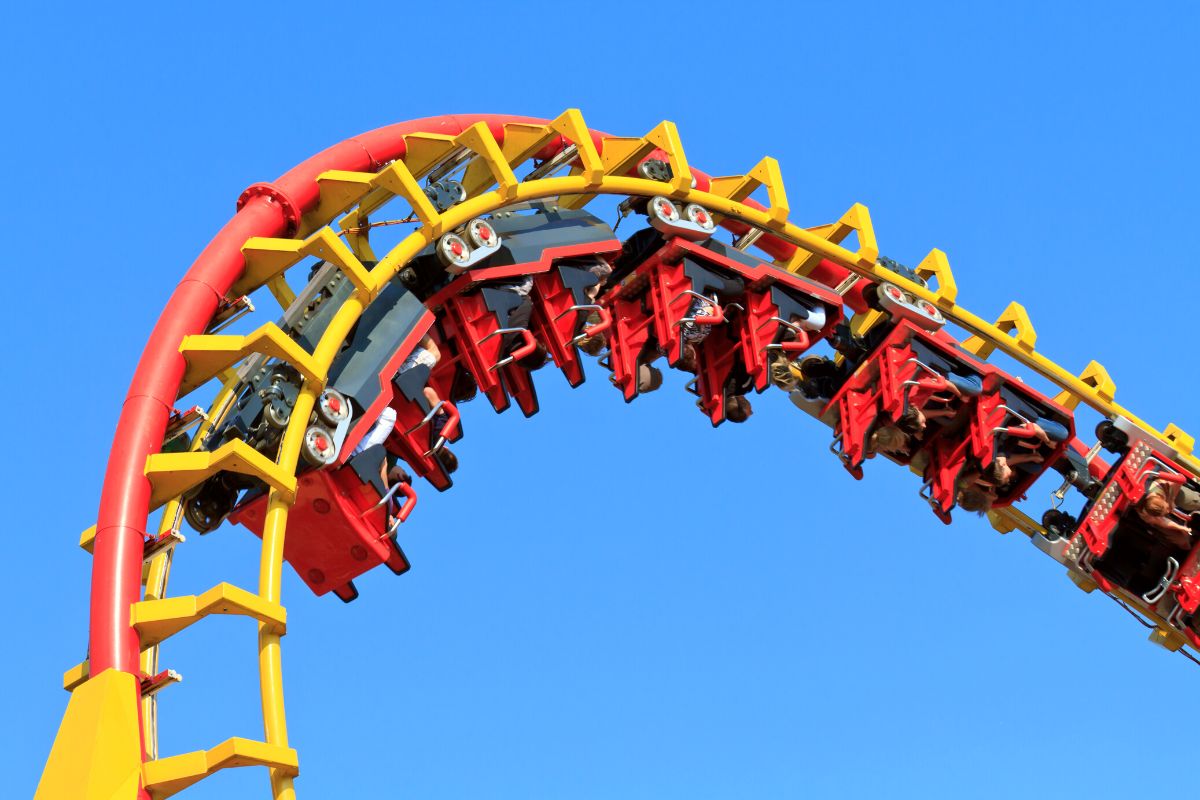 If you're looking for some high-octane, family-friendly things to do in Cappadocia, enjoy the wild rides at Mazakaland Entertainment Center.
With four unique immersive areas and over 25 rides, this creative park has something for everyone to enjoy..
Take a journey through the streets of Ancient Rome, explore the stories of the Middle East, learn about the different cultures of African countries, and check out a model of the Trojan horse in Anatolia.
Along the way, you can enjoy some classic amusement park rides such as rollercoasters to Ferris wheels, along with plenty of other exciting attractions ranging from go-karts to lazer tag.
It's a great place to cut loose, with some innovative theming to enjoy along the way!
25 – Slice and dice your way through a cooking class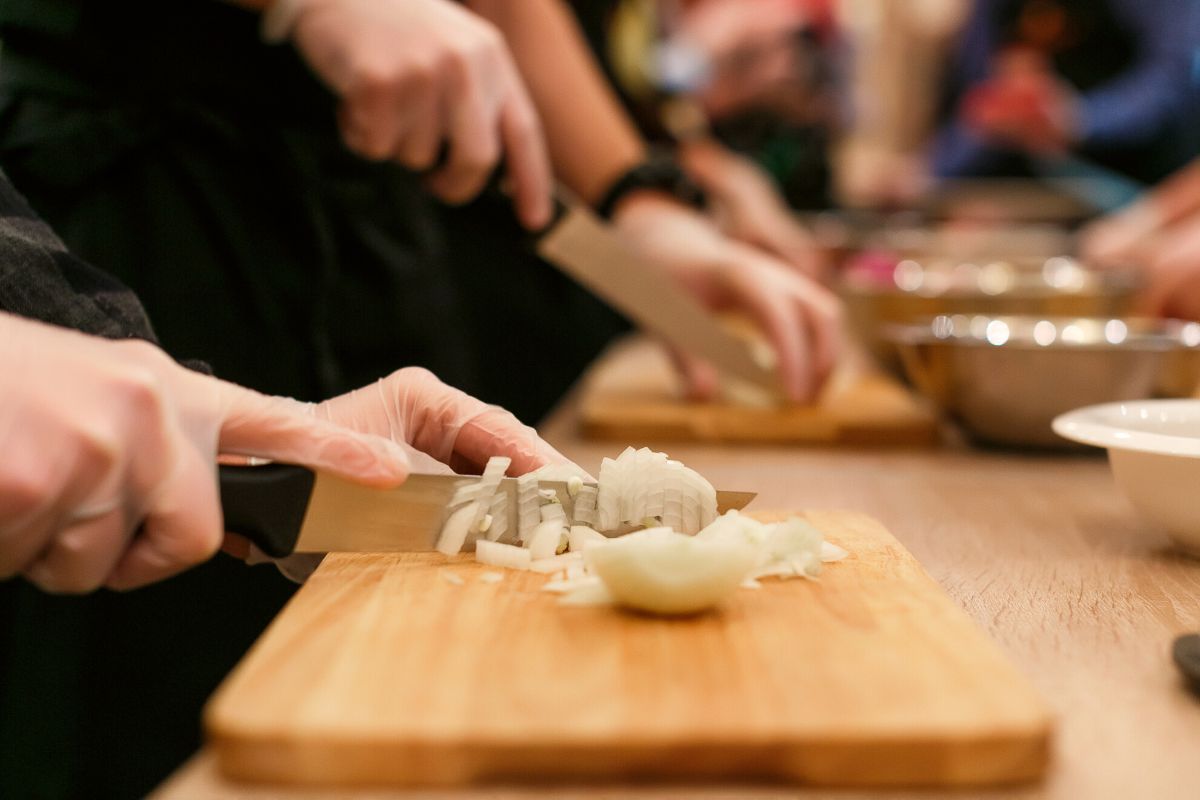 Whip up a three-course meal in a local's kitchen.
Make your way through the wine cellars, orchards, and coffeehouses of a small village.
Learn all about the long, distinguished history of the region's culinary traditions while whipping up yogurt soup, lentil patties, and more – all with fresh ingredients.
These are just a few of the things to look forward to if you take some cooking classes during your visit.
These immersive lessons offer firsthand experience in the foods of the region, as well as the customs that go into making them.
Along the way, you'll get unparalleled access to the daily lives of villagers, as well as the chance to share a great meal and fascinating conversation.
Get your taste buds ready and dive into these exciting lessons!
26 – Admire the artifacts at the Seljuk Civilization Museum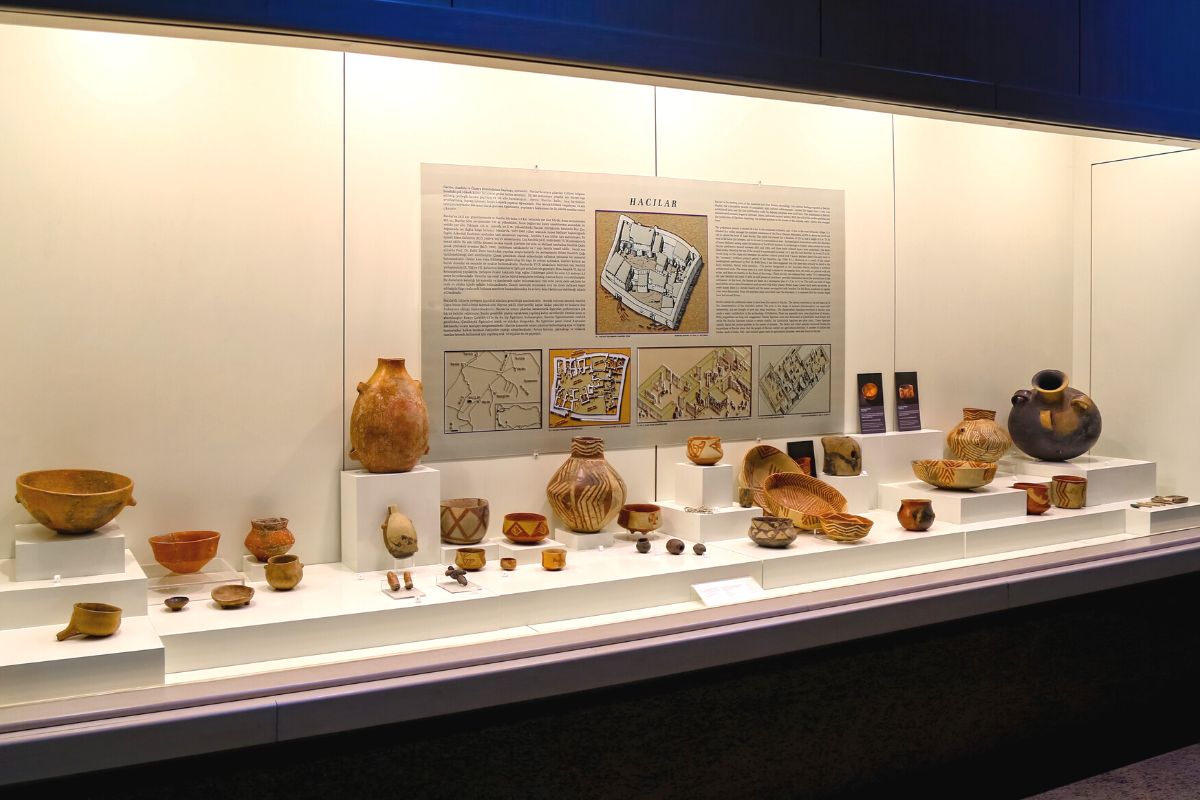 The Seljuk culture was hugely influential in the region throughout the Middle Ages, and many of its creative and social impacts can still be felt today.
Stop by the Seljuk Civilization Museum to learn more about this fascinating society, and how they influenced the larger story of Anatolia as it grew and changed over the centuries.
The building that houses the collection is impressive in and of itself; the Cifte Medrese was built in the 13th century, and served as a combination medical school, hospital, and seminary.
And the exhibits are top-notch, with over 500 items showcasing the large and small elements of Seljuk life, from city planning diagrams to artwork to home accessories.
For history buffs and fans of cultural studies, the museum is a must; but even casual visitors will enjoy these impressive displays and the stories that they tell.
It's a wonderful glimpse into the daily operations of life in centuries gone by!
27 – Check out the frescoes at Al Nazar Church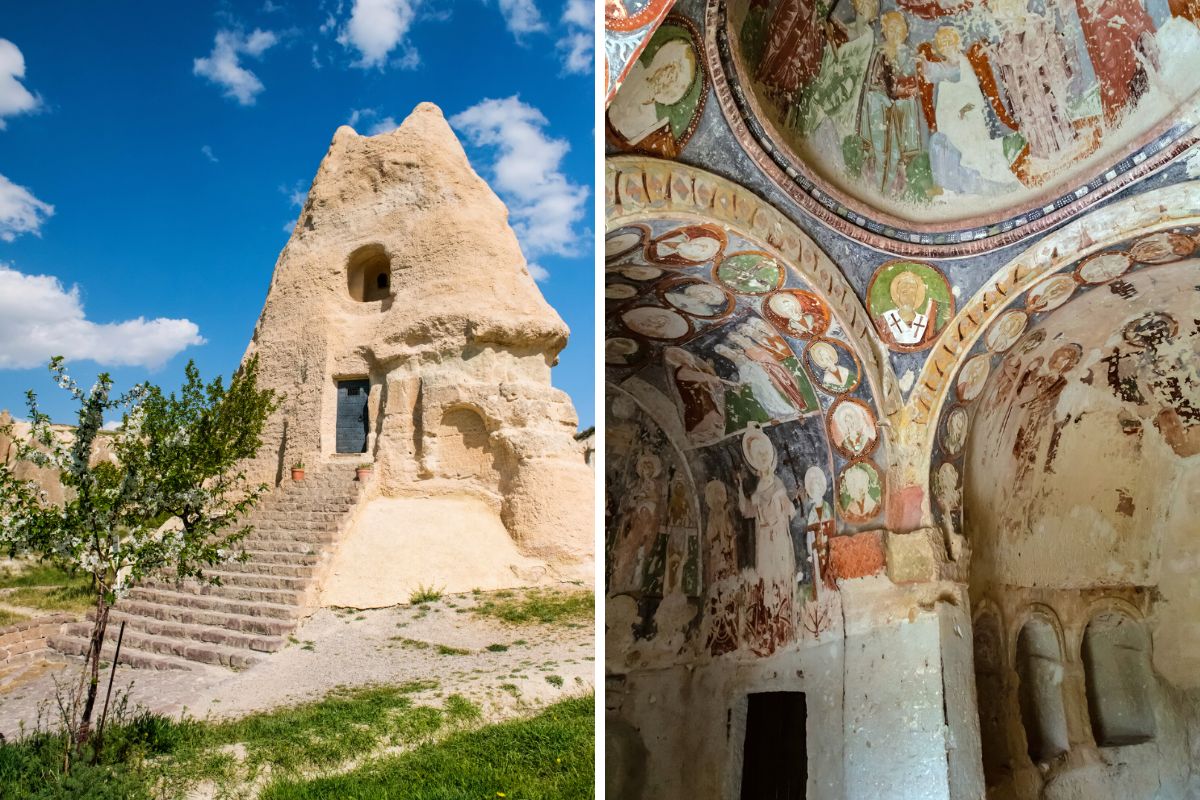 With a name that translates to, "Church of the Evil Eye," you may be wary of visiting Al Nazar Church.
But it's well worth stopping by to enjoy its fantastic 10th-century murals and distinctive architecture, an oft-forgotten monument to Byzantine culture.
Expertly carved out of a large stone, this conical structure features remarkable frescoes depicting key Biblical scenes, from the Nativity to the ascension of Jesus.
Even a millennium later, the colors and details in several of the works are remarkably well-preserved, providing an invaluable glimpse into religious art of the era.
The church is also located near Goreme, offering easy access to other historic sites.
Be sure to stop by this underrated space to see its masterpieces for yourself!
28 – Treat yourself to a turkish bath and massage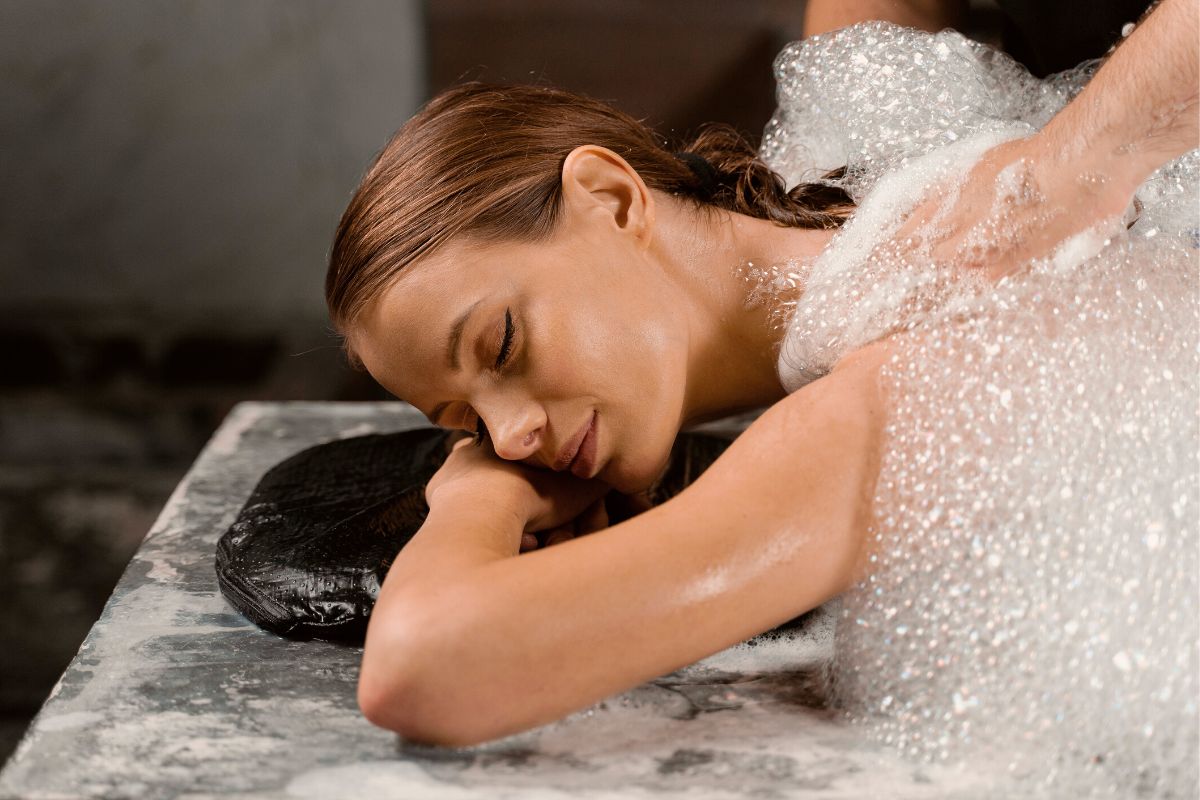 If you want to squeeze some relaxation in during all of your adventures, try out a traditional Turkish bath and massage.
These wellness sessions are not only a famous part of the national culture, but also a wonderful way to ease some tension during your travels.
Kick back in the gorgeous steam baths, letting the heat cleanse and relax you in the same way that local citizens have done for hundreds of years.
Then head to the next room for a fantastic session with expert masseuses to work out any aches and pains that you might have picked up whilst exploring.
And if you want to indulge in some more wellness sessions, there are plenty of other great options available, from hot springs to yoga sessions.
These sessions will leave you feeling rejuvenated and ready to enjoy more of the exciting attractions in the area, and you'll be able to experience some local customs along the way.
So take a breather and unwind like a Turk!
29 – Take an adventurous day trip to Aladaglar National Park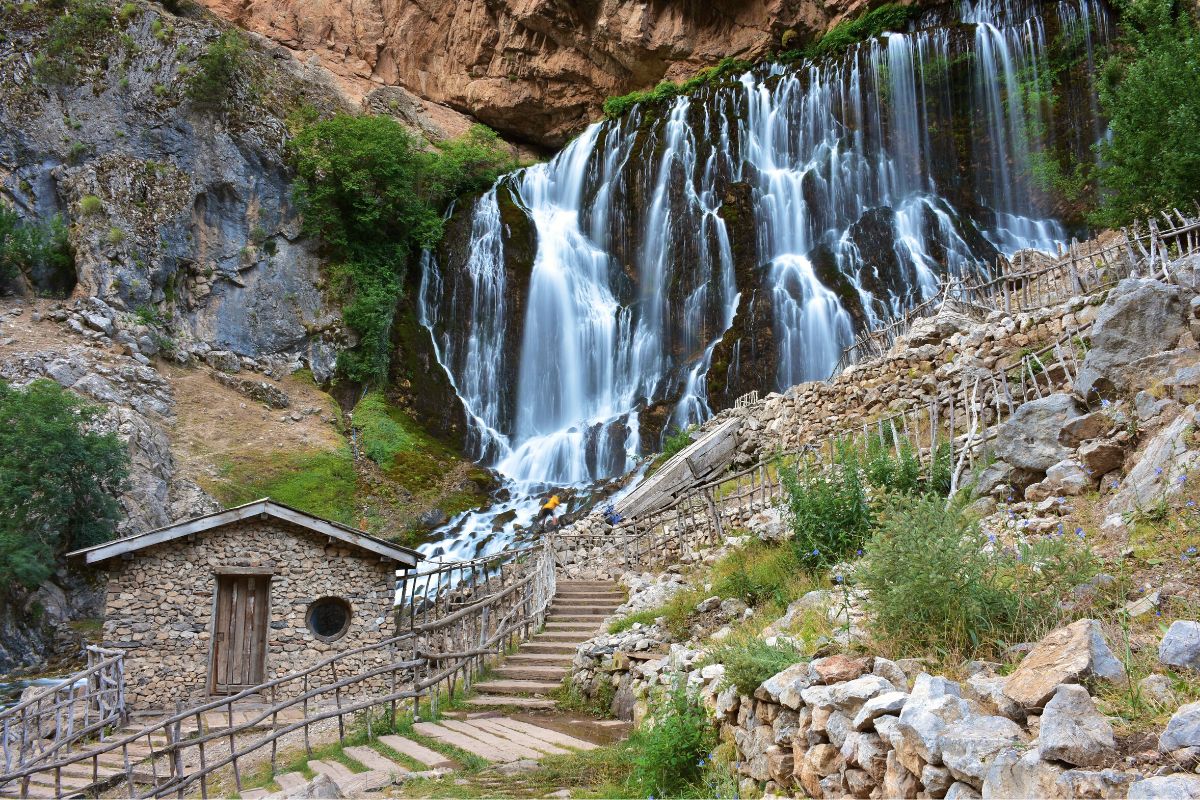 Nature enthusiasts will be in heaven after visiting Aladaglar National Park, an incredible piece of paradise in the Aladag mountains.
The area is most famous for the Kapuzbasi Waterfalls, a stunning collection of seven falls that pour down directly from a crevice in the face of a cliff.
The water that they produce is not only gorgeous to look at, but even clean enough to drink!
There are tons of other great outdoor activities in the park as well, including world-class hiking and rafting opportunites.
You can also indulge in some mountain climbing, scaling impressive peaks like Kardi and Demirkazik.
Or just take some time to enjoy the magnificent scenery, including stunning mountain ranges and lush forests of black and red pine.
If you're lucky, you may even spot some local wildlife, from goats and otters to bears and wolves.
This park is the perfect place to unleash your wild side!
30 – Frolic in the snow at Mount Erciyes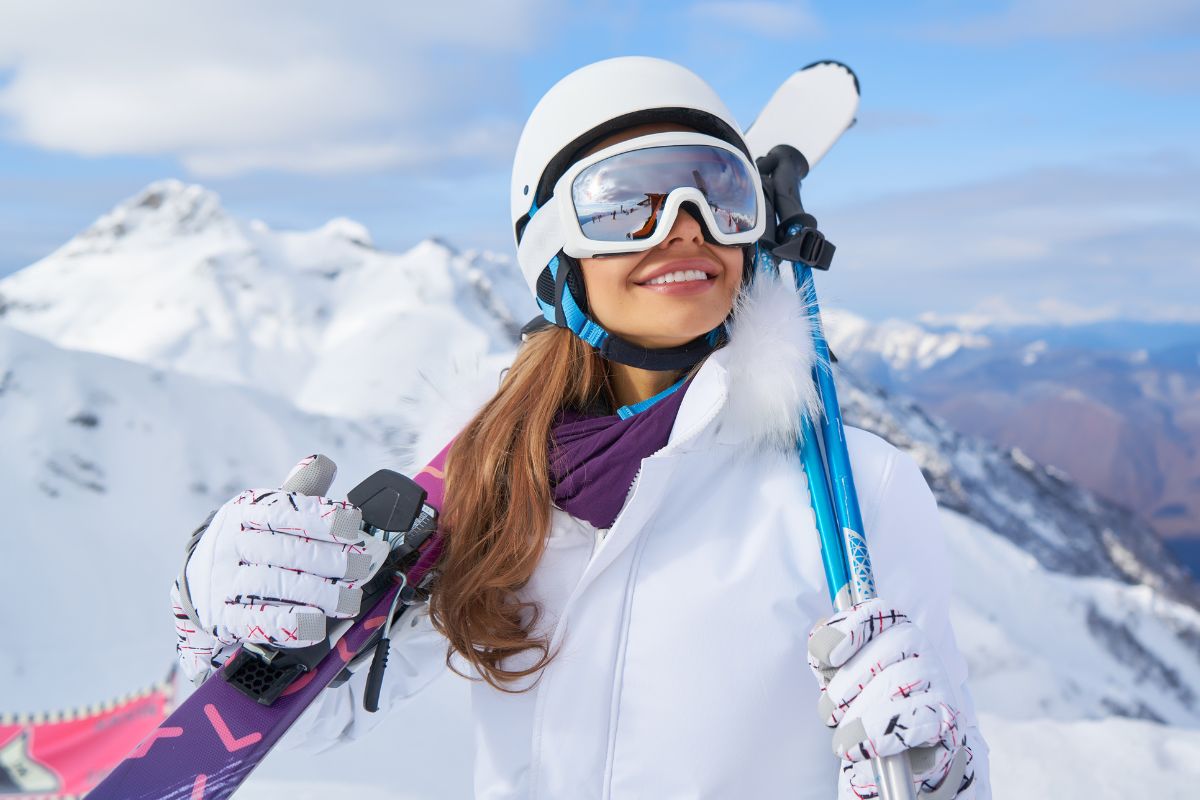 If you love to play in the snow, be sure to indulge in the pristine offerings of Mount Erciyes.
At a staggering 12,851 feet high, this inactive volcano offers world-class skiing (and mountaineering in the summer), a mere half an hour from the city of Kayseri.
If the slopes are your priority, head to Erciyes Ski Resort to try out more than 30 different routes.
With plenty of options in the blue diamond, red diamond, and black diamond categories, there's something for athletes of every level to enjoy.
If you don't want to stay at the resort itself, consider booking a ski tour.
Head out from the city and travel along historic Silk Road paths before arriving at the mountain, where you'll spend a few hours playing in the snow.
Then get a ride back to your accommodation, enjoying some last glimpses of one of Turkey's mightiest mountains.
31 – Visit a little slice of Rome in Sobesos Ancient City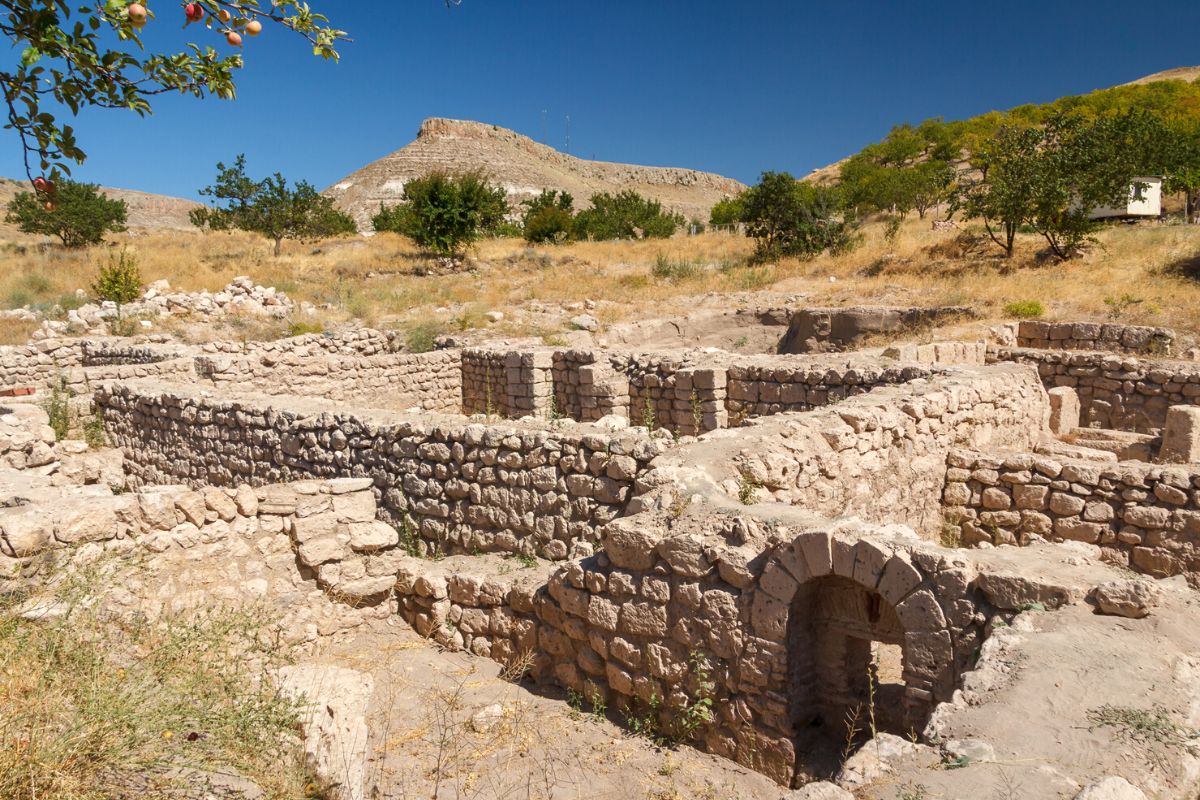 For a taste of Rome in the heart of Turkey, check out Sobesos Ancient City, a remarkably intact settlement that dates back to the 4th century.
Featuring a Basilica, an open-air bathing area, a market, and legislative facilities, the ruins provide a fascinating glimpse into the empire's urban planning methods.
It is also the only Anicent Roman city in the region, making it a particularly unique destination.
Wander among the old buildings and courtyards, take in some of the beautiful mosaics, and catch a glimpse of the citizens' daily lives.
The site was only found in 2002, and excavations are ongoing, so you also get the added excitement of seeing an archaeological discovery in progress.
After your first visit, you'll be rushing to return and see what else has been unearthed!
32 – Let loose at Nevşehir Kaya Lunapark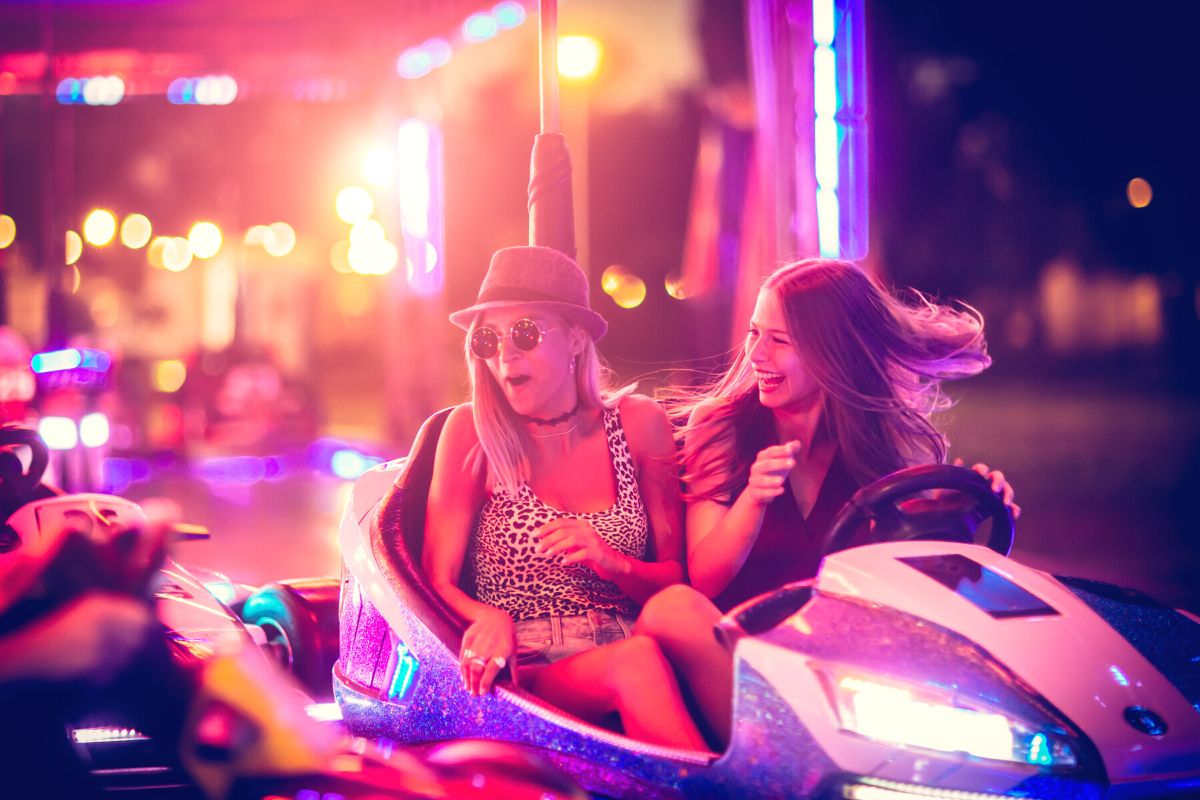 Another great place to cut loose, Nevsehir Kaya Lunapark boasts a great lineup of rides in a relaxed all-ages atmosphere.
There are lots of kid-friendly rides here, including mini-rollercoasters and small power boats.
But adults will find plenty to love as well, from thrill rides to outdoor performances.
For the young and young at heart, this lively park is a terrific place to spend the day.
33 – Enjoy some views on a horse ride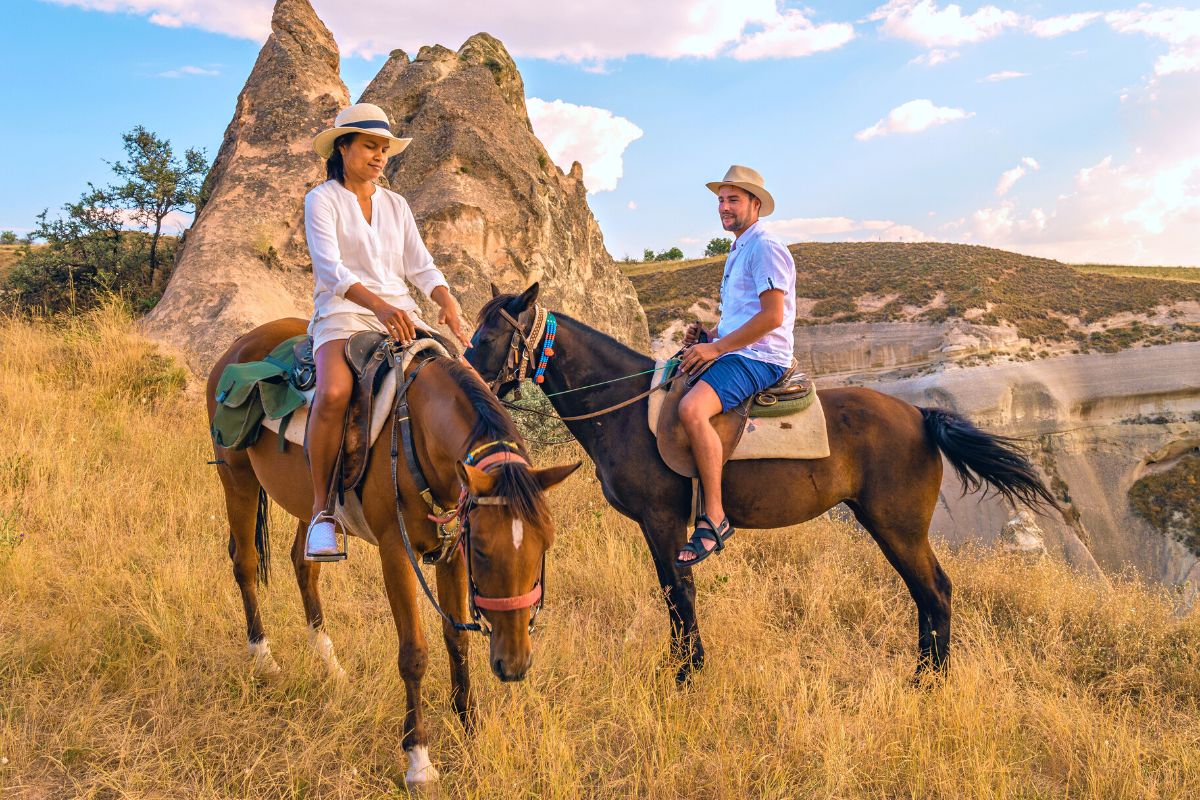 If you liked the camel rides, you'll love a horseback tour!
There are plenty of great options in and around Cappadocia, each offering their own unique adventure – and all providing the chance to sightsee from the saddle.
Sunset excursions are particularly popular; there's nothing like a leisurely ride along a mountain range or across the open plains, watching the landscape shift under the colorful evening sky.
But early birds will be thrilled to know that there's also a sunrise ride available, which showcases the beauty of the Red and Rose Valleys.
And of course, there are plenty of great midday trips as well, where you can explore the valleys, cliffsides, and historic buildings while your guide provides context for what you're seeing.
Whether you've been riding for years or have never seen a horse up close, you'll love exploring the countryside in the company of these strong, steadfast animals.
After spending a few hours on the trail, you'll quickly understand why horseback riding is such a popular activity here!
34 – Wander through some amazing valleys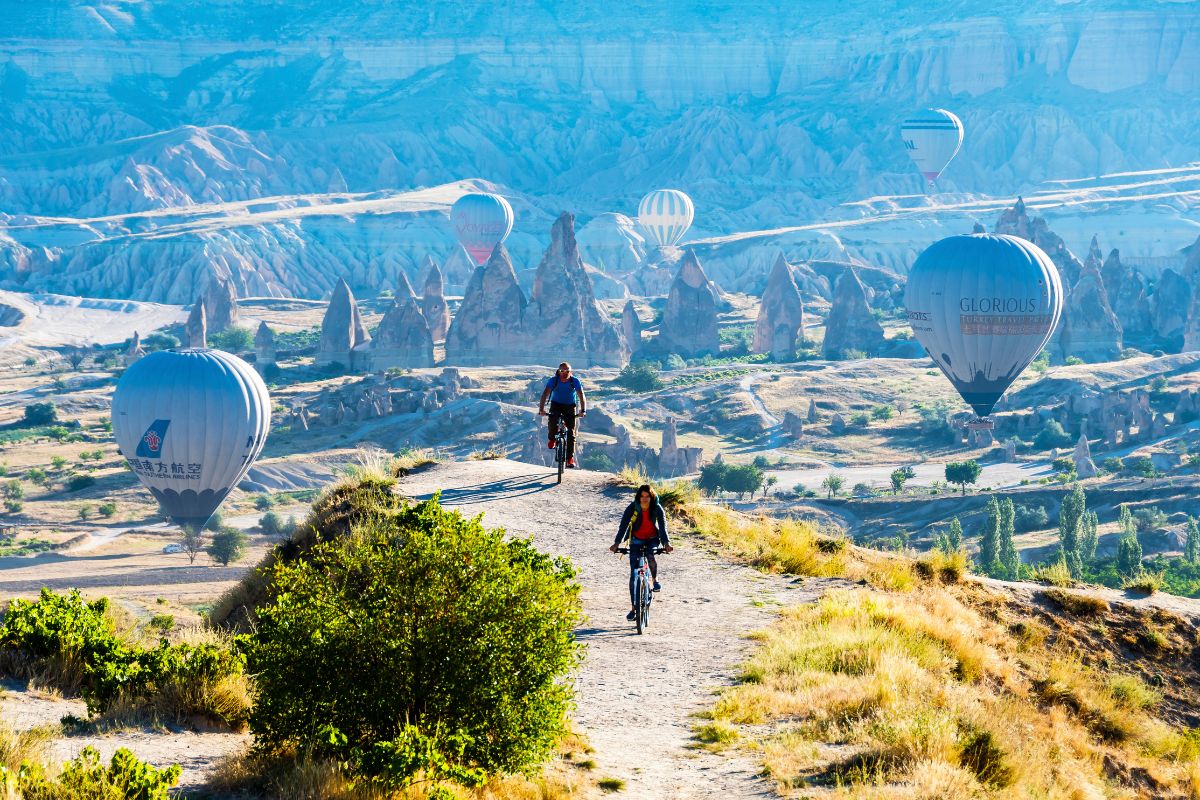 This remarkable region is world-renowned for its valleys, and once you've visited some of the big ones, be sure to check out the many other striking areas nearby.
Visit some well-preserved fairy chimneys in the relaxed atmosphere of the quiet Gorkundere Valley, or enjoy the cone-shaped homes and stellar hot air balloon-viewing areas in Sword Valley.
Check out the mushroom-shaped rock formations and the former home of St. Simeon in Pasabag Valley, then hike your way past dovecotes and old churches in rustic Soganli Valley, which is only reachable by car.
Pay a visit to El Nazar Kilise and Goreme Open-Air Museum as you wander through Zemi Valley, then delve into the underground settlements and former churches in the aptly named Monestary Valley.
Enjoy the dazzling alabaster FIX rock walls of White Valley, or the more rounded stones of Meskendir Valley, just around the corner from the Rose and Red Valleys.
And if you really want to immerse yourself in the interplay of nature and culture Central Turkey is known for, make sure to see Koramaz Valley, home to several millennia's worth of cemeteries, villages, defensive structures, watermills, and agricultural areas, all built out of volcanic rock that rained down from nearby eruptions.
While you can explore these areas on your own, walking tours are a great way to experience the highlights of the valleys and learn all about their hidden treasures.
There's something about walking in the shadow of these great stones and mountains that's utterly exhilirating, and spending the day exploring these spaces is one of the most amazing things to do in Cappadocia.
35 – Check out pottery (and a hair museum!) at Chez Galip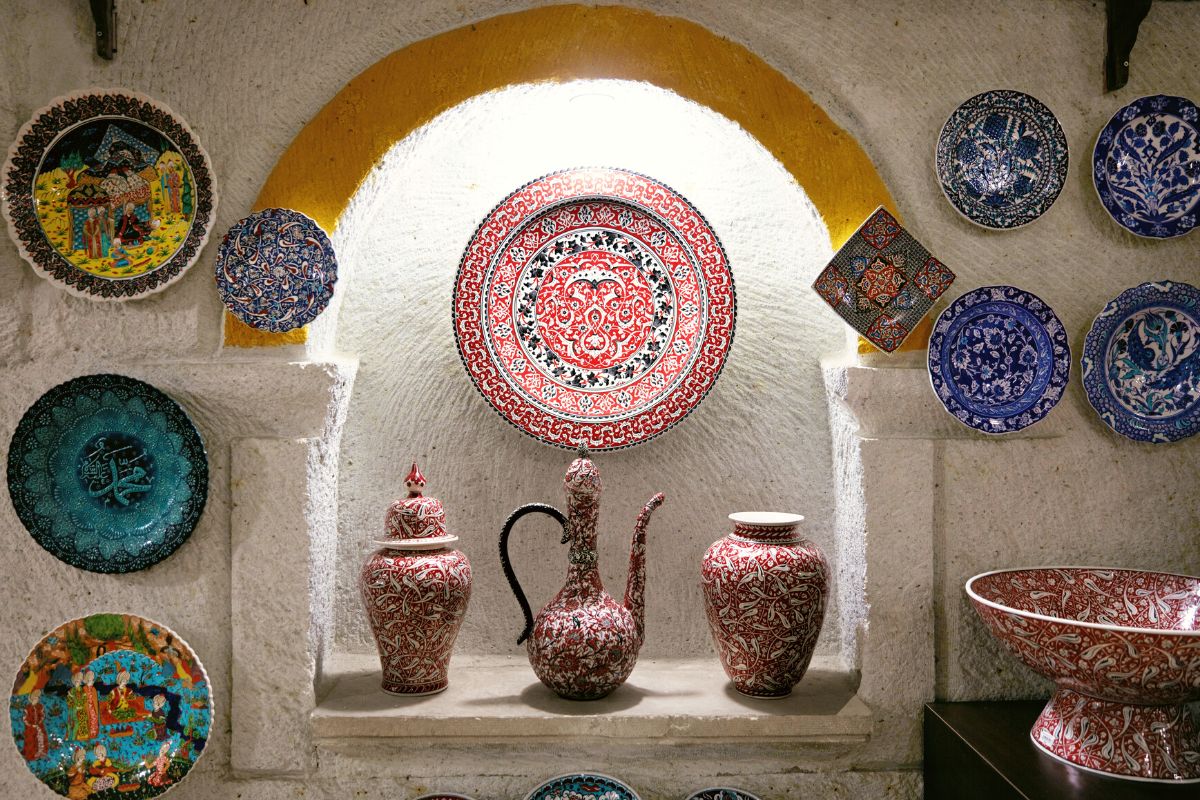 Located in the city of Avanos, Chez Galip – the pottery studio run by the artist Galip Korukcu – offers top-notch art and some truly rare attractions within its walls.
Ceramics are the main draw here, with everything from pots to sculptures available for purchase, all expertly crafted by an artisan working off of centuries of experience.
With a nearly endless assortment of colors, shapes, and styles on display, you're bound to find a beautiful piece of your own to cherish.
But this space is also home to one of the world's most bizarre attractions: the Hair Museum of Avanos.
As the name suggests, it features more than 16,000 donated follicles, each including a notecard with their former owner's address.
This unusual collection got started when one of Galip's friends left him a lock of her hair as a souvenir after moving away, and today, visitors are still invited to provide their own contributions to the museum.
As if all of this weren't enough, you can also take pottery classes from the man himself, and see just how the masterpieces take shape.
Whether you're taking pottery or leaving locks, a visit to this fascinating space is one that you won't soon forget!
36 – See the sights at Temenni Tepesi (Wish Hill)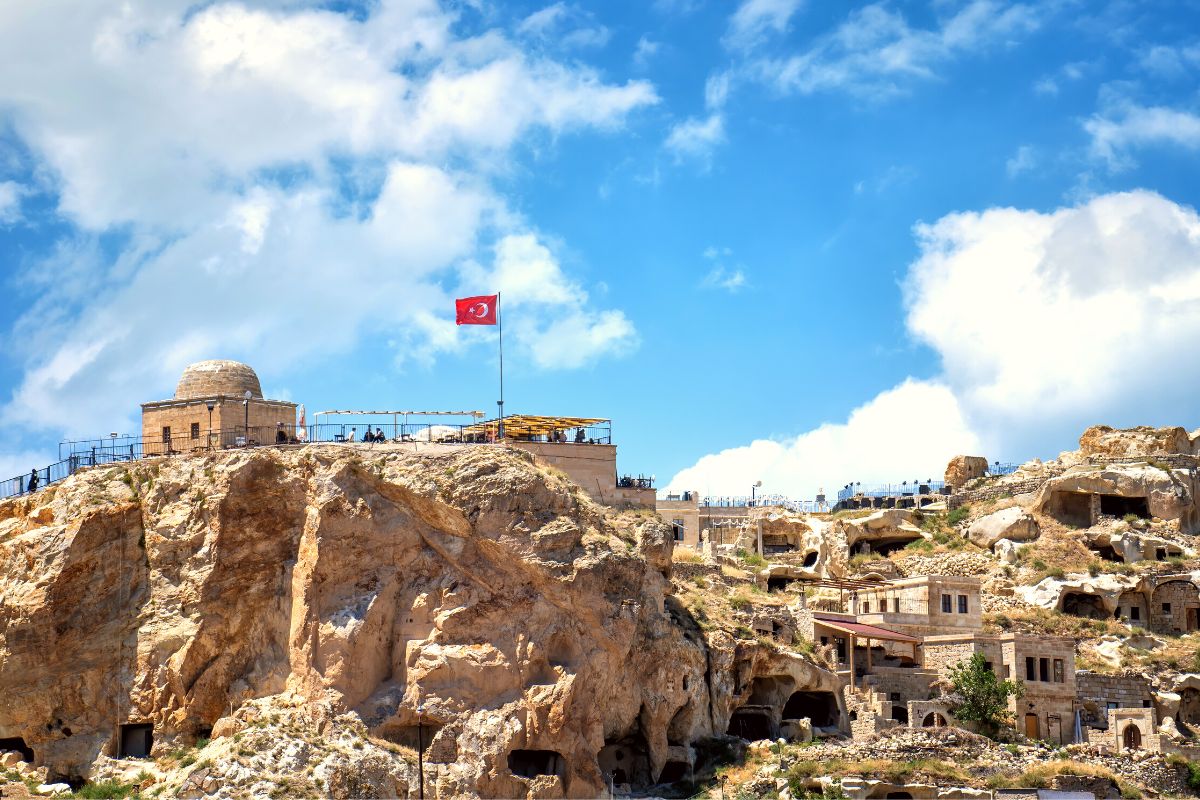 If you're visiting a landmark with a name as charming as "Wish Hill," you can expect a lovely outing.
Towering above the city of Urgup, this famed ridge was long celebrated as a holy site, and today, it contains the tombs of many notable figures, including several royals.
It has also served as a security stronghold, and a place of political prominence throughout various regimes.
The story of how the hill got its name, while possibly fictionalized, adds a nice mythology to the place.
Legend says that a Russian soldier was imprisoned there, and after a long period of wishing to be released, he eventually earned his way to freedom.
Thanks to the story, it's still a popular place for visitors to make a wish or two of their own.
Take a trek up the slope to enjoy the great views and fascinating sites – and to ponder some of your fondest desires!
37 – Enjoy the beautiful designs of Nigde Castle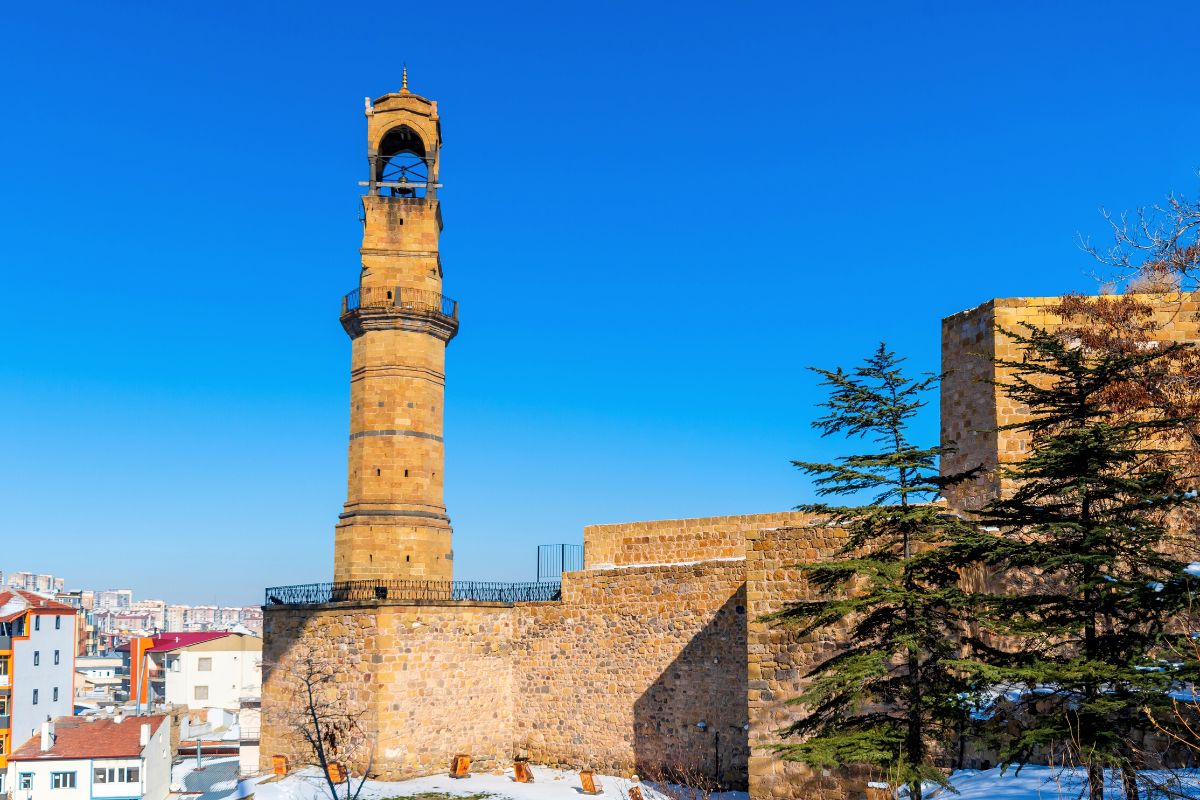 Perched atop Alaaddin Peak, Nigde Castle makes quite an impression.
It once served as a fort and royal residence, and also features two mosques and an elegant fountain.
Believed to have been built in the 9th century, it also features an ornate clock tower, which dates back to the early 1900s.
As you explore its grounds, you can learn all about the castle's centuries of use as a home for traveling soldiers, as well as a valuable part of civic architecture.
38 – Get off the main road with some jeep tours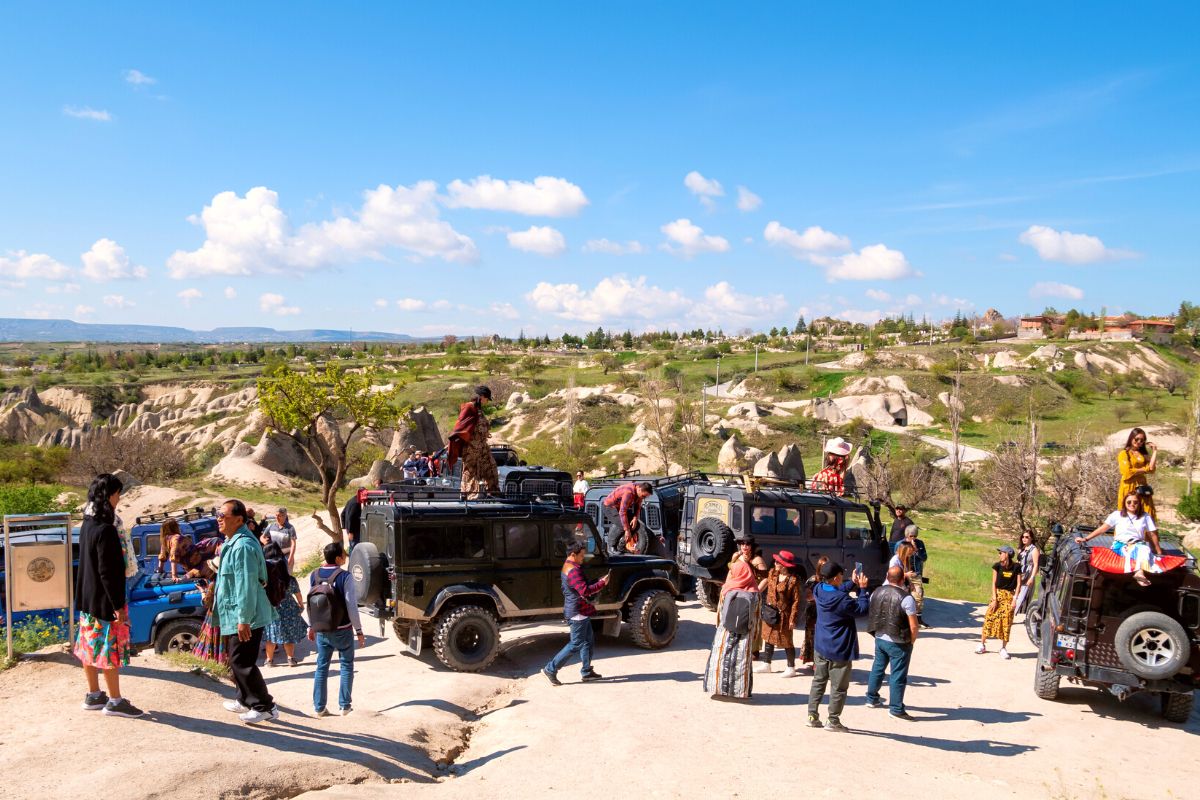 Whether you want to go off-roading or see some familiar spots from a new angle, a Jeep tour will offer plenty of adventure.
Hop aboard one of these iconic cars and start exploring, checking out cave monasteries, hidden valleys, and small villages off the beaten path.
You'll have all the fun of a standard tour – from brilliant guides to wonderful photo opportunities – with the added advantage of a vehicle that can easily go where few dare to tread.
Buckle up and get ready for some fun!
39 – Get cultured at some great museums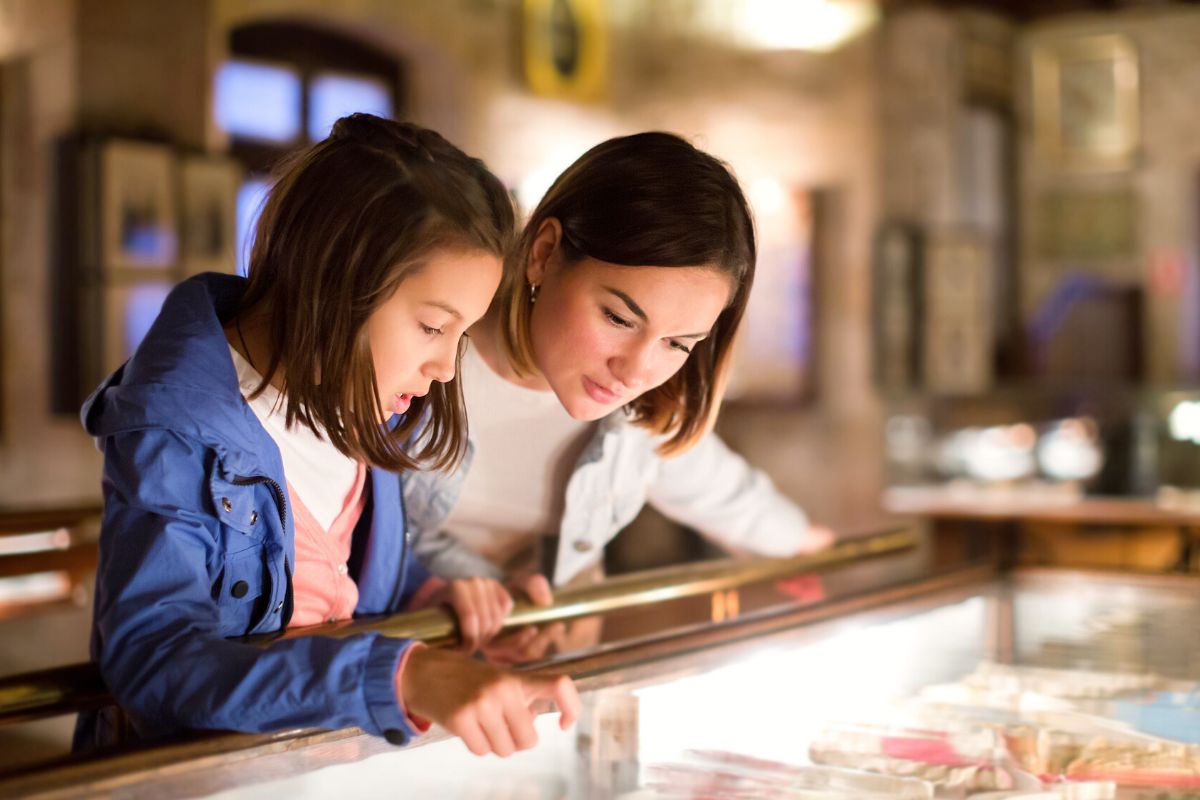 With such a long and distinguished history, it's little surprise that this area is home to some world-class museums.
Whether you like learning about different cultures, archaeological discoveries, or exploring the art world, there's an institution in Cappadocia with your name on it.
At the Kayseri Archaeological Museum, you can view specimens from thousands of years of Turkish history, including clothing, artwork, and weaponry.
Or check out the fossils, basketry, and religious artifacts at Aksaray Museum – not to mention an extensive collection of mummies!
The Kaman-Kalehoyuk Museum is another great place to enjoy some archaeological treasures, as well as a unique story of collaborative research between Japan and Turkey. Don't miss out on the beautiful Japanese garden on the grounds.
Nevsehir Museum is the spot to visit for some ethnographic education, with tons of great exhibits showcasing the books, clothing, and decorative items that once belonged to the many diverse cultures in the region.
And for some great insights into the Neolithic to Greco-Roman eras, check out the Nigde Museum, with its remarkable collection of pottery, reconstructed historical residences, and even some well-preserved human skulls.
If you want to see works from an even broader historical range, don't miss Guray Muze, which offers a vast collection of artworks from the prehistoric era to the present day.
In the midst of all of the wonderful outdoorsy things to do in Cappadocia, it's well worth taking some time to appreciate the incredible heritage of the area.
40 – Enjoy some meals at the best restaurants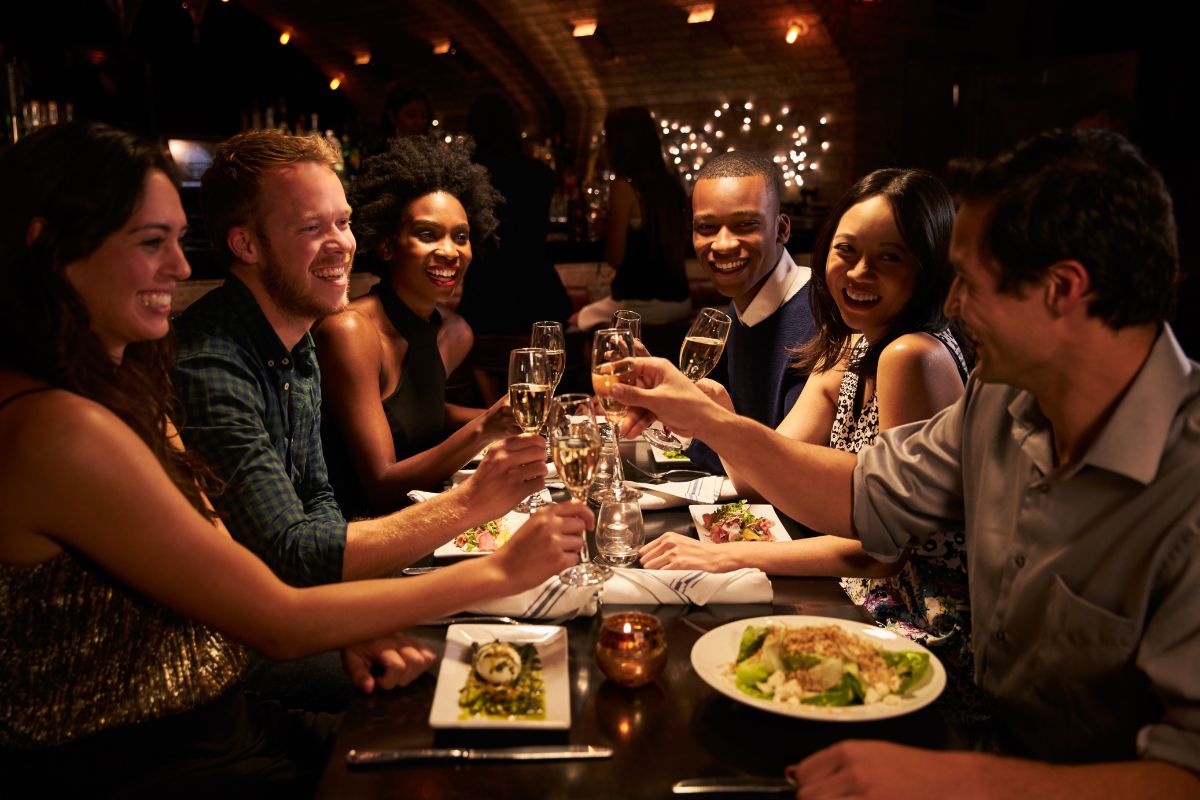 For a stellar combination of delicious food and unique experiences, you can't beat a Cappadocian restaurant!
Chow down on a variety of kebabs at Dibek Restaurant, which sits in a 475-year old building; relax on the terrace while sipping delicious soups at Aysel'in Mutfagi; or pair a fine cut of meat with great views of the fairy chimneys at Oscar Steak House.
You can also try a range of traditional meals (including pottery kebabs, which are served fresh out of a boiling jug after slow-cooking for several hours) in the cozy atmosphere of La Vida A La Carte, and the delicious rolls at Top Deck Cave Restaurant, which is situated inside of a giant cavern.
And if you enjoy that experience, take it one step further and book an experience with Turkish Night at Cave Restaurant.
This is the ultimate dinner and a show experience; as you enjoy your authentic meal amid the gorgeous stone walls of a massive underground chamber, you'll also be treated to a live performance showcasing some of Turkey's famous artforms.
From bellydancing to folk songs to drum performances, you'll enjoy the broad spectrum of culture from the Anatolian region.
This fun and educational show pairs perfectly with some tasty Turkish cuisine!
41 – Admire the water (and the birds) at Seyfe Lake
Amidst all of the mountains and valleys, make some time for a visit to beautiful Seyfe Lake.
This vast, tranquil body of water is home to hundreds of species of water birds, from flamingos to herons to endangered shelducks and bustards.
It's a world-class birdwatching destination, and keen-eyed and patient observers may see any number of animals nesting and feeding, including several migratory species passing through the region.
While the lake has been at risk of drying up several times over the decades, numerous restoration efforts have helped it start to recover, and today, you can appreciate its spectacular ecosystem just as so many have before.
Take a stroll around the water, and enjoy its many unique charms while keeping an eye out for some truly beautiful creatures.
42 – Roam through the halls of the Dark Church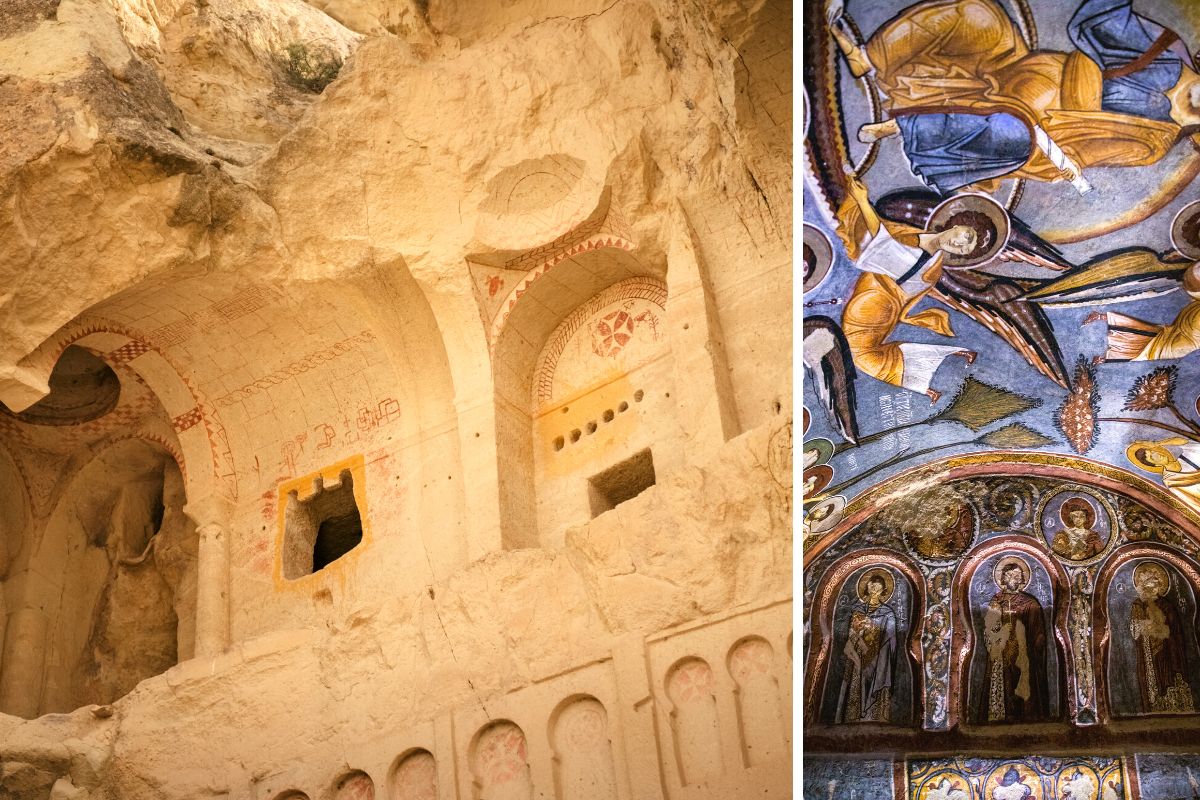 Another religious structure with a unique name and equally fascinating history, Dark Church is a fascinating piece of 11th-century architecture.
Tucked into a cave in the Goreme Open Air Museum, this stunning monastic building features a courtyard, several smaller religious complexes, and a refectory.
But it is perhaps best known for its paintings, which burst forth with brilliant hues even centuries after their creation.
Depicting everything from Old Testament prophets to stories from the life of Jesus, they serve as a stunning example of religious art from the Byzantine era.
Swing by during your museum visit and see the wonders for yourself!
43 – Watch the Whirling Dervishes in action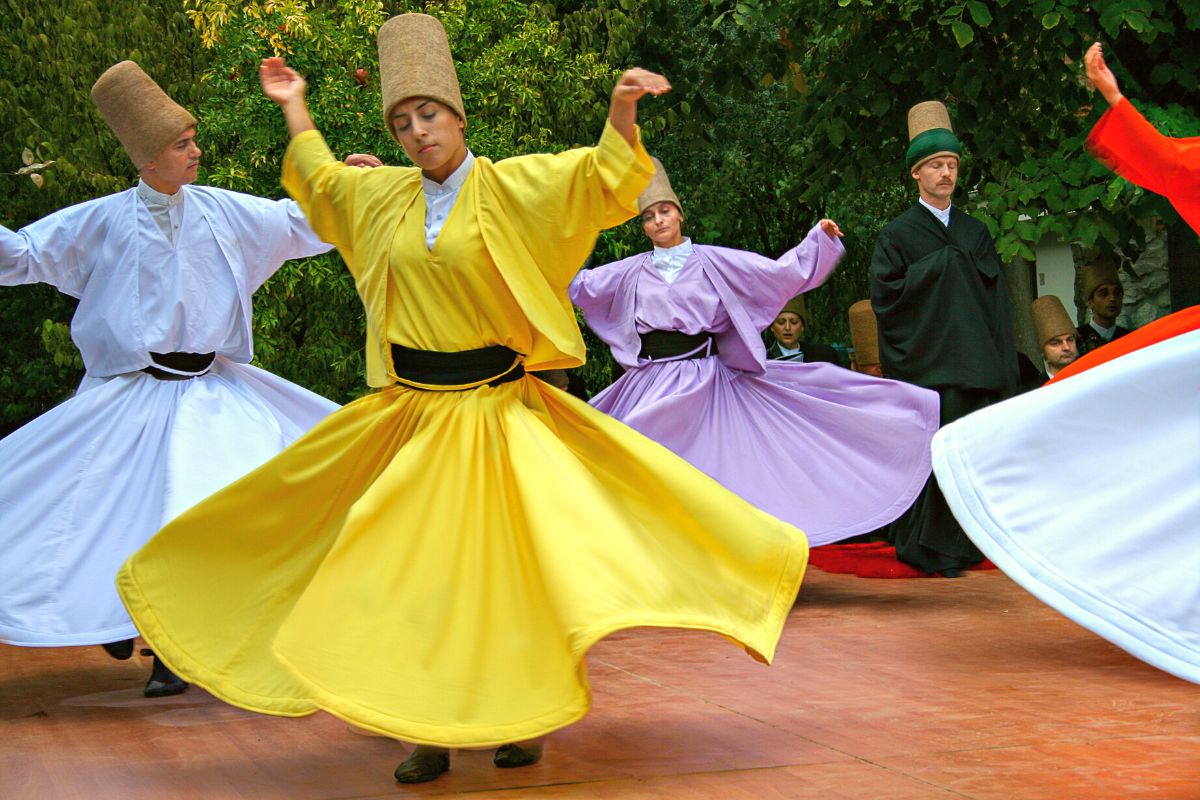 One of the most iconic things to do in Cappadocia – and Turkey in general – is undoubtedly watching a whirling dervish ceremony.
This stunning performance, in which practitioners spin themselves into a meditative trance to a soundtrack of traditional music, has long been a subject of fascination, and watching a live show is an unforgettable experience.
Saruhan Kervansaray is a particularly good venue, with years of experience in presenting authentic, fascinating displays of this unique art.
This is one of the best places in the region to watch these spectacular performances, so snag some tickets and stop by to enjoy this spectacular event!
44 – Try a new game at Cross Golf Cappadocia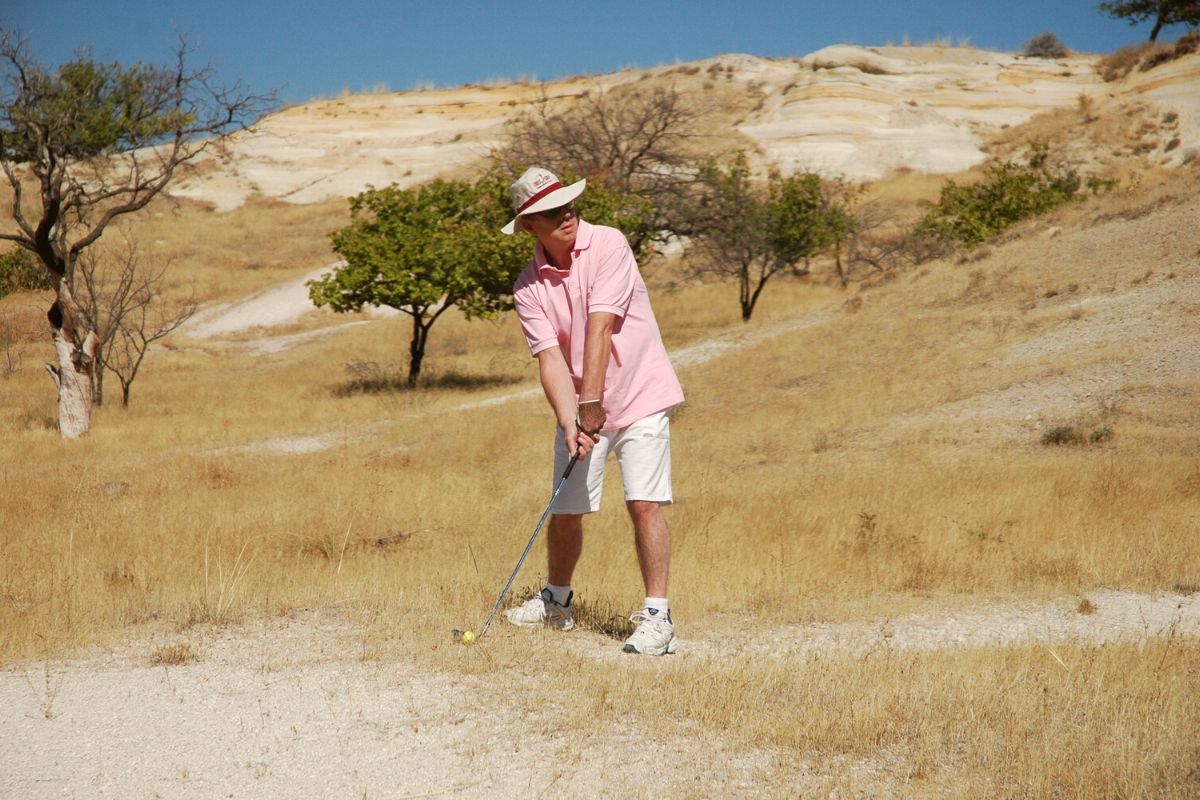 Do you love golf, but want to try it with a new twist?
Then head out for a round of cross golf, a unique and exciting new sport.
In this adventurous game, you try to hit a brightly-colored golf ball into a goal instead of a hole, and in lieu of a well-manicured course, you'll traipse through forests and use intricate rock formations as your obstacles.
It's an informal – and fun – take on the old putting procedures, and makes for a delightful afternoon activity!
45 – Sample some vintages on a wine tour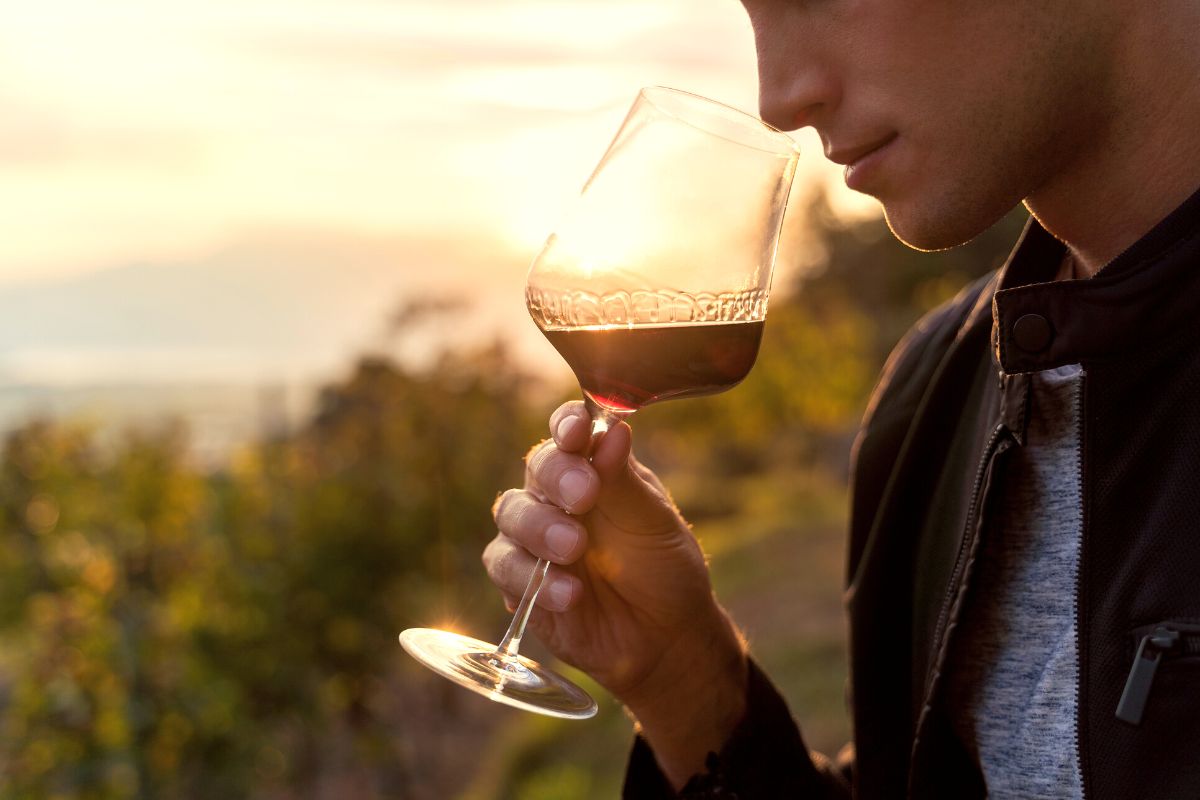 After trying all of the different meals the region has to offer, head out to taste some of the area's finest vinos on a wine tour.
Cappadocia has long been a hotspot for vineyards, with an excellent agricultural climate and a vast array of grape varieties.
You're bound to have a good time exploring these lovely sites and sampling some of their fine products.
Enjoy a wonderful tour through the local hotspots, which can be paired with other activities such as cooking classes and clay-shaping.
You'll have a great time sipping your way through these excellent selections, and you may even find the perfect drink to pair with your next meal!
46 – Party it up at the nightclubs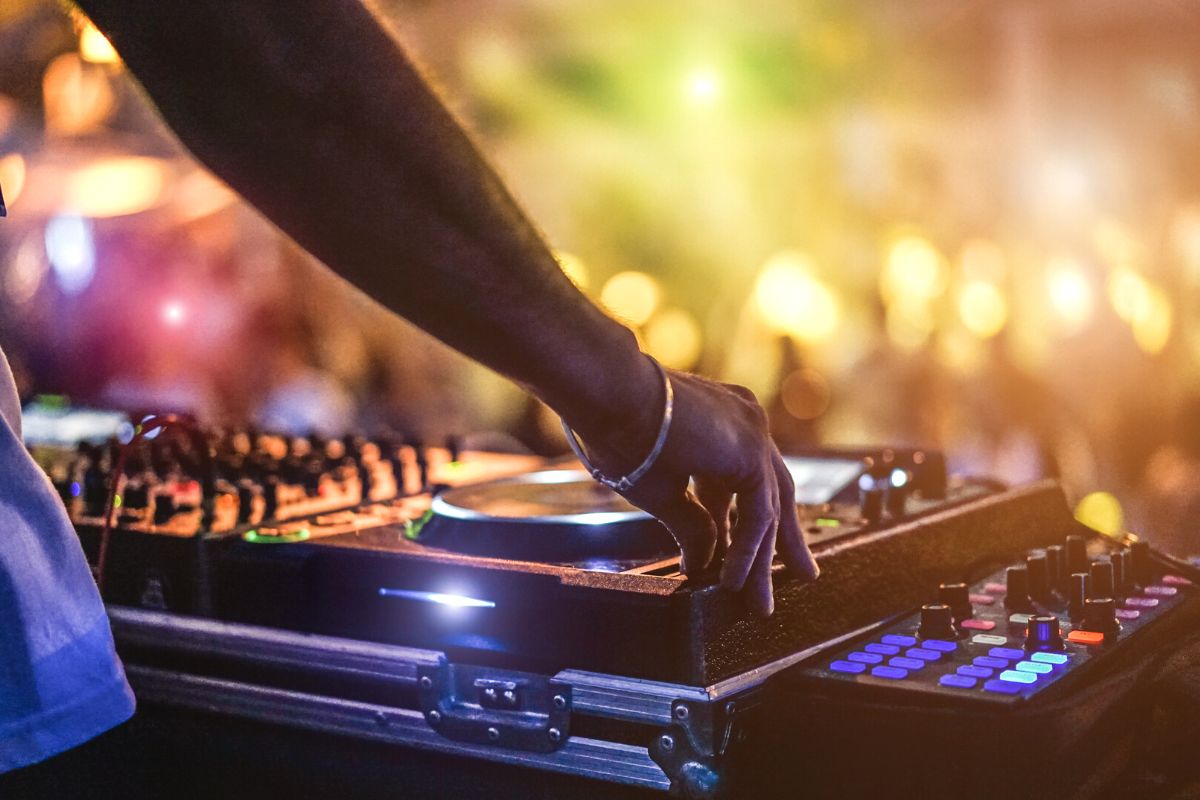 There are plenty of excellent things to do in Cappadocia during the day, but there's also a thriving nightlife scene in the area.
Whatever motif and vibe you choose, you're sure to have a good night out.
Given the prevalence of coffee in the region, it's not surprising that many of the best spots are cafes, from the jazzy atmosphere and delicious hot chocolates of Mykonos Cafe and Bistro to the elegant lattes of Cafe Safak.
If live music's your jam, stop by the bustling Angel Cafe Bistro Bar, the locally-beloved One Way, or La Vita Cafe Pub, with its charming fireplace.
You can also get down with some disco at Asim'in Yeri, enjoy some delicious beers and hummus at Fat Boys, enjoy the lively atmosphere at Heybeli Turku Bar, or enjoy some world-class wines at Efendi Sarap Evi.
And for a unique party experience, check out Uranos Sarikaya, where you can wine, dine, and dance inside a massive cave.
In this exciting realm, every evening is an adventure!
47 – Stay in a cave hotel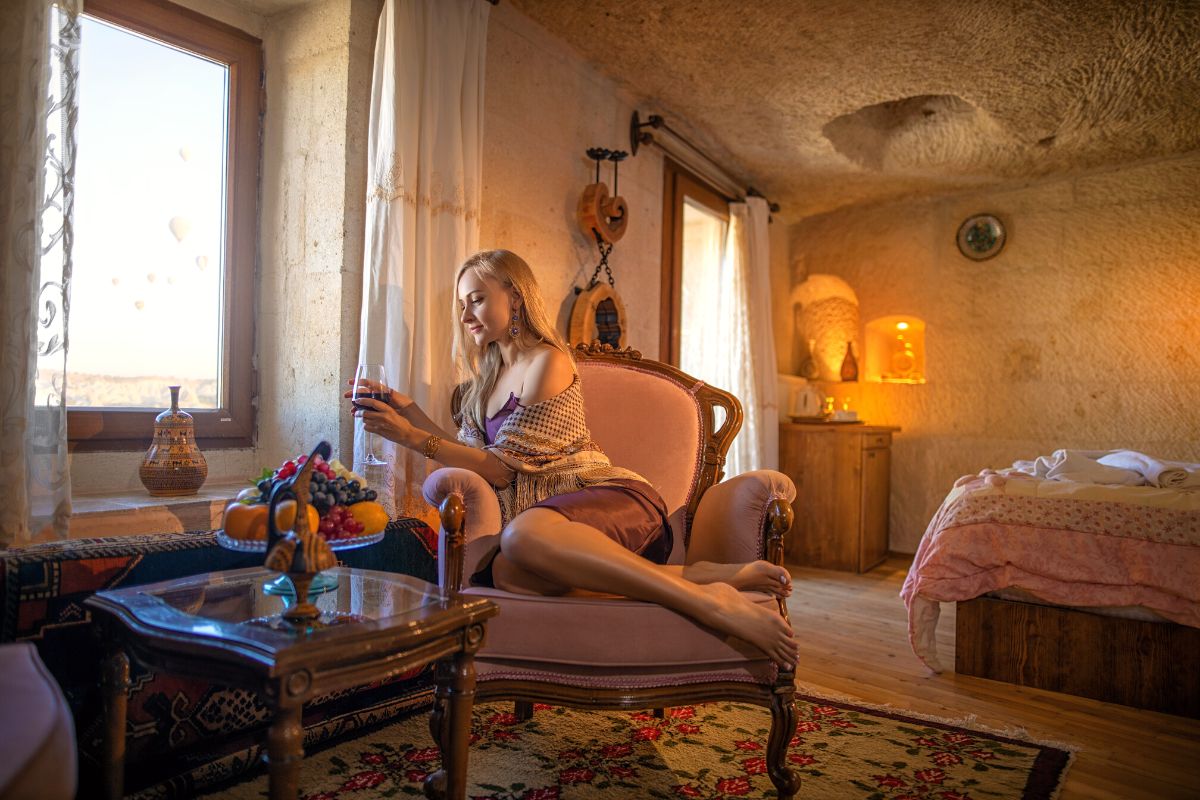 Ok, you've toured some caves, eaten in caves, and partied in caves… what next?
Sleep in a cave, of course!
There's a whole variety of beautiful hotels in the Anatolian area that offer the chance to enjoy some luxurious trappings in the same sort of unique, cavernous setting that has served as a home for so many past residents of the region
Take a dip in the luxurious pool at Kayakapi Premium Caves, or enjoy the views from the terrace at Artemis Cave Suites.
Soak in a hot tub with spectacular scenery at Hotel Taskonaklar, or get up early to watch the balloons at Sultan Cave Suites.
Each of those hotels features slightly different amenities, but they all offer unparalleled views of the surrounding area, and an amazing story to tell your friends back home!
Flying to Cappadocia from Istanbul?
There are two airports to choose from when heading to Cappadocia: the Nevsehir Airport, and the Kayseri Airport. Both of them have frequent flights to and from Istanbul, and are fairly close to the most popular towns in the region, such as Goreme and Uchisar.
Regardless of where you fly into or out of, it's well worth arranging for an airport transfer to make the transportation process a seamless one.
Make sure to check the Cappadocia tours package from Istanbul, including flights, hotels and hot air balloon ride.
There also some tours to visit Cappadocia from Antalya, Alanya, Side, Belek, Kemer.
Where to stay in Cappadocia?
For world-class luxury in the heart of a tourist-friendly district, book a room at Seraphim Cave Hotel in Urgup, which features a hot tub, pool, and lovely terrace, as well as easy access to skiing, biking trails, and historic sites such as Nikolos Monestary.
Cappadocia Fairy Tale Suites lives up to its name, with a lovely garden and great views of the hot air balloons, plus breathtaking views of the nearby cliff houses and stone formations.
Those seeking a more quaint experience should check out Walnut House, which is located directly in Goreme National Park and offers a spacious lounge and top-notch restaurant where you can unwind after a busy day of hiking, horseback riding, or sightseeing.
In Ortahisar, Cappadocia Alba Cave's charming stone interiors and cozy rooms make it a perfect romantic getaway, with convenient shuttle services available for when you feel like going on an excrusion.
And in Nevsehir, you can embrace more of the city atmosphere as you relax at Viva Suites Cappadocia, which offers cozy apartment-style lodging with a full kitchen and living room, while still providing hotel-level service.
Visiting Cappadocia on a budget?
If you're in Goreme, be sure to try out the excellent free walking tour.
Your guide will show you some of the best cultural and natural attractions in the area, from hiking trails to historic homes, before bringing you to a lookout for some incredible views.
There's also an excursion that runs to one of the underground cities, so be sure to check out both if you really want to see the best that Cappadocia has to offer.
Have fun, learn a lot, and be sure to tip your guides!
Where to go next?
Roughly two hours away by plane, you'll find a whole range of fun things to do in Istanbul.
Turkey's largest city has been a beloved destination for centuries, and it's easy to see why; with its world-class museums, stunning religious buildings, and beautiful public parks, it has something for everyone.
And as the literal bridge between Europe and Asia, its rich, multicultural atmosphere makes just walking the streets a joy in and of itself.
Take some time to see what this globally renowned gem has to offer, but be careful – you just might end up falling in love!
Back in Cappadocia, try some multi-day trips to see many of the best sites in a fun and efficient manner.
Check out pottery shops, underground towns, beautiful museums and hiking trails, and, of course, those incredible settlements built into and around the rocks.
Two-day excursions are often enough to let you see some of the top attractions, but of course, there's more than enough to keep you around for longer!
Final thoughts
Even before it became an Instagram sensation, Cappadocia offered an enchanting blend of natural and cultural amenities.
And the longer you look around, the more fantastic adventures you will find.
If its stone settlements aren't enough to charm you, the incredible artifacts from several centuries and multiple empires may do the trick.
And of course, you can always soak up the wonderful modern-day offerings, from scenic tours to incredible artistic offerings.
You'll never run out of things to do in Cappadocia, so start planning now; there's plenty of magic out there waiting for you!
Happy travels!