With its otherworldly landscapes and breathtaking views, Cappadocia is a hot air ballooning paradise. The area is known for its hundreds of colorful balloons that dot the skies daily and it's one of the only places in the world that you can fly year-round.
What makes a hot air balloon ride in Cappadocia so extraordinary is its landscape full of surreal rock formations, piston-like towers and fairy chimneys. Exploring Cappadocia from above at sunrise is a bucket list experience.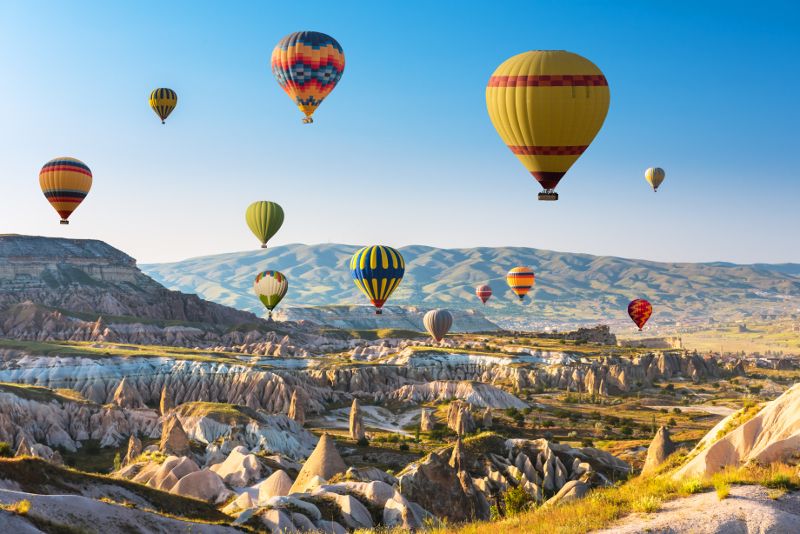 What are the best hot air balloon rides in Cappadocia?
Cappadocia balloon ride with champagne breakfast
This hot air balloon ride tour creates lasting memories of your trip to Turkey with champagne and a buffet breakfast. It begins around 5 AM and lasts an hour. Before your flight, you'll enjoy a feast that includes pastries and fruit, as well as coffee or tea before boarding your balloon.
The ride holds 20 people and you'll reach heights of 300 meters over the Cappadocian landscape. Once you touch back down, you'll celebrate your unforgettable morning with a glass of champagne.
Cappadocia hot air balloon tour over fairy chimneys
If you're interested in Cappadocia's fairy chimneys, this tour takes you over Göreme National Park where they occur. These natural pillars are a unique sight and began forming millions of years ago from volcanic ash raining over the area.
Over time, the ash has been eroded and what's left is the chimneys you see today. The Göreme National Park is a UNESCO World Heritage site because of these natural phenomena. The flight lasts an hour and finishes on a high with a champagne toast.
Marriage proposal photoshoot with hot air balloon flight in Cappadocia
If you're looking for an unbeatable way to create a memorable proposal, a hot air balloon ride is an excellent choice. You'll agree on a location with the provider who will set up a romantic scene ready for your proposal.
You can pop the question, celebrate with champagne and enjoy feeling "sky-high" during your hot air balloon ride in Cappadocia's colorful skies.
How much do hot air balloon rides in Cappadocia cost?
Cappadocia hot air balloon rides with champagne cost approximately TRY3,724 (US$216) and includes hotel pickup and drop-off, live commentary during the ride and a flight medal. You'll also enjoy a glass of champagne and a buffet breakfast.
Flights over the fairy chimneys include a light pre-flight breakfast with hot drinks provided. They also include hotel pickup and drop-off, a flight certificate and a glass of champagne. You can expect to pay TRY4,194 (US$243.)
Hot air balloon rides with a marriage proposal photoshoot include decoration at your agreed-upon location, as well as pickup and drop-off via private transport. You'll also have a professional photographer to capture the moment who will take photos and videos — which will be professionally edited and sent to you via email.
Finally, you'll receive a bottle of champagne and snacks to celebrate with, and the whole experience costs TRY45,790 (US$2,658) for two people.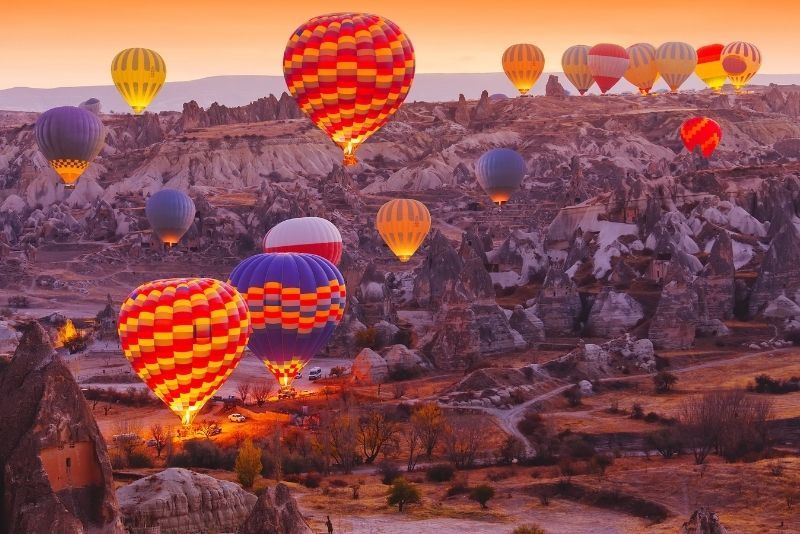 What is included in a hot air balloon ride in Cappadocia?
Your hot air balloon flight package differs depending on the tour you take. However, usually hot air balloon ride excursions include hotel pickup and drop-off. You'll then enjoy a light preflight breakfast consisting of pastries, fruit and other assorted treats.
You'll also have access to coffee and tea. Passenger insurance is taken care of, and upon landing, you'll be presented with a commemorative certificate, as well as a glass of champagne.
Where do hot air balloon rides in Cappadocia start?
Your tour will begin with a convenient pickup from your hotel around an hour before your adventure begins. You'll head to the hot air balloon office and launch your balloon from a nearby field.
How long do hot air balloon rides in Cappadocia last?
Most hot air balloon rides travel through the sky for an hour. However, you should set aside extra time as the experience almost always includes breakfast beforehand and a glass of champagne afterward. The whole tour lasts between two and three hours.
When is the best time for a hot air balloon ride in Cappadocia?
Hot air balloon rides normally take place during sunrise — for good reason. Early in the morning is the perfect time to enjoy the quiet skies and watch the country flicker awake from afar.
Turkey is known for its blazing sun and sweltering temperatures, and taking a hot air balloon ride in Cappadocia early in the morning avoids the strong heat.
You'll adore a balloon ride at any point during your visit to Cappadocia, and this will leave you with blissful memories of your trip.
Are there any combo available with hot air balloon rides in Cappadocia?
Cappadocia hot air balloon flight and Göreme museum tour
While other tours last just a couple of hours, this balloon ride experience turns into an unforgettable full-day affair. You'll start before sunrise with a hotel pickup before launching into the clear Cappadocian skies.
Once you've landed, you'll be taken to Devrent Valley where you'll see its famous rock formations. Then it's on to Monks Valley for a tour of the caves and churches that were built as far back as the fourth century.
Lunch is provided at a local restaurant before exploring the Göreme Open Air Museum's Byzantine paintings. Before heading back to your hotel, you'll visit Uchisar Castle which provides outstanding views of the area from its high advantage point.
The tour includes access to the national park, lunch and round-trip transportation. You should expect to pay approximately TRY5,358 (US$310.)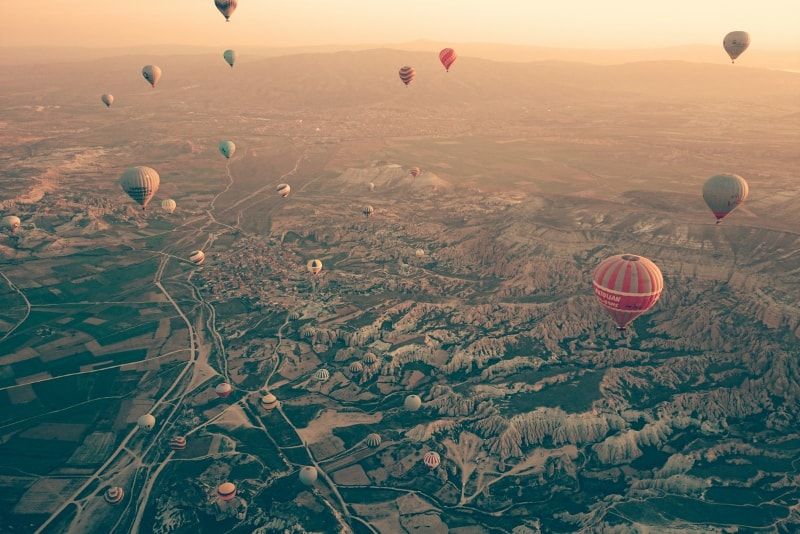 Is it safe to take a hot air balloon ride in Cappadocia?
In Cappadocia, hundreds of hot air balloons fly through the skies every day and it's considered to be a safe activity. However, it's not advisable for those with vertigo or heart problems. The landing can be bumpy, so pregnant women should also avoid the experience.
Are children allowed on a hot air balloon ride in Cappadocia?
Children over 5 years old are welcome on a hot air balloon ride in Cappadocia. The flight is not suitable for younger children and babies.
What happens in case of bad weather?
Turkey's weather is pretty stable, however, you'll be offered a full refund or the chance to rebook for another day if the conditions are poor.
Travel tips
In order to embark on your hot air balloon adventure, you'll need to show your passport or another valid form of ID.
Hot air balloon rides in Cappadocia start very early — between 4:30 AM and 5:30 AM. Make sure you get an early night beforehand to enable you to enjoy the tour fully.
Ensure your camera has a wrist or neck strap to prevent it from falling out of the balloon.
If you suffer from motion sickness, consider taking medication with you on your trip.