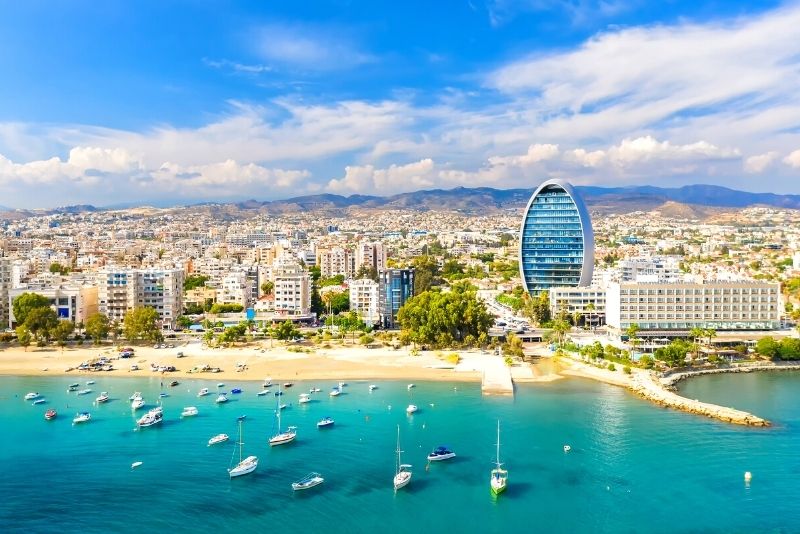 Tucked in the Mediterranean Sea between Turkey, Greece, and Syria, Cyprus boasts a rich history and culture spanning millennia, as well as some truly stunning natural scenery.
Although the island – which is also the third-largest and third-most populated island in the Mediterranean – may not always get as much attention as its neighbors, it has a wide variety of amenities for travelers.
There are world-class beaches and archaeological sites, as well as beautiful hiking trails and impressive museums. But you can also golf, scuba dive, party, or simply wander around the unique towns and cities that dot this charming island nation.
So if you're looking for a vacation that mingles culture with adventure, here are some of the most fun things to do in Cyprus.
1 – Swim and sightsee at Aphrodite's Rock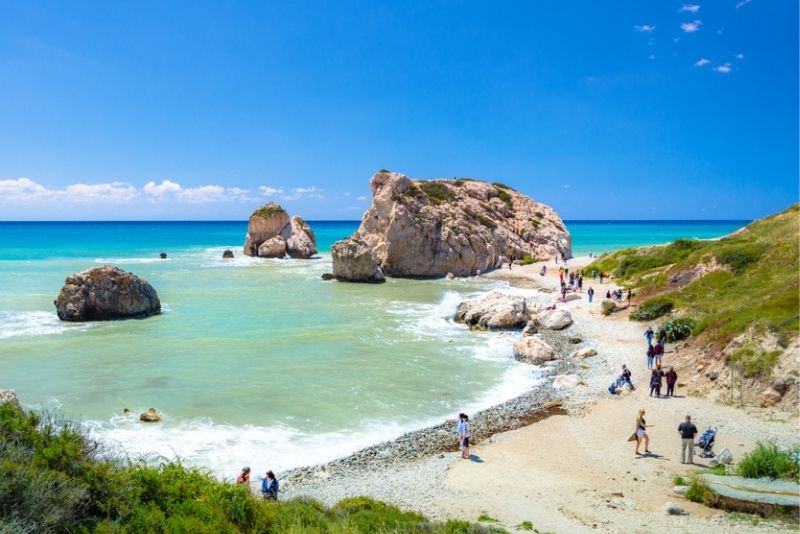 There are plenty of incredible beaches in the Mediterranean, but there's only one where you can swim your way to eternal beauty. Or so the story goes.
Just outside the city of Paphos lies the Birthplace of Aphrodite, a beautiful stretch of sand and sea that, according to legend, was the origin point of the Greek goddess of love.
According to legend, she was born of seafoam and came ashore near the town. You can visit a small temple nearby, the Sanctuary of Aphrodite, that pays homage to the myth.
And no trip to the area would be complete without visiting the famous beach. The swimming in this area is spectacular, and the best part is undoubtedly taking a lap around the famous rock.
Jutting straight out of the water, this massive stone makes quite the visual impression. It gets its name, in part, from the sea foam that generates around its base, a reference to Aphrodite's backstory.
According to legend, anyone who swims around the entire base of the stone will forever be as stunning as the goddess herself. So grab your goggles and head for the waves!
2 – Enjoy some thrilling waterparks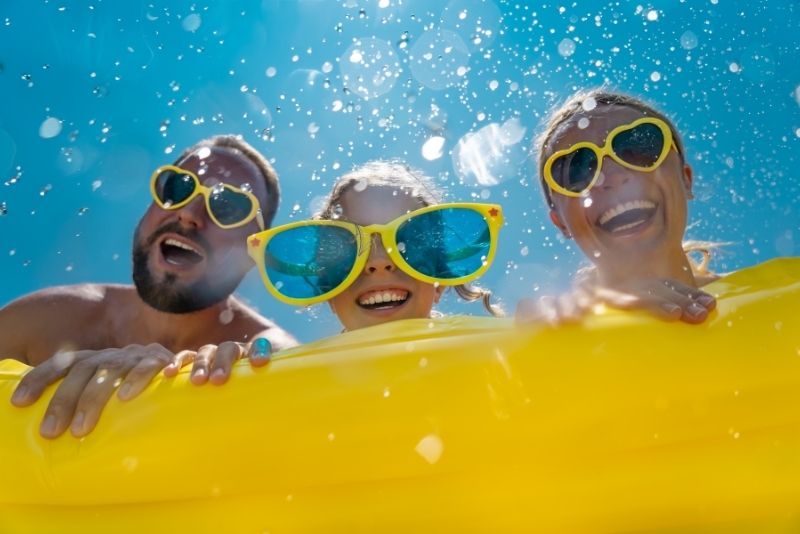 If your interests run less to swimming and more to slides, there are several excellent water parks around the island for the whole family to enjoy.
At Paphos Aphrodite Waterpark, you can indulge in a wide variety of thrilling rides, from lazy rivers and massive chutes to one of the largest wave pools in Europe.
Or check out the wild, wonderful rides at Fasouri Watermania Waterpark, from swimming pool obstacle courses to the Kamikaze Slide.
With 30 attractions and three restaurants, there's more than enough here to fill a day. And be sure to stop by Ayia Napa to visit Waterworld, the largest waterpark in the country.
With an Ancient Greek theme and a whole array of ride types, this park offers something for everyone.
Get your adrenaline pumping on the fast-paced waterslides, frolic in the mythology-themed play areas, or unwind in the Jacuzzis. Whatever your preference, a trip to the water park is a great way to enjoy a warm Cyprus day.
3 – Explore the wonders of the Tombs of the Kings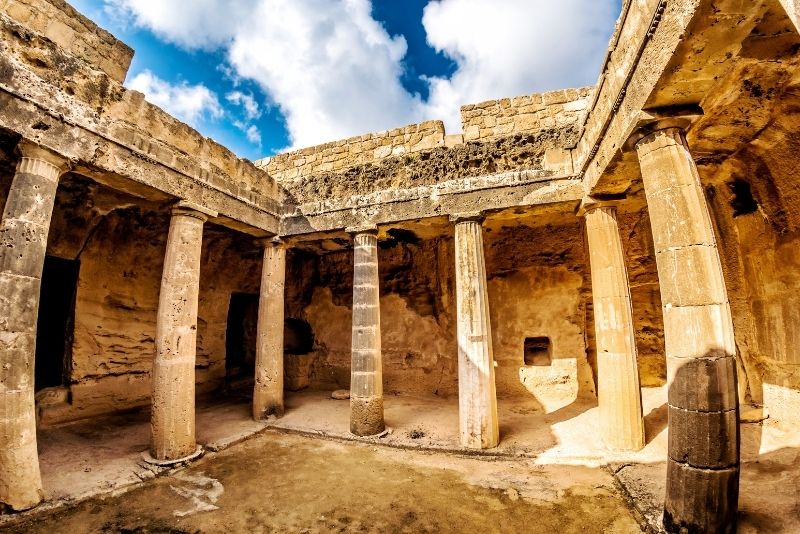 If you're an archaeology fan, you'll find plenty of things to do in Cyprus. One of the most renowned sites, Tombs of the Kings, features some incredibly preserved monuments from the Hellenistic and Roman eras.
The seven excavated tombs and their accompanying chambers actually got their name from the sheer majesty of their appearance. But instead of housing royals, they were the final resting places of several influential families and government officials.
With towering columns and vast rooms carved out of stone, it's easy to see why they got the name.
The tombs, which were used roughly from the third century B.C. to the third century A.D., took their inspiration in part from the Ancient Egyptian tradition of building their mausoleums in the style of houses for the living.
And during your visit, you'll be able to see just how much effort and detail went into the construction of these sacred spaces. Tombs of the Kings can be easily reached by bus from Kato Paphos.
4 – Sail around the island on a boat tour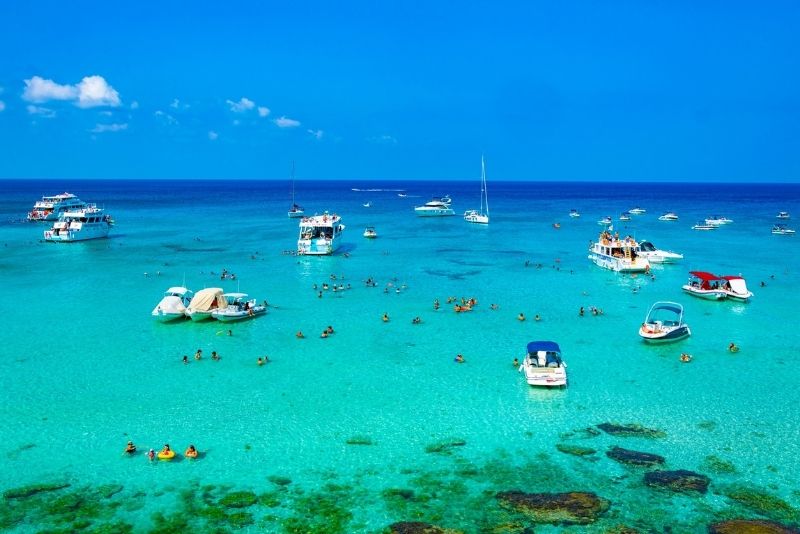 Whether you're looking for a day on the water, a beautiful sunset, or a casual cruise, there are plenty of boat tours to try all over Cyprus.
If you're in Paphos, try a half-day sightseeing cruise through the sea, complete with lunch. Or get extra classy with a sunset champagne cruise in Larnaca.
And if you have even more time in Larnaca, check out the Odyssey Boat Safari, which shows you rock formations, beaches, and even an ancient shipwreck!
There are plenty of unique tour options as well if you'd like to add a little variety to your sailing experience.
If you're in a swashbuckling mood, try the Black Pearl Pirate Cruise in Ayia Napa or the Jolly Roger Boat Cruise in Paphos. Sailing around on a recreated pirate ship, you'll feel like a real buccaneer!
Other companies offer adults-only cruises, family-focused options, or deep-sea fishing trips. No matter your preferences, time spent on the sea is one of the best things to do in Cyprus!
See also: 10 best boat tours in Cyprus
5 – Immerse yourself (literally) in art at the MUSAN Museum of Underwater Sculpture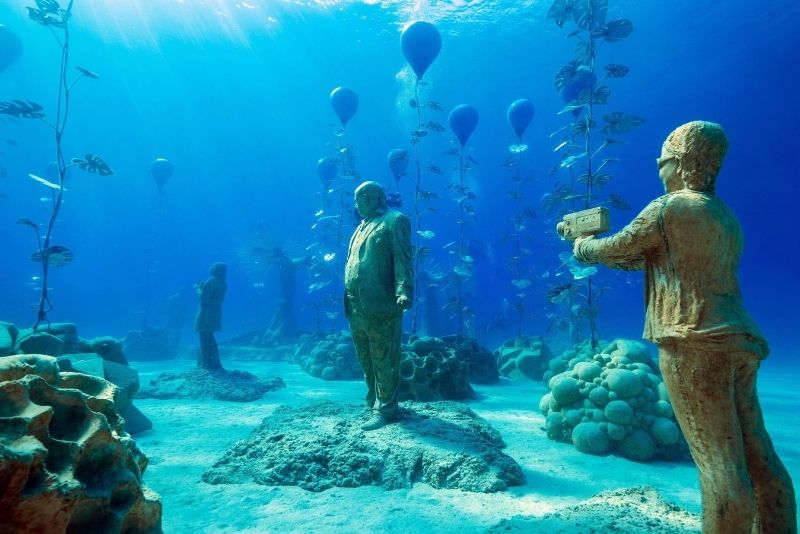 By far one of the most unique and exciting things to do in Cyprus, this stunning public art project combines two of the country's strengths: crystal-clear waters and cultural treasures.
Located in Ayia Napa, the Museum of Underwater Sculpture features 93 pieces in a variety of shapes, sizes, and styles, all inspired in some way by their natural surroundings.
You can see the museum with a snorkel tour, which also offers you the opportunity to come face to face with some of the local creatures.
Whether you're an art enthusiast, an aquatic fanatic, or both, a trip to this stunning eco-art display is not to be missed.
6 – Unwind at the best beaches in Cyprus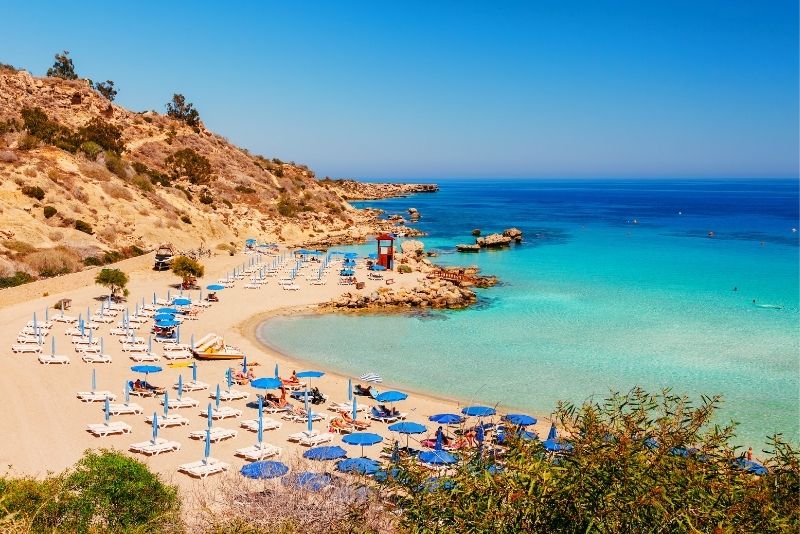 With its prime location on the Mediterranean, this island nation boasts incredible beaches that can provide a full day of fun all by themselves.
So in between all of your sightseeing excursions, be sure to take some time to relax and enjoy the soft sands and stunning blue waters around the country.
Near Ayia Napa, you can kick back at Nissi Beach, or explore the emerald waters and excellent walking paths at picturesque Glyki Nero Beach.
For more of a party atmosphere, head to Ayia Napa Island, a resort area with plenty of sun and a thriving nightlife scene.
In the southern part of Cyprus, Finikoudes Beach offers towering palm trees and famously clean waters, all conveniently close to the town of Larnaca.
You can enjoy the excellent snorkeling at Fig Tree Bay, or treat yourself to a luxurious stay in the resort area of Coral Bay. No matter where you go in Cyprus, you'll never be far from some sand and waves!
7 – Take some wheels for a spin at Akamas National Park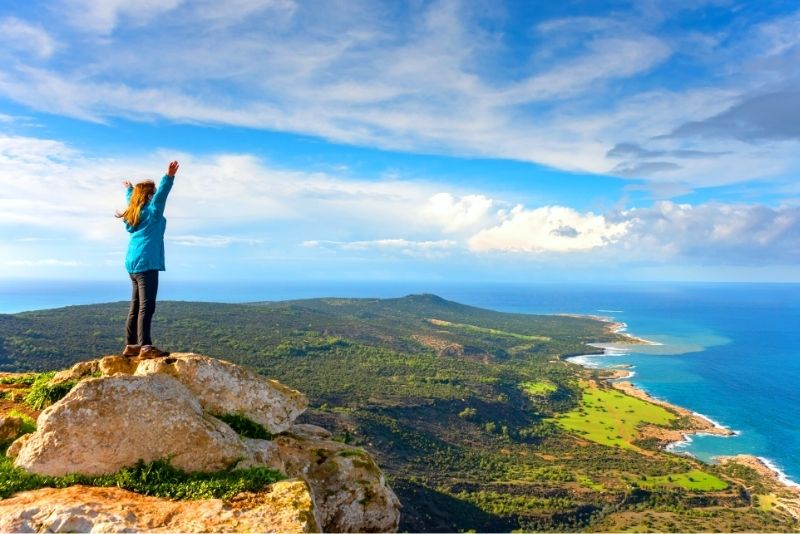 For a very different sort of experience in nature, try the tours at Akamas National Park. Located on the west coast of Cyprus, this rural park offers great opportunities to see some local wildlife, including birds, lizards, and baby sea turtles.
There are also some excellent hiking options, particularly the Avakas Gorge. Given the wildness of this area, it's best seen on a vehicular tour, and visitors have their pick of options.
Take a Jeep safari to experience the fun of off-roading through the rural trails and waterways of the area, while seeing some wild and unique areas that cannot be reached by foot.
For an even more adventurous trip, take a spin on a jeep or quad bike tour. Riding along on a half-day or full-day tour, you can see the sights up close and move at your own pace.
Depending on your preference, you can also try a beach buggy or a mountain buggy tour. Bouncing along the shore or up hills, you'll feel like the star of your own adventure film! Whatever your preference, you're bound to enjoy your trip through the park.
8 – Try some wild rides at Parko Paliatso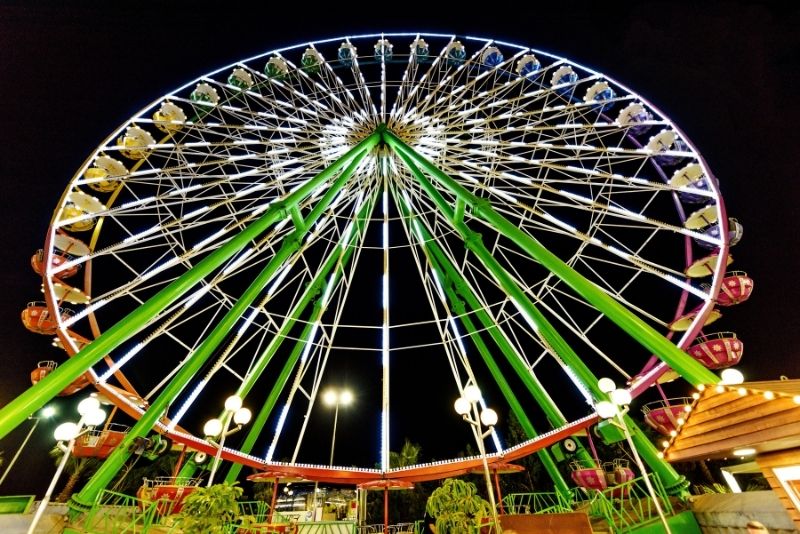 For things to do in Cyprus that the whole family can enjoy, take a trip to Parko Paliatso. Located in Ayia Napa, this amusement park – the largest in the country – boasts over 40 rides and games.
One of its most famous attractions is the Sling Shot, which, at 90 meters, is the highest ejection seat ride in all of Europe. Thrill-seekers can also try the wild Looping Star rollercoaster or the high-octane Booster.
For younger guests, there's the sensory adventure of the 5-D Theater or the spooky fun of the Ghost Train. And don't miss the 45-meter Ferris Wheel, which offers fantastic views of all the fun.
9 – Explore the local culture at The Cyprus Museum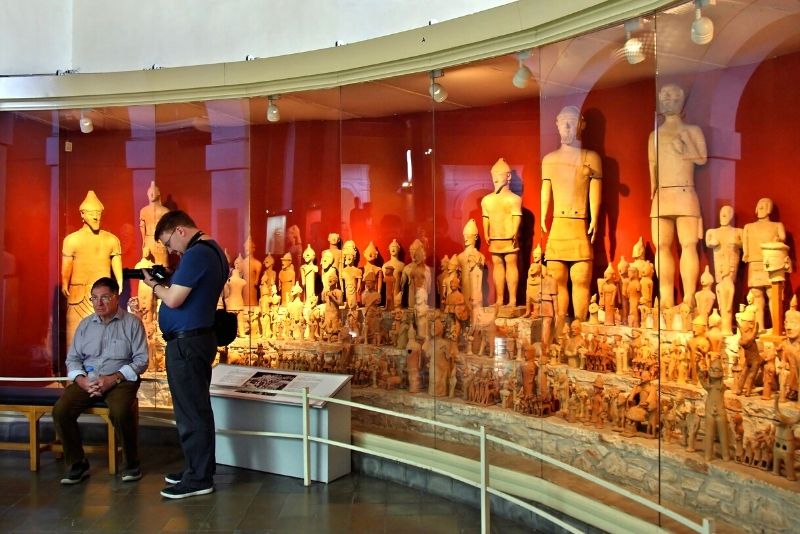 For another chance to delve into the country's famed archaeological background, check out the Cyprus Museum.
Located in Lefkosia, it covers the broad scope of the country's history, ranging from the ninth millennium B.C. to the Byzantine times. Browse through an incredible collection of artifacts from the daily lives of ancient Cypriots, and see how they interacted with the many other cultures in the region.
Decades of excavations around the island have resulted in detailed, impressive displays that wonderfully capture the area's deep, complex past.
As you progress through the museum's 14 rooms, you'll see treasures ranging from statues to weapons to jewelry. Start with stone vessels and clay items of worship from the Neolithic and Chalcolithic eras, then move on to pottery from the Bronze Age.
Admire the beautiful limestone statues of the Classical age, which reflect the influence of Assyrian and Egyptian cultures, then move to the next galleries to see the evolution of the art with the arrival of the Greeks and Romans.
You can even see a reproduction of an ancient tomb, which shows the complex ways in which the dead were honored.
Be sure to check out the clay tablets that trace the evolution of writing in Cyprus including a number of different alphabets that eventually led to the one currently in use.
10 – Bask in the Blue Lagoon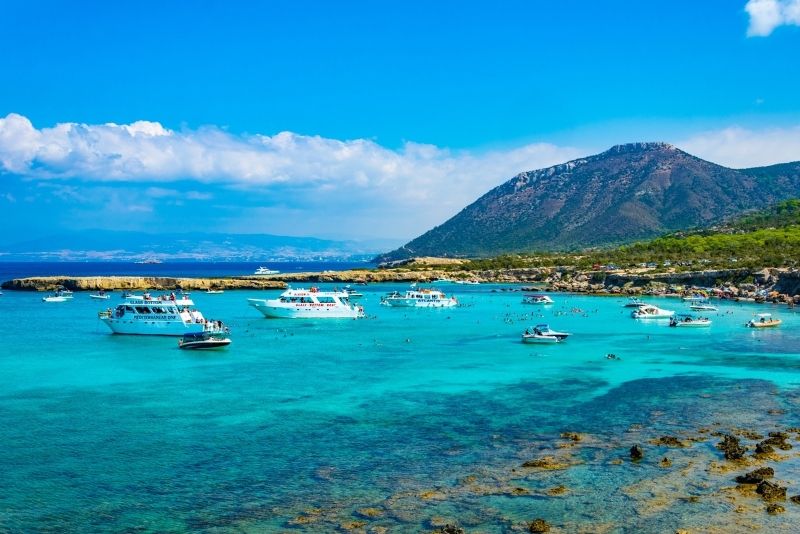 The beautiful waters of Cyprus aren't just found on the beach. Located near Paphos, the Blue Lagoon boasts beautiful views and a variety of sea life, making it a popular attraction for visitors.
There are several tours that you can book to this iconic spot that will let you explore its waters and make the most out of your trip.
You can take a cruise starting from Latchi Harbor, taking in famous sights along the coast before hopping into the lagoon itself for a swim. Or kick back and enjoy a leisurely trip through the water on an adults-only catamaran cruise.
And if you'd like to mix and match your adventures, you can even combine a lagoon tour with a cheese-making and wine-tasting excursion for a full day of fun.
Whatever your preference, there is a cruise for you. Don't miss this stunning bit of scenery during your visit!
11 – Discover Limassol Castle and the Cyprus Medieval Museum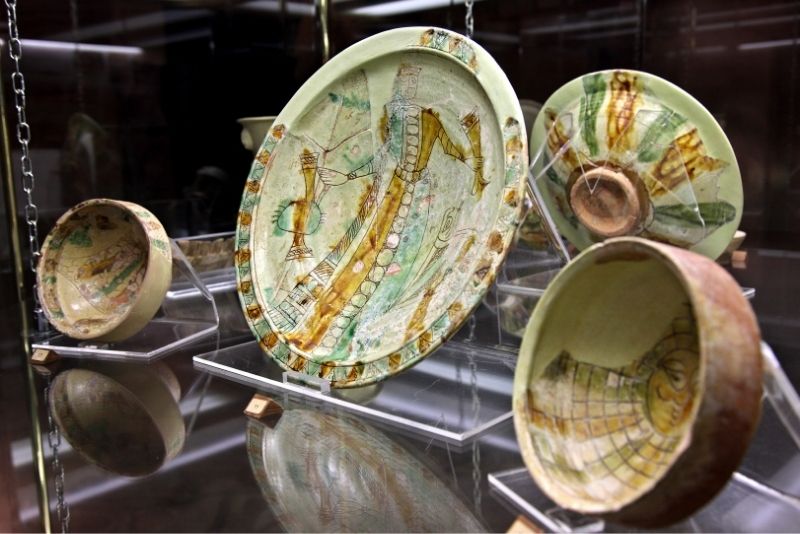 Seeing a historic castle is practically a requirement when traveling in Europe. And if it happens to have literal layers of history to explore, all the better.
Built in the town of Limassol during the Middle Ages, the castle was constructed over the remains of a Middle Byzantine Monument, as well as an Early Christian basilica.
The castle itself was once owned by the Ottoman Empire and the Venetian governor, and today, its architecture is a stunning monument to the era in which it was built.
According to legend, this was also the place where Richard the Lionheart, King of England, married his queen in 1191. Inside the building, you will find the Cyprus Medieval Museum, which features wonderfully preserved artifacts from the era.
From tombstones and coins to Medieval pottery and Byzantine-era silver plates, you'll get a great glimpse of the rich society that flourished in the area. Enjoy the varied exhibits and immerse yourself in the past at this beautiful residence.
12 – See the sights underwater while scuba diving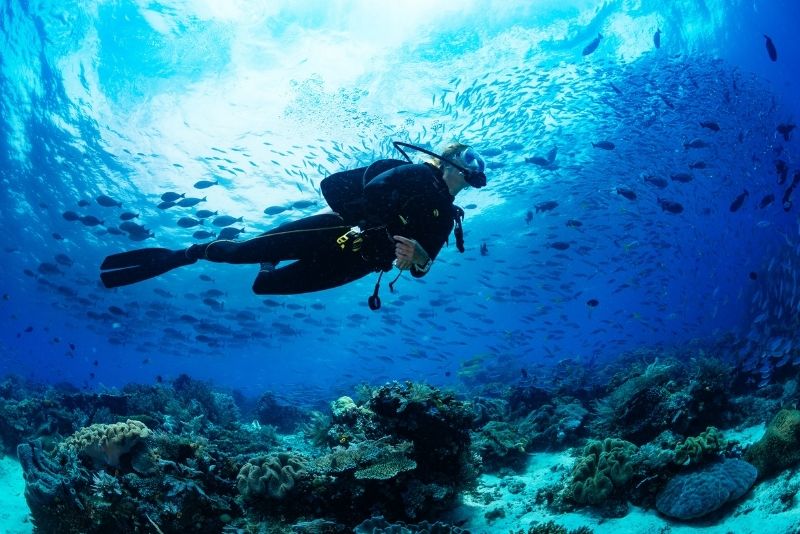 While cruising and swimming are great ways to see the local waters, scuba diving is one of the most popular things to do in Cyprus.
All over the country, there are exceptional spots to check out the beautiful underwater ecosystems. If you've never dived before, this is an excellent region to start, with wonderful sea life and some fascinating architecture.
Check out ancient Roman artifacts and look for octopuses in Paphos, or admire the views and feed the fish in Protaras. And if you like what you try, you can get PADI-certified with multi-day courses in Coral Bay, then head to Green Bay (also in Protaras) for a night dive or a cave dive.
These unique excursions will allow you to see the rich world beneath the waves in a totally different way! Whether you're a master diver or just starting your journey, Cyprus' undersea offerings will be perfect for you.
13 – Tour some castles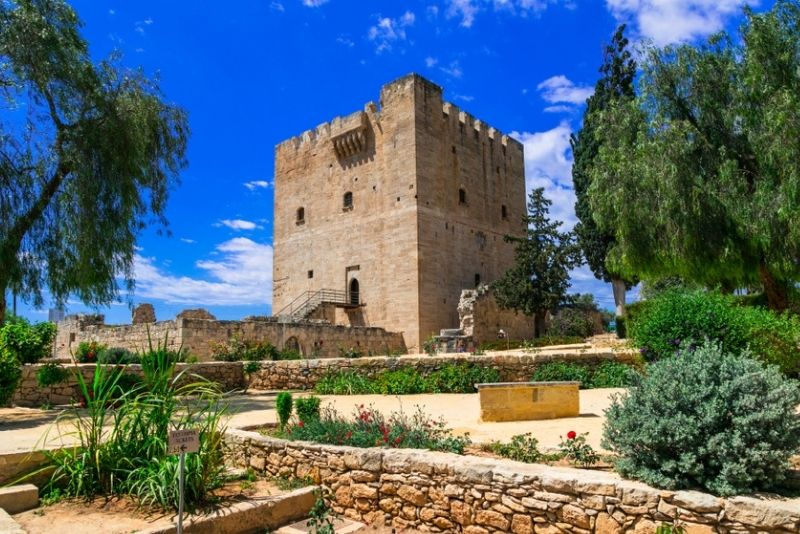 Limassol is not the only place to go in Cyprus if you want to see some excellent castles. In fact, the history of the area is so deep that you can barely throw a rock without hitting a historic residence, each with its own unique design and story.
Visit Kolossi Medieval Castle, the original home of nationally beloved Commandaria wine, or take in the spectacular views at mountainous Saint Hilarion Castle, rumored to be the visual inspiration for the Disney classic Sleeping Beauty.
Head north to see the Kyrenia Castle in the north and enjoy the magnificently preserved palace – as well as the shipwreck museum inside -, or roam through the many rooms of Kantara Castle, a former military stronghold.
And if you're in Paphos, don't miss the Paphos Castle, which stands right by the town harbor and features a rich history with Byzantine, Ottoman, and Venetian influences.
For a deeper understanding of the island's past, and the chance to see some well-preserved architecture, make sure to see some of these fantastic buildings up close.
14 – Hang out with flamingos at Larnaca Salt Lake
Made up of three interconnected lakes (and a fourth cut off by the airport), the Larnaca Salt Lake makes quite a striking visual impression.
With its flat, glassy surface and adjacent wetlands, it's a must-see spot for anyone interested in natural spaces.
This unique ecosystem is best visited in winter when thousands of flamingos migrate to its warm climate. But you can enjoy its beauty all year round, and marvel at its otherworldly views. Don't miss a chance to glimpse this beautiful area and its famous pink residents!
15 – Enjoy art and mythology at Nea Paphos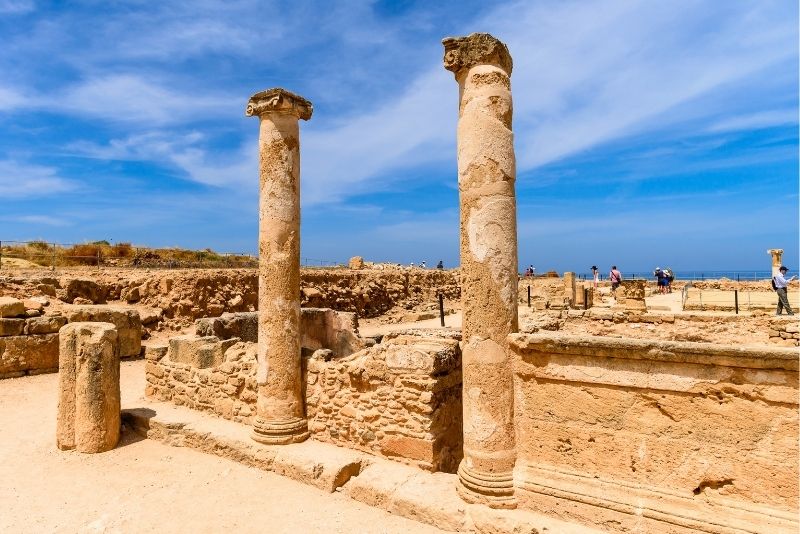 For a history that spans from prehistoric to medieval eras, don't miss the striking ruins of Nea Paphos.
This ancient town is perhaps best known for its ancient Roman art, which can still be viewed today. Five different houses in the site feature intricate floor mosaics that are remarkably well-preserved.
These colorful, massive works of art offer a fascinating glimpse into the culture and design norms of Greco-Roman society.
Be sure to stop by the House of Dionysus to see some impressive works depicting mythological scenes, and take in its unique function as a luxury building.
16 – Pay a visit to the Hala Sultan Tekke Mosque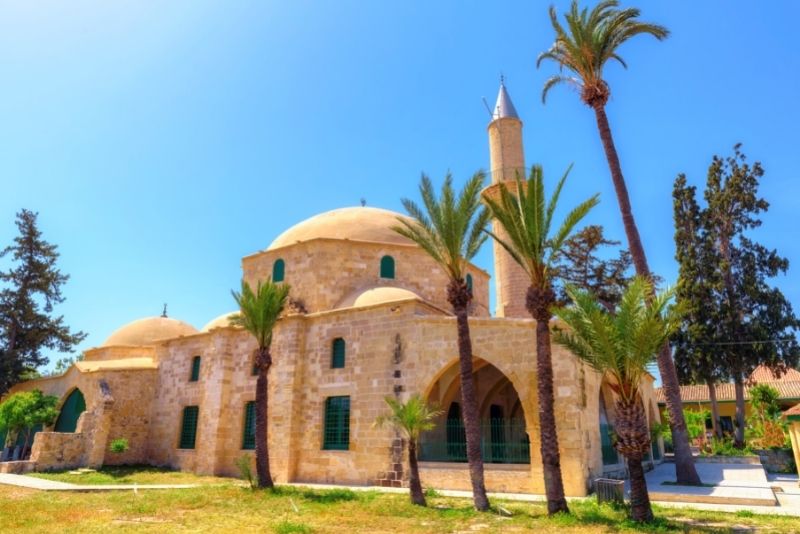 This holy site, which sits on the west bank of Larnaca Salt Lake, is a tremendously important and influential place in Islamic culture. It was built directly over the grave of Umm Haram, who was believed to be a follower and/or relative of the prophet Mohammed.
The mosque itself, which was built from 1760 to 1817, is striking in appearance alone, with its towering domes and elegant designs.
But it is its important historical background – and its status as a still-functioning house of worship – that makes it well worth a visit. If you are in Larnaca, don't miss the opportunity to see this splendid monument to religious life.
17 – Explore Ancient Roman history at Salamis Ancient City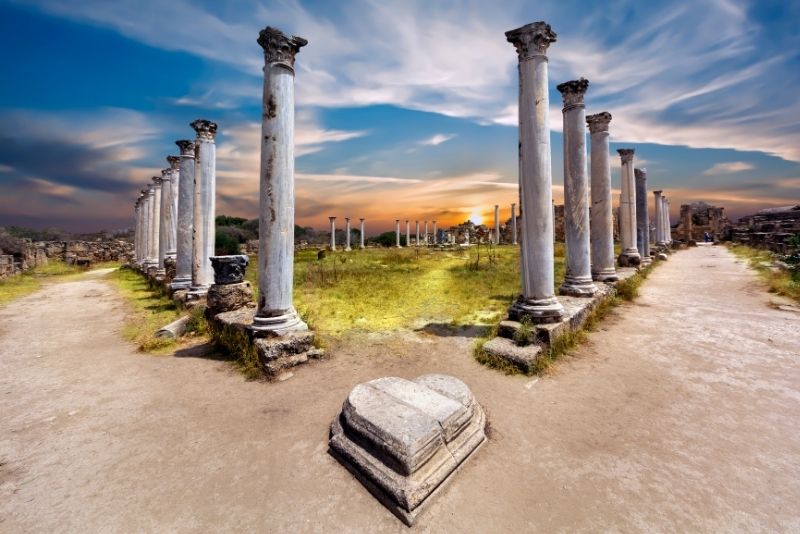 The ancient city of Salamis' list of previous rulers reads like a civilization textbook: Egyptians, Persians, and Assyrians, among others.
But it was the Romans that left the biggest impression, and if you visit the site, you will see some wonderful examples of their famous art and architecture.
See the remains of statues of worship, as well as several historic baths that were once frequented by the residents.
And of course, there are the massive marble columns, which dot the landscape and showcase a city that has witnessed its fair share of history.
18 – Take a hike in the Troodos Mountains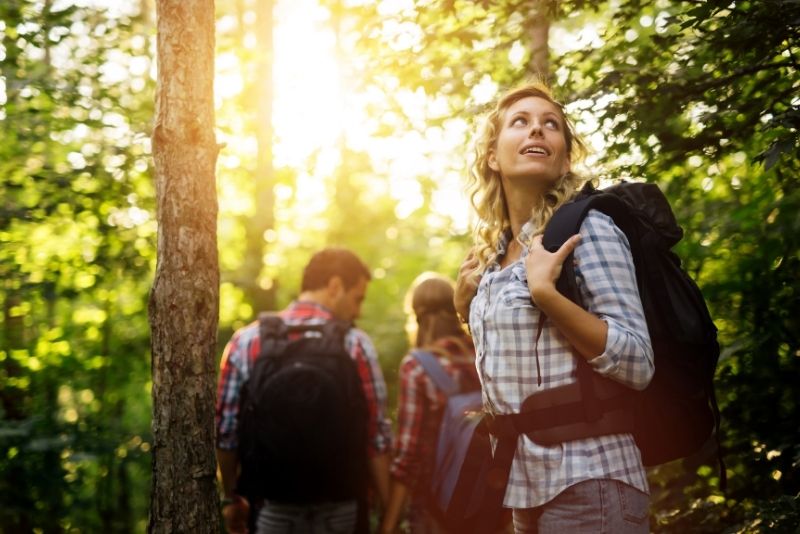 Despite its famously warm and sunny climate, you can still experience snow in Cyprus! If you'd like a little bit of winter wonder during your vacation, head to the Troodos Mountains, the largest mountain range in the country.
Its tall slopes offer some picturesque views all year round, and when winter comes, there are plenty of sports to try as well. The highest peak, Mount Olympus, is a powerful presence. Standing 1,952 meters (6,404 feet) tall, it features two extensive ski areas.
For those who prefer less wintry activities, the mountain also features a number of excellent hiking trails. The Artemis trail, a 7.2 km (4.47 mile) loop, sits at the peak and provides great views and some fun walks for visitors.
Hike along this scenic path to experience some of the best nature the mountains have to offer, including distinctive rock formations and forests of centuries-old trees.
The trail is named for Artemis, the Greek goddess of the hunt. According to legend, she devoted herself to these wildlands and the people that pass through them. As you hike through these beautiful areas, it will be easy to understand why.
19 – Have an adventure at Cape Greco National Park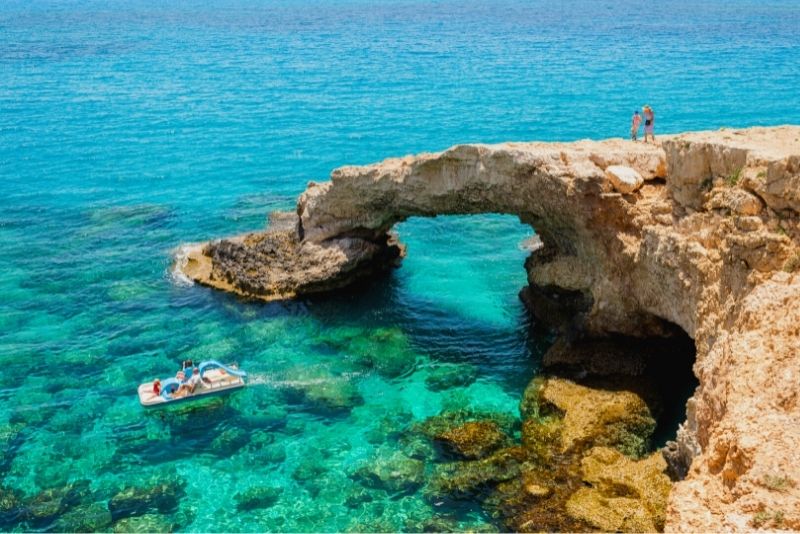 If you like to mix your beach time with some strolls through the forest, be sure to visit the stunning and scenic Cape Greco National Park. Located near Ayia Napa, this beautiful piece of land features coastline, hiking trails, and a smattering of cultural treasures.
You can walk along sections of the E4 European Long Distance Trail – which stretches from Cyprus all the way to Gibraltar. – or try the coastal Aphrodite Nature Trail. You can also bike along the many cycling paths in the area.
When you're ready to head back to the water, check out some of the many snorkeling, swimming, and scuba diving opportunities in the area.
Be sure to stop by the stunning sea caves, as well as Love Bridge, a natural rock arch that stretches out into the water. According to legend, people who kiss on the bridge and make a wish will soon see it come true.
For a more culturally-focused outing, check out the Ayioi Anargyroi Chapel. It was built in homage to Saint Cosmas and Saint Damianos, twin brothers and doctors whose commitment to healing made them legends in the community.
And keep an eye out for the cave just below the chapel; according to legend, it was home for many years to a hermit.
20 – Trek through the Avakas Gorge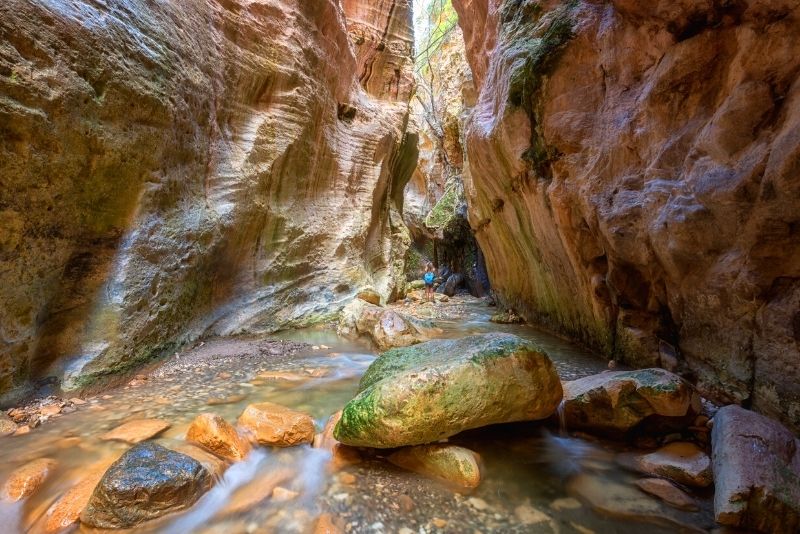 Back up on land, you can discover more of the country's distinctive geology with a trip through Avakas Gorge.
With soaring canyon walls and a winding, rocky trail, a hike through this wild space offers adventure and contemplation in equal measure.
For nature-lovers, this is a great place to glimpse some of the area's beloved plants and wildlife, including junipers, fig-trees, wildflowers, butterflies, falcons, and foxes.
Be aware that the trail is considered difficult due to the rocky terrain, and can be extremely hard in the hot summer months. But with some preparation and planning, you can have a wonderful time seeing the sights and exploring the trail.
21 – Drink a cocktail at the best beach clubs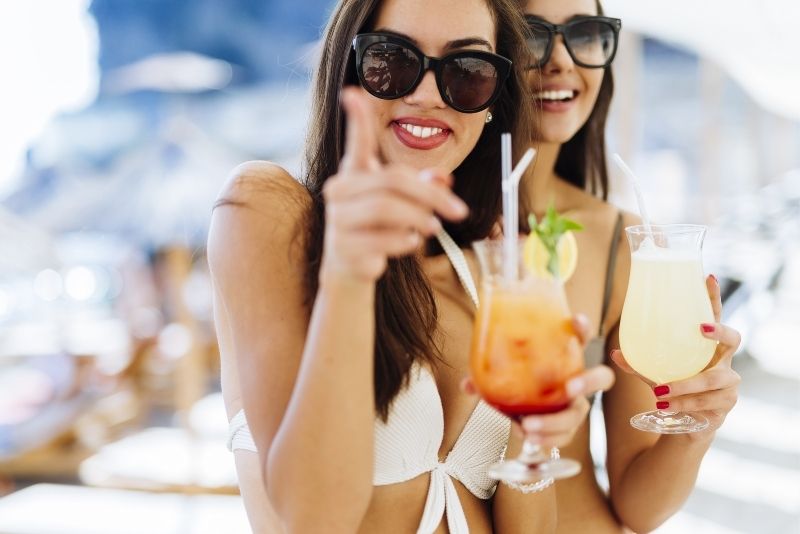 There are plenty of great historical and nature-based things to do in Cyprus, but sometimes, you just need to take some time to relax on the sand or get into the local party scene.
Luckily, the country has no shortage of excellent beach clubs, where you can savor a warm atmosphere, cold drinks, and a lively social atmosphere.
Sample the delicious upscale cuisine and bask in the golden sands at Columbia Beach, or try your pick of watersports at Escape Beach Club.
Enjoy creative tropical cocktails and an impressive lineup of parties at Nissi Bay Beach Bar, or jam out to some world-class DJs at Guaba Beach Bar.
Snack, sip, and snag a sunbed at Paradisos Beach Venue, or stop by Ammos on Makenzy Beach to pair fine dining with relaxed coastal vibes.
Whatever type of beach club experience you're looking for, you're sure to find it with Cyprus' varied offerings.
22 – Take a walking tour in Nicosia's Old Town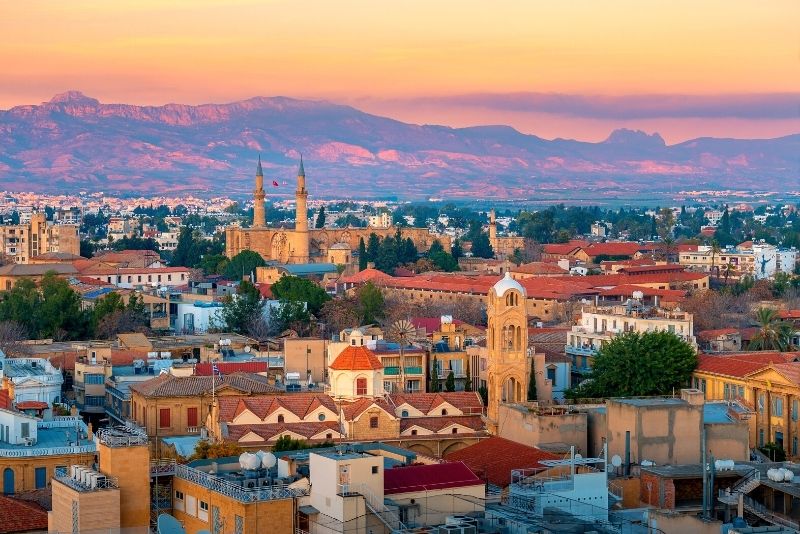 Nicosia, the country's capital, represents the diverse influences on the region, divided between Greek and Turkish cultures.
And that's not just a metaphor; the city is literally split down the middle, with the famous Green Line marking the boundary between its political territories. It is the only remaining militarily divided capital in the world.
If you take one of the city's many excellent walking tours (or book a segway tour if you have limited time), you can learn more about this unique political situation, as well as the many other fascinating features of the capital.
Stroll the historic streets of this multicultural town, taking in such stunning historic sights as the Phaneromeni Church and the Selimiye Mosque.
For museum buffs, there are several tours that offer a glimpse inside the city's many wonderful cultural institutions, including the A.G. Leventis Gallery, the Cyprus Archaeological Museum, and the Ethnographic Museum of Cyprus,
And if you're visiting the city around Christmastime, don't miss the Christmas Magic Walking Tour.
With stops at the beautifully decorated Mall of Cyprus and the Nicosia Christmas Village – not to mention plenty of opportunities to sample seasonal treats and brews – it's a wonderful way to get into the holiday spirit.
23 – Meet some cool creatures at the Pafos Zoo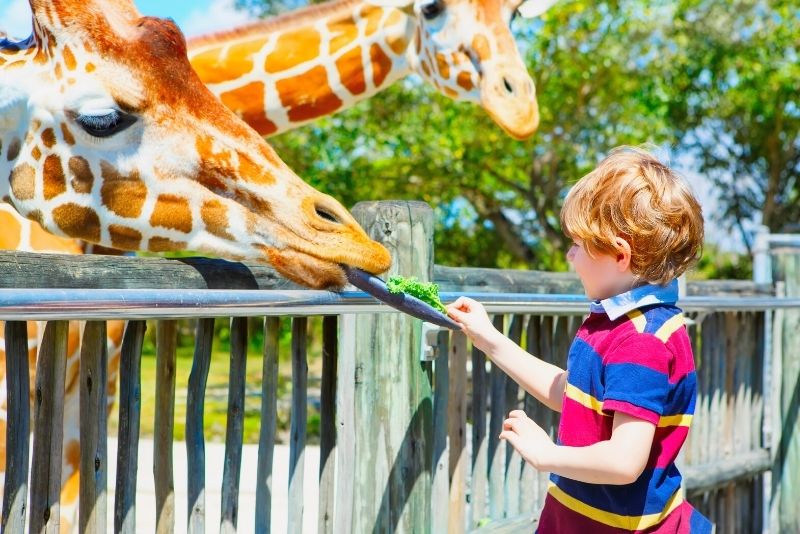 Your creature-viewing opportunities in this country aren't just limited to forests and the sea. If you're looking for things to do in Cyprus that combine family fun with educational opportunities and a focus on conservation, be sure to visit the Pafos Zoo.
This renowned facility got its start as the private collection of animal-lover Christos Christoforou, who opened the zoo to the public in 2003.
It contains one of the largest collections of parrots and venomous snakes in Europe, as well as a vast array of wildlife ranging from tigers and elephants to crocodiles and albino wallabies.
In addition to great exhibits, the zoo offers a variety of entertaining programs, including a daily bird show and opportunities to interact with individual animals. Get up close and personal with lemurs, giraffes, and elephants for a truly memorable visit!
The zoo also participates in a number of national and global conservation programs, so your visit can help support the wild cousins of the creatures you'll see during your trip.
24 – Go for a round of Golf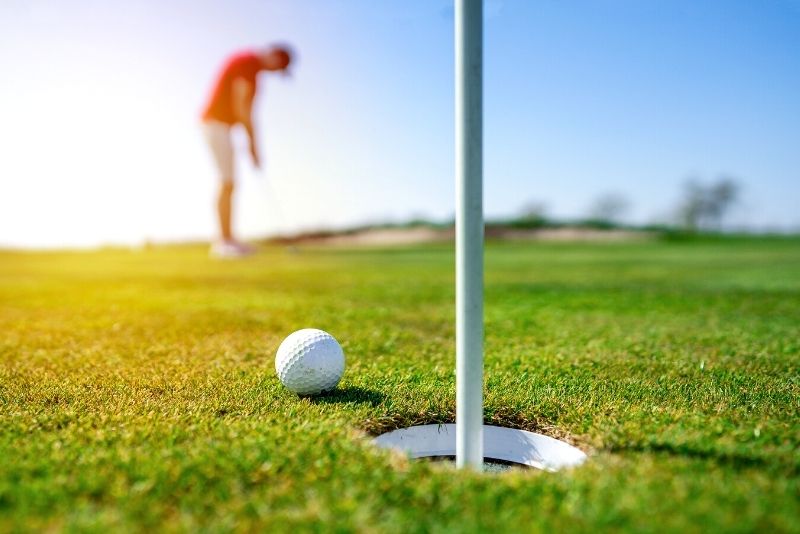 For golf fans, there are plenty of excellent courses to try all over the island. Secret Valley Golf Resort, located in Paphos, offers stunning views of the sea and surrounding forests on its 18-hole championship course.
At Minthis Resort, tee off in beautiful, distinctly European scenery that includes orchards and a historic monastery. Or check out the challenging, adventurous course at Korineum Golf Course, while enjoying the stunning mountain ranges in the background.
With excellent views, unique courses, and a variety of amenities and luxury accommodation nearby, Cyprus offers a quality experience for any golfer.
25 – Visit some Sea Caves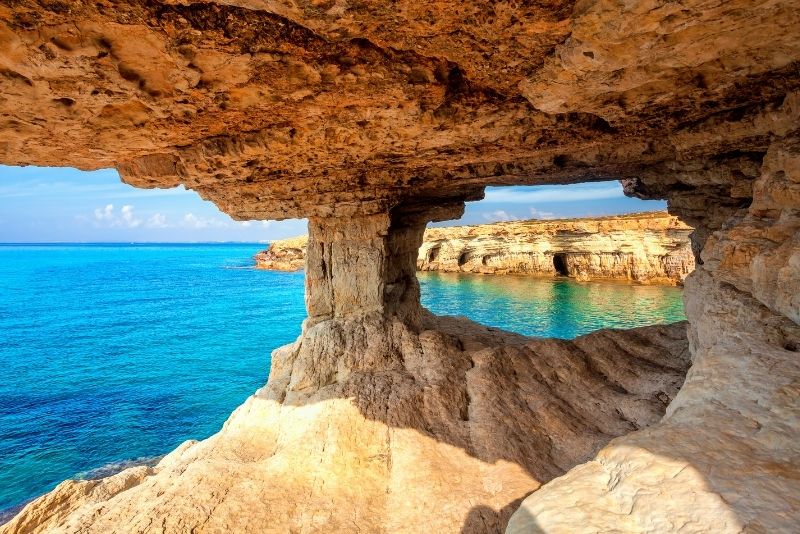 In between all of your other water-based activities, don't miss the chance to visit some of the many sea caves around the coast.
You'll feel like a pirate or old-timey adventurer as you delve into the geology and history of these areas, taking in stunning views as you explore
Ayia Napa and Paphos are particularly excellent spots to examine these caverns up close. In Ayia Napa, you can visit the striking caves that were once rumored to hold stolen treasure. Swim, snorkel, and take photos next to its splendid ocean views.
If you're really feeling daring, you can also jump off the nearby cliffs for a refreshing dive into the water. In Paphos, be sure to visit the Peyia Sea Caves.
With striking rock formations and natural sculptures carved by the elements, these caverns, which can be reached by boat or swimming, are a sight to behold. Keep an eye out for the many seals that call the area home.
Tours are available for both of these cave systems, often combined with Jeep or buggy safaris. Kayak, drive, or sail your way around these stunning natural features. Make sure to take plenty of pictures!
26 – Make some new friends at Camel Park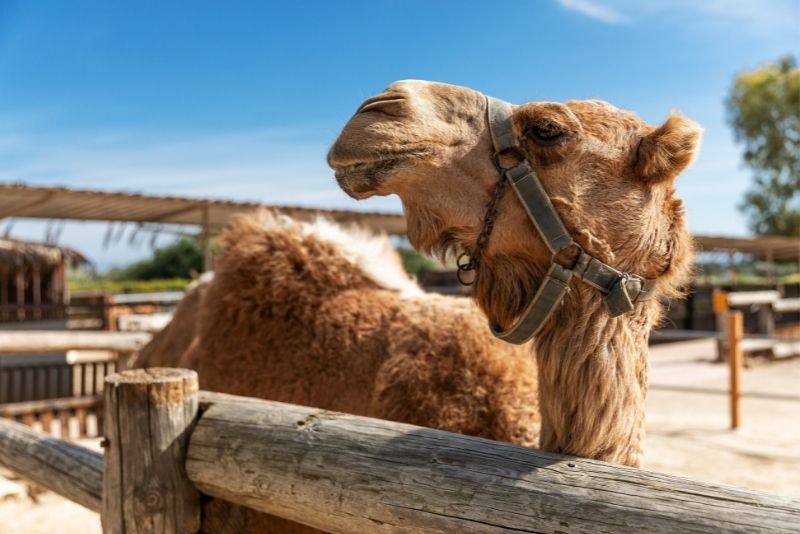 For an adventurous day with some exciting animals, take a trip to Camel Park in Mazotos. 60 delightful dromedaries live on the grounds, and guests of all ages can interact with them and learn about their habits.
Feed the camels some tasty treats, then climb aboard their backs for a scenic country ride. There are also many other animals to visit on the property, including lemurs, turtles, llamas, and ostriches. And on hot days, you can even cool off in the on-property pool.
Camel Park is an all-ages treat with plenty to offer for travelers, so grab some hay and get ready to meet your new animal acquaintances.
27 – Get mechanically-minded at the Cyprus Motor Museum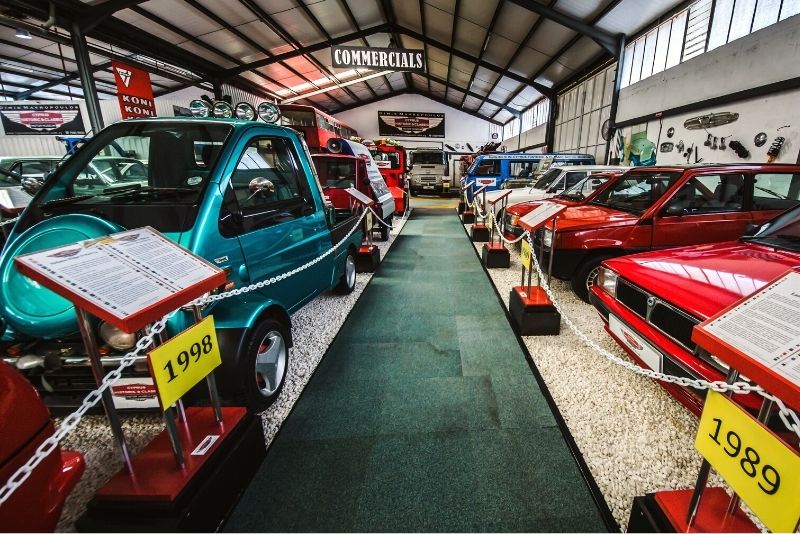 For gearheads looking for things to do in Cyprus, a trip to the Cyprus Motor Museum is a must.
Located in Limassol, this 3,500 square meter building is all about the preservation and celebration of classic vehicles. Take some time to view the wide array of artifacts on display, each lovingly restored to its original glory.
From antique and classic cars to tractors, buses, and motorcycles, there's something here for every motor fan to enjoy. For a truly exciting experience, you can even rent some of the cars on display for a few hours.
Hire a car and driver to add some extra pizzazz to your wedding, or take a spin around the area in one of the many unique automobiles in the collection. Whatever number of wheels you prefer, you'll find something to admire at this museum.
28 – Sample some local wines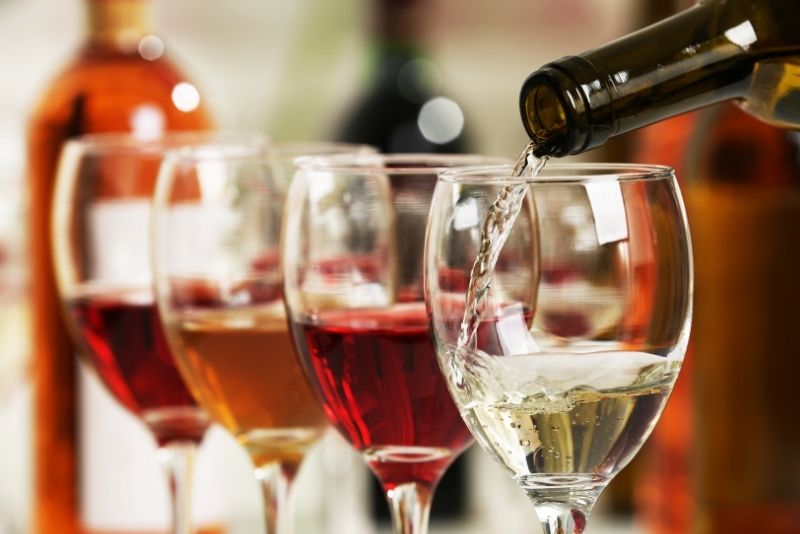 Thanks to its hearty Mediterranean climate, Cyprus has an excellent winery scene. The Troodos Mountains are particularly popular for wine-tasting tours, offering a variety of delicious beverages to sample.
Visit small villages and beautiful vineyards as you sip your way through the country's finest blends. Or make a day out of it and add a food-tasting tour at one of the many excellent farms in the area.
With highly knowledgeable guides and a wide variety of options, the wine scene in Cyprus is well worth sampling.
29 – Visit some scenic waterfalls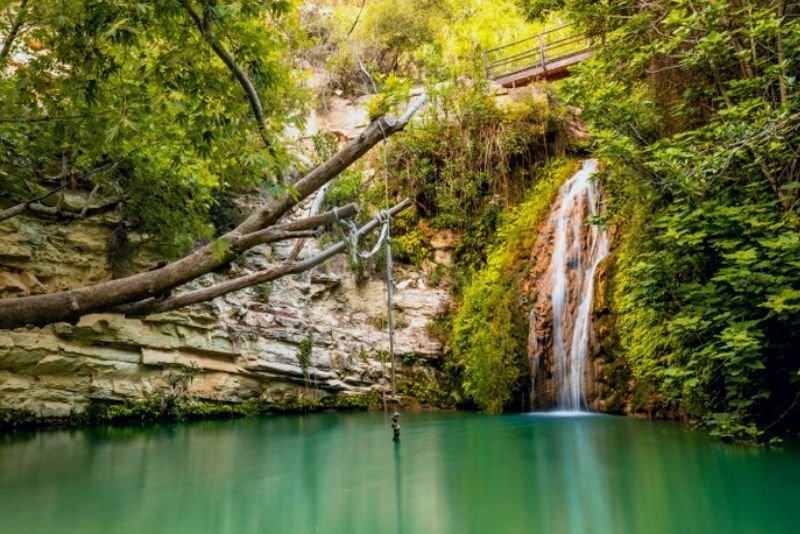 While you're out hiking on the country's splendid trails, make sure to check out some of the beautiful waterfalls in the region.
On the Millomeri Waterfall Nature Trail, take in the lush vegetation and the peaceful Kyros River on your way to the picturesque falls.
You can also enjoy some terrific mountain views on this trek, making it an excellent option for those seeking a comprehensive hiking experience.
Or pay a visit to Adonis Baths in Koili, which includes a theme park, bungalows, and a museum, in addition to crystalline waters that are perfect for swimming.
And if you're in the village of Platres, be sure to stop by the Caledonia waterfalls, some of the tallest in the country, which is easily accessible by a scenic hiking trail. For tranquility and spectacular views, the country's waterfalls are unbeatable options.
30 – Go jet skiing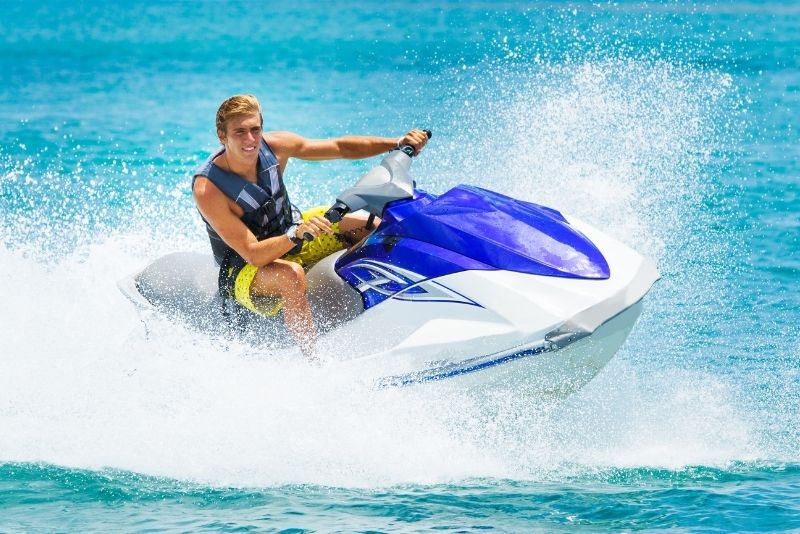 For a more energetic water-based outing, try renting a jet ski to see the sea at your own pace. In Latchi, you can rent a vehicle and zip off to visit some of the area's spectacular sights, including the Akamas Peninsula and the Blue Lagoon.
Ideal times for rentals vary depending on personal preference; you can go out on still waters for a more mellow tour, or pick a wavy time of day for a thrilling ride around the water.
Whatever your style, a jet ski is easy to rent, easy to operate, and offers a unique (and fun!) way to see the treasures of the coastline.
31 – Enjoy the works at Ayia Napa Sculpture Park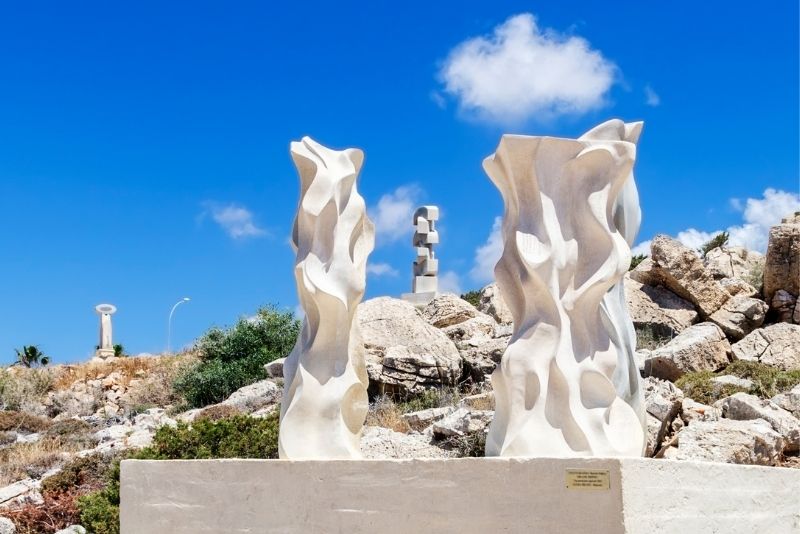 Much like its underwater cousin, the Ayia Napa Sculpture Park offers a wonderful chance to enjoy art and the environment in relation to each other.
The pieces draw influence from a variety of artistic styles and world mythologies, and all of them showcase the rugged beauty of the landscape that surrounds them.
See the detailed works of art and the surrounding mountains, then stop by the cactus and succulent garden next door to see some beautiful desert plants.
This inventive and meditative space is the perfect stop for lovers of natural beauty and great art alike.
32 – Visit the Kourion Archaeological Site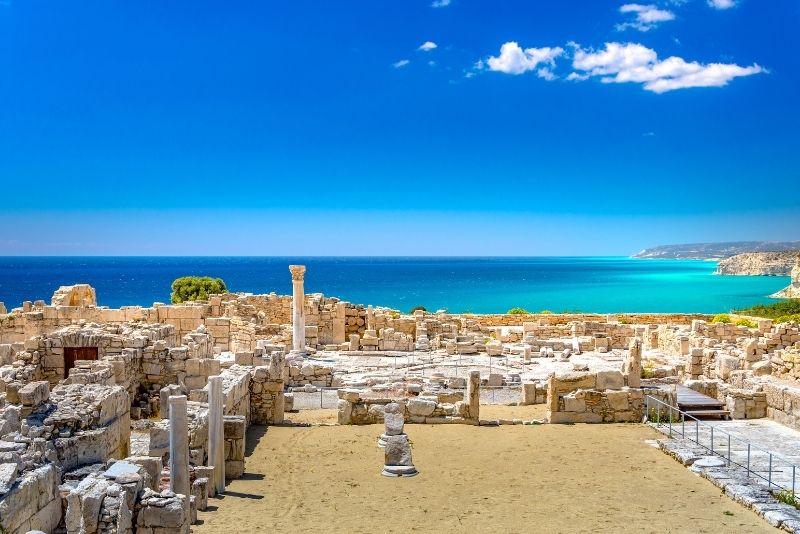 While all of the archaeological sites in Cyprus are worth a visit, Kourion is particularly fascinating. This ancient site was once one of the most influential city-kingdoms in the region, and today, it's an excellent showcase of Greco-Roman architecture and culture.
Its crown jewel is the Kourion Ancient Amphitheater, which hosted shows from the 2nd century B.C. to the 2nd century A.D.
After significant preservation efforts, the theater has been restored to its original purpose, with numerous shows and concerts taking place there throughout the year.
You can also visit a small temple, ancient bathhouses, and several striking floor mosaics. Explore the past of this fascinating space, then take in a show to celebrate its future.
33 – Take a Stand-up paddle board for a spin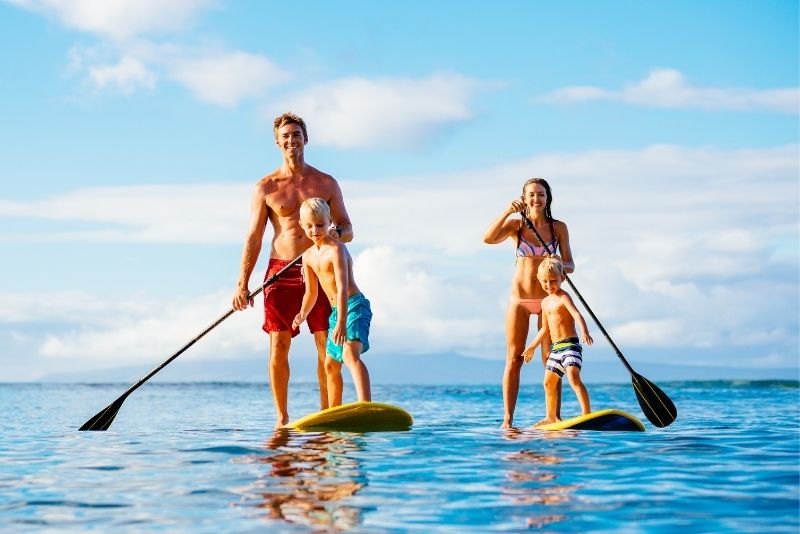 Jet-skiing isn't the only way to see the coast under your own power. For a slower-paced (but still excellent) adventure, try your hand at stand-up paddleboarding.
Even if you're new to the sport, fear not; tour companies and rental places generally offer lessons before sending you out to the water.
Once you've got the basics down, head out for an afternoon of sightseeing and excitement. Try a sunny safari along the coast, or combine your lesson with a snorkeling tour for a full afternoon of watery fun.
34 – Tour the historic tombs of the Church of Saint Lazarus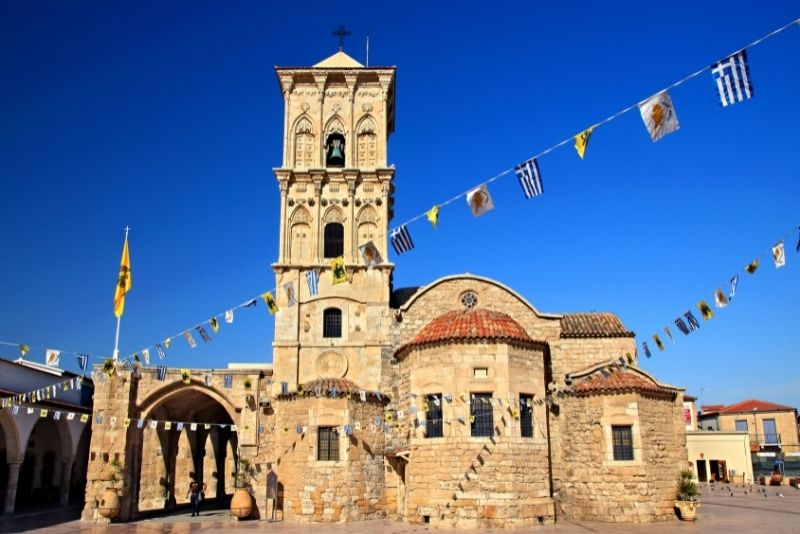 Much like the Hala Sultan Tekke Mosque, the Church of Saint Lazarus (Agios Lazaros) is a beautiful piece of architecture with a significant role in religious history.
It is best known as the final resting place of Saint Lazarus, a close friend of Jesus Christ who is believed to have been raised from the dead.
The church, which was built in the 10th century, also features stunning Byzantine designs and a variety of religious icons, including a depiction of the Virgin Mary in the Russian artistic style.
Be sure to stop by the Byzantine Museum next door for a deeper look into the history of the era.
35 – Putter around at Island Cove Adventure Mini Golf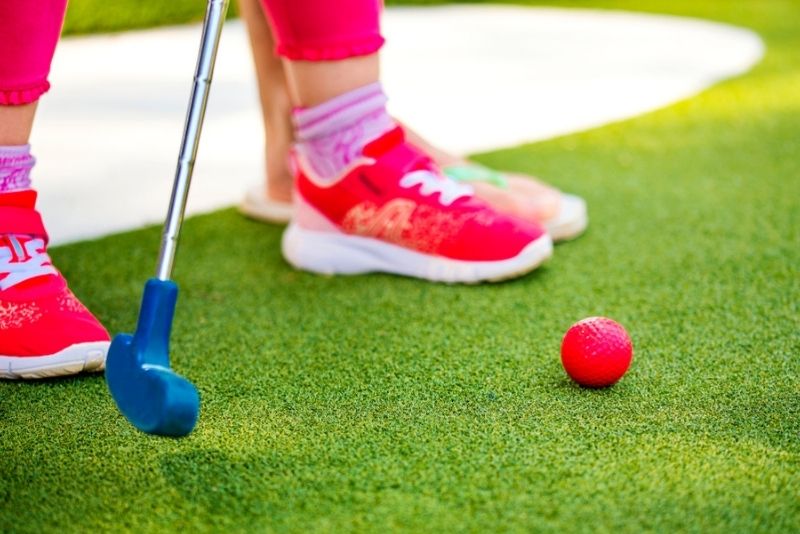 In between all the sightseeing, take the family to Island Cove Mini Golf for a round of fun.
A pint-sized version of the renowned links nearby, Island Cove offers a fun, reasonably challenging course with some great decor.
Try playing at night to enjoy some beautiful light displays while you tee off.
36 – See ancient ships at the Thalassa Museum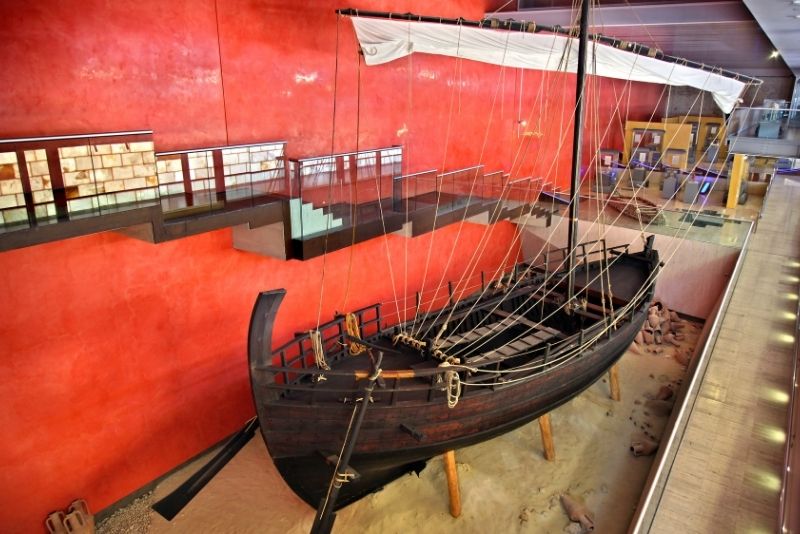 To gain a better understanding of how Cypriots relate to the sea that surrounds them, stop by the Thalassa Museum in Ayia Napa.
The building's impressive collections include several fossils and taxidermied specimens representing the diverse creatures that roam these waters, as well as a variety of nautical artifacts.
Don't miss the Kyrenia II, a precise replica of a vessel from 400 B.C. that offers a glimpse into the ancient sailing history of the region.
Be sure to check the calendar before you go, as there are occasionally lectures and presentations available. For fans of the sea and history, the Thalassa Museum is a must.
37 – Make the rounds of some Monasteries
With such a rich religious history, it's little wonder that this island nation boasts its fair share of monasteries. Exploring these buildings and their unique stories is one of the best things to do in Cyprus if you are interested in religion or the culture of the island.
In Marathasa Valley, the Kykkos Monastery features elegant decor, historical icons, and a distillery that produces fine spirits.
The Medieval Monastery of Ayia Napa, with its ancient stonework, storied past, and impressive collection of artifacts, remains a popular venue for festivals and other community events.
The Machairas Monastery, in the mountain range of the same name, features a devout brotherhood of monks and a variety of relics, including an icon of the Virgin Mary that is said to have been created by Apostle Luke the Evangelist.
The imposing and striking Stavrovouni Monastery sits atop a rocky peak. Like Machairas, it is maintained by a traditional brotherhood, and it is famous for containing a piece of the Holy Cross. It was founded in the 4th century by Emperor Constantine's mother, St. Helena.
For a more tranquil (but still impressive) experience, visit Bellapais Abbey in the sleepy village of the same name. With excellent views, well-preserved stone arches, and an extensive garden, the abbey is frequently used for village events and is a great place to explore and unwind.
With a variety of histories and treasures, each monastery in Cyprus offers its own fascinating story for travelers.
38 – Fill up on a food tour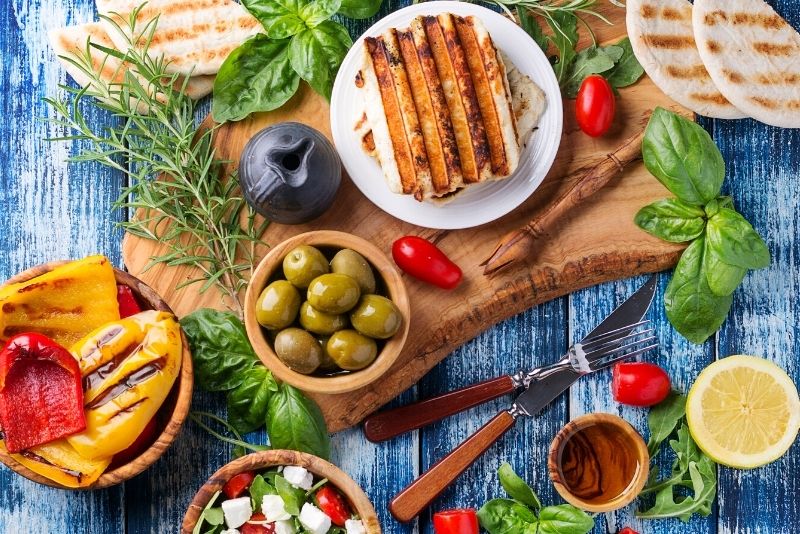 See what makes the Mediterranean diet so special with one of the island's food tours.  Head to the Troodos Mountains to sample the local cuisine alongside some choice wines – a perfect reward for all of that hiking!
Take some time to explore the sweets, coffee, and traditional dishes in the towns of Palaichori and Omodos. And for a truly rustic experience, sample the local fare in the little villages of Lefkara and Fikardou.
There's no better way to learn more about daily life in these little burgs than by trying some of their meals.
39 – Go deep into the past at the Neolithic Settlement of Choirokoitia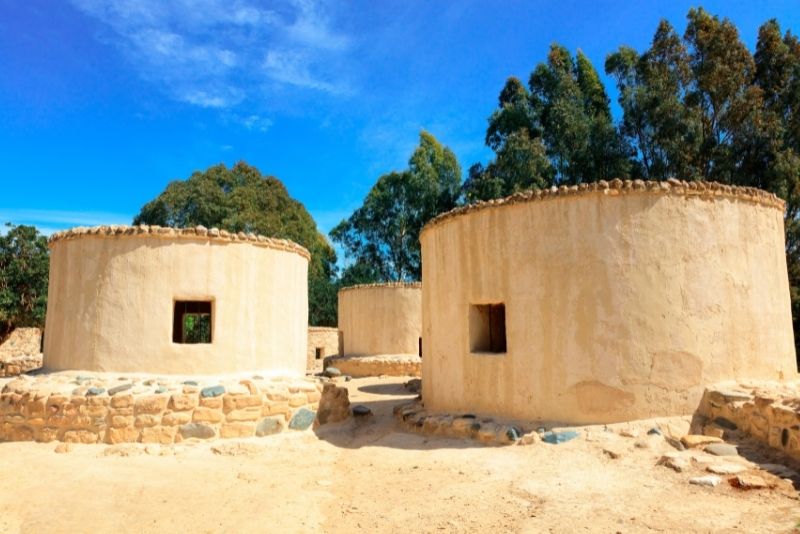 Even by the standards of history-soaked Cyprus, the settlement of Choirokoitia is an impressive piece of the past.
Its origins date back to the 7th millennium B.C., and the village is believed to have played a crucial role in the spread of civilization from Asia to the Mediterranean region.
The centerpieces are undoubtedly the excavated remains of several round stone buildings, whose close proximity to each other is thought to represent some of the earliest human attempts at group organization.
There are also many wonderful examples of early tools and artwork on display. Best of all, the excavation is still in progress, so you never know what might be discovered when you visit! Don't miss this unique chance to explore the evolution of prehistoric humans up close.
40 – Try some beer tasting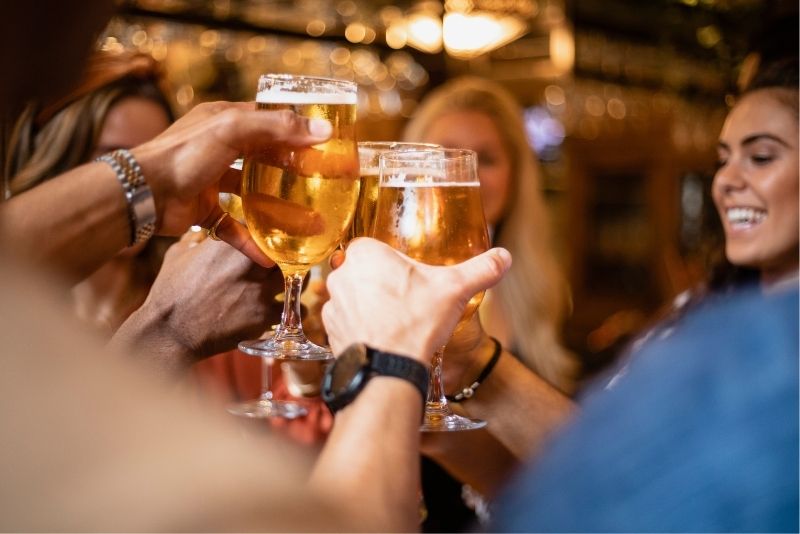 Cypriots love their cold beer, and in between adventures, it's well worth sampling some of the local brews.
At Aphrodite's Rock Microbrewery, you can try beers, ciders, or lagers – often brewed with local ingredients – as well as some delicious pizza or regional dishes in the beautiful courtyard.
And if you're in Larnaca, be sure to stop by The Brewery, which features an extensive, globally-inspired menu alongside an excellent selection of brews.
For a delicious and classy evening out, you can't go wrong with a beer in Cyprus!
Final thoughts
With its stunning natural and cultural amenities, a variety of luxury and adrenaline-fueled options, and unique, beautiful towns, Cyprus is an ideal Mediterranean destination.
Whether you want to enjoy some unique art, learn about the deep roots of human history, or party on the shore, you will find more than enough activities to keep you satisfied.
So give this charming island a try!
Where to stay?
For excellent places to stay, try The Royal Apollonia in Limassol, Capo Bay Hotel in Protaras, Leonardo Crystal Cove Hotel & Spa in Protaras, Droushia Heights Hotel in Droushia, or Cosmo Napa Boutique Hotel in Ayia Napa.
And if you'd like to streamline your trip from the start, consider booking an airport transfer service.
Happy travels!