Is the Topkapi Palace at the top of your Istanbul trip wishlist? As one of the most famous monuments in the city, it's often very crowded. Learn more about tickets price, how to book Topkapi Palace Museum tickets online, how to skip the line with advance tickets, who are eligible for discounts, what you will see, and more!
On this page, you will find a complete guide to getting tickets for the Topkapi Palace Museum, including:
One of Istanbul's UNESCO World Heritage Sites, the palace was once home to the opulent Ottoman Sultans, and the regal surroundings give you a glimpse into a fascinating past. With fascinating collections of historical items to explore within, and beautiful architecture to admire everywhere you turn, this is certainly a sight you don't want to miss.
Don't feel like reading ahead? Click on the following link if you wish to book Topkapi Palace Museum tickets right now.
How much do Topkapi Palace Museum tickets cost?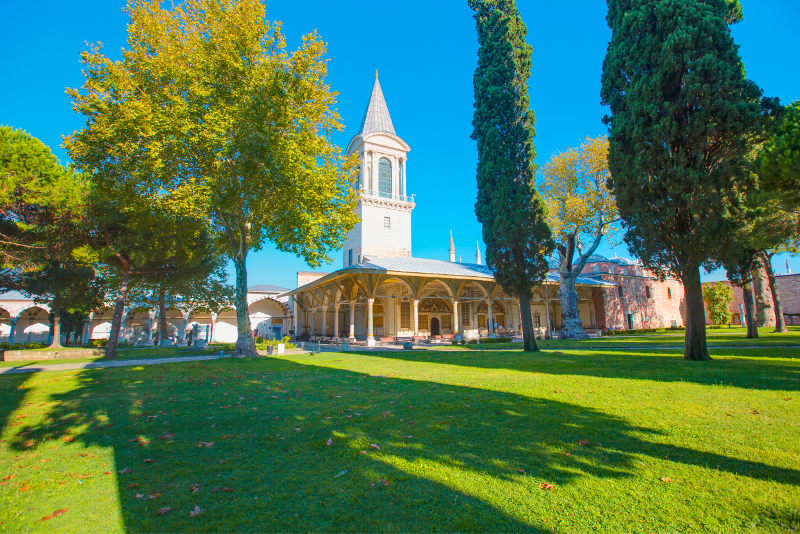 Fortunately, visiting the Topkapi Palace does not break the bank. You may visit the Museum, the Harem and Halberdiers with Tresses Dormitory, and the Hagia Irene. You will need to buy seperate tickets for each section though.
Topkapi Palace Museum is

one of the world's richest museums. Topkapi Palace Museum

tickets cost TL100 (US

$

15).
Harem and Halberdiers with Tresses Dormitory was the location of the private apartments of the Ottoman Sultans. Harem and Halberdiers with Tresses Dormitory tickets cost TL35 (US

$

6).
Hagia Irene is a Greek Eastern Orthodox church located in the outer courtyard of the Topkapı Palace. Hagia Irene tickets cost TL30 (US$5).
Who are eligible for a discount?
Certain groups of people are eligible for free entry, but must have ID to enter. You can enter for free if you are the following:
Children aged 8 or below. Please note that children under 6 only are allowed for free inside the Harem.
Disabled people with one attendant.
Journalists
How do you book Topkapi Palace tickets in advance? How do you skip the line?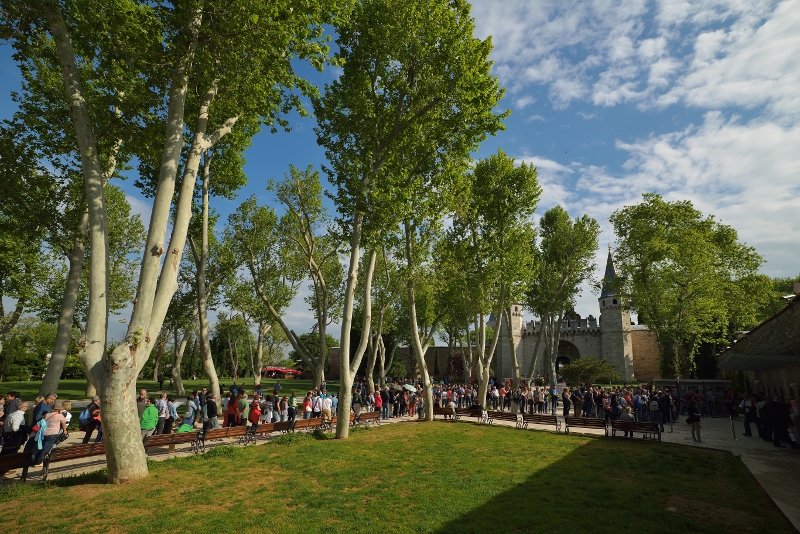 The TopKapi Palace is one of Istanbul' most visited attractions, and the queue can be very long during the day.
If you wish to skip the line at the main gate, you should book online Topkapi Palace skip the line tickets in advance.
You can either book your tickets from the official website or from online providers such as Viator, Getyourguide, Tiqets to name a few.
Make sure to compare prices, as they can vary between sites and discounts are often available.
Are there any combined tickets including Topkapi Palace tickets and other attractions?
With so many illustrious sights around Istanbul, a combined ticket for the Topkapi Palace and other nearby attractions can be a great value option, as well as ensuring you get to see some of the best parts of the city. Why not check out some of these fantastic combined ticket packages:
Topkapi Palace tickets + Hagia Sophia: Explore two of the most incredible examples of architecture in Istanbul, including the stunning Ottoman Palace and the former Greek Orthodox Church.
Topkapi Palace tickets + Blue Mosque: Take in the magnificent views of Istanbul's most well-known sights, and make sure you don't miss out, with combined tickets featuring some of the most beautiful buildings in the city.
Are there any Topkapi Palace guided tours? Are they worth it?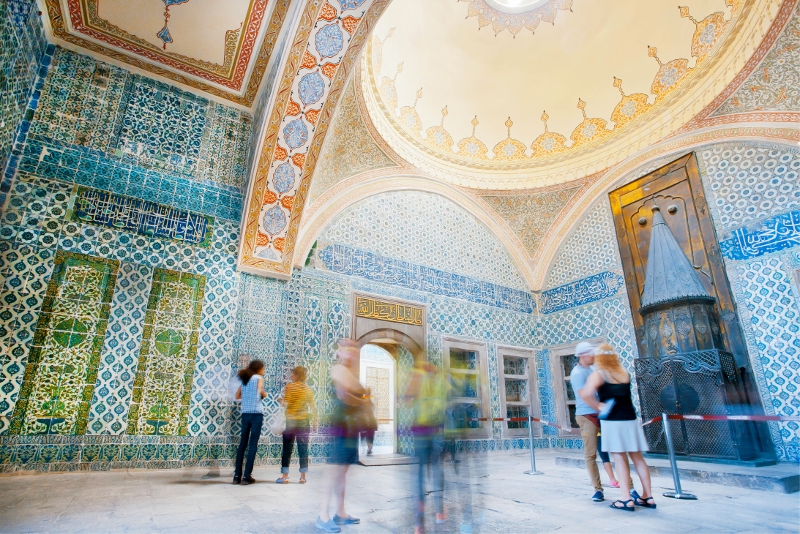 With so much heritage and culture around Istanbul and the Topkapi Palace, you really want to make the most of a visit and discover as much as you can. Guided tours can be perfect for helping you maximise your trip, and there are numerous advantages.
Avoid the lenghty wait times. As one of Istanbul's most popular tourist sites, it's no surprise that the crowds can get pretty heavy, and typically, most visitors can expect long waits to go inside, especially during the most popular times of day. But with a guided tour, you will not need to wait, as your guide will have bought tickets for you in advance, so all you have to do is show up and enjoy the fantastic experience.
Get a real insight into history. It can be hard to take in everything when there is so much to see and discover, but when you have a historical guide alongside you, ready to answer any questions you have, and able to give you the full lowdown on the background behind the treasures, you can come away feeling like you've truly discovered something new.
See much more. With a guided tour, you can often combine different attractions into one ticket, and it's a great way of seeing several of the city's main attractions, as your tour will often include transfers between them, or walk with you, so you don't need to worry about struggling with a map, or figuring your way around a new city.
There are a lot of guided tours available. Make sure to compare all the offers available online so you won't miss any good deals.
What will you see?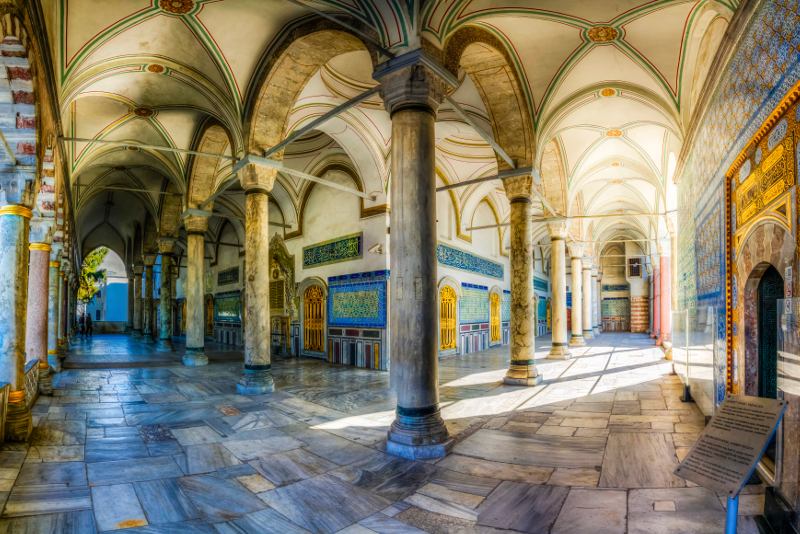 The Topkapi Palace was originally built in the 15th century, and served as a regal palace for generations of Ottoman Sultans, housing the rulers and their extensive families. The palace is a complex structure, with four main courtyards and several smaller buildings within the central complex, including an area for the harem, where the family of the Sultan would have resided, a church, and other areas.
After the end of the Ottoman Empire in the early 20th century, the palace was turned into a museum, and visitors can explore the hundreds of rooms and chambers within. The palace contains many historical artefacts, giving you a glimpse into the life of the Ottomans, including clothing, weapons, miniature paintings, sacred relics, books and more.
The Harem is one of the most fascinating sights within the palace, and well worth a visit by itself. As the former home of the wives and concubines of the Sultan, the Harem of Topkapi Palace contains over 300 rooms, with several baths, a mosque and even its own hospital. Make sure you look up during your visit – the ceilings are laid with incredible decorated tiles and gold inlay, giving you a brief glimpse into the splendid lives of the Sultans. Other chambers within the palace house many sparkling jewels, while the beautifully designed gardens provide a wonderful oasis of peace and shade while you're exploring.
Are Topkapi Palace tickets included in any attraction city passes?
Entry to the Topkapi Palace is included with the Istanbul Tourist Pass, which can be purchased for 2, 3, 5 or 7 day trips. The pass includes access to a number of attractions around Istanbul, as well as other events and facilities, such as a boat cruise, whirling dervish performance, mobile internet access and airport transfers.
What is the best time to visit the Topkapi Palace? How can you avoid the crowd?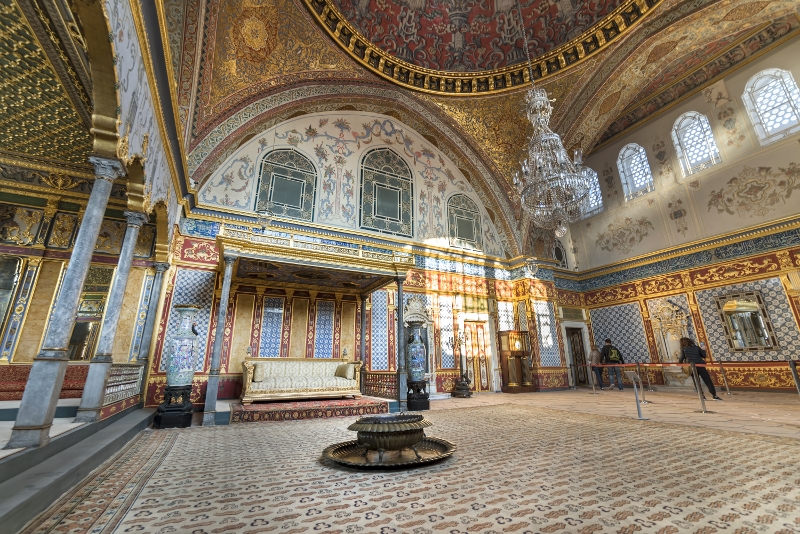 The Topkapi Palace is busiest during summer months, during the peak tourist season, and especially during early afternoon, until about 3pm on most days. It's also very busy on Wednesdays and on Fridays, when the Blue Mosque is closed, so the Palace gets an extra influx of visitors.
To avoid the crowds, it's best to go either early in the morning close to opening time, or later in the afternoon after 3pm. In winter, during low season, it is less crowded overall.
What are the Topkapi Palace opening hours?
The Topkapi Palace is open six days a week and closed all day on Tuesdays.
Between October to April, it is open from 9 am to 4:45 pm. Between April and October, opening hours are 9 am to 6 pm.
The museum is closed for certain public holidays through the year. It's worth checking on the official website for specific dates as they may vary according to the calendar.
The museum is closed on January 1st, the first day of the Ramadan Festival, May 1st, Octobe 29th (Republic Day) and one day during the Festival of Sacrifice. There are certain days during the year when the museum is open at different times, from 1pm to 7 pm, and it is best to check on the website before your visit.
Travel tips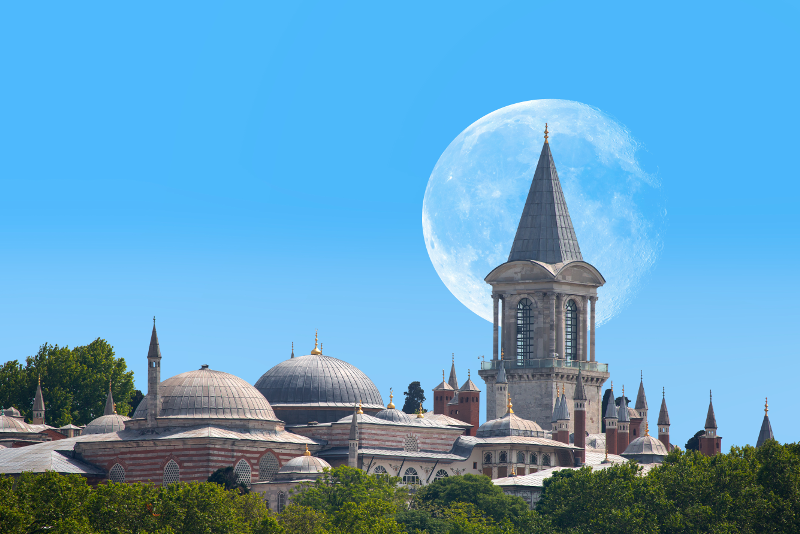 If you are planning to purchase your tickets at the palace itself, please note that you will need to buy separate tickets to enter the different parts, and will need to wait in line for each of them. During some parts of the year, ticket offices close before final admission times, so it is worth allowing wait times, to ensure you don't miss out. It is strongly recommended to book your tickets online so you skip the line at the entrance gate.
While there are no dress codes to enter the Topkapi Palace itself, you are required to be appropriately dressed within the Sacred Relics Department in the museum, and will not be allowed in if you are wearing shorts, mini skirts, sleeveless or strapless clothing.
If you are travelling with small children, please be aware that pushchairs and prams are not allowed in the main exhibition hall.
Photography is also forbidden inside the halls.
Topkapi Palace is built on a hillside, and there is a moderately steep walk to get there. It is best to wear comfortable shoes when visiting.