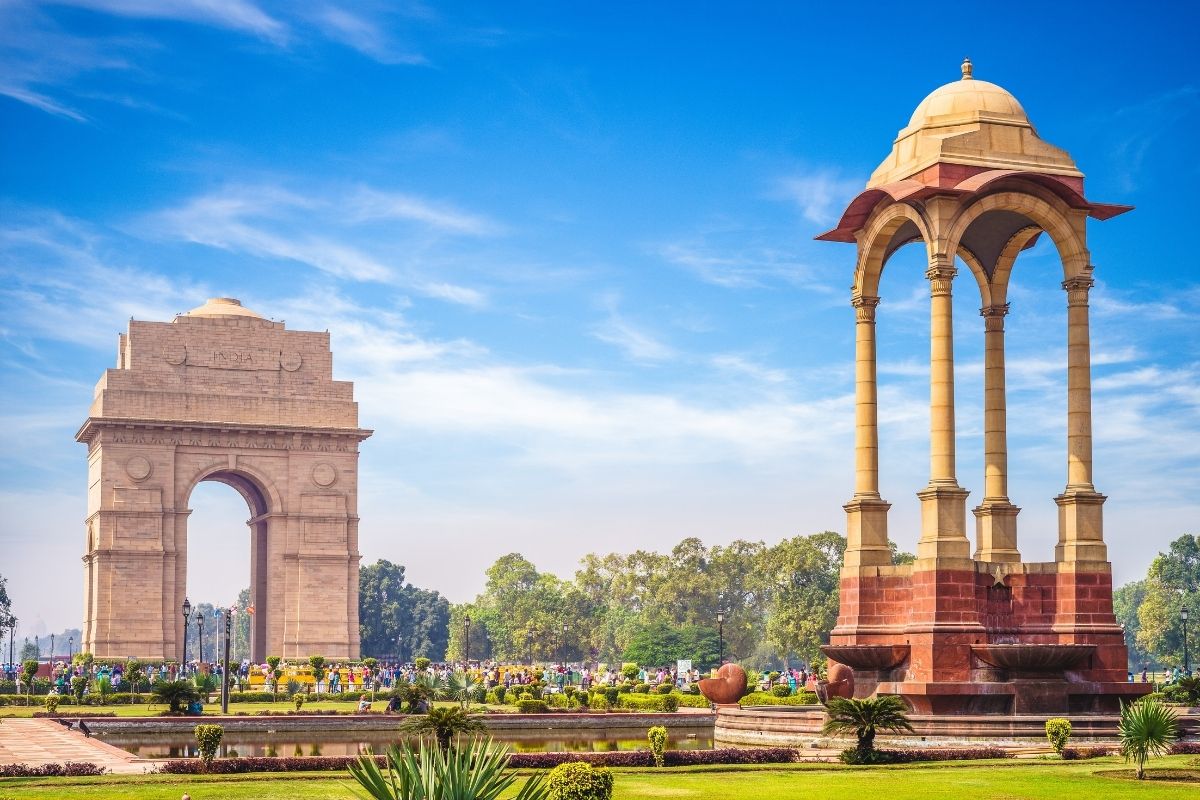 India is a nation of contrasts. Of Kashmir's snow-capped mountains in the north to Kerala's sun-soaked beaches in the south; of heritage palaces overshadowing crowded slums; of luxury shopping malls neighbouring bustling century-old bazaars.
And nowhere is this more evident than in Delhi, the country's capital city where old meets new in a literal sense – split into two distinct parts, the 'Old Delhi' of Mughal palaces and mosques and the 'New Delhi' of colonial-era architecture and government buildings.
A melting pot of cultures, religions and races, Delhi is a vibrant and chaotic metropolis that can be overwhelming for first-time visitors. But that's part of its allure – beneath the surface, hidden gems and unique experiences are around every corner. From exploring the city's ancient forts and temples to sampling delicious street food and embarking on heritage walks, there's plenty to keep you occupied in Delhi.
So, if you're looking to push your comfort zone and do something a little different on your adventure, here are 99 fun and unusual things to do in Delhi worth adding to your itinerary.
1 – Start your journey at the Red Fort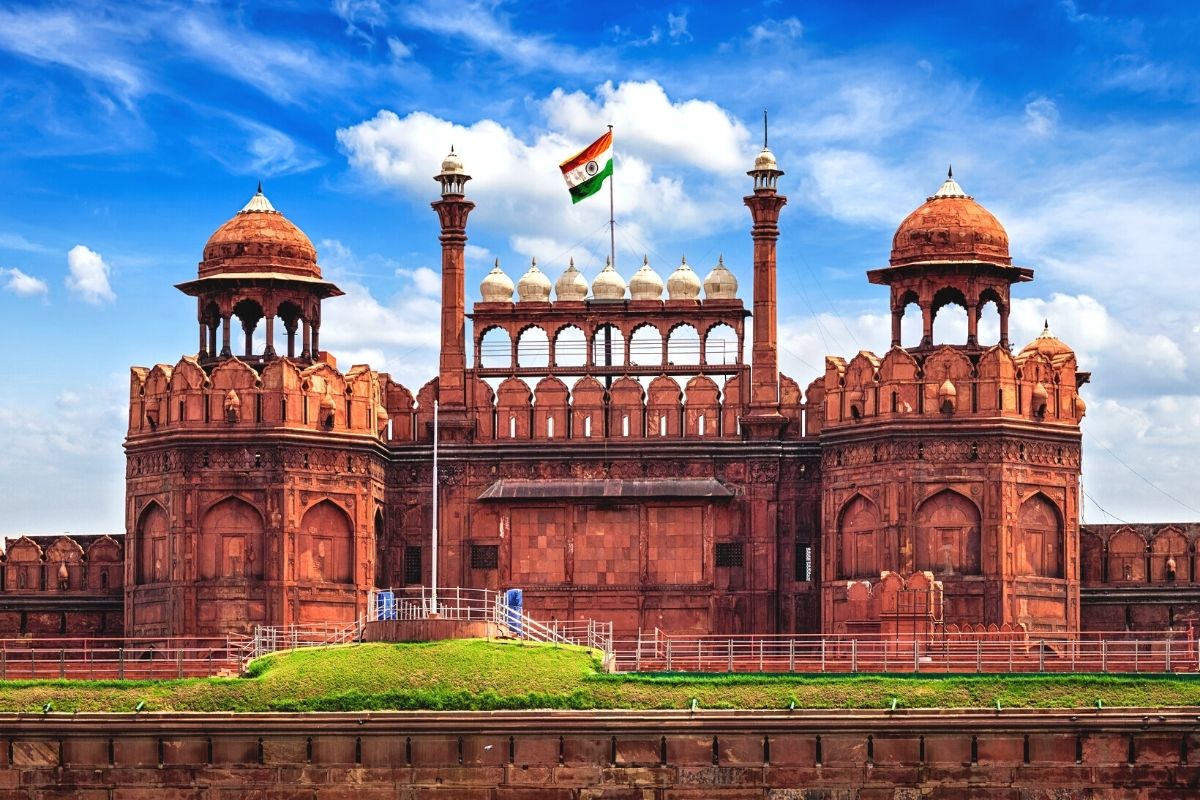 A renowned symbol of Old Delhi, rising some 33 metres above the bustling streets below, the aptly-named Red Fort sports a history and a reputation that are both equally impressive. Once the imperial residence of Mughal rulers, this imposing red sandstone structure – originally built as the palace fort of the medieval city of Shahjahanabad in 1639 – is now a UNESCO World Heritage Site and one of Delhi's most popular tourist destinations.
Straddling the banks of the river Yamuna, the iconic Red Fort fuses Indian, Persian and Timurid architectural touches; plays host to several museums and notable buildings (like the Drum House, the Hall of Public Audiences, the white marble Hall of Private Audiences, the Pearl Mosque, Royal Baths and Palace of Color), and is surrounded by an imposing octagonal 2-kilometre-long wall.
In addition to admiring the sandstone fort's dramatic architecture and learning about its fascinating past, visitors can also enjoy several traditional Indian performances, browse the museums, or time their visit to the spectacular Sound and Lights show, a nightly event that recreates the fort's history through music and narration.
The nearest Metro station is Chandini Chowk on the Yellow Line, and keep in mind it's closed on Sundays.
2 – Pop into the National Museum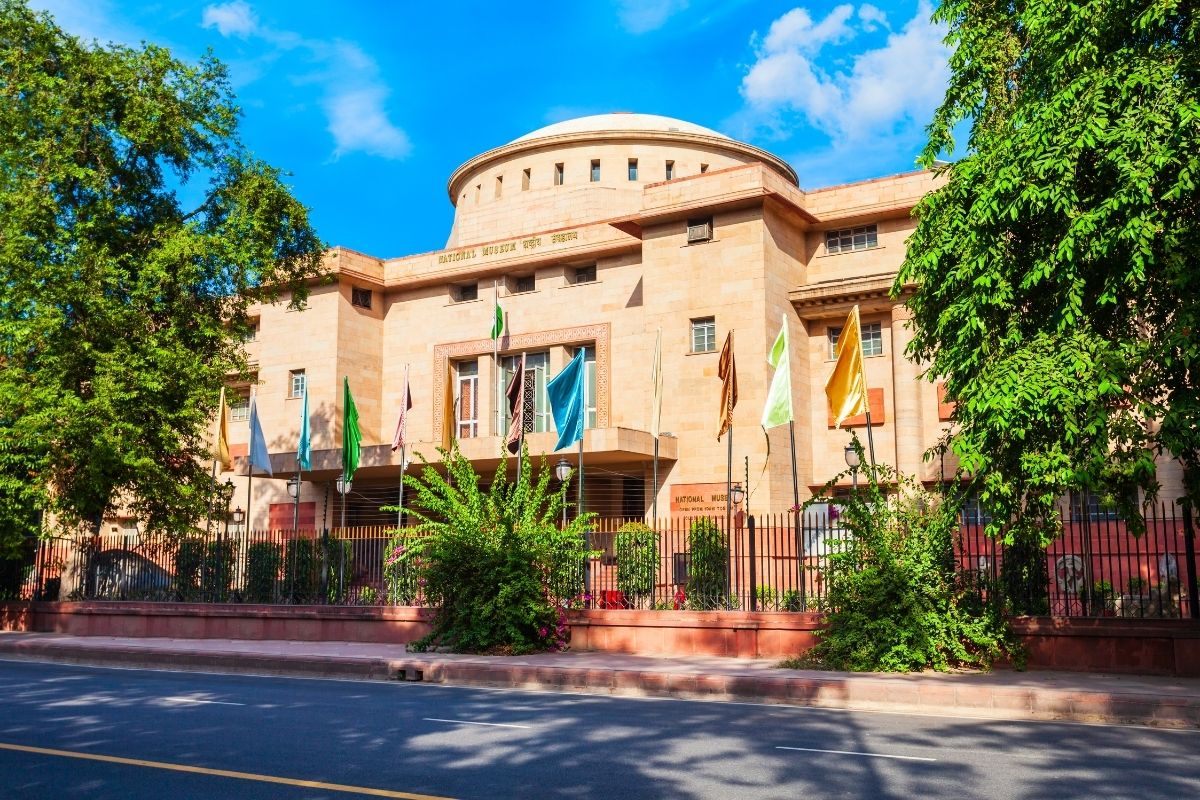 One of New Delhi's prime attractions, welcoming hundreds of thousands of intrigued visitors each year, the National Museum is the country's premier museum, housing an incredibly diverse collection of rare and valuable artifacts from across the country, telling countless stories of bygone eras, and providing rare insights into a culture so rich and textured it's often difficult for outsiders to comprehend.
From prehistoric tools and weapons to Mughal paintings, Buddhist sculptures, Hindu and Jain deities, rare coins and jewellery, Pre-Columbian and Western art, and textile samples, the National Museum's galleries are an awe-inspiring treasure trove of India's past that provides a lay-of-the-land insight into this bustling nation's past.
All up, spread across three floors at its Janpath Road location, you'll discover no less than 200,000 objects spanning 5,000 years of storied Indian civilization. Wander around the collection at your own pace, or join one of the regular guided tours (Tuesday to Friday 10:30 am and 2:30 pm, Saturday and Sunday 10:30 am, 11:30 am, 2:30 pm, 3:00 pm) for the inside scoop from the expert historian volunteers.
3 – Admire the ISKCON Temple Delhi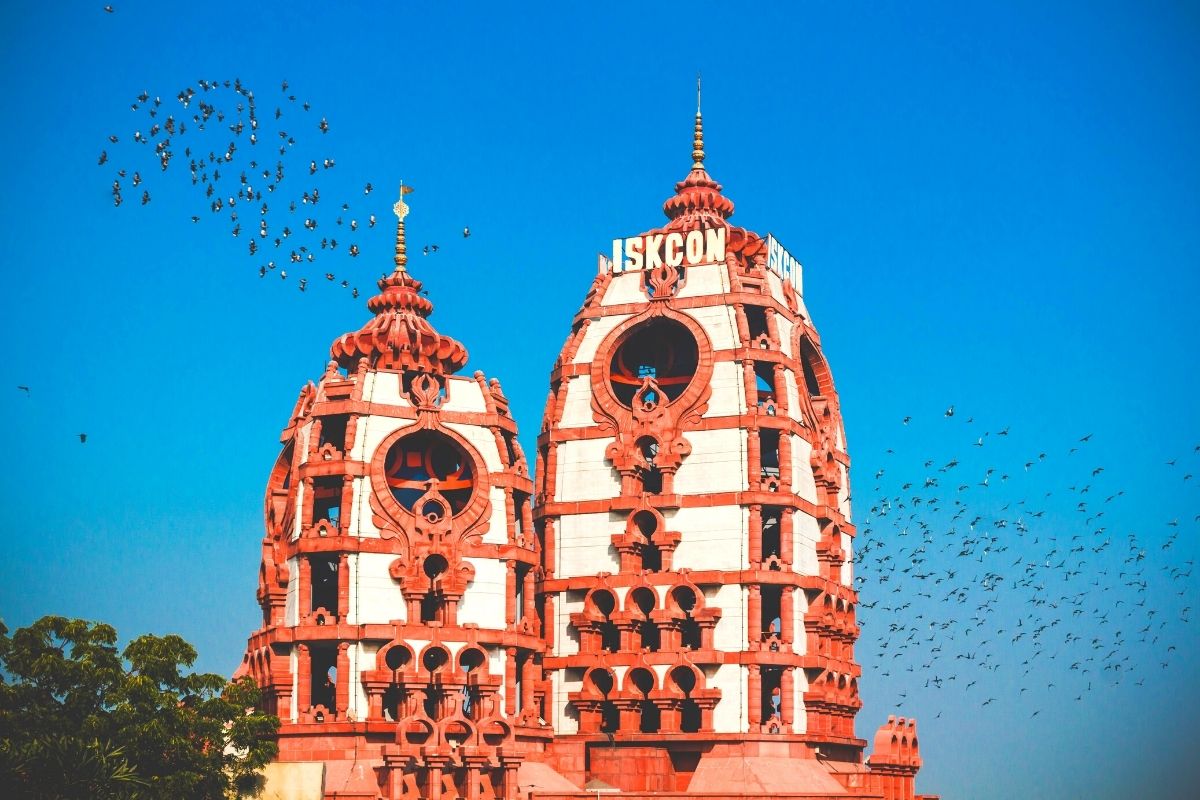 Dominating the local skyline as one of the largest temple complexes in the entire country, the beautiful ISKCON Temple is a place of contentment and serenity in an otherwise fast-paced and hectic city.
A highly popular tourist destination and one of the most recognisable landmarks in Delhi, the ISKCON Temple (which stands for International Society for Krishna Consciousness) is the place of worship of the Hare Krishna movement; however, it's far more than a religious gather place, comprising of no less than six individual and notable attractions: The Centre for Vedic Studies, The Centre for Vedic Performing Arts (an open-air amphitheatre), the multimedia Museum of Vedic Culture, peaceful Krishna Jayanti Park, the residential Ashram, and, of course, the Temple itself.
Within the complex, you'll also find the largest printed version of the Bhagavad Gita Hindu religious scriptures, the 2,000-book Bhaktivedanta Library, an in-house vegetarian restaurant (Govinda's) worth a stop, and no shortage of spots to enjoy a moment of calm reflection.
4 – Ride a rickshaw through Old Delhi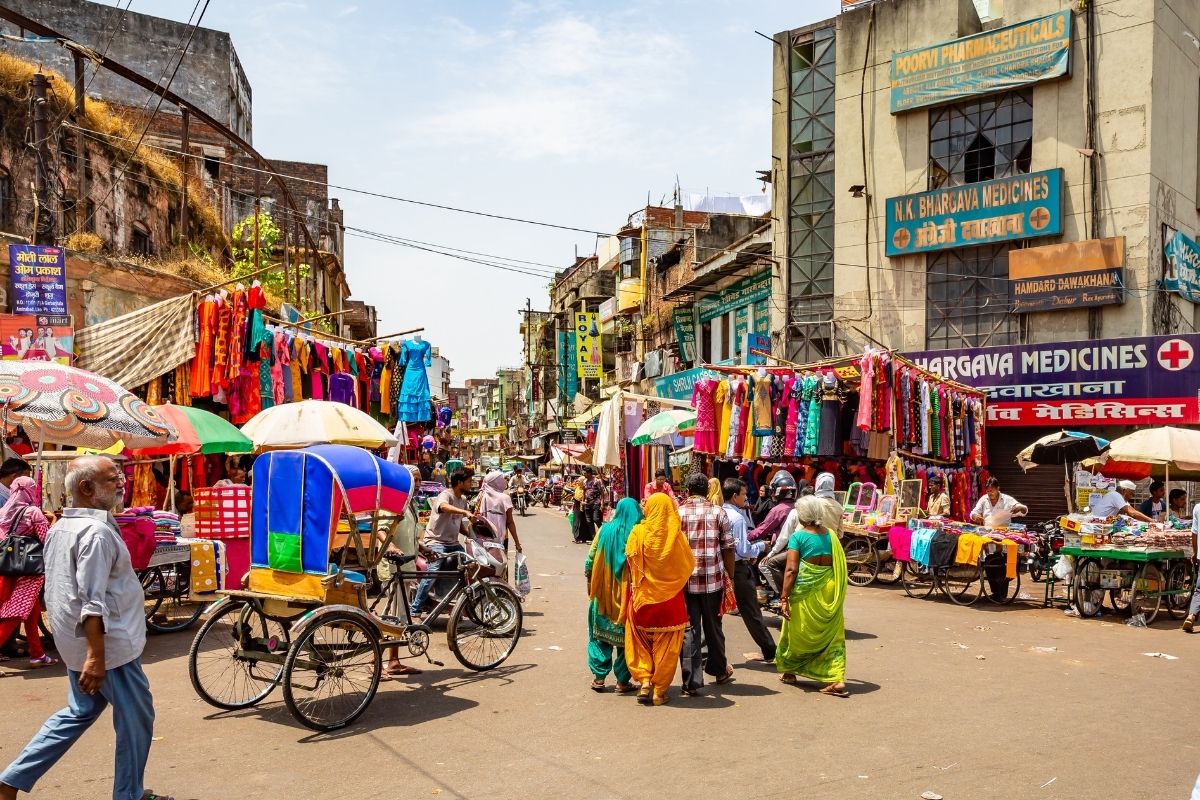 You're in India, after all, so make the most of it with an authentic Old Delhi rickshaw ride that skirts you in between Old Delhi's quintessential highlights!
A truly unique way to see some of Delhi's most famous landmarks, a rickshaw ride will take you off your feet, and have you weaving through the narrow streets and colourful alleyways, while your friendly and knowledgeable driver will give you an insider's view of everyday life in this chaotic but fascinating metropolis as he expertly navigates his vehicle around the congested traffic.
Stop at local Chandni Chowk markets to sample Delhi's famous food and spices, and whizz past temples, mosques (including the grand Jama Masjid, the country's second-largest) and more, before likely finishing up at the magnificent Red Fort – it's an experience you won't soon forget!
While each tour is different, experiences typically last around 3 hours, including time at the bazaars and walking tour sections, but can be shorter or longer depending on your preferences.
5 – Step back in time at the Mehrauli Archaeological Park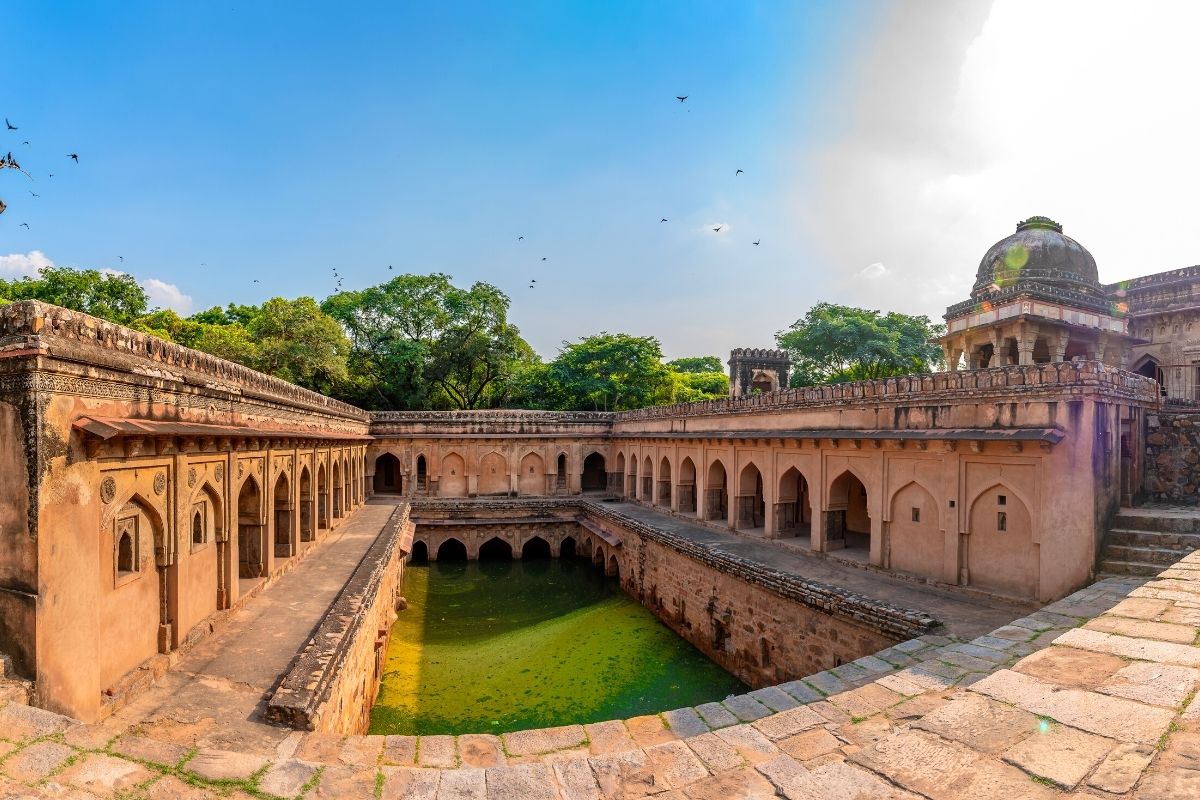 Widespread but often overlooked, Mehrauli Archaeological Park is one of the city's most fascinating (and free!) historical attractions.
A veritable open-air museum and a hidden gem in south Delhi, the park – which is actually a protected forest area – spans some 200 acres and contains more than 440 major and minor monuments dating from the Tomara Rajputs era (10th century) right through to the British Raj in the 1800s.
Highlights include the 16th-century Adham Khan's Mausoleum, Zafar Mahal (a summer palace used by the Mughals), the Dargah of Qutab Sahib shrine, the long pre-Islamic walls of Lal Kot, the 13th-century tomb of Ghiyas ud din Balban, a powerful ancient ruler, and the historic Rajon ki Baoli, Delhi's finest step-well. As you can see, spanning centuries, the variety of unearthed historical sites is staggering, and provides a real insight into Delhi's fascinating past.
The only genuine way to experience the monuments' significance is with an official park tour – led by savvy local guides, these private or public walking tours dive into the history lessons behind each site, and are a great option for those wanting to learn a thing or two about the ground on which they stand.
6 – Meet celebrities (almost) at Madame Tussauds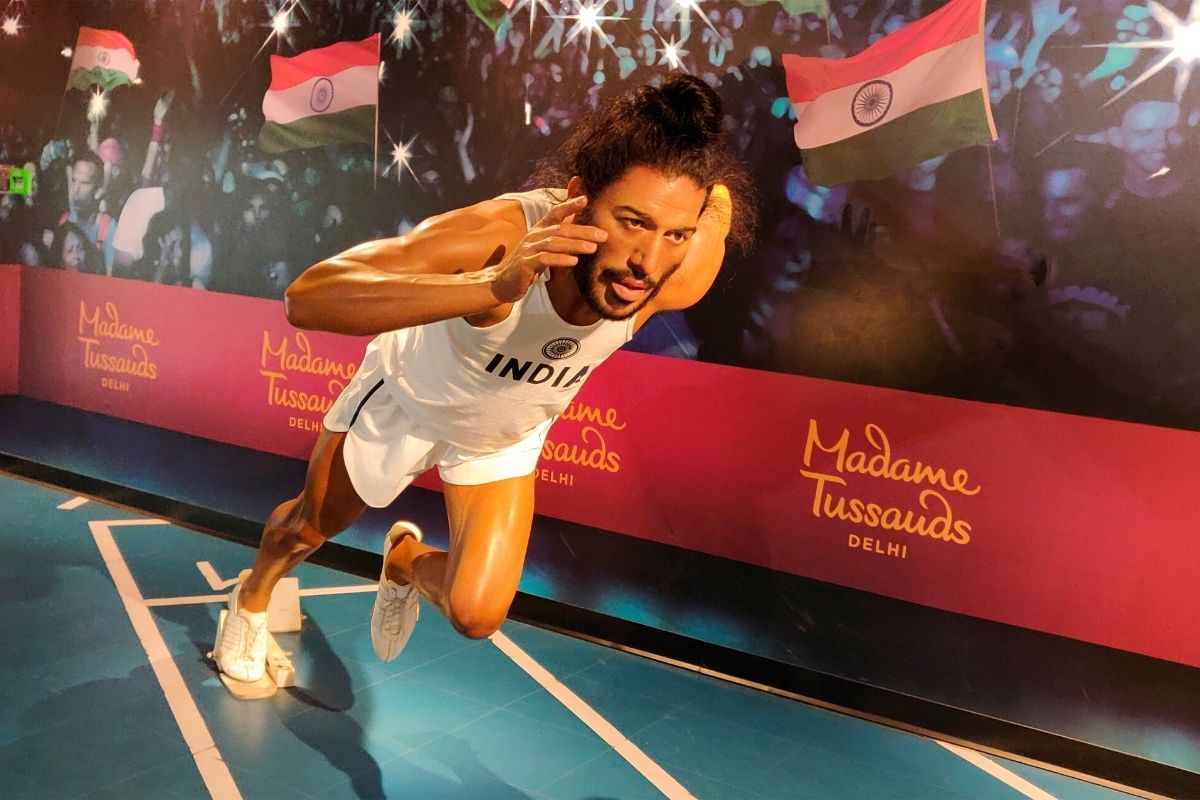 One of the world's most famous wax museums, Madame Tussauds needs little introduction.
Founded by French artist Marie Tussaud in 1835, the museum as it stands today first opened its doors in London nearly 200 years ago, and has since welcomed millions of visitors from all corners of the globe who come to see incredibly lifelike wax replicas of their favourite celebrities, politicians, athletes and more across over 20 locations.
Finally, in 2017, beloved Madame Tussauds finally arrived in Delhi – much to the delight of locals and tourists alike! – with a brand new attraction located just steps away from Connaught Place.
As well as providing ample photo opportunities with some of Bollywood's brightest stars (Shah Rukh Khan, Sunny Leone, Amitabh Bachchan, Shahid Kapoor, Salman Khan and Aishwarya Rai Bachchan, to name just a few!), Madame Tussauds Delhi also offers interactive experiences that immerse you in India's rich culture.
From taking part in a Bollywood dance performance or taking a place in a hot-seat game show, there's plenty to see and do at this family-friendly attraction. And, of course, you'll find dozens upon dozens of athletes (Lionel Messi, Virat Kohli), pop stars (Justin Bieber, Beyonce), and western A-listers too (like Scarlett Johansson, Tom Cruise, and Will Smith) – a surefire way to snap a selfie that lights up the 'gram.
7 – Admire the Swaminarayan Akshardham Temple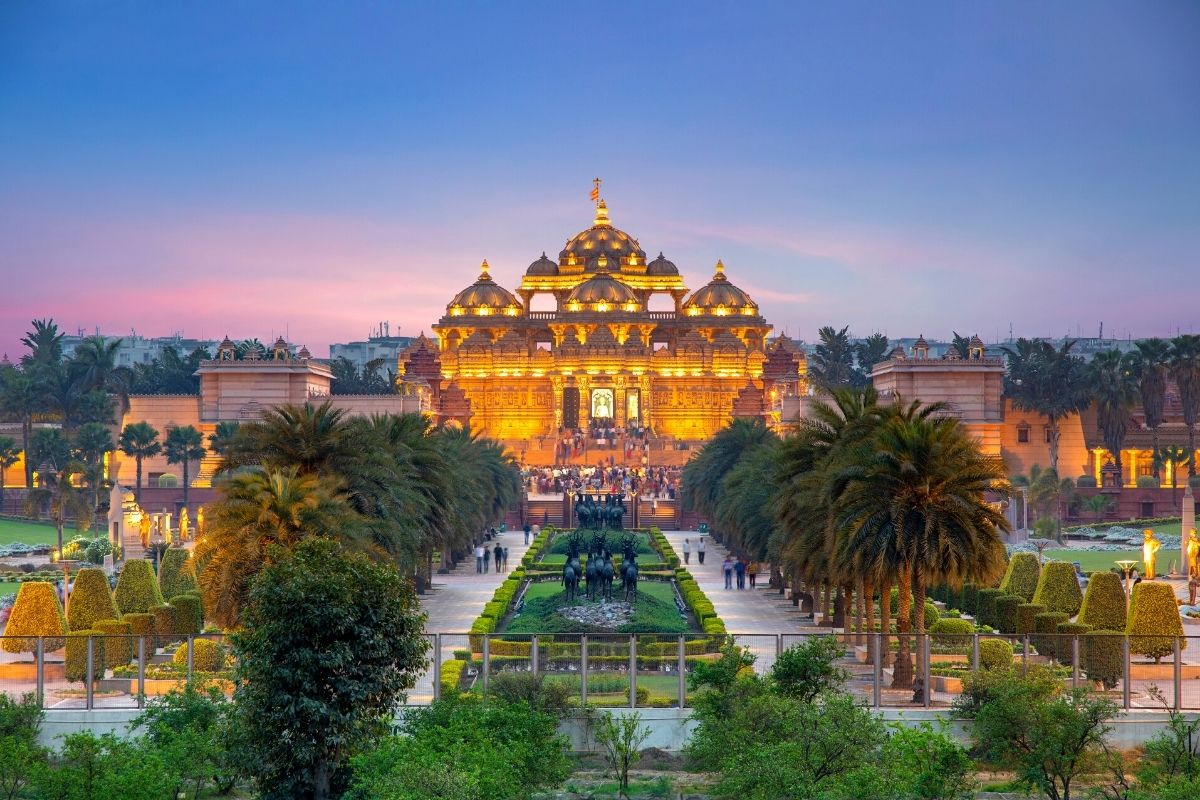 A coming together of, on the one hand, Indian culture and spirituality, and on the other, sublime architecture, art, and engineering – that's what you can expect when visiting the Swaminarayan Akshardham Temple in Delhi.
A truly staggering feat, this magnificent Hindu temple was built entirely without steel in just five short years (between 2001-2006), using only traditional methods and materials such as pink sandstone and white marble brought from all over India, and.
The end result is an awe-inspiring complex covering more than 32 acres that earned the Guinness World Record for the World's Largest Comprehensive Hindu Temple, with an incredible Mandir (sanctum sanctorum) at its heart – a beautiful building measuring 356 feet long, 316 feet wide and 141 feet high that's adorned with 234 ornate pillars, nine domes, 20,000 carved stone figures of India's devotional saints and sages, and close to 150 hand-carved stone elephants if you don't mind.
As if that weren't enough, the complex also offers a magnificent Cultural Boat Ride, an IMAX theatre showing short films about Hinduism and Indian culture, an Ayurvedic Centre, a blissful Yoga & Meditation Garden, and the mesmerising Sahaj Anand water show more in its sprawling fountain – making it the perfect place to spend a day exploring Delhi's rich heritage.
8 – Pick up souvenirs at Khan Market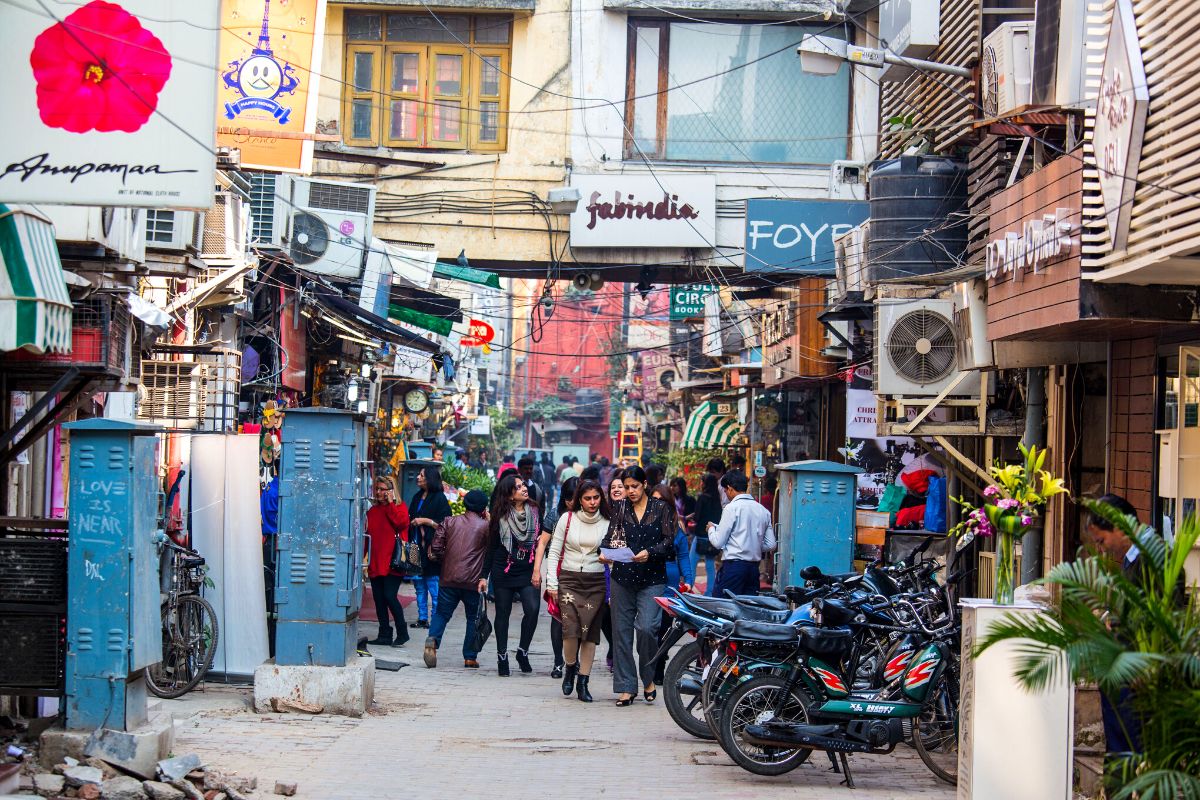 A shopper's paradise, Khan Market is one of Delhi's most popular malls – and it's easy to see why.
From high-end designer labels and international brands to local boutiques and handicraft stores, you'll find everything your heart desires in this bustling market, which is also home to a wonderful array of tasty restaurants (try the delicious mughlai rolls and kebabs at Khan Chacha), cafes, and bakeries should you need to refuel after a spot of retail therapy.
If you're searching for a new outfit, Raghavendra Rathore or Ranna Gill are sound starting points; for home decor, Oma, Good Earth, or The Fragrance People have you covered, while Anand Stationers and Amrapali specialise in handmade paper items and Indian jewellery respectively.
Because it's more suited to tourists or foreigners than locals, Khan Market is a little pricier than most Delhi, so be prepared to open your wallet if you want to treat yourself (or someone special) to something special – still, pennies on the dollar for most western visitors.
Located over in the upscale Lodhi Garden area, Khan Market is a stone's throw from the India International Centre, Rashtrapati Bhavan (Presidential Palace) and India Habitat Center (home to a slew of cultural events), making for a great day out exploring some of Delhi's best bits.
9 – Make a trip to the Tughlaqabad Fort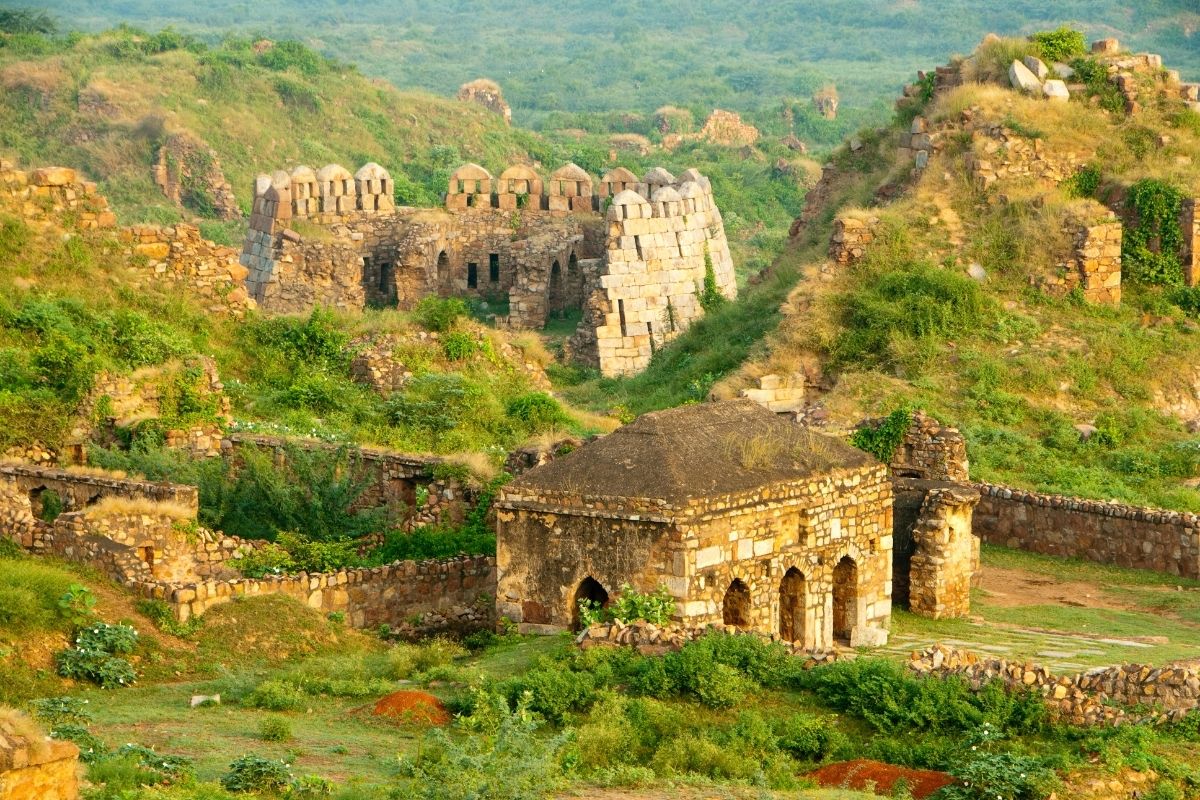 Like taking a step back in time to the Medieval era, a visit to the imposing Tughlaqabad Fort is a must when in Delhi.
Built in the 14th century by then-ruler Ghiyath al-Din Tughluq (of the eponymous Tughlaq dynasty), this huge stone complex was once one of the grandest forts in all of India – and though it's now largely in ruins, it still exerts an undeniable power over all who visit.
As you explore its sprawling maze of courtyards, halls, chambers, 50-foot-high fortifications, and mosques, as well as its thirteen spectacular gates, it's easy to imagine what life would have been like back in Tughluqabad's heyday – the third city of medieval Delhi. especially when Then a visit to the Tughlaqabad Fort is a must during your time in the Indian capital.
A veritable city within itself, the massive complex in south Delhi spans more than six kilometres around its perimeter and contains palaces, courtyards, gardens, and ramparts, as well as a perfectly maintained red sandstone mausoleum that would make any other fort blush with envy.
With so much history beyond its walls, a guided tour is essential to get the most out of your visit – and luckily, there are plenty on offer (just make sure to book in advance). As just one of the two forts left behind by the Tughlaqs (the other being Jahanpanah about 5km away), it serves as one of the best things to do in Delhi.
10 – Cruise around the city on a bike tour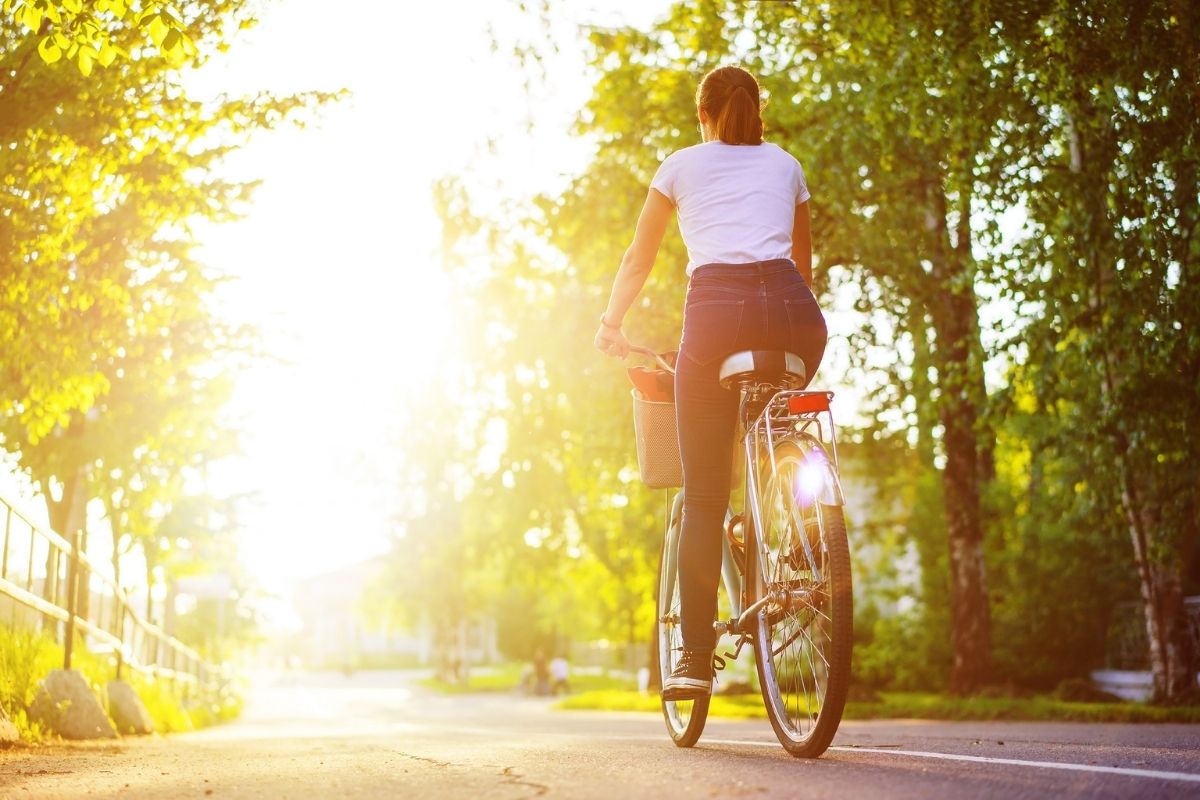 A terrific way to get off the beaten track and explore Delhi's less-touristed neighbourhoods is by bike, and there are plenty of great cycling tours on offer that'll show you a side of the city you never knew existed.
While each program differs slightly, some exploring Old Delhi, some New Delhi, and others a combination, you can typically expect these two-wheeled adventures to hit up landmarks like Jama Masjid (one of India's largest mosques), Chandni Chowk (a bustling market crammed with food stalls, shops, and temples), Red Fort, Gandhi Smriti (where Mahatma Gandhi was assassinated), the Lodi art district, and the Qutab Minar victory tower.
You'll also get to try your hand at bargaining for spices in one of Chandni Chowk's many wholesale markets, enjoy an authentic lunch at a local eaterie, and finish up with a cooling cup of lassi (a traditional yogurt drink) as you watch the world go by.
A great way to see Delhi from a different perspective, with options for both morning and night cycles through the Imperial wonderland, bike tours are becoming increasingly popular with visitors – and it's not hard to see why.
11 – Cheer on the athletes at Feroz Shah Kotla Stadium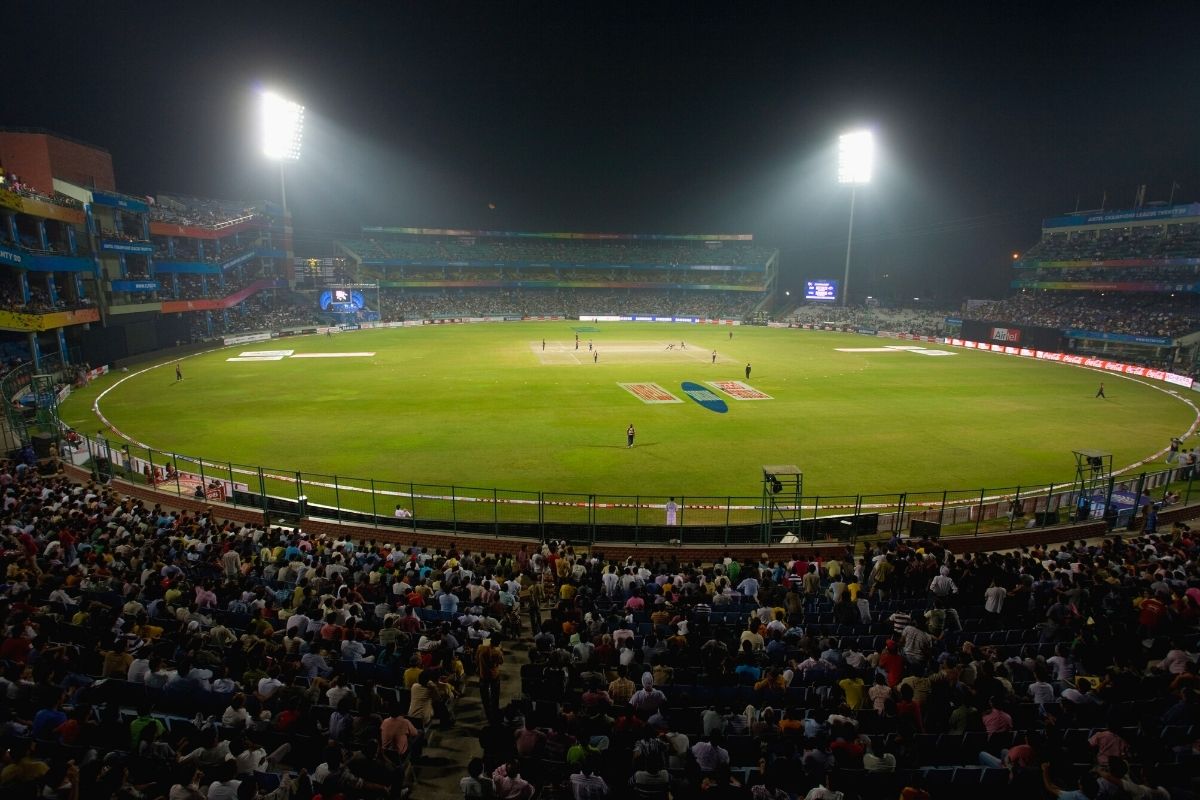 To say that Indians love their cricket would be a criminal understatement – the sport is practically a religion here.
And Arun Jaitley Stadium (formally called) Feroz Shah Kotla Stadium), located just south of the sprawling Shantivan park, is the perfect place to catch a match if you're lucky enough to be in town when one's on.
First built back in 1883 and since then completely renovated several times, this historic ground has hosted more Test matches than any other stadium in India and continues to serve as a happy hunting ground for the national team and world cup matches – meaning it's seen some of the country's greatest ever players do battle over the years.
With room for over 40,000 diehard fans, whether you visit for a T20 International, One Day match, or slog it out for a test, serious sports fans won't want to miss a visit to this Delhi landmark
12 – Tantalise the tastebuds with an Old Delhi food tour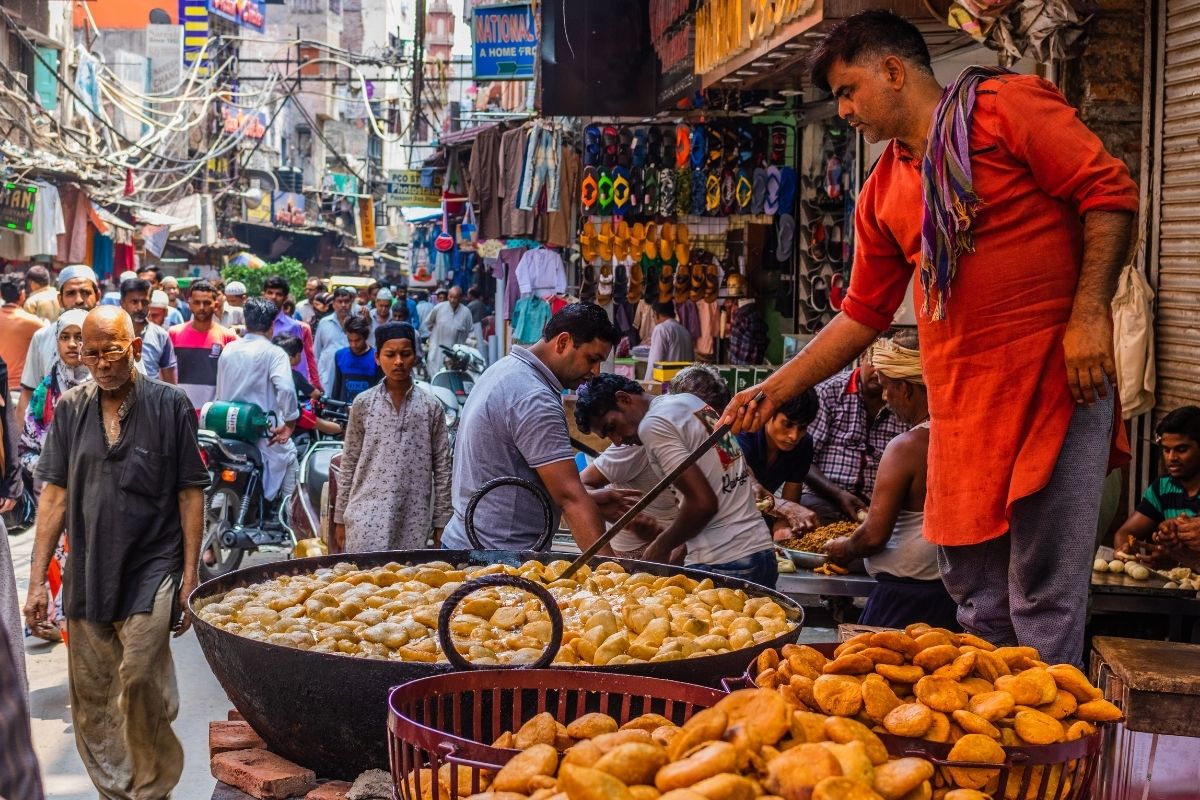 Quintessential to any trip to Delhi (or anywhere in India, for that matter) is indulging in the local cuisine – and there's no better place to do just that than Old Delhi.
Famed for its street food, this bustling neighbourhood is a foodie's paradise, with an endless array of stalls and vendors hawking everything from samosas and chaat (a type of snack made from fried dough, potato pieces, and spices), to kebabs, golgappe (another common snack), sugar-soaked jalebis, and curries like poori aloo or chole bhature.
The best way to sample as much as possible is on a guided food tour, which will not only take you to some of the most popular spots (like Chandni Chowk and the Matia Mahal neighbourhood), but also introduce you to lesser-known eateries that only locals know about.
Want to do more than just taste? Consider a chef-led cooking class or market tour, where you'll learn about different spices and ingredients used in Indian cuisine.
13 – See what's on near Connaught Place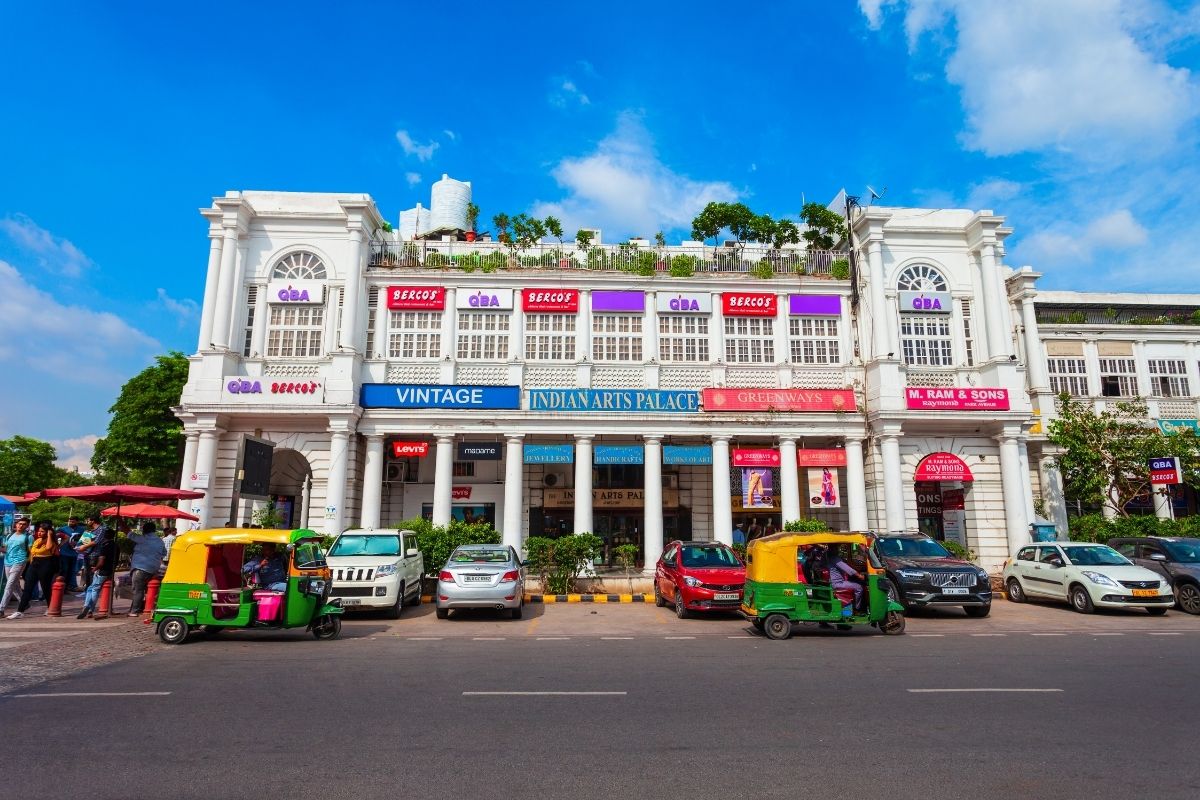 One of Delhi's most popular tourist attractions, Connaught Place – otherwise known as Rajiv Chowk – is a bustling commercial and business neighbourhood in the heart of the city centre that dishes up its fair share of tourist entertainment.
Named after Prince Arthur, the first Duke of Connaught (and third son of Queen Victoria), this large circular complex was built in 1931 and has evolved dramatically over the years to now host shops, restaurants, hotels, movie theatres, bazaars and offices.
While it can be quite crowded and chaotic at times, Connaught Place is still worth spending an afternoon exploring, especially if you're interested in doing some shopping or people-watching.
Catch a flick at the Vintage Cinemas, admire the Hanuman Temple, find some peace under the golden domes of the Gurudwara Bangla Sahib house of worship, step back to the 14th century at the Agrasen Ki Baoli archaeological site, and then take a well-earned seat for a drink at Connaught Clubhouse, the city's first German microbrewery.
You'll stumble across a bounty of historical landmarks located nearby too, including Jantar Mantar (an 18th-century astronomical observatory) and the Rajpath (the ceremonial boulevard that leads up to India Gate).
14 – Ride the coasters at Worlds of Wonder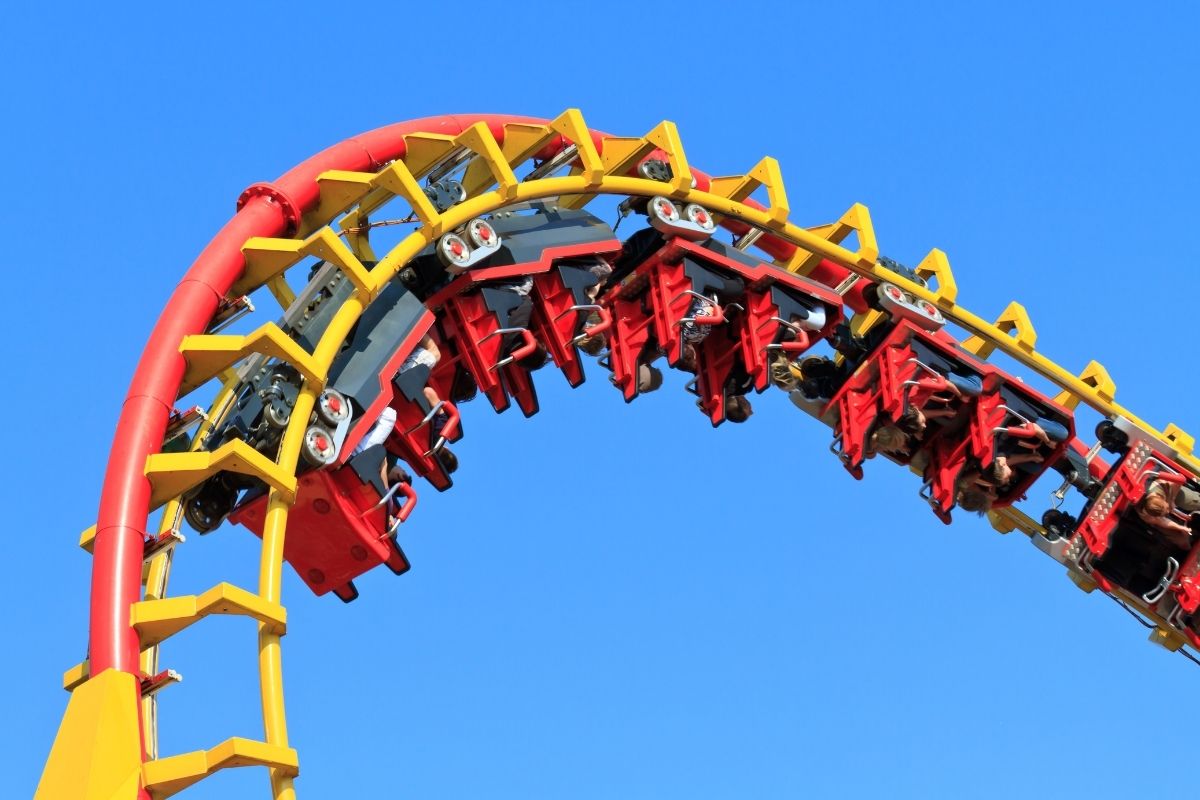 Boasting 50 ride-packed acres and open all year round, family-favourite World of Wonder is India's largest theme park, blending thrilling roller coasters in its amusement park with refreshing (yet still exhilarating) water rides in its water park that come much-needed on hot days. Throw in a go-karting track and paintball, and it becomes clear why this multi-attraction theme park is considered one of the top-tier things to do in Delhi for families.
The amusement park section offers 20 rides (Fast Forward, Big Beat, and Rockin Roller and a few crowd favourites) with 15 more at the water park, from wave pools to aqua racers, tunnel slides, and hair-raising drop slides (thrillseekers, make a beeline for Free Fall).
When you need a break from all the excitement (or just want to soak up some sun), lounge on one of the many poolside cabanas or rent a tube and float around in one of the lazy rivers. Plus, with La Fiesta made especially for the little ones, rest assured the entire family will be spoiled for choice.
While the park is a fair way out from the city centre, you can easily take the metro to Noida Metro Station (about a 10-15 minute walk).
15 – Soak up the beauty of the Lotus Temple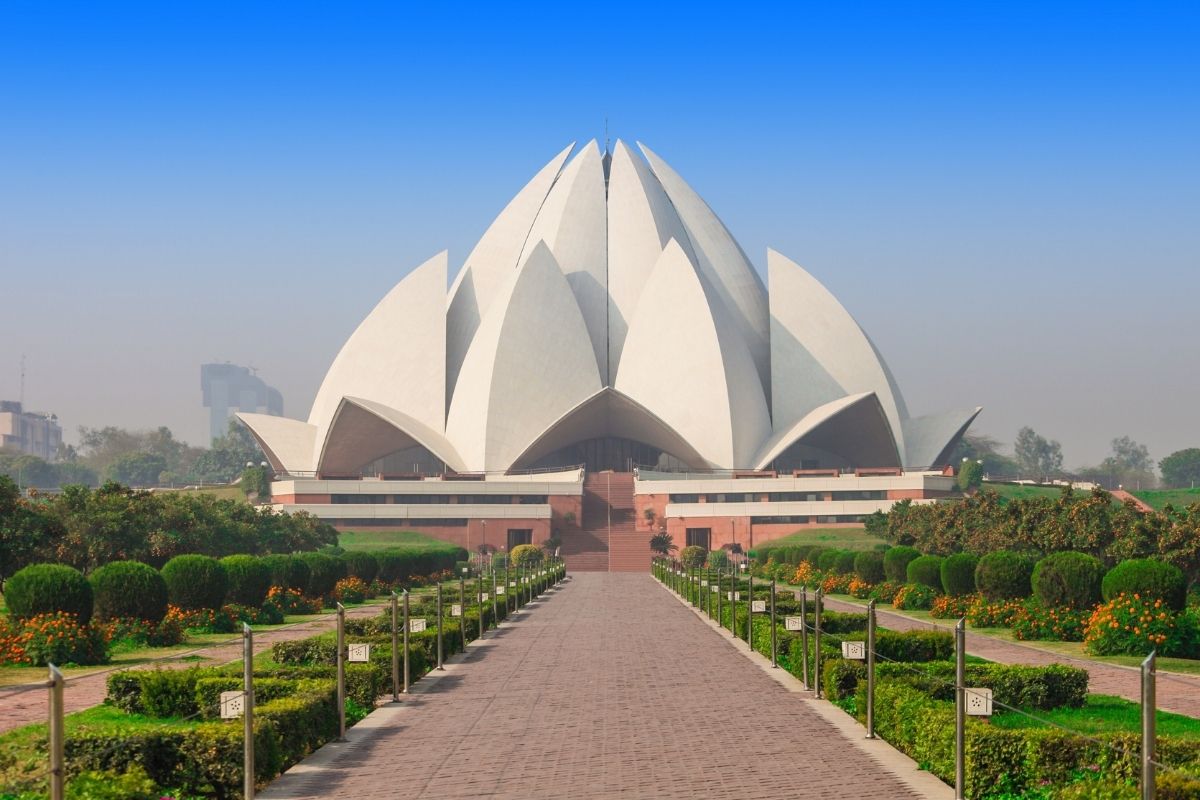 Visually spectacular and one of the most serene places in all of Delhi, the Lotus Temple is a must-see, whether you're religious or not.
Modelled after – you guessed it – a lotus flower, this Baha'i House of Worship was completed in 1986 and since then has welcomed millions of visitors from all corners of the globe, all of which come in search of what is arguably the most beautiful of the seven Baha'i Houses of Worship worldwide.
Stunning from afar but equally impressive up close, the Greek white marble temple is flanked by serene floral gardens and calming reflecting pools. Walkways are lined with manicured lush greenery, and, once inside, the glossy white marble, 27 free-standing "petals", and tranquil atmosphere provide the perfect environment for quiet reflection.
You don't have to be a follower of the Baha'i faith to enter, or any faith for that matter – celebrated as an open and welcoming space for all, the Lotus Temple is a place of peace and contemplation regardless of your race or background.
The popular tour includes a short English movie called "An outline of the Baha'i Faith", complementing the knowledgeable volunteers on hand ready to answer your questions and show you around the sprawling complex
16 – Push through the crowds at the Chandni Chowk Market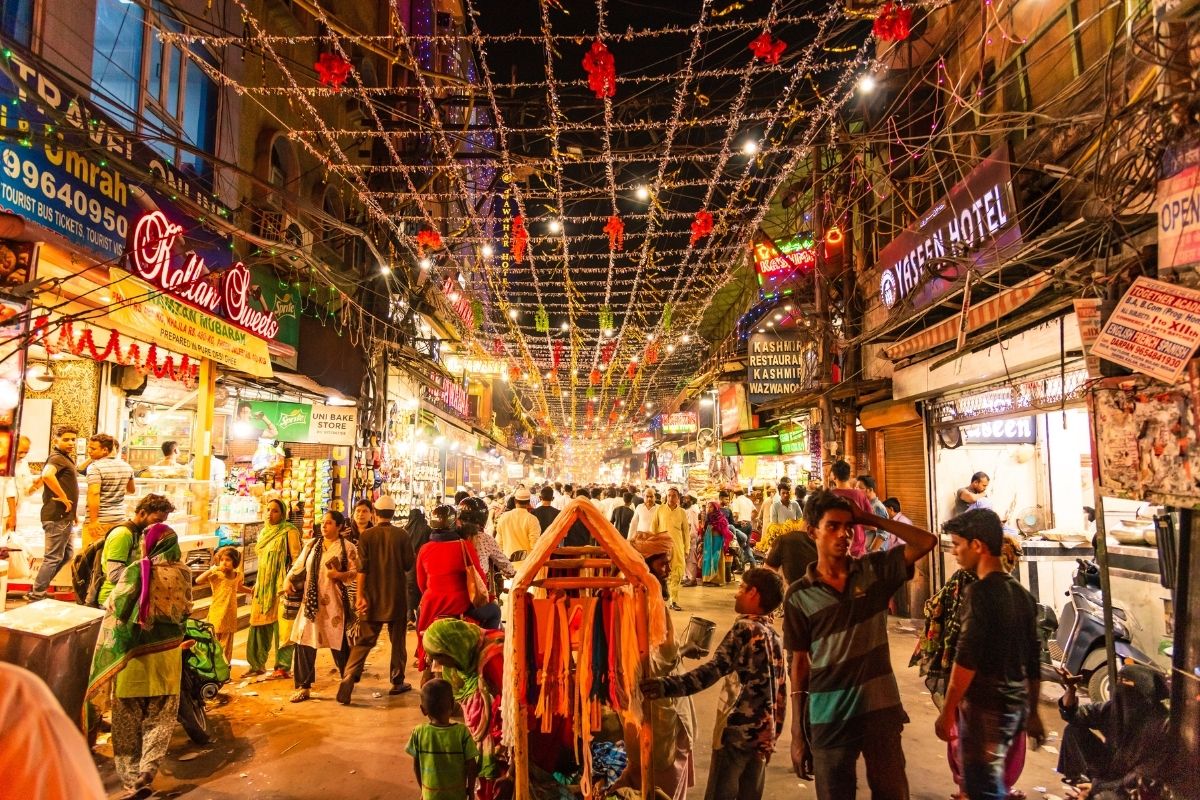 The very definition of controlled chaos, Chandni Chowk is one of Delhi's most vibrant, historic markets and a true assault on the senses.
Ahead lies a labyrinth of narrow lanes and crowded bazaars, each peddling their own specialized goods, from second-hand books to instruments, wedding dresses and spices to electronics (LOTS of electronics), fabrics, hanging lights, paneer, dried fruits, and quick bites – and that's just the tip of the iceberg.
Seldom uncrowded, this is not the place for those who prefer order and peace – it's loud, it's hectic, it's hot, but it's also an essential part of the city that should not be missed.
Come with your haggling hat on and be prepared to get elbow-deep in some serious shopping action. If you need a break from all the hustle and bustle (and heat), stop by Jalebiwala for a sweet treat or Paranthe Wali Gali – a little laneway known noted for its series of shops selling parantha flatbread – for a delicious and criminally cheap meal.
Chandni Chowk is located near Old Delhi Railway Station and Red Fort, making it easy to get to on your own – however, it's customarily a key point on any walking or biking tour of Old Delhi (highly recommended, for the chance to find the local gems).
Keep in mind: the market is open from 9:30am to 8:00 pm daily, except Sunday.
17 – Check out Asia's Largest Wholesale Spice Market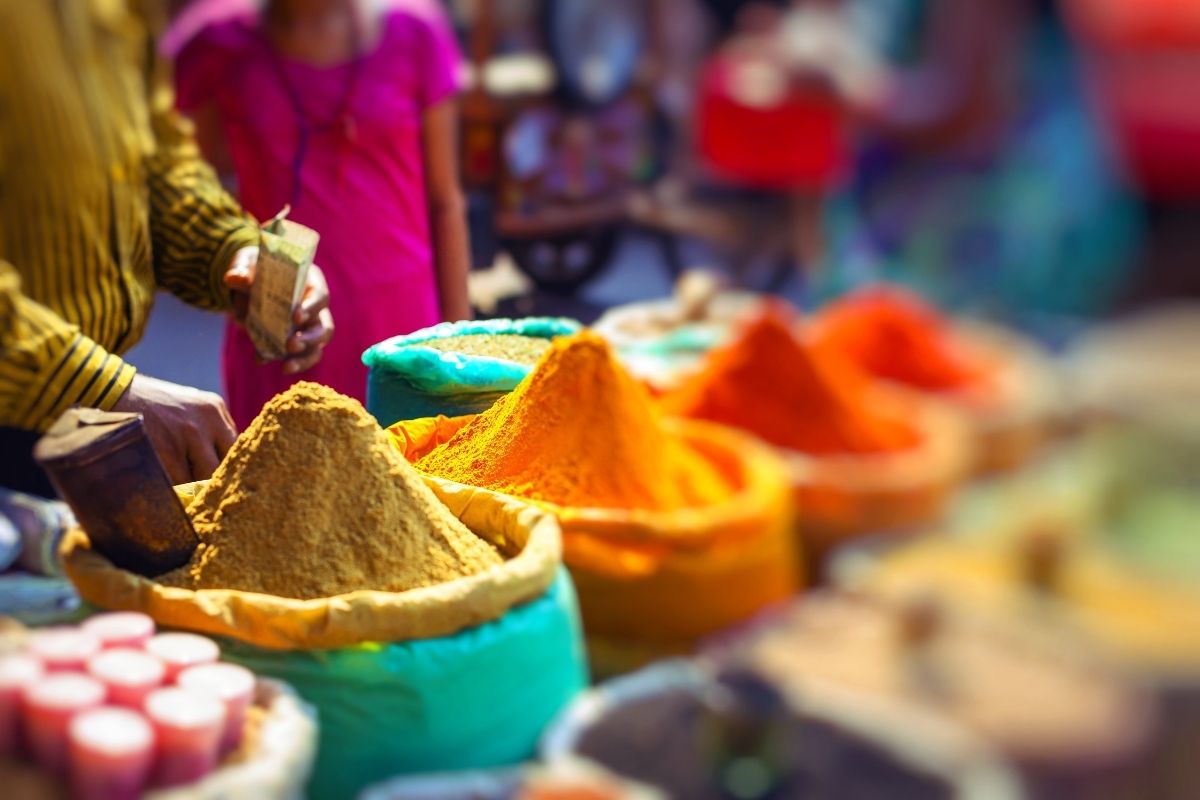 While we're wandering about the Chandni Chowk Market, make sure to head over to its western flank where you'll discover what is quite possibly Asia's largest wholesale spice market — the Khari Baoli.
A true hidden gem with roots back to the 17th century, this is a world away from the rest of the market with its narrow lanes and tiny shops overflowing with all manner of spices, herbs, nuts and seeds.
As you arrive it won't be long until you're staring at overflowing sacks of spices in every colour of the rainbow – coriander, cumin, fennel seed, mustard seed, aniseed, fenugreek leaves…you name it. Keep wandering you'll eventually find more exotic (and often stranger) fare such as dried limes, star anise pods, black cardamom seeds and mace blades.
Brightly rich in colour and photographic opportunities, and a circus for the senses, this vibrant market is a quintessential stop for anyone with an interest in cooking, spices or simply wanting to explore a more traditional side of India.
18 – Let the youngsters loose at KidZania Delhi NCR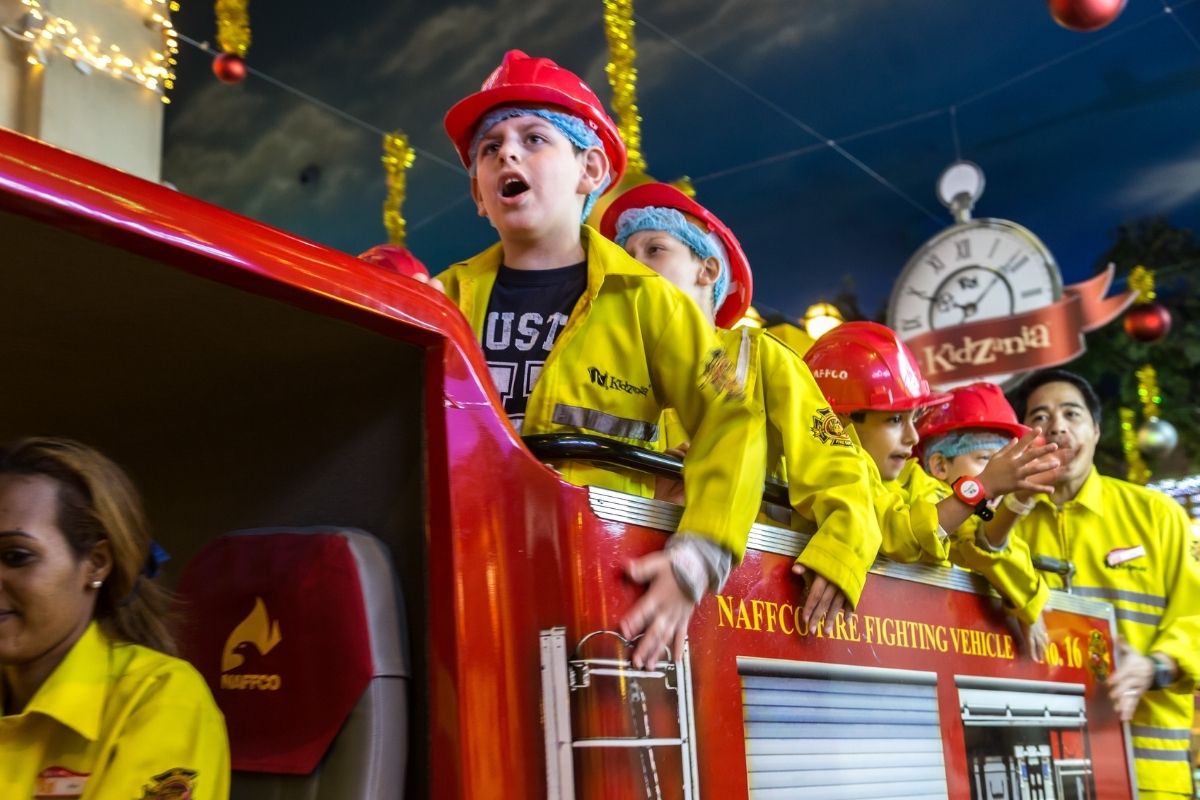 Designed for youngsters between 4 to 14 years to have a ball but learn a thing or two about the real world simultaneously, KidZania is an indoor edutainment theme park where "kids are the boss".
Here, kids can role-play more than 60 different careers, from pilot and police officer to fashion designer and journalist, in a make-believe city complete with buildings, vehicles, an explorable archaeological site, a court of justice, a stadium, and an "Underground Utility Maintenance" section, and you can see quite the variety of potential career paths.
Slap on some wall climbing, a dedicated soft play area for toddlers, a ropes course, an on-site pizzeria, and a few other activities into the mix and you have one epic day out.
With a functioning economy and its own currency, whether they thrive as a make-believe pilot, surgeon, detective, chef, engineer, or TV producer, it's a certainty to be saying "they grow up so fast" before the day's done.
KidZania is located in Sector 38, Noida near The Great India Place Mall and Worlds of Wonder – approximately 45 minutes from central Delhi by car (longer during peak hour traffic) – which means it's worth allocating an entire day to this side of the Yamuna river.
19 – Get your art fix at the National Gallery of Modern Art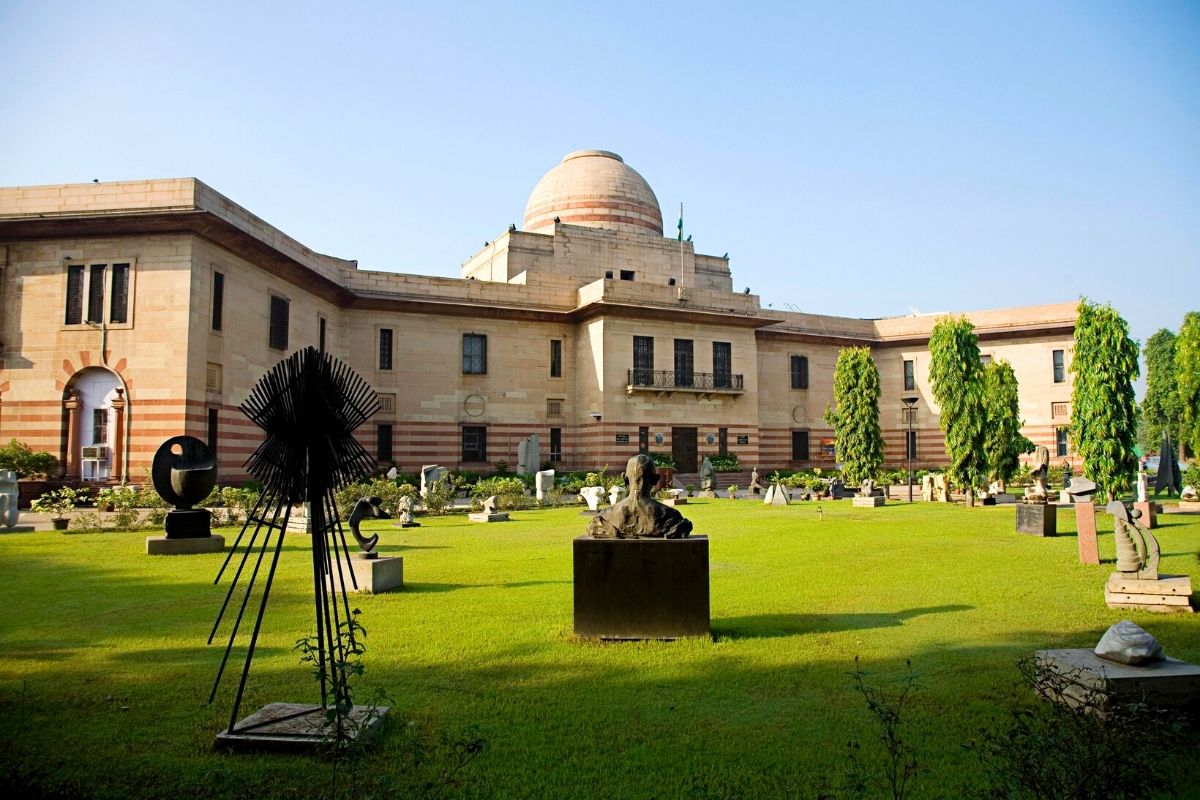 Culture vultures, this one should be high on your list. With a collection that's been growing bit by bit since the 1950s, India's premier modern art museum, the National Gallery of Modern Art (NGMA) holds one of the largest hauls of modern and contemporary Indian (and global) art in the world.
Housing over 14,000 artworks spread across some 12,000 square metres – comprising of themed areas like miniature paintings, Art Movements in the 1970s, Modern Sculpturer, Print Making and Photography and more – the gallery is a veritable treasure trove for anyone with an interest in 20th- and 21st-century artists and their thought-provoking work.
The primary focus is on paintings but you'll also find fabrics, prints, photographs and installations by some of India's most famous artists with ties to India such as Thomas Daniell, Abanindranath Tagore, Raja Ravi Verma, Gaganendranath Tagore, and Rabindranath Tagore, to name but a few – all from the 1850s and beyond.
20 – Check out the Qutub Minar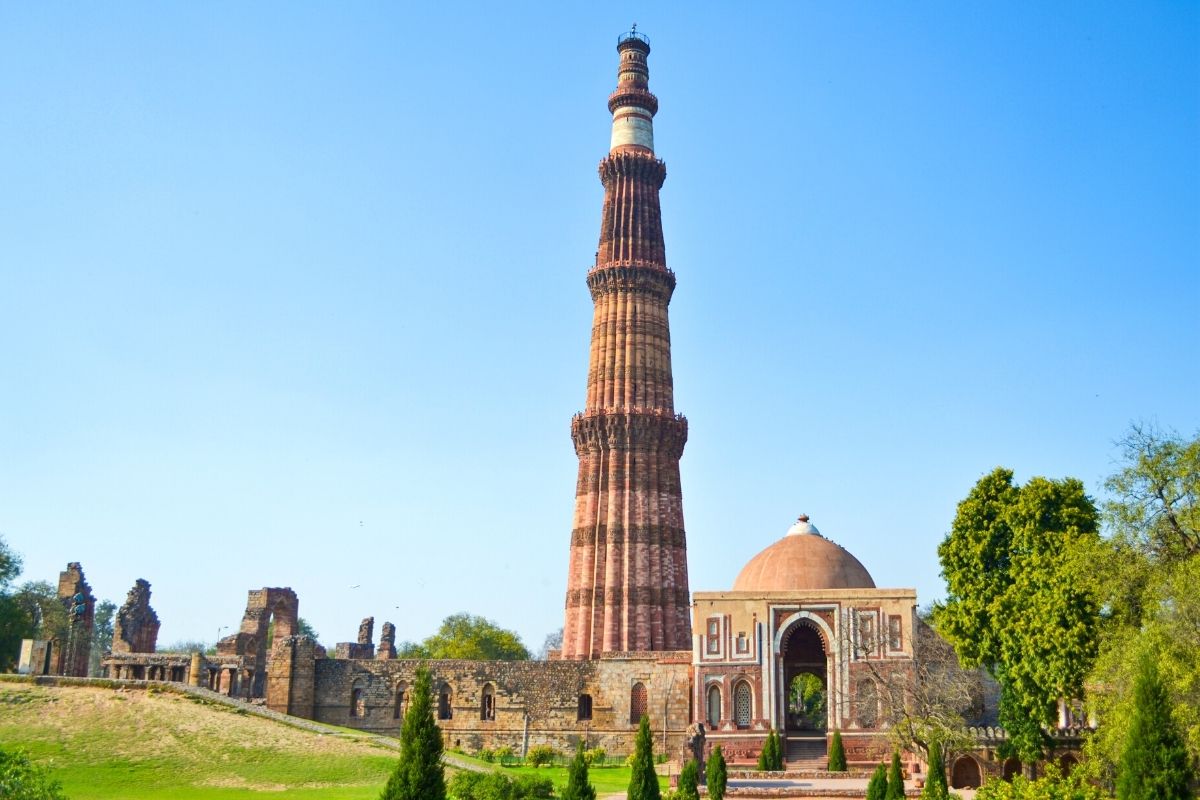 India's dramatic take on the Leaning Tower of Pisa, Qutub Minar is one of the tallest brick minarets in the world. But there's more to this place than just a striking old tower.
The Qutab complex is actually a group of buildings – the main star being the soaring, 72-metre-high minaret that was built in phases between 1190 and 1386 as a symbol of the Muslim dominance in Delhi after overthrowing the last Hindu ruler.
The surrounding buildings and structures, including several decorated tombs, a Madrasa (education centre), a 25-metre-high Alai Minar of Khalji tower, and the ruins of the ancient Quwwat-ul-Islam Mosque, combine to offer history-loving visitors a fascinating glimpse into India's diverse past.
Qutub Minar is located in Mehrauli, just south of central Delhi – and, thanks to its rich history, is best explored with a guided tour (one that might also check out the Mehrauli Archaeological Park, if you're after bang for your buck).
21 – Learn the mysteries of the Iron Pillar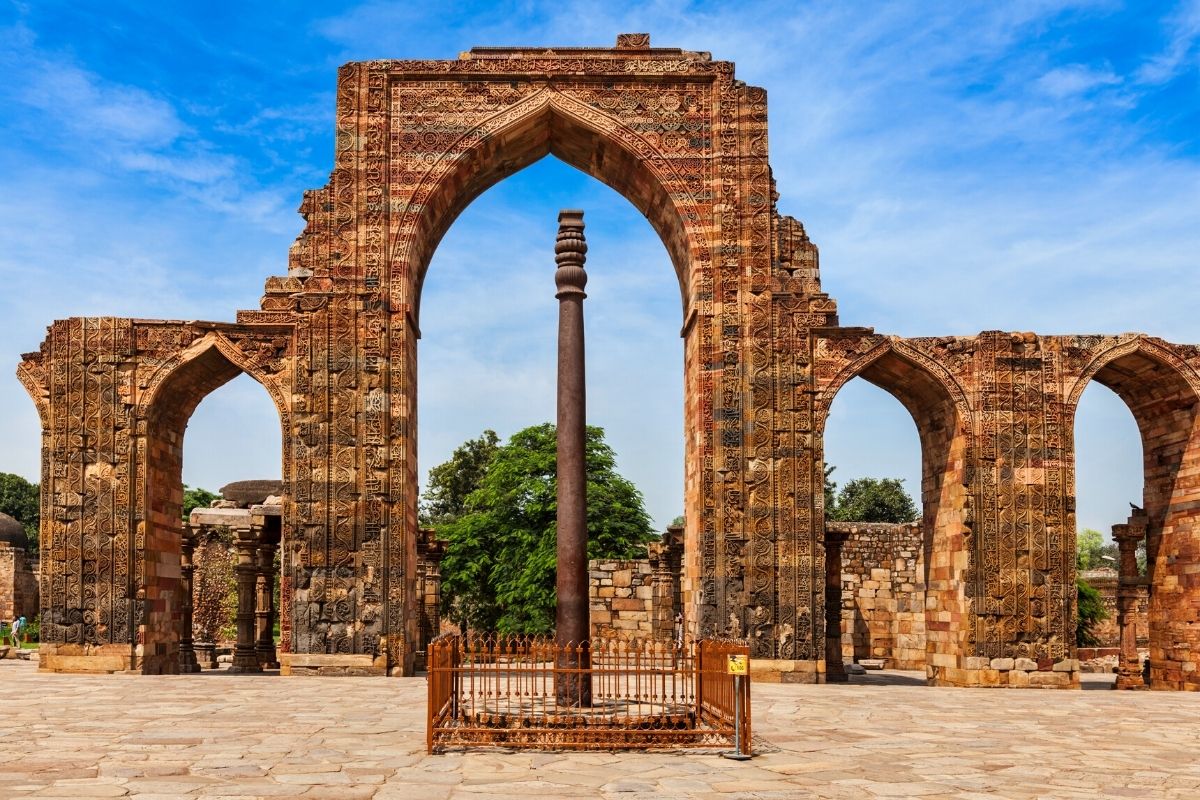 7 meters tall and winding the clock back all the way to 402 AD, the Iron Pillar at the heart of Mehrauli is quite the sight to behold.
But, as well as being one of Delhi's oldest and most impressive monuments, it's also something of an enigma: despite being exposed to the elements for over 1600 years, the pillar hasn't rusted – a fact that scientists are still scratching their heads over.
Weighing more than 6 tonnes and adorned in inscriptions of multiple languages all over its surface, the pillar currently sits in the courtyard of Quwwat-ul-Islam Mosque, however, its original location is shrouded in mystery (ancient Udayagiri is one theory).
Sitting around the corner from Qutub Minar, in the same must-see complex, the pillar is best explored with a guide who can share some of the more fascinating theories about how it was made and why it hasn't corroded.
22 – Spend the morning at Janpath Market
Full of unique and boutique products spanning art, fashion, souvenirs, and accessories – a collection of products that you're unlikely to find at any of the big box retailers or sprawling malls dotted around Delhi – the Janpath Market is a great place to shop for all manner of things, whether you're after a keepsake or two or are on the hunt for some Indian-made fashion as well as Tibetan trinkets and quick bites.
With hundreds of shops and stalls to explore, flogging everything from denim shirts to wallets, stone jewellery, shawls, decor items, and hookahs, it can be easy to get lost in the Janpath Market maze – but that's all part of the fun. Haggling is also par for the course here so don't be afraid to barter your way to a bargain.
The market is located just off Connaught Place (Central Delhi) and is open every day from around 11am to 9pm, leaving plenty of time to sweep up some scarves, traditional Indian clothes, or leather bags.
23 – Revel in the glory of Humayun's Tomb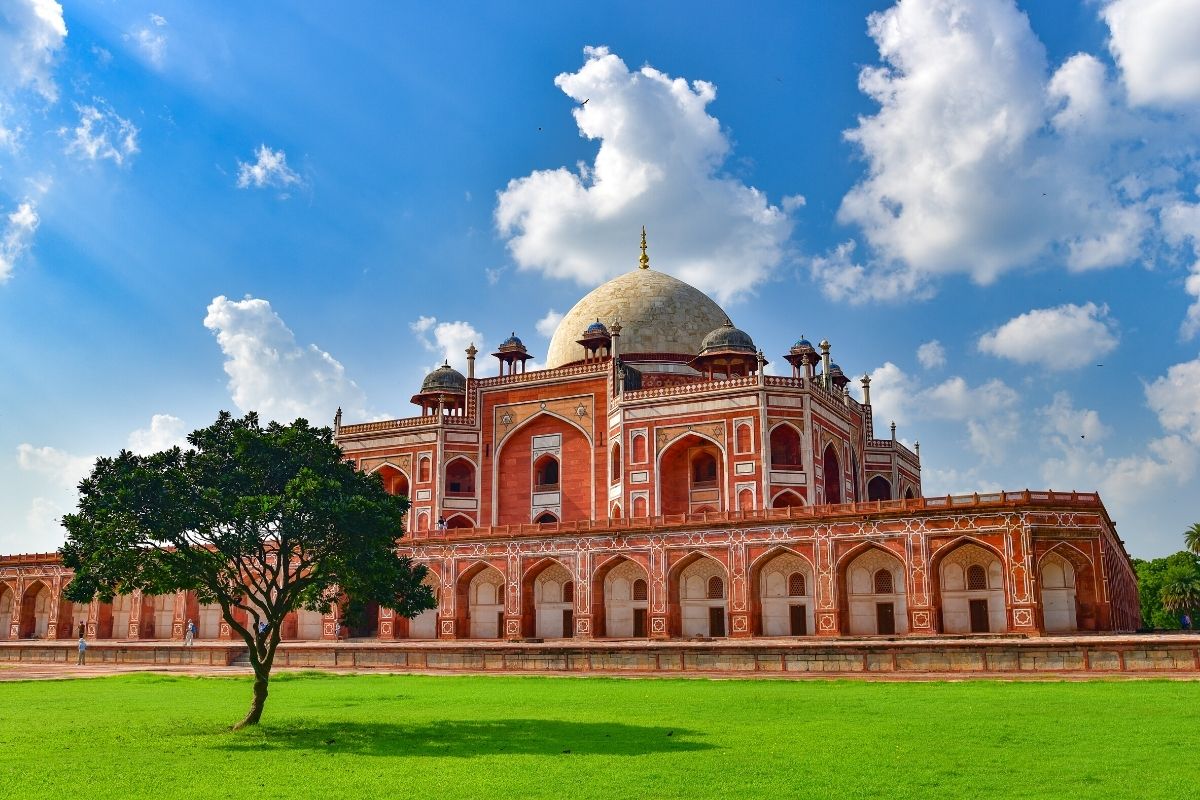 Dating all the way back to 1570, Humayun's Tomb on the banks of the Yamuna river is one of the finest examples of Mughal architecture in India – and served as an inspiration for several other grand buildings that would follow, including the Taj Mahal.
Set in beautiful gardens – divided into four large squares – full of fruit trees, flowers, and fountains (which were restored in 2003), the entire complex covers nearly 67 acres and contains not only Humayun's final resting place but also those of many other members of the royal family.
A UNESCO World Heritage Site since 1993, the tomb is best explored with a guide who can share insights into the emperor's life as well as the significance of the building itself. Plus, with the Tombs of Battashewala Complex sitting within the buffer zone, you can easily combine the two sites into one morning or afternoon of exploring.
24 – See old-school planes at the Air Force Museum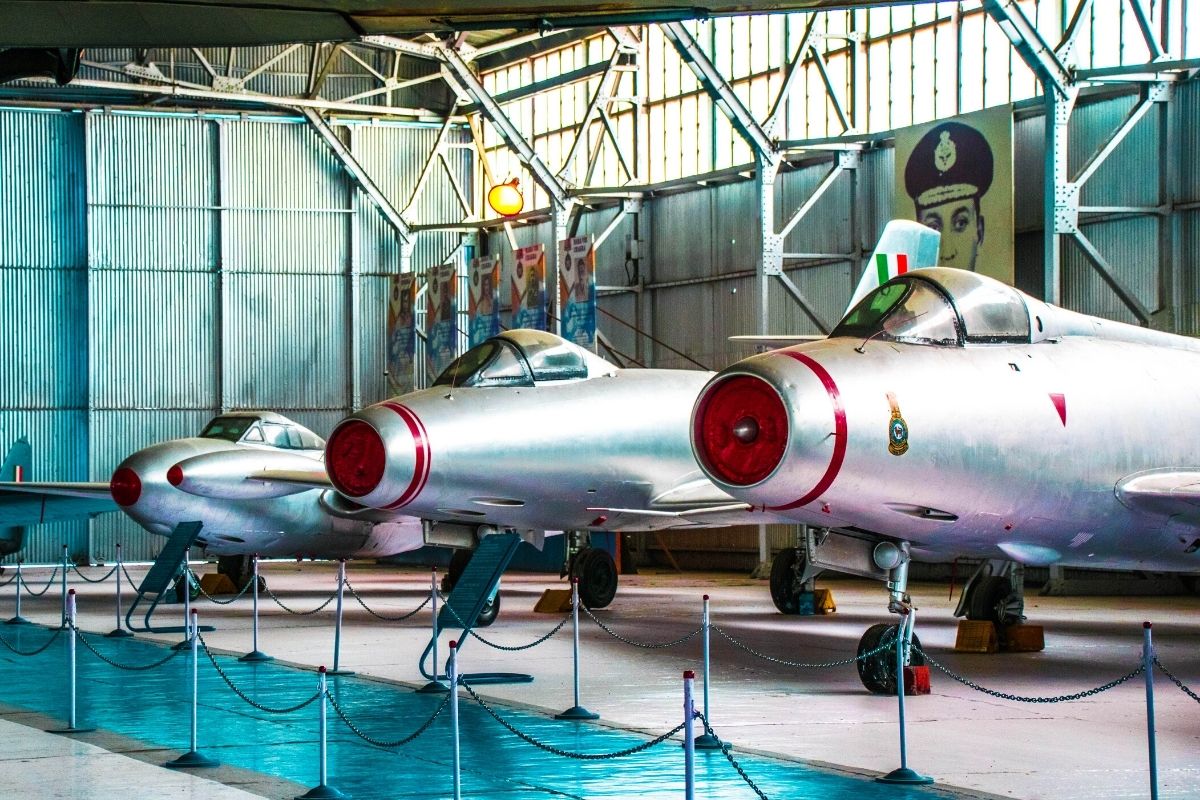 Mavericks in the making will want to check out the Indian Air Force Museum, which covers the history of aviation in India from the Air Force's inception in 1392 right up to the present day.
With well over 30 aircraft on display – including the HAL Gnat II, Westland Lysander, Percival Prentice, British WWII fighter Hawker Hurricane, enormous transport planes like the Fairchild C-119 Flying Boxcar, supersonic interceptors like the MiG-25, and the quirky-looking De Havilland Vampire – as well as interactive exhibits, a library, and a theatre showing documentaries about various air force operations, there's plenty to see and do here for aviation enthusiasts.
The fascinating museum is divided up into four main sections: the Hangar, Outdoor Gallery, the Transport Aircraft Section (home to a couple of Soviet planes), and the Vintage Aircraft Flight – each with its own selection of helicopters, planes, and armoury.
The museum, free to enter, is open every day except Monday and Tuesday from 10am until 5pm and is located in Palam, just north of Delhi airport. Visitors can reach it via the Delhi Metro (to Sadar Bazar Cantonment), bus (to Najafgarh Terminal) or by taking an autorickshaw from anywhere in the main haunts.
25 – Take a day trip to Fatehpur Sikri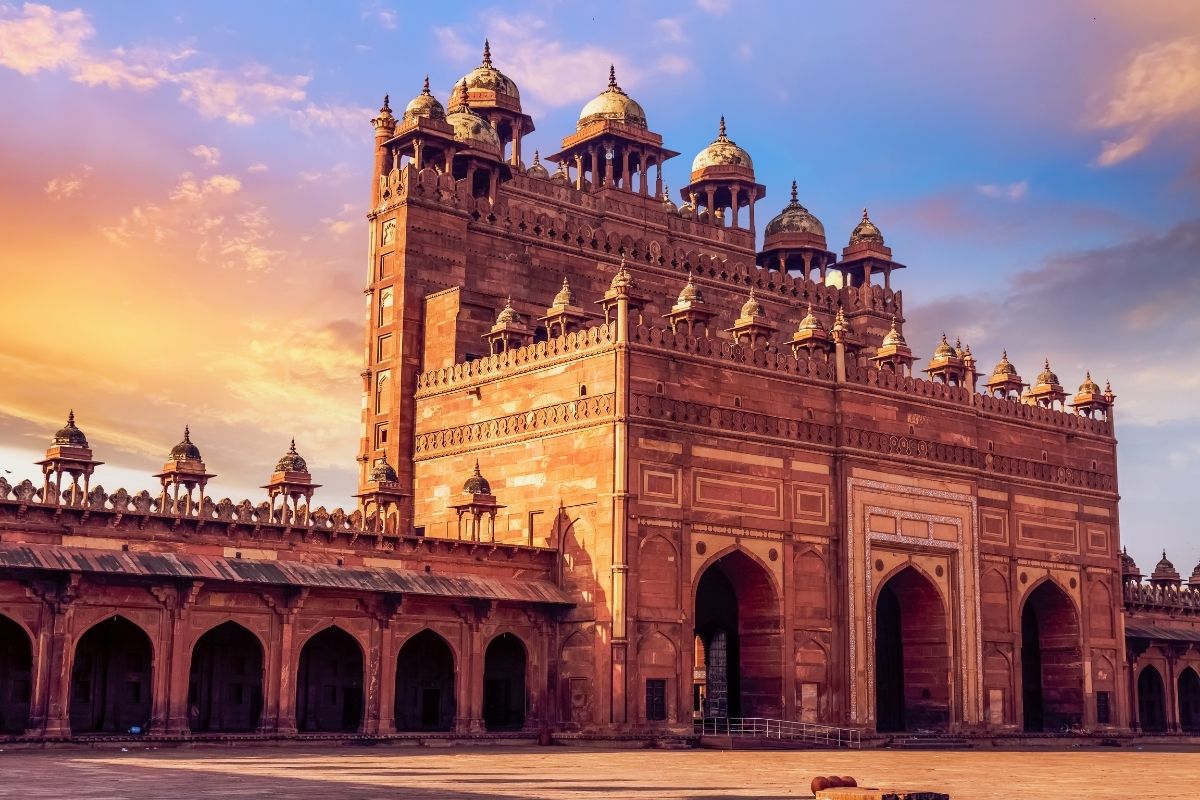 A small yet utterly fascinating city that feels like a step back in time, Fatehpur Sikri was the short-lived capital of the Mughal Empire during the 16th century.
Founded by Emperor Akbar in 1569, the city was abandoned just 25 years later due to a lack of water – but not before some of India's most impressive architecture had been built, including massive gates, red sandstone palaces, dramatic mosques, and engulfing courtyards.
Now a UNESCO World Heritage Site, Fatehpur Sikri is well worth a visit for anyone interested in Mughal history or architecture. The site and its main highlights (like the Buland Darwaza – translating to "Door of Victory") are spread out so it's best to explore with a guide (otherwise you might miss some of the key buildings) and allow at least half a day to really do it justice – when combined with the drive time, you're looking an entire day (or two) adventure.
About 3 and a half hours drive south of Delhi, Fatehpur Sikri is most commonly combined with a visit to the nearby city of Agra, where the world-famous Taj Mahal (see #27) awaits.
26 – Head to beautiful Agra for a day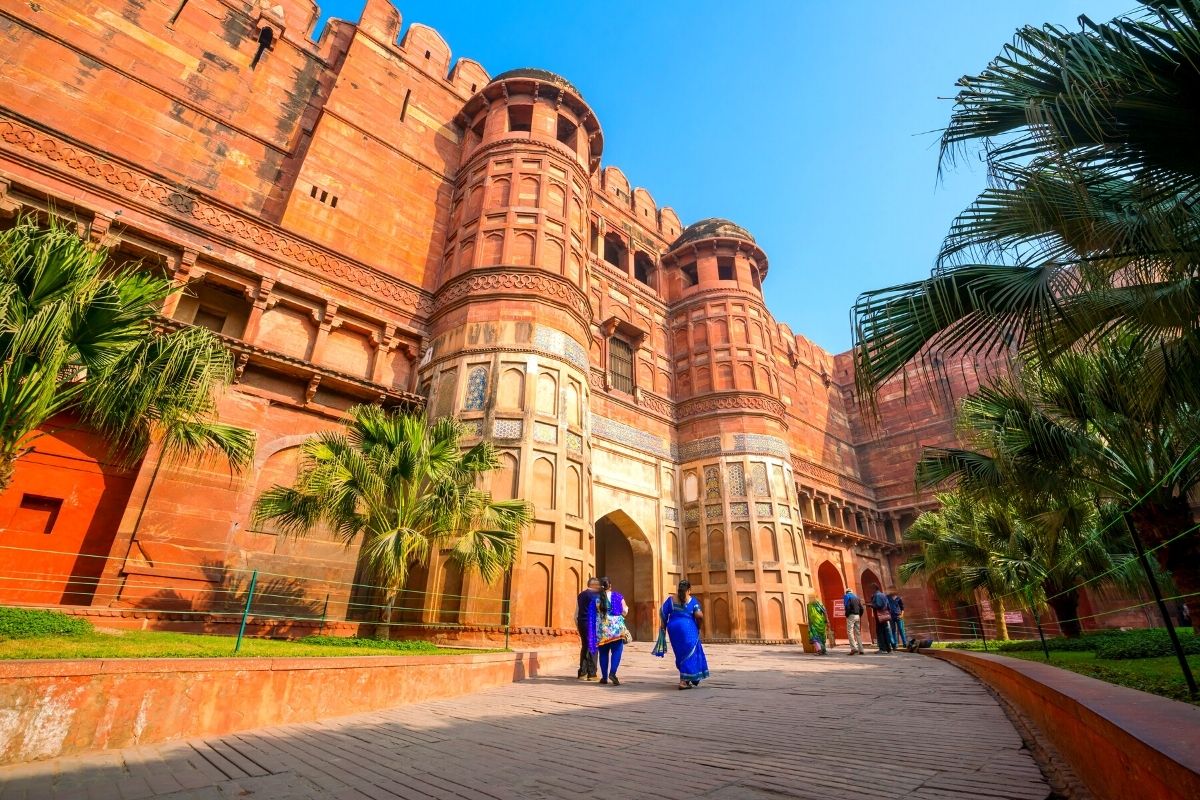 We'll get stuck into Agra's main attraction – the ivory-white marble mausoleum and world-wonder that is the Taj Mahal – in the next entry. Beyond the World Wonder, the Yamuna river-straddling city of Agra has plenty more to offer visitors.
Hot tip: Check out the best places to visit in Agra.
The UNESCO-listed Agra Fort, standing since 1573, is an imposing red sandstone and white marble fort that was once the main home of the Mughal rulers. So big it's been dubbed a 'walled city', it's fascinating to explore, especially considering how well-preserved some areas are.
Other highlights scattered around India's 24th most populous city include Itimad-Ud-Daulah's tomb ("Baby Taj"), Jama Masjid (one of India's largest mosques), Sikandra (the mausoleum of Akbar), Mehtab Bagh (a beautiful garden with views over the Taj Mahal), Ram Bagh (another riverfront garden with Mughal-era pavilions), and the 119-acre ground on which the Tomb of Akbar the Great sits.
As a city with a long and rich history, showcased by its strong culture, incredible architecture, and diverse activities, Agra is a justifiably popular day-trip destination from Delhi (about four hours by car or train). However, to really make the most of this tourist magnet – which boasts no less than three UNESCO World Heritage Sites – an overnight stay wouldn't go astray.
En route, consider stopping at Mathura and Vrindavan, two cities considered sacred by Hindus (Mathura is the birthplace of Krishna while Vrindavan is filled with approximately 5000 temples).
27 – Check the Taj Mahal off the bucket list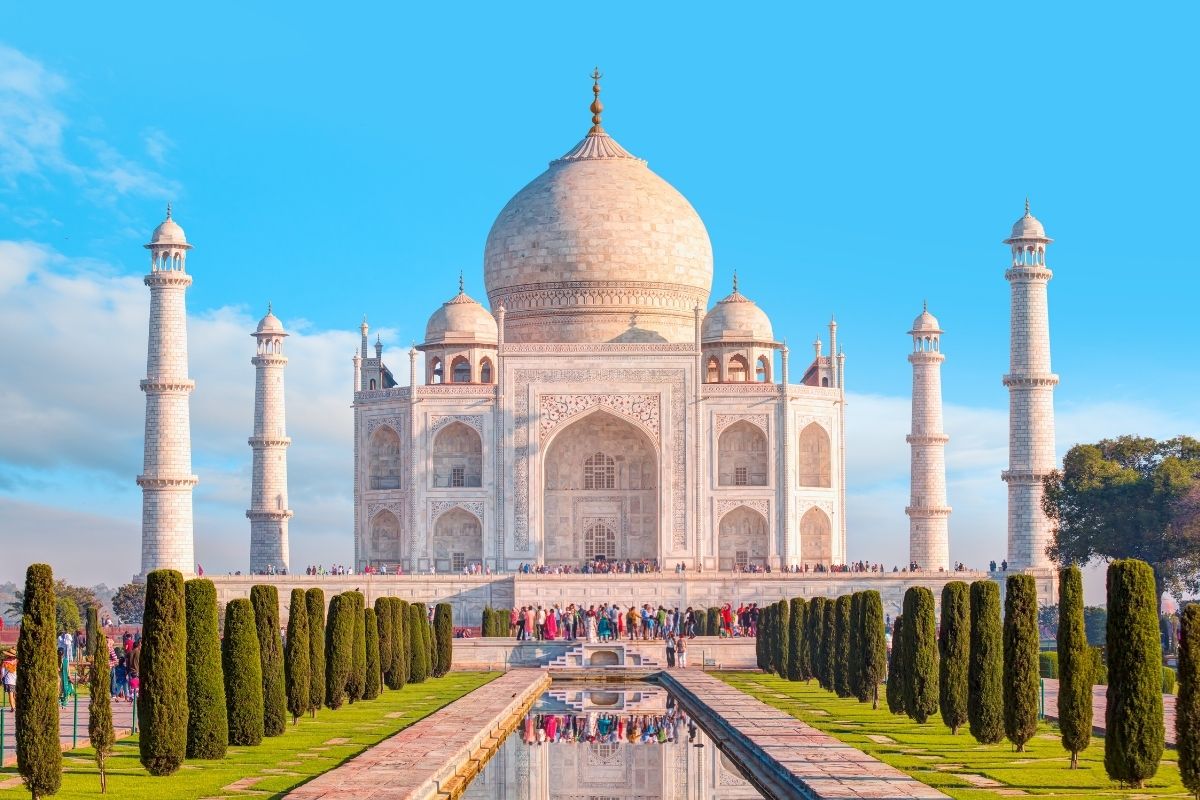 The posterboy of India, renowned worldwide for its spectacular design and incredible history, and one of the New Seven Wonders of the World, the Taj Mahal is one of those bucket-list places that really lives up to the hype.
The world's best-known tomb was built between 1631 and 1648 by Mughal Emperor Shah Jahan in memory of his beloved (favourite) wife. Construction involved more than 20,000 workers from across the globe, culminating in the stunning mausoleum we see today.
Flanked by four minarets and a 300-meter-long garden that incorporates symmetrical pathways, fountains, and reflecting pools, the Taj Mahal itself is a work of art. Its central dome is surrounded by four smaller ones, while the whole building is adorned with intricate Islamic calligraphy and floral designs in marble and semi-precious stones. Even the gateway itself is an attraction that would see tourists flock if it were in any other city.
While the Taj Mahal is undeniably beautiful at any time of day, it's especially magical at sunrise and sunset when the light hits the white marble just so, turning it pink, orange, and gold. At these times, the Taj Mahal is unsurprisingly crowded with tourists (it does, after all, attract more than 6 million visitors a year), but it's still possible to find some quieter spots around the perimeter if you walk away from the main complex.
Rather than organising your own transport, tickets, and tour guide, consider the hassle-free option: a pre-organised day trip from Delhi that typically includes an AC car, a professional driver, and an English-speaking local guide in Agra.
Visiting the Taj Mahal by yourself? Learn more about Tah Mahal tickets price and timings.
28 – Allocate another day to visit Jaipur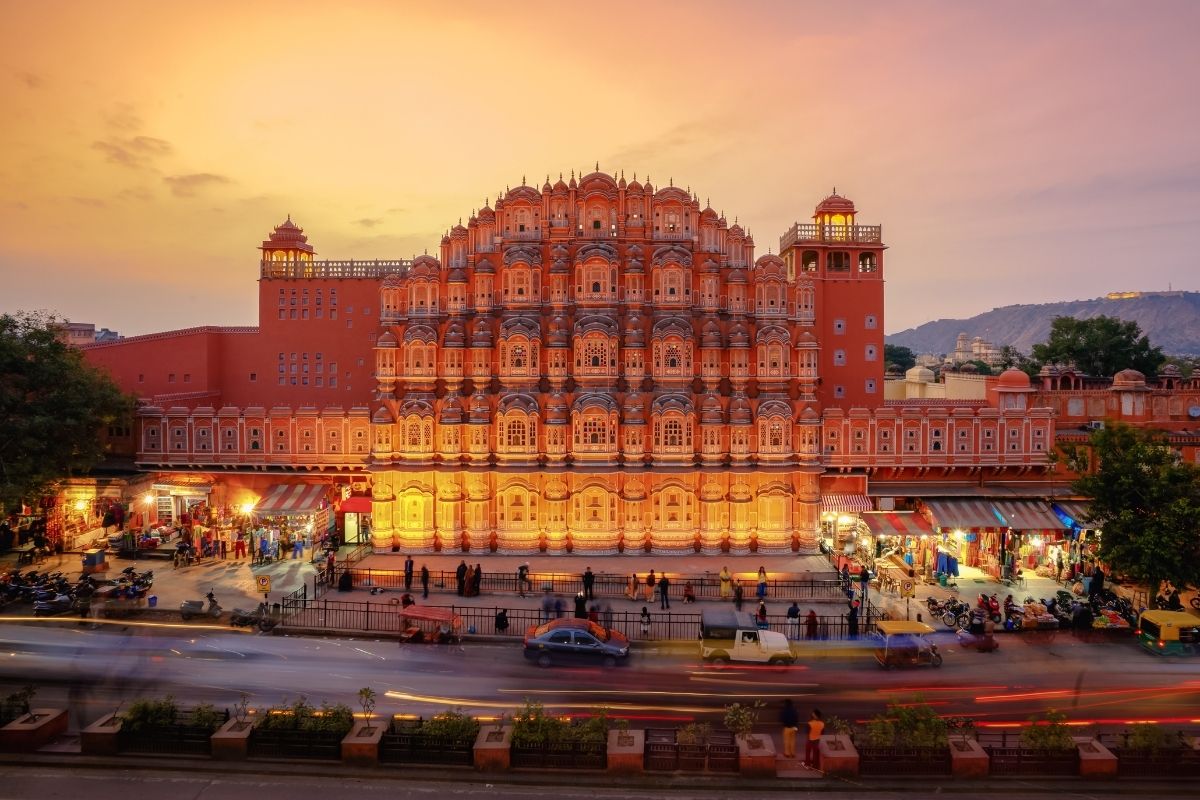 The enigmatic and richly historic Rajasthan state capital city, Jaipur, is often combined with Agra and Delhi as part of the so-called "Golden Triangle" tourist circuit.
Often referred to as the "Pink City", thanks to its blushing rose-coloured buildings, Jaipur was founded in 1727 by Maharaja Jai Singh II, the Rajput ruler of Amer, and today it's a bustling metropolis that's home to some three million people – while steeped in history, it's evolved into a thriving metropolis with a modern edge.
While there are plenty of highlights within the city limits – including several large forts and palaces such as Amber Fort, Hawa Mahal, and City Palace, as well as the striking Jantar Mantar Observatory – Jaipur is also a great base for day trips to some of Rajasthan's most iconic attractions.
These include the fairy-tale lakeside palace and former summer getaway of Maharaja Sawai Mansingh II, Jag Mandir; the imposing hilltop fort of Nahargarh; and Amer Fort, set atop a craggy range of hills outside town.
Jaipur is also within easy reach of Sariska Tiger Reserve, one of India's best tiger-spotting nature areas for when you need a break from the old-school buildings
A plethora of guided tours zooms you along the Golden Triangle between Delhi, Agra, and Jaipur in just a few days. So if you're someone who wants to see more of what northern India has to offer in a short(ish) period of time, these hassle-free options are your best bet. Similarly, you'll find no shortage of day trips to each destination if time is of the essence.
29 – Get up close with tigers at Ranthambore
If you're already making the long (but worthwhile) journey down to the Pink City of Jaipur, it's almost a sin to not extend your trip to include a stop at Ranthambore National Park.
One of the best places in the world to see Bengal tigers in their natural habitat (and certainly the most popular spot for tiger-spotting safaris in India), Ranthambore is set amid the rugged Aravali and Vindhya mountain ranges, about four hours south of Jaipur.
The park covers an area of over 1,334 square kilometres (515 square miles) and is home to not only tigers but also leopards, sloth bears, desert bats, caracals, nilgai (the largest antelope in Asia), wild boar, and over 320 species of birds, not to mention a stunning millennia-old fort and a wide diversity of colourful flora.
Only open from October to June, the best time to visit is between November and March when temperatures are a little cooler and the animals tend to be more active.
30 – Find some peace at the Sunder Nursery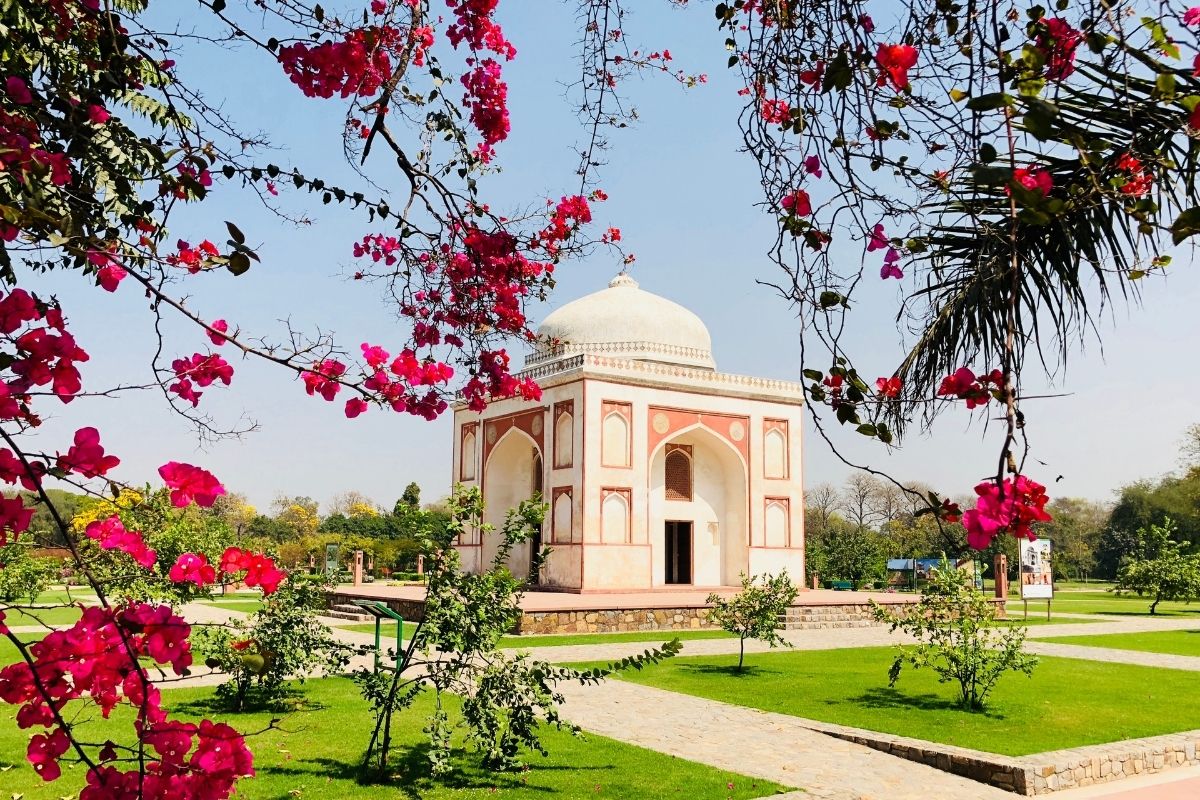 Back in the hustle and bustle of New Delhi now, Sunder Nursery is one of the city's most peaceful and beautiful oases.
A 90-acre (36-hectare) park that's home to Mughal-era gardens, Sunder Nursery was originally established in the 16th century and served as a pleasure garden for the royal family.
The park is particularly lovely in autumn and spring when the flowers are blooming, but it's worth a visit at any time of year. If not for its 300 different plant and tree species or its calming marble fountains, then for its 6 World Heritage Monuments.
Sitting adjacent to Humayun's Tomb, one of the country's best-preserved Mughal monuments, the relaxing and serene Sunder Nursery is an easy stop on any itinerary that includes the former.
31 – Tick off the highlights with a hop-on-hop-off bus tour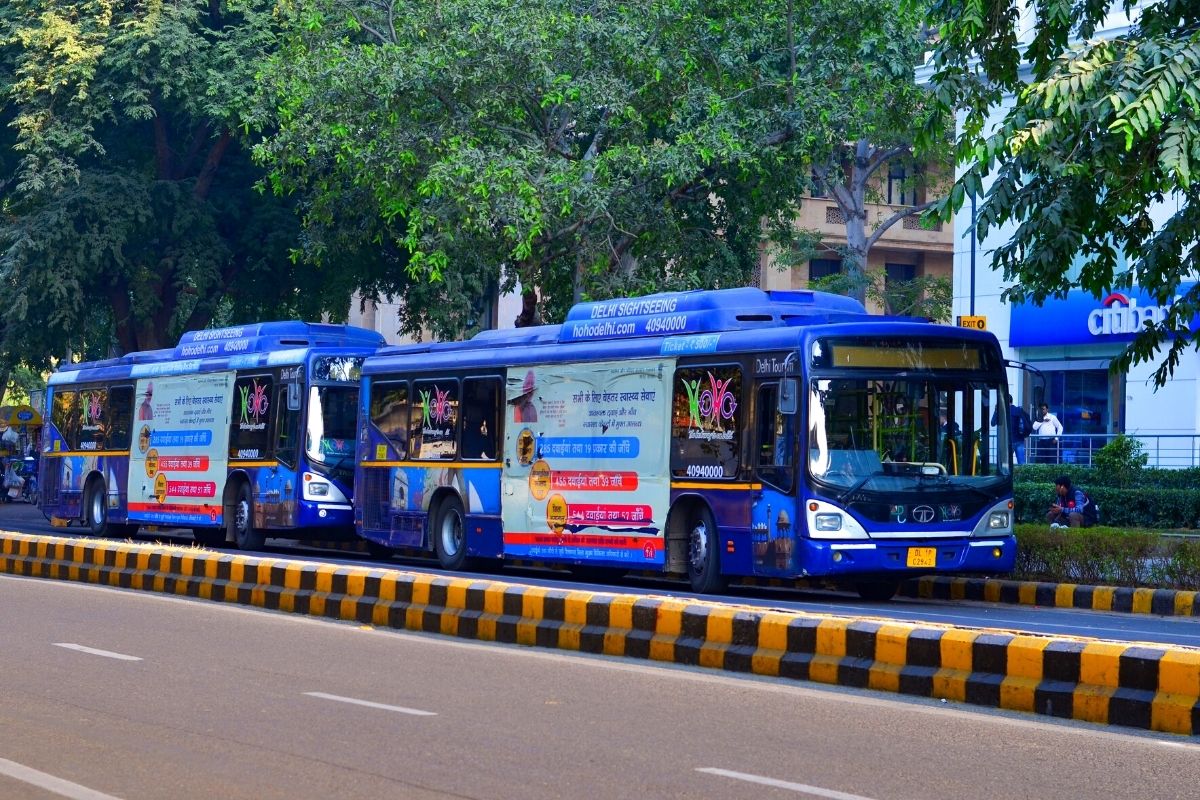 Want to experience all the main highlights of this bustling city without any of the hassle? Then a Hop-On Hop-Off Bus Tour is the perfect activity for you!
The open-top, double-decker buses wind their way through the city's chaotic streets, taking in all the main sights and attractions such as India Gate, Jama Masjid, Qutab Minar, Lotus Temple and more.
With multiple routes and stops, you can hop on and off as much (or as little) as you like, meaning you can tailor your own sightseeing experience to suit your interests.
What's more, many of the tours also come with complimentary audio guides in a variety of languages so that you can learn about Delhi's rich history and culture while taking in the views.
When the sun's sizzling down, the air-conitioned lower deck is a welcome respite, while the open-top upper deck is perfect for getting those all-important city snaps.
32 – Confuse the senses at the Museum of Illusions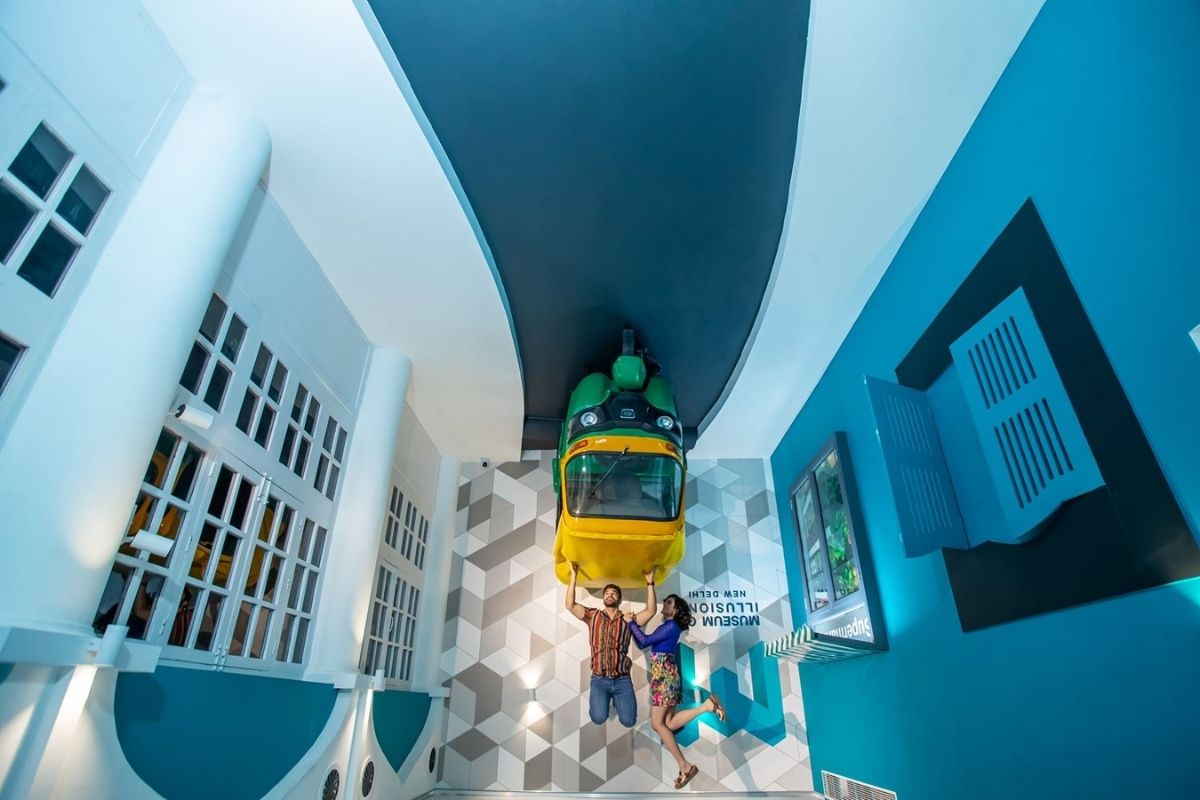 Sure to light up the gram with some epic optical illusion photos and leave your audience scratching their heads, the Museum of Illusions is a must-visit for anyone with a love for all things quirky – and a basic interest in science doesn't hurt either.
From rooms that make you look like you're falling off a cliff to ones where you appear to be much taller (or shorter) than you actually are, to hilarious gags that put your head on a dinner plate, show you lifting up a rickshaw above your head, or experience anti-gravity, this place is guaranteed to confuse the senses in the most delightful way.
If that's not enough to get your brain ticking over, there are also illusions involving light and sound as well as some more traditional trick-eye paintings to enjoy.
And, thanks to its Connaught Place location, odds are you'll be in the area at some point anyway!
33 – Stare at the stars at the Nehru Planetarium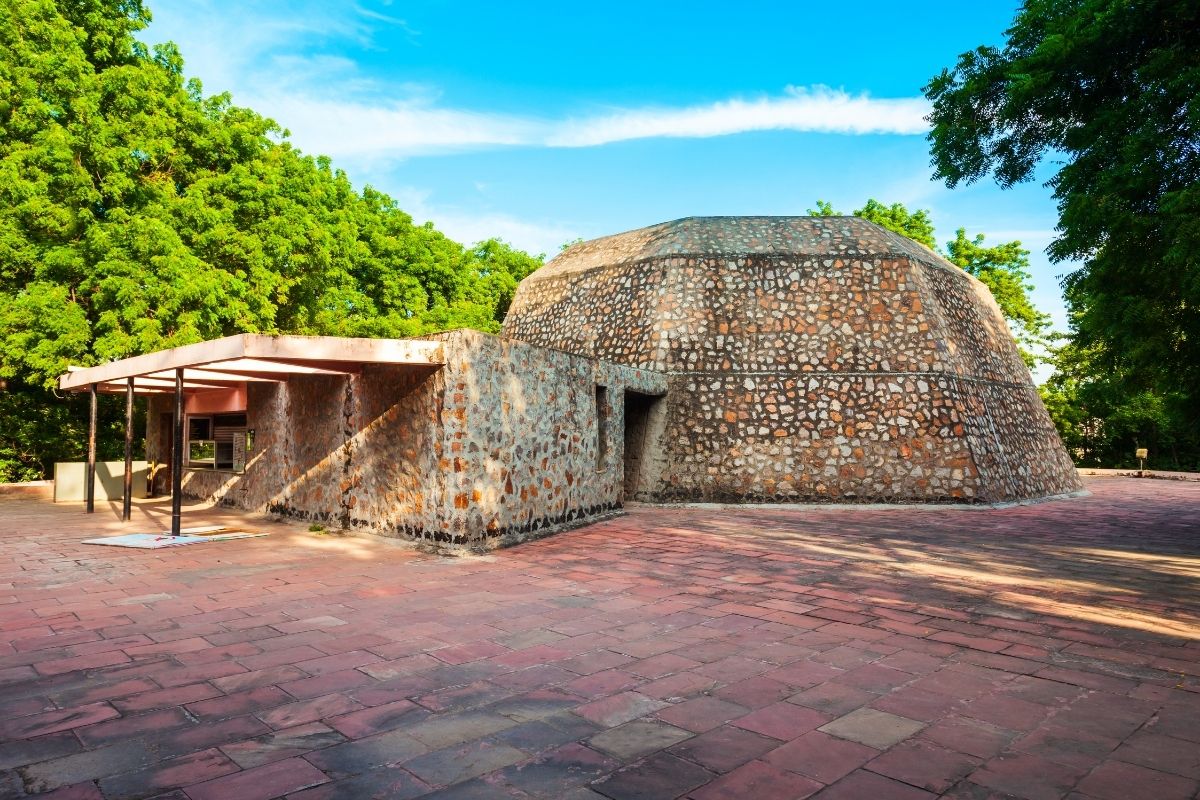 A quintessential stop for space geeks and budding astronomers, the Nehru Planetarium is one of Delhi's most popular science museums.
Named after India's first Prime Minister, Jawaharlal Nehru – who was a huge advocate for science and technology – the planetarium was inaugurated in the 1970s and has since welcomed millions of visitors through its doors since.
As well as being home to a state-of-the-art planetarium dome, the museum also houses an astronomy gallery with interactive exhibits on topics such as the solar system, constellations and comets, and runs regular workshops, quiz nights, stargazing events, and educational lectures for those looking to immerse themselves in the intergalactic action.
Besides the on-site library for those looking to learn a thing or two about the Milky Way, there are also regular astronomy shows (in English and Hindi) that are suitable for all ages and make space fun and engaging.
34 – Snap some photos of India Gate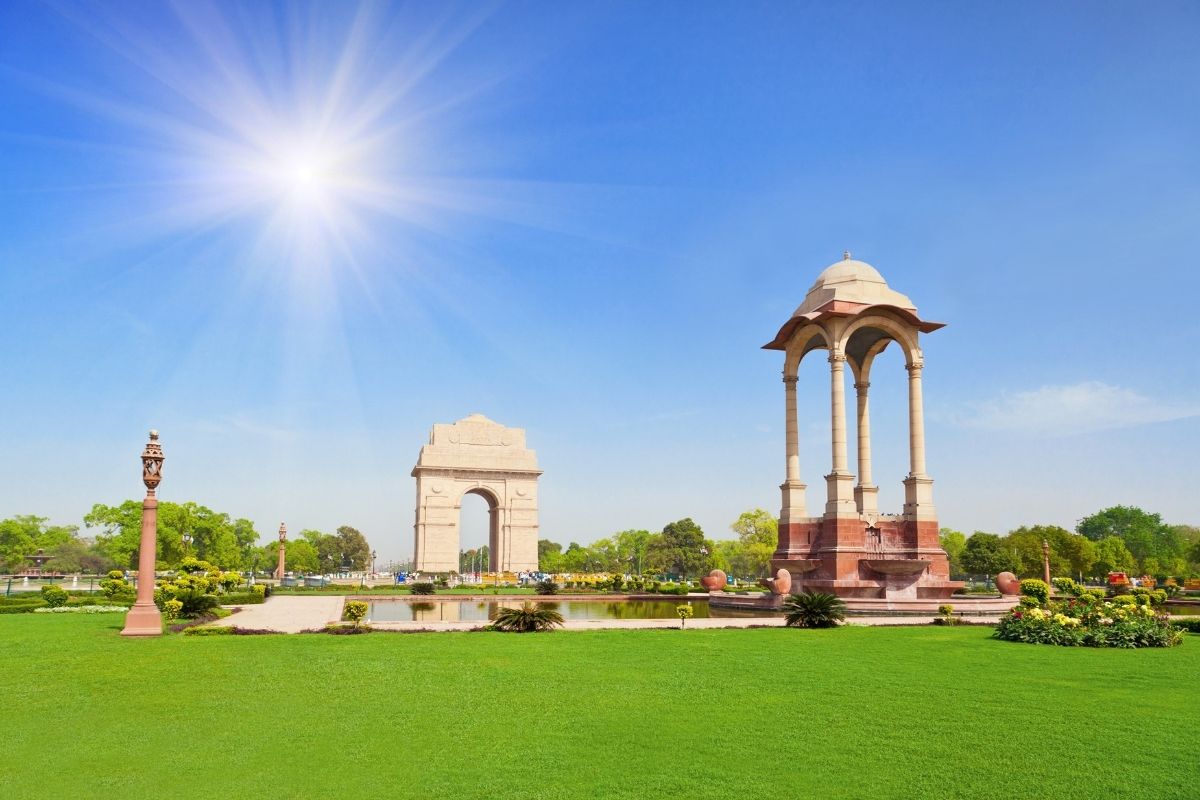 India's answer to the Arc de Triomphe, the 42-metre tall India Gate was built in 1931 as a war memorial to commemorate the 70,000 Indian soldiers who lost their lives fighting for the British Army during World War I. Inscribed with the names of exactly 13,516 British and Indian soldiers, the striking landmark is as humbling and sobering as it is picturesque.
But it's not all sobering and reflective – on a sunny day, the area around the monument is filled with food vendors, ice cream sellers and families out for a leisurely stroll or picnic in one of the adjoining parks.
Come evening, India Gate and its surrounding fountains are illuminated with coloured lights, making for a beautiful sight as you wander around the area along Rajpath towards Rashtrapati Bhavan (the President's official residence).
35 – Soak up the unique Lajpat Nagar atmosphere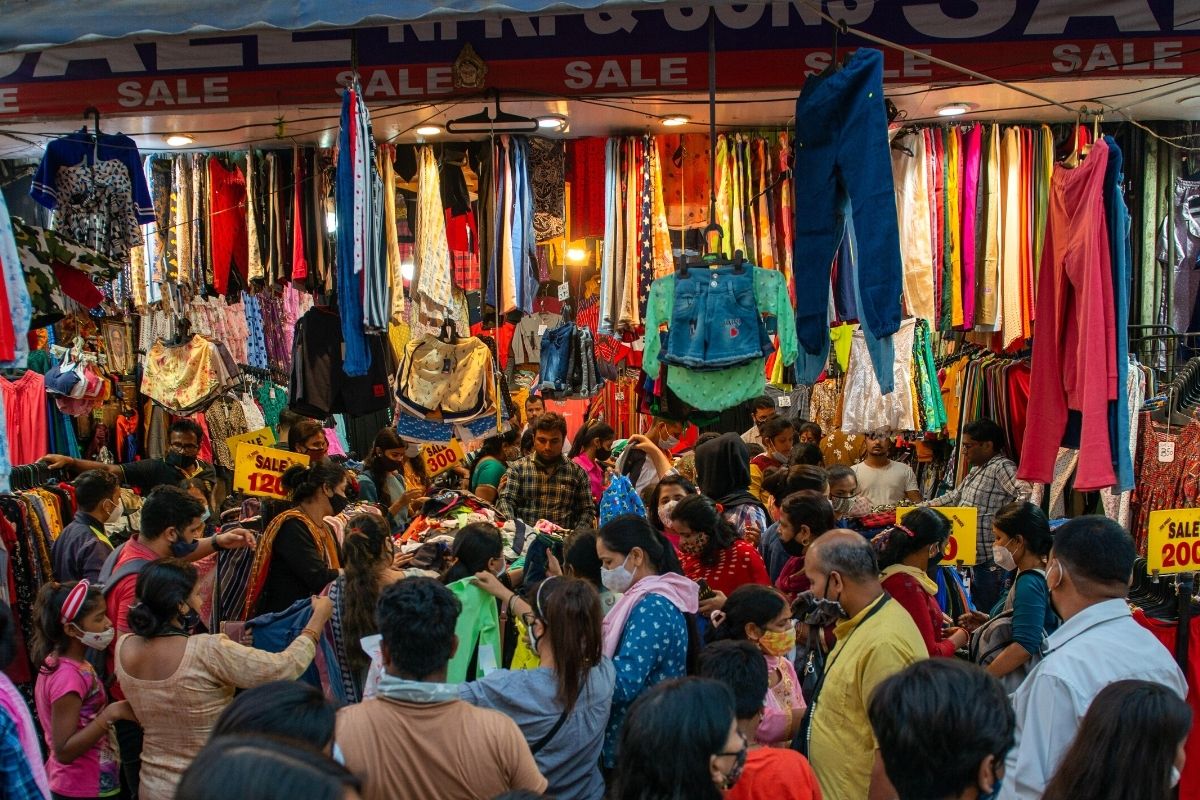 Standing out as one of south Delhi's most vibrant localities, Lajpat Nagar is a melting pot of cultures, cuisines and chaos – it's the hectic pulse of Delhi in the best possible way.
A shoppers' paradise, the area is lined with markets selling everything from traditional Indian clothes and fabrics to second-hand books, vintage finds and quirky trinkets, while the side streets are home to a plethora of street food vendors slinging some of the tastiest eats in town and henna tattooists ready to leave you with a medium-lasting mark.
From tikkas and kebabs to chole bhature (a fried bread and chickpea dish), aloo chaat (potato snacks) and jalebi (deep-fried sweets), there's no shortage of delicious snacks to feast on as you explore – just be sure to bring your appetite!
And even if you walk away empty-handed (you won't), the buzzing atmosphere on its own makes this energetic bazaar well worth a visit.
36 – Spend an afternoon snapping selfies at the Waste to Wonder Theme Park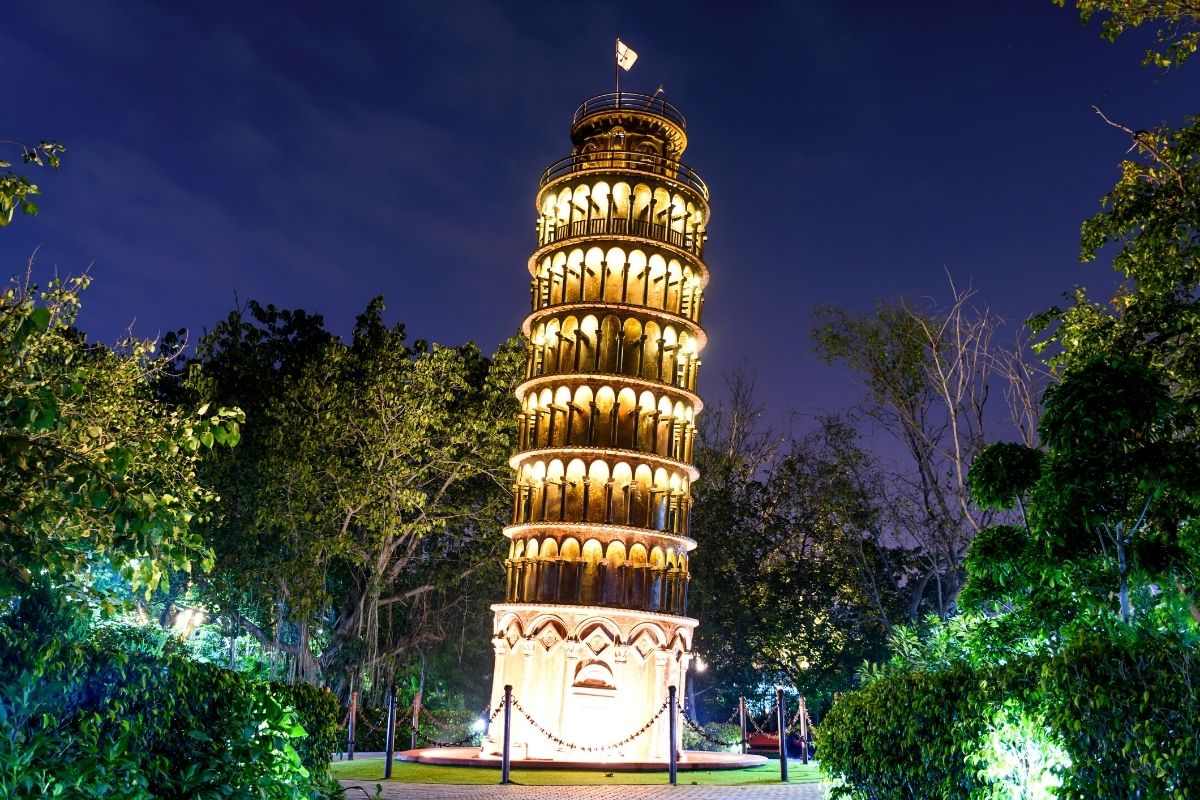 A wonderful example of tactical urbanism and sustainable development, the Waste to Wonder Theme Park is one of Delhi's most unique attractions.
Situated next to the Sunder Nursery and the National Zoological Park, the park is made up of seven different sculptures – all created using recycled waste materials such as car bumpers, tyres, pipes, rods, fans, and all kinds of industrial bits and pieces totalling 150 tonnes of scrap!
But they're not your average sculptures – the crafty creations represent seven of the architectural wonders of the world, including the Taj Mahal, Eiffel Tower, Great Pyramid of Giza, Colosseum of Rome, Statue of Liberty and even the Leaning Tower of Pisa.
A great spot for a selfie (or seven), the park is open daily from 11am to 11pm and at just 50 rupees (less than $1), sells itself as one of the best budget-friendly things to do in Delhi.
37 – Admire the Jama Masjid architecture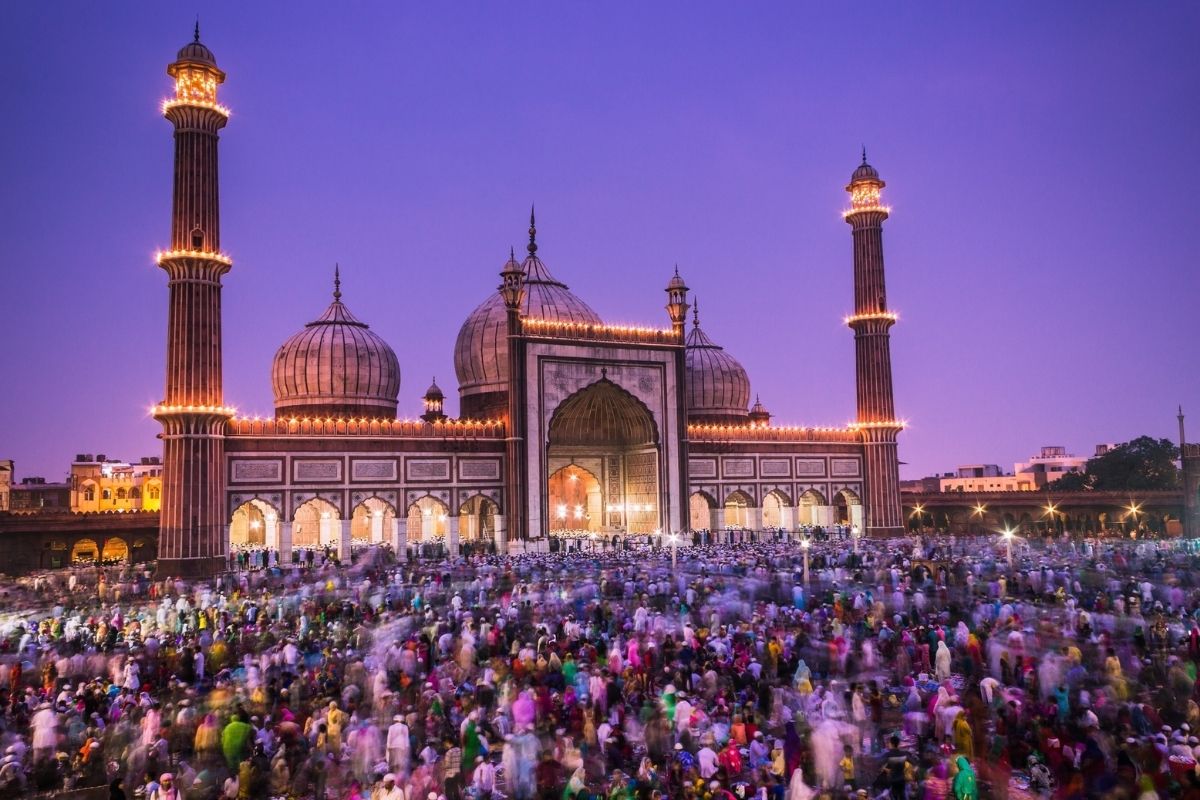 A shining example of Mughal architecture, Jama Masjid is one of India's largest and most popular mosques.
Built in the mid-17th century by Mughal Emperor Shah Jahan, the imposing sandstone and marble structure is home to two massive courtyards (capable of holding 25,000 worshippers), four towering 40-meter-high minarets, and beautiful gateways and archways to boot – making it an Instagrammer's dream.
Muslims and non-muslims alike are welcome to visit the main hall of worship (and, for an extra fee, climb one of the minaret towers); but even if prayer isn't your thing, you can still enjoy wandering around the courtyard and taking in the stunning architecture from different angles.
Jama Masjid is located in Chandni Chowk and can be easily reached by metro or rickshaw. But, rather than make your own way to the postcard-worthy landmark, many consider a guided tour of Old Delhi which checks off several of the region's prime haunts.
38 – Check out the floating ship-like Jahaz Mahal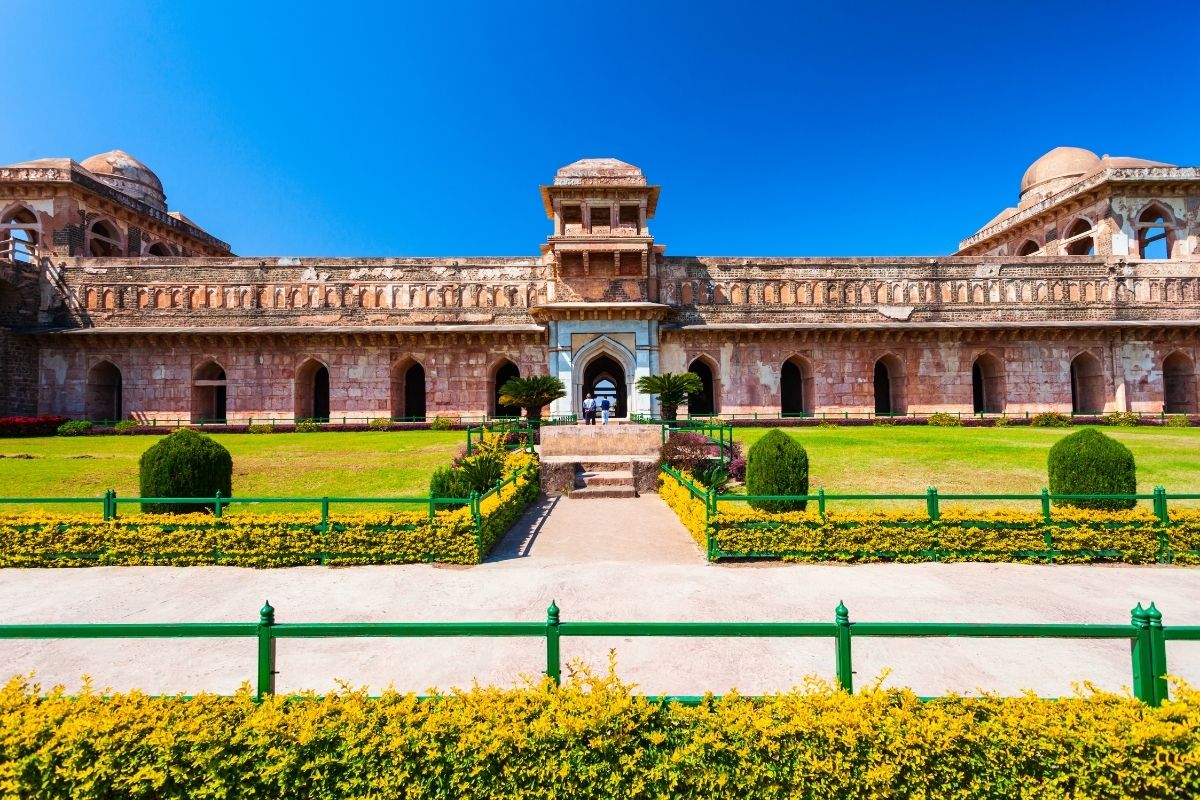 An architectural marvel that was designed to resemble a ship floating on water – achievable thanks to the twin lakes on either side of the building – Jahaz Mahal is one of Delhi's most unique monuments.
Situated on the banks of the artificially created Hauz-i-Shamsi lake, the sandstone and marble structure was built in the 16th century as a pleasure palace for the sultan.
While some of the building has naturally decayed as the centuries have flown by, you can still explore the exterior courtyards and get up close to see some of its more intricate details, such as the square chhatris and ornamental towers.
Jahaz Mahal is located in South Delhi, just south of Qutub Minar, making for the perfect back-to-back landmarks for a top-tier day of sightseeing. And if you happen to be visiting in October, the vibrant colourful festival of Phool Walon Ki Sair is held here every year – a photographer's delight.
39 – Be impressed by the Rashtrapati Bhavan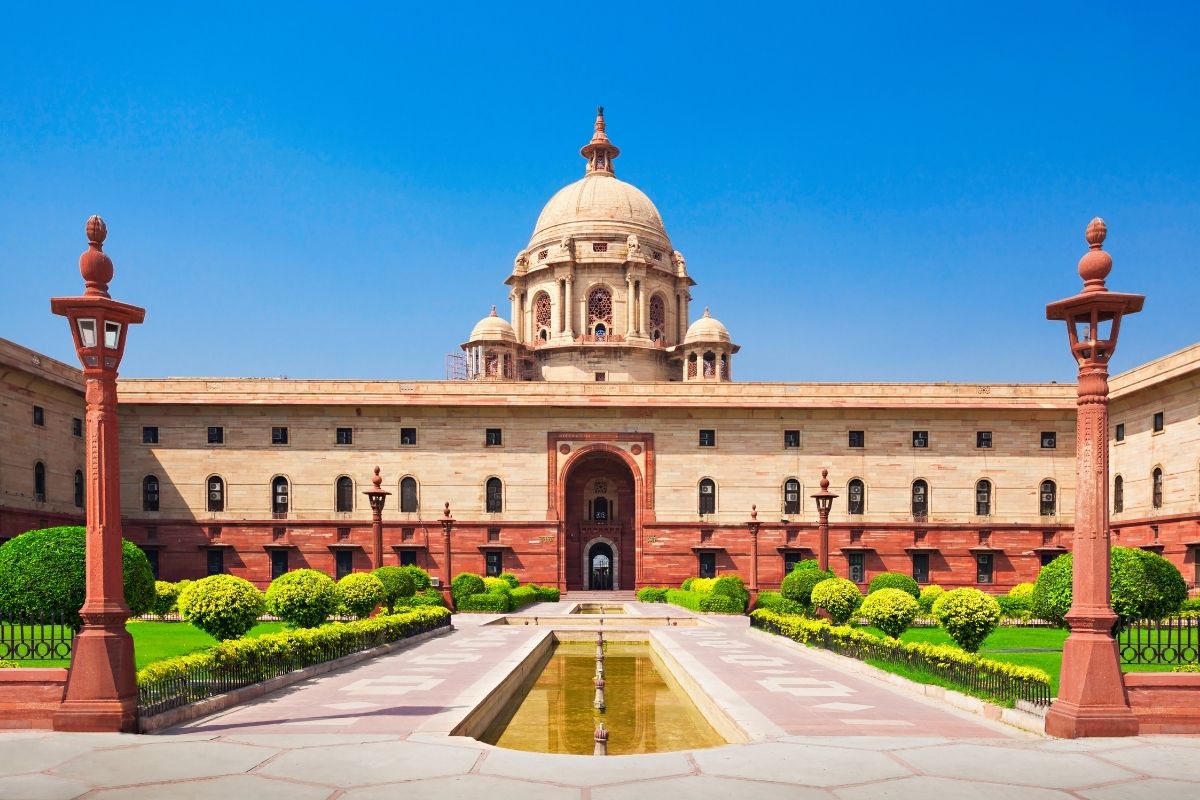 Welcoming tourists like moths to a flame, Rashtrapati Bhavan is one of Delhi's most popular tourist attractions – and for good reason.
The imposing building, which was formerly known as the Viceroy's House, is the official residence of the President of India and occupies a whopping 320 acres of prime real estate in New Delhi.
While you can't explore willy-nilly, guided tours do escort you through the main building, through the Forecourt and into some of the premier rooms. Tour aside, it's still worth checking out the lush grounds which are open to visitors on Friday, Saturday and Sunday.
The on-site museum showcases a range of exquisite artifacts, with tours, also offered for those looking for something more educational.
Hot tip: don't miss the Changing of the Guard, a military ceremony that takes place regularly at the Forecourt of Rashtrapati Bhavan and features tunes played by the Army Brass Band, an equestrian display, and the Indian national anthem.
40 – Learn about the world around us at the National Science Centre, Delhi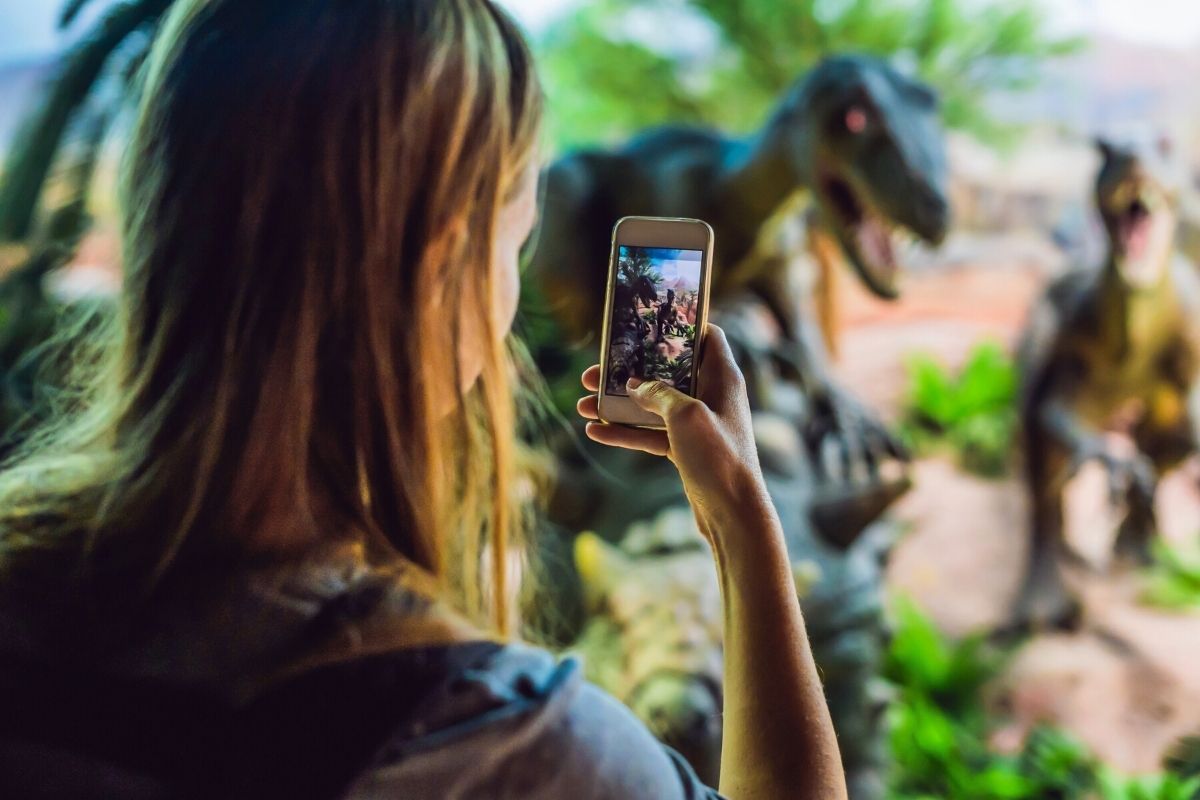 Calling all science geeks! The National Science Centre in Delhi is the perfect place to spend a day if you're looking for something educational (yet fun) to while away an afternoon and beat the blaring heat.
Featuring over a dozen interactive galleries spread across multiple floors, the centre covers everything from space science and the environment to transportation, energy, nuclear power, human biology and communication.
Throw in regular live demonstration science shows (like Sounds Show, Kitchen Chemistry, and Unexpected Science), a motion simulator fantasy ride, and a Prehistoric Life Gallery which is home to life-size replicas of some of history's most iconic dinosaurs, and you've got the perfect recipe for an enjoyable day out.
The National Science Centre is open every day from 9:30am to 6pm and entry costs just 60 rupees.
41 – Soar over the city with a helicopter tour
At street level, Dehli is a constant hubbub of noise, colour and commotion. But take to the skies, where you'll be greeted with an eagle-eye view of the capital city, and you'll experience an entirely new perspective of the city – undeniably awestruck by its sheer size.
And while flights are typically rather short (usually 15 or 20 minutes), it's still plenty of time to appreciate the city's iconic landmarks like the Pitampura Tower, Red Fort, Akshardham Temple, and Chandni Chowk from above.
With a friendly and knowledgeable pilot waxing facts about all the landmarks as you go, it's a terrific way to get your bearings on Delhi if you're visiting for the first time.
Just make sure to bring your camera!
42 – Take a dip at Yamuna Ghat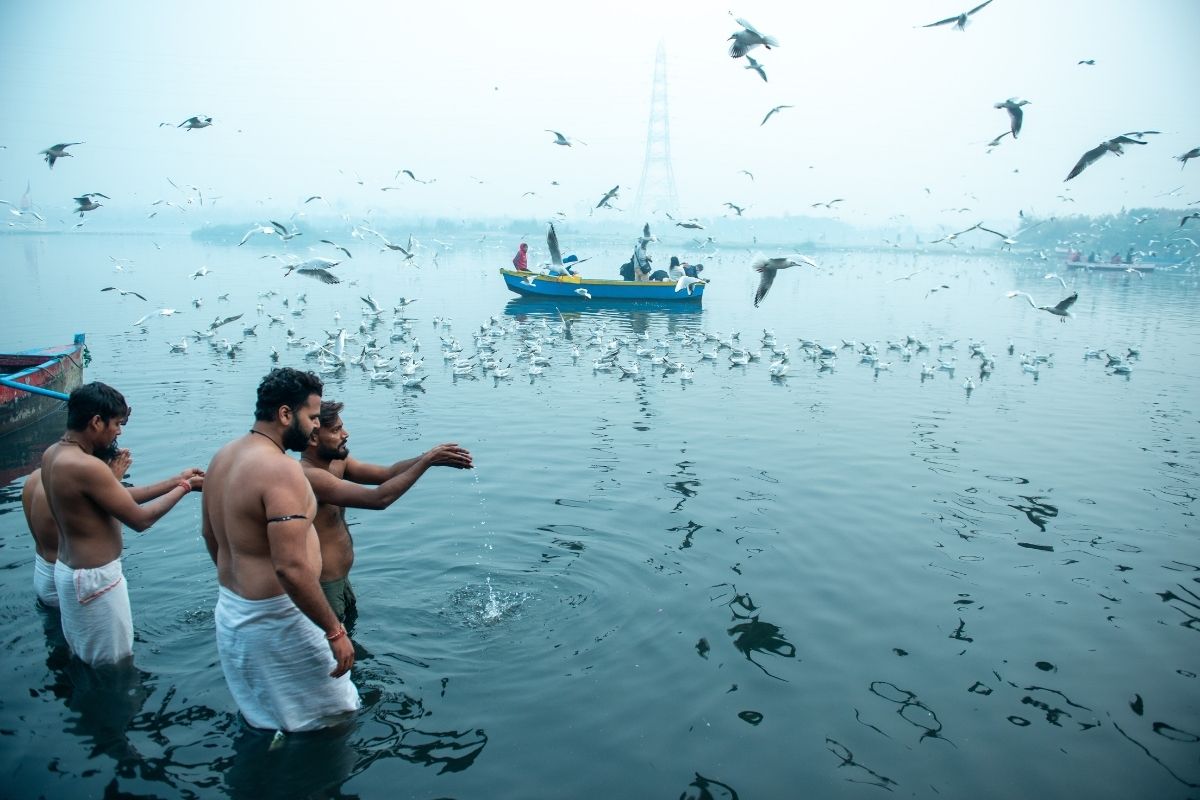 Oozing grandeur and tranquillity, with thousands of seagulls swooping in magical fashion, the Yamuna Ghat is one of Delhi's most charming spots.
Situated on the banks of the river Yamuna, this long stretch of stone steps has long become a popular spot for morning walks, picnics and sunset viewing. There will almost always be a few boatmen standing there, inviting you for a quick ride on the water – the fees are always modest, and it's a wonderful option to see the majestic sight from a new angle.
Hot tip: time your visit around dawn – that's when the seagulls come to feed, creating the magical atmosphere that Yamuna Ghat is so famous for
43 – Climb about locomotives at the National Rail Museum
All aboard for a morning of exciting fun at the National Rail Museum in New Delhi!
Featuring an array of vintage locomotives, carriages and replicas spread across 11 acres of land, this museum is a must-visit for anyone with an interest in trains, history, or anything heritage.
Favourited among kids and adults alike, the highlight reel includes the Prince of Wales Saloon, the Maharaja of Mysore's Saloon, and the Maharaja of Baroda's Saloon – all vintage coaches that give a glimpse into what life was like for the royals back in the day.
With rides (hop on the Patiala State Monorail on Sundays) and 3D simulators, a cafe on-site (The Rail Restaurant), a fascinating Miniature India model, a gift shop full of unique railway-themed souvenirs, and a slew of displays that present the history of rail transport in India, you could easily spend an entire day here.
The National Rail Museum is open every day from 10am to 4:30pm every day bar Monday, and entry costs just 100 rupees for adults and 20 rupees for children on the weekends – and is half-price during the week.
44 – Take a trip down to the yoga capital of the world: Rishikesh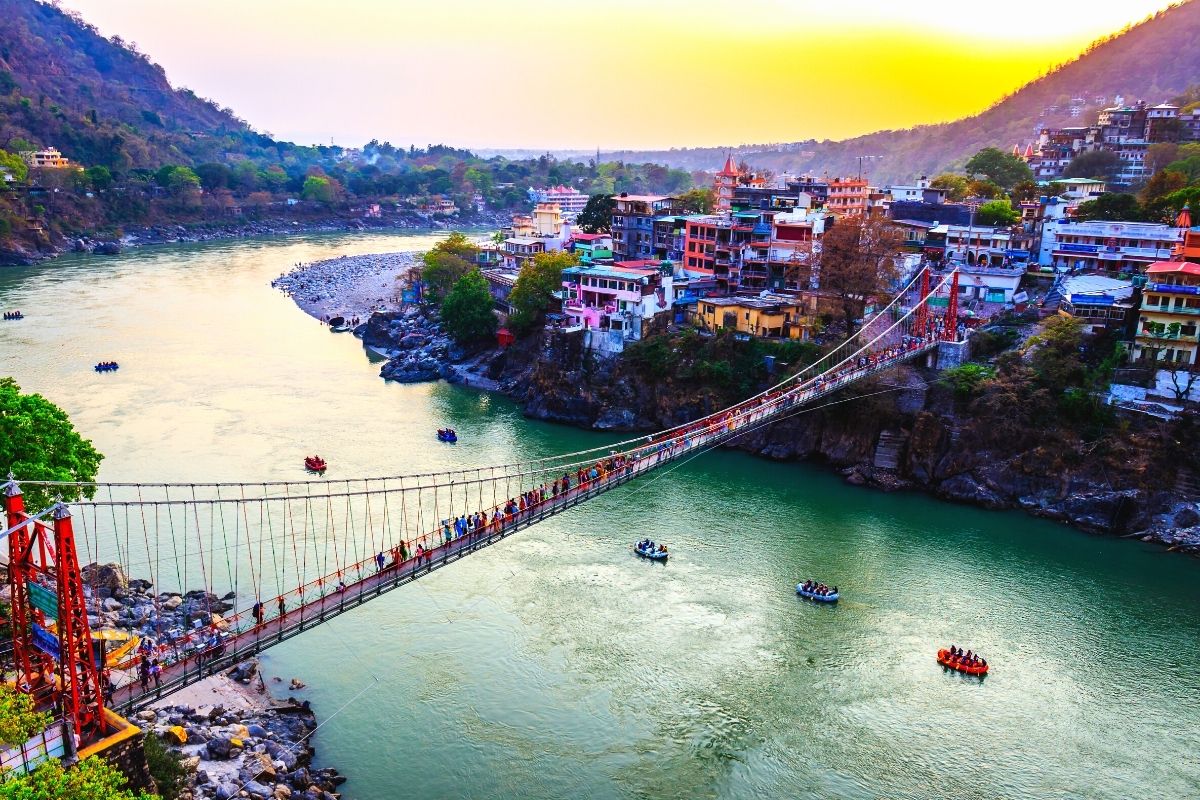 Prepare your best child's pose and downward dog, because a day trip from Delhi to the yoga capital of Rishikesh is an absolute must.
Just a four-hour drive away, at the base of the Himalayas, this small town in the state of Uttarakhand is teeming with ashrams and temples and offers a welcome respite from the hustle and bustle of city life.
Whether you're looking to unwind with some yoga or take a dip in the Ganges River, Rishikesh is the perfect place to relax, recharge and reset.
Plethora of yogi activities aside, Rishikesh is also known for its white-water rafting, so if you're feeling adventurous, be sure to add that to your list too! And, not to be overlooked either, is the food. As one of the nation's holiest Hindu cities, Rishikesh is a vegetarian paradise, so come hungry and leave happy.
45 – Embark on a street art tour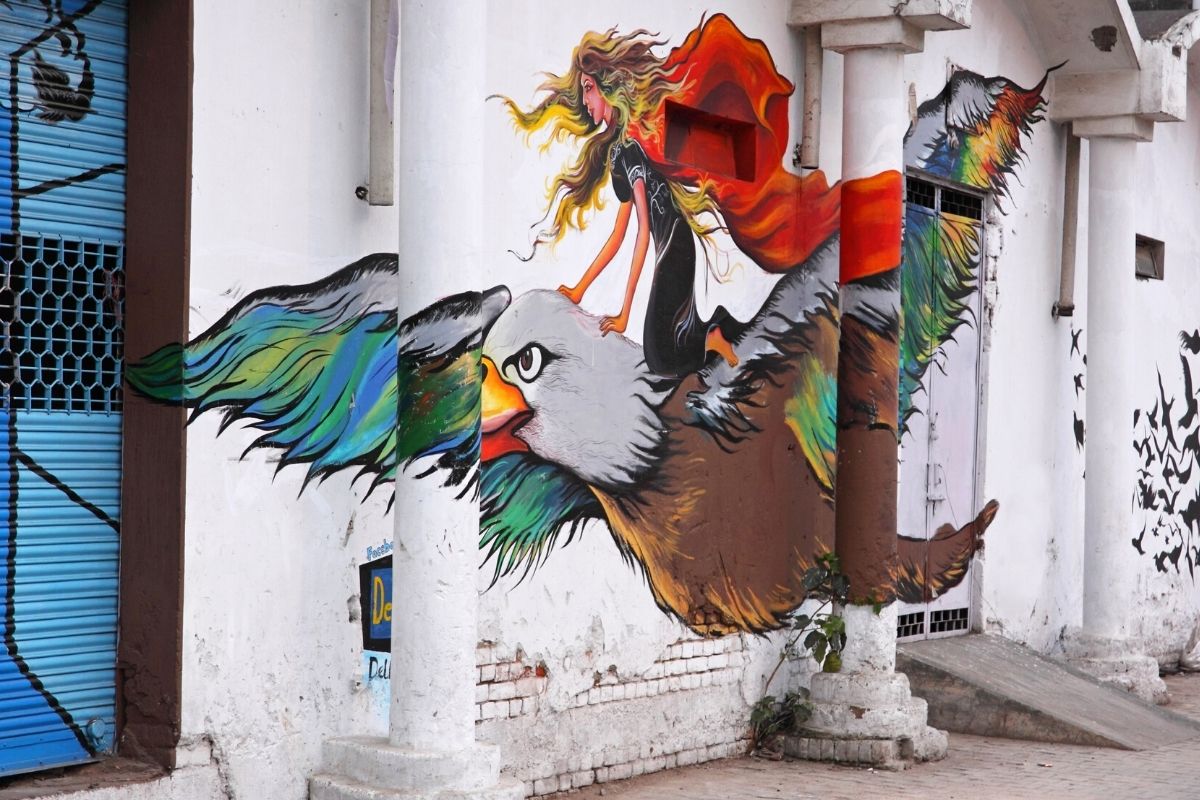 As a city of such vibrant contrasts, it's no surprise that Delhi is also home to some incredible street art. And what better way to explore it than on a guided tour?
See the city through new eyes as you uncover hidden murals and graffiti in unexpected places and artistic enclaves, learning about the stories and symbolism behind each piece along the way.
With several companies offering tours at cheap-as-chips prices, this is an activity that not only allows you to get off the beaten track, but it also won't break the bank.
While each walking (or biking) tour is a little different (some including lunch, and some private), expect to hit up artsy locales like the Khan Market, Hauz Khas Village, Shahpur Jat, the Lodhi Gardens and the Lodhi Colony (India's first public art district).
46 – Get spicy with a cooking class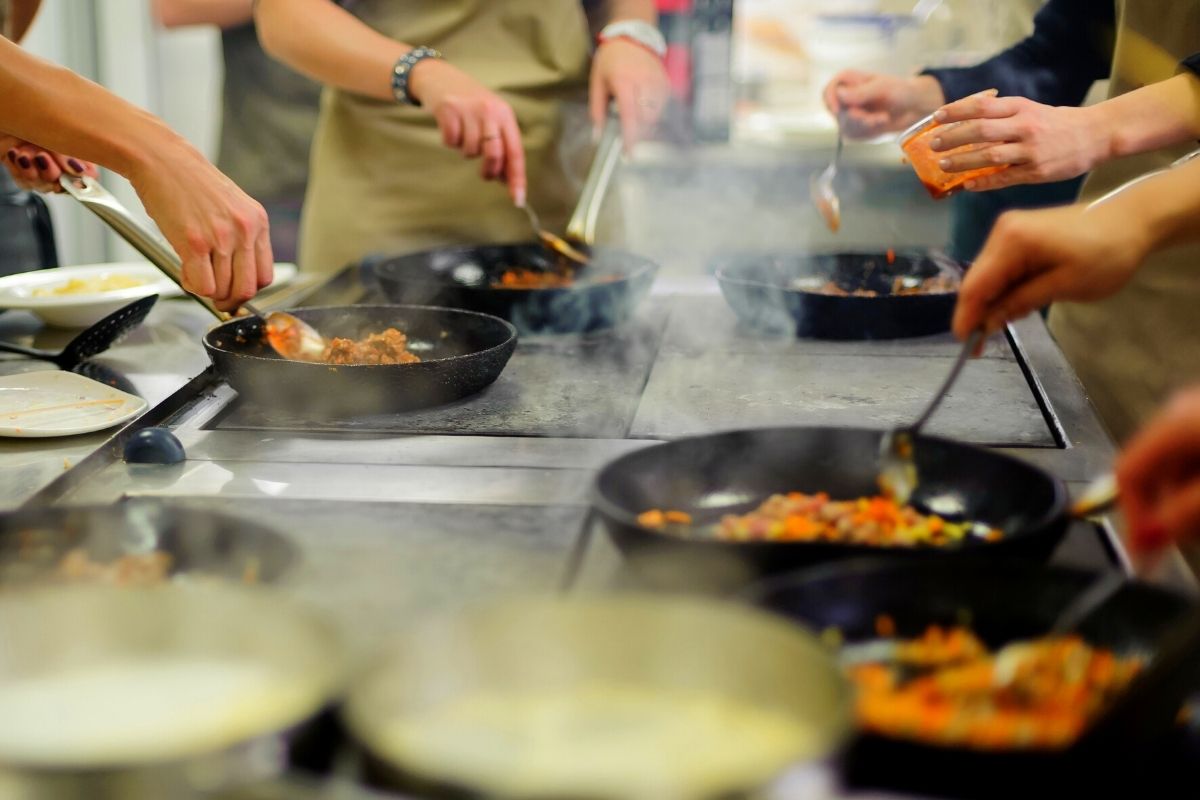 With rich spices (of striking colours), strong flavours, and hearty recipes all part of the Indian gastronomy reputation, any trip to the great city of Delhi wouldn't be complete without a cooking class.
During the class, you'll not only learn how to cook some of India's most iconic dishes (hello, butter chicken!), but you'll also get a behind-the-scenes look at how these culinary delights are made.
Most classes will start with a visit to a local market where you'll have the chance to select your own spices before and ingredients, and experience the buzzing nature of the aromatic streets, heading back to the kitchen to get cooking.
And, at the end of it all, you'll get to sit down and enjoy your very own home-cooked Indian feast – of up to 5 courses! It might not fit in the suitcase, but the knowledge of local cooking is one souvenir sure to impress at future dinner parties!
47 – See rhinos up close at the National Zoological Park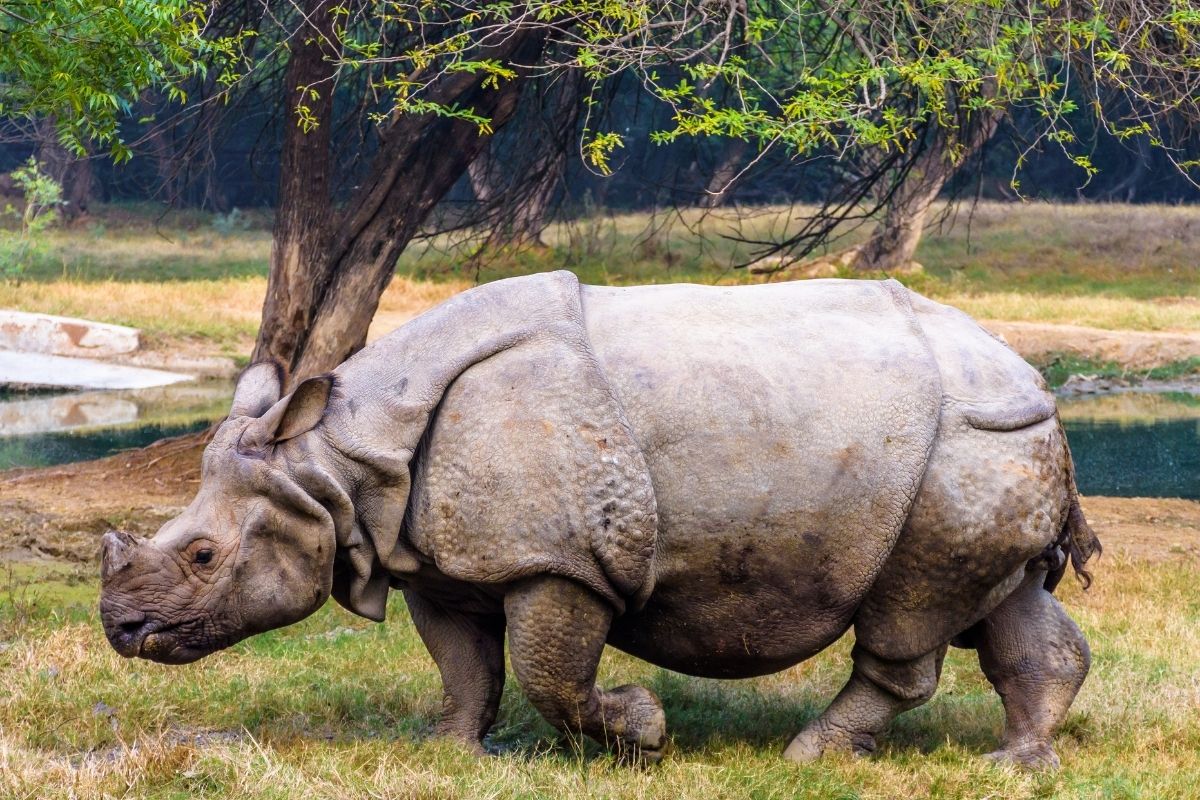 Teeming with creatures big and small, from each and every corner of the country, a visit to Delhi's National Zoological Park – a locale known for its conservation efforts – is a must for animal lovers.
Housed across 176 acres of land, the zoo is home to over 1300 animals (and close to 130 species of all shapes and sizes), making it one of the largest zoos in India.
As well as being able to see some of India's most iconic animals like tigers, lions, rhinos, jaguars, guars, deer, and elephants up close, the zoo also offers electric golf carts to rent (otherwise be prepared for a lot of walking) and a canteen for when the hunger pangs strike.
Rounding out the experiences is a handful of educational keeper talks that fuse theatrics with animal facts, ensuring you leave with both a smile and a couple of new tidbits.
48 – Turn up the thrills at Adventure Island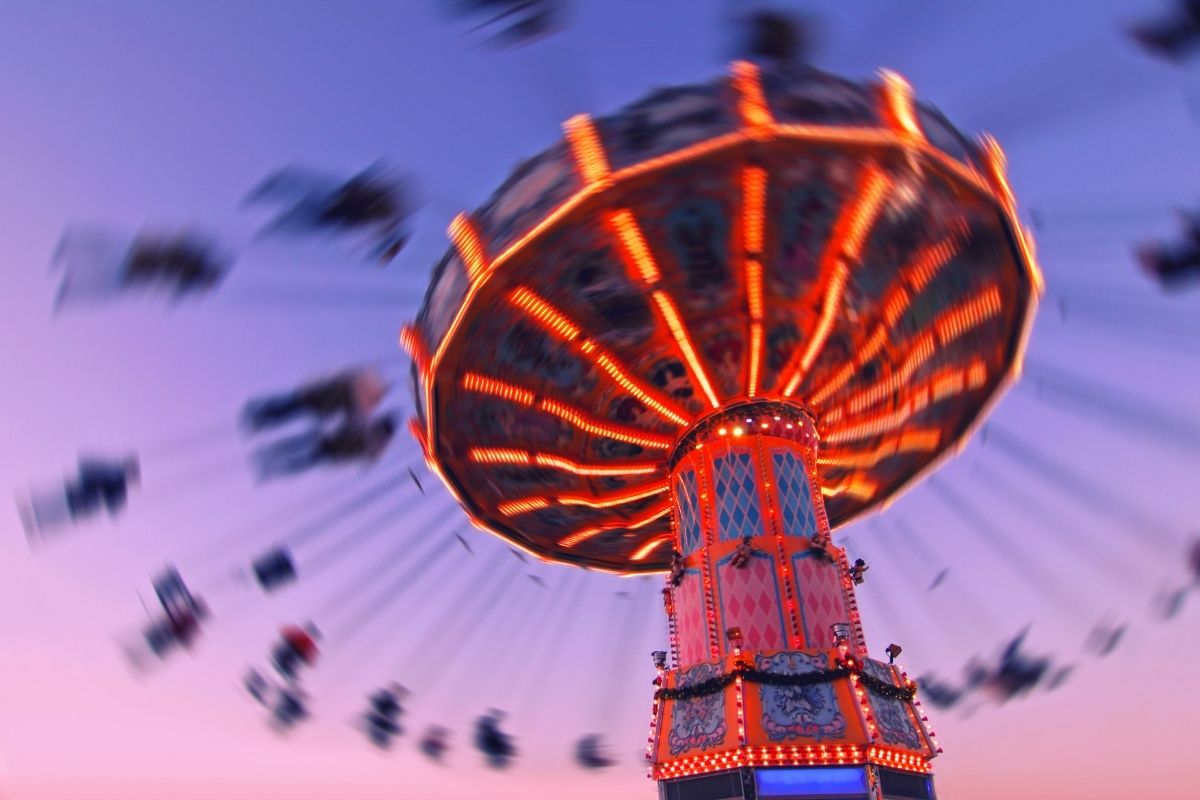 A hot attraction for galavanting families, Adventure Island in Delhi's Rohini sub-city is an amusement park with a twist.
Featuring an array of adrenaline-pumping rides and water-soaked attractions, the park is the perfect place to let loose, whether you're a kid or just a kid at heart.
And, if that's not enough to get your heart racing, the park also offers a climbing wall and a handful of regular events (like carnivals, fashion shows, shopping fiestas, and comedy shows) for those looking for an extra dose of excitement.
Being just a stone's throw from the tranquil Japanese Park, the SkyJumper Trampoline Park, and the Click Art Museum, the area's options ensure a day out here is well spent.
49 – Learn about astronomy at Jantar Mantar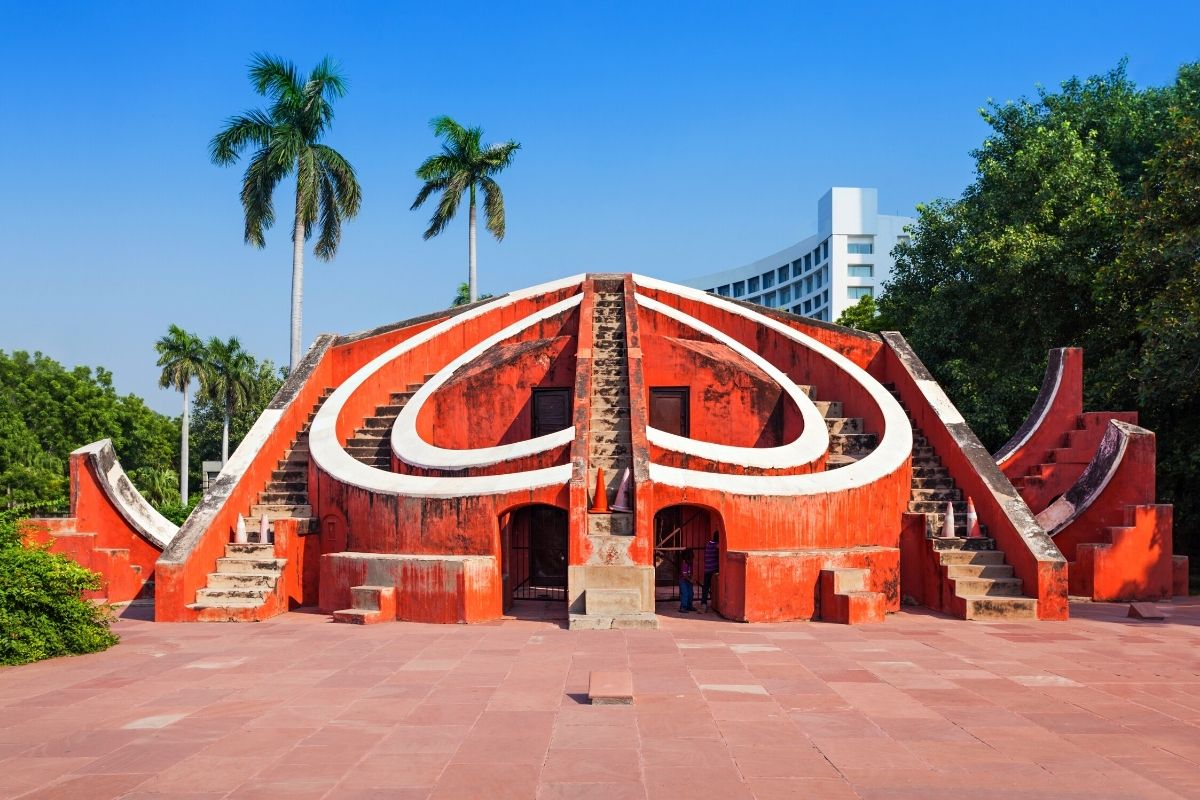 Your 300-year-old take on an astronomical clock, Jantar Mantar is an impressive collection of no less than 13 architectural astronomical instruments that track the movement of celestial beings – planets, stars, comets, and the like – alongside a cluster of Zodiac Illustrations and incredible curves and shapes.
Declared a UNESCO World Heritage Site, the site was built by Maharaja Jai Singh II of Jaipur back in 1724 and is renowned for being one of the world's most accurate pre-modern observatories.
While you might not be able to understand exactly how it all works (unless you join a walking tour of the area), it's definitely worth marvelling at the size – 723 feet high – and scale of this scientific masterpiece.
Fun fact: in the early-mid 1700s, Jai Singh II built five of these astronomical landmarks across the country – still standing today in New Delhi (the inaugural), Jaipur, Ujjain, Mathura and Varanasi.
50 – Visit the National Gandhi Museum and Library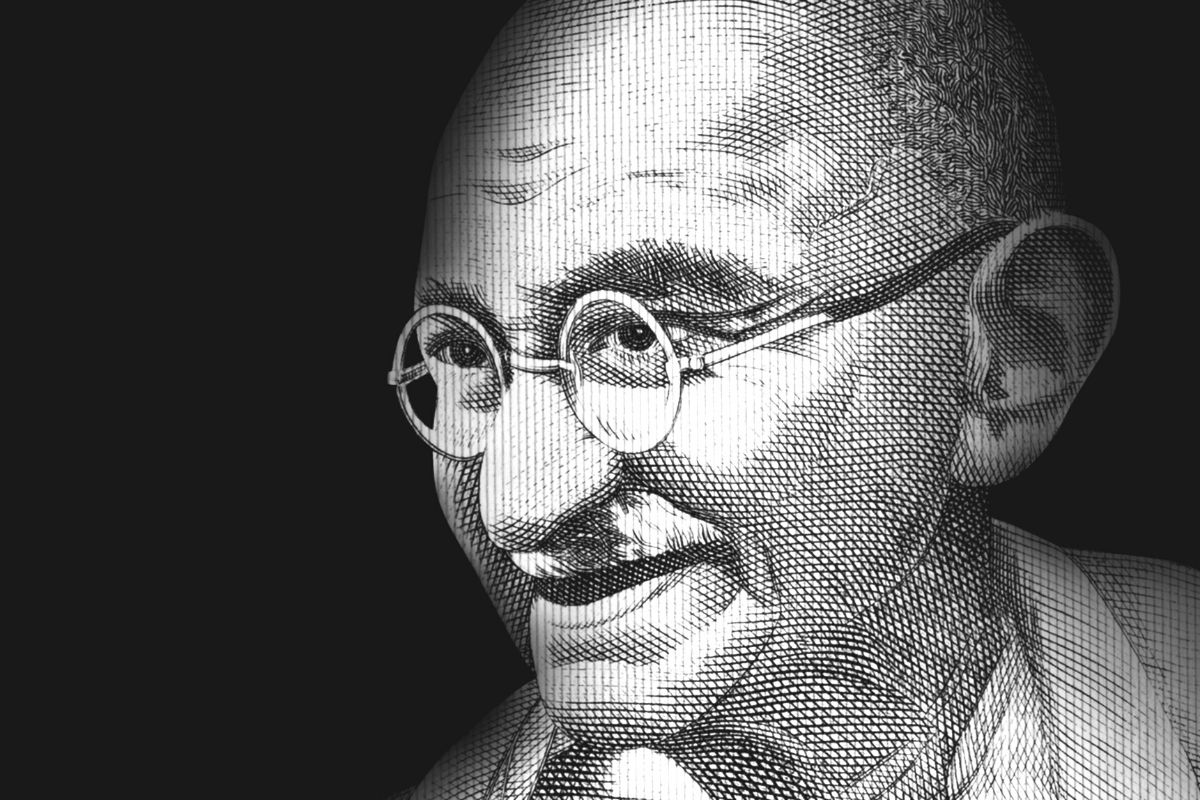 Sandwiched in between Arun Jaitley Stadium and the southern side of the well-manicured Shantivan garden park, the National Gandhi Museum and Library beckons anyone interested in the life of India's most famous pacifist.
The building itself is imposing, with high ceilings and an airy feel, while the museum's collection of letters, photographs, books and personal items (including paintings, walking sticks, and his actual teeth) are sure to leave you both shaken and stirred.
The onsite library contains over 35,000 books including over 2,000 pieces of Gandhian philosophy and thought – perfect if you want to do a deep dive into one of history's most interesting figures.
While many a curious visitor is happy to wander the halls at their own pace, with so much information available in so many different forms, a guided tour of the Museum as well as other Gandhi-related locales around the city (including his residence and place of cremation) as, justifiably so, a popular option.
51 – See what's on at the India Habitat Centre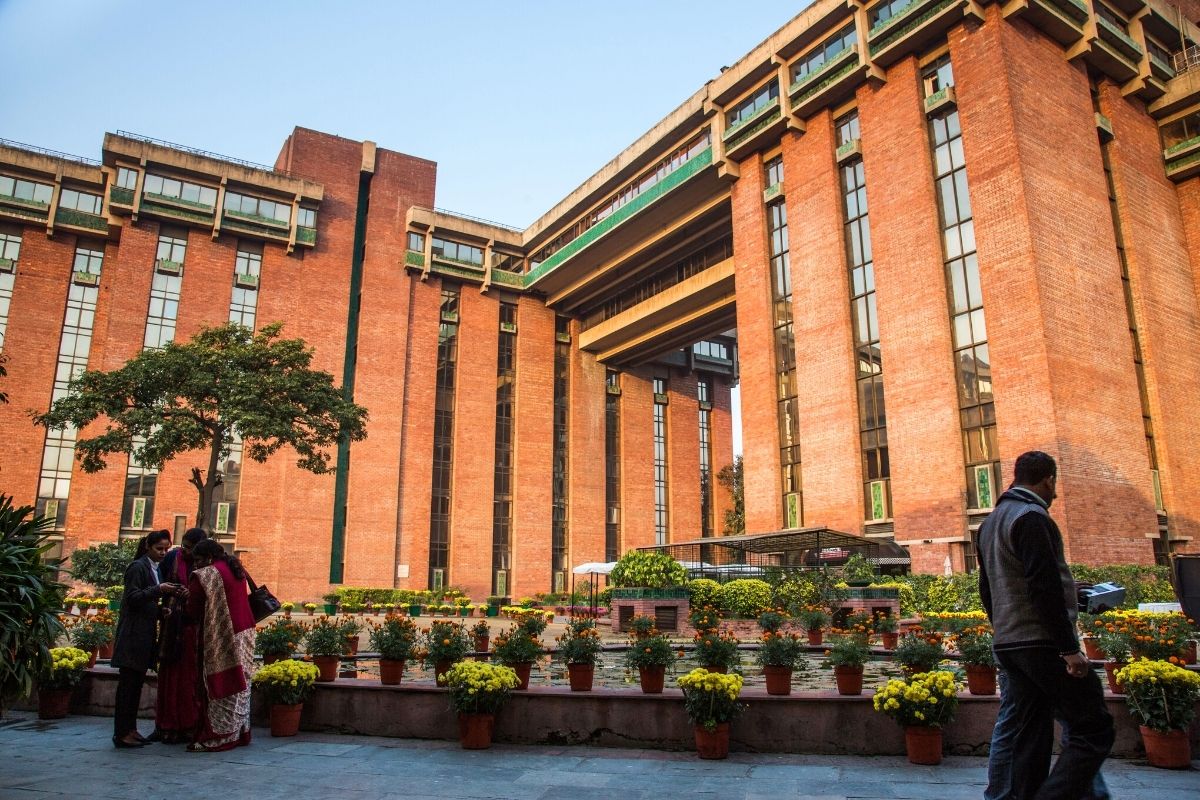 Always dishing up something new and exciting, the India Habitat Centre is the nation's premier performing arts and cultural venue, offering a well-rounded program of music, dance, theatre, film, photography, and literature events throughout the year.
Situated in the heart of Delhi's diplomatic enclave (which also boasts the likes of Khan Market and Lodhi Gardens), the Habitat Centre is a veritable melting pot of creative minds, with resident organizations and ad-hoc events that are designed to educate, inspire, and celebrate a multitude to art and culture initiatives that contribute to defining India's rich character.
And, if all that wasn't enough to get you through its doors, the IHC is also home to a slew of top-notch restaurants like MED, Habitat Hub, Indian at the 6th, and The Terrace Bar – making it the perfect place to refuel after a long day of exploring.
Don't miss the library, arguably the most striking building in the area; likewise the Lotus Pond, a little fish pond ideal for a moment of contemplation; and the 2D and 3D art exhibitions usually held at the Visual Arts Gallery.
Simply check the website before you go to see what tickles your fancy.
52 – Time travel to the old Purana Qila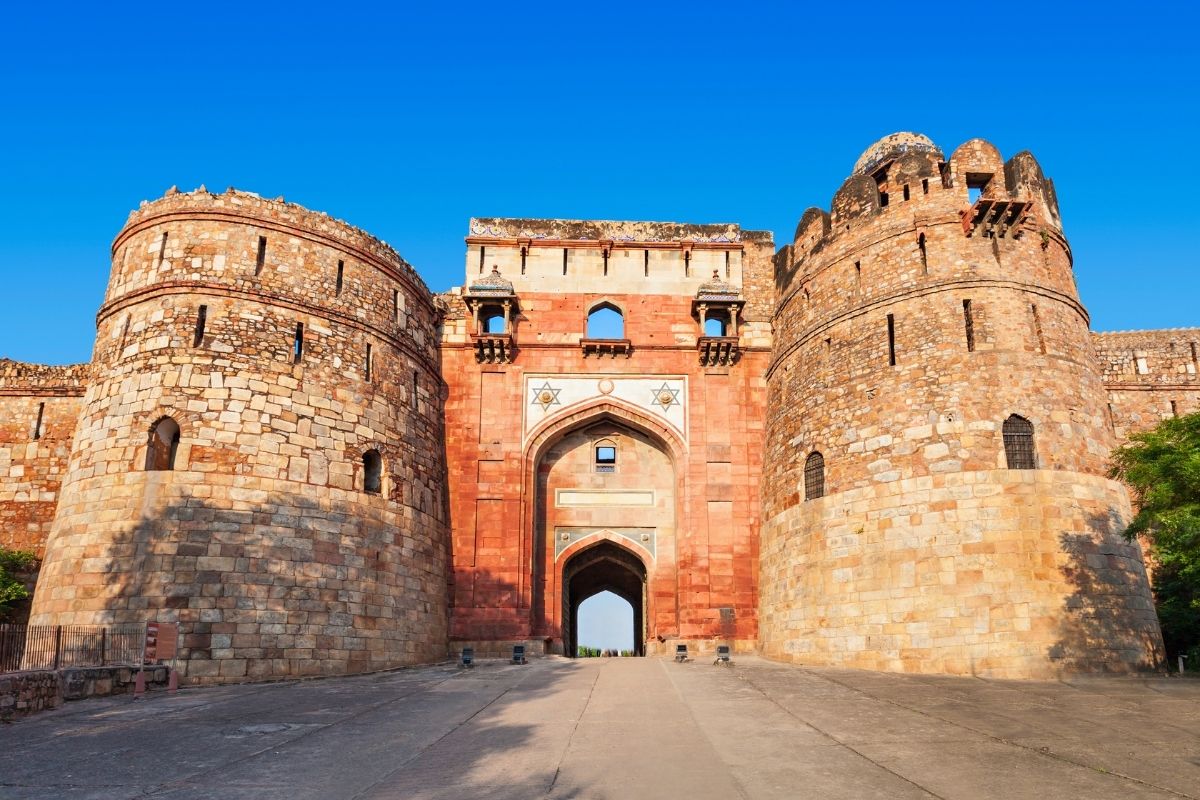 Otherwise known as the Old Fort, Purana Qila on the eastern edge of the city is the site of Delhi's ancient city of Indraprastha, built by Emperor Humayun between in the late 1530s.
A classic example of Mughal architecture at its finest, the stone fort complex comprises a massive sandstone wall (with three imposing arched gates), a mosque and the Sher Mandal memorial monument – all set within sprawling well-manicured gardens that are flanked by walls that rise as high as 18 metres.
While much of the original structure has been lost to time (and, more recently, what remains is still definitely worth seeing; especially as it provides a rare insight into Delhi's post-Middle Ages history. And the views from the top of Purana Qila are pretty spectacular too!
Ensuring that you don't leave without having learned something, a small but interesting museum sits onsite, which contains artefacts excavated from the site as well – all curated by the Archaeological Survey of India.
53 – Escape the crowds at Buddha Jayanti Park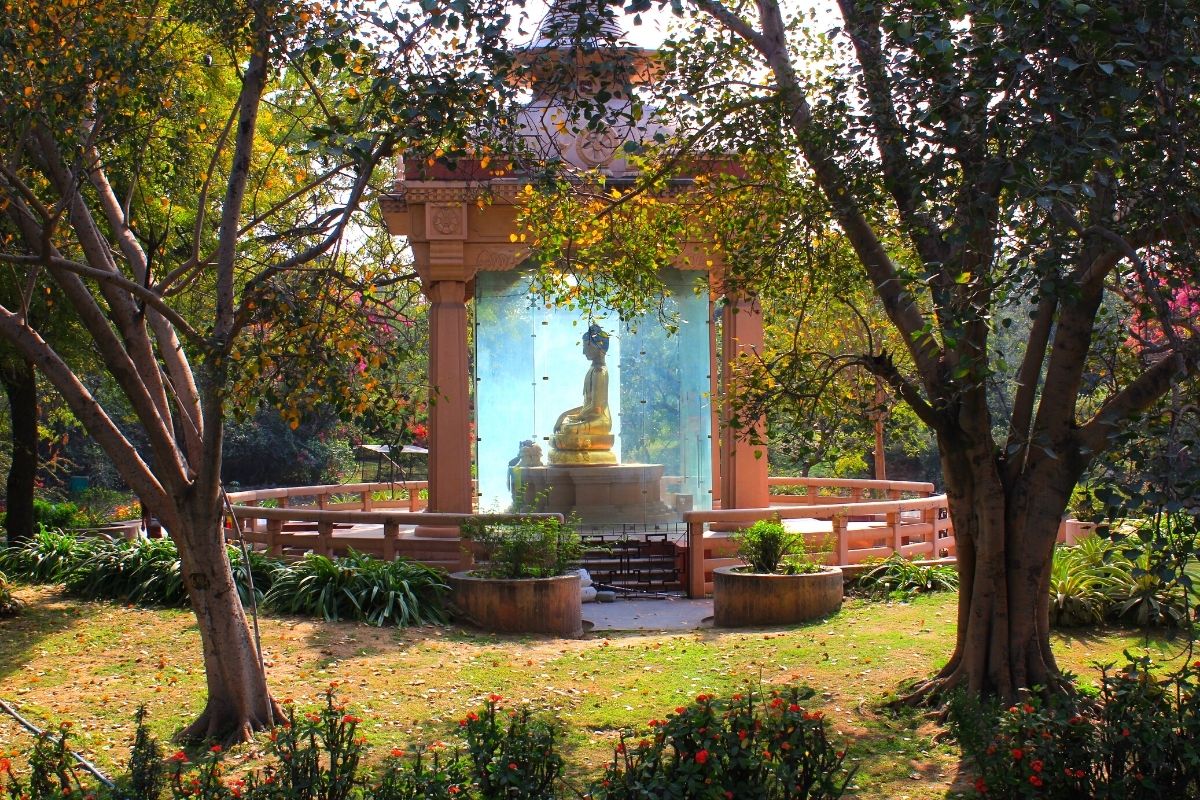 A peaceful oasis amid the hustle and bustle of central Delhi, Buddha Jayanti Park is one of the best places in the city to get some fresh air and recharge your batteries.
Named to commemorate the 2500th anniversary of Lord Buddha's birth, this beautiful park is home to over 100 different species of trees (including Keekar, Babool, Gulmohar, Amaltas, and branches of the original Bodhi tree) a variety of flowers (check out the Bougainvillea Garden), and even a Monkeys Forest.
But the real drawcard here is the giant golden statue of Buddha himself, sitting in the lotus position and surrounded by an elegant stone walkway that's perfect for a leisurely stroll.
And, thanks to its sheer size, no shortage of picnic spots and walking trails.
54 – Appreciate the beautiful Chhatarpur Temple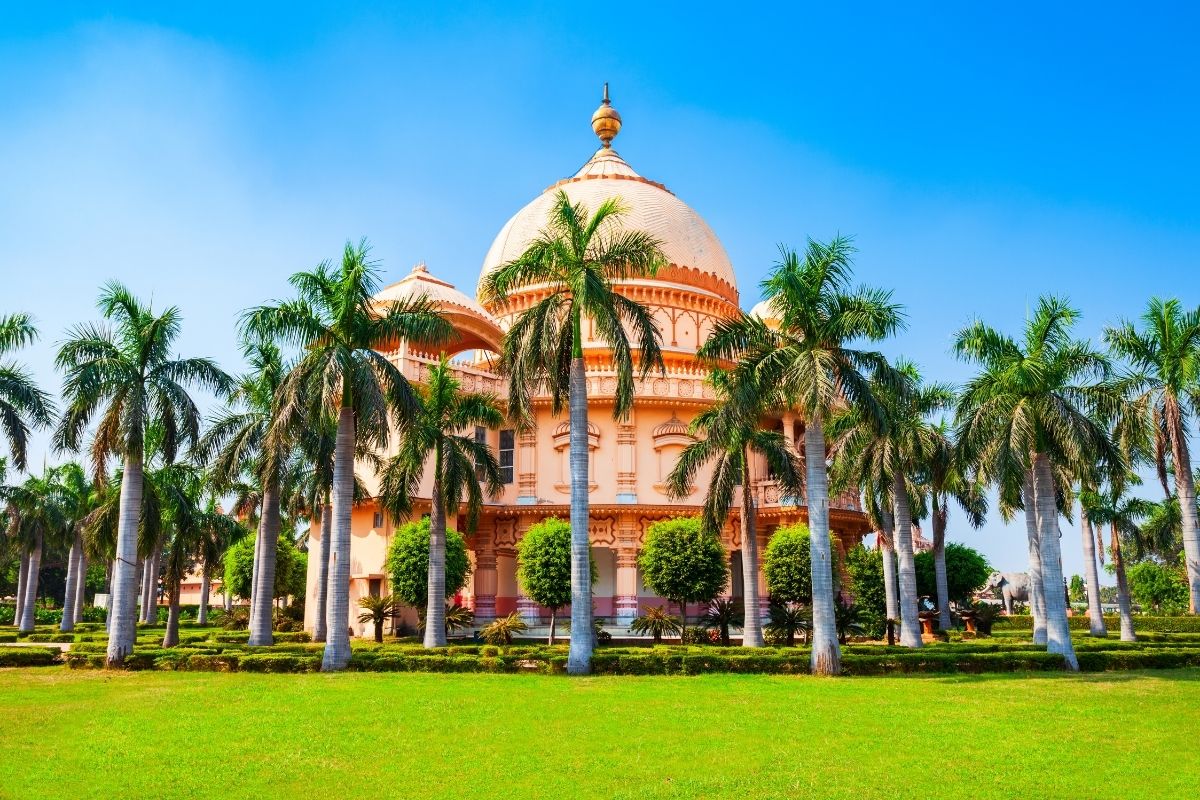 Welcoming thousands of devotees daily, the Chhatarpur Temple – which you'll also see called the Shri Adhya Katyayani Shaktipith Mandir – is one of the largest Hindu temples in India and, without a doubt, the most spectacular in Delhi.
Dedicated to Goddess Katyayani (an incarnation of Goddess Durga), the modern temple complex – which was built in 1970 – spans a whopping 70 acres and comprises 20 shrines and smaller temples divided into three complexes, numerous fountains and detailed decorative elements, as well as a large artificial lake.
As you'd expect from such an impressive religious site, the architecture is absolutely incredible; with each shrine adorned with intricately carved sculptures and pillars.
If you happen to be visiting during one of the Hindu Festival days, you'll seldom find a more atmospheric place to be. Walking distance from Chhatarpur metro station and free to enter, it's a non-negotiable for the Delhi buckets list.
55 – Venture around hipster Hauz Khas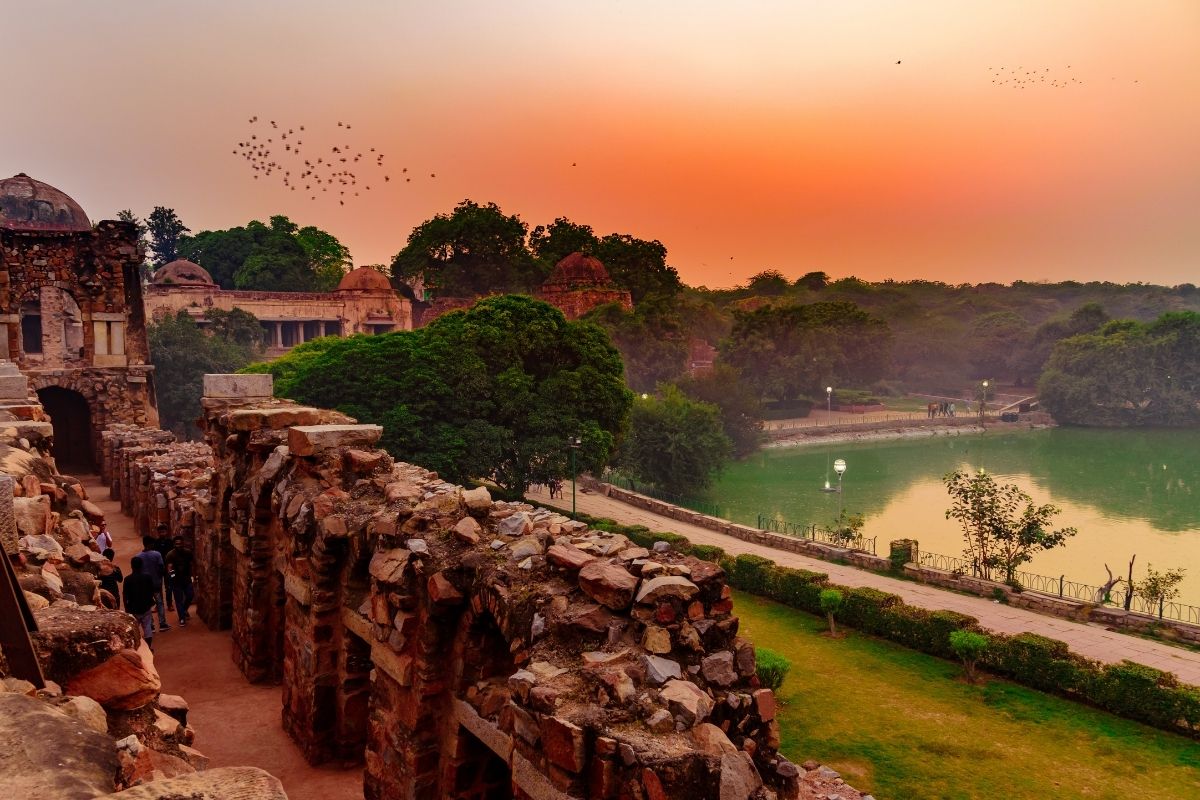 A modern south Delhi hangout built off the back of ancient ruins, Hauz Khas is an up-and-coming area that's fast becoming one of the city's most popular tourist destinations.
At its centre is a stunning lake, which was originally built to supply water to the surrounding Hauz Khas Fort in the 13th century; today it's a beautiful spot for a morning walk or picnic lunch.
The real drawcard here, however, is the village – a quaint medieval 'habitation' that sits atop a rocky hill and contains some of Delhi's best bars, restaurants and cafes – with over 50 eateries and watering holes to choose from.
With its mix of history and modernity, Hauz Khas is a charming place to experience all that Delhi has to offer; so be sure to add it to your list of late afternoon come evening destinations!
Hot tip: to make a beeline to all the best bits (read: not just the tourist traps, but the under-the-radar local haunts too) consider joining a guided tour that includes pickup and dropoff in Delhi and, depending on your tour, a locally-led walk and lunch.
56 – Pay respects at Shri Digambar Jain Lal Mandir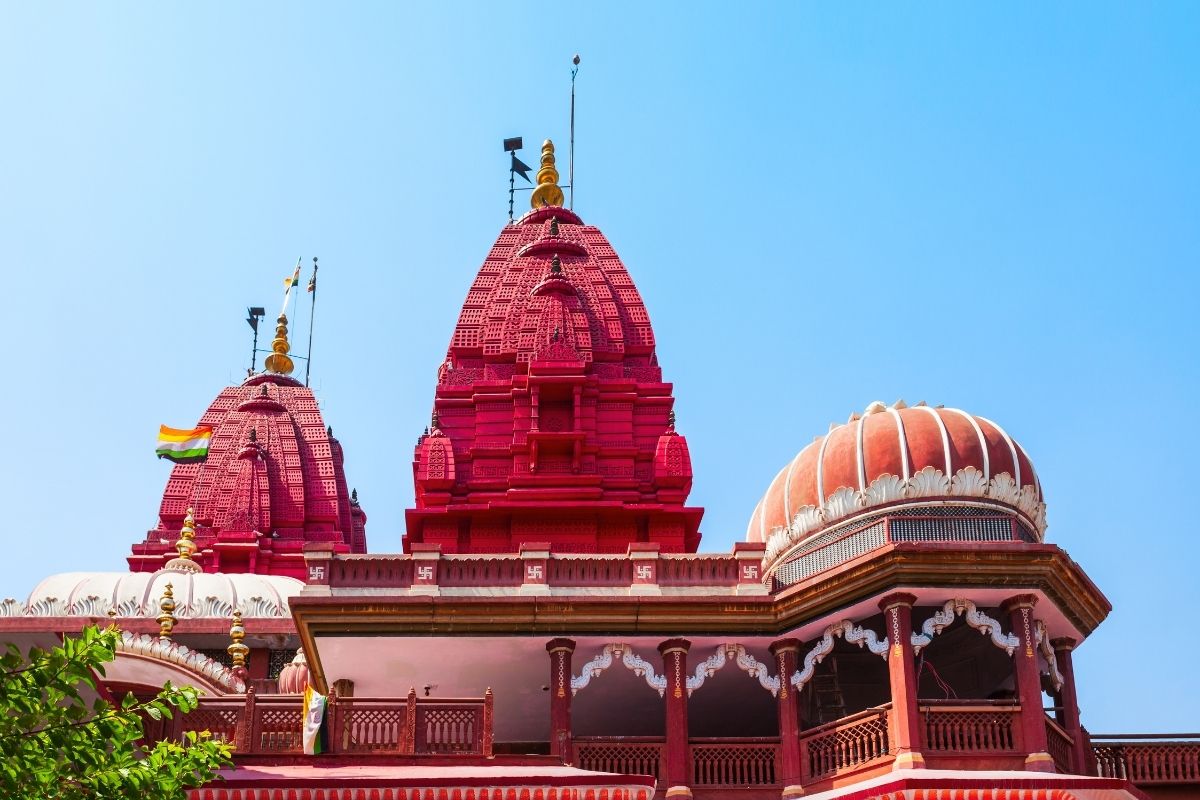 One of the oldest and most important temples in Delhi, Shri Digambar Jain Lal Mandir is a picture-perfect priority for anyone interested in architecture, history, or religion.
Dating back to 1656 and sitting right opposite the Red Fort, the temple is notable for its beautiful red sandstone exterior and intricate marble carvings; both of which make it one of the most photogenic buildings in the city.
Inside, you'll find several shrines devoted to different deities (the main shrine is of Lord Mahavira), as well as intricate decorations on walls and ceilings that provide artistic insights into the history and culture of Jainism.
Be sure to dress modestly when visiting this sacred site, and bear in mind that you'll be asked to take off your shoes before going inside.
57 – Find something to read at the Daryaganj Sunday Book Market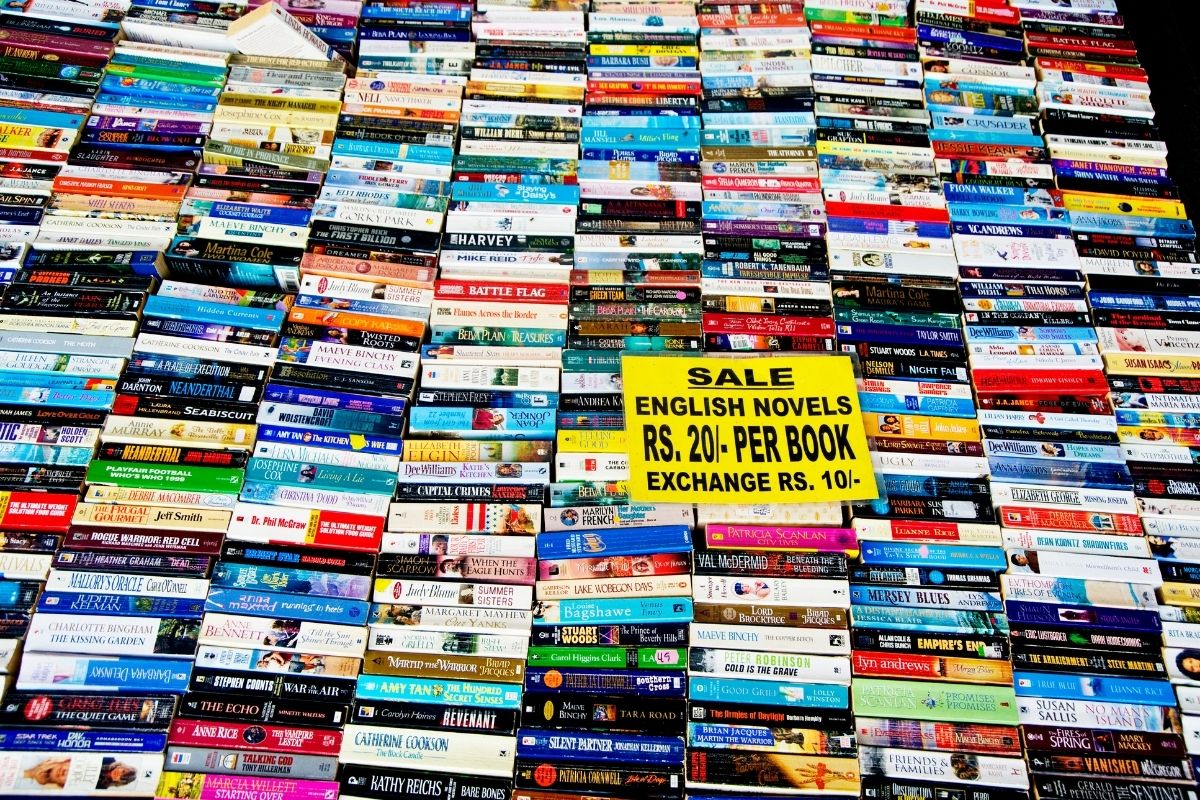 Literary lovers, book worms, and pageturners stop what you're doing and slap this straight onto your Delhi to-do list: the Daryaganj Sunday Book Market.
Held every week (you guessed it) on a Sunday, this open-air market is where you can browse and purchase second-hand books at throwaway prices.
With over 250 stalls to choose from and literally tens of thousands of books, there's something for everyone; whether you're looking for classic literature, modern fiction, non-fiction or children's books. And remember, unless you're browsing one of the stores that sell books at a fixed rate per kilogram, bargaining is your best friend!
Even if reading's not your thing, it's still worth stopping by to take in the vibrant atmosphere and do some people-watching. With a slew of eateries, cafes and street food vendors in the vicinity, as well as a handful of merchants flogging old coins, stationery, and trinkets, you can easily make an afternoon out of it and are guaranteed to not leave empty-ended.
58 – Slow down at the Lodhi Garden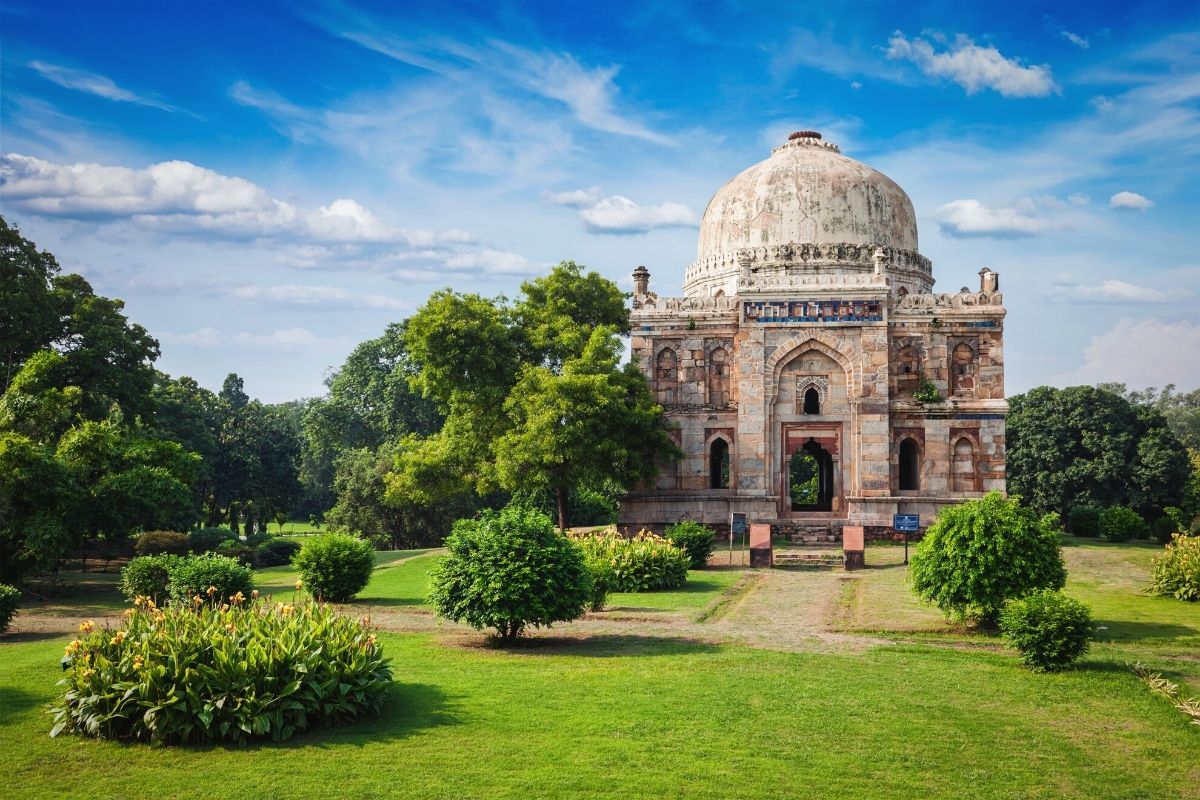 Spread across some 90 acres, Lodhi Garden is one of the largest parks in Delhi and a popular spot for both locals and tourists alike looking for a breath of fresh air.
Featuring well-manicured lawns, enchanting gardens, lakes and fountains, it's easy to see why this is such a popular spot for a morning walk or jog.
But Lodhi Garden is more than just a pretty face; it's also home to some of the city's most important historical sites, including the tombs of Mohammed Shah and Sikandar Lodi (the latter being an imposing dome structure that dates back all the way to 1517) and ancient buildings like the Bara Gumbad.
A stark contrast, the peaceful green space is a stone's throw from the Khan Market, where you can indulge in some crazy commotion and retail therapy after exploring the park.
59 – Keep your eyes peeled at the Asola Bhatti Wildlife Sanctuary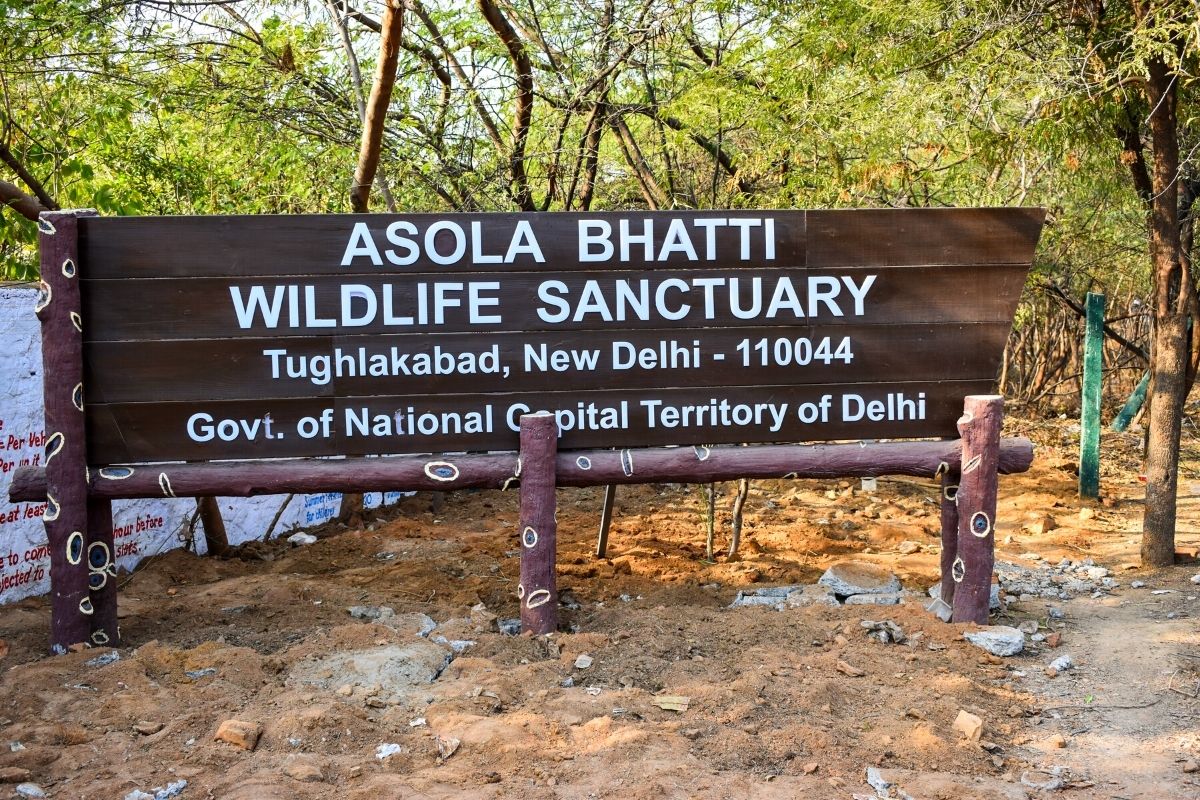 About 30 minutes south of the Delhi city centre lies the Asola Bhatti Wildlife Sanctuary, a lesser-known but nonetheless important (and large, at nearly 7,000 acres) nature reserve that's home to a variety of birds and animal species.
Located on the Delhi-Haryana border in the rolling hills, this nature oasis feels a world away from city life, making it definitely worth a visit if you're looking to get away from the hustle and bustle and surround yourself with some greenery.
Several walking trails wind their way through the sanctuary, so be sure to pack your camera (or binoculars) to make the most of spotting some of the resident birdlife – over 200 species call this place home, as well as some 80 different butterfly species.
And, if you're lucky, you might even catch a glimpse of one of the more elusive residents, such as a leopard, nilgai, blackbuck, fox, jackal or hare.
60 – Walk around the Feroz Shah Kotla Fort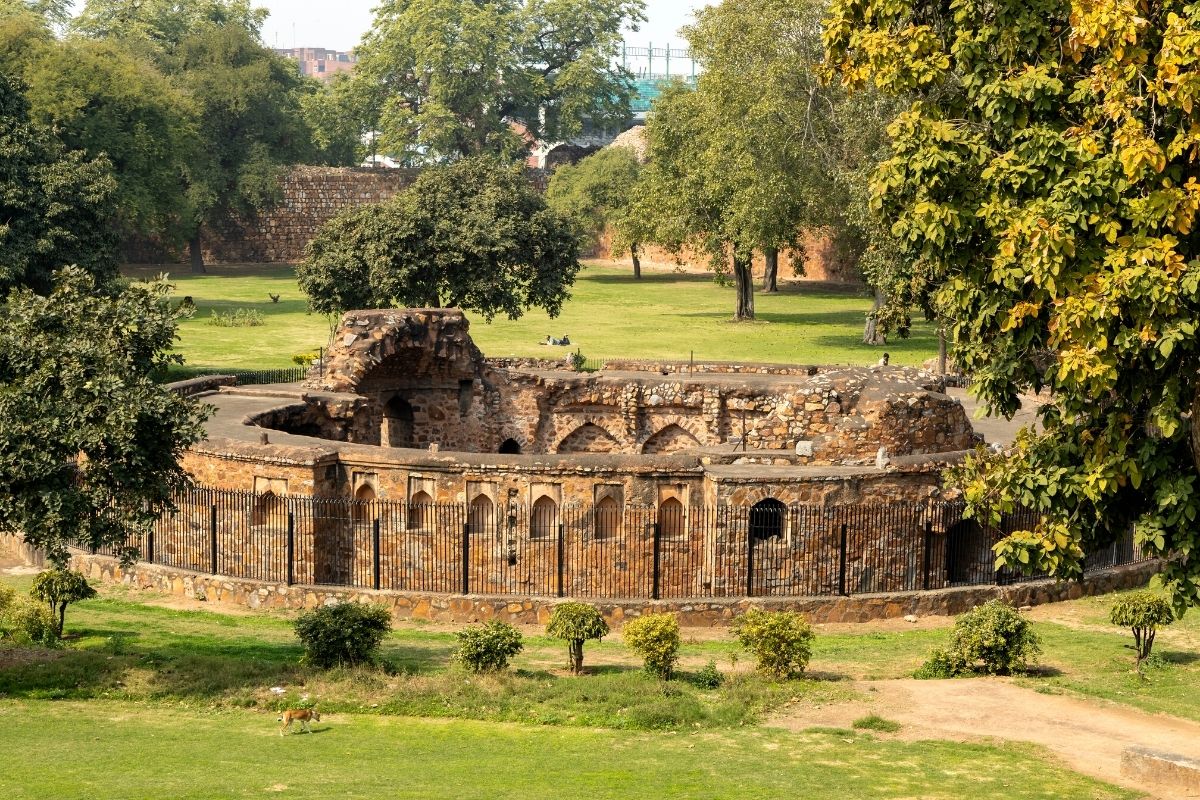 A symbol of Delhi's Mughal past, Feroz Shah Kotla Fort was built in the 14th century by Sultan Feroz Shah Tughlaq – the third ruler of the Tughlaq dynasty.
Today, not much remains of the original granite stone fort; but there are still a few interesting things to see, including the ancient Topra Ashokan Pillar (erected in the 2nd century BC), the Jami Masjid mosque, and an old well (baoli) that impresses with its multi-storey build.
For those wanting to learn more, you can visit the fort as part of a guided excursion. So, if you're interested in Delhi's history, and aren't all ruined out, then these underrated historic grounds are certainly worth a visit. Just be sure to go early in the morning or late in the afternoon to avoid the heat!
Note: don't get these ancient ruins confused with the Arun Jaitley Stadium (previously known as the Feroz Shah Kotla Stadium).
61 – Take a multi-day trip to Amritsar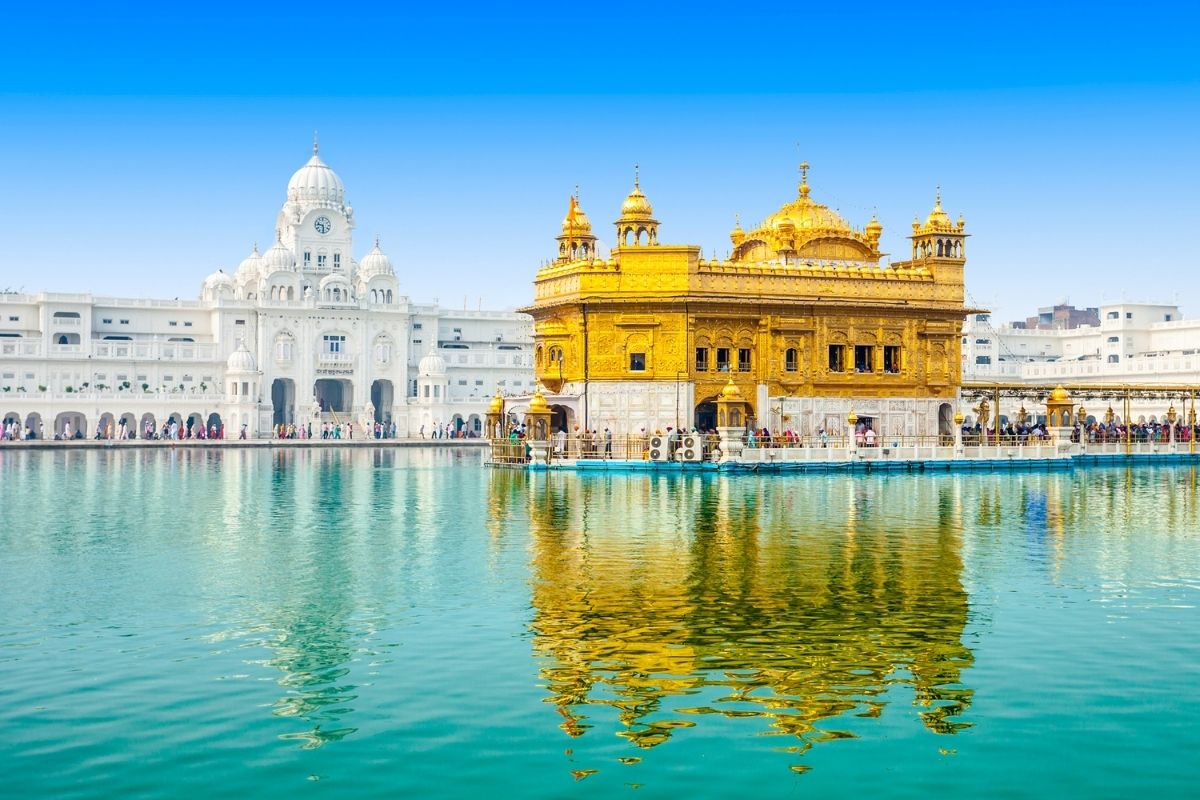 Want to spend a couple of days checking out a different city? Then make the short journey (just over four hours by train) to Amritsar in Punjab.
As a spiritual and cultural centre of Sikhism, Amritsar is home to the glistening Harmandir Sahib – more commonly known as the Golden Temple.
A truly spectacular sight, this sacred gurdwara (Sikh temple) is situated in the middle of a man-made pool (the Sarovar), and is plated with over 400 kilograms of gold leaf! Even if you're not religious, it's worth visiting for the sheer beauty and peaceful atmosphere. Trust us, it's a vista sure to light up any social media feed and leave a lasting impression.
Of course, there's plenty more to see and do in Amritsar beyond the Golden Temple. Other notable attractions include the Jallianwala Bagh – a public garden commemorating the 1919 massacre – and the Wagah Border, where you can witness the daily flag-lowering ceremony between India and Pakistan.
Whether you're interested in history, religion or just want to check out another side of India, Amritsar makes for a great mini-vacation from Delhi – and myriad all-inclusive tours can whisk you to and from the capital without any need to organise your own transport or sightseeing!
62 – Step into the Indira Gandhi Memorial Museum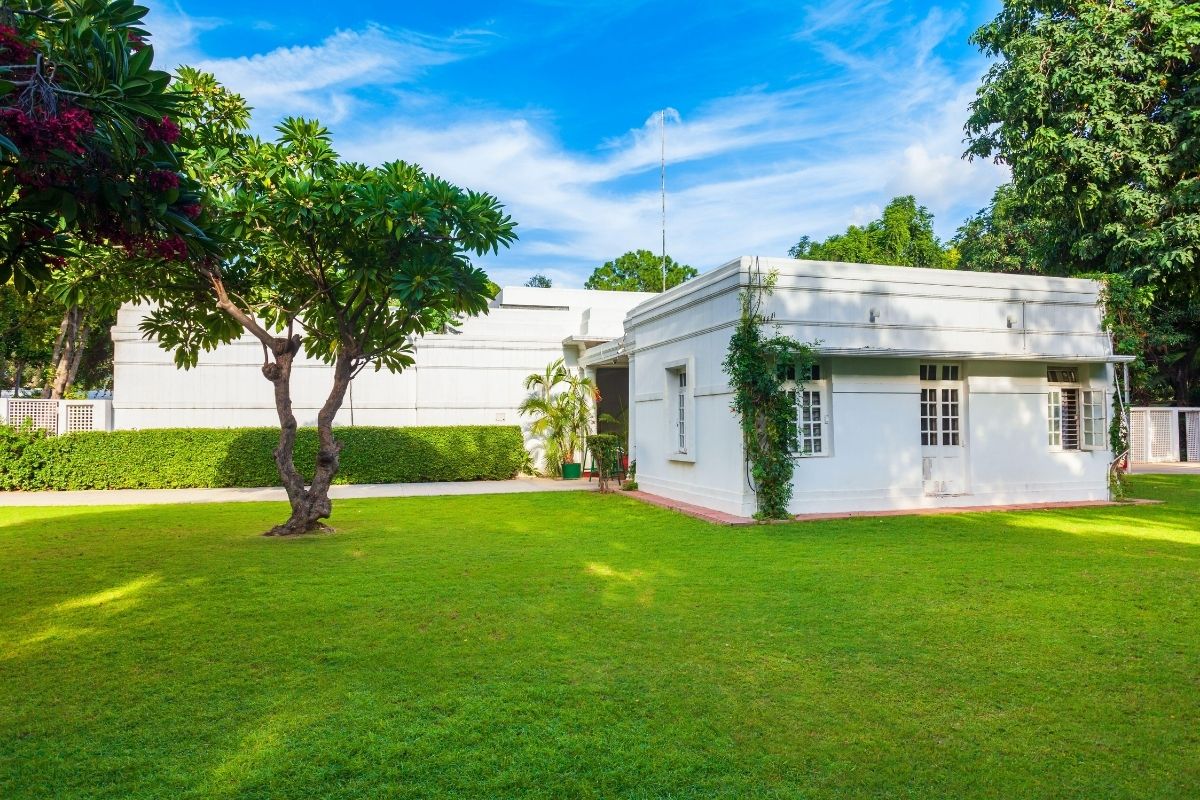 A place that the former Prime Minister once called home, the Indira Gandhi Memorial Museum is now a fitting tribute to one of India's most influential and controversial leaders – and the only female Prime Minister to date.
Housed within the grand bungalow where she spent the last years of her life, the museum features a fascinating collection of personal belongings, photographs, and documents that offer an insight into both her public and private life.
Interactive exhibits bring to light key events during her life – from her childhood to her marriage, to her time as Prime Minister, as well as her assassination in October of 1984.
Outside the home and museum, visitors can wander around the green gardens and, thanks to hidden microphones, can hear the speeches Gandhi gave during her time as PM.
Whilst it may not be everyone's cup of tea, for those interested in politics or history, or the macabre angle of tourism (with preserved blood spots and the clothes worn during the assassination on display) this is one place certainly worth considering for something different.
63 – Watch for wildlife at Deer Park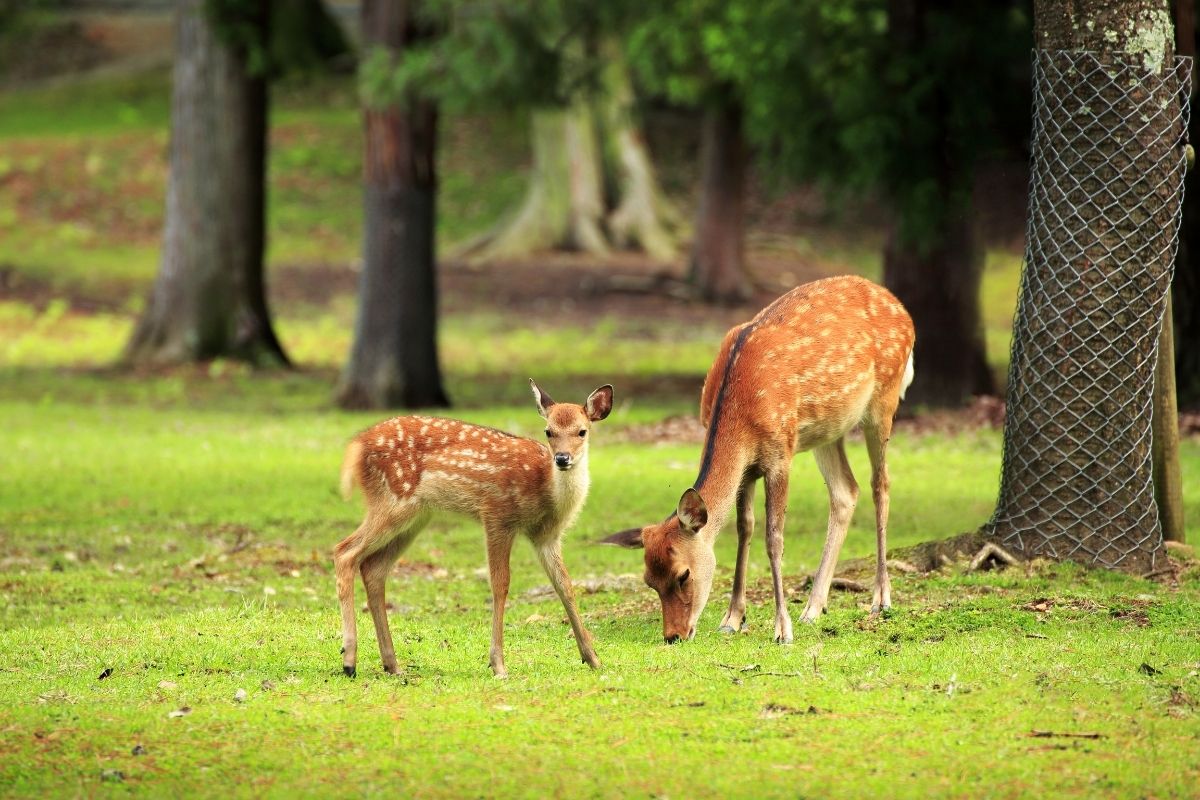 Dubbed the "lungs of Delhi" for its ability to help cleanse the city's air, Deer Park is one of the best places to get some fresh air and escape the hustle and bustle for a while.
As well as being a great place to relax and a treat for photographers thanks to enchanting flora and fauna, it's also home to several different species of deer (hence the name), which you can see roaming around freely – just be sure not to feed them!
Walking and jogging tracks are aplenty if you're feeling active, plus the Hauz Khas fort for the quintessential dose of old architecture. Birdwatchers will be pleased to know that the park is also home to a variety of feathered friends, including doves, peafowls, grebes, and even ducks!
Conveniently located in the heart of the crowded Hauz Khas Village, and a great place to come and unwind or enjoy some quality time with friends or family, Deer Park should definitely be on your list of things to see in Delhi.
64 – Be fascinated by the ancient Agrasen ki Baoli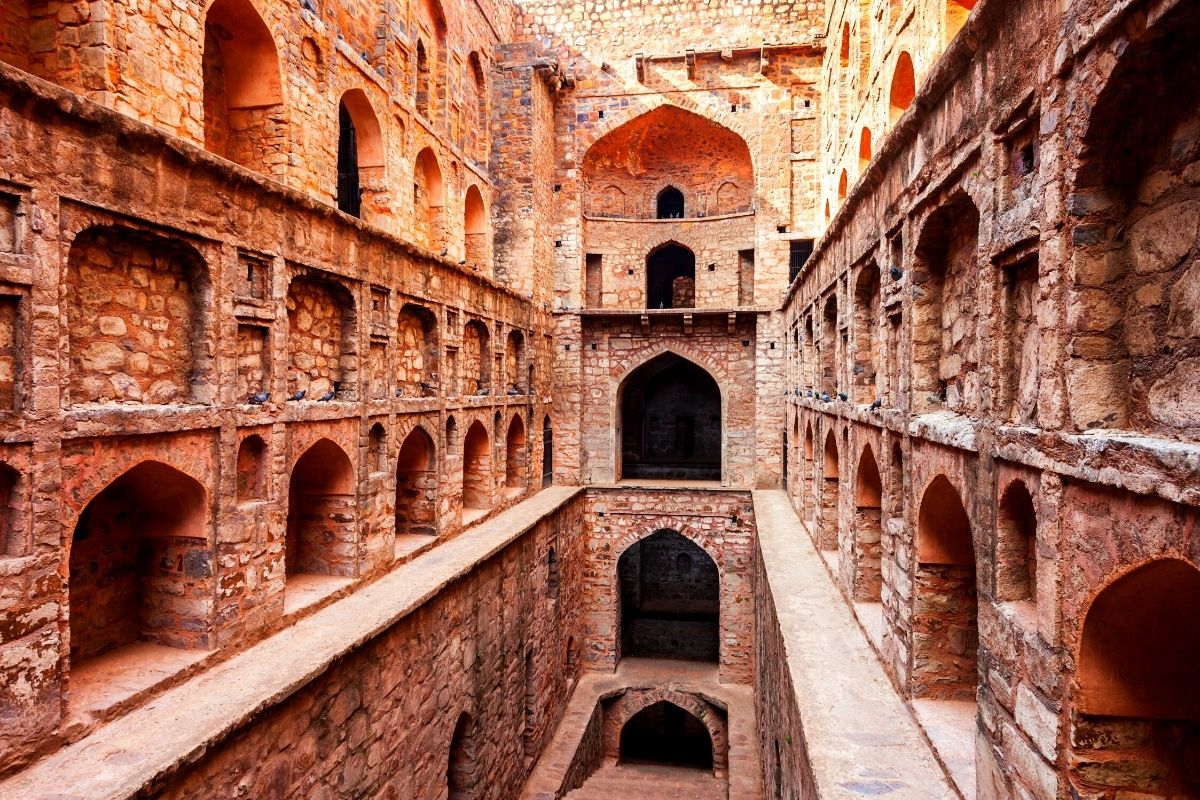 Stunning for its architecture and fascinating for its history, Agrasen ki Baoli is a must-see for any first-time visitor to Delhi.
A stepwell constructed way back in the 10th century during the rule of the Agrawal king Maharaja Agrasen, this ancient site was once used as a water reservoir and now earns its place on many a postcard thanks to its protected monument status.
Running 60 metres long and 15 metres wide, and descending multiple stories into the earth, the baoli (or stepwell) is an incredible feat of engineering, with 103 steps leading down to its engulfing depths.
Despite being surrounded by high-rise buildings and busy roads near Connaught Place, Agrasen ki Baoli has an eerie feeling about it (some thinking the place is haunted), like winding back the clock to a bygone era of a simpler time.
65 – Read and observe at the Gandhi Smriti Museum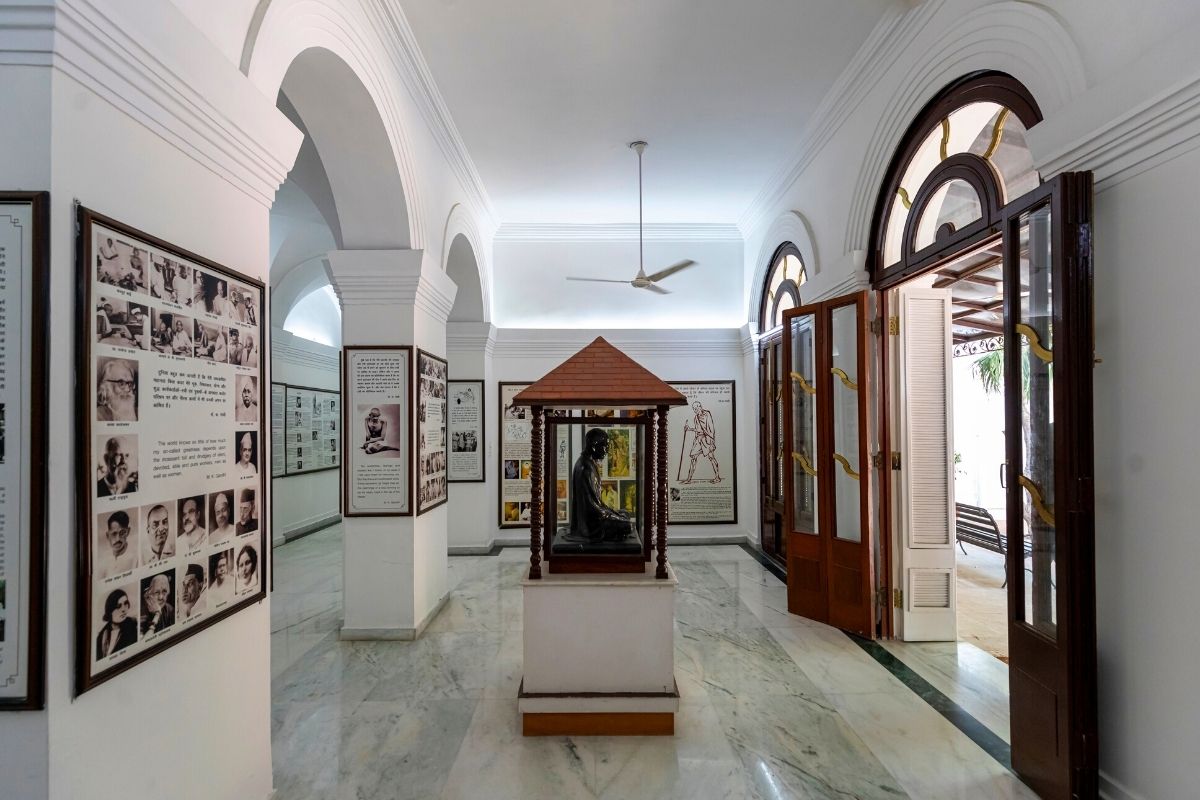 The symbolic location where Mahatma Gandhi spent his final months before being assassinated on January 30th 1948 at the hands of Hindu nationalist Nathuram Godse, the Gandhi Smriti Museum is now a sombre memorial dedicated to the life and works of India's preeminent independence leader.
The 12-bedroom house turned museum was once Gandhi's residence (known as Birla House) and, in the room where he actually slept during his final days, there is now a permanent exhibit on his life made up of a large collection of photographs and documents, and a handful of clothing items, knick-knacks, terracotta dolls, and more.
Of particular interest are his glasses, and the 'Martyr's Column', commemorating the spot where Gandhi was assassinated during his time of prayer.
Fascinating exhibits – including a multimedia show – throughout the museum detail different aspects of Gandhi's work, from his fight against racial discrimination to the Quit India Movement and beyond.
Interested in learning more about the man who helped lead India to independence? Then consider one of the Gandhi tours that stop at the Smriti Museum as part of its multi-venue itinerary.
66 – Attend one of the Pragati Maidan events
A large exhibition and convention centre in the heart of Delhi, Pragati Maidan is one of the city's most popular tourist attractions for all kinds of reasons, depending on what's on the calendar.
With a massive ground area of over 150 acres, it's easy to see why – this is one seriously big place!
Pragati Maidan plays host to many different events throughout the year, from the India International Trade Fair (IITF) – which sees over three million visitors annually – to general trade fairs, conventions, and a whole lot more.
The IITF is definitely worth checking out if you're visiting Delhi during its late-November dates, as it's an event that celebrates all things Indian with pavilions representing all kinds of different states, regions, and industries from across the country.
Just check the website before you go to see what's on!
67 – Zoom around town with a segway tour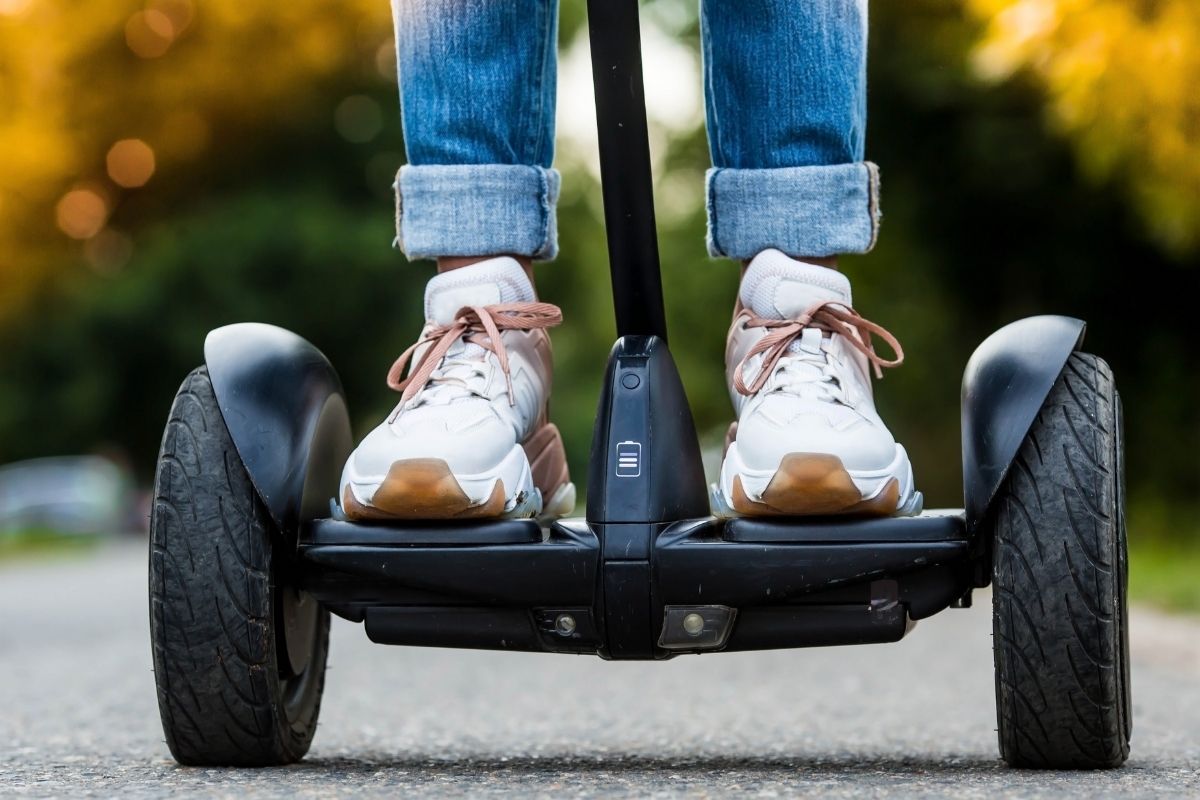 Don't feel like walking around the city? Then consider taking a Segway tour!
A great way to see some of Delhi's most popular tourist attractions without having to hoof it on foot, these eco-friendly two-wheeled vehicles are not only fun but they're also very easy to use.
Led by friendly and knowledgable locals who know how to entertain and educate a crowd, most tours will last around two hours and will take in all the major sights, including India Gate, Parliament House, Rashtrapati Bhavan (the President's House), the Amar Jawan Jyoti memorial, and plenty of colourful streets and hidden laneways along the way.
In a city dominated by rickshaws, this is one of the more unusual things to do in Delhi, so if you're looking for something a little different, this could be perfect for you.
68 – Sepdn an hour at the Ghalib ki Haveli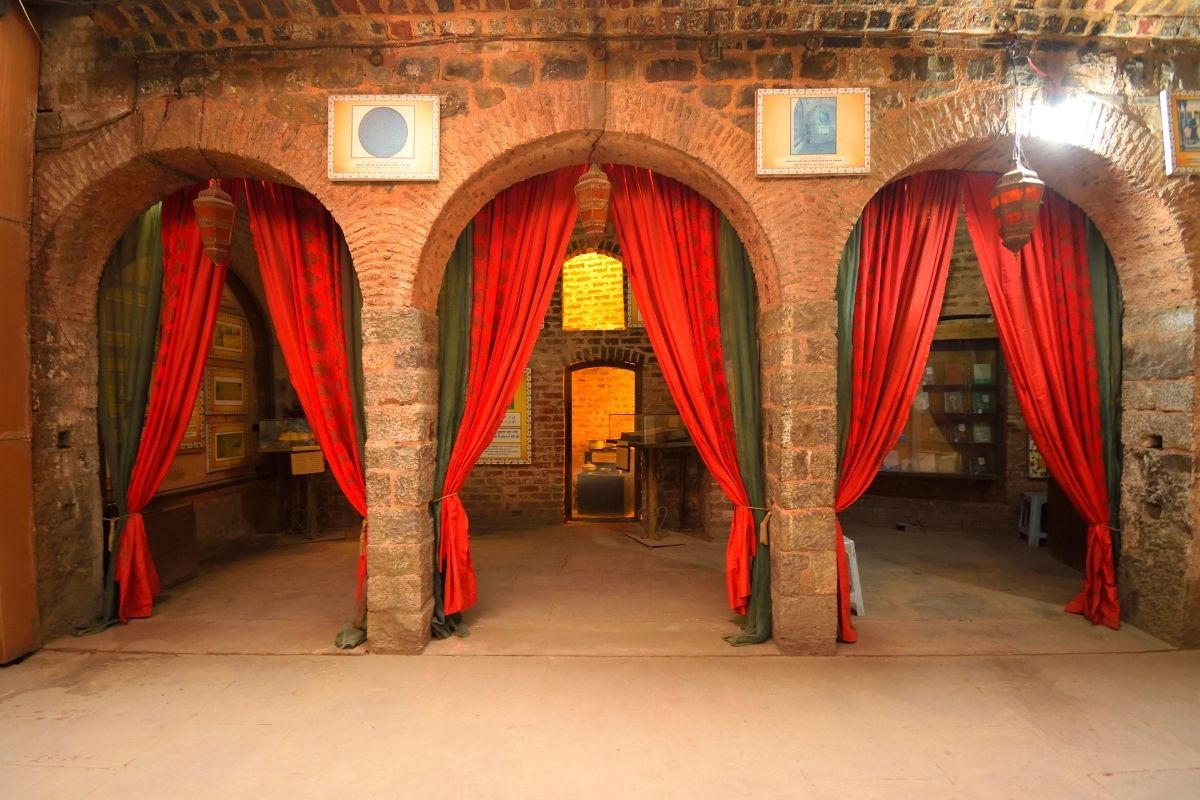 One of the more interesting memorial museums in Delhi is the Ghalib ki Haveli, a dilapidated yet still charming 300-year-old structure that was once the home of renowned Urdu poet Mirza Ghalib.
The museum contains dozens of personal items belonging to the famed poet, as well as letters, manuscripts, and other documents related to his work. But it's not just about his penmanship – the museum also dives into unexpected themes like his favourite hobbies (kiteflying and chess, for example) and his clothes.
A great glimpse into a life of a bygone era, the Ghalib ki Haveli is one of Delhi's lesser-known museums but it's definitely worth a visit if you happen to stumble across it while wandering around the densely populated Chandni Chowk area.
69 – Visit the stunning Gurudwara Shri Bangla Sahib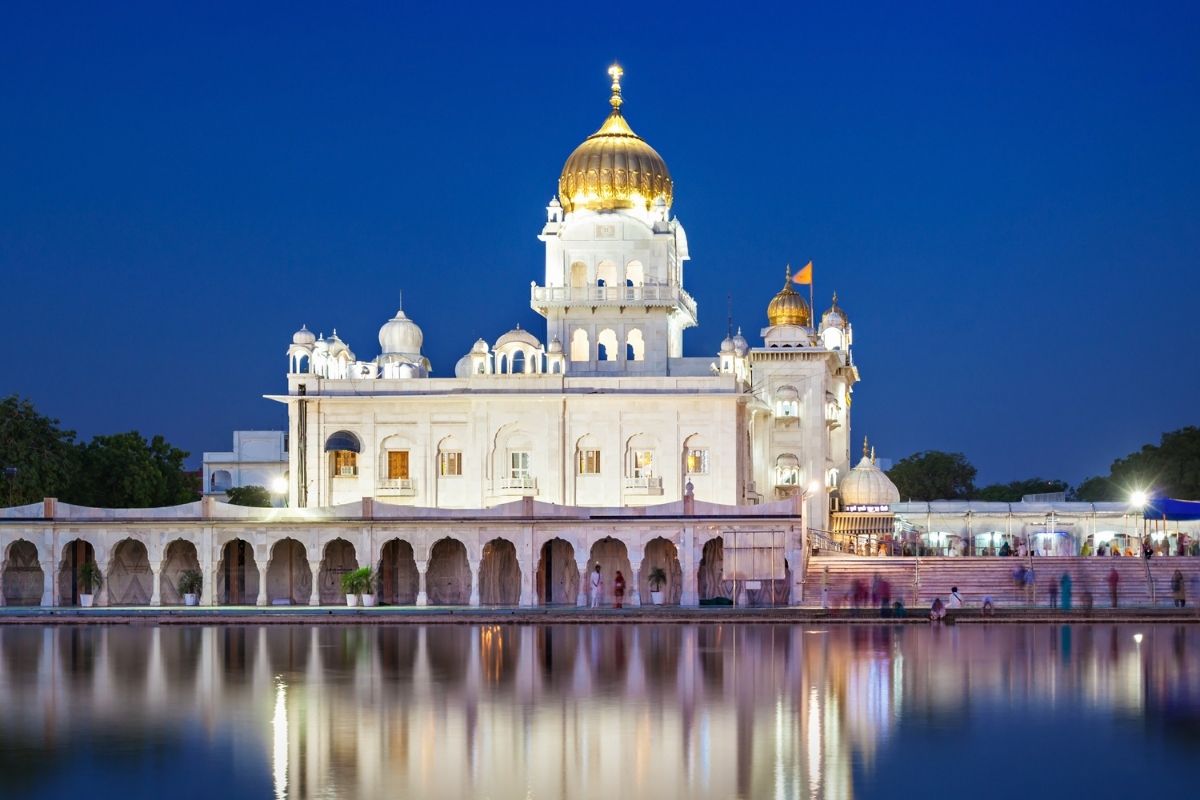 Epitomised by its striking and shimmering golden dome, the Gurudwara Shri Bangla Sahib is one of Delhi's myriad immediately recognisable landmarks, jutting out into the skyline in the tourist-frequented Connaught Place region.
A Sikh place of worship (or gurdwara) that's been standing since 1783, the Gurudwara Shri Bangla Sahib is open to all visitors, regardless of religion, and is considered one of the most important Sikh religious sites in the world.
The complex also contains several smaller temples, as well as a large kitchen that serves delicious free meals to anyone in need. And, often to the surprise of visitors, in the basement hides a little art museum that houses exciting slices of Sikh history – from old manuscripts to handwritten verses of the Mool Mantar Sikh scripture, the collection is both historically significant and fascinatingly unique.
To learn more about this beautiful building and its significance, as well as a bunch of other interesting landmarks in the area, consider taking one of the guided English-language tours that hit up some of Delhi's main haunts.
70 – Make a stop at the Sacred Heart Cathedral Catholic Church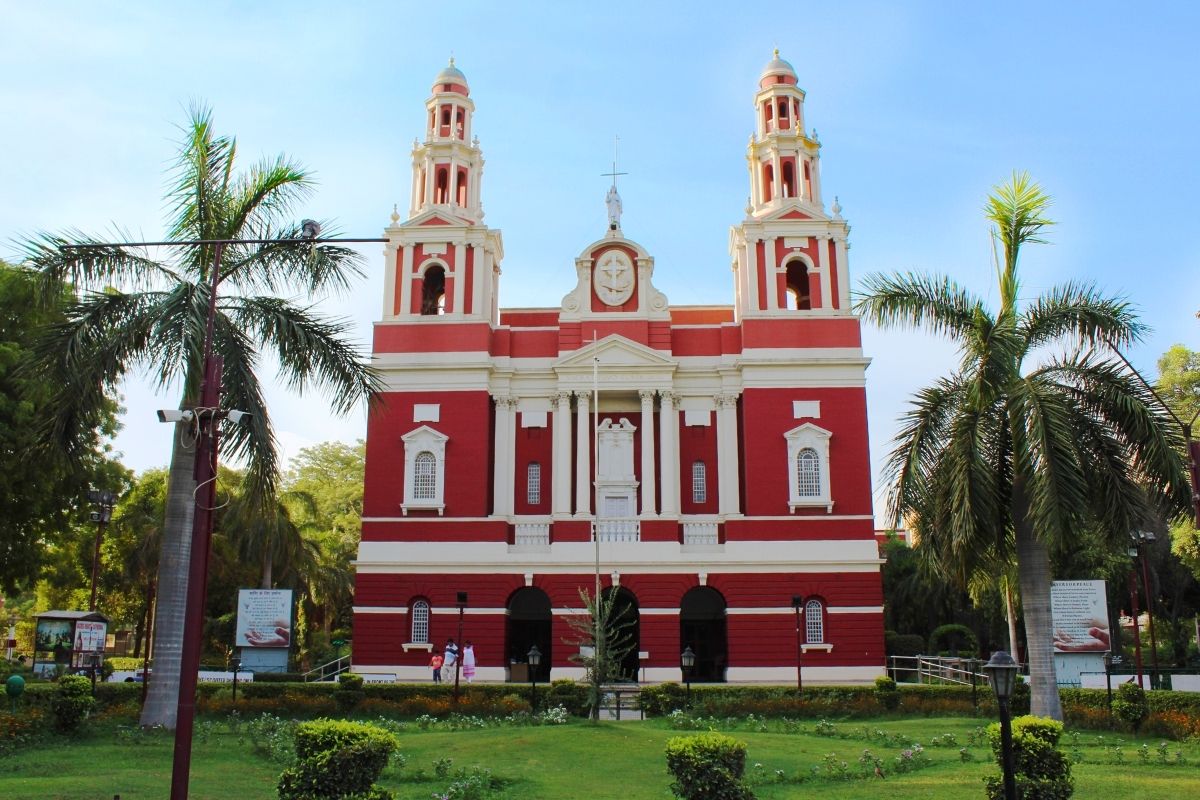 While Delhi is commonly known as a Hindu city, there's actually a large Christian population here too, and one of the most significant churches in the city is the Sacred Heart Cathedral Catholic Church.
Located near the central business district of Connaught Place (right across the road from the Gurudwara Shri Bangla Sahib, in fact – see #69), this Gothic Revival-style church was built in 1930 and is one of the oldest churches in Delhi.
While it might not be as ornate or ostentatious as some of India's other grand cathedrals – think Mumbai's Basilica of Our Lady of the Mount or Chennai's Santhome Cathedral – it still contains some beautiful stained glass windows, an intricately carved wooden ceiling, and a stunning pipe organ, making it well worth a visit if you're interested in taking in some of Delhi's alternative religious architecture.
71 – Add the Parliament Of India to your Delhi itinerary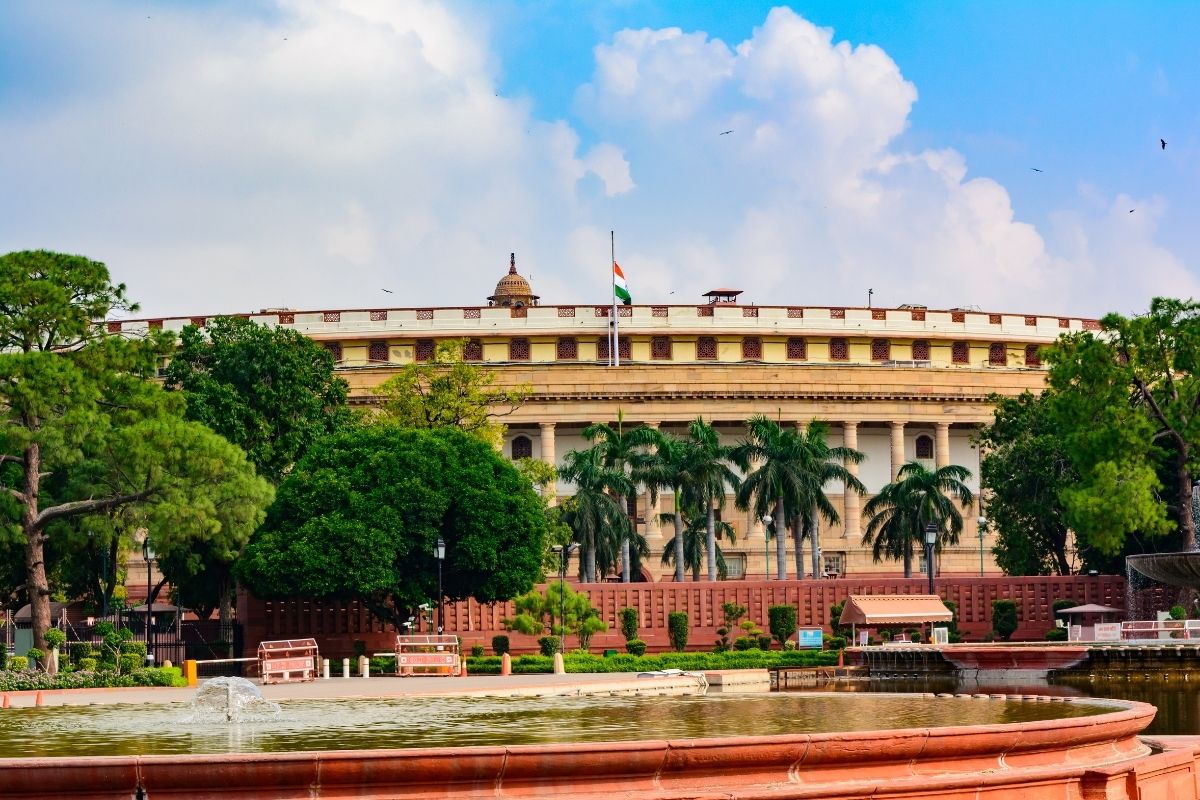 A common stopping point on the majority of New Delhi tours, the Parliament of India is itself is an architectural masterpiece; a sprawling colonial-era complex that took nearly 6 years to complete and blends elements of both Indian and British design (it was, after all, built during the height of the British Raj).
But it's not just the exterior of the striking, circular sandstone building that's worth admiring – beyond the 144 columns, inside, the parliament chambers are equally as impressive, with oak-panelled walls, several interesting artworks and sculptures on display, as well as a beautiful inverted ceiling dome.
While you can't go on a tour of the actual parliament chambers without planning ahead (access is only granted to those with visitor passes or Indian citizens), if you happen to be walking by you can still explore some of the public areas and take in all the grandeur of the sprawling complex from afar.
72 – Race against the clock in an escape game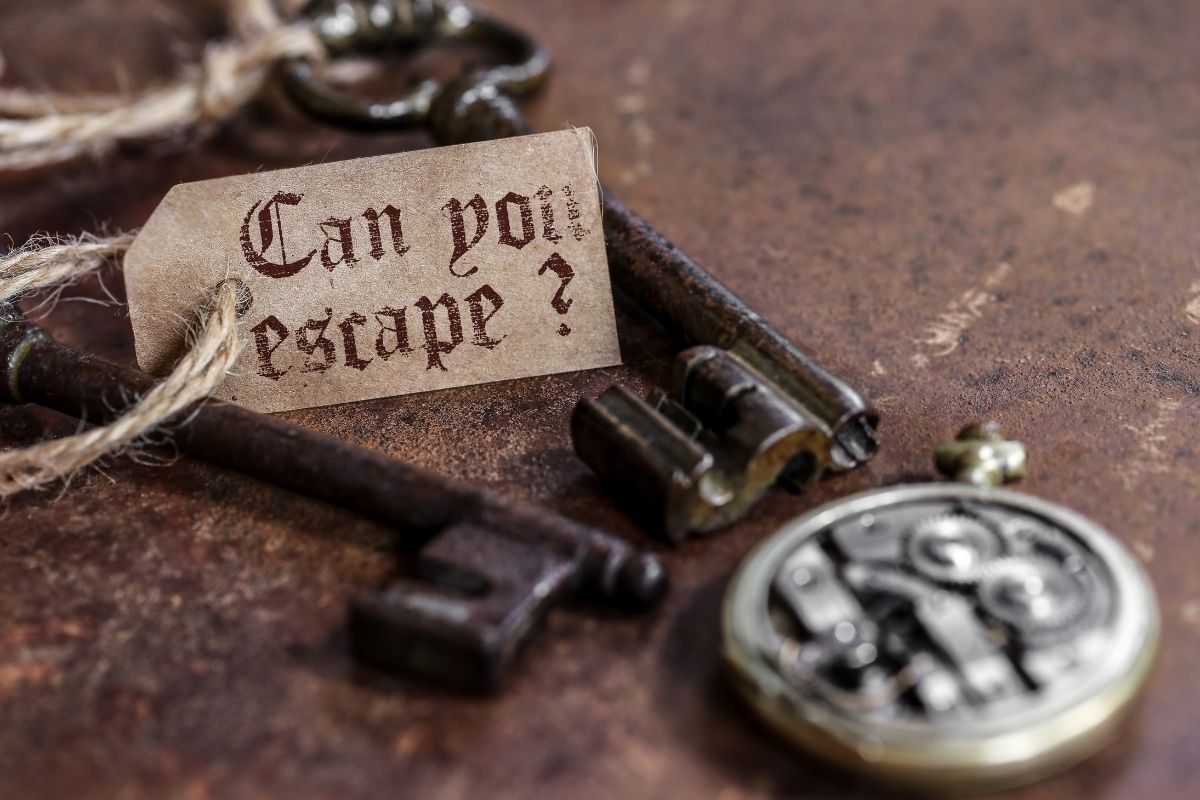 Think you've got what it takes to solve a mystery? Then put your detective skills to the test at Escape Game – a live escape room challenge that's perfect for groups of friends, families, or even corporate team-building exercises.
With multiple different rooms (or "cases") to choose from, each with its own unique story and set of clues to crack, you and your team will have 60 minutes to work together to solve the puzzle and "escape" the room before time runs out.
While it might sound like child's play, it will require your utmost wit, logic, and teamwork skills to make it out in time – but don't worry, if you get stuck there's always a game marshal on hand to give you a hint or two.
At places like Mystery Rooms, you can choose from spectacular themes like the Cabin In The Woods murder mystery, The Conjuring paranormal panic, prison breaks, and even find yourself in The Chamber of Secrets at Hogwarts.
Depending on which location you visit – Rajouri Garden, Connaught Place, or Pacific Mall in Tagore Garden – you'll have a different menu of cases to choose from, so it's worth checking out all three to see which one sounds the most up your alley.
73 – Soak up the colours at Dilli haat INA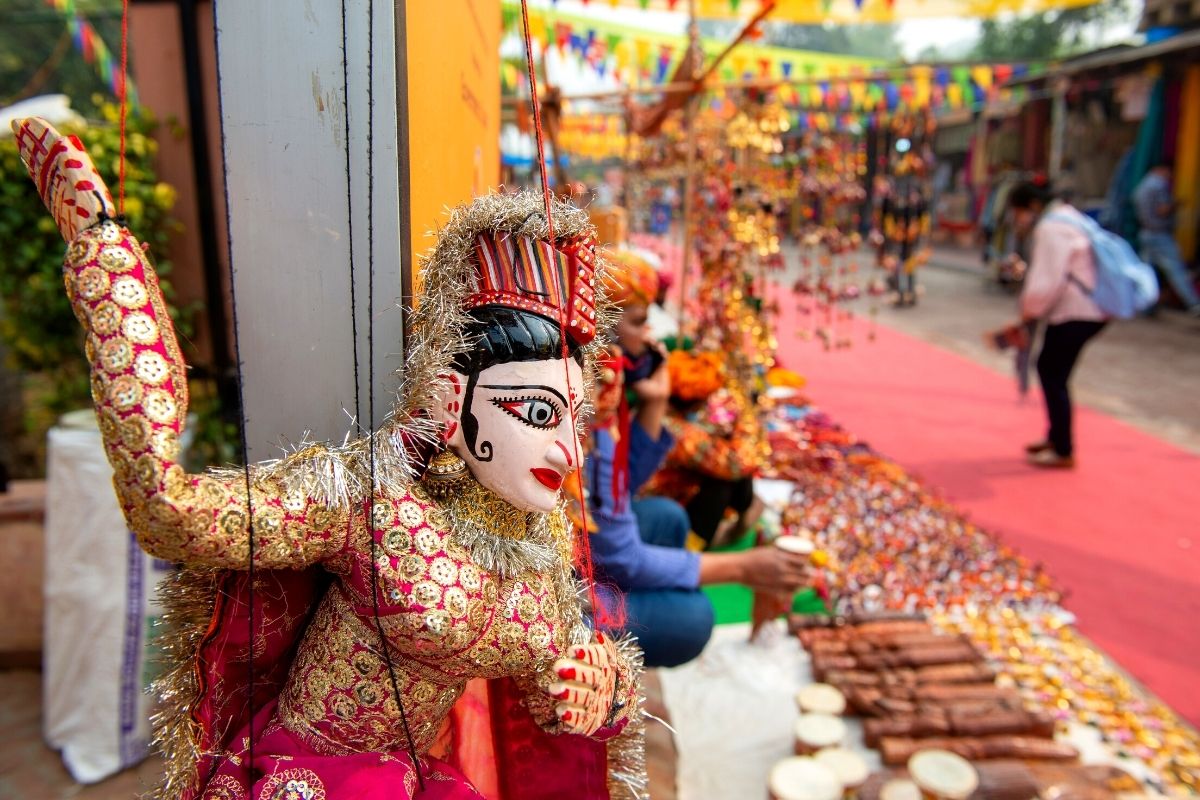 Exploding with colour, culture, and cuisine, Dilli Haat is a must-visit for any first-time visitor to Delhi.
A permanent marketplace that's set up like a traditional haat or village fair, here you'll find over 60 different stalls selling everything from handcrafted goods and fashion accessories to delicious street food and aromatic spices from all over India.
With such a diverse range of items on offer, the open-air craft bazaar is a brilliant place to do some shopping for unique gifts or pick up a few souvenirs for yourself, while the food stalls make it the ideal spot to sample some of Delhi's best local eats all in one go.
Soft and bright Kashmiri shawls and silk sarees are a dime a dozen, likewise artistic mirrors, lanterns, paintings, and traditional Indian home decor.
Since this joint was built by the Ministry of Tourism, it's also a great way to support the nation's tourism alongside local artisans, all while getting a feel for India's many different cultures under one roof.
74 – Witness traditional costumes at Shankar's International Dolls Museum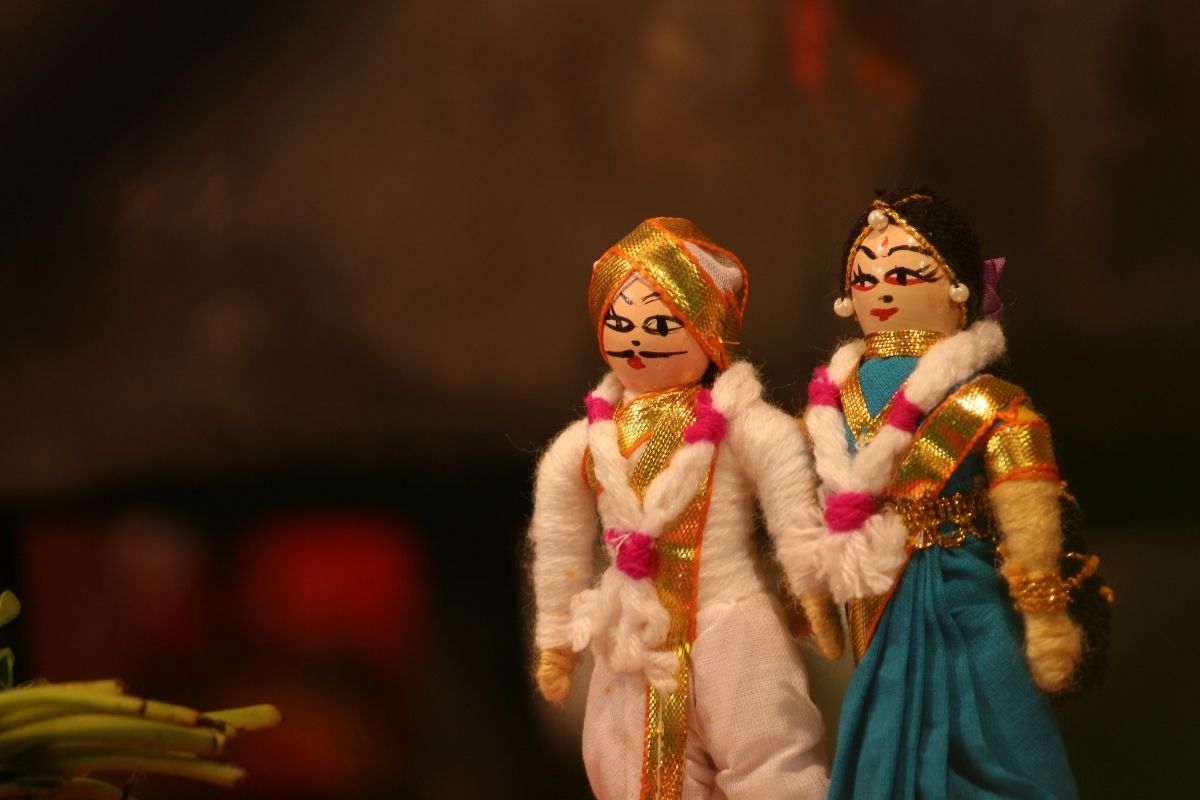 One of the most unique museums in Delhi, Shankar's International Dolls Museum is home to over 6,000 different dolls from 85 different countries around the world.
The brainchild of political cartoonist, K. Shankar Pillai, the museum was first established in 1965 with just a handful of dolls on display, but has since grown to become one of the city's most beloved cultural institutions.
Today, visitors can see an array of traditional costumes and outfits from all corners of the globe, as well as learn about the history and significance of the miniatures on display.
There's even a special section dedicated to dolls representing Indian culture and heritage, making it a great place to take the family for a fun and educational afternoon out if your plans take you near the Nehru House at Bahadur Shah Zafar Marg.
75 – Revel in the greenery of the Mughal Garden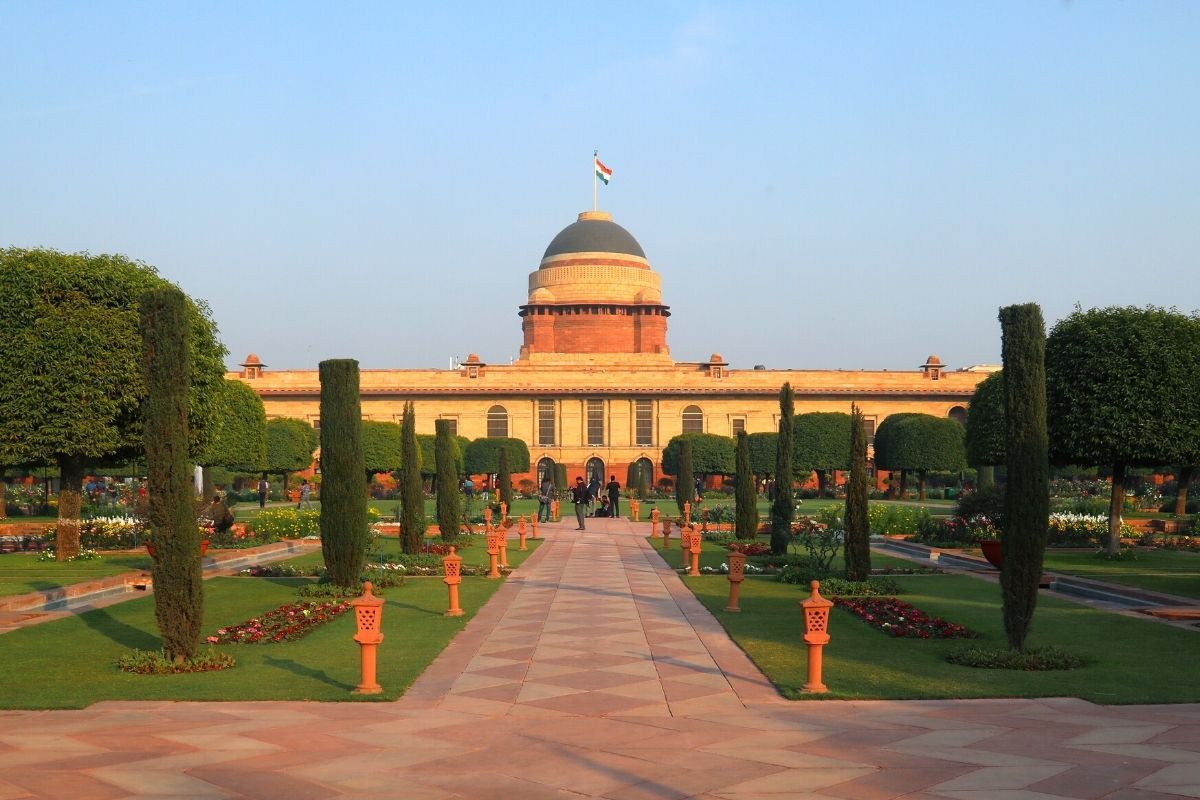 Free to visit for all curious, nature-seeking travellers, the Mughal Garden is a stunning oasis in the heart of Delhi that's perfect for a romantic stroll or an afternoon picnic.
As you amble through endless hedgerows and pristine lawns, you'll come across fountains, waterfalls, flower beds, and even a beautiful lotus pond – making it easy to see why this is one of Delhi's most beloved green spaces.
Don't forget to keep an eye out for peacocks too, as they often roam free around the grounds!
You'll find the enchanting garden located just behind the Rashtrapati Bhavan, and while it's only open to the public for a limited time each year, it's well worth planning your trip around if you can. With 15 acres of landscaped gardens, Mughal-style pavilions, and a whole host of photo-worthy spots, it's a splendid place to while away an afternoon.
76 – Make your way to the Safdarjung Tomb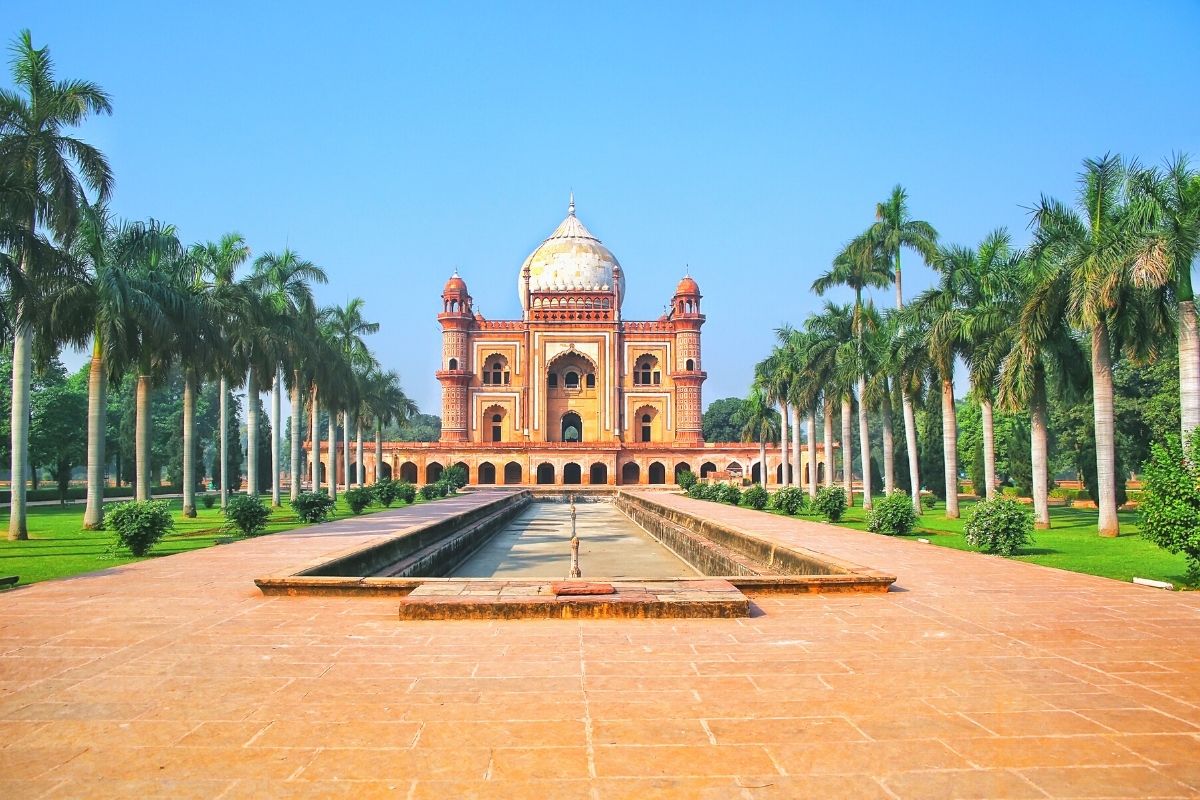 Old enough to still feel ancient, but not so old that it feels like a relic, Safdarjung Tomb has been standing for close to 300 years and remains an excellent example of Mughal architecture, justifiably attracting thousands of visitors each year.
The mausoleum was built in 1754 as a memorial for the rich and powerful Nawab Safdarjung – the then governor of Awadh – and his family, and its design is heavily inspired by Humayun's Tomb, which can be found just across the river in Nizamuddin East.
While it may not be as grandiose or well-known as some of India's other historical sites, Safdarjung Tomb is definitely worth a visit if you're interested in seeing impressive Mughal architecture up close. With four key features – the Char Bagh cross-section garden, the ninefold floor plan, the five-part façade, and the imposing podium with a hidden stairway, you can get a taste of several facets of Mughal design all in one place.
The tomb is open every day from 7am to 5pm, and admission is 200 INR for foreigners.
77 – Get some perspective on an eye-opening slum tour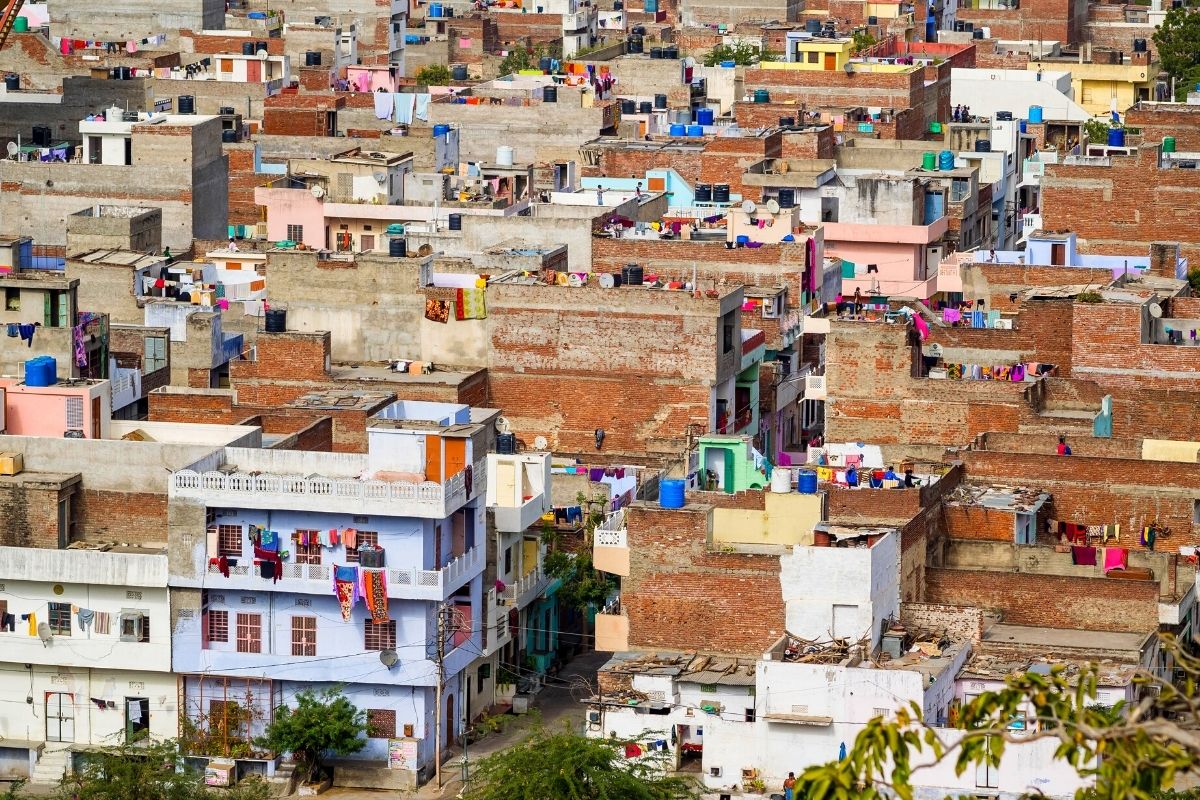 The reality is that, beyond the shining temples and luxurious hotels, a large portion of Delhi's population lives in abject poverty.
A slum tour is an excellent way to learn more about the city's lesser-known side and see how its residents live day-to-day.
Most tours last around two hours and take you through some of Delhi's most deprived areas, like the Sanjay Colony, giving you an up-close look at the cramped living conditions, limited access to basic amenities, and general struggles that come with life in the slums.
You'll also have the opportunity to meet some of the local people and hear their stories firsthand, which can be both eye-opening and heartwarming. Just be sure to do your research before booking a tour, as not all operators are created – some are private while others are small groups, and they can last anywhere from 2 to 5 hours.
78 – Add the Okhla Bird Sanctuary to the to-do list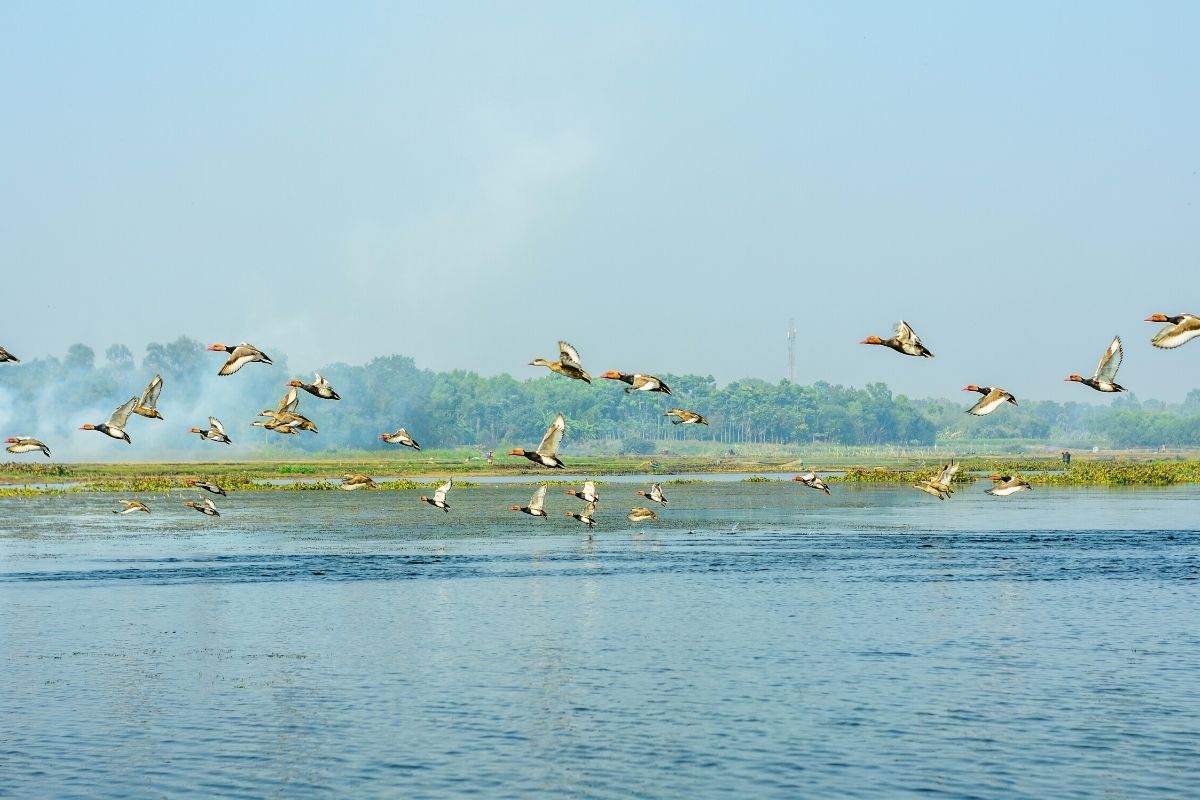 A nature lover's paradise covering some 3.5 square kilometres on the banks of the Yamuna river, the Okhla Bird Sanctuary is regularly high atop the list for animal lovers who want authentic insights into Delhi's grassland and wetland wildlife.
The natural sanctuary is home to over 300 bird species, not to mention countless plants, making it (obviously) one of the best places in the city to go birdwatching. Take a peaceful stroll through the lush greenery and wetlands that make up the sanctuary grounds, or rent a cart if you're short on time and want more of an efficient visit.
The best time to visit is between October and February when migratory birds are in town and the sanctuary buzzes with activity, but it's open all year round from sunrise to sunset nonetheless.
79 – Practice your haggling at the Sarojini Nagar Market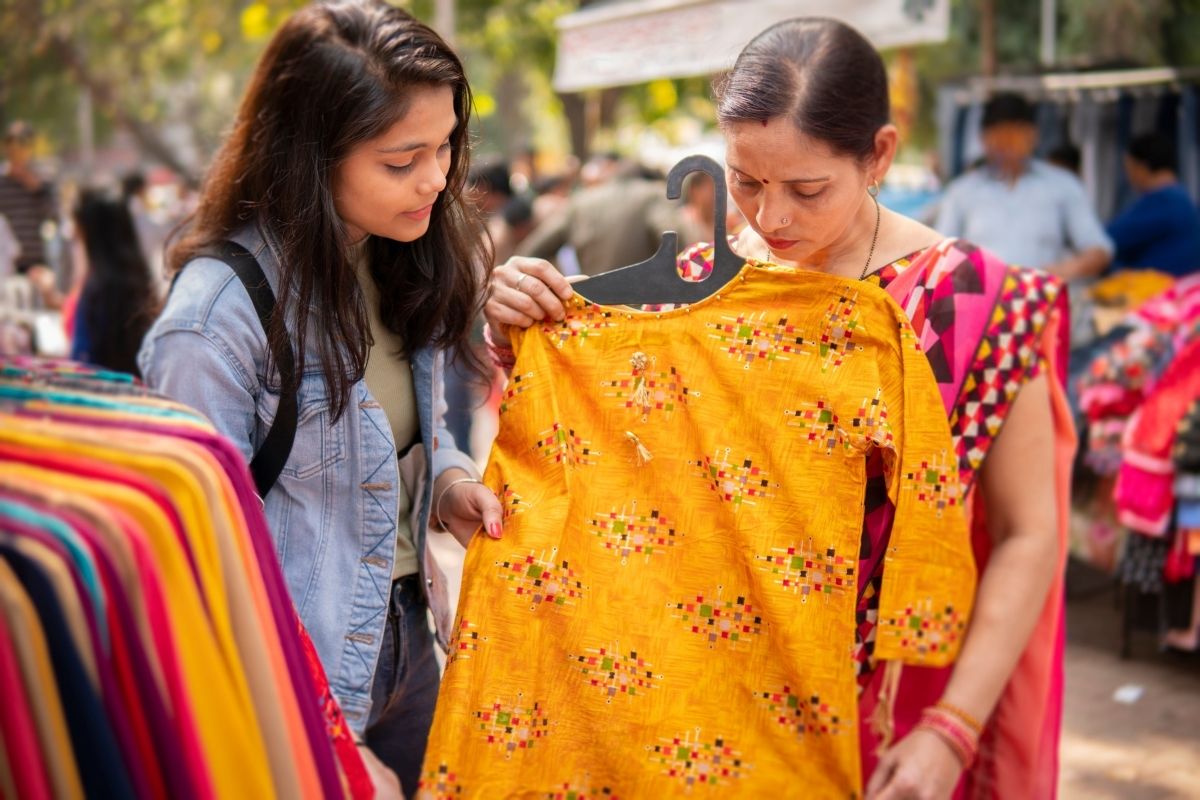 Known for its cheap-as-chips prices and endless array of shops, Sarojini Nagar Market is a veritable paradise for bargain hunters and souvenir shoppers looking to soak up the bustling market atmosphere for which Delhi is so well-known,
From clothes and accessories to handmade shoes and colourful home decor, you can find just about anything here – and all at a fraction of the price you would pay elsewhere in the city. Of course, that also means that it can get pretty crowded, so be prepared to elbow your way through the throngs of shoppers if you want to score some good deals.
The roadside flea market sits in the southwest district and is open every day from about 10am till about 8pm (exact hours vary depending on the season), but weekends are when it's really hopping, so try to visit then if you can.
80 – Step into the enchanting Garden of Five Senses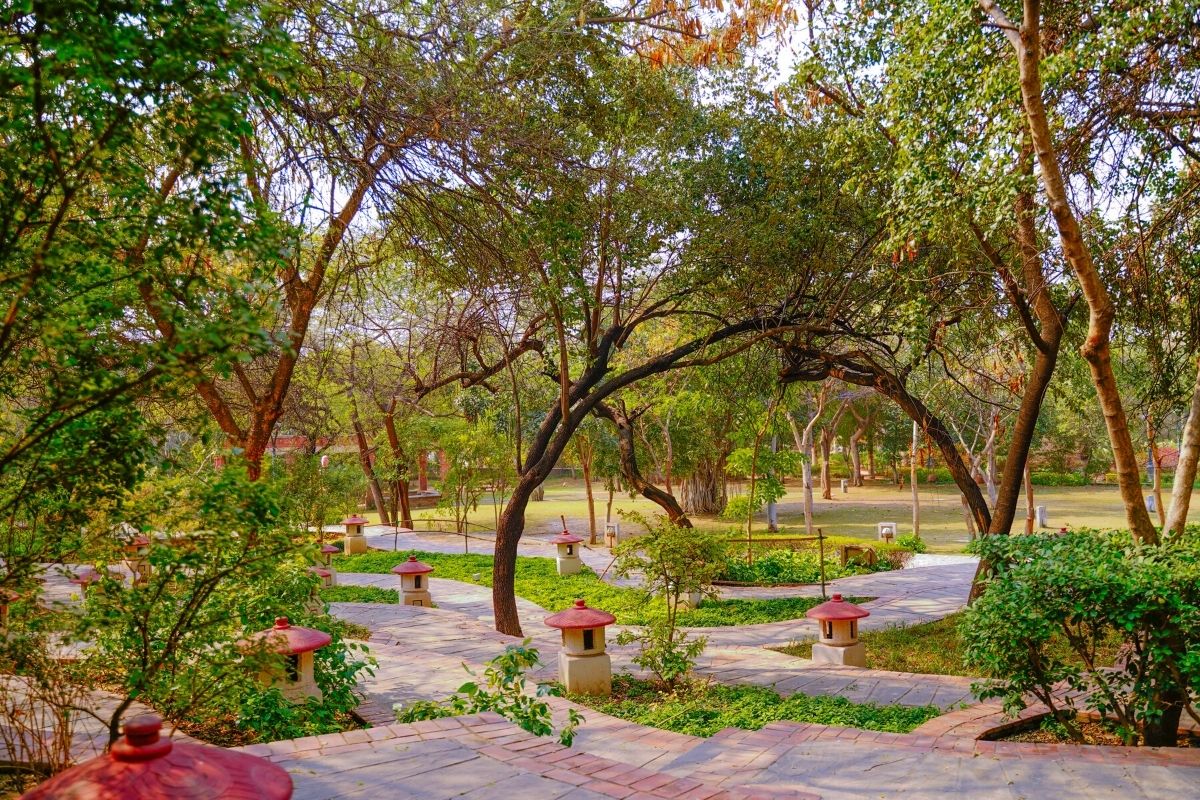 A blissful oasis of calm in the otherwise hectic city, the Garden of Five Senses is one of Delhi's most popular tourist attractions for good reason.
As its name suggests, the park was designed to stimulate all five senses through a variety of different experiences and activities, from the many sculptures and art installations dotted around the grounds – the elephant sculptures and the Bell Tree are each undisputed highlights – to the stunning views over Mehrauli.
Throughout the 20 acres of greenery are twisting walkways that make their way to bamboo courts and herb gardens, serene water features, and no shortage of open fields that welcome a casual picnic or hour of peaceful reading.
A notable cultural meeting point too, Fives Senses plays host to all kinds of programs year-round, from food festivals to Dandiya meetups (folk dancing) to the annual Garden Tourism Festival.
Saket metro on the yellow line is your nearest station, and it's best to allocate at least a couple of hours for a decent walkabout.
81 – Pick up some new gadgets at Nehru Place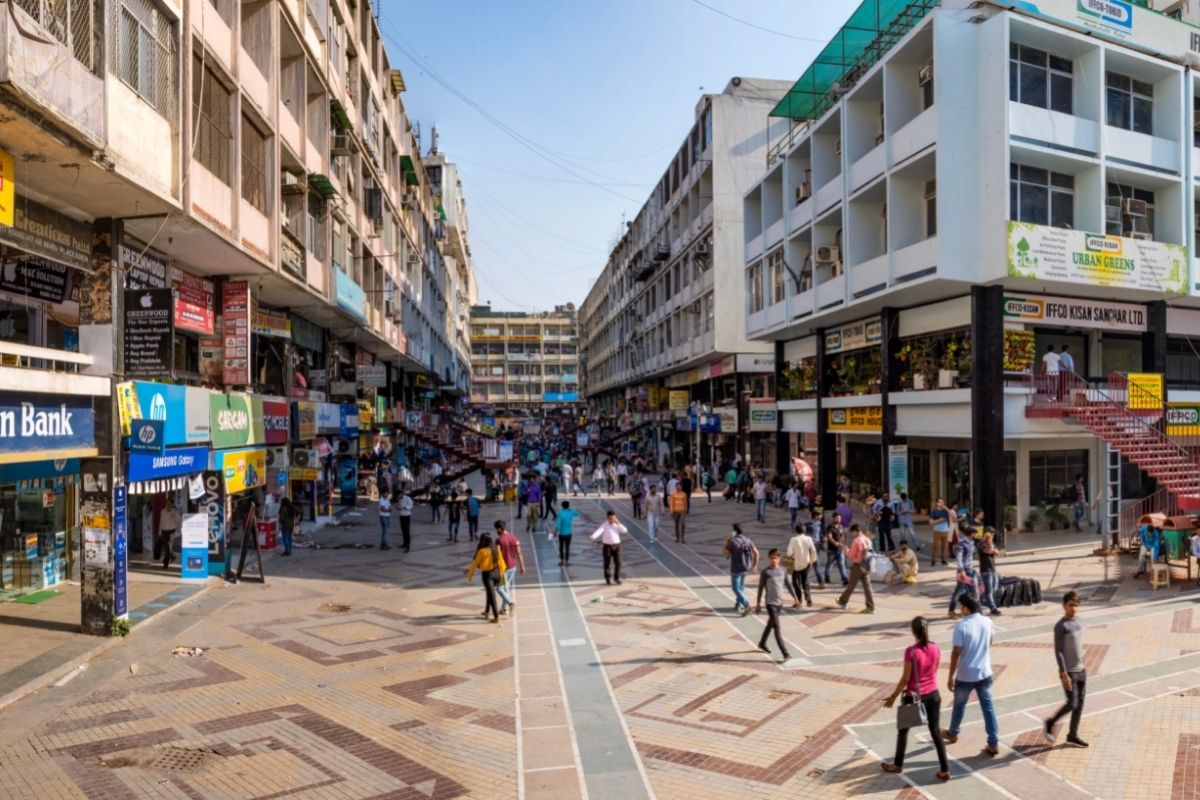 Overflowing with shops and street vendors selling every electronic you could think of, Nehru Place is the go-to destination for those looking to snap up a new laptop, phone, or camera at rock-bottom prices.
The market is spread out over a large area and can be pretty overwhelming, but that's all part of the fun – haggling with shopkeepers and weaving your way through the crowds in search of the best deals.
Although it's not the most tourist-friendly spot in Delhi, Nehru Place is definitely worth a visit if you're looking to pick up some new tech, and you'll find plenty of other markets and shops nearby if you need a break from the mayhem.
The bustling flea market on one side (which sells cheap fashion – shirts, jeans and trousers mostly) provides an eye-opening contrast to the more official storefronts (HP, Lenovo, Toshiba, etc); no wonder it's been called the hub of the Indian IT industry.
The market is open every day from about 10am to about 7pm, but keep in mind that the tech section closes on most Sundays.
82 – Head over to Tughlakabad Fort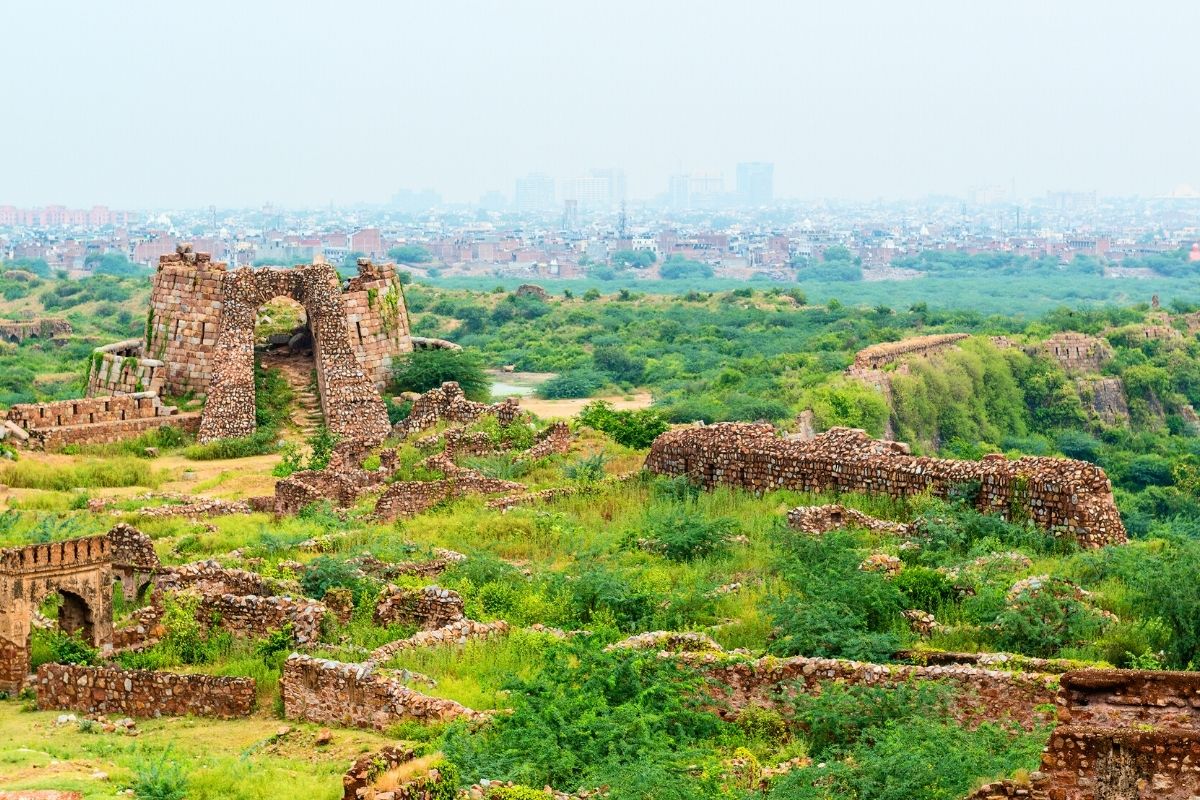 Decaying yet still imposing, the Tughlakabad Fort is one of Delhi's most underrated historical sites.
The fort was built in the 14th century by Ghiyasuddin Tughlaq, the founder of the eponymous Tughlaq dynasty, and was intended to serve as both a stronghold and a palace.
Although it's in a state of ruin now, the fort still provides an interesting insight into medieval architecture, and its location atop a hill makes for great views over the tightly-packed cityscape.
Tughlakabad is located in southeast Delhi and can be reached via the Tughlakabad metro station on the Violet Line (and then a rickshaw from the station). The fort is open every day from sunrise to sunset, and will set you back 100 INR.
You'll find it sandwiched in between Ghiyasuddin Tughlaq's Tomb and the Ghiyasuddin Mausoleum – so if you're venturing into the area, it's worth checking off the trio.
83 – Tantalise the tastebuds at Paranthe Wali Gali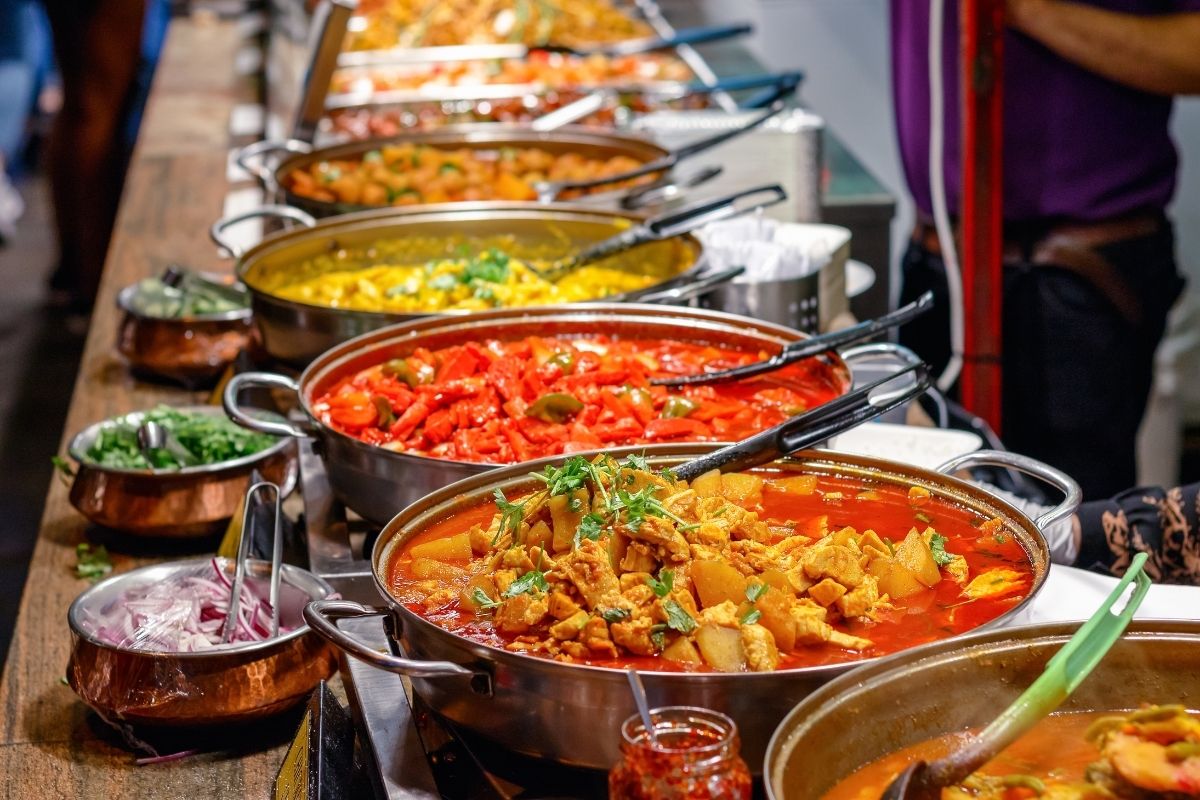 Foodies, listen up! If you're wandering through the Old Delhi streets in search of a tasty treat, make your way to Paranthe Wali Gali (literally "the lane of fried bread").
As the name suggests, this narrow alleyway is lined with shops selling all kinds of delicious Indian parathas (fried bread), from aloo (potato) and gobhi (cauliflower) to paneer (cheese) and mooli (radish).
Sure to tantalise the tastebuds, the quickly-served parathas here are some of the best in the city, so be sure to arrive hungry! And once you've dug into a hearty plate of fried goodness, it's on to the (also likely fried) dessert menu! You'll find a few sweet shops dotted around the area serving up traditional desserts like jalebi (deep-fried batter dipped in sugar syrup) and Laddu (sweetened round balls common around festival times).
As a magnet for locals and tourists alike, this gastronomic haven is a common stop on most Old Delhi walking tours.
84 – Check out the Hazrat Nizamuddin Aulia Dargah complex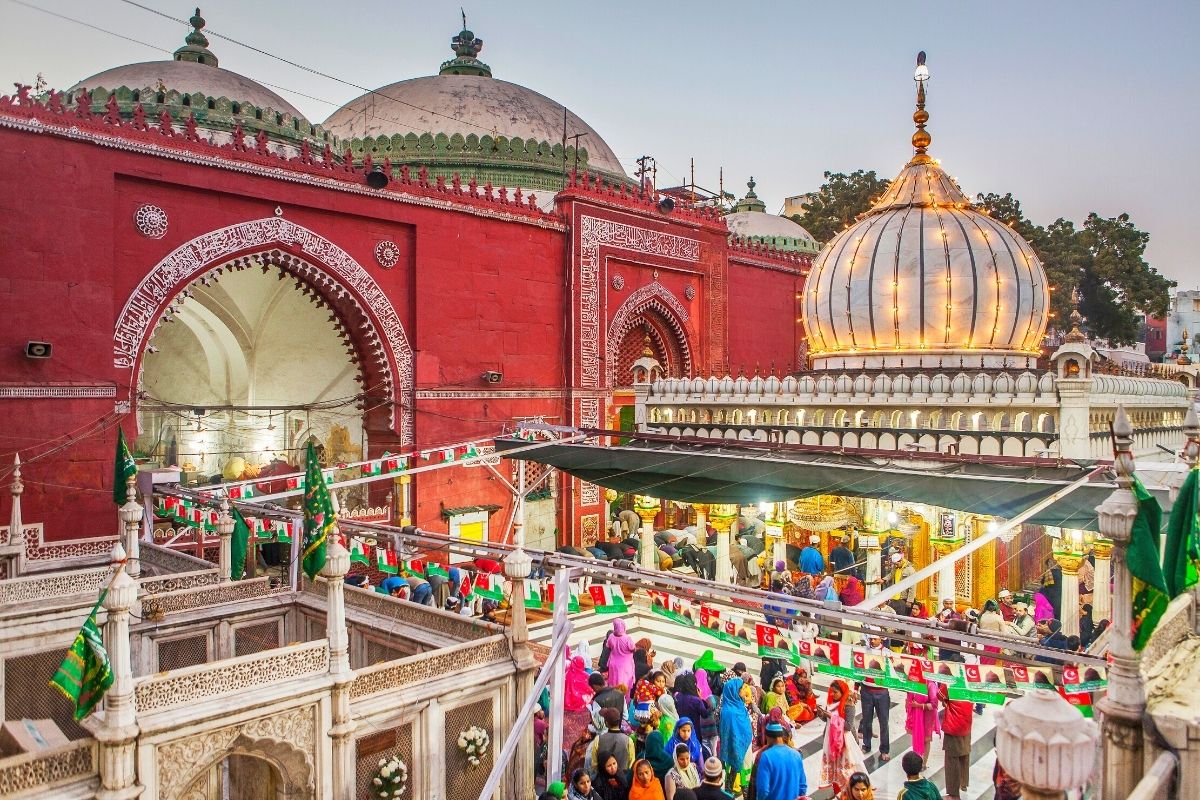 A renowned pilgrimage site at which it's said that any wish you make will come true, the Hazrat Nizamuddin Aulia Dargah is one of Delhi's most sacred Sufi sites.
The dargah (mausoleum) is dedicated to the 14th-century saint Nizamuddin Auliya (the world's most famous Sufi saint), who was a renowned spiritual leader in his day and counted both Amir Khusrow and Nasiruddin Chiragh Dehlavi amongst his disciples.
Although he died close to 700 years ago, the saint's tomb (and the 70 graves that surround it) remains an important pilgrimage site for many – a testament to his importance in Indian history.
The complex itself is beautiful, with intricate white marble work adorning the main mausoleum as well as smaller shrines dotted around the courtyard. Admire the stunning architecture as you explore, take a moment to listen to the Sufi saints' Qawwalis, and don't forget to make a wish at the tomb!
The dargah is located in Nizamuddin West, and can be reached via the Nizamuddin metro station on the Pink Line.
Hot tip: it becomes crowded in the evenings, so it's best to visit early to avoid the crowds.
85 – Wet your whistle at some rooftop bars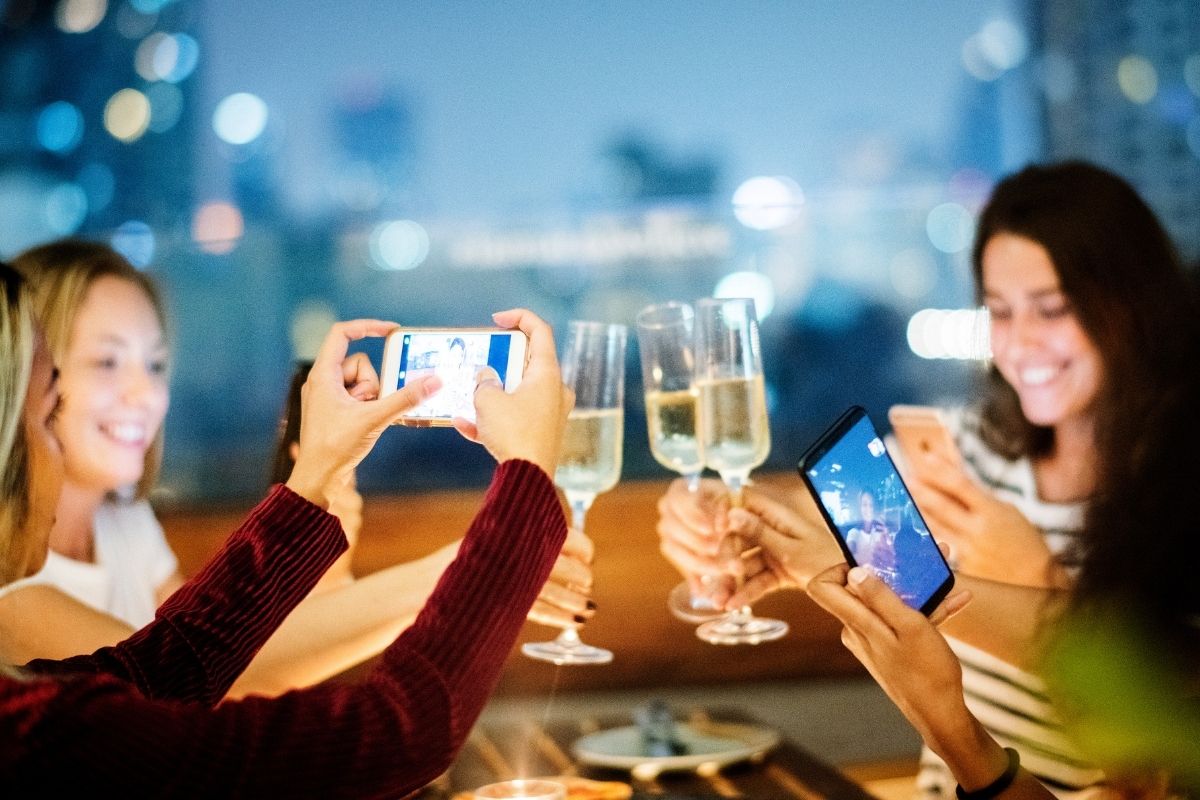 Had enough of all the temples and ancient forts? Want a well-earned break from the bustling markets? Then it might be time to check out one of Delhi's many rooftop bars!
With sweeping views over the city, these watering holes are the perfect place to enjoy a sundowner after a long day of exploring, and wallet-friendly prices you won't find in any typical western culture.
So, where to begin? Found on the 4th floor of the classic Ansal Plaza Mall, the Sky High Bar is one of the most popular rooftop bars in Delhi, and with good reason – it serves up some of the best cocktails in town! For city-centre convenience, QBA on the third floor of Connaught Place is big enough to seldom feel crowded; but if you're looking for something a little more low-key, try the Cafe Turtle rooftop – a charming spot located above a bookstore in the heart of Hauz Khas Village.
Thai High is a solid choice if you're looking for vistas over both the city skyline and over Qutub Minar, with tasty dishes to boot. Then there's Raise the swanky and charming Bar Rooftop; if you're willing to make the 30km journey to Gurgaon City, you'll be blessed with stunning views over the region and an atmosphere that feels worlds away from Delhi's controlled chaos.
Delhi's rooftop bar scene is ever-changing, so, in addition to the hot spots we mentioned, be sure to ask your hotel or hostel staff for their recommendations on where to go.
86 – Pay respects to Gandhi at Raj Ghat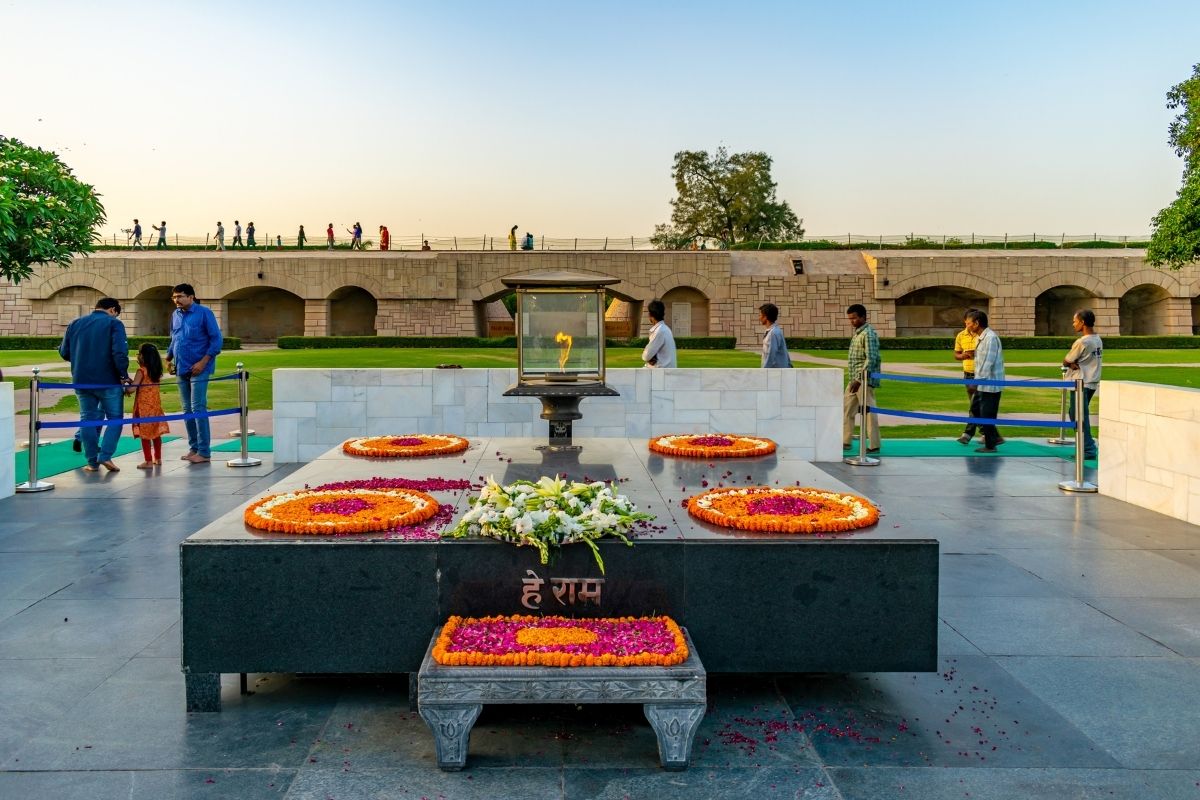 An unmissable landmark for history buffs and those interested in India's struggle for independence, Raj Ghat is the final resting place of Mahatma Gandhi.
The simple black marble platform, known for its eternal flame, was built on the spot where Gandhi was cremated following his assassination in 1948, and today it stands as a powerful symbol of his legacy.
The site is located a stone's throw from the banks of the River Yamuna and is surrounded by beautifully landscaped gardens. Visitors can take a stroll through the grounds or sit and reflect on Gandhi's life and work; or, more simply, just take a little break from the busy city life.
A short walk away is the National Gandhi Museum, which chronicles the life of India's most famous son through photographs, documents, and fascinating personal belongings.
Want to learn as much about the Father of modern India as possible? Various Gandhi tours, both private and public, are available which cover not only Raj Ghat but also other important sites in Delhi such as the Gandhi Smriti Museum AKA Birla House and the aforementioned museum.
87 – Hop between vendors at the buzzing Kinari Bazaar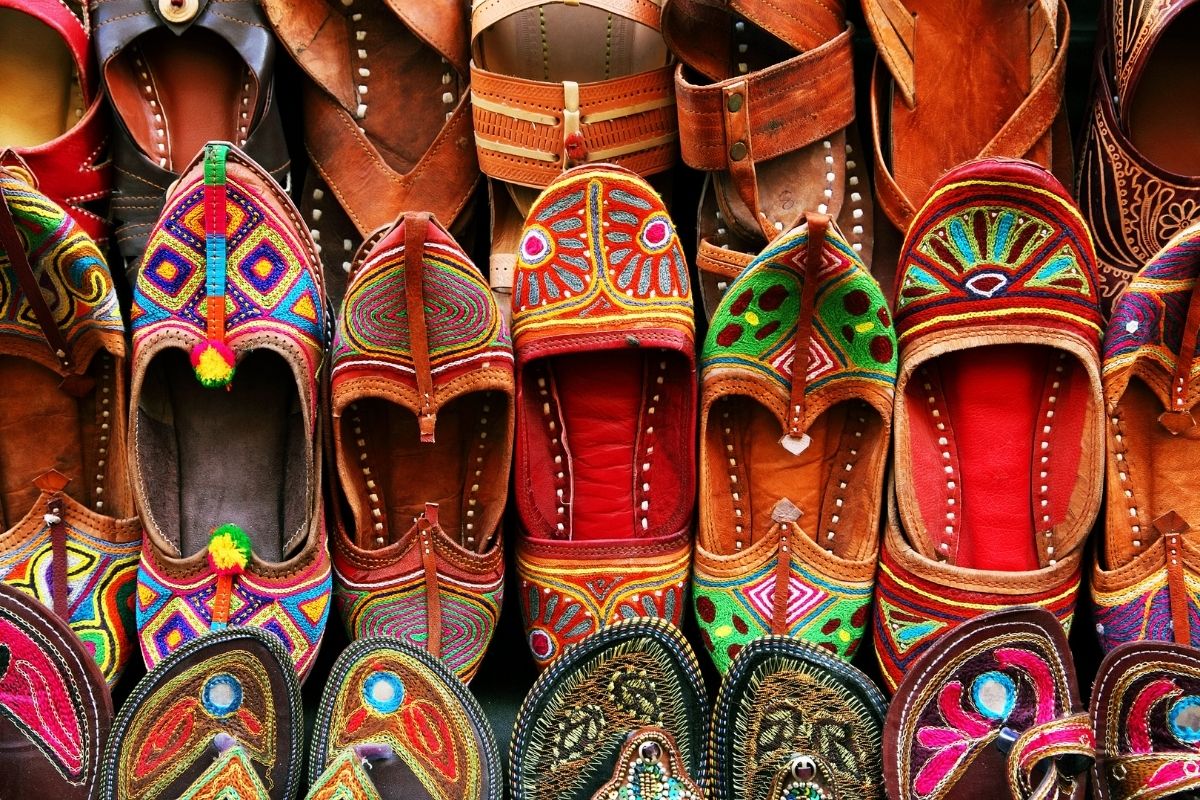 A constant hubbub of activity, Kinari Bazaar is one of the busiest markets in Old Delhi – and for exactly that reason, it's also one of the most atmospheric.
The narrow lanes are crammed with stalls selling everything from wedding decorations to spices, and it's easy to get lost amongst the vibrant colours and chaotic energy.
The market is particularly popular with tourists thanks to its wide range of traditional Indian goods, such as fancy laces and tassels, colourful bangles, handmade puppets, and intricate fabrics, and to a lesser extent, silver jewellery which beckons many a tourist for its affordability. Bargaining is expected (and encouraged!), so don't be afraid to haggle for a good price.
The spirited Kinari Bazaar is located just south of Chandni Chowk in Old Delhi, and can easily be reached on foot from the area's metro. After all that shopping, make your way to Paranthe Wali Gali (see #83) for all the snacks and treats you could imagine.
88 – Spend an afternoon at the National Crafts Museum & Hastkala Academy
Step into a world of authentic Indian crafts, marvel at the skilled craftsmanship, and learn about the fascinating stories behind some of the country's most esteemed handlooms.
That's what you can expect at the National Crafts Museum – one of Delhi's more underrated museums, which provides a window into traditional Indian culture that you won't find elsewhere in the city.
Sitting opposite the majestic Purana Qila, the museum is home to an impressive collection of over 33,000 artifacts (and growing), divided into five galleries and three courtyards, according to the type of craft. Some of the highlights include woodwork from Kashmir, metalwork from Rajasthan, stone carvings from Madhya Pradesh, weaving from Andhra Pradesh, textiles created by northeastern tribes, and much more.
In addition to the exhibitions, there are also regular events (at its four on-site theatres) and workshops held at the museum; plus the Lota Shop if you're after a unique souvenir.
89 – Pamper yourself at the city's best spas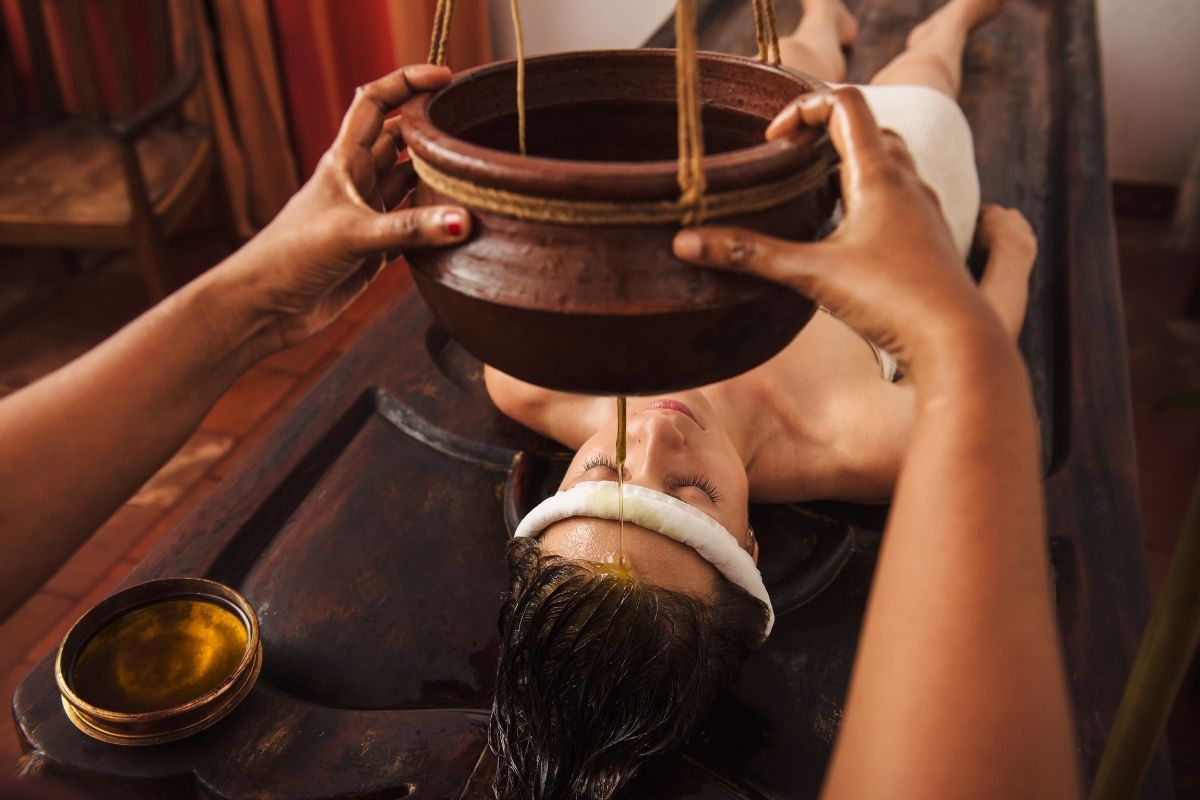 You're on vacation, after all, so why not treat yourself to a little luxury?
Delhi has no shortage of spas offering all sorts of indulgent treatments, from Swedish massages and aromatherapy to Ayurvedic therapies and more.
So, when you're on the hunt for some R&R, where do you being?
The Oberoi Spa: Located inside the 5-star eponymous hotel (next to the Dubai Golf Club_, The Oberoi's spa is an oasis of calm, with its serene ambience, tranquil setting, and expert therapists. Choose from a range of treatments inspired by traditional Indian practices – such as the popular Abhyanga massage – or go for something more Western-style, like a hot stone massage. Either way, you're guaranteed to emerge feeling refreshed and rejuvenated.
Found inside Delhi's first luxury hotel, The Imperial Spa & Salon is another excellent option for those in need of a little pampering. With its marble interiors, spacious treatment rooms, and range of treatments on offer – from facials and wraps to scrubs and the ever-popular 90-minute Imperial Depth massage – it's easy to see why this place is always a hit.
Not to be outdone is Chi, The Spa at Shangri-La – dripping with luxury (and massage oil), the impressive spa offers a range of therapies, most noted for its traditional Indian massage options. Meanwhile, Asian Roots has pedicures, manicures and facials for that extra jazz-up after you've had your stress washed away.
If you're looking for something a little different, consider the 24-hour Body Spa GK 2. With a steam room and plunge pool to complement the range of unique treatments designed to promote physical and mental wellbeing, you'll leave feeling a million bucks.
90 – Visit the National War Memorial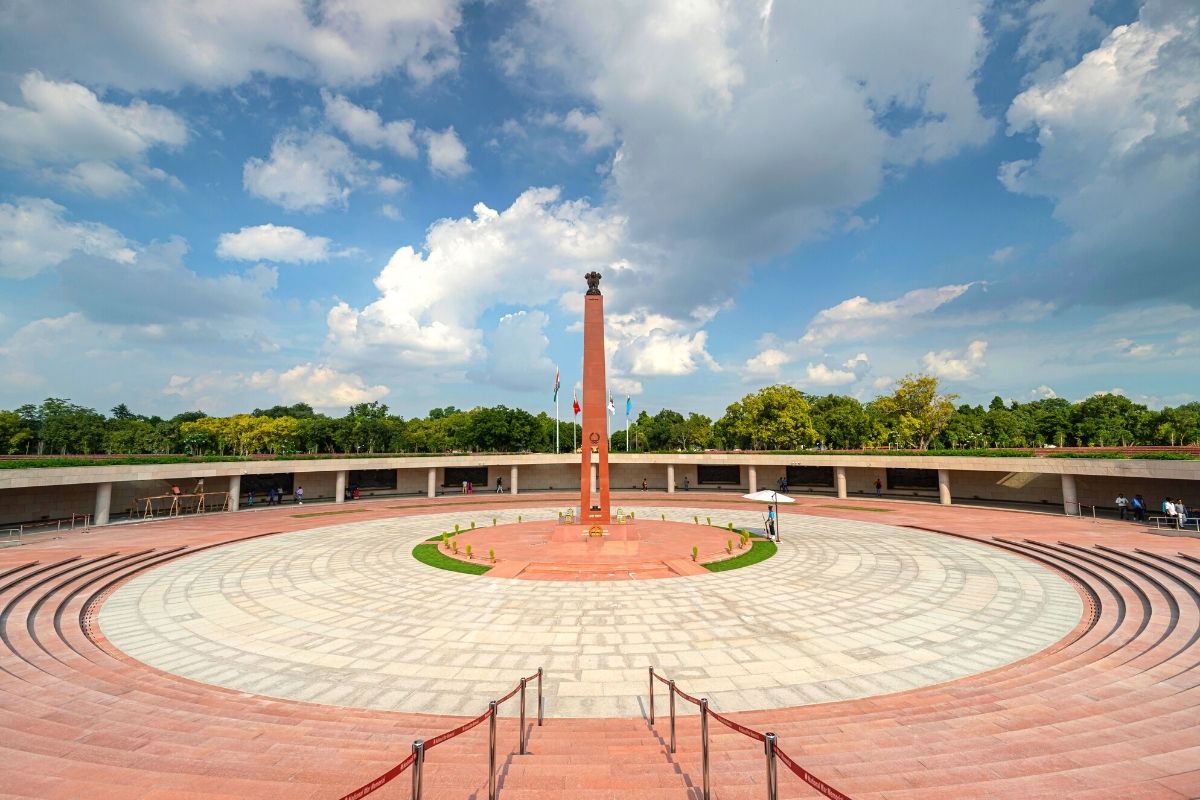 Right next to both the National Gallery of Modern Art and India Gate is the National War Memorial – a recently built monument that honours India's fallen soldiers.
Completed in 2019, the memorial is a tribute to those who can never be forgotten, made up of four concentric circles with the central obelisk being its posterboy. Each circle is themed – Circle of Immortality, Circle of Bravery, Circle of Sacrifice, Circle of Protection – and together they honour those who fought in India's conflicts: Pakistan, China, the 1961 War in Goa, Operation Pawan, and more.
The eternal flame at the base of the tower burns in memory of the martyrs, while small bricks all around the memorial are inscribed with the names of every soldier (along with their regiment and other details) who fell to the sword – a moving and sobering experience.
As of 2022, a museum is being built nearby too.
91 – Admire the Shri Laxmi Narayan Temple (Birla Mandir)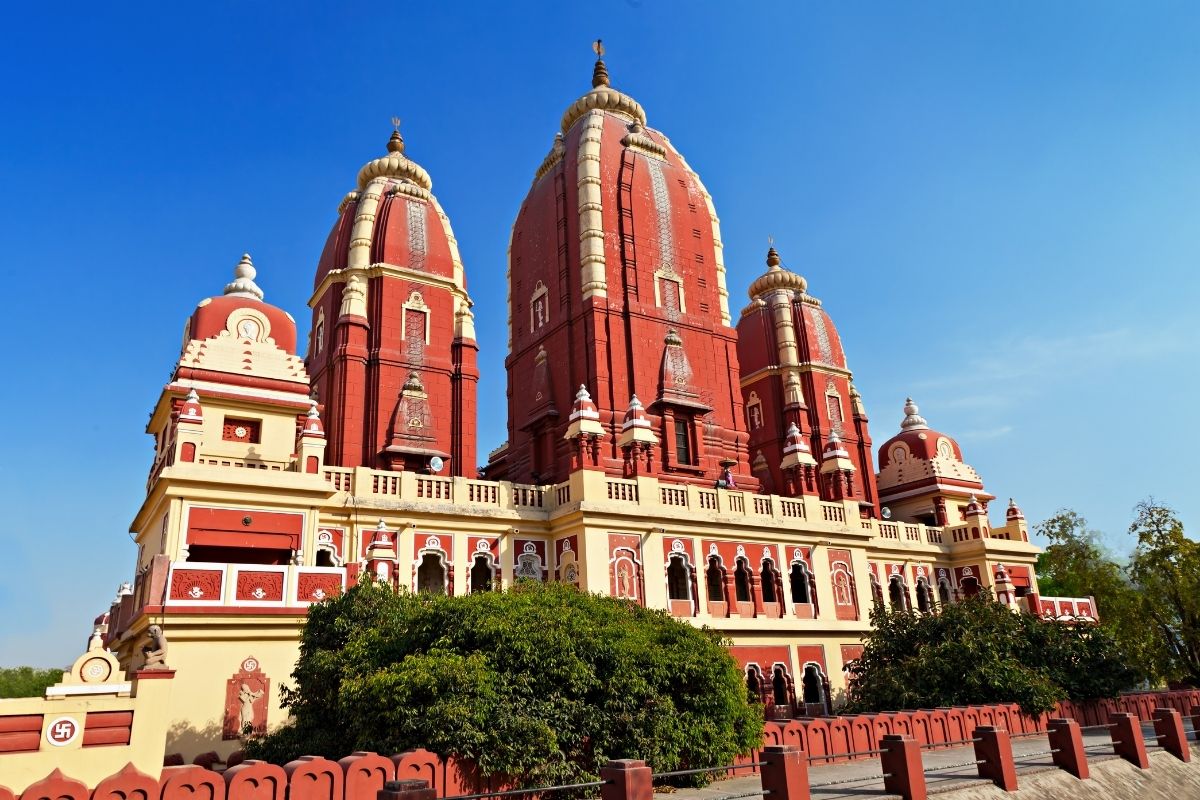 A beautiful, modern Hindu temple in the heart of Delhi, Shri Laxmi Narayan Temple – also known as Birla Mandir – is a quintessential stopping point.
Built back in 1939 and inaugurated by none other than Mahatma Gandhi, it's one of the most popular temples in India (and not just because it was featured in a few films). The main deity here is Lakshmi (the goddess of wealth and good fortune) but there are also other smaller shrines to Shiva, Ganesha and Hanuman.
The three-towered temple complex sits on 3 hectares of land, west of Connaught Place; inside you'll find stunning carvings on every inch of the walls and ceiling, as well as a large central courtyard with a beautiful fountain, and a lush garden with both Hindu and Nationalistic sculptures.
If you're visiting on a weekend, make sure to get here early as it gets very busy (and rightfully so).
Keep in mind: Nearby sits the Bhuli bhatiyari Jungle – a wonderful place for some fresh air and a stroll – and the Indian Parliament, if you're looking for more architecture to admire.
92 – Flush away at the Sulabh International Museum of Toilets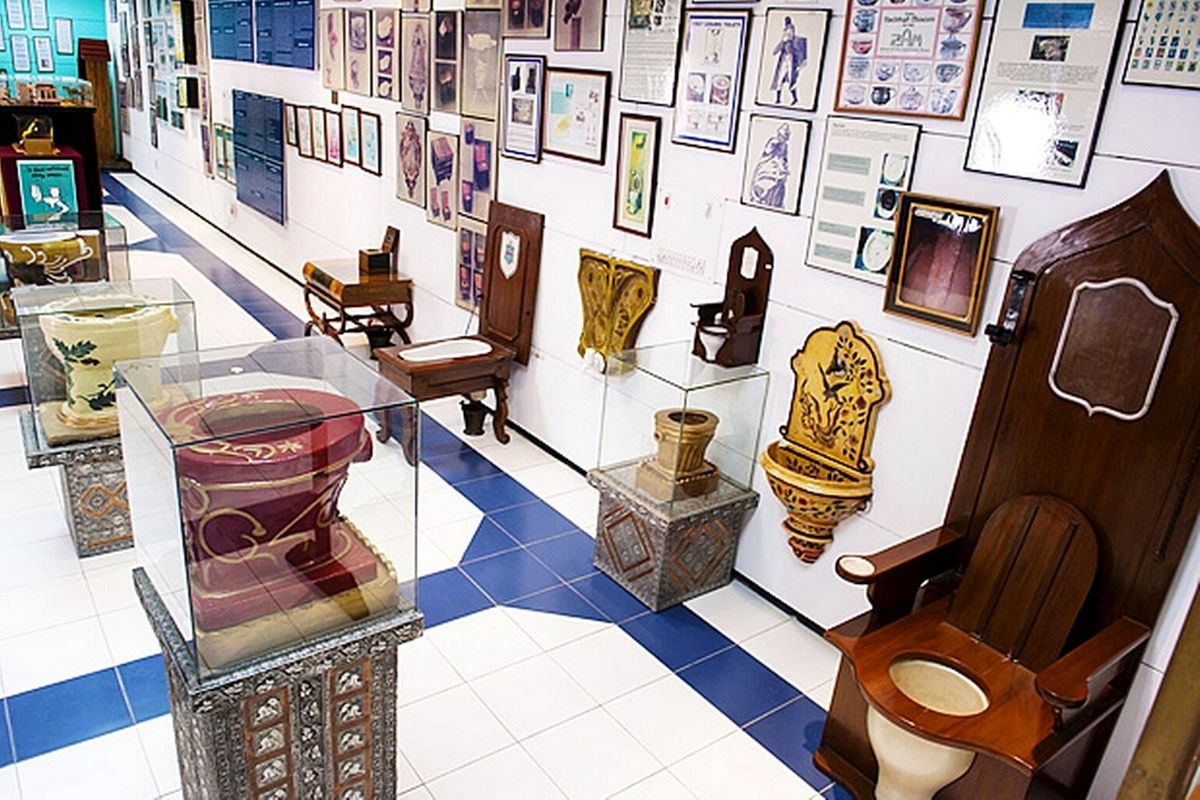 Not your average tourist attraction, that's for sure!
Flushing itself all the way onto the obscure traveller's list of quirky things to do in Delhi, the Sulabh International Museum of Toilets does an amazing job at charting the history of the John (or the loo, or the W.C) – from early chamber pots to the modern-day flush toilet, bidets and all.
There are two parts to the museum: an outdoor area and an indoor one. Outdoors is dedicated to Sulabh's mission of setting up affordable, sustainable toilets that are accessible to all. Here, you'll discover all kinds of toilet models, as you might expect. But the main flush is inside: overflowing with fun facts about the potty, hygiene, and even some famous people who have made a mark in the world of toilets.
Browse the peculiar innovations through the ages, see the gem-encrusted toilet seat used by Jennifer Lopez, learn about toilet etiquette in ancient India and around the world, and a whole lot more.
93 – Admire the stunning Shri Kalka Ji Temple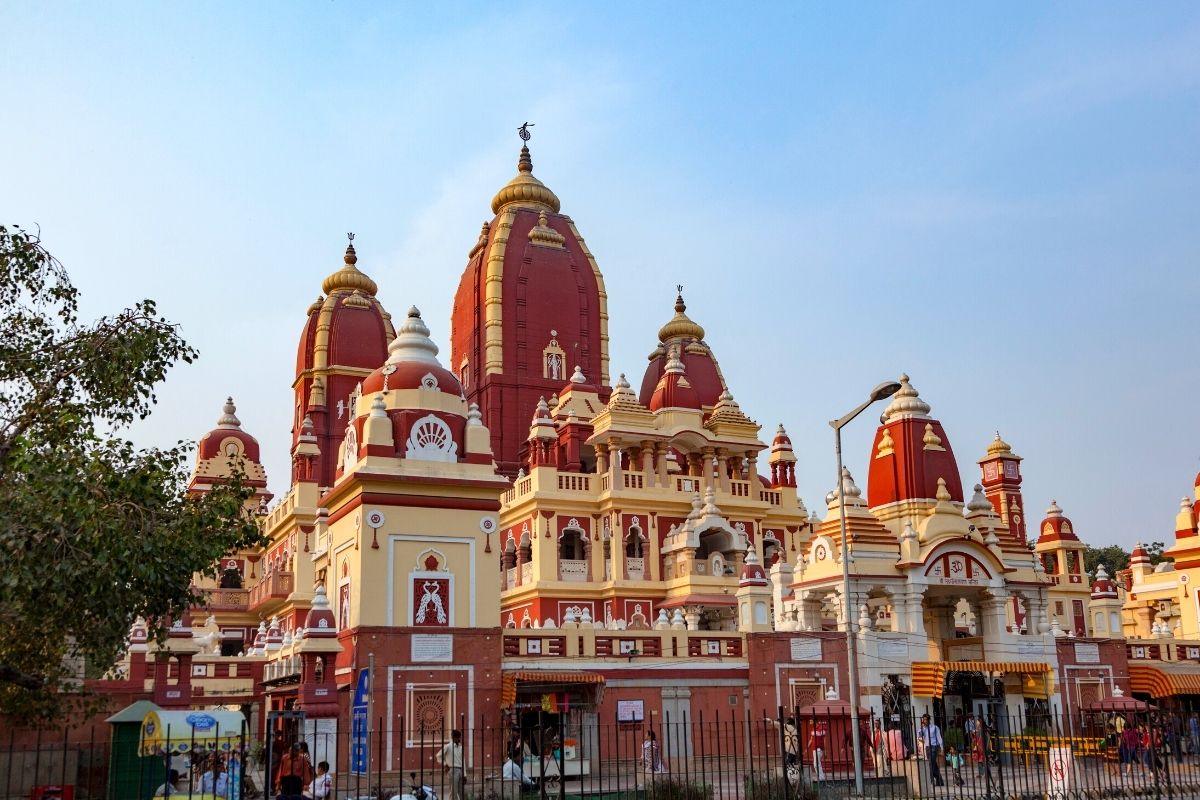 Up there as one of the busiest ancient temples across the entire country, Shri Kalka Ji is a beacon for worshippers and a must-see spiritual tourist attraction in Delhi.
Dedicated to the Hindu goddess Kali (a fierce incarnation of Shakti), this well-known complex is thought to date back over 3000 years, making it one of the oldest temples in India too.
Set within a 12-sided structure carved out of black pumice stones and marble, the main shrine is a beautiful sight to behold. Although the idol of Kali is actually quite small, it's smothered in flowers and bright colours, with a large number of devotees offering their prayers and worship every day.
The temple is located in the heart of Old Delhi (near Connaught Place), so it can be quite a challenge to get here if you're not used to the chaotic streets. Once you do make it, though, it's more than worth it.
The perfect time to visit is early morning or evening, when the sounds of the Maha Aarti echo through the temple. And, thanks to some famous neighbours – Lotus Temple, ISKCON Temple, and Nehru Place Market – there's plenty to while away an entire day here.
94 – Feast your eyes and stomachs at Delhi's best restaurants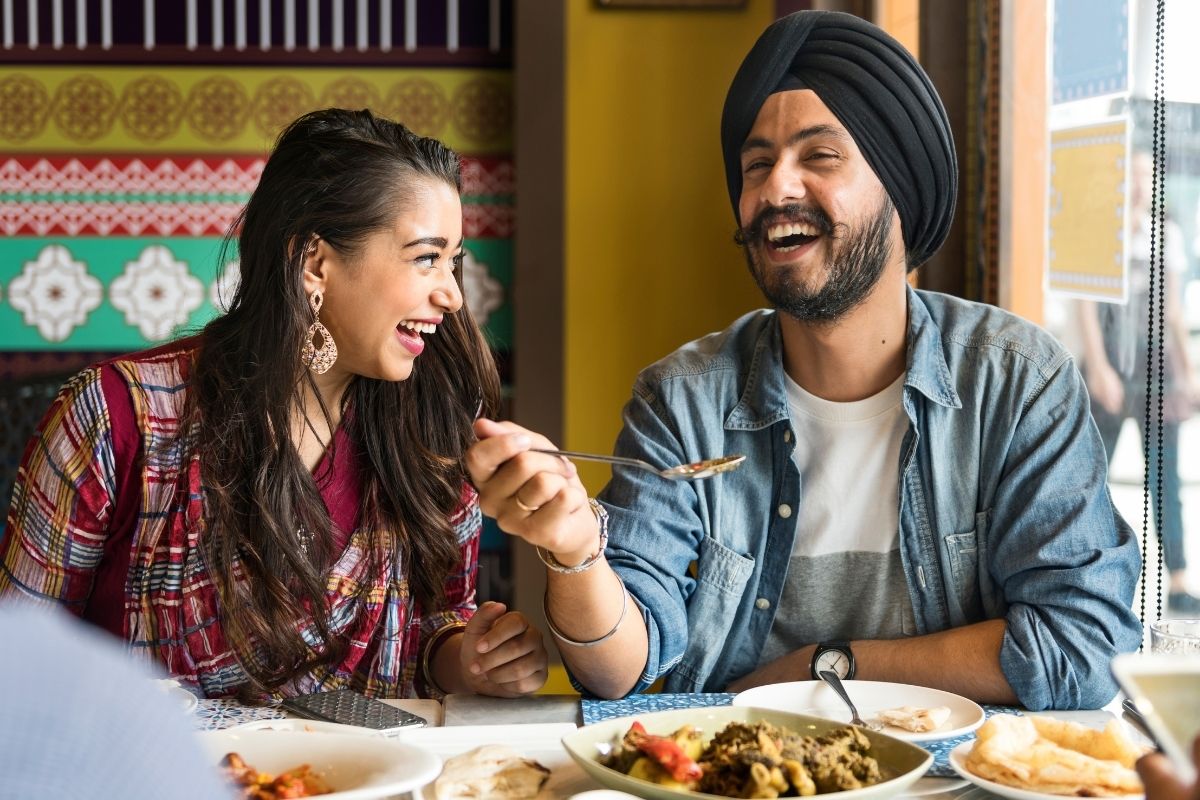 Foodies, rejoice. It's common knowledge that India is a flavour heaven, with colourful and rich spices, and an incredible variety of dishes to try.
But what you might not know, is that Delhi takes this culinary reputation up a notch. The city's food scene has been exploding in recent years, with creative chefs putting their own spin on traditional Indian cuisine, as well as bringing in international flavours.
From high-end fine dining to more casual street eats, there's something for everyone – and we're not just talking about curry! So where should you eat when you're in India's Culinary Capital?
Some of the well-known favourites include Bukhara (for traditional North Indian fare where you're encouraged to eat with your hands – must try the dal bukhara), Bo Tai (a rooftop eatery near the Qutub Minar that's notably on-trend), Rajinder Da Dhaba (renowned for its malai tikka rolls and tantalizing tastebuds since 1968), and the Olive Bar & Kitchen (a quaint celebrity-owned café known for its hearty Sunday brunches).
If you're still hungry, the chef's six-course tasting menu at Indian Accent (Indian flavours with international twists) is a gastronomic lay of the land, Karim's has been open for more than a century and serves arguably the most delicious Mughlai food in the world, while it's hard to go wrong at beloved Leo's Pizzeria if you're after some western comfort.
But of course, these are just a few of the common favourites – the list could go on and on! So get out there and start exploring Delhi's incredible culinary scene for yourself.
95 – Get a little wild on a pub crawl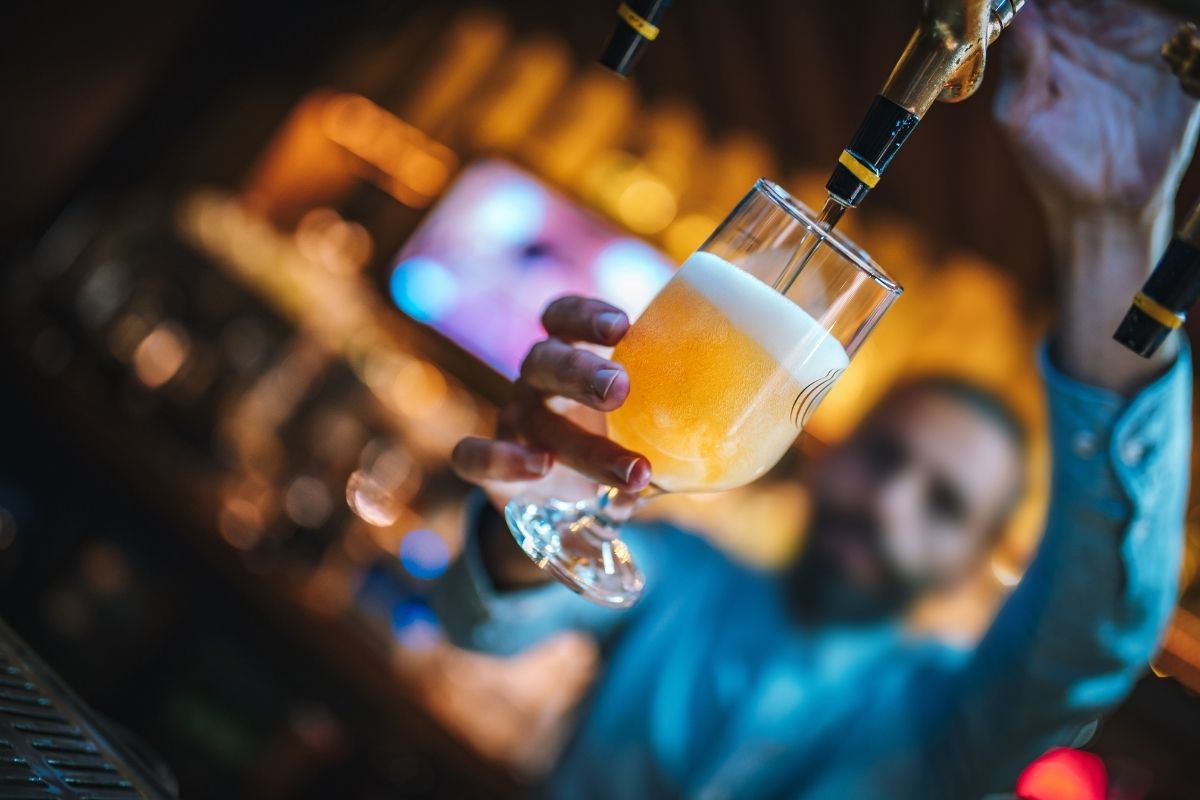 Looking to let your hair down? Delhi's vibrant nightlife is just the ticket.
Whether you're looking for a low-key bar to relax in or a high-octane club to dance the night away, the city has it all. And what better way to experience it than on a pub crawl?
Several whistle-wetting pub crawls are available to choose from; led by a friendly local, they'll whisk you between some of the best bars and clubs in town, meandering (read: eventually stumbling) your way around Connaught Circle (in most cases).
At a minimum, you'll visit three different drinking dens, each with its own unique atmosphere, and enjoy free drinks, welcome shots, and VIP entry at each one. Plus, there's plenty of time to mingle with your fellow crawlers and make some new friends along the way – helped by the icebreaker games and quizzes that are often thrown into the mix.
So if you're looking for a fun and rowdy night out, and want to soak in a different side of Delhi, a pub crawl is the way to go.
96 – Retail therapy awaits at Delhi's many shopping malls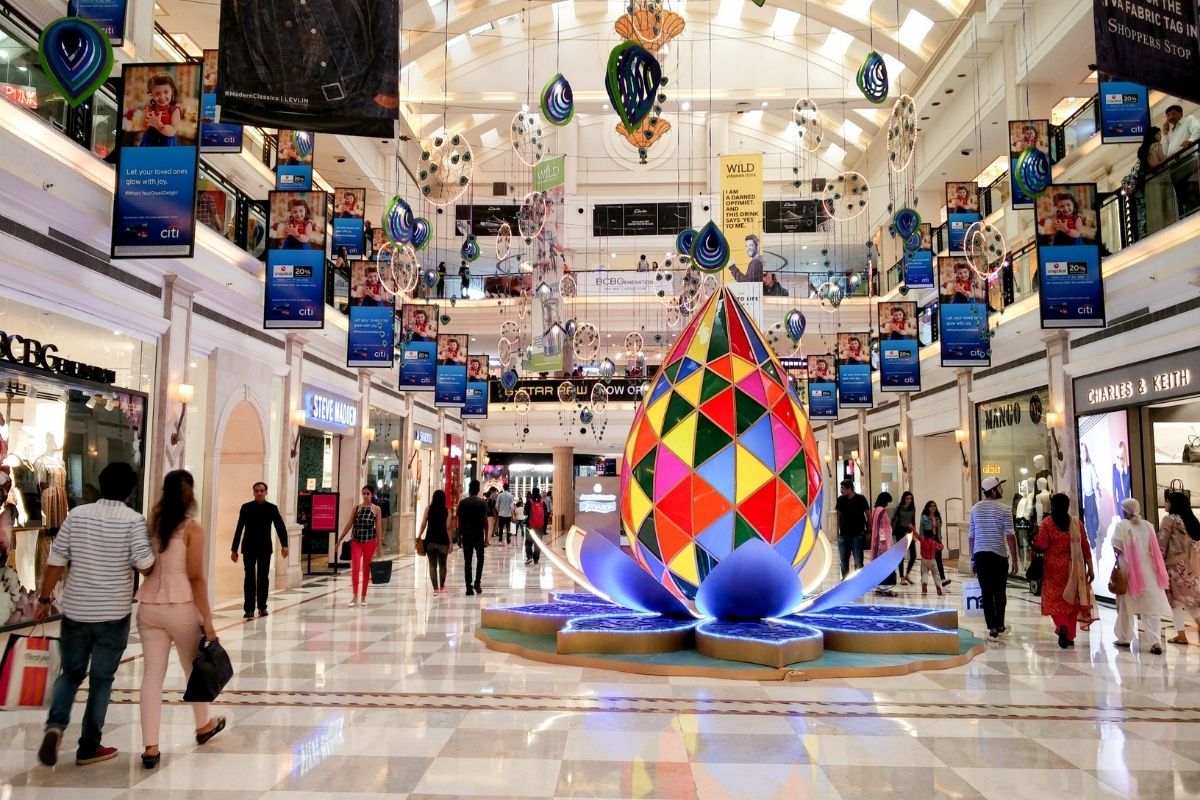 In need of a touch of retail therapy? Delhi has got you covered.
While most famous for its bustling bazaars and energetic stall-line enclaves, the city is also home to myriad huge shopping malls, as well as more boutique outlets and street markets if that's more your style.
For those looking to do some serious damage to the credit card call, head to the DLF Promenade Mall in Vasant Kunj. With over 140 stores, including international heavyweights like Zara, Forever 21, and Sephora, as well as a food court and Delhi's sole 7-screen PVR Cinema, you could easily spend an entire day (and a small fortune) here.
A top alternative is the Select Citywalk Mall in Saket. As the first large-scale shopping centre to open in South Delhi, Citywalk is well-known among the locals, with over 180 stores across three floors, a food court, a six-screen PVR cinema, and a slew of events year-round.
For a more authentic Delhi shopping experience, head to the Sarojini Nagar Market. This bustling bazaar is crammed full of stalls selling everything from the latest fashion trends and accessories to home decorations and backpacks, all at bargain-basement prices.
Over in Tagore Garden you'll find Pacific Mall, a far more upmarket option with over 250 stores (from Adidas to Armani, Sunglass Hut, Under Armour, Calvin Klein, Levi's, and Zara), while The Chanakya near Nehru Park also has its fair share of upscale brands and international chains worth window-shopping.
97 – Catch a show at the Kamani Auditorium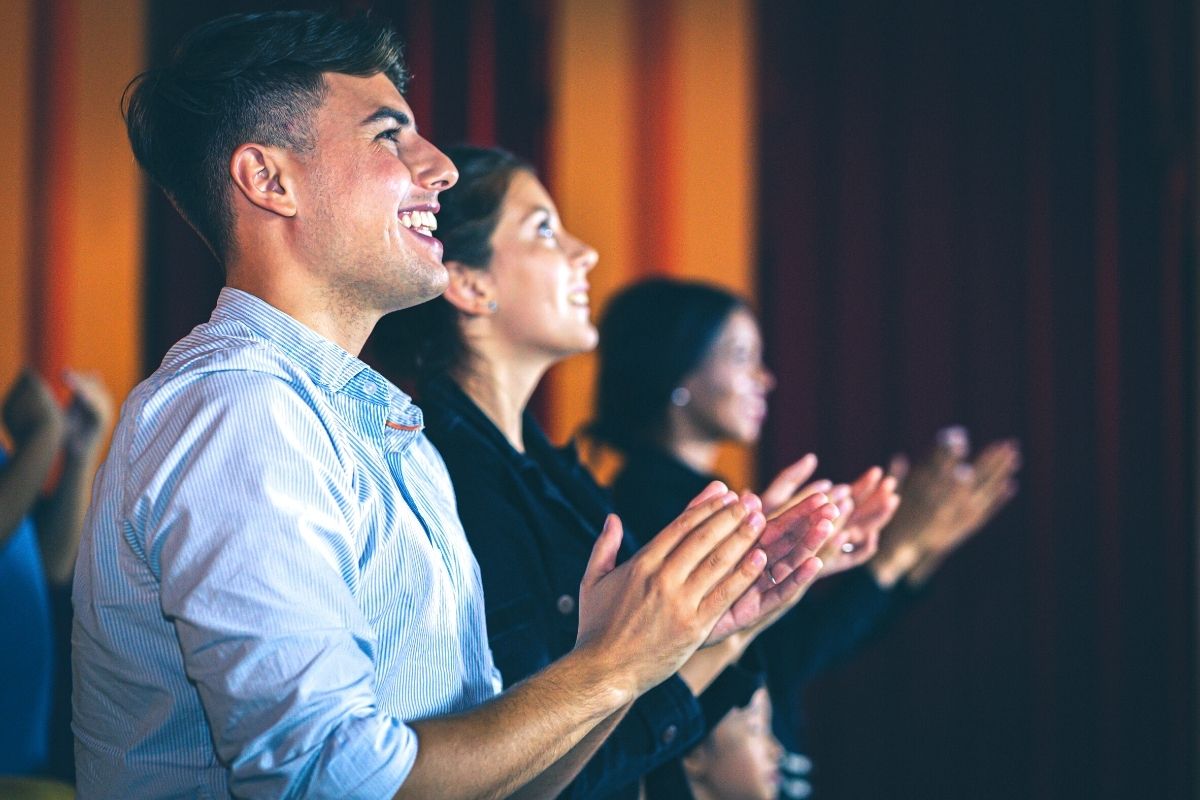 A work of art in its own right, the impressive Kamani Auditorium is a one-of-a-kind theatre located in the heart of Delhi's entertainment district – clustered around the Mandi House metro – that's welcomed millions of theatre-goers over the years.
Noted for its variety of performances – from local plays to international travelling concert troupes – the 632-seat venue doesn't have a single bad seat in the house; when you find your seat for a musical performance, dance recital, concert, comedy show, or lecture, you can expect excellent acoustics and intimate views.
Kamani Auditorium also has a rich cultural heritage, and has played host to some of the biggest names in theatre and music from India and abroad. So, if you're looking for an unforgettable cultural experience during your time in Delhi, be sure to check the website to see what's on – or simply wander around the Mandi House area and snag a last-minute seat here or at a neighbouring theatre.
98 – Experience a new form of entertainment at Kingdom of Dreams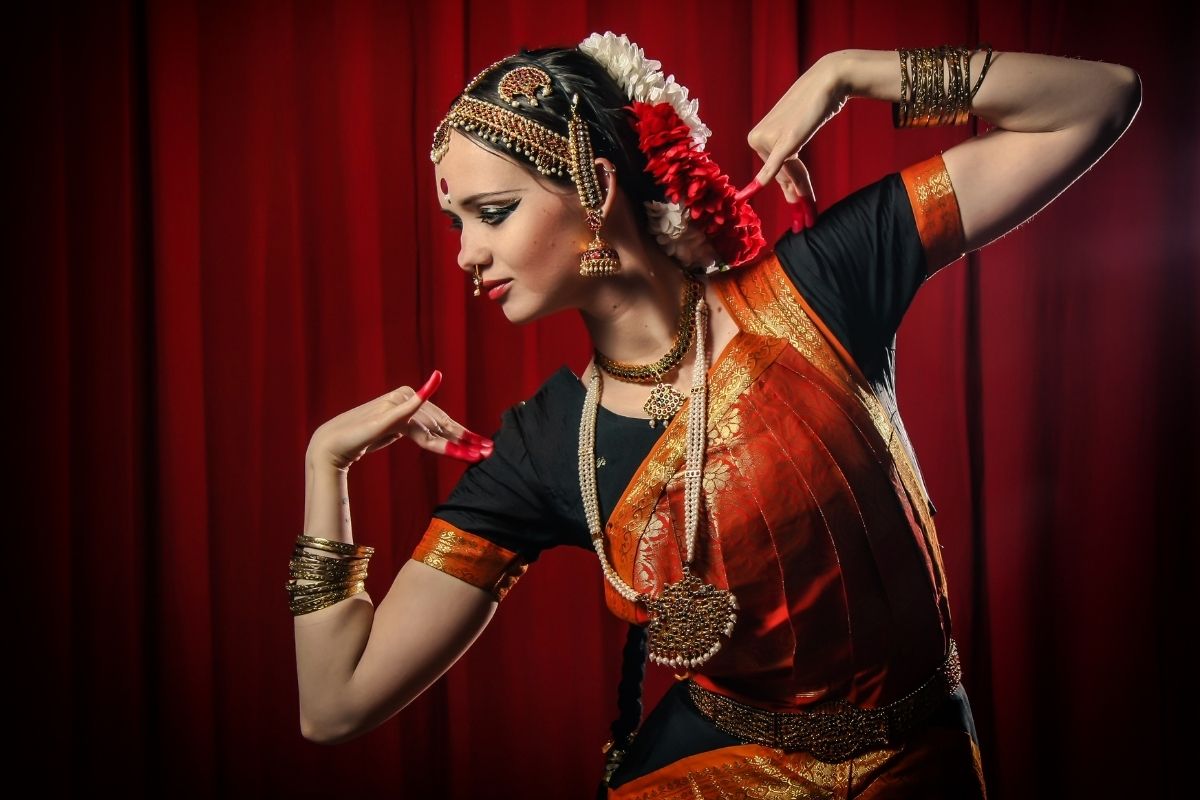 A beacon of entertainment, fusing live performance with arts and crafts, local cuisine, and an array of cultural and heritage experiences, Kingdom of Dreams is a must-visit amusement park for anyone looking for an immersive and exciting day out.
Located in Sector 29, Gurgaon, this massive complex was built to celebrate India's diversity and rich cultural heritage.
As well as being home to two state-of-the-art theatres – the Nautanki Mahal and the Showshaa Theatre – Kingdom of Dreams also houses all kinds of restaurants, cafes, shops, man-made artisan village (Culture Gully) and festivals.
Highlights include an array of Bollywood musical numbers, folk dances, ethnic jewellery stores, and the IIFA Buzz exhibition which combines a party scene with the country's vibrant cinema history.
But that's just scratching the surface; with so much to see and do, Kingdom of Dreams is guaranteed to keep you entertained from start to finish.
99 – Sleep in a heritage hotel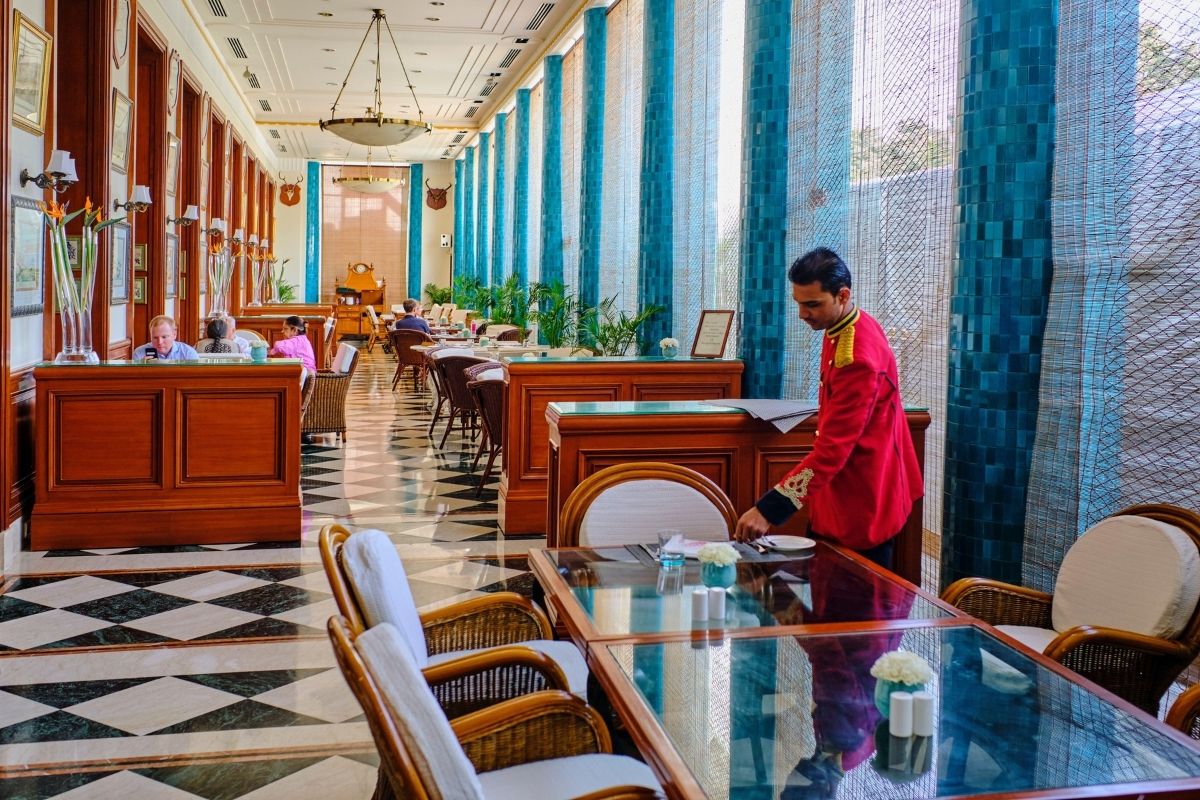 You spend close to half of your vacation time in your hotel, so don't you want to make it a special experience? Delhi has no shortage of luxury hotels, but if you're looking for something a little more unique, why not stay in one of the city's many heritage properties?
With their ornate architecture, beautiful courtyards, and luxurious interiors, these hotels offer a truly unmatched way to experience Delhi's grandiose side.
And, with accommodation usually cheaper here than in most Western destinations, they don't have to break the bank either. So, where to begin?
The Imperial – Located in the heart of New Delhi, this iconic 5-star hotel is reminiscent of a bygone era of luxury and style. You'll find an enormous spa, an outdoor pool, an aromatic bakery, and two chic bars at which to wet your whistle.
Maidens Hotel New Delhi – Spacious rooms and 5-star elegance in North Delhi, Maidens Hotel feels like a step back in time with its old-world charm. With a beautiful garden, an al fresco bar, and a range of excellent dining options on-site, you may never want to leave.
Haveli Dharampura Delhi – A short walk from the buzzing Chandni Chowk Metro Station, this spot boasts a relaxing rooftop terrace to complement its 19th-century Mughal architecture.
The Claridges – A classic five-star hotel with four fine-dining restaurants on-site, the Claridges dates back to 1952 and is a great choice for those looking for a luxurious heritage hotel experience within walking distance of the Lodhi Garden and India Gate.
Ambassador Delhi – next to Khan Market and offering a health club and spa, the Ambassador is one of the most popular heritage hotels in Delhi. It feels vintage, yet is full of modern amenities.
The Leela Palace New Delhi – an opulent palace hotel that juts into the skyline and dwarfs everything around it, the Leela boasts fine rooms, a temperature-controlled rooftop infinity pool with stunning cityscape views, the lavish Espa Spa, and much more.
The Manor – A four-star heritage hotel (making it more affordable than some of the others mentioned), The Manor dates back to the 1950s and, thanks to its acre of secluded garden space, feels worlds away from Delhi's fast pace.
So, if you're looking for a truly unique and memorable hotel experience during your time in Delhi, be sure to check out one of these amazing heritage properties. Hot tip: book online, in advance for the cheapest rates and to avoid any last-minute hassles.
How to get to Delhi from Delhi Airport?
The easiest way to get from Delhi International Airport (DEL) into the city is by taxi. While this is also the most expensive option, it's still relatively affordable compared to rates in Western countries, and will only set you back around 400-500 rupees ($US).
Ola and Uber are both available in Delhi, and offer a comparable price to traditional taxis – however, you won't have to do any haggling, and can simply pay through the app.
The cheapest way to get from Delhi Airport into the city is by taking the Delhi Metro. Jump on the airport express to New Delhi Metro Station, which is next to the New Delhi Railway Station in the city centre. The journey will take around 20 minutes, and cost you less than $1 USD (60 rupees).
By far the most convenient and luxurious way to get from Delhi Airport into the city is by private airport transfer. This door-to-door service will pick you up right outside the terminal and drop you off at your hotel, meaning you don't have to worry about finding your way around a new city after a long flight. You won't have to wait in line at the taxi rank or wait for the metro. Plus, there's always something fun about seeing your name on a placard.
Where to stay?
There's no shortage of accommodation options in Delhi, from cheap and cheerful hostels to luxurious five-star hotels. However, if you're looking for something truly unique, be sure to check out one of the city's heritage properties (see #99). These beautiful old buildings have been lovingly restored and offer a taste of luxury and history that you won't find anywhere else.
But which neighbourhood should you stay in? Ideal for tourists, the central neighbourhoods of Connaught Place, Paharganj (good if you're backpacking India on a budget), and Karol Bagh (known for its shopping streets) offer easy access to Delhi's main attractions. If you're looking for a more local experience, however, head to one of the city's bustling market areas like Chandni Chowk or Sarojini Nagar.
Saket is upmarket and considered one of the safer areas, while Hauz Khas is perfect for those who want to be close to the action but slightly removed from the hustle and bustle. Alternatively, if you're looking for a more relaxed vibe, stay in one of Delhi's leafy residential colonies like Jangpura, or quieter Greater Kailash (just 20 minutes to the main haunts by taxi).
As for particular hotels, The Oberoi and The Suryaa New Delhi are both luxurious and centrally located, while The Lodhi is perfect if you're looking for a more boutique experience. Next door to one another, the Taj Palace and ITC Maurya ooze style and overshadow the Buddha Jayanti Park. If you're on a budget, Paharganj is full of cheap guesthouses and hotels, or you could try one of the many hostels in Connaught Place like Rams Inn or the YMCA International.
Where to next?
After checking off all the things to do in Delhi, a smorgasbord of activities, opportunities, and energetic cities await – while the capital and the latest city in India (at over 31 million residents), Delhi is just a taste of what this captivating country has to offer.
Agra, home of the Taj Mahal, is just a few hours away by train or bus, while Jaipur – the "Pink City" and capital of Rajasthan – can be reached in around five hours by train. Alternatively, if you're looking to escape the heat and crowds of Delhi, head north to the cooler climates of Shimla, a popular retreat in the Himalayan foothills, or explore the beautiful and natural region of Uttarakhand. In the north is also where you'll find Varanasi, considered to be the spiritual heart of India.
The Rajashtan region is home to some of India's most iconic sites, from the "pink city" of Jaipur to the lakeside palace of Udaipur. Or, if you're looking for something a bit different, head to Kerala in the south for its beautiful beaches and laid-back vibe.
Formerly known as Bombay, Mumbai is the financial powerhouse of the country. If you're looking for a taste of Bollywood, fused with history, spirituality and modernity, this is the place to be.
Final thoughts
Well, there you have it – 99 fun and unusual things to do in Delhi, India! We hope this list has inspired you to start planning your trip, and that you have a fantastic time exploring everything this incredible city (and country) has to offer.
Do you have any tips or suggestions? Let us know in the comments below! And if you found this post useful, don't forget to share it with your travel buddies.
As always, happy travels!