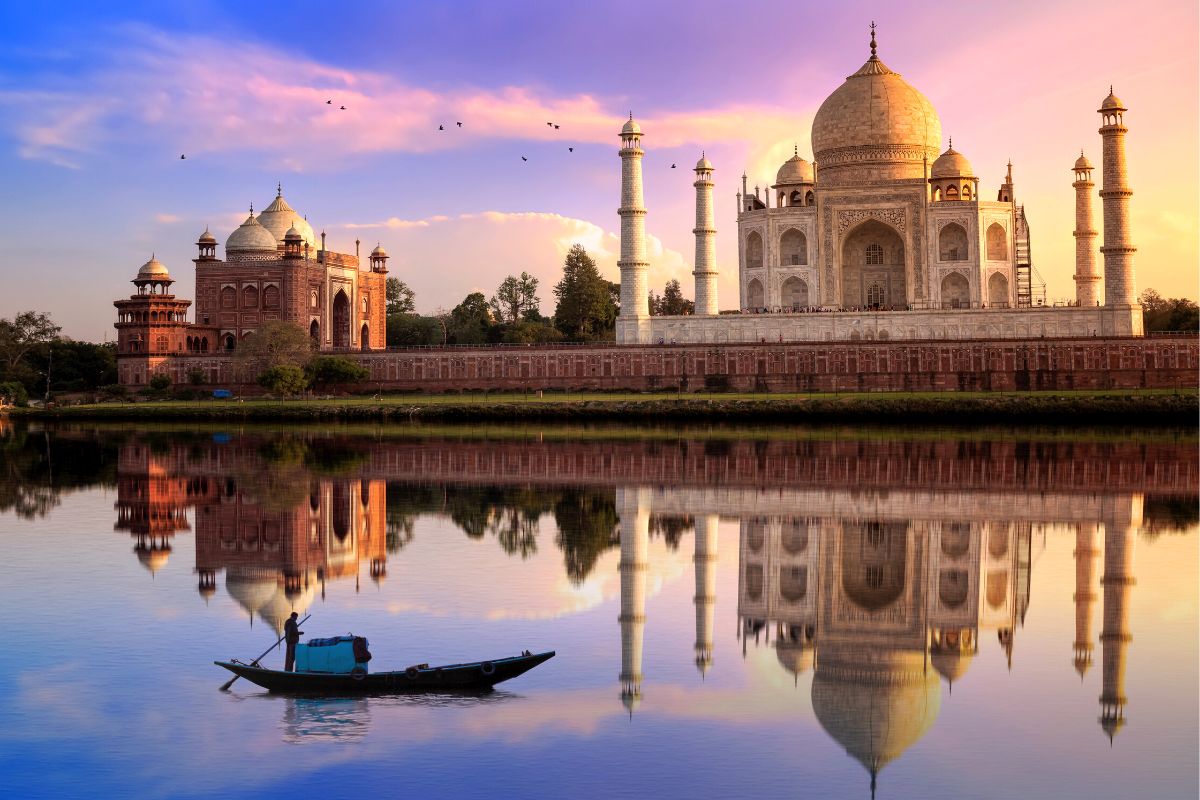 When your city holds one of the wonders of the world, its other attractions tend to be forgotten. But Agra, India, has so much more to it than the Taj Mahal (although, of course, that is a site well worth seeing!).
It offers rich cultural adventures, some fascinating natural areas, and the sort of bustling, fascinating pulse that only a major metropolitan area can have.
It's an architecture lover's dream, with dozens of stunning monuments and elaborately decorated historical buildings to explore. But it's also a wonderful place to get a feel for city life in the area, with its lively markets and active cultural scene.
And in between all of these urban adventures, you can take a break in some of the many fantastic public parks… or even venture further afield to meet some wildlife! From palaces to forts to peaceful forest trails, these are some of the best places to visit in Agra.
1 – Agra Fort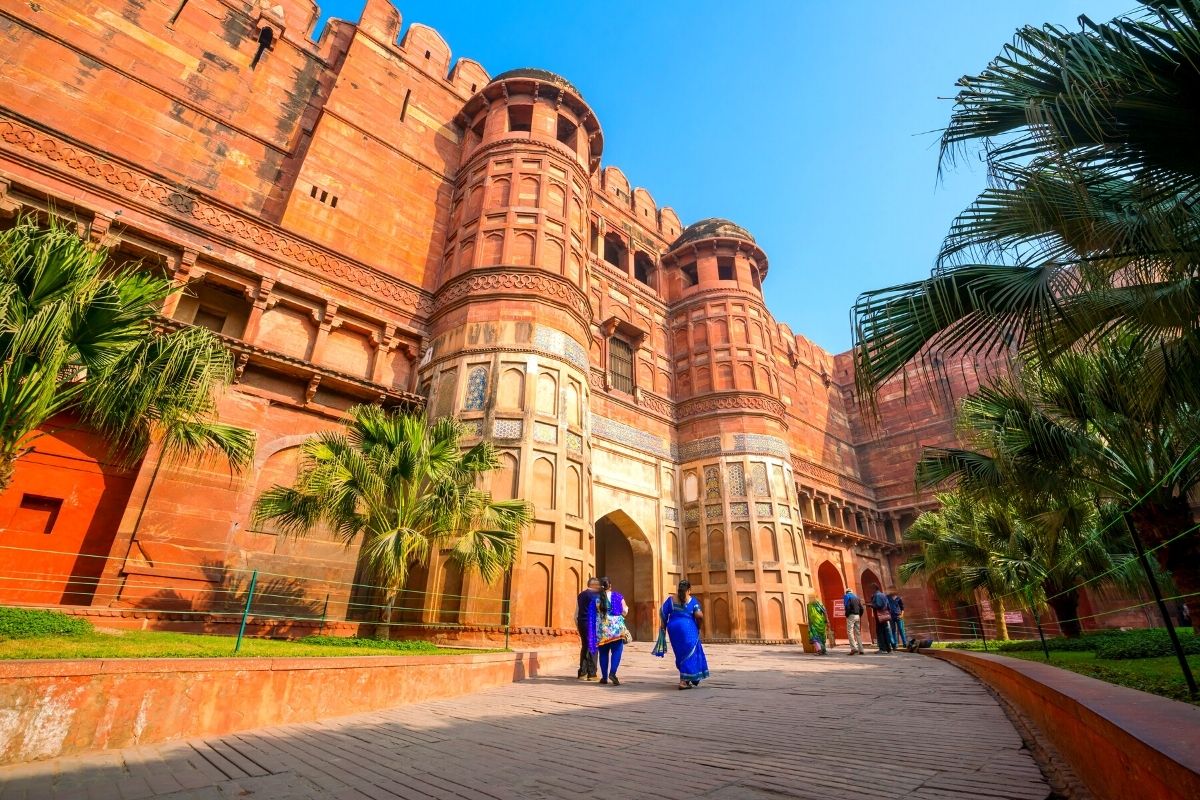 There's probably no better place to start your visit than at the Agra Fort, which, as the name suggests, got its start as a defensive structure for past rulers. But there is so much more to this UNESCO World Heritage Site than just its impressive red sandstone facade.
It's jam-packed with important palaces and historical monuments, all of which can be enjoyed during a comprehensive tour. With so many amazing spots in and around the complex, you can easily spend the whole day exploring!
Stroll through the beautifully manicured gardens of Anguri Bagh, or visit the spectacular gold-accented halls of Diwan-I-Am, where Emperor Shah Jahan used to meet with his citizens.
Admire the striking architecture and impressive size of the Jahangir Palace, which once housed the women of the royal family; or check out the striking octagonal tower of Musamman Burj, which offers perfect views of the nearby Taj Mahal.
And be sure to stop by the Nagina Masjid, a magnificent mosque best known for its three beautiful white domes. Spend a few hours (or even a day) exploring the compound; it's a great way to start exploring the city's phenomenal history!
2 – Taj Mahal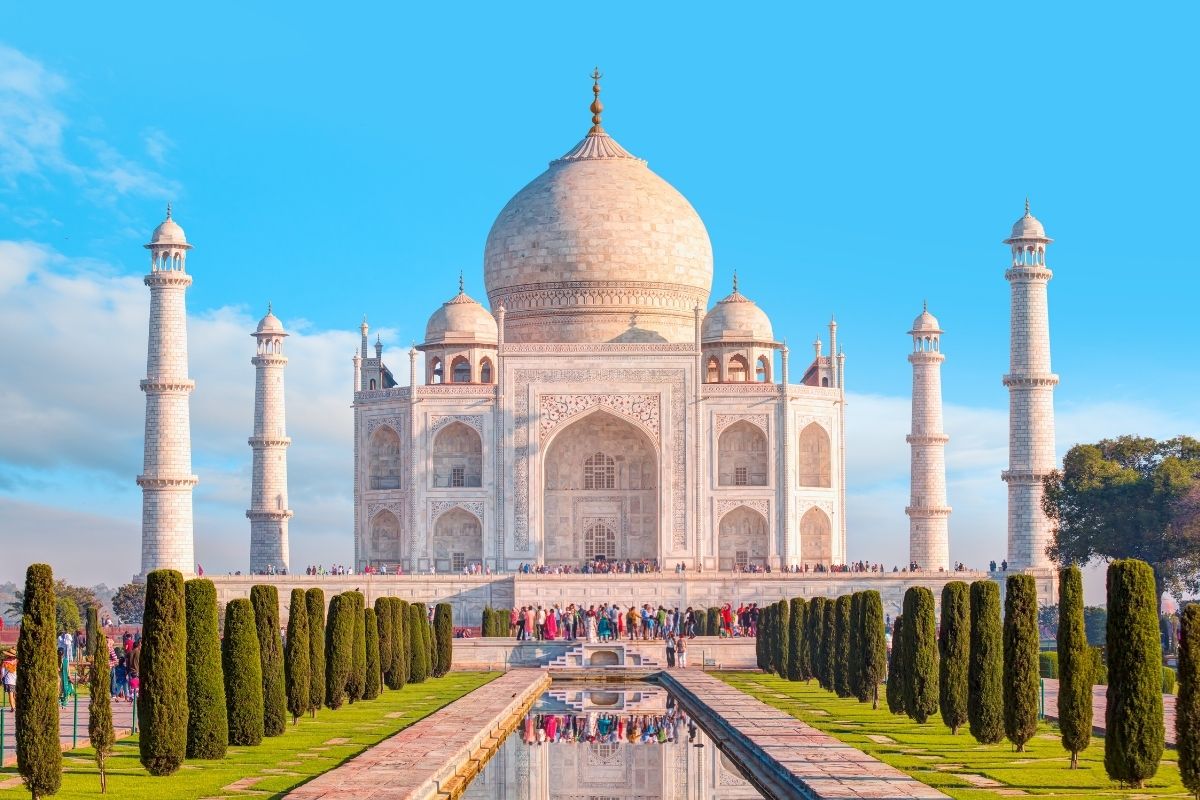 If you're looking for places to visit in Agra, the Taj Mahal will certainly top the list. But it is certainly a place that lives up to its hype!
This stunning monument was commissioned by Shah Jahan as a mausoleum for and tribute to his wife, Mumtaz Mahal. It is often celebrated as a symbol of enduring love, and its iconic domed silhouette has long drawn visitors to India.
While the Taj itself has plenty of wonders to explore, it's also worth taking some time to explore the larger complex around it. The Taj Mahal Gardens are particularly notable not only for their beauty, but also for their symbolism.
With their intricately arranged plants and water features, they are designed to emulate the Islamic description of Paradise. And as you wander around the area and take in the full view of the towering marble dome, the comparison may seem very apt!
There are plenty of guided tours of the compound, which can often be combined with trips to the Agra Fort. Even if you're staying in other areas, you can easily travel to this beloved site.
There are a variety of Taj Mahal tours departing from Delhi (four hours north) or Jaipur (four hours to the west), ranging from shorter day trips to multi-day adventures.
Some standout options include a private tour by car from Jaipur, with additional stops at the Tomb of Itimad-ud-Daulah and Agra Fort, or an express train from Delhi, which allows you to take in the sights and experience the famous local railways.
Whichever option you choose, you'll be able to enjoy the splendor of a truly magnificent place up close, and that alone is worth the journey.
3 – Taj Museum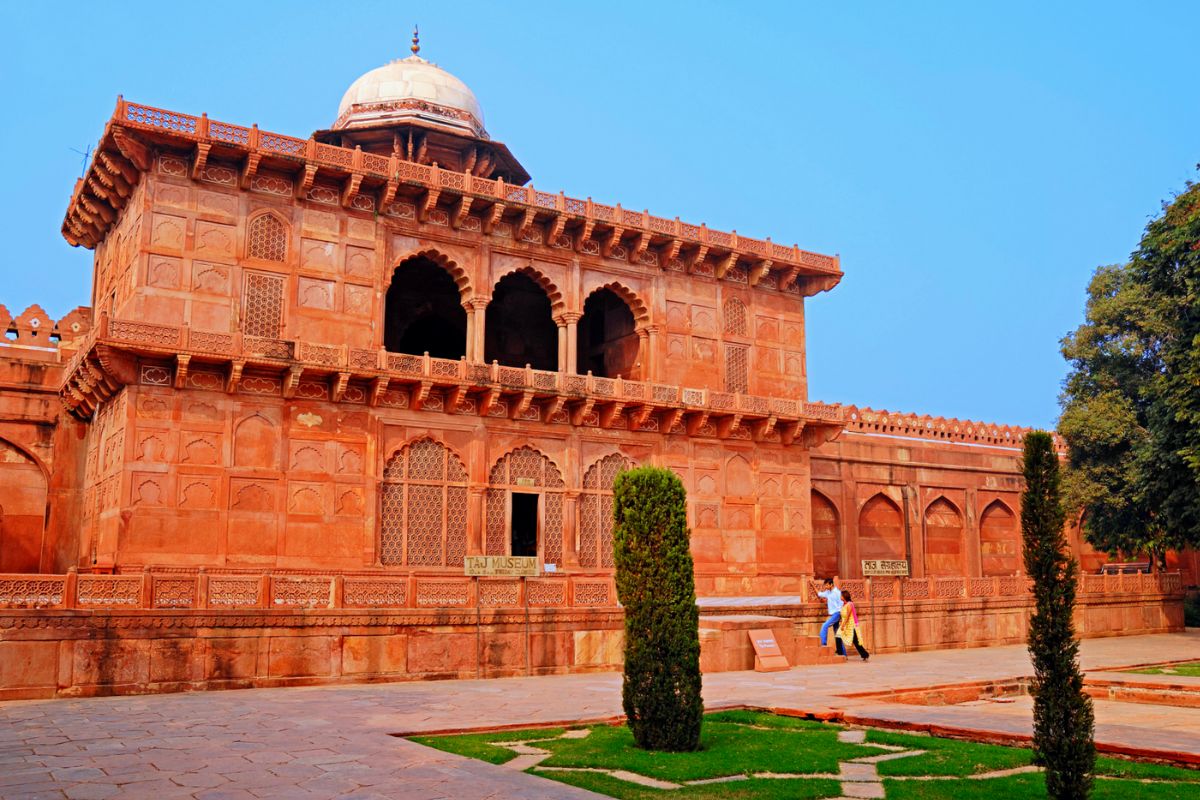 If you want to dive deeper into the fascinating history of the Taj Mahal, be sure to check out the Taj Museum during your visit.
This small-but-mighty institution is filled with historical artifacts from the Mughal empire, including paintings, calligraphic works, and official documents.
You can even see some of the stones that were used to build the acclaimed tomb! While the museum can be seen pretty quickly, it's a wonderful way to get some more context for the spectacular buildings around you.
4 – Itmad-ud-Daula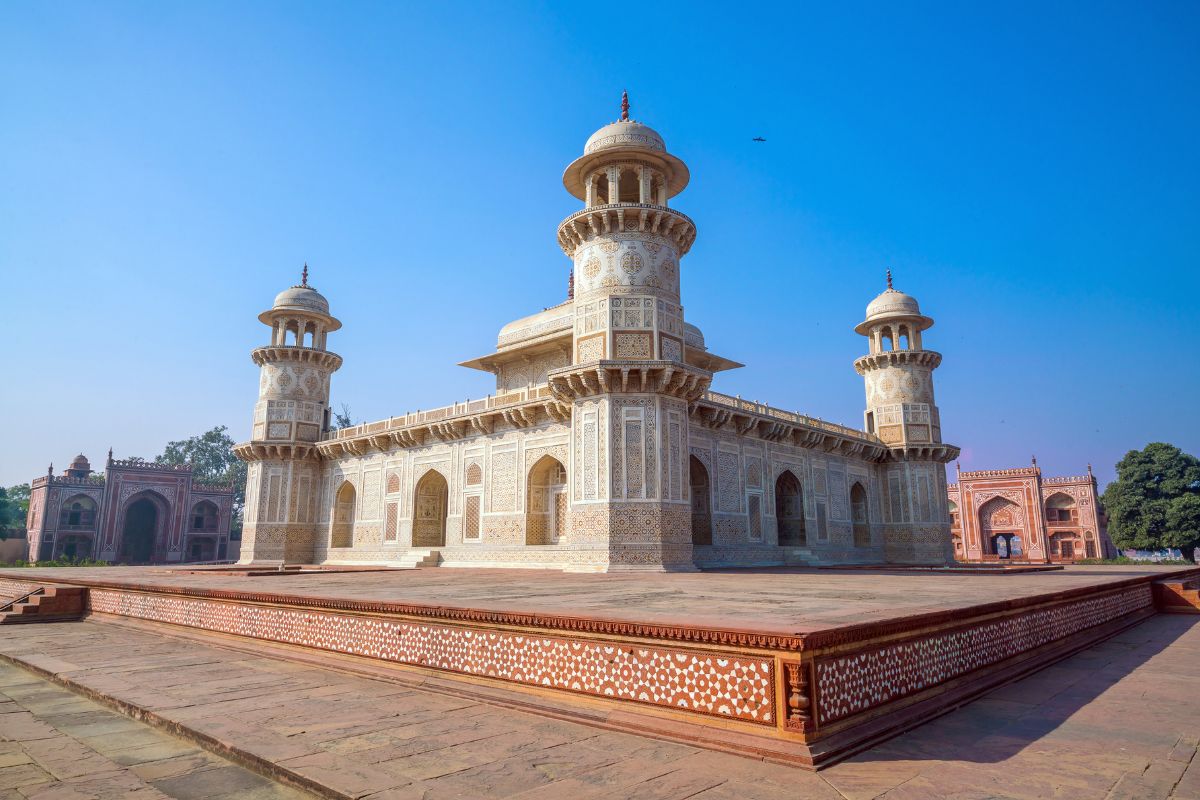 Rough drafts are notorious for being less polished or attractive than their counterparts… unless, of course, it's the Tomb of Itimad-ud-Daulah.
Sometimes referred to as "Baby Taj," this beautiful mausoleum was often considered a precursor to its more famous counterpart. But it also boasts some pretty impressive details of its own, including beautiful towers and a distinctive square top.
Like the Taj, the building is made out of white marble and garnished with semiprecious stones, an impressive testament to the changing architectural styles of the empire.
Check out the inside to see the crypts belonging to Mirza Ghiyas Beg – who served the royal family for many years – and his wife, housed in a soaring chamber whose designs pay tribute to the area's Perisian influence.
And keep an eye out for all of the other remarkable artistic details scattered around the interior, including beautiful paintings of plants and animals and colorful, eye-catching mosaics.
This splendid building is a great piece of architecture in and of itself, and a perfect stop as you make your way through all of the remarkable buildings in town.
5 – Tomb of Akbar the Great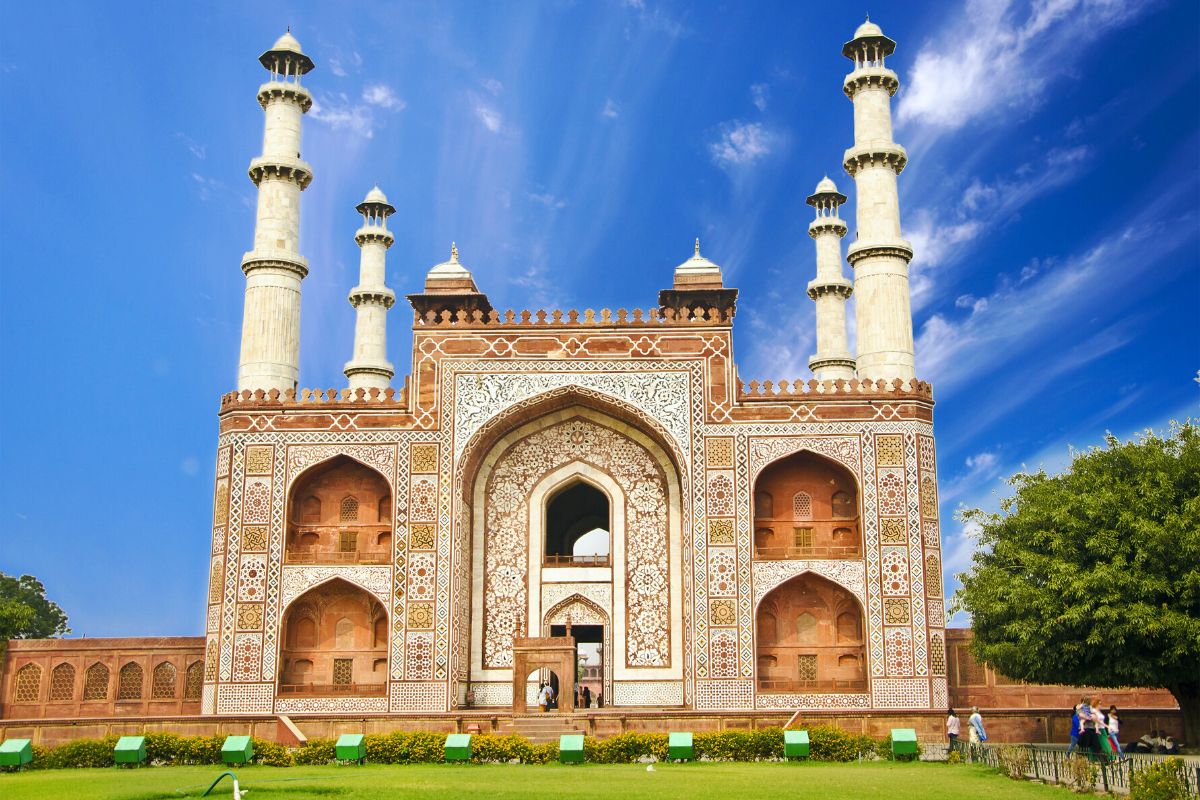 As the name suggests, the Tomb of Akbar the Great is the final resting place of one of the region's most renowned emperors, and it's a monument both to his work and the cultural norms of the time.
Located in the Sikandra suburb, this beautiful structure of marble and sandstone was commissioned by Emperor Akbar I, who oversaw significant civic and cultural advancements.
He is perhaps best known for helping to bolster the strength of the Mughal Empire, and the tomb pays tribute to his respected status, as well as his Muslim faith.
Its palatial exterior is only matched by the phenomenal designs on the inside. Jaw-dropping geometric designs in shades of blue and gold cover several walls, alongside beautiful floral patterns that wind over archways.
Through every door and around every corner, you're treated to magnificent art that showcases the strong Islamic stylistic influence at the time. The surrounding grounds are also worth visiting, with a series of beautiful gardens to explore. Keep an eye out for the tame monkeys and deer!
6 – Mehtab Bagh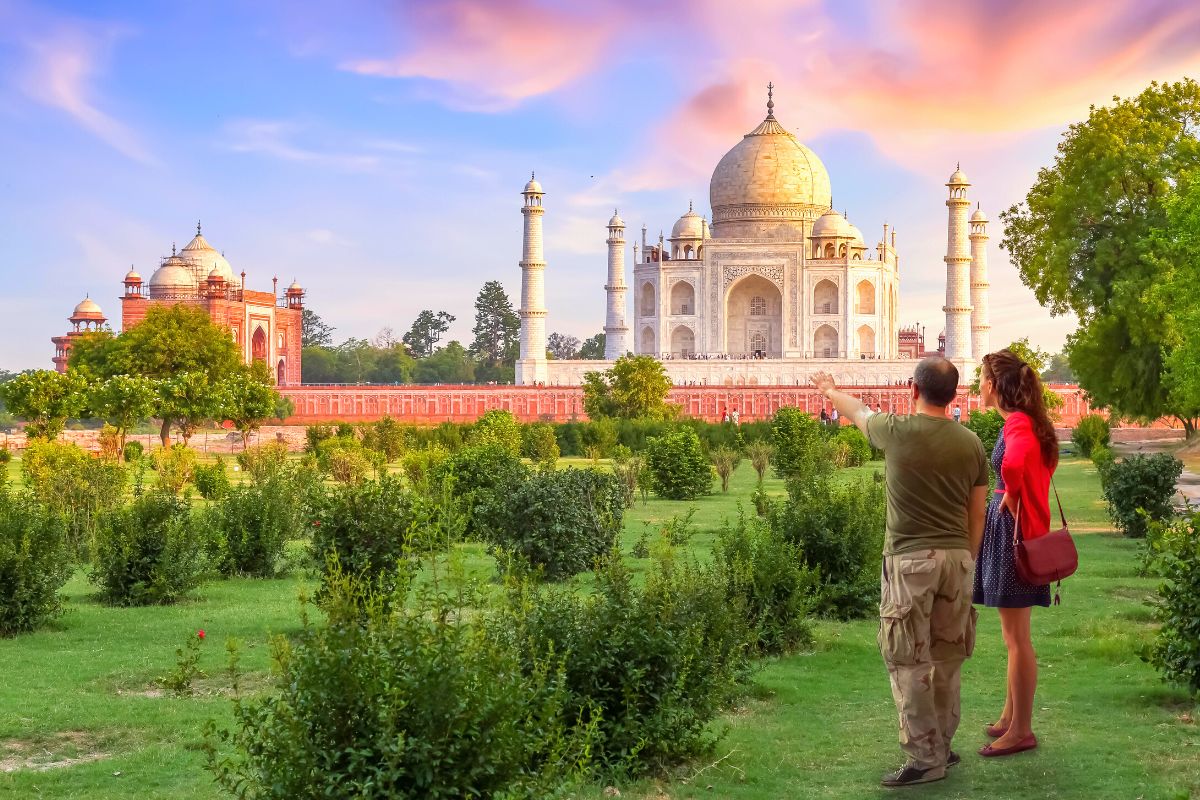 For a slightly less bustling but still wonderfully immersive excursion, take some time to visit Mehtab Bagh.
Located just across the way from the Taj Mahal, this gorgeous park is one of the most tranquil places to visit in Agra, with fantastically symmetrical landscaping and plenty of green space to enjoy.
Of course, the Taj View Point is one of the main attractions, with incredible opportunities to view the monument at every angle and hour of the day (sunset, unsurprisingly, is a particularly popular option).
But you can also enhance your experience with some of the many excellent yoga classes held in the park. Drop by for sunrise or sunset, or book your session as part of a larger tour around the area.
Practice your favorite moves (or learn some new ones) with renowned local teachers, and experience this ancient art in the place it was born – and in the shadow of one of the country's finest buildings.
It's sure to be a mesmerizing experience for both mind and body!
7 – Chini Ka Rauza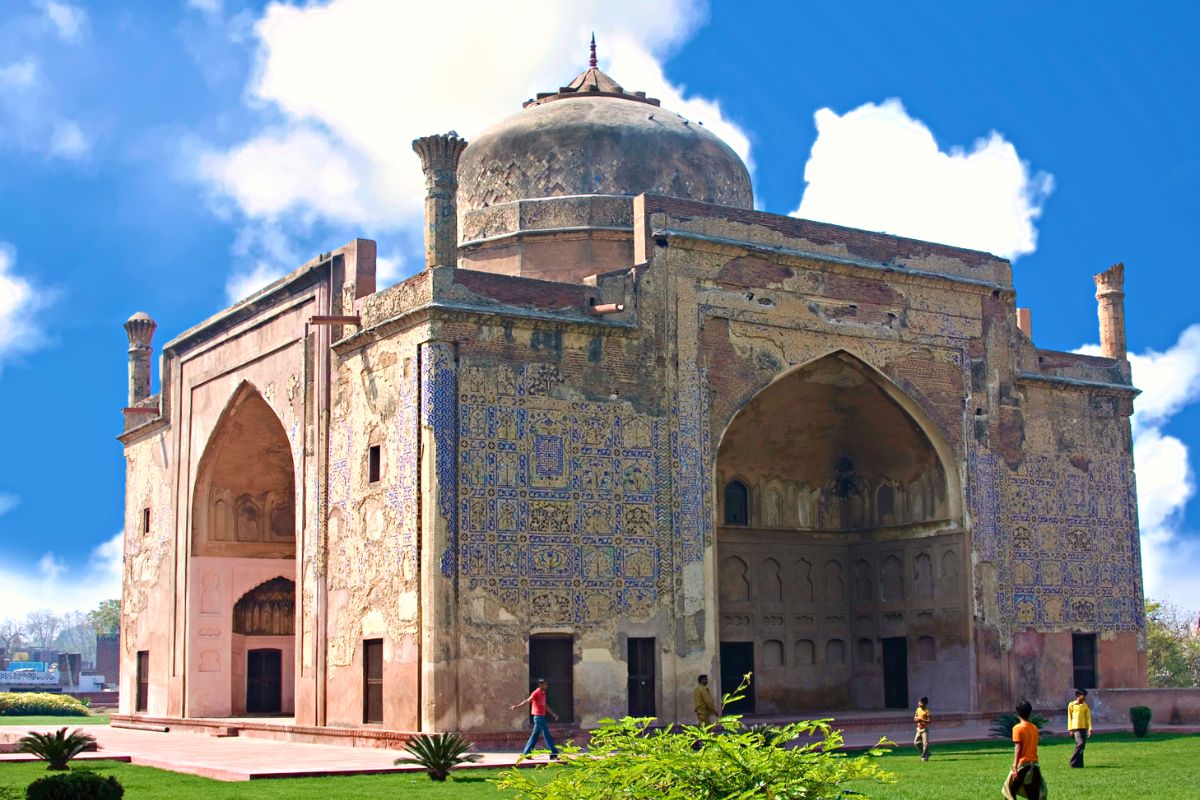 Since it was constructed in 1635, Chini Ka Rauza has served as a fantastic example of the area's multicultural influences. This mausoleum stands out from its contemporaries because of the materials used in its design: porcelain tiles.
These beautiful blue pieces are believed to have come from China, a symbol of Agra's past as a thriving trade hub. And if you look closely at the designs in and around the building, you'll see plenty of design details from Perisa, as well as Afghanistan.
Stop by to see these fantastic elements up close, then head over to nearby attractions such as the Taj Mahal and Itimad-ud-Daulah.
8 – Tomb of Mariam-UZ-Zamani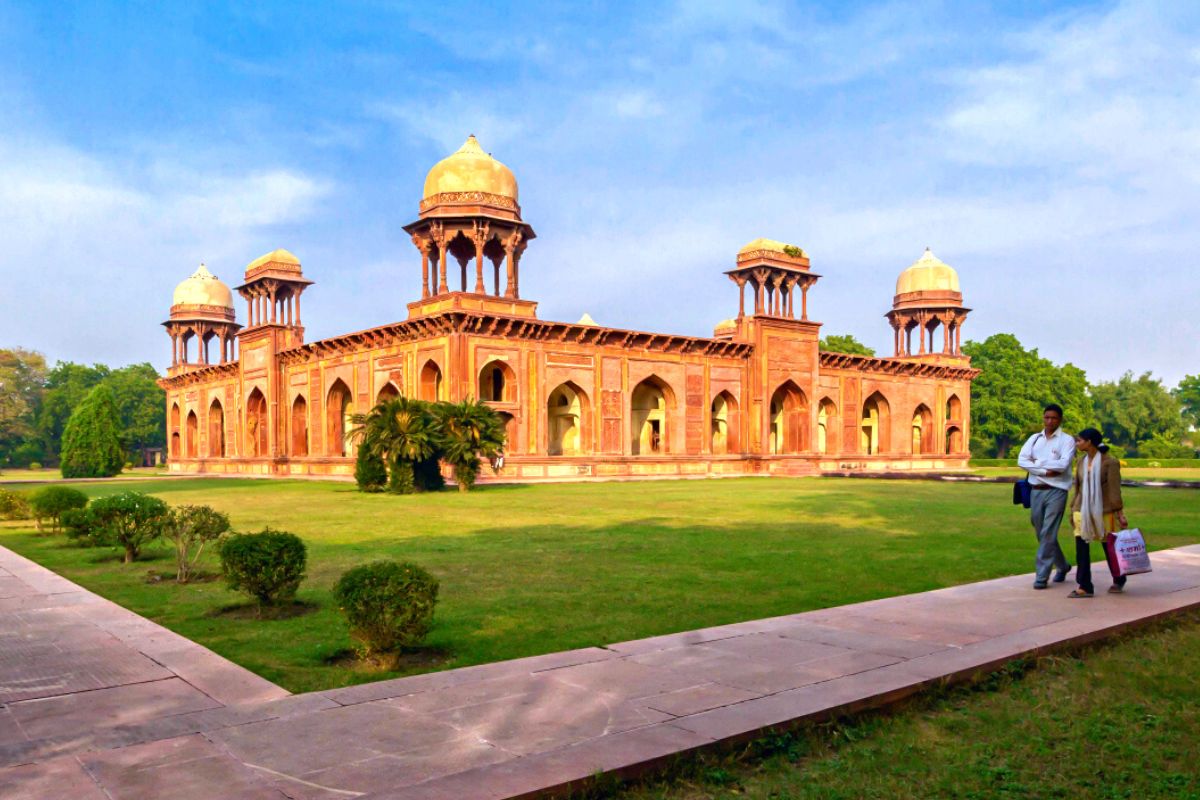 One of the best things to do in Agra is simply wandering from tomb to elaborate tomb, noting all of the different architectural styles and histories behind them.
The Tomb of Mariam-Uz-Zamani fits perfectly into the sightseeing itinerary, combining the traditional elements of many of the other monuments with some distinctive flourishes of its own.
It was built by Emperor Jahangir in honor of his mother, the late Queen Mariam-Uz-Zamani; construction finished in 1627. Like many of its neighbors, the first thing that stands out about this complex are the gardens, still maintained and designed exactly as they were in the Mughal era.
Probably the most distinctive feature of this structure is what it doesn't have: a dome. While most of its contemporaries are known for their towering domes, this monument has a conspicuously flat roof.
But many of its other design elements are similar to its neighbors', from a series of beautiful ceremonial chambers to that distinctive red sandstone facade.
The site is also located near the Tomb of Akbar the Great, and considering that he was married to Queen Mariam, it's well worth visiting both at the same time!
9 – Panch Mahal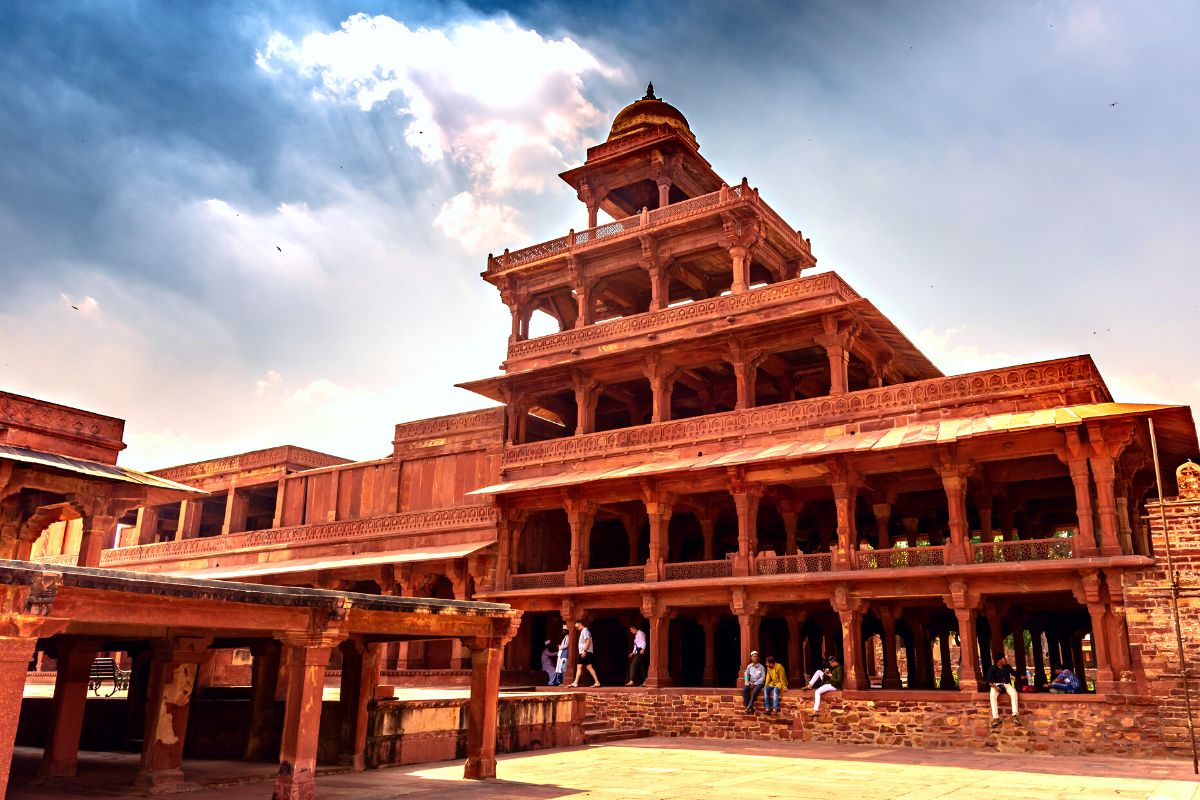 While Panch Mahal is another one of the buildings created during Emperor Akbar's reign, it stands out in both form and purpose. It is believed that this massive set of pavilions was used as an entertainment area, where the nobility could enjoy concerts and performances.
Take a look at the lovely platform jutting out of a pool in the center of the complex, and it'll be easy to imagine a lively set of shows taking place!
The building is also distinctive for its terraced design and layers of columns, creating a structure that owes as much to Buddhism as to Hinduism – little wonder, given that much of the architecture was inspired by Buddhist temples.
Take a stroll around this stunning area and admire all of its lovely design details, while learning all about its unique role in the artistic life of the city at the time. It's a great way to explore another side of the area's rich history!
10 – Gurudwara Guru Ka Taal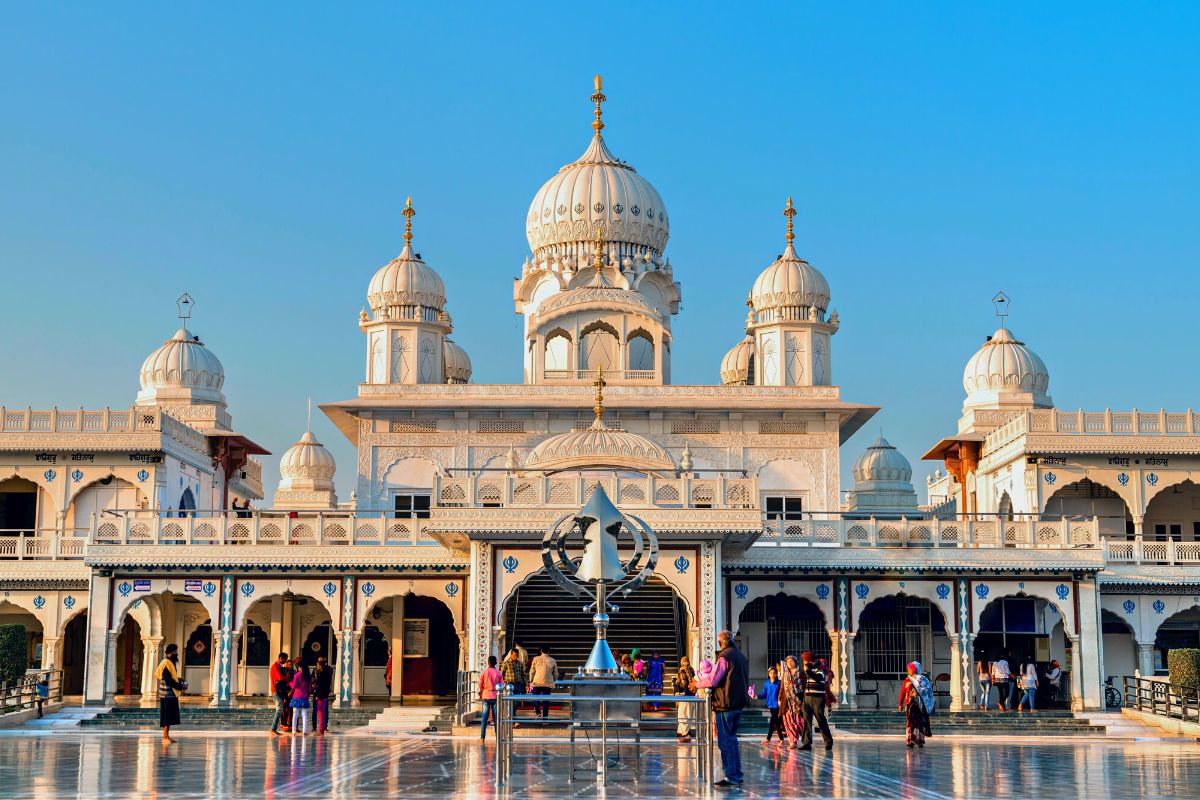 From Hinduism to Buddhism to Sikhism, there's no shortage of spiritual influences in the region. And Gurudwara Guru Ka Taal, a particularly holy site in the Sikh faith, is one of the most interesting religious places to visit in Agra.
This splendid building commemorates the spot where Guru Teg Bahadur Ji allowed himself to be arrested by the Mughal emperor Aurangzeb.
As one of the founders of Sikhism, his capture and subsequent death were seen as supreme sacrifices in the name of religious freedom, and he remains a renowned figure today. The building that stands as a tribute to him is absolutely stunning, with its magnificent domes and a vast, elegant courtyard.
Take some time to enjoy the sheer size of this remarkable monument, then head inside to learn more about the Sikh religion and customs. If the distinguished past doesn't draw you in, the beauty of the building certainly will!
11 – Aram Bagh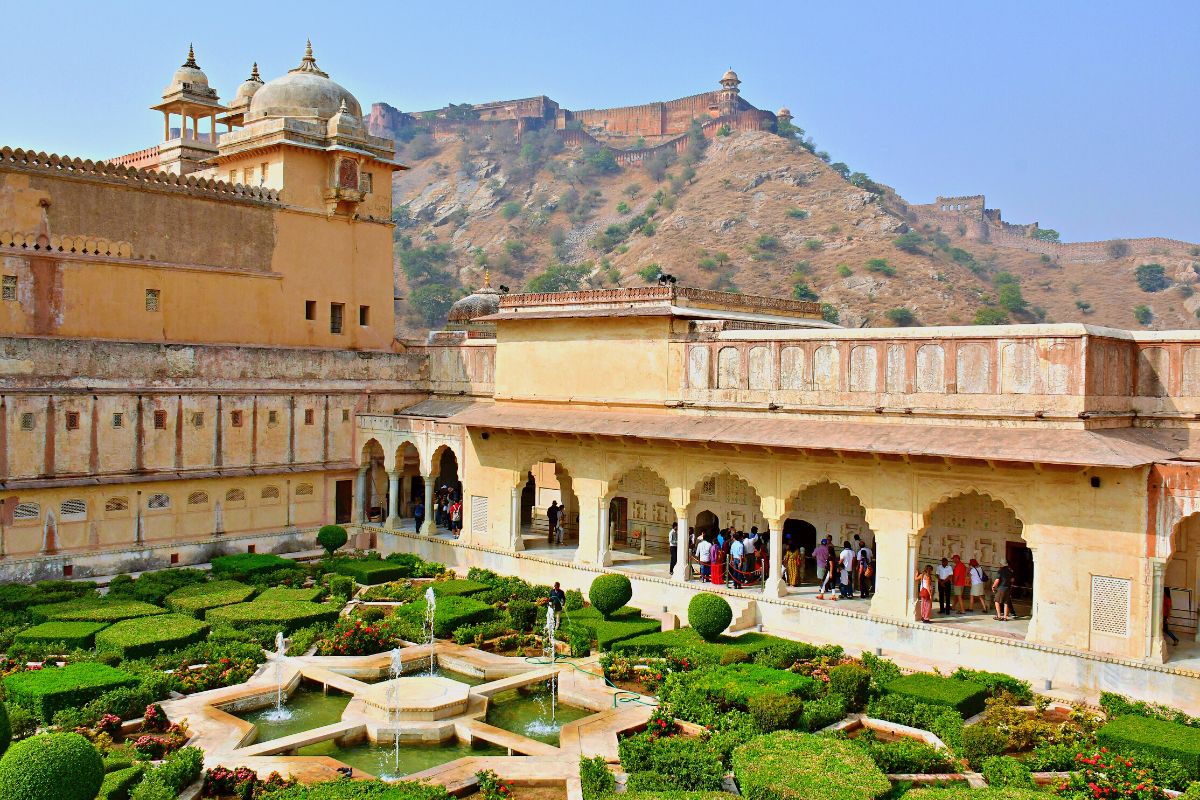 As beautiful as the Mughal buildings are, the surrounding gardens really give them a run for their money. And the Aram Bagh gardens are among the most distinguished in town.
They are also the oldest, originally built in 1528 by Emperor Babur as a gift for his daughter.
Like the Taj Mahal Gardens that would follow, the property was built to emulate the idea of Paradise as depicted in Islamic faith, with abundant plant life and expertly constructed channels meant to mimic the flow of rivers.
In addition to stunning visual beauty, the gardens have been the site of many important moments in royal history, from marriage proposals to military planning operations.
Take plenty of time to stroll through the grounds, admiring the artistry with which every shrub and stone has been placed. You'll feel like you're back in the heyday of the empire as you explore!
12 – Wildlife SOS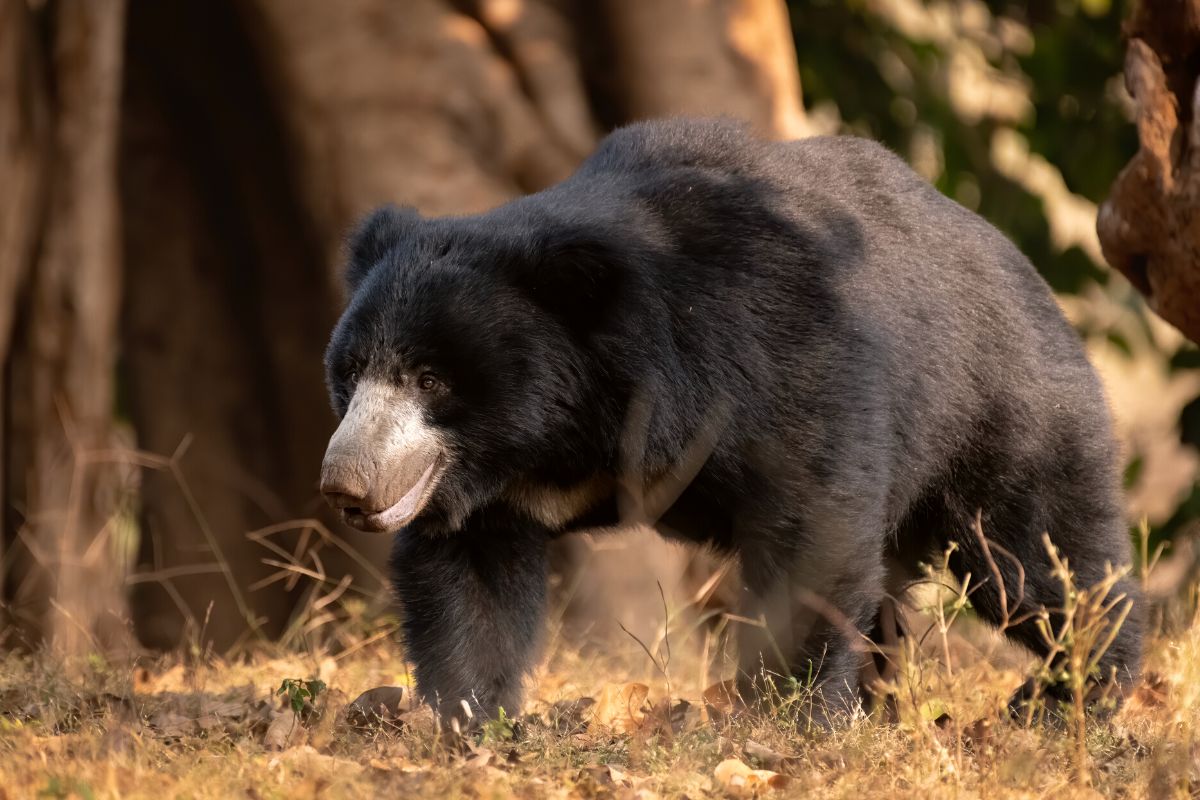 While the cultural offerings are spectacular, nature-lovers will still find plenty of places to visit in Agra. And Wildlife SOS is undoubtedly one of the most interesting and important of those spots, whether you're an animal fanatic or just dipping your toe into the world of conservation.
This acclaimed organization and wildlife sanctuary celebrates the unique creatures in the area by fighting for their survival, with programs ranging from rehabilitation to anti-poaching initiatives.
If you'd like to learn more about the local wildlife and support a wonderful cause, you can visit some of the many rescue centers that they run in the area. Stop by the Agra Bear Rescue Facility to meet the sloth bears – over 130 of them live on the grounds!
These small, dynamic creatures have long been threatened by human activity, but at the sanctuary, you can watch them roam freely about the grounds, playing and socializing in small groups.
There's even a special section set aside for weaning and raising orphaned cubs. Or check out the Elephant Conservation and Care Center – to visit the beautiful herds of rescued pachyderms.
After a lifetime of hard work in circuses or temples, these intelligent, emotional animals are finally free to swim, sun themselves, and enjoy life in open pastures.
A day spent watching them interact with their surroundings is one that you won't soon forget! You can meet plenty of other local animals as well, from snakes and leopards to hyenas and barn owls.
If your visit leaves you feeling inspired, there are tons of great ways for you to get more involved. The organization offers plenty of opportunities for visitors, from conservation classes to volunteering opportunities.
Whether you're feeding the animals, observing their daily behavior, or building exciting new toys for them to play with, you'll have lots of chances to explore the world of wildlife rescues. So channel your inner Steve Irwin and head over for a visit!
13 – Anguri Bagh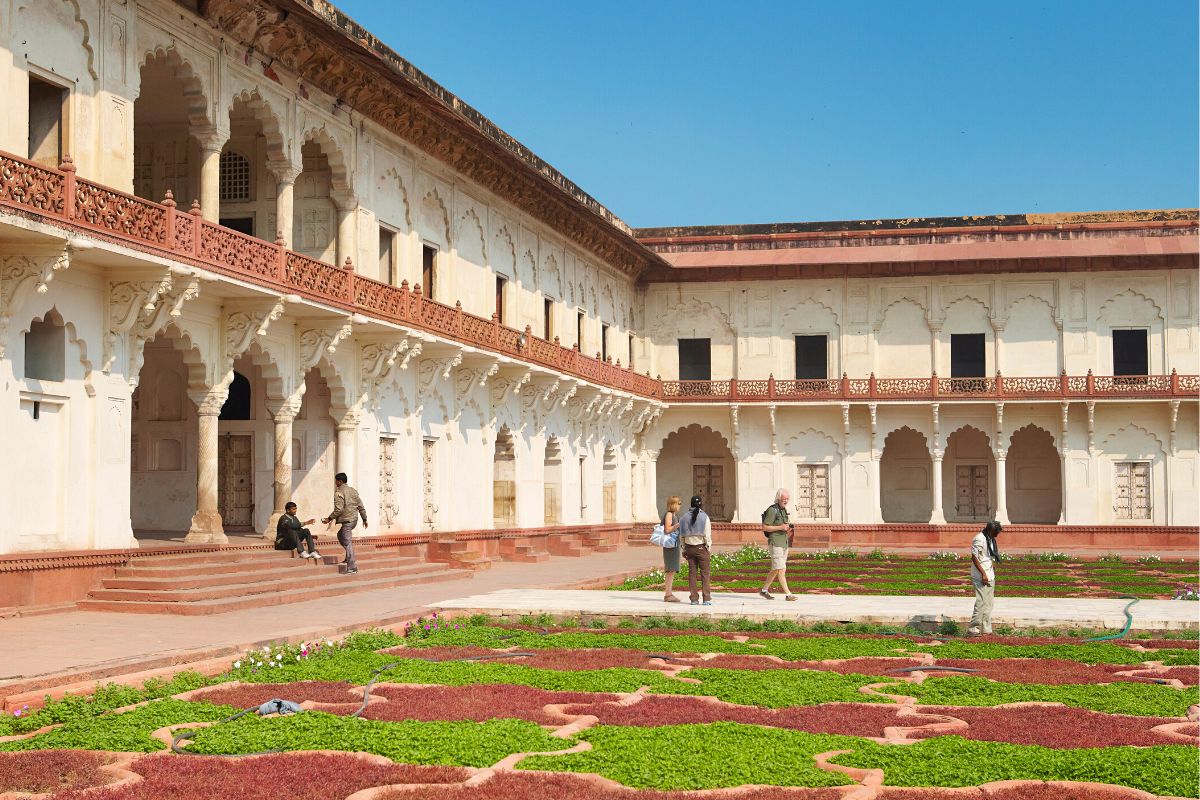 With its intricately designed patterns and plentiful plant life, the Anguri Bagh garden is a splendid oasis in the middle of the massive Agra Fort complex.
Since its construction in 1637, this scenic area has been a place of tranquility for royal residents and visitors alike.
Take some time to view its geometrically-influenced designs, and learn all about its years as a produce hotbed (the garden's name literally translates to, "The rich harvest of grapes").
This is a great place for some relaxation in the midst of visiting the busier attractions.
14 – Kalakriti Cultural & Convention Center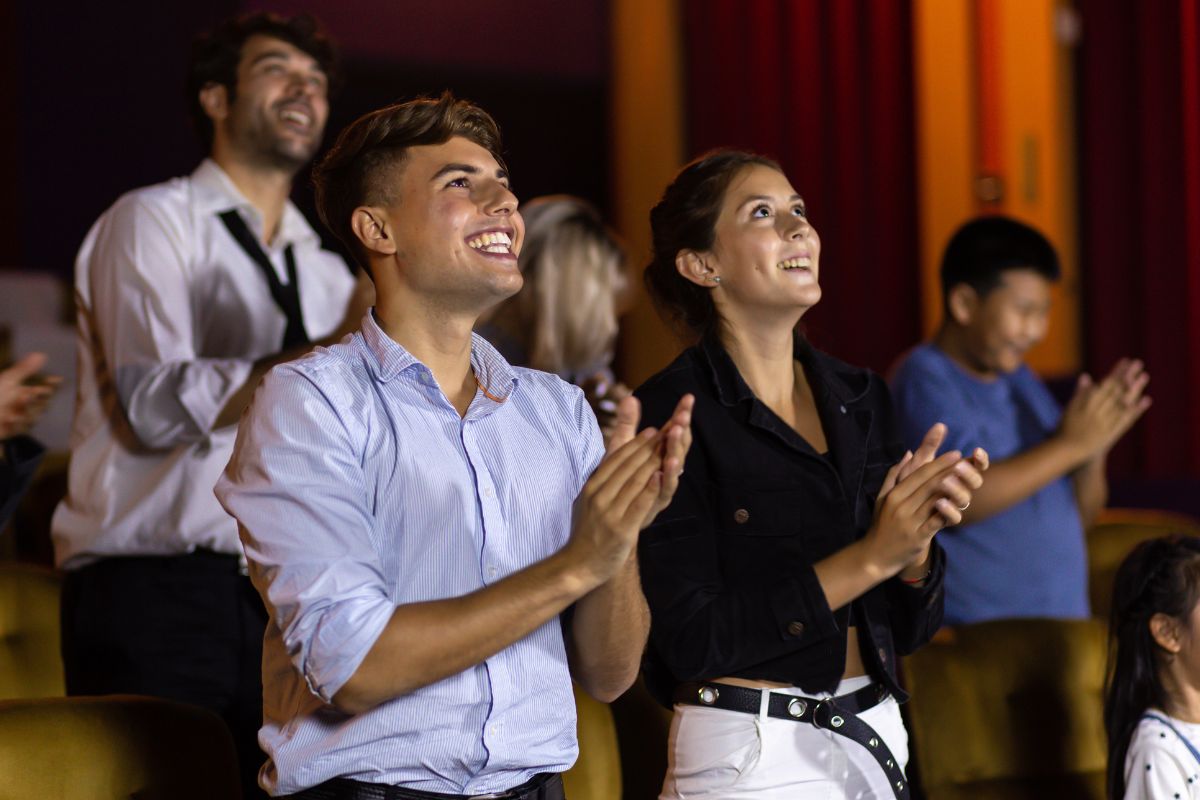 While the area is known for its rich past, there are plenty of more modern attractions to enjoy as well. And the Kalakriti Cultural & Convention Center is one of the best places to visit in Agra if you want to get a sense of how the local arts scene operates.
This spectacular venue is the place to go for live entertainment in town, from concerts to cultural celebrations. While there is a continually rotating roster of shows to see, one of the big headliners is the immersive performance that takes place every evening.
This impressive display of lighting, music, and acting tells the story of the Taj Mahal's construction, and celebrates its lasting impact. Stop by to enjoy this lively blend of art and history, then head over to the nearby shops to check out some of the excellent handicrafts on display
This beautiful space is a welcoming atmosphere for anyone interested in theater, art, or simply celebrating the abundant talent that the city has to offer.
15 – Jama Masjid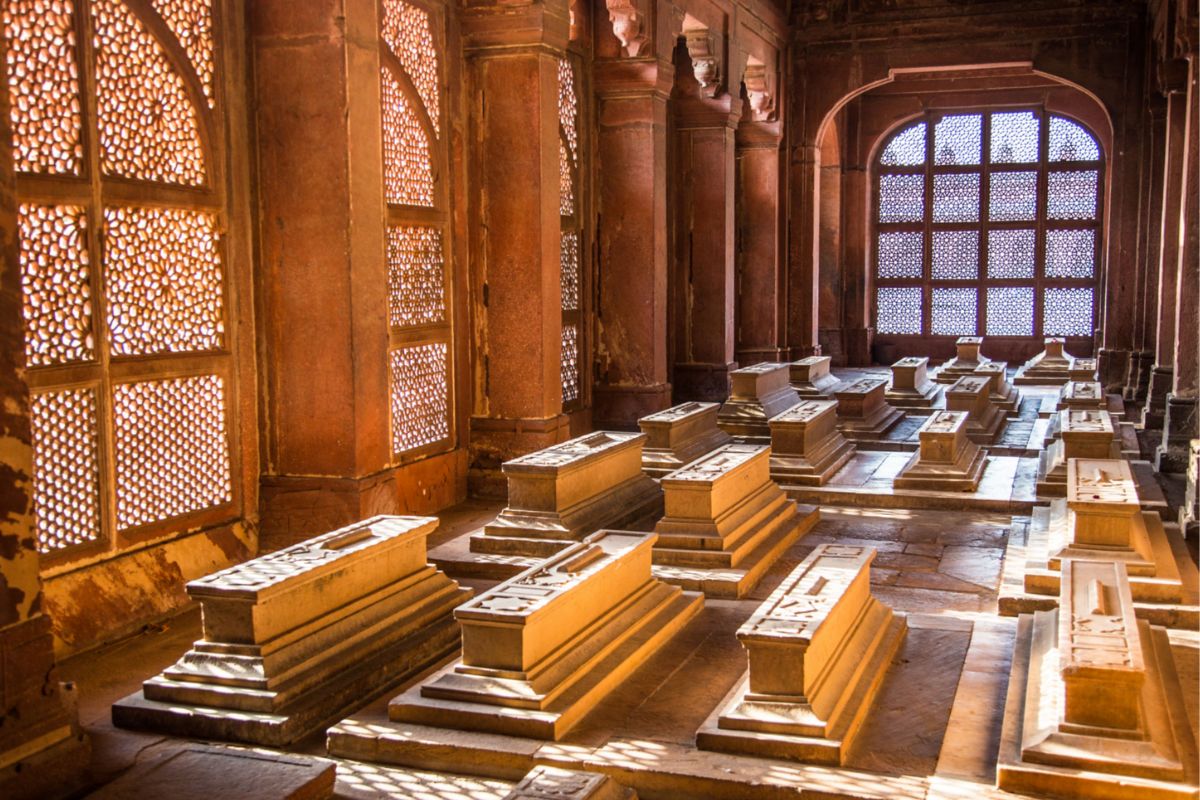 Just across from the Agra Fort, Jana Masjid is a spectacular monument in its own right. As one of the largest mosques in India, it boasts a fascinating array of architectural gems, from massive domes to striking geometric designs.
Since its construction in the 17th century, it has been a focal point of the local Muslim community, and a renowned landmark all throughout the city.
Not only is it another wonderful example of Islamic architecture, but it also showcases the opulence and attention to detail that made so many of the area's buildings famous. And because it is still an active mosque, you can learn all about the evolution of the religion during your visit.
Whether you're drawn to the religious history, the design elements, or both, this iconic site is a must-see!
16 – Sikandra Fort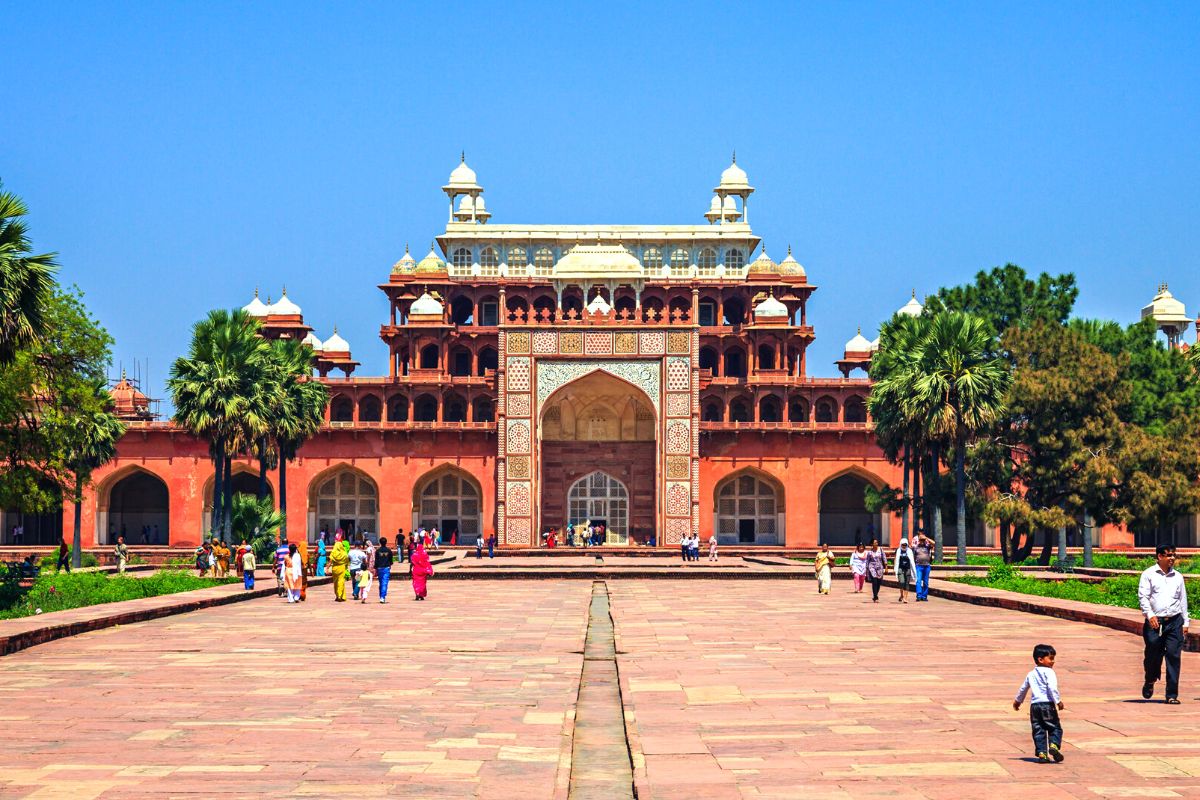 Just next door to Emperor Akbar's final resting place, Sikandra Fort boasts phenomenal designs and spectacular history.
Like the tomb itself, it was commissioned by the emperor before his death, so you can see many of the same architectural features encompassed in its impressive red facade.
You could easily spend an entire day just wandering the grounds, taking a crash course in the history of the empire's cultural and artistic tastes.
Be sure to check out the four magnificent gates around the property, each with a unique style and function; and don't miss out on the spectacular fountains!
17 – Old City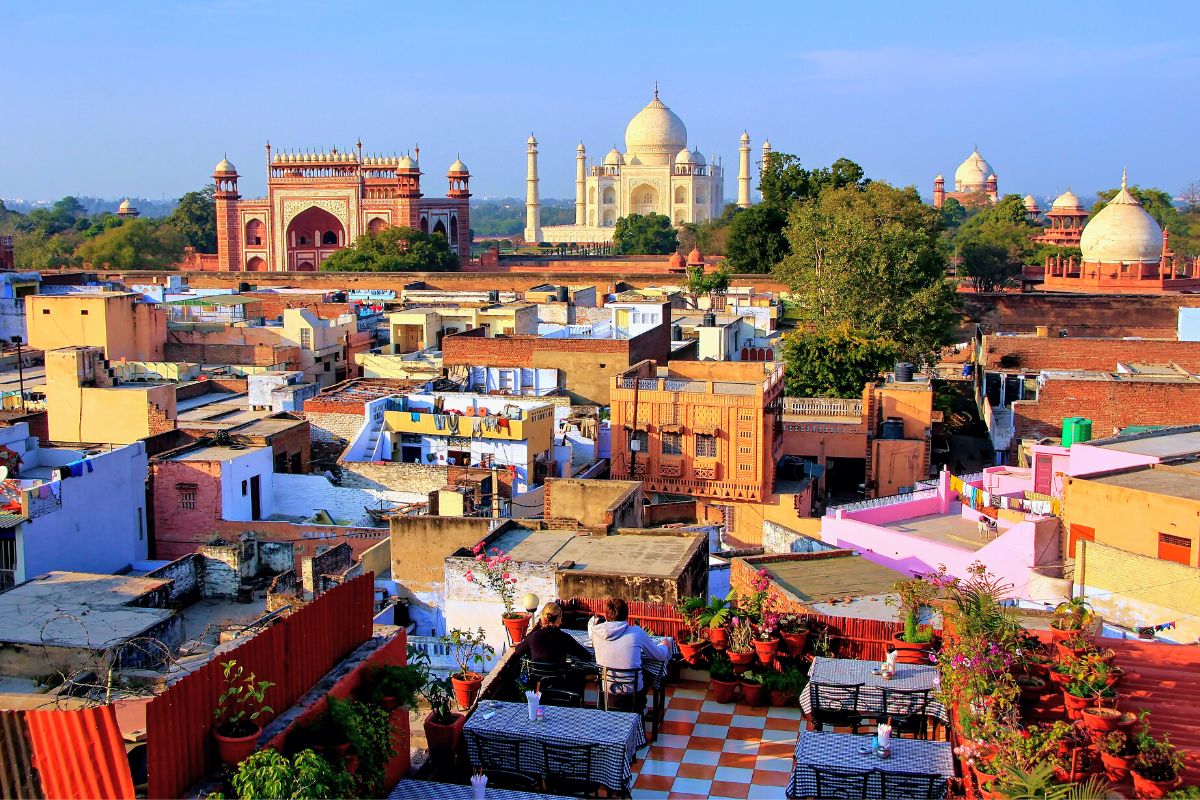 If you can pry yourself away from the fantastic temples and monuments throughout town, you'll find plenty of treasures in the Old City area. A guided walking tour is a wonderful way to explore some of the less-visited sites in town, from markets to historic train stations.
Check out the jewelry-filled booths of Lohar Gali, or roam through the joyously hectic corridors of the Kinari Bazaar, which has been a focal point of the city's shopping scene for 400 years.
Visit a whole range of vibrant and historical religious buildings, from Hindu temples to Muslim mosques, and make your way past the bustling Agra Fort Railway Station, where thousands of passengers set out every day on their own exciting journeys.
If you want to explore the rich culinary scene in the area, try booking a food tour, where you'll be able to combine an informative trip around town with stops at some beloved local restaurants.
It's a great way to try delicious regional delicacies such as pani puri and jalebi while learning more about the beautiful city and its day-to-day operations. A trip to the Old City offers a great cross-section of what the region has to offer – and it'll give you even more great ideas for places to visit in Agra!
18 – Moti Masjid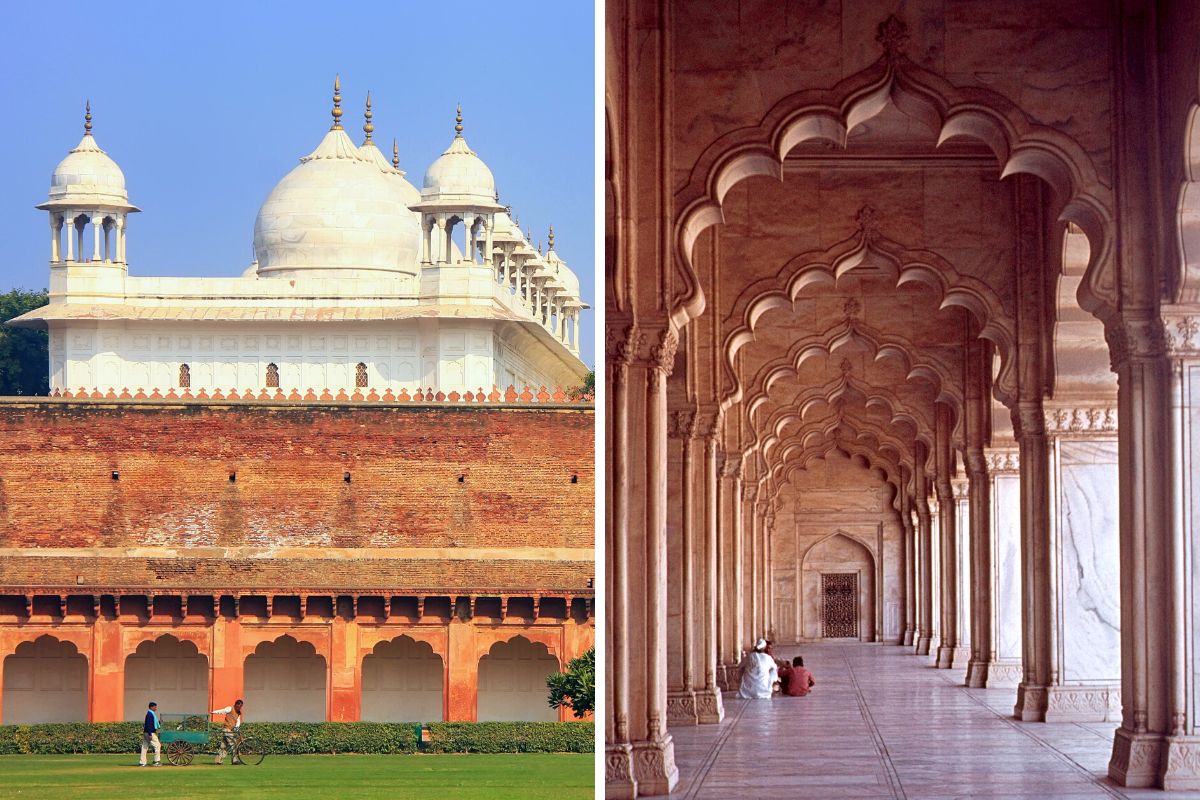 Even by the high standards of the other buildings in town, Moti Masjid is pretty spectacular. Known as "The Pearl Mosque," its pure white marble exterior is matched only by the beauties within, including Sheesh Mahal.
This magnificent space – which roughly translates to "The Palace of Mirrors" -, is truly stunning, with its ceilings and walls adorned with an array of glistening mirrors.
As you walk through the middle of this remarkable room, you'll be able to see the way that the light catches each piece, causing every corner to shine no matter the time of day.
It's another great way to view the spectacular work of the Mughal Empire's early builders, but be warned – you may want to stay in those opulent rooms all day!
19 – Taj Nature Walk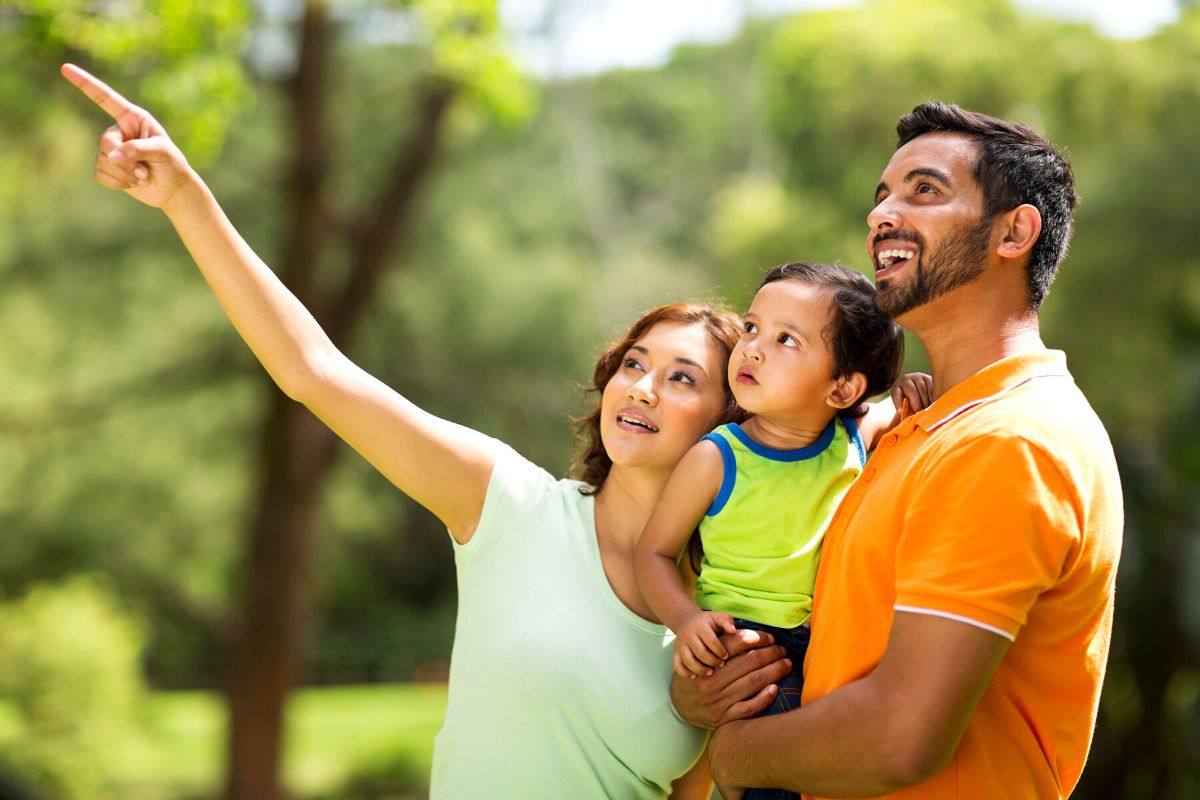 Want to see some awesome birds and enjoy amazing views of the Taj Mahal all at once? Then be sure to make the winding, wonderful Taj Nature Walk one of your top places to visit in Agra.
This beautiful trail is something of a conservation success story; it winds through a beautiful preserve that was set aside to protect the bountiful green space that once surrounded the mausoleum.
As you stroll around, enjoy the beautiful hues of nearly 50 types of flowers, and keep an eye out for jackals, hares, parakeets, and butterflies. You may even cross paths with some of the beautiful peacocks that roam the area!
Wind your way past the gorgeous River Yamuna, and soak up the lush vegetation alongside spectacular glimpses of the Taj. You'll feel transported back in time as you explore the trail!
20 – Traditional Bazaars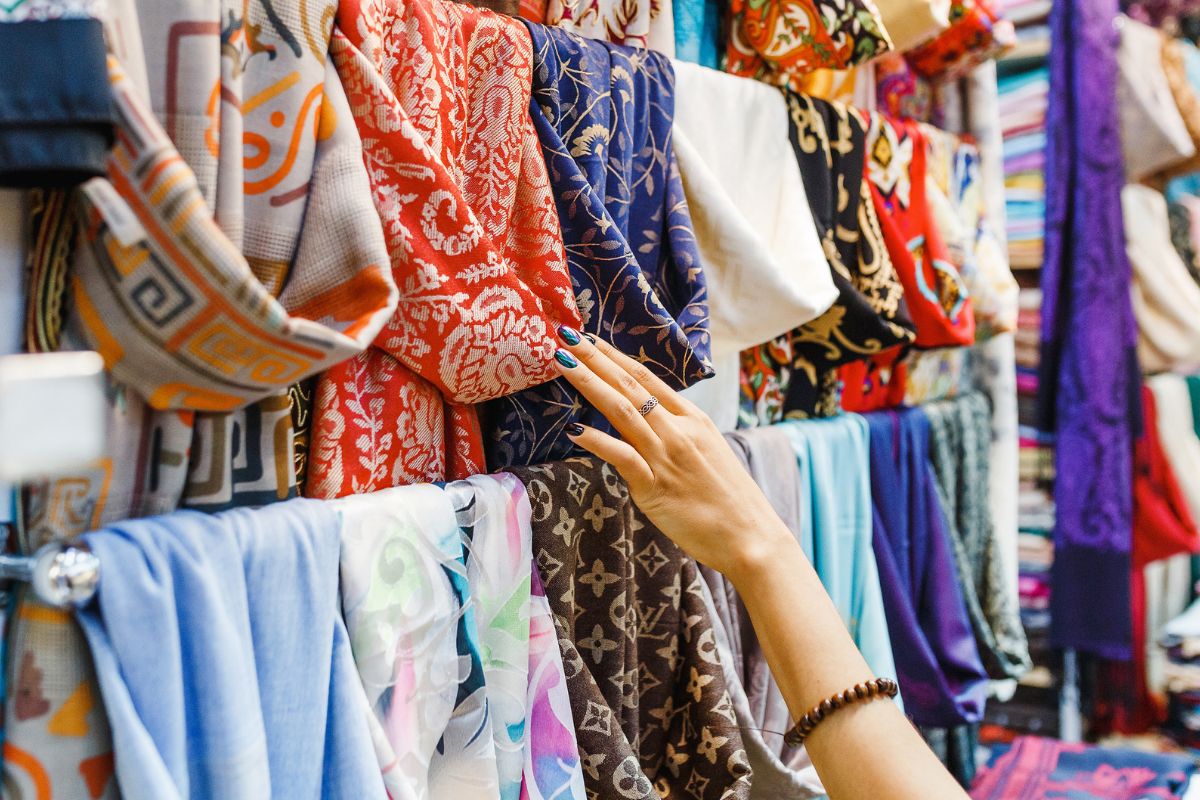 Souvenir shopping is one of the fun parts of travel, and Agra has plenty of great options for those looking to buy something authentic on their journey.
The local bazaars are excellent spots to score some great finds and get a feel for the cultural thrum of the city. While Kinari is one of the largest and most famous markets, there are tons of other excellent options around town.
As its name suggests, the Shoe Market is the place to go for some fine footwear, with everything from sandals to dress shoes available for purchase. If silk is more your style, head over to the Subhash Bazaar, where you can pick up great saris and other beautiful products.
Sadar Bazaar is the place for fine leather goods of all shapes and sizes, as well as various general items ranging from clothing to sweets.
And for a comprehensive shopping experience – plus some tasty goodies to take home -, be sure to stop by the Shahganj Bazaar, which features everything from handbags and furniture to a vast assortment of fresh vegetables.
While these markets may seem a bit overwhelming at first, you'll soon find yourself slipping into their rhythms, and you may come away with some amazing finds. So bring your adventurous spirit, and don't be afraid to barter!
21 – Mother Teresa's Missionaries Of Charity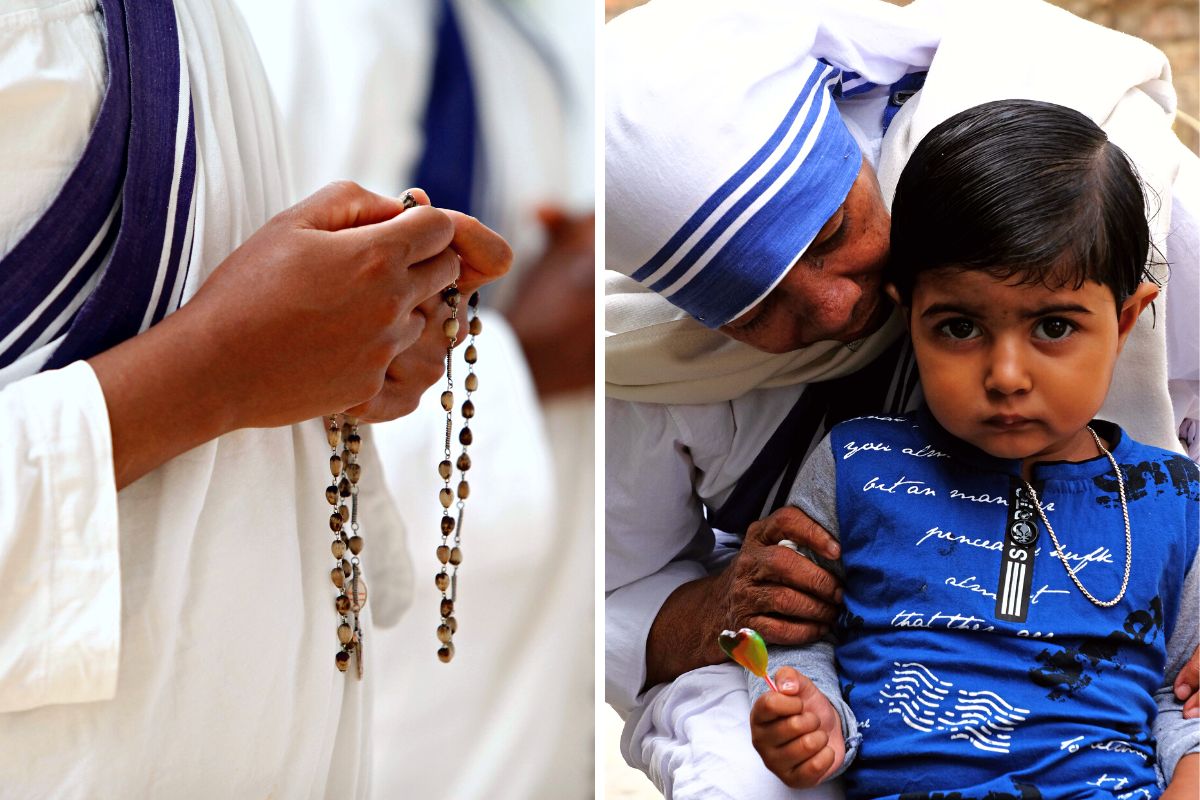 Mother Teresa is probably one of the most famous activists in the world, and India, where she practiced her mission, still has plenty of tributes to her.
If you're looking for particularly impactful places to visit in Agra, be sure to stop by the Missionaries of Charity House, where the late nun and recently appointed saint did much of her work.
The organization was started as a place of refuge for individuals in need, ranging from orphans and the elderly to homeless and/or disabled individuals. Today, it has locations doing good work all over the world, including one in Agra.
Visitors are welcome to stop by to meet the nuns that run the facility, as well as some of the residents that call the place home. If you stop by, it is recommended that you bring some sort of donation; money, food, and clothes are all welcome contributions.
And if you feel particularly moved by the organization and its aims, you can even volunteer your time there! Whether you like painting, childcare, or helping with general duties, there are plenty of great ways for you to contribute your skills.
It's a wonderful way to give back to the local community and make a difference during your vacation!
22 – Fatehpur Sikri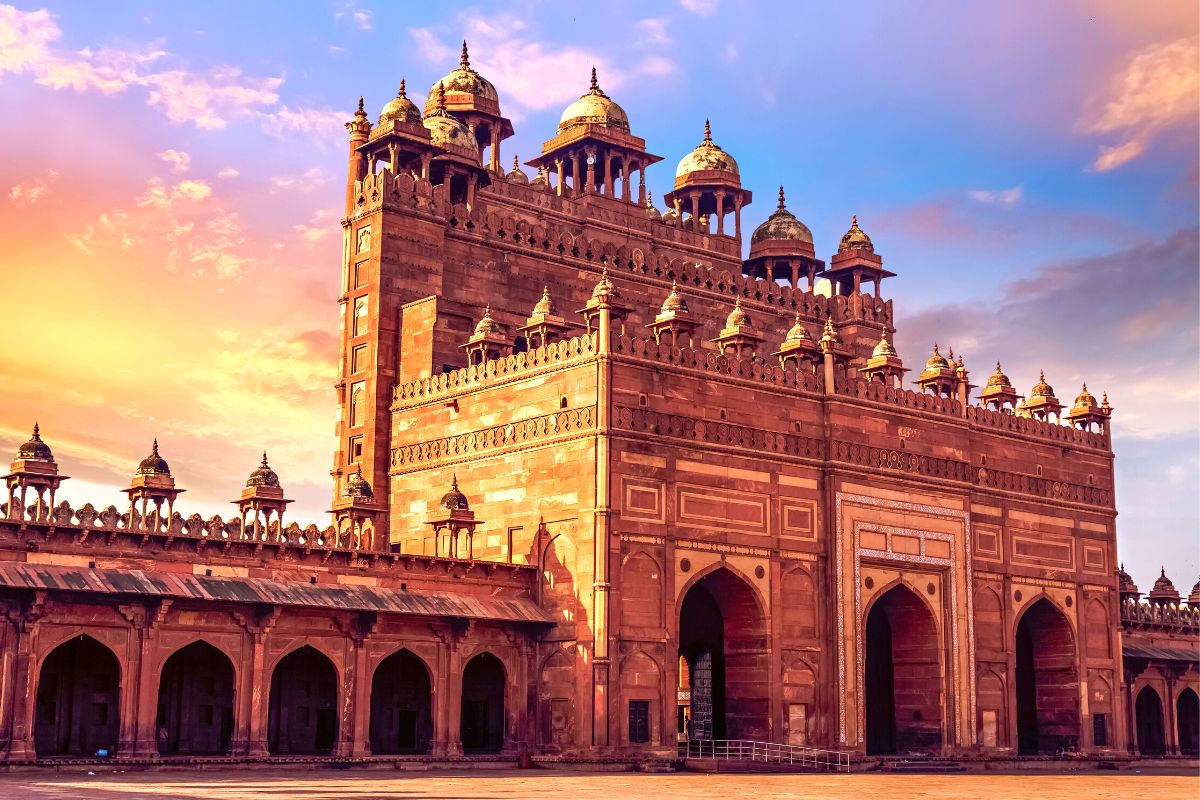 Just north of Agra, the town of Fatehpur Sikri is filled with remarkable buildings and interesting sites.
The town – whose name translates to "City of Victory" – was the capital of the Mughal Empire for a time during the late 1500s, and its design reflects the diverse influences on the area during that time.
The buildings are a unique blend of Hindu and Islamic styles, a result of the widespread religious tolerance and intellectual curiosity of the era.
Check out the striking ruins of various buildings that were once the center of the empire, including the Fatehpur Sikri Mosque, which was patterned after Mecca, and Buland Darwaza, an immense monument to military victory.
Buland Darwaza is particularly striking; it is one of the tallest gateways on the planet, and with its massive marble and sandstone structure towering above the surrounding buildings, it makes quite a vivid impression.
The structure was originally built by Emperor Akbar to commemorate his victory in Gujarat, and today, it serves as the entryway to the beloved Jama Masjid Mosque. You can also spend plenty of time simply wandering past the remains of various buildings around the site, ranging from administrative offices to temples.
Each and every one of them speaks to the deep and fascinating history of this remarkable city, and they'll make you see the modern-day cities nearby in a whole new light.
There are plenty of Fatehpur Sikri tours starting from Agra and from Delhi.
How to get to Agra?
Agra's a great place to stay, and a great place to visit from other nearby cities of note, especially Delhi and Jaipur. Whether you're road-tripping, riding the rails, or passing through with a tour group, you'll have plenty of time to see all of the amazing places to visit in Agra.
By car
Whether you're riding in a tour vehicle or driving yourself, Agra is very easily reachable by car.
From Delhi, it's a four-hour drive south, with plenty of interesting towns and beautiful scenery to enjoy along the way.
From Jaipur, it's almost the same amount of time – 4 ½ hours, in this case – but coming from the west, allows you to see some of the striking desert landscapes of Rajasthan.
If you'd like to explore some hidden treasures and enjoy great views on your journey, driving is the way to go!
By train
If trains are more your style, pop over to one of the nearby stations and book your ticket for an awesome trip! There are several trains running per day from both Jaipur and Delhi, including express and non-express options.
The express train from Delhi is a particularly good option for sightseers in a hurry, as it only takes about two hours to get to Agra; depending on when you depart the city, you can actually see the Taj Mahal and be back before bedtime!
By organized tour
If you really want to get a feel for the area as a whole, try booking one of the many excellent guided tours that are available.
The cities of Agra, Delhi, and Jaipur are each exciting destinations in and of themselves, but they're also well worth visiting as a group, because they showcase the incredible diversity and remarkable cultural offerings of India.
The three towns are sometimes collectively called "The Golden Triangle" due to their close proximity and a tremendous amount of tourist attractions in the region. If you want to experience it for yourself, try booking some of the multi-day Golden Triangle tours around the region.
Try a two-day or three-day tour to get a sample of the best monuments and historical highlights of the three cities, or go all out with a four-day, six-day, or seven-day tour to fully immerse yourself in the rich culinary, cultural, and natural wonders of the area.
Best of all, the logistics are handled by the tour company, so you can just sit back and enjoy the journey.
If you're short on time, you can also book a tour to Agra that run to and from either one of the cities individually, with plenty of tours from Delhi and from Jaipur to choose from.
These are great ways to enjoy the fantastic offerings in town while still leaving plenty of time to check out the other cities at length.
Final thoughts
From the moment you watch the sun rise over the spires of the Taj Mahal until you see it set on the winding streets of the Old City, you will find yourself utterly enchanted by Agra.
It offers some of the most beautiful religious and historic monuments in the world, along with some gorgeous natural areas and a lively arts and shopping scene.
If you're looking to explore the stories of India's past empires, you'll find plenty of inspiration amongst the mosques, temples, and commemorative buildings of the Mughal Empire.
And even if you just want to spend some time strolling through beautiful gardens and reflecting on life, well, the city has you covered. Whether you love history, social justice, or people-watching, you will find plenty of amazing places to visit in Agra.
Where travel next? We strongly suggest you the Golden Triangle tour. Either travel west and visit Jaipur, or head north and discover India's Capital, Delhi.
Get ready for the trip of a lifetime!