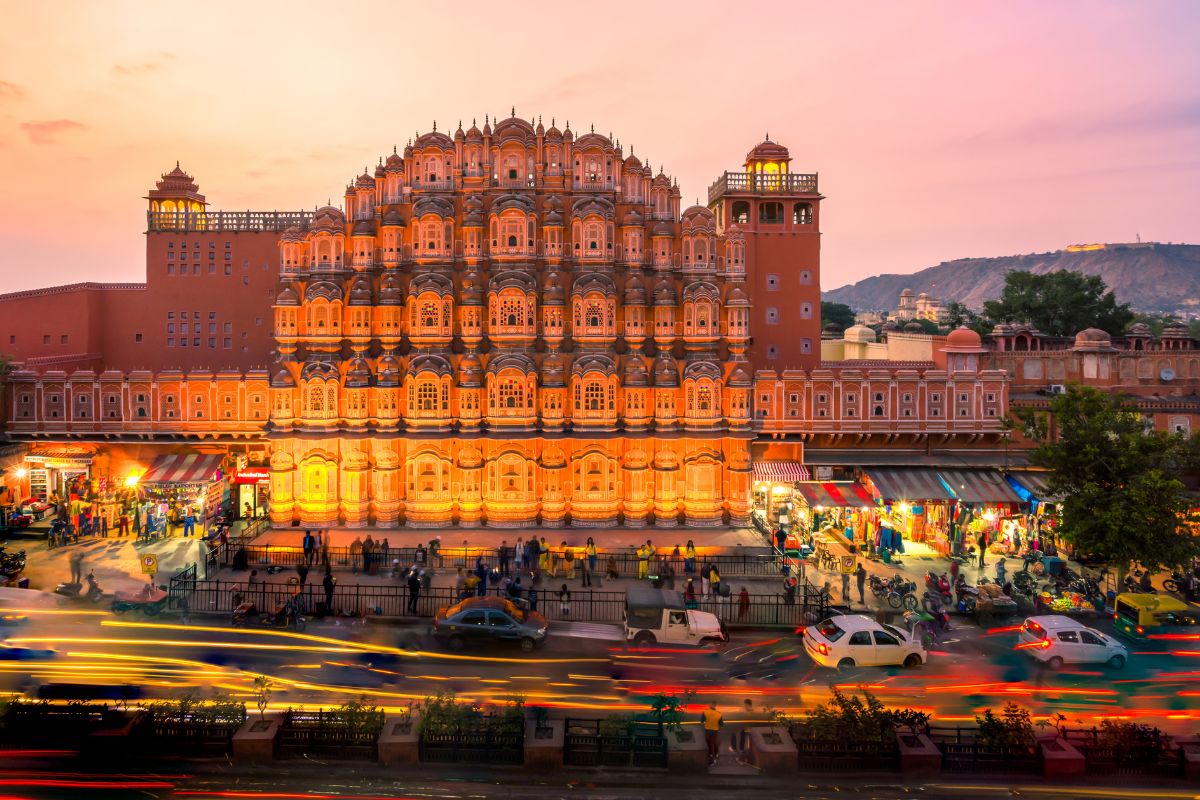 When you hear about Jaipur, you'd be forgiven for thinking it's a city plucked straight out of a fairytale.
It has been called "The Paris of India" for its cosmopolitan offerings, and "The Pink City" for the distinctive hue of many of its buildings.
And when you actually see Jaipur – its towering palaces and bustling streets, all a short distance from vast deserts and towering mountains-, you'll feel even more caught up in the fantasy.
As the capital of the state of Rajasthan, this UNESCO World Heritage Site is filled to the brim with amazing monuments, dynamic cultural offerings, and unique attractions for everyone from adrenaline junkies to art fanatics.
Whether you want to cook scrumptious meals, meet some friendly elephants, take a spin on a tuk-tuk, or record all of these awesome adventures on an Instagram tour, you'll find plenty of fun and unusual things to do in Jaipur!
1 – Explore the past at the Albert Hall Museum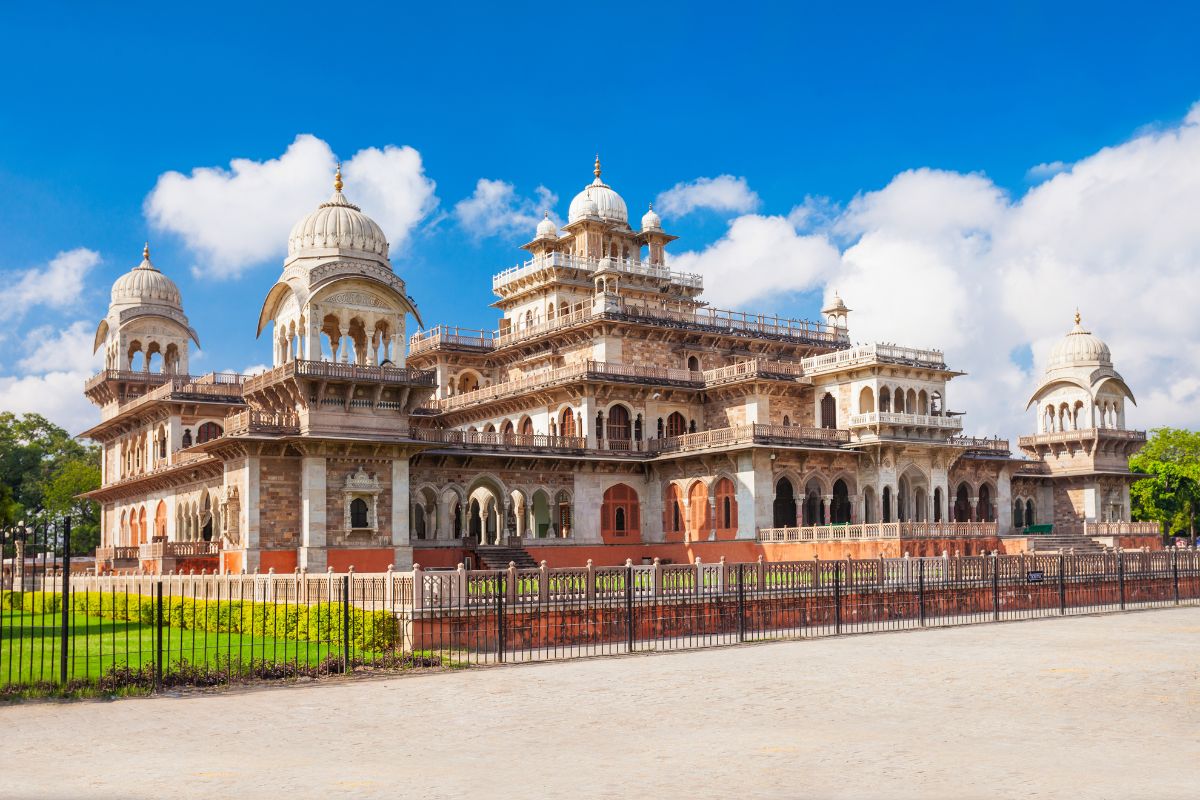 The Albert Hall Museum is one of those places that is almost as fantastical on the outside as on the inside.
This magnificent building, which serves as the state museum of Rajasthan, catches the eye with its massive facade and intricate artistic touches.
It's a wonderful showcase for the Indo-Saracenic architectural style, a fascinating blend of Indian, British, and Islamic elements that can be seen in many other prominent structures throughout town.
The interior is just as fantastic, with incredible displays of weaponry, art, antique furniture, clothing belonging to the royal family, and much more.
Don't miss the unique collection of miniature paintings, which showcase historical scenes with a remarkable amount of detail.
And as if all of this weren't cool enough, you can even see a genuine Egyptian mummy!
After your visit, you can stroll along the paths of the beautiful Ram Niwas Garden, or visit the beloved Jaipur Zoo, which is right next door.
This is the perfect place to start acquainting yourself with the rich history of the region!
2 – Take a stroll around Amber Fort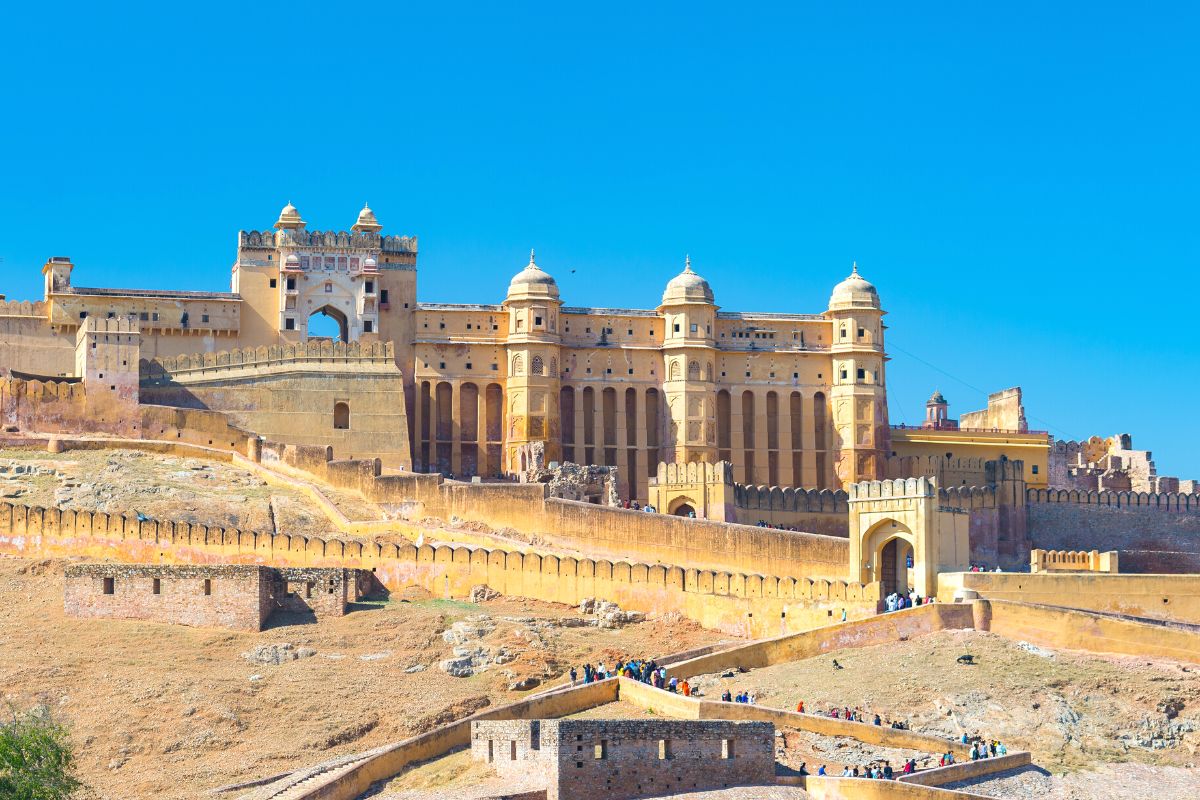 With its yellow and pink facade and sprawling complex filled with beautiful designs and fascinating structures, the Amber Fort is hard to miss.
And it's easy to spend several hours just roaming around the space, soaking up everything that it has to offer.
The compound, which is also known as "The Amer Fort," was originally built in the late 1500s as a residence for the Rajput royal family.
Successive rulers have added and improved sections over time, resulting in a massive, jaw-dropping testament to architecture and art.
It's little wonder that this is one of the most popular things to do in Jaipur!
Stroll around four levels of palatial rooms, including the Sila Devi temple – which is devoted to Durga, the goddess of war and motherhood – and the stunning Sheesh Mahal, which is almost completely decorated in small, glistening mirrors.
You should also keep an eye out for a variety of striking works of art, including the Magic Flower, a fresco which features a piece of coral carved into the likeness of the god Ganesh.
And of course, there are plenty of scenic courtyards to explore, as well as the spacious public and Private Audience Halls, which once hosted visitors to the royal family.
This is often a popular stop on the various city tours in Jaipur, alongside phenomenal temples and historical residences.
These tours also include trips to some of the other magnificent forts in the region, such as Nahargarh Fort and Jaigarh Fort.
You'll be able to enjoy the many distinct attributes of each space, and see just how they all come together in the greater story of the city.
Plus, they're utterly gorgeous to look at!
3 – Take a tour of the City Palace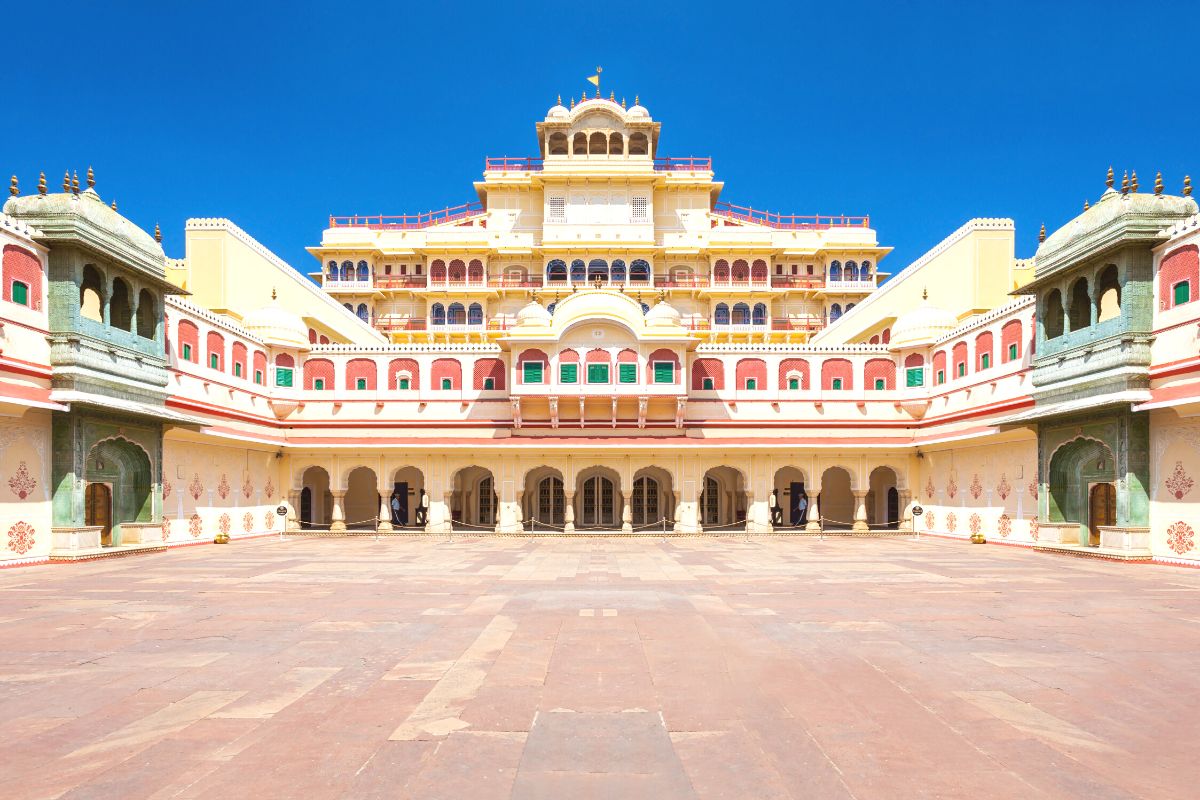 One of the most beloved attractions in town, City Palace is deeply connected to the metropolis in which it stands; in fact, they were built at the exact same time!
In 1727, Maharaja Sawai Jai Singh II decided to relocate the capital from Amber to Jaipur, and the palace was built as an administrative and ceremonial hub.
The building was later used as a residence for the royal family, and today, it remains a wildly popular tourist attraction due to its legacy and remarkable set of structures.
You'll feel like you're in a fantasy novel as you wander through vast halls of exquisitely painted columns and walls, seeing the vivid colors and patterns that have been lovingly preserved over the centuries.
Check out gorgeous glass pieces and the remains of a former entertainment center in the massive Chandra Mahal, or the gem-studded opulence of Maharani Palace, once the primary residence for queens.
Then head over to the onsite museum to view some fascinating artifacts from monarchs past, including weapons, and thousands of photographs and paintings.
It's a stupendous visual gem and a monument to the city's history, all in one place!
4 – Enjoy the views from above (and below) at Hawa Mahal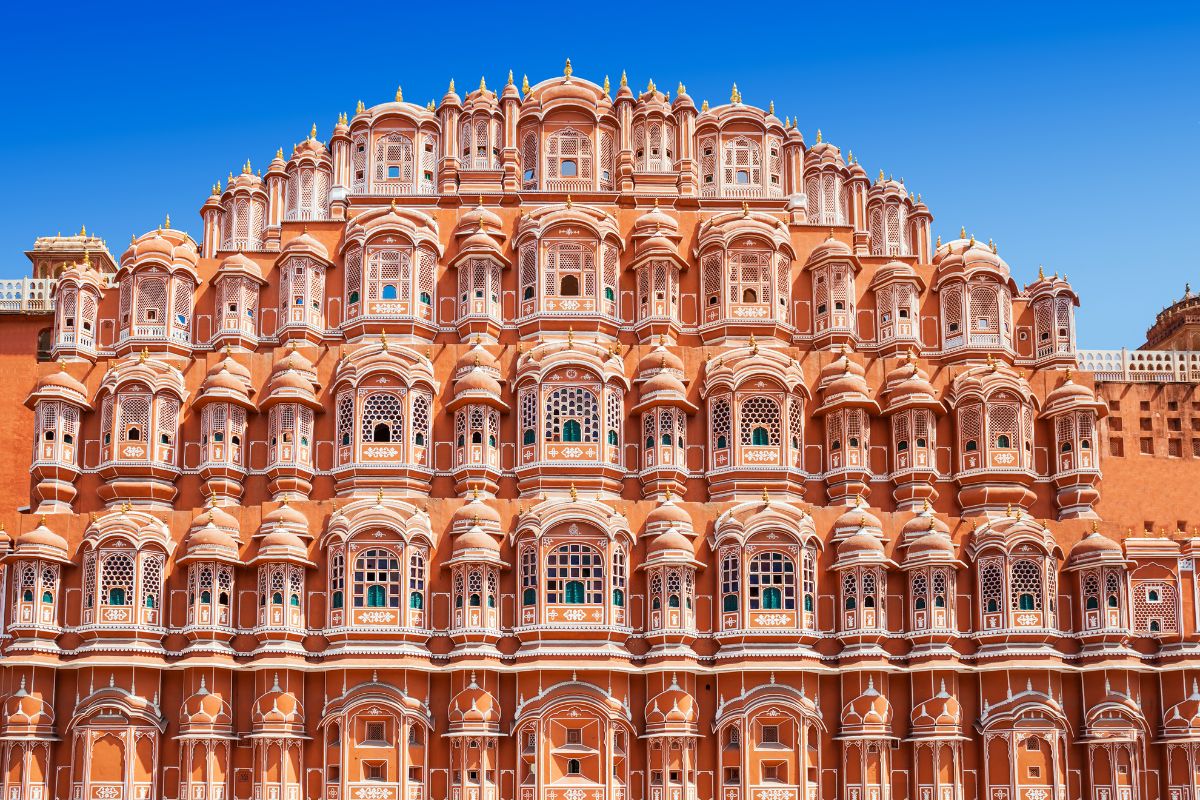 Just half a mile from the City Palace, there's another great site that will have you looking up – and down.
Boasting five stories' worth of layered, interconnected structures, Hawa Mahal stands out, even in a city known for its amazing buildings.
It was originally built as a place for royal women to observe public events in the streets below, and you can see evidence of this in the remarkable network of latticed windows laced into every wall.
Once you're done admiring the outside (which can certainly take a while!), take a tour of the interior to see the palace up close.
Check out the spectacular marblework and the archaeolgical museum in the courtyard, then ascend to the top of the building for the same wonderful views that its former residents once enjoyed.
This is another popular stop on many of the walking tours in Jaipur, where you'll be able to admire its unique architecture alongside such neighbors as Albert Hall and Govind Dev Ji Temple.
Taking a good look at this unusual building will definitely be a highlight of your stroll!
5 –  Fill up on a food tour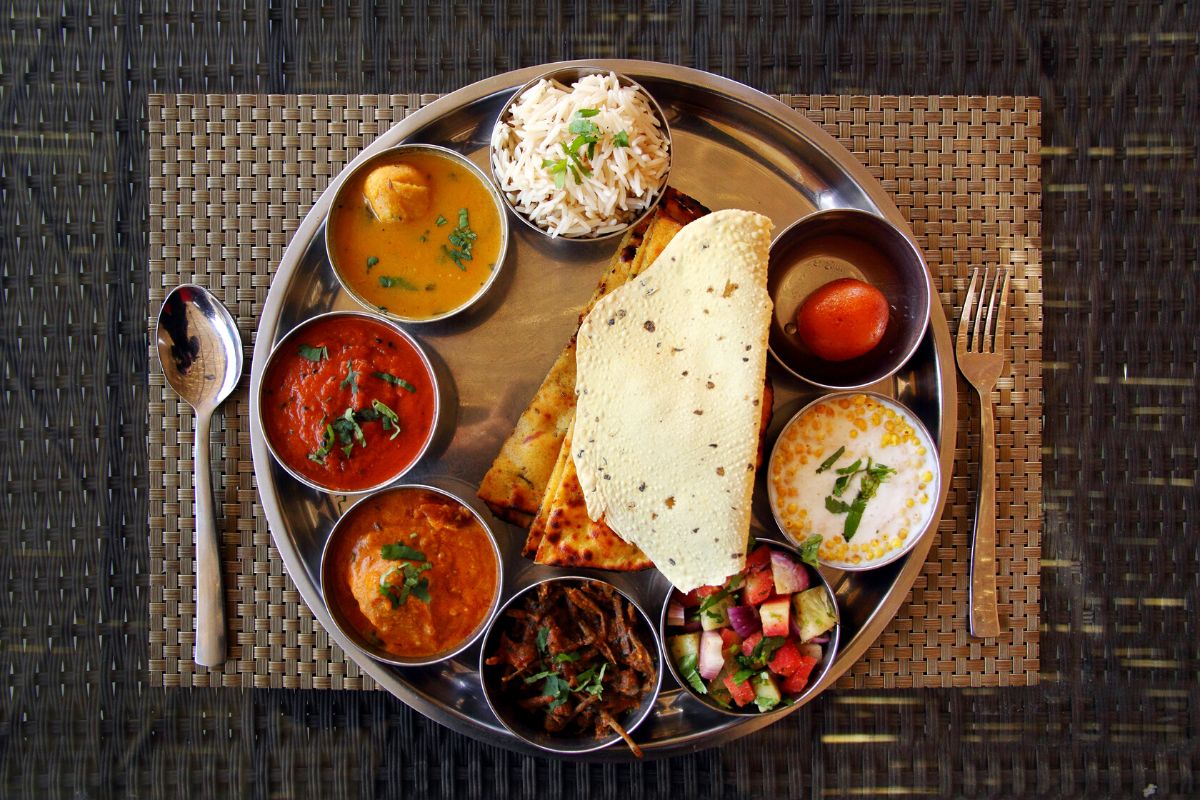 All this touristing is likely to make you hungry, so book your spot on a food tour to taste the local flavors in all of their delicious diversity.
Head out on the street food tour to try some fantastic dishes from local stands, or try a combined tasting session and cultural walk to really immerse yourself in the city's many vibrant bazaars.
If you're seeking variety in your dining options, be sure to stop by Masala Chowk.
This massive, beloved food court features plenty of restaurants, offering beloved street foods such as chaat and Pani Puri.
There's some great ice cream and juice spots as well, so be sure to save room for dessert!
Come with an empty stomach and a full wallet; from samosas to laddus to poha, there's no shortage of marvelous dishes to try here.
6 – Take to the streets (or the back roads) on a bike tour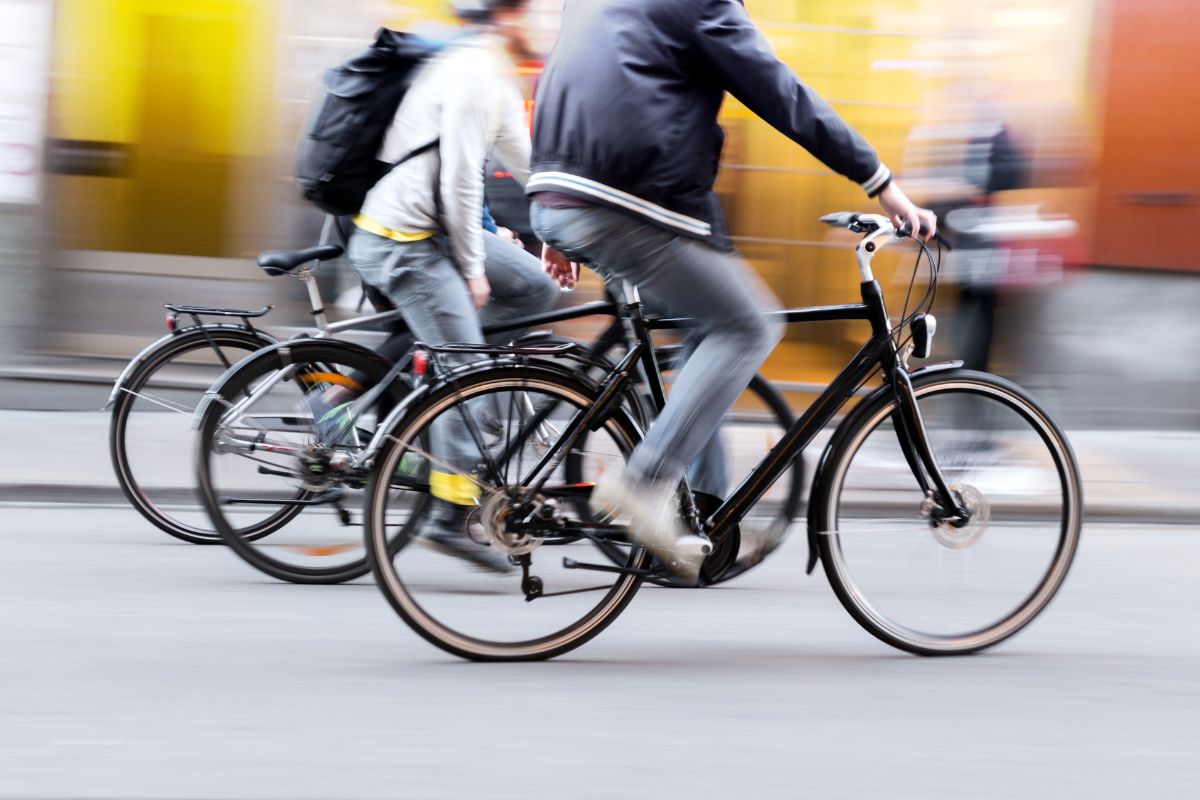 After all of those glorious meals, you may want to get a little bit of exercise.
Bike tours are the perfect way to stretch your legs and see some amazing sites at the same time.
Start your morning off right with a three-hour ride through the city streets, watching markets and temples slowly come to life.
Or go for a leisurely ride through the main avenues, taking in the spectacular architecture from a totally different vantage point.
There are also plenty of tours that stop at specific attractions, such as Amber Fort.
And if you really want to explore the region at large, you can even take a spin through some of the nearby villages and rural areas.
You'll have an amazing time exploring small towns, beautiful forests, and lovely lakes, all the while weaving your way through the gorgeous Aravali Mountains.
So grab your guidebook and take some wheels for a whirl!
7 – Celebrate various religions at Birla Mandir Jaipur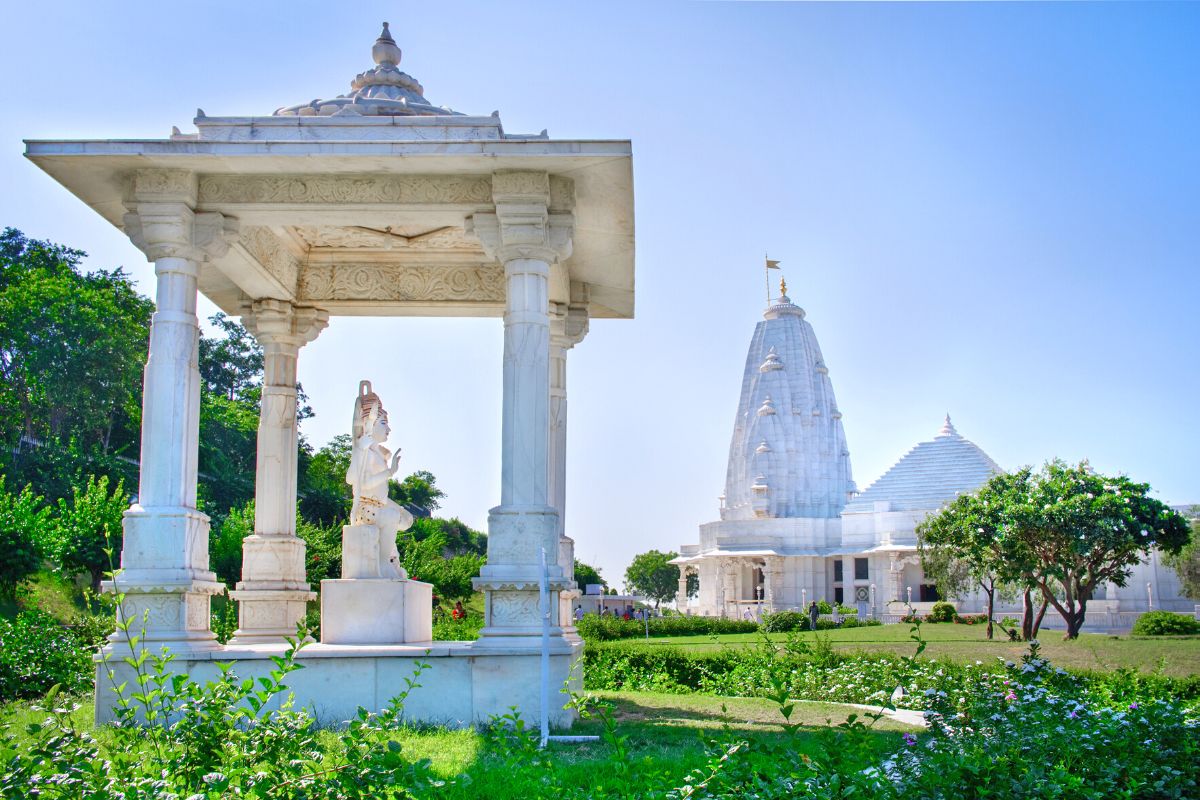 With its totally white, almost futuristic-looking design, Birla Mandir makes a powerful visual impression.
And this beloved Hindu temple has an equally fasacianting set of principles, which manifest in every corner of its design.
Featuring a fantastic array of gorgeous drawings and mythology-influenced carvings  it is a monument to religious architecture that also offers a place of refuge and contemplation for visitors.
One of the most unique things about this temple is its commitment to religious equality; you can see quotes from Jesus Christ, Confucious, and Socrates right alongside those from the Bhagavad Gita.
Take some time to enjoy this tranquil space, and take in some of the powerful messages that it seeks to convey.
8 – Explore the stunning Jaigarh Fort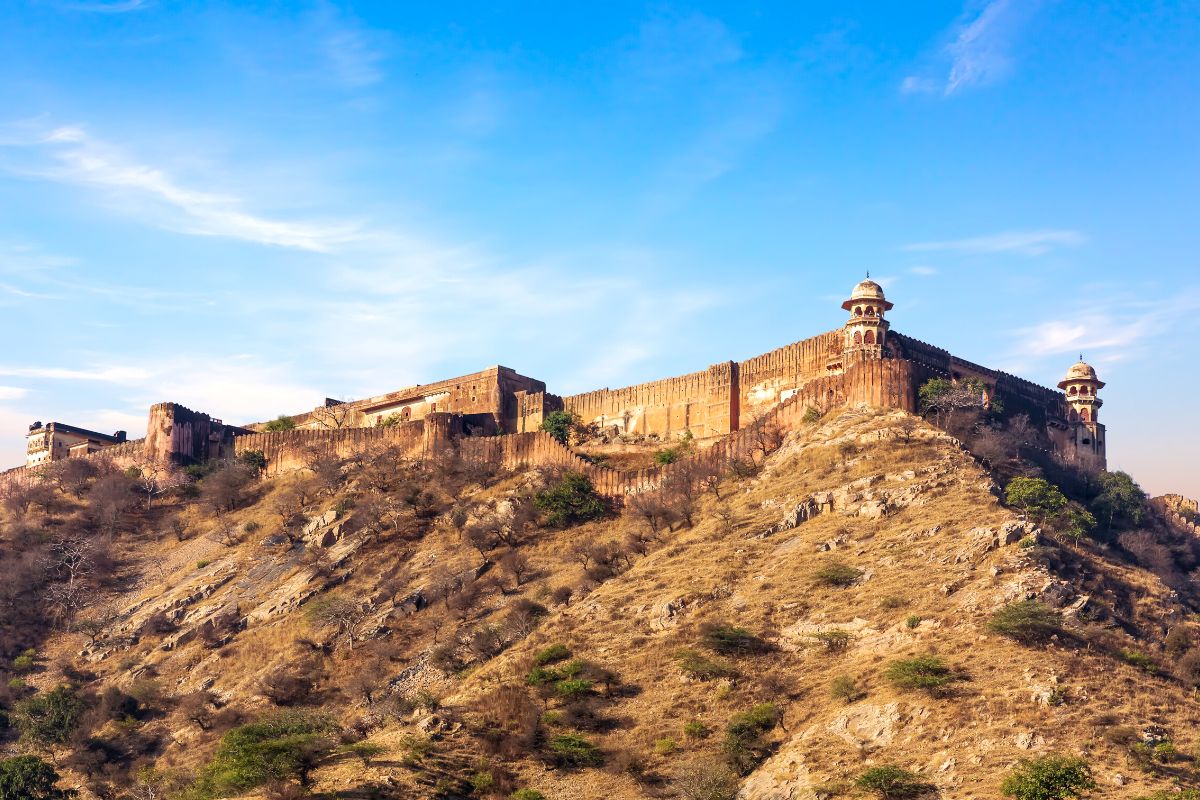 If you've ever wanted to feel like a spy, slip through the underground tunnels beneath Amber Fort and find yourself in a totally new venue!
The Jairgarh Fort was built to protect the palace and Amber Fort from outside threats, and it quickly became a military stronghold, with its cannon foundry providing huge amounts of weaponry for the empire.
Today, you can visit the fort as part of the larger palace complex, and check out its individual attributes, including a small museum and an armory full of historical weapons.
Don't miss the Jaivana cannon, which came from the local workshops and was once one of the largest weapons of its kind in the world.
And of course, you'll have plenty of time to explore the fascinating tunnels connecting the forts – just some of the many unique aspects of this magisterial space.
9 – Play with pachyderms at Elefantastic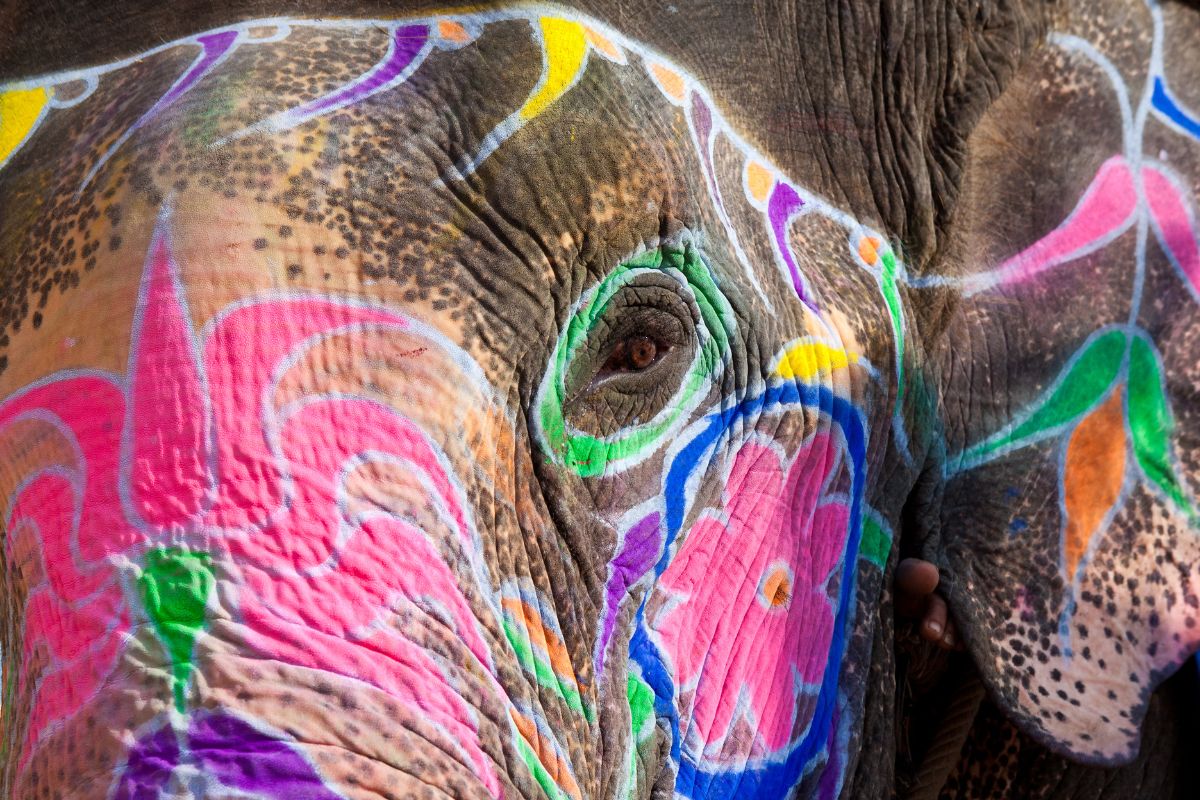 Sure, anybody can spend the night in a cool hotel… but how often do you get to have a sleepover with elephants?
You can try this experience, and several other amazing adventures, at Elefantastic, one of the most unique things to do in Jaipur.
This innovative sanctuary is home to over 20 elephants, all rescued from cruel conditions in their previous lives.
It seeks to break the cycle of negative, performance-based elephant tourism in the region by offering ethical programs and hiring community members to provide care for the animals.
During your visit, you'll get to interact with these delightful pachyderms in ways that you may have only imagined.
After you arrive, the staff will introduce you to some of the animals, taking plenty of time to let them get comfortable with you.
Then it's time for some fun!
Wash and feed your new friends, paint beautiful designs on them with natural materials, or take a stroll through the village to stretch both of your legs.
After a memorable day, you'll be able to enjoy a home-cooked meal before heading home.
And then, of course, there's the evening experience, where you can stroll under the stars with your pachyderm pals before spending a night camping in the wilderness.
These fantastic experiences will let you get up close and personal with some remarkable creatures, all while directly benefitting their wellbeing.
They say that an elephant never forgets, and you certainly won't forget the time that you spend with them!
10 – Try out a cooking class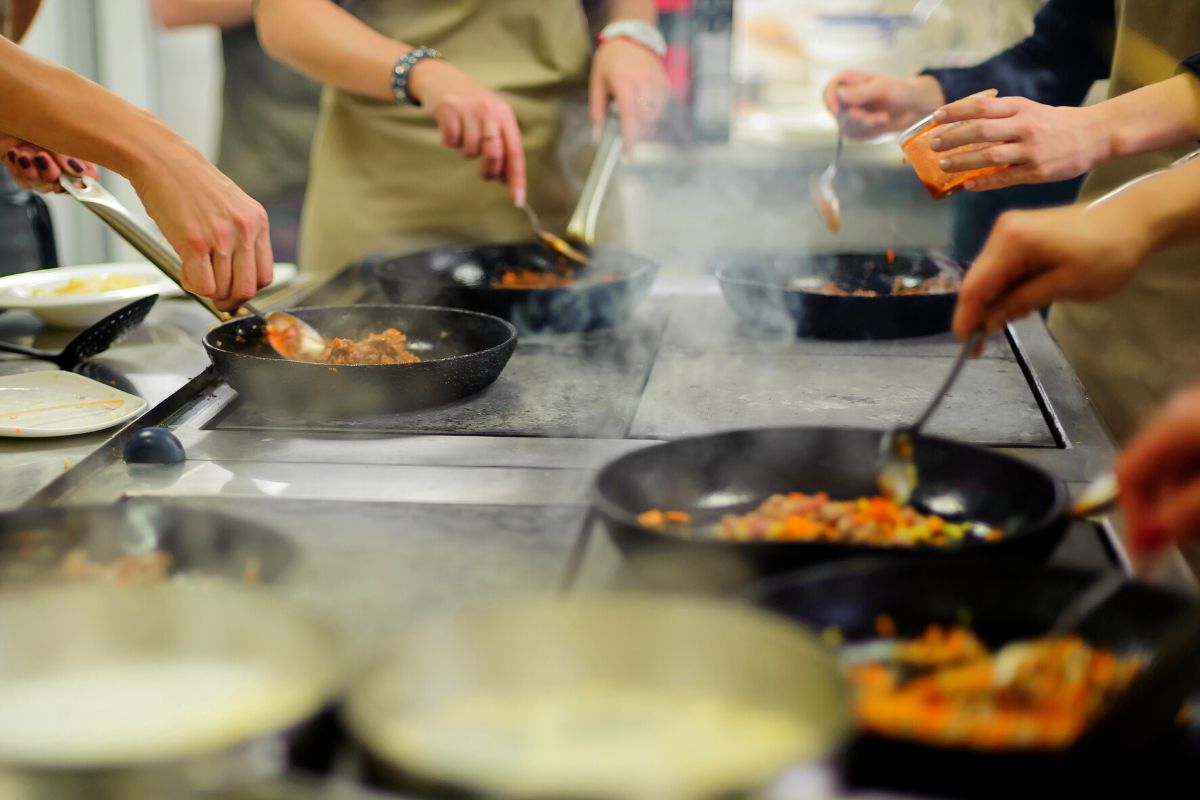 As with all of the states of India, Rajasthan has a unique and vibrant culinary scene.
Cooking classes are a great way to explore these flavors in-depth, and learn how to make some iconic dishes for yourself!
If you're looking for good meat-free options, you're definitely in the right place; there are tons of delicious plant-based meals that you can explore with the help of your cooking teachers.
Pick your own ingredients – literally – as you prepare a delicious Stavik lunch with offerings from local gardens, or take an online class to learn how to make such beloved dishes as aloo gobi and dal.
You can even visit a local home to make a meal with some Jaipur residents, then sit down to eat with them in their own homes.
These courses are a wonderful way to meet locals and learn new skills at the same time!
11 – Meet peacocks at Smriti Van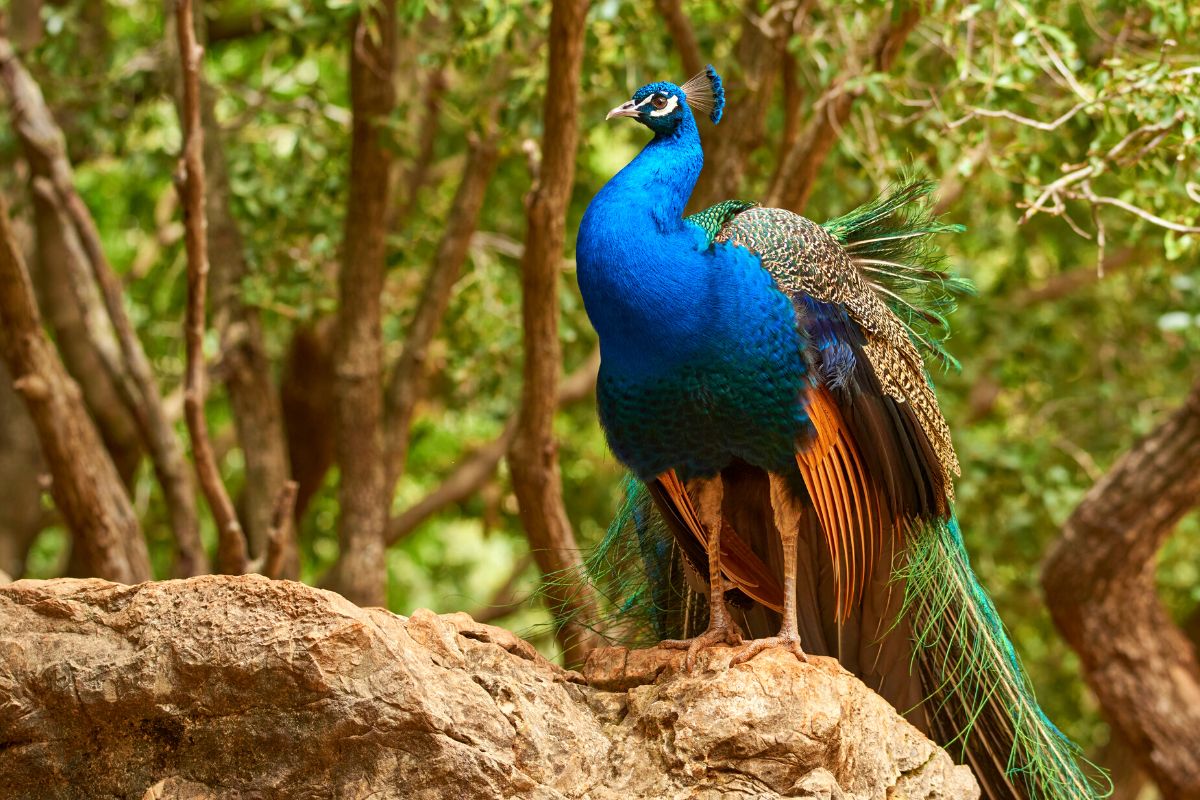 With its peaceful trails, dense forests, and jaw-dropping gardens, Smriti Van is a wonderful place for couples, nature-lovers, and families seeking a respite from the hustle and bustle of the city.
This phenomenal green space originally developed after a massive flood, and was later cultivated as a park by the state.
Today, it offers some picturesque walking paths through a series of gardens, with a wide variety of native plants and birds for visitors to enjoy.
Stroll through lush realms of medicinal trees, cactus, bougainvillea beds, and hundreds of flowers and herbs.
Linger a little at the reservoir, with its series of lovely ponds filled with fish and lotus flowers.
As you stroll, you may catch a glimpse of some avian residents, from free-roaming peacocks to migratory birds.
Be sure to check out the excellent museum featuring photos and descriptions of the local flora and fauna; and don't miss the plant nursery, where you can see some of these gorgeous plant specimens at their earliest stages of life.
This tranquil area is the perfect place to spend a few hours recharging and learning about the local ecosystem, all with easy access to other sites and activities in town.
12 – Walk around the Jal Mahal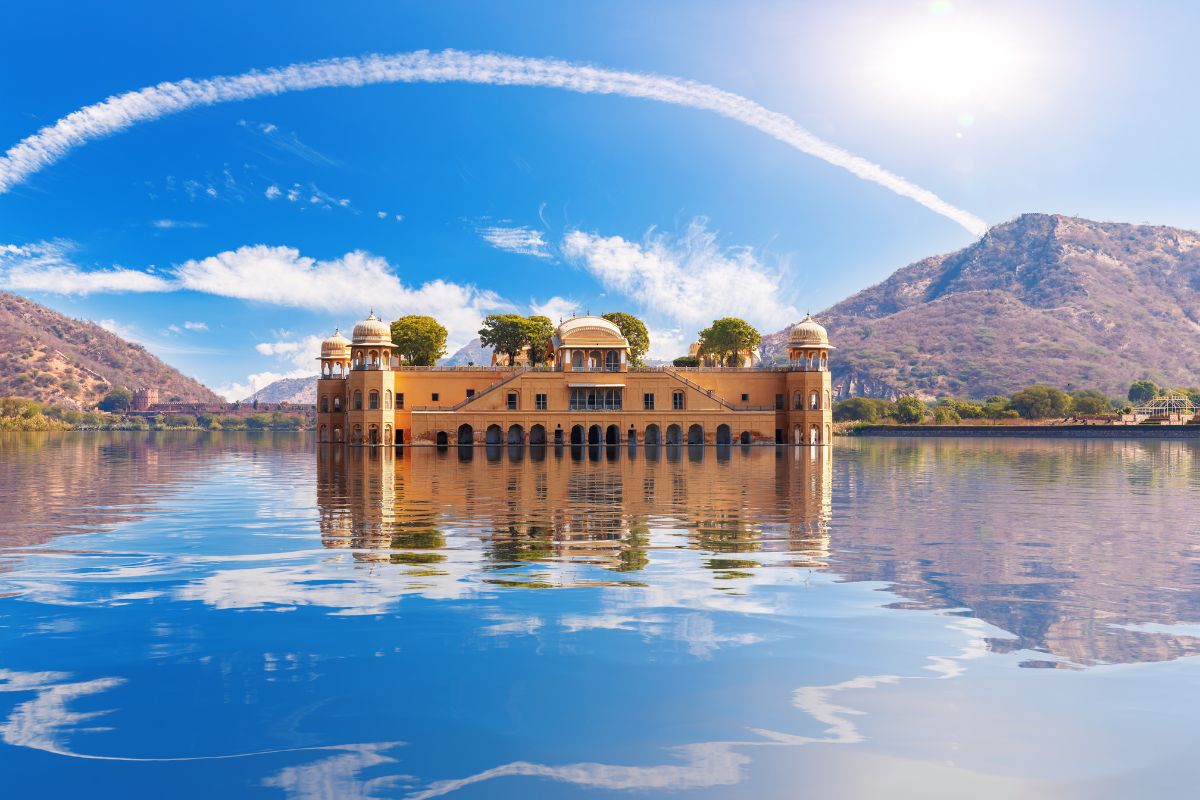 Shooting up from the middle of Man Sagar Lake, the broad and palatial Jal Mahal may seem like a mirage.
But this magnificient building is very much real, and has played an important role in the history of the region.
It is believed that the structure once served as a hunting lodge for the Mararajah of Jaipur, and its simple yet elegant facade includes plenty of striking views of the surrounding area.
When the lake is full, the bottom floors of Jal Mahal are completely submerged, adding to the surreal appearance of the place.
Although visitors are not allowed inside the building, you can still roam around and enjoy some stunning views of the exterior, as well as the lake itself.
This remarkable body of water was actually artificially constructed, but you'd hardly know it from the way it blends in with – and ifnlcuences – its surroundings.
Enjoy views of the lovely rolling hills surrounding the water, and keep an eye out for a variety of fantastic wildlife.
Man Sagar is a particular paradise for avian enthusiasts, and a vast array of local and migratory birds can be found enjoying the lush environment an abundant water.
Take a bird-watching tour for a chance to see blue-tailed bee-eaters, kestrels, herons, and dozens of other beautiful species that make their homes in this spectacular area.
13 – See the dazzling colors of Patrika Gate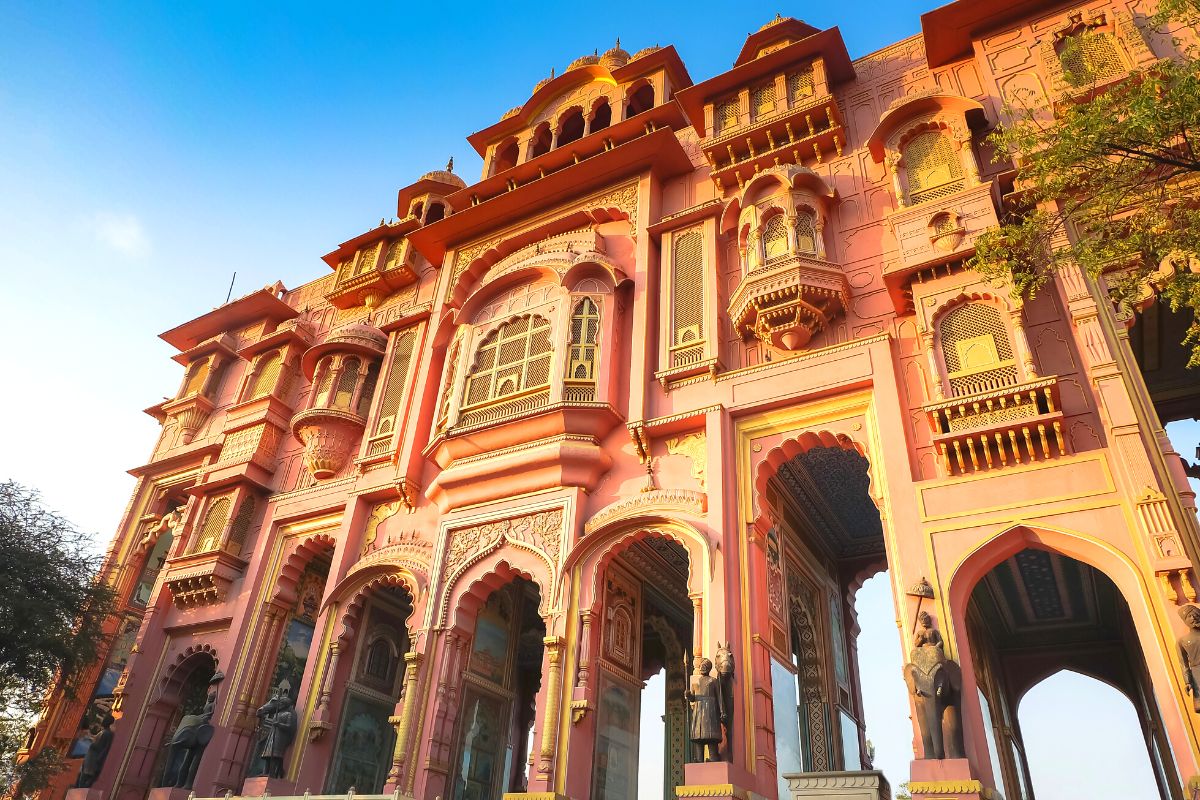 Patrikia Gate's towering, cotton candy-colored visage is a definite reminder of how Jaipur earned its nickname of "The Pink City."
In addition to its fun color scheme and striking design, it also boasts a rich historical lineage; its architectural elements are meant to represent the diverse artistic styles of the state of Rajasthan.
What's more, the structure itself pays tribute to one of Jaipur's most famous attributes: the series of gates that once marked the entrances and exits of the city, and which still stand as historical artifacts in their own right.
While this particular gate is much more recent – it was built in 2020 -, it features similarly gorgeous designs inside and out.
Check out the whimsical arches and turrets out front, as well as the nine gorgeously decorated arches that represent the different areas of the state.
Then head inside to enjoy even more dazzling artistic works, including scenic paintings and striking color schemes that bathe the entire building in bright rainbow hues.
The longer you look, the more spectacular details you'll find!
Afterwards, you can go back outside for a little photoshoot or two, before heading through it to the wonders beyond, such as the Jawahar Circle Garden.
Don't miss the nightly musical fountain show, which combines lights, sound, and water effects into a delightful display.
This is the perfect place to pay homage to the region's history, while also celebrating its artistic future.
14 – Get ready for your closeup on an Instagram tour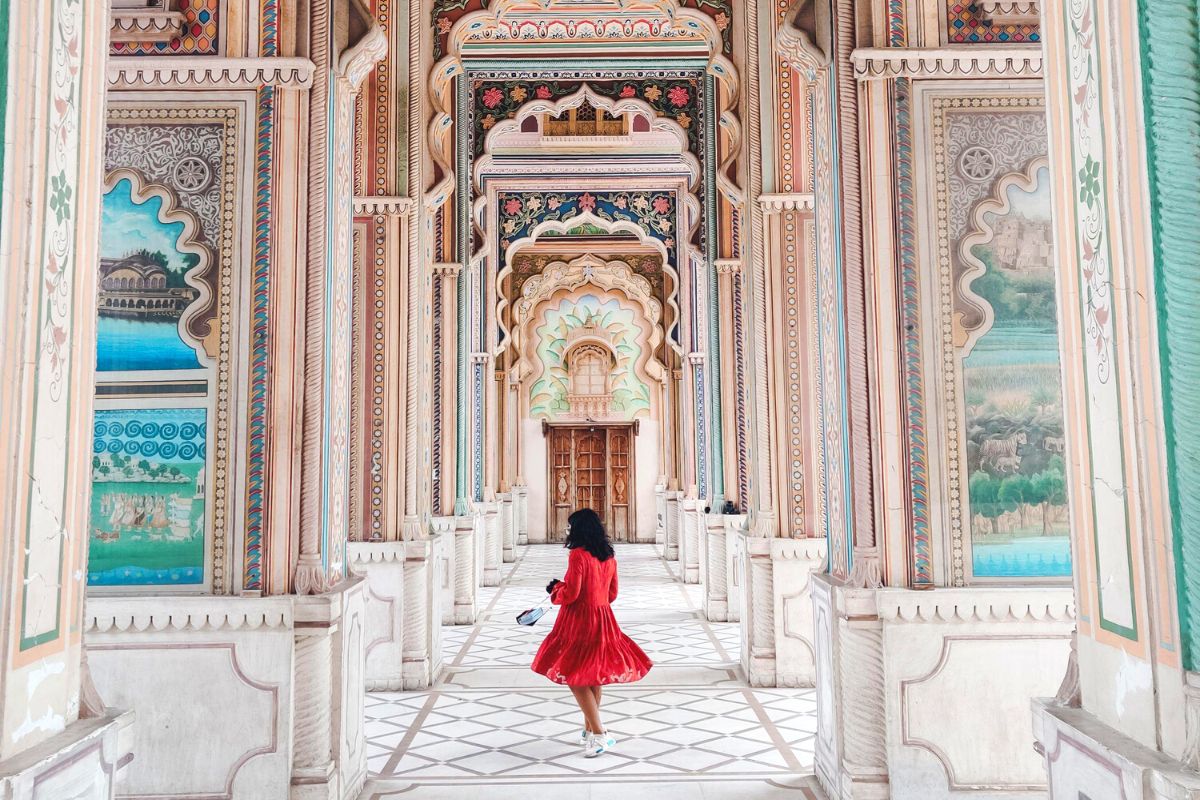 If all of these beautiful sites have you thinking about updating your social media status, fear not; there's a perfect excursion in town just for you.
The Instagram tours are some of the most entertaining things to do in Jaipur, especially for those who like memorable vacation photos.
Whether you prefer for your costars to be buildings, landscapes, or hidden treasures – or some combination of all three -, you'll be able to get some great photos while enjoying spectacular guided tours of some beloved sites.
It's the ideal way to capture your experience in the Pink City!
15 – Study the cosmos at Jantar Mantar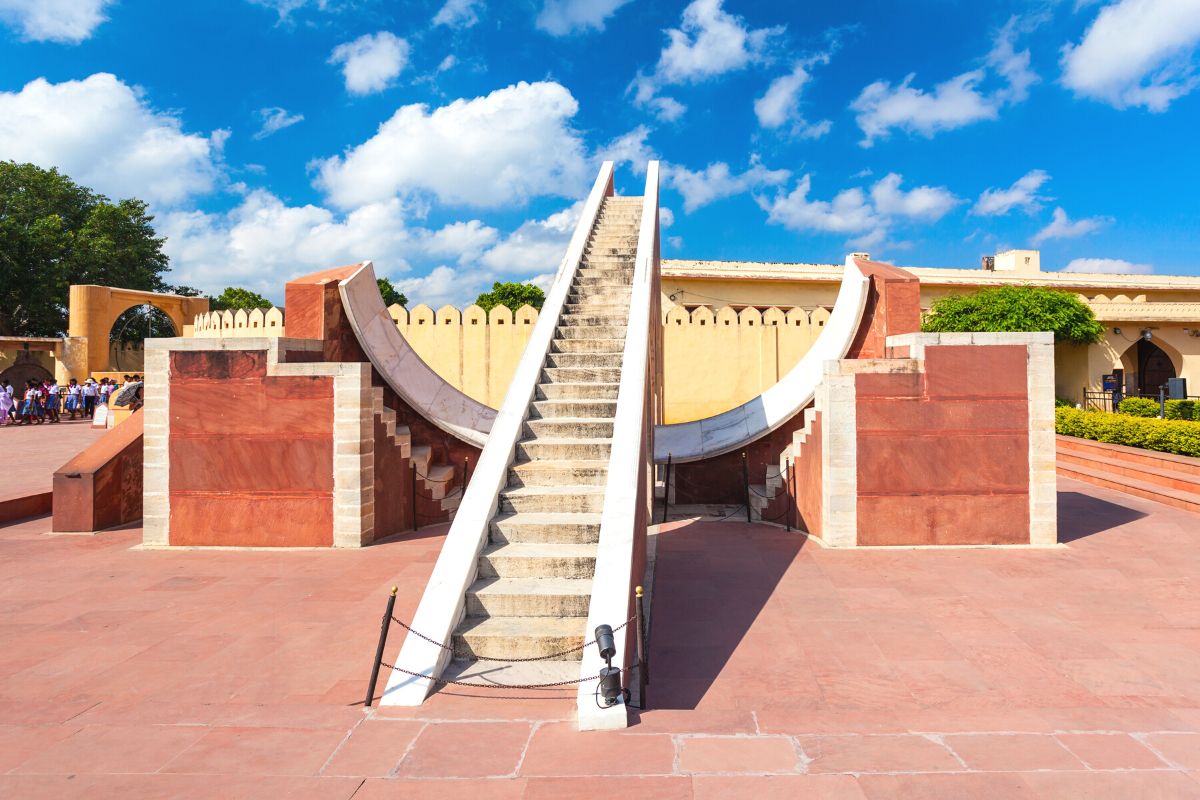 If you often find yourself looking to the sky at  night, a trip to Jantar Mantar is a must.
This gorgeous observatory has been a local fixture since the 18th century, and it features a remarkable collection of astronomical instruments that have been used to map the cosmos.
Don't miss the 73-foot tall stone sundial, which is the largest on the planet.
These structures are impressive in and of themselves, and they're also a testament to the scientific triumphs of Jaipur.
Even centuries after their construction, these remarkable tools can still be utilized to track the movements of the stars, moon, and sun throughout the year.
Stop by to learn all about the history of astronomy in the region; when you go back to your hotel that evening, you may see the stars above you in a whole new way!
16 – Pay your respects at Gaitor Ki Chhatriyan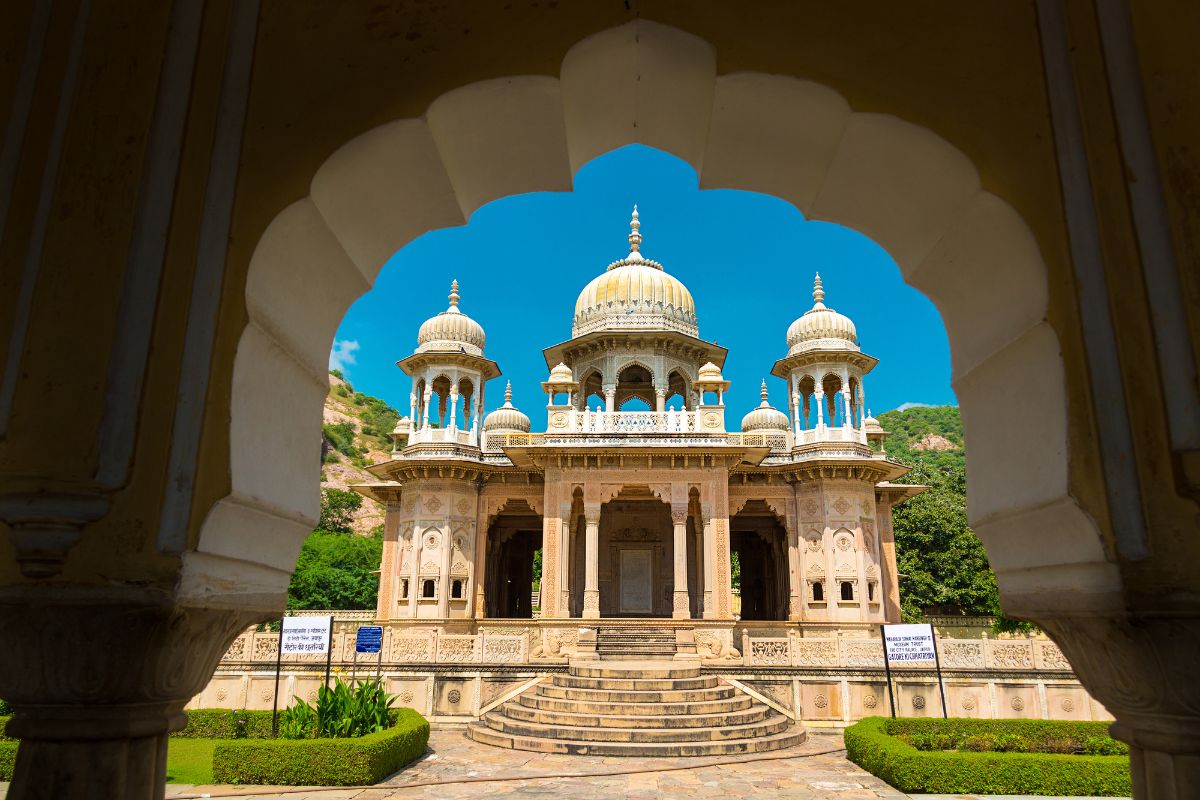 While Gaitor Ki Chhatriyan may be a more somber structure than some of the other ones in town, it offers beautiful architecture and a wonderful glimpse into the history of the royal family.
This elaborate crematorium features tributes to many members of the Rajput dynasty, including Maharaja Jai SIngh II, who founded the city of Jaipur.
In addition to some amazing statues, you can also pay your respects at the tombs of rulers past, which are often engraved with beautiful symbolic designs of their own.
Keep an eye out as well for the sandstone carvings throughout the building, which depict rural scenes and military conflicts.
This is another great place to spend some time absorbing the area's fabulous architectural offerings, and because it's less visited than its contemporaries, it also offers the chance to enjoy these details in an unhurried fashion.
17 – Search for wildlife at Ranthambore National Park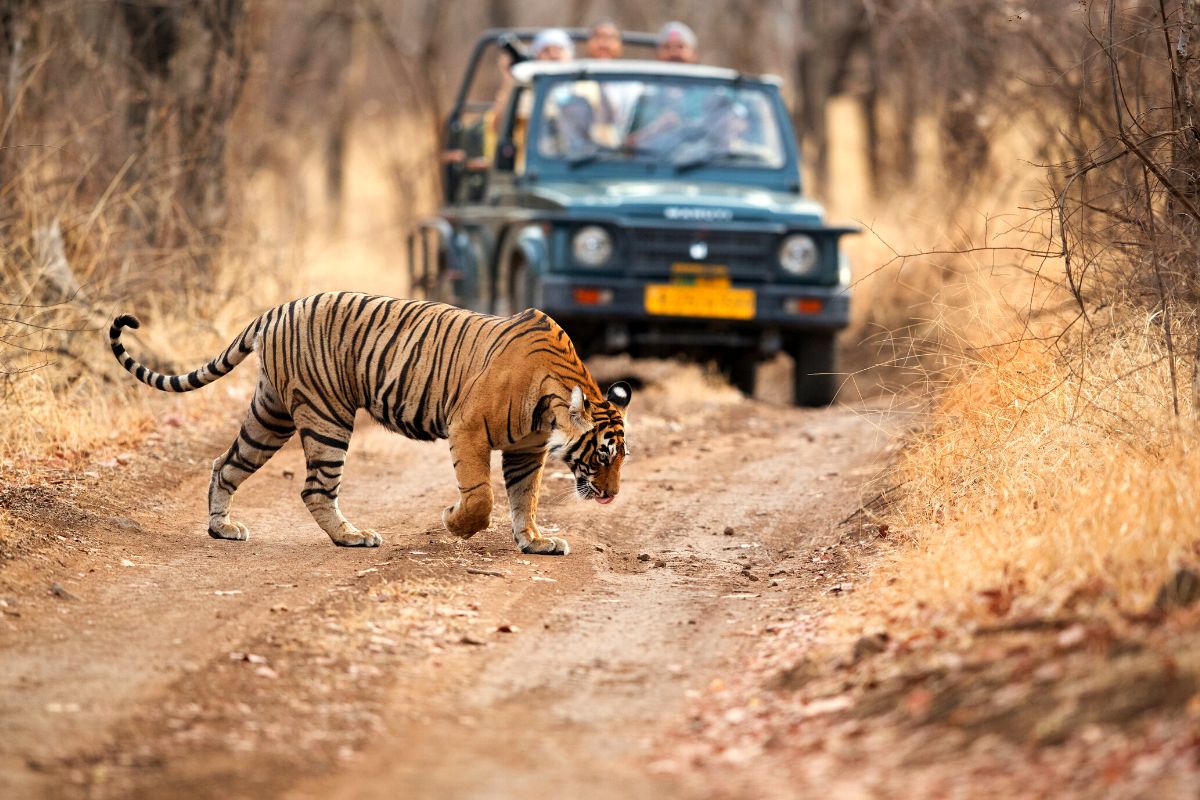 If you're looking for some activities that are a little less citified, head out to Ranthambore National Park for some premium wildlife-sighting opportunities.
With 515 square miles of lush jungle habitat, this stunning landscape, which was once a royal hunting preserve, is a great place to find blue bulls, leopards, hyenas, wild boar, and, of course, the famous Bengal tiger.
Whether you only have a few hours or a whole day, you can embark on a memorable safari to  catch a glimpse of these remarkable species in their native environment.
And if you're really committed to seeing the animals, you can even book a multi-day jaunt, with multiple game drives offering plenty of chances to see the animals out and about.
To add an extra level of adventure to the whole affair, try scheduling a Jeep tour; these hearty vehicles are popular safari vessels for a reason, after all.
You'll be able to get even further off the beaten path and deeper into the wild spaces as you explore the hidden treasures of this magnificent park.
Be sure to bring your camera or phone, because you're likely to have some unbeatable views of the wildlife from your seat!
18 – Admire the art at the Anokhi Museum of Hand Printing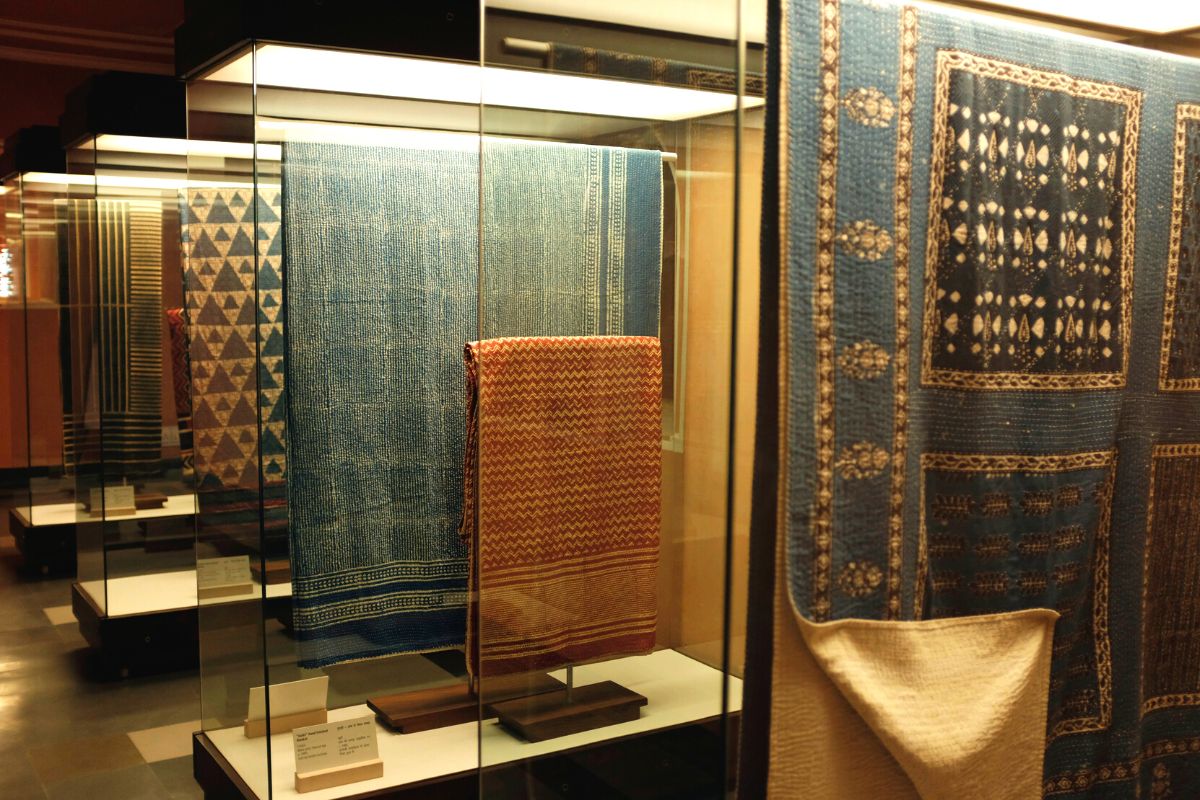 A trip to the Anokhi Museum of Hand Printing is one of the more unusual things to do in Jaipur, and it showcases some pretty great art as well.
As the name suggests, this institution is devoted to the art of hand block printing, which is used to make some truly remarkable textile works.
Workers use engraved wooden blocks to carefully imprint patterns onto various fabrics, creating distinctive designs that can capture a higher level of artistic detail than other, more industrialized methods.
In addition to some fantastic exhibits that showcase different techniques and the histories behind them, the museum also features live demonstrations throughout the day.
Stop by to watch some master artisans at work, and maybe even try a few of their techniques for yourself!
19 – Stroll around Sisodia Rani ka Bagh
Another excellent place for garden fans is Sisodia Rani ka Bagh, which features a wonderful combination of lovely artworks and bountiful plant life.
The space was originally built by the Maharaja in 1728 as a gift for his wife, and it still offers a sense of peace and tranquility to this day.
It's also a notable example of the Charbagh aesthetic, which is charcterized by four sections of garden with a network of walking paths running between them.
Take a stroll around the gorgeous grounds, then check out some of the surrounding buildings, which are chockful of beautiful murals and frescoes depicting scenes from history and Hindu theology.
It's a great way to relax a bit during your trip, while also experiencing another aspect of the Mughal empire's influence on the region.
20 – Learn about religion at Jain Temple Sanghi Ji, Sanganer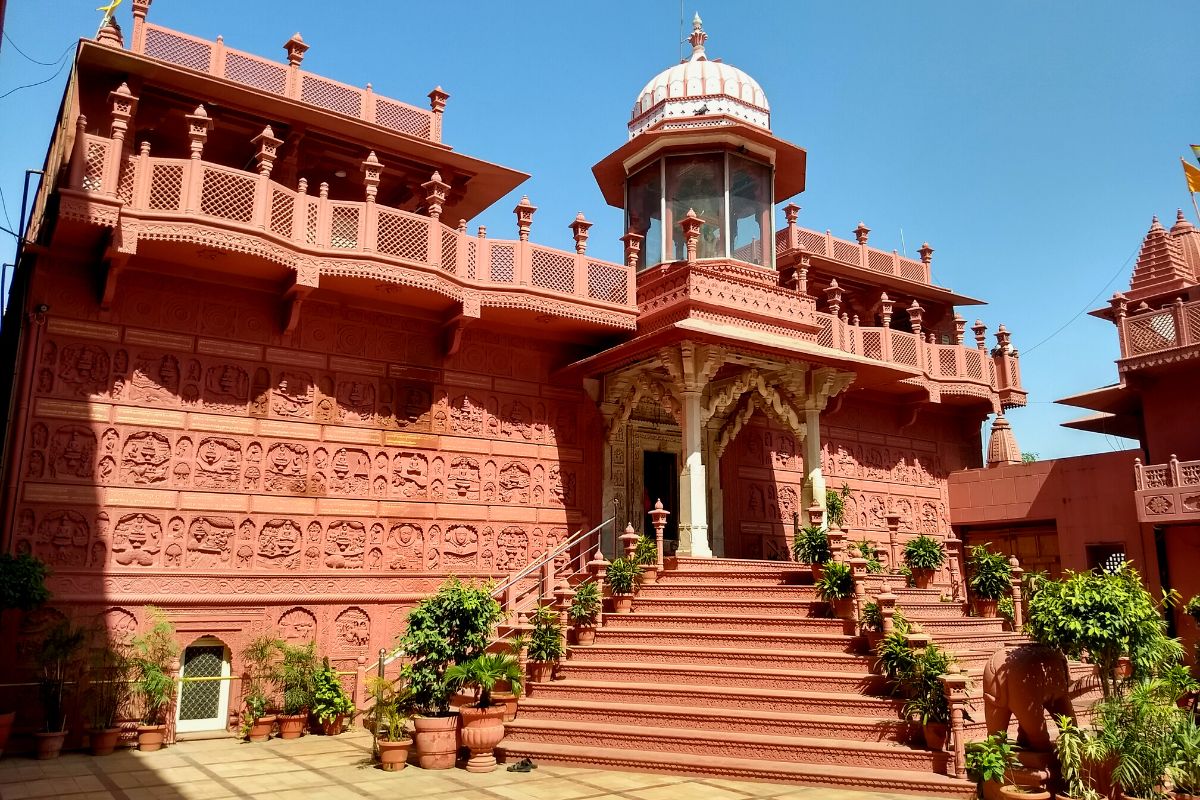 While Hinduism is frequently represented around town, it is far from the only prominent religion in the area.
Jainism – which emphasizes nonviolence and concern for all living things – is also popular in the region, and you can learn more about it with a visit to the Sanghi Ji Temple.
This striking seven-floor complex has been a beloved place of worship for almost 1,000 years, and its grounds are still wide open for tourists wishing to explore the opulent architecture and learn more about its practitioners.
It's well worth checking out some of the smaller design elements as well, such as the small idols and wood carvings located all around the premises.
Keep in mind that this is an active religious site, with people frequently arriving to pray; so exercise an extra level of respect as your visit.
Don't miss this incredible monument to religious freedom and education!
21 – Take a day trip to Taj Mahal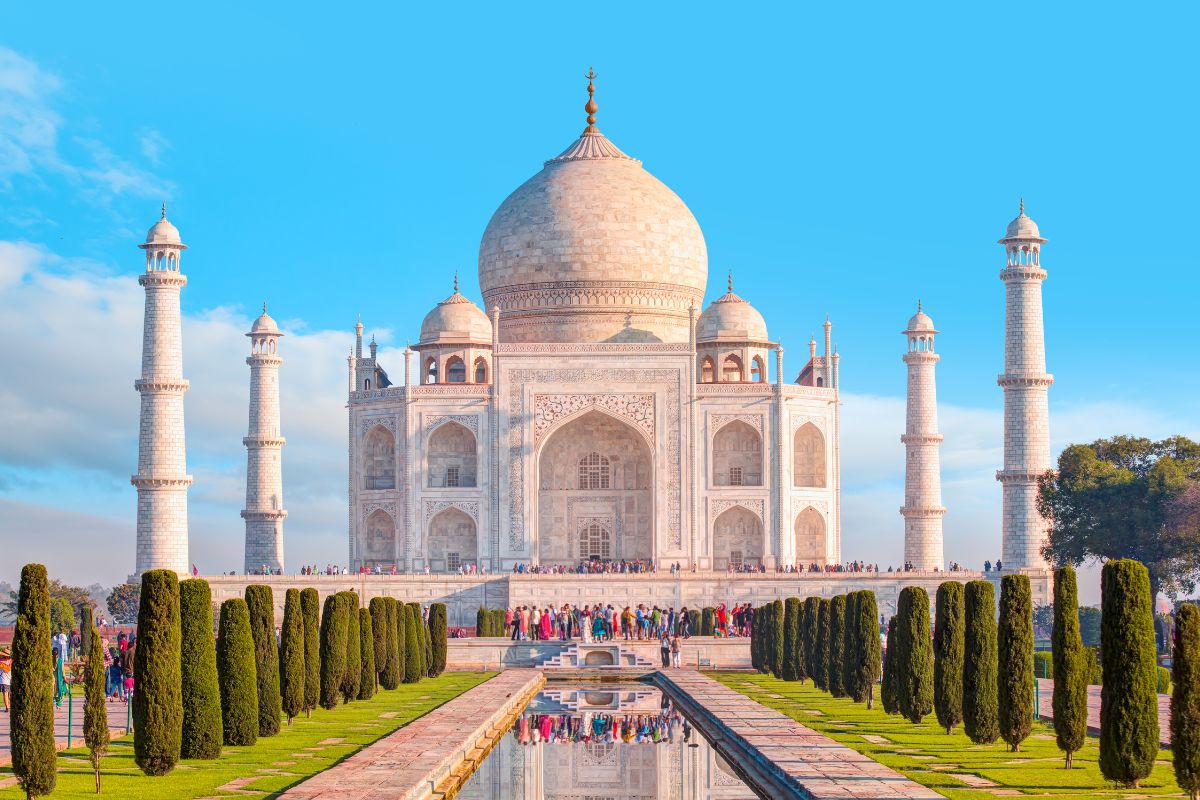 If you're in India, it seems almost sacrelige not to visit the Taj Mahal.
Luckily, it's very easy to arrange a day trip from Jaipur to Agra, the city where the beloved attraction is located.
Meet up with your guide and driver and head out on your trip, watching the landscapes and city skylines change.
Once you arrive, you'll be able to enjoy spectacular views of the monument and learn all about its rich history as a monument to lost love.
You'll also have plenty of time to check out some of the other wonderful sites in Agra, which, like Jaipur, is known for its incredible historical buildings.
Additional places to visit in Agra may include the Tomb of Itimad-ud-Daulah and Agra Fort, each distinctive attractions in their own right.
After all of your adventuring, you'll be taken back to the Pink City by evening.
This is an excursion well worth venturing out of town for!
Hot tip: Learn more about Taj Mahal tickets price and timings.
22 – Meet the monkeys at Galta Ji Temple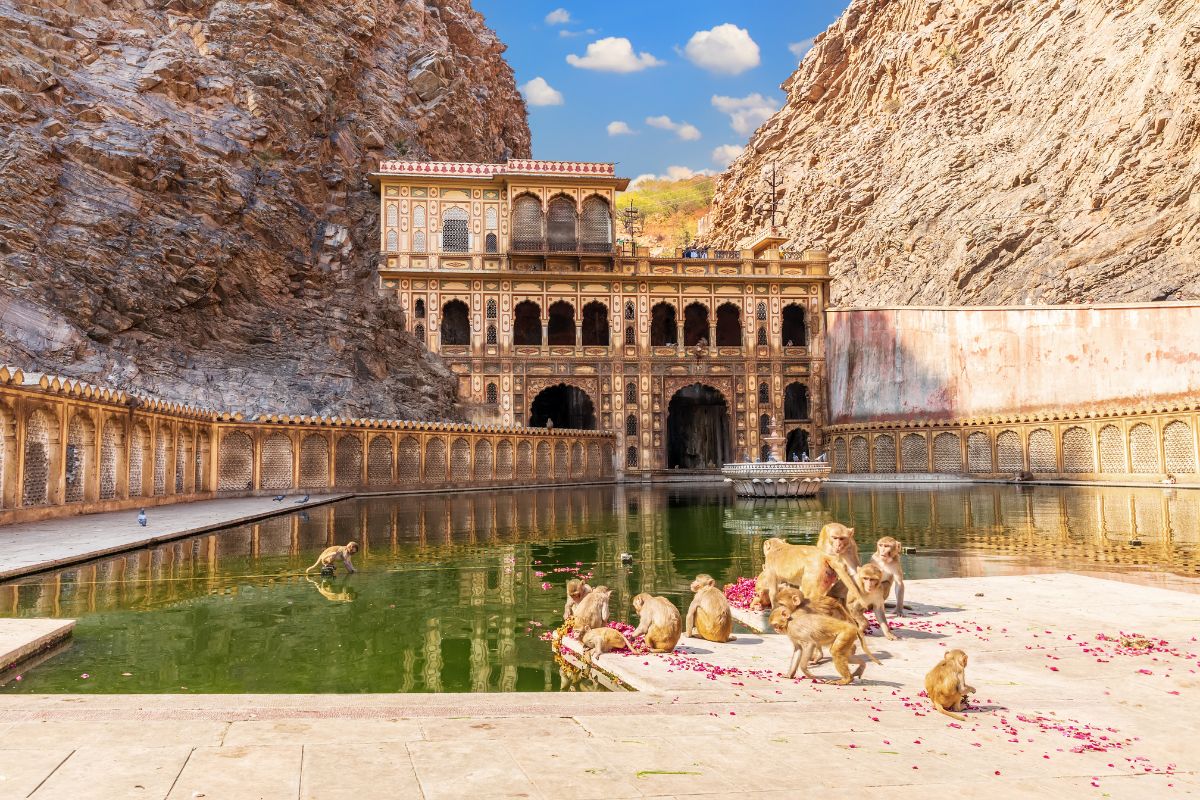 At the Galta Ji Temple, you won't just be treated to spectacular hilltop views; you'll also be able to meet some rather lively primates!
Nestled into the Aravalli mountains, this strikingly beautiful pilgrimage site is filled with elegant religious buildings, each with their own unique design.
There's also a natural spring that fills a series of kunds (water tanks) that have long been utilized by tired travelers looking for a refreshing swim.
Indeed, the complex is popular with just about everyone, from yogis to history buffs – and, of course, with a rather famous group of monkeys.
The lively troops of langurs and rhesus macaques spend their days cavorting around the temple, and sometimes even hop in the kunds for a dip!
It's also pleasant to simply stroll around the grounds, admiring the buildings that have hosted centuries of religious scholars.
With its wonderful mixture of religious influence, stunning architecture, and delightful animal antics, this is one of the best things to do in Jaipur for those seeking a little bit of everything.
23 – Enjoy the views from Nahargarh Fort
A contemporary to Jaigarh Fort and Amber Fort, Nahargarh Fort boasts some pretty impressive attributes of its own.
Probably the most famous are the views; if you climb to the upper levels, you can enjoy some amazing panoramic vistas of the city below.
But there are also plenty of remarkable things to see in and around the complex, which was originally built as part of the city's defense system.
You can visit some of the elegant rooms that were once home to the city's queens, or enjoy some fine dining at Padao Restaurant.
Nature enthusiasts will love looking at the mountains and forested areas around the fort, and fans of the arts will get a kick out of the beautiful works rendered throughout the halls.
There's even a wax museum on the premises!
If you can, try to time your visit to coincide with the sunset; after many hours of exploring all of the fort's unique attractions, you'll be able to enjoy an incredible display as the sun goes down and the lights come up in the city below.
24 – Experience different cultures at Chokhi Dhani ethnic village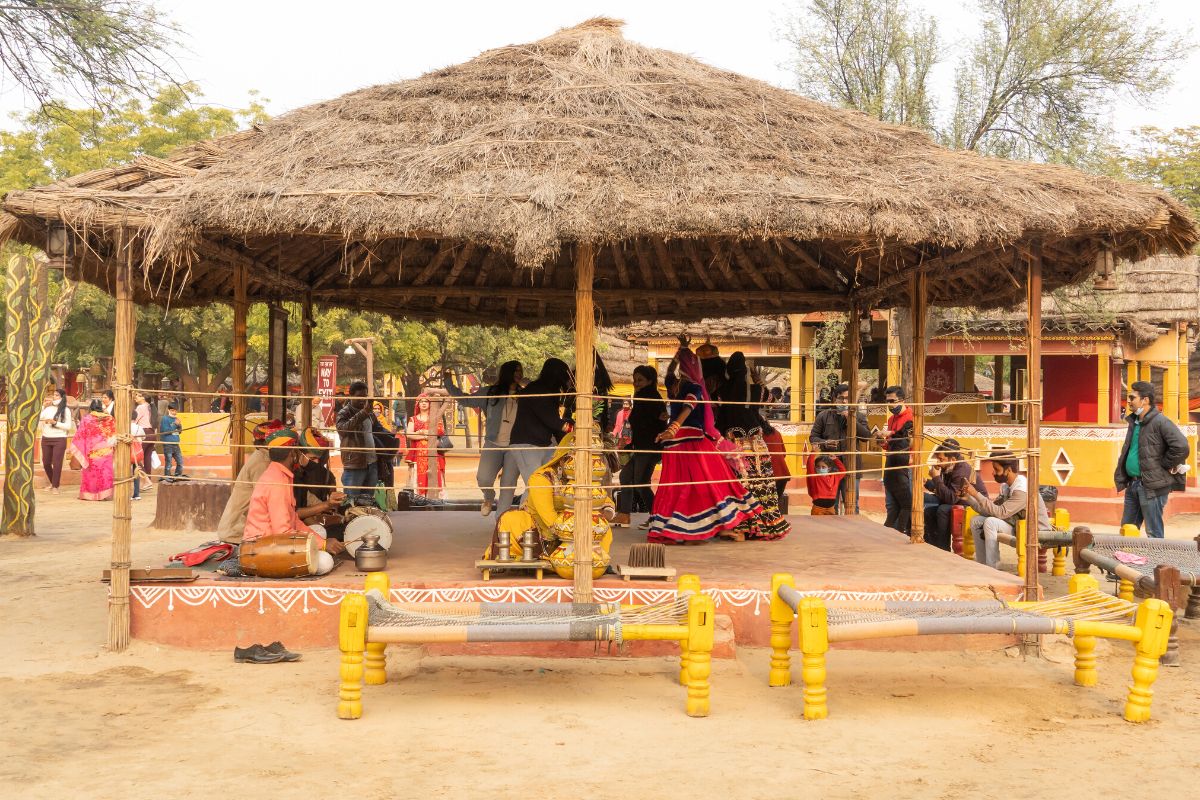 If you're looking for more culturally focused things to do in Jaipur, stop by the Chokhi Dhani village to learn more about life in Rajasthan.
This delightful attraction invites guests on an immersive tour through a recreation of a traditional Rajasthani village, featuring live performers, art displays, and food stalls.
Stroll around the beautiful buildings emulating life in rural areas, and enjoy a wide variety of shows, from puppetry to dancing to magic acts.
And if you don't feel like walking, just hop aboard a camel or horse for a leisurely ride around the area.
This dynamic space has something for everyone, and it's a wonderful way to immerse yourself in some of the nuances of the culture.
25 – Stretch it out with some yoga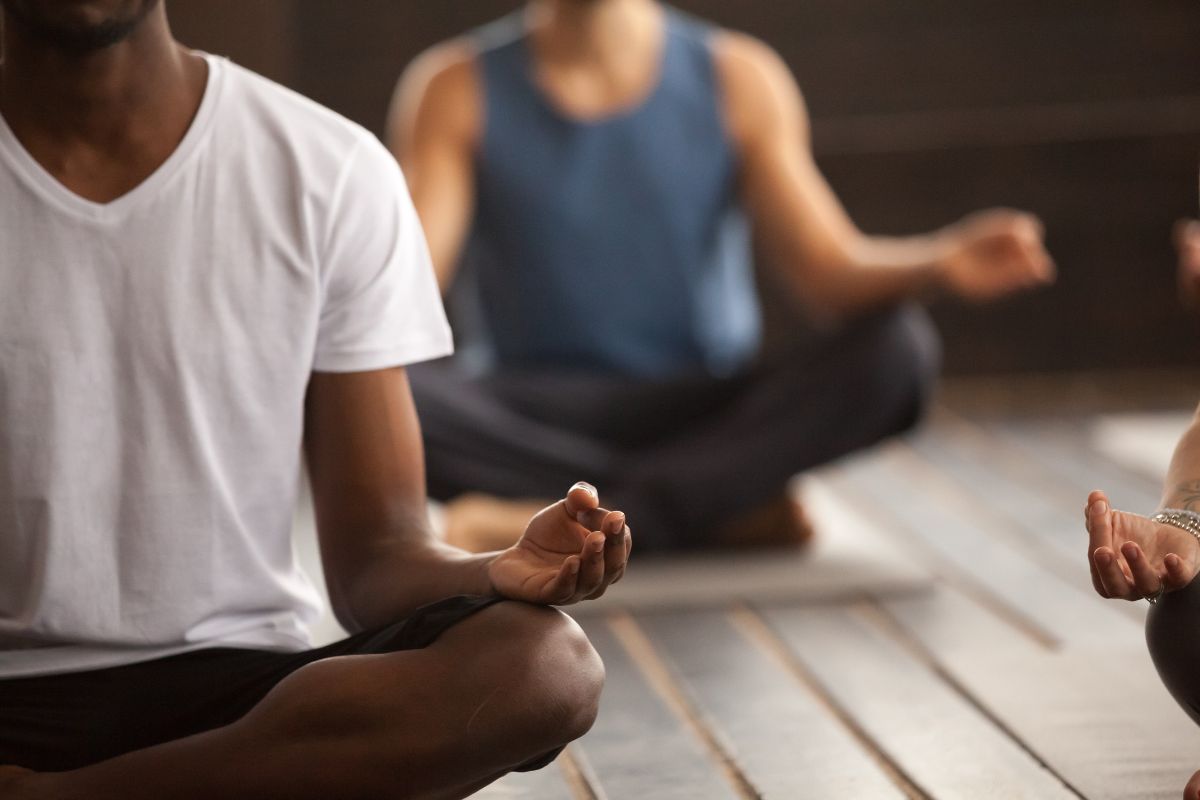 Yoga was born in India, so it only makes sense to take a class or two while you're there.
And if you're in Jaipur, there are plenty of great classes to choose from, ranging from short sessions to multiday camps.
Join your fellow travelers for a rooftop class, where you can run through your moves while enjoying stellar views of the city.
Or take on a revitalizing holistic course, which focuses on meditation and wellness techniques alongside proper posture.
And for a unique vantage point for your practice, try a sunrise session, where you can start your day with a reflective, restorative session.
If you want to take your yoga experience to the next level, try a three day session. You'll be able to try a whole variety of styles, from pranayama to asana.
As an added bonus, your teachers will help you explore some healthy habits that you can continue to pursue at home – a pretty stellar souvenir!
Whichever experience you choose, you'll come away feeling refreshed, rejuvenated, and a whole lot stretchier.
26 – Visit Vishnu at Akshardham Temple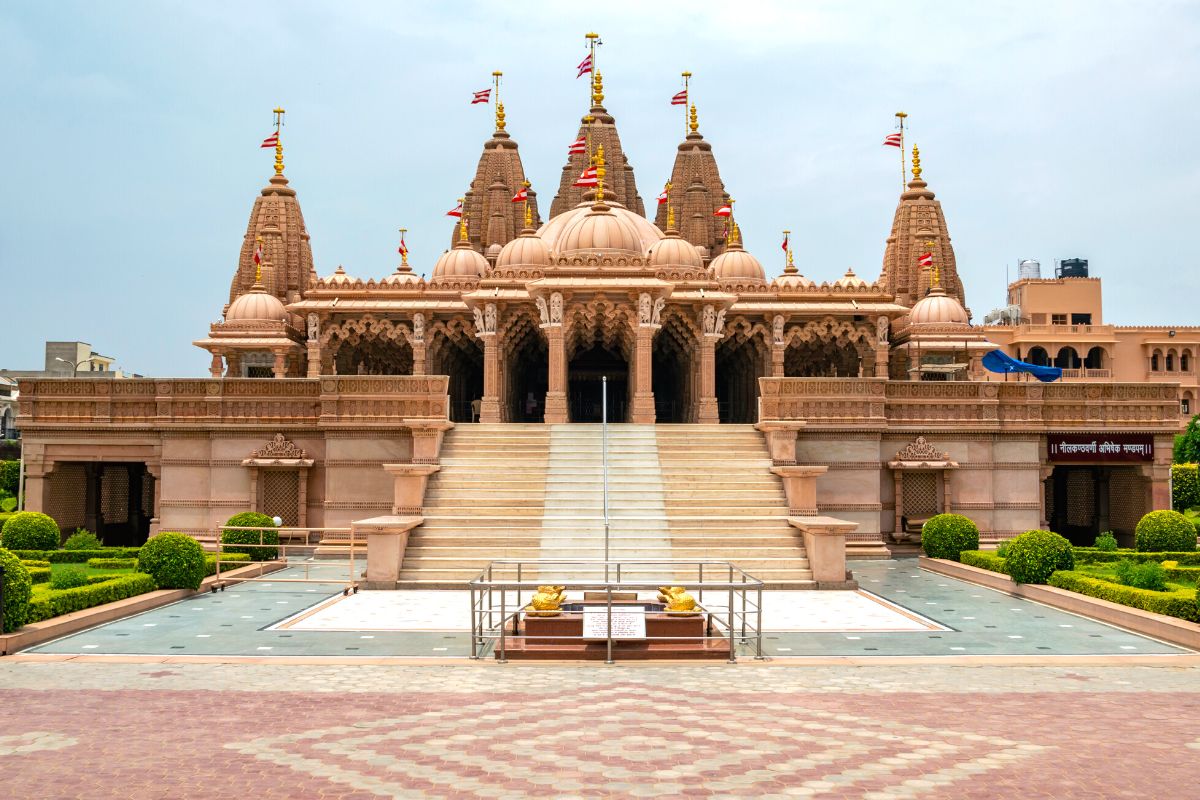 Narayana, also known as Vishnu, is one of the most revered Hindu gods.
Akshardham Temple was built in tribute to him, and it also offers plenty of beautiful scenery for visitors to enjoy.
From beautiful sculptures to well-maintained gardens, the temple and its surrounding grounds offer a whole range of unique details to explore.
Don't miss out on the tribute to Vishnu itself, which is nicely decked out in silver and gold.
27 – See history (and camels) in Pushkar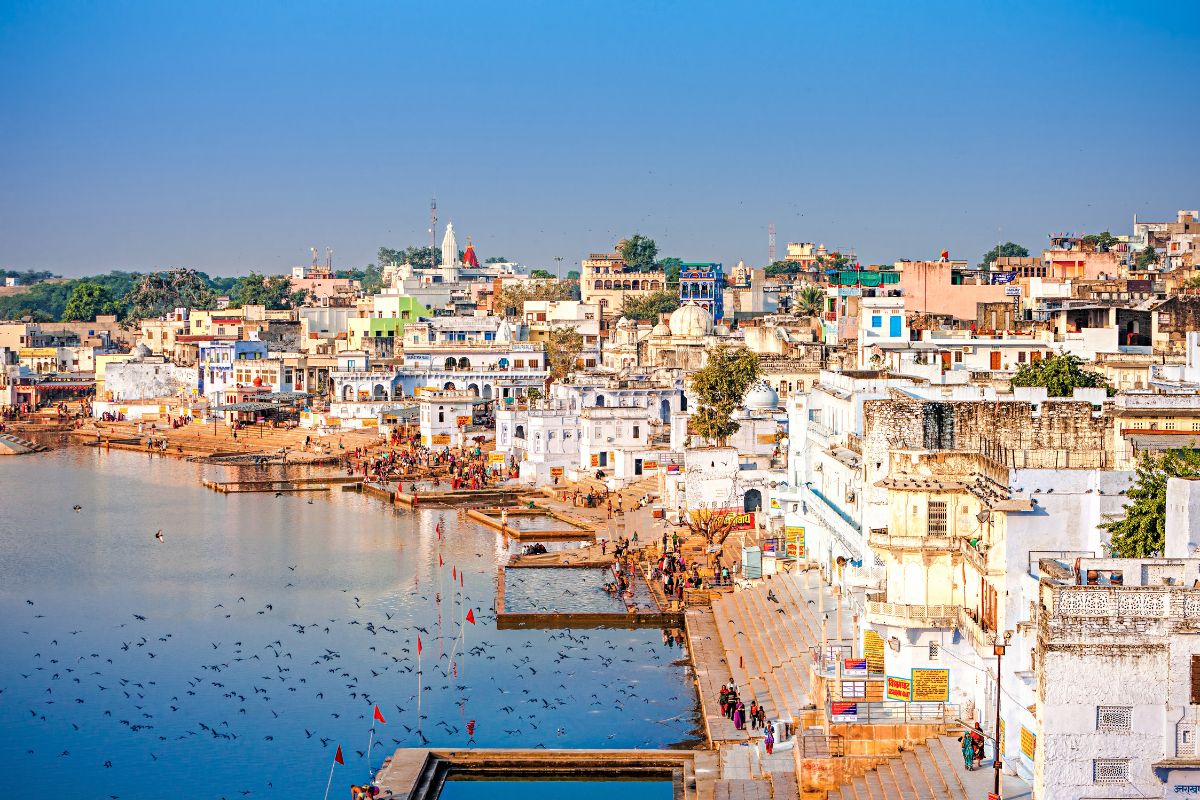 Ever dreamed of riding a camel?
How about doing so before or after visiting some amazing temples?
Just three hours west of Jaipur, the city of Pushkar offers a chance at this awesome itinerary, plus plenty of other hidden treasures to explore.
Make the rounds of the many holy buildings in town, taking in fantastic views of the lake along the way.
Don't miss the chance to see Brahma Temple, which is one of the few in the world specifically devoted to Brahma, god of creation.
And of course, you won't want to skip the camel rides!
One of the coolest things about this region is its arid landscape, which makes it the perfect place to explore with the ultimate dry-climate animal.
Your safari will take you through the Thar Desert, a striking region full of rolling dunes and vast expanses of sand.
Hop aboard your new steed and explore the city's highlights, or head further out of town to see some of the stark, stunning wild spaces of one of India's greatest natural wonders.
Be sure to snap some pictures of yourself aboard your dromedary!
28 – See the religious monuments of Ajmer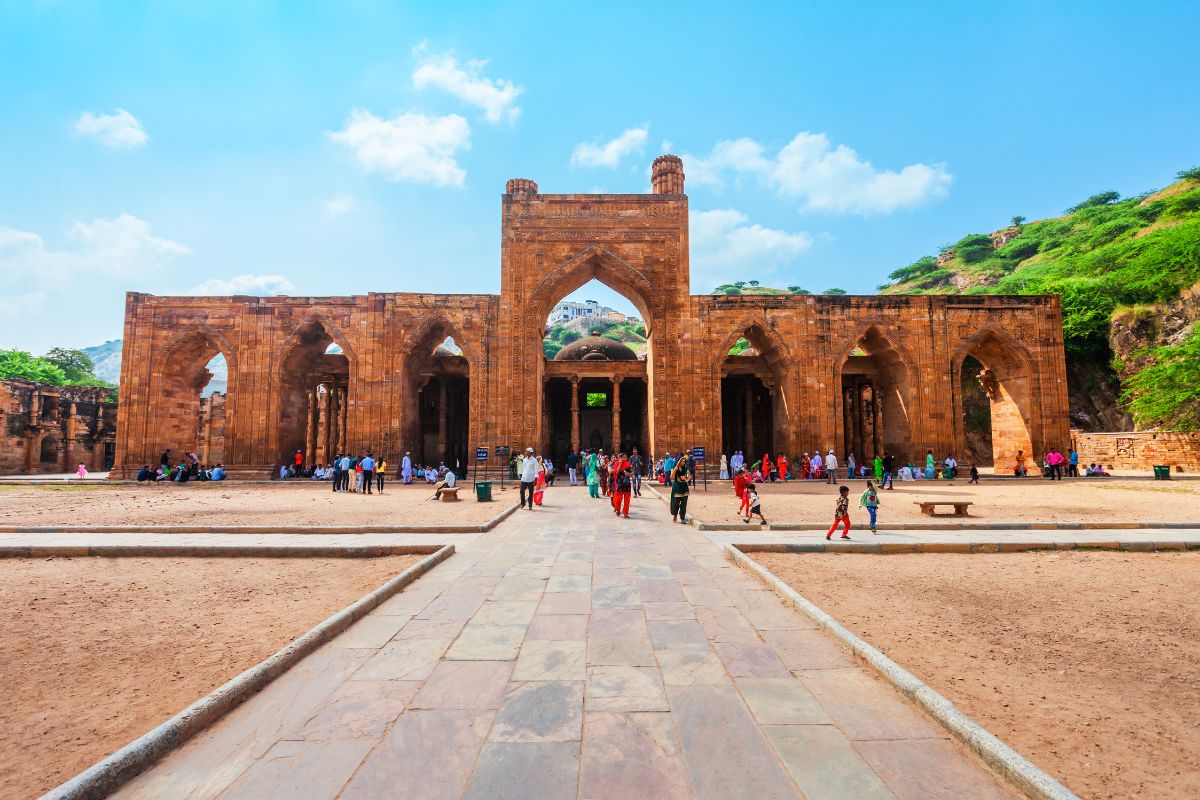 If you're looking for even more adventures in the Pushkar region, neighboring Ajmer can be easily added to the itinerary.
Just 30 minutes from Pushkar, this city is best known for its splendid Sufi and Muslim monuments.
Stop by Adhai din ka Jhonpra, a magnificent 12th century mosque rumored to have been built in two and a half days, and Dargah Sharif, the grave of the Sufi saint Moinuddin Chishti.
Then take in some of the terrific views of Ana Sagar Lake, an artificial body of water with excellent views of the town.
While Ajmer has plenty of fantastic areas to visit, a combined tour with Pushkar can be a great way to better understand the different religious influences on the region.
So don't forget to add this hidden gem to your schedule!
29 – Enjoy the events at Moti Dungri Ganesh Ji Temple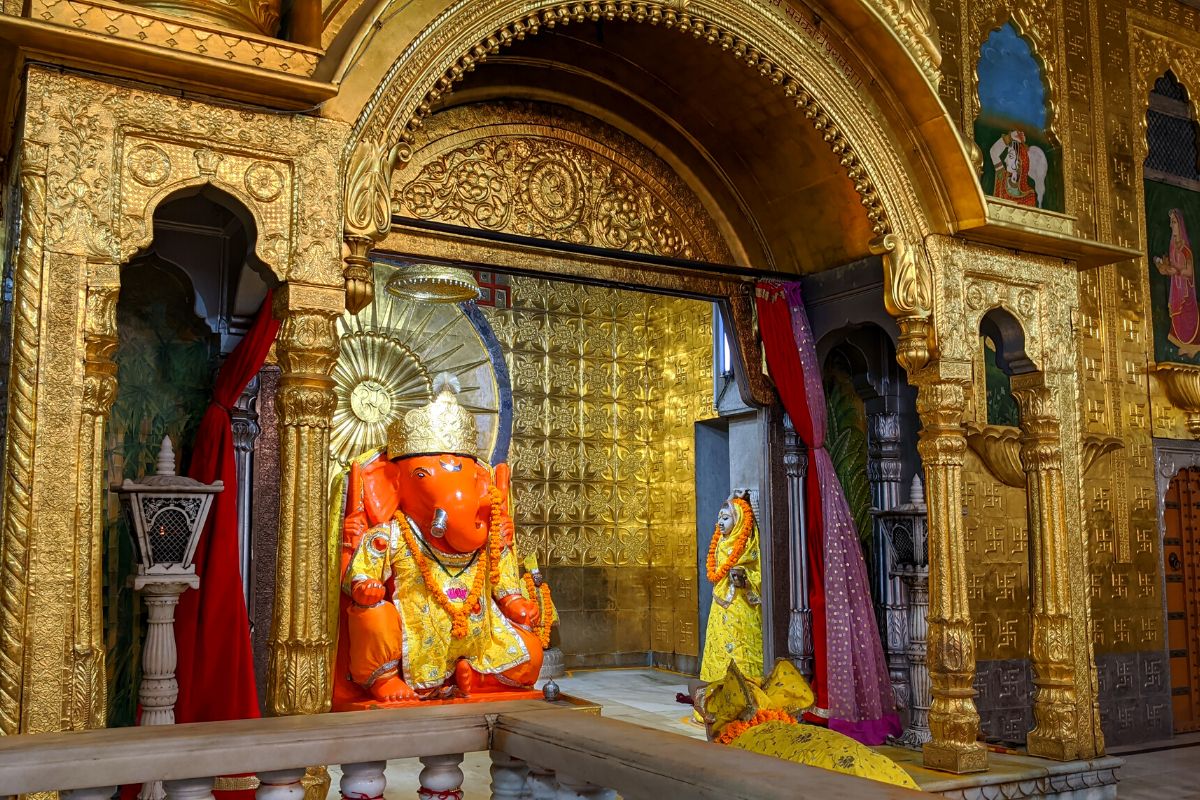 If you want to add festivals to your list of things to do in Jaipur, check out the schedule of events at the Moti Dungri Ganesh Ji temple.
This magnificent religious site, which is devoted to the Hindu god Ganesh, is a major part of many festivals throughout the year, including Paush Bada and Krishna Janamasthami
It also features a weekly fair that offers religious activities and social events
In addition to its cultural offerings, the temple is notable for its unique architecture; it borrowed many of its design elements from Scottish castles!
30 – Relax in Kanak Vrindavan Park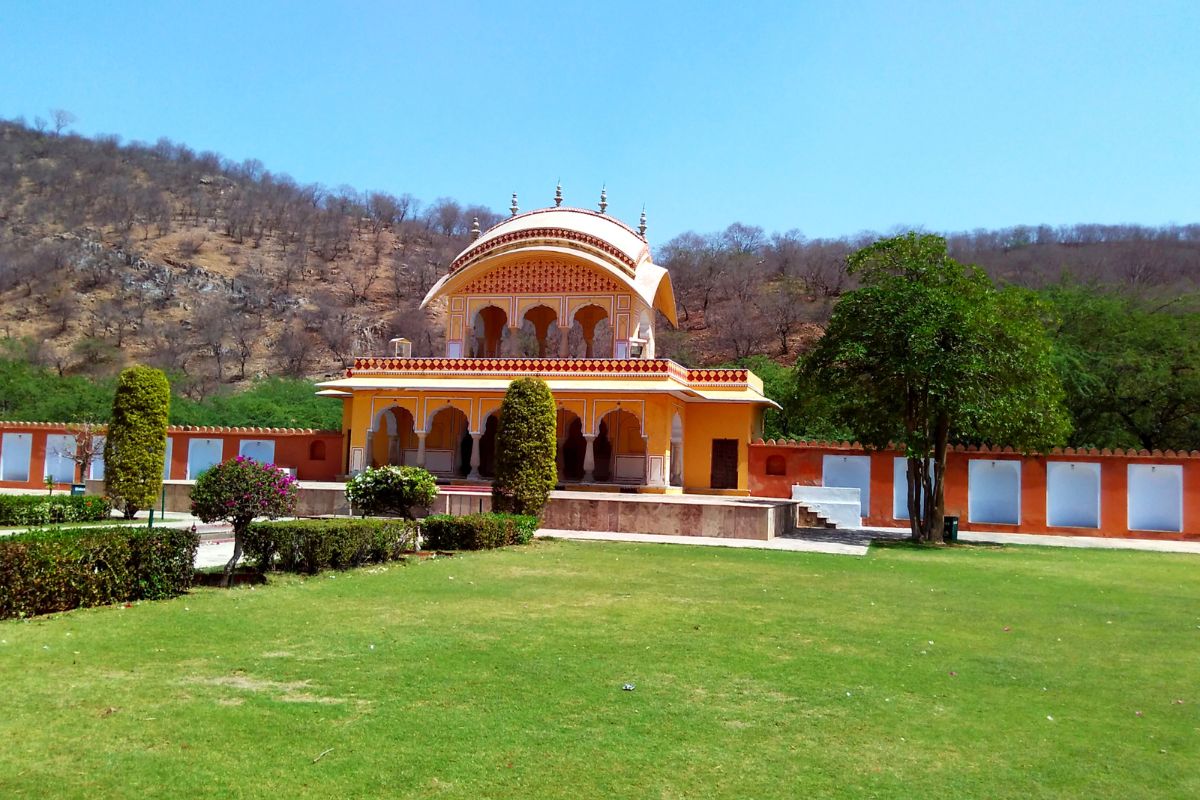 With the Aravali mountains in the background and Amber Fort just up the road, Kanak Vrindavan Park definitely makes a great impression.
And it's even more amazing up close, with its well-manicured paths and beautiful, unique gardens.
The park is relatively young by Jaipur standards – only about 280 years old -, but it's been a fixture of civic life ever since, and its grounds are beloved both for their natural and artistic attributes.
Check out the decorative mirrors in the Govind Devji temple and the picturesque marble fountain in the center of the property, then take a mellow stroll between rows of lush green trees and vibrant flowers.
Don't miss the lovely area in the middle of the complex that serves as the meeting point for multiple rivers, which are said to have holy properties.
Best of all, the park's close proximity to other popular attractions, such as Jaigarh Fort and Jal Mahal, make it easy to visit as a peaceful interlude in the midst of a busy sightseeing day.
31 – Enjoy architecture and ghost stories at Chand Baori Step Well (Abhaneri)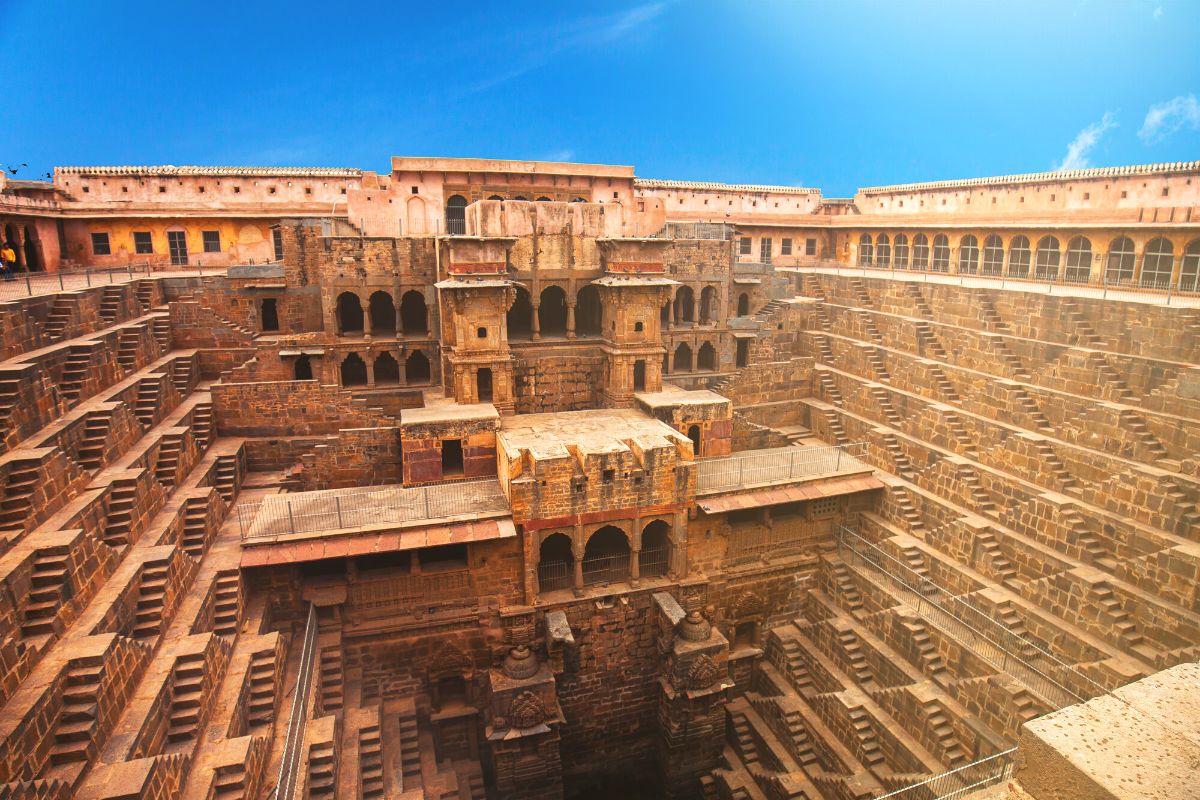 If you're interested in areas with a supernatural side, you'll love the Chand Baori Step Well right off the bat.
Located in the nearby town of Abhaneri, this striking structure was designed to collect rainwater, and also serves as a nice swimming hole in warm weather.
In addition to the fascinating stepwells themselves, you can enjoy the fascinating blend of engineering and art, with intricately carved stonework and clear, lovely pools that are almost as nice to look at as they are to dive into.
But the stepwell is also part of a larger story; it's located in Bhangarh Fort, which, along with the surrounding town, was mysteriously abandoned several centuries ago.
During your guided tour, you will learn all about this unusual site, and get a chance to admire its unique structures up close.
And then, of course, there are those rumors of strange goings on in the area…
The fort has sometimes been called, "India's Most Haunted Place," and with its spectral atmosphere and mysterious past, it's easy to see why.
Rumors of feuds, curses cast by dark wizards, and unexplained phenomena abound, and the history of the area is riddled with tales of paranormal activity.
Whether you're superstitious or not, you'll have a wonderful time delving into the eccentricities of this marvelously designed site.
32 – Hang out in Central Park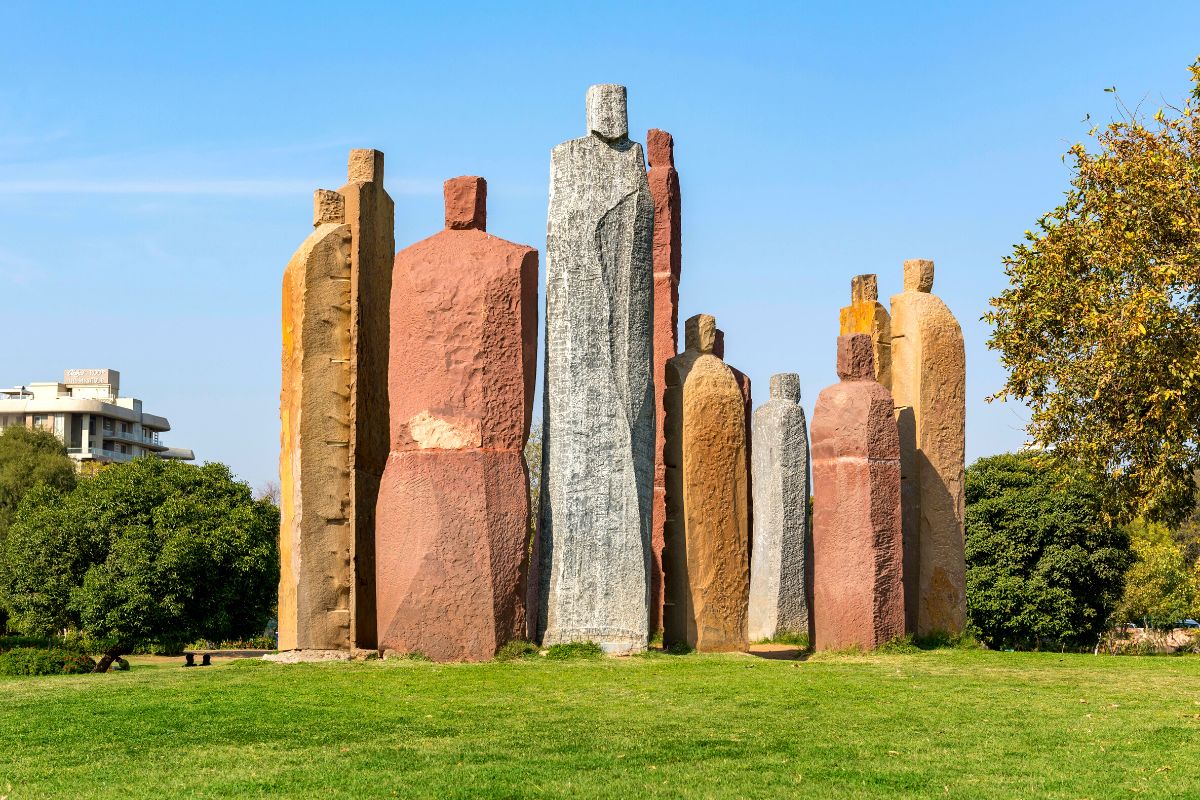 Ok, ok, it's not that Central Park.
But this glorious green space is one of the most beloved public spaces in the city, and offers some of the coolest things to do in Jaipur.
Whether you like jogging, birdwatching, or general sightseeing, this is the perfect place for you.
Keep your eyes peeled for several species of avian visitors as you picnic on the grass, then stroll along the lovely paths, people-watching and drinking in the fresh air.
You can also enjoy the lush and varied scenery, from  well-cultivated flowerbeds to creative sculptures.
If you're there around sunset, don't miss the spectacular light show at the musical fountain – it's a great way to celebrate the end of another wonderful day in the Pink City!
33 – Look for birds at Keoladeo National Park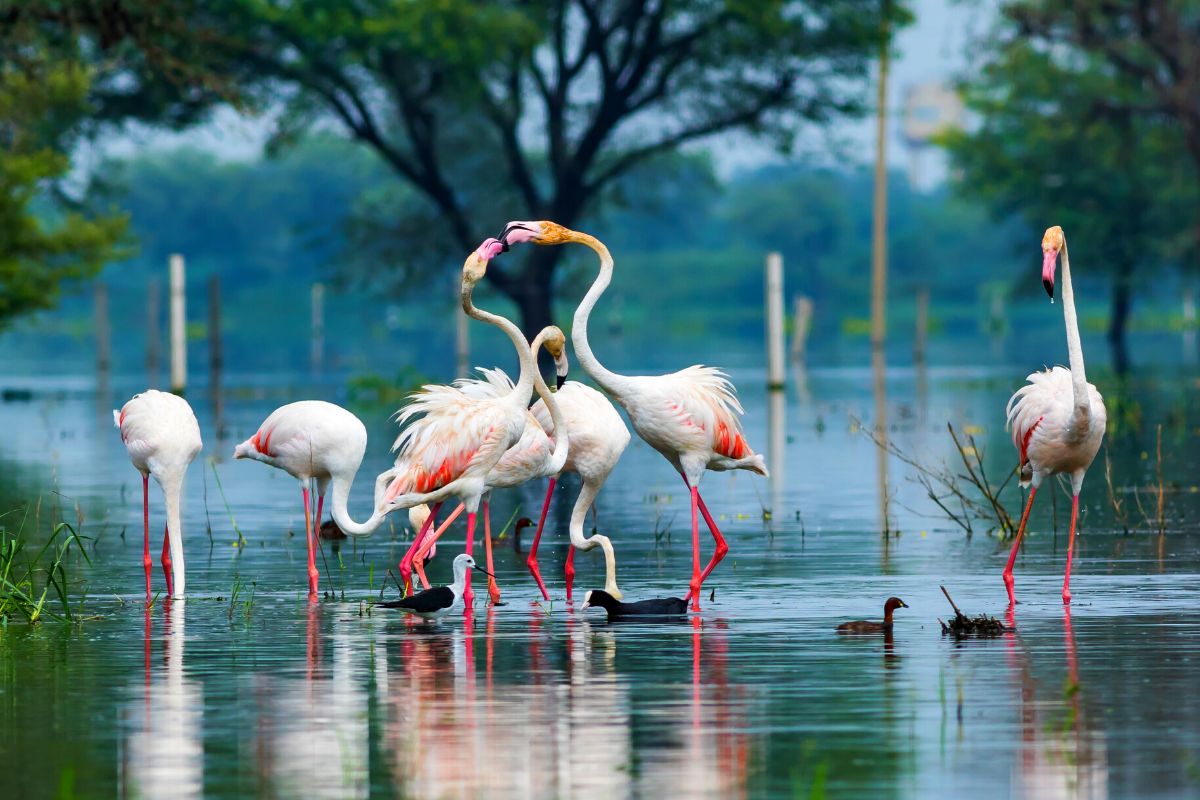 For another great opportunity to spot some beautiful creatures, head to Keoladeo National Park, roughly 2 ½ hours from the city.
This magnificent wetland is home to a vast array of animals, from bears and cobras to a vast array of migratory birds.
Birdwatching is extremely popular here, and your excursion can be combined with a general safari around the gorgeous jungle landscapes.
You can tour this area by Jeep, by bicycle, or even by rickshaw!
It's another wonderful opportunity to get up close and personal with the area's abundant wildlife.
34 – Enjoy your pick of shows at Jawahar Kala Kendra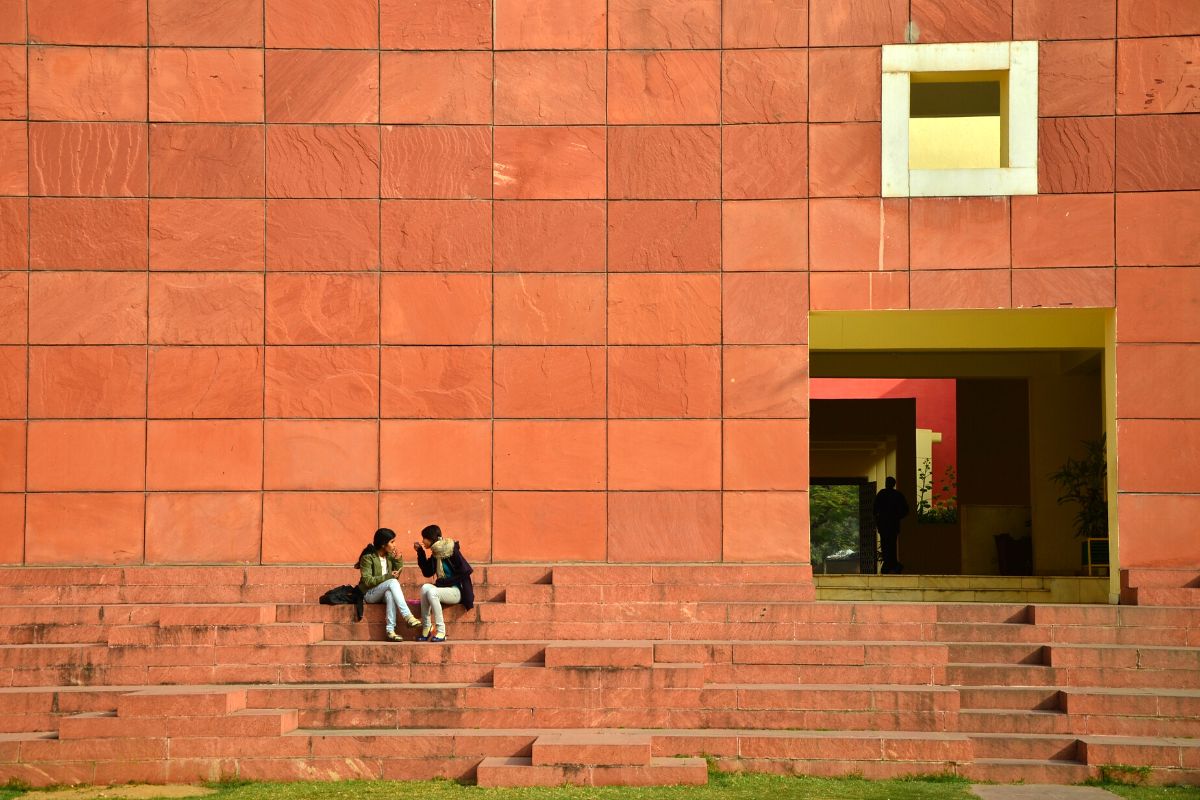 If you're more into the artistic side of things, swing by Jawahar Kala Kendra for some fantastic shows.
From musical performances and theatrical productions to photography and painting displays, there's no shortage of remarkable events to enjoy at this spacious cultural center.
Literature is also a cornerstone of the organization, which includes a massive library stocked with art journals and other topical research materials.
Check the calendar before you go, as there is a constantly rotating schedule of events, including several renowned festivals.
The center was started in 1993 to preserve Indian culture and promote artists from around the country, and from its interactive workshops to its innovative programming, it's safe to say that it has succeeded.
For casual fans and art afficinados alike, a visit to this venue is one of the best things to do in Jaipur!
35 – Meet your new favorite animal at Nahargarh Biological Park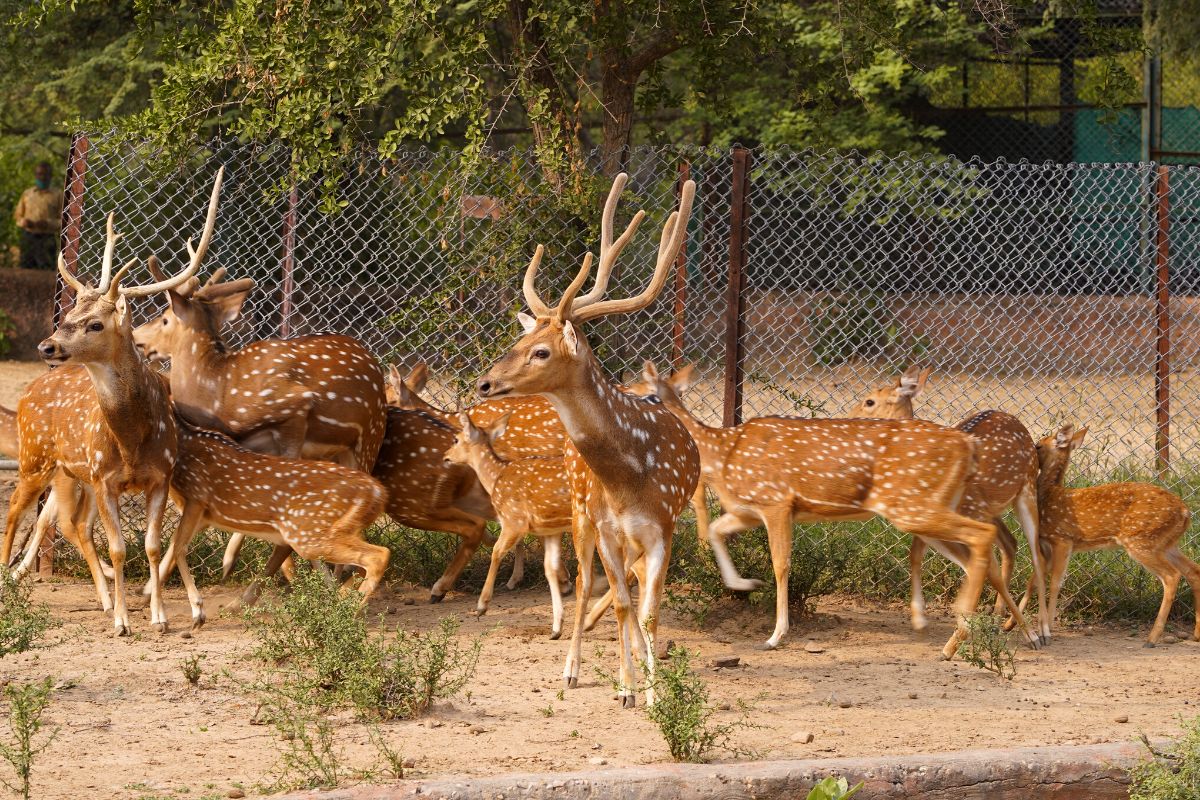 While there are lots of wonderful nature reserves in the region, Nahargarh Biological Park offers a unique chance to dive deeper into the conservation side of things.
Like its contemporaries, this fantastic sanctuary offers visitors the opportunity to spot some magnificent local specimens, including hyenas, crocodiles, wild boars, and sloth bears.
And it's another wonderful spot for birdwatching, with approximately 285 species calling the area home.
As if all of that weren't exciting enough, there's also an excellent zoo in the park, where you can really spend some time studying the area's inhabitants.
You can even take a safari around the grounds to visit some of the more elusive wildlife, such as tigers.
With so many different opportunities to get up close with nature, this dynamic park is a must for animal fans of all ages.
36 – Hit the dunes with a quad or buggy tour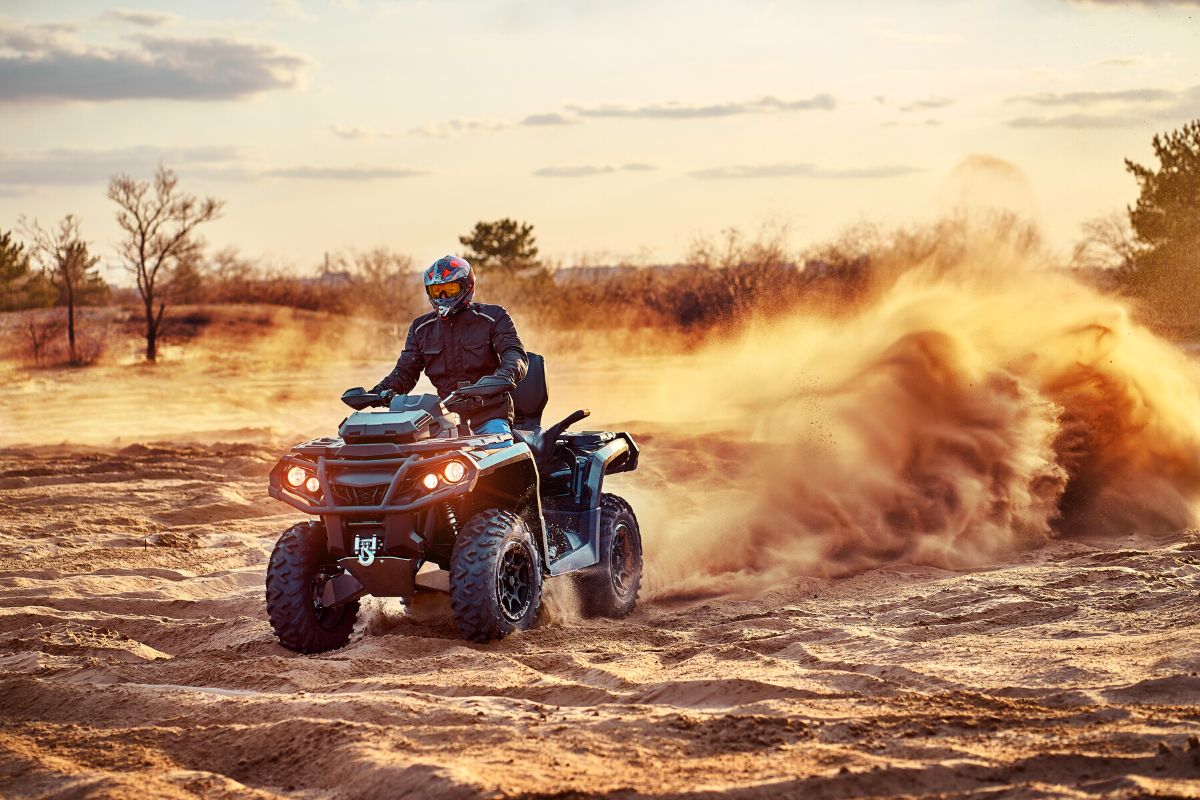 With its unique blend of dense jungles, hilly deserts, and stunning rural areas, the area around Jaipur is ideal for a quad or buggy tour.
You can pick your vehicle from a whole lineup of four-wheelers, then set out on a thrilling off-road tour of the suburbs and the Thar Desert beyond.
Or climb aboard a buggy for some "dune bashing" – a high-octane activity that takes you bouncing, diving, and dipping through the wild curves of the many nearby sand dunes.
You'll feel like you're on the coolest new rollercoaster in town as you go whirling through the desert.
These tours are a great way to explore some of the further reaches of the landscape, and on top of that, they're plenty of fun!
37 – Splash and play at Pink Pearl Water Park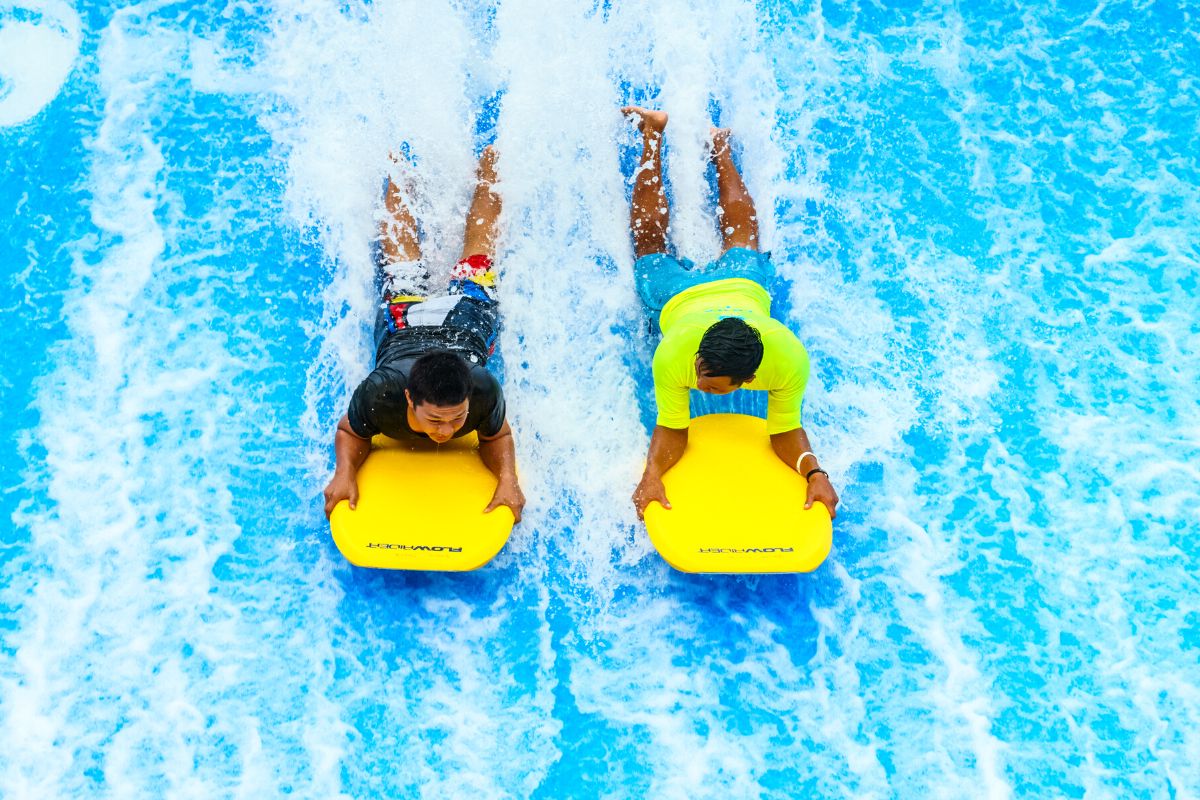 If all that sand makes you want to cool down, head out to the aquatic adventures at Pink Pearl Water Park.
Just half an hour from the city center, this massive complex features slides, obstacle courses, amusement park rides, and tons of other great attractions for the young and young at heart.
Do some bodysurfing in the wave pool, cruise down the lazy river, or practice your dance skills on the outdoor dance floor while water cascades down from above.
Once you're all dried off, check out the tons of other activities available on-site, from mini-golf and skating to virtual reality games and go-kart racing.
Kids will find plenty to do here, whether exploring the brightly colored water play areas or taking a ride on the miniature train.
Best of all, the park is located at the world-class Pink Pearl hotel, which also features great restaurants, a meeting room for conferences, and Choka Punjab, a wonderfully reconstructed village that allows visitors to see what daily life is like in rural Punjab.
With so many activities available, you may find yourself rushing to book a room!.
38 – Search for big cats at Jhalana Leopard Reserve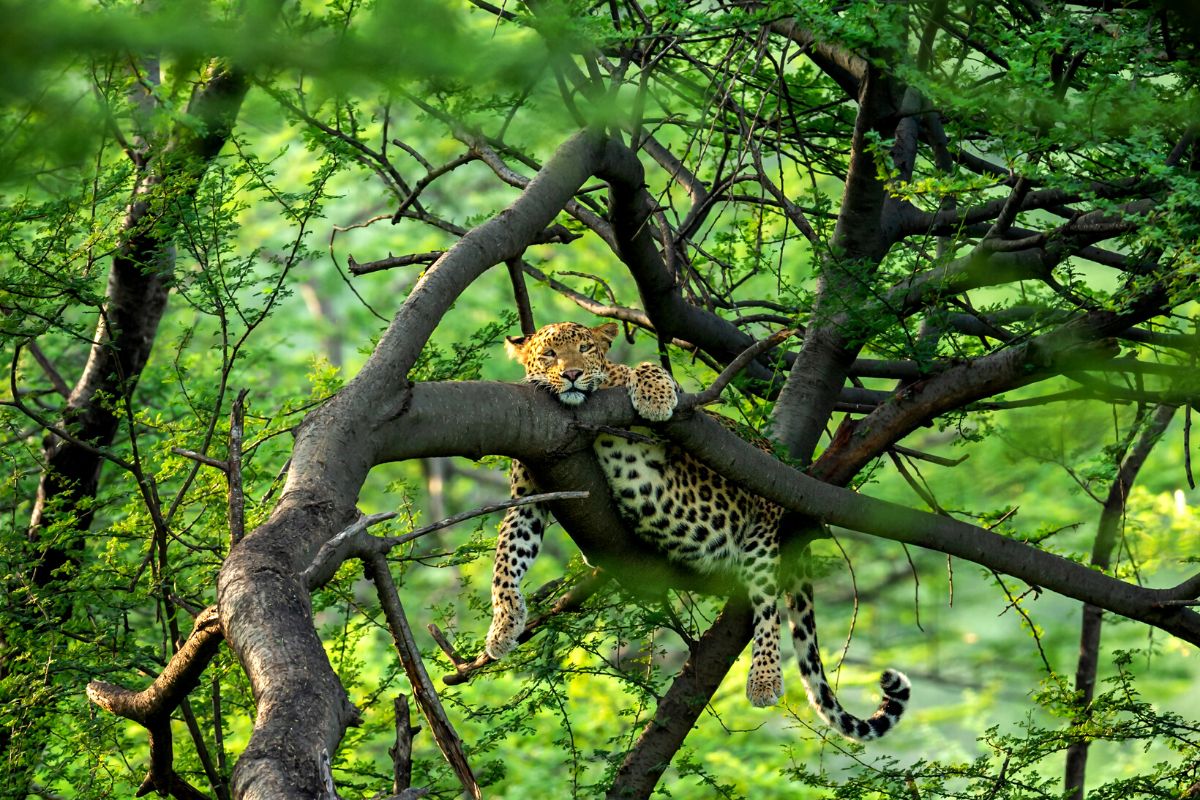 Among the many diverse animals that live in this region, leopards are some of the most striking – and the most elusive.
If you want to increase your chances of seeing these big cats in their natural habitat, pop over to Jhalana Leopard Reserve.
Conveniently located near the outskirts of town, this wildlife refuge is home to over 35 leopards, including several cubs.
Your tour will take you through all of the backroads and beautiful scenery in the area, where you may be able to spot these magnificent creatures going about their daily lives.
This is also a great chance to spot some other local animals out and about, from civets and foxes to jackals and porcupines.
While leopards may sometimes be hard to spot, catching a glimpse of them lounging, hunting, or simply sleeping off a meal is an experience you won't soon forget!
39 – Trek up Isarlat Sargasooli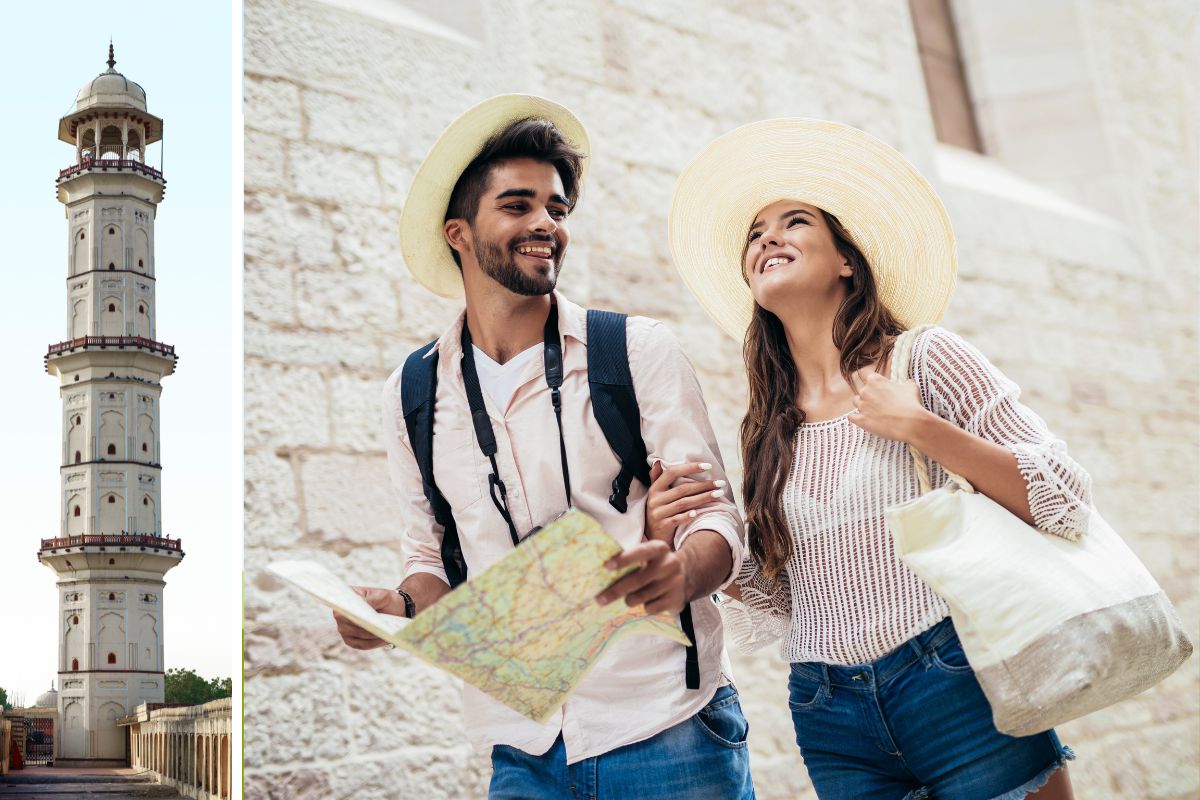 Since its construction in 1749, Isarlat Sargasooli has been a distinctive part of the city skyline.
This seven-story tower also has a prominent role in royal history; it was built by Sawai Ishwari Singh to celebrate his defeat of Sawai Madho Singh, a rival for the throne.
The architecture is also compelling in and of itself, from its bright yellow minaret to its winding staircase, which stretches the length of the building.
If you head all the way to the top, you'll be treated to some spectacular views of the city and its surrounding landmarks.
This is definitely a climb that's well worth taking!
40 – Wander through Panna Meena ka Kund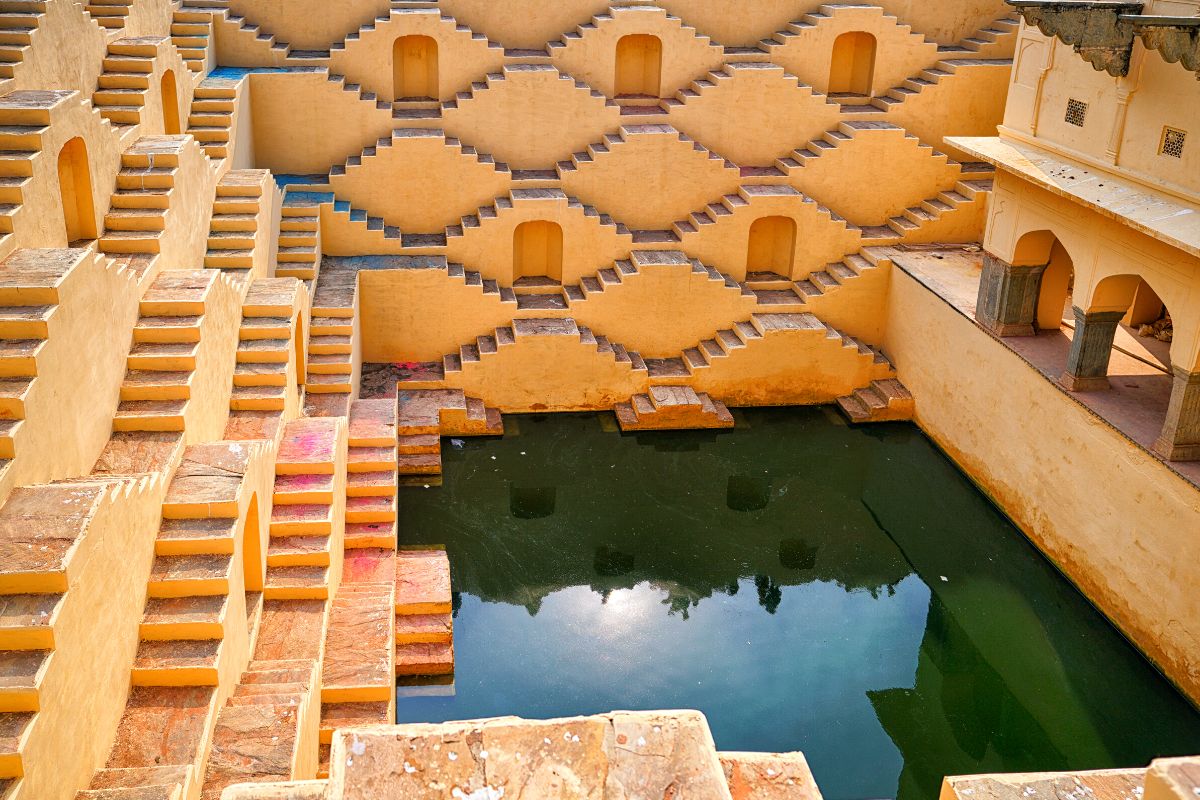 Looking for uniques places to visit in Jaipur?
With its layered wells and striking historical buildings all around, Panna Meena ka Kund is a beautiful and much beloved tourist destination.
It's located right next to the Amber Fort, and is believed to have been the primary source of water for villagers and temple events.
The stepwell's intricate network of stairs and pools give it something of a surreal look, and you can still visit today to admire its design and enjoy the cool stone coves.
41 – See the sights on horseback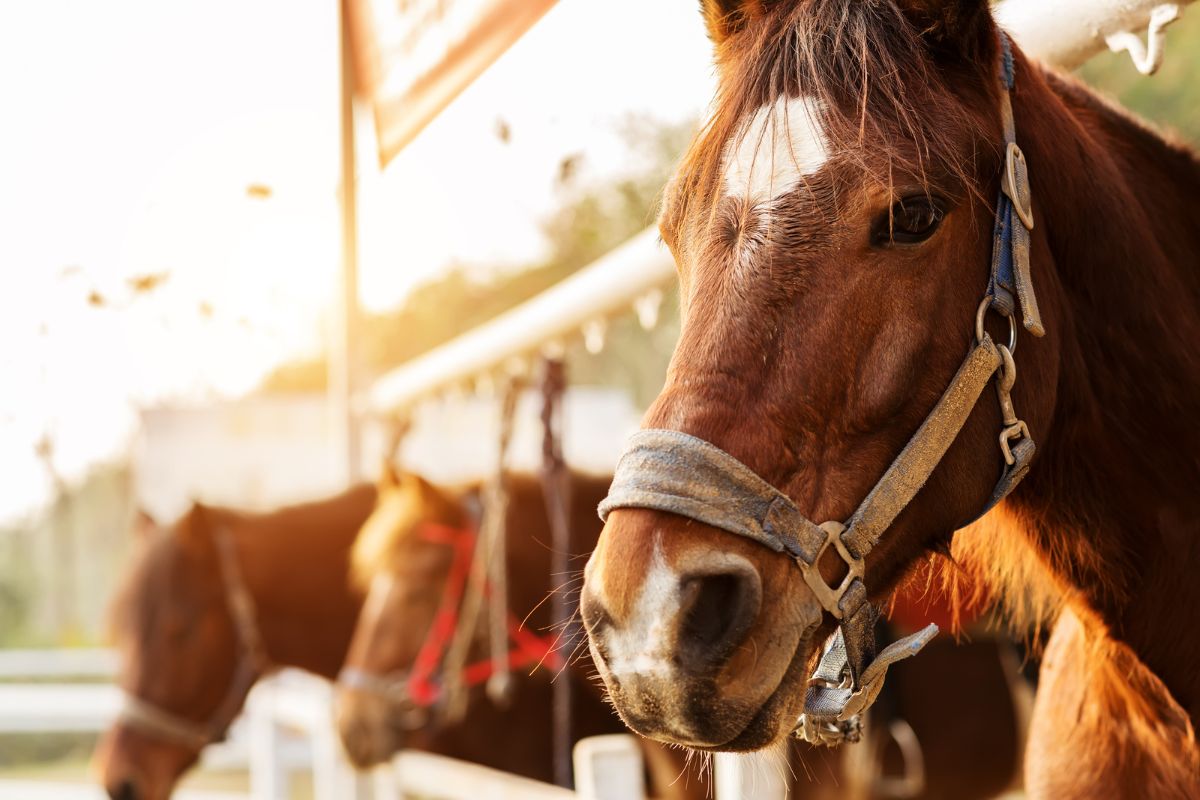 If you're looking for some cool ways to see the surrounding countryside, try heading out on a horse!
A horseback riding tour is one of the coolest things to do in Jaipur, combining a relaxing leisure activity with plenty of opportunities to see attractions that are more off the beaten path.
Climb aboard a Marwari horse, a beautiful breed unique to Rajasthan, and head out to explore the forested trails and vibrant farmlands that lie beyond the city streets.
Because these trails aren't frequented as often as some of the other ones in the touristy areas, you'll be able to enjoy a peaceful trip and unparalleled access to small villages and natural spaces.
At the end of your ride, you'll head back to the farm to try your hand at polo, a fast-paced sport played entirely on horseback.
It's the perfect topper to a wonderful day with your steed!
42 – Learn new things at Birla Auditorium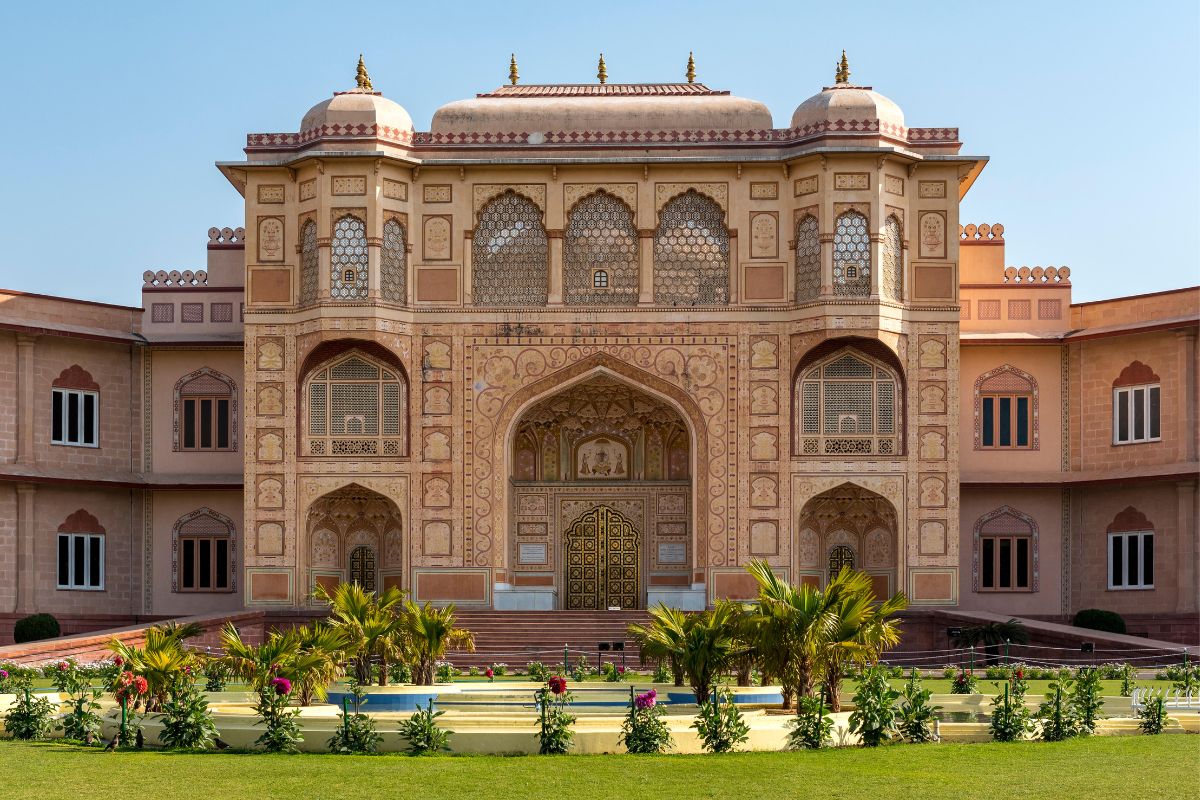 If you're interested in seeing a show or checking out a major convention in the city, chances are that you'll be spending some time at the Birla Auditorium.
This spectacular building is home to two massive exhibition spaces, as well as a stunning set of stages used to host concerts and performances.
But it is also known for its remarkable planetarium, which was once the largest in Asia.
With a wide variety of innovative programming – much of it academically focused -, it serves as a place of entertainment and education for astronomy enthusiasts of all ages.
There are also some wonderful audiovisual shows that run throughout the day, showcasing some of the facility's world-class technology.
And if you want to further ignite your intellectual curiosity, there are tons of options available in the nearby complex, from research departments to a library.
Whether you want to enjoy a high-quality show, attend a new seminar, or learn more about the universe, this is an ideal place to visit.
43 –  Glide through the sky in a hot air balloon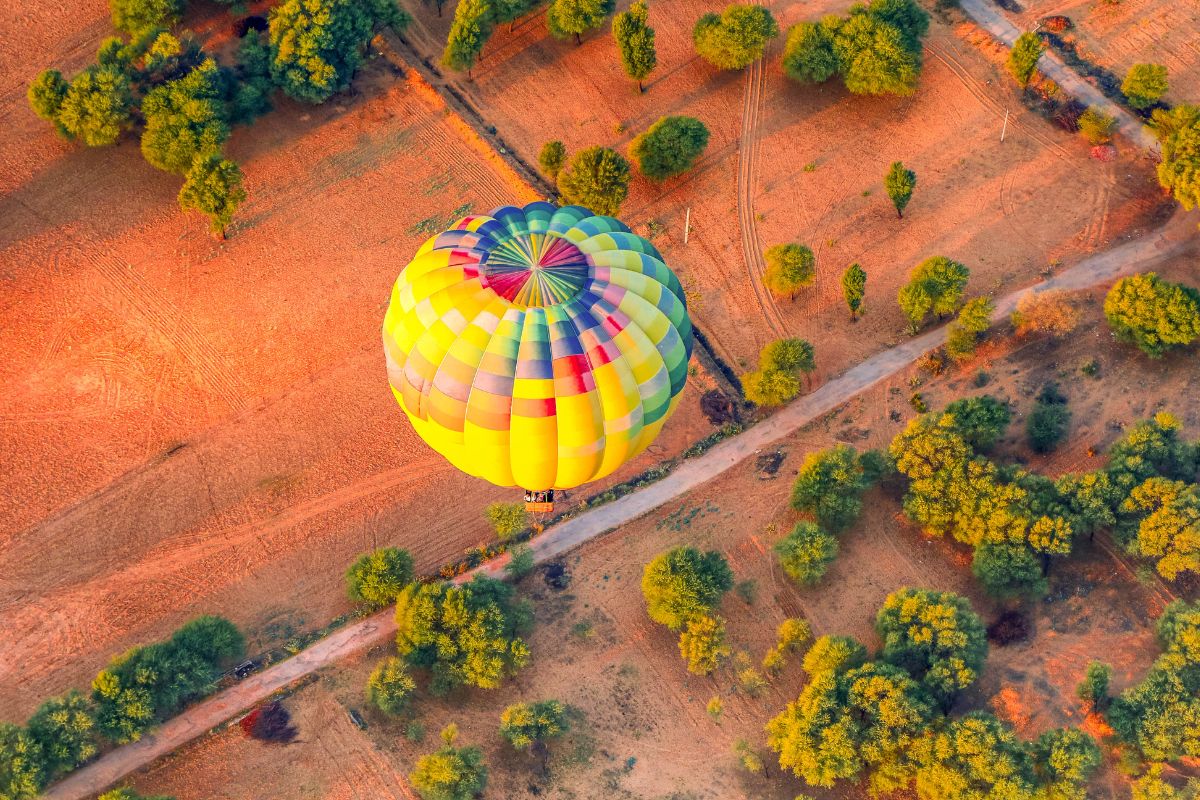 While the city is wonderful to see from the ground, there's something particularly stirring about seeing it all from above.
With a hot air balloon tour, you can spend a memorable hour soaring above the mountains and villages of the region, enjoying incredible panoramic views of this beautiful area.
It's a wonderful chance to see both the little details and the larger scenes that make up this unique town.
So book your flight and prepare for the thrill of a lifetime!
44 – Test your moves with a Bollywood dance class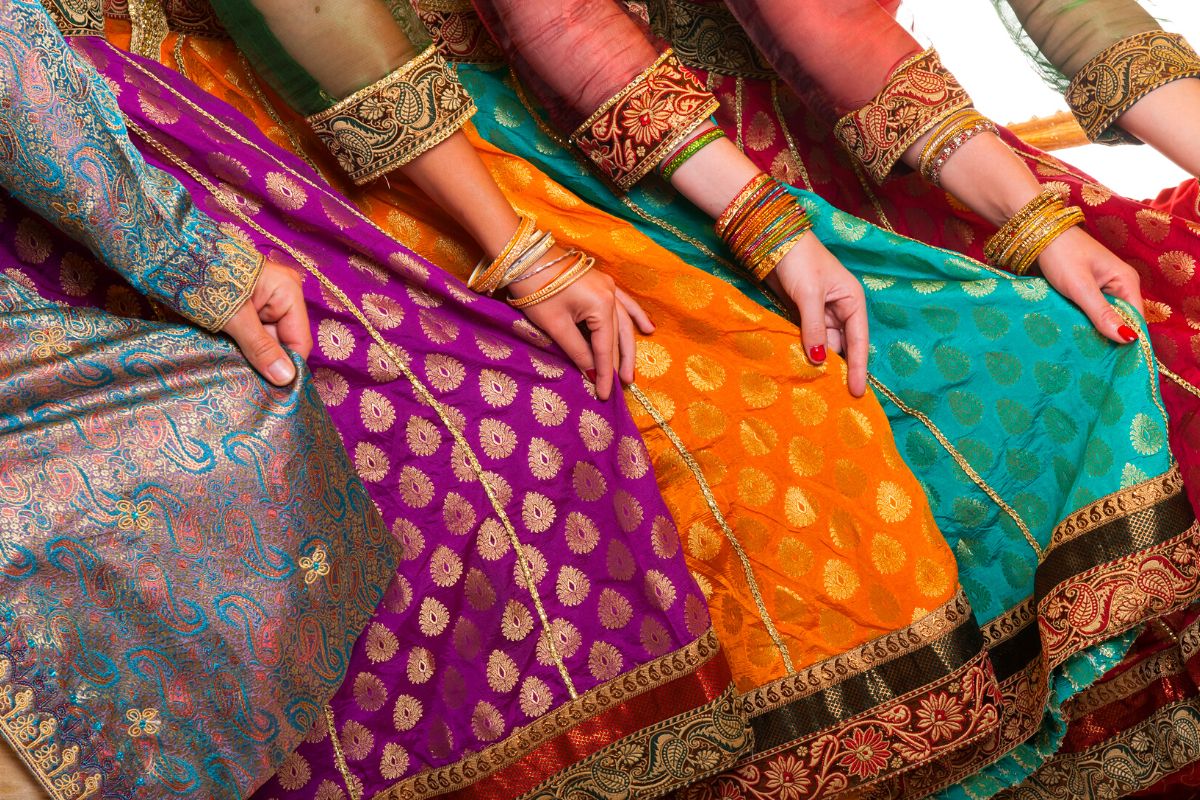 If you're looking for things to do in Jaipur that you can brag about for years, try out a Bollywood dance class!
The beloved film movement is in part characterized by its elaborate musical performances, and there are some excellent programs where you can try out their moves for yourself.
Join your group mates and a trained choreographer to practice some of the basic steps, all accompanied by some of the biggest hits from modern and classic film soundtracks.
It's a wonderful way to engage with the local culture, get some exercise, and have tons of fun all in one go!
45 – Bounce your way through PUNO – Adventure & Trampoline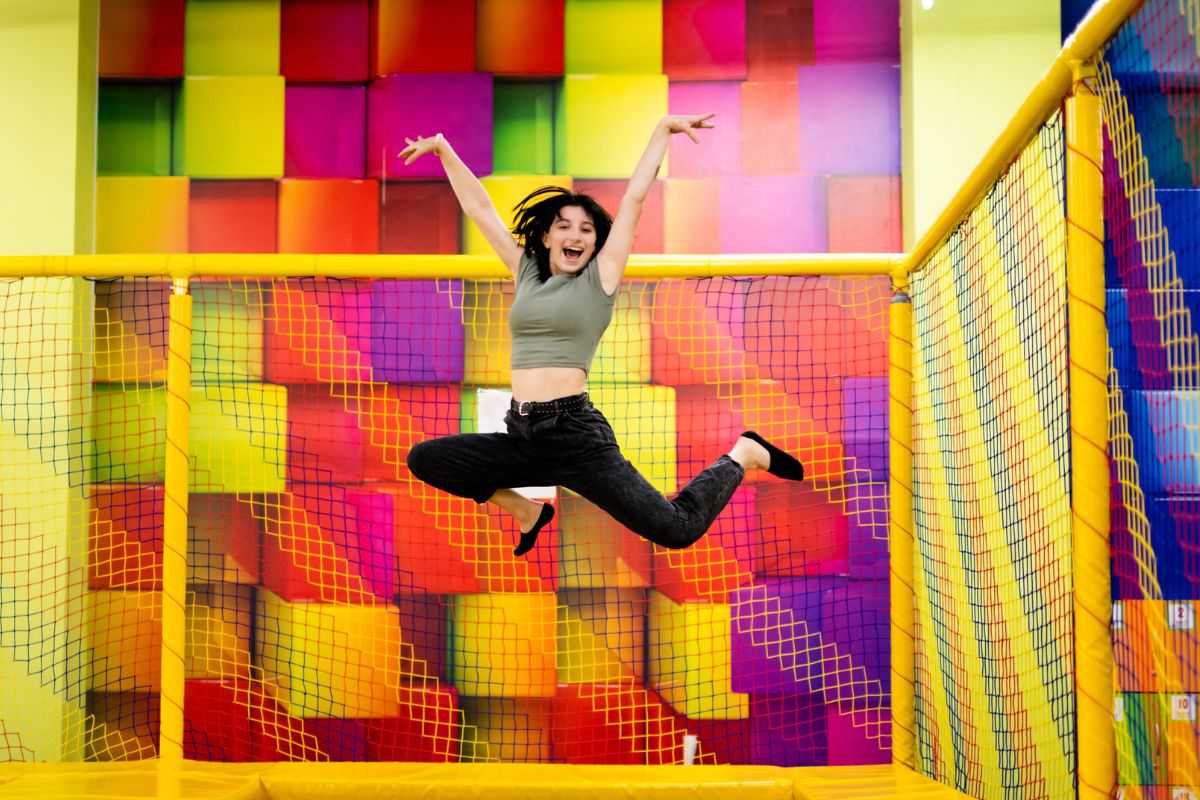 If you've ever wanted to feel like gymnasts and acrobats do, a trampoline park may be the perfect place to hang out for a day.
Luckily, Jaipur's got an amazing one – and better still, it's packed with other exciting activities for people of all ages to enjoy.
At PUNO Adventure & Trampoline Park, you can bounce, leap, flip, and frolic through a series of unique, exhilarating attractions.
Take a spin – literally – on the innovative Cyclone, where you can perform a series of loop-the-loops through your own bike-pedaling power.
Climb, swing, jump, and crawl your way through the Ninja Course, testing your body and your mind (and your parkour skills).
Or strap yourself into the Sky Rider for a zigzagging, zipline-style ride over the entire complex.
Of course, the trampolines are also a big feature here, and there are plenty of different springy arenas where you can get your jump on.
Shoot some Michael Jordan-style hoops FIX at Slam Dunk, join your friends for a wild game of Dodgeball, or guide your avatar through a series of creative game levels on the interactive trampoline.
There's also a large free jump area if you just want to bounce around and work on your mid-air tricks.
For younger guests, there are plenty of smaller courses that still offer a thrill and a challenge… and maybe some good practice for when they're older! ELABORATE AND FIX.
They can also enjoy plenty of interactive activities and arcade games, from foam pits to air hockey.
You'll feel like a combination astronaut, ninja, and sports star as you take on these fantastic endeavors.
Just make sure to bring lots of water; so much fun can be tiring!
46 – Meet some famous figures (sort of) at the Jaipur Wax Museum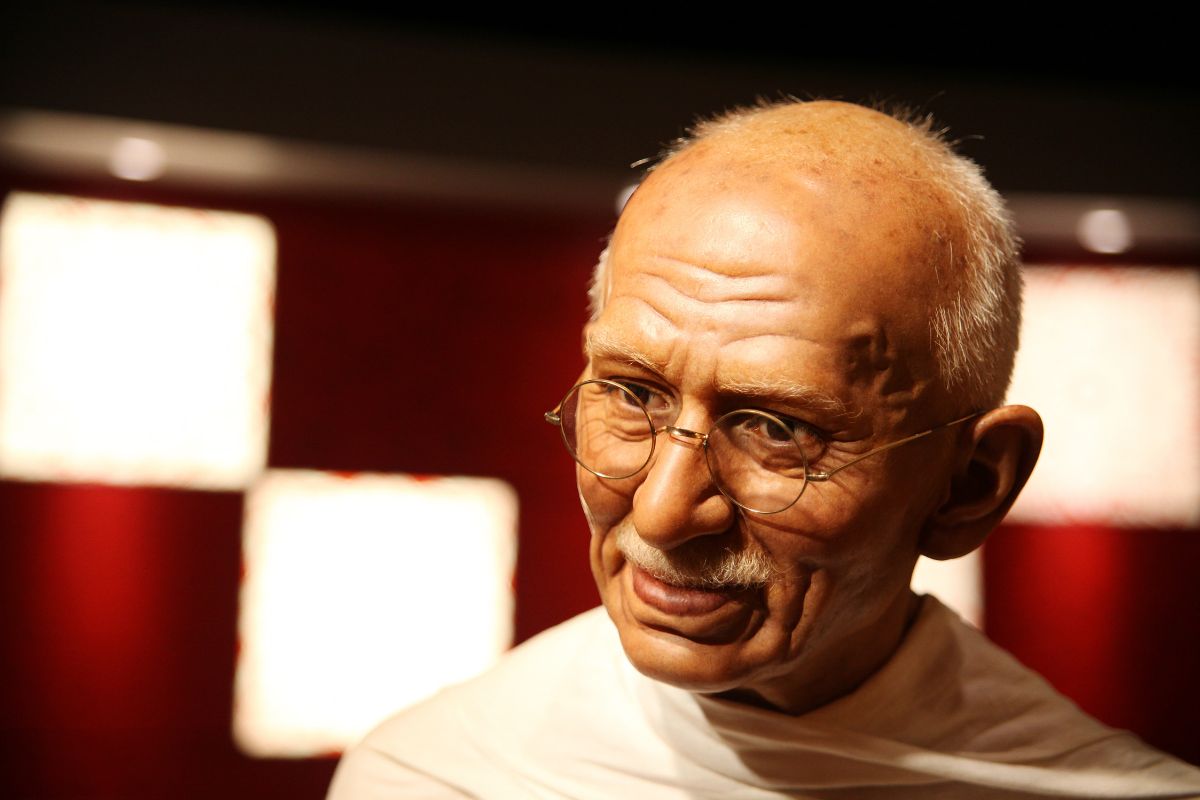 It isn't every day that you get to meet a celebrity… except in Jaipur, where you can meet several dozen of them at once.
Technically speaking, they are residents of the Jaipur Wax Museum, so they can't talk or interact with you.
But it's uncanny how much some of these life-size statues resemble their human counterparts, which range from athletes and movie stars to politicians, literary figures, and even royalty.
The only thing more fun than seeing these facsimiles of famous figures is checking out the creative environments they're set in, from palaces to film sets to sports pitches.
You'll have a great time snapping pics with some of your favorites, making all of your friends back home jealous.
The museum is located at Nahargarh Fort, making it a perfect addition to your exploration of this historical area.
Stop by to check out these creative displays; you'll definitely end up with some memorable vacation photos to bring back!
47 – Up your souvenir game with a shopping tour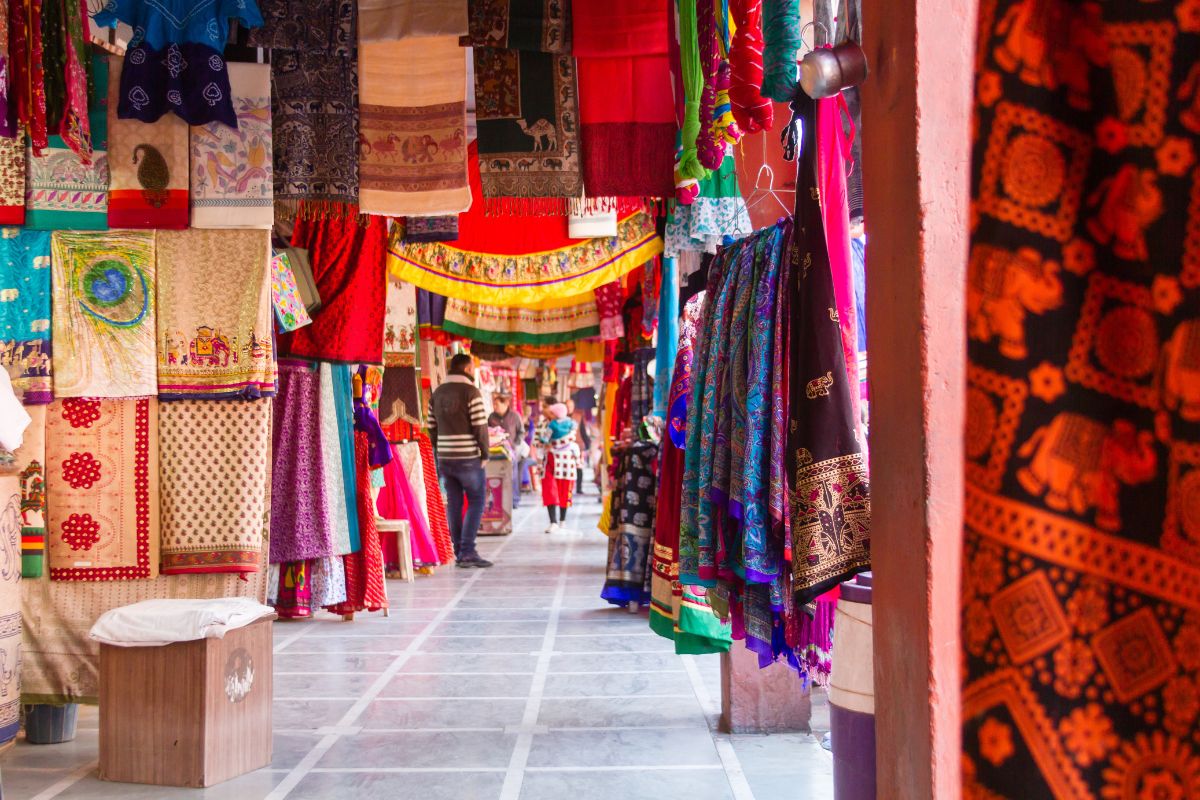 With so many fun things to do in Jaipur, you might want a souvenir – or several – to remember the trip by.
Fortunately, there are several shopping tours in the city that will help you find the perfect place to browse, while also introducing you to the bustling market scene.
You can take a private tour with a local to explore small shops full of the textiles and hand-crafted goods that the area is known for.
Or take a half-day tour to more fully explore the markets themselves, while your guide provides historical context and helps you find the best stands to stop at.
You can find just about anything there: artworks, gemstones, pottery, and richly colored fabrics, along with any number of fun knickknacks.
Of course, no buying spree in the city would be complete without a stop at Bapu Bazaar.
This beloved and lively local market is tucked between the New Gate and the Sanganer Gate, and is known as the place to go when you want a wide variety of high-quality items.
Row after row of shops offer fantastic treasures waiting to be unearthed, from quilts to keychains to hand-crafted puppets.
It's also a great place to buy some authentic Mojari shoes, which are made from camel-skin leather  and are considered some of the finest goods produced in the state of Rajasthan.
In between bargain hunting, you can sample some delicious treats from the many nearby food stands.
They'll be the perfect energy boost to help you shop til you drop!
48 – Meet toys from around the world at the Dolls Museum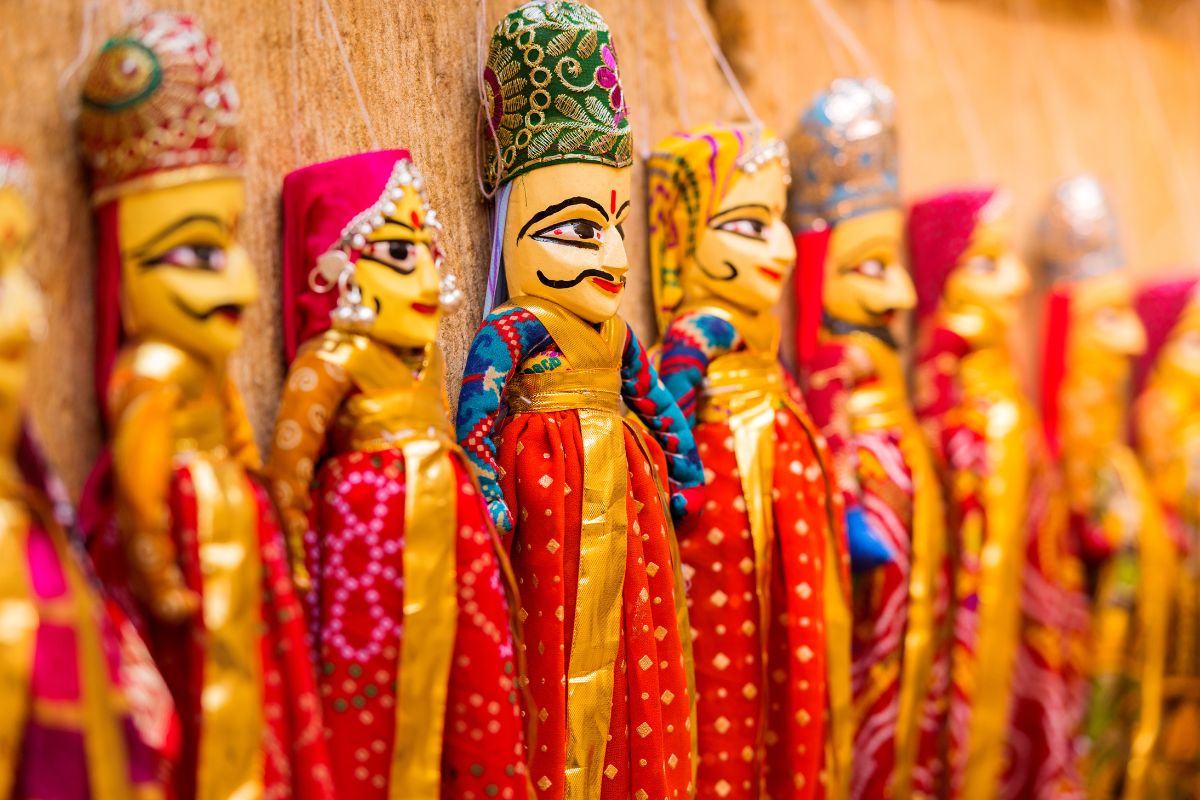 While there are tons of great cultural institutions in Jaipur, the Dolls Museum is among the most unique.
It features an impressive collection of figures from around the world, many of them dressed in traditional costumes.
With their unique outfits and designs, each of them represents the distinctive cultures from which they came.
You can also enjoy several entertaining staged scenes featuring some of the dolls going to class, saying their wedding vows, or trying to score a win in the big game.
Whether you're a diehard doll fan or more of a casual observer, you're bound to enjoy these wonderful, whimsical scenes, while learning about other cultures along the way.
49 – Attend the Vintage Car Rally in February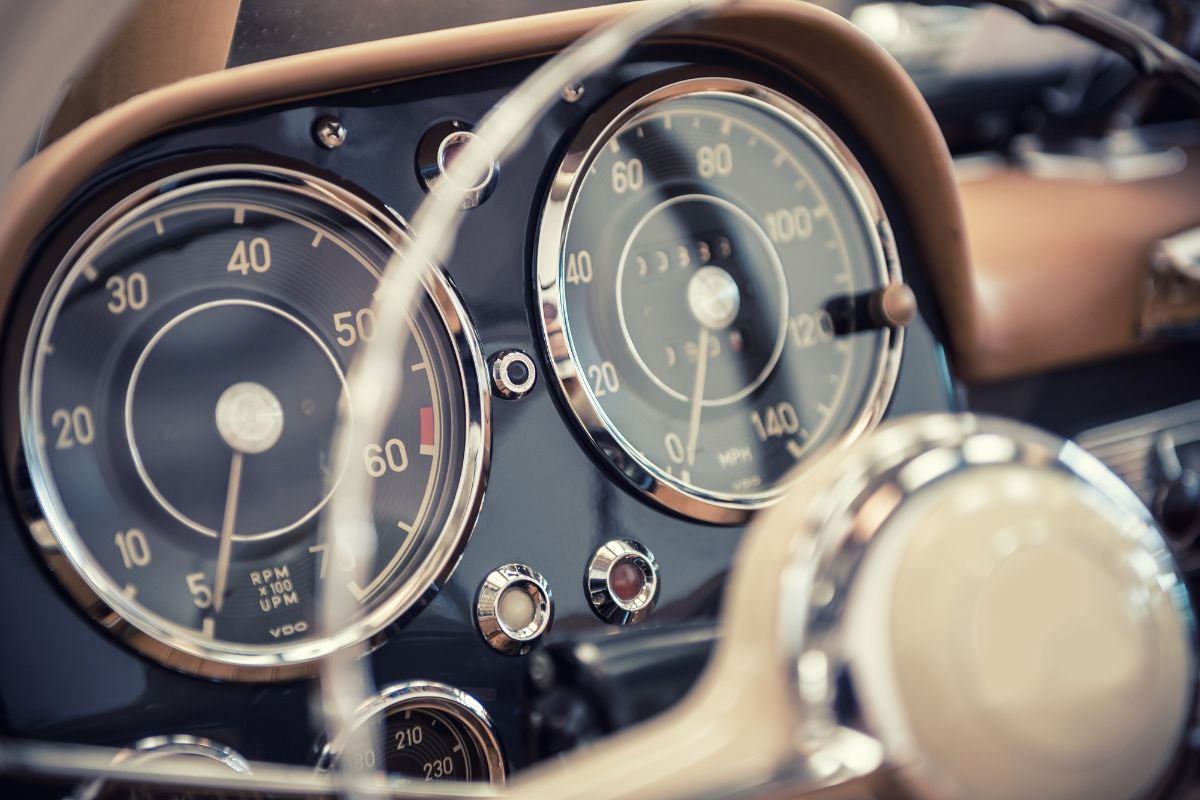 If your visit happens to be in February, be sure to check out the Vintage Car Rally during your time in the city.
This is one of the most delightful things to do in Jaipur for gearheads, history fans, and anyone looking to see some awesome vehicles up close.
While the exact entries vary from year to year, you can often spot autos from all across the 20th century, from Chevy Bel Airs and Mustangs to Mercedes Benzes and Fiats.
There are also plenty of other cool vehicles to check out, including motorbikes and scooters.
Some of the cars even date back to the early 1900s!
Take some time to stroll past all of the beautifully restored autos, and maybe even peek under the hood to see how they all run.
It's a unique showcase of art and auto mechanics that you won't want to miss.
50 – Get wowed by the sound & light show at Amber Fort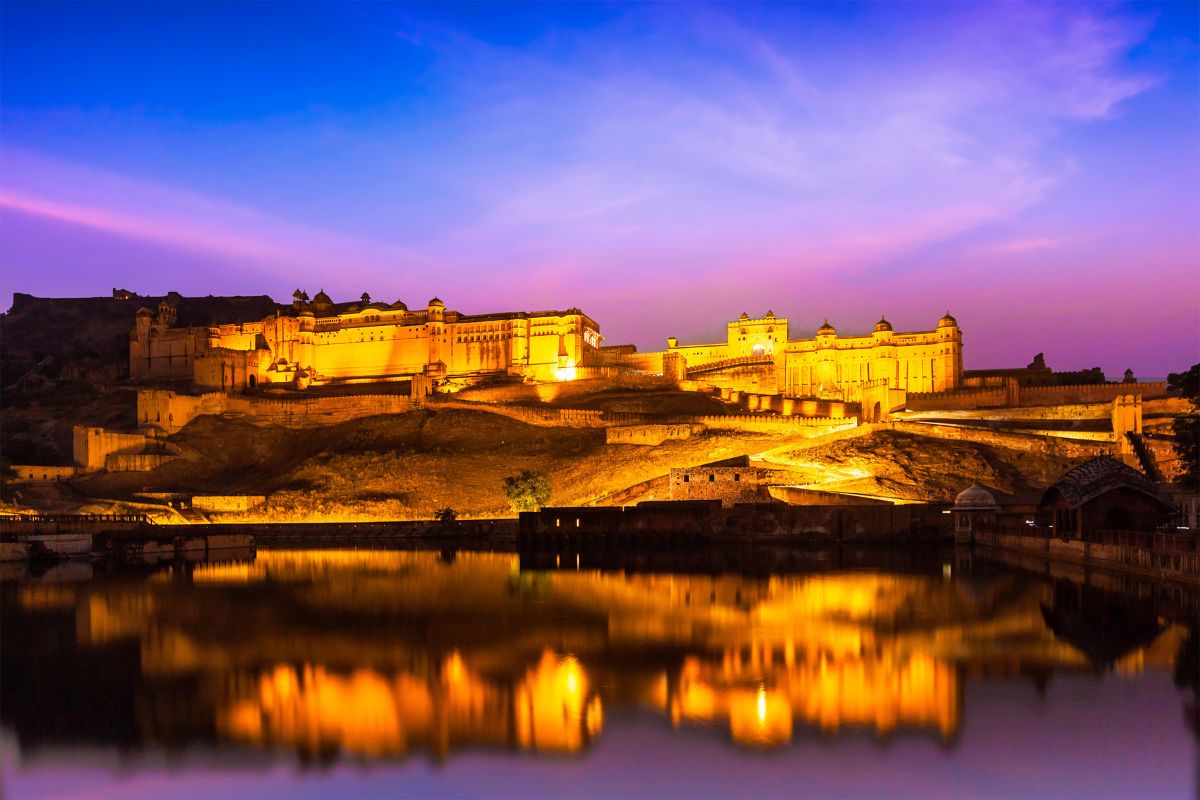 After taking a tour through Amber Fort, stick around until nightfall to see a phenomenal sound and light show.
This top-notch presentation tells the story of the fort and its previous inhabitants through a remarkable range of multimedia effects, which show the fort from a whole new perspective.
It also features narration and music by beloved performers such as Shubda Mudgal, Ustad Sultan Khan, and Amitabh Bachchan, so along with a crash course in local history, you'll get a little taste of the arts as well.
There are two shows per day – one in Hindi, and one in English. Whichever you choose, you'll be treated to a spectacular display!
51 – Catch a flick at the Raj Mandir Cinema
High-energy vacations are great, but sometimes, you just need to kick back and watch a movie for a bit.
And the Raj Mandir Cinema, located near the center of town, is an elegant and exciting place to do so.
Even from the parking lot, the space stands out; its wavy pink design looks like something out of a Dr. Seuss book.
Once you step inside, you'll be treated to even more dazzling architecture, including spacious opera house-style theaters and a variety of Art Deco accents.
While you can easily enjoy these beautiful elements in and of themselves, it's well worth sticking around for a movie.
Ever since it opened in 1976, the cinema has been known for showing an impressive lineup of Hindi films, often as a world premiere.
When you catch a show here, you won't just get some high-quality entertainment; you'll also be participating in a beloved part of the local culture.
52 – Take to the streets on a tuk-tuk tour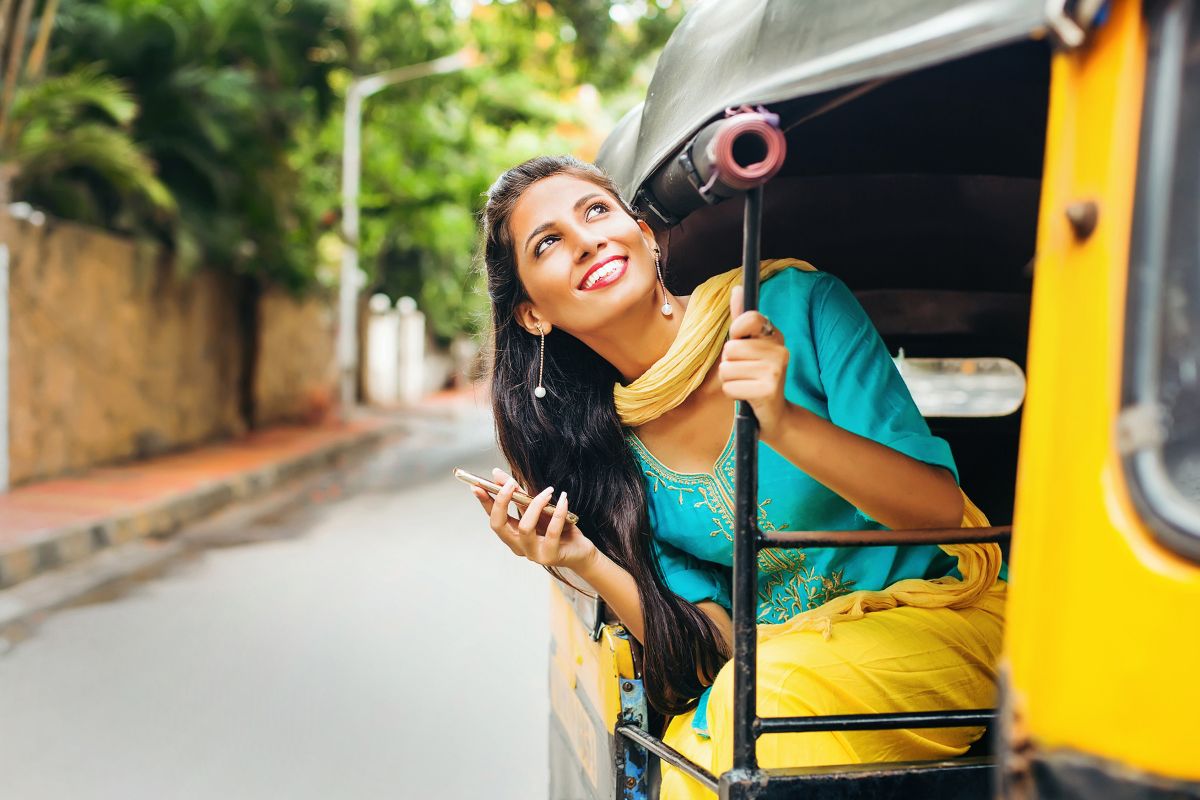 If you're looking for an authentic and exciting way to check out all of the wonderful things to do in Jaipur, book a Tuk-Tuk tour and get ready for fun!
You'll probably see these zippy, distinctive little vehicles all over the city; with their versatility and speed, they're frequently utilized by residents and tourists alike.
These attributes also make them great for tours, as you can explore the backroads and big attractions from a convenient perch.
Join your driver/guide for a fun-filled day of exploring, including pickup and drop-off at your hotel.
You can stop at such iconic sites as the Jantar Mantar observatory, Amber Fort, and the Palace of the Winds.
You can even hire a tuk-tuk to take you shopping!
Stop off at the various markets around town, checking out authentic products and maybe even snagging a few to bring home.
These tours are a great way to get a feel for daily life, while also sightseeing with a flexible and exciting transportation method.
So hop aboard and get ready for an adventure!
53 – Dine with a local family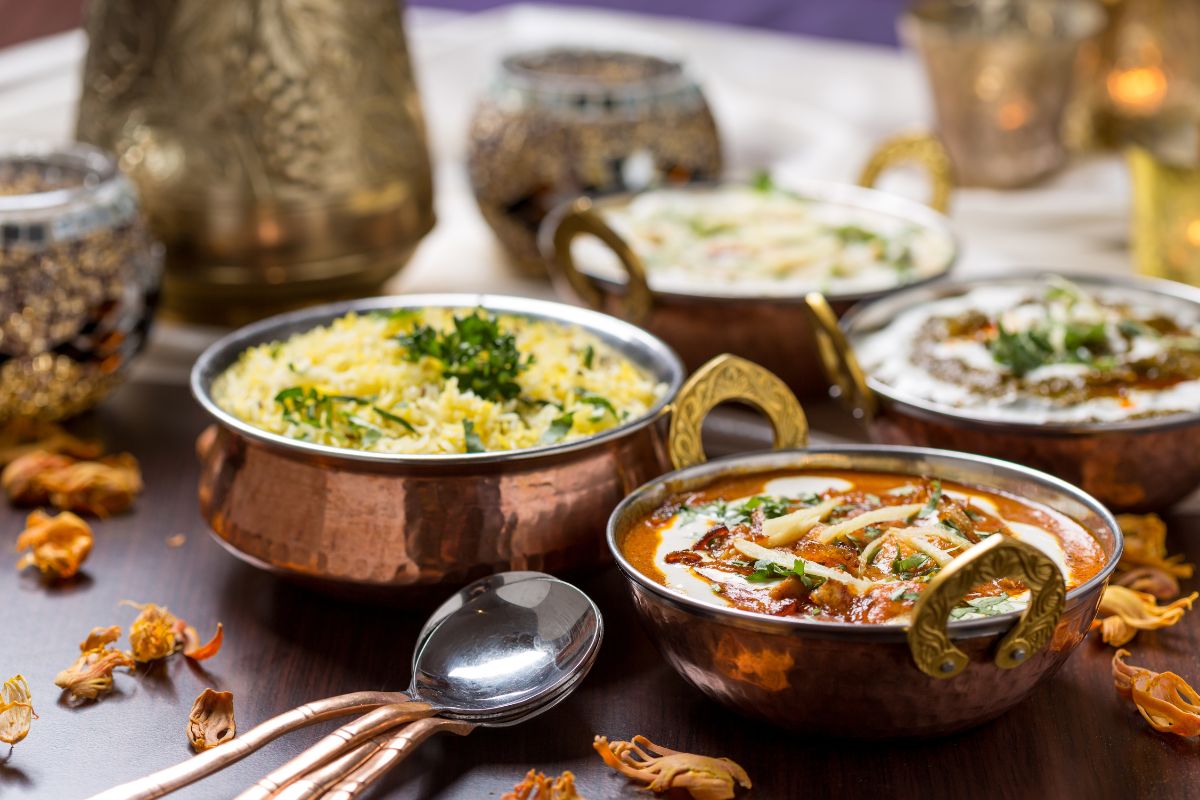 If all of the cooking classes and amazing restaurants have you fired up about the city's food scene, try booking a dinner with a local family.
Whether you want to participate in the cooking process, or simply watch and learn from the masters, you'll be able to experience the whole trajectory of a traditional meal, from preparation to consumption.
Best of all, you'll spend that time in the company of people who know these dishes (and the city) deeply, and can provide their own perspectives on your vacation destination.
This is a unique way to experience food and culture in a more intimate, personal setting, with some wonderful opportunities for cultural exchange.
You'll come away with a full belly and an even fuller mind.
54 – Try some brews on a pub crawl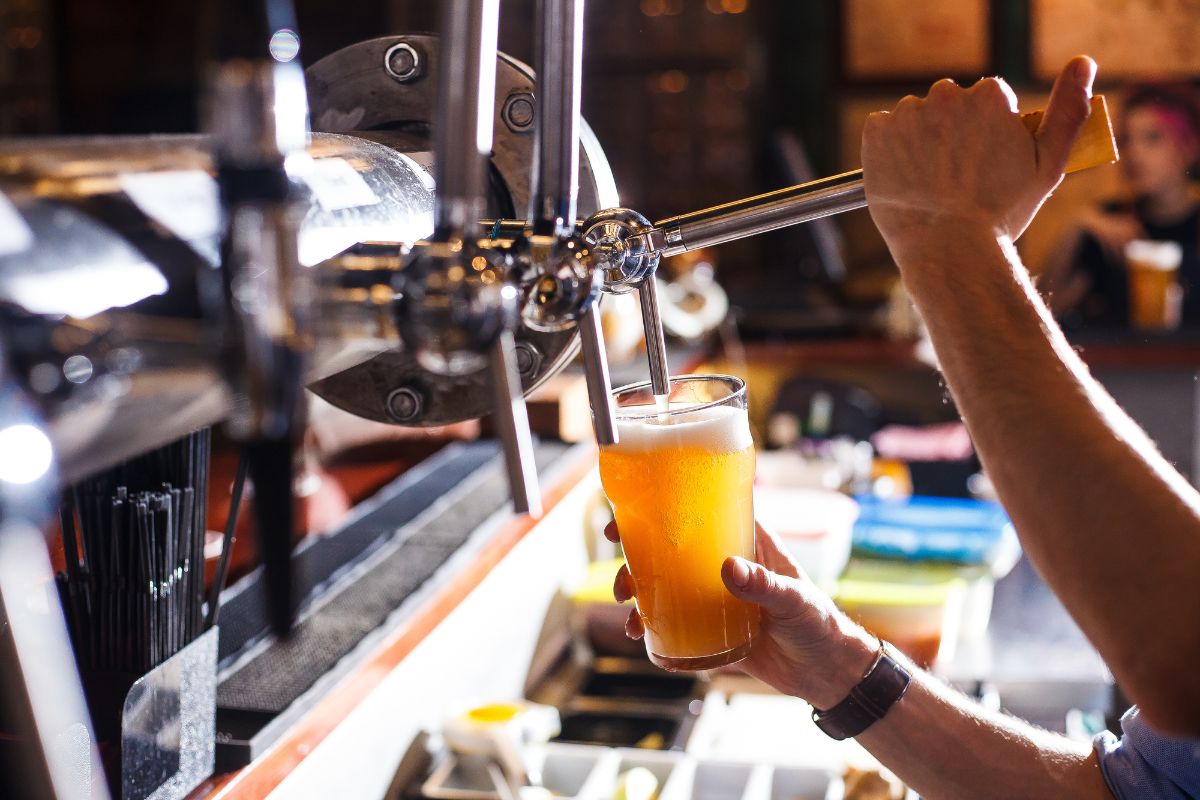 After all of the eating and exploring, you'll probably want to spend the evening checking out the nightlife.
So pick your best party shoes and head out on a pub crawl, where the best of Jaipur's bar scene awaits you.
Join your group for a fun-filled tour around some of the city's most popular bars, enjoying a free shot at each to get the party started.
Enjoy the laidback vibes of the Hollywood Cafe, try some new moves on the dance floor at Skyfall by Replay, and enjoy the ample outdoor seating at the Kafka Lounge.
Start your night off right with a little bit of a party!
55 – Stay in a heritage hotel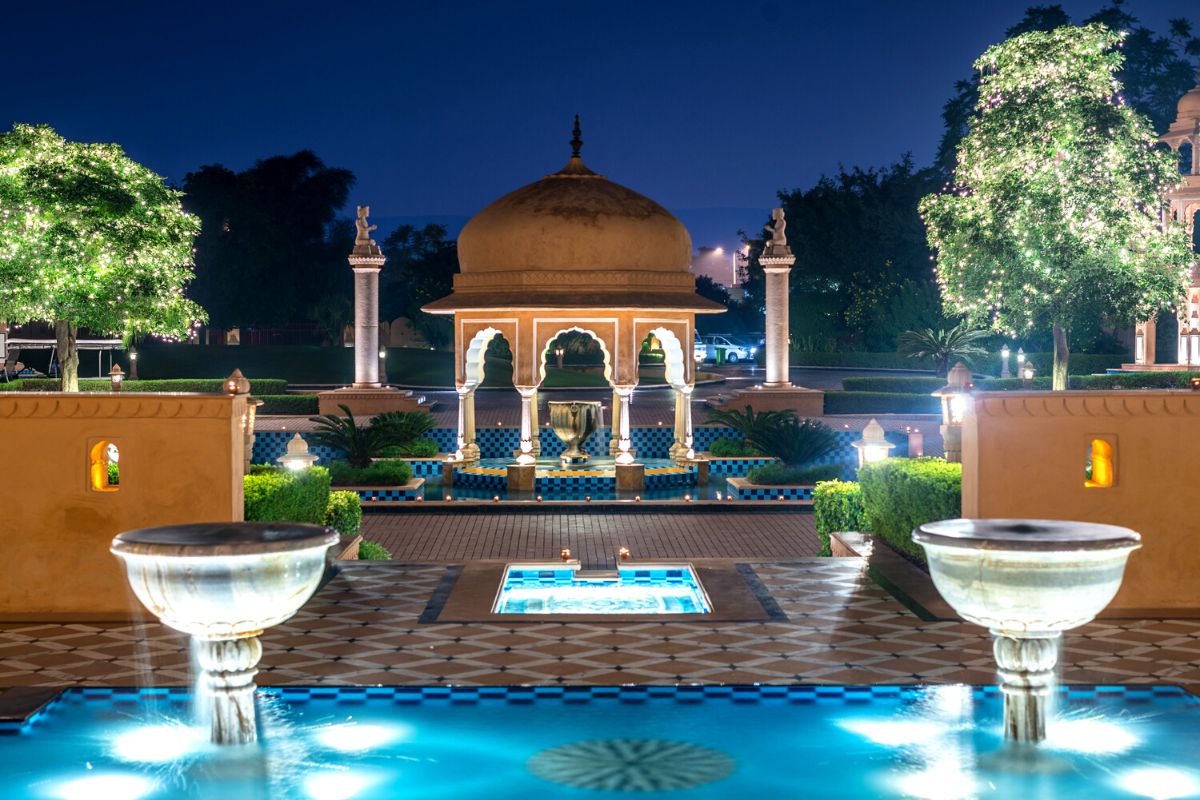 In between all of your adventures, you'll want a nice homebase to unwind.
And in keeping with the distinguished royal history in the city, there are plenty of heritage hotels awaiting a reservation from you.
These spectacular buildings offer world-class hospitality, fantastic amenities, and easy access to other popular activities.
At the Rambagh Palace, the deluxe furnishings in your room will only be matched by the monarchy-worthy service, from onsite butlers to horse-drawn carriage rentals.
Samode Haveli is the place to go if you like plenty of entertainment options; you can check out dance performances and puppet shows in between trips to the spa or time spent lounging by the pool.
If architecture is more your speed, head to the Jai Mahal Palace to soak up the Mughal-designed gardens and opulent domes of this 18th-century treasure.
And at the Oberoi Rajvilas, you can unwind in luxurious suites and lavishly appointed tents, all while enjoying a buffet of activities from yoga xclasses and educational tours to wine tasting and astrology readings.
Whatever your travel preferences are, there's a perfect hotel available to soak up some history as you start or end another fun-filled day.
How to get to Jaipur?
The Pink City is a great place to travel to from a logistical standpoint, as its size and close proximity to other major cities make it easily accessible by various forms of transport.
by air
The Jaipur International Airport is a major travel hub, with flights arriving and departing from all over India – and the world.
If you're traveling by plane, you can arrange some airport transfers for convenient transportation to and from the city.
by car/bus
Along with Agra and Delhi, Jaipur is part of a region known as the "Golden Triangle," known for its numerous attractions and the reasonably close proximity between cities.
It takes 4 ½ hours to drive from Delhi to Jaipur, or roughly 5 hours to take the bus.
Agra is also 4 ½ hours by car, and about 5 hours by bus.
There are also some excellent Golden Triangle that you can book, which take care of transportation and sightseeing all in one go.
While these all vary in length and direction of travel, they're a great way to explore the region in greater depth.
How long to stay in Jaipur?
With so many amazing places to visit in Jaipur, we recommend staying for at least a few days.
This will give you plenty of time to explore all of the unique attractions in the area, without totally running yourself ragged.
If you really want to maximize your time, try booking one of the many excellent multi-day tours in Jaipur.
You can take a two-day tour to visit the most popular spots in town, from forts and temples to palaces and Instagram-worthy scenic areas.
Or try a three-day or four-day tour to combine your exploration of Jaipur with a trip to neighboring Agra or Delhi, for an even more comprehensive experience of the region.
Visiting Jaipur on budget?
There are some incredible free walking tours in Jaipur that offer great insights and plenty of sightseeing opportunities without breaking the bank.
Check out one of the general tours to get a good feel for the city and its stories, or pick one with a more specific focus, such as a food tour or an arts and culture tour.
These excursions all include a passionate, knowledgeable group leader, eager to share their love of the city with you.
Remember, these tour guides work for tips, so bring some extra cash to reward a job well done!
Where to stay in Jaipur?
Alongside the fantastic heritage hotels listed above, there are tons of excellent places to stay during your visit.
If you really want to be in the midst of the action, head to the Holiday Inn Jaipur City Centre, which is located near several transit stations and attractions such as the City Palace.
When you're done exploring for the day, you can kick back at the pool, sample the menus at three different on-property restaurants, or squeeze in a workout at the fitness center.
Spoil yourself rotten at Nirbana Palace, another heritage hotel with a world-class spa and magnificent, artistic decor inspired by the artistic traditions of the region.
And if you really want to kick back in style, head to the rooftop eatery at Hotel Kalyan, where you can watch the latest sporting events and enjoy spectacular views of the city below.
Final thoughts
With its impressive size and massive lineup of activities, the Pink City may seem like a daunting place to explore.
But from its family-friendly fun parks to its magnificent monuments, it offers so much more than a typical urban experience.
And whether you're venturing into the lush nature parks or taking day trips to the other dynamic cities nearby, it's also an awesome hub for exploring the wider area.
There's no shortage of exciting things to do in Jaipur, and you'll find more and more the longer you stay there.
So book your hotel, grab some maps, and see what the jewel of Rajasthan has to offer!
Where travel next? Head north and check out the fun things to do in Delhi, or travel south and visit Mumbai and Goa.
Happy and safe travels!