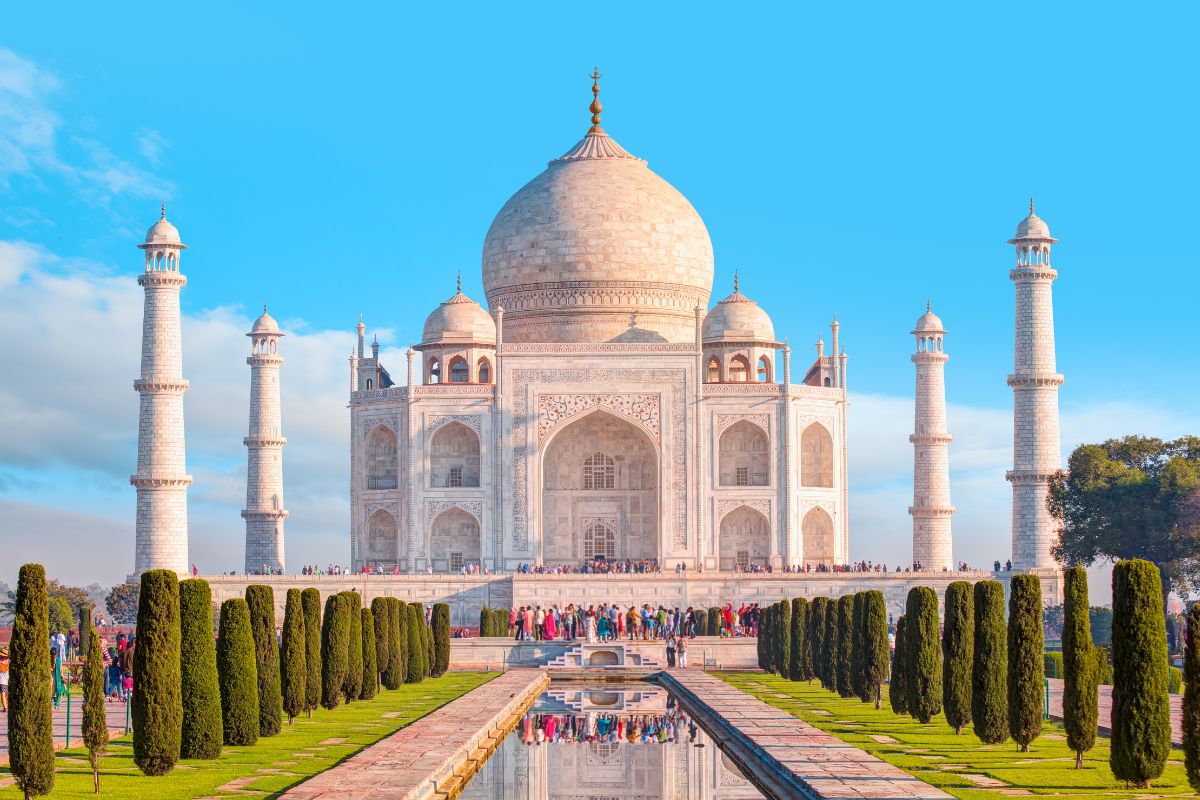 The magnificent Taj Mahal has become India's most recognizable landmark. Built as a symbol of everlasting love, it is now a UNESCO World Heritage Site and India's most visited tourist attraction.
As a stunning example of 17th-century architecture and a place where harmony and beauty meet, the Taj Mahal is a must-visit if you're in India.
If you're looking for information on Taj Mahal tickets price and Taj Mahal timings to plan your trip, we have all the information you need. Keep reading to find out key details on visiting the Taj Mahal, including:
How much do Taj Mahal tickets cost?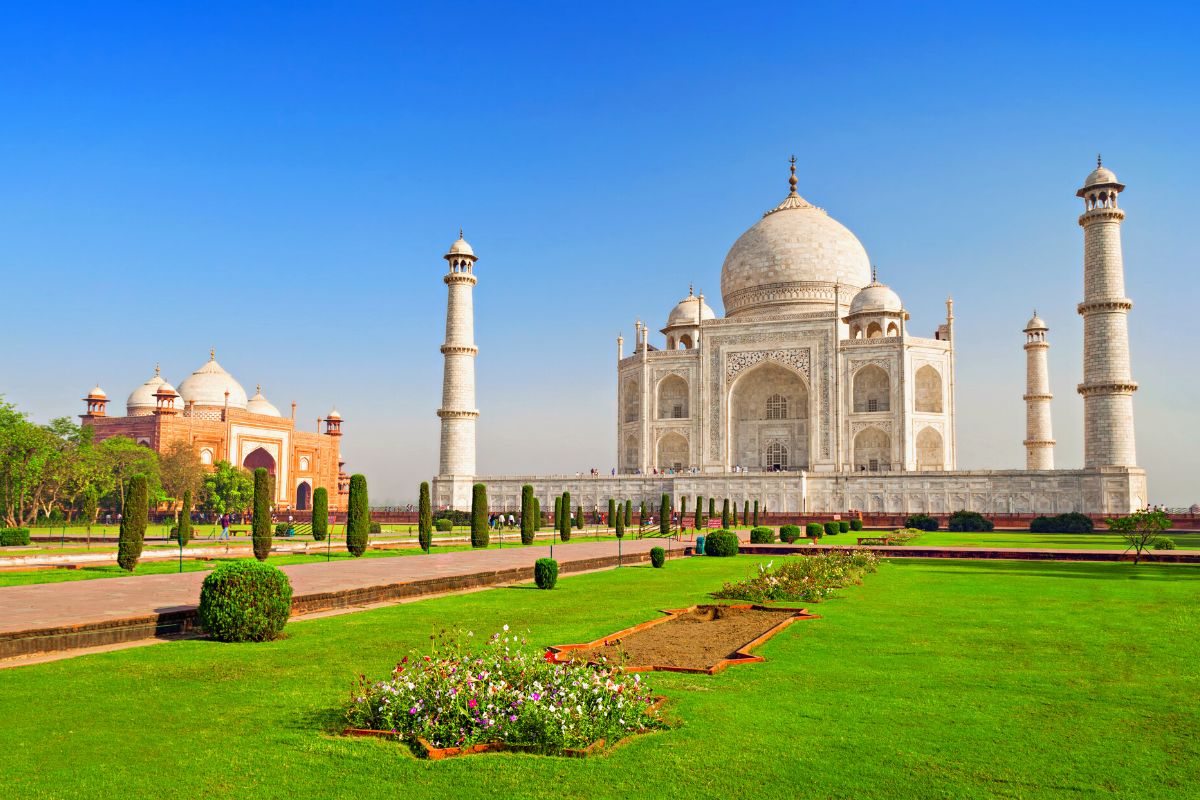 Taj Mahal tickets price varies depending on a few factors, including which option you choose. Guided tours will, of course, cost slightly more, but they will also give you a chance to learn more about the history and importance of the Taj Mahal. Don't worry, though, a visit to the Taj Mahal is very affordable regardless of what option you go with.
Standard Ticket
The standard entrance ticket to the Taj Mahal costs less than $1 for Indian citizens and around $14 for foreigners. Children under 15 can enter the Taj Mahal for free. You will need to buy an additional ticket (about $2.50 extra) if you want to enter the Taj Mahal mausoleum itself.
All tickets include a pair of shoe covers (needed to enter the mausoleum) and a bottle of water. You can buy a ticket at the ticket windows outside the Taj Mahal as well as online through their official website.
You can also buy special skip-the-line tickets in advance through tour providers. Although you might end up paying slightly more, there are added benefits to this. For example, for about 10 US Dollars more, you can get a ticket entrance to the Taj Mahal, Mausoleum admission, and an English/Hindi speaking tour guide. Bought separately, this might end up costing you more – plus you would have to stand in line and wait until a guide is available. You can compare prices through TourScanner.
Guided Tours
A great hassle-free way to explore the Taj Mahal is with a guide. Not only will you avoid having to wait in line for your ticket, but you'll have somebody with you to share interesting details that will help the Taj Mahal come to life.
There are many tour options available, some of which include stops at other famous landmarks like the majestic Agra Fort, the ghost town of Fatehpur Sikri, or the Mehtab Bagh from where you can take stunning Taj Mahal sunset photos. Both group and private tours are available and many can be customized to include additional destinations, lunch or even round-trip transportation from New Delhi.
Where can I buy Taj Mahal tickets?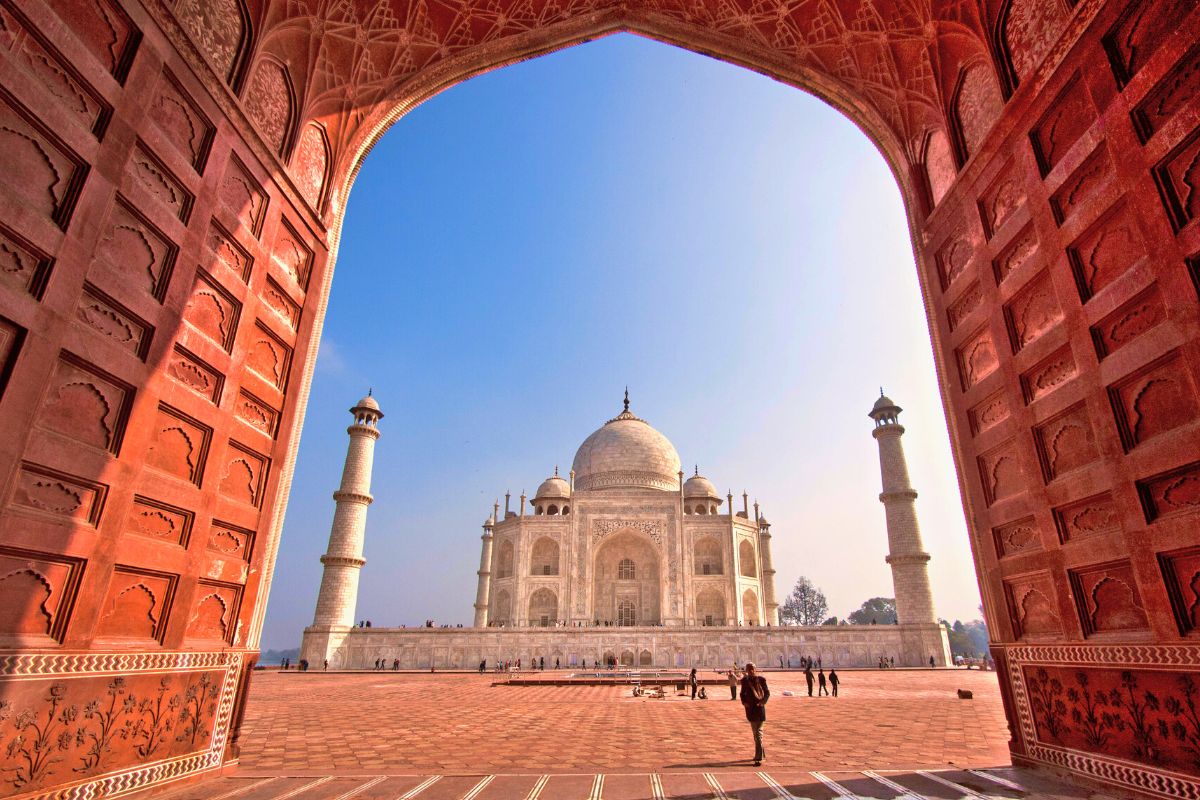 During COVID times, it was only possible to buy tickets online. The ticket windows have now reopened and Taj Mahal tickets can be bought at two different entry gates: the Western Gate and the Eastern Gate. There's a third gate in the south of the complex, but it is currently closed and can only be used to exit (but not enter) the Taj Mahal.
There are separate ticket lines for foreign tourists, so make sure you go to the right window. The Western Gate is the main entrance so it's always busier, while the Eastern Gate is less busy but also offers four ticket lines: two for women (foreign and local) and two for men, so waiting times to get a ticket are shorter.
To save time, it's always better to get your Taj Mahal tickets online in advance. As India's most popular tourist attraction, it's no surprise the lines to get into the Taj Mahal are always long, no matter when you visit.
You can book tickets online through the official Taj Mahal website or a tour operator. You can use Tourscanner to compare prices for basic standard tickets or special tours, depending on what type of experience you're looking for. Guided tours usually include the entrance ticket, so it often saves money to book things this way.
While the price of tickets at the gate is the same year-round, you might find special deals when booking online, so always spend some time checking before making a final choice.
Does the Taj Mahal offer free entry?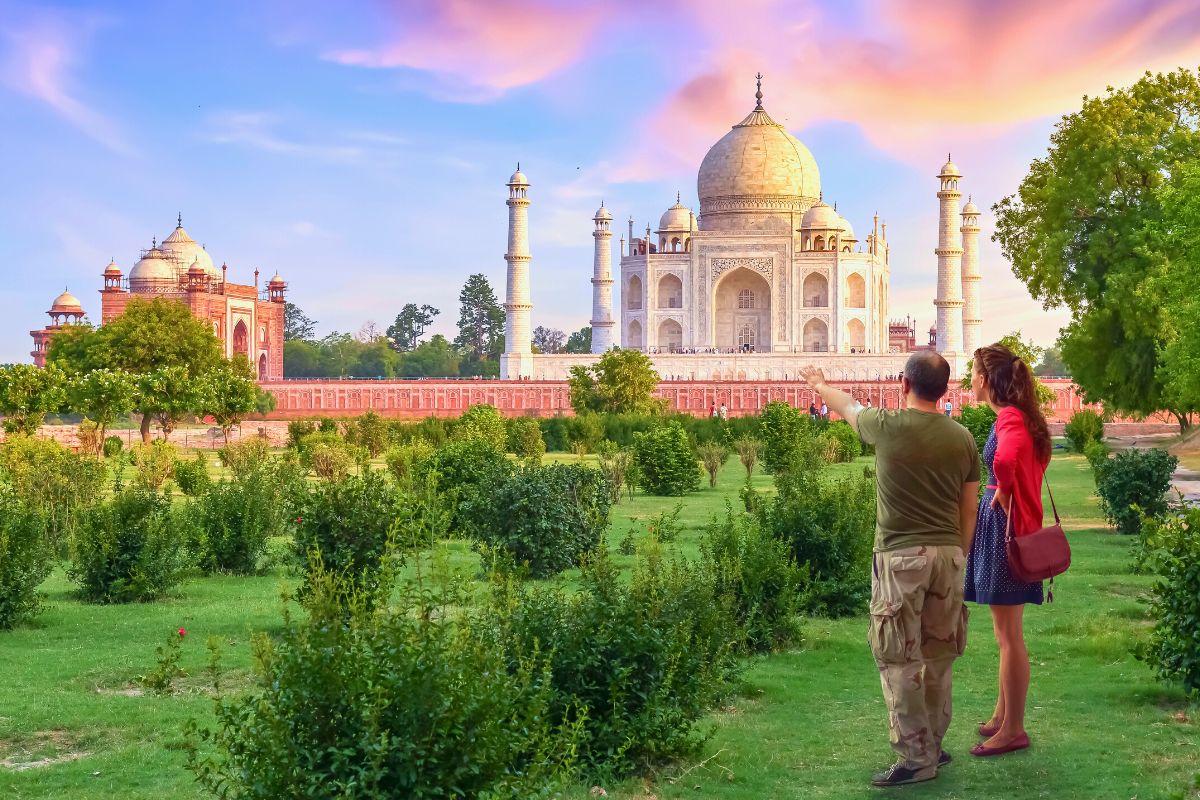 If you plan your trip well, you might be able to see the Taj Mahal for free – just be aware that free days attract even bigger crowds than usual, so your chances for people-free photos get smaller on these days. To make the most of free days, arrive very early, soon after sunrise if possible.
Free entrance to the Taj Mahal is available on the following days:
February 27th, February 28th, and March 1st in celebration of the death anniversary of Mughal Emperor Shah Jahan
World Tourism Day (September 27th)
The First day of World Heritage Week (this happens in November, but dates vary, so check in advance)
On EID Day (the end of Ramadan), entry is free until 11 am unless this day falls on a Friday (in that case, the Taj Mahal will be closed).
You can also get great photos of the Taj Mahal for free from the banks of the holy Yamuna River. If you visit the Mehtab Bagh gardens across the river, you'll get direct views of the Taj Mahal.
The gardens themselves are slightly run down and walking around during the rainy season is, to say the least, a bit tricky. But the views are worthy and because of the angle and elevation, you won't have people in the frame ruining your shot.
Entrance to the gardens isn't free (it costs about 2.5 US Dollars) but worth it if you're after great photos.
Are there any Taj Mahal guided tours? Are they worth it?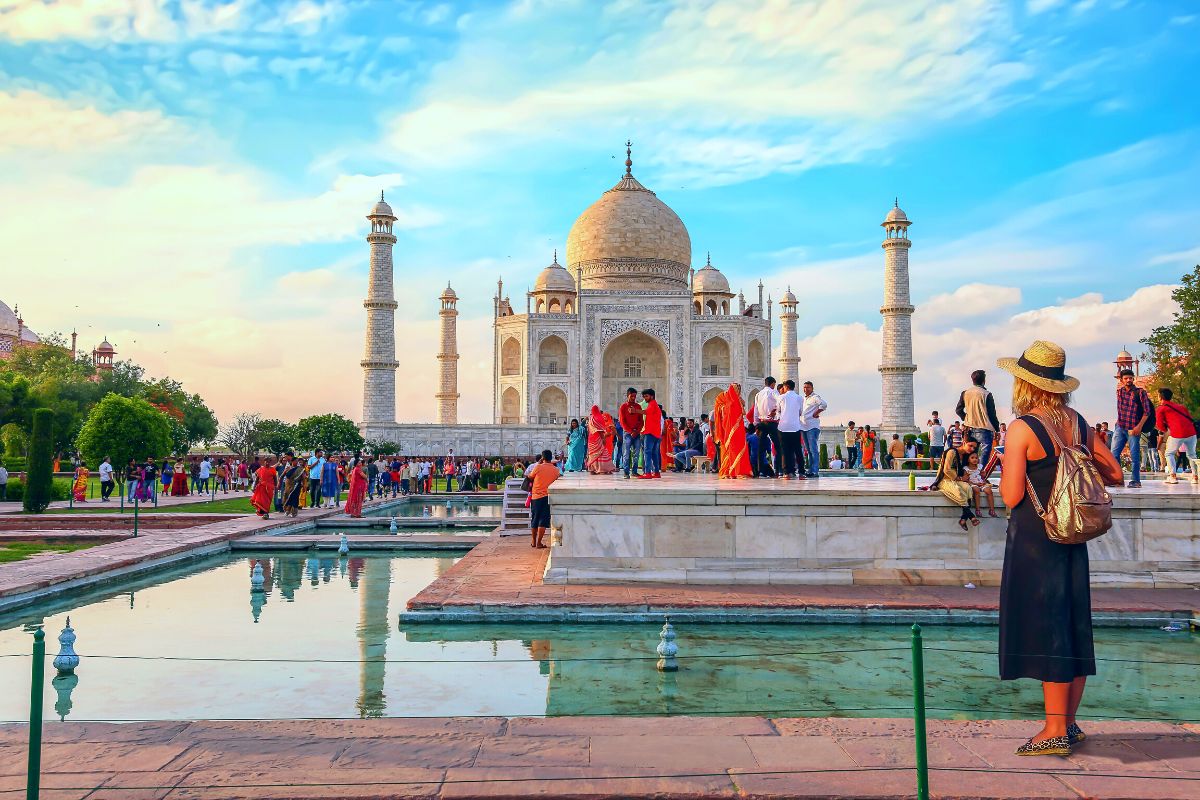 There are plenty of guided tours of the Taj Mahal if you want to do more than just take a few pictures when visiting.
A guided tour offers many benefits – from the convenience of roundtrip transfers to skip-the-line tickets and having an experienced guide to help you learn more about the places you're visiting. If you add up all costs, guided tours are often big money-savers (and usually time-savers as well) and a great way to just focus on enjoying your holiday.
Many of these tours depart from the nearby city of Agra, from where you'll be taken in an air-conditioned van to the magnificent Taj Mahal and several other spots (usually the Agra Fort and the ghost town of Fatehpur Sikri), depending on the tour you choose.
Hot tip: Check out the best places to visit in Agra.
As you walk through the beautiful UNESCO World Heritage site, you'll learn about the love story behind the creation of the Taj Mahal, how the design came to be, and why its magical allure remains very much alive today.
You can choose from sunrise or sunset tours (the two most popular options) or choose a regular daytime tour. Many tours will also take you to interesting places within the city of Agra to shop for local handicrafts made of marble, similar to what was used to build the Taj Mahal. Entrance fees and hotel transfers are usually included, and full-day tours usually include lunch.
Are you based in Dehli or Jaipur? There are tours departing from both cities as well. Tours from Delhi are often by car or a combination of car and air-conditioned express train – a great 90-minute journey through the wonderful countryside where you can enjoy breakfast or lunch (depending on the tour you choose) as you catch the views out the window.
Multi-day tours covering the Golden Triangle (Jaipur-Agra-Delhi) are also available. These 4-6 guided tours usually include accommodation at each stop, or you can choose to organize that yourself and just have the driver pick you up at the hotel of your choice.
What are the Taj Mahal's timings?
The Taj Mahal is open every day of the year except Fridays. You can buy Taj Mahal tickets at the Western and Eastern entry gates starting one hour before sunrise.
Technically speaking, the doors of the Taj Mahal open at sunrise and close at sunset. However, this will mean different times depending on when you're visiting. Sunrise can be as early as 5:30 am in June and as late as 7:15 am in January.
The same is true for sunset – it gets dark before 6 pm in winter but in summer, you'll have until close to 7:30 pm to explore the mausoleum grounds.
The ticket windows close 30 minutes before sunset, so don't arrive at the last minute hoping for a quick photo.
Can I visit the Taj Mahal at night?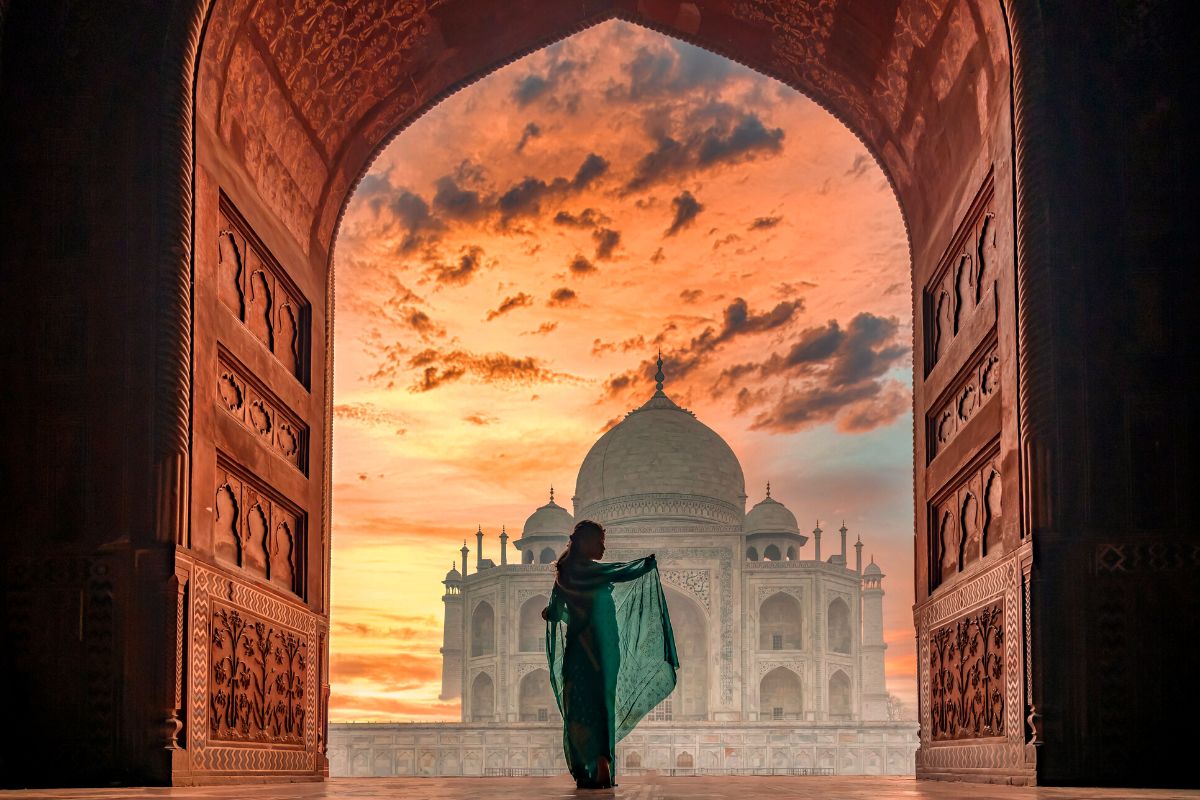 It's hard to imagine a more magical view of the Taj Mahal than at night, as the light of the Moon bounces off the pure white marble. While nighttime views of the Taj Mahal are possible, they need to be planned and timed properly, as these visits are only possible five nights a month.
Night visits are available the night of the full moon, plus the two days before and after that day. On those days, the Taj Mahal will open from 8:30 pm to 12:30 am.
Keep in mind that if any of those days falls on a Friday, the mausoleum complex will not open. The five days also do not apply during the month of Ramadan – always consult a calendar to confirm dates, as Ramadan dates will vary from year to year.
The ticket windows are not open for night tickets. Taj Mahal tickets for night visits must be purchased at least 24 hours in advance and are available only online. Only 400 visitors total are allowed into the Taj Mahal on each of these nights, and tickets sell out quickly.
There will be a specific time slot printed on the night ticket and you must show up for that specific slot – people are allowed in groups of 50 every 30 minutes. This is done to ensure everybody has a chance to explore and see everything within their 30-minute slot inside the Taj Mahal.
If you miss your time slot, you'll be out of luck. You will also be urged to leave after your 30 minutes are up, so don't stay in the same spot for too long and make sure you explore and take plenty of photos.
Tickets are around 10 US Dollars for adults for the night ticket. Although children can enter the Taj Mahal for free during the day, they must pay to visit at night. The cost is 6.50 US Dollars for children 3-15 years old.
Can you cancel your Taj Mahal tickets?
Day tickets cannot be canceled and need to be used at the time pre-stamped on the ticket. If you arrive late, you will be denied entry and will need to stand in line to buy a new ticket.
Nighttime tickets can be canceled on the scheduled day as long as you do it before 1 pm. A cancellation fee of 25% of the ticket cost will apply.
If you booked a guided tour, contact the company to see if you're eligible for a refund or to switch your trip to another date or time. This might not always be possible depending on the terms of your contract.
On which days is the Taj Mahal closed?
The Taj Mahal is open every day of the year, including holidays, except for Fridays. This is because the building next to the Taj Mahal is a functioning mosque, and Fridays are prayer days. On Fridays, only Muslims can enter the Taj Mahal (and only between noon and 2 pm) to pray.
The Taj Mahal might be closed for special VIP visits from foreign dignitaries from time to time, but this is rare and usually only lasts a few hours. Still, it's worth checking in advance before traveling there, especially if you're planning on buying a ticket at the gate.
What is the best time to visit the Taj Mahal?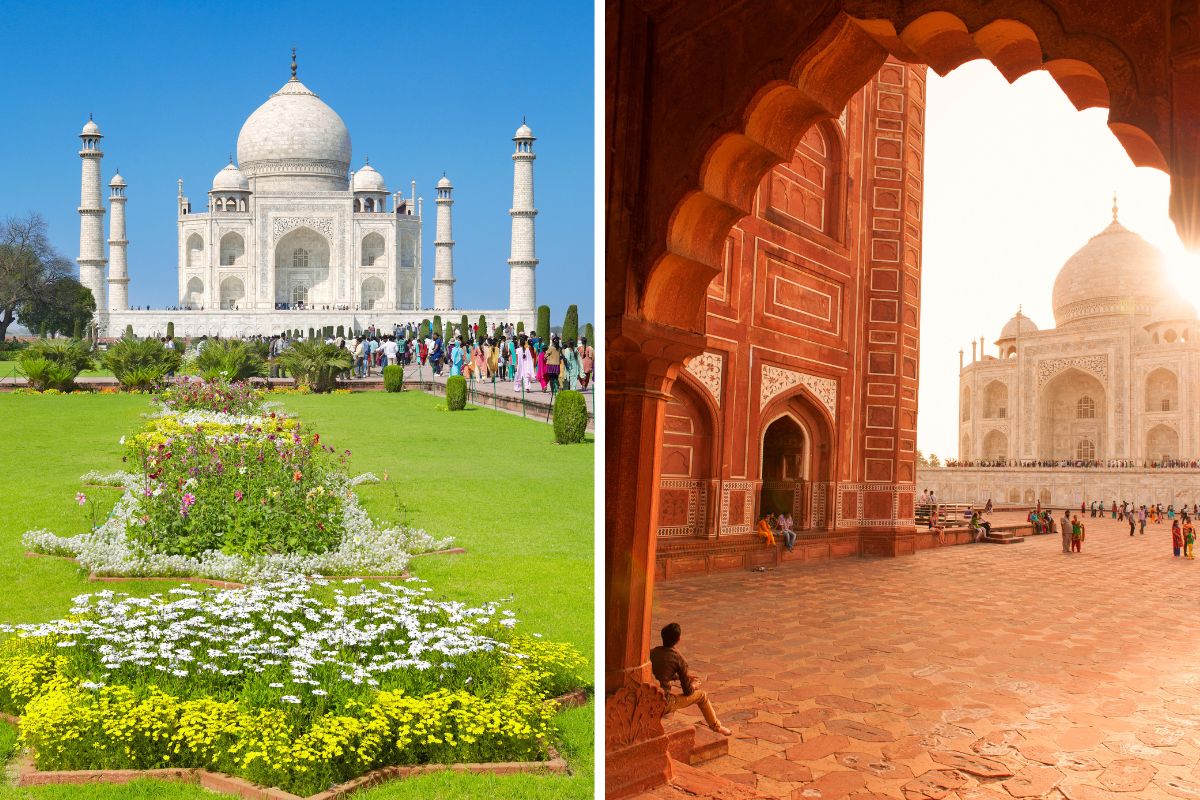 This will depend on whether you're looking for the best weather, the best photo opportunities or the smallest crowds.
If you want to beat the crowds, a guided tour is your best bet, as they come with skip-the-line tickets, and your guide will already have a route mapped to make the most of your visit.
If you're visiting the Taj Mahal on your own, very early mornings are probably the best time to visit. That means arriving before the doors open or right after sunrise. By mid-morning, the lines are already long – in fact, mornings are usually very busy times unless you arrive before 8 am. Sunset is the busiest time and, for obvious reasons, the complex is also busier on weekends, so choose a weekday if possible.
Weather and seasons are also important factors in choosing the best time to visit. This can be tricky, depending on what you're looking to get out of the trip. July to September is Monsoon season, which means lots of rain (if you don't mind the rain, this usually means fewer people and some wonderful unique photos), while November to February brings nicer weather (cooler, more comfortable for walking around) but also a higher risk of fog blocking the views and bigger crowds.
Although it's tricky to find the best time to visit, March to June might your best option. The weather is very hot by June already, but you'll get plenty of blue skies and the best photo opportunities (but be ready for higher hotel and flight prices!).
Days offering free entry and public holidays (such as the Holi festival in February/March) are also best avoided as they draw big crowds.
How long will it take to visit the Taj Mahal?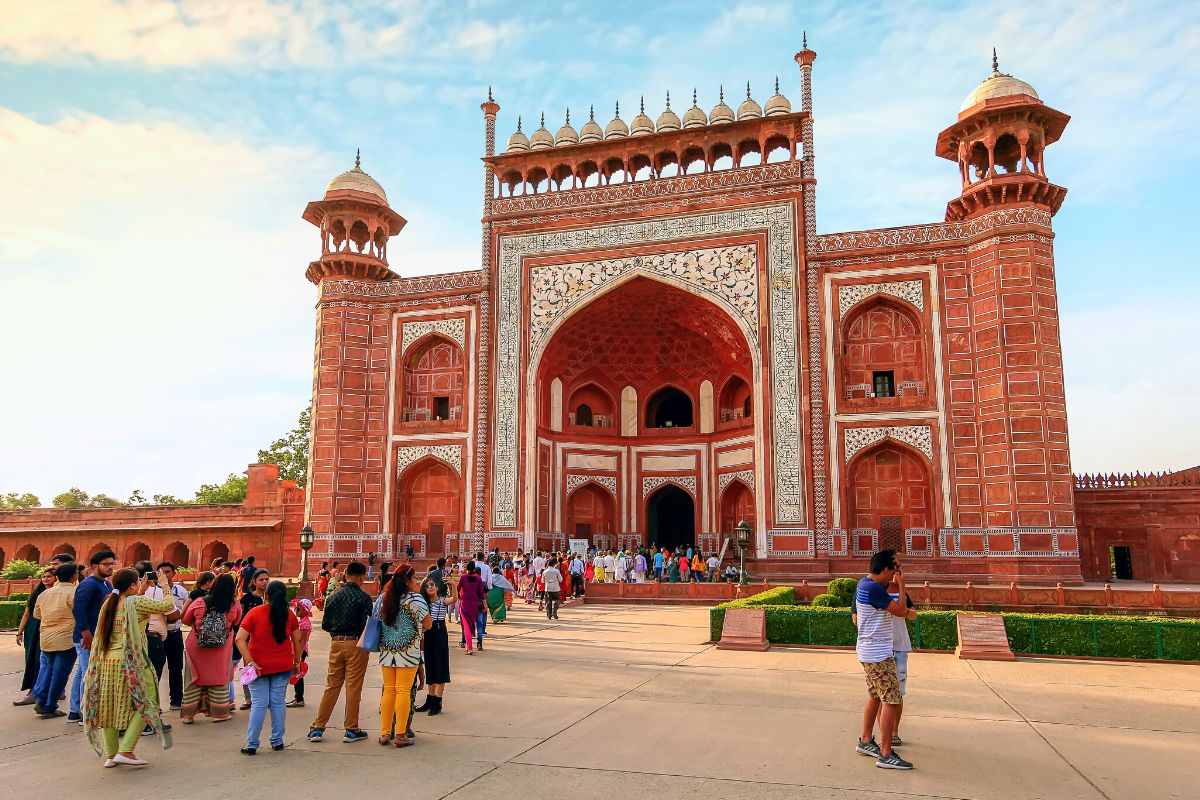 Since 2019, visitors only have three hours to explore the Taj Mahal when they buy a ticket. If you want to stay longer, you will need to buy a second ticket – and if you're caught inside after the three-hour limit, you will be given a fine (which is essentially just paying for a second ticket as you exit through the gate).
Tickets have an entry time stamped on them and you are required to enter at that designated time (or risk losing your ticket) and then exit before three hours pass.
The good news is that three hours is more than enough to see the Taj Mahal. If you're visiting with a guide, they'll make sure you stop at each important corner of the complex, but if you're on your own, you might want to walk around the complex slowly so you have time to appreciate the architecture. If you're hoping for some great photos, plan for some additional time – you might need to wait around for a while to get a nice shot without people in it.
Guided tours usually take longer than exploring on your own, as you'll have a chance to hear interesting stories along the way. If you're walking on your own and just appreciating the architecture, chances are you'll be done in 2 hours or less.
One thing to keep in mind is that if you're using the East Gate, the ticket window will be about 1km away from the actual gate. So you'll have to buy the ticket, then walk to the gate to get in. This sounds like a hassle, but it's still faster than waiting in the much longer lines by the west gate (where all the tourist buses stop). Either way, make sure you account for the time waiting to buy the ticket and get in when planning your trip to the Taj Mahal – otherwise, you'll end up with less time to spend inside.
What will I see?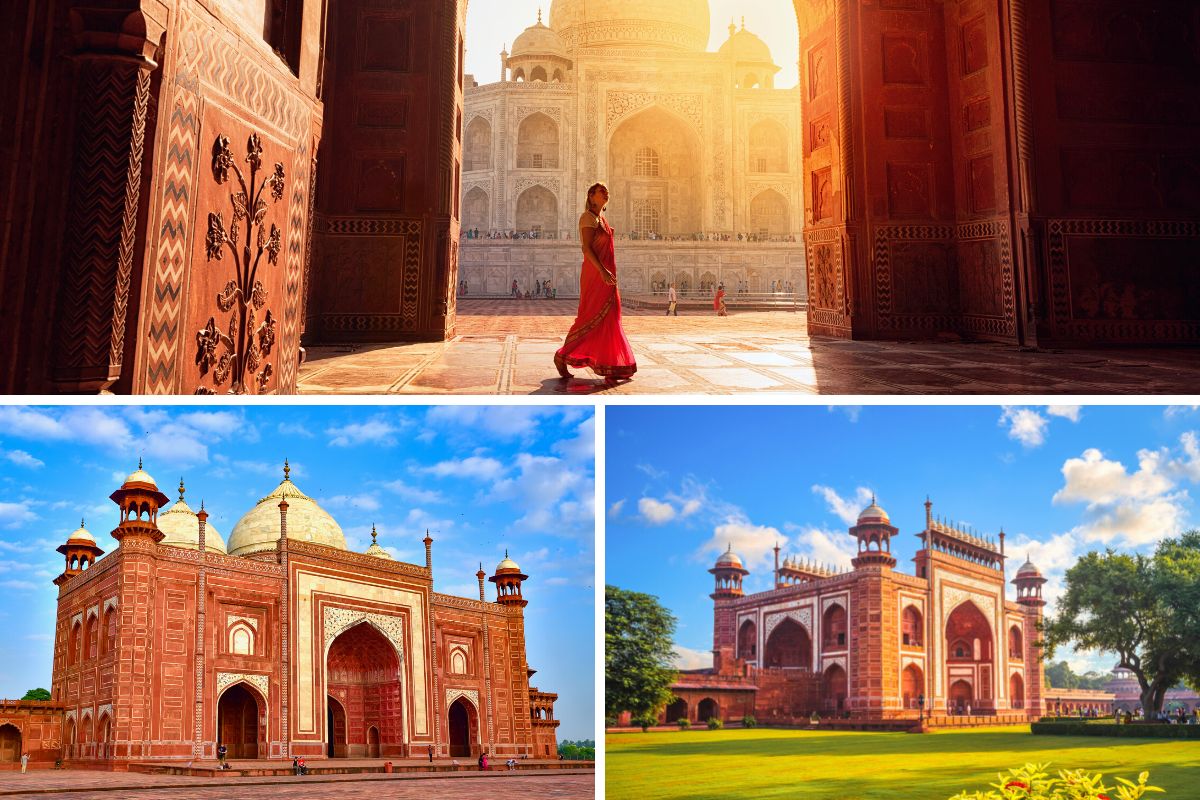 Standard Taj Mahal tickets allow access to the entire grounds of the 42-acre complex, except the inside of the mausoleum itself (which requires an additional ticket). These include the formal gardens and all the other buildings, which date back to the 17th century.
Red sandstone walls surround the Taj Mahal complex on three sides (the side overlooking the Yamuna River is open). Everything inside the walls is included in your ticket price. Additional small buildings located outside the walls (mainly also mausoleums) are also accessible to visitors.
Some of the most important sights you'll have a chance to explore when visiting the Taj Mahal:
Main Gateway
Made up of massive clay brick archways decorated with inlaid floral designs, the darwaza (great gate) guards the entrance to the Taj Mahal complex. The rectangular building almost looks like a fortress, complete with turrets and lots of Koran inscriptions adorning the frames of the doors.
The gateway is meant to be only the entrance to the complex but it's actually a great place to take pictures, using the massive archway gates as a frame.
Mausoleum
The famous white marble building that people associate with the Taj Mahal is an actual tomb, the final resting place of 17th-century Mughal emperor Shah Jahan and his favorite wife Mumtaz Mahal. The stunning multi-chambered structure is built in Indo-Islamic style and features four minarets framing the building, intrinsically decorated walls using Arabic calligraphy and stone inlays, and the famous onion dome or amrud that is over 35 meters high.
If you bought the additional ticket needed to enter this building, you will find stunning inlay work created using gemstones, lapidary inlay, flowers carved on the beautiful marble, and bas-reliefs inside. The actual crypt holding the bodies of Shah Jahan and his wife is underground.
Gardens
The Taj Mahal gardens occupy about 300 square meters of meticulously designed stone pathways, raised flowerbeds, and beautiful reflecting pools of water. There are also fountains, avenues of trees lining up paths, and a smaller garden-within-a-garden area designed to resemble a symmetrical Persian garden.
Mosque
Aside from the mausoleum, the most imposing building here is a mosque, which sits on the west side of the mausoleum. Built of red sandstone with intricate geometric designs and black marble on the floor, the mosque also features a beautiful vaulting dome and stunning archways.
A "twin" building sits on the east side and currently doesn't serve any purpose. Theories said it could have been built as a guesthouse or a potential "balancing" building so the mausoleum in the center would be flanked by two equal pieces of architecture. The main difference between the twin buildings is the mosque floor, which has been built with pieces of black marble to symbolize the outline of prayer rugs.
Travel tips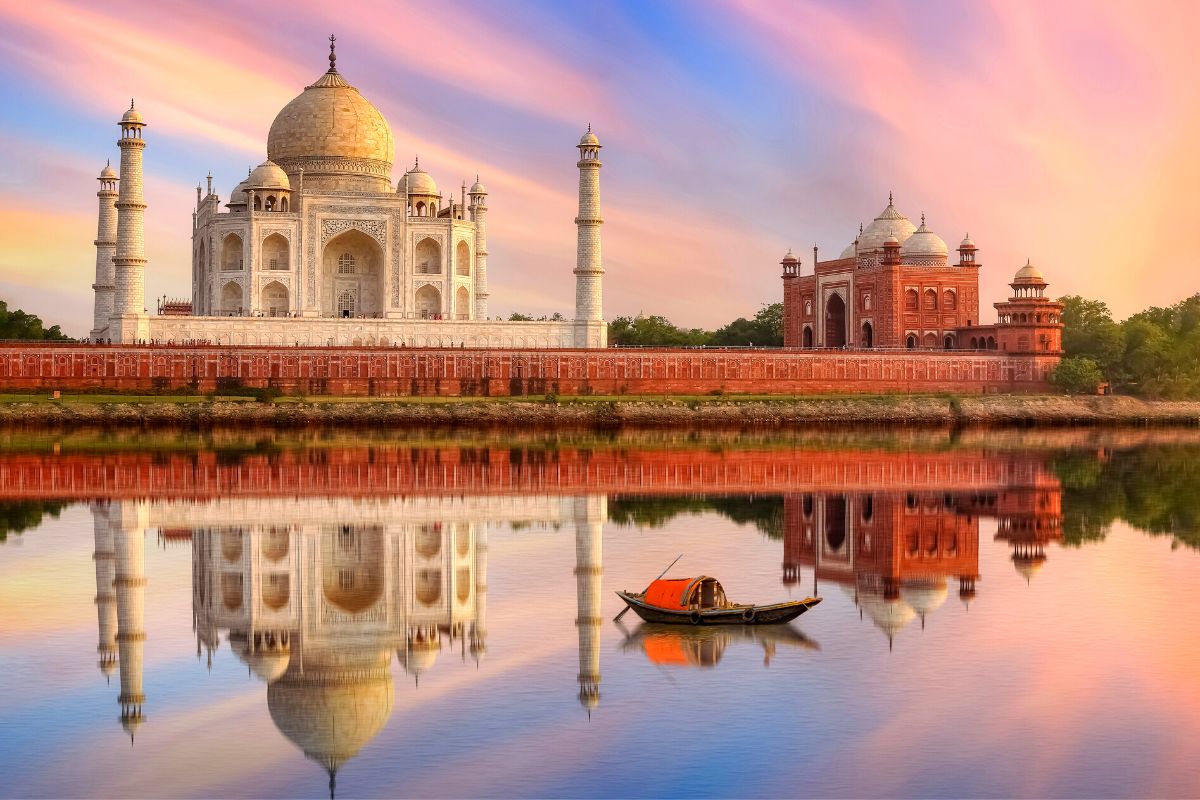 One of the most iconic photos you can take at the Taj Mahal is on a white bench with a stunning white building in the background. This bench is right after you enter through the west gate. If you arrive by sunrise, go straight for the bench and take that photo before you do anything else. It will be too crowded later in the day.
Do not hire anybody offering guide services outside the gates. These are either overpriced or scams.
Bring only a small bag with you. Leave food, batteries, cigarettes, and even gum at the hotel – you won't be able to get into the Taj Mahal with anything besides your phone or a camera.
There are lockers outside the gate if you want to leave your things there.
There's no food or drinks sold inside the Taj Mahal. Either eat before or plan for a nice lunch after.
There's no artificial lighting/electricity inside the Taj Mahal, only natural light. If you do the evening tour, you'll only have the moonlight to guide you around so make sure your camera is good enough for nighttime pictures or you'll end up with only blurry images.
Wear bright colors, even if it's just a bright blue or green shawl you can easily remove later. It makes you stand out against the stark white of the building when you take photos.
if you're visiting in the morning, walk the east side of the buildings first. The early morning light bouncing on the marble gives it a sort of glow that looks beautiful in pictures.
Don't forget to tour the other buildings in the complex. While the main mausoleum is the star here, the red sandstone structures next to it are equally beautiful and provide unique angles to photograph the mausoleum.
December to February are very foggy, especially in the mornings. If you visit during these months, go to the tan mahal in the afternoon or evening for better views (and photos).
There's no audio guide rental available at the ticket window. If you want to explore the Taj Mahal on your own, download AudioCompass in advance. It provides the only officially approved Taj Mahal audio guide right on your phone.
If you're visiting in February, try to time your visit with the Taj Mahotsav festival, which runs annually from February 18th to the 27th. Set just steps away from the Taj Mahal, the festival features artisans, crafters, and live events.
We hope this guide about Taj Mahal tickets where helpful. Don't hesitate to comment below if you have any questions.
Where travel next? Check out selection of fun things to do in Jaipur and Delhi.
As always, happy travels!