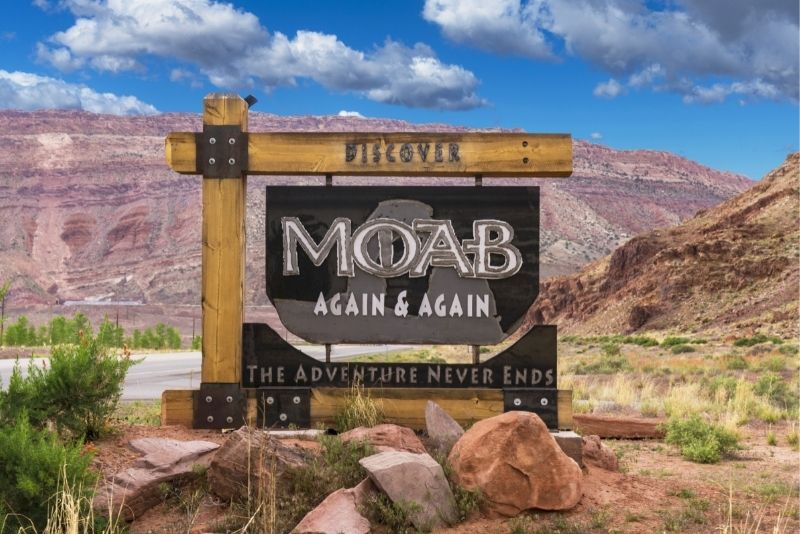 Nestled in the heart of Utah's stunning red rock country, sun-drenched Moab is known nationwide as a prime destination for outdoor enthusiasts.
With national parks and beautiful canyons in every direction, the small town acts as a gateway for wonderful hiking, biking, climbing, and rafting opportunities; and with so many things to do in Moab itself as well – a still underrated town that's brimming with local charm and personality – it's no wonder the tourists are flocking.
From exploring Hell's Revenge and Ken's Lake to seeing Thelma and Louise Point (named after the famous movie scene), there's no shortage of exciting activities on offer. Starting with the expansive and dramatic landscapes, the area's national parks are unmatched: Arches National Park is home to more than 2,000 natural rocky arches, while Canyonlands National Park encompasses some of the most remote and beautiful desert terrain in the country – scratch that, planet.
And that's just the beginning – Moab has bucketloads more to offer those who love the great outdoors, from Colorado River whitewater rafting journeys to paddleboarding, canyoning, horse riding, and even hiking routes with ancient petroglyphs (not to mention dinosaur tracks and fossils) to admire — so pack your bags, strap on the walking shoes, and get ready for an adventure, because marvelous Moab awaits!
1 – Explore sprawling Arches National Park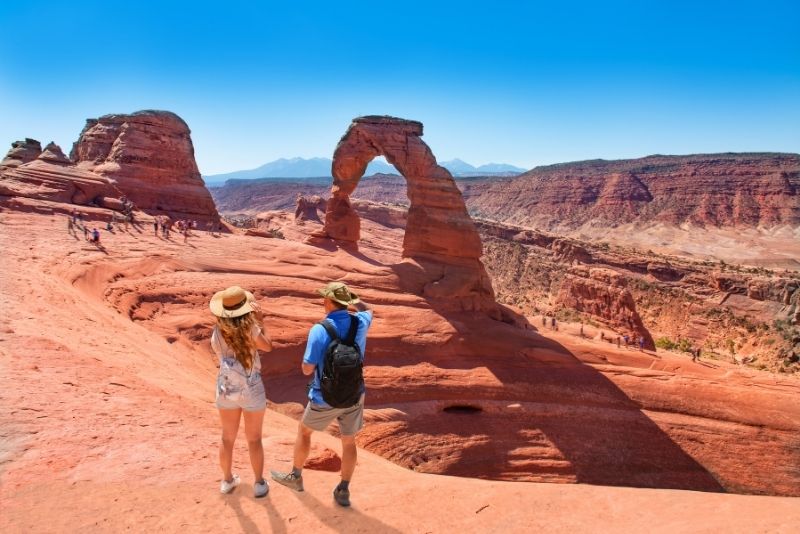 Looking like something straight out of a fantasy film, Arches National Park, with the famous Delicate Arch as its poster child, attractions hundreds of thousands of adventurous travelers year after year eager to witness its brilliant orange hues and natural formations first-hand.
While a range of 4X4 tours operates from Moab (including pickup and dropoff), the scenic flights, self-guided drives, sunset hikes, and dedicated photography tours are all worth considering too.
Besides the obvious myriad hiking trails (and the picturesque 19-mile-long Arches Scenic Drive), the natural landmarks are aplenty of interesting things to see and do in Arches National Park. Travelers love the underrated Fiery Furnace; a maze-like series of narrow canyons and fins that will have you feeling like you're on another planet altogether, while Double Arch is, as its name suggests, two massive red rock arches side-by-side. Throw in Balanced Rock, a feat of gravity-defying nature, and Landscape Arch, the longest in the world at 306 feet, and you've got one action-packed national park.
Keep your eyes peeled for wildlife — the area is frequented by bighorn sheep, coyotes, and deer – and be sure to take advantage of the dark and quiet skies to do some stargazing.
2 – Conquer the world's best mountain biking trails (in Canyonlands or on the Slickrock Trail)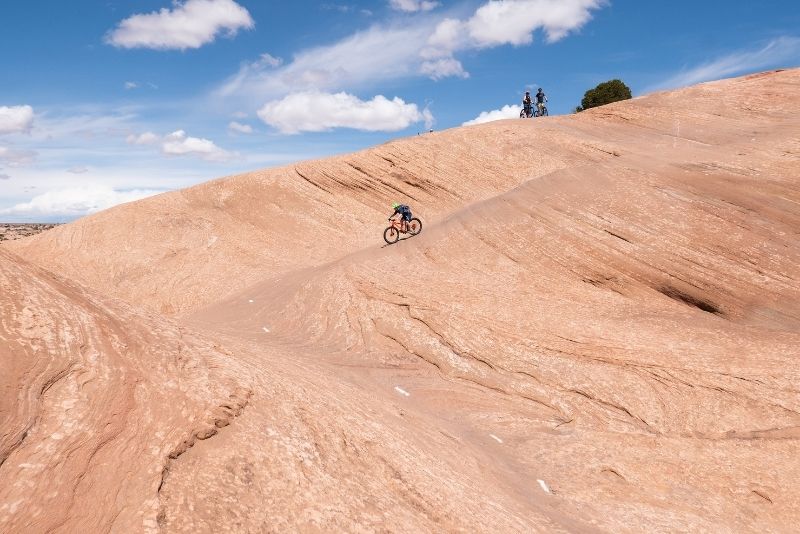 Far from your typical city-slicker bike tours where you're stopping for selfies at every busy intersection, Moab's 2-wheeled adventures are all about high-octane action!
Whether you're tackling the White Rim Trail in Canyonlands National Park (a 100-mile loop that makes its way around and below the Island in the Sky mesa); one of the several North Klondike trails (highlighted by Alaska, Mega Steps, and Dina Flow – each challenging yet rewarding in their own right), or the Slickrock trail on petrified sand dunes, you'll find unbeatable outdoor landscapes in every corner of this orange-tinted region.
For the ultimate mountain biking experience, look no further than the 4-day adventure on the Whole Enchilada, a two-wheel trail that transitions from rugged rocks to lush meadows, and includes technical tough drops on the Porcupine Rim.
While you could also bring or rent your own bike, with local guides on hand to show you the ropes and lead you to the area's hidden treasures – while sharing all kinds of tidbits about local wildlife, history, and culture along the way – it's hard to go wrong with a guided tour if you want to make the most of your time in Moab.
3 – Take a hike through Dead Horse Point State Park
Who's up for an adventure? Just nine miles northwest of Moab, Dead Horse Point State Park's 2000-feet-high sandstone cliffs tower high above the sparkling Colorado River to reveal a view that has been compared to the one and only Grand Canyon.
The park contains a handful of epic hiking trails: the 7-mile Dead Horse Point Trail that takes you to the edge of cliffs, connecting eight different overlooks; the easy 2-mile East Rim Trail (one-way) takes you from the Visitor Center to the greatest of overlooks; the 3.5-mile (one-way) West Rim Trail dishes up killer views of the river and national park below, connecting the Point Overlook with the Kayenta Campground; while the 2.5-miles round trip Big Horn Overlook trail (part of the West Rim) delivers a sampling of the stunning views without the vigorous workout, which is ideal for birdwatching and wildlife spotting.
If you prefer to soak in the views without working up too much of a sweat, make your way to The Dead Horse Point Overlook Trail. Just a 200-foot stroll from the parking lot, this panoramic viewpoint never fails to disappoint — with the Canyonlands National Park spilling out in the distance, plus natural rock bridges and buttes in the foreground, it really is a photographer's dream.
Hot tip: Visit during sunrise or sunset to capture some spectacular shots.
4 – Jump in a jeep tour to tackle aptly-named Hell's Revenge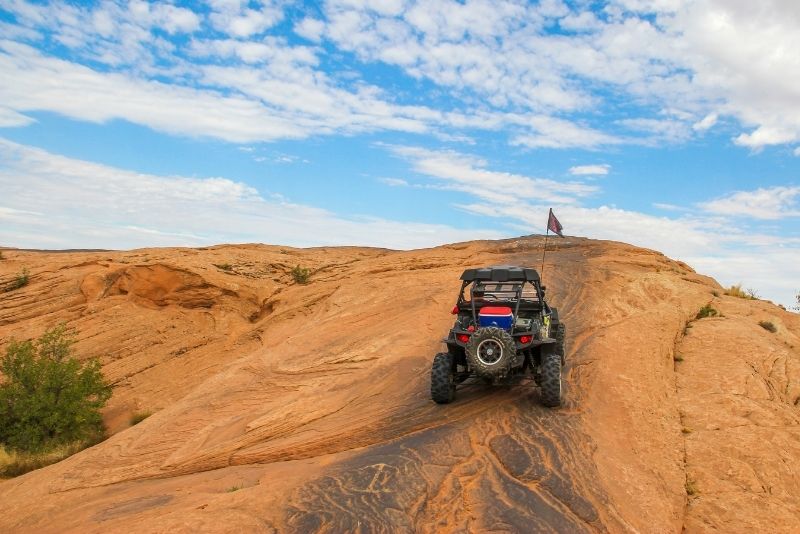 Approximately 6.5 miles in length and reserved for the true thrillseekers out there, Hell's Revenge is one of the most popular 4×4 trails in Moab.
The wild roller coaster trail weaves its way through a red rock landscape of fins, ledges, and narrow slots, with plenty of heart-pounding moments (read: steep climbs and heart-racing descents) along the way – including a dramatic drop-off at the entrance to the aptly-named Hells Gate.
Travelers can make the trip in their own jeep, or catch a tour with one of the local operators. If you opt for the former, keep in mind this is no walk in the park; not for the faint-hearted, this outdoor adventure is best suited to those with a fair chunk of 4×4 experience under their belt – but even if you're a beginner, you can still enjoy the ride as a passenger in one of the open-air jeeps.
Regardless of how you experience this trail, make sure you take it slow as there are plenty of steep drops that could wreak havoc on your vehicle. Either way, expect the adventure to take about 2-3 hours to navigate, not including any stops for lunch or sightseeing.
5 – Blow off some steam (and practice your sledding) at Moab's Sand Hill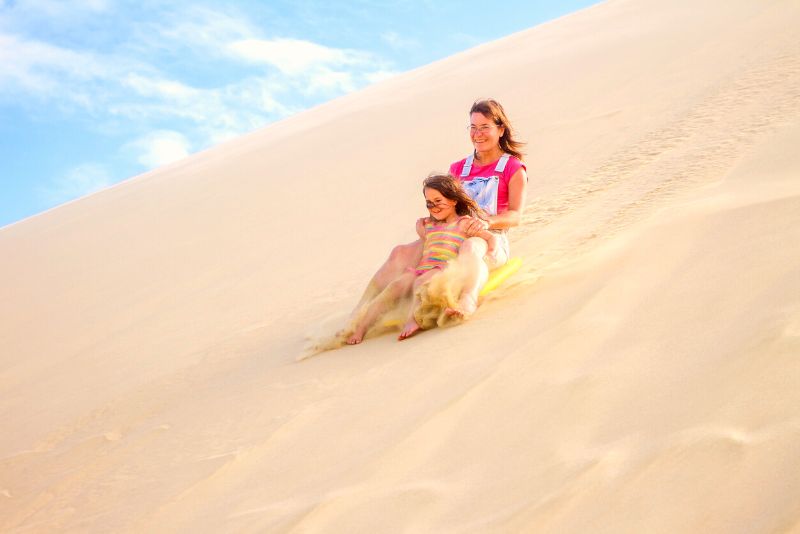 You may not think of the desert as a prime sledding spot, but anything's possible in Utah!
Head over to Sand Hill, and you'll find the perfect slopes for some sliding – not to mention plenty of excellent hiking!
The main attraction, of course, is the hill itself – 100 feet tall, 100 feet wide, with just the right steepness to launch the craft of your choice!
Whether you're young or young at heart, it's the perfect place to blow off some steam and get a bit of an adrenaline rush before heading out for the day. And if you have a little more time in the region, there are some awesome trails in nearby Arches National Park to try as well!
While general sources recommend taking at least a couple of hours to frolic, you can do much more or less – just be sure to bring your own sled! And if you happen to be traveling with dogs, they're welcome to frolic around the area as well!
With a lively, communal atmosphere suitable for travelers of all ages – not to mention close proximity to local outdoor hotspots -, it's one of Moab's great underrated treasures!
6 – Spend the day exploring beautiful Canyonlands National Park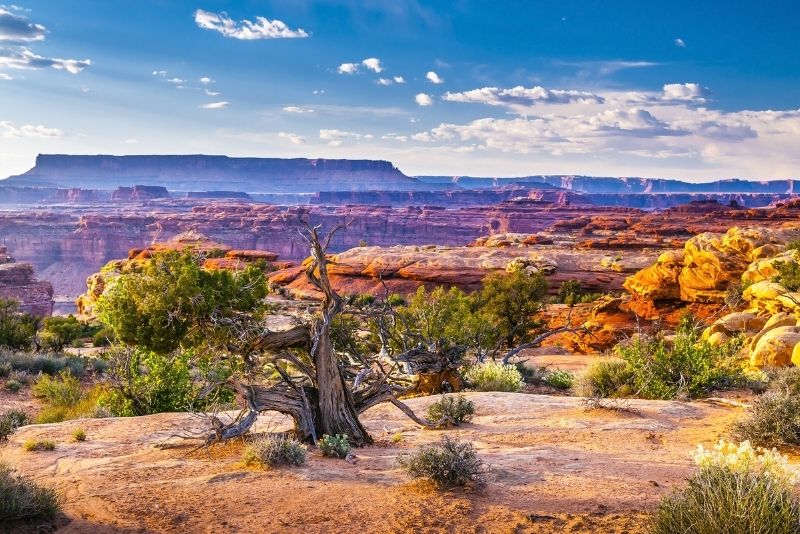 Overflowing with natural beauty, Canyonlands National Park is a true hiker's paradise. As one of the largest national parks in Utah, covering over 527 square miles, it's unsurprisingly home to a vast network of trails – many of which lead to some pretty incredible viewpoints.
There are four main sections in the park: Island in the Sky, The Needles, The Maze, and the rivers themselves – the Green and Colorado.
Most visitors stick to Island in the Sky – here, with its desert atmosphere, you're blessed with some of the most jaw-dropping views, including the Grand View Point, Green River Overlook, Mesa Arch, and Upheaval Dome.
Of course, the most popular feature of this park, beloved by all kinds of travelers, remains the hiking trails that help you experience what some call one of the most captivating landscapes in America. Hike into the maze-like canyons, or join one of the guided trips to have a naturalist tell you about what you're seeing! With some 87 different trails to choose from, there's a route to suit all levels of fitness and experience – whether you're planning a leisurely stroll or an overnight backpacking trip, this slice of Mother Nature has you covered.
But if you're short on time (or energy), make your way to the Grand View Point Trail for a quick highlight – a 2-mile round trip that takes you to the very edge of a mesa (at the southern tip of the Island in the Sky plateau) with panoramic views of the rugged canyons and flowing rivers below.
7 – Make the trip down to White Rim Road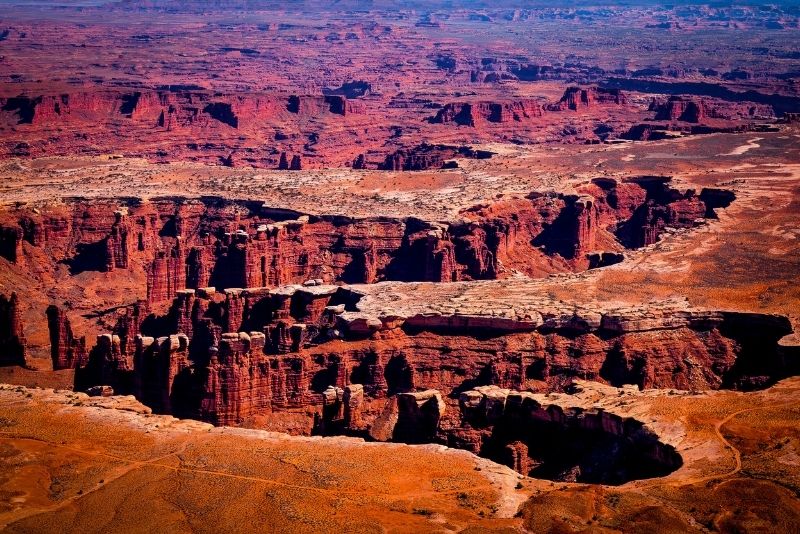 Ever heard of the White Rim Trail? If not, this highly esteemed trek is an epic 100-mile long road that circles around the Island in the Sky mesa, offering up some of the most incredible views in Canyonlands National Park.
The road itself is pretty darn impressive – it's mostly dirt with a few sections of sand (and a very small paved section), and it winds its way through a diverse landscape of red-rock canyons, gorges, and buttes.
A 4×4 is required to drive this road, which usually tasks 2-3 days to fully complete, and it's recommended that you have a high clearance vehicle too (a jeep or SUV would be ideal). ATVs, UTVs, OHVs, and most run-of-the-mill rental cars are not allowed on the trail. Bikes, on the other hand, are encouraged! For the avid outdoor enthusiasts, the mountain biking (or motorbiking) route arguably offers up the most thrilling way to experience the White Rim.
There are a handful of camping areas located along the road – Airport Mesa, Candlestick Campground, Murphy Hogback, and Labyrinth (to name a few) – all of which must be reserved in advance (and fill up quickly during peak season).
8 – Soar over the region in an airplane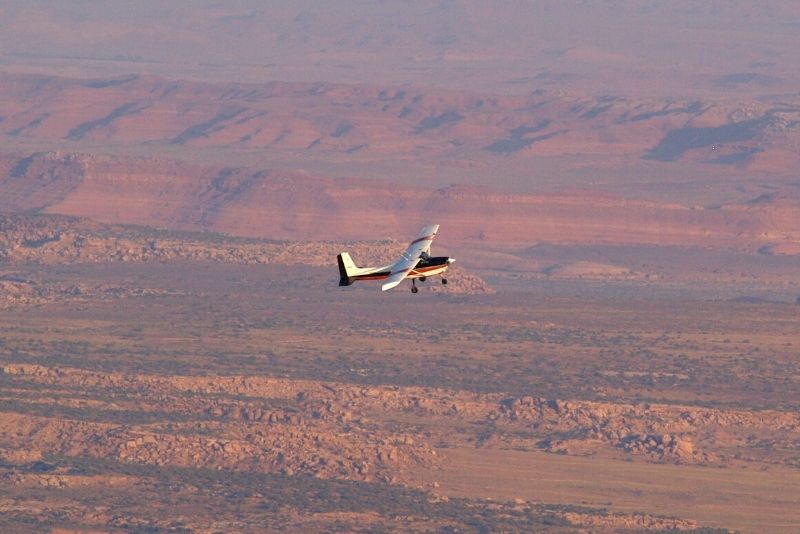 What better way to enjoy Canyonlands National Park than by air? The only way to get the complete aerial view of this colossal landscape is by riding shotgun on an airplane tour (or a helicopter tour – whatever floats your boat).
Only from the skies can you truly appreciate the amazing rock formations in all their grandeur — whether you fly by Balanced Rock, Spider Rock, Elephant Hill, or the salt-stained sandstone spires all over Arches National Park, you'll be left grinning ear to ear.
Plus, with a friendly pilot on board pointing out all the highlights, you'll be able to learn a lot about this fascinating region too.
Aerial adventures typically depart from the Moab airport and last for about an hour, but there are longer tours available if you're looking for a more in-depth experience (like those that combine Lake Powell and Monument Valley, for instance).
9 – Check out the peculiar Hole 'N The Rock attraction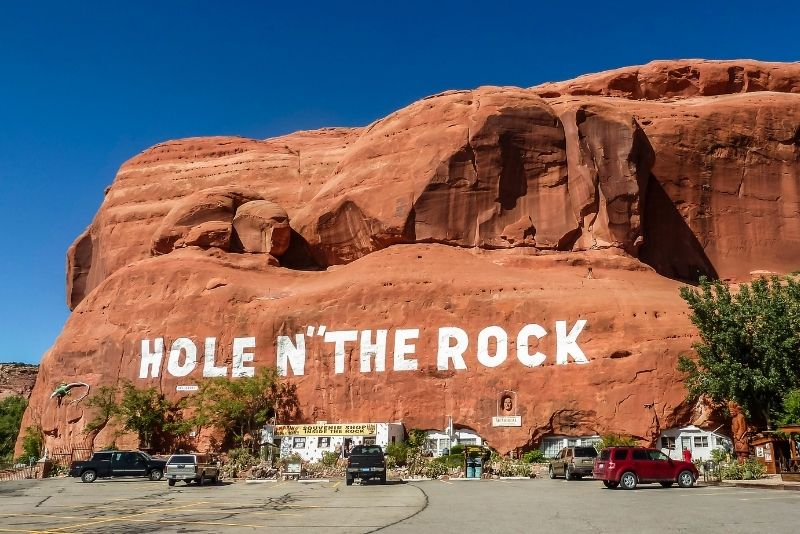 Just a few minutes outside the city of Moab, Hole 'N The Rock is one of Utah's most unique and fun attractions.
The house was built by taking sandstone rocks from the nearby desert and fitting them together like pieces of a puzzle to create walls for the structure above ground as well as the underground portion. Amazingly, this process took over a decade to complete and was done entirely by hand.
Today, visitors can experience this unique attraction first-hand during an astounding guided tour (part of which you get to ride in via jeep), where you'll learn about the history and construction of the house, and be able to stop at the petting zoo and souvenir store.
At almost 5,000 square feet, the 14-room house itself is pretty incredible (noted for its 65-foot chimney drilled into the orange sandstone); and at just $6 for adult tours and $3.50 for the little ones, it's an affordable stop for anyone rolling their way down Highway 191.
10 – Uncover the expected Faux Falls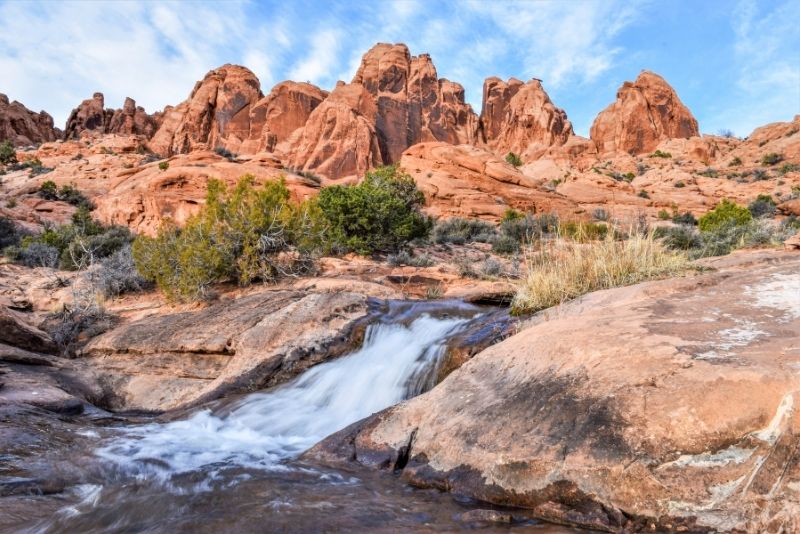 If you're dreaming of a quick way to escape the desert sun and get a little cool down on a sweltering summer afternoon, look no further.
Starting at Ken's Lake, the relatively simple Faux Falls Creek Trail provides plenty of greenery in an orange-dominated area, with the natural falls (yes, they're real, despite the name) providing a refreshing swimming pool at the end.
Alternatively, if time's of the essence, there's a straightforward 0.5-mile path from the car park that will take you straight there.
Cascading about 120 feet from tip to pool, the family-friendly falls make for a great swimming spot on a hot day, with the added bonus of being just a 20-minute drive down the US-191.
While you're in the area, consider making your way up into the hills of Mt Waas, Haystack Mountain or Mt Peale, where picturesque vistas await from the myriad lookout points (the La Sal Lookout Point is a popular one, if you're not sure where to start.
11 – Go white-water rafting on the roaring Colorado River
Commercial, high-octane rafting tours — particularly those to the dramatic Fisher Towers section of the river — are common options for tourists looking for a wild adventure.
With paddle in hand, you'll conquer the Colorado River as it traverses the Canyonlands National Park, flowing through canyons, twisting around spectacularly shaped monoliths, and leaping down heart-stopping drop-offs.
Tour companies typically operate out of Moab, providing everything from half-day family rafting trips to full-length river excursions that last several days (the rafting-camping combo camp is a popular choice for travelers looking for extra adventure!).
With a local instructor steering the way, you'll be in good hands as you bounce your way downriver, skirting over the Class II and Class III rapids, and soaking in the calming scenery along the way.
Keep your eyes peeled for local wildlife too: eagles, osprey, river otters, bighorn sheep, and beaver are all common sightings in this area.
Hot tip: for the best bang for your buck, consider booking a tour that combines Colorado river rafting with a Canyonlands 4×4 drive.
12 – Check out raptor fossils at Moab Giants Dinosaur Park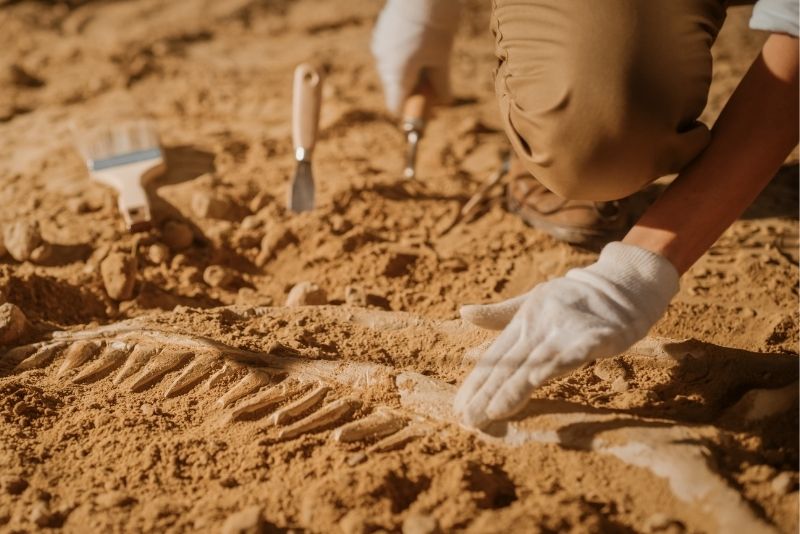 Fusing ancient history with modern technology and adventure, Moab Giants Dinosaur Park lets you get up close and personal with some of the biggest predators that ever roamed the earth.
This attraction is actually a working paleontology lab (one of the only ones in the country that's open to the public), where you can watch as real-life paleontologists carefully unearth bones from the nearby cliffs and then reconstruct them into full-sized replicas.
Why here, specifically? Before humans roamed the earth, a rich Jurassic-era past thrived in what is now Utah and Colorado. Today, Moab Giants Dinosaur Park offers an incredible way to discover what life was like during those times; with models of more than 100 prehistoric creatures on display including the intimidating tyrannosaurus rex, friendly stegosaurus, apatosaurus (better known as brontosaurus), and plenty more.
While the outdoor dinosaur trail – the main event – is a constant delight for youngsters and adults alike, it's far from the only attraction: pop into the virtual 5D PaleoAquarium for a journey into a deep-sea laboratory to meet prehistoric sea creatures, learn all about the Big Bang Theory in the Moab Giant's 3D Theater, get interactive at the Tracks Museum, where fossils come to life, and see what you can unearth at one of the Dig It Out Sites.
All in all, if you're making your way to Canyonlands National Park from Moab, it's definitely worth a stop at this family-friendly attraction.
13 – Conquer the famed Slickrock Trail on a mountain bike or buggy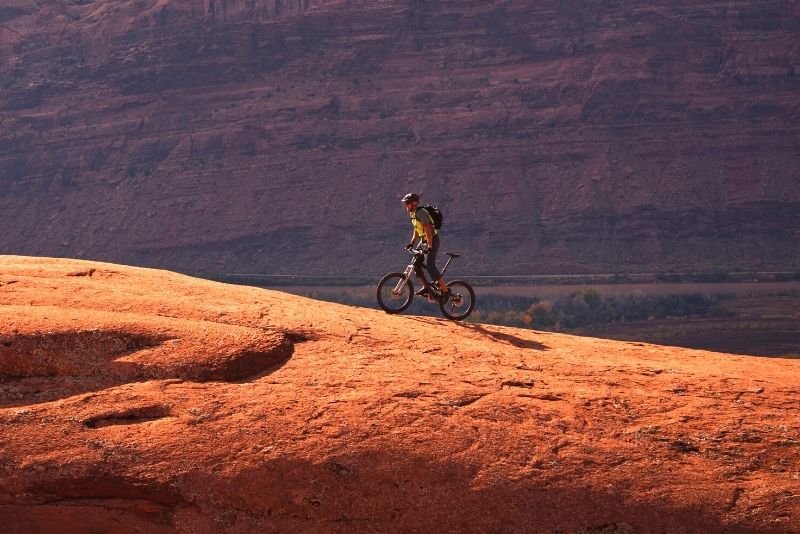 Ridden by thrillseekers since the 1970s, Slickrock Trail's extraordinary rock formations offer a world of discovery for every outdoor enthusiast. Aptly named for its slippery, sandy surface (petrified sand dunes, in fact), the 12-mile trail is located in the Sand Flats Recreation Area – just a few minutes drive from downtown Moab.
One of the most unique mountain biking experiences on earth, Slickrock will take you up and over red sandstone humps, through washes and ravines, past cairns and hoodoos, and to the edge of steep drop-offs with sweeping views of the Colorado River below.
The technical single-track trail requires buggies (no Prius routes here) to conquer its rocky inclines; meanwhile, for the ultimate Moab cycling experience, sign up for a guided tour that tackles the tricky inclines and explores the canyon's rolling sandstone formations up close. With both half and full-day tours to choose from, some great photo ops (and a heavy dose of adrenaline) are guaranteed.
14 – Sign up for a heart-racing quad bike tour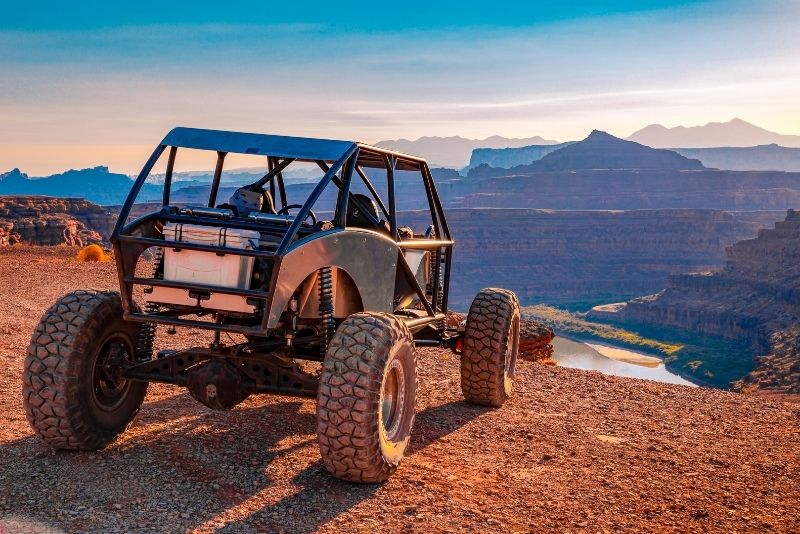 While the treks across Moab's Top of the World Highway and Colorado River Overlook are always highlights for 4X4 enthusiasts, few outdoor adventures can compare to the thrill of experiencing the desolately dazzling landscape from behind the wheel of an open-aired, loud-revving quad bike.
And while you can ride in these bad boys all over the world, there's something about the way they handle Moab that makes the experience all the more special.
Fortunately, there are plenty of great tour operators in town offering both half and full-day trips; many of which include a stop for lunch at a remote canyon vista or riverside spot. Not sure where to start? Where else but Hell's Revenge?
Known as one of the most challenging trails in Moab, Hell's Revenge is a trail like no other: taking about 2-3 hours to navigate, and recommended only for experienced drivers, the rugged terrain covers steep and rocky sandstone, steep cliffs and drops, and rather spectacular views of the Colorado River and wider torched landscape from its peaks.
Not for the faint-hearted, the approximately 6.5-mile-long Hell's Revenge trail (which is just around the corner from Moab proper) is an unforgettable way to explore the immediate surroundings – and one that will keep you coming back for more.
So what's it like to actually ride a quad bike? Think of it as off-roading on steroids: You'll need nerves of steel (and a bit of previous experience helps, although you can always ride shotgun with a guide) to navigate the narrow paths and near-vertical sandstone slickrock.
15 – Admire the incredible ancient petroglyphs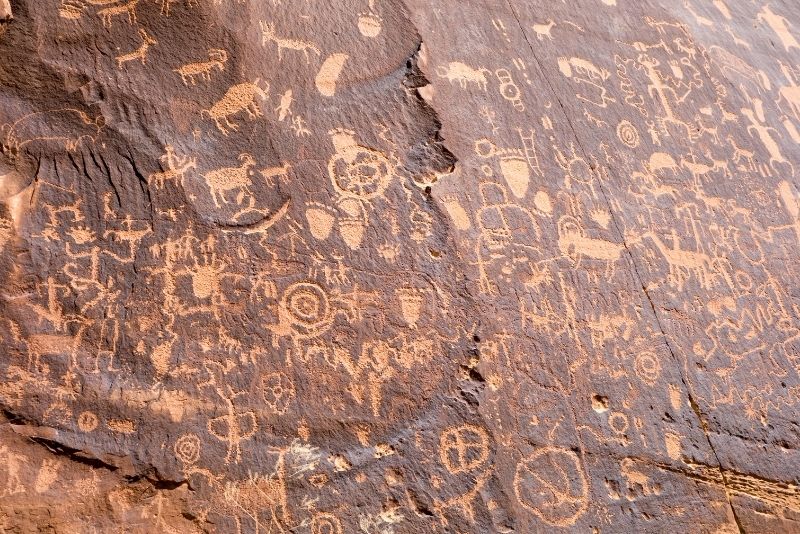 If you love rock art, there is no better place to see petroglyphs than on the Needles Eye Trail in Canyonlands National Park. But far from the only noteworthy destination, you can also head southbound on US Highway 191 and check out the stunning red cliffs of Comb Wash, or drive northeast from Moab to Castle Valley for its very own intricate etchings (dating back between 1000 and 2000 years).
However, the most famous nearby site is hands-down Newspaper Rock, a few miles from Hanksville in the underrated Petrified Forest National Park. Here, the 800-foot-long wall contains over 1,500 figures and dates back some 1300 years! Among the myriad artistic carvings, you'll find hunters and animals, as well as geometric shapes, and human hands.
Fancy a little drive across the state border? To experience a different side of the local history and geology, consider tackling the beautiful 2.5-hour drive down to the Petroglyph Point Trail in Mesa Verde National Park. Here, the 2.4-mile out-and-back hike is relatively easy and takes you to a secluded spot where you can see (and photograph) more than 100 carvings up close, including many unique anthropomorphic drawings, with ancient pueblo dwellings to admire nearby too.
In a region with no shortage of incredible things to see, the petroglyphs of Utah and Colorado stand out, beckoning history buffs with their mystery and magic.
16 – Rent a stand-up paddleboard for an afternoon
For an activity that's as relaxing as it is exhilarating, a couple of hours of stand-up paddleboarding on Ken's Lake ought to do the trick! Found about 20 minutes drive southeast from Moab on the US 191, this pretty little body of water is the ideal spot to learn the ropes (or should we say, oars), with plenty of room to practice your balance without worrying about getting in anyone's way.
Is calm lake water not thrilling enough for you? Well, so long as you've got the nerves for it, visitors are also welcome to take the boards down the gushing Colorado River and tackle the whitewater; not only is the region blessed with stunning landscapes but diverse wildlife too.
Once you're all paddled out, Ken's lake offers a handful of extra activities too: lace on the walking shoes for the roughly hour-long, 3.4-mile loop Ken's Lake Trail – an easy stroll that takes you to the Faux Falls, a beautiful (and certainly surprising desert waterfall). Horseback riding, fishing, swimming, kayaking, birdwatching, and non-motorized boating round out the potential to-do list – not to mention the campground if you want a change of scenery from the Moab hotel.
17 – Walk the popular Mesa Arch trail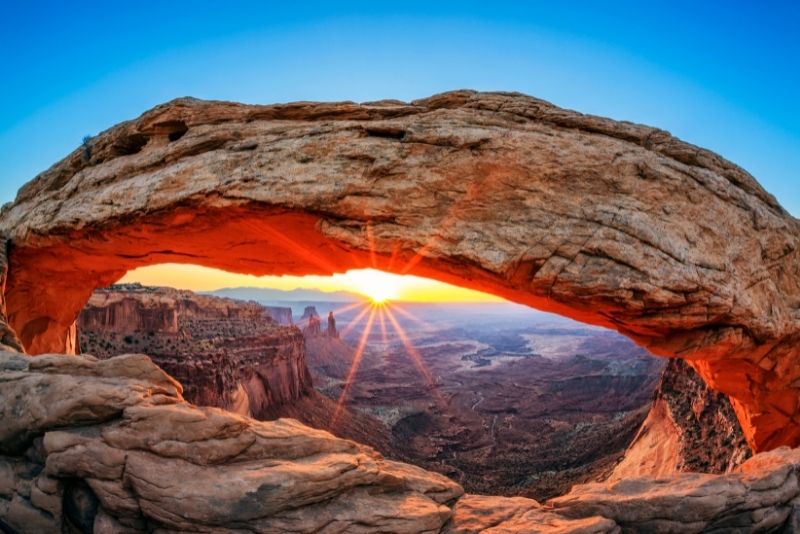 Jutting impressively from the steep cliffs of Moab's mountains, the Mesa Arch is one of the most photographed sights in the iconic Arches National Park. Towering over a huge, empty canyon and framing the distant La Sal Mountains in its natural frame, it really is an unforgettable sight.
At 27 feet long and only six feet wide, it might not sound overly impressive at first. But once you realize that it spans fifty feet across the top, overlooks a 500-foot vertical cliff that's part of the 1,200-foot drop to the three forks of Buck Canyon, and sits 6,099 feet above sea level, it's hard not to be awestruck.
The short but strenuous 0.5-mile trail to this colorful rock formation starts at the Mesa Arch parking lot, and takes about 20-30 minutes — a conquerable yet quintessential outdoor activity.
Hot tip: worth braving the early alarm clock, the best time of day to visit this natural attraction in undoubtedly sunrise, when the oranges and yellows blanket the canyon.
18 – Grab a bite at Moab Food Truck Park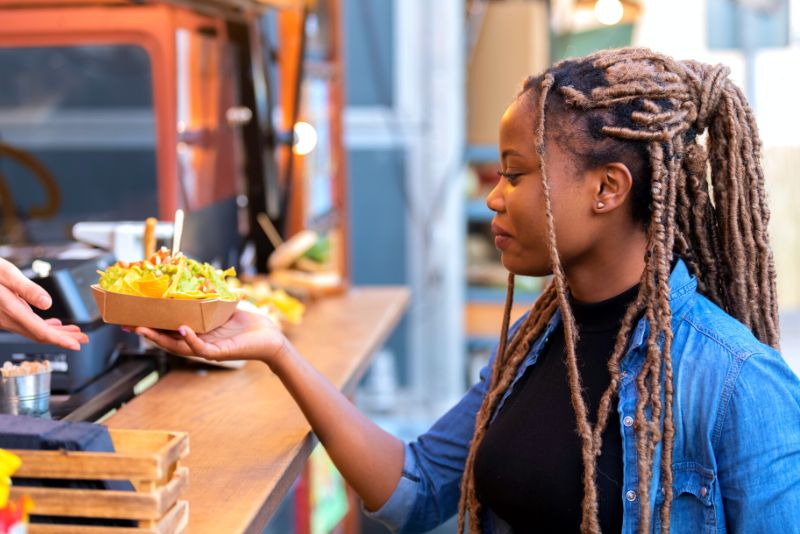 It's always hard to pick where to eat when you're in a new town… but the Moab Food Truck Park will help you out! Conveniently located in the midst of town – near to many of the hotels and other local attractions -, the space offers the perfect level of variety for busy and/or indecisive travlers.
With 11 different vehicles regularly occupying the area, it's the perfect spot for a quick bite or a filling meal, a post-hike munch or an energizing boost in the morning. Stop by Nuclear Bean Coffee Co. for an energizing beverage and a hearty breakfast, or a bubble tea and sushi (yes, sushi in the desert!) at AK Roll & Bowl.
Grab a carefully curated taco or burrito at Tacos el Gordo, or a decadent frankfurter at Street Dogs. And if you're seeking something for your sweet tooth, try the smoothies and acai bowls at Rainbowls, or the delicious treats a Miss Gelato.
And that's just the tip of the (delicious) iceberg; with pizza, Chinese food, burgers, and paninis also on offer, a walk through this row of vendors will have you feeling like you've entered the world's greatest food court – with lovely desert scenery to sweeten the deal!
The hours of each truck vary, so check before you go; or try your luck and saunter over to see what's on the menu!
19 – Ride a jet boat along the Colorado River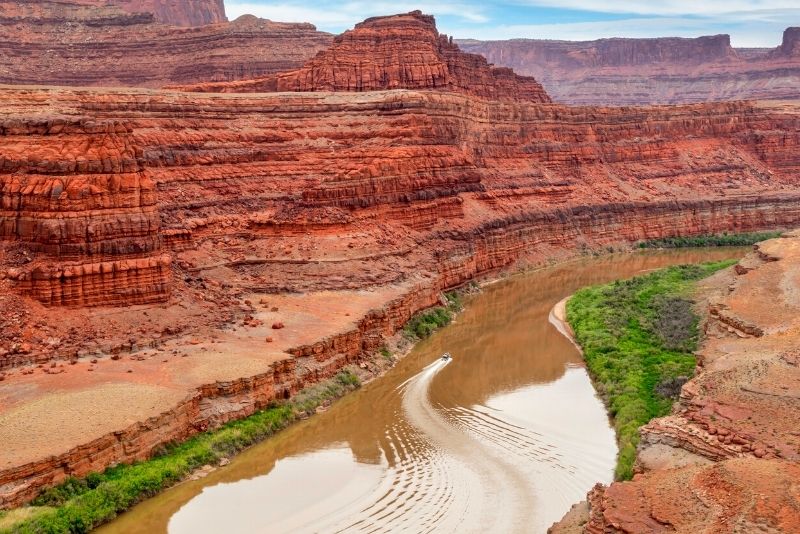 Twisting and turning its way through the rugged landscapes of Utah, Colorado, New Mexico, Arizona, and Nevada, the mighty Colorado River is one of Mother Nature's most magnificent creations.
And what could be more fun than hurtling down it on a jet boat, wind in your hair, and the sounds and sights of the canyon all around you?
High-octane and perfect for any weather, a jet boat ride is as thrilling as it sounds! The boats can reach 60 mph (100 kph) in just 20 seconds, so buckle up for an exhilarating adventure through some of the USA's most stunning landscapes.
Saving you both time and hassle, the world-class Colorado River tours will pick you up and drop you off at a variety of places, including Moab.
20 – Head to the Island in the Sky section of Canyonlands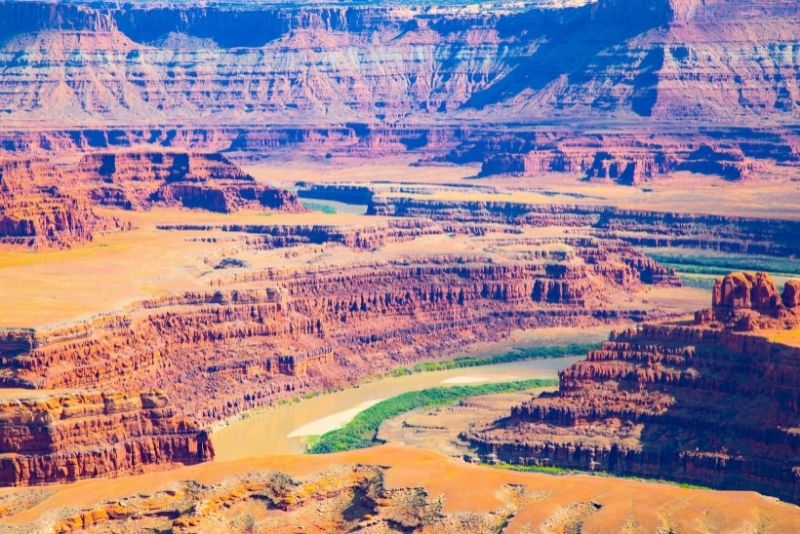 Located in Canyonlands National Park, the Island in the Sky district is a top attraction, offering travelers a chance to experience an expansive view of canyon country.
Towering cliffs and inscriptions dating back millions of years will be sure to strike a chord with those familiar with the likes of the Grand Canyon, with Mesa Arch, The Shafer Trail, and Grand View Point all worthy stops in the area.
The former (Mesa Arch) is a particularly popular spot for photographers, as the early morning sun illuminates the red rocks and desert landscapes in a way that's almost impossible to capture anywhere else. Sitting over 1,000 feet (304 m) above the surrounding terrain, safe to say the view of the landscape (which comprises the Buck Canyon, White Rim, Colorado River, and La Sal Mountains) is unmatched.
The Shafer Trail, on the other hand, is an extremely steep (at times) and popular 4×4 track that provides access to some of the most incredible views in Canyonlands.
Winding its way along a steep and narrow canyon, the 19-mile-long trail is not for the faint-hearted (or those who don't have an off-road vehicle). But if you're up for the challenge, it's certainly worth it. Finally, the latter, Grand View Point, as the name suggests, offers visitors the chance to see an incredible panorama of the canyons below.
With these three attractions far from the lion's share, Island in the Sky sells itself as a must-see for any curious Moab visitor.
Hot tip: Whether you're driving yourself or taking one of several guided tours in Moab, make sure to leave extra room in your itinerary for nearby Dead Horse Point State Park.
21 – See the surreal stone structures at Goblin Valley State Park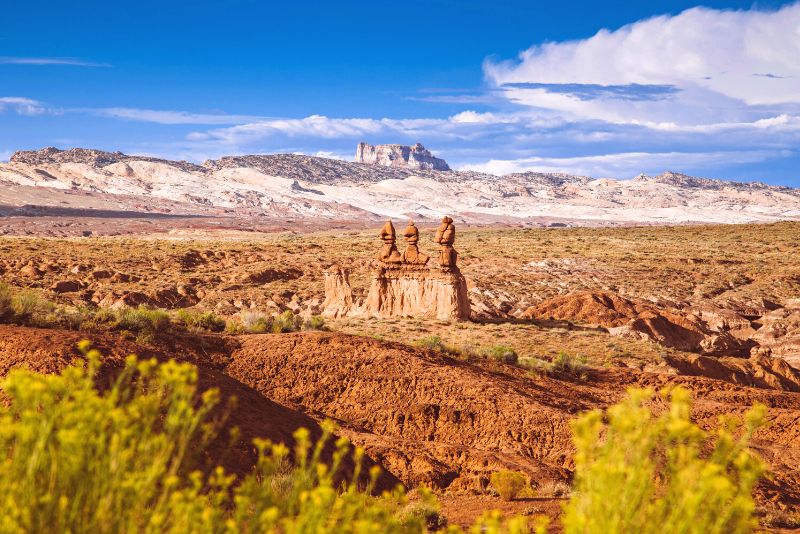 The name alone draws attention, but it's the scenery and great outdoor activities that really make Goblin Valley State Park stand out!
The region's unique moniker comes from some of its distinctive geological formations, which have eroded into the shape of supernatural creatures. But once you're done winding your way through the labyrinthine structures, there's even more visual splendor to take in!
With stark buttes, wide-open vistas, and a patchwork quilt of shrubs and weathered stones, it's little wonder that this landscape was chosen to portray an alien world in the movie Galaxy Quest! And if you want to do more than just look, there are plenty of excellent adventure options nearby.
When you're not hiking or scampering around between the rock formations, you can descend deeper into the valley on a canyoneering expedition, or bring a mountain bike or ATV and go even further off the beaten path.
And if the scenery really enchants you, you can even camp in the park, admiring the silhouettes of the hoodoos by sunrise, spending the day exploring, then bedding down for the evening under a blanket of stars.
22 – Drive the Scenic Byway 128 (windows down, of course)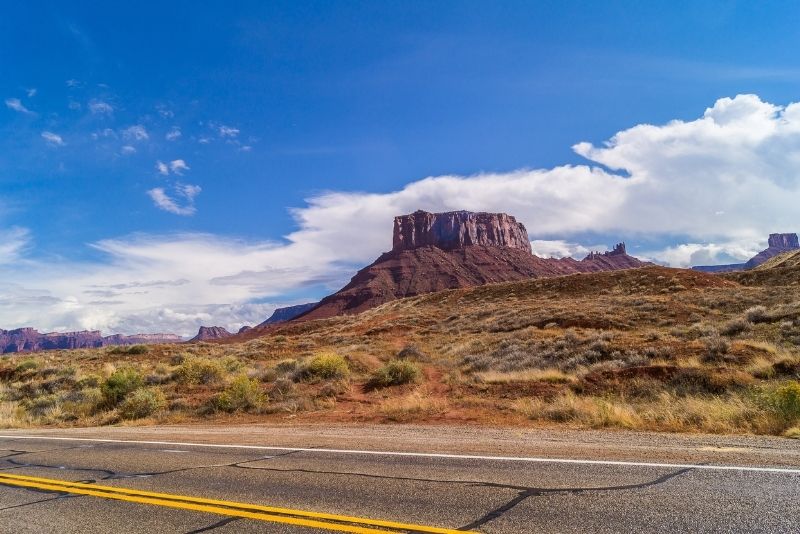 With its vast open space and endless roadside views, it's no surprise that Utah's Scenic byway 128 tops the list of the best driving routes in the state.
Located just 45 minutes from Moab, this winding highway will take you through some of the most jaw-dropping scenery Utah has to offer; windows down and stereo blasting, you'll pass by striking red rock cliffs, unique geological formations, and the Colorado River as it carves its way through Canyonlands National Park.
Accessed from US route 191, the byway offers stunning views of canyons and arches as it winds its way through 320 million years of history — home to ancient dinosaur footprints, human habitation, petroglyphs, and more. But it's not all about the landscapes; the byway is a gateway to myriad adventure and cultural activities too.
With world-famous movie locations, challenging bouldering areas (take note of the Big Bend Bouldering Area), a Film Heritage Museum (the Moab Museum of Film and Western Heritage at Mile Market 14), hiking trails aplenty (don't miss the Fisher Towers route), and an eerie ghost town – Cisco – worth exploring, there's something for everyone.
23 – Drive up near-vertical-walls in a buggy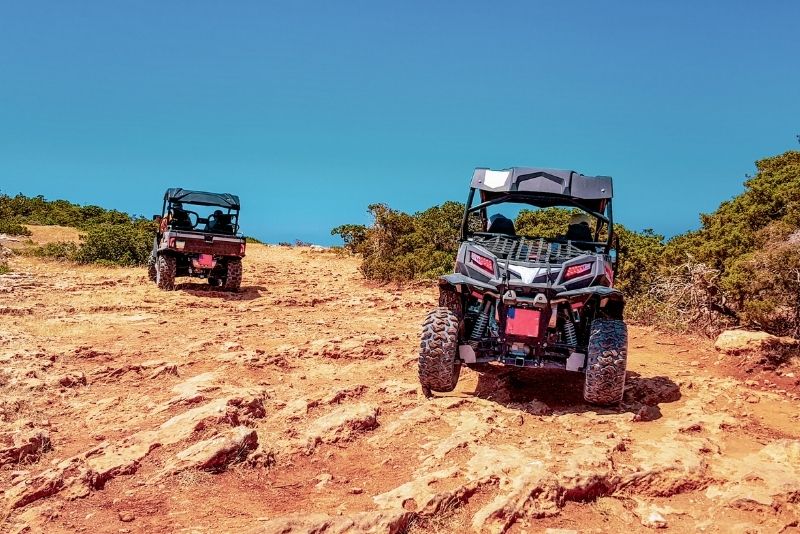 Sure to deliver an adrenaline rush like no other, an off-road buggy tour is one of the most underrated things to do in Moab, especially for thrill seekers.
With several companies to choose from, all of which adhere to strict safety standards, you're in good hands as you speed (or crawl) your way across near-vertical walls, red rock canyons, and dry river beds.
So, where to start? Slickrock (see #11) is the crown jewel, but it's not the only place worth exploring on a buggy tour! Whether it be Hell's Revenge, with its cliffside view that overlooks Moab Valley, or the iconic views of Poison Spider Mesa, a roll-proof offroad vehicle, driven by an adrenaline-junkie (yet safety-oriented) local is one of the more exhilarating ways to explore the area.
Hold on tight, this isn't for the faint of heart!
Hot tip: If you're feeling extra adventurous, why not combine your buggy tour with a spot of canyoning or rappelling – or, at least, an included lunch? Several companies offer combo packages at competitive rates.
24 – Snap a selfie at the magnificent Corona Arch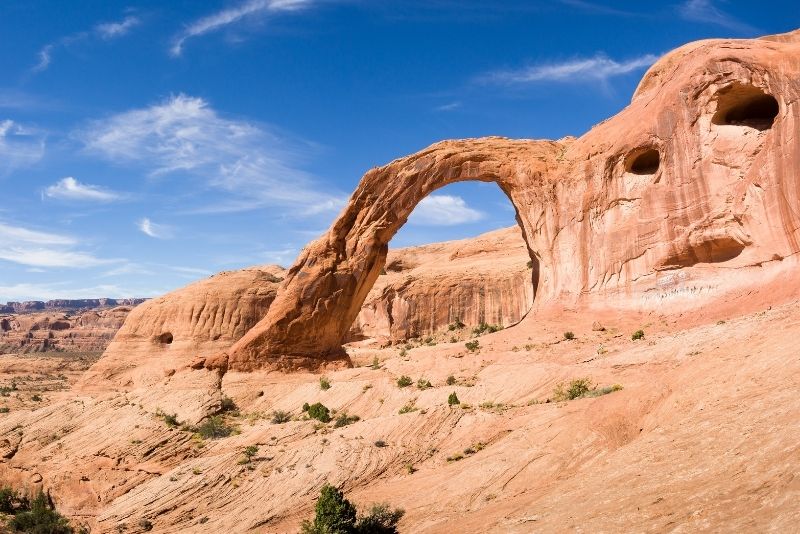 If you're willing to work hard for your Instagram-worthy shots, Corona Arch is the place to be.
Characterized by a soaring span of stone suspended between two walls of rock, it's not hard to see why Corona Arch is one of Moab's most popular arches. Measuring about 140 feet across by 105 feet high, this Navajo sandstone arch is one of the largest in the area.
To get there, you'll have to work for it. The Corona Arch trail is a moderately difficult 1.5-mile hike (each way) that takes you up some steep switchbacks, and down some moqui steps and cables before leading you to the arch itself.
Whether you're driving, hiking, biking, or taking a plane or helicopter tour, witnessing the magnificent Arch is quintessential.
The trailhead starts along Potash Road (Utah Highway 297) about 4km away from Moab and is well signed. And, as a bonus, you'll be able to admire other natural attractions like Bowtie Arch and Pinto Arch.
25 – Make the journey to historic Horseshoe Canyon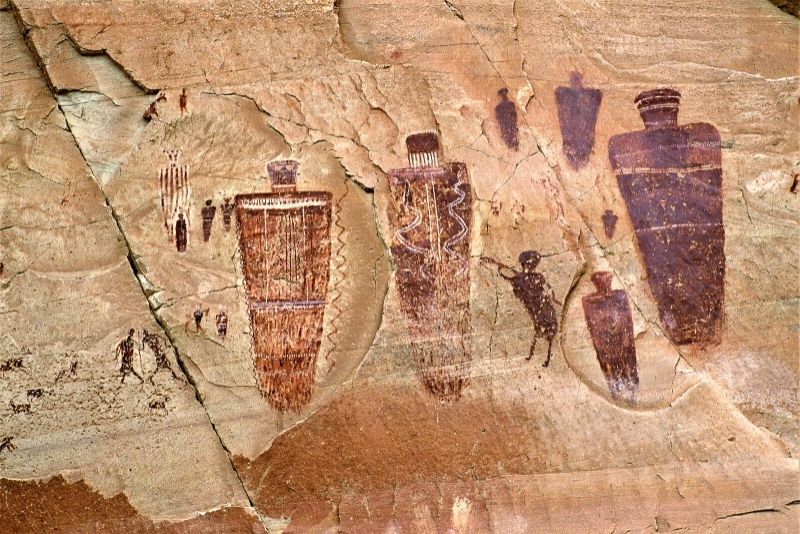 Moab's most famous canyon, for its postcard-worthy U-turn bend, Horseshoe Canyon offers a hint of Area 51 with its otherworldly rock formations. Spread across close to 80,000 acres (now considered part of the much larger Canyonlands National Park, Horseshoe is characterized by high cliffs, deep alcoves, and of course, the eponymous horseshoe-shaped bowl.
While the area is remote (it's about a 2.5-hour drive from Moab), it's well worth the effort to get there. Once you arrive, you'll find plenty of things to keep you occupied, including hiking, camping, and rock climbing.
On your journey through this spectacular maze of red cliffs and orange sandstone — whether hiking or driving — keep your eyes peeled for signs left by the prehistoric Fremont tribe and the local wildlife that soar overhead (ravens, Great blue herons, and the iconic bald eagle). One for the history buffs, there are also a number of petroglyphs and pictographs to be found in the canyon, most notably in the Great Gallery – one of the largest and best-preserved collections of Barrier Canyon Style rock art in North America.
26 – Have a picnic at relaxing Lions Park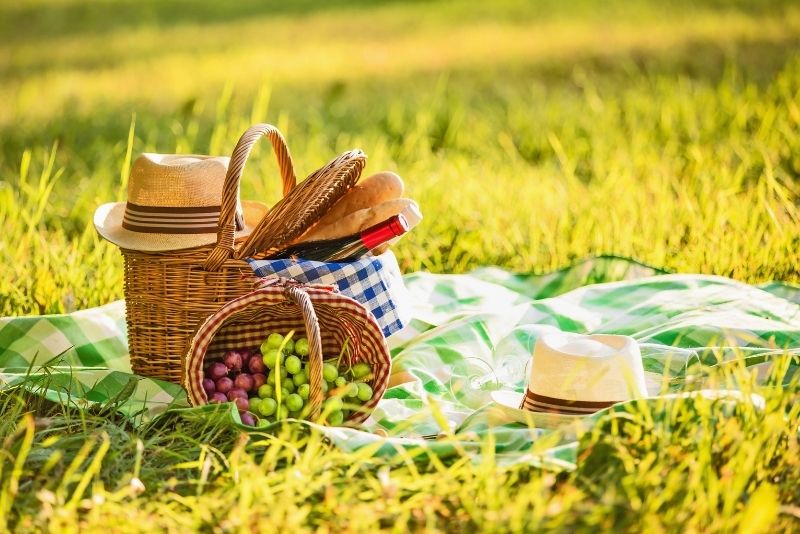 Straddling the banks of the beautiful Colorado River, Lions Park is one of Moab's best-kept secrets; with most tourists flocking to Horseshoe and Arches National Park, this little inner-city park is seldom crowded. Just a few miles north of downtown, and offering up a rare slice of greenery (don't worry, there's a bounty of red-rock beauty to admire), Lions Park is the perfect spot to relax, have a picnic, or take a dip in the river on a hot day.
With plenty of open space for games like frisbee or football, it's it a great option for families with young kids. And Fido is welcome too.
Take a stroll over the bridge to admire the river from above (which connects to Arches National Park); roll out a picnic blanket on the manicured grass and simply sit back and bask in the beauty of the orange sandstone cliffs; learn a thing or two about the area from the several informational signs dotted around the park, and, if you're up for a little workout, tackle the easy 2.5-mile-long path that skirts around the park and alongside the banks of the Colorado.
Hot tip: to see more of the area in a short time, rent an E-bike and ride up the river all the way to Arches Visitor Center.
27 – Stroll to the refreshing Mill Creek Waterfall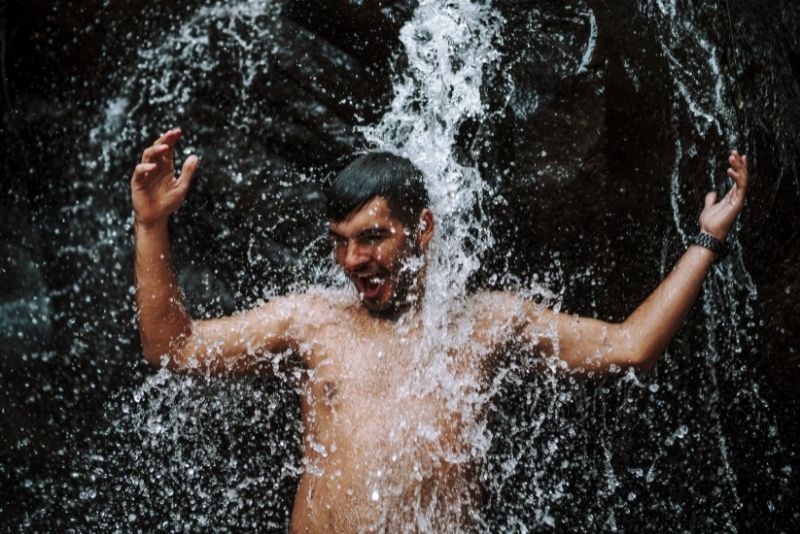 A natural jewel within the desert landscape, the route to the Mill Creek Waterfall is an easy hike of only 3 miles, making it a must-consider for voyaging families looking to stretch the legs. However, since it features a short rappel down a 30-foot waterfall, you'll want to make sure the kiddos are up for the challenge.
Home to two side canyons that are both breathtaking in their own way, this adventure presents as an ideal way to soak in some fresh mountain air without traveling too far from Moab. Taking less than 45 minutes to complete and located (its trailhead, that is) just a 10-minute drive from Main Street, this out-and-back stroll deserves a spot on any Moab itinerary.
And for all you adrenaline junkies, make your way upstream from the falls for some daredevil cliff-jumping.
28 – Go rafting in Westwater Canyon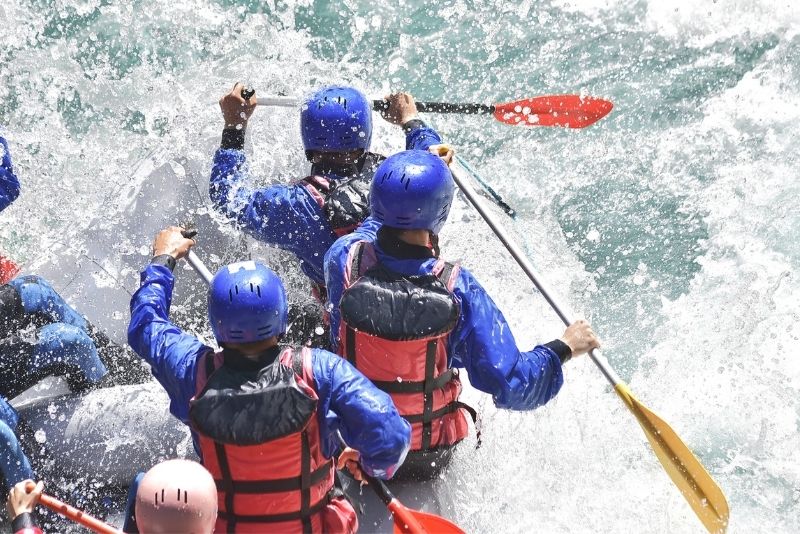 Captivating visitors with its stunning red rock cliffs, crystal blue water, and impressive rapids, it's no surprise that Westwater Canyon has become one of the most visited places in Utah — celebrated particularly among adventure seekers.
Led by a local guide, you'll navigate your way through 18 miles of thrilling rapids (class II to IV), including the world-famous Skull rapid.
But it's not all about the adrenaline rush; as you float downstream keep your eyes peeled for the friendly local wildlife, including beavers, otters, and bald eagles.
Tour options are aplenty, with full-day excursions the most common (9-10 hours, including transport and lunch). However, you can also find half-day and overnight excursions available in other parts of the region (see #9); so whether you're a first-time rafter or a seasoned pro, there's a trip to suit everyone.
While the rafting, surf kayaking, and canoeing tours are highly popular; for something a little slower you can also hop on board a boat tour and simply enjoy the postcard-worthy scenery.
29 – Play a round of golf!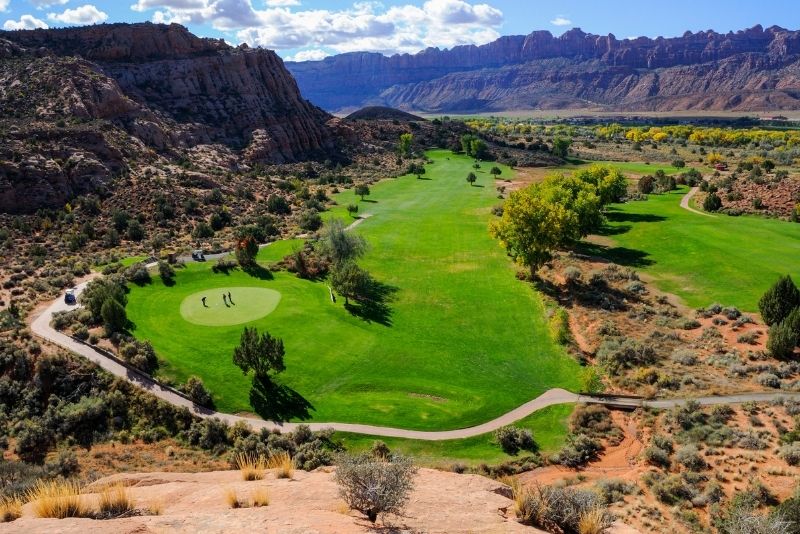 Despite Moab sitting smack-bang in the middle of red rock deserts, the locals haven't cut corners when manicuring their very own A-grade golf courses.
The esteemed Moab Golf Course, nestled between stunning orange landscapes, offers a practice area, on-site grill, pro shop, and an 18-hole course complemented by some of the most jaw-dropping views imaginable, where eroded red cliffs juxtapose bright greens. Luckily for us, the par-72 fairways are open 7 days a week.
As the only course within the city limits, it's the obvious choice if you're not looking to venture too far. However, if you don't mind a little drive, the Hideout Golf Course in Monticello, located just an hour's drive minutes from downtown, is definitely worth the journey. Considered a top-30 course nationwide (according to Golfweek Magazine), with a driving range and practice green, it's both esteemed and affordable.
A little further, the Carbon Country Club, located up in Helper, is renowned for its picturesque landscapes, sitting in the shadows of chiseled mesas. A par-4 course that's both challenging and rewarding, it's worth considering the 2-hour drive.
30 – Explore The Needles, an otherworldly region
About 75 miles south of Moab (90 minutes by car) lies the Needles District, the gateway to some truly spectacular natural formations: Tower Ruin, Confluence Overlook, Elephant Hill, and Chesler Park, just to name a few. Each of these natural landmarks is an easy day hike from the district's main road, with plenty of options for longer backpacking expeditions if you're feeling more adventurous.
As one of the four districts that make up Canyonlands National Park (the others being the Island in the Sky, the Maze, and the rivers themselves), it's unsurprisingly popular among tourists. However, don't let that dissuade you; with its plethora of easy hiking trails and stunning panoramic views (namely the Chelser Park Viewpoint, it really is a must-do while in Moab.
And just because The Needles are associated with the likes of Island in the Sky, the visual landscape is worlds away. Zebra-striped spires and hoodoos (naturally occurring pillars) of red, orange, and white make for a photographer's dream, while the historical cave sites (tackle the easy 30-minute Cave Spring Trail) and the Big Spring Canyon Overlook offer two very different perspectives of canyons carved over millennia.
With both hiking trails and four-wheel-drive roads (the route to Elephant Hill is technical yet seriously rewarding) traversing through the area, make it a day hike or camp overnight — either way, add it to the list of things to do in Moab.
31 – Snap a selfie in front of the Greetings from Moab mural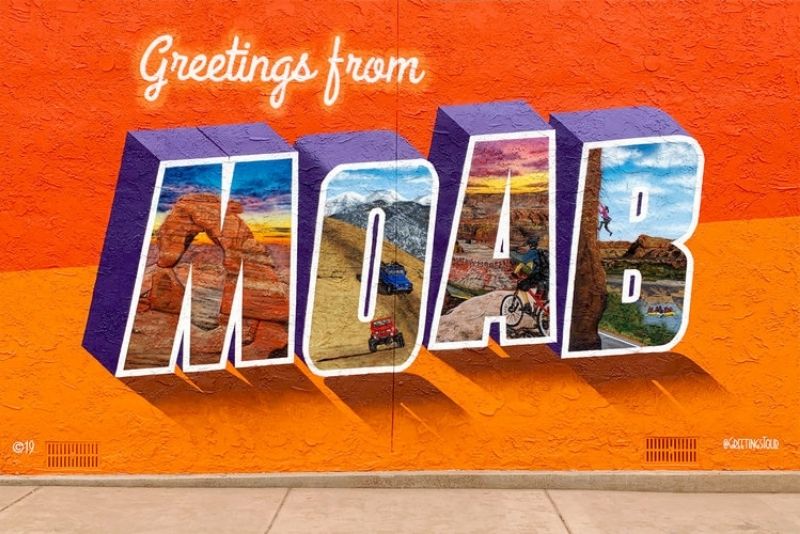 Because, if you don't have a quintessential selfie in front of a roadside mural when you're on vacation, did the trip even happen?
This vibrant and eye-catching piece of public artwork – which was painted by artist Victor Ving back in 2019 – is located on the north side of Main Street, and features a colorful illustration of some of Moab's best-loved landmarks and activities, including Arches National Park, the Hell's Revenge 4×4 Trail n the La Sal Mountains, Dead Horse Point State Park, the La Sal Mountains, and of course, the Colorado River (look closely and you'll spot some rafters in the background too).
One of the most iconic murals in town, this colorful painting represents Moab's storied history and vibrant character; the colorful mural is a symbol of hope, creativity, and freedom for locals, and a surefire hit for your 'gram.
And, if you're feeling particularly snap-happy, there's also the giant Crow Mural by Skye Walker, featuring a black crow poking its head above a plethora of cacti. Found between the Post Office and Main Street, it makes for an excellent photo op too!
32 – Learn about the area's First Settlers at the Moab Museum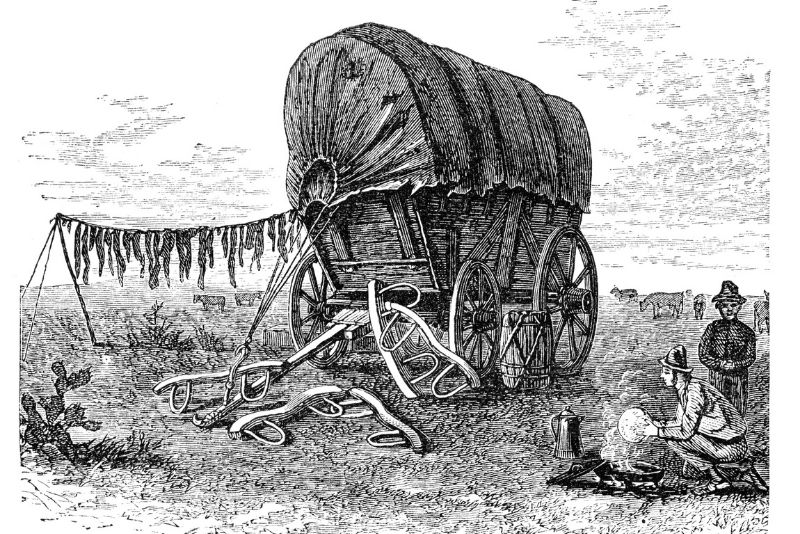 Showcasing the fascinating stories of the Moab area, its first settlers, its history, and its geology, all through exhibits and programs, the Moab Museum promises to provide a visit that's as entertaining as it is educational.
Holding thousands of artifacts in its collection, as well as offering up oral histories of significant people in Moab's history (cowboys, teachers, shop workers, minors, and more) like Banjo Holloway, and a rotating series of temporary exhibitions, the museum is always worth a visit – especially on those days when you need to take a break from being outdoors.
Some of the more permanent attractions at the Moab Museum include an exhibit on uranium mining (which was once a booming industry in the area), as well as an in-depth look at the Native American tribes that have called Moab home for centuries, while rotating displays dive into unique themes like rock inscriptions.
Located in the heart of town on East Center Street, it's easily worked into a day of local exploring.
33 – Jump out of a plane!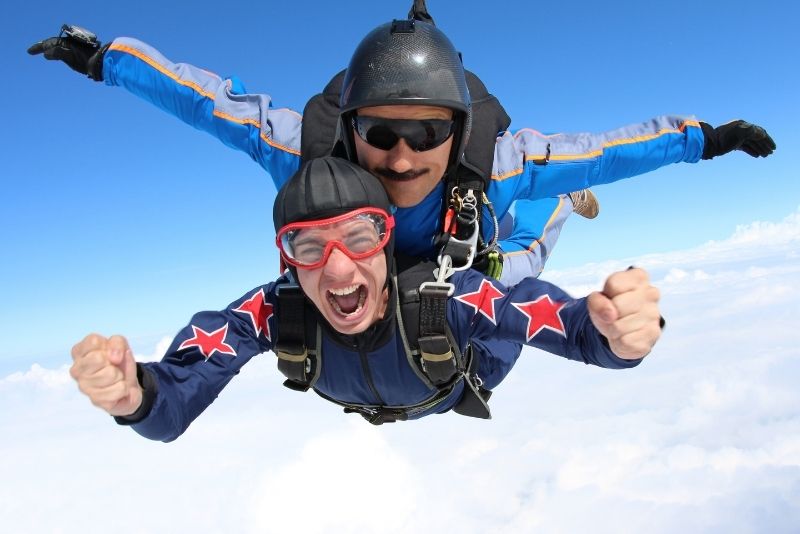 Because Moab is known for its high-energy outdoor activities, it's no surprise that the area boasts some of the best skydiving in the country — a real drawcard for adrenaline junkies.
With a breathtaking backdrop and an endless expanse of blue skies and red rock desert ahead, offering a brilliant visual contrast to say that tandem sky diving from 13,000 feet feels like flying would be an understatement!
Once you've met up with your instructor and kitted up in your jumpsuit, you'll board the plane for a short flight to altitude.
The adrenaline will start pumping as you exit the aircraft, but it won't be long before you're at one with the air and taking in panoramic views of Arches National Park, Canyonlands National Park, and the Colorado River while hurtling toward earth at terminal velocity – close to 120 miles per hour.
Tandem jumps start at roughly $250, and while it's not the cheapest activity on this list, it's most certainly one of the most memorable things to do in Moab, Utah. The freefall lasts just under a minute; the memories (especially if you opt for the GoPro video package) last a lifetime.
34 – See dinosaur tracks on the hike near Potash Road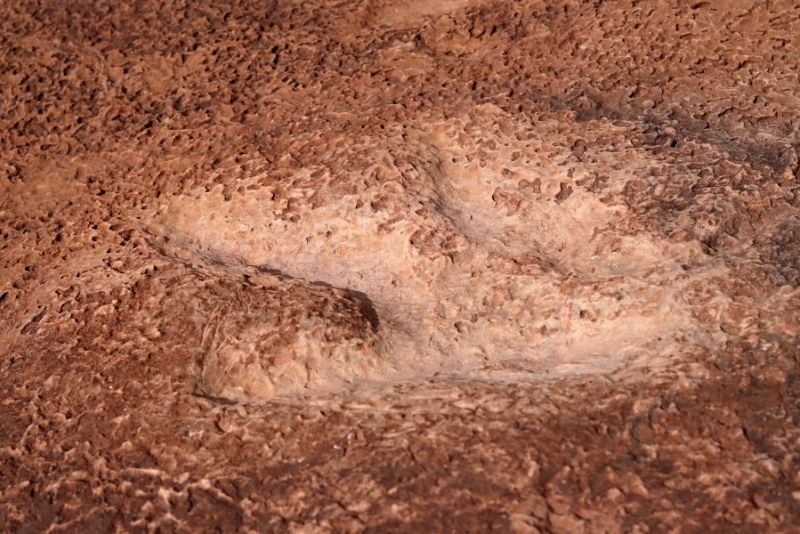 Utah has one of the best collections of dinosaur tracks in the entire US — and Moab, Potash Road specifically, is no exception.
A slice of preserves ancient history, Potash Road is part of the Dinosaur Diamond, snaking its way through over 300 million years of life on earth: from the Triassic Period when the likes of Saurischia, and the Ornithoscelida roamed the planet, to the Jurassic Period, home to some of the largest land animals that have ever lived such as apatosaurus and brontosaurus, to the most recent Ice Age, which ended about 12,000 years ago.
The hike itself is an easy 0.4 miles round trip, starting from a parking lot on the north side of Potash Road (just before the Colorado River bridge if you're coming from Moab).
Paleontologists believe the slabs of rock with small footprints belonged to the Grallator, while the slightly bigger tracks were from the Eubrontes. The largest and most Insta-worthy of the bunch, according to the displays, were left by Allosaurus.
While you're in the area — before or after your hike — make sure to check out the Poison Spider Mesa, admire the nearby petroglyphs, and drive down the Potash-Lower Colorado River Scenic Byway (U-279). As one of only three byways in the state, its official scenic status makes it one of the essential things to do in Moab.
35 – Cool off at the Moab Recreation & Aquatic Center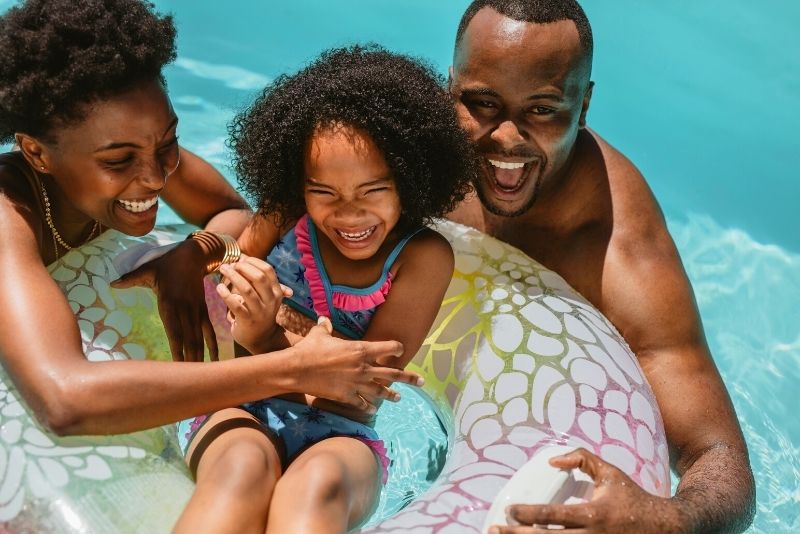 Need a reprieve on those sizzling hot days in Moab? Then Wash away the trails, dust, and desert heat at Moab's MRAC, a popular family spot that delivers a refreshing day of fun meets relaxation, all within the city limits.
Found on the northern end of Swanny City Park, a beloved green space with barbecue grills, covered picnic tables, and a playground, the Moab Recreation & Aquatic Center boasts a 50-meter, 6-lane pool with two diving boards ( 1-meter and 3-meter), a small outdoor water park (with fountains and an 18-foot slide) for kids to play in, and plenty of sunbeds to work of that glowing tan.
Adding to the list of reasons to visit, MRAC also holds exercise classes in its 2400-square-foot fitness center, with onsite showers, changerooms, and lockers should you need to freshen up after your workout or swim.
36 – Spend a day exploring the underrated Sand Flats Recreation Area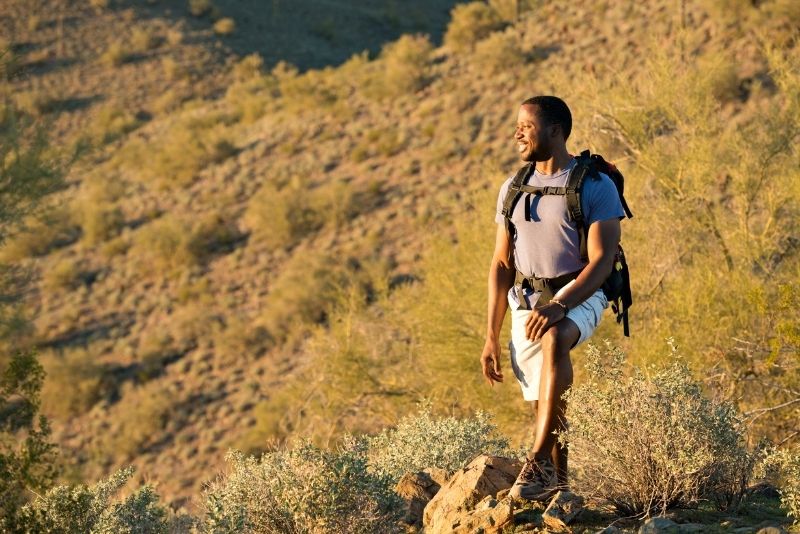 Known as Utah's most diverse and exciting natural playground, yet remaining one of the state's more underrated parks, Sand Flats fuses recreational fun with untouched environments in a one-of-a-kind setting.
A unique mix of high desert and mountain terrain, Sand Flats is located just 10 minutes from Moab and offers visitors the chance to explore over 9,000 acres of public land, soaking in the unique landscapes and rare local wildlife along the way
For all you thrill seekers, heart-racing activities are a dime a dozen: the region is packed with opportunities to get the blood pumping, from sand sledding to dune buggies, ATV rides, go-karts, horseback riding, and off-roading in 4x4s — but that's not all.
With a small selection of trails for all abilities, as well as ample camping and picnicking opportunities, Sand Flats is also a great spot to scratch that hiking itch. Namely, the trek to the Morning Glory Arch or the Slickrock Practice Loop. But the real winner in this expansive region is the range of OHV and biking routes – none more famous than the 10.5-mile Slickrock bike trail.
37 – Check out the unusual Moab Rock Shop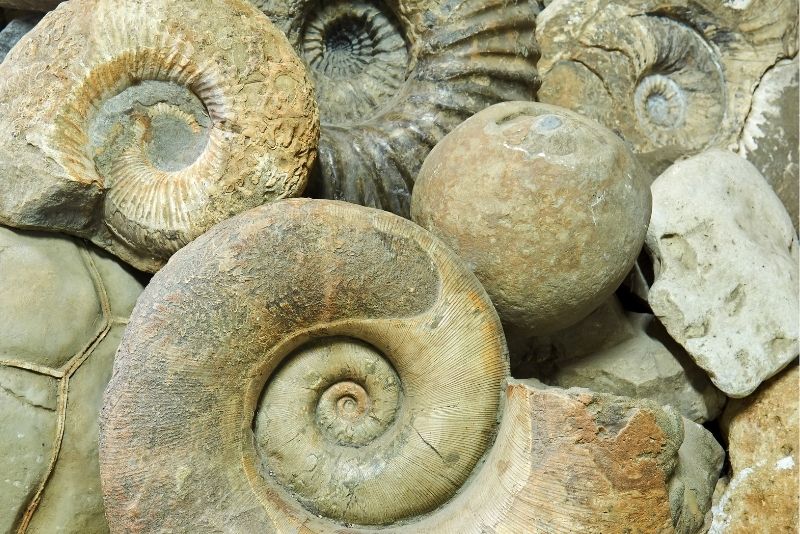 Looking for a rare souvenir to show off to your friends and family back home? Moab's got you covered.
A haven for all things rocks, petrified wood, crystals, and fossils, the Moab Rock Shop on the northern end of Main Street is one of the most unusual places to pick up a memento in Utah. From petrified wood to ammonites to handmade jewelry, there's something for everyone — even if you're not a rock enthusiast.
Certainly one of the more peculiar things to do in Moab, a visit to the Moab Rock Shop is a delight for geology enthusiasts, with more rocks, crystals, fossils, and dinosaur prints than you can count!
Step outside the shop and you'll find an old machinery museum of antique drilling rigs and farm equipment, collectively giving a fascinating insight into Moab's history and heritage.
And if that's not enough, the owner of the shop is more than happy to give you a guided tour, explaining the unique rocks and minerals on display, sharing stories of his fossil hunting adventures, and even letting you get hands-on with some of his collection. Having been family owned and operated for over 50 years, it's one of those charming hidden gems deserving of a visit.
Safe to say, this place rocks.
38 – Try your hand at canyoneering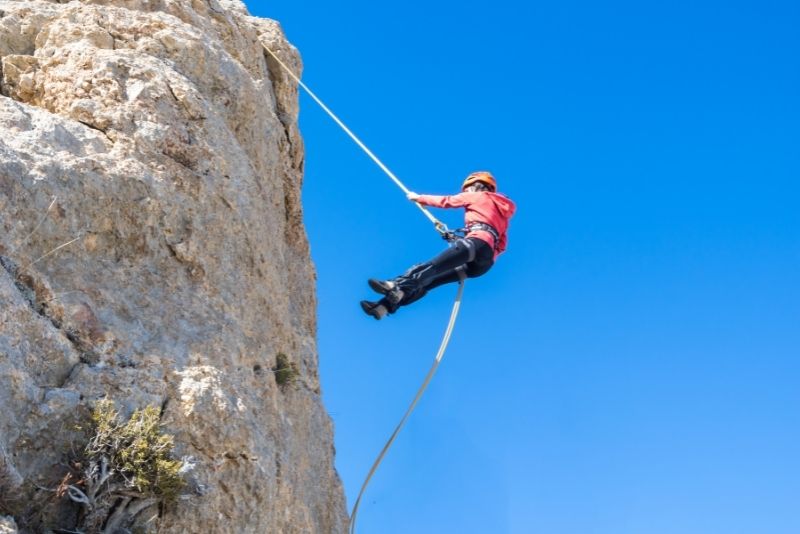 For a Utah adventure catered toward adrenaline junkies seeking ultimate thrills, look no further. For the uninitiated, canyoneering is a bit like rock climbing and a whole lot like repelling, as you'll be making your way through – and sometimes even swimming in – cold water pools, all the while scaling down steep canyon walls.
While it might sound daunting, rest assured that there are plenty of beginner-friendly options available to those who want to give it a try (like the family-friendly Morning Glory tour). But if you're really looking to get your heart racing, you're in luck: marvelous Moab is home to arguably some of the most exhilarating descents in Utah; including Big Spring Canyon, Gemini Bridges, and the family-friendly Chamisa Canyon.
Conquer one of these waterholes via canyoneering or take a guided tour to witness first-hand how Moab's guides have perfected the technique over years of practice.
Besides the obvious physical challenges and thrills that come with canyoneering, it's also a great way to see some of Moab's most beautiful scenery – areas off limits to the majority of visitors who explore on foot.
39 – See if you can conquer The Maze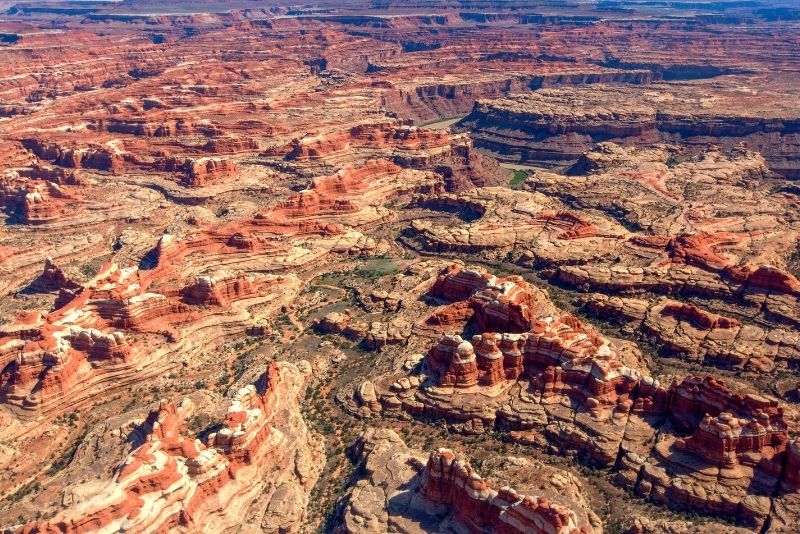 Living up to its name, The Maze is a warren of towering red-rock spires, a labyrinth of deep canyons, and an intersecting puzzle of narrow passages located in the far-off corners of Canyonlands National Park.
A remote and rugged area (the hardest to reach of all the Canyonlands districts) that's only accessible via high-clearance, low-range 4x4s, The Maze is not for the faint of heart.
Covering close to 1,000 square miles of terrain, it's one of the largest undeveloped areas in the contiguous United States and home to some of the most dramatic and beautiful desert scenery on earth.
But because of its challenging terrain, the area is virtually trailless. The Maze sees just 2,000 people per year compared to over 260,000 in the neighboring Island in the Sky area. The Maze is a true wilderness – there are no developed trails or campgrounds, and cell phone reception is spotty at best. But it's this raw remoteness, this untouched beauty, that keeps brave vagabonds coming back for more.
Whether you attempt The Maze as a day hike or multi-day backpacking adventure is up to you. Either way, it's pivotal to come prepared with plenty of food and water, a map, and a GPS device, largely because services, food, gas, or potable water sources in The Maze are nonexistent. And most importantly, don't forget to tell someone where you're going.
How to get there: To reach the Maze, first head to the Hans Flat Ranger Station. From there, it's another 3 to 6 hours in a 4×4.
40 – Grab a bite at moab's best restaurants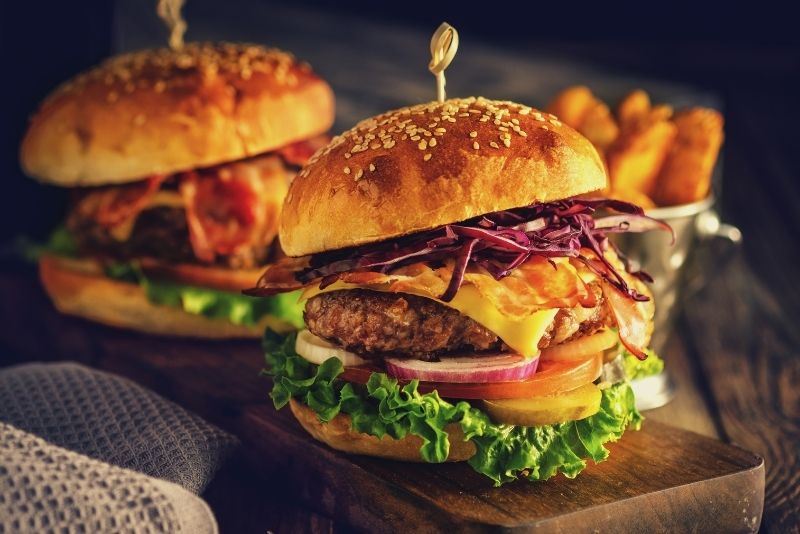 Found down on Main Street in the heart of Moab, the quaint Moab Diner delivers a mouth-watering menu of big portions at reasonable prices — what's not to love? Among the classics like burgers, fries, and onion rings, the diner also offers up some more unique items like the green chile sauce burger, sweetwater potatoes, and buckwheat pancakes.
The Broken Oar Restaurant features a lovely log cabin motif, as well a diner-style menu featuring burgers and barbecued meats. And the Spoke on Center offers a diverse menu, ranging from pastas to a wide array of ice creams.
If you're looking for a formal dinner minus the stuffy decor, head to Zax Restaurant — which offers locally sourced ingredients in an attractive setting. Throughout their menu are options ranging from seafood and meats to a variety of vegetarian dishes, with plenty of delicious appetizers, salads, soups, sandwiches, and entrees to choose from.
41 – Hike to the Morning Glory Bridge in Grandstaff Canyon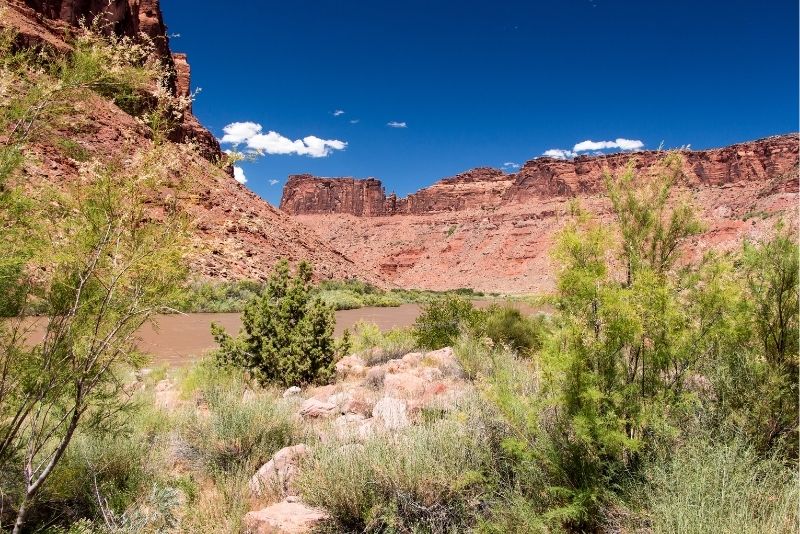 Yet another area of breathtaking natural landscapes, Grandstaff Canyon offers some sublime moderately-rated hiking options. The low-trafficked Grandstaff Canyon Trail typically takes about 4 hours, crossing plenty of streams along the way as you make your way through the narrow canyon.
At the end of the hike, you'll come across the Morning Glory Bridge rock formation (sometimes called the Morning Glory Arch) – at 243 feet long, it wields the title as the sixth largest natural bridge in the United States, and is a marvelous sight when viewed from below.
Being a 4-mile round trip trek, with less than 300 feet in evaluation, it's an easy outdoor adventure for the whole family.
While you're in the area, keep your eyes peeled for some of the resident wildlife, as well as flora like the colorful Desert Evening Primrose.
42 – Climb to the infamous Thelma and Louise Point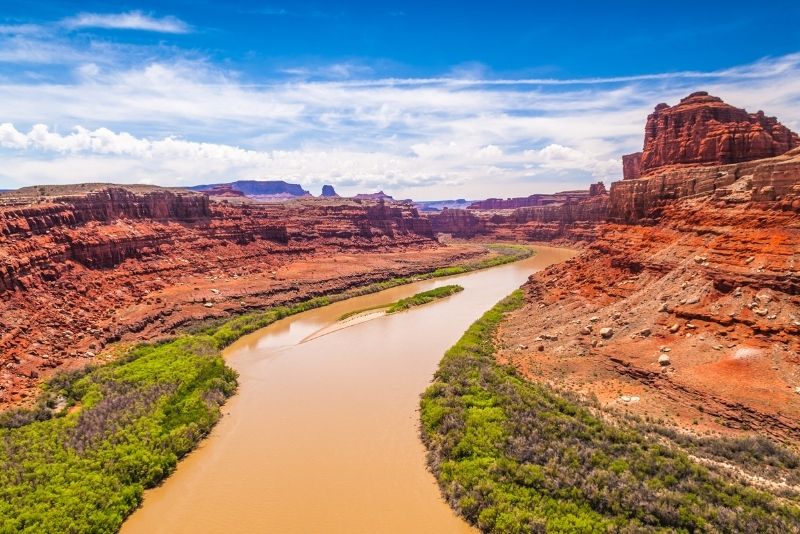 Whether you're a film buff or a nature lover, with remarkable panoramas over Utah's canyons, Thelma and Louise Point (named after the famous movie scene, of course, where our dynamic duo drives their car off the edge) is one of the best things to do in Moab.
But beware, this ain't no walk in the park: The five-minute excursion up and down the side of a sandstone rock wall is not for everyone (some call it adrenaline pumping, others say it's terrifying), but the rewarding views are nothing short of amazing.
You'll find this Tinseltown attraction just over an hour's drive from Moab proper. Tip: on the way there, drive down Highway 142 which follows the Colorado River, past the likes of the Potash Road Dinosaur Tracks and Petroglyphs, Elvis Rock, and the Jug Handle Arch; and then loop back to Moab on the 142 which twists through Island in the Sky and Shafer Canyon — the best of both worlds!
43 – Strap on the harness; go climbing at Indian Creek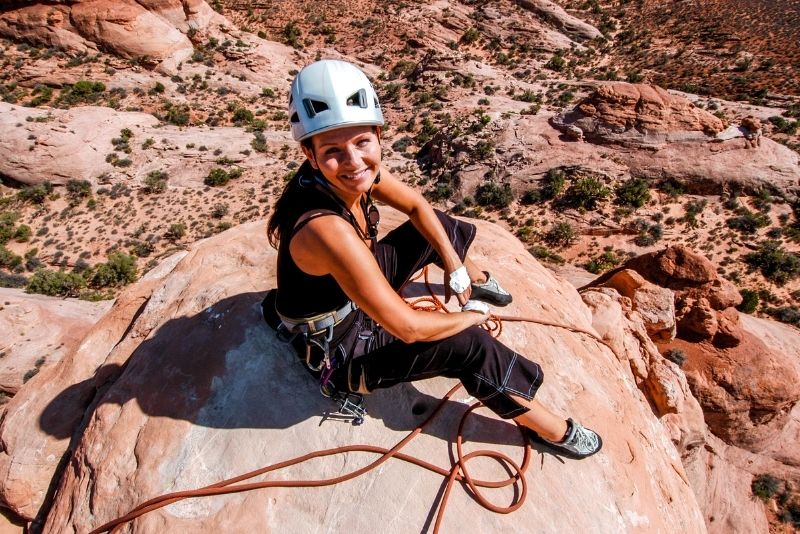 Found about 55 minutes south of Moab, Indian Creek is one of the most popular climbing destinations in the United States — and for good reason.
The picturesque sandstone walls surrounding this part of Utah (and Colorado) are known for their high-quality grip on rocks and amazing crack climbing, making it an area primarily used by experienced climbers who have mastered top roping; but even beginners can find solace here thanks to the creek's more accessible routes.
So whether you venture to the area for the first time with a group of friends or take some lessons to learn the ropes (literally), you're sure to have an unforgettable time. First-timers, you'll find a bounty of rock climbing tours to hook you up with the proper gear and instruction.
Hot tip: take some time to pop into the nearby town of Monticello – a quaint little spot with a historic main street, and plenty of eateries to refuel at post-climb.
44 – Take the easy stroll to the wonderful Wilson Arch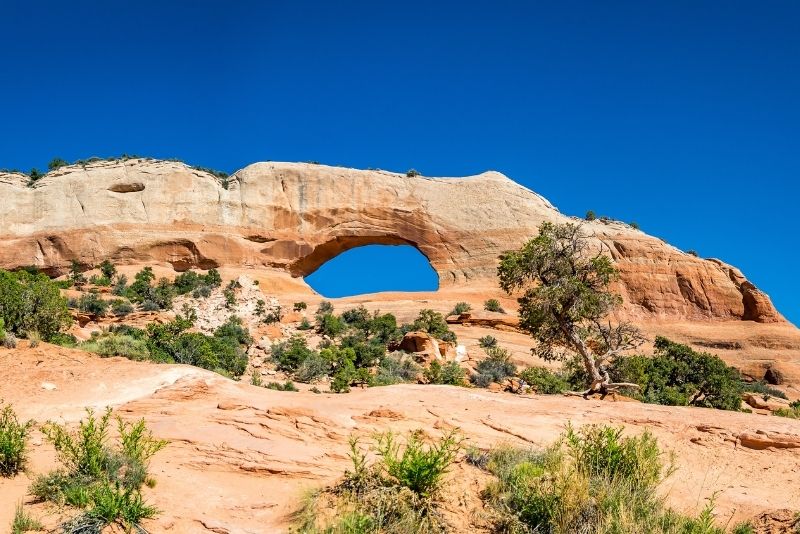 Part of a system of natural arches located just outside Arches National Park, Wilson Arch is one of the more unique sights in Canyonlands. Stretching 91 feet in length, towering 46 feet high, and located at some 6,150 feet above sea level, this red rock structure is especially popular with photographers and picnickers looking for an impressive landscape to snap some shots of, or to simply enjoy a meal in front of.
The otherworldly experience begins with a short walk from Highway 191 (at just 5 minutes, we mean short), which requires no significant physical skills and can be navigated by young children and elderly adults alike.
Located approximately 25 miles south of Moab, the surrounding area is also home to other interesting natural sculptures like Looking Glass Rock, the Lopez Arch, and the Wilson Arch Resort Community (where you'll find Hole 'N The Rock – see #8) — making it the perfect outdoor region to explore for two to three hours.
45 – Get a little buzzed at the Moab Brewery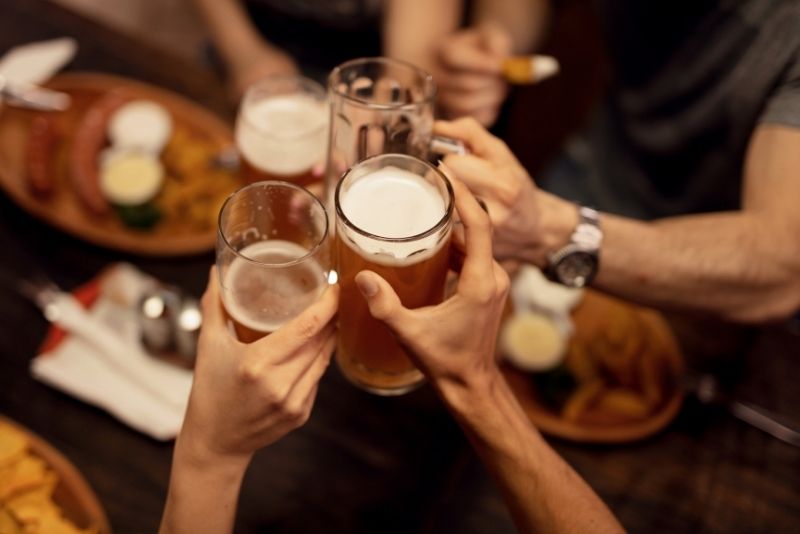 One for the thirsty traveler (and hungry, given the enormous portions on offer), the Moab Brewery dishes up no shortage of locally-crafted ice-cold beers, with everything from a nitrogen-conditioned Raven Stout to Desert Select Scotch Ale and the crowd favorite Dead Horse Ale on tap.
Besides the award-winning brews (which you can buy cases of to go, if you find a favorite), the Moab Brewery has quickly become one of, if not the most popular restaurant in Moab — so add it to the list if you're looking for a hearty feed.
Can't decide what to drink? The Brewery provides a tasting paddle (the pint pitcher sample) of a handful of their in-season brews for those who can't make up their mind. And if you're traveling with kids or non-drinkers, they do homemade root beer too!
The Brewery is located in the heart of Moab on Main Street, making for a convenient stop.
46 – Take a refreshing dip in Ken's Lake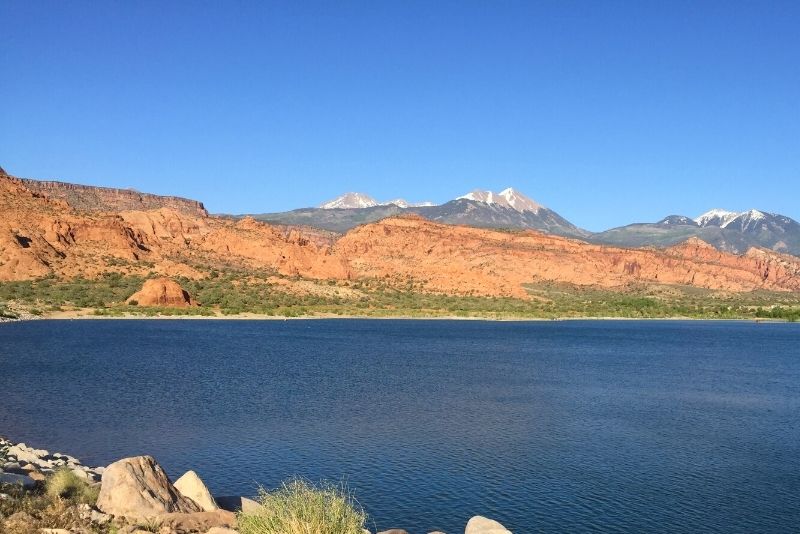 A refreshing manmade oasis set against a backdrop of Utah's red rocks, Ken's Lake is one of the best places to cool off in Moab during the summer months.
With two sandy beaches, a playground, BBQ pits, and plenty of shady picnic tables, it makes for a wonderful locale to while away an afternoon with your nearest and dearest.
So if you're seeking a quick escape from the repetitive red rock hikes, without too long of a drive, Ken's Lake (or "Secret Lake" as it's sometimes referred to by the locals on social media), just 15 minutes south of the town, is exactly what the doctor ordered.
And while you can easily relax all day; swimming, fishing, camping, or paddling on the flat waters, for those who want to explore a bit more, there's also a three-and-a-half-mile hiking trail that circles the lake and makes its way to the picturesque Faux Falls.
Hot tip: bring bug spray — the pesky mosquitoes come out to play on the warmer evenings.
47 – Grab a drink while enjoying some live music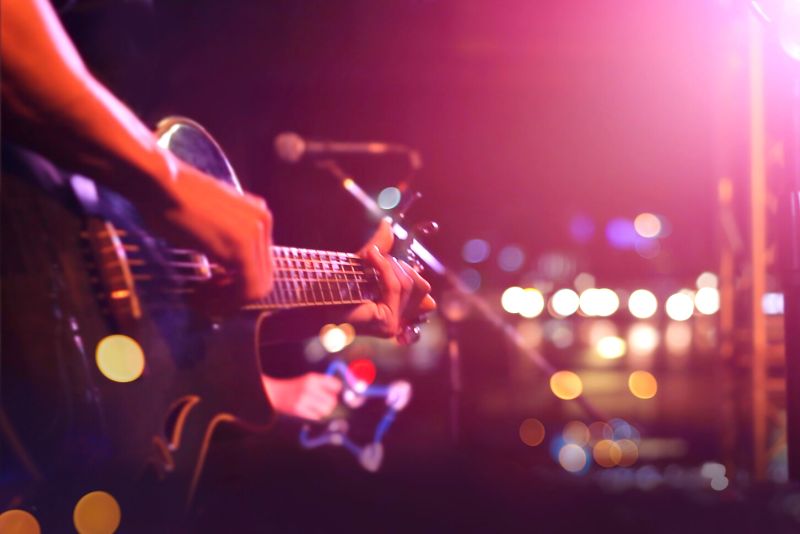 The Blu Pig offers up a scrumptious menu ranging from pizzas and BBQ to the beloved half-pound Blu's Beefy Texas burger, as well as several flavors of ice cream. It's also the perfect place for live music, with talented performers taking to the stage several times a week.
If you're more of a sports fan, The Alley Sports Pub & Grill provides live viewings of the latest sporting event in between musical sets. With its energetic vibe, massive TVs, and excellent variety of acts, it's the perfect place to kick back with a drink and enjoy some local talent.
You can also swing by Woody's Tavern, where the weekend concerts are legendary – and the weeknight karaoke sessions give you a chance to be a star yourself!
This beloved local watering hole has been around in various forms for six decades, and has quickly become a hit with visitors as well, drawing in everyone from traveling hikers to movie stars in town for a project.
When you check out a concert here, you won't just get some top-notch music; you'll also get to experience the town's history firsthand!
48 – Tackle the Mill Canyon Dinosaur Trail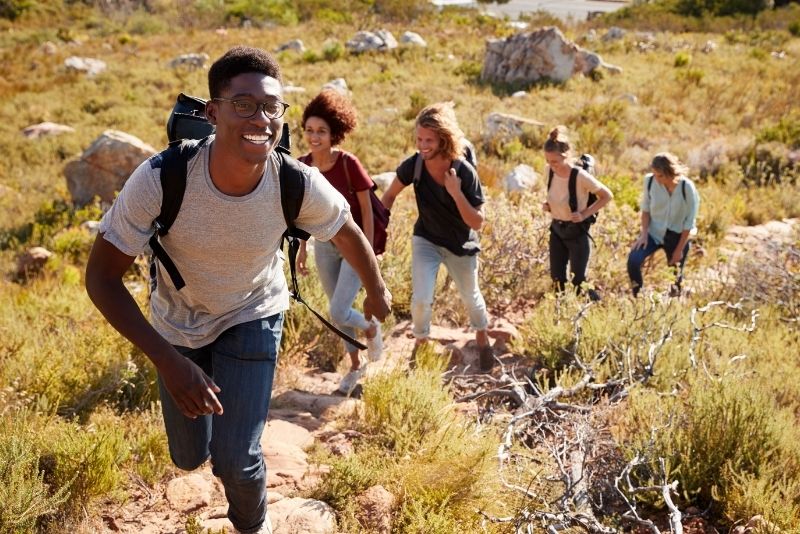 The Mill Canyon Dinosaur Trail is a fun, easy, and educational (because who doesn't love dinosaurs?) adventure that winds through the picturesque Mill Canyon – unlike a lot of the Utah scenery, this area provides a decent dose of greenery to contrast the rocky, red landscape.
The two-mile out-and-back hike is perfect for those with limited time, however, if you want to extend the experience, there are a few options to add on miles by connecting to other trails in the area. The entire trek should take no longer than 2 hours at a leisurely pace, with the well-marked and maintained trails suitable for all fitness levels, making it a great choice for families with small children in tow.
Along the trail, you'll find a slew of fascinating fossils of ancient wildlife (read: dinosaurs) and species that would have been seen during Moab's Triassic period, as well as signs describing the trail's plant and wildlife present today. Throw in the dinosaur tracks embedded in the rock, and a handful of fossilized wood and bones, and you've got yourself quite the history lesson!
49 – Take a super-scenic hike along Windows Loop Trail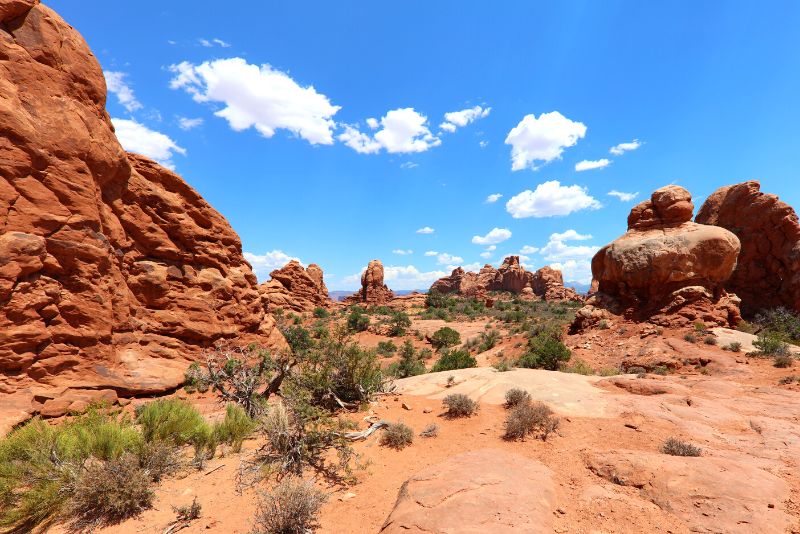 Among the many world-class hiking routes in the area, Windows Loop is a distinctive and delightful trail, with some of the most iconic scenery in the region on display.
This beautiful path, located in Arches National Park, is probably best known for its distinctive geological structures, some of which provide perfect natural frames for the wilderness below.
If you choose to do the whole route (which we absolutely recommend, given the scenery), you'll be able to enjoy a spectacular 2.1-mile trip through the best of the desert.
The North and South Window Arches, framing either side of a massive, gorgeous sandstone formation, are almost as stunning as the views themselves; these perfectly formed stone gateways are great examples of the area's distinctive geography.
In the middle of the trail, you can enjoy Turret Arch, then peek through to see both the North Arch in all of its glory and the sprawling desert beyond. While the trail itself is relatively short, its magnificent scenery and reasonably challenging terrain make it an ideal venture for visitors.
Just be sure to bring good shoes, plenty of water, and proper clothing – the area can be freezing in the winter and boiling in the summer!
50 – Lights, Camera, Action! Check out the Moab Museum of Film and Western Heritage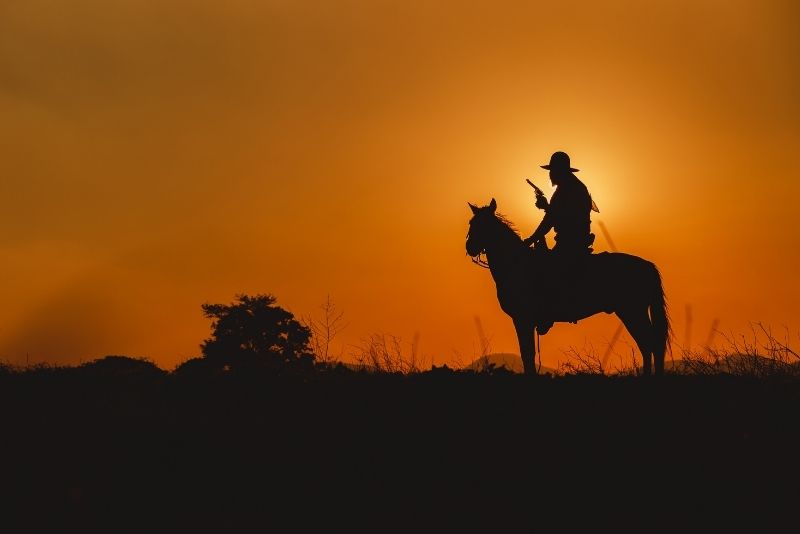 While far from the typical Tinseltown (the bright lights and hordes of Hollywood tourists can wait for another trip), Moab's history – and, taking a step back, Utah's history – is deeply rooted in the film industry. As a rare, stunning, at times, otherworldly landscape, the region become a highly frequented backdrop for silver screen productions, both big and small.
From John Wayne masterpieces like "Wagon Master (1949) and "The Conqueror" (1956) – filmed down in St George – to more recent hits like "127 Hours" (2010) with James Franco – filmed right in the red rock country of Moab itself – this sleepy little adventure town has had more than its fair share of the spotlight.
Just a sliver of the long list of blockbusters; all of Transformers: Age of Extinction, Thelma and Louise, Indiana Jones and the Last Crusade, Mission Impossible II, Austin Powers III, and Need for Speed all took advantage of the unique region for their cinematic backdrops.
For film buffs, The Moab Museum of Film and Western Heritage (part of Red Cliffs Ranch) is a great opportunity to learn all about these and other films, and about the wide role of Moab in cinematic history. The collection of rare Western memorabilia is top-notch, while the exciting array of posters, stories, and photos dive deep into the archives.
51 – Wind your way through Labyrinth Canyon along the Green River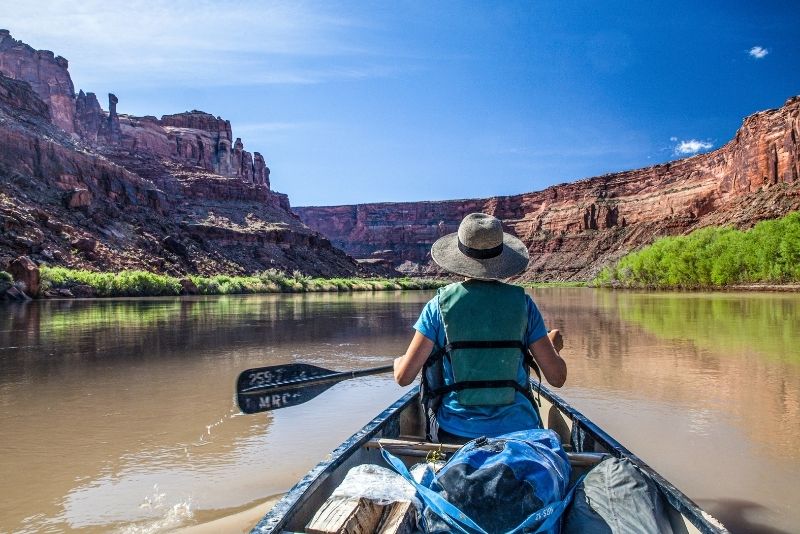 One of the most breathtaking flatwater stretches within a massive canyon-and-plateau region, Labyrinth Canyon on the Green River offers boaters and river runners an up-close encounter with nature's finest structures.
Led by adventure-loving guides who know all the best spots in the area, Moab rafting companies offer daily excursions along this particular section (among others), which sees few rafters during the fall months due to low water levels.
As you float your way down the calm waters, keep your eyes peeled for bighorn sheep, bald eagles, and beavers; or if you're feeling more adventurous, why not set up camp on one of the many sandy beaches along the river for a night under the stars?
But even without a paddle (if you prefer to join a boat tour, for instance), Labyrinth Canyon's majestic pink walls and winding ridges are simply breathtaking (and deserving of a couple of snaps, of course); just ask the 18th-century explorers who discovered this natural wonder.
52 – Drive the picturesque La Sal Loop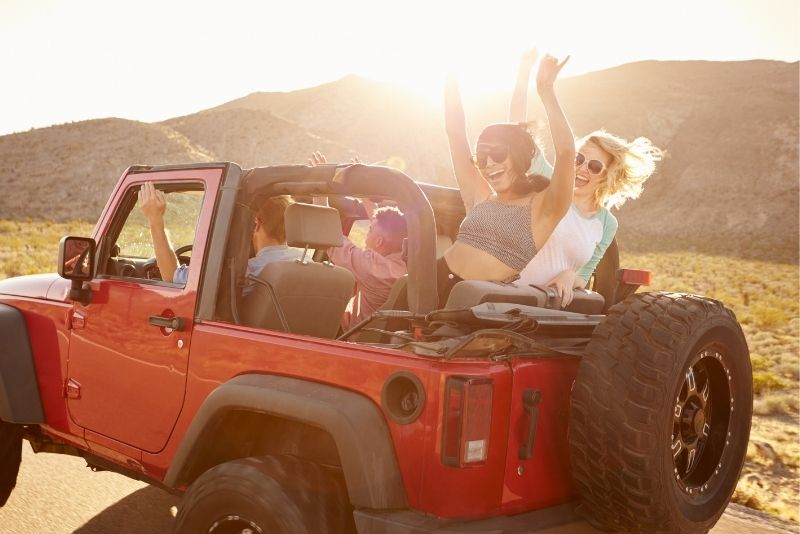 Ditch the city traffic — in Moab, and especially over at the La Sal Loop, you're in for some of the most scenic drives of your life. Bumper-to-bumper doesn't exist in this part of the world, so you're free to take your time and explore the sights at a leisurely pace (though we won't judge if you want to let loose and race down the mountain).
One of the most popular scenic routes in Utah, the La Sal Loop circles around the stunning La Sal Mountains, with several lookout points along the way that offer prime opportunities to snap some envy-inducing photos.
The road trip — which features views of the La Sal mountains, vibrant red walls, and towering rock formations — extends 70 miles, and also provides the option to tackle a range of hiking trails should you want to add a little adventure to the mix.
To get to the drive – well, that's an impressive trip in its own right! You'll drive along the historic Scenic Byway from Moab to Monticello, Utah to explore one of America's greatest remaining natural wonders!
Make the most of the sunny skies – rent a convertible or roofless 4×4 and bask in that sunshine!
53 – Organize a day trip to Capitol Reef National Park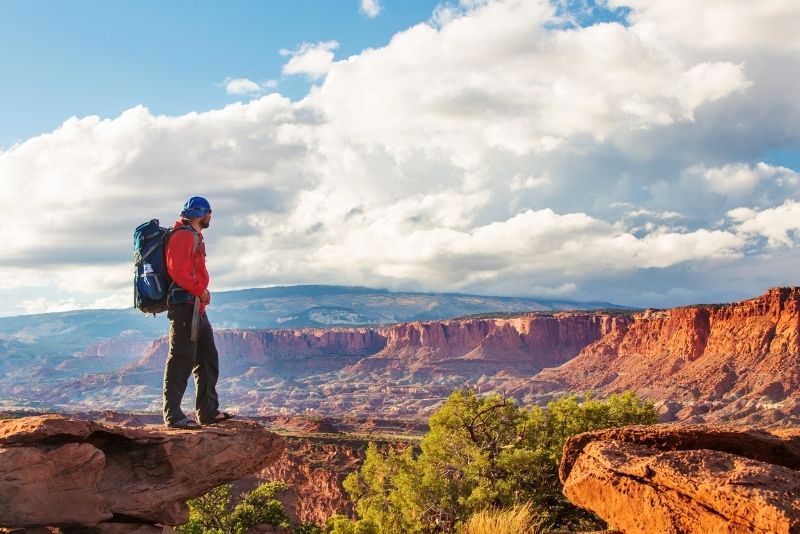 Just a two-hour drive away, the Navajo sandstone and uplifted rock formations at Capitol Reef National Park are a captivating sight worthy of a detour. Encompassing close to a quarter million acres of slickrock country, Capitol Reef boasts miles of cliffs, slot canyons, white domes and natural bridges; this particular area of Utah is one of the most remote parks in the country — and arguably, one of the most beautiful.
While you could easily spend a couple of days here hiking through the backcountry and exploring the slot canyons (not to mention, camping under a blanket of stars), a day trip from Moab will still allow you to see the highlights. Drive the scenic Capitol Reef Scenic Drive (7.9 miles in length, which takes about an hour and a half if you do it right), hike through Grand Wash and Capitol Gorge, and discover the Waterpocket Fold — one of the most significant geologic monoclines in North America.
The park features various hiking trails that lead up to ancient cliff dwellings (such as Paul Bunyan and Dog Valley), hidden canyons (such as the aforementioned Grand Wash – 2.25 miles one way), and panoramic viewpoints (such as Hickman Bridge), so you're sure to be dealt a variety of breathtaking landscapes.
54 – Meander down the easy path to Pothole Point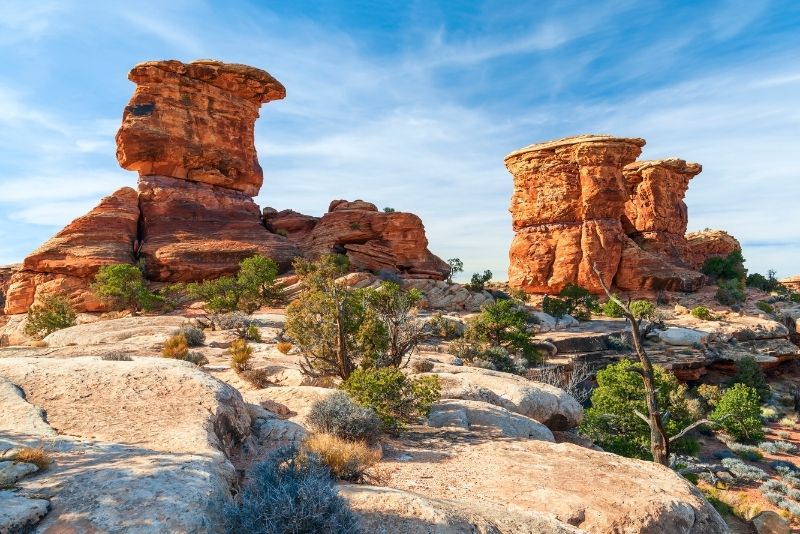 Due to its tucked-away location down near Monticello in Canyonlands National Park – about 90 minutes drive from Moab – Pothole Point is one of those hidden gems that takes a bit of extra effort to get to. But once you've experienced the peculiar rock formations and expansive views that this 0.75-mile flat path has to offer, you'll see why the easy detour is totally worth it.
At an elevation of close to 5,000 feet, the lookout point is one of the highest in the entire state, and on a clear day, you can see stacks of buttes in the Needles District along the horizon. And, if you're wondering about the name, the main viewpoint is littered with potholes that were carved out over time by the elements – a strangely beautiful natural phenomenon.
While you're there, meet up with other adventure-seekers at the Big Spring Canyon Overlook and Confluence Overlook (where the Green and Colorado rivers meet), before checking out Elephant Hill – there's plenty to do in the area to while away an entire day in the great outdoors.
55 – Get a bit romantic with a dinner cruise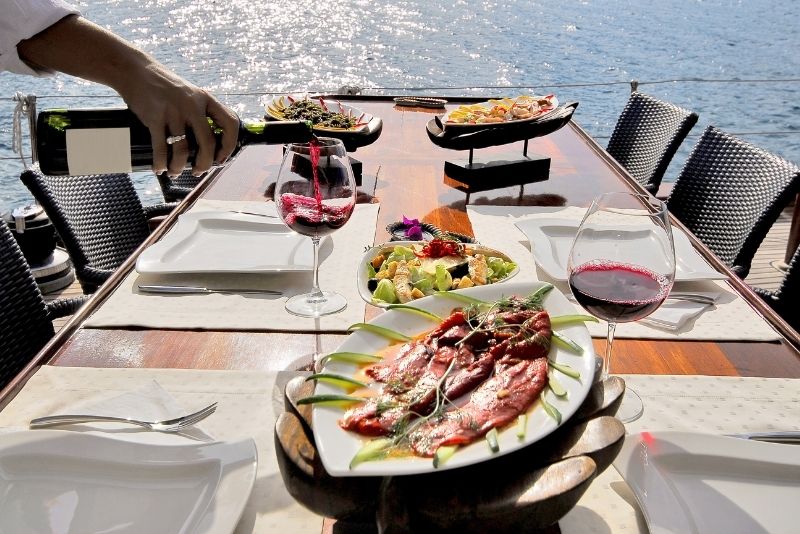 After a few days of hiking and exploring, nothing tops the list of things to do in Moab like a relaxing, romantic, entertaining dinner cruise! Typically traversing through the picturesque Colorado River (and lasting around three hours, give or take depending on your tour of choice), sunset dinner cruises offer an intoxicating combination of boating, dining, and dancing under the stars.\
With a bounty of adventure options to choose from to hit the water – everything from rafting to paddleboarding to kayaking – the hassle-free, relaxing river cruise is a welcomed change of pace that'll let you take in Moab's natural beauty in a more leisurely fashion.
Hot tip: for a cruise unlike any other, book one that features a "light show" after the Cowboy-style dinner. Using state-of-the-art projection mapping technology, your vessel will paint a picture of the canyon's history and creation, turning the rock face into a canvas.
56 – Unleash your inner sommelier with a Wine tasting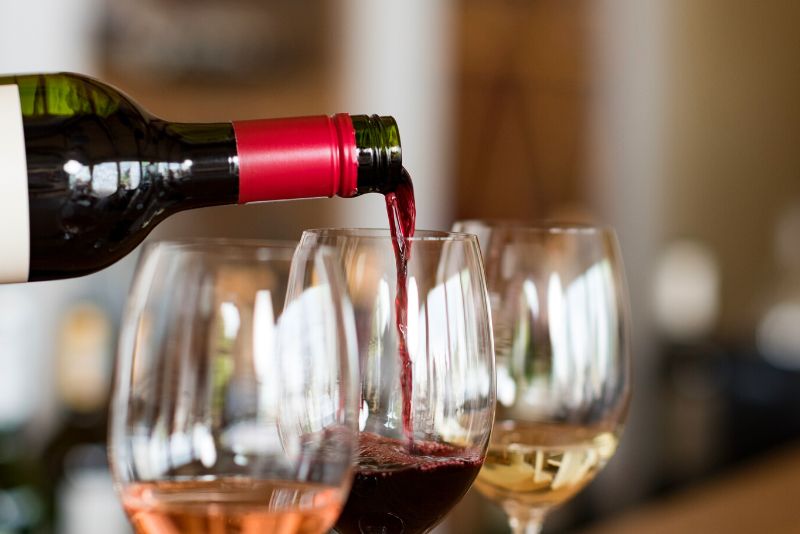 After all of that adventuring, you may want to unwind with a good glass of wine.
Luckily, there's a world-class vineyard right here in Moab to help you out!
Since it was first established in 1979, Spanish Valley Vineyard & Winery has provided locals and visitors alike with delicious local creations, perfectly paired with beautiful scenery. While they offer many delicious variants, their primary strength lies in single-vineyard, estate-bottled vinos, which are produced, start to finish, on-site.
From its humble origins as an agricultural project, this gorgeous space has grown into the perfect place to indulge a love of the drink. Try a tasting session to experience their distinctive tastes for yourself, or embark on a tour to see more of the property – and try even more samples!
Whether you prefer a robust red, a crisp riesling, the rich taste of cherry wine, or the unique flavors of a Gewurtztraminer, each sip will prove delicious and invigorating – all the more so considering the freshness of the ingredients!
And if you're really loving the atmosphere, you can even book a stay at the bed and breakfast on the property, and enjoy gorgeous views of the surrounding area alongside top-notch accommodation.
57 – Enjoy a live show at the Moab Backyard Theater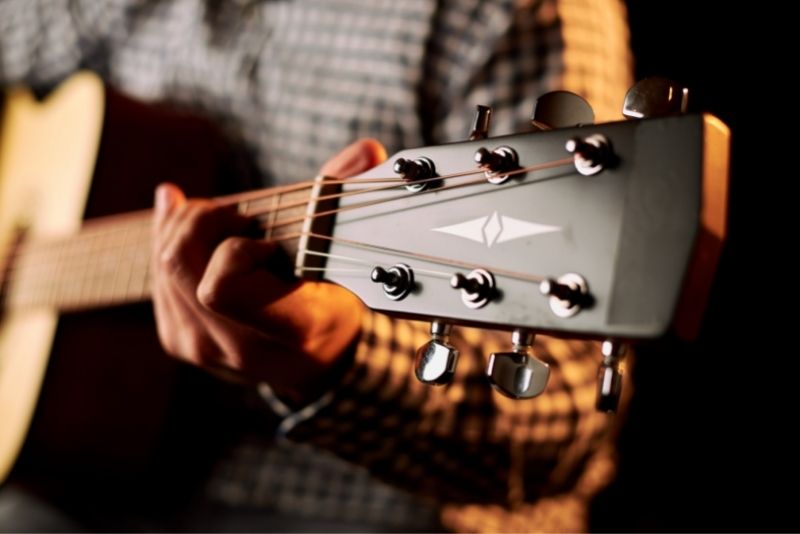 After a day of hiking or biking in the canyons, enjoy a cold beer and live music under the stars at one of Moab's most popular summertime venues: the Moab Backyard Theater.
A local institution for decades, this open-air theater is located right in the heart of town (about around the corner from Main Street near the Mill Creek crossing) and hosts an impressive roster of entertainment for the whole family, where you can sit back, kick up the feet, and enjoy both live music and interactive shows (depending on the night).
The outdoor Moab Backyard Theater stage — which is open Wednesday through Saturday, March to September — also doubles as a venue for local and touring musicians and performers, so even if you're not in town for a play, it's worth checking the schedule to see who's gracing the stage during your stay. On any given week, expect a mix of Western, Honky-Tonk, Bluegrass, fire dancers, local musicians, themed music nights, and hilarious magic shows.
All you need is a blanket and some popcorn (outside Food and drinks are welcome) – just don't forget the bug spray.
At just $10 for adults and $5 for the youngsters, an affordable night out at the Moab Backyard Theater serves as one of the top cheap things to do in Moab.
58 – Visit the ancient Anasazi ruins (in Bears Ears)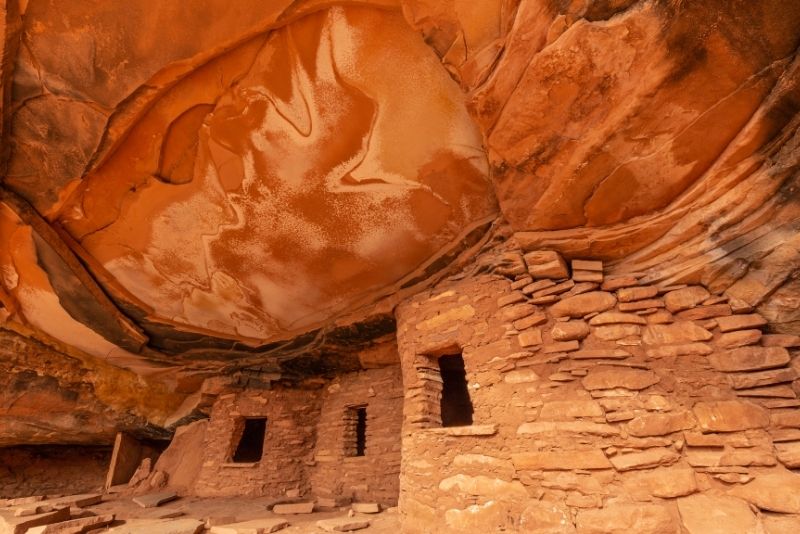 A spectacular slice of history that, despite falling to the wayside of the likes of Arches and Canyonlands, should not be missed on any trip to Moab; a visit to the ancient ruins of the Anasazi people feels like a step back in time.
A short drive from town (located in the nearby Bears Ears National Monument), these well-preserved remains date back over 700 years and collectively showcase a fascinating glimpse into the culture and lifestyle of one of North America's most intriguing indigenous groups.
Comprised of countless dwellings both above and below ground, kivas (ceremonial structures), and petroglyphs, the Anasazi ruins are fascinating to explore, and a guided tour with a local ranger is highly recommended to get the most out of your visit.
Today, you can see their ruins at the historical Bears Ears site in southeastern Utah, about 2 hours south of Moab. The House on Fire ruin is a must, likewise the Butler Wash Ruins and the Edge of the Cedars Museum!
Consider this: The ancient Anasazi (or Ancestral Puebloans) inhabited the Colorado Plateau from 700 to 1250 AD, constructing elaborate stone dwellings and farming throughout the Four Corners region – Bears Ears is just the tip of the iceberg.
59 – Sign up for a stargazing excursion with RedRock Astronomy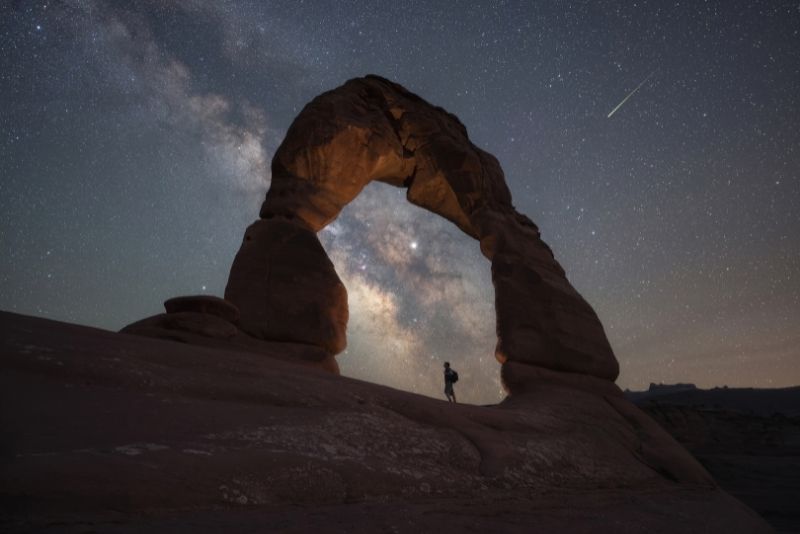 An overhead dance of constellations, planets, and shooting stars, the Milky Way puts on quite the show in Moab's wide-open night sky
One of the best ways to take it all in is with RedRock Astronomy, a private stargazing company that hops around a variety of exclusive dark sky sites in the Moab region, including both Canyonlands and Arches National Park; while every adventure is unique, for night sky lovers, the adored RedRock Astronomy experience is easily one of the more memorable Moab activities.
Hosting astronomy tours and educational talks, the observatory features a large telescope and offers guided presentations of the unfiltered heavens. Reservations are not required but it is recommended to make one ahead of time to make sure there will be… space.
Usually hosted by local astronomer Alex Ludwig, who has been guiding travelers through the rivers, canyons, and skies of the southwest for 30 years, the experience starts with an intimate group lesson on the night's celestial activity before plenty of time to spend the rest of the evening stargazing through a high-powered telescope (or just sitting back and appreciating the rare dark sky grandeur).
Keep in mind: RedRock also offers daytime tours of ghost towns and/or Dinosaur Track/Bone sites, if that's more your jam.
How to get to Moab?
Part of the beauty of Moab is its remote nature, which can sometimes make transportation part of the adventure! Driving is the most popular option, but if you'd prefer to fly, you can go directly to Canyonlands Regional Airport and catch a shuttle into town.
You can also fly into Salt Lake City (4.5 hours away) or Grand Junction (2 hours away), then rent a car and drive.
Where to stay in Moab?
Whether you're enjoying a nice picnic in the sun or swimming in the pool with splendid desert views, Hoodoo Moab, Curio Collection provides top-notch amenities with a healthy dash of nature – the perfect place to relax after outdoor adventures!
And at Scenic View Inn & Suites Moab, you can enjoy a relaxed, familial atmosphere, a delicious buffet, and a gym, with Mesa Arch just an easy drive away.
La Quinta Inn & Suites Moab provides a business center for projects, a pool for doing laps, and a hot tub for relaxing after a long day of hiking. And the Gonzo Inn provides a charming home away from home, with its lovely garden and delicious on-site restaurant.
If you prefer a bit more of a do-it-yourself trip, My Place Hotel provides barbecue areas for cooking up the next big meal – but they still provide plenty of standard hotel luxuries, like a pool and a lounge.
Where to go next?
While Moab's allure is largely a result of its isolation, that doesn't mean that there isn't a handful of noteworthy towns and cities within striking distance if you're looking to continue your adventure through the rugged southwest.
Here are a few of our favorites:
Monticello, UT (1 hour away): A small town with a big heart, Monticello is home to some of the best hiking and mountain biking in the region, as well as access to both Canyonlands and Natural Bridges National Monument.
Durango, CO (3 hours away): A stylish mountain town located in the heart of the San Juan Mountains, Durango is an outdoor enthusiast's paradise, with world-class skiing, hiking, and mountain biking. It's also home to the historic Durango & Silverton Narrow Gauge Railroad.
Monument Valley, UT (4 hours away): One of the most iconic and photographed landscapes in the world, Monument Valley is a must-see on any southwest road trip. Located on the Arizona-Utah border, this area is home to some of the most unique rock formations on the planet.
Getting back to the big(ish) city, Salt Lake City is less than 4 hours away by car; while, over the border, both Denver and Boulder Colorado are less than 6 hours drive. Direct flights operate to the mountainous region too (just an hour and 20 minutes).
And, if you don't mind a short connecting flight, Albuquerque, Phoenix, and of course Las Vegas are all within striking distance.
Final Thoughts
We hope you've enjoyed our selection of things to do in Moab, Utah! If you have any other must-see suggestions — natural or manmade — feel free to let us know in the comments!
Now, it's time to grab your outdoor gear, pack your sunscreen, and get ready for some true desert magic!
As always, happy travels.