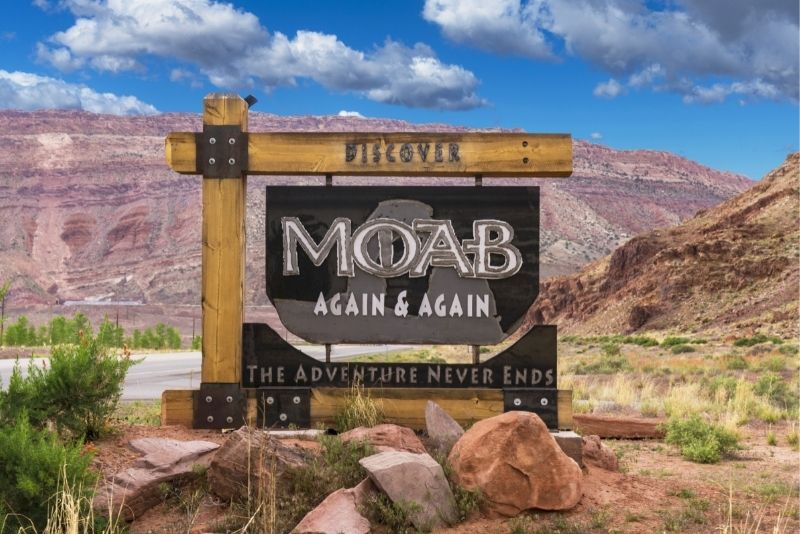 Nestled in the heart of Utah's stunning red rock country, sun-drenched Moab is known nationwide as a prime destination for outdoor enthusiasts.
With national parks and beautiful canyons in every direction, the small town acts as a gateway for wonderful hiking, biking, climbing, and rafting opportunities; and with so many things to do in Moab itself as well, it's no wonder the tourists are flocking.
From exploring Hell's Revenge and Ken's Lake to seeing Thelma and Louise Point (named after the famous movie scene), there's no shortage of exciting activities on offer — so pack your bags and get ready for an adventure, because marvelous Moab awaits!
1 – Explore Arches National Park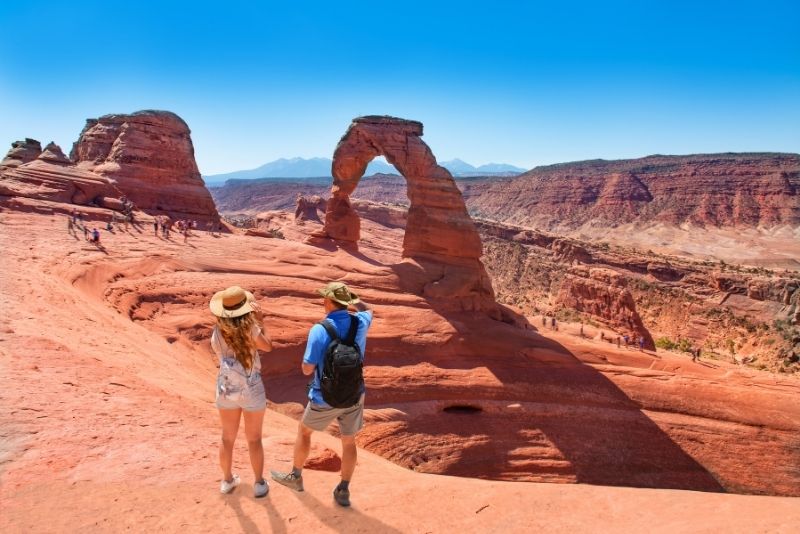 Looking like something straight out of a fantasy film, Arches National Park, with the famous Delicate Arch as its poster child, attractions hundreds of thousands of adventurous travelers year after year eager to witness its brilliant orange hues and natural formations first-hand.
While a range of 4X4 tours operate from Moab (including pickup and dropoff), the scenic flights, self-guided drives, sunset hikes, and dedicated photography tours are all worth considering too.
2 – Conquer the world's best mountain biking trails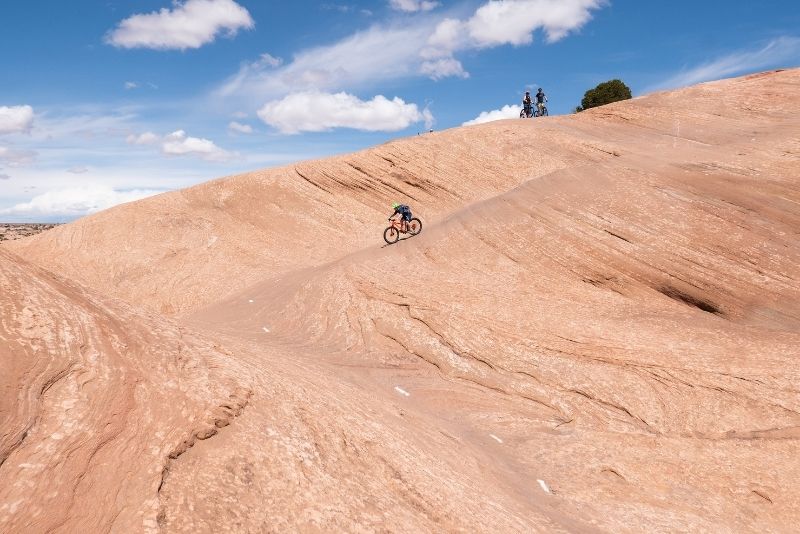 Far from your typical city-slicker bike tours, Moab's 2-wheel adventures are all about high-octane action!
Whether you're tackling the White Rim Trail in Canyonlands National Park; the North Klondike trails (highlighted by Alaska, Mega Steps, and Dina Flow), or the Slickrock trail on petrified sand dunes, you'll find unbeatable outdoor landscapes in every direction.
For the ultimate mountain biking experience, look no further than the 4-day adventure on the Whole Enchilada, a two-wheel trail that transitions from rugged rocks to lush meadows, and technically tough drops on the Porcupine Rim.
3 – Hike through Dead Horse Point State Park
Who's up for an adventure? Just nine miles northwest of Moab, Dead Horse Point State Park's 128-foot high sandstone cliffs tower high above the sparkling Colorado River to reveal a view that has been compared to the one and only Grand Canyon.
The park contains three epic hiking trails: The Rim Rock Trail on top of the mesa; The Mesa Top Loop Trail which climbs to the top of the mesa; and the Shafer/Dead Horse Point trails.
The park is most famous for its lookout point with views of sprawling Canyonlands National Park's Grand View Point, stalactites, and natural rock bridges. Visit during sunrise or sunset to capture some spectacular shots.
4 – Take a jeep tour to Hell's Revenge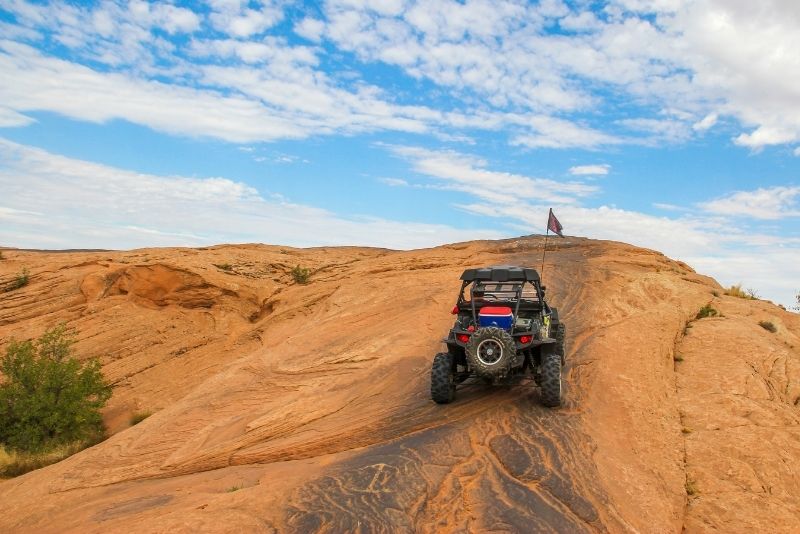 Those feeling brave enough to conquer some of Moab's most interesting, but also challenging trails will make the journey up Hell's Revenge.
Travelers can make the trip in their own jeep, or catch a tour with one of the local operators. Regardless of how you experience this trail, make sure you take it slow as there are plenty of steep drops that could wreak havoc on your vehicle.
5 – Spend the day in Canyonlands National Park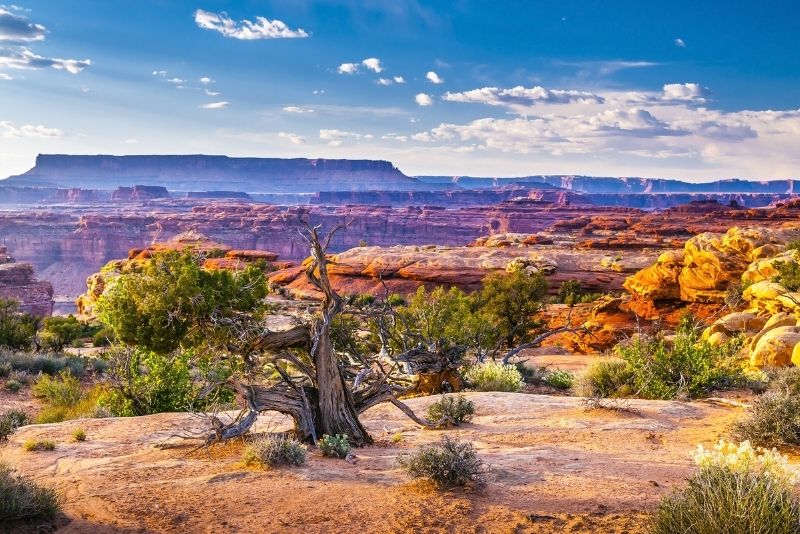 Canyonlands National Park is one of the largest national parks in Utah, and protects more than 285,000 acres near the Island in the Sky district.
The most popular feature of this park, beloved by all kinds of travelers, remains the hiking trails that help you experience what some call one of the most captivating landscapes in America. Hike into the maze-like canyons, or join one of the guided trips to have a naturalist tell you about what you're seeing!
6 – Make the trip down White Rim Road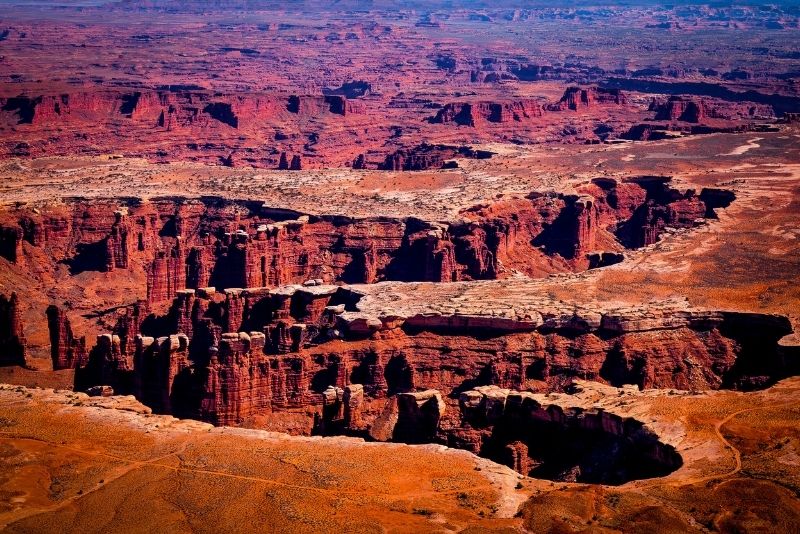 Ever heard of the White Rim Trail? If not, this highly esteemed trek is an epic 26-mile long road that hugs the inner banks of Canyonlands' Island in the Sky district.
Whether in a jeep or on a bike, discover stunning panoramic views at Fisher Towers and Horseshoe Canyon, and ride the crest of the Billies (where Arizona, Colorado, and Utah meet).
7 – Soar over the region in an airplane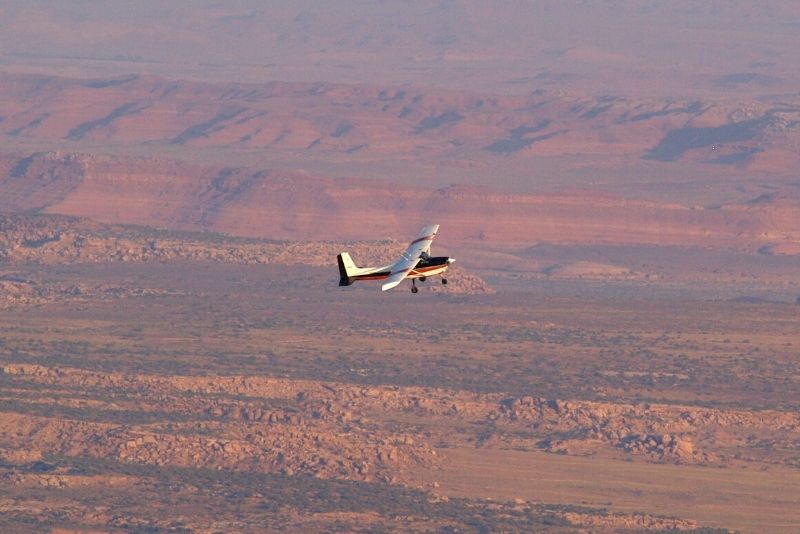 What better way to enjoy Canyonlands National Park than by air? The only way to get the complete aerial view of this colossal landscape is by riding shotgun in an airplane tour (or a helicopter tour – whatever floats your boat).
Only from the skies can you truly appreciate the amazing rock formations in all their grandeur — whether you fly by Balanced Rock, Spider Rock, Elephant Hill, or the salt-stained sandstone spires all over Arches National Park, you'll be left grinning ear to ear.
8 – Check out Hole 'N The Rock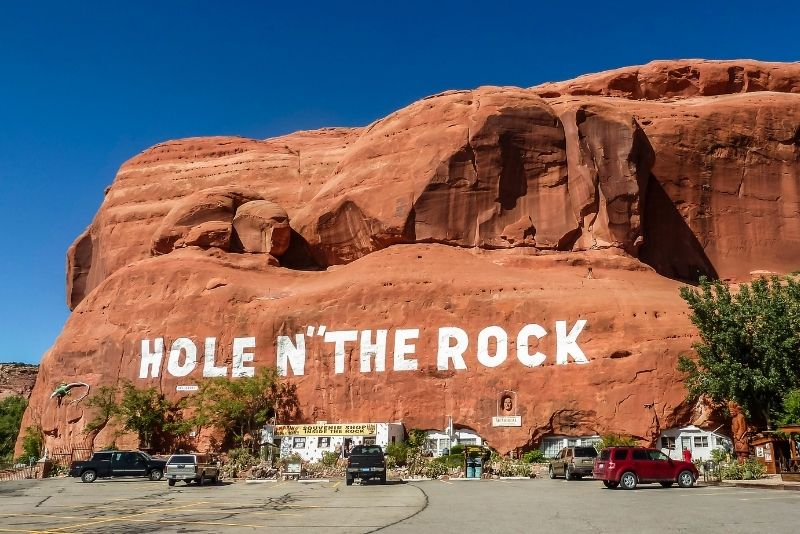 Just a few minutes outside the city of Moab, Hole 'N The Rock is one of Utah's most unique and fun attractions.
The house was built by taking sandstone rocks from the nearby desert and fitting them together like pieces of a puzzle to create walls for the structure above ground as well as the underground portion. Amazingly, this process took over a decade to complete and was done entirely by hand.
Today, visitors can experience this unique attraction first-hand during an astounding guided tour (part of which you get to ride in via jeep), where you'll learn about the history and construction of the house, and be able to stop into the petting zoo and souvenir store.
9 – Go white-water rafting on the Colorado River
Commercial, high-octane rafting tours — particularly those to the dramatic Fisher Towers section of the river — are common options for tourists looking for a wild adventure.
With paddle in hand, you'll conquer the Colorado River as it traverses the Canyonlands National Park, flowing through canyons, twisting around spectacularly shaped monoliths, and leaping down heart-stopping drop-offs.
Tour companies typically operate out of Moab, providing everything from half-day family rafting trips to full-length river excursions that last several days (the rafting-camping combo camp is a popular choice for travelers looking for extra adventure!).
10 – Meet the raptors at Moab Giants Dinosaur Park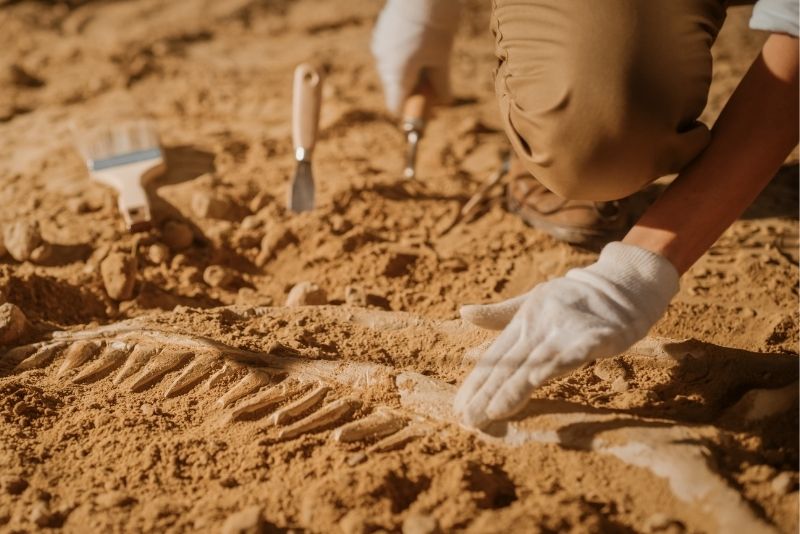 Before dinosaurs roamed the earth, a rich Jurassic-era past thrived in what is now Utah and Colorado. Today, Moab Giants Dinosaur Park offers an incredible way to discover what life was like during those times; with models of more than 100 prehistoric creatures on display including the intimidating tyrannosaurus rex, friendly stegosaurus, apatosaurus (better known as brontosaurus), and plenty more.
It's a constant delight for youngsters and adults alike!
11 – Explore Slickrock via mountain bike or buggy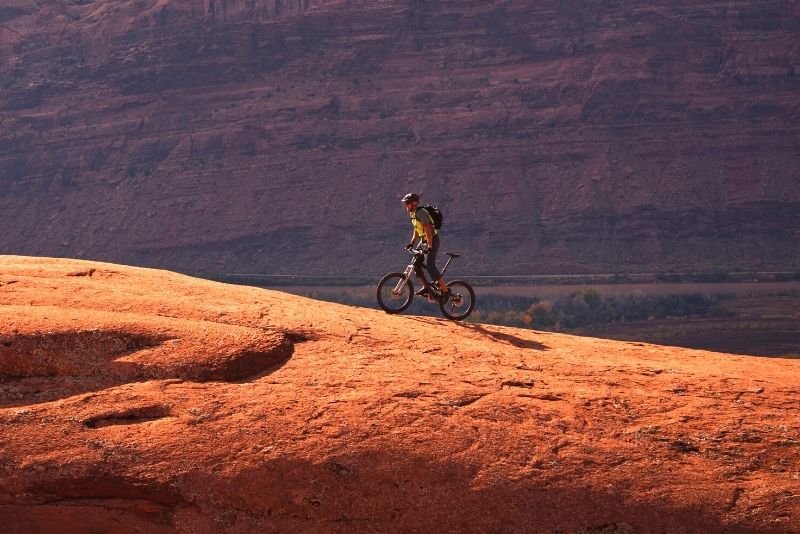 Ridden by thrillseekers since the 1970s, Slickrock Trail's extraordinary rock formations offer a world of discovery for every outdoor enthusiast.
The technical single-track trail requires buggies (no Prius routes here) to conquer its rocky inclines; meanwhile, for the ultimate Moab cycling experience, sign up for a guided tour that tackles the tricky inclines and explores the canyon's sandstone formations up close.
12 – Sign up for a quad bike tour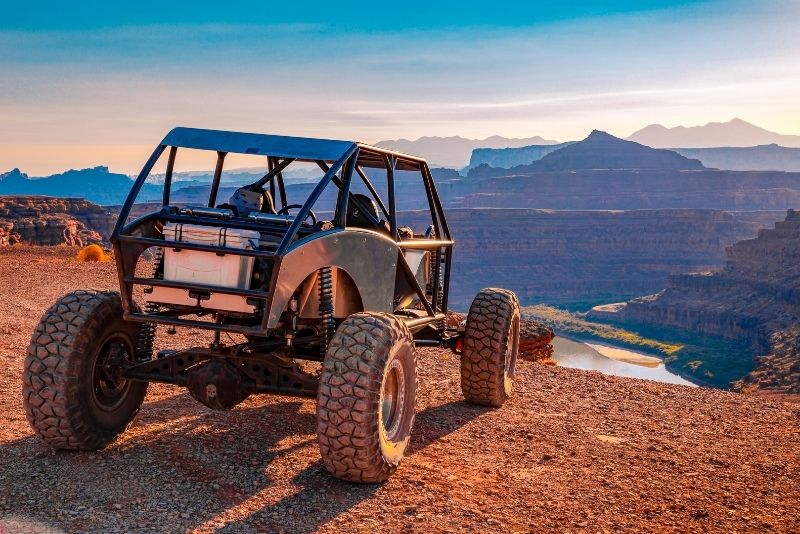 While the treks across Moab's Top of the World Highway and Colorado River Overlook are  always highlights for 4X4 enthusiasts, there's simply no better way to experience the desolately dazzling landscape than from behind the wheen of a quad bike. Where? Where else but Hell's Revenge.
Known as one of the most difficult trails in Moab, Hell's Revenge is a trail like no other. This 15-mile trail covers steep and rocky terrain which provides spectacular views to match an adrenaline rush that will make your heart pound – guaranteed!
13 – Admire the incredible Petroglyphs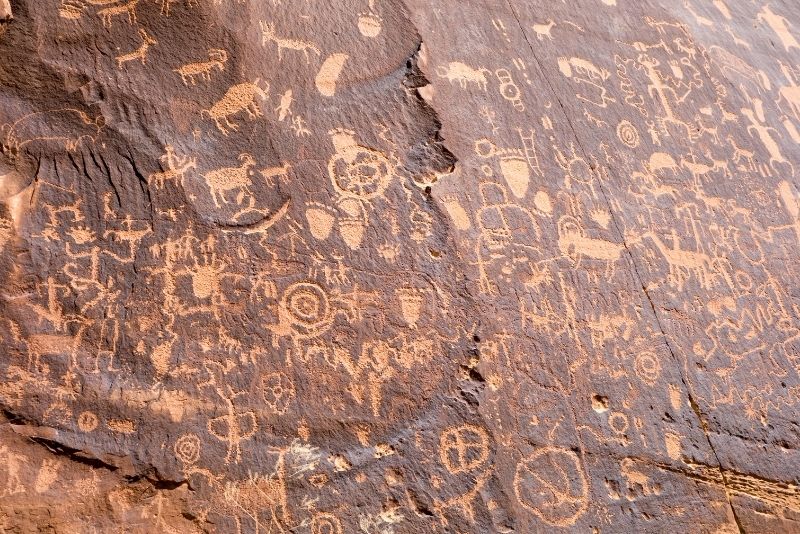 If you love rock art, there is no better place to see petroglyphs than on the Needles Eye Trail in Canyonlands National Park. But far from the only noteworthy destination, you can also head southbound on US Highway 191 and check out the stunning red cliffs of Comb Wash, or drive northeast from Moab to Castle Valley for its very own intricate etchings (dating back between 1000 and 2000 years).
However, the most famous site is hands-down Newspaper Rock, a few miles from Hanksville. Here, the 800-foot long wall contains over 1,500 figures and dates back some 1300 years!
14 – Rent a stand-up paddleboard
For an activity that's as relaxing as it is exhilarating, a couple of hours of stand-up paddleboarding on Ken's Lake ought to do the trick!
Is calm lake water not thrilling enough for you? Well, so long as you've got the nerves for it, visitors are also welcome to take the boards down the gushing Colorado River, home to incredible landscapes and wildlife.
15 – Walk the Mesa Arch trail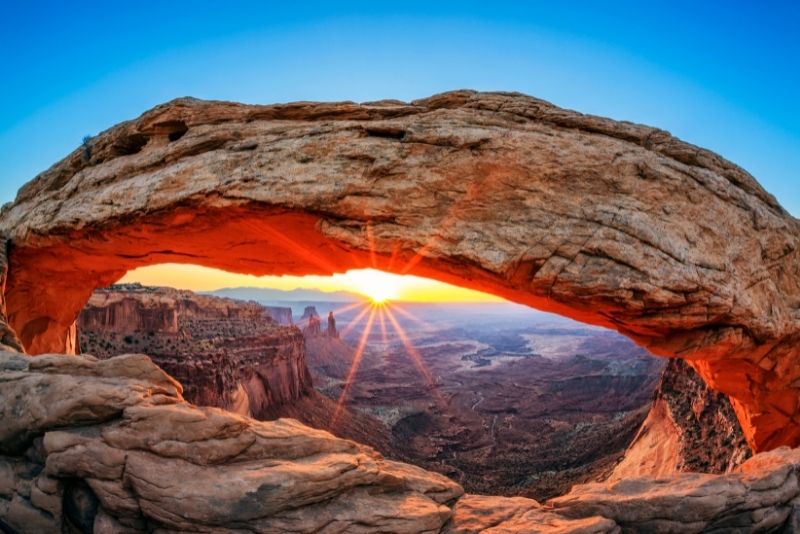 Jutting impressively from the steep cliffs of Moab's mountains, the Mesa Arch is one of the most photographed sights in the iconic Arches National Park.
The short but strenuous 0.3-mile trail to this colorful rock formation starts at the Thompson Hollow Trailhead and climbs a stone staircase before tunneling through a small crevasse — an easily conquerable but quintessential outdoor activity.
16 – Ride a jet boat on the Colorado River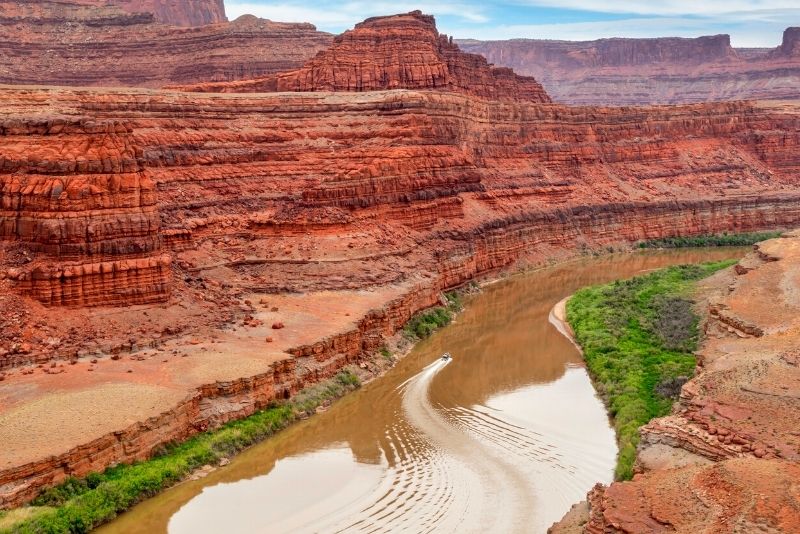 A jet boat ride is as thrilling as it sounds! The boats can reach 60 mph (100 kph) in just 20 seconds, so buckle up for an exhilarating adventure through some of the USA's most stunning landscapes.
Saving you both time and hassle, the world-class Colorado River tours will pick you up and drop you off at a variety of places, including Moab.
17 – Head to Island in the Sky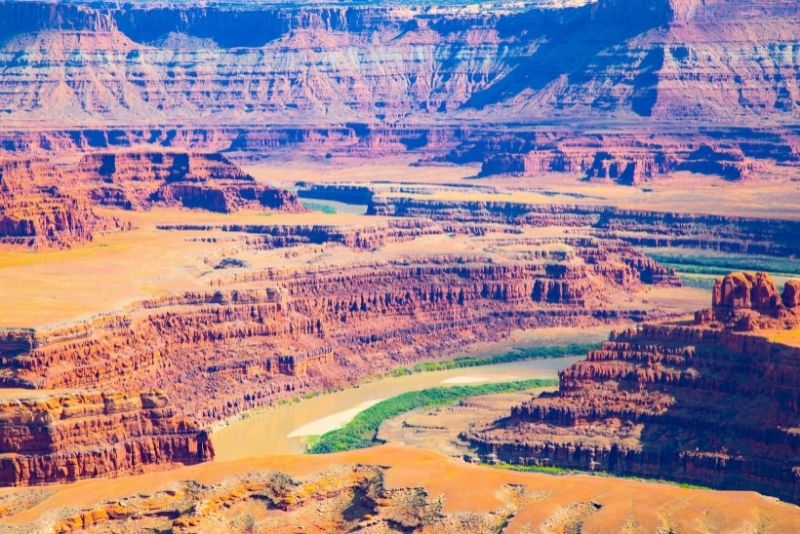 Located in Canyonlands National Park, the Island in the Sky district is a top attraction, offering travelers a chance to experience an expansive view of canyon country.
Towering cliffs and inscriptions dating back millions of years will be sure to strike a chord with those familiar with the likes of the Grand Canyon, with Mesa Arch, The Shafer Trail, and Grand View Point all worthy stops in the area.
Whether you're driving yourself or taking one of several guided tours in Moab, make sure to leave extra room in your itinerary for nearby Dead Horse Point State Park.
18 – Drive up near-vertical-walls in a buggy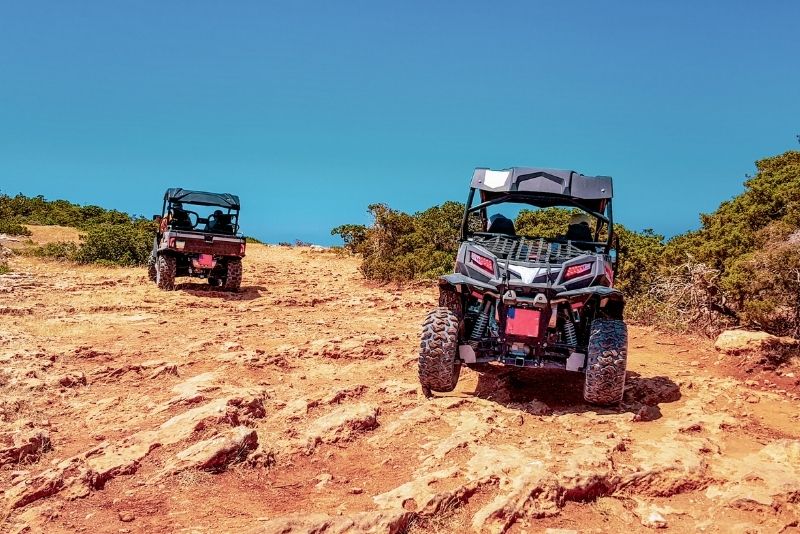 Slickrock isn't the only place worth exploring on a buggy tour! Whether it be Hell's Revenge, with its cliffside view that overlooks Moab Valley, or the iconic views of Poison Spider Mesa, a roll-proof offroad vehicle, driven by an adrenaline-junkie (yet safety-oriented) local is one of the more exhilarating ways to explore the area.
Hold on tight, this isn't for the faint of heart!
19 – Snap a selfie at Corona Arch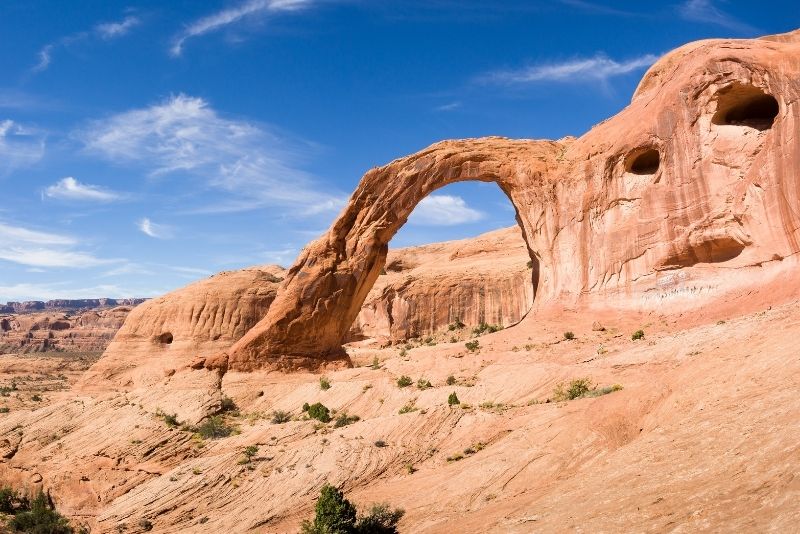 If you're willing to work hard for your Instagram-worthy shots, Corona Arch is the place to be.
Characterized by a soaring span of stone suspended between two walls of rock, it's not hard to see why Corona Arch is one of Moab's most popular arches.
Whether you're driving, hiking, biking, or taking a plane or helicopter tour, witnessing the magnificent Arch is quintessential.
20 – Make the journey to Horseshoe Canyon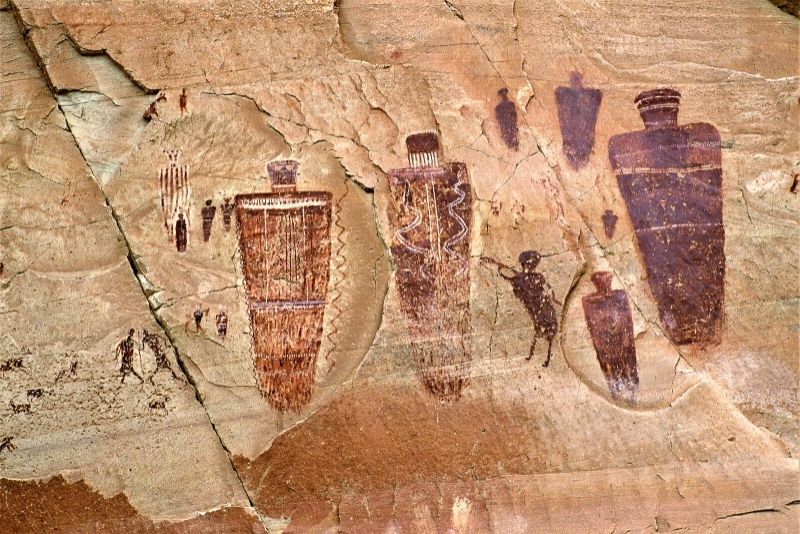 Moab's largest and most famous canyon, Horseshoe Canyon offers a hint of Area 51 with its otherworldly rock formations.
On your journey through this spectacular maze of red cliffs and orange sandstone — whether hiking or driving — keep your eyes peeled for signs left by the prehistoric Fremont tribe, and see if you can spot some petroglyphs and pictographs along the way!
21 – Have a picnic at Lions Park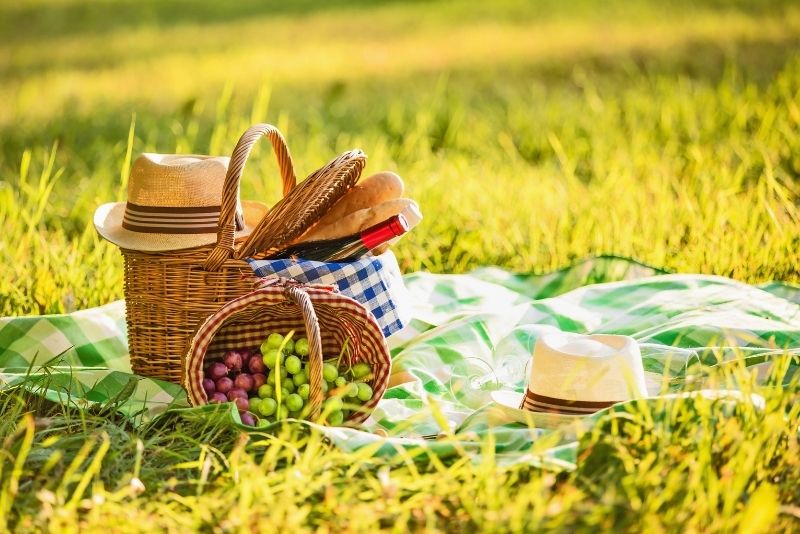 Straddling the banks of the beautiful Colorado River, Lions Park is one of Moab's best-kept secrets; with most tourists flocking to Horseshoe and Arches National Park, this little inner-city park is seldom crowded.
Take a stroll over the bridge to admire the river from above; roll out a picnic blanket on the manicured grass, or simply sit back and bask in the beauty of the orange sandstone cliffs.
22 – Go rafting in Westwater Canyon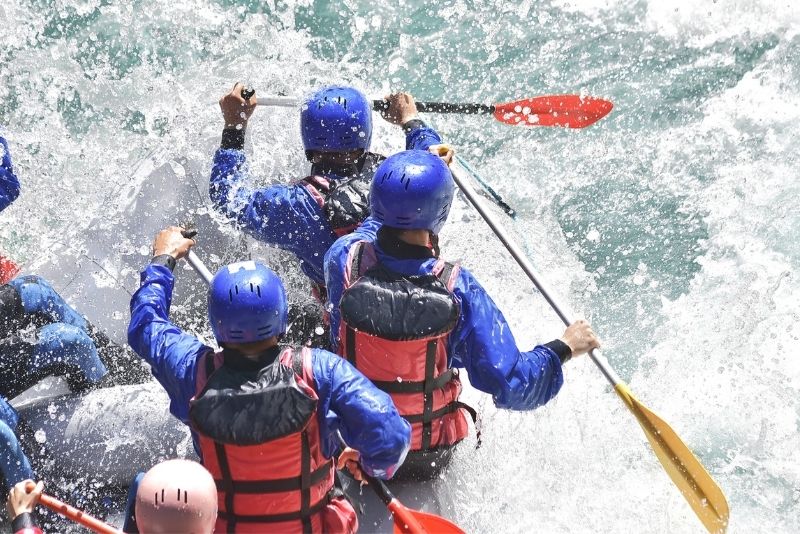 With its stunning red rock cliffs, crystal blue water, and impressive rapids, it's no surprise that Westwater Canyon has become one of the most visited places in Utah — celebrated particularly among adventure seekers.
While the rafting, surf kayaking, and canoeing tours are highly popular; for something a little slower you can also hop on board a boat tour and simply enjoy the postcard-worthy scenery.
23 – Play a round of golf!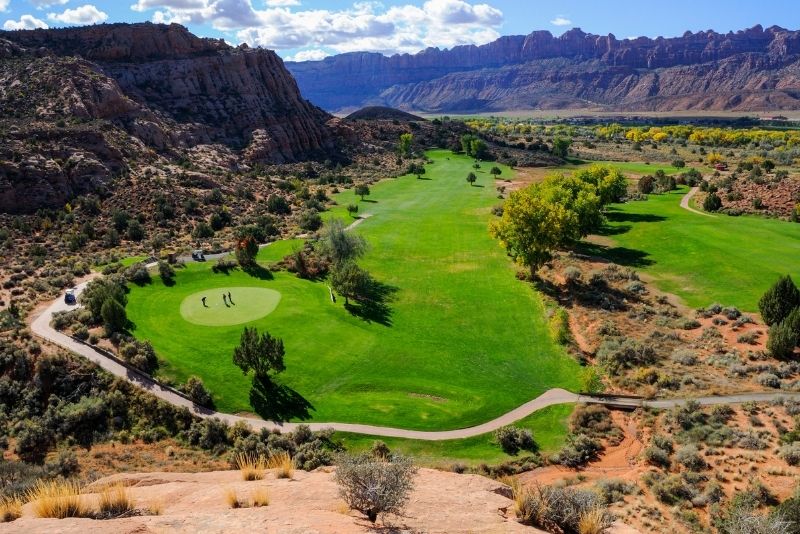 Despite Moab sitting smack-bang in the middle of red rock deserts, the locals haven't cut corners when manicuring their very own A-grade golf courses.
The esteemed Moab Golf Course, nestled between stunning orange landscapes, offers a practice area, on-site grill, pro shop, and an 18-hole course complemented by some of the most jaw-dropping views imaginable.
Luckily for us, the par-72 fairways are open 7 days a week.
24 – Explore The Needles
About 40 miles south of Moab lies the Needles District, the gateway to some truly spectacular natural formations: Tower Ruin, Confluence Overlook, Elephant Hill, and Chesler Park, just to name a few.
With both hiking trails and four-wheel-drive roads traversing through the area, make it a day hike or camp overnight — either way, add it to the list of things to do in Moab.
25 – Jump out of a plane!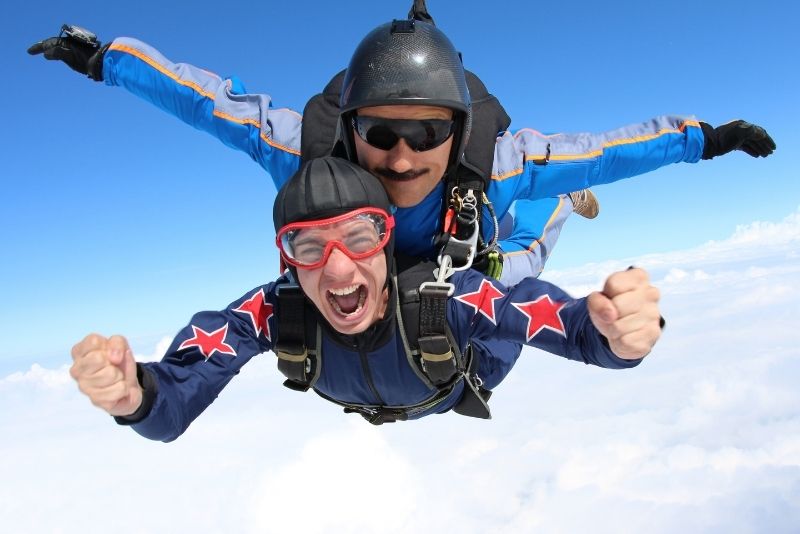 Because Moab is known for its high-energy outdoor activities, it's no surprise that the area boasts some of the best skydiving in the country — a real drawcard for adrenaline junkies.
With a breathtaking backdrop and an endless expanse of blue skies ahead, to say that tandem sky diving from 13,000 feet feels like flying would be an understatement!
26 – See dinosaur tracks on a hike near Potash Road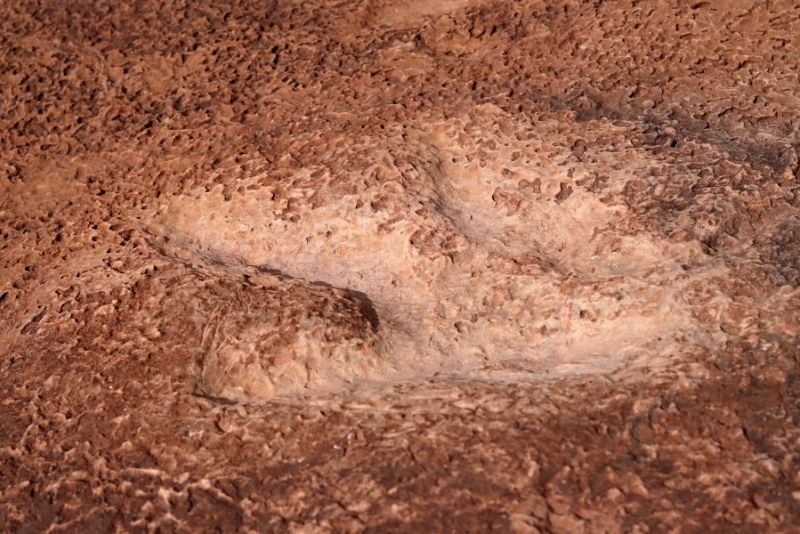 Utah has one of the best collections of dinosaur tracks in the entire US — and Moab, Potash Road specifically, is no exception.
Potash Road is part of Grand County's Burr Trail, snaking its way through over 300 million years of history: from the Triassic Period when dinosaurs roamed this land to the most recent Ice Age, which ended about 12,000 years ago.
While you're in the area — before or after your hike — make sure to drive down the Potash-Lower Colorado River Scenic Byway (U-279). As one of only three byways in the state, it's one of the essential things to do in Moab.
27 – Cool off at the Moab Recreation & Aquatic Center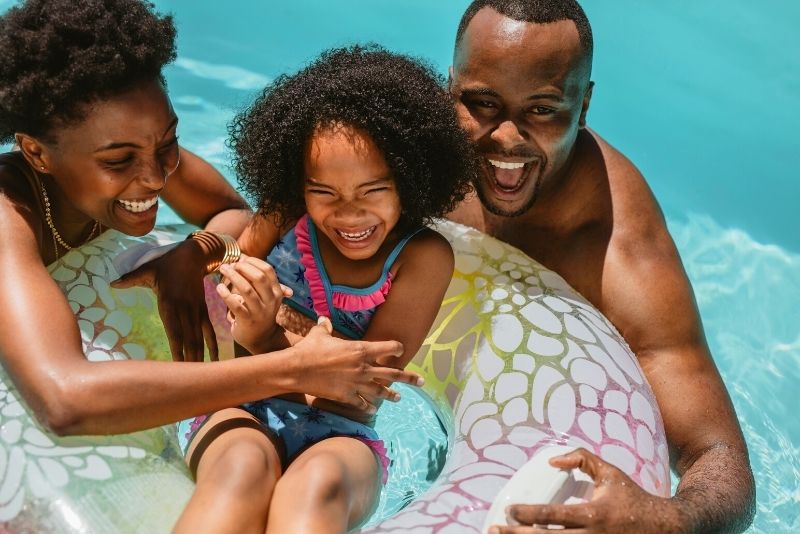 Wash away the trails, dust, and desert heat at Moab's MRAC, a popular family spot that boasts a 50-meter pool with two diving boards, an indoor water park (with wave machine) for kids to play in, and plenty of sunbeds to work of that glowing tan.
Adding to the list of reasons to visit, MRAC also holds exercise classes and offers six outdoor sand volleyball courts.
28 – Drive the Scenic Byway 128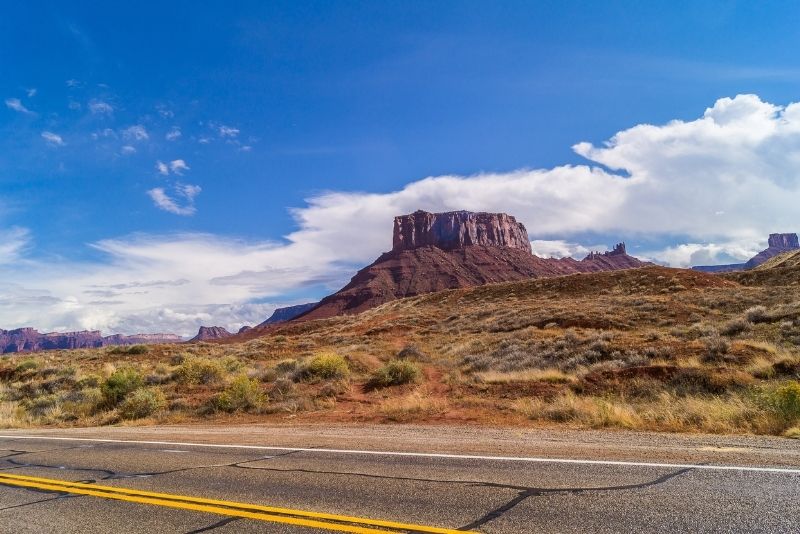 With its vast open space and endless roadside views, it's no surprise that Utah's Scenic byway 128 tops the list of the best driving routes in the state. Located just 45 minutes from Moab, this winding highway will take you through some of the most jaw-dropping scenery Utah has to offer.
Accessed from US route 191, the byway offers stunning views of canyons and arches as it winds its way through 320 million years of history — home to ancient dinosaur footprints, human habitation, petroglyphs, and more.
29 – Explore the Sand Flats Recreation Area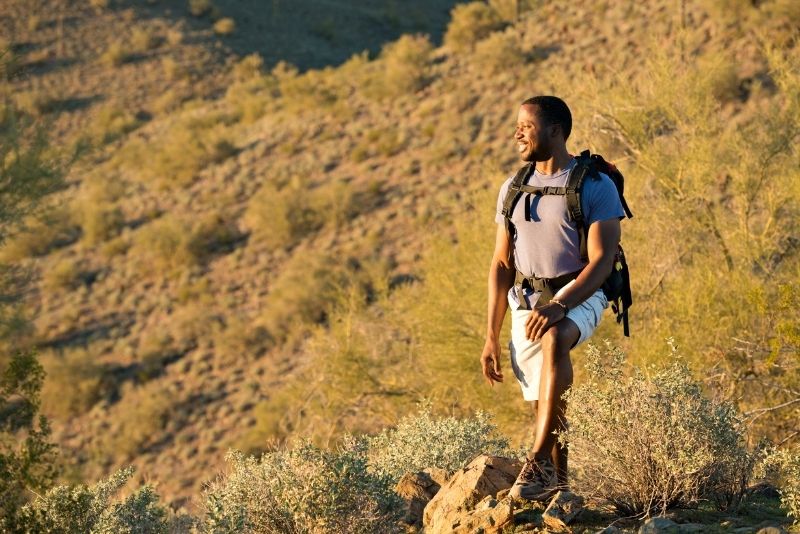 Known as Utah's most diverse and exciting playground, Sand Flats offers something for everyone.
It's packed with a range of activities including sand sledding, dune buggies, ATV rides, go-karts, horseback riding, and off-roading in 4x4s — but that's not all!
Sand Flats is also a great spot for hiking, sightseeing, or walking along the Moab Rim Trail which winds its way through stunning scenery.
30 – Check out the unusual Moab Rock Shop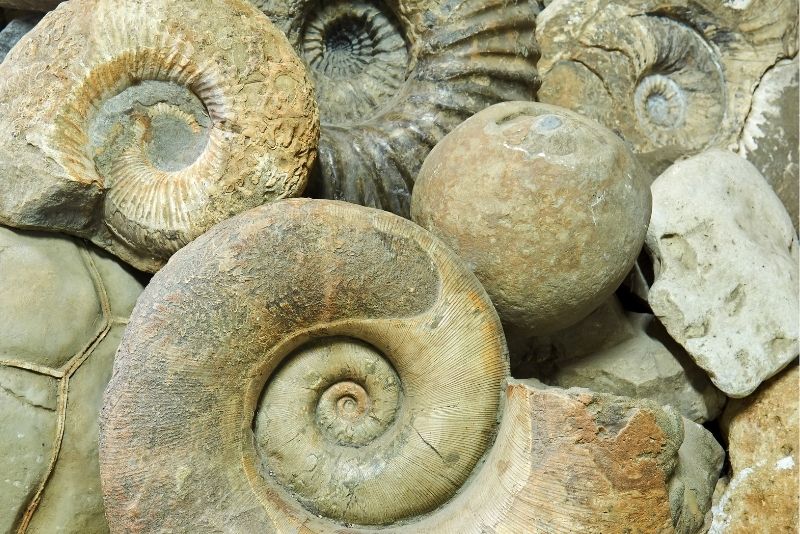 Certainly one of the more peculiar things to do in Moab, a visit to the Moab Rock Shop is a delight for geology enthusiasts, with more rocks, crystals, fossils, and dinosaur prints that you can count!
Even if you're not a rock nerd, outside the shop sits an old machinery museum of antique drilling rigs and farm equipment, so there's plenty to explore.
Safe to say, this place rocks.
31 – Try your hand at canyoneering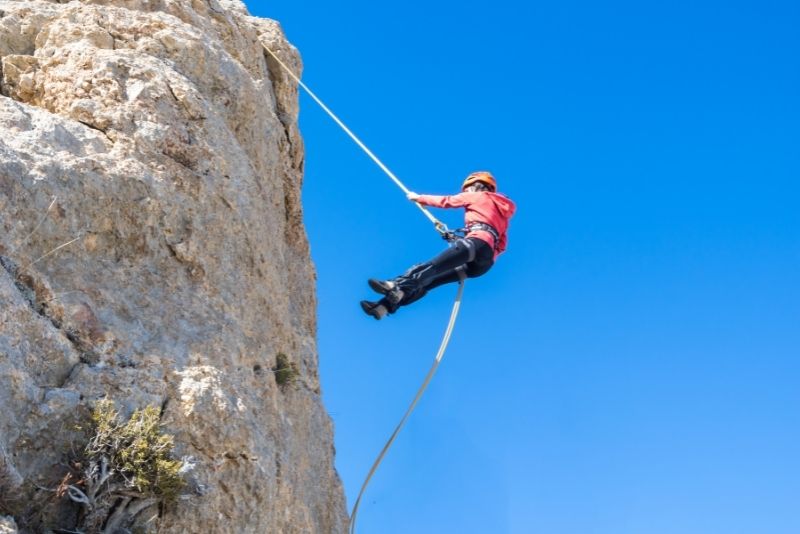 For a Utah adventure catered toward adrenaline junkies seeking ultimate thrills, take note:
Moab is home to arguably some of the most exhilarating descents in Utah; including Big Spring Canyon, Gemini Bridges, and the infamous Chad's Canyon.
Conquer one of these waterholes via canyoneering or take a guided tour to witness first-hand how Moab's guides have perfected the technique over years of practice.
32 – See if you can conquer The Maze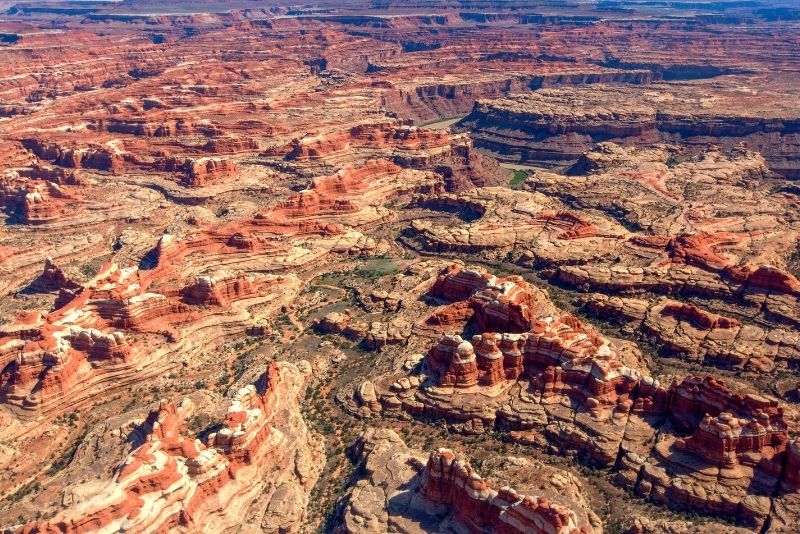 The Maze, also known as the Moab Rim Trail, is a one-of-a-kind experience that will push you to your physical and mental limit.
Not for the faint of heart or technically weak; this gravel route climbs up hundreds of steep rock ledges and obstacles while winding through ravines and gullies as it follows the Colorado River.
After the initial challenge, the views of surrounding mountains from the top are nothing short of incredible.
33 – Grab a bite at the Moab Diner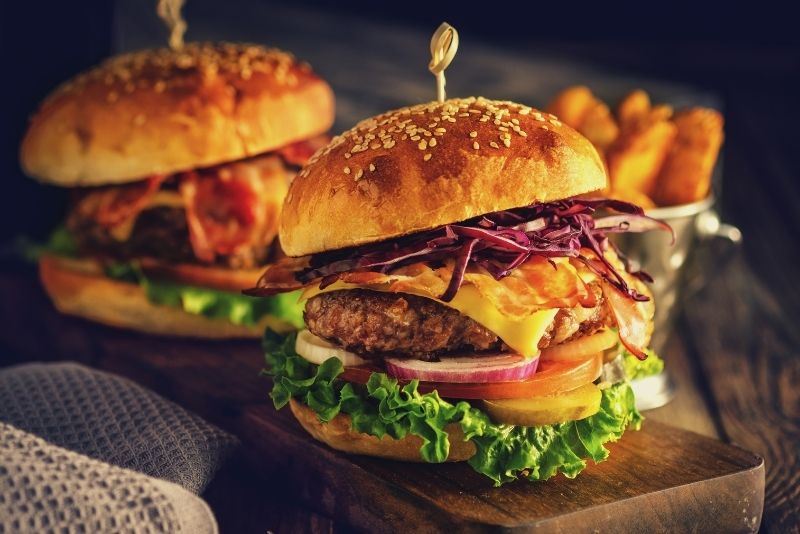 Found down on Main Street, the quaint Moab Diner delivers a mouth-watering menu of big portions at reasonable prices — what's not to love?
While the beloved joint serves up breakfast, lunch, and dinner, the real winner is the bigger-than-your-face ice cream sundae!
34 – Hike to the Morning Glory Bridge in Grandstaff Canyon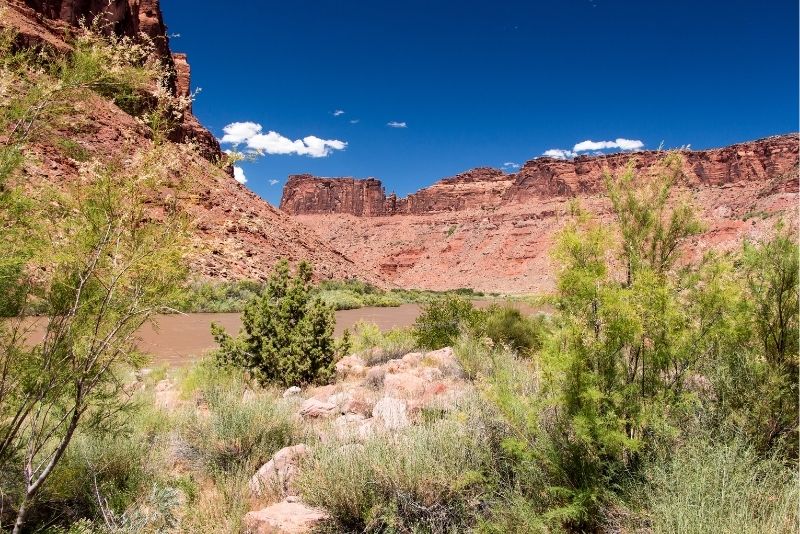 Yet another area of breathtaking natural landscapes, Grandstaff Canyon offers some sublime moderately-rated hiking options. The low-trafficked Grandstaff Canyon Trail typically takes about 4 hours, crossing plenty of streams along the way.
At the end of the hike, you'll come across the Morning Glory rock formation, the sixth largest natural bridge in the United States, and a marvelous sight when viewed from below.
35 – Learn about First Settlers at the Moab Museum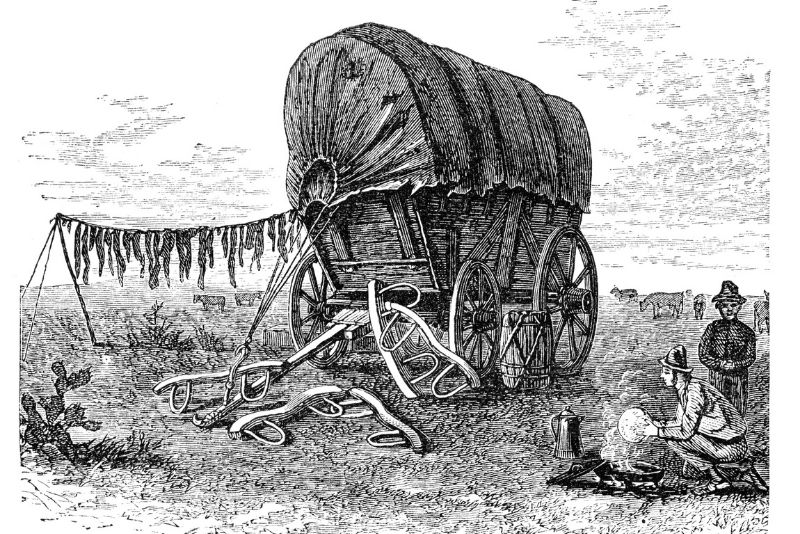 Showcasing the fascinating stories of the Moab area, its first settlers, its history, and its geology, all through exhibits and programs, the Moab Museum promises to provide a visit that's as entertaining as it is educational.
Located in the heart of town on East Center Street, it's easily worked into a day of local exploring.
36 – Grab a table at Zax Restaurant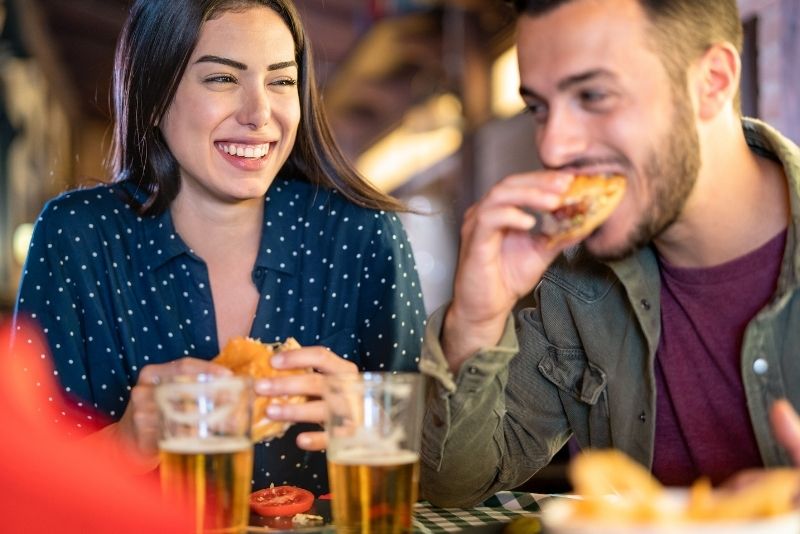 If you're looking for a formal dinner minus the stuffy decor, head to Zax Restaurant — which offers locally sourced ingredients in an attractive setting.
Throughout their menu are options ranging from seafood and meats to a variety of vegetarian dishes, with plenty of delicious appetizers, salads, soups, sandwiches, and entrees to choose from.
After stuffing your face, make sure to wash it all down with a local brew from the on-site Watering Hole!
37 – Go climbing at Indian Creek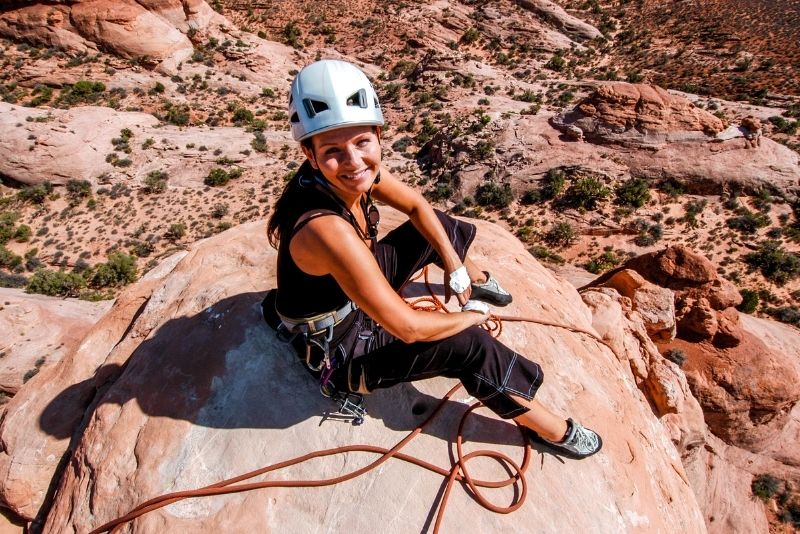 Found about 55 minutes south of Moab, Indian Creek is one of the most popular climbing destinations in the United States — and for good reason.
The picturesque sandstone walls surrounding this part of Utah (and Colorado) are known for their high-quality grip on rocks, making it an area primarily used by experienced climbers who have mastered top roping; but even beginners can find solace here thanks to the creek's more accessible routes.
38 – Take the easy stroll to Wilson Arch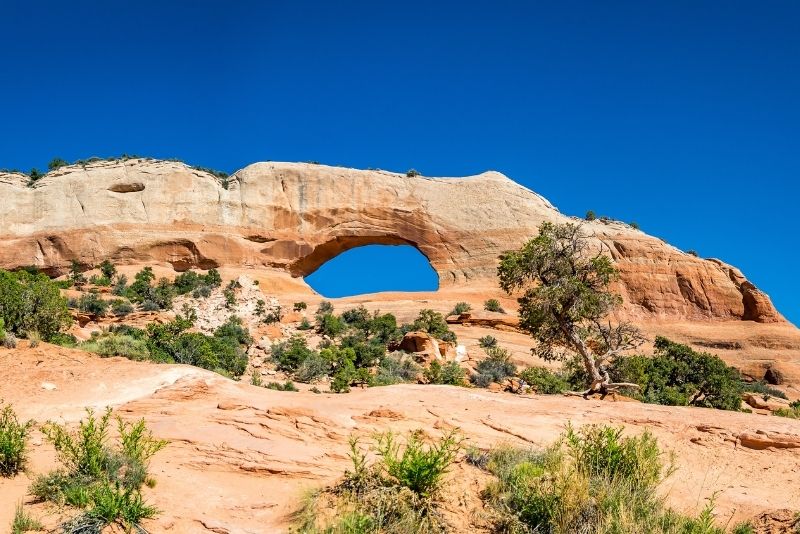 Part of a system of natural arches located just outside Arches National Park, Wilson Arch is one of the more unique sights in Canyonlands.
The otherworldly experience begins with the walk through Wildcat Canyon to reach the arch, which requires no significant physical skills and can be navigated by young children and elderly adults alike.
39 – Climb to Thelma and Louise Point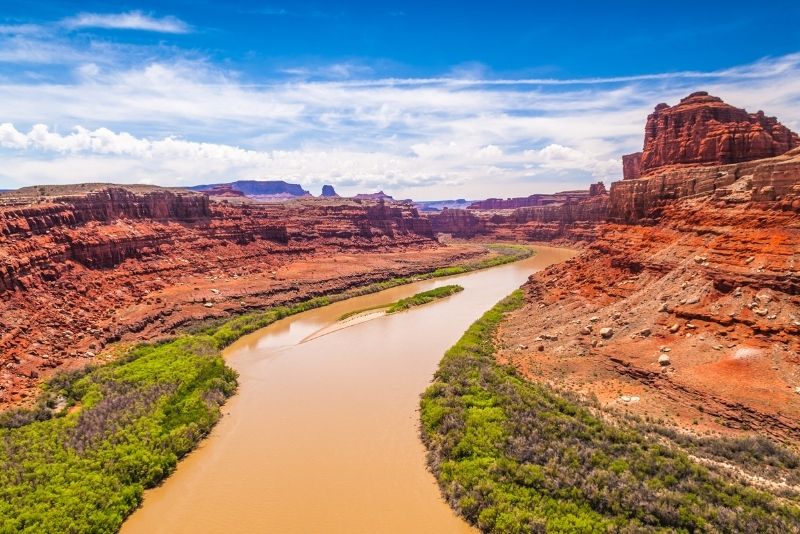 Whether you're a film buff or a nature lover, with remarkable panoramas over Utah's canyons, Thelma and Louise Point (named after the famous movie scene, of course) is one of the best things to do in Moab.
But beware, this ain't no walk in the park: The five-minute excursion up and down the side of a sandstone rock wall is not for everyone (some call it adrenaline pumping, others say it's terrifying), but the rewarding views are nothing short of amazing.
40 – Get buzzed at the Moab Brewery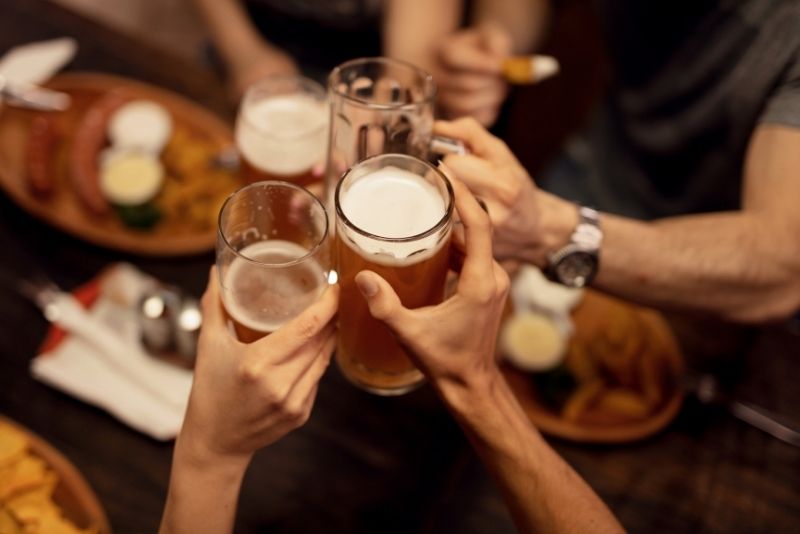 One for the thirsty traveler (and hungry, given the enormous portions on offer), the Moab Brewery dishes up no shortage of locally-crafted ice-cold beers, with everything from a nitrogen-conditioned Raven Stout to the crowd favorite Dead Horse Ale on tap.
Besides the award-winning brews, the Moab Brewery has quickly become one of, if not the most popular restaurant in Moab — so add it to the list!
41 – Take a dip at Ken's Lake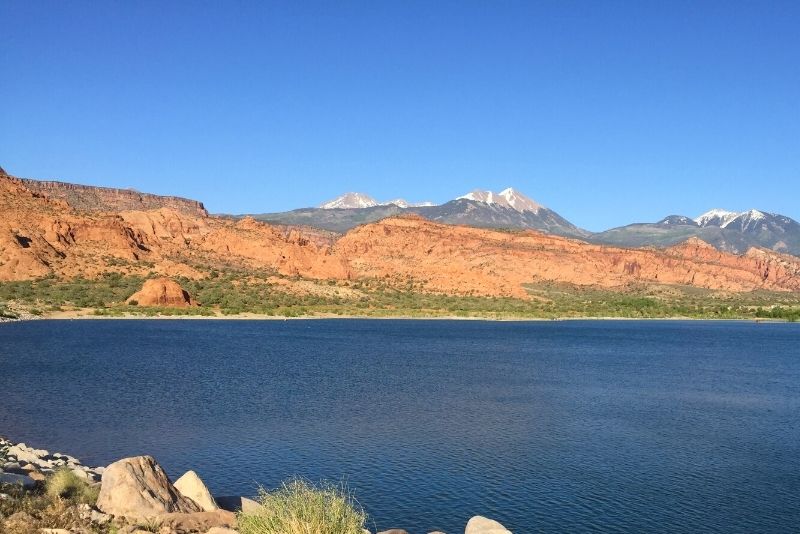 If you're seeking a quick escape without too long of a driver, Ken's Lake (or "Secret Lake" as it's sometimes referred to on social media) is exactly what the doctor ordered!
A little time spent exploring the lake's quiet inlets or taking in its view of Utah's iconic sandstone can make for a perfect afternoon of swimming, fishing, or paddling.
Hot tip: bring bug spray — the pesky mosquitoes come out to play on the warmer evenings.
42 – Feast your eyes at The Blu Pig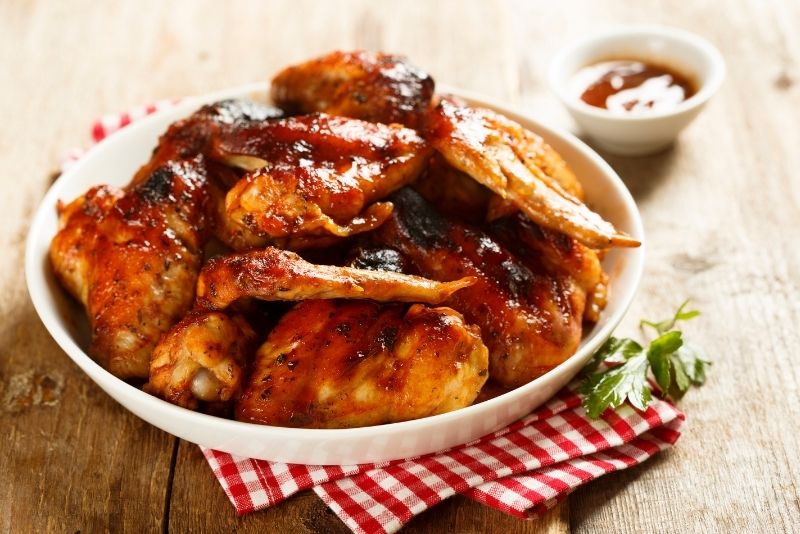 The Blu Pig is a fun little restaurant (which operates as both a bar and grill) that serves up tasty BBQ-style food, including pizzas made to order with a variety of toppings.
You could say that the real highlight here is the ice cream (with rotating flavors like Mexican chocolate, raspberry chipotle, and blueberry pomegranate), however, the real selling point is this: The Blu Pig is Moab's ONLY spot for live music 7 nights a week!
43 – Tackle the Mill Canyon Dinosaur Trail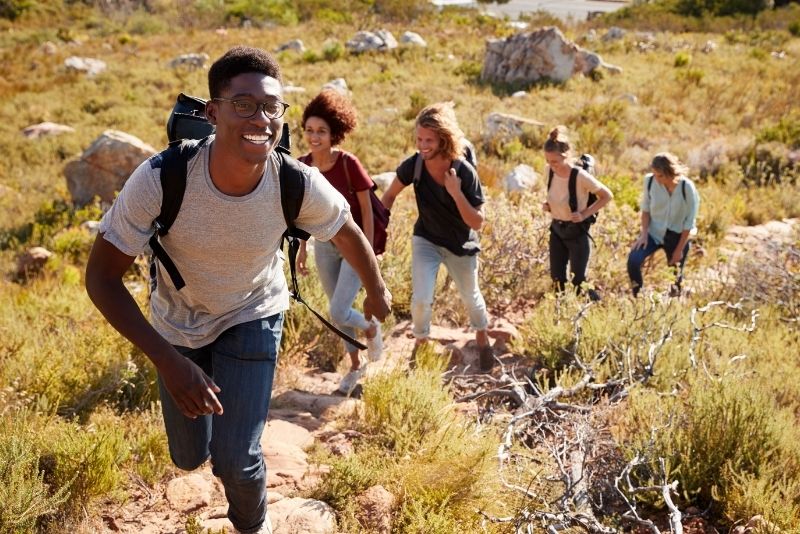 The Mill Canyon Dinosaur Trail is a fun, easy, and educational (because who doesn't love dinosaurs?) adventure that winds through Mill Canyon, one of the largest canyons in Southern Utah.
Along the 1.8-mile, moderately-trafficked trail, you'll find fossils of marine life and species that would have been seen during Moab's Triassic period, as well as signs describing the trail's plant and wildlife present today.
44 – Get splashed at Faux falls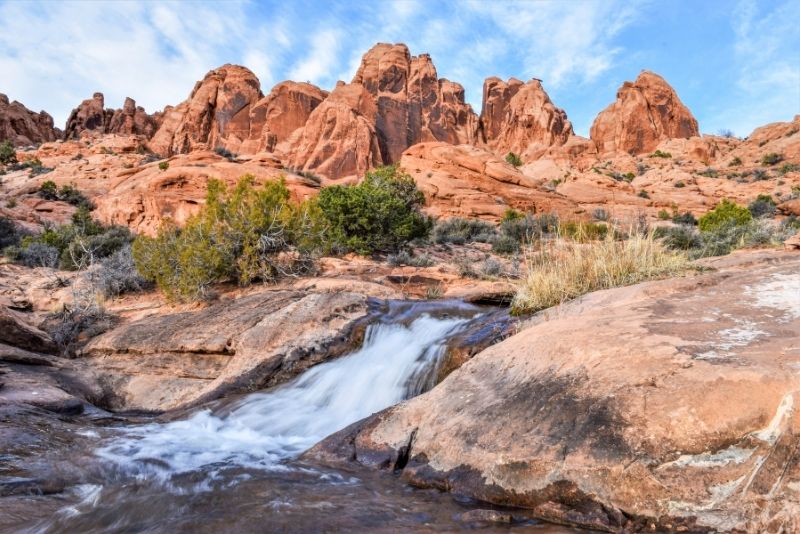 If you're dreaming of a quick way to escape the desert sun and get a little cool down on this sweltering September afternoon, look no further.
Starting at Ken's Lake, the relatively simple Faux Falls Creek Trail provides plenty of greenery in an orange-dominated area, with the natural falls (yes, they're real, despite the name) providing a natural swimming pool at the end.
Alternatively, if time's of the essence, there's a straightforward 0.5-mile path from the car park that will take you straight there.
45 – Lights, Camera, Action! Check out the Moab Museum of Film and Western Heritage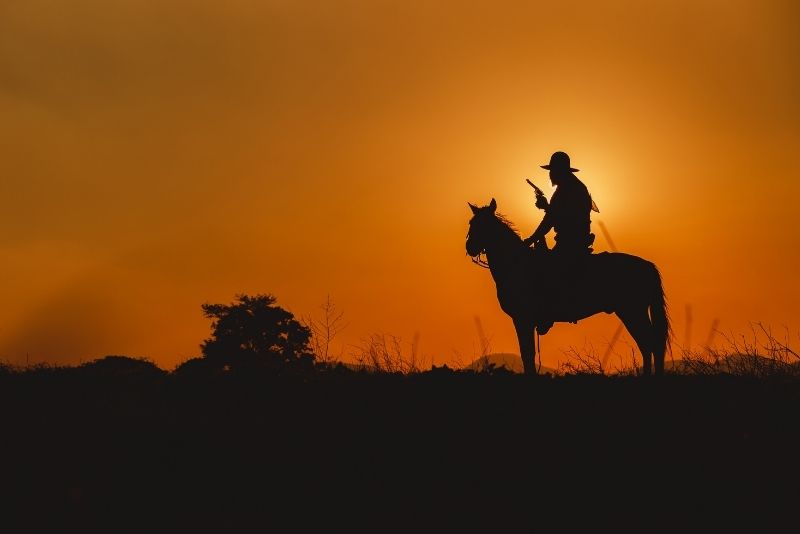 While far from your typical Tinseltown, Moab's history is deeply rooted in the film industry; most notably with the filming of movies like "Lord of the Rings," "Cowboys & Aliens," and "Hidalgo."
For film buffs, The Moab Museum of Film and Western Heritage is a great opportunity to learn about the area's cinematic history, as well as experience a collection of rare Western memorabilia.
46 – Head to Labyrinth Canyon on the Green River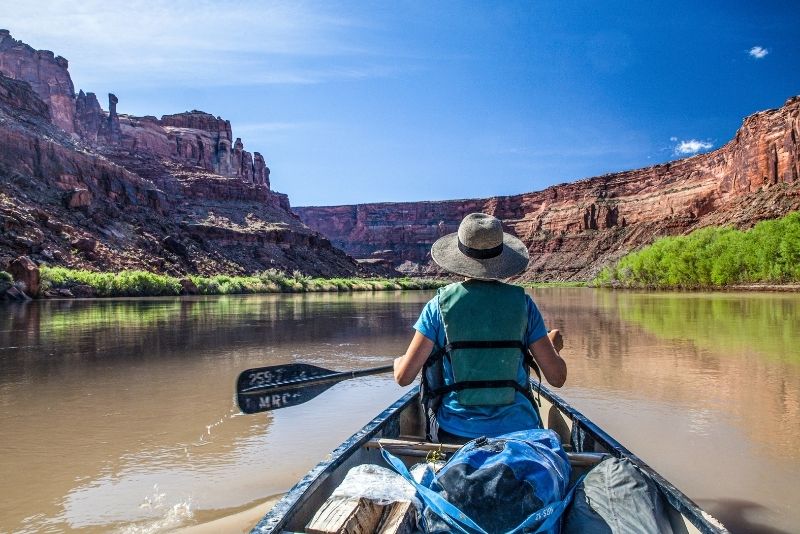 One of the most breathtaking flatwater stretches within a massive canyon-and-plateau region, Labyrinth Canyon on the Green River offers boaters and river runners an up-close encounter with nature's finest structures.
Moab rafting companies offer daily excursions along this section, which sees few rafters during the fall months due to low water levels.
But even without a paddle, Labyrinth Canyon's pink walls and winding canyons are simply breathtaking (and relaxing); just ask the 18th-century explorers who discovered this natural wonder.
47 – Stroll to the Mill Creek Waterfall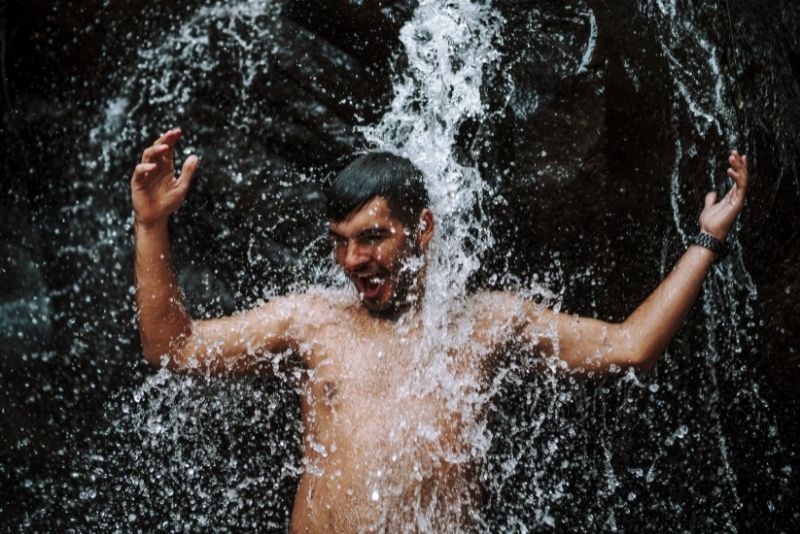 A natural jewel within the desert landscape, Mill Creek Waterfall is an easy hike of only 3 miles and features a short rappel down a 30-foot waterfall.
Home to two side canyons that are both breathtaking in their own way, this adventure presents as an ideal way to soak in some fresh mountain air without traveling too far from Moab.
48 – Drive through the La Sal Loop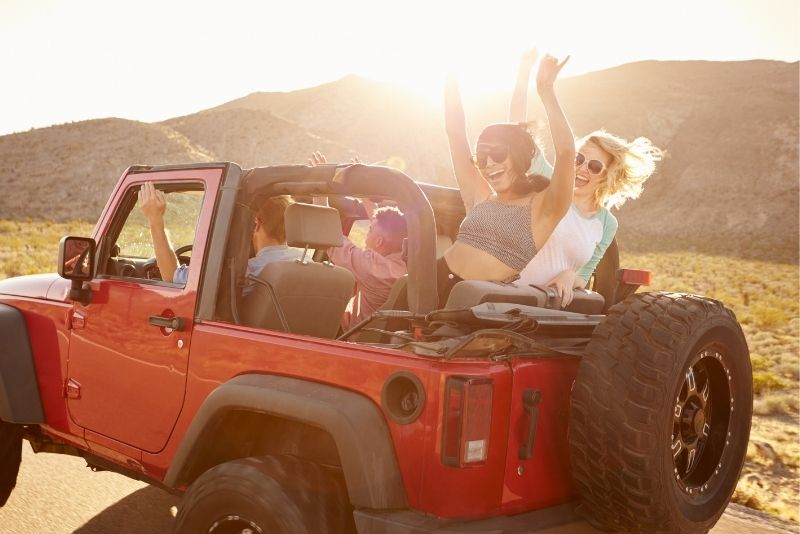 Drive along the historic Scenic Byway from Moab to Monticello, Utah to explore one of America's greatest remaining natural wonders!
The road trip — which features views of the La Sal mountains, vibrant red walls, and towering rock formations — extends 70 miles, and also provides the option to tackle a range of hiking trails.
Rent a convertible or roofless 4×4 and bask in that sunshine!
49 – Take a day trip to Capitol Reef National Park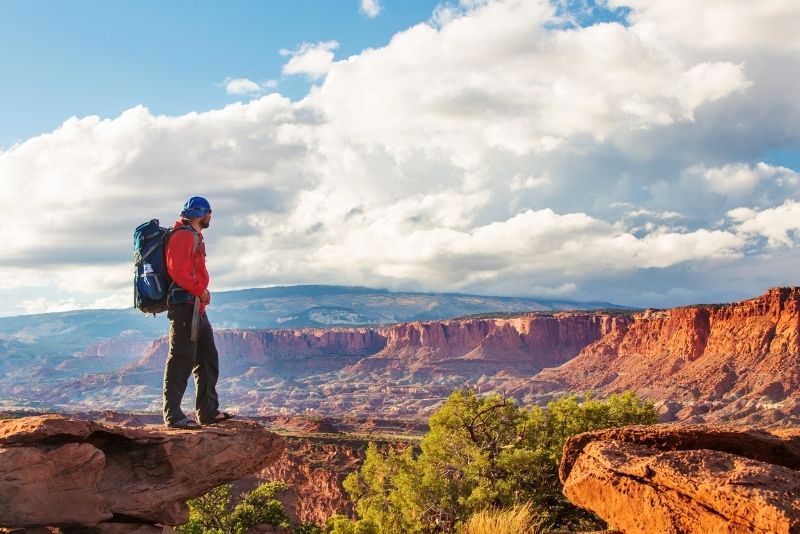 Just a two-hour drive away, the Navajo sandstone and uplifted rock formations at Capitol Reef National Park are a captivating sight worthy of a detour.
The park features various hiking trails that lead up to ancient cliff dwellings (such as Paul Bunyan and Dog Valley), hidden canyons (such as Grand Wash), and panoramic viewpoints (such as Hickman Bridge).
50 – Walk the challenging path to Pothole Point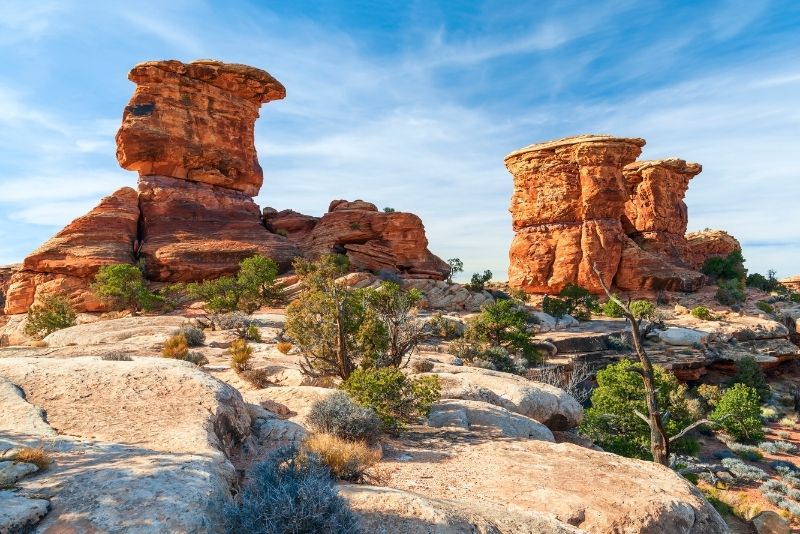 Due to its tucked-away location at the end of a harsh and remote trail (a 7-mile roundtrip hike), Pothole Point provides some of Moab's most scenic panoramas without the crowds.
While you're there, meet up with other adventure-seekers at Balanced Rock and Devil's Garden, two popular rock formations in Arches National Park that are also well known for their jaw-dropping views.
51 – Snap a selfie in front of the Greetings from Moab mural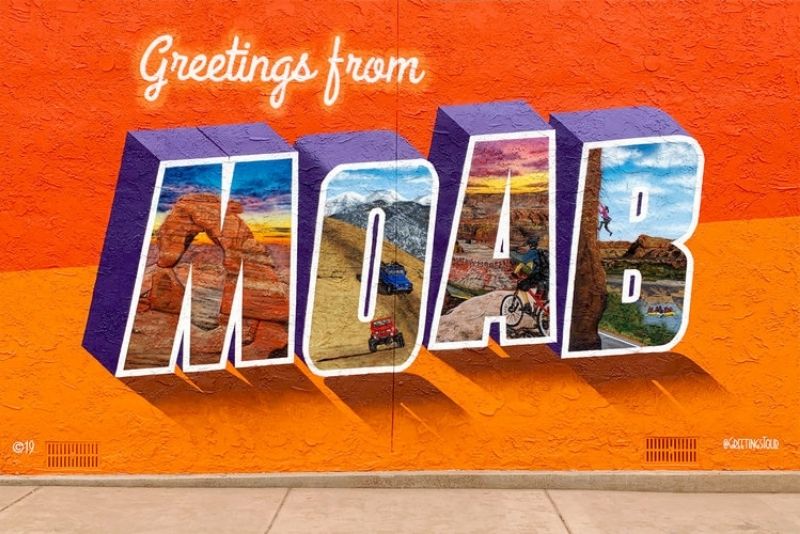 One of the most iconic murals in town, this colorful painting represents Moab's storied history and vibrant character.
Located on West Main Street near downtown Moab, the colorful mural is a symbol of hope, creativity, and freedom for locals, and a surefire hit for your 'gram.
52 – Get romantic on a dinner cruise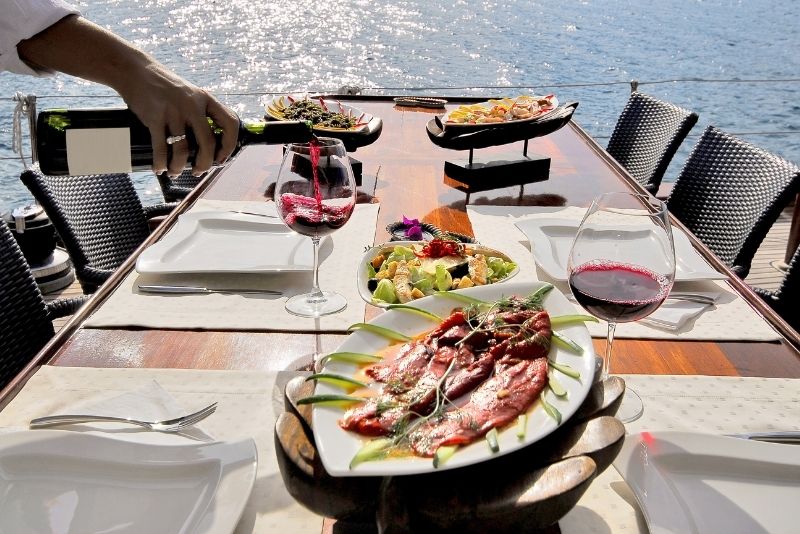 After a few days of hiking and exploring, nothing tops the list of things to do in Moab like a relaxing, romantic, entertaining dinner cruise!
Typically traversing through the picturesque Colorado River (and lasting around three hours), sunset dinner cruises offer an intoxicating combination of boating, dining, and dancing under the stars.
Hot tip: for a cruise unlike any other, book one that features a "light show".
53 – Catch a live show at the Moab Backyard Theater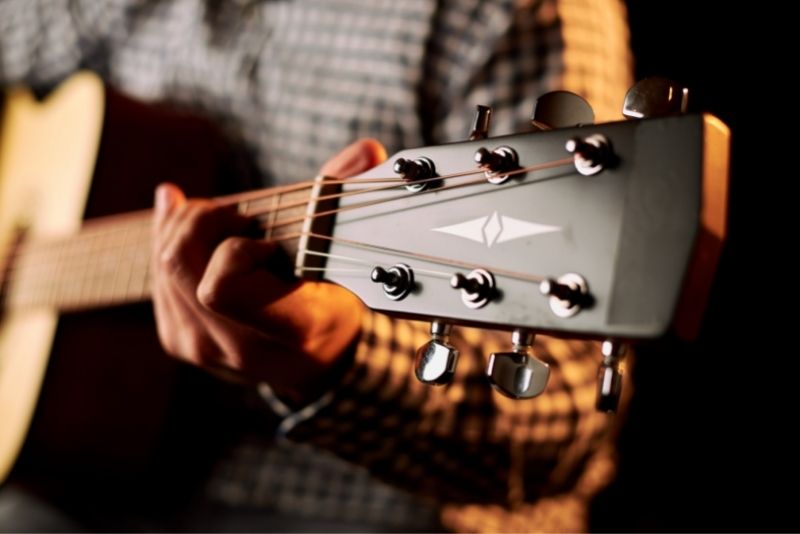 During the summer months, catch a play under the stars at Moab Backyard Theater.
This outdoor stage — which is open Wednesday through Saturday, July to September — offers Western, Honky-Tonk, BlueGrass, and Magic shows.
All you need is a blanket and some popcorn (just don't forget the bug spray).
54 – Visit the ancient Anasazi ruins in Bears Ears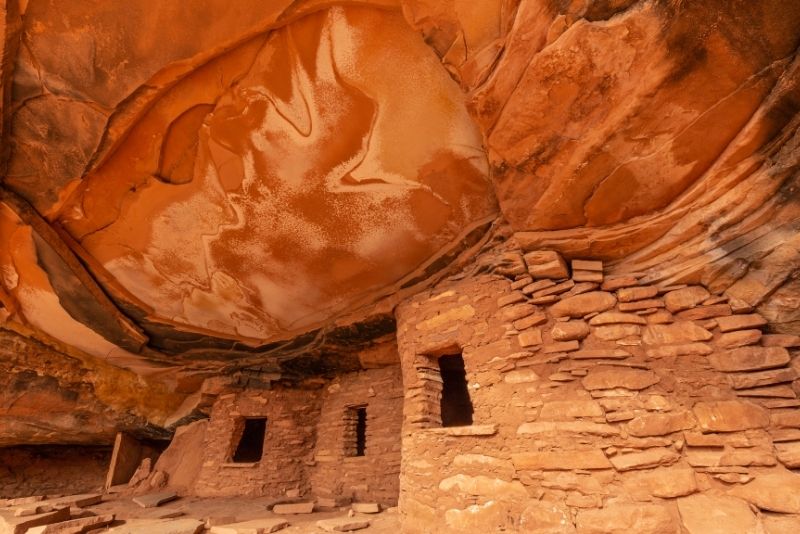 The ancient Anasazi (or Ancestral Puebloans) inhabited the Colorado Plateau from 700 to 1250 AD, constructing elaborate stone dwellings and farming throughout the Four Corners region.
55 – Stargaze at RedRock Astronomy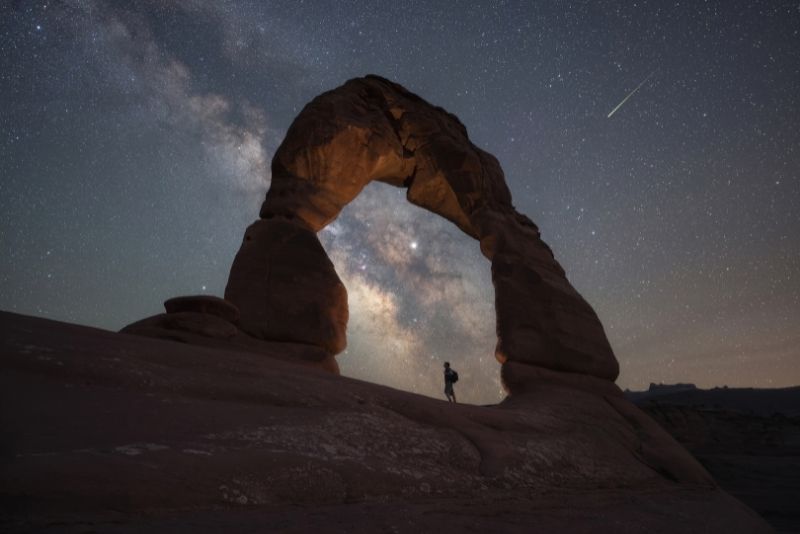 For night sky lovers, the adored RedRock Astronomy experience is easily one of the more memorable Moab activities.
Located just outside of Moab, the observatory features a large telescope and offers guided presentations of the unfiltered heavens.
Reservations are not required but it is recommended to make one ahead of time to make sure there will be… space.
Today, you can see their ruins at the historical Bears Ears site in southeastern Utah, about 2 hours south of Moab. The House on Fire ruin is a must, likewise the Butler Wash Ruins and the Edge of the Cedars Museum!
Need somewhere to stay?
A great way to make your stay in Moab, Utah even MORE memorable is by finding the perfect hotel.
To find out which ones are best for you, see if any are near where you want to go (ex. restaurants, museums, etc.) or have a pool. You may also want to check their prices and see what they include in their rooms. So when you find the perfect one- just book it!
We hope you've enjoyed our selection of things to do in Moab, Utah! If you have any other must-see suggestions — natural or manmade — feel free to let us know in the comments!
Where travel next? Make sure to check out the list of fun things to do in nearby cities including Salt Lake City, Denver, Albuquerque, and of course Las Vegas.
As always, happy travels.