A culture-rich gem straddling the edge of the Sahara Desert in the foreground of the Atlas Mountains, Marrakech (or Marrakesh) is a bustling city of history, art, and architecture — a melting pot of old and new that never ceases to amaze travelers with its vibrant markets, well-preserved landmarks, and incredible flavors.
If you're looking for a new adventure or some time away from your everyday life, this Moroccan destination offers a plethora of activities to keep you busy not only during the day (from traditional crafts markets to quirky museums) but at night as well — rooftop bars, belly dancers, boat cruises… you name it!
So, if you're on the hunt for some of the most exciting things to do in Marrakech, look no further. The sun-kissed Moroccan Red City, complete with its famous red sandstone-walled Medina, awaits.
1 – Admire the beautiful Bahia Palace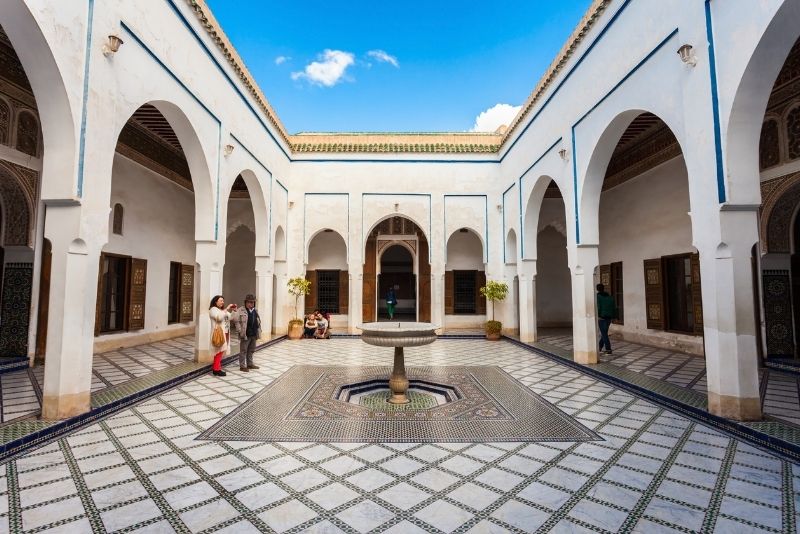 The Bahia Palace — with its intricately decorated walls and domes, and sprawling Grand Courtyard — is an architectural masterpiece; one of many in this ancient city.
Built in the late 19th century, the palace is now open to the public as a museum of sorts, where curious visitors can wander through its fabulous rooms and lush gardens.
Today, it stands as one of the most impressive sites in Marrakech, which is why many visitors choose to book guided tours of this UNESCO World Heritage Site. For the best bang for your buck, consider a tour that also stops by the equally impressive, 16th-century Grand Badii Palace.
2 – Explore the Palm Grove (Palmeraie)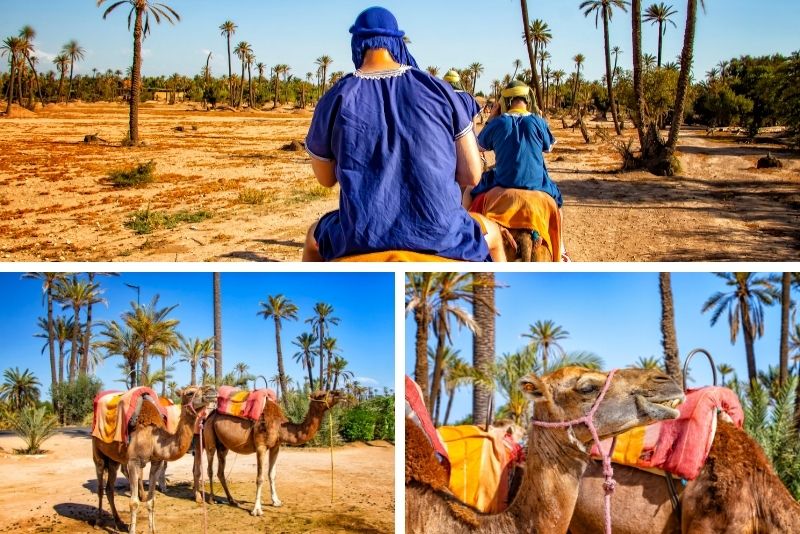 Home to over 100,000 engulfing palm trees, some of which have been standing for almost 1000 years, Palm Grove is the very definition of an oasis, conveniently found at the edge of the city's northern rim.
As you walk along the serene trails — or ride a camel, or explore at higher speeds on a quad bike — among the palms, it's hard not to get lost in this tranquil paradise.
3 – Soak in the electric atmosphere at Djemaa el Fna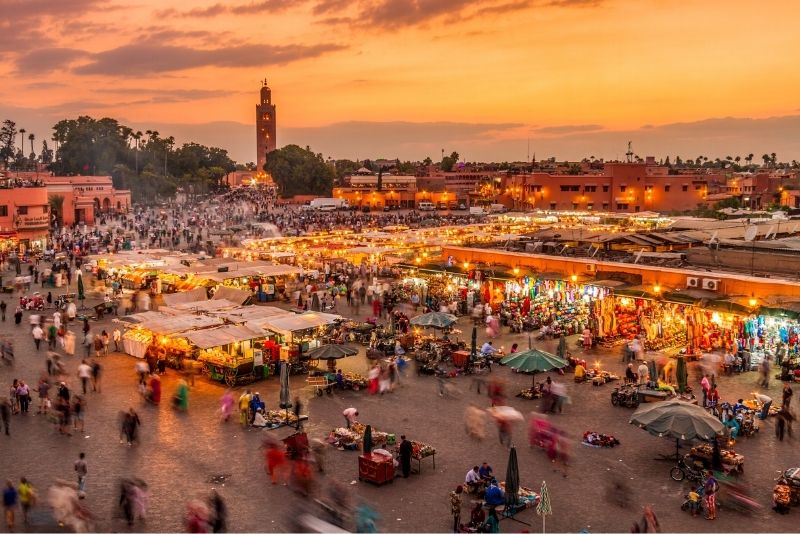 The bustling, world-famous Djemaa el Fna serves as the city's most significant square — a deserved UNESCO World Heritage Site in its own right.
A hubbub of traders, storytellers, musicians, and more scattered across the plaza every day to delight locals and tourists with their colorful displays of traditional Moroccan culture.
The square is also home to an abundance of food stalls that offer local delicacies, including the famous Moroccan pastries. While there's no harm in wandering around solo, to uncover the authentic hidden gems, a locally-led walking tour is your best bet.
4 – Unwind in one of the city's stunning gardens (Majorelle, in particular)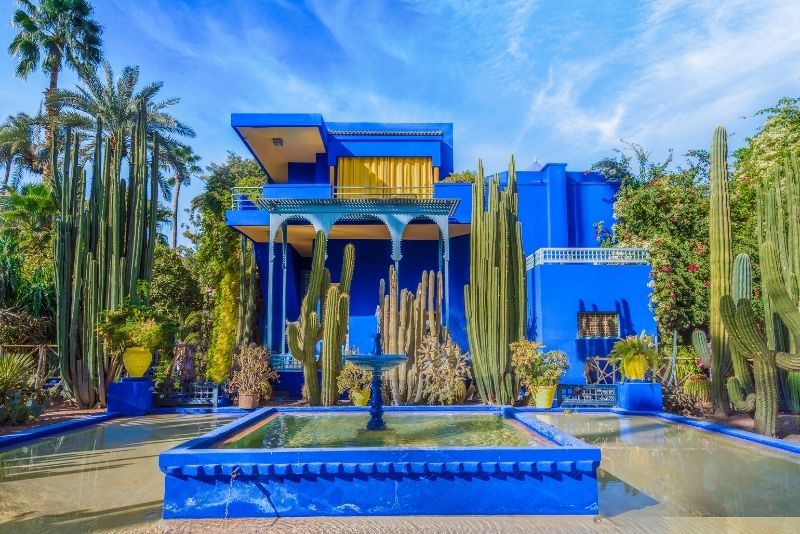 A city with no shortage of tranquil, colorful gardens, Marrakech's green spaces provide a lovely escape from the chaos of the streets.
Majorelle Garden, which is named after its creator Jacques Majorelle — and was later purchased by fashion designer Yves Saint Laurent in 1980 — is among one of Marrakech's most famous gardens. Outside, it's just as much a feast for the eyes as it is inside, featuring art deco architecture and an incredible plant collection.
Still, it's far from the city's only stunning breath of fresh air…
The near-millennia-old Menara Gardens (another UNESCO World Heritage Site) is situated around a lake that bounces enchanting sunset colors; Anima Garden, the work of artist André Heller, is filled with quirky are and sculptures; the Secret Garden, known for its air of luxury, is attached to a palace and offers a boutique and a bookshop; and the Cyber Parc Arsat Moulay Abdeslam (or Cyber Park, for short), offers charming ornaments and fountains throughout its botanical garden as well as an interactive telecommunications museum and kids play zone.
As you can tell, no matter where you're staying, a breath of fresh air is never too far away.
5 – Spend a day exploring the Medina of Marrakech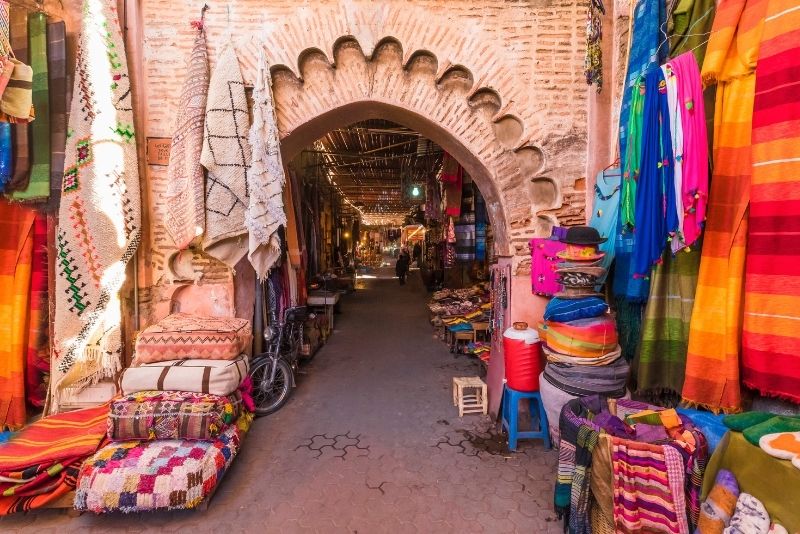 The magical Medina of Marrakech is an ancient city within a city, built as an old Islamic capital dating back to the 11th century
Today, the labyrinth of cobblestone alleys is home to some of the country's finest souks, Hammam bathhouses, and madrasas (Islamic schools), which stand as testaments to its rich history — not to mention that they're all incredibly photogenic!
A range of walking tours operate through the beloved space, including some that stop by the Bahia Palace and Le Jardin Secret — but it's not a bad idea to explore on your own either.
6 – Explore the Agafay Desert on a quad bike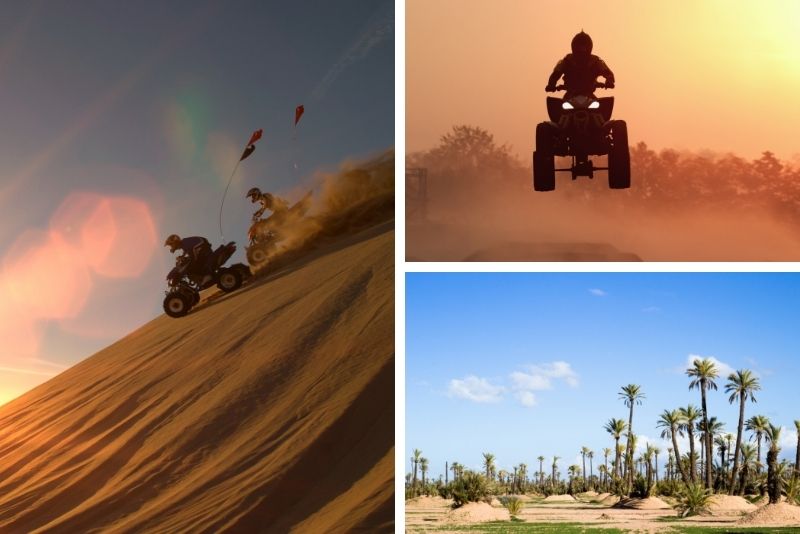 The Agafay Desert is a stunning section of the Sahara that's just outside Marrakech — and it's one of Morocco's most popular places to go quad biking, sandboarding, and camel riding.
The desert is fairly well-documented for Moroccan tourists, but for those who like to explore a little more of the area, plenty of excursions also include visits to the Atlas Mountains and the sparkling Takerkoust Lake.
Stargazers, take note: do whatever you can to stay overnight at one of the Agafay Desert campsites.
7 – Join a walking tour of Marrakech's old city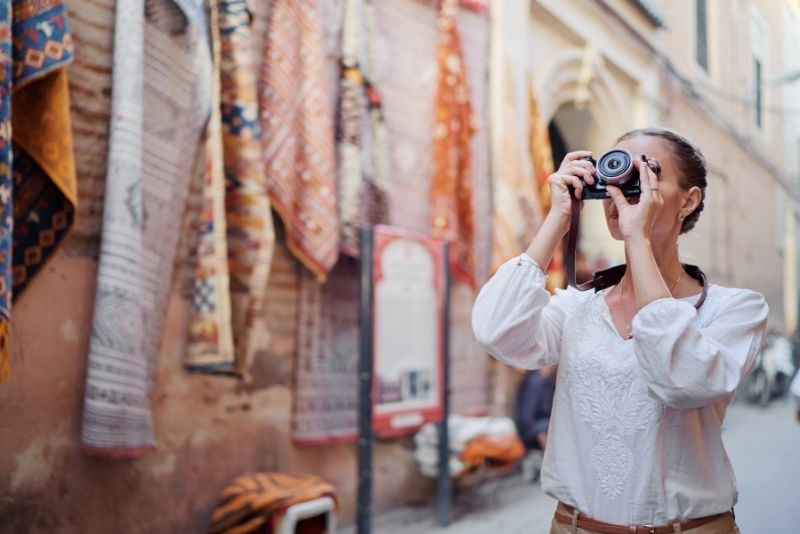 Offering everything from modern-day market tours to gastronomic walks, Marrakech walking tours are the perfect way for visitors of all ages and backgrounds to get under the skin of this vibrant city.
For those who'd like a more in-depth look at daily life here — without actually having to live it themselves — there's also plenty of tours that stop by local landmarks, mosques, and homes.
Pinching pennies? Then just join a free walking tour and tip however much you want!
8 – Go hiking in the Atlas Mountains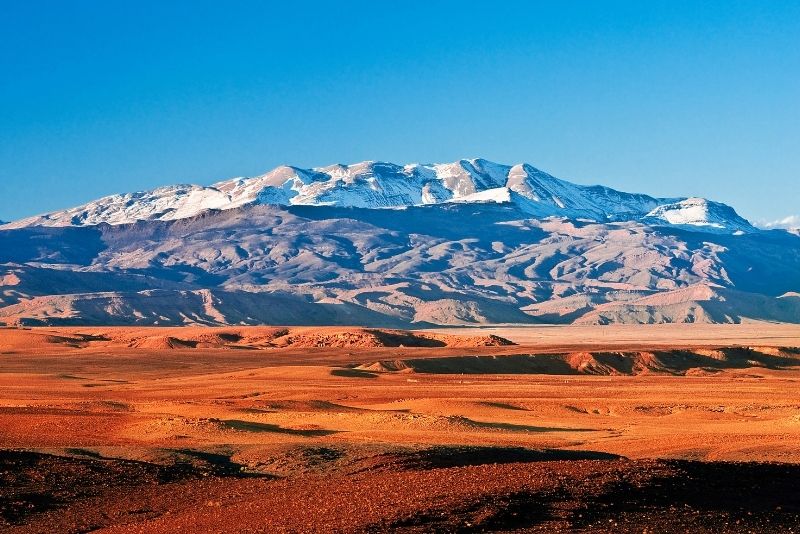 A wonderful option for a day trip, hiking tours in the Atlas Mountains are a great way for travelers to see (and experience) nature at its finest.
These excursions aren't just about trekking through untouched wilderness, though: they also offer plenty of opportunities to learn more about Moroccan life and traditions — including visits with local shepherds, traditional Berber feasts, and swimming in natural pools.
Be sure to choose an excursion that stops at Ait Ben Haddou, a fortified and postcard-worthy ancient city that's been on the UNESCO World Heritage list since 1987.
9 – Wander the halls of the Museum of Marrakech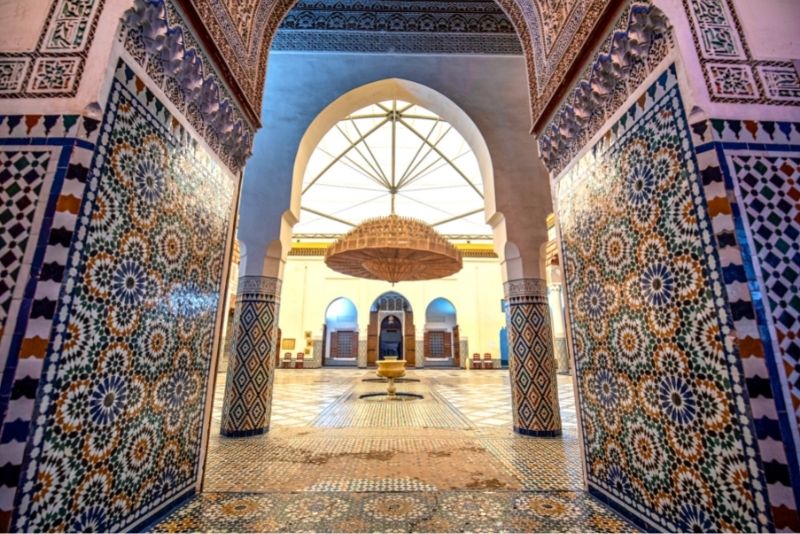 One for the culture-lovers and art aficionados, the Museum of Marrakech — sitting inside the Dar Menebhi Palace — is a wonderful place to explore the region's rich history and traditions.
With a sprawling collection that covers everything from ancient artifacts to weapons, jewelry, musical instruments, pottery, tiles, and intricate carpets, there's so much to see here, and the exhibits change regularly — meaning that repeat visits are almost a must.
10 – Soar over the city in a hot air balloon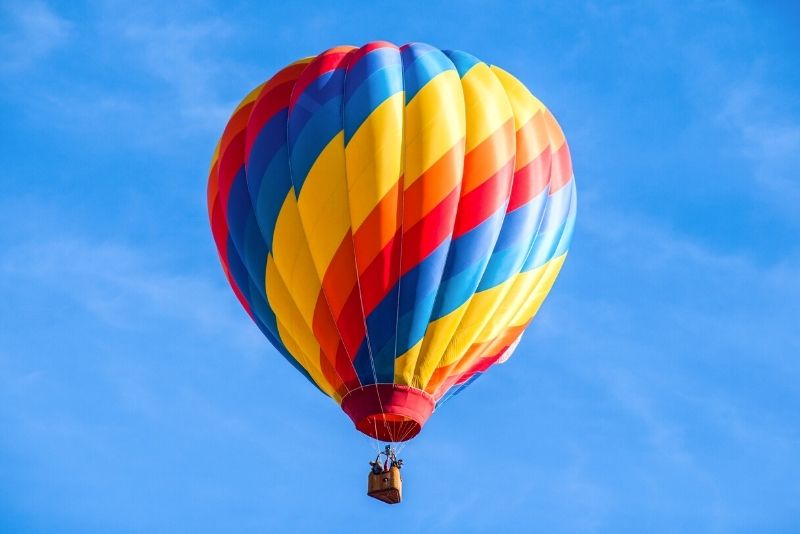 To see the beautiful city of Marrakech from a whole new perspective, it's worth booking a hot air balloon ride over the region.
As well as offering some jaw-dropping views — and plenty of photo opportunities — these excursions also offer insight into rural life in Morocco: with an incredible contrast of city and desert, as well as glimpses of the Atlas Mountains.
For the ultimate experience, combine your sunrise flight with a Berber breakfast and camel ride!
11 – Go camel riding in the Sahara Desert!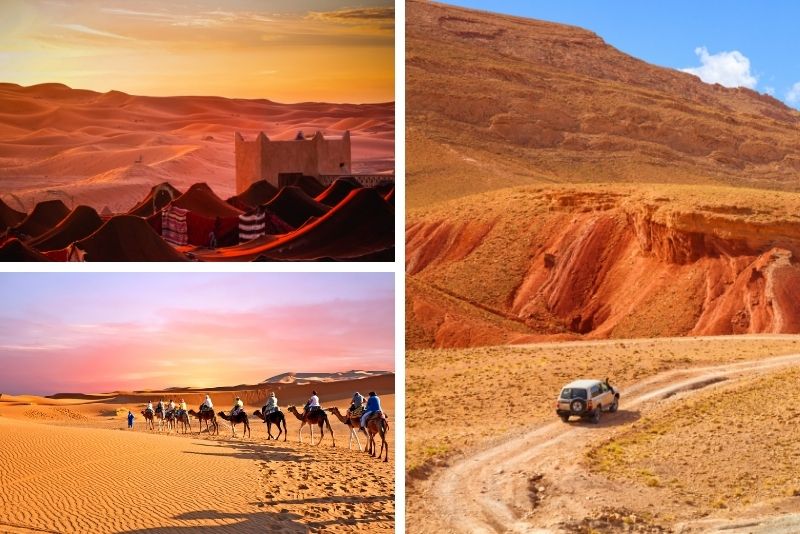 When people think of Morocco, they often think of the Sahara Desert — and with a good reason!
Situated just outside Marrakech, a desert tour is an experience that everyone should have at least once. Enjoy stunning views as you explore this stark environment between the humps of these beautiful creatures, and learn about the traditions of nomadic Berber tribes along the way.
If you can't decide where to go, both Zagora and Merzouga are popular choices, with the tourist-adored town of Ouarzazate and Fez, the nation's second-largest city easily worked into the itinerary.
Check out the best Marrakech desert tours.
Don't know which tour to choose? Read more about Marrakech desert tours price and pick the tour that fits best your budget.
12 – Visit the Orientalist Museum of Marrakech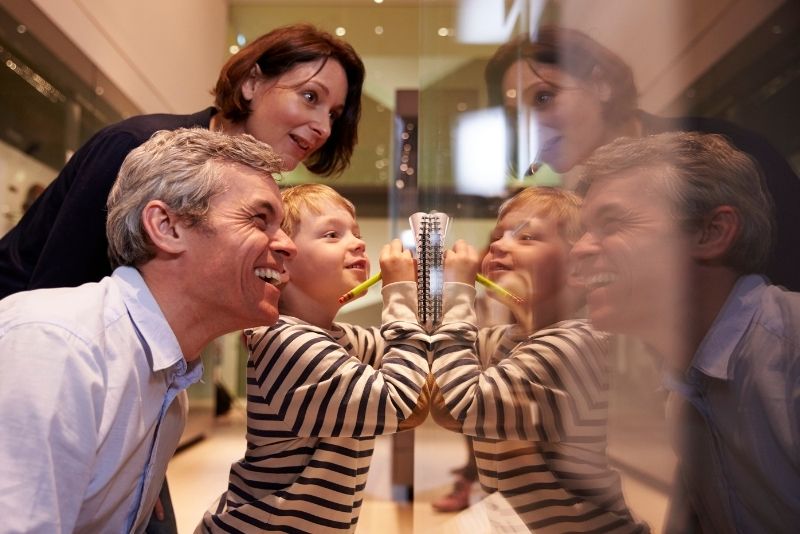 Another (small yet brilliant) museum to check out while you're in the city is The Orientalist Museum of Marrakech — a wonderful place that's dedicated to preserving Moroccan art and culture, as well as showcasing different artistic movements from Western Europe.
Found next door to the picturesque Riad Star, the Museum offers an incredible collection of both paintings and sculptures (including Delacroix and Majorelle) and has been noted as one of the best things to do in Marrakech for culture snobs.
The unique exhibitions can change regularly, so be sure to check the website to see what's on before you go!
13 – Scoot around town on a bike tour
Taxis and tour busses? Nah. For those who are more energetic, it's worth booking a bike tour of the city.
With cycle lanes across the medina and beyond, cycling is an excellent way to see this fascinating part of Morocco and get off the beaten path — especially if you're looking for routes that avoid heavy foot traffic.
Combining history lessons with some exercise — either mountain biking through the Atlas Mountains or Ourika Valley, or a classic pushbike through the city center — these tours are an excellent way to gain a new perspective, learn a thing or two from the expert guides, and will leave you with plenty of memories.
14 – Step back in time at the Saadian Tombs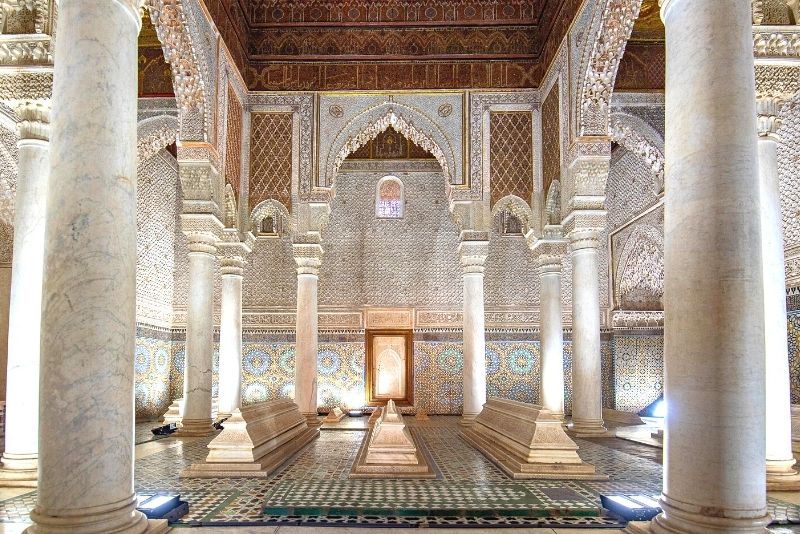 After a couple of days exploring this fascinating city, it's time to delve deeper into the past and check out some history!
The Saadian Tombs, found in the city's Royal Kasbah district, are an incredible example of stunning architecture from the Saadian period — acting as the former resting place of royalty.
All up, more than 66 historically significant princes and prominent figures lie in the Saadian Tombs, with hundreds more chancellors and wives spread throughout the two mausoleums and marvelous gardens.
Although the tombs have lain open for decades and can be visited on your own (with some maps available at reception), it's worth booking a tour with one to learn more about the historical significance.
15 – Take a (surfing) day trip to Essaouira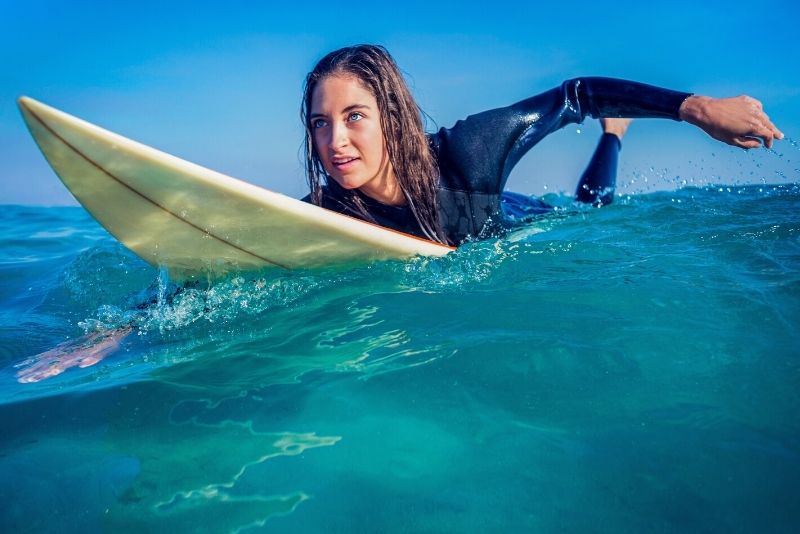 Once you've ticked off a busy few days exploring Marrakech and its surrounding sights, why not take the chance to escape for a day and head over to Essaouira — a beautiful and colorful coastal city?
Located just two and a half hour's drive away from Marrakech (Supratours buses leave regularly), this seaside town is renowned as one of Morocco's top destinations for surfing enthusiasts (with plenty of lessons available — but is also worth visiting for its unique architecture and bustling medina.
Be sure to check out the quiet Diabat Beach, or head up into the stone ramparts of the city's fortified walls — which are home to some excellent cafes where you can relax with a drink (or delicious Moroccan sandwich) as you take in the sights and sounds of this beautiful town.
Read more about the best day trips from Marrakech.
16 – Learn about fashion at the Yves Saint Laurent Museum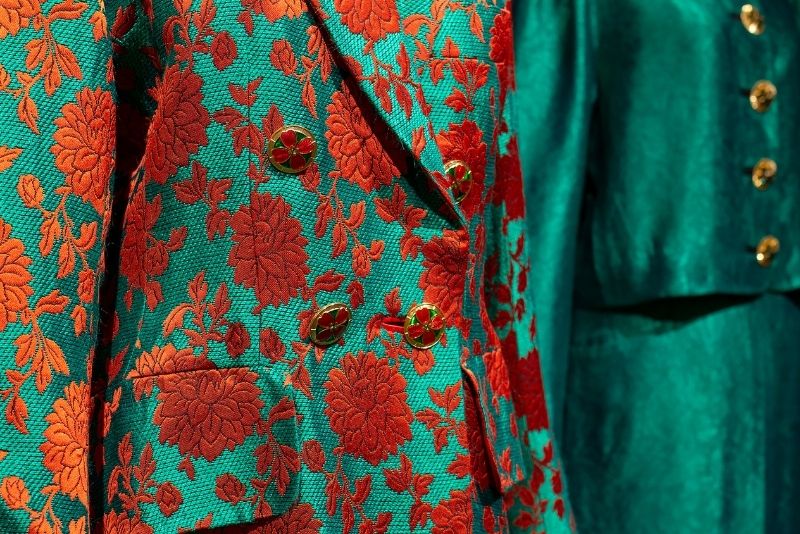 If you're a fan of fashion, it's worth checking out the Yves Saint Laurent Museum — an impressive museum that provides a fascinating look into one man's creative fashion-focused mind.
Found in the heart of Marrakech, a stone's throw from the Majorelle Garden, this unique attraction is home to a diverse collection: some 5,000 garments, 15,000 accessories, and tens of thousands of sketches span the museum — many of which come from the Fondation Pierre Bergé.
Even the museum itself, adorned in exquisite architecture, is impressive.
17 – Jump on the hop-on-hop-off bus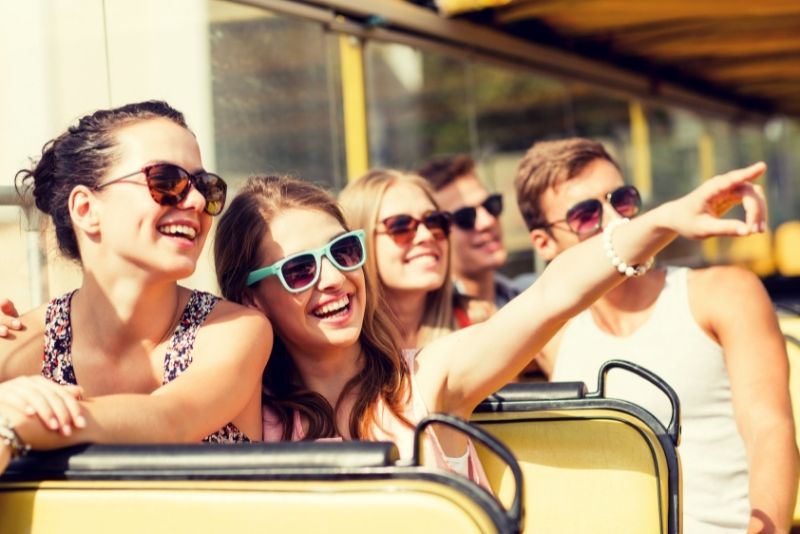 For those wanting to see the majority of Marrakech's main attractions, it's worth grabbing a ticket for the open-aired, double-decker Hop-on Hop-off bus — an easy and affordable way to get around!
These big red busses traverse set routes through the major parts of Marrakech: with buses running up to every 20 minutes, you can simply jump on and off as you wish, without having to worry about navigating the city.
Plus, with an included audio tour, you're sure to learn a thing or two about the city's history, architecture, and culture along the way.
18 – Explore the loud, vibrant souks (markets)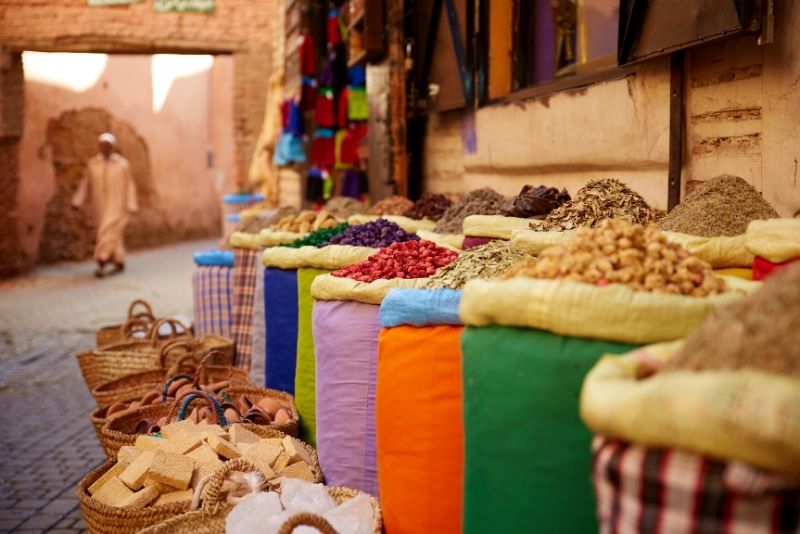 One of the unmissable things to do in Marrakech for foodies, a local-led food or shopping tour through one of the city's vibrant, colorful souks (markets) is a great way to spend an afternoon.
While every adventure is different, on most, you'll travel around the maze-like souks, learning about local traditions and customs while sampling various treats along the way — stops include stalls selling spices (such as saffron or cumin), colorful fruit juices, sweets galore — think dried fruits dipped in sugar syrup—and much more!
19 – Get the heart racing with a buggy tour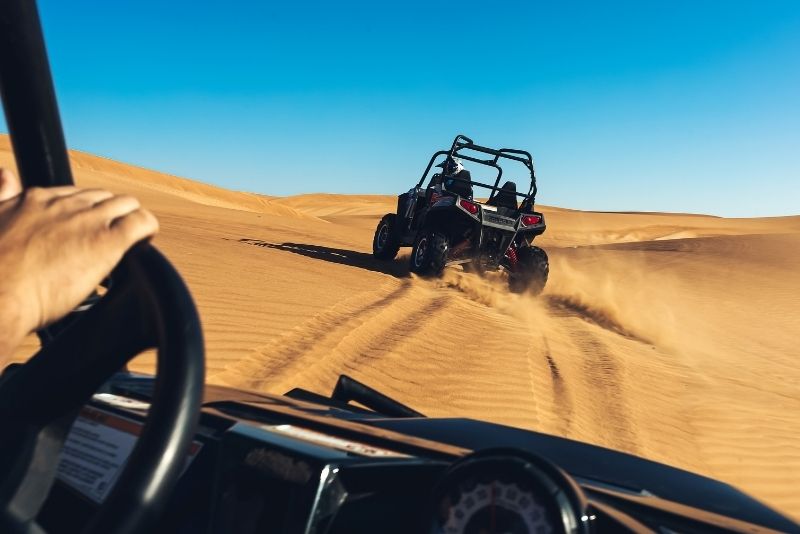 Typically lasting between 2 and 4 hours (depending on your adventure of choice), a buggy tour near Marrakech, through the rugged, open terrain of places like Palmgrove or Rock Desert, is an excellent activity for any thrill-seeker's to-do list.
Not only are these off-road vehicles the perfect way to explore Marrakech's beautiful surroundings, with tours ranging from slow-faced sightseeing journeys to bumpy adventures through the desert, but they also include hotel pickup and dropoff, and often a lip-smacking lunch!
20 – Have dinner at the Palais Arabe!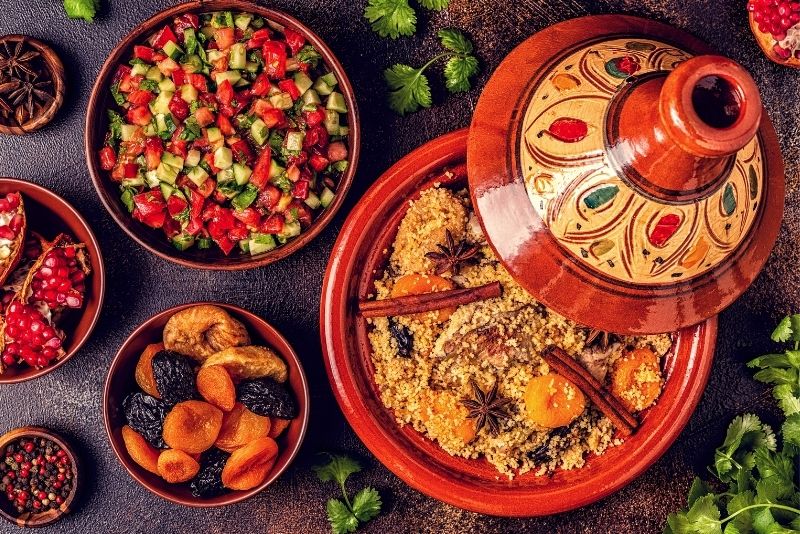 A splendid way to finish off a busy day exploring the city is by checking out one of the city's fine, and fairly affordable (by western standards) restaurants.
As a feast for both the belly and the eyes, thanks to its live entertainment consisting of everything from traditional singers to belly dancers, snake charmers, and circus performers, the Restaurant Palais Arabe — housed in a beautiful oriental-style building in the Djemma El Fna Square — is a must-visit while in Marrakech!
21 – Check out the rugs at the Boucharouite Museum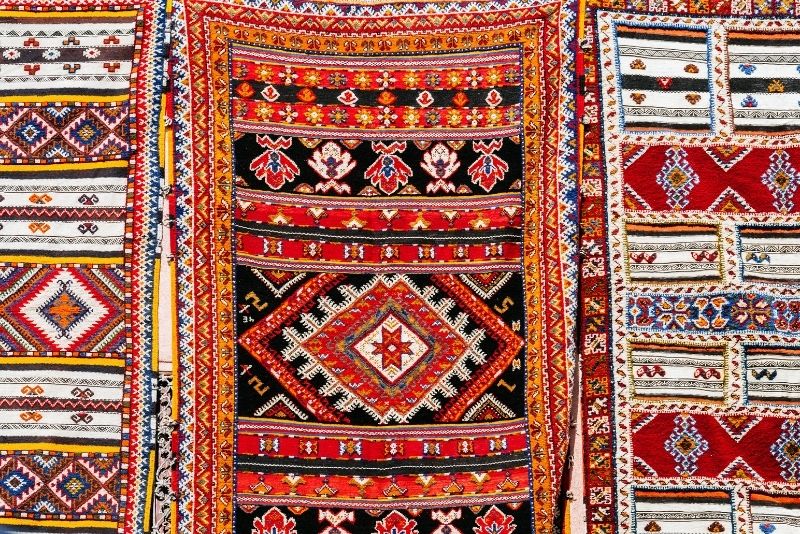 For an interesting insight into one of Morocco's oldest and most beloved crafts, stop by the Boucharouite Museum — a museum dedicated to Berber rugs.
The fascinating exhibits show how these beautiful pieces are made: from dyeing and spinning wool to weaving and finishing off with expert design work.  And although it is not strictly a craft museum, visitors can also watch weavers in action during certain exhibitions.
What's more, the museum's curator and founder, Patrick de Maillard, lives on-site, offering plenty of stories and laughs about his collection.
22 – Race against the clock in an escape room!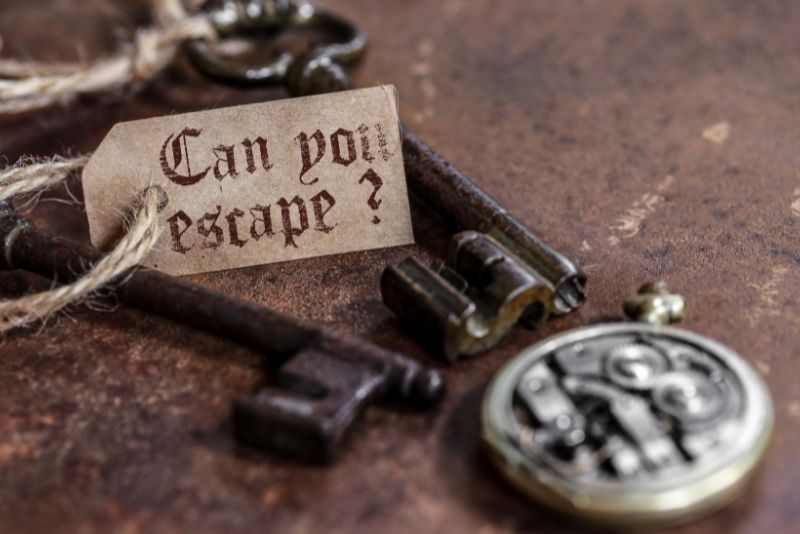 Any budding detectives out there?
If so, what better way to test your sleuthing skills than by putting them to the ultimate challenge: an escape room!  In this thrilling new craze sweeping across Europe and North America, you'll have just one hour to solve a series of thought-provoking puzzles (such as cracking codes) in order to break free from a locked room.
Marrakech has its very own escape room inspired by none other than Alfred Hitchcock's "The man who knew too much", located in the heart of the city's bustling Medina. With a mixture of augmented reality, puzzles, and out-of-the-box challenges, it's a surefire hit for the whole family.
23 – Explore the historic Dar el-Bacha palace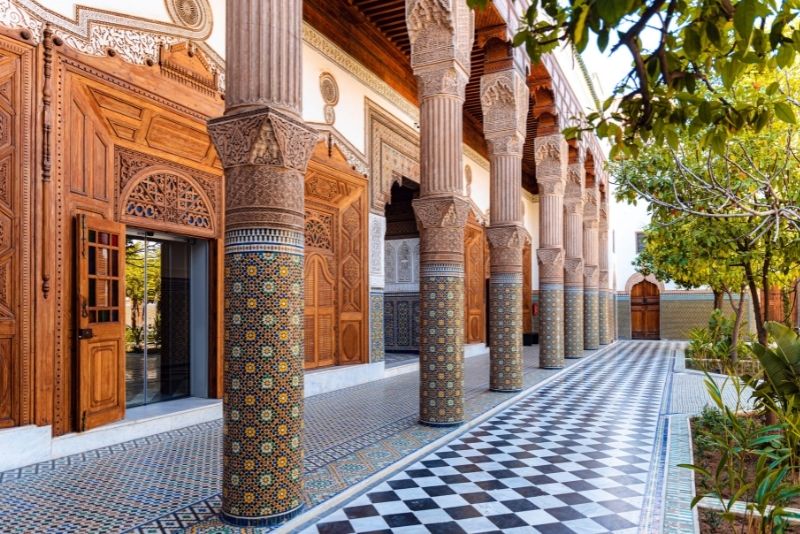 For a fascinating taste of Marrakech's rich, historical past, make your way to the Dar el-Bacha Palace — one of several restored riads within the city.
Originally built in the early 1900s by Thami El Glaoui (AKA the Lord of the Atlas), the decorated landmark is known as one of the most beautiful places in Red City, and therefore should sit high atop any vagabond's list of things to do in Marrakech.
24 – Check out the Ouzoud Waterfalls with a boat tour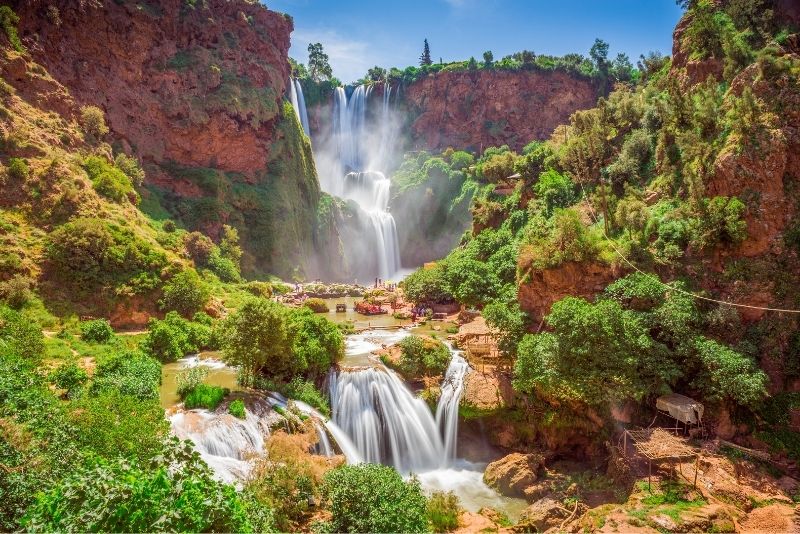 Cascading into the warm El-Abid River below, about 150kms from the hustle and bustle of Marrakech lies one of Morocco's most spectacular natural wonders: the Ouzoud Waterfalls.
Comprised of a collection of stunning falls (to an impressive height of 110m tall), it is one of the country's finest sights — yet surprisingly unknown to many travelers.
For those who don't fancy braving narrow trails and steep steps to reach the base of these magnificent falls, a more relaxing way to see them is by taking an organized boat tour.
25 – Tantalize the tastebuds with a cooking class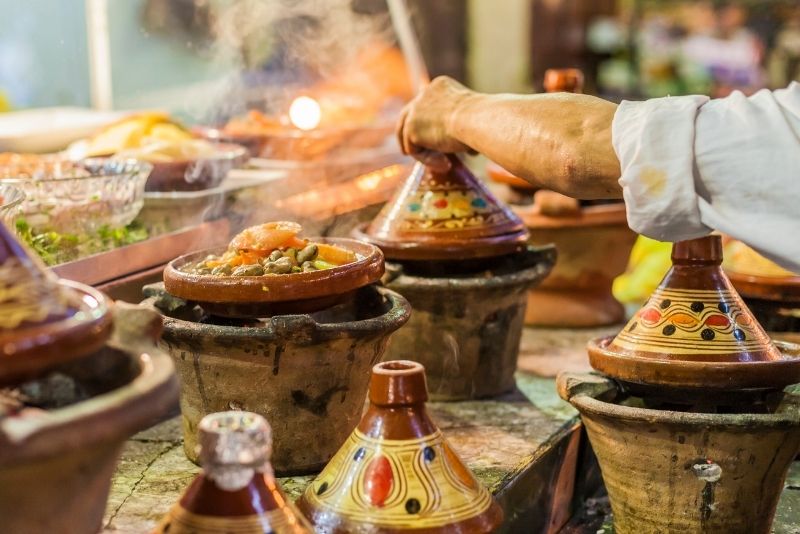 If the idea of learning how to cook local dishes has always fascinated you, then one of the best things you can do is take a multi-course cooking class.
Luckily for travelers and foodies alike, Morocco's cultural hub (as well as the nearby Atlas Mountains) offers plenty of places to learn about, and taste, Moroccan cuisine.
Regardless of which class you choose, you'll be introduced to the wonderful world of North African spices, flavors, and cooking techniques.
26 – Get outta town with a jeep tour!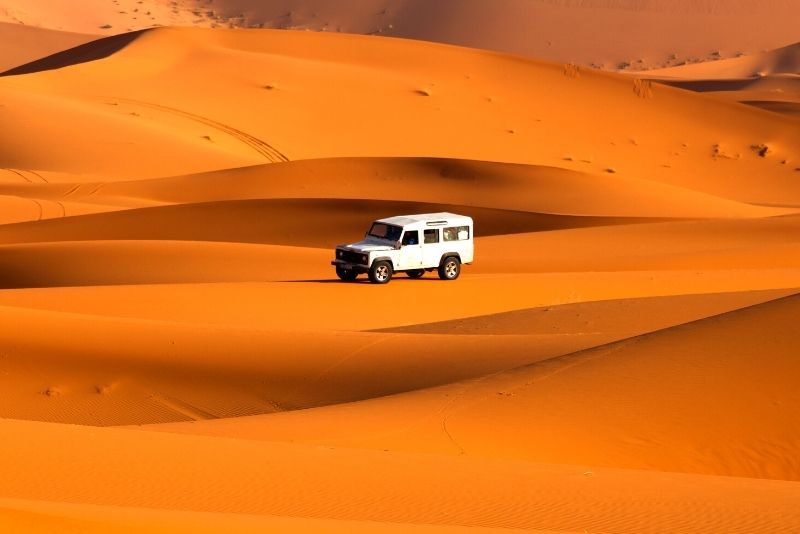 A must for the adventure lovers among us, there's nothing quite like climbing into a jeep for an off-road adventure through the sun-drenched Sahara Desert.
While you'll undoubtedly spot some of the country's famous red sand dunes, there are also countless other opportunities to explore Morocco in this way — from seeing date plantations and palm groves to driving through olive orchards and Berber villages.
27 – Admire the Koutoubia Mosque (Mosquée Koutoubia)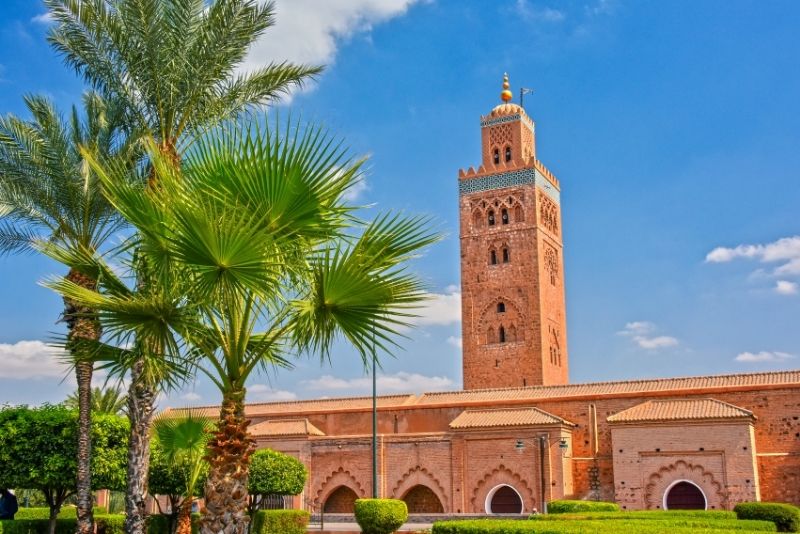 With its iconic 120m minaret standing high above the Djemaa el Fna square around the corner, the Koutoubia Mosque is one of the city's most famous landmarks in Marrakech — and for good reason, as the highest point in Marrakech, with local laws preventing any taller building from being erected any time soon.
After snapping a few pics for the 'gram and exploring the gardens, take a stroll around nearby Parc Lalla Hasna.
28 – Saddle up for a horse riding adventure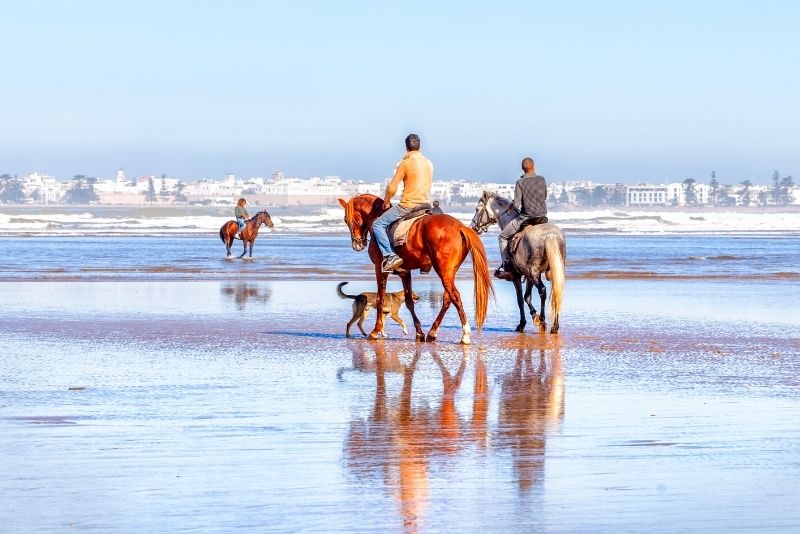 As far as romantic things to do in Marrakech go, few are better than taking a morning horseback ride through the verdant palm groves of Palmeraie… or a trot through the Atlas Mountains… or a slow gallop down the soft sands of Essaouira — as you can see, there's no shortage of options!
Perfect for families, couples, or groups of friends, these excursions can accommodate all levels of experience.
29 – Get a little wet at the Mohammed VI Museum of Water Civilization
A museum dedicated to the history of water is one worth checking out, especially when it's as sleekly designed and interactive as this.
Offering several exhibition spaces for showcasing art exhibits that are motivated by aquatic themes, as well as exploring concepts like water management, water distribution, and the science behind our most precious resource, the museum is a must-see for anyone with even the slightest interest in our natural world.
The entire space, which sits about 15 minutes by car from the city's main haunts and is spread out over 3 levels and features impressive 360-degree video projects.
30 – Trek up Mt. Toubkal (Jebel Toubkal)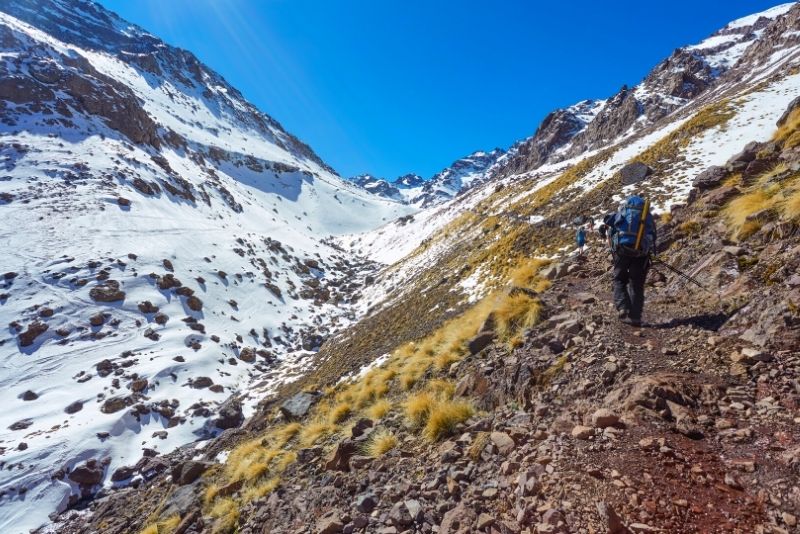 Grab your walking poles and hiking boots; at the highest peak in North Africa (13,665 feet), Toubkal is a must-do for hikers of all levels.
While it can be reached by car or taxi, on either day trip or multi-day excursions, hordes of adventurers choose to make this journey on foot via the Berber villages surrounding Marrakech — an experience that provides a unique insight into local culture that isn't gleaned from sitting inside a tour bus.
Hot tip: Dress warm, the summit is no stranger to snow! (well… that would be more of a "cold tip", but you get the point)
31 – Take to the skies — go paragliding!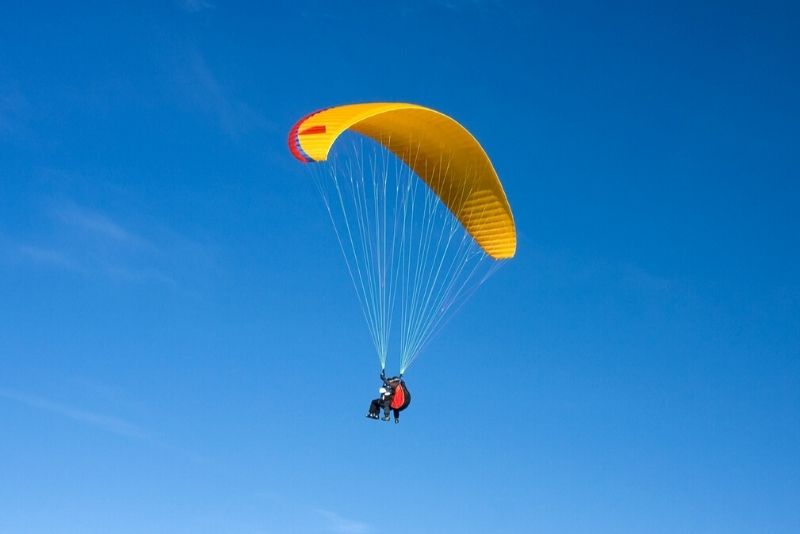 If you've ever dreamt of seeing the world from a bird's-eye view, then paragliding in Marrakech is one to tick off your bucket list.
With spectacular views over a range of landscapes — choose from the Agafay Desert, Atlas Mountains, Kik Plateau, or Aguergour — you really can't go wrong.
As a little bonus, transport to and from the city is typically included.
32 – Spend the day at the Palooza-Allal Al Fassi World amusement park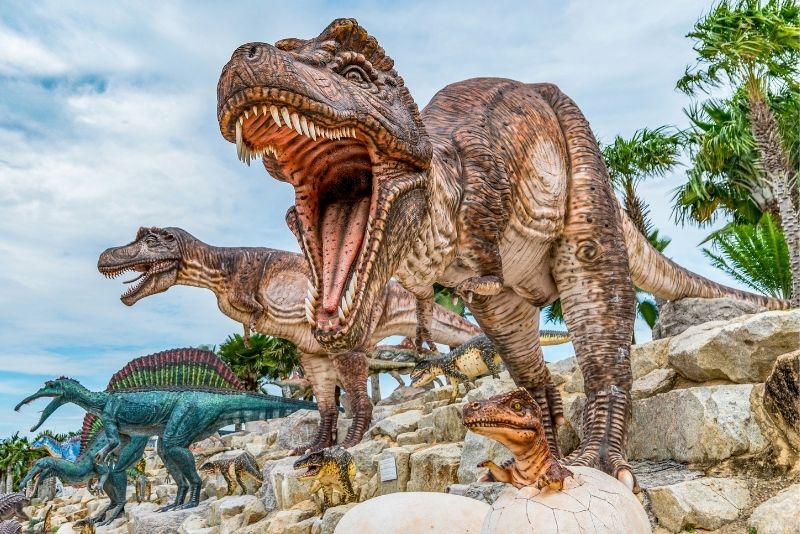 Who doesn't love a good day at the amusement park? If you're looking for fun things to do in Marrakech, look no further as Palooza-Allal Al Fassi World is arguably one of the best.
With dozens of attractions and rides themed around dinosaurs and the Prehistoric era, from swimming pools to the Dino Tower, plus plenty of live entertainment, this local park is ideal for families.
Note: The park is only open during the summer months (April-September)
33 – Make the trip to Woven History Marrakech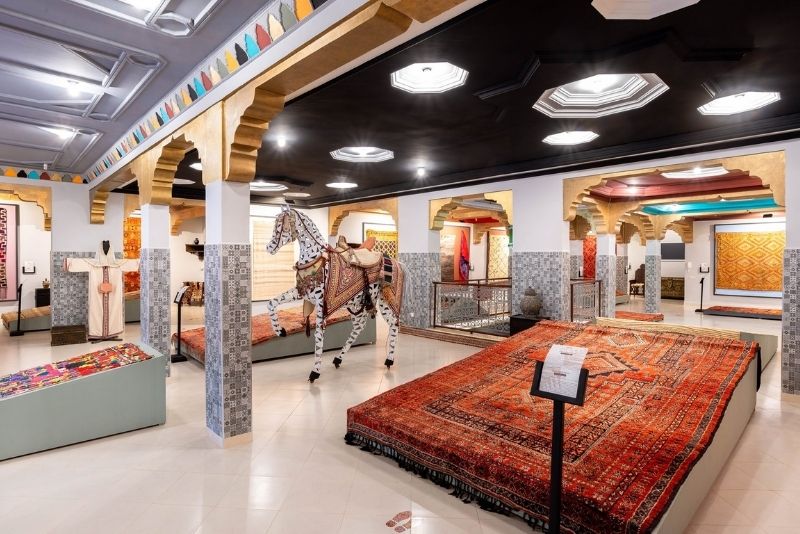 Located about 45 minutes drive from Marrakech, the Woven History Marrakech Museum is dedicated to all things related to Moroccan textiles and weaving.
Featuring traditional artisanal displays, plenty of rugs, as well as modern exhibits that focus on contemporary designers, visitors can expect a rich experience with plenty of hands-on activities.
Hot tip: after wandering around the exhibits, be sure to stick around for a live demonstration of weaving and knotting before admiring the view of the Ourika valley from the terrace.
34 – Wander ancient ruins at the Badii Palace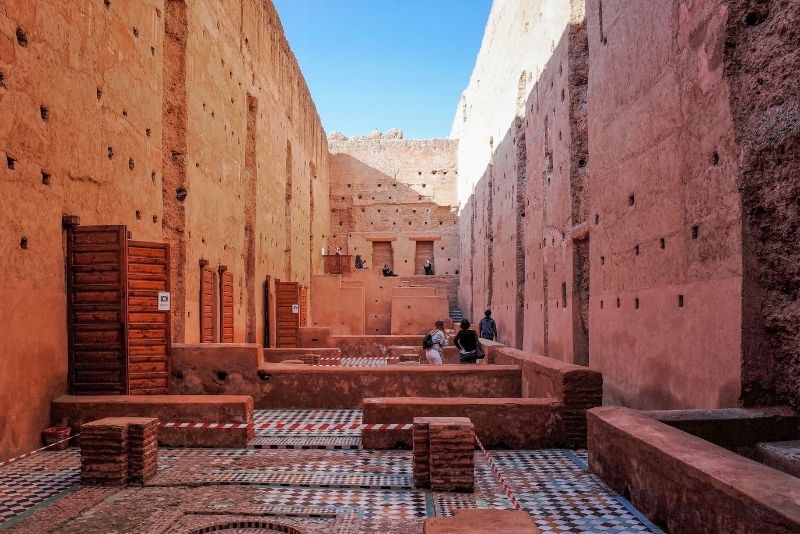 An infamous landmark, this 16th-century palace (which took 25 years to construct) was built by Ahmed el Mansour and was longtime considered one of the grandest palace complexes in Morocco.
These days, however, Badii (sometimes called the El Badi Palace or Badi' Palace) has been stripped of most of its former beauty and remains as ruins — still, the popular tourist attraction offers the chance to see what life was like back in those days, and explore a handful of art and history exhibits in two subterranean chambers and the Khayzuran Pavilion houses.
35 – Go wakeboarding!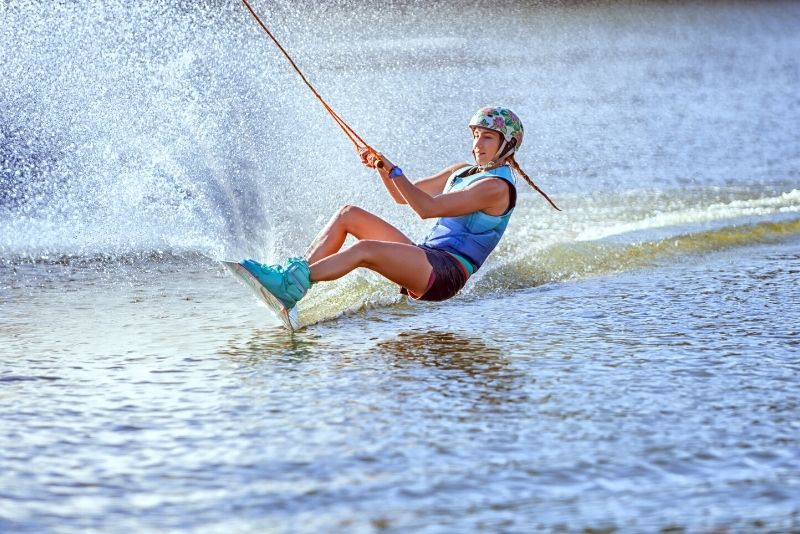 A favorite activity for adrenaline junkies, wakeboarding is a popular water sport in Morocco, acting as both a quench for adventurous thirst and a way to cool off in the toasty year-round heat.
While cable wakeboarding promises a great time, most companies also offer waterskiing and kneeboarding, with the Atlas Mountains towering impressively in the distance.
36 – Spend a couple of hours at the House of Photography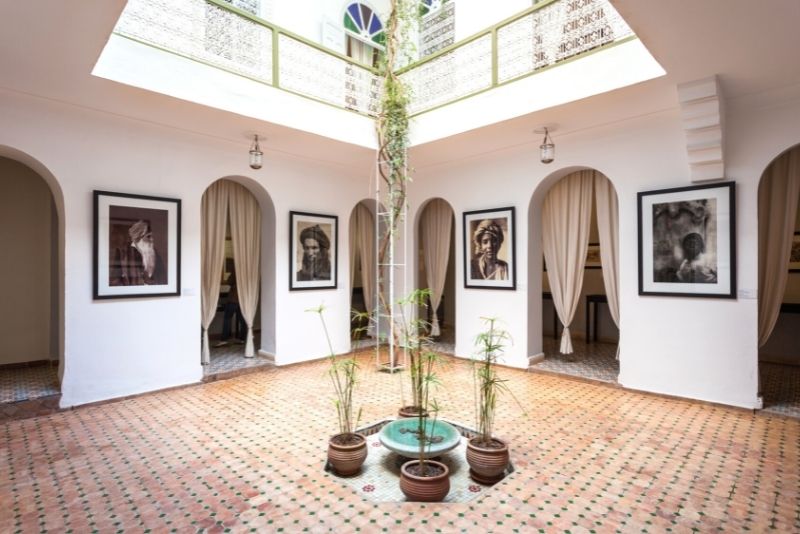 One of the best things to do in Marrakech, visiting the House of Photography is a great way for travelers and tourists alike to get up close and personal with some captivating imagery without having to travel too far.
Featuring works by local photographers who have documented Morocco's rich culture over several decades, the revered attraction showcases a range of permanent and rotating displays such as 'Jews in Morocco', 'Women in Morocco', 'Life in colors', and 'Privacy and Encounters, Morocco 1975'.
37 – Celebrate Morocco's leading ladies at the Museum of Women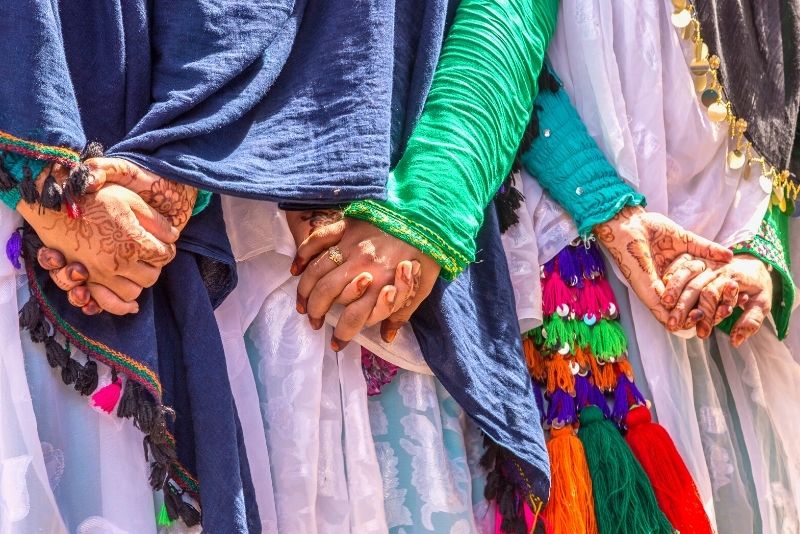 A wonderful museum in the historical Sidi Abdelaziz quarter that should, without question, be on your list of places to visit if you're in town for a while, the Museum of Women in Morocco is dedicated to celebrating traditional women's roles.
Operating under the mantra of maintaining, showcasing, and celebrating the culture of Moroccan women and their artistic achievements, the Museum presents a vast array of works by painters, activists, filmmakers, poets, textile weavers, fashion designers, and more.
38 – Ride a jet ski at Lake Lalla Takerkoust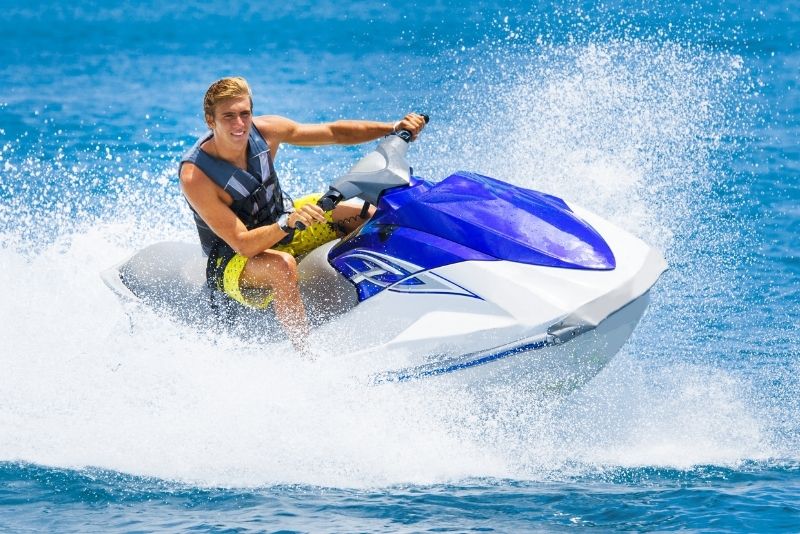 Offering a great way to cool off and enjoy the views of lush, rolling mountains in the backdrop, jet skiing is an exhilarating activity that provides endless fun for tourists and travelers alike.
While there are several companies offering rentals on Lake Lalla Takerkoust (which is often dubbed one of the most beautiful lakes in Morocco), it's best to go with an experienced guide who can take you out on the water and show you all of the coolest spots.
39 – Check out the Dar Si Said local history museum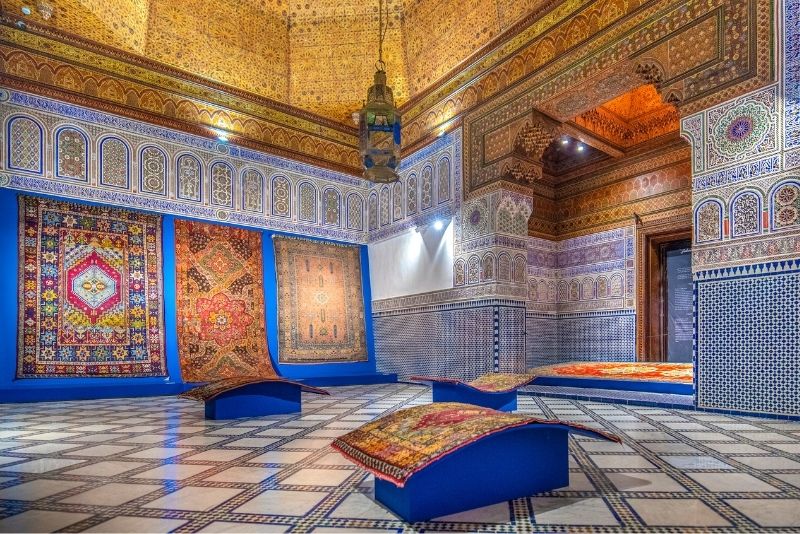 Boasting not one but two admirable claims to fame — being the oldest museum in the city and presenting the largest number of artworks of any museum — the Dar Si Said Museum is a must-visit for art and culture buffs.
A great way to learn more about the rich culture and traditions of Morocco, a visit to Dar Si Said in Marrakech is also an opportunity for travelers to take some beautiful photos with one-of-a-kind architectural design reminiscent of being a late 19th-century palace.
Make sure to check out the wedding chamber and serene riad garden, both of which are spectacular.
40 – Appreciate the decorations of the Ben Youssef Madrasa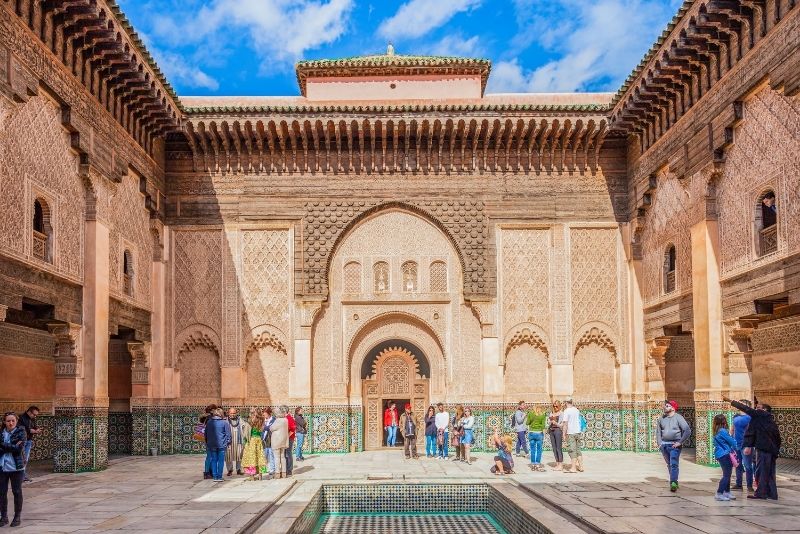 Tucked away amidst souks and cobblestone alleys, near the Ben Youssef Mosque and Museum de Marrakech, the spectacular Ben Youssef Madrasa is one of the oldest and most important monuments in Marrakech, boasting a wealth of history dating back to the 15th century — as well as the title of the largest madrasa in North Africa.
The tile-lined courtyards are a sight for sore eyes, while the intricate carvings, exquisite walls, and ancient arches are sure to get any architecture buff riled up.
41 – Marvel at the Marrakech train station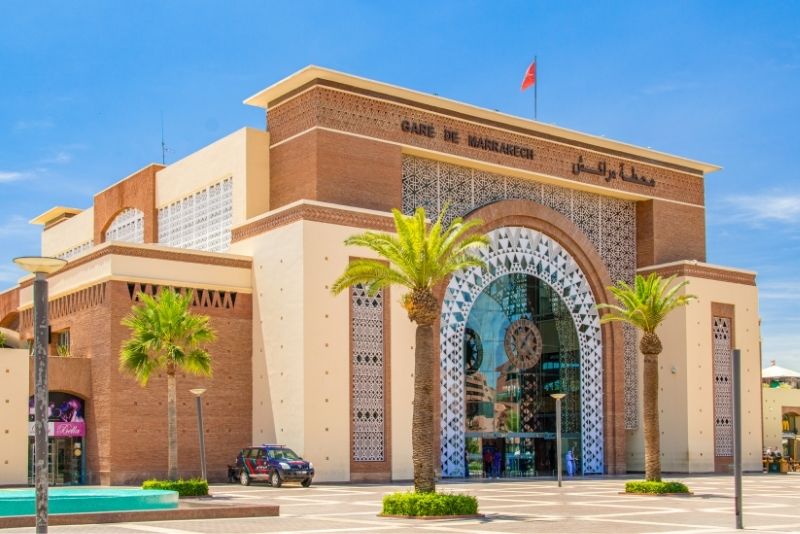 One of the most important train stations in Morocco, Marrakech's railway station is a must-visit for history buffs, art enthusiasts, and architecture aficionados.
Besides being a central point for transit in and out of the city, it's a great way to see some impressive pieces of Moroccan design while getting your dose of the local culture at the same time through some A-grade people-watching.
Of course, if you actually want to catch a train, there are direct routes to fascinating cities such as Fez, Rabat (the capital), and the infamous seaside destination of Casablanca.
42 – Stuff your face on a food tour!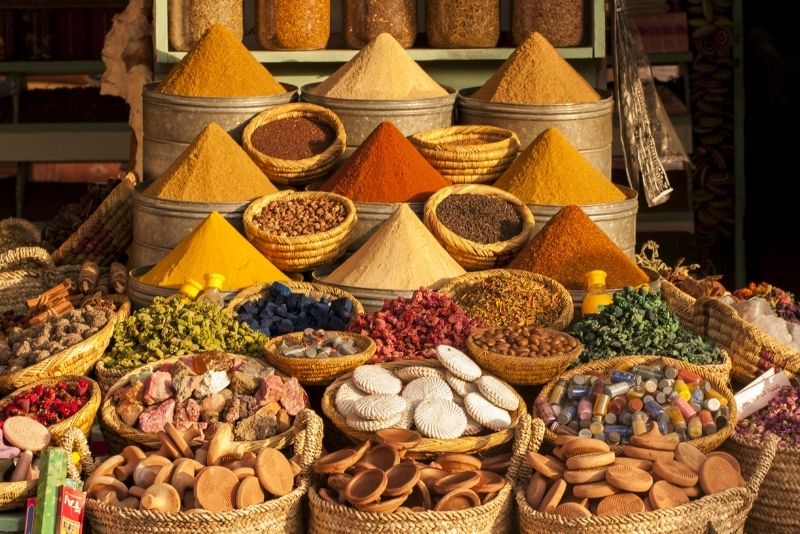 Foodies, rejoice! If you want to get the most out of your visit, sign up for a food tour and stuff yourself silly on all kinds of Moroccan cuisine.
Spend an afternoon enjoying some high-quality local eats (olives, nuts, pastries, local fruits) while learning about the history behind them — not to mention burning off at least a couple of calories while walking between souk vendors and hidden eateries!
43 – Cool off at a water park!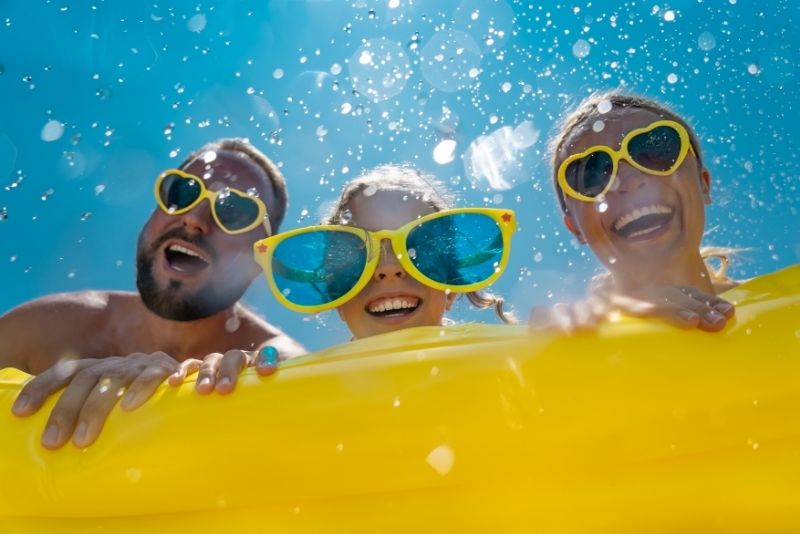 It's no secret that the summers in Marrakech are hot (in fact, the whole year's pretty darn hot), but fear not — there's no better way to cool off than at one of the world-class water parks located nearby.
Enjoy over 30 thrilling waterslides at the Aqua Fun Club, an outer-city oasis surrounded by shady olive trees; or take the family to Oasiria, where the wave pool and lazy river will keep the youngsters entertained for hours.
(literally) Hot tip: don't forget your sunscreen or you'll be hurting later on…
44 – Get a glimpse of Jewish heritage in the Mellah neighborhood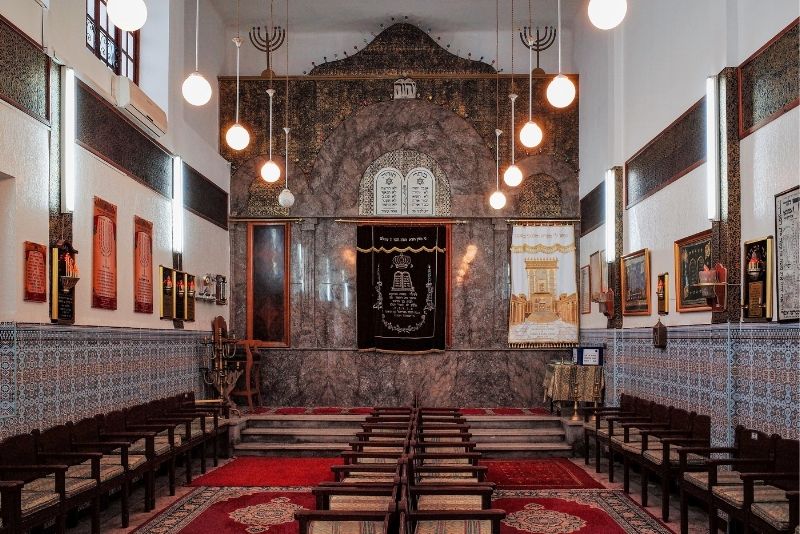 The Mellah neighborhood is one of the most interesting parts of Marrakech, and it's a great place to visit during your stay. The old Jewish quarter, which dates back to the 1500s, has been transformed into an attraction that offers fascinating and eye-opening insights into the nation's decorated history — including how Jews were once treated.
The Lezama Synagogue is a popular stop, likewise the Hebraic jewelry stores, spice markets, and Place des Ferblantiers, all of which are great ways to learn about the unique culture that once thrived in this city.
45 – Grab a souvenir at Place des Ferblantiers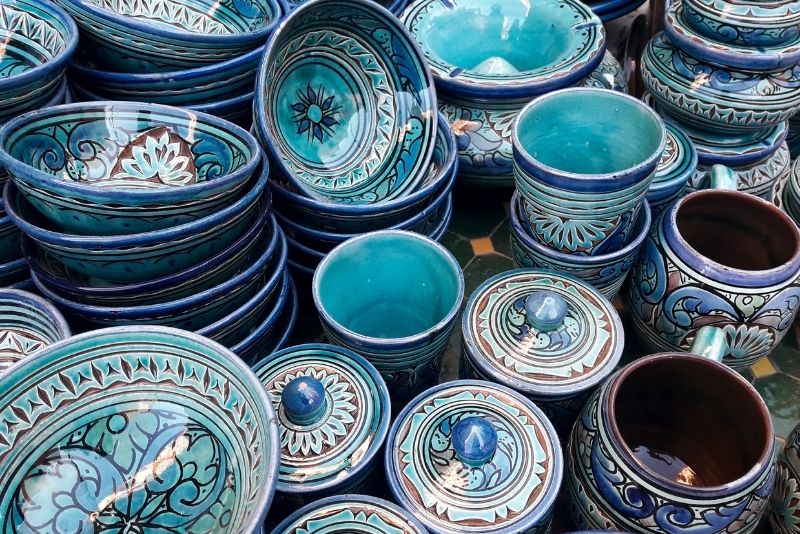 Despite being rather small in size compared to the likes of Jemaa el-Fna (therefore often overlooked by the run-of-the-mill tourists), Place des Ferblantiers is regularly exuding an upbeat atmosphere.
A square dedicated to the artisans, this is a great place for buying some trinkets and gifts from local craftsmen. Colorfully decorated stalls that line either side of your stroll offer an array of different goods — carpets, leatherwork, clothing, and shoes, to name but a few of the goodies on offer.
Of course, some maamoul (shortbread pastries filled with dates or nuts) or baklava is never too far away either.
46 – Eat next to fire-breathers at the Fantasia dinner show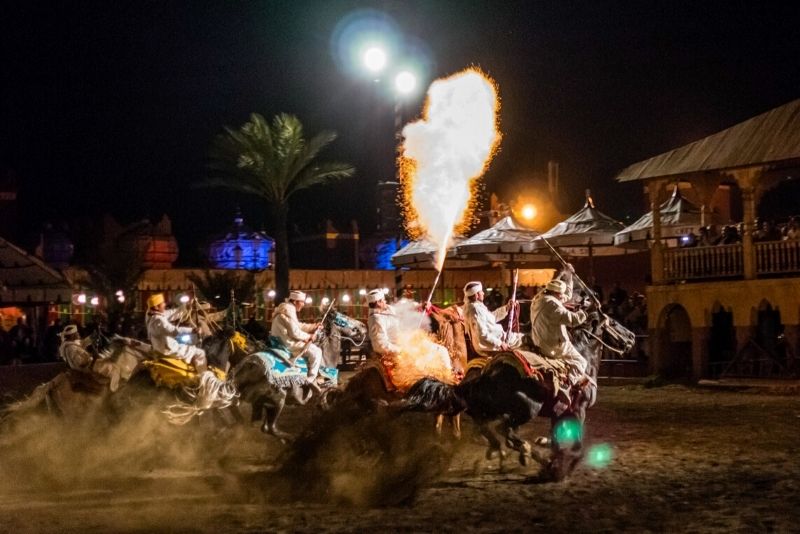 Camel riding, acrobats, belly dancers… what's not to love?
If it's an evening full of entertainment that you're after, then look no further than Fantasia — a dinner date full of razzle-dazzle.
Here, you can dig into a multi-course meal while being amused by the Arabian Knights-style live show — which includes horses, exotic singers, and fire eaters.
With round-trip hotel transportation usually included, you can knock back beverages to your heart's content!
47 – Make a stop at the Heritage Museum of Marrakech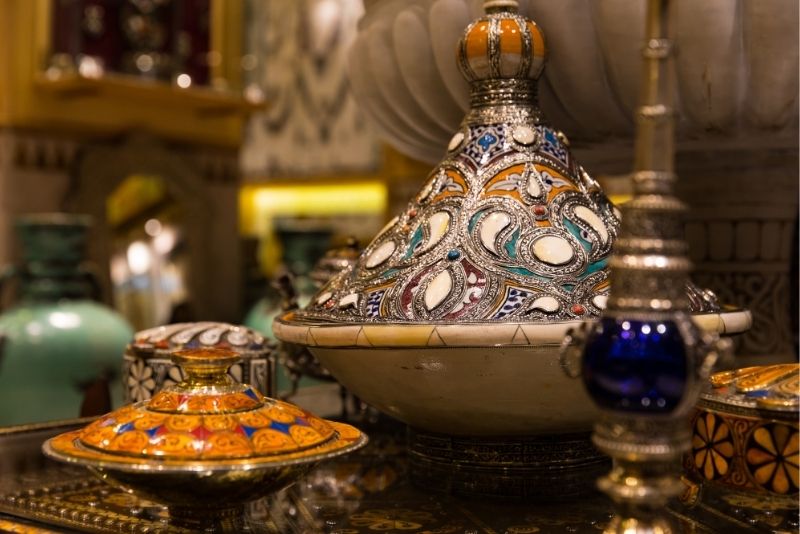 If you like learning about the history behind a place (with English exhibits), then the Heritage Museum of Marrakech is for you.
One of the nation's more underrated museums offers an in-depth insight into Morocco's past — with displays of pottery, tribal jewelry, Jewish heritage, and Andalusian embroidery dotted throughout its two-story halls.
Conveniently located around the corner from Jemaa El-Fnaa, and housed inside a decadent 17th-century Moorish riad, it's both an easy and worthy addition to any day of inner-city exploring.
48 – Relax and unwind in a traditional Moroccan hammam (Turkish bath)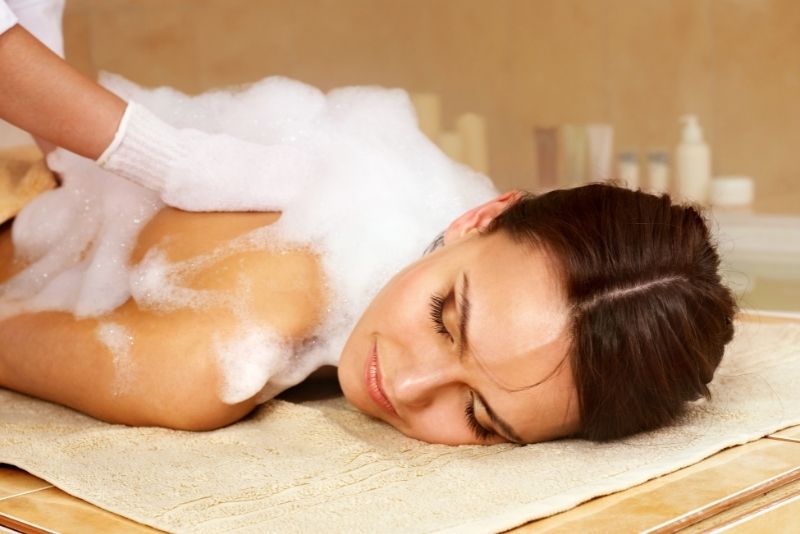 Weary legs? Looking for a cheat code to beat the jetlag? Or a little stressed from haggling in all the souks? Then you could do much worse than making a beeline for one of Marrakech's zen-inducing hammams.
These ancient steam baths are the perfect place to rest and rejuvenate, with a range of treatments available too — including exfoliation scrubs, foot massages, and couples massages!
Of course, there are plenty of Western-style spas too, if you prefer not to stray too far from the norm.
Hot tip: for the best prices and package combos, book online before visiting.
49 – Sip on a cocktail (or a Moroccan tea) at some of Marrakech's best rooftop bars!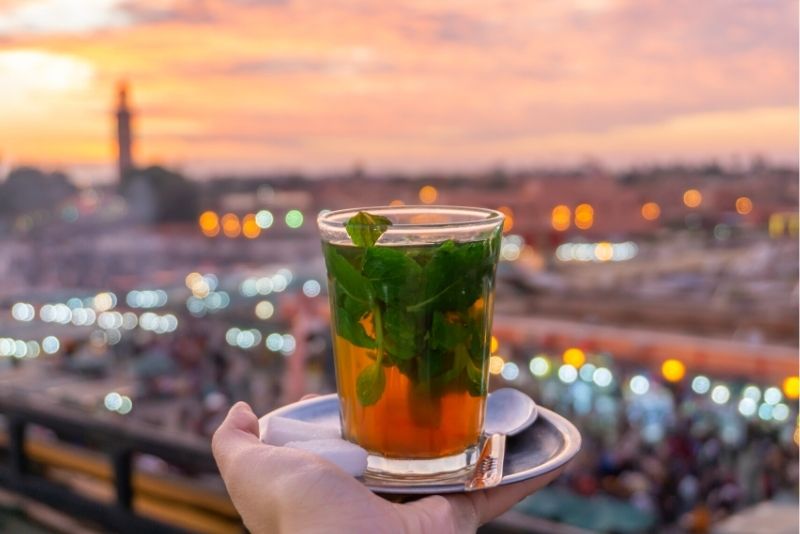 You're on vacation, after all, so why not make the most of it and get your drink on?
Cocktails with a view is what these places are all about — so admire panoramic city views from up there in the clouds!
Need a few suggestions?
The chic but unpretentious Nomad on Rahba Kedima Spice Square is both affordable and conveniently located; Café Des Épices is your no-frills (read: wallet-friendly) rooftop bar that also dishes up a delicious crepe; the Sky Lounge at The Pearl is all about sophistication, with a rooftop pool and a Japanese-influenced restaurant to boot; while Le Foundouk is a must for the romantics — a fine-dining restaurant with candlelit tables and no shortage of fine wines.
50 – Sleep in a traditional, luxurious Riad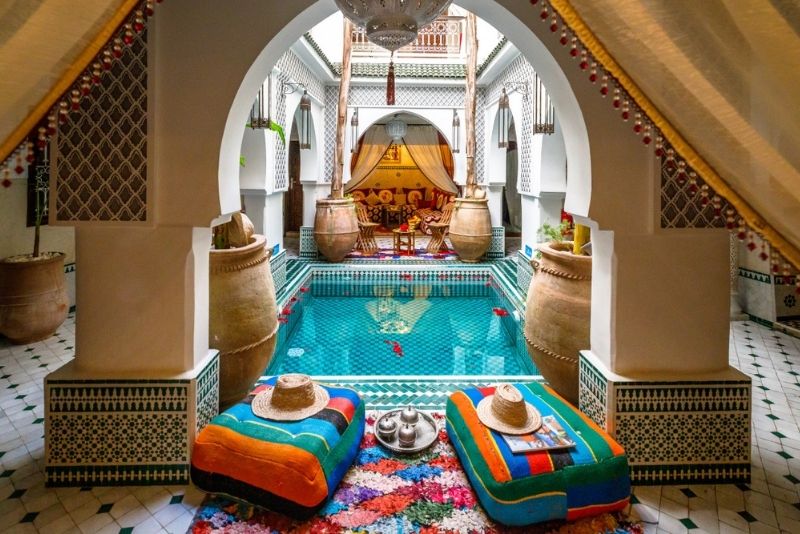 Who says hotels need to be basic, right? Why not make your accommodation a cultural experience in its own right and stay in a Riad? These iconic homes are typically multiple-story dwellings that center around an open-air courtyard, often equipped with a water feature or pool for a lovely dose of tranquillity.
These classic Moroccan abodes are where you can expect to catch up on your beauty sleep — with comfortable beds, air conditioning, and hot showers. And the best part about them is that they're often lovingly decorated with local crafts, antiques, and arty decor!
With dozens of riads hotels available to book for a unique and unforgettable night, you're truly spoiled for choice, so here are a few of the all-stars to consider:
The Riad Jardin Secret is a five-minute walk to the main souks and offers simple elegance; Riad Kniza inside Bab Doukkala boasts its own pool, spa, and hammam; Le Riad Berbère serves homemade jam and features a remarkable rooftop terrace, and L'Hôtel Marrakech is highlighted by its floor-to-ceiling French windows — and that's just to name a few.
How to choose where to stay:
If you need help choosing your favorite Riad to stay in, or if you're after something else entirely — perhaps an all-out-luxury, 5-star resort; a budget-friendly hostel, or anything in between — then don't spend hours searching the web.
Leave it to the experts and check out Booking.com. They've already done all the hard work for you, comparing over 400 booking sites to bring together the very best deals from across Marrakech (or any city you're visiting, for that matter).
The easiest way to get to the city from the airport:
Forget about complicated rail systems and inconvenient public transport, not to mention trying to negotiate with taxi drivers — the best way to get from Marrakech Menara Airport into town is by organizing an airport shuttle service before your plane even takes off.
Besides the convenience and the fact that, when traveling as a group, it can often be the cheapest per-person option, it's also a bit of an ego boost to see your name on a placard in the arrivals lounge!
Of course, the same logic applies to when you need to get to the airport for your return flight.
Well, that's a wrap. We hope you've thoroughly enjoyed our selection of things to do in Marrakech, Morocco — the Red City! If you have any other must-see suggestions, essential day trips, or tours worth booking, feel free to let us know in the comments!
As always, happy travels!