Wondering which of the many Marrakech desert tours is right for you? Looking for cheap deals and an introduction on the main itineraries that tours follow?
Scroll down and find out more about which parts of the Sahara desert can be visited from Marrakech, which other places are worth seeing during the tour, how long it takes to get there, how much the tours cost and how to book the tour that is most suited for you.
On this page, you will find a comprehensive guide to Marrakech desert tours, including: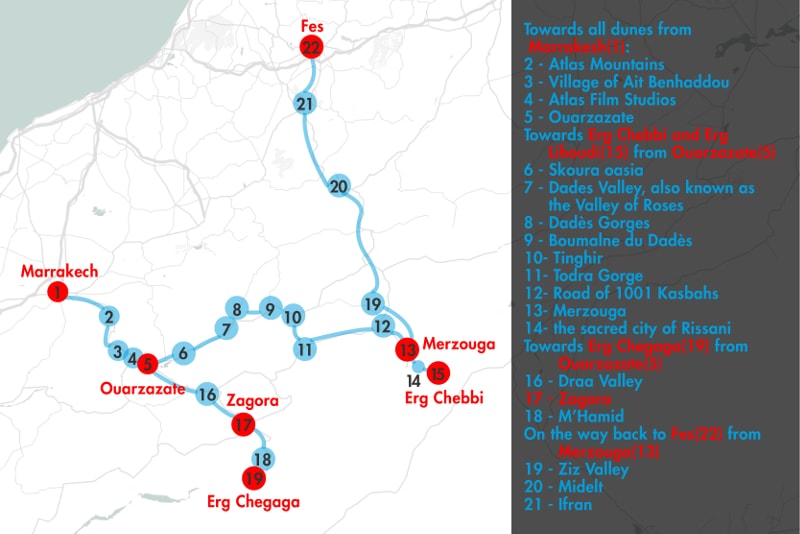 Which desert tour should you choose?
First of all you should know there are 3 parts of the desert which you can visit. They are all accessible from Marrakech, and you can also finish your tour in Fes if you decide to visit the dunes of Erg Chebbi via Merzouga on the way.
Merzouga Desert Tours from Marrakech (3 or 4 days)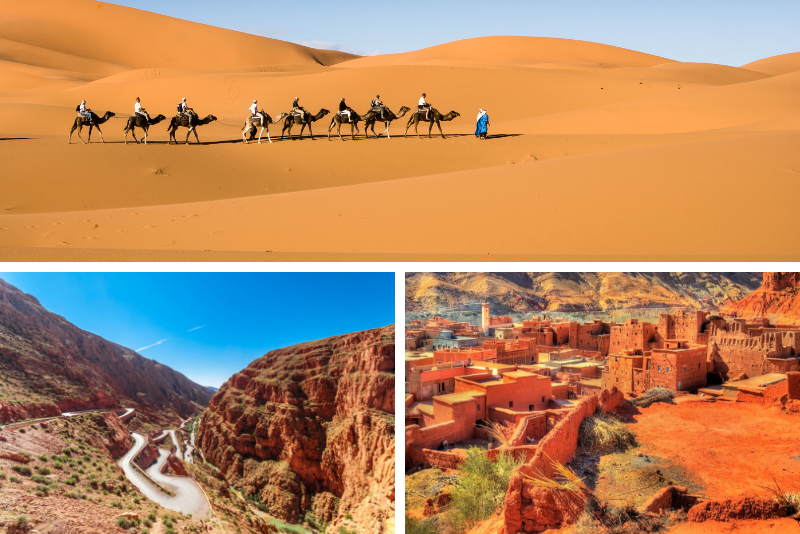 Erg Chebbi dunes in Merzouga Desert can be your best option if you would like to see sandy dunes and unforgettable sunsets and sunrises. It's the most convenient location made easy for this itinerary. The itinerary to Erg Chebbi passing through Merzouga is the perfect itinerary for a 3 days or 4 days trip from Marrakech.
Merzouga is a Berber town at the border of the Sahara desert. Every tour going to the dunes will pass by Merzouga. The city itself is quite small and it is the departure point of the camel ride to the night camps in the desert. Usually, you will be able to ride a camel for a couple of hours in the sunset to reach the desert camp, in which you will sleep in comfortable tents. Before the night, a Berber dinner with music is provided to the guests. You will be able to spend the night as you wish, climbing the dunes and looking at the stars. Since the desert has almost no artificial light, the sky will be full of stars.
It's recommended to take a 3 day trip minimum for visiting this part of the desert, in which one night will be spent in the desert.
As mentioned above, visiting Merzouga desert will give you the possibility to go back to Fez instead of Marrakech. In this case, you will need to book special tours that include this option.
Zagora Desert Tours from Marrakech (2 days)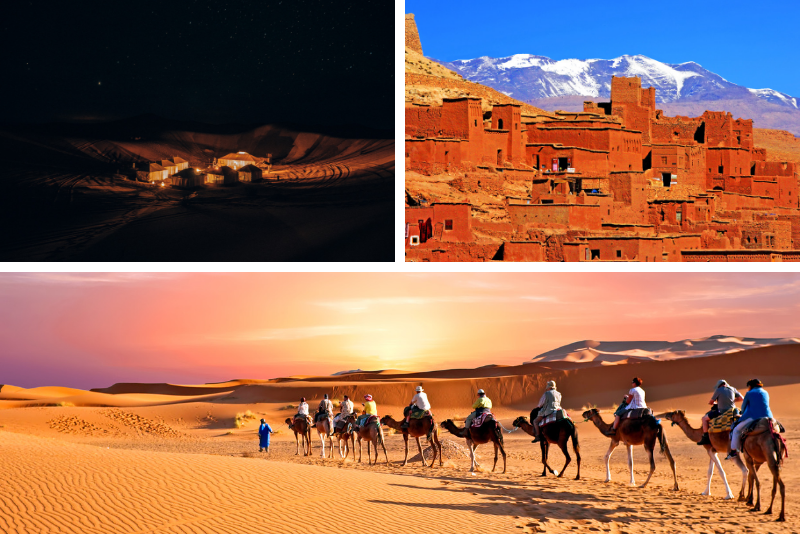 Erg Chegaga Desert, situated south of the village of Zagora is well recognized for having some of the best 4×4 routes and is said to be the largest sand dunes are in Morocco.
Erg Chegaga is less touristy in comparison with Erg Chebbi, but the landscape is also less impressive, since the dunes are smaller. However, it's still possible to ride a camel and spend a night in the desert. It is recommended if the duration of your excursion out of Marrakech cannot exceed 2 days.
The camel riding will start right after Zagora and the guide will conduct you to the camp in the desert in which you will spend the night.
It's recommended to go for a 2 day trip minimum from Marrakech. Camel trekking, sand boarding or stargazing is also possible to do.
Erg Lihoudi Desert Tours from Marrakech (2 days)
Erg Lihoudi Desert in M'hamid is also easily accessible on an off-road for 15 minutes by 4×4 or by car from Zagora It is much smaller area than the rest of the deserts but still highly-esteemed. In comparison with the others, it is much more peaceful due not many tourists go there. Camel trekking, sand boarding and stargazing is also recommended here. Also in this case, a 2 days trip is recommended if you leave from Marrakech.
Agafay Desert Tours from Marrakech (1 Day)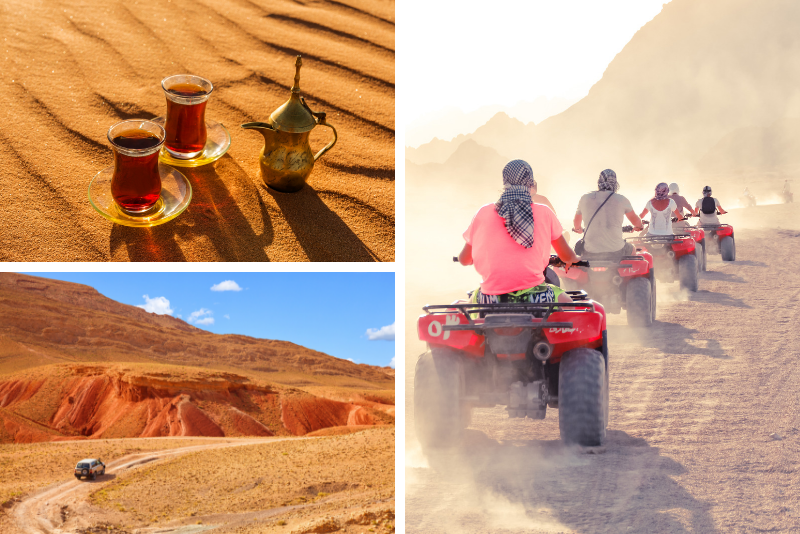 Do you prefer living the desert experience in just one day? Then Agafay desert just outside Marrakech is your destination. Get away from the bustling city of Marrakech where you can enjoy many activities, from camel safari, exciting quad tours or horseback riding. This option will definitely save you time and it is just as mesmerizing as the other deserts.
How much Marrakech Desert tours cost?
Depending on which tour you choose the price of the tour will be higher or lower. How luxurious you would like your safari camp to be, how many days you would like to stay or if food and accommodation is provided… if it's all inclusive or not. The prices can also differ if you choose a private tour or a group tour.
Merzouga Desert Tours Price
As said before, to reach Merzouga on a tour from Marrakech, you'll need minimum a 3-day tour and a 4-day tour is recommended. The price of those tours will depend much on the tour operator, size of the group and "luxury" of the trip. On average a 3-day tour costs around €100 per person for a group tour. There are options for a price as cheap as €75, while other tours cost in the region of €150. If we look at private tours the price go up to about €200 – €250 per person.
Tours lasting 4 days are more expensive and they are usually private tours, in which you will have the possibility to enjoy a private trip with your partner or your family. In this case, the price is about €500 – €700 per person.
Zagora Desert Tours Price
Zagora is closer to Marrakech than Merzouga. Tyipically, tours last 2 days and 1 night to visit Erg Chegaga, the dunes near Zagora. Therefore, these tours are usually cheaper than the ones going to Merzouga.
Zagora desert tours are priced between €60 and €100. Private tours can be more expensive, but the quality of the tour is far better.
Agafay Desert Trip Price
Agafay desert tours are very popular among travelers who have only 1 day to spend for the excursion. These tours are quite cheap and priced in the range €30 – €70 per person.
Since Agafay is a rocky desert (no dunes), tours include activities like quad tours or buggy excursions. Of course, a camel ride is always included.
What places can I visit during my Marrakech desert tour?
Towards all deserts from Marrakech:
Atlas Mountains
The Atlas Mountains of Morocco is one of North Africa's great trekking grounds and is home to the population of Berbers. It stretches around 2,500 km through Morocco.
Village of Ait Benhaddou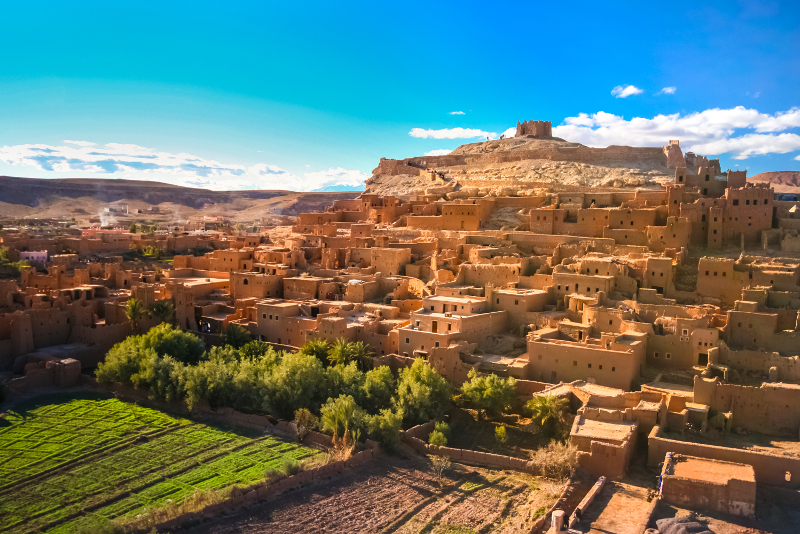 A fortified village between the Sahara and Marrakech. It's recognised for being one of the best examples of Moroccan earthen clay architectures. Nowadays it's inhabited by four families and a dozen of merchant's houses.
Atlas Film Studios
Worlds' largest film studio located just outside of Ouarzazate. Built in 1983, the area needed a permanent studio.  It is highly recognised to be a popular tourist destination mainly for holding old movie sets that have been left there.
Ouarzazate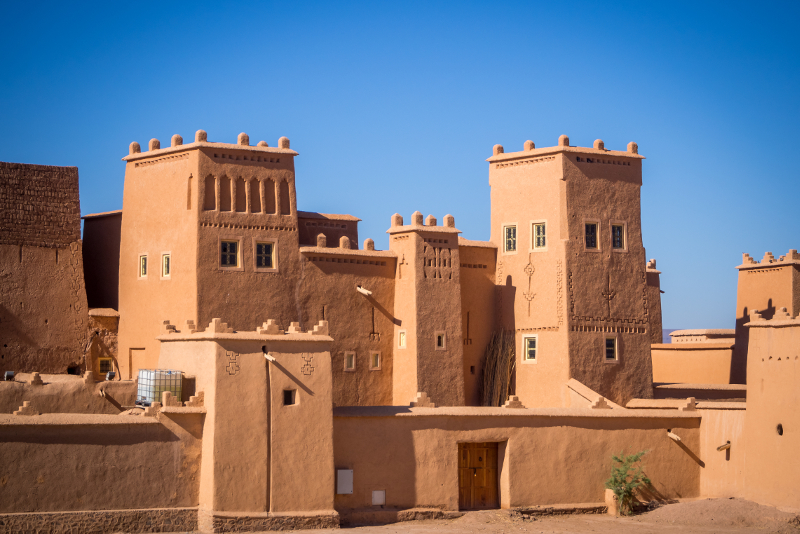 Renowned as the "Door of the Desert" is a city and capital of Ouarzazate in the south of the High Atlas Moutains. It's inhabited by Berber speakers and has become an important holiday destination in Morocco, renown for excursions across the Draa Valley and into the desert. Also famous for being a film-making location.
Towards Erg Chebbi and Erg Lihoudi dunes from Ouarzazate
Skoura Oasis
Situated in the province of Ouarzazate where mudbrick castle's remains and palm-trees stretch across the road.
Dades Valley, also known as the Valley of Roses
A carved out gorge by Dadès River in Morocco where trekking is very popular. The river originates in the High Atlas range of the Atlas Mountains where the colored walls of the gorge go up from 200 to 500 metres.
Boumalne du Dadès
A town in Tinghir Province, Morocco located at the edge of the desert. Home to Berber people, Ait Atta Tribe of Jbel Saghro and tribes of Mgouna, Sedrate, Hdiddou and Marghad.
Tinghir
A city in the south of the High Atlas and north of the Little Atlas in south-eastern Morocco. It holds one of the most attractive oases in southern Morocco but not only this, you can also participate in excursions along the magnificent gorges.
Todgha Gorge
A series of limestone river canyons in the eastern part of the High Atlas Mountains in Morocco. Spectacular 600 metre walls that narrow to a flat stony track. If you're interested in rock climbing or wandering through fine tracks, this is your place.
Road of 1000 Kasbahs
The Road of 1000 Kasbahs will follow the ancient caravan route used by sultans and traders.
Merzouga
Small village in the southeastern Morocco where you can find the highly recognised Erg Chebbi desert. Many tourists come here as it is part of their itineraries when visiting Morocco.
The sacred city of Rissani
A town situated in Errachidia Province in eastern Morocco, near to Erg Chebbi. The Sacred City of Rissani holds many worth-seeing attractions such as fortified castles, Mausoleum of Moulay Ali Chérif, Ksar El Fida, Ksar Oulad Abdelhlim which still hold their ancient essence.
Towards Erg Chegaga from Ouarzazate
Draa Valley
A 200km long palm grove with villaged and "Kasbahs" (castles) that spread from Agdz to Mhamid, passing by Zagora.
Zagora
Situated in the Draa Valley and named after the mountains. You can enjoy a tour through the valley or the desert.
M'Hamid
Small village situated next to Zagora region where the Sahara begins. Highly recognised as a historical site where trade caravans gathered before setting off to Timbuktu and other places. You can walk to Kasbah and Oulad Youssef village through the palms, camel ride to nearby dunes, quad bikes and buggies, etc.
On the way to Fes from Merzouga
Ziz Valley
A river in the south of Morocco and Algeria, its water has been used to provide water to the people that transited through the mountainous region.
Midelt
A town situated in central Morocco, in the high plains between the Middle Atlas and High Atlas mountain ranges. Serves as the commercial centre of a large agricultural hinterland.  Renowned for its delicious traditional couscous made by the woman of the village.
Ifran
Considered as the Switzerland of Morocco, Ifran is a small town in the Middle Atlas Mountains well known for its alpine-style architecture and nearby ski slopes and forests.
How long does it take to get there?
Erg Chebbi dunes: Depending on which transportation you take, it may take around 9 to 10 hours to go from Marrakech to Merzouga. This is why the trip is usually split in 3 or 4 days. So that the visitors have time to visit the other sights along the way, such as the Dadès Valley.
Erg Chegaga: Approximately 5 hours from Marrakech via Zagora. There are 2 day tours that leave from Marrakech to Zagora and take you to visit the dunes of Erg Chegaga.
Erg Lihoudi: Approximately 6 hours from Marrakech to the desert Erg Lihoudi. There is a 2 day trip available leaving from Marrakech taking you to Erg Lihoudi.
How to book Marrakech Desert tours?
You're having doubts on how to book Marrakech Desert tours? There are two possible options:
You can book hotels and hire cars online and your camel safari when you arrive if you prefer. It is advisable that you don't drive the car because it can be risky. Having someone that knows the area better is always more interactive, as you know that no queries or questions will be left unanswered.
Or go with the all-inclusive option tour which includes transport with a more experienced driver, hotels, camel safari and night camping in the dunes. This option is quite advantageous as you most probably get more privileges.
You don't know where to book the tour from? You know there are hundreds of options and competitive prices. We have the solution for you! Head over to TourScanner to compare prices online and find the best deals to choose from. You can save up to 40%.

Share it on Pinterest 🙂