Explore ancient desert towns, travel through rocky landscapes and ride across sand dunes on a camel when you go on day trips from Marrakesh to Merzouga. Wondering which tour is best for you?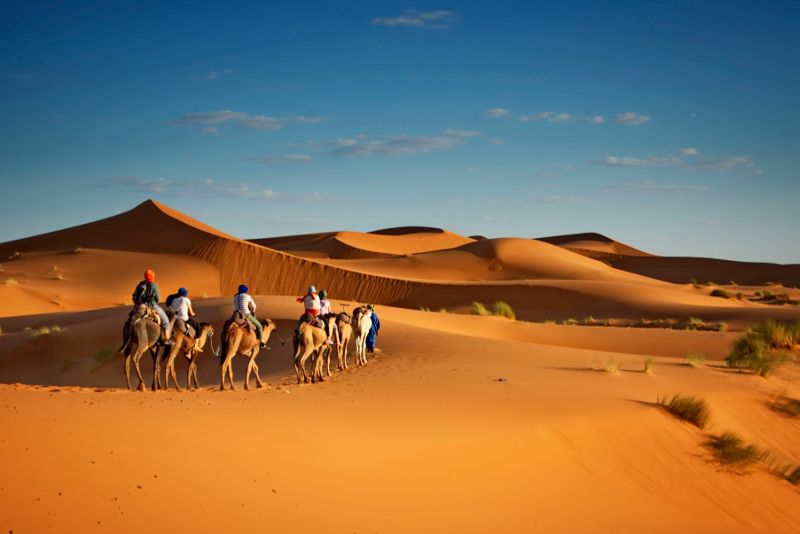 Here's the lowdown on what you'll see and do, how much they cost and when to go.
How much does it cost for a tour from Marrakesh to Merzouga?
The price of your exciting day trip from Marrakesh to Merzouga depends on several factors. These include the duration of the tour, how many nights of accommodation you would like and whether it is all-inclusive or not. All of the excursions to Merzouga represent excellent value for money with prices for some three-day tours starting at around €95. This price includes two nights' accommodation and meals.
How will I get from Marrakesh to Merzouga?
Your trip through the desert will be via an air-conditioned van or mini bus or four-wheel drive. These are spacious vehicles with comfortable seats and big windows. You'll be able to sit back and relax with ease to take in the impressive scenery. All of the vehicles are driven by professional and experienced drivers.
You will either be picked up from your hotel, or you will have to go to a designated meeting point. Check with your tour operator. When you return from your exciting adventure to Merzouga, you will be dropped off where you were picked up.
How long does it take to get from Marrakesh to Merzouga?
With so much to see on an excursion from Marrakesh to Merzouga, you will want to have the time to view the spectacular sights at a leisurely pace. That's why many of the day trips are for three days and include overnight accommodation such as camping out under the stars. There are also trips of shorter and longer durations, so there's a lot of flexibility for your schedule.
What will you see during your day trips from Marrakesh to Merzouga?
Day trips from Marrakesh to Merzouga include such activities as camel riding, sleeping in a Berber tent and visiting some fantastic places. Among them are:
The High Atlas Mountains
This rugged mountain range is also known as the Grand Atlas. As the name suggests, this is the highest part of the Atlas Mountains. The tallest peak is Mount Toubkal which rises to a cloud-piercing 4,165 metres.
Ouarzazate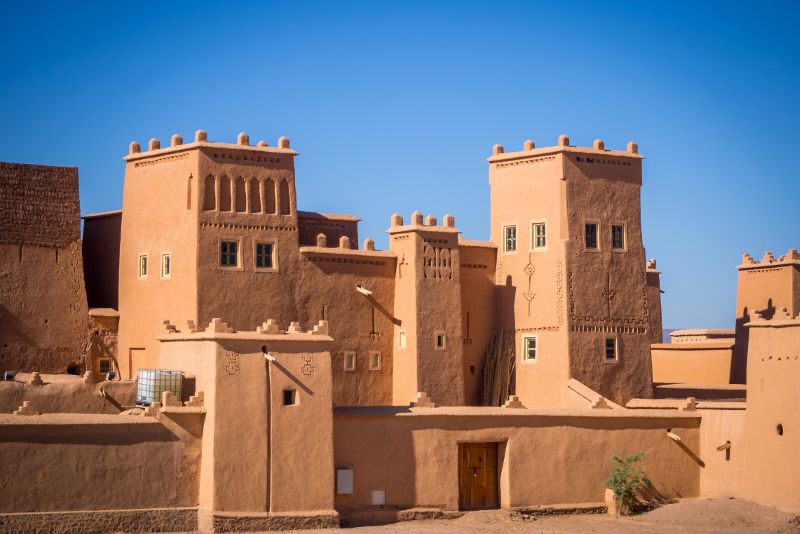 A dusty old town on the edge of the Sahara that has charmed TV and movie directors for decades. This popular tourist destination has played host to hundreds of movies and TV shows including Games of Thrones and Gladiator.
Ait Ben Haddou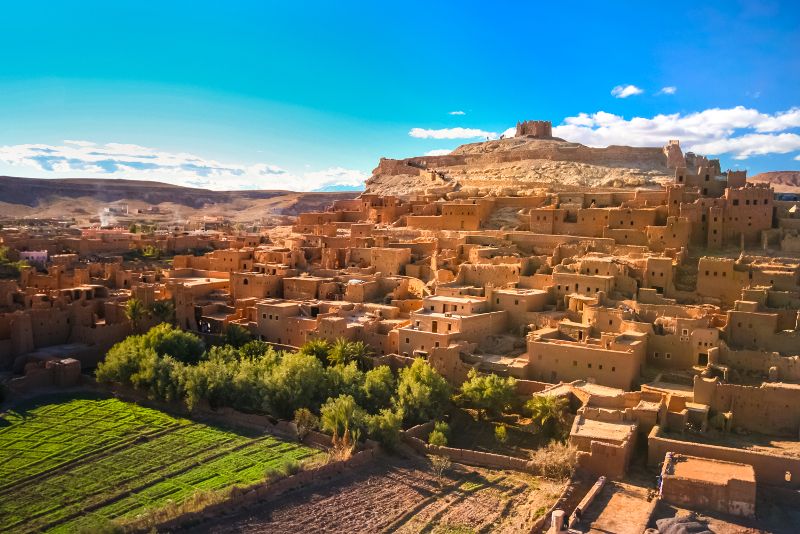 Explore an ancient fortified village that was first settled in the seventh century. It comprises of earthen buildings that are crowded together and surrounded by defensive walls reinforced by corner towers. Fans of Games of Thrones will recognise this UNESCO World Heritage Site from series three when it doubled up as the backdrop of Yunkai and Pentos.
Tinghir Oasis
A lush and attractive oasis that extends for approximately 30 kilometres and encompasses the city of Tinghir.
Todgha Gorge
This wildly picturesque spot in the eastern part of the High Atlas Mountains is a series of limestone river canyons. They were carved out by the Todgha and Dades Rivers, and they feature walls that are up to 400 metres in height.
Atlas Film Studio
A large film studio in the desert where many major motion pictures have been shot. They include Jewel of the Nile and Gladiator. Tour old sets and see how many props and pieces of scenery you recognise from the big screen.
The Valley of the Roses
Your day trip from Marrakesh to Merzouga may also pass through the perfumed Valley of the Roses. This lush place is a patchwork of pink and red roses used for the production of rose oil.
The Holy City of Rissani
A small oasis town of monuments and fascinating buildings where many of the most popular attractions are within an easy walking distance of each other. They include the souk of Rissani and the Alaouite mausoleum of Moulay Ali Cherif. This royal prince lived in the 16th and 17th centuries and was the founder of Morocco's Alaouite Dynasty.
The Road of 1000 Kasbahs
Located on the southern slopes of the High Atlas Mountains, the Road of 1000 Kasbahs follows an ancient caravan route once taken by sultans and traders. The road which is asphalted over these days passes through mountainous areas of great beauty.
When is the best time to visit Merzouga?
The best time to visit for your day trip from Marrakesh to Merzouga is during the off-peak shoulder seasons when the sun is not at its most scorching hot. So consider booking your desert adventure for any time from March until May and between September and November. The weather is much more desirable and comfortable during these months.
Travel Tips
Essential travel tips for day trips from Marrakesh to Merzouga:
Wear comfortable shoes because there will be a lot of walking on many of the tours.
Bring a windbreaker or light jacket for the cooler nights.
Wear a hat or headscarf to protect your head from the sun and to keep dust out of your hair.
Bring sunscreen and sunglasses to protect you from the sun's rays in the desert.
Some tours request that travellers bring their passport or ID card with them.
If you take medication, bring more than you need. You won't find a lot of pharmacies in the desert.
Morocco is a conservative country, so as a general rule dress conservatively. This means covering up arms and the upper part of the body and wearing clothing that goes past the knees.
Some of the excursions don't include refreshments so bring bottled water with you to stay hydrated in the hot desert environment.
Note that smoking is not permitted in some vehicles.