Escape the bustling, lively Marrakesh for a day and explore Agafay Desert's rolling dunes just 24 miles (40 kilometers) outside of the city. Weave through the sand-ridges via a quad, travel through the desert atop a camel, and catch a glimpse of Berber villages: Agafay Desert encompasses activities and sights for all types of travelers.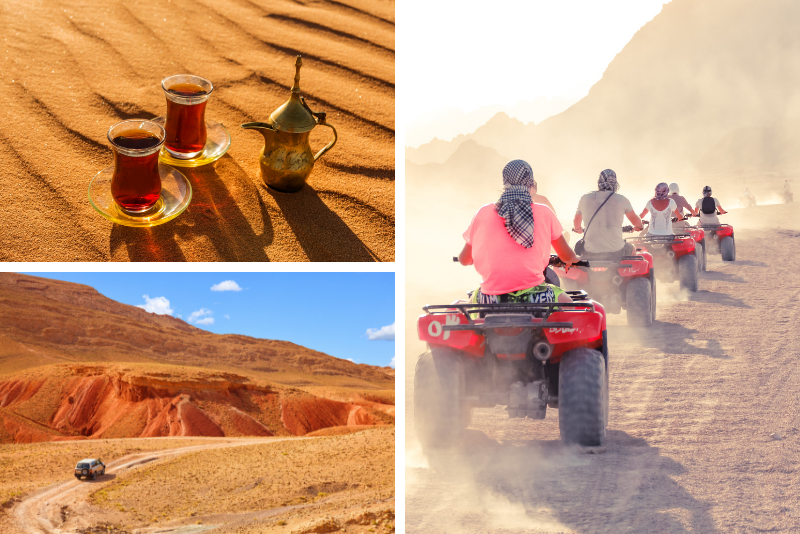 The journey from Marrakesh to Agafay Desert may be brief, but it gives you a chance to marvel at the diverse scenery spanning Morocco's backyard. On your way, you'll wind through the towering High Atlas Mountains, and you'll watch the landscape fade from a vibrant green to brown and yellow tones.
What will you see during your Agafay Desert day trip?
Some people may think of the desert when they think of Morocco, but even the short excursion from Marrakesh to the Agafay Desert takes you through an array of stunning, diverse landscapes. What will you see on your adventure to Agafay Desert? Let's take a look:
The undulating rocky and sandy hills blanketing Agafay Desert
Your drive will carry you through the ever-so tremendous High Atlas Mountains
The beautiful Berber villages lining the High Atlas Mountains
Witness traditional, historical practices performed by the habitants of Berber villages
Marvel at Lalla Takerkoust Lake, which reaches the foot of the High Atlas Mountains
This journey, whether you opt for a 1 or 2-day trip, will introduce you to a collection of the historical, authentic Moroccan sights!
What can you do in Agafay Desert?
Get ready for an adventurous exploration around Agafay Desert! You can roam the depths of the desert via a variety of ways: quad, buggy, foot, or camel.
Most excursion-goers opt for a thrilling quad ride, where they can twist and wind in and out of the sand dunes. Children 16 and older can ride the quad on their own with permission from an adult or legal guardian, of course. Younger children can hop on a quad with their parents.
On your quad, you will ride to and around Lalla Takerkoust Lake and rip through blonde-sand hills while the High Atlas Mountains offer a staggering backdrop. Throughout your journey, you will pass by authentic Berber villages, granting you the chance to catch a glimpse of the traditional lifestyle of villagers.
Looking for a more calming excursion? You can opt to explore the wonders dotting Agafay Desert via a buggy or camel! Both options follow a similar format to the ATV adventure: stroll and ride through the sand, pass by Berber villages, and marvel at Lalla Takerkoust Lake.
When you book a 2-day tour, you will spend the night in a luxury tent, while nature lullabies you to sleep.
Get away from the hustle and bustle of Marrakesh for a serene (and adventurous) desert escapade. Who knew you didn't have to travel to the Sahara Desert to witness Morocco's expansive, diverse backyard?
How much does an excursion to Agafay Desert from Marrakesh cost?
The day trips to Agafay Desert cost anywhere between US$50 to US$168 (€45 to €152). The cheaper trip only lasts for a short 2.5 hours, making it a wonderful option for those who want a quick escape! The more expensive option lasts over 9 hours—it also includes a traditional lunch and liability insurance. Both tours include the quad, water, hotel pick-up, and fuel!
Looking for a camel ride? Most overnight expeditions offer you the chance to ride atop the exotic animal. These tours cost around US$260 (€236). More often than not overnight jaunts to Agafay Desert include the cost of your luxurious tent, the camel ride, hotel pick-up, mint tea, dinner, and breakfast. You'll have to either bring or buy your own lunch!
How to get to Agafay Desert from Marrakesh?
You can travel to the Agafay Desert by vehicle. Drive from the lively Marrakesh through the serene, tranquil roads winding around High Atlas Mountains. Eventually, you'll reach Lalla Takerkoust Lake, where most tours begin. The drive may be short, but the view from your window will introduce you to Morocco's mesmerizing landscapes.
How long does it take to get to Agafay Desert from Marrakesh?
If you're looking for a quick getaway, this trip is the perfect option for you! Why? Well, you can reach your destination within 40 minutes. The total trek only takes around 24 miles (40 kilometers). And if you opt for the 2.5-hour quad trip, you'll get back to Morocco in time for an eventful, city-filled evening.
When is the best time to visit Agafay Desert?
In spring, flora blossoms, slightly disguising the desert-like landscape. In summer and fall, the flowers fade, and the golden dunes take over. In July and August, intense heat drenches people across Marrakesh, so some may find a trip to the desert more suitable in other months.
In June, July, August, and September, Agafay Desert can go up to 89 to 97°F (32-36°C). From November to March, the temperatures drop and can go as low as 50 to 52°F (10 or 11°C), but as high as 63-71°F (19-22 °C). However, in general, Morocco shimmers with sunshine year-round, making it easy to choose when to plan your vacation to Marrakesh and the must-see Agafay Desert.
Travel Tips
You don't need your driver's license for the quad adventure.
Most excursions include all of the necessary gear needed for a safe quad exploration.
Some day tours will provide you with water, tea, and crepes, but you may want to bring an additional snack in case you work up an appetite.
Some restaurants are surrounding Lalla Takerkoust Lake, so don't forget to bring some money along.
If you're traveling during the colder months, be sure to bring warm clothes for your camping endeavor.
If you're visiting Agafay Desert during the summer, you can ask your tour guide if you can bring your bed from your tent outside, giving you the chance to bask in Agafay Desert's enchanting night sky.