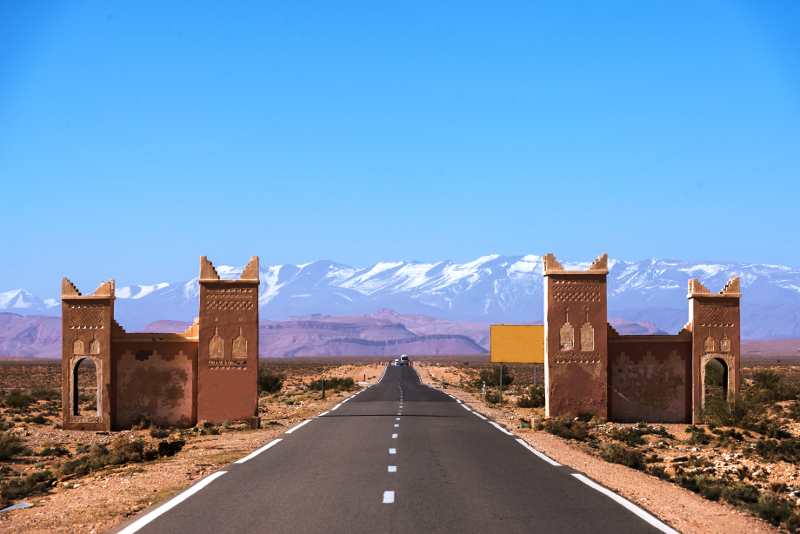 What are the best day trips from Marrakech? Roving through mountainous terrain, catching a birds-eye view of the dunes from a hot air balloon, marvelling at prehistorical architecture and ruins, or strolling through colourful and lively souqs, there are multiple awesome day tours from Marrakech.
The best part? For most of these tours, you can depart Marrakech in the morning and make it back within the same day! 
Read on, pick your favorite destination and have a wonderful experience!
1 – Essaouira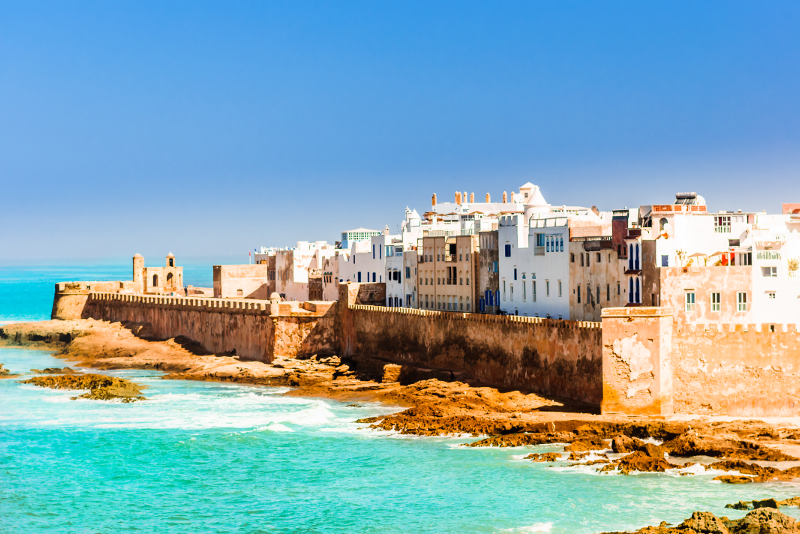 Let the narrow, walled, slightly European-inspired (but the majority of the influence resembles a North African style) streets of the Essaouria's Medina take you back in time. This trip to Essaouira also grants you the opportunity to check out the lovely coast of Morocco. On this tour, you'll notice how the modern world seamlessly blends with ancient architecture and history. It's also important to note that Essaouira is considered a World Heritage Site!
Read more about things to do in Essaouira.
2 – Ouzoud Falls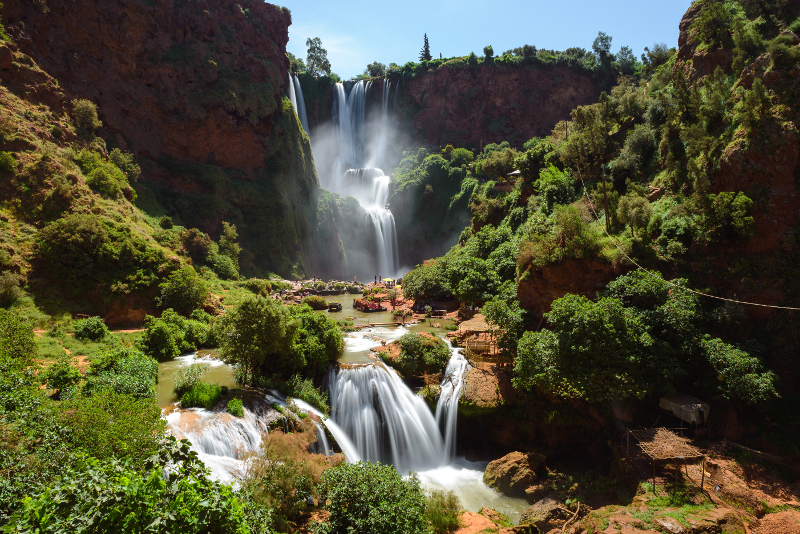 Venture from the busy, happening streets of Marrakech and immerse yourself in the depths of nature. At Ouzoud Falls, you can marvel at how the stunning waterfall, nestled between layers of flora, cascades over a massive rock face. Nearby the sparkling waterfalls, you'll find the Al Abid River, where you can take a refreshing dip. Don't forget to keep your eyes out for monkey's swinging from tree to tree! Submerging yourself in nature to the backdrop of spectacular images of flora and fauna makes for an unbeatable day trip from Marrakech.
3 – Palm Grove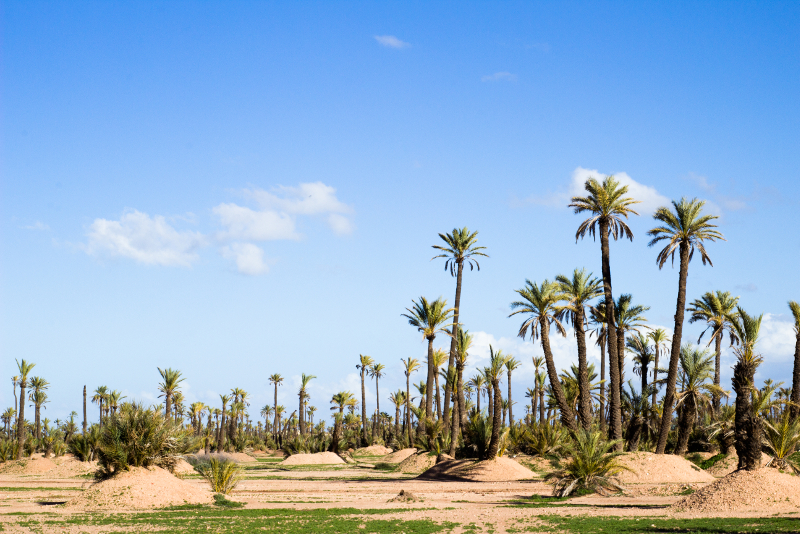 Located just outside Marrakech, the Palm Grove offers the easiest opportunity to leave the hustling and bustling city for a fun camel ride experience. Local guides are known to be welcoming, and they will do their best to provide an authentic perspective of Moroccan culture: a tea break is always included! 
4 – Merzouga Desert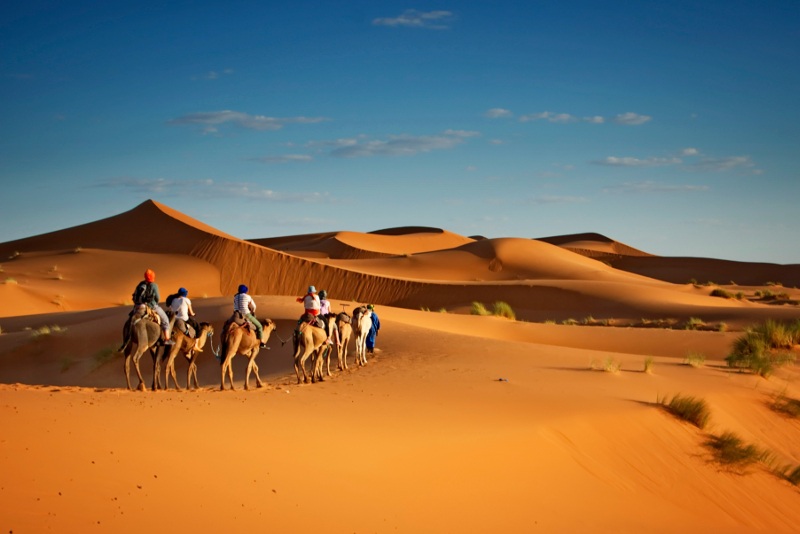 Let the calm, inexplicable beauty of the Merzouga Desert envelop you. From riding a camel through the smooth Erg Chebbi dunes to watching the sun emerge from the depths of the sand to camping below the hundreds of stars at a Bedouin camp to winding through the High Atlas Mountains, it's safe to say that this three-day magical, peaceful, exciting desert trip from Marrakech will remain a clear image in your mind for years to come. 
5 – Agadir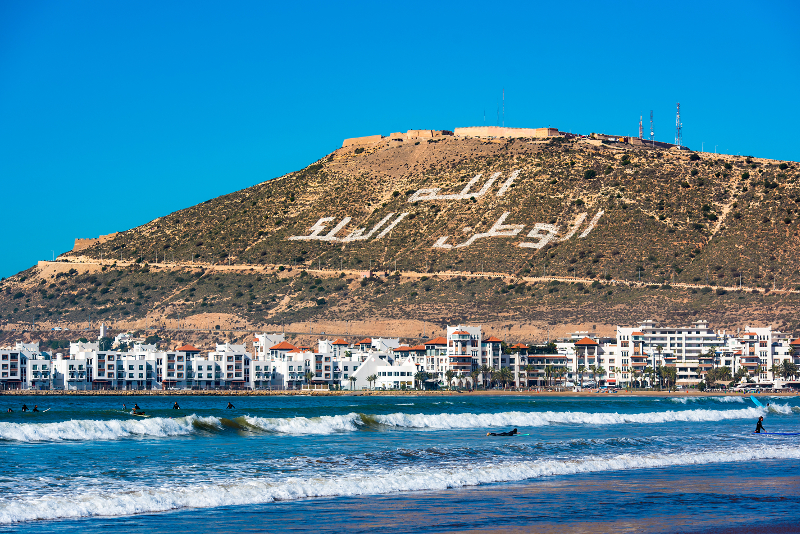 Craving a luxurious but calm getaway? The lines of palm trees, the white-sandy coastlines, and the beach bars of Agadir are calling your name. Agadir, although beachy and touristy, offers a range of activities. The day trip from Marrakech will take you through Agadir's collection of formidable sights such as the fish market, Agadir Beach, the medina, and more. You may be able to choose your destinations depending on your tour!
6 – Ouarzazate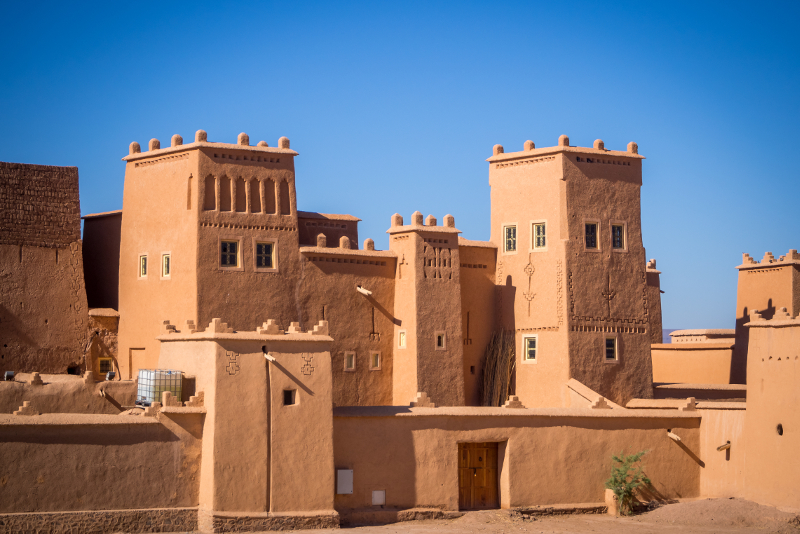 This day trip from Marrakech will introduce you to "Africa's Hollywood". Ouarzazate may be the largest city in Morocco, but the architecture and stunning beauty will distract you from the numerous tourists roaming around. En route to Ouarzazate, you will stop by the UNESCO Heritage Site, Ait Benhaddou. And this site has attracted filmmakers for many, many years! Ouarzazate has a couple of worthwhile destinations including the step-back-in-time Kasbah of Taourirt that provides you with a glimpse of the lavish lifestyles of the past.
7 – Mount Toubkal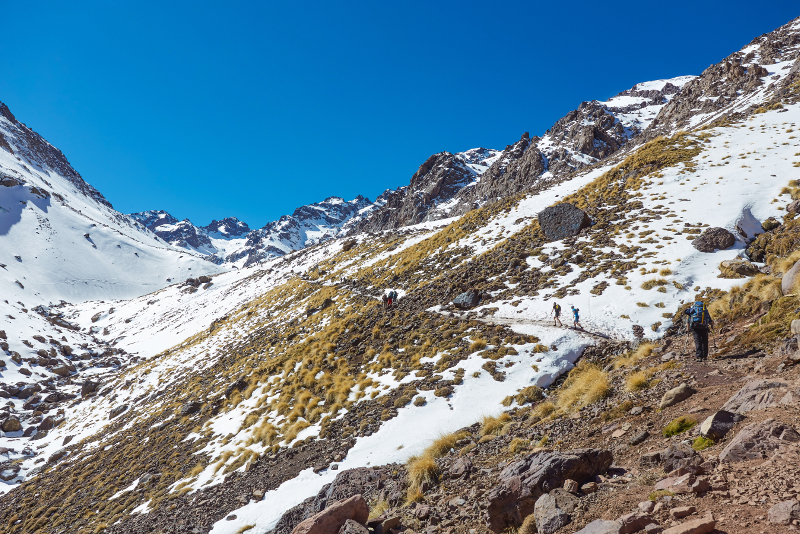 Escape the desert, the cities and climb to the top of North Africa's tallest mountain, Mount Toubkal. The snowy peaks at the summit will give you a different Moroccan feeling. On your way to the Jebel Toubkal summit, you will check out Imil village and trek by the Sidi Chamharouch shrine. As you trek, you will pass by unbelievable landscapes and cross various terrains. Be sure to set time aside since the entire journey will take three days.
8 – Casablanca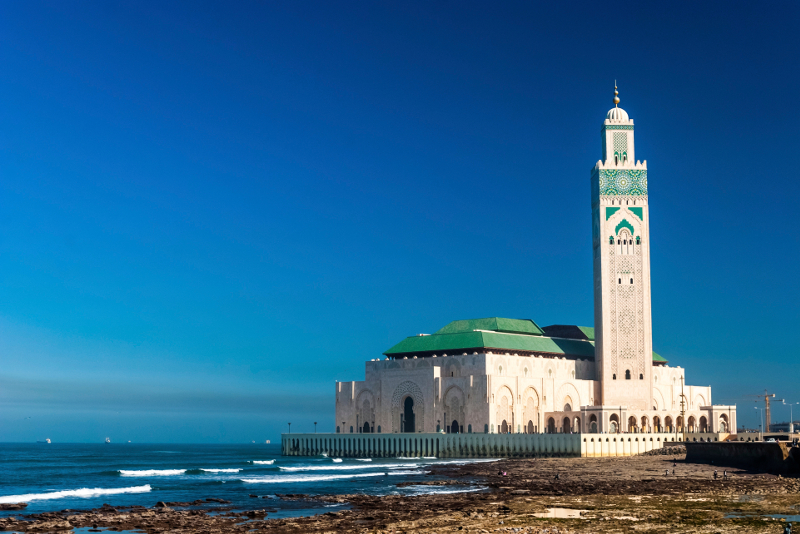 Most of you may know Casablanca from the iconic 1945 film of the same name, but the city also has a plethora of beautiful, historical sights to see. And the day trip from Marrakech to the Atlantic coastline manages to bring you to many of the highlights of the Moroccan city: munch on some seafood at the Central Market, admire the intricate design of the Royal Palace and patrol the French-built Habous district.
9 – Asni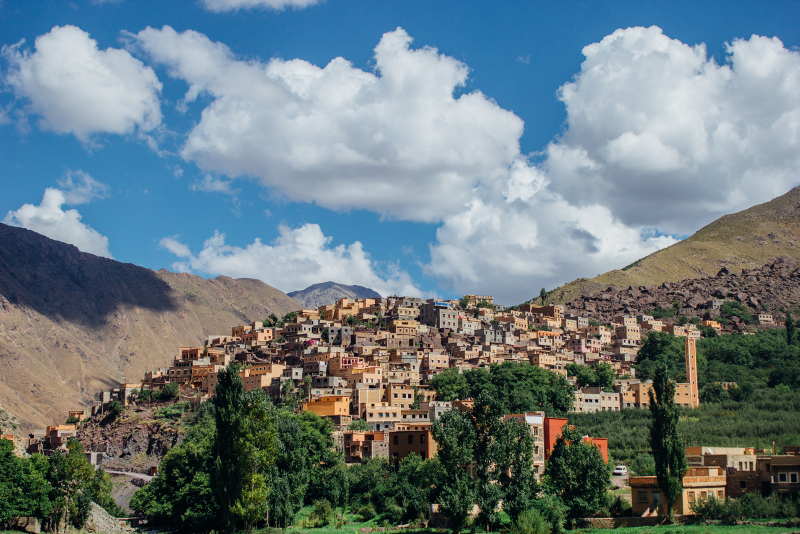 Travel from the brown and white hues covering Marrakech's architecture to the vast, fairy-tale-like green blanketing Asni. The lovely area doesn't attract as many tourists as other destinations, so it encompasses an authentic vibe. You can wander around the various little shops dotting the area while also taking the daily lives and activities of the locals into account! The best part? Asni isn't too far from Marrakech! It's about an hours drive away.
10 – Atlas Mountains
Escape to the ever-so vast Atlas Mountains for a breath of fresh air and a glimpse of Moroccan culture. This eye-opening excursion will take you to Imlil where you'll sip mint tea, dine with a Berber family, and gain a collection of facts on the history of the area. Aside from the cultural experience, the terraced fields, lined by walnut and cherry trees, will undoubtedly provide you with numerous images to marvel over for years and years. 
11 – Zagora Desert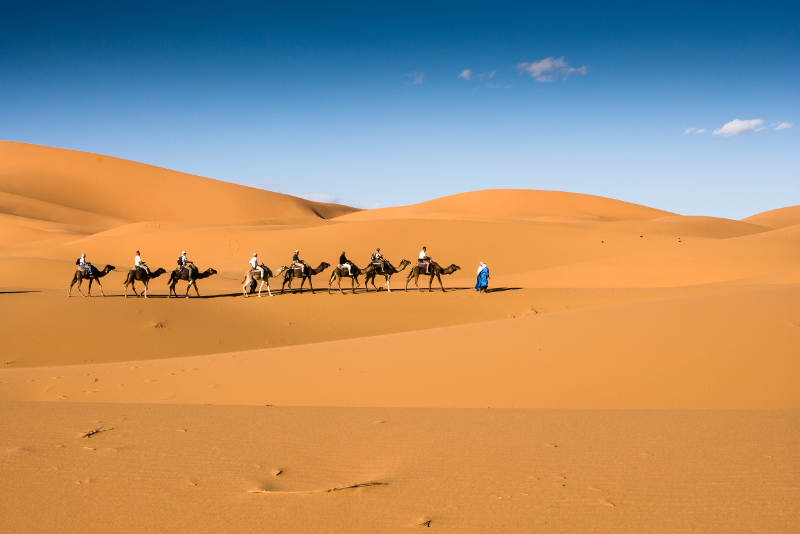 Do you have a couple of days to spare? If so, the Zagora Desert awaits! This two-day excursion will transport you from the colourful, lively Marrakech to the quiet, sublime Zagora Desert, where you will ride a camel to watch the sunrise and set. And traditional Berber tents will house you for the night! Berber tents, traditionally crafted from goat and sheep hair, provide an ideal shelter for staying in the desert.
12 – Ourika Valley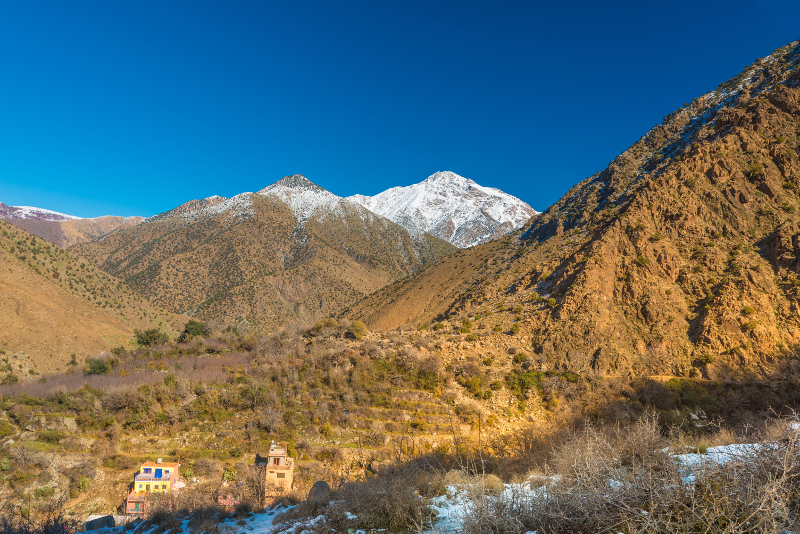 Even the sights of rolling landscapes—painted with an array of flora and fascinating rocks—en route to Ourika Valley will enthral you. Day trips to Ourika Valley flawlessly integrates numerous must-see activities, such as visiting a Berber village, where Moroccon tradition shines, and discovering the craft of how Moroccan women concoct argan oil. Followed by a rewarding trip to the Setti Fatma waterfalls!   
13 – Imlil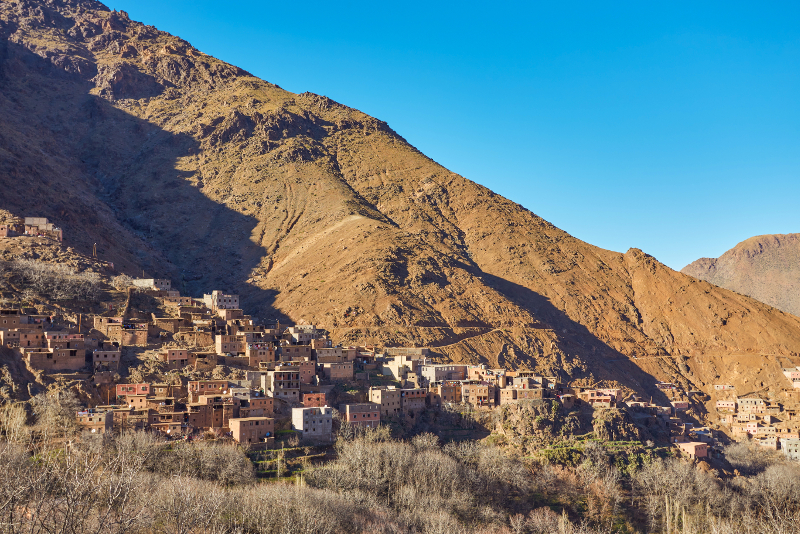 Imlil will delight all who hope to learn about Morocco's rich, fascinating culture. From houses stacked perpendicular, lining the terraced fields with a rockface backdrop to a countryside exploration that unravels the inner details of Morrocan heritage and tradition, there's something for everyone. Even the drive from Marrakech to Imlil will have you snapping photo after photo. An excursion to Imlil from Marrakech will last one full day. 
14 – Ait Benhaddou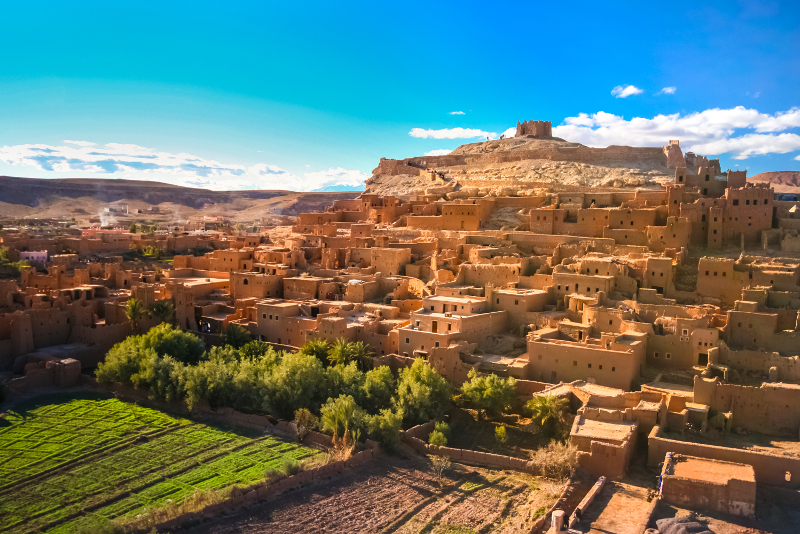 The old, ancient architecture spanning across Ait Benhaddou kasbah has earned it the prestigious UNESCO World Heritage Site title. And the powerful, irrefutable beauty surrounding Ait Benhaddou has attracted filmmakers to the assemblage of historical buildings. When you explore Ait Benhaddou, you will get the chance to discover where Gladiator, Lawrence of Arabia, The Mummy, and some Game of Thrones scenes were filmed. This trip to the desert will enrapture you
15 – Oukaïmeden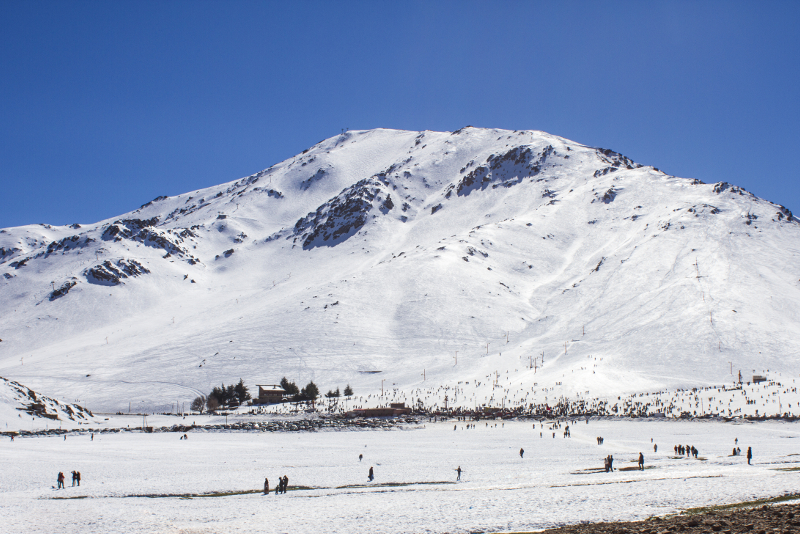 Craving a different landscape, terrain, and view? Oukaïmeden, the lovely ski resort tucked in the High Atlas Mountains, will fulfil all snowboarding, skiing, and winter desires! Who knew Morocco, the land of rolling dunes, had a beautiful ski resort? It's definitely a must-do for skiing and snowboarding fanatics. If you aren't into skiing or snowboarding, you can also view the gorgeous landscapes and everyday lives of the locals via a once-in-a-lifetime mule ride. 
16 – Atlas Mountains on a Hot Air Balloon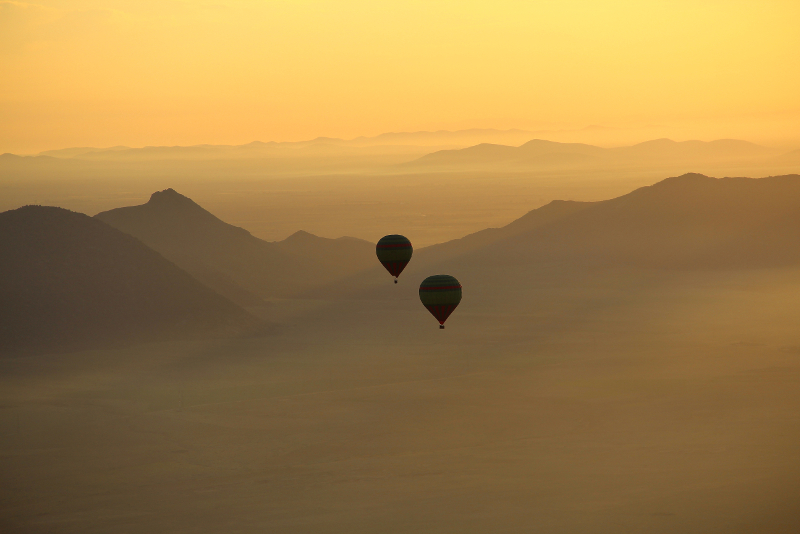 Enjoy a panoramic view of the Atlas Mountains from the clouds! You will rise into the sky via a hot air balloon alongside the emerging sun. While you sit amidst purple clouds, cotton candy skies, and golden-lit hues, you will watch the still desert landscapes splayed below drift further and further away. To top it off, some tours also include a camel ride and a post-flight, authentic Berber breakfast. 
17 – Agafay Desert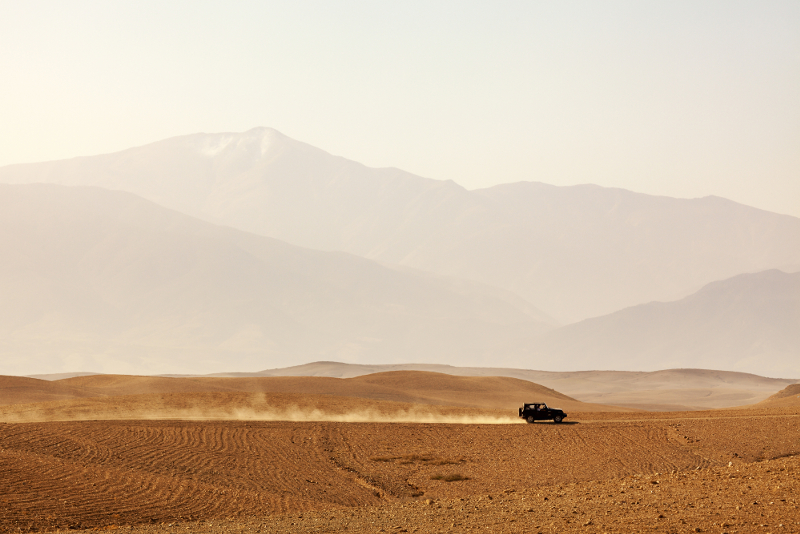 Agafay Desert sits only 30 kilometres away from Marrakech, making it an ideal location for a day tour. If you're short on time but want to immerse yourself in Moroccan culture for a few hours, you may want to consider travelling to Agafay Desert. Why? This trip gives you the chance to quad through surrounding landscapes! Begin at Lalla Takerkoust Lake, travel through various villages, enjoy mint tea and Moroccan desert. On this trip, you will spend the day admiring stunning views.
18 – Rabat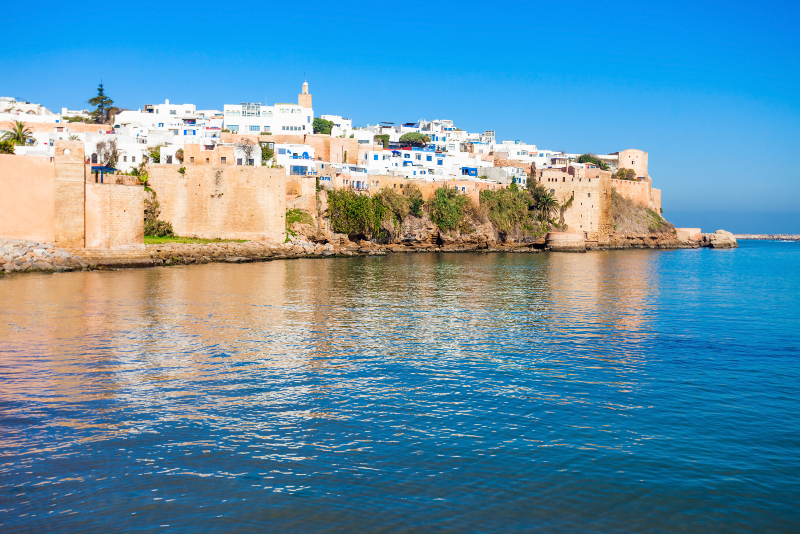 Some people may think that most capital cities feel congested and busy with not much to see. But Morocco's capital, Rabat, steeped in history, offers antique buildings, and worthwhile sights with a sprinkle of French influence. Just outside the city, you will find the Chellah—ruins harking back to when Romans and Phoenicians stayed in Morocco. The Hassan Tower, a UNESCO Heritage Site, also resembles Morocco's fascinating history. The chill vibes, gorgeous sites, and the ancient stories and tales make Rabat a worthy destination! 
19 – Taroudant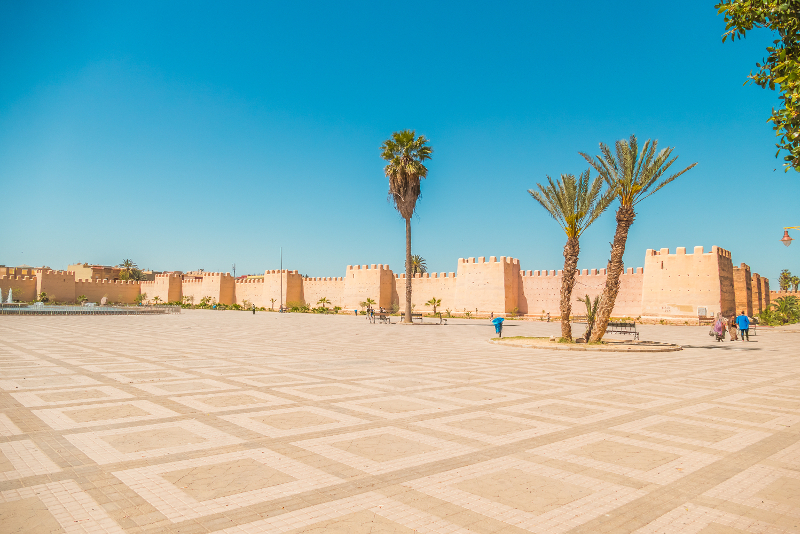 The journey from Marrakech may take around three hours each way, but it's possible to drift through this quaint town in five or six hours! Taroudant, dubbed as "Grandmother of Marrakech", offers visitors pleasant scenery. In Taroudant, lush green palm trees contrast the red mud and the peaks of High Atlas Mountain sit tall in the background. It's very picturesque! A visit here will show you the ins and outs of a traditional market, too; it's worth strolling through the two souqs. 
20 – El Jadida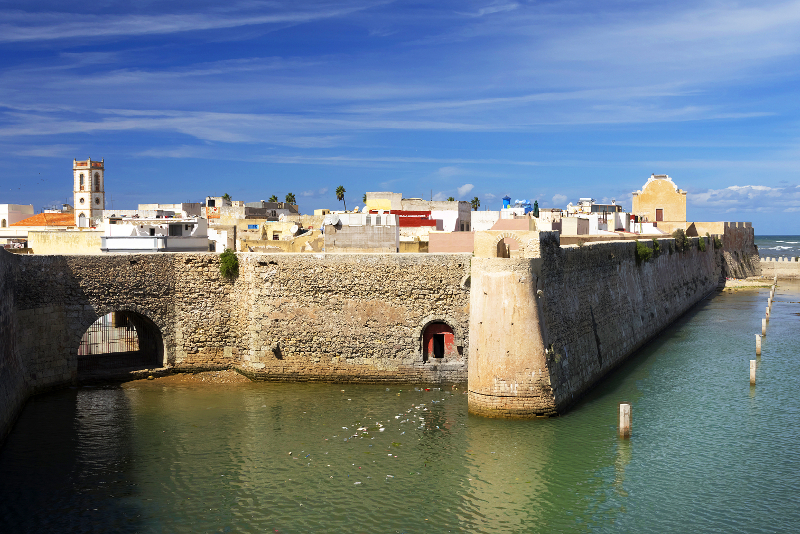 Do you want to learn about Morocco's history while enjoying a fresh plate of seafood alongside the shoreline? The walled city, formerly owned by the Portuguese, contains a panoply of archaic buildings that survived attacks from enemies many years ago. And you can't go to El Jadida without visiting the cistern. In 1514, someone built the underground building but the site remained unknown to the public until 1916. It's definitely a must-see attraction! 
21 – Desert of the Jbilets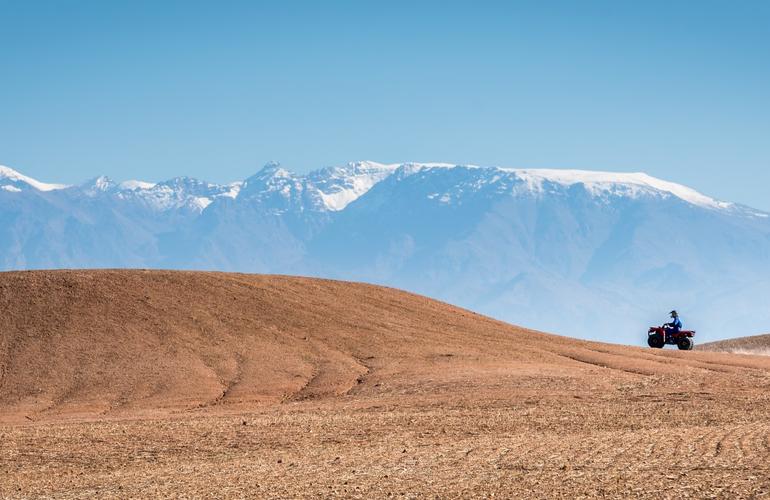 From dunes to gravel roads, the Desert of the Jbilets offers the perfect ground to have fun with quads and All-Terrain-Vehicles (ATVs). You will get a chance to see wonderful landscapes while enjoying a thrilling outdoor adventure.