Travel from the colourful, lively Marrakech to the vast desert landscapes spanning Morocco's backyard. Whether you're in Marrakech for only a short time or want to escape the bustling city for a few days, there are a variety of Marrakech desert tours that will support all your exploration desires!
Some options include overnight camping below the never-ending desert skies. Whereas other options include visits to historic sites followed by luxurious hotel accommodation. You can explore the arid sands atop a camel while the sun melts into the desert floor or via an exhilarating quad ride. The options are endless!
Want to know more? Read on for more information about the best Marrakech desert tours!
1. Marrakech Rock Desert and Palm Grove Camel Ride with Tea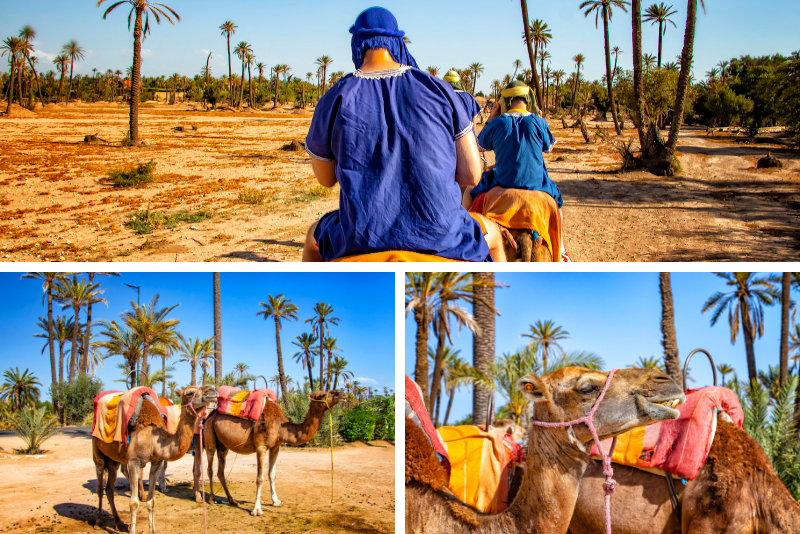 This fascinating four-hour tour will take you through the immense Palm Grove and the rugged Rock Desert atop a Malian camel. You will get the chance to briefly immerse in the depths of Morrocan culture outside of the city lights.
Throughout the journey, you will meander through the palm trees dotting the rolling desert landscape. During your trek, you will stop for refreshing mint tea, brewed by local villagers. If you're hungry, you can munch on authentic Morrocan crêpes.
Above all, this short excursion will open your eyes to the delights, way of life, and irresistible landscapes blossoming outside of Marrakech.
2. Marrakech to Merzouga 3-Day Desert Safari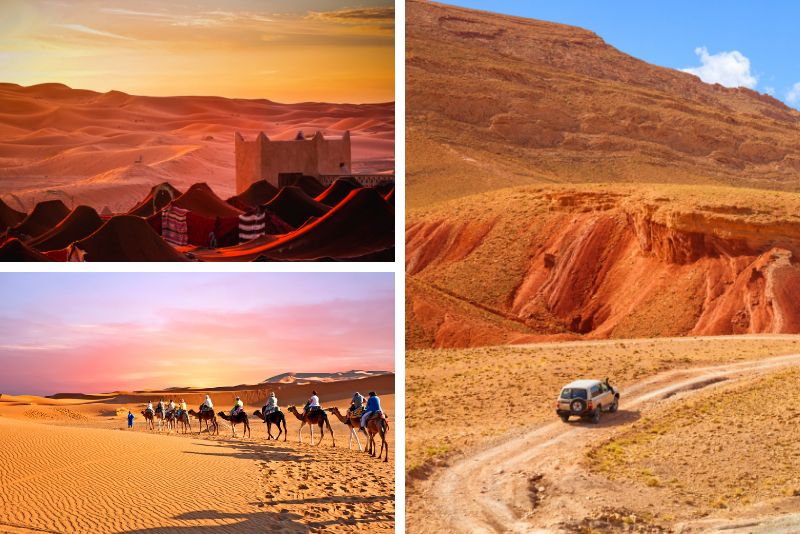 Explore Morroco's stunning backyard, one that is steeped in history and illuminated by vast scenery, on this 3-day desert safari. At night, the stars and soft winds surrounding and lighting up the Bedouin Camp at the Erg Chebbi Dunes will lullaby and ease you to sleep. And the cotton candy sunrise will calmly ask you to arise come morning.
This journey will take you through the towering High Atlas Mountains to the UNESCO World Heritage Site Aït Benhaddou, where ancient, earthly buildings have sat for centuries. In addition to immersing yourself into the deep end of Morrocco's rich, vast sights, you will also intermingle with locals. At the campsite, locals will perform and provide you with unforgettable entertainment.
If you want to explore the remarkable landscapes spanning across Morrocco, this 3-day journey will fulfil your desire.
3. Sunset Camel Ride in the Marrakech Palmeraie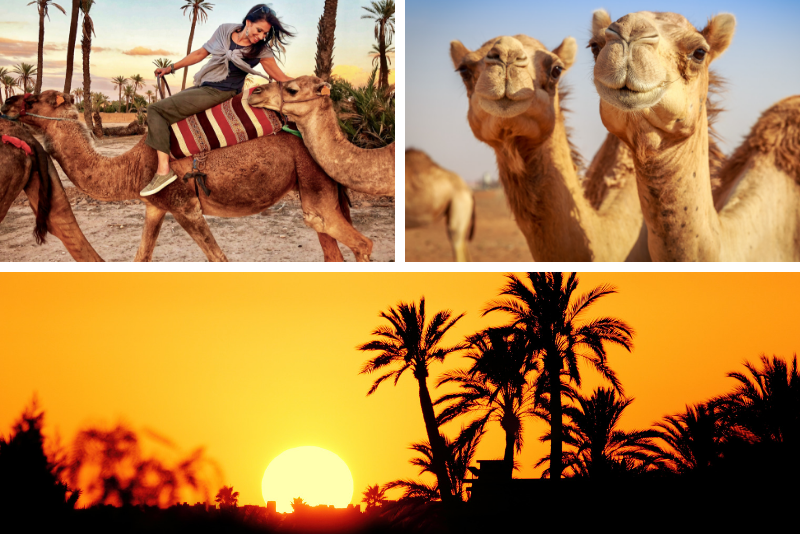 Wondering if there are any Marrakech desert tours that offer a short trip? Well, you're in luck! This trip is only a short drive from the city centre. It's an ideal activity for those of you who want a quick glimpse of Morrocan culture!
Hop atop a camel for one hour while the sun dips below the collection of palm trees blanketing the area. And meet some locals throughout your camel ride. A one-hour trek may seem short, but it's one hour that will remain in your mind as one of the most memorable moments of your life.
The locals will serve traditional Morrocan tea and snacks. You can also learn about the lives of the locals outside of the city.
4. 2-Day Zagora Desert Trip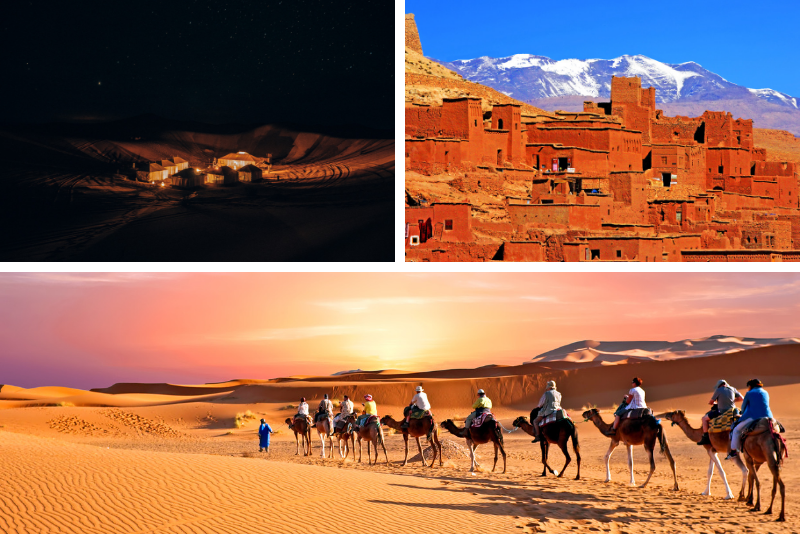 Do you have a weekend to spare and want to experience authentic Morrocan culture? This 2-day Zagora Desert trip enables you to catch a glimpse of the gorgeous country outside of traditional city views. You will spend the night camping in luxurious, Berber-style tents below the collection of bright stars filling the sky.
To make the experience even more authentic, camels will carry you across the desert to the campsite while the sun sets. When the golden-lit sun welcomes you to the morning, you will hop on your camel and travel back to Zagora. Amidst the sunsets, morning hues, starry skies, and camel rides, you will munch on a delicious dinner and breakfast!
En route to Zagora, you will get the chance to stop at the prehistoric Aït Benhaddou kasbah. You can check the full itinerary and compare it to Merzouga desert tours by reading our guide: Desert tours from Marrakech: 1, 2, 3-day itineraries.
5. Marrakech: Half-Day Desert Quad & Dromedary Tour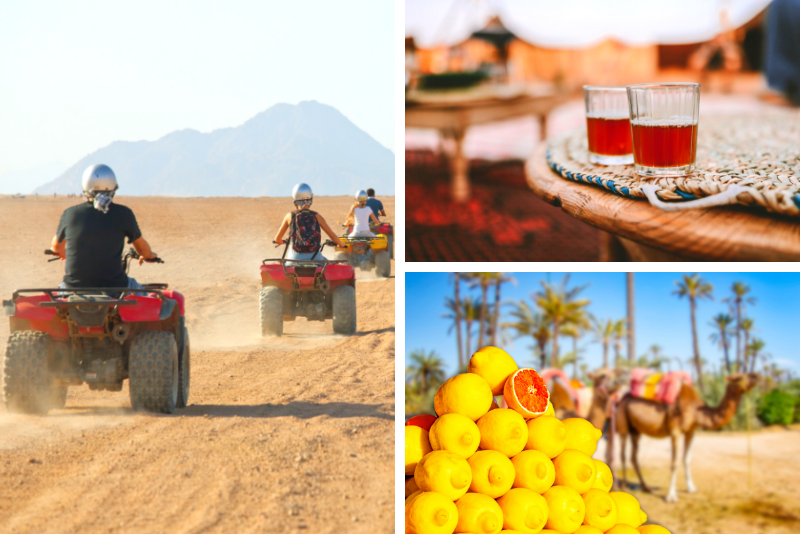 This four-hour trip seamlessly fuses relaxation with adventure. During the first hour, you will wander the desert dunes on top of the biggest camel of all, the dromedary. The quiet, calm desert scenery backed by the gentle swaying of palm tree leaves will induce you to a tranquil state. After, you will sit down for a cup of traditional Morrocan tea.
Once you finish consuming your tea, you will hop on a quad for an exciting, thrilling adventure. Travel through desert plains and rolling hills while the snow-capped mountains sit like a faded painting in the background.
6. Private 4×4 Sahara Desert from Marrakech with Camel Ride and Desert Camp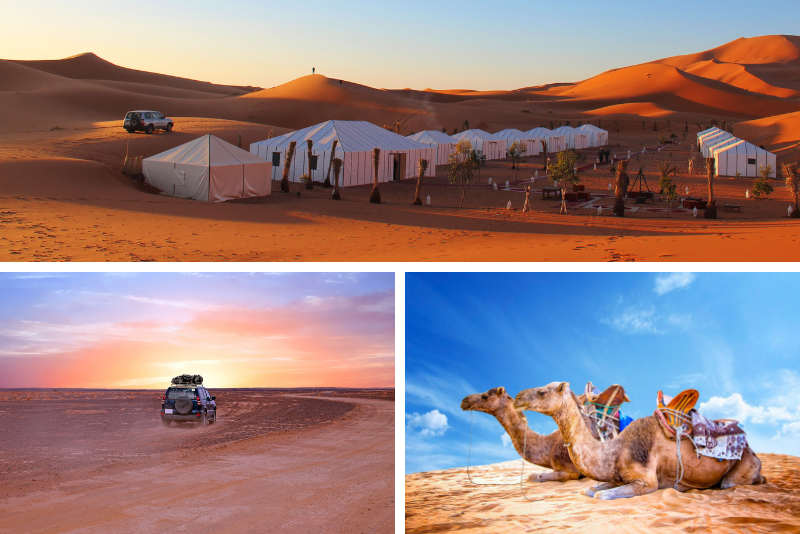 It would be absolutely heartbreaking to leave Morroco without exploring the vast, smooth hills of sand permeating the Sahara Desert. It's the land where never-ending skies and brown dunes collide to create a mesmerising view.
En route to the Sahara Desert (Zagora or Merzouga), you will travel through the scenic Atlas in your private 4×4. You will also pass the historical city Ouarzazate, dubbed as the Hollywood of Africa. Once you reach the desert, you will hop on a camel for a scenic two-hour journey to your campsite. Fall asleep under the countless stars dotting the night sky.
Ultimately, this jaunt will introduce you to a surplus of diverse Morrocan sights, while enjoying private transportation, a private guide and accommodation.
7. Desert Sunset Camel Ride With Free Tea in The Desert Camp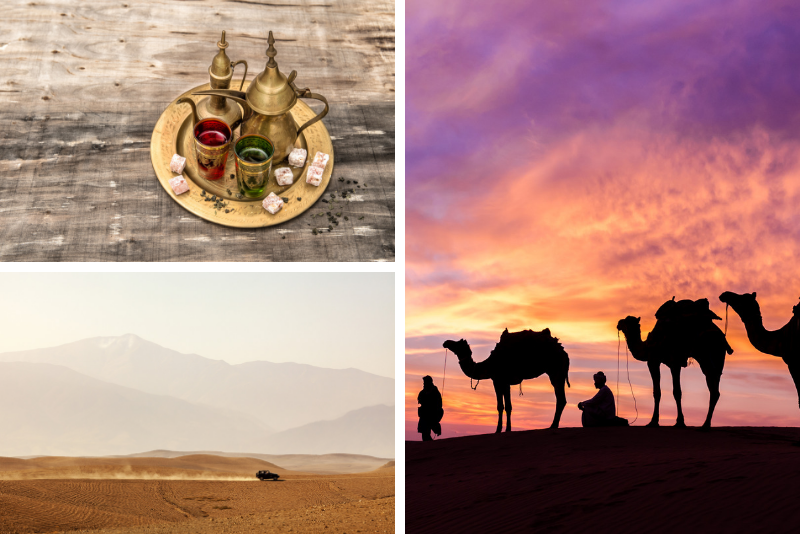 Are you short on time but want to experience a glimmer of Morroco's expansive scenic views? This half-day excursion will fulfil your wish! While the blood-red sun illuminates the sky with a blend of yellow, purple, and orange hues, you will find yourself in Agafay Desert. Thankfully, this excursion is only a short distance from Marrakech.
You will travel across the dunes of the Agafay Desert via a camel for two-hours. Once you finish your trek, you will sip on a cup of replenishing Morrocan tea. This journey makes for the perfect evening activity for those who want to escape the city.
8. Marrakech to Fez: 3-Day Desert Tour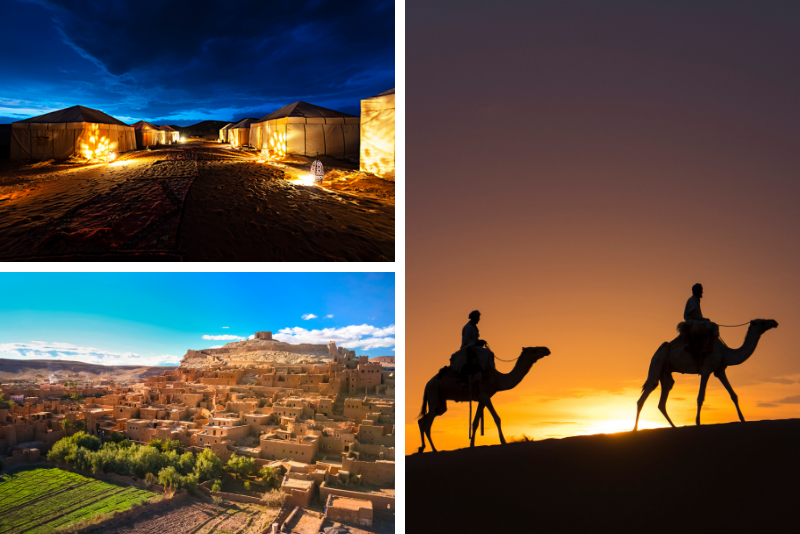 Visit the desert from Marrakech and finish your tour in Fez. This is an interesting option is you plan to travel to the north of Morocco and visit other cities. The same tour is offered in the other direction: from Fez to Merzouga Desert finishing in Marrakech.
Throughout your journey, you will find yourself surrounded by ever-changing landscapes and terrain. You will travel through winding High Atlas Mountain roads, followed by a pit stop in the remarkable, historic Aït Benhaddou kasbah. And you will meander through the towering Todgha Canyons.
On the second night, you will ride a camel to your campsite while the sun melts into the dunes.
When you travel to Fez, following your night below the starry sky, you will drive along the azure blue Ziz River. Eventually, stark mountainous terrain will replace the rolling sand dunes. Shortly after, you'll roll into Fez, where colourful souks and unique architecture will envelop you.
9. Marrakech Palm Grove Quad Bike Tour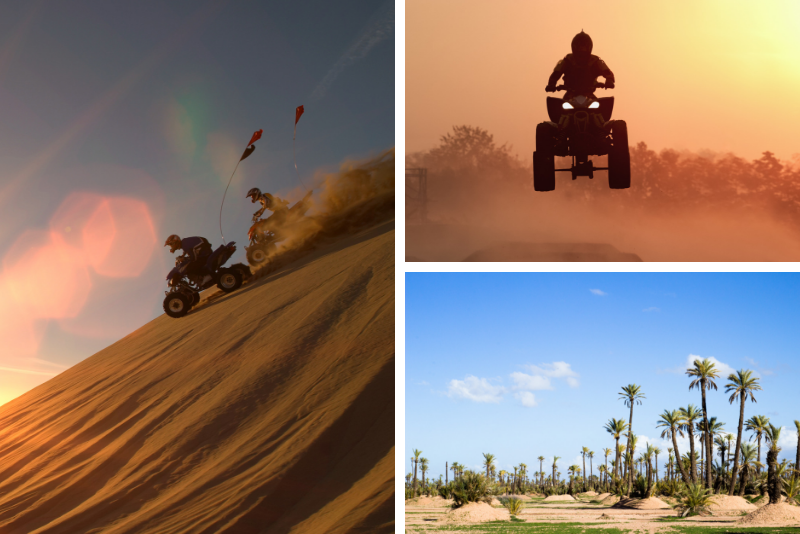 Escape to the outskirts of Marrakech for a brief, but an undeniably exciting two-hour quad adventure. This exploration may be short, but your body will travel through various terrains while your eyes (and your camera) take in a collection of once-in-a-lifetime views.
You will travel by villages, and in and out of the Palm Grove and Rock Desert, while the High Atlas Mountains create an ideal backdrop. In the middle of your exhilarating expedition, you will sit for a cup of traditional tea and a selection of appetising snacks.
Ultimately, this trek will please anyone who loves to explore, craves a glimpse of Morroco's backyard, and wants a thrilling, fast adventure.
10. Shared 3-Day Sahara Desert Tour from Marrakech to Merzouga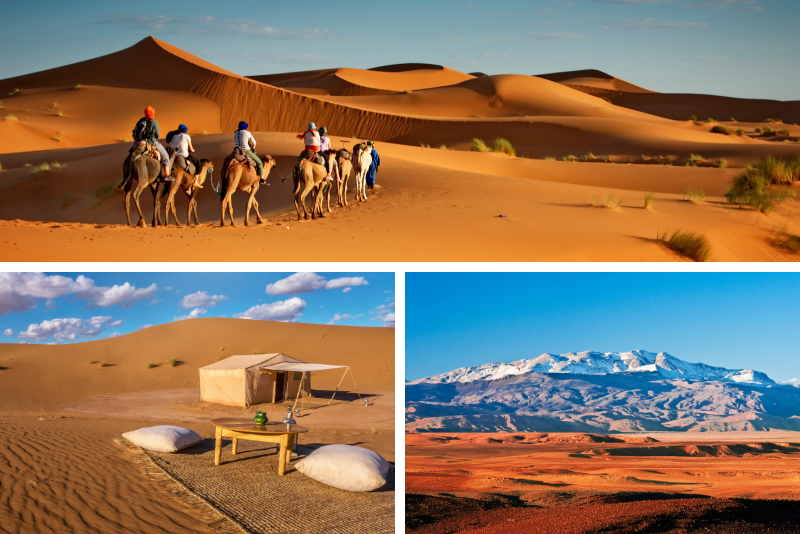 Are you only in Morroco for a few days, but want to make sure you do your best to see every corner of the country? It may be tough to see absolutely everything. Yet, this three-day Sahara Desert tour gives you the chance to catch flashes of some of Morroco's most staggering landscapes and marvellous archaic architecture.
On this jaunt, you will travel through the breathtaking Atlas Mountains, marvel at the assemblage of ancient buildings in the Aït Benhaddou, and see Berber villages.
Close to the end of day two, you will hop on a camel at Erg Chebbi while the sunlight fades to dusk. At the campsite, locals will welcome you with traditional entertainment. And you will enjoy a hearty Morrocan dinner.
11. 3-Day Tour: Marrakech to Merzouga by Way of Dadès Valley plus Erg Chebbi Camel Trek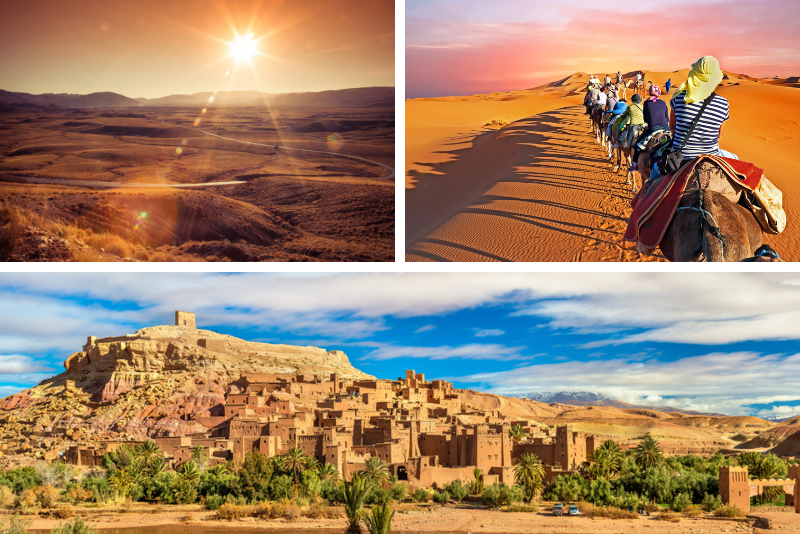 This 3-day tour will take you from the vibrant, lively Marrakech through the twisting roads of the Tizi-n-Tichka pass, where landscapes thrive to the uncanny beauty spanning the Sahara Desert. 
En route, you will see a plethora of gorgeous sites! Once you finish zigzagging through the High Atlas Mountains, you will stop at Aït Benhaddou kasbah. After that, you will stop in Skoura—a quaint, historic town that brims with caravan-related tales! You'll spend the night in a comfortable hotel. 
The second day will take you to the Sahara Desert. When you arrive, a camel will carry you to your evening destination: a luxurious campsite in Erg Chebbi. Let the stars, the sound of the locals singing and performing, and the sweet desert air induce you to a calm state. 
12. Zagora: 2-Day Private Desert Trip from Marrakech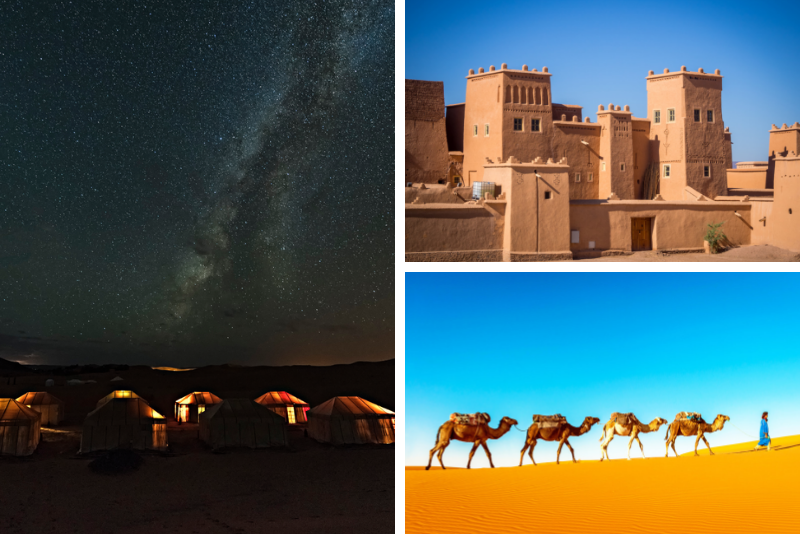 Spend one night away from the city beneath the stars, breathing in fresh air, and getting to know the lives of the villagers. While your professional driver drives through the expansive Tizi-n-Tichka pass, you will catch glimpses of authentic Berber villages from the comforts of your seat. Once you reach Aït Benhaddou kasbah, you will hop out of your private vehicle and stroll through the vast collection of historical buildings.  
After visiting the UNESCO World Heritage Site, you will travel through Ouarzazate, the town that provided a backdrop for The Gladiator and Game of Thrones. You will stop in this fascinating town on your way back. On the way to Zagora, you will travel through the Draa Valley. When you reach Zagora, a camel will take you to the campsite. During the evening, you'll munch on a tasty Moroccan dish and watch locals perform!
13. 4-Day Merzouga Desert Private Trip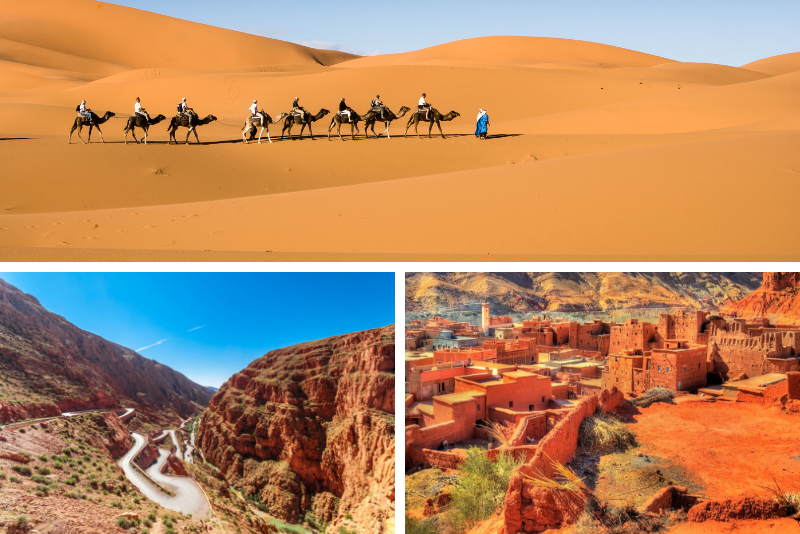 Do you have some time to spare and want to ensure that you see Morocco's backyard before you go home? If so, you may want to consider taking this 4-day private desert trip which will take you through mountain ranges, desert sands, Berber villages, soaring gorges, and ancient fortresses. 
You will spend two nights in either a standard or a luxury hotel and one night amidst the stars and refreshing desert air at a well-equipped campsite. On this journey, you will explore Ouarzazate, otherwise known as the Hollywood of Africa. You will also visit the fortresses dotting the UNESCO World Heritage Site, Aït Benhaddou. 
This four-day trip includes a camel ride, some walking around, and a 4×4 private transfer. In addition to exploring, this tour also provides you with breakfast, dinner, and accommodation!
14. From Marrakech: Quad Biking Tour in Agafay Desert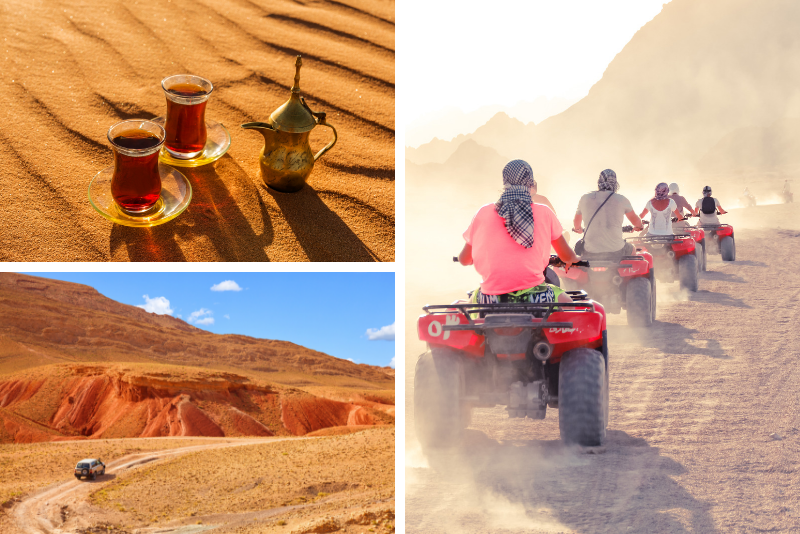 Looking for a fun way to spend an afternoon? This brief quad biking tour will definitely provide you with plenty of thrill and excitement. From the snow-capped mountains towering in the background to rolling dunes, this trip may be short, but you will spend the afternoon within different landscapes. 
When you hop aboard your quad at Lalla Takerkoust Lake, you will travel around the area, discovering Berber villages en route. Be sure to stop for a cup of traditional Moroccan tea, afterwards.
15. Fez through Merzouga Desert 4-Day Private Tour from Marrakech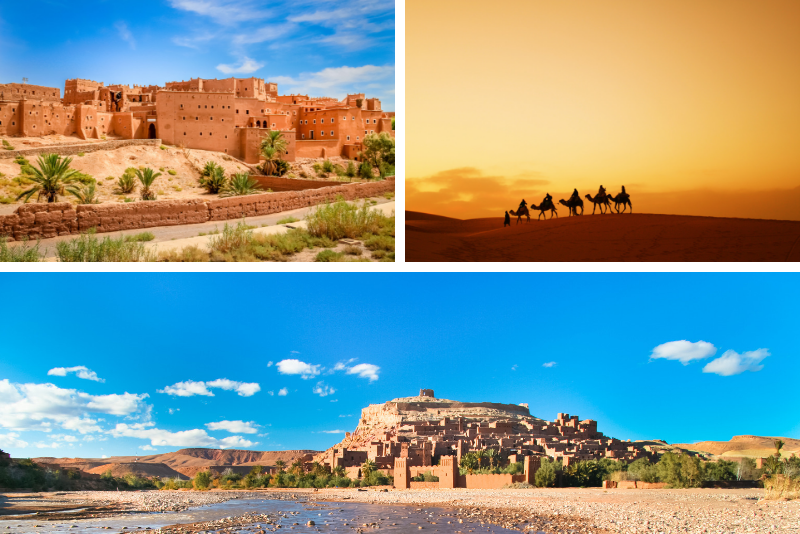 Do you want to spend more time enjoying the sights of Morroco? Perhaps the three-day trip to Fez from Marrakech—mentioned above—may seem too short for you!
However, this private, four-day journey, will give you plenty of time to bask in Morrocan landscapes. From the fresh air circling the High Atlas Mountains to a guided tour of the Atlas Film Studio to a camel ride across the Merzouga Desert (and more), there are a lot of sights to experience.
In other words, this trip allows you to immerse yourself in Morocco's vast, diverse landscapes. Your journey from Marrakech to Fez won't be boring—that's for sure!
To help you planning your desert tour, we have prepared a map showing the two main desert itineraries – Merzouga and Zagora. Agafay desert, instead, is located just outside Marrakech.