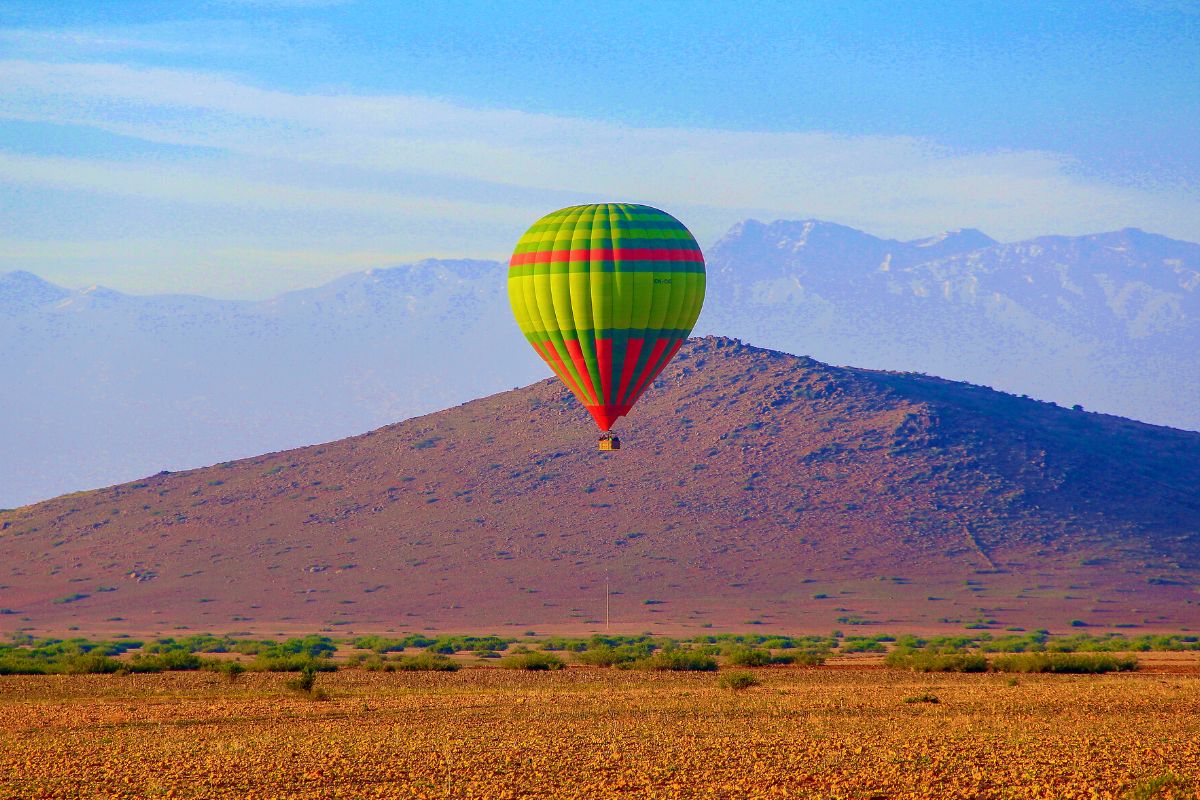 Morocco is filled with imperial cities, ancient souks (markets), and red deserts. You can make your travel in this fascinating country even more special by booking a ride in a hot air balloon in Marrakech.
Just hop onboard for stunning views over the rocky valleys and peaks and the stunning landscapes all around you, and discover why Marrakech has become one of the most popular destinations in the country.
Go ahead and add a hot balloon ride to your list of fun things to do in Marrakech for the memories of a lifetime. Our comprehensive guide includes everything you need to know when visiting, including tips on making the most of your trip.
How much do Marrakech hot air balloons cost?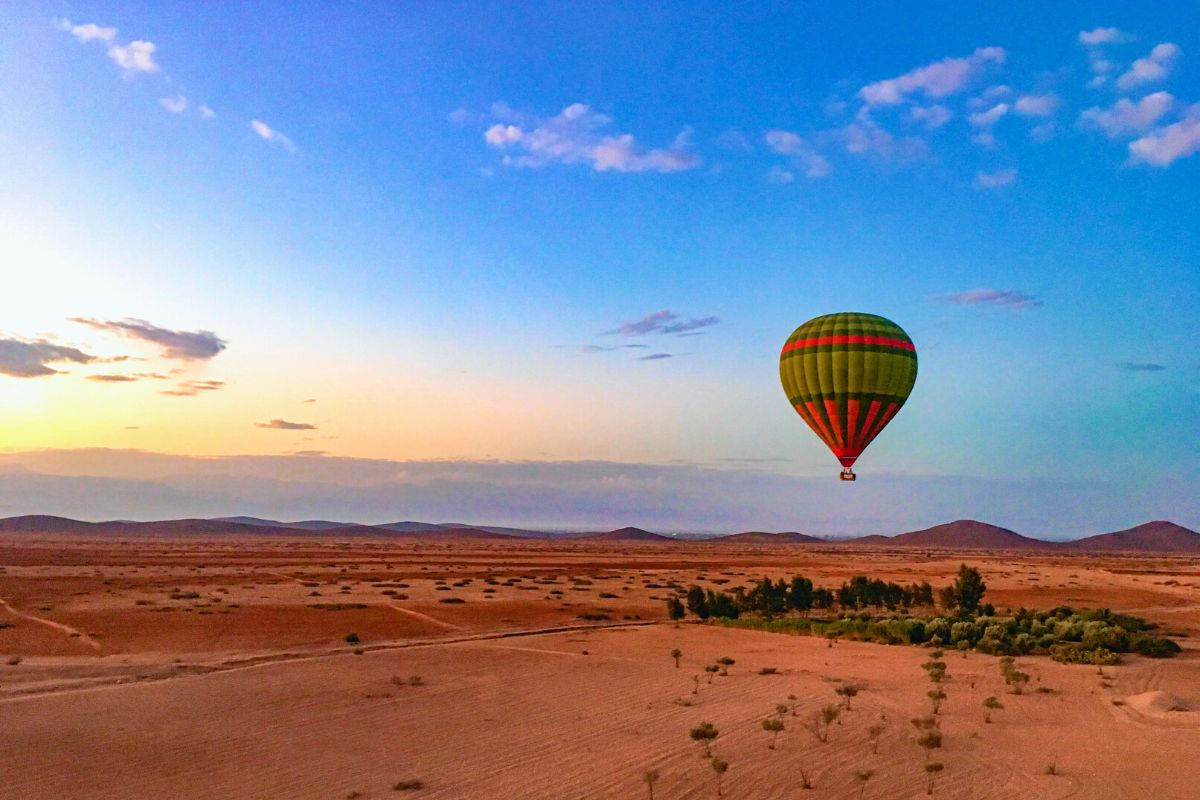 Looking for the best Marrakech hot air balloon price? The best thing about comparing flights is that you'll quickly find out there are options for every budget available. While flights might seem a bit pricey at first, keep in mind that everything is included in the package and the experience of seeing the city from the sky is well worth the cost.
Prices for a hot air balloon range between $165 and $550 (€170–€555) per person. The cost is based on the length of the flight, whether the tour includes additional experiences or amenities, and if you book in advance or buy the tour on the spot (advanced bookings are usually cheaper). Choosing a VIP or private flight will always cost more, as you won't have to share the basket with others and will have more space and more privacy.
Even the basic balloon flight tours with no extras usually last around four hours, where you'll enjoy postcard-perfect views of Marrakesh and the surrounding countryside. This includes the roundtrip transfer from and back to the city, the full pre-flight safety briefing, and watching (and sometimes participating) the balloon getting ready for take-off. There are special VIP tours that are around an hour longer.
Tours including additional services will also have a higher price.
For example, a hot air balloon ride over Marrakech and Atlas Mountains can cost anywhere from $165 to $250 (€170- €260) depending on whether you book just the flight or you want to add another experience to your day out.
For an authentic desert experience, you can also book a hot air balloon ride plus a camel ride that includes an exotic 30-minute camel ride while you soak up the beautiful views of the surrounding landscape.
Hot air balloon flights that depart at sunrise cost from $170 to $540, and usually come with refreshments. This often includes some tea or coffee plus snacks as you arrive, and sometimes a freshly prepared traditional Berber breakfast under a traditional tent after you land.
For the adventure of a lifetime, you could also book a VIP private flight, where you'll have a chance to sit down and enjoy breakfast or some coffee and a traditional Moroccan pastry during the flight. You'll experience the stunning views over the countryside before landing and visiting a local Barber village for mint tea and freshly baked bread.
Private tours are the perfect option for couples or small groups looking for a more quiet, intimate experience, but the privacy will cost you — be ready to pay up to $540 (€550) for the adventure.
How to book a hot air balloon ticket?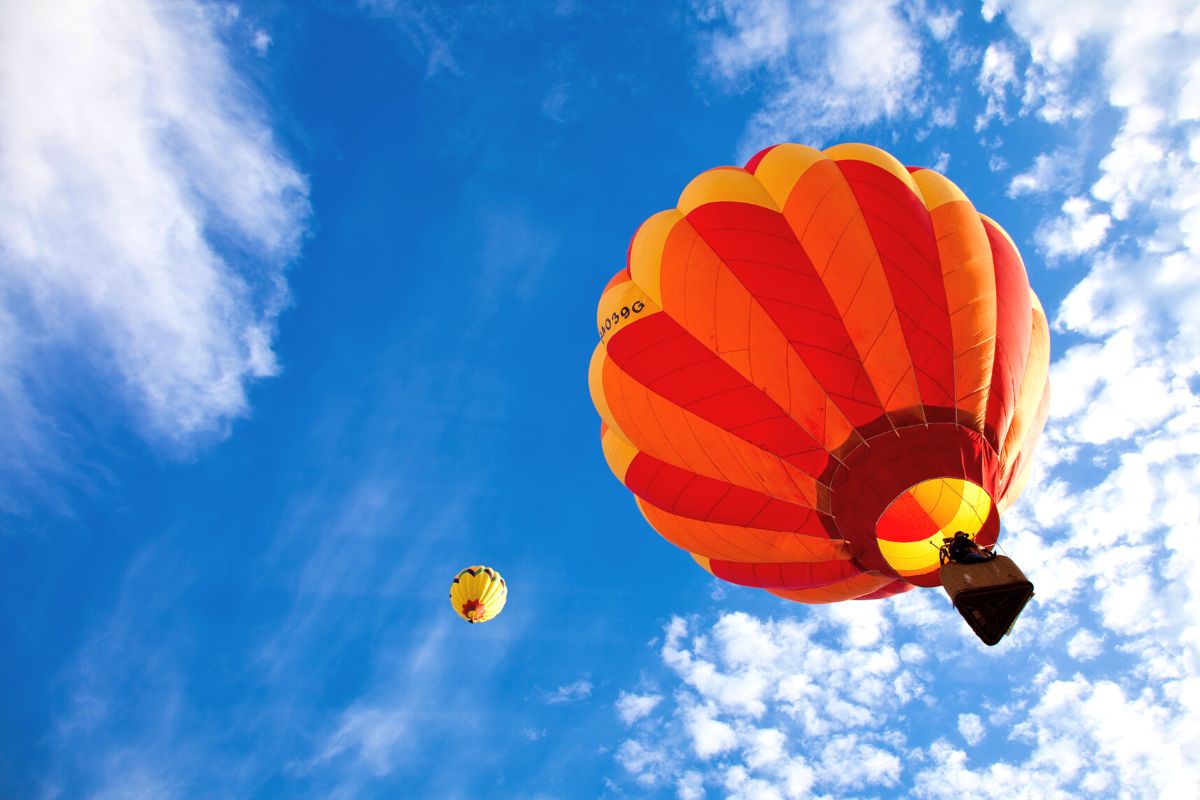 Hot air balloon rides are a popular attraction in Marrakesh, so it's no surprise that there are plenty of options when it's time to book a ticket.
You could buy a ticket from a local travel agency or even from your hotel concierge when you arrive, but that limits your choices – you will have to take whatever is available at the time, without a choice of prices, times or experience. Also, booking this way usually means you're booking at the last minute and won't be able to take advantage of special discounts for early booking.
Booking through a specialized search engine such as TourScanner allows you to compare the many different experiences and tours available and then book directly. For example, many tours include a special Berber breakfast, a desert camel ride, or direct pickup from your hotel in a 4×4 vehicle.
You can also choose from a VIP one-hour flight, a longer group flight that extends over the Atlas Mountains, or even a half-day tour that includes a full breakfast, door-to-door transfers, a sunrise lunch, and a long flight over Marrakech.
If you're unsure what type of flight is the right one for you, comparing options online is a great way to get started.
Is it safe to go on a hot air balloon ride?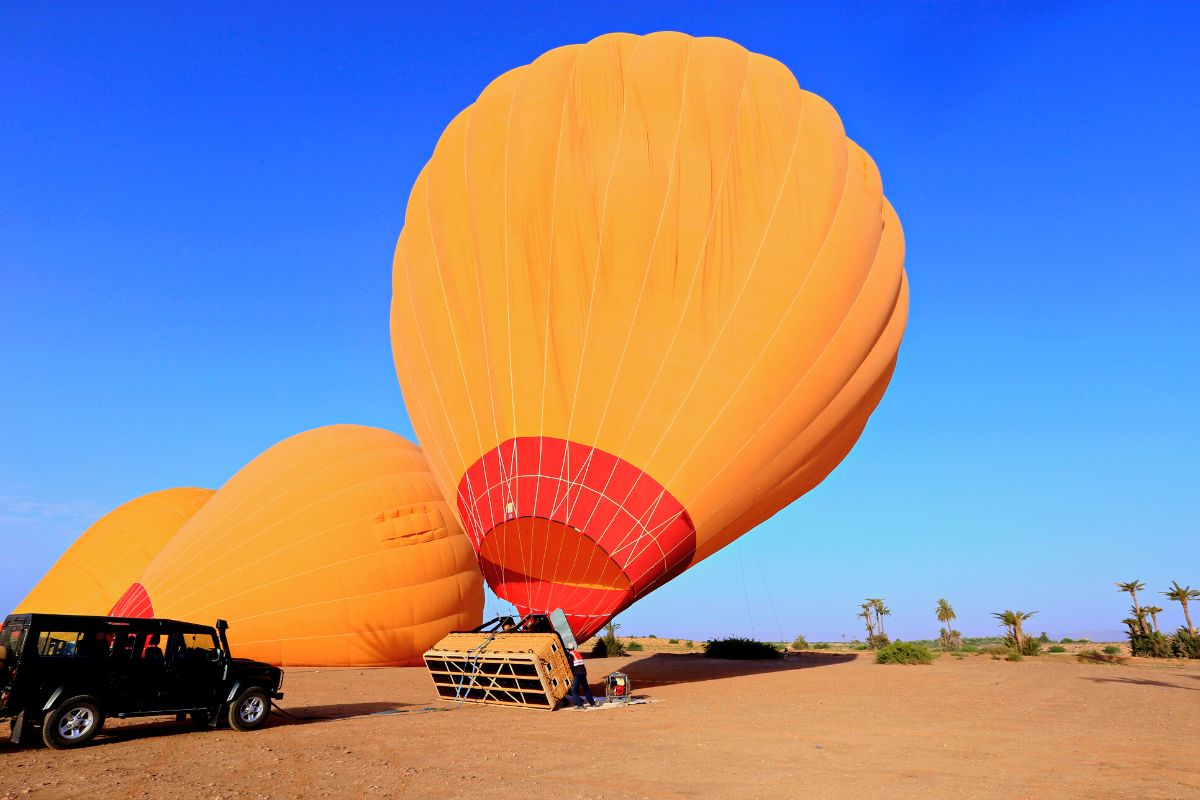 Hot air balloons are considered the safest form of air travel. Modern balloons are made of high-quality nylon and metal-reinforced baskets for added safety, but the main reason they are so safe is that balloons will not fly unless the weather is perfect. This means strong winds, fog, high chances of rain, and low-lying clouds will lead to flight cancellations.
In good weather conditions, your pilot will run through a safety presentation before you take off so there are no surprises, especially during takeoff and landing.
Keep in mind that flying is not recommended for people with spine or neck issues (mostly as a precaution in case the landing is abrupt), and pregnant women are now allowed to fly.
What is the best time to fly?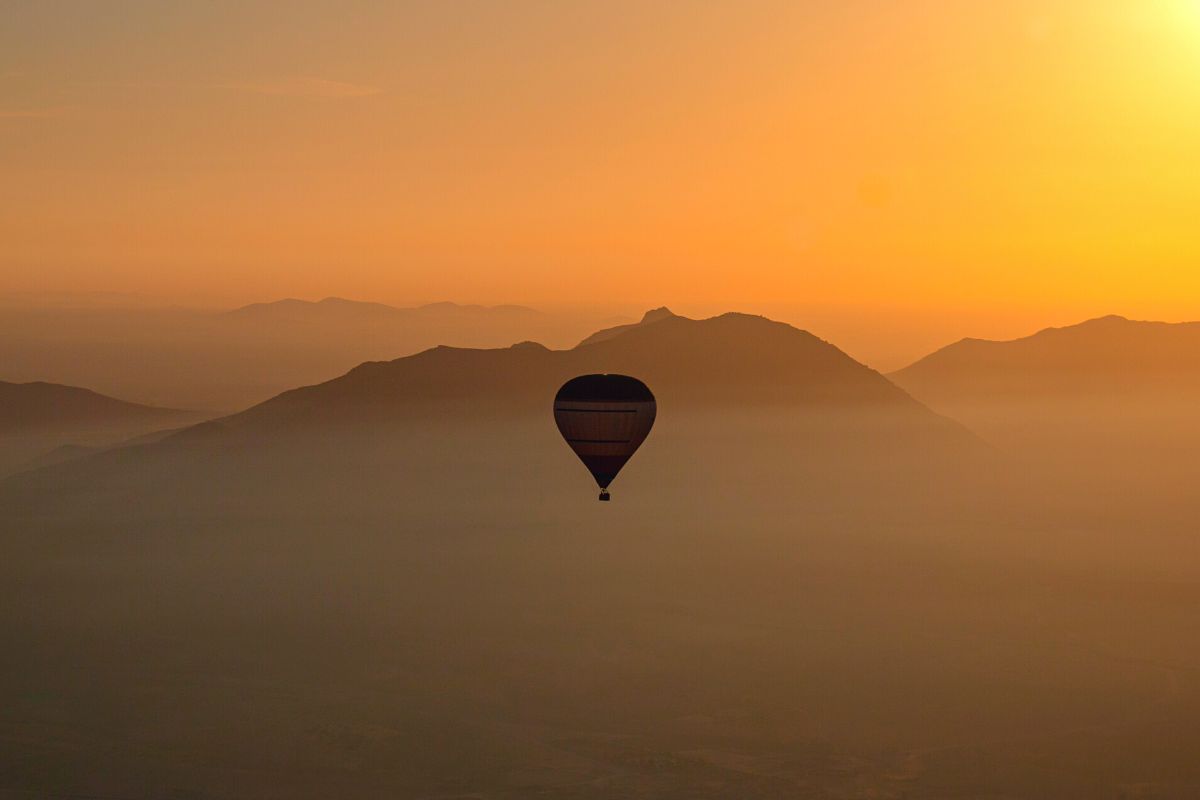 The best time to book a ride in a hot air balloon in Marrakech is either in the early morning hours or at sunset. Not only are these the safest times to fly (weather and winds tend to be calmer), but the light is better to enjoy bird's-eye views over the foothills of Morocco's Atlas Mountains and the desert turning shades of gold and pink.
Although hot air balloon rides in Marrakech are possible year-round, some companies operate on a reduced schedule during late July and August because of the very high temperatures in the desert. If you're traveling during those months, confirm in advance that the tours are running.
Spring and autumn offer the best weather for flights, but this also means the best tours tend to sell out faster. Since only a limited number of hot air balloons can take to the sky on any given morning for safety reasons, it's very likely you won't find a spot if you wait till the last minute. If you're visiting Marrakech during the busier seasons, make sure you book your hot air balloon flight well in advance.
Travel tips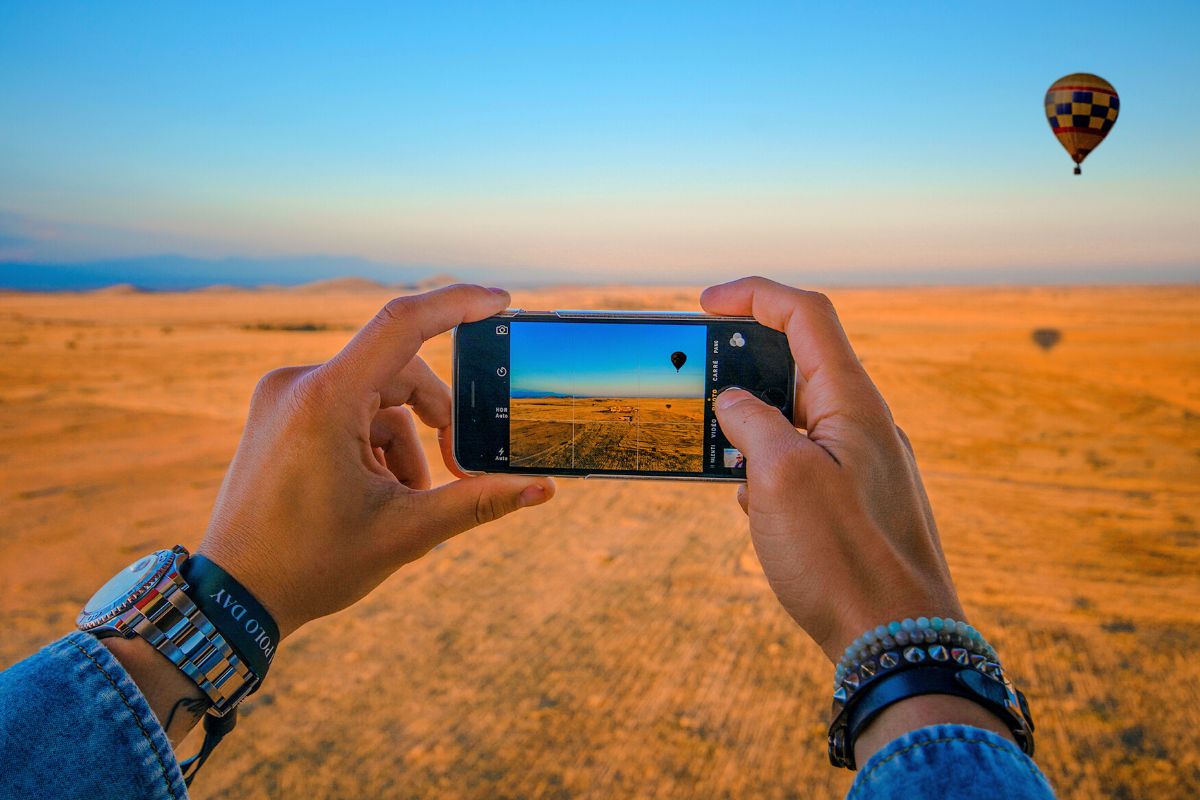 Be ready to wake up early. Air balloon rides in Marrakesh usually launch from outside the city – which means your tour company will pick you up as early as 5am for the one-hour drive to the launch site. Be prepared to set up two alarms if you have to. If you miss your pick-up vehicle, you'll miss your flight, as there's no easy way to get to the launch sites on your own.
Book your flight adventure for the beginning of your trip. Hot air balloons cannot fly in poor weather conditions (including thick fog or heavy rain), so if your flight has to be canceled, you'll have plenty of time to reschedule it.
Wear comfortable clothing for a ride in a hot air balloon in Marrakech. Avoid skirts and dresses that can get tangled or make it hard to climb in and out of the basket. Opt for pants instead and dress in layers – a light jacket is a great idea. If you're flying early in the morning, it might be cooler on the ground and then warmer by the time you come back. Plus, it's hard to predict the temperatures when flying, especially up in the air and under the burner.
Pick shoes with closed toes and no heels. Comfortable boots or sneakers are a must as they'll give you stability and greatly improve your enjoyment of the ride. Don't forget your sunglasses (especially on a sunrise or sunset ride) and a hat to keep your hair under control in the wind and the sun off your face.
Children must be accompanied by an adult, and most companies have a minimum age requirement (usually four years old) for children.
While some flights are wheelchair accessible, most are not. In fact, the standard hot air balloon basket requires you to climb over the edge to get in, so people with physical limitations should contact the tour organizers in advance to confirm they are able to fly.
Make sure you use the restroom before getting into the balloon. There are no bathrooms 600 meters up in the sky!