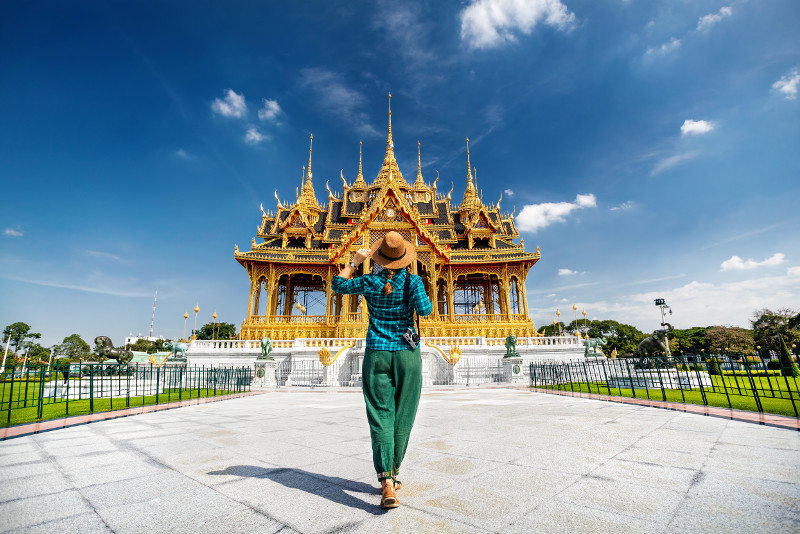 There's nowhere quite like Bangkok! Feel enchanted by a city that encapsulates sounds, smells, sights, tastes, and mood. With 10-million inhabitants, historic sites, and fabulous street food, it's a city with much to explore. That's why it's a great place for a tour! Read on, and experience the delights of this exotic metropolis with 22 of the best Bangkok tours.
1 – Damnoen Saduak Floating Market & Maeklong Train Market Tour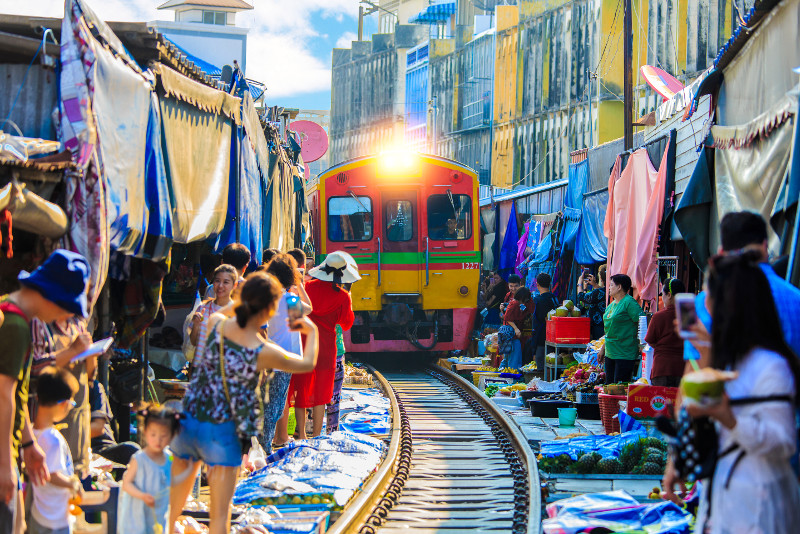 Immerse yourself in a world with colourful boat vendors at Damnoen Saduak, Thailand's most famous floating market. Start your tour with an air-conditioned minivan ride to Ban Na Kwang train station, where you'll head to Maeklong Railway Market.
After experiencing one of the largest fresh seafood markets at Maeklong Railway Market, you'll make your way to Damnoen Saduak Floating Market. Explore the market that has featured in many films, including Roger Moore's 007: The Man With the Golden Gun.
2 – Thailand's Ayutthaya Temples and River Cruise from Bangkok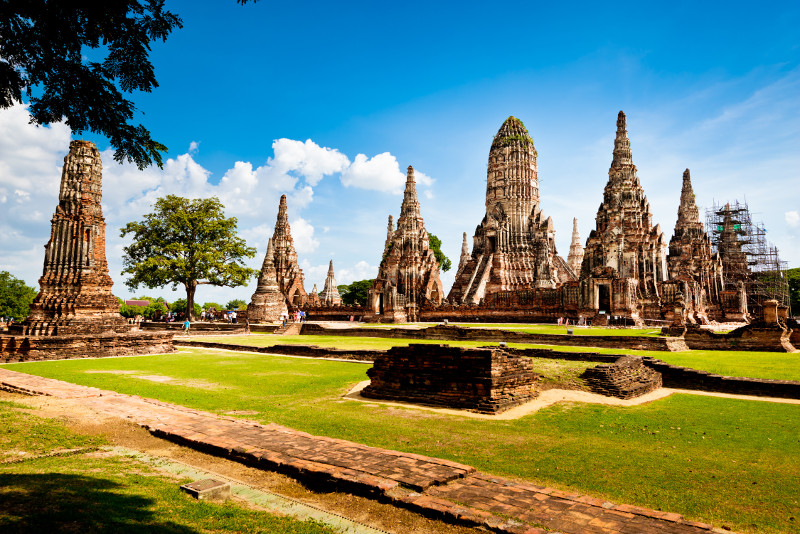 Visit the UNESCO-listed ancient capital of Siam at Ayutthaya while learning about Thailand's fascinating history from a local guide, then hop on a riverboat and cruise down the Chao Phraya River.
Ayutthaya's temples, stone ruins, and Buddha statues await you in the old capital of Thailand, as does inclusive lunch and hotel pick-up and drop-off for this tour.
3 – Bangkok by Night: Temples, Markets and Food by Tuk-Tuk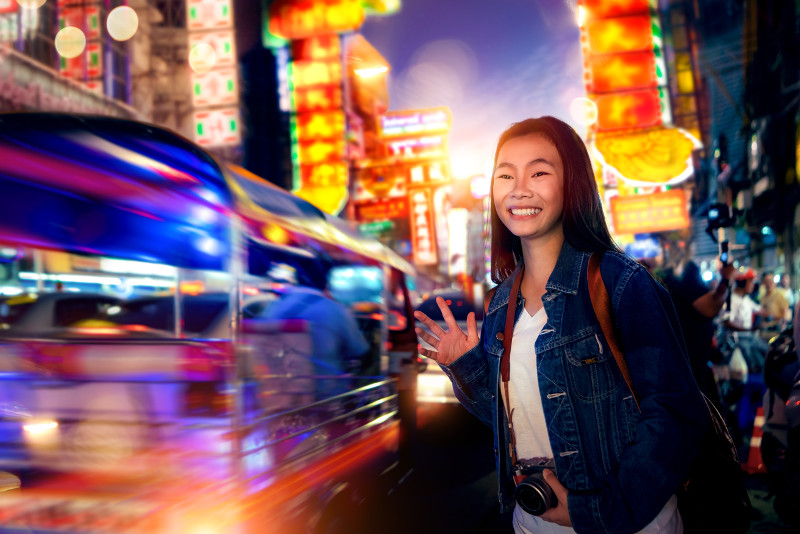 Bangkok transforms itself at night, and the Bangkok By Night experience is one of the best Bangkok tours going. This tour by tuk-tuk provides off-the-beaten-track routes that include visits to temples like Wat Pho.
Other benefits include the lively 24-hour flower market and the chance to soak in local Bangkok culture. This award-winning tour is maximised for 12 people so that you enjoy a personalised experience.
4 – Bangkok Railway & Floating Markets Tour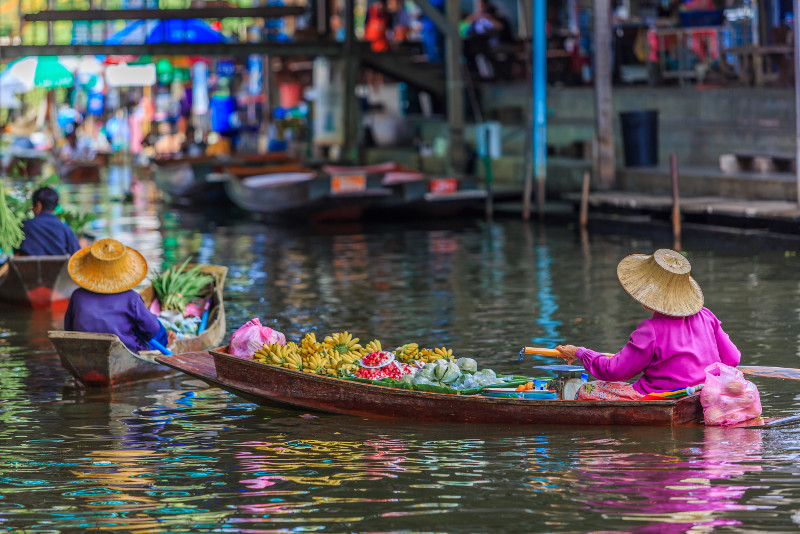 Discover Bangkok's most unique railways and markets in this railway and floating market tour. Start your journey by experiencing local Bangkok culture with a visit to a collection of bustling local markets.
Then head to the railway market, and watch in amazement as vendors set their stalls on the edge of train tracks, moving them just before a train approaches. Other parts of the tour include a palm sugar plantation and a boat trip through "the Venice of the East".
5 – City tour Bangkok – One day in Bangkok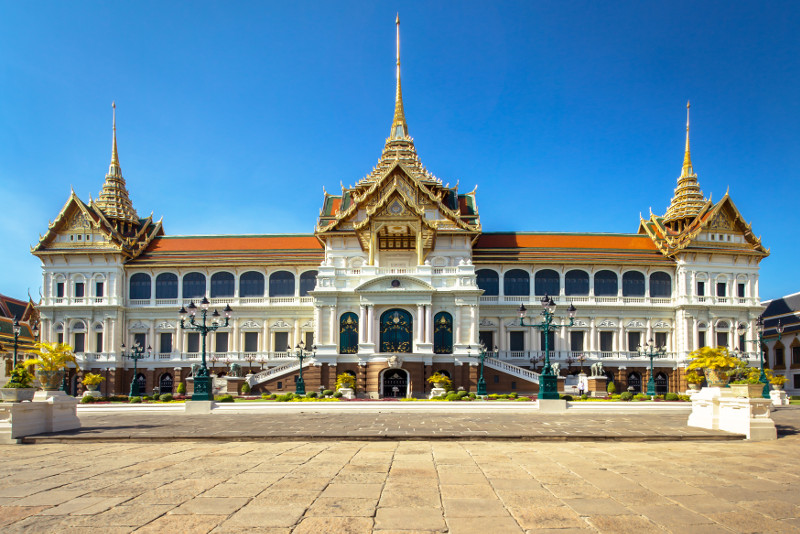 One of the best Bangkok tours will see you experiencing the entire city. You'll visit the Royal Palace, the Emerald Buddha at Wat Phra Keow Temple, the Golden Buddha, and Wat Pho Temple, taking in the very best that Bangkok has to offer in the process.
End your city tour with a traditional Klong cruise on the canals of Bangkok. Here you will learn all about the history of how they were built as a means of protection and how they became the centre of Bangkok trade.
6 – Bridge on the River Kwai and Thailand-Burma Railway Tour
Step up and ride the Death Railway, which is known for the thousands of POWs who lost their lives during World War II. This day trip also includes a visit to the Kanchanaburi War Cemetery and the Jeath War Museum.
Hear real-life war stories from a local guide, then ride a speedboat down the River Kwai. Here you will be able to view the famous bridge which is part of the Thailand-Burma railway, otherwise known as Death Railway.
7 – Full-day tour Bangkok – Individually designed by your needs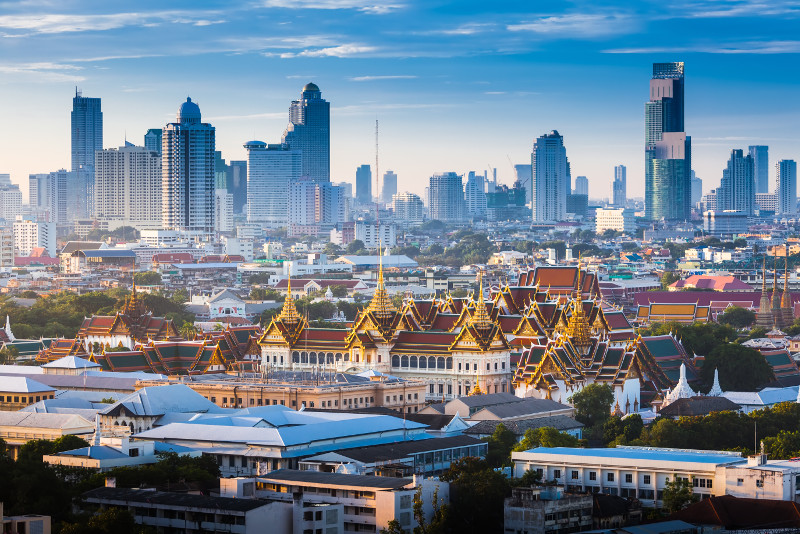 Enjoy the freedom of planning your own unique experience with a local guide on this full-day Bangkok tour. Choose from multiple excursions, and get to know the city of Bangkok at your own pace.
A guide will be happy to make recommendations, including the best temples, restaurants and markets to visit. As far as Bangkok tours go, this one allows you the chance to create an experience built from your imagination.
8 – Flexi Walking Temple Tour: Grand Palace, Wat Pho, Wat Arun
Visit some of Bangkok's most iconic sites with this Flexi walking tour. Start your experience with a trip to the Emerald Buddha Temple, which is regarded as the most sacred temple in Thailand.
Next, explore the Grand Palace, which was once home to the Kings of Thailand. Round your trip off by seeing the Temple of the Reclining Buddha – one of Bangkok's most attractive temples.
9 – Bangkok Grand Palace Guided Tour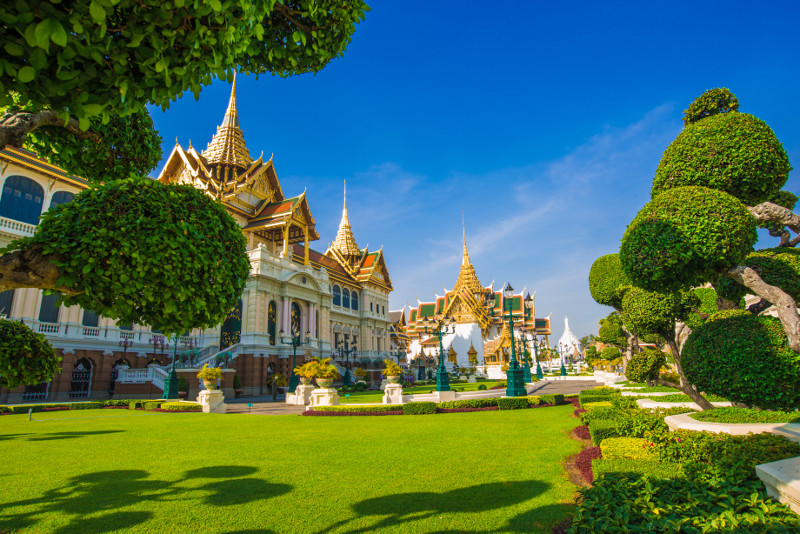 Bangkok's Grand Palace is bubbling with culture, history, and heritage. Immerse yourself in everything the palace has to offer with an intimate guided tour.
Bangkok's most famous monument, the Grand Palace, was built in the 18th-century and features buildings, temples, gardens and courtyards. Your guided tour will tell you everything you need to know about the palace and its grounds.
10 – From Bangkok: Ayutthaya Temples & Floating Market Day Trip
Combine your Bangkok tours with a trip to the Ayutthaya Temples and the Floating Market. See ancient ruins before learning about the hustle and bustle of Bangkok.
This eight-hour day trip includes a visit to Ayutthaya, which was founded in 1350 and features a UNESCO listed Ayutthaya Historical Park, a floating market, and other historical sites.
11 – Bangkok Excursion – Talad Rom Hoob Market, Floating Market & Klong Kone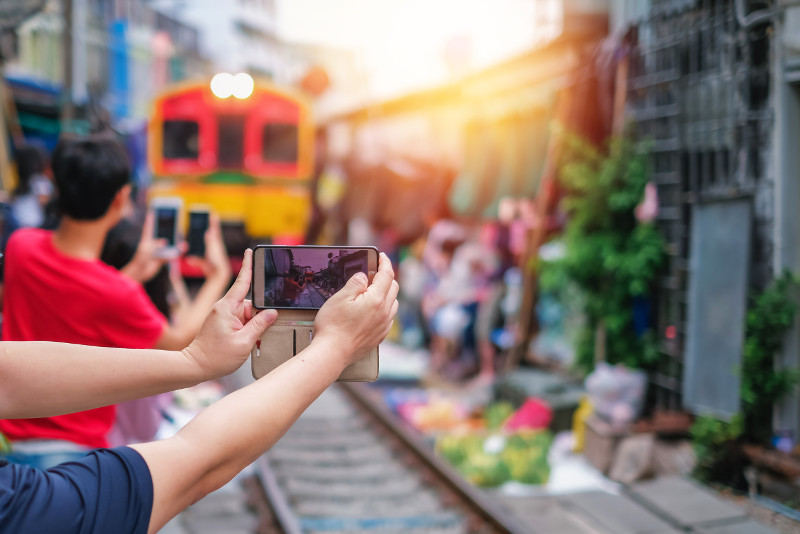 Combine a trip to the Talad Rom Hoob Market, where the stall owners have stalls on live train tracks, with a floating market visit.
If you want more, hop on a boat and go through mangrove forest with swimming monkeys. Then, jump on the narrow-gauge train towards Klong Kone.
12 – 6-Hour Best of Bangkok City Tour including Lunch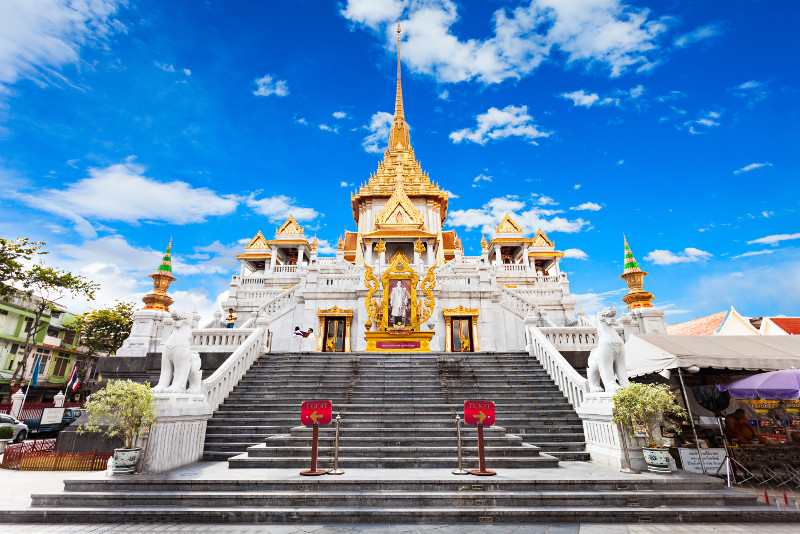 There's so much to see, which means Bangkok tours can often be lengthy. If you don't have the time, try this 6-hour tour that incorporates the best of Bangkok. Then stop for an inclusive lunch.
Popular tourist sites such as the Grand Palace, Wat Pho, the Golden Buddha Temple (Wat Traimit) and Chinatown are on the agenda on this tour.
13 – Bangkok Small Group Instagram Tour: Wat Arun, Rot Fai Market, and More – Full Day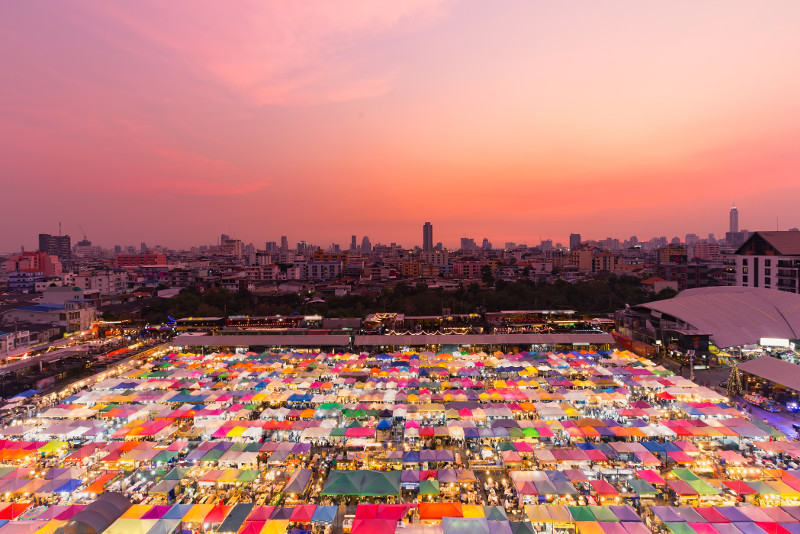 When trying different Bangkok tours, you can't forget about the gram – Instagram! This full-day tour sees you visit historical sites that make for a perfect snap or two for your Instagram account.
The tour includes Bangkok's most photogenic spots: Buddhist temple Wat Arun, the Erawan Museum, the iconic Airplane Graveyard, and the Ratchada Train Market. Enjoy taking fantastic shots while a guide tells you about the history of these sites.
14 – From Bangkok: Elephant Sanctuary Day Trip & Private Transfer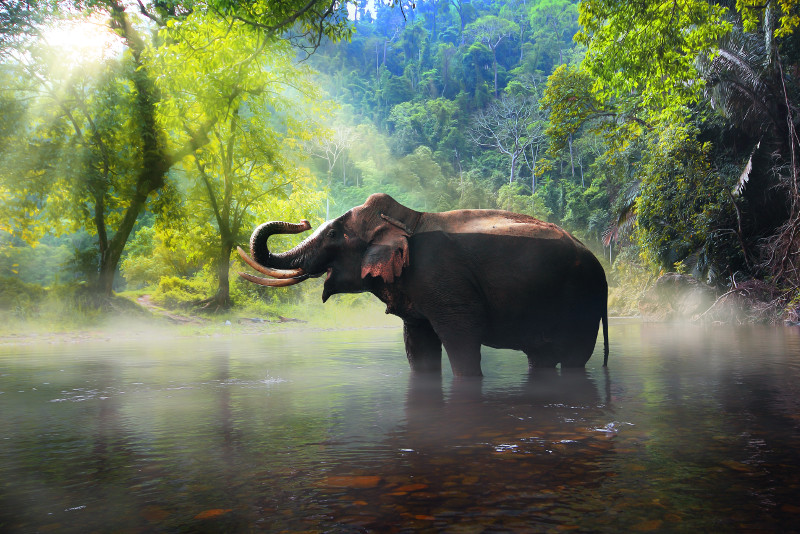 Escape the hustle and bustle of Bangkok for a few hours with an elephant sanctuary day trip. Before you even get to meet the elephants, enjoy a journey that sees you going through scenic agricultural areas, hills, and beaches of Pattaya.
Once at the ethically run Elephant Jungle, learn about the elephants with an English-speaking guide. Witness them roam free up close and personal. You can even accompany them to a nearby mud bath if you fancy getting dirty.
15 – Bangkok Tuk Tuk Food Tour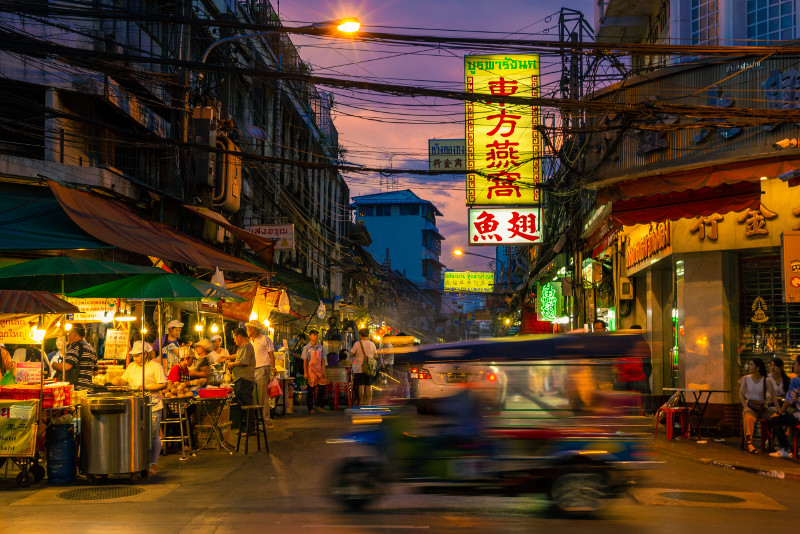 Bangkok is full of marvellous street food vendors that see people coming from all over the world to sample. This tuk-tuk food tour lets you taste many local delights while enjoying the sights of the city.
A guide will accompany you during your culinary tour, who will tell you the history behind the dishes you taste. From savoury to sweet, there are plenty of locals cuisines on offer.
16 – Private Guided Day Tour: Bangkok with Public Transport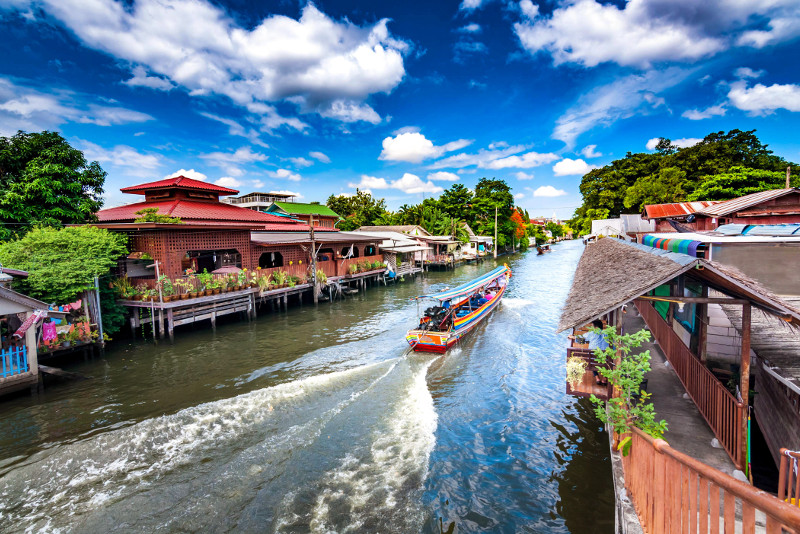 Experience Thai culture by visiting neighbouring provinces with a local guide on the Bangkok Public Transport Tour. Stop off at iconic sites, such as the Floating Market and Summer Palace along your way.
Discover the best that Bangkok local life has to offer at your own pace, choosing the attractions you want to see most. Finish your day with a boat trip along Bangkok's iconic canals.
17 – Walking tour Bangkok – The unknown Bangkok
Get to know hidden Bangkok treasures with this walking tour. Get the lowdown from a local guide, who will tell you about some of Bangkok's lesser-known areas.
Other highlights of the tour include a visit to Chinatown, the shopping mecca of Bangkok. End the day with a visit to the flower market, where you can see hundreds of fresh flowers.
18 – Bangkok Food Tour of Bang Rak with Local Guide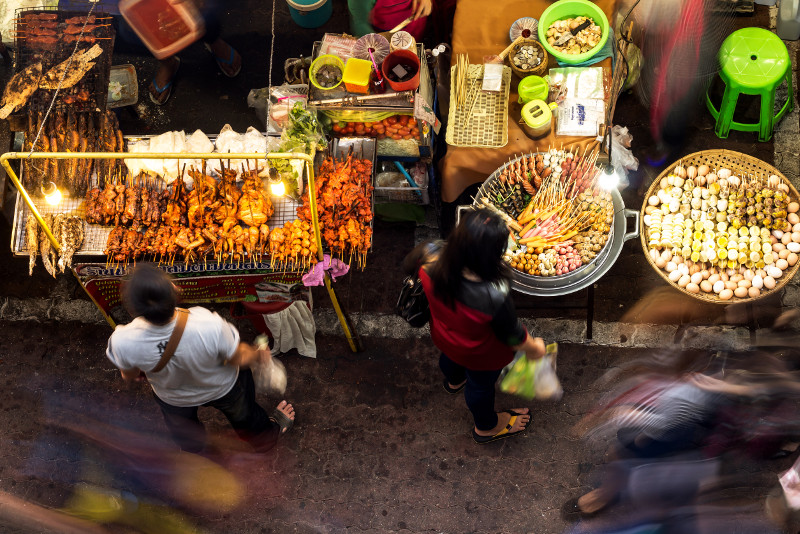 Bang Rak is one of Bangkok's 50 districts and features great street food vendors. Explore the region on foot with a local guide while you taste some of the best food Bangkok has to offer.
On your journey, you will make 10 different stops for tastings at the shops, eateries, markets and local stalls. Expect to sample Thai fruits, spicy curry, royal cuisine, authentic desserts and herbal drinks.
19 – Floating Markets and Bridge on River Kwai Tour from Bangkok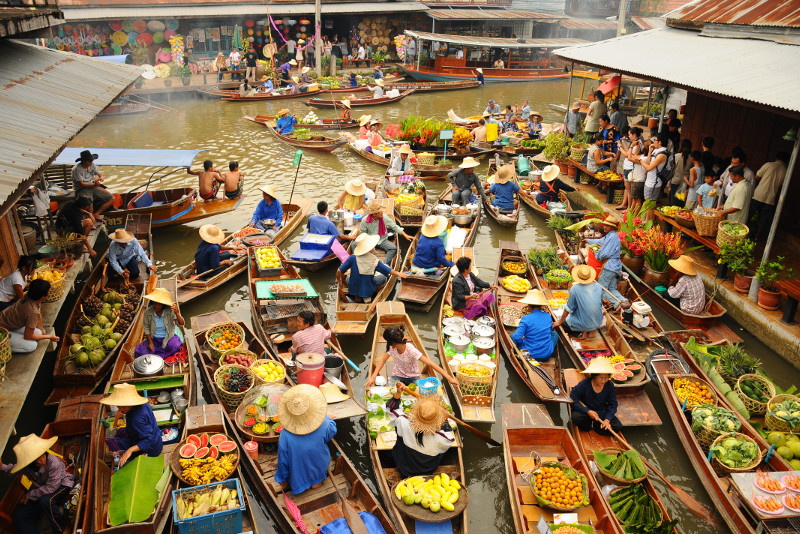 Discover the best of Thailand's Kanchanaburi region with a local guide on this 10-hour tour. After being picked up from your hotel, you'll start the day with a long-tail boat ride through the pretty flower markets.
Part of your trip sees you visiting Kanchanaburi, which is home to the infamous bridge located on the Kwai River. Other highlights include lunch at a local restaurant.
20 – Bangkok in Motion: City Highlights Tour by Skytrain, Boat, and Tuk-Tuk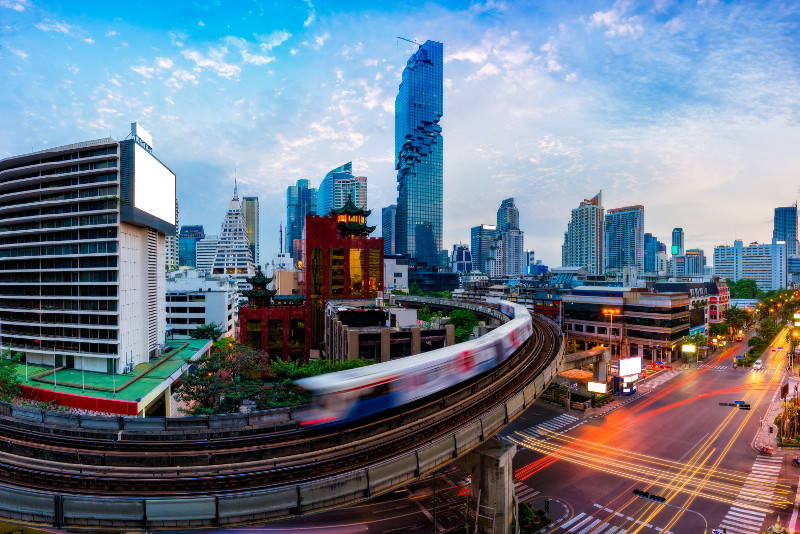 Sample some of the best public transport in Bangkok with trips on the Skytrain, a boat and tuk-tuks. The tour includes a full day of Bangkok sightseeing, including the Grand Palace.
See the city from the local's point of view by riding the Skytrain, before jumping on a public boat and riding down the Chao Phraya River. There's also an option for a stroll through Lumpini Park, one of Bangkok's rare open spaces.
21 – Evening Bangkok City Tour – Sunset & Nightlife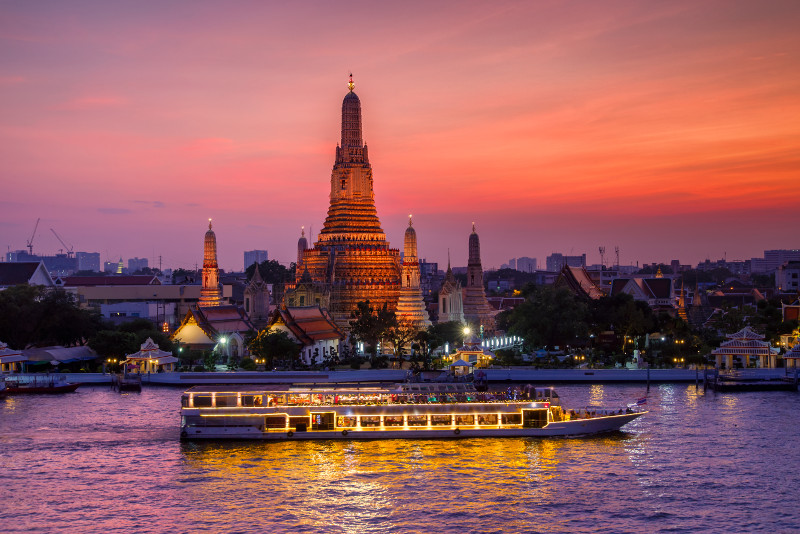 Experience the Bangkok nightlife with a sunset city tour. See the Buddhist temple Wat Pho lit up and looking majestic at night, before watching the sunset at Wat Arun, the Bangkok Yai district's temple.
End your evening with a meal in Chinatown, which includes fried noodles, vegetables, chicken, and a range of spices. After dinner, take some time to explore the local gold shops.
22 – Grand Palace, Wat Pho & Wat Arun: Flexi Private Temple Tour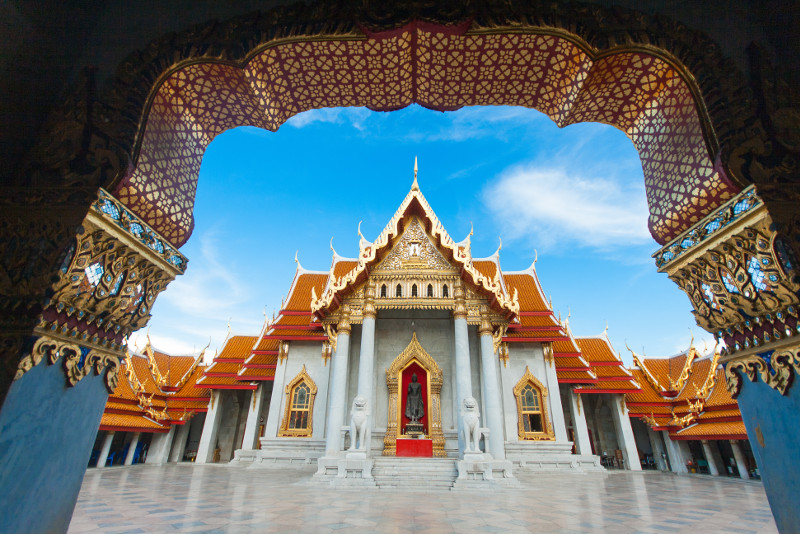 See Bangkok in a snapshot with a half-day tour of the city that takes between three and five hours. Visit Bangkok attractions such as the Grand Palace, the Emerald Buddha Temple, Wat Pho, and Wat Arun.
Make the most of your trip with a local tour guide who will tell you all about the history behind these attractions. See the best in Bangkok and still have time left for more exploring afterwards.
Didn't find what you were looking for? Check out our complete list of tours in Bangkok.