Many people visit Bali for the beaches and nightlife but leave smitten by its intoxicating culture, with fascinating features like the Kecak fire and dance show, one of the best nightlife experiences in Bali.
This ceremonial dance has taken place since ancient times, and a colorful sunset show will live long in your memory.
You can instantly recognize Balinese art forms with its unique blend of Hinduism and local culture, including paintings, sculptures and music. However, it's the performing arts that travelers chiefly remember.
Visiting without buying Bali Kecak dance show tickets will leave your trip incomplete.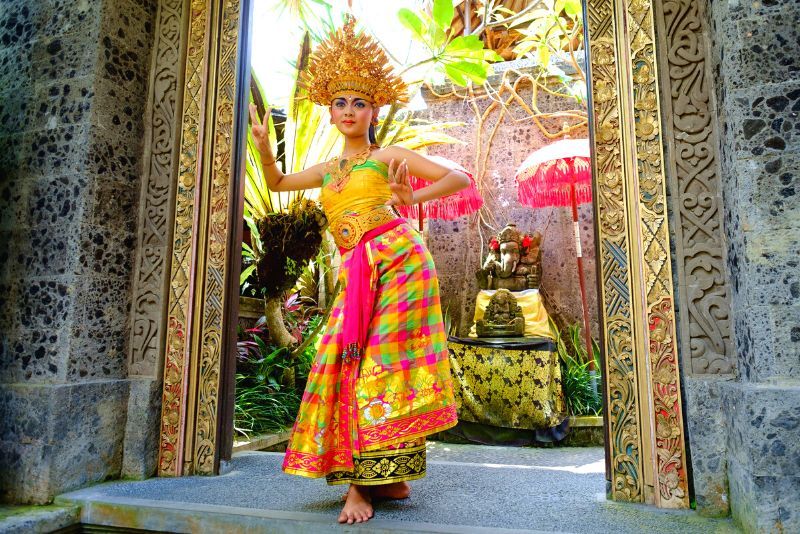 What are Bali Kecak dance shows about?
Also known as the Bali fire dance or the Ramayana monkey chant, the Bali Kecak dance show story is a drama based on the Sanskrit epic, the Ramayana.
Although Kecak rituals have been around for a long time, the shows on display in modern-day Bali date from the 1930s. It is a dramatization developed by the German artist Walter Spies and the Balinese dancer Wayan Limbak.
The story follows the Vānara, a race of people that lived in the forest and were said to resemble monkeys. In the dramatization, they fight alongside the Hindu God Rama in a battle against the evil king Ravana.
Dancers perform the drama by moving and chanting rhythmically. They start slowly and then gradually raise the tempo while falling into a ritualistic trance-like state. The mood rises and falls as storytellers, known as dalang, narrate the tale.
There is no use of musical instruments in the performance – the rhythm comes from the various sounds and chants of the human voice. It is a unique and unforgettable experience you will recall whenever you think of Bali.
How much do Bali Kecak dance show tickets cost?
Independent travelers can get Bali Kecak dance show tickets for the Uluwatu Temple performance at the gate from 5 PM to 6 PM for IDR100,000 (US$7). Parking and entering the temple before the ticket office opens require nominal fees.
Tickets are also available for performances at Tanah Lot Temple and various temples around Ubud. The Bali Kecak dance show ticket price is a little lower for these performances at IDR75,000 (US$5).
Another option is the daily performance at the Garuda Wisnu Kencana Cultural Park. Tickets cost from IDR70,000 to IDR115,000 (US$5 to US$8) for a full day of park activities.
Many travelers find booking a tour through a reputable tour operator more straightforward and hassle-free. Most will take you to a performance at Uluwatu Temple, and prices vary from basic excursions at IDR150,000 ($10) to IDR4.5 million ($300) for luxurious tours.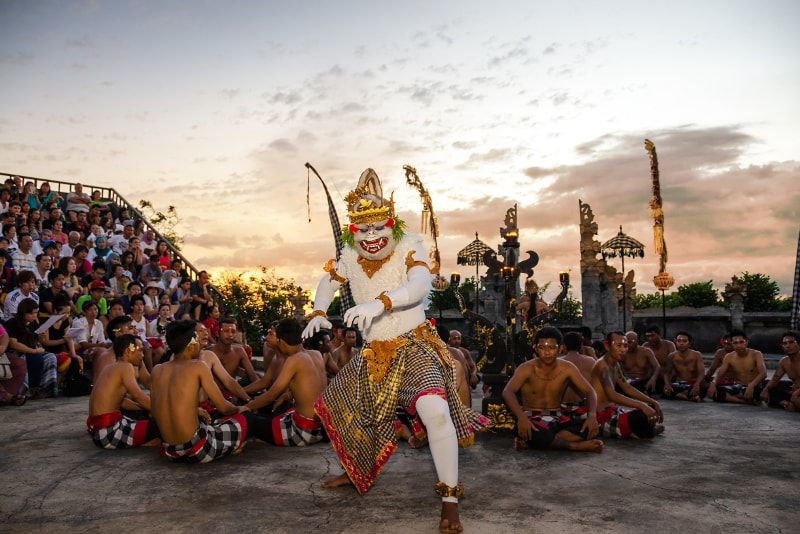 When is the best time to see a Bali Kecak dance show?
As the Bali Kecak dance show takes place outdoors, it is best to enjoy it during the dry season. The rain arrives in Bali around October and doesn't leave again until March. During this time, performances often move to a smaller roofed venue.
Are there any Bali Kecak dance show combined tickets available?
Various combination tours include Bali Kecak dance show tickets. Most of these tickets feature the show at Uluwatu Temple.
Some options include a temple tour, the show and a seafood dinner at Jimbaran Bay. Other options feature jaunts to Bali's stunning southern beaches.
There are also popular trips that take in the highlights around the cultural center of Ubud before enjoying the show at Uluwatu.
How to get to the Bali Kecak dance show?
To get to the popular show at Uluwatu temple by private vehicle, follow signs anywhere on the island for South Kuta. Next, head south past the airport and turn right onto Uluwatu Street. You need to take a left at the first junction to continue on Uluwatu Street.
Stick to this road, and it will eventually change to Jalan Raya Uluwatu Pecatu, which will take you all the way to the temple.
Kura Kura also operates a shuttle program departing from DFS Mall Bali Galleria Kuta daily at 3:30 PM and returning at 7:30 PM. A minimum of two people are required with the ticket costing IDR250,000 (US$17).
What time do Bali Kecak dance shows start?
Bali Kecak dance show times at Uluwatu are at 6 PM every day and 6:30 PM daily at Tanah Lot.
The shows at Garuda Wisnu Kencana Cultural Park also begin at 6 PM. The various shows in Ubud start at different times, between 6:30 and 7:30 PM, depending on the day and venue.
Independent travel back from the shows is only by taxi or private vehicle. However, tours should include Bali Kecak dance show tickets and transport to and from your hotel.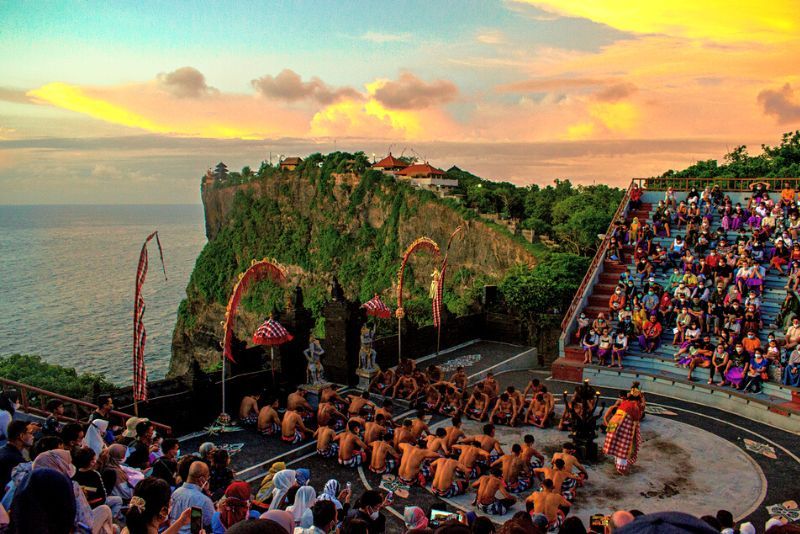 What is the dress code to see a Bali Kecak dance show?
Keep in mind that the shows usually occur in temples and all visitors to a Balinese temple should respectfully cover their shoulders and upper arms.
Shorts or dresses are acceptable but shouldn't be above the knees. Flip-flops and sandals are also okay, but your overall look should remain modest.
A Balinese sarong and scarf tie are the best attire to wear. If you don't have these clothing items in your wardrobe, they are available to borrow or rent at most Balinese temples.
What is the cancelation policy for Bali Kecak dance shows?
Most tour operators will give a full refund if cancellation is within 24 hours of the event. However, some operators require up to several days of notice. Therefore, make sure you know your tour operator's rules if you believe you may have to cancel.
Bali Kecak dance show tickets bought by independent travelers directly at the ticket office are not usually refundable.
Travel tips
Bring enough water and snacks for the duration of the one-hour show. You can find convenience stores in and around Uluwatu and Tanah Lot temples.
Keen photographers should bring a tripod for their camera to capture the fire and dancing in all their glory.
Beware of monkeys in and around the temple. Don't allow them to steal your belongings.
If arriving by private vehicle, there is ample parking space at the temples.