A trip to Bali is the envy of all, especially if you share your travels on Instagram. The epic images that travelers capture in Bali have spread like wildfire and scores of visitors flock to the idyllic island in the hopes of creating their own visual memories.
Everything from the emerald green rice paddies to the crystal blue waters around the island begs to be photographed and specialized Instagram tours. You can capture the stunning nature, the vibrant culture and the deep spirituality of Bali with the help of a professional.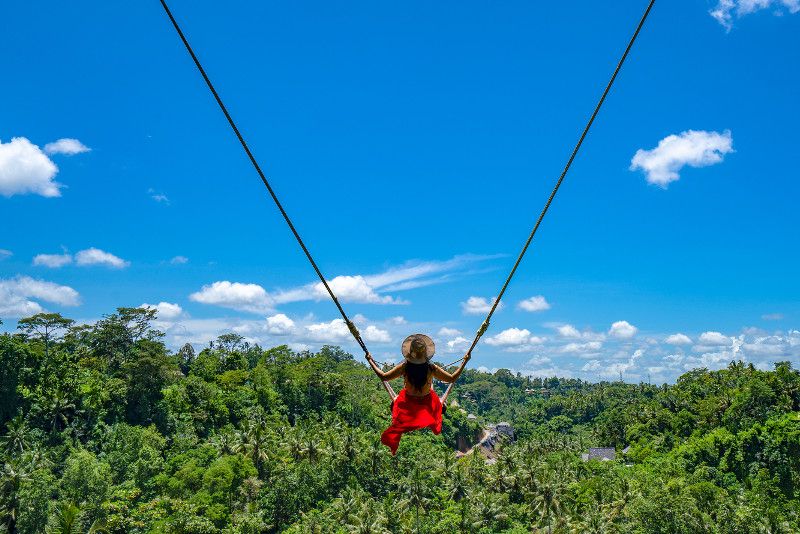 Here's all you need to know about Instagram tours, one of the most captivating options for sightseeing tours in Bali.
What are the best Instagram tours in Bali?
Full Day Bali Highlights Instagram Tour
The best way to tick off several places on your travel wishlist is with a comprehensive Instagram tour in Bali. This tour is designed to hit all the highlights of Bali for Instagrammable images while still giving you a cultural tour experience.
Get picked up from your hotel and whisked off to Bali's most famous photo spot, The Gates of Heaven. From Hindu Lempuyang Temple you will move on to Tirta Gangga where a stunning water garden and royal palace lay waiting.
Swop historic Bali for the rainforest as you visit Tukad Cepung, a circular cave with a magical waterfall spouting from the open cave roof. You can cool off in the blissful water of the falls before setting off for the rural rice fields of Ubud.
Marvel at the unique setting of the lush fields and strike a pose for the 'gram and finish off the day on the famous jungle swings that round off your Bali Instagram bucket list.
Ubud Instagram Tour
Take your time to truly savor the unimaginable beauty of Ubud with an Instagram tour in Bali focusing solely on the island's spiritual heartland. You will split your time between uncrowded temples and fantastic natural backdrops in and around Ubud.
Tukad Cepung Waterfall is the first stop on the tour followed by a visit to the marvelous Pure Kehen temple, one of the best-kept secrets of Bali. The tour also includes a visit to Ubud's jungle swing where you are suspended almost 30 meters above the lush jungle. Keep up your energy with a coffee tasting on a marvelous wooden deck hidden in the lush forest.
Nusa Penida Private Instagram Tour
Nusa Penida is a small island next to Bali and is only a short boat ride away. The island is chock full of breathtaking locations to send your Instagram game into the stratosphere. This private tour allows you to choose a custom itinerary in the hidden southern parts of the island or the more famous East-and-West Penida highlights route.
Some of the highlights include Peguyangan Waterfalls and Tembeling Beach and guests will enjoy a delectable Balinese lunch on the island in-between photography stops.
Northern Bali Instagram Tour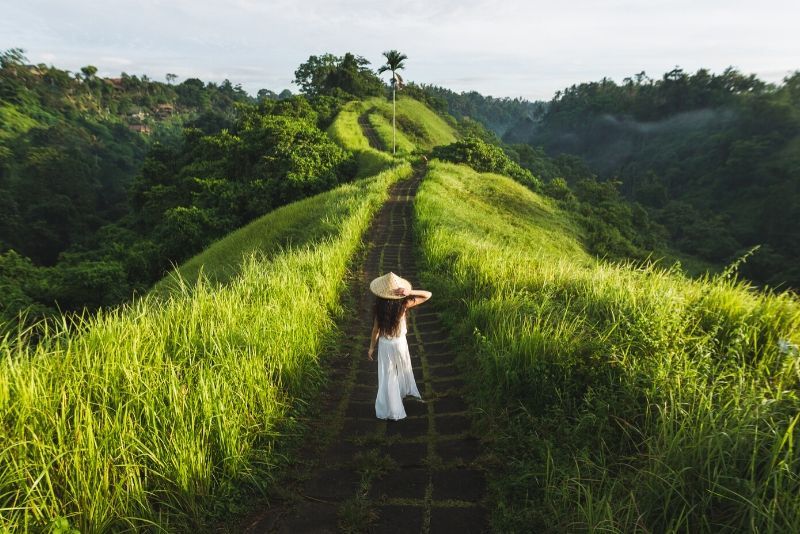 The north of Bali is often a blip on an Instagrammer's radar, foregoing its lush mountainous landscape and wealth of cultural treasures for the more well-known locations in the east. Distinguish yourself from the pack with an Instagram tour of northern Bali to capture moments like no other.
The first destination is Jatiluwih Rice Terrace, Bali's biggest rice terrace. You will also stop at Ulun Danu Temple where the tranquil water of the surrounding lake acts as a mirror to reflect the structures. You will also have the chance to take on a jungle swing in Wanagiri Hidden Hills, akin to the famous swings of Ubud. The last stops of the tour include Banyumala Twin waterfalls for epic photos and a swim as well as more photos at Handara gate.
Which places are visited?
Instagram tours of Bali include the most scenic locations on the island. These are some of the most famous spots you can expect to visit:
Hindu Lempuyang Temple
This is arguably the most famous Instagram spot in Bali. The Gates of Heaven are two large winged gates that lead your gaze to unreal views of Mount Agung (or a cloudy wonderland, depending on the weather). There are several photo-worthy spots at the temple including three dramatic flights of stone stairs leading up the side of the hill.
Tukad Cepung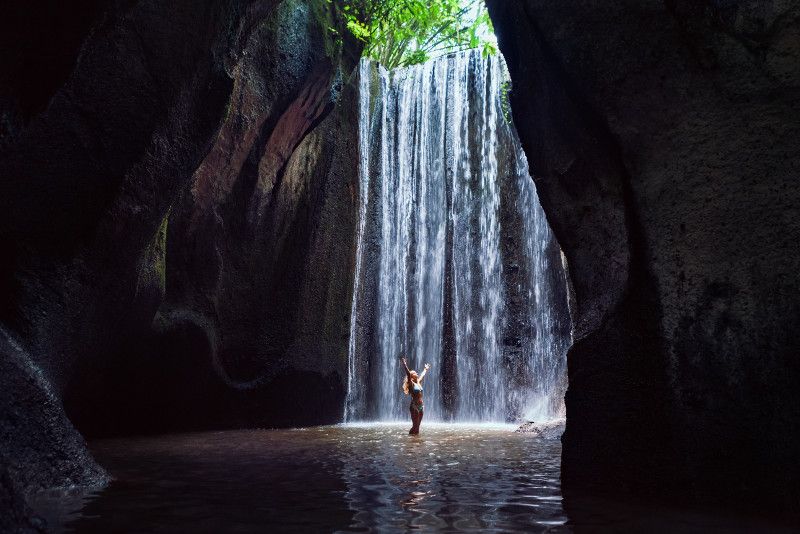 No Instagram profile is complete without an ethereal waterfall photo. Tukad Cepung is a magical cave with a large opening in the roof through which a waterfall showers down into a calm pool below. The way the sun flows through the ceiling at an angle creates an unreal photo opportunity that few have been able to recreate.
Ubud Jungle Swings
The jungle swings of Ubud are another unmissable attraction that has gained notoriety thanks to Instagram. A rustic (yet sturdy) swing is hoisted several meters into the air and swung to let you fly over the treetops of the Balinese jungle. The dreamy photos are just as amazing as the experience itself and are a highlight of Bali for many.
How much does it cost?
Basic Instagram tours of Bali cost between US$50 and US$60 per person. These are group tours of the island's highlights but they all offer optional extras like drone footage and polaroid photos. There are less expensive tours for around US$25 per person, but these do not include any entrance fees.
Visiting Nusa Penida on an Instagram tour costs around US$45 per person, and includes boat rides and entrance fees.
Northern Bali Instagram tours cost around US$55 per person, with lunch and hotel pick-up.
A private tour of Bali's highlights costs US$125 per person, for an all-inclusive experience.
What is included?
Instagram tours in Bali have a wide range of inclusions based on the price point you select.
Most tours offer hotel pick-up and drop-off in areas like Kuta, Denpasar, Canggu, and Ubud. Transport and a guide are also included on all the trips.
Most tours offer lunch, water and entrance fees as part of the package. This differs between tour operators and tour options.
Where does it start?
Most tours in Bali offer hotel pick-up and drop-off as guests stay in several locations. Your tour operator will provide a list of pick-up locations that are included in the package price and you might have to pay extra if you stay outside of those areas.
How long does it last?
Instagram tours in Bali cover a large section of the island and they are all full-day tours. You can expect to spend anywhere from 7 to 11 hours on the tour, depending on the destination.
When is the best time for an Instagram tour in Bali?
An Instagram tour in Bali lasts the whole day, and the tour operators have curated the perfect itinerary to take advantage of the natural light in each location. Take this tour at the beginning of your stay to make sure you capture all the best moments and tick off your biggest bucket-list locations.
After you are done snapping photos, you can unwind and soak in the tranquility of Bali at your own pace.  
Are there any combos available?
Bali & Nusa Penida 2-Day Flexi Combo Instagram Private Tour
This combo is a 2-day experience, combining the beauty of Bali and its smaller neighbor, Nusa Penida.
Your first day covers all the most famous Balinese Instagram spots like The Gates of Heaven, the water garden of Tirta Gangga and Ubud's rice fields and jungle swings.
Your second day will see you zooming off on a fast boat trip to snap pictures on Nusa Penida. This iconic spot puts you on a chalky white cliff, suspended high above the shocking blue water of the beach below.
You will also have the chance to take pictures on the charming steps of Batu Molenteng Tree House before swimming in the unreal Angel's Billabong natural infinity pool.
Bali, Nusa Penida & Mount Batur 3-Day Flexi Combo Instagram Tour
Conquer the mighty Mount Batur and visit the most notable Instagram spots in and around Bali with a diverse 3-day tour.
On the first day, you will tackle the monumental mountain with a hike before sunrise. Stand in awe as the landscape gets painted by the golden sun peeking over the horizon and enjoy a delectable breakfast at this unforgettable setting.
After the trek, you can soak your tired muscles in a rejuvenating hot spring at the bottom of the volcano.
Trips to Nusa Penida and Bali's hottest Instagram spots happen on 2 different days guests have the luxury of choosing which days they would like to book their trips on.
Travel tips
You need to bring your own camera or fully charged phone and your guide will use it to capture your images.
You can dress up as much as you want but keep in mind that there is a fair bit of walking involved so wear comfortable shoes or bring a change of clothes.
You should pack or wear a swimsuit as there is always a chance to swim under a waterfall or visit a beach along the way.