Besakih Temple is the largest Hindu temple complex in Bali. The temple is well over 1,000 years old and miraculously survived the devastating volcanic eruption of 1963.
A Besakih Temple tour will give you an understanding of this temple complex's fascinating history, traditions and meaning. The temples within Besakih Temple are dedicated to three Hindu gods — Shiva, Vishnu and Brahma.
Today, Besakih Temple is a popular tourist destination, as well as a Hindu place of prayer.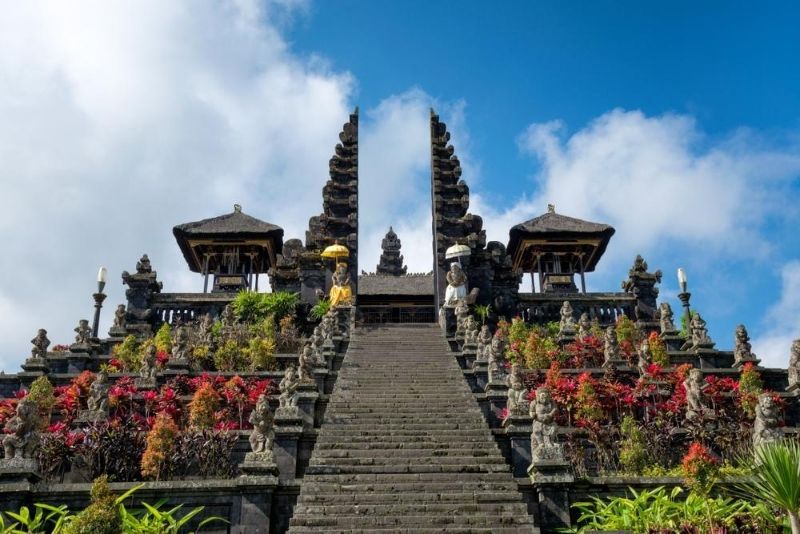 Below you'll find all the information you need to prepare yourself for a Besakih Temple visit, one of the most sacred and beautiful attractions in Bali.
Where is Besakih Temple located?
Besakih Temple is located in the small village of Besakih, which is in Bali's Karangasem District. Situated in Bali's eastern region, Besakih Temple is very near Mount Agung and this famous volcano can be seen from the temple grounds.
The temple complex is a 2-hour drive from Ngurah Rai International Airport, a 2.5- hour drive from Sanur and a 1.5-hour drive from Ubud.
If you are driving to Besakih Temple from Sanur, take the Kusamba Bypass toward Klungkung. Turn right toward Besakih when you reach Menanga.
What are the best things to see in Besakih Temple?
Pura Penataran Agung
Pura Penataran Agung is the largest temple in the complex. It is made up of seven different areas, which represent the layers of the universe. Each area has its own shrine, and some are as far as 3 kilometers apart.
Pura Penininjoan
Pura Peninjoan is erected on a tiny hill and offers picturesque views of Pura Penataran's shrines, as well as the surrounding mountainous area. This is one of the best places to take photos in the complex.
Pura Ulun Kulkul
Pura Ulun Kulkul is an area of the temple complex that contains a traditional Balinese wooden slit gong. It is the most famous of its kind on the island and the gong is used to signal special messages.
Pura Gua
Pura Gua is said to be the home of the dragon deity. This is considered to be a very special place. While the cave's mouth has closed because of erosion, many people still practice yoga in this area.
What are the best tours to visit Besakih Temple?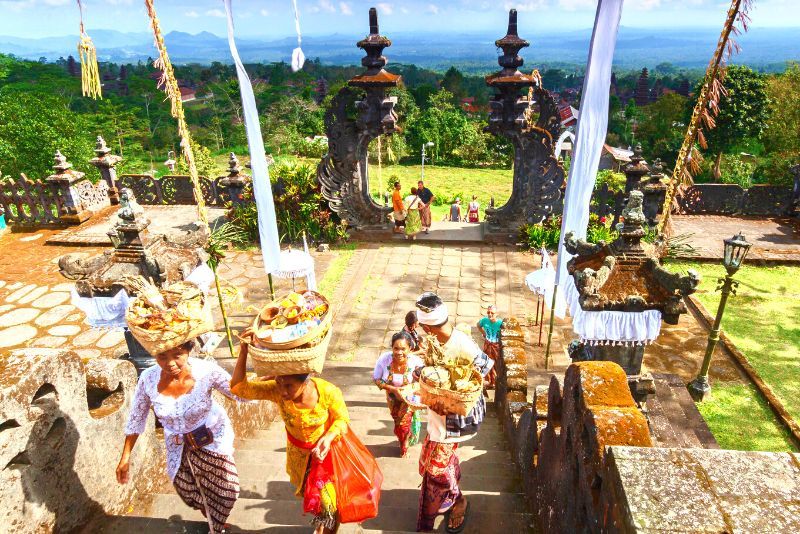 Private full-day Besakih Temple tour
Make the most of your time at Besakih Temple with a private full-day tour. Enjoy a hotel pickup from your Bali accommodation and spend the entire day discovering Bali's eastern region.
In addition to touring Besakih Temple, you'll also visit Kertha Gosa, Jambul rice terraces and Bali Coffee Plantation. You'll also enjoy a traditional Balinese lunch.
Besakih Temple and east Bali tour
Begin your east Bali tour at Tegalalang's rice terraces before visiting Tirta Empul— a holy spring water temple. The next stop is a coffee plantation, where you'll get to taste locally made tea and coffee.
Before you enter Besakih Temple, your guide will drive your group up to Penelokan, which provides impressive views of Mount Batur.
Once you've explored Besakih Temple in full, you'll visit Bangli and Kehen Temple before heading back to your hotel.
Guided tour of Besakih Temple, Lempuyang Temple and Tirta Gangga
Join a guided group tour that visits Besakih Temple, Lempuyang's Gate of Heaven and Tirta Gangga.
Enjoy driving through the picturesque scenery of eastern Bali with an English-speaking guide that will explain the area's history and traditions along the way.
Have your photo taken at Lempuyang Temple's famous Gate of Heaven, swim in the waters of Tirta Gangga and explore Besakih Temple with your guide.
What are the prices of Besakih Temple tours?
Private full-day tours of Besakih Temple, which include additional destinations and lunch, usually range from US$65 and US$100 per person. This price will depend on how many people are on your private tour.
The majority of Besakih Temple tours are private tours. These tours typically include hotel pickups and drop-offs. Private tours also allow you to customize your itinerary to suit your group's specific interests.
Guided group tours of Besakih Temple, Lempuyang and Tirta Gangga cost US$45. This tour includes a hotel pickup but does not include lunch.
Where do Besakih Temple tours start?
The majority of Besakih Temple tours include a hotel pickup service from hotels in Sanur, Ubud, Kuta, Canggu, Denpasar and other popular areas.
Tours that do not include a pickup service usually begin at the temple's entrance gates.
When is the best time to visit Besakih Temple?
Bali enjoys the mildest weather between April and October. This period is also Bali's dry season and it is unlikely that you'll experience heavy rainfall during your trip.
There are well over 70 ceremonies that are held at Besakih Temple throughout the year. For some, viewing these ceremonies can be interesting and enlightening. However, during ceremonial times Besakih Temple becomes overcrowded with both locals and tourists.
Opt for early morning Besakih Temple tours to avoid the crowds.
Travel tips
It is important to dress modestly when visiting Besakih Temple. Sarongs and sashes are available to rent at the temple.
Book your Besakih Temple tour in advance to avoid disappointment.
If your Besakih Temple tour does not include a meal, bring along a packed lunch or extra money to purchase snacks along the way.
Besakih Temple tours are generally not wheelchair accessible because of the many steps.