Known as one of the most gnarly surfing spots in the world, Oahu attracts visitors from across the globe to its shores to catch a wave or two. While experienced surfers dazzle beachgoers with twists and turns atop sky-high waves, beginners can also enjoy this thrilling water sport while on vacation.
Surf lessons in Oahu teach you the basics and help you to gain confidence on a board. Whether you're aged 4 or 84, you're bound to be exhilarated by hopping on a surfboard and learning to catch the biggest wave around.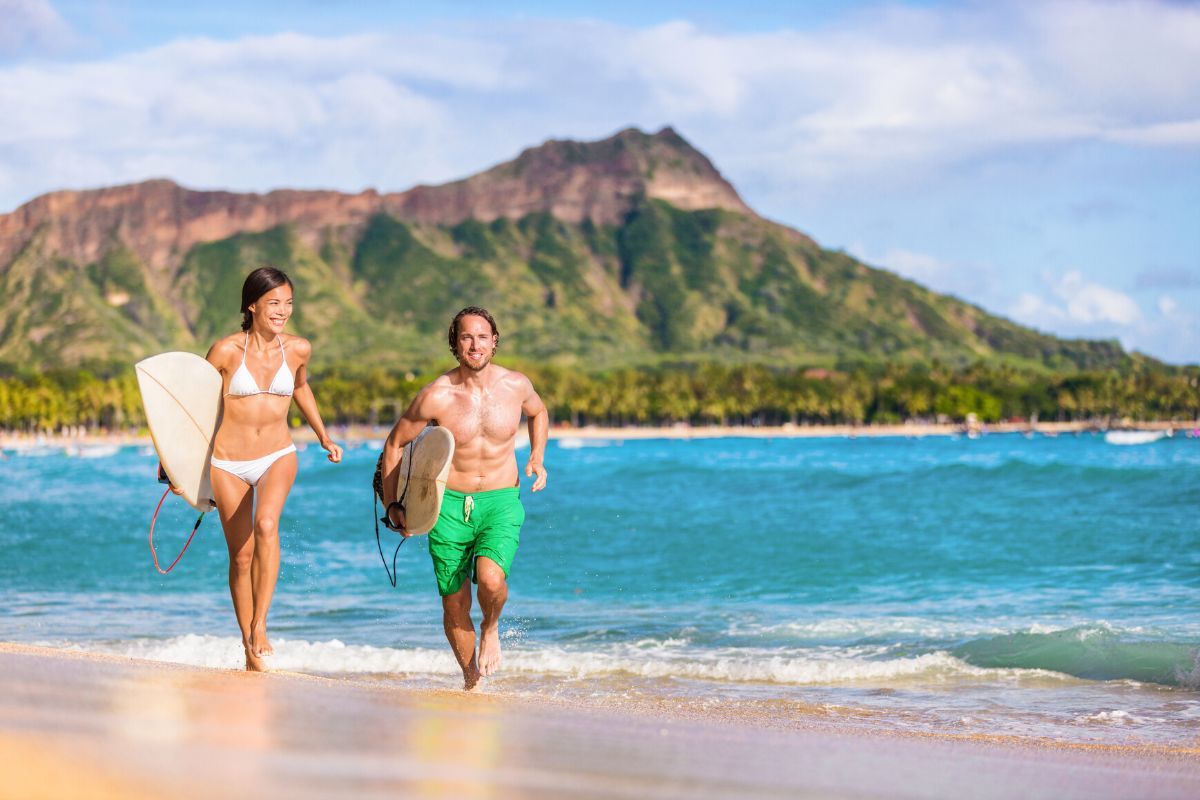 What are the best surf lessons in Oahu?
Group surf lesson in Oahu
At the surfing paradise of Waikiki Beach, you'll enjoy consistent conditions as you head out onto the water. Before you do, you'll spend around half an hour learning the tricks of staying on your board, from the safety of dry land.
When you jump into the water, you may find that surfing is not as easy as it appears. With plenty of splashing and lots of practice, you'll enjoy a fun-filled few hours perfecting the water sport. You'll share your instructor with three other participants as you learn the basics of surfing.
Oahu semi-private surf lesson
If you need a little extra assistance, choose a semi-private surf lesson. You'll share your instructor with just one other participant, which ensures you get enough one-on-one teaching time. You'll cover all the basic maneuvers of surfing, which can be tricky for beginners. These include how to stand up on your board as a wave launches you towards the shore.
Private surf lesson in Oahu
With expert teaching from a personal guide, you'll be catching waves in no time on an Oahu private surf lesson. You'll benefit from your own instructor who will help you to perfect your skills and work on maneuvers that you find difficult. You'll learn how to read the waves and decide which ones are ideal for surfing.
Kids surfing lesson on Waikiki Beach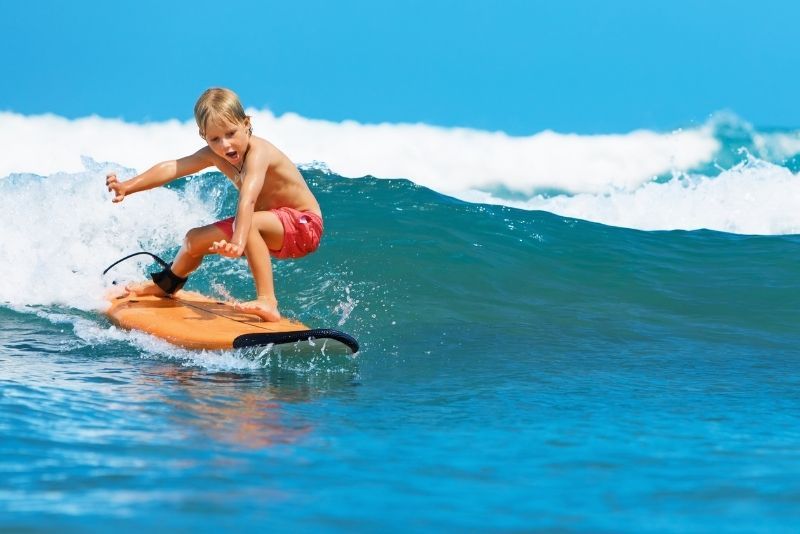 You're never too young to learn to ride the waves, which is why this surf lesson in Oahu is tailored towards children. Kids up to the age of 12 will benefit from one-on-one support from an expert instructor, who will make learning to surf easy and fun for them.
Outrigger canoe surfing lesson
If you'd like a unique and memorable surfing experience, jump in a canoe and chase the waves. This traditional Hawaiian sport was once so popular that it was adopted by the nobility.
Outrigger canoes were brought to Hawaii as early as 200 A.D., however, surfing in the vessels developed much later — around 1900. An experienced captain will steer you towards the best waves as you paddle fast to catch the swell.
How much do surf lessons in Oahu cost?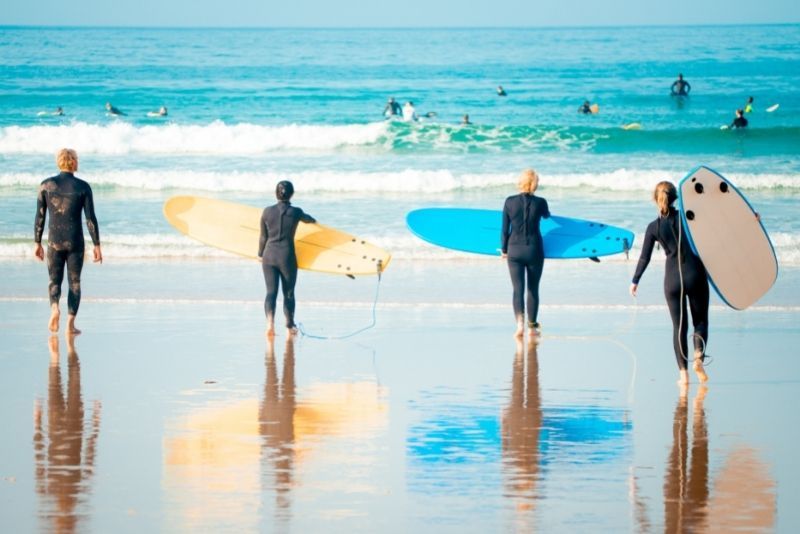 If you wish to learn about Hawaiian customs, hop into a boat and try your hand at outrigger canoe surfing. Enjoying the traditional sport costs less than US$40 per person and is a surefire way to understand more about the history of this state.
When it comes to more traditional surfing, those on a budget can choose to participate in a group surf lesson for between US$100 and US$120 per person.
You'll pay between US$140 and US$170 per person for a semi-private surf lesson, while private lessons generally cost upwards of US$180 per person. However, you can find some private experiences for as little as US$130 per person. In this case, opt for a private lesson over a semi-private one.
Kids can learn to surf for around US$170 per person.
What is included in a surf lesson in Oahu?
Surf lessons in Oahu include board rental, as well as a rash vest to protect your skin. You'll also have an instructor to guide you through the steps of learning to surf. Some operators also provide reef shoes and wetsuits, if you feel the cold. On several excursions, you'll be able to purchase photos of your experience at the end.
Where do surf lessons in Oahu start?
Most surfing lessons in Oahu begin at the beach you'll be learning on. These could be anywhere across the isle, however, the most popular beach for surfing is Waikiki located in Honolulu.
You'll be able to see the meeting point of your surf lesson before booking so that you can arrange transportation ahead of time.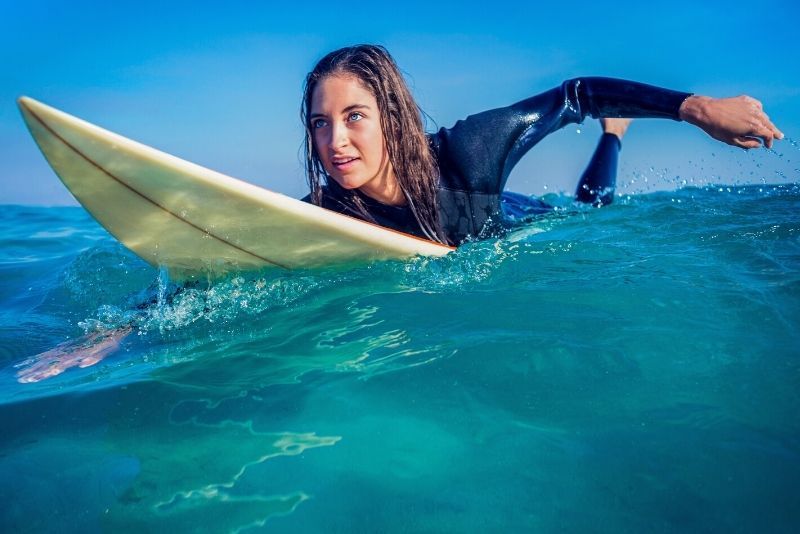 How long do surf lessons in Oahu last?
Most surf lessons in Oahu last between 1.5 and 2 hours. This includes practice time on the beach, learning the basic maneuvers of surfing and spending ample time in the ocean. If you're on a time limit, you can participate in an hour-long surf lesson instead.
When is the best time for a surf lesson in Oahu?
The best season for surfing in Oahu is between November and March. During this time, the swells are consistent and travelers flock to the isle for this reason.
However, as a beginner, you may wish to visit from April to October when the waves are more mellow and suitable for novices. If you head to Oahu during the wintertime and are inexperienced in surfing, you should stick to the south side of the island, where the waves are smaller.
Is it safe to take a surf lesson in Oahu?
Surfing is a safe and exhilarating sport, and surf lessons in Oahu take place with a professional guide. However, pregnant persons are advised against participating.
Are children allowed to participate in a surf lesson in Oahu?
Generally, children aged 4 and over are welcome to participate in an Oahu surfing session. However, some excursions restrict those under 12 from joining in. If you're traveling with youngsters, check the age limitations of your preferred lesson before booking.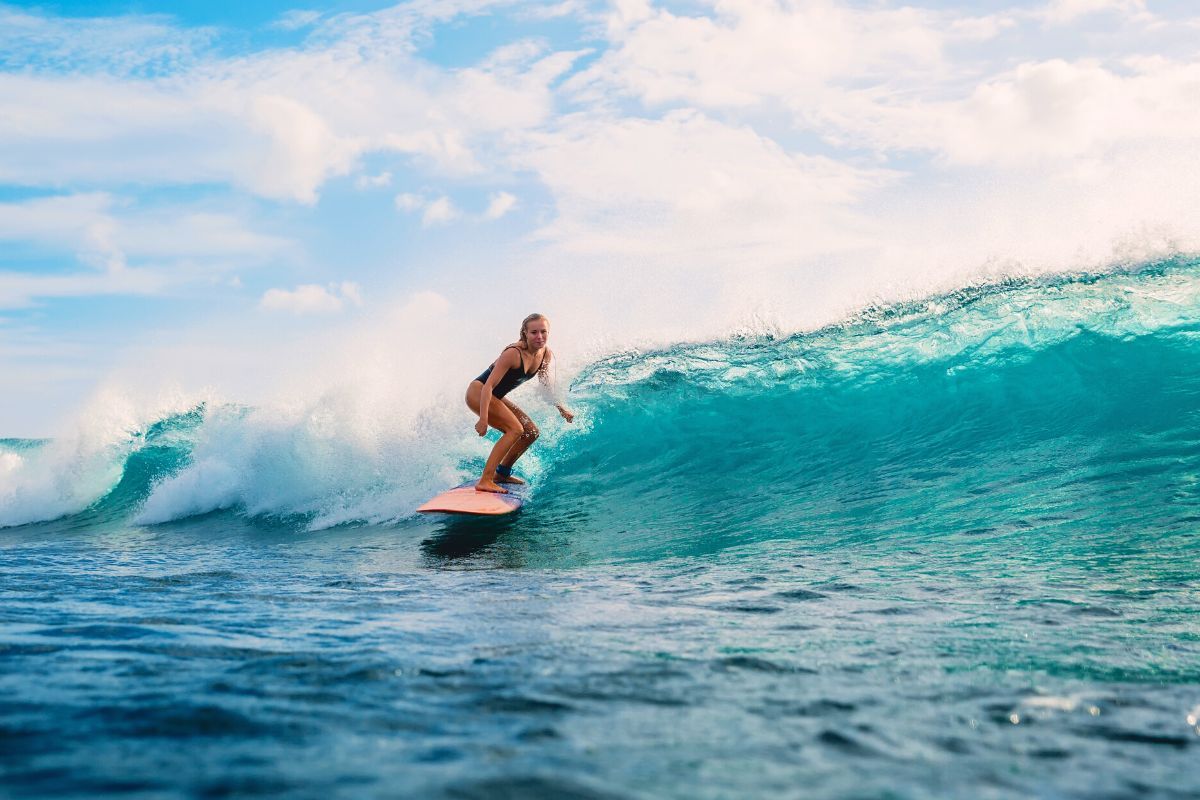 What happens in case of bad weather?
Because of the nature of the sport, surf lessons in Oahu only operate in good weather. If you experience poor weather, your session will be rebooked for another date. Alternatively, you can request a full refund.
Which other water activities can be done in Oahu?
Travel tips
Wear a zinc-based sunscreen while surfing, as the sunrays are much stronger on the open sea.
If you've never surfed before, head to Waikiki Beach to gain some experience. This shore is widely regarded as the most beginner-friendly surf spot on the island.
Give those standing on a board a clear distance when surfing. Surfboards and people can get swept away by the waves, so avoid a collision by giving a wide berth.