Participating in a hop-on hop-off bus tour in Florence is the perfect way to see all the sights of the city without feeling rushed.
You can jump off at any of the stops to explore a particular monument or museum, and then hop back on when you're ready to move on to the next destination. They also offer an easy way to travel around the city without getting lost.
With so many convenient stops and an informative audio guide, a hop-on hop-off bus in Florence is the ideal way to see the city.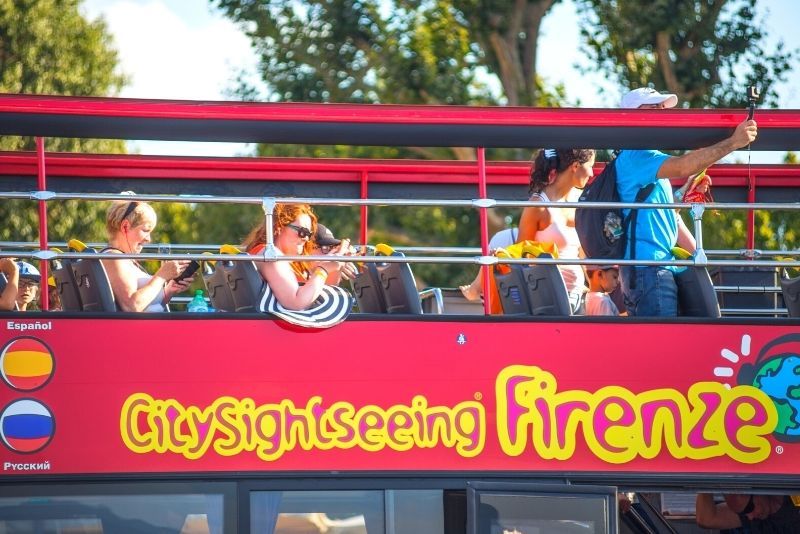 You will find below everything you need to know about hop-on hop-off bus tours, one of the best options for sightseeing tours in Florence.
What are the best hop-on hop-off Florence bus tours? What are their prices?
City Sightseeing Florence
The City Sightseeing hop-on hop-off bus in Florence is the only tourist bus in the city. It transports you to 14 of the most impressive and significant sites in Florence, and includes an audio guide, which is available in eight languages.
Route
Most people hop on the city sightseeing bus at Santa Maria Novella station, which is the main transportation hub in Florence. From there, it continues to Piazza della Libertà, Piazzale Donatello and Beccaria.
You can depart at the Basilica of Santa Croce, the Teatro Verdi or Piazza Ferucci.
As you speed through the city on the open-top bus, you'll also have the option to hop off at Piazzale Michelangelo. This square sits on top of a hill overlooking Florence and provides panoramic views for miles around.
Other places of interest include Piazzale Galileo, Villa Cora and Porta Romana. The gate of Porta Romana sits in the Oltrarno district and has served as an entrance to the city since the 13th century.
The final stops on the route are Piazza Tasso, Borgo San Frediano, Il Prato and Piazza Indipendenza.
This tourist bus in Florence also has a second route, which travels through the city and out to neighboring Fiesole. Along the way, you'll stop at a plethora of sites, including the Convent of San Domenico and Cascine Park.
You can also catch this service to the city of Vittorio Veneto, which is home to idyllic vineyards and historic churches. However, this route is temporarily suspended.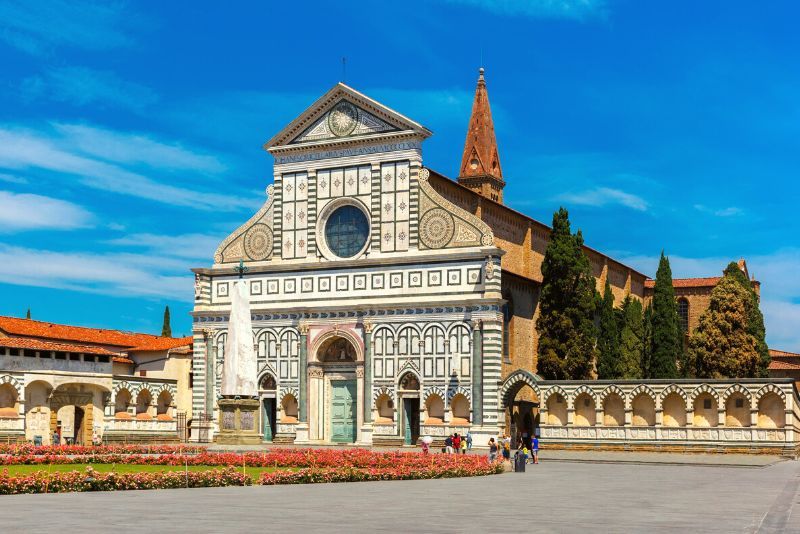 You can catch this hop-on hop-off bus in Florence every day from 9:00 AM to 7:00 PM, and the service runs every 20 minutes.
You'll have access to an app, which shows you where the next bus is in real-time. The entire loop takes around an hour to complete.
Tickets
24-hour ticket
A 24-hour ticket allows you an entire day to explore the city at your leisure and costs €23 per adult, aged 16 and over.
Tickets for children between the ages of 5 and 15 cost €12, and those under 5 travel free. If you purchase your tickets online, you'll receive 10% off of any pass.
48-hour ticket
If you have extra time in the city, consider purchasing a 48-hour ticket and exploring  Florence over the course of two days. Adult tickets cost €28, while children will pay €14.
72-hour ticket
Those who like taking in the sights at a slower pace may be interested in a 72-hour pass. You can expect to pay €33 per adult and €17 per child.
How do hop-on hop-off bus tours in Florence work? What is included?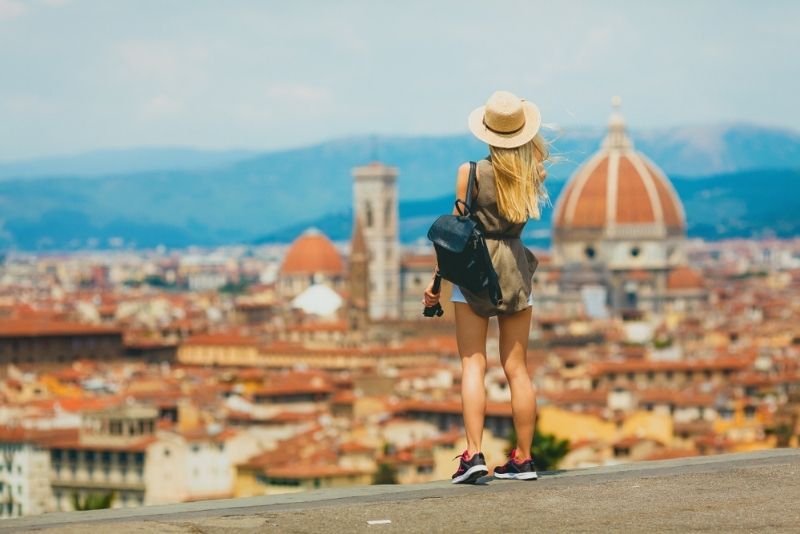 Hop-on hop-off buses in Florence are easy to navigate. Simply, join the city tour at any stop you like, and hop off again whenever a landmark catches your fancy.
You'll keep hold of your ticket and present this to the driver every time you board a bus. There is no limit to the journeys you can take within your allocated time slot, meaning the ticket is as good value as you make it.
An audio guide is available for you to use as you tour the city by bus. You can choose from a range of eight languages, including English, Chinese and Spanish.
You'll gain access to an app with a free walking tour of the city, which you can utilize when you're ready to stretch your legs. You'll also benefit from free WiFi on board.
Travel tips
Plan out the sights you wish to see before purchasing a ticket for a hop-on hop-off bus in Florence. This way, you'll be able to make the most of the limited time on your pass.
Download the complimentary app on your bus tour. Alongside a free walking tour, you can also see live waiting times.
Purchase your Florence hop-on hop-off bus tickets for 72 hours if you have several days to spend in the city. You can use the bus as your primary mode of transport and see all the main attractions in Florence.