Western Ireland is known for its breathtaking views and vibrant culture. Visitors from all over the world make their way to the area to explore all that Ireland has to offer. In the heart of it all lies Galway, the fourth largest city in the Republic of Ireland.
People often refer to Galway as the Bilingual Capital of Ireland because it is known for its continued association with the Irish language. Galway also remains rich with Irish music, song and dancing traditions.
The city sits on the coast of the Atlantic Ocean, not far from the infamous Cliffs of Moher. Its location made it a prime trading port back in the day, but it has since evolved into a popular tourist destination.
Visiting Galway is a great way to experience Irish culture while taking in the stunning scenery. The next time you are in Ireland, consider planning a day trip to Galway!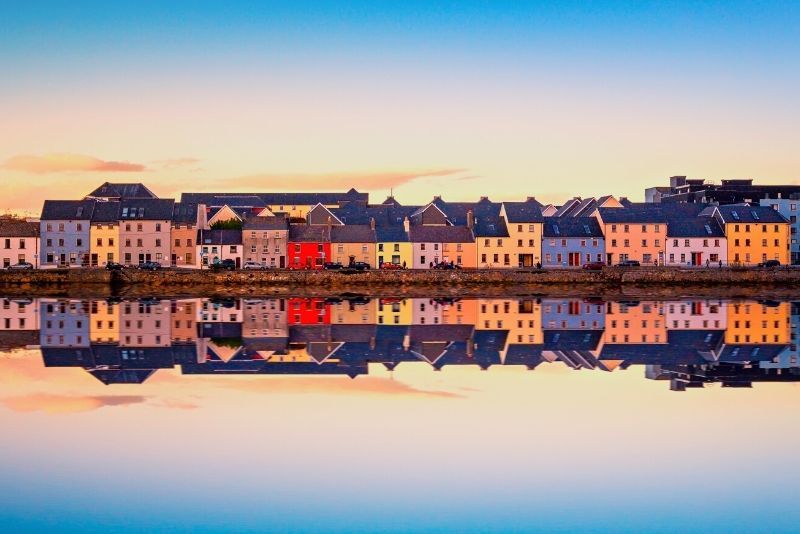 How to get to Galway from Dublin?
Galway sits almost directly west of Dublin on opposite coasts of the country. It may seem like a long distance to travel since they are across the country, but you can travel one way in just a few hours.
The two cities sit approximately 200 kilometers apart, connected by a major highway. Traveling between the two is extremely convenient and accessible.
From Dublin to Galway by car
Even though Dublin and Galway sit on opposite sides of the country, you can travel one way between the two cities in just over two hours.
You can enjoy the scenic drive through the heart of Ireland while traveling on the M6. If you want to avoid tolls, you can journey along the M4 and M6.
From Dublin to Galway by public transportation
If you want to avoid driving on your own, you can always take a bus or train from Dublin to Galway. The Irish Rail operates the Galway Service to take you two and from Galway on the train.
Otherwise, you can take an express bus through CityLink to reach your destination. Train ticket prices vary, but they typically cost less when you book them in advance. The CityLink tickets cost €11.50 when you book the ticket online or €13.50 on the bus.
Guided tour to Galway from Dublin
The final way to reach Galway from Dublin is on a guided tour. These tours provide transportation to and from Galway, a guide to provide historical context, free time to explore popular attractions and some entrance fees.
Guided tours conveniently remove the stress of travel planning and give you the chance to sit back and relax!
How much does the entrance ticket to Galway cost?
You do not have to pay an entrance fee to visit Galway! You can walk through the city, learn about the history and enjoy the architecture for free. You may have to pay an entrance fee for the attractions that you visit, so keep that in mind. If you book a day tour, read the fine print to see if the cost includes entrance fees.
What is the typical itinerary of a day tour to Galway from Dublin?
Most day trips from Galway take at least 12 hours to complete. They begin with a pickup in Dublin at your accommodation directly or a common meeting location. The group then heads west towards the next stop.
The exact itinerary will vary depending on which attractions your tour stops at, but most tours at least stop in Galway and at the Cliffs of Moher.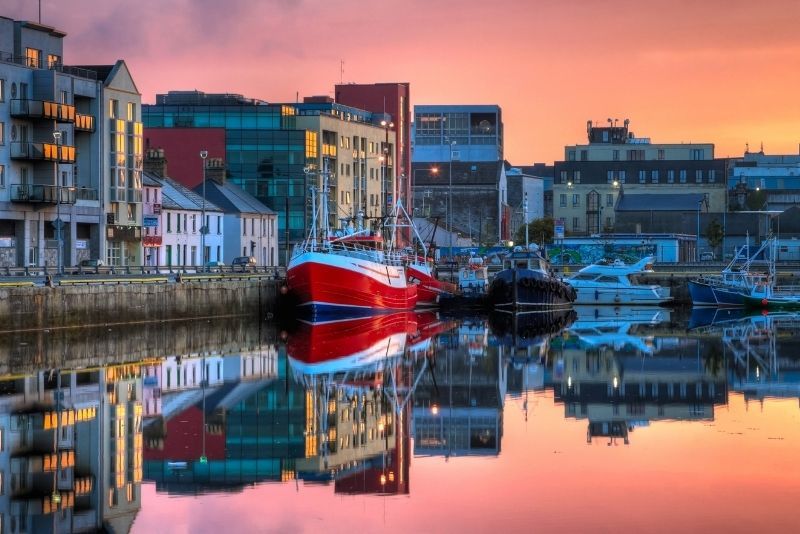 Some tours also include the Wild Atlantic Way, a distillery, Burren National Park, Connemara or Killmacduagh Tower. You typically get free time to explore these places, but some attractions include guided tours.
After the group stops at each attraction, you will then head back to Dublin after a day of exploring. Your driver will either drop you off at the common meeting location or directly at your accommodation.
Most day trips and private tours follow a similar schedule, but the itinerary changes if you book a multi-day tour.
What kinds of tours are available to go to Galway?
If you want to book a tour from Dublin to Galway, you have plenty of options to choose from! Each tour operator offers unique experiences, so you are sure to find a tour that checks off all of your requirements.
The most common tours from Dublin to Galway include day tours, private tours, multi-day tours, and private transfers.
Day tour to Galway and the Cliffs of Moher from Dublin
Virtually every day tour to Galway includes a stop at the Cliffs of Moher. Some day tours even add additional stops at a distillery, the Wild Atlantic Way or Burren National Park. Day tours are great ways to meet new people from all over the world while exploring the beauty of western Ireland.
Private tour to Galway plus the Cliffs of Moher from Dublin
If you want to experience the cliffs and Galway with a bit of privacy, a private tour is the best option for you!
Private tours typically follow similar itineraries as day tours, but they are limited to the people in your group. They usually are the most cost-effective option for small groups because you pay a flat rate for a group, not per person.
Multi-day tour to Galway plus Cliffs of Moher and Connemara from Dublin
Since the area boasts so many amazing attractions and activities, many tour operators offer multi-day tours from Dublin to Galway. These tours last anywhere from two to four days and take you all over western Ireland.
You can expect to visit Galway, the Cliffs of Moher and Connemara. Some of the tours even journey towards southern Ireland and visit Kerry, Limerick and Dingle.
Private transfer to Galway from Dublin
If you just need to get from point A to point B, you can book a private transfer from Dublin to Galway. You will ride between the two cities in a private car with a driver who picks you up and drops you off at a specified location.
Private transfers offer a convenient option to those who just need to make the journey from one city to the other without taking a tour.
How much does a tour to Galway from Dublin cost?
The cost of the tour changes based on which operator you select, the attractions the tour includes and how many days the tour lasts. The prices usually range anywhere from €42 to €1,700.
You can pick a more budget-friendly option and pay for a one-day guided tour from Dublin for €42 to €159. You can also book a private tour for €883 to €1,075 or a private transfer for €36 to €1,700. Lastly, multi-day trips range from €169 to €929.
When booking a day trip, you should consider how much you want to spend and how long you want to travel.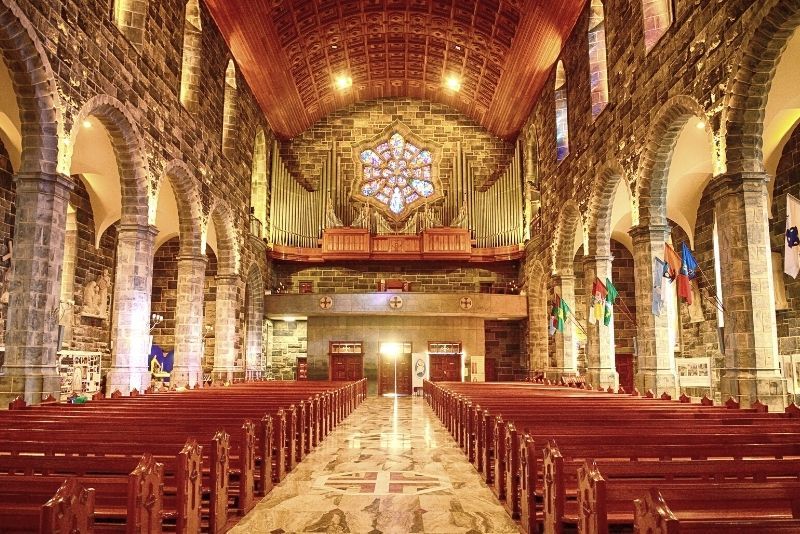 What will you see and do in Galway?
Galway is a cultural hub of Ireland that boasts many activities and attractions.
You can make your way to the Latin Quarter to enjoy some of the city's best pubs and grub, wander down Quay Street while listening to locals playing music on the road or take in historic architecture at the Galway Cathedral.
You can also learn about the city at the Galway City Museum, walk to Lynch's Castle or take a cruise down the river or visit St. Nicholas' Collegiate Church constructed in 1320.
Galway also boasts countless natural attractions! Visit the Connemara National Park, travel along the Wild Atlantic Way, take in the views from Salthill Promenade or explore the breathtaking Cliffs of Moher.
Whatever you decide to do, it is safe to say that you won't get bored in Galway!
When is Galway open over the year?
Galway remains open to visitors year-round, so you should plan your trip according to your weather preferences!
What are the opening times?
The city is open 24/7, but the one-day tours run during the daytime. If you travel to Galway yourself or on a multi-day tour, you can stay in the city and check out the local nightlife.
When is the best time to visit Galway?
Galway boasts moderate temperatures due to its prime coastal location. The best time of the year to visit the area is from June through October. The temperatures typically reach double digits, and the days have more daylight. Galway also hosts a variety of events and festivals each year during this time.
From November to January, you can expect low temperatures that sometimes drop below freezing. Galway rarely receives snow, and there are plenty of Christmas activities planned throughout this time.
Temperatures then warm up slightly from February to May. Though winter and spring have cool temperatures, you can avoid the large amounts of tourists that come during the peak season.
Travel tips
Bundle up! Depending on the time of year that you visit, Galway can be pretty cold.
Bring a camera to take pictures of the Cliffs of Moher.
Pack lightly for the cliffs. Sometimes they face extreme winds, so it is difficult to carry lots of items.