A mere glance at a photo of a canal lined with narrow brick buildings, houseboats and bikers rolling over bridges tells you it's Amsterdam. The Dutch capital is distinctive for its man-made waterways built over six centuries.
An Amsterdam canals tour, either by boat or on foot, is a peaceful way to soak in this vibrant city's charms.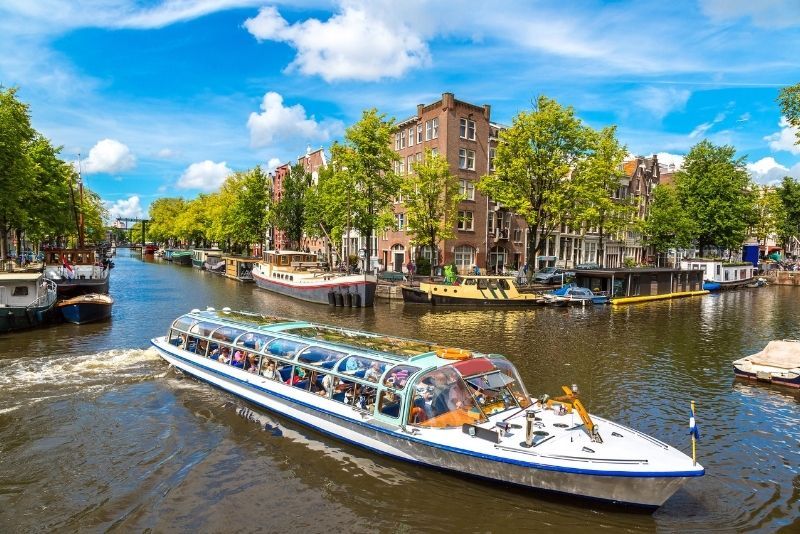 Here's all you need to know about Amsterdam Canals, some of the most remarkable sightseeing tours in Amsterdam.
Where are the Amsterdam canals located?
Amsterdam's canals weave through the entire city. Hemmed by the medieval city moat, the Singel, a series of concentric canals fan out from central Amsterdam in a horseshoe shape, while other offshoots extend away from the city.
Canal tours mostly focus on the three main waterways, the Herengracht, the Prinsengracht and the Keizersgracht, all accessible from points in central Amsterdam. Tours often pass along the Singel and on to the Amstel River.
What will you see on an Amsterdam canals tour?
Main canals
Amsterdam's first canal was dug in 1385 and led to projects that continue today. The city's three main canals were dug in the 17th century to equip the city for the massive growth and prosperity of the Golden Age.
The Herengracht, Prinsengracht and Keizersgracht canals have evolved from their practical roots to become tourist hotspots and prime real estate.
Amsterdam bridges
With 75 kilometers of canals running through Amsterdam, bridges are a must. There are a staggering 2,500 bridges in Amsterdam, making it the city with the largest number in the world.
The most famous among them, the "Skinny Bridge," spans the Amstel River rather than a canal. Other classic structures are the Blue Bridge and Tower Bridge.
Historical buildings
With the canals' practical origins, it's logical that many of Amsterdam's most important buildings are found along their banks. The UNESCO World Heritage Canal Ring draws visitors with its 17th century tilting houses, Westertoren clock tower and the neo-gothic Sint Franciscus Xaverius Church.
Museums in Amsterdam
With a list topping out at 75, choosing which Amsterdam museums to tour is quite a task. Take in exterior views of establishments from the canals to help you decide which ones to explore later.
Prime museums are the Rijksmuseum, Anne Frank House and the Van Gogh Museum. The Rijksmuseum features masterpieces by Holland's most famous artists. Spy works by Vermeer, Van Gogh and a dazzling collection of Rembrandts.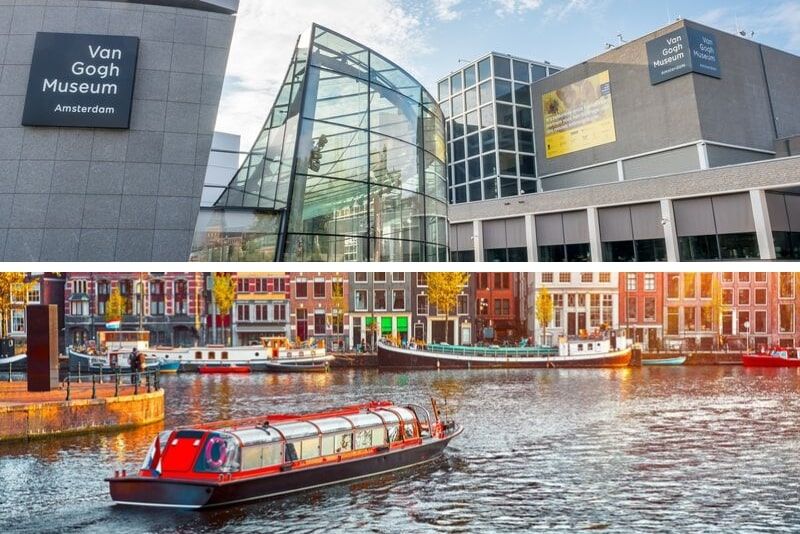 Anne Frank's home is a former warehouse where her family sheltered during the Nazi occupation and was where she penned her famed diary. The Van Gogh Museum has the world's largest collection of works by the artist.
Other intriguing venues are the Youseum, the Red Light Museum and the Tulip, Houseboat and Cheese Museums. Take advantage of a canal tour package that bundles skip-the-line tickets to some of the city's best collections.
Famous neighborhoods
Eclectic districts that sit along the canals comprise foodie magnets, historical landmarks, nightlife and, of course, the notorious Red Light District.
De Wallen of the Red Light District rubs shoulders with Jordaan District, which is home to imaginative eateries, shops and the warehouse that Anne Frank called home.
Along Herengracht is the Jewish Quarter that's rich with history dating to medieval times. De 9 Straatjes, or "the nine little streets" in English, is a tiny quarter of cobbled streets filled with shops and cafes. For night owls, check out Leiden Square's clubs and bars.
What are the best tours to visit the Amsterdam canals?
Canal cruises in Amsterdam
Ideal for kicking off an Amsterdam vacation, affordable 1- to 1.5-hour canal cruises are relaxing and informative. Learn the layout of the city and the stories behind the scenery with a live guide or multilingual audio guide.
Lovely luxury or VIP canal cruises are some of the best boat tours in Amsterdam and take you in comfort. With open-topped or semi-open boats, sit back on cushioned benches, cover up with a blanket and sip a Dutch beer while your live guide narrates your outing.
Possible luxury tours are evening cruises, booze cruises and on-board wine and cheese tastings.
Canal boat tours plus meals are also available with breakfast aboard a boat, or combine dinner and a float down the canals. Morning choices range from pastries and coffee to multi-course vegan breakfasts. Dinner options include an on-board pizza buffet to a gourmet private meal.
Amsterdam Canal walking tours
Stay on land with a walking tour in Amsterdam along some of the many canals in Amsterdam. Discover the canal houses, bridges and houseboats along the waterways as well and the history behind what you see.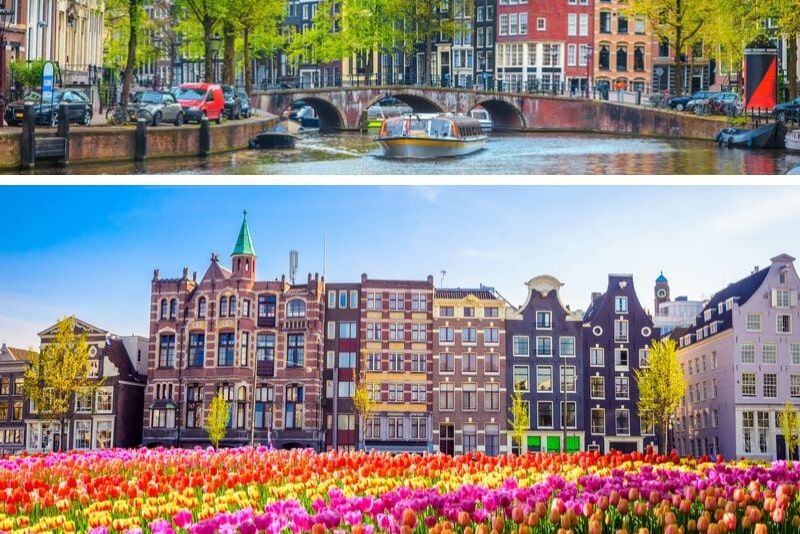 With so much to see in Holland's capital city, take to both the streets and canals on a walking tour with a canal cruise. Whether you want to explore the city's highlights or have a themed tour, your options abound.
Choose from tours focusing on food, Anne Frank's history, architecture or one of A'dam's personality-filled neighborhoods like Jordaan, De Wallen or the Jewish Quarter.
Hop-on hop-off bus tours plus canal boat tour
A convenient 24-hour hop-on hop-off bus pass with a 1-hour canal boat tour is an economical way to get to know Amsterdam. Buses run from the city's 11 stops every 15 to 20 minutes. Make the full 1- to 1.5-hour circuit with a multilingual audio guide to enhance the sights. Jump off at any time for further exploration.
Bike tours plus canal cruise
Amsterdam's biking culture is renowned. It has been named the world's most bike-friendly city several years and remains among the top cities each year. Do two of the most quintessentially activities with a guided Amsterdam bike tour concluded with a canal cruise.
Canal boat tours plus museum or attraction visits
Amsterdam's wealth of museums is mind-boggling. There is even a "museum square" where some of the most famous sit. Skip the long lines at the Rijksmuseum, Van Gogh Museum, Moco Museum, NEMO Science Museum or many others before relaxing on a 1-hour canal cruise.
This 1-hour sightseeing cruise on the canals, with tickets to attractions like Madame Tussauds, Ripley's Believe It or Not, or Body Worlds and more, is a convenient and economical way to delve into what A'dam offers.
See how the famous brew is made at the Heineken Experience, gain access to nightclubs and events and brave the Amsterdam Dungeon.
Other enticing Amsterdam attractions with a canal cruise are the "This is Holland" virtual reality experience and drinks at XtraCold Icebar. Your tour package provides skip-the-line tickets for all entrances.
Day tours from Amsterdam plus canal cruise
Venture beyond the city limits to some of the Netherlands' most destinations. Most day tours stop by several sites in towns like Zaanse Schans, Delft or Giethoorn. See Delft's celebrated blue ceramics, the government buildings of The Hague or the mesmerizing Keukenhof Gardens.
Try Dutch cheeses, watch artisans carve traditional clogs and tour the Zaanse Schans windmill. Absorb the flower-filled countryside as the coach returns you to Amsterdam for your canal cruise.
Amsterdam canal private tours
Perfect for families, groups of friends or couples looking for romance, a private canal tour is a fun way to discover Amsterdam and more. Choose a cruise with drinks or a meal, a combo excursion of a cruise and walking tour or a day trip to neighboring villages.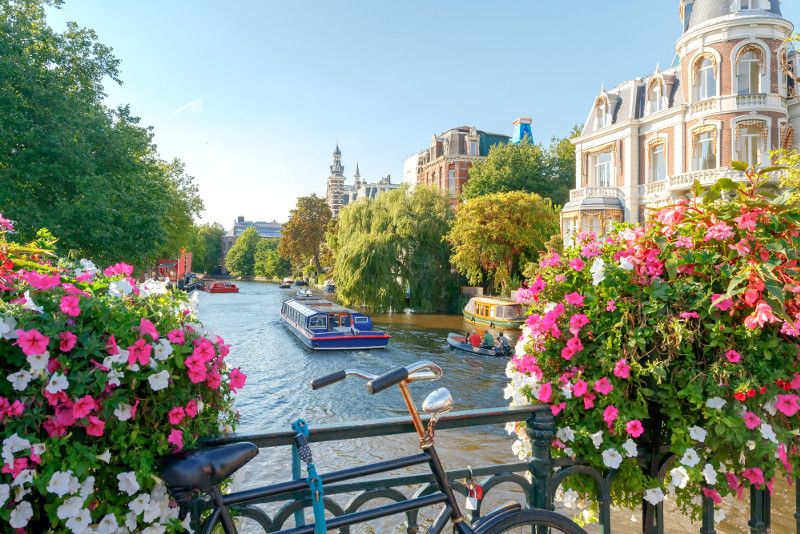 What are the prices of Amsterdam canals tours?
Amsterdam Canal cruises cost from €15 per person for regular guided tours to €60 per person for a small group tour. These 1-hour cruises provide an audio guide in major world languages.
Upgrade to a 1- to 2-hour luxury cruise with food and drinks for €35 per person to €60 per person, depending on the duration of the tour and whether unlimited beverages are offered. Canal walking tours cost €30 per person for a group tour to €60 per person for a private tour.
Canal cruises plus meals cost from €40 per person to €80 per person, depending on the amount of courses served. Private breakfast tours start at €155 per person for groups of four people.
Walking tours of the canals without a cruise cost from €35 per person to €60 per person. Higher-cost tours are private, and most excursions last around 2 hours. Walking tours plus cruise cost €35 per person for group tours up to €140 per person for private tours.
Hop-on hop-off bus tours with a 1-hour cruise cost from €12.50 per child to €25 per person aged over 13.
Bike tours plus Amsterdam canal cruise cost from €40 to €50 per person, with higher-end tours offering snacks and drinks.
Canal cruises plus museum tickets cost from €30 to €40 per person, depending on the museum. Canal cruises plus attraction tickets cost between €30 and €40 per person. Packages provide skip-the-line admission, an audio guide and 1-hour canal cruise.
Day tours plus canal cruise cost from €100 per person for 10-hour group tours to €490 per person for private tours. Price ranges depend on group size, the duration of the tour and which stops are included.
Private 1.5-hour boat tours cost from €70 per person to €215 per person. Higher-cost tours are romantic cruises with champagne. Private walking tours with a cruise cost from €65 per person to €160 per person, depending on group size.
Day trips beyond Amsterdam followed by a canal cruise cost between €80 per person and €490 per person, depending on group size, itinerary and whether entrance to fee areas is included.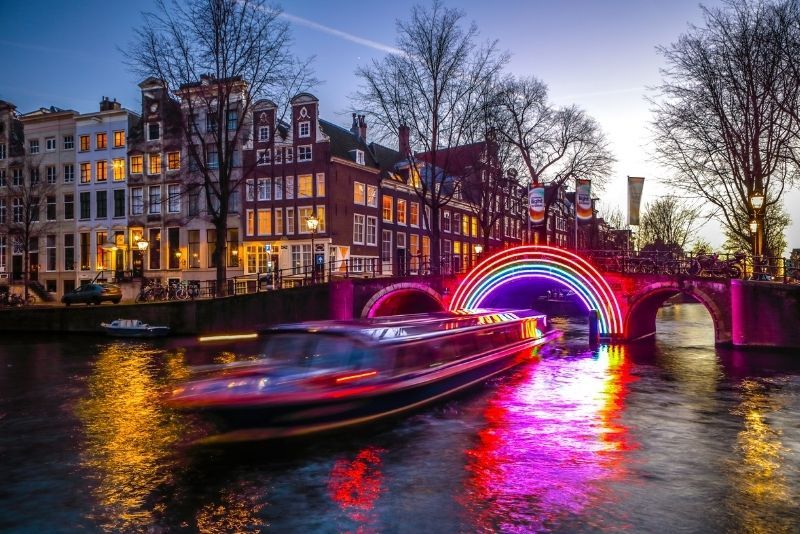 Where do Amsterdam canals tours start?
Amsterdam Canal cruises start at several different centrally-located jetties. Common meeting places are in front of the Rijksmuseum, at Prinsengracht, Prins Hendrikkade or Damrak in De Wallen.
Walking tours often begin at central plazas like Beursplein, Stationsplein or with pickup from your hotel for private tours.
When is the best time to visit the Amsterdam canals?
The best months to visit the Amsterdam canals are May and September to avoid peak tourist season while taking advantage of great weather. A sightseeing canal cruise is a great way to kick off your visit to the city, as it can help you get familiar with the city.
Travel tips
If you suffer from motion sickness, take medication one hour before a canal cruise.
Book early, as some Amsterdam canals tours sell out quickly.
For food experiences, let your tour provider know of any dietary restrictions at the time of booking.