A popular activity for art connoisseurs and history buffs alike, the Rijksmuseum is home to a dazzling array of artwork, ranging from the earliest times of Dutch art in the Middle Ages right up to contemporary pieces – spanning close to 800 years in total.
Also known as the Museum of the Netherlands, this riverside building towers over the bustling pedestrian square below and provides a fascinating glimpse into the wonder of Dutch history.
Book your Rijksmuseum ticket to discover an exquisite collection of sculptures, artifacts and historic items that capture the essence of life in this unique country.
With no fewer than 1 million objects spread throughout the collection – from Golden Age masterpieces like Rembrandt's Night Watch to the exotic Delftware ceramics – you can easily spend a whole day exploring this awe-inspiring institution, gardens, library, temporary exhibits and all.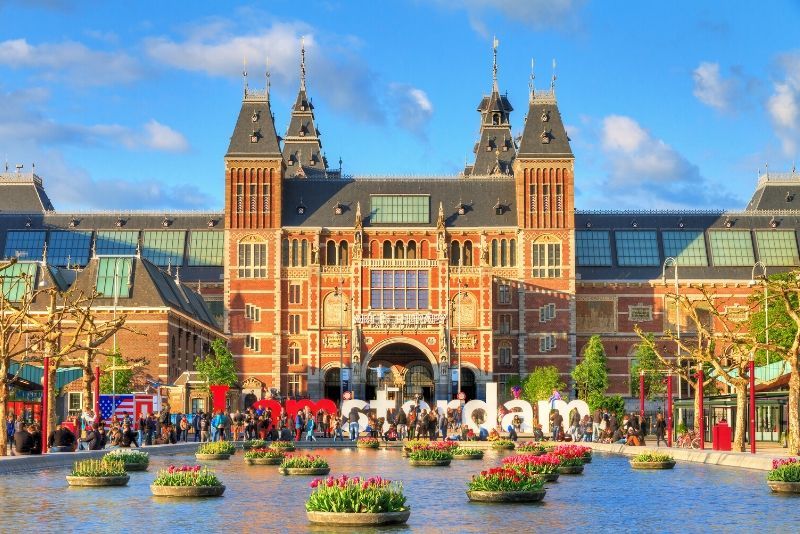 Here's all you need to know about Rijksmuseum, one of the most captivating museums in Amsterdam.
How much do Rijksmuseum tickets cost?
Prices for Rijksmuseum tickets depend on your age range, with special discounts for seniors and children.
Adults (aged 18 and above): €22.50
Children (aged under 18): Free
For an extra €5 per person, you can join a guided tour with a small group of maximum 15 people, aged 16 and over. These docent-led tours provide an in-depth look at the museum's highlights, giving you a chance to ask questions and learn more about the artworks and artifacts.
Alternatively, you can also purchase an audio guide for €5 per person, available in 10 different languages.
When purchasing your tickets online, you have the option to buy your very own self-portrait with curly hair by Rembrandt. The "Playmobil Rembrandt Self-Portrait" costs an extra €5.95 per person and can be picked up in the Rijks Shop.
Who is eligible for discounts?
Several different groups are eligible for discounted Rijksmuseum tickets. This includes Amsterdam City Card holders, ICOM members (International Council of Museums), Friends of the Rijksmuseum, or people with associations to groups such as Vereniging Rembrandt, KOG, VVAK, or VriendenLoterij VIP-KAART.
Members and holders of all of these get free entry to the museum, while 100% discounts are also available to students and children under 18 years old.
Those holding a Cultural Youth Passport or a European Youth Card Association membership are entitled to discounted entry of just €11.25 per person.
Is it possible to visit for free?
Yes, it is possible to visit the Rijksmuseum for free, but only for children below 18 years old. These tickets still need to be booked online and in advance. Generally, you will need to be accompanied by an adult, and make sure to bring the child's proof of age with you on the day.
Should you book in advance?
Yes, you should book in advance to guarantee your entry, avoid waiting times and secure your preferred entry time (as well as your preferred guided tour time, if you choose this option). The Rijksmuseum is one of the most popular attractions in Amsterdam, so some visiting windows can book up quickly during peak season.
In fact, it is mandatory to buy Rijksmuseum tickets online. The Rijksmuseum recommends buying tickets online at least a few days prior to your visit. This way, you can avoid the hassle and jump straight into exploring the museum's galleries at your preferred timeslot.
What are the best Rijksmuseum tours?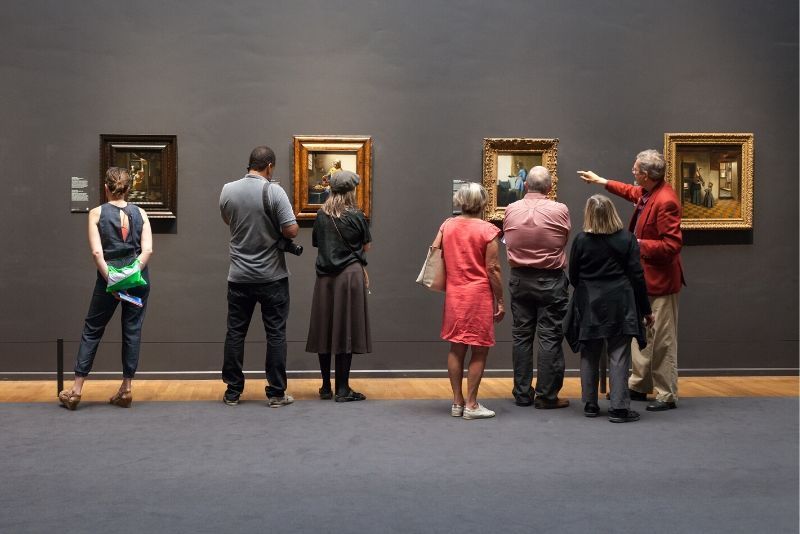 Small group Rijksmuseum guided tour
Suited to art and history buffs who want to learn more about the pieces in the museum without paying too much extra, this guided tour provides a wealth of knowledge about the highlights in the Rijksmuseum.
Led by an experienced docent or guide, these tours are full of fascinating anecdotes that bring each artwork to life, diving into the painting styles, artists' lives and meaning behind each work. For those who want to gain a deeper understanding of what they're seeing, this is an excellent option.
Rijksmuseum Inside Out: Skip-the-line private tour
This is the ideal tour for travelers looking to experience a private, exclusive visit to the museum. You'll skip long lines and get access to areas normally closed off to the public, while being guided by an expert Rijksmuseum insider.
On this tour, you'll be able to learn about Dutch cultural history and the masterpieces on display, as well as gain an in-depth understanding of the development of Dutch fine art.
While more expensive, you can tailor your visit to areas you find most interesting, rather than having to stick to a strict small-group itinerary.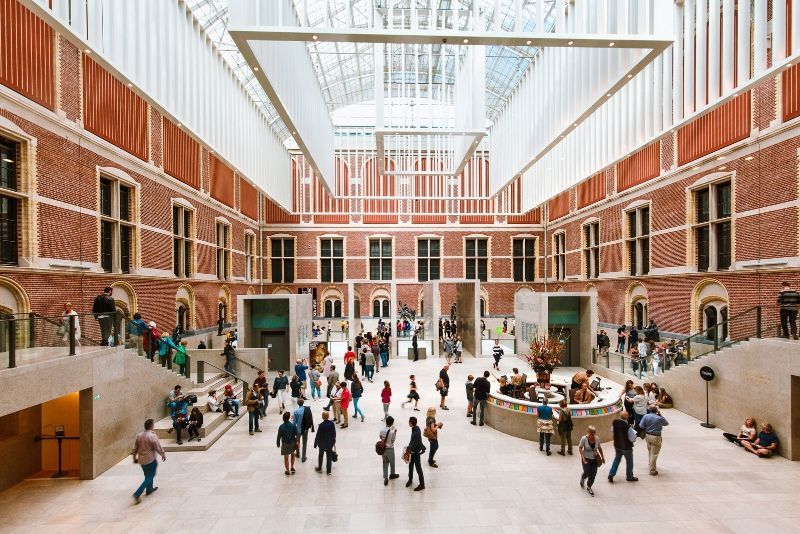 Are there any combined tickets or tours including Rijksmuseum and other attractions?
Yes, there is a handful of combined tickets and tours that include Amsterdam Rijksmuseum tickets.
Some of the most popular options are a combination ticket for the Rijksmuseum and other museums, such as the Van Gogh Museum or Rembrandt House Museum. Others include quintessential Amsterdam experiences such as a canal cruise or a city walking tour.
Rijksmuseum and Canal Cruise combo tour
One of the most popular combo tours, this package includes a ticket to the Rijksmuseum and an hour-long canal cruise. You'll get to experience two of Amsterdam's main attractions in one go, learning about the city's history as you float along its iconic Canal Belt waterways.
Besides passing by merchant houses and historic bridges on your cruise, you'll also get to see famous landmarks such as the Anne Frank House, the Magere Brug (Skinny Bridge), the formidable Westerkerk church and the bustling Amsterdam Old Port.
Rijksmuseum and Van Gogh museum combo
Focusing on two of the most famous artists in Dutch history, this combo ticket includes entrance to both the Rijksmuseum and Van Gogh Museum. This is a fantastic way to learn more about the contrasts between these two iconic painters, exploring their stories and how they shaped modern art.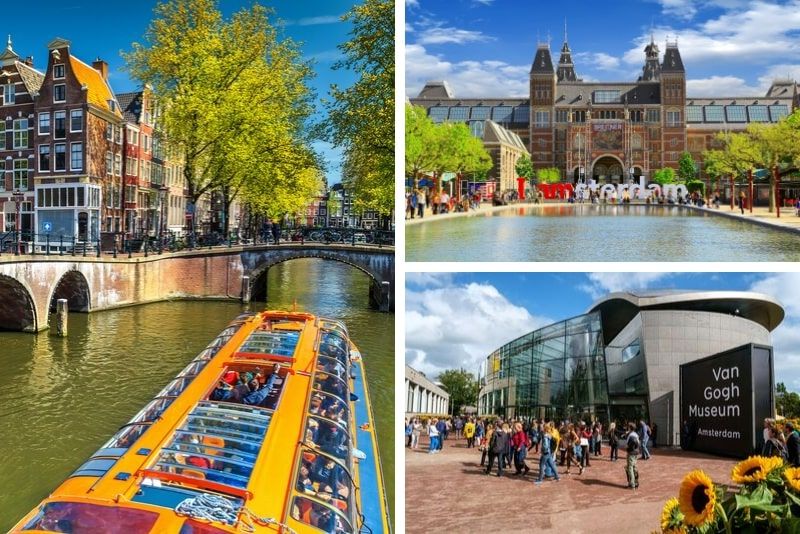 Lasting around 5 hours, this art-centric tour usually includes guided tours of each museum, as well as a break for lunch in between.
Private Amsterdam walking tour and Rijksmuseum visit
Ideal for visitors wanting to see as much of Amsterdam as possible, this private walking tour takes travelers through the city's old town center and some of its most famous attractions.
After a couple hours exploring by foot, passing through districts like the Jordaan District and the Red Light District, you'll end up at the Rijksmuseum for a guided tour.
This is an excellent way to get to know Amsterdam's hidden corners, learn about its intriguing past and gain a deeper understanding of Dutch art culture. With several options to choose from, you can opt for general sightseeing walking tours or art-focused walking tours that dive into the life and career of Rembrandt.
Rijksmuseum + 24 hour hop-on-hop-off bus
Visiting Amsterdam for just a couple of days? Then a hop-on hop-off bus tour in Amsterdam plus Rijksmuseum is the perfect combo for you. This ticket includes a tour of the Rijksmuseum and 24-hour access to an open-top bus tour.
This stops at all Amsterdam's major attractions, including the Anne Frank House, the Royal Palace, Vondelpark and the Red Light District.
With your transport ticket, you can hop off at any stop along the route and start exploring from there.
What will you see inside?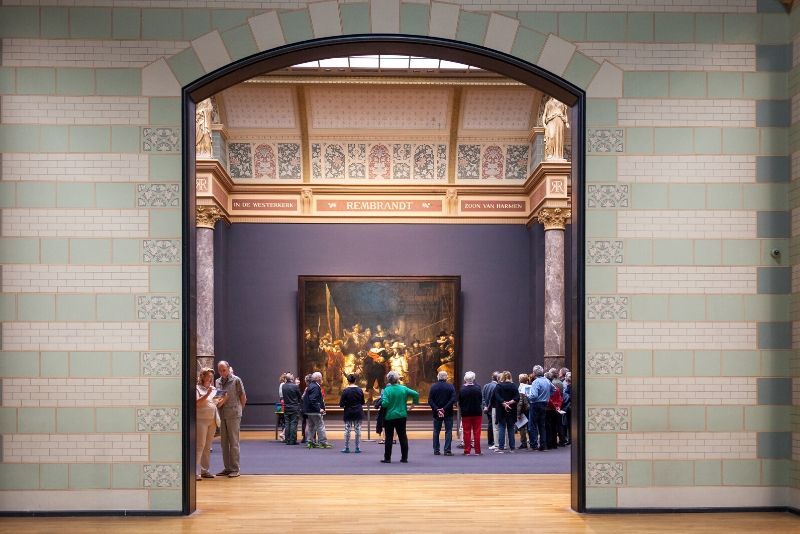 Inside the Rijksmuseum, you'll find a plethora of Dutch masterpieces from the 13th to the 21st century, spread across several permanent and rotating exhibits. This includes an extensive collection of paintings by Rembrandt and Vermeer, such as Rembrandt's 'The Night Watch," Vermeer's "The Milkmaid."
The star collection is over 2,000 paintings from Dutch Golden Age artists like Johannes Vermeer, Jacob van Ruisdael, Frans Hals, Jan Steen and, of course, Rembrandt.
In addition to these iconic works, the museum also houses sculptures, books, manuscripts, drawings, photography and a small yet intriguing Asian collection. You can also find temporary exhibits on cultural topics like fashion or design that change throughout the year.
Finally, both the Cuypers Library and the Rijksmuseum Gardens — a relaxing outdoor area full of colorful flowerbeds and various water features — offer visitors a peaceful retreat from the hustle and bustle of Amsterdam's city center.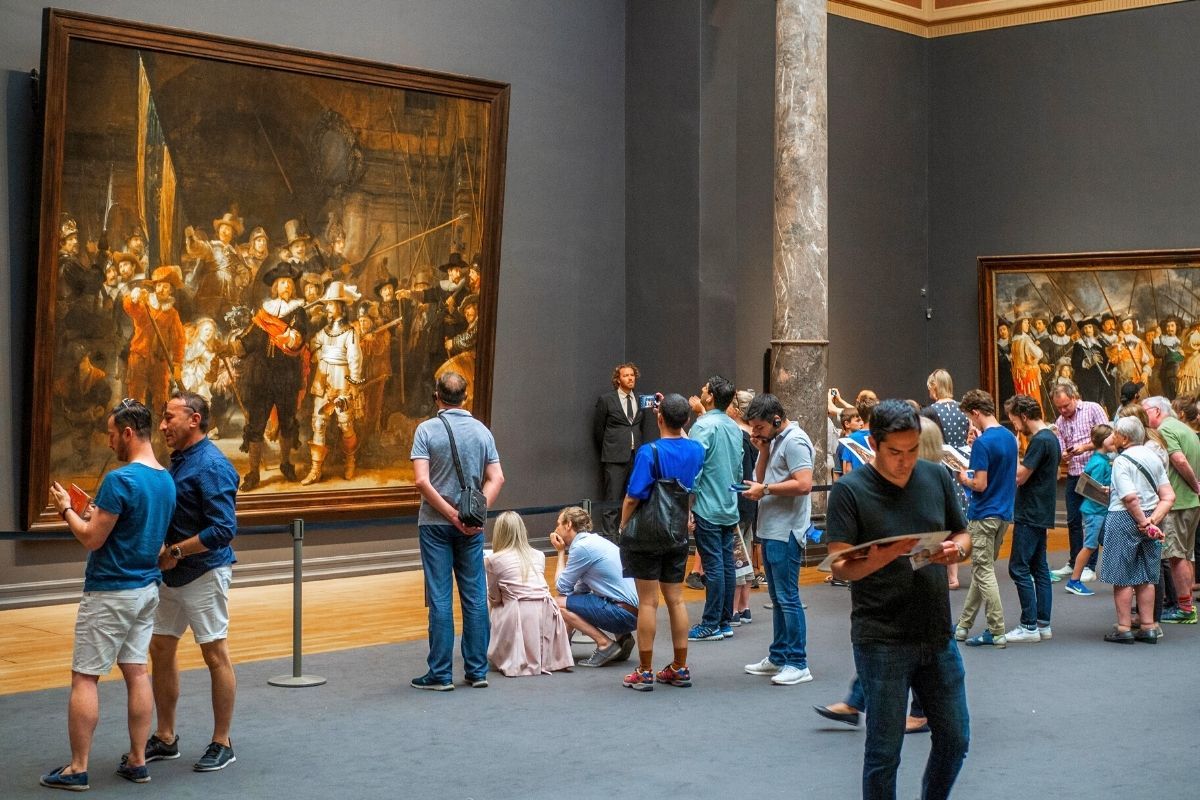 How to get there?
The Rijksmuseum is conveniently located in the Museum quarter near to Amsterdam's major attractions and can be reached by public transport.
The closest tram stop is Rijksmuseum, however, you can also take a short walk from Leidseplein or Vondelpark.
What are the Rijksmuseum opening times?
The Rijksmuseum is every day from 9 AM to 5 PM. The Rijksmuseum library opens one hour later, at 10 AM. It's advised to visit the museum as early as possible, as it can become quite crowded later on in the day.
Which other museums can be visited in Amsterdam?
Travel tips
For the best value for money, consider a combination ticket that includes both Rijksmuseum entry and other activities like a canal cruise, walking tour or visit to other museums.
For a more personal experience, try booking a private tour with an expert guide who can provide further insights into the artworks on display and answer any questions you may have.
Book your tour online and in advance. For Rijksmuseum entry, this is mandatory.