Jordan is best known for Petra, but the country is a hotbed of ancient cities and ruins, connecting us to centuries of history that unfolded across the region. Take a day trip to Umm Qais from Amman to explore this small settlement next to the expansive ruins of ancient Gadara.
The Hellenistic city has soaring views over the Yarmouk River gorge, and you can see as far as the Sea of Galilee, making this one of the most picturesque settings from the ancient world.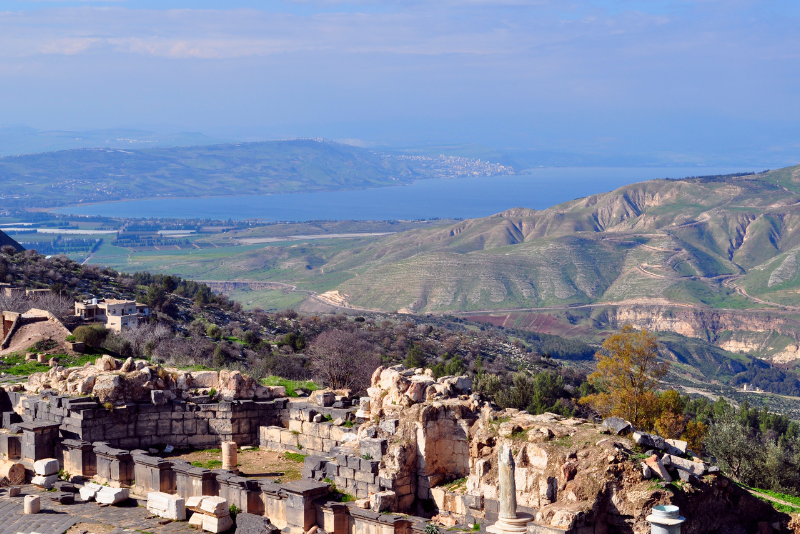 Here's all you need to know about Umm Qais, one of the most exciting day trips from Amman.
How to get to Umm Qais from Amman?
Umm Qais is in the northern outskirts of Jordan, close to the borders of Israel and Syria, and is accessible by land travel.
From Amman to Umm Qais by car
It is a 2-hour drive between Amman and Umm Qais, covering a distance of 120 kilometers. You will drive on Route 35 northbound for most of the way before merging onto Route 10 once your reach Irbid.
Guided tour to Umm Qais from Amman
Avoid the hassle of planning a day trip to Umm Qais by going on a guided group tour. These tours offer unmatched ease of travel thanks to hotel pick-up, comfortable air-conditioned vehicles and comprehensive itineraries.
How much does the entrance ticket to Umm Qais cost?
The entrance fee to Umm Qais is included in the Jordan Pass, but if you don't have one, you can pay the following ticket prices.
Jordanians: JOD0.25 (US$0.35)
Foreigners: JOD5 (US$7)
Entry to the Umm Qais Museum is included in the entry fee, but you can choose to only visit the museum and pay JOD3 (about US$4).
What is the typical itinerary?
Day trips to Umm Qais start with hotel pickup around 8 AM before setting off northwards to Gadara. The day's first stop is the spectacular ruins of Umm Qais where you will see ancient marvels like a Roman amphitheater and rows of dramatic columns.
The showstopper is the setting of the ruins, over 300 meters above sea level, giving the whole complex a stunning view over the Sea of Galilee, Mt. Tabor and the Golan Heights.
After an in-depth tour of Umm Qais, you will move on to Ajloun Castle to see a 12th-century Muslim castle. The castle exposes history linked to the Mongol invasion and Crusader attacks, and helps you create a fully formed picture of Jordan's complex history.
From the castle, you can also soak in impeccable views from the Jordan Valley to the Dead Sea.
The last destination for the day transports you back thousands of years to the Bronze age settlement of Jerash. The city also fell to the crusades but before that, it rose to significant power under both Greek and Muslim rule.
Here, you can see the Hadrian's Arch, the Temple of Artemis and the Forum with its imposing columns around the sprawling plaza. The 10-hour tour concludes with hotel drop-off back in Amman.
What kinds of tours are available to go to Umm Qais?
You are spoiled for choice when it comes to day trips to Umm Qais, as it is one of the most popular excursions in Jordan.
Guided tours to Umm Qais from Amman
If you are strapped for time you might want to consider doing a day tour to Umm Qais that only visits the ancient city of Gadara.
Hotel pickup and drop-off make the tour even more efficient and you will only visit the ruins and museum at Umm Qais before heading back. The tour lasts around 6 hours and gives you a condensed glimpse into Jordan's history.
Private tour to Umm Qais from Amman
Most day trips to Umm Qais are private and you can do the trip alone or with a travel party. These trips allow you to set the pace and customize the itinerary to your liking.
Umm Qais and the surrounding areas are incredibly scenic, and a private tour is ideal if you enjoy making long stops and taking many photos.
Soak in every ounce of history and scenery without the rush of a group tour or a pressing schedule. There are also private tour options that include lunch at a local restaurant.
Day tour to Umm Qais plus Jerash and Ajloun Castle from Amman
Combining your Umm Qais day tour with two more fascinating historical stops is a great way to maximize your sightseeing. These tours take you from the bronze age all the way to the Middle Ages and give you a well-rounded view of the country's history.
The tours last between 10 and 12 hours but the itinerary is well thought out and gives you plenty of time to enjoy each of the attractions.
Day trip to Umm Qais plus optional hike from Amman
Outdoor lovers will love the option of adding a hike to their Umm Qais excursion. There is the option of the 1-hour Al Hreith trail or the 3-hour Al-Shreif Mountain Tail after your archeological city visit.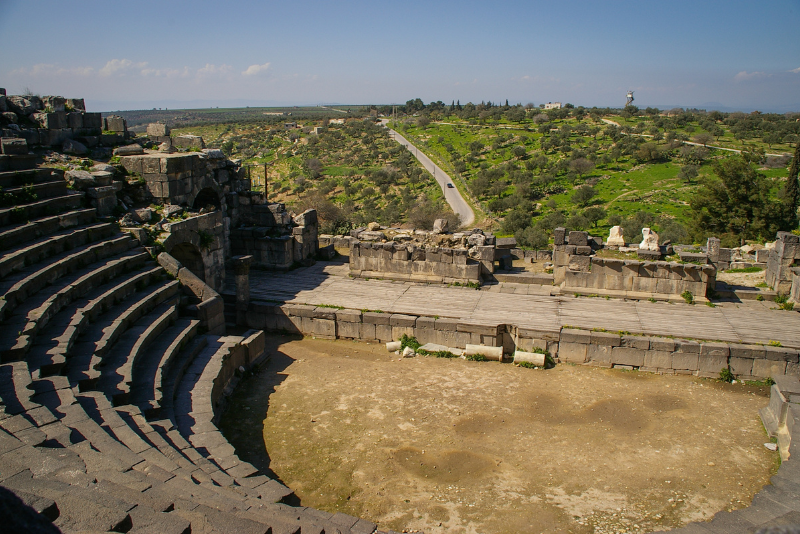 Along the way, you can see many more ruins, inspect the flora of Jordan up close and admire the caves and rock formations of the arid landscape. The hikes range from easy to moderate and you will be walking without a guide.
How much does a day trip to Umm Qaid from Amman cost?
A basic day tour to Umm Qaid starts from US$50 per person but most tours include visits to Jerash and Ajloun Castle pushing the price to US$80 per person.
Private tours to Umm Qaid cost around US$135 per person while options with lunch are around US$185 per person. Umm Qaid tours with a hike cost between US$280 and US$315 depending on the hike and group size.
What will you see and do?
A day trip to Umm Qais is filled with historical exploration. You will visit up to three different archeological sites with ruins from various periods and explore them at your leisure.
Decide if you want to wander around on your own or hire a local guide at each site to give you more insight into the historical significance of the sites.
Umm Qaid is also known as Gadara, the city where Jesus performed the Gerasene exorcism. While much of the city has fell victim to the passing of time, you can still see the impressive Roman amphitheater and columns and see the cave where Jesus lived for some time.
Other ancient wonders on your path include the temples of Zeus and Arthemis and the once-prosperous city of Jerash.
What are the opening times?
There are different opening times for Umm Qais throughout the year.
Summer opening times
Saturday – Thursday: 8 AM – 7 PM
Friday & official holidays: 9 AM – 4 PM
Winter opening times
Saturday – Thursday: 8 AM – 4 PM
Friday & official holidays: 9 AM – 4 PM
Ramadan opening times
Saturday – Thursday: 8 AM – 3 PM
Friday & official holidays: 9 AM – 3 PM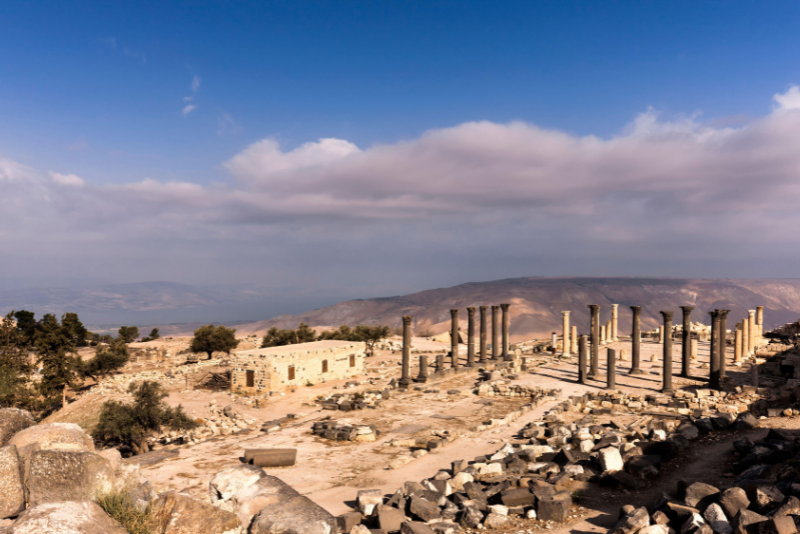 When is the best time to visit Umm Qais?
Summers (June to September) are very hot in Jordan, so the best seasons to visit Umm Qais are spring (March to May) and autumn (October to November). In the spring, you also have the bonus of striking wildflowers decorating the usually arid landscape around Umm Qais.
What are the other day trips from Amman?
Travel tips
You will be walking a lot at Umm Qais, so wear comfortable shoes.
Not all tours include a guide, so make sure to choose the correct option or budget for a local guide when making your booking.
Pack lots of water and some snacks. There is not always a scheduled time to stop for lunch.
Most tours do not include your entry fees. You may want to purchase the Jordan Pass which covers the entry fees to all the locations.